Canada Far and Wide in Circle-Vision 360 at Epcot
Canada Far and Wide is a Circle-Vision 360 film attraction in the Canada Pavilion at Epcot. This film debuted a few years ago, replacing the previous film O Canada.
While the film brings an updated preview of some of Canada's most treasured landmarks, it seems to have lost the charm of its predecessor. However, this attraction is not the worst place to take a break during your Walt Disney World vacation.
Below, we'll look at the details for seeing Canada Far and Wide on your next visit. We'll discuss how to find this attraction and what to expect.
This article was updated on February 6, 2023.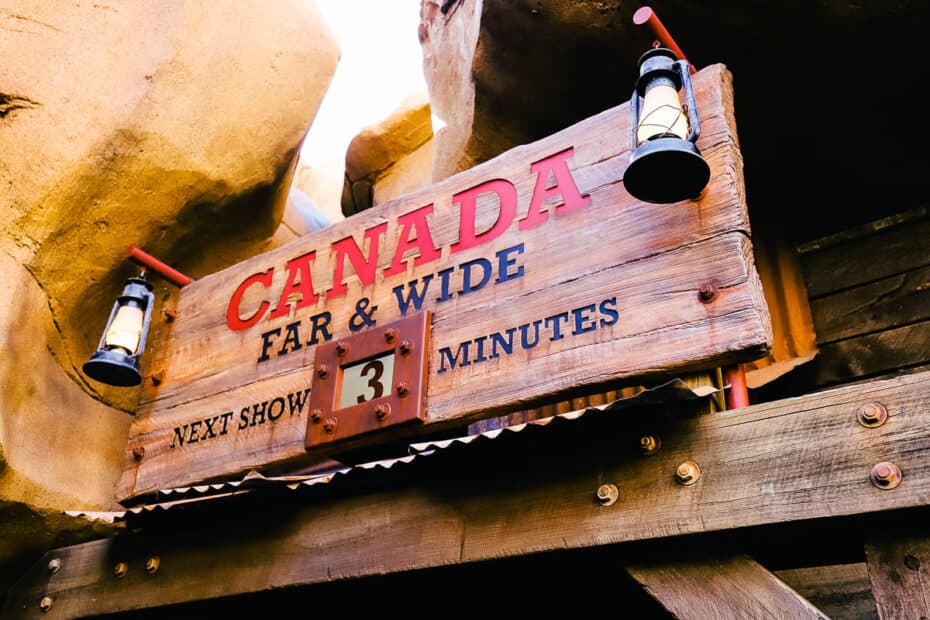 Here is a quick reference chart for Canada Far and Wide.
| | |
| --- | --- |
| Canada Far and Wide | Epcot Attractions |
| Location: | Canada Pavilion |
| Height Requirement: | None |
| Type: | Theater Show/Circle-Vision |
| Seats Per Vehicle: | Standing Theater |
| Rider Switch: | None |
| Duration: | 12 minutes |
| Scare Factor: | None |
| Must-Do List: | Low Priority |
| Perfect For: | Everyone |
| Special Mention: | Highlights Canadian Landmarks |
Canada Far and Wide
Canada Far and Wide is located at the very back of the Canada Pavilion. Given its almost hidden location, it might be difficult for guests to find.
There are two ways to locate this attraction. If you're coming from the Victoria Gardens side of the pavilion, you'll cross the bridge that runs alongside a waterfall. The walkway dead-ends at the Canada Far and Wide theater.
Your other option is to take the staircase down from the pavilion's upper level. There are signs that indicate the path.
A separate path is indicated for those with a wheelchair (ECV). Guests can remain in their wheelchairs while watching the film.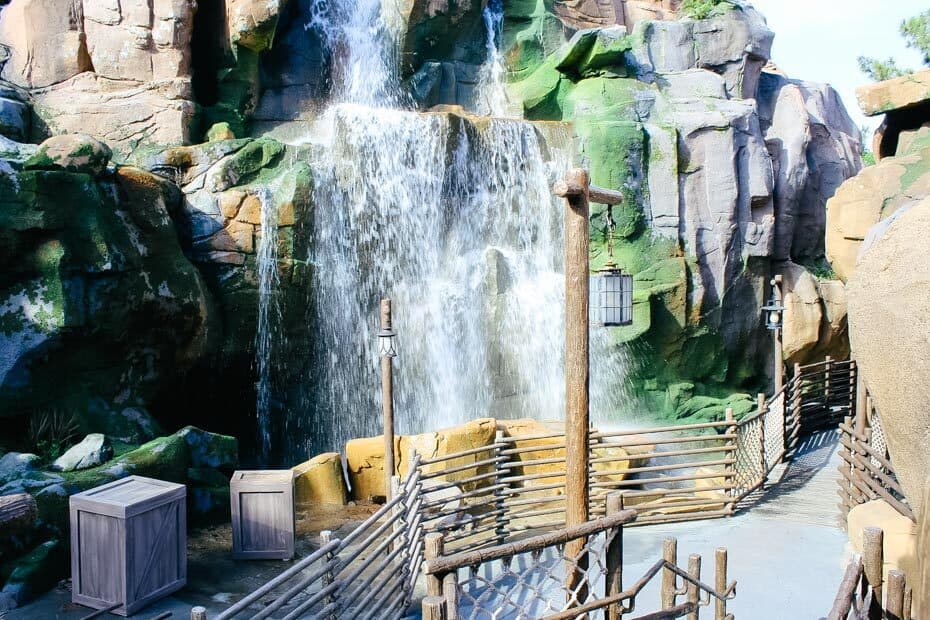 Once you reach the entrance, the wait time for the next performance is displayed overhead. Canada Far and Wide is 12 minutes long. So the longest wait will be for the next show to begin.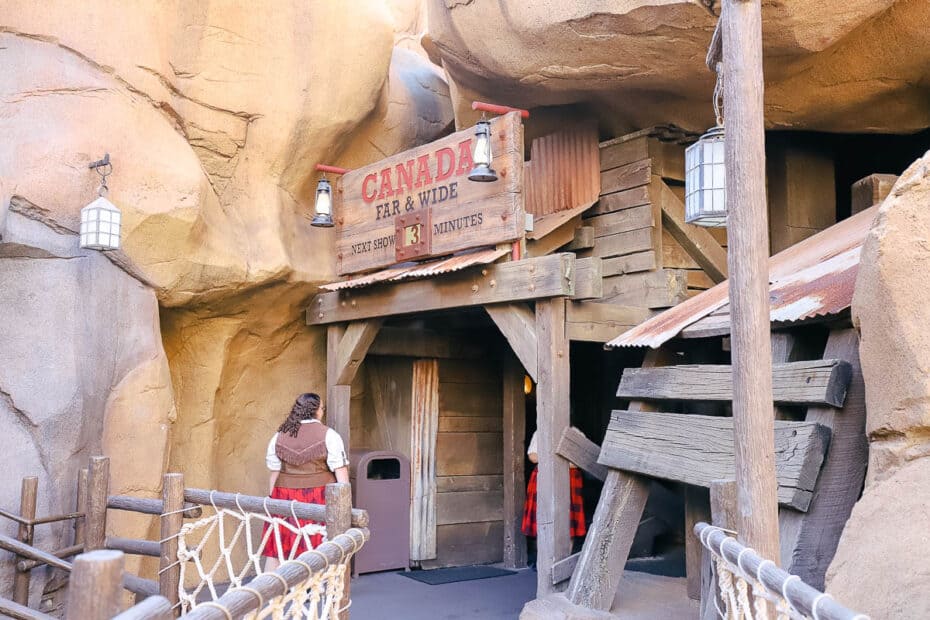 You'll find a large covered waiting area with a few seats inside. This space is dark and cool. It's a decent place to shelter if you're touring the pavilion and it starts to rain.
However, it's not a great place for long-term rain because there's nothing nearby to provide additional shelter after exiting.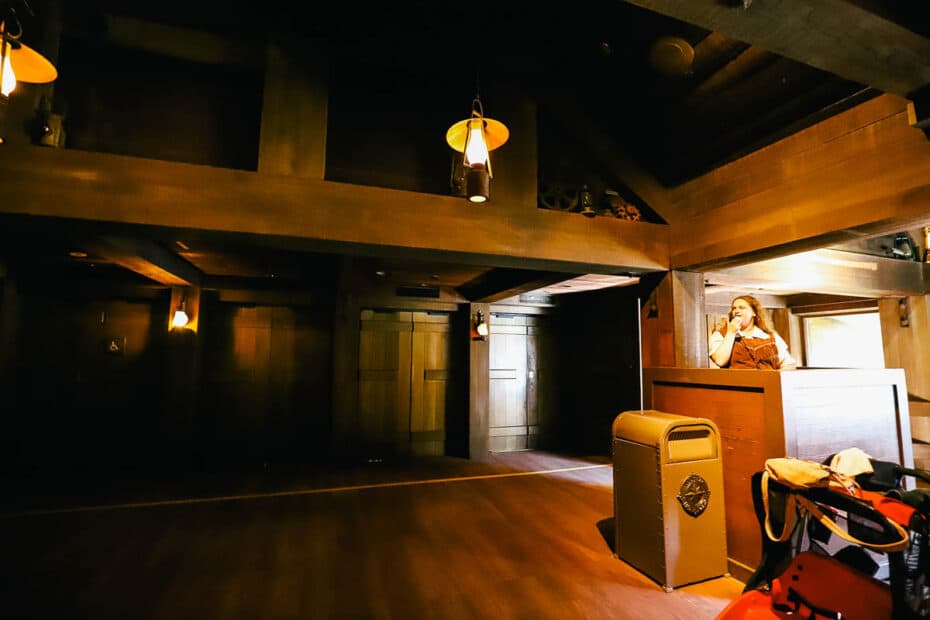 Here's a look at the inside of the theater. There are railings for guests to lean against. However, there are no seats in this attraction.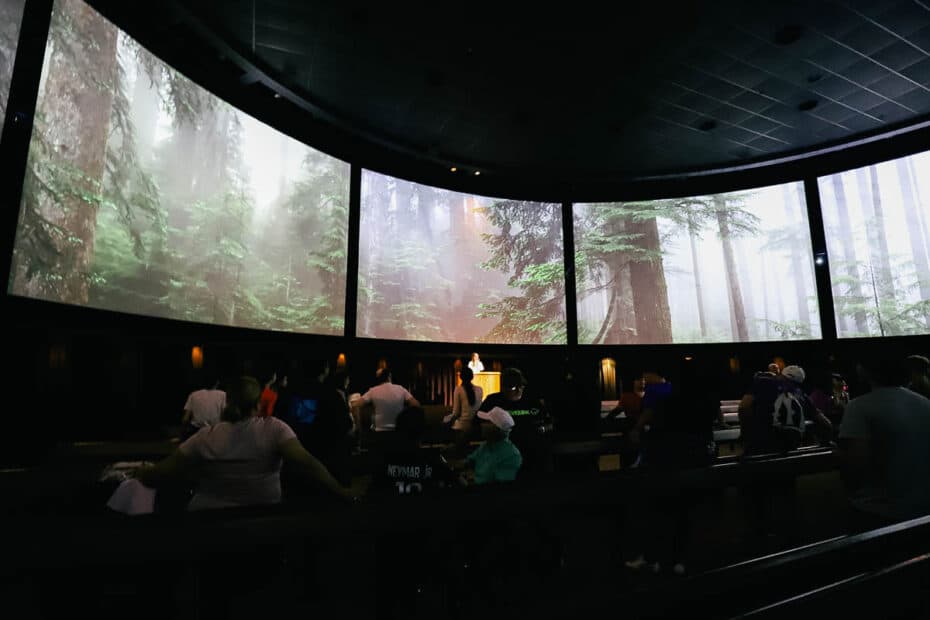 Since Canada Far and Wide is a Circle-Vision film, you can stand anywhere in the theater and face any direction to see it. Given the nature of the film, you may feel you are moving with it.
Cast members usually suggest closing your eyes if you experience any dizziness. Additionally, you can exit the theater at any time if needed.
Canadian actors Catherine O'Hara and Eugene Levy provide the new narration for the film. The new musical score for the film is by Canadian composer Andrew Lockington. You may remember that Martin Short provided the narration in the original film.
Various landmarks include Montreal, Calgary, Vancouver, Ottawa, and landscapes from Canada's Provinces.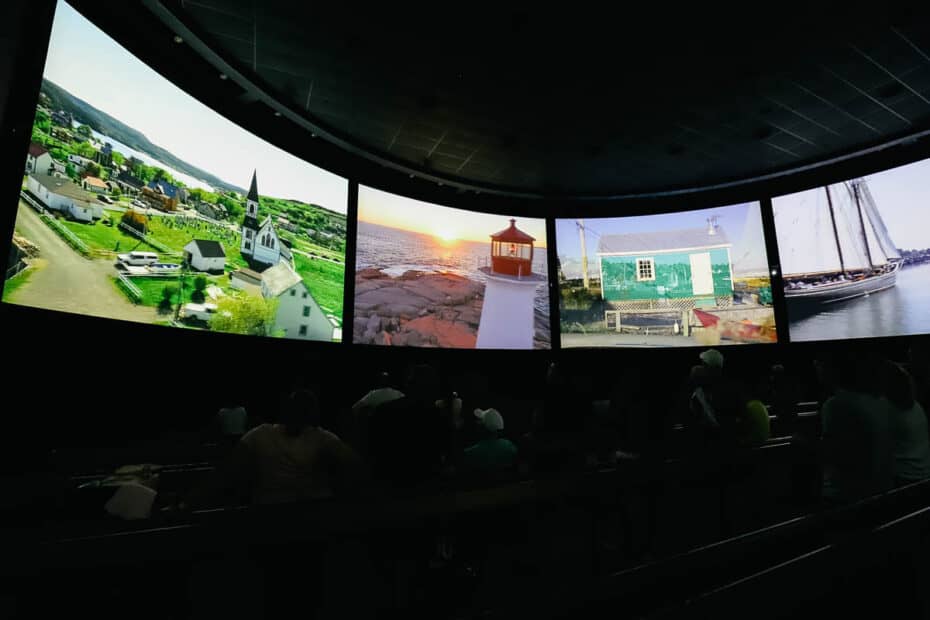 Some of the drone-recorded scenes in the film are breathtaking.
There's a nod to some of the wildlife and animals you'll find throughout the various climates.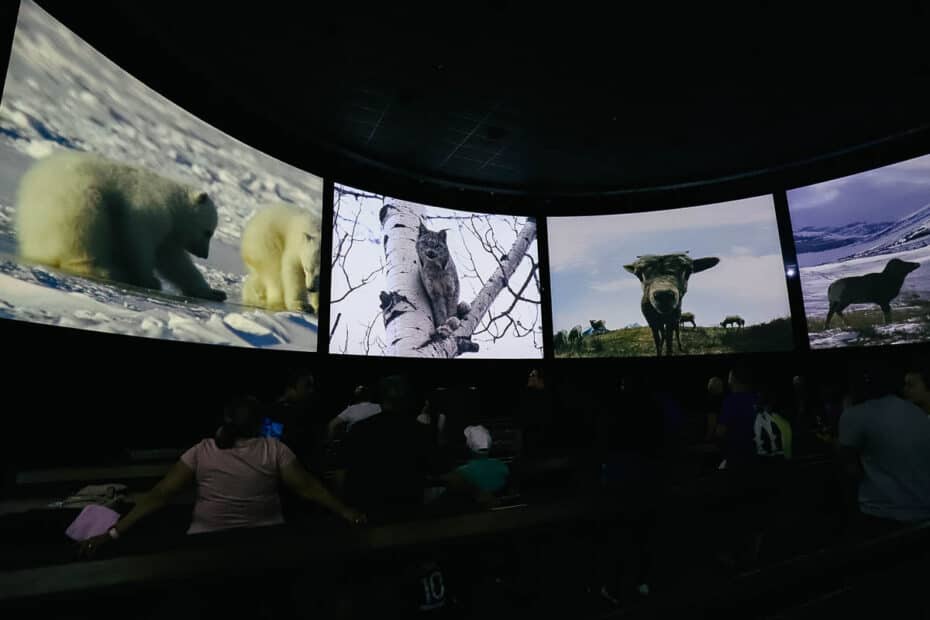 Here's a glimpse of the Canadian Rockies.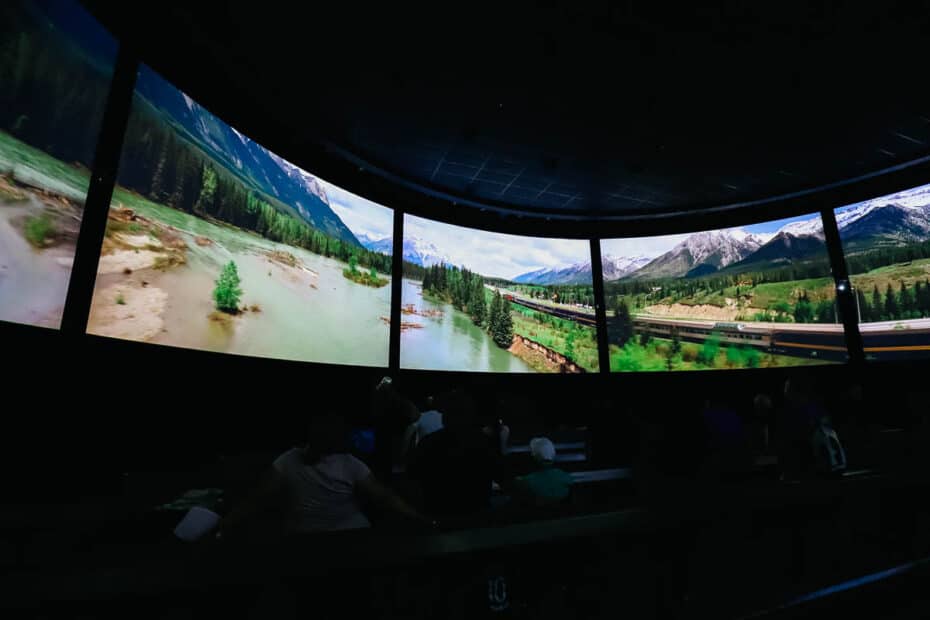 Unfortunately, the film didn't have me screaming O'Canada. But I guess that's why the new film is called Canda Far and Wide with all the new wide-angle lens technology.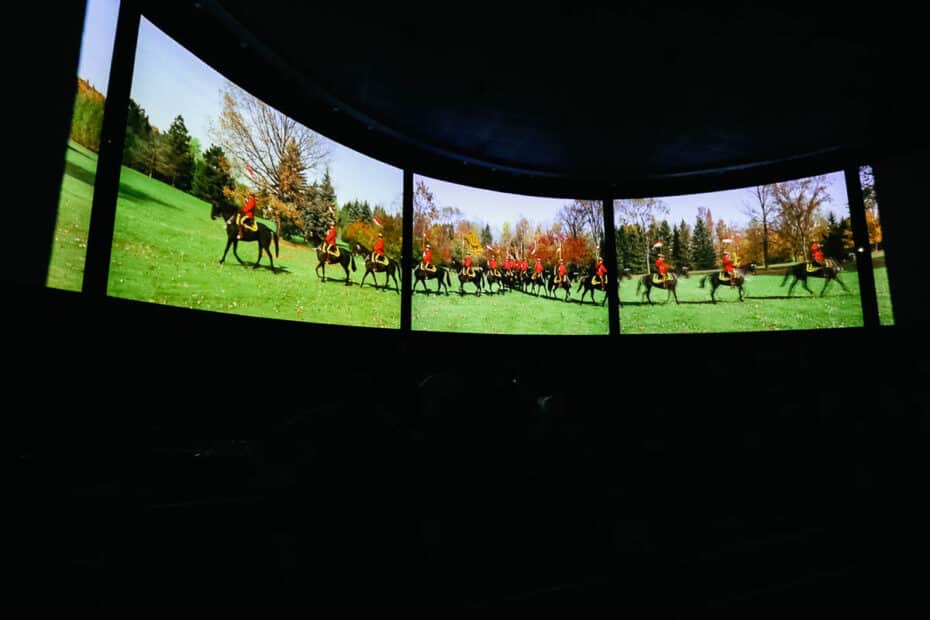 If you are touring the area and have extra time, you might stop to see the film. But if your schedule is limited, this attraction isn't necessarily a deal-breaker for most.
*If you're visiting during Epcot's Food and Wine Festival, you might find that this attraction is closed. Often the space is used for one of the marketplaces.
Related: Appleseed Orchard at Epcot Food and Wine
That said, taking the time to tour the rest of the pavilion is a must-do. Canada has a gorgeous pavilion.
For more reviews of the different countries in the World Showcase, try these:
Or you may enjoy browsing our entire list of attractions at Epcot.
Other films at Epcot include:
Make sure to check out all of our Disney World Resort Reviews to learn more about the amenities at each resort. You might also like to browse our list of Disney Restaurant Reviews. That page includes reviews of every place we've tried at Disney.
In the Comments
Have you had the chance to see Canada Far and Wide yet? What do you think of this kind of attraction?