Traversing the China Pavilion at Epcot
In this article, we visit the China Pavilion at Epcot. We'll discuss dining options, attractions, and character meets available within Epcot's China Pavilion.
If you've been following along, you know we've been skipping around the World Showcase at Epcot to take an updated look at the various pavilions. Now we've made it to the China Pavilion.
Epcot's World Showcase is a marvelous place that boasts 11 countries' pavilions. These pavilions celebrate the traditions of each country, among other things.
Below, we'll take an immersive tour of the China Pavilion. Not only does the pavilion offer stunning architectural elements, but it's surrounded by serene gardens.
Then there's Chinese cuisine and shopping in the House of Good Fortune. Between eating and shopping alone, you could spend quite a long time in this pavilion.
So adjust the sails of your sampan because we are headed off to traverse China–Epcot style.
This article was updated on February 1, 2023.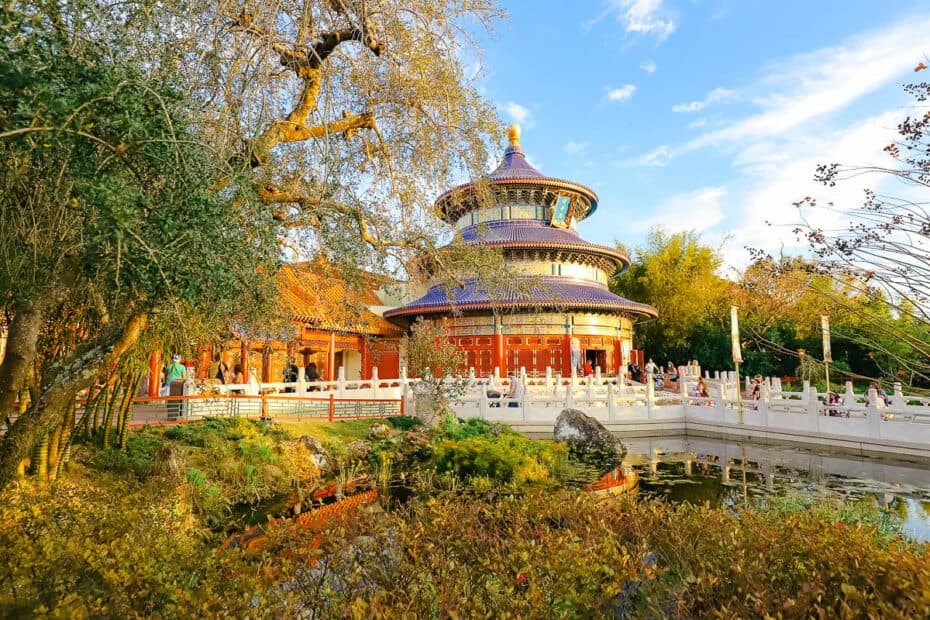 Epcot's China Pavilion
Here's a summary of what you can expect to find at the China Pavilion in Epcot's World Showcase:
Architecture
Temple of Heaven
Hall of Prayer of Good Harvest
Gate of the Golden Sun
Attractions
Shanghai Disney Exhibit
Reflections of China
Entertainment
Dining
The Joy of Tea (QS)
Lotus Blossom Cafe (QS)
Nine Dragons Restaurant (TS)
Retail
Good Fortune Gifts
House of Good Fortune
Kidcot Fun Stop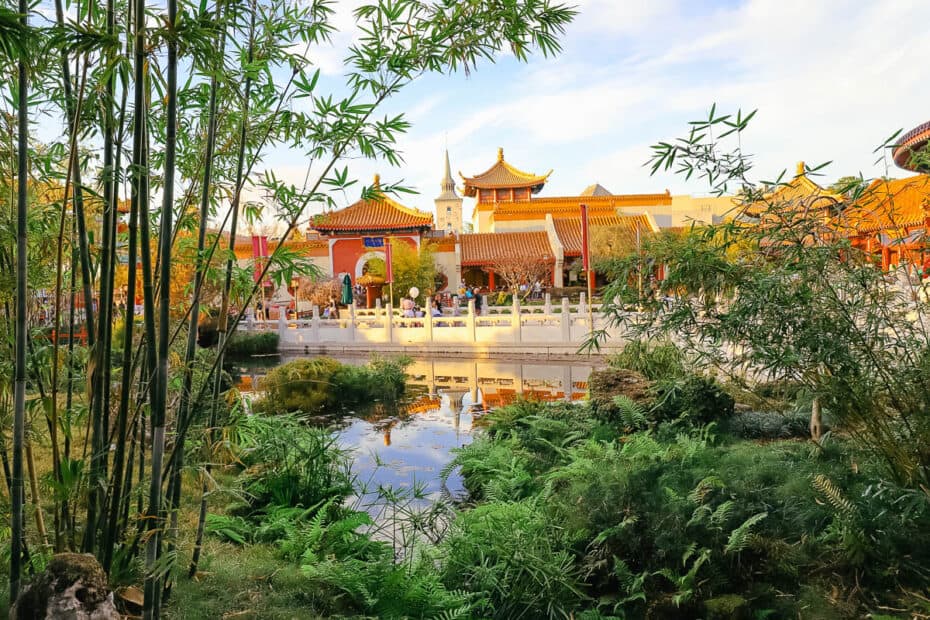 Epcot's China Pavilion is located between the Norway Pavilion and the Outpost. Beyond the Outpost, the next pavilion is the Germany Pavilion.
A replica of the Temple of Heaven centers the pavilion. It doubles as an entrance to both of the pavilion's attractions.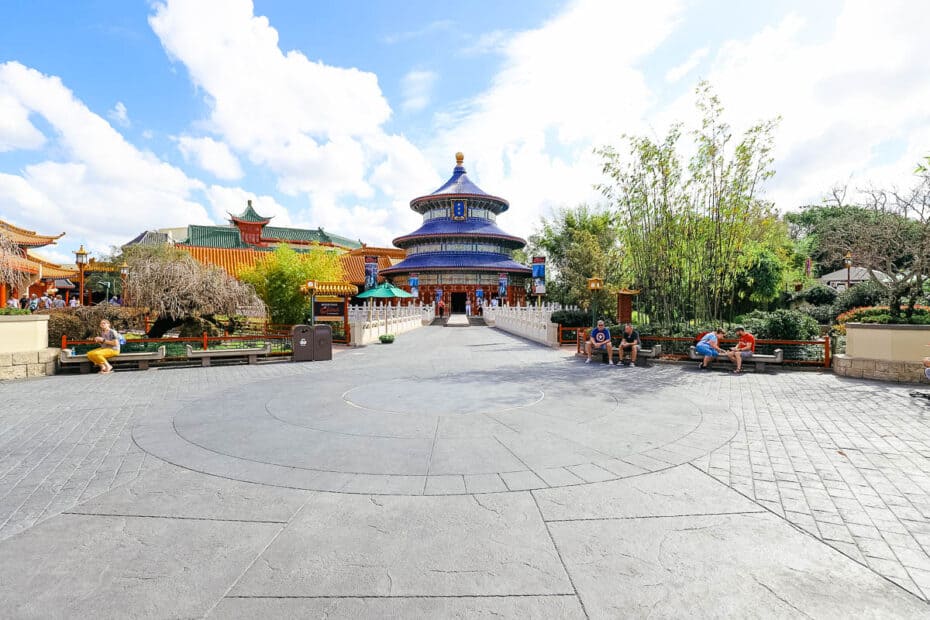 Stunning water gardens surround both sides of the temple. Listen closely, and you might hear some of the sounds of China playing in the background.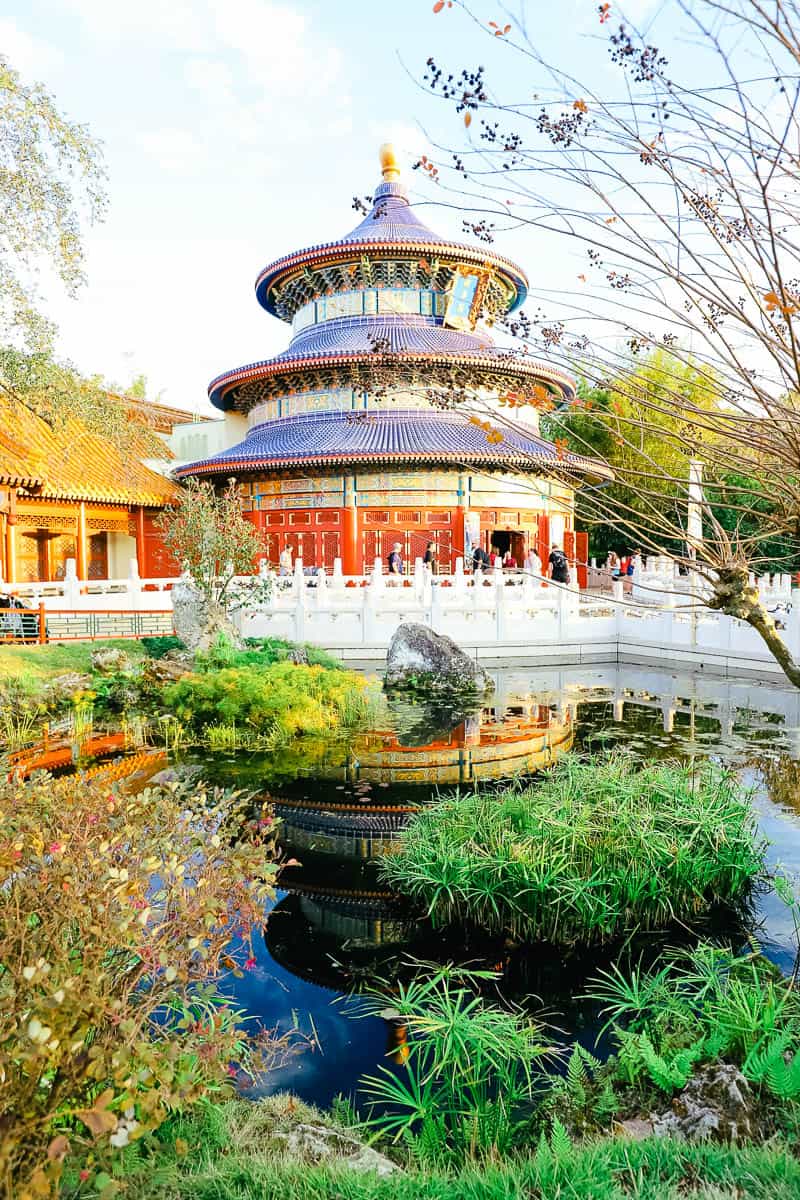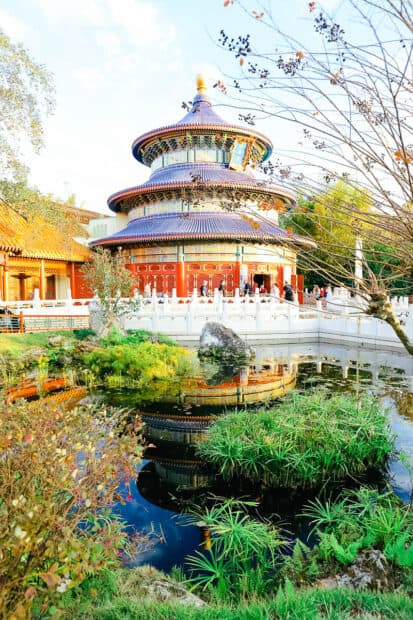 When you enter the temple, you'll find the Hall of Prayer. Whether you want to experience the attractions or not, it's worth taking a moment to step inside.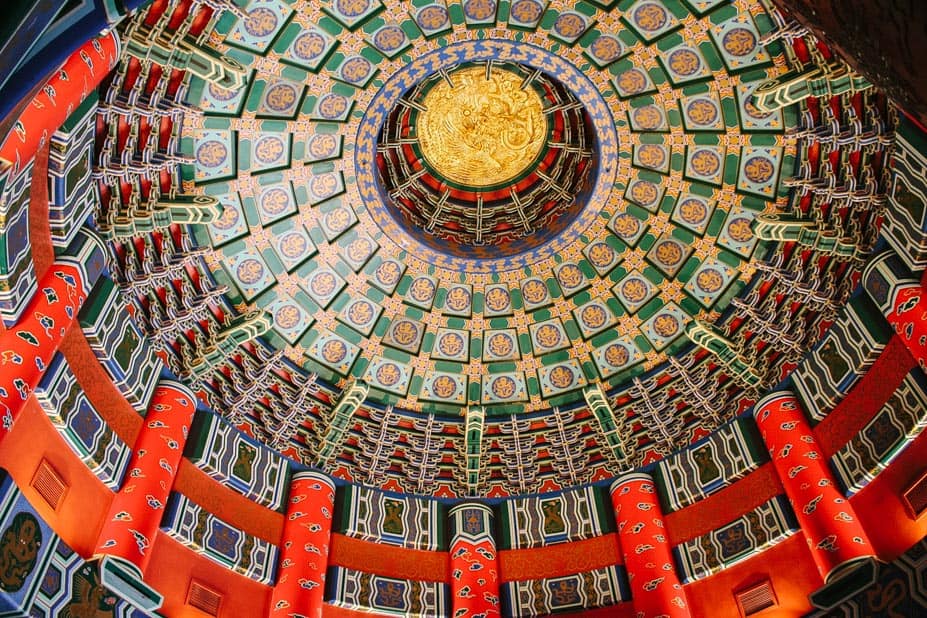 At the front of Epcot's China Pavilion sits a model of the Gate of the Golden Sun. This element resembles the Emperor of China's summer palace entrance in Beijing.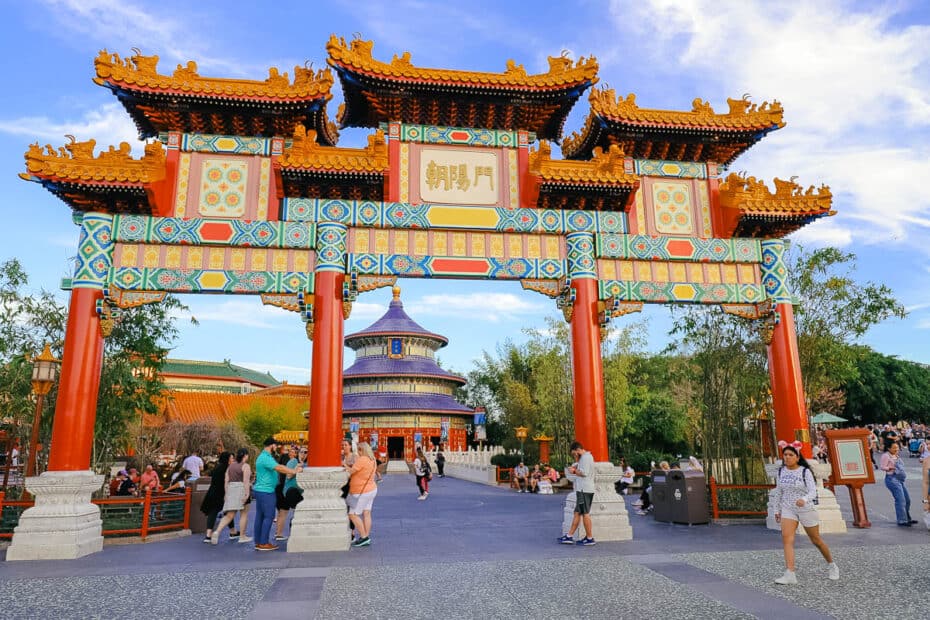 Reflections of China
Reflections of China is the primary attraction for the pavilion. Reflections is a Circle-Vision 360 film that lasts approximately 14 minutes. Eventually, the film is supposed to be replaced by a new film called Wondrous China.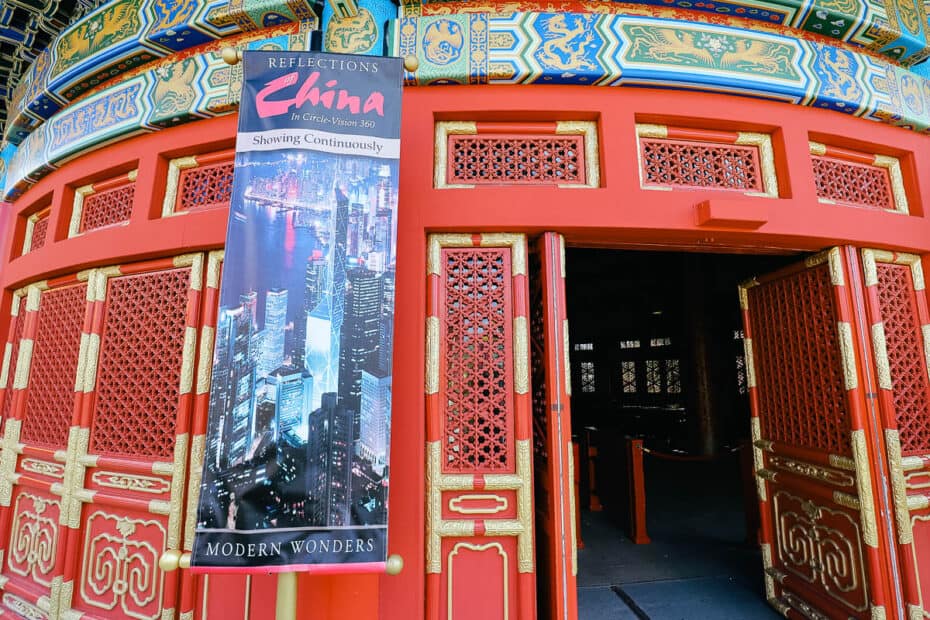 Tang Dynasty Poet Li Bai narrates the film as you journey to some of the following locations: The Forbidden City of Beijing, the water-bound city of Suzhou, the Mythical Sea of Clouds, the Gobi Desert, the Yangtze River, and others.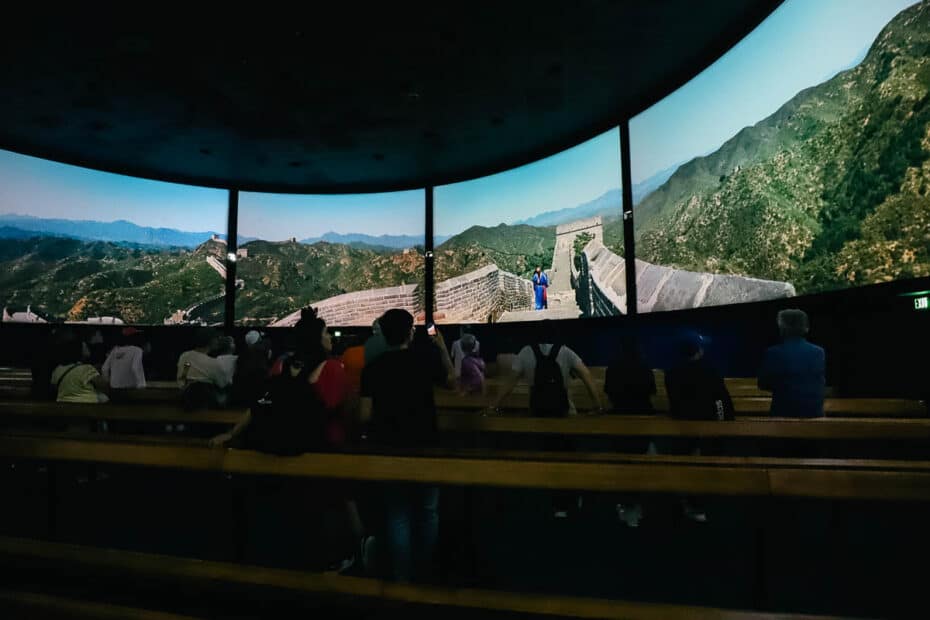 Reflections of China is a beautiful film. However, it is pretty dated, and the screen quality isn't great. Hopefully, the new film will only improve upon the experience.
Below is a photo of what to expect inside the theater. If you experience motion sickness during the film, closing your eyes usually resolves the issue. We have a separate article that details the entire experience.
Related: Reflections of China at Epcot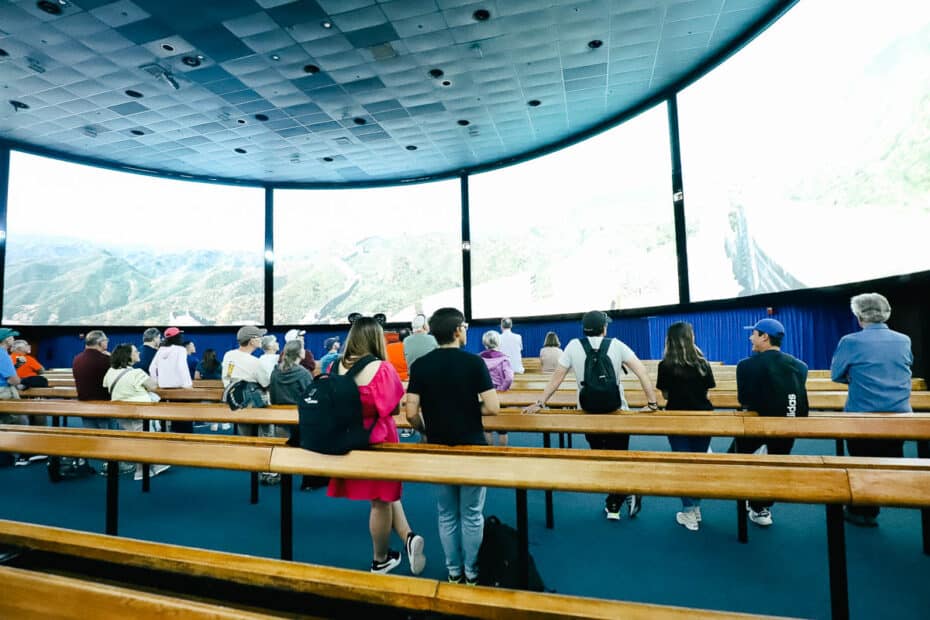 When you exit the film, there's a fun photo wall to the immediate right. If you don't want to see the film, you can find this wall at the back of the House of Good Fortune.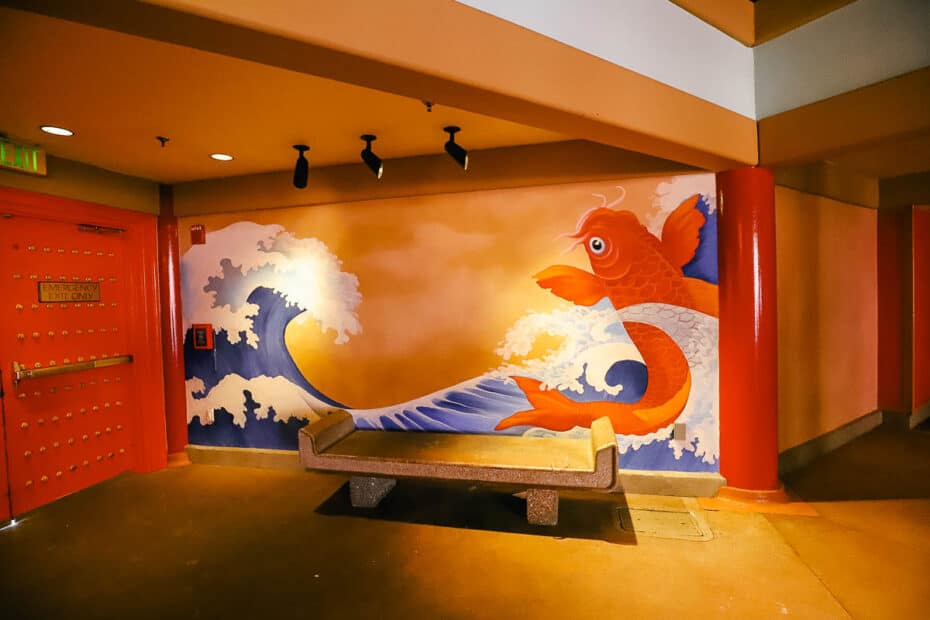 Inside Shanghai Disney Resort
Additionally, the "Inside Shanghai Disney Resort" exhibit is located in the China Pavilion. You can access it from inside the Hall of Prayer, or there's a separate exterior entrance to the left of the temple.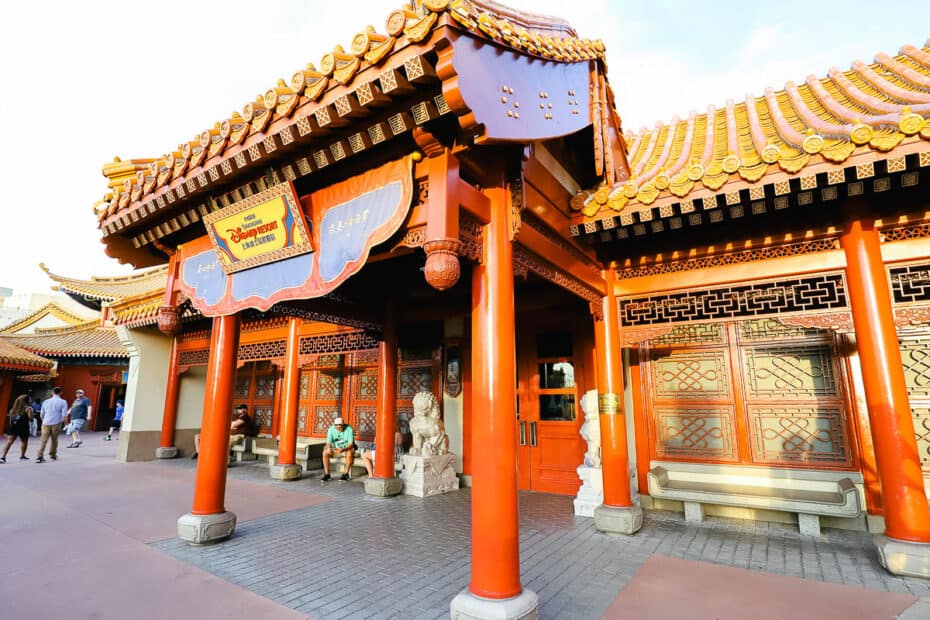 This exhibit has been open for some time now. Eventually, it will change out to something else.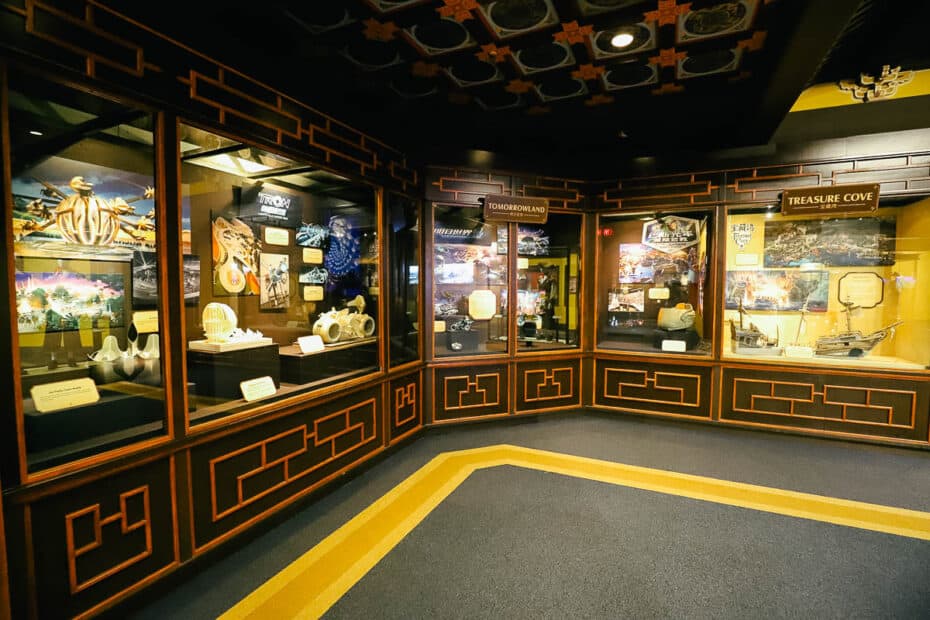 Previously, the Terra Cotta Warriors took up this space. However, they are part of a traveling exhibit.
One of the displays takes a look at the Tron attraction in Shanghai. An identical attraction opens on April 4, 2023, at Magic Kingdom.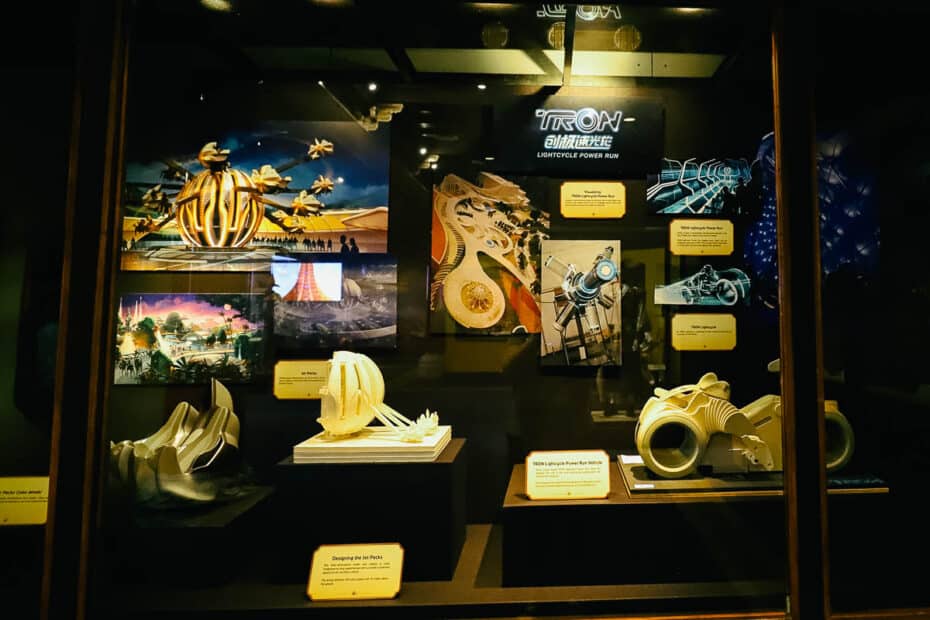 These are a few of the cast member's costumes for Shanghai's Toy Story Land.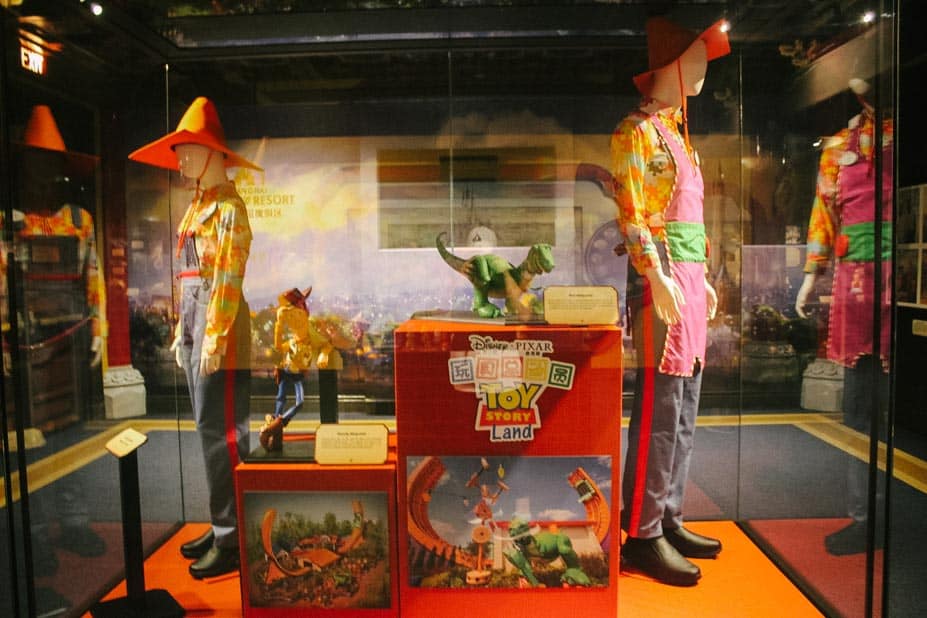 Here are some of the outfits for Pirates of the Caribbean.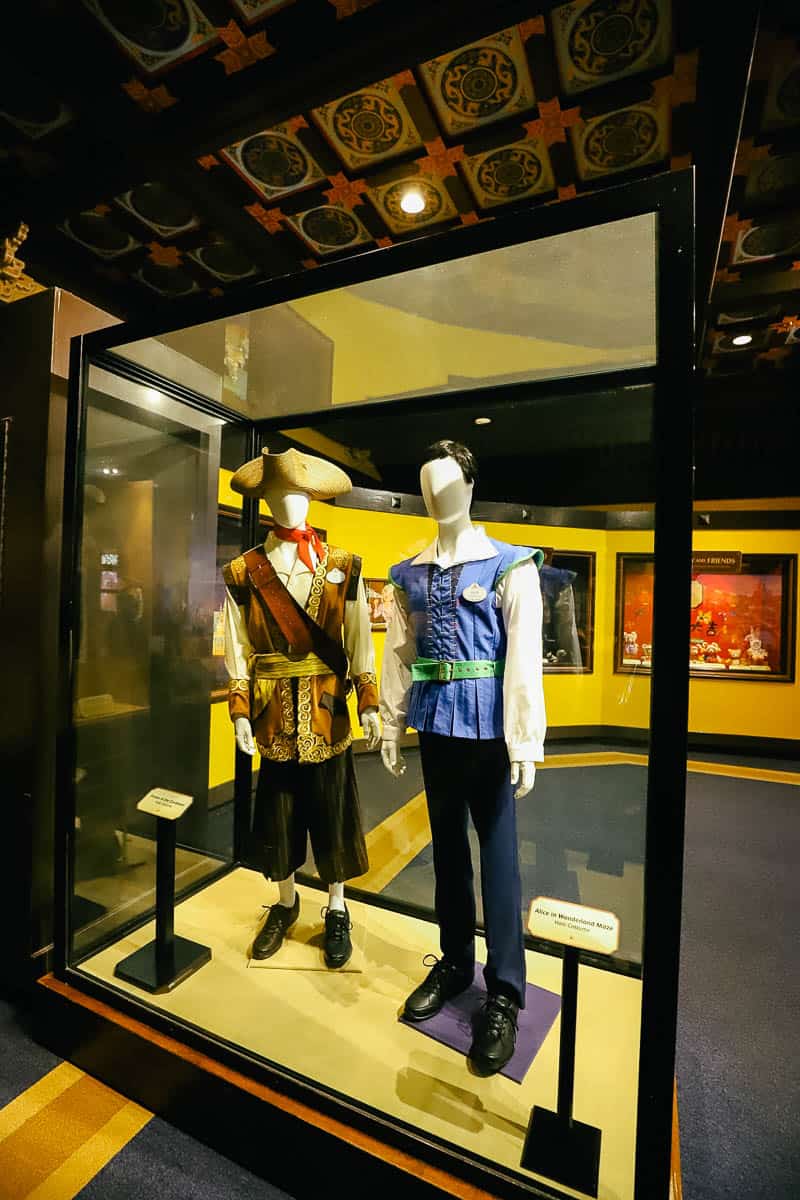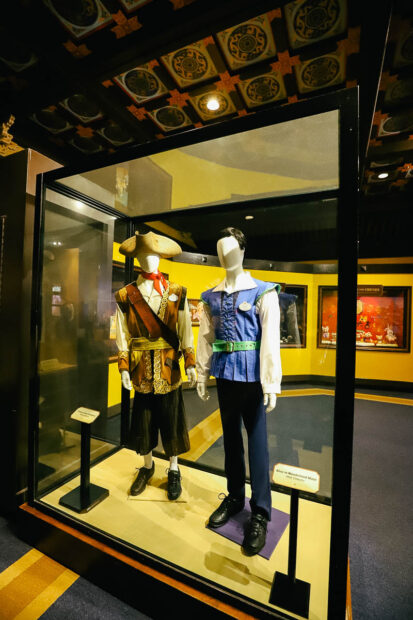 This is a self-guided walkthrough, so you can spend as much time as you like in the area. It's also an excellent place to cool off or find shelter from the rain.
Entertainment
Unfortunately, as of this update, the Jeweled Dragon Acrobats no longer perform in the China Pavilion. They were an extremely entertaining group of tumbling performers and worth taking the time to see.
Hopefully, these performers or a similar group will be able to return to Epcot in the future. We did see a set of musicians in this same area during the Festival of the Holidays.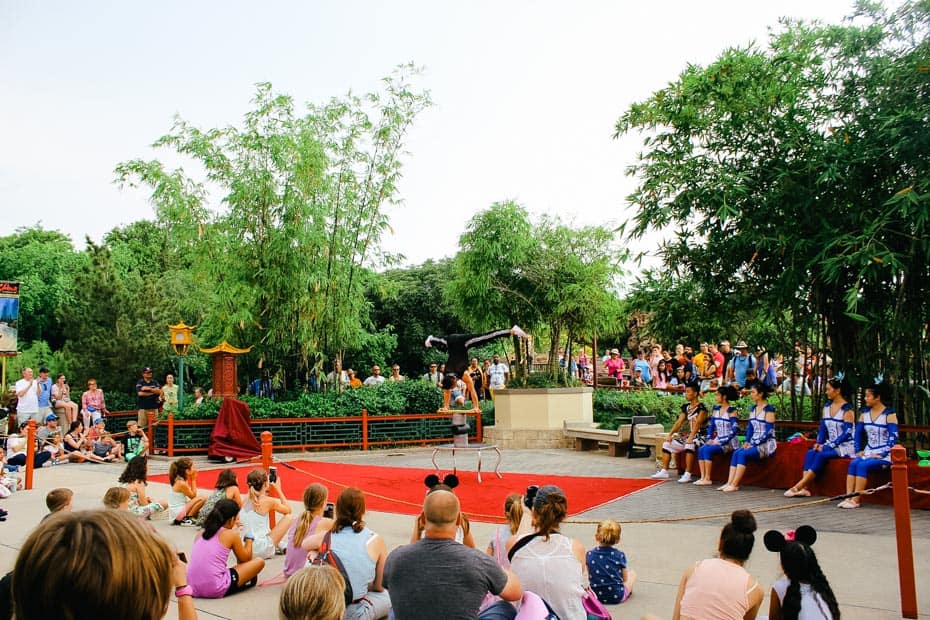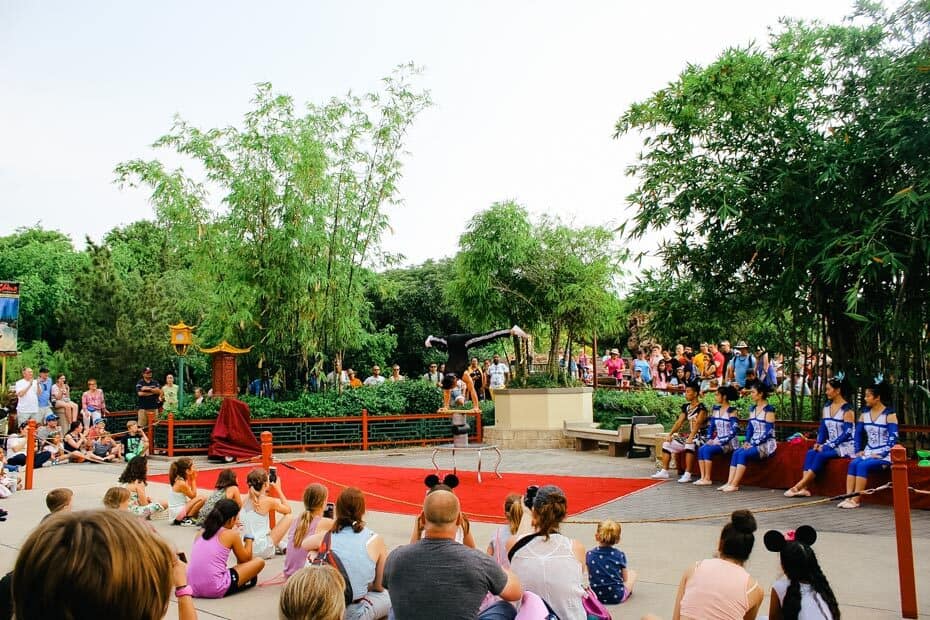 Meet Mulan
Many of the countries in the World Showcase have a character meet-and-greet location. Mulan is the character for Epcot's China Pavilion.
You can find her either in the water gardens near the temple. Or, as of late, she's had a queue set up inside the House of Prayer.
We have a separate article that details her meet-and-greet and what to expect. It's important to note that most character meets at Epcot wrap-up before sunset.
Related: Meet Mulan at Epcot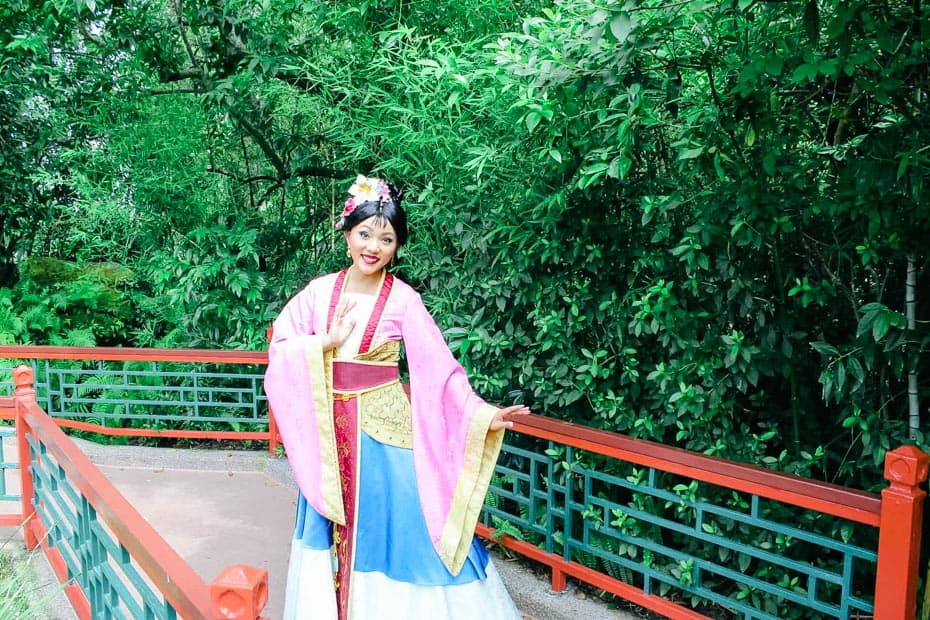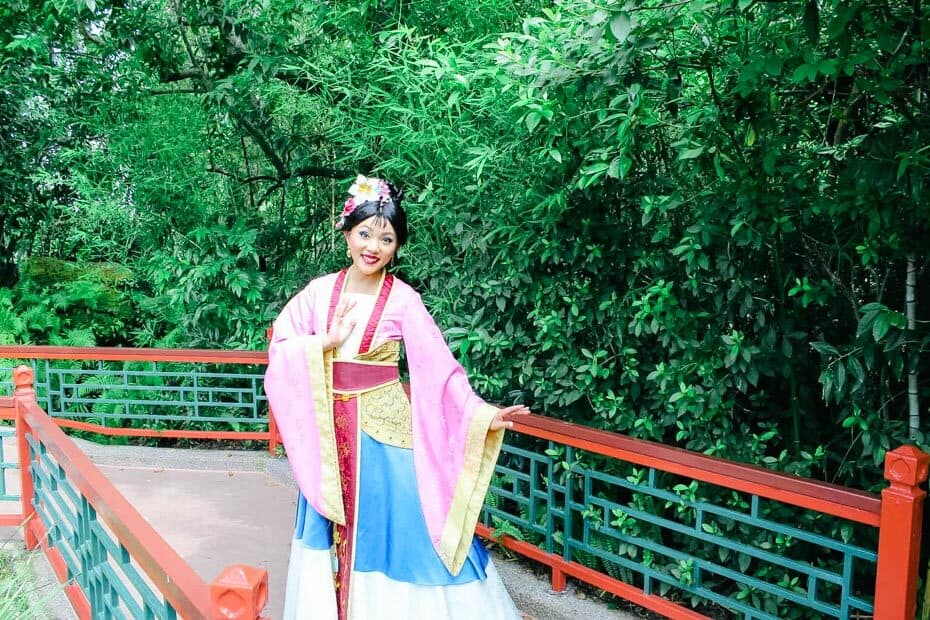 Dining Options
Epcot's China Pavilion is home to several dining options. For starters, the Joy of Tea sits out on the lagoon side of the pavilion.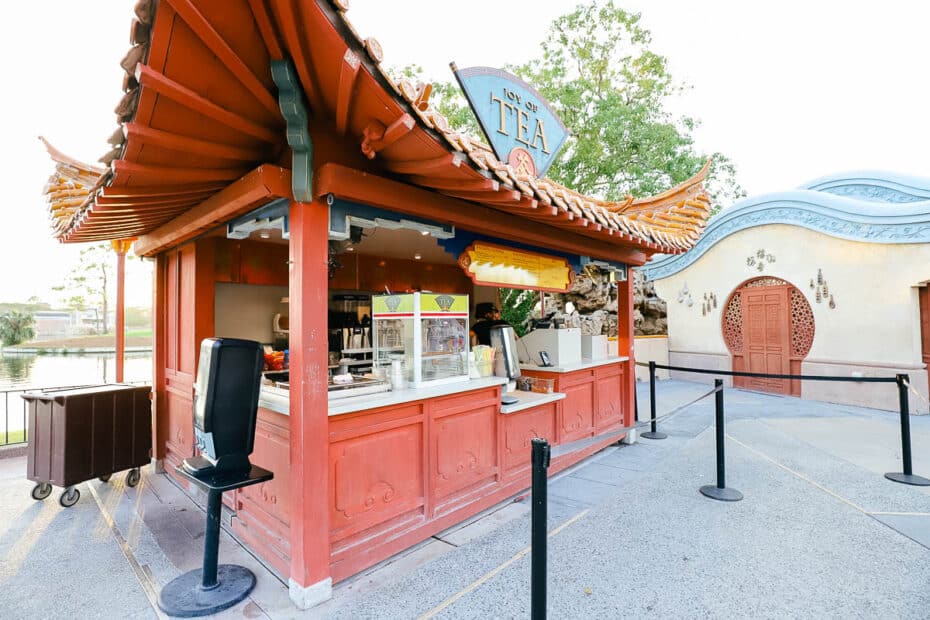 This quick service location provides a variety of beverages like specialty cocktails, teas, bottled water, beer, and snack options.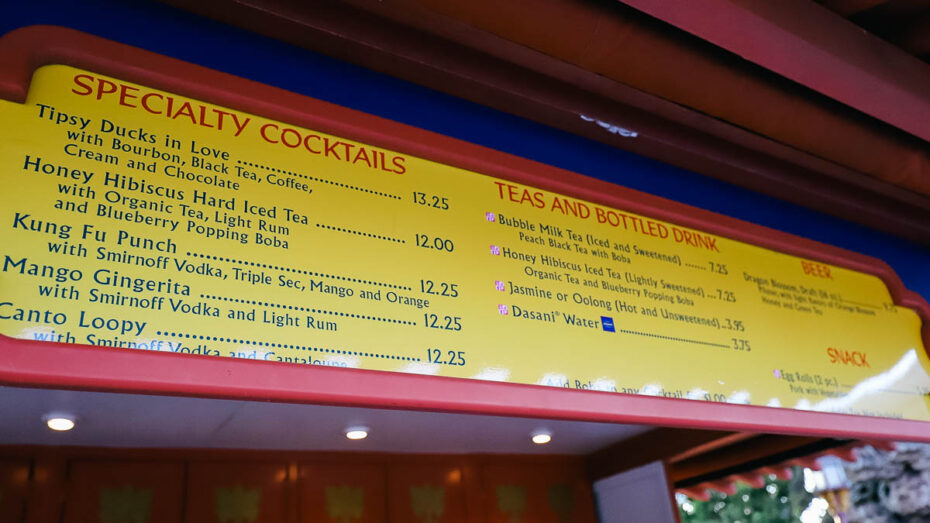 Some popular drinks include Tipsy Ducks in Love, Kung Fu Punch, and Bubble Milk Tea.
Additionally, the China Pavilion is home to a sit-down counter service dining location, Lotus Blossom Cafe. This is one of my favorite places to grab a quick bite.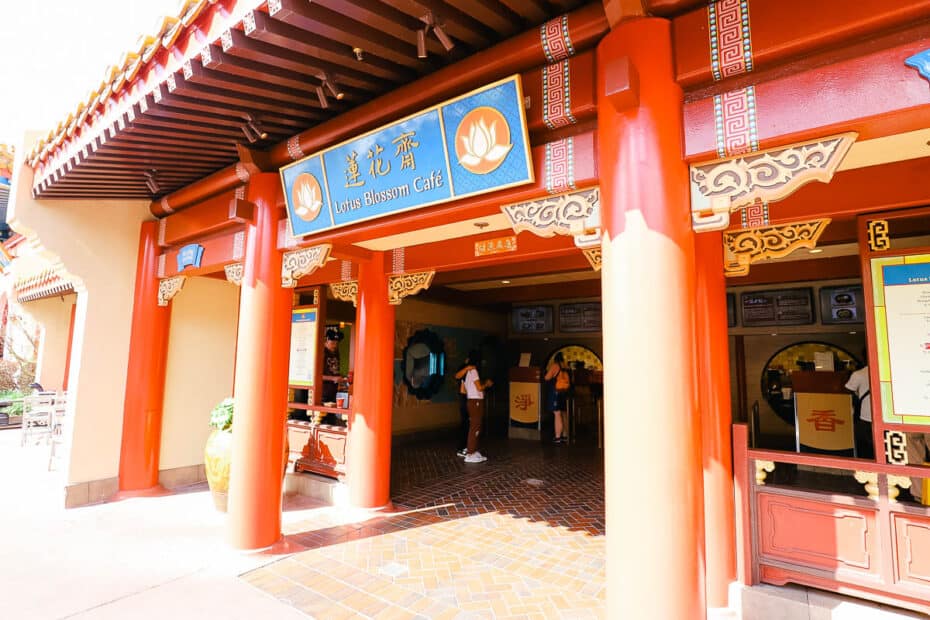 Here is the menu for Lotus Blossom Cafe, or you can preview the entire menu here on Disney's site.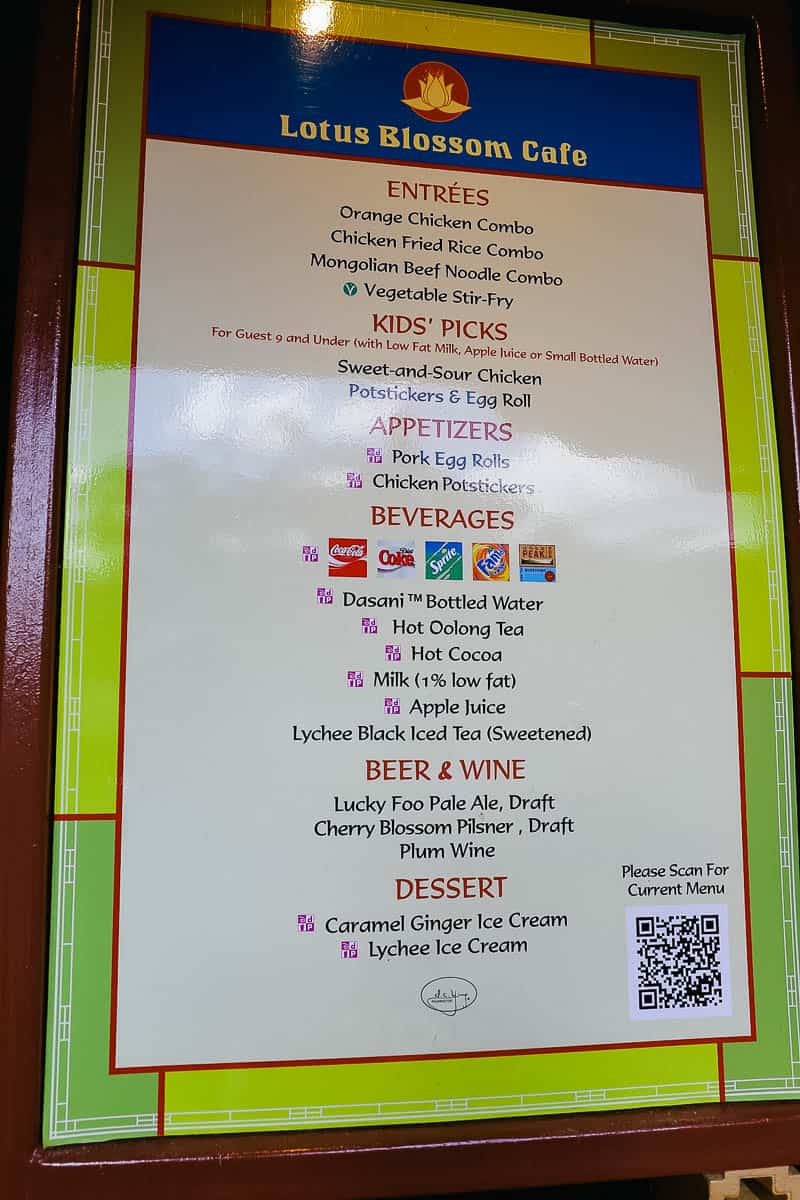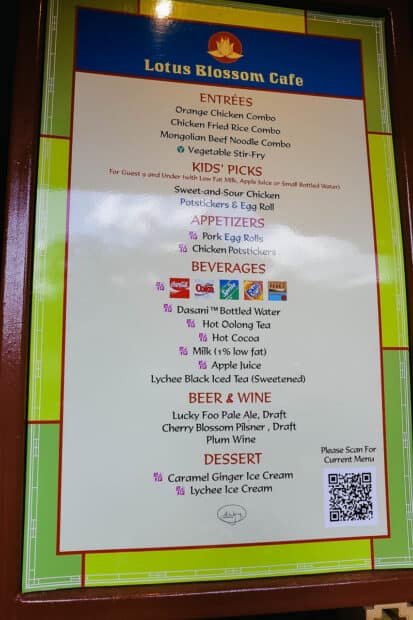 They have orange chicken, Mongolian beef, pot stickers, and sweet-and-sour chicken. For dessert, there's Lychee ice cream and caramel ginger ice cream.
Over the years, I've had several meals at Lotus Blossom Cafe. Below we have the shrimp fried rice adult entree.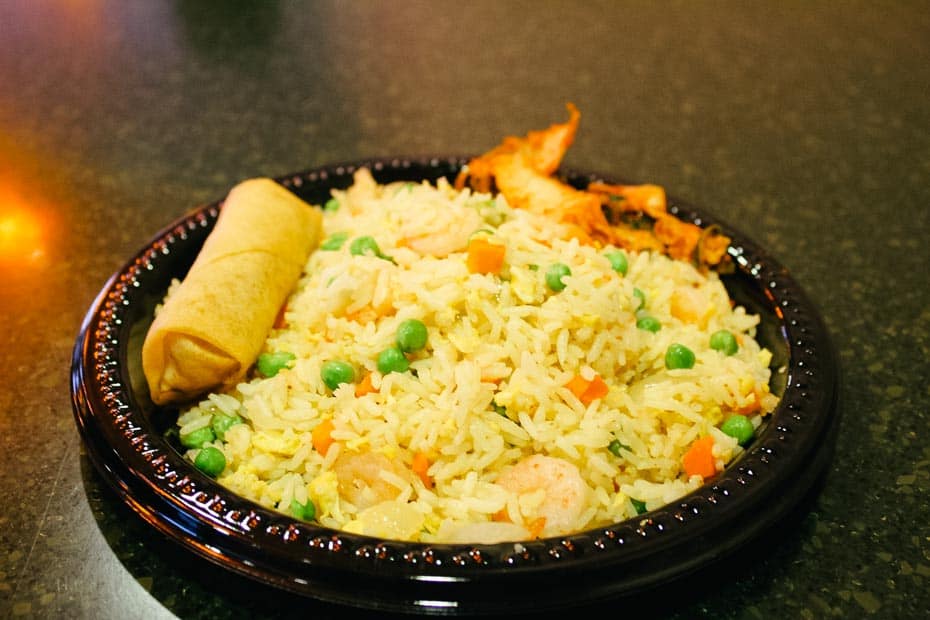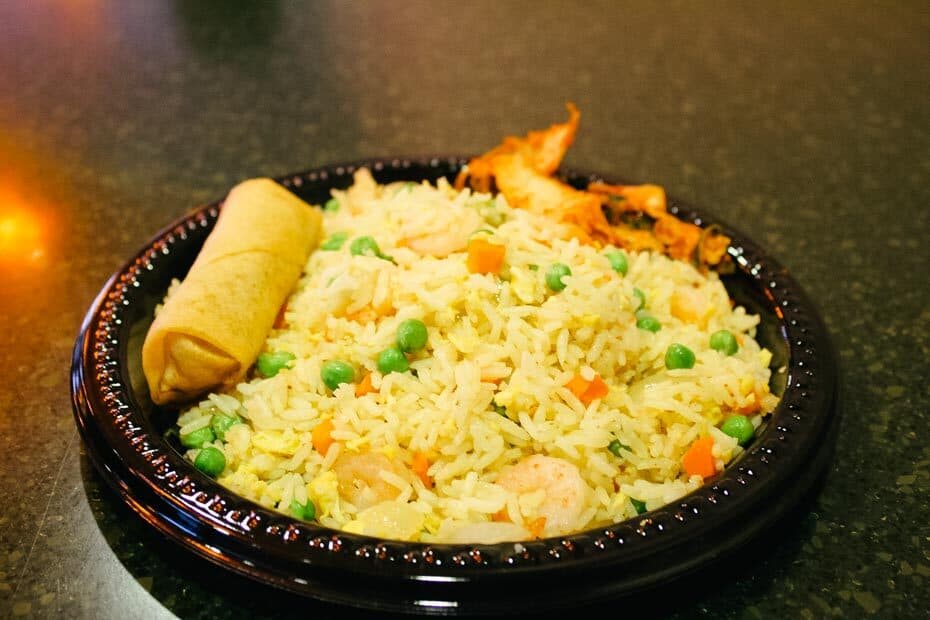 It was somewhat comparable to what you might expect from a local fast-food Chinese restaurant. However, it's a viable choice if you are looking for a reasonably priced meal that's not burgers or chicken nuggets.
Most of my visits to Lotus Blossom Cafe are for kids' meals. Here we have the pot stickers and egg roll meal. You could get this to share with someone for a quick snack or enjoy it as a meal.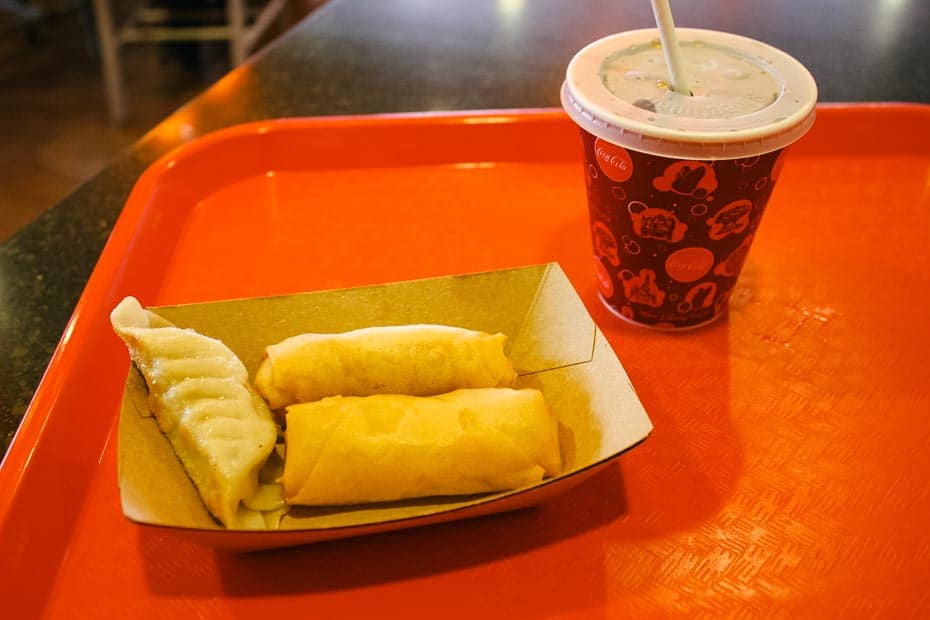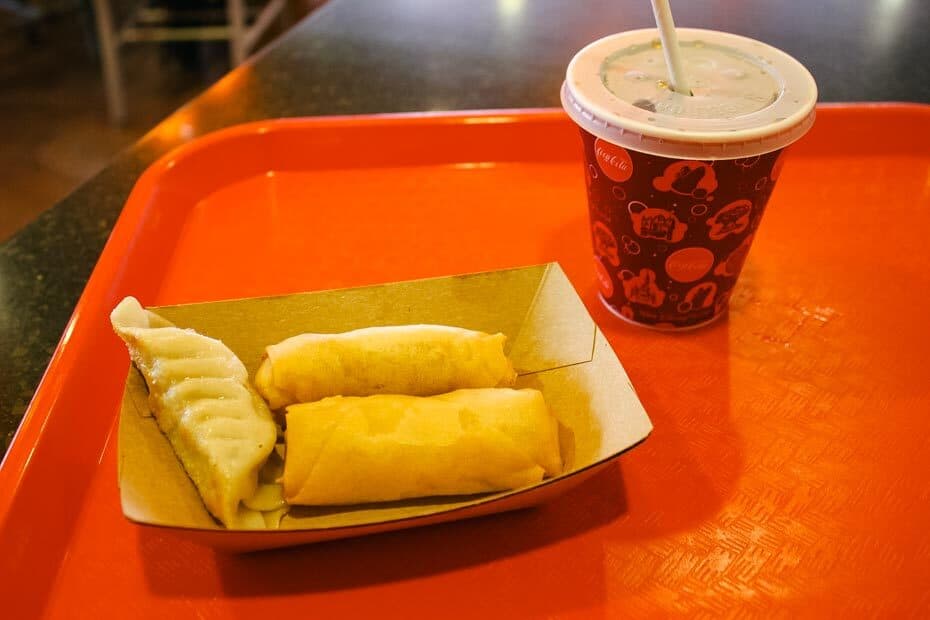 On my latest visit, I ordered the sweet-and-sour chicken kids' meal. It was another option that I found filling for a reasonable price.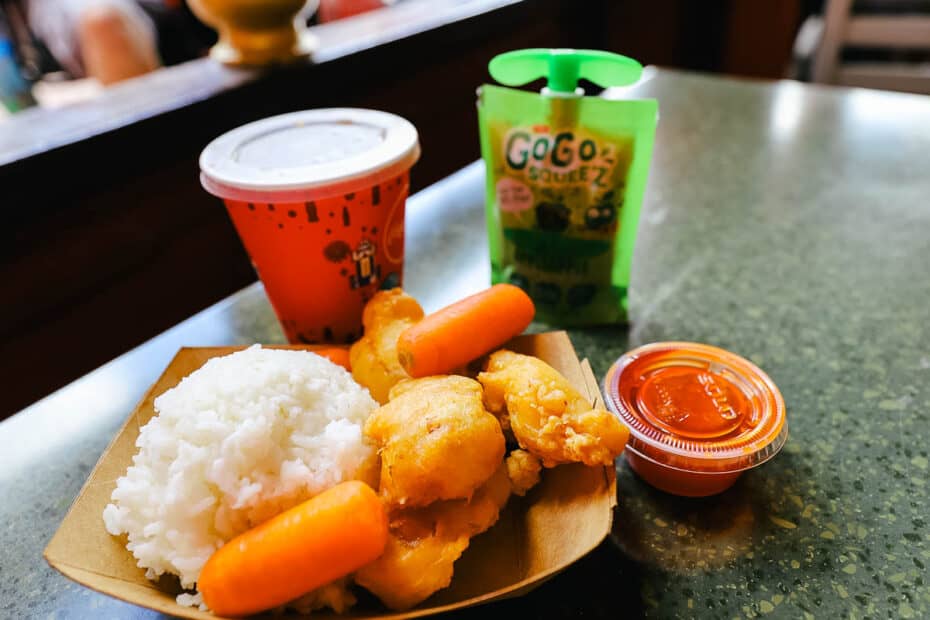 Lotus Blossom has an excellent indoor/outdoor dining space on each side of the restaurant.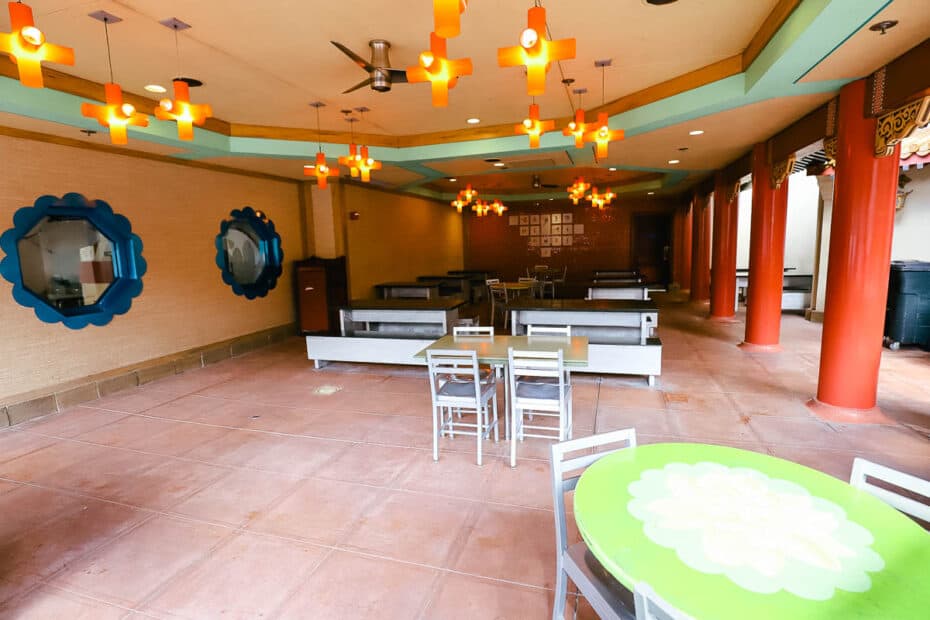 Regarding restaurants, Nine Dragons is the China Pavilion's sole table-service dining location. They are open for lunch and dinner.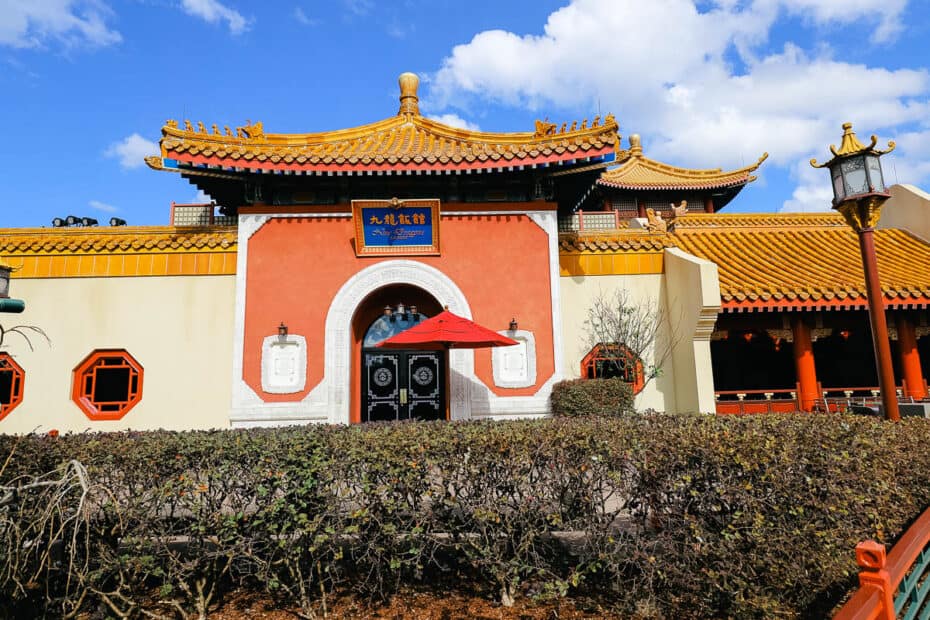 A few menu highlights are posted outside the restaurant. Additionally, their entire menu is available here on Disney's site.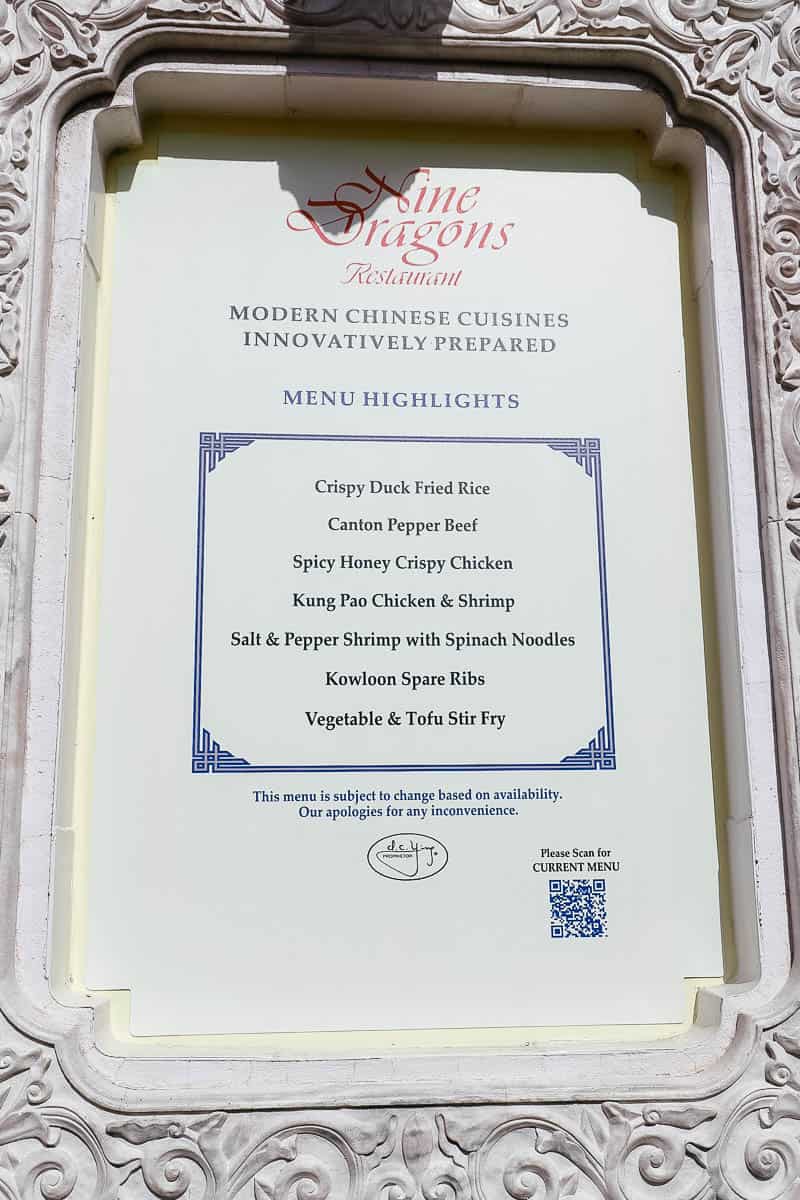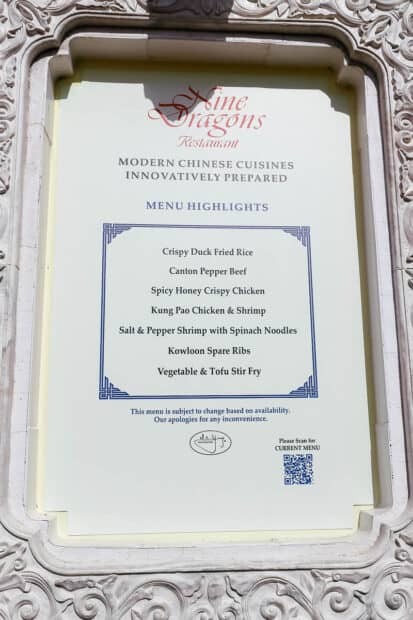 I've had the opportunity to dine at Nine Dragons several times. Unfortunately, I haven't stopped in lately because their prices seem to have increased significantly.
With that said, the food here has always been good. From our experience, you can almost always snag a table here without a dining reservation. Of course, you might have to wait for a few minutes.
China Pavilion's Shops
When it comes to shopping, there's plenty in the China Pavilion. First, Good Fortune Gifts sits on the lagoon side of the pavilion.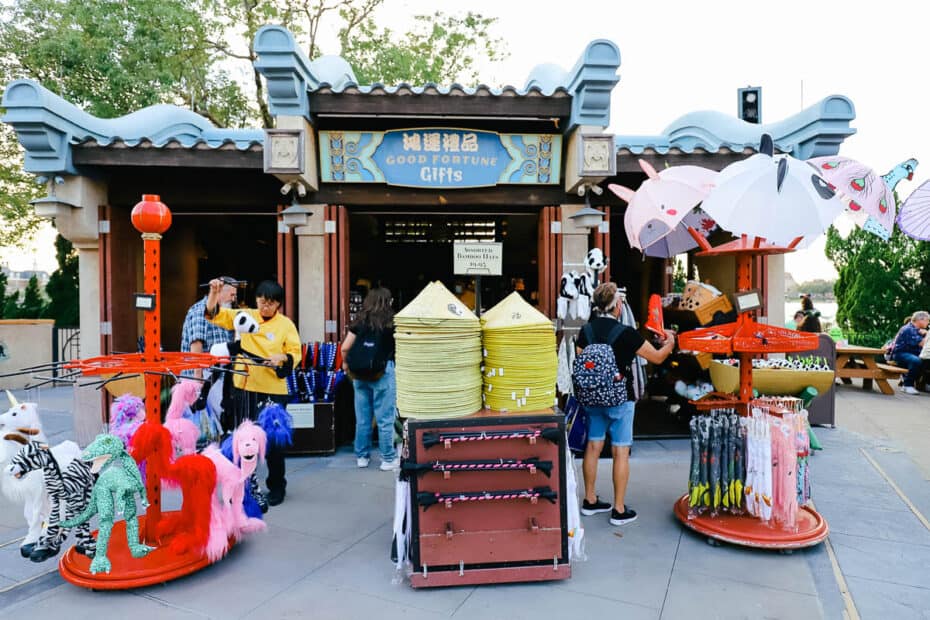 They have several displays set up along the walkway. One features vibrant umbrellas.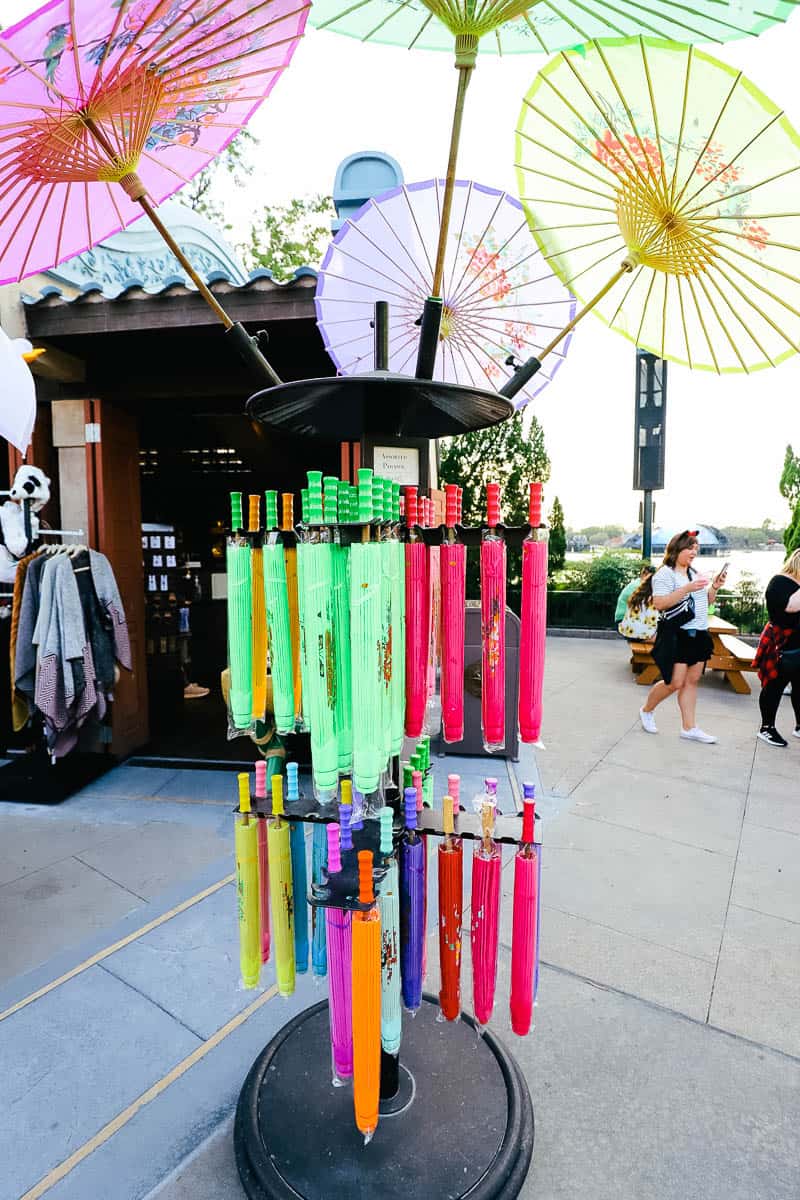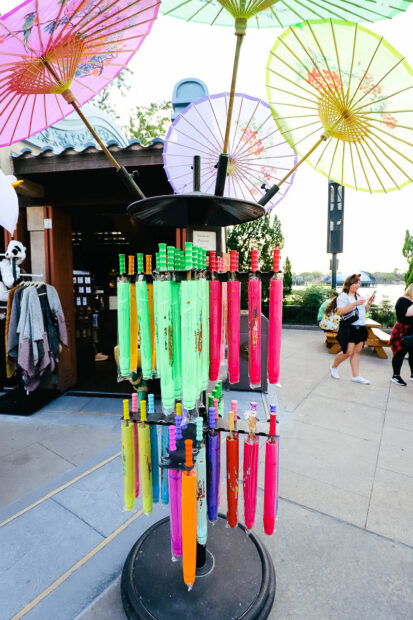 Bamboo hats are available.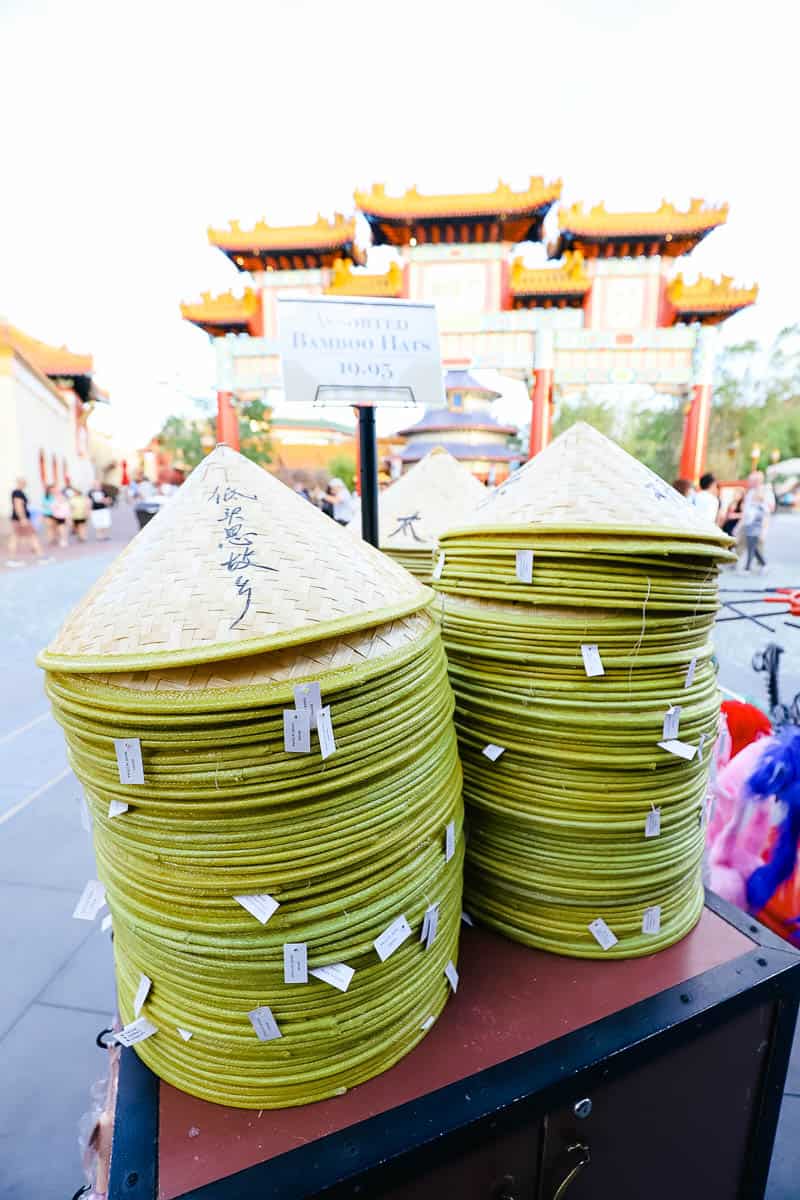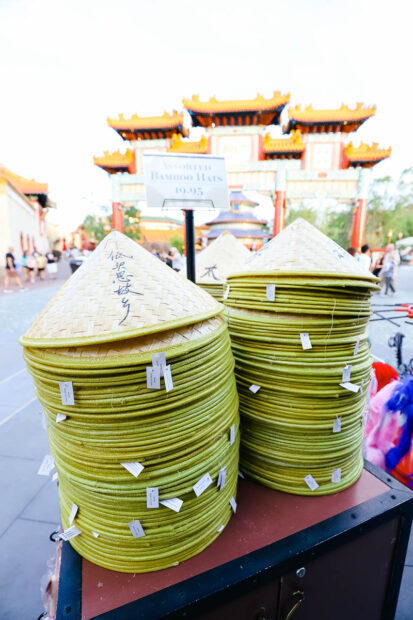 I wouldn't be surprised if these marionette-style puppets are the most popular. Someone's always trying to maneuver one.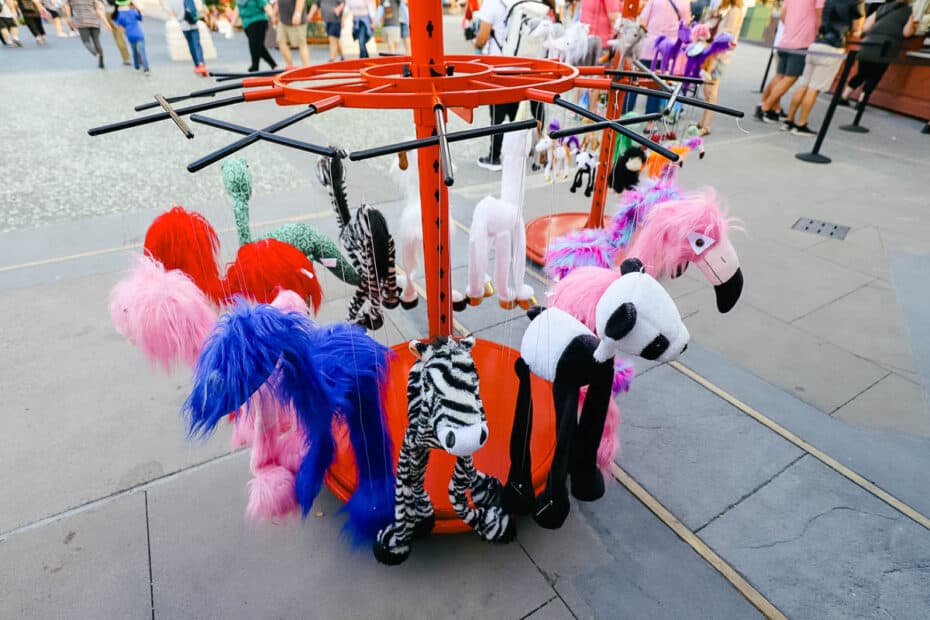 There's something for everyone, including those adorable plush bunnies.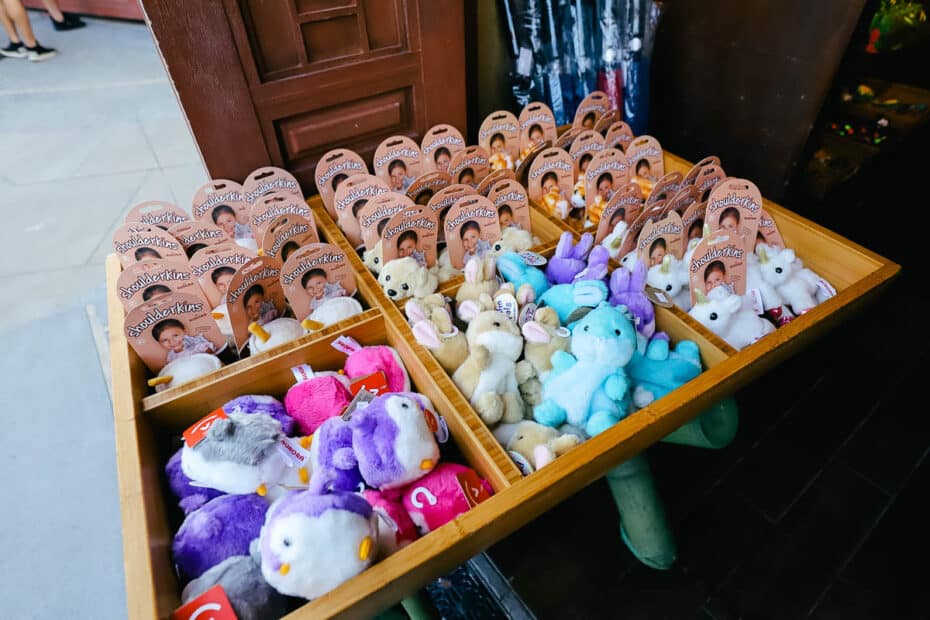 Inside, you'll find a smaller scale of items in the House of Good Fortune.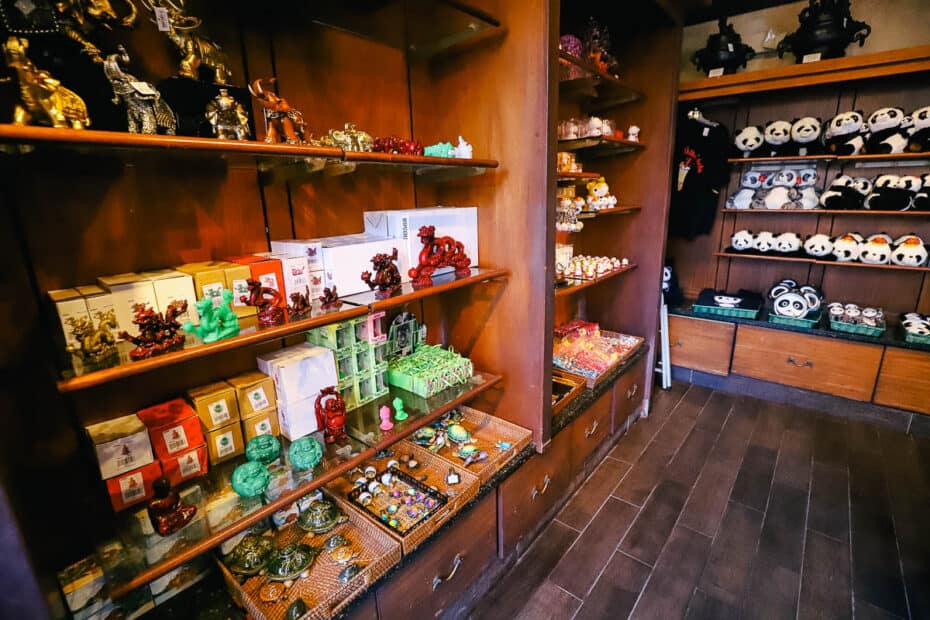 The House of Good Fortune takes up the majority of the back of the pavilion. This store is similar to the Mitsukoshi department store in the Japan Pavilion.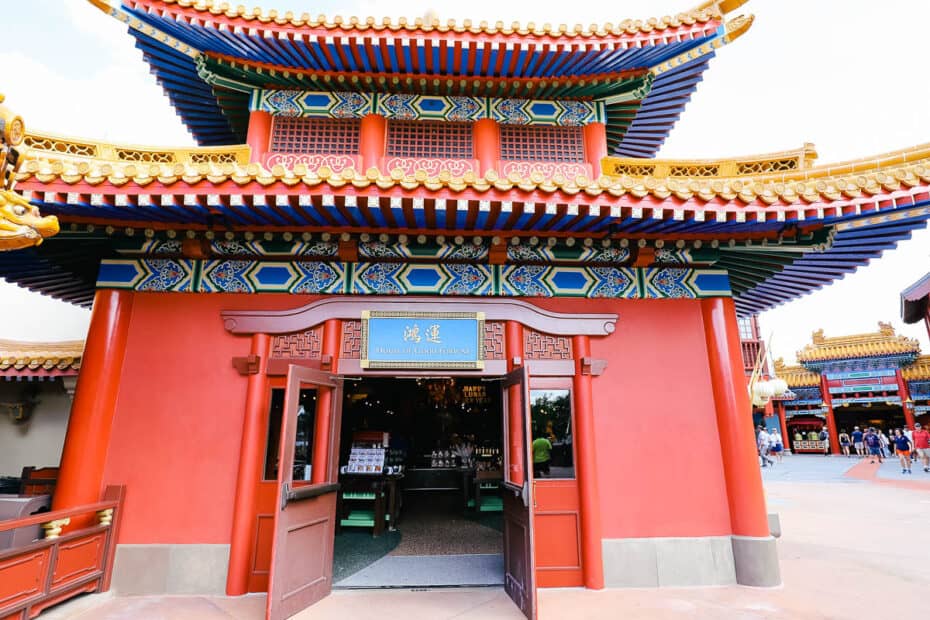 You could spend hours browsing.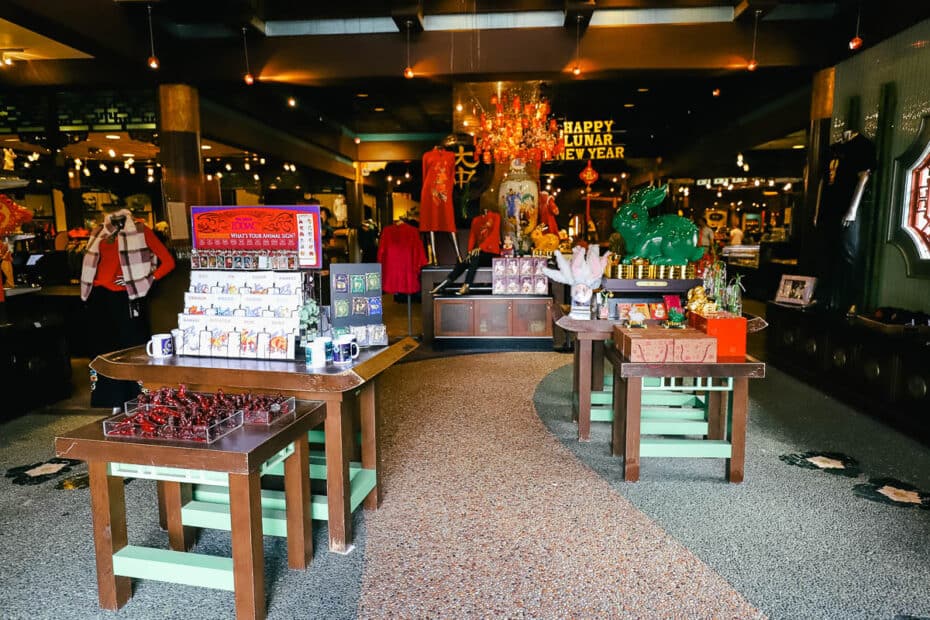 Toward the front of the store, there's a display with a photo spot for the Lunar New Year.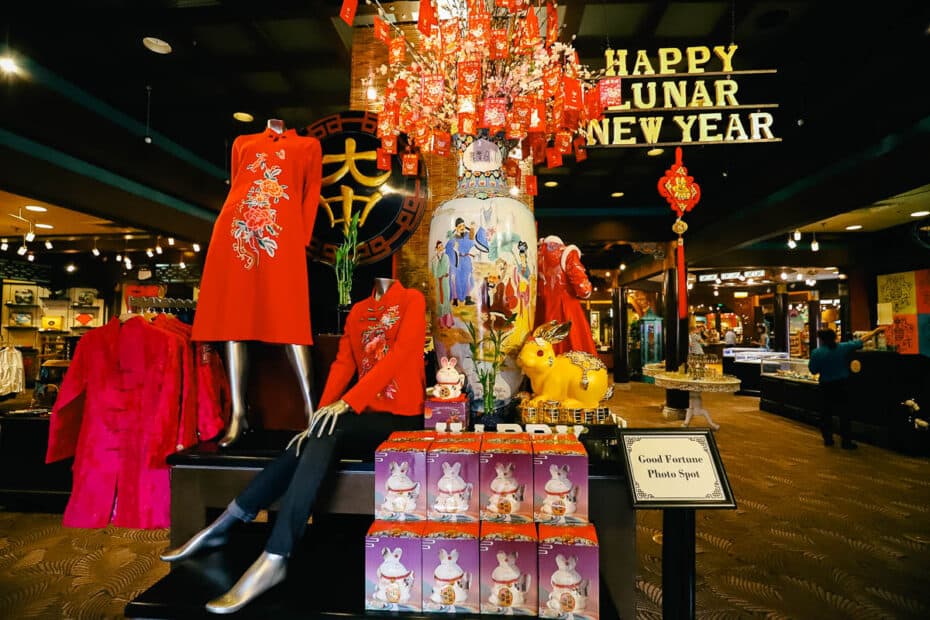 Around the corner, an entire section of the store is dedicated to jewelry.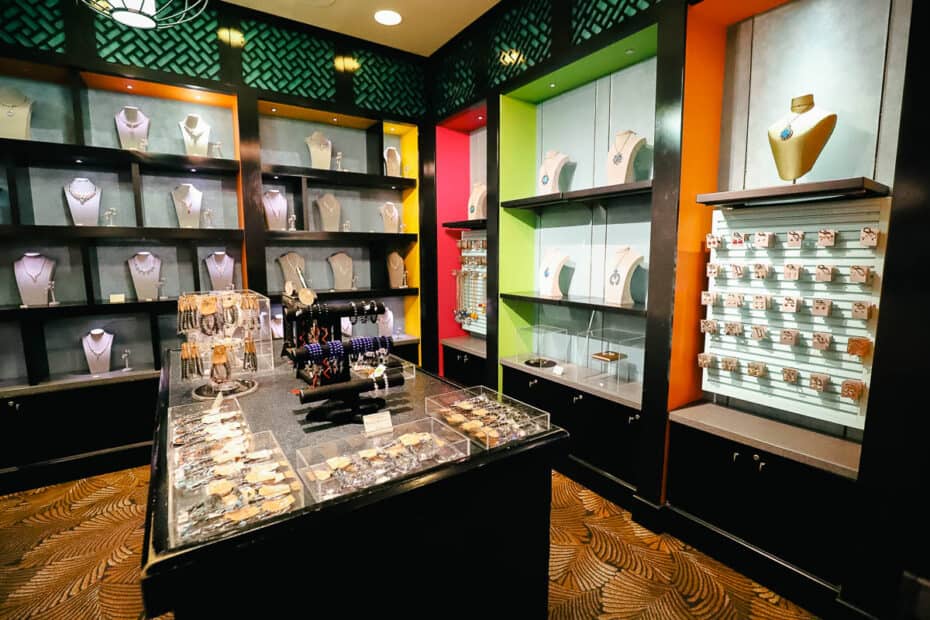 Here are a few decorative hair pieces.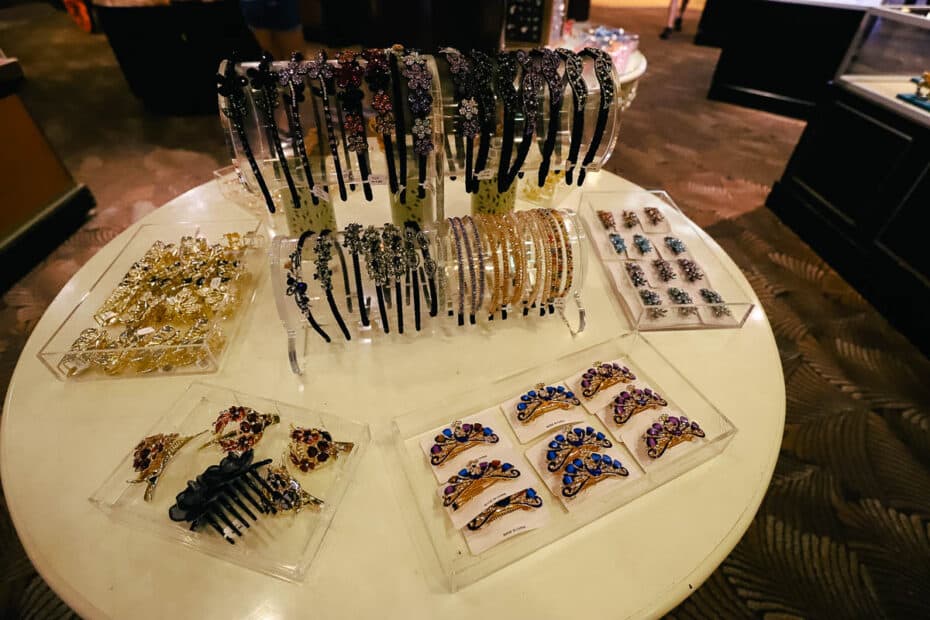 Here's a photo of one of the jewelry cases.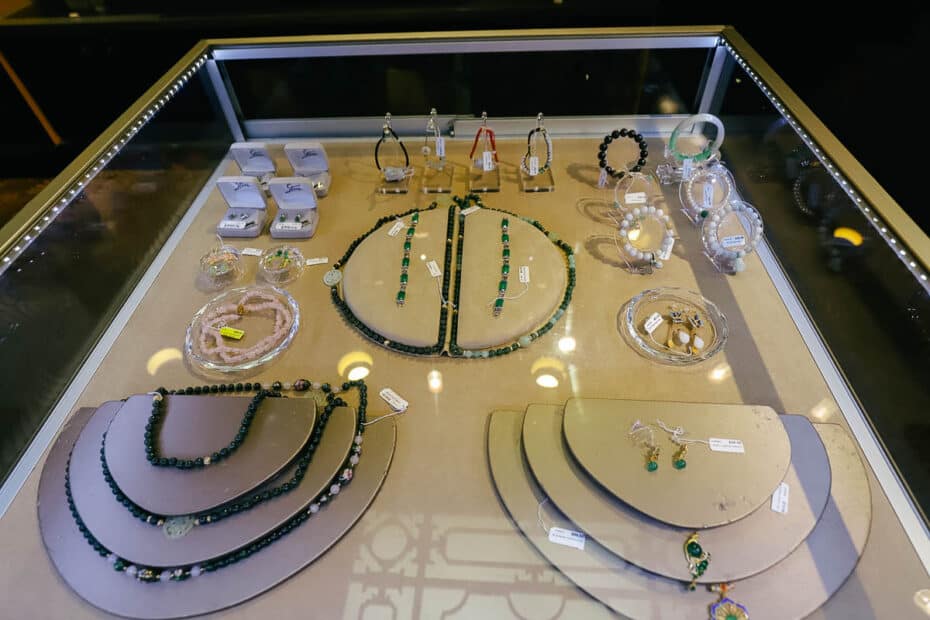 If you love waving cats, there are usually hundreds to choose from.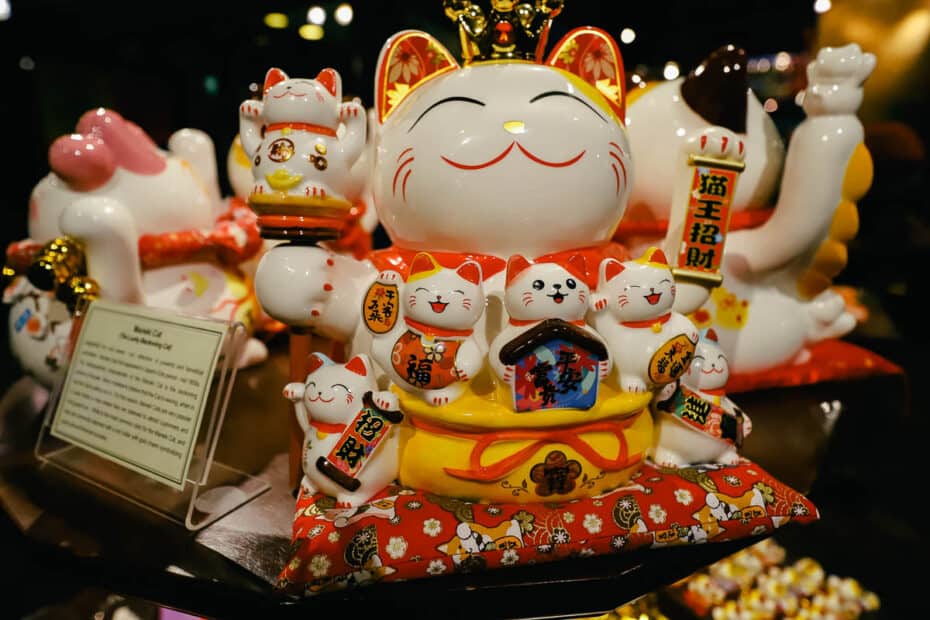 Actually, they are beckoning cats. One of the edutainment aspects of the House of Good Fortune is the information provided on many displays. I always thought the cat was waving, but it's calling you to it.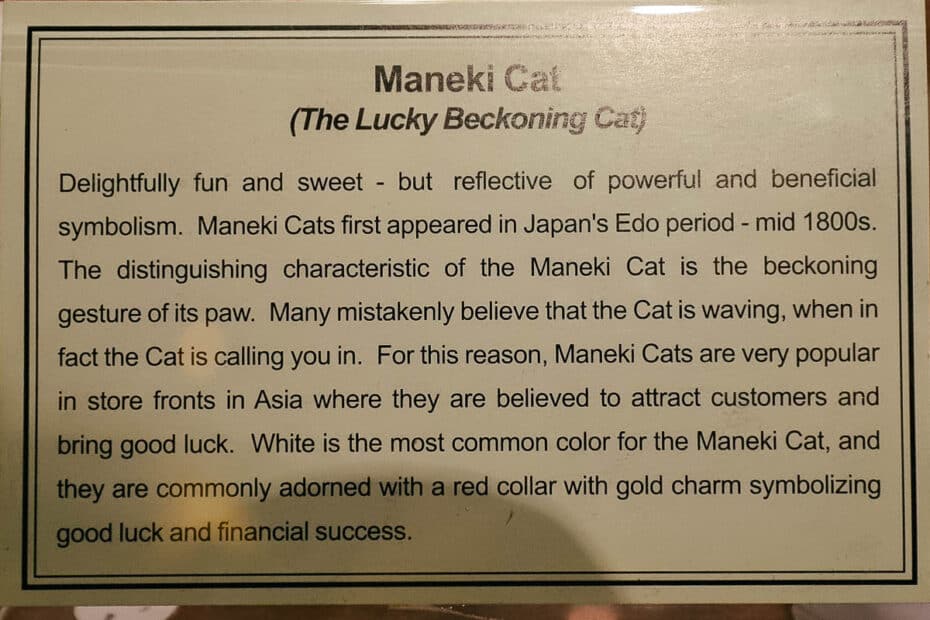 Here are a few odds and ends.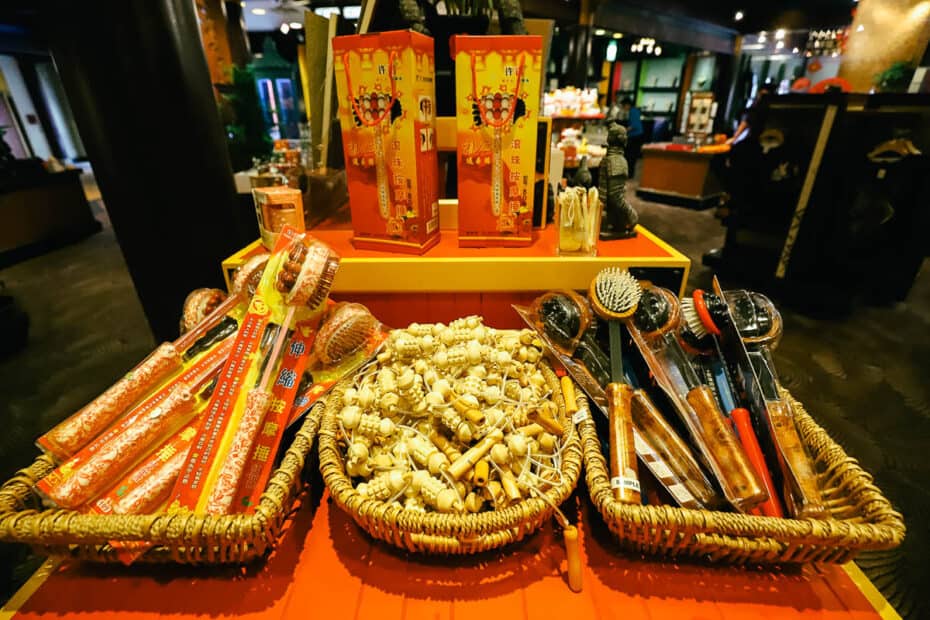 If you have a potential sword collector in the group, you might want to skip this store.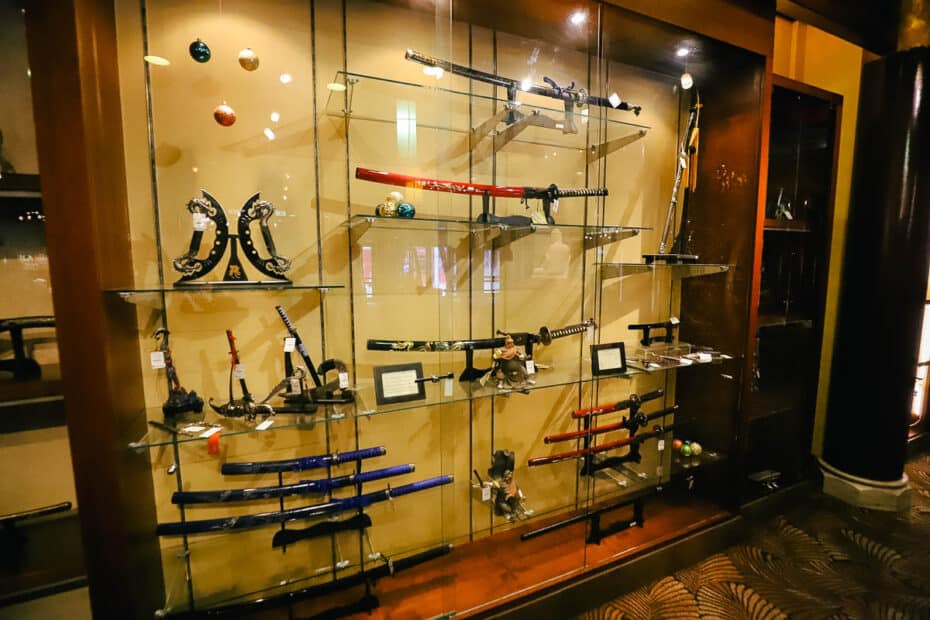 Some of them are expensive.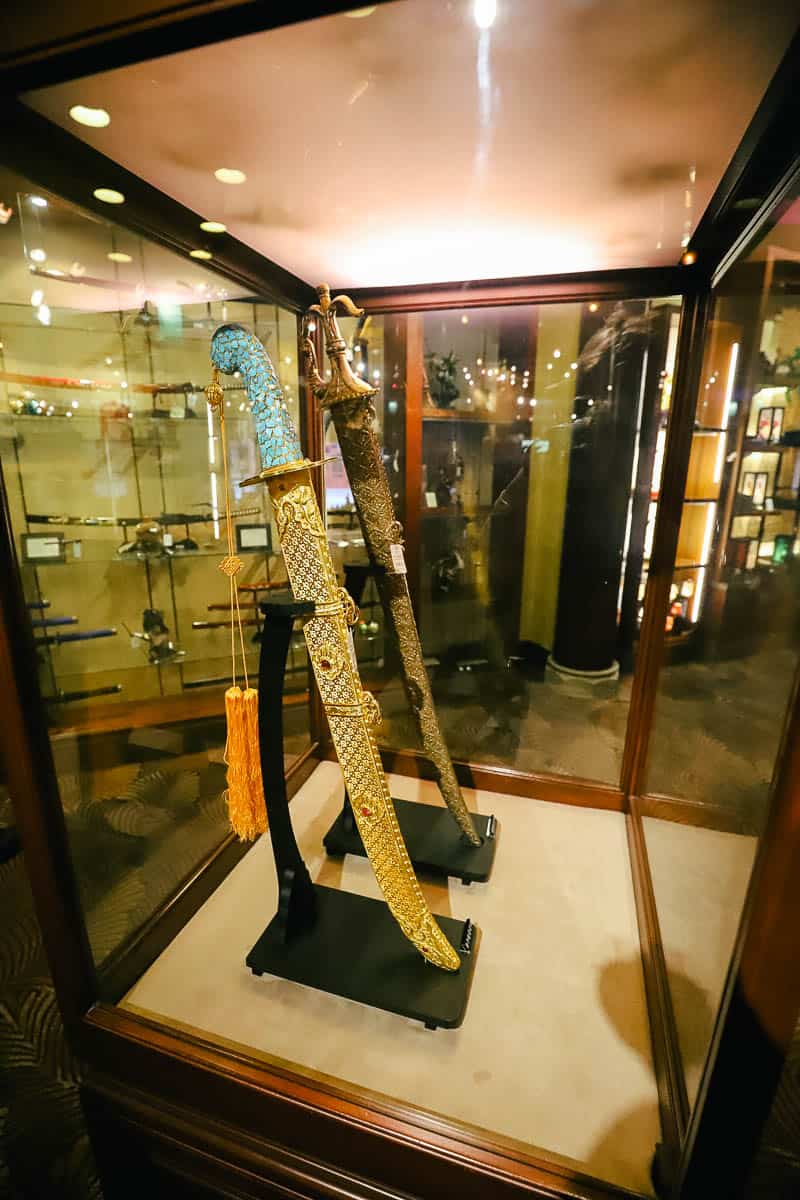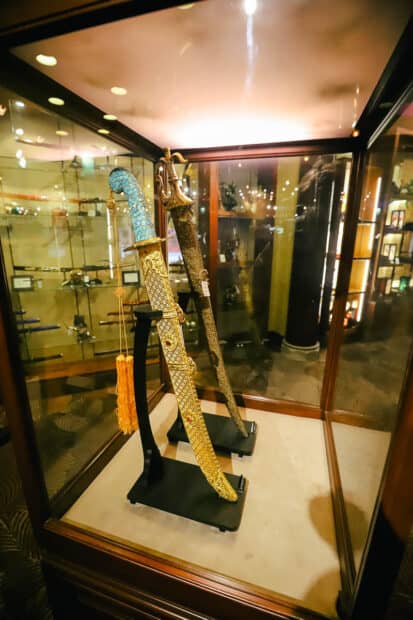 You'll find anything from housewares to toys and everything else in between.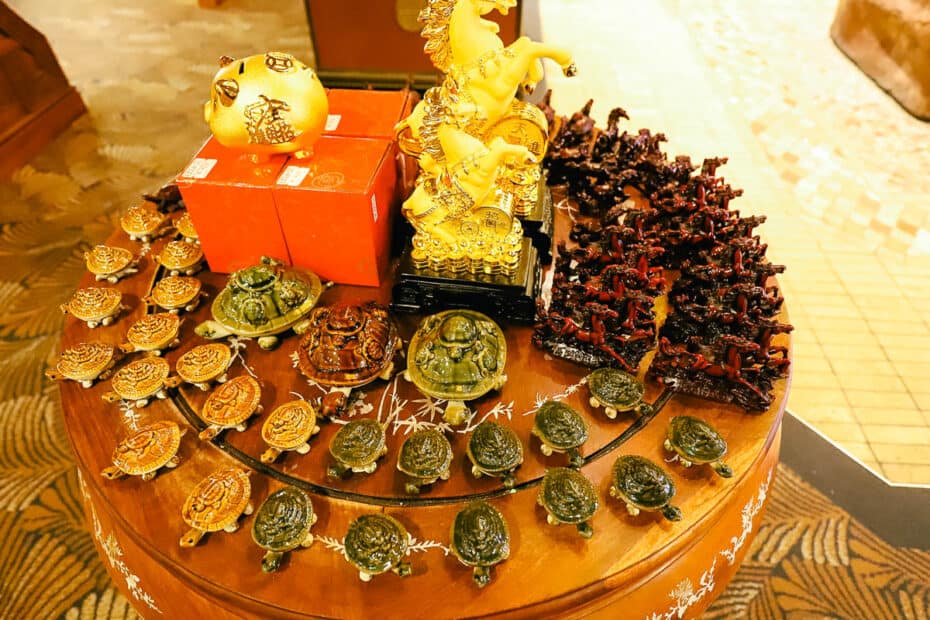 There's an abundance of plush.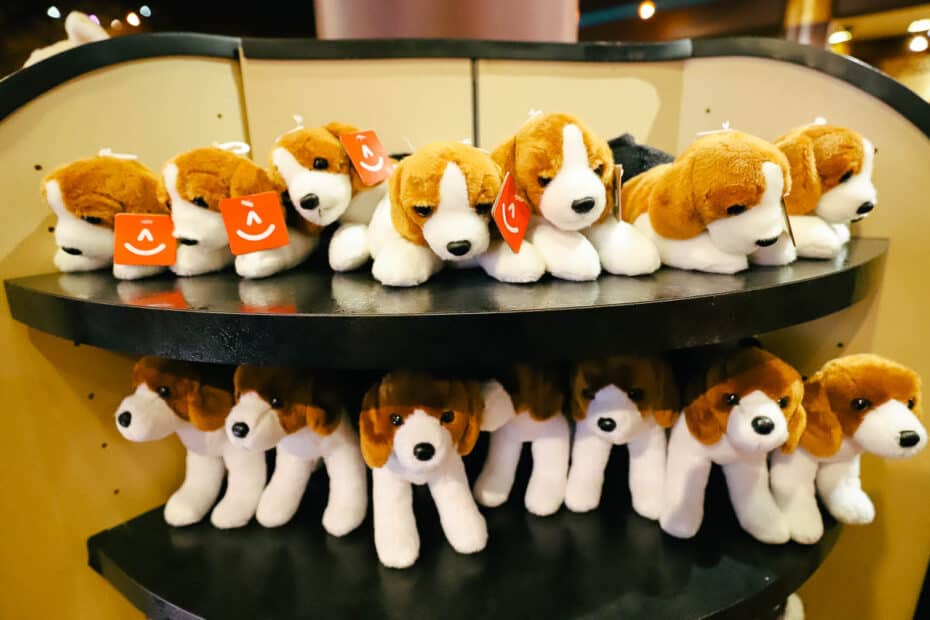 Be warned, many of these items are irresistible to children. Okay, I like the plush stuff, too.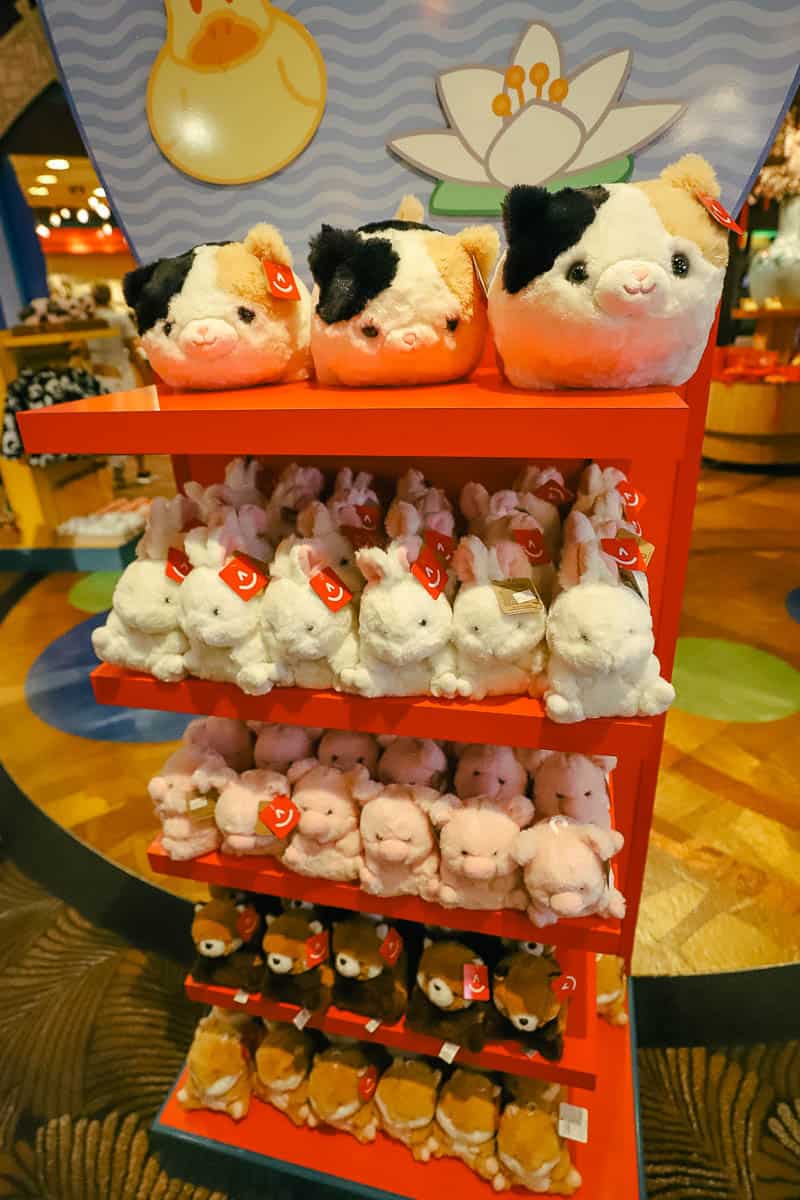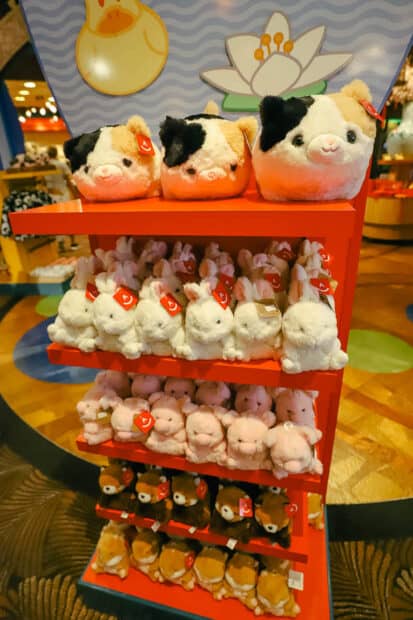 Anyone who enjoys Chinese snacks will appreciate the selection of items toward the back of the store.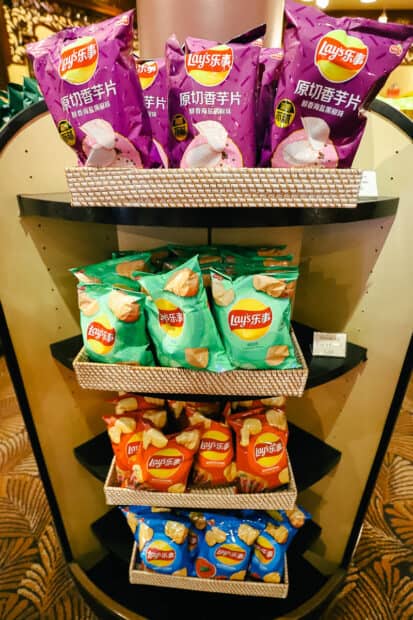 Here we have a wall with various teas, including Oolong tea.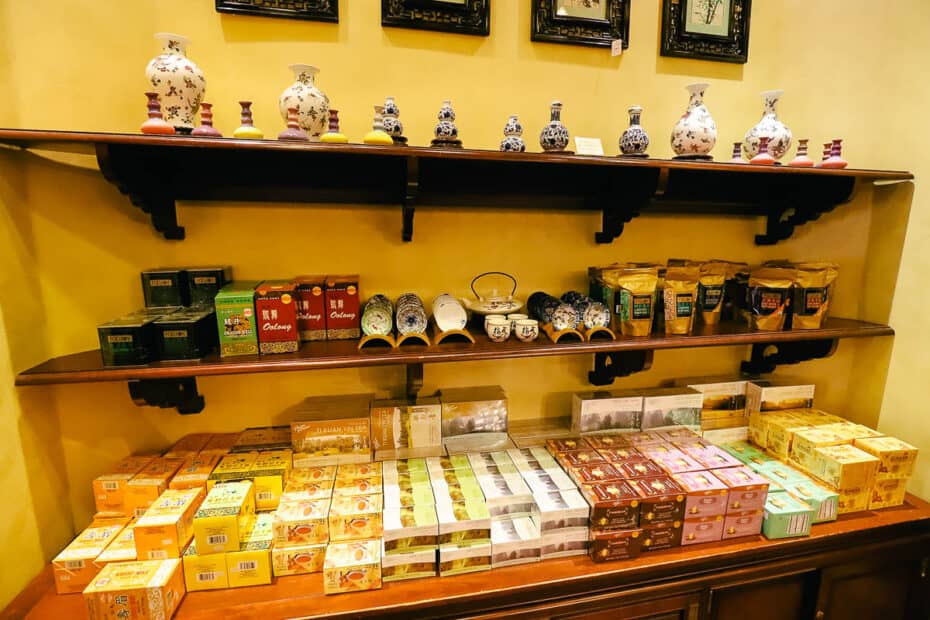 Here are a few more snacks, including ginger chews.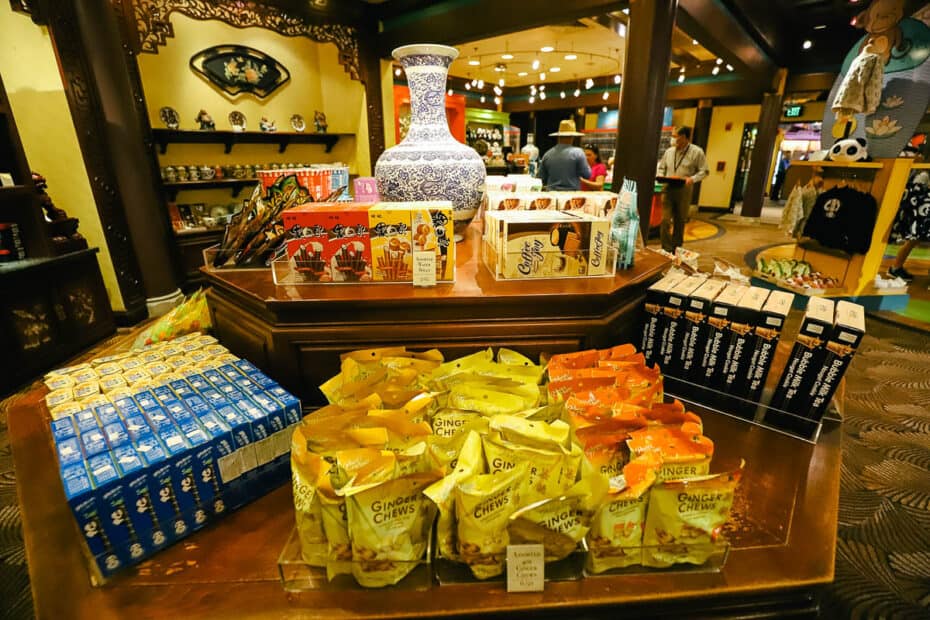 Along the back wall, there's a display featuring chopsticks by name.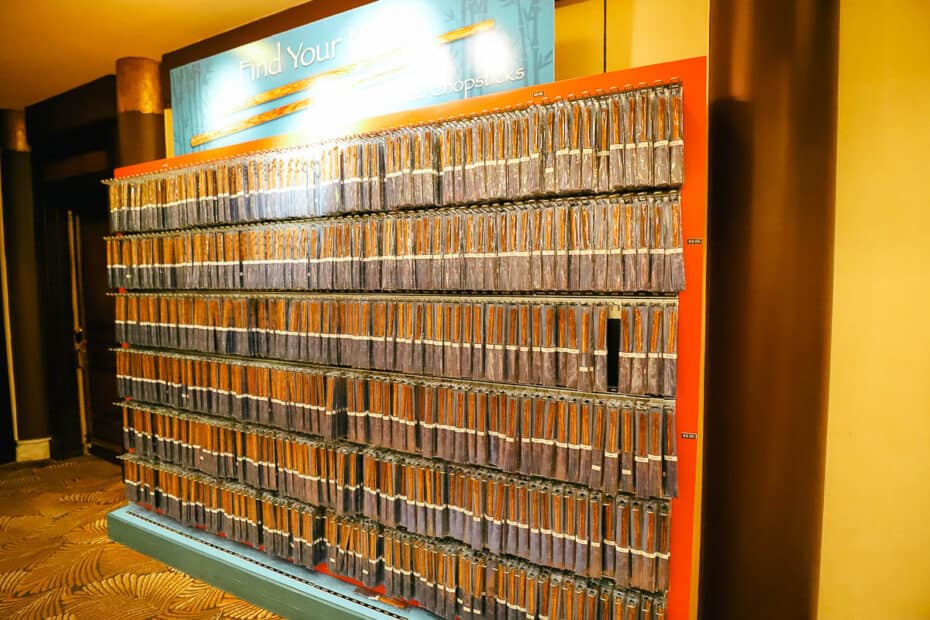 This area is also home to a plethora of Panda merchandise. Pandas are significant to Chinese culture, and I believe that purchasing some of these items helps support the Panda's preservation efforts.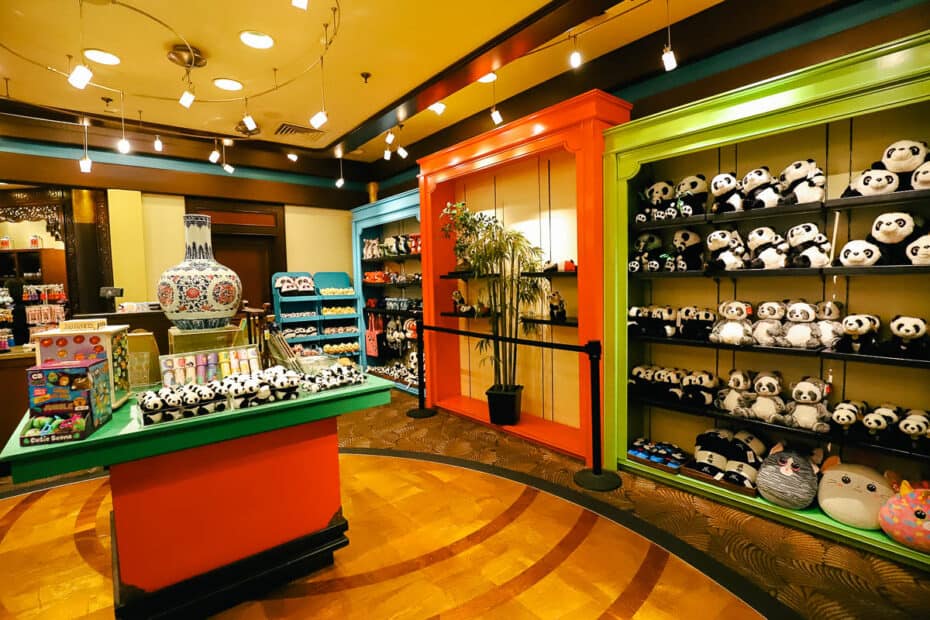 The House of Good Fortune has several entrances and exits. But at the very back, the store continues into a partially indoor/outdoor space. This area meets the exit for Reflections of China.
Those who wander this far back might be rewarded by finding this beverage case. There are several fun Asian sodas and other beverages available.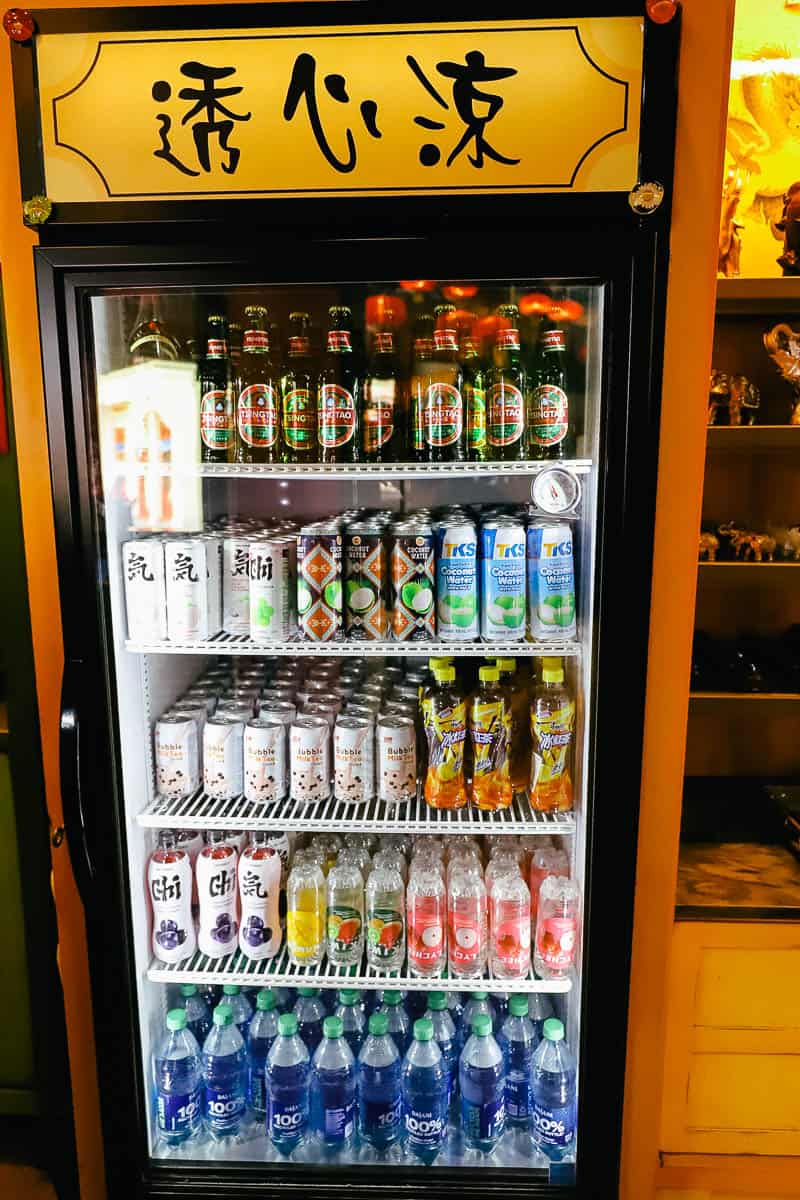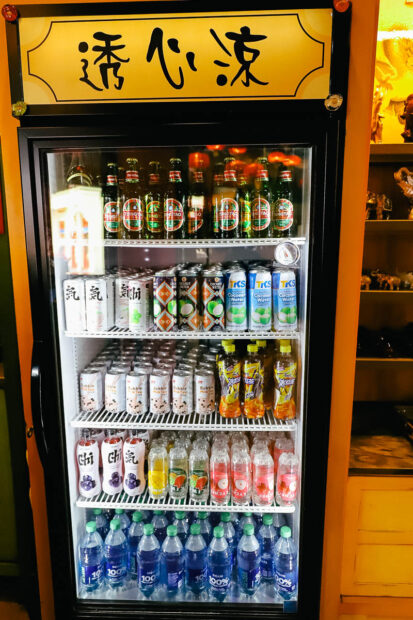 This is also where you can purchase a glass of plum wine, a ByeJoe shot, and Tsingtao.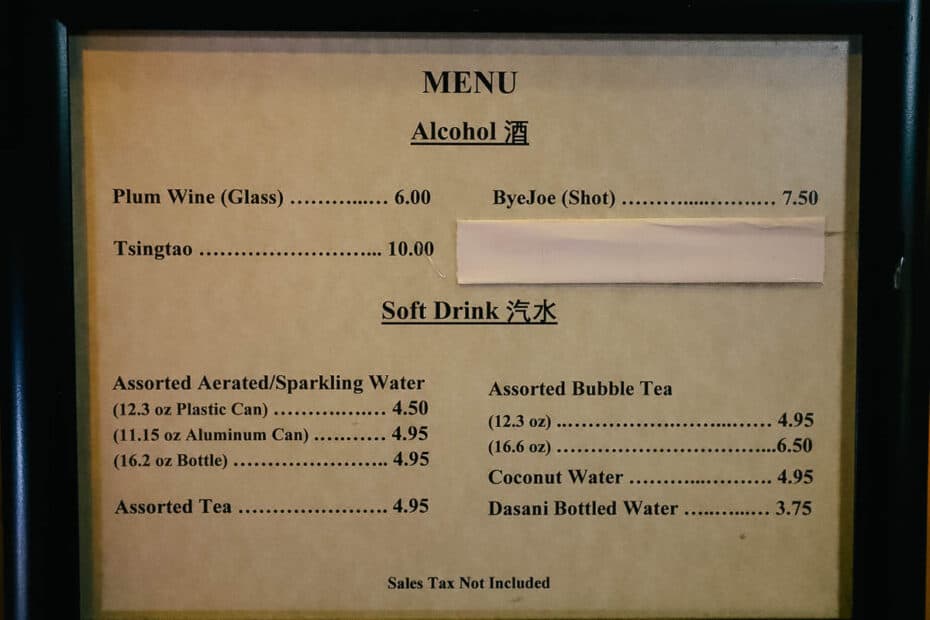 We like to get one of the assorted flavor aerated drinks in a can. Unfortunately, like many things, they've nearly doubled in price this last year.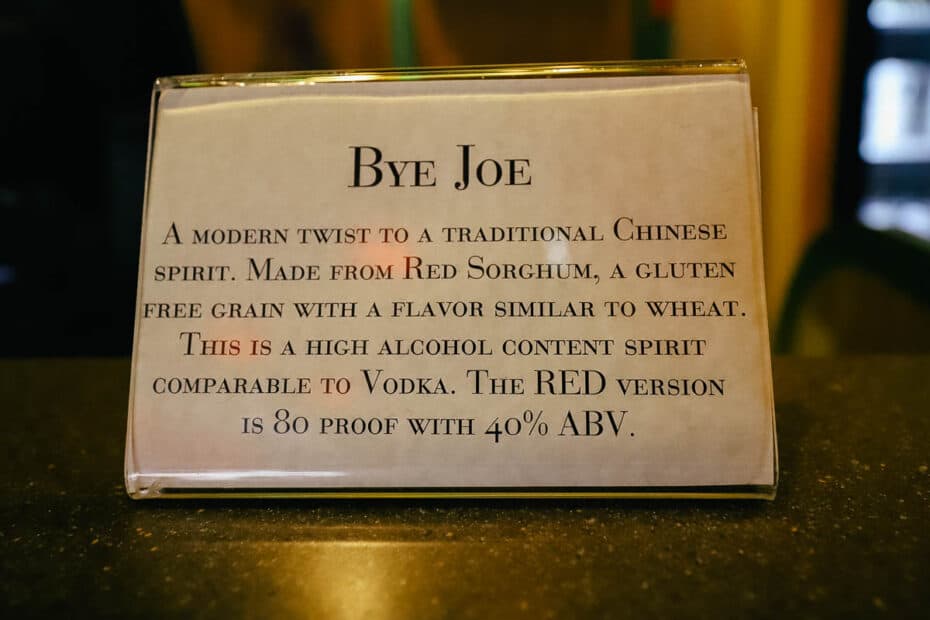 Kidcot in China
China has a Kidcot Fun Stop location inside the temple.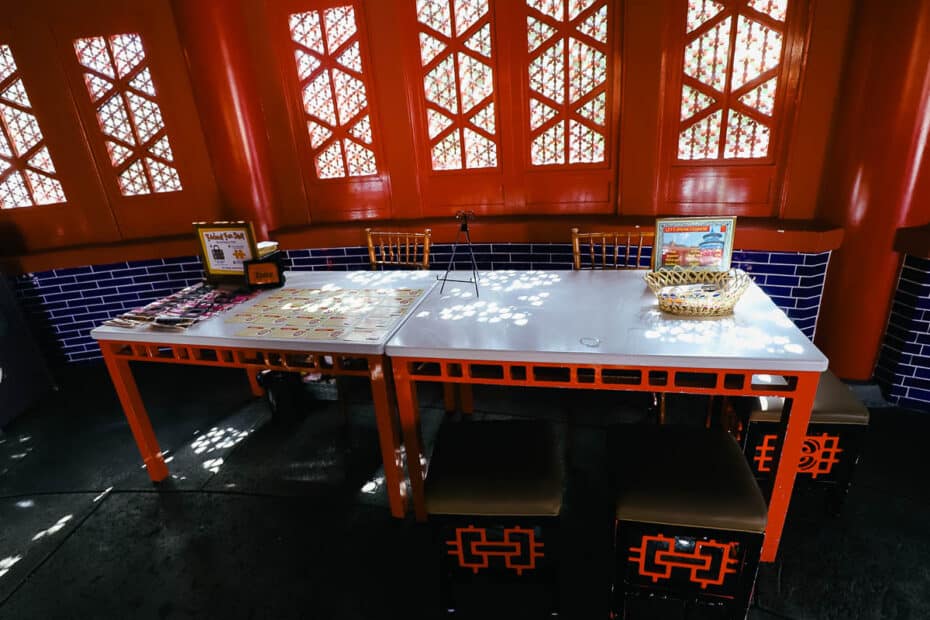 Here is a closer look.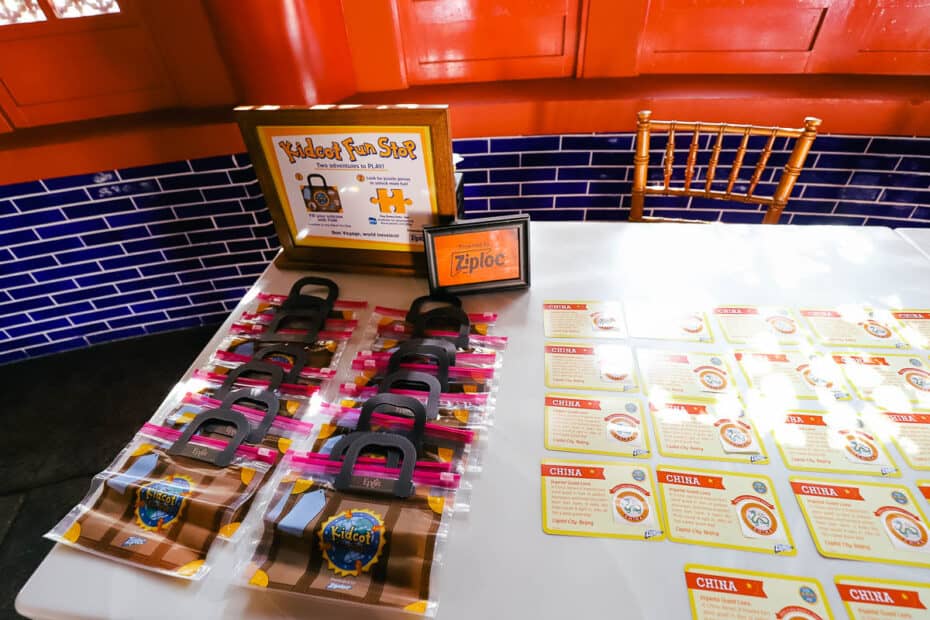 It's a great way to get children to explore the World Showcase.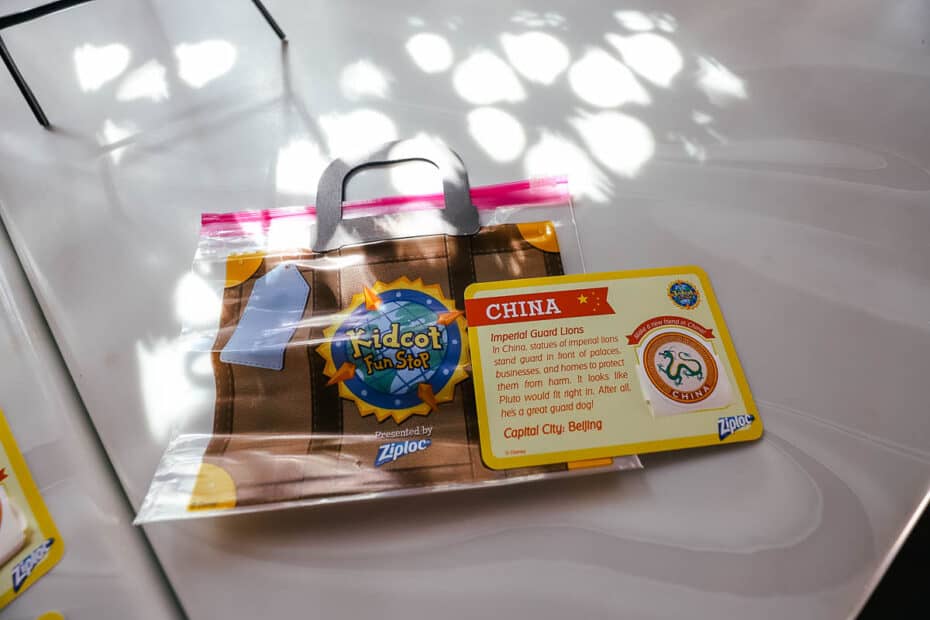 Souvenir Pressed Pennies
Lastly, I noticed several Disney Souvenir Pennies machines in the pavilion.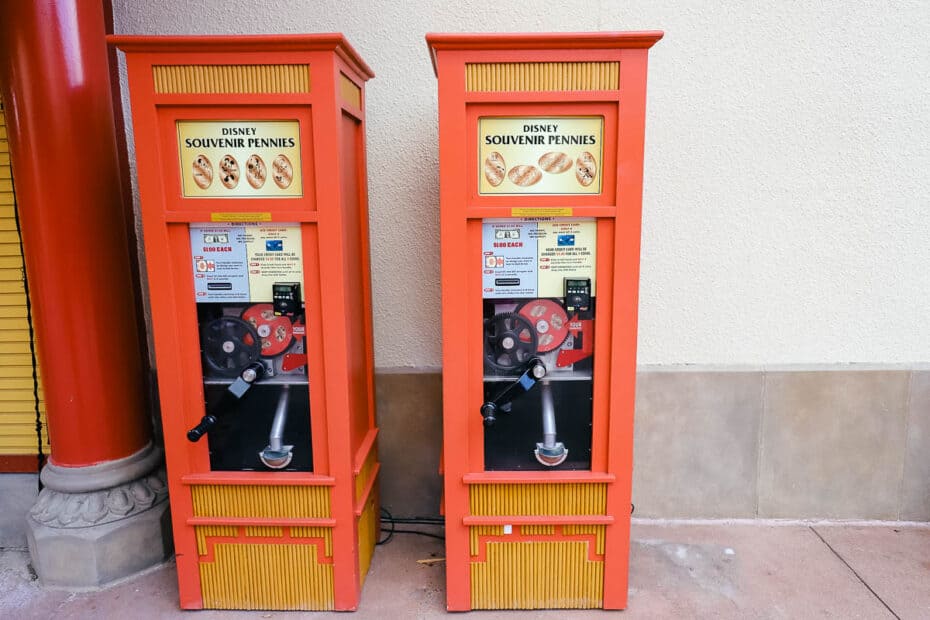 Here are the details. While each penny is now $1.00, the machine does provide the penny.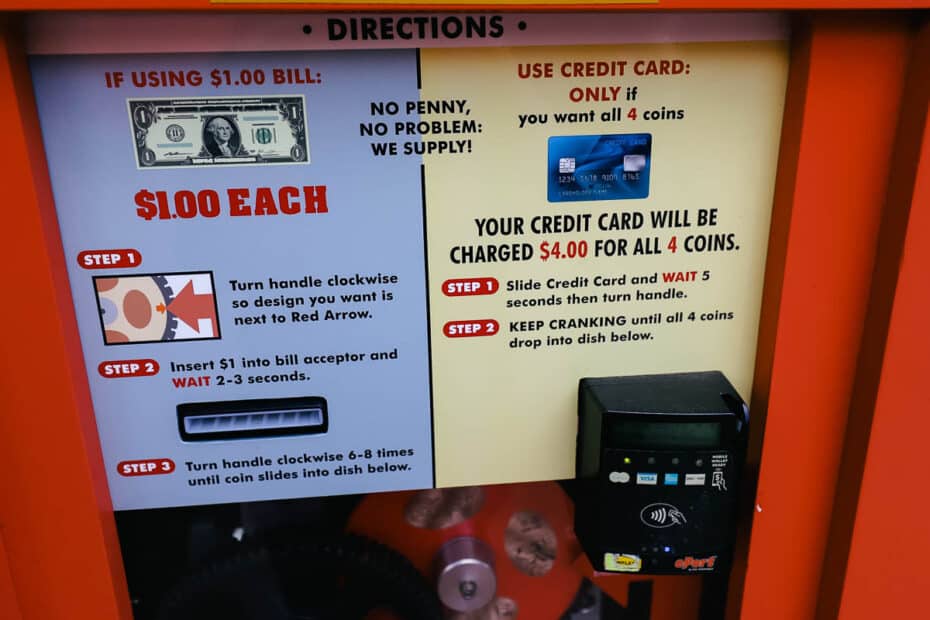 One machine had the following options.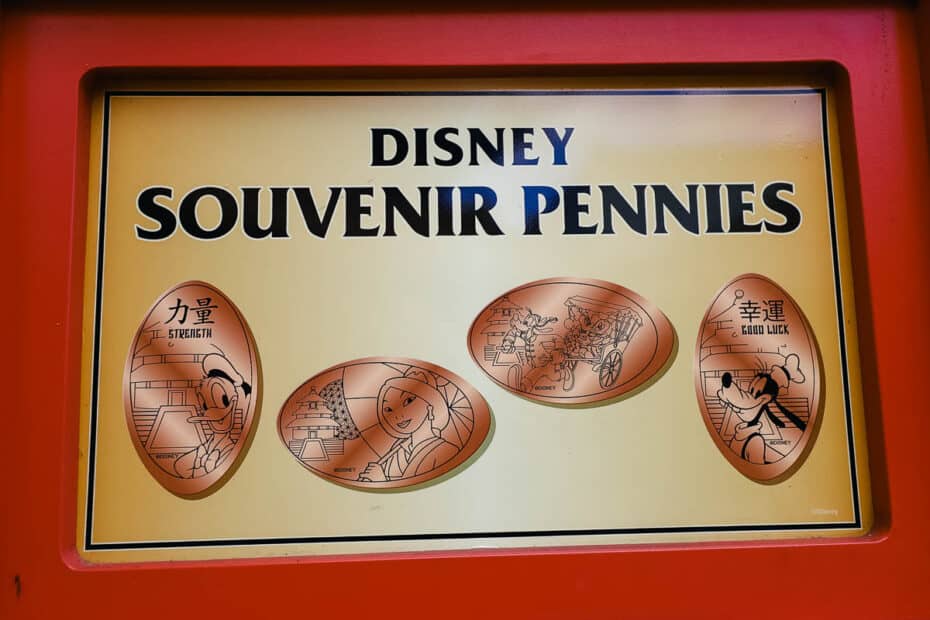 And here are the options that were available on the day of my visit.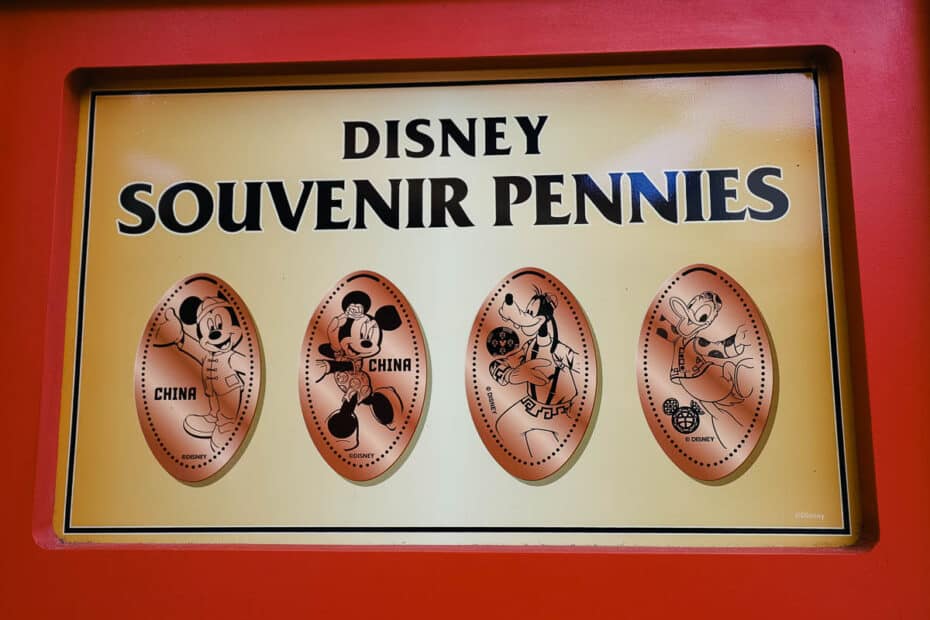 Final Thoughts
Hopefully, you enjoyed our visit to Epcot's China Pavilion. Whether grabbing a Chinese soda, taking a break in the gardens, or browsing the fun merchandise, there are quite a few reasons to spend time here.
We always enjoy our time in this little piece of the World Showcase.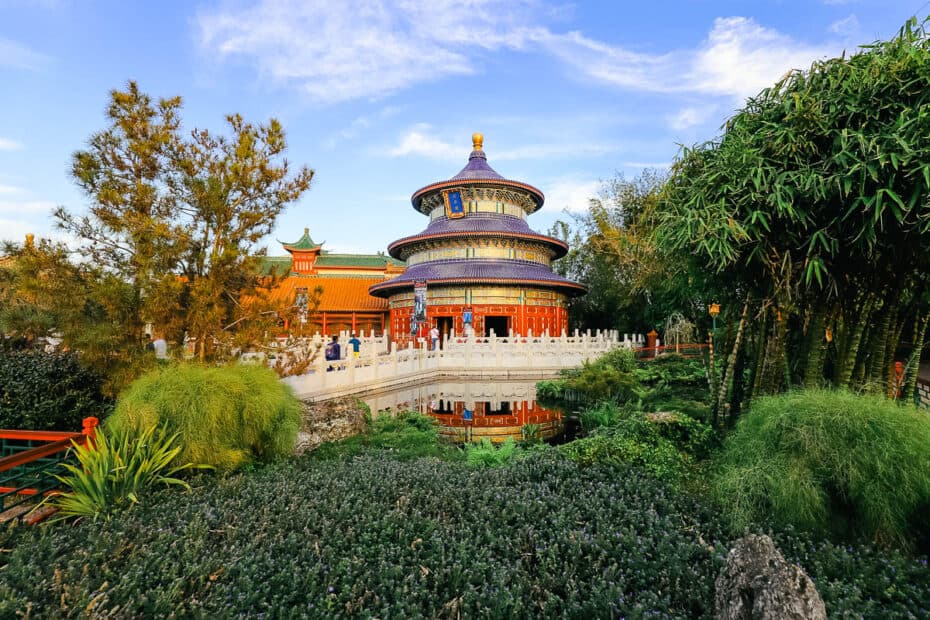 If you are interested in other countries in the World Showcase, you might also enjoy these reviews:
Related: List of Attractions at Epcot
Resorts Gal focuses on coverage of the Walt Disney World Resorts. You might enjoy learning more about these hotels near Epcot:
In the Comments
What do you think of the China Pavilion? Do you enjoy exploring the World Showcase?