Epcot's International Festival of the Holidays
Almost every season, you'll find a different festival at Epcot. The holiday season is no exception, and the park offers the Epcot International Festival of the Holidays.
Below you'll find an overview of Epcot's International Festival of the Holidays. Festival dates for this year are November 25, 2022 through December 31, 2022.
We'll provide updates for this year's Festival when it returns. In the meantime, you may enjoy browsing the 2022 Epcot International Food and Wine Festival Guide.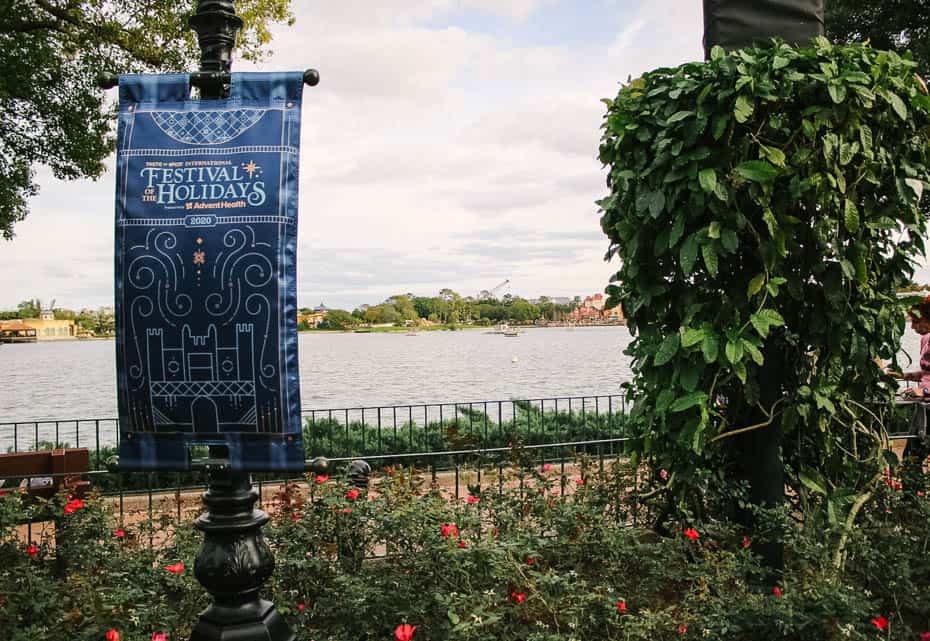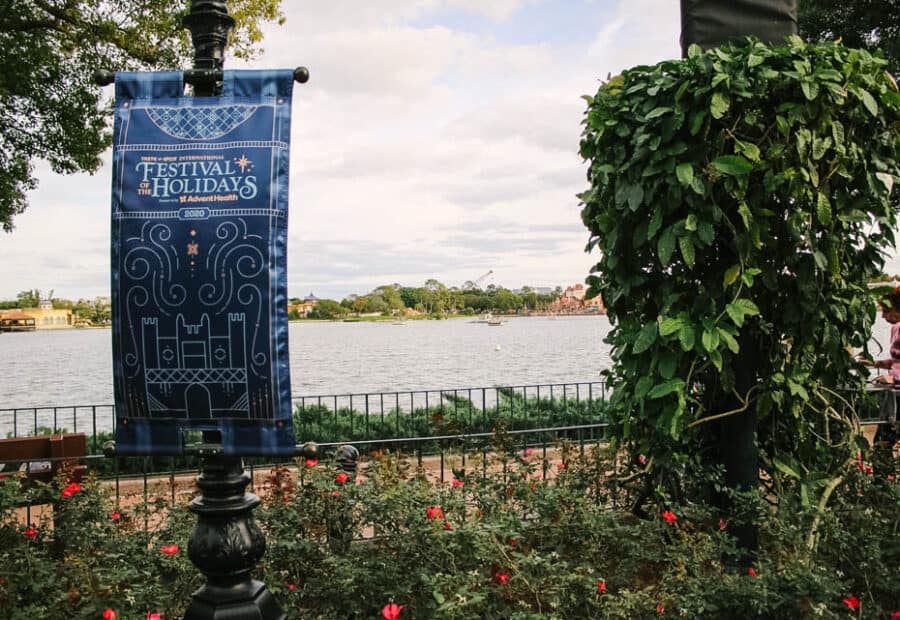 Since it's always good to plan a Disney vacation, you can use this guide to get an idea of what to expect at Epcot's Festival of the Holidays. These festivals offer some nuances every year, but they are mostly the same overall.
So with those thoughts in mind, we'll look at the Festival of the Holidays kitchens, menus, and entertainment offerings.
Festival of the Holidays at Epcot
There are several stands with the daily time guide and other park brochures when you visit Epcot. In addition, you will want to stop here during any of the festivals to pick up a festival passport.
Here is a photo of mine.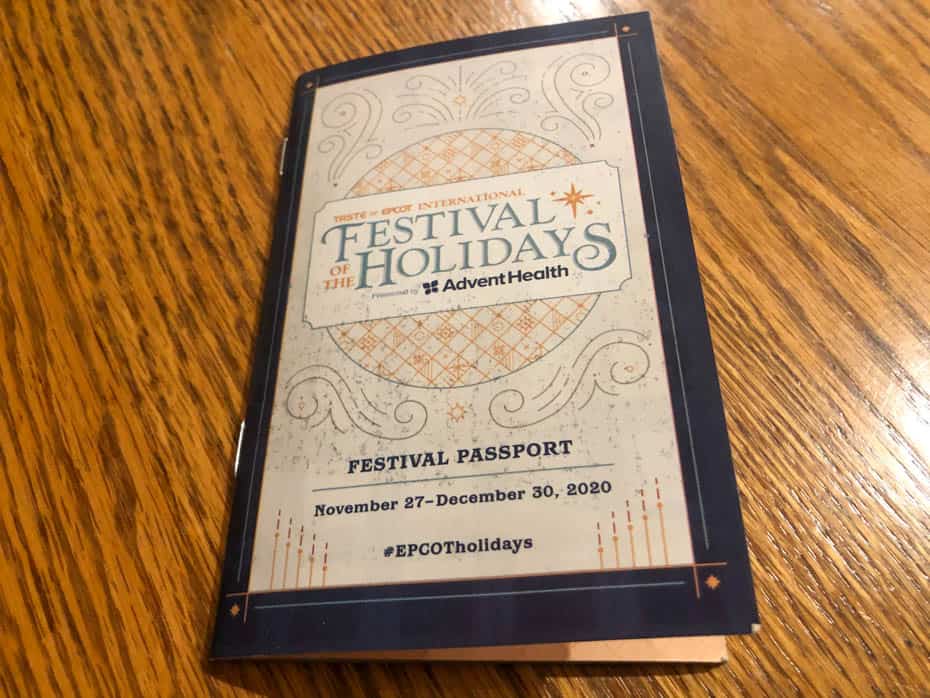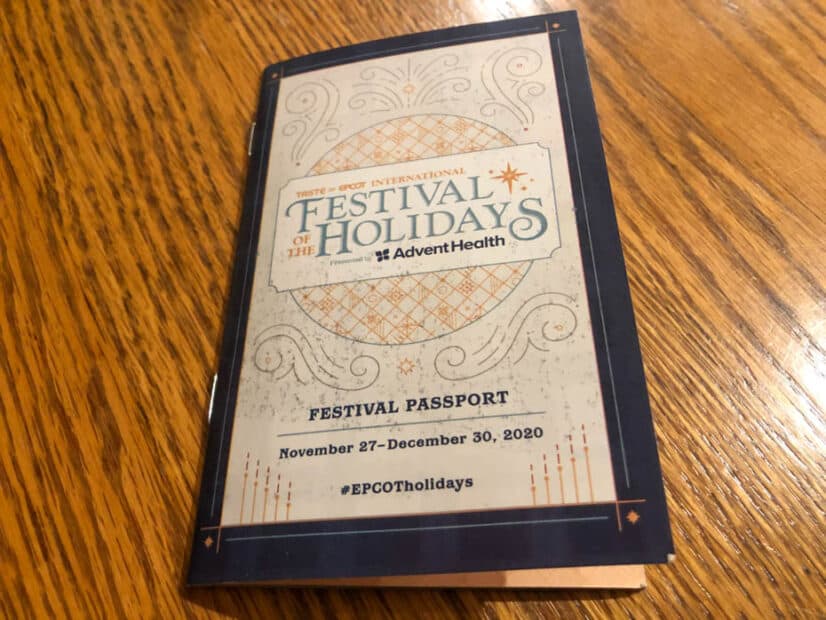 This little book is an invaluable tool for touring the Festival of the Holidays. It will have an overview toward the front of the essential items.
There will be a mention of things that will be fun for children and adults alike to participate in at the Festival. Most of these passports also have a cuisine key that indicates items in the different kitchens that are:
Plant-Based
Gluten Friendly
Kid Approved (sometimes)
Cookie Stroll (specific to the Festival of the Holidays)
Festival Passports include entertainment that might be available during your visit. Lastly, there will be some mention of where you can pick up festival-specific merchandise at Epcot.
For the sake of this Festival of the Holidays tour, we'll begin at Epcot's International Gateway. The Gateway is the entrance where the Disney Skyliner drops guests off. Additionally, guests of the Epcot Resorts area enter the park via Friendship Boats or walking.
Related: Disney Skyliner Resorts with Travel Times
Festival of the Holiday's Scavenger Hunt
After you enter the park, you're met with a sign for the available holiday scavenger hunt. You can purchase the map inside World Traveler and at several other stores within Epcot.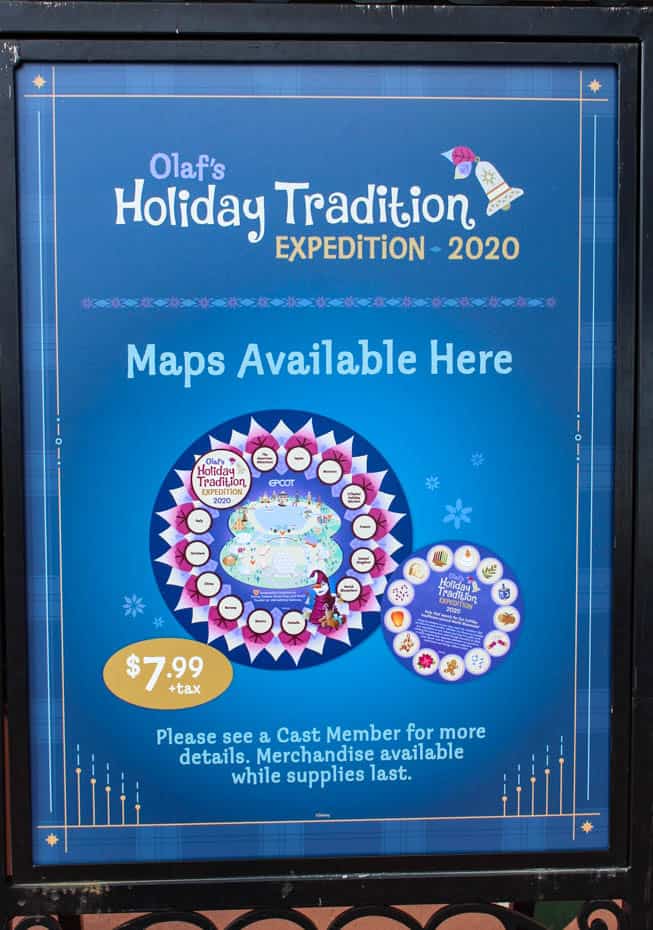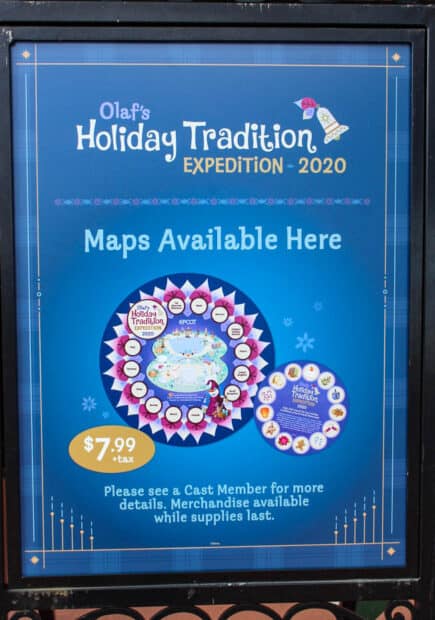 Here is a photo of mine.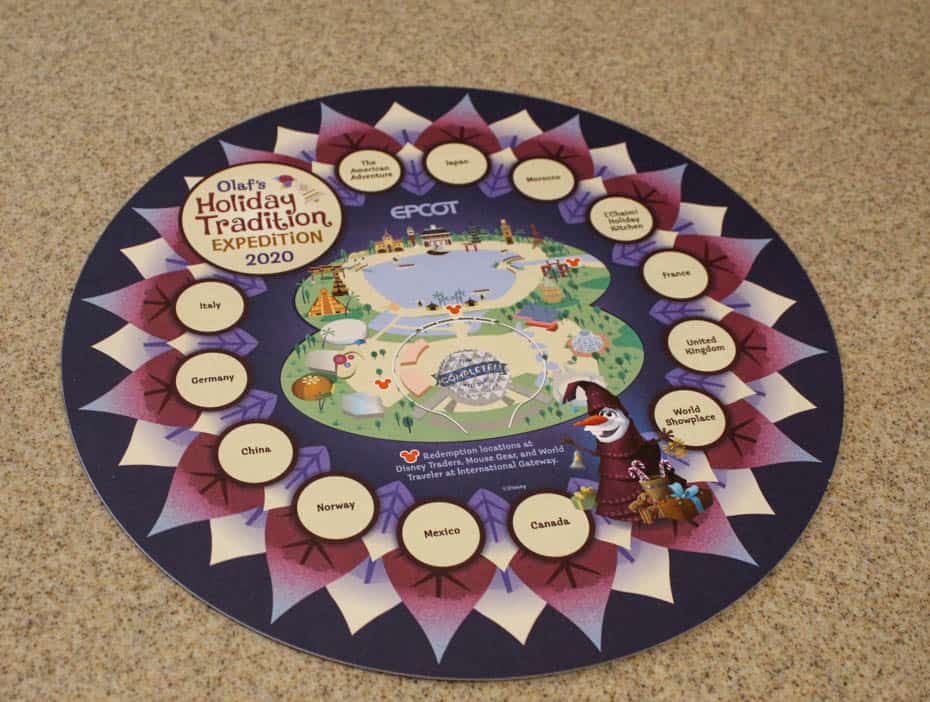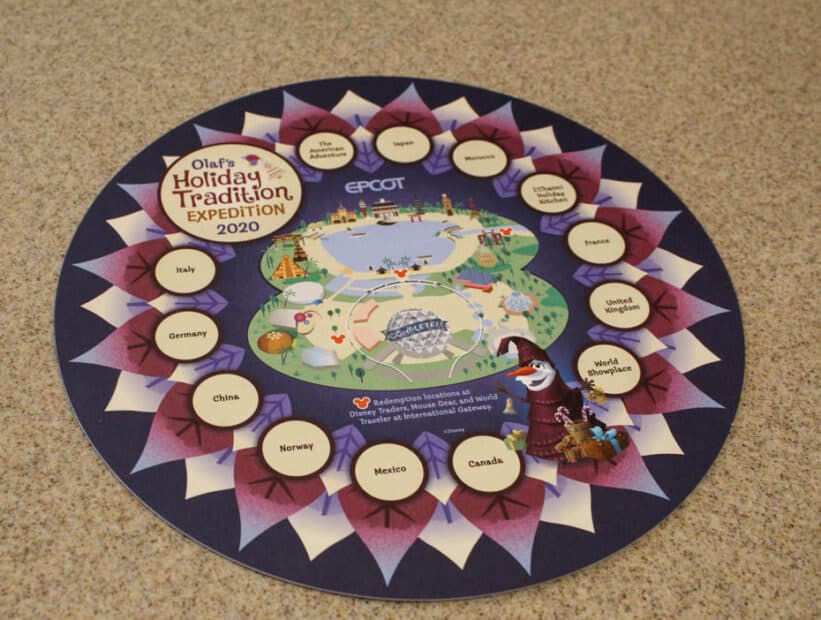 These cost $7.99, and they are reasonable enough to purchase one for each child or adult in your party. This year's scavenger hunt is fun. I liked that the stickers are on the opposite side instead of keeping up with a separate sheet.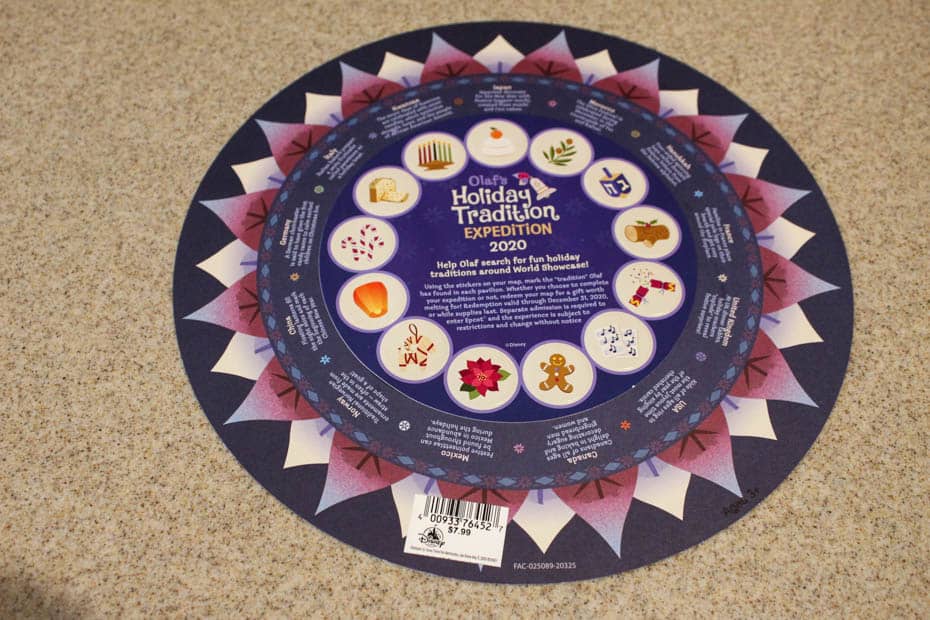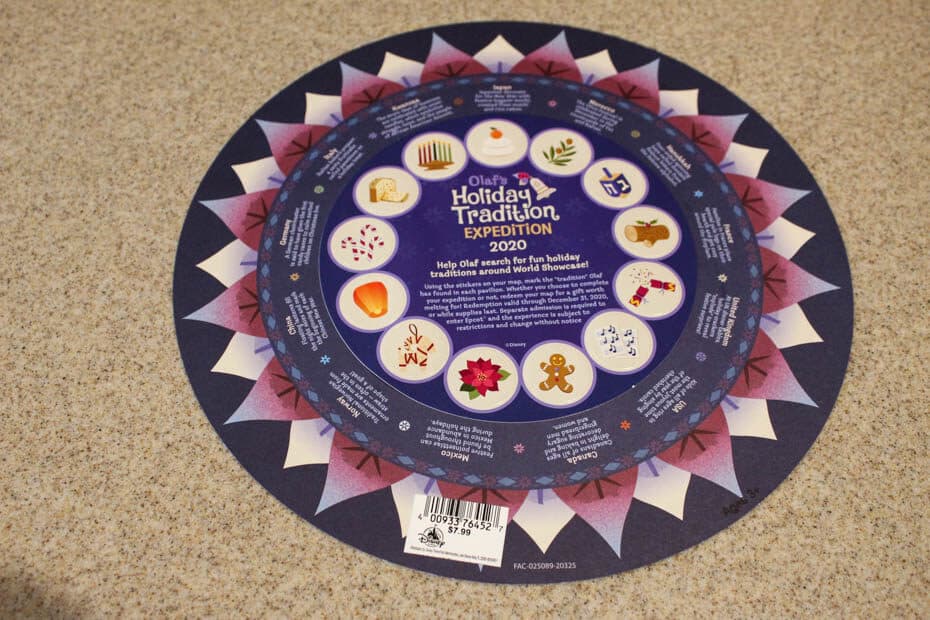 Once you finish the scavenger hunt, you can revisit any of the stores in the park and pick up a prize. However, I recommend having the cast member mark your maps and take your reward at the time of purchase. You're liable to forget to pick them up later.
This year there was a choice between three different cups. And since I have three family members that enjoy these kinds of things, we ended up with all three.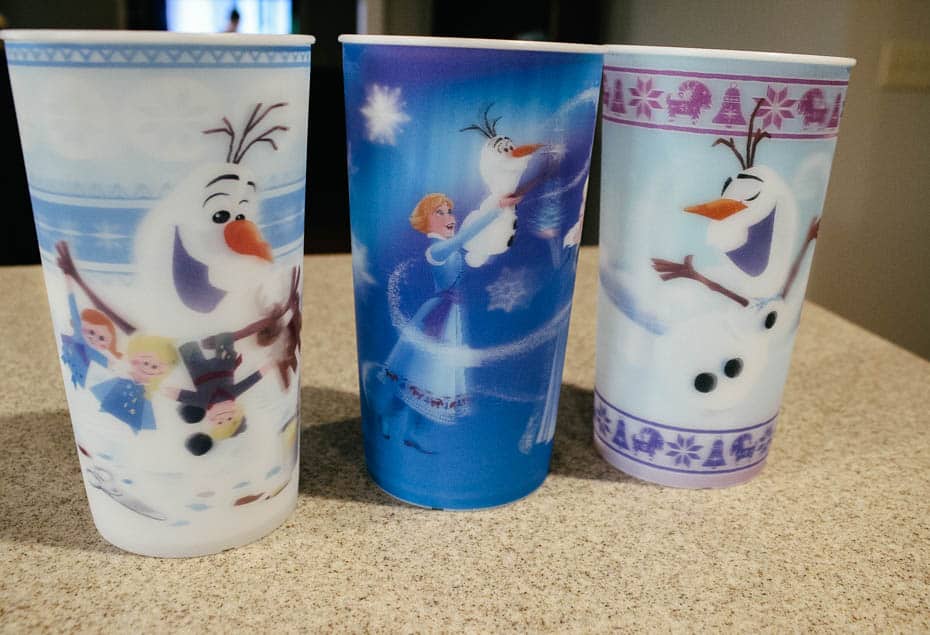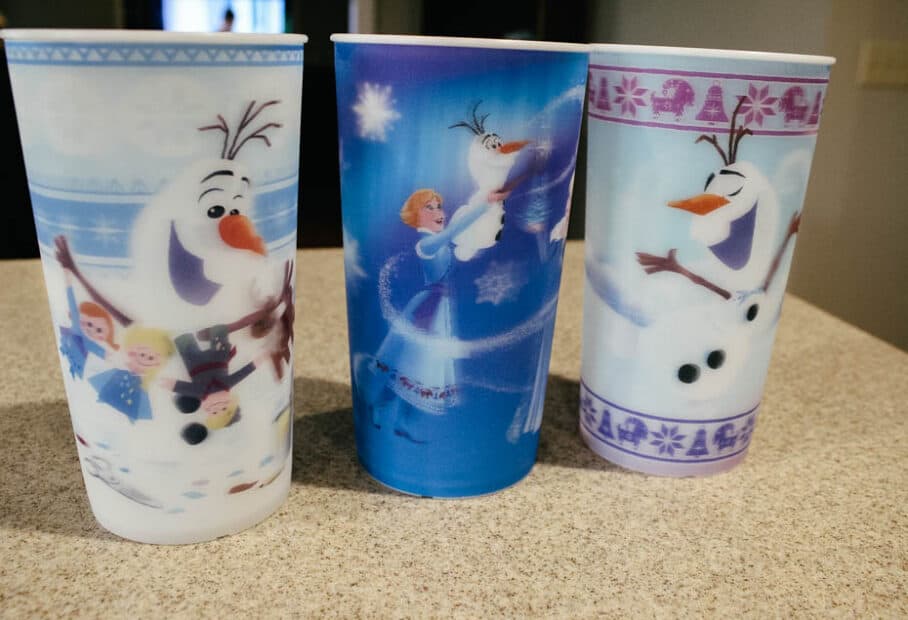 Each designated circle on the map indicates where you will find a hidden Olaf. Once you find the Olaf for that area, you'll match it to the appropriate sticker.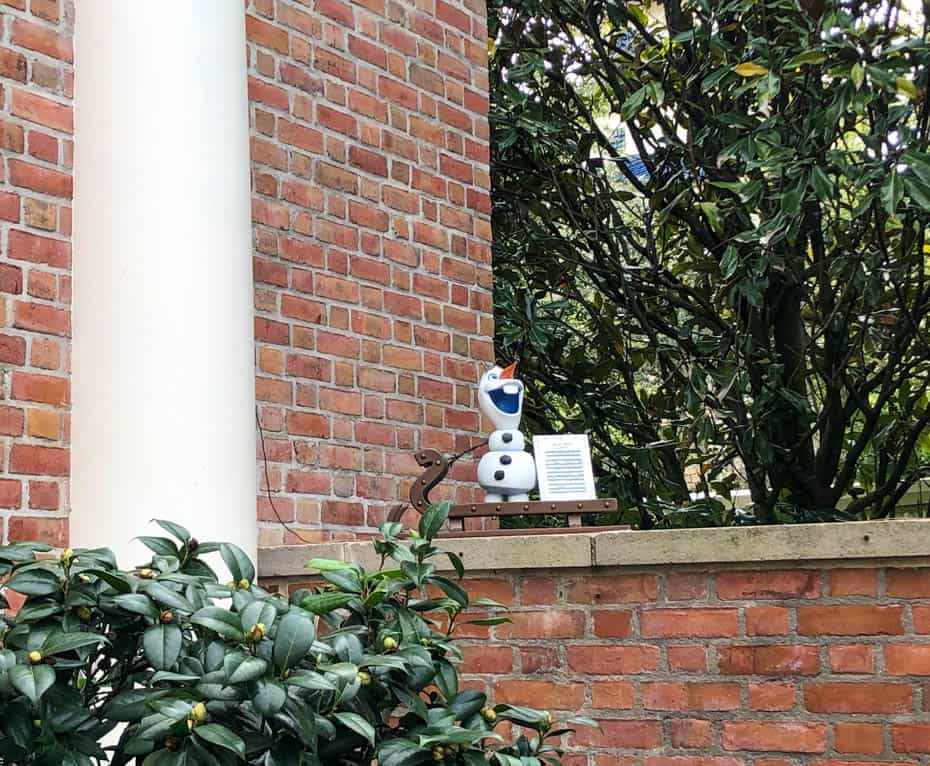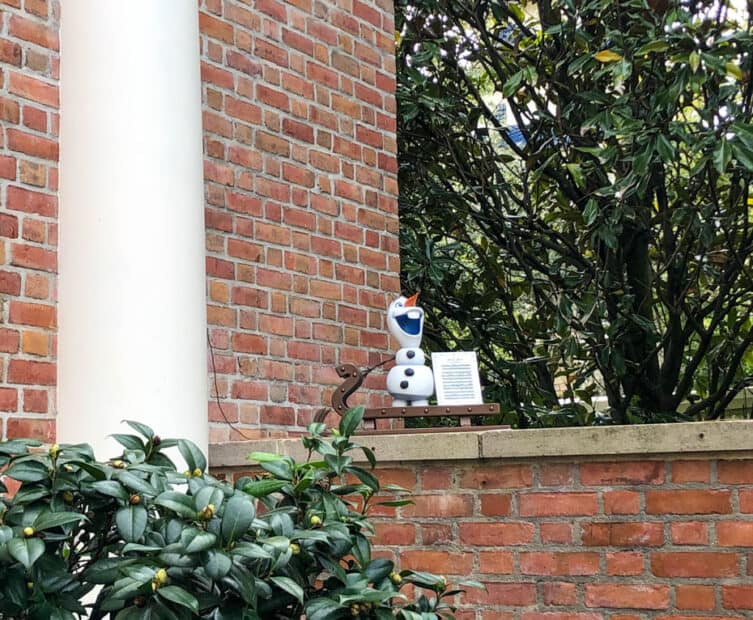 Every Festival has this kind of scavenger hunt. I highly recommend participating with smaller children. It's a lot of fun and something we always enjoy.
Holiday Cookie Stroll
Another thing that guests might like to participate in during this Festival is the Holiday Cookie Stroll. If you want to participate, you will need to pick up a Festival Passport for the stroll.
This year, there are five different cookies to purchase for the Festival of the Holidays. Additionally, you'll have to get a stamp on your passport when you make each purchase. In most instances, the cast member won't remind you.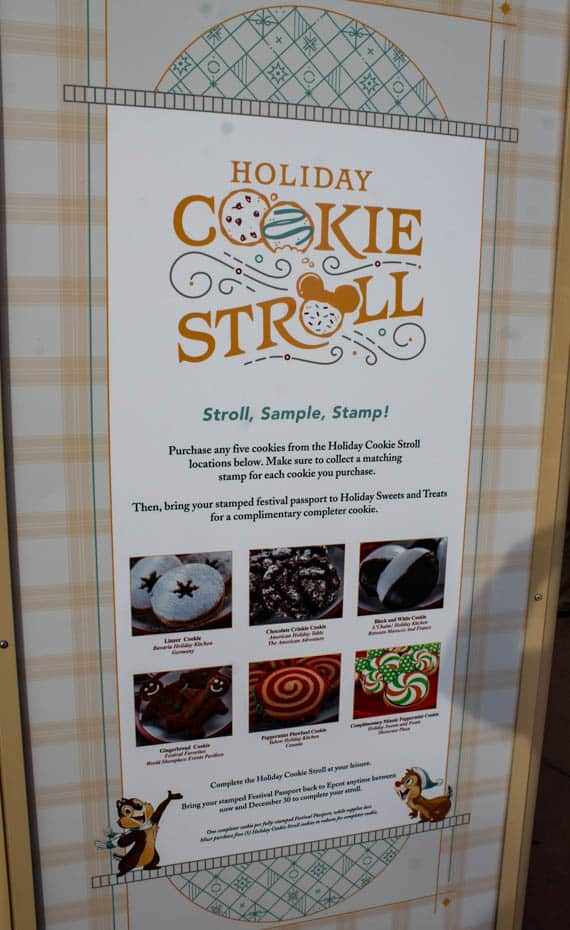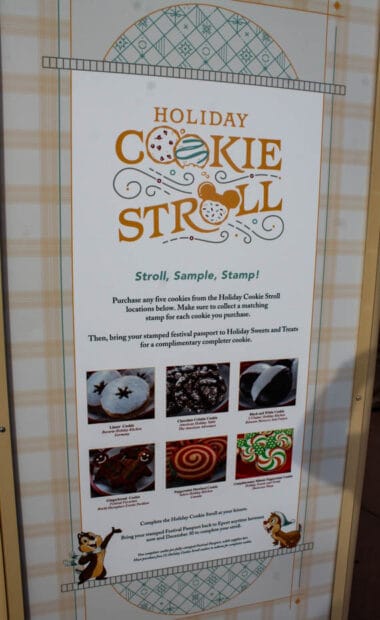 Once you have all five stamps in the Holiday Cookie Stroll, you can visit the Holiday Sweets and Treats Kitchen. There you'll redeem the stamps for a complimentary Minnie Peppermint Cookie.
Here is a picture of the Chocolate Crinkle Cookie at the American Holiday Table this year.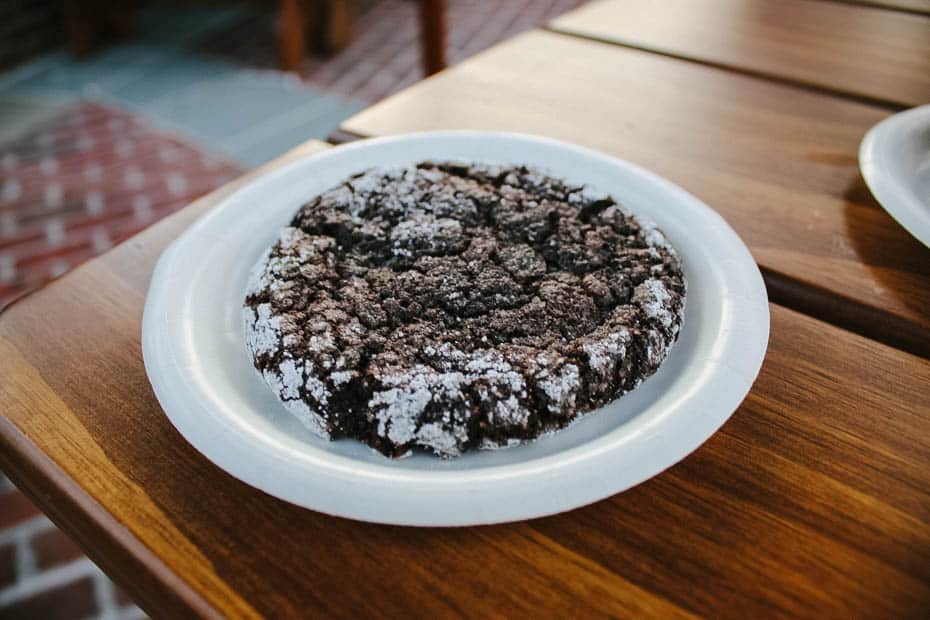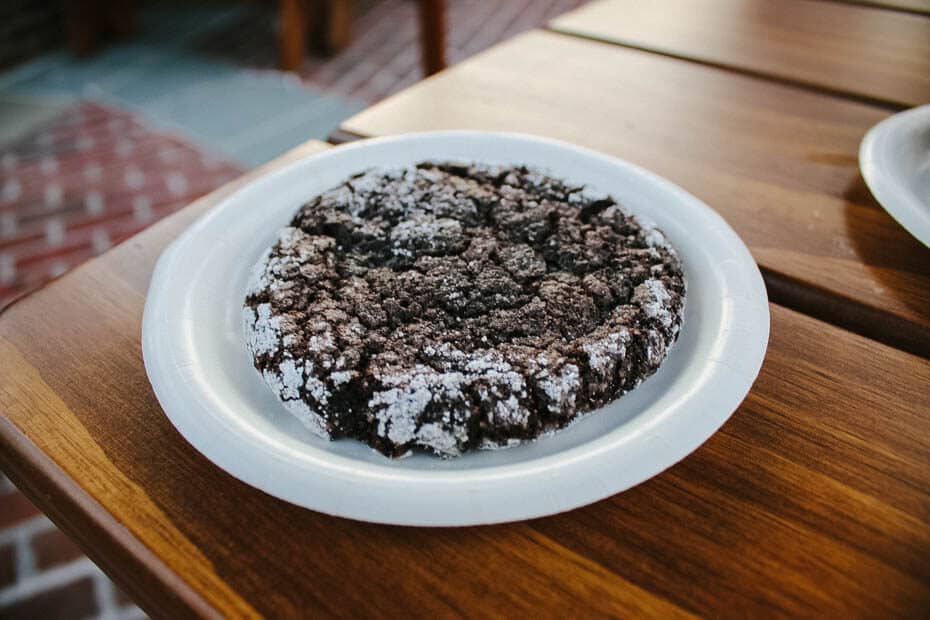 The other cookies that are part of the cookie stroll are as follows:
Linzer Cookie (Bavaria Holiday Kitchen)
Black and White Cookie (L'Chaim Holiday Kitchen)
Gingerbread Cookie (Festival Favorites)
Peppermint Pinwheel Cookie (Yukon Holiday Kitchen)
Epcot Festival of the Holidays Kitchens
Like the other festivals, guests tend to be most interested in what kitchens are offered in the Festival of the Holidays.
As we make our way into the World Showcase from the International Gateway, we'll start with the holiday kitchen in France. We'll then continue full circle until we reach the World Showplace kitchens.
Le Marche de Noel Holiday Kitchen
The France Pavilion is home to the Le March de Noel Holiday Kitchen.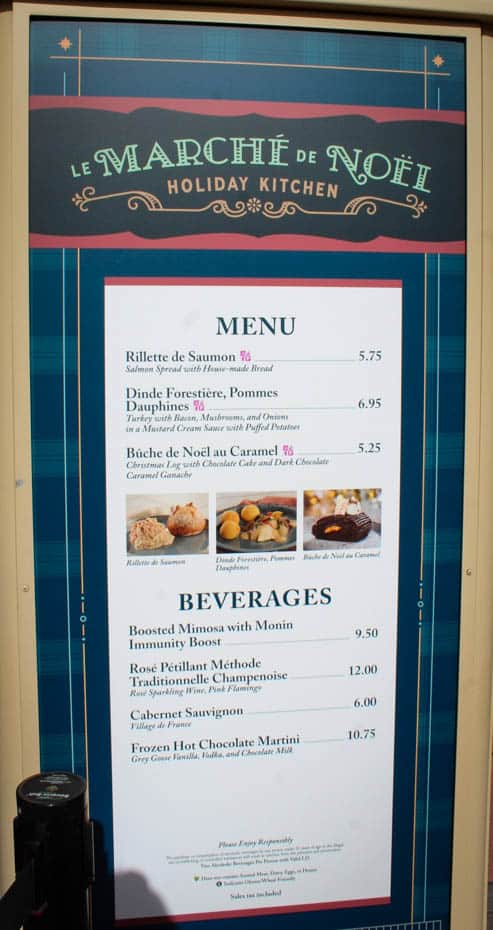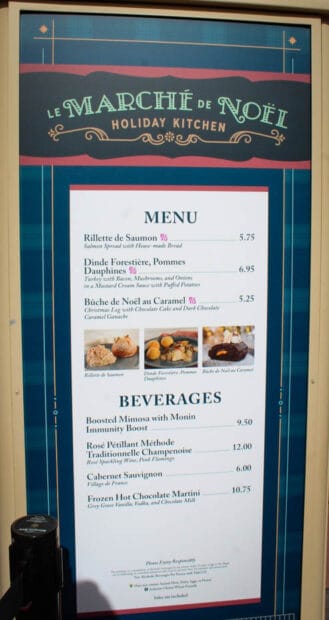 Here you'll find the following items:
Rillette de Saumon: Salmon Spread with House-made Bread ($5.75)
Dinde Forestiere Pommes Dauphines: Turkey with Bacon, Mushrooms, and Onions in a mustard cream sauce with puffed potatoes ($6.95)
Buche de Noel au Caramel: Christmas Log with chocolate cake and dark chocolate caramel ganache ($5.25)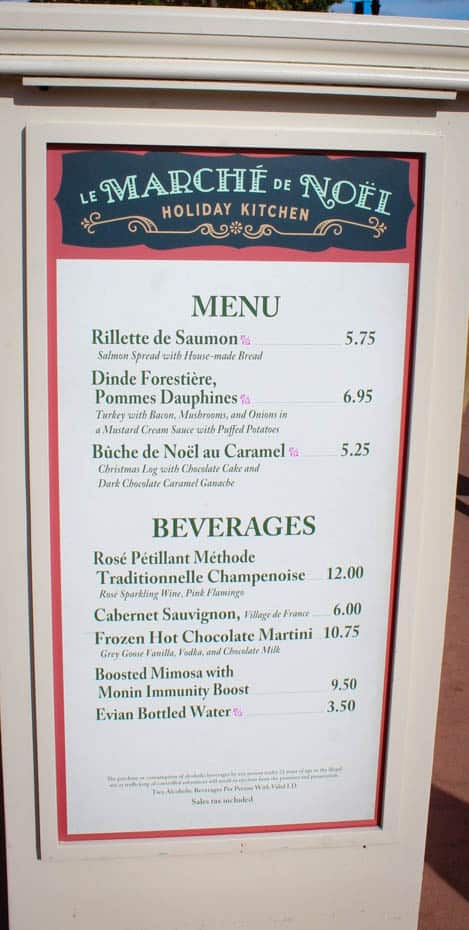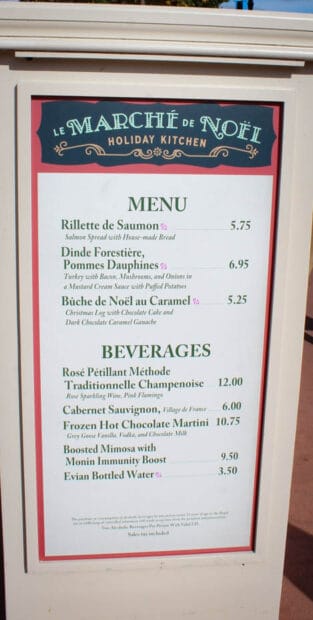 Beverages include:
Rose Petillant Methode Traditionnelle Champenoise
Cabernet Sauvignon
Frozen Hot Chocolate Martini
Boosted Mimosa with Monin Immunity Boost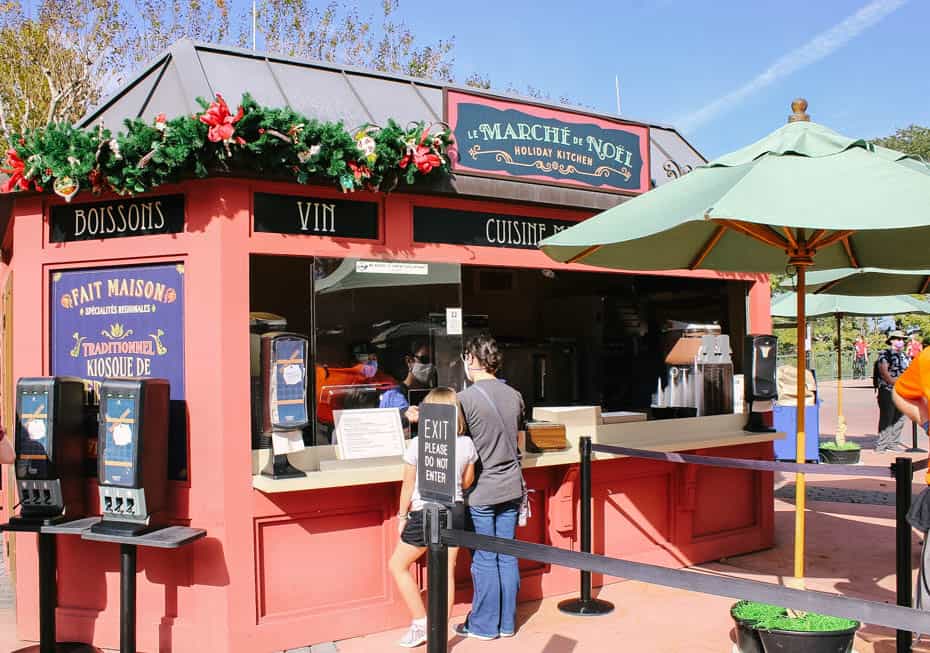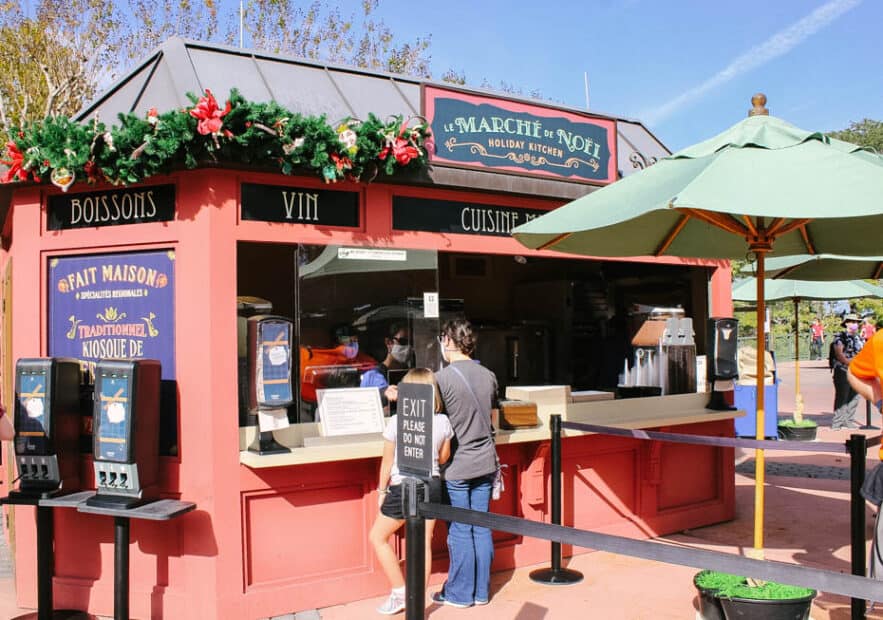 L'Chaim Holiday Kitchen
Between France and the Morocco Pavilion, you'll run into the L'Chaim Holiday Kitchen. This kitchen is specific to the Festival of the Holidays. By that, I mean it's unavailable at Epcot's three other festivals throughout the year.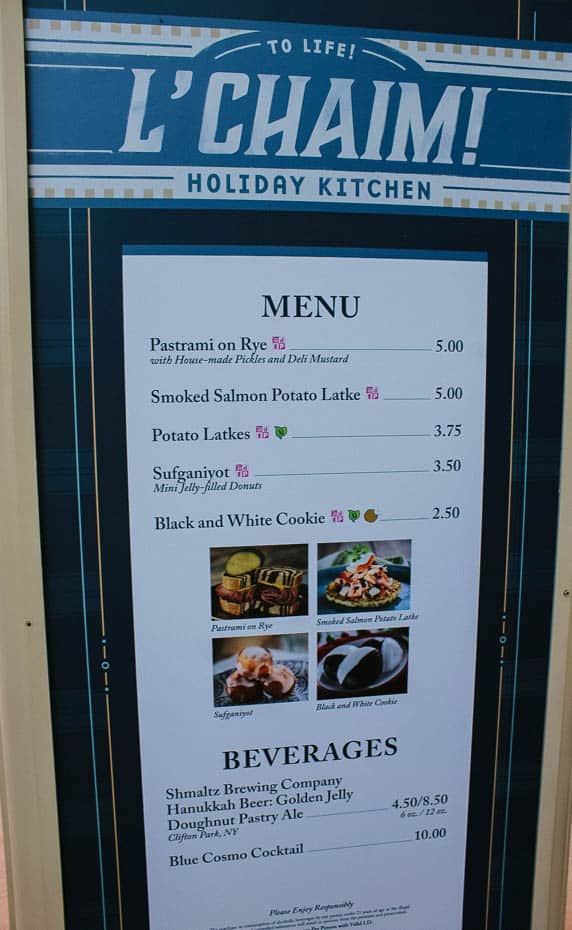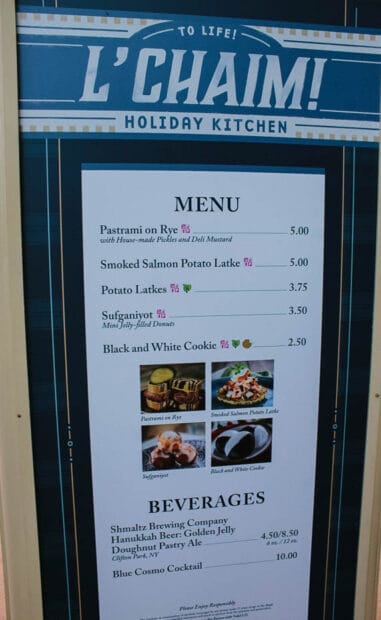 L'Chaim's Festival Kitchen menu persists of the following:
Pastrami on Rye with house-made pickles and deli mustard ($5.00)
Smoked Salmon Potato Latke ($5.00)
Potato Latke ($3.75)
Sufganiyot mini jelly-filled donuts ($3.50)
Black and White Cookie ($2.50)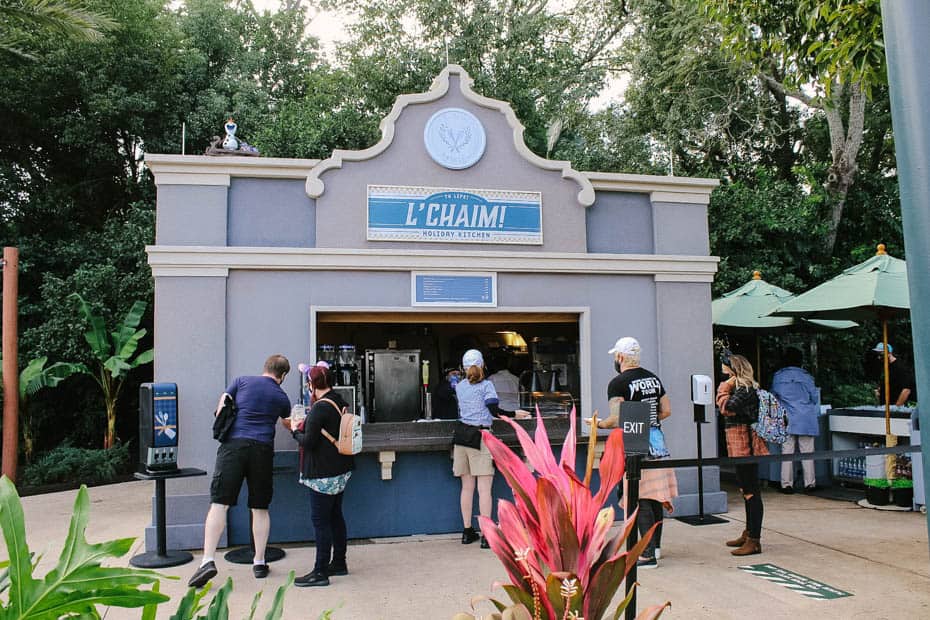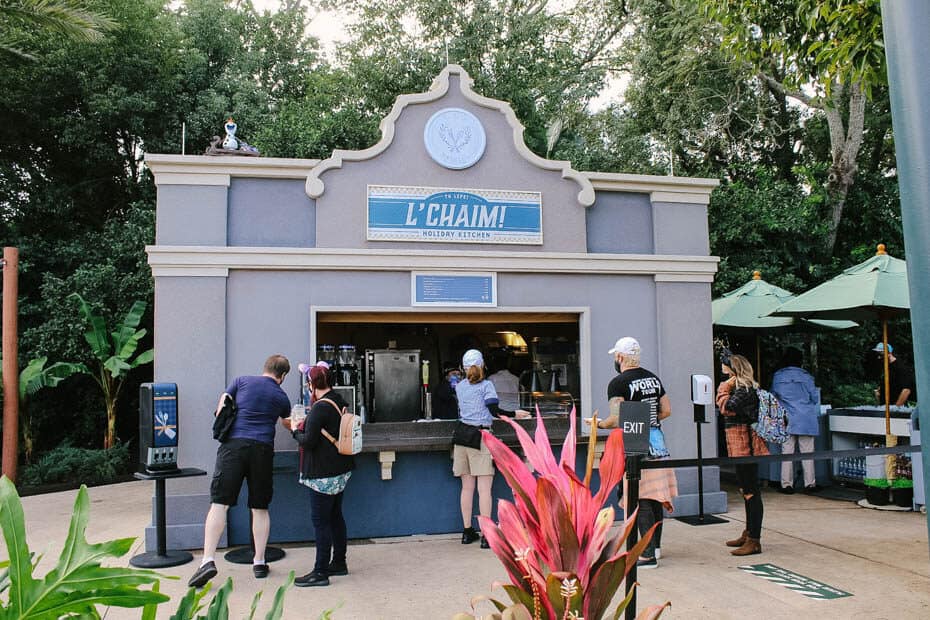 Beverages include:
Shmaltz Brewing Company Hanukkah Beer
Golden Jelly Doughnut Pastry Ale
Blue Cosmo Cocktail
Sapphire Holiday Kitchen
Making our way along the World Showcase promenade, we'll run into the Moroccan-inspired Sapphire Holiday Kitchen. While I didn't try many items at the Festival this year, I did indulge in the Poinsettia Cocktail here at Sapphire.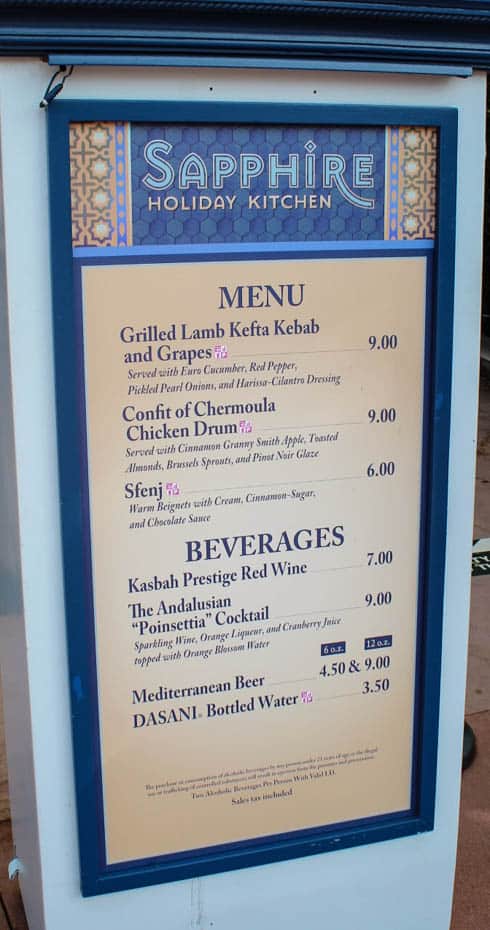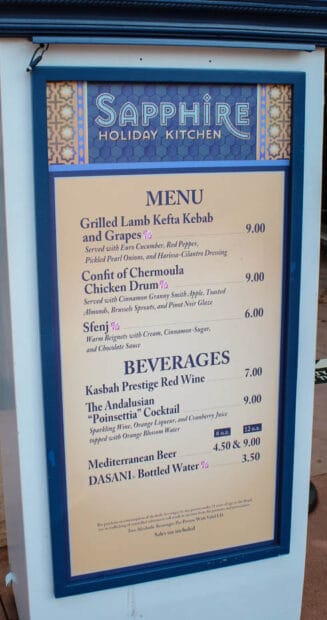 This festival kitchen usually has an excellent selection of food items. However, the prices of the food are somewhat questionable in my opinion.
This year's menu offers the following items:
Grilled Lamb Kefta Kebab and Grapes with Euro cucumber, red pepper, pickles, pearl onions, and harissa-cilantro dressing. ($9.00)
Confit of Chermoula Chick Drum with cinnamon Granny Smith apple, toasted almonds, Brussels sprouts, and Pinot Noir glaze ($9.00)
Sfenj warm beignets with cream, cinnamon sugar, and chocolate sauce ($6.00)
Here is the Andalusian "Poinsettia" cocktail that consists of sparkling wine, orange liqueur, and cranberry juice topped with orange blossom water.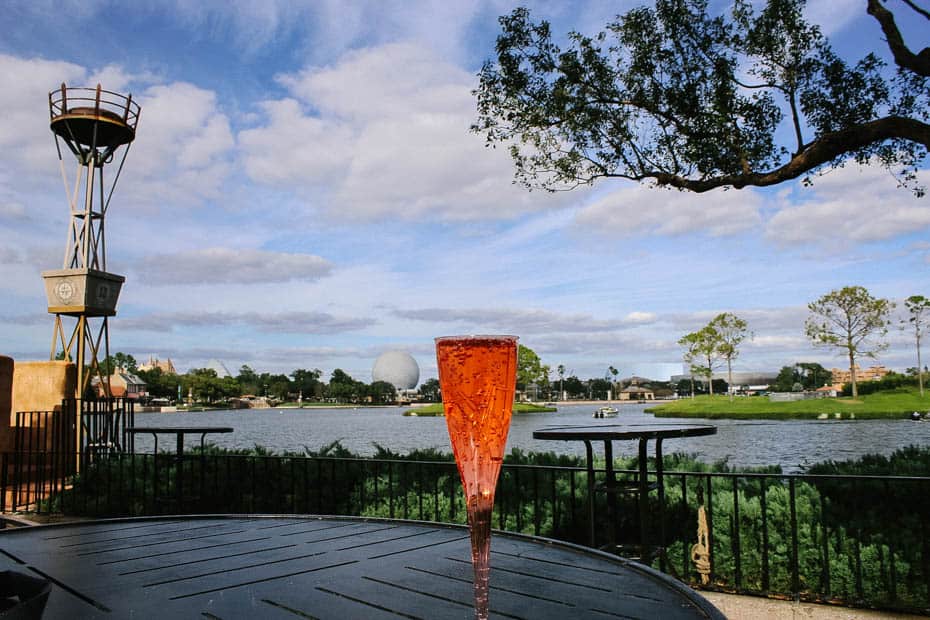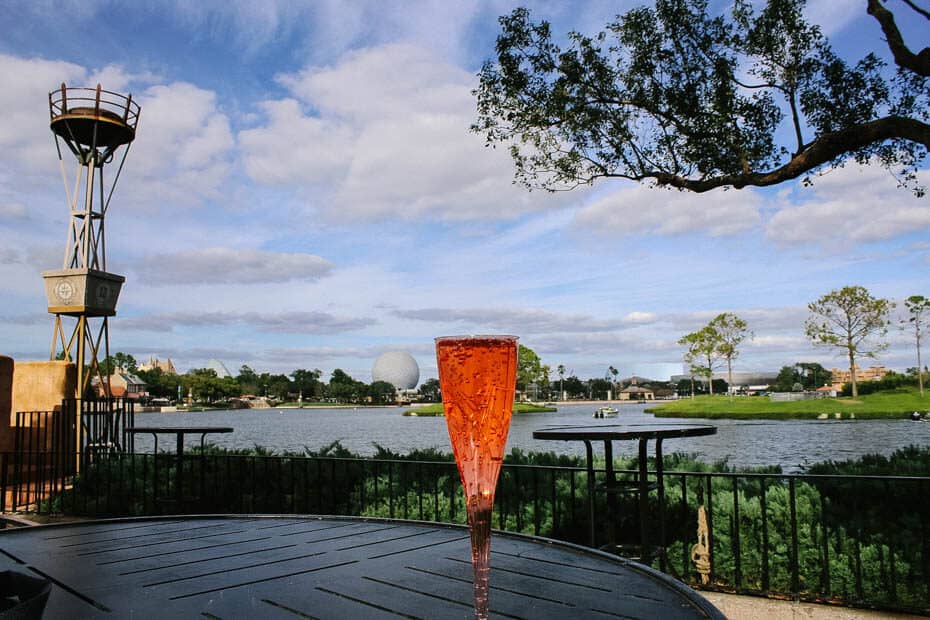 The drink was a lovely refreshment on a warm winter day in the World Showcase. However, there wasn't anything special in particular about the cocktail. But there's not anything to complain about either.
Other drinks at this festival kitchen include:
Mediterranean Beer
Kasbah Prestige Red Wine
Shi Wasu Holiday Kitchen
The Japan Pavilion is always home to a popular festival kitchen. Therefore, most guests want to try at least one item on the menu at any festival.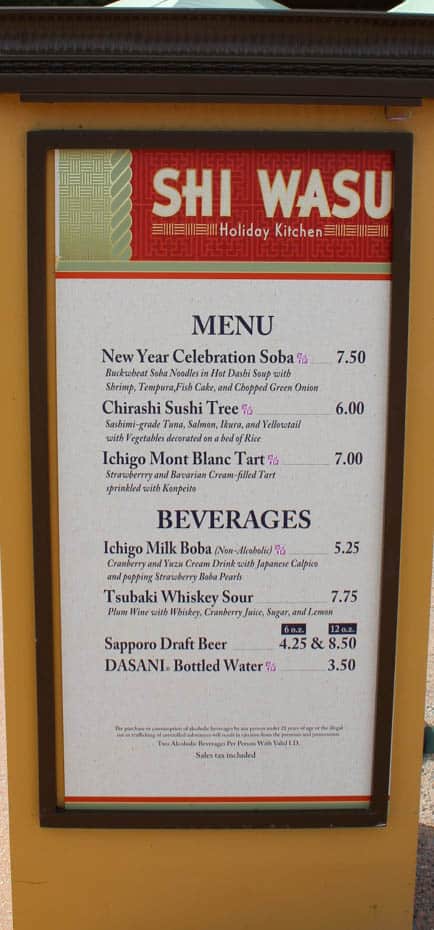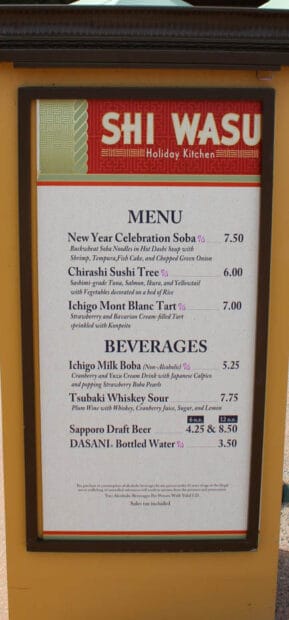 Their menu offerings this year are:
New Year Celebration Soba: Buckwheat Soba noodles in hot dashi soup with shrimp tempura, fish cake, and green onion ($7.50)
Chirashi Sushi Tree: Sashimi-grade tuna, salmon, Ikura, and yellowtail with vegetables on a bed of rice ($6.00)
Ichigo Mont Blanc Tart: Strawberry and Bavarian cream-filled tart sprinkled with Konpeito ($7.00)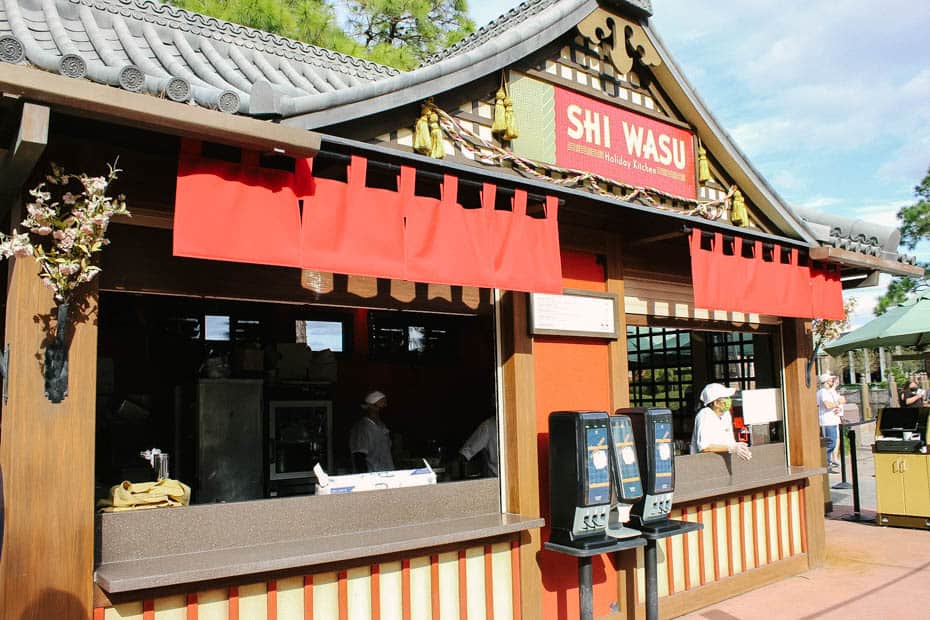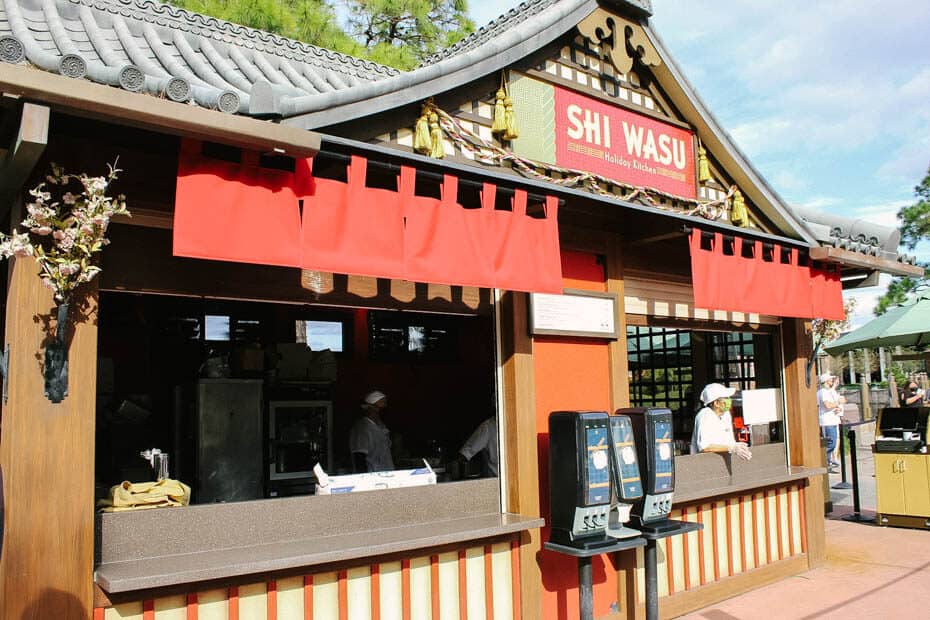 And beverages:
Ichigo Milk Boba: Cranberry and Yuzu cream drink with Japanese Calpico and popping strawberry boba pearls (non-alcoholic)
Sapporo Draft Beer
Tsubaki Whiskey Sour: Plum wine with whiskey, cranberry juice, sugar, and lemon
American Holiday Table
Over in the American Pavilion, you'll run into what seems to be one of the more popular festival kitchens, the American Holiday Table.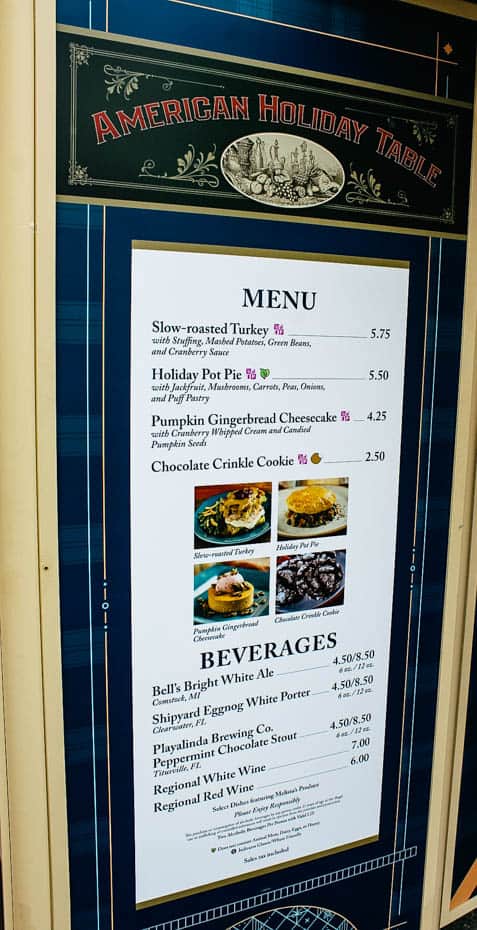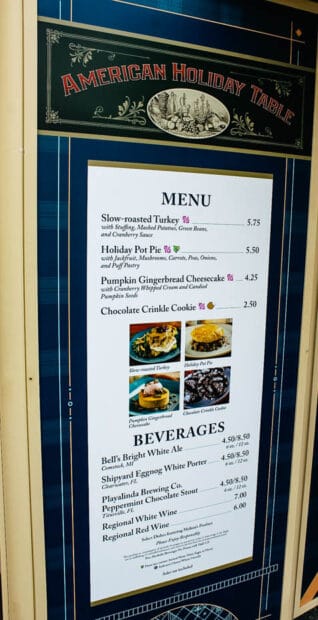 This festival kitchen did have something that interested me in the Holiday Pot Pie. A friend of mine on Instagram had recommended I try this plant-based dish. I also ordered the chocolate crinkle cookie ($2.50) here.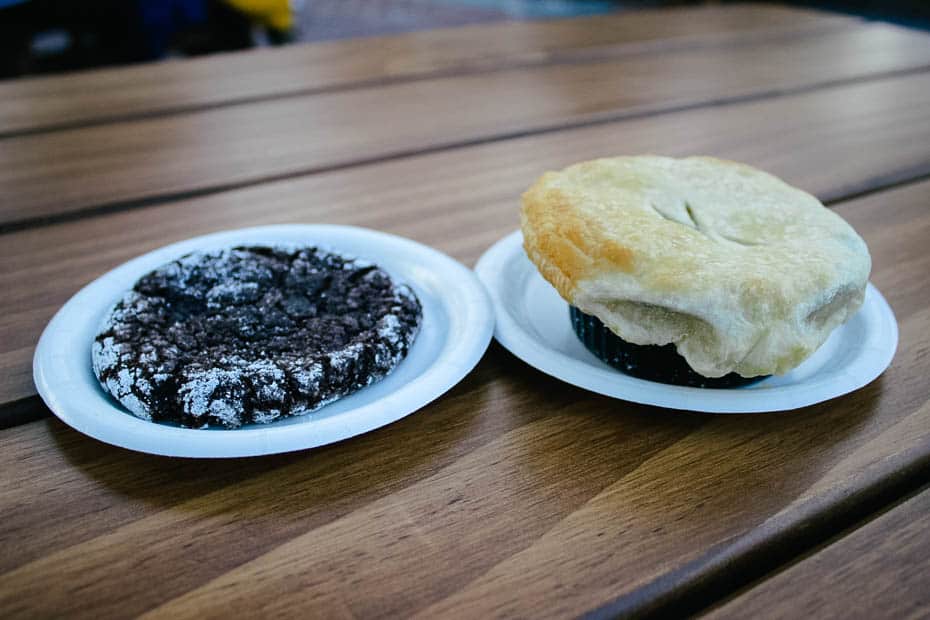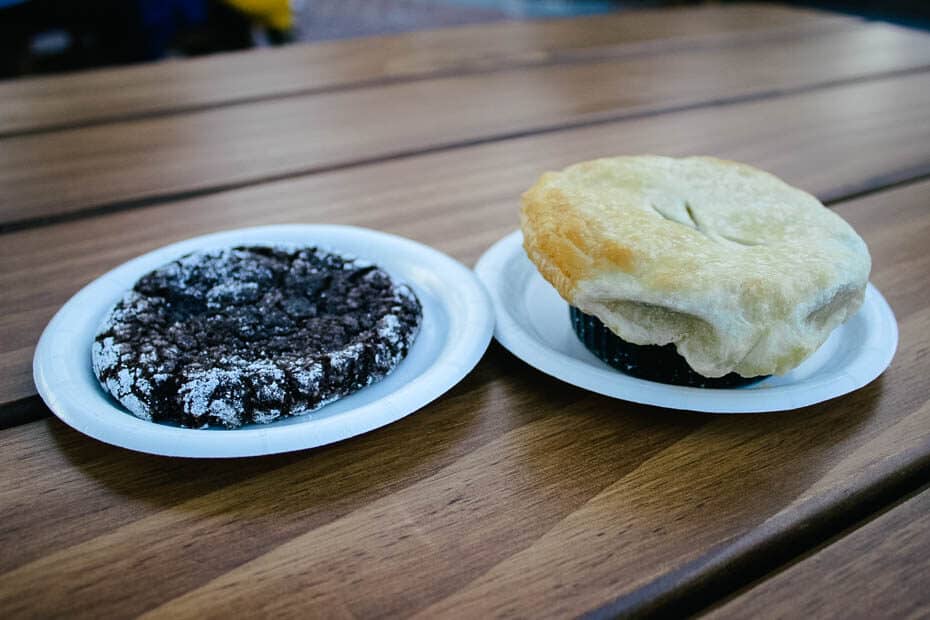 The Pot Pie ($5.50) is described as jackfruit, mushrooms, carrots, peas, onions, and puff pastry. Having never tried jackfruit prior, I was impressed with the stringy meat-like texture.
The interior texture was slightly soggier than I preferred in a pot pie. I feel that could vary; mine might have been off a bit. However, taste-wise, this dish was spot on and very enjoyable.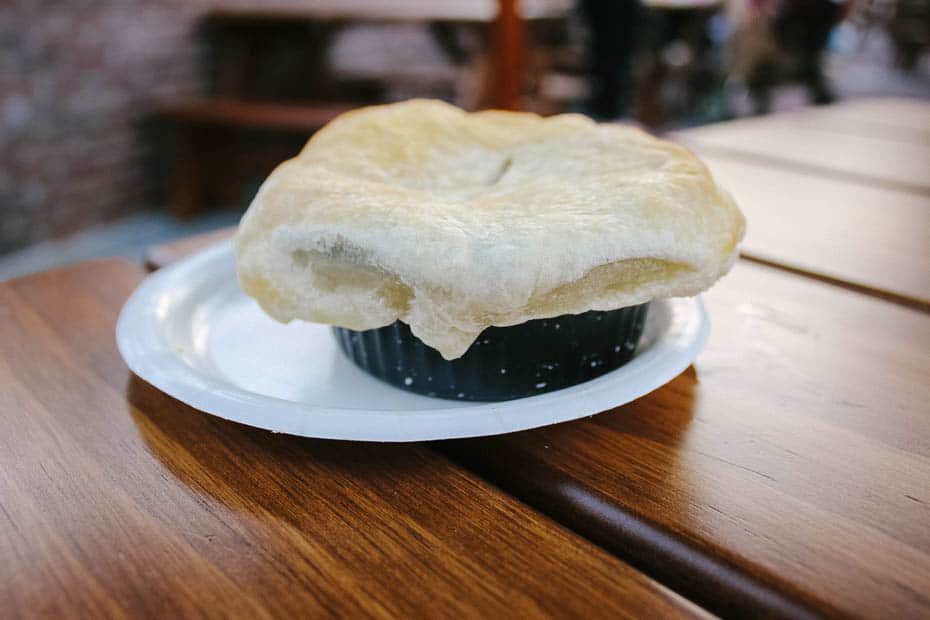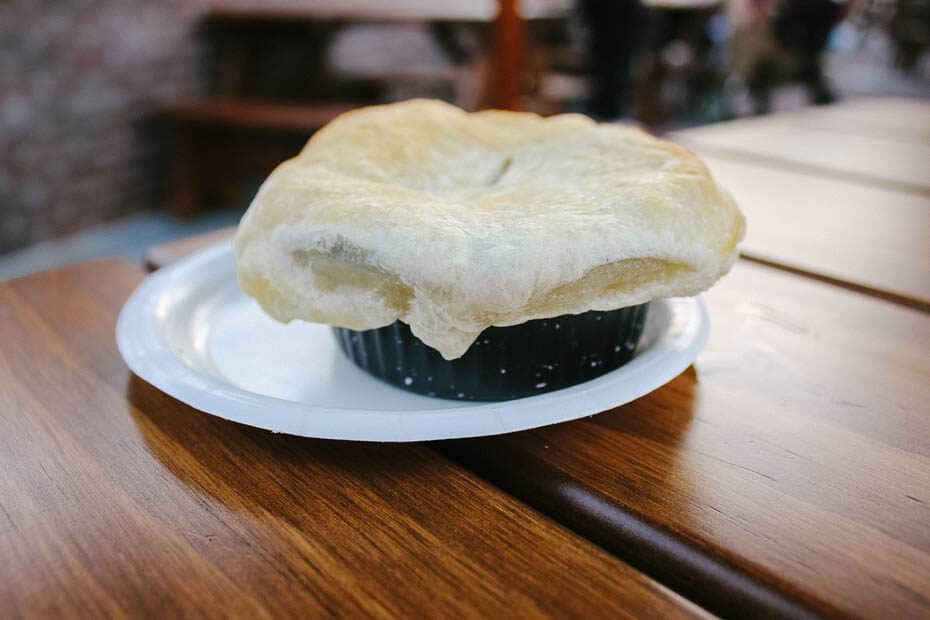 The cookie wasn't anything to write home about. It looked more appealing than it tasted. So I would probably skip it unless you're trying to complete that cookie stroll.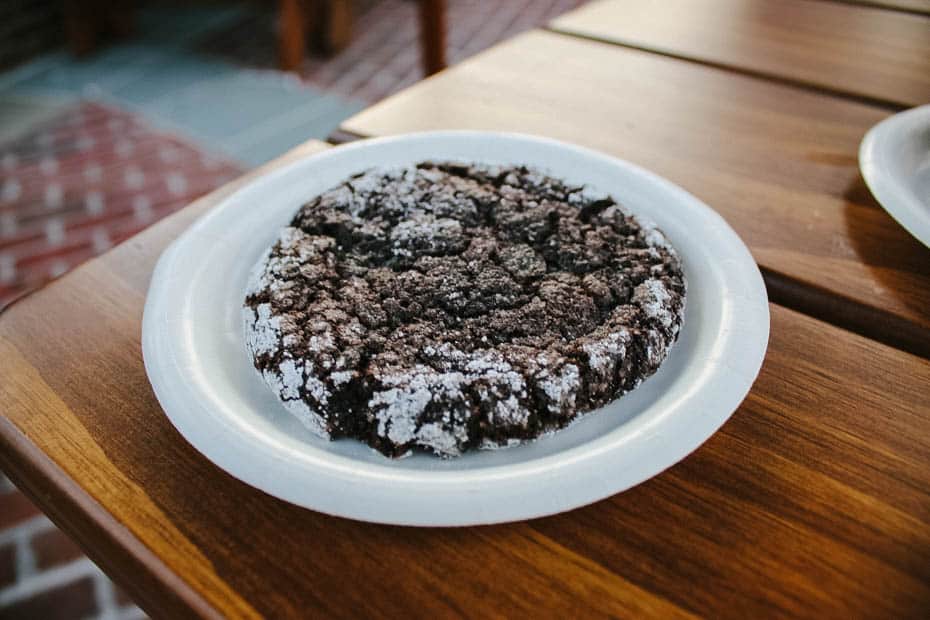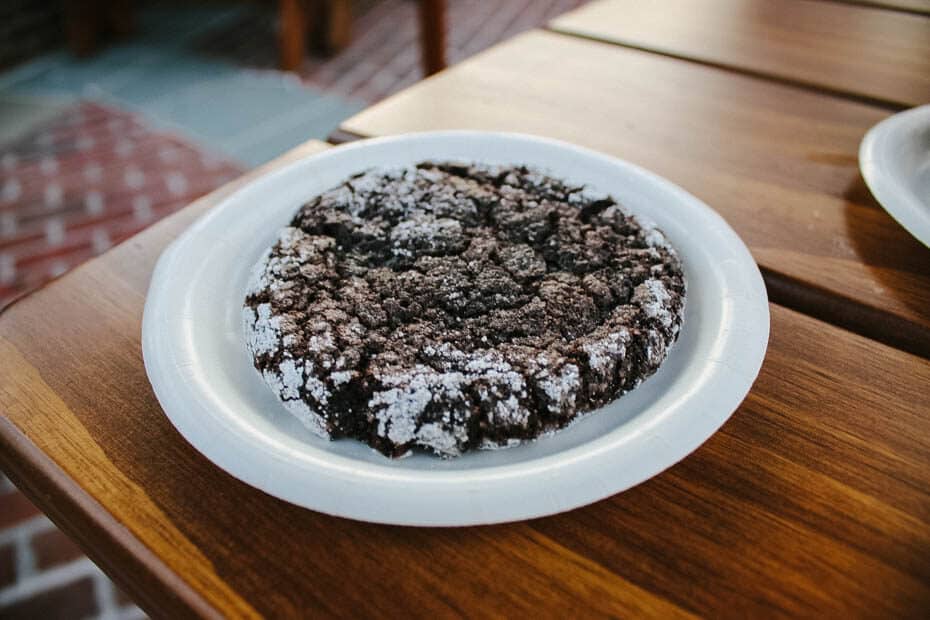 Other items available at American Holiday Table include:
Slow Roasted Turkey with stuffing, mashed potatoes, green beans, and cranberry sauce ($5.75)
Pumpkin Gingerbread Cheesecake with cranberry whipped cream and candied pumpkin seeds ($4.25)
Beverages available:
Bell's Bright White Ale
Shipyard Eggnog White Porter
Playalinda Brewing Co. Peppermint Chocolate Stout
Funnel Cake Mention
Funnel Cake is a kiosk located on the exterior walkway of the American Pavilion. You can usually pick up a special funnel cake during the various festivals. Here is the description of the Festival of Holidays version:
Sweet Potato Casserole Funnel Cake: topped with marshmallow, cinnamon-sugar, honey-roasted pecans, and a caramel drizzle
While in the Pavilion, you might stumble on one of the Festival of the Holidays entertainment offerings. Expect to see the Voices of Liberty performing holiday tunes at the American Gardens Theater at various times throughout the day.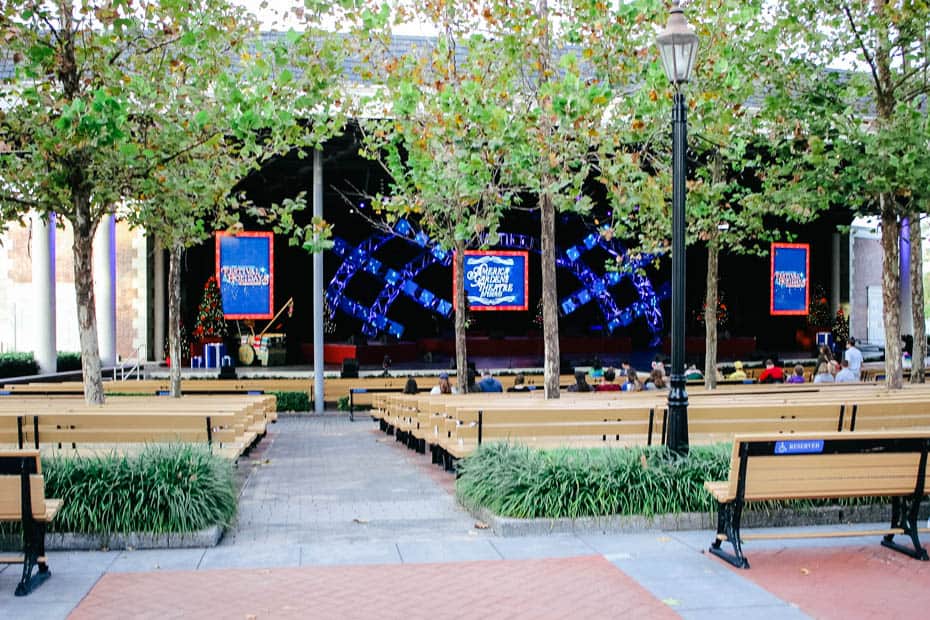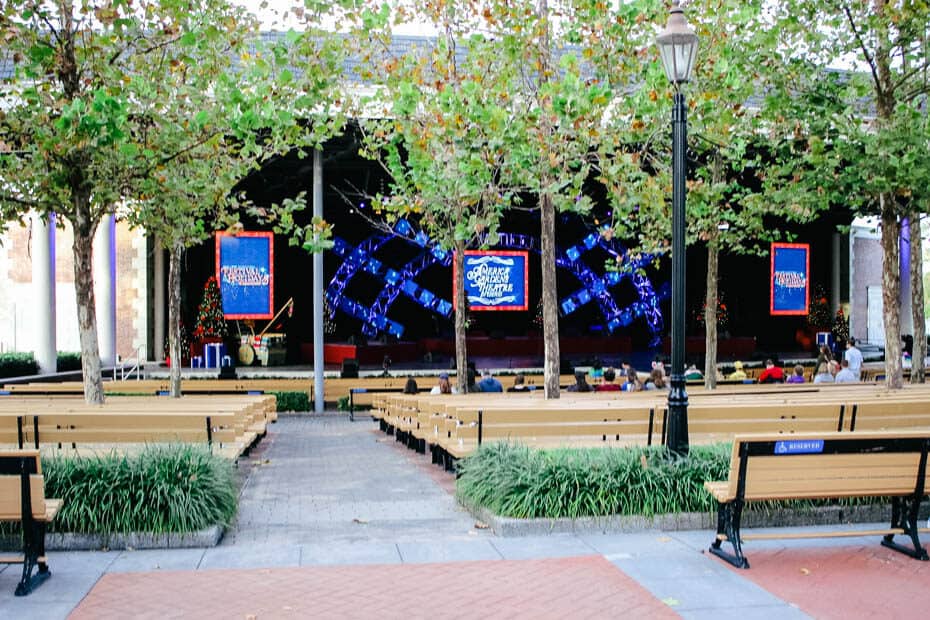 Remember that no schedule is provided this year to help prevent crowding.
Tuscany Holiday Kitchen
Moving on, we'll take a look at the festival kitchen in the Italy Pavilion. What would a festival be without an Italian option?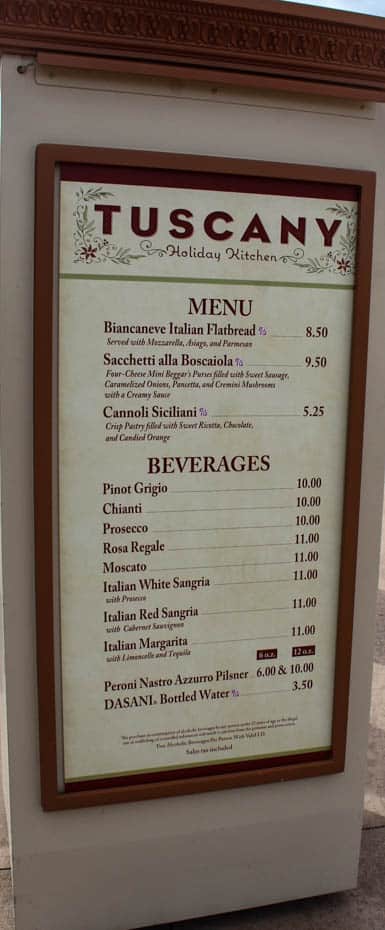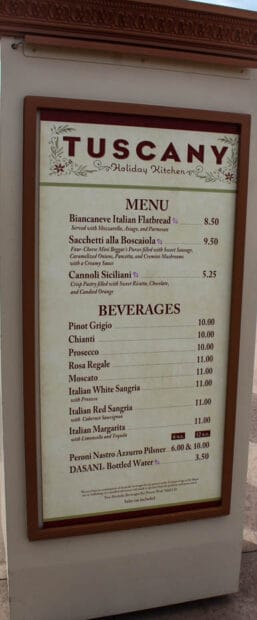 The food items at the Tuscany Holiday Kitchen are as follows:
Biancaneve Italian Flatbread with mozzarella, Asiago, and parmesan ($8.50)
Sacchetti alla Boscaiola: Four cheese mini Beggar's purses filled with sweet sausage, caramelized onions, pancetta, and Cremini mushrooms with a creamy sauce ($9.50)
Cannoli Sicillani: Crisp pastry filled with sweet ricotta, chocolate, and candied orange
Drinks here mainly include a variety of regular and sparkling wines. In addition, there is an Italian margarita, but from past experiences, I recommend waiting for Mexico.
Bavaria Holiday Kitchen
You'll run into the Bavaria Holiday Kitchen right past the Germany Pavilion. There has been quite a long line for this one the few times I've passed by it. I assume the cheese fondue is a significant draw.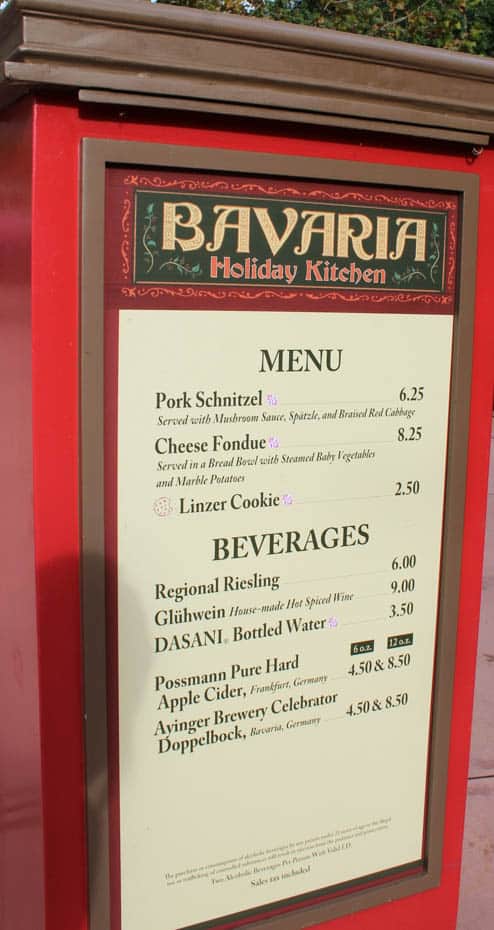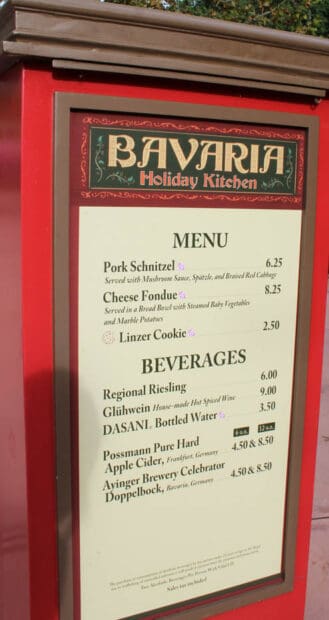 But my last cheese fondue in the World Showcase wasn't so great. I often feel these things get bragged about on social media because of their overall appeal.
Yet often, anyone with any tastebuds ends up disappointed. Or worse, they tell themselves it's good because everyone else says it is.
With all that said, I haven't stopped in here for anything, so I am basing those thoughts off prior festival fondues. Anyway, here are the food items and prices:
Pork Schnitzel with mushroom sauce, Spatzle, and braised red cabbage ($6.25)
Cheese Fondue in a Bread Bowl with steamed baby vegetables and marble potatoes ($8.25)
Linzer Cookie ($2.50)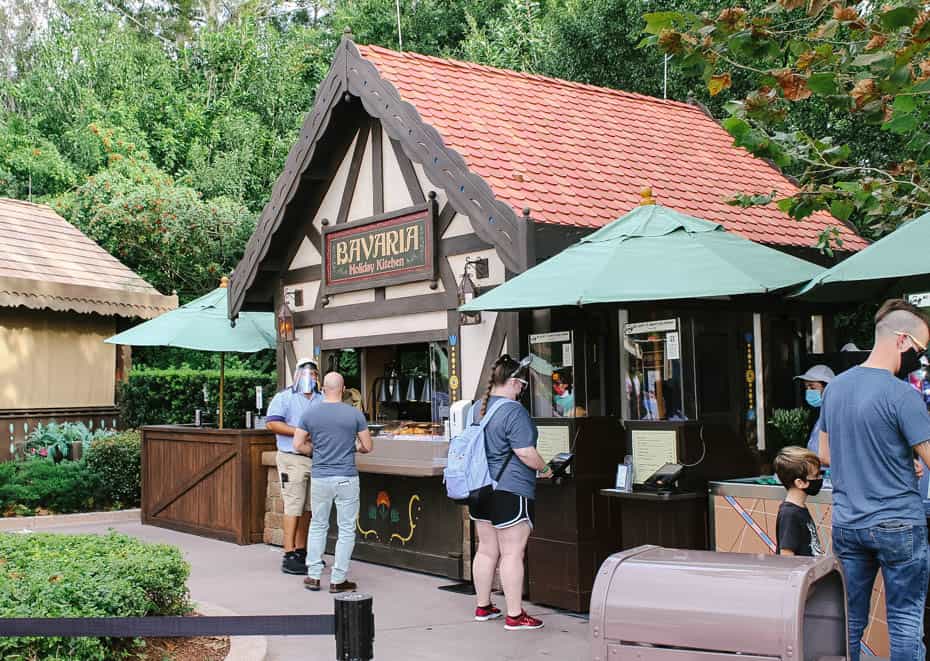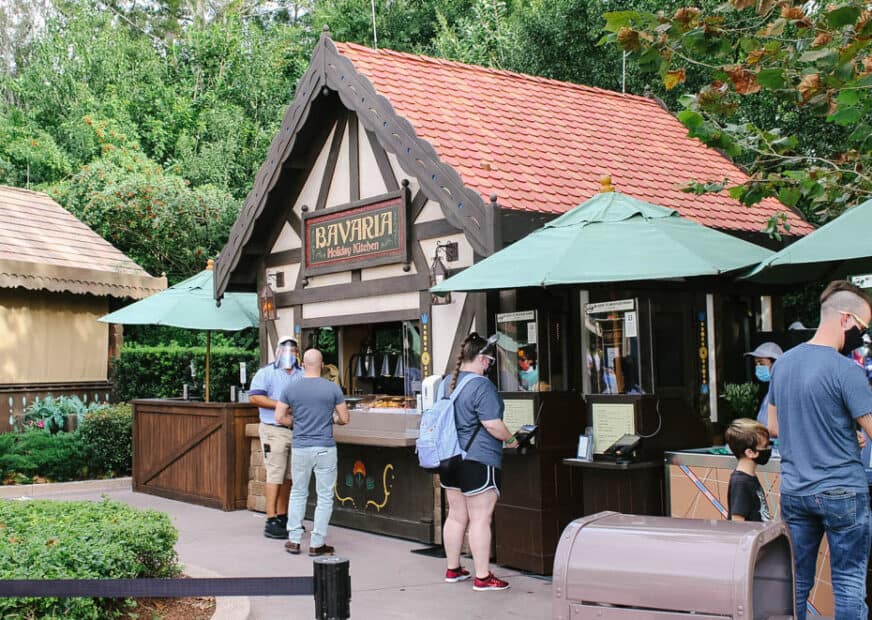 And drinks here include:
Possman Pure Hard Apple Cider
Ayinger Brewery Celebrator Doppelbock
Regional Riesling
Gluhwein (Hot-spiced wine)
Refreshment Outpost
Like the Funnel Cake stand in America, the Refreshment Outpost kiosk has a few unique offerings for the Epcot Festival of the Holidays. Refreshment Outpost is located between Germany and China Pavilions.
They are as follows
Warm Brown Sugar-stuffed Pretzel
Frozen Slushy
3 Daughters Brewing Spicy Apple Cinnamon Hard Cider
Shanghai Holiday Kitchen
The China Pavilion is also home to a popular holiday kitchen during the Festival. In addition, this Pavilion is typically an excellent place to try a unique spin on a cocktail.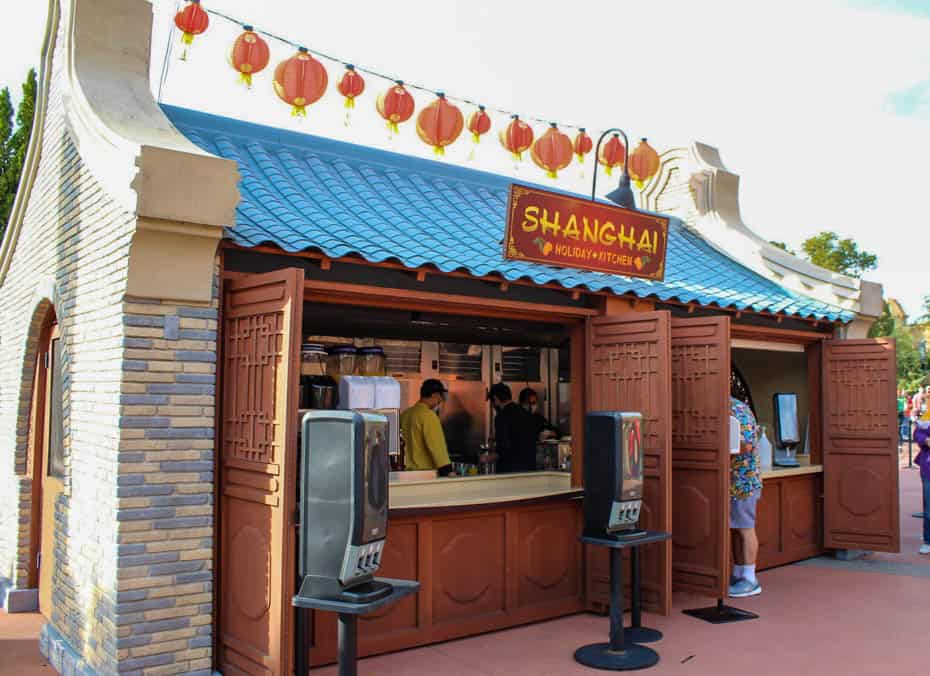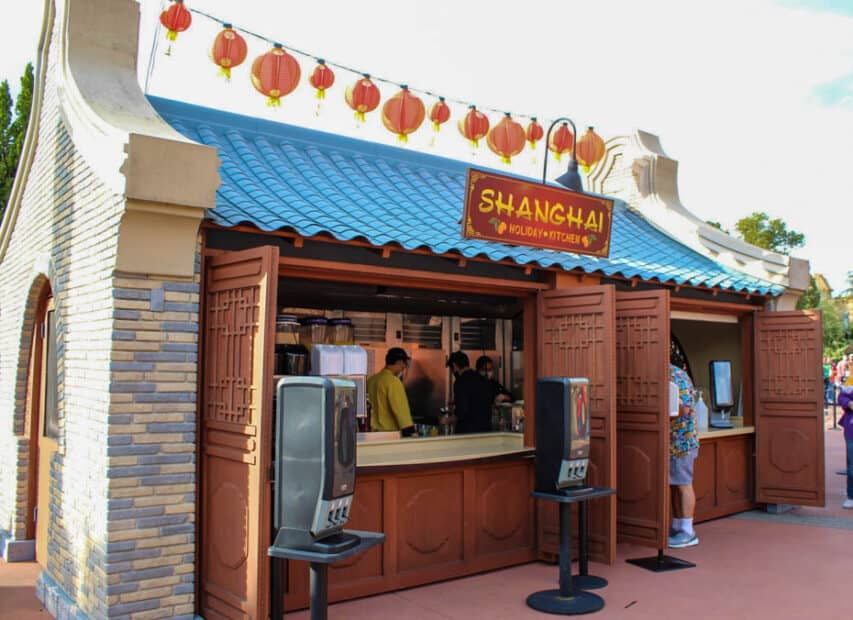 Here is a picture of the menu.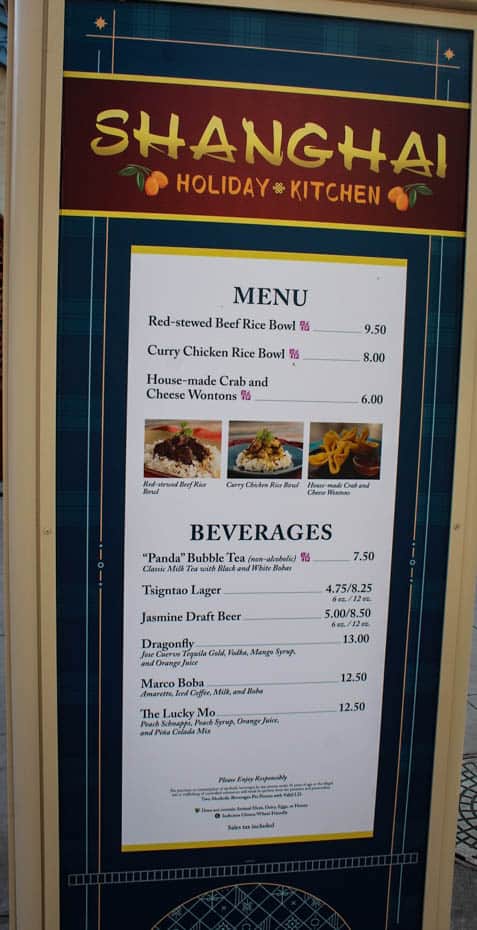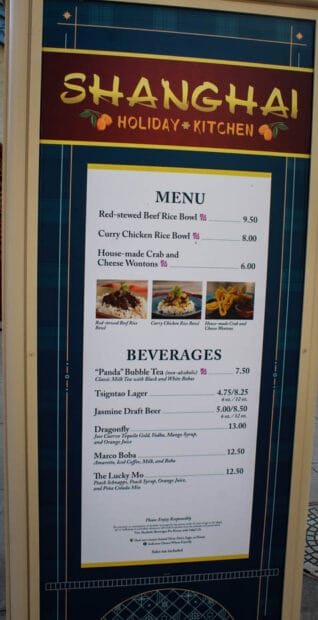 Items include:
Red-stewed Beef Rice Bowl ($9.50)
Curry Chicken Rice Bowl ($8.00)
House-made Crab and Cheese Wontons ($6.00)
Beverages are as follows:
Panda Bubble Tea
Tsingtao Lager
Jasmine Draft Beer
Dragonfly
Marco Boba
The Lucky Mo
Las Posadas Holiday Kitchen
Mexico's Pavilion brings us to the Las Posadas Holiday Kitchen. This kitchen is located on the World Showcase Plaza side of the Pavilion.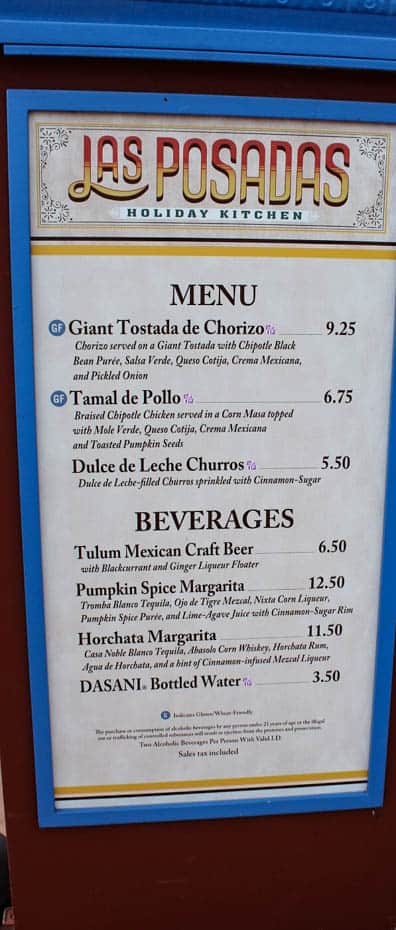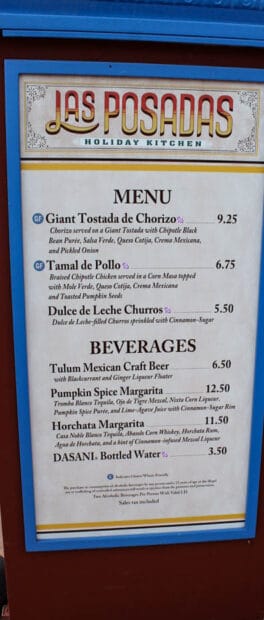 Menu items here are as follows:
Giant Tostada de Chorizo: Chorizo served on a giant tostada with chipotle black bean puree, salsa verde, queso cotija, crema Mexicana, and pickled onion. ($9.25)
Tamal de Pollo: Braised Chipotle chicken served in a corn masa topped with mole verde, queso cotija, crema Mexicana, and toasted pumpkin seeds. ($6.75)
Dulce de Leche Churros: Dulce de Leche filled churros with cinnamon sugar ($5.50)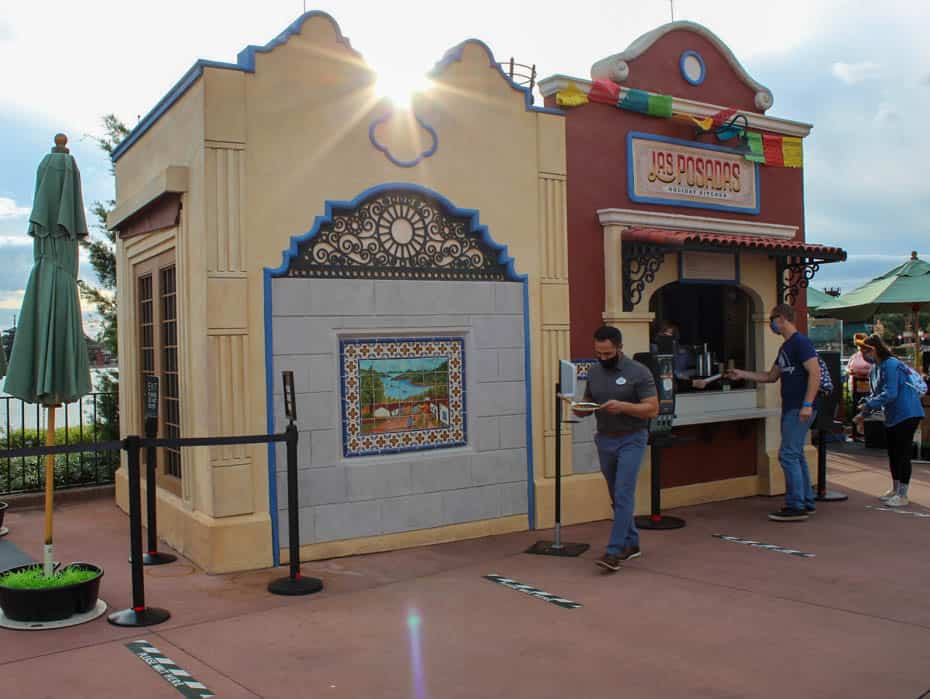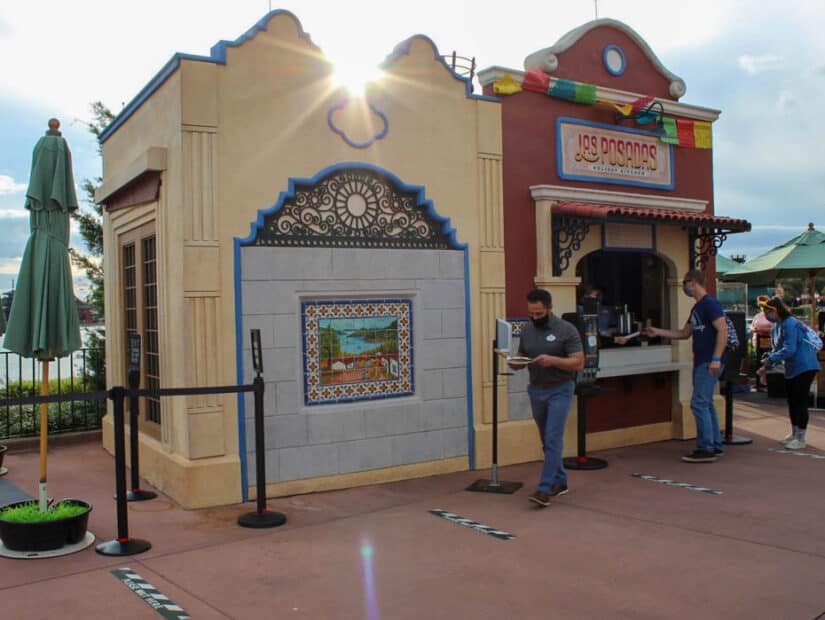 Beverages:
Tulum Mexican Craft Beer
Pumpkin Spice Margarita
Horchata Margarita
Holiday Sweets and Treats
As we move across the World Showcase Plaza, we find ourselves at the Holiday Sweets and Treats festival kitchen. This kitchen will be on the right-hand side before you reach Canada.
Additionally, this is where you'll show your festival passport for the Minnie peppermint cookie after completing the Holiday Cookie Stroll.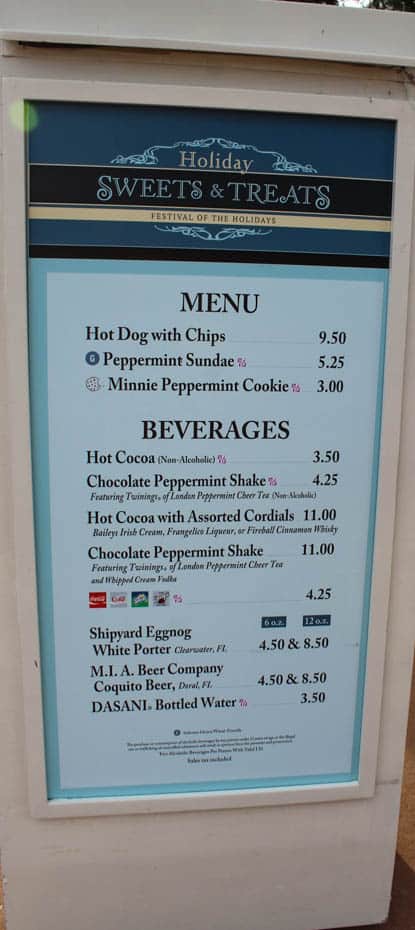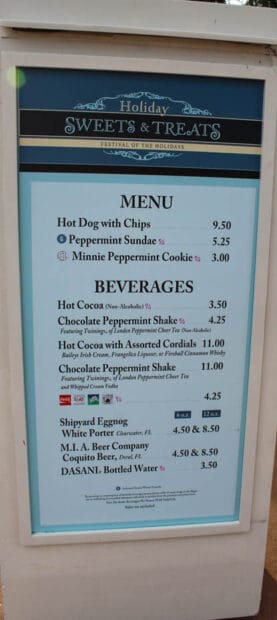 This Festival of the Holidays kitchen menu includes:
Hot Dog with Chips ($9.50)
Peppermint Sundae ($5.25)
Minnie Peppermint Cookie ($3.00)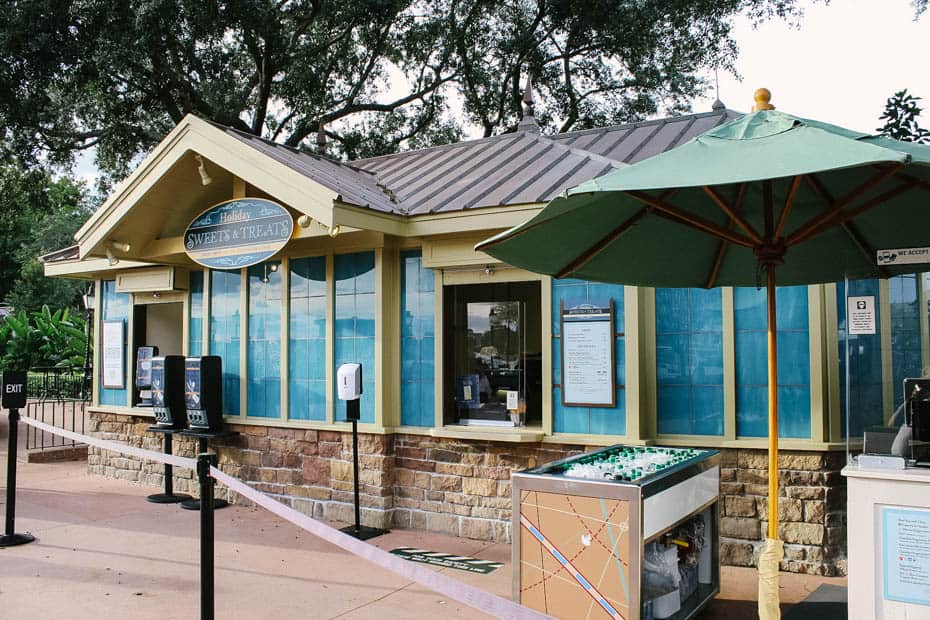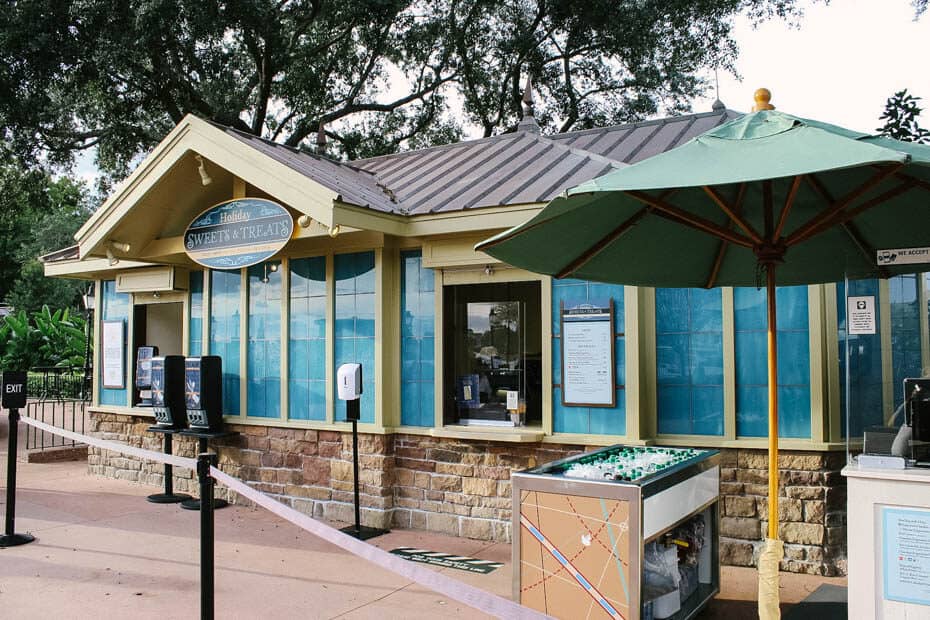 Beverages:
Hot Cocoa
Chocolate Peppermint Shake
Shipyard Eggnog White Porter
M.I.A. Beer Company Coquito Beer
Chocolate Peppermint Shake
Hot Cocoa (alcoholic version)
Mele Kalikimaka Holiday Kitchen
Tucked almost behind Holiday Sweets and Treats is the Mele Kalikimaka Holiday Kitchen. Mele Kalikimaka means Merry Christmas in Hawaiian, and it's also a popular Christmas song from years past.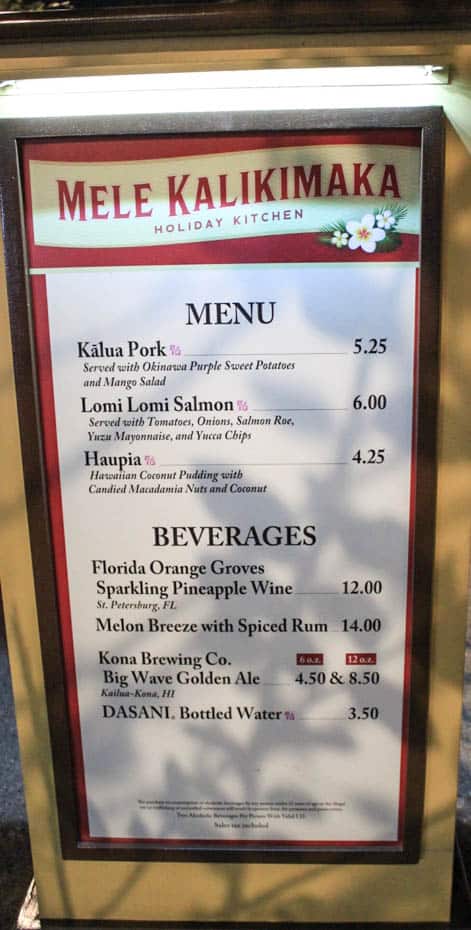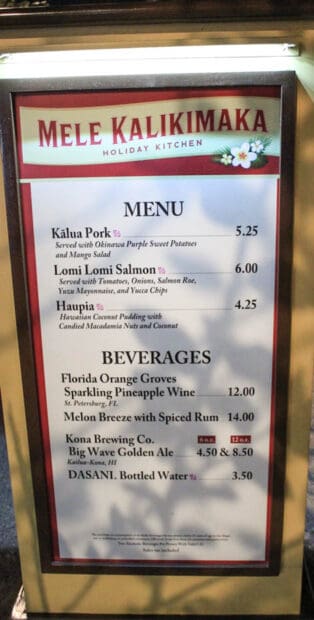 The menu here offers the following items:
Kalua Pork with Okinawa purple sweet potatoes and mango salad ($5.25)
Lomi Lomi Salmon with tomatoes, onions, salmon roe, yuzu mayonnaise, and yucca chips ($6.00)
Haupia: Coconut pudding with candied macadamia nuts and coconut ($4.25)
Since I was slightly interested in the Haupia, I decided to give it a taste test. I don't think I had any expectations about how it would taste. But I still remember thinking it was unexpected.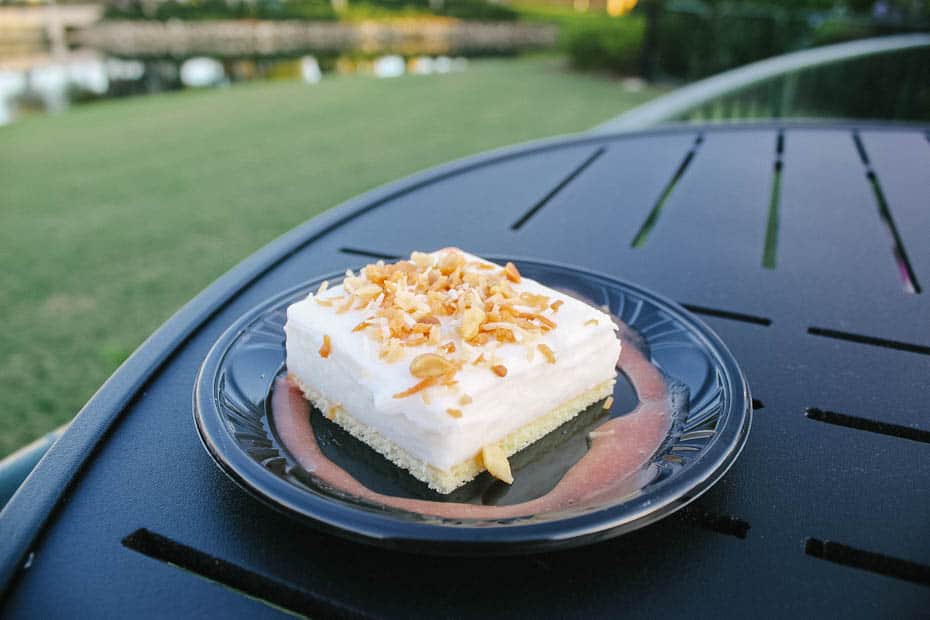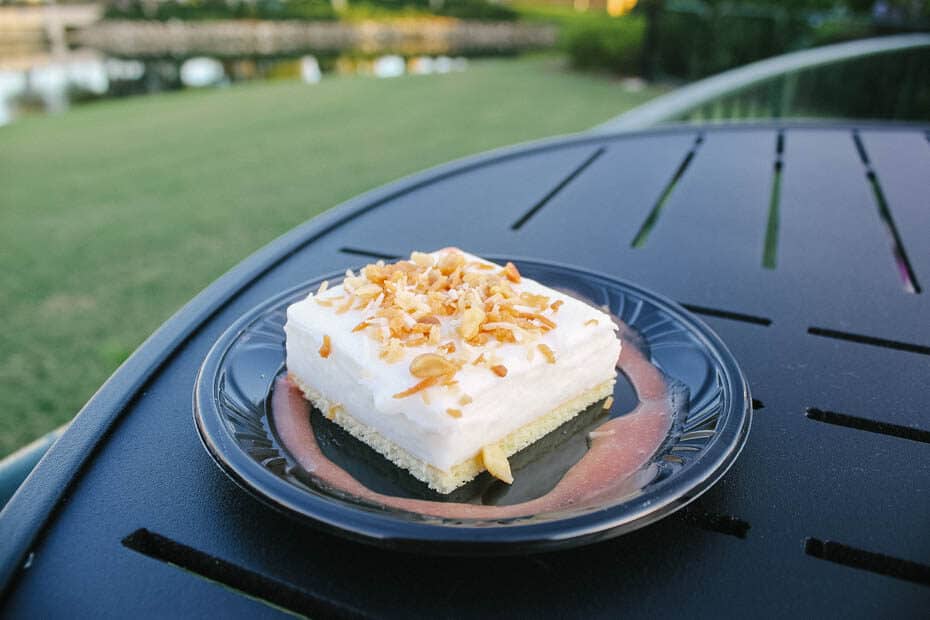 The sauce around the plate was light and sweet with floral notes. However, I felt like it needed much more to make the dish fully work.
The bottom layer was a thin slice of sponge cake that I wish had been something crisper. However, the pudding layer was smooth, and the dish didn't leave me feeling heavily laden with calories.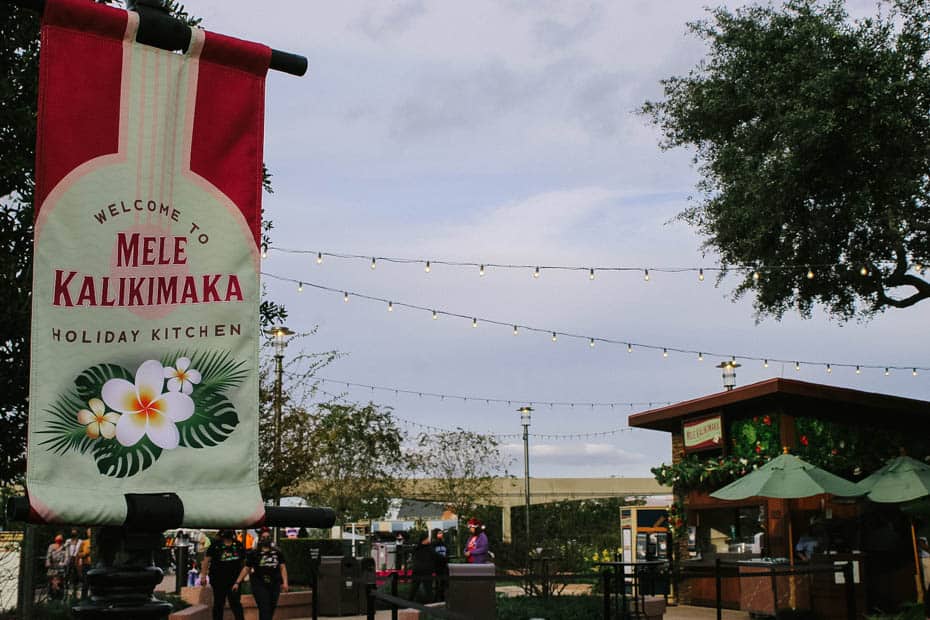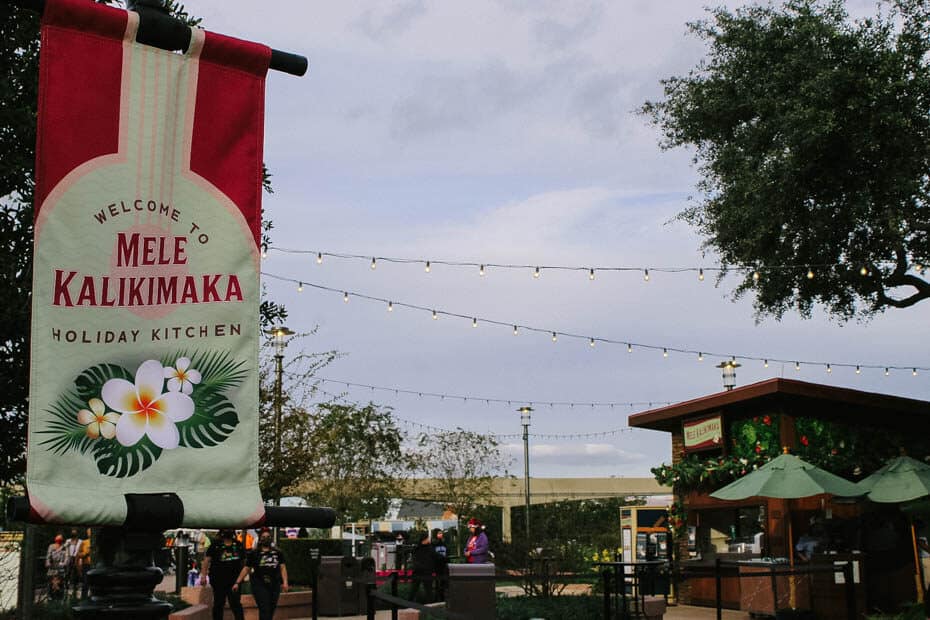 As usual, I also wanted to try a beverage here. But then I remembered my last drink experience here and how the drink was highly overrated, given the price. Therefore, I declined.
Here are the available beverages:
Kona Brewing Co. Big Wave Golden Ale
Florida Orange Groves Sparkling Pineapple Wine
Melon Breeze with Spiced Rum
Refreshment Port
Refreshment Port is located in the same area of the World Showcase Plaza as the last few kitchens we've discussed. This is usually a quick service stop that's open year-round. However, they have a few unique offerings for the Festival of the Holidays.
Turkey Poutine French fries with turkey gravy, cranberry relish, and crispy onions
Eggnog
Big Top Brewing Company Hawaiian Lion Toasted Coconut Coffee Porter
Eggnog (with spiced rum)
Yukon Holiday Kitchen
Before we reach the World Showplace building, our last actual kitchen is located in the Canada Pavilion. The Yukon Holiday Kitchen always has several popular festival items. This year is no exception.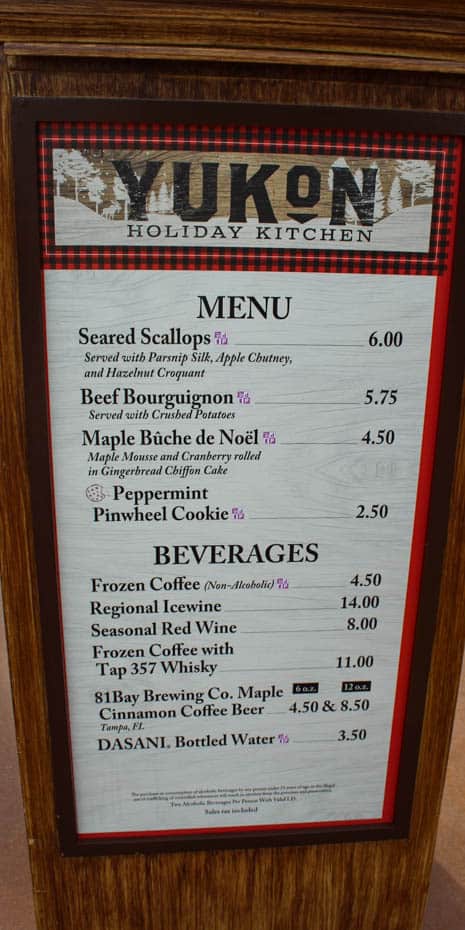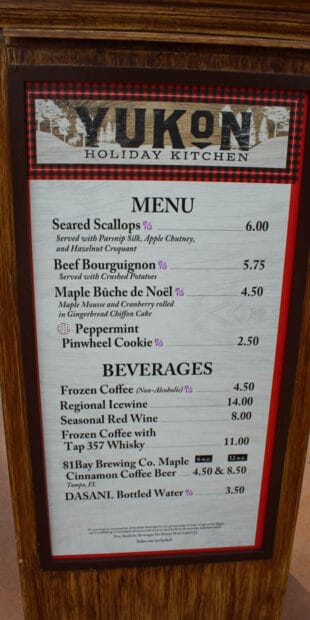 Items include:
Seared Scallops with parsnip silk, apple chutney, and hazelnut croquant ($6.00)
Beef Bourguignon with crushed potatoes ($5.75)
Maple Buche de Noel: Maple mousse and cranberry rolled in gingerbread chiffon cake ($4.50)
Peppermint Pinwheel Cookie ($2.50)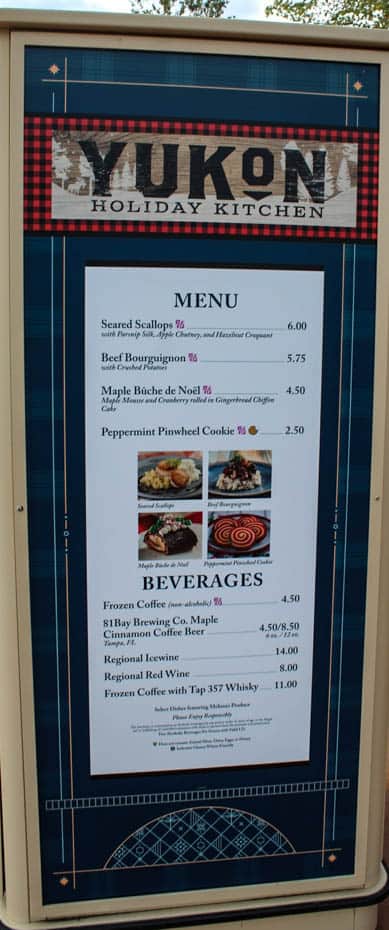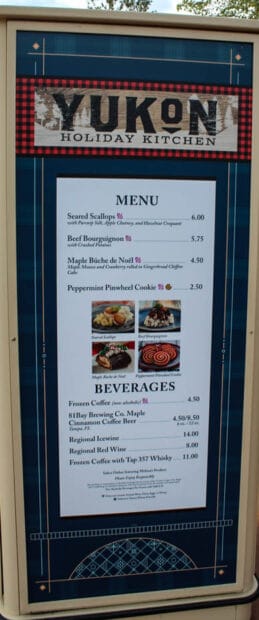 Beverages include:
Frozen Coffee (non and alcoholic versions)
81 Bay Brewing Co Maple Cinnamon Coffee Beer
Regional Icewine
While in Canada, you might run into some entertainment on the Canada Mill Stage. Performances will be available at various times of the day. Unfortunately, these items are not on a schedule to help prevent crowding in the area.
World Showplace Kitchens
Lastly, we'll look at the Festival of the Holidays kitchens in the World Showplace building between Canada and the United Kingdom.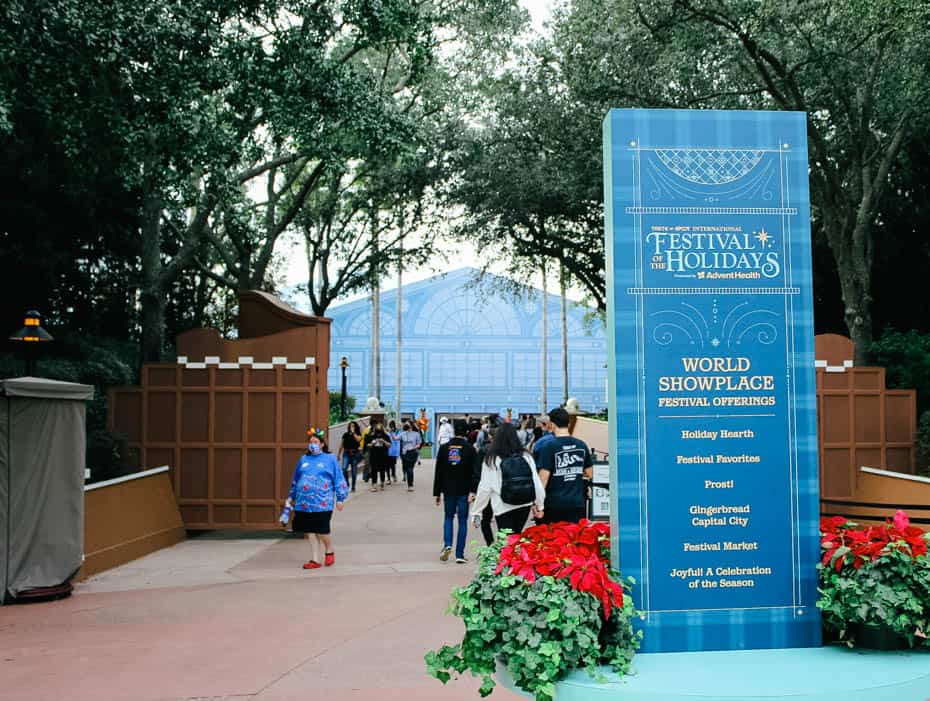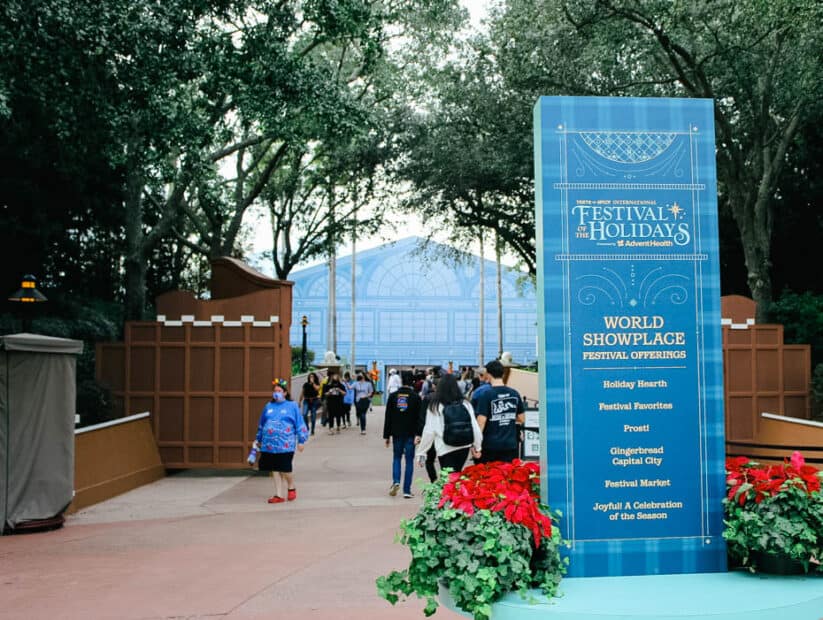 Inside, there are three different booths:
Festival Favorites
Prost!
Holiday Hearth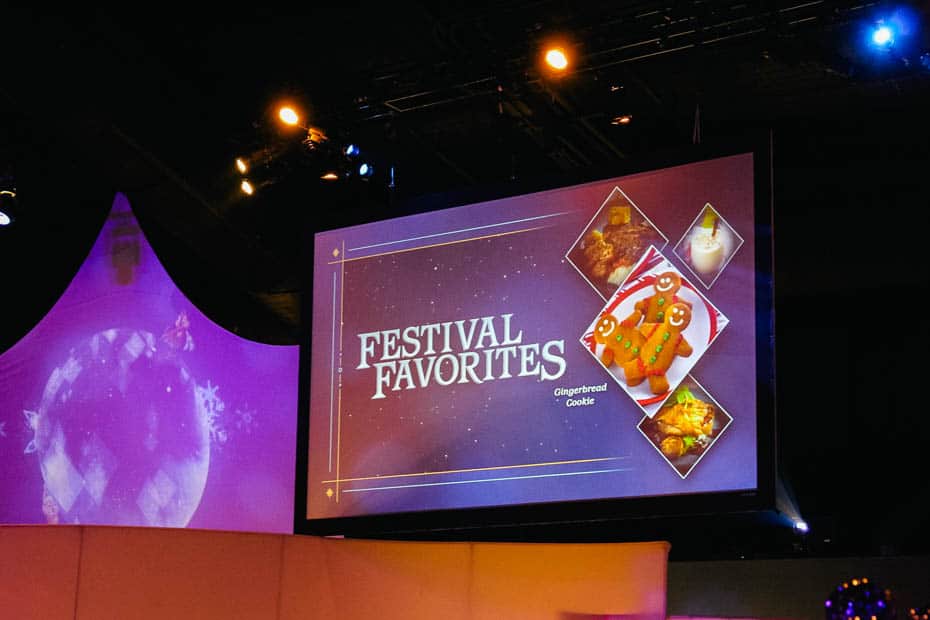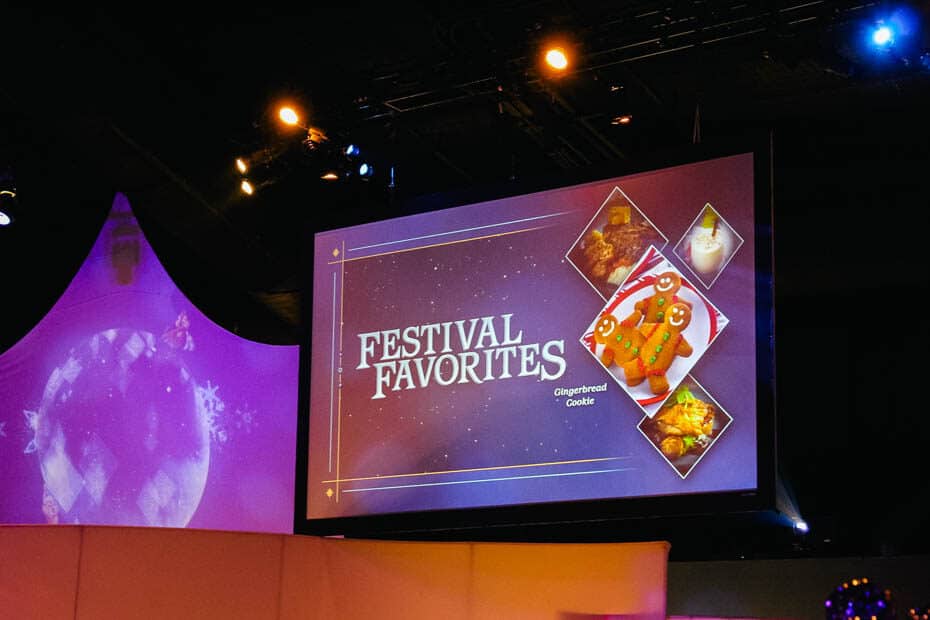 I neglected to take a picture of all the menus here, so I won't have prices for everything.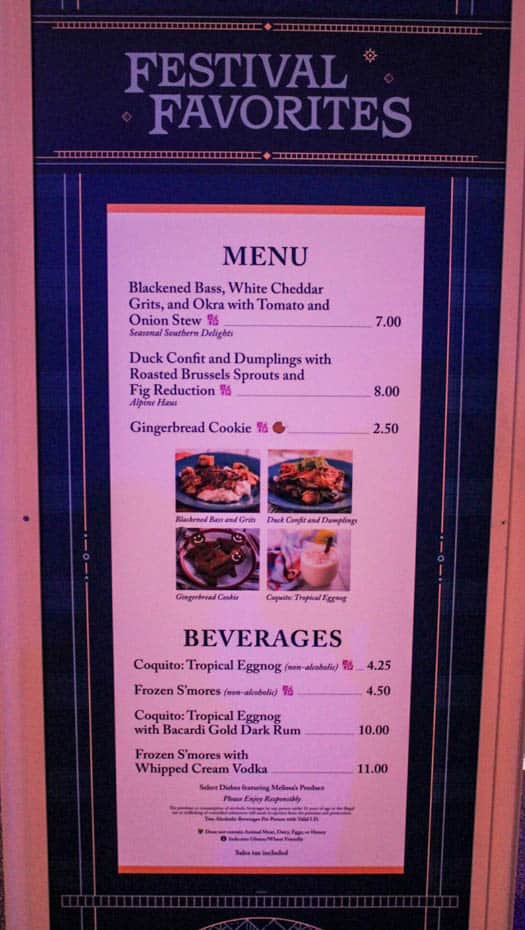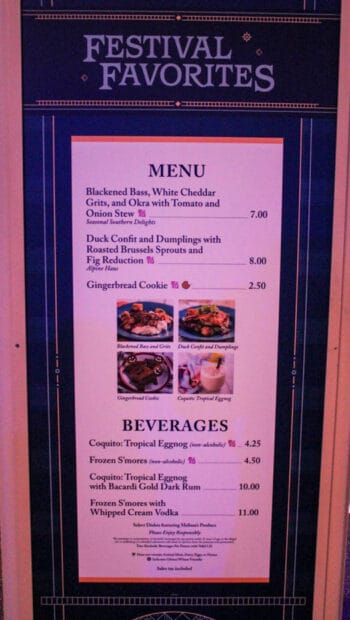 First, we'll take a look at the Festival Favorites items:
Blackened Bass: white cheddar grits, okra, tomato, and onion stew ($7.00)
Duck Confit and Dumplings with roasted Brussels sprouts and fig reduction ($8.00)
Gingerbread Cookie ($2.50)
Beverages:
Coquito (alcoholic and non-alcoholic versions)
Frozen S'mores (alcoholic and non-alcoholic versions)
Prost! Menu
Charcuterie and Cheese Plate
M.I.A. Beer Company White Christmas IPA
3 Daughters Brewing 70 Degree Winter Weizen
Playalinda Brewing Co Gingerblonde House Ale
Ciderboys Mad Bark Apple Cinnamon Hard Cider
3 Daughters Brewing Blueberry Peppercorn Hard Cider
Beak and Skiff Apple Orchards 1911 Honey Crisp Hard Cider
Holiday Hearth Menu
Red Velvet Mini Bundt Cake
Salted Caramel Spaceship Earth Cookie
Snowball Cookies
Peppermint Bark
Stollen
Mouse Crunch
Gingerbread Milkshake (alcoholic and non-alcoholic versions)
Hot Cocoa
Cocoa Candy Cane
Inside the World Showplace, you might also encounter more Merry Music entertainment. You'll also find two different backdrops for holiday photos.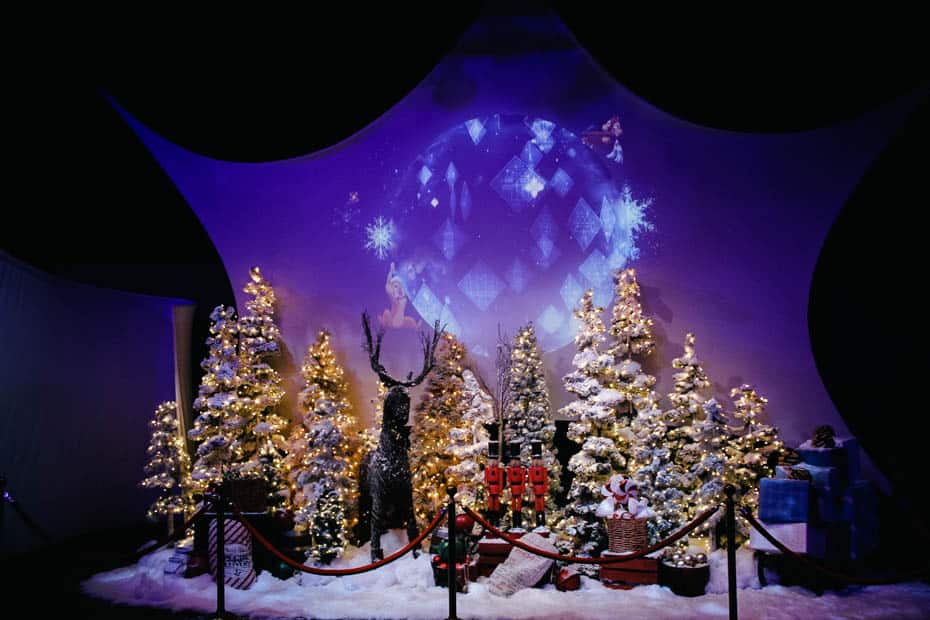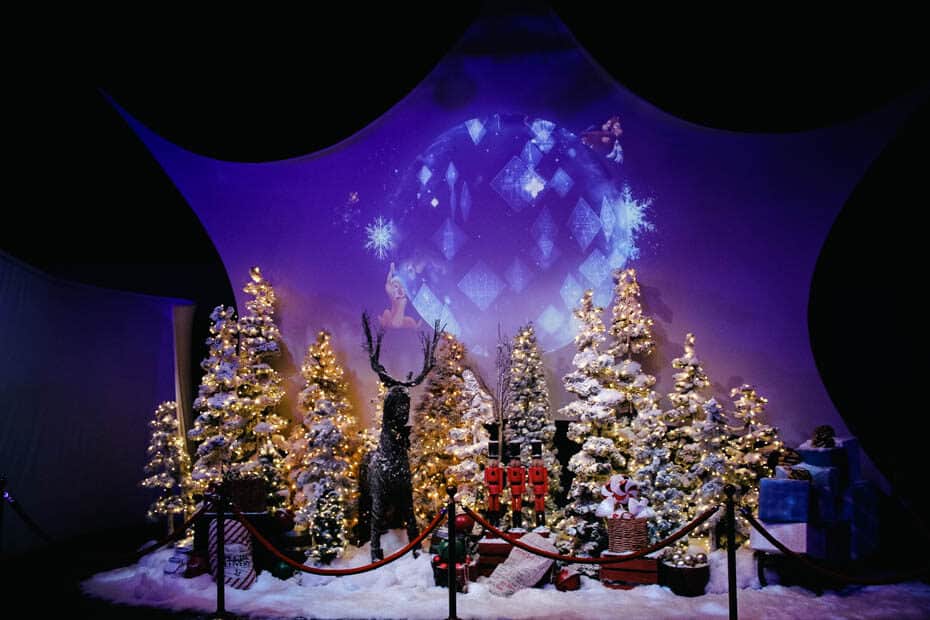 They were both fun backdrops, but I felt Olaf was a little hard to see in the one below.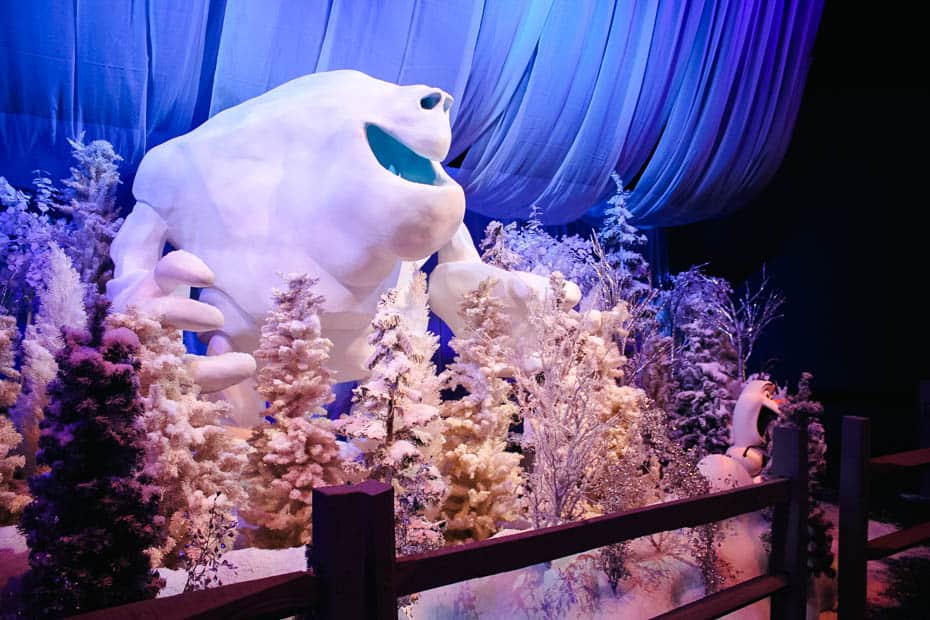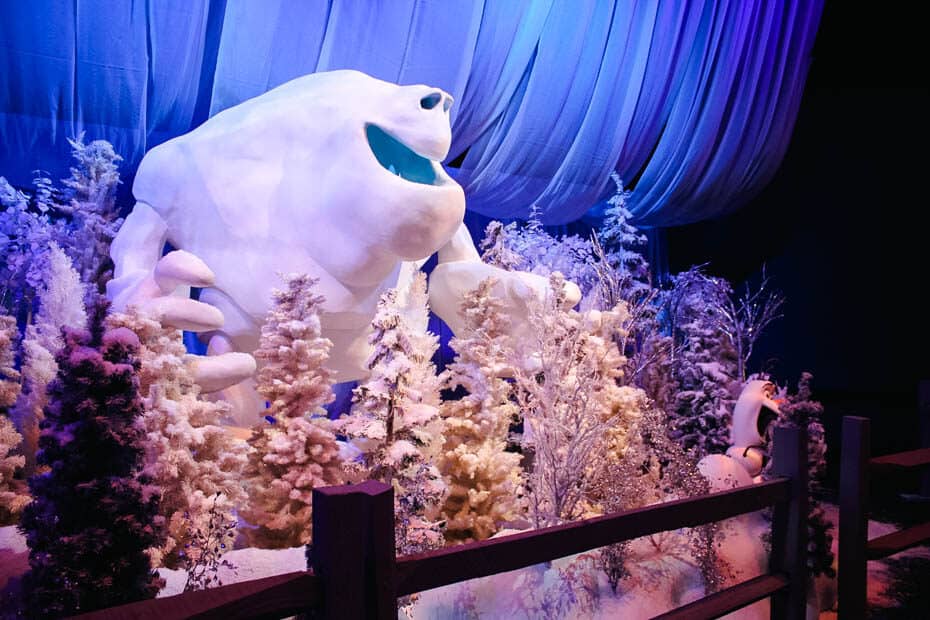 Gingerbread Capital City Mention
Inside the World Showplace, there's a Gingerbread Capital City display. The display includes landmarks like the U.S. Capitol building, Martin Luther King Jr. Memorial, and Washington Monument. Disney chefs made it.
Joffrey's Coffee and Tea Mention
Joffrey's Coffee and Tea Co. offers a few special items for the Epcot Festival of the Holidays. A sign outside each location will provide details for the various specialty beverages.
Epcot Festival of the Holidays Merchandise
Throughout Epcot, multiple kiosks offer festival merchandise like the one below.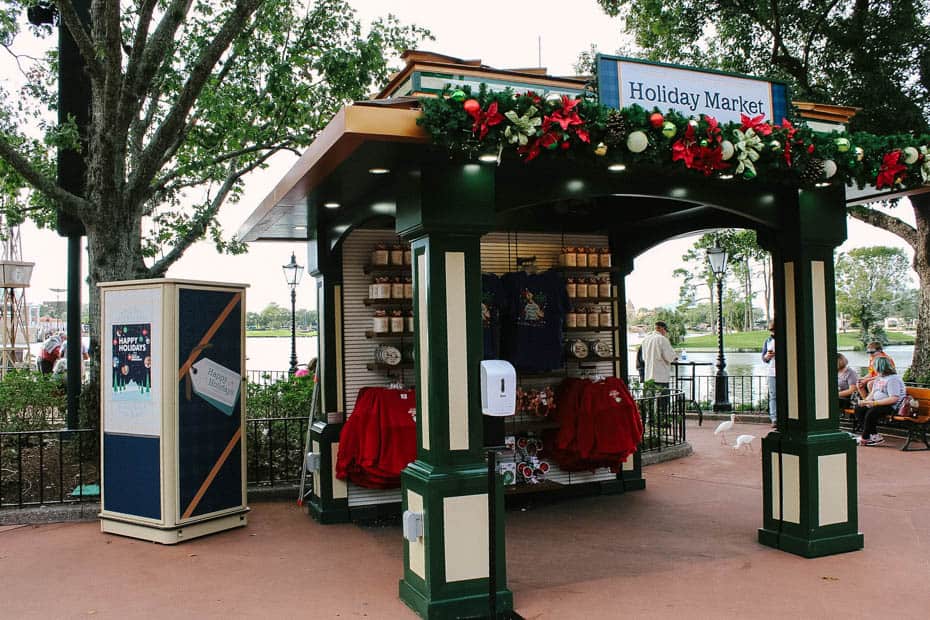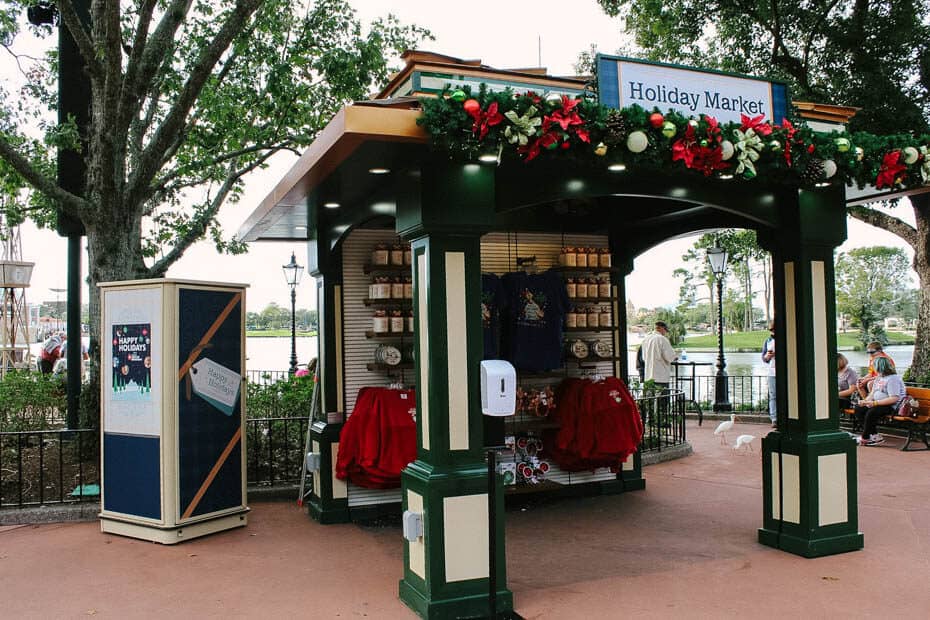 Additionally, festival merchandise will be available in the World Showplace Events Pavilion, Mouse Gear, and other shops around the park.
Final Thoughts on the Epcot Festival of the Holidays
Anyone visiting Epcot during the holiday season will likely enjoy the variety of extra opportunities the Festival of the Holidays offers. It's especially nice to plan a trip around the first two weeks of December before the major crowd's visit over the holidays.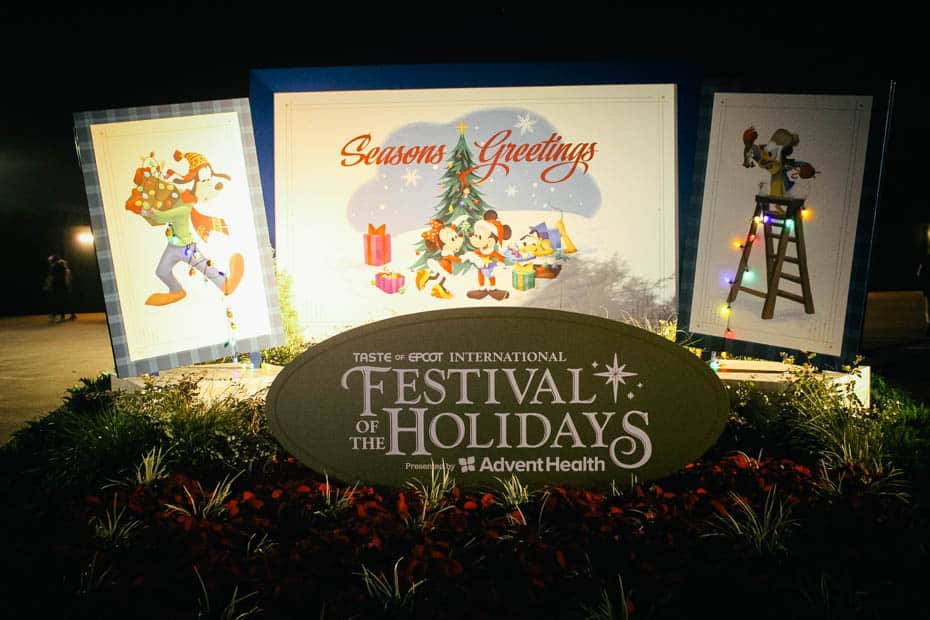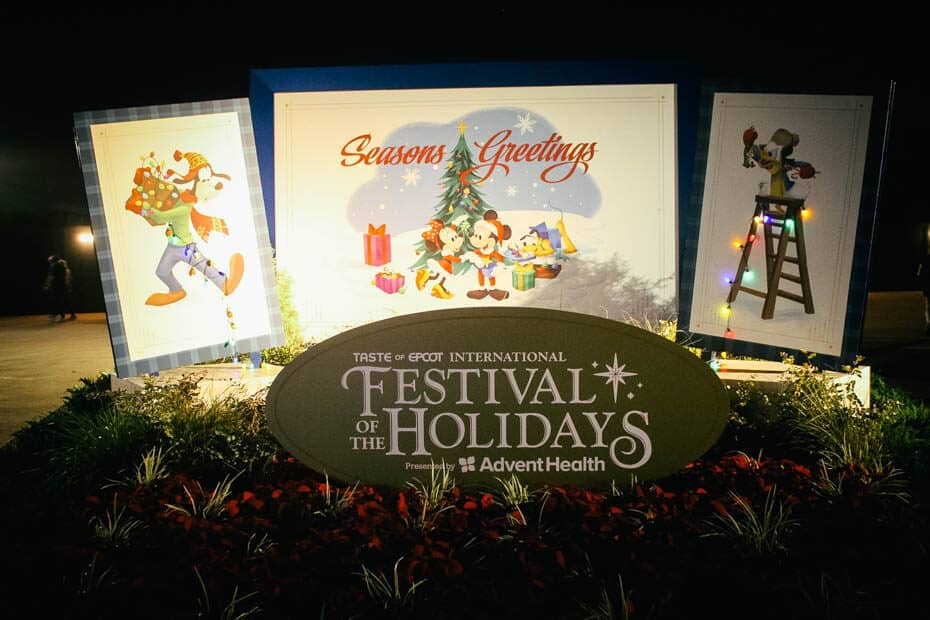 Resorts Gal recommends staying in the Epcot Resorts Area if you plan to spend a good deal of time at Epcot or Disney's Hollywood Studios. You can't beat being able to walk or boat to either of these parks.
That goes especially for the end of the evening when the masses are leaving the park. You can walk back to your room and be there in no time! These resorts include the following:
And there's also Disney World's newest hotel, the Swan Reserve!
Have you had the opportunity to visit during the Epcot International Festival of the Holidays? What are your thoughts?