Impressions de France at Epcot
Impressions de France, an original Epcot attraction, is genuinely one of a kind. This 18-minute film is a must-see for anyone who enjoys traveling, especially to France.
Below, we'll discuss the specifics for seeing Impressions de France at Epcot. First, however, you'll want to note that the film is only shown during limited hours in the evening.
At the time of this update, Impressions de France is shown daily on the half-hour, beginning at 6:30 p.m. through 8:45 p.m.
Fun fact, Impressions de France holds a record for the longest-running daily film in a theater. It used to run all day, every day, on a half-hour schedule.
Unfortunately, Impressions de France now shares the theater with The Beauty and the Beast Sing-Along. That modern-day cartoon leaves a lot to be desired and is nothing compared to the quaint yet inspiring film that is Impressions.
This article was updated on February 12, 2023.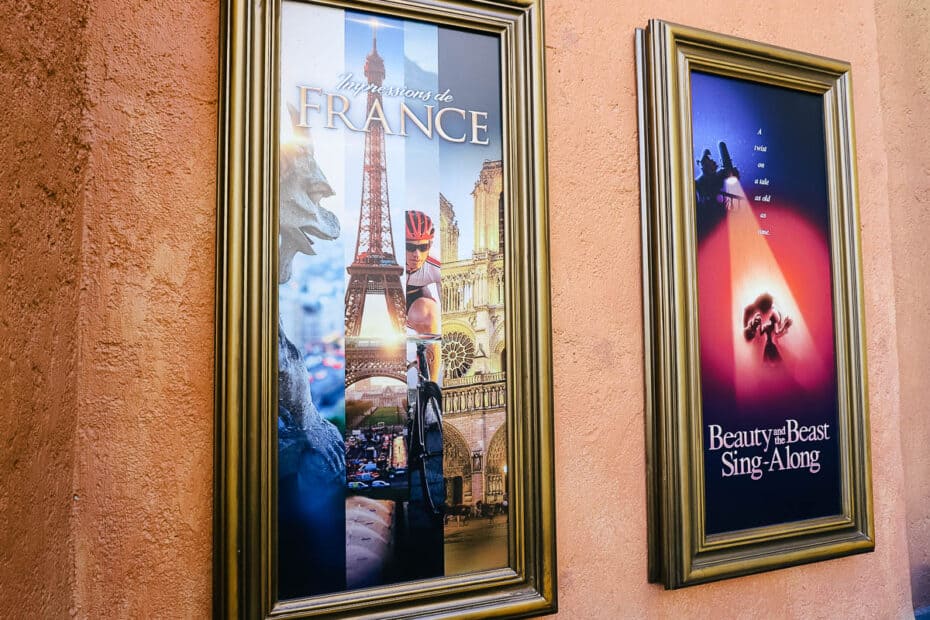 Below are a few quick references for Impressions de France.
Impressions de France
Epcot Attractions

Location:

France Pavilion

Height Requirement:

None

Ride Type:

Film

Seats Per Vehicle:

Theater with seats

Duration:

18 minutes


Good For:

Everyone


Scare Factor:

None


Must-Do List:

Medium Priority


Perfect For:

Nostalgia, Travelers


Special Mention:

This film is only shown between 6:30 p.m.
and park closing.

*Details for those with mobility issues (i.e., wheelchair, ECVs) can be found here on Disney's site.
Impressions de France
Impressions de France plays inside the Palais du Cinema in Epcot's France Pavilion. A sign above the entrance indicates which film is available. Each performance is usually held on the half-hour.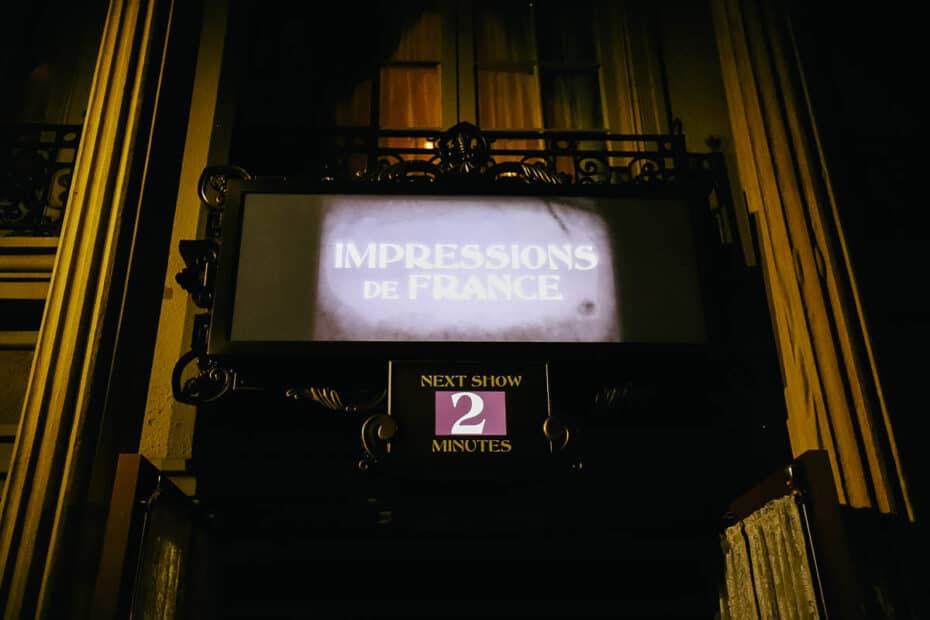 While waiting for the next performance, you might want to browse the exhibit inside the theater's lobby. It's called "Tale as Old as Time: French Storytelling On Stage and Screen."
Six different showcases inside the waiting area represent French literature and its inspiration for cinema, theater, and opera.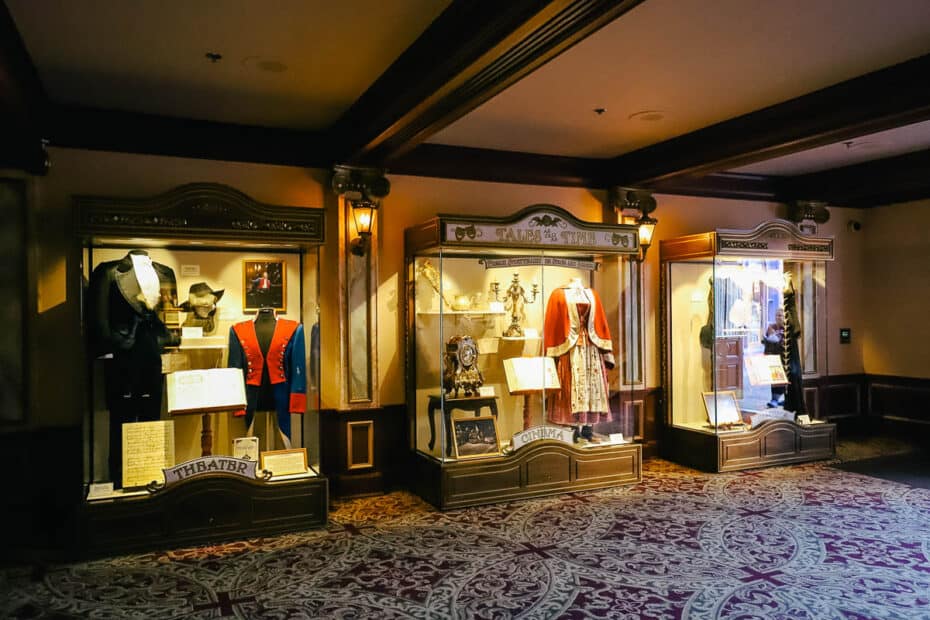 Below is a display featuring pieces from the Walt Disney Archives. These were all part of the live-action Beauty and the Beast.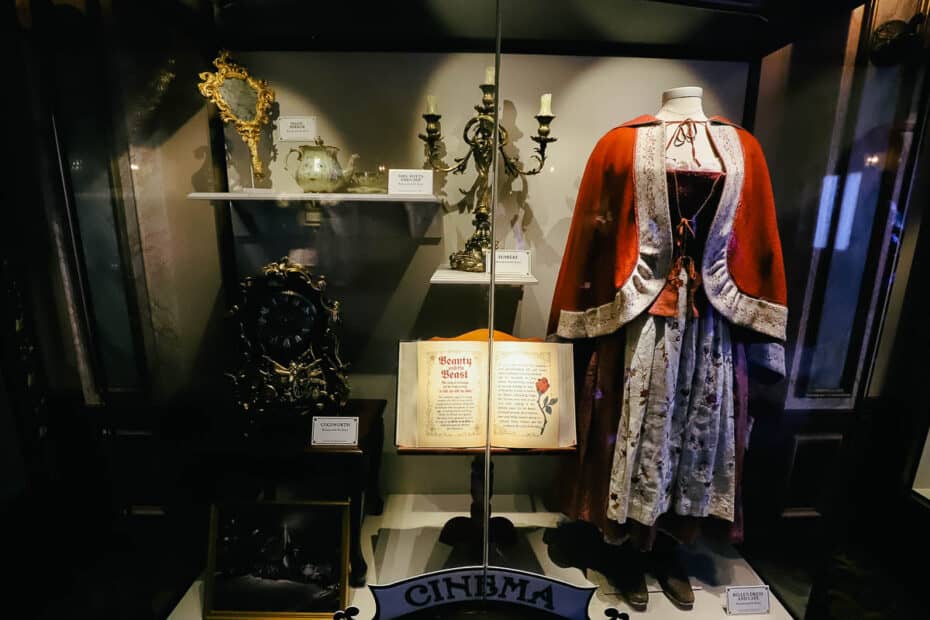 The costumes below are from the live-action Cinderella and The Three Musketeers.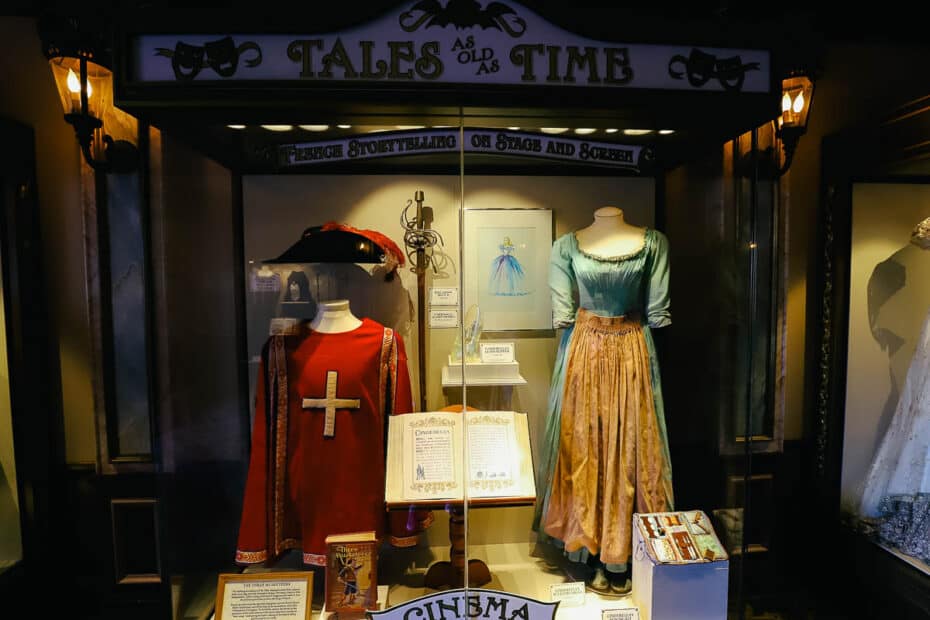 Here are some items from The Phantom of the Opera.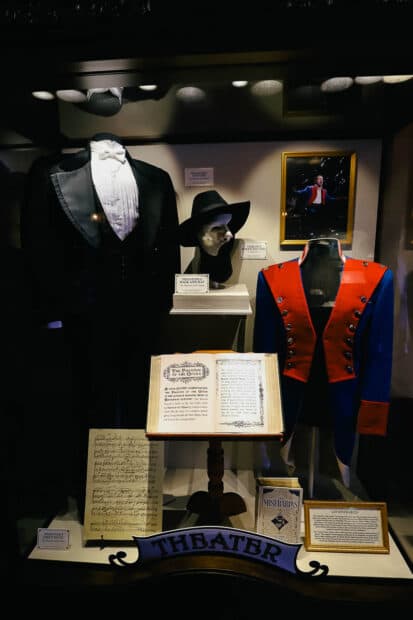 On my last visit, I noticed that these pieces from Maleficent had been added, which reference the story of Sleeping Beauty. So if you've browsed the exhibit before, it might be worth a second look.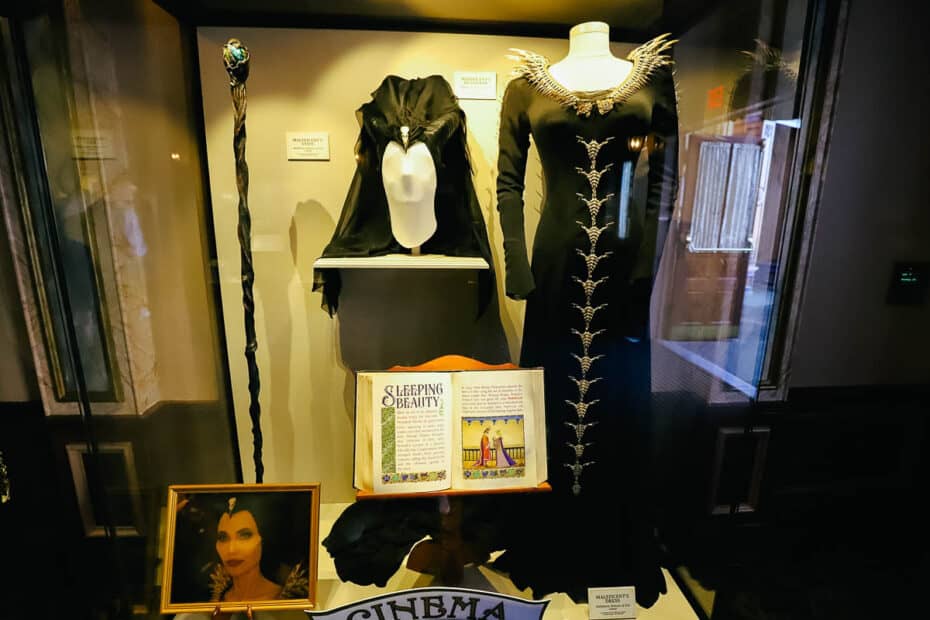 Disney describes Impressions de France on their website:
"Be transported to another time and place, a land of princesses and enchanted castles, as the Loire Valley and its magnificent chateaux appear in a stunning 200-degree widescreen view. 
On your virtual journey, ride along with horsemen and hunting dogs in the Cheverny Forest, reflect on the Hall of Mirrors at Versailles, visit a bustling marketplace in Normandy and see vintners and cognac makers at work. 
Watch Bugattis racing in Cannes, hot-air balloons floating along the Loire and celebrate Bastille Day in grand Gallic fashion as you listen to an emotional soundtrack by French composers like Claude Debussy, Maurice Ravel, and Paul Dukas. 
Their joie de vivre leaves an indelible impression!"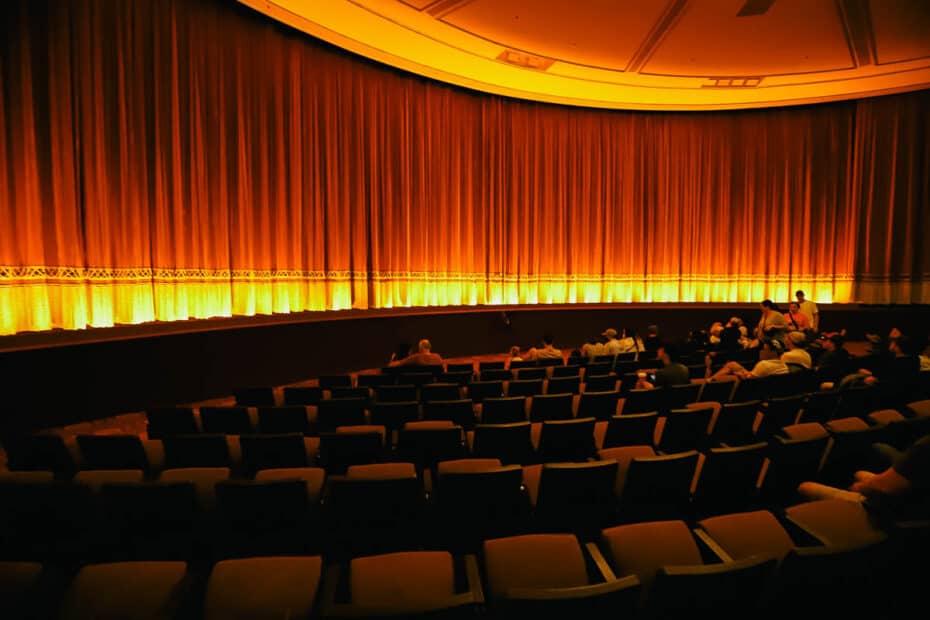 Once you enter the theater, you'll find a seat. Soon after, a cast member welcomes the audience and gives a few directions in case anyone needs to exit the theater during the show.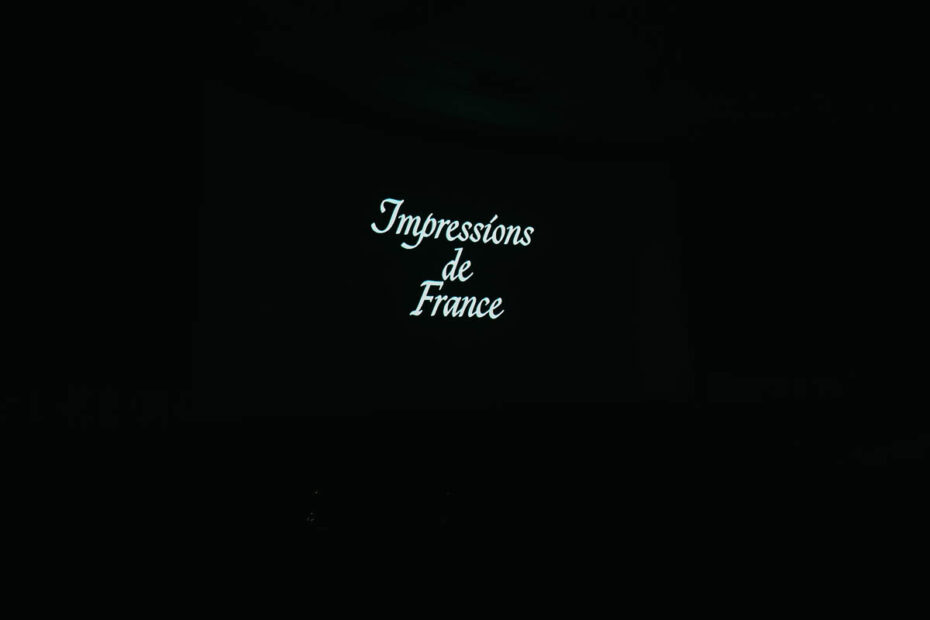 Since the film is 18 minutes long, many scenes are featured. For example, below, we see the cliffs of Normandy in Étretat.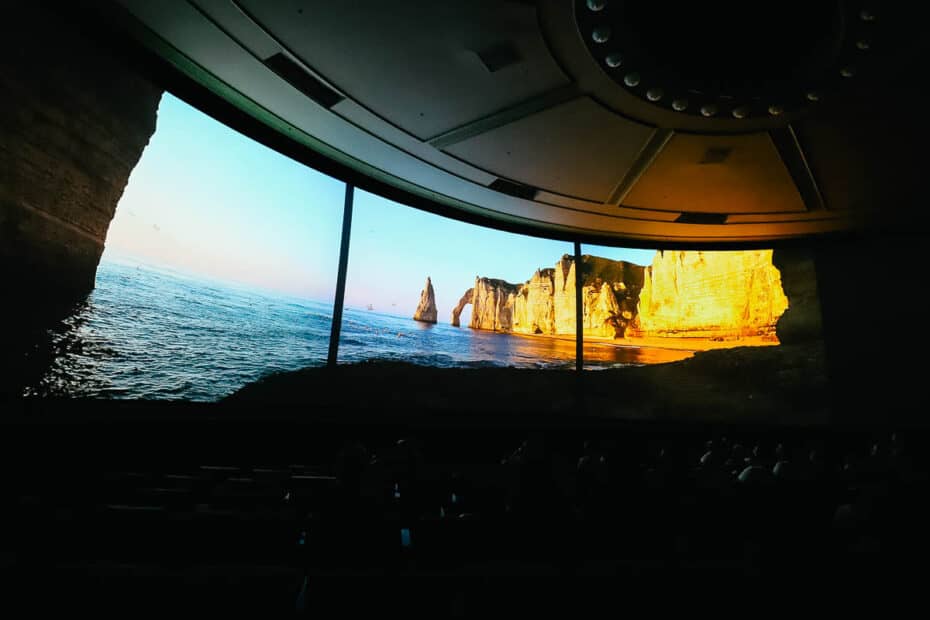 Here are the horsemen and hunting dogs in the Cheverny Forest.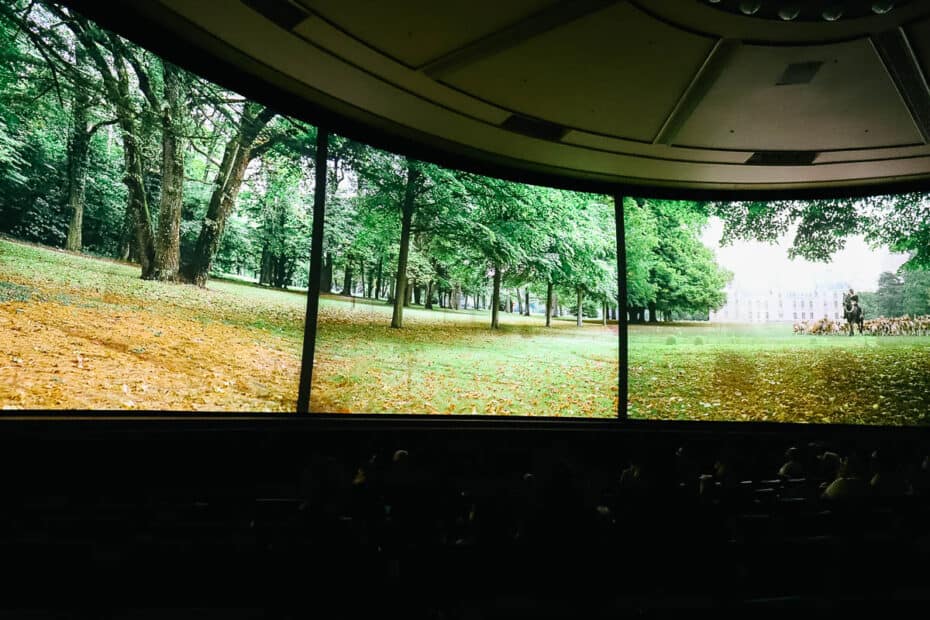 We see the charm of an outdoor marketplace.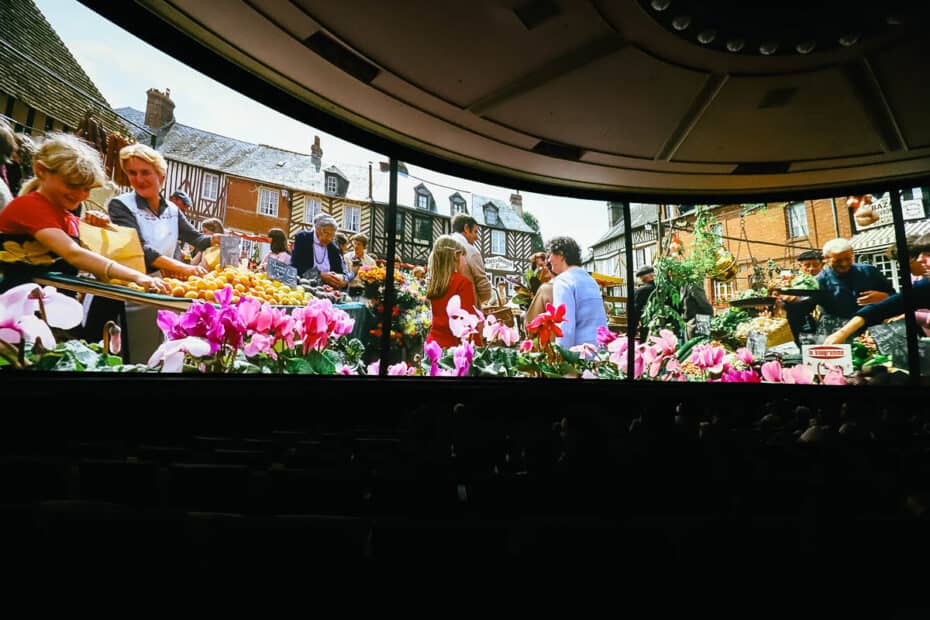 Of course, it wouldn't be a French film without a glimpse of a pastry case.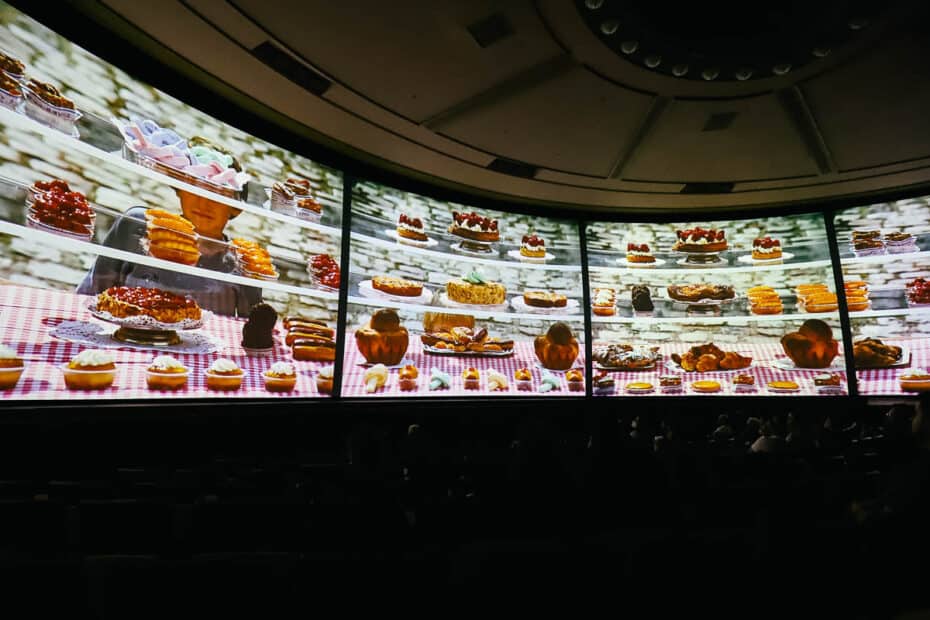 Here is the Palace of Versailles.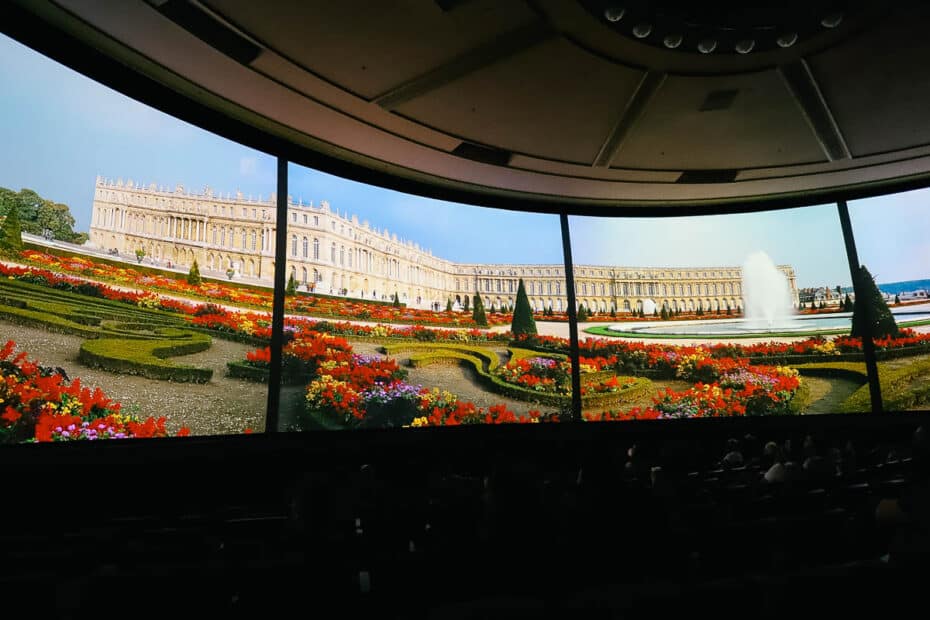 Then we take a quick look inside the palace at the Hall of Mirrors.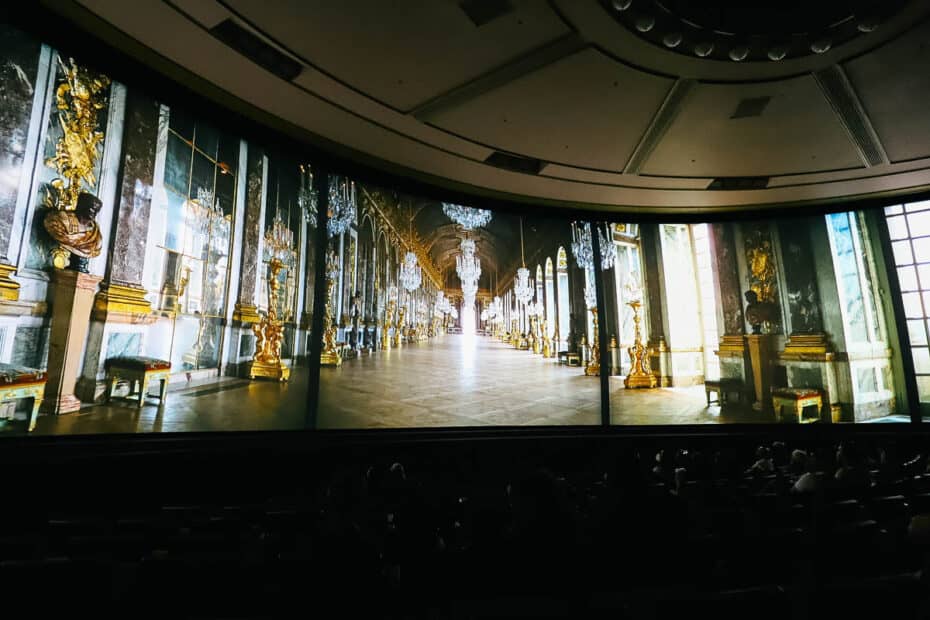 Hot air balloons are preparing for flight.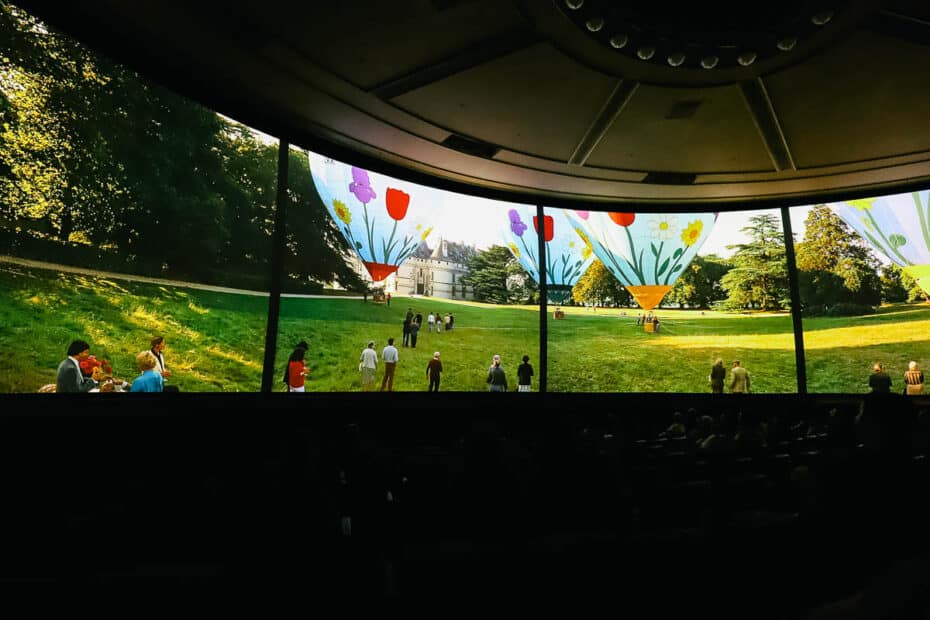 We visit the French Alps for downhill skiing.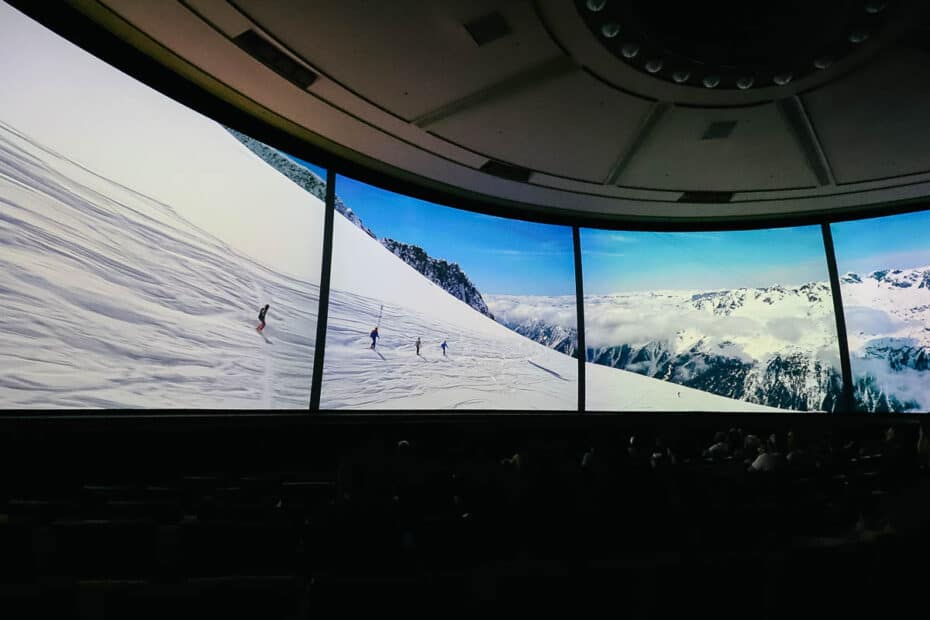 Perhaps the most romantic scene is the young couple getting married. A wedding reception follows it. What would a trip to France be without a bit of romance?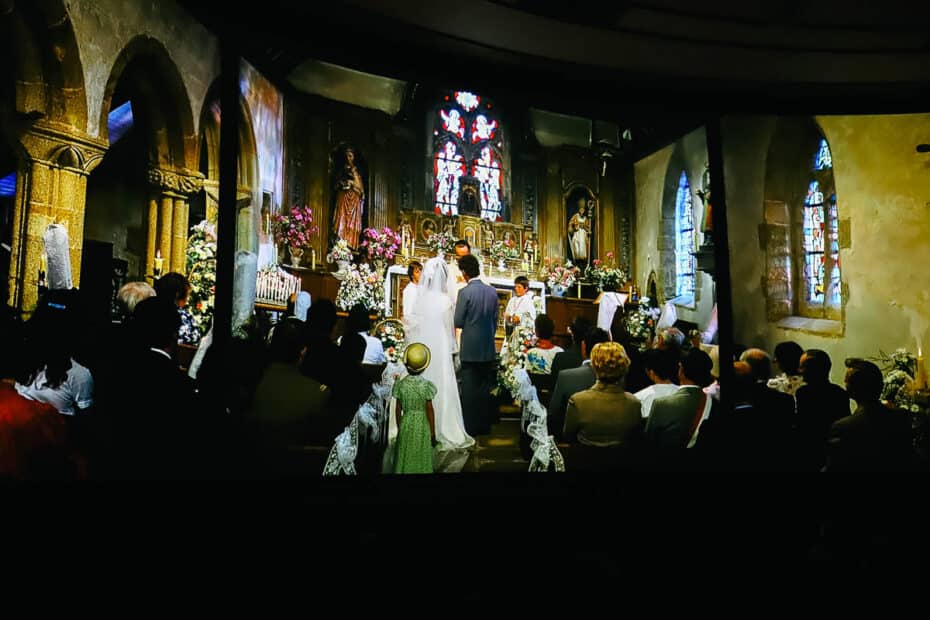 Here are a few sunbathers in front of the Carlton Hotel in Cannes.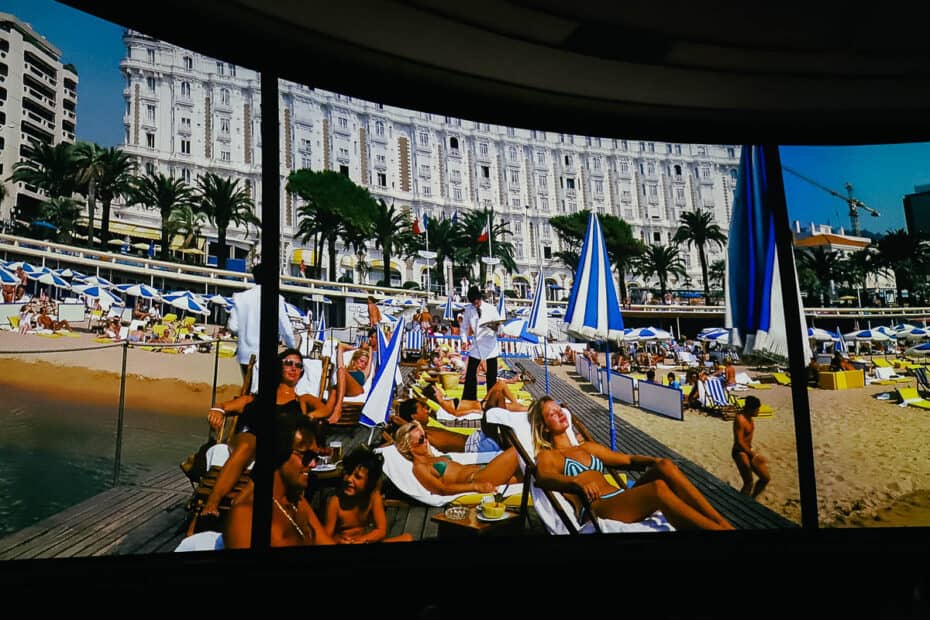 Lastly, the film ends with a nod to Bastille Day, the independence holiday of France.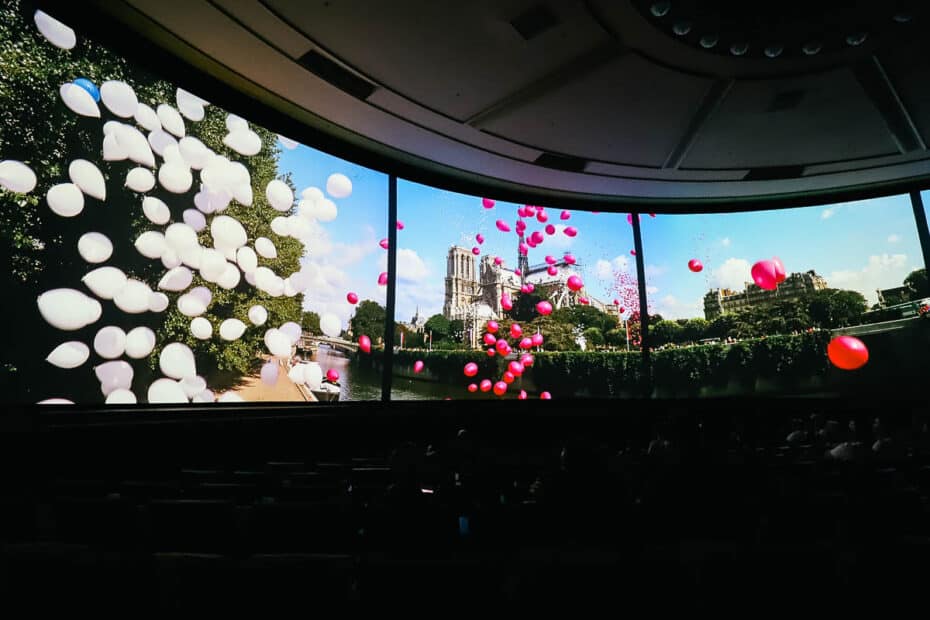 Overall, Impressions de France is an inspirational film that remains as endearing today as it was when it first debuted. Possibly, it's even better.
Don't be surprised if the audience claps before and after the film. You'll soon realize that this small film has left quite an impression on many guests. Maybe, it will do the same for you.
For other attractions at Epcot, you might enjoy the following:
You might also enjoy these World Showcase Pavilion Reviews:
Anyone planning a Disney vacation might also like our list of Walt Disney World Resorts. Some of our favorite resort planning articles include:
In the Comments
Have you ever seen Impressions de France? What are your thoughts on the film?