A Jaunt Through the Japan Pavilion at Epcot
In this article, we visit the Japan Pavilion at Epcot. We'll preview the pavilion's sole attraction, dining options, entertainment, and shopping.
Epcot's Japan Pavilion sits toward the center of the World Showcase between the American and Morocco Pavilions. It is home to a variety of sightseeing opportunities and restaurants.
Additionally, the pavilion offers the largest department store in all of the World Showcase. You could spend hours browsing all the stuff!
Fair warning, fans of Hello Kitty, Anime, Sonic, and all things Kawaii might want to hide those magic bands as you approach the Japan Pavilion. Treasures untold can be found in the Mitsukoshi Department Store.
Other pavilion highlights include the large red Torii Gate, the Matsuriza Drummers, and the "shave ice" concoctions available at one of the outdoor quick services.
Below, we'll discuss all of these items in more detail. So slip into your kimono and allow me to unfold the sensu. There are plenty of things to do at the Japan Pavilion in Epcot.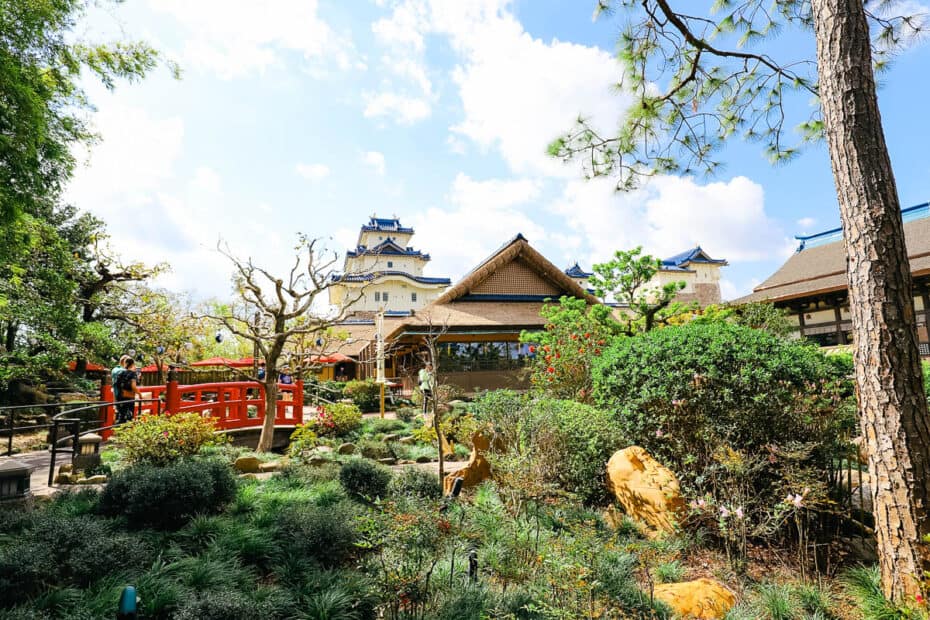 Epcot's Japan Pavilion
Below is a list of the different architectural references, entertainment, restaurants, and shops in the Japan Pavilion.
Architecture
Torii Gate
Japanese Castle
Pagoda
Japanese Gardens
Attractions
Entertainment
Dining
Garden House (Kiosk)
Kabuki Cafe (Quick Service)
Katsura Grill (Quick Service)
Teppan Edo (Table Service)
Tokyo Dining (Table Service)
Takumi Tei (Signature Dining)
Retail
Mitsukoshi Department Store
Mitsukoshi Kiosk
Kidcot in Japan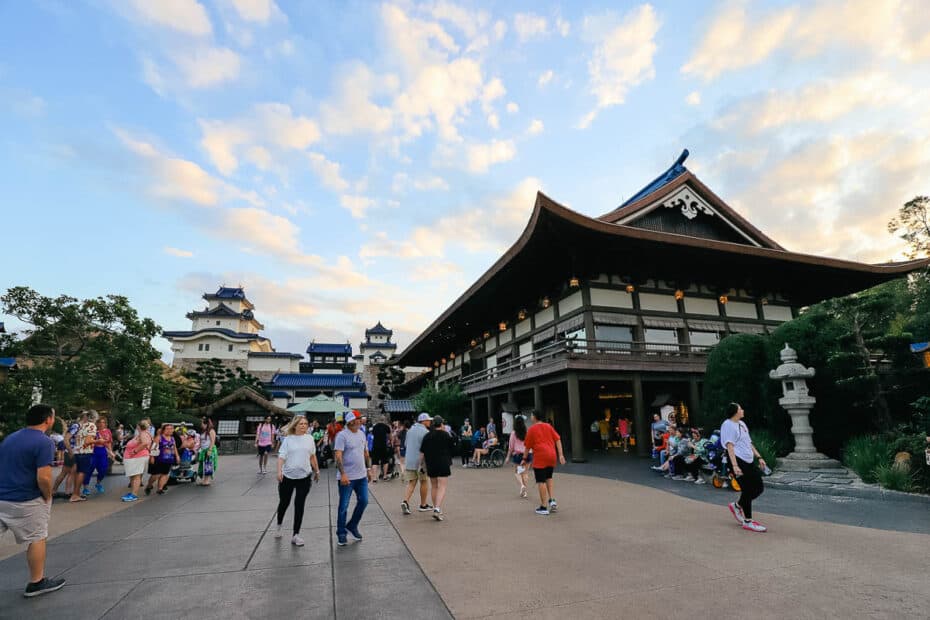 Epcot's Japan Pavilion offers quite a few architectural elements. For starters, a Torii gate sits on the lagoon side of the pavilion. With its vibrant red paint and Spaceship Earth backdrop, it's one of the most popular photo spots in the World Showcase.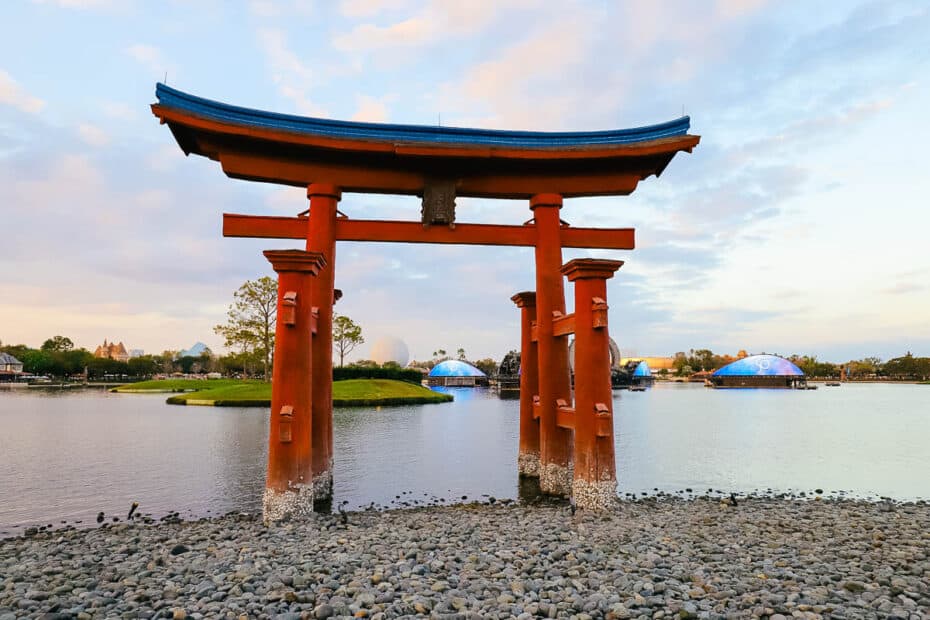 A Japanese castle replica serves as the actual pavilion's backdrop. While the castle's facade is more for looks, it is impressive.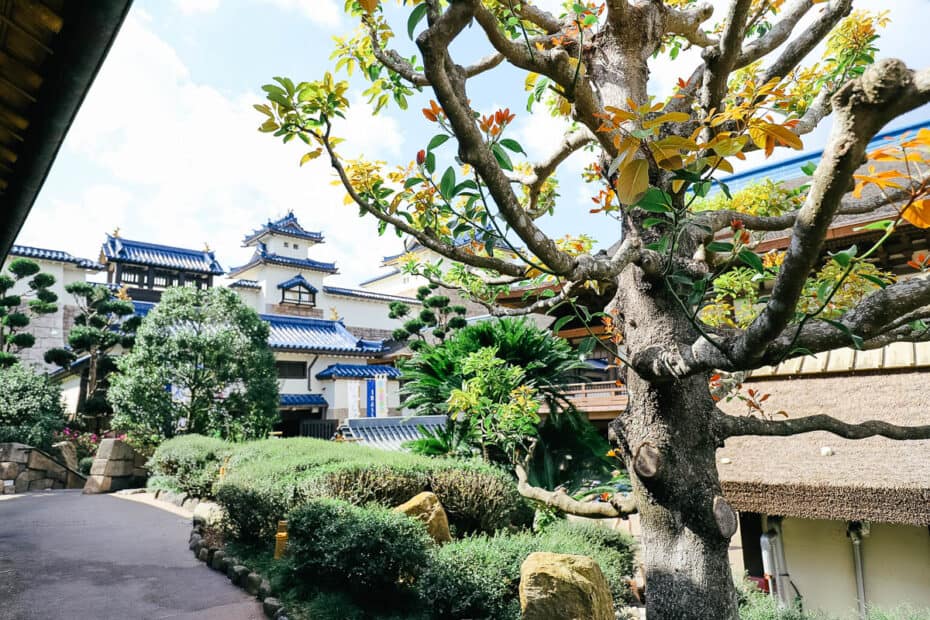 You can walk through the castle's gates to visit the Kawaii exhibit at the back of the pavilion.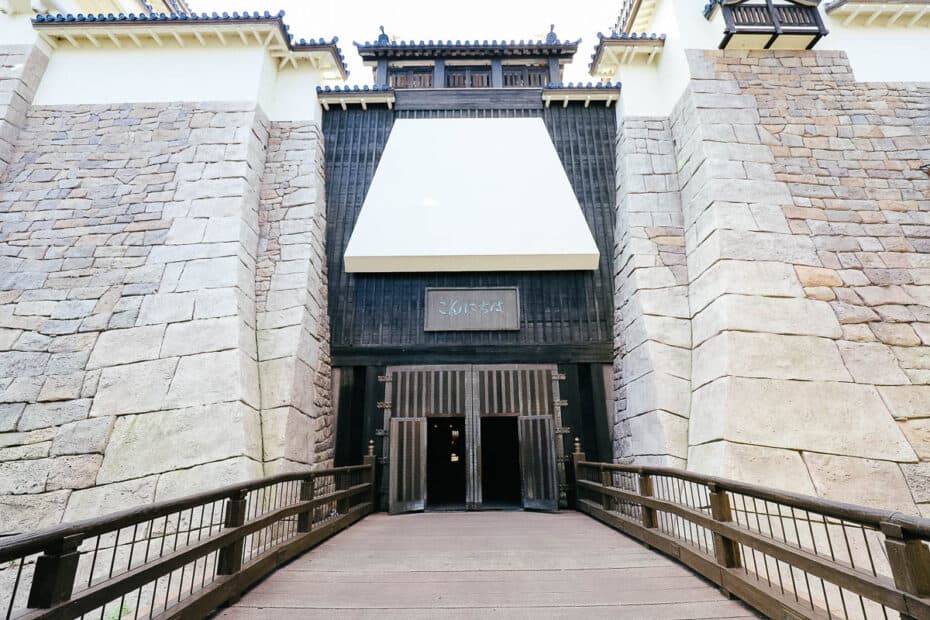 Two Japanese Samurai warrior statues are positioned outside the entrance.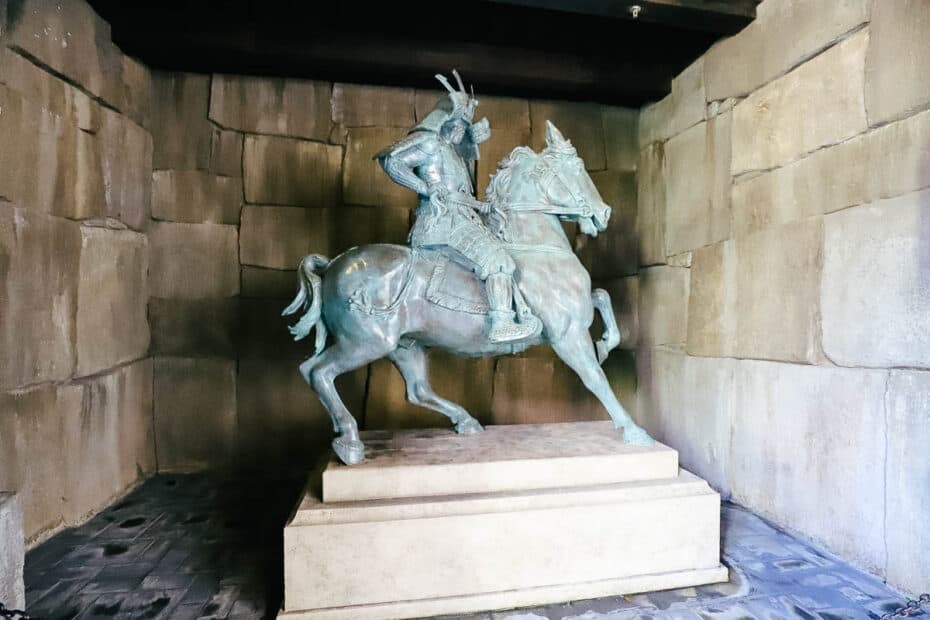 A stunning Pagoda sits in the middle of the pavilion.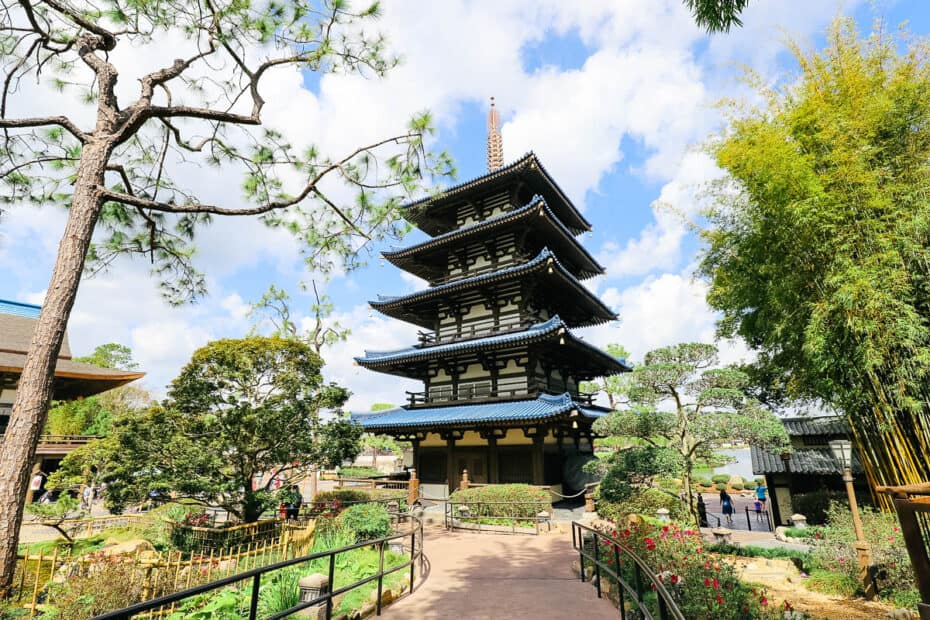 Behind the Pagoda, a Japanese garden leads to several outdoor eating areas. The garden provides a peaceful spot to escape the crowds.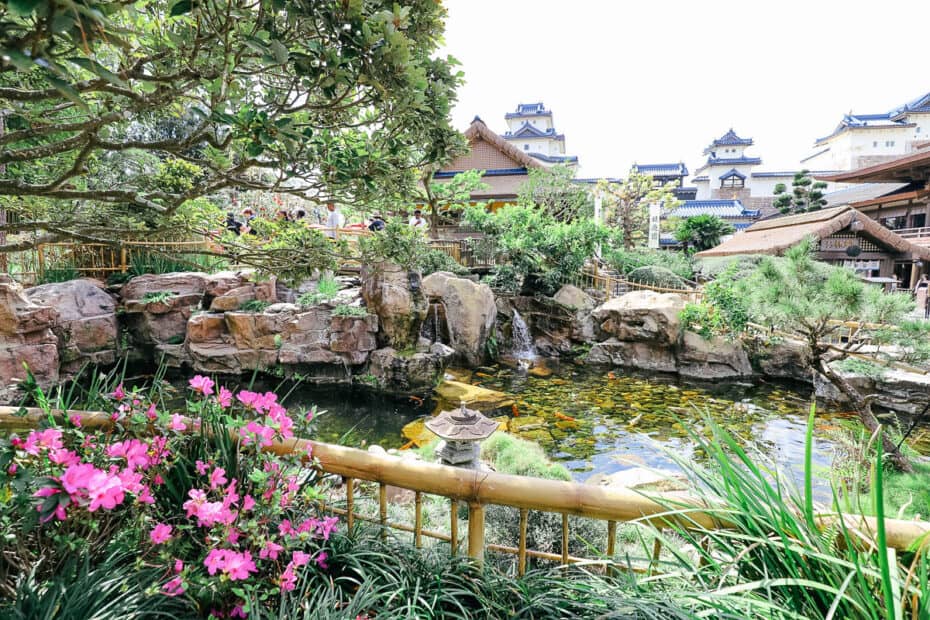 Here are a few more photos of the garden.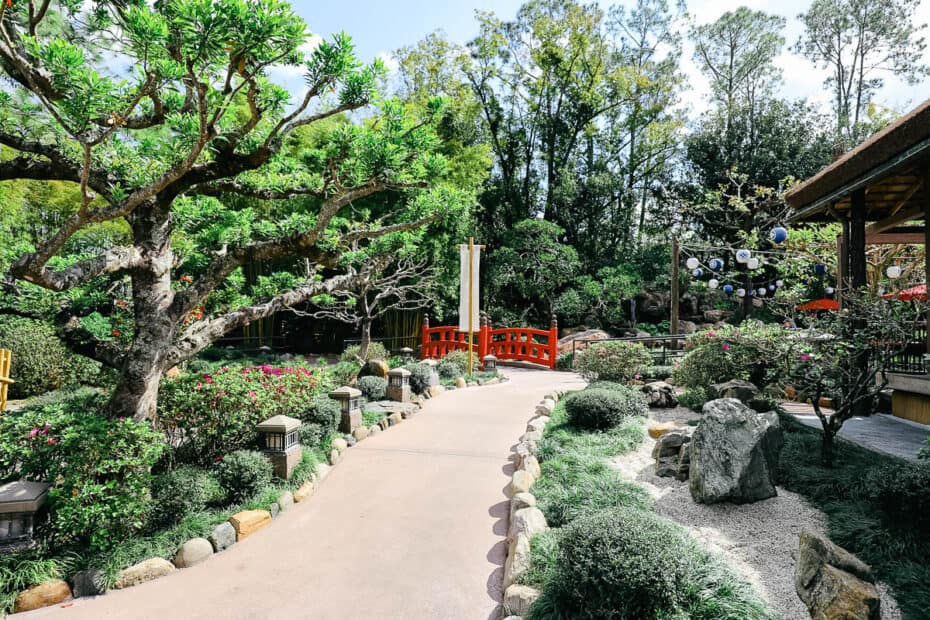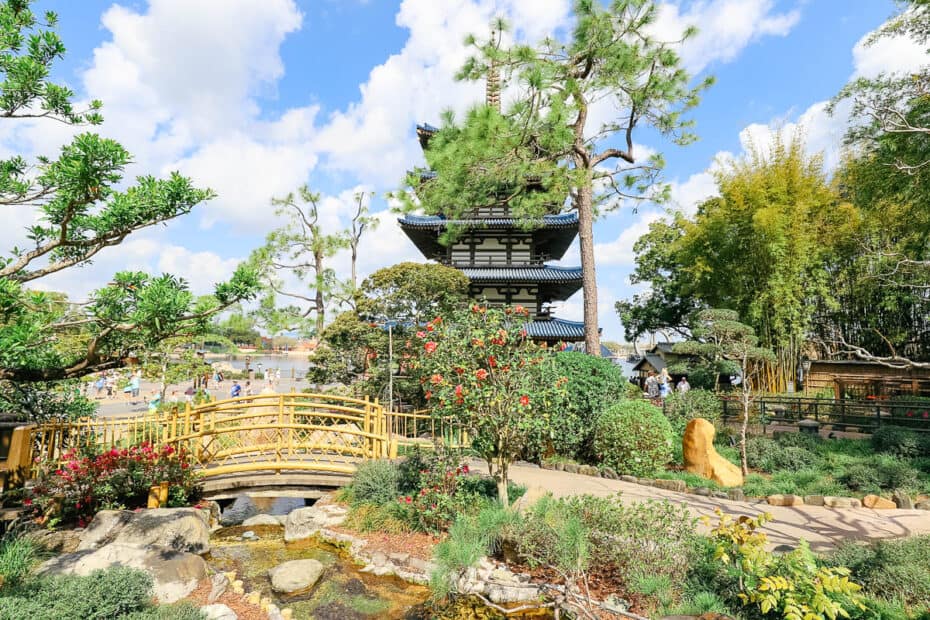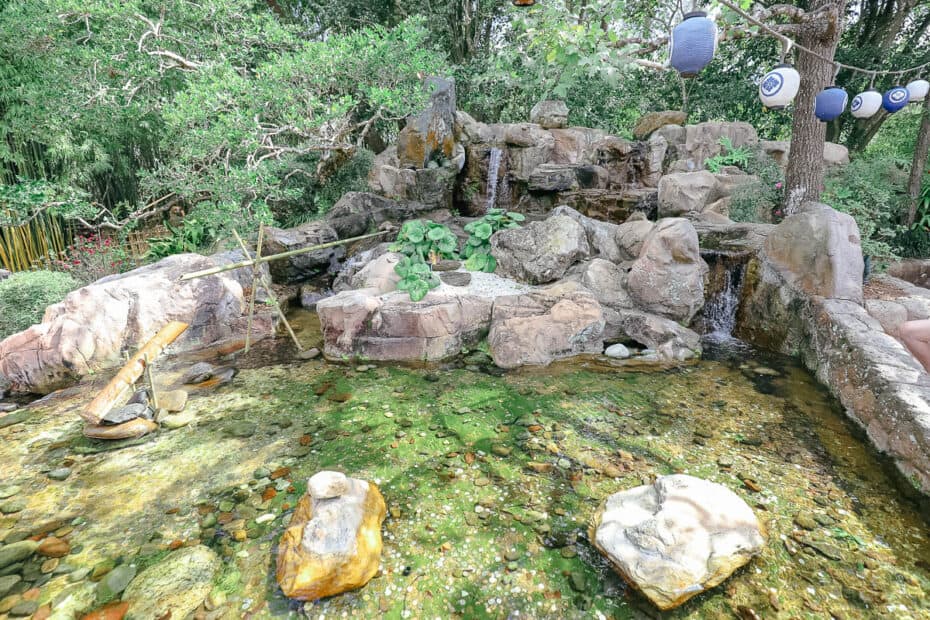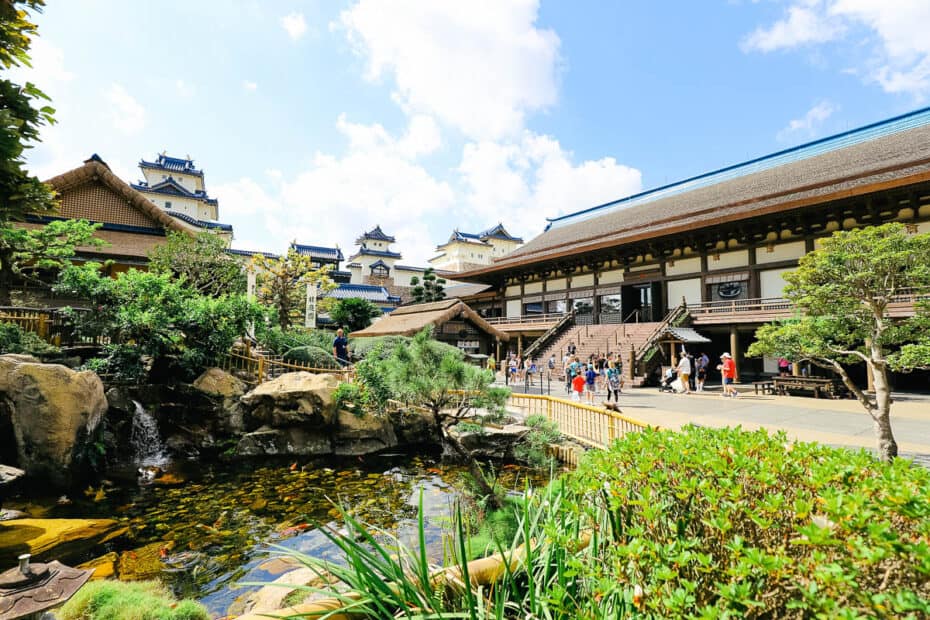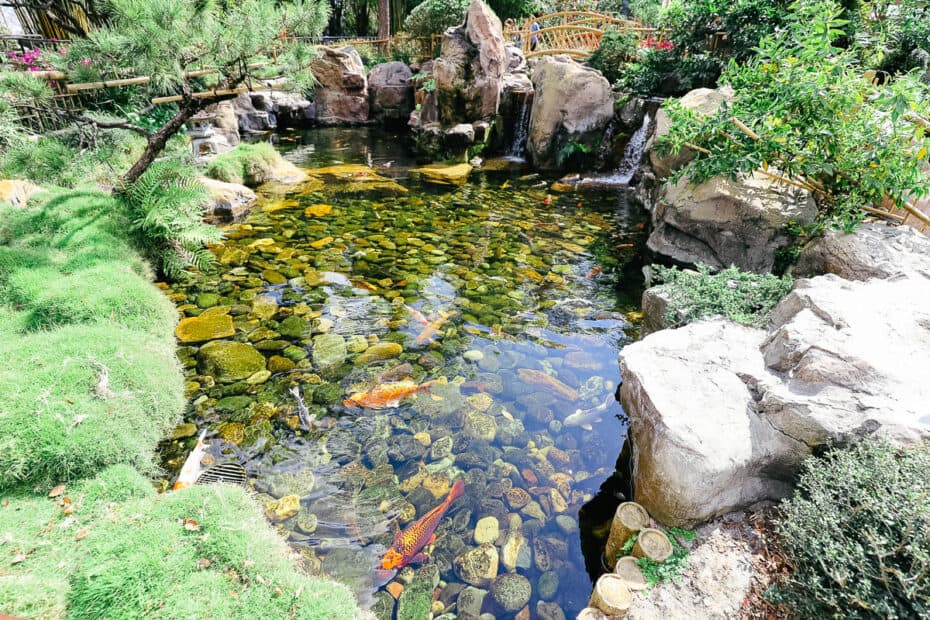 Attractions in Epcot's Japan Pavilion
Japan is home to one attraction that's housed in the Bijutsu-kan. The gallery sits beyond the castle gates at the back of the pavilion. The shop also dead-ends into the gallery if you're exploring Mitsukoshi USA.
Currently, the gallery is home to the Kawaii, Japan's Cute Culture exhibit. Of course, this exhibit has been here for quite some time. But it's still worth taking the time to browse.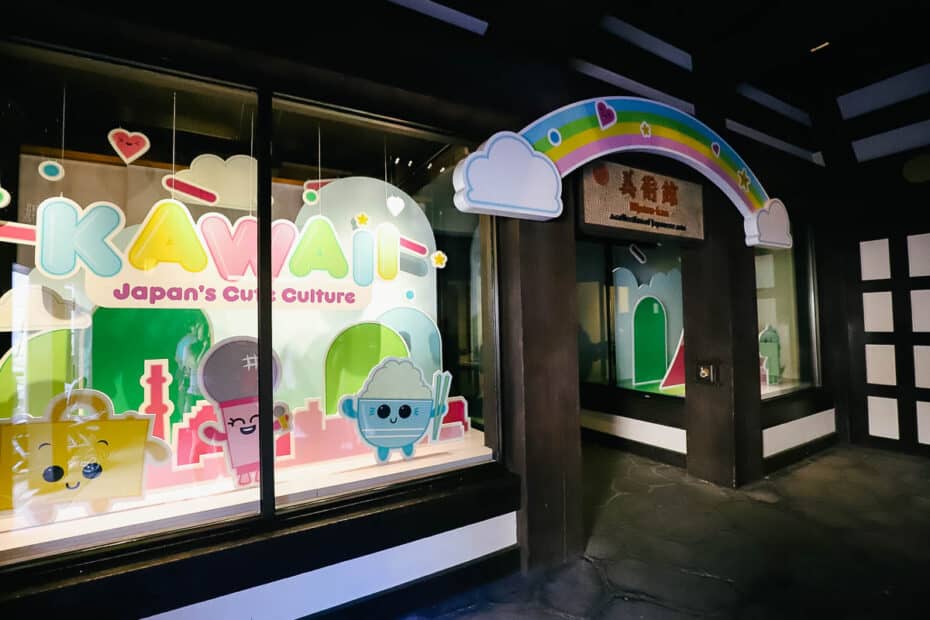 Inside, you'll find several collections of items that represent Kawaii.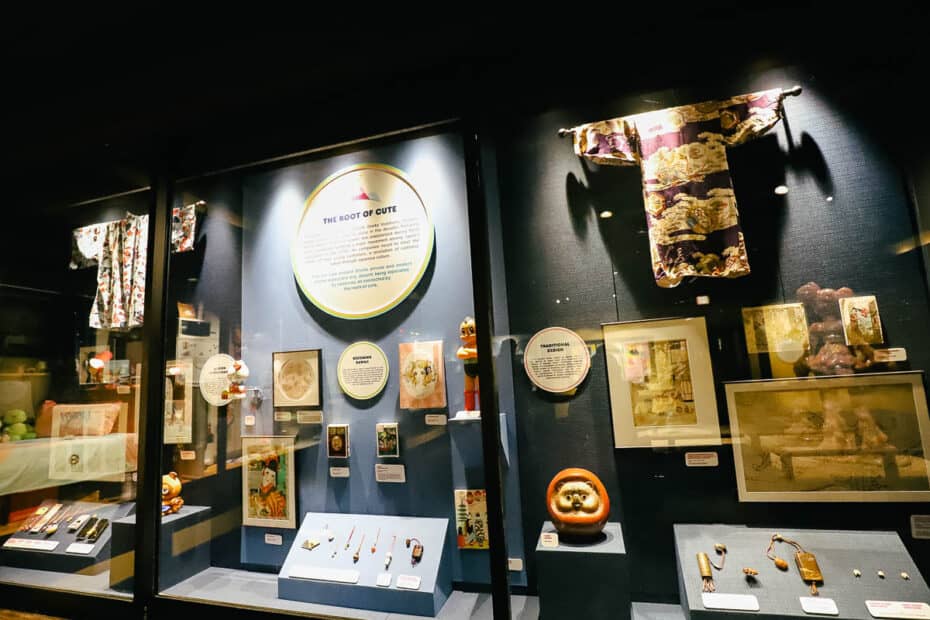 Per the sign, while Kawaii is rooted in ancient Japan's Shinto traditions, the culture didn't become popular until the 1970s.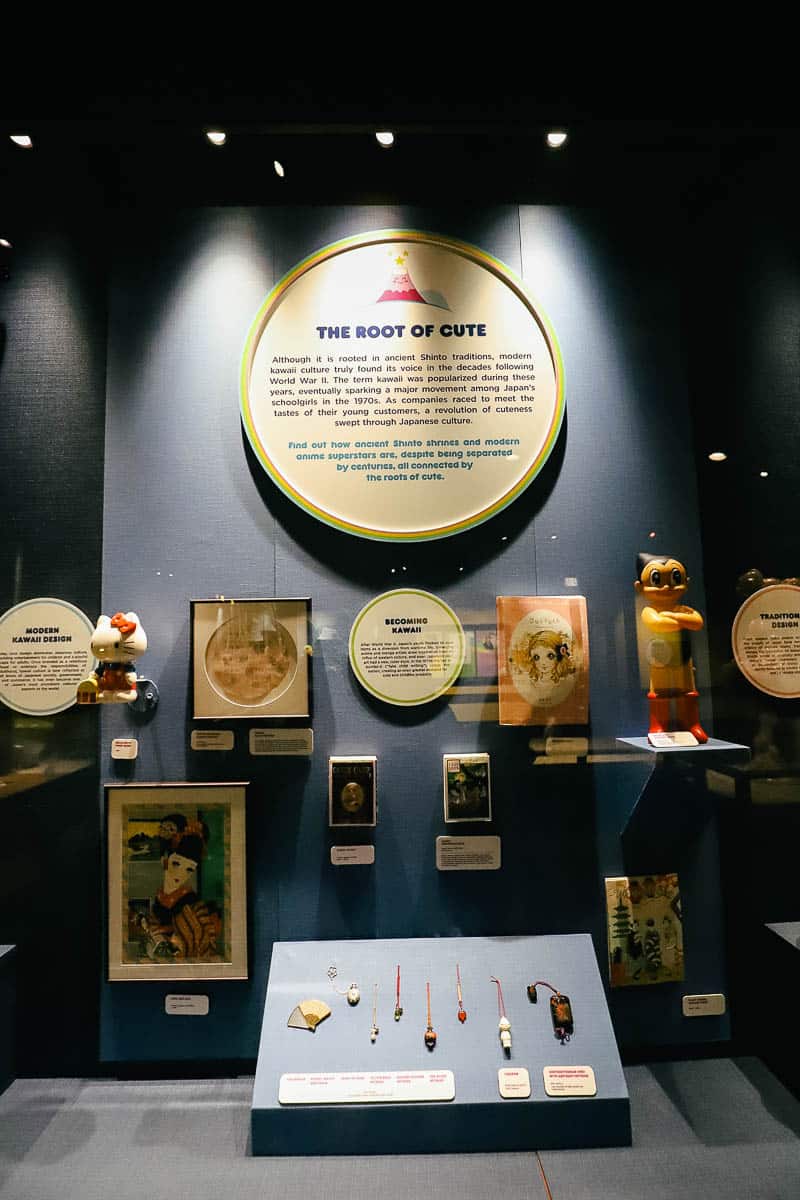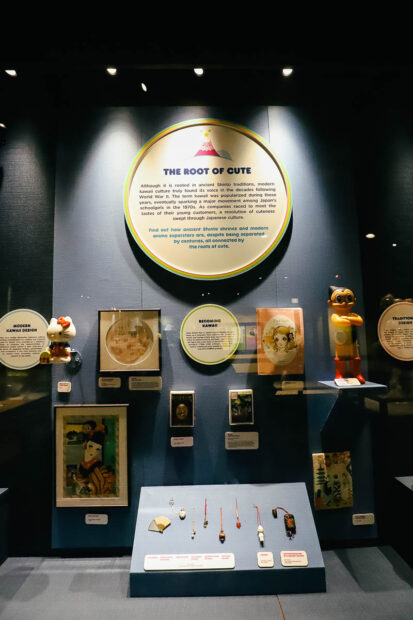 Here are a few of the displays.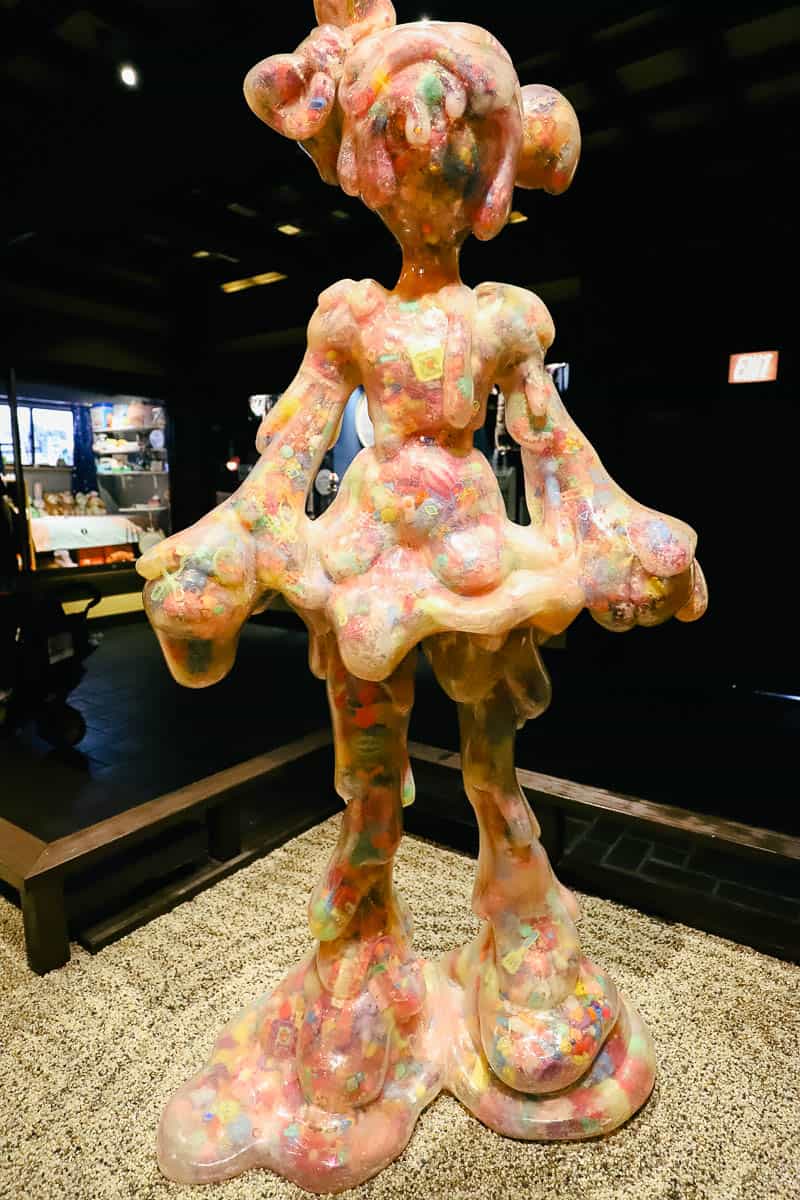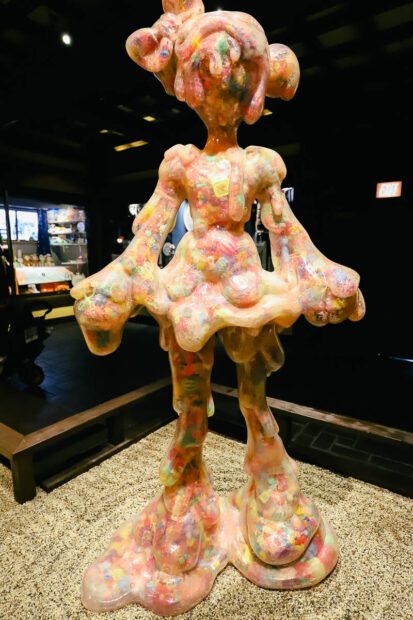 One wall features Kawaii at home with a display of a kitchen, bath, and bedroom.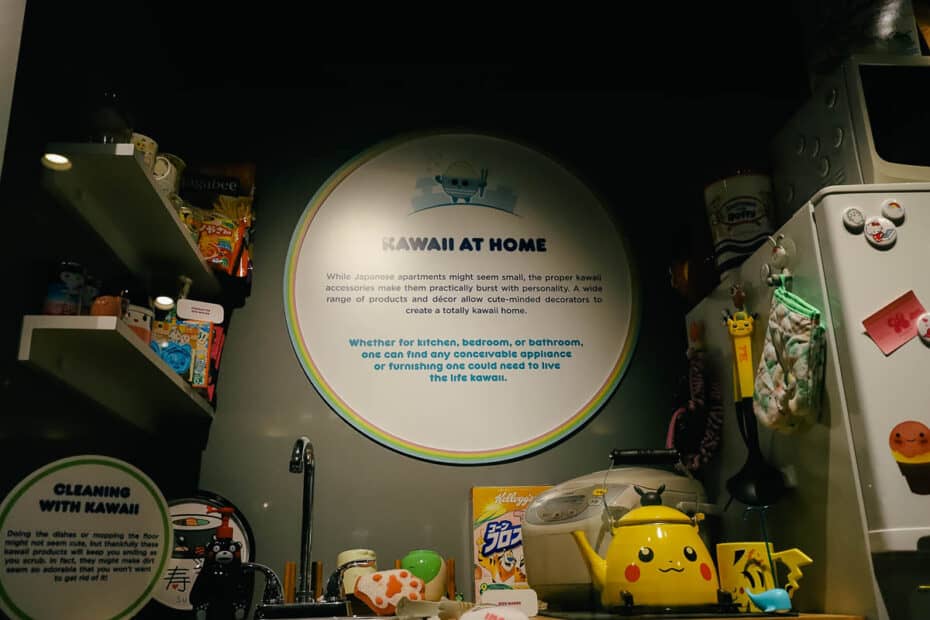 Adding the perfect Kawaii accessories will liven up even the tiniest apartment.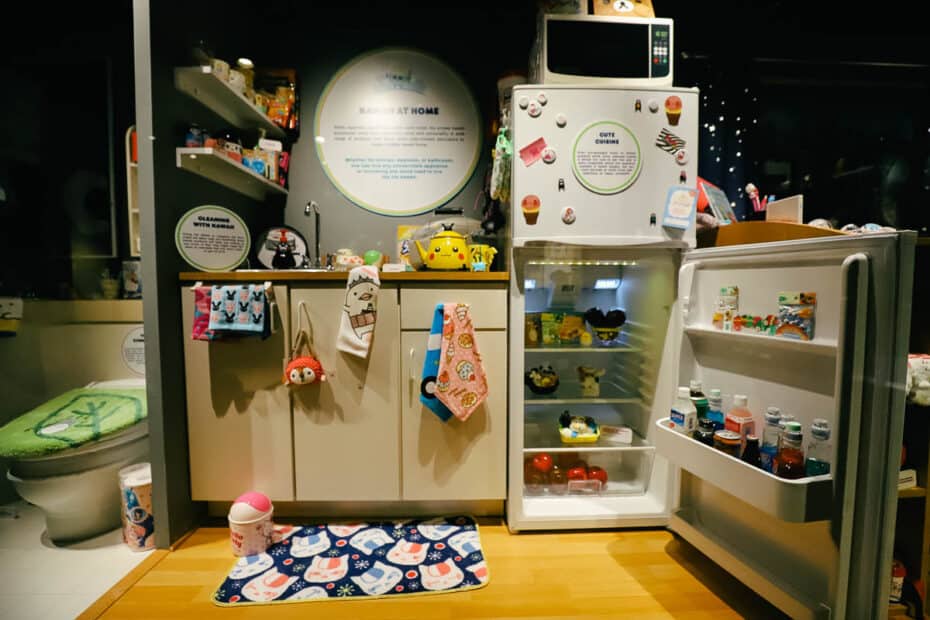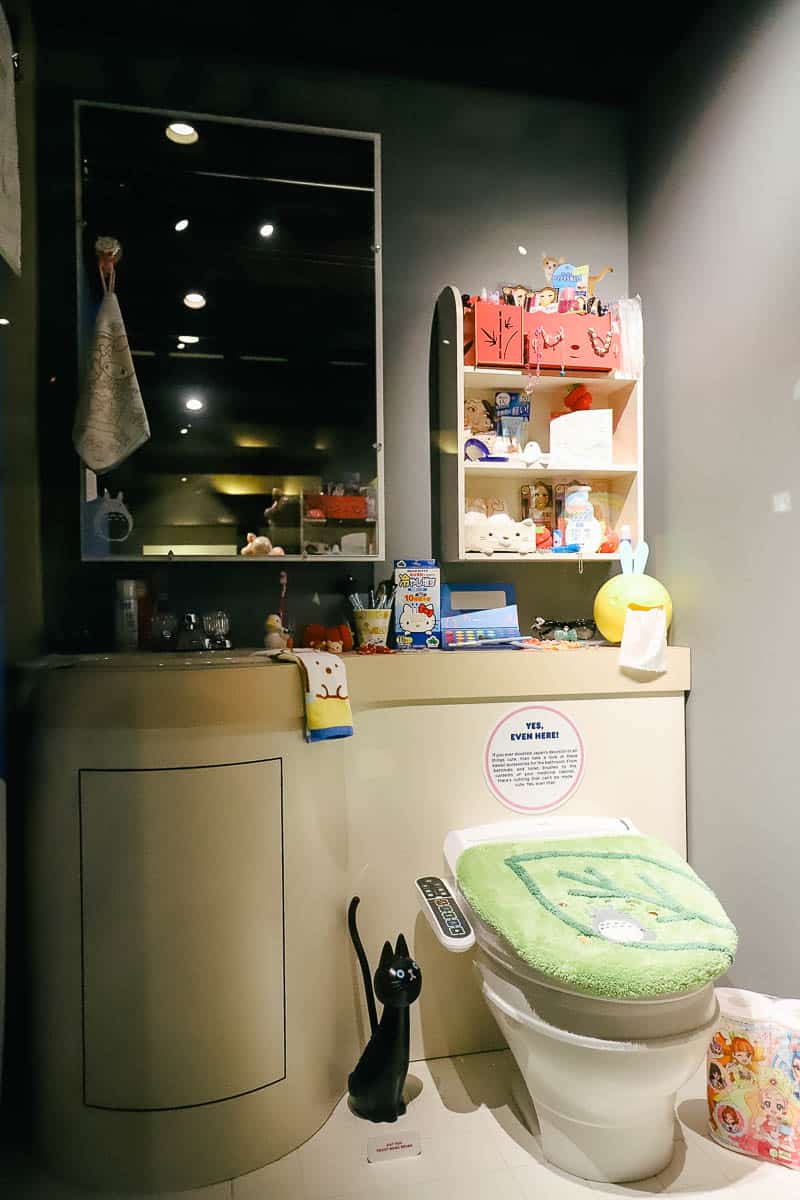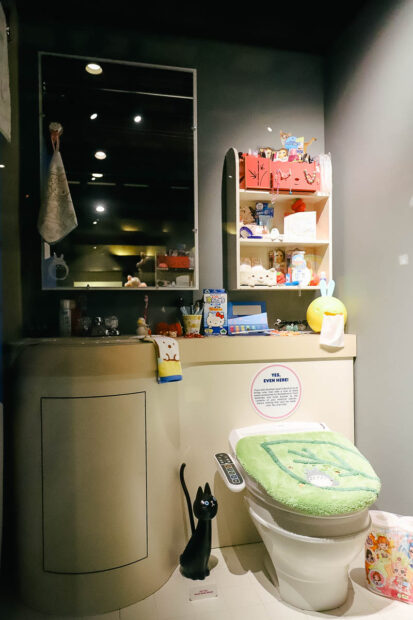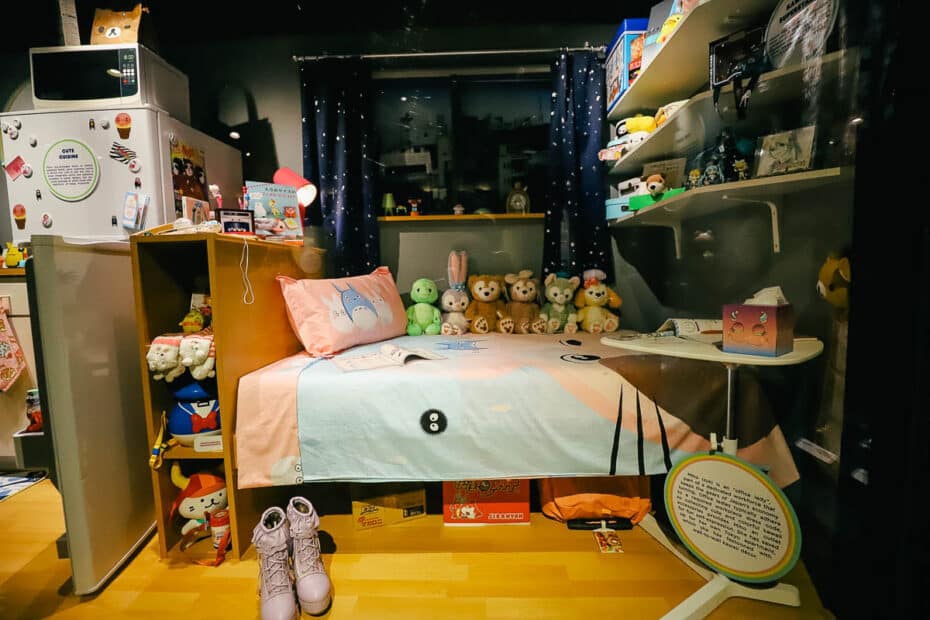 Here are a few familiar faces.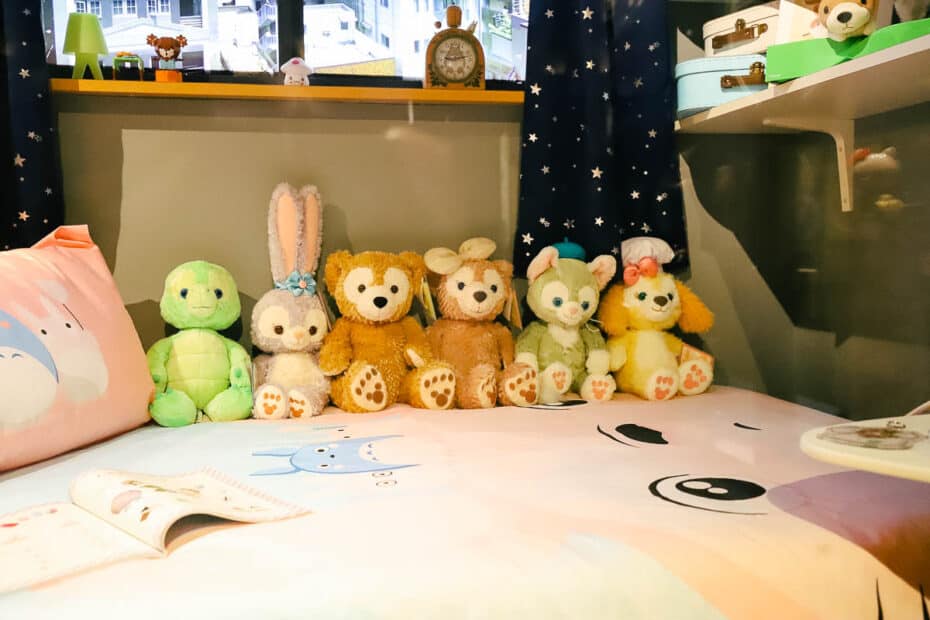 Another display shows Kawaii at work and play.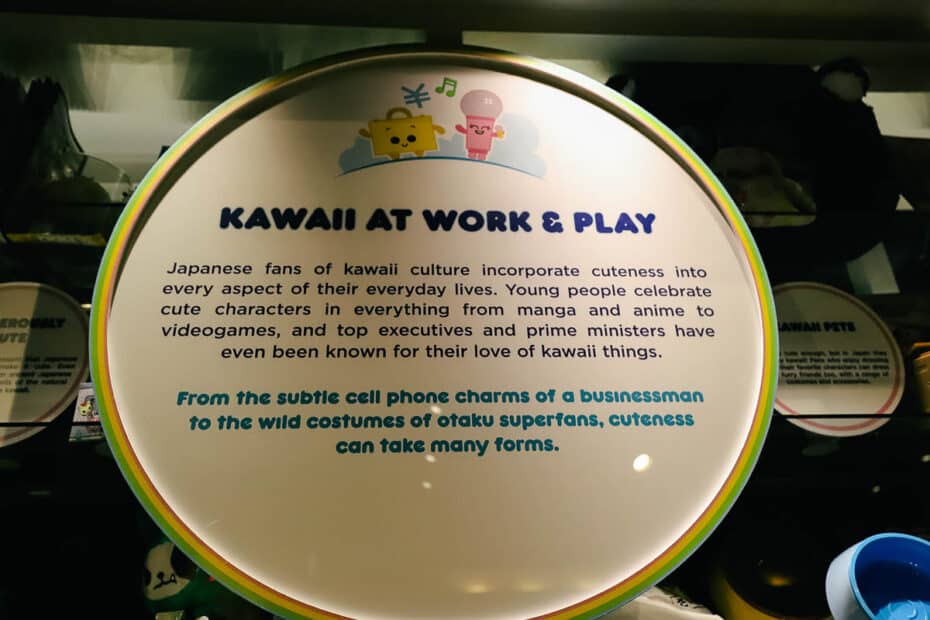 There are many fun references in this display.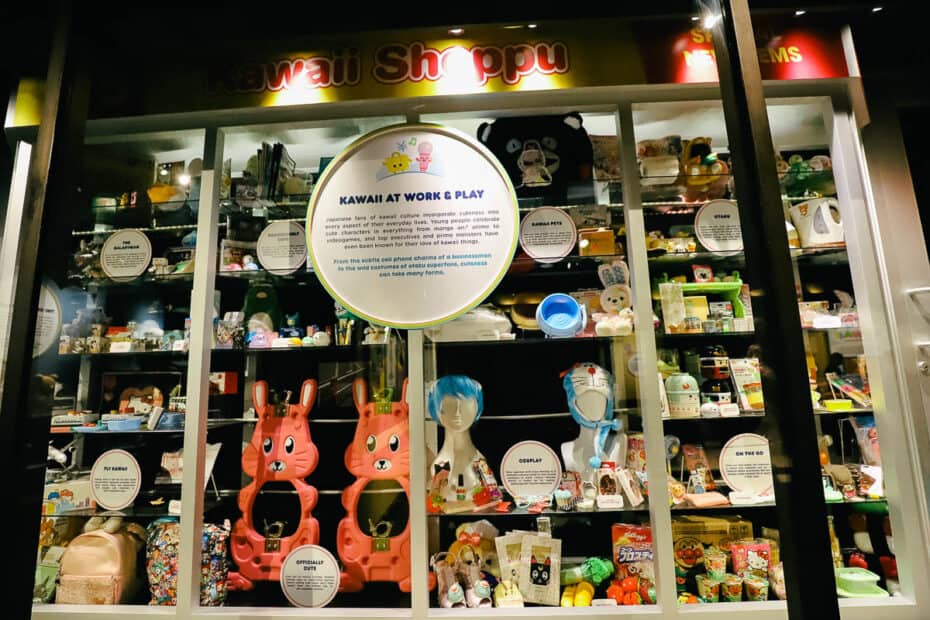 But these sign-holders for construction work were pretty unique.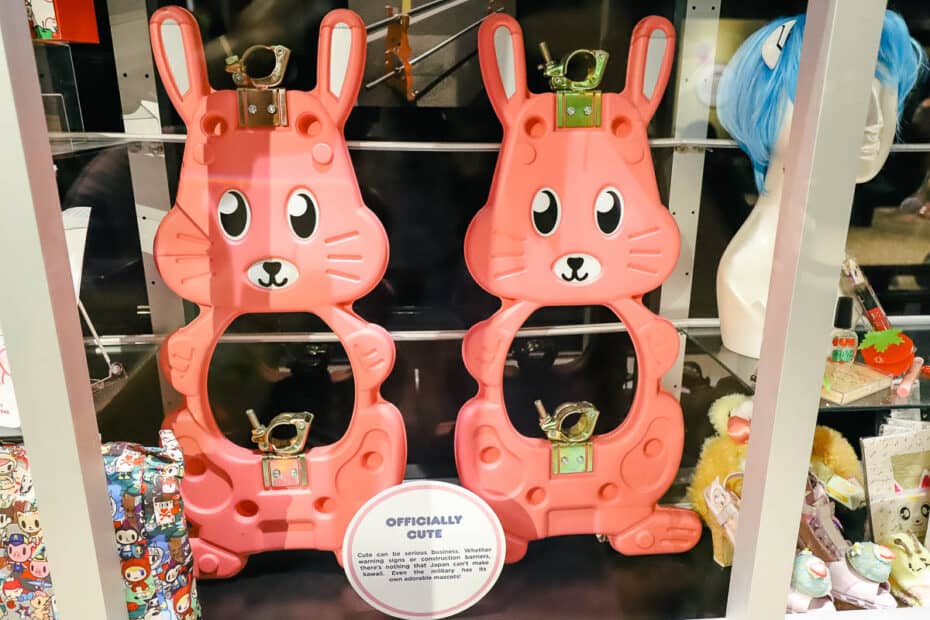 Entertainment in Japan's Pavilion
Most of the pavilions in the World Showcase offer some form of entertainment throughout the day. These performances can vary from pavilion to pavilion but are typically easy to see.
The Japan Pavilion has one form of entertainment, the Matsuriza Drummers. If you're in the area, it's worth taking a few moments to stop and see their performance.
This group of female drummers plays large Taiko drums that sit at the base of the Pagoda. You'll find the exact times for their performances (on the day of your visit) listed in the My Disney Experience app under entertainment.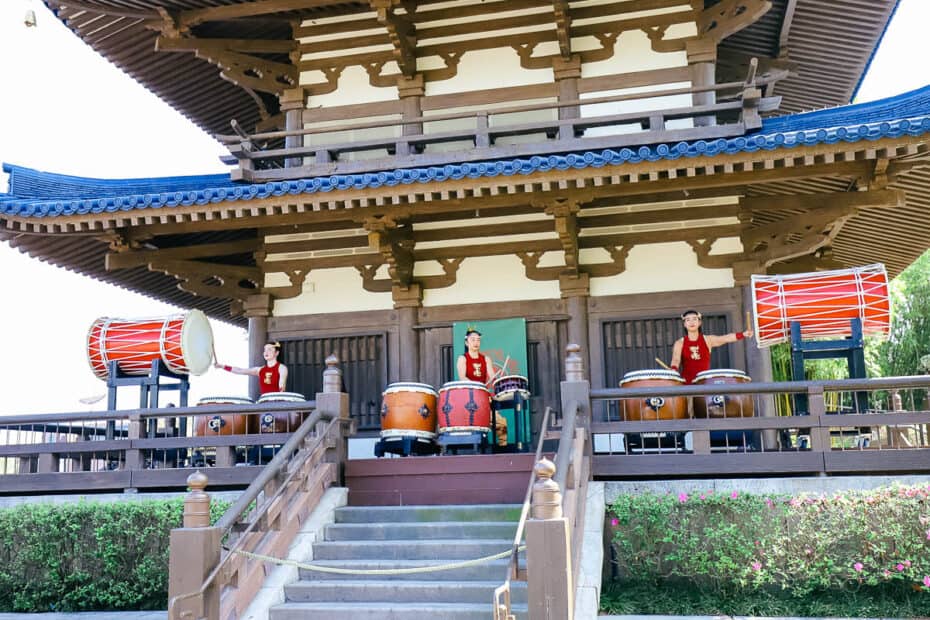 Dining in the Japan Pavilion
Walking the World Showcase can leave one hungry. While the American Pavilion is in the center of the World Showcase, Japan resides next door. Both provide reasonably good dining options, but Japan has several more offerings.
Garden House
Garden House is a kiosk in the center of the Japanese Pavilion that serves a variety of beverages.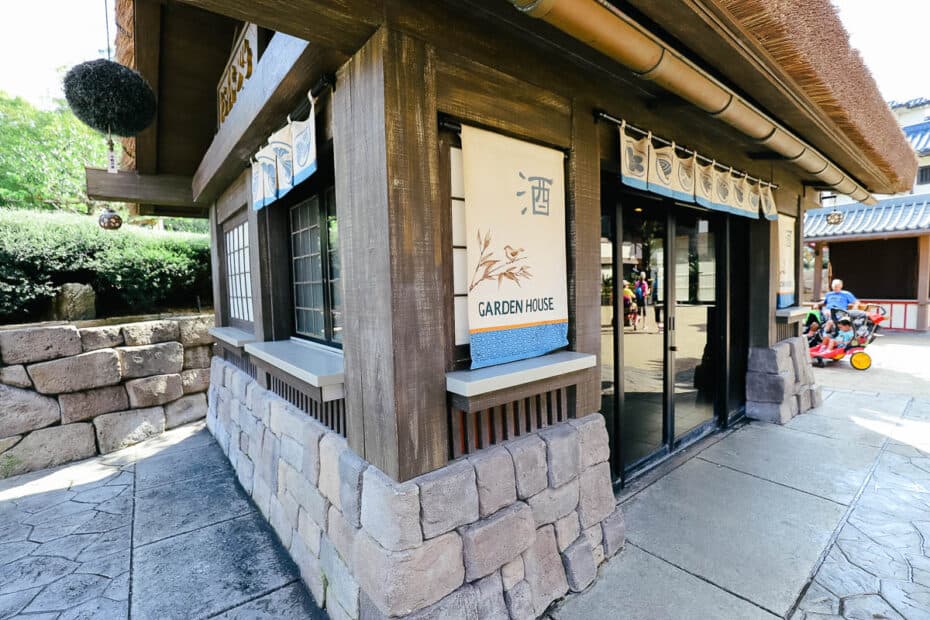 They have their menu on a QR code outside of the kiosk. This location sells cocktails, plum wine, sake, beer, and other beverages. You can preview their menu here.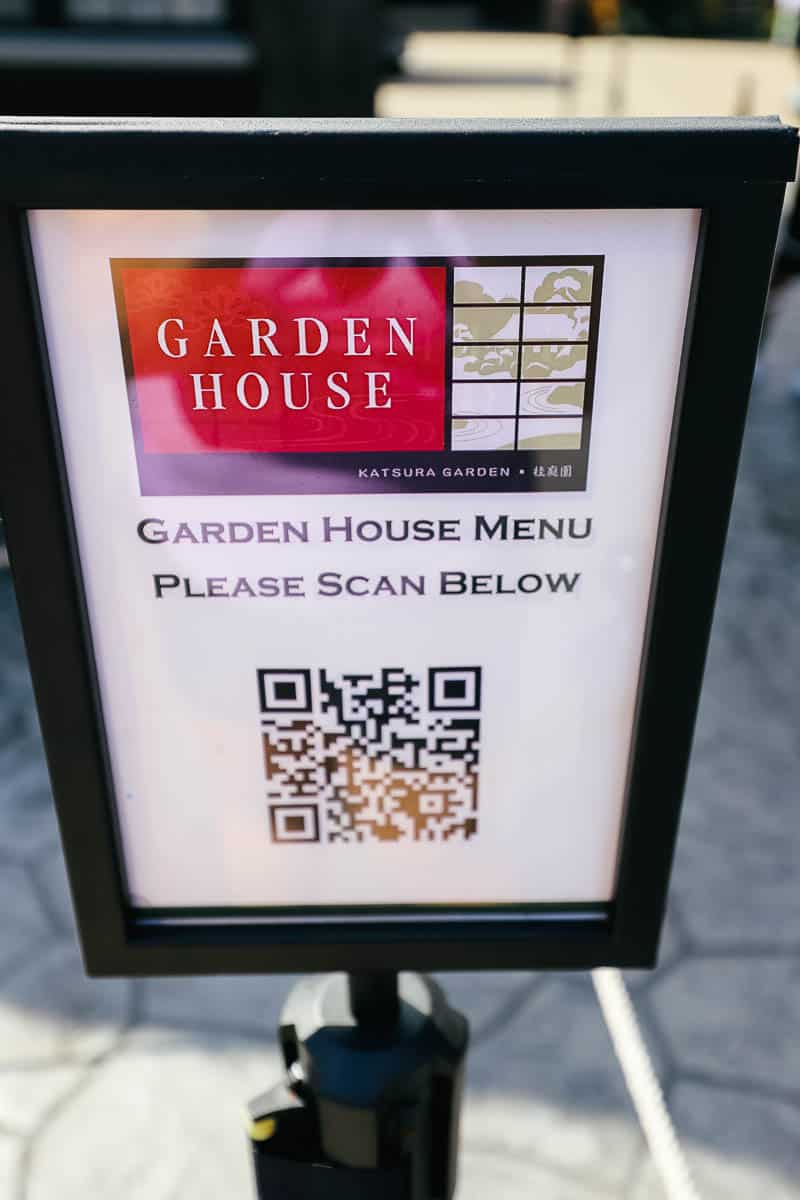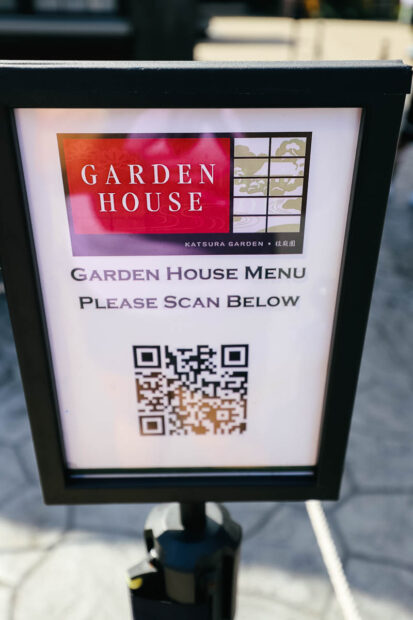 Kabuki Cafe
Kabuki Cafe is one of the first kiosks you'll run into after leaving the American Adventure Pavilion. This counter service location is popular for serving Kakigori, Japanese shaved ice.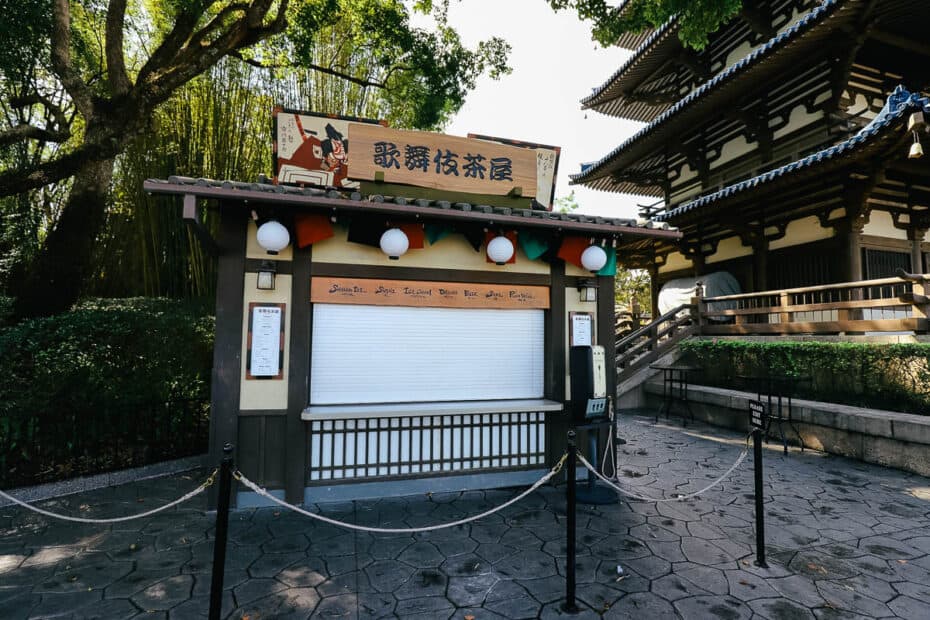 Here is a photo of their menu, or you can preview it here on Disney's site.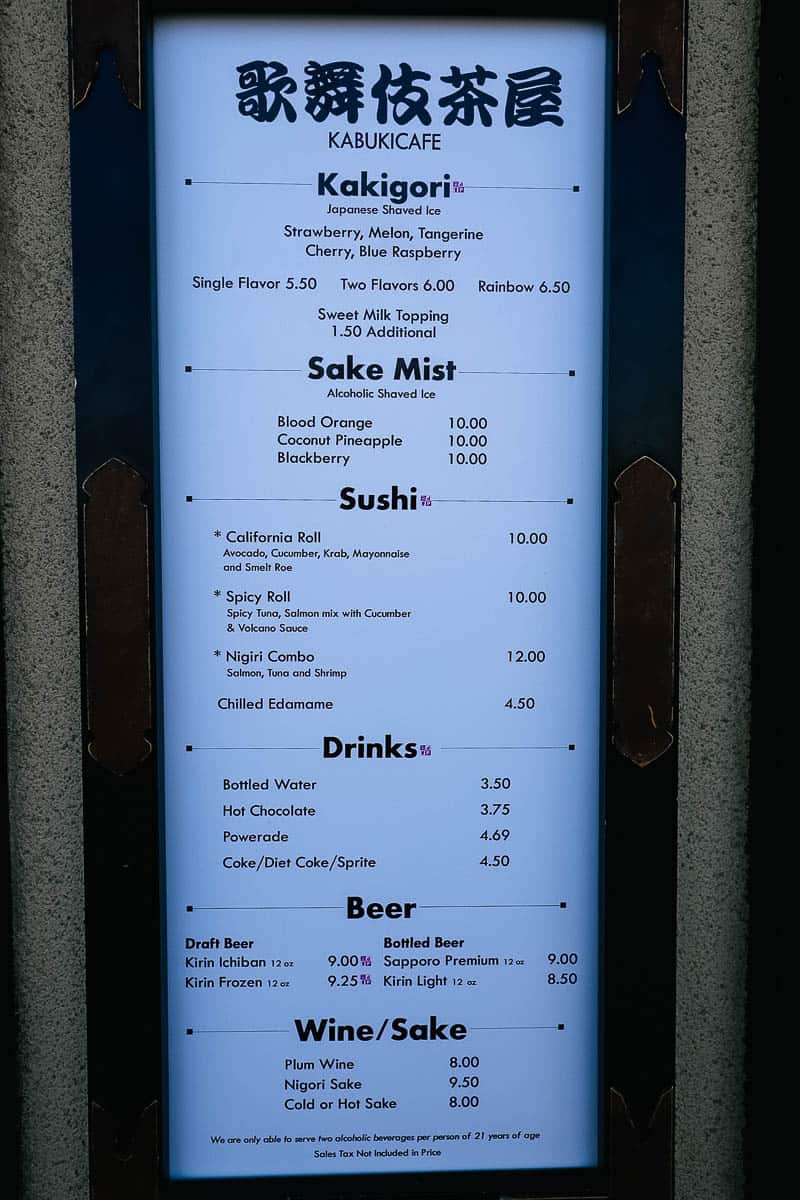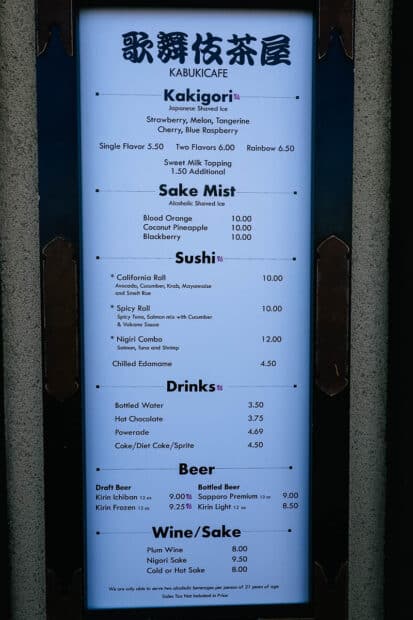 On a previous visit, I tried Kakigori and had half of it covered with the sweet milk topping. Here's a picture of how my order turned out. One half was tangerine flavor, and the other was cherry.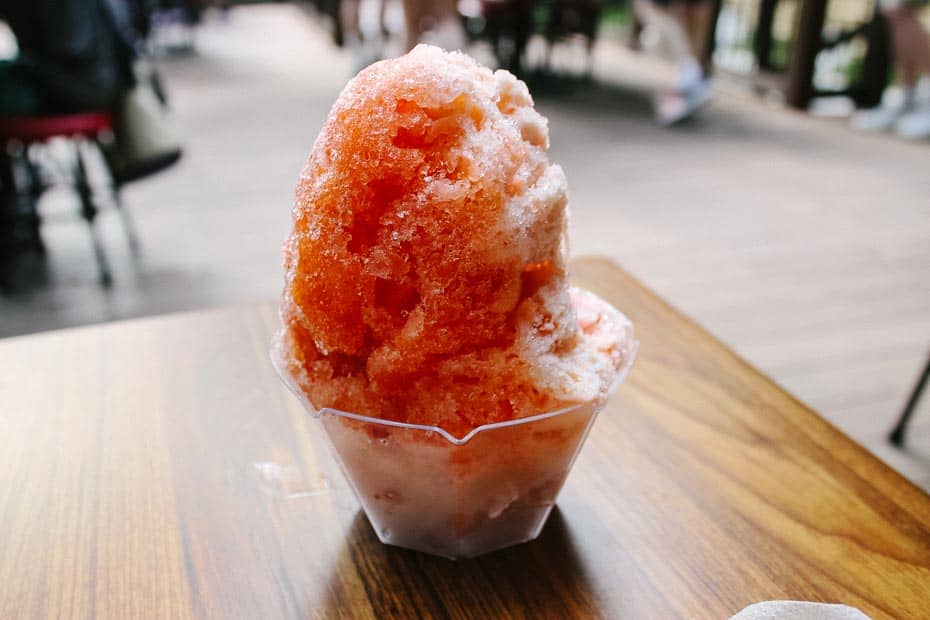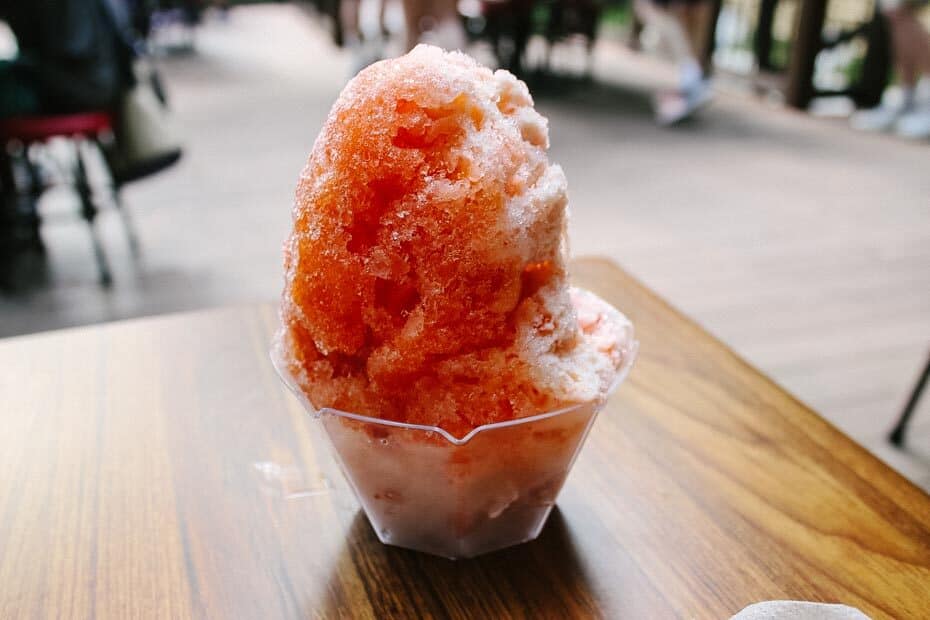 Here is the side that was covered in sweet milk. It is one of the sweeter treats in the World Showcase.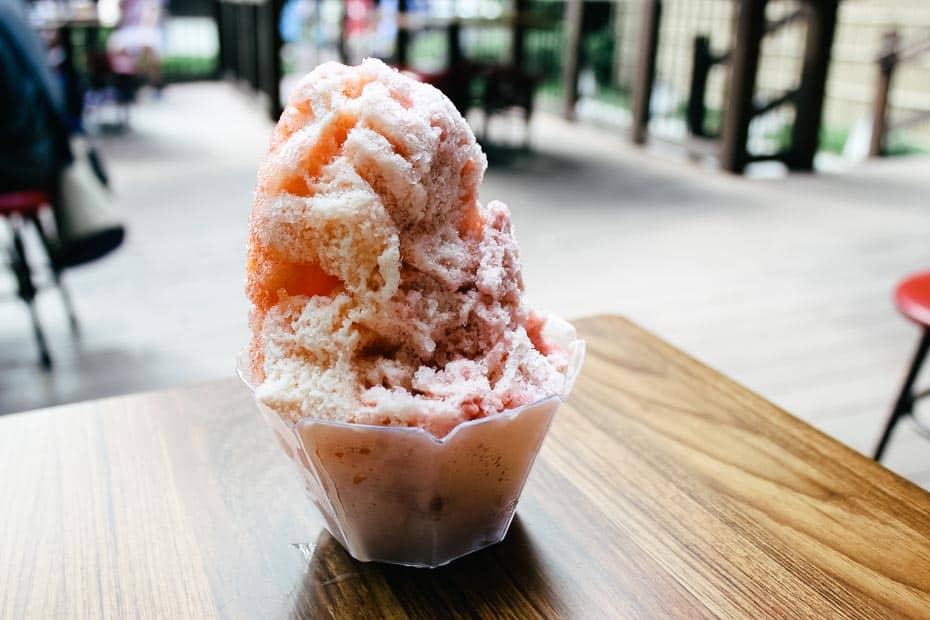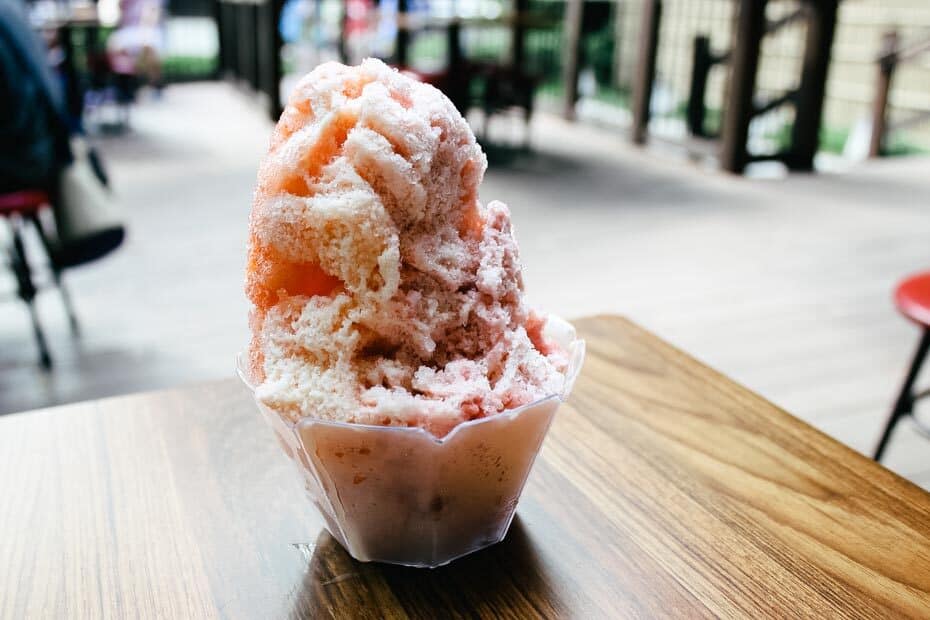 Katsura Grill
Katsura Grill is a counter-service dining location that sits behind the Japanese gardens toward the top of the pavilion.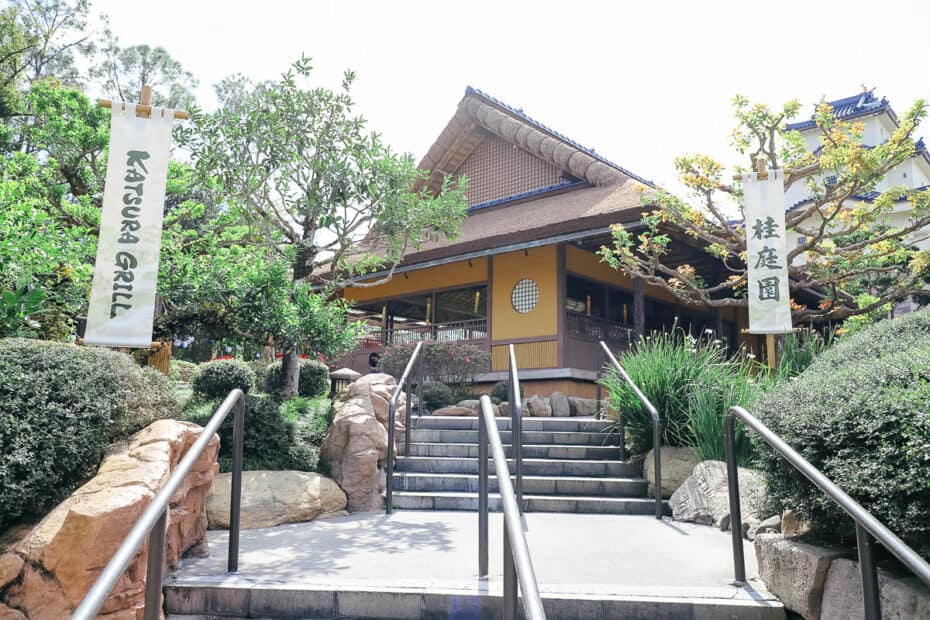 They have an indoor eating area.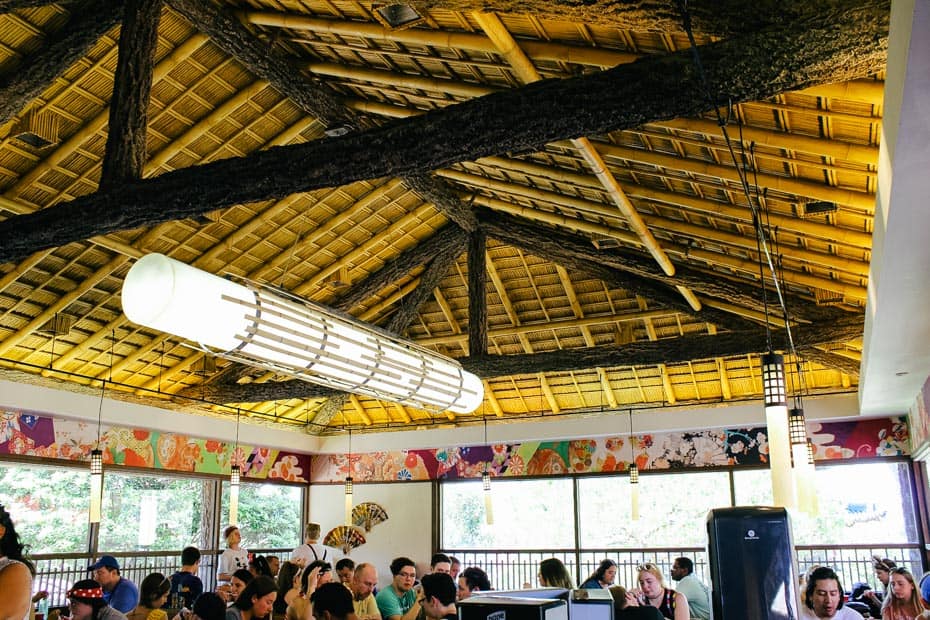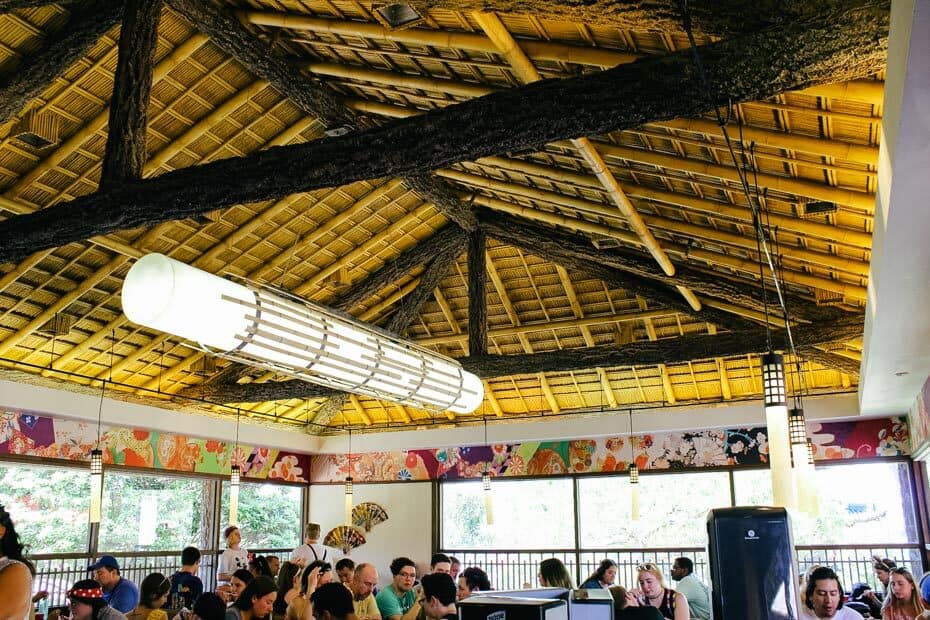 However, it's hard to beat dining outside if you can find a spot.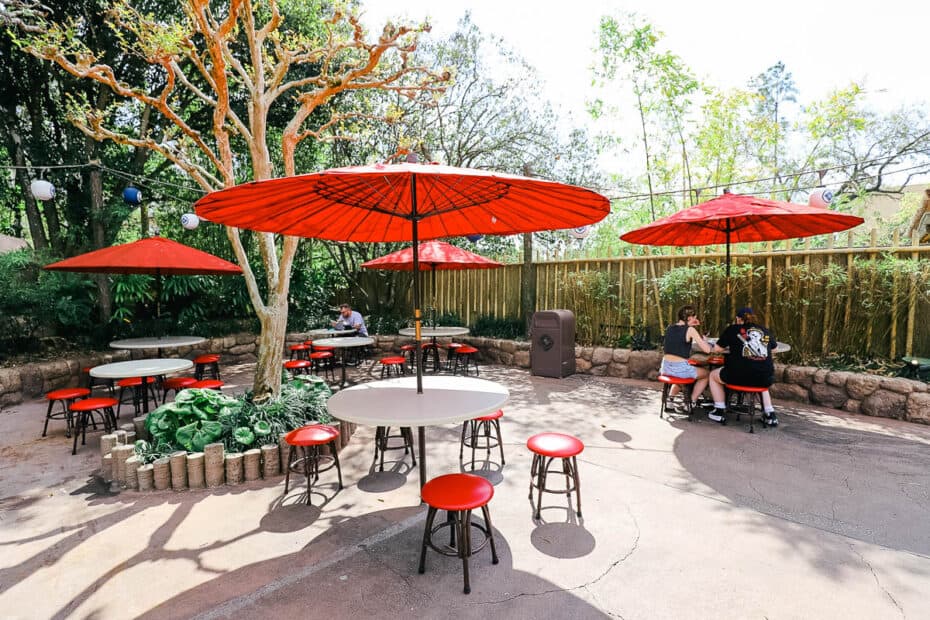 This is one of my favorite stops in the World Showcase to grab a bite to eat for several reasons. First, they have a variety of kids' meal options.
If you have read our previous reviews, you already know I enjoy ordering kids' meals at counter service locations. Often, if I'm spending the day at Epcot, I might like to try several things. So when it's time for lunch, a kids' meal leaves room to try a treat elsewhere later.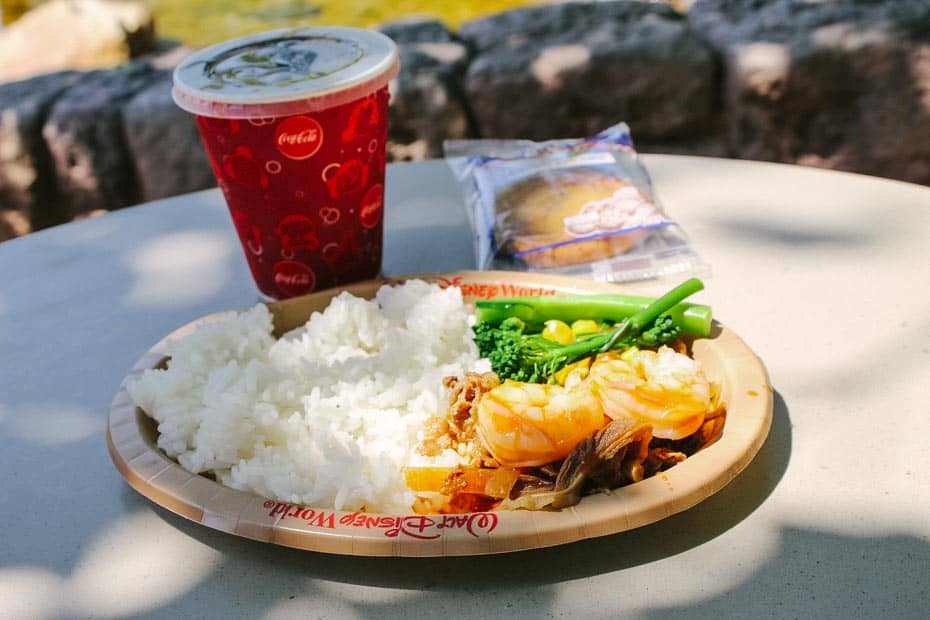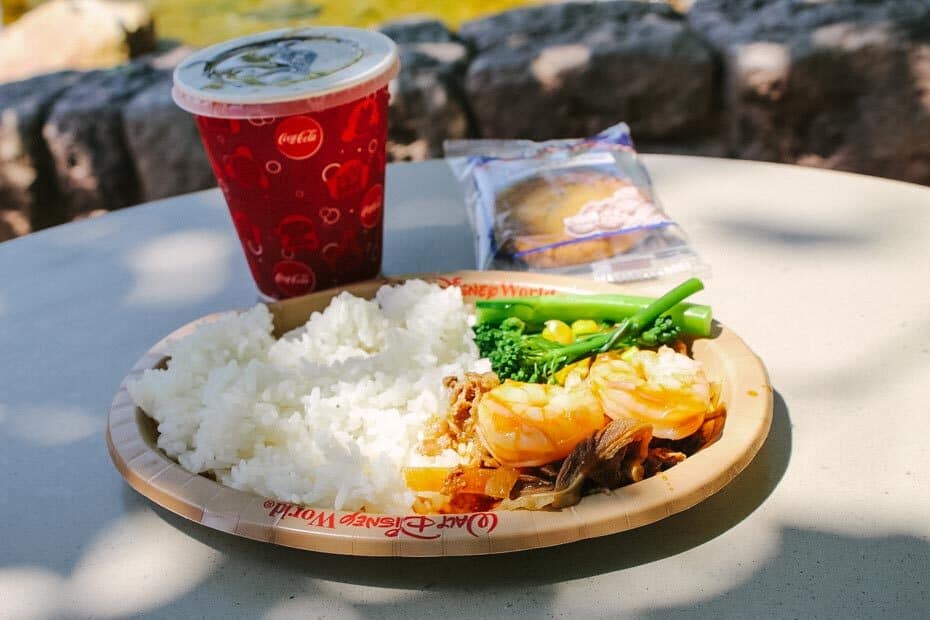 Here is a photo of the menu outside the restaurant as of this update.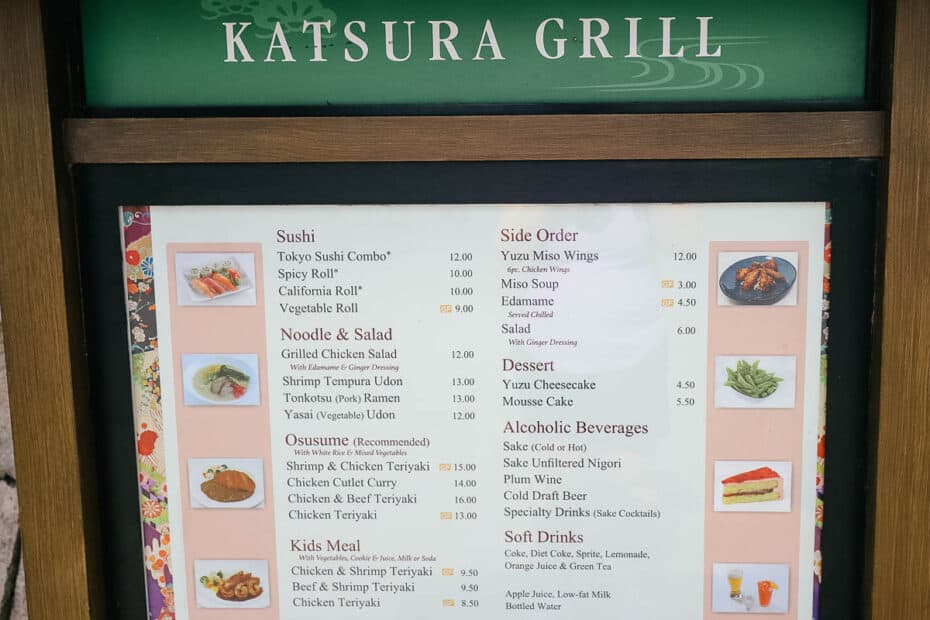 Lastly, throughout the various festivals, Japan has a food booth. Perhaps, the most popular one is the Japan Marketplace during Epcot's Food and Wine Festival.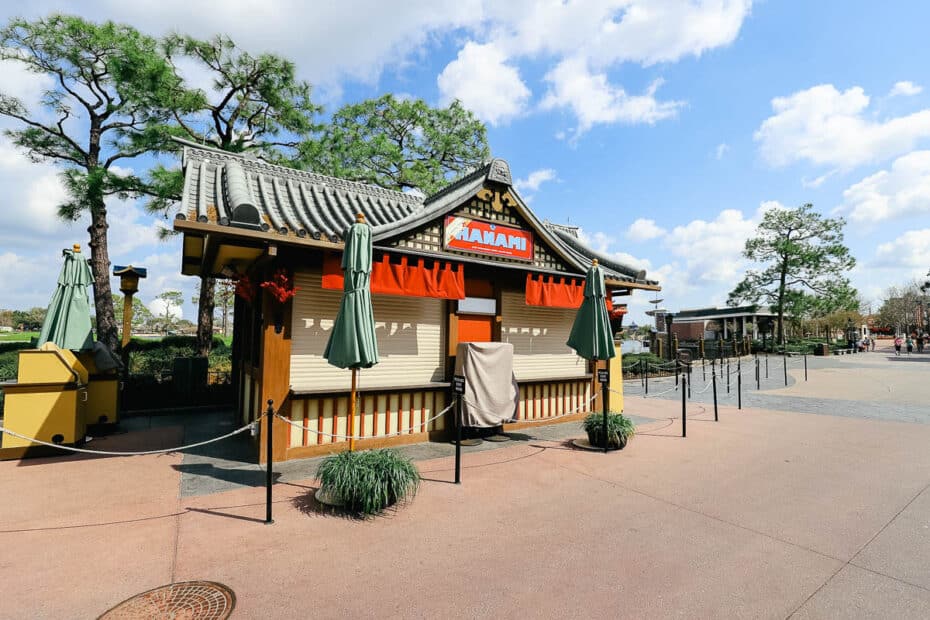 Teppan Edo
Teppan Edo is a table service restaurant on the second floor over the large department store. This is a Hibachi-style dining experience where you sit with other diners, and a chef prepares the meal in front of you.
You can preview their menu here on Disney's site if you like.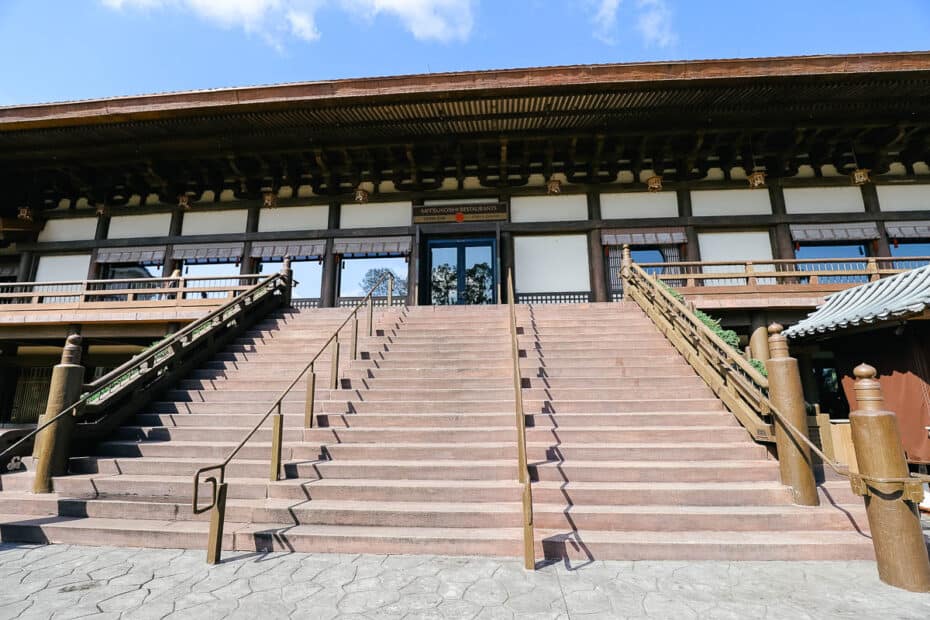 Tokyo Dining
Tokyo Dining sits adjacent to Teppan Edo. At the time of this update, the restaurant is closed for remodeling. However, it is expected to reopen in the late summer of 2023.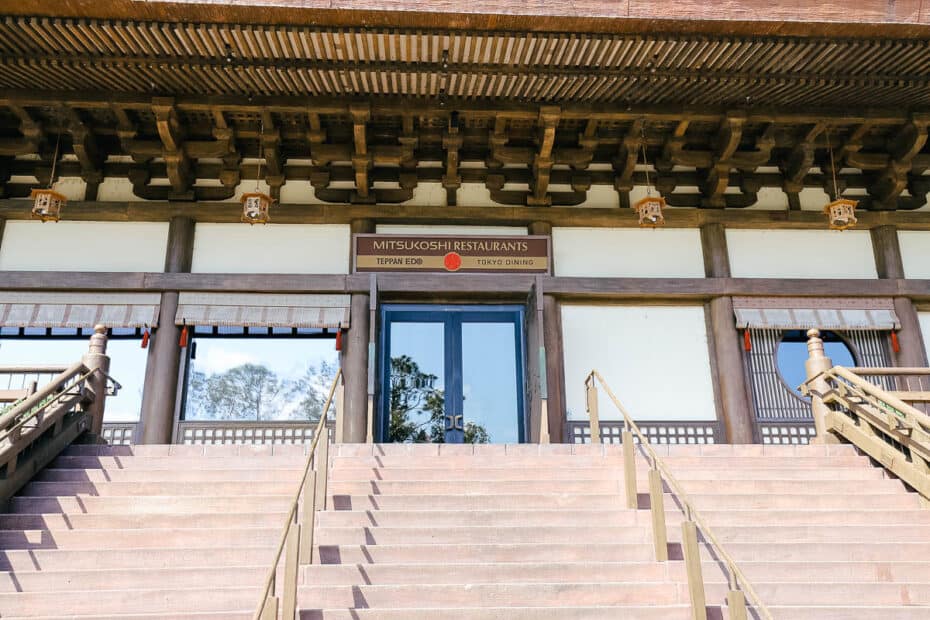 Takumi Tei
Takumi Tei, which means house of the artisan, is Epcot's newest signature dining experience. This location offers multi-course tasting menus, including Wagyu beef and seafood delicacies.
On our last visit, we ordered the Omakase Tasting menu. We also ordered a tremendous selection of sushi, including sashimi, nigiri, and sushi rolls.
While this is an expensive meal, serious foodies will want to consider securing a reservation. Overall it was an excellent experience.
Related: Takumi Tei Review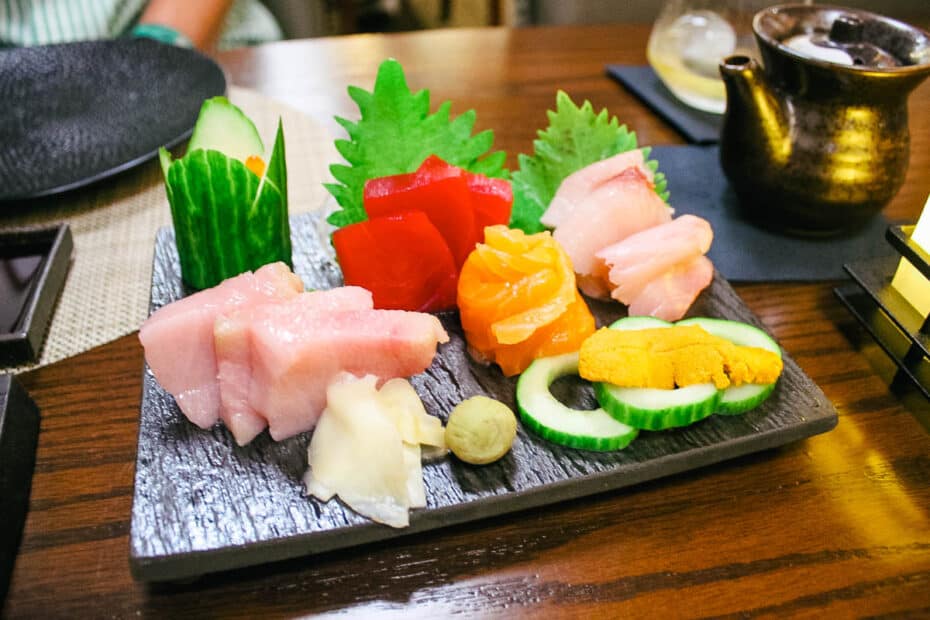 Shopping in the Japan Pavilion at Epcot
Epcot's Japan Pavilion is also home to plenty of shopping. We love to browse the Mitsukoshi shop, and the Pick-a-Pearl location inside it has finally reopened.
Mitsukoshi
Guests who have previously ventured into Epcot's Japan Pavilion have probably found themselves in Mitsukoshi's department store. It's truly a-something-for-everyone kind of place.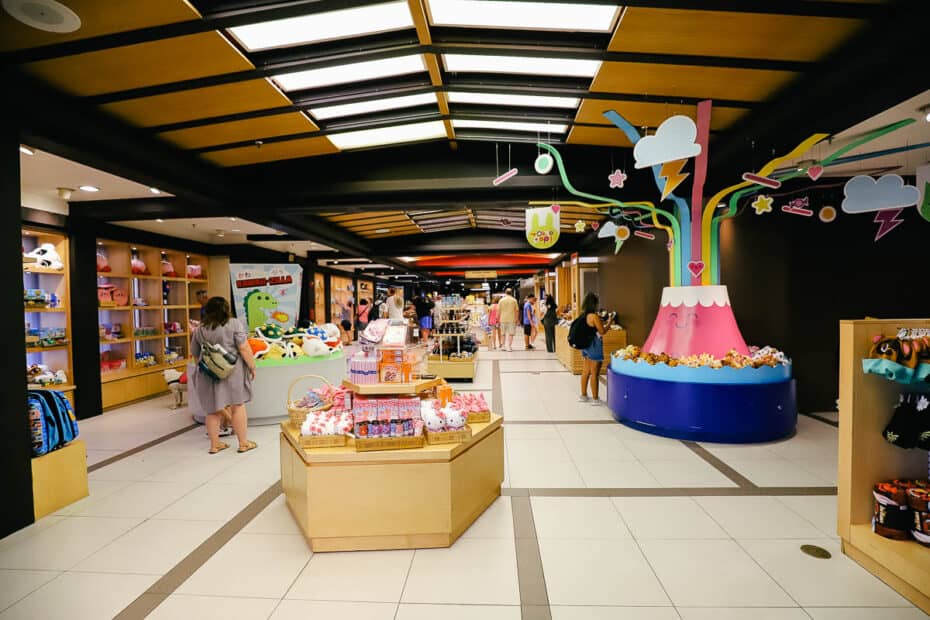 While I would have loved to take photos of everything inside the shop, it would have taken all day. But here is a good sample of what to expect.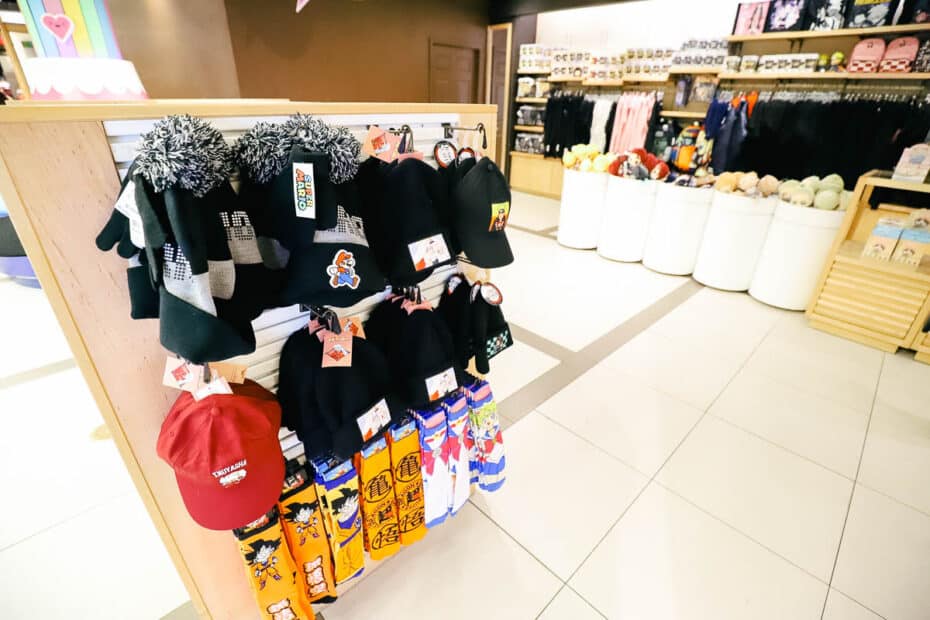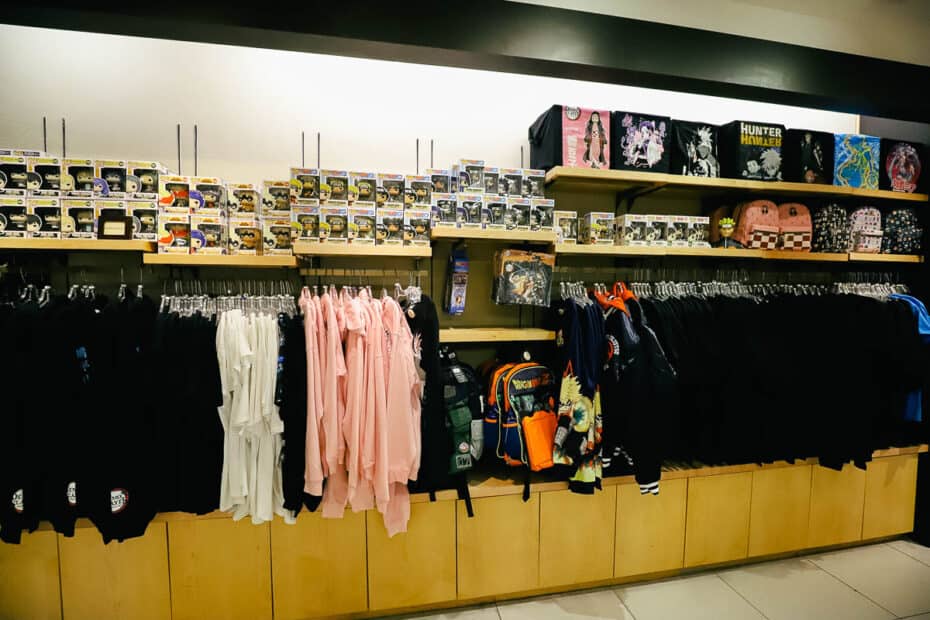 There are lots of Hello Kitty and friends items.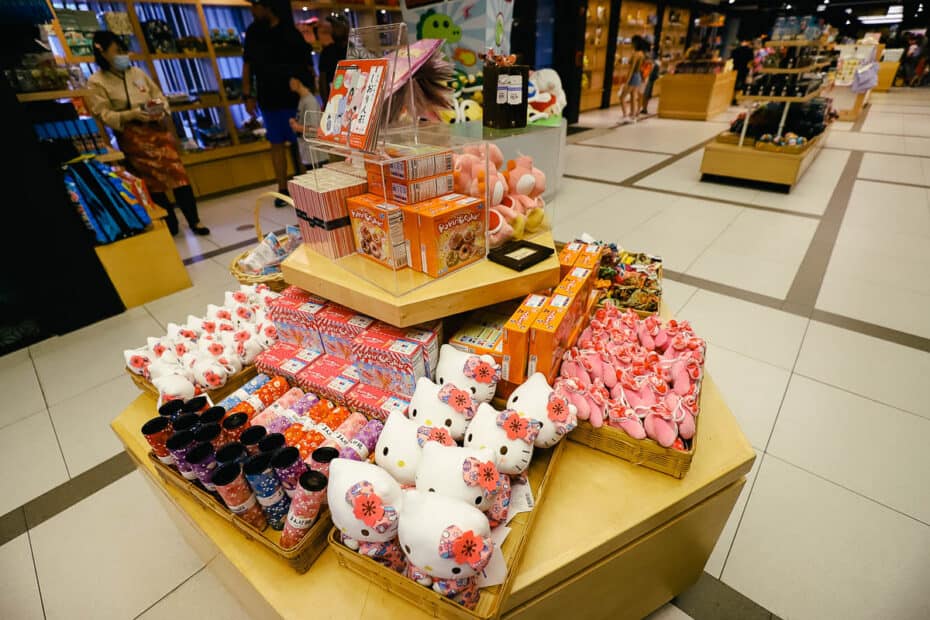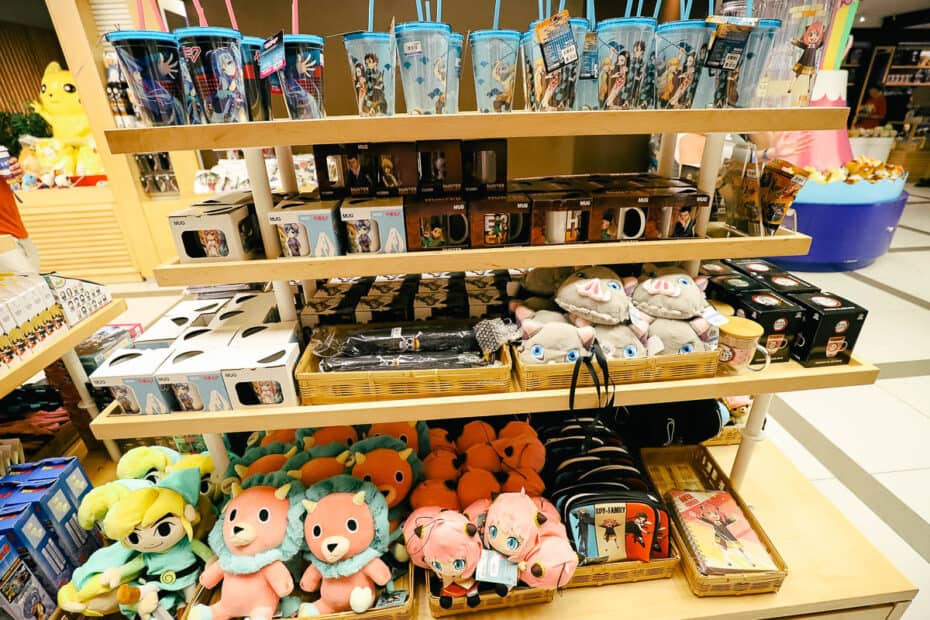 Here are a few Naruto and Spy x Family items.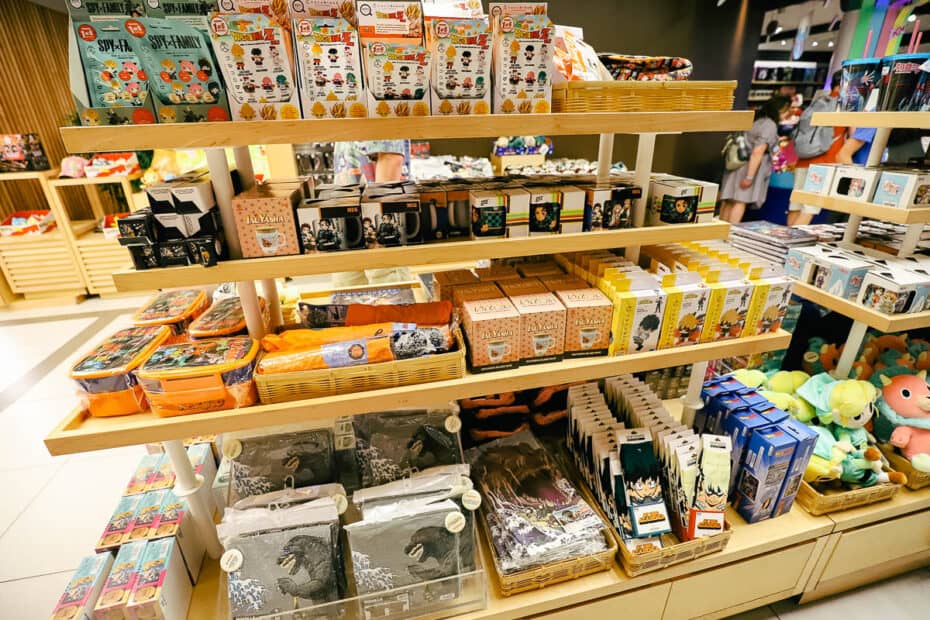 Mochibi is a new one to me.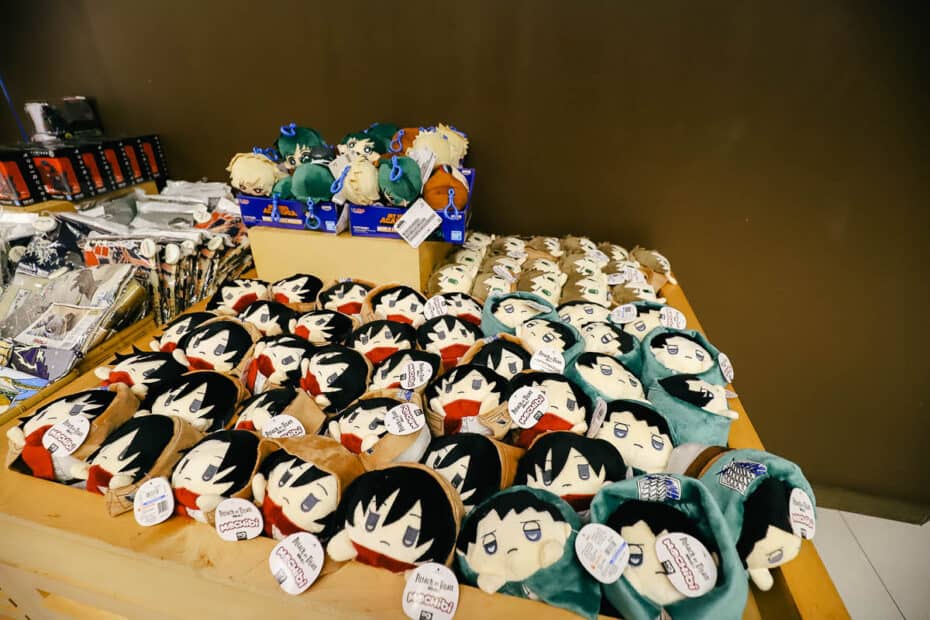 We probably all know Pokemon.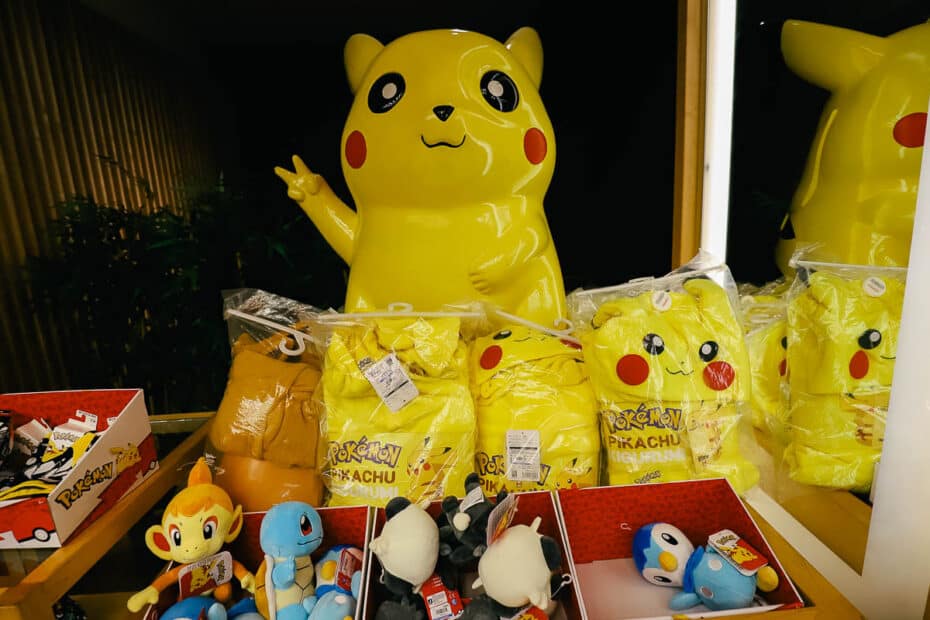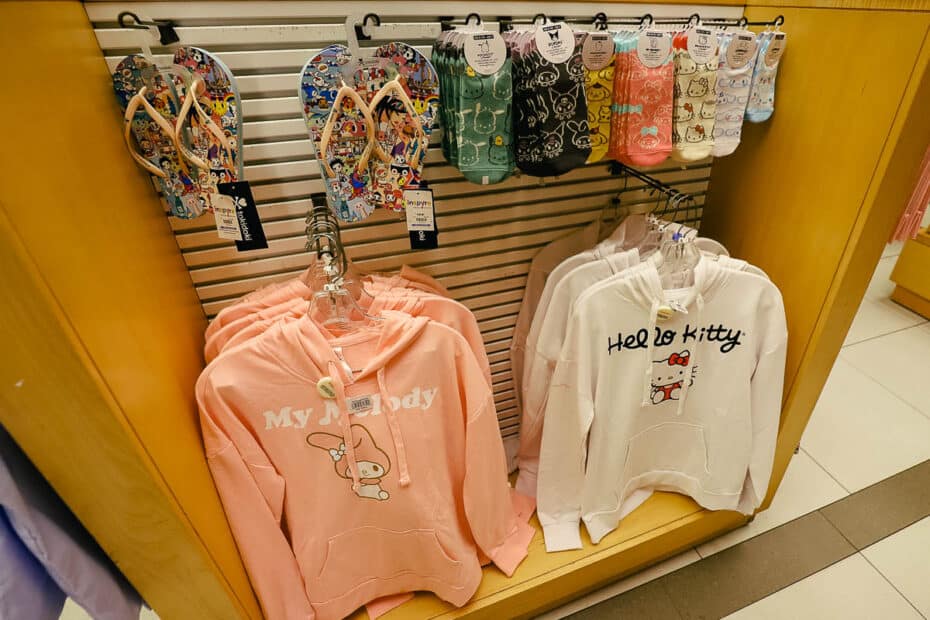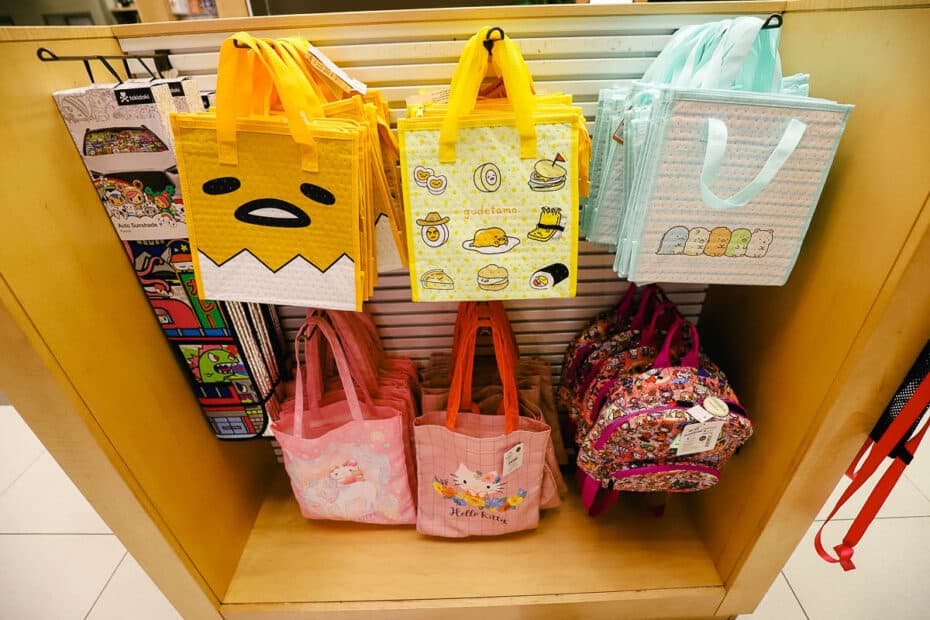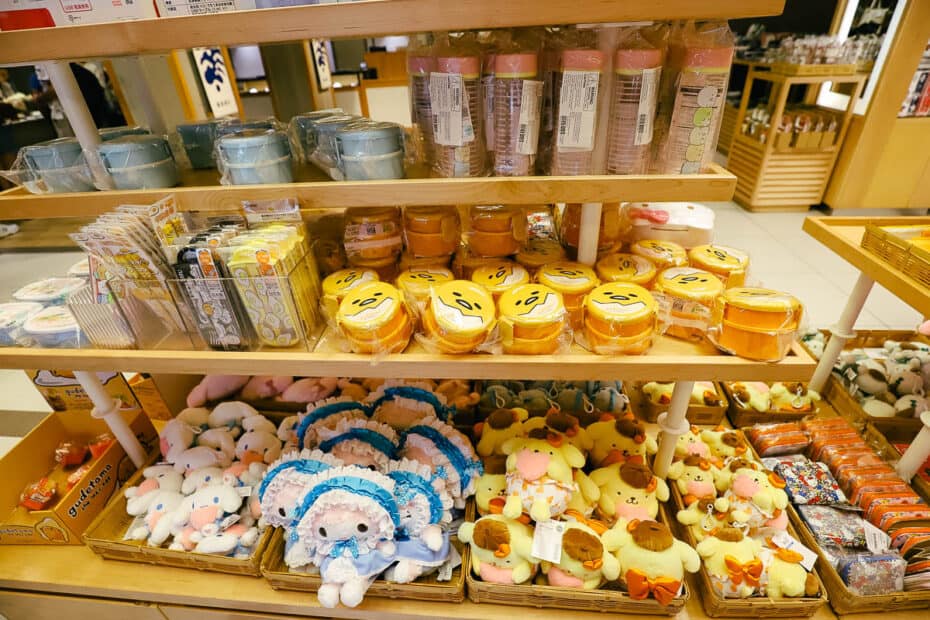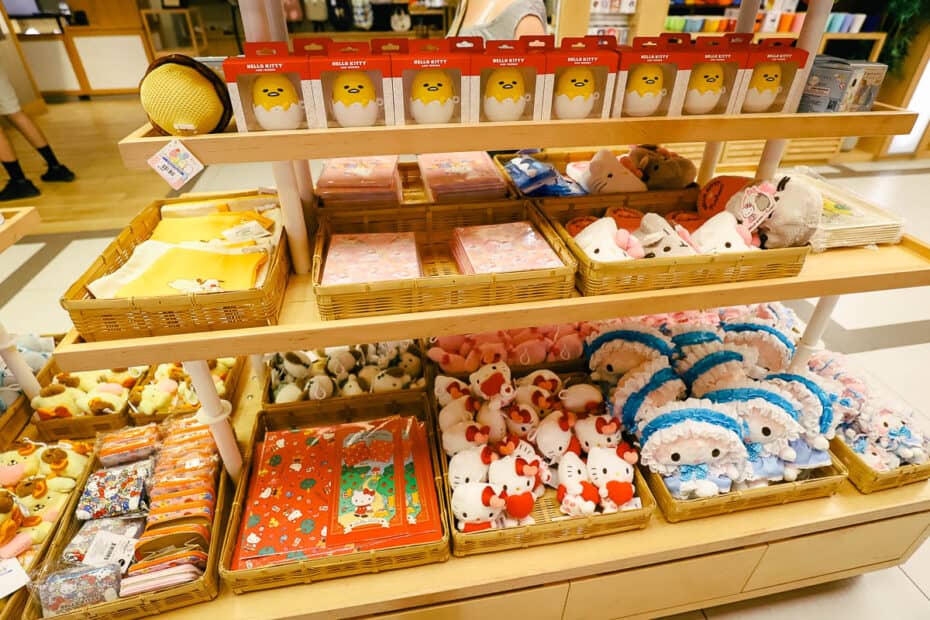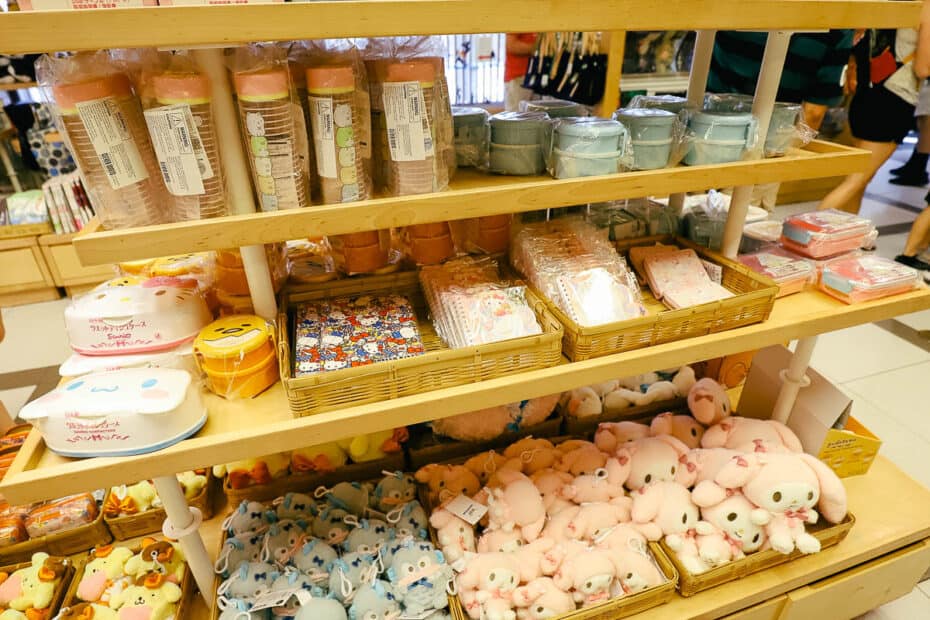 There are tons of gadgets and household items.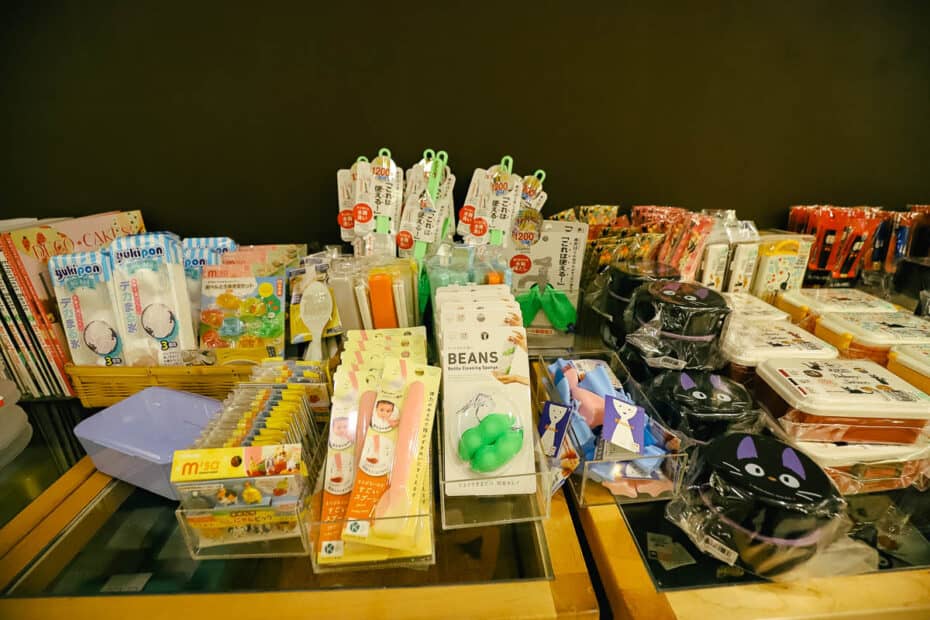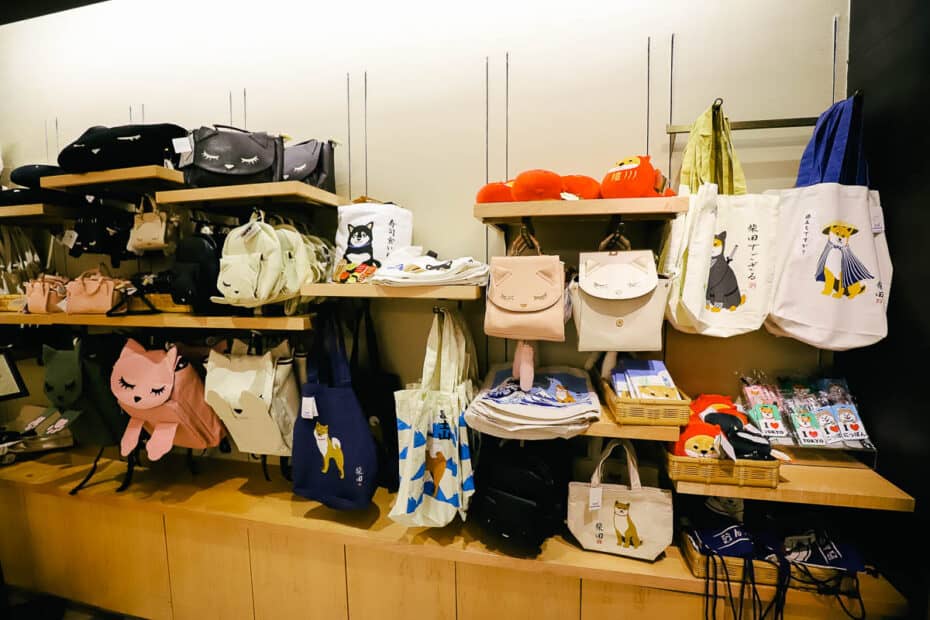 Skincare, anyone?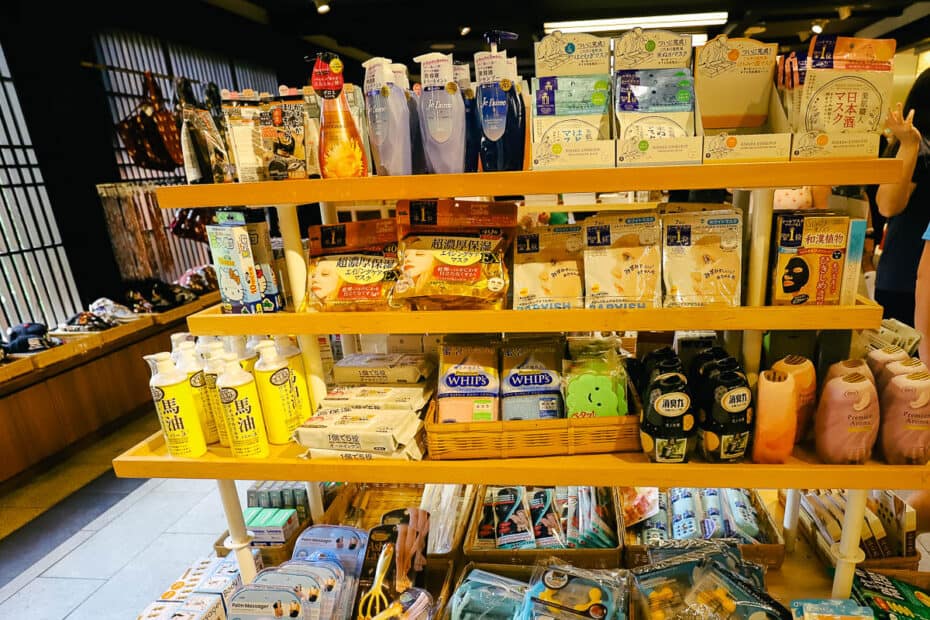 Here are a few notebooks, cards, and Origami paper crafts.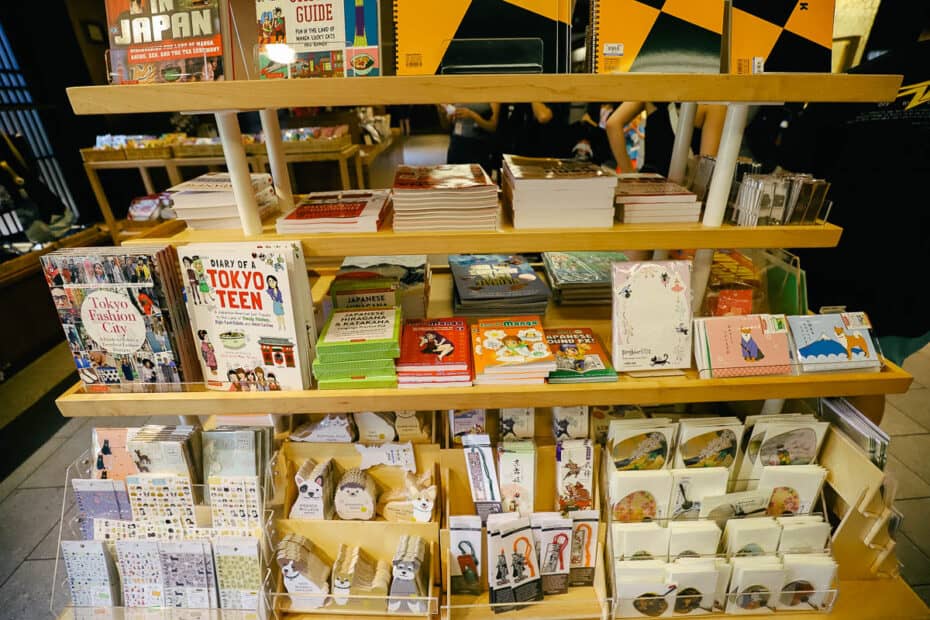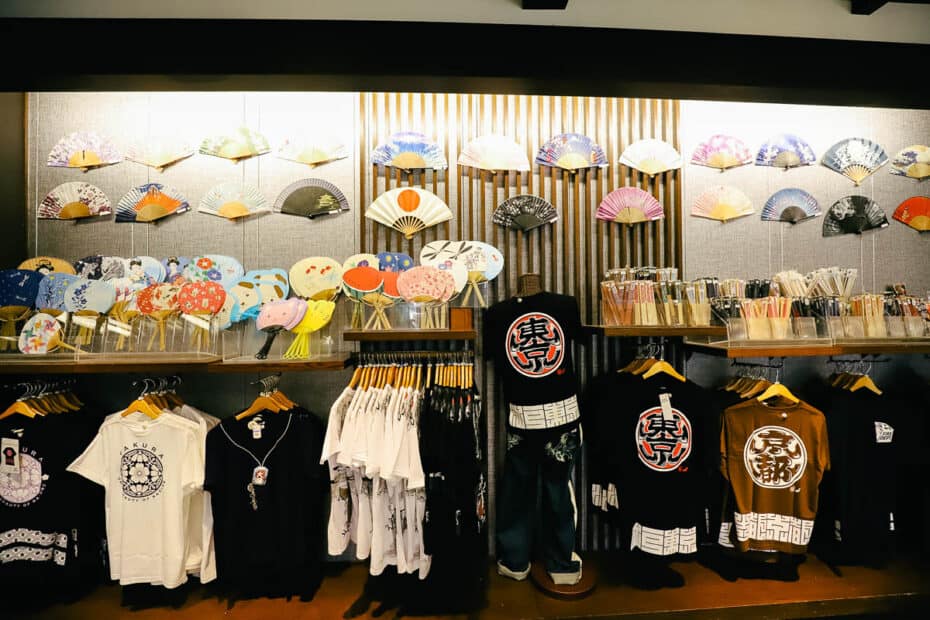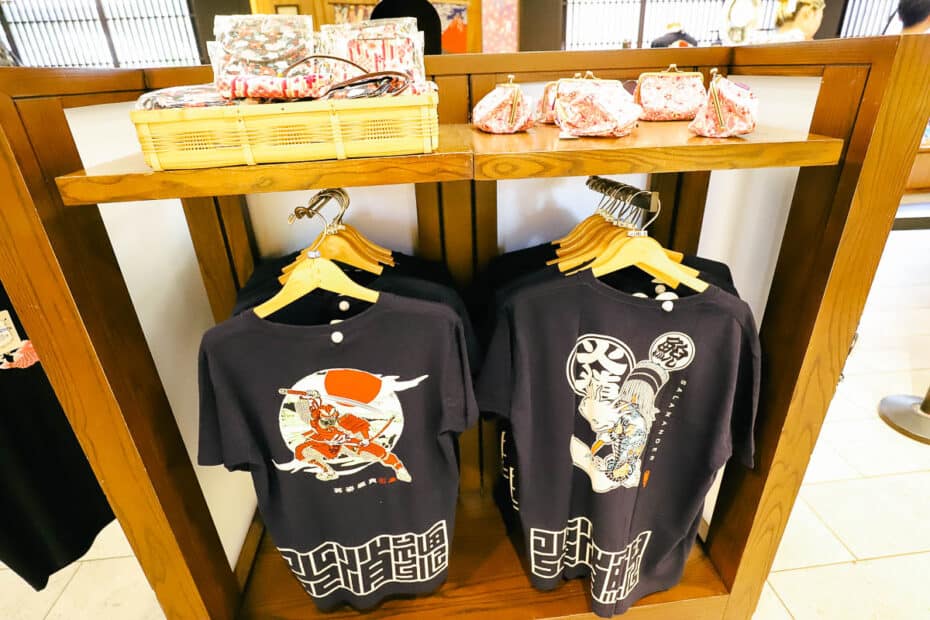 These waving cats reminded me of the ones in the China Pavilion.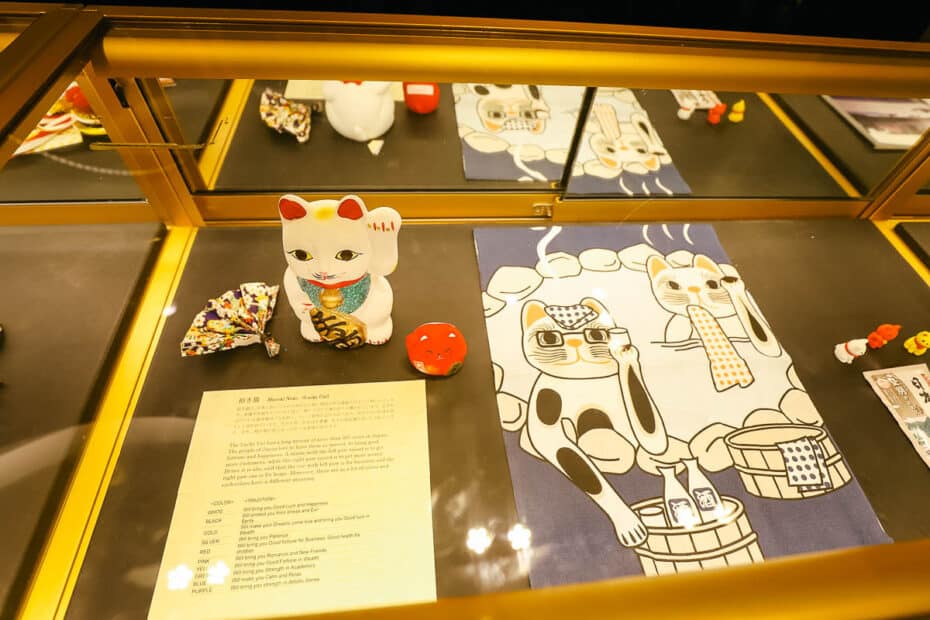 However, these are used for different reasons. For example, when the right paw is raised, it's to get more money, and the left paw is for more customers.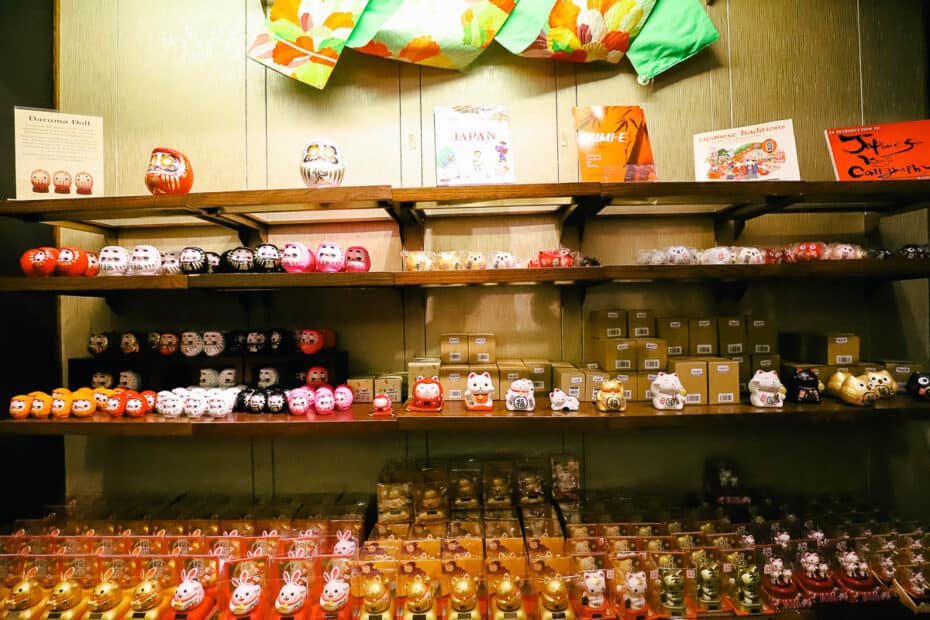 Umbrellas.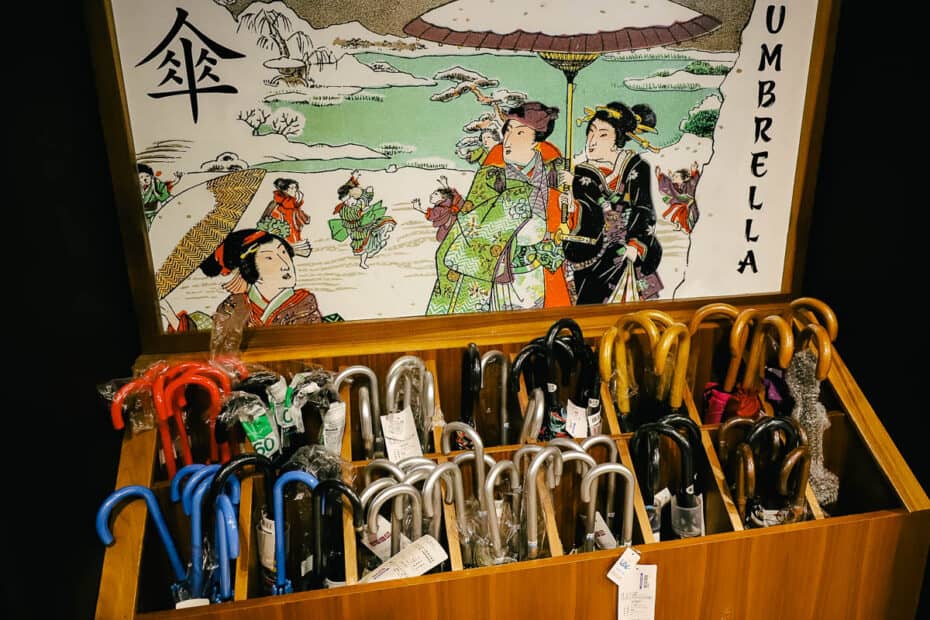 One room in the store has a collection of Kimonos and Obi Knots.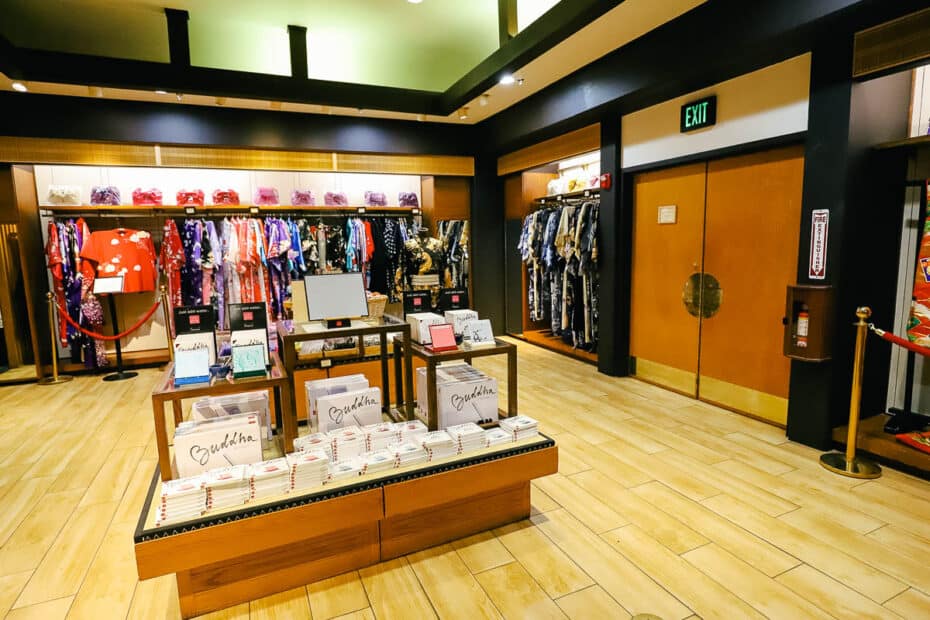 There are some beautiful ones on display.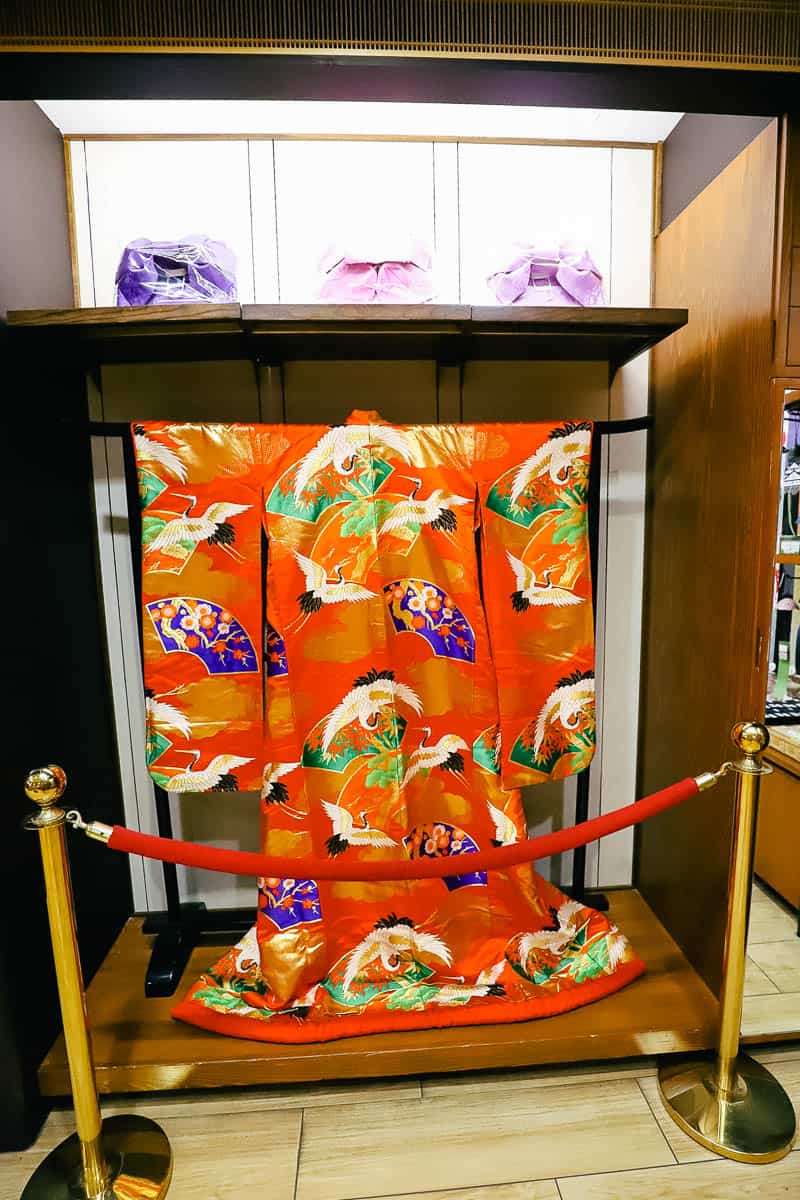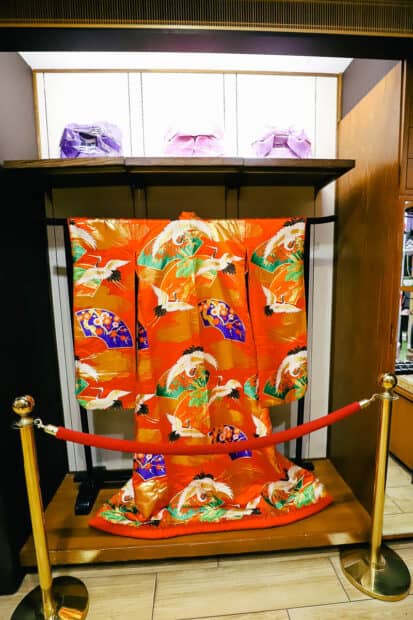 Someone will help you if you would like to try one.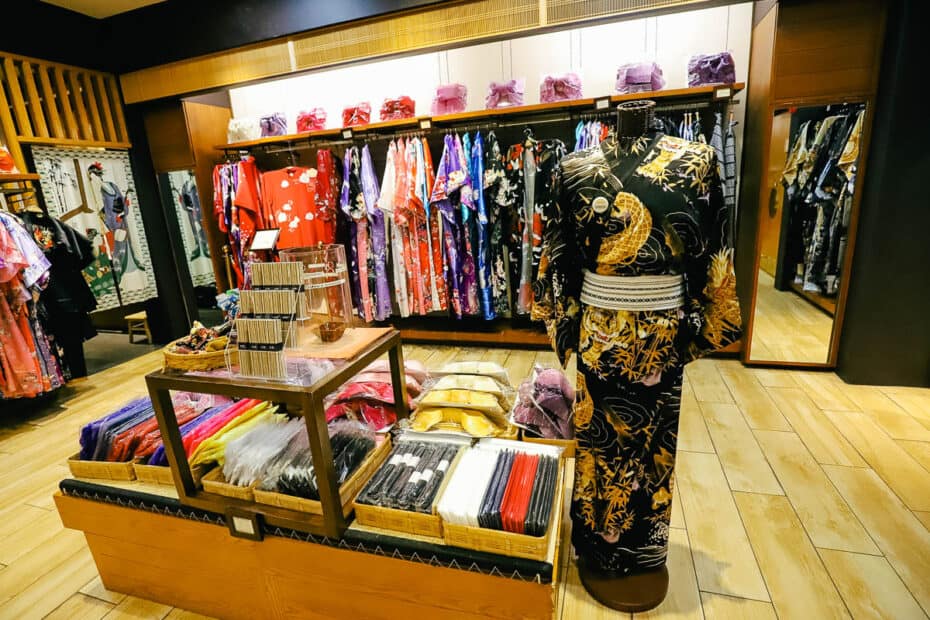 There are several displays with Japanese food products.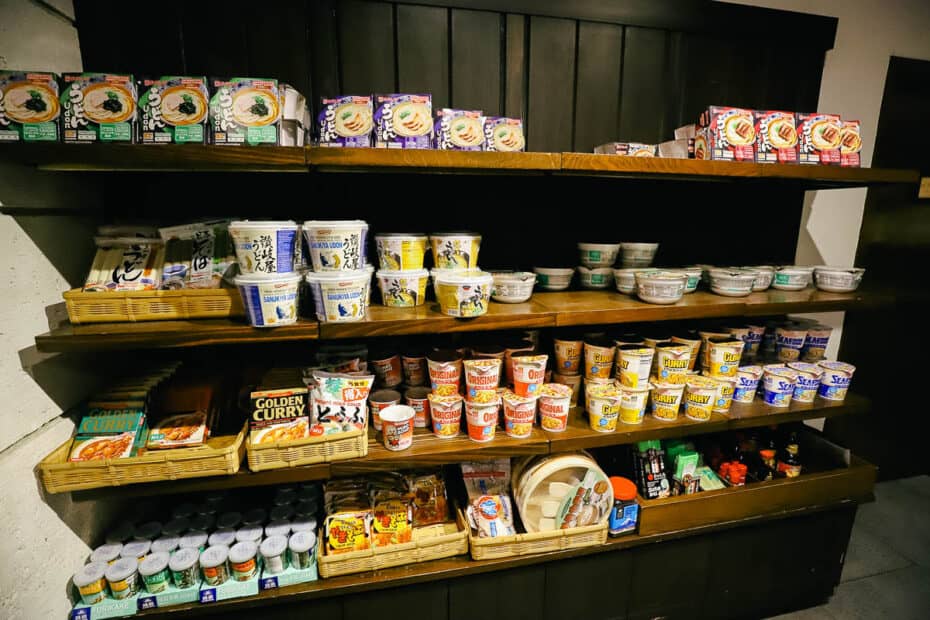 Chopsticks.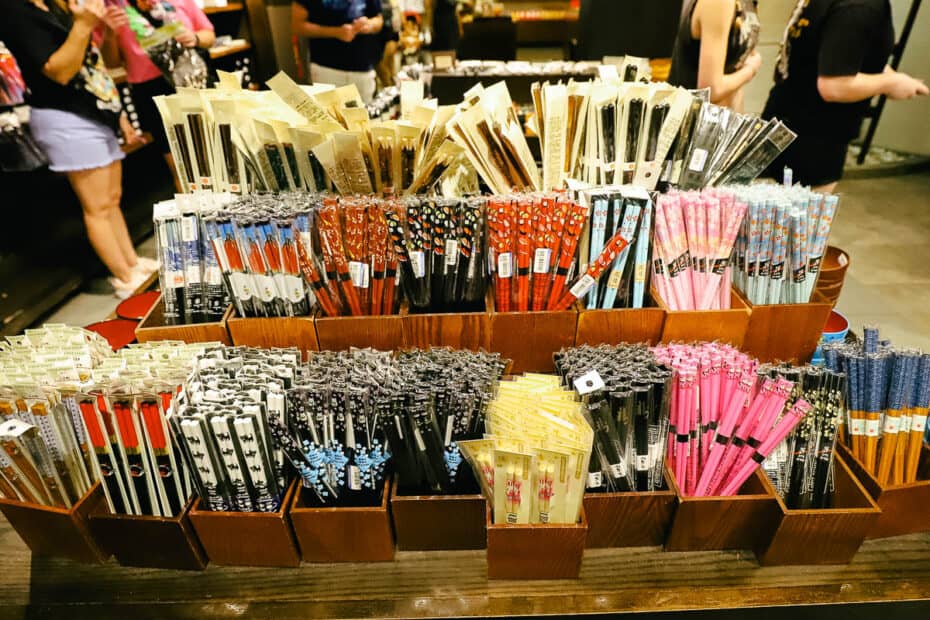 Toward the back of the store, there's a room with teapots and dishes.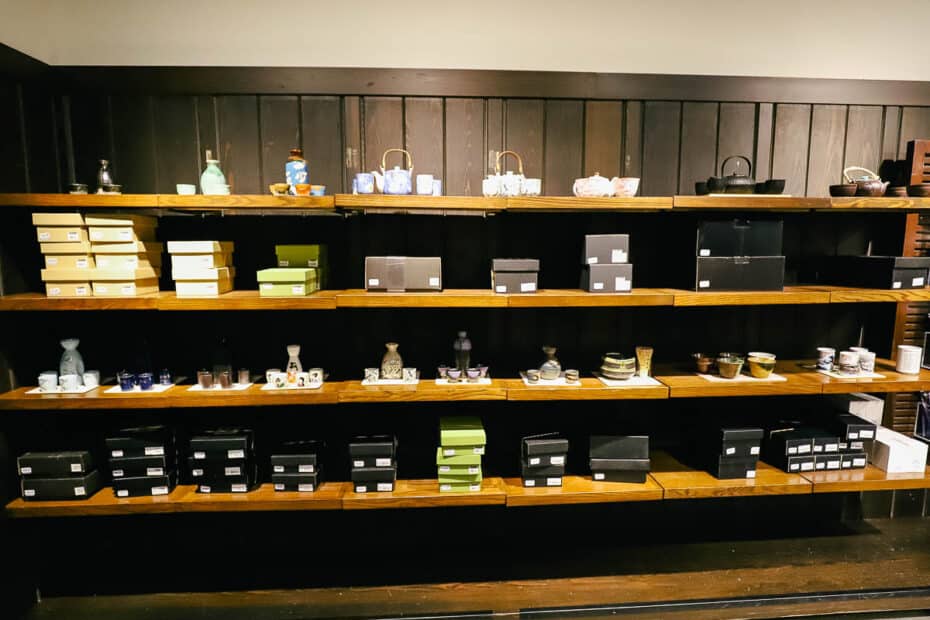 Here are a few teas, sodas, and flavored water.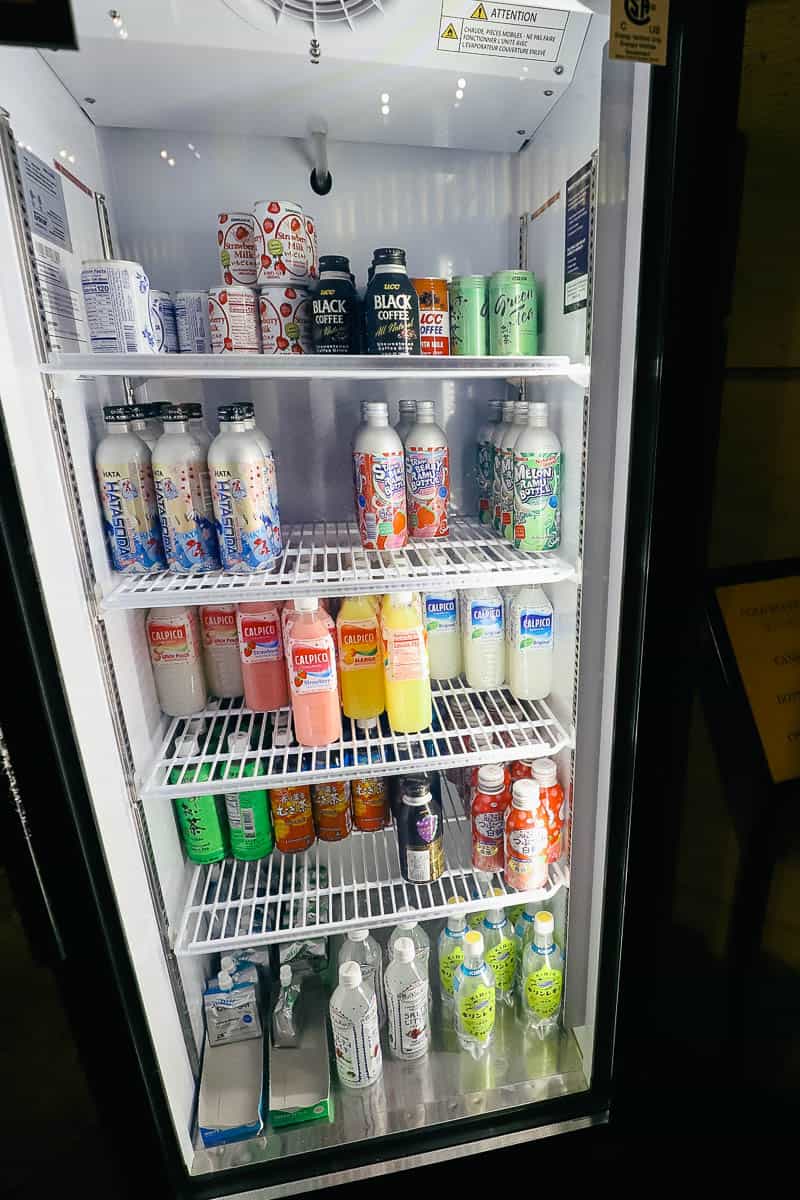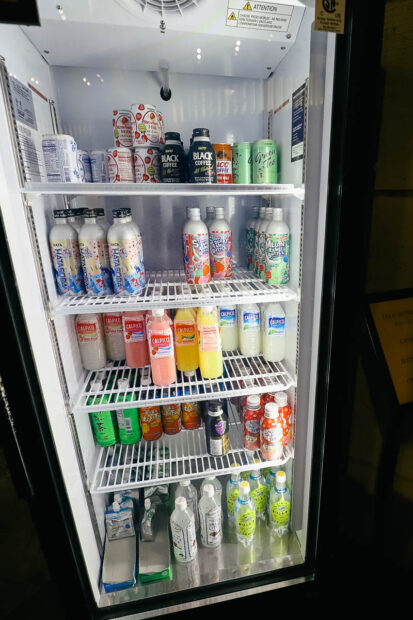 These Pocky candies are pretty popular.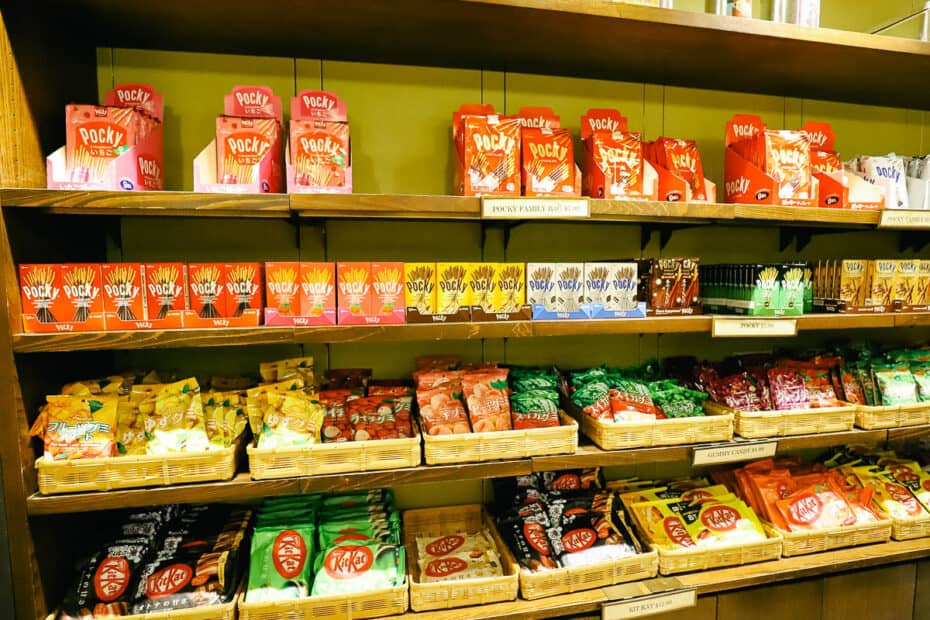 If you love themed food, there are Hello Kitty marshmallows in various flavors, including matcha.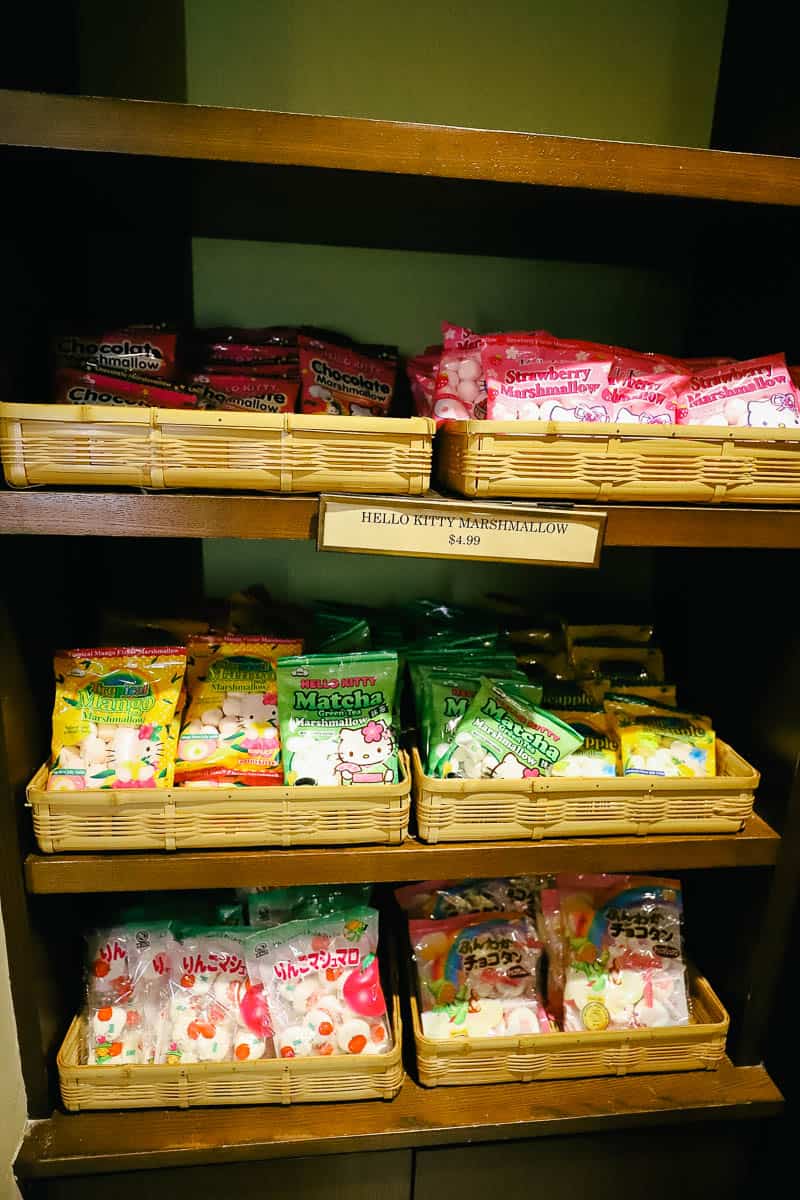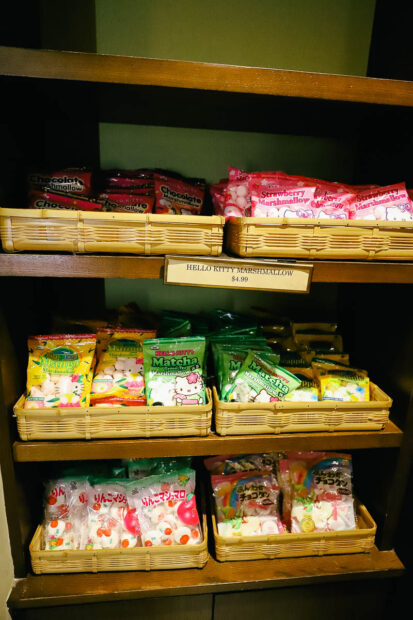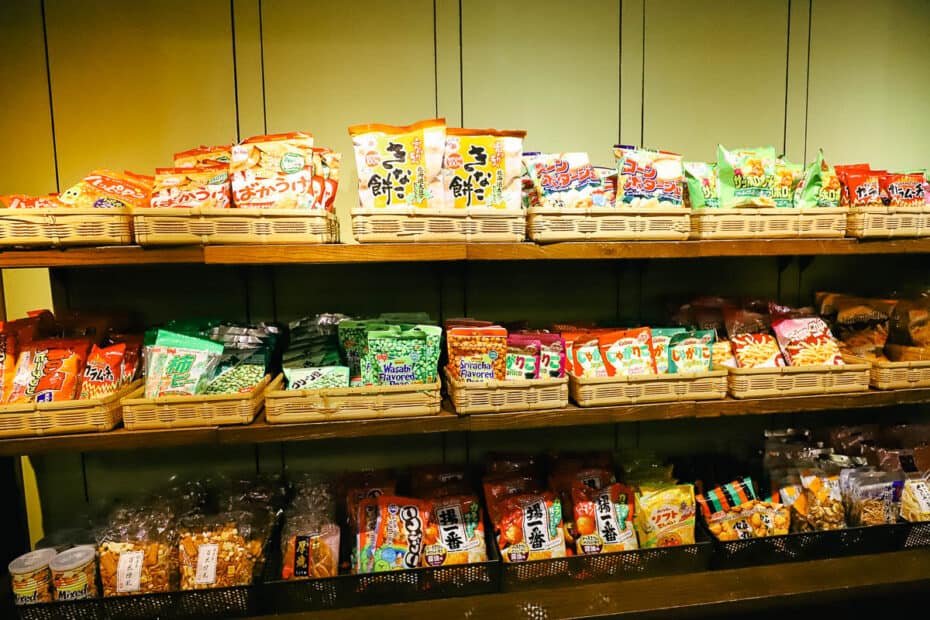 Lastly, the back wall has a display of various wines and sakes. If purchased, you can return these to your room, but they can't be opened in the park.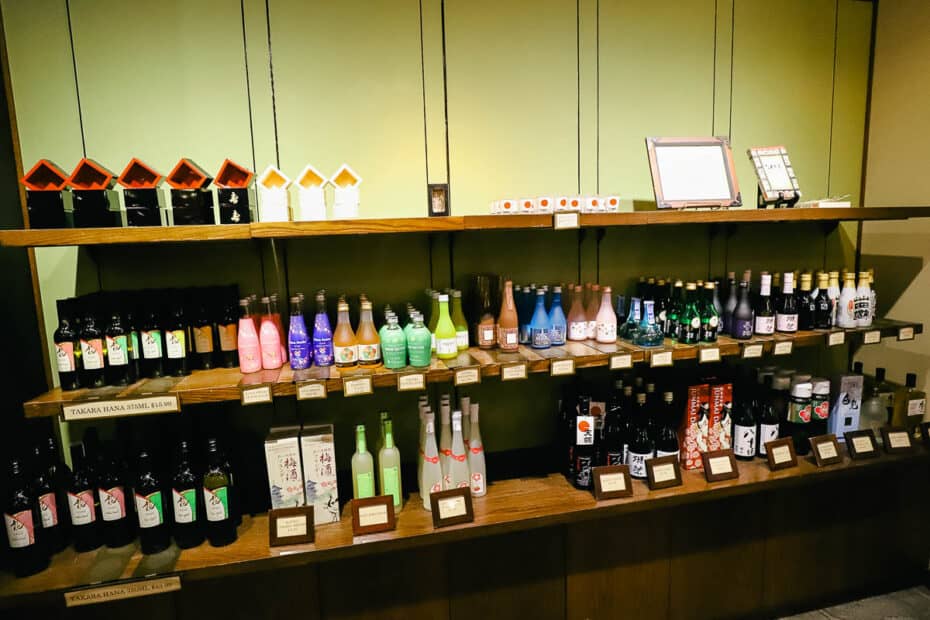 Akoya Pearls
Inside the Mitsukoshi store, you'll find the infamous Pick-a-Pearl. This is where you purchase a ticket and choose an oyster from the display case.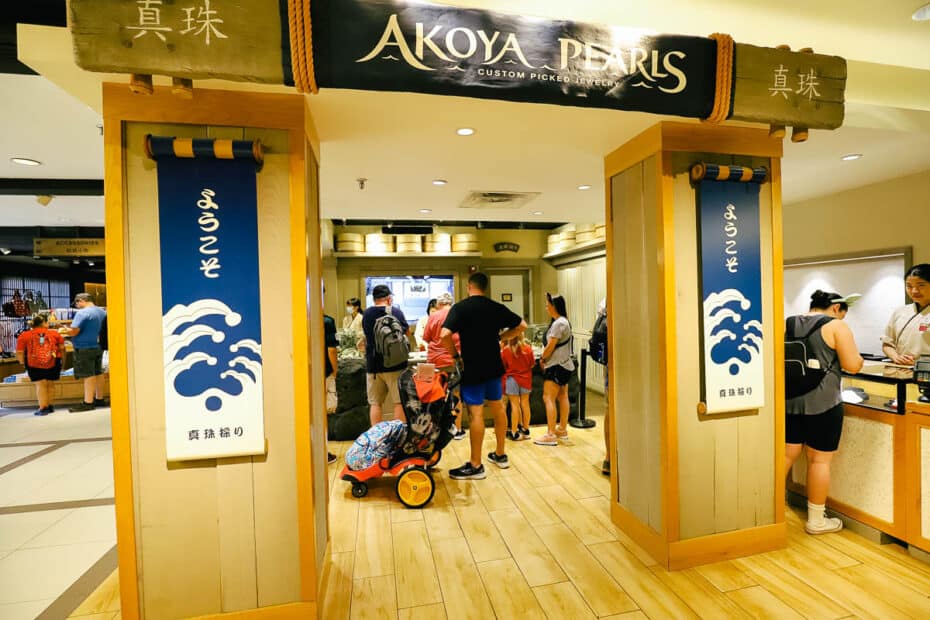 When it's your turn, a cast member will let you make the selection.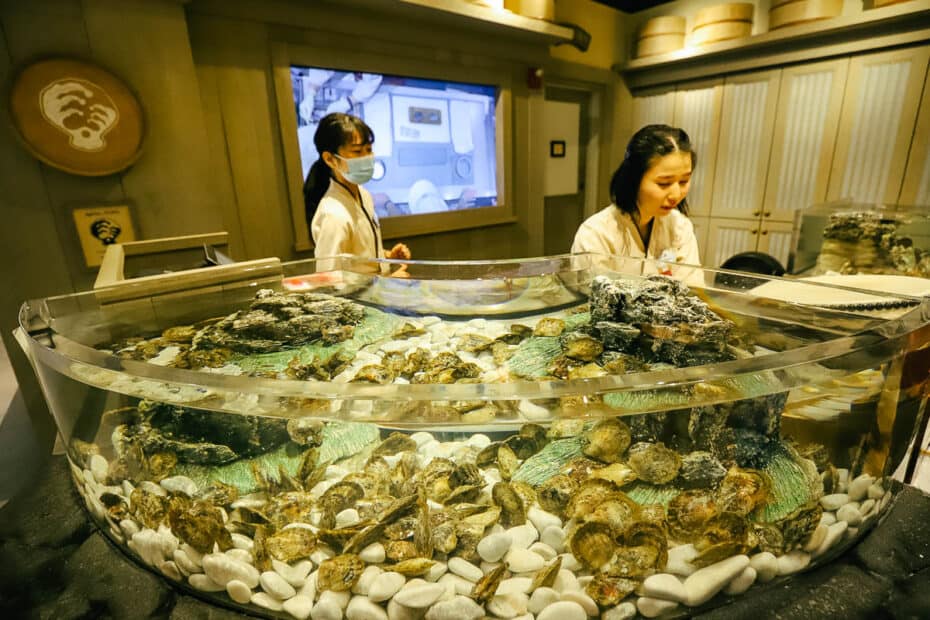 While this may sound simple, they actually make a big production out of the whole thing. The cast member will measure and compare your pearl to other pearl sizes.
There are also options to have your pearl mounted in various jewelry settings.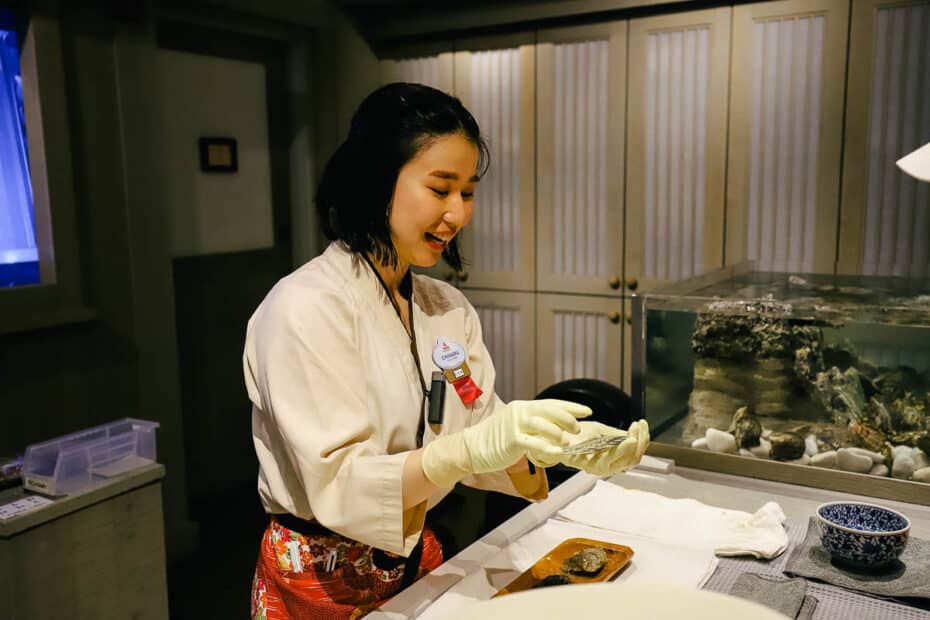 Kidcot Fun Stop
Last but not least, we have the Kidcot Fun Stop in Japan. Each country in the World Showcase at Epcot offers an activity area for children.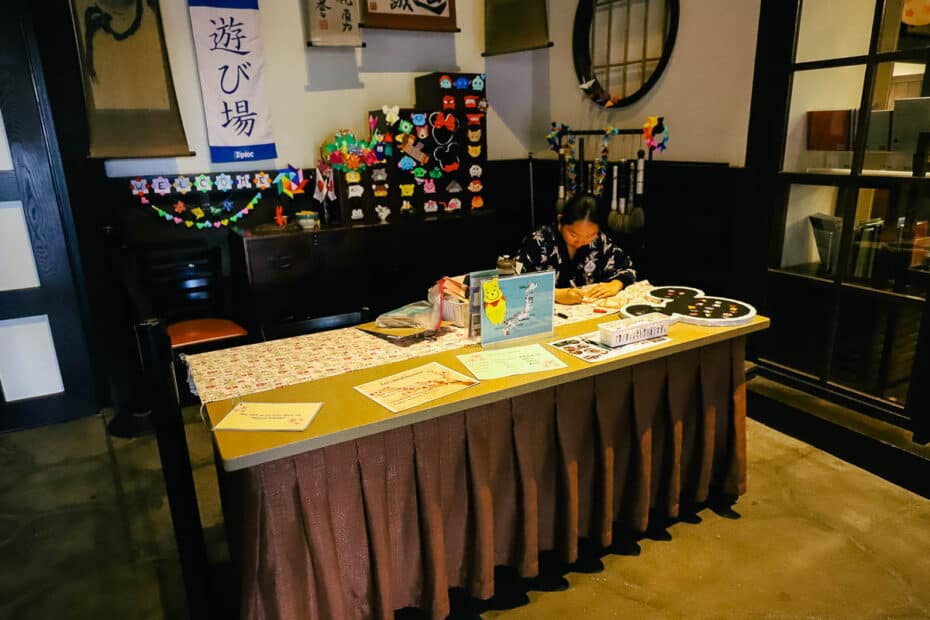 They usually have a postcard from each country and a coloring activity. This is a great way to get children to explore the World Showcase.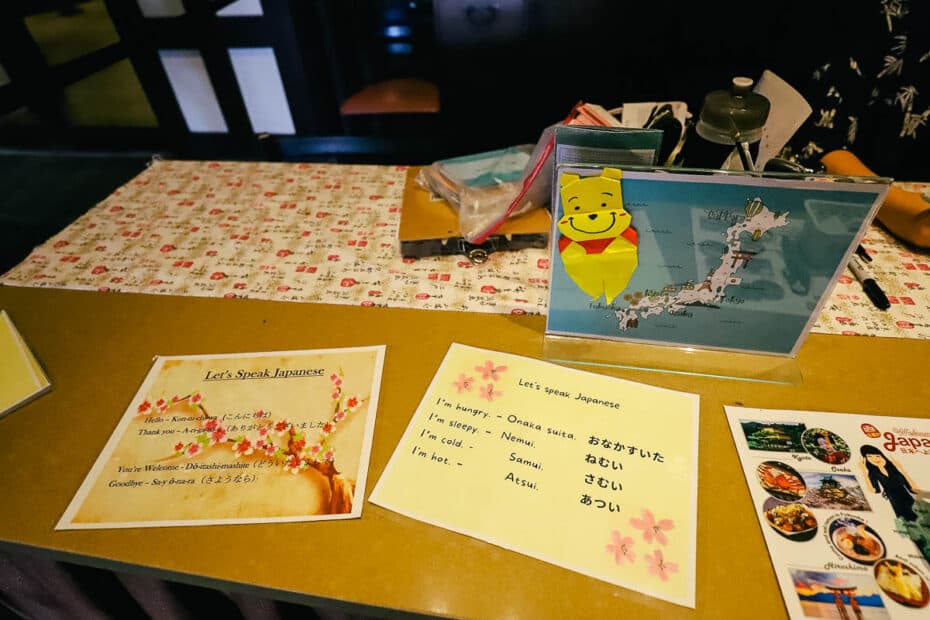 Before I forget, here are the pressed penny machines for the Japan Pavilion.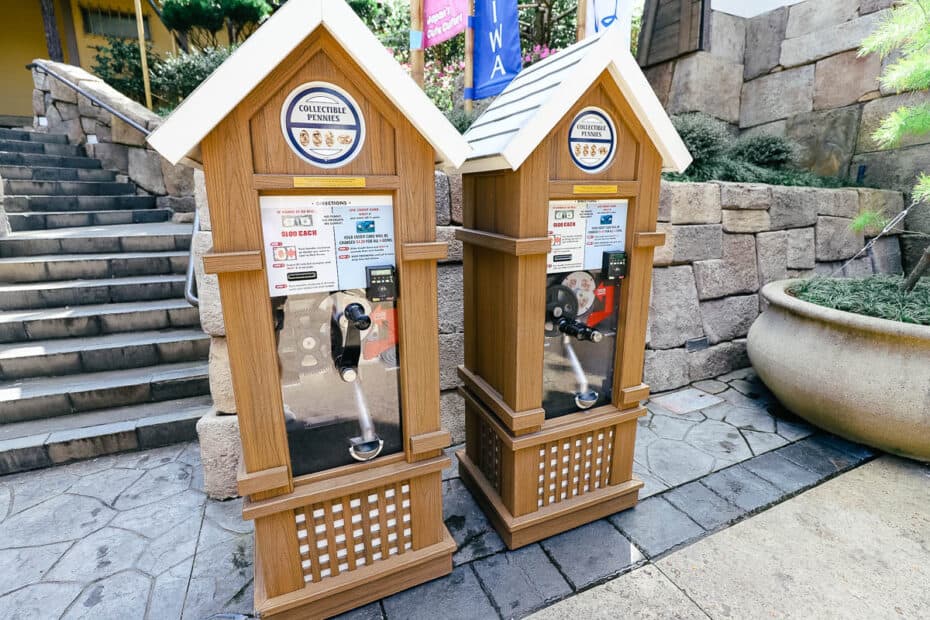 And here are the designs for each one.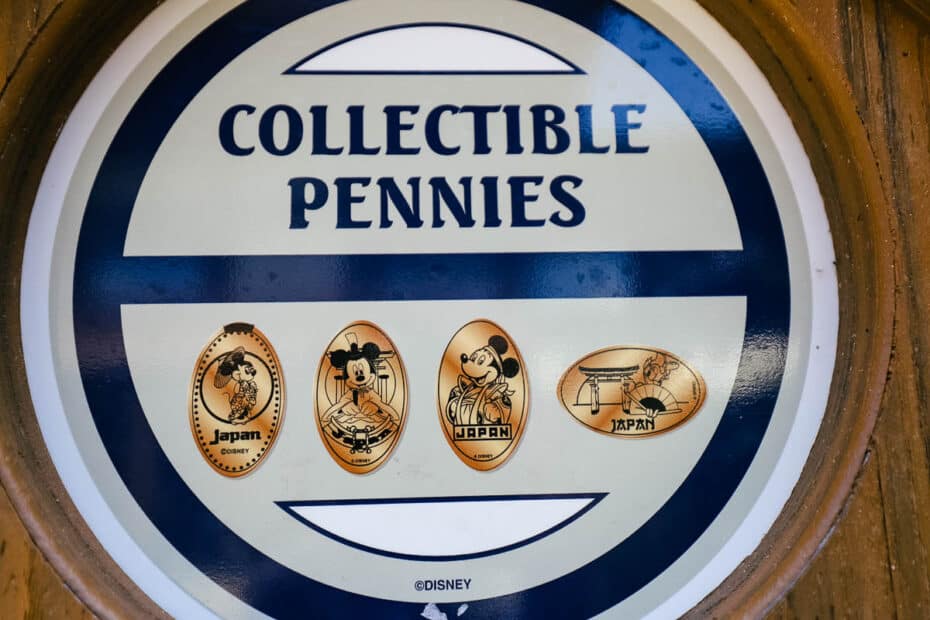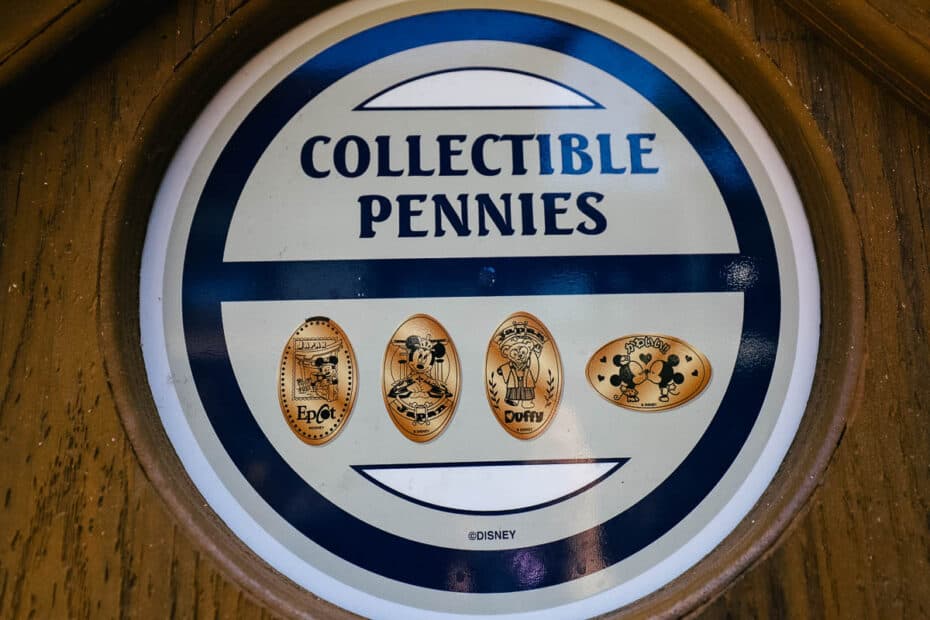 Final Thoughts on the Japan Pavilion
Hopefully, this review provided insight into where you might want to pick up a snack, meal, or even a souvenir on your next visit to Epcot's Japan Pavilion.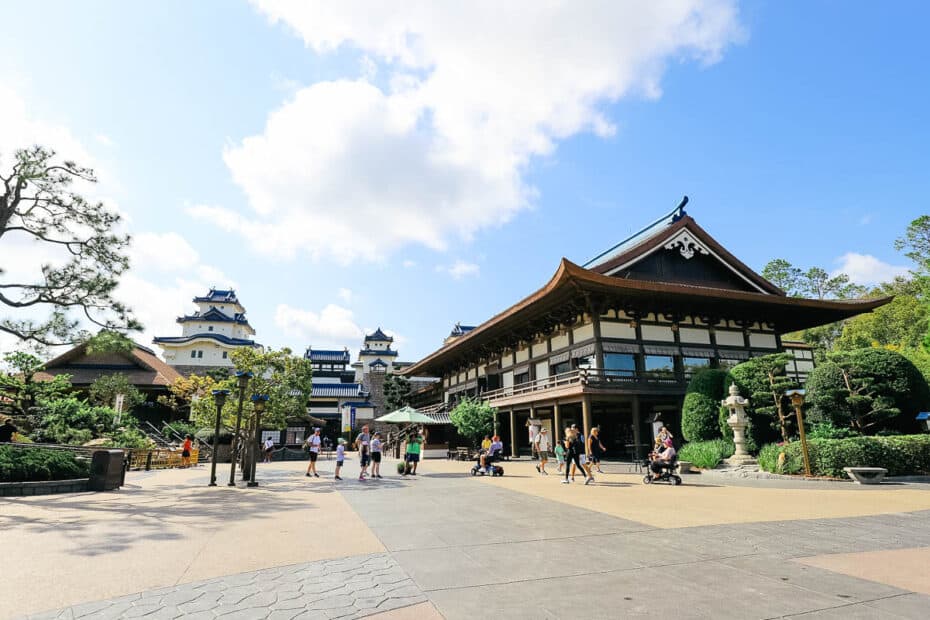 Touring the countries in the World Showcase is fun for so many guests. Unfortunately, not everyone has the opportunity to travel abroad. So the pavilions offer an excellent way to experience various cultural offerings.
For more countries in Epcot, try the following:
Related: Attractions List for Epcot
If you are interested in staying at one of the hotels near Epcot, you might enjoy checking out these reviews of resorts within walking distance.
Or you might like to look over our guide on how to pick the right Walt Disney World Resorts.
In the Comments
Do you enjoy browsing the store at Epcot's Japan Pavilion? Is this your favorite pavilion in the World Showcase?
Planning a Walt Disney World or other Disney Destination vacation?
Our friends and travel partner, Firefly Travels, excels at doing Disney differently. You can fill out a plan your trip form on their website, and someone will reach out shortly to discuss the specifics.