Mac and Eats Review (Epcot Food and Wine 2022)
Mac and Eats, what can I say? Any booth that indicates there will be macaroni and cheese will be popular. Cheese-y pasta is one of America's most significant comfort foods.
But is it worth the stop? We'll soon find out in this review of the Mac and Eats food booth at Epcot's 2022 Food and Wine Festival.
You'll find Mac and Eats located between the back of Creations gift shop and Test Track. It's located near The Fry Basket and Coastal Eats.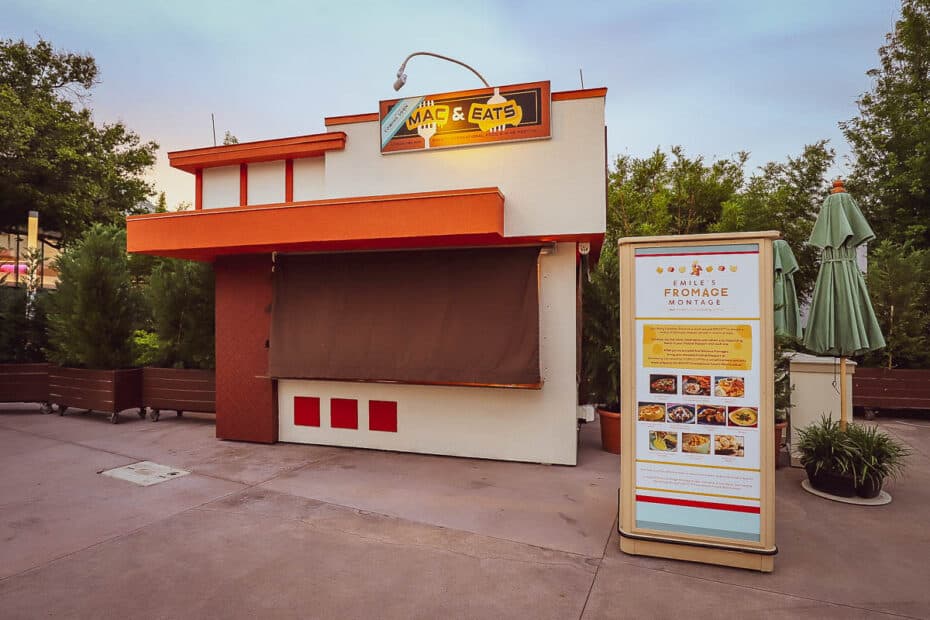 Mac and Eats Menu Items with Prices
Below is a list of the menu items with prices at Mac and Eats.
Traditional Macaroni and Cheese ($5.00)
Cowboy Macaroni and Cheese ($6.25)
Chili-Cheese Macaroni and Cheese ($5.50)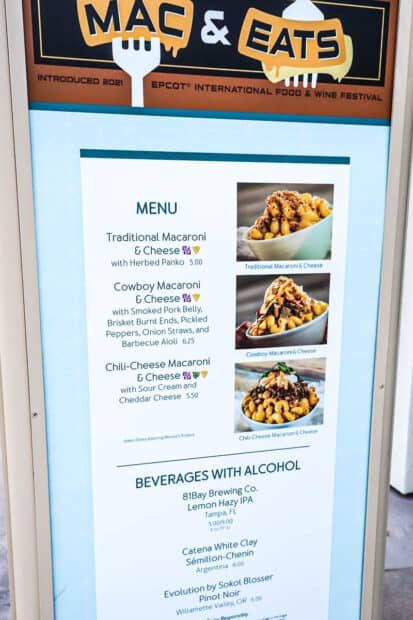 Beverages:
81Bay Brewing Co. Lemon Hazy IPA ($5.00 or $9.00)
Catena White Clay Semillon-Chenin ($8.00)
Evolution by Sokol Blosser Pinot Noir ($6.00)
Traditional Macaroni and Cheese
A few years back, we saw a macaroni and cheese dish at the Festival that featured Boursin cheese and a panko topping. It was so delicious that I even recreated my own version of the dish at home.
Unfortunately, this year's traditional macaroni and cheese dish at Mac and Eats didn't live up to any expectations. It was the blandest item I ordered during the entirety of the Food and Wine Festival.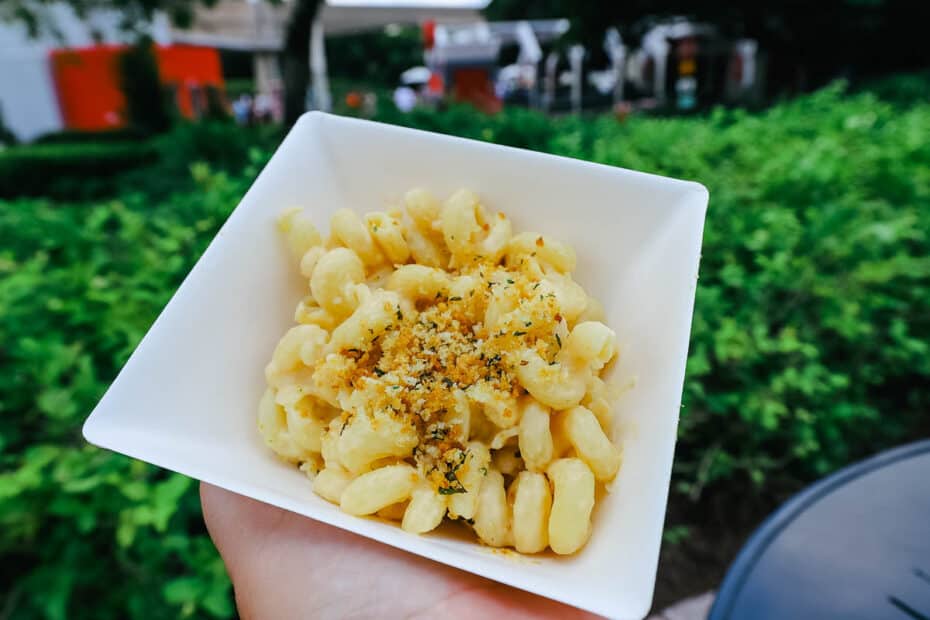 My portion didn't have the slightest hint of cheese. And the pasta was so tasteless that it probably wasn't prepared in boiling salt water, much less a sprinkle of salt added to it.
High hopes turned into a big letdown with the traditional mac and cheese. The table next to me noted that they expected actual cheese with their macaroni and cheese. Unfortunately, that wasn't the case with what we were served.
Cowboy Macaroni and Cheese
Since I had tried the traditional macaroni and cheese first, I didn't have many hopes for the Cowboy version. Truthfully, I didn't look forward to trying it in the first place. The dish didn't sound appealing.
Sometimes I'm wrong, and I was wrong about the Cowboy Macaroni and Cheese. It was a pretty good version of macaroni that packed a lot of flavor.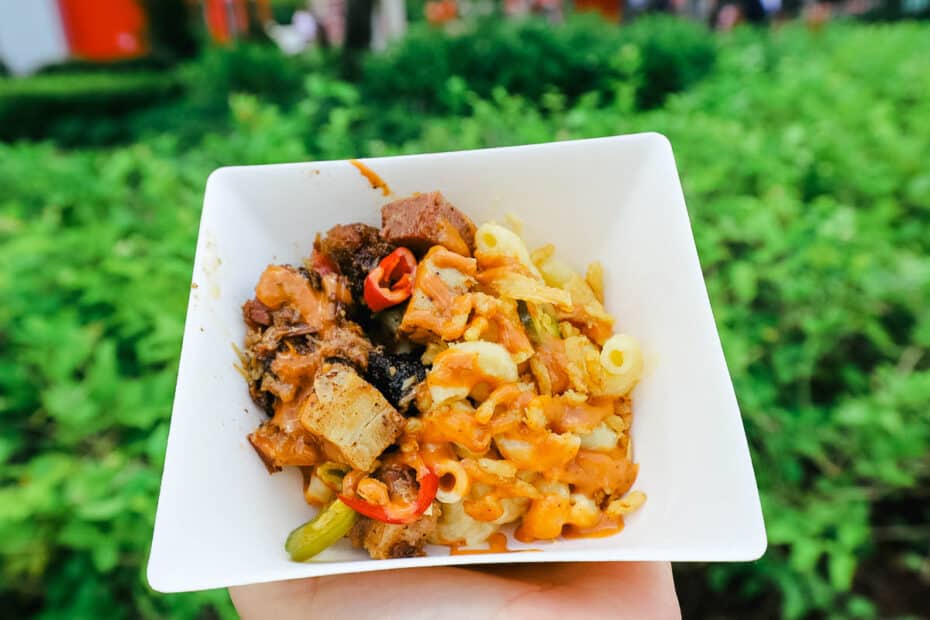 This dish is described as smoked pork belly, brisket burnt ends, pickled peppers, onion straws, and barbecue aioli. Even the aioli was good, and most of you know I tend to shy away from anything that includes the name aioli.
My pork belly and brisket were tender and juicy. Additionally, the sauce added a complex flavor that worked well with the other parts of the dish.
Surprisingly, I found myself going in for bite after bite. That doesn't always happen, but the Cowboy mac and cheese had everything (and then some) that the traditional version didn't.
On the afternoon I reviewed Mac and Eats, I was by myself. Unfortunately, I couldn't bring myself to eat anymore, so I didn't get to try the chili-cheese version.
Other booths we've reviewed to date include:
Or browse the entire Epcot Food and Wine Guide for 2022.
In the comments
What are your thoughts on the Mac and Eats booth at Epcot? Will you try the Cowboy macaroni and cheese or maybe the chili version?