Spain Marketplace Review (2023 Epcot Food and Wine Festival)
As we continue on our journey of reviewing food at the Epcot International Food and Wine Festival in 2023, we stop in at Spain's Global Marketplace. Here we find the same three returning menu items from previous festivals.
Since these items have been served several years in a row, we will look at the menu and prices. However, the photos and review are from last year's festival, where we provided a fresh update.
Let's look at your options.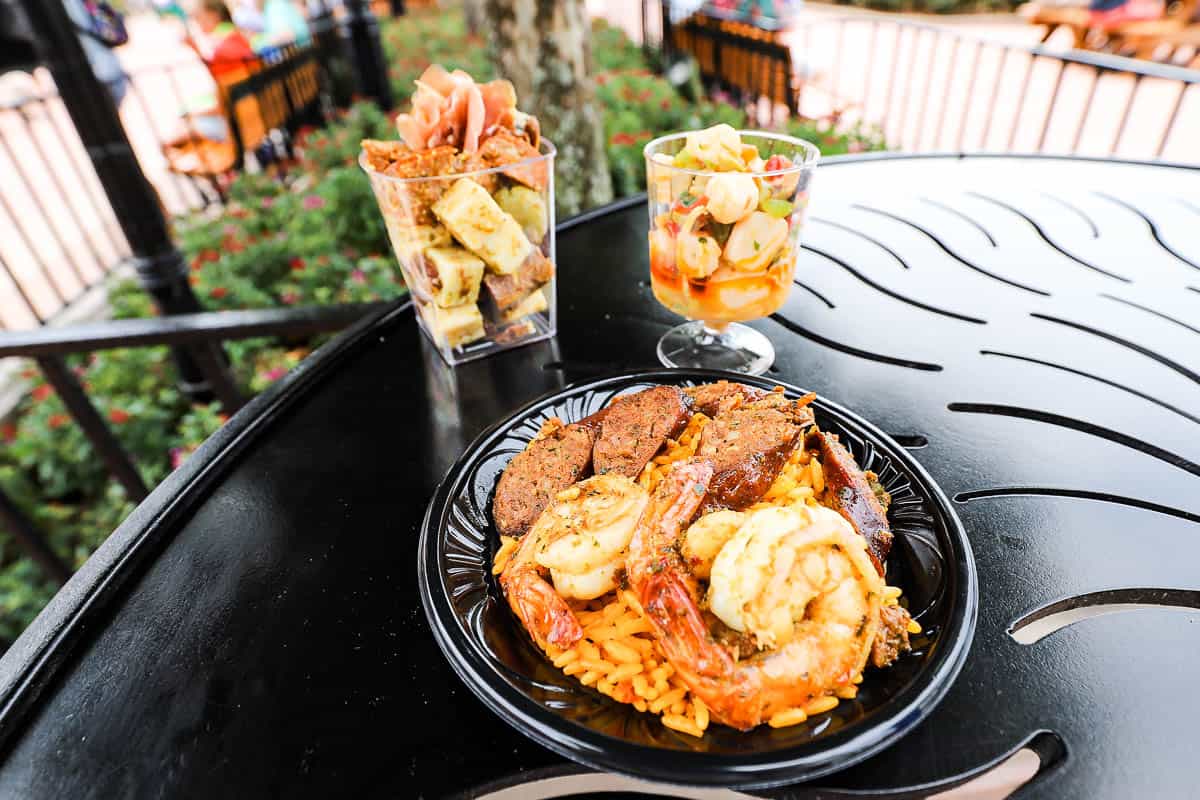 Spain Marketplace Menu Items and Prices
Below are the items (and prices) you'll find at this year's Spain Marketplace at Food and Wine.
Charcuterie in a Cup ($6.50)
Paella ($6.75)
Seafood Salad ($6.25)
Beverages:
Vina Borgia Macabeo White Sangria ($6.50)
Vina Borgia Red Sangria ($6.50)
Vina Borgia Garnacha Red Sangria ($6.50)
Sangria Flight ($13.00)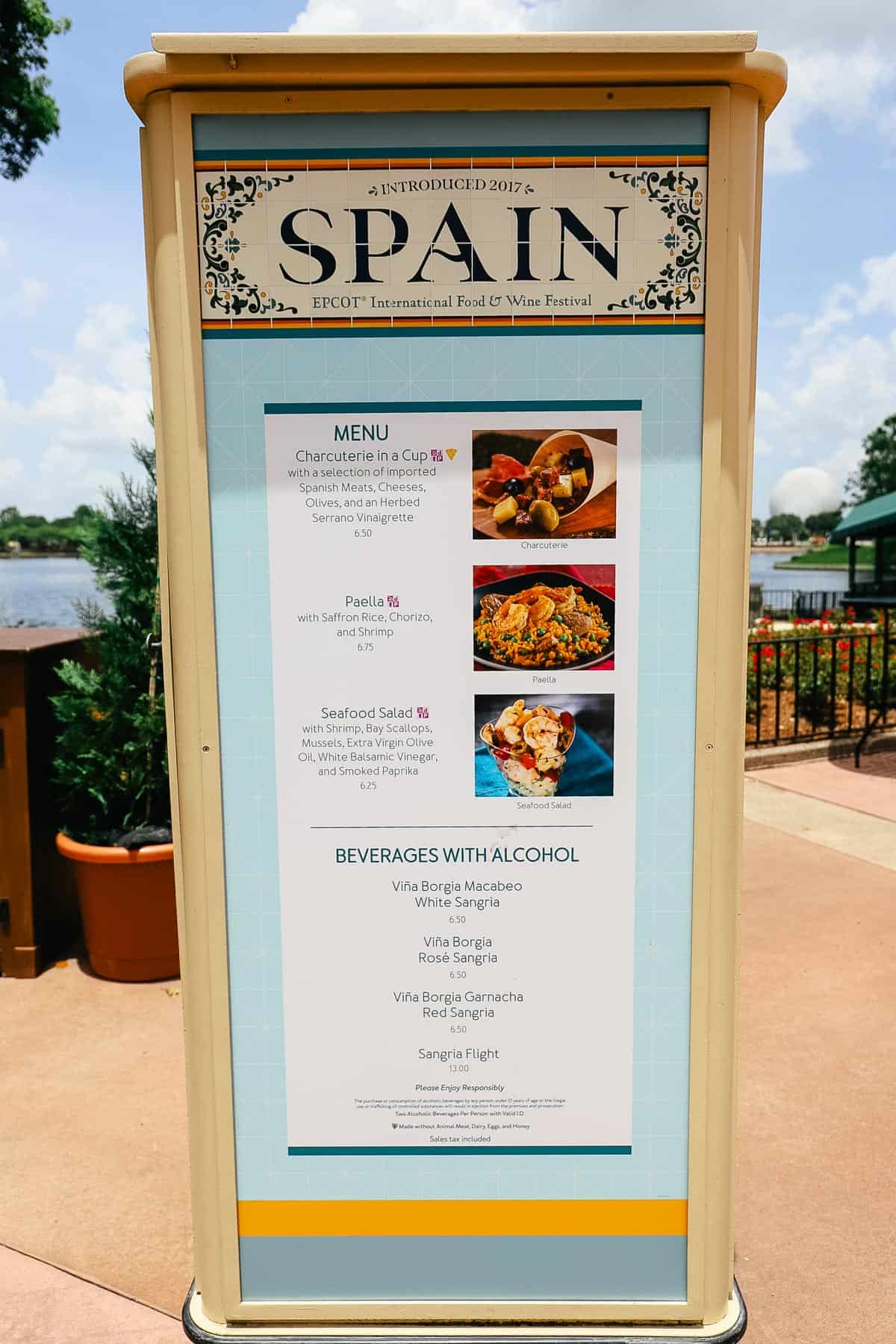 Seafood Salad
First, we have the seafood salad. Let me start by saying all of the items at Spain's festival booth are huge. Even this cup of seafood salad was chocked full of various proteins and a few accompaniments.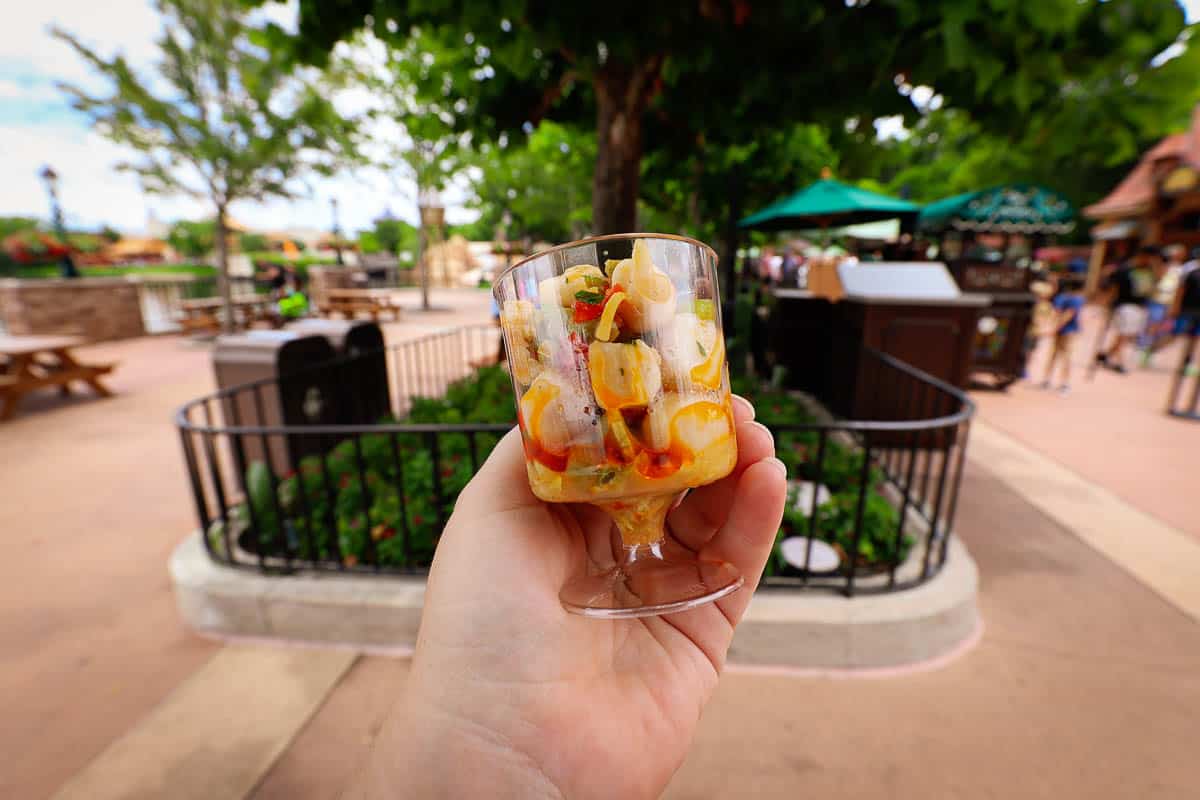 As someone who loves a good pasta salad, I looked forward to trying this dish. Per the menu, this dish comes with shrimp, bay scallops, mussels, extra virgin olive oil, white balsamic vinegar, and smoked paprika.
My cup was primarily bay scallops. Unfortunately, I'm not a fan of scallops. It's a texture thing. The other issue I had with this dish was the flavor. It was sour and had a fishy smell.
Fresh seafood is not supposed to have a fishy smell. So if I catch a whisp of it, I immediately become a little wary.
You might luck out with a fresher serving if you order one. But, on the positive side, it was a tremendous serving.
Charcuterie (In a Cup)
Next, we have the charcuterie. Formerly, the charcuterie was served in a cone. But now it comes in a cup.
Like the seafood salad, the charcuterie cup came pre-made from the refrigerator. A cast member literally opens the refrigerator door and hands you your order. If the fridge had been opened a good bit, that might have caused the issue with the seafood salad.
Thankfully, charcuterie tends to hold up better than seafood. But I wasn't sold on it either.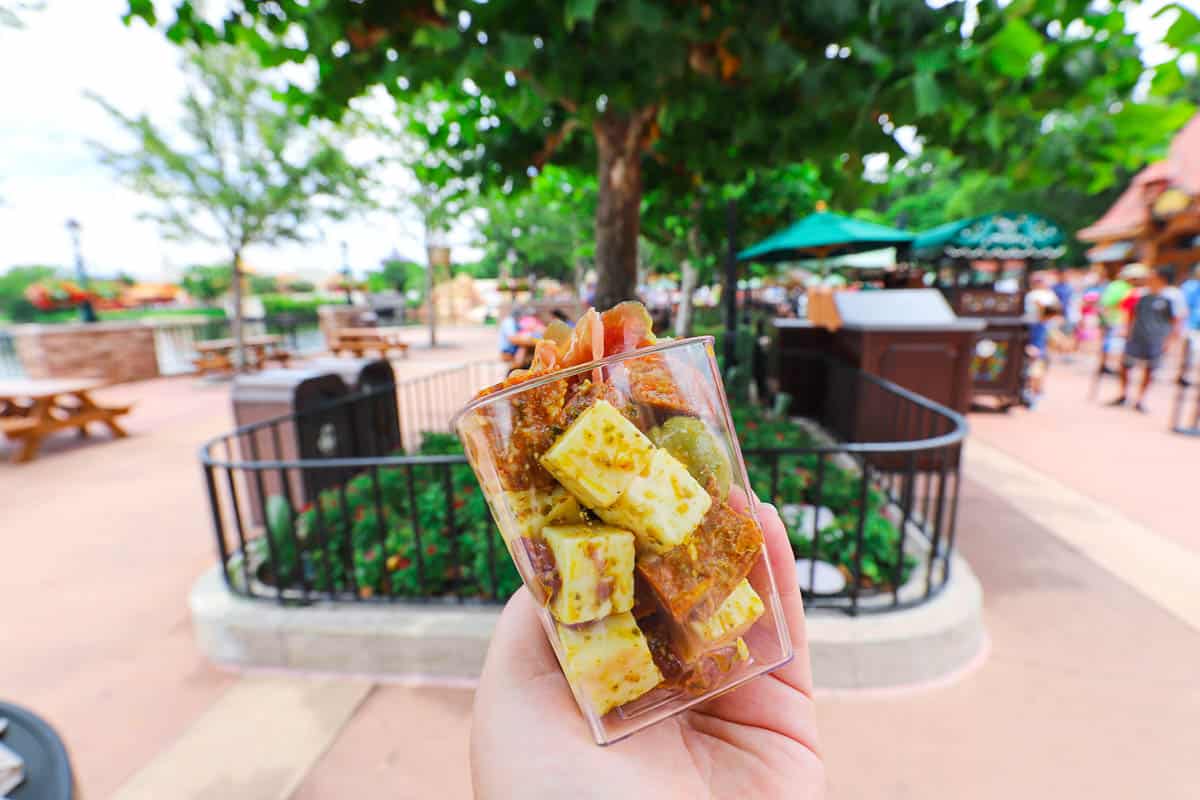 Maybe I'm a harsh critic, but this charcuterie was drowning in a vinaigrette. The sauce only added to the salty flavor of the cured meat.
So if you enjoy a little salt with your salt, this is a strong snack option. The cup came packed with Spanish meats (it was Proscuitto), cheese (Parmesan), and olives (Kalamata and green).
Additionally, my serving had chorizo. It was the same chorizo that's used in the paella dish, only it's served cold in the charcuterie.
A couple sitting next to me was eating the same thing, and I asked them if they enjoyed it. They replied that it was okay.
Then I asked if their serving was salty, and they told me charcuterie was supposed to be salty. If they only knew how much charcuterie I've consumed in my lifetime. But to each their own.
Paella
Finally, we arrived at the star of the show. Paella! A few years ago, the paella at the Spain Marketplace was one of the worst dishes I tried.
However, that particular order of paella had been sitting under a heat lamp. It was dry and downright gross. I only ate a few bits before throwing it in the trash.
So when I saw this version combined chorizo and shrimp, I felt it was time to give it a new review. And I'm happy I did.
My portion came topped with three large (not overcooked) shrimp and five slices of chorizo. The base was yellow crispy rice.
Ultimately, I felt the dish was huge and delicious. However, it reminded me more of a jambalaya without the sauce than a traditional paella. Regardless of what you call it, this was a fantastic dish I'd proudly order in the future.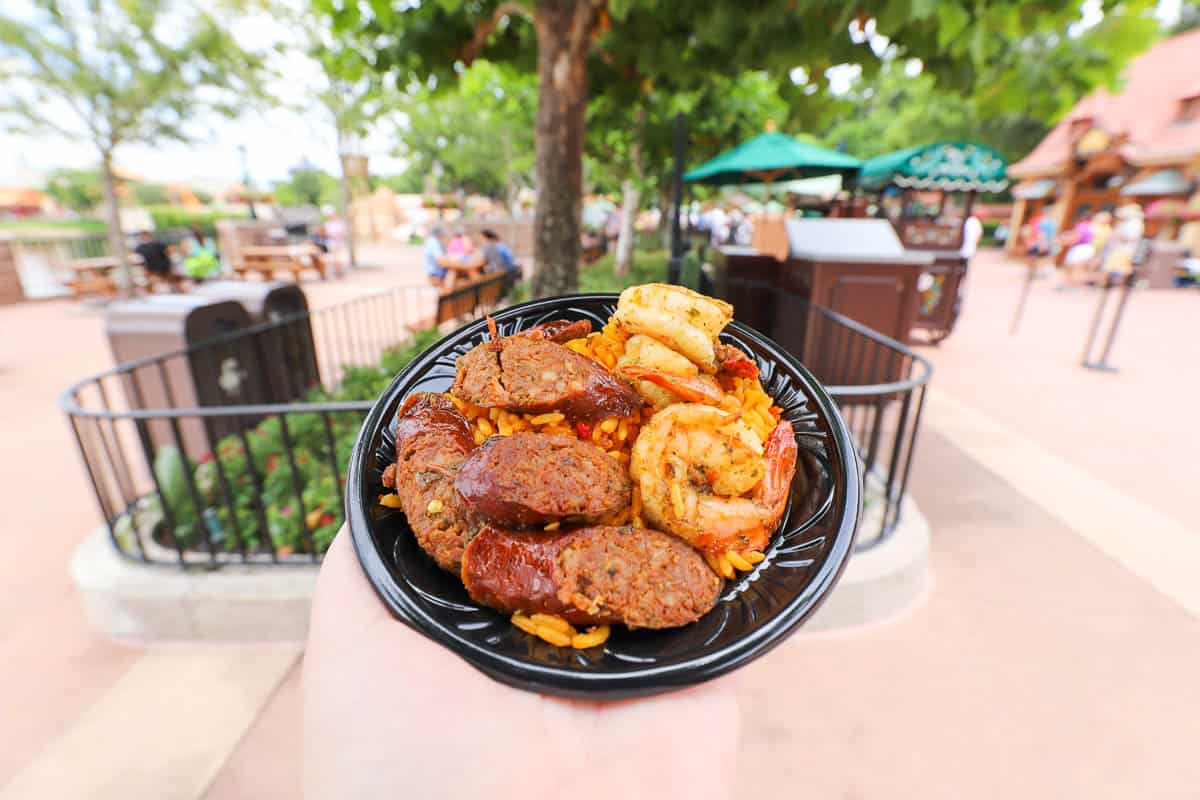 Overall, Spain offers substantial portion sizes, and the seafood salad might be okay if you don't get one with a fishy twang. The charcuterie is large enough to share with someone but comes in on the salty side. And if the paella remains consistent, you won't want to miss it.
For more Epcot Food and Wine Reviews, try the following:
In the comments:
What are your thoughts on the Spain Marketplace? Will you try any of these items?