'Remember Me!' La Celebración del Día de Muertos (Mexican Folk Art Gallery at Epcot)
Remember Me! La Celebracion del Dia de Muertos is a gallery exhibit in Epcot's Mexico Pavilion. It debuted a while back and was inspired by Disney Pixar's Coco.
This exhibit takes a unique look at Día de Muertos through the eyes of Mexican and Mexican-American artists. You'll find the gallery immediately inside the entrance of the pyramid.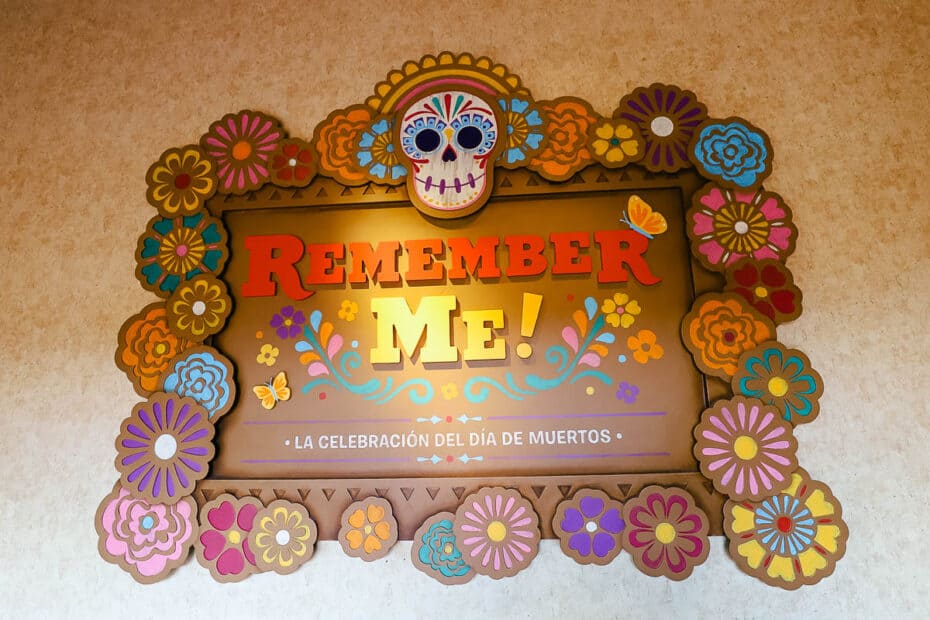 One of the first displays features a quote that translates as, "There is more time than life."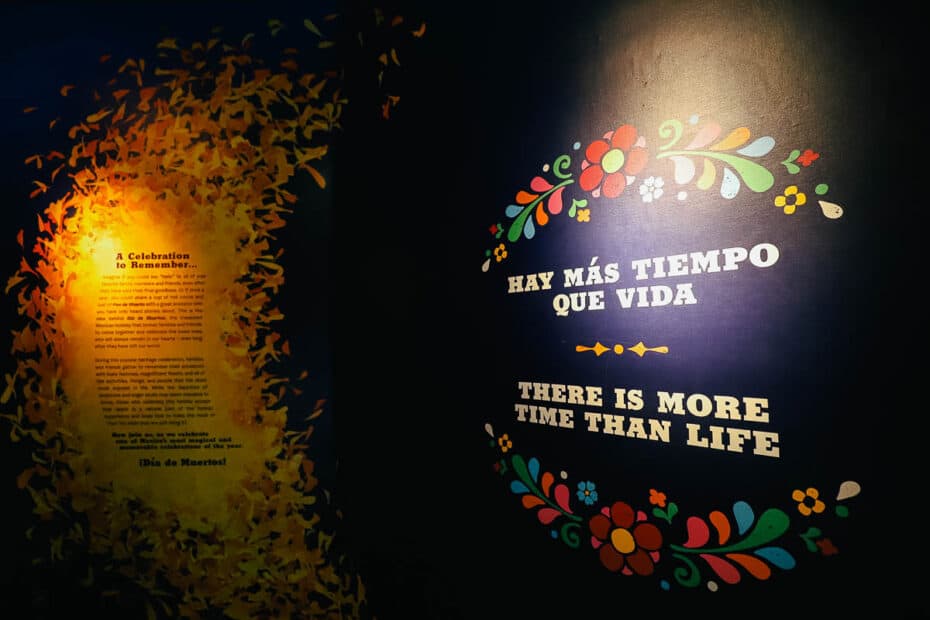 On the opposite side, the passage details the idea behind Dia de Muertos, the day of the dead. It states, "the treasured Mexican holiday that invites families and friends to come together and celebrate the loved ones who will always remain in our hearts–even long after they have left our world."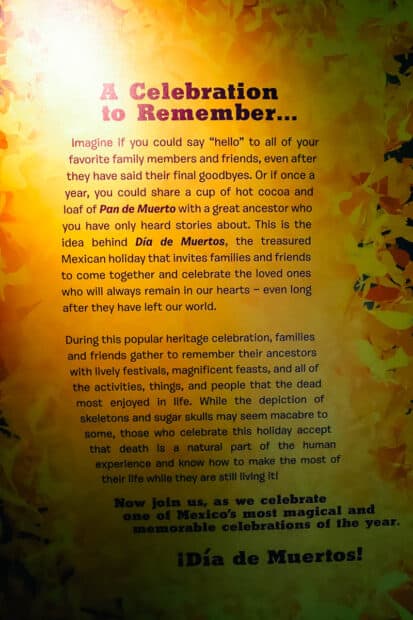 Inside there are a few shadow box-style displays. For example, the one below shares the history of the holiday.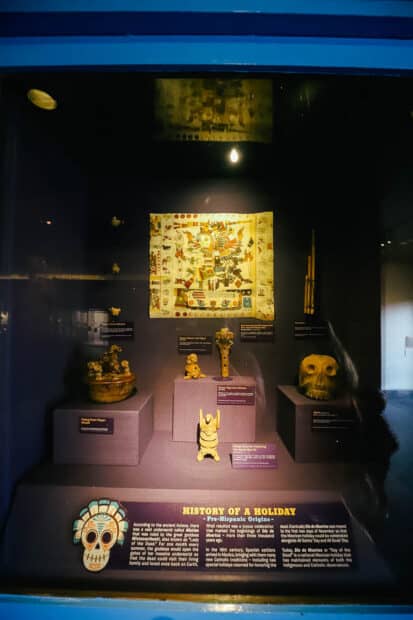 Surprisingly, Dia De Muertos is a two-day holiday. This sign reminds guests that it's not the same as Halloween. Di De Muertos takes place on the first and second days of November.
One day is to honor departed children's souls, and the other is for adults.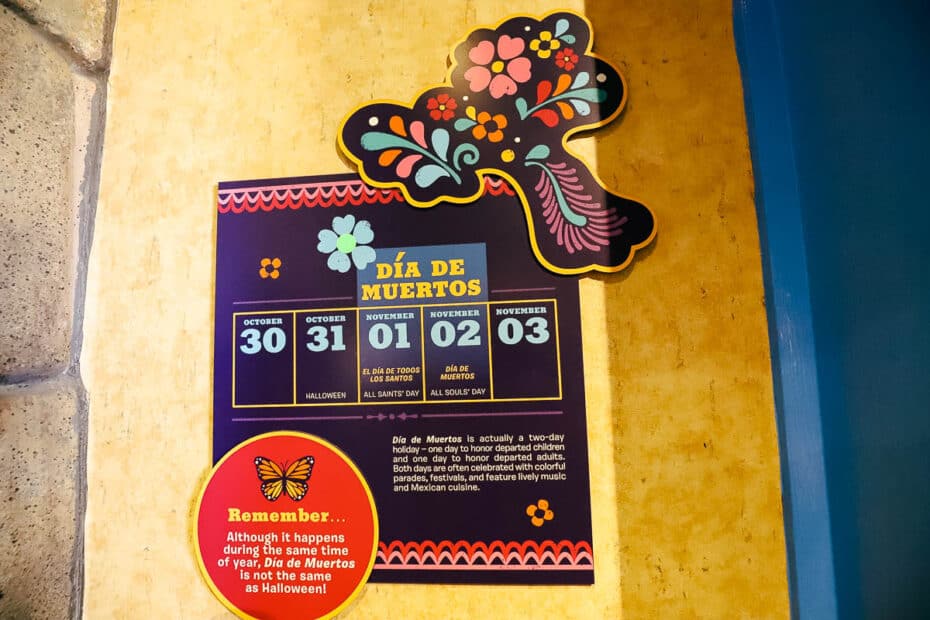 Several displays have skeletons, like the one below, which feature skeletons at work.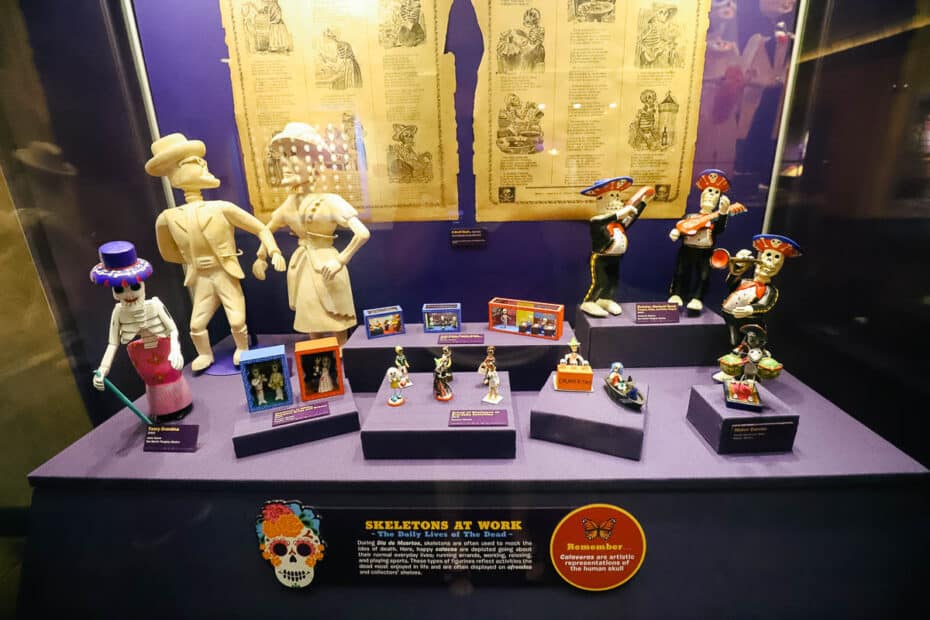 Inside the exhibit's center is a large display of a skeleton bridal couple.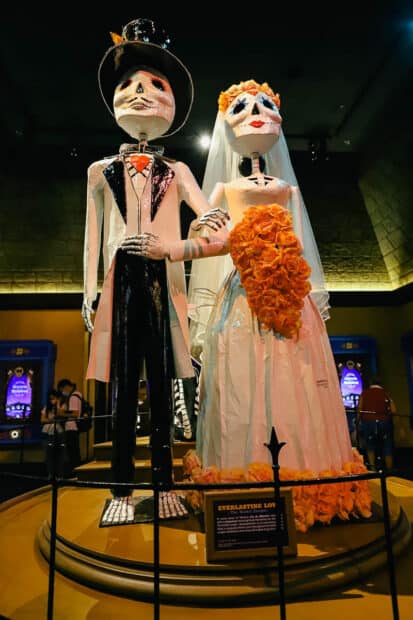 On the opposite side, we see a bride and groom as a dog and cat in skeleton form.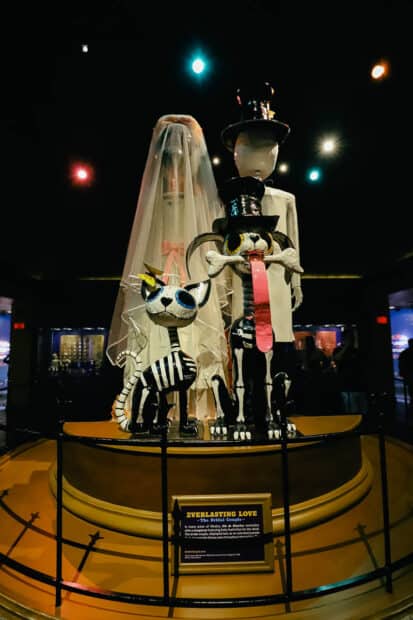 "The couple symbolizes love that will endure long after death."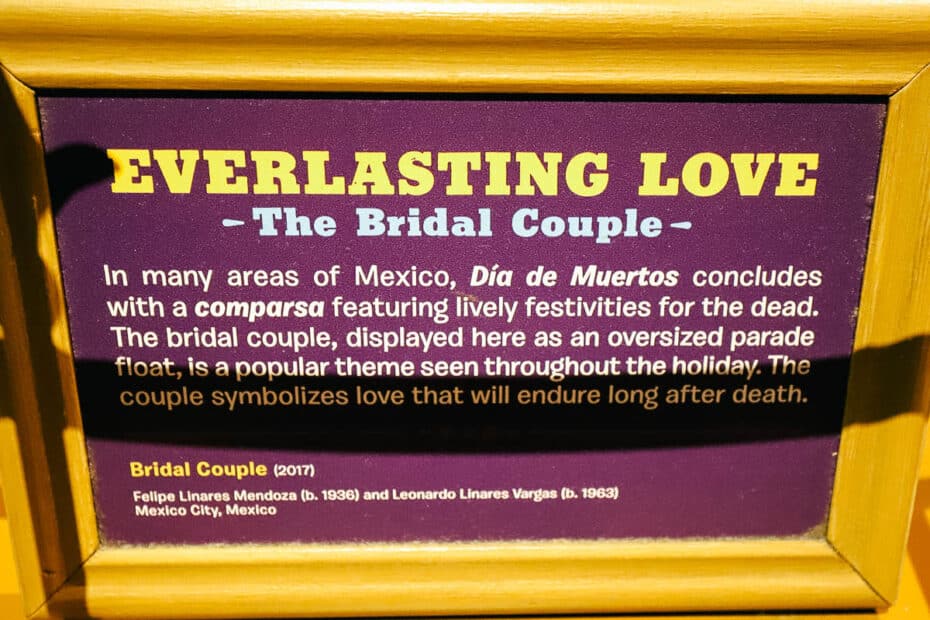 Across the room, we see a tribute to a skeleton called Catrina.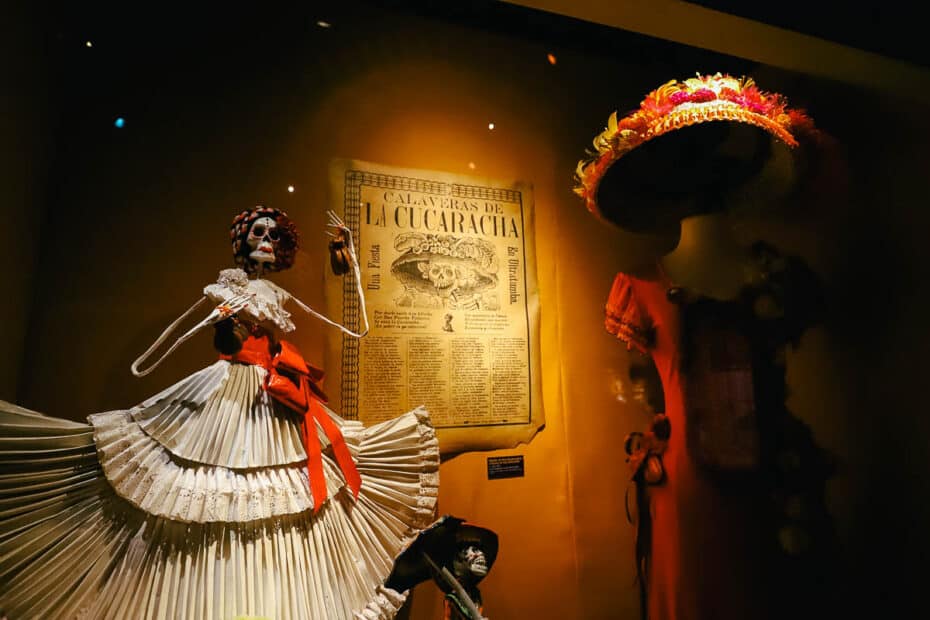 "This glamorous skeleton, "Catrina," was meant to poke fun at elite society and was a humbling reminder that nobody, not even the rich and famous, can escape the hand of death."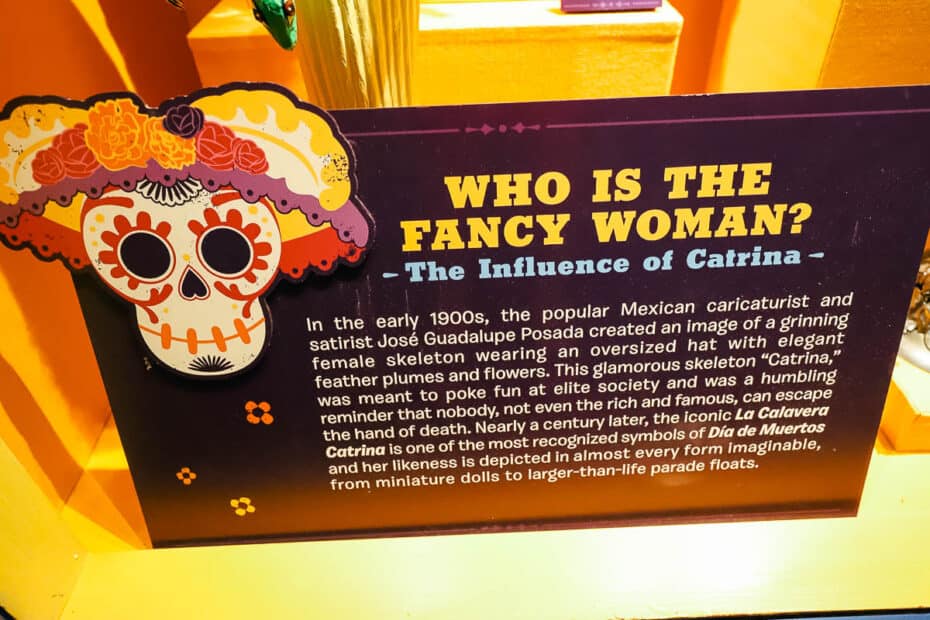 We see another display with skeletons at play.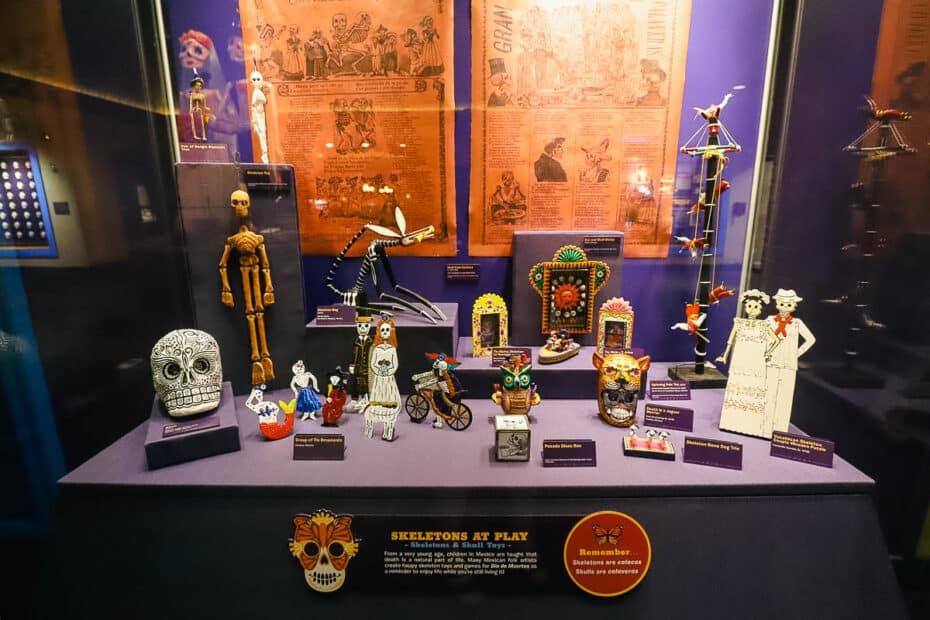 On each side of the exhibit, two windows look into a scene from Coco.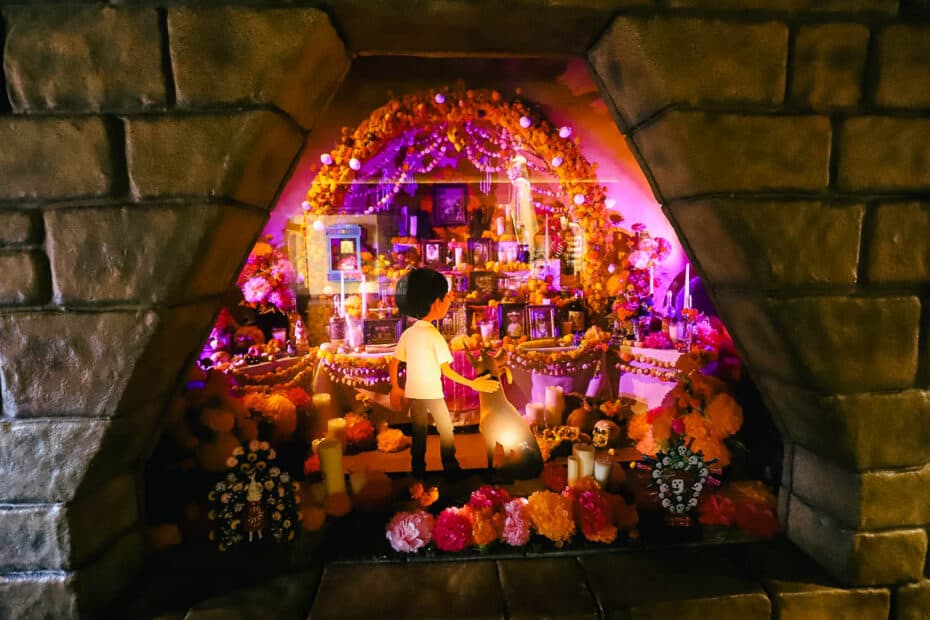 This one features Miguel and Dante at an ofrenda honoring the dead.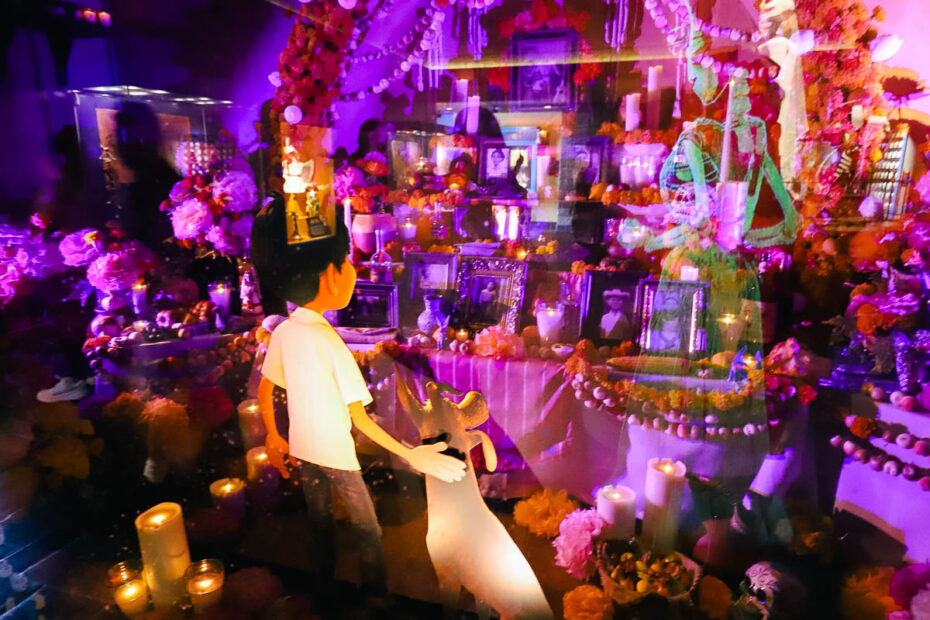 Across the room, another window looks into a candlelight vigil.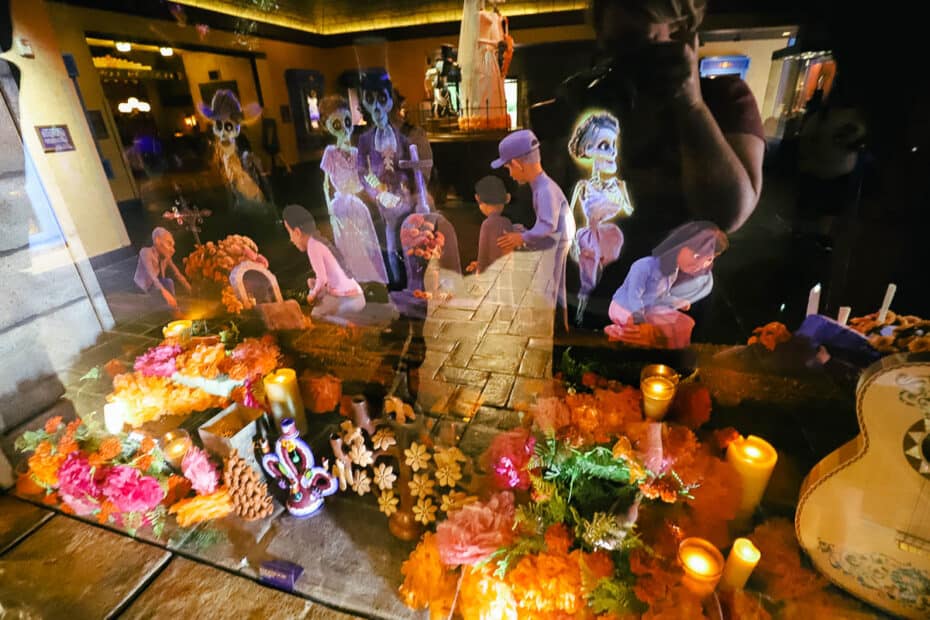 "This graveyard scene is inspired by the Disney-Pixar film Coco."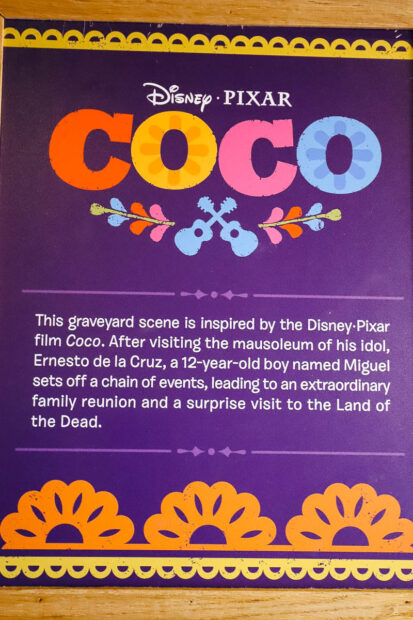 The sign below begins, "On Dia de Muertos, cemeteries around Mexico transform into bright and joyous places where the living gather to remember and celebrate their loved ones, both living and dead."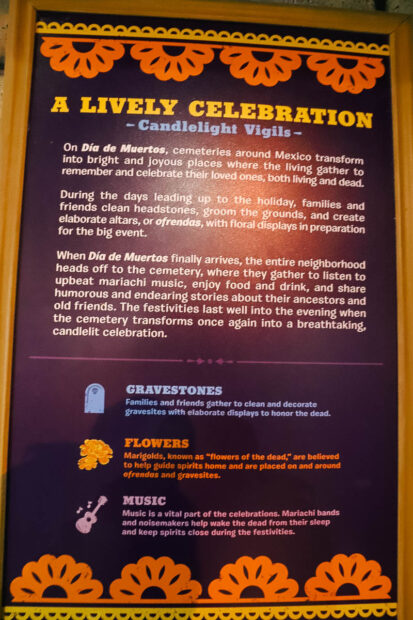 Further along, we see a sugar skull wall.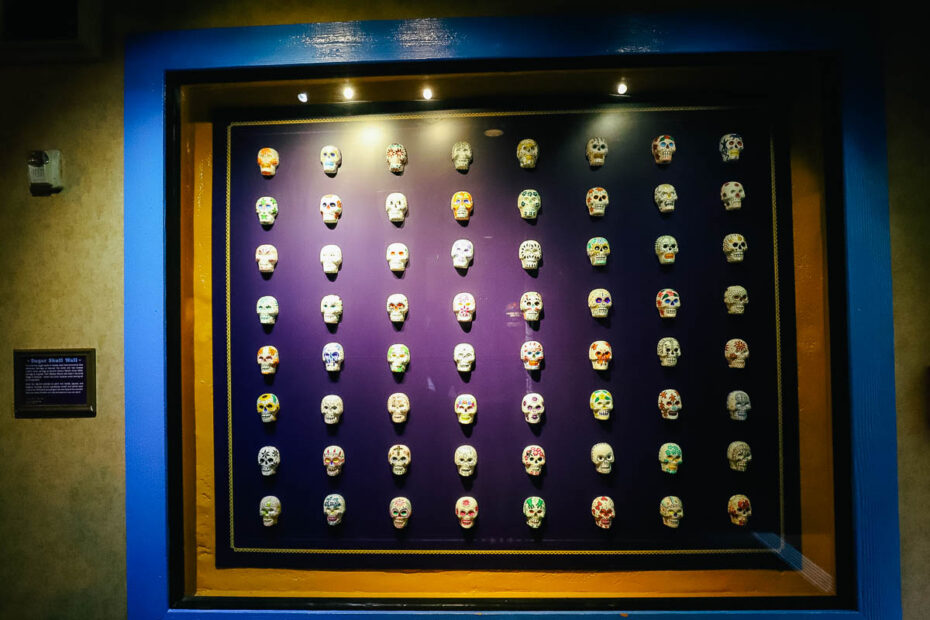 A display shares how these skulls are made.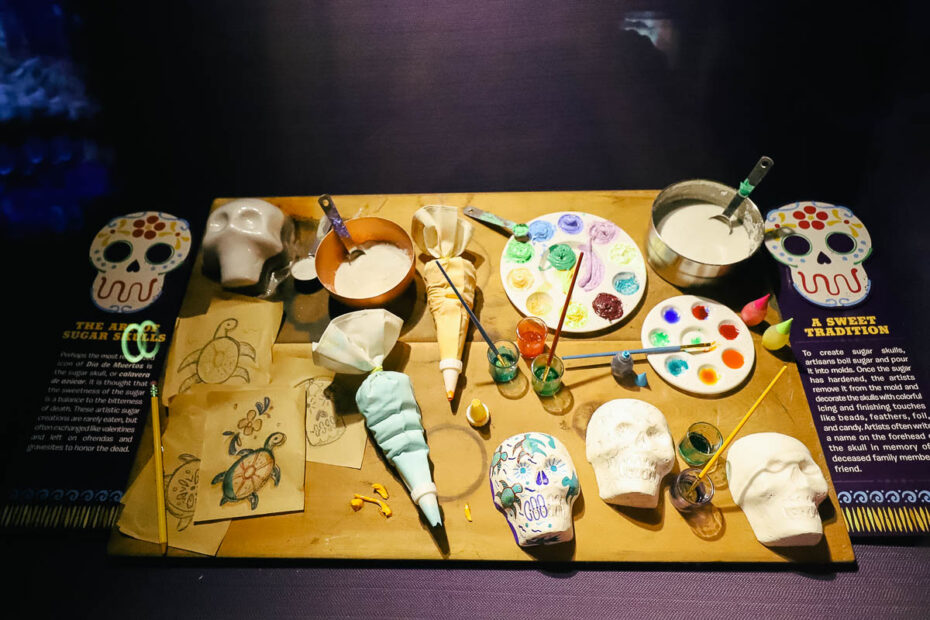 Artists boil sugar and then pour it into molds to harden. They often use icing and other objects to decorate the skulls after hardening.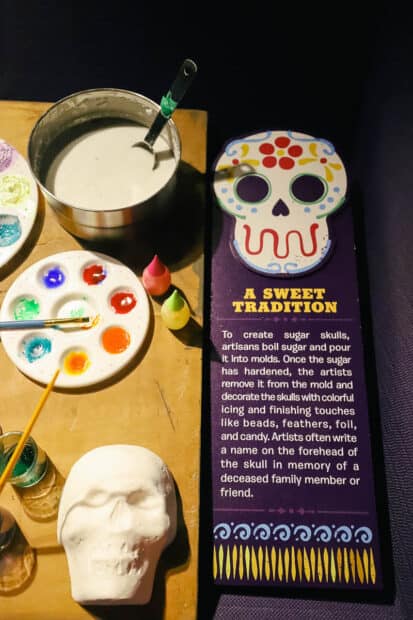 Several other forms of Mexican art make up the display, like this art of papel picado, an art using perforated paper.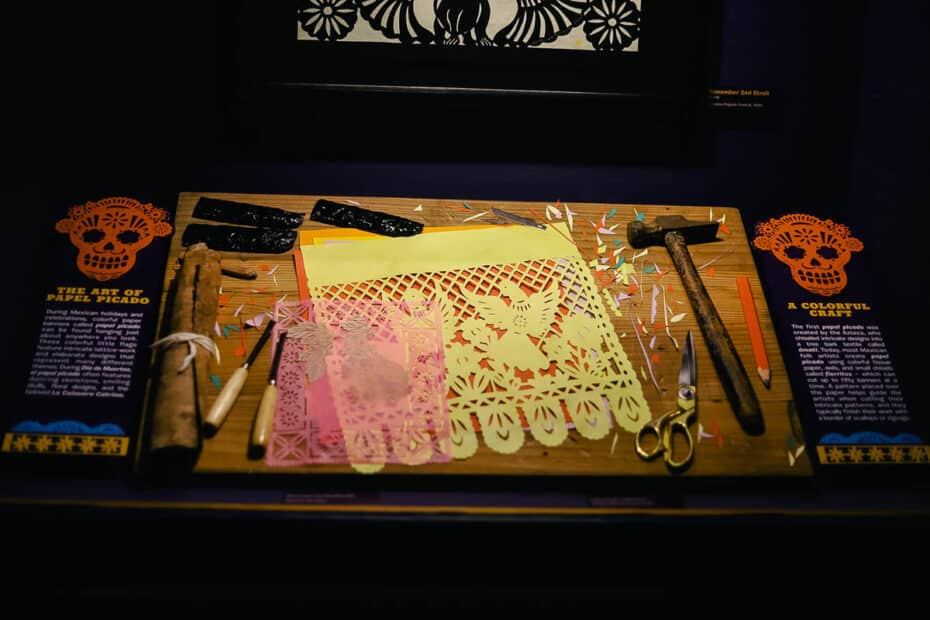 Towards the back of the exhibit, there's an interactive display called the Mirror de las Muertos.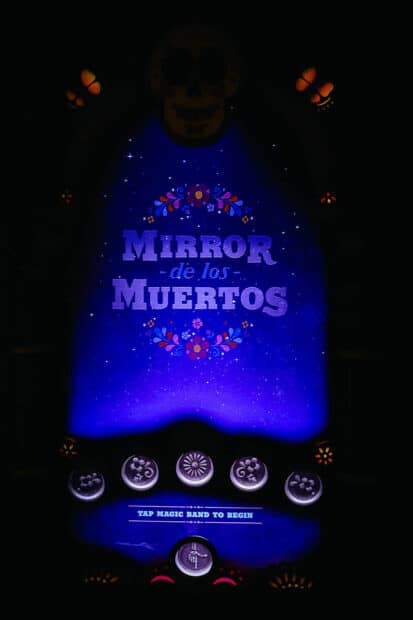 It allows you to scan your band and ticket, then design a skeleton to your liking.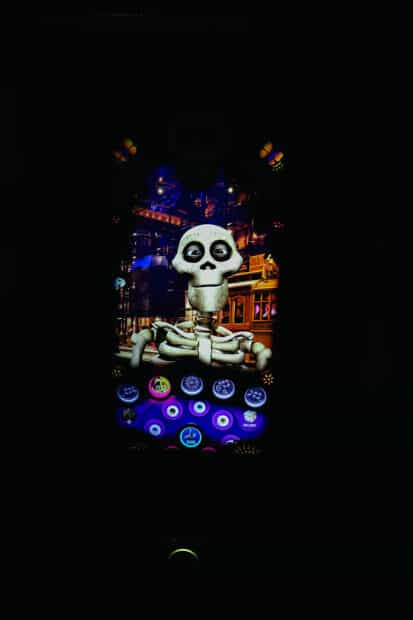 After that, it takes a photo of you. You can download the photos on the Disney PhotoPass site. Yes, I tried it. No, there will be no photos shared.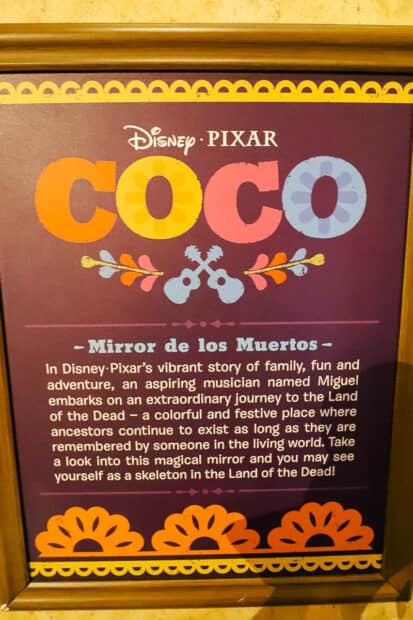 Lastly, a display pays tribute to the artists that provided some of the artwork displayed in the gallery.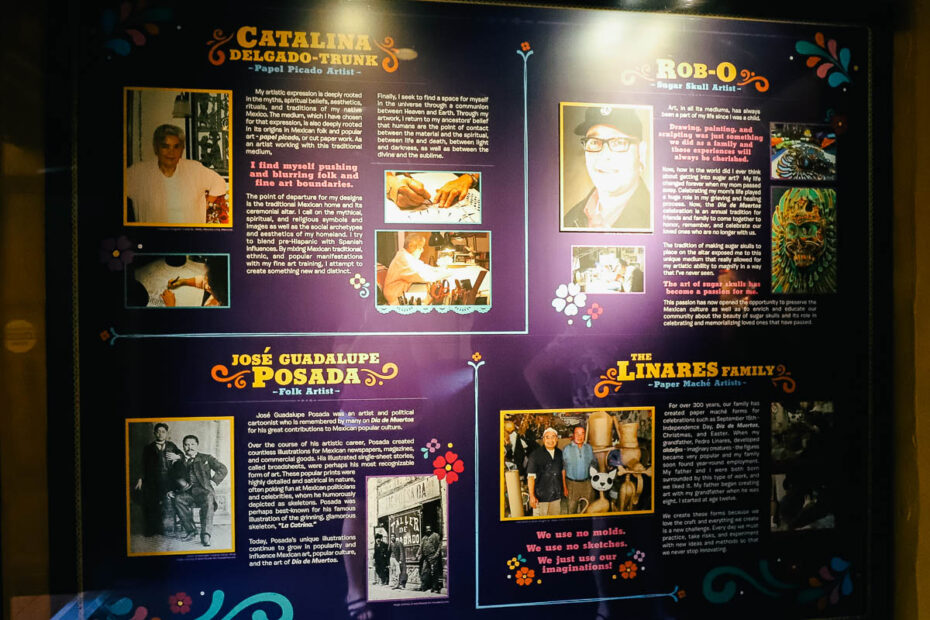 Below, this father and son, who are paper mache artists, created the Bride and Groom sculpture in the center of the exhibit.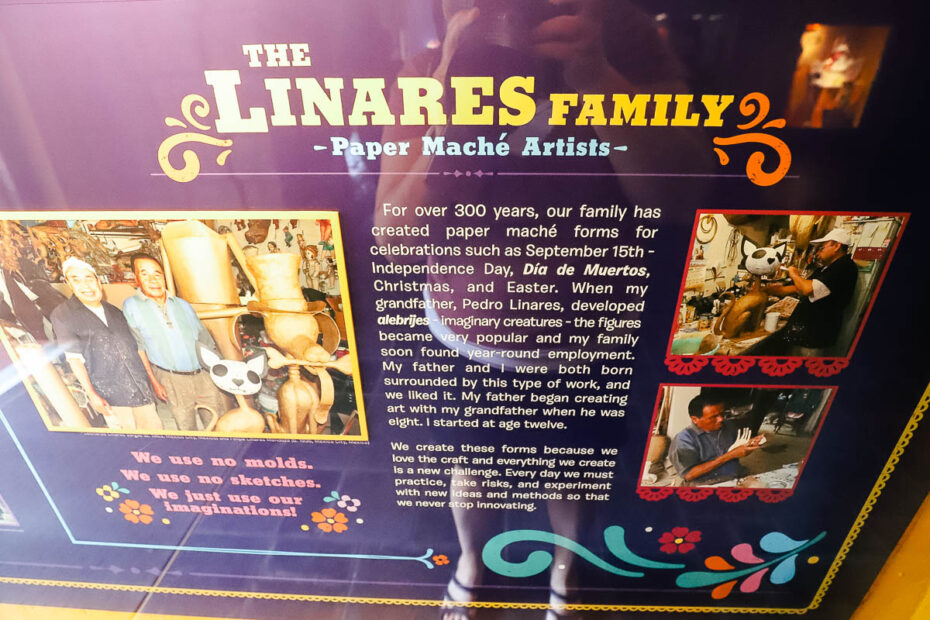 While this exhibit has been around for several years now, it's worth taking the time for a closer look if you haven't. I remember browsing over a few of the pieces when they first debuted.
However, until recently, I hadn't taken much time to look at the display in detail. And I'm glad I did.
For more information, we have a list of every attraction at Epcot. Or you might enjoy these other articles:
In the Comments
Have you ever toured the Mexican Folk Art Gallery at Epcot? What do you think of this exhibit?