Epcot's Mexico Pavilion (Touring the Pyramid from Dining to Attractions)
In this article, we take a deep dive into the Mexico Pavilion at Epcot. We'll discuss everything to do in Epcot's Mexico, from attractions to dining. We'll also cover shopping, entertainment, and character meets.
Should you start in Mexico or Canada? It's a common question park-goers discuss regarding their beloved Epcot.
Of course, the World Showcase is why so many of us love Epcot. Where else can you experience a taste of 11 unique countries in one afternoon?
In fact, the World Showcase is a passion of mine. So in the coming months, we'll have an updated look at each country as time allows.
We'll start in the Mexico Pavilion and likely jump around a bit. After that, where you begin your journey is another matter I'll leave up to you.
Mexico is the first pavilion you encounter when you tour the World Showcase in a clockwise direction from the front of the park. Think of Mexico's Pavilion as seven o'clock on the dial.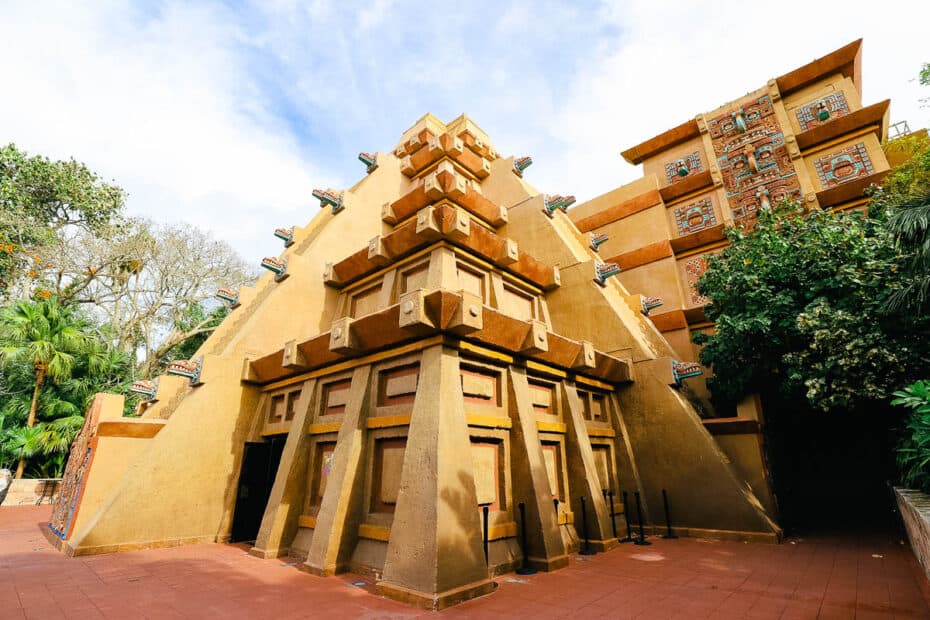 However, most will tell you it's always five o'clock in Mexico. The pavilion is widely known for margaritas.
That's why so many like to begin their adventure here in Mexico. What better way to start your day than with a bright, lime-green avocado margarita?
In all seriousness, when I was taking updated photos for this article, there was already an extensive line formed inside the pyramid. Guests were waiting for La Cava del Tequila to open.
Like most countries in the World Showcase, dining and attractions at the Mexico Pavilion open at 11:00 a.m. Of course, we'll discuss a few exceptions to this rule in other countries.
Epcot's Mexico Pavilion
Here is an overview of everything you can expect to find while touring the pavilion.
Architecture
Attractions
Gran Fiesta Tour Starring The Three Caballeros
Mexican Folk Art Gallery (Remember Me!)
Entertainment
Meet Donald Duck in Mexico
Music of Mexico
Dining
La Cava del Tequila
Choza de Margarita
La Cantina de San Angel
La Hacienda de San Angel
San Angel Inn Restaurante
Retail
El Ranchito del Norte
La Princesa de Cristal
La Tienda Encantada
Plaza de Los Amigos
Kidcot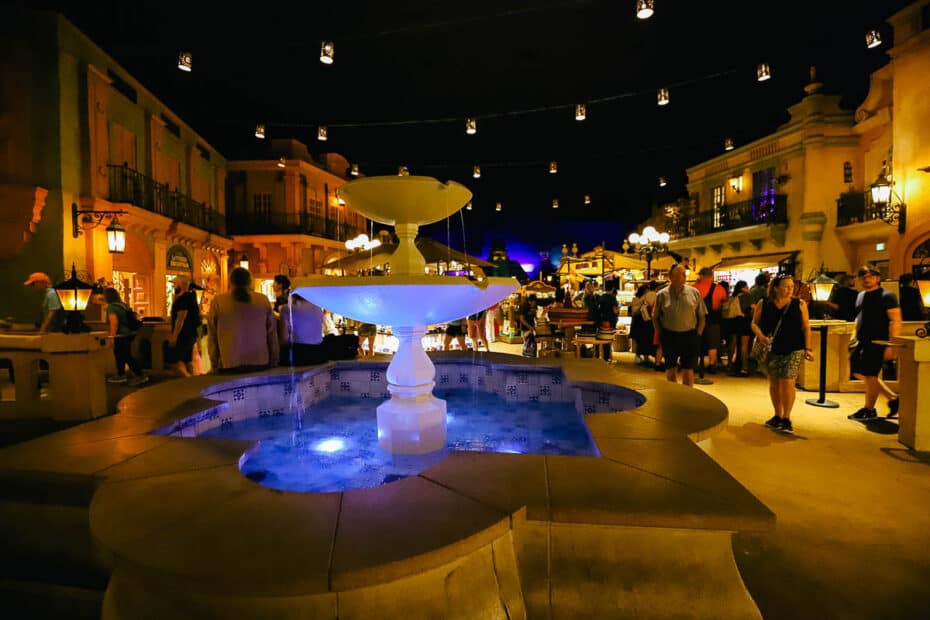 Mexico's Pavilion consists of a pyramid that is home to most of the attractions and dining in the country. In addition, however, there are a few locations outside that surround it.
Mexico's pyramid was built to resemble ancient Meso-American ruins. If you take the time to walk around the exterior patios surrounding the pavilion, you will notice many extra details.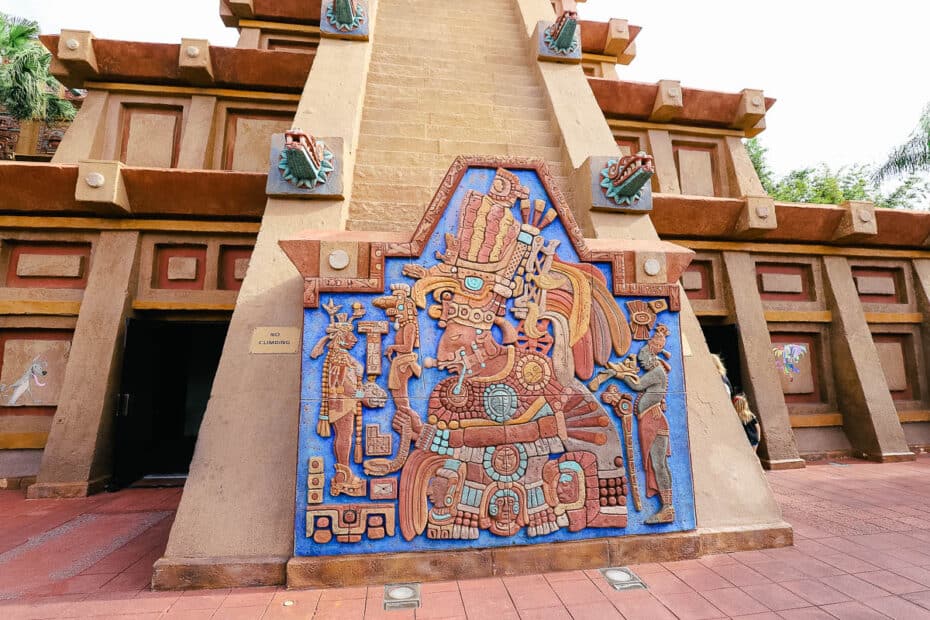 The entire pyramid is modeled after an Aztec temple of the feathered serpent.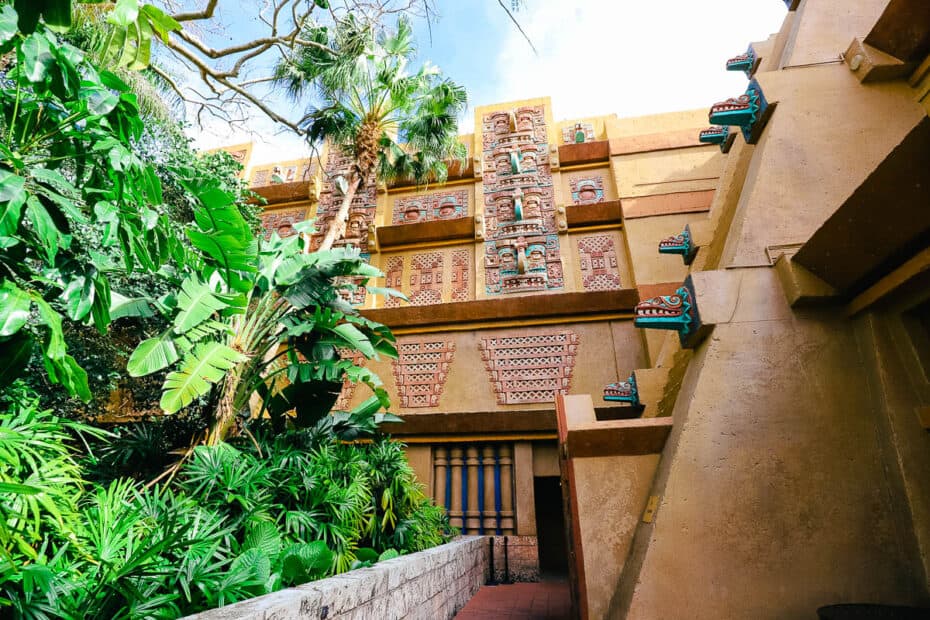 Unfortunately, with so many guests heading straight inside the pyramid to escape the heat, these exterior details are often overlooked. However, the pyramid's interior is magical.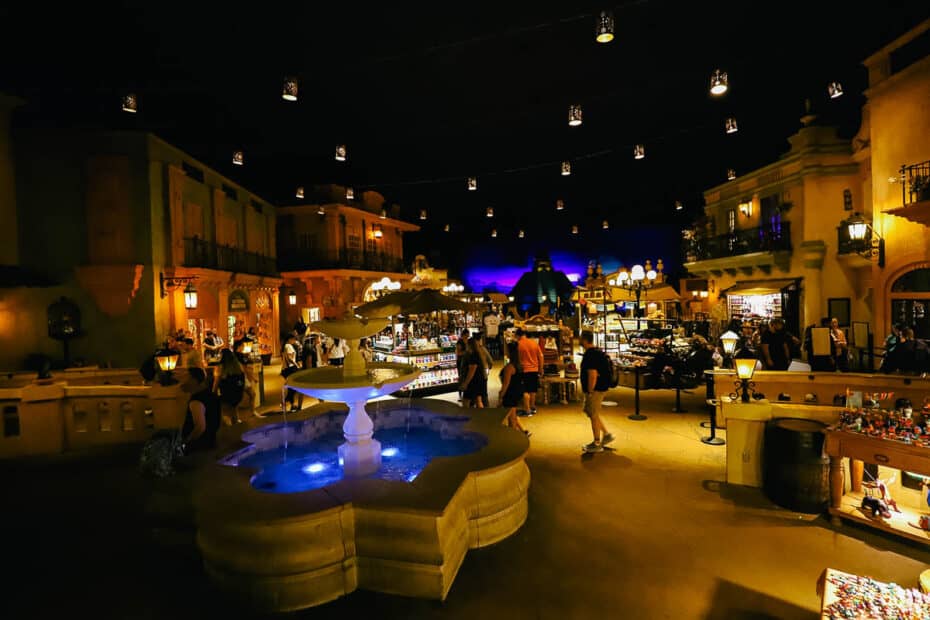 Mexican Folk Art Gallery
When you first enter the pyramid, you'll encounter the Remember Me! Mexican Folk Art Gallery exhibit. This exhibit was installed a while back and focuses on Día de Muertos, the day of the dead. Four different types of Mexican artwork are featured.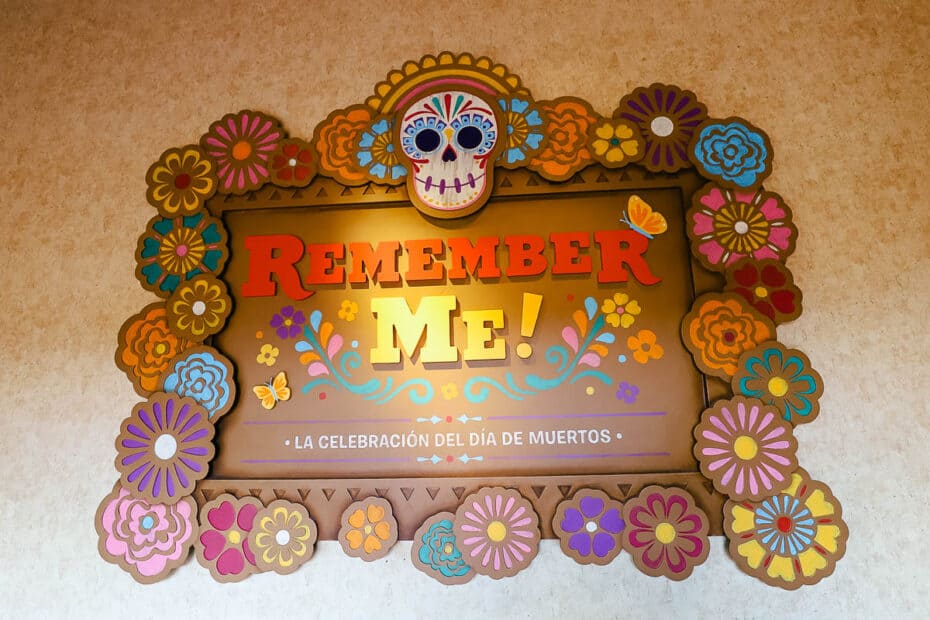 A window inside the exhibit shows Miguel and Dante holding a candlelight vigil for their loved ones.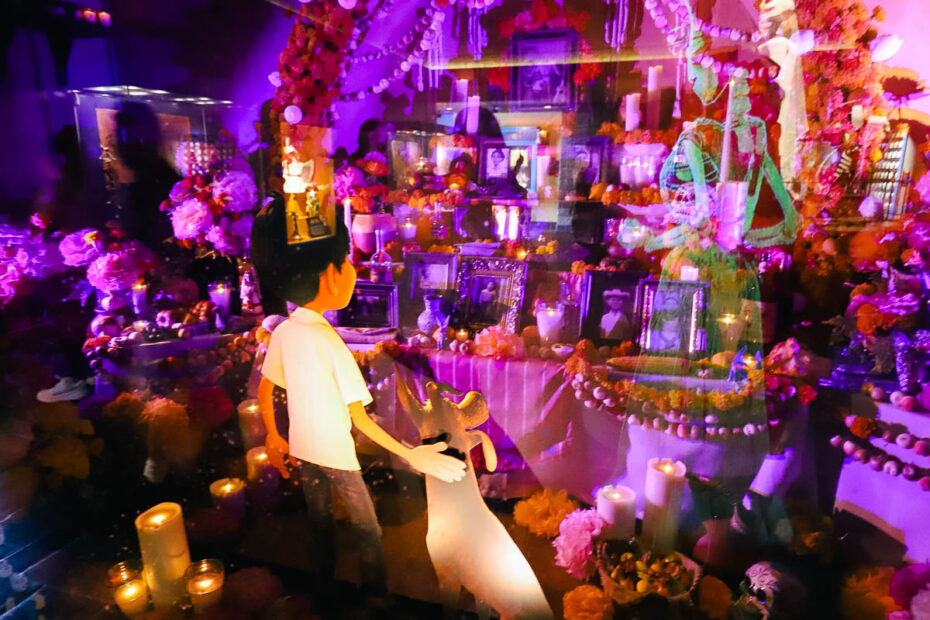 There are also sugar skulls, a magnificent paper mache sculpture, and an interactive activity for children inside the exhibit.
Related: Mexican Folk Art Gallery at Epcot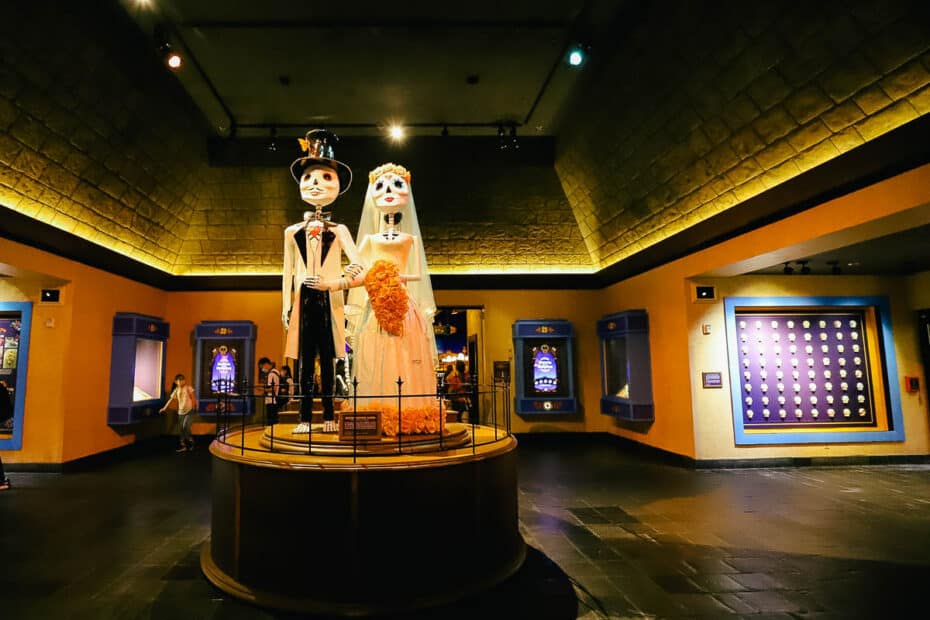 Gran Fiesta Tour
Epcot's Mexico Pavilion is home to one ride. This attraction, the Gran Fiesta Tour Starring The Three Caballeros, sits toward the back of the pavilion's interior.
Gran Fiesta Tour is a slow-moving boat ride that sets sail down the Rio Grande as it makes its way toward Mexico City.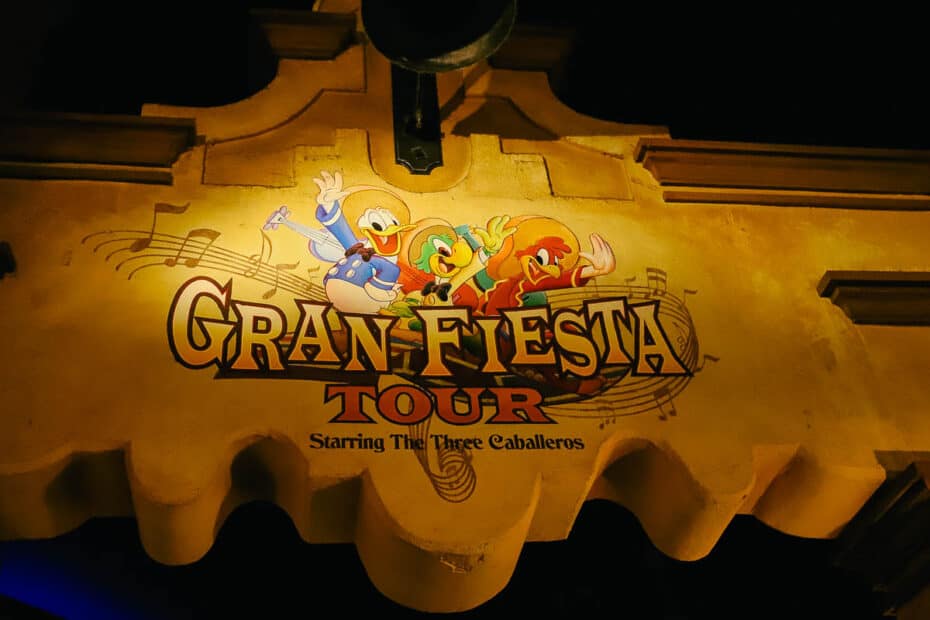 More than likely, there won't be a significant line for this attraction. But if there is, the line moves quickly unless they are having some technical difficulty.
Regarding the ride, José Carioca and Panchito Pistoles are looking for Donald Duck. They have a concert scheduled in Mexico City and are afraid they won't make it in time.
One of the funnier scenes is when Jose and Panchito ask a server if he's seen a duck. You might be surprised at what dish he's carrying.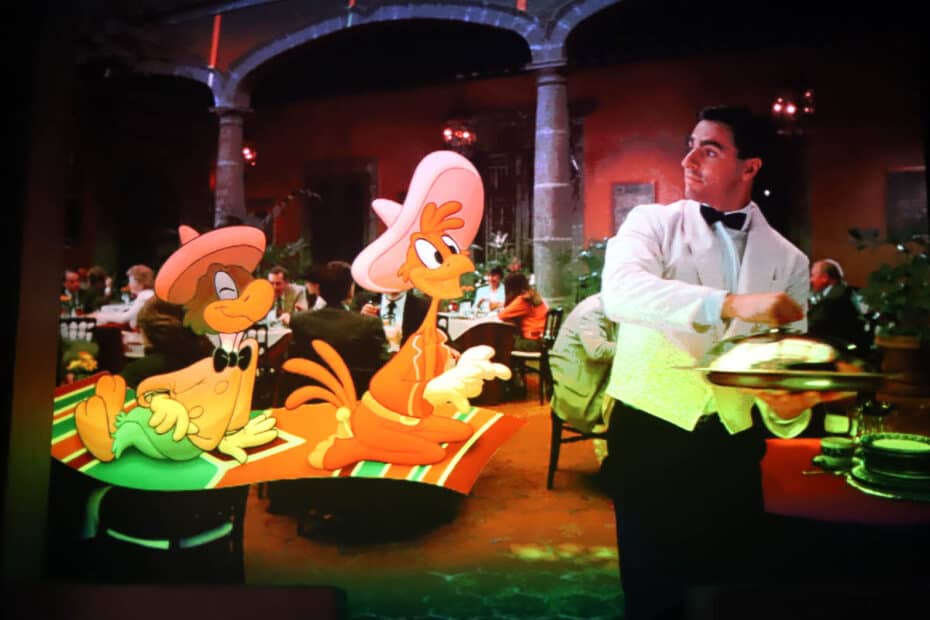 Eventually, you make it to Mexico City, where fireworks explode on the ceiling overhead.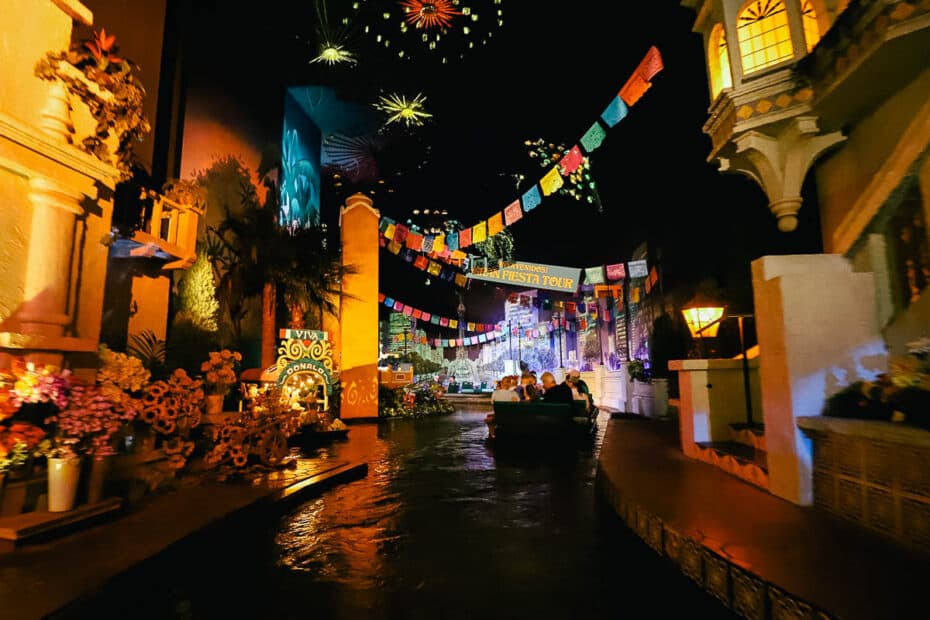 Toward the end, you'll encounter all three birds of a feather performing their theme song.
Related: Gran Fiesta Tour at Epcot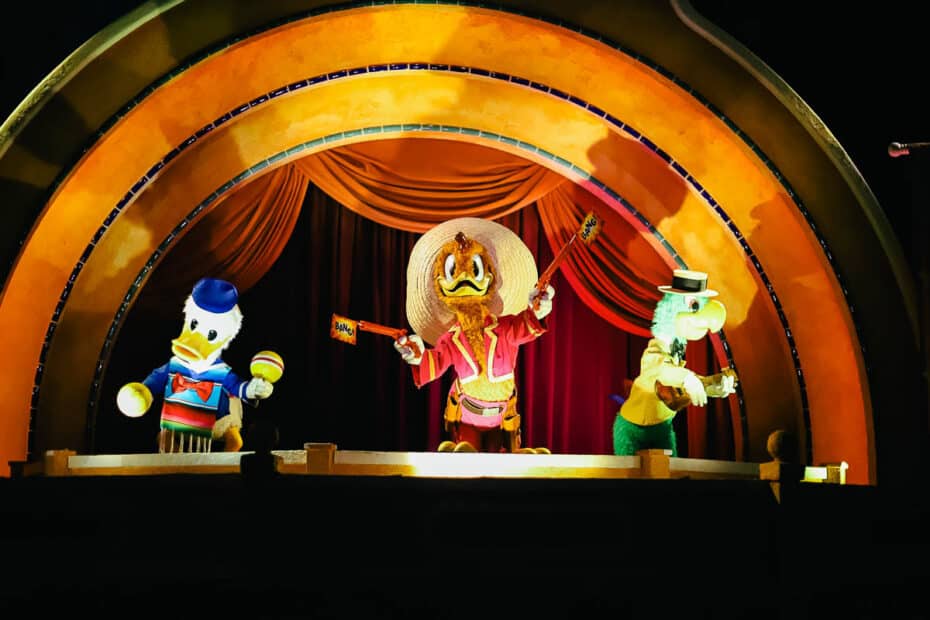 Meet Donald at Epcot's Mexico Pavilion
Donald Duck meets outside of the pyramid at Epcot. He meets guests at the Aztec ruins between the Mexico and Norway Pavilion.
Typically, Donald meets intermittently throughout the day between 9:30 a.m. and 4:30 p.m. His meet times are listed in the My Disney Experience app. You'll want to check the app for the exact times on the day of your visit.
Related: Meet Donald Duck in Mexico at Epcot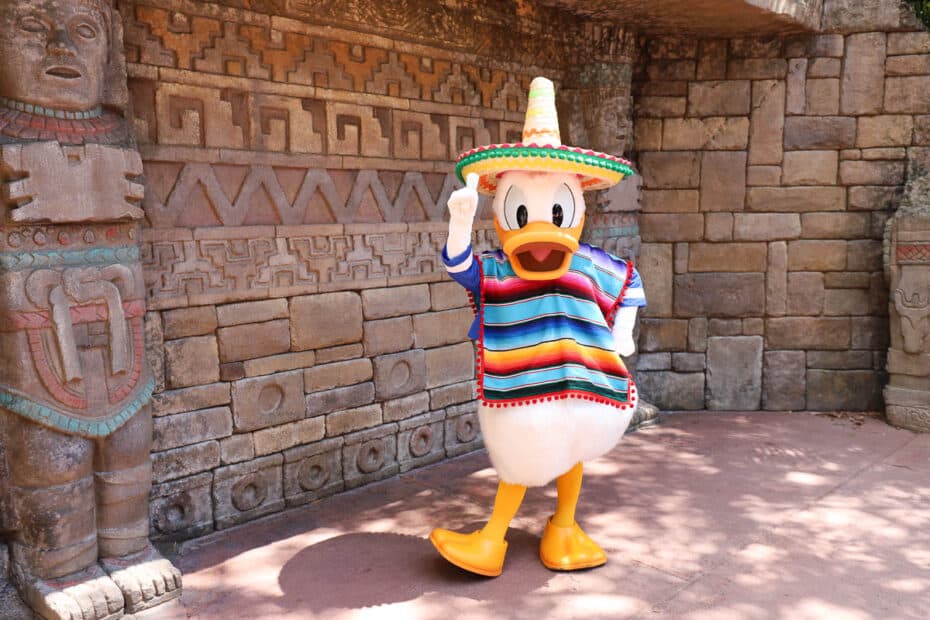 Music of Mexico
On most days, you'll find Mariachi Cobre performing outside the pyramid. This entourage from Jalisco, Mexico, performs traditional folk music.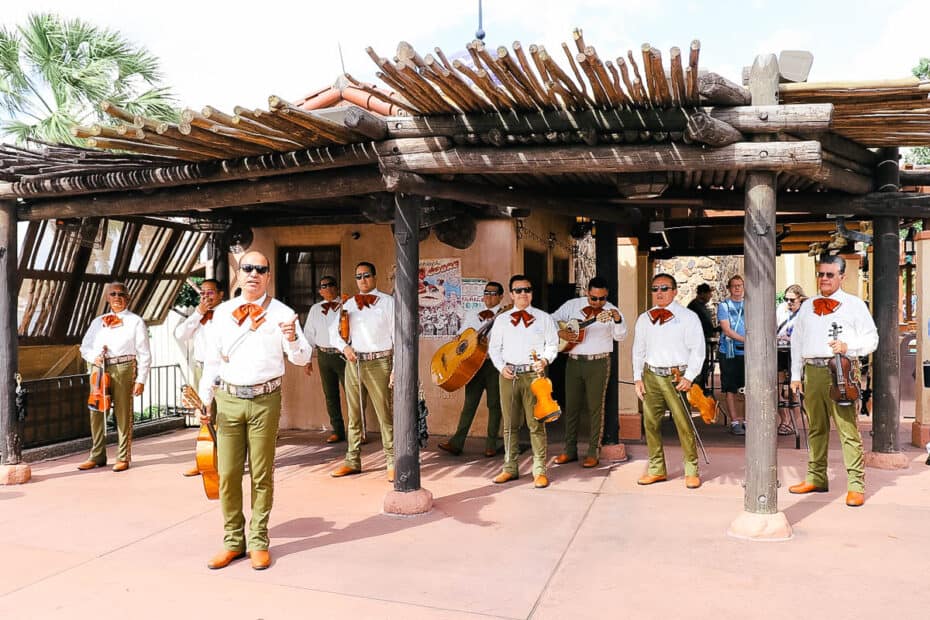 Here is a video of their performance:
In the past, there was a special offering called the "Story of Coco." This performance included live dancers and a real puppeteer. Unfortunately, we haven't seen this performance in quite some time.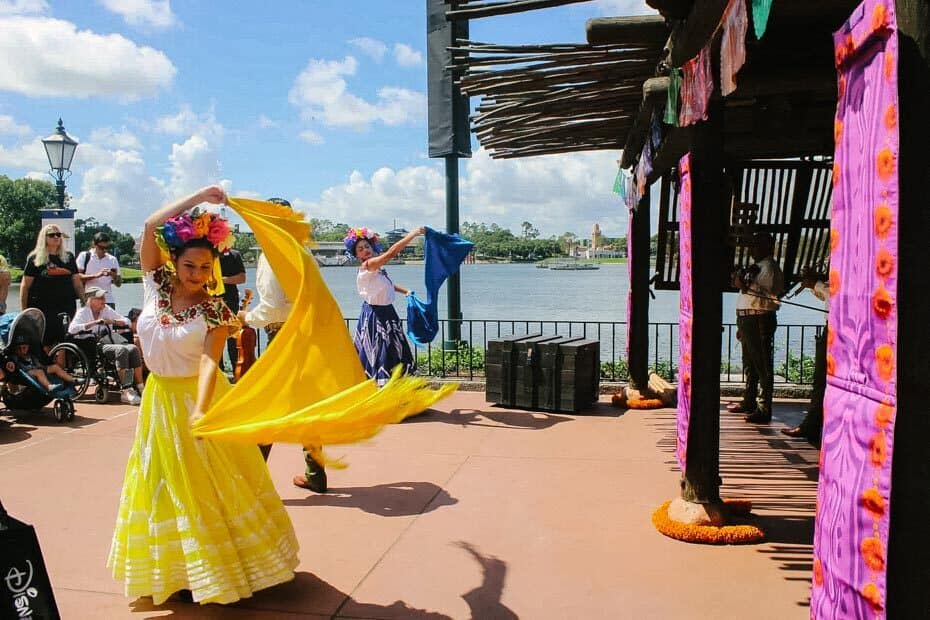 It was one of the most endearing performances in the World Showcase.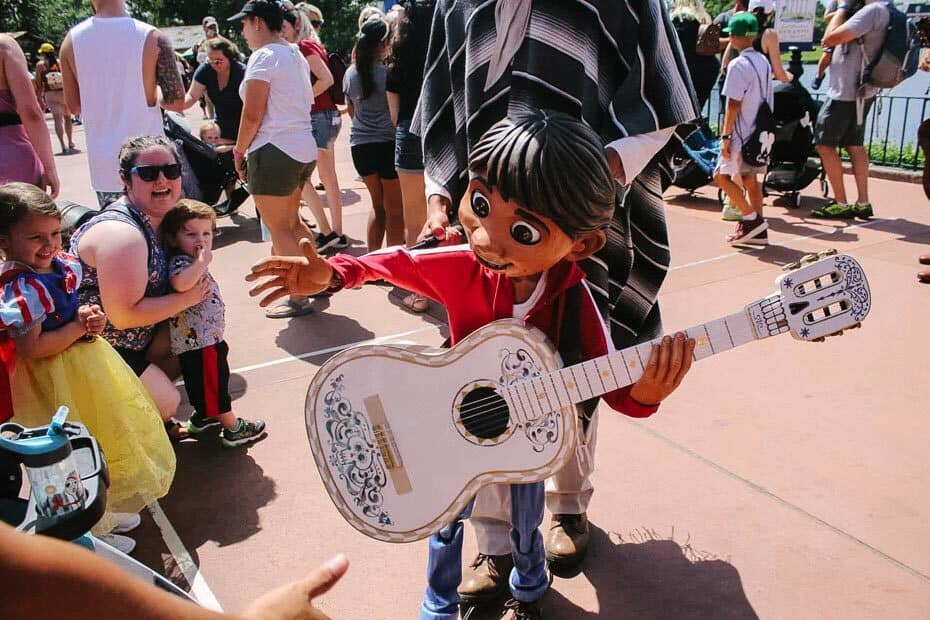 When Mariachi Cobre is unavailable, Marimba de las Américas performs in the same location.
Dining in the Mexico Pavilion
Mexico has several options when it comes to dining and drink options. First, there's Choza de Margarita, which sits outside to the left of the pyramid. This location offers a variety of margaritas and a few snacks.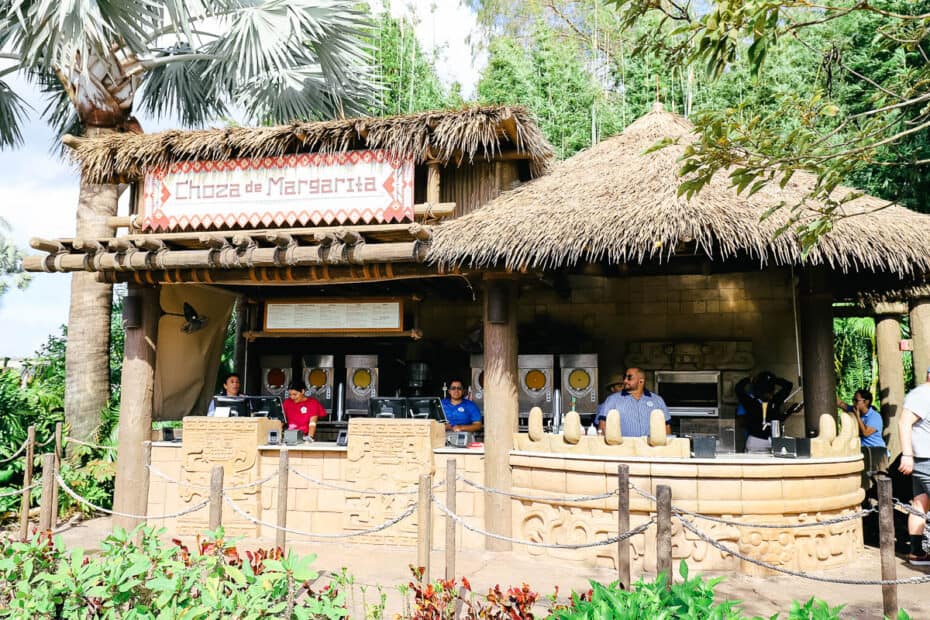 When this location opened, I tried the Fuego Verde, one of their signature margaritas.
Unfortunately, I didn't care for this one. I was hoping for a spicy drink and usually love a black ant salt rim. But this one, to me, was undrinkable after a few sips.
You can preview their beverages and snack menu here on Disney's site.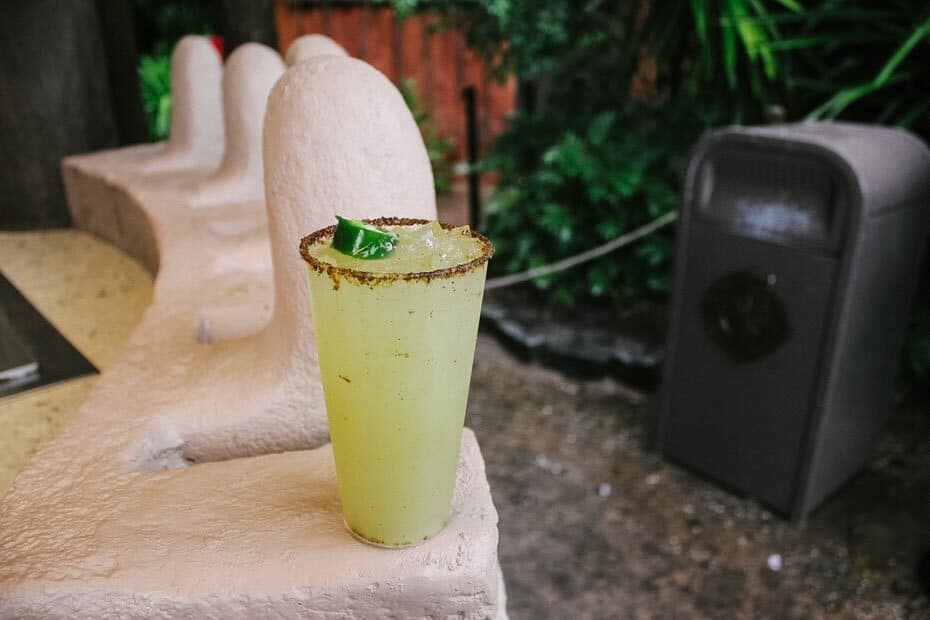 Across the walkway from Choza, you'll find the Mexico Pavilion's quick-service restaurant, La Cantina de San Angel. This location has a partially covered outdoor eating area that looks out to the World Showcase Lagoon.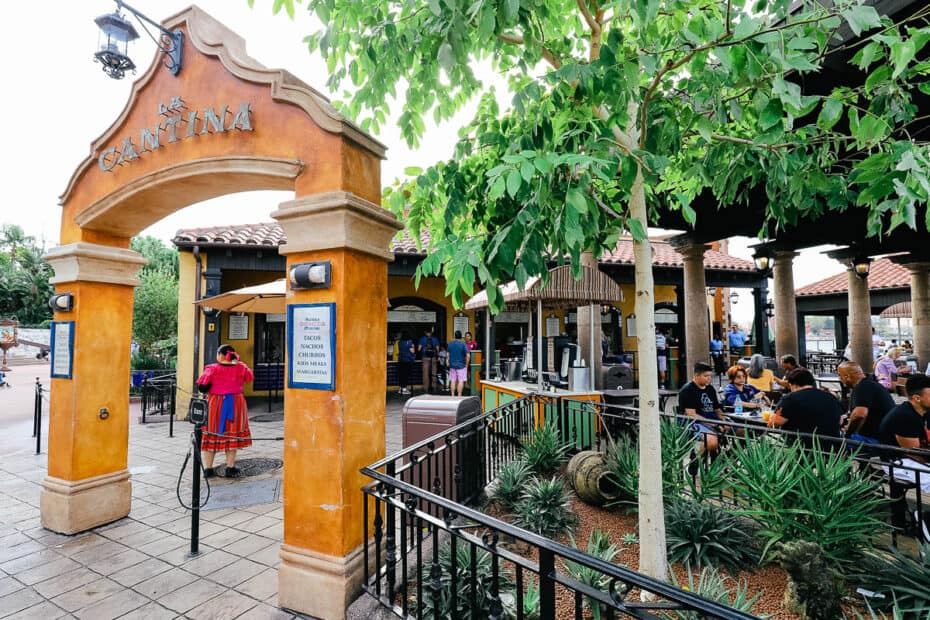 La Cantina has a variety of tacos, bowls, salads, kids' meals, and more. One of their more popular items is the Empanadas Con Queso, a flour tortilla with cheese and various toppings.
Here is their menu.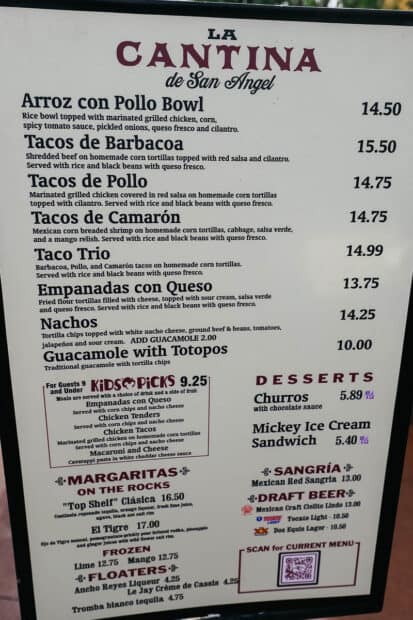 Perhaps, the most popular stop in the Mexico Pavilion is La Cava del Tequila. This location is inside the pyramid and opens at 11:00 a.m.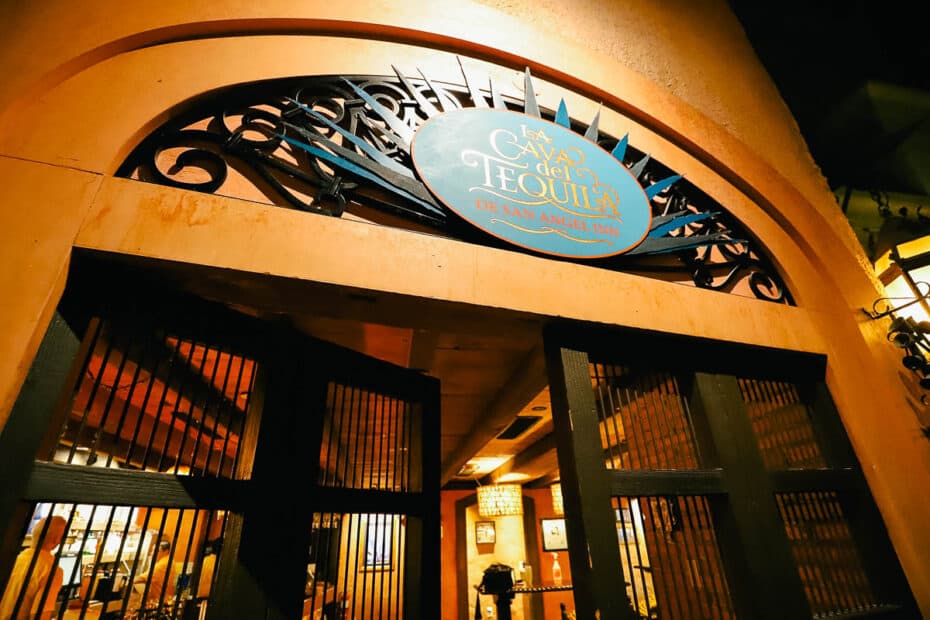 As mentioned earlier, one of their more popular drinks is the La Cava Avocado. This margarita has a bright hot pink rim and a smooth, creamy texture.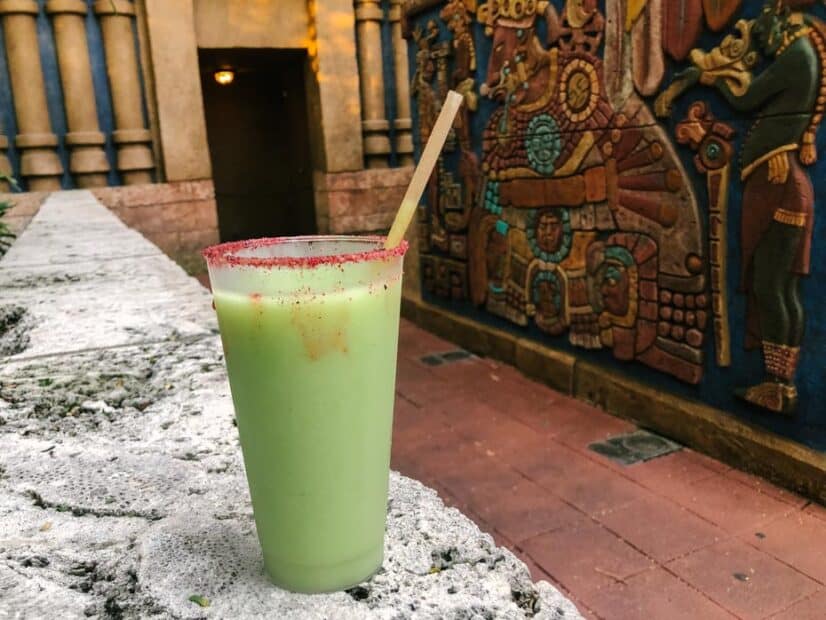 However, my favorite of the margaritas is the Casa Dragones Top Shelf. It is their signature, top-shelf margarita.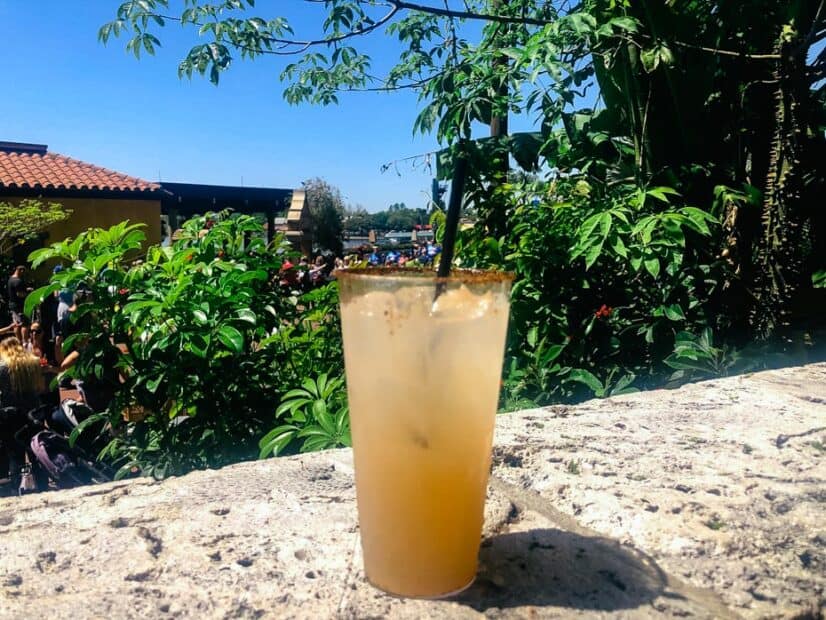 Here is a photo of their menu, or you can preview it here on Disney's site.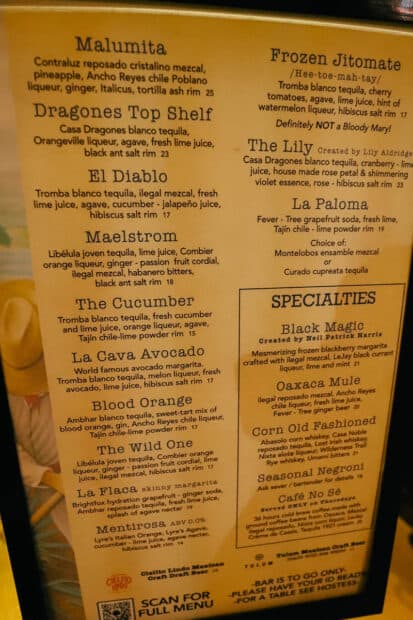 La Cava del Tequila also has a small indoor space for guests to sit. However, most will stand in the to-go line. Warning, it's not uncommon to see the line for this location extend outside the pyramid.
Our next stop is La Hacienda de San Angel, a table service restaurant located on the World Showcase Lagoon side of the Mexico Pavilion.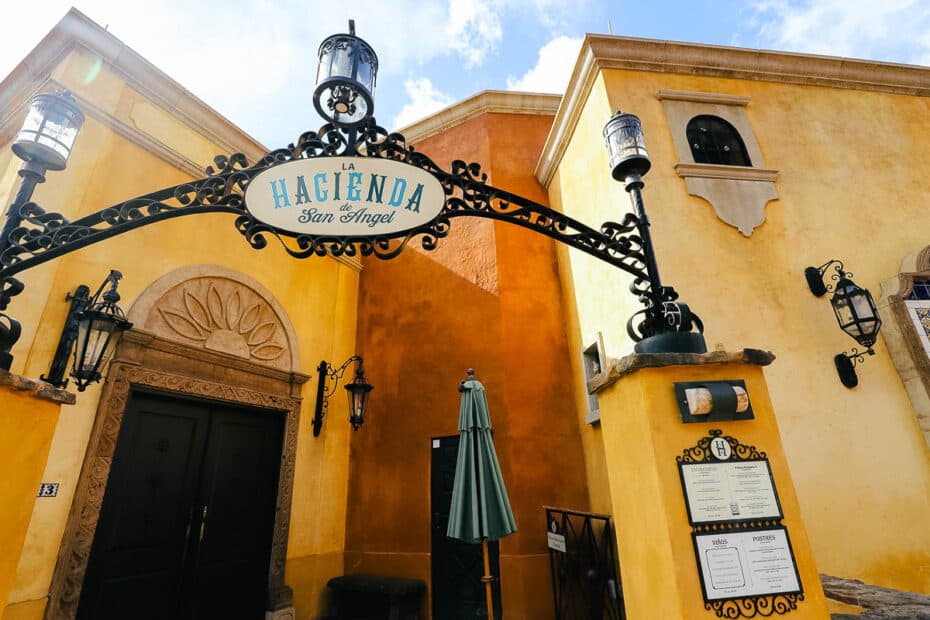 Like most table service restaurants, La Hacienda takes reservations. But you might be able to request a walk-up.
A menu is posted outside the restaurant. La Hacienda is open for dinner only starting at 4:00 p.m. Their entire menu is available here on Disney's site.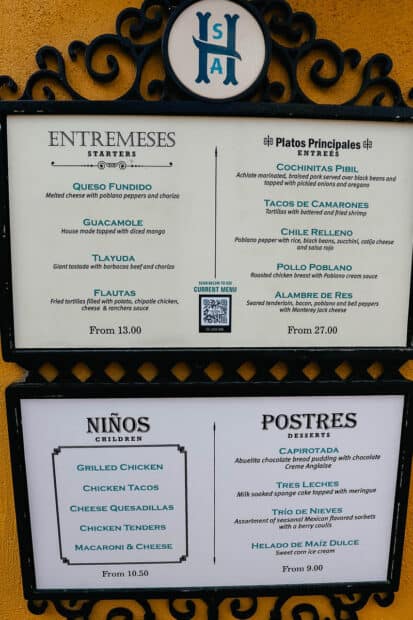 Not to confuse things, but there is a second table service restaurant located inside the pyramid, San Angel Inn. This is the restaurant that overlooks the Gran Fiesta Tour attraction.
It's a charming spot to have a meal as you watch the boats glide by below. Unfortunately, I don't have a review because taking photos inside the pavilion is difficult because it's so dark. But we had dinner here this last summer, and I was pleasantly surprised.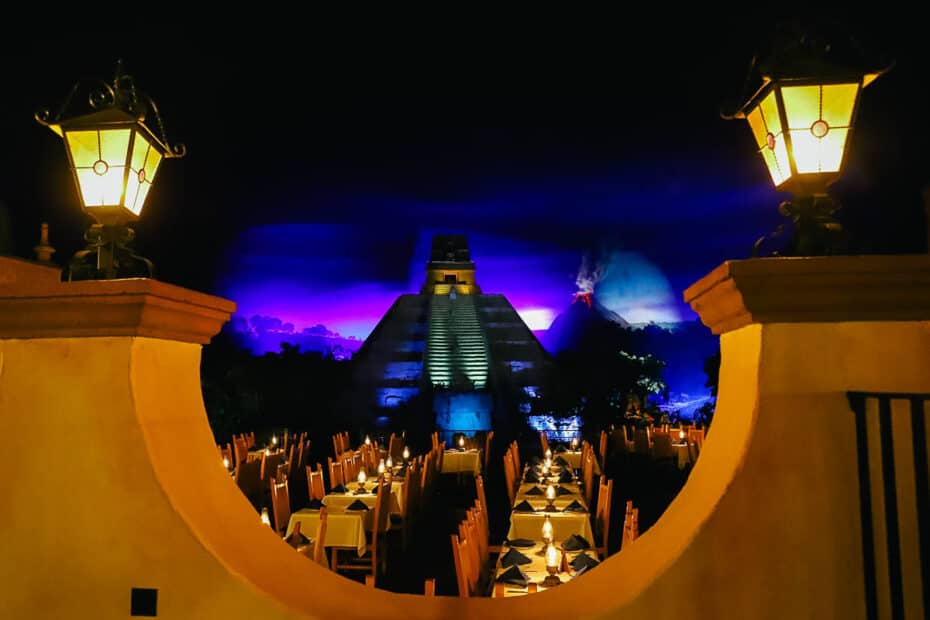 We started with the Queso Fundido, which was excellent. Then I ordered the Tacos de Ribeye (steak tacos), another delicious item.
Kristen and Kevin split the Enchiladas de Pollo (corn tortillas filled with chipotle chicken), and Carter had nachos. Additionally, chips with salsa were brought to the table when we arrived.
If you are interested in eating here, make sure to get a dining reservation. This location opens daily at 11:00 a.m., with a separate lunch and dinner menu.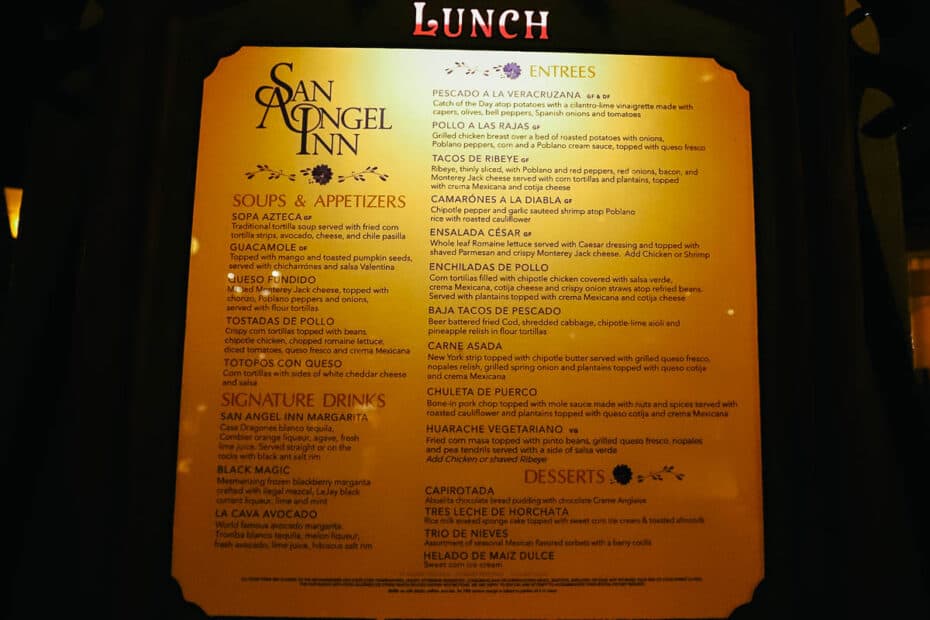 You can preview both menus here on Disney's site.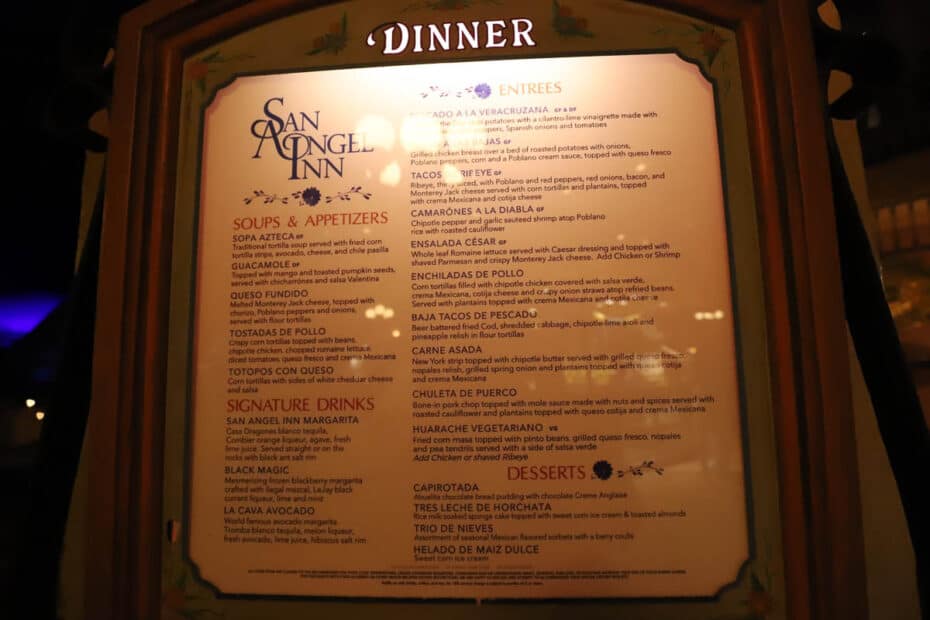 In addition, each of Epcot's festivals brings a food booth to the Mexico Pavilion. For Food and Wine, we visited the following booth. It had one of our favorite dishes.
Additionally, during Flower and Garden, we usually see a topiary featuring The Three Caballeros outside the pavilion.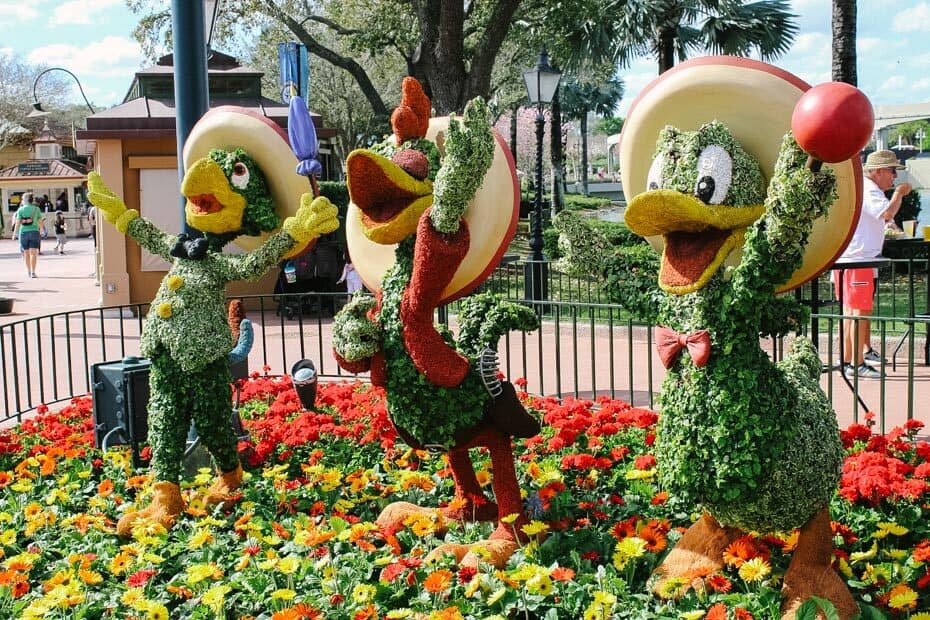 Shopping in the Mexico Pavilion
We run across plenty of shopping options inside the Mexico Pavilion at Epcot. But, of course, the largest is the Plaza de Los Amigos, the open-air marketplace.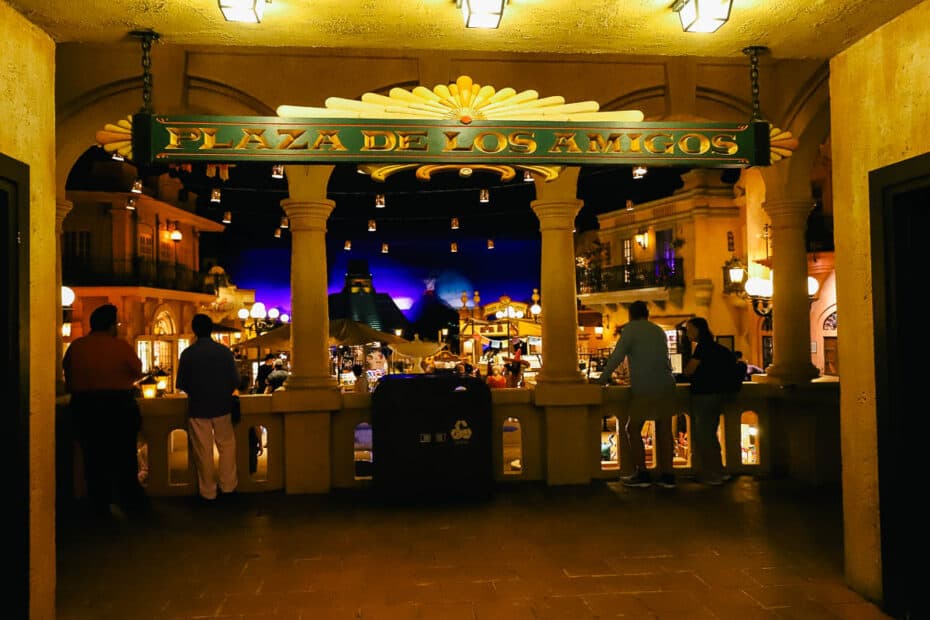 Behind the fountain, several artists are hand-painting Oaxacan wood carvings.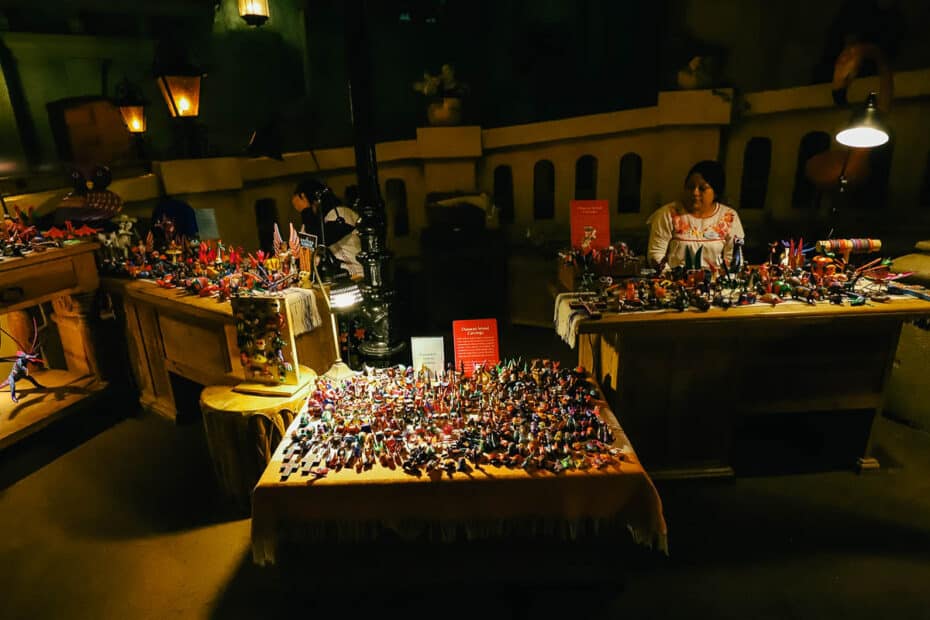 Many beautiful pieces are available for purchase.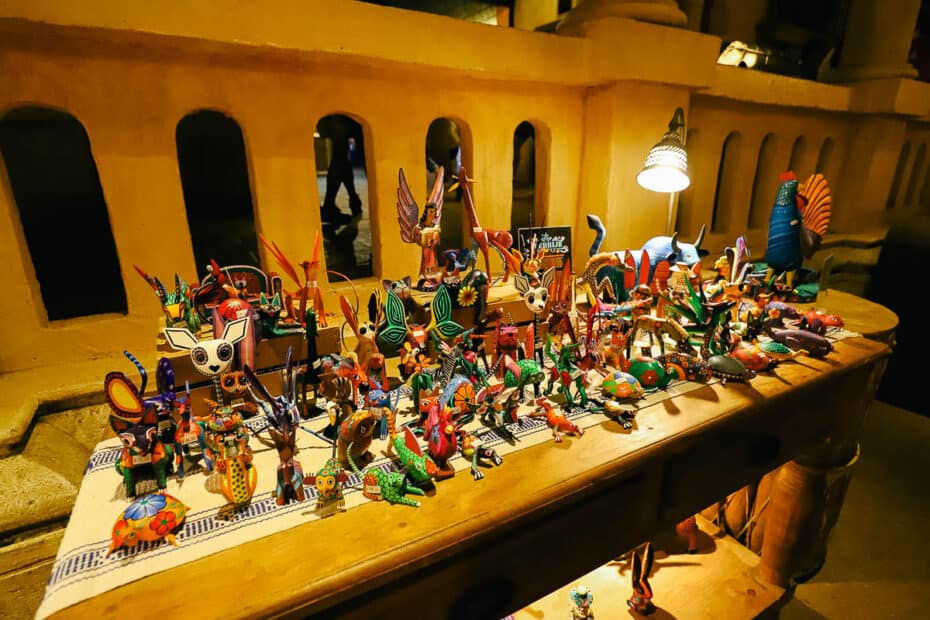 Next to the artists, you'll see Mexico's Kidcot Fun Stop.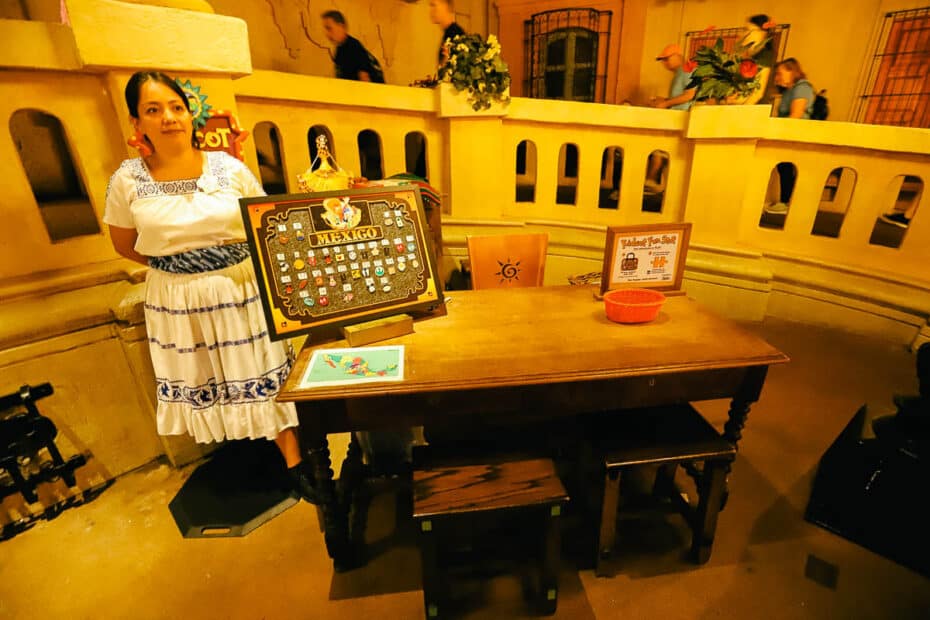 Each country in the World Showcase has a free activity for children. These activities are good for getting children involved in exploring each country.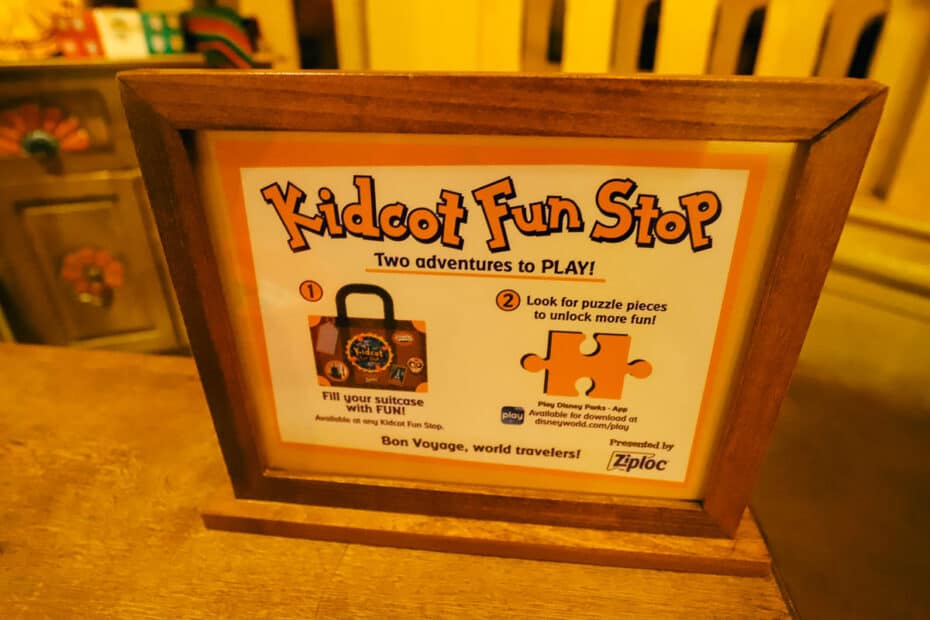 Inside the market, you'll find everything from leather goods to ceramics.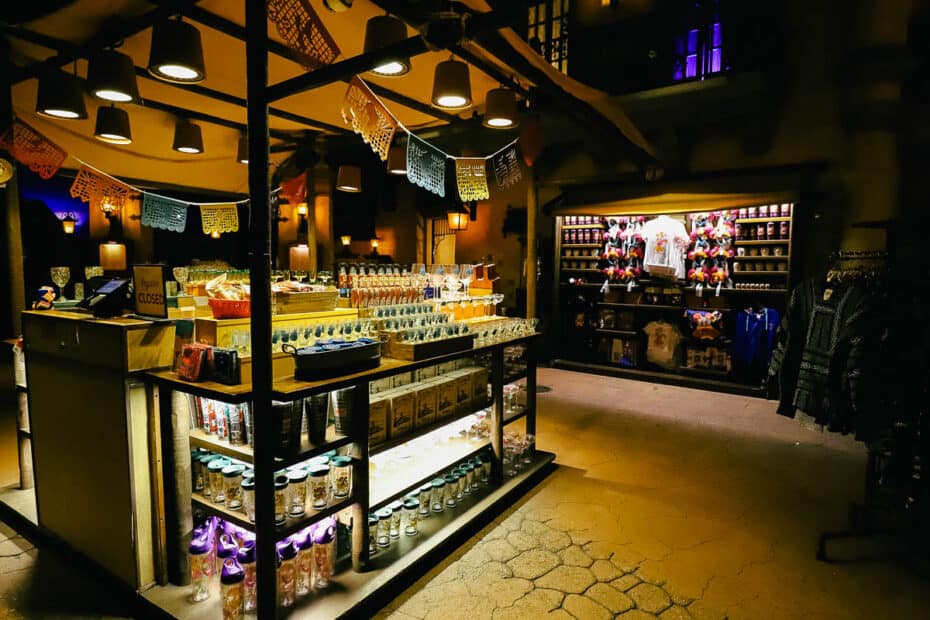 Some of the dolls in the photo below looked like art.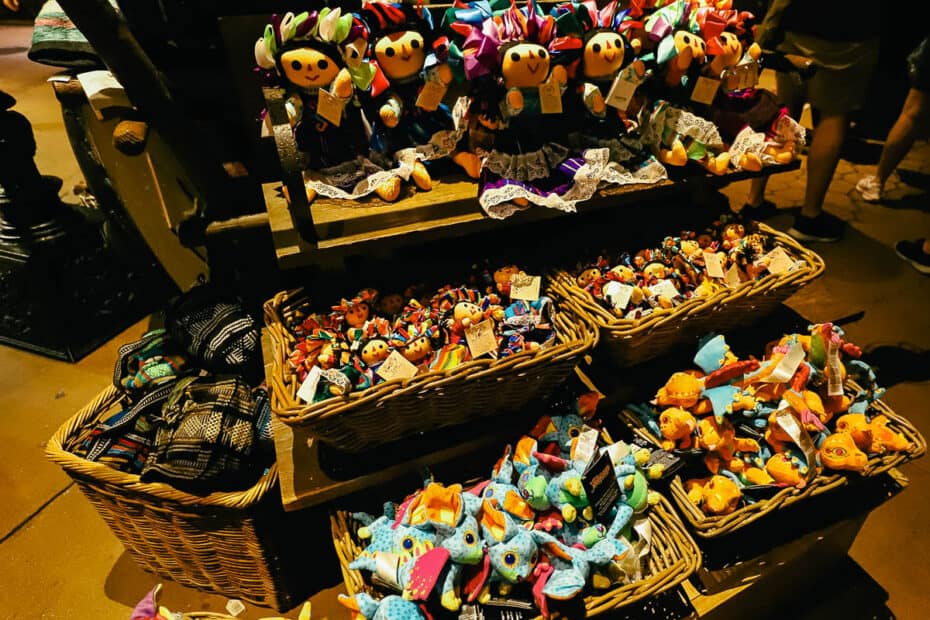 Here are a few more photos.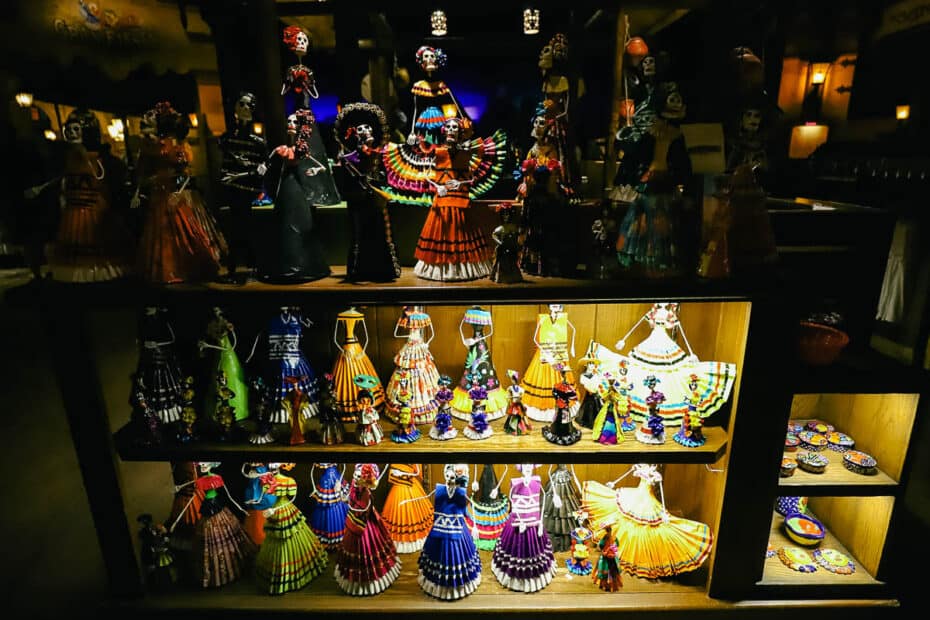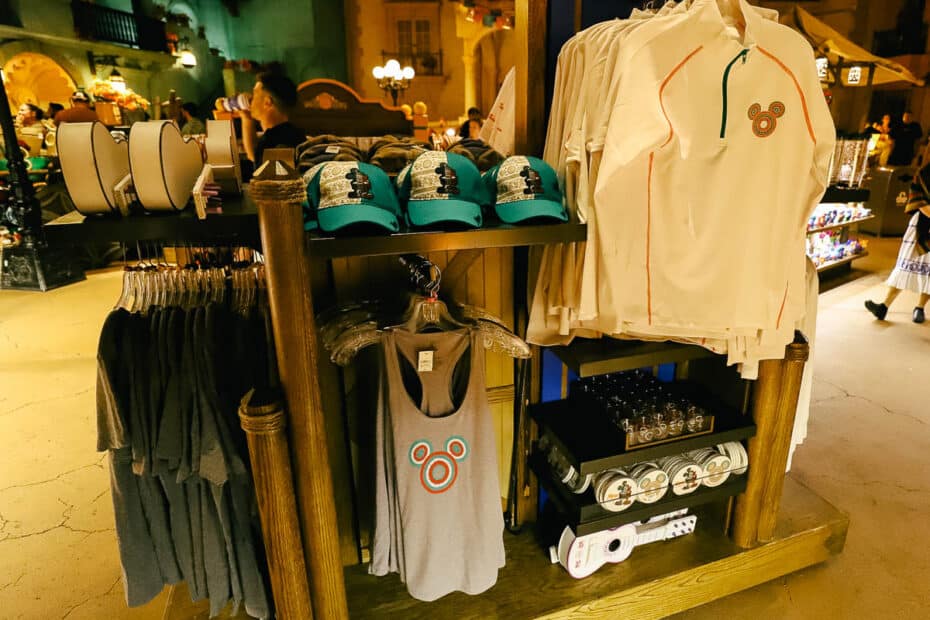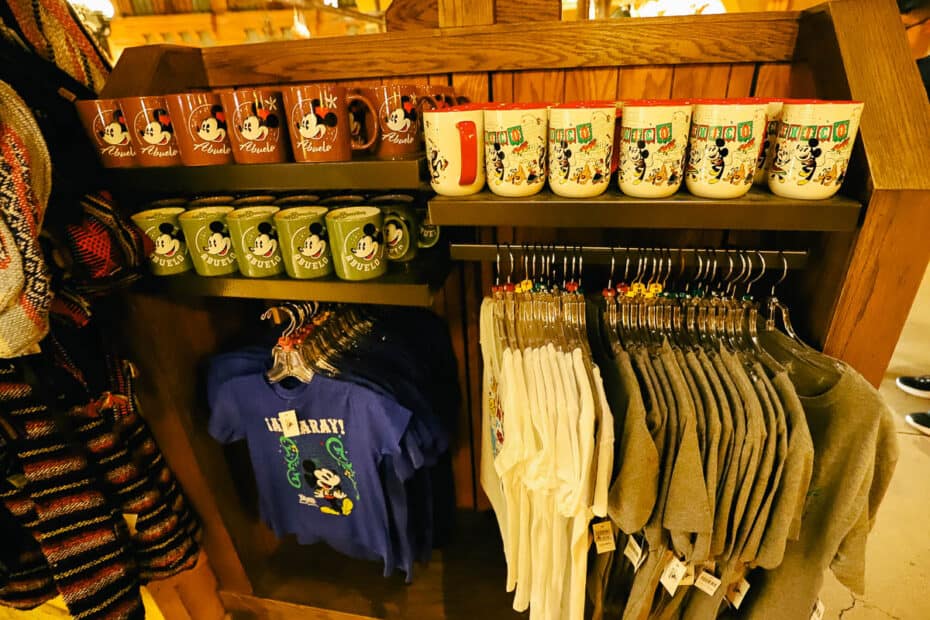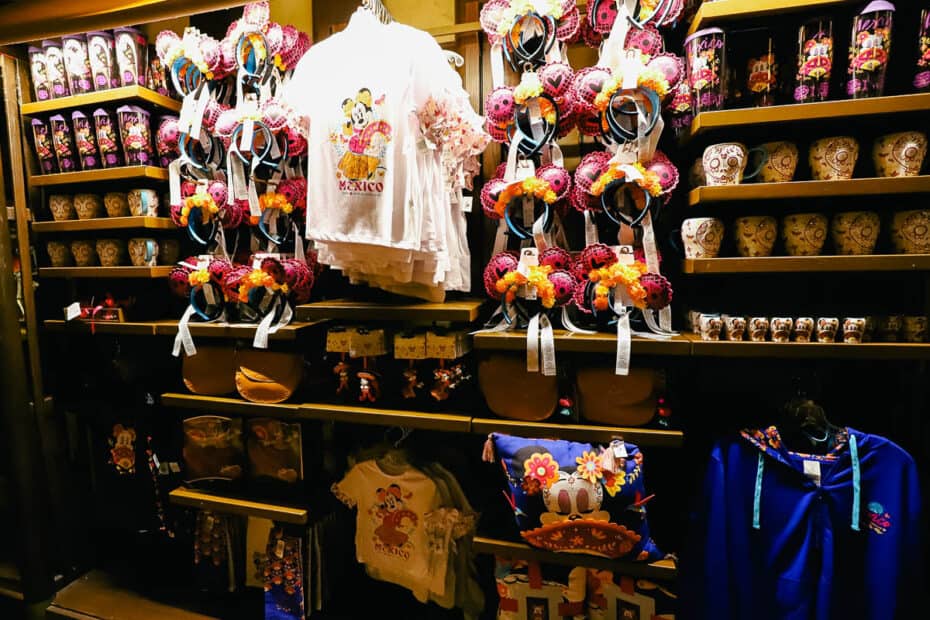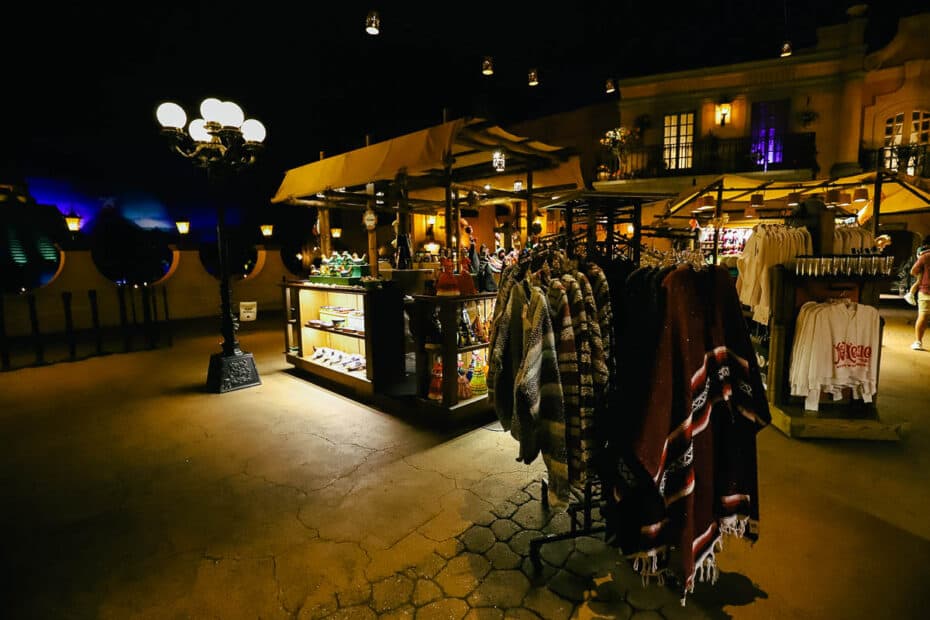 Two other shops are available off the plaza, La Princesa de Cristal and La Tienda Encantada. La Princesa de Cristal is one of the Arribas Brothers' glassware locations.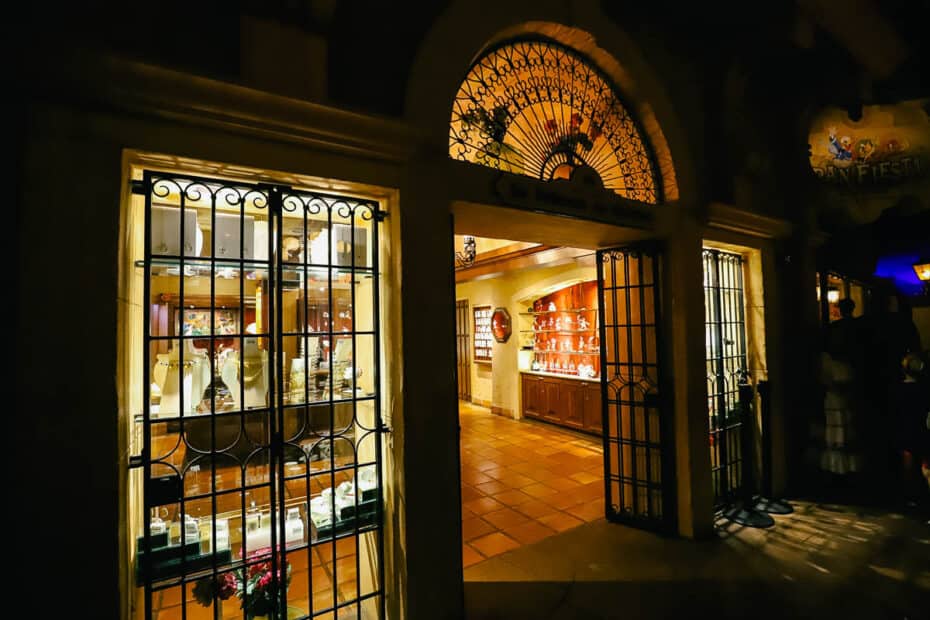 Inside, you'll find a variety of blown-glass treasures.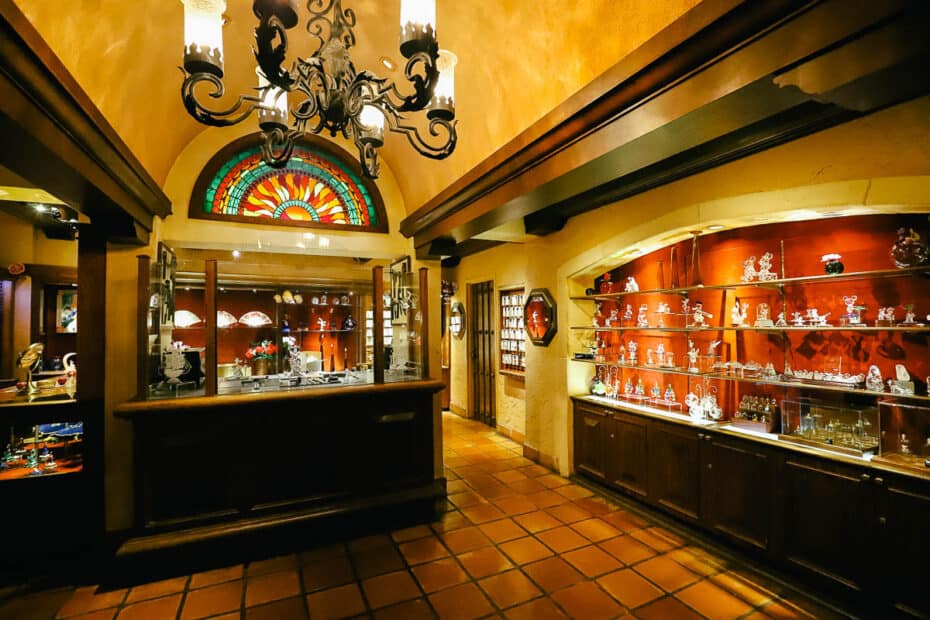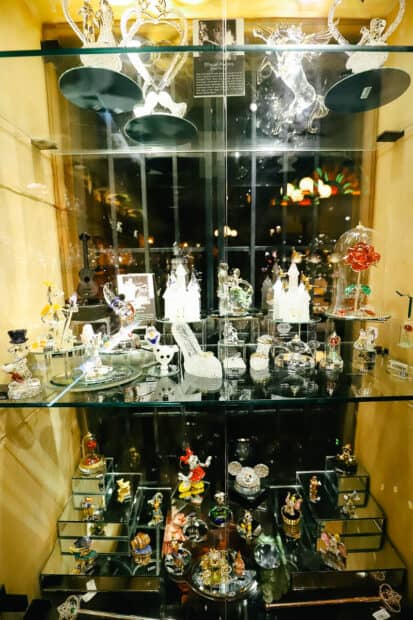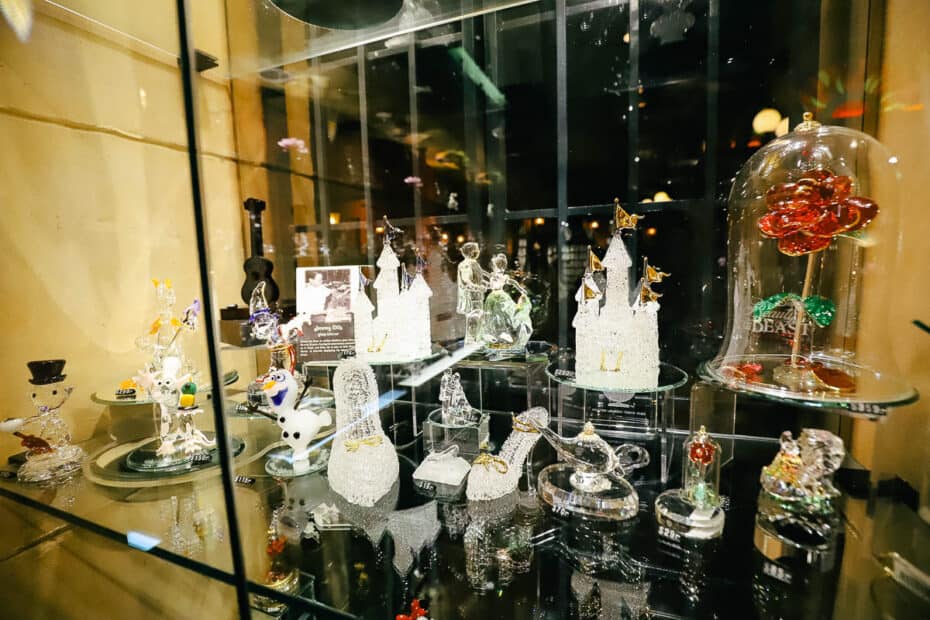 La Tienda Encantada carries fine jewelry and accessories. However, as of late, they have a good deal of Coco-inspired merchandise.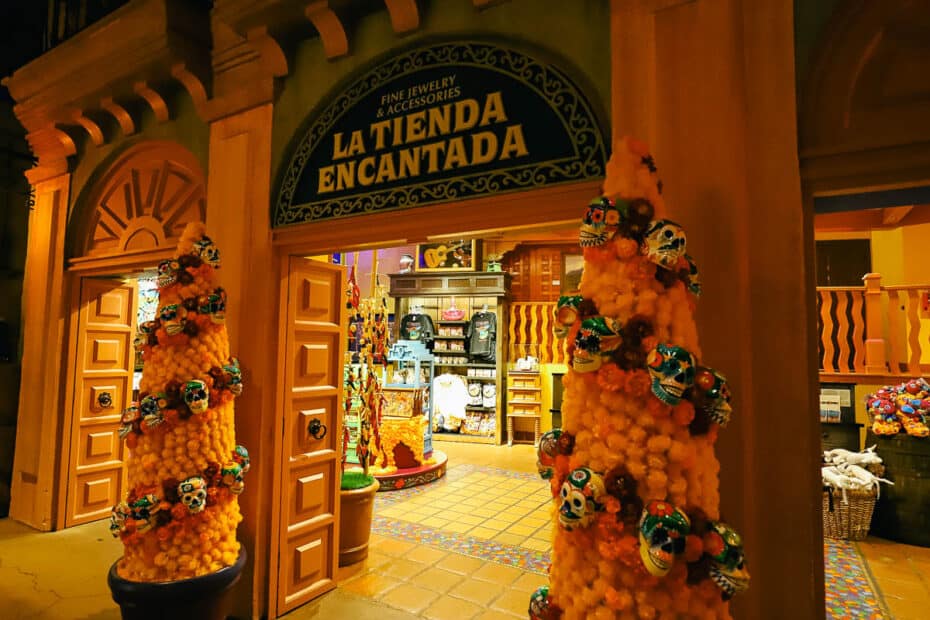 Most everything was geared toward children on this last visit.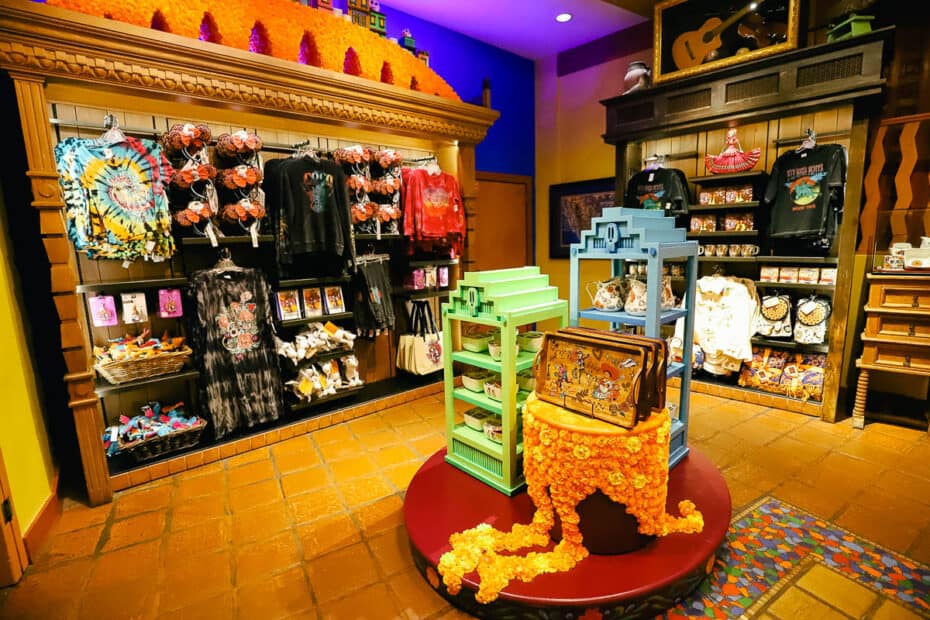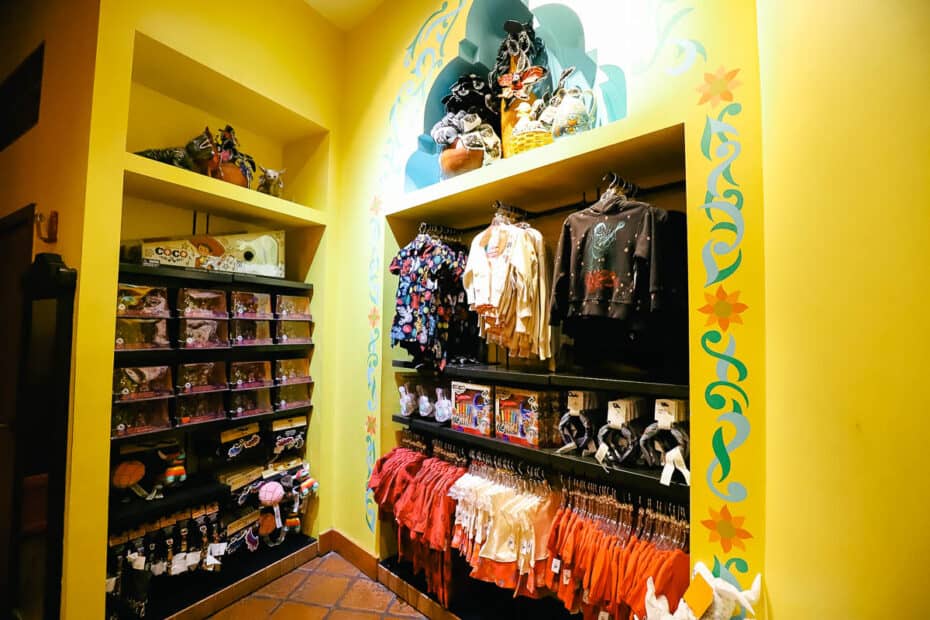 Outside the pyramid, you'll find another partially covered store called El Ranchito Del Norte. Unfortunately, this store hasn't reopened as of this update.
Final Thoughts on Epcot's Mexico Pavilion
As with all the countries in the World Showcase, Mexico represents a fair amount of culture, history, entertainment, and flavor. You could easily spend an hour or more seeing everything the pavilion offers.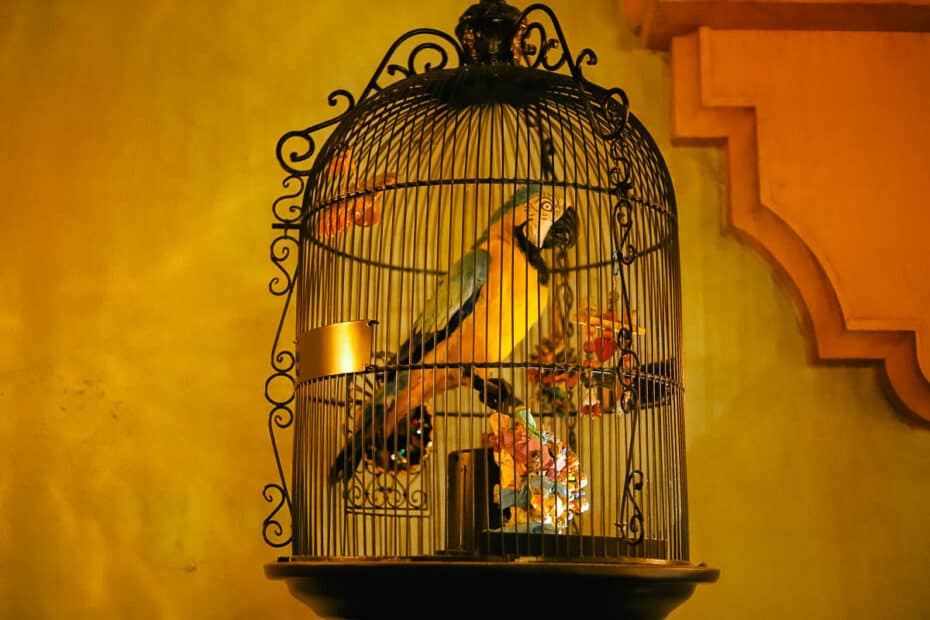 We have a list of Epcot's attractions and pavilions for more information. As we continue our updates, we'll be heading in this direction:
Here on the site, we specialize in providing reviews of Disney's Resort Hotels. You might enjoy these specific reviews of the hotels in the Epcot area:
In the Comments
What do you think of the Mexico Pavilion at Epcot? Do you enjoy spending time here? Have you ever visited?