Wandering the Mexico Pavilion at Epcot
The Mexico Pavilion in Epcot's World Showcase is the first stop for many as they begin their adventure through the different countries. In fact, the pavilion is commonly referred to as a place to either start or finish your theme park adventures.
This is somewhat because Mexico is the first pavilion you will encounter on this side of the World Showcase. But probably mostly because so many guests head straight to the pavilion to pick up their favorite flavor of margarita to sip as they make their way around the park.
Whatever your reasoning for starting or finishing in Mexico, I'm sure you'll find that the pavilion offers quite a bit of charm inside its novel pyramid. Mexico is also one of the country's that has a ride to experience while touring.
Additionally, the pavilion is home to a wide variety of dining, shopping, and entertainment. This review will cover all of these options and more as we wander through the Mexico Pavilion.
So mix up a margarita and throw an avocado in it! Let's pretend, instead of sitting at home, that we have just stepped foot from broad daylight to the darkness of night that lives on forever inside the pyramid. You might even want to put on the music of Coco in the background to enhance your reading experience.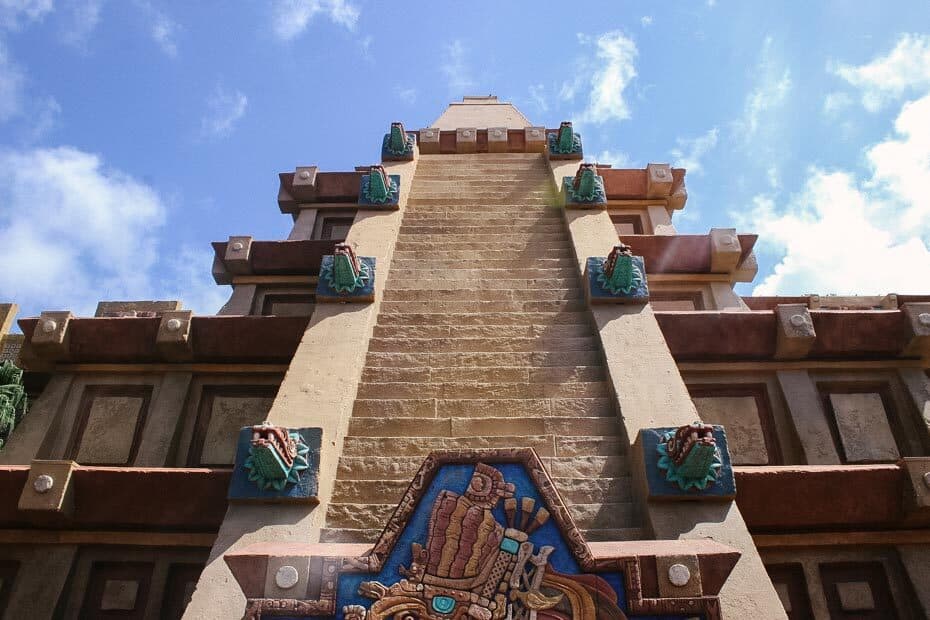 Epcot's Mexico Pavilion
Here is an overview of everything you can expect to find while touring the pavilion.
Architecture
Attractions
Gran Fiesta Tour Starring The Three Caballeros
Mexico Folk Art Gallery
Entertainment
Meet Donald Duck in Mexico
Music of Mexico
Dining
La Cava del Tequila
Choza de Margarita
La Cantina de San Angel
La Hacienda de San Angel
San Angel Inn Restaurante
Retail
El Ranchito del Norte
La Princesa de Cristal
La Tienda Encantada
Plaza de los Amigos
Kidcot
Some of the countries offer a variety of architectural references like the Italy Pavilions and Germany Pavilions. You'll find that Mexico is one large structure of historical reference for the most part.
The pyramid, which holds most of the activities in the Mexico Pavilion, was built to resemble ancient Meso-American ruins. If you take the time to walk around the exterior patios surrounding the pavilion, you will notice many details.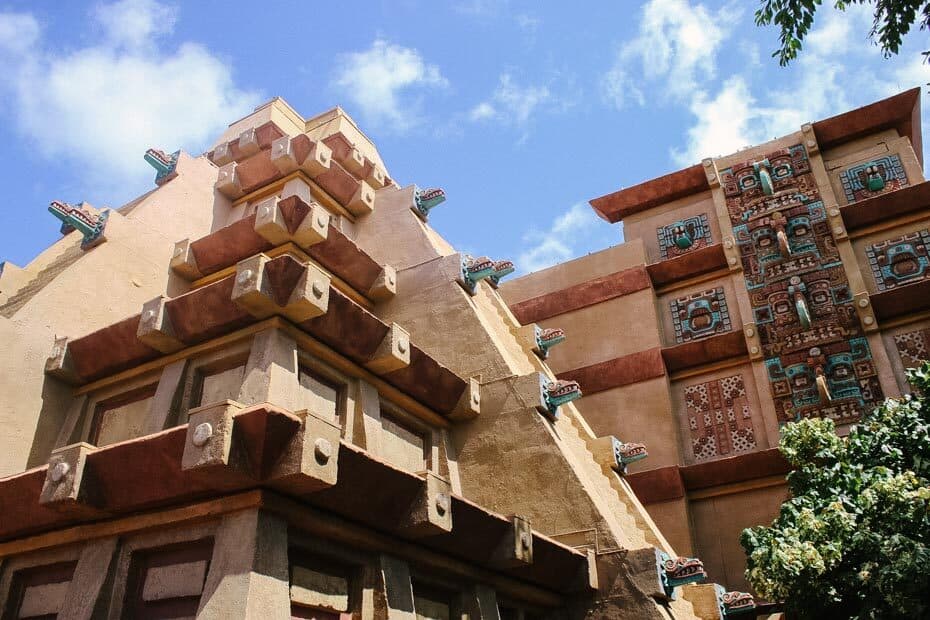 Additionally, I find these outdoor areas are often vacant and a great place to take a break from the crowds.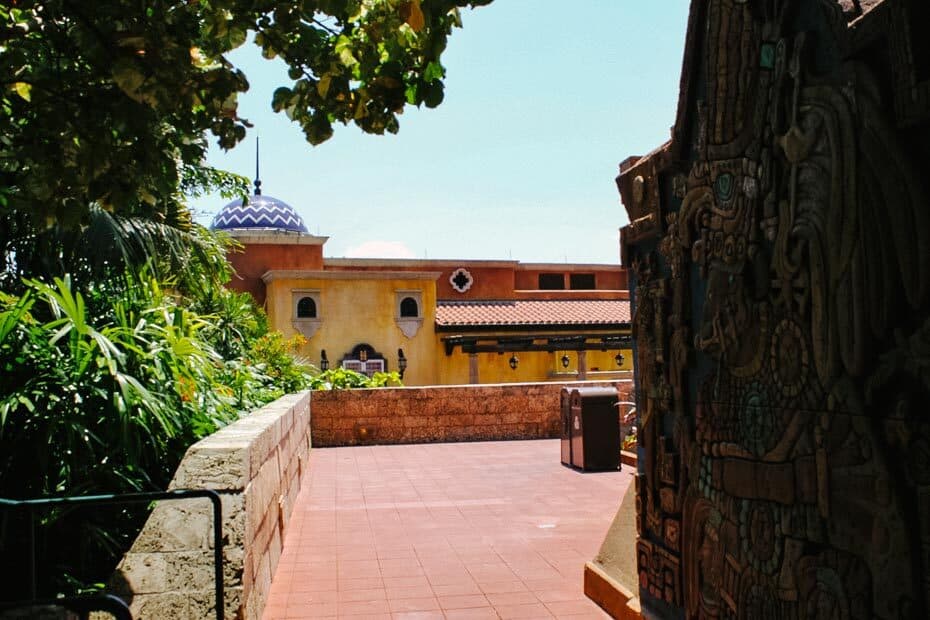 I believe these are kukulkan carvings in the picture below, which represent a feathered serpent deity in the Mayan's ancient civilization.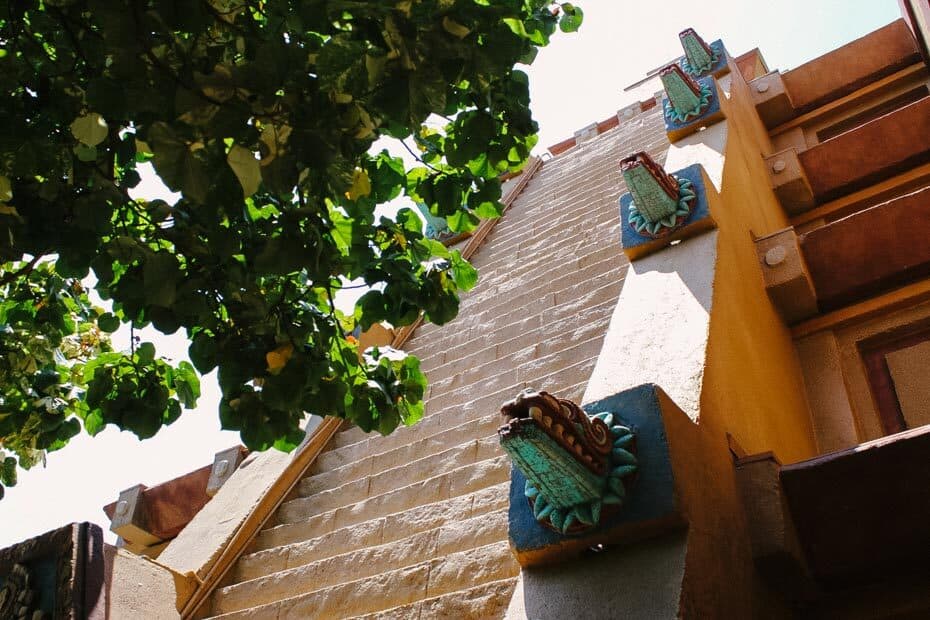 It seems with so many guests wanting to escape the heat and sunshine, that these details on the exterior are often overlooked. But the inside of the pyramid is quite detailed and worth a visit inside.
As you make your way up the pyramid steps to the main entrance of the Mexico Pavilion, you'll see this sign advertising what is located inside. The main attraction featured in the pavilion is the Gran Fiesta Tour, which is a slow-moving boat ride.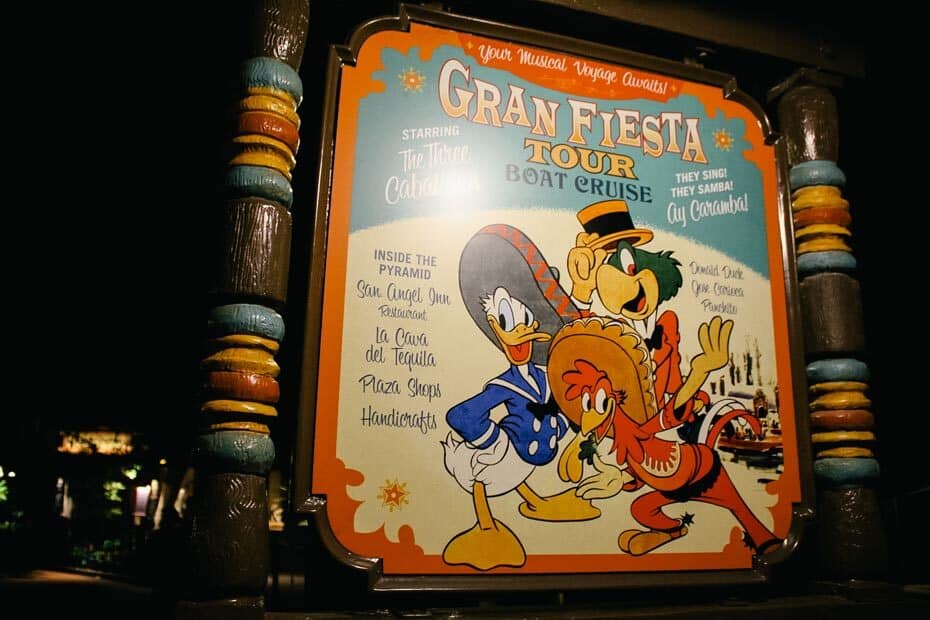 The slow-moving boat ride is located toward the back interior of the pavilion in the left-hand-corner. Below is a picture of the entrance to the attraction.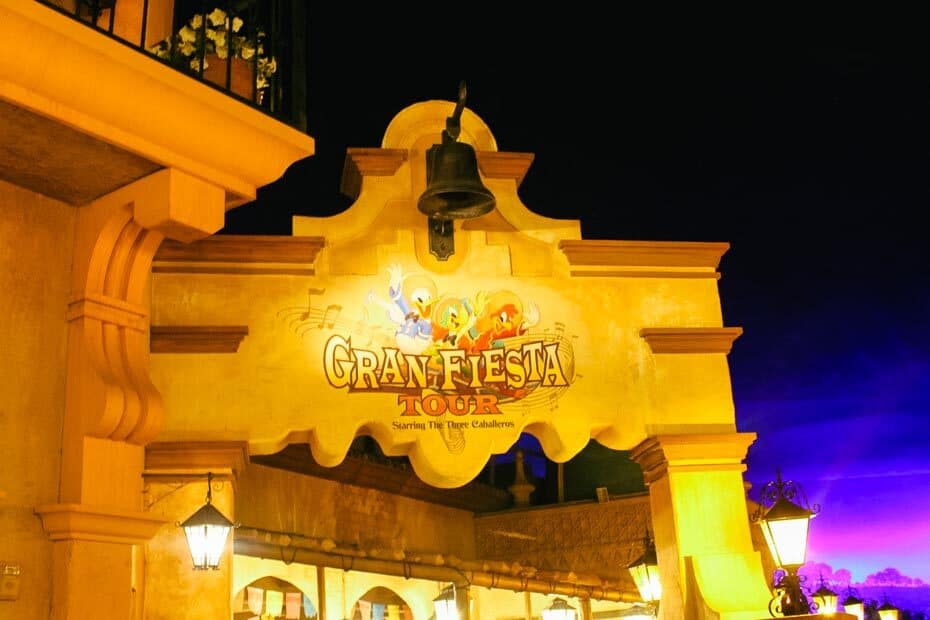 More than likely, there won't be a significant line for this attraction, but if there is, you can expect it to move quickly. That is unless they are having some technical difficulty. As you can see, the ride vehicle holds a decent capacity, but rarely will the boat be filled.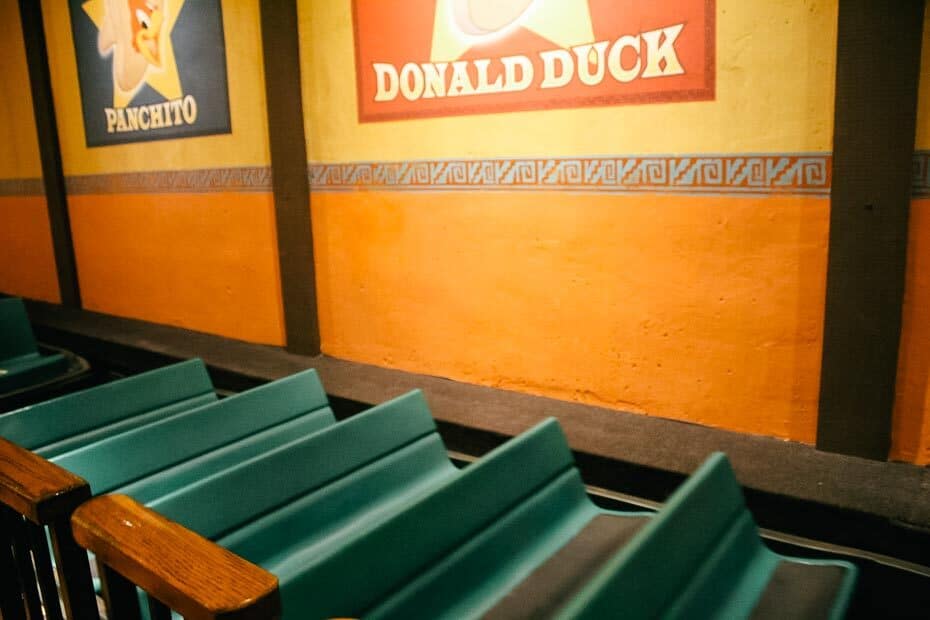 I personally enjoy the attraction, but I will also admit it's nothing to write home about. It's basically a slow-moving boat ride through Mexican scenes with a cartoon short series featuring Donald Duck as one of The Three Caballeros.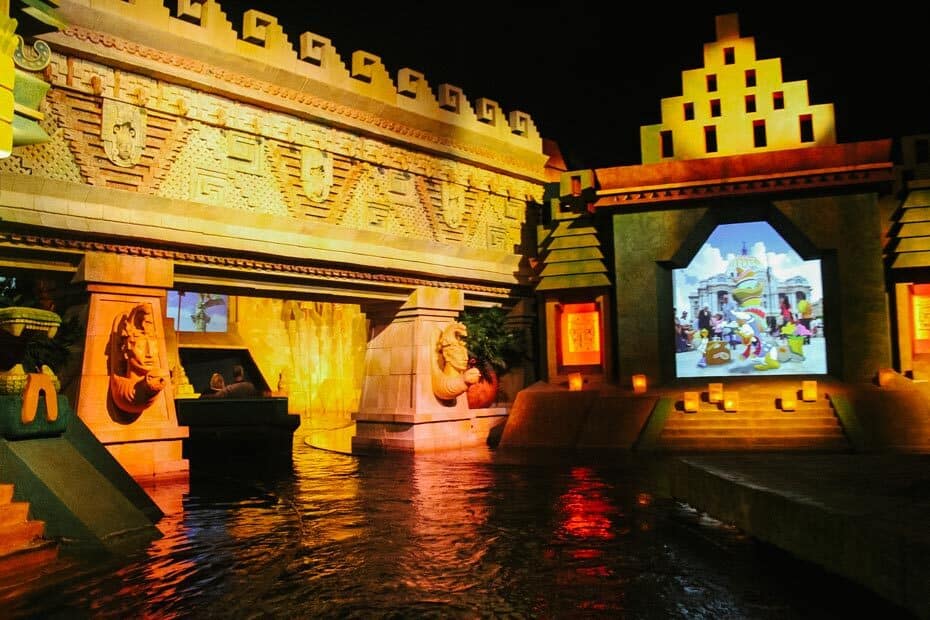 Toward the end, you'll encounter all three birds of a feather performing their theme song. As of 2021, these guys have been replaced with cardboard cutouts. Hopefully, they are just out for a needed refurbishment and will be back in place soon.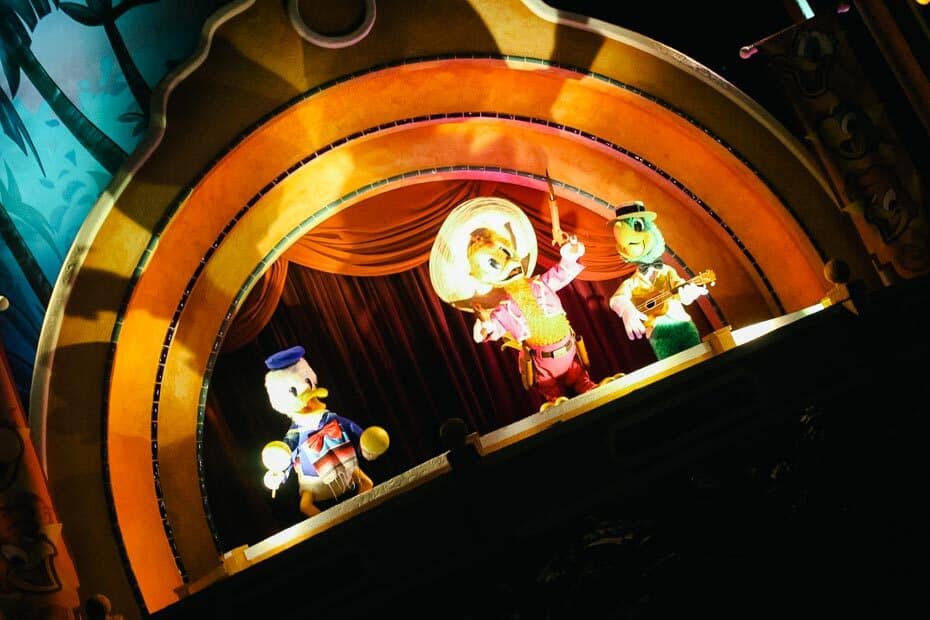 Like the rest of the pavilion's interior, this ride provides a nice place to cool off during hotter portions of the day.
Moving on, I hesitate to get into a lot of entertainment details for any of the pavilions at this time. You might remember in other reviews; we've discussed how several of the entertainment acts have been canceled in the World Showcase.
Normally, Donald Duck meets at various times outside to the right of the pyramid. However, standard character meets are not available right now.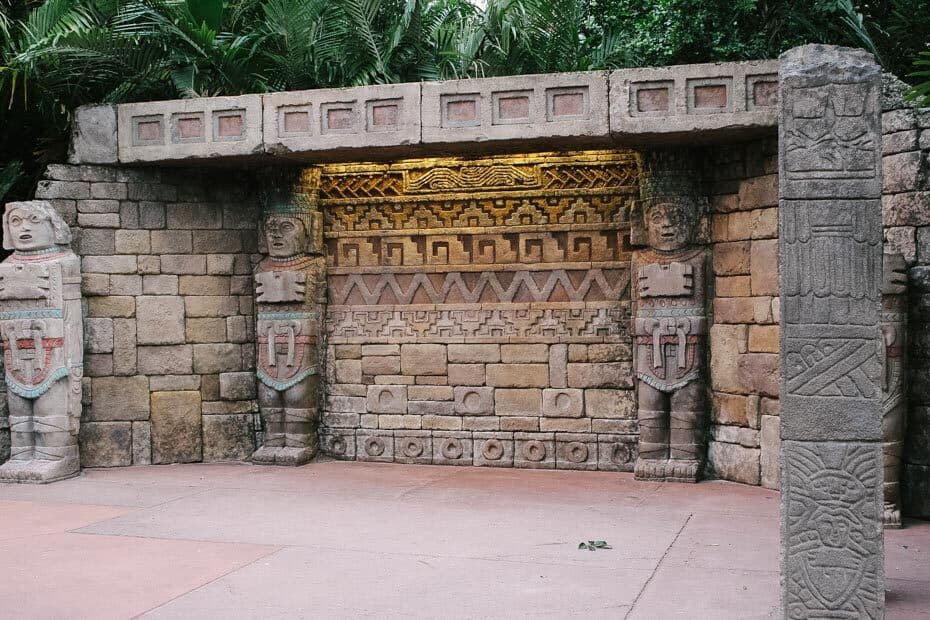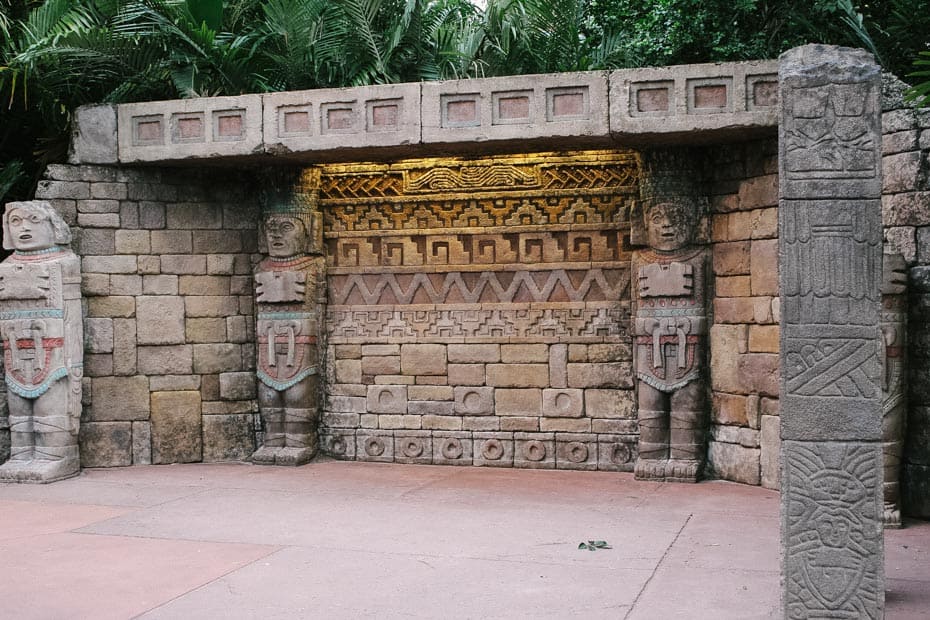 The other entertainment offering is The Music of Mexico by Mariachi Cobre. This troupe of performers puts on an excellent show, and I highly recommend stopping if you see them out. Right now, you can find them from time to time in the American Pavilion. Check the park's daily times guide for details on the day of your visit.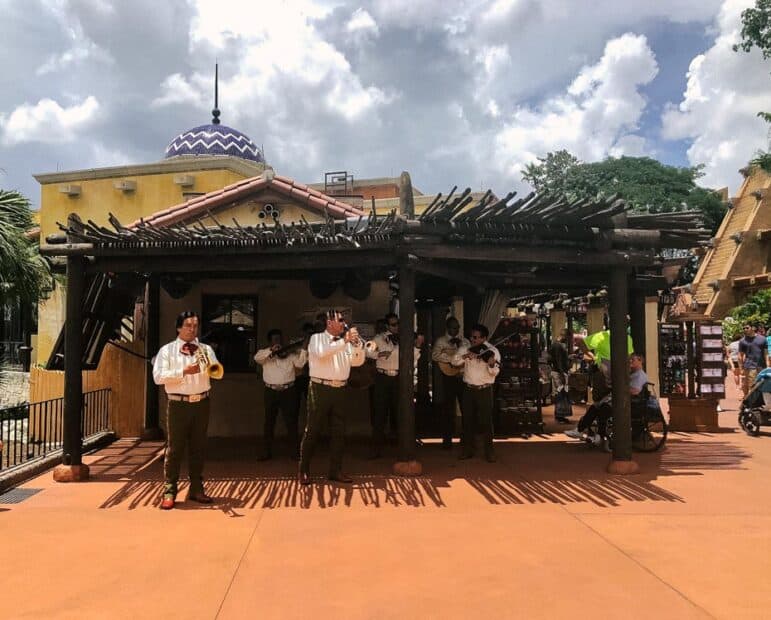 The group sometimes performs music from the popular Coco movie.
Formerly, if you were fortunate, you might have happened upon a special appearance presenting the "Story of Coco." This included live dancers and a real puppeteer.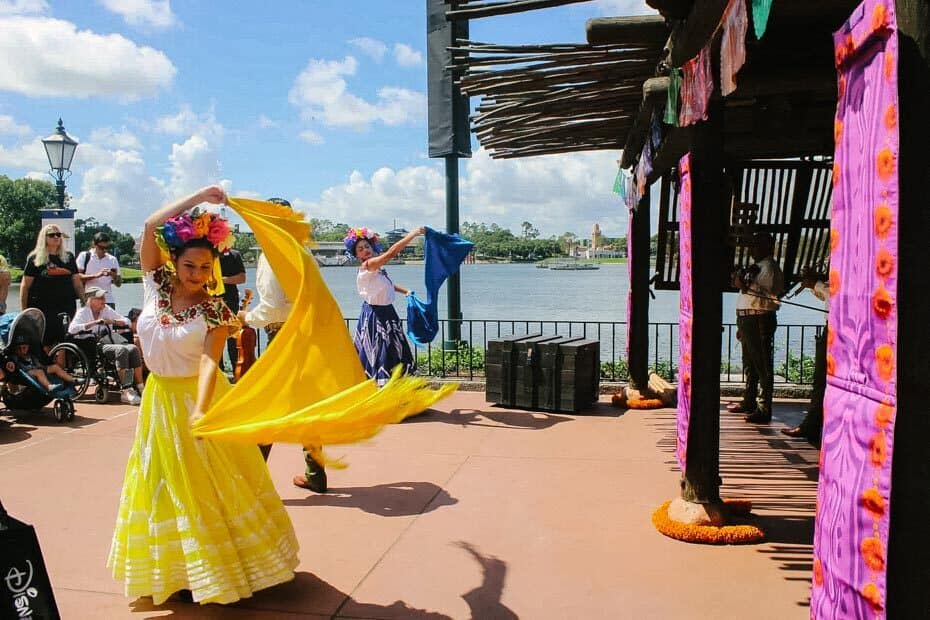 It was one f the most endearing performances I've ever seen in all of my World Showcase travels. I sincerely hope that it will return to the Mexico Pavilion when things resume to what we all consider more normal times.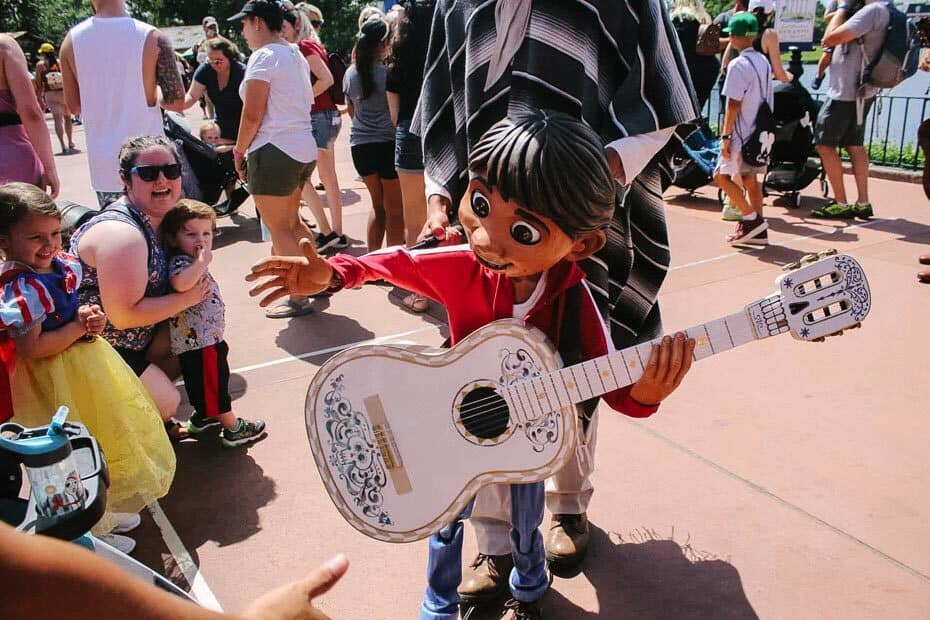 Dining in the Mexico Pavilion
There are five choices when it comes to dining in Mexico at Epcot. One of the things I love about Epcot is all of the variety, but when it comes to making a decision on dining here (even for a snack) it's so hard to choose!
The most recent addition to the Mexico Pavilion, Choza de Margarita, sits outside the pyramid and offers margaritas and a few snacking options.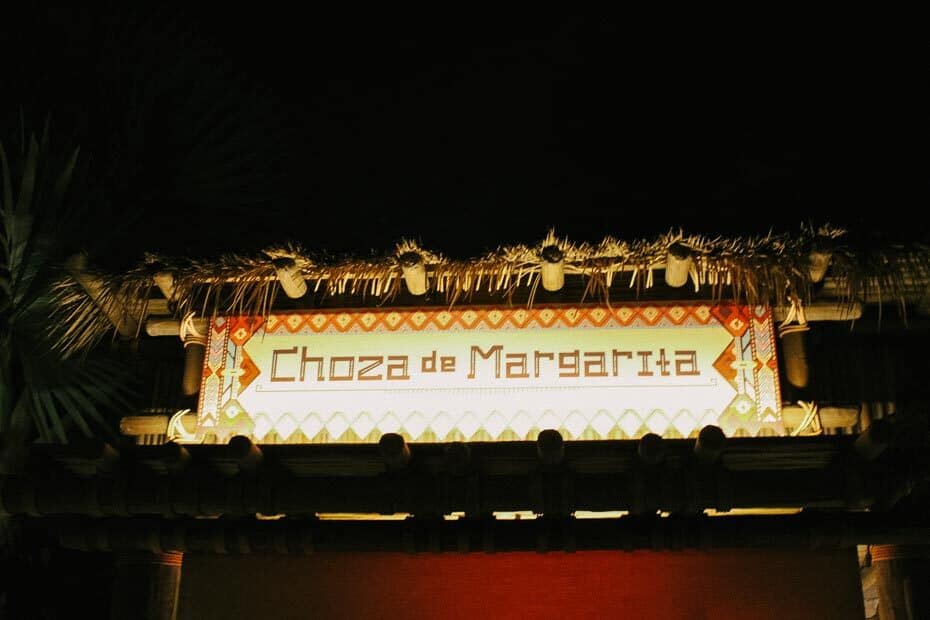 Below is a look at the Fuego Verde margarita listed under the signature margaritas portion of the menu.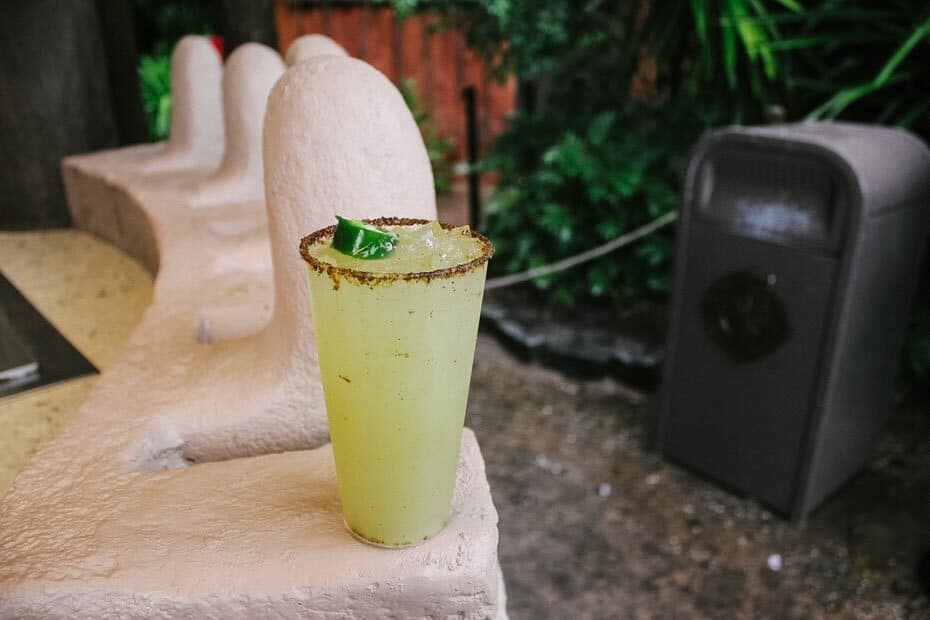 Personally, I didn't care for this one. I was hoping for a spicy drink and usually love a black ant salt rim. But this one, to me, was undrinkable after a few sips. That is rare for me to say, but it didn't agree with my tastebuds.
The quick-service location for the Mexico Pavilion is La Cantina de San Angel. Here you'll find tacos, salads, kids meals, and more margaritas. This is a lovely outdoor area to have lunch before it gets too hot in the day or the evening when things begin to cool off. The view from the eating area to the World Showcase Lagoon is pleasant.
Here is a preview of their menu.
The most famous Epcot margarita stop is none other than La Cava. Some of you love it, while others love to hate it. If you are familiar with the Mexico Pavilion, you have more than likely heard of the lime green drink that comes with a bright hot pink rim, the classic La Cava Avocado.
The avocado margarita is a frozen concoction that tastes like a classic margarita with a smooth texture twist. If you have an interest and like frozen drinks, you will probably end up enjoying this flavor. I'm not a huge fan of frozen drinks, so this is a rare choice for me.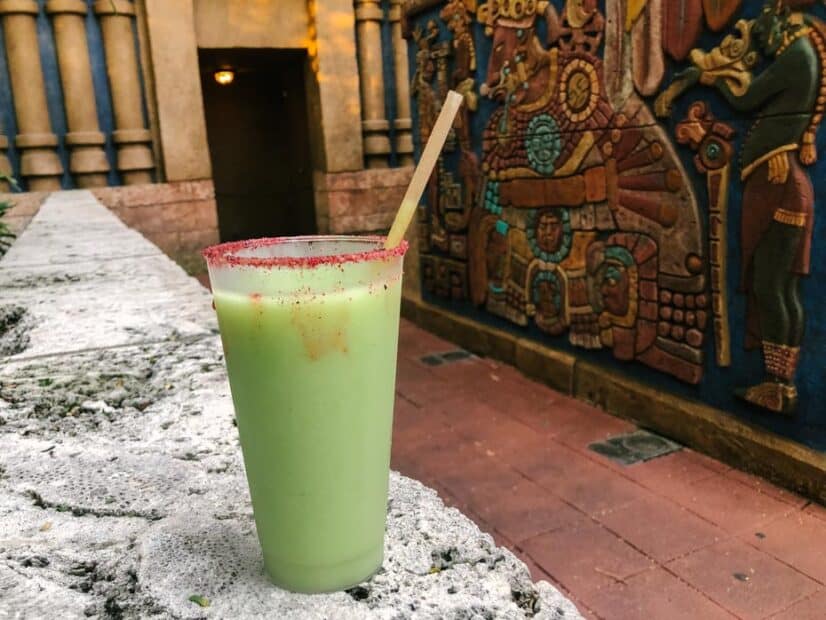 On a different visit, a little further back, one of the cast members working at La Cava recommended I try the Casa Dragones. This is their signature, top-shelf margarita. I really enjoyed this one better than anything I have tried there over the years. But with a $21.00 price point plus tip, the cost is probably not worth the value.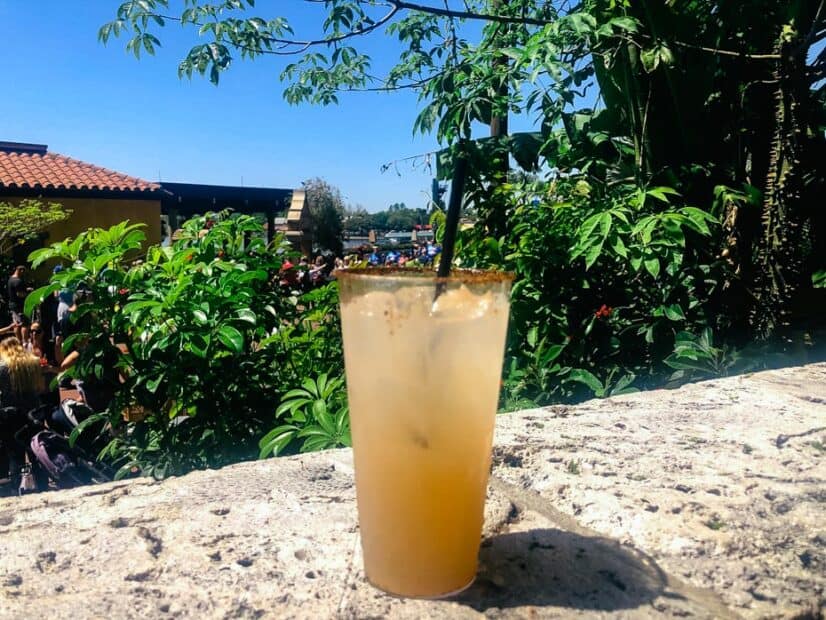 On another visit, I elected to try the classic strawberry margarita. This one was okay, but I remember feeling disappointed that it wasn't as tasty as I was hoping. I think this might be one of their seasonal offerings. Make sure to look at the full menu when visiting, they do have a good variety of choices.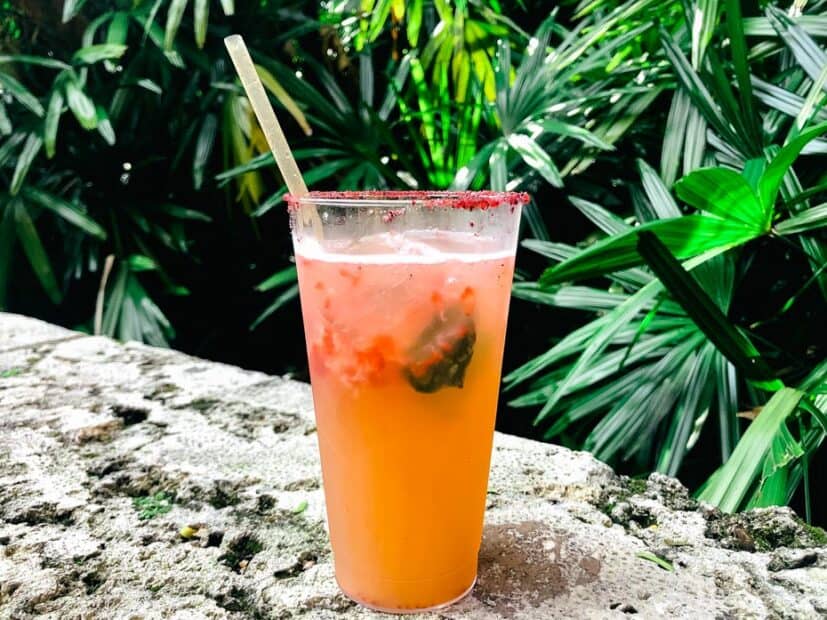 La Cava del Tequila has a small indoor space for guests to sit, but most will stand in the to-go line and carry their drink with them. Often the line is way outside the pyramid.
Our next stop is La Hacienda de San Angel, a table service restaurant located on the World Showcase Lagoon side of the Mexico Pavilion.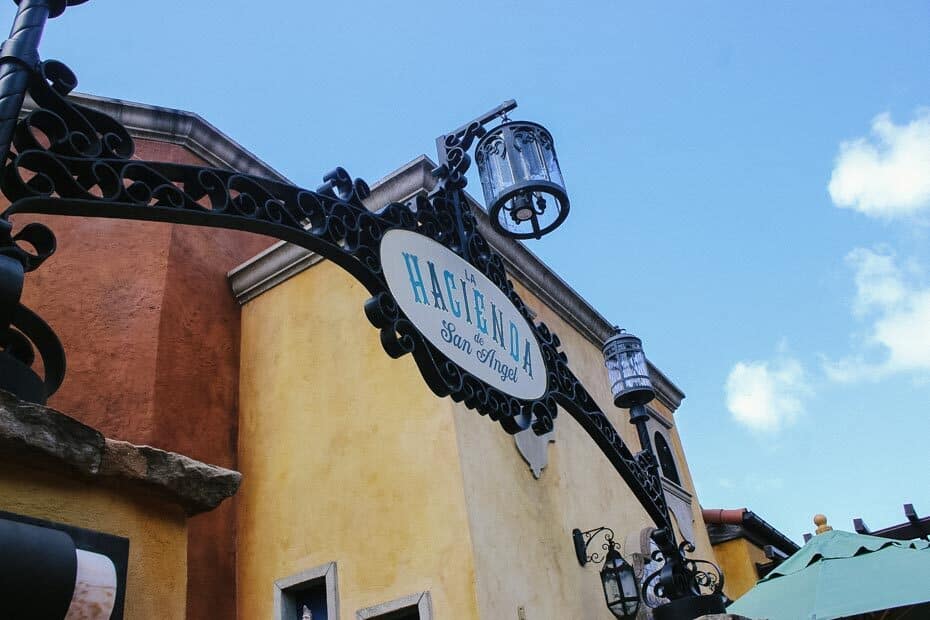 Like other table service restaurants, La Hacienda does take reservations, but you might be able to request a walk-up as well, depending on crowds. There is a menu posted outside the restaurant. They are open for dinner service only starting around 4 p.m.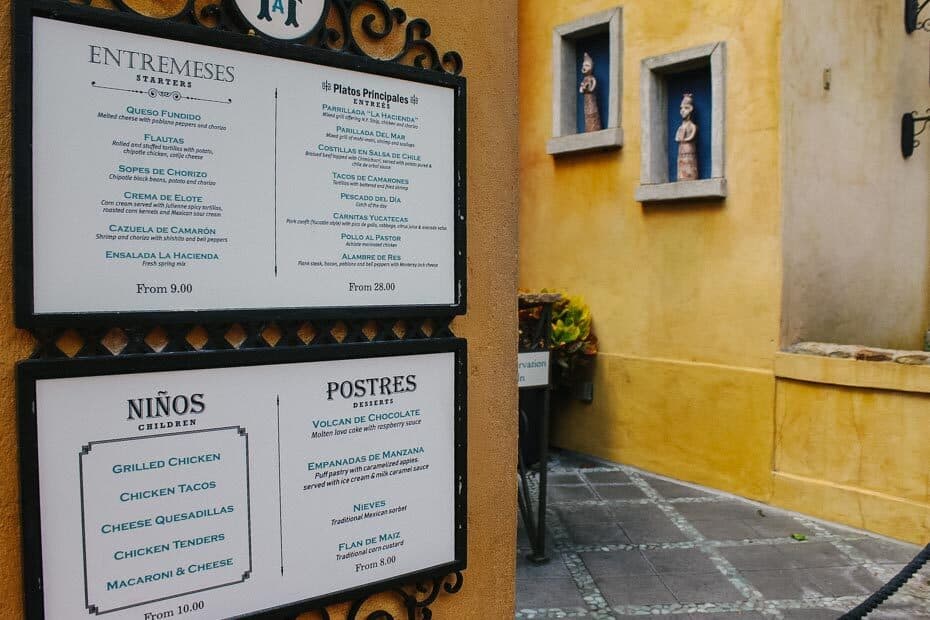 If you would like to preview the online menu, you can do that here.
Inside the pyramid, you'll find another restaurant, San Angel Inn. It overlooks the little boats coming through on the Gran Fiesta Tour. It's a charming spot to have a meal as you watch the boats glide by below you. That is if you get a seat by the railing.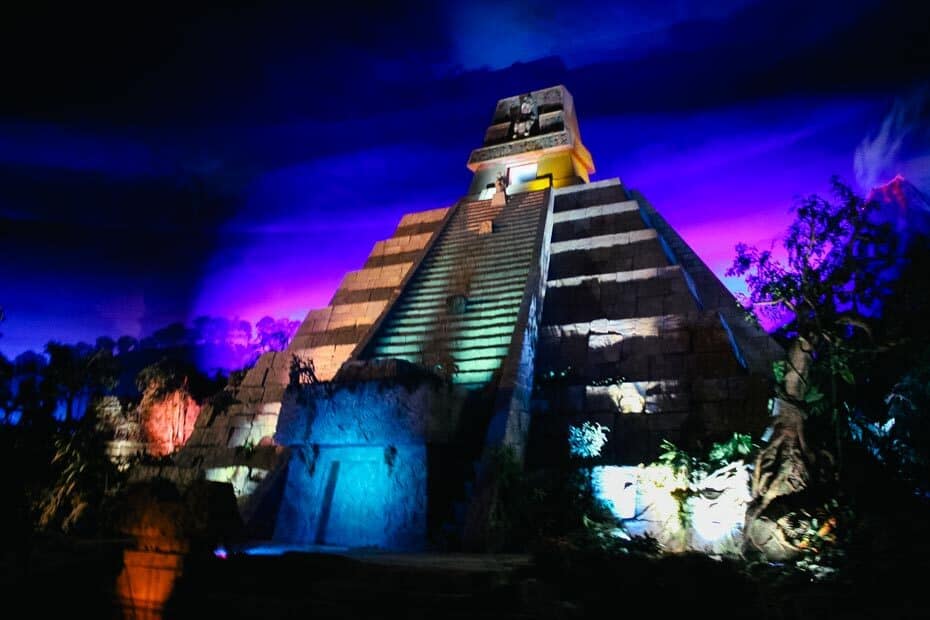 San Angel Inn is open for lunch and dinner beginning around 11:00 a.m. when the World Showcase opens. View their menu here on Disney's site.
As for shopping within the pyramid, there are quite a few options. The largest of these is the Plaza de Los Amigos which is the open-air marketplace. The plaza offers an array of Mexican artwork and souvenirs.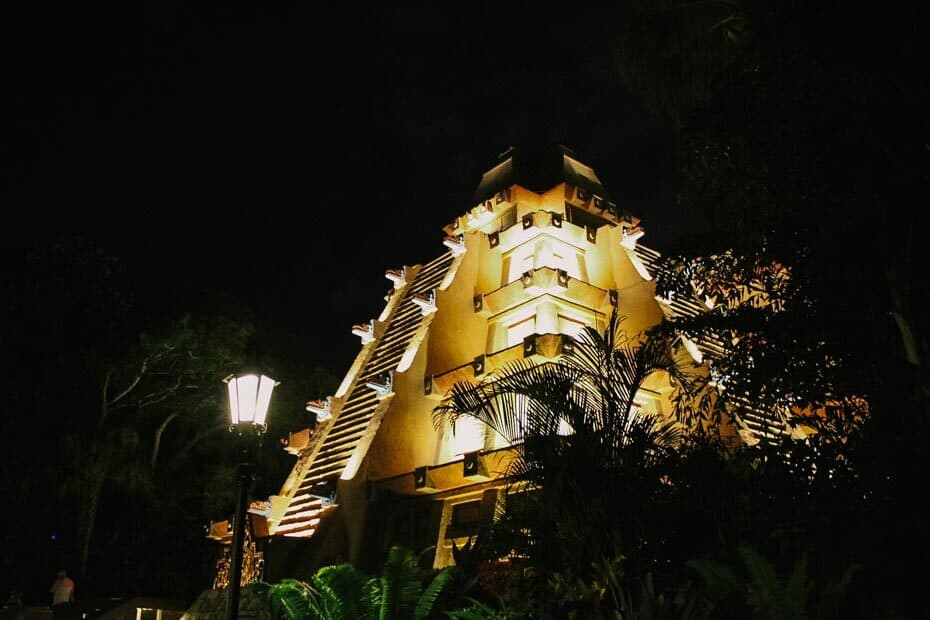 Just off the plaza, the pyramid is also home to La Princesa de Cristal and La Tienda Encantada. La Princesa de Cristal is one of the Arribas Brothers' glassware locations. While La Tienda carries fine jewelry, accessories, and a few Disney princess items.
Outside the pyramid and next to La Hacienda, you'll find another partially covered store called El Ranchito Del Norte. I usually find items that are a little more Disney-related at this location like Mexican-inspired mouse ears and Coco merchandise.
Final Thoughts on Epcot's Mexico Pavilion
As with all of the countries in the World Showcase, you'll find Mexico represents a nice amount of culture, history, and flavor. And if you are looking for a margarita stop while on vacation, this is it. You are sure to find something you like here between all of the different offerings.
While in the pyramid don't forget Gran Fiesta Tour. It is kind of cheesy in a good way. But if you miss the little boat ride, it's not a deal-breaker.
Thanks for joining along today on our tour of the Mexico Pavilion! You might also enjoy these other country reviews.
Here on the site, we specialize in providing reviews of the Disney Resort Hotels. You might enjoy these specific reviews of the hotels in the Epcot area:
It sure is nice to walk or take the Disney Skyliner over to Epcot, enjoy one of those avocado margaritas from the Mexico Pavilion, and then walk or ride back to your resort. Let me know your thoughts or favorite things about Epcot's Mexico Pavilion in the comments.