Noodle Exchange Review (2022 Epcot Food and Wine Booth)
We return to Epcot's 2022 Food and Wine Festival to check out the Noodle Exchange. The Noodle Exchange is a popular destination that opened a little later than some other booths.
While the Noodle Exchange offers a ton of bang for your buck portion-wise, it might not be a worthwhile stop. Below we'll look at the menu items, my experience, and I'll share a few thoughts on the best time to stop at the booth.
Regarding location, the Noodle Exchange is at the start of the World Showcase Promenade, centered directly between the Canada and Mexico Pavilions.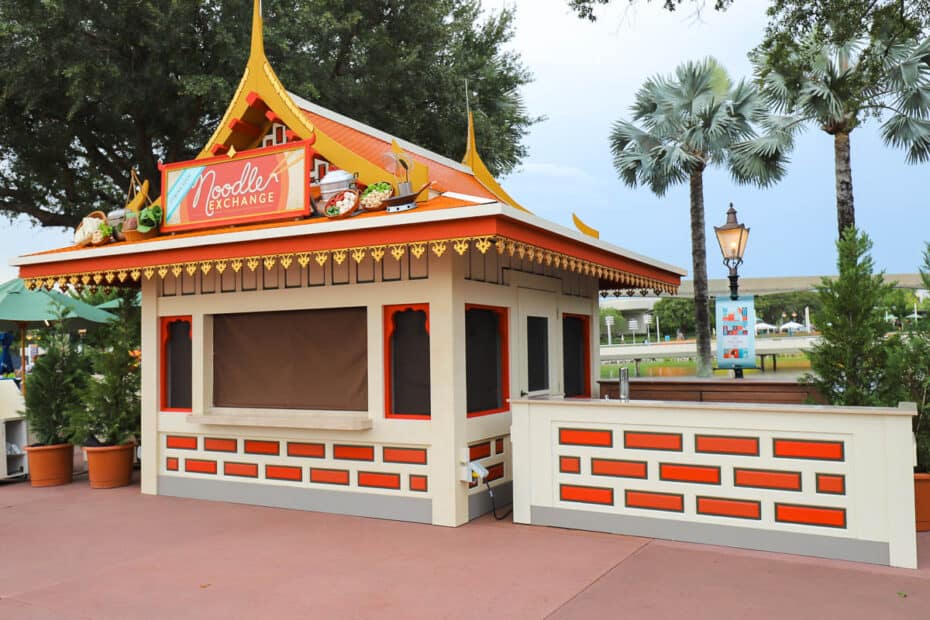 Noodle Exchange Menu Items with Prices
Below is a list of the available menu items with prices at the Noodle Exchange.
Traditional Spicy Vietnamese Beef Pho ($5.50)
Chinese Char Siu Pork Udon ($5.50)
Thai Shrimp and Coconut Curry Rice Noodles ($6.50)
Tofu Pho ($5.50)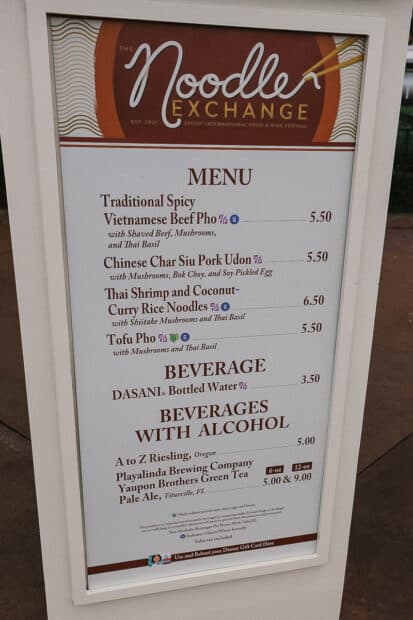 Beverages:
Playalinda Brewing Company Yaupon Brothers Green Tea Pale Ale ($5.00 or $9.00)
A to Z Riesling($5.00)
Traditional Spicy Vietnamese Beef Pho
Since there were four different dishes at the Noodle Exchange, I decided to start with the two that sounded the most interesting. Unfortunately, I won't be back to try the remaining versions.
Here we have the traditional spicy Vietnamese beef pho. It looks delicious, doesn't it?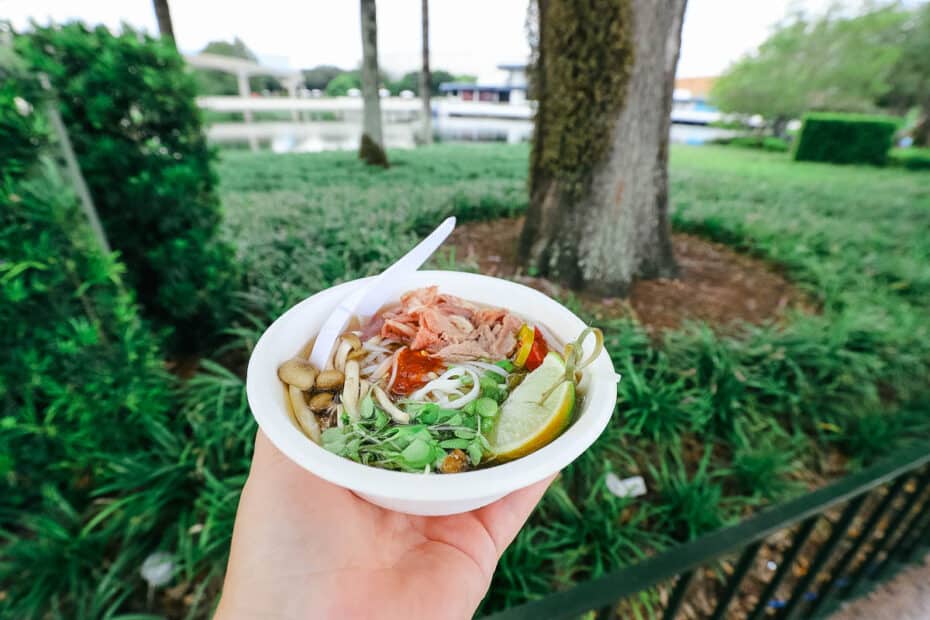 My first issue was that both portions I received were full to the brim. So much so that I had to drain some of the broth in the grass.
Trying to carry the bowls of soup from the booth's window to a table was a bit of an ordeal. Broth was running up the sides of the bowl in an effort to escape. Unfortunately, some of it landed on my camera.
As I began photographing my dishes, I overheard the table next to me. They were discussing the unbearable heat of their dish.
Intrigued, I took a bite and got nothing. Meanwhile, the guests next to me took their pho and trashed it.
I went further in and selected a piece of the beef. Again, it was a pleasant bite. Then there were mushrooms.
In retrospect, I must have released some of the "spicy" parts when I went in for the mushrooms. Unbearable heat was the consequence.
It wasn't even the kind of heat that hit you later. I looked down at the dish, wanting more, but I began to cough as the heat made its way to the back of my throat.
You know the feeling, it was terrible. My eyes watered, and I understood why my table neighbors were so quick to trash their entire portion.
Soon after, my pho met the same ending. But first, I had to try the curry. Will the same fate prevail?
Thai Shrimp and Coconut Curry Rice Noodles
Yes, the Thai shrimp and coconut curry rice noodles look appealing. However, it couldn't have been more different than the spicy pho. Well, except for one substantial detail.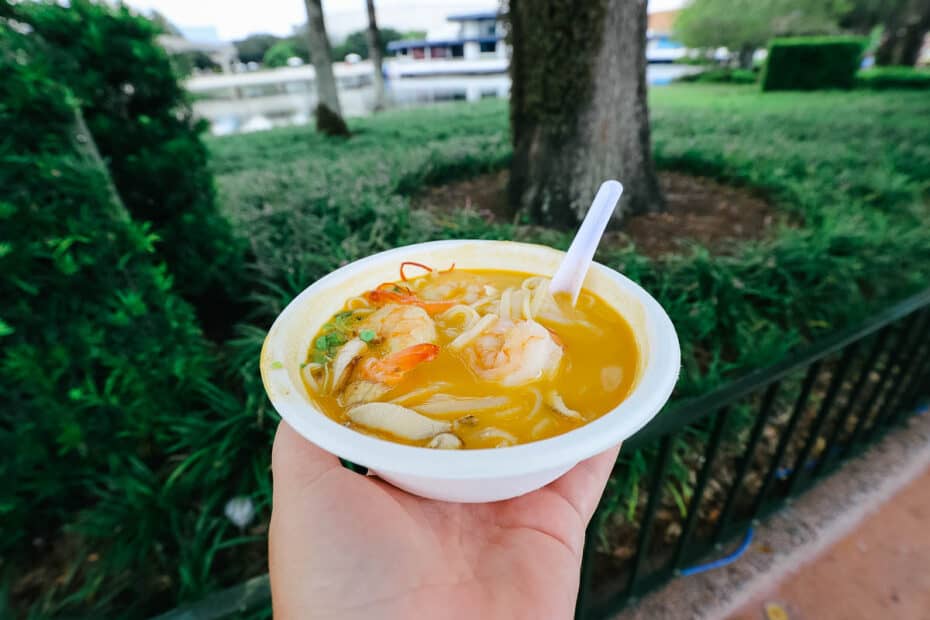 Both of the dishes I received were terrible. Ugh, I never thought I'd have such a bad experience when I purchased these dishes.
I planned to purchase two for lunch and then return to try the other two menu items later in the day. But unfortunately, these broths were so unfavorable that I didn't return to try anything else.
Because of the color of the broth, you can see what a mess it made. I appreciate large portions as much as anyone else, but when carrying them is inconvenient, there's a problem.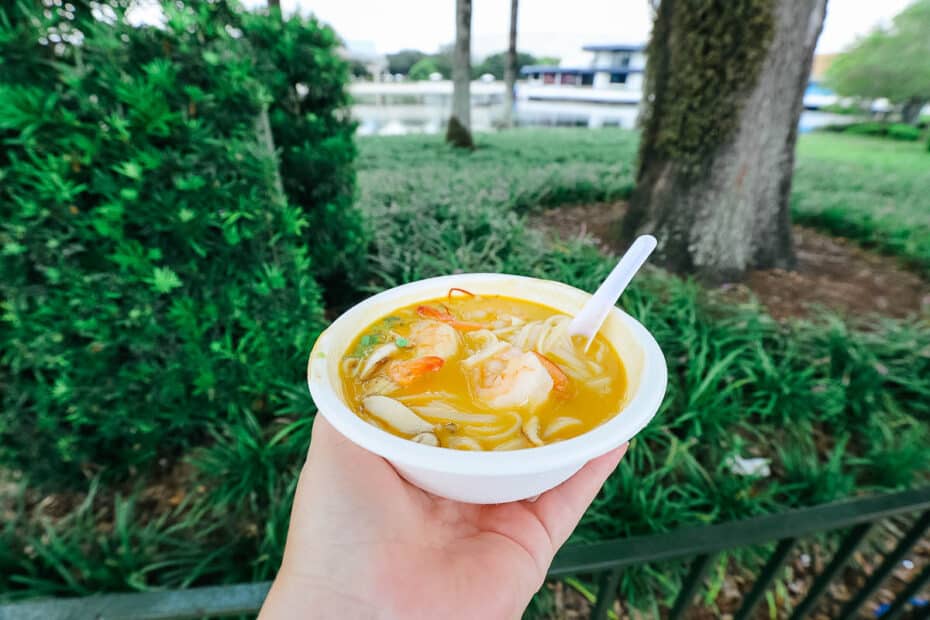 Additionally, both of the broth-based dishes I received were served lukewarm, at best.
When I arrived at the booth at approximately 12:30 p.m., no one else was in line. Immediately, I noticed that I was about to receive a dish that had been sitting out for who knows how long.
Thankfully, I was halfway about my senses and thought to grab a quick photo while I waited. Let's see. There's no one in line, and you have 25+ dishes prepared that I can count?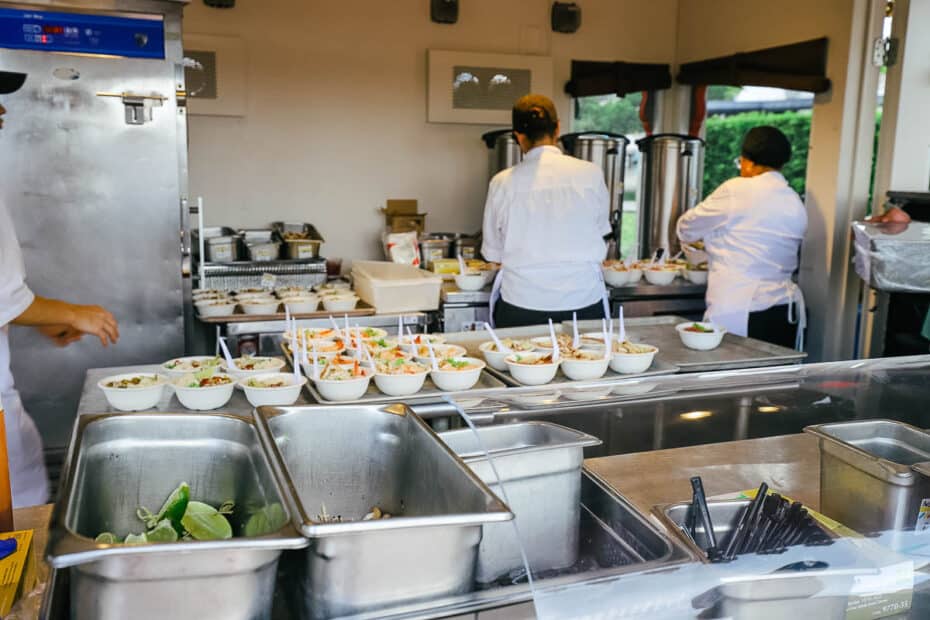 Sorry, Noodle Exchange, but this is not a good look. So if you approach this booth, and there's no line, I would walk up to the window and survey the state of things before ordering.
Anyway, the curry came with three large shrimp. They were a bit rubbery but tasted fine. Everything else with this dish was bland.
My broth didn't resemble curry in any way, shape, or form. If there was coconut milk in it, you could have fooled me.
It felt like I was slurping up mildly flavored water with bland ingredients. But, at least, there wasn't any of that set-you-on-fire heat involved.
Ultimately, the Noodle Exchange turned out to be a huge disappointment. If you decide to stop here, ensure you receive something freshly prepared. And I hope you'll fare better than I did.
Coming up, we're wrapping up a few more booths at Food and Wine:
Additionally, we have already covered these booths:
In case you missed it, we have an overview of the best desserts at Epcot's Food and Wine Festival.
In the comments
Will you try the Noodle Exchange? What are your thoughts on this booth? If you've tried it before and had a better experience, what did you think?