Soarin' Around the World Review
Soarin' Around the World is an Epcot attraction that offers a simulated experience similar to hang gliding. This attraction is one of the most popular experiences at Epcot.
This review will discuss height requirements, best times to ride Soarin, and other need-to-know information.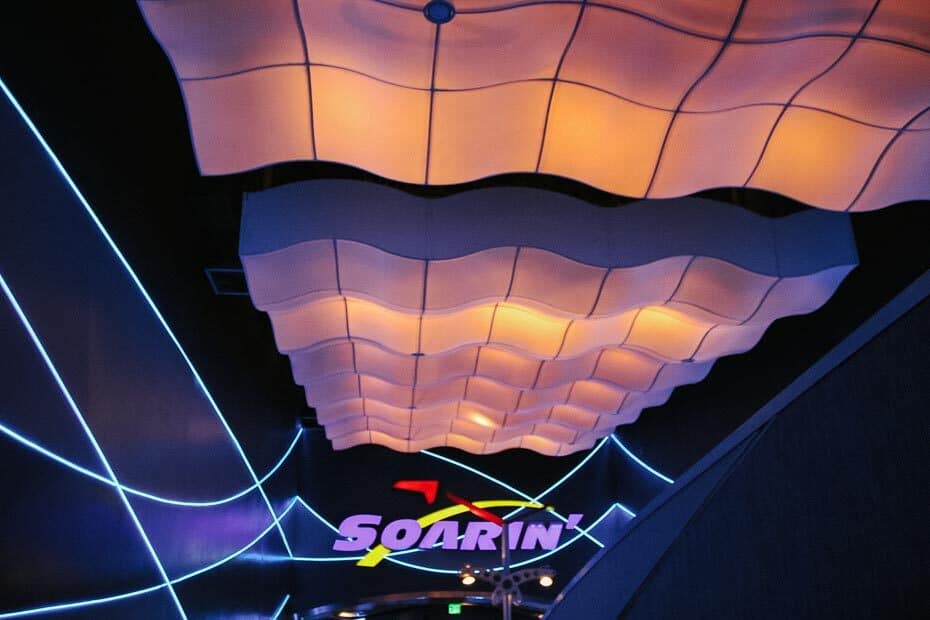 Here's a quick reference chart for Soarin' Around the World.
Soarin' Around the World
Epcot Attractions

Location:

The Land Pavilion

Height Requirement at Disney :

40″

Genite+ Eligible

Yes

Ride Type:

Screen-Based Attraction designed
to mimic hang-gliding.

Seats Per Vehicle:

Average of 10 per row

Rider Switch at Disney:

Yes

Good For:

Anyone without a fear of heights.

Scare Factor:

Low, unless you have a fear of heights.

Must-Do List:

High

Perfect For:

Children, Tweens, Teens, and Adults

Special Mention:

Make sure to store your belongings
underneath your seat before sitting down.
Soarin' Around the World
Soarin' Around the World opened to guests back in June of 2016 in Epcot's Land Pavilion. It replaced the original ride experience that opened in 2005, Soarin' Over California.
The newer version of this attraction offers the opportunity to "soar" over various famous landmarks worldwide. The landmarks you'll see represented in Soarin' are as follows:
Swiss Alps
Polar Bears in icy Greenland
Sydney Harbor in Australia
Neuschwanstein Castle in Bavaria, Germany
Kilimanjaro National Park in Tanzania
The Great Wall of China
Great Pyramids of Egypt
Taj Mahal in India
Monument Valley
Fiji's Lau Islands
Iguazu Falls in South America
Eiffel Tower at night in Paris
Epcot with a bit of a surprise!
When riding Soarin', it's essential to keep a few key factors in mind. For starters, it's a popular attraction. Lines for this attraction begin to form immediately after the park opens. Additionally, those lines will continue to build throughout the day.
Unfortunately, FastPass+ is no longer available. However, Soarin' is eligible for Genie+ if you've purchased the upgrade.
Lines for Soarin' tend to slow down into the evening, especially after Living with the Land closes. If you want to ride this with the shortest standby wait possible, ride first thing in the morning or later in the evening.
The idea of Soarin' is to mimic a hang gliding experience over destinations throughout the world. However, in all actuality, you are sitting in a normal position in a row of chairs that lifts off the ground.
There are several different sets of chairs per theater, each offering three different rows. These groupings of seats are positioned toward the screen on either center, left, or right-hand sides. The rows are arranged as rows one, two, or three.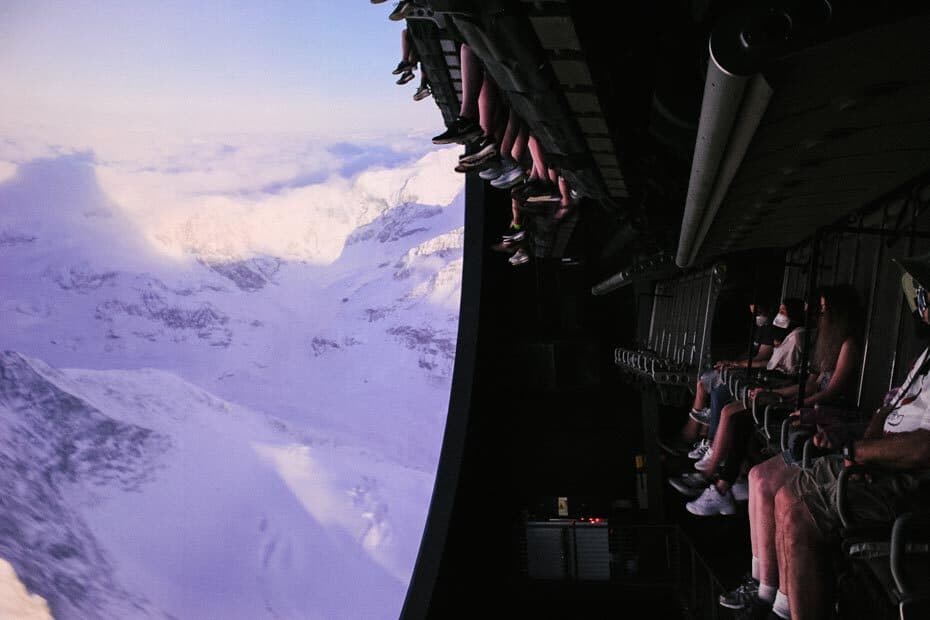 For the most optimal experience, you could request that the cast member seat your group on row one. However, you might be asked to stand to the side and have to wait for an extra turn to get this position.
Personally, I don't feel like it's worth the trouble, but you will probably see someone asking, and you can as well if desired.
The only real difference is row one goes the highest, so you can't see anyone's feet dangling from above you, where you can on rows two and three.
Those with a fear of heights might have issues with the idea of flying over these locations. The third row is the closest to the ground. But if you have an intense fear of heights, it might be better to skip this attraction.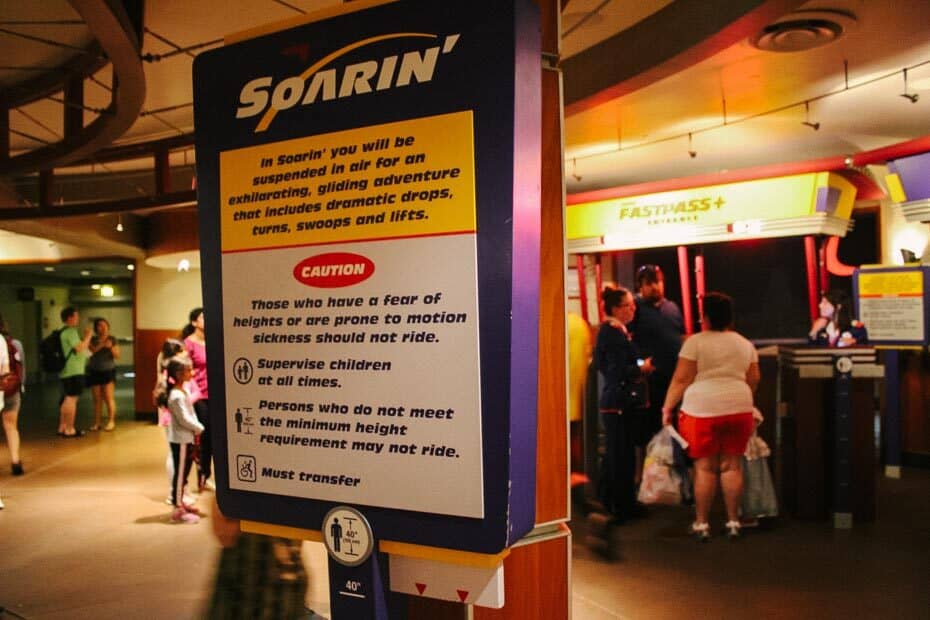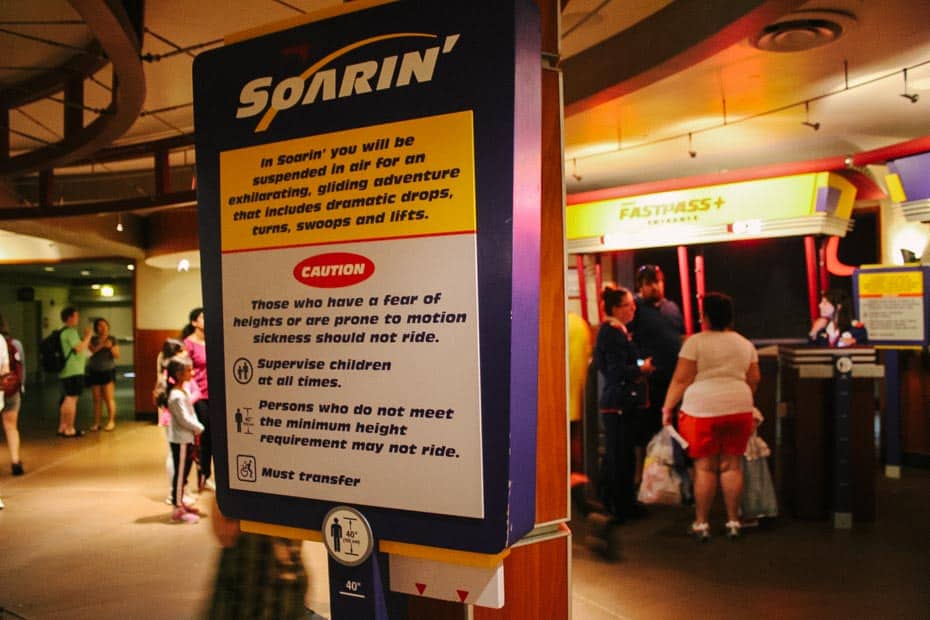 The most common issue I have seen over the years riding Soarin' is fear of the unknown from children. Most will wait in line for this attraction a decent amount of time. Meanwhile, anticipation builds, especially for children who are unsure of what they are riding.
Once they enter the theater, it's pretty dark, and the seating arrangement might appear a bit intimidating. I have seen numerous children get to the ride and bail before being seated.
There's nothing scary about Soarin' at all, but children often try to be brave until their fear eventually wins out. I also know as a parent, it's easy to forget these things. And I think most of you probably visit Disney World to have fun with your kids.
As more of an observer in the parks the past few years, I look back and know there are many things I wish I had done differently. Now I can see why and remember the times (cringe-fully) that I pushed a little harder than I should have.
Lastly, Soarin's screen is an 80-foot IMAX screen. So if these types of movies bother you, you might want to reconsider.
If you would like to check out other attraction reviews at Epcot, you might enjoy these:
While we cover a good deal of information on the site, Resorts Gal specializes in providing detailed information about the Walt Disney World Resorts. Browse our Disney World Resort Reviews to begin planning your next Disney vacation.
You might enjoy staying at one of the following Skyliner Resorts near Epcot:
And don't miss out on our complete list of Disney restaurant reviews. They include character dining, signature dining, table service, and quick service.
Leave a comment and let me know your thoughts about Soarin'. Is this a must-do for your group?