Spaceship Earth is the most iconic attraction at Epcot. This significant spaceship attraction has often been referred to as a massive golf ball from a distance. It's also the primary focal point of Epcot from nearly all areas of the park.
This classic original offers the opportunity to journey through history and take a look at how communication has evolved over the span of time.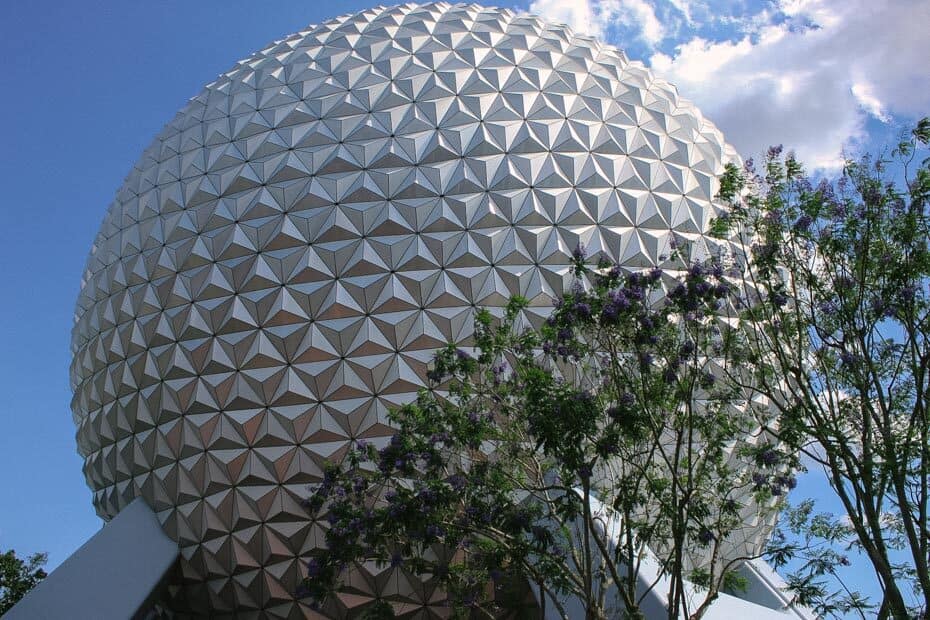 Below are a few basic details for experiencing this ride on your next vacation.
| | |
| --- | --- |
| Spaceship Earth | Epcot Attractions |
| Location: | Park Entrance at Epcot |
| Disney Height Requirement: | Any Height |
| Disney Genie+ Eligible | Yes |
| Ride Type: | Slow-Moving, Omnimover |
| Seats Per Vehicle: | Two |
| Rider Switch Disney World: | None |
| Good For: | Time Travel |
| Scare Factor: | None |
| Must-Do List: | High |
| Perfect For: | All Ages |
| Special Mention: | Check out the 50th Beacon of Light projections at night. |
Spaceship Earth
I doubt that many people visit Epcot and do not end up riding Spaceship Earth at least once on their visit. This attraction is the first thing you'll encounter when entering the park through the main entrance. So, naturally, making it the last when you are on your way out.
Spaceship Earth was previously scheduled to close for a lengthy refurbishment a few years back. The attraction was expected to remain closed for an extended time during the refurbishment. At this time, the refurbishment has been indefinitely postponed.
The attraction formerly offered FastPass+. Now it's eligible for Disney Genie+ if you purchase the upgrade.
Spaceship Earth is a slow-moving, Omni-mover attraction. That means the ride rarely stops. You'll step onto a moving platform to load and unload.
The loading area is not a concern for most because the platform is extremely slow-moving. However, at times the attraction does stop to accommodate those with accessibility issues.
Judi Dench narrates the current rendition of Spaceship Earth. The attraction features travel through time from the dawn of man with a few stops along the way to see scenes from an ancient civilization, the Renaissance Period, the invention of computers, and many more.
There's even one scene that shows Jesse Owens winning an Olympic medal. It's one of my favorites because he grew up right down the street from my family's home in Alabama. I'm sure everyone has something featured in Spaceship Earth that they can relate to well. I guess those sentiments are what make an attraction like this so special.
It might also have a little to do with the fact that the word "home" resonates with so many when they see Spaceship Earth in the distance. There are probably no questions about whether Epcot's my favorite park or not.
You also might enjoy some of these other Epcot attraction reviews:
While we cover a good deal of information on the site, Resorts Gal specializes in providing detailed information about the Walt Disney World Resorts.
Browse our Disney World Resort Reviews to begin planning your next Disney vacation. The following Skyliner Resorts have been quite popular as of late:
So what do you think about Spaceship Earth? Is this a must-do every time you visit the park? Or do you prefer to enjoy it from a distance?