Spaceship Earth is an attraction at Epcot. This attraction allows guests to travel back to the "dawn of man" and see how the story of human communication has evolved.
In addition, Spaceship Earth serves as the park's signature symbol. Guests can see the magnificent sphere-shaped structure from most locations within the park.
Often there's a little humor tied to speculation about the ride. Don't be surprised if you overhear any of the following in the park:
No, it's not a giant golf ball. Yes, there is a ride inside of it. No, it's not Space Mountain.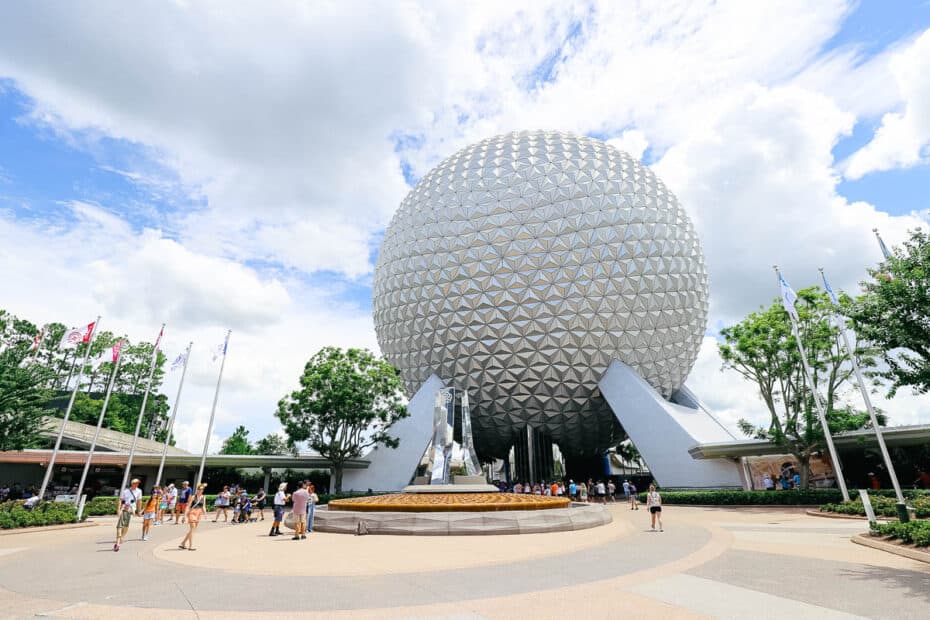 This article was updated on December 30, 2022.
Below are a few quick details for experiencing this attraction on your next vacation.
| | |
| --- | --- |
| Spaceship Earth | Epcot Attractions |
| Location: | World Celebration (Park Entrance) |
| Disney Height Requirement: | Any Height |
| Disney Genie+ Eligible | Yes |
| Ride Type: | Slow-Moving, Omnimover |
| Seats Per Vehicle: | Two per row. Two rows per vehicle. |
| Rider Switch Disney World: | None |
| Duration: | approx 16 minutes |
| Good For: | Anyone |
| Scare Factor: | None |
| Must-Do List: | High |
| Perfect For: | All Ages |
| Special Mention: | A special light show is projected onto the exterior of Spaceship Earth each evening. |
Spaceship Earth
For many, Spaceship Earth is a must-do attraction during their visit to Epcot. When arriving at the park's main entrance, this attraction is the first thing you'll encounter, making it the last thing you see on the way out.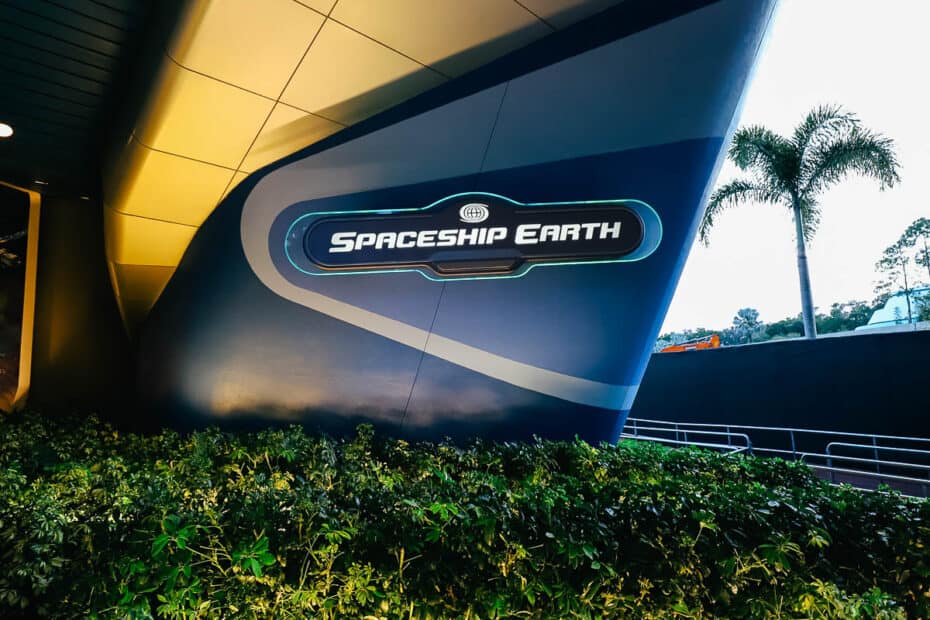 As you walk underneath Spaceship Earth, you'll see an exterior queue. One side of the queue is for standby, while the other is for Lightning Lane.
From late morning until early evening, Spaceship Earth can have significant wait times. However, after 7:00 p.m., waits are usually non-existent.
So if you would like to experience this attraction midday, it might be worth using Lightning Lane. But as it gets later, you probably won't need one. Of course, there are always exceptions, like visiting during the holidays.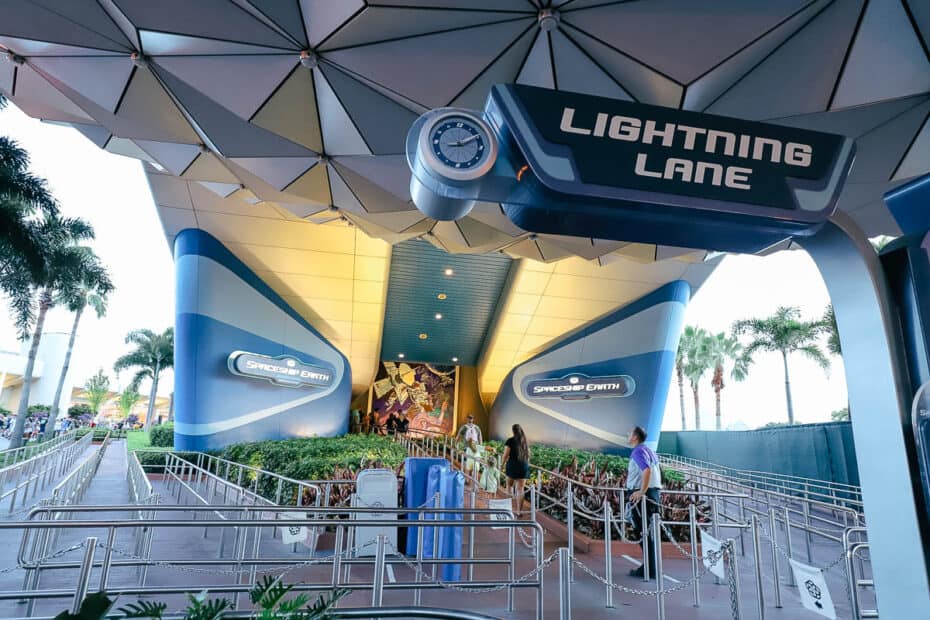 Spaceship Earth is a slow, Omni-mover attraction. You'll step onto a moving platform to load and unload. (However, this attraction does stop to accommodate guests with accessibility issues.)
Judi Dench, an Academy-winning actress, narrates the current rendition of Spaceship Earth. In addition, Emmy-winning Bruce Broughton composed the background music.
Interestingly, the score features musical styles and instruments from each respective's scene's era. Listen closely as the scenes transition throughout the ride.
As you travel through time, you'll see various notable times throughout the history of man. These scenes date back to ancient civilization, including a stop in burning Rome, the Renaissance Period, and Steve Jobs's garage, where the first consumer computer was invented.
Fans of the attraction often have a favorite scene. For example, we love the film reel with Jesse Owens winning an Olympic medal. This scene hits close to home, as he grew up down the street from our childhood home.
Most of the scenes throughout the ride feature audio-animatronics. Overall, your total travel through time will last approximately 16 minutes.
Toward the end of the attraction, there's an interactive display on the screen in front of you. Guests can select their desired answers on how they hope their future will play out.
Before exiting, a short video shows how your future will look according to the answers you provided. It includes a photo of you taken when you ascended to the top of the attraction.
So not only do you travel back in time, you get to look ahead to the future, "your future."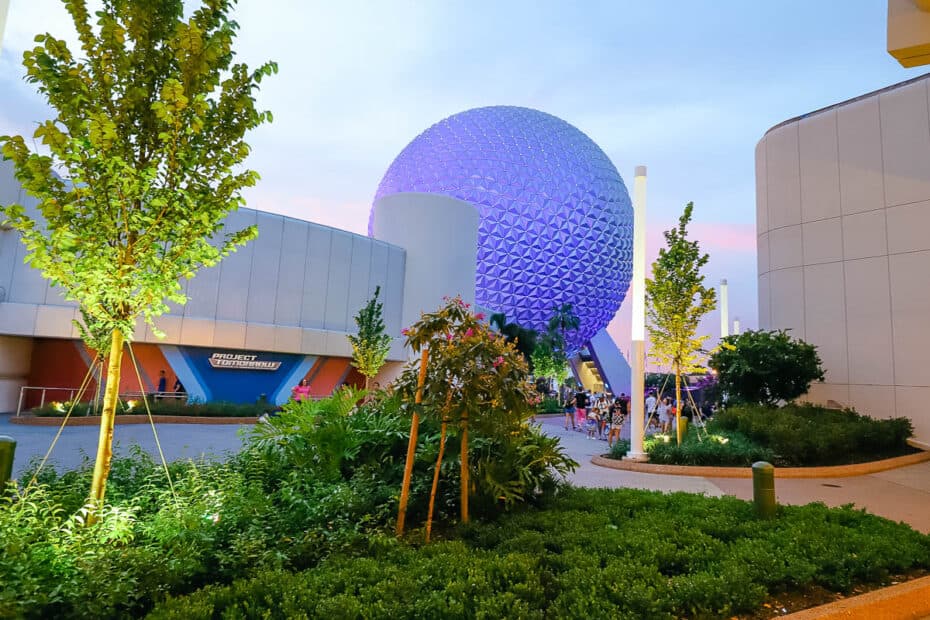 Overall, Spaceship Earth is a classic attraction. It's also the perfect place to end up during the heat of the day or in the event of an afternoon rain shower.
When you exit the attraction, there's a large room with interactive games. This area provides an excellent (air-conditioned) place for children and adults to play.
Oh, and don't forget to look up. You might see your cropped photo displayed on the big screen overhead. Don't worry; it's only momentarily.
Light Projections on Spaceship Earth
Not only is Spaceship Earth an attraction on the inside, but it's also become a form of entertainment on the outside. Each night, the geometric sphere begins to glow as the day turns to dusk.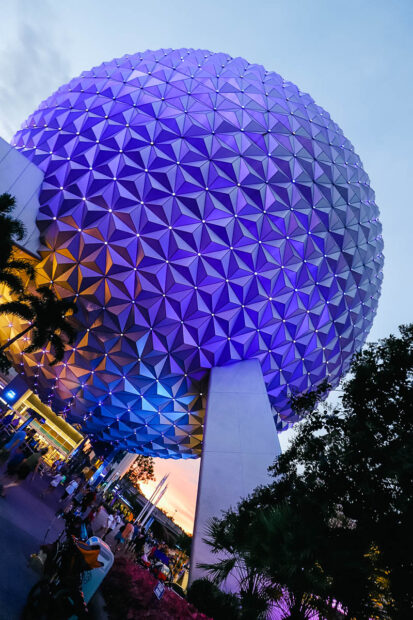 However, in recent years a special lighting package was added. Now the attraction can change colors where the points of light are installed.
After dark, guests can gather in front of Spaceship Earth to see one of these light shows. At the time of this update, guests might have the opportunity to see the special light show that debuted for Epcot's 40th anniversary.
Hopefully, it will remain throughout the 40th anniversary, which runs through October 2023. We've also seen special light shows that reference each Epcot festival throughout the year.
These light shows run nightly, approximately every 10-15 minutes. So if you're in the area, you can wait until the next one begins.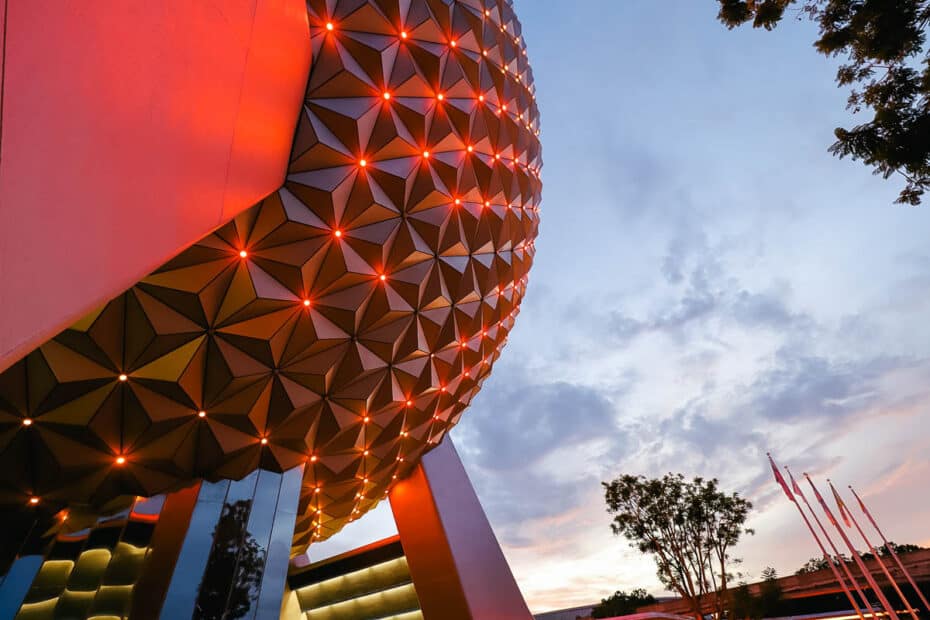 Video of Epcot 40 Projection on Spaceship Earth
For more details, we have an entire list of the rides at Epcot. You might also enjoy some of these individual articles:
Are you planning a trip to Walt Disney World? If so, you might enjoy browsing our list of Walt Disney World Resorts.
Or, if you haven't decided where to stay, try our Disney World Resort Reviews. That article provides an overview of every resort at Disney.
Some of our favorites include the resorts on the Skyliner. Since the Skyliner opened, these resort reviews have been popular.
In the Comments
So what do you think about Spaceship Earth? Is this attraction a must-do every time you visit the park? Or do you prefer to enjoy it from a distance?