Swanky Saucy Swine Review at Epcot Food and Wine (2022)
A name like Swanky Saucy Swine evokes the idea of rich, heavy pork with a twist. Unfortunately, it also sounds messy, so I avoided this Epcot International Food and Wine booth for days.
But a week into the festival, I finally circled back around. In passing, I had seen more orders of pork rinds and pimento dip than I had any other dish at the festival.
So I knew this would be a popular spot, and thankfully everything was easy to eat. And there wasn't any actual sauce involved. Don't worry, though. The ribs were still finger-licking good. (You know what I mean.)
Let's look closer at what you can expect.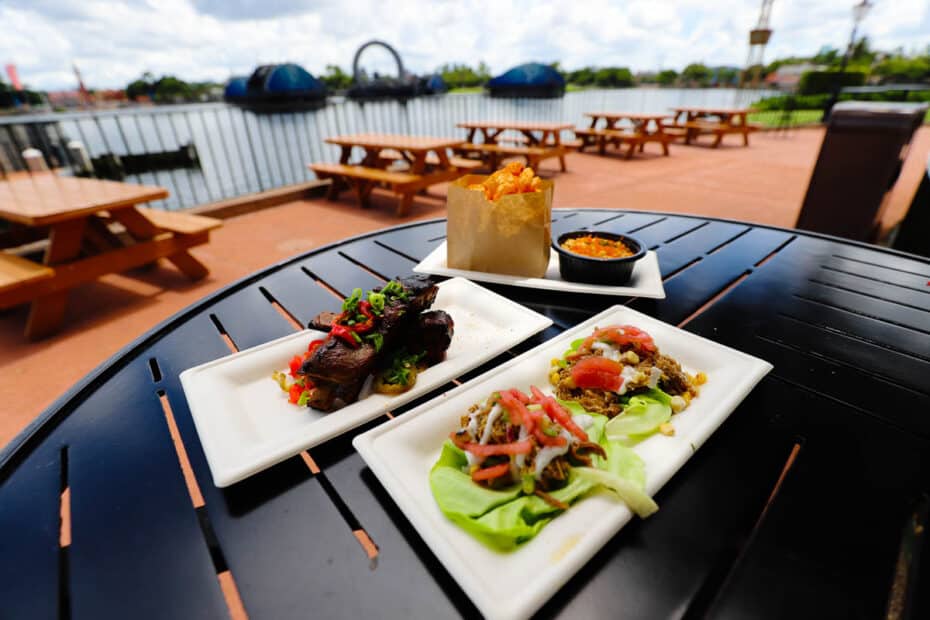 Swanky Saucy Swine Menu Items
Below is the list of menu items with prices for Swanky Saucy Swine.
Crispy Barbecued Pork Rinds ($4.75)
Soy-glazed Sticky Ribs ($7.00)
Grilled Pork Shoulder Lettuce Wrap ($5.25)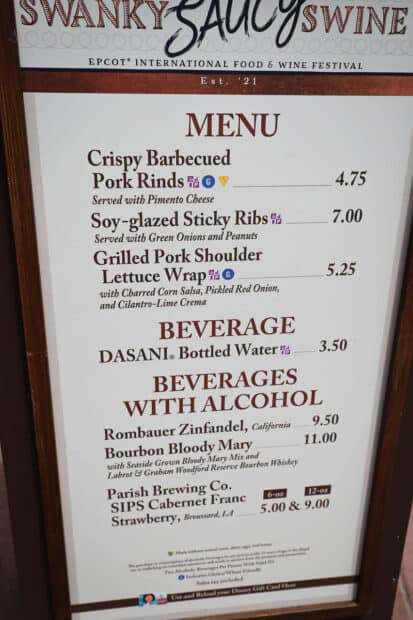 Beverages:
Rombauer Zinfandel ($9.50)
Bourbon Bloody Mary ($11.00)
Parish Brewing Co. SIPS Cabernet Franc Strawberry ($5.00 or $9.00)
Swanky Saucy Swine is located along the World Showcase Promenade across the walkway from the Disney Traders gift shop. Otherwise, it's on the left before you get to Mexico when entering the World Showcase.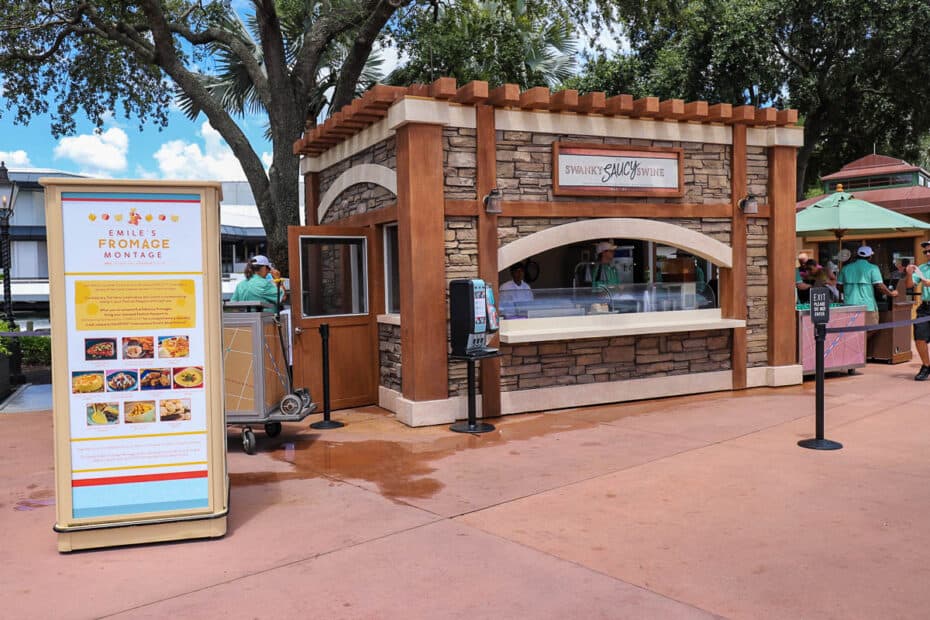 Crispy Barbecued Pork Rinds ($4.75)
We'll start with the infamous Crispy Barbecued Pork Rinds. This item comes with an order of pork rinds in the cutest mini paper bag.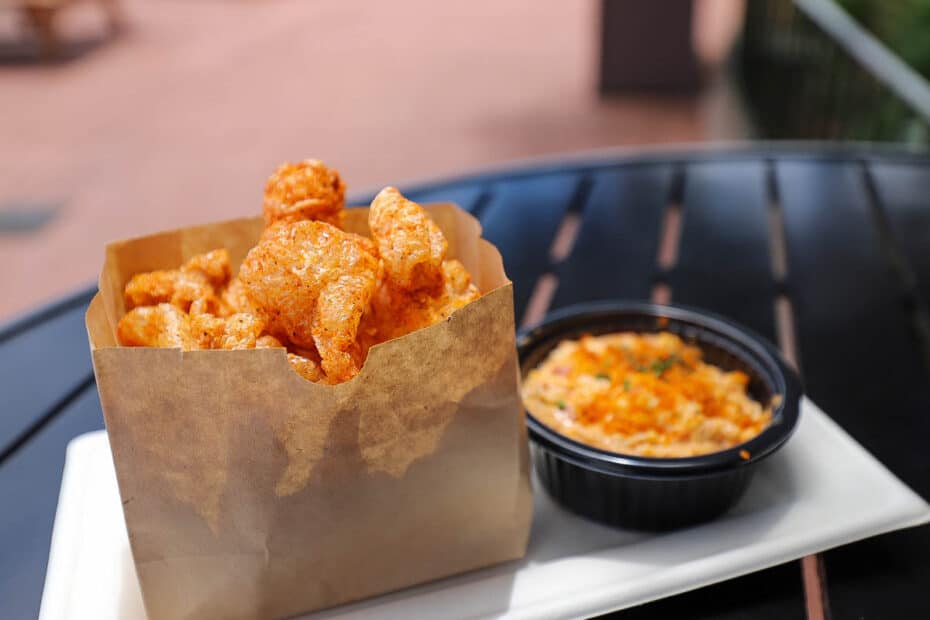 This was an impressive order of pork rinds considering the price and that they are freshly made. While they have a bit of a kick, I didn't notice anything other than a mild aftertaste. However, you will want a beverage to go along with them.
Under normal circumstances, I'm not a huge fan of pimento dip. But this was a yummy, cheesy dip. The flavors all worked well together.
Grab a spoon for everyone in your party unless you like to double dip. I found it easier to spoon the hearty pimento cheese onto the pork rind.
At less than $5.00, this dish is a no-brainer.
Soy-glazed Sticky Ribs ($7.00)
As we continue our food adventure at the Swanky Saucy Swine, we have the soy-glazed sticky ribs. I don't know if it was just my order, but I was happy my ribs weren't drowned in sauce.
As someone who enjoys ribs maybe once or twice per year, I don't like the mess that is usually part of the process of eating them. These ribs were smoked to perfect tenderness. I was able to cut the meat right off the bone with a plastic knife and eat it with a fork.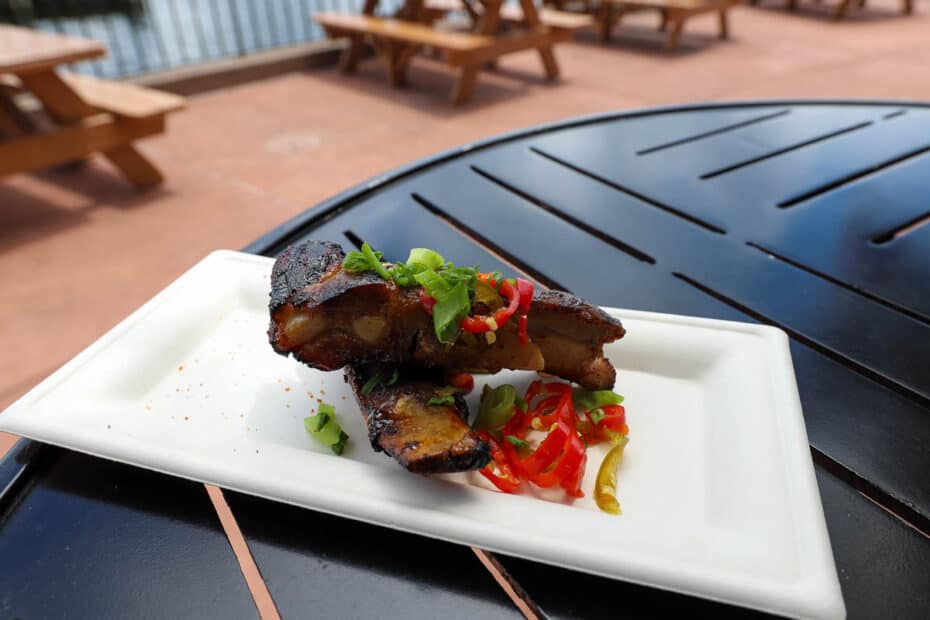 On first impression, I thought they would be fatty, but my portion was lean. All in all, I felt I got my money's worth, and I would happily go back for seconds in the future.
Grilled Pork Shoulder Lettuce Wrap ($5.25)
Next, we have the grilled pork shoulder lettuce wrap. This dish is described as "with charred corn salsa, pickled red onion, and cilantro-lime crema.
Although this dish contained pork, it felt light and refreshing. In addition, the lettuce wrap was of a good quality of lettuce.
And the pickled onions added just the proper bite of flavor. Lastly, I was grateful the cilantro flavor in the crema wasn't overpowering.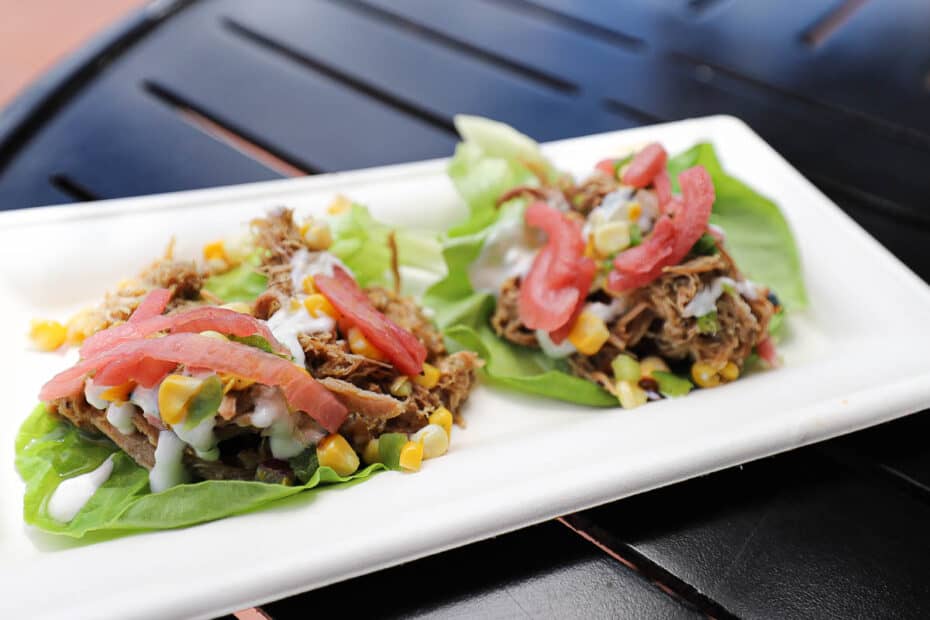 The lettuce wraps reminded me of the Orinoco Ida's Cachapas at Skipper Canteen. Only these at Food and Wine were much better.
Related: Skipper Canteen Review
My only issue with this dish is there are so many comparable items at the festival. For instance, the tostada de barbacoa at the Mexico Marketplace was similar. And the smoked corned beef (not great) at Flavors from Fire was close to the same idea.
Ultimately, Swanky Saucy Swine is a booth worthy of a stop. Try the ribs, and don't miss out on those pork rinds. And the wrap is perfect for anyone wanting a lighter portion that won't leave you feeling heavy.
As we continue our way around Epcot's Food and Wine, we'll stop in at these booths:
And here are a few recent stops:
What are your thoughts on the Swanky Saucy Swine? Will you stop in for an order of pork rinds?