A Stroll through the United Kingdom Pavilion at Epcot
In this article, we visit the United Kingdom Pavilion at Epcot. We'll discuss things to see and do while touring, along with dining options and shopping.
As we continue our tour of countries, we come across the Epcot United Kingdom Pavilion. While this particular pavilion doesn't offer a formal attraction, it's well-known for its shops, restaurants, and character meet-and-greets.
If you enter Epcot via the International Gateway, you'll find the pavilion immediately on the left. It's before you reach the Canada Pavilion as you make your way toward the front of the park.
So get out your best set of china and pour a cup of tea. We're off to Epcot to stroll through the United Kingdom's gardens and browse a few shops. We might even stop at a proper British pub along the way.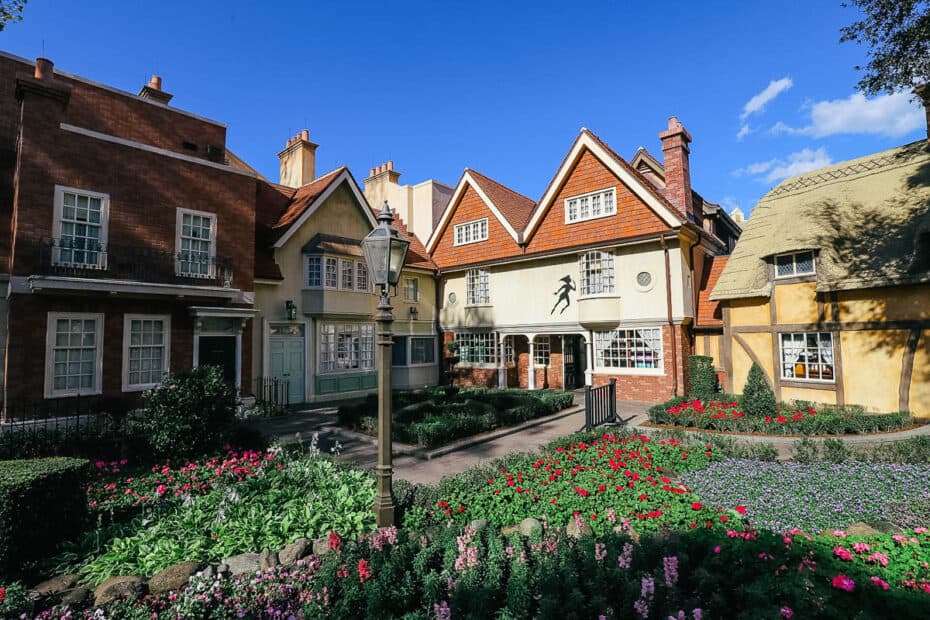 United Kingdom Pavilion
Below is a quick preview of the items in the United Kingdom Pavilion at Epcot.
Architectural Elements
Entertainment
Alice in Wonderland
Mary Poppins
Various Bands
Dining
Rose and Crown Dining Room
Rose and Crown Pub
Yorkshire County Fish Shop
UK Beer Cart
Shops
The Crown and Crest
Lords and Ladies
The Queen's Table
Sportsman's Shoppe
The Tea Caddy
The Toy Soldier
Kidcot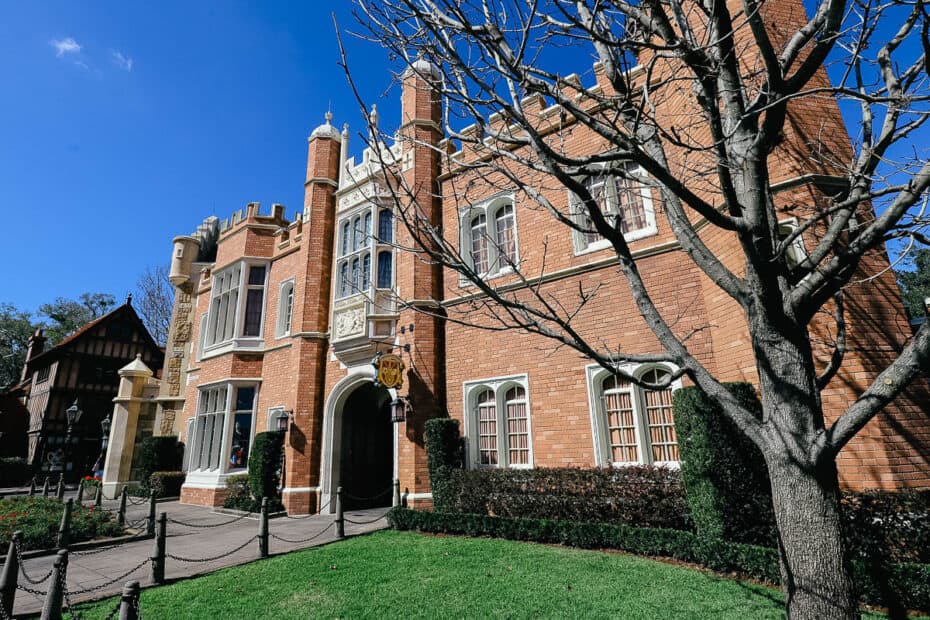 When you step into the United Kingdom Pavilion, you're greeted with cobblestone paths, charming tree-lined streets, and quaint buildings. Facades reference the following types of architecture: Victorian, Yorkshire Manor, London, Tudor, Regency, Georgian, and London. Additionally, there's a Shakespearean cottage.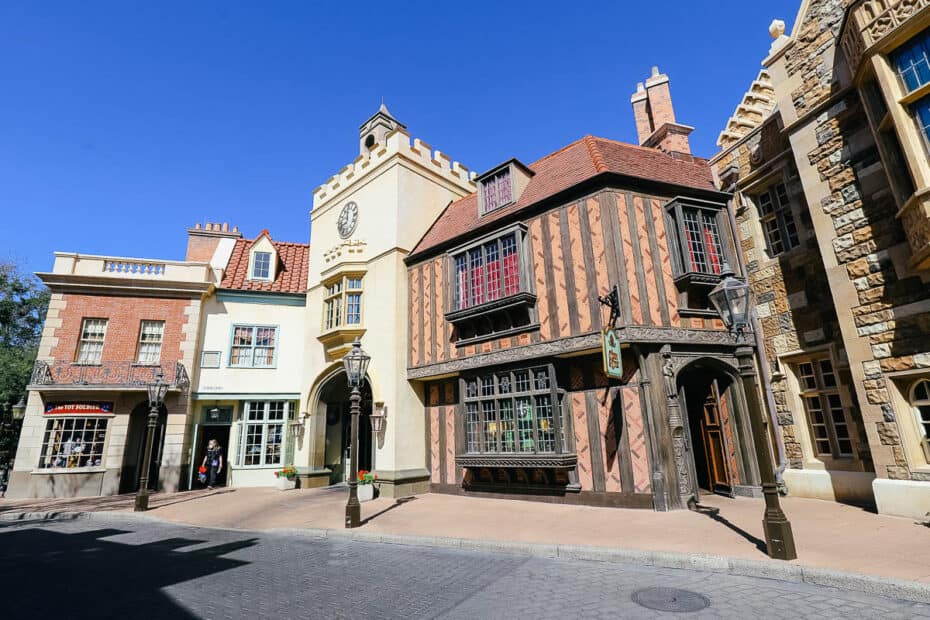 Toward the back of the pavilion, there's a small park representing Hyde Park.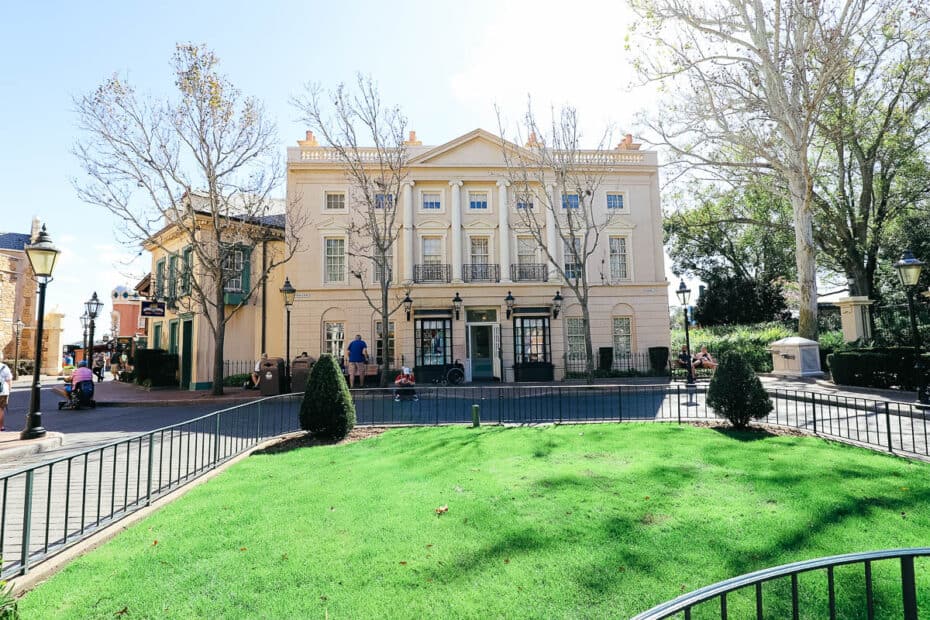 This is also where you'll find a hedge maze you can walk through, unlike the maze in the France Pavilion that's only for looks.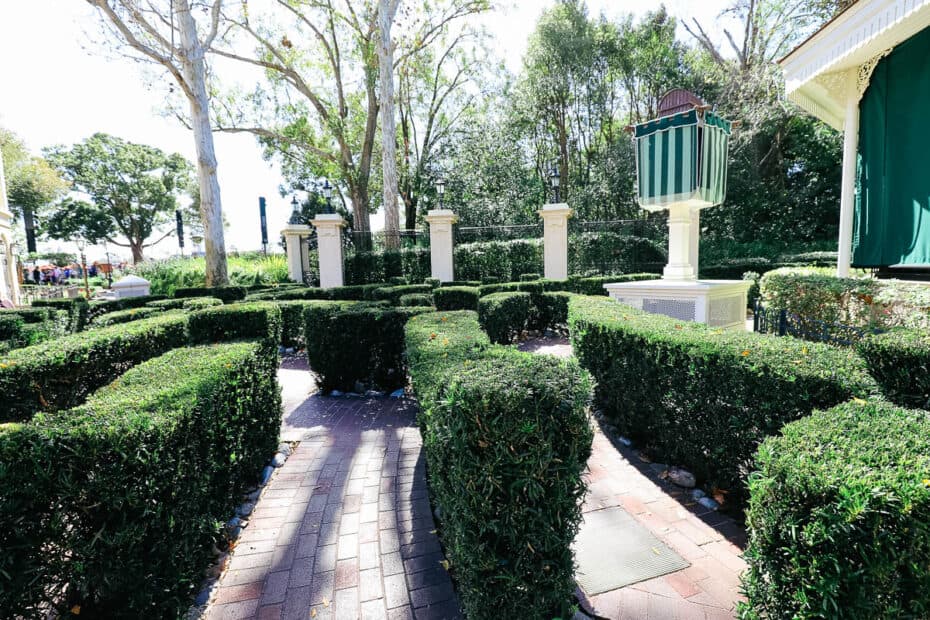 Some architectural details include castle-like facades with turrets surrounded by English gardens that are not only visibly appealing but fragrant. In fact, the entire pavilion is flanked by lush gardens that are meticulously maintained throughout the year.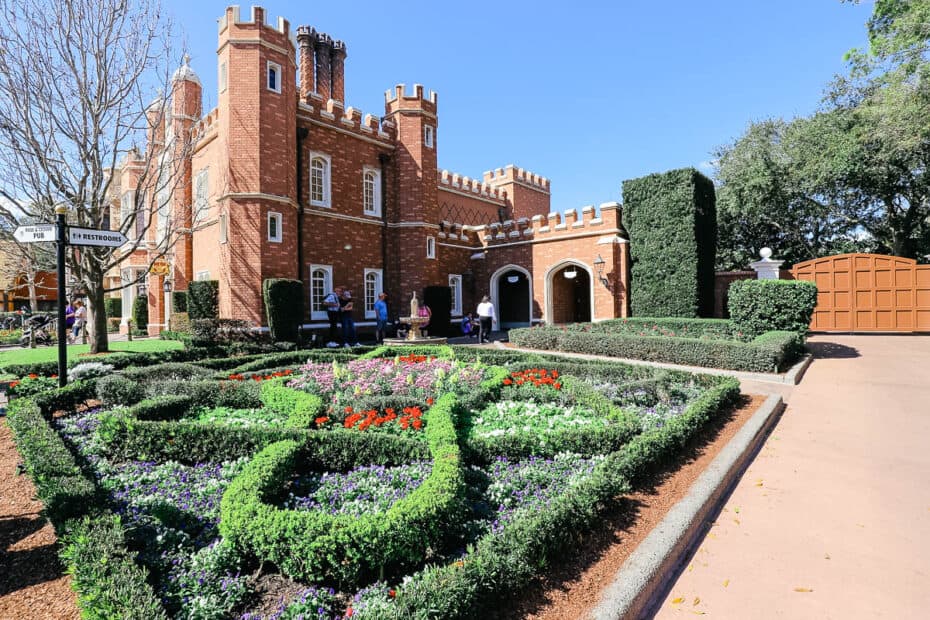 These red telephone booths make for excellent photo opportunities.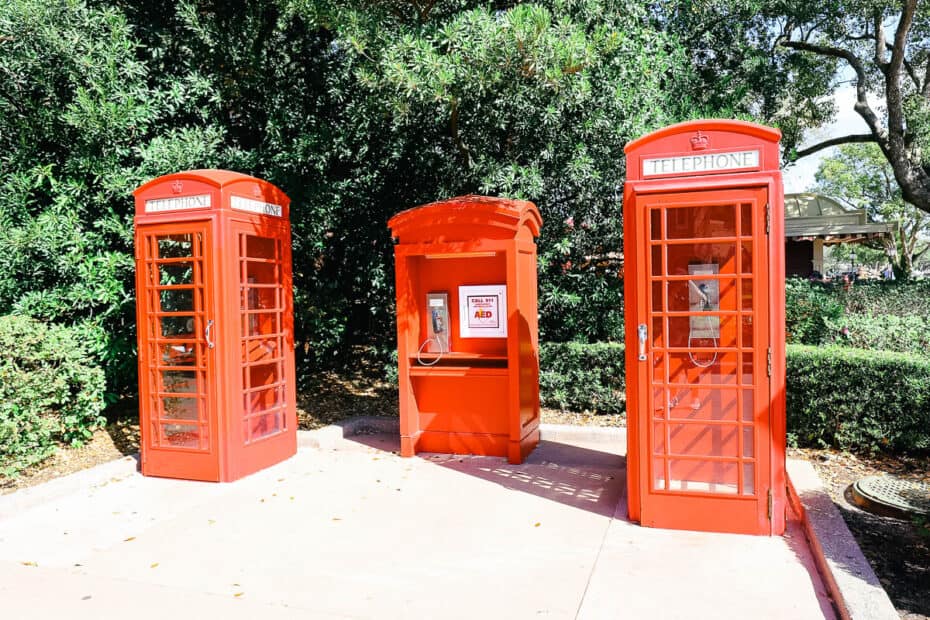 Entertainment in the United Kingdom Pavilion
As far as entertainment goes, the schedules vary. But a band usually plays in the gazebo on the weekends. You can check the My Disney Experience app on the day of your visit to see if anyone is making an appearance.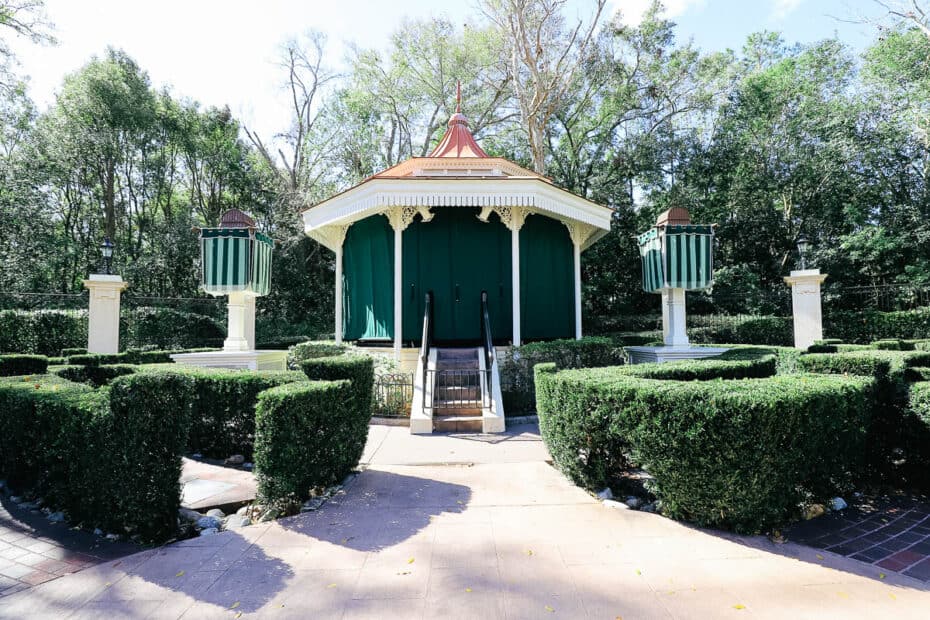 Meet Mary Poppins
At this time, the United Kingdom Pavilion is the only place to meet Mary Poppins in Disney World. She usually meets daily toward the front of the pavilion from late morning to mid-afternoon.
Related: Mary Poppins Meet-and-Greet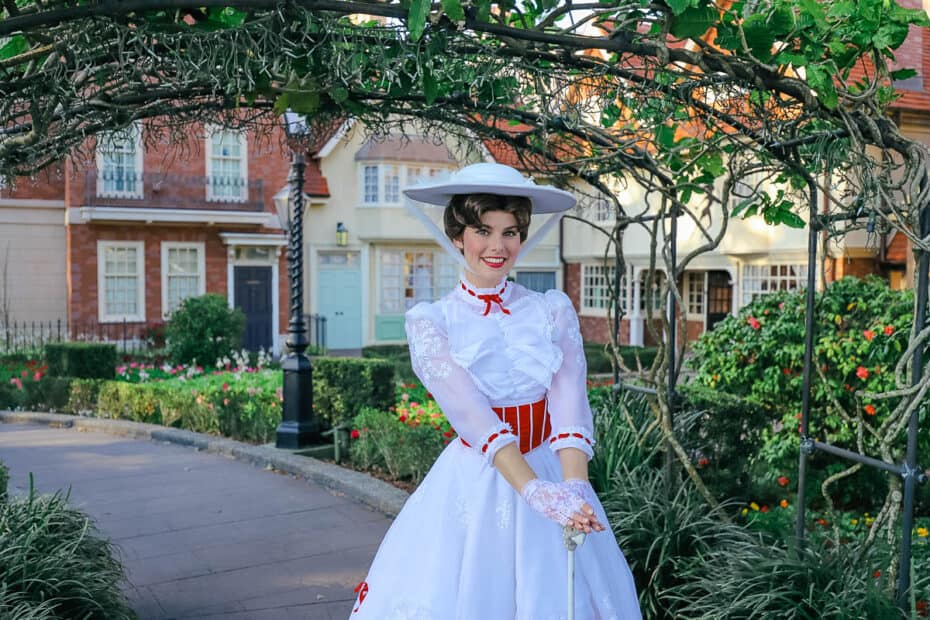 Meet Alice
Alice from Alice in Wonderland also has a character meet-and-greet in the pavilion. She, too, usually meets from morning to afternoon hours.
Related: Meet Alice at Epcot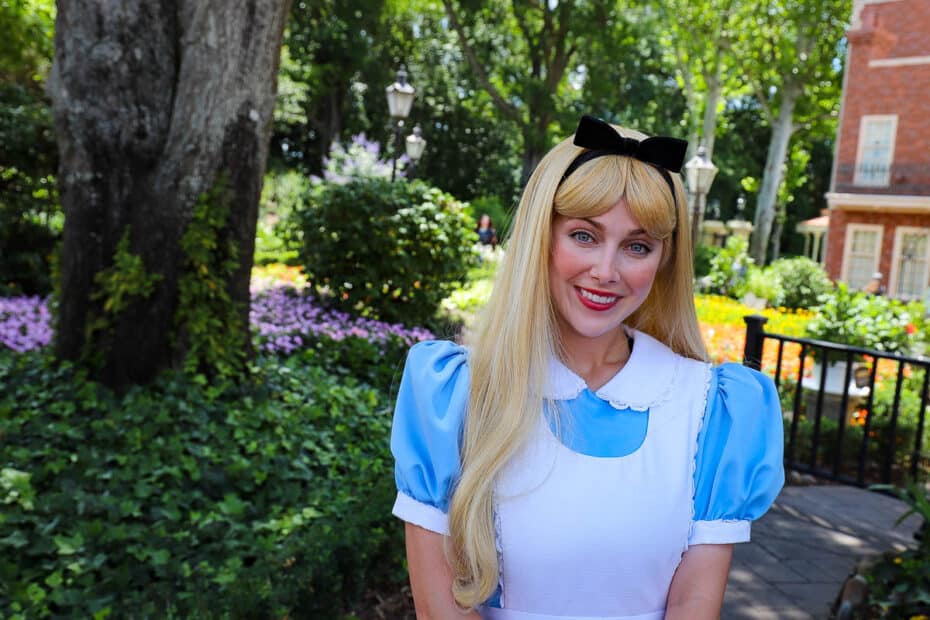 Formerly, Winnie the Pooh met in Christopher Robin's room in The Toy Soldier. However, he can usually be seen in the garden next to the Imagination Pavilion during the day.
With all character meets, make sure to check the My Disney Experience app on the day of your visit for the exact timing. There are days when a character might not make an appearance, or their times might be limited.
Dining in the United Kingdom Pavilion
One of the things the United Kingdom Pavilion is most known for is its dining options. From its popular pub-style restaurant to a counter service with only one item, you'll be lucky to snag a reservation or find a seat!
Rose and Crown Dining Room
Rose and Crown Dining Room is the only table service restaurant in the United Kingdom Pavilion. The restaurant serves traditional English fare like Shepard's Pie and Bangers with Mash. Rose and Crown has a pub that serves some of the items off the menu.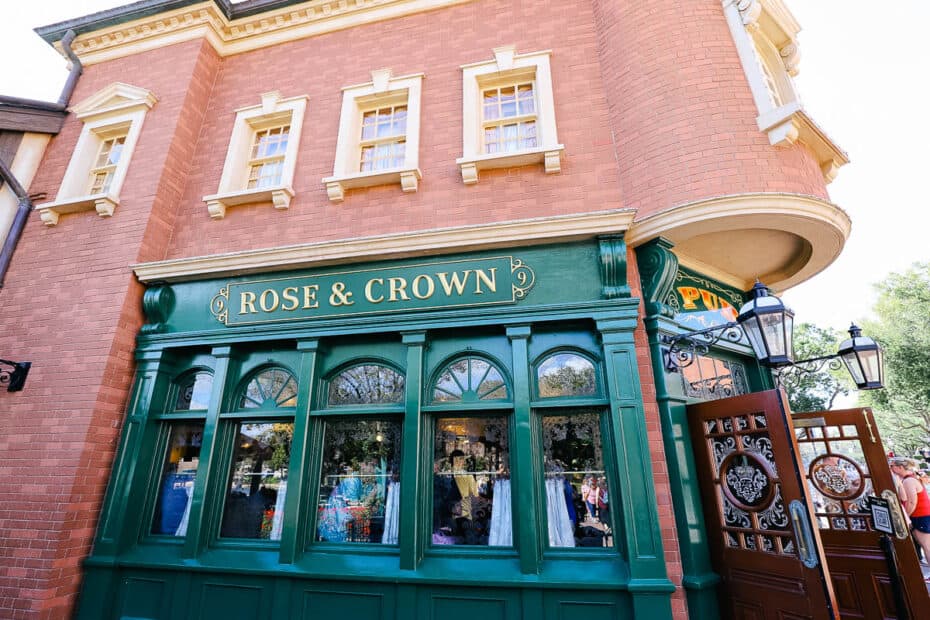 If you want to preview their menu, you can do that here on Disney's site.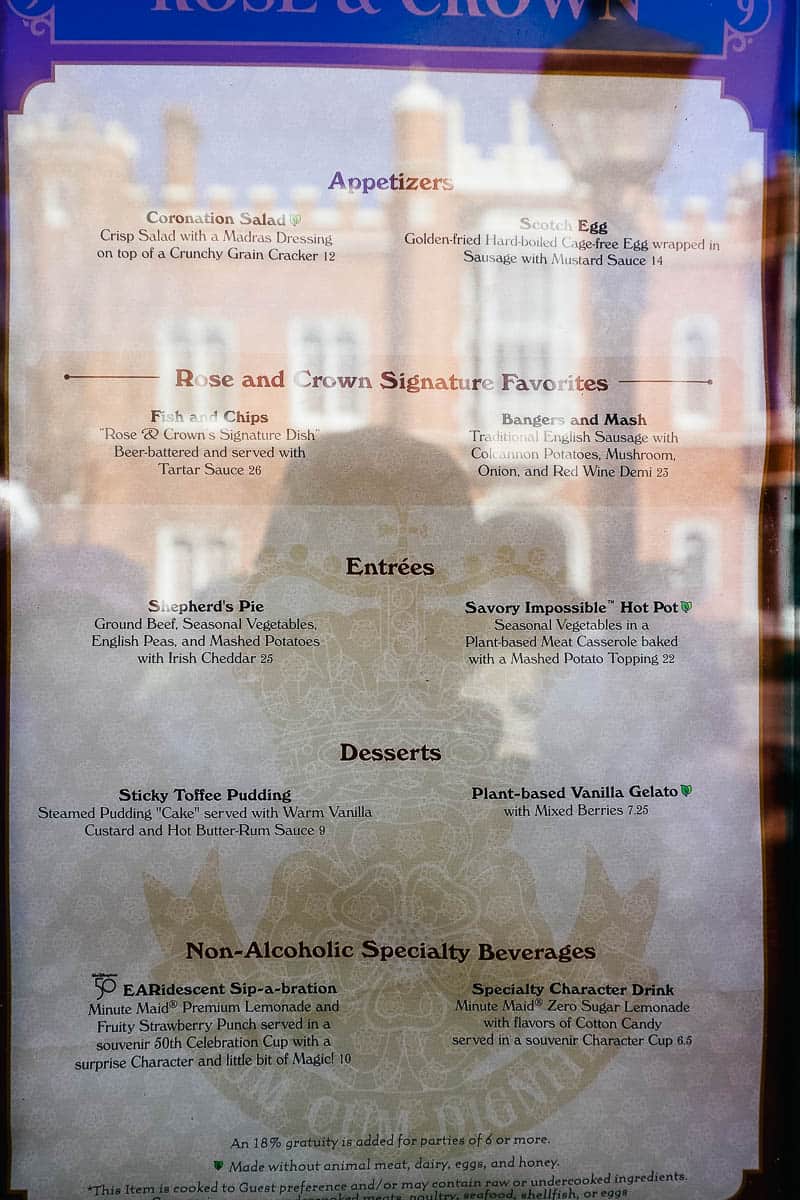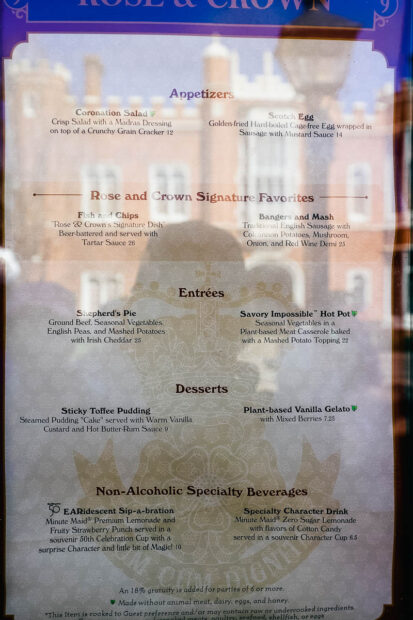 They have a substantial selection of Ales, Lagers, and Stouts.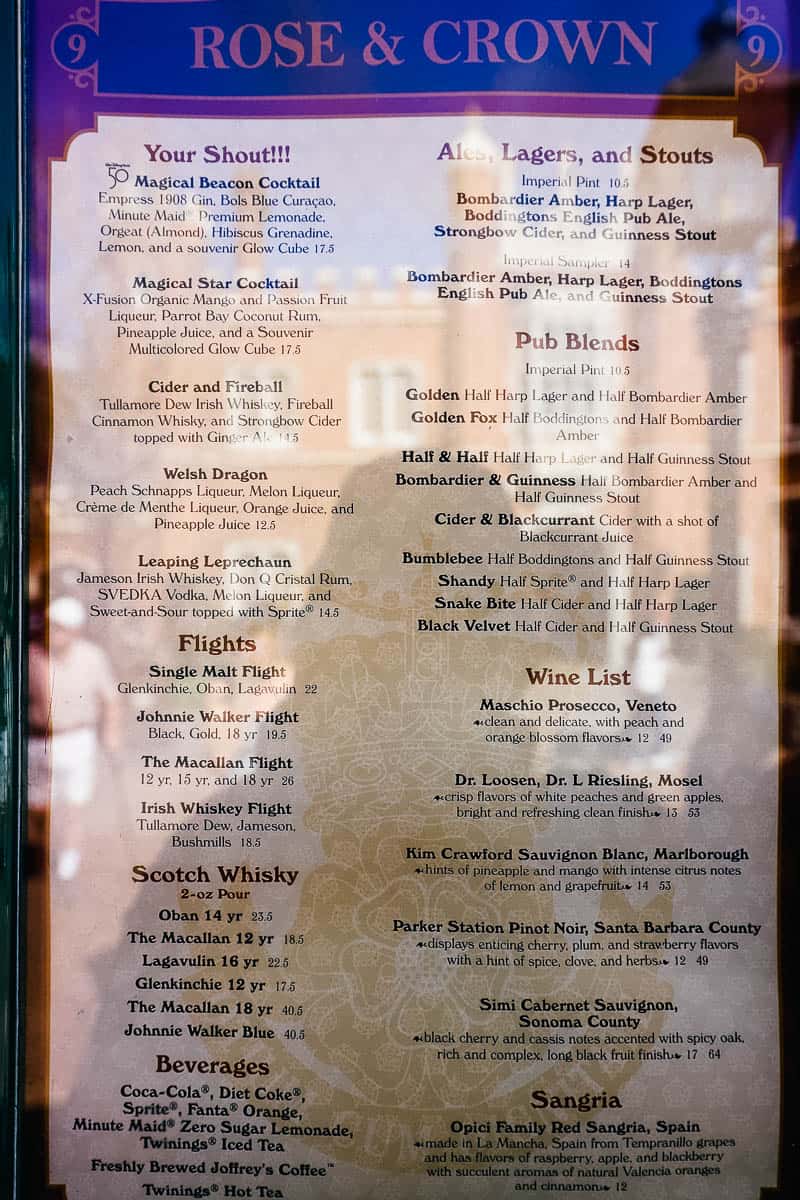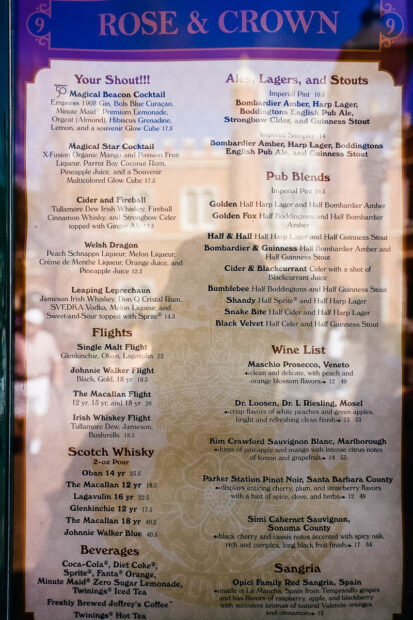 United Kingdom Beer Cart
In addition to the pub and the restaurant, Rose and Crown has a beer cart. They are currently offering the following:
Bombardier Amber Draft
Harp Lager Draft
Magners Pear Cider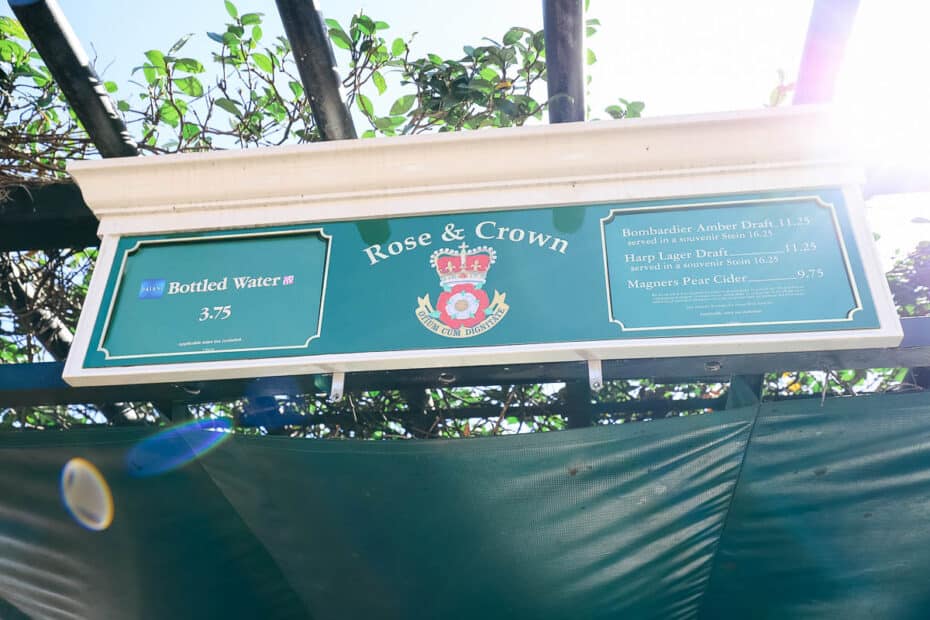 There is an option to upgrade to a souvenir cup.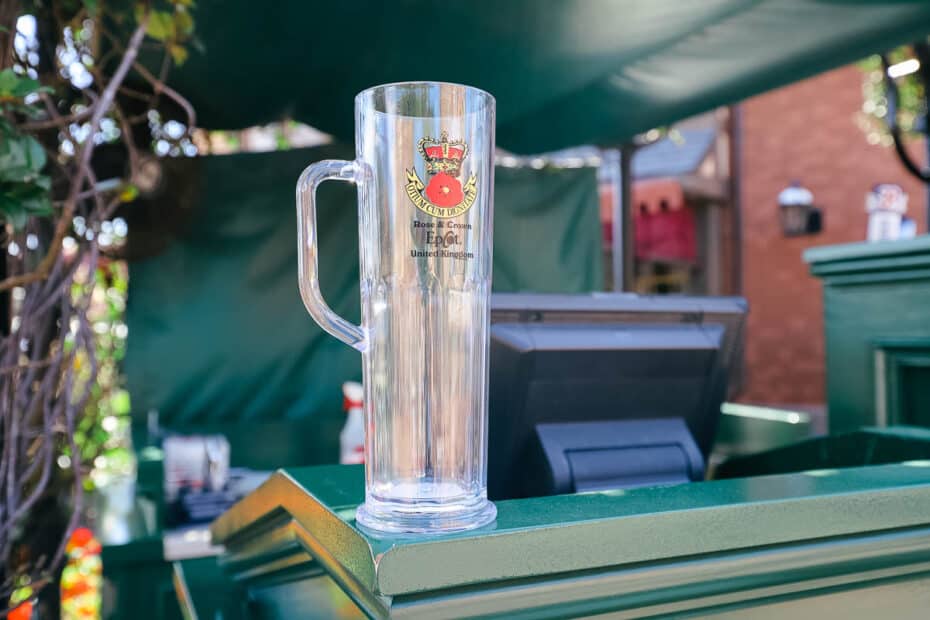 Yorkshire County Fish Shop
You'll have to get in line if you like fish and chips. There's nearly always a line at the Yorkshire County Fish Shop.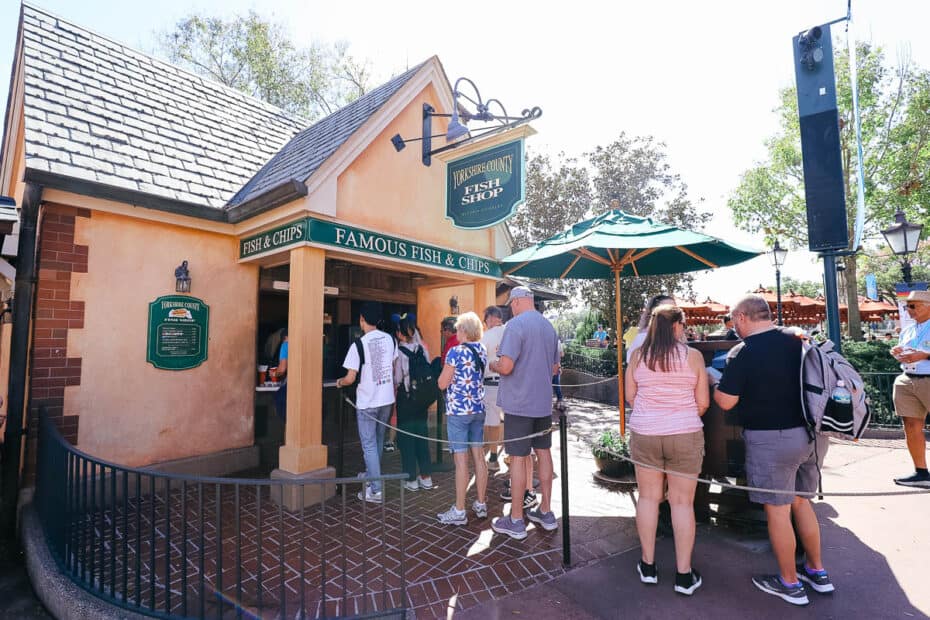 This quick service has a walk-up window where you place your order. Then you'll receive it at the next window. Of course, that order will likely be for fish and chips, the sole entree on the menu.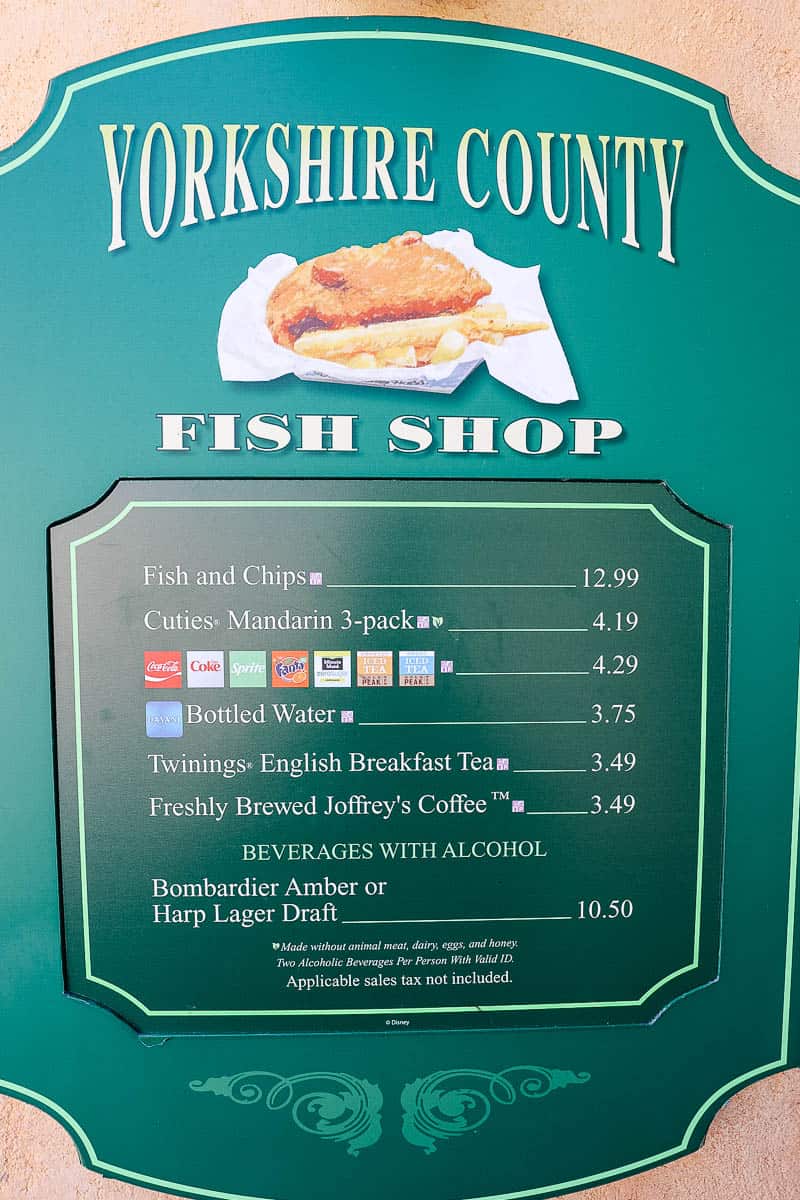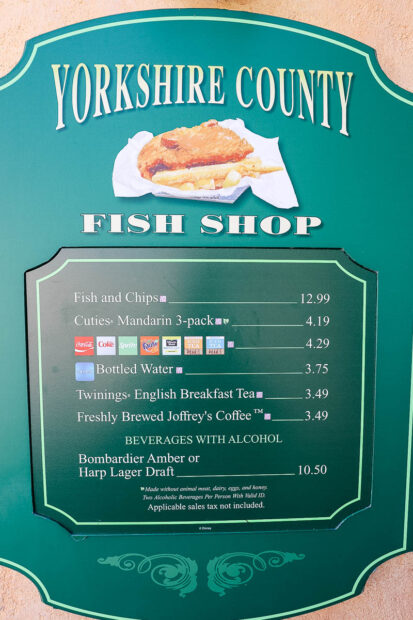 Outdoor dining areas are available on both sides. However, you might have to watch out for the birds. They enjoy the fish, too. But those views of the World Showcase Lagoon are pretty hard to beat.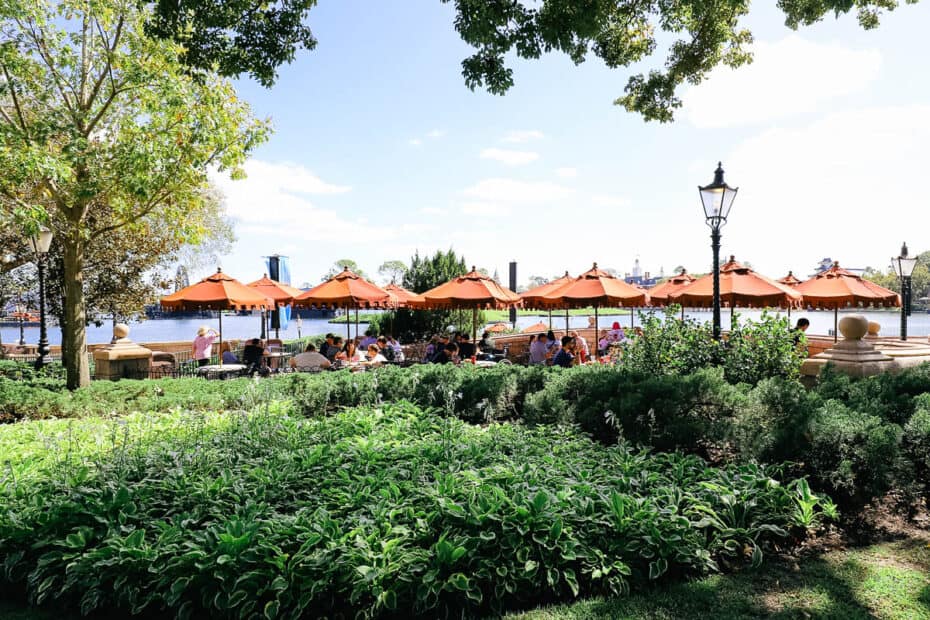 Shopping in the United Kingdom Pavilion
Along with dining, the United Kingdom Pavilion has a considerable amount of shops. Below, we'll walk through each one and see what kind of merchandise you can expect to find.
Sportsman's Shoppe
First, we have the Sportsman's Shoppe, which formerly carried many soccer jerseys and special edition soccer balls. Unfortunately, their merchandise is a bit lacking as of late, and they no longer carry any sports-related items.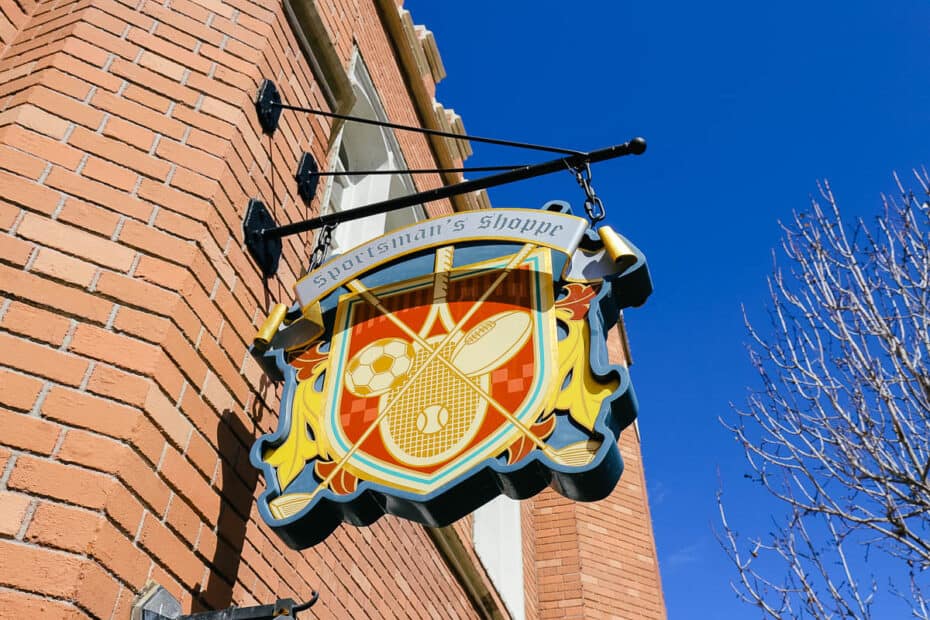 There's a cute window display when you first enter the shop.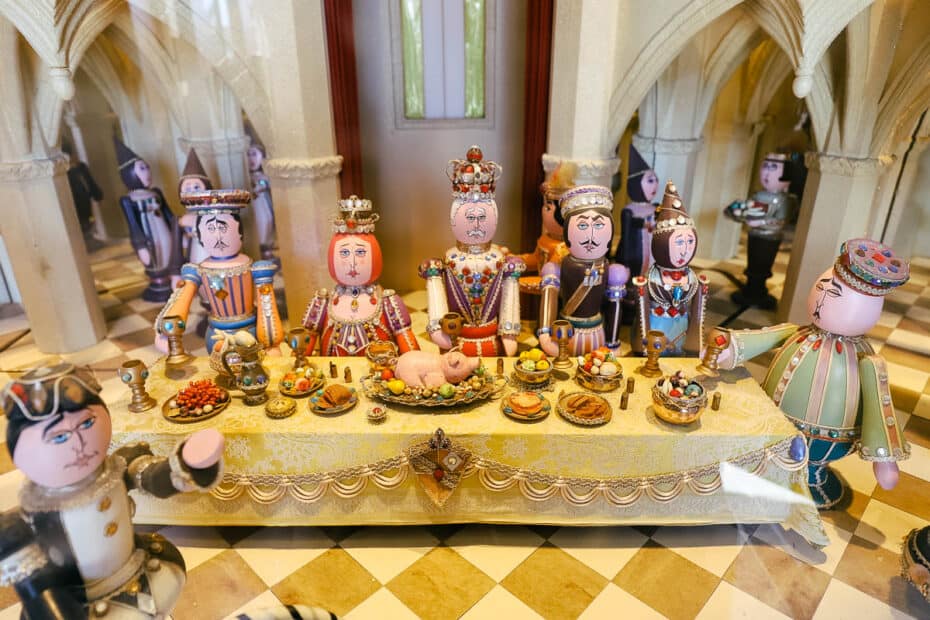 We saw a few t-shirts with The Beatles on display.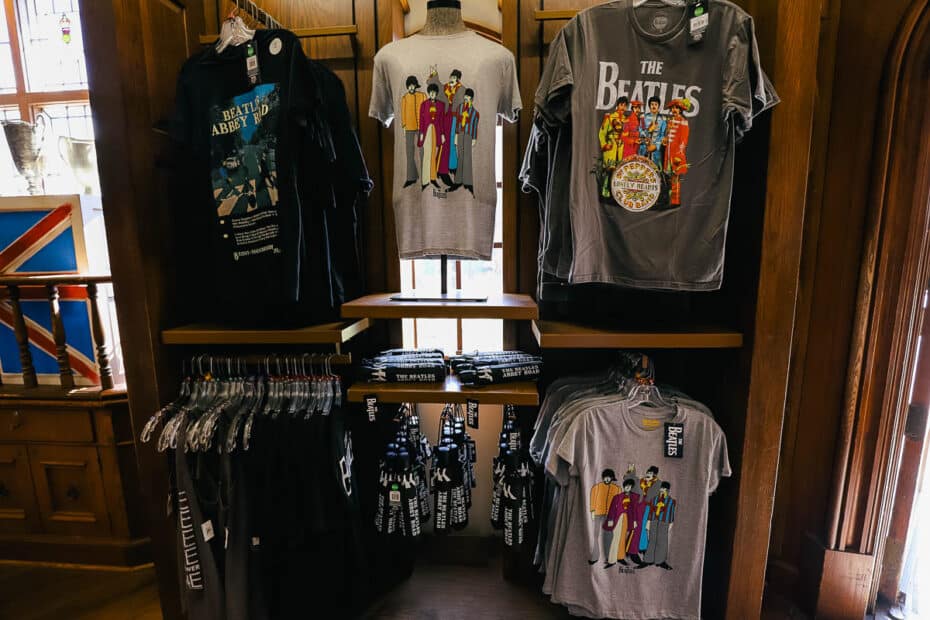 There was also a decent selection of World-Showcase branded items representing the United Kingdom.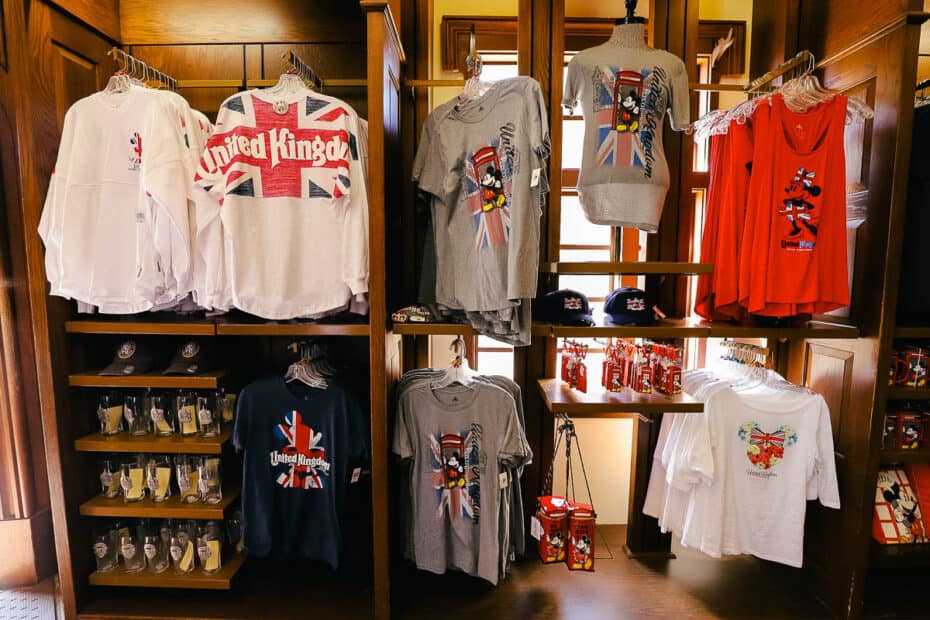 Here are a few photos.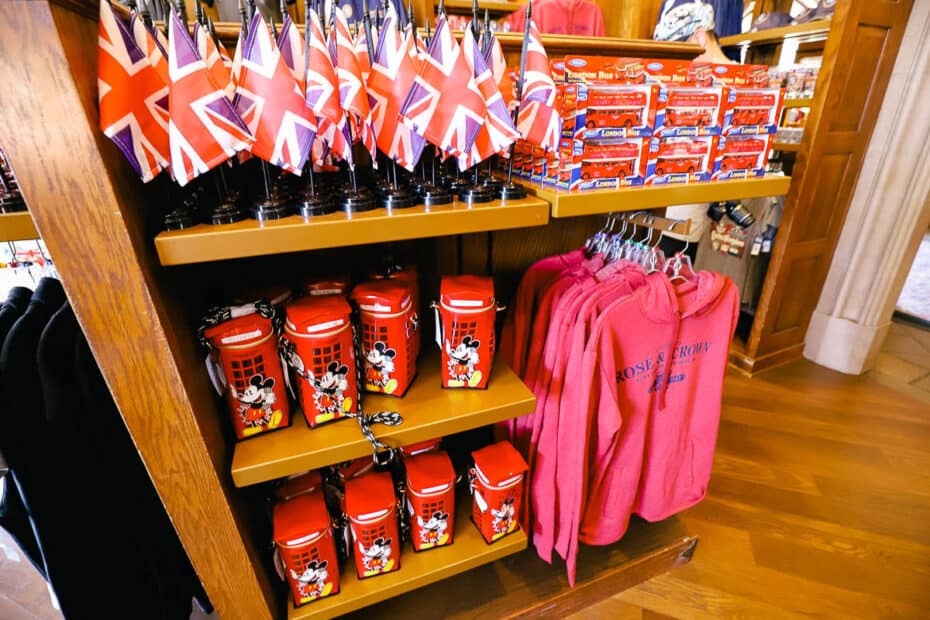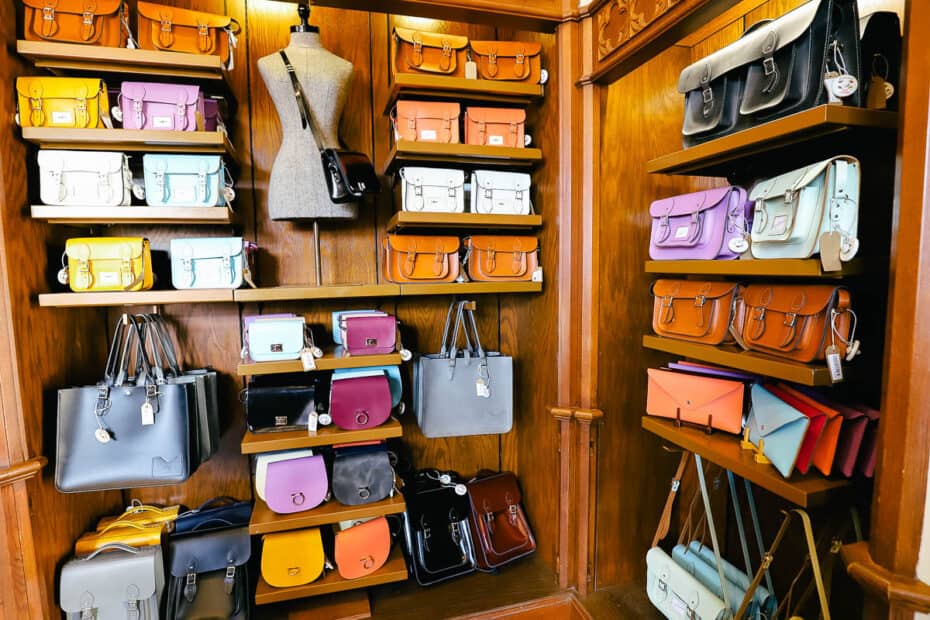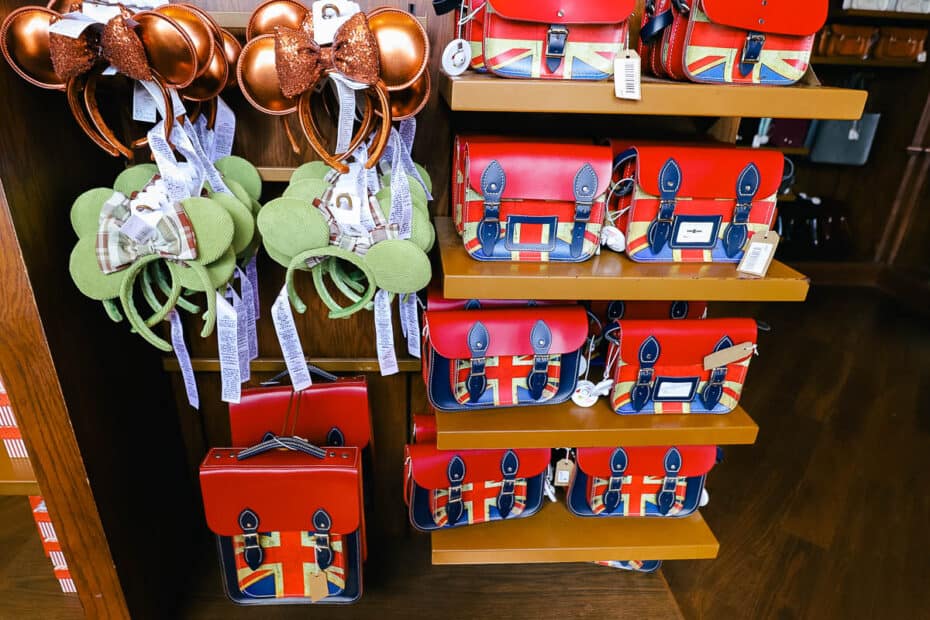 There was a good deal of Rose & Crown merchandise.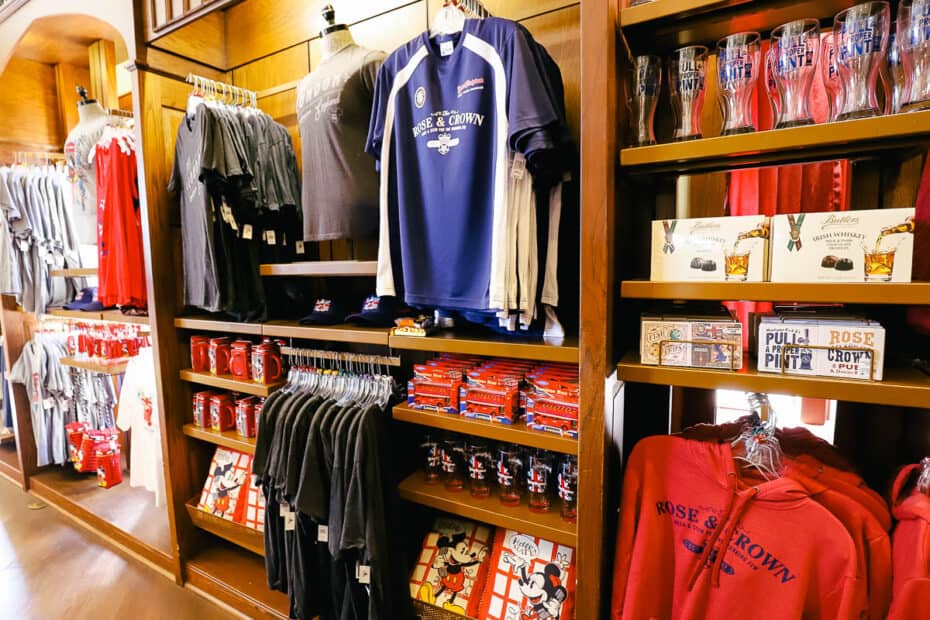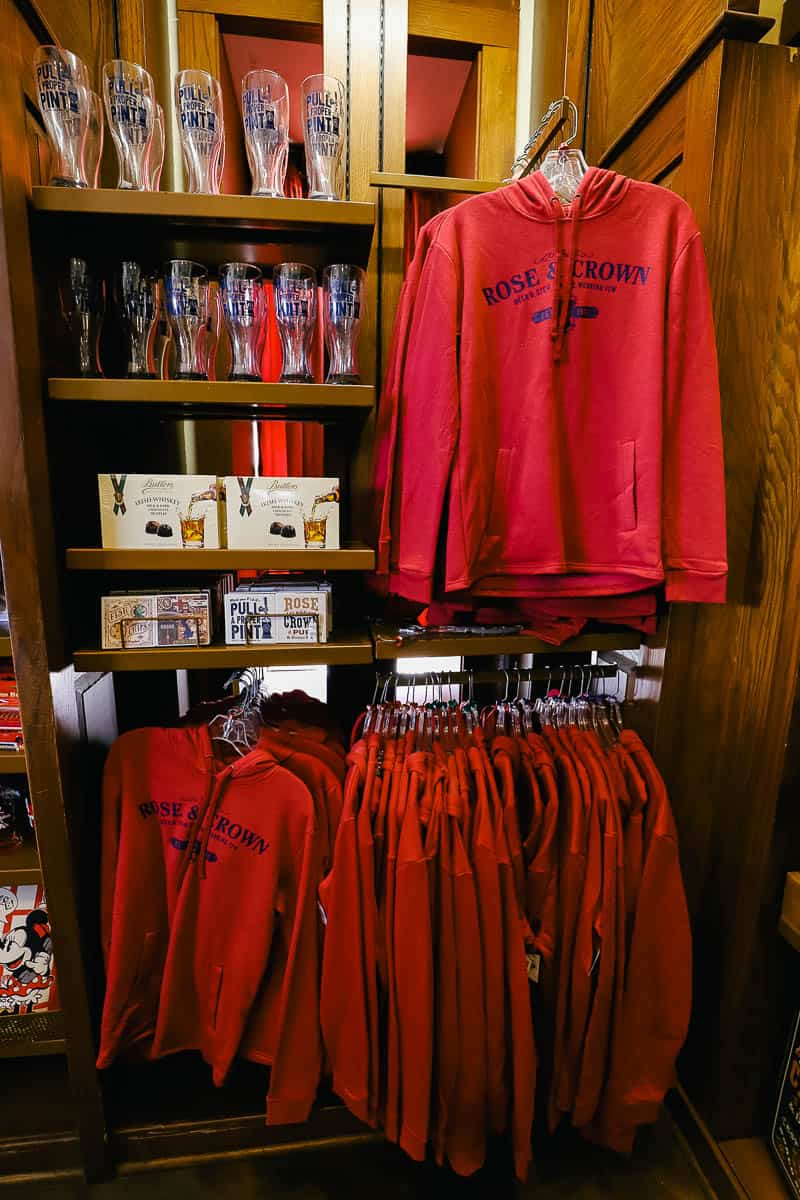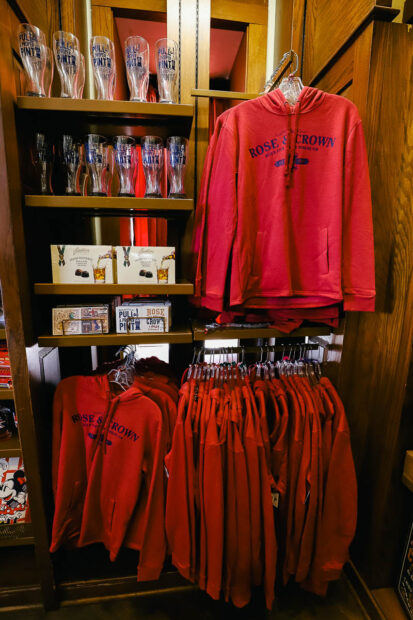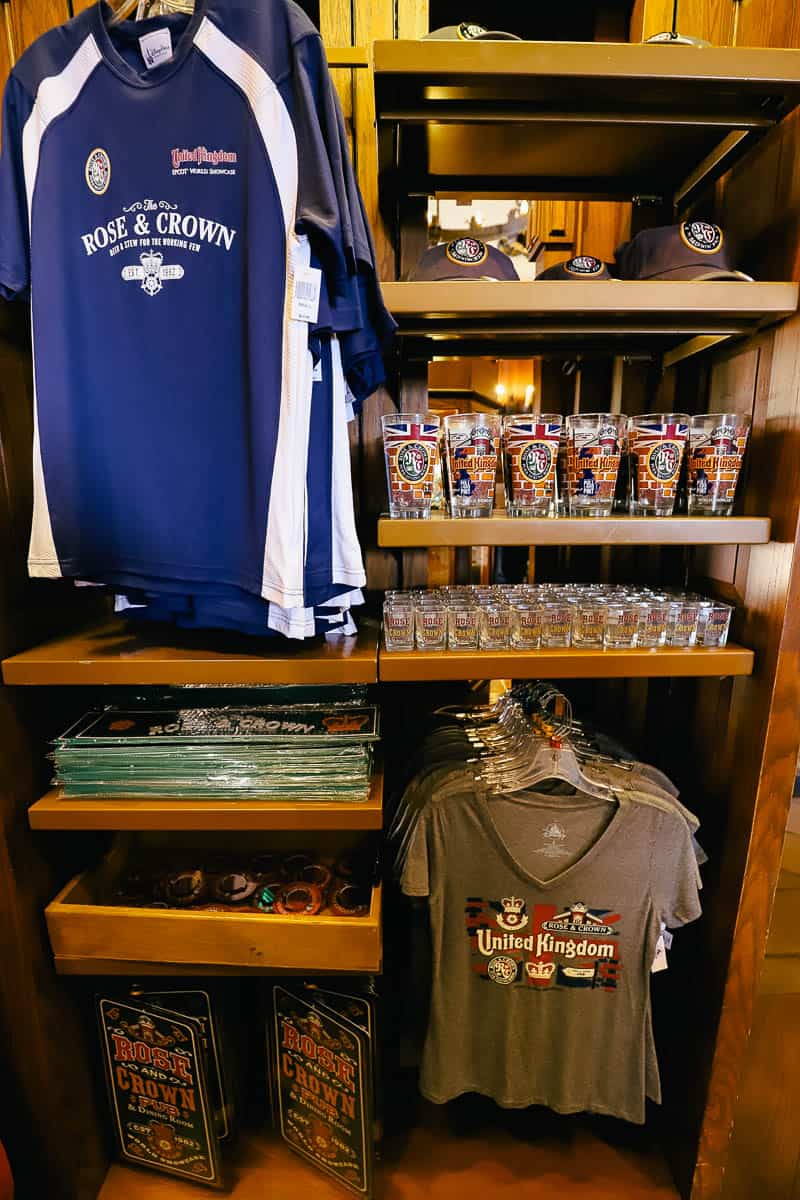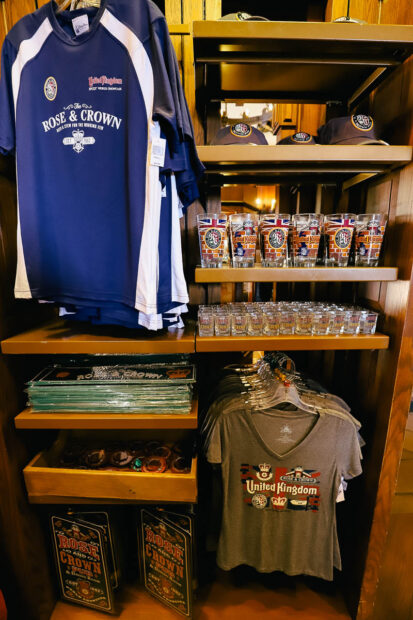 I thought these odd-shaped pillows were cute.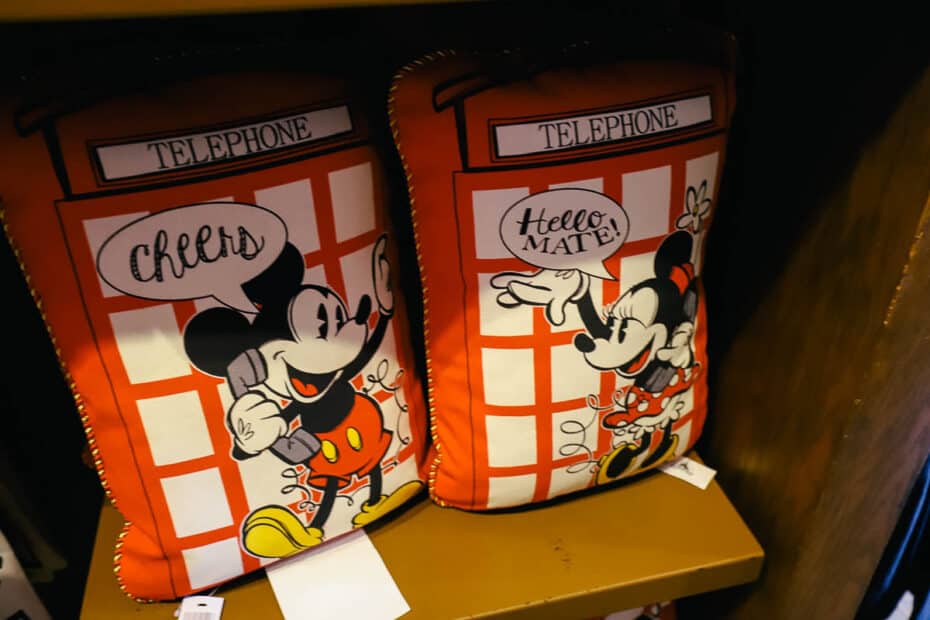 Here we have a selection of candies and treats.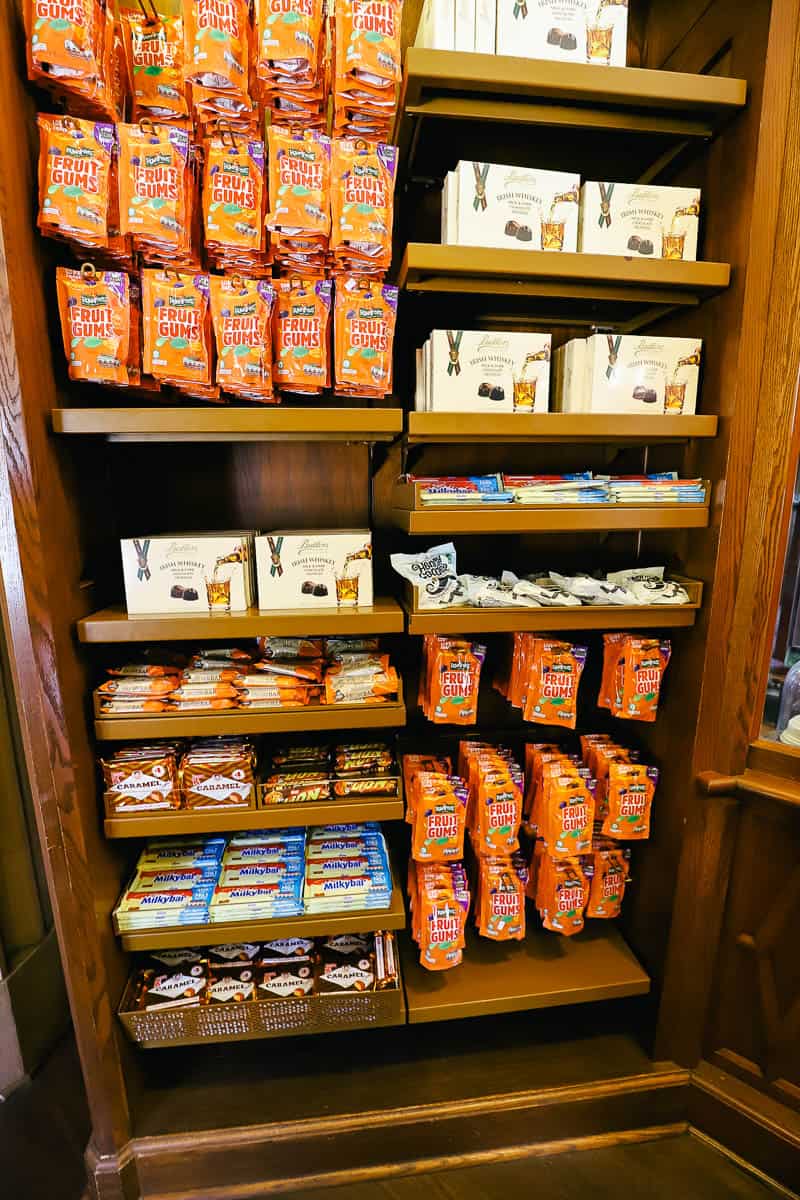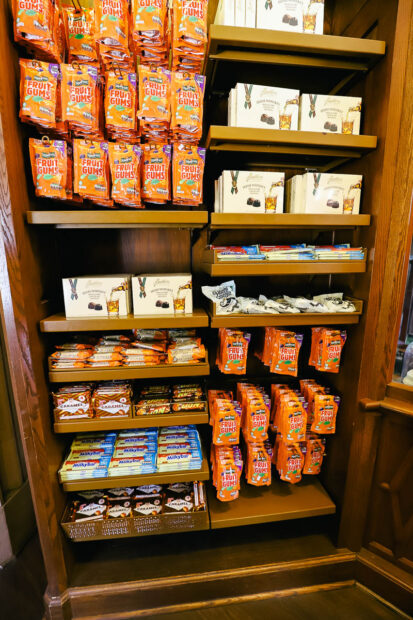 The Crown and Crest
Sportsman's Shoppe blends into The Crown and Crest. From the interior, you'll never know the difference.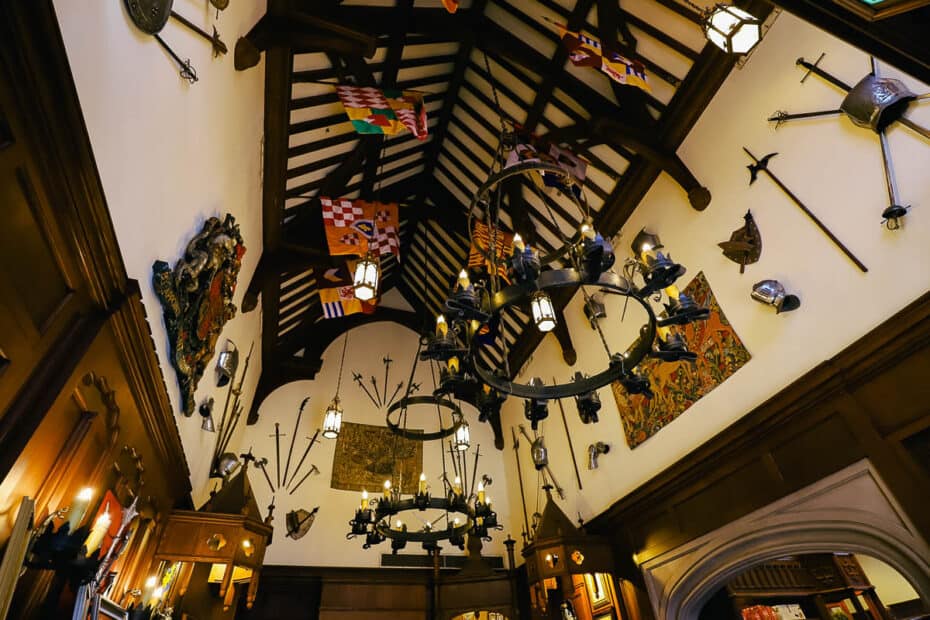 This is where you'll find a few displays featuring a family coat of arms and various knives and swords for sale.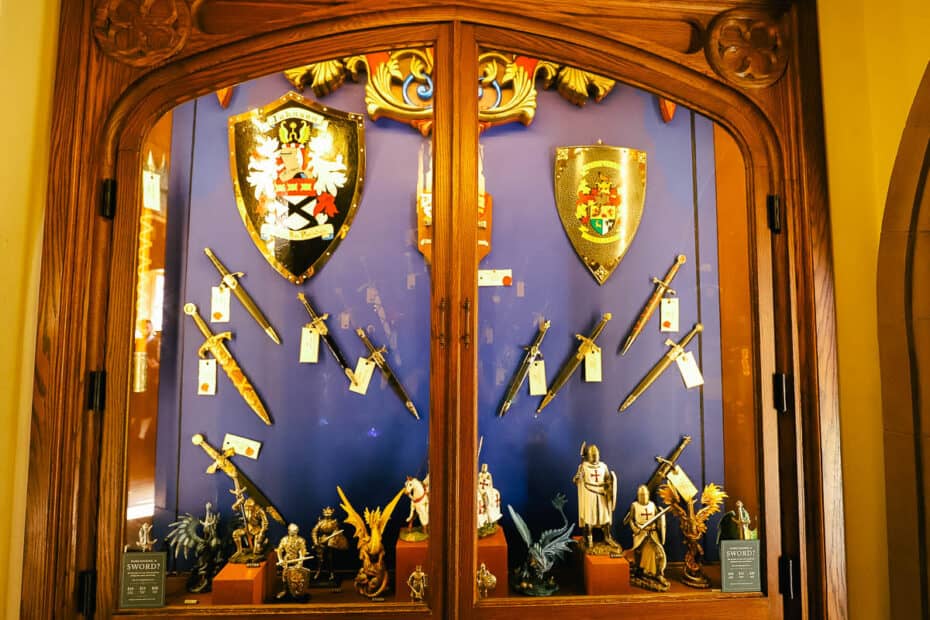 Here are a few of the swords.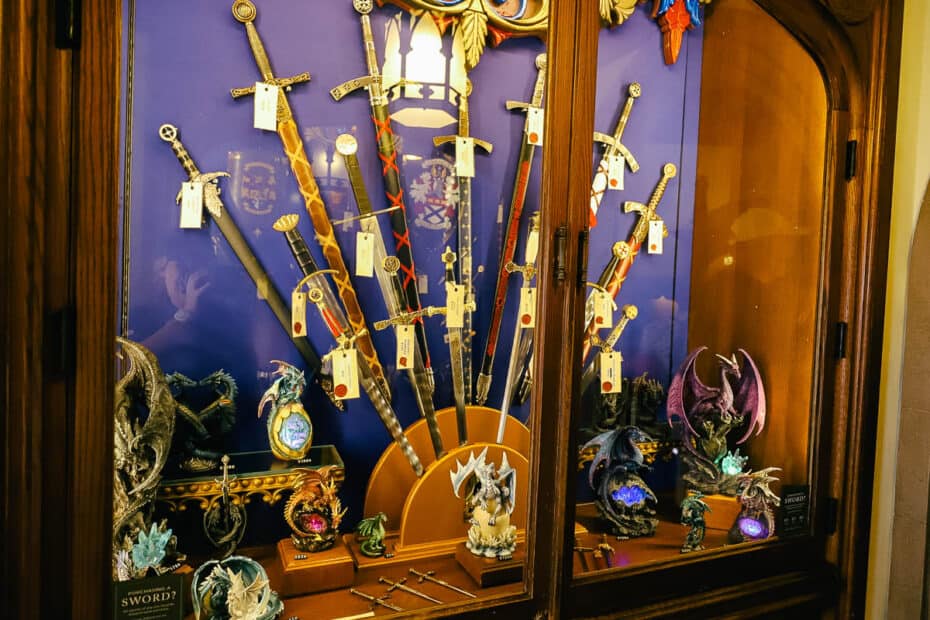 If you elect to purchase one, there are several shipping options.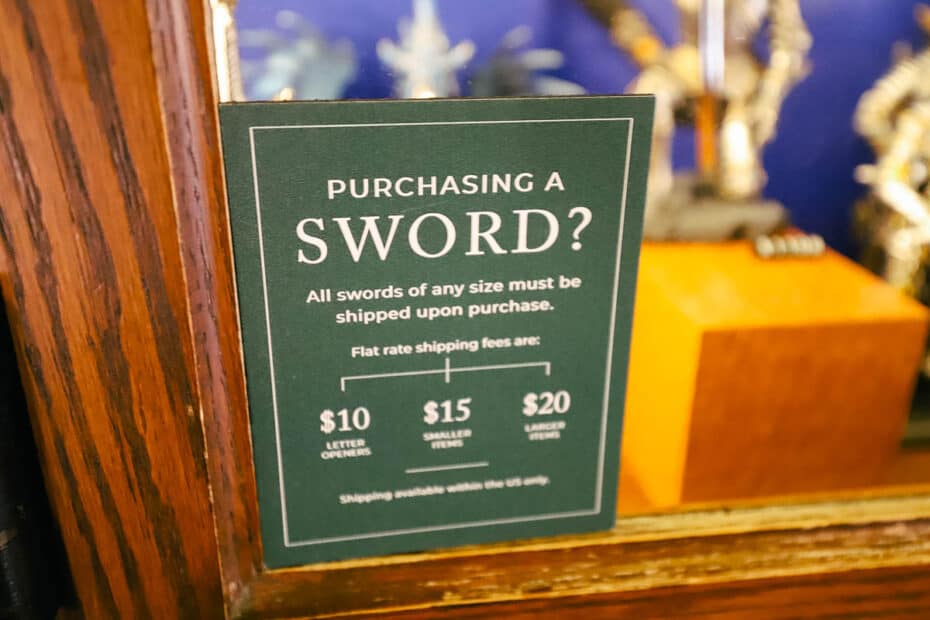 Additionally, there were several England and Scotland sweatshirts.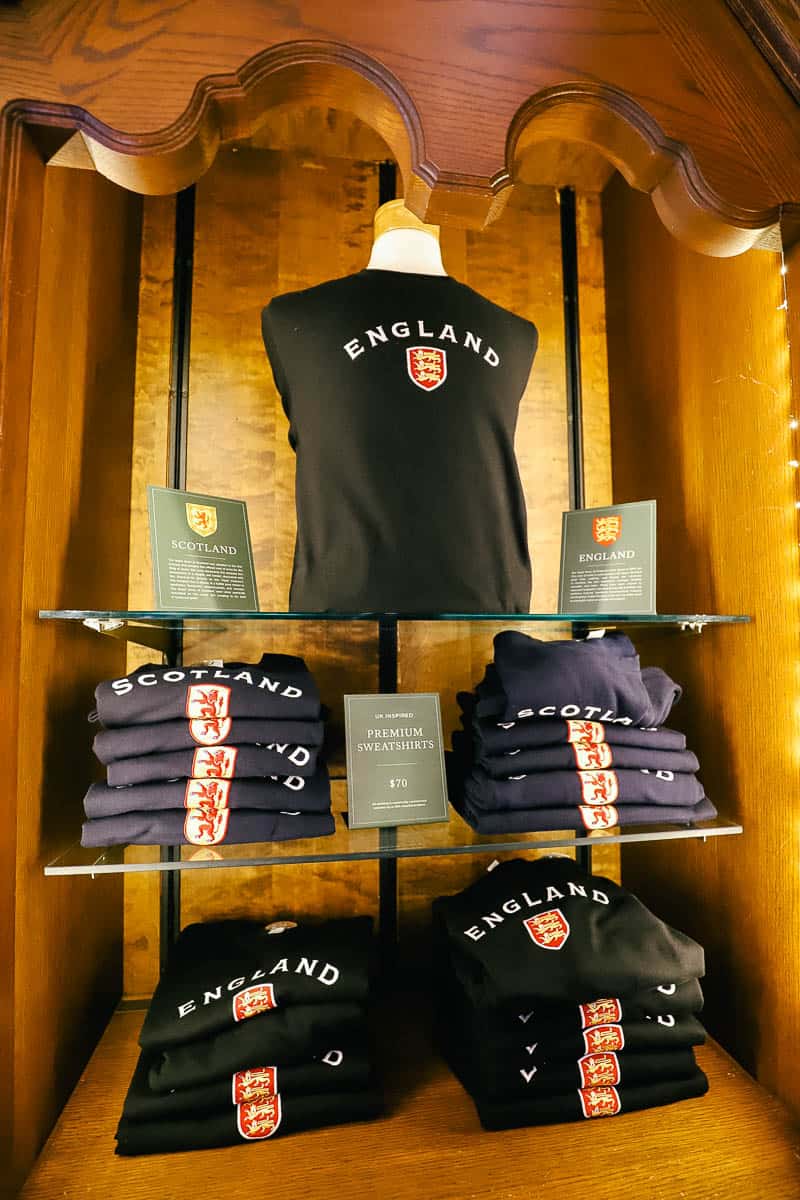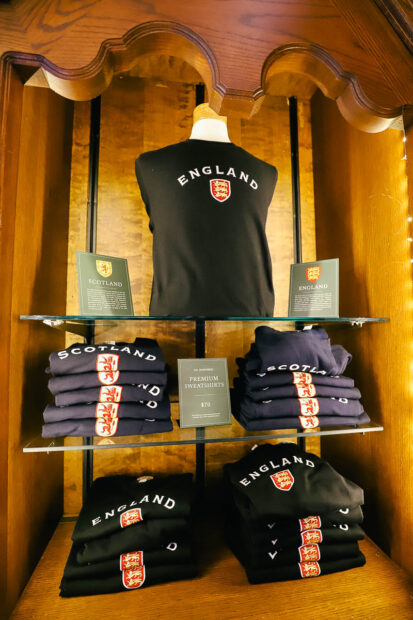 Here is the pricing with a few other details.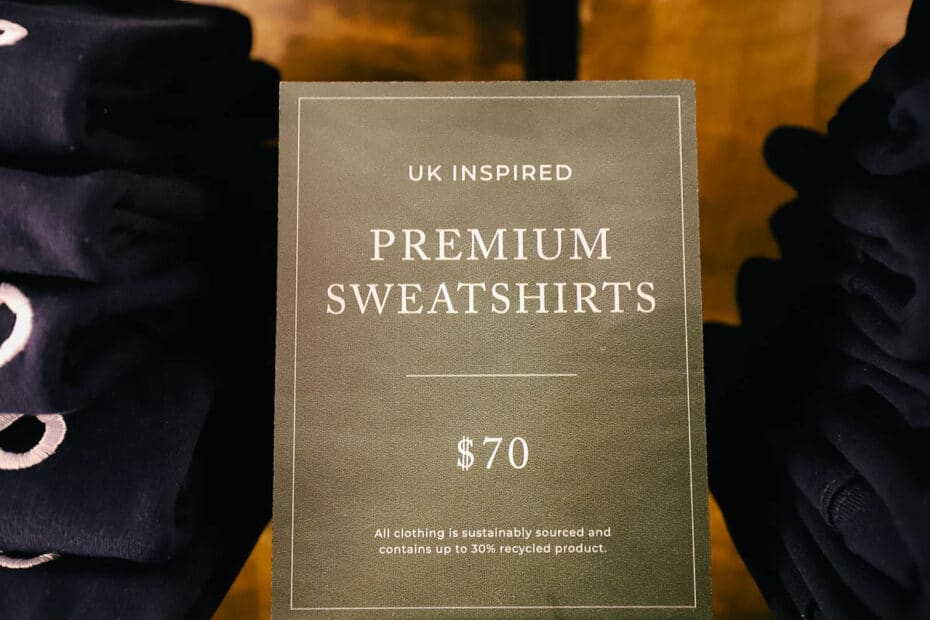 A few had Ireland and Wales printed on them.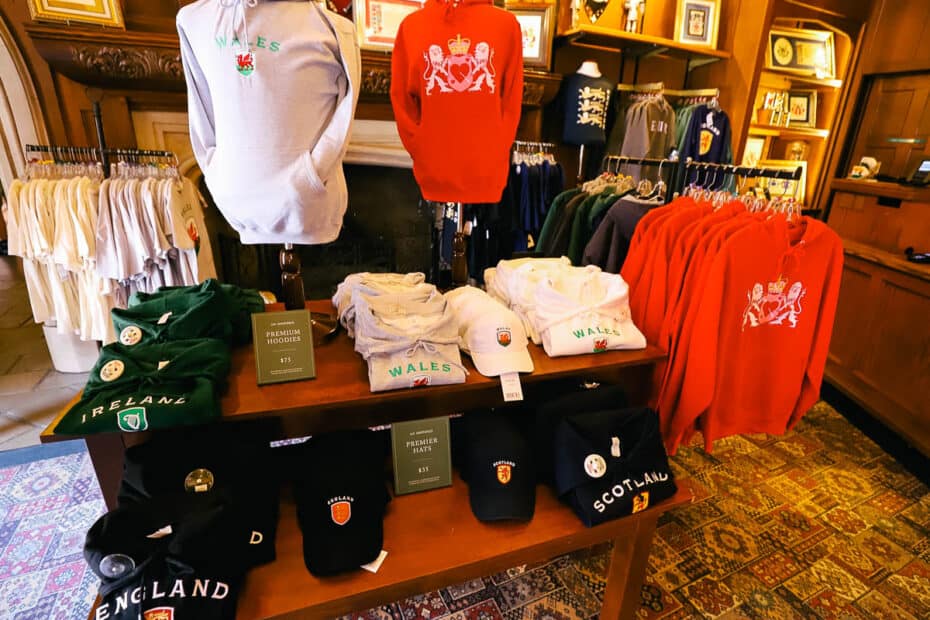 These items all had Guinness branding.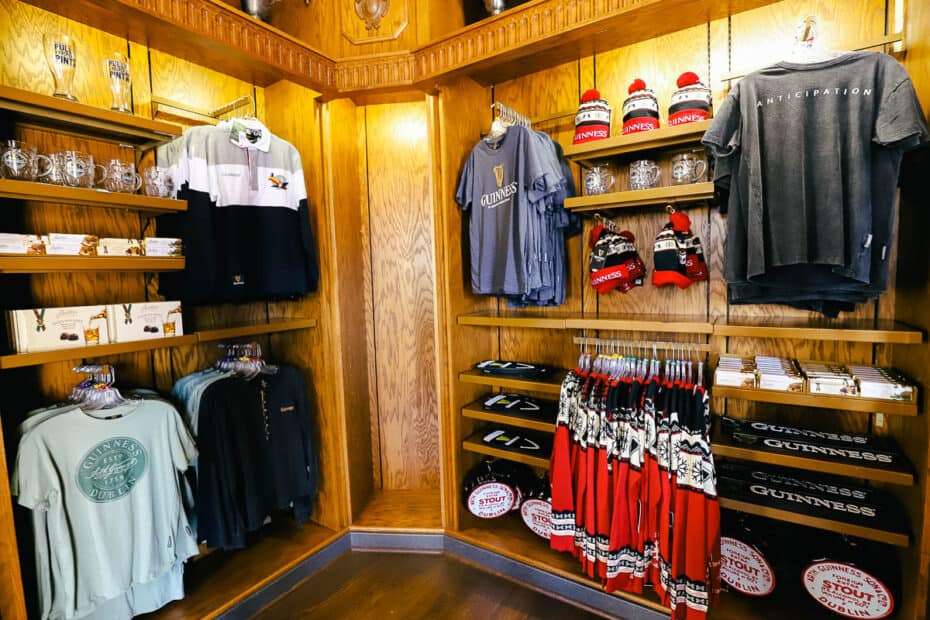 The Crown and Crest has a book set up where you can discover the history of your name. You can look up your name in the book. However, they have a tablet behind the counter that will locate almost every name.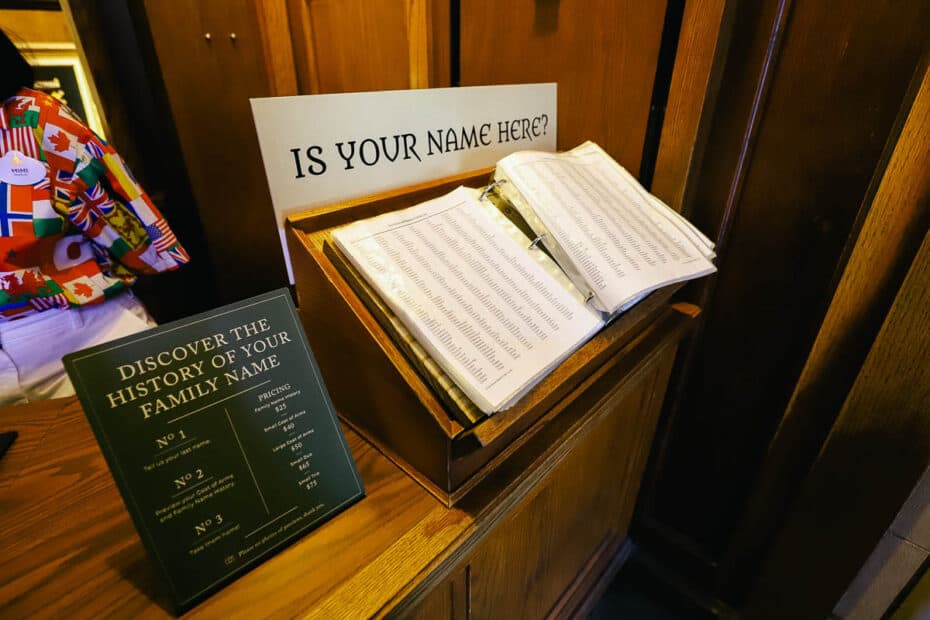 You can then preview the Coat of Arms for your family's name and have an item made to take home as a souvenir.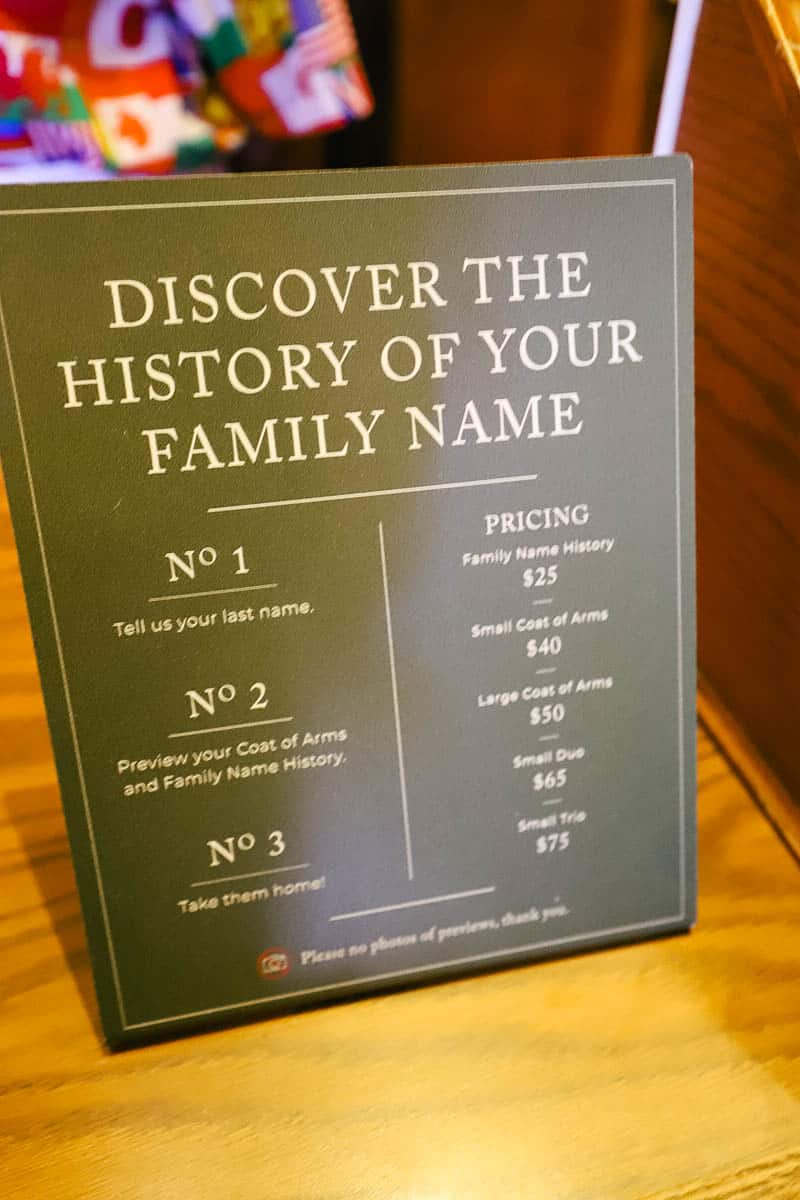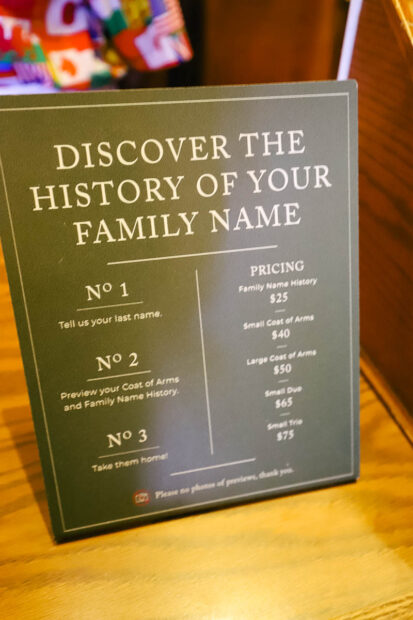 Pricing starts at $25.00 for the Family Name History certificate. This is an example of what yours might look like. You can have it made and then pick it up later.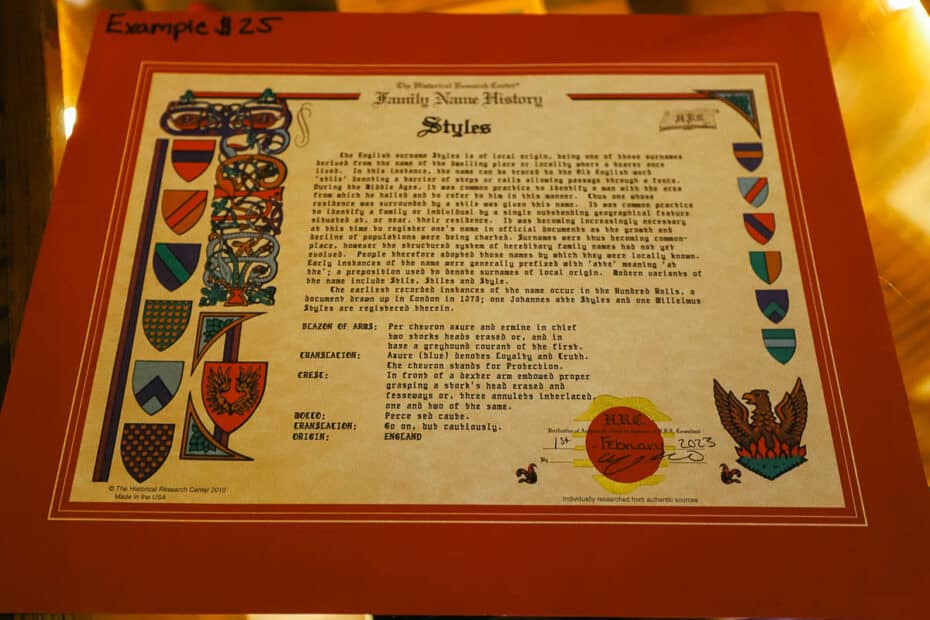 Or, if you want something more substantial, you can have a custom piece of jewelry made. Some of the rings go up to about $5,000.00 in price.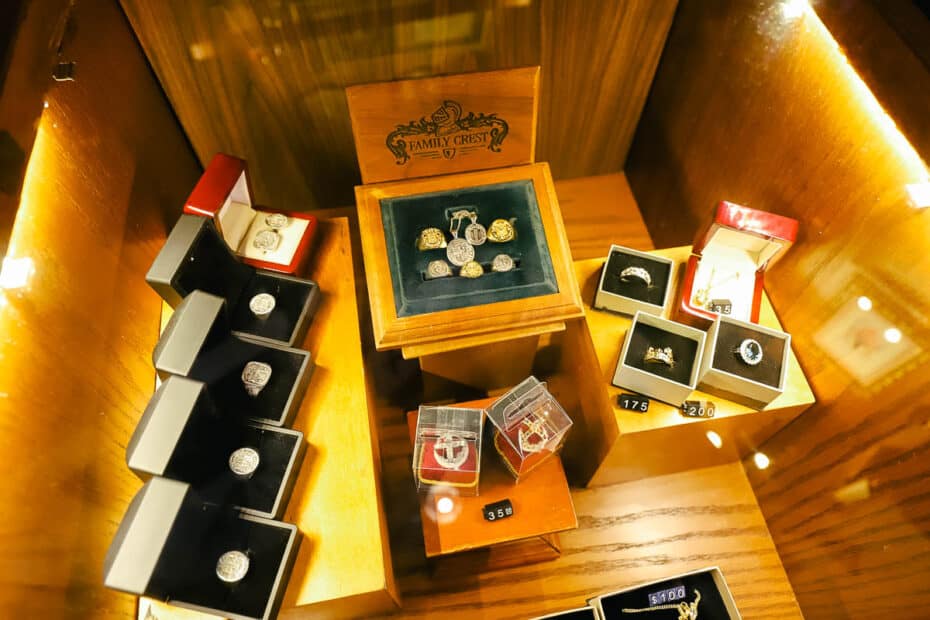 When the cast member walked me through the process, I had to ask how popular it was for guests to have something made. She said it was very popular and explained that many people are interested in history and genealogy and how this process goes hand in hand.
While I was there, another couple walked in to see about having a plaque made. It was exceptionally interesting. So if you're in the area, you might like to check it out.
There's no obligation to look up your name. But you might decide you would like a certificate at the very least.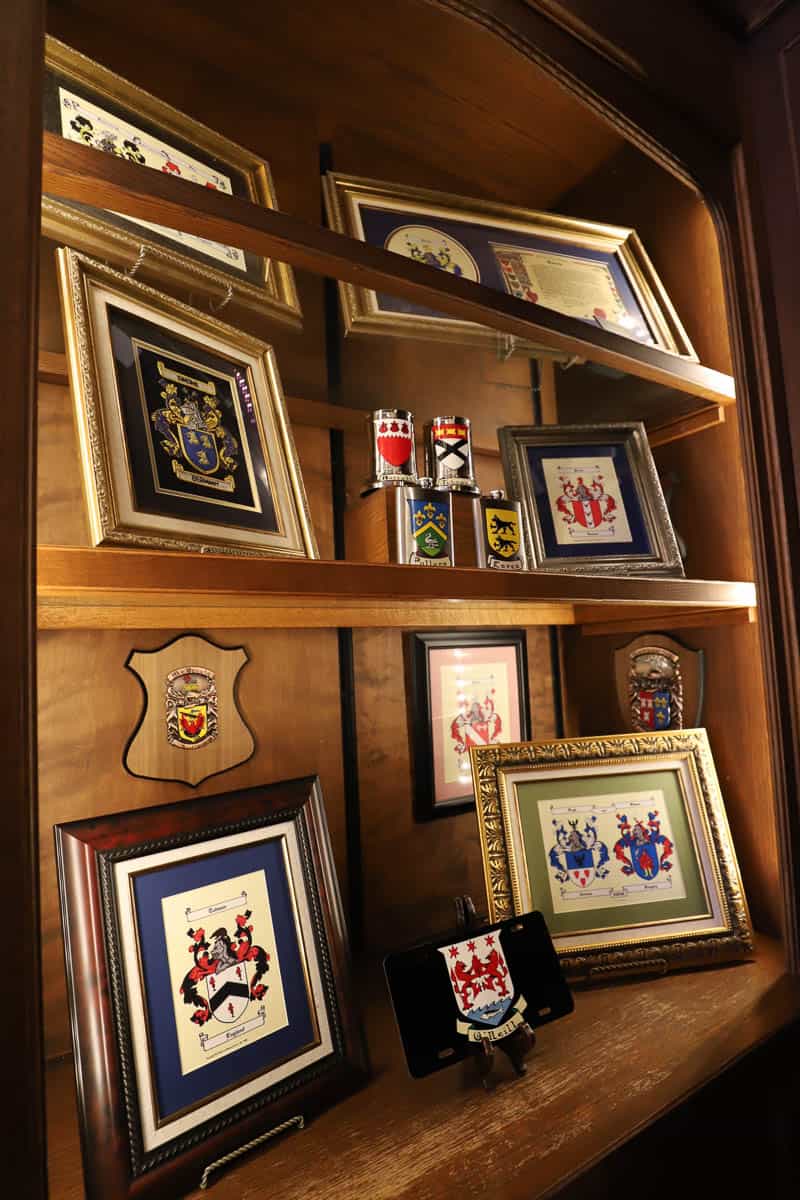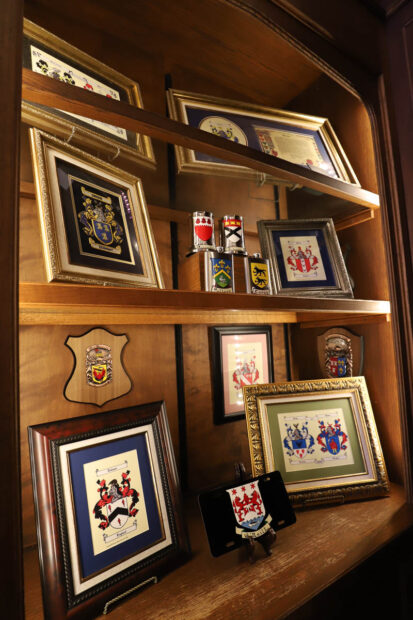 The Toy Soldier
After The Crest and Crown, a small covered opening leads inside The Toy Soldier. This is a fun shop with tons of plush and other accessories.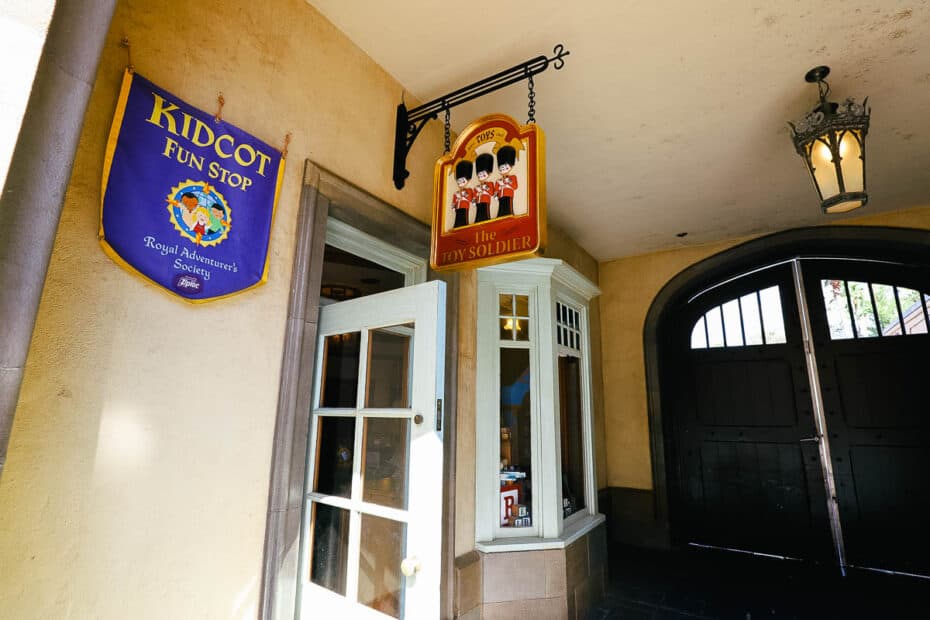 It's nice to browse some Disney merchandise from the United Kingdom. For instance, they had a good selection of Winnie the Pooh merchandise.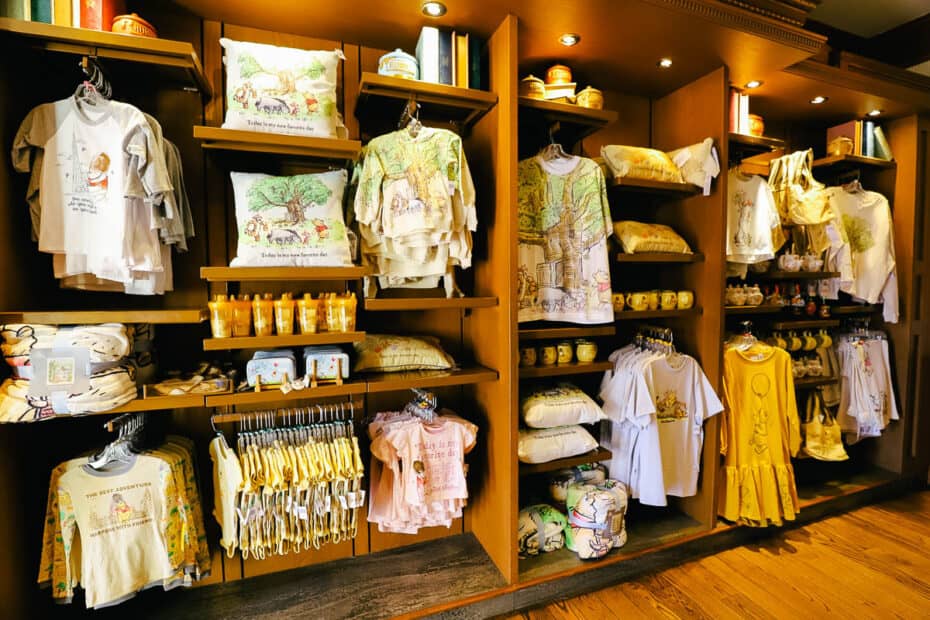 Here are a few close-ups.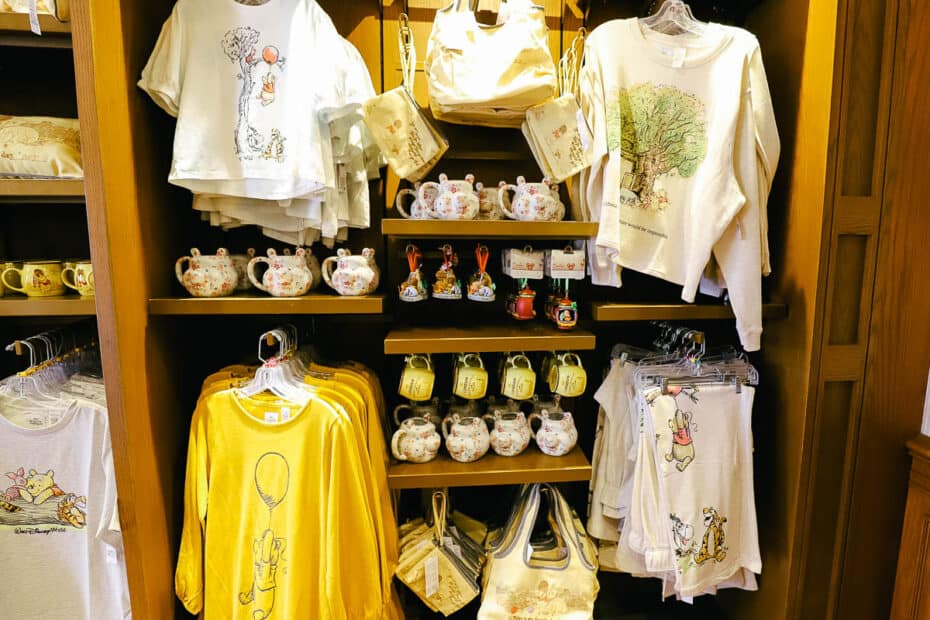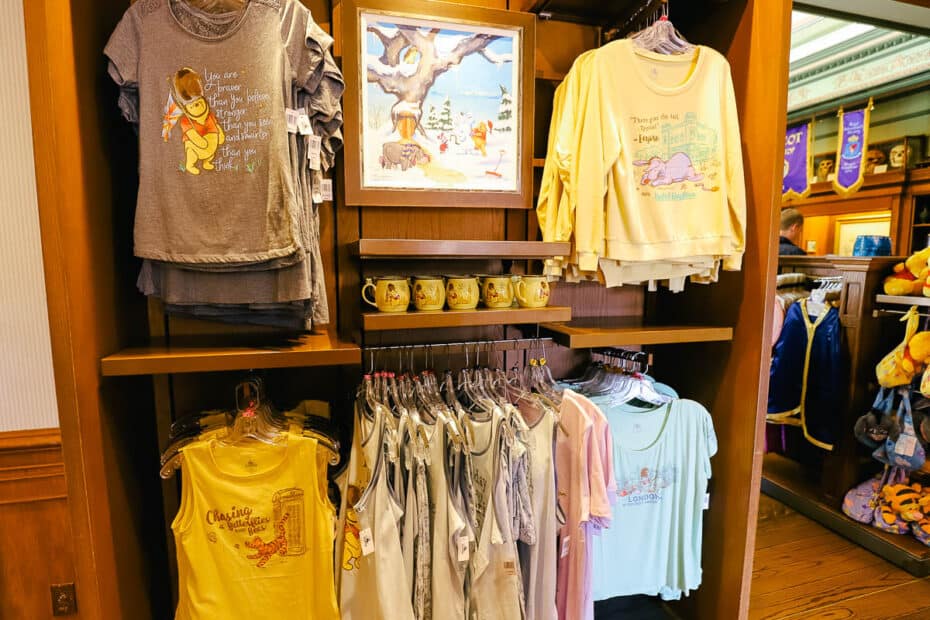 Next, there were Mary Poppin's items.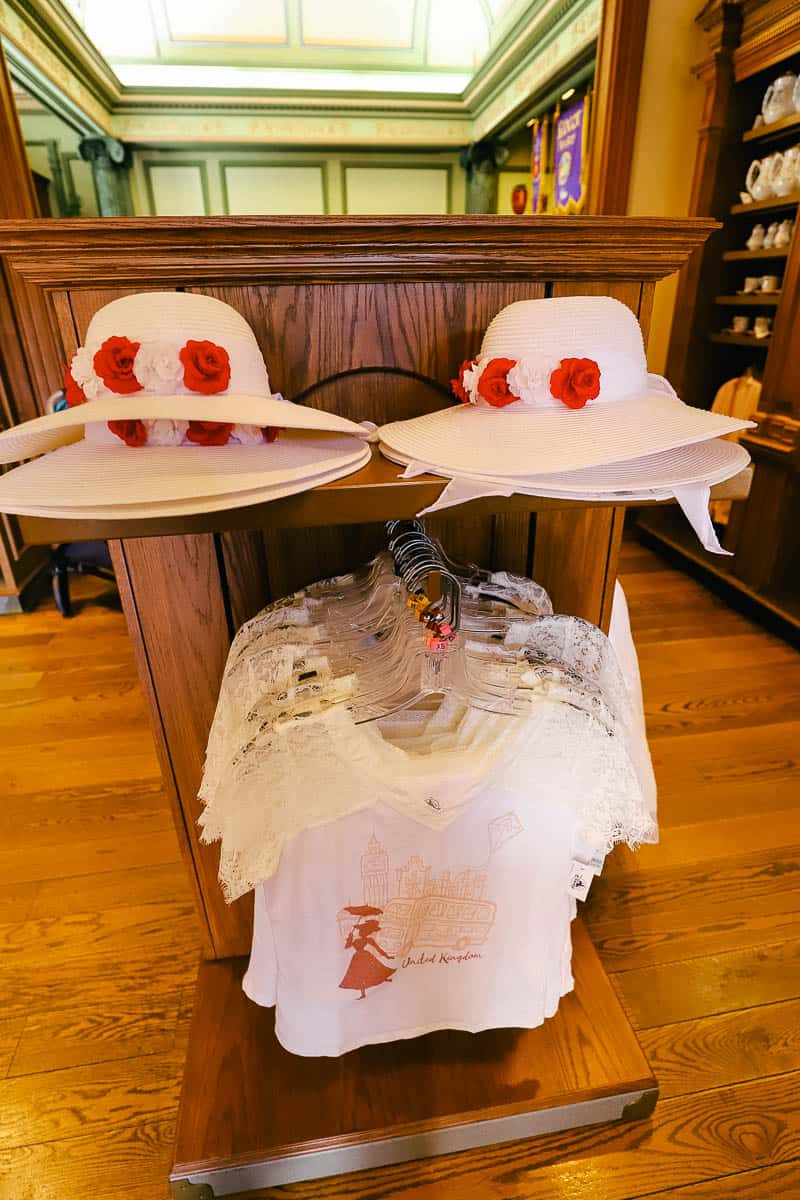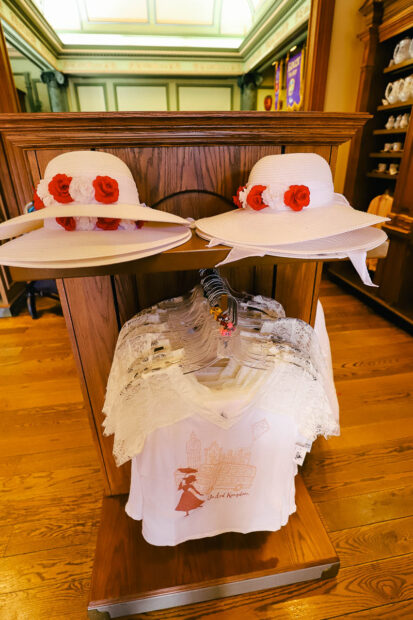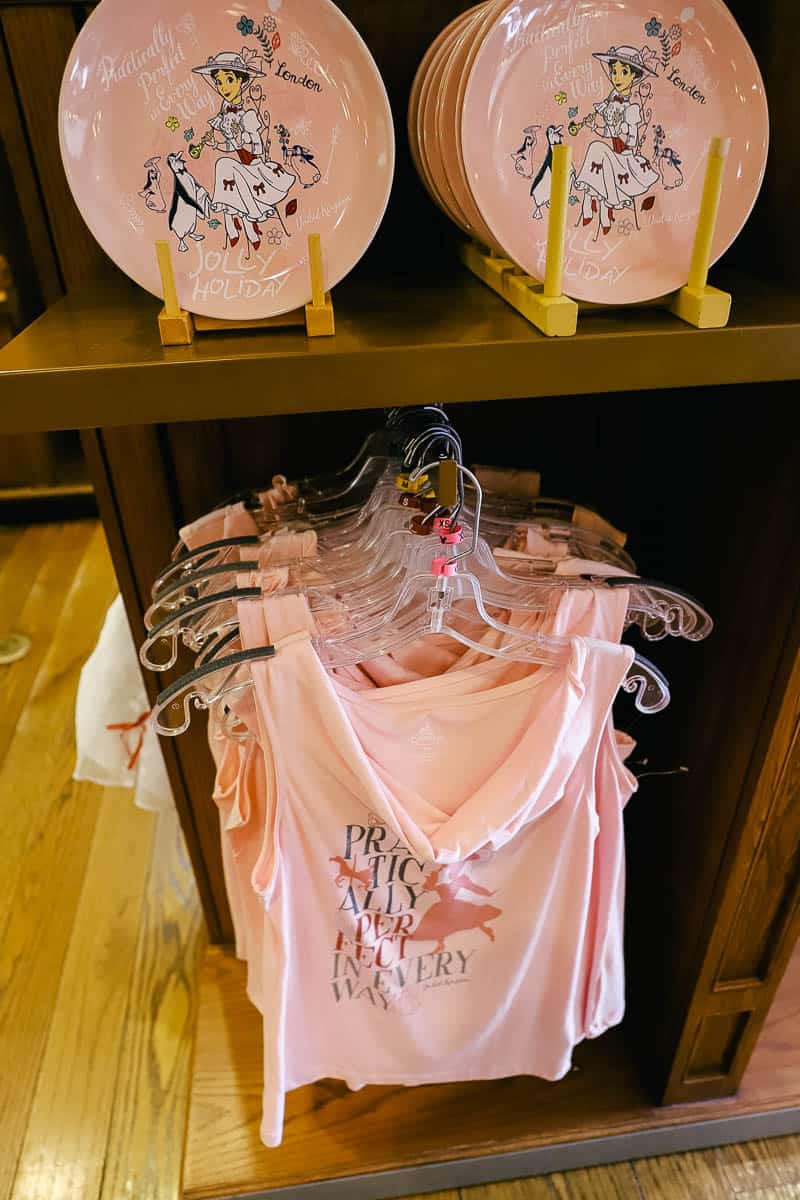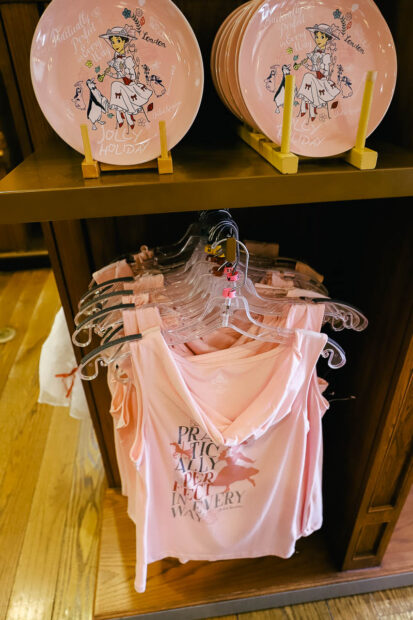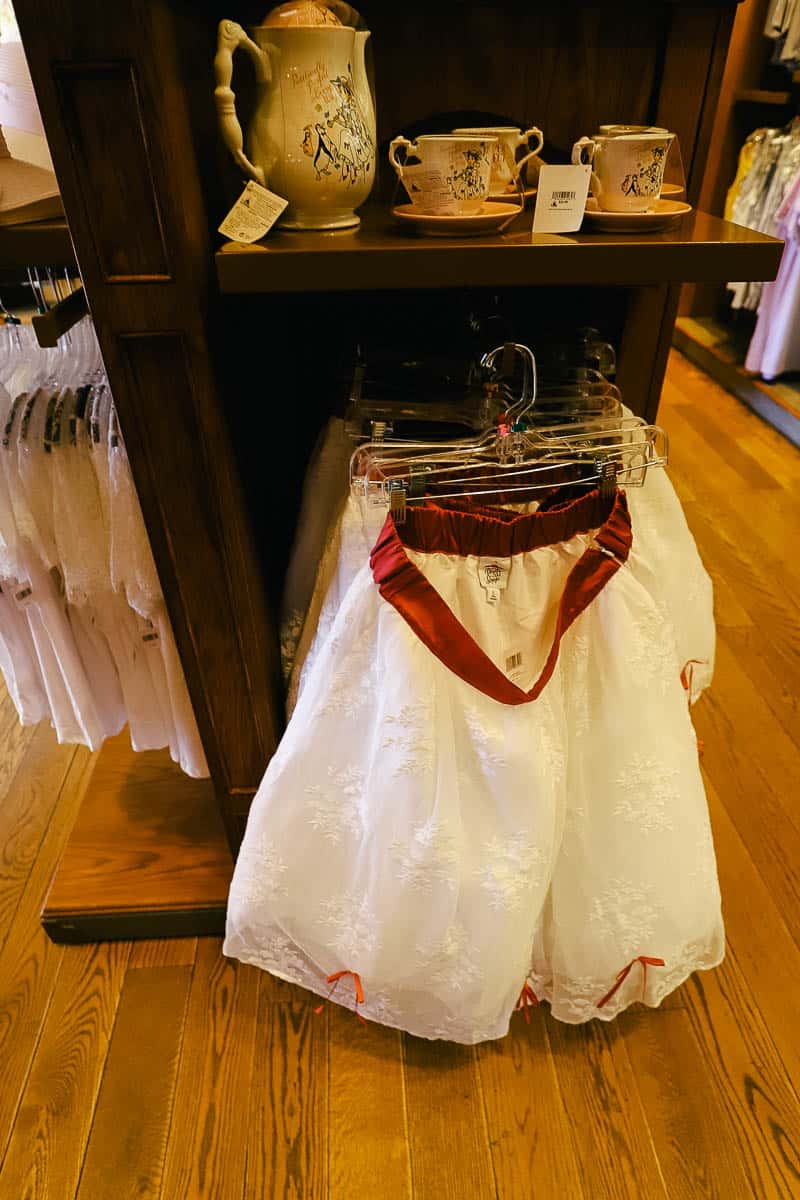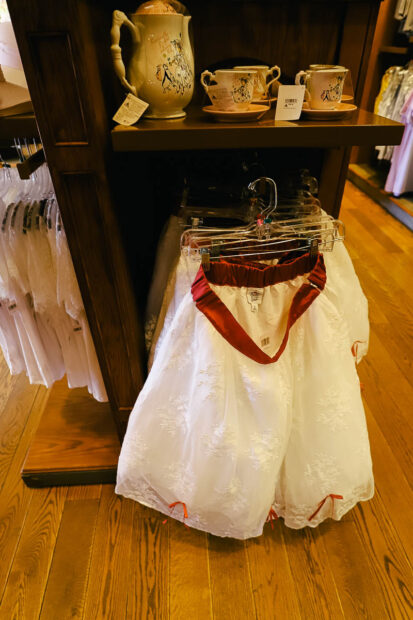 All of these items had Tinker Bell and Peter Pan.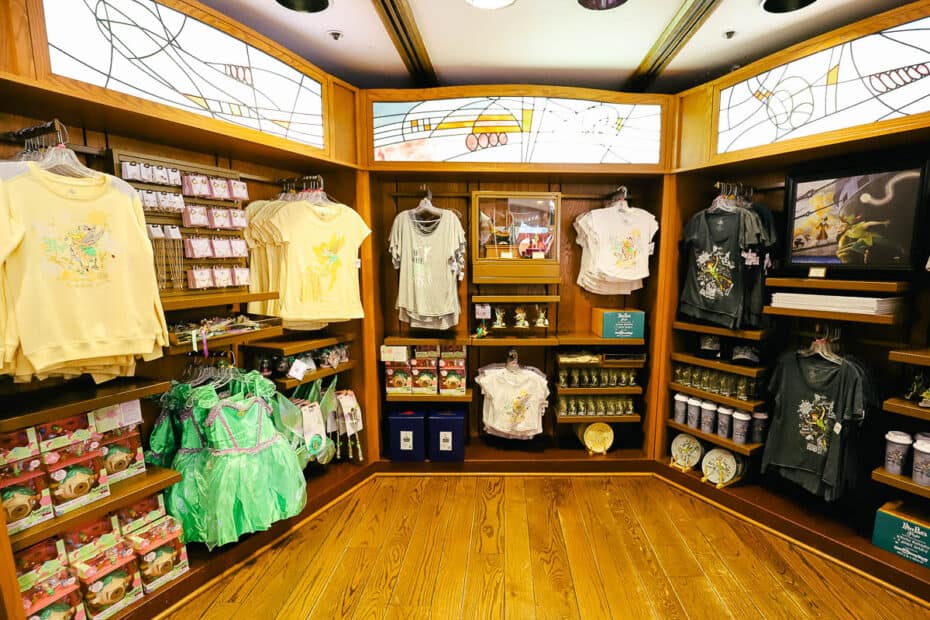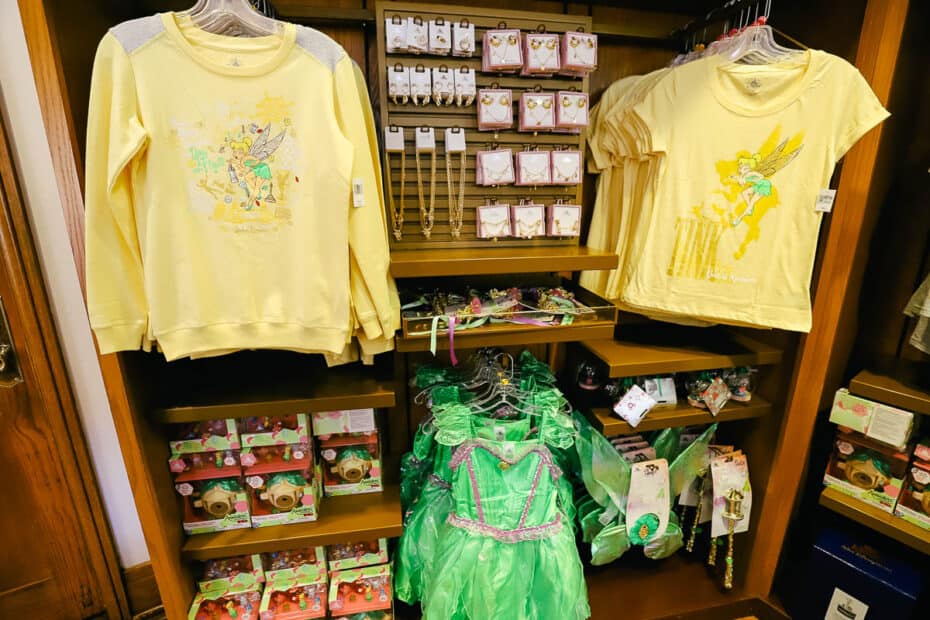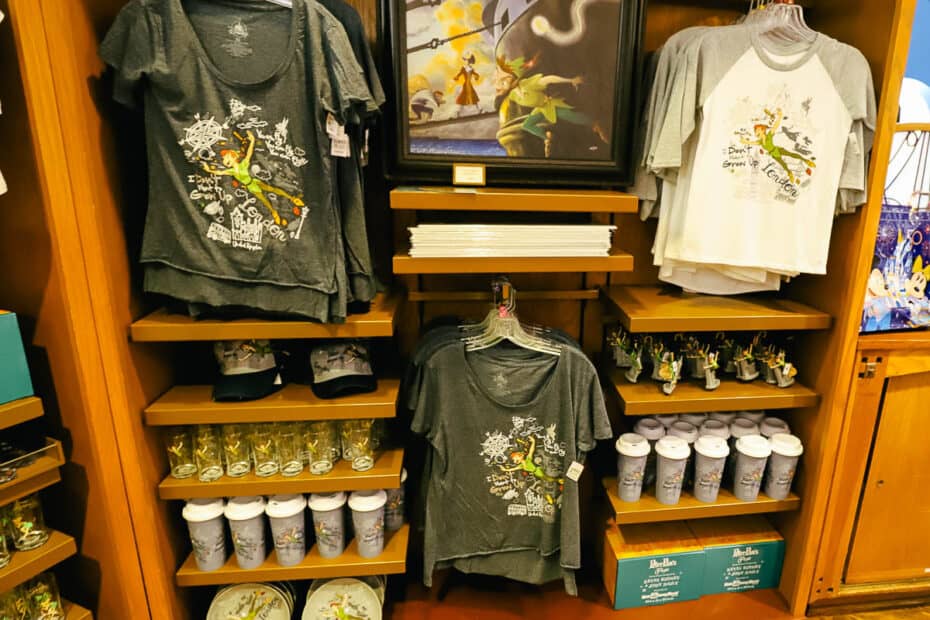 Of course, it wouldn't be a proper English toy shop without plush Corgis and Paddington Bears.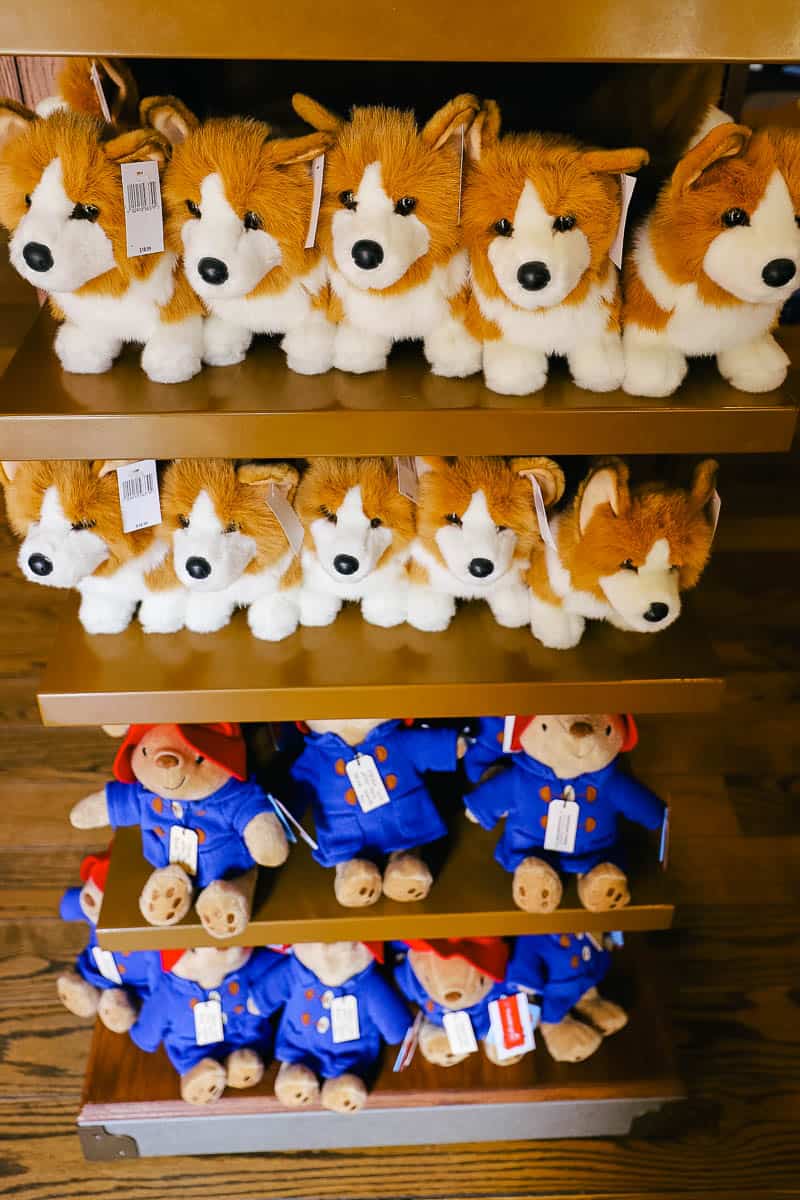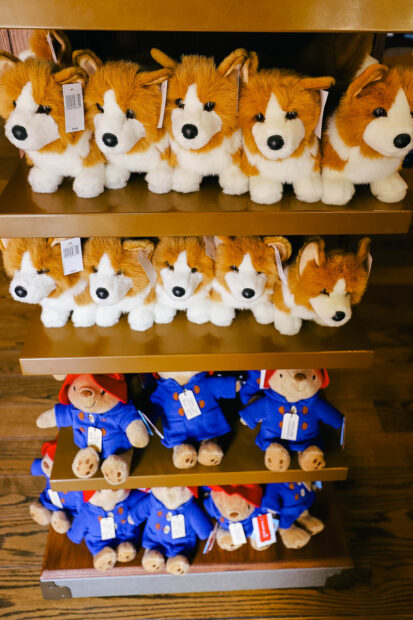 However, I was surprised to see such a large selection of 101 Dalmatian merchandise. Unfortunately, we don't see much of this film's merchandise in the parks.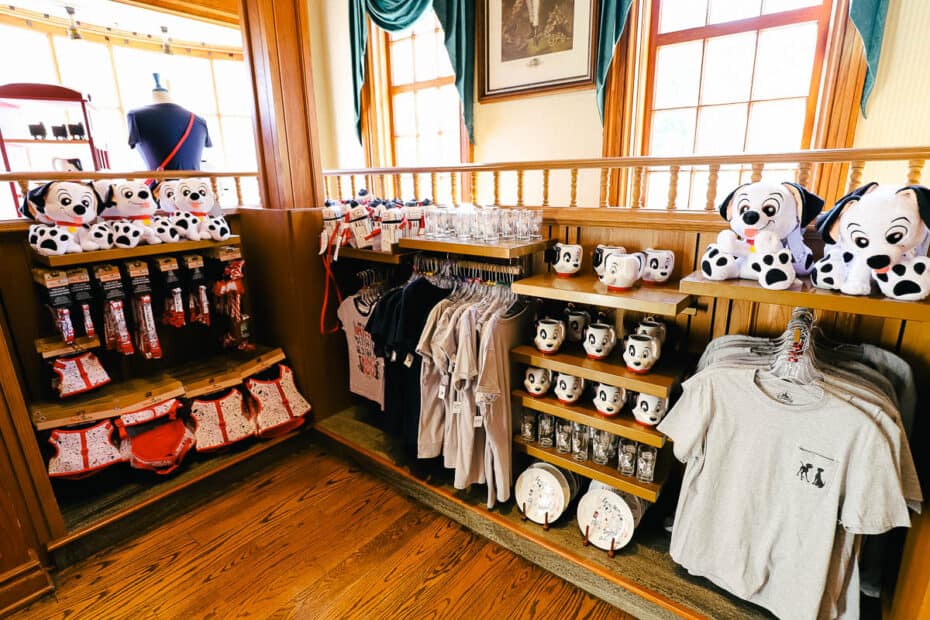 This is also where you find the pressed penny machine in the United Kingdom Pavilion.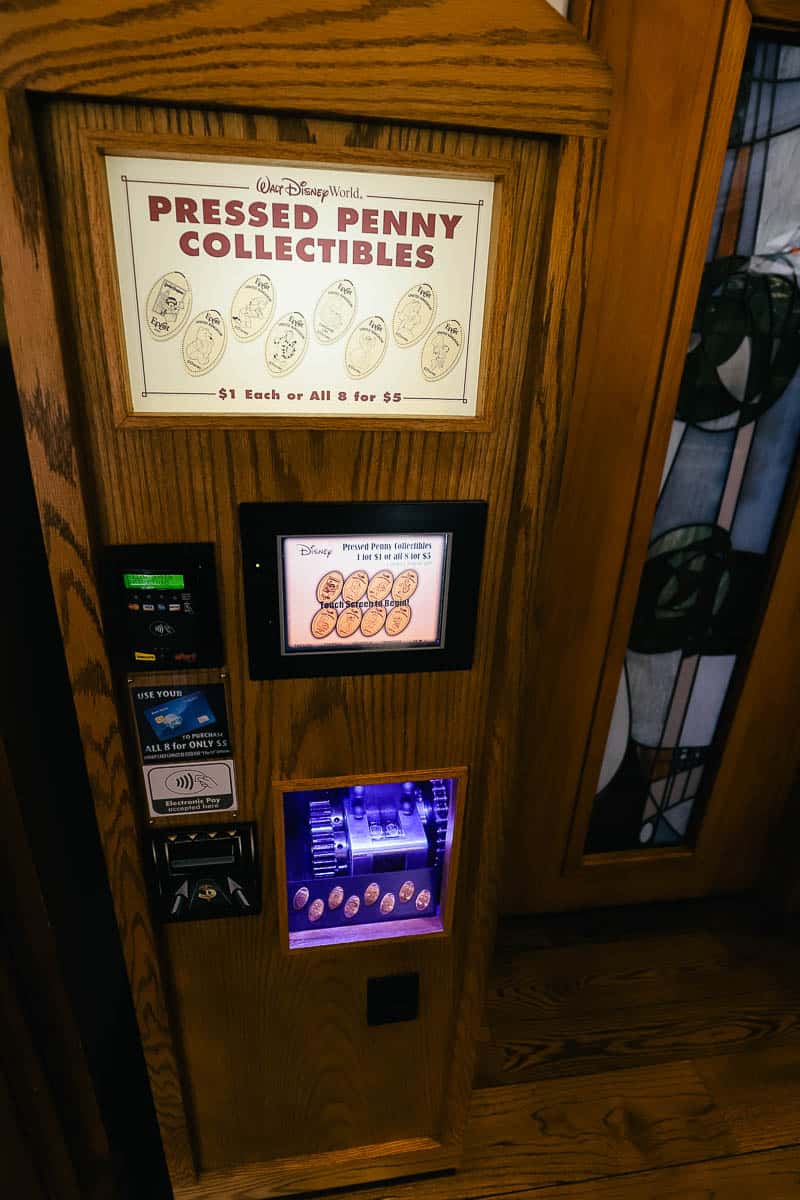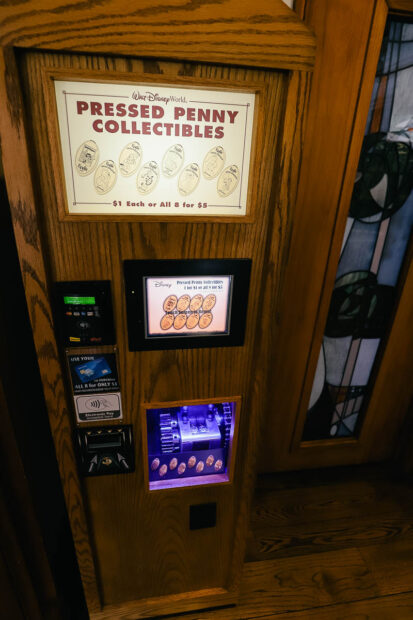 I thought this machine had some lovely prints if you collect them.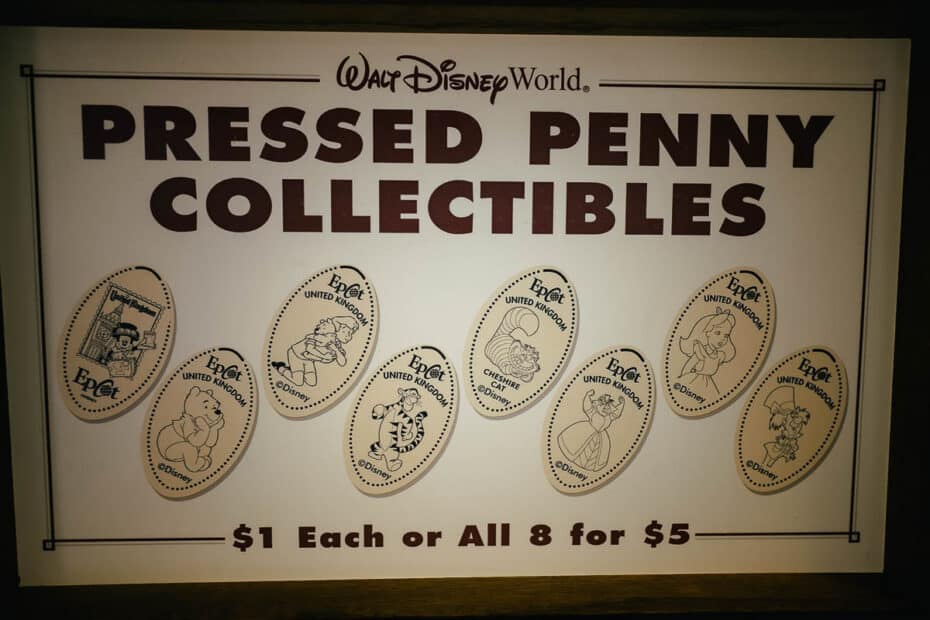 Lords and Ladies
Across the cobblestone street, we see another row of shops. We'll start at Lords and Ladies.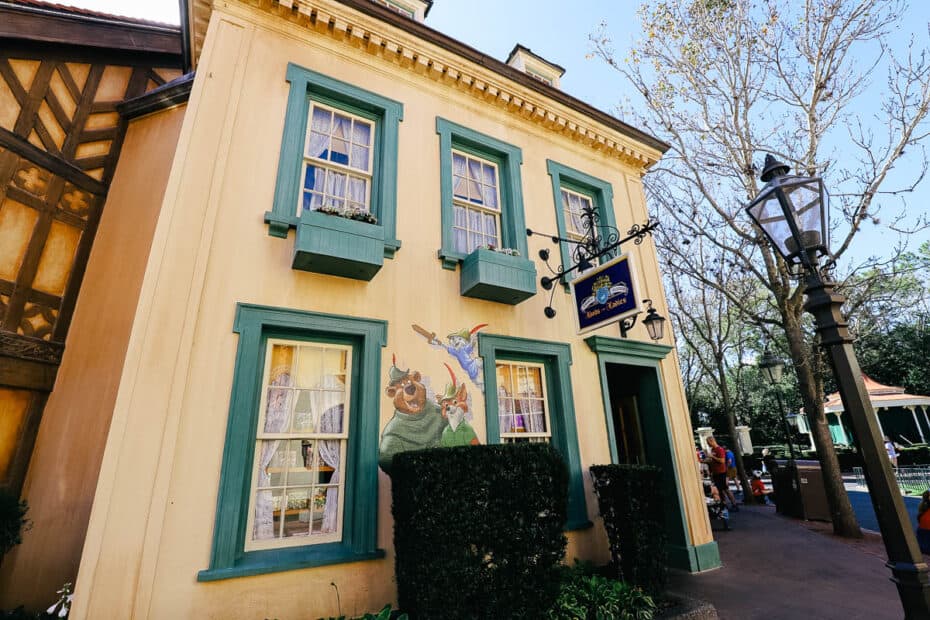 This shop is geared more toward ladies with women's apparel and such. They used to carry a few higher-end items like English handbags, scarves, jewelry, and hats.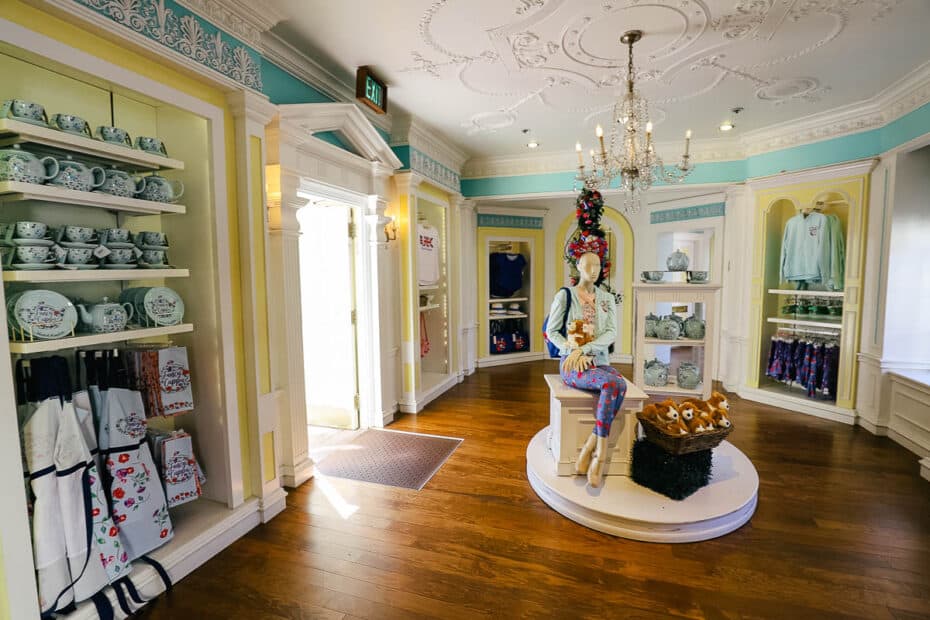 But now it's mostly World Showcase branded items.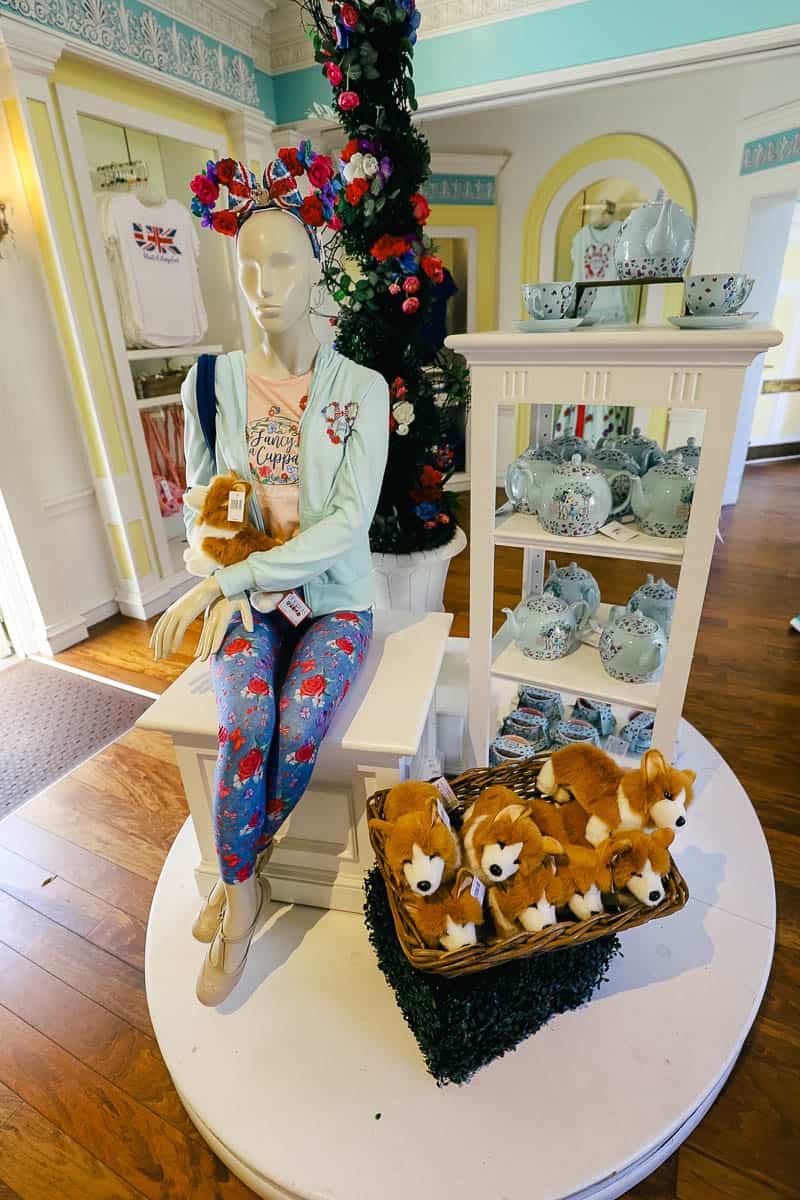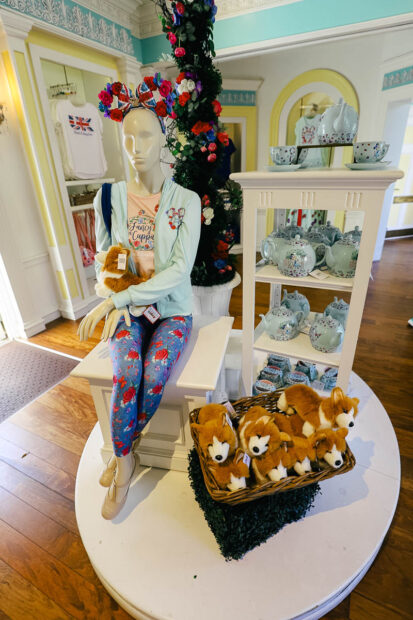 These items with Minnie Mouse are newer.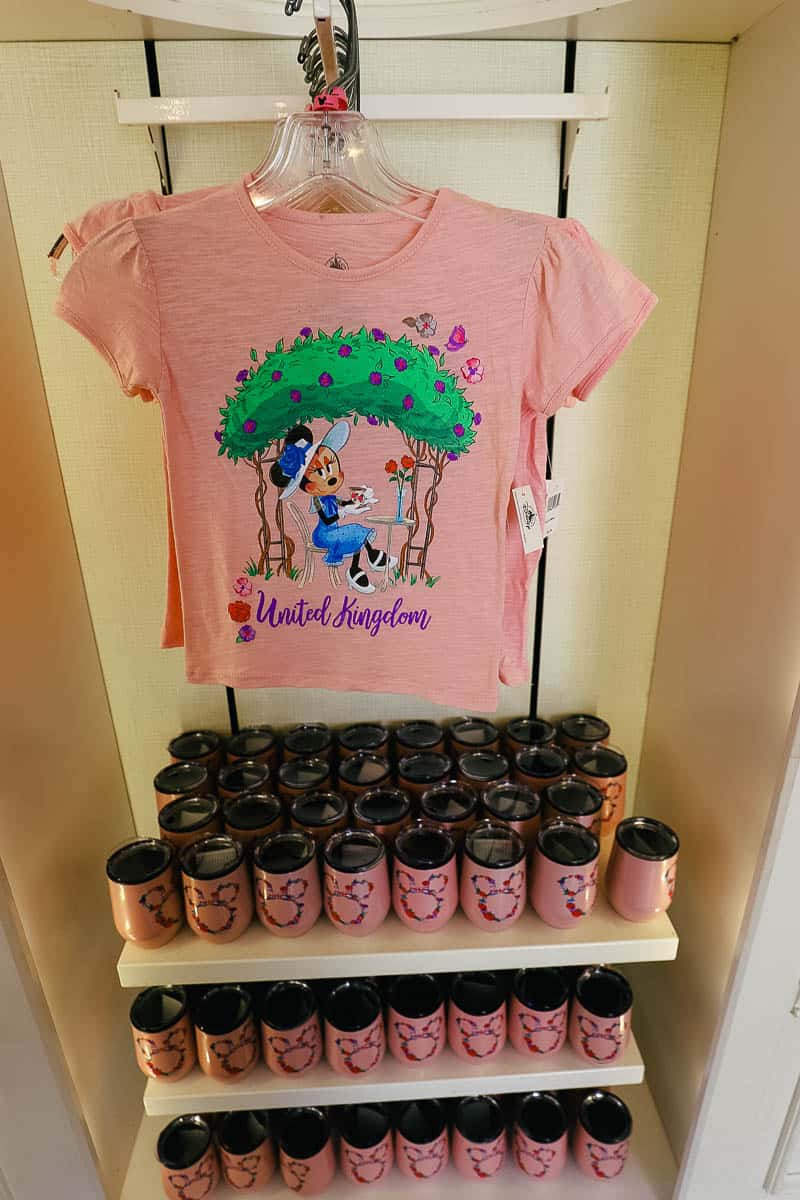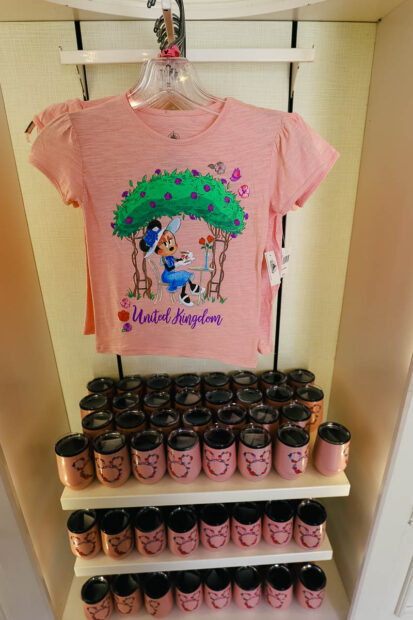 There were a few Minnie Ears.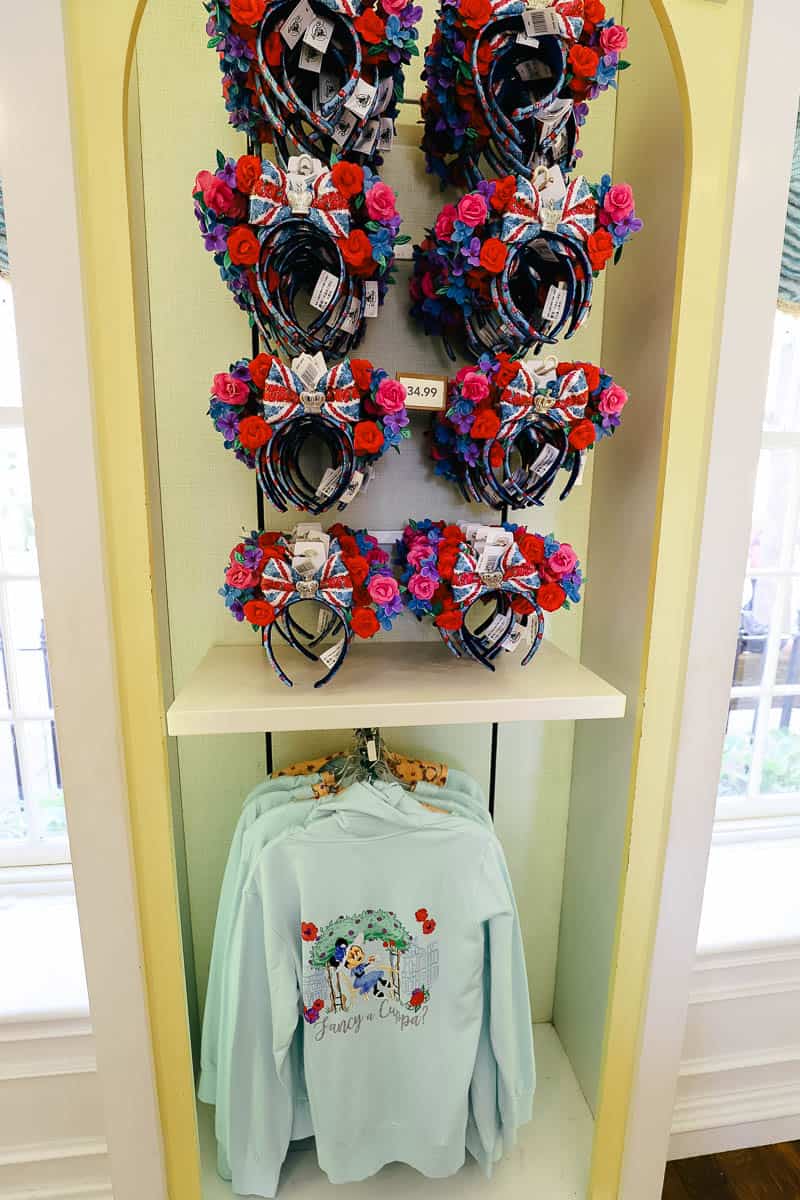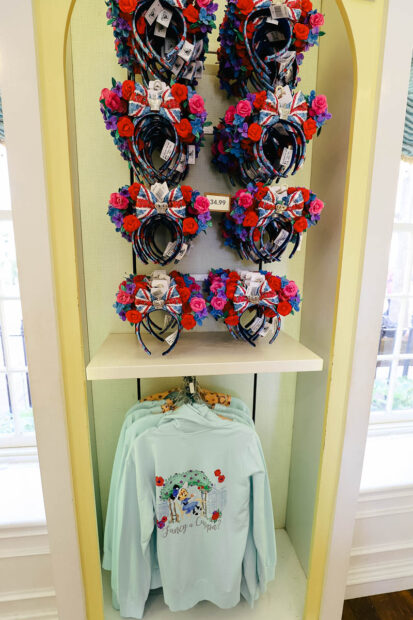 As we've seen in most other pavilions, the United Kingdom has its own Sketchbook ornament design.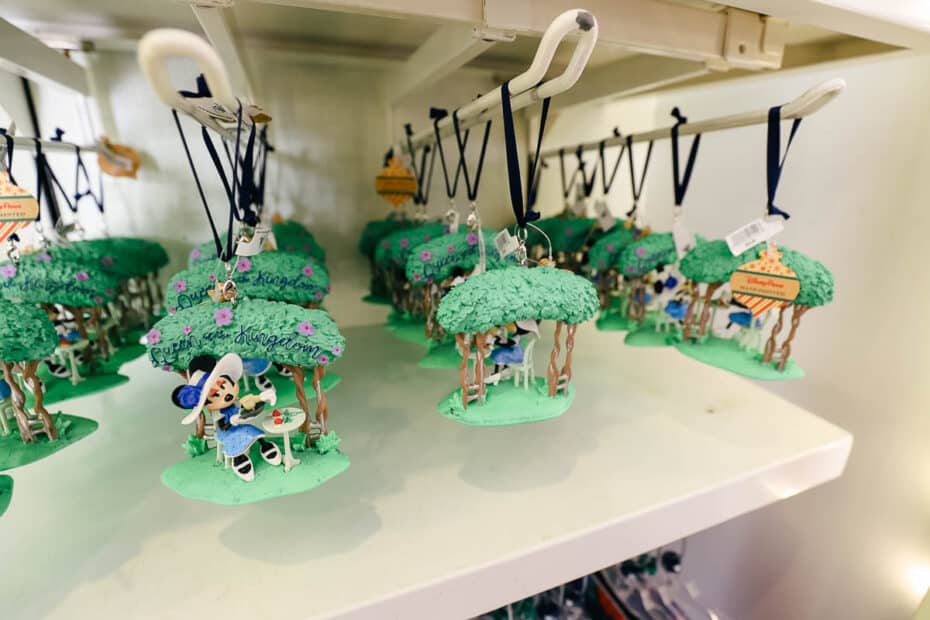 The Queen's Table
Lords and Ladies turns into The Queen's Table, where there are a few more fun items to browse.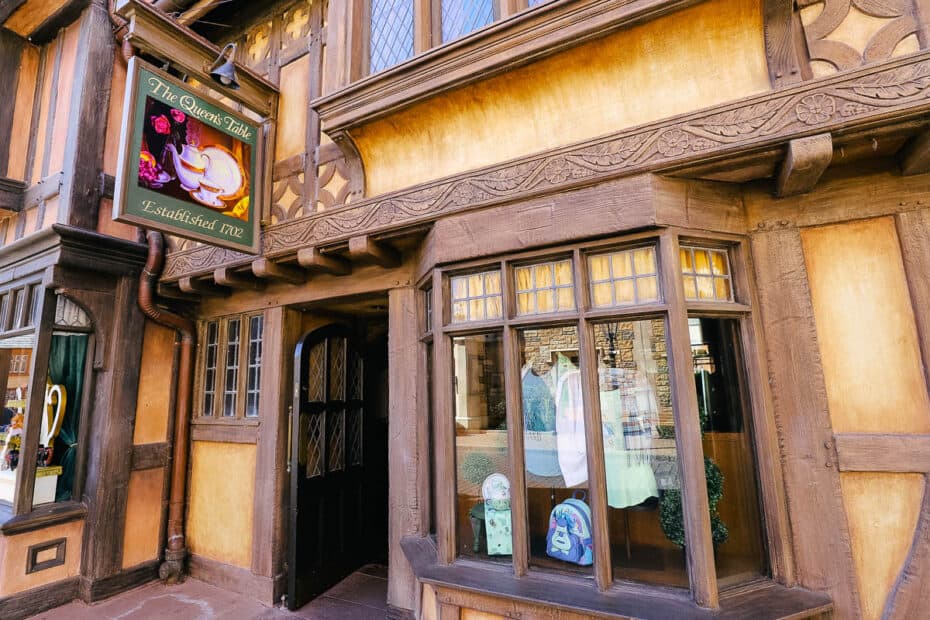 These teapots are all fabulous.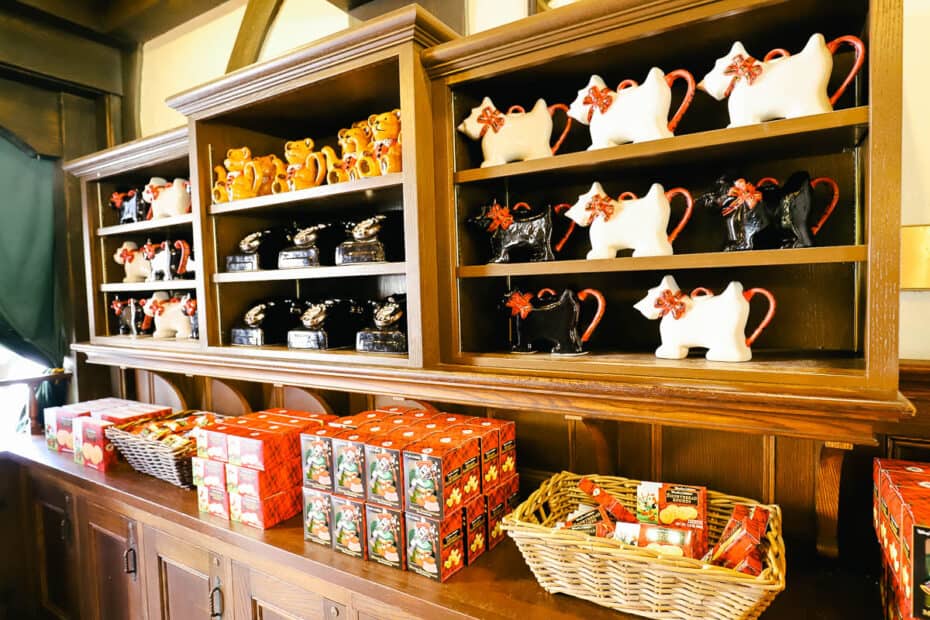 Here's a closer look.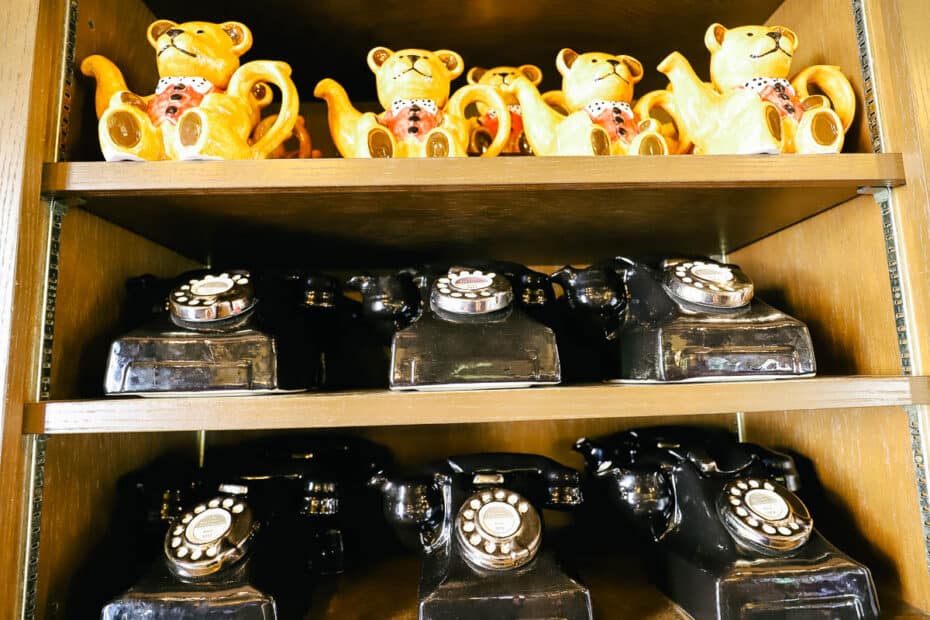 Walker's Shortbread Rounds are available at most of the gift shops at Disney World. If you've never tried them, I must warn you to stay far away from them. They are delightful treats with only a few ingredients, namely butter and sugar. What's not to like?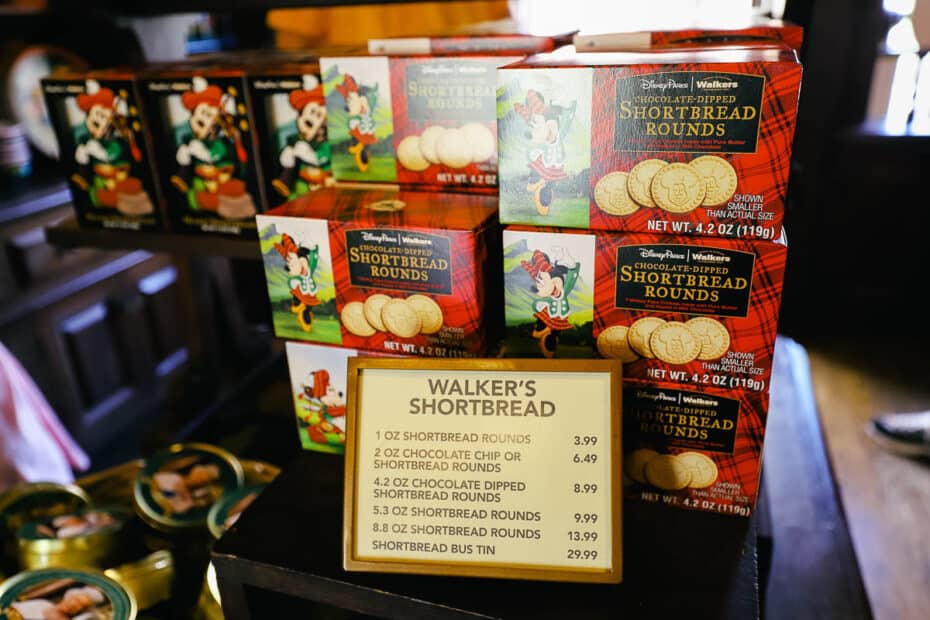 These teddy bear tins are adorable.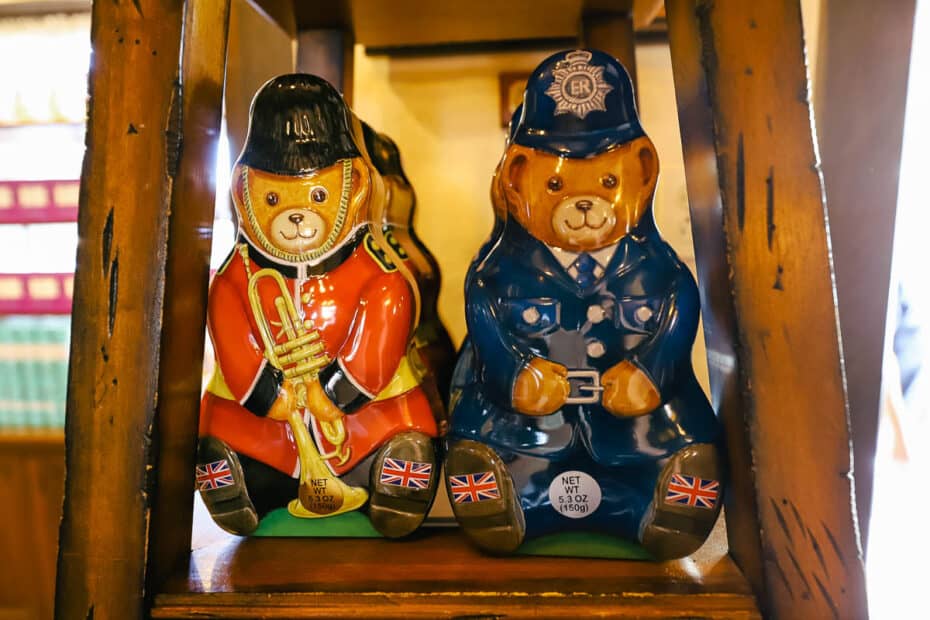 Here we have a few items representing Alice in Wonderland.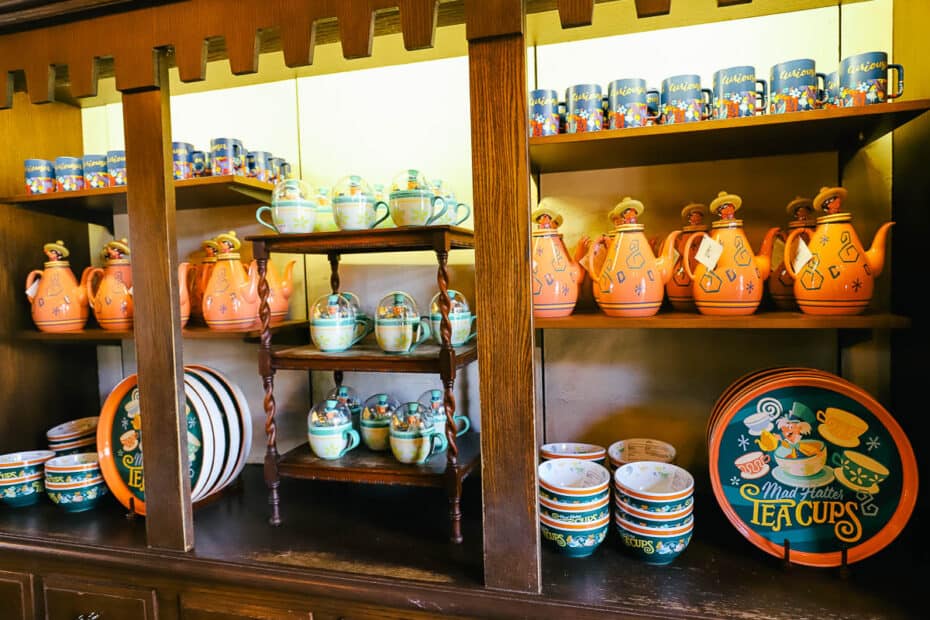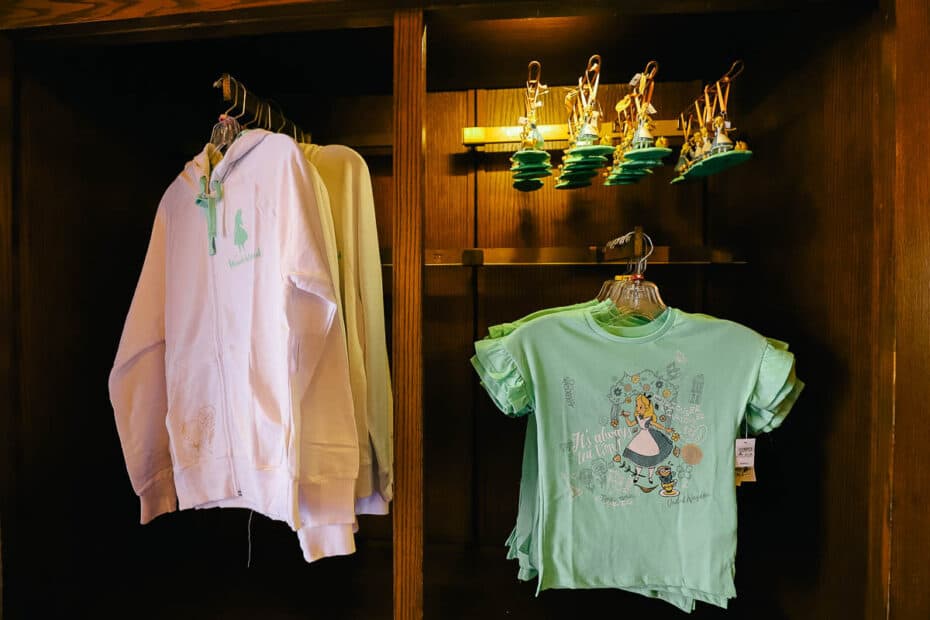 This backpack is on our list of Disney Backpacks.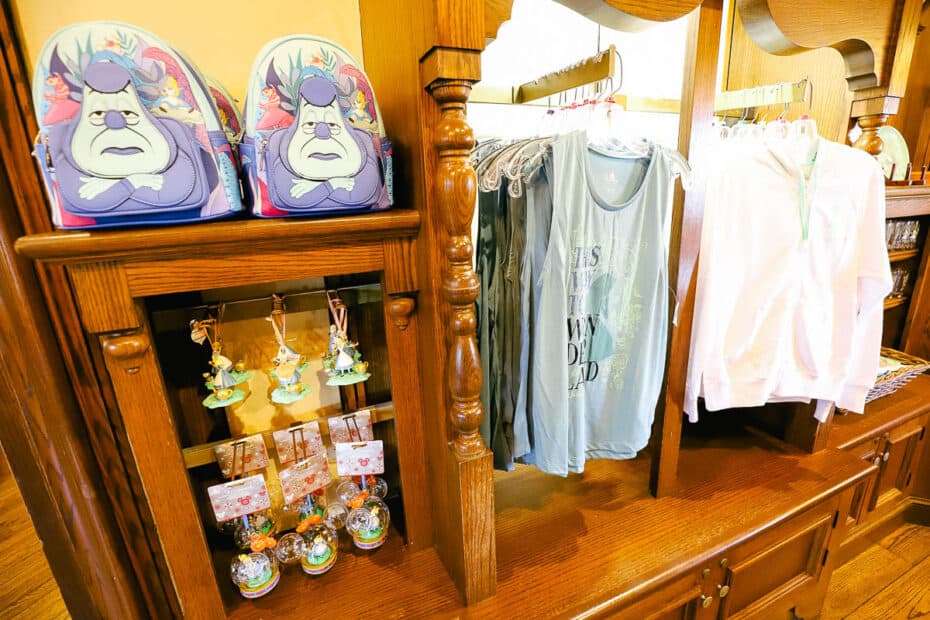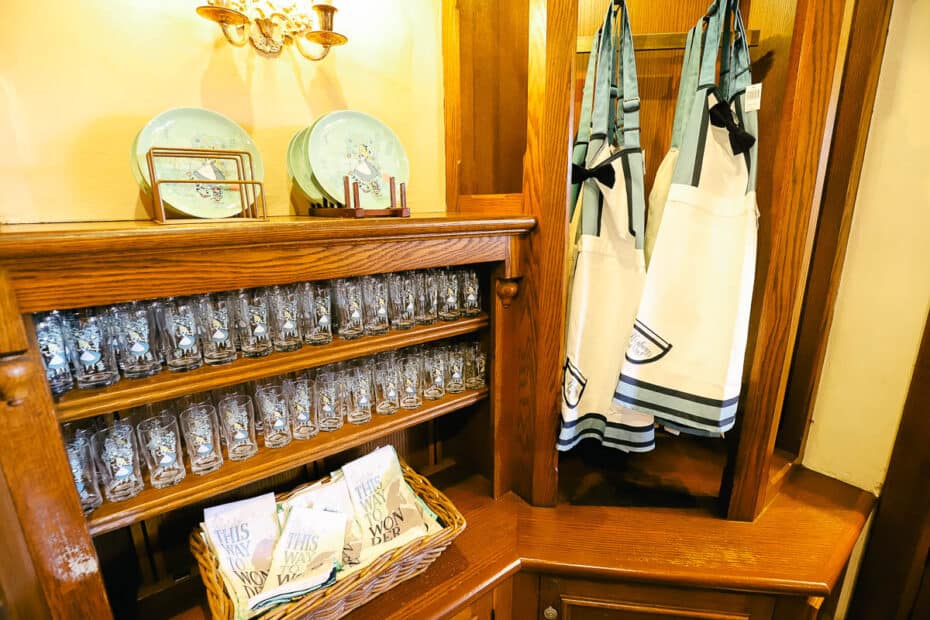 While I enjoy browsing Disney merchandise, I wish there were more items related to the pavilion. Hopefully, these kinds of things will eventually return. Here are the few authentic English items we saw.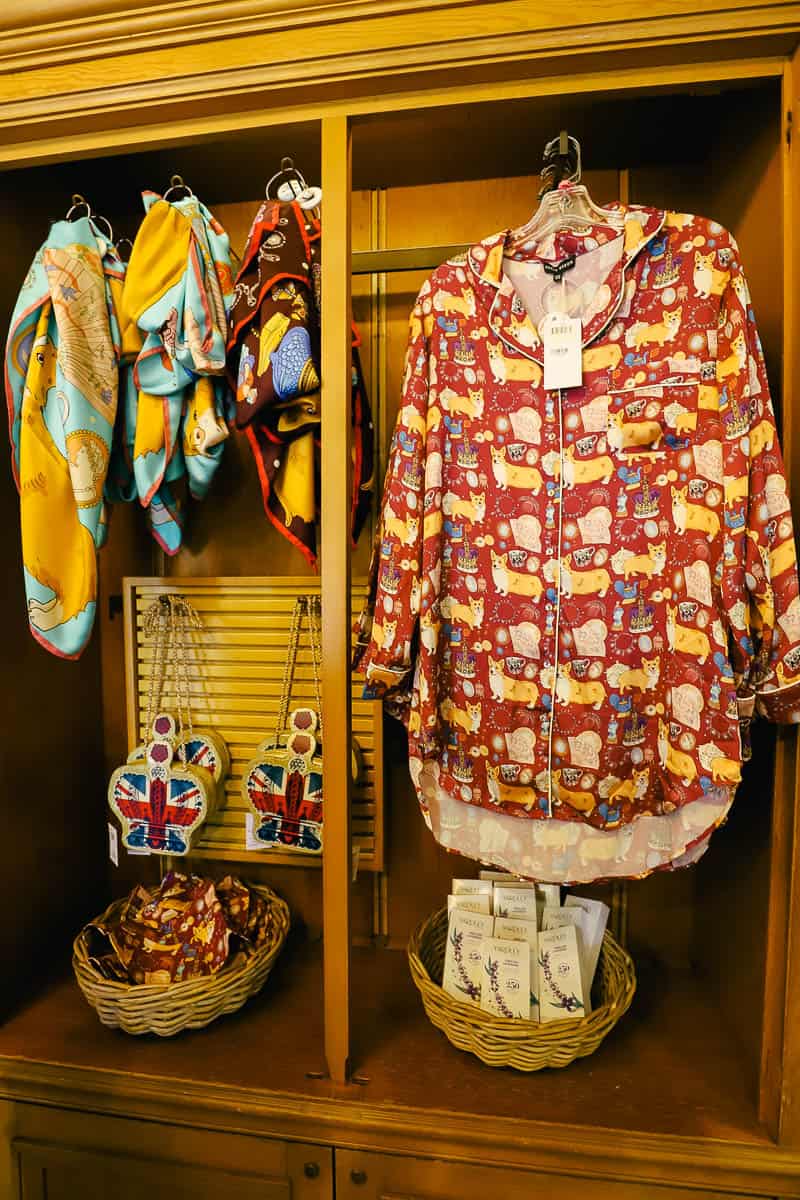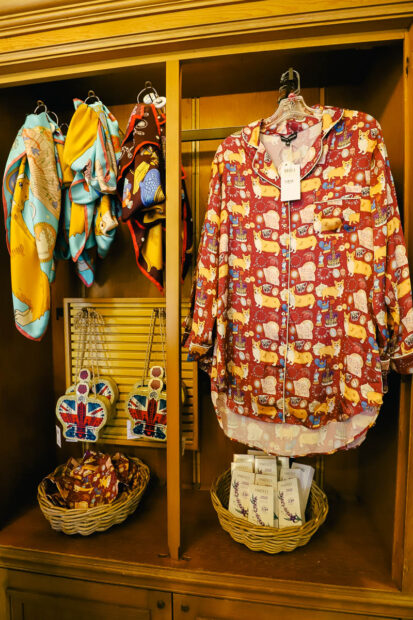 These scarves are memorial Tartan scarves for Princess Diana.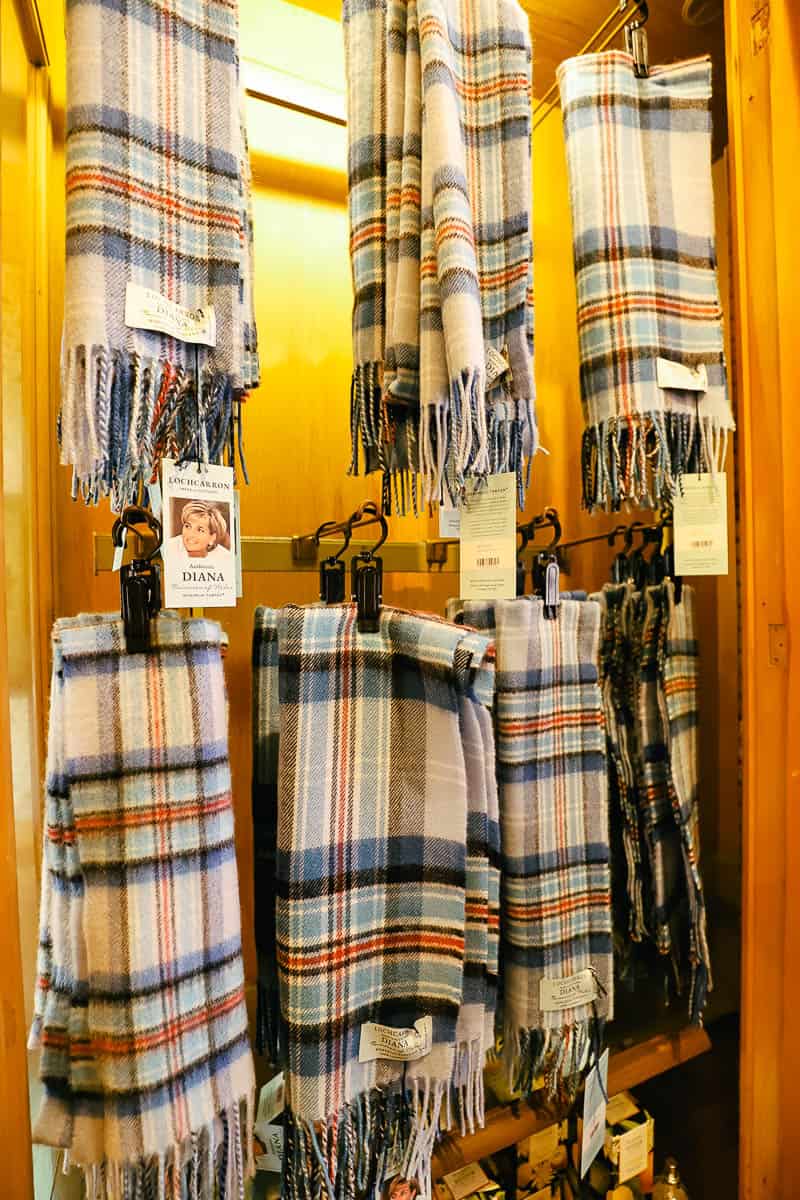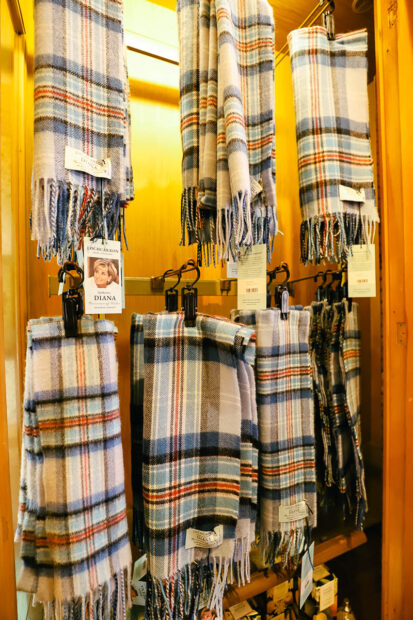 Additionally, there were a few displays of perfumes and soaps.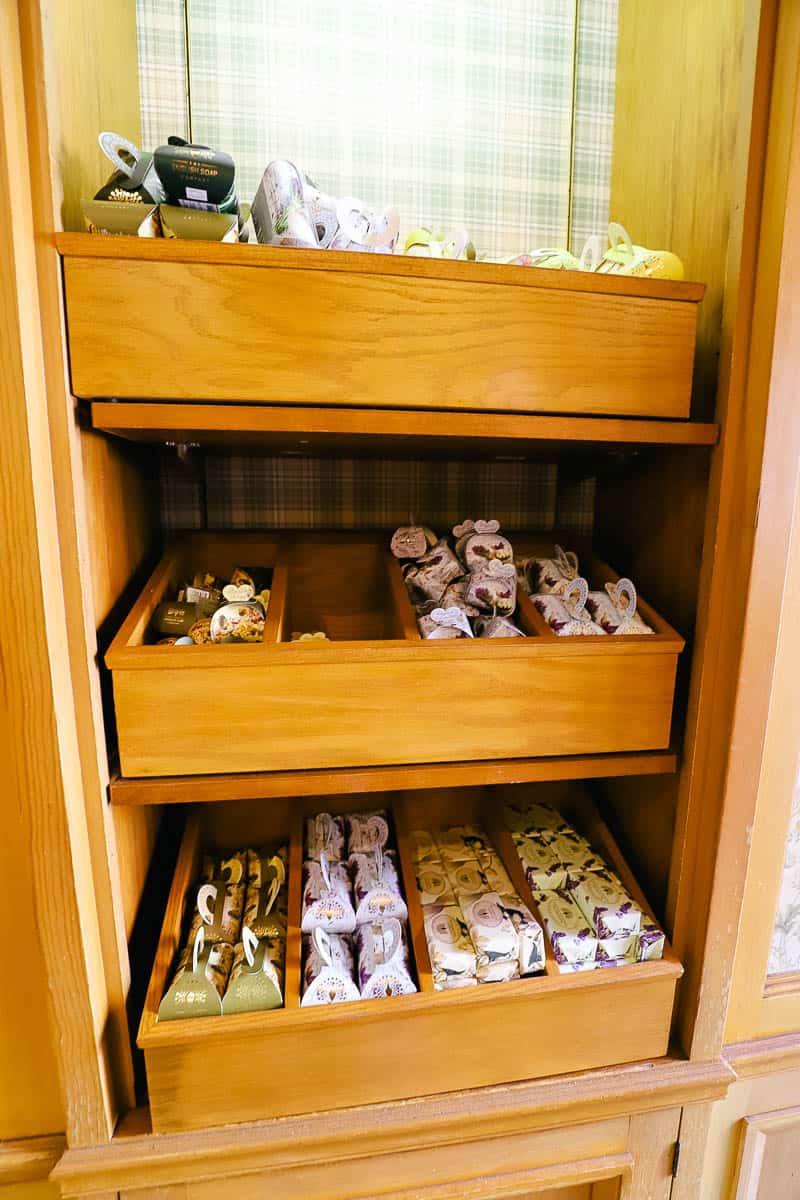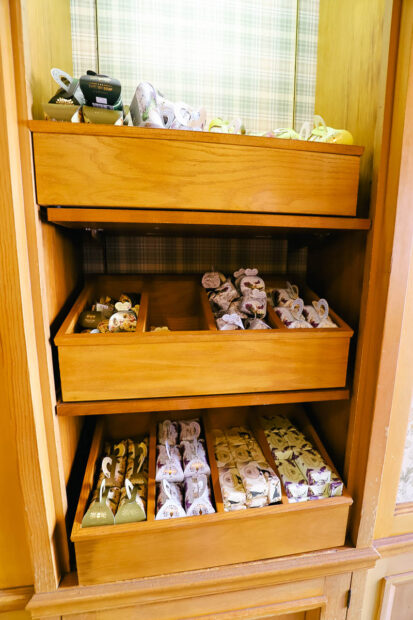 The Tea Caddy
Lastly, we have The Tea Caddy, which sits at the front of the pavilion. Lovers of tea, beware.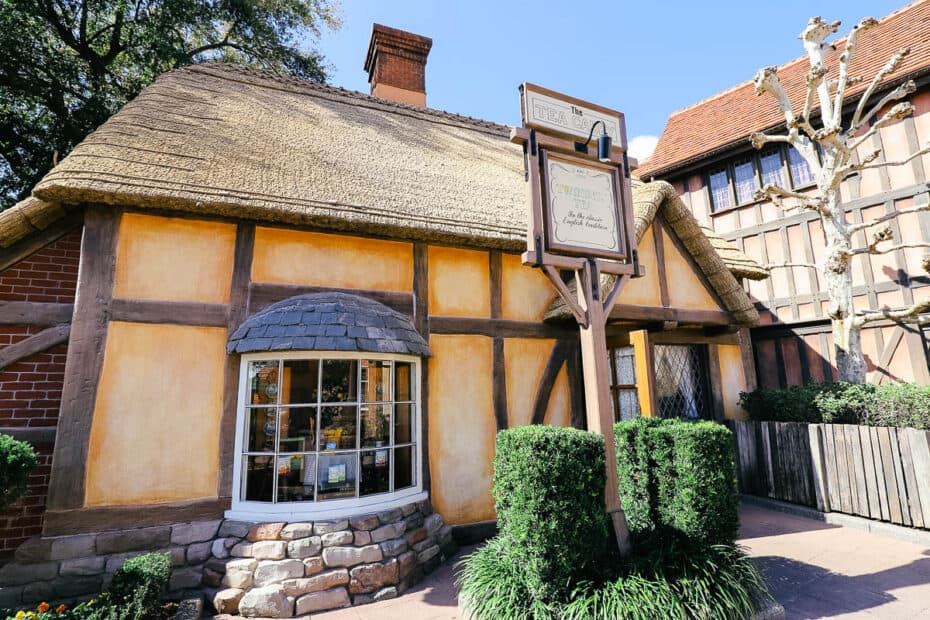 They carry a tremendous variety of Twinings tea. Not only that, but it smells so good inside.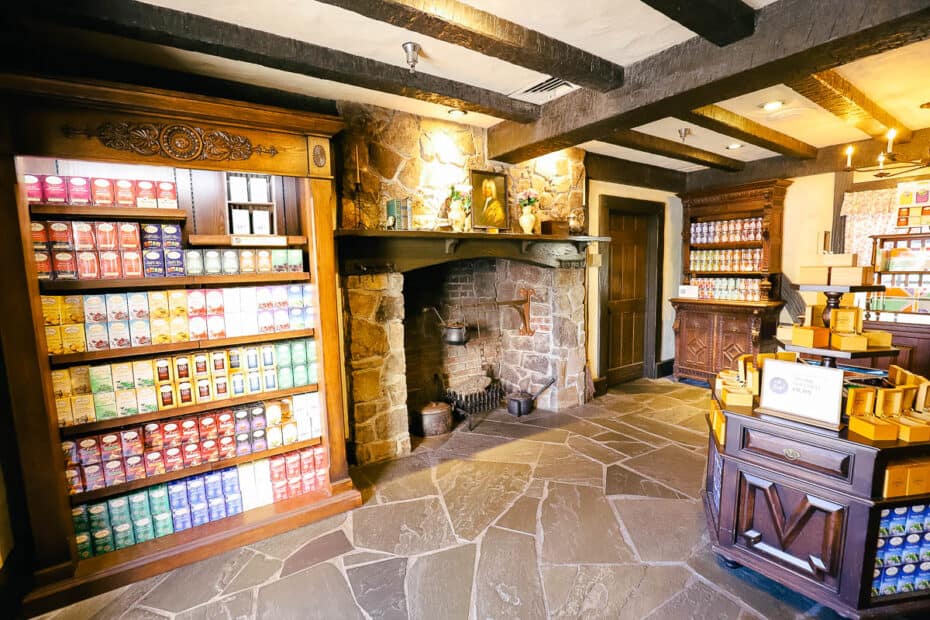 If you stop in on a chilly or damp day, you'll probably leave with a fresh stock of teabags. A nice, caffeine-free tea before bed is a wonderful way to end the day.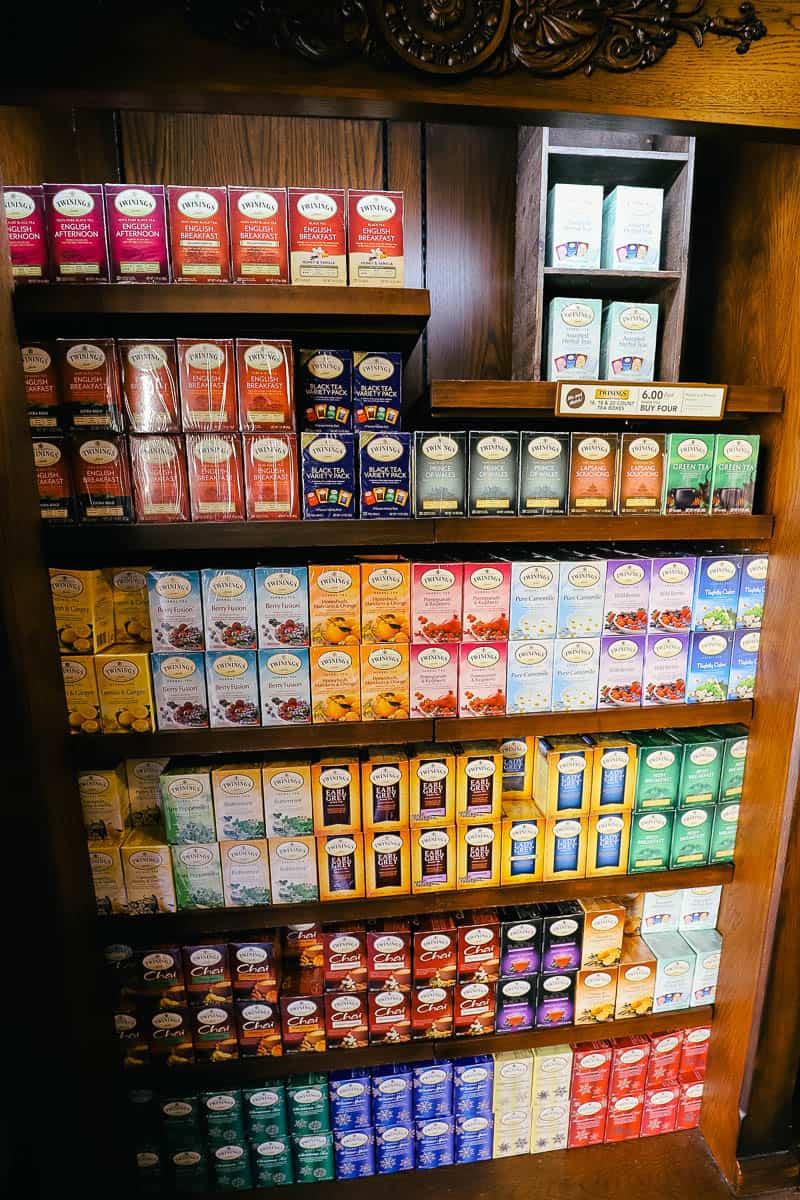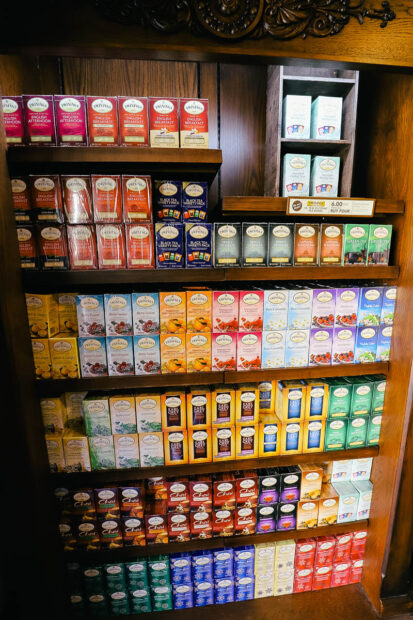 These days they have all kinds of tea.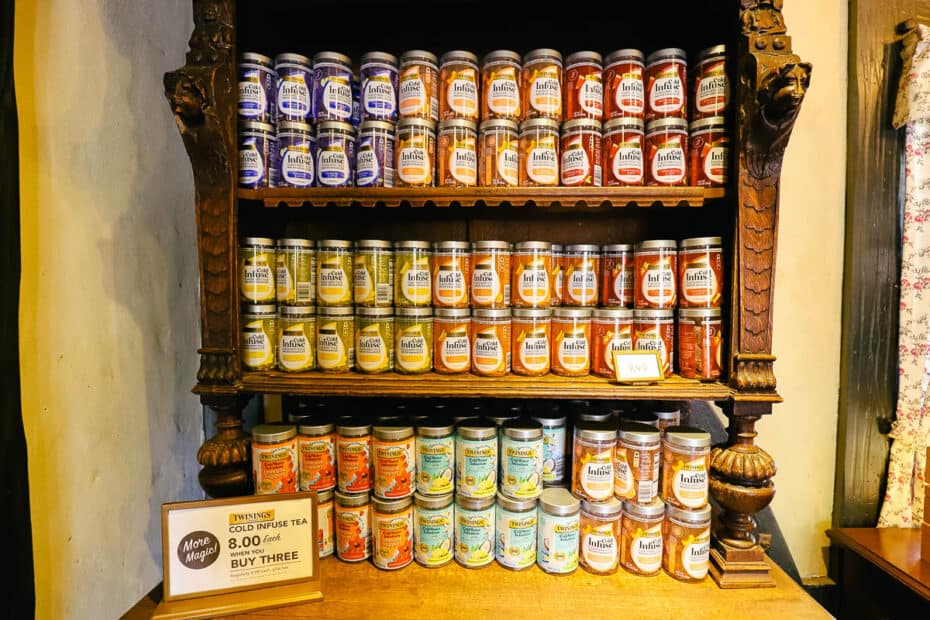 It's so difficult to choose.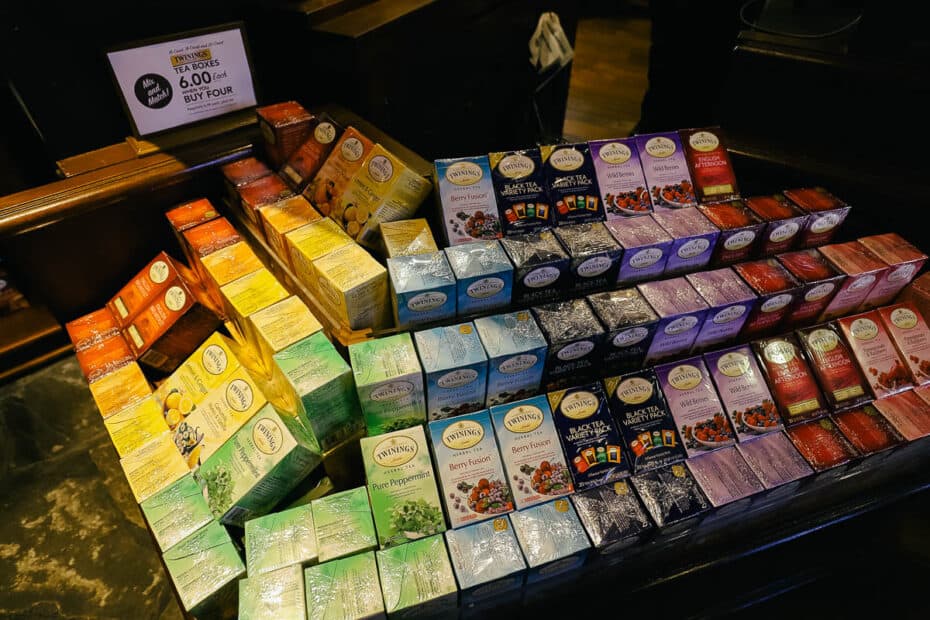 They even have traditional English Breakfast Tea.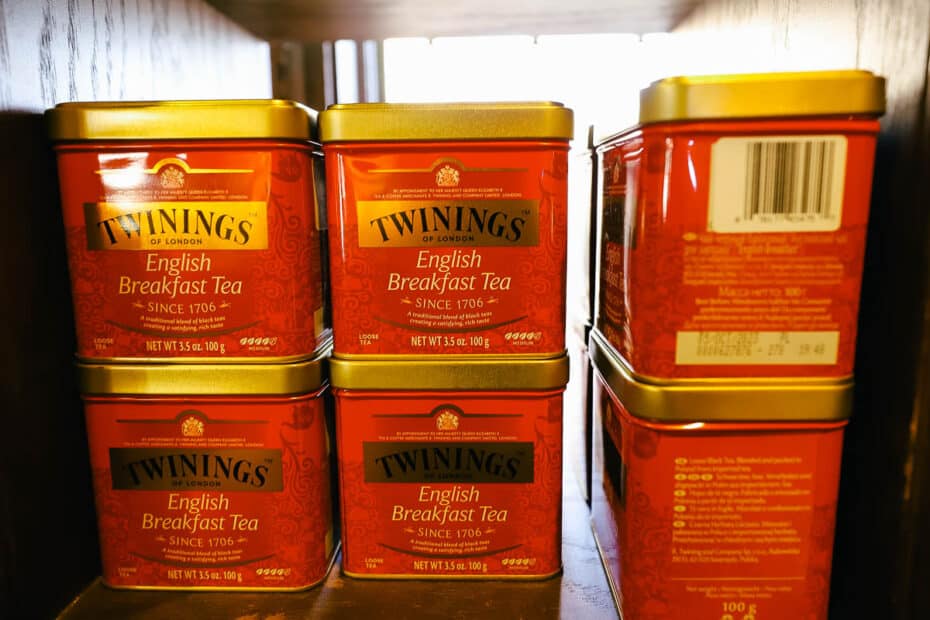 If you like, there are drawers that house some of the teabags. You can pull a drawer out and smell the aroma of each flavor.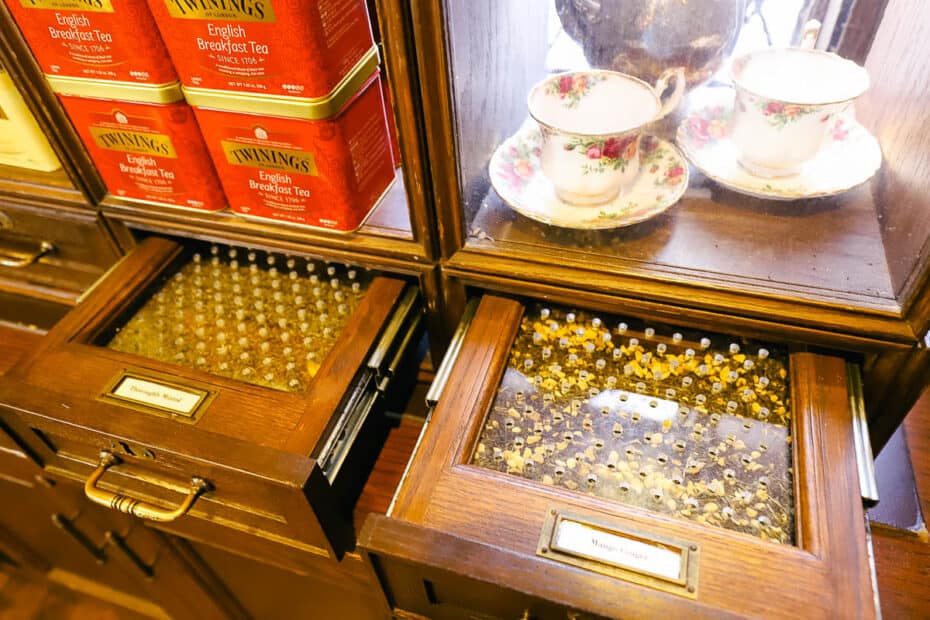 United Kingdom Kidcot Fun Stop
The United Kingdom has a Kidcot Fun Stop in The Toy Soldier. Each Kidcot in the World Showcase provides a free activity for children to participate in while touring.
We try to mention this stop in all the World Showcase reviews because it's truly an excellent way to get children involved.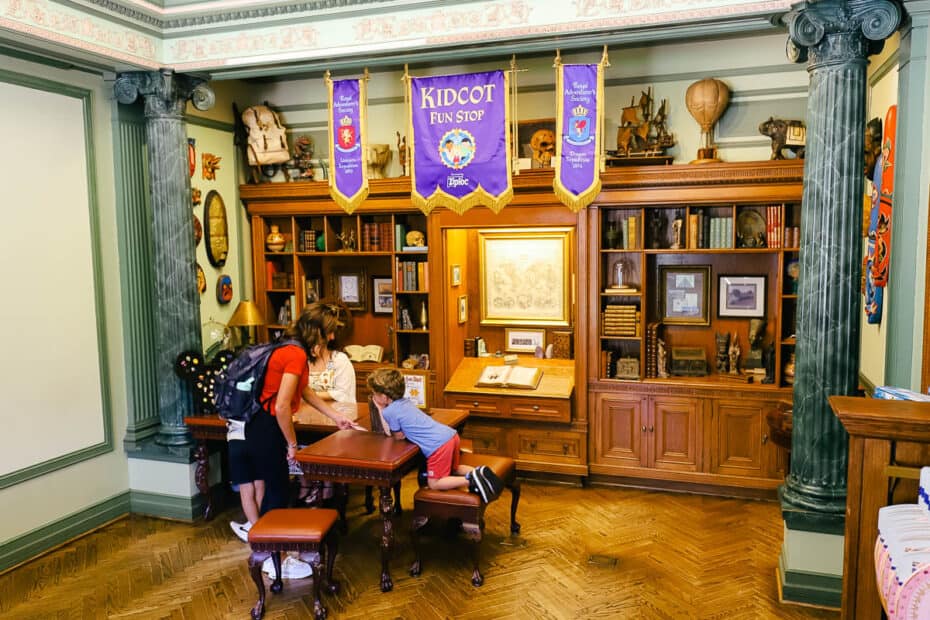 Extra Mentions
For those visiting Epcot during the Flower and Garden Festival, don't forget to check out the topiary available in the United Kingdom Pavilion. In past years, the country has had topiary from Peter Pan, Winnie the Pooh, a Shakespeare garden, and Tinker Bell's fairy houses.
Related: Epcot Flower and Garden Photos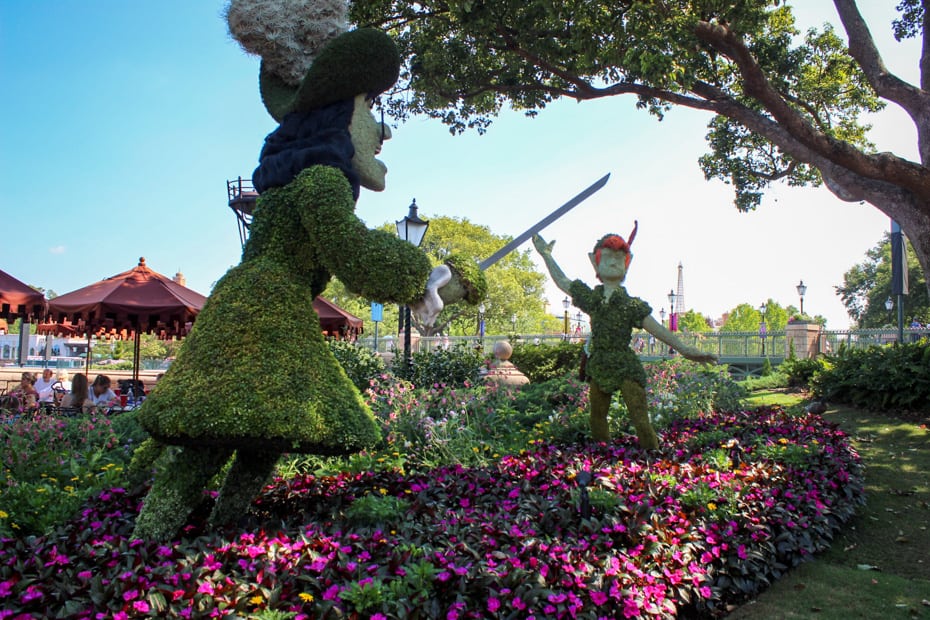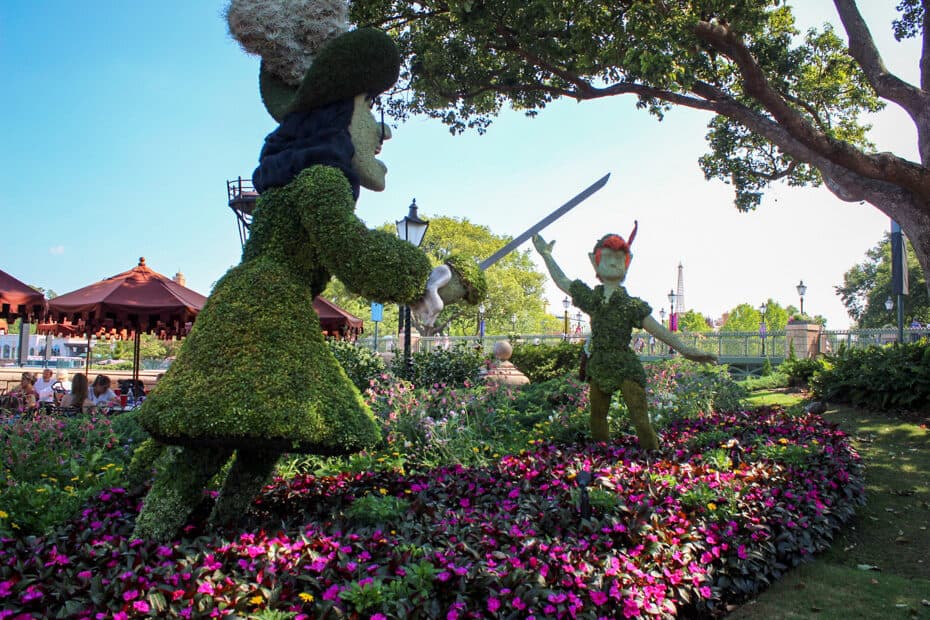 During the Food and Wine Festival, the United Kingdom is home to a food booth that usually has outstanding items. Here are the items from last year.
Related: Ireland Global Marketplace at Epcot Food and Wine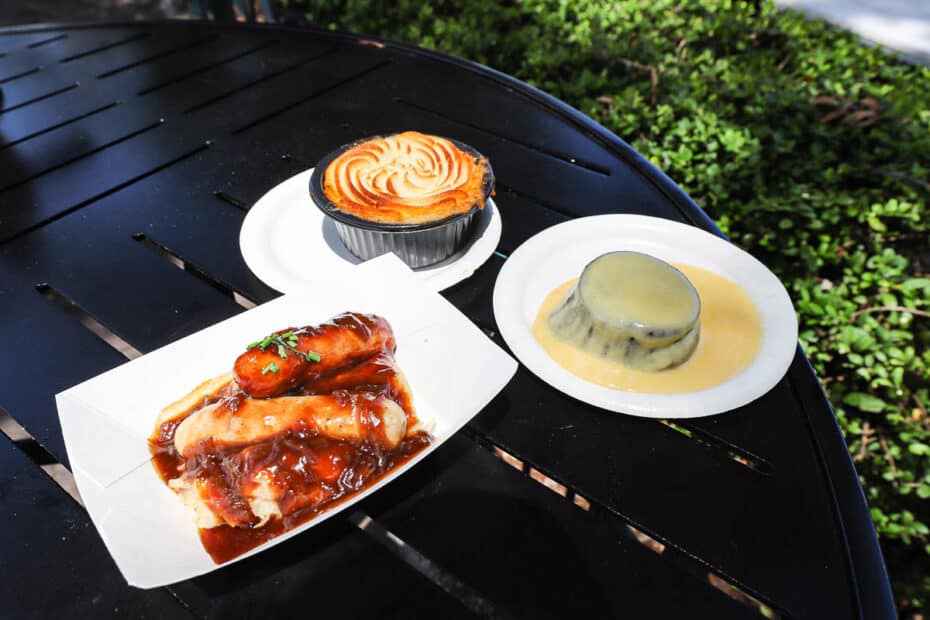 While the United Kingdom doesn't offer anything attraction-wise, I think most guests genuinely enjoy their time here.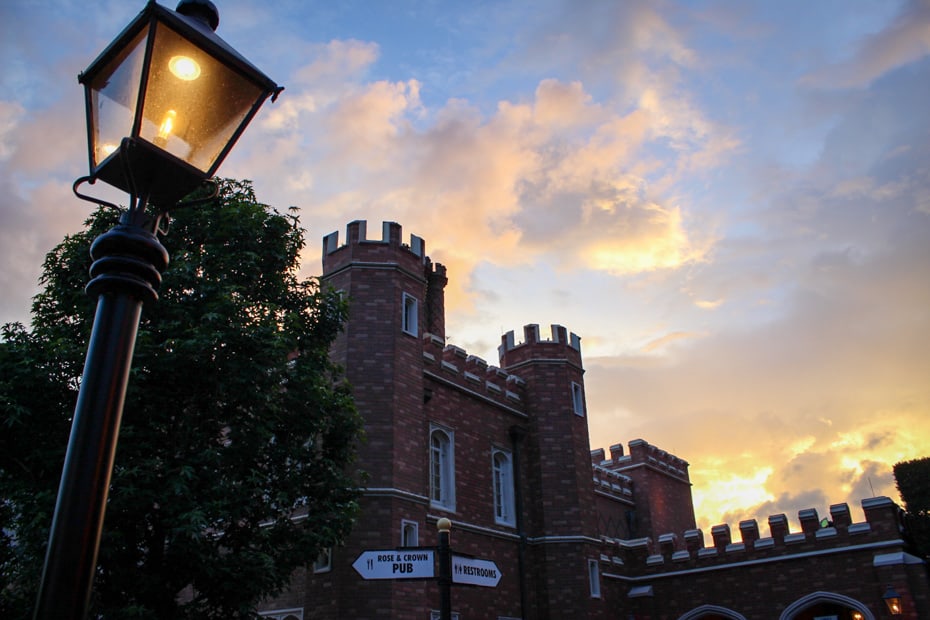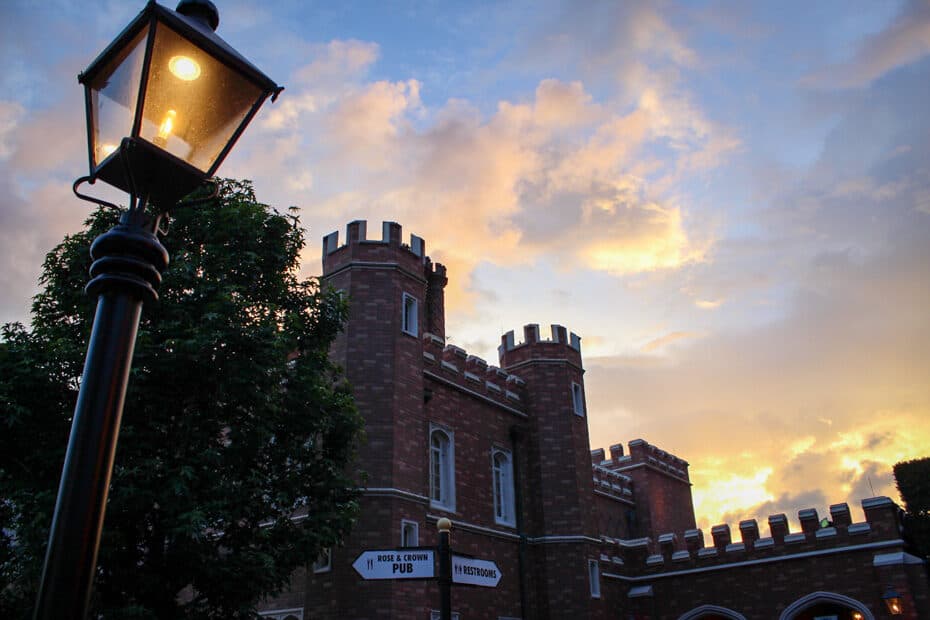 Hopefully, this review of Epcot's United Kingdom provided helpful hints for dining and shopping. If you are interested in learning more about the different countries in the World Showcase, you might enjoy these reviews:
Related: Epcot Rides and Attractions List
For those planning to spend a reasonable amount of time at Epcot, you might enjoy staying at one of the Skyliner Resorts. Here are a few of those reviews:
In the Comments
What are your thoughts on the United Pavilion Kingdom at Epcot? Do you enjoy spending time here?