Beauty and the Beast Live on Stage
Beauty and the Beast Live on Stage is a popular production held daily at Walt Disney World. In fact, a day at Disney's Hollywood Studios isn't complete without witnessing a performance of the popular stage show.
This review will cover everything you need to know to experience Beauty and the Beast Live on Stage during your Disney vacation.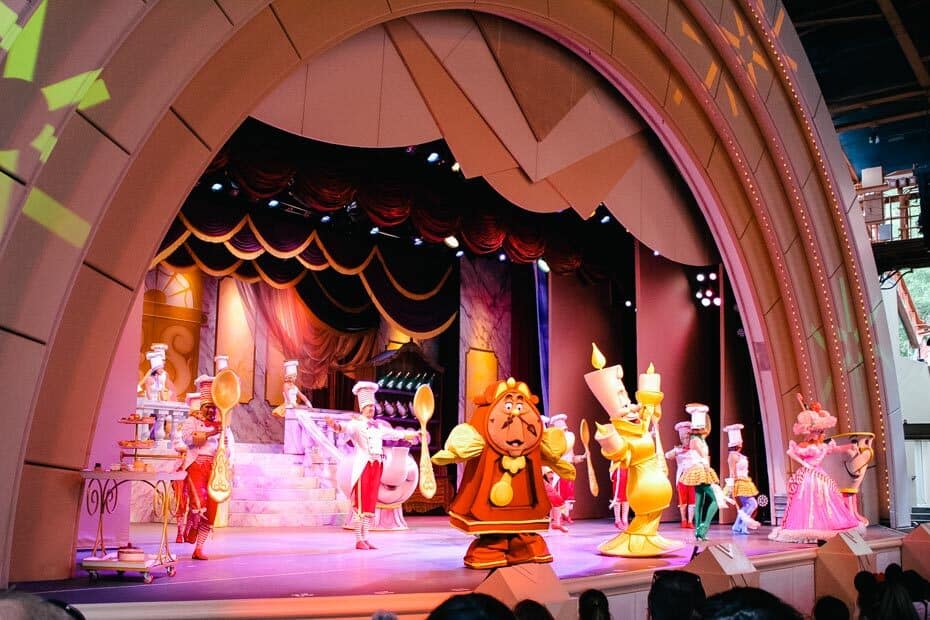 Here's a quick reference of the important detail for this production of Beauty and the Beast Live.
Beauty and the Beast Live on Stage
Hollywood Studios Attractions

Location:

Sunset Boulevard

Disney Height Requirement:

N/A

Genie+ Eligible

Yes

Ride Type:

Stage Show

Seats Per Vehicle:

Theater Rows

Duration:

25 minutes

Good For:

Everyone

Scare Factor:

None

Must-Do List:

Medium Priority

Perfect For:

Beauty and the Beast fans

Special Mention:

Pick up a snack to eat and bring
it with you for the show.
Beauty and the Beast Live on Stage
When adding Beauty and the Beast Live on Stage to your planning schedule there are a few other things you will want to know.
For instance, the stage show usually has several performances during the day at Hollywood Studios. Here is a sample of the showtimes.
Morning 11:00 a.m.
Afternoon 1:00, 2:00, 4:00 p.m.
Evening 5:00 p.m.
*Make sure to check the daily time schedule or My Disney Experience app on the day of your visit for exact times. Or you can check here on Disney's site.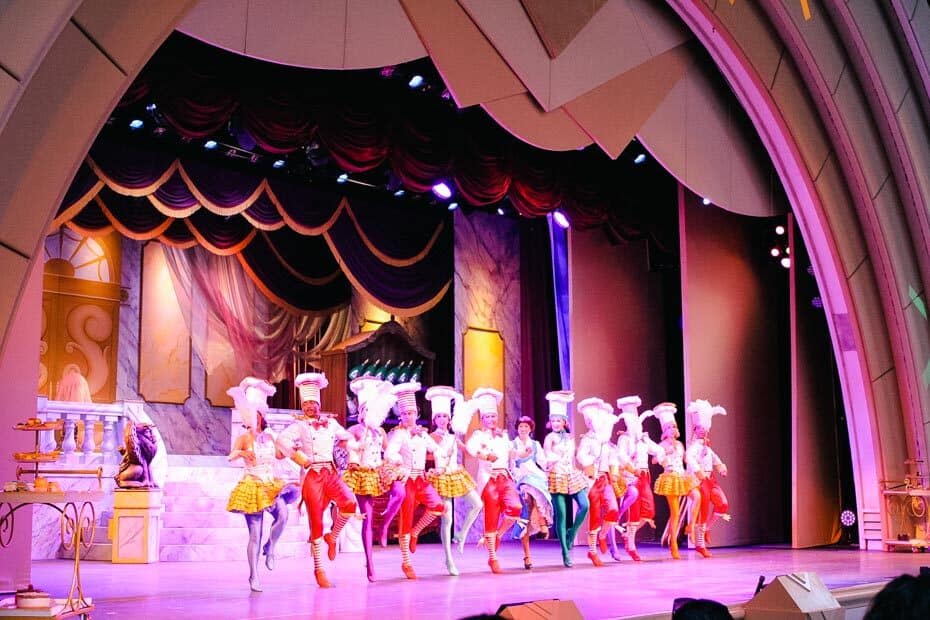 With any type of entertainment offering, you will want to arrive at least 15 minutes early. This will ensure you are seated prior to the performance. Beauty and the Beast Live on Stage lasts approximately 25 minutes, so you are looking at dedicating close to a full hour of your touring time to see it.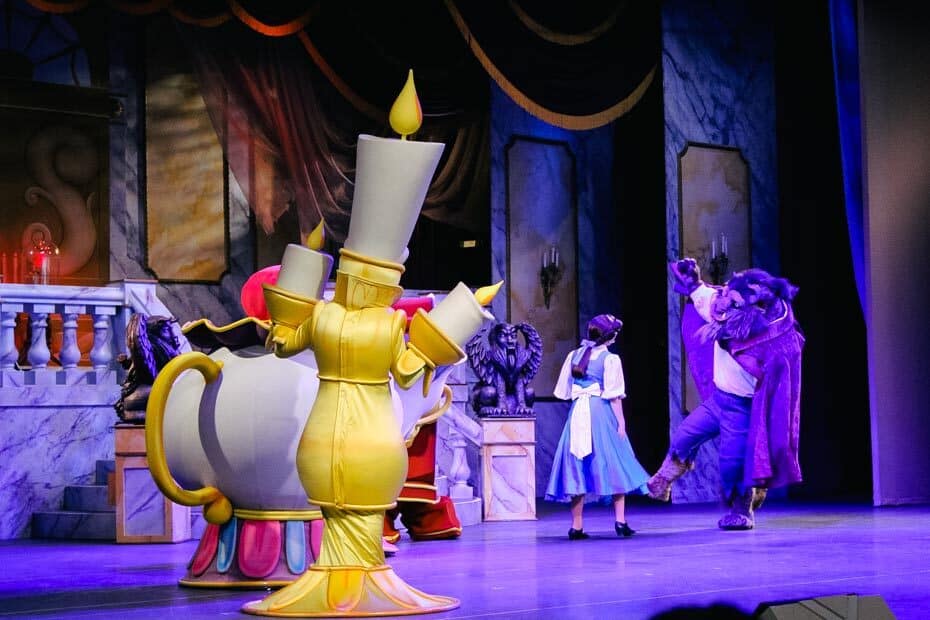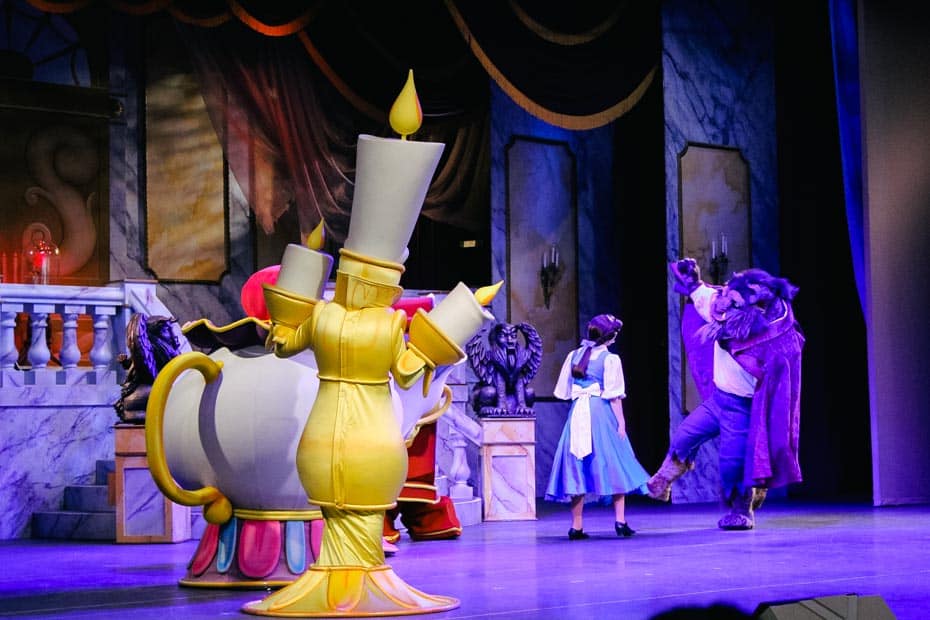 Is it worth it? If you've never seen Beauty and the Beast Live on Stage and have an interest in theater, musicals, or the original film, then yes make sure to see it on your visit.
The performers are excellent and I've always been thoroughly impressed with the production. It's a classic Disney story and the characters do a good job of keeping you focused. The costumes are also mesmerizing. This is truly a show for all ages.
The best time to see Beauty and the Beast Live on Stage is usually at the 2:00 p.m. or 4:00 p.m performances. At this point in the day, the wait times for other attractions are usually at their highest. Therefore, this is a nice reprieve from the crowds and standing in line.
Another thing to note is that this performance is held in a partially outdoor theater. However, the area is covered and provides shade from the sun. So it's not the worst place to be in the heat of the day.
Since Beauty and the Beast Live on Stage is in an outdoor setting, you do need to know all performances are canceled in the event of inclement weather.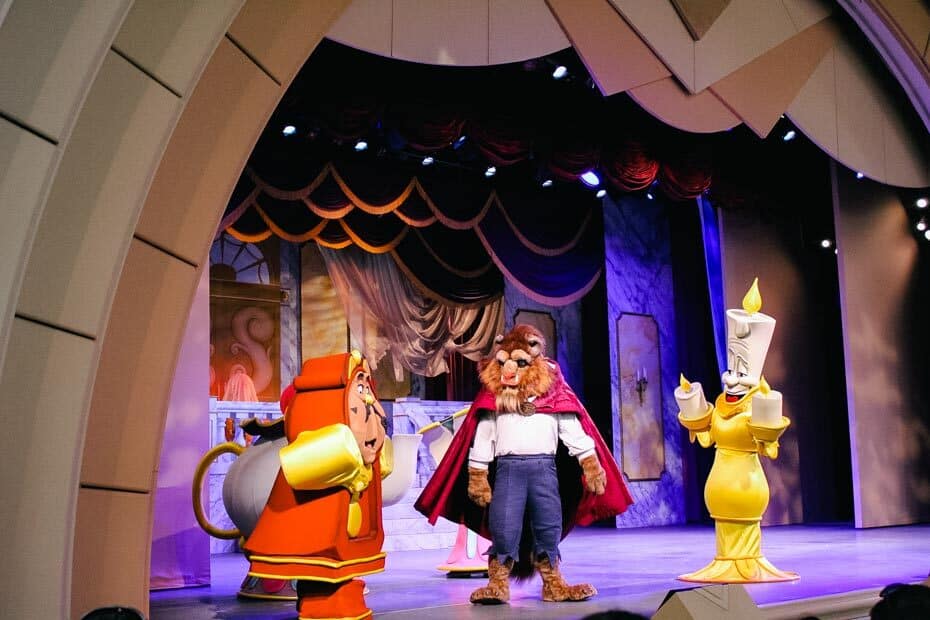 When preparing to see the performance, my recommendation is to grab a snack somewhere nearby and take it with you to the theater. Concessions are also located at the back of the theater. Often many groups will get a seat and then someone will go and pick up a few items.
However, I usually prefer to grab a pretzel over at Anaheim Produce before entering the amphitheater You'll find that there are a variety of (better) places to grab a snack in the immediate area outside the theater.
As far as seating goes, I took all the photos in this review from the outside aisle seat on the left-hand side of the stage. I was seating about six to seven rows from the front. I felt like it was an excellent seat. However, the seats in this area are bleacher style, so don't expect it to be the most comfortable venue.
If you have a baby or an unruly child, you might consider sitting at the very back of the theater. That way if needed, you can exit the theater easily. The view of the stage won't be as great at the very back, but you'll be unnoticed for the most part with everyone looking ahead. There are usually a few stragglers who come in last minute and end up in that section.
In case, I haven't sold you enough on this performance, here are a few more photos to help. I'm not a huge show person. So I get that these options aren't always something that everyone looks forward to seeing while on vacation.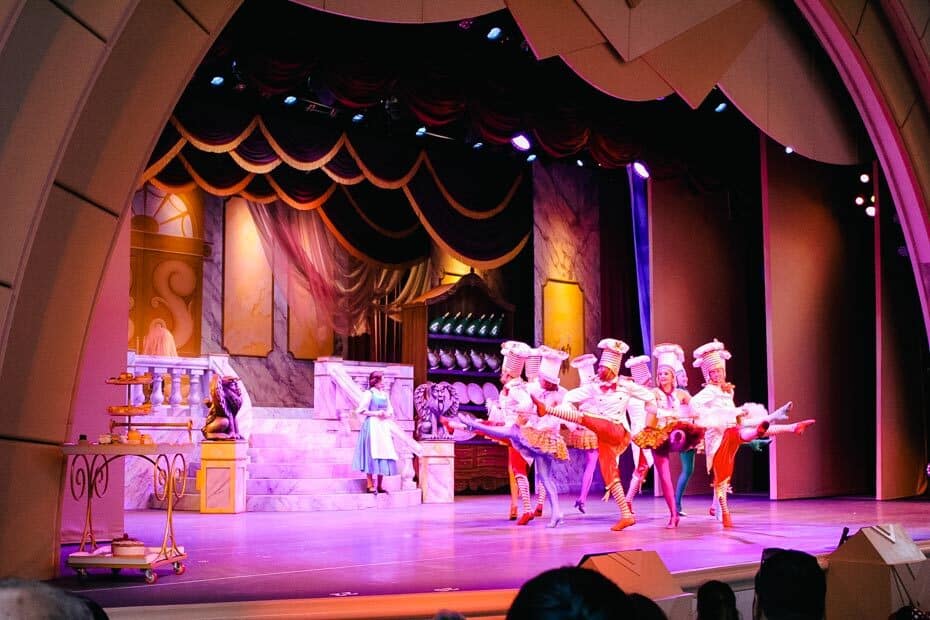 But I doubt anyone feels disappointed after actually seeing Beauty and the Beast Live on Stage. It's so colorful and the talent is something to be praised.
The dance numbers in this musical are well-choreographed and will probably leave you feeling out of shape. At least they do me.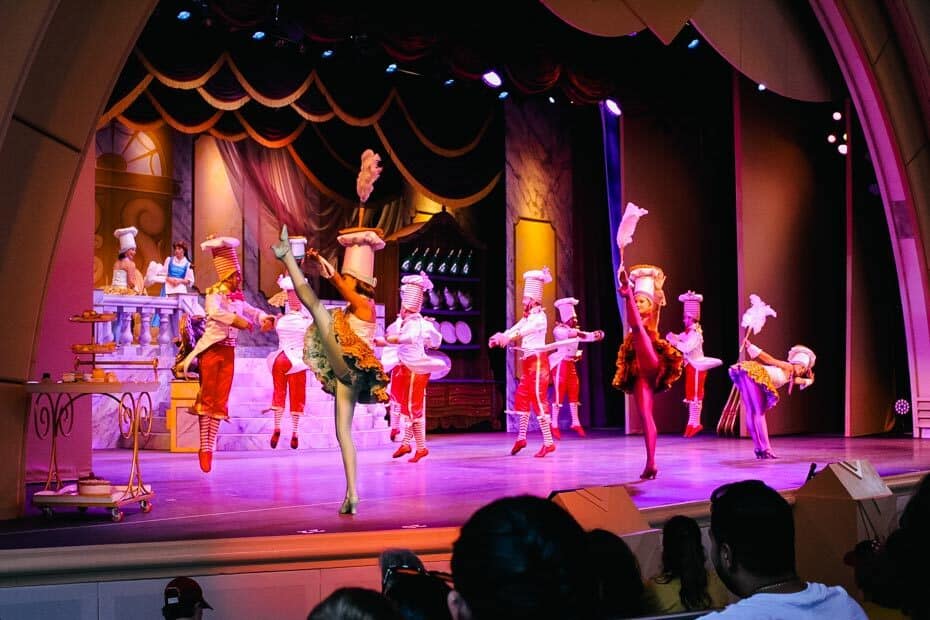 And children get so excited to see these classic characters live on stage right in front of them. An important note is that Belle is the only character that actually meets in a few of the parks. Beast can be seen at Be Our Guest over at the Magic Kingdom in the evenings, but that requires a pricy dining reservation.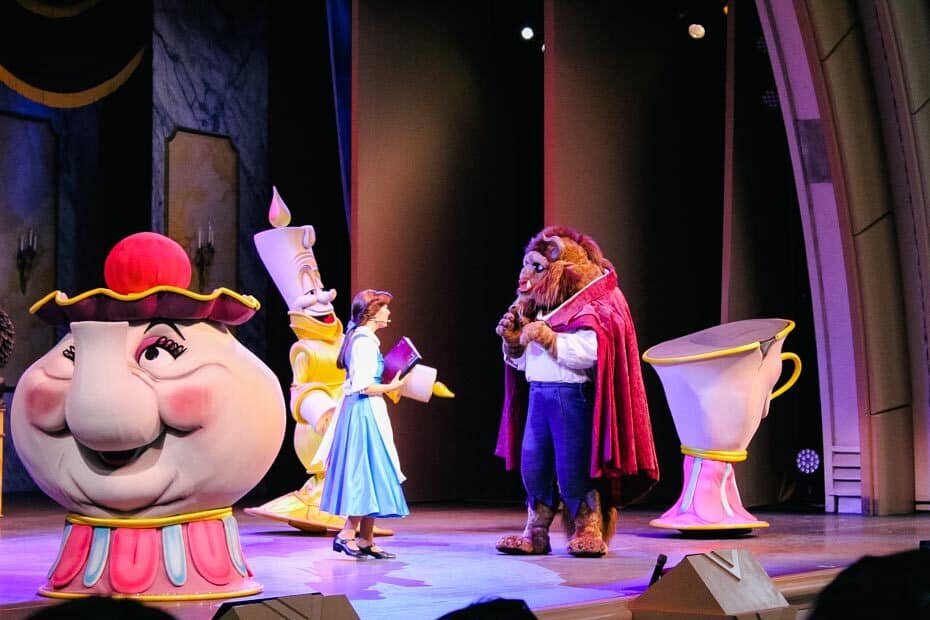 There's even a villainous moment or two with Gaston that adds to the climax of the play.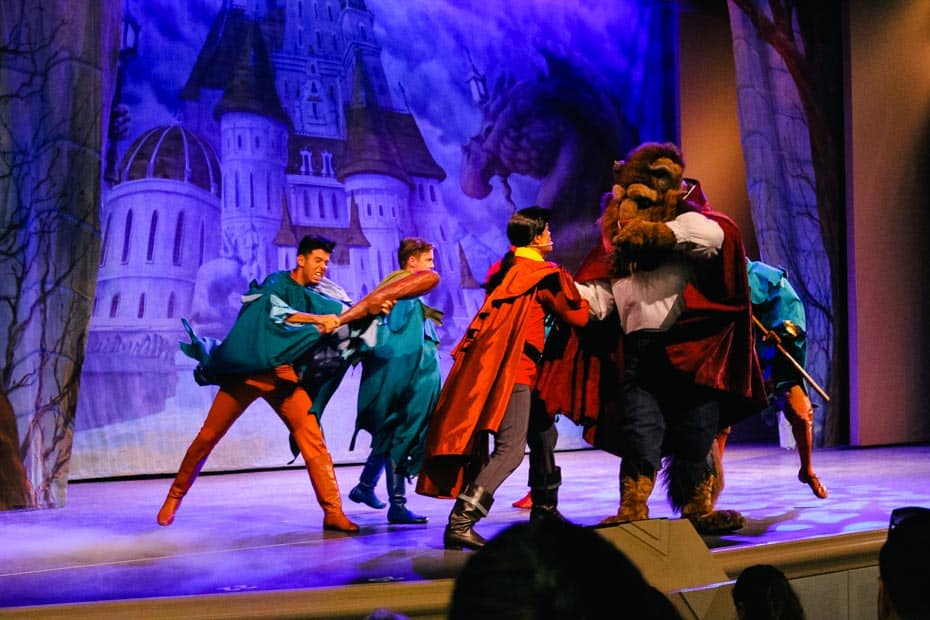 But thankfully it all works out in the end.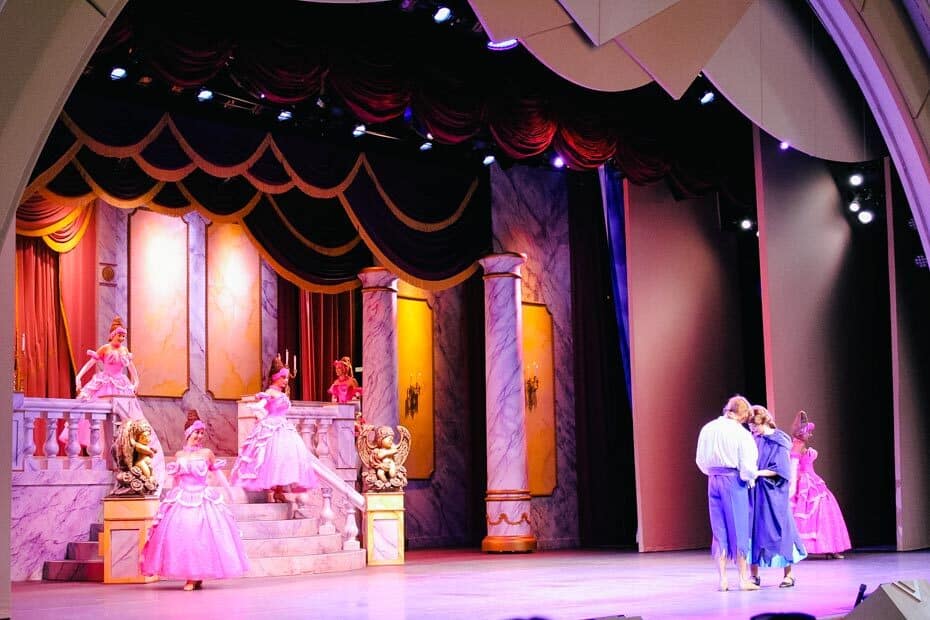 I hope you'll take advantage of a performance on your next vacation. All of the shows at Hollywood Studios are really good. I don't think you can go wrong with whichever one you pick.
Be sure to check out all of our Hollywood Studios attractions. In addition, you might also enjoy these individual reviews:
Additionally, if you're considering staying at a Walt Disney World Resort, you might enjoy one located on the Disney Skyliner. They are as follows:
Do you plan to see Beauty and the Beast Live on your next vacation?