Beauty and the Beast Live on Stage at Disney's Hollywood Studios
This article discusses Beauty and the Beast Live on Stage at Disney's Hollywood Studios. Below we'll preview show times, what to expect, and the best time to fit this performance into your schedule.
Tale as old as time. It's one of those stories where a pretty girl gets in a bad situation with a beast of a guy. But in time, they grow to have a mutual respect that blossoms into something we all want and need–love.
Unfortunately, there's a bad guy who insists on winning at everything. He would do anything to secure the pretty girl. Well, anything but respect her and shower her with affection.
Song as old as rhyme. Thankfully, bad situations often have a way of turning out alright in the end. That's what Mrs. Potts always says anyway.
Believe it or not, you can watch this endearing story play out on stage during your Walt Disney World vacation. Beauty and the Beast Live on Stage is performed daily at Disney's Hollywood Studios.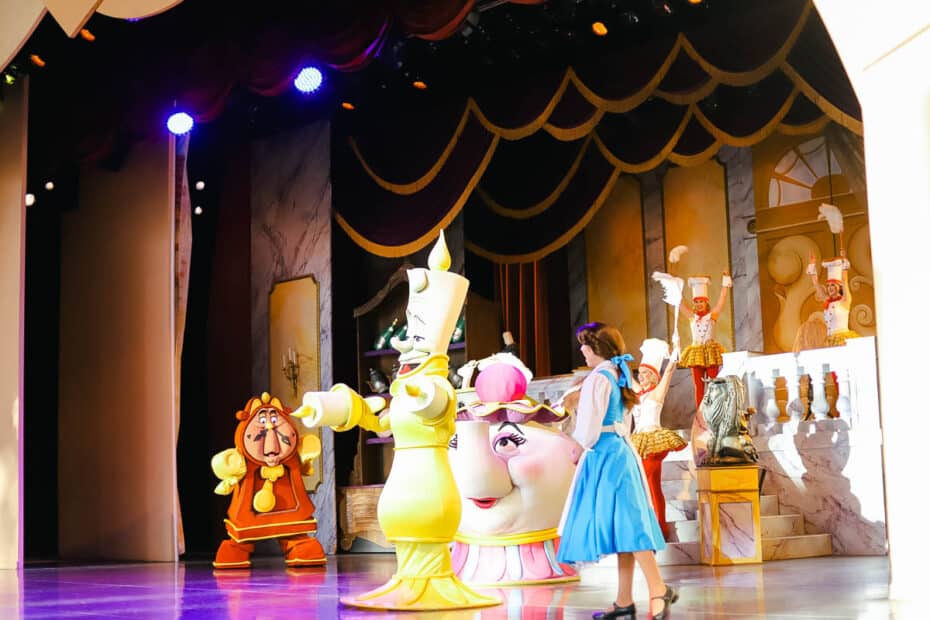 Here are a few quick references for seeing Beauty and the Beast Live on Stage.
| | |
| --- | --- |
| Beauty and the Beast Live on Stage | Hollywood Studios Attractions |
| Location: | Sunset Boulevard |
| Disney Height Requirement: | N/A |
| Genie+ Eligible | Yes |
| Ride Type: | Stage Show |
| Seats Per Vehicle: | Theater Rows |
| Duration: | 25 minutes |
| Good For: | Everyone |
| Scare Factor: | None |
| Must-Do List: | Medium Priority |
| Perfect For: | Beauty and the Beast fans |
| Special Mention: | Bring a snack to enjoy during the show. |
Beauty and the Beast Live on Stage
Beauty and the Beast Live on Stage is performed at the Theater of the Stars on Sunset Blvd at Hollywood Studios. You'll find the standby entrance to the theater on the right side of the street before you reach the Tower of Terror.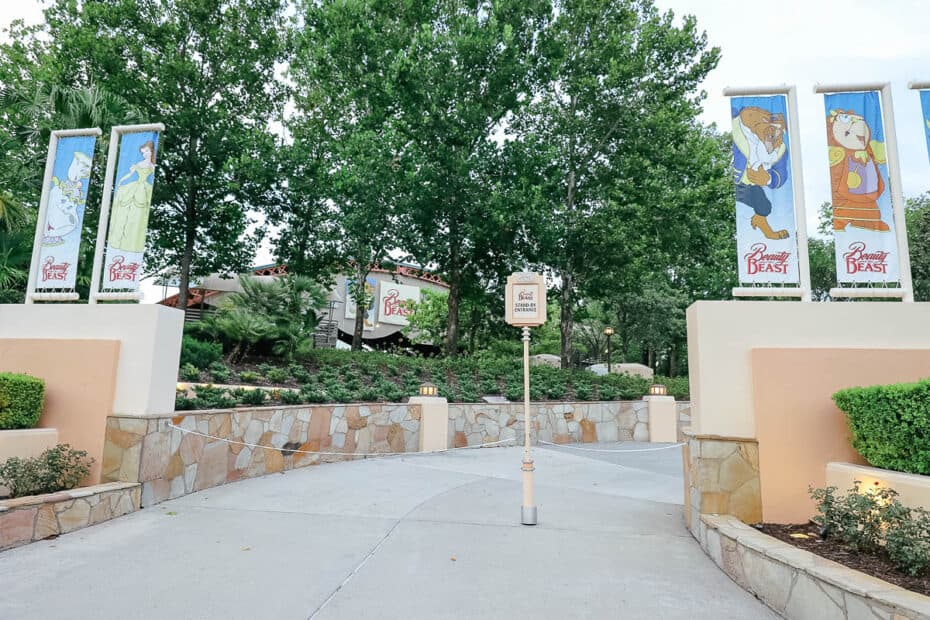 If you elect to use Lightning Lane for this performance, there's a separate entrance a little further down. However, you won't need a Lightning Lane for this attraction in most instances.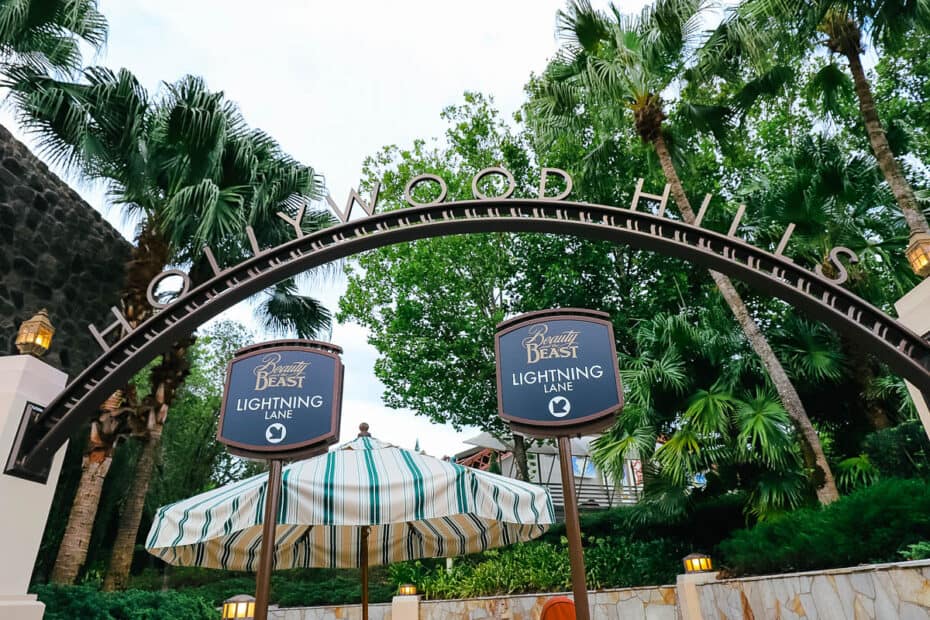 Beauty and the Beast Live on Stage is offered several times per day. Here are the regular showtimes:
11:00 a.m.
1:00 p.m.
2:00 p.m.
4:00 p.m.
5:00 p.m.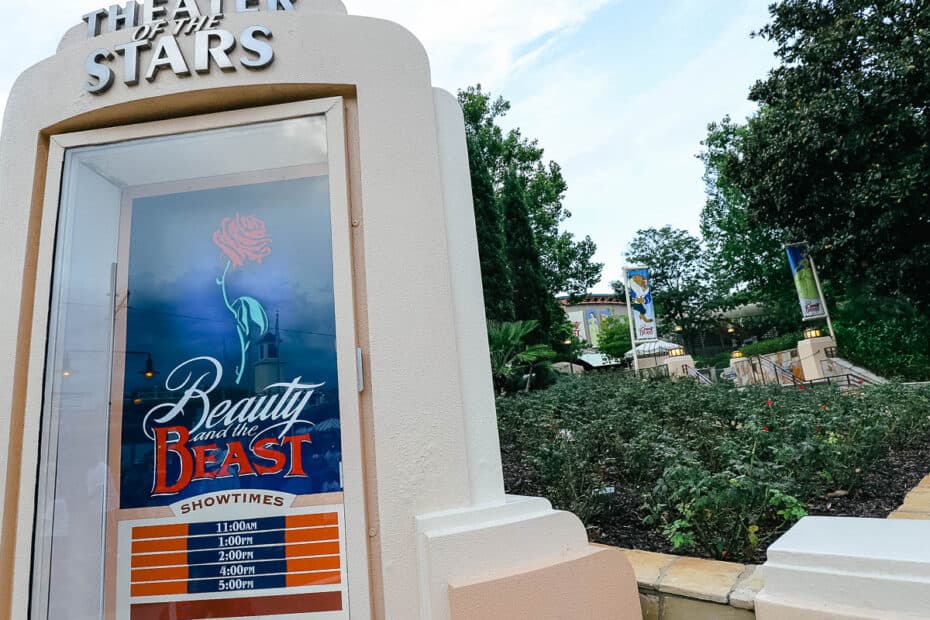 *You can check the My Disney Experience app for exact times on the day of your visit. Or try here on Disney's site.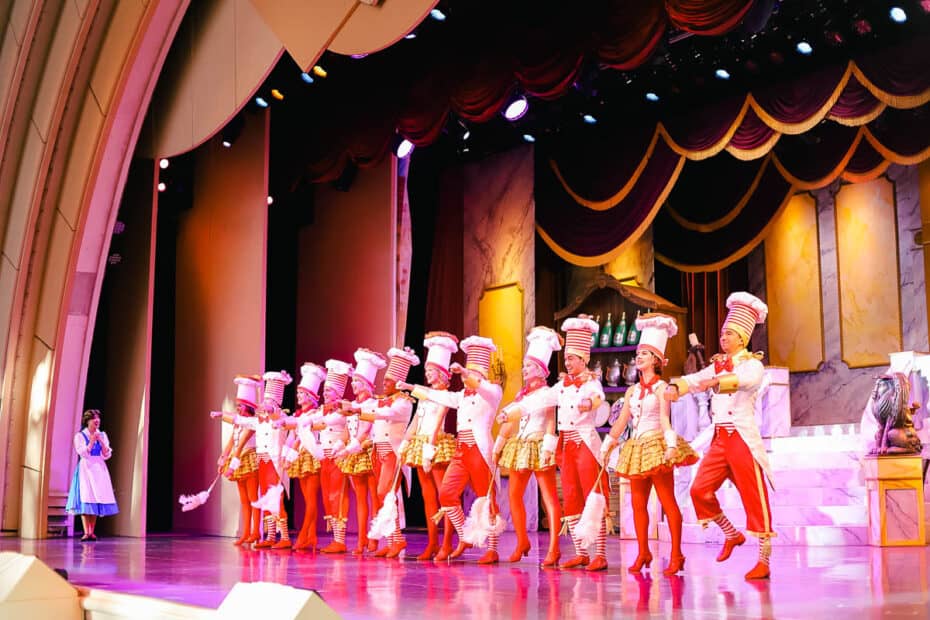 You will want to arrive at least 15 minutes early with any type of entertainment offering. Arriving early will ensure you are seated before the performance begins.
Beauty and the Beast Live on Stage is approximately 25 minutes long. Most will dedicate 45 minutes to an hour of touring time to see this performance.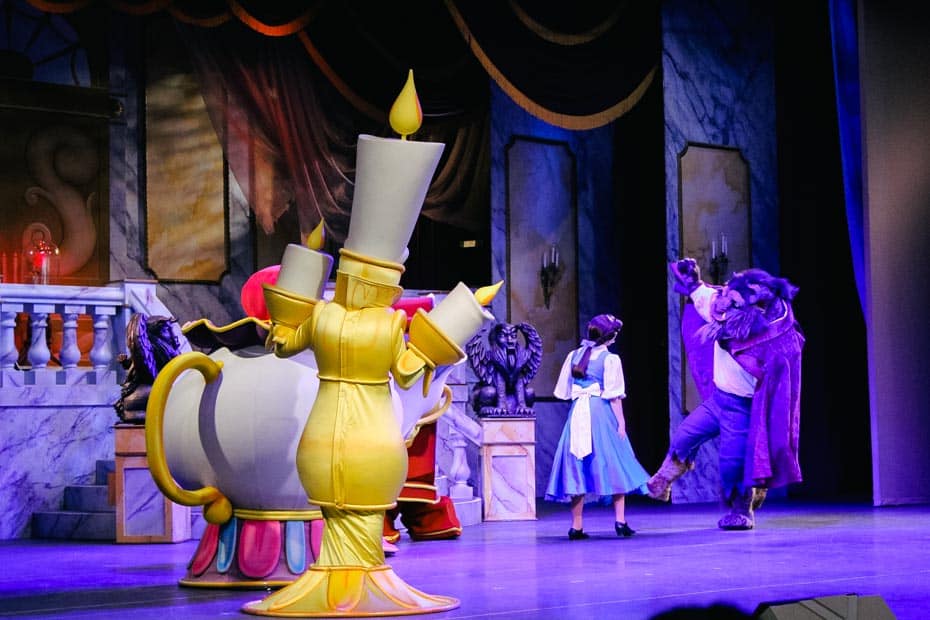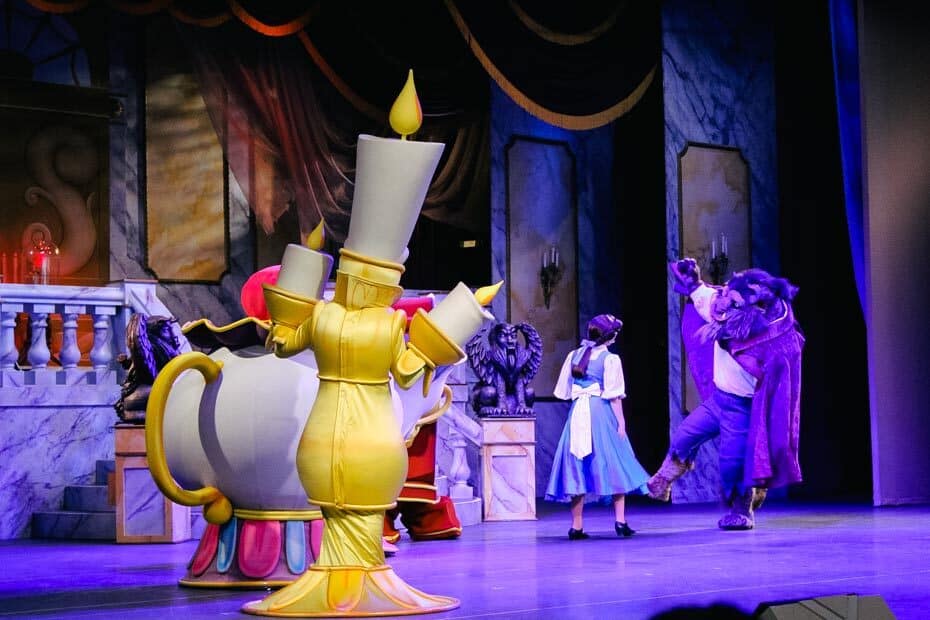 Here is a look at the theater. Guests can sit on either side of the stage or toward the middle. Special areas are roped off for those with accessibility issues.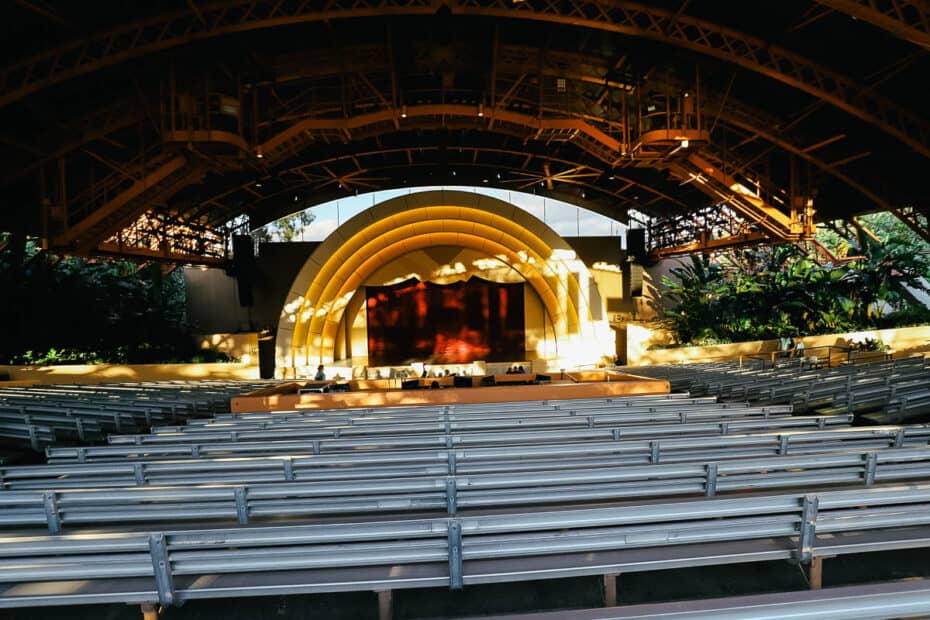 Since Beauty and the Beast Live on Stage is in an outdoor setting, performances are canceled in the event of inclement weather. However, since the theater is covered, it's not the worst place to take a break during the heat of the day.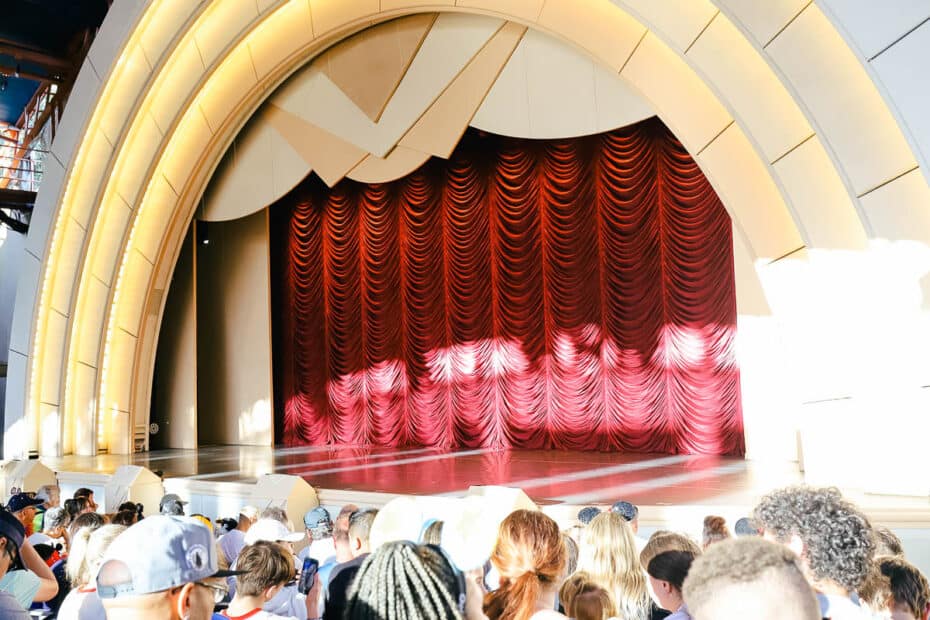 Seating inside the theater consists of bleachers with backs. Additionally, food and drinks are allowed in the theater. So you might like to pick up a snack on your way to the performance.
Usually, the best time to see Beauty and the Beast Live on Stage is at either 2:00 p.m. or 4:00 p.m. At this point in the day, wait times for other attractions are usually at their highest.
Instead of standing in a long line, take a break, grab a snack, and enjoy a performance of Beauty and the Beast Live on Stage.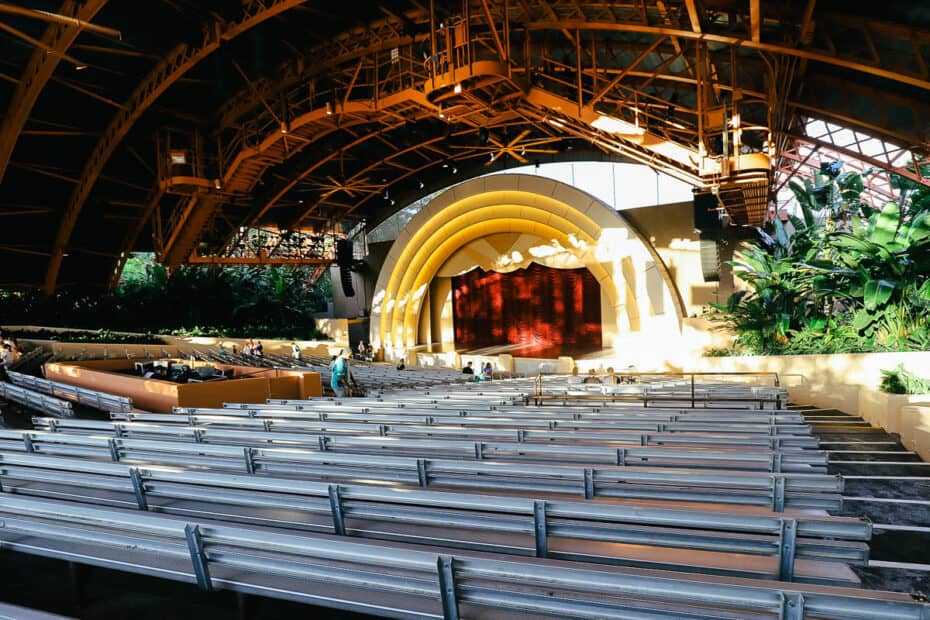 Beauty and the Beast begins with the story of how a young prince turned away someone he thought was a beggar. However, the beggar was an Enchantress who punished him by making him a beast.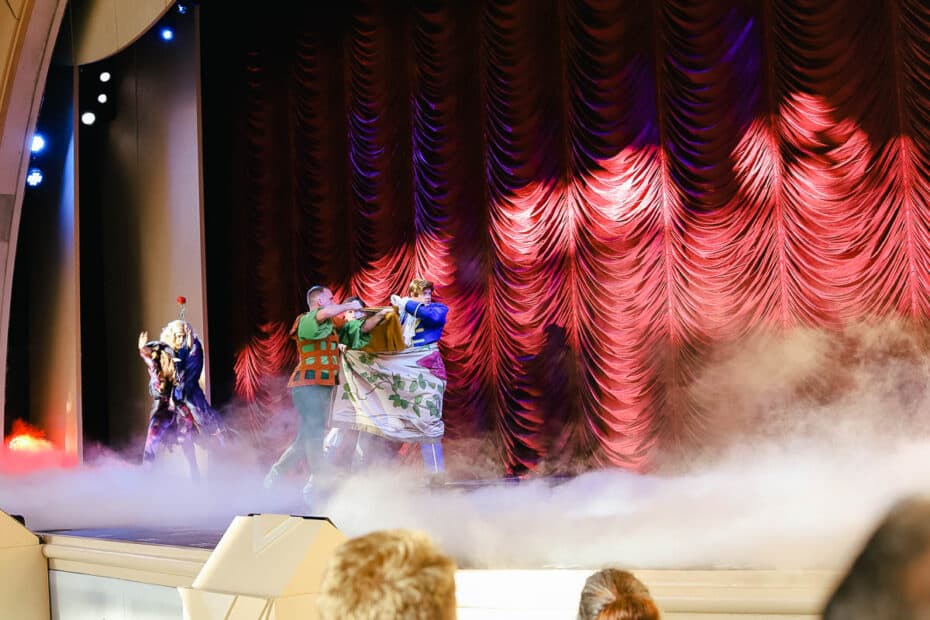 Meanwhile, Belle is doing the whole Bonjour! thing every morning in her village.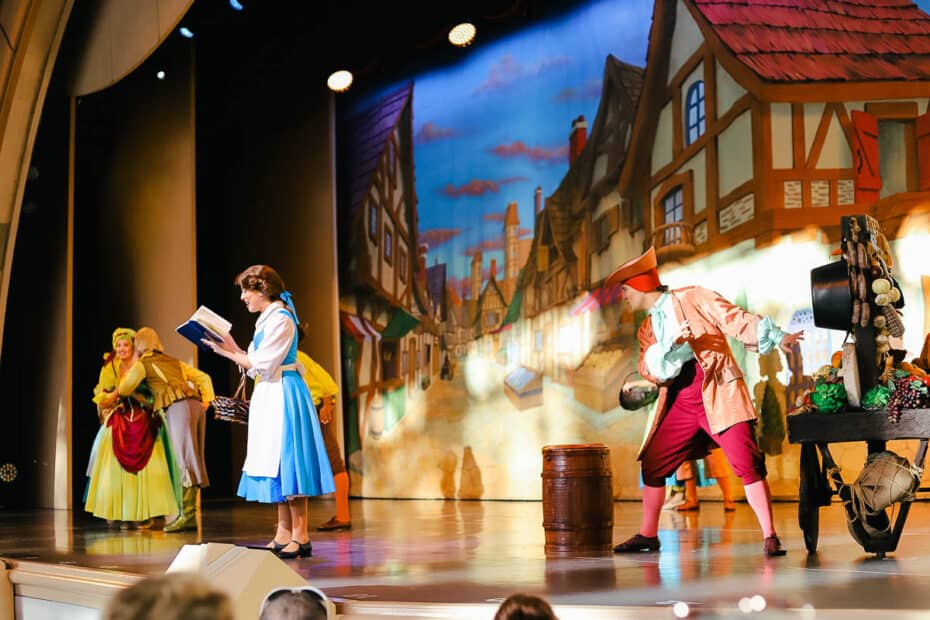 Enter Gaston who appears to only want the one thing he can't have…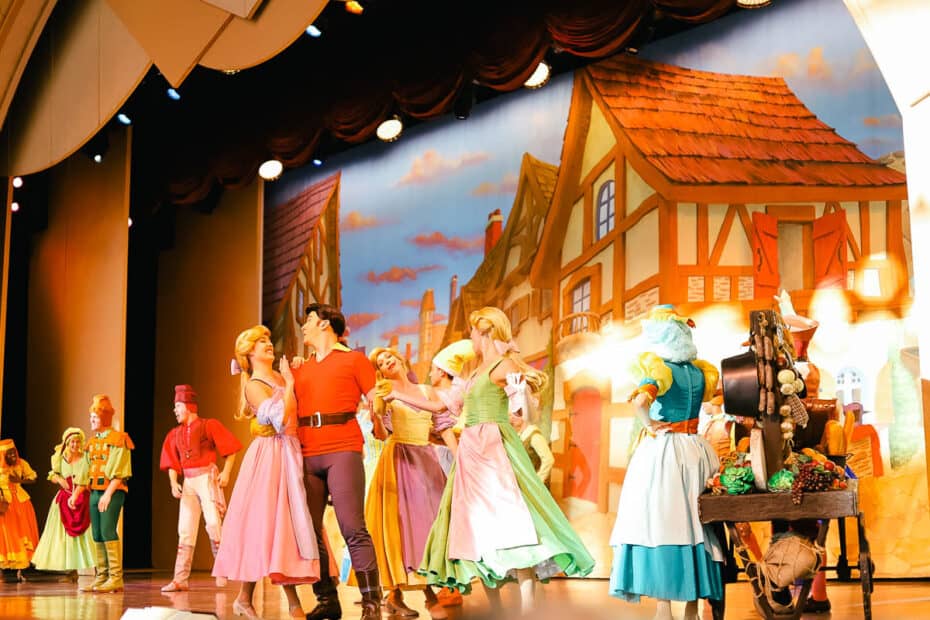 Belle. She's busy–reading.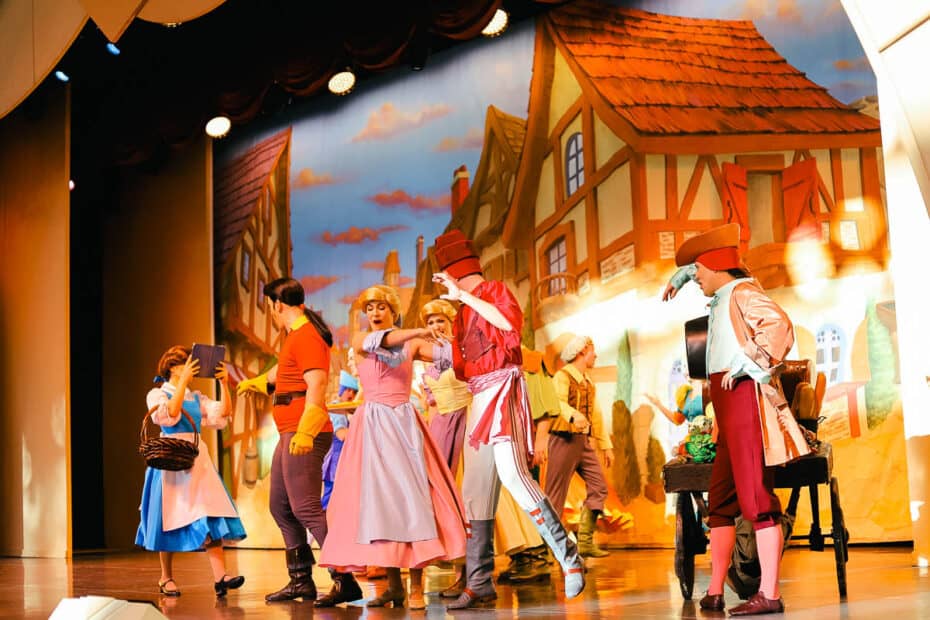 Next thing you know, Belle has ended up in the Beast's enchanted castle. And she's hungry.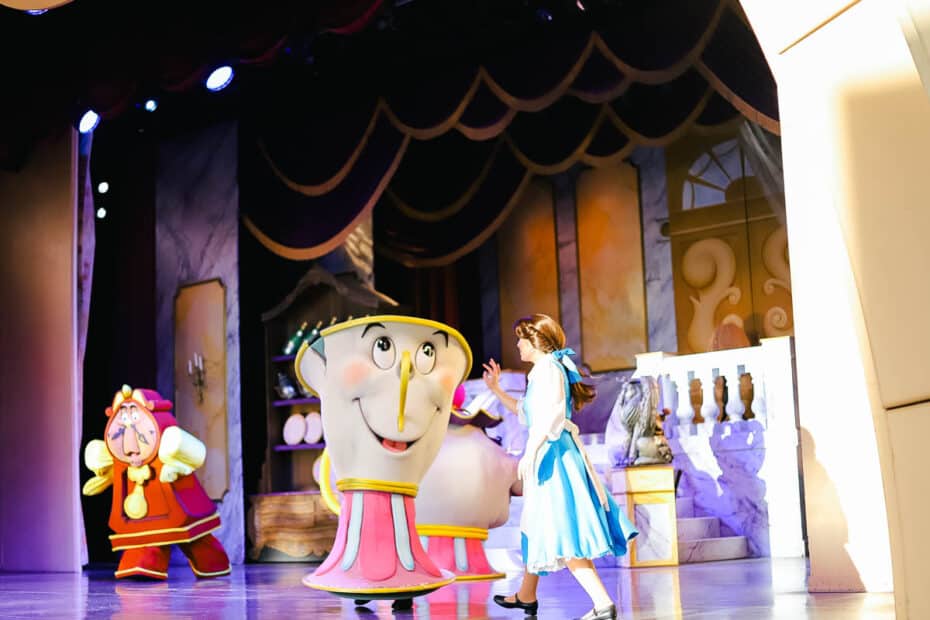 Of course, this leads to a song and dance number we all know and love as Be Our Guest.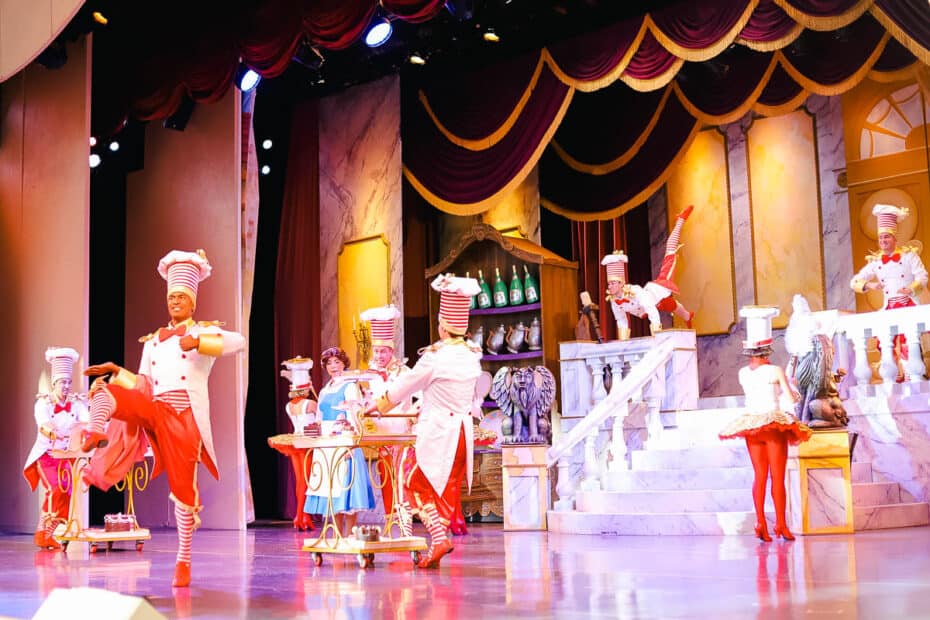 If you haven't noticed, the costumes are elaborate and the peformers do an excellent job.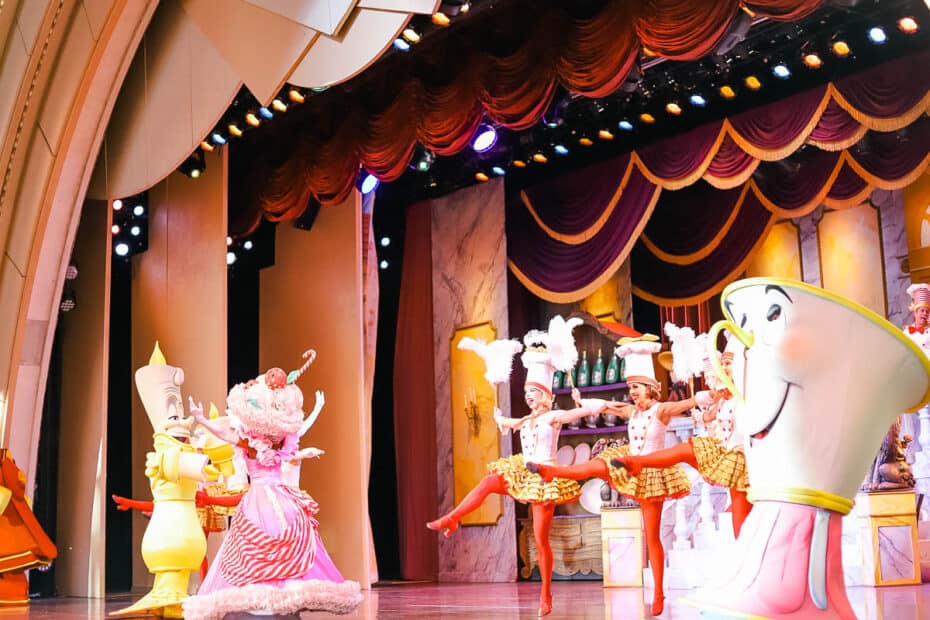 As the story goes, Beast continues to lose his cool over Belle. But his close friends step in to help out.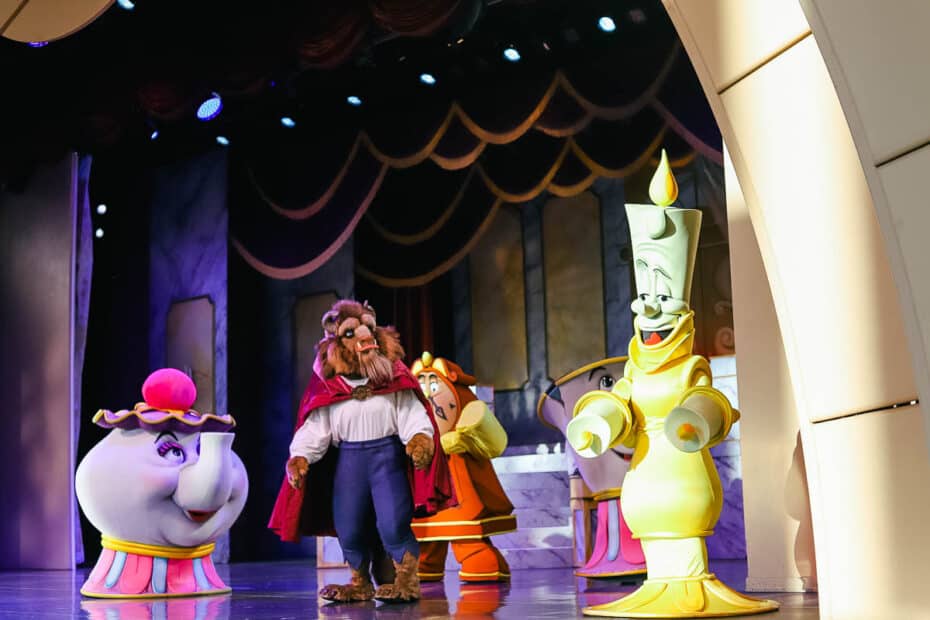 Soon Beast is winning over Belle by approaching her in the right way.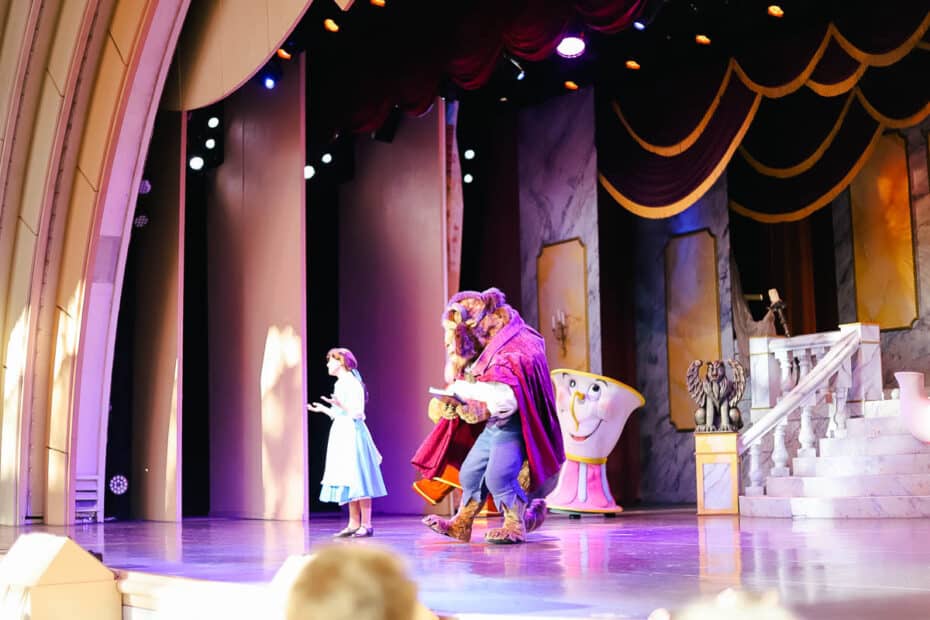 There must be something there that wasn't there before.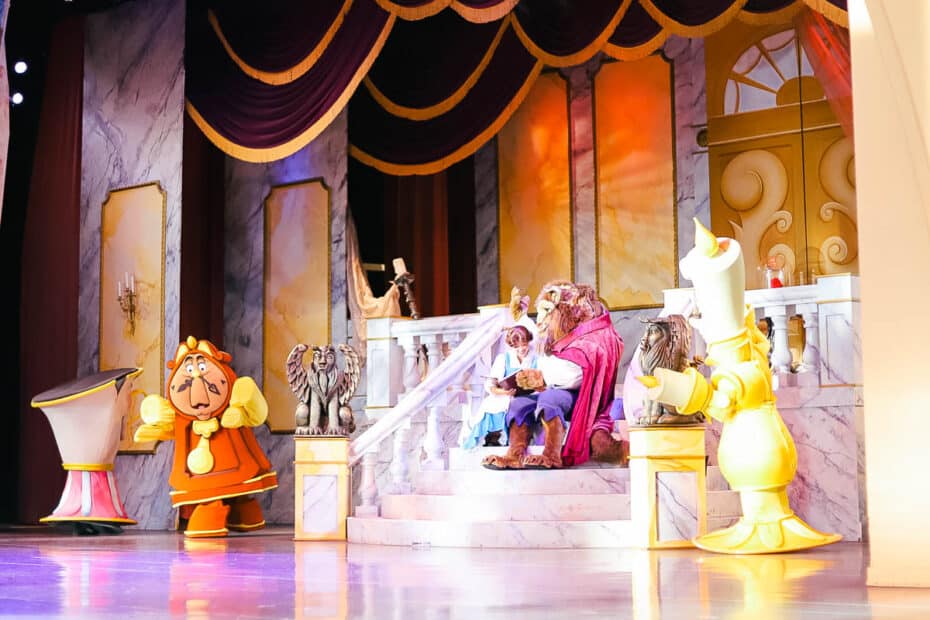 Unfortunately, Gaston is still lurking.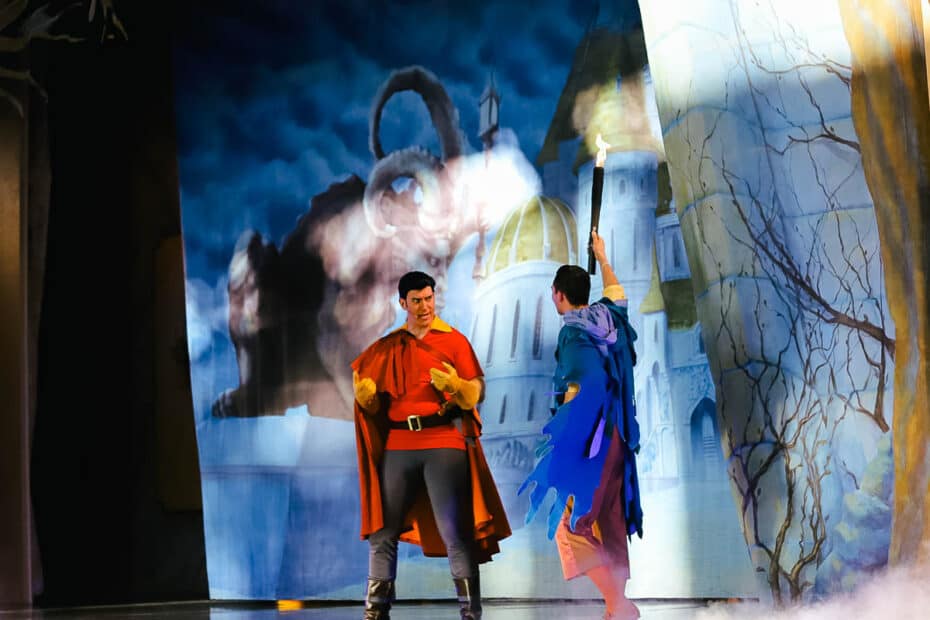 With that said, even the villainous performances are outstanding.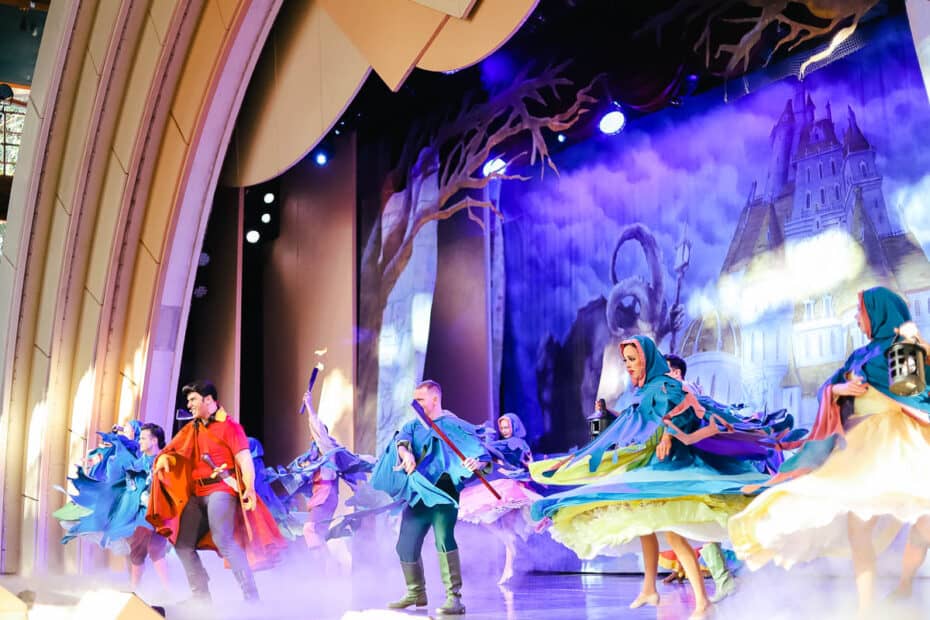 Poor Gaston, he didn't have a chance against himself, much less the Beast.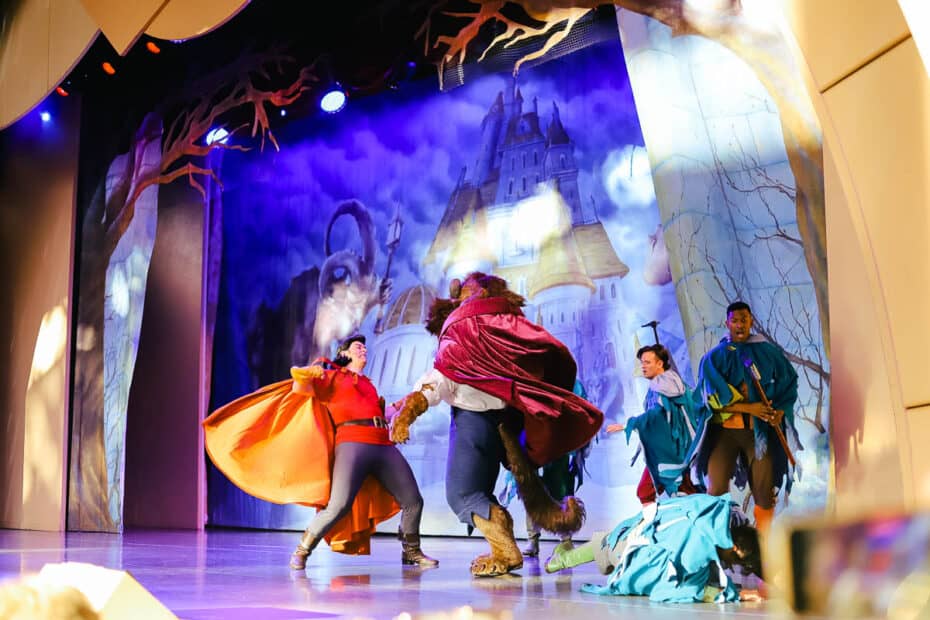 Sadly, the Beast doesn't go unscathed and Belle rushes to aide him.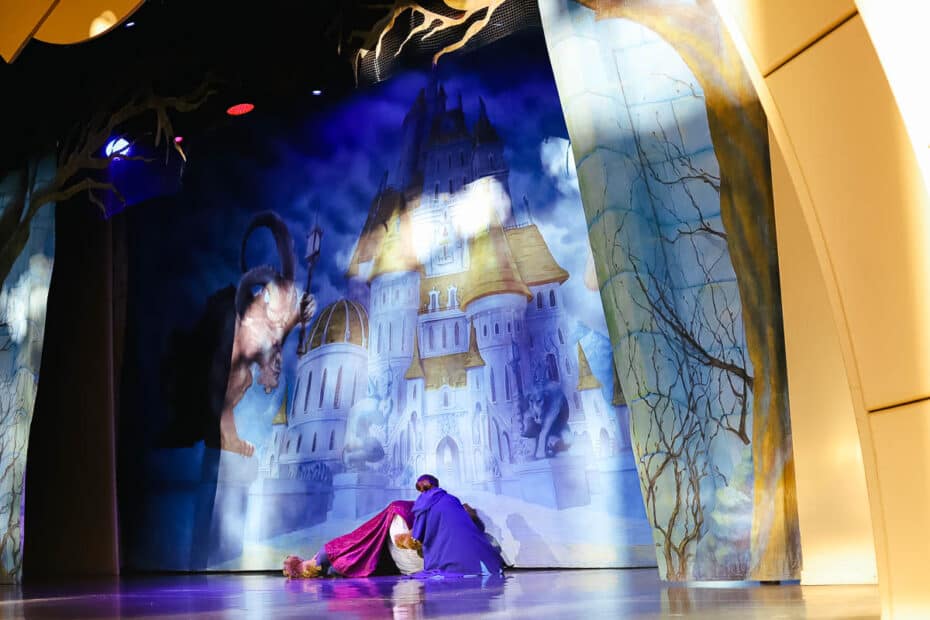 At this very moment the enchantress returns and performs a spell-binding ballet variation.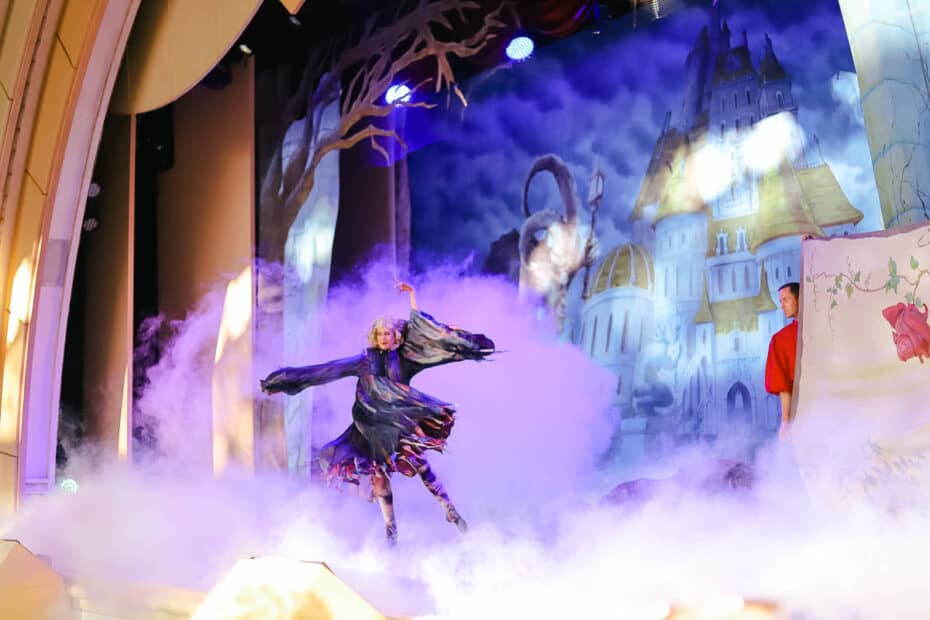 As the fog lifts, the Beast has transformed to his former self.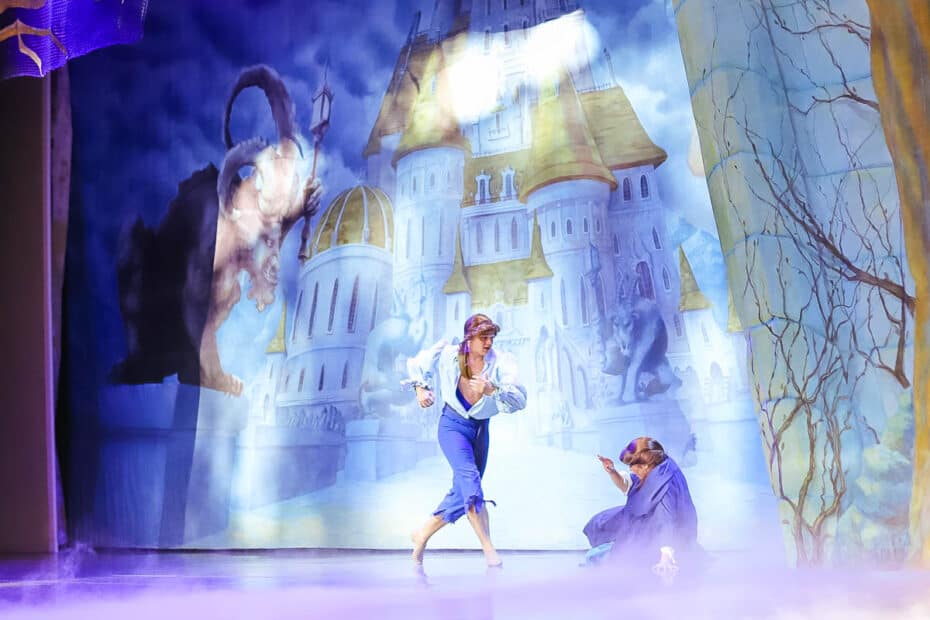 Suddenly pairs of ballroom dancers flood the stage.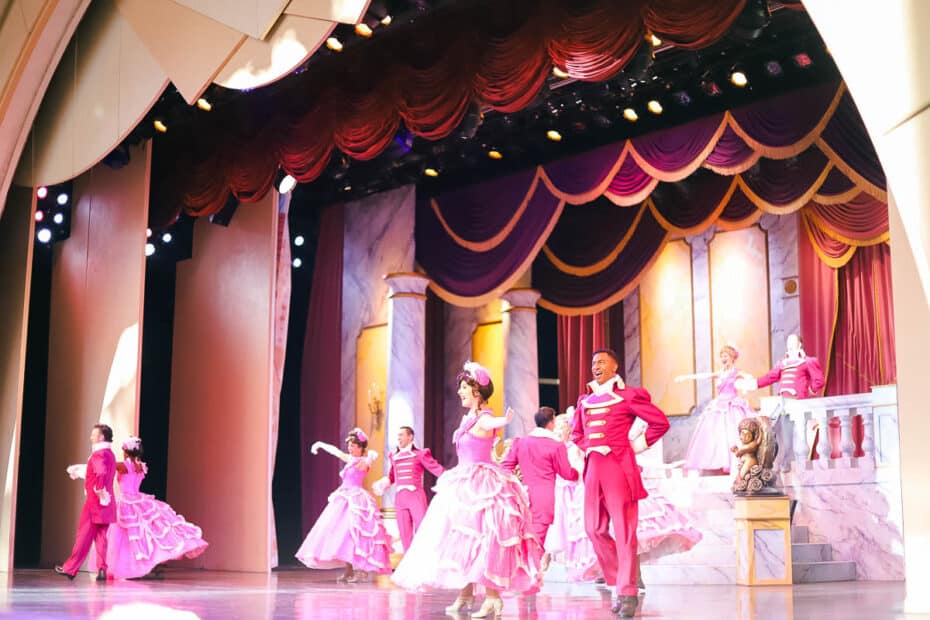 Within moments Belle returns with the Prince for one final dance.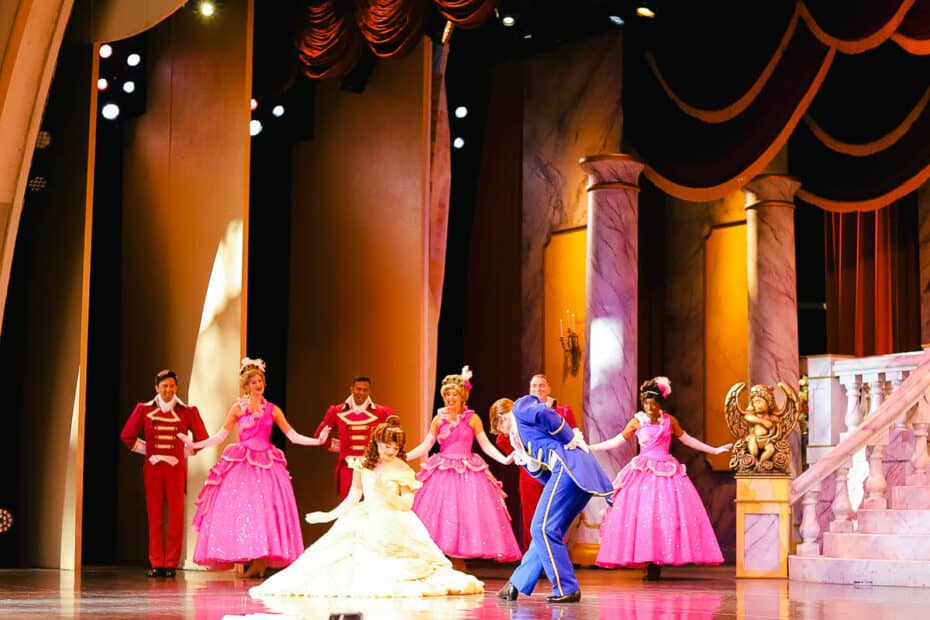 Mrs. Potts was right–it did turn out all right in the end.
Beauty and the Beast Live on Stage is worth taking the time to see on your visit to Hollywood Studios. If you've never seen this performance, you'll adore it!
Additionally, if you are a fan of Beauty and the Beast, have an interest in theater, musicals, or dance, then it's a must-do form of entertainment.
Since we are privy to visit the parks often, we don't always take the time to see these special performances on a regular basis. However, every now and then we'll stop in to see something.
It never fails. No matter how many times we've seen Beauty and the Beast Live on Stage, we're amazed with the quality. Disney knows what they're doing when it comes to this type of entertainment in the parks.
So, I hope you'll take the time to see this performance on your next vacation. All of the shows at Hollywood Studios are exceptional. I don't think you can go wrong with whichever ones you pick.
Be sure to check out all of our list of Hollywood Studios attractions. In addition, you might also enjoy these individual reviews:
Additionally, if you're considering staying at a Walt Disney World Resort, you might enjoy one on the Disney Skyliner. They are as follows:
In the Comments
Do you plan to see Beauty and the Beast Live on Stage during your next vacation? Have you seen this performance before?