Star Tours – The Adventures Continues Ride Review
Star Tours-The Adventure Continues is a 3D simulated attraction at Hollywood Studios theme park in Walt Disney World. The ride features characters in the form of audio-animatronics and virtual on-screen appearances.
Additionally, this attraction was the first representation of Star Wars in the Disney parks.
This review of Star Tours – The Adventure Continues will cover height requirements, tips, and need-to-know information for experiencing the ride on your next visit.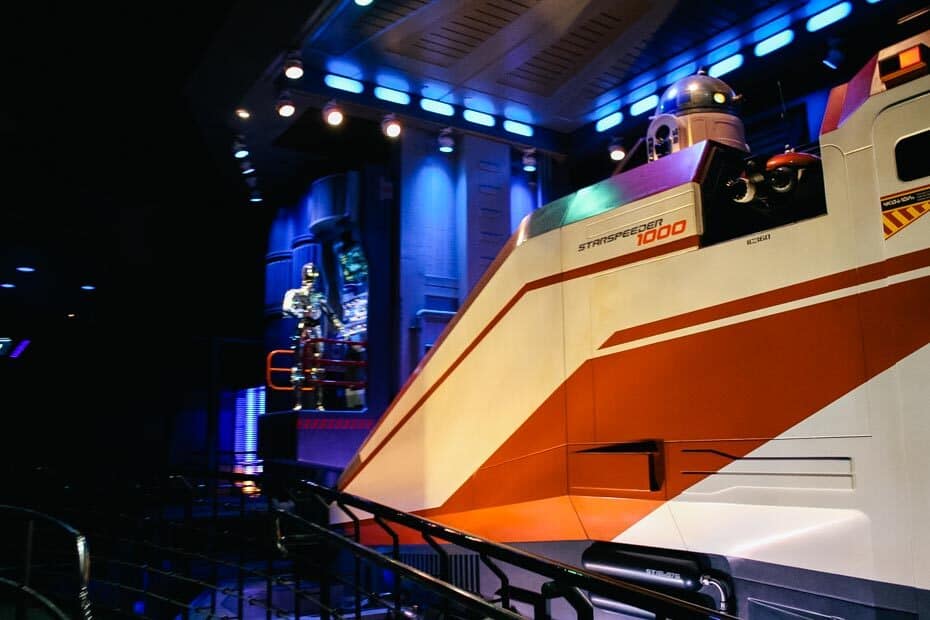 Below is the quick reference chart with important details for Star Tours.
| | |
| --- | --- |
| Star Tours – The Adventure Continues | Hollywood Studios Attractions |
| Location: | Echo Lake |
| Disney Height Requirement: | 40″ |
| Disney Genie+ Eligible: | Yes |
| Ride Type: | Simulated 3D |
| Seats Per Vehicle: | Approx. 8 per row |
| Rider Switch at Disney: | Yes |
| Good For: | Tweens, Teens, Adults |
| Scare Factor: | Low |
| Must-Do List: | Medium Priority |
| Perfect For: | Star Wars Fans |
| Special Mention: | You might get picked as the rebel spy. |
Star Tours, The Adventure Continues
Star Tours, The Adventure Continues is a simulated ride where the theater moves in addition to 3D effects on the screen ahead of you. The movement is a bit jerky. However, this ride is relatively mild in comparison to most thrill attractions.
The queue for Star Tours is relatively long and offers the opportunity to see a few droids and starships while waiting. The queue can extend to an outdoor area when lines are incredibly long.
While Star Tours does have a decent load capacity, it can hold long lines throughout the day. So your best bet is to ride it later in the afternoon or early evening when wait times tend to drop.
Will I get motion sickness on Star Tours?
If you are prone to motion sickness, then it is a possibility. But for most, I would say this attraction is mild.
For example, I don't care for the gravitational pull of a ride like Mission: SPACE over at Epcot. However, I have ridden Star Tours many times over the years without any trouble.
The ride is a bit bumpy, and sometimes the jerky movements feel a little rough. I would describe them as similar to a plane not so gracefully touching down on the tarmac.
Make sure to secure any belongings in the cargo net underneath your seat. Even if you carry a large backpack, it should fit into the compartment storage.
When you are finished, there are several bins to dispose of your 3D viewing glasses. If you miss the containers, there is usually one in the ride shop at the end of the exit.
Additionally, you might enjoy these other Hollywood Studios attractions during your day:
And don't miss our guides for specific areas of the park:
Here on the site, we prioritize coverage of the Walt Disney World Resorts. You might enjoy browsing our complete list of hotel reviews.
Additionally, if you plan to spend several days at Hollywood Studios or Epcot during your vacation, you might want to consider a resort within walking distance to the parks. If so, try these reviews:
Have you ridden Star Tours: The Adventure Continues before? What are your thoughts?