The Twilight Zone Tower Of Terror at Disney World
The Twilight Zone Tower of Terror is an attraction at Walt Disney World in Orlando, Florida. The theming of the Tower of Terror is based on The Twilight Zone television series that originally aired on CBS in the late 1950s to early 1960s.
Tower of Terror's backstory is presented while you are waiting to board the attraction. It tells of a few guests riding the elevator when lightning struck the building. They vanished into thin air, and the hotel shut down soon after.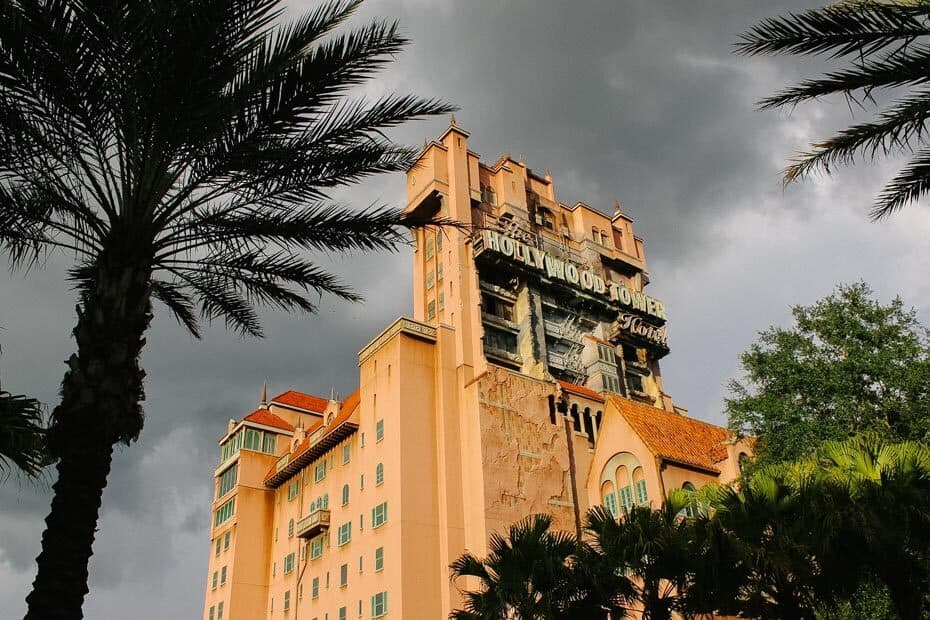 And you sure can tell it's been vacated for quite some time. The entire place is covered in dust and cobwebs! This is not your average Disney resort, that's for sure.
As for this review, the need-to-know details are listed in the table below.
| | |
| --- | --- |
| Twilight Zone Tower Of Terror | Hollywood Studios Attractions |
| Location: | Sunset Boulevard |
| Disney Height Requirement: | 40″ |
| Disney Genie+ Eligible | Yes |
| Ride Type: | Elevator, Dark, Free Fall |
| Seats Per Vehicle: | Several rows/groups of seats |
| Rider Switch at Disney World: | Yes |
| Good For: | Thrill-Seekers |
| Scare Factor: | High |
| Must-Do List: | High Priority |
| Perfect For: | Tweens, Teens, And Adults |
| Special Mention: | On-Ride Photo/Video |
Review of The Twilight Zone Tower of Terror
If there were one solitary, iconic structure representing Disney's Hollywood Studios, The Twilight Zone Tower of Terror is probably it. It genuinely towers in the distance and can be seen from Walt Disney World's skyline at many different viewpoints.
The Twilight Zone Tower of Terror is a thrill ride but different from a roller coaster because it offers a free-falling experience.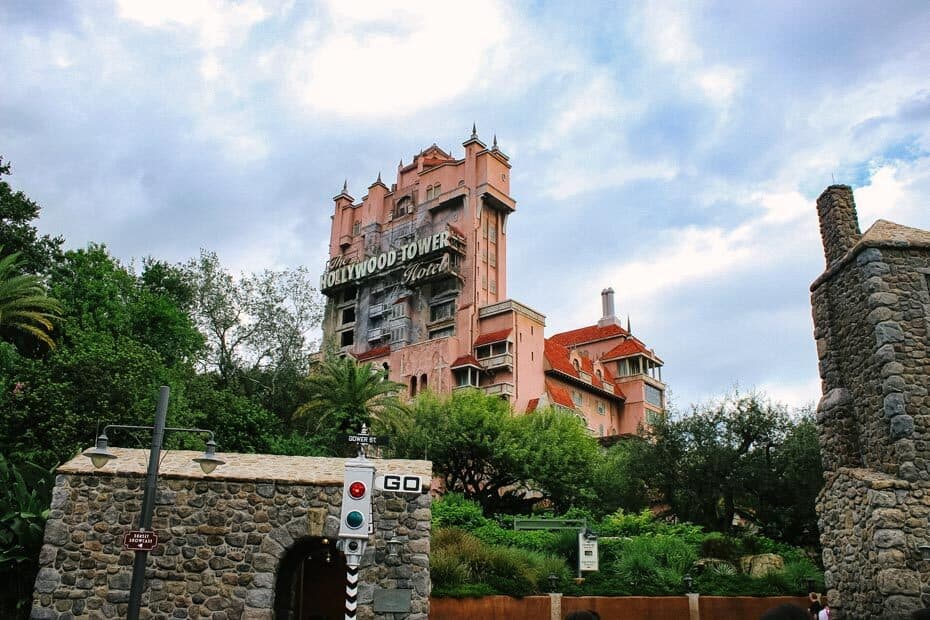 Is the Tower of Terror Scary?
For many, the Tower of Terror is a mind-over-matter type experience. Additionally, it's a top priority for thrill-seekers.
Similar to Rock 'n' Roller Coaster, this attraction meets to high wait times the majority of the day.
And yes, it is scary. There are various drop sequences, and if you haven't ridden it much, each one is a surprise.
Of course, most of the drops feel more intense than they are. Between the falls in the darkness, sudden bursts of light when the elevator doors open, and creepy audio effects, it might be an unpleasant experience for some.
Those with a fear of heights are probably better off watching from afar. However, even watching the Tower of Terror operate from the ground outside can be intimidating.
What is the best time to ride the Tower of Terror?
With so many recent ride additions, it's hard to say when is the best time to ride the Tower of Terror. But if it's a top priority, you'll want to head that way first thing at rope drop.
With so many other guests heading to Rise of the Resistance, Runaway Railway, and Slinky Dog Dash, you might get in a ride or two before wait times begin to build.
Additionally, you can select the Tower of Terror based on availability if you purchase the Genie+ upgrade.
However, if you don't, you can usually experience the lowest wait times before 10:00 a.m. and after 7:00 p.m., depending on park operating hours.
Make sure to check out the complete list of the Hollywood Studios attractions or enjoy these other individual reviews:
Additionally, you might consider planning a stay at one of the nearby Skyliner Resorts. If so, try one of these resort reviews:
Or you can browse our list of all Walt Disney World Resorts.
Will you ride the Twilight Zone Tower of Terror on your Disney vacation? Leave a comment and share your thoughts.