Walt Disney Presents at Hollywood Studios
Walt Disney Presents is an attraction at Hollywood Studios in Walt Disney World. The building that houses the attraction is located between Animation Courtyard and the entrance to Toy Story Land.
Inside Walt Disney Presents, you'll find a museum-like display that travels down a long hallway. As you move through this area, you'll encounter many of Disney's historical items, including sketches, photos, scaled models, and more.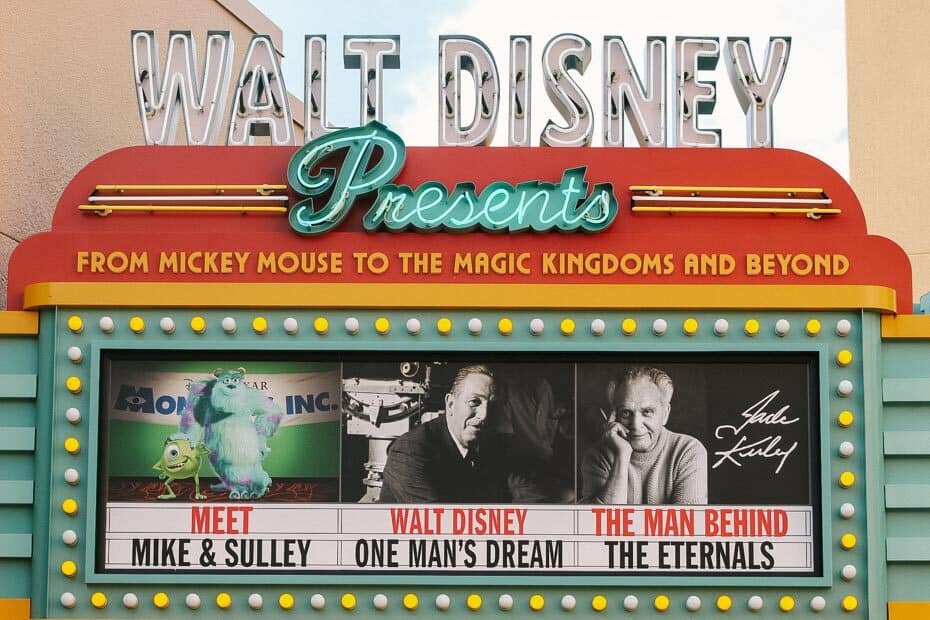 Below are the quick reference details for Walt Disney Presents at Hollywood Studios.
Walt Disney Presents
Hollywood Studios Attractions

Location:

Past Animation Courtyard

Height Requirement:

None

Ride Type:

Self-Guided Tour/Theater Show
Character Meet Area

Seats Per Vehicle:

Theater

Rider Switch:

NA

Good For:

Nostalgia

Scare Factor:

None

Must-Do List:

Low Priority

Perfect For:

All Ages

Special Mention:

One Man's Dream is a great film at the end
when it's available.
Walt Disney Presents
Usually, there are three different things available to do at Walt Disney Presents. The main area of the building is a gallery with a variety of Disney-inspired displays celebrating the history of Walt Disney.
Some of the displays change out from time to time. The one below is Walt's desk from his early days in animation. I'll add a few more pictures of the displays toward the end of this review for anyone interested.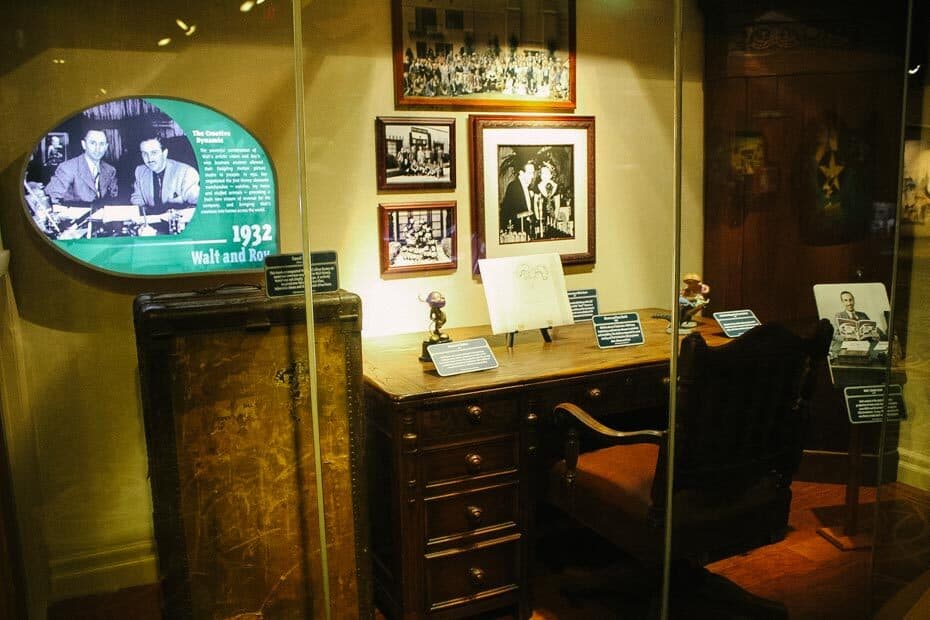 Toward the back of the building, there is an area for rotating exhibits. These exhibits sometimes are home to popular character costumes or items used in Disney movies.
Over the last few years, I can recall seeing costumes used in a few movies like Black Panther, Mary Poppins, and even Belle's dress from the Live-Action Beauty and the Beast.
There were actual costumes from Pirates of the Caribbean on a recent visit.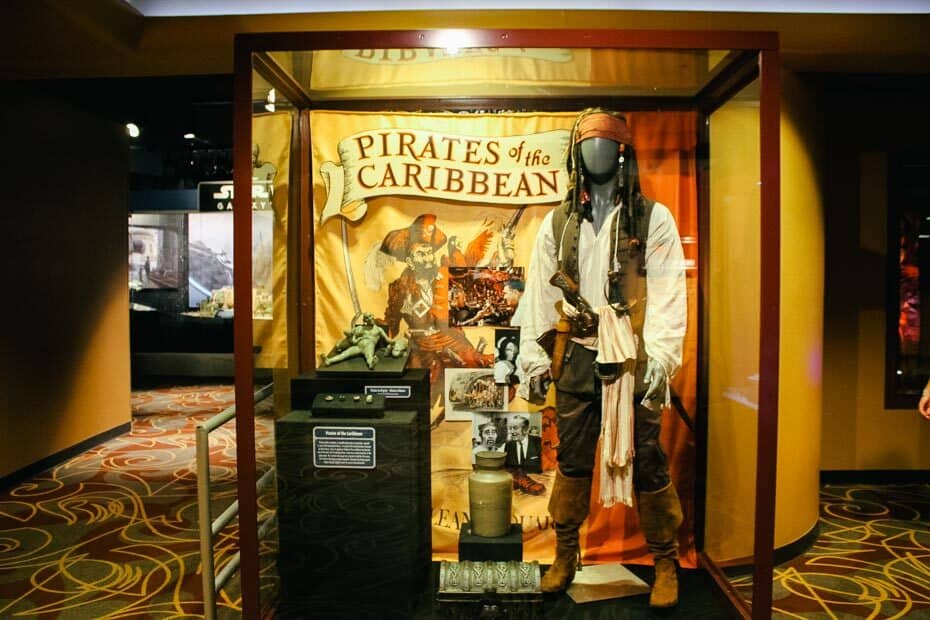 And you can usually expect to find models from the latest Disney animated film on display. For instance, when Disney Pixar's Onward came out, these items were on display.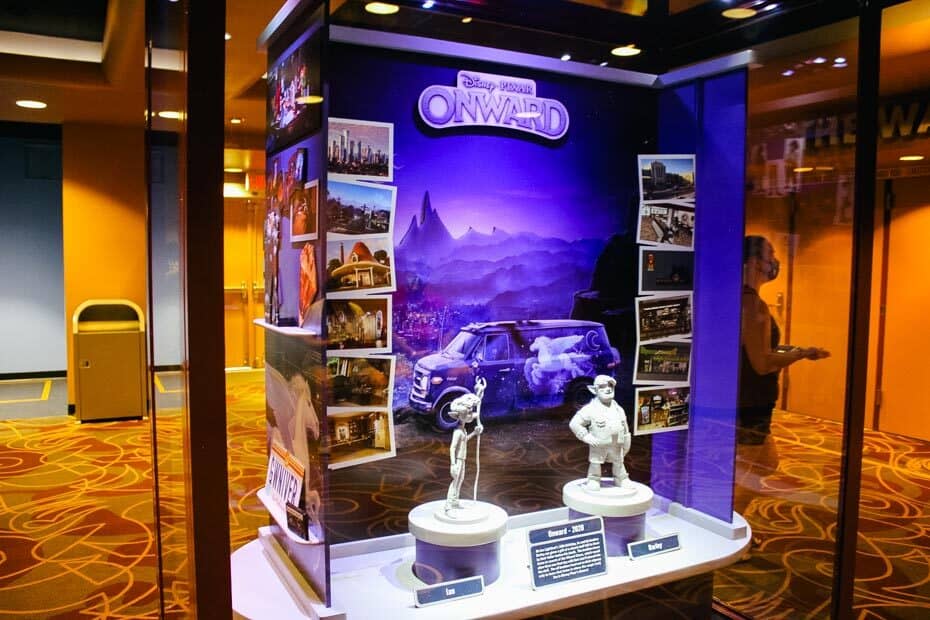 And anyone with younger children or teens will immediately recognize these Descendants costumes. My niece loves these movies.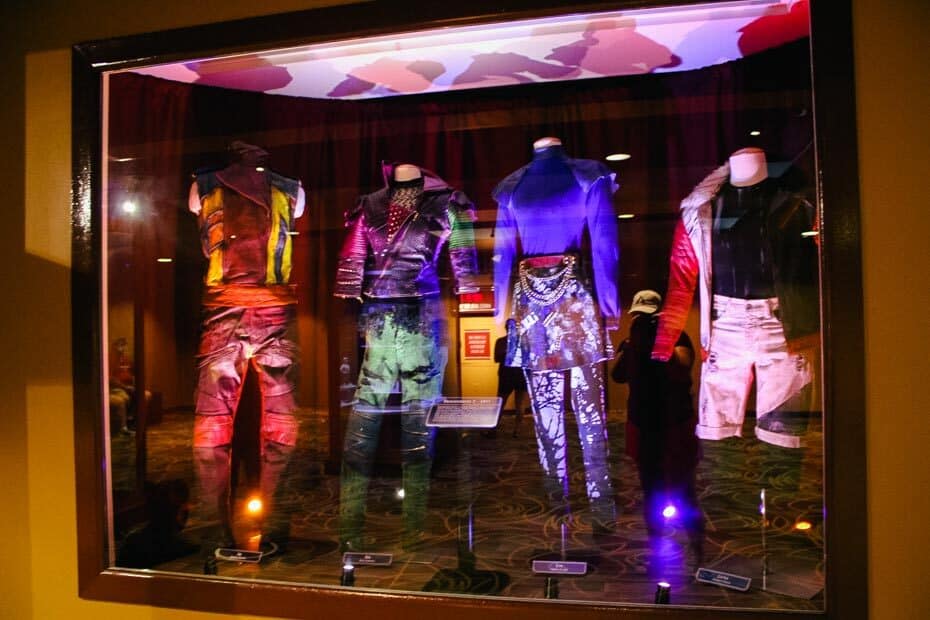 One Man's Dream
When you reach the end of the exhibits, you'll find a set of theater doors with a sign above, counting down the time until the next performance. Hopefully, Walt Disney: One Man's Dream will be playing when you visit.
I say hopefully because they have begun swapping out One Man's Dream over the last several years with extended previews of movies that are going to be released soon.
If that's the case, and you are interested in an upcoming movie, you might want to check a preview out. But One Man's Dream is the real winner when it's available.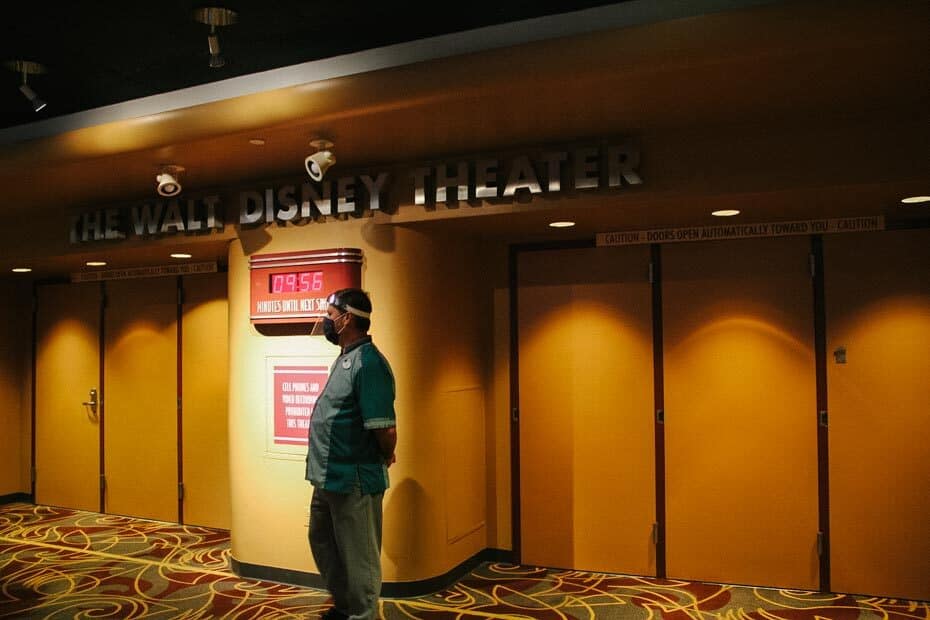 Anyone who's a fan of Walt Disney or the parks should take the time to see it. It's an endearing 15-minute film that looks at Walt Disney's vision in creating the Disney Parks.
Walt Disney Presents Character Area
Additionally, you'll find a character meet and greet in the back of Walt Disney Presents. This meet changes out from time to time and isn't always available.
Make sure to stop in and see if anyone is there on the day of your visit.
Walt Disney Presents closes earlier than the rest of the park. Therefore, if you want to walk through, make sure to get by there before closing. Check the times guide on the day of your visit for exact hours.
Walt Disney Presents is also an excellent place to hang out in the event of a rain shower. The movie theater exits into the Animation Courtyard. So you can quickly get to Launch Bay Theater or Voyage of the Little Mermaid without getting too wet after the film.
Check out our complete list of rides at Hollywood Studios, or you might enjoy these individual reviews:
If you plan to spend a good deal of time at Hollywood Studios, you might consider staying at one of the nearby Epcot Resorts. All of these resorts offer Friendship Boat transportation to the park. They include:
Here are a few more pictures from inside Walt Disney Presents for those with more interest.