The Magic Carpets Of Aladdin
Who doesn't want to fly high on The Magic Carpets of Aladdin when they visit Walt Disney World? This spinner-style attraction is located in Adventureland of Magic Kingdom park.
The Magic Carpets of Aladdin is truly the perfect attraction for children. In fact, these are actually the kind of rides that most kids will want to ride over and over again.
If you are a parent or traveling with little ones, I urge you to remember that rides like the Magic Carpets will be a big deal.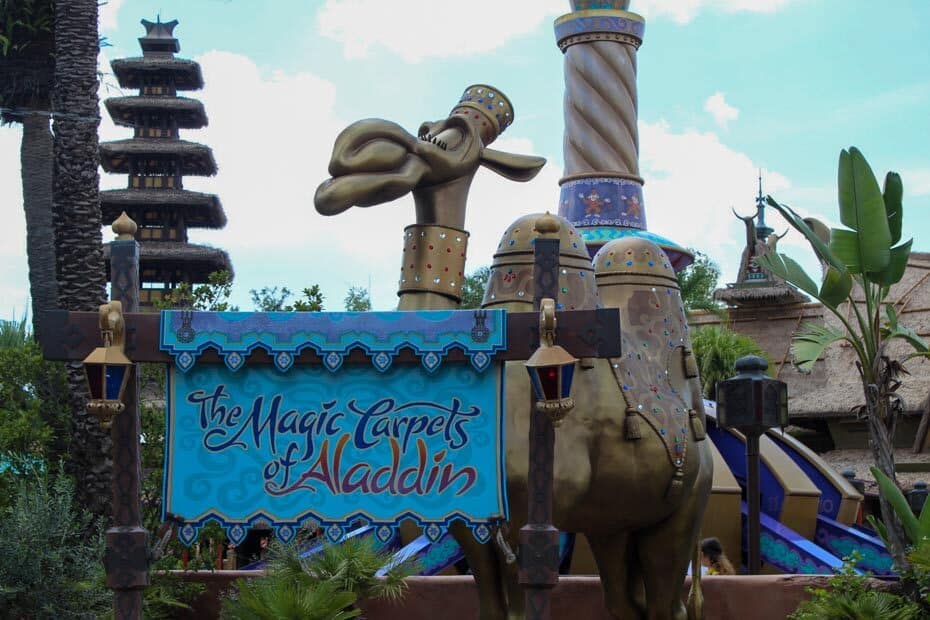 Here's a quick reference chart for the Magic Carpets.
The Magic Carpets Of Aladdin
Magic Kingdom

Location

Adventureland

Height Requirements at Disney:

None

Disney Genie+ Eligible

TBD

Ride Type:

Spinner

Seats Per Vehicle:

2 in front row 2 in the back row

Disney Rider Switch:

None

Good For:

Children

Scare Factor:

Low

Must-Do List:

Medium Priority

Perfect For:

All Ages

Special Mention:

Watch out for the spitting camel,
you might get wet!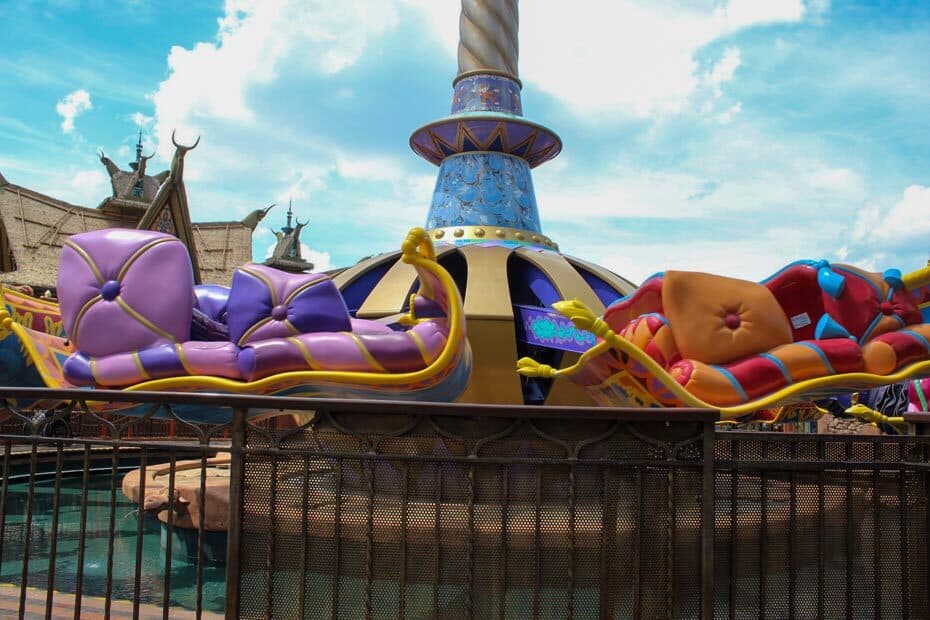 The Magic Carpets of Aladdin
The Magic Carpets of Aladdin is a true spinner similar to Dumbo, the Flying Elephant over in Storybook Circus. The queue for The Magic Carpets of Aladdin wraps around the attraction in circle form.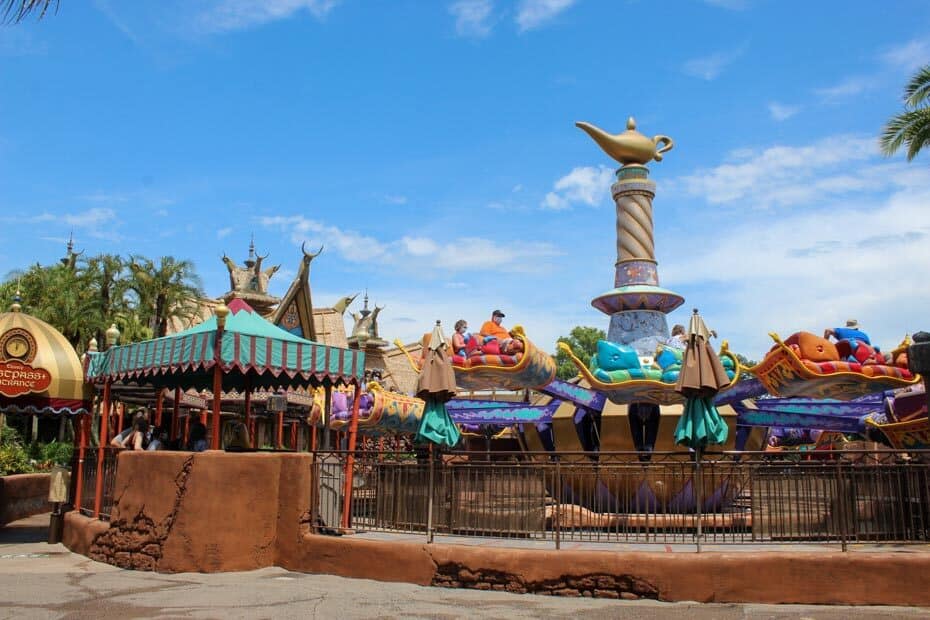 In most cases, you can gauge the length of the line ahead of you.
When you board your magic carpet there are two rows. The front row offers the opportunity to adjust a lever that will make your carpet fly up and down.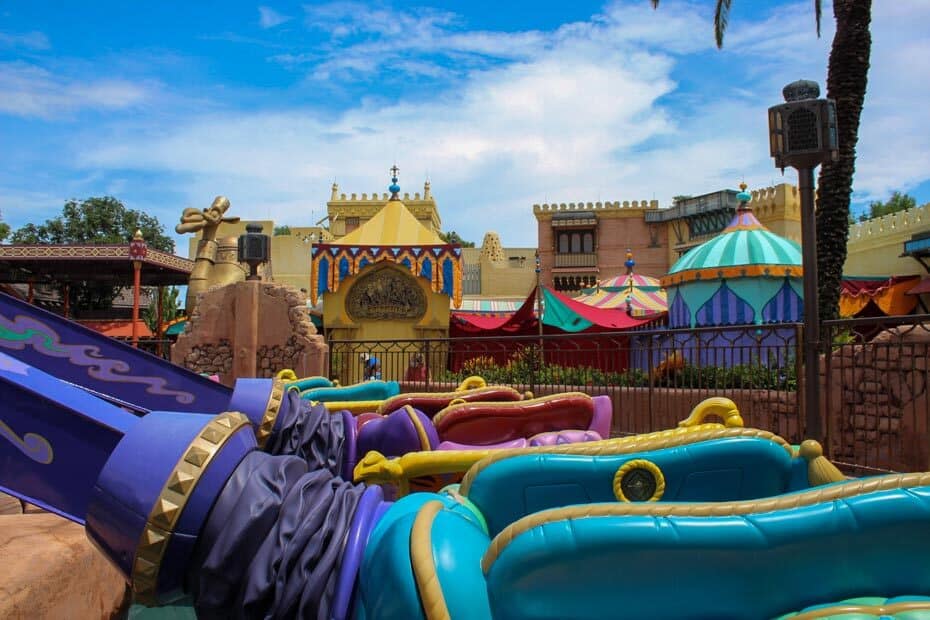 The back row has a magic button that allows you to minimally tilt your carpet back and forth. As a result, whoever is riding on the front row will have more overall control.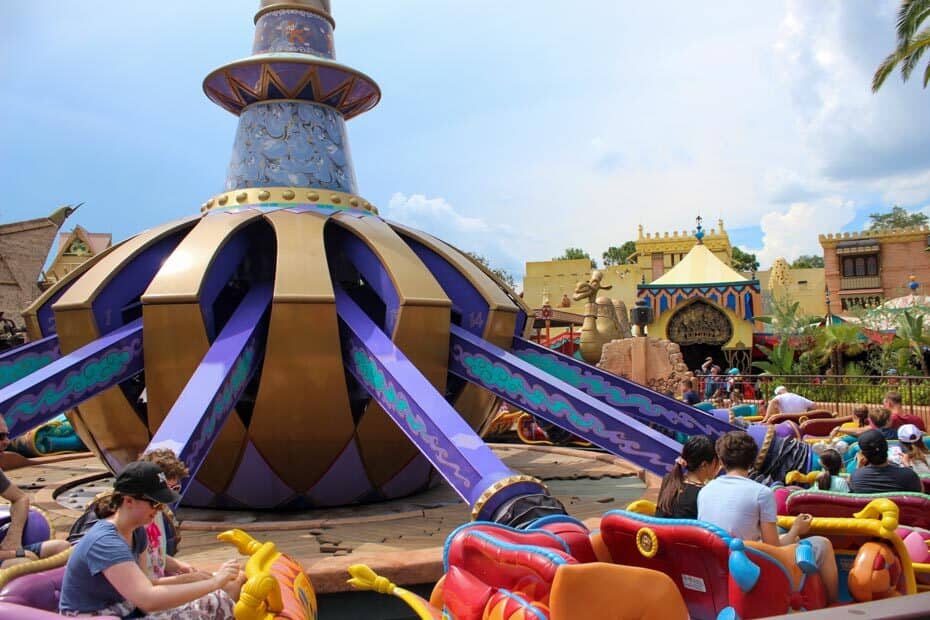 Next, a cast member comes by to make sure everyone has secured the seatbelt style restraint. After that the carpets will begin to lift into the air, and at that time you can begin to adjust and fly your carpet as you like.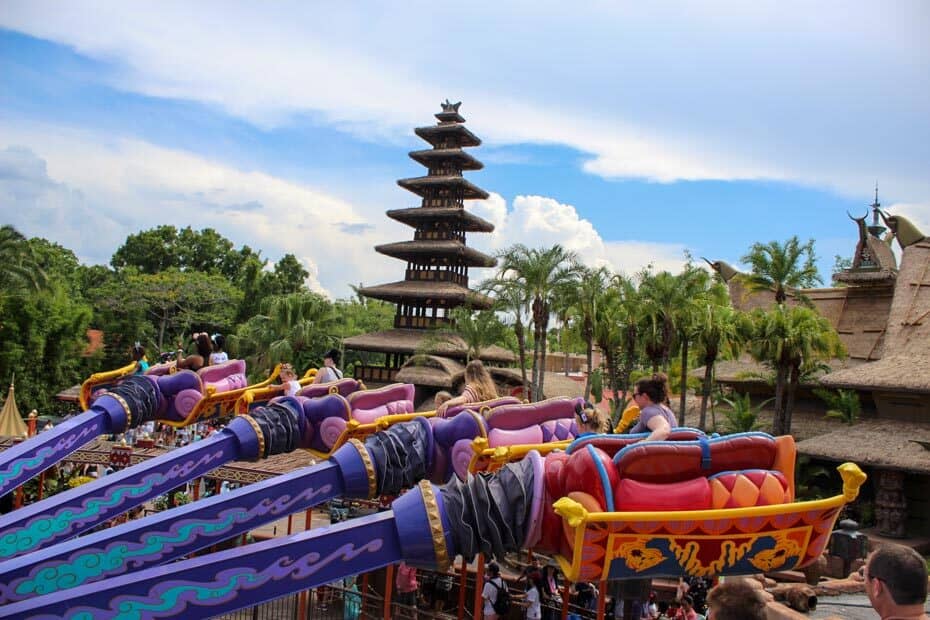 Be careful though! Just outside Magic Carpets, there's a pair of camels. One of them is a real spitter. So just when you are flying high and enjoying yourself you might get sprayed in the face.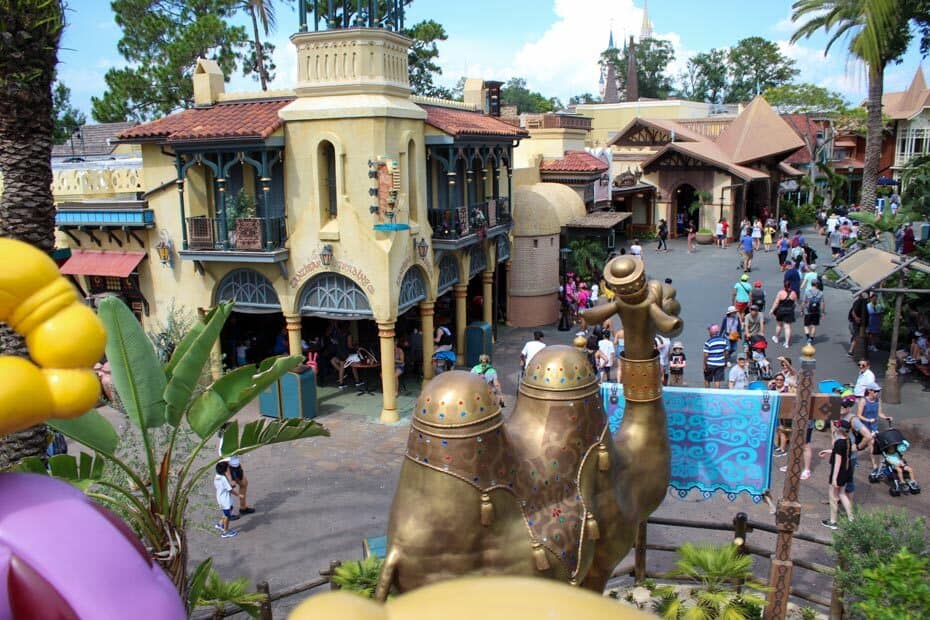 It's not enough to do any damage, but for children, it's quite hilarious. In fact, my bunch likes to make me sit on the outside and purposely adjust our magic carpet so I'll get wet. They get such a kick out of it, and I can't help but laugh myself.
The Magic Carpets are near and dear to my heart. It was the first attraction my son ever experienced at Walt Disney World when he was three years old.
I hear so many complaints about spinners, and I always think it's kind of sad. But, give them a try on your next visit. The aerial views are absolutely spectacular and take note of that child in front of you grinning from ear to ear.
Walt Disney World is a place that has something for everyone, and not everything has to be a thrill ride. There are far worse ways you could choose to spend your day.
To preview the Magic Carpets of Aladdin check them out here on YouTube: Complete Ride
Additionally, you might enjoy these Magic Kingdom Ride reviews in the immediate area:
While touring Adventureland, you might enjoy a meal at Skipper Canteen (review). It's our favorite Disney Restaurant at Magic Kingdom.
You might also enjoy learning more about the resorts in the area that are accessible by the Disney World monorail. They include:
To learn more about touring the parks, make sure to get to know all about the Disney Genie service.
And don't forget to watch out for that spitting camel on the Magic Carpets of Aladdin! Please don't say I didn't warn you!