Monsters, Inc. Laugh Floor
Monsters Inc. Laugh Floor is a comedy show style of attraction at the Magic Kingdom in Walt Disney World. Each performance lasts approximately 15 minutes and some guests will be selected to further participate in the show.
This review will go over Monsters Inc. Laugh Floor along with a few tips you might consider essential for seeing this show.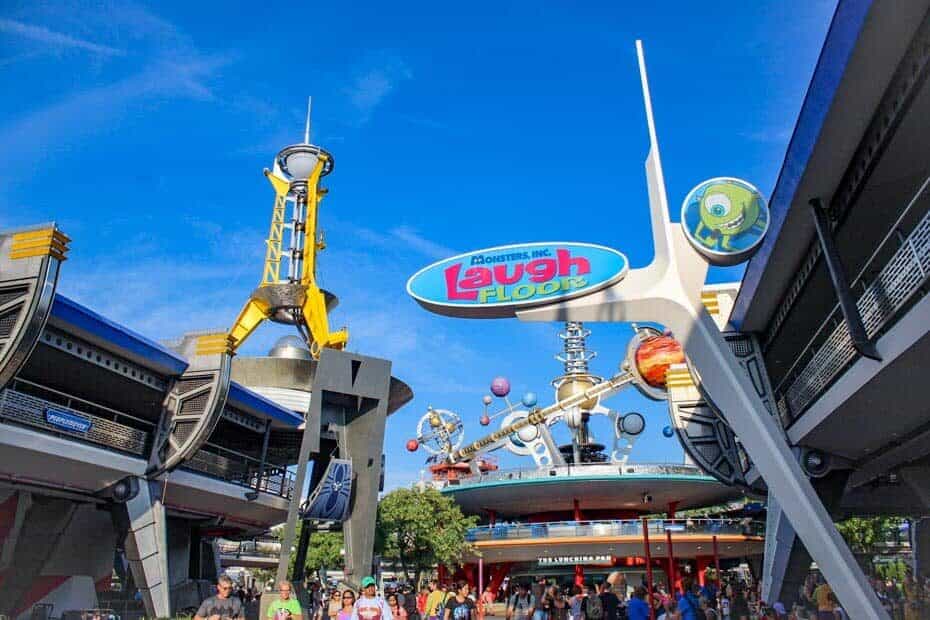 Review the table below for specific information about adding Monsters, Inc. Laugh Floor into your vacation day.
Monsters, Inc. Laugh Floor
Magic Kingdom

Location:

Tomorrowland

Disney Height Requirement:

None

Eligible for Disney Genie+

TBD

Ride Type:

Theater Audience

Seats Per Vehicle:

Theater Rows

Duration:

approx 15 minutes

Rider Switch at Disney World:

No

Good For:

Anyone

Scary Factor:

They call randoms adults out of the audience
and flash them up on the big screen.

Must-Do List:

Low

Perfect For:

Monsters, Inc. Fans
Children
Comedy Lovers

Special Mention:

If you don't want to get called on during
the show, don't sit behind the lamps.
Monsters, Inc. Laugh Floor
Monsters Inc. Laugh Floor is a comedy club-like attraction hosted by none other than Mike Wazowski. During the performance, select Monsters appear on the screen telling their best jokes. Word of warning, some of them can be pretty corny. Okay, I'll admit they are just plain bad, but at least it's the kind of bad that makes you laugh.
Laughter is a good thing because the goal of the show is to fill the scream canister full of laughter. This is somewhat important to remember because if you don't have enough laughter, you might not have enough power to open the exit doors at the end of the show!
Want to participate in Monsters, Inc. Laugh Floor?
In many of the comedy acts, monsters try to get adults and children alike involved from the audience. And then there's always "that guy" the lucky guy in the audience who gets referred to during the show probably more times than he would like.
I think my favorite "that guy" was the one who jumped up and started dancing every time they flashed to him during the show. The camera loved him, so if you want to get selected make sure to sit behind the areas of the theater that have lamps. I don't have a picture handy, but you will know when you see them.
Don't want to participate? Just avoid the seats with the lamps in front of them.
An additional way for audience members to participate is to text in your favorite joke to the overhead number that is displayed on screens in the waiting area. If your joke is selected they will read it in the show and recognize you. So make sure to have a fun joke prepared.
One of my favorites is, "What is Peter Pan's favorite fast food restaurant?" Oh come on…you know the answer….it's Wendys!
Here's a video of Monsters, Inc. Laugh Floor via Youtube: Complete Show Here
Or you might also want to check out these Magic Kingdom attraction reviews including a few from the same area of the park:
Resorts Gal specializes in Disney World Resorts, Characters and Dining. Make sure to check out some of our resources like the list Walt Disney World Resort Reviews. That page provides a list of every single resort review we have available.
Since we're discussing Magic Kingdom, you might consider staying at one of the nearby hotels on the Disney World Monorail.
For planning reservations for dining, we have a full list of Disney restaurants reviews available. Normally, we recommend planning at least one Disney World character dining meal during your vacation. And if you enjoy fine dining, throw a Disney signature dining reservation in the mix!
Lastly, our most popular reviews include the best restaurants at Disney Springs and I keep a timeline going of Disney Loungefly mini-backpacks.
Okay, so I have to ask, have you ever been "that guy" at Monsters, Inc. Laugh Floor? Let me know in the comments below.