Splash Mountain at the Magic Kingdom
Splash Mountain is a log flume water ride at Magic Kingdom in Walt Disney World.
Update-It was announced in the summer of 2020 that Splash Mountain will eventually close. Disney plans to turn this ride into an attraction featuring Tiana from The Princess and the Frog. At this time, there is no closing date scheduled for Splash Mountain.
This review covers details about the best time to ride and whether or not you might get wet when riding.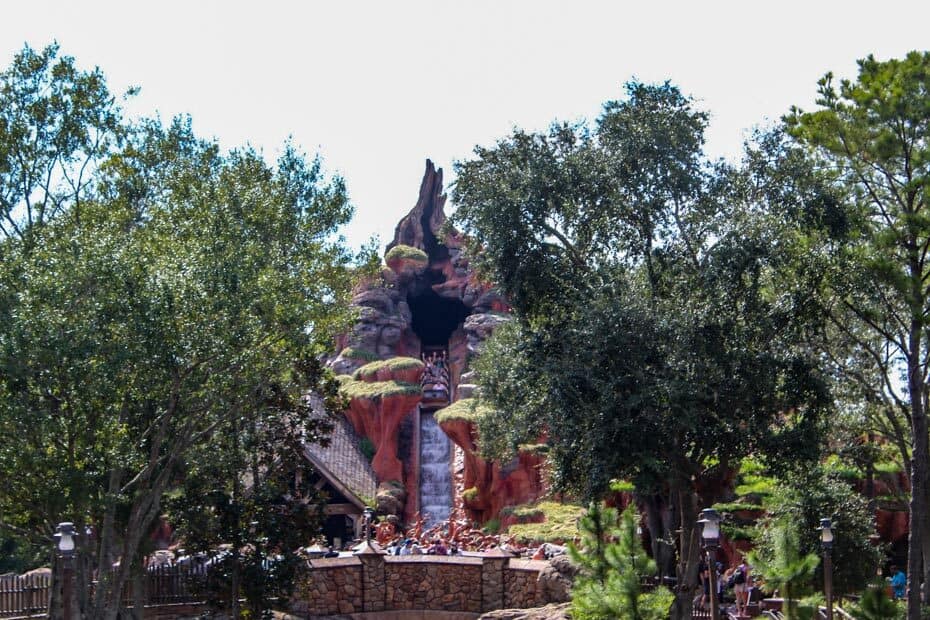 The table below discusses extra magic hours, operation, and height requirements for Splash Mountain.
Splash Mountain
Magic Kingdom

Location:

Frontierland

Disney World Height Requirement:

40 inches

Eligible for Disney Genie+

TBD

Ride Type:

Water Ride, Thrill, Drops

Seats Per Vehicle:

2

Disney Rider Switch:

Yes

Good For:

Thrill Seekers
Nostalgia

Scare Factor:

Medium

Must-Do List:

High Priority

Perfect For:

Tweens, Teens, Adults

Special Mention:

*Might need a jacket or a poncho if you do not want to get wet.
*On-Ride Photo Option
Splash Mountain
Splash Mountain was introduced to Magic Kingdom in 1992 and has become a beloved attraction for many guests. While the ride has its thrills, there are long breaks featuring over 100 audio animatronics along the way to the Laughing Place.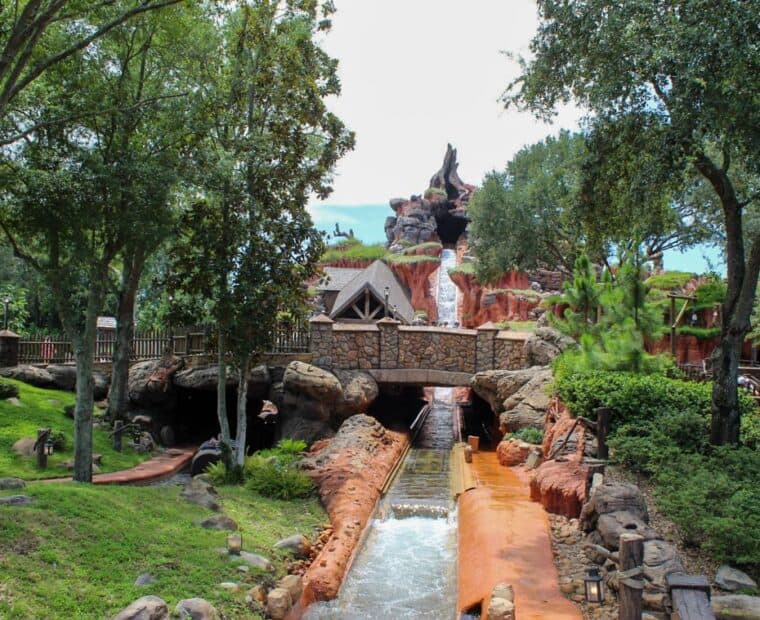 Will you get wet on Splash Mountain? Yes is the short answer. How wet? Well, that depends on several factors. First, if the weather is on the cooler side for Orlando, Disney typically has a lot of the extra sprayers turned off. These main sprayers are the ones that cause guests to get wet.
The one large drop at the end can cause a bit of a splash but typically not enough to douse you completely. When your log goes around the bend, and you witness the next log dropping is when you are in the most trouble. This is usually where you get the effect of the sprayers as well.
If they are turned off, no problem. If the sprayers are on, there's a possibility you could get fairly wet. I've never been drenched, but I also am shy to carry my camera on this attraction, hence no interior ride pictures.
Splash Mountain Drops: The drops on Splash Mountain range from low to the large five-story drop at the end. The attraction has a fun way of playing on a guest's anticipation of each drop being the one.
But when you get to the one, trust me, you'll know it. Just don't forget to smile as you plunge into the Briar Patch because the finale drop has an on-ride photo opportunity.
Ponchos for Splash Mountain: I recommend picking up ponchos from a dollar store prior to your vacation. I try to keep three or four in my backpack on a regular basis. The cheaper ones are lightweight, and I don't feel bad about throwing them away after one use.
While I don't normally have to use them a lot, they have come in handy. You might elect to use a poncho prior to riding Splash Mountain. Just make sure to have it on before you get to the loading area.
Best Time to Ride: In most cases, I would wait until the hotter portion of the day between 1:00 p.m. and 5:00 p.m., depending on your touring strategy. That is also when lines for this attraction will be at their longest.
The new Disney Genie should also indicate the best times to ride. This is a new service that's replacing the FastPass+ program.
For those wanting to ride in standby, try mornings up until about 12:00 p.m., afternoons during the Festival of Fantasy parade, or in the evening after 7:00 p.m. However, if this is your first or a rare visit, I would never recommend skipping the Festival of Fantasy Parade or evening fireworks performance.
But if you have two or more days in the Magic Kingdom on your vacation, it's a good idea to implement different plans for each day. That way, you can take advantage of shorter lines at attractions like Splash Mountain during high-priority entertainment times.
As for the attraction, it's normally high on most guest's priority lists in warmer months and often builds long wait times. On the other hand, cooler months bring lesser lines for Splash Mountain. So keep these things into consideration when planning your day.
Video Ride Reference of Splash Mountain on YouTube: Complete Ride
Know Your Disney Rules When Riding With Children-Any child under the age of seven or younger must be accompanied by an adult fourteen years or older.
Make sure to check out these Magic Kingdom ride reviews located in the same proximity as Splash Mountain.
If you have plans to stay near Magic Kingdom park, you might like to check out our Walt Disney World Resort Reviews in the area:
You might also enjoy some of our most popular reviews, like the Blizzard Beach Rides Guide. It goes over all the different attractions and must-do items at the water park.
If you need something cute to carry all of your personal items in the park, pick up a fun Disney-themed Loungefly backpack. They are adorable, and there's truly one (or more!) for everyone.
Lastly, our guide to using the Disney World monorail will help you learn how to get to and from the Magic Kingdom and Epcot when using the service.
Do you have a favorite part on Splash Mountain? I'm rather fond of the Laughing Place myself. What do you think about the ride closing? Leave a comment and share your thoughts.