The Barnstormer at Magic Kingdom
The Barnstormer ride is a kid-friendly roller coaster at Magic Kingdom. This attraction is Goofy's roller coaster, where he pilots an aerial stunt show from his barn.
Since the height requirement for The Barnstormer is minimal (35″), most children can experience the attraction. Therefore, the Barnstormer usually serves as the perfect introduction to thrill rides for children.
This review will cover the Barnstormer in full detail so you can decide whether or not it's something you need to add to your vacation plan.
If your children are tweens or teenagers, you'll probably want to skip it. The ride is geared toward smaller children.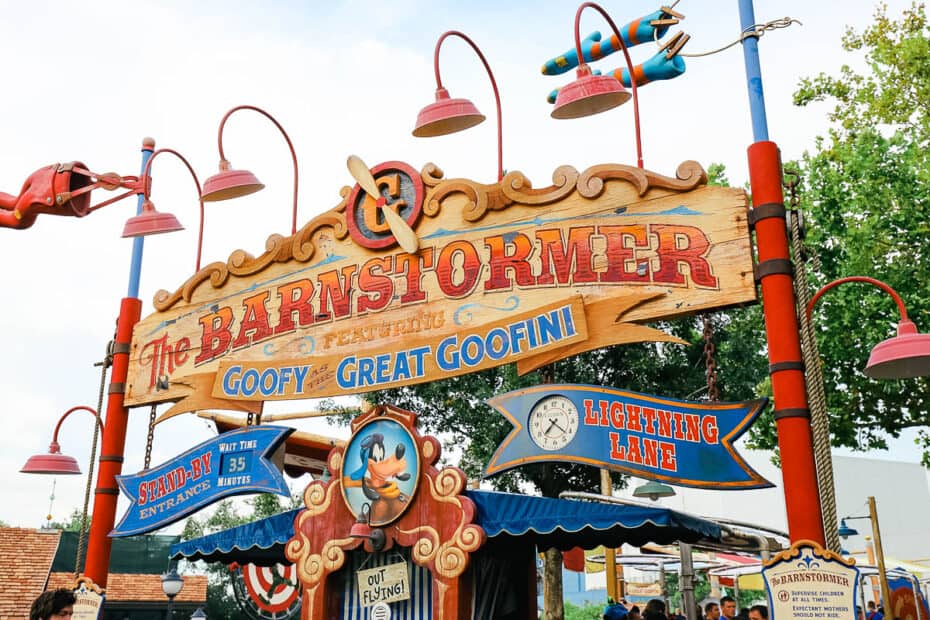 Here's a quick reference guide with details for the Barnstormer.
| | |
| --- | --- |
| The Barnstormer | Magic Kingdom |
| Location: | Storybook Circus |
| Disney Height Requirements: | 35 inches |
| Eligible for Disney Genie+ | Yes |
| Ride Type: | Kiddie Roller-Coaster |
| Seats Per Vehicle: | Two, but it's a very tight squeeze. |
| Rider Switch at Disney: | Yes |
| Good For: | Children |
| Scare Factor: | Mild |
| Must-Do List: | Low Priority |
| Perfect For: | Introducing children to roller coasters. |
| Special Mention: | It's over before you know it! |
The Barnstormer at Magic Kingdom
As mentioned above, The Barnstormer is Goofy's attraction. In it, he plays the role of The Great Goofini. And you, his guest, are coming along for a flying tour over Storybook Circus in an aerial stunt show.
The line for this attraction forms at the very back of Storybook Circus. You can see the Tron roller coaster construction here pretty well. It's much further along than in the photo.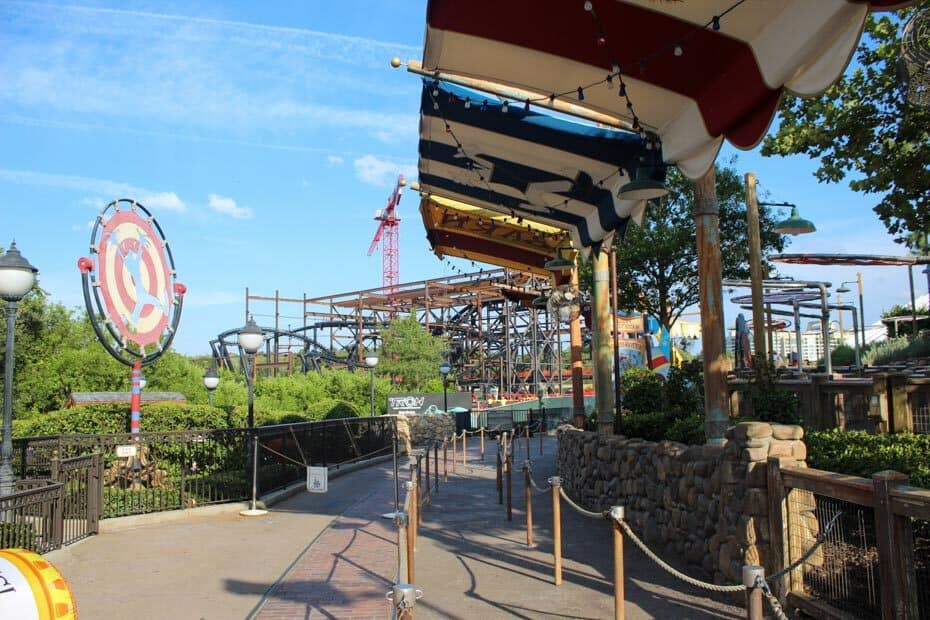 It's rare for this attraction to have a significant wait. The queue is charming. You might notice all the landing nets that provide a little shade.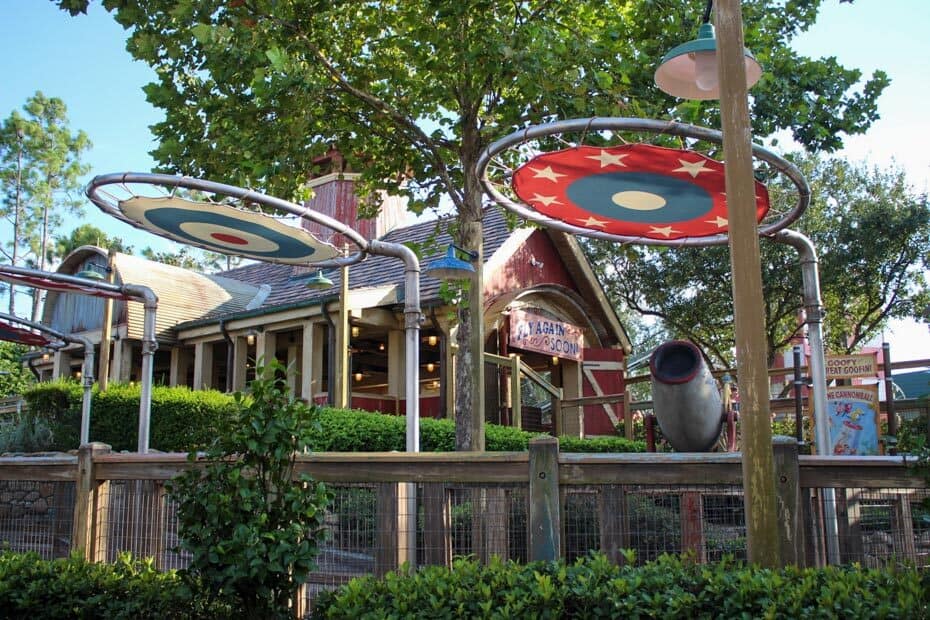 Once you reach the top of the queue, you'll find yourself in a barn and board your ride vehicle. When riding with small children, it's a good fit. But it would be pretty tricky or at least uncomfortable to ride with another adult.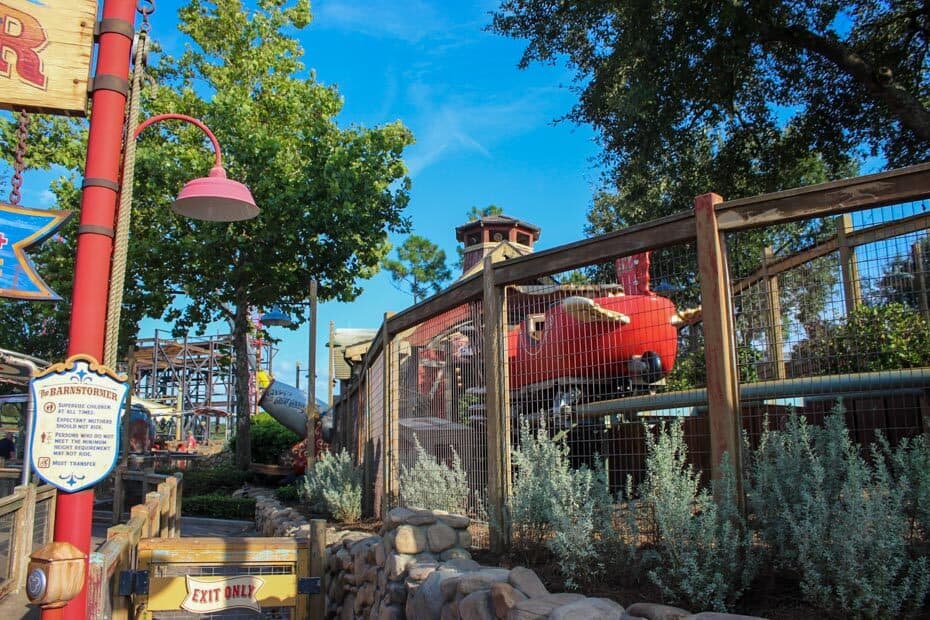 Before you know it, you'll be whisked away and headed toward trouble. This is Goofy's ride, after all. You know what I'm talking about if you've had the chance to ride Mickey and Minnie's Runaway Railway.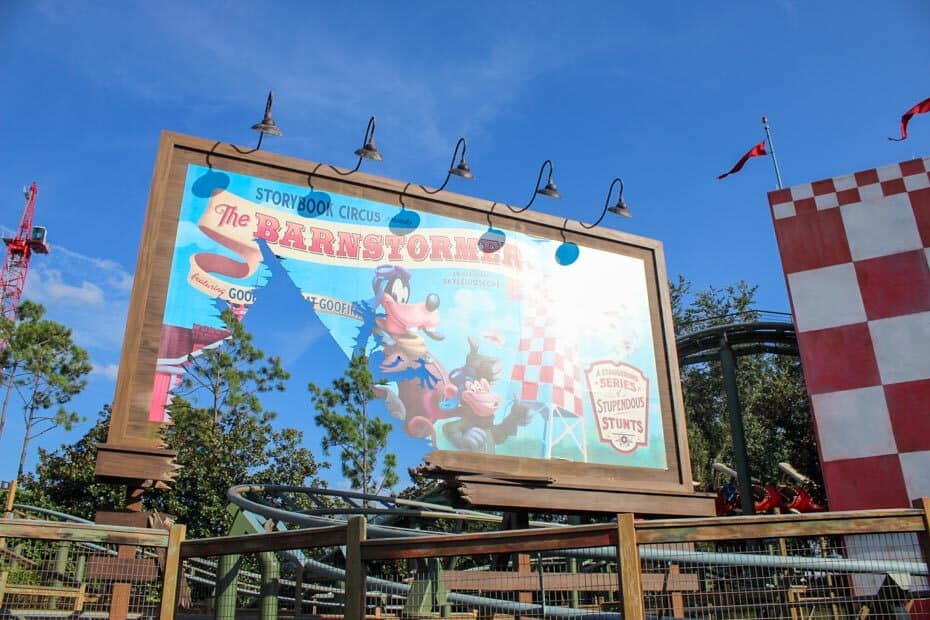 Thankfully, you aren't the first person to ever ride The Barnstormer as Goofy takes a shortcut through the attraction's sign.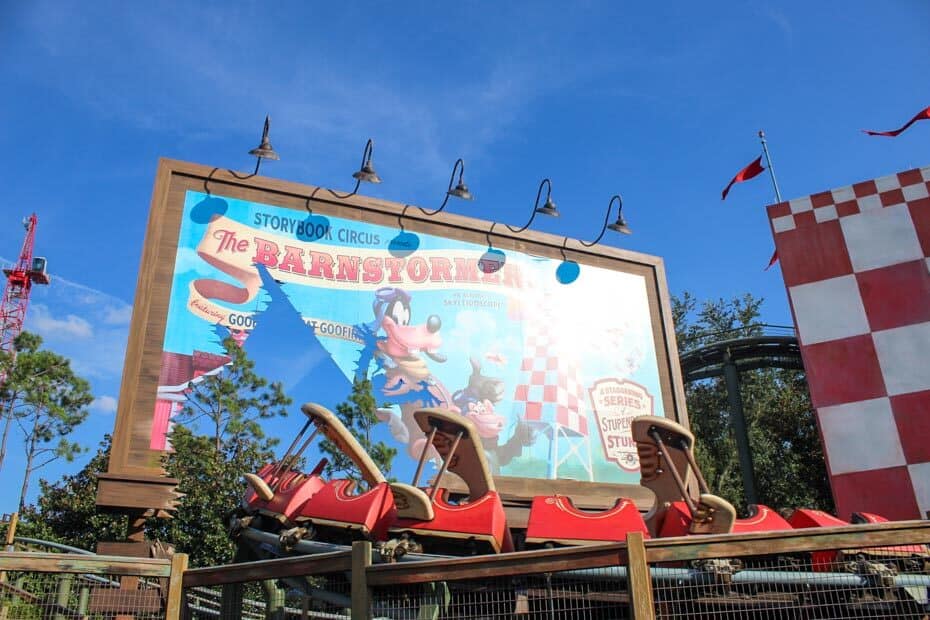 And then the ride comes to a very abrupt end.
If you fear that your children might not do well, the duration of the coaster is approximately one minute. So it's a blink, and you'll miss it type of ride.
I recommend skipping it and returning later if you were to happen upon a long line at the Barnstormer.
Most evenings (after dark), there's little to no wait. Cast members often let guests stay on for an extra ride when no one else is waiting in line.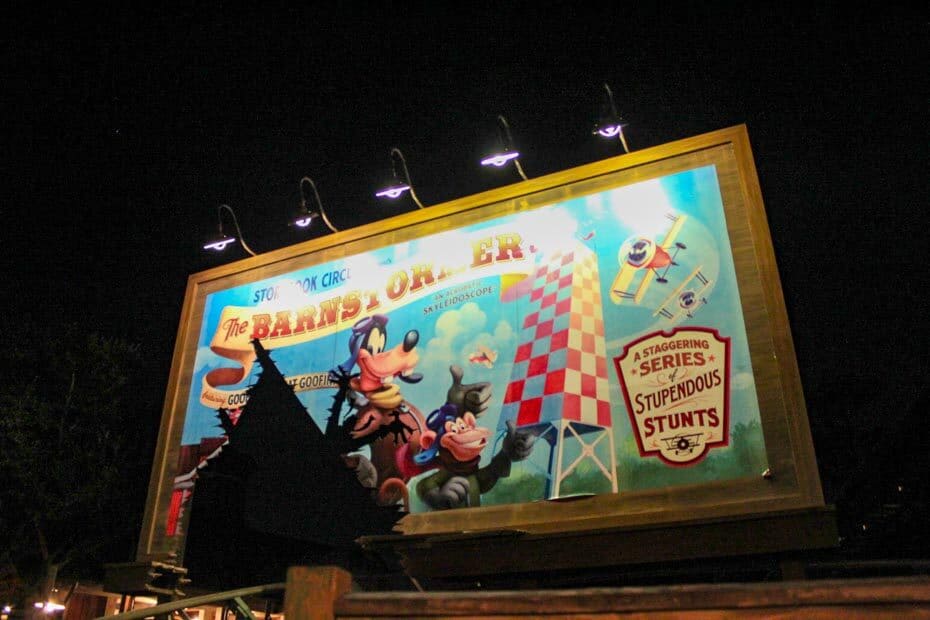 There's also an excellent area to stand out front and watch as the coaster soars through the sign. The coaster builds up to that instant before making a sharp turn and heading back to the barn.
Watching from the outside first might help your child decide whether to ride it or not.
These Magic Kingdom rides are all in the nearby vicinity of The Barnstormer:
Resorts Gal specializes in Disney World Resorts, Characters, and Dining. Check out some of our resources, like our Disney World Hotel Reviews.
The resorts located on the monorail include:
Or, if you're thinking of staying elsewhere, you might enjoy reading our article on the best off-site hotels near Disney World. Sometimes, an off-site resort is more affordable with the current inflation rate.
Related: The Best Off Property Disney World Hotels
We have a complete list of our Disney restaurant reviews available for planning dining reservations. If you are looking for table service dining in the Magic Kingdom, we enjoy Skipper Canteen.
Related: Skipper Canteen Review
Are you planning to meet characters in the parks? We have an updated list of Disney World Characters. That review links to every meet available in each of the four parks.
Lastly, our most popular reviews include the best restaurants at Disney Springs, and I keep a timeline going of Disney Loungefly mini-backpacks.
So, are you a fan of Goofy's Barnstormer? Please drop a comment below and let me know.