Big Thunder Mountain Railroad Review (Magic Kingdom)
This article provides a review of Big Thunder Mountain Railroad, a popular roller coaster attraction at Magic Kingdom in Walt Disney World. We discuss the height requirement, the best times to ride, and other tips for experiencing this attraction.
"This here's the wildest ride in the wilderness!" Those are the last words you'll hear as a train car pulls you away into the mine that is Big Thunder Mountain Railroad. Those who have previously ridden the attraction can't help but smile.
For most, Big Thunder Mountain Railroad is a must-do attraction for theme park fans. It's an attraction that's remained popular with guests year after year.
While this roller-coaster promises a thrill, it's not necessarily scary. Most guests leave the ride laughing or with a huge grin because it's too much fun!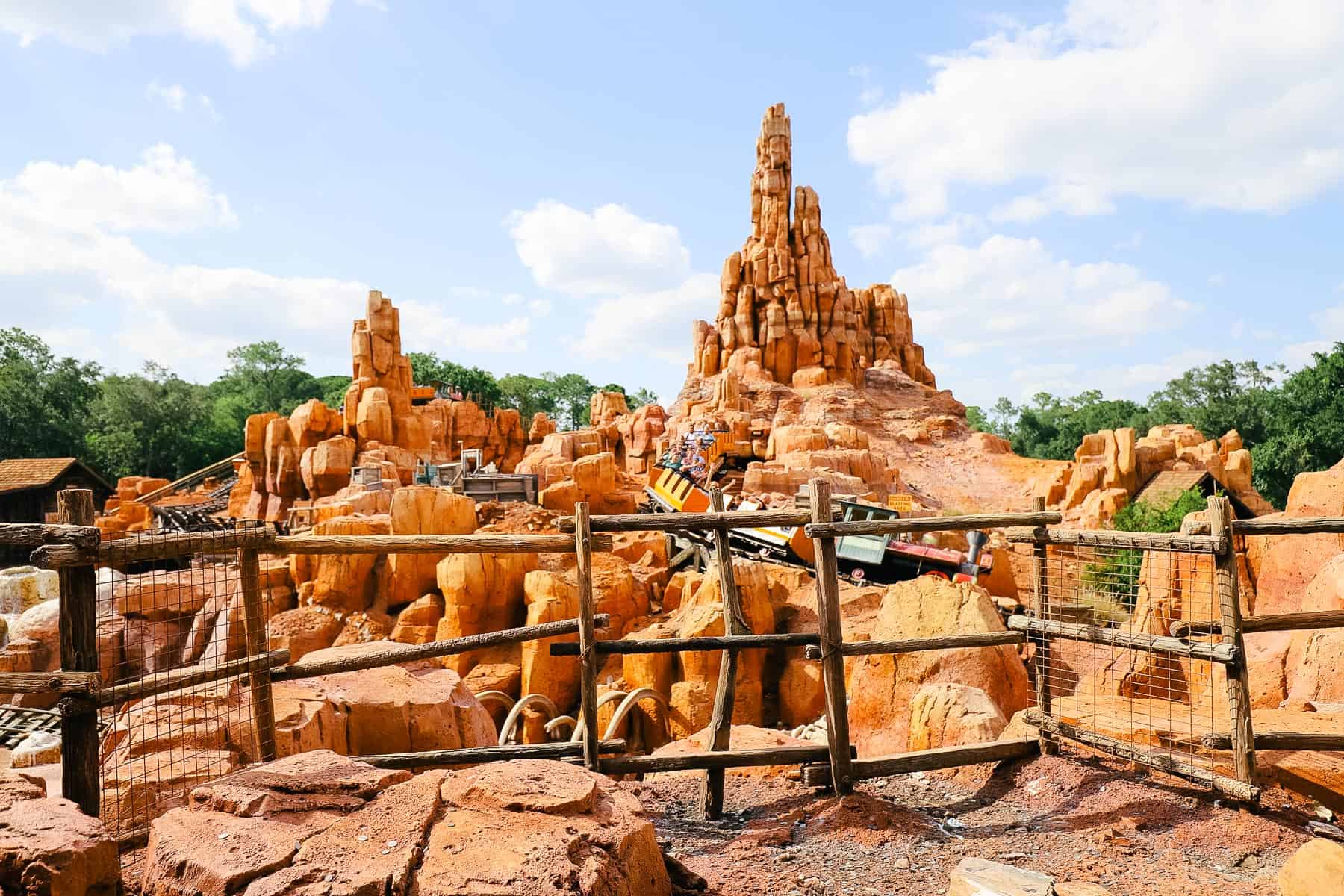 Here is a quick reference chart for Big Thunder Mountain Railroad.
Big Thunder Mountain Railroad
Magic Kingdom

Location:

Frontierland

Disney World Height Requirement:

40″

Disney Genie+ Attraction

Yes

Ride Type:

Thrill, Roller Coaster

Seats Per Vehicle:

Generally, two per row, or
one adult with two kids.

Disney Rider Switch:

Yes

Good For:

Children

Scare Factor:

Mild to Medium

Must-Do List:

High Priority

Perfect For:

Kids, Tweens, Teens, Adults
Mild Thrill Seekers

Special Mention:

Make sure to secure any hats or glasses.
It really is the wildest ride in the wilderness.
*Guests in wheelchairs or ECVS must transfer to the ride vehicles. *Details for those with mobility issues (i.e., wheelchair, ECVs) can be found on Disney's site.
Big Thunder Mountain Railroad
Big Thunder Mountain Railroad is located in the back of Frontierland. It sits between the Rivers of America and the former Splash Mountain, which will soon be Tiana's Bayou Adventure.
As you approach the entrance, you can join the standby queue, or those who have purchased Genie+ can use a Lightning Lane. However, a time slot for this attraction must be selected in advance.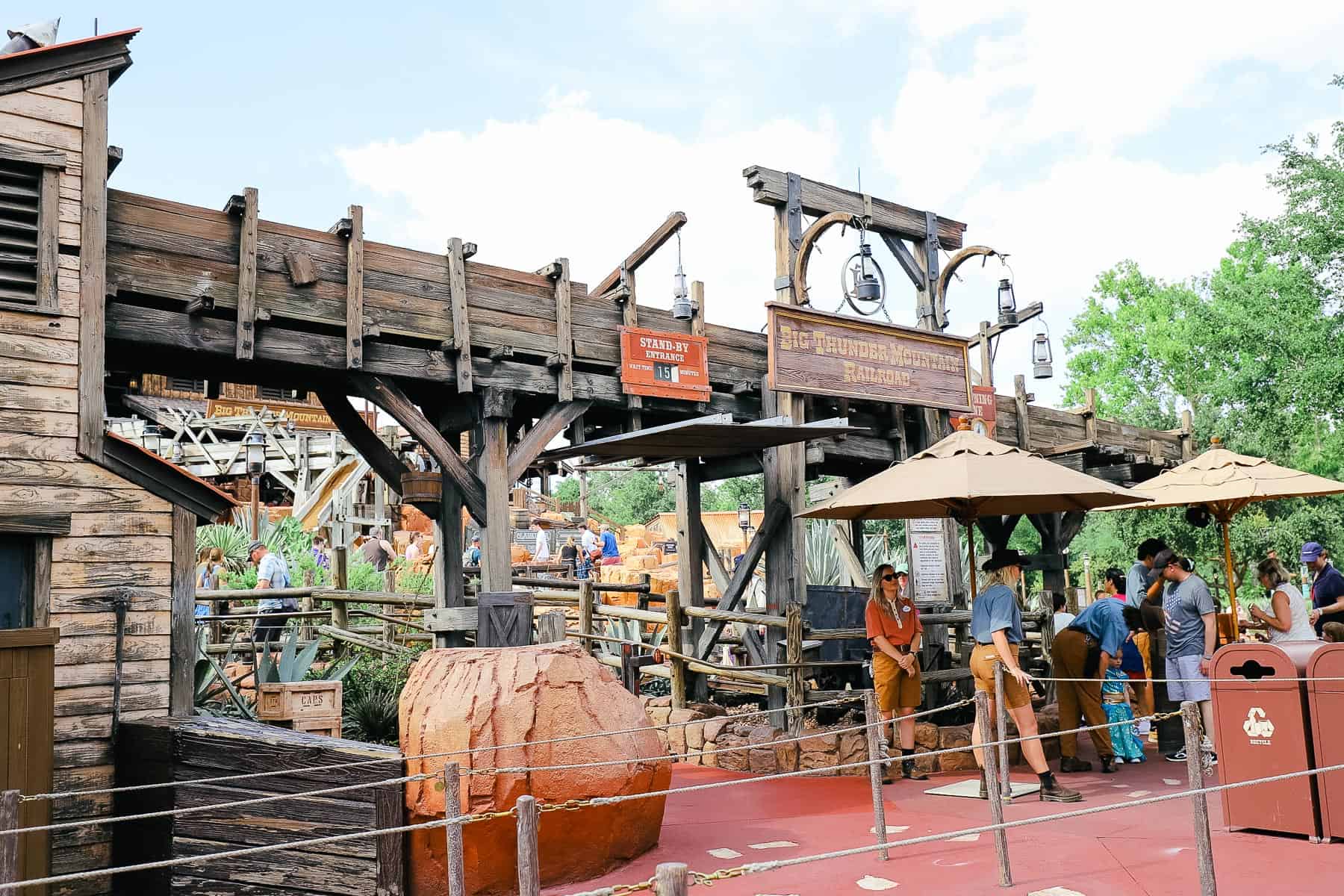 A height requirement and measurement stand are located near the attraction's entrance. Guests must be 40″ in height to experience Big Thunder Mountain Railroad.
Like the Barnstormer, this attraction is an excellent introduction to roller coasters. However, the ride lasts longer and is much more exciting than the Barnstormer.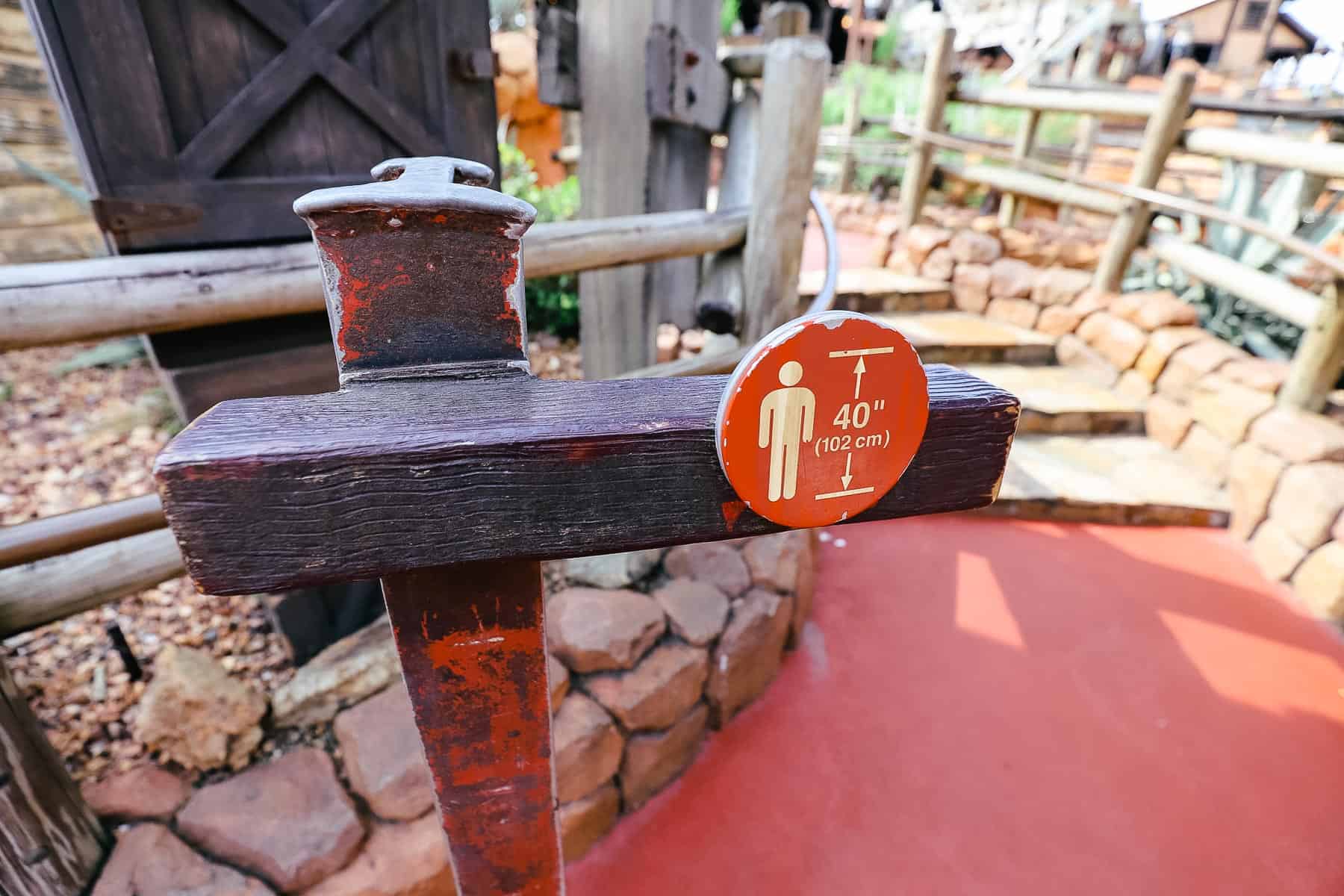 Additionally, a few warnings and other info are posted outside the attraction. The sign below reads:
Big Thunder Mountain Railroad is a high-speed, roller coaster ride that includes sharp turns, sudden drops, and stops. Warning! For safety, you should be in good health and free from high blood pressure, heart, back, or neck problems, motion sickness, or other conditions that could be aggravated by this adventure. Expectant mothers should not ride.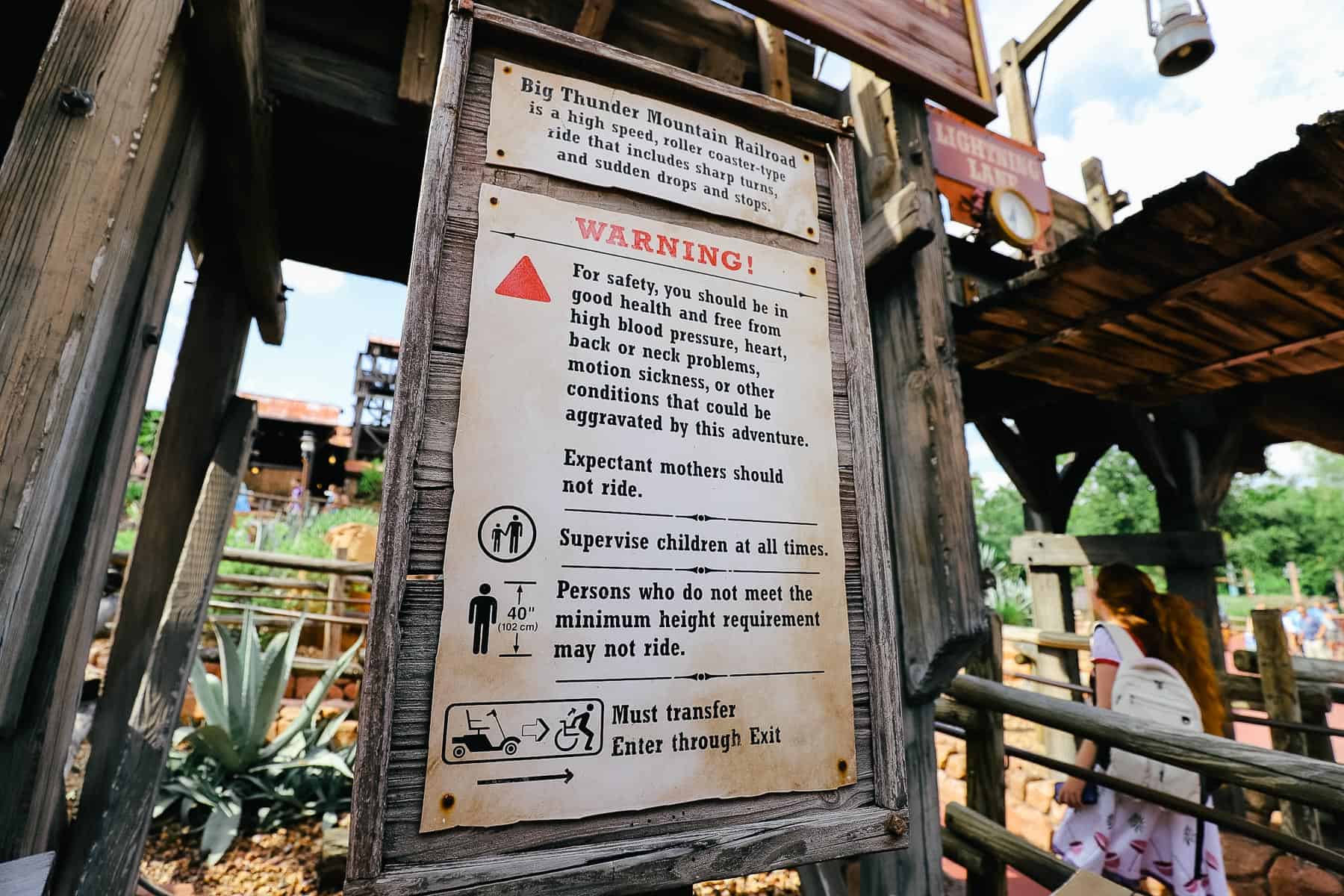 Big Thunder's queue is full of fun elements. However, often the line moves rather quickly. So you might not get a chance to see everything. Here are a few photos.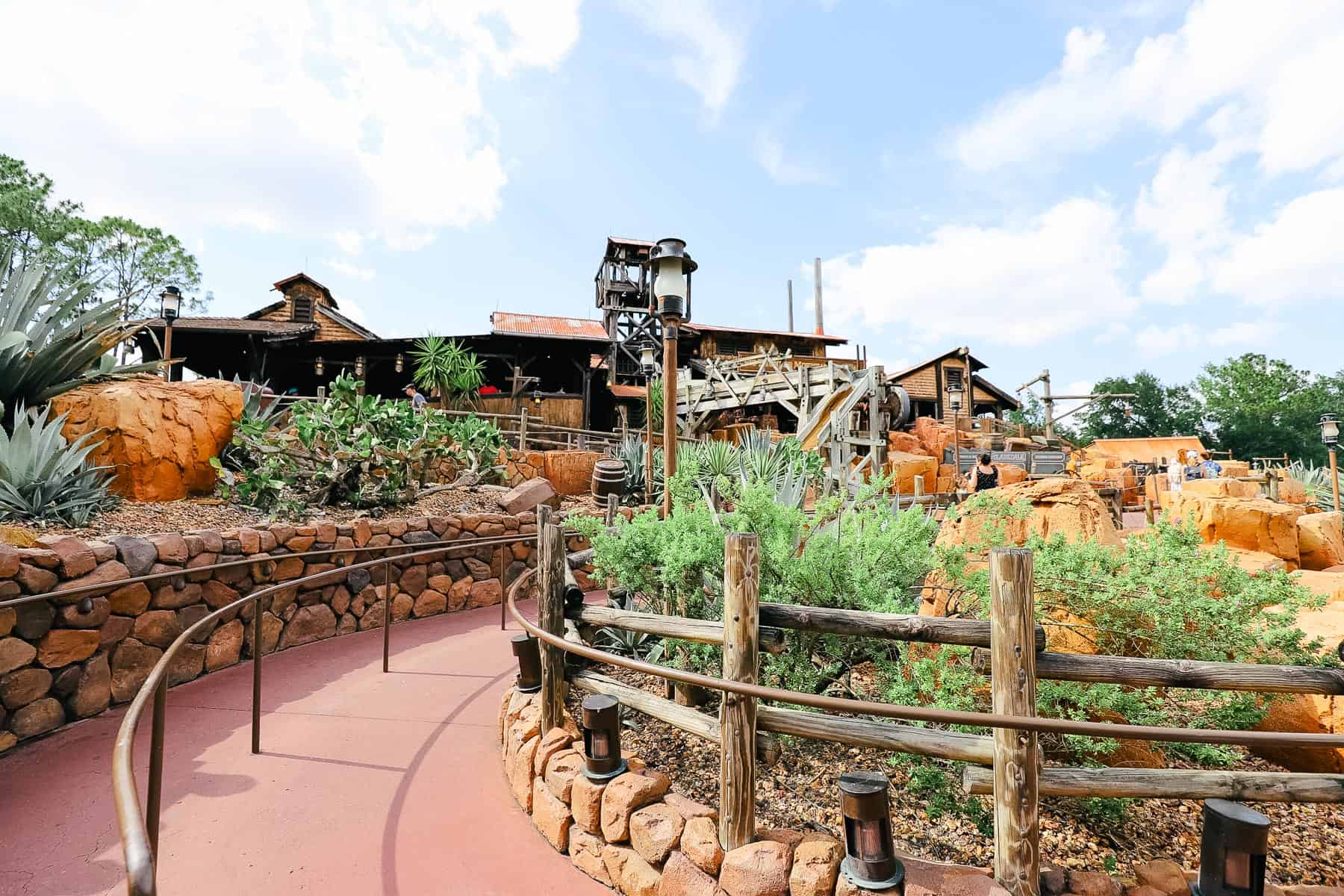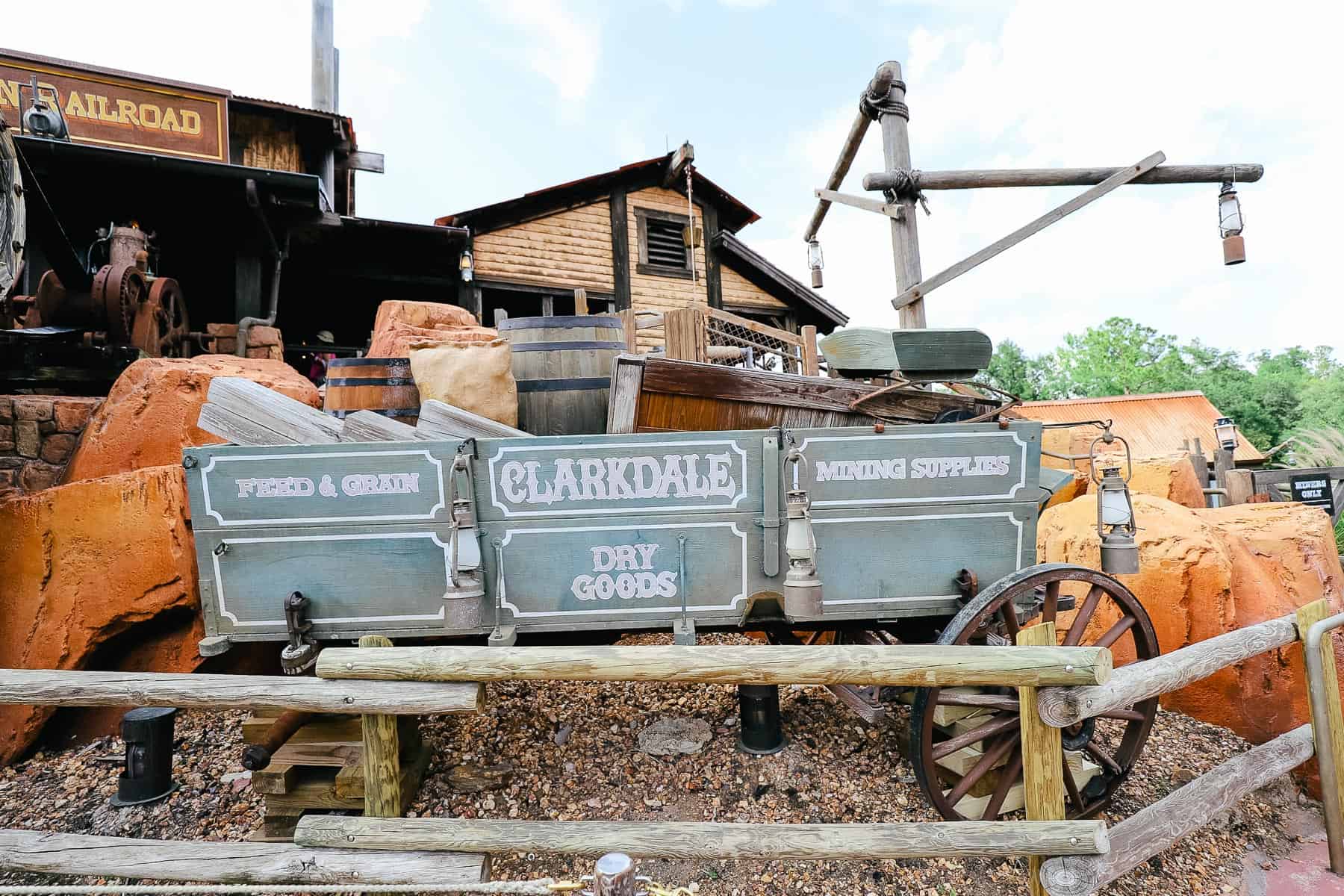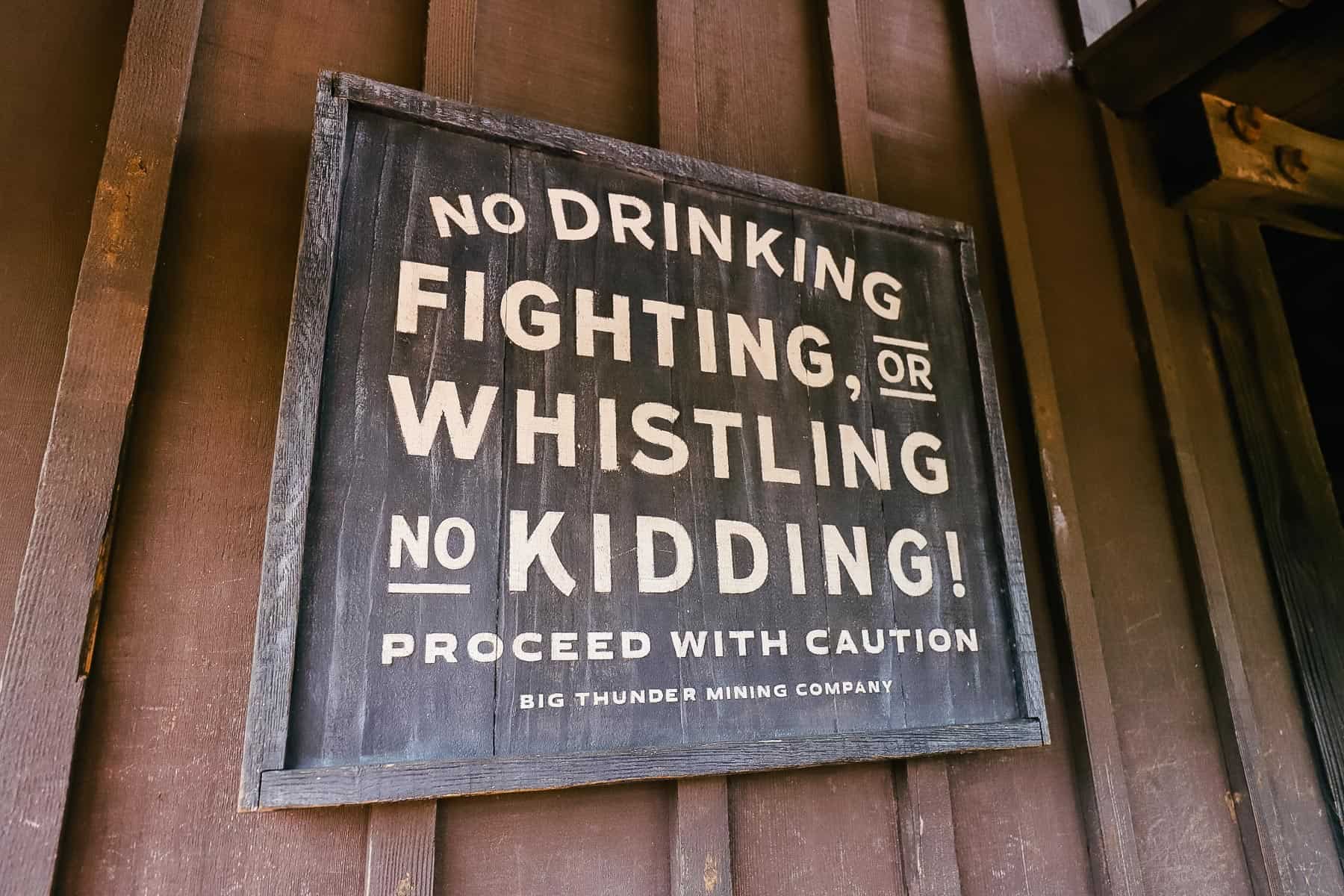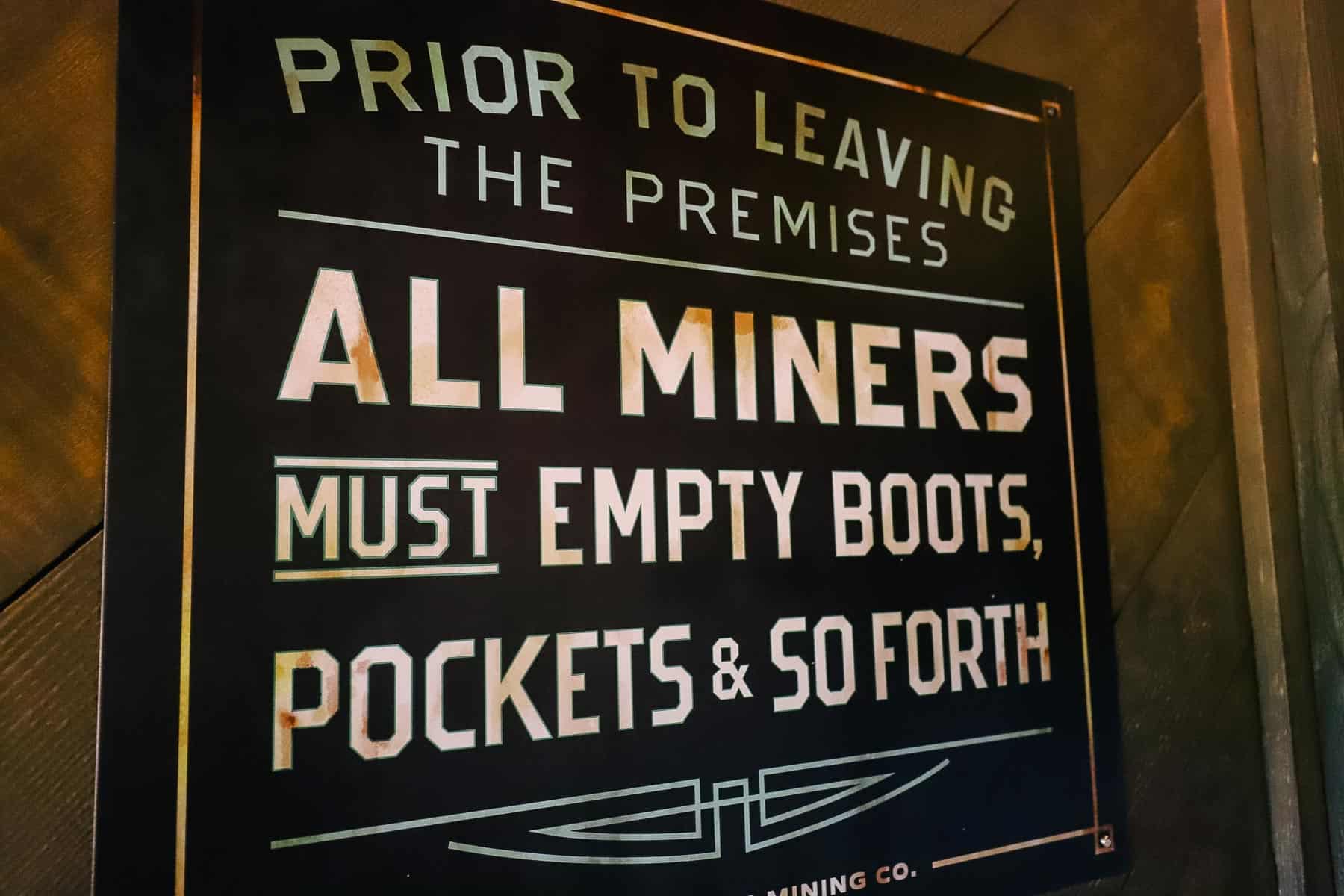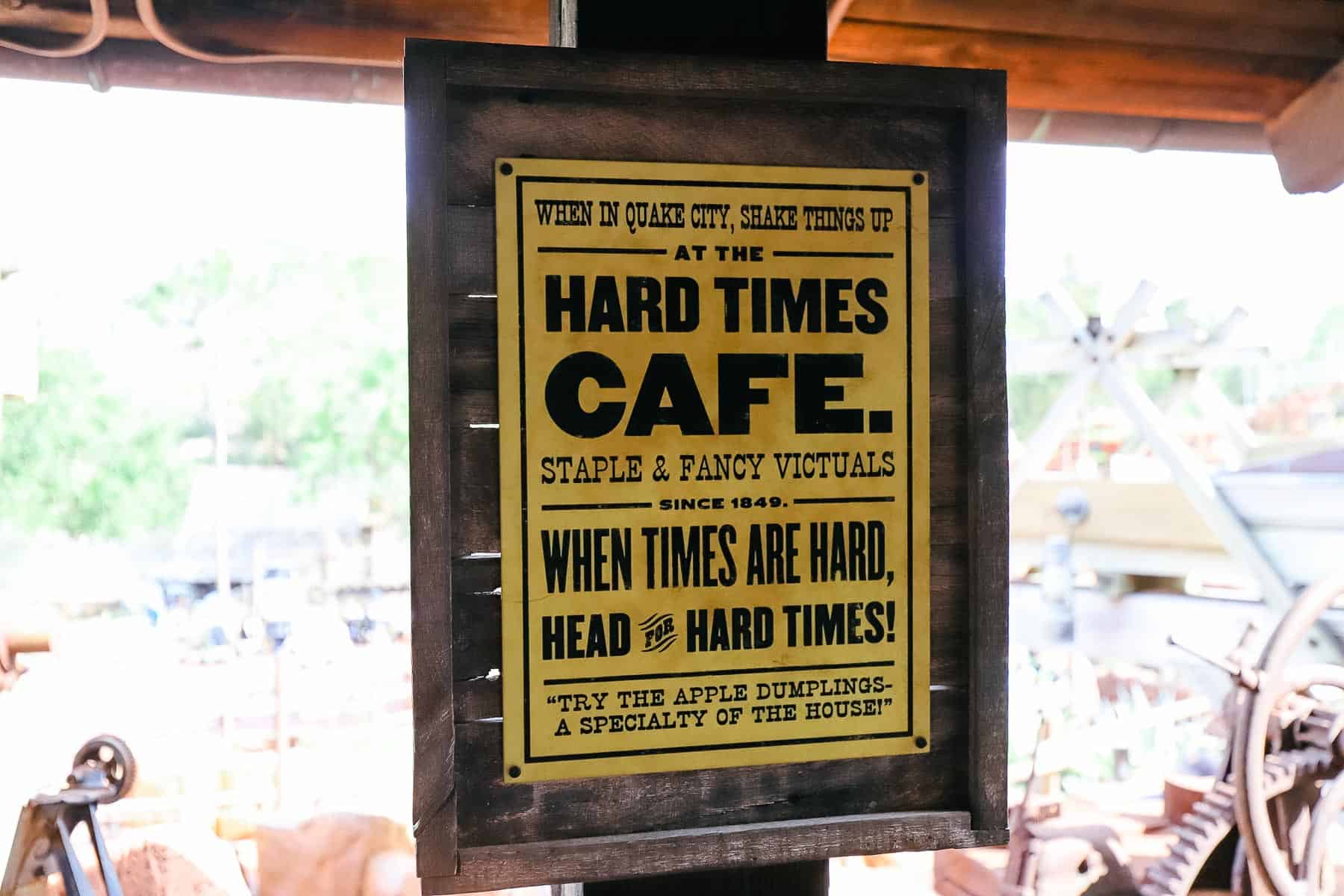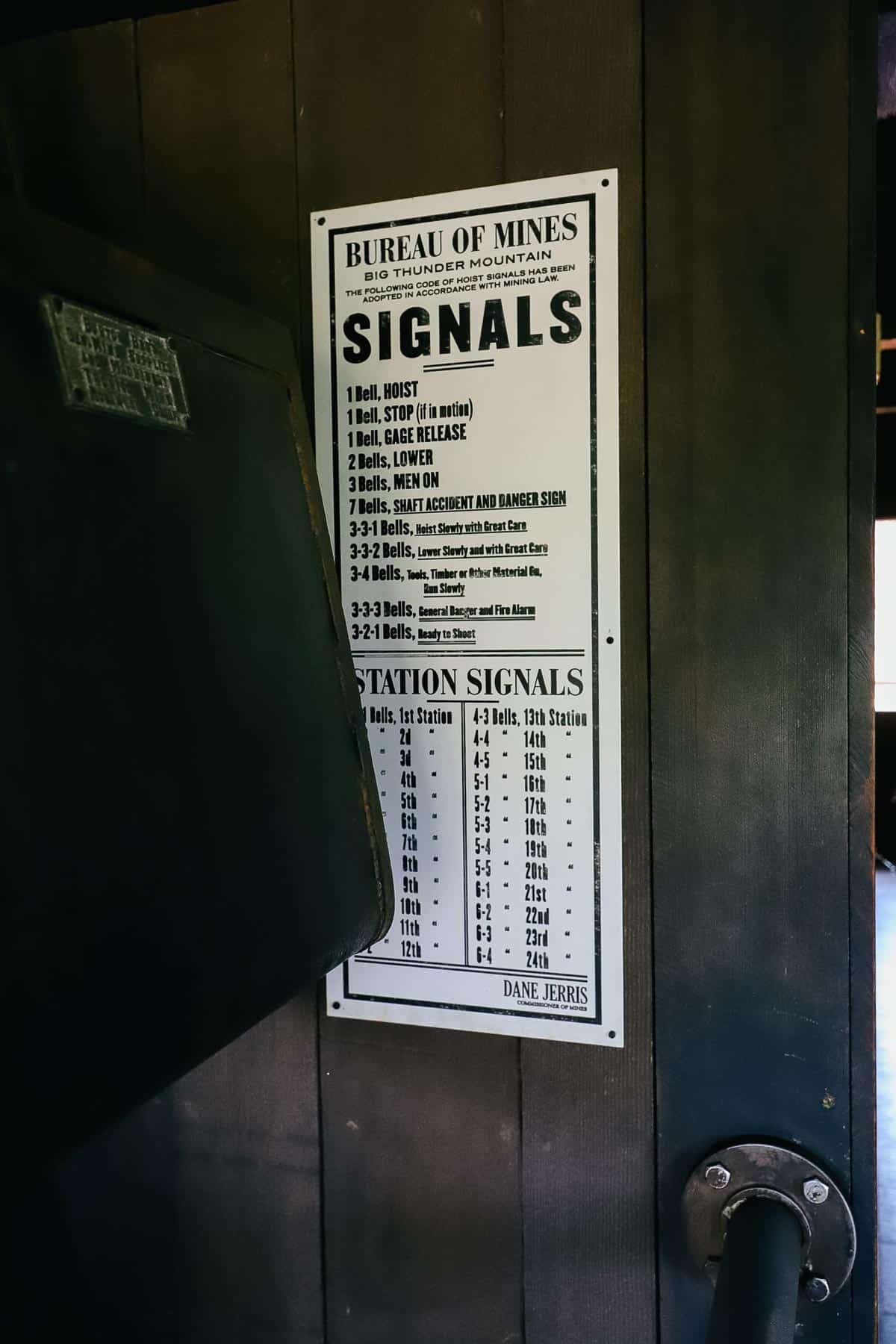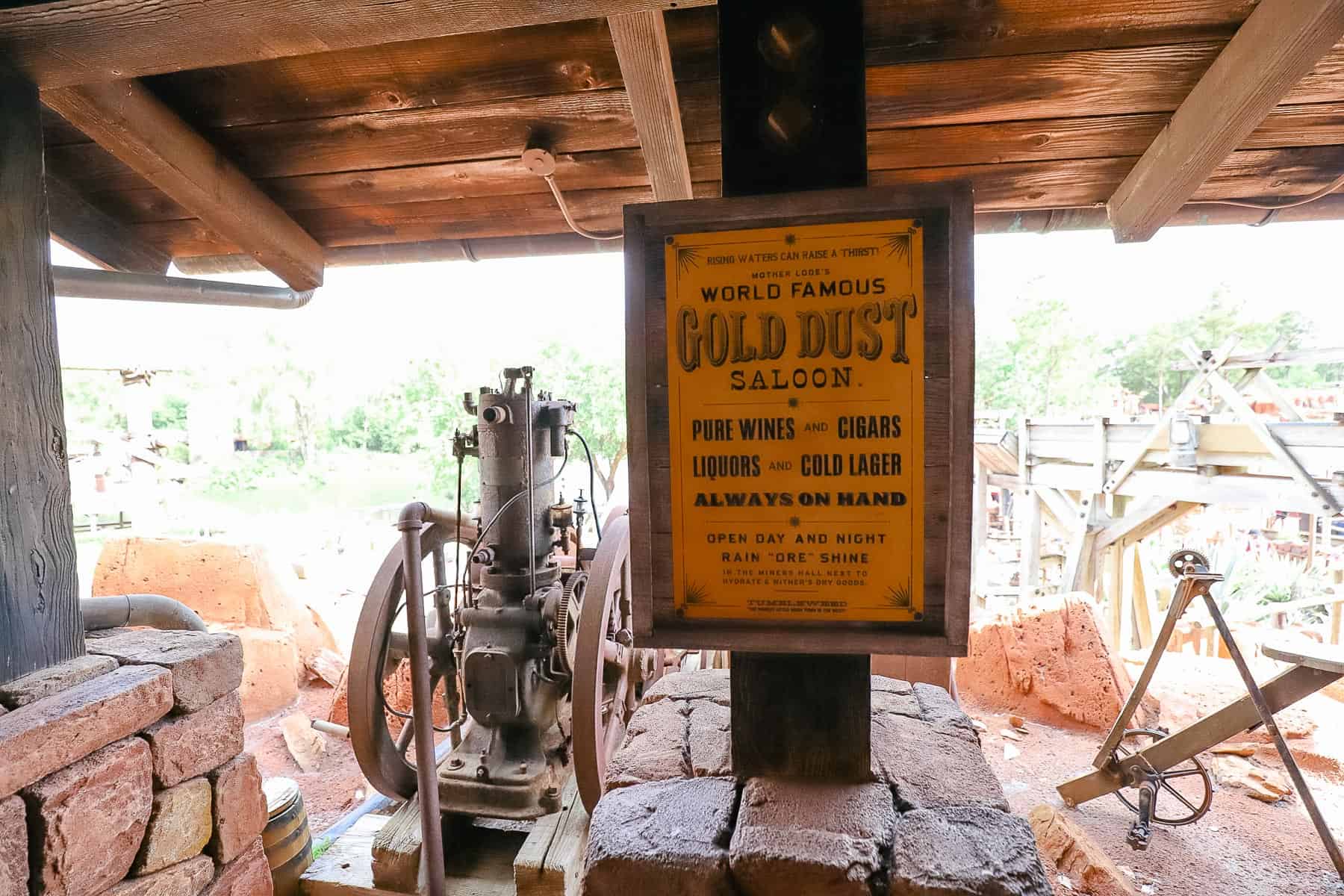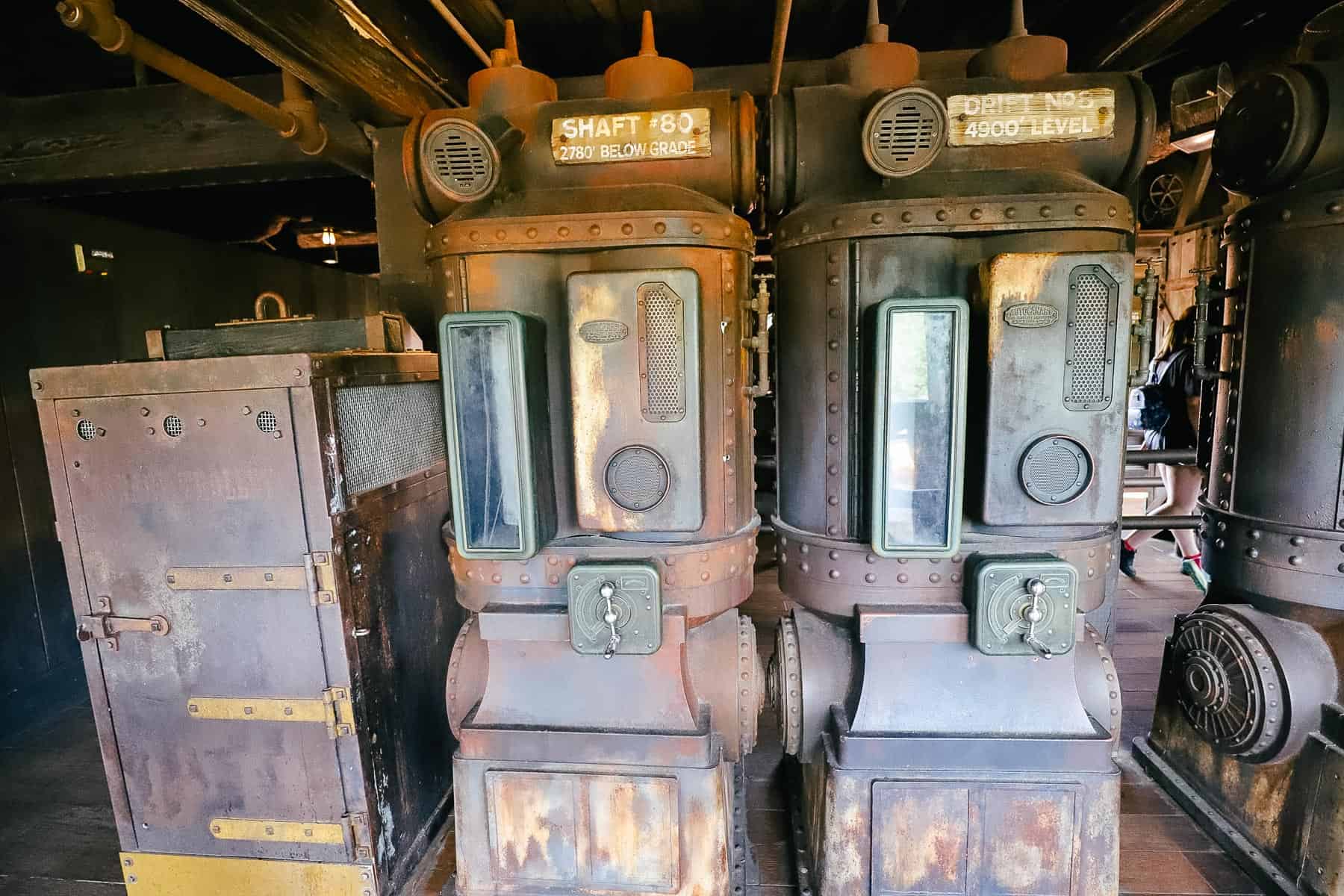 After winding through the queue, you'll get to a point where the line splits. At that point, you can decide whether to go to the right or left side.
Tip: It doesn't matter which side you choose when the line splits. Just keep your party together.
It will appear that one of the lines moves along much faster. However, that isn't the case. The lines are called in rotation. So within a few minutes, the opposite line will begin to move just as quickly.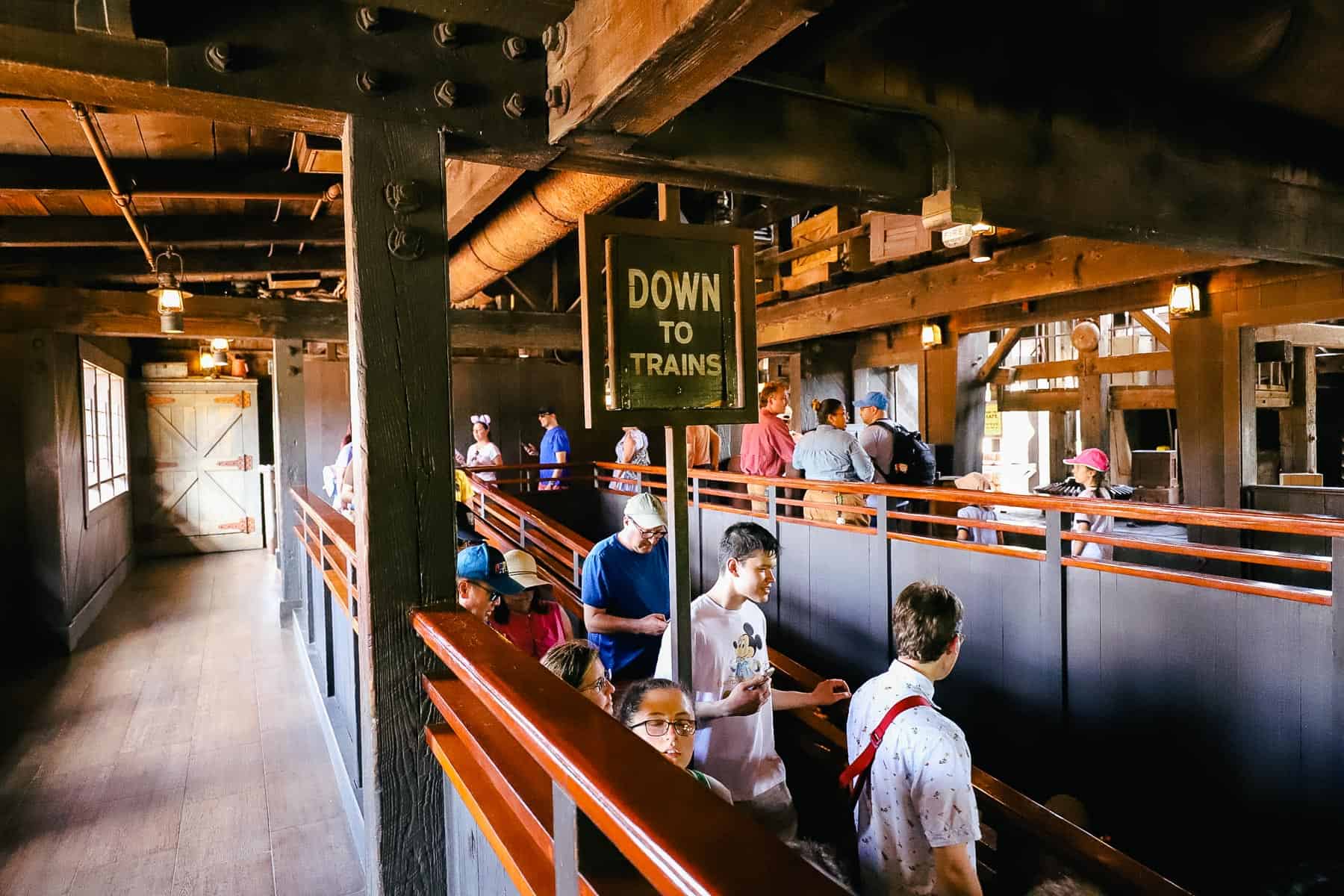 Soon after, you will board a train car. One lap restraint bar lowers over guests. From my experience, larger adults will provide a decent amount of slack between the lap bar and smaller children riding with them. Make sure your child holds on well.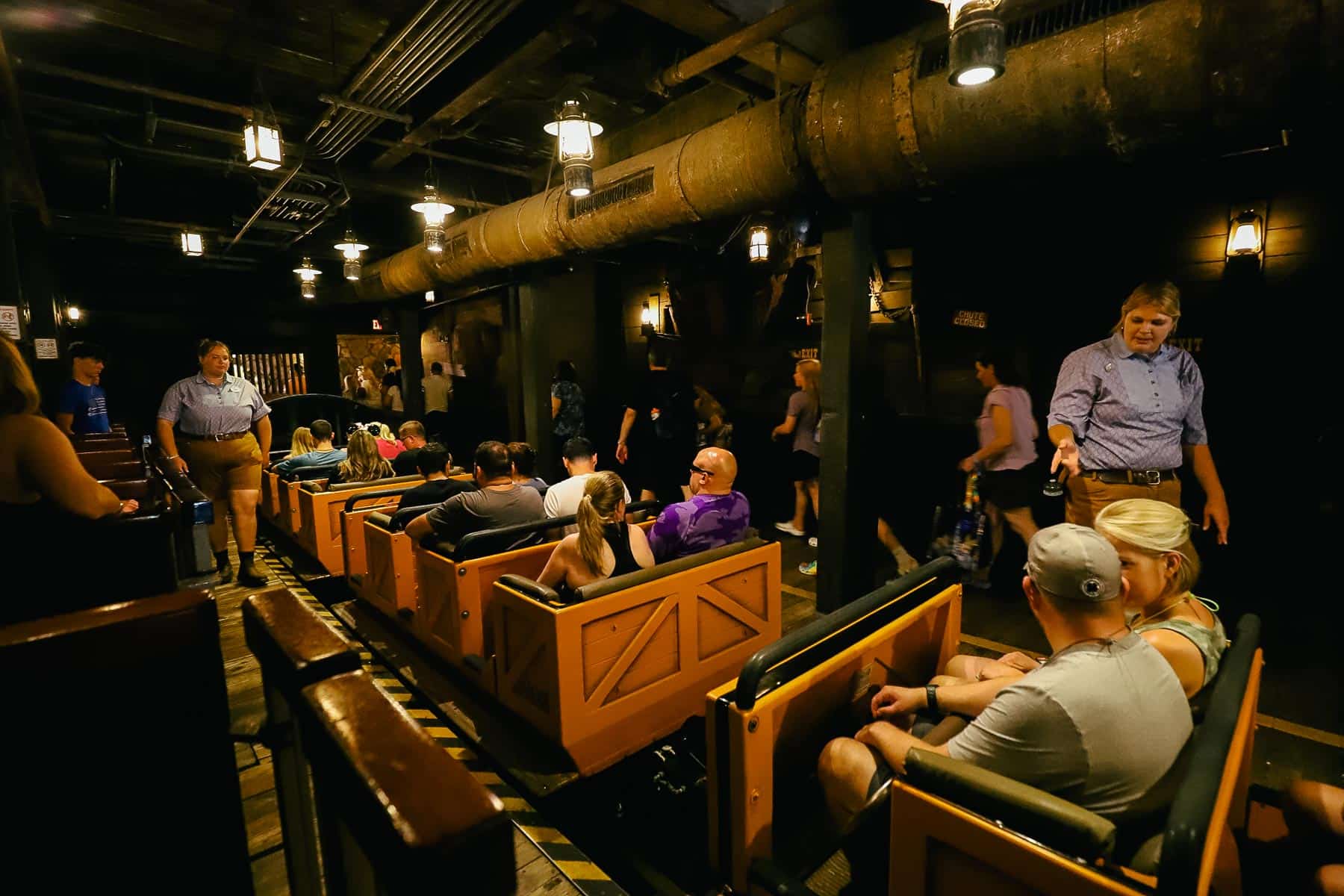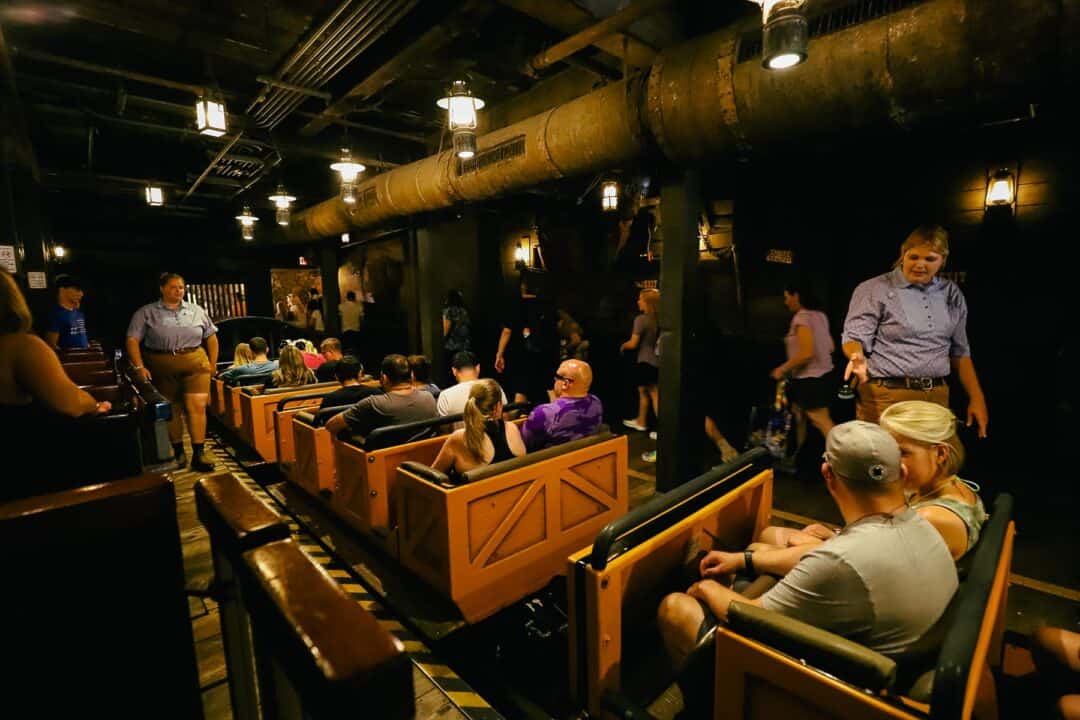 Once you board the train, you'll race off into a dark cavern where you might be sprinkled with a minimal mist of water when the sprayers are operating. Then, you'll race back outside and encounter a few hills with drops.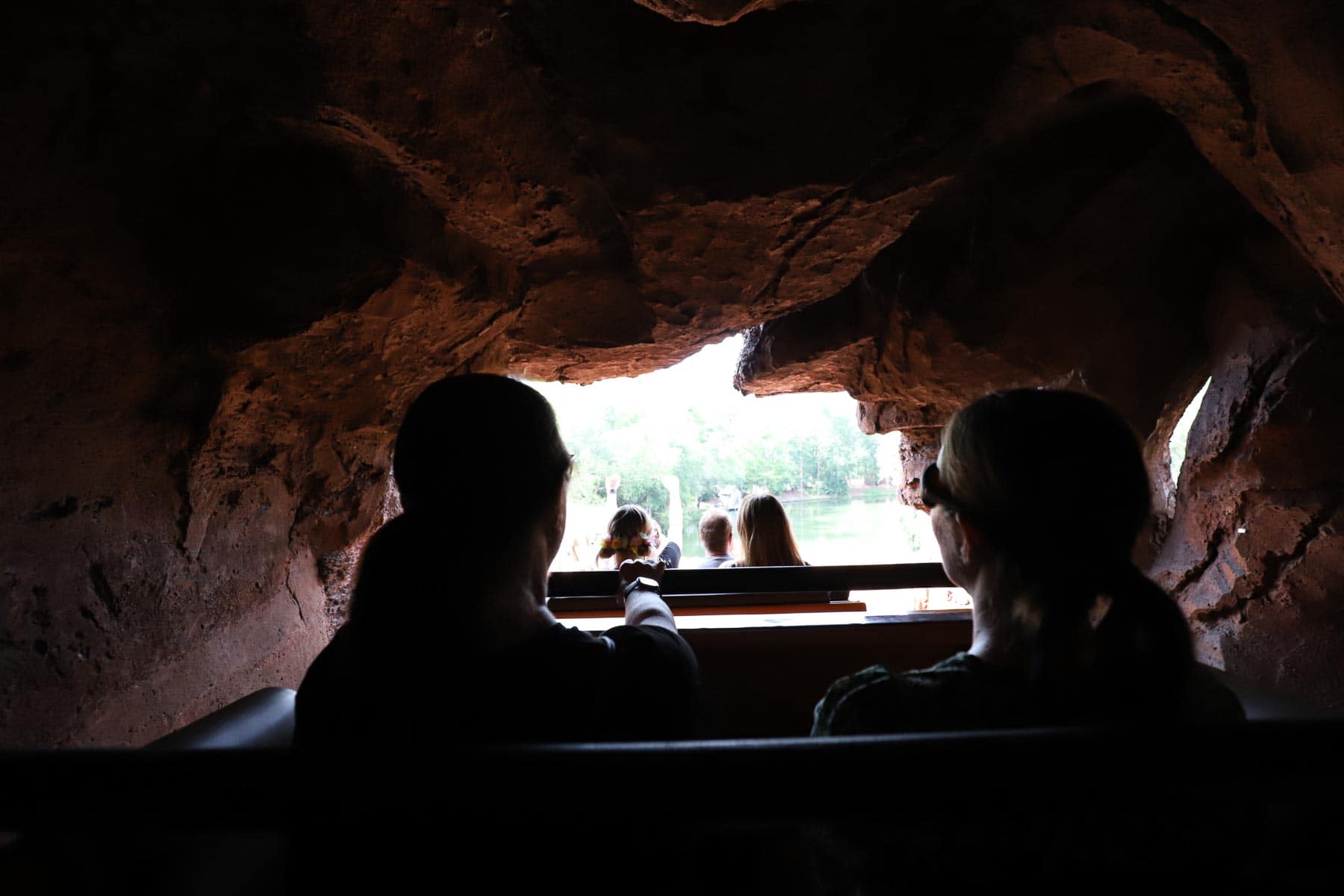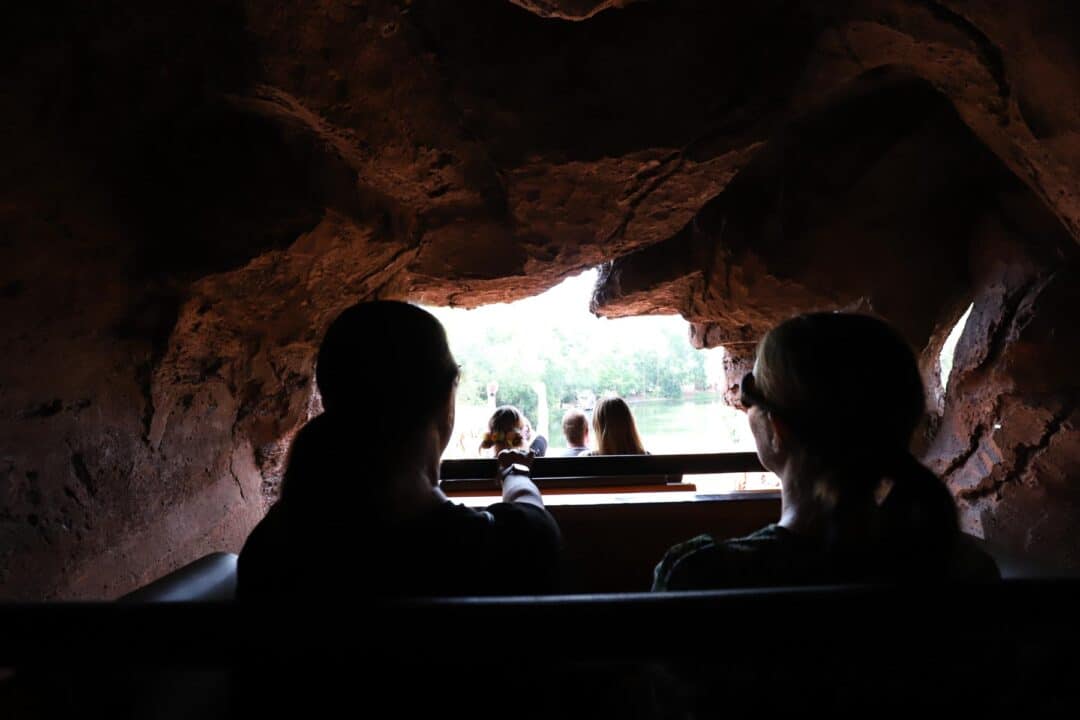 Big Thunder Mountain Railroad has small to medium drops. You can expect a good deal of sliding from side to side in your car as you race through twists and turns.
Most of the drops are small and barely tickle your tummy. Perhaps, the best parts are the fast turns that leave you sliding across your seat! At times the ride slows, leaving brief moments of anticipation as you climb the hills before racing off again.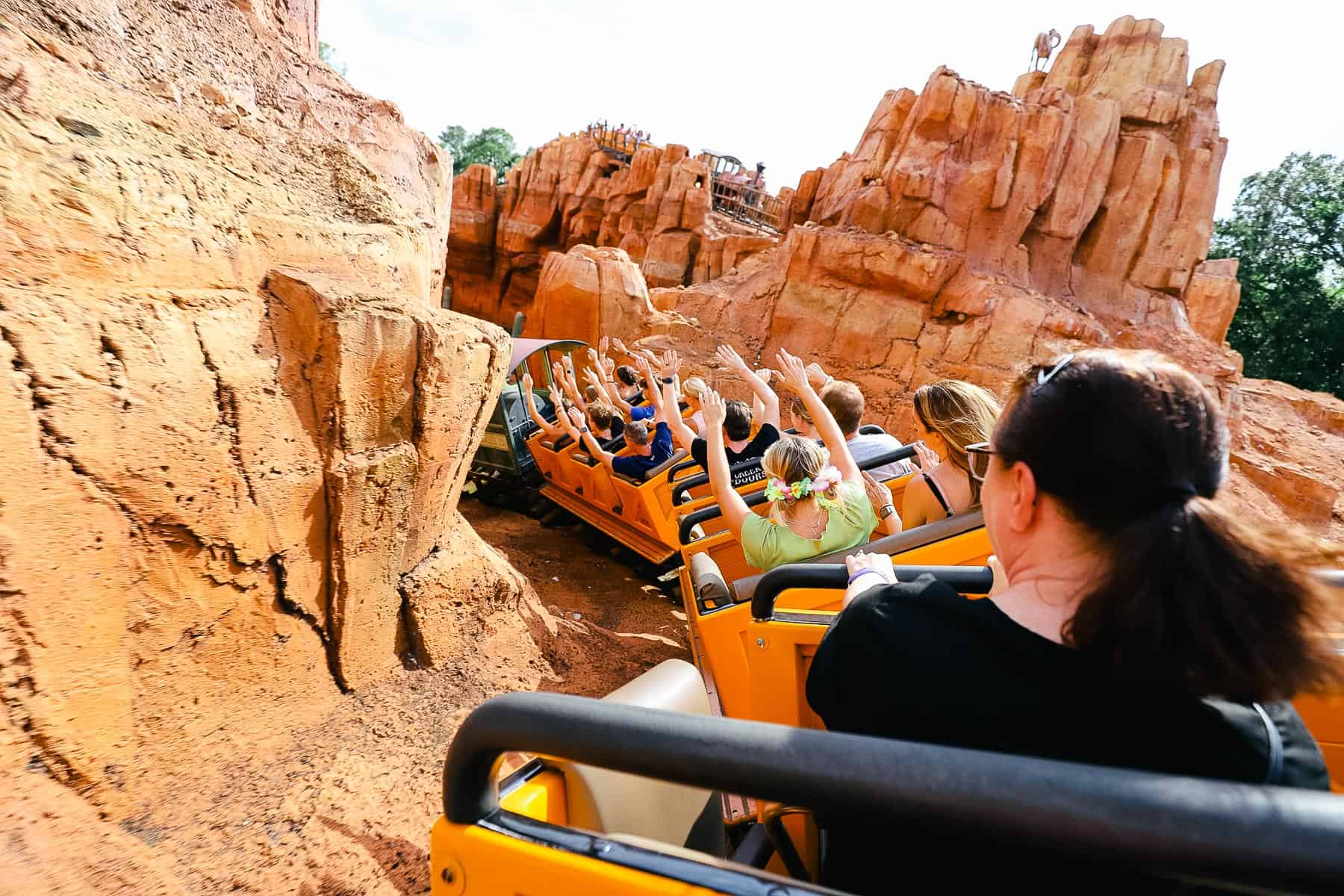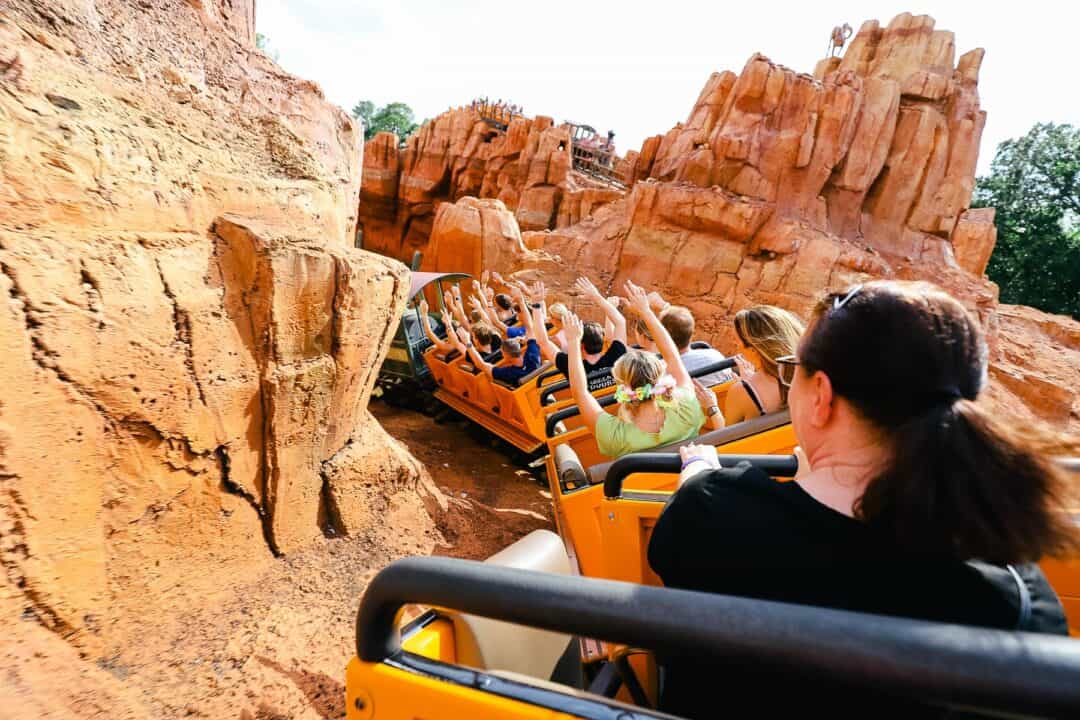 Some guests prefer to ride toward the front, while others think the back is a more thrilling ride. If you have a special request, ask the cast member, and they will grant your request when possible. Usually, that means skipping the boarding process to get your desired spot on the next train.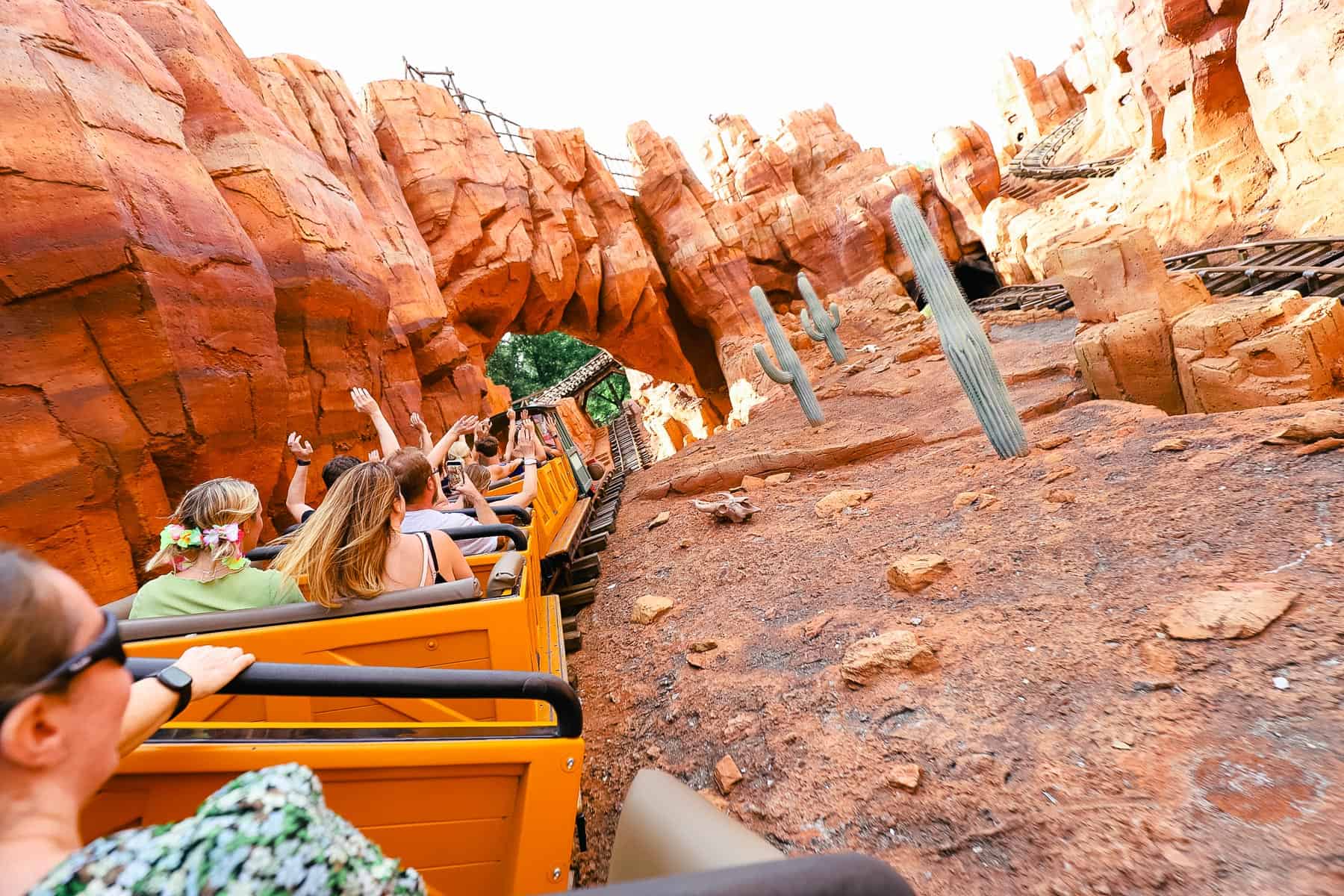 Big Thunder Mountain offers over 20 animatronics. You'll race by Professor Cumulus Isobar, the local town rainmaker. Additionally, you'll see chickens, pigs, possums, donkeys, goats, and rams, among other things.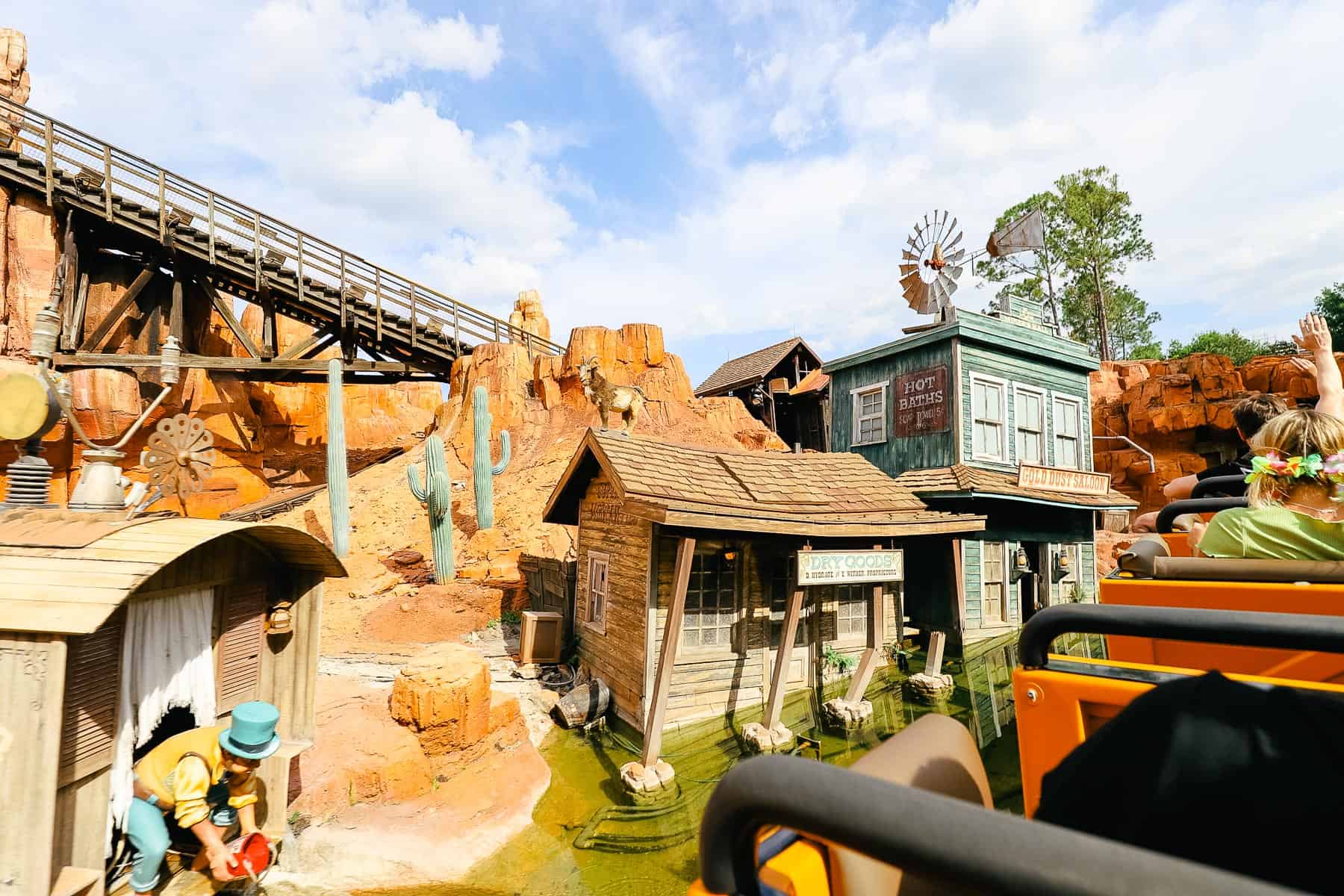 But you'll have to look fast before the runaway train coaster whisks you back to the mine shaft!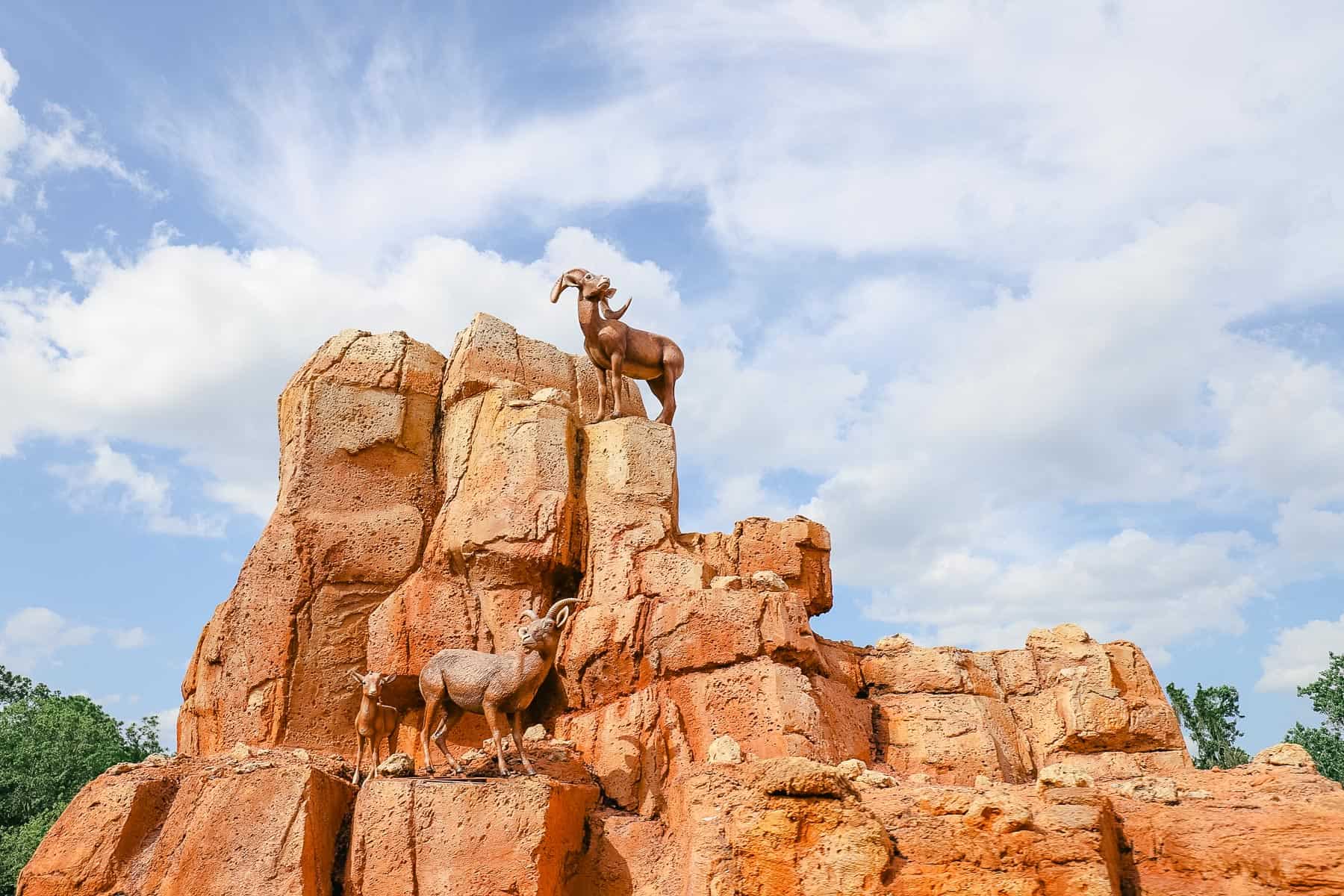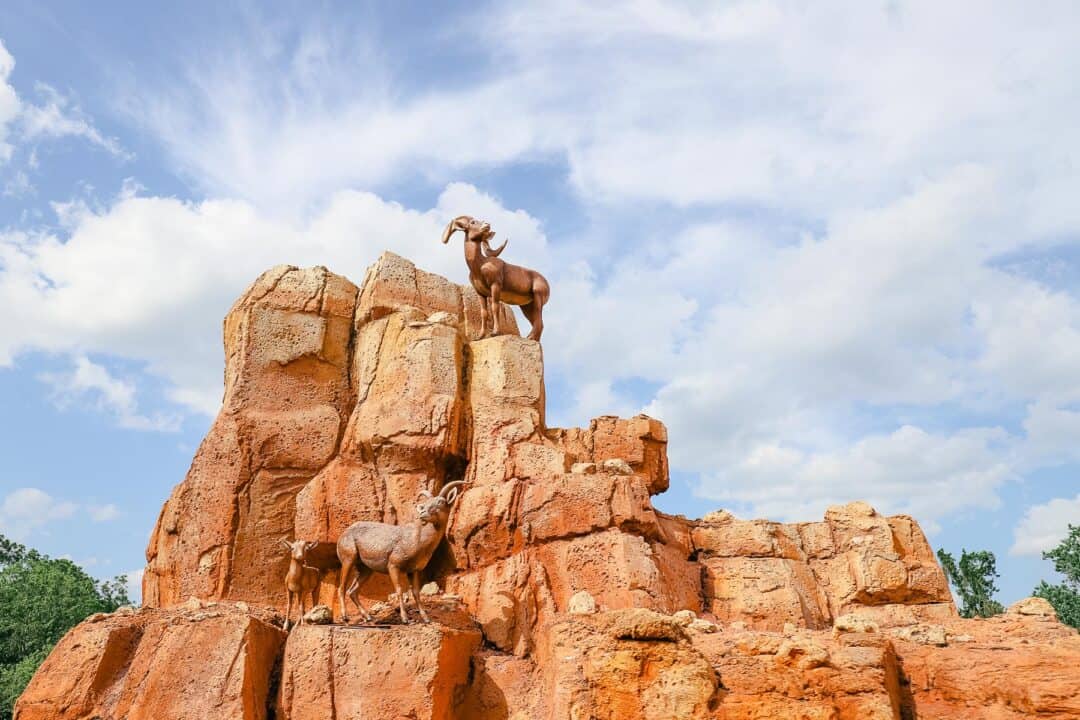 At some points, Cinderella Castle and Space Mountain can be seen in the distance.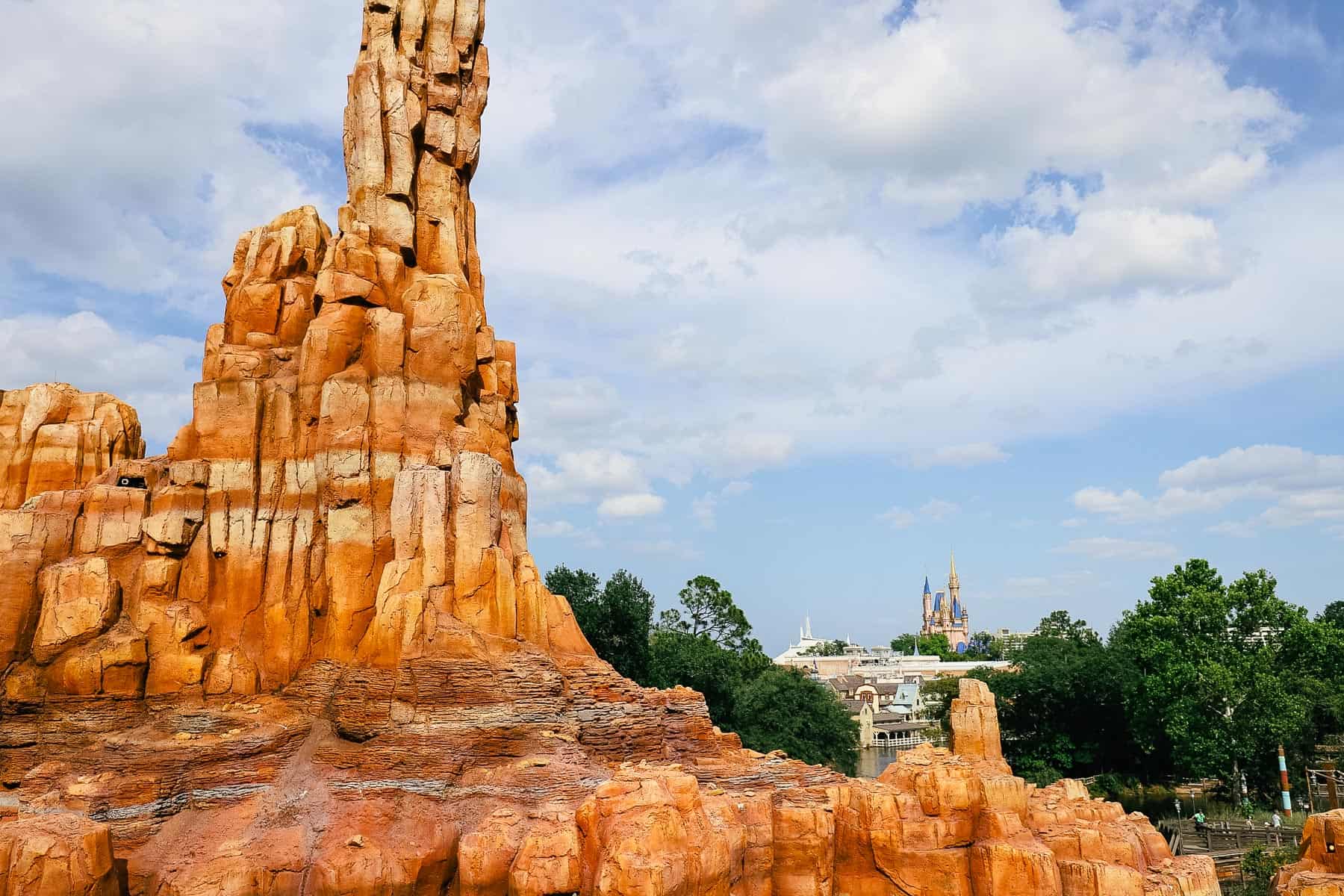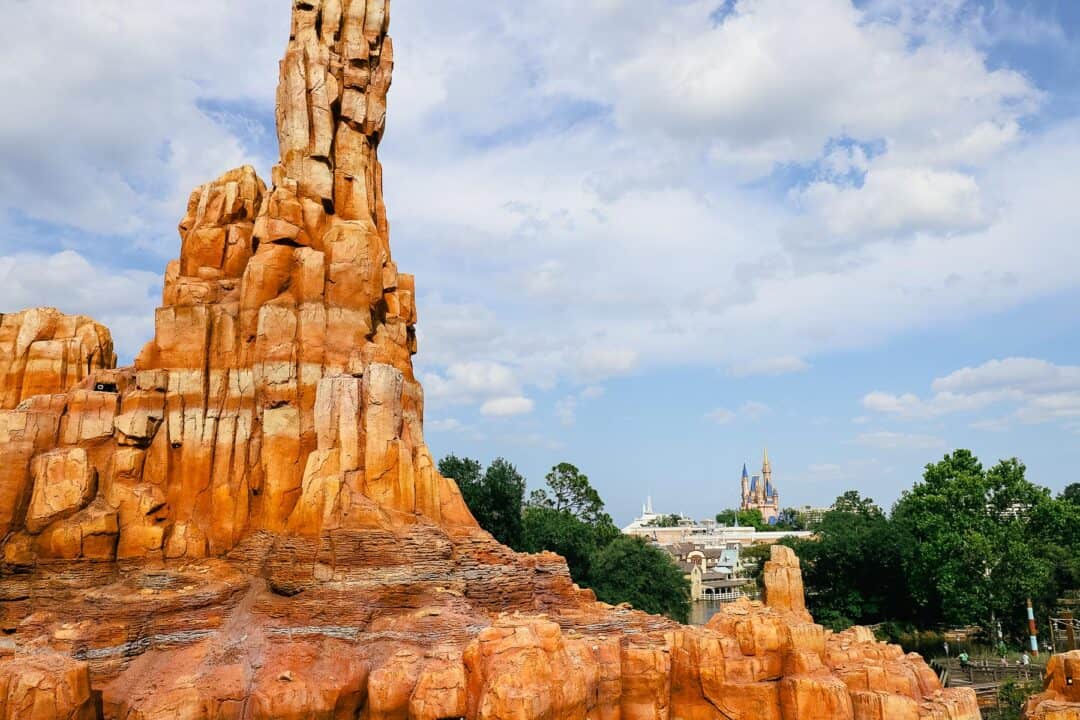 You'll see where a few bones have been unearthed when you reach the final turn.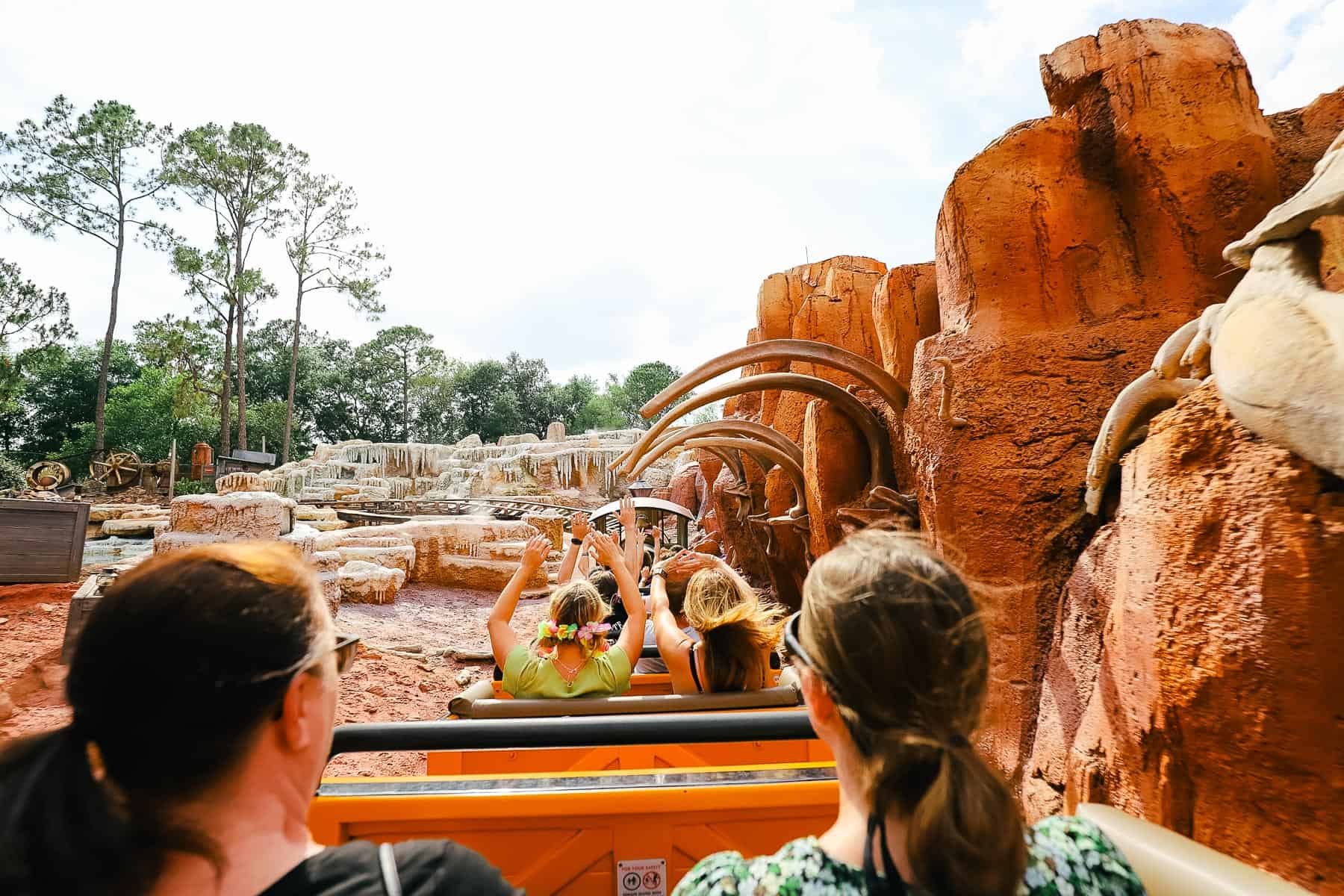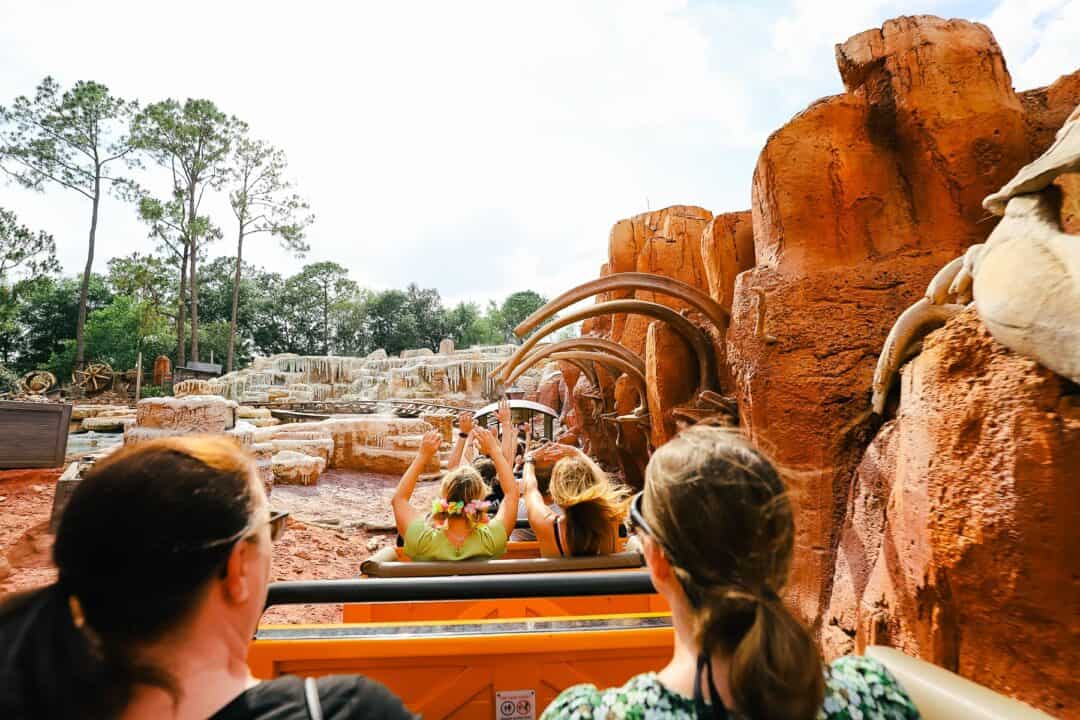 Your train then comes to an abrupt stop outside the mine shaft.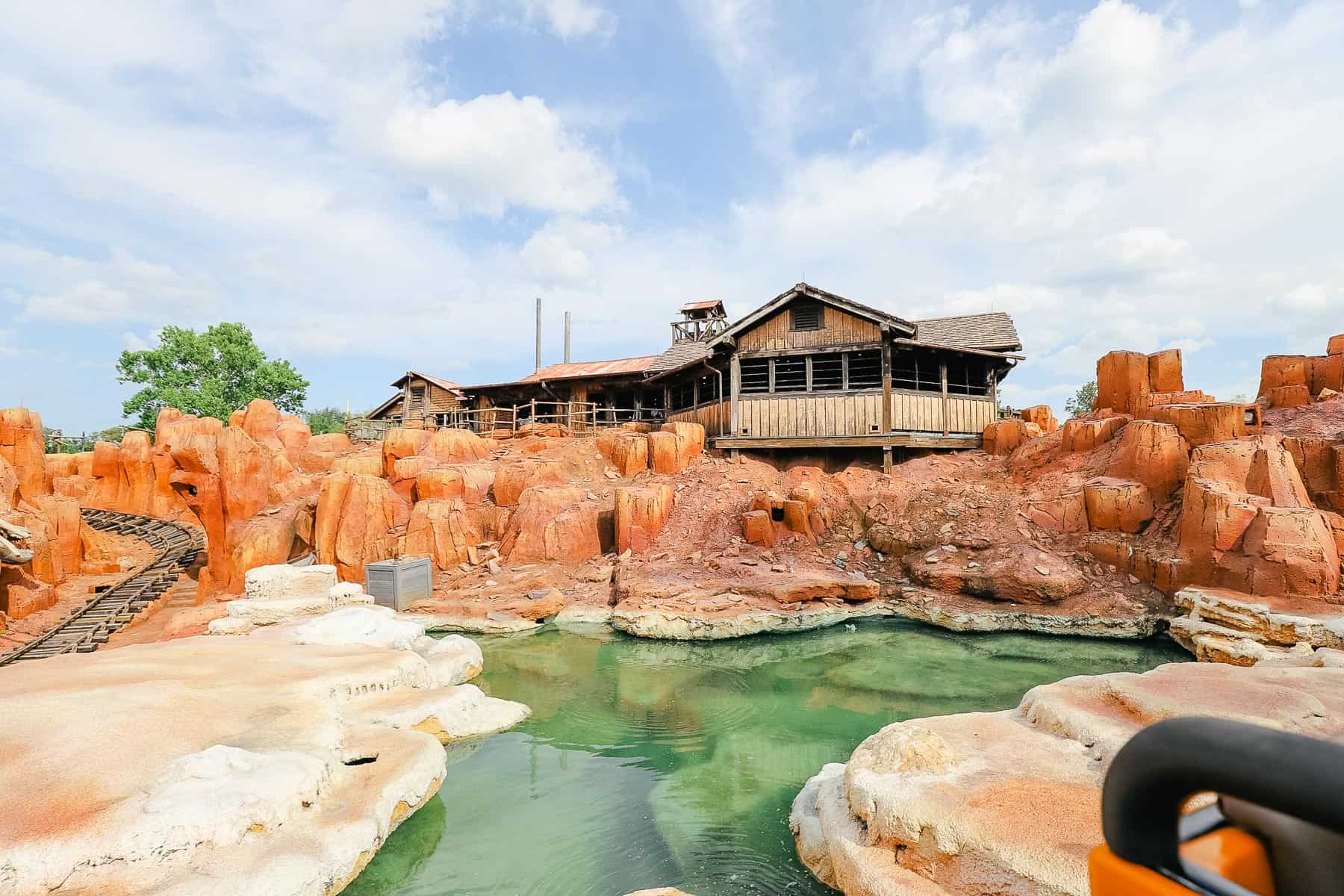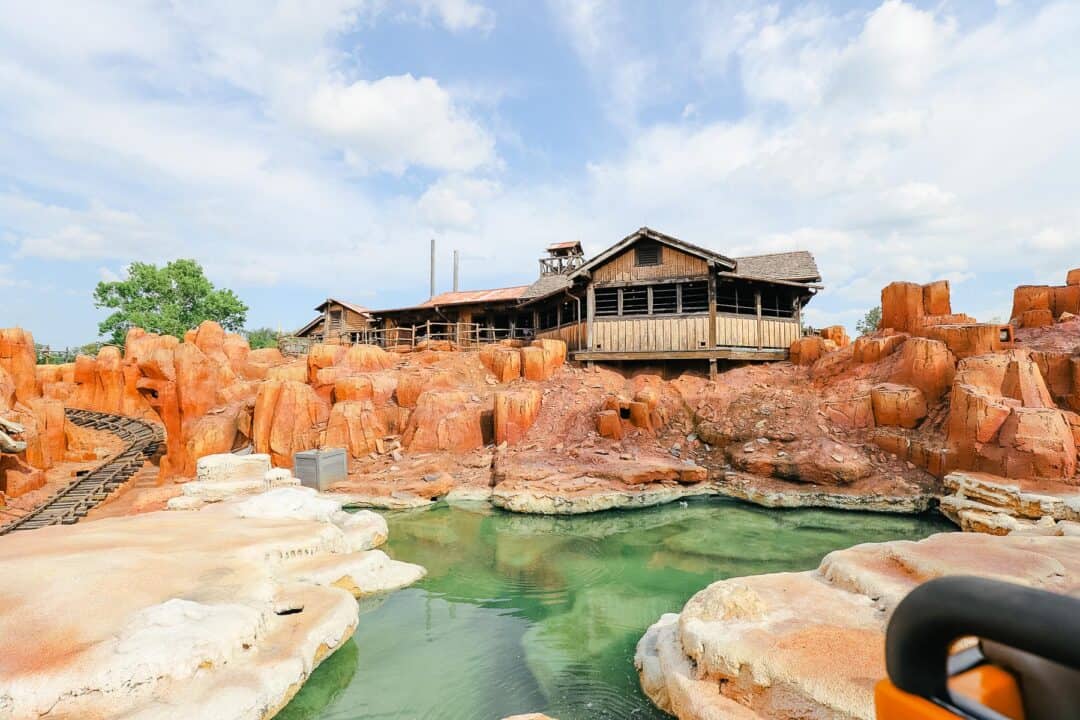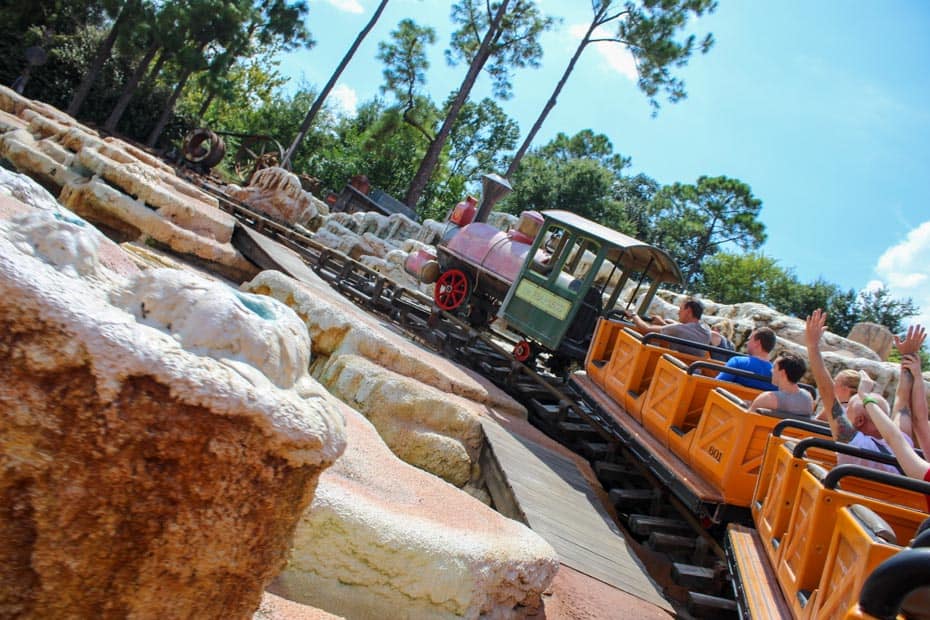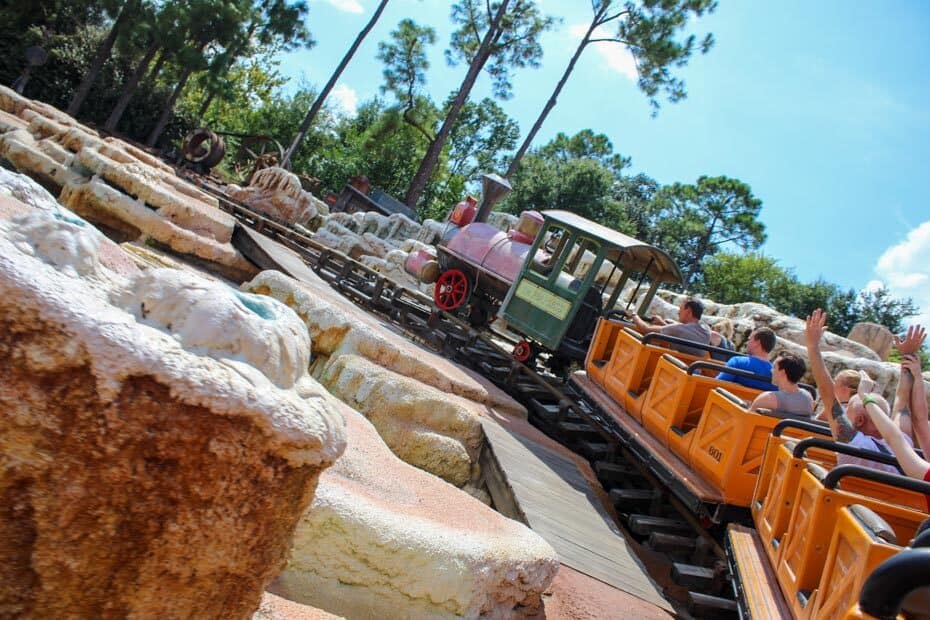 After you exit, an overlook is available that makes for a fun photo spot. Often, guests who elect not to ride will stand in the area and watch for their parties to come through on the mine train.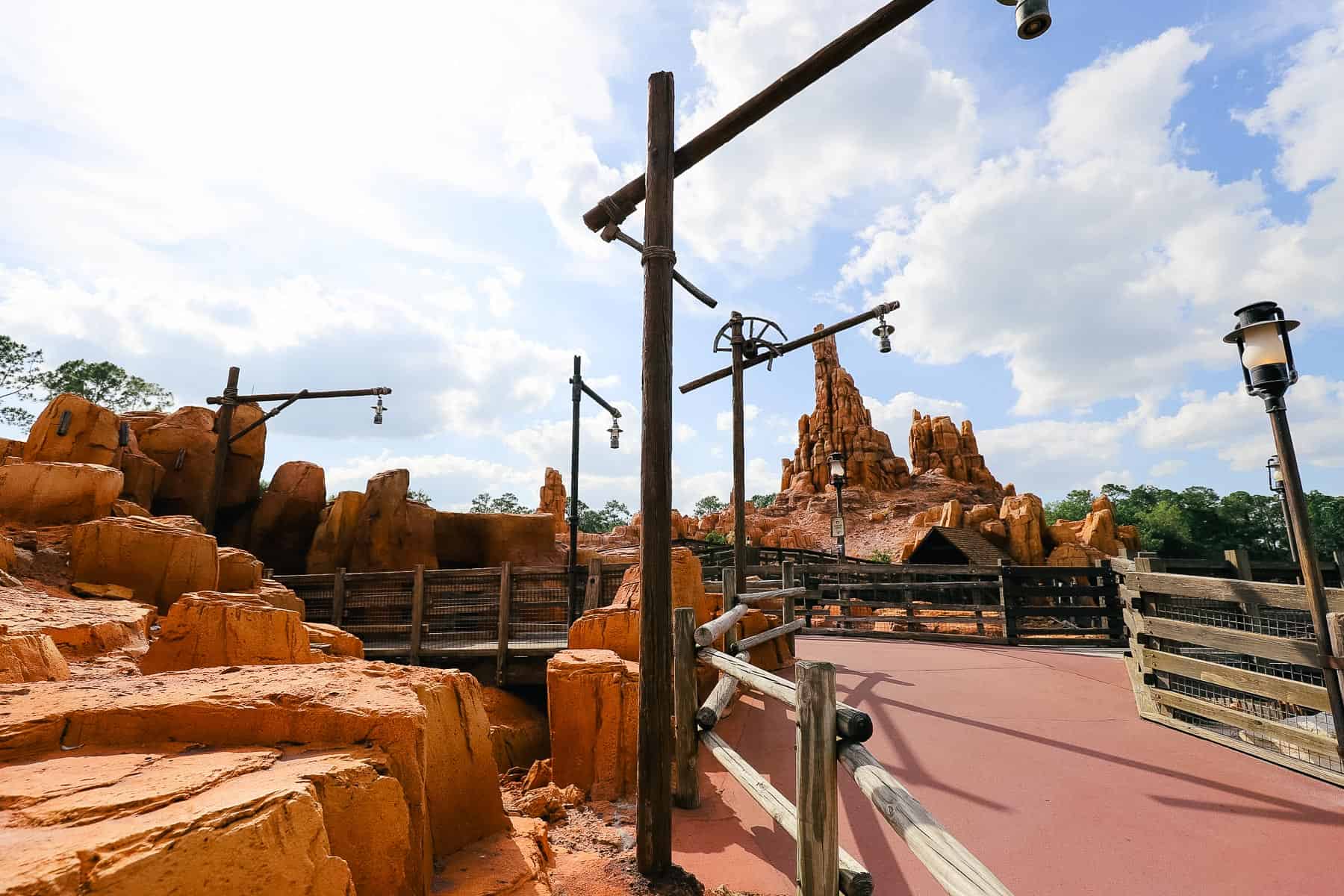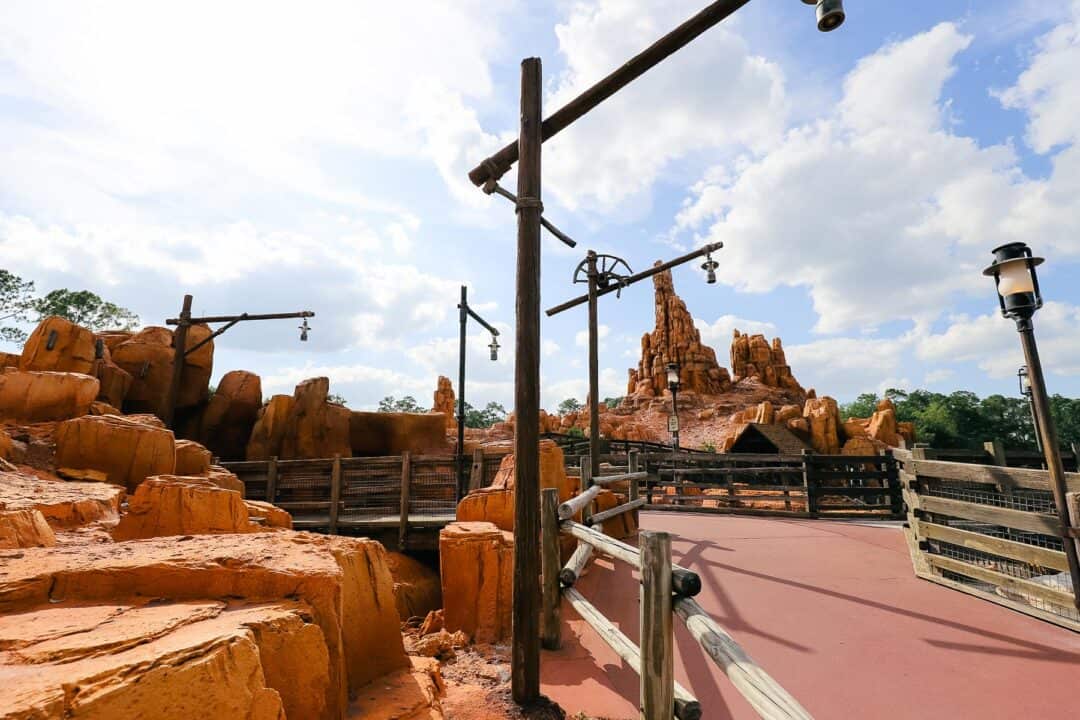 Every time I ride Big Thunder Mountain Railroad, I feel like I'm on one of those Disney commercials on television. It makes me smile and laugh, no matter what.
When the train pulls back into the mine, everyone giggles and proclaims they want to do it again. Big Thunder Mountain Railroad, simply put, is a feel-good ride.
Big Thunder Mountain is an original attraction at Disneyland Park in Anaheim, California. In addition to Walt Disney World, other versions of this attraction are available at Disneyland Paris and Tokyo Disneyland.
Know Your Disney Rules When Riding With Children-Any child under the age of seven or younger must be accompanied by an adult fourteen years or older.
Related: Festival of Fantasy Parade with Route
The best time to ride Big Thunder Mountain Railroad is typically first thing before 11:00 a.m. You might also easily ride it during the Festival of Fantasy parade.
Additionally, you can usually ride Big Thunder Mountain reasonably easily during the evening fireworks. The fireworks draw crowds away from popular attractions making for shorter lines.
Of course, you can always purchase Disney's Genie+ and get a return time for this attraction. So you might combine that option with one of the other best times to ride and be able to experience the ride twice!
Here are a few other rides in the same area:
If you are planning a trip to Walt Disney World, check out our reviews of Disney World Resorts.
The Magic Kingdom Area Resorts include:
Lastly, you might want to check our overview of every ride at Magic Kingdom.
As for Big Thunder Mountain Railroad, it truly is the wildest ride in the Wilderness! Enjoy!
Planning a Walt Disney World or other Disney Destination vacation?
Our friends and travel partner, Firefly Travels, excels at doing Disney differently. You can fill out a plan your trip form on their website, and someone will reach out shortly to discuss the specifics.