A Sweet Stop at Magic Kingdom's Main Street Confectionery
The Main Street Confectionery at Magic Kingdom is a classic stop for all things sweets, treats, and snacks. It is considered a must-stop for most guests, including myself. And I thought it was time to share with you a little more about this Disney World favorite.
The Confectionery is located on Main Street's corner just as you come through the park entrance and see Cinderella Castle in the distance. The store is located on the right-hand corner as you make your way down Main Street U.S.A.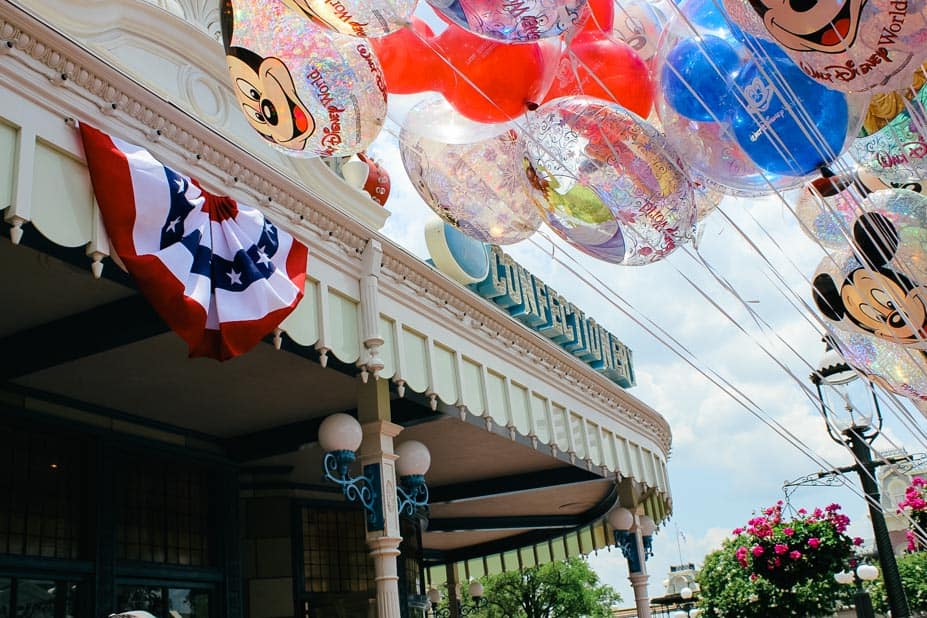 It has an extremely detailed exterior with a variety of different types of signage.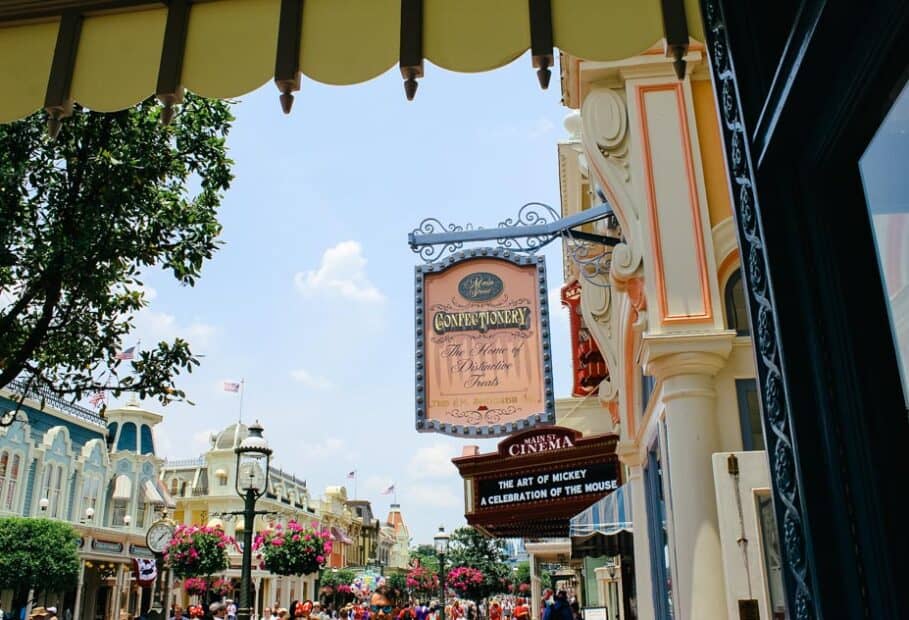 Some of the signs feature gold lettering and detail trim work as well. If you have a chance, make sure to check out all the little details! This entire area of Magic Kingdom park has tons of them.
The picture below reflects City Hall and the Main Street USA train station from the Confectionery window. It is quite a lovely reflection when caught at the right time of day.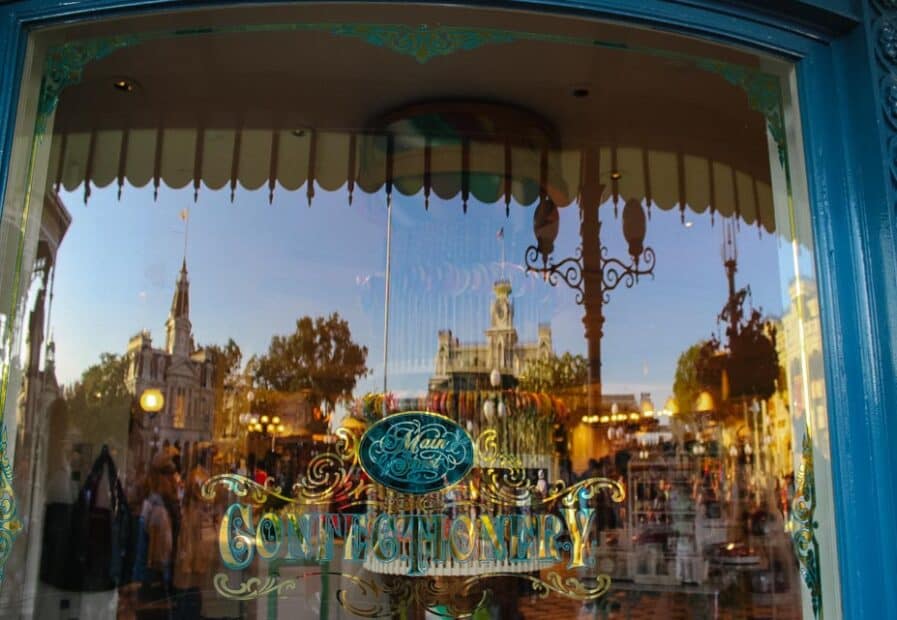 Inside you will find intricately tiled floors, marble counters, and a variety of sweets galore!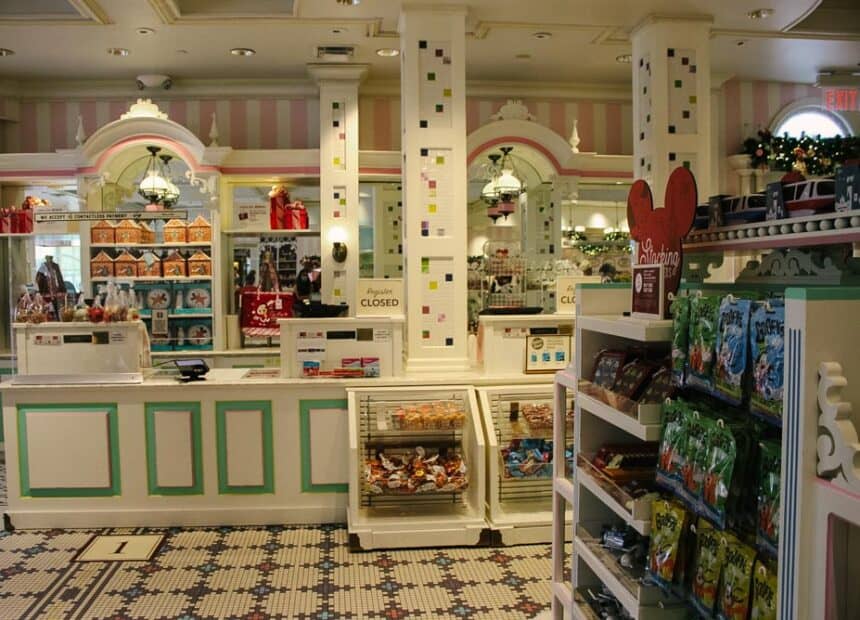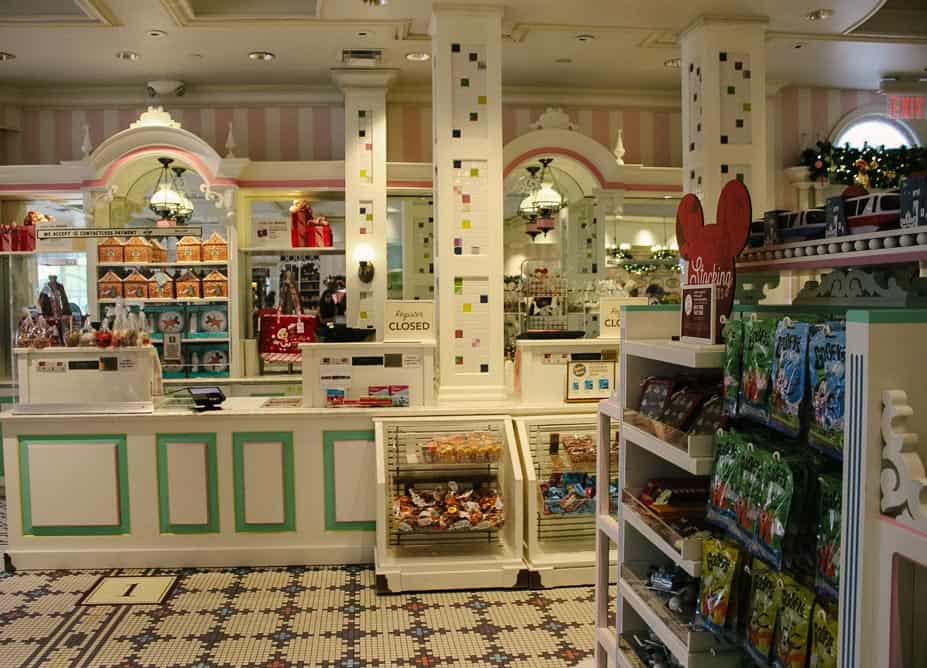 The Main Street Confectionery is pretty much every girl's sweet tooth dream. And guys too, I guess. The store is pink, delicate, and kind of has an Art Deco style. Plus, the smell of sweet concoctions arouses even the most strict of sweet curiosities. What exactly is that smell?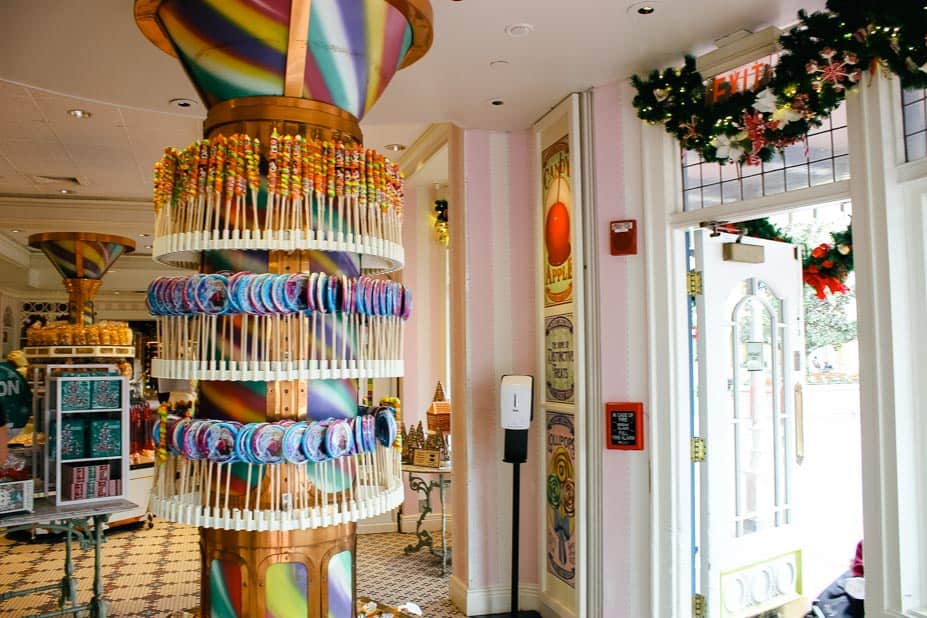 Is it the candies stored away in containers just waiting to be released in plastic bags weighed by the pound?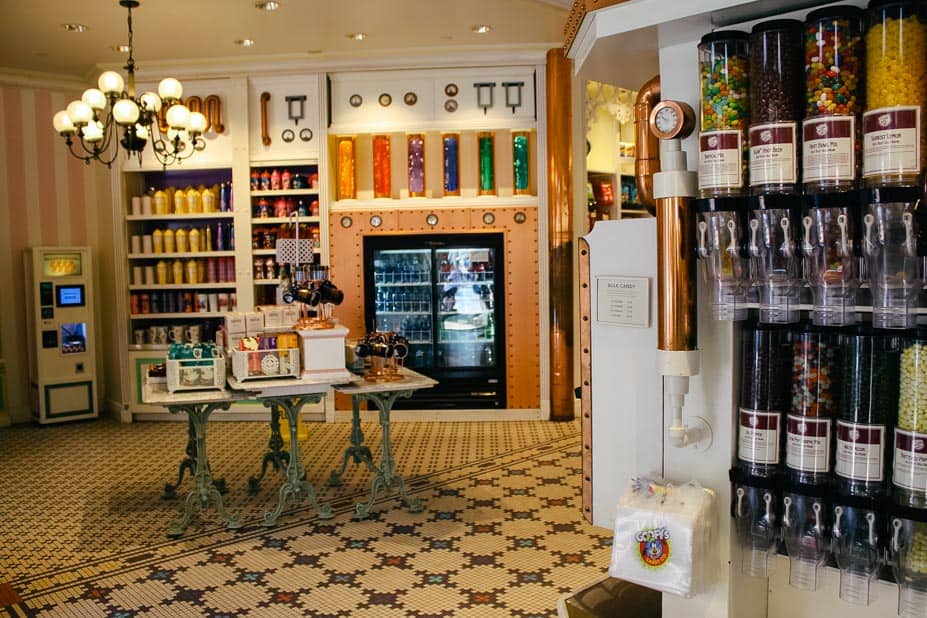 Or the cast member at the window making fresh cotton candy? It comes in blue and pink baby colors.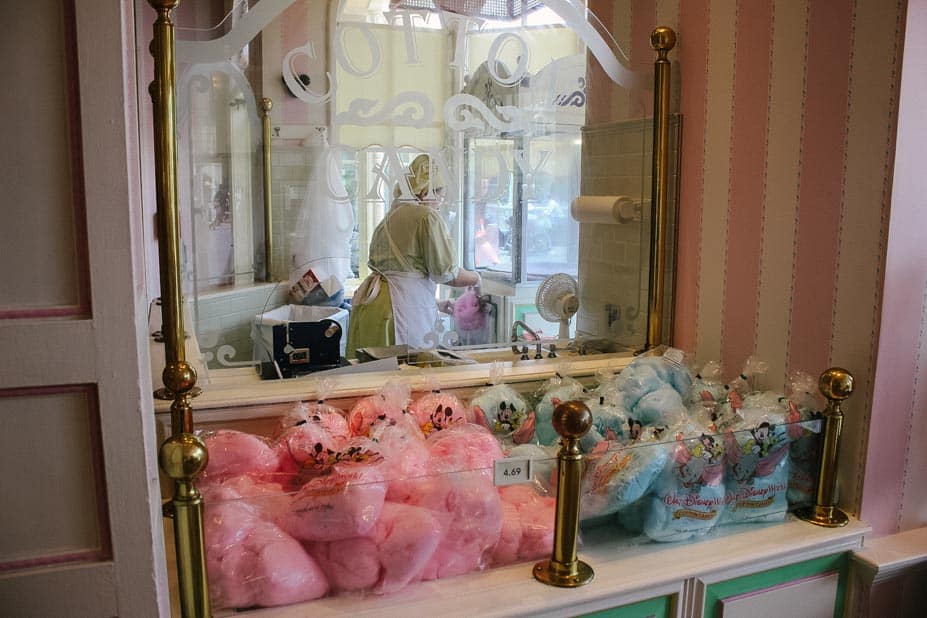 I can never decide which one to choose. Pink for girls and blue for boys. Either way, you can grab a bag and pull up a curb outside while you wait for the Festival of Fantasy Parade in the afternoon.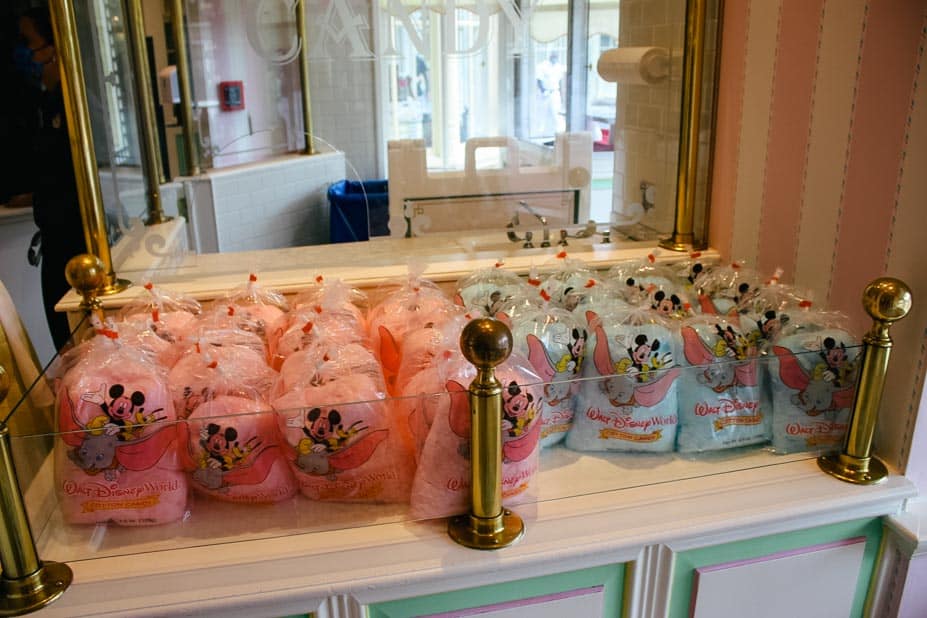 Maybe that delicious smell is coming from the workers preparing chocolates and more in the large open display kitchen? Just look at those cake pops!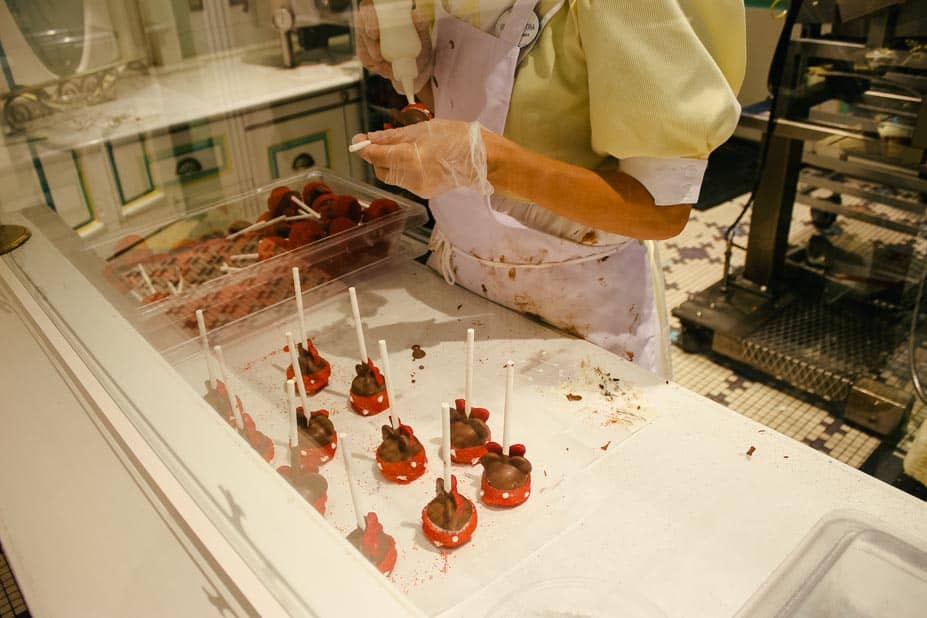 I'll take one of everything! And then I'll probably never be able to afford to come back. Not that I can afford to go here in the first place. I'll make a wish and do as dreamers do, and all my wishes will come true!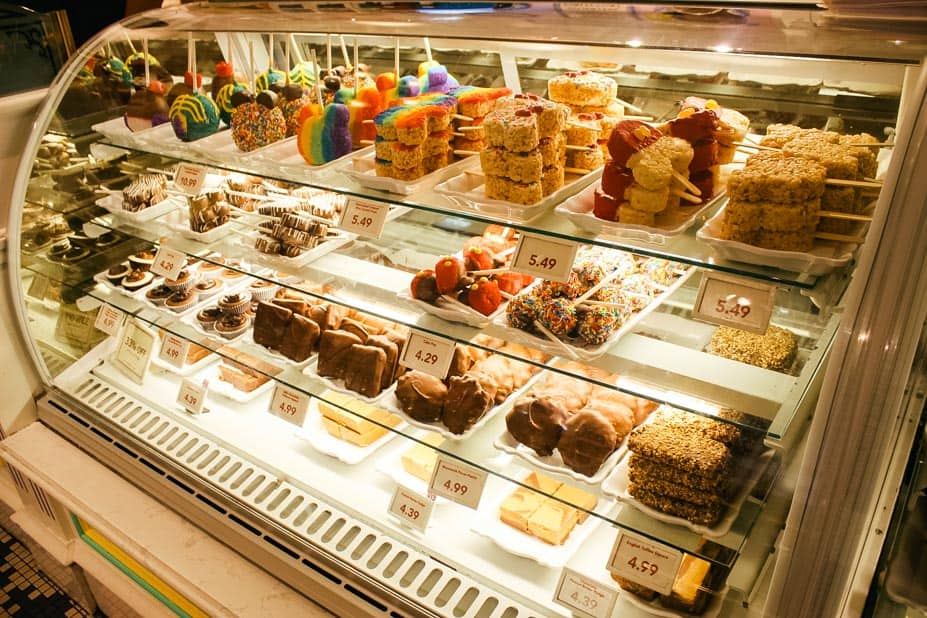 While you are in the Magic Kingdom Confectionery, you might find yourself looking for a more substantial treat. Does the largest Mickey-shaped Rice Krispies treat strike your fancy?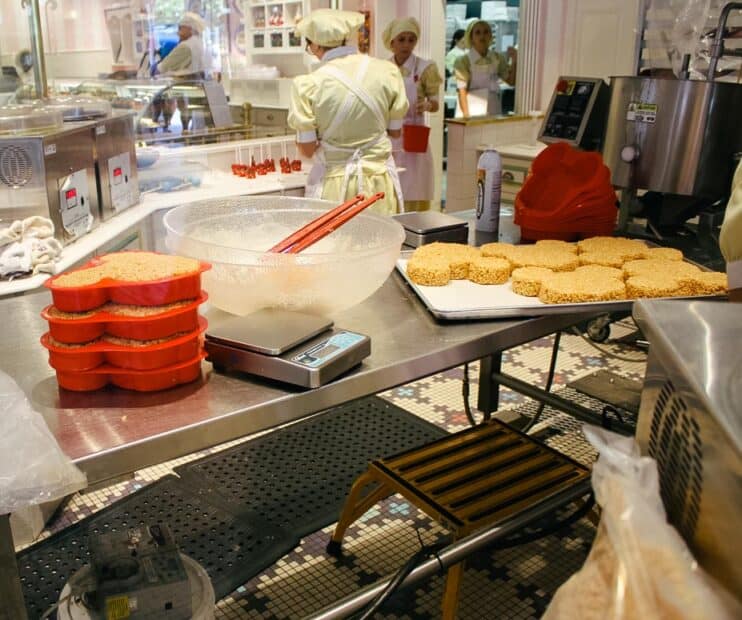 I probably wouldn't share it either. This is for someone that's clocked in at least 20K steps on their FitBit the same day. Luckily, I often fall into that category. But I actually prefer the smaller size because it's easy to store in my backpack for later.
Those come in a variety of different flavors as well.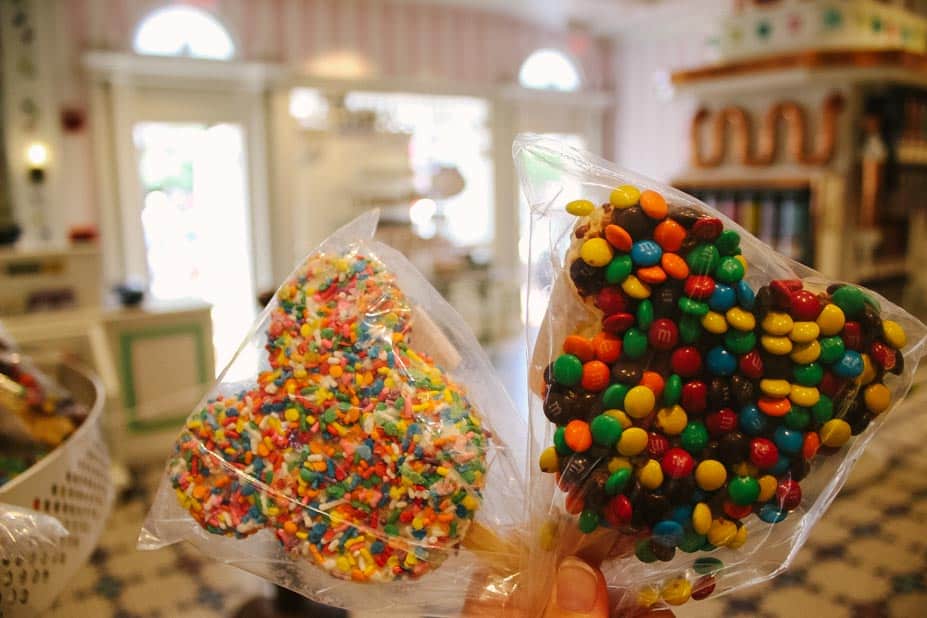 The caramel apple treats are definitely one of the most popular items. They come in a variety of shapes, flavors, and colors. How can you decide?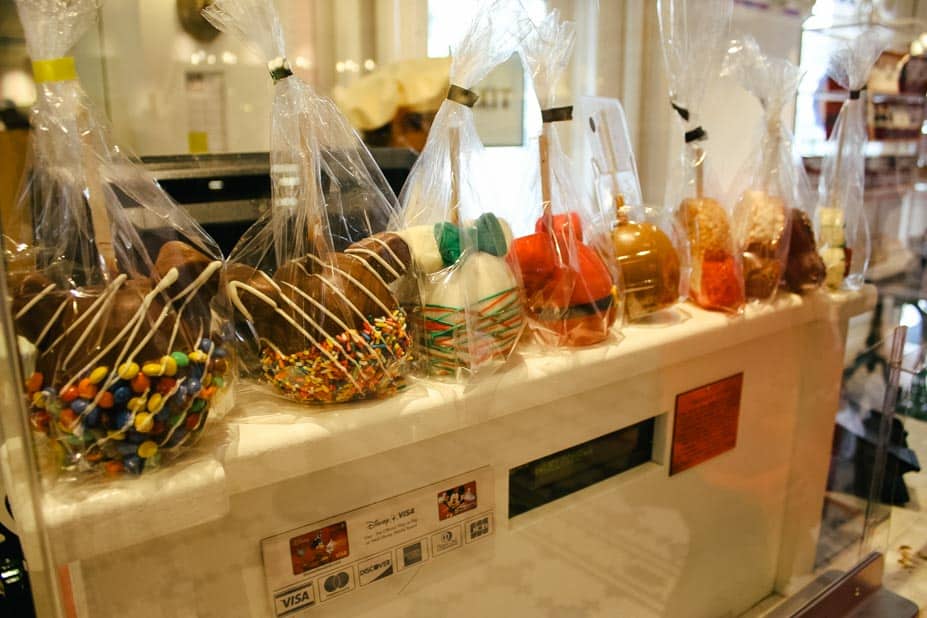 Here are a few more. The one shaped like Sorcerer Mickey looks to cute to eat. I'm holding out for a Haunted Mansion themed caramel apple though.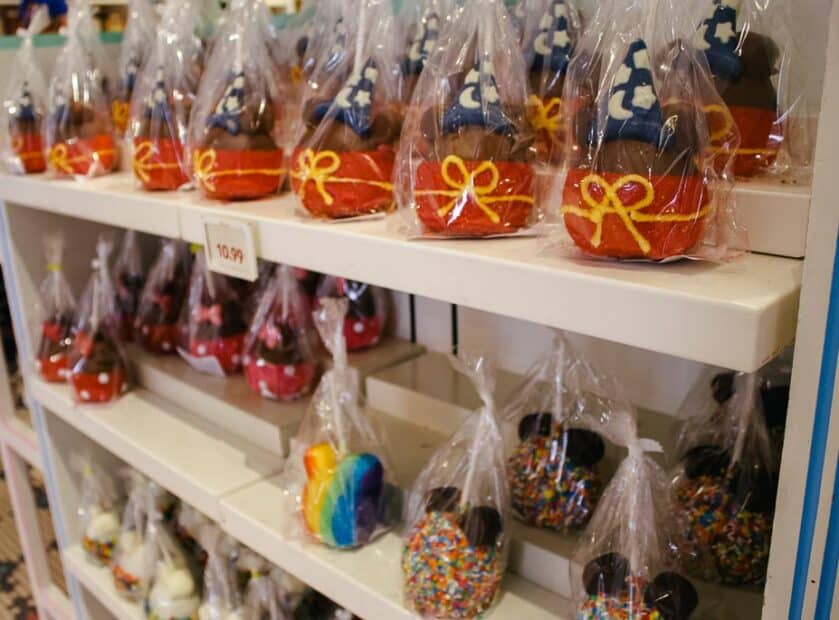 Below is a preview of the items in the counter cases! Any day is a good day to stop in at Main Street Confectionery and preview the latest treats.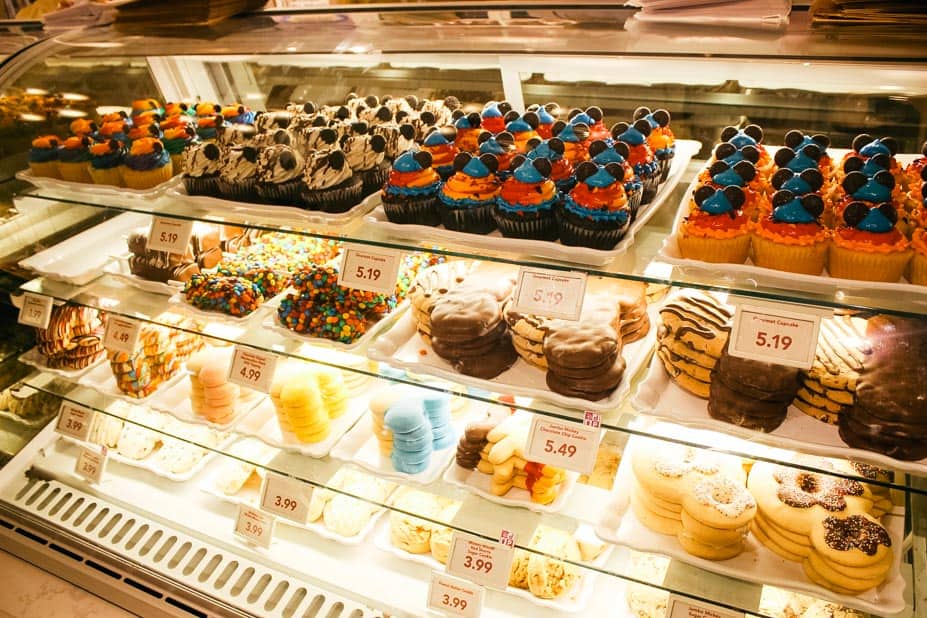 I actually stop in quite often while I'm at Magic Kingdom and get new photos to update this review.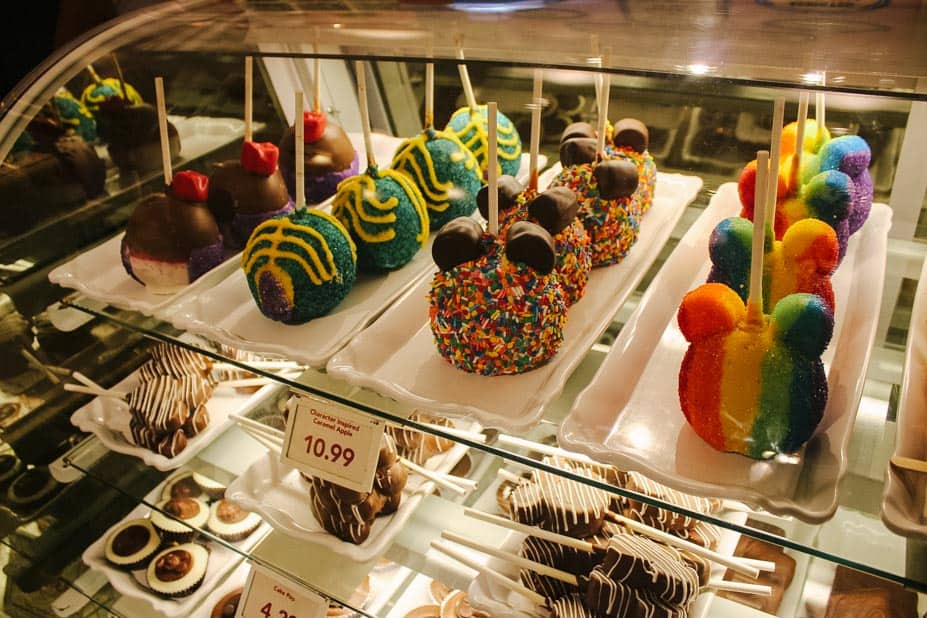 Everything is always so prettily displayed. I love the plain rice crisps treats best. Sometimes I feel like such a plain Jane, but I really enjoy the marshmallow-y bite of the treats and feel that the candy ones take away from that.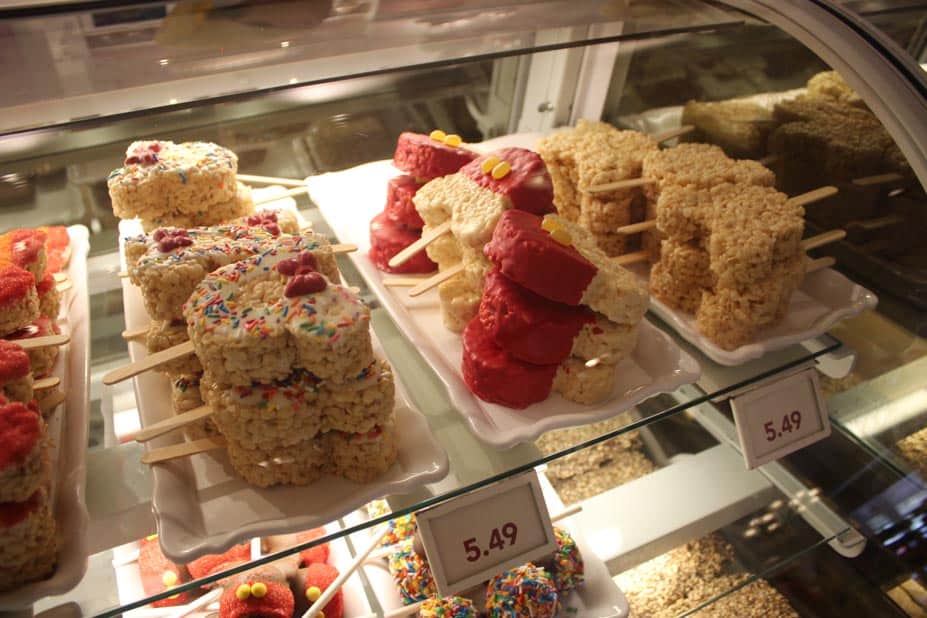 The rainbow items are typically available in the summertime.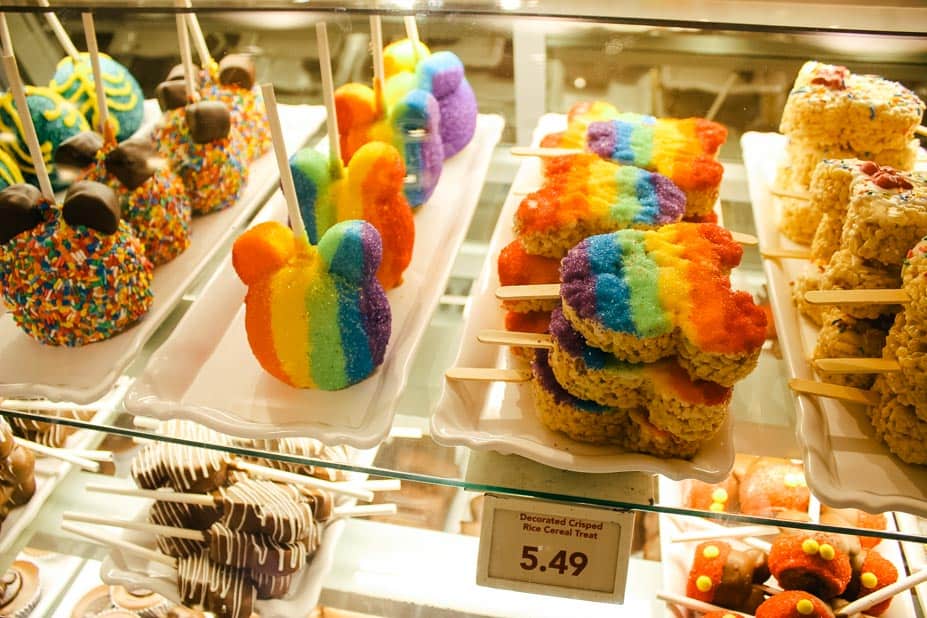 Further down, you'll find a nice variety of chocolate items.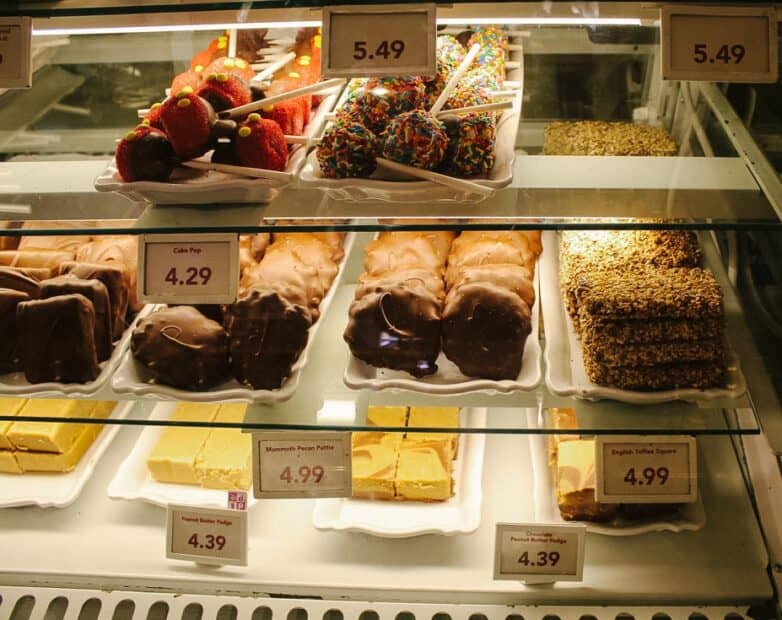 The bottom row contains several different flavors of fudge. I don't know about you but I love to get a slice of fudge on vacation and take it back to my room. Every night I slice a tiny bite for a late-night snack.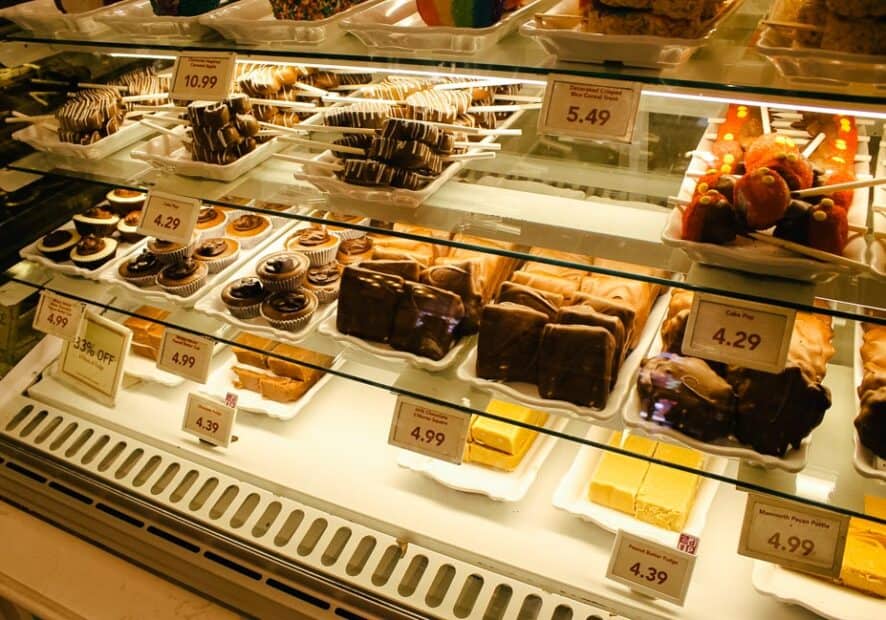 You can also find chocolate covered marshmallows on a stick! Along with pineapple for those looking at healthier options. Back in 2K15 or around then, there were legit fruit kebabs. They had green grapes, strawberries, and pineapple on a skewer. I remember them fondly.
I remember walking out of the Main Street Confectionery one evening at closing and biting into one. Thinking how refreshing it was and my body was apparently craving something healthy. I really miss the opportunity to purchase them. What treat do you have nostalgia for?
During Christmastime at Magic Kingdom (after Halloween until New Year's), you'll find the display case looks completely different.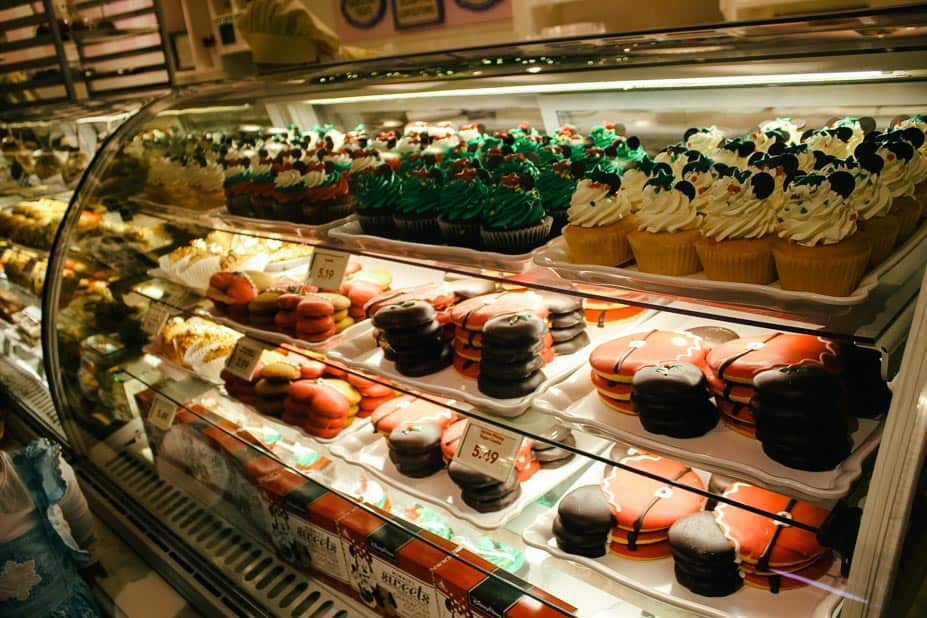 Cupcakes! I prefer chocolate ones! But they all look appealing. Cupcakes can kind of be a hit or miss item in a theme park. I recommend going with something that holds freshness a bit better in most instances.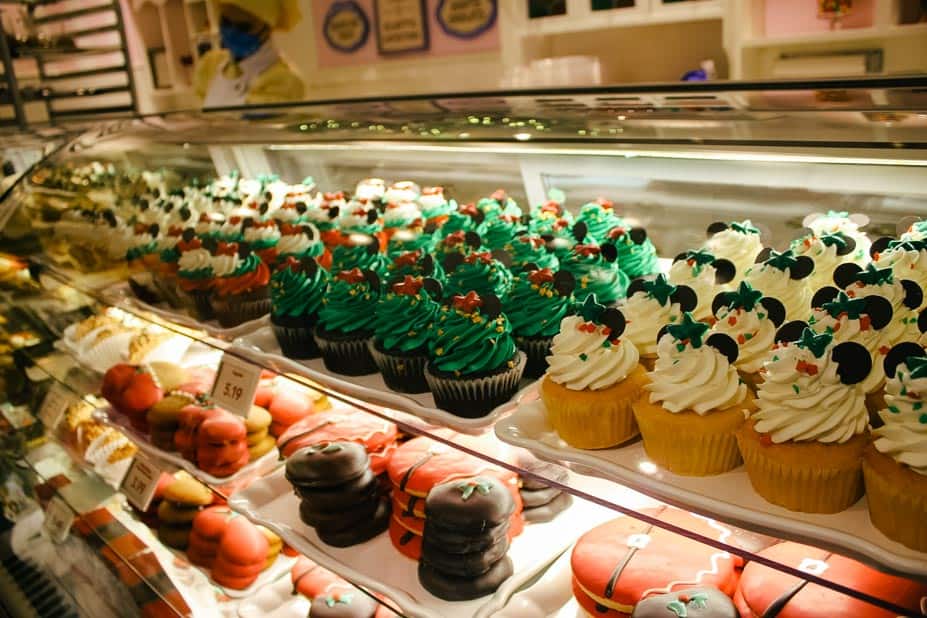 Moving on, this Disney Magic Kingdom sweet stop also has a few pre-packaged options. Now some of these items can definitely be considered a money grab.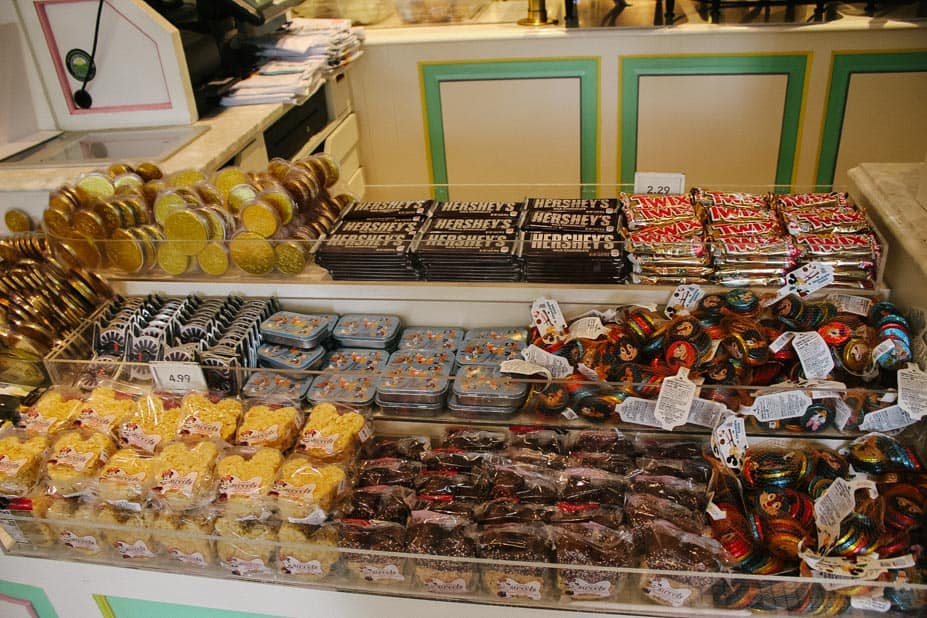 For instance, these adorable "winky" Chip and Dale bags of snacks! They are bags of pretzels that ring in at $7.99. I know this because my son has food allergies and asked for a pack one afternoon. Since he has food allergies, naturally, his choices are limited.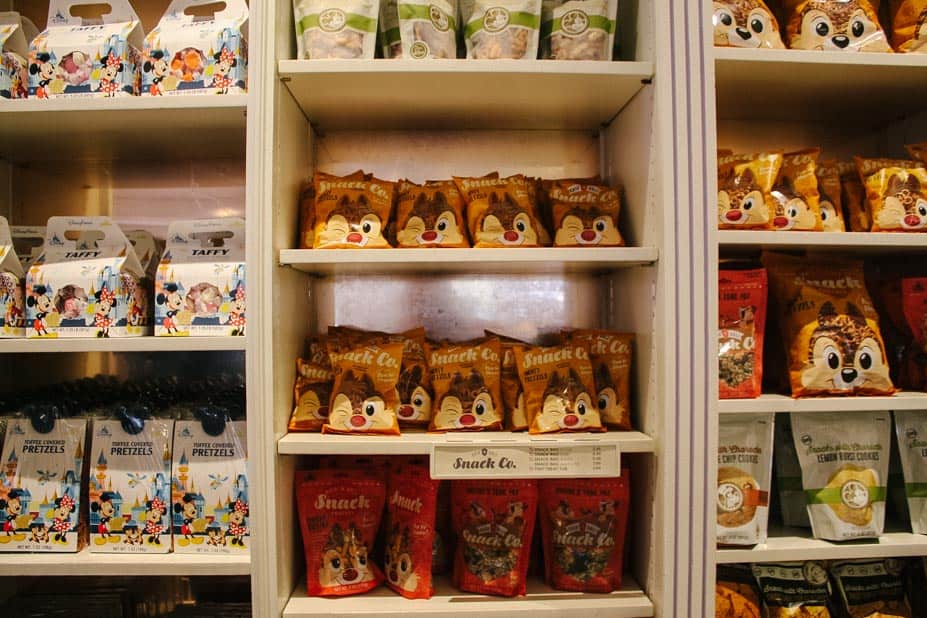 I almost croaked when I went to pay for them. Did I mention they were a bag of pretzels?
When push comes to shove, I guess you do what you have to do. Translated–when your kid is hungry, you feed them. Even if it costs $7.99 for a snack, I mean, think of how much time would cost if we left and went all the way back to our room to pick up something from our personal snack stash.
But guess what, parents? It's okay to say no sometimes. If we don't, then what are we teaching our children anyway? As a working mom who has spent a lot of late nights and weekends sacrificing time over money, I have even found myself trying to make up for it in various ways.
But the truth is you really can't. Once the time is gone, you won't get it back. Maybe sometimes making the most of that vacation time or family time, in general, is worth more than a few extra bucks.
Back to the Confectionery, there is also the opportunity to give your kids a direct sugar IV! I'm not for sure the names of these different colored sugar holders. I would call them plastic straws, but they are banned from every theme park.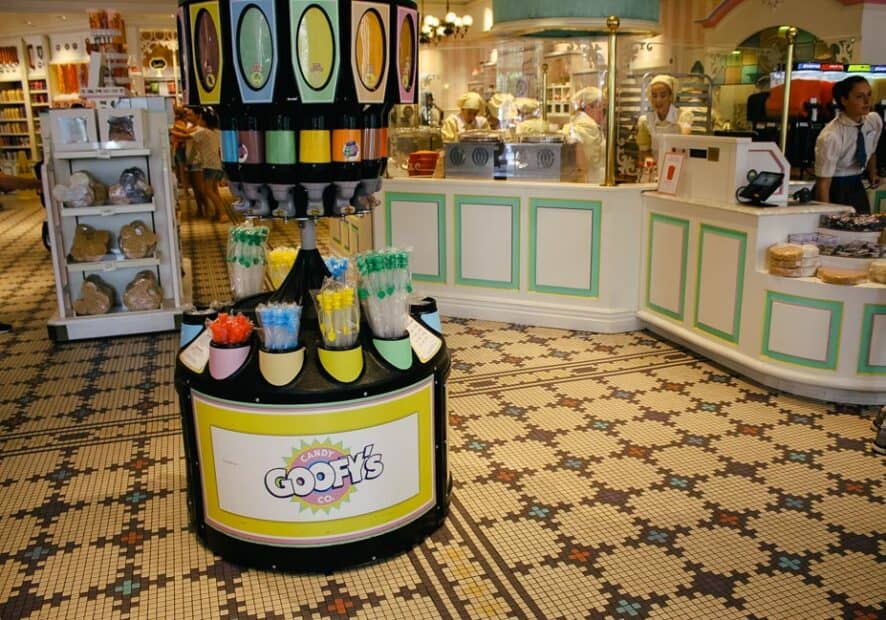 Feel free to wash your sugar down with a frozen slush at the back right-hand of the store. You can select from a variety of flavors. Frozen drinks are quite a refreshing option when you're spending a hot day at Magic Kingdom!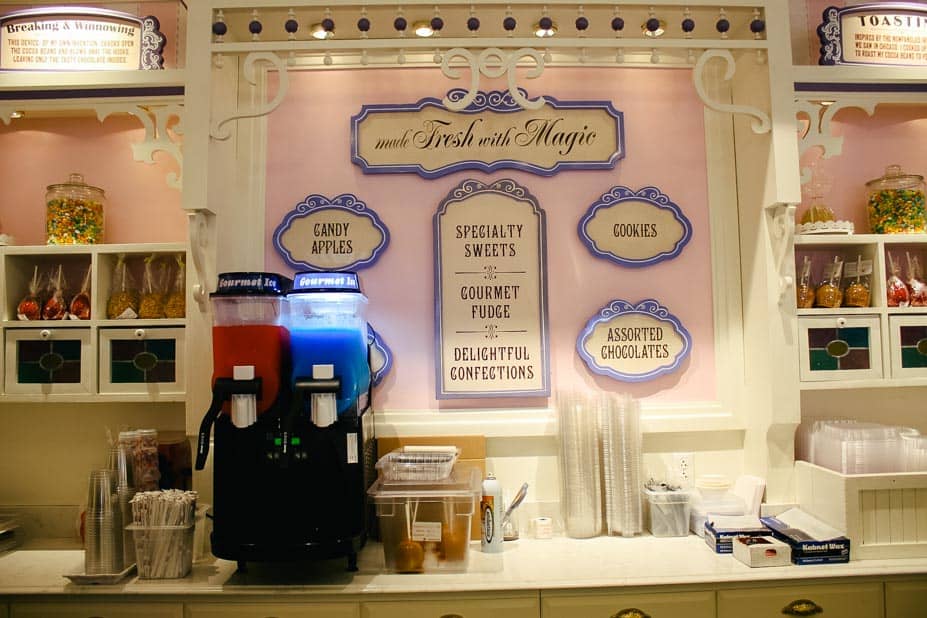 According to the sign, everything is "made Fresh with Magic," so it actually probably doesn't even show up on the calorie count until you leave. That's when the pixie dust dissolves, and you are back out on your own again in the real world. Maybe just maybe, you should have ridden that spinner one more time before heading to the airport.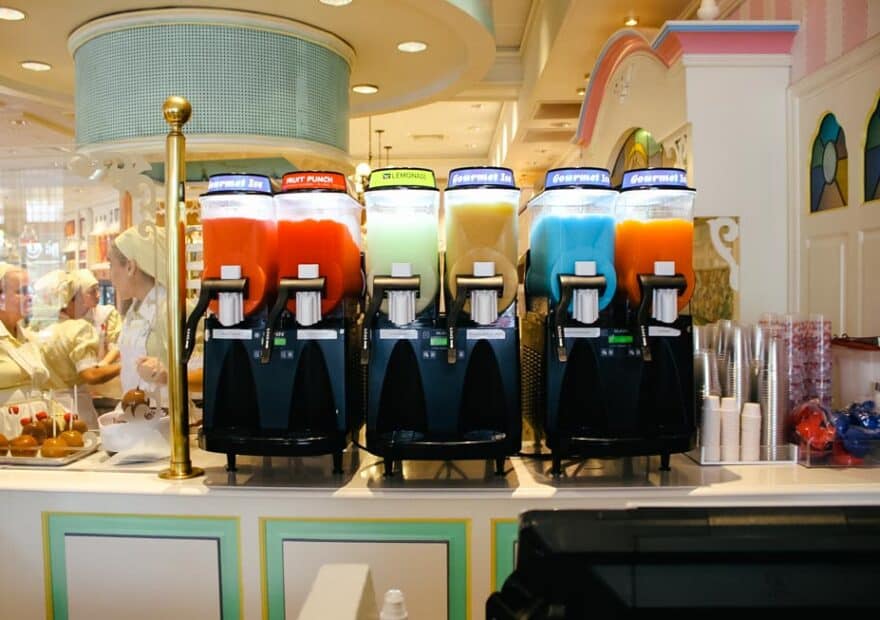 Main Street Confectionery is also a good place to pick up bottled water or soda. But don't forget, you can get a free cup of ice water at any counter service location. Make sure to stay hydrated because the weather is hot and humid.
Most people on a Disney vacation are probably already actively doing more than the average. Staying well-hydrated can make a huge difference in the way you feel at the end of the day.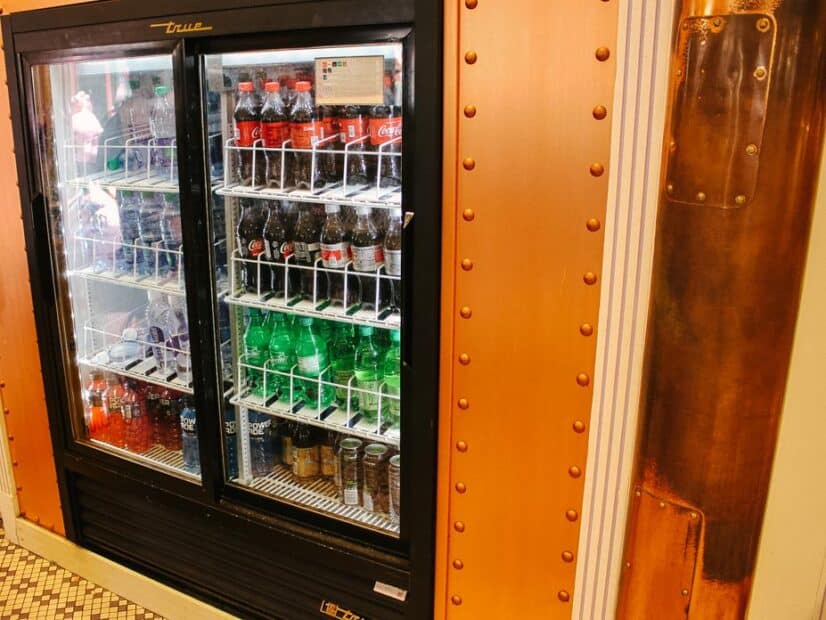 The shop also offers a variety of mugs, drink holders, and souvenirs.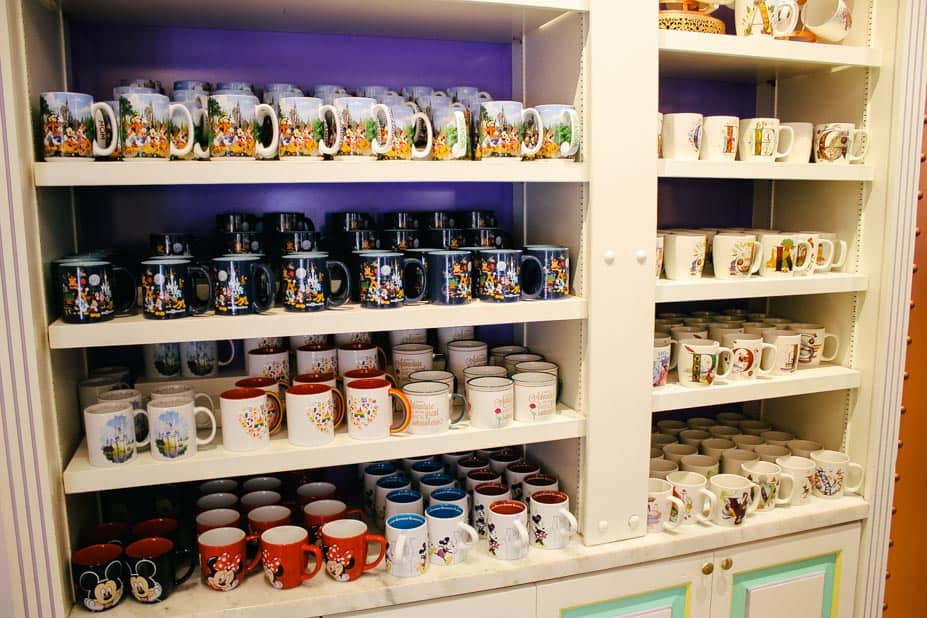 There might be a pretzel plush if you are looking for something with fewer calories! Along with several other snack items in plush as well. These are actually really adorable if you have a favorite treat.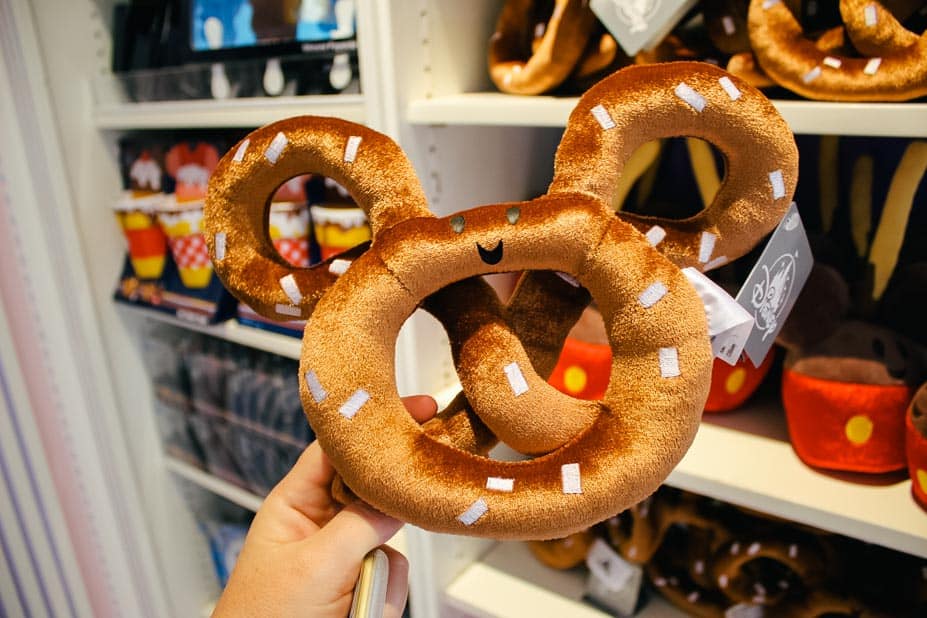 I thought these "D" mugs were pretty sharp.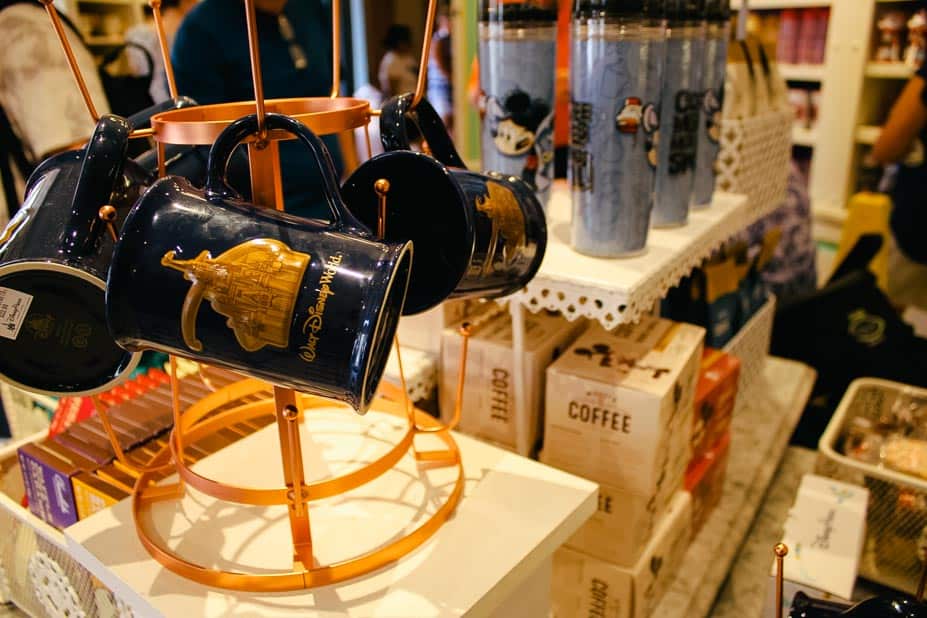 I love to check out the mugs in the Confectionery. Honestly, I love to check out the mugs at the outlets even more.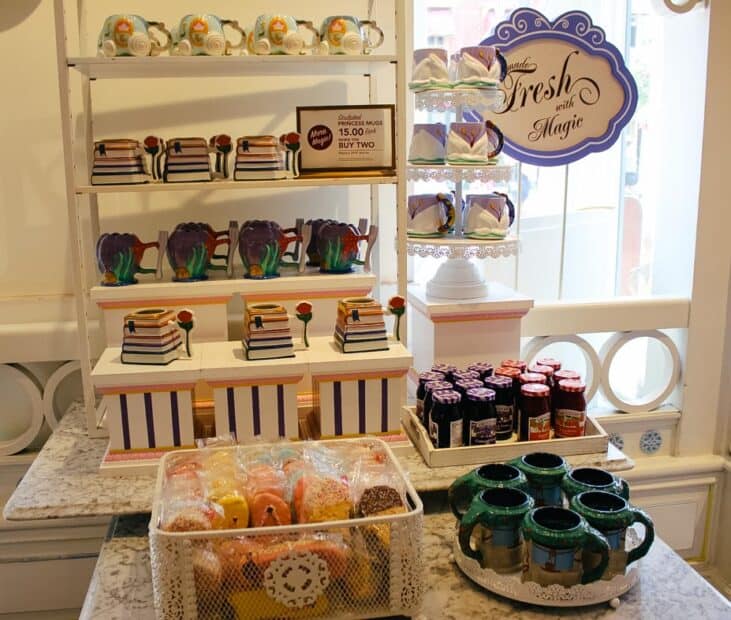 But not everyone has time to drive across Orlando during a week long vacation. And if you don't visit often, you'll never know that the $19.95 mug at the Confectionery will be $4.95 up the street in a few weeks.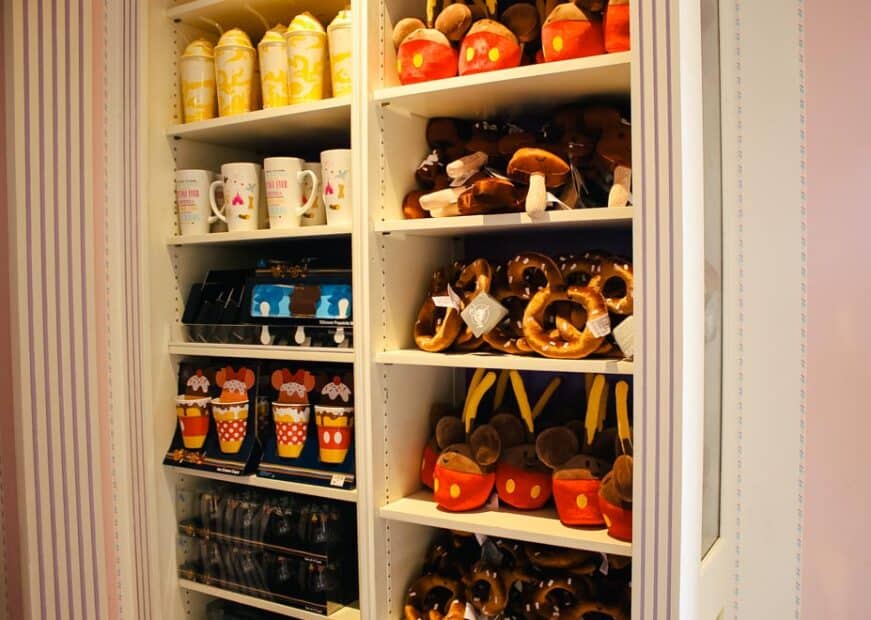 I was several mugs in before I knew, don't feel bad. These items are in the back corner of the store. It's kind of an odd and ends area with a selection of kitchen and home items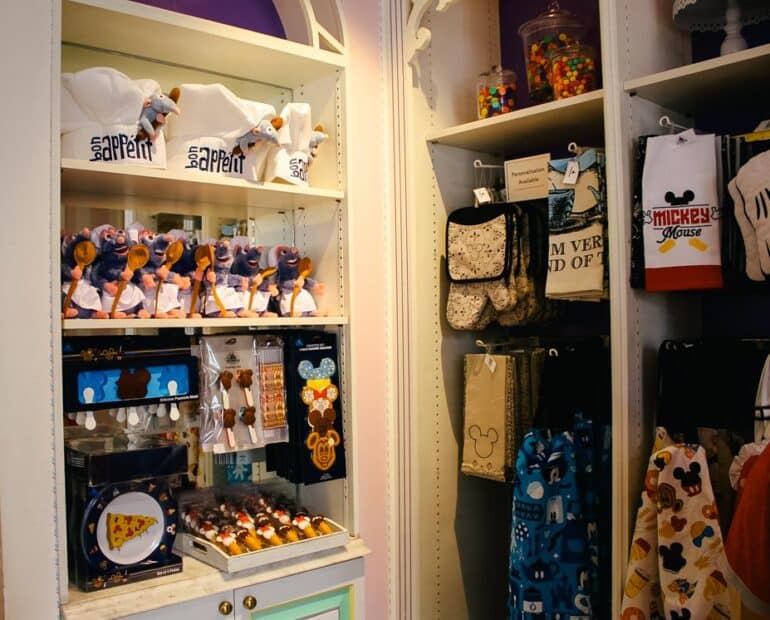 All jokes aside, if I'm at Magic Kingdom at some point in my visit, you can probably find me here at the Confectionery. It's hard to resist going in and taking a look around.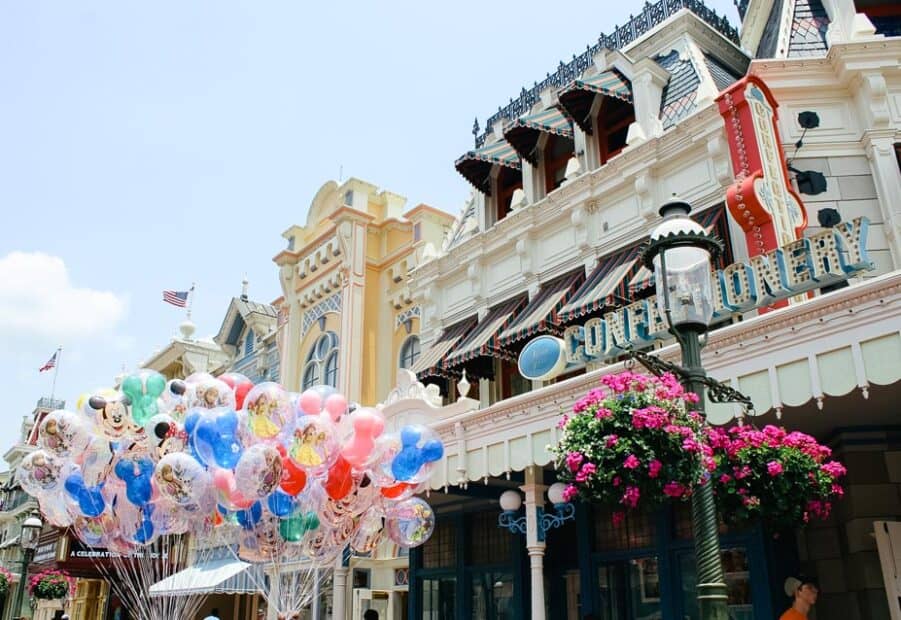 Especially with that wafting, delicious scent they pump out into the Disney park.
What is your favorite thing at the Main Street Confectionery?  Let me know in the comments below! 
If you are curious to find more sweet spots at Walt Disney World, you might also like Big Top Souvenirs. It's covered in the Storybook Circus review.
Resorts Gal specializes in Disney World Resorts, Characters and Dining. Make sure to check out some of our resources like the list Walt Disney World Resorts with reviews. That article gives a brief overview of every resort at Disney.
For planning dining reservations, we have a full list of our Disney restaurant reviews available. Normally, we recommend planning at least one Disney World character dining meal and a Disney signature dining reservation.
If you are planning to meet characters in the parks, I keep an updated list of Disney World Characters here. That review will like to every meet available in each of the four parks.
Lastly, our most popular reviews include the best restaurants at Disney Springs and I keep a timeline going of Disney Loungefly mini-backpacks.
For more sweet stops at Disney, check out Zuri's Sweet Shop in Africa at Animal Kingdom. They have some treats that are unique to the theme park there.
You will find a few things at Trolley Car Cafe at Disney's Hollywood Studios.
And at Epcot, the Karamelle Kuche in the Germany Pavilion (review) gives the Main Street Confectionery a little competition when it comes to comparing sugary treats.