Main Street Confectionery at Magic Kingdom (The Best Sweet Stop)
There's no denying that Main Street Confectionery at Disney's Magic Kingdom is the best stop for sweets in all of Disney World. Inside, you'll find everything from cotton candy to flavored popcorn and then some.
Main Street Confectionery is considered a must-stop for most of us during our Walt Disney World vacation. But you might not know that the Confectionery was completely remodeled within the last year or so.
In this article, I'll share updated photos of Magic Kingdom's Main Street Confectionery. Additionally, we'll check out some of the newer items you'll find in the case.
So get out that Mickey-shaped treat you've been holding onto since your last vacation. We're off to the Main Street Confectionery to see what's new!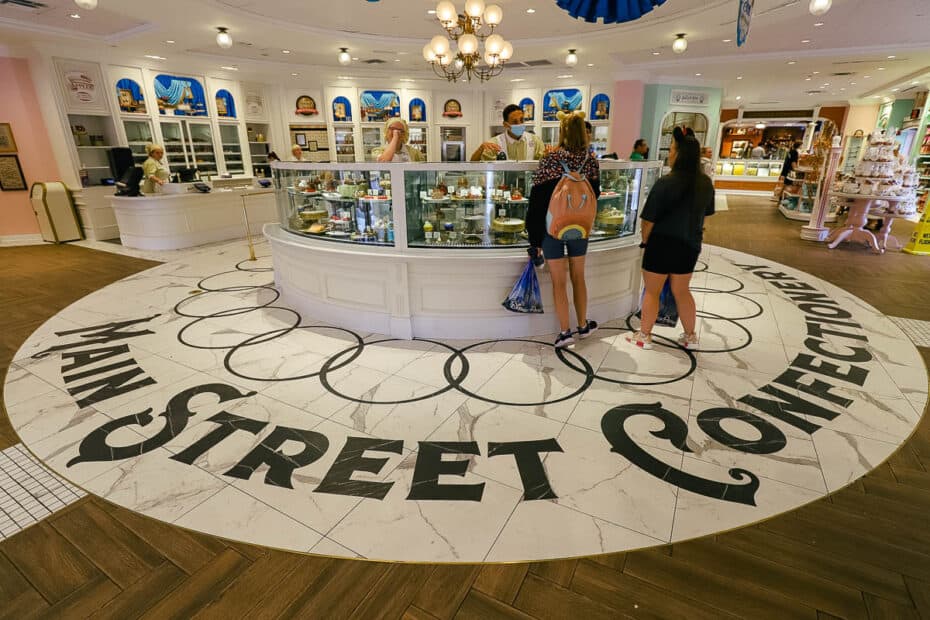 Main Street Confectionery is located on the first right-hand corner of Main Street U.S.A. at Magic Kingdom. As you gaze down the street, teary-eyed, toward Cinderella Castle, you can't help but smell the faintest hint of sugary treats wafting through the air.
If you're not immediately drawn inside, you probably make a mental note that you'll stop in later that evening before you leave the park. It's what most of us do.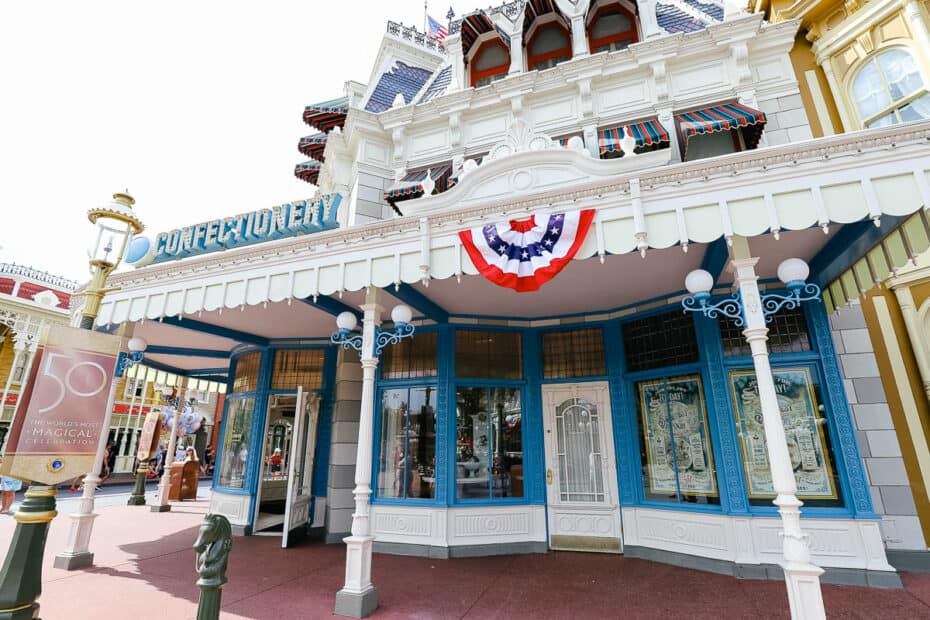 Signage for the Confectionery was updated during the remodel. All the signs now reflect the shop as the home of Mars candy treats.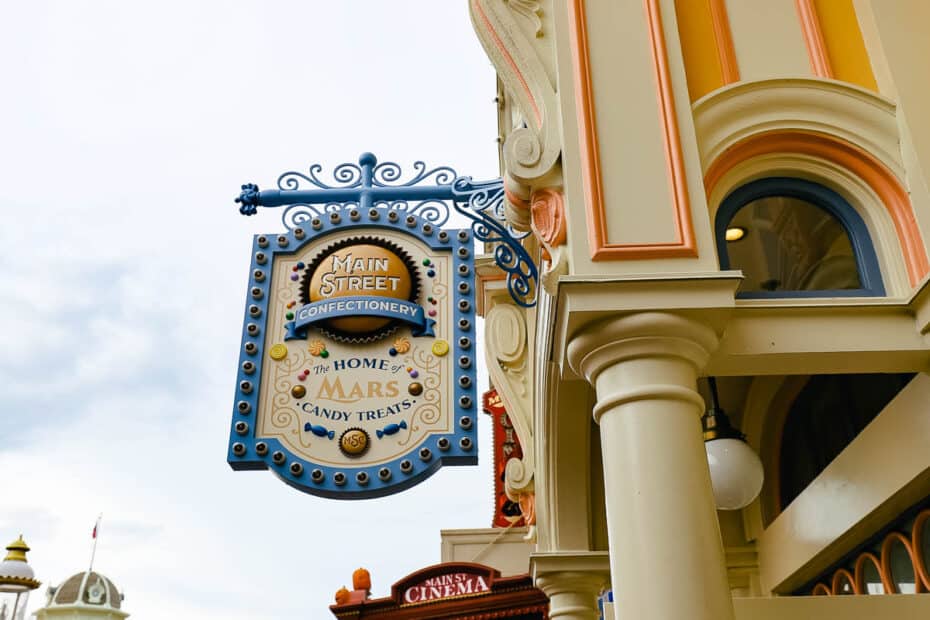 A curved glass window at the front of the shop beckons you inside.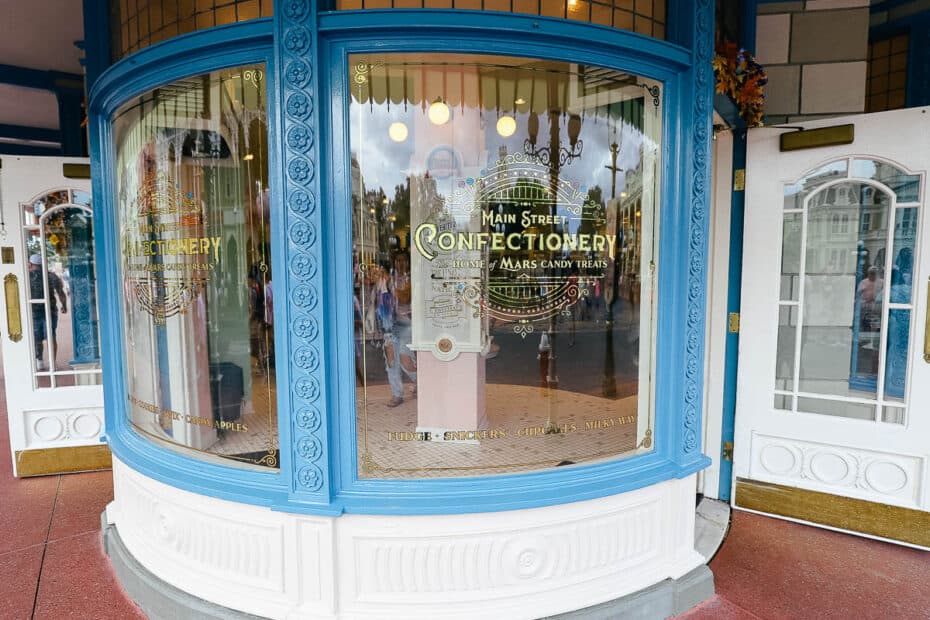 Before I bombard you with new photos of the Confectionery, here is a reminder of what we lost. Formerly, the shop had intricately tiled floors, marble counters, and a touch of candy-striped wallpaper.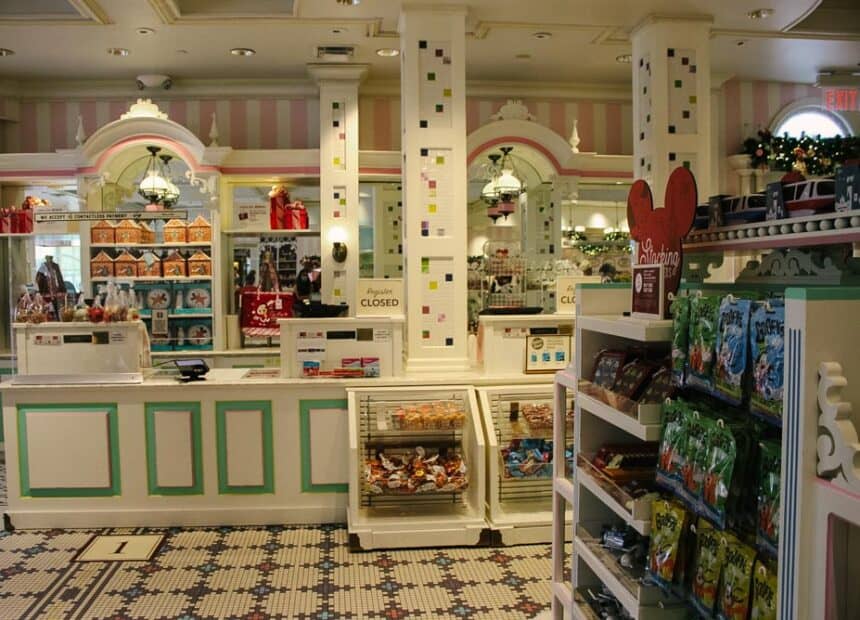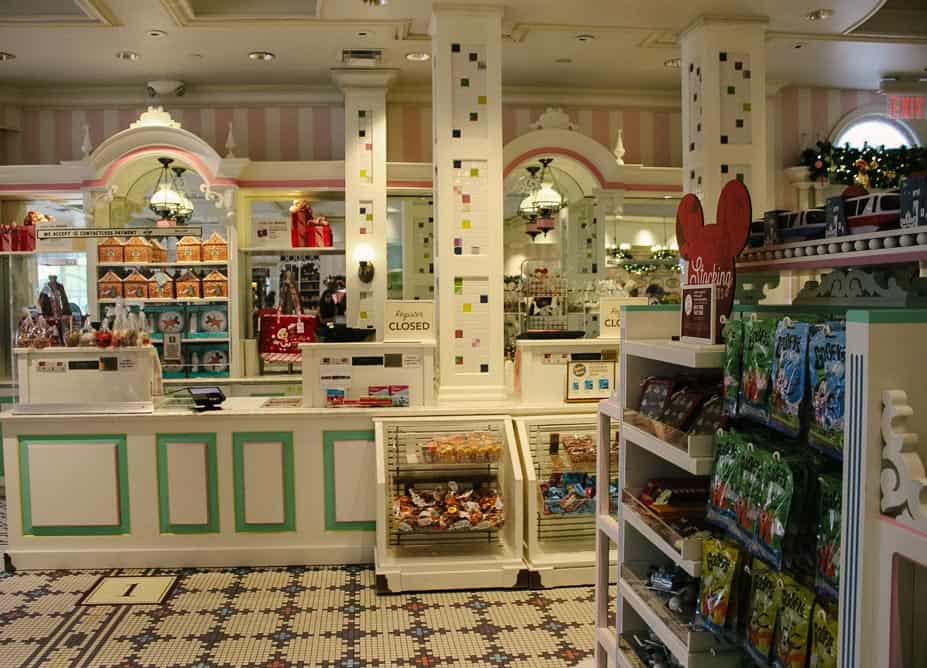 Now it has Herringbone patterned wood floors, tile, and marble. In addition, all of the walls are painted pastel colors.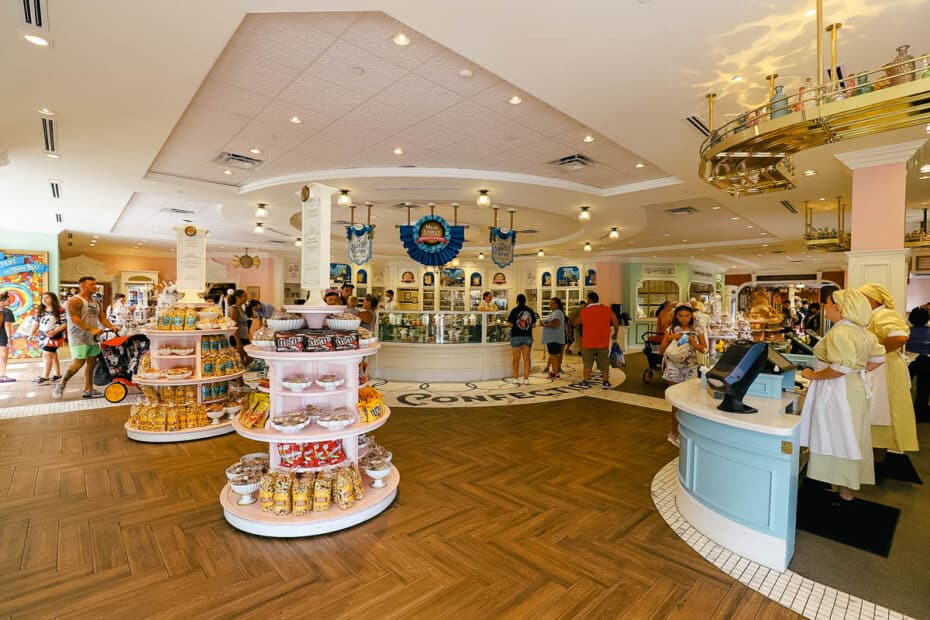 I don't know about you, but I appreciate both looks. Although admittedly, Disney did an excellent job of freeing up space inside the shop by moving the primary display cases to the center of the room.
One thing you might not realize is that they've removed nearly all of the merchandise. Previously, the store was packed with mugs, dishes, and bizarre plush resembling some of the treats. Some of that plush was scented to mimic the treat.
Let's hope it stays that way. There's plenty of souvenir shopping across the street at the Emporium.
These photos were taken on several occasions over the past year. On my visits to Magic Kingdom, I would often stick my head in to check for crowds and snag a quick photo or two when possible.
A large display lines the shop's front wall, prominently showing off a variety of colorful candies. You can fill a bag with as many as you like, and they'll charge you by the weight at the counter.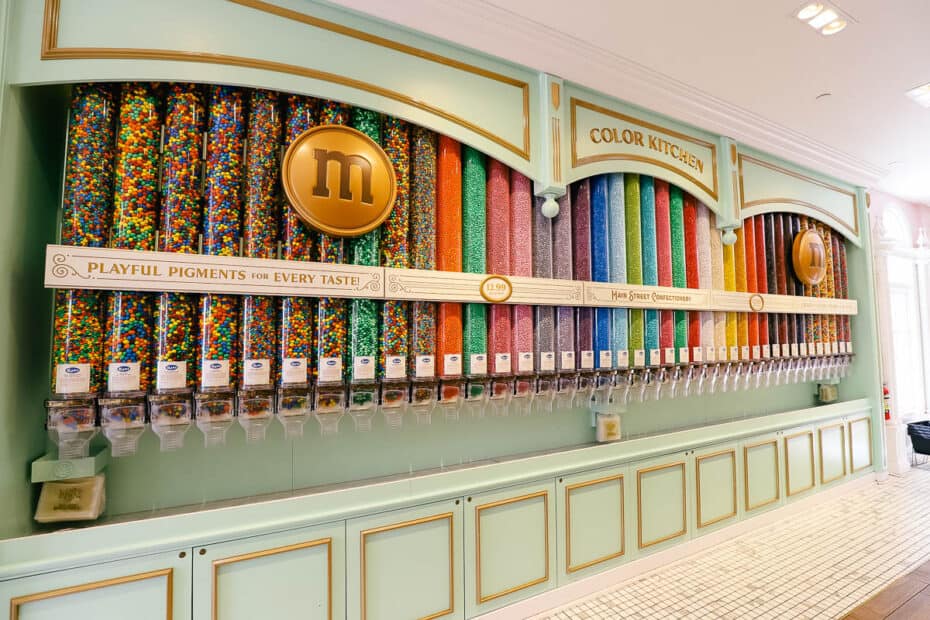 During this time, you'll find a variety of 50th-anniversary merchandise in the parks and resorts. The Confectionery is no exception, boasting special popcorn, candies, and celebration popcorn.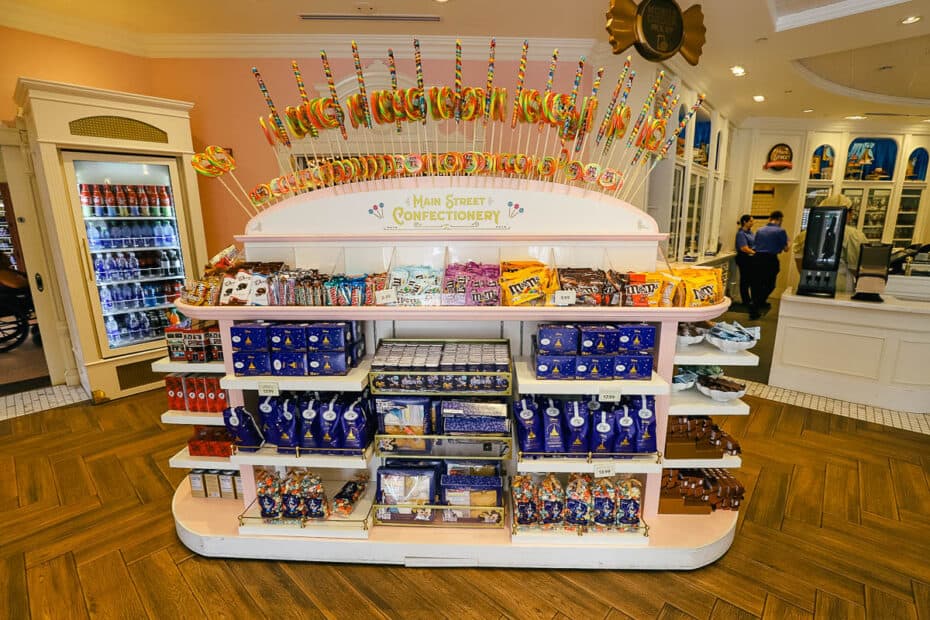 See, here's the celebration popcorn. It's iridescent, the primary color used in the 50th-anniversary decor.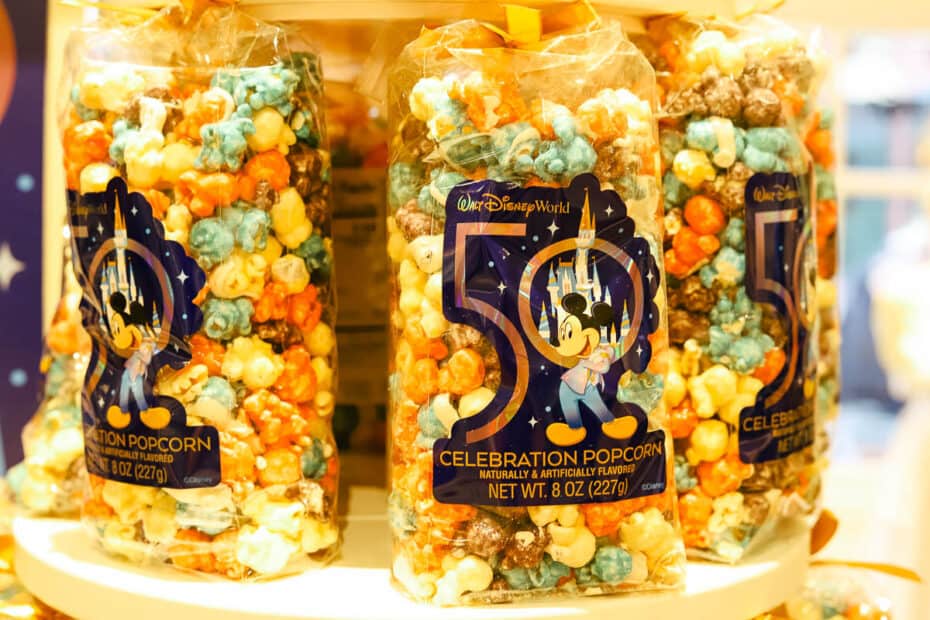 Toward the front of the shop, I noticed this fun photo wall. Unfortunately, I haven't seen anyone take photos in front of it yet.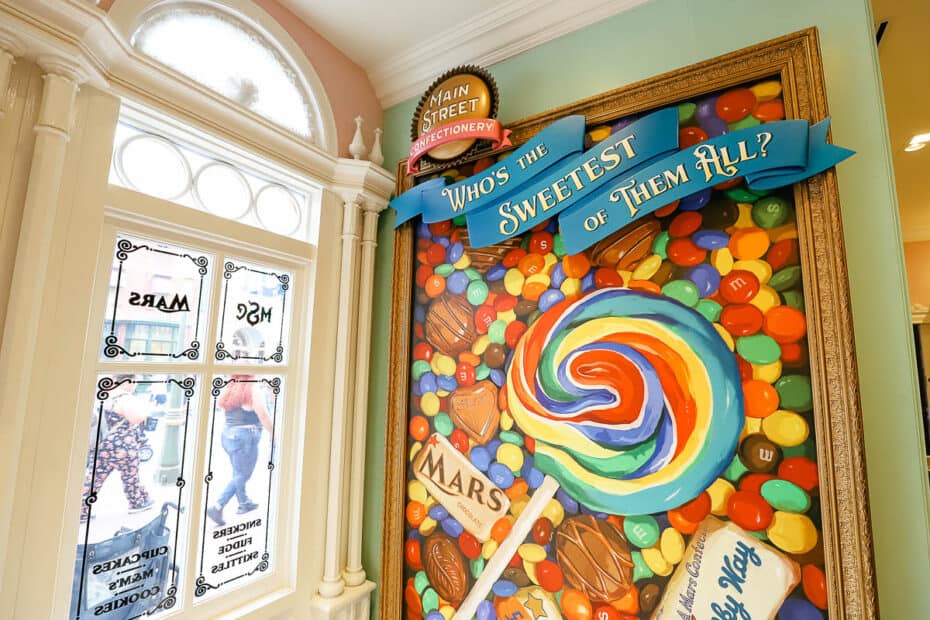 It makes me wonder if no one realizes it's a photo wall. What else would it be? You stand in front of a candy background underneath the "Who's the Sweetest of Them All?" wording.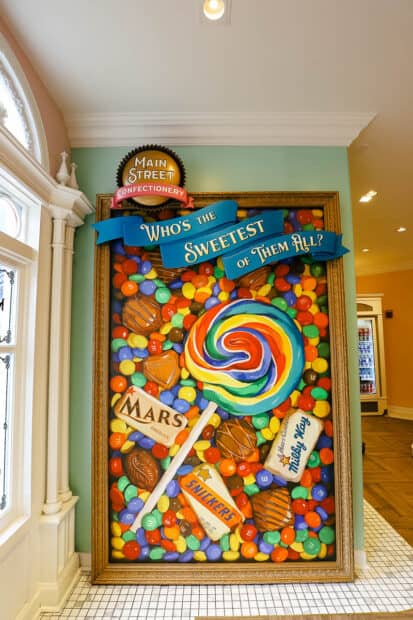 You can pick up all Disney-branded candy and snacks in the Confectionery.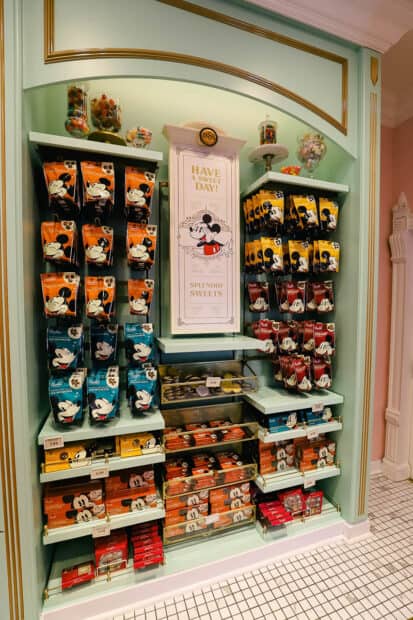 Here's a display of prepackaged candy apples and Mickey crisps treats. I'm pretty sure they aren't made by Rice Krispies cereal, and I think Disney refers to them as crisps on the package.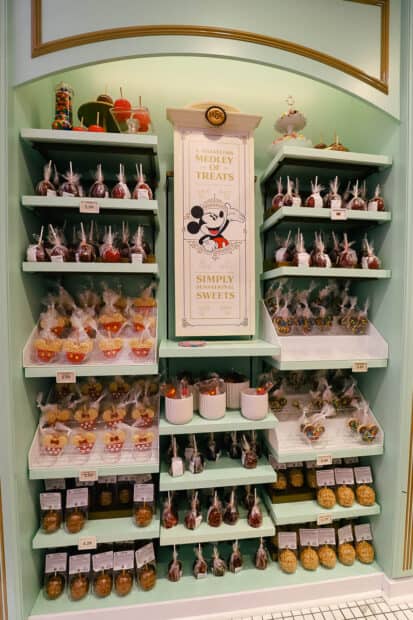 On the far side of the store, you can still pick up a frozen ice drink in the Glacier Kitchen area. Usually, there's someone busy making cotton candy.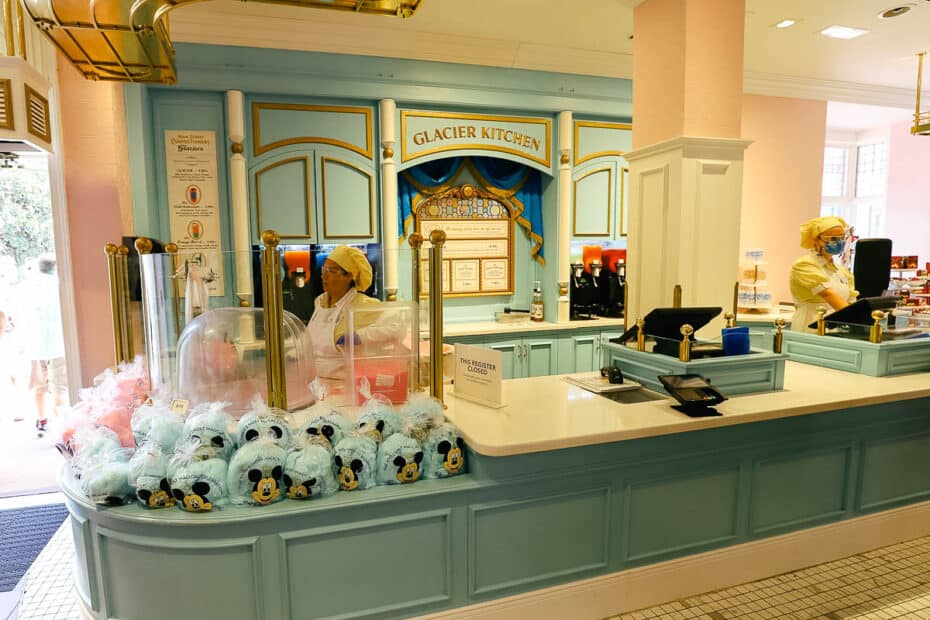 Like this sweet cast member, I wonder if making cotton candy is a fun job.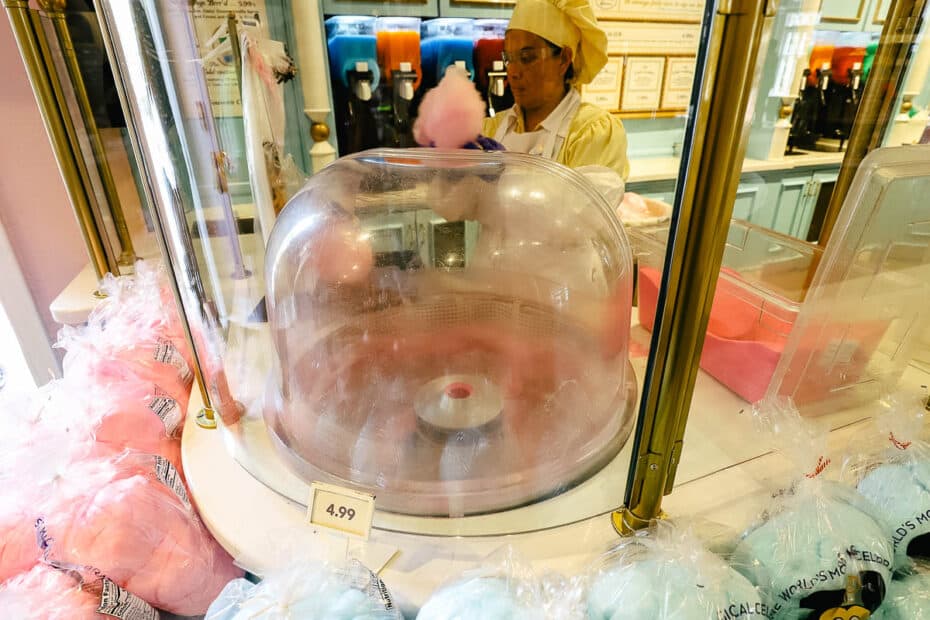 Toward the back of the store, there's a cool popcorn shop. This area has been a hit and is a fun addition.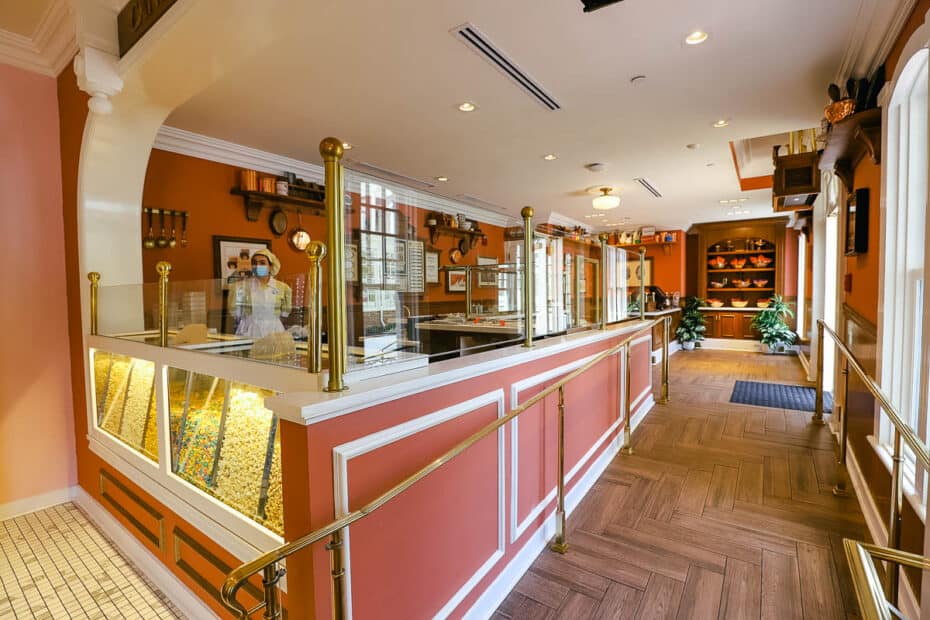 First, you select a popcorn flavor, then add syrup, and last, combine your mix with candies.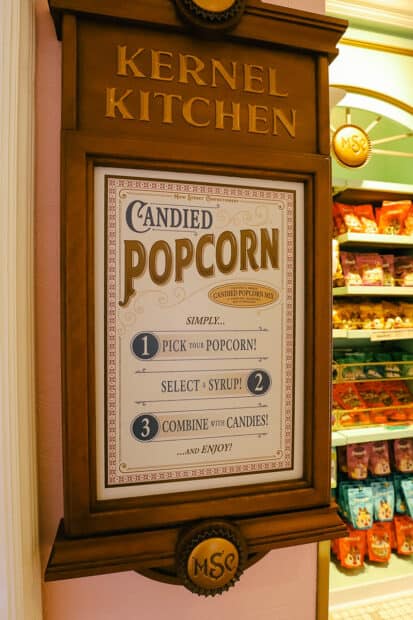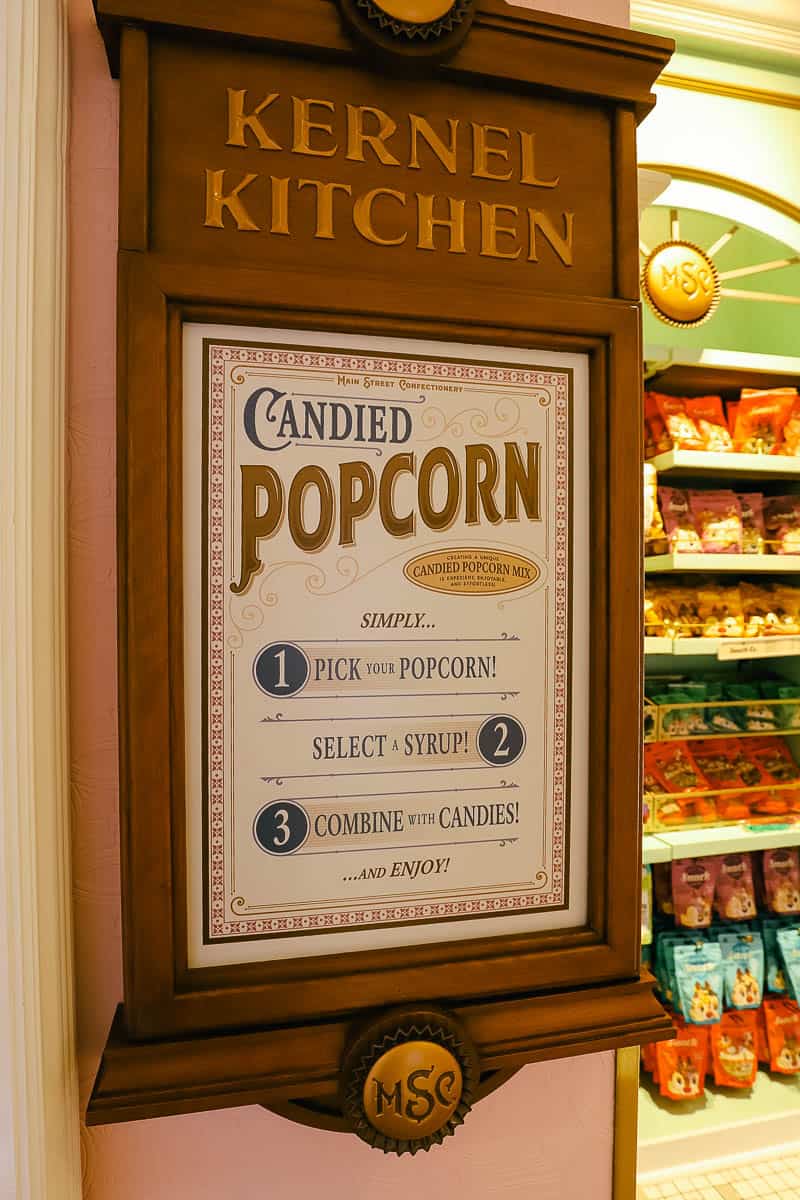 What a fun idea!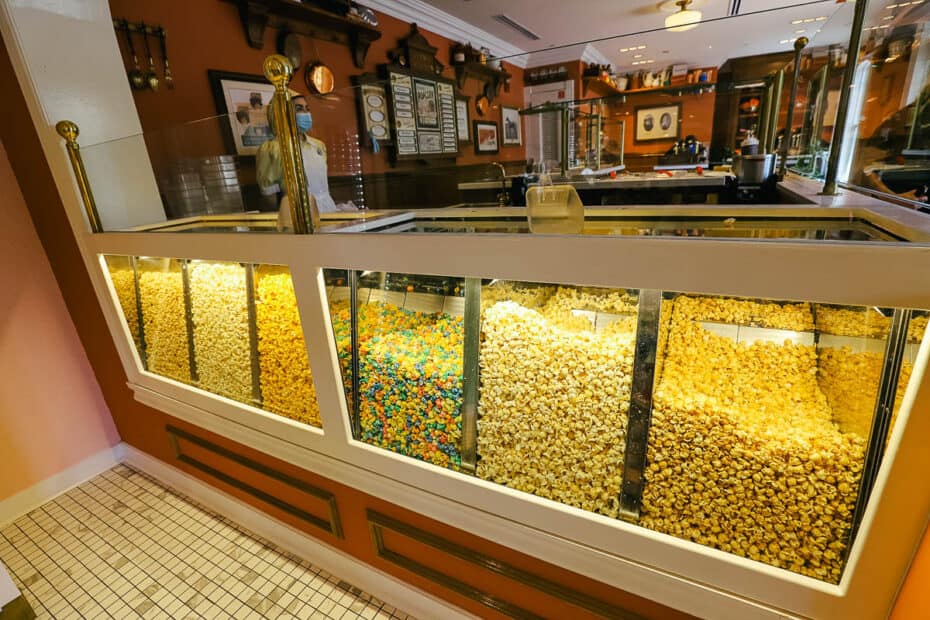 In the middle of the store, you can walk up to this large set of windows and see what the cast members are busy preparing.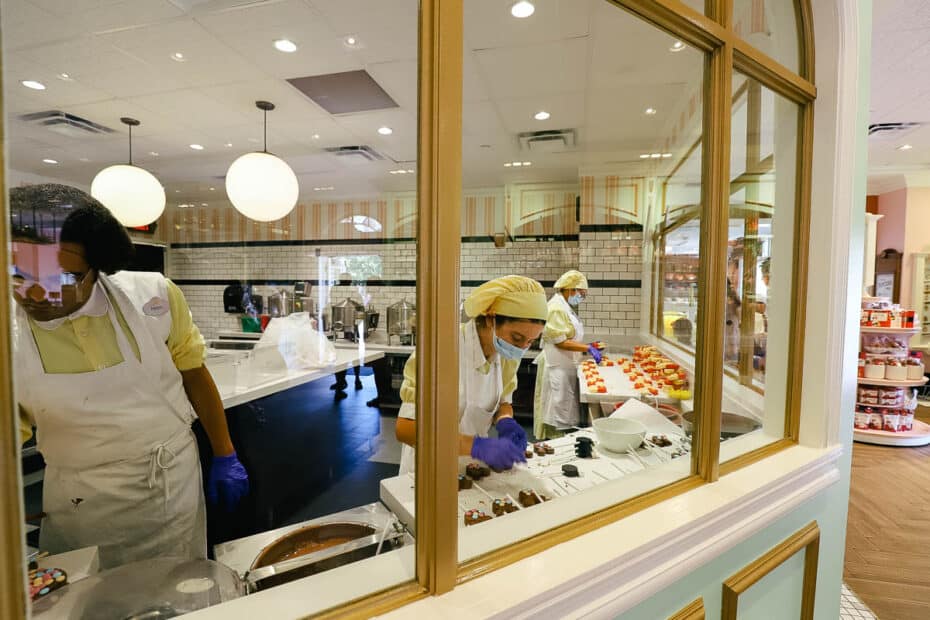 Thankfully, they didn't change this part too much. It's fun to see the behind-the-scenes hustle and bustle of the Confectionery.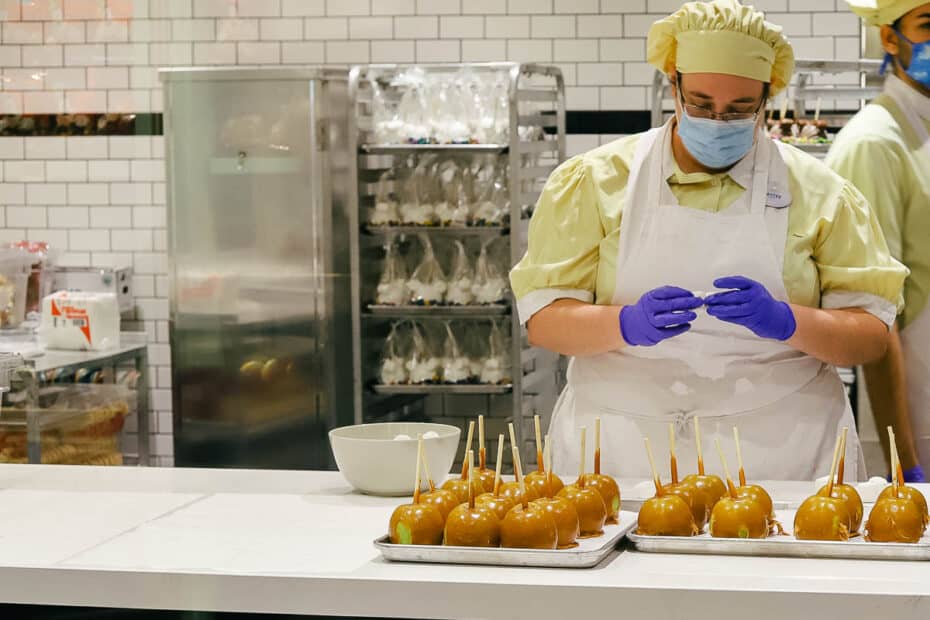 Look at all those Mickey Mouse shorts!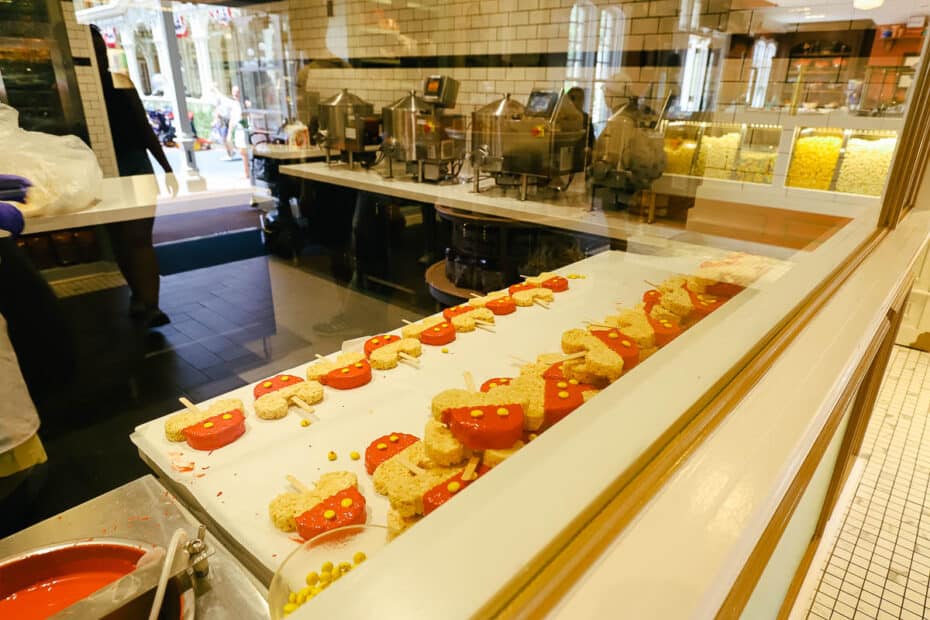 Now to skip to the good part, the display case.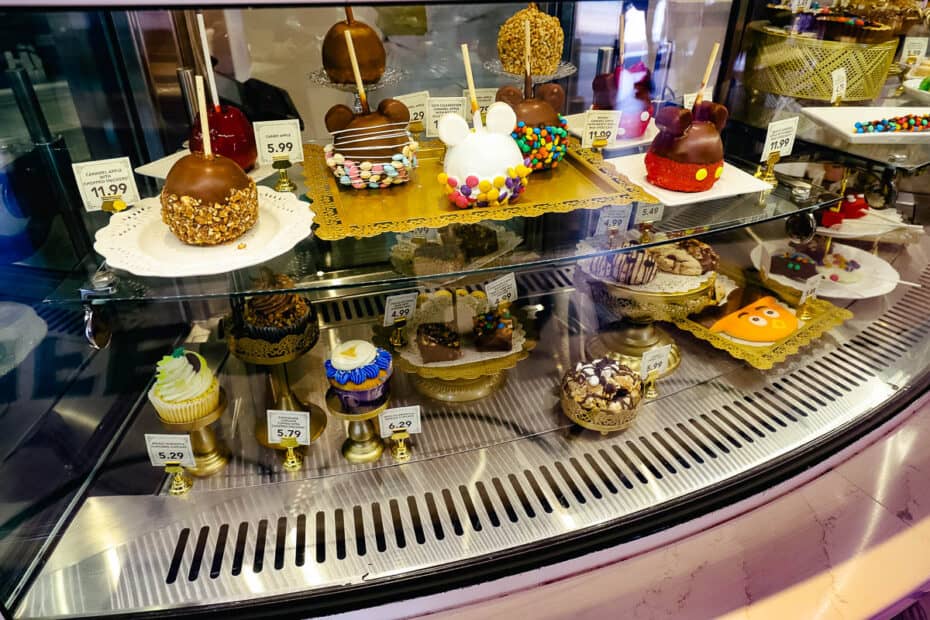 Here is a finished look at those Mickey shorts with a Minnie skirt. And there's an orange bird on a stick a little further over.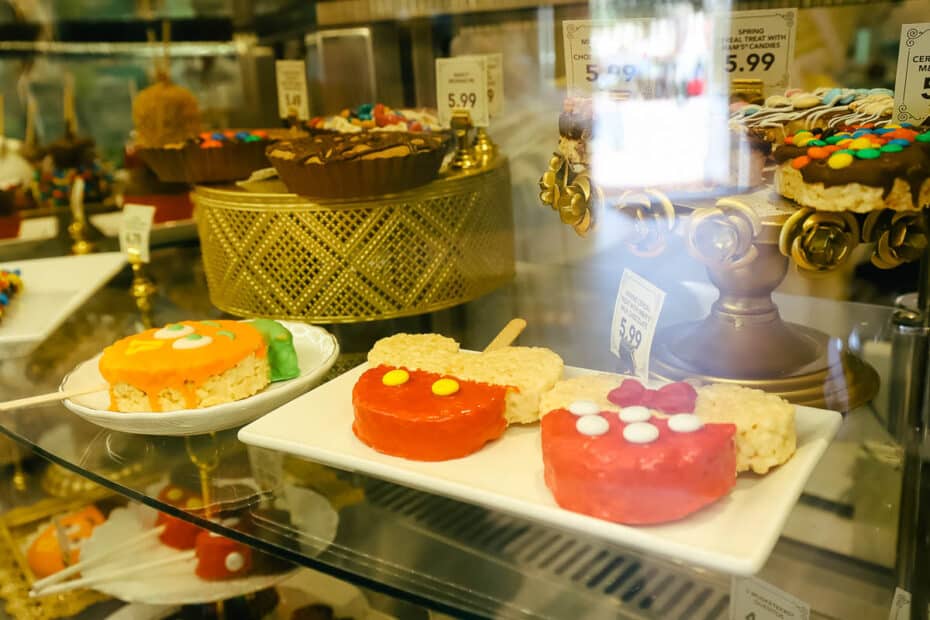 This candy apple looks fabulous.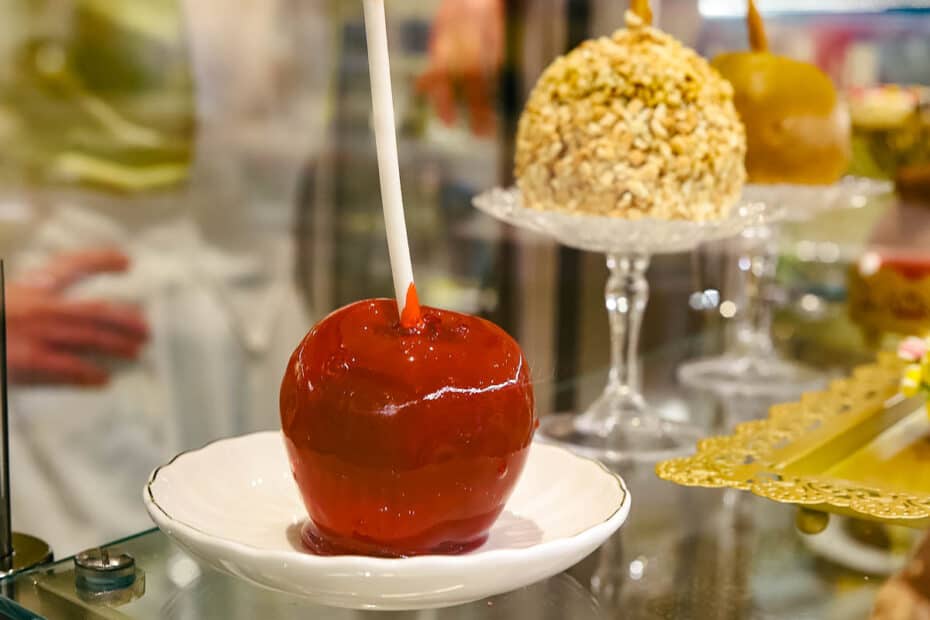 Or you might prefer a caramel apple dipped in chocolate and then coated with chopped Snickers.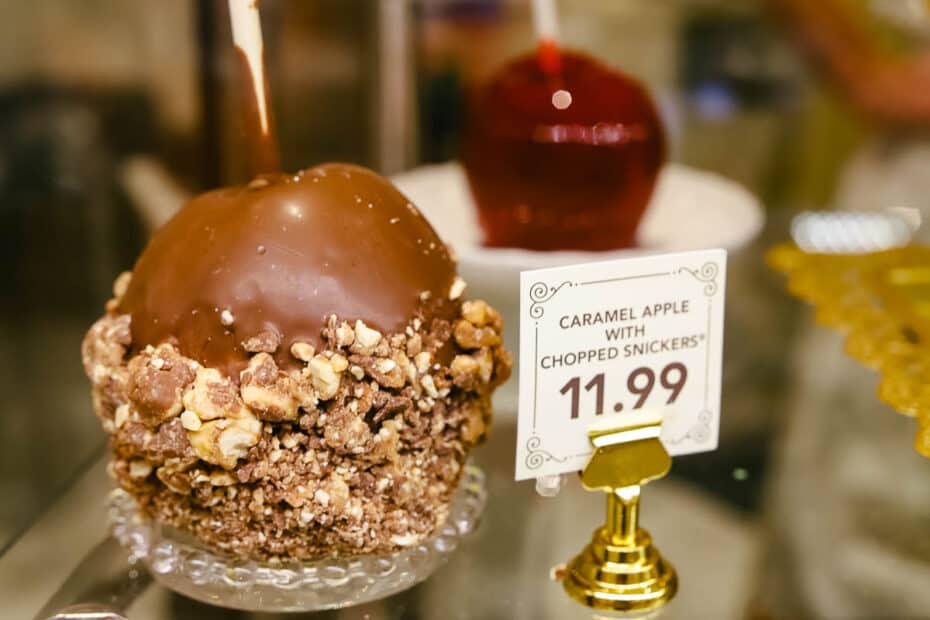 There's a pure gold-dusted apple or one completely covered in nuts.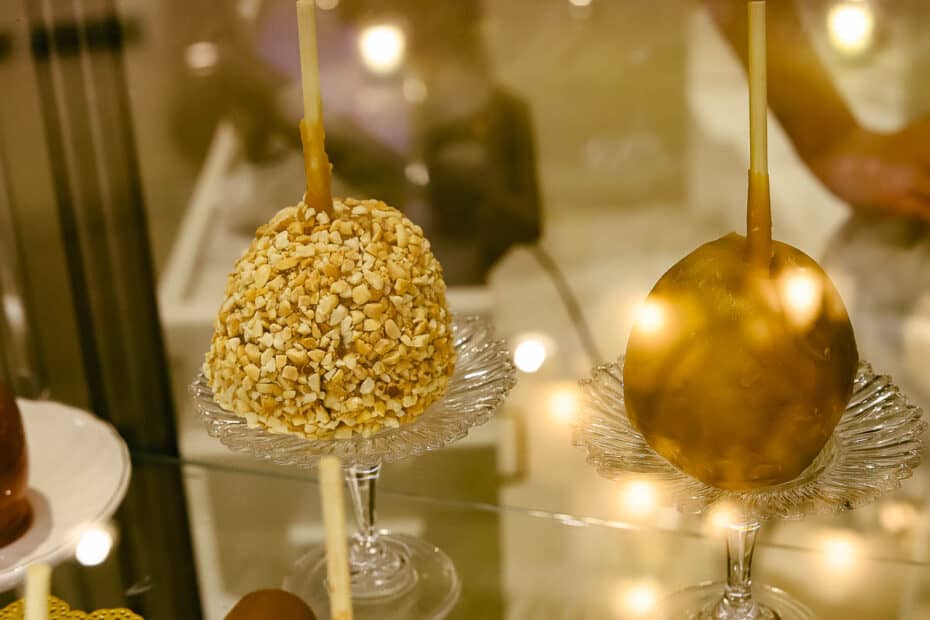 These four are fun! Which would you choose?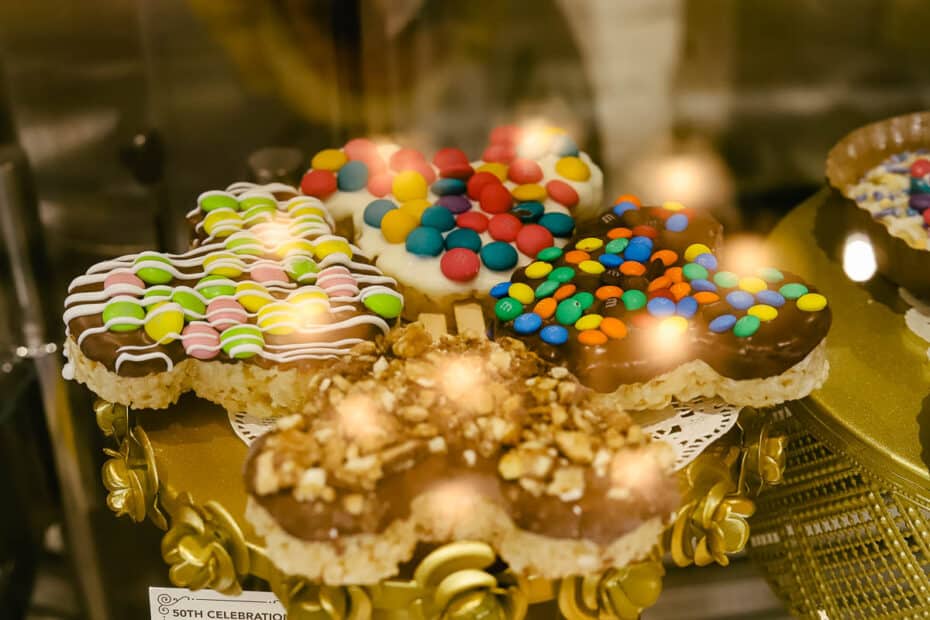 Here's a pretzel stick with mini M&M's and milk chocolate.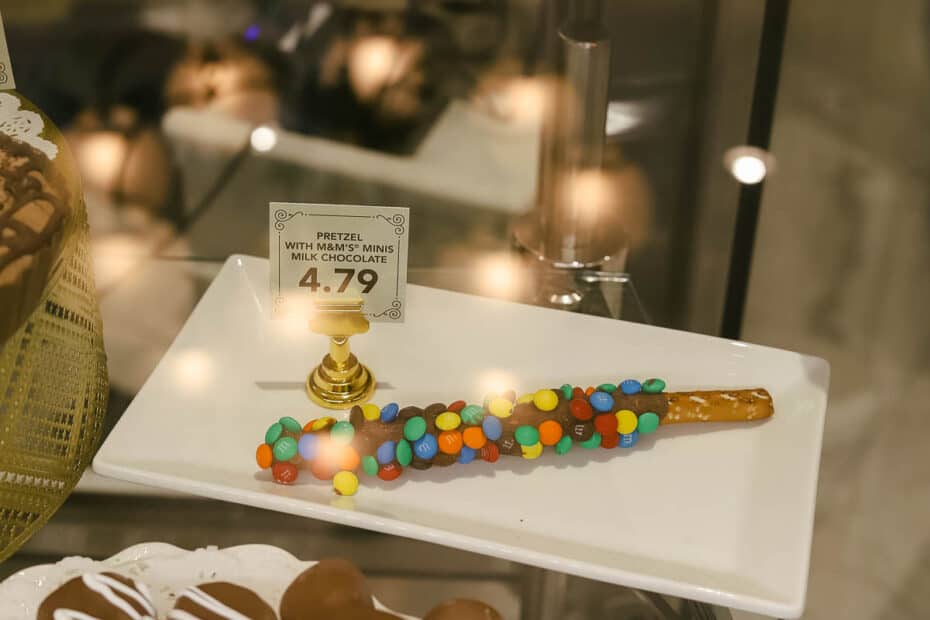 Or you might prefer a brownie pie.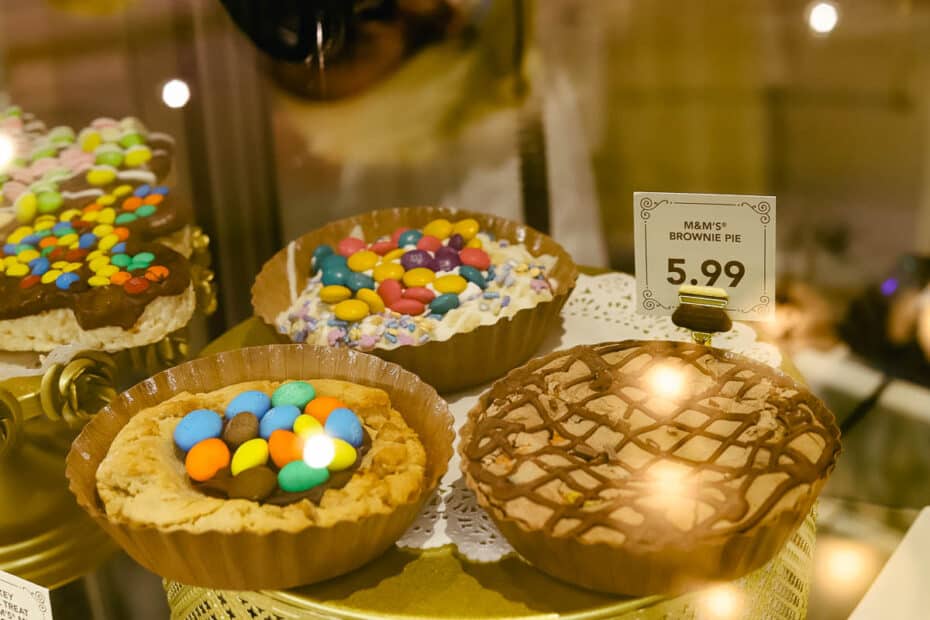 These are Mickey Marshmallow treats with various toppings.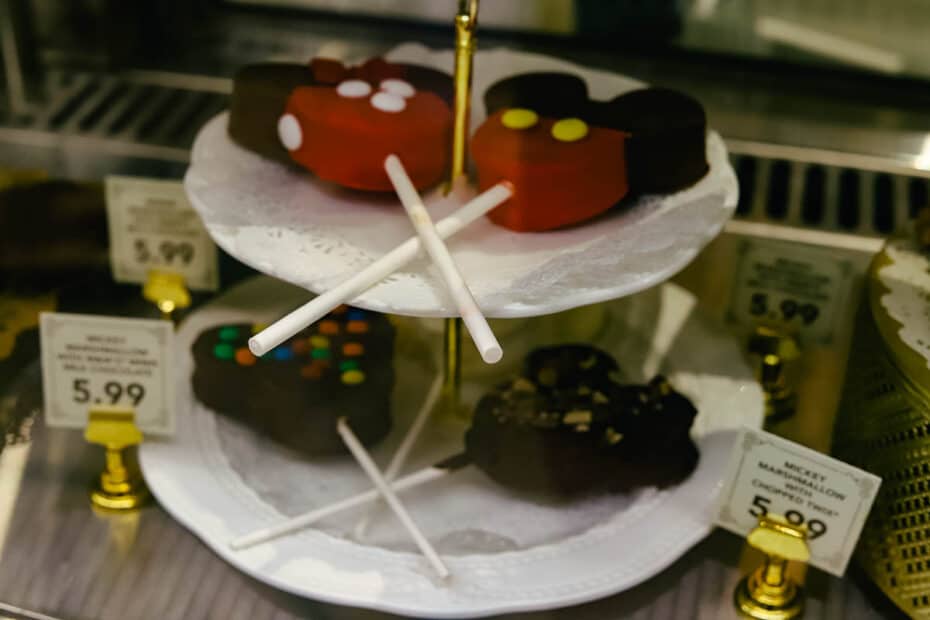 All three of these items are new. The two pieces toward the front are Dove chocolate rugelach. We don't see too much rugelach in the South. I think I will try one of these next time I'm over that way.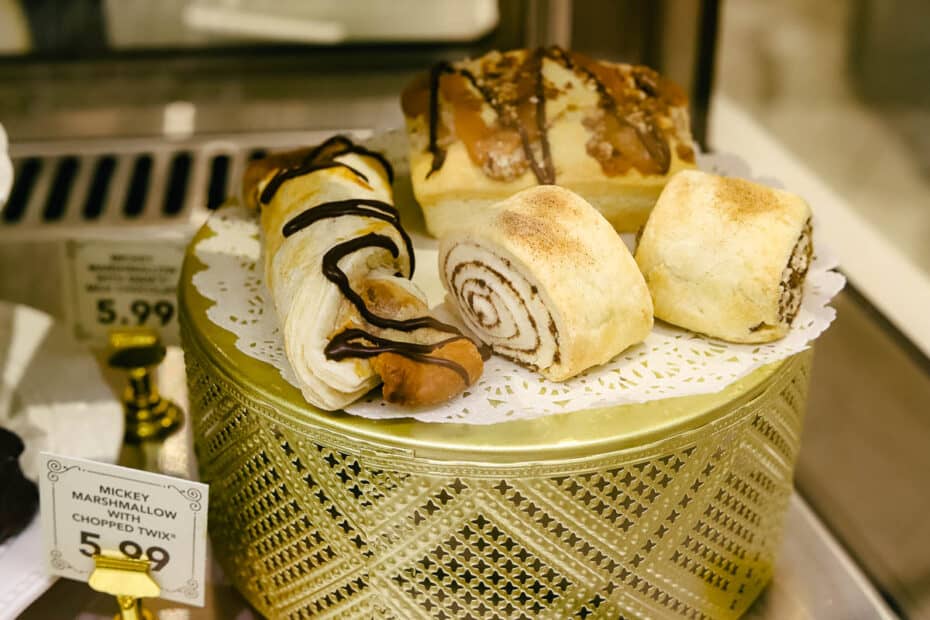 More marshmallow pops are available.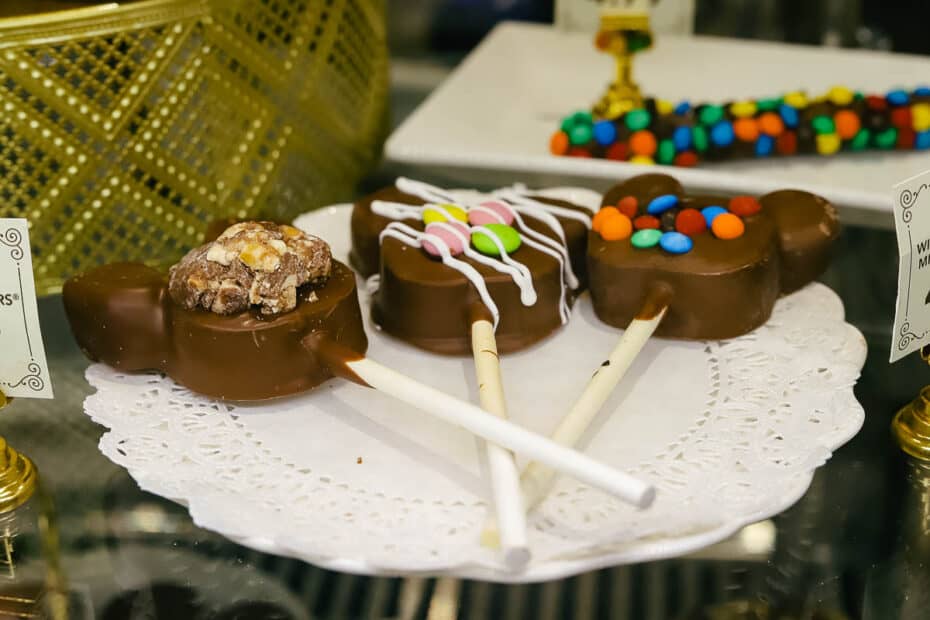 When the dining plan was available (years ago), a cast member told me that these jumbo sugar cookies were the best value for a snack credit. Will we ever see the Disney dining plan return?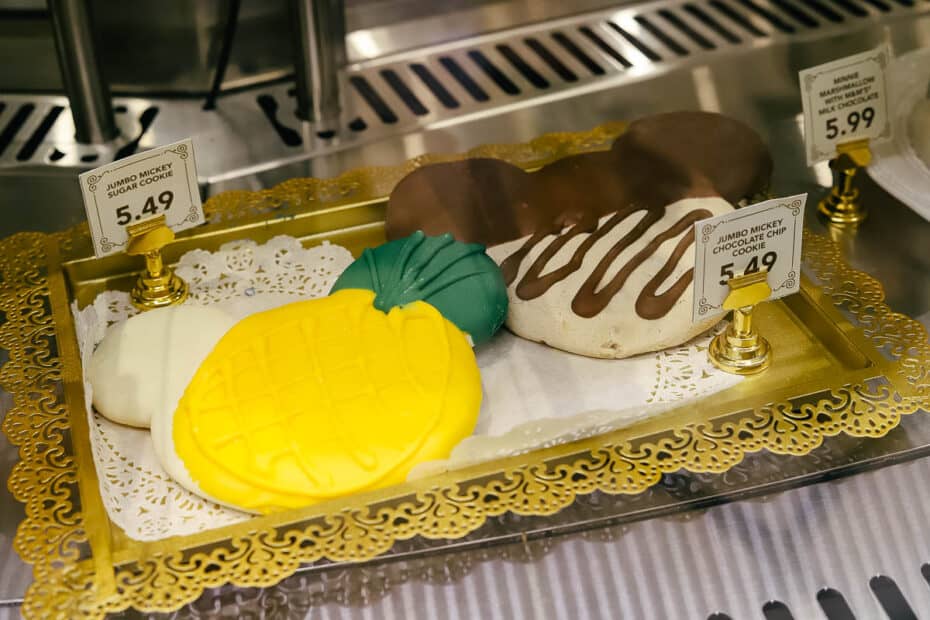 Okay, below, we have another new item at the Confectionery, the S'mores cereal treat.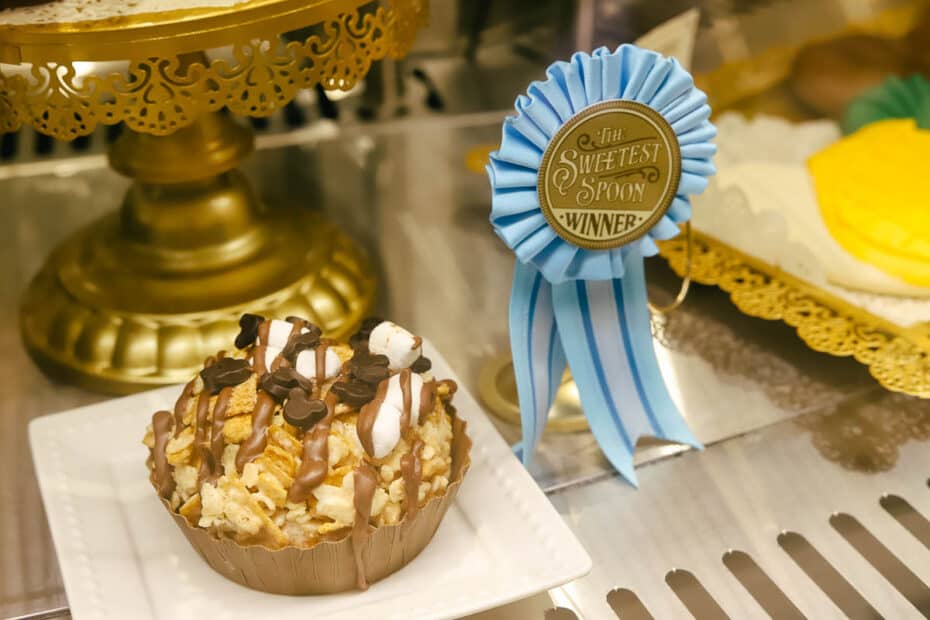 Both times I've eyed this treat, the cast members told me it was one of the best-tasting treats in the case. I rarely try these types of things.
I'm so old school and always pick up one of the plain Mickey-shaped rice crisps. If you can't find one on display, ask, and they'll bring you a fresh one.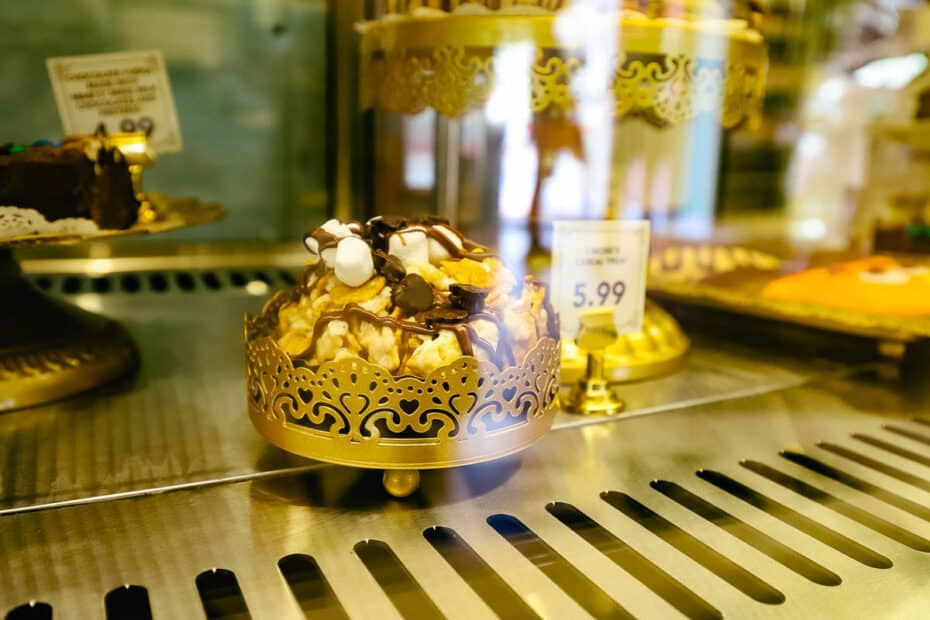 Here is the fudge selection. Now, this is something I do order from time to time. It's probably old-fashioned too, isn't it?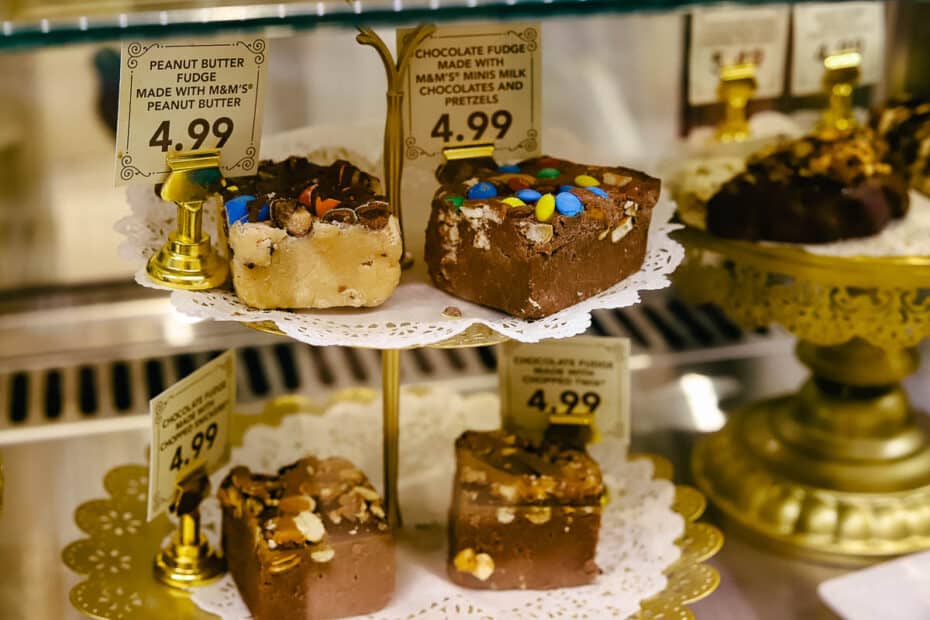 Here is a close-up of caramel apples dipped in colorful M&M's.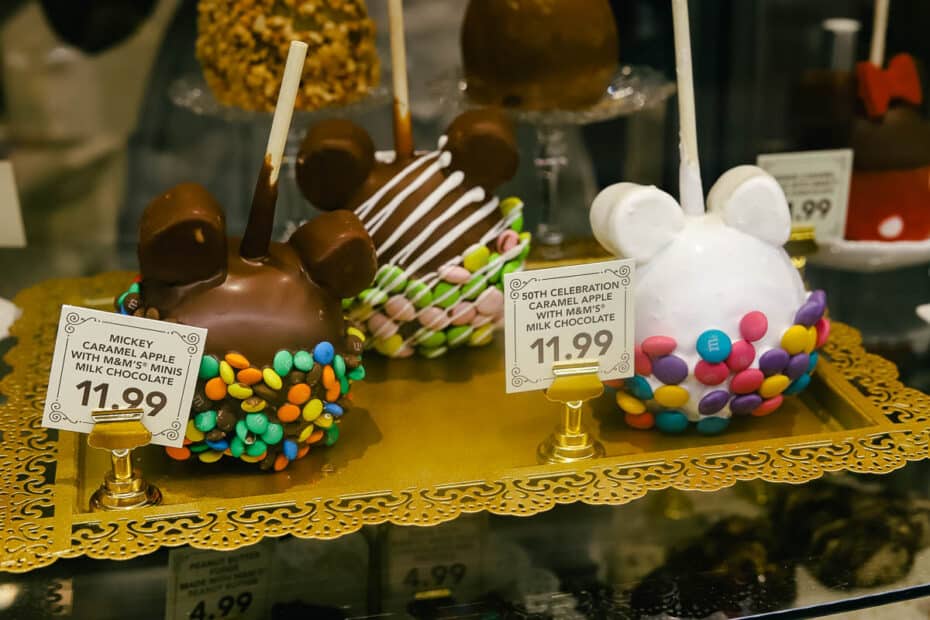 One of the other things I've noticed is that the Confectionery used to have a ton of cupcakes. However, now they only seem to have a few. We'll have to stop in over the holidays to see if they have more variety.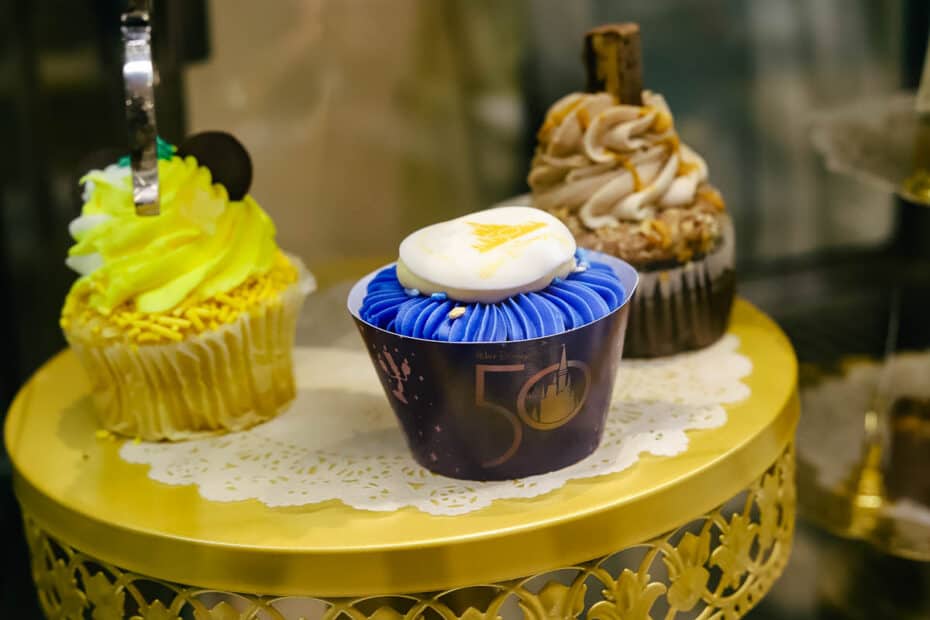 Here are a few shortbread cookies.
In addition to all the candy and treats, Main Street Confectionery is a wonderful location to stop in and pick up a bottled soda or water. Several of these refrigerated cases are scattered throughout the shop.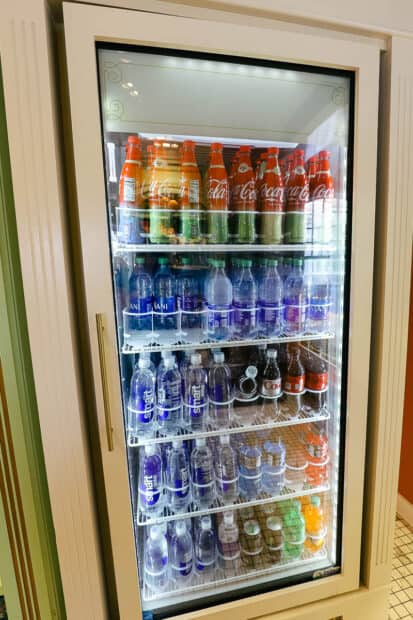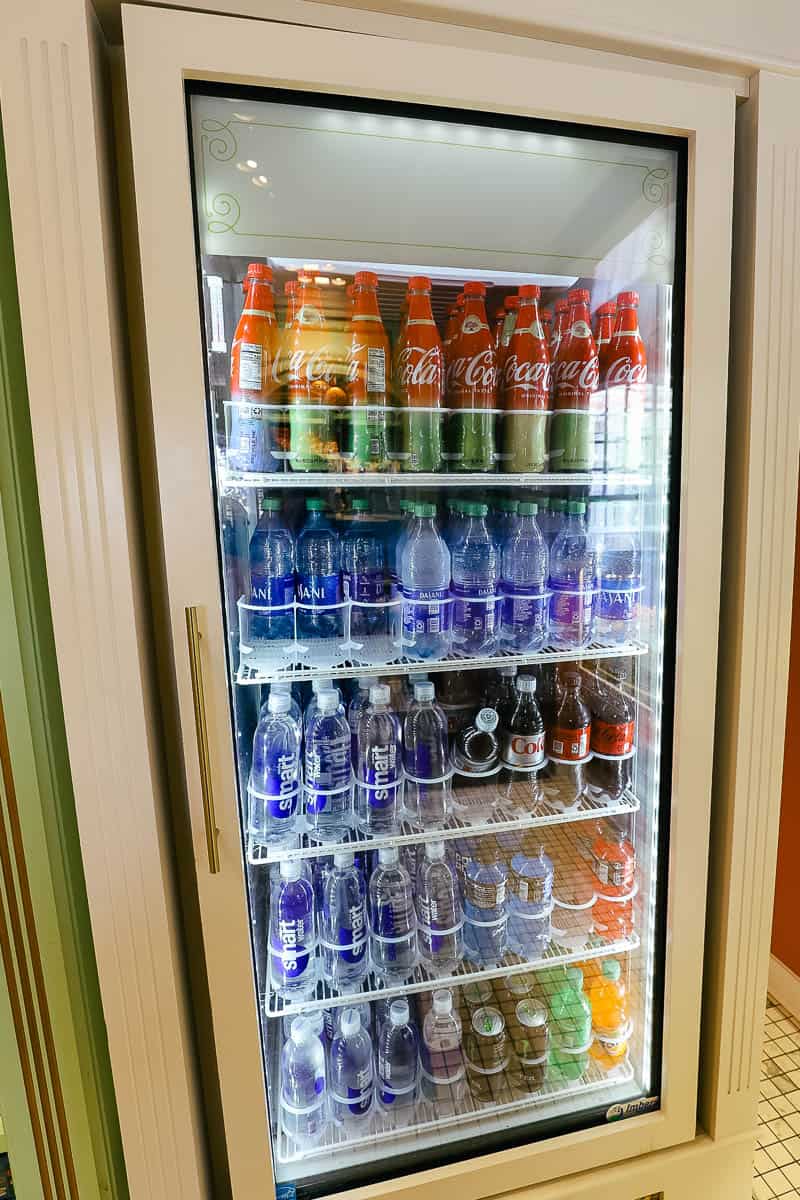 Instead of a wall of coffee mugs, we now have a wall of various flavored coffees. These coffee selections have been popping up in all the hotel gift shops lately.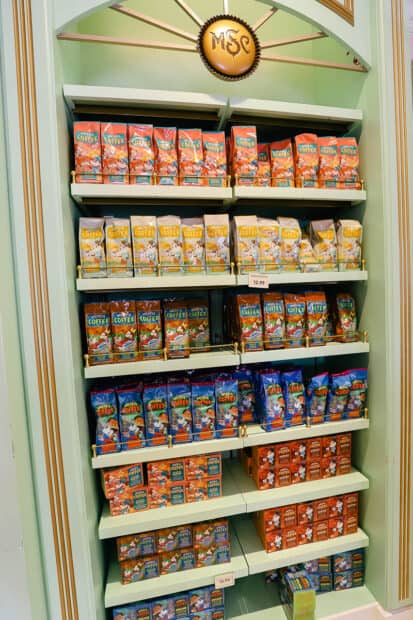 Overall, the Confectionery's remodel turned out positive. It took a few visits for the new style to grow on me. But ultimately, the improvements that were made far outweighed the nostalgia the old version offered.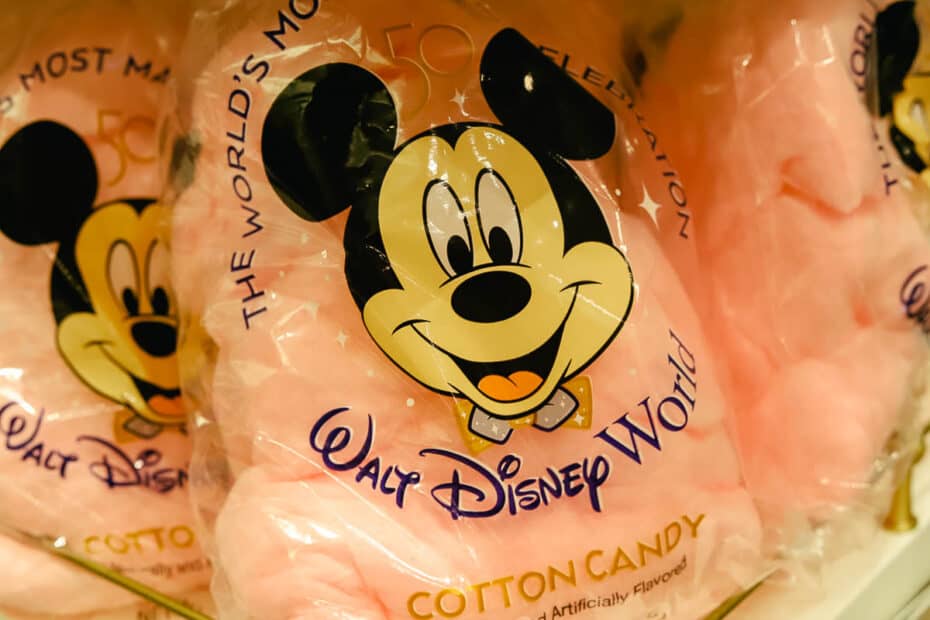 We'll wrap things up with a few colorful photos.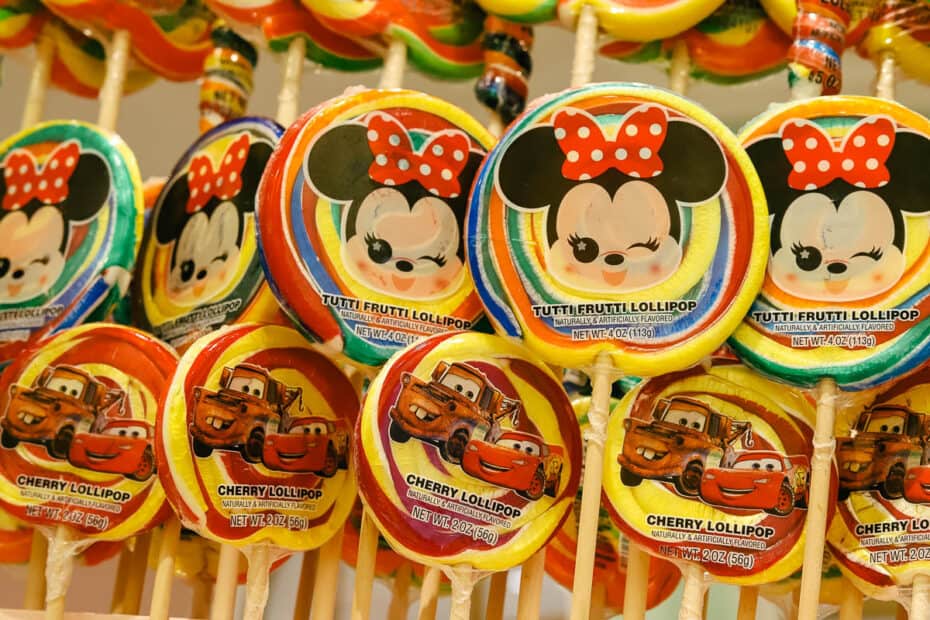 I hope you enjoyed this photo post of Magic Kingdom's Confectionery. It was much fun putting it together.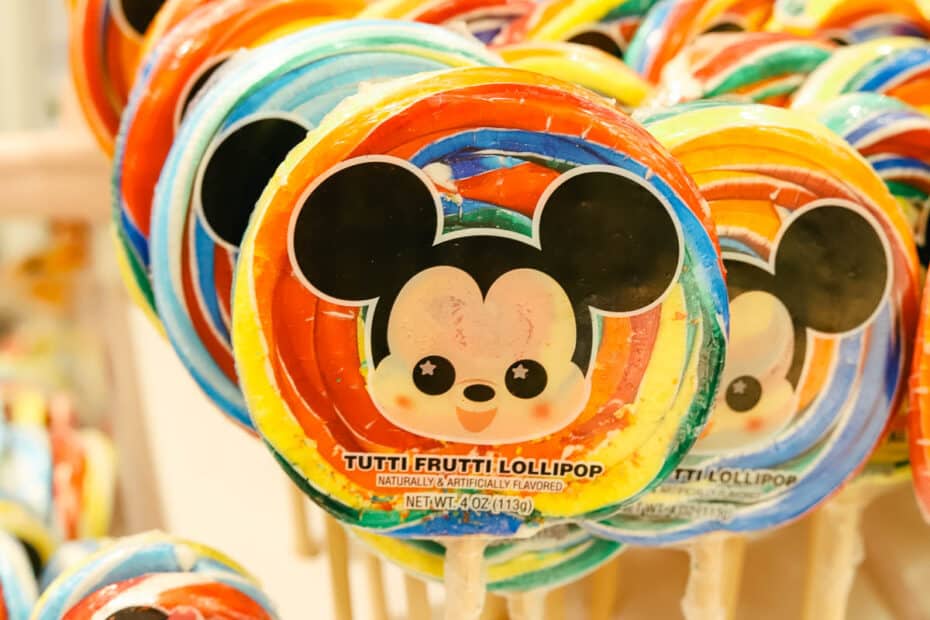 For more details, all of our articles for Magic Kingdom are listed in our guide.
Related: Magic Kingdom Planning
Here are a few favorites:
In the comments
What is your go-to treat at Main Street Confectionery? Are you old-school, or do you enjoy trying all of the latest treats? Also, what do you think of the remodel?