Dumbo, The Flying Elephant at Walt Disney World
Dumbo, The Flying Elephant, is a spinner-style attraction in Storybook Circus, which makes up part of Magic Kingdom's Fantasyland. This attraction was an original opening day attraction when the park opened in 1971.
Since the park's opening, Dumbo has undergone multiple refurbishments and was relocated to this area of the park some time ago. During its last renovation, an identical Dumbo was added. They now sit next to each other but fly in different directions.
This article details everything you'll need to know to experience this classic attraction on your next vacation. We'll discuss info, including who is best suited for this ride, the best time to ride, and whether or not you'll need Genie+ for the location.
Dumbo is often called a spinner. But in all actuality, it's a hub and spoke ride because the ride vehicle circles or spins around a central hub element.
Children will want to ride Dumbo and similar attractions during your vacation. Often, this style of simple ride is the thing that children end up enjoying the most.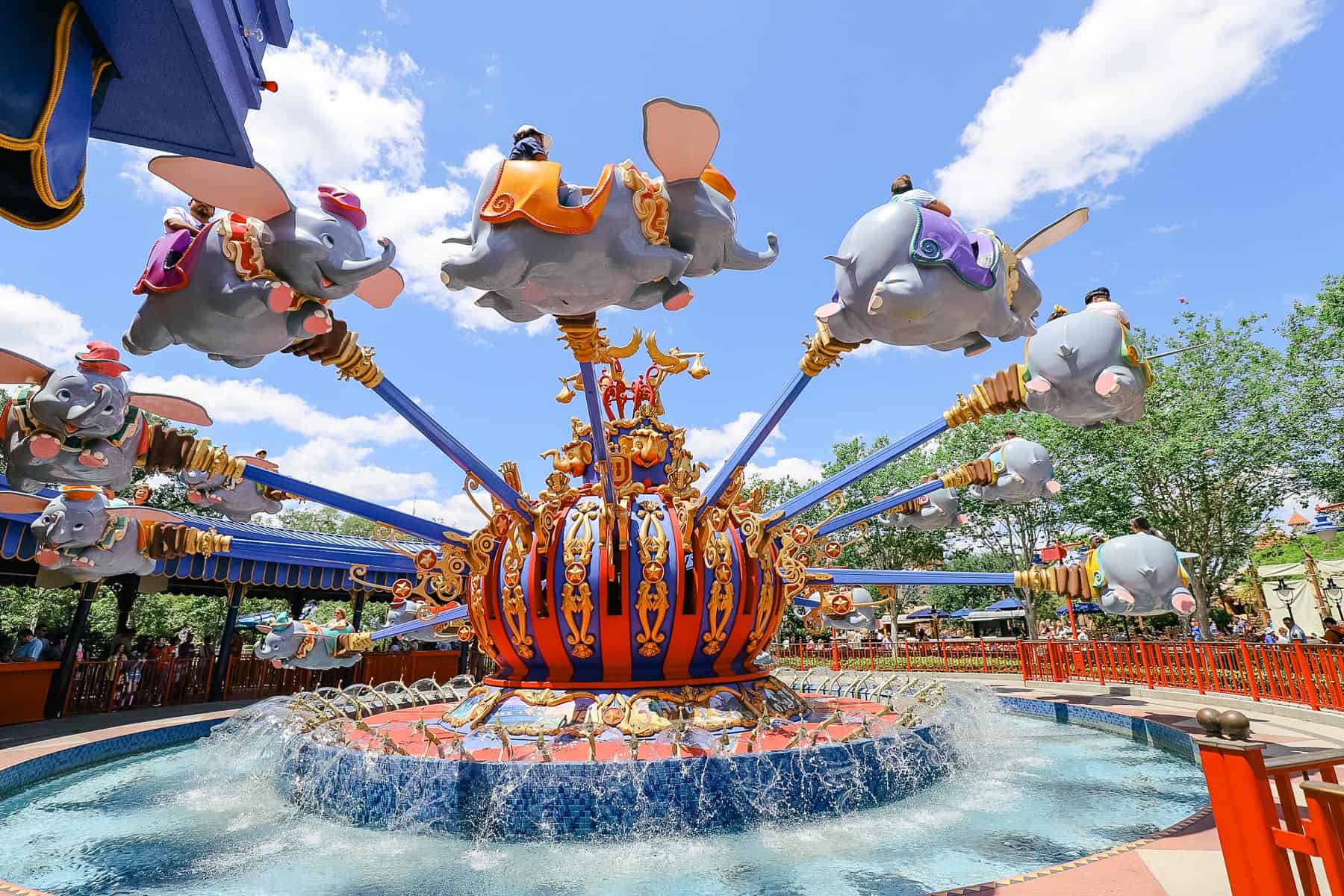 Here are the quick reference details for Dumbo.
Dumbo, The Flying Elephant
Magic Kingdom

Location:

Storybook Circus

Disney Height Requirement:

None

Eligible for Disney Genie+

Yes

Ride Type:

Spinner

Seats Per Vehicle:

Two guests or one adult with
two small children.

Rider Switch:

None

Good For:

Children

Scare Factor:

Low

Must-Do List:

Medium

Perfect For:

All Ages


Special Mention:

There is a play while you wait area inside the circus tent. It makes an excellent spot for small children to take a break.
Dumbo, The Flying Elephant
Dumbo, The Flying Elephant sits just past the entrance of Storybook Circus. It's on the immediate right once you enter the land.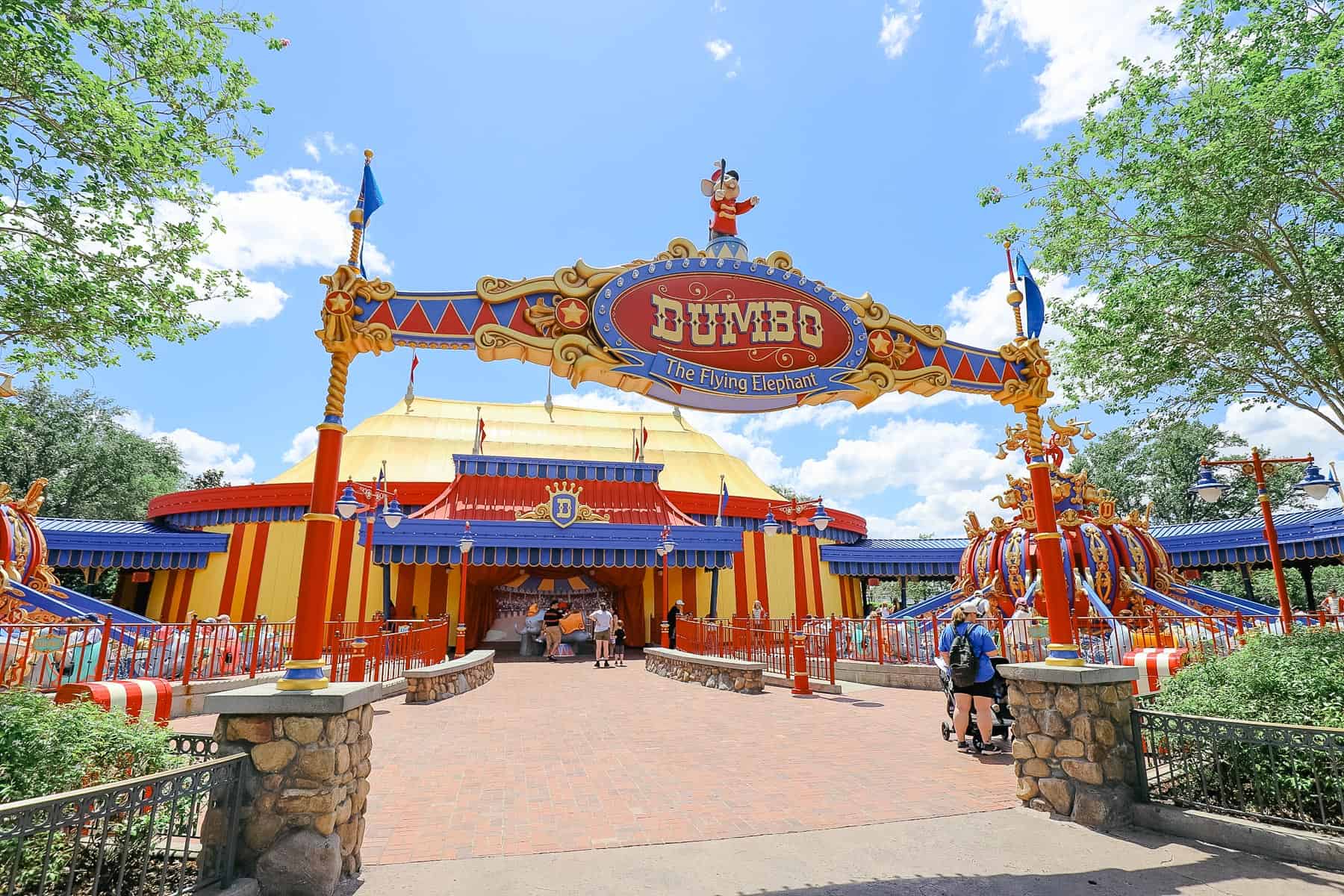 Timothy Mouse is perched over the entrance. If you look closely, you'll realize he is spinning. The back of the signage reads, "Believe and Soar!" He's also holding a magic feather.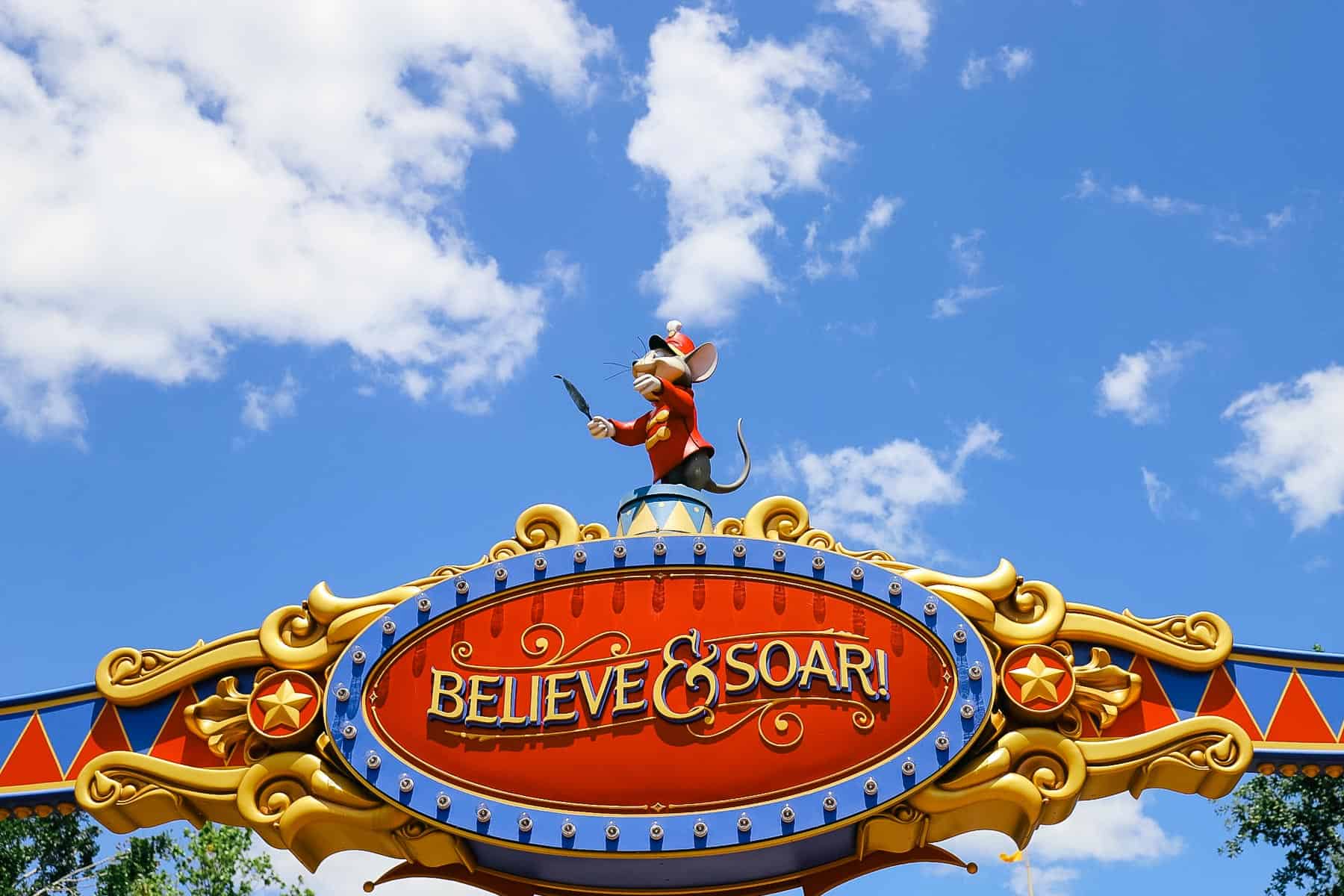 Two spinners sit side by side. One queue is dedicated to Lightning Lane, and the other is a standby line.
In most cases, you won't need to use an individual Lightning Lane at this attraction. However, it's not uncommon for this attraction to have waits of up to 30 minutes during the busier portions of the day (i.e., mid-morning to early evening).
Dumbo doesn't have any height requirements. However, guests in a wheelchair or ECV must transfer to ride this attraction.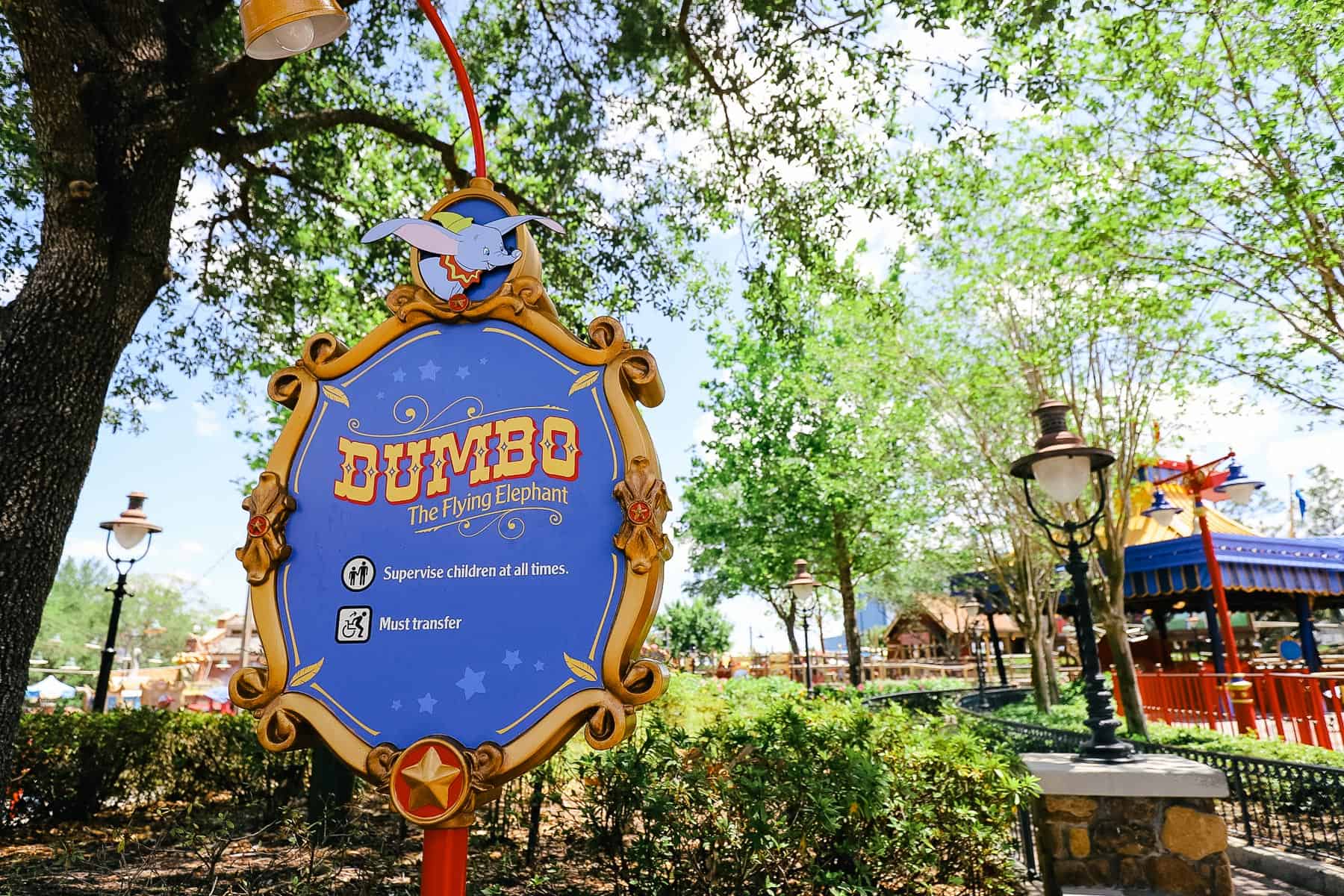 After entering the queue, you'll head inside a giant circus tent. A cast member will ask if you want to play or ride. This area is called a "play-while-you-wait" area.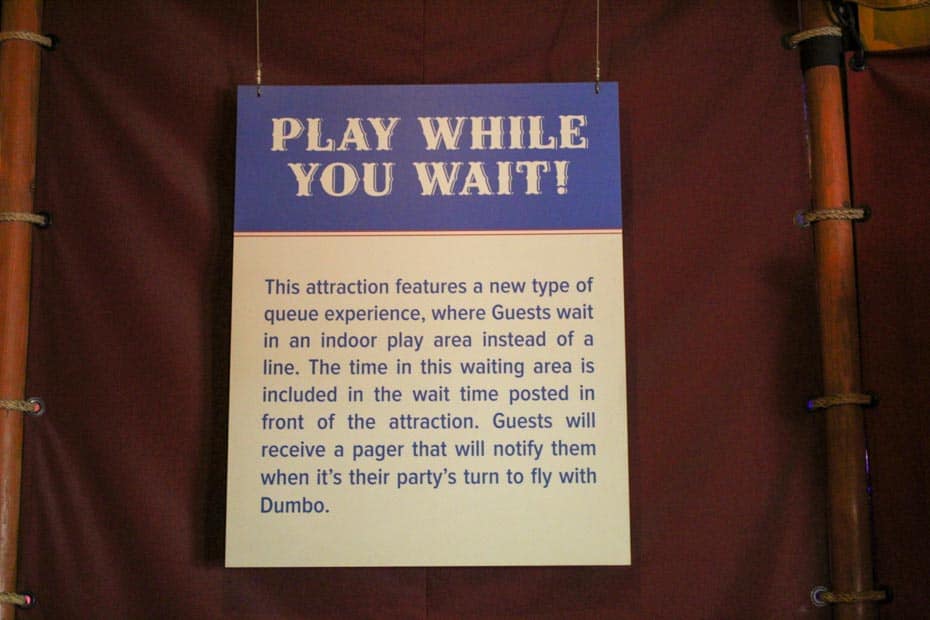 If you decide to play, the cast member will provide a pager that looks like a circus ticket. When the pager goes off, it's your turn to ride.
The area is set up like an indoor playground with bleacher-style seating. Many parents bring their children back here to let them play.
So if you're in the area and need a break, this is an excellent spot with air conditioning. You don't have to ride Dumbo to take advantage of the play area.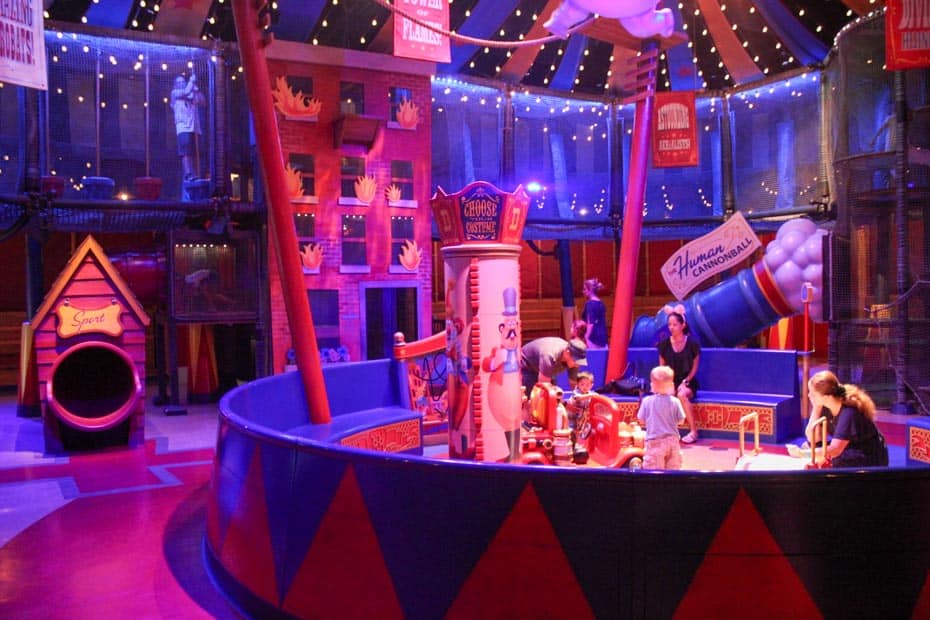 Of course, if you don't want to play, inform the cast member, and they'll let you continue through to the regular line. You'll then head back outside and wait your turn.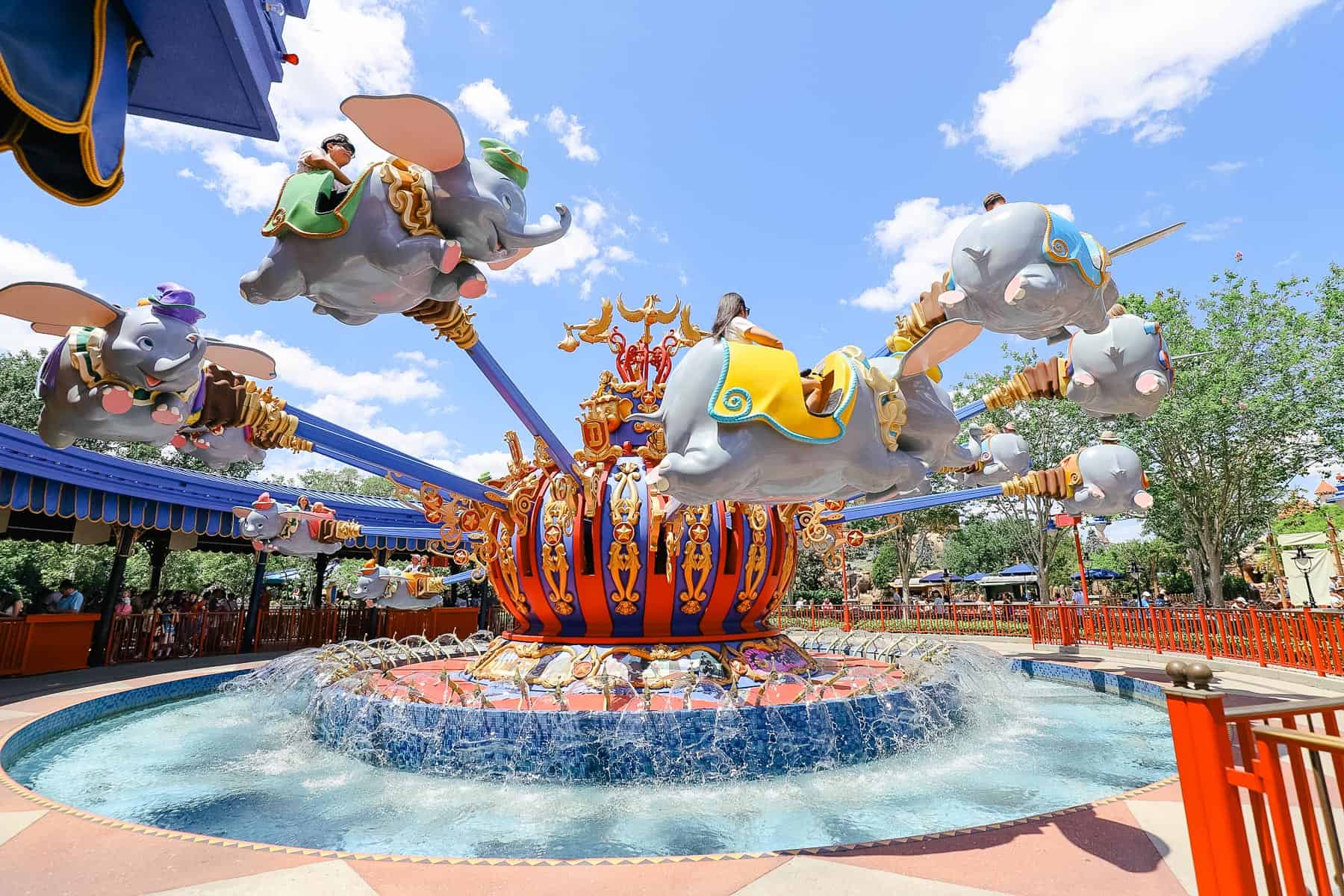 When it's your turn, you can pick any Dumbo ride vehicle that's available. Kids under the age of seven years old must sit on the inside of the ride. A cast member will check that you're buckled with the lap seatbelt restraint.
When the ride starts, a joystick lever allows you to move the Dumbo up and down. Riders can soar high or stay low if they want.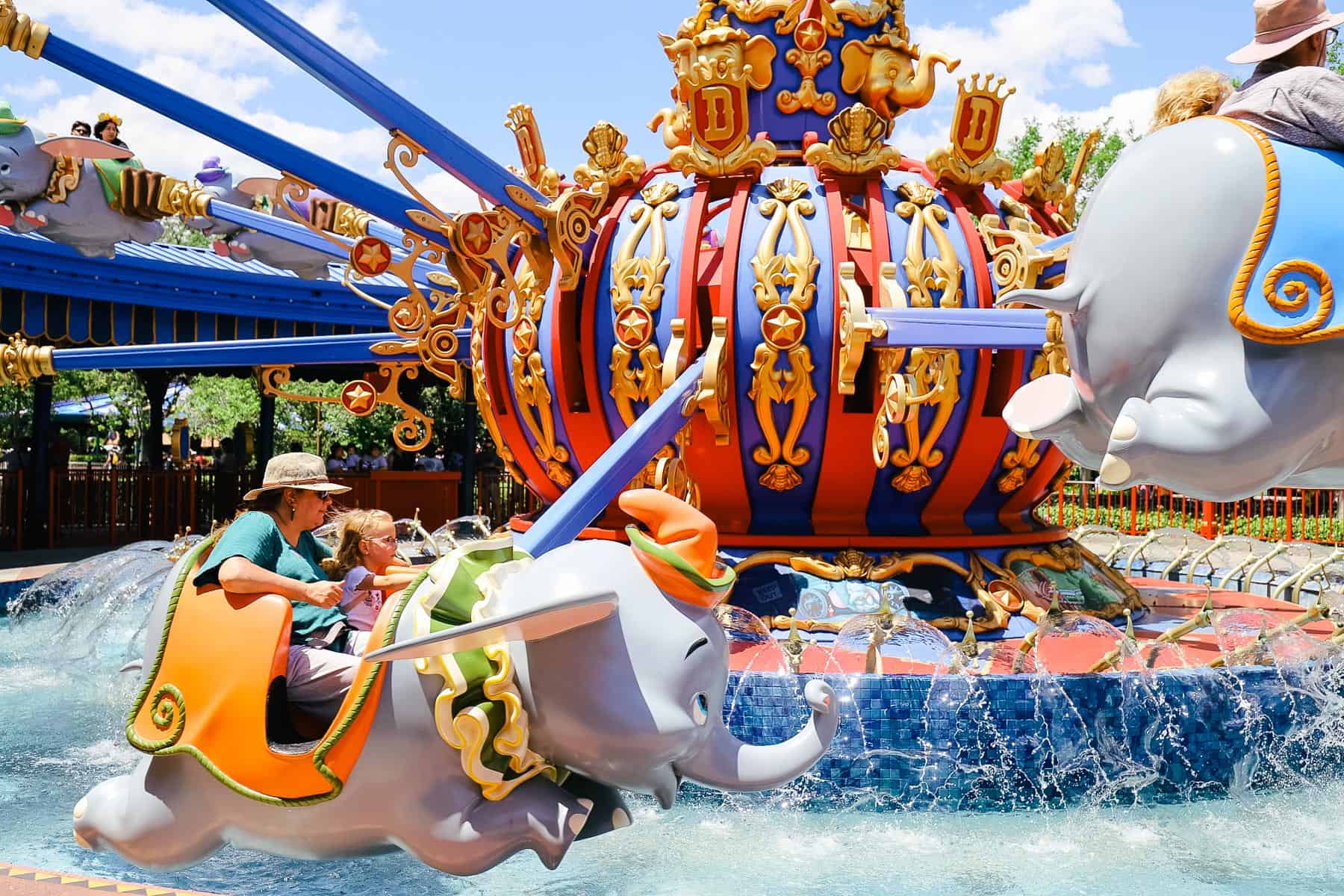 Toward the end, all of the Dumbo's will float to the top and circle a few laps before descending back to the ground.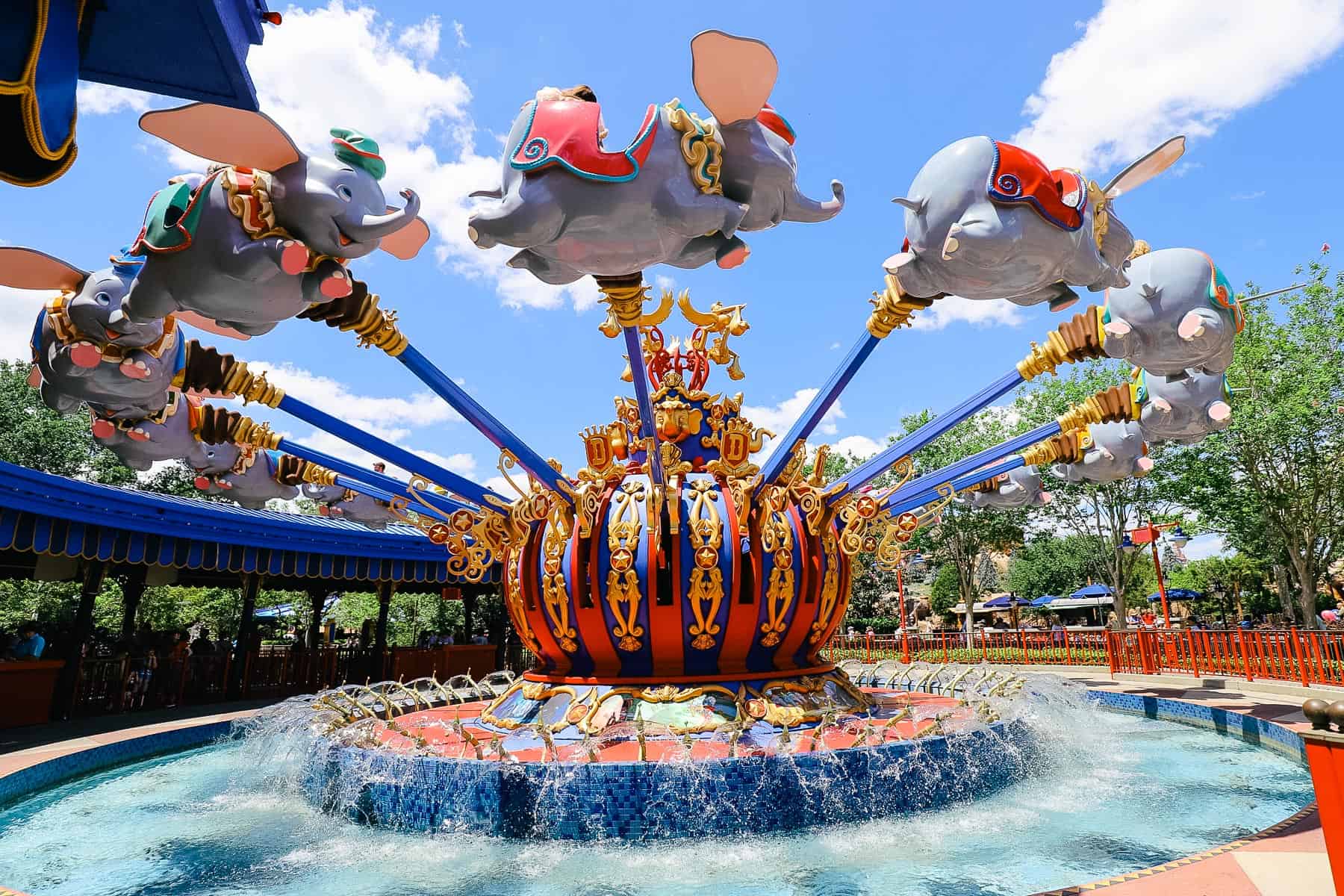 A Few Tips
When Dumbo re-opened in this new location, the ride was extremely busy most of the day. So the idea of the play area was to allow guests to have a little fun time instead of standing in line.
These days the wait time for Dumbo, the Flying Elephant, is rarely over 20 minutes. Of course, there are always a few exceptions. But thankfully, the attraction has a decent capacity with two spinners.
If your child loves Dumbo, you'll want to ride a few other spinners, like the Magic Carpets of Aladdin at Magic Kingdom and Triceratop Spin at Disney's Animal Kingdom.
Lastly, there is a fun photo opportunity outside the attraction. A solo Dumbo sits between the two spinners. However, it is not part of the line.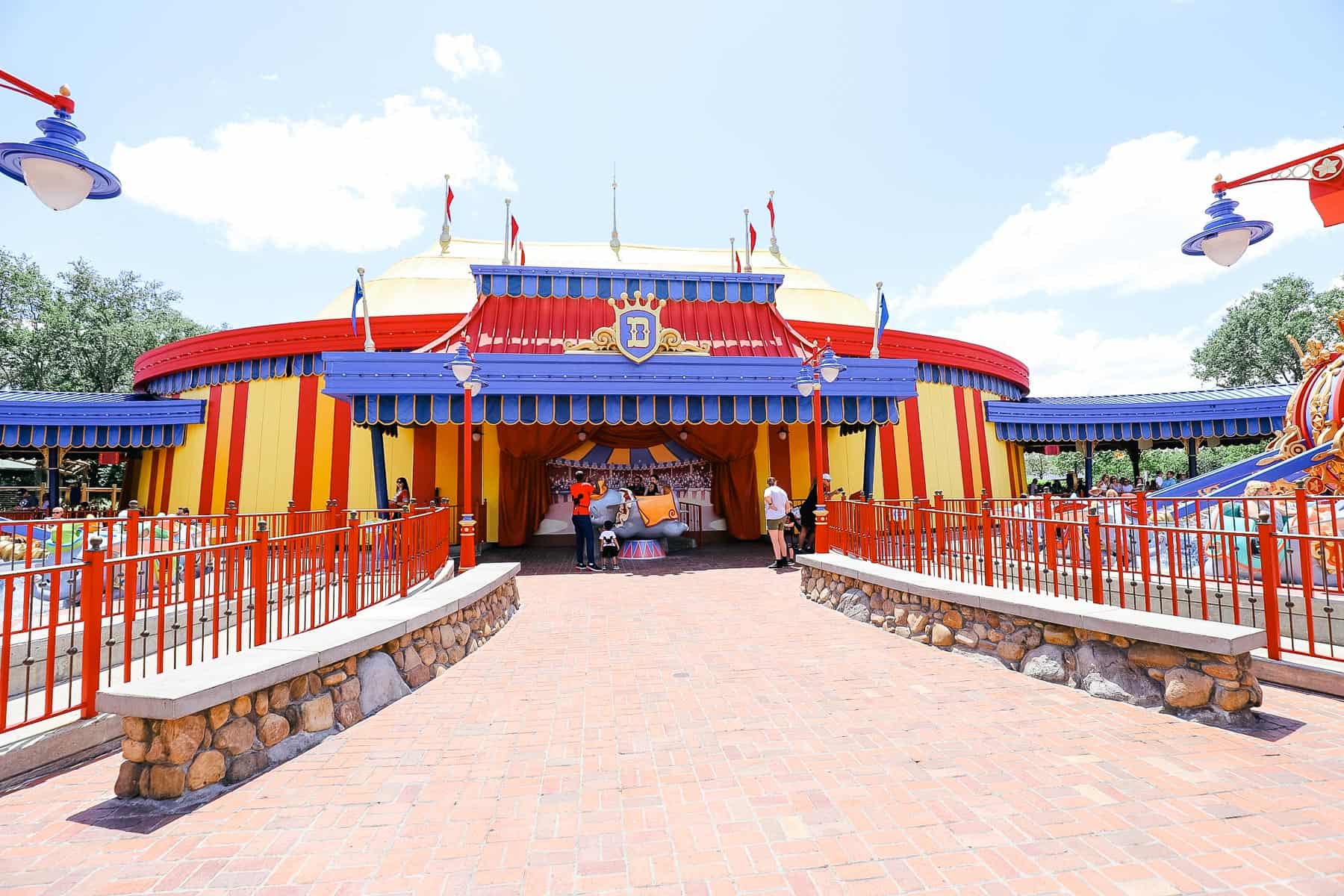 Children can sit inside the elephant and test it out. It also gives you plenty of time to take a few photos instead of trying to take them when boarding the ride.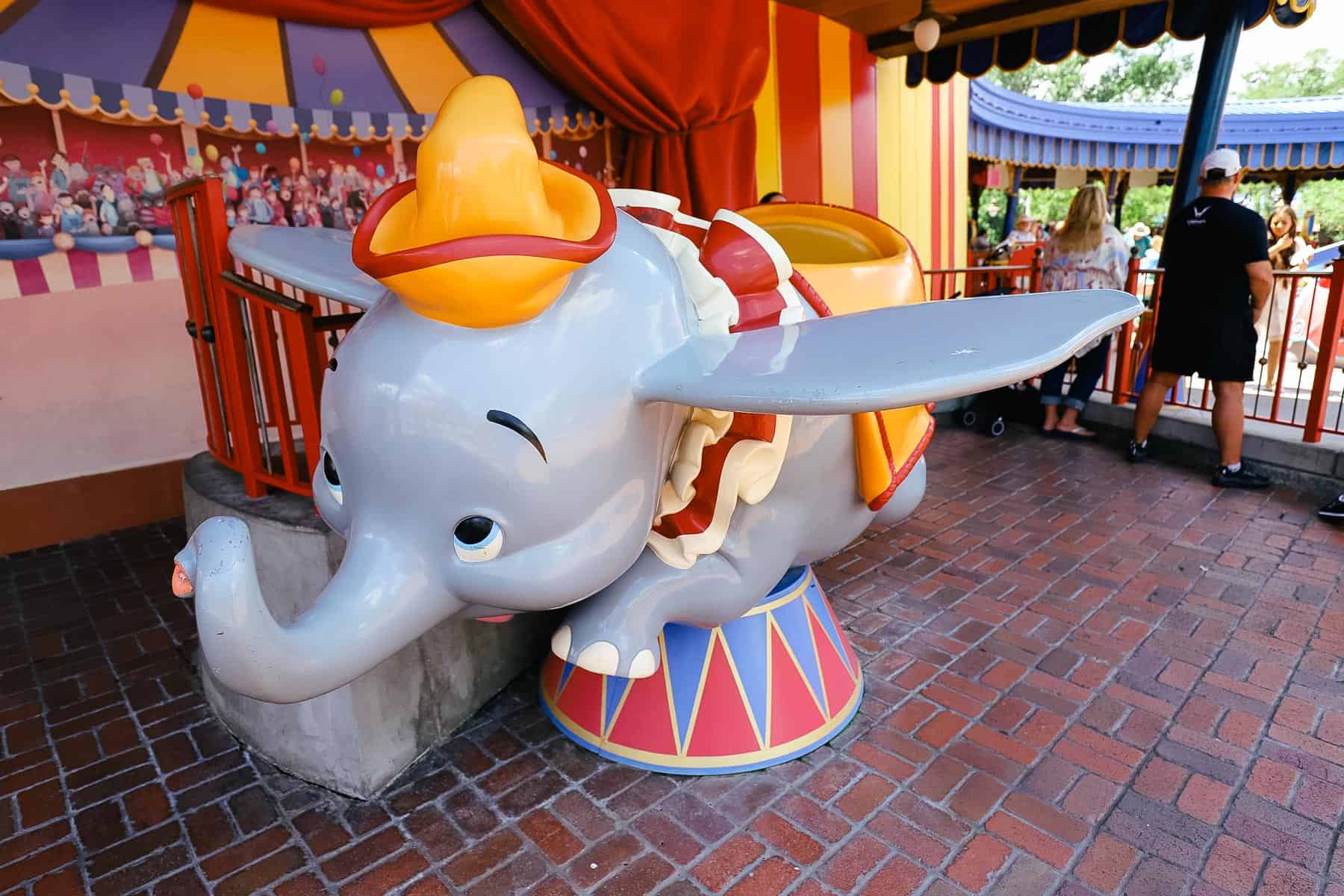 Overall, Dumbo is a timeless attraction that's fun for children and adults alike. For the best time to ride, visit the area after sunset. Wait times will be almost non-existent.
If you ride during the last hour or so of the park open, you can usually stay on the ride a couple of times if no other guests are waiting. The same goes for the nearby Barnstormer.
Related: Goofy's Barnstormer Kiddie Coaster
The following attractions are located in the immediate area of Dumbo, the Flying Elephant.
Are you planning to spend a decent amount of time at Magic Kingdom on your next trip? Then, you might consider staying in the middle of the magic at one of the resorts near Magic Kingdom.
Those resorts are detailed in these reviews:
For other planning information, you might enjoy these other popular articles:
Lastly, our most popular reviews include the timeline of Loungefly Disney backpacks and the list of best Disney Springs Restaurants.
Hopefully, this article was helpful in providing details for riding Dumbo during your next vacation.
In the comments:
Do you have any questions about Dumbo, the Flying Elephant? Do you remember this classic attraction from your childhood?