Enchanted Tales with Belle at Disney World
In this article, we visit Enchanted Tales with Belle at Disney's Magic Kingdom. This interactive experience offers a unique opportunity to see Belle, meet new friends, and be part of the show if you like.
Enchanted Tales with Belle is in New Fantasyland before you get to Be Our Guest Restaurant. You'll see a sign for the attraction outside of the entrance.
After you enter the queue, you'll step back in time as you visit Maurice's cottage. Here you'll see Maurice's workshop, where he's constantly inventing things.
Before long, you're magically transported to the Beast's castle, where Belle is waiting. She'll need a few volunteers to help take part in the interactive show.
Of course, I'm getting a little ahead of myself. So let's take a more detailed look at the entire experience.
This article was updated on February 20, 2023.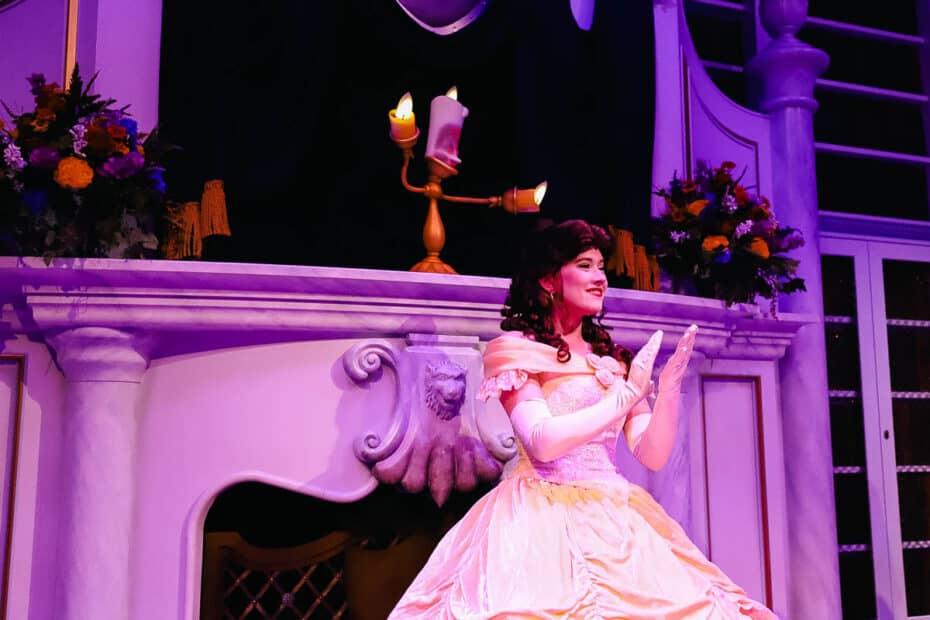 Here are the need-to-know details for experiencing Enchanted Tales with Belle.
| | |
| --- | --- |
| Enchanted Tales with Belle | Magic Kingdom |
| Location: | New Fantasyland |
| Height Requirement: | None |
| Disney Genie+ Eligible | Yes |
| Ride Type: | Interactive Performance |
| Seats Per Vehicle: | Theater Rows |
| Rider Switch: | None |
| Duration: | Approx 20 minutes |
| Good For: | Unique interaction with Belle |
| Scare Factor: | None |
| Must-Do List: | Medium |
| Perfect For: | All Ages |
| Special Mention: | Children receive a bookmark and PhotoPass card with pictures specifically from their experience. |
Enchanted Tales with Belle
Anyone with a heart for reading or fans of Beauty and the Beast will want to experience Enchanted Tales with Belle at Walt Disney World. This is an endearing attraction that is unique compared to others.
First, you'll want to decide whether to wait in the standby queue for this attraction or use an individual Lightning Lane. When waits are significant, using the Lightning Lane for this attraction could reduce your wait. This attraction is included in the regular Genie+ upgrade.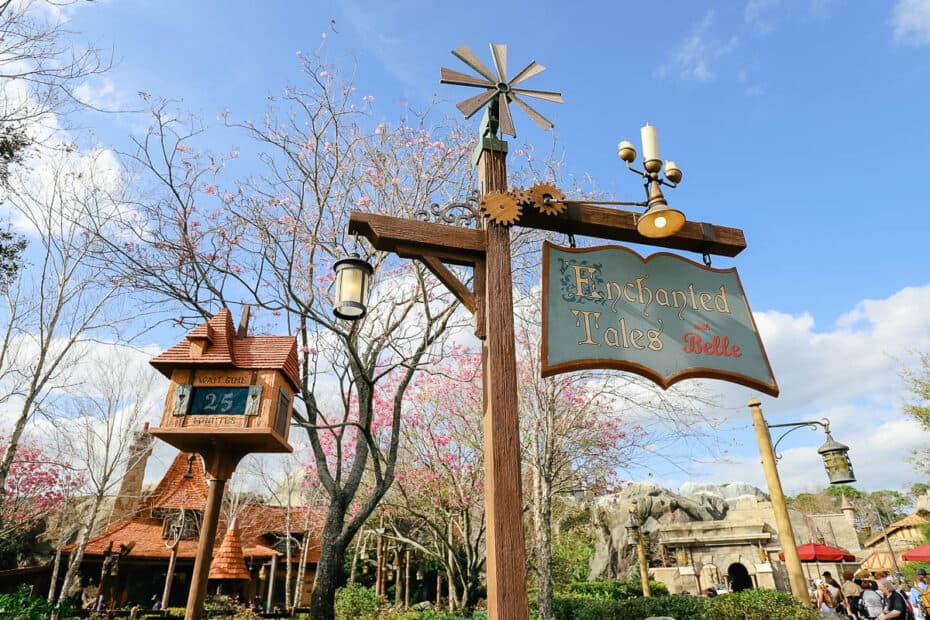 After entering the first room of Maurice's quaint country cottage, you'll notice some charming decor. Guests using Lightning Lane will bypass this room and enter straight into the workshop.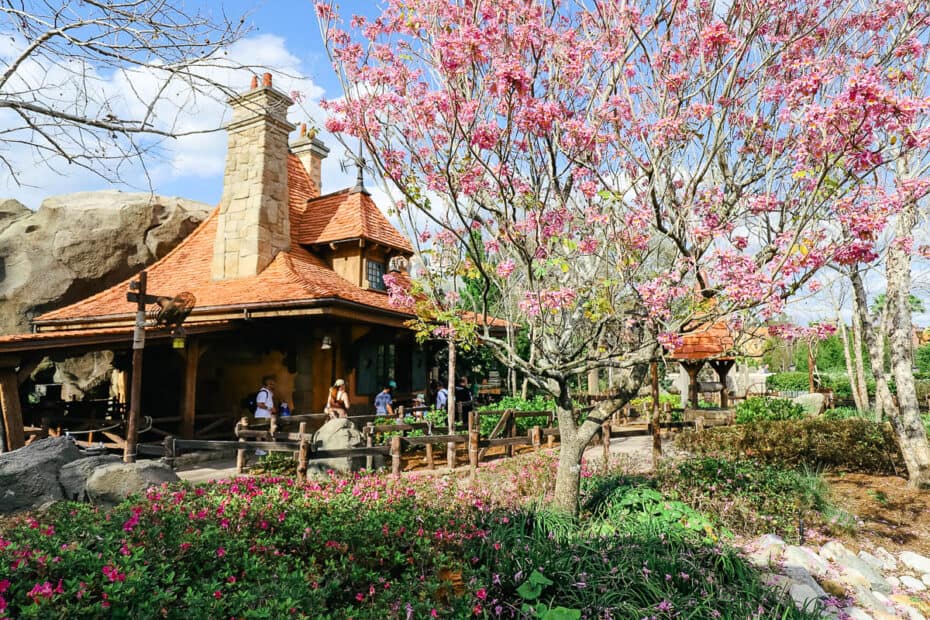 Inside the workshop, a magic mirror serves as a portal to the Beast's castle.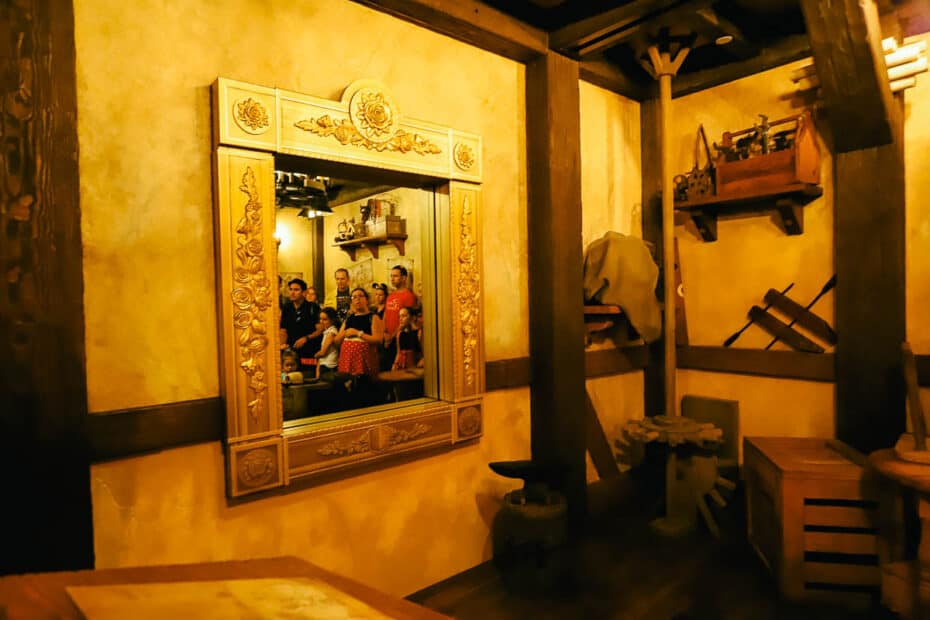 Of course, you won't know it's a magic mirror at first glance. Meanwhile, a cast member asks questions to gauge how much guests know about Beauty and the Beast.
Suddenly, the mirror begins to transform, and it turns into a passageway. A child standing next to us stated, "This is magical." She was right.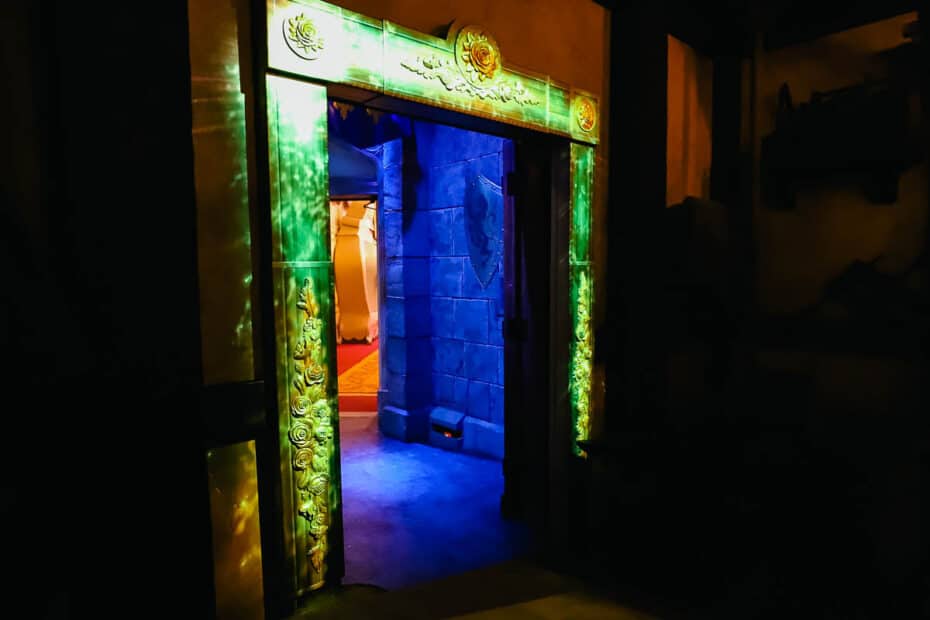 We were then invited to step through the special enchanted mirror. Here the enchanted wardrobe awaits with a few props to help you participate in the story.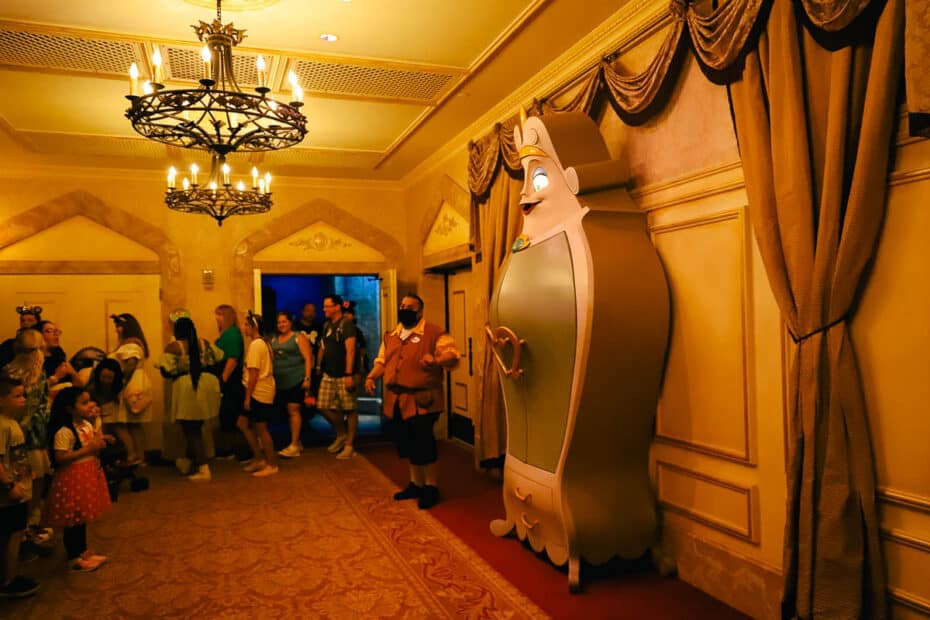 With the help of a cast member, children (and adults) are selected to participate in the re-enactment of Beauty and the Beast. Thankfully, guests do not have to worry about not getting picked. While there are a few more active roles, anyone that wants to participate will be given a part.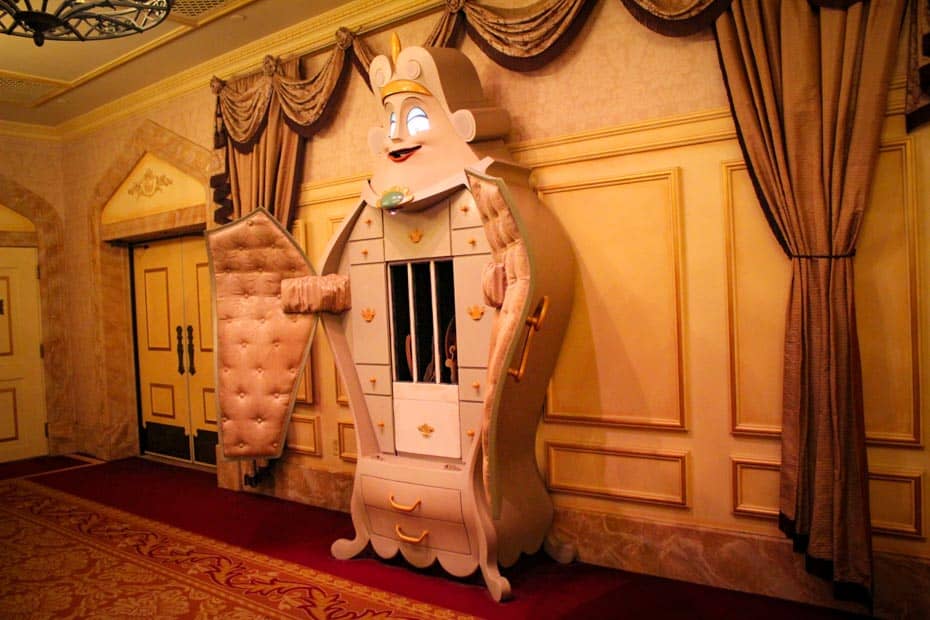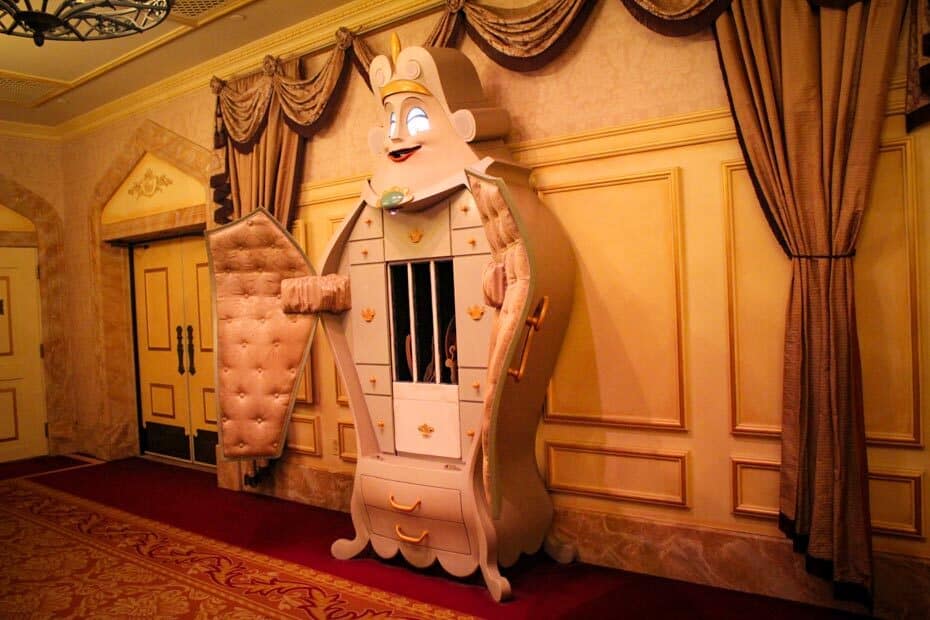 Another note is that parents shouldn't be too worried if they have a shy child. From my experience, the cast members seem to know just how to handle the kids.
They do an excellent job of asking them to participate without making a big deal. However, if a child doesn't step forward on their own, they will not be given a part.
Some of the feature parts include two suits of armor, the Beast, Maurice, Phillipe, Mrs. Potts, Chip, and Madame Wardrobe.
You'll then enter Belle's library, where Lumiere is waiting on the mantle above the fireplace. Everyone grabs a seat on the benches while participants sit on the floor close to the front.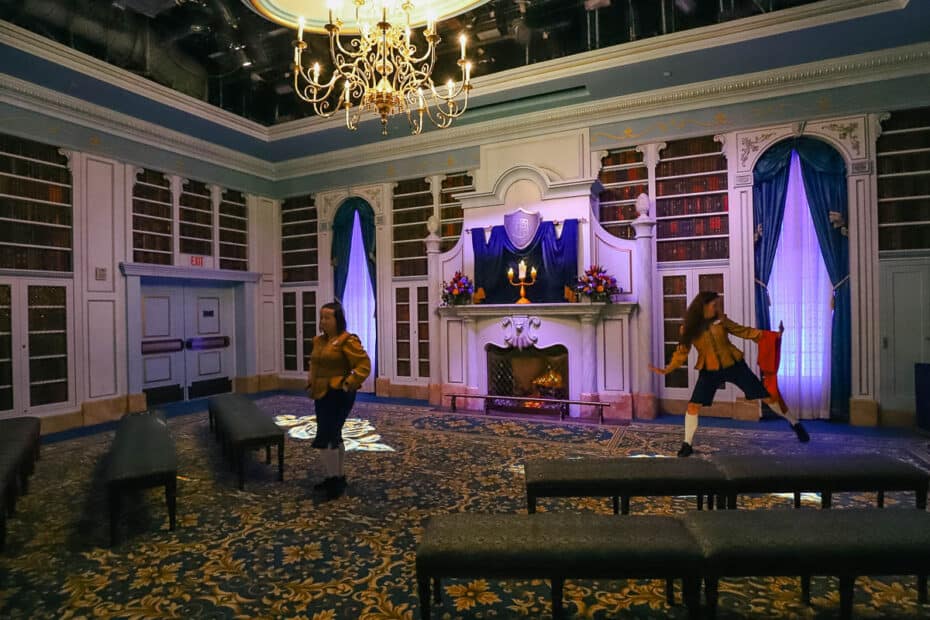 Lumiere dims the lights, and then Belle enters the room. At this point, everyone yells, "Surprise!"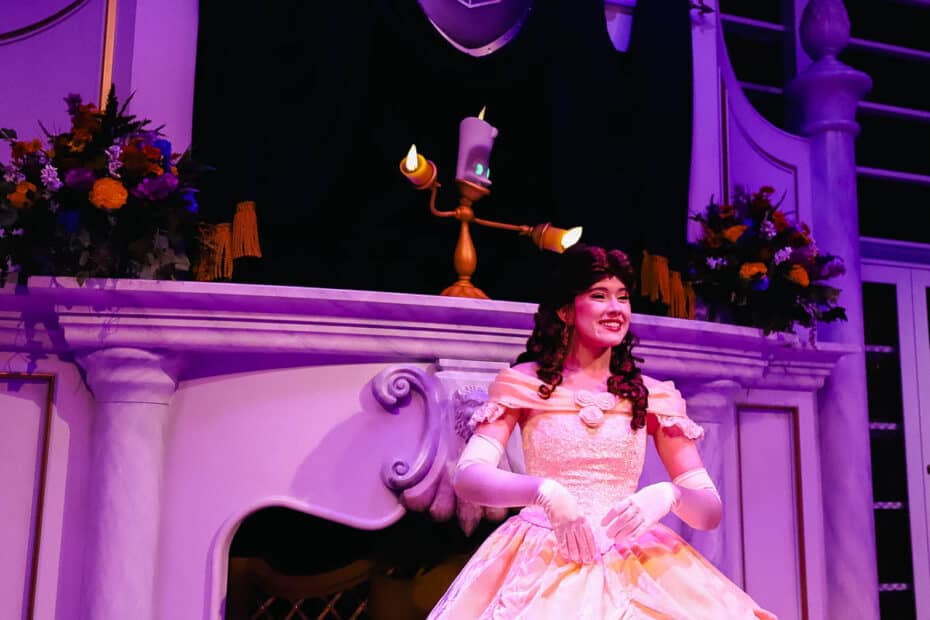 Lumiere then narrates the story of how Belle and the Beast meet. Cast members provide cues and help the children participate when it's their turn in the story.
Enchanted Tales with Belle Video
Here's a video we took of the experience:
Overall, it takes approximately 20 minutes to experience Enchanted Tales with Belle. Toward the end, children will have a brief opportunity to have their photo taken with Belle.
A PhotoPass photographer takes pictures during the library portion of the experience. When you exit, they will provide a card that allows you to download photos from the show.
In addition, Belle gives each child a special bookmark to commemorate their visit.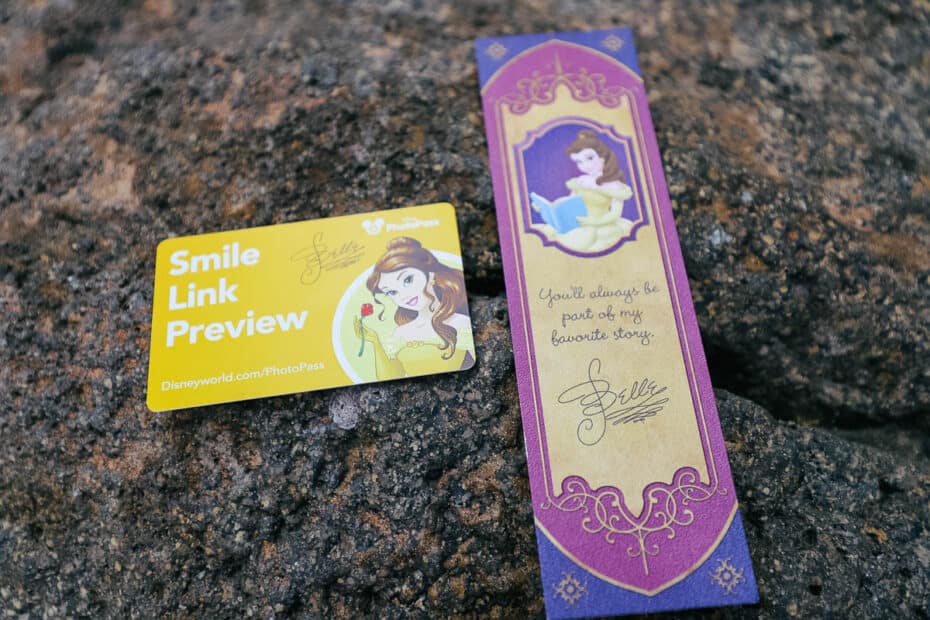 While this isn't a formal meet-and-greet opportunity, most will agree it's an excellent way to interact with a character. Everyone always seems to enjoy the show, and children get excited to participate.
Since Enchanted Tales with Belle has returned, Belle no longer has a formal meet-and-greet at Magic Kingdom. However, you can see her daily at Magic Kingdom in the Festival of Fantasy Parade.
You might also like to see her in the other Disney Parks. We have a complete list of places to meet Belle at Disney World.
For more attractions at Magic Kingdom, you might enjoy the following:
Resorts Gal specializes in Disney World Resorts, Characters, and Dining. For the Magic Kingdom Resorts Area, you might enjoy a stay at one of the following:
Those considering all of their options might consider staying off-site. If so, we have a list of our recommendations for the best off-site hotels near Disney World.
If you plan to meet characters in the parks, I keep an updated list of Disney World Characters. That page links to every meet available in each of the four parks. And you might like to try our complete overview of character meals at Disney World.
In the Comments
Do you plan to experience Enchanted Tales with Belle on your next Disney vacation? Do you have any questions about the experience?
Planning a Walt Disney World or other Disney Destination vacation?
Our friends and travel partner, Firefly Travels, excels at doing Disney differently. You can fill out a plan your trip form on their website, and someone will reach out shortly to discuss the specifics.