Enchanted Tales with Belle at Disney World
Enchanted Tales with Belle is an attraction located in Magic Kingdom park at Walt Disney World. You'll step back in time as you enter Maurice's and Belle's cottage to experience Enchanted Tales.
Before long, you're magically transported to the Beast's castle, where Belle is waiting. And she'll need a little help from you. Let me explain.
This article covers Enchanted Tales with Belle, what to expect, and a few tips and reminders for the experience.
2022 Update: Enchanted Tales with Belle has not re-opened as of this update.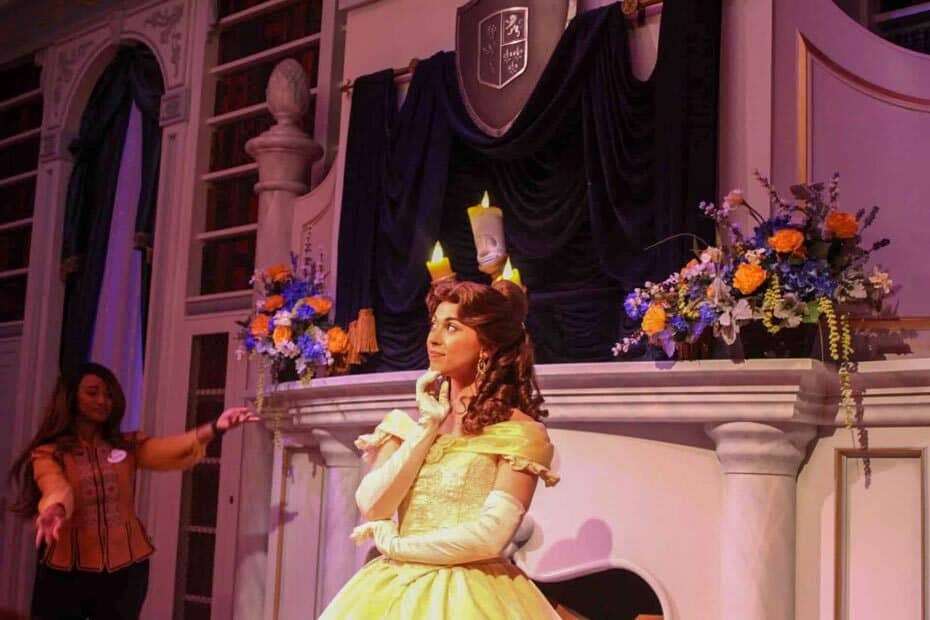 Enchanted Tales with Belle is located in the New Fantasyland area of Magic Kingdom. Here are the need-to-know details for experiencing this attraction.
Enchanted Tales with Belle
Magic Kingdom

Location:

New Fantasyland

Height Requirement:

None

Disney Genie+ Eligible

Yes

Ride Type:

Interactive Performance

Seats Per Vehicle:

Theater Rows

Rider Switch:

None

Duration:

Approx 20 minutes

Good For:

Unique interaction with Belle

Scare Factor:

None

Must-Do List:

Medium

Perfect For:

All Ages

Special Mention:

Children receive a bookmark and PhotoPass card with
pictures specifically from their experience
Enchanted Tales with Belle
Anyone with a heart for reading or fans of Beauty and the Beast will want to experience Enchanted Tales with Belle at Walt Disney World. This is an endearing attraction that is unique compared to others.
How does Enchanted Tales with Belle work?
Guests are invited into Belle's cottage in groups, where they are offered the opportunity to have a role in the interactive experience.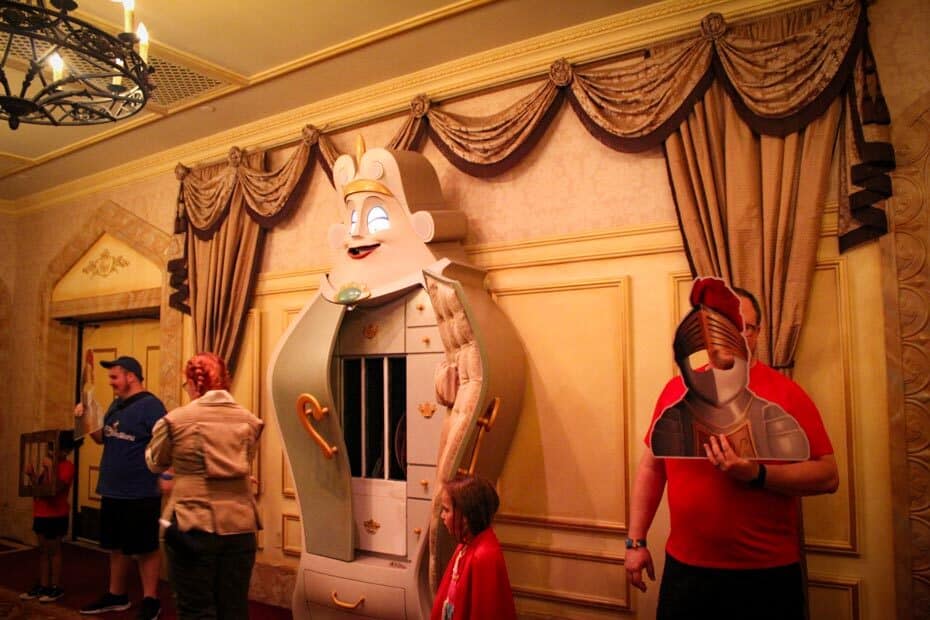 Children are allowed to participate before anyone else. And don't worry about your child not getting picked. While there are a few more active roles, anyone that wants to participate will be given a part.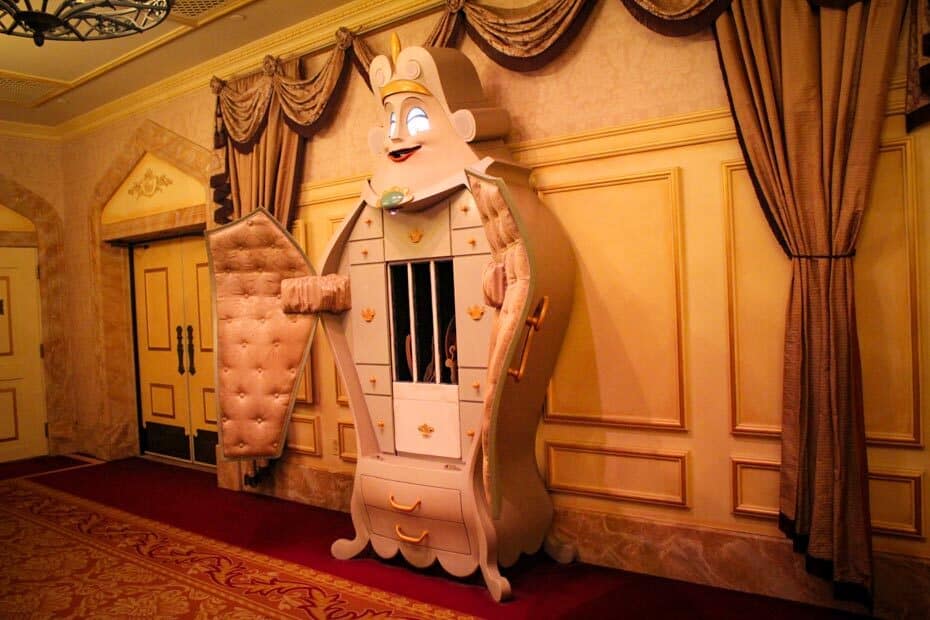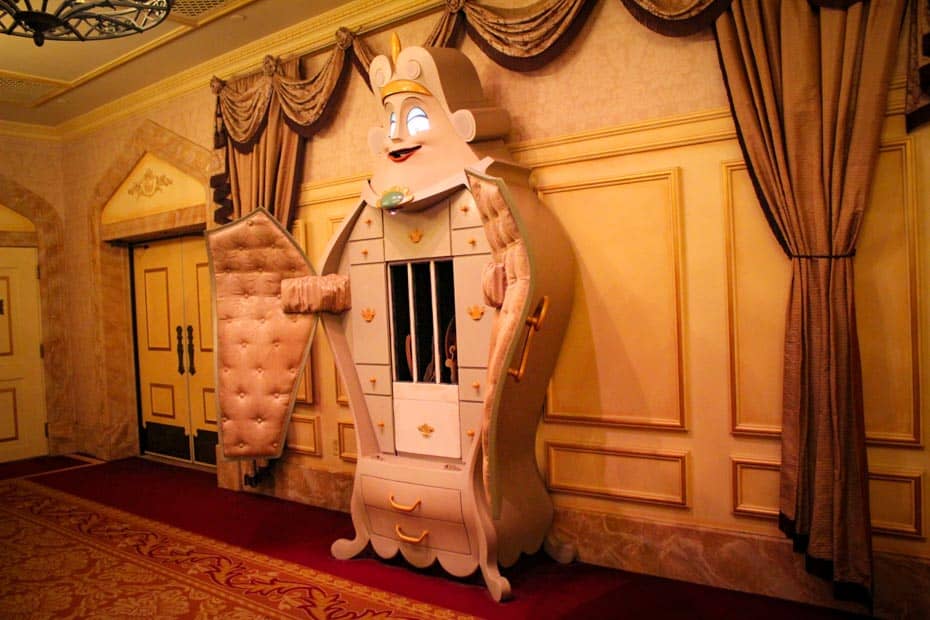 Another note is that parents shouldn't be too worried if they have a shy child. From my experience, the cast members seem to know just how to handle the kids.
They do an excellent job of asking them to participate without making a big deal out of it.
After roles are assigned, you'll gather around a room in the cottage and a door magically appears through the mirror.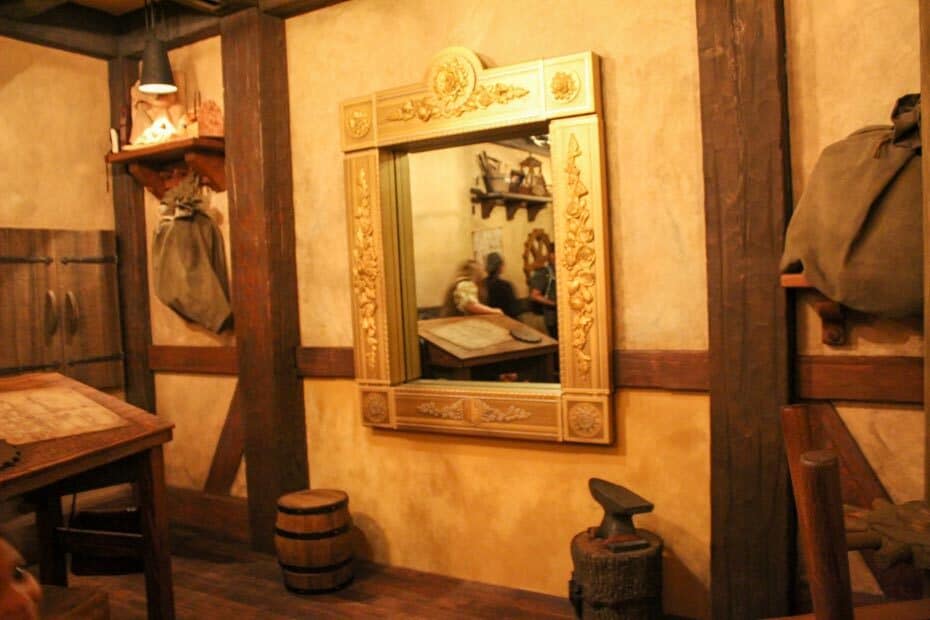 Step through, and you're transported to the Beast's castle. There Belle awaits, and she needs help telling a story.
There are several benches in the rooms for parents and adults. However, Belle will encourage the children to sit down in front where they can help.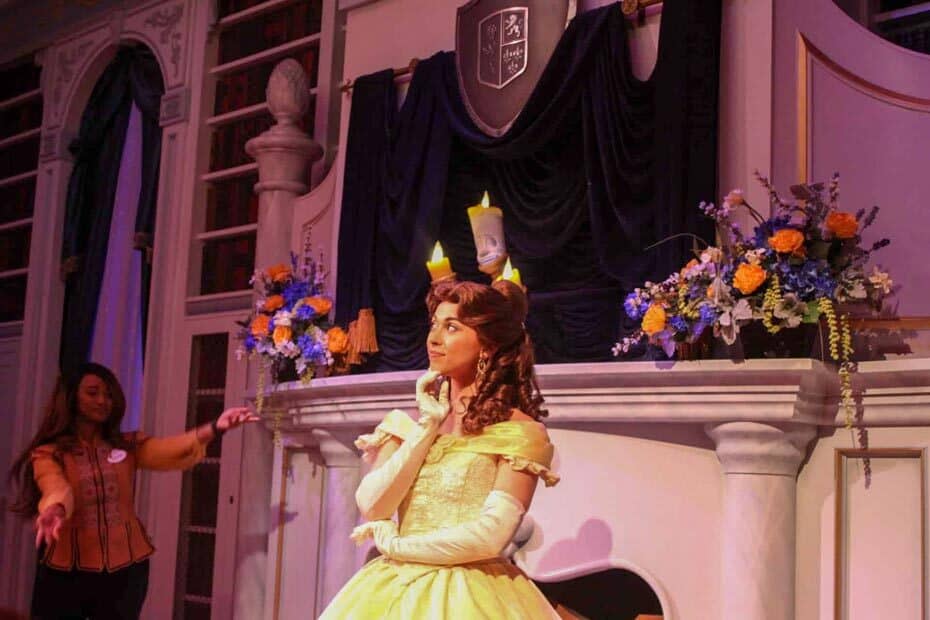 This attraction typically has reasonable wait times during the afternoon. It's good to experience when everyone needs a break from the rides.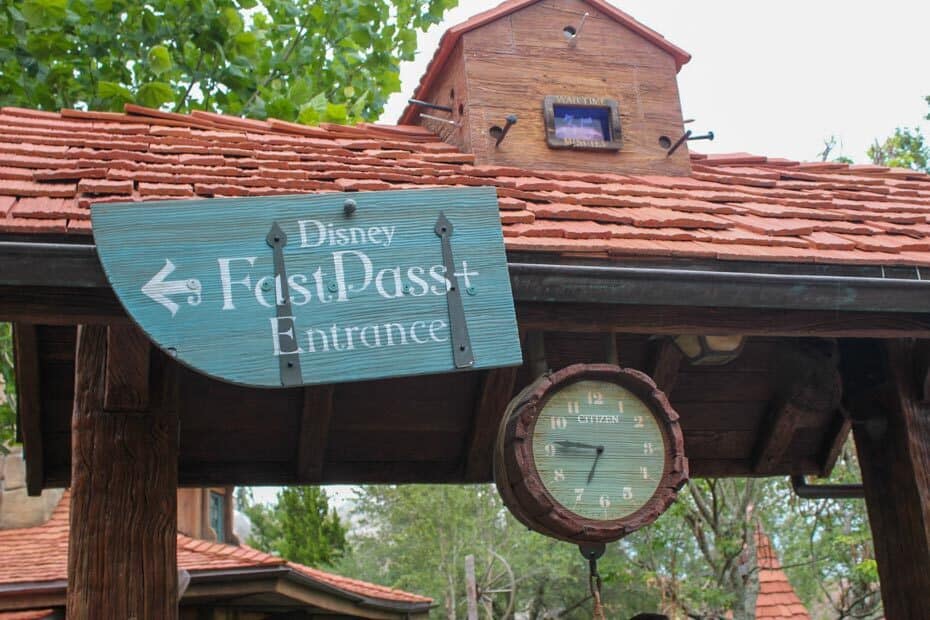 Enchanted Tales takes approximately 20 minutes for the entire interactive performance.
As mentioned above, children will receive a bookmark toward the end of the performance. In addition, there is usually a PhotoPass photographer taking pictures at Enchanted Tales with Belle.
While there isn't the opportunity to have a formal meet with Belle here, all children that participate will have some interaction with her. A cast member will hand you a photo card on your way out. You can download the pictures online if you don't have the Memory Maker.
Wanting to meet Belle on your next vacation? We have a complete list of places to meet Belle at Disney World.
Here's the entire walk-through of Enchanted Tales with Belle via YouTube if you would like to get a better idea: Complete Experience
Make sure to view the full Magic Kingdom attractions lineup or check out the other rides in the area:
Resorts Gal specializes in Disney World Resorts, Characters, and Dining. For the Magic Kingdom Resorts Area, you might enjoy a stay at one of the following:
Those considering all of their options might consider staying off-site. If so, we have a list of our recommendations for the best off-site hotels near Disney World.
We have a complete list of our Disney restaurant reviews available for planning dining reservations.
If you plan to meet characters in the parks, I keep an updated list of Disney World Characters. That page links to every meet available in each of the four parks. And you might like to try our complete overview of character meals at Disney World.
Lastly, our most popular reviews include the best restaurants at Disney Springs, and there is a timeline of Disney Loungefly mini-backpacks, Disney Dooney and Bourke, and Disney Ears.
Do you plan to experience Enchanted Tales with Belle on your next Disney vacation?