Fantasyland Station at Magic Kingdom
Fantasyland Station is one of three train stations at Magic Kingdom in Walt Disney World. This train station is located at the back of Storybook Circus near the Barnstormer.
Guests can board or depart the train when it stops at Fantasyland Station. Other stops include Main Street USA and Frontierland Station.
During the summer months, the train stations are usually open from 9:00 a.m. until 7:00 p.m. When it gets dark earlier, those hours are usually between 9:00 a.m. and 6:00 p.m.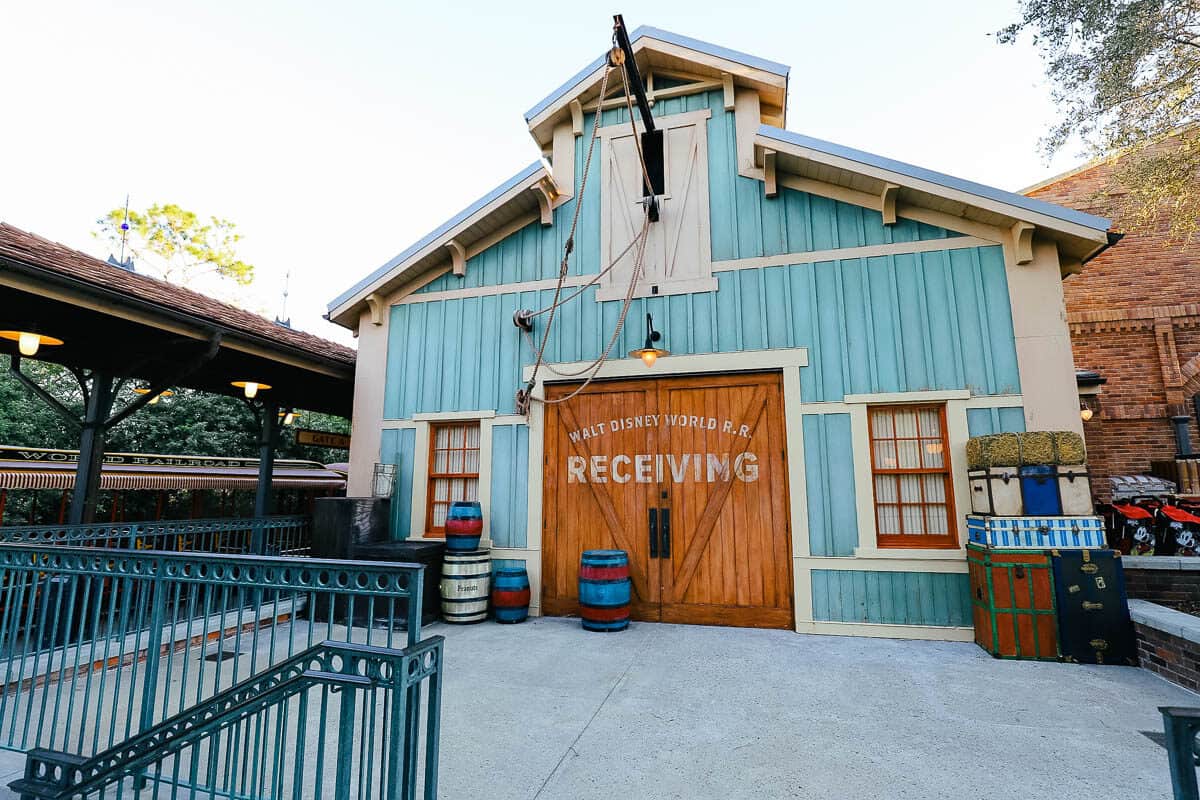 Here are a few details for Fantasyland Station:
| | |
| --- | --- |
| Fantasyland Station | Magic Kingdom |
| Location: | Storybook Circus |
| Height Requirement: | None |
| Disney Genie+ Eligible | NA |
| Ride Type: | Train Ride |
| Seats Per Vehicle: | Four to five per row. |
| Rider Switch: | None |
| Good For: | Transportation |
| Scare Factor: | None |
| Must-Do List: | Medium |
| Perfect For: | All Ages |
| Special Mention: | Grab a snack and take a break while the train circles the park. |
Fantasyland Station
Fantasyland Station is a convenient place to board the train. Additionally, the train station has a large covered waiting area.
We often catch the train at Fantasyland Station and take it to the front of the park. If you're in Fantasyland or Storybook Circus with plans to leave the park, you can catch the train here and disembark at Main Street, U.S.A.
From there, walk down to the ground level, and you'll be at the park's exit. If you were to time the train's arrival just right, it's probably the quickest way back to the front of the park. However, it does take some time for the train to load and unload.
We enjoy taking the train for leisure, but sometimes we use it to travel to specific areas of the park, especially when it's crowded. You can ride the train for as long as you like.
Guests can disembark at any stop or stay aboard and continue circling the park. Between Fantasyland Station and Main Street USA, you'll pass through Tomorrowland.
This portion of the ride offers unique views of Space Mountain, Tron, and the PeopleMover.
For more attractions, try our list of rides at Magic Kingdom. The following ones are within close proximity to Fantasyland Station.
Are you planning a Walt Disney World vacation? We specialize in providing information specific to Walt Disney World Resorts, characters, and dining. In addition, you might enjoy browsing our list of Disney Resort Reviews.
You might also be interested in checking out our guide to using the monorail at Disney World or our guide for the Disney Skyliner with travel times.
If you plan to meet characters in the parks, we keep an updated list of character meets at Disney World. It links to every character meet available in the four parks.
Lastly, our most popular reviews include the best restaurants at Disney Springs, and there is a timeline of Disney Loungefly mini-backpacks.
In the Comments
Have you ever visited Fantasyland Station at Magic Kingdom? Which is your favorite of the three stops?