A Visit to Disney World's Fantasyland
We are headed off to Disney World's Fantasyland as we continue along with our Magic Kingdom land series of reviews. Of all the lands at Magic Kingdom, Fantasyland is the largest.
When I think of Fantasyland, Walt Disney's statement about the parks comes to mind, "Here you leave today and enter the world of yesterday, tomorrow, and fantasy." It probably comes as no surprise that when asked about his favorite land (at Disneyland) he candidly replied, "Fantasyland."
Disney World's Fantasyland is home to some of the most endearing, classic attractions. It encapsulates, after all, a world of fantasy. Classic fairytales and dreams come to life here in this special land.
For this review, we'll specifically look into what rides, characters, dining, and shopping you can expect to find in Fantasyland.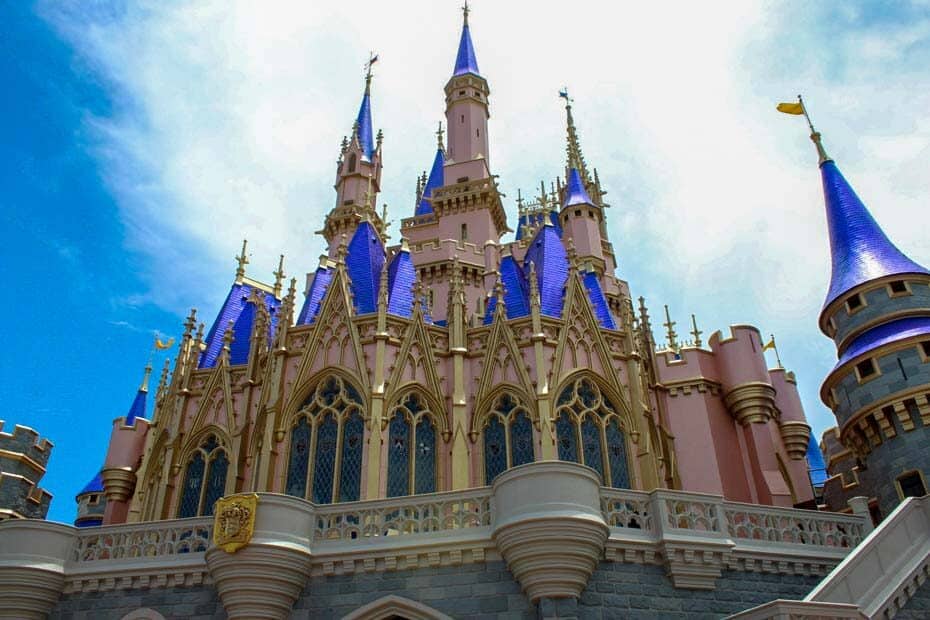 Fantasyland at Disney World
Since the Disney World Fantasyland is so large and has had several additions over the past few years, I have broken this review into sections. This specific post will focus on the original Fantasyland area in Magic Kingdom.
You might remember that we have already covered Storybook Circus which is home to Fantasyland rides like Dumbo and The Barnstormer.
And there's a second review that focuses on New Fantasyland, The Enchanted Forest. That portion of Fantasyland has the popular Be Our Guest Restaurant, Enchanted Tales with Belle, and the Seven Dwarfs Mine Train review.
Here are the Fantasyland rides and other attractions that we'll go over down below.
Attractions
Cinderella Castle
Peter Pan's Flight
"it's a small world"
The Many Adventures of Winnie the Pooh
Mickey's PhilharMagic
Prince Charming Regal Carrousel
Mad Tea Party
Fantasyland Character Locations
Princess Fairytale Hall
Fairy Godmother
Evil Stepsisters
Merida
Peter Pan
Winnie the Pooh and Tigger
Alice
Dining in Fantasyland
Cinderella's Royal Table
Pinocchio Village Haus
Storybook Treats
The Friar's Nook
Chesire Cafe
Retail in Fantasyland
Bibbidi Bobbidi Boutique
Fantasy Faire
Hundred Acre Goods
Sir Mickey's
Disney World's Fantasyland Attractions
Fantasyland in Disney World includes a total of seven rides and attractions to experience during your visit. A majority of these are classics that you will probably want to include on your must-do list. With this large amount of things to do, you can expect to spend a good portion of your day in Fantasyland.
Cinderella Castle
When you step foot onto Main Street U.S.A. you will see Cinderella Castle towering in the distance.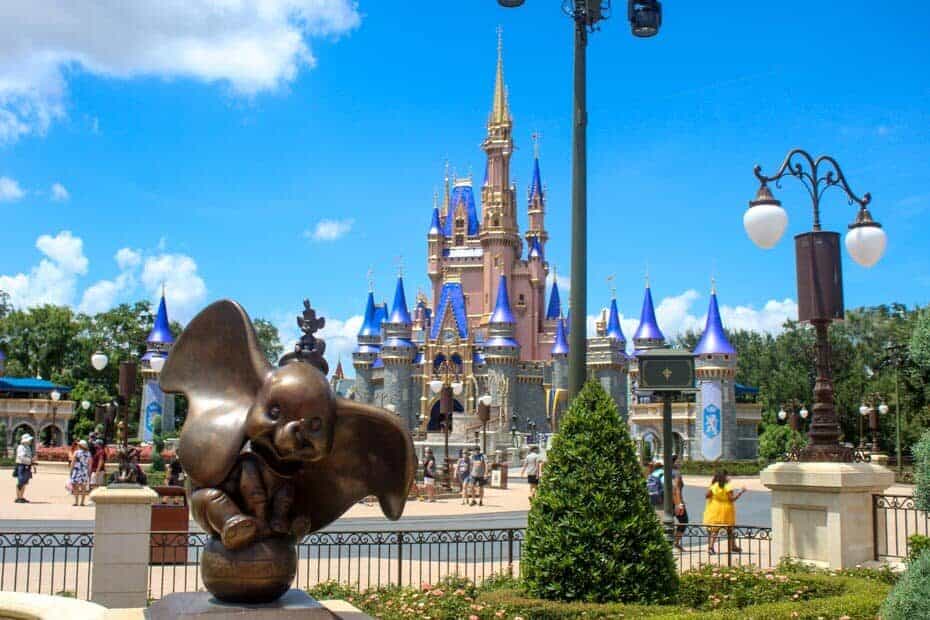 The heart of Magic Kingdom, Cinderella Castle is considered a part of Fantasyland. She sits at a full 189 feet high and received an exterior makeover in 2020.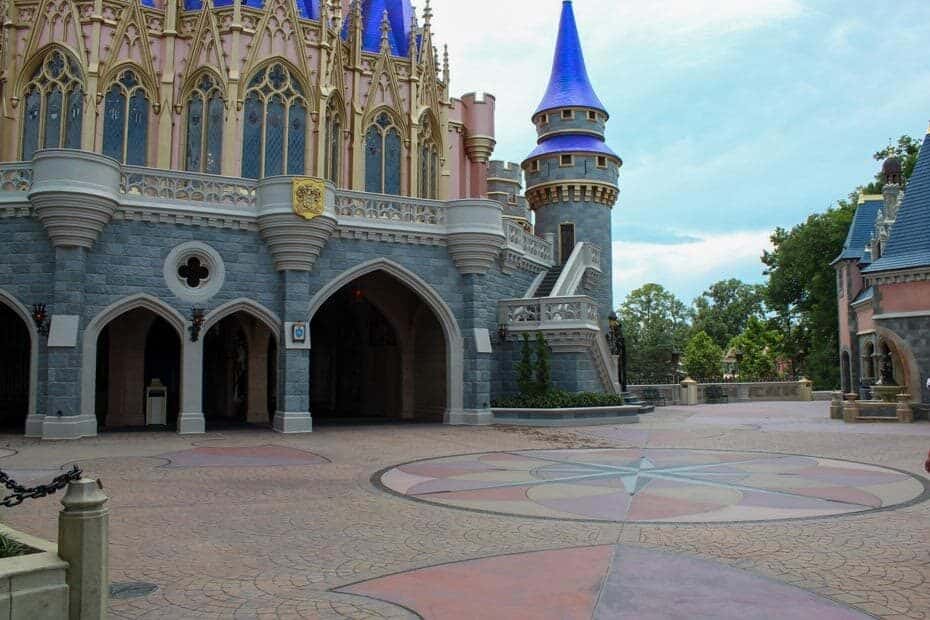 One of the things to keep in mind when visiting with younger children is that the castle is a big deal. We took my son to Disney World for his first visit when he was three years old. I remember him begging to go to the castle the entire time.
As a fairly experienced visitor even back then, I knew there wasn't anything for us "to do" when we got to the castle. But for him, it seemed real, and a walkthrough was warranted.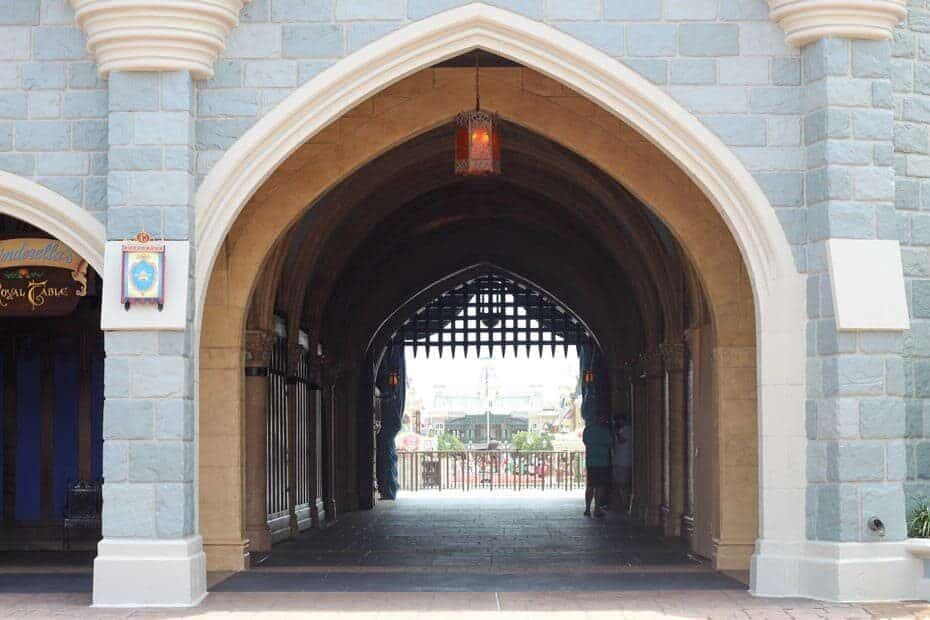 Cinderella Castle is open to walk through the majority of the day at Magic Kingdom. There are times that it might be closed off like during stage performances and Happily Ever After Fireworks.
Inside the walkthrough portion, you'll find exquisite mosaic tile panels telling the story of Cinderella in mural form.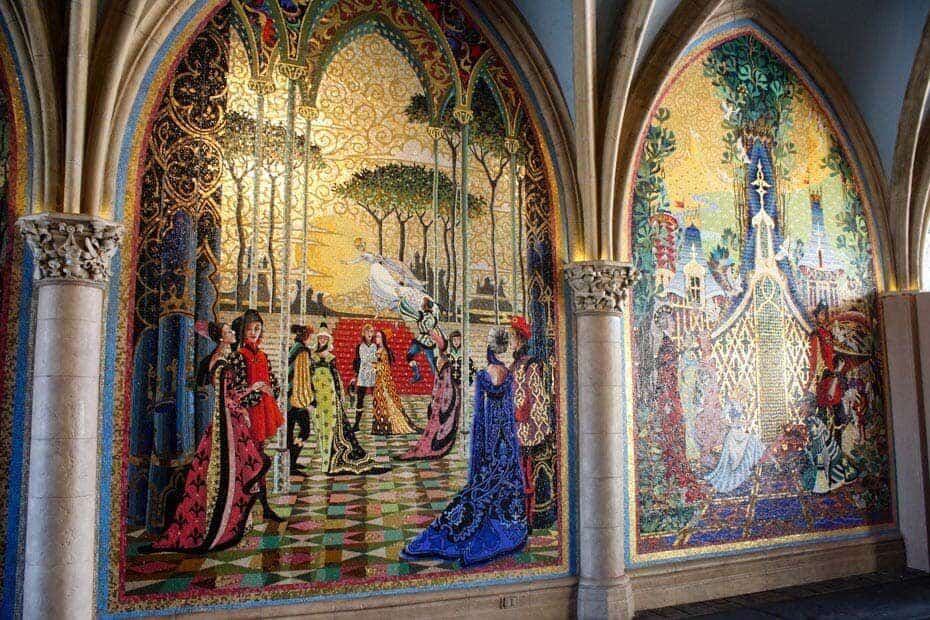 Peter Pan's Flight
One of the most popular rides not only in Fantasyland, but the entire park is Peter Pan's Flight. What's unique about the ride being so wildly popular is the fact that it is an original, and modeled after an opening day attraction at Disneyland.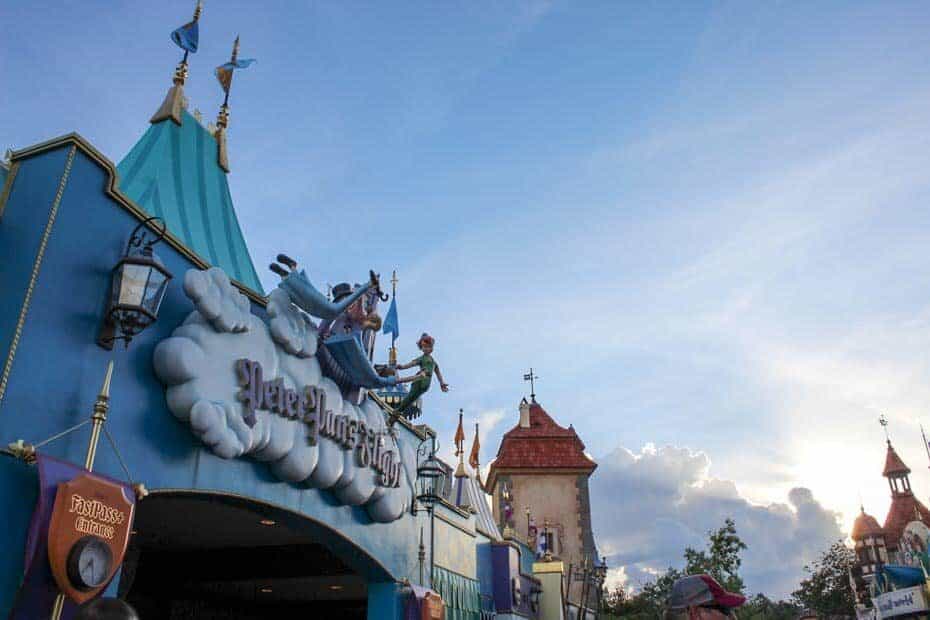 Peter Pan's Flight doesn't have any height requirements and does participate in the FastPass+ system at Magic Kingdom.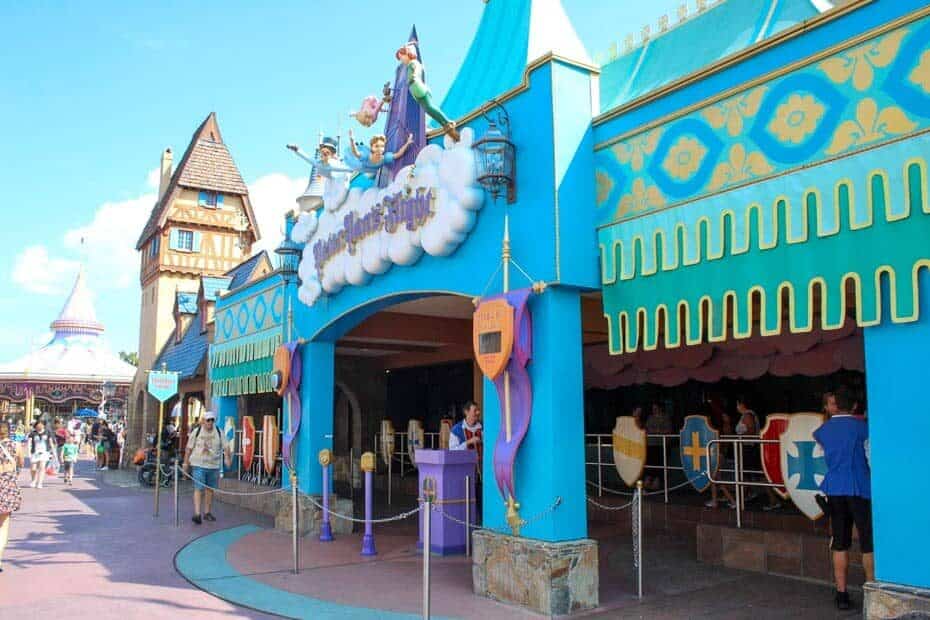 On most days wait times peak around 70 minutes making it a fairly long standby queue. This is a great option for FastPass+ but sometimes difficult to obtain.
With that being said, the queue of Peter Pan's Flight was updated a few years back and any fan of the movie will want to experience it via standby. You can expect several interactive elements as you tour the Darlings home on your way off to Neverland!
"it's a small world"
The mere mention of "it's a small world" probably has most of us humming along to the attraction's tune before we even realize it.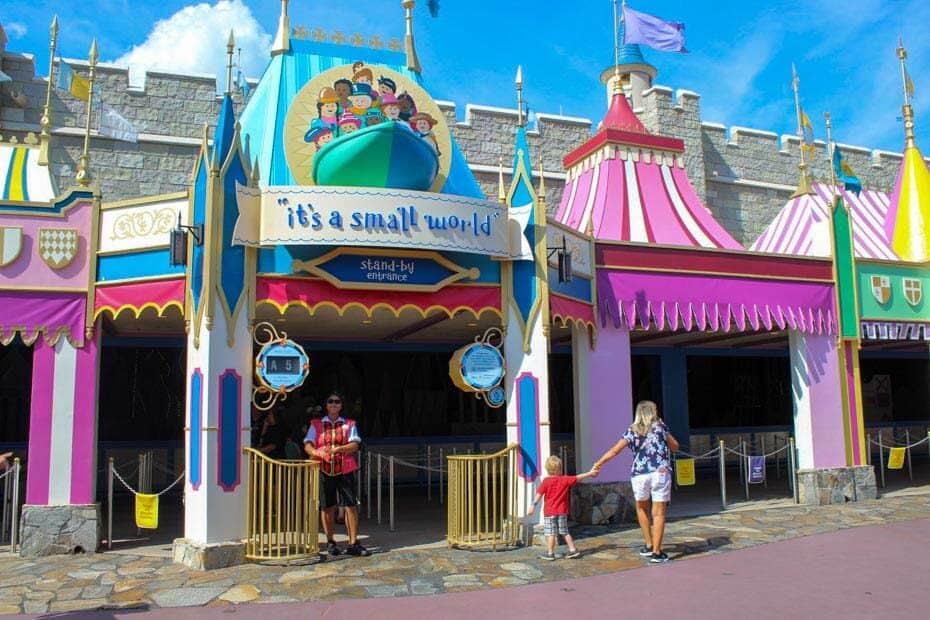 This ride is also one of the opening day attractions for Walt Disney World. The enchanting little boat ride has sister rides in several of the Disney Parks.
You can expect to climb on board the "happiest cruise that ever sailed" as you travel through different countries. Each country represented offers children singing in their native language along with vibrant pops of color and culture.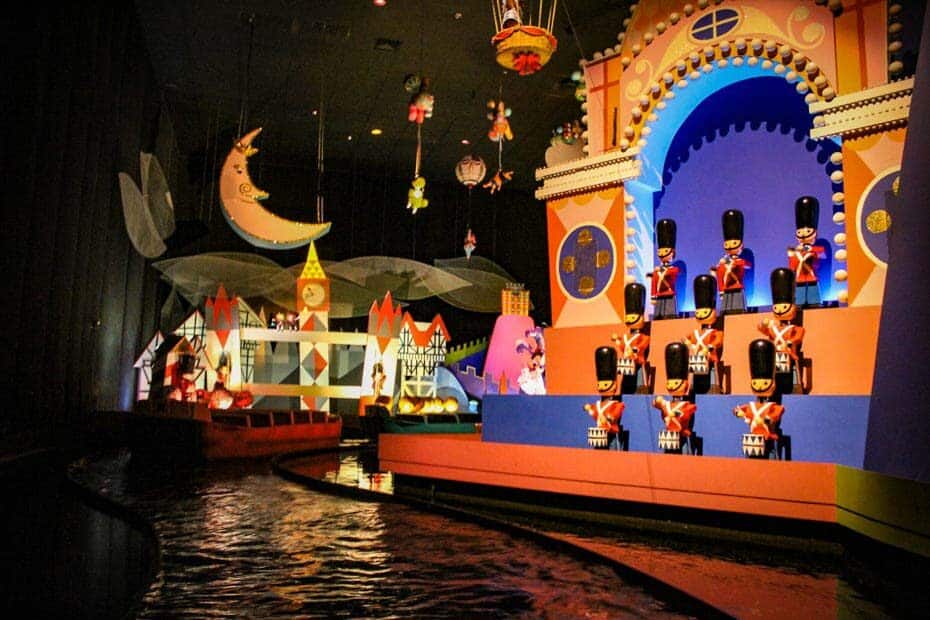 I usually like to recommend this Fantasyland ride for someone that doesn't care for the loud noises associated with the nightly fireworks. The queue is typically empty during the fireworks. Therefore, it's easy to grab a boat and set sail for what will take up the majority of the duration of the fireworks.
The Many Adventures of Pooh
While you are in Fantasyland, a visit to The Hundred Acre Woods will more than likely be part of your itinerary. The Many Adventures of Winnie the Pooh is another popular Fantasyland attraction that can often meet to fairly long wait times.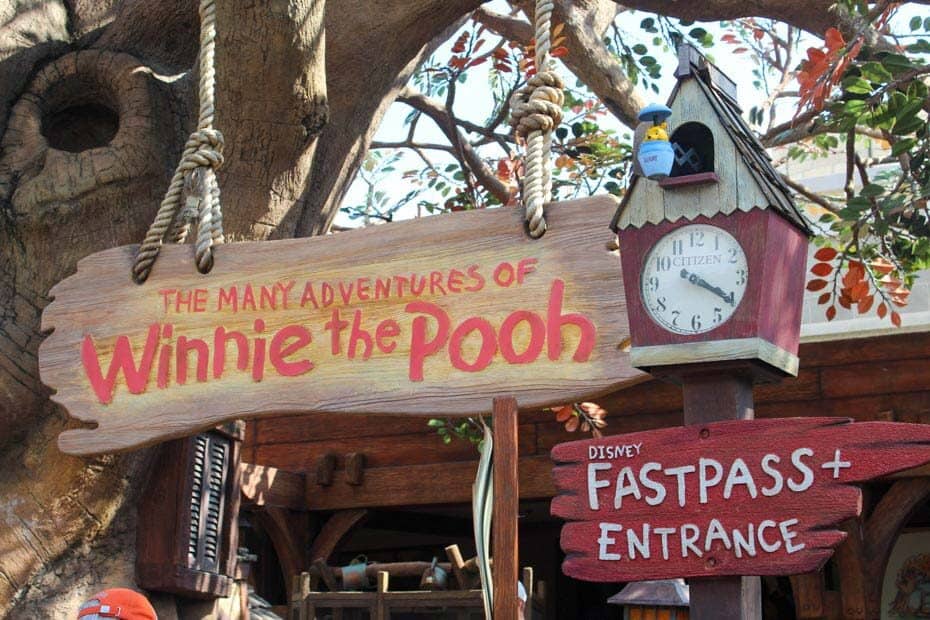 Not only that, but the ride participates in the FastPass+ system. And it's one of those instances where you will often see many guests boarding ahead while you wait in a line that doesn't appear to be moving.
There are a few nice or possibly questionable, given current times, components to the queue at The Many Adventures of Winnie the Pooh. When you enter the standby line you'll see this large hands-on play area for children. Naturally, most children will want to participate and play while you wait.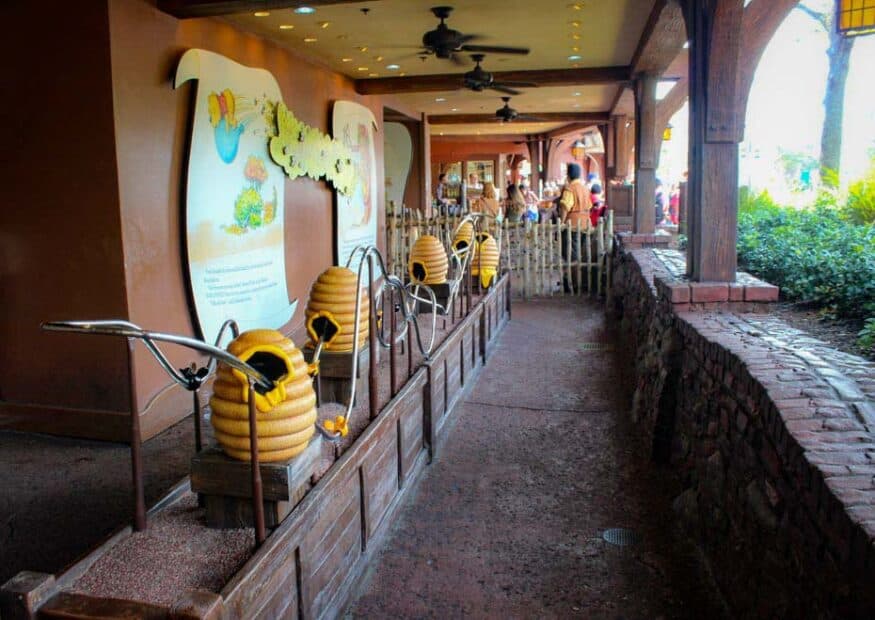 The play while you wait option continues with different elements as you move through the queue. You are sure to hear chatter from someone within your vicinity about how germ-y the area is due to all the hands-on activities. I try to keep a hand sanitizer or wet wipes in my backpack for times like these. (This area is currently closed off into 2021 at least.)
Here is a look at the honey pot ride vehicle.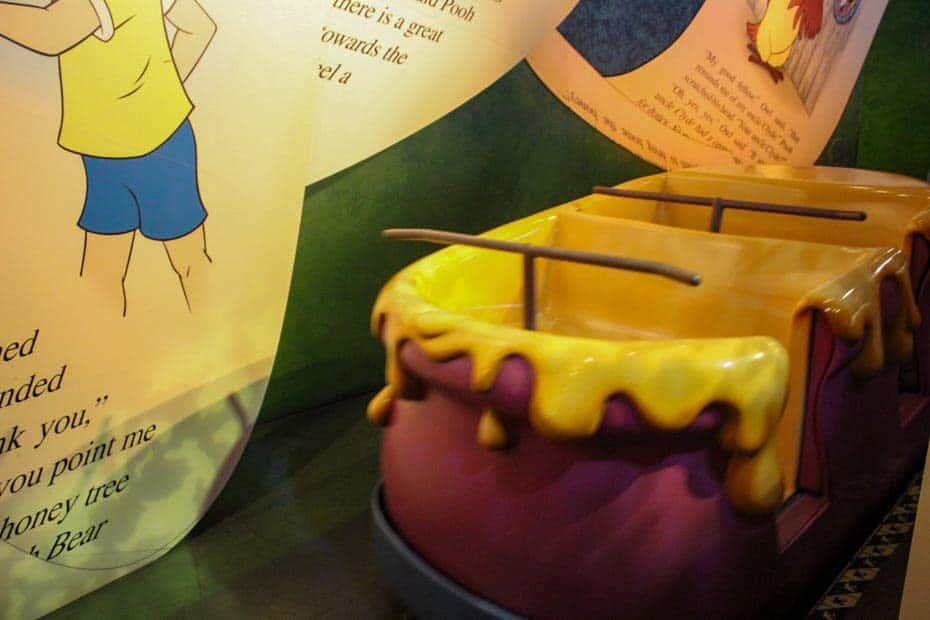 The Many Adventures takes you through a typical day in the Hundred Acre Woods that even includes a brief glimpse of Heffalumps and Woozles. By the end of this Fantasyland ride, you'll be singing, "Hooray," as you approach a birthday celebration!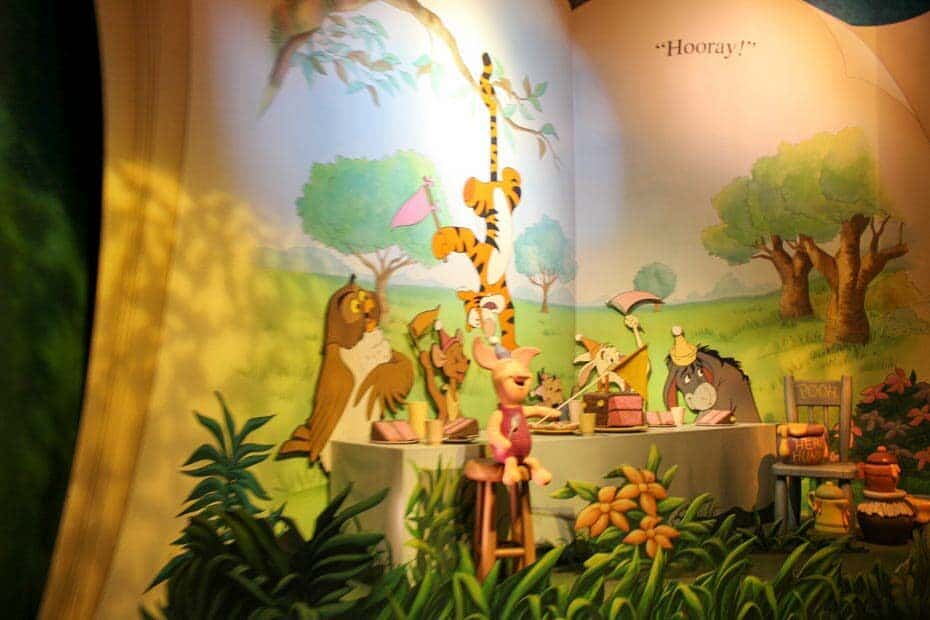 Mickey's PhilharMagic
Next, on our list of Disney World Fantasyland attractions is none other than Mickey's PhilharMagic. PhilharMagic is a 3D film that has a duration of twelve minutes.
While this one does offer FastPass+ availability you won't need it. The longest wait you will encounter should be for the next show to begin.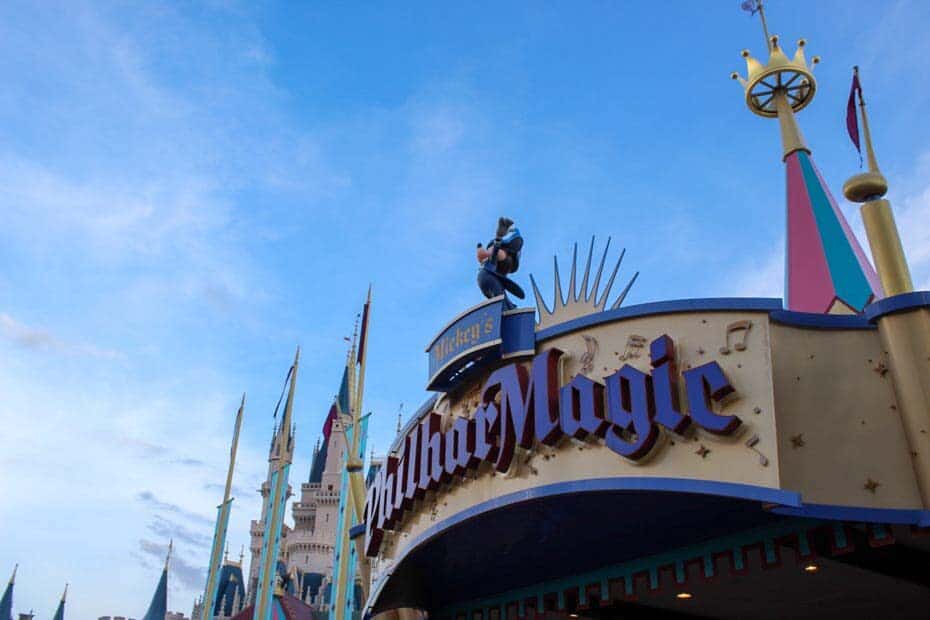 One thing to note here is PhilharMagic's perfect to experience in the event of a pop-up thunderstorm or when you need a break from high temperatures and crowds. Plus it's a really cute show with some fun surprise factors that most end up enjoying.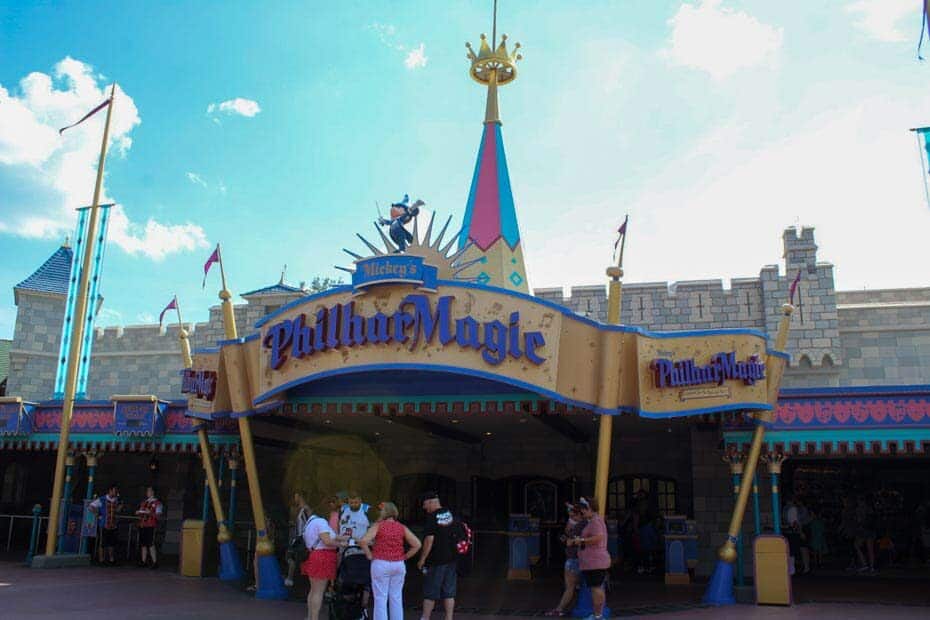 I don't think that PhilharMagic can be considered a must-do item, but it's something you'll want to see if you have never visited Magic Kingdom before.
Prince Charming Regal Carrousel
Probably the most underrated attraction at Magic Kingdom is Prince Charming Regal Carrousel. Often I hear the argument that many don't ride the carrousel because it's just that, a carrousel. This statement is usually made with a reference as to where all you can ride a carrousel outside of Disney World.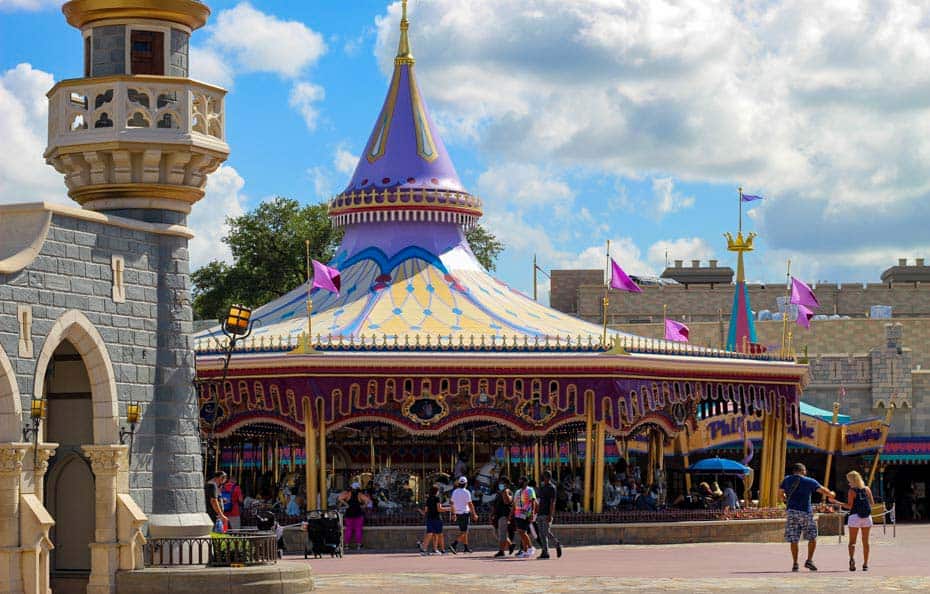 But my argument is when can you say you rode a carrousel in the Magic Kingdom? And where else can you ride a carrousel that is located in the backyard of the most fabulous castle of all time?
Make sure to notice the painted panels of the carrousel while you wait to board. They tell the story of Cinderella.
And if you have any interest ask a cast member at the attraction to point out Cinderella and Prince Charming's horse to you. Also, don't be surprised if you find me on the same ride as you. This is something I take the time to do nearly every time I'm in Fantasyland.
Mad Tea Party
While I'm in Fantasyland if I'm not taking a spin on the carrousel, you'll probably find me spinnin' on Mad Tea Party. That is if I can get my group to promise not to spin the inner circle teacup component.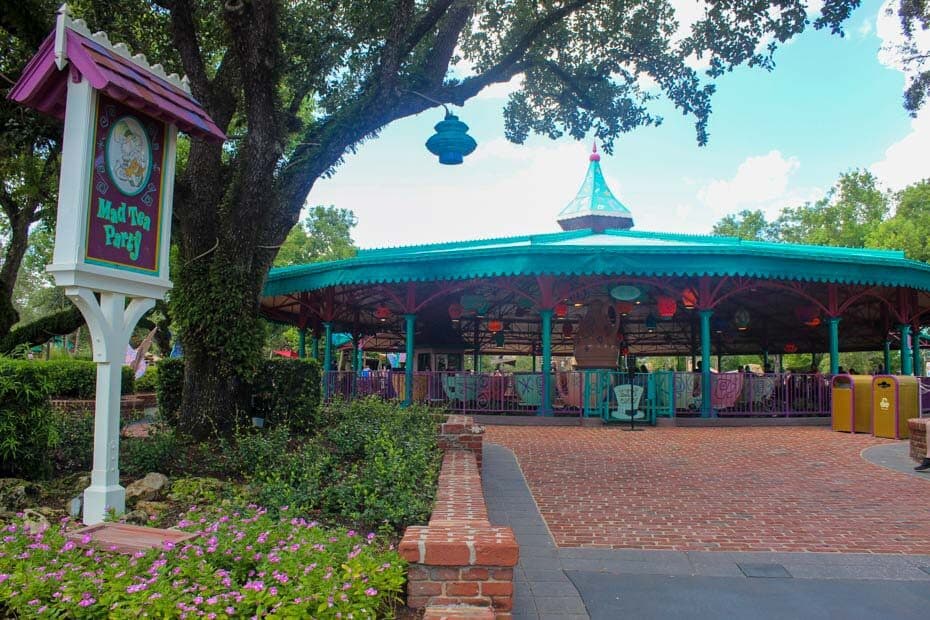 Mad Tea Party is another attraction that offers FastPass+ but it isn't typically needed. The line is easy to judge from the outside and even a long wait might consist of three to four rides ahead of your group boarding.
It's one of the few places you can gauge the entire line without relying on the posted wait times. Mad Tea Party is also an easy-to-view attraction from the exterior. You should be able to get a good idea if this will leave you gettin' dizzy or queasy before boarding.
Fantasyland Friends at Magic Kingdom
While touring Fantasyland you might want to incorporate a few Magic Kingdom character's meets and greets into your visit. I'll briefly go over the basics of these meets below. Make sure to check out the character section of the site for full details.
Princess Fairytale Hall opened in Fantasyland a few years back and quickly became home to Frozen sisters, Elsa and Anna. Due to their unprecedented popularity when the original Frozen came out, Princess Fairytale Hall became a prime rope-drop attraction with waits quickly mounting up to three-plus hours at times.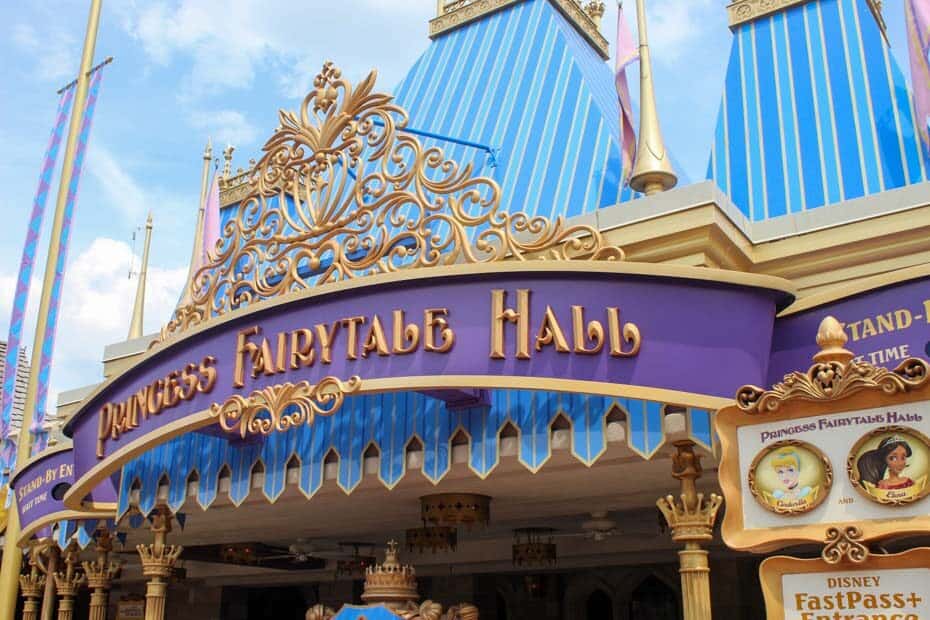 These days, you can meet Frozen sisters permanently reside over at Epcot in the Norway Pavilion. And this dedicated Fantasyland attraction is home to several classic princesses.
Cinderella meets with Elena on one side of the hall. Both sides of the hall offer the opportunity to meet two princesses in one line.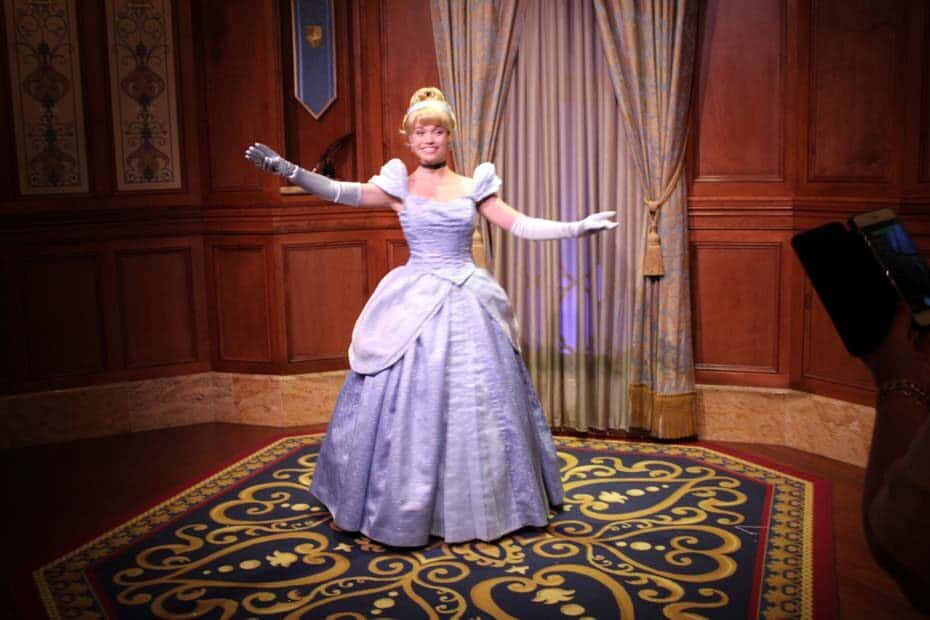 On the other side of the hall is the opportunity to meet Rapunzel and Tiana. All of these princesses have a PhotoPass photographer present to capture the moment if you participated in the Memory Maker option.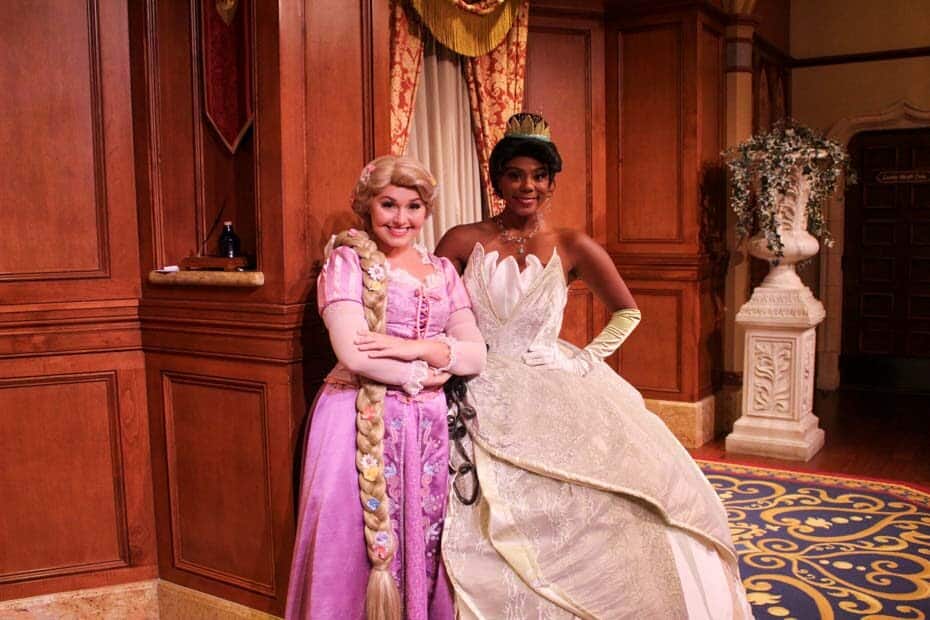 The Fairy Godmother is a rotating character in Magic Kingdom. Some days she will be out greeting guests, while other days the evil stepsisters can be found in this same area. They are usually behind the carrousel or sometimes at the fountain.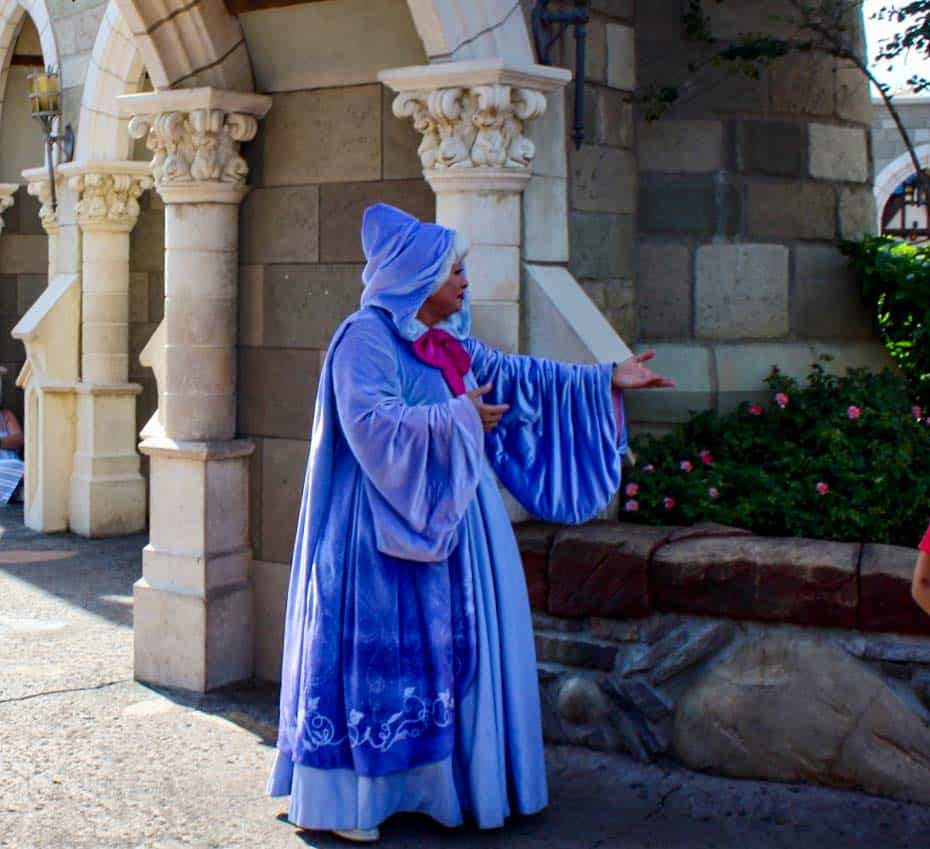 Here is a look at Anastasia and Drizella on a day they are meeting instead of the Fairy Godmother.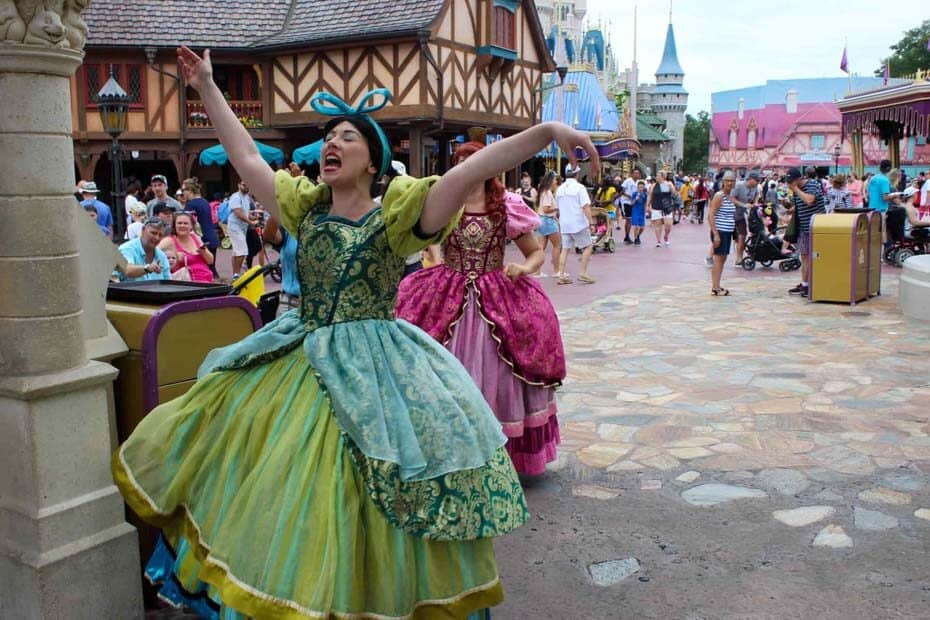 Merida from Brave has a fun meet and greet opportunity to the side of the castle. I am not a huge fan of the movie, however, I found this to be one of the best characters meets at Fantasyland.
Be prepared for the possibility of a long line. While Merida does have a dedicated meet location there are not any FastPass options here.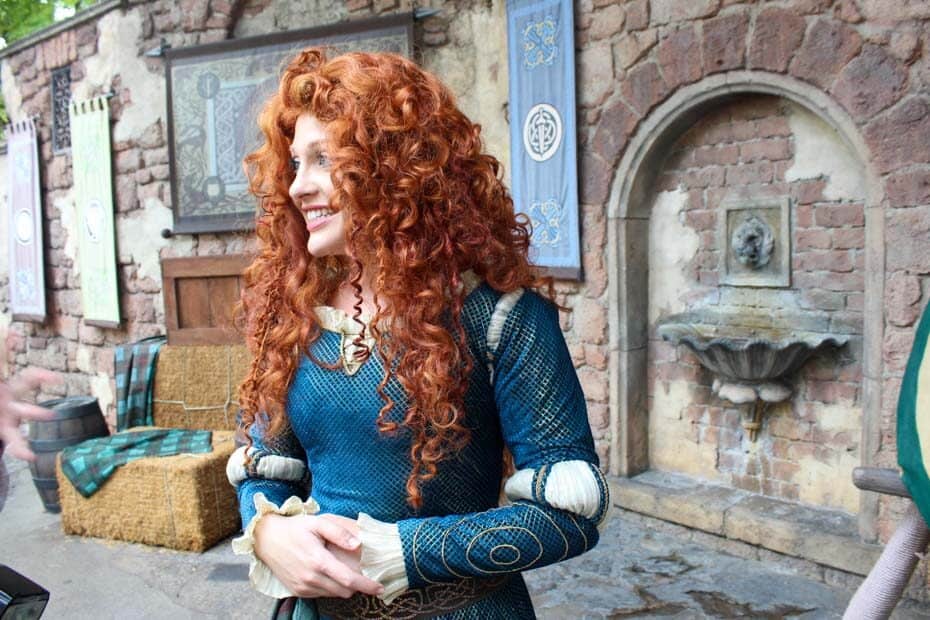 Another popular meet held at different times throughout the day in Fantasyland is Peter Pan. He can usually be found alongside his Fantasyland ride, Peter Pan's Flight.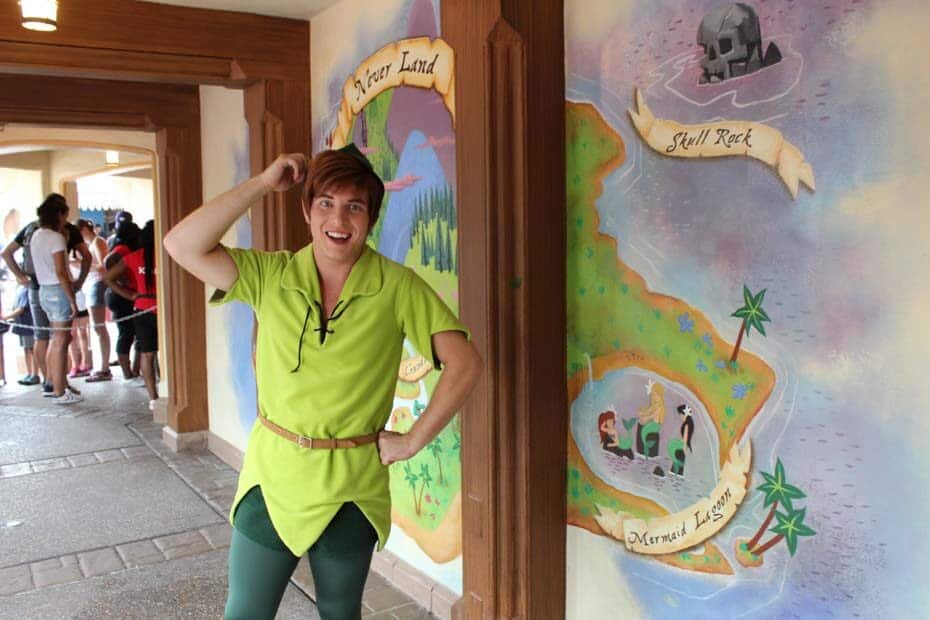 You might remember that I mention checking the times guide for visits like Peter Pan. He only makes appearances at select times of the day, and if you miss him then you are out of luck. I have found getting in line for this meet immediately after the Festival of Fantasy parade works well.
Next door to The Many Adventures of Winnie the Pooh in Disney World Fantasyland is Pooh's character meet alongside Tigger. Again, we have another popular character meet that is restricted to very specific times during the day.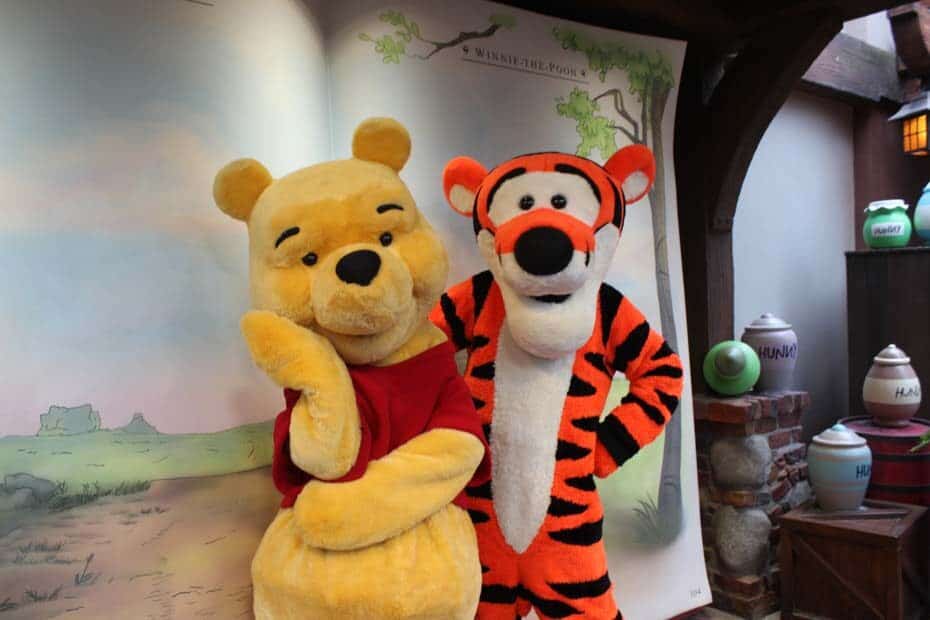 Alice is usually wandering somewhere around her teacups in Fantasyland during the late morning and early afternoon hours. At times she makes an appearance with the Mad Hatter or White Rabbit.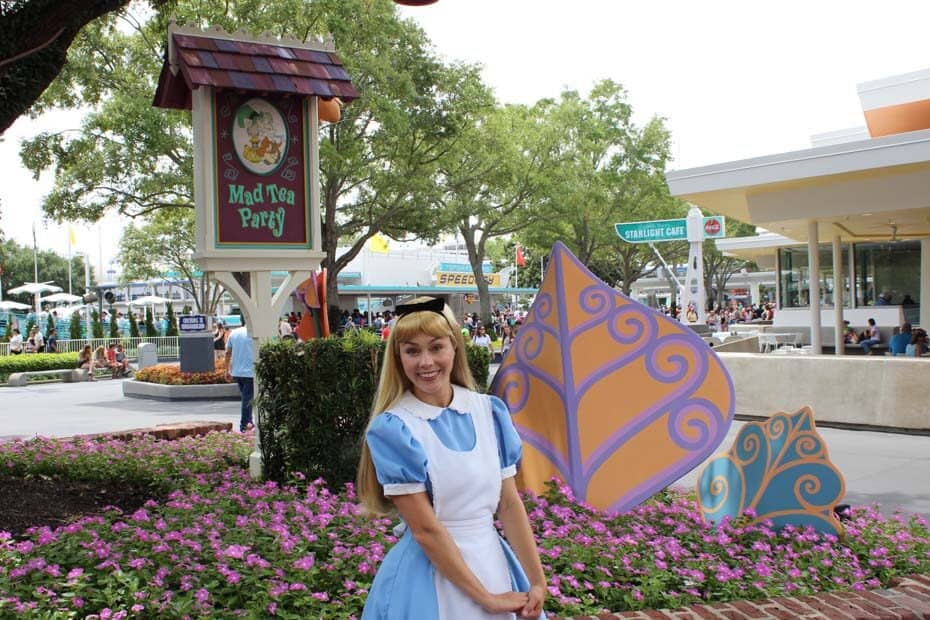 There is the possibility of running into them early in the morning for a quick spin on the Mad Tea Party. However, these instances are not guaranteed.
If you do see Alice with friends on the teacups take advantage of the special moment. These are the kind of things that will leave lasting, positive impressions in your trip memories.
If you are planning to meet characters in the parks, I keep an updated list of Disney World Characters here. That review will like to every meet available in each of the four parks.
Dining in Fantasyland
As with everything else in Fantasyland, there are quite a few dining options. I guess with all of the activities present, one can easily work up an appetite.
It's also the kind of area where you are constantly seeing other guests walk by with appealing looking food. Then you start doing a little investigating as to where you might pick up that same treat.
Below we will take a look at each dining option, what to expect, and then I'll place a link to each menu on Disney's site for reference.
Cinderella's Royal Table
First up is Cinderella's Royal Table, a signature, table-service dining location in Magic Kingdom's Fantasyland. You can find the entrance to Royal Table to the left-hand side of the back of Cinderella Castle.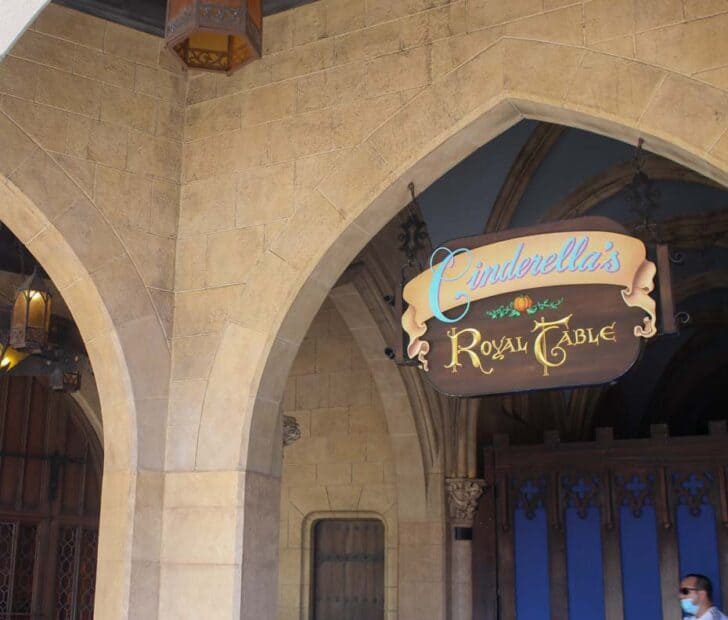 This is the only real opportunity to go inside the castle for most other than the breezeway. The restaurant offers breakfast, lunch, and dinner. Along with it being a signature location, you'll find that five princesses meet here making it a character dining location as well.
Characters at Cinderella's Royal Table:
Cinderella (Greets guests with a photo opportunity at the entrance.)
Ariel
Snow White
Jasmine
Rapunzel
If you want to take a look at the menu a little closer visit it here on Disney's site. You can adjust the meal period at the top to view breakfast, lunch, and/or dinner.
Pinocchio Village Haus
This location is in the center of Fantasyland, next door to "it's a small world." Pinocchio Village Haus is a quick-service dining location that serves Italian style offerings along with your basic order of chicken nuggets.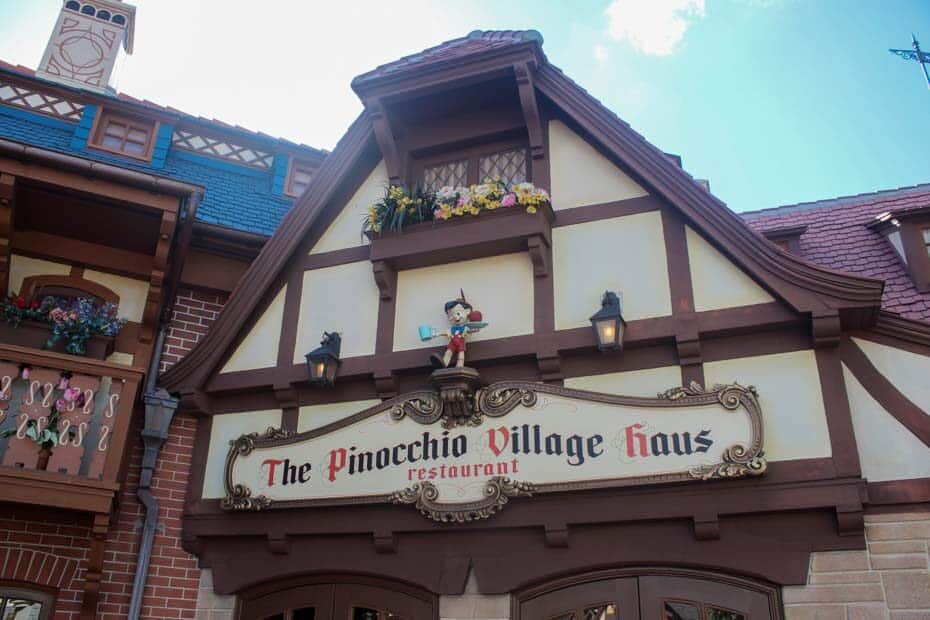 Here is a preview of the menu.
Storybook Treats
For anyone that follows anything Walt Disney World related on social media, you've probably seen pictures of the Peter Pan Float sporting the little red feather topping.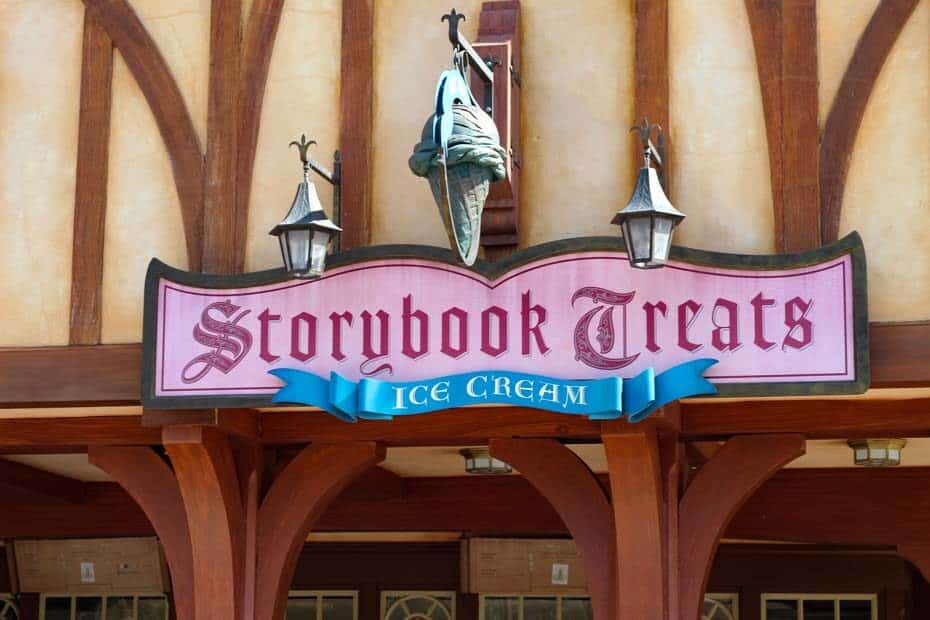 Storybook Treats is where you would want to pick up this treat along with a hot fudge sundae or float. Here is the menu.
The Friar's Nook
Friar's Nook is a walk-up quick service location in Fantasyland offering a variety of tater tot combinations and an Uncrustables kids meal option.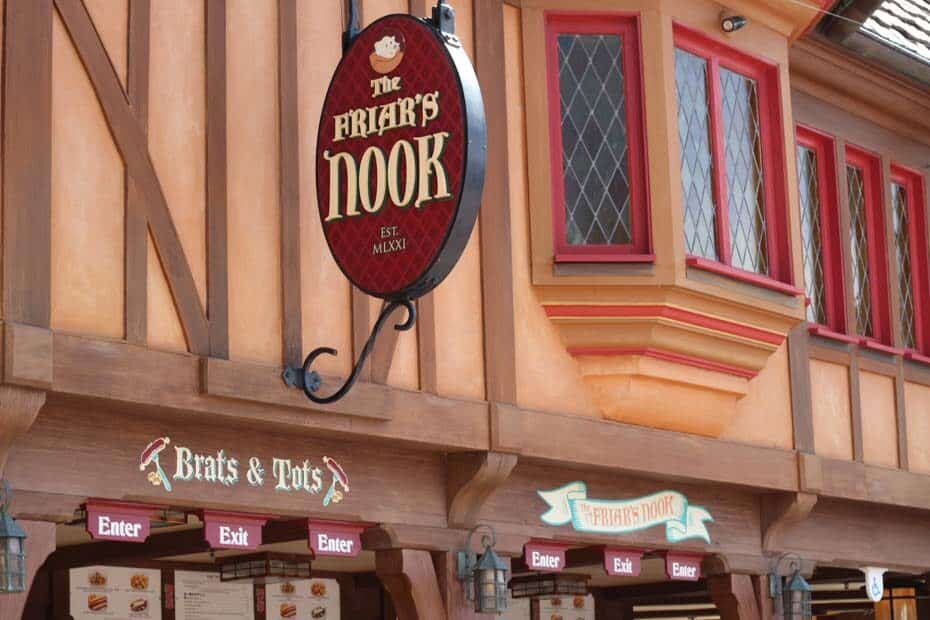 You can review the menu here. Additionally, you can pick up a bite to eat for breakfast here as well.
Cheshire Cafe
Another popular item you might have seen floating around social media is the Cheshire Cat Tail from Cheshire Cafe in Fantasyland. Here's a link to the quick service snack menu if needed.
For planning dining reservations, we have a full list of our Disney restaurant reviews available. Normally, we recommend planning at least one Disney World character dining meal and a Disney signature dining reservation.
Fantasyland Shops at Disney World
On top of everything else in Fantasyland, there are several shopping locations along with the popular princess makeover boutique.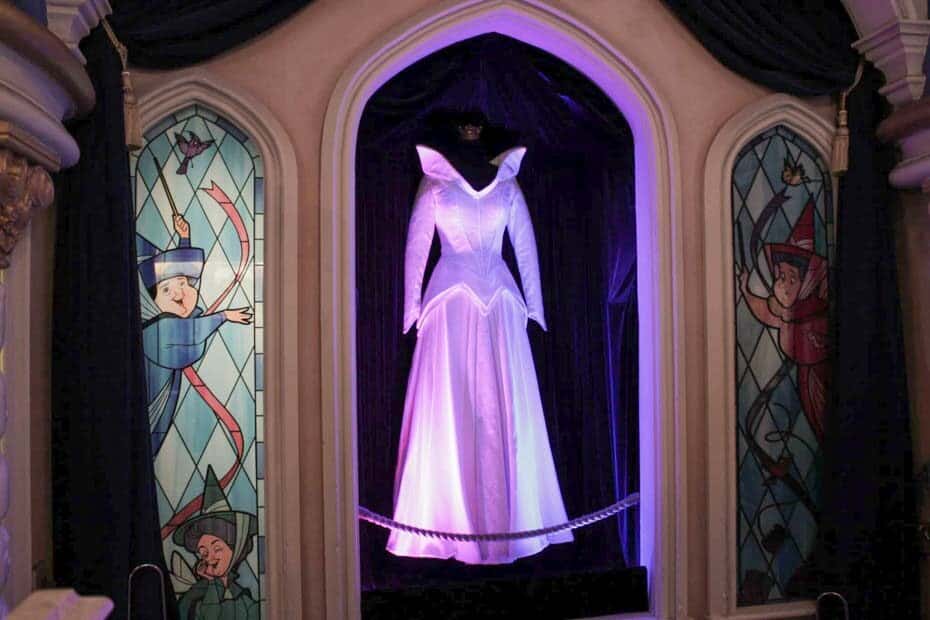 Here's what you are looking at shopping-wise:
Bibbidi Bobbidi Boutique-This boutique is located right behind Cinderella Castle and one of the locations to purchase the full princess makeover.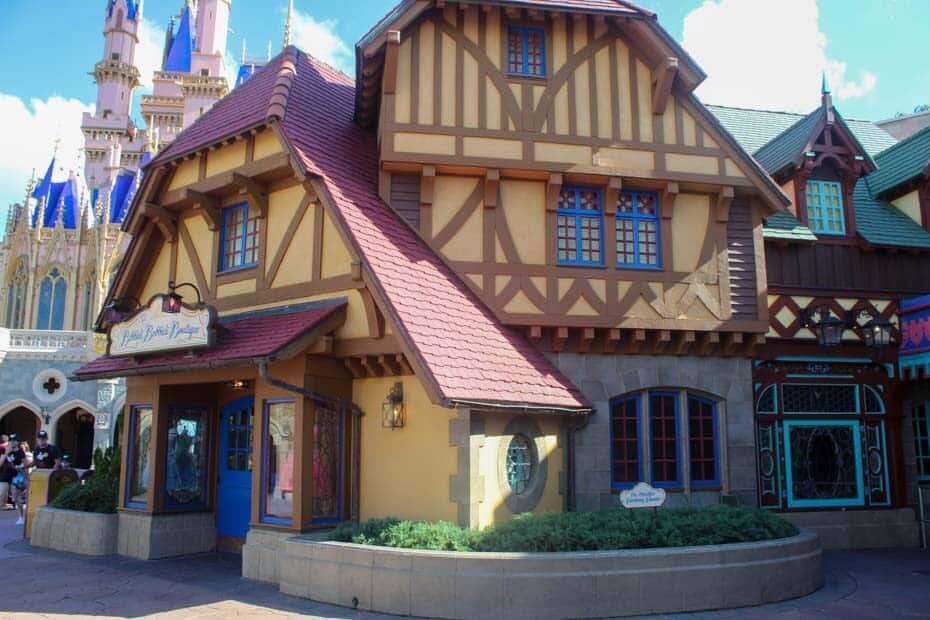 I don't have a lot of experience with this one, but here is the link on Disney's site to review the different packages available. There are also additional boutique locations at Disney Springs and the Grand Floridian Resort.
Fantasy Faire-this store is adjacent to the exit of Mickey's PhilharMagic.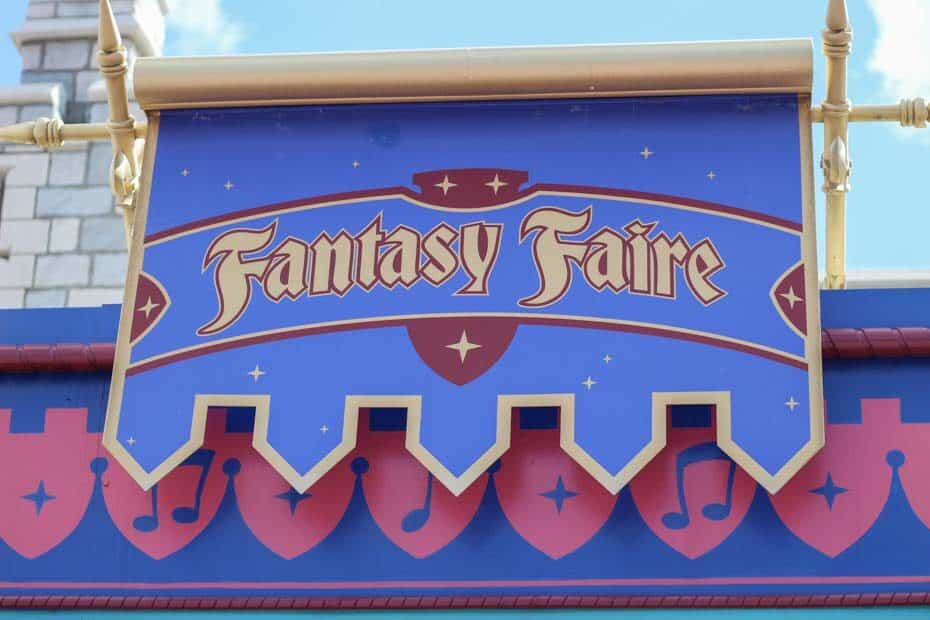 The store offers a variety of Walt Disney World merchandise.
Hundred Acre Goods-when you exit The Many Adventures of Winnie the Pooh, you'll walk directly through Hundred Acre Goods.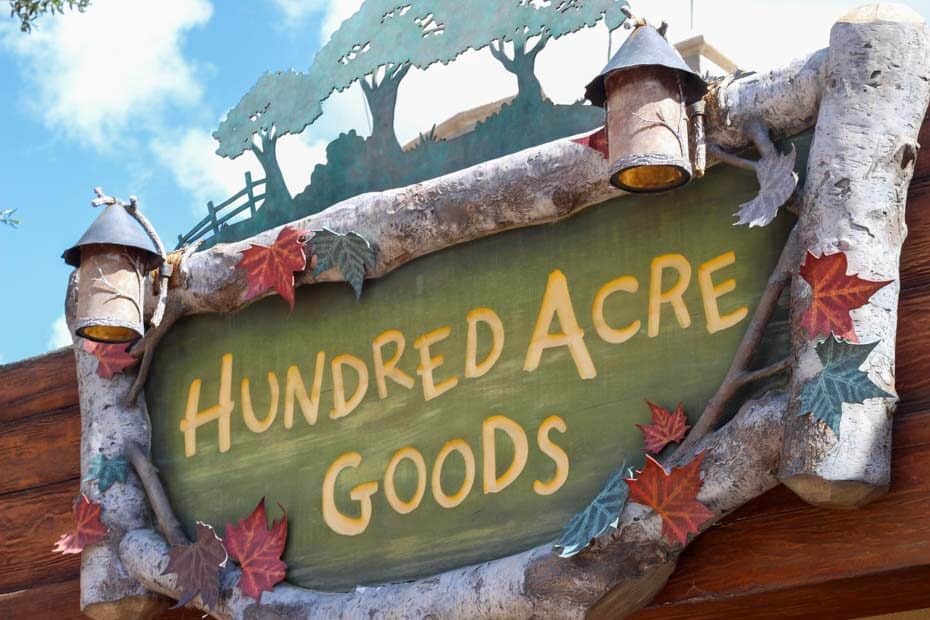 Many people call these types of stores "dump-style" because the ride dumps you into them at the end. This shopping location is fun because they offer a variety of Winnie the Pooh merchandise. Consider it a specialty stop in comparison to the big retail stores in the parks that carry a little bit of everything.
Sir Mickey's-Another favorite shopping location for me in Magic Kingdom is Sir Mickey's. Why? Well, the store has some fun theming.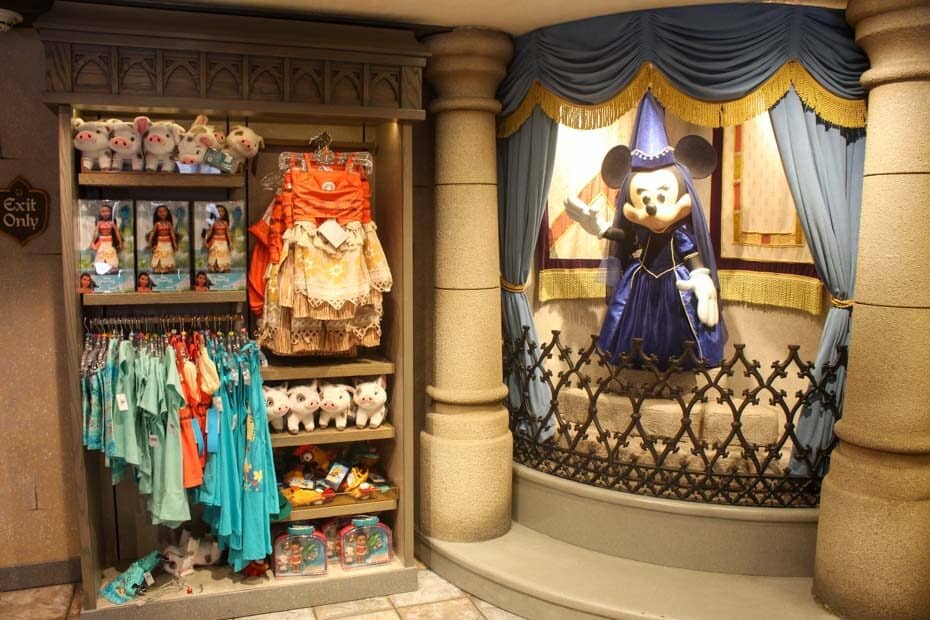 Expect to see princess and knight-themed items in this location.
Final Thoughts
As you can probably tell, there's quite a lot to do in Fantasyland at Disney World. It is an area of the park that guests will probably end up spending the majority of their day.
Due to this fact, the main walkway between Peter Pan's Flight and "it's a small world" tends to get extremely congested. This happens usually around lunchtime up through the Festival of Fantasy parade in the afternoon.
For this reason, we like to grab a little bit of a late lunch in another part of the park. This makes it easier to avoid the area midday.
My favorite time of day in Fantasyland is usually closer to sunset and on into the evening hours. Prince Charming Regal Carrousel looks so pretty lit up in the evening. The backside of Cinderella Castle is pretty gorgeous as well.
Some people even like to sit on the short walls in the area at night and watch the fireworks. While you can't see the projection displays from this angle, you'll get a completely different perspective. Whatever you do, make sure to enjoy your time in Disney World Fantasyland!
For a look at the entire series of Magic Kingdom by land reviews try these:
Resorts Gal specializes in Disney World Resorts, Characters and Dining. Make sure to check out some of our resources like the list Walt Disney World Resorts with reviews. That article gives a brief overview of every resort at Disney.
Lastly, our most popular reviews include the best restaurants at Disney Springs and I keep a timeline going of Disney Loungefly mini-backpacks.
Feel free to leave a comment below with your thoughts on touring Fantasyland at Disney's Magic Kingdom.