"it's a small world" at Disney's Magic Kingdom
"it's a small world" is an attraction at Magic Kingdom Park in Walt Disney World. For most, the name "it's a small world" is synonymous with Disney.
As far as history goes, the original attraction was once part of the New York World's Fair in 1964. It was housed in the Unicef Pavilion during the fair. This is the same World's Fair where the Carousel of Progress debuted.
This same "it's a small world" was rebuilt to become Disneyland's version. During the ride's construction, it was to be named "Children of the World." However, Walt Disney renamed the ride after the Sherman brothers created the attraction's iconic song, "it's a small world."
Additionally, artist Mary Blair is responsible for the ride's vibrant color palette and children's costumes design.
Today, various versions of this attraction can be found at most Disney Parks around the world, including Magic Kingdom. Below, we'll go over the specifics of this gentle boat ride along with the best time to experience it during your vacation.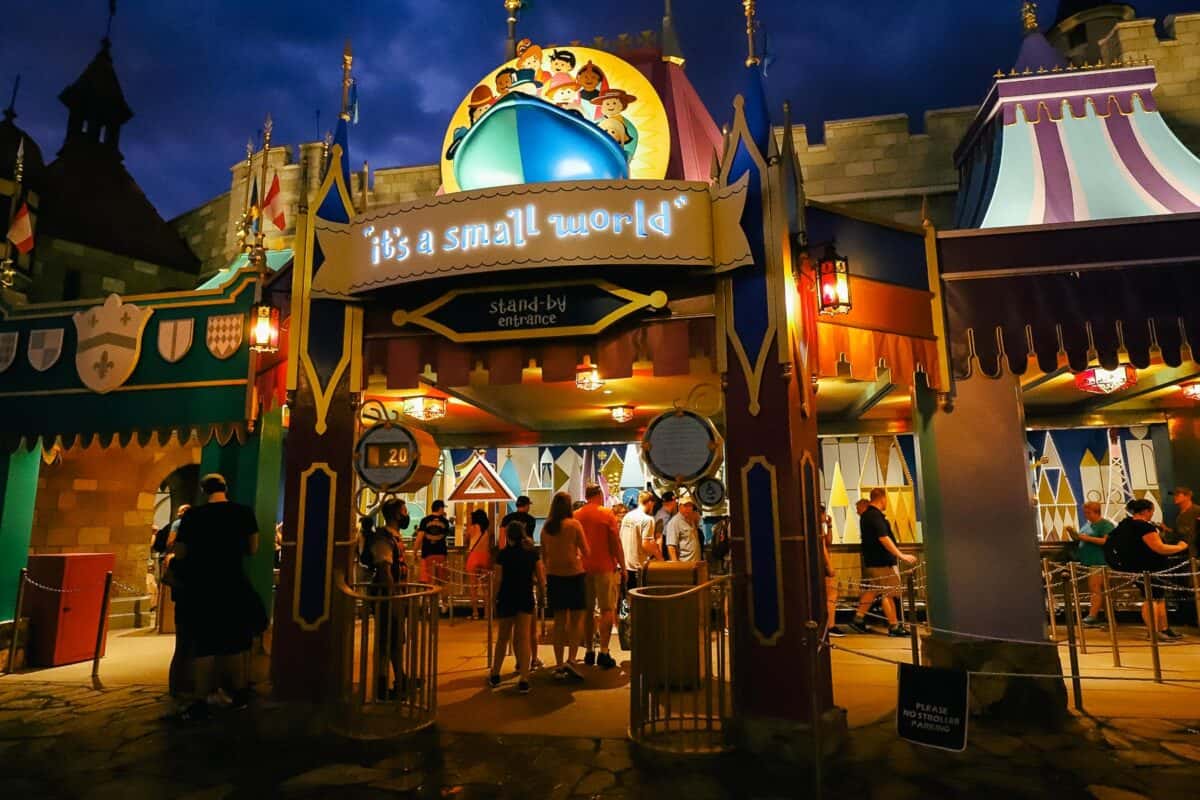 Here are a few quick reference details for "it's a small world."
| | |
| --- | --- |
| "It's a small world" | Magic Kingdom |
| Location: | Fantasyland |
| Height Requirement: | None |
| Disney Genie+ Eligible | Yes |
| Ride Type: | Slow Moving Boat Ride |
| Seats Per Vehicle: | 3 to 4 per row |
| Rider Switch: | None |
| Accessibility | Guests in an ECV or wheelchair must transfer to a manual wheelchair. Accessibility info for this attraction is listed here on Disney's site. |
| Scare Factor: | None |
| Must-Do List: | High |
| Perfect For: | All Ages |
| Special Mention: | Look for your name in the final scene. It might be displayed in the farewell signs. |
"it's a small world" (Magic Kingdom)
This attraction is a slow-moving boat ride that sails through different countries. Each country offers vibrant displays with child audio-animatronics that sing the "it's a small world" song in their native language.
Surprisingly, the transition between each scene is seamless, along with the musical notes.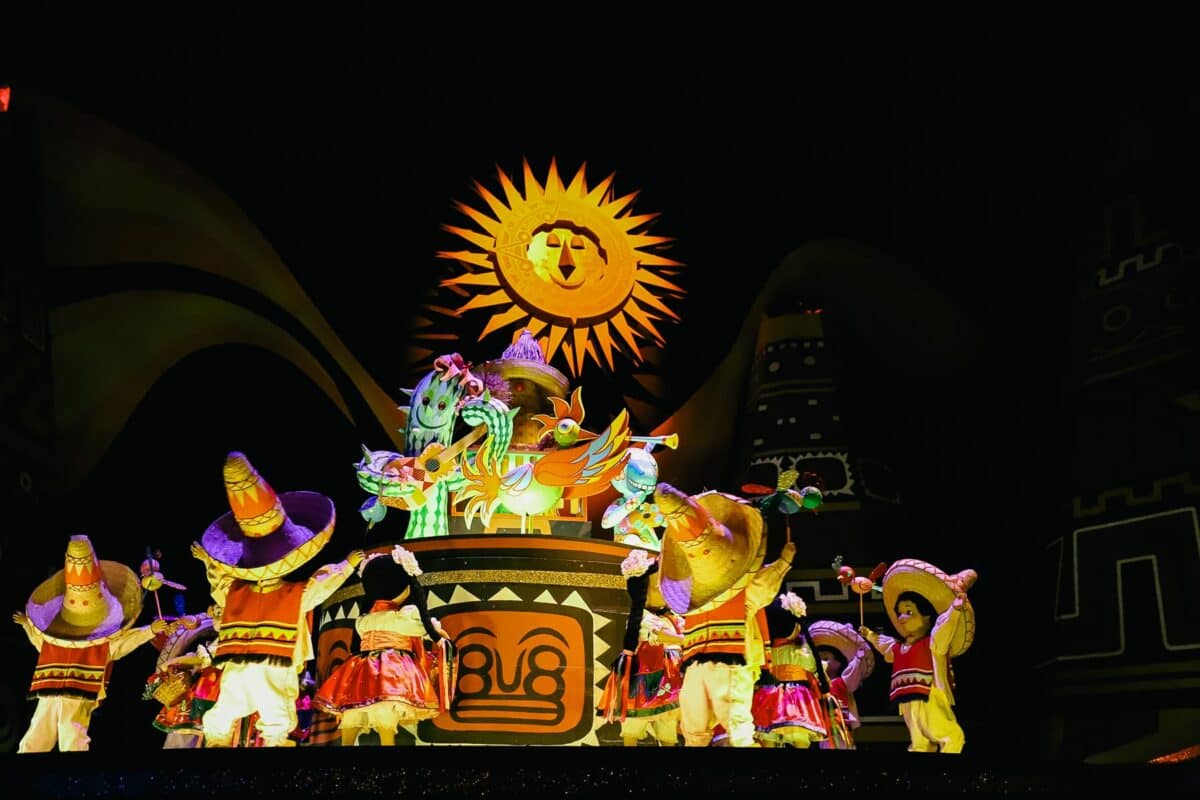 "it's a small world" has two entrances. For those using an individual Lightning Lane, a separate entrance is available to the far left of the main entrance.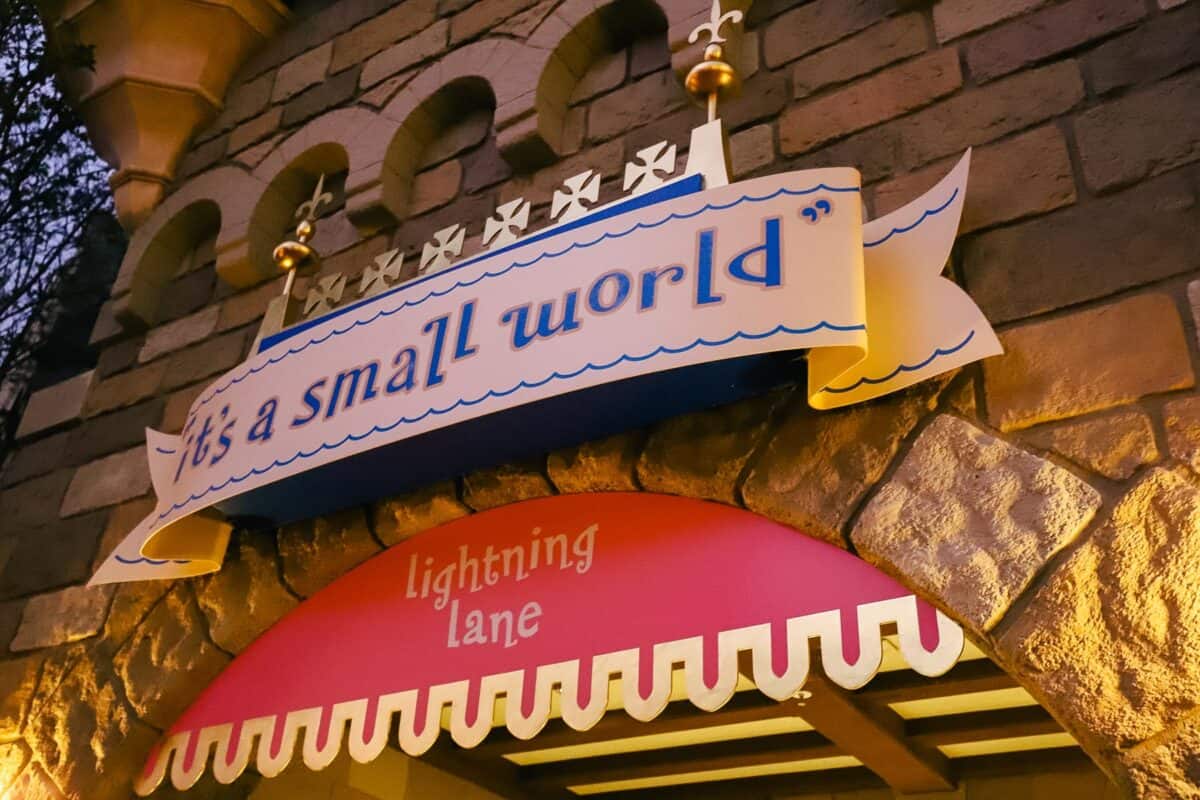 Other guests can use the regular standby entrance. Wait times average 30 minutes for "it's a small world" during the busier times of the day.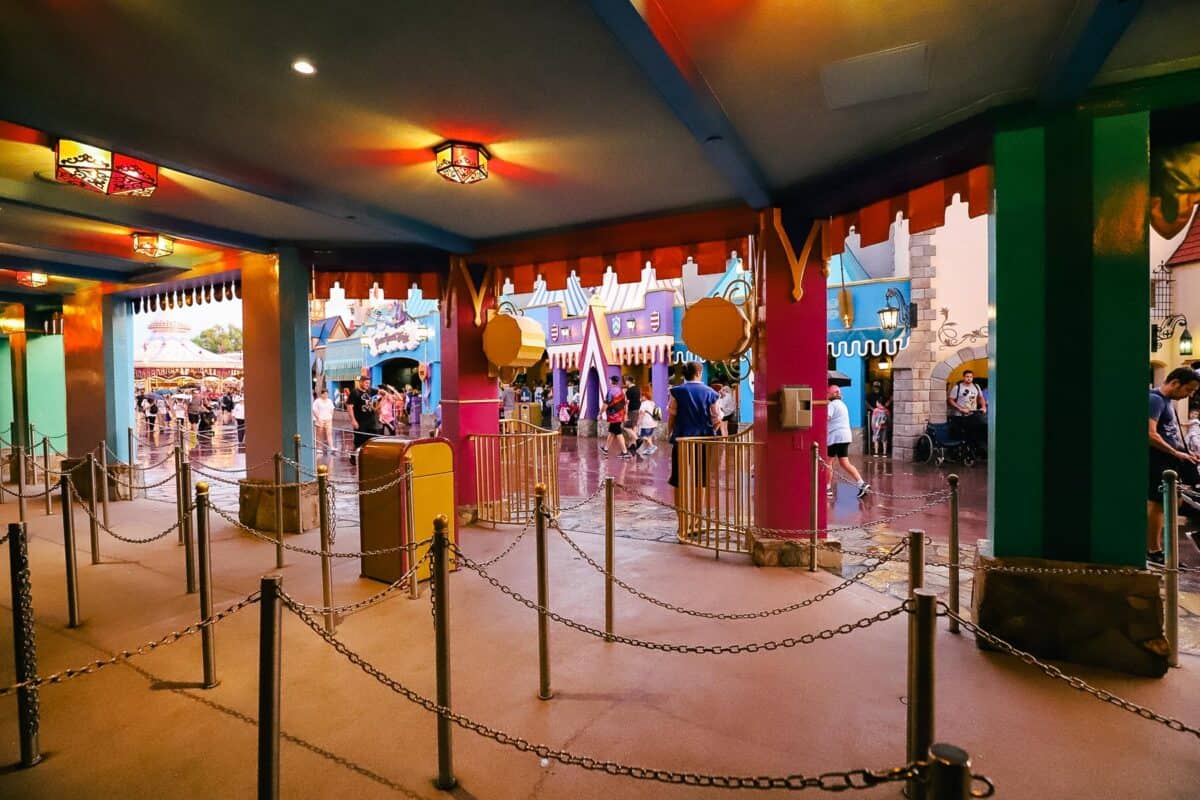 Guests in need of wheelchair accommodations will join a separate line that boards on the opposite side of the boat. You can see the ramp for this line in the photo below.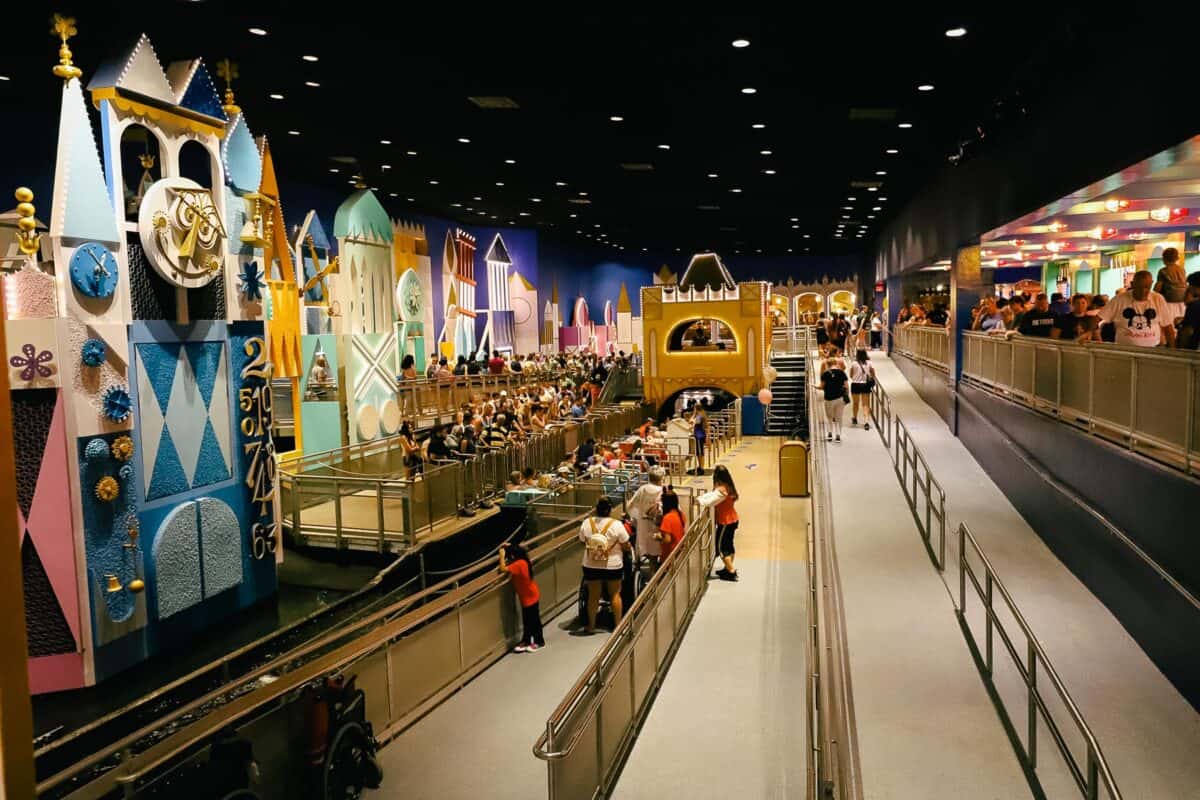 While you wait, you can see other guests come and go from the boats below. Since this entire attraction is inside, it's a reasonable place to wait in the event of a rain shower.
Hopefully, the rain will have cleared off by the time you're finished. However, if not, there are several other indoor attractions nearby. So you can fairly easily join another line without getting too soaked after riding "it's a small world."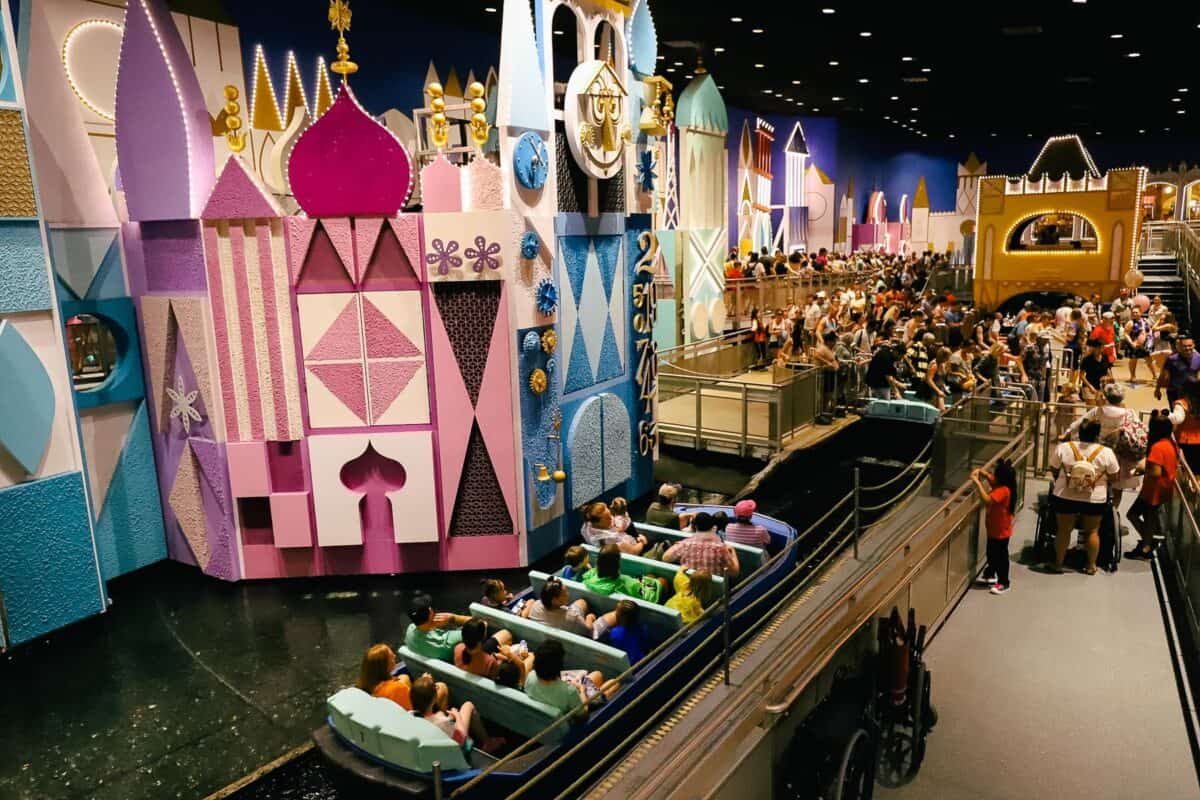 "it's a small world" is usually a walk-on during the early morning and later evening hours. Each row of the boat holds up to four guests. Cast members usually do not require that different parties share rows.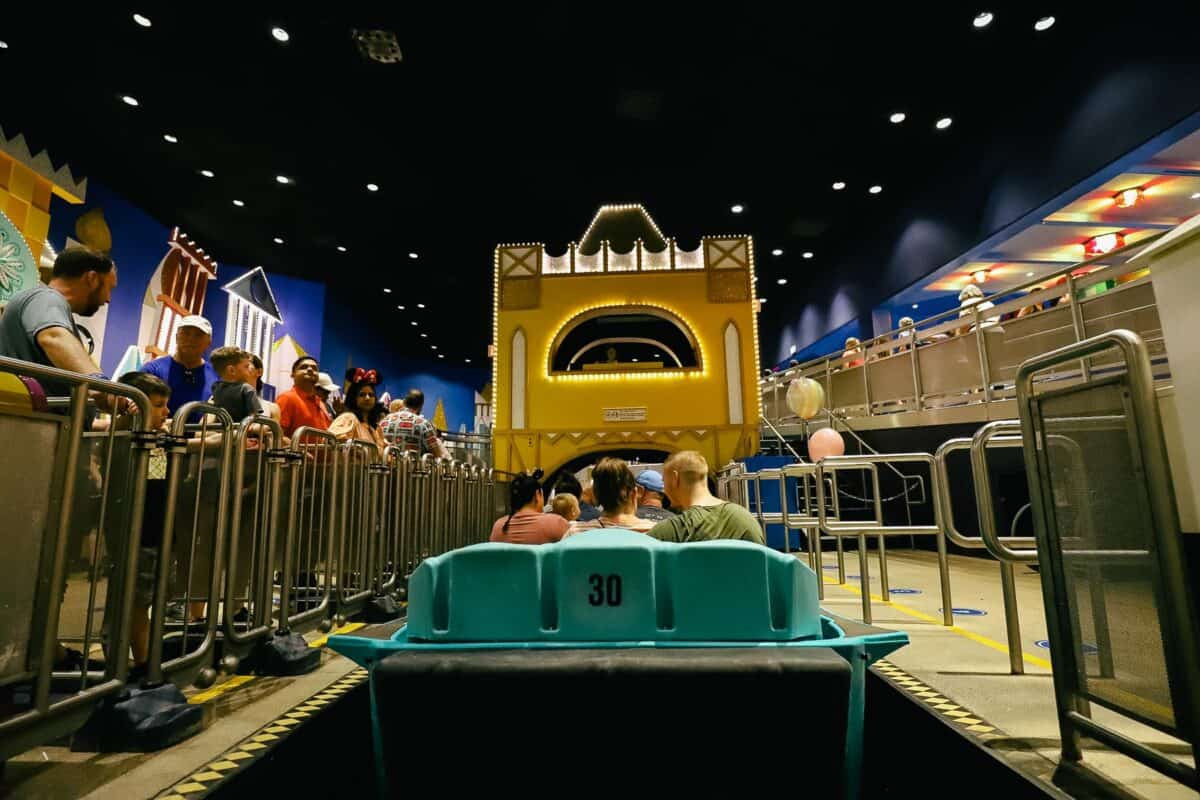 Once you set off on the happiest little cruise that ever sailed, look up! Guests might be waving down to you while they dine above at Pinocchio's Village Haus.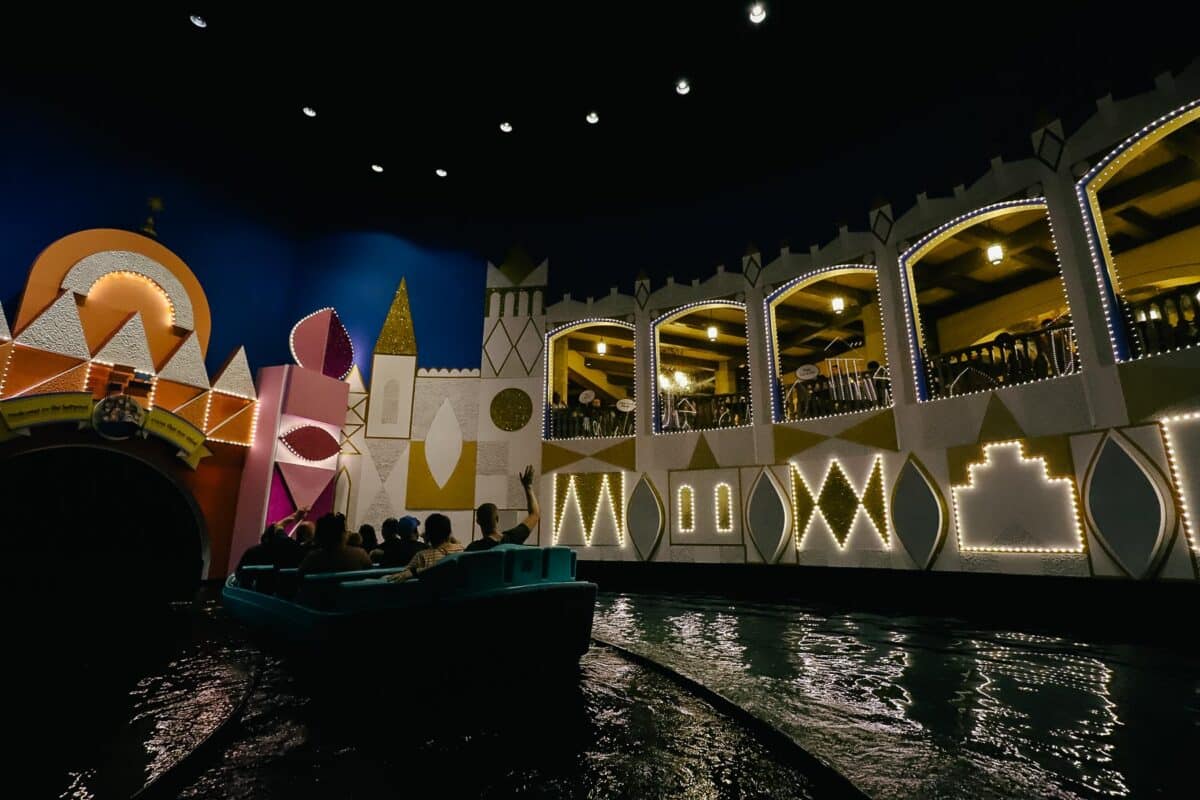 Then, you'll enter the first room.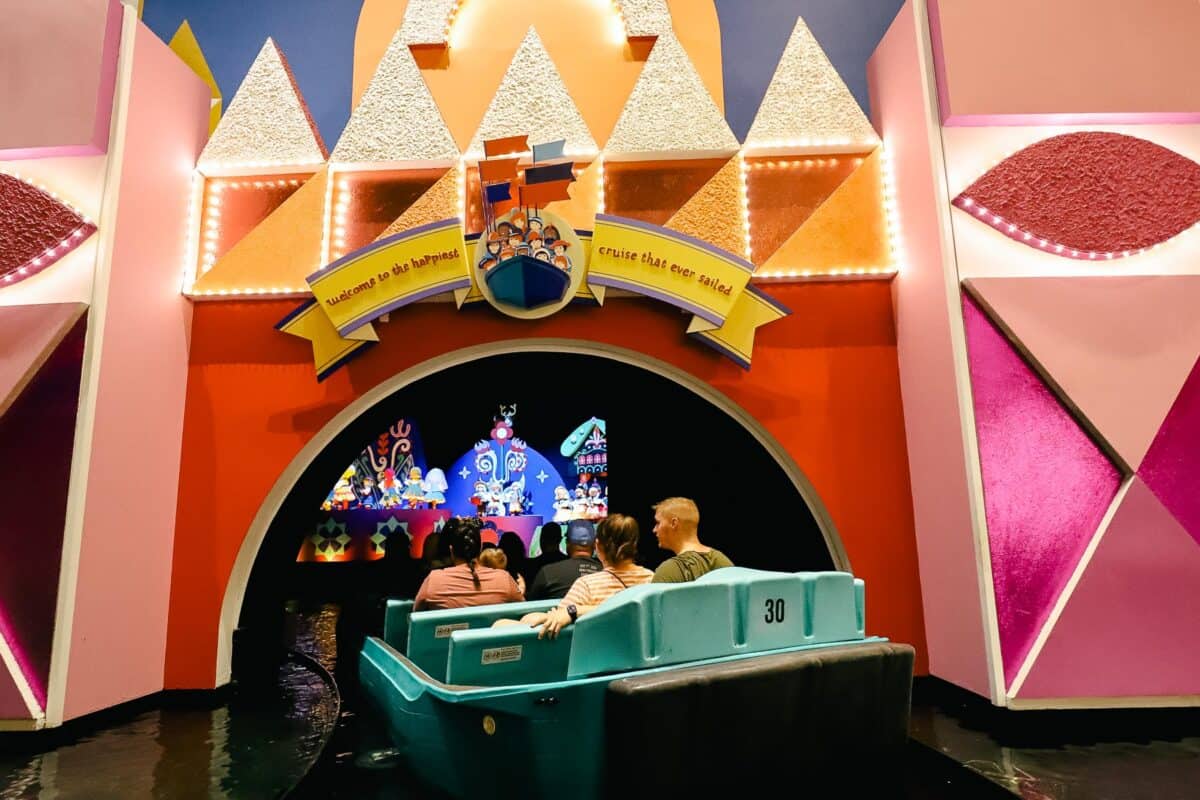 This is where the new dolls in a wheelchair has recently been added. He's playing a flute and sits between two other audio-animatronics dolls.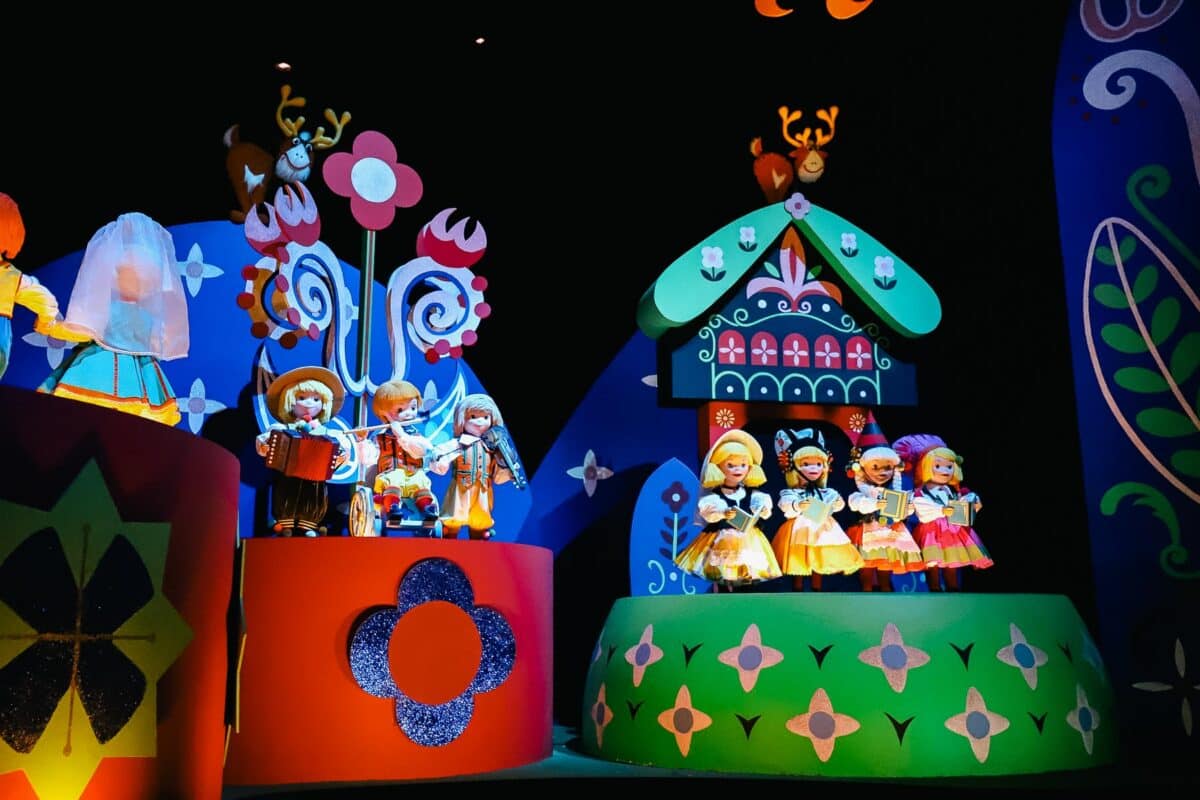 You'll then continue through the various rooms, each featuring small children from all over the world. Here are a few photos of Magic Kingdom's "it's a small world."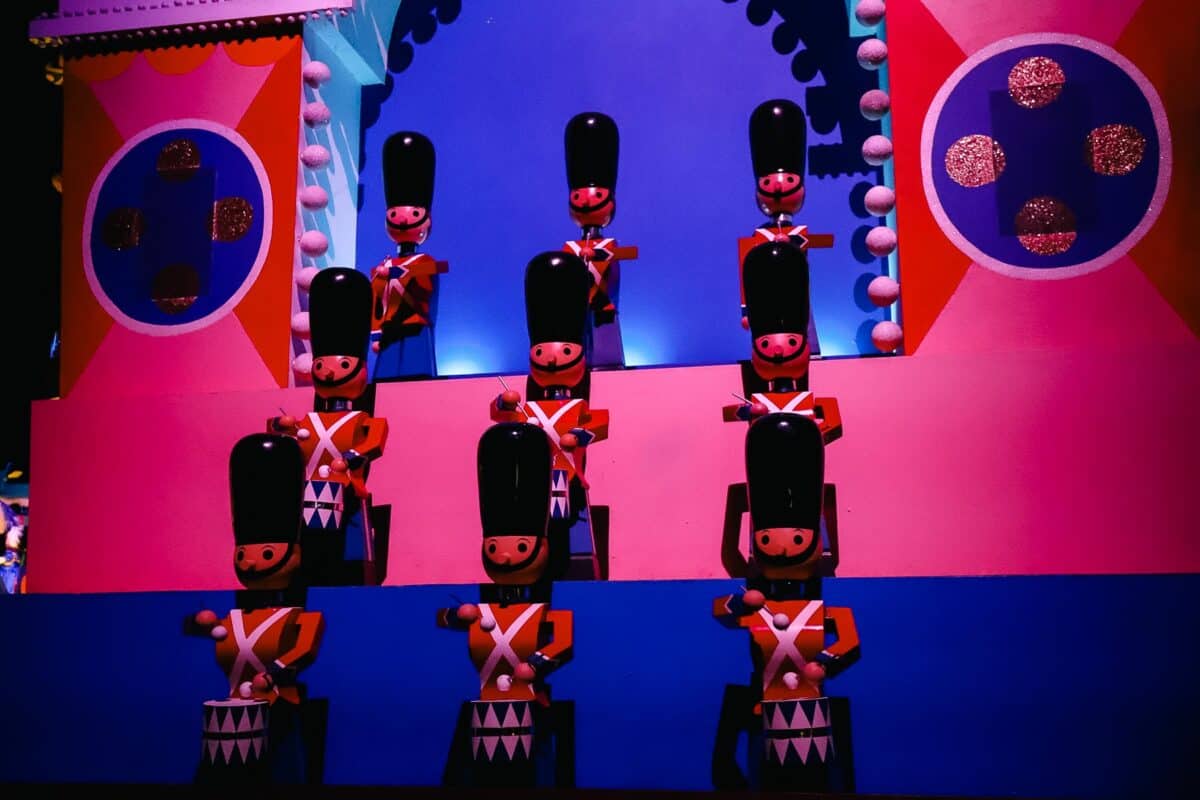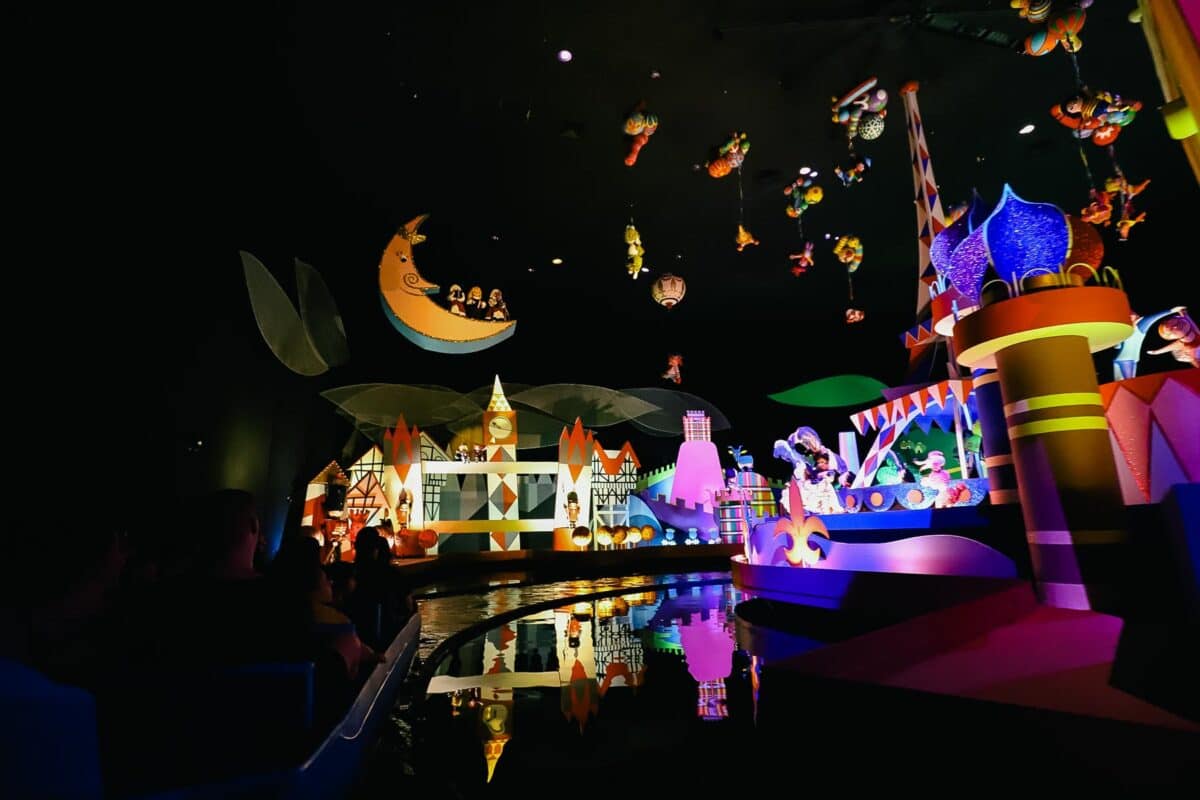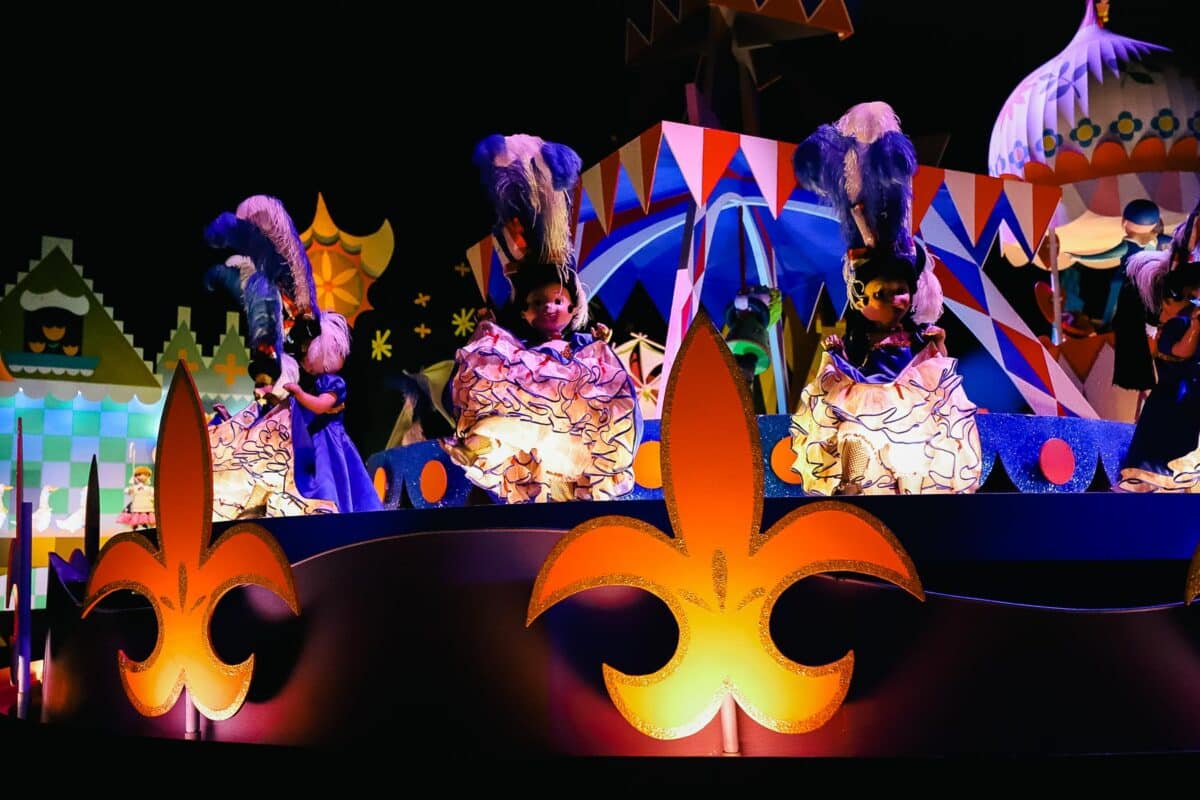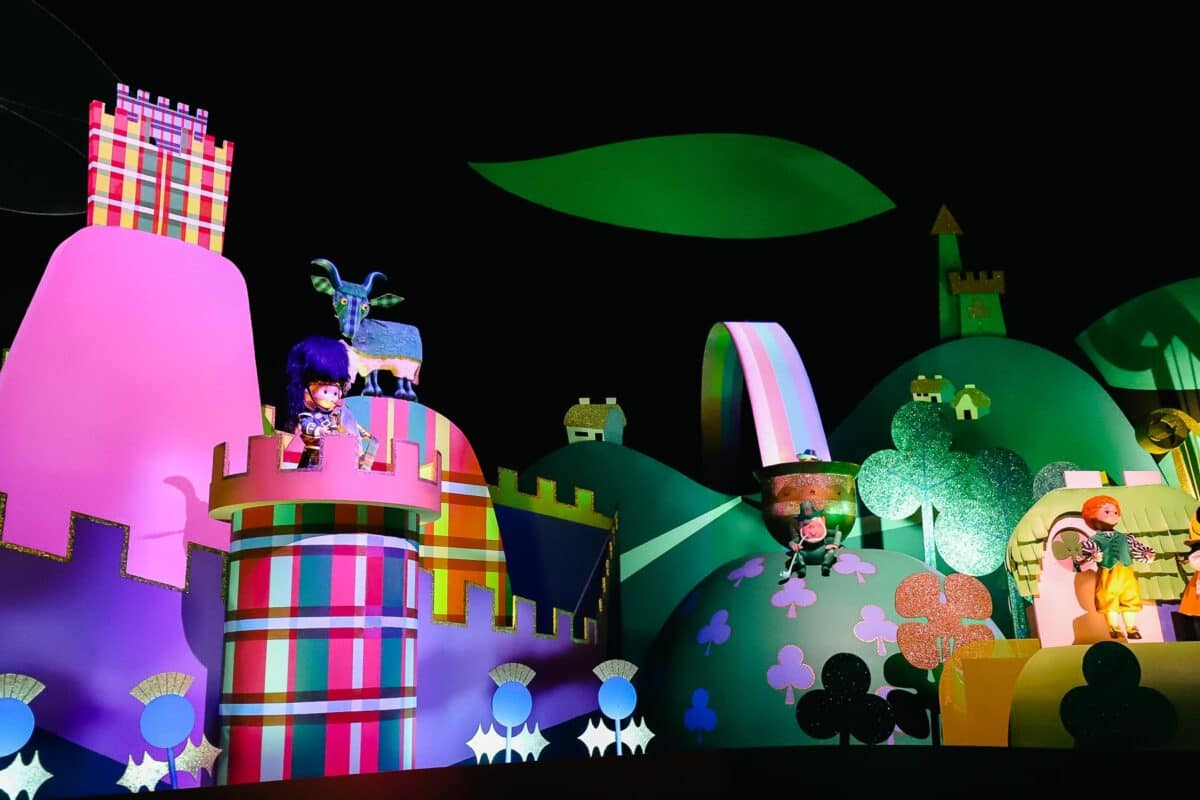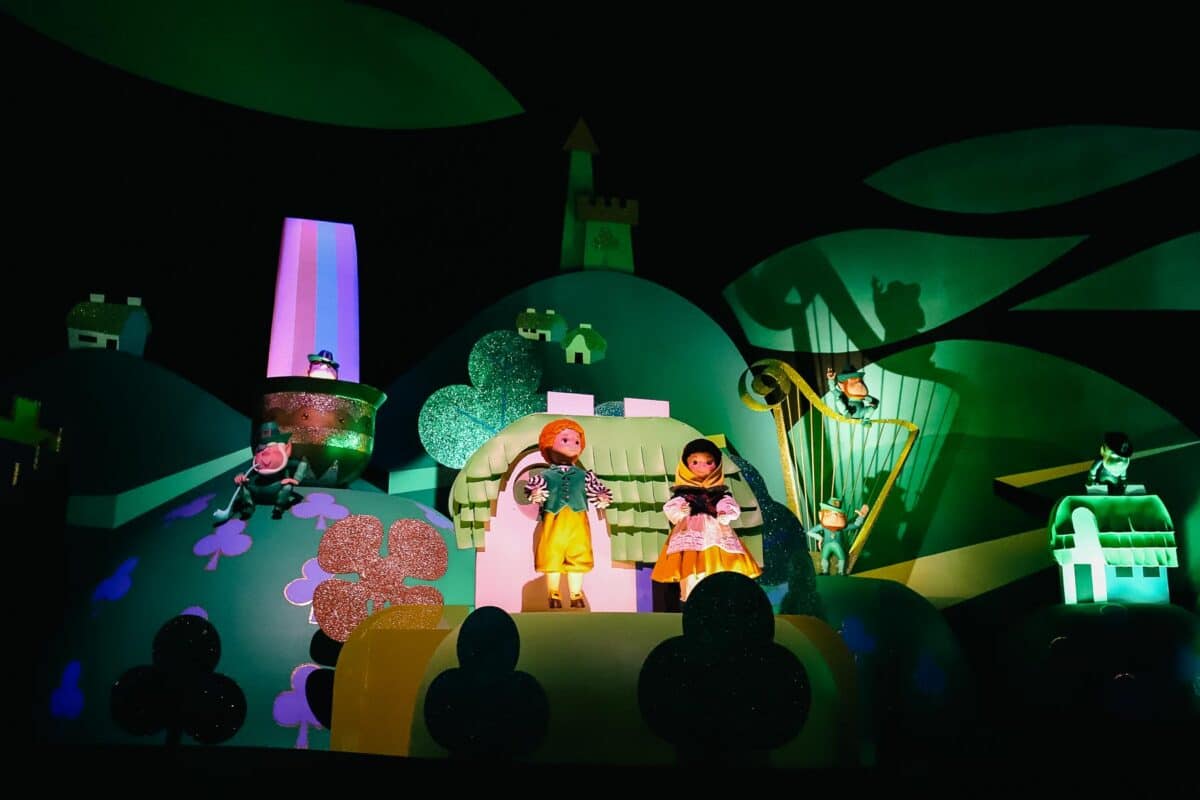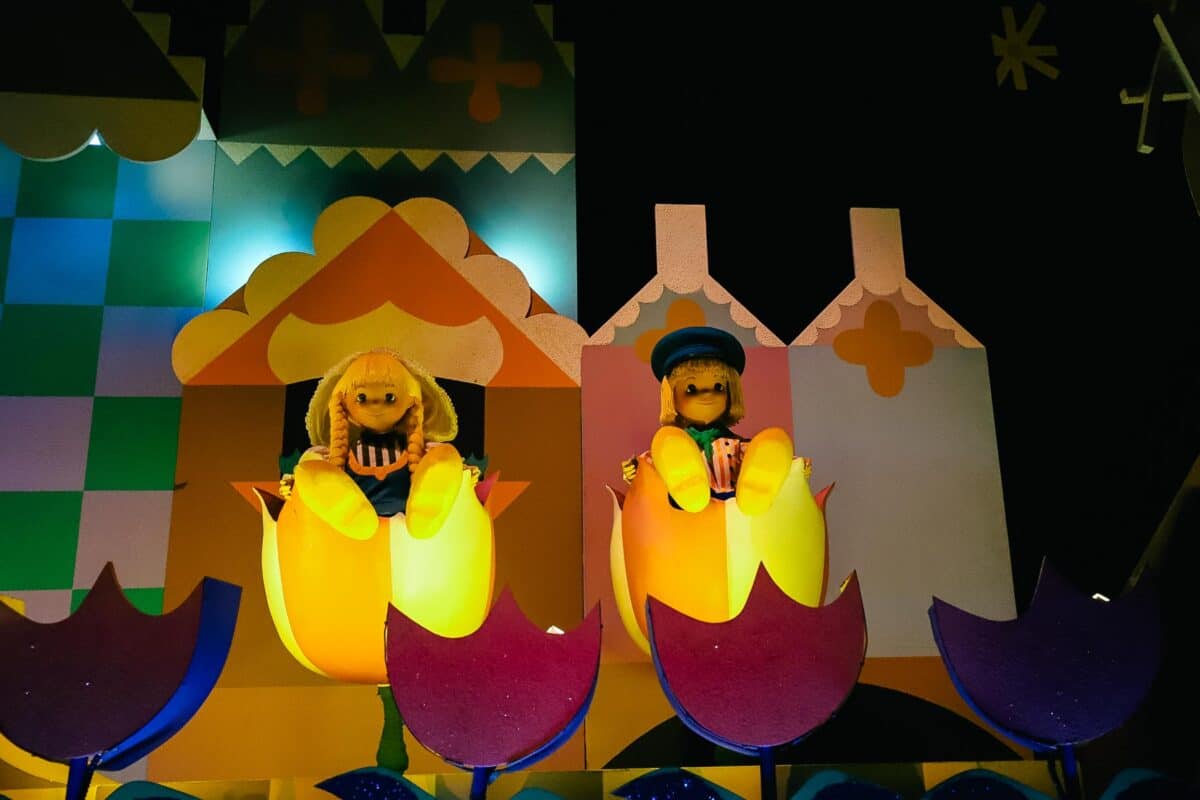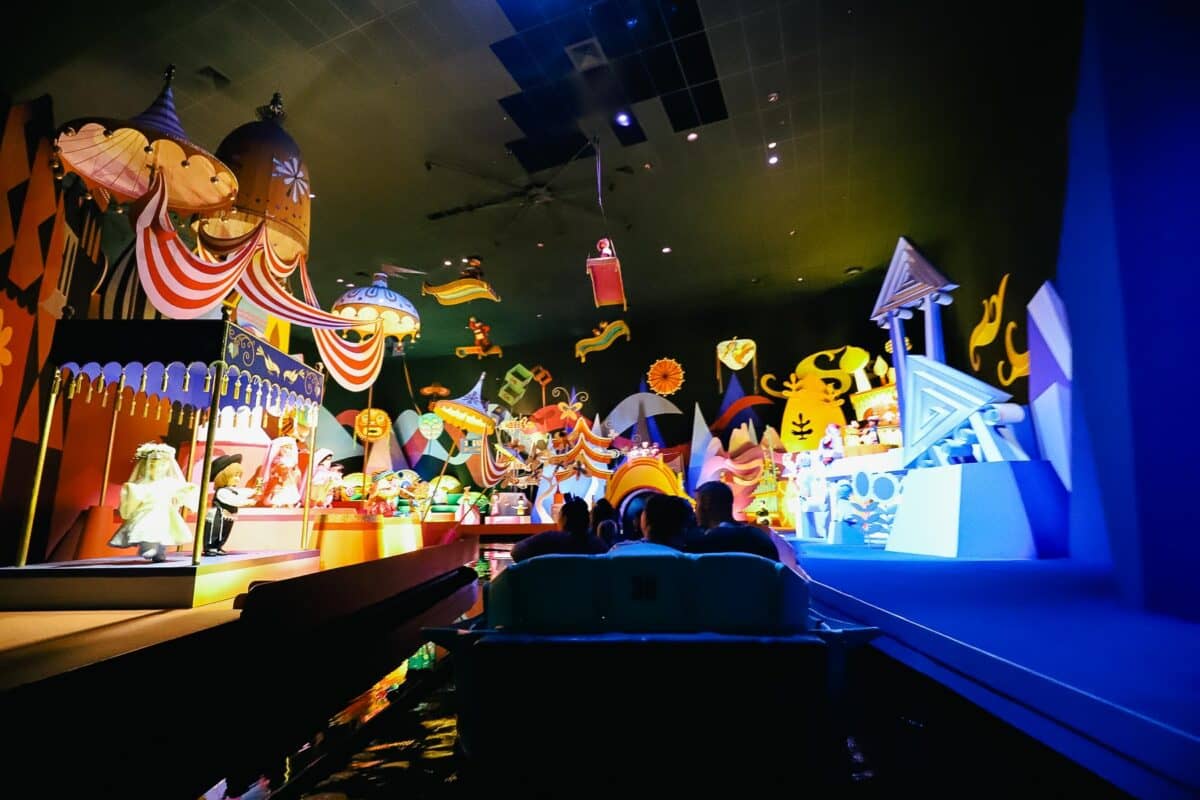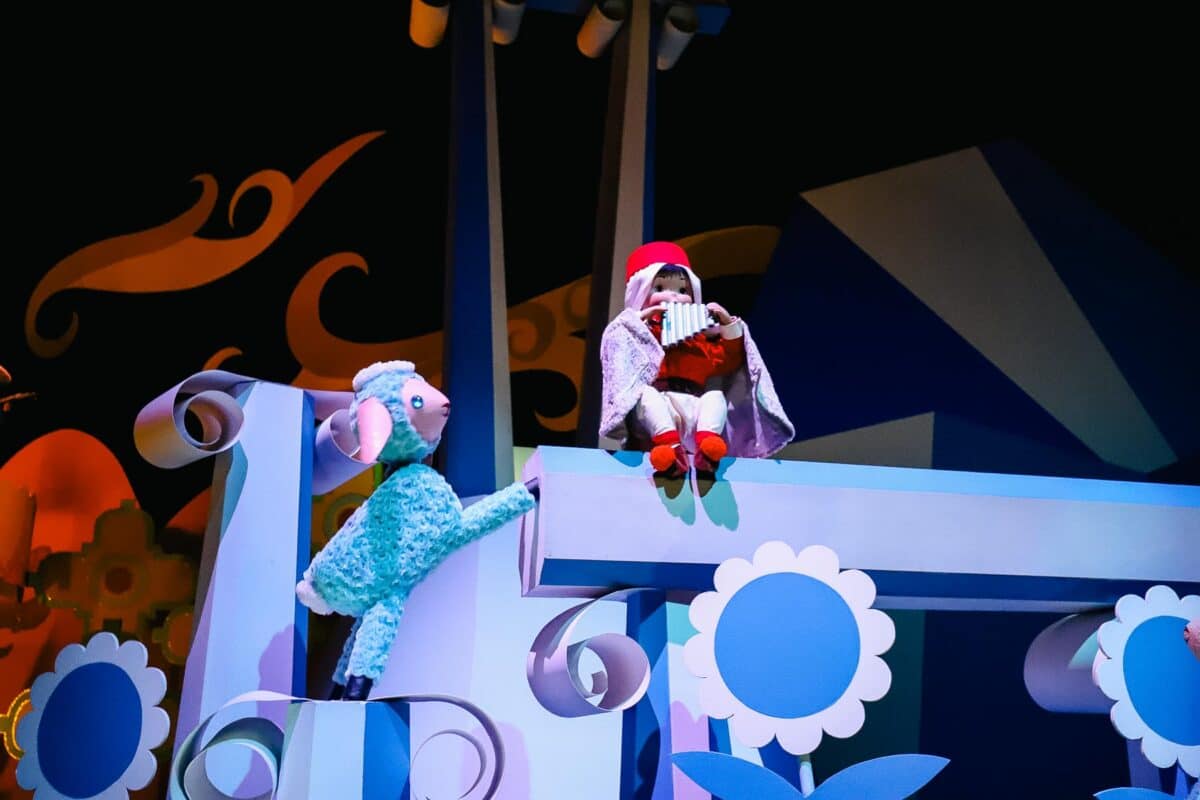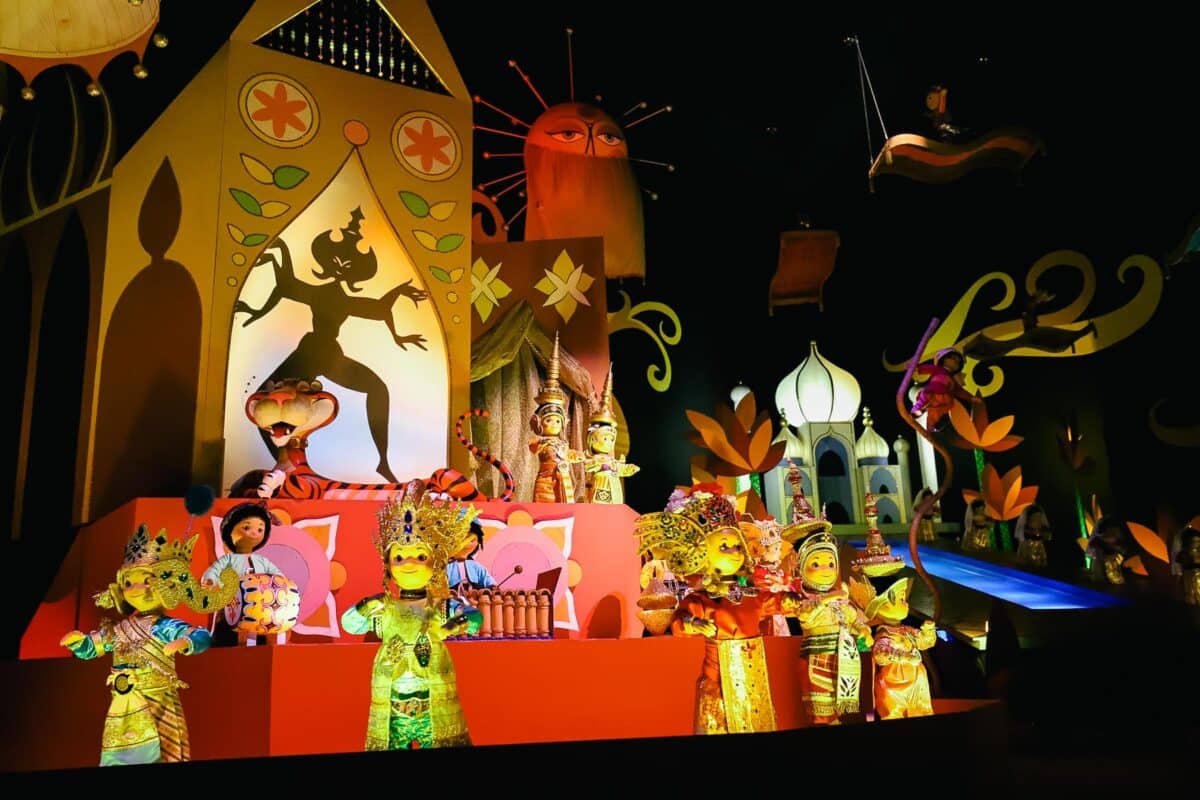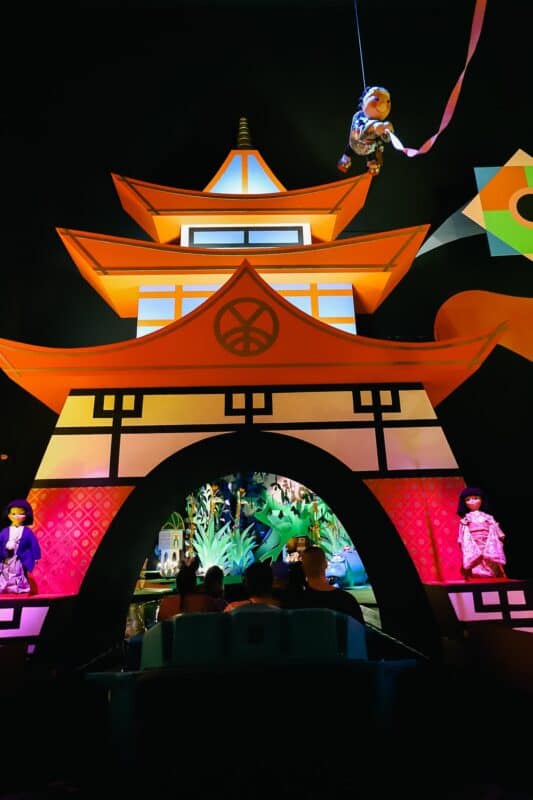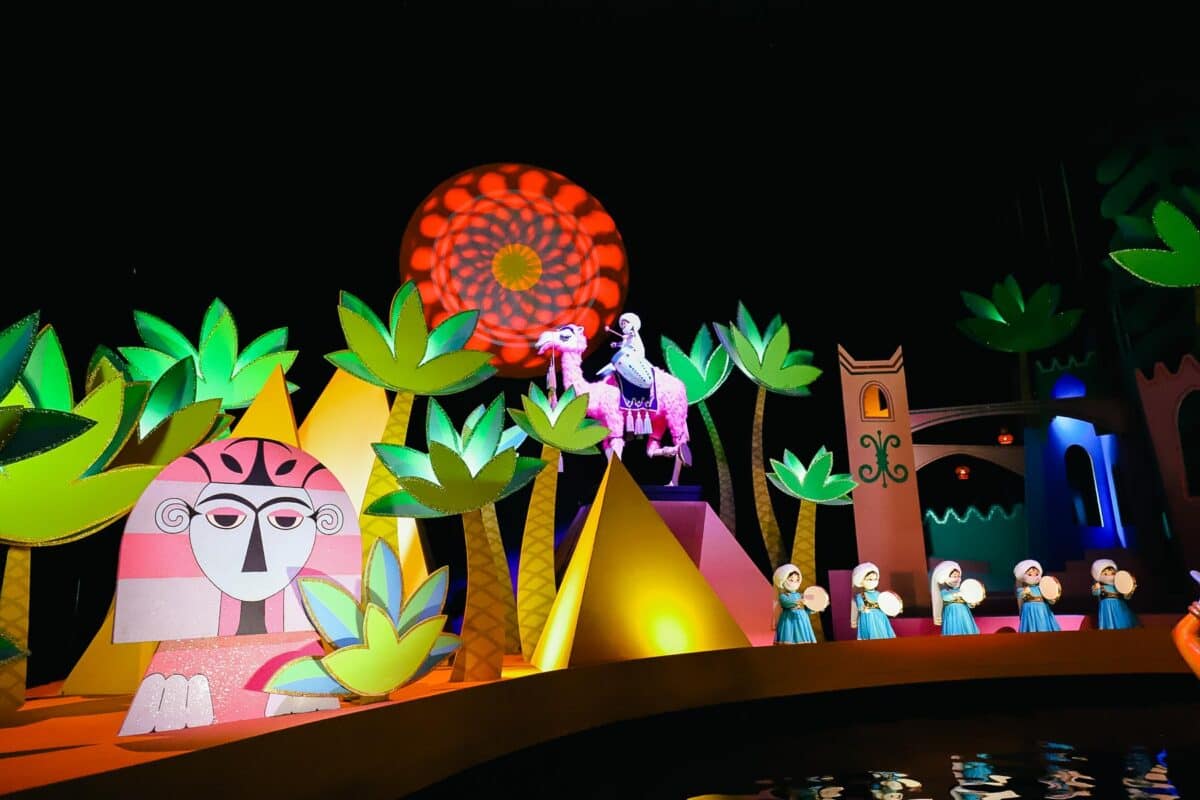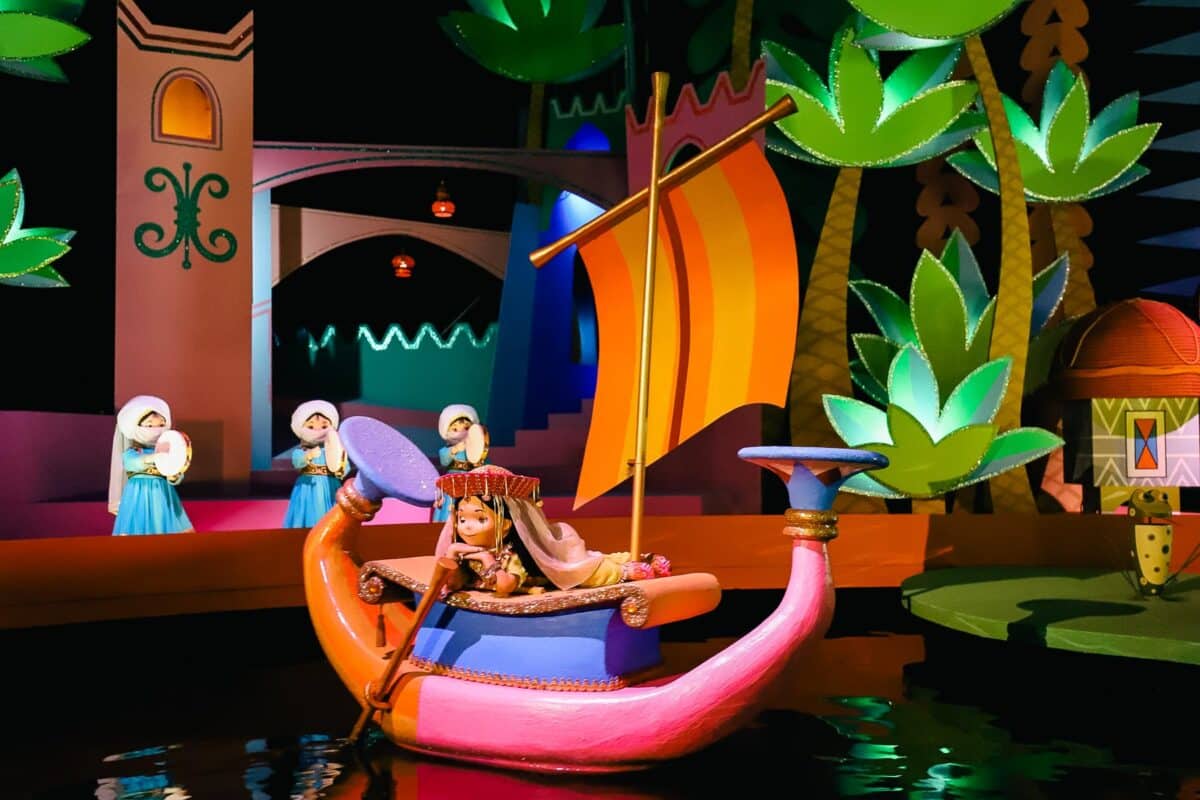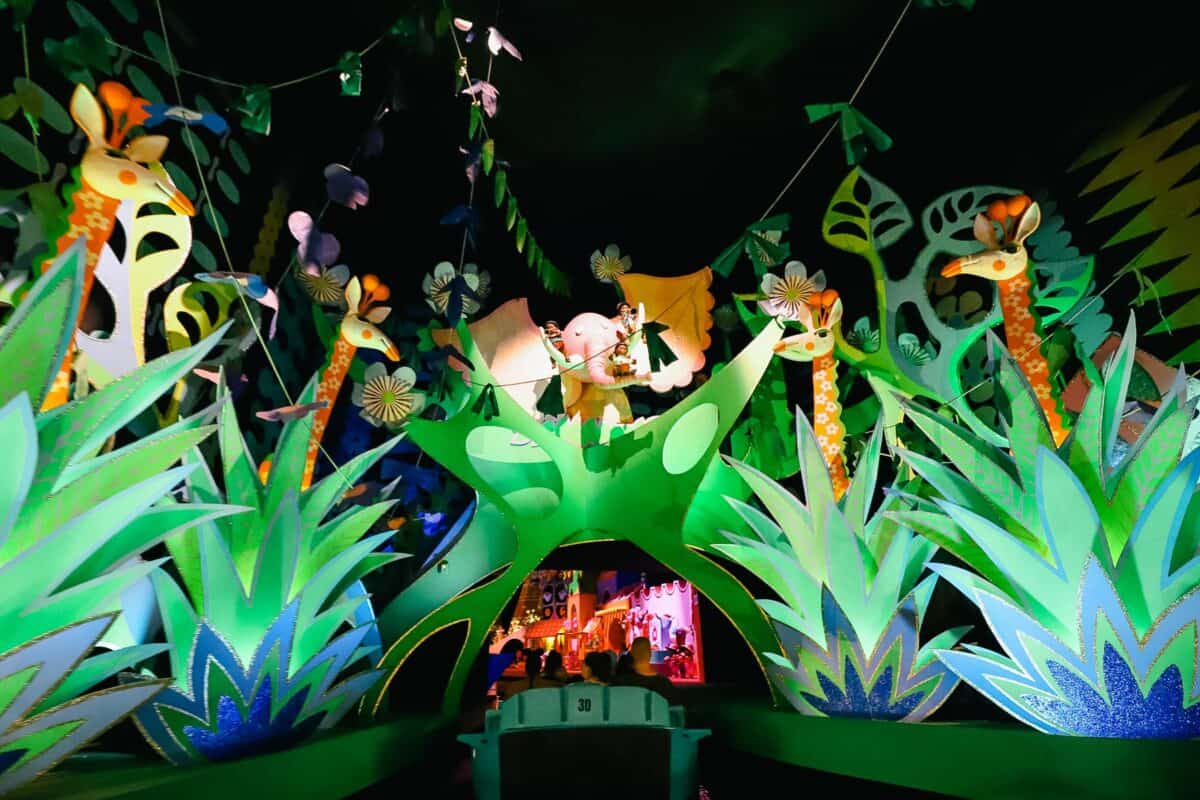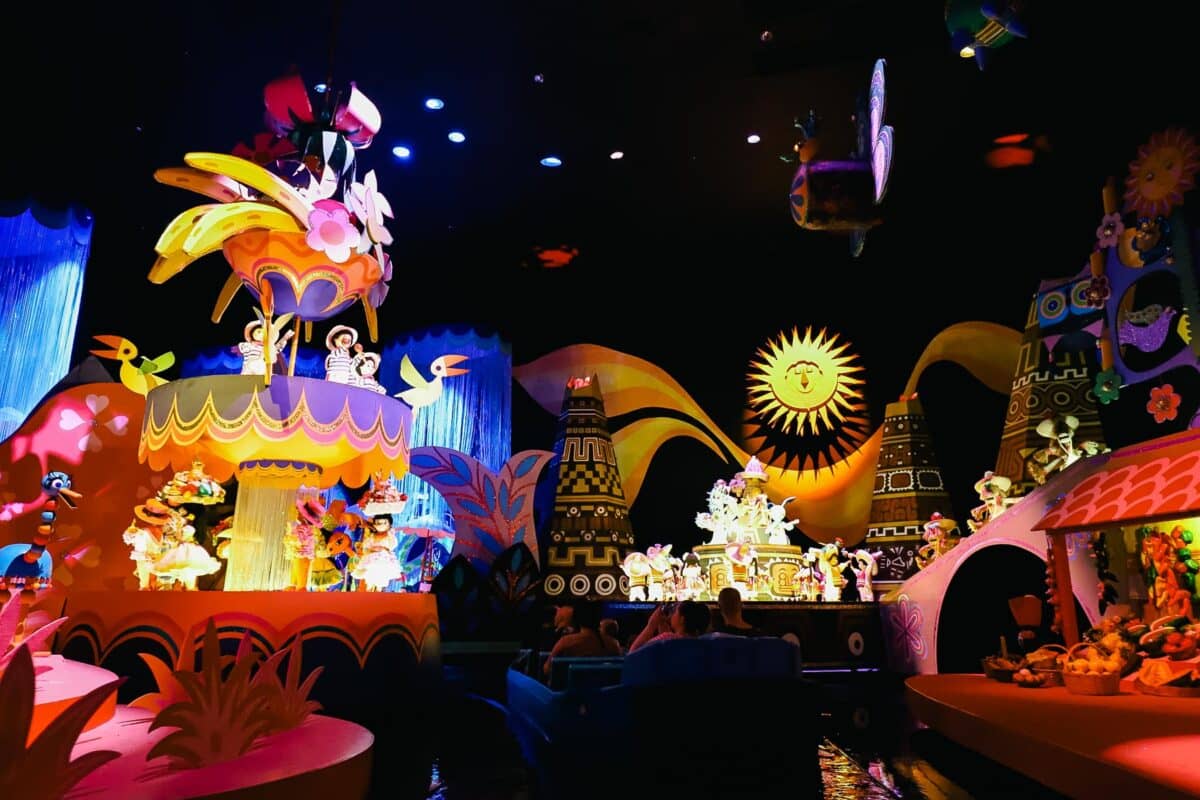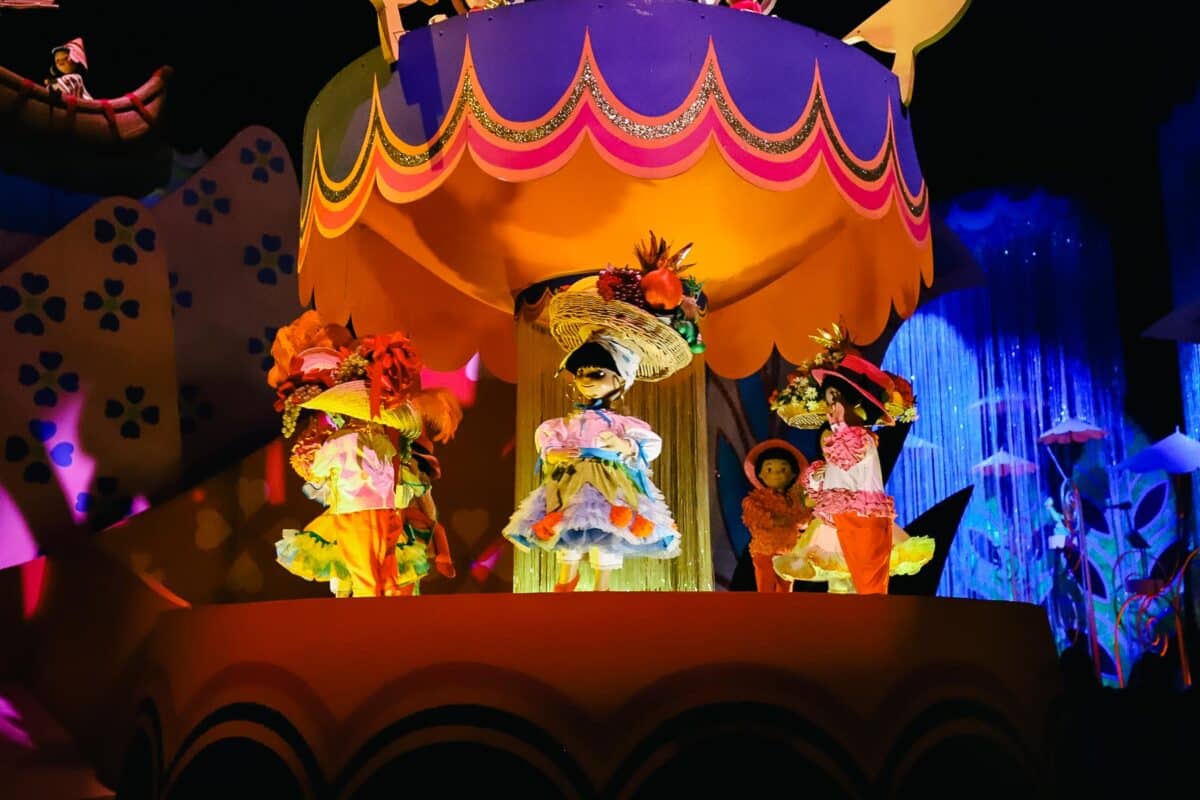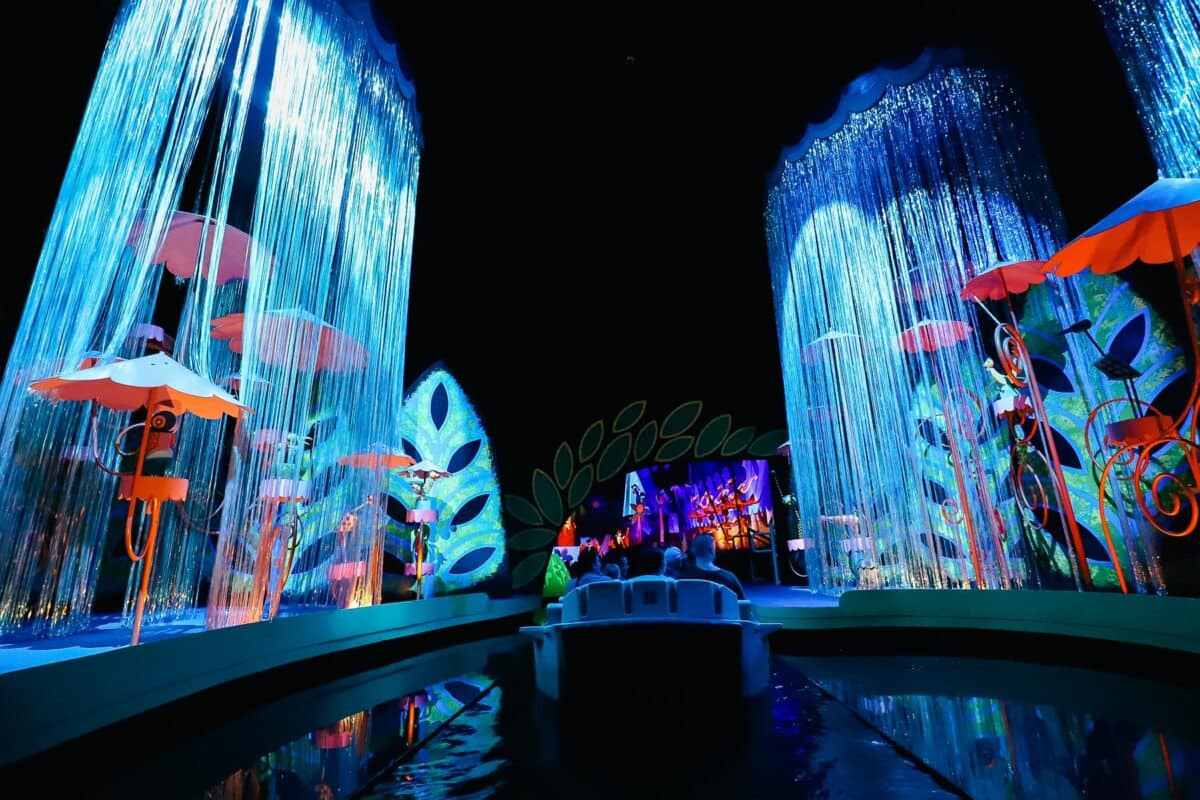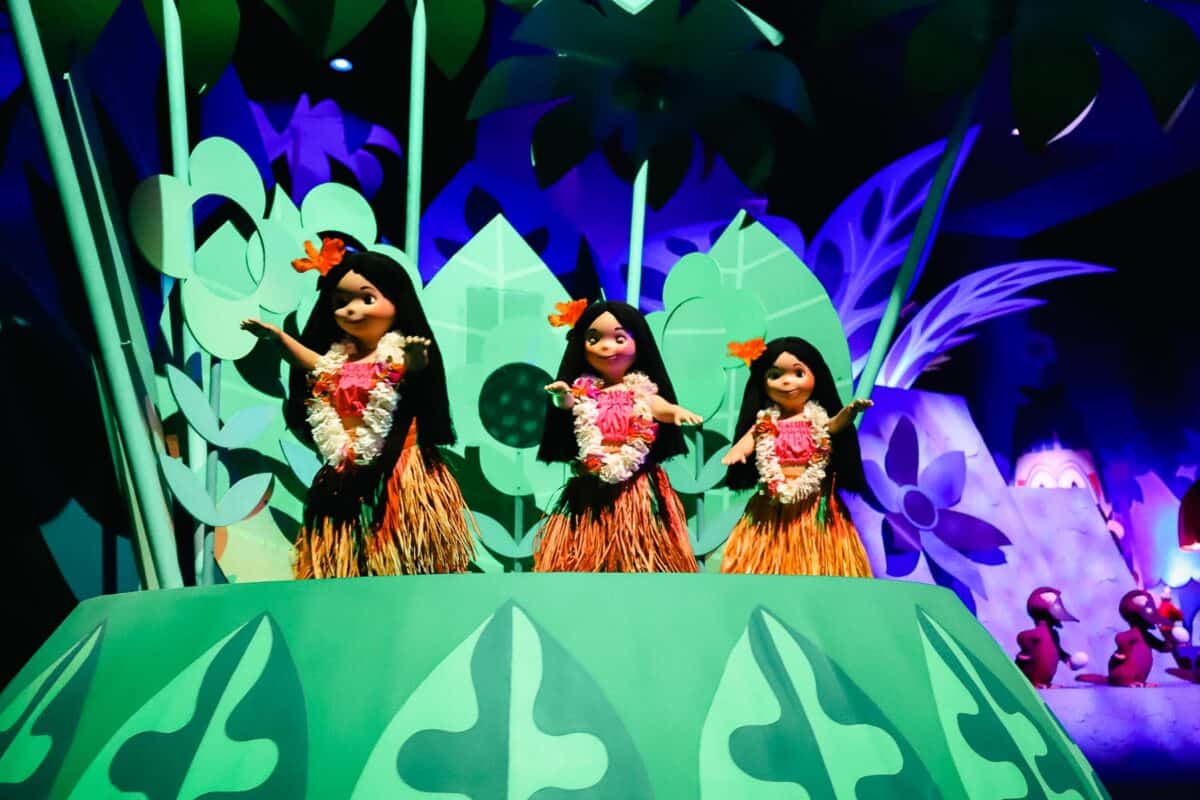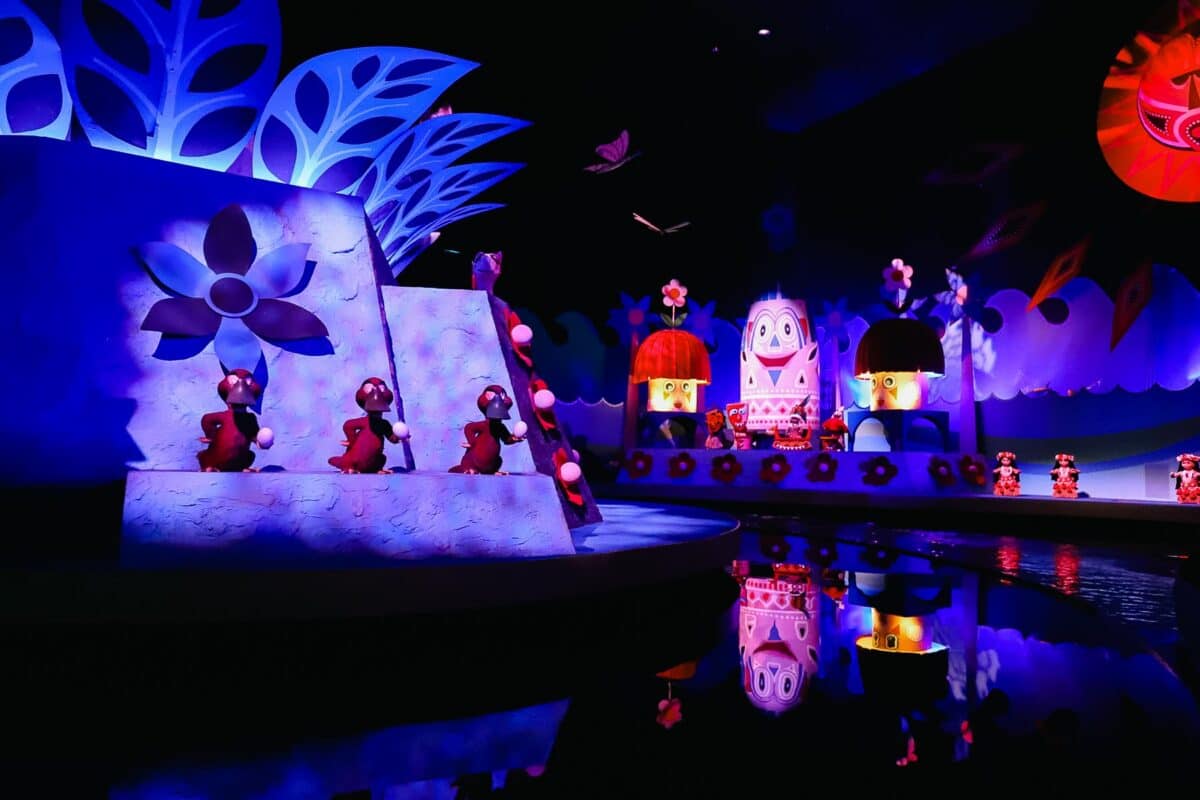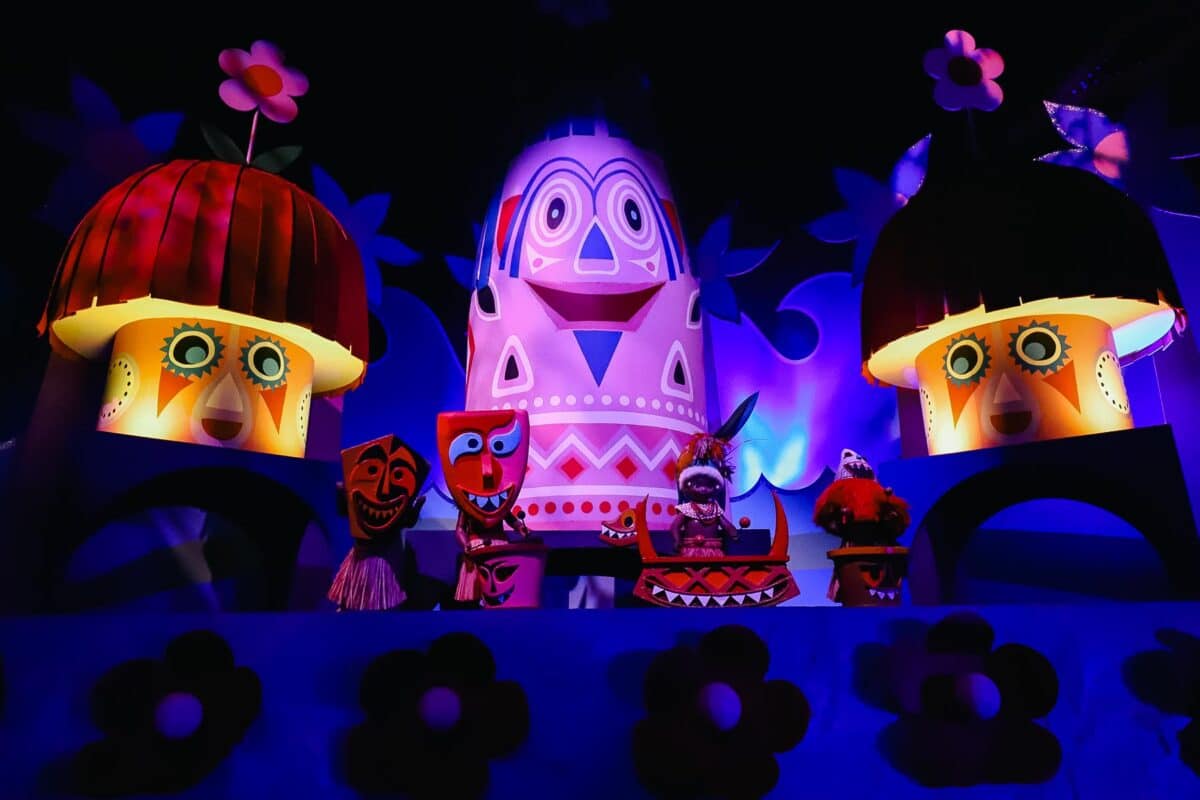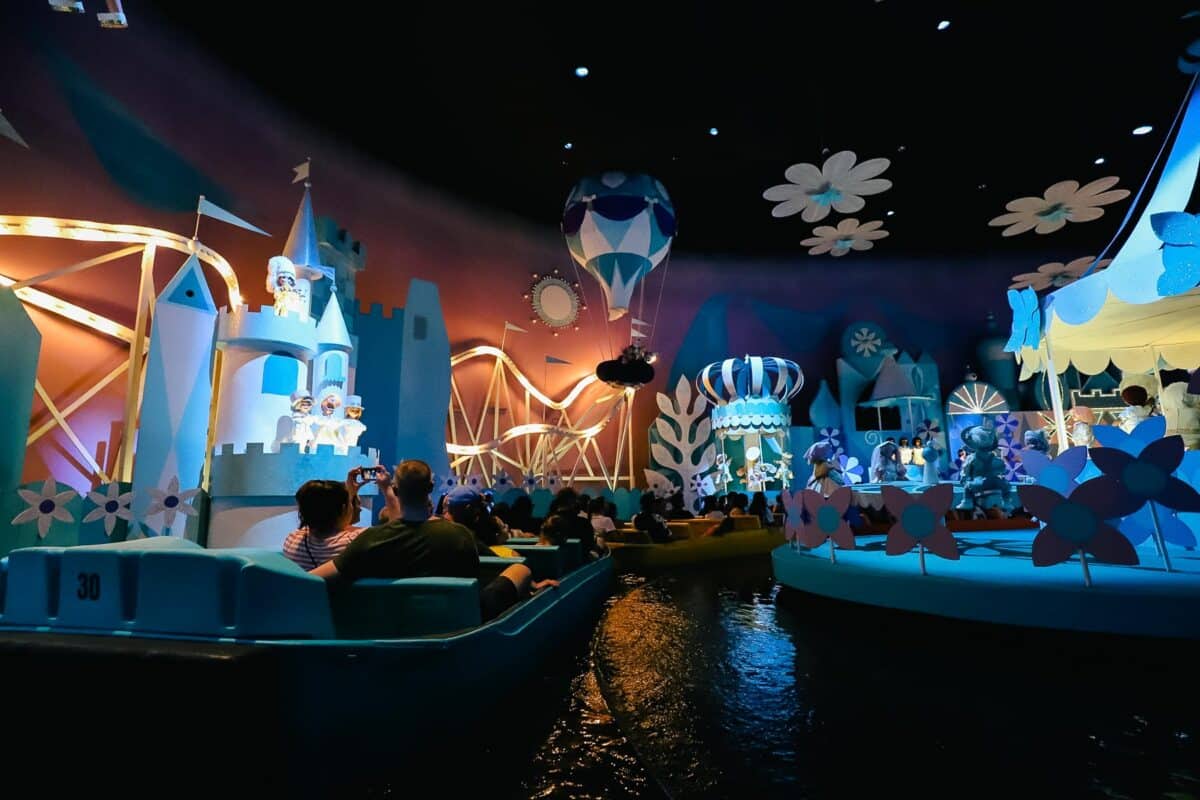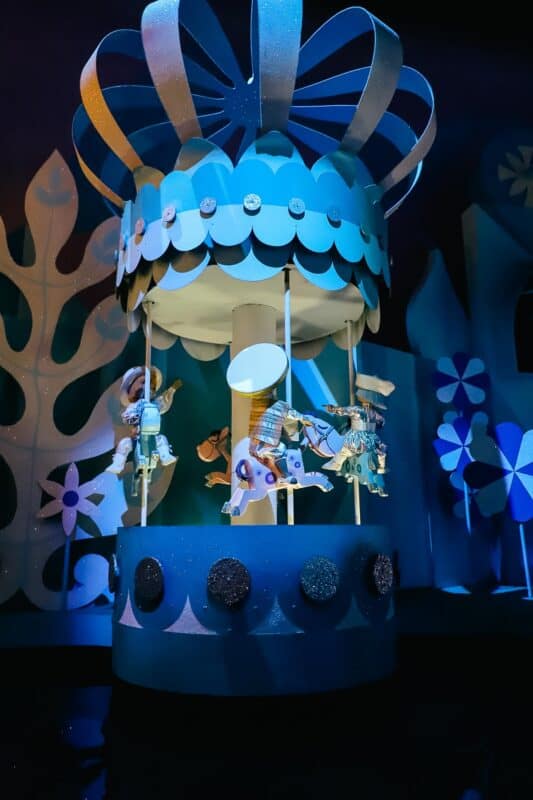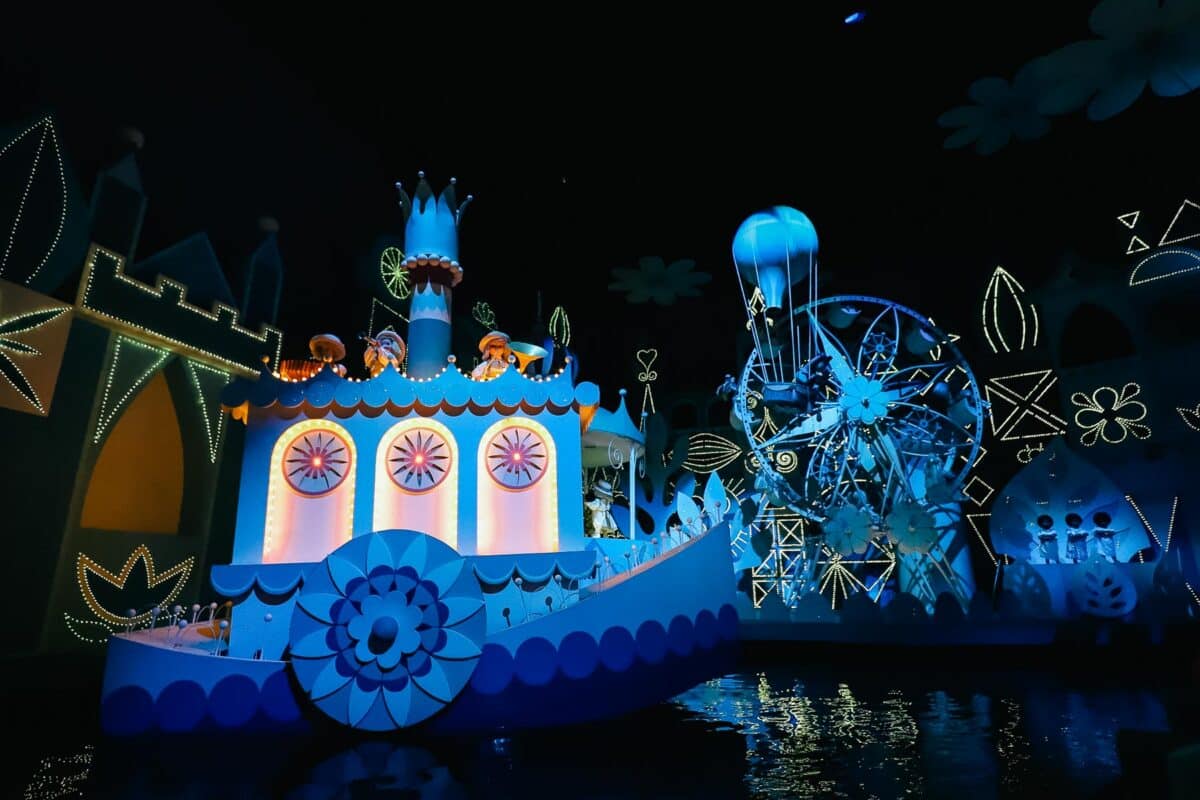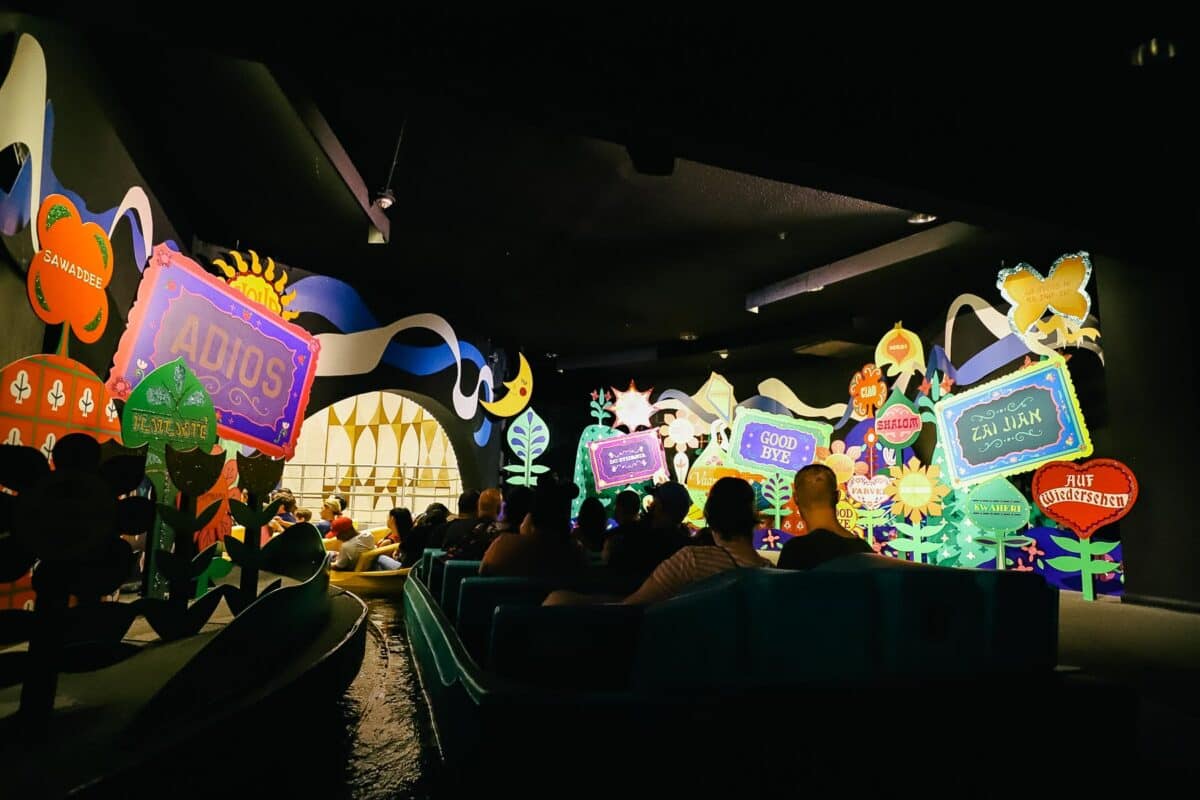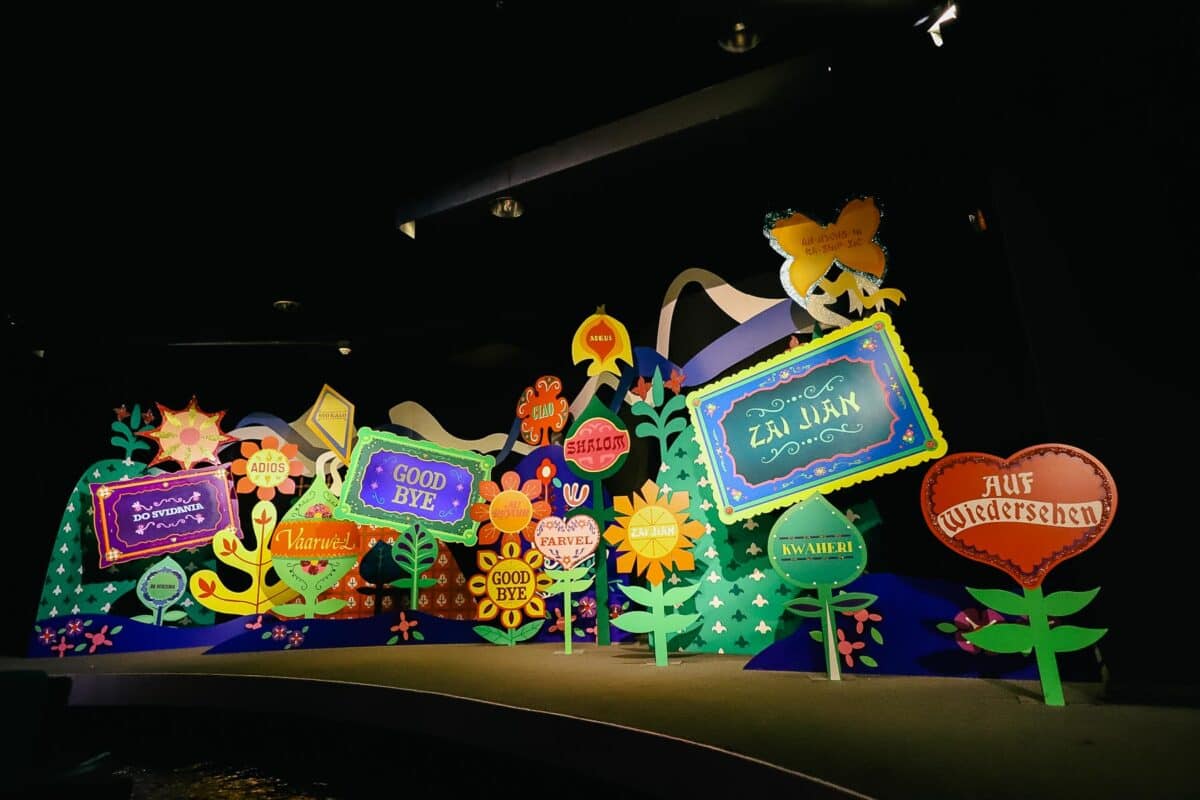 Hopefully, you'll have the opportunity to experience this fun attraction on your next visit. Make sure to check out these other rides at Magic Kingdom:
Resorts Gal specializes in Disney World Resorts, Characters, and Dining. Check out some of our resources, like our Disney World Resort Reviews. That page provides a list of every single resort review we have available on the site.
Some of our favorites for off-site include:
We have a complete list of Disney restaurant reviews for planning dining reservations. Usually, we recommend scheduling at least one Disney World character dining meal and a Disney signature dining reservation.
If you plan to meet characters in the parks, there is an updated list of Disney World Characters. That review links to every meet available in each of the four parks.
Lastly, our most popular reviews include the best restaurants at Disney Springs, and we keep a timeline going of Disney Loungefly mini-backpacks.
In the Comments
Do you always ride "it's a small world" when you visit Disney World? Is this a must-do attraction or a skip? Share your thoughts below.