Peter Pan's Flight at Magic Kingdom
Peter Pan's Flight is one of Fantasyland's original attractions, located in the Magic Kingdom at Walt Disney World. This popular attraction is original to the park and maintains a long wait time throughout most days.
Below, we'll discuss detail for experiencing Peter Pan's Flight. We'll preview the interactive queue, discuss Genie+ options, and other frequently asked questions about the attraction. So prepare to take flight because we're off to Never Land in a pixie-dusted flying pirate ship!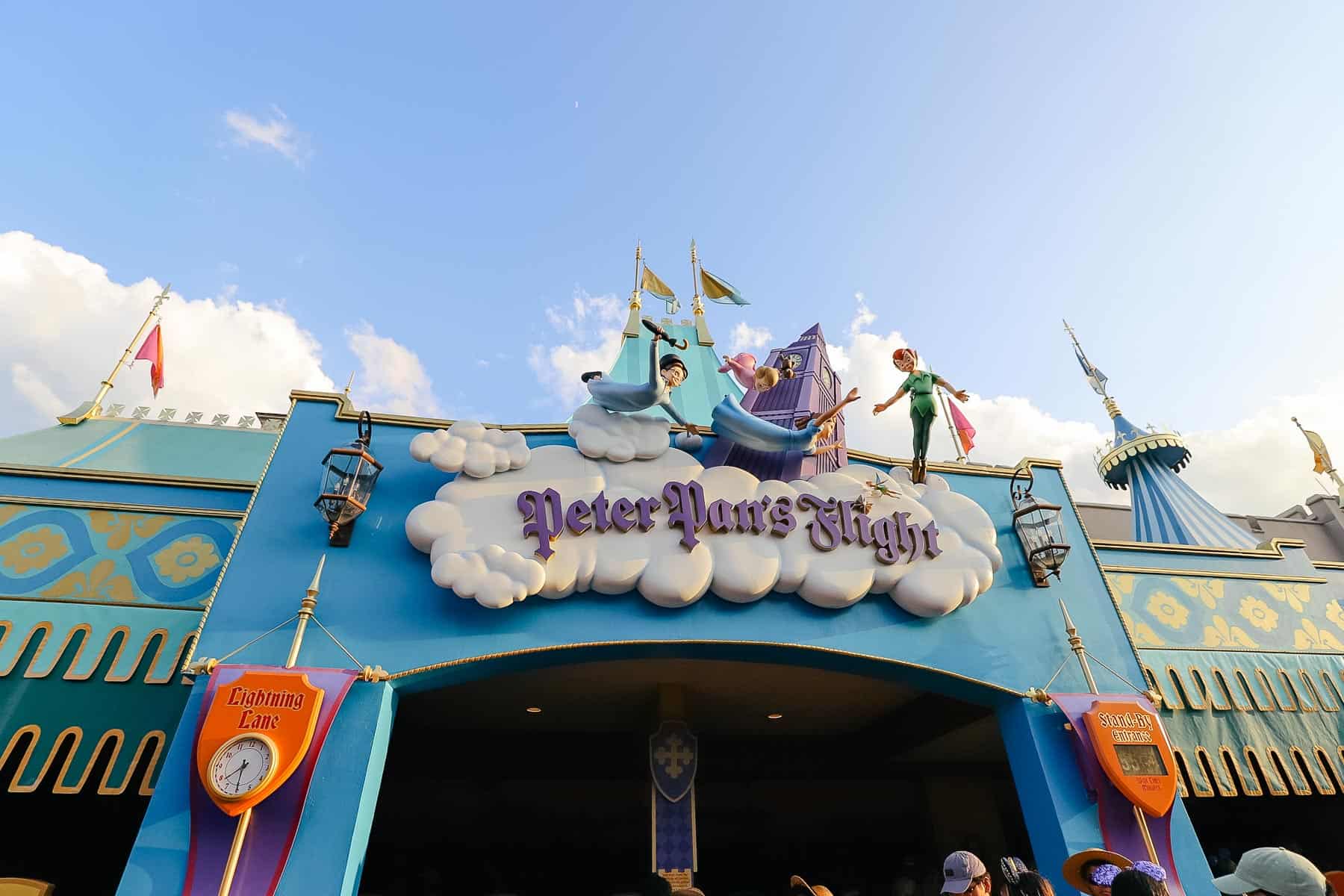 Below is our quick reference chart for Peter Pan's Flight.
Peter Pan's Flight
Magic Kingdom

Location:

Fantasyland

Disney Height Requirement:

None

Disney Genie+ Attraction

Yes

Ride Type:

Slow-Moving Ship

Seats Per Vehicle:

One row sits two to three guests.

Rider Switch:

None

Good For:

Nostalgia
Everyone

Scare Factor:

None

Must-Do List:

High Priority

Perfect For:

All Ages

Special Mention:

This attraction has held its popularity over the years. Wait times can be extremely high for this attraction.
*Guests in wheelchairs or ECVS must transfer to the ride vehicles. **Details for those with mobility issues (i.e., wheelchair, ECVs) are available on Disney.com. Additionally, audio description and handheld captioning devices are available for this attraction. Service animals are not permitted.
Peter Pan's Flight at Magic Kingdom
Peter Pan's Flight is a must-ride attraction for most guests during their Walt Disney World vacation. The ride is located in the original Fantasyland portion of Magic Kingdom.
It sits across the walkway from "it's a small world" behind Cinderella Castle. This location often gets overly crowded in the afternoon to early evening hours.
Peter Pan's Flight does not have a height requirement. However, like all Disney rides, guests under the age of seven must be accompanied by someone 14 years or older.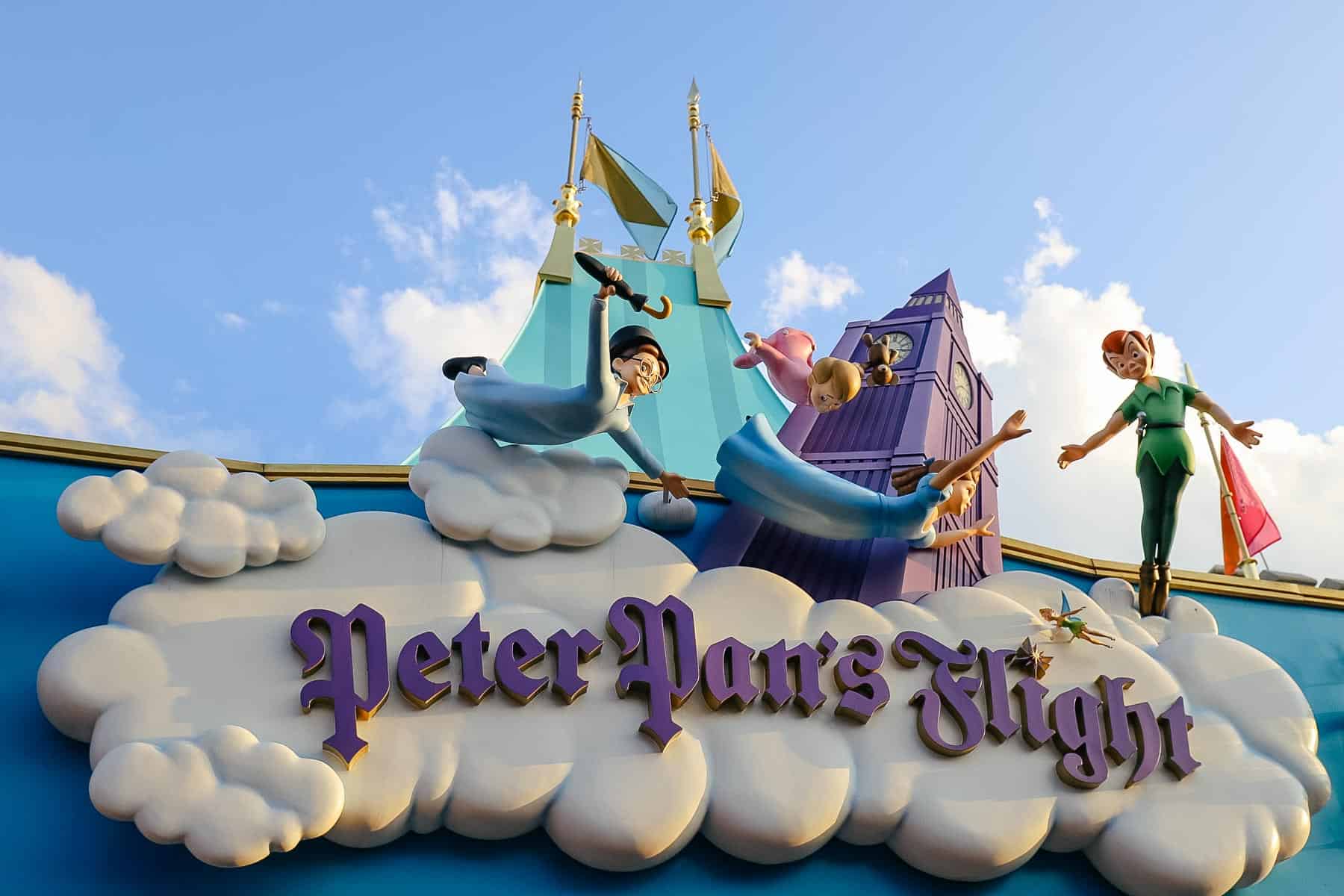 Peter Pan's Flight has had many updates over the years. The latest major refurbishment added adorable interactive elements to the standby queue.
Two options are available for experiencing Peter Pan's Flight. Guests who purchase Genie+ can select this attraction as an individual Lightning Lane based on availability. Or you can elect to ride via the standby queue.
If you elect to use a Lightning Lane, you'll bypass the queue. We'll walk through the standby portion of the line as we continue. It starts outside. You might consider returning later if the queue spills into this outdoor area. It would likely be well over an hour's wait from this point.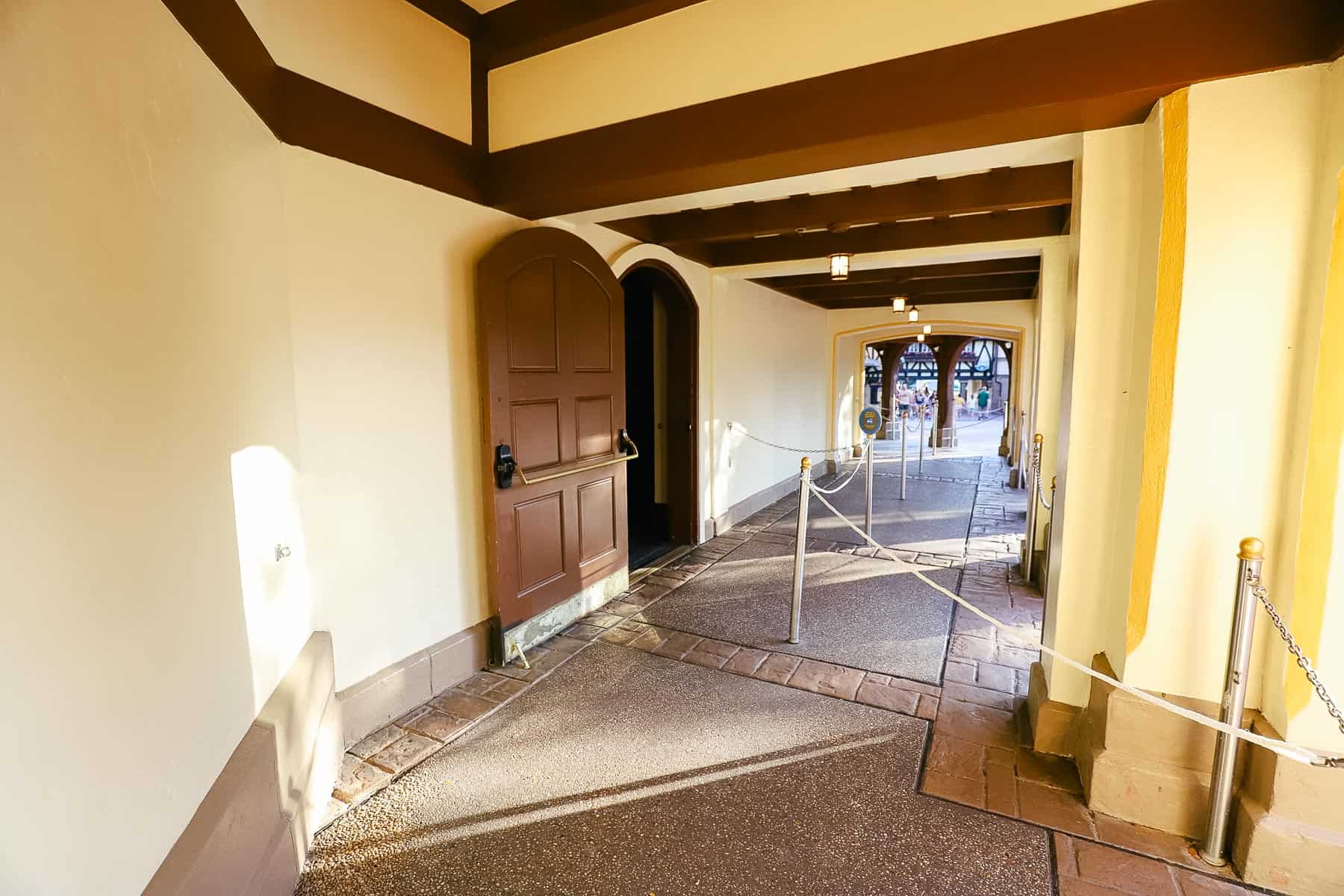 When you first enter the interior portion of the queue, you're greeted by a hall filled with artwork.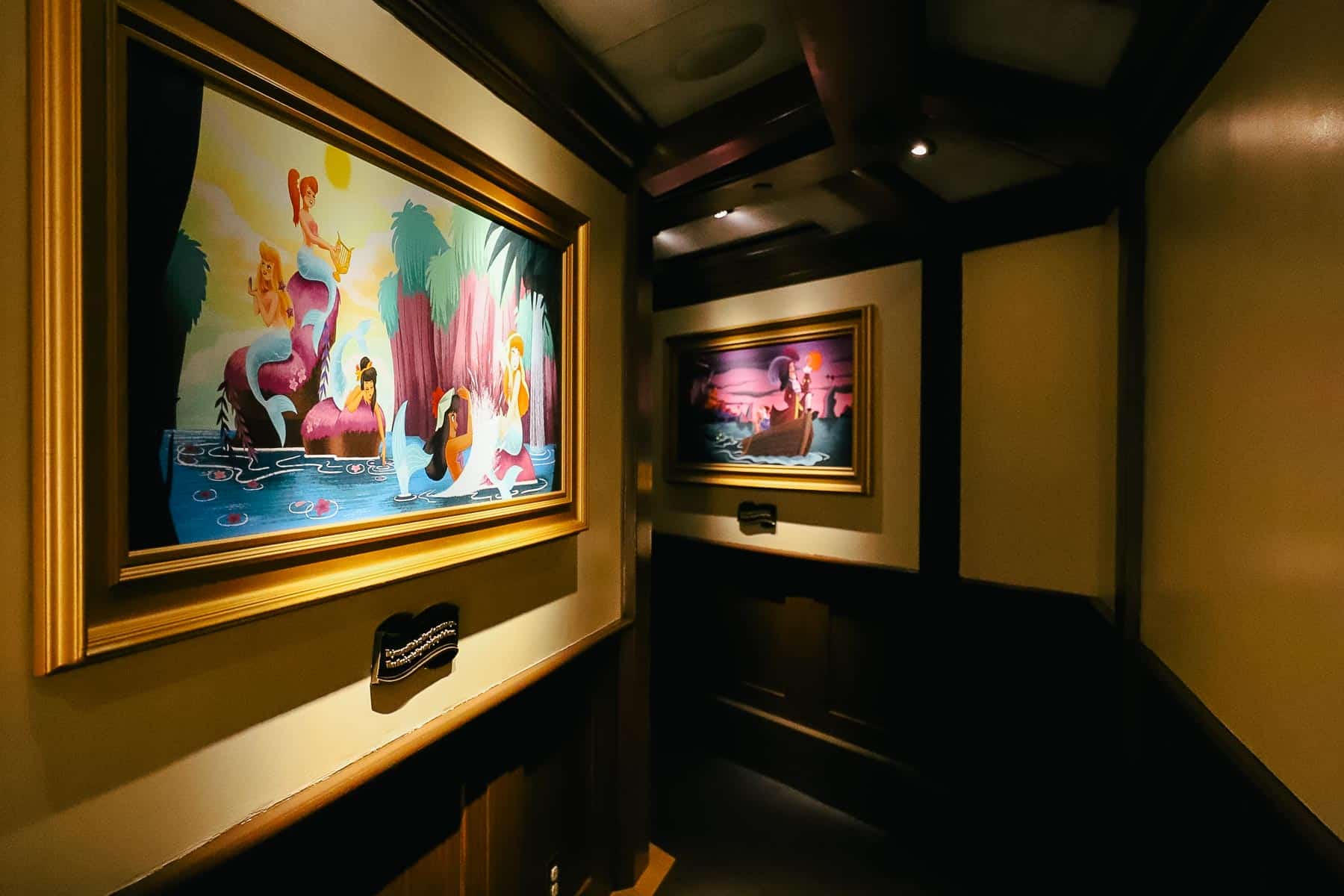 You'll see scenes from the movie.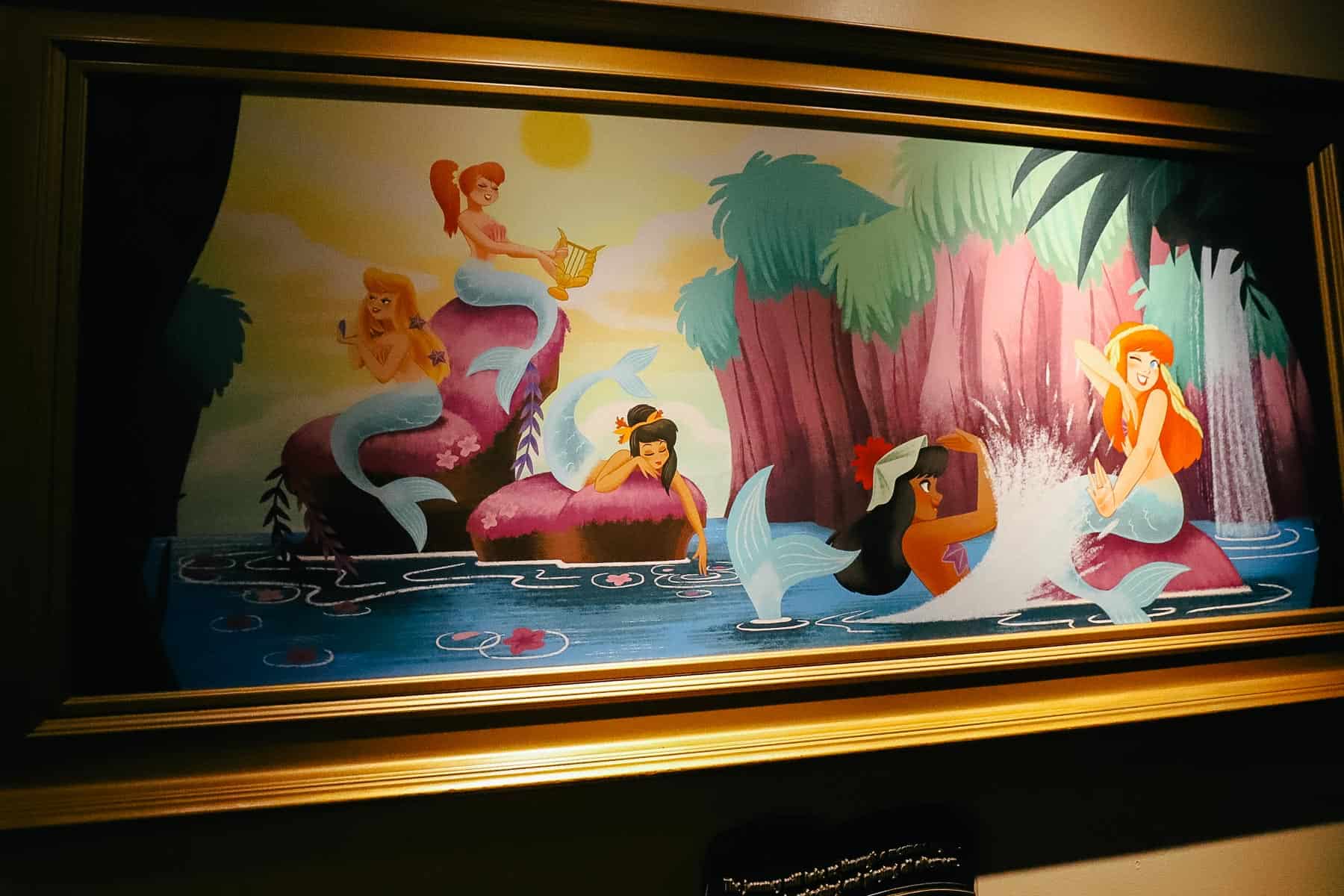 Then you're magically transported to London outside the Darlings' home.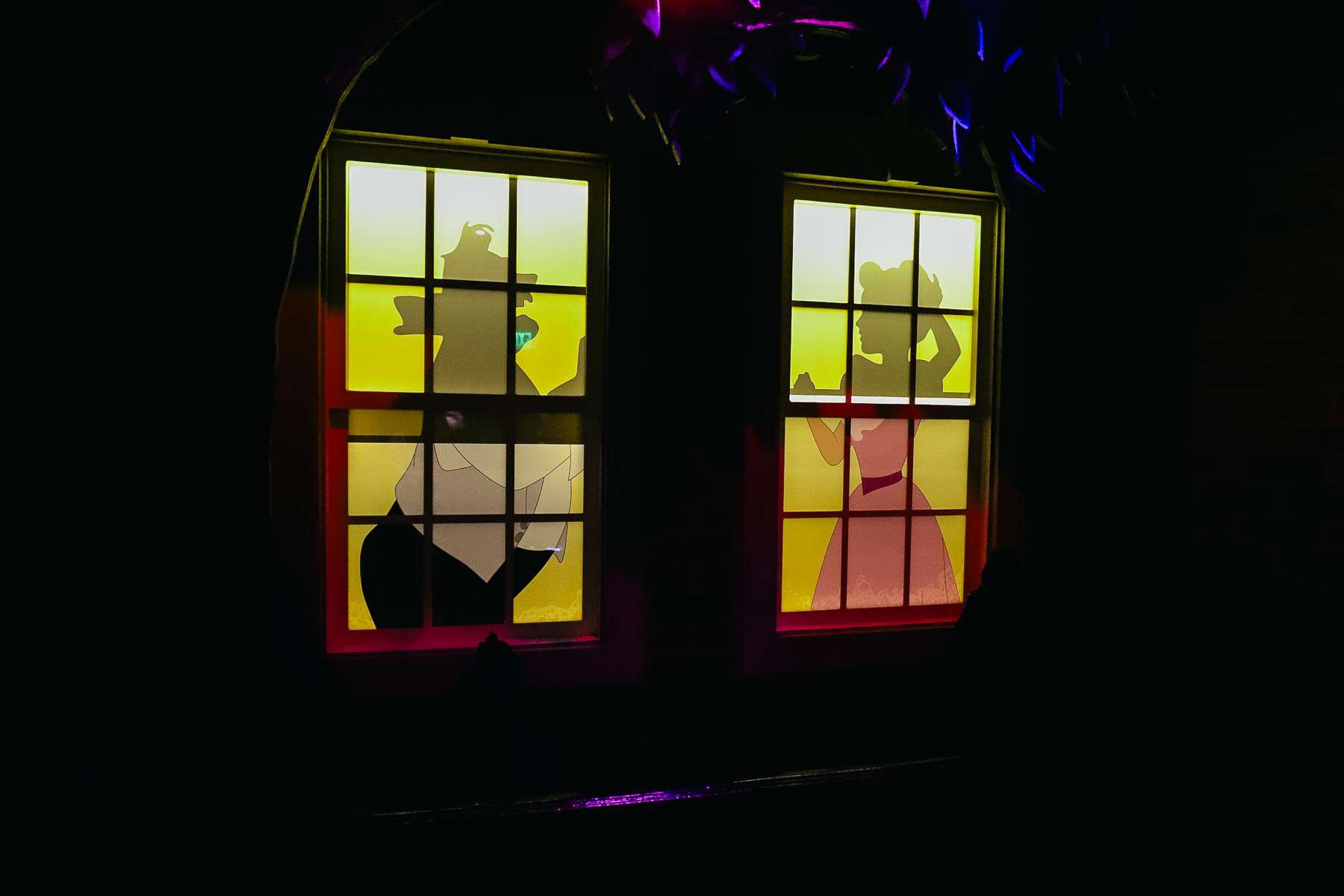 Nana is outside moping a bit.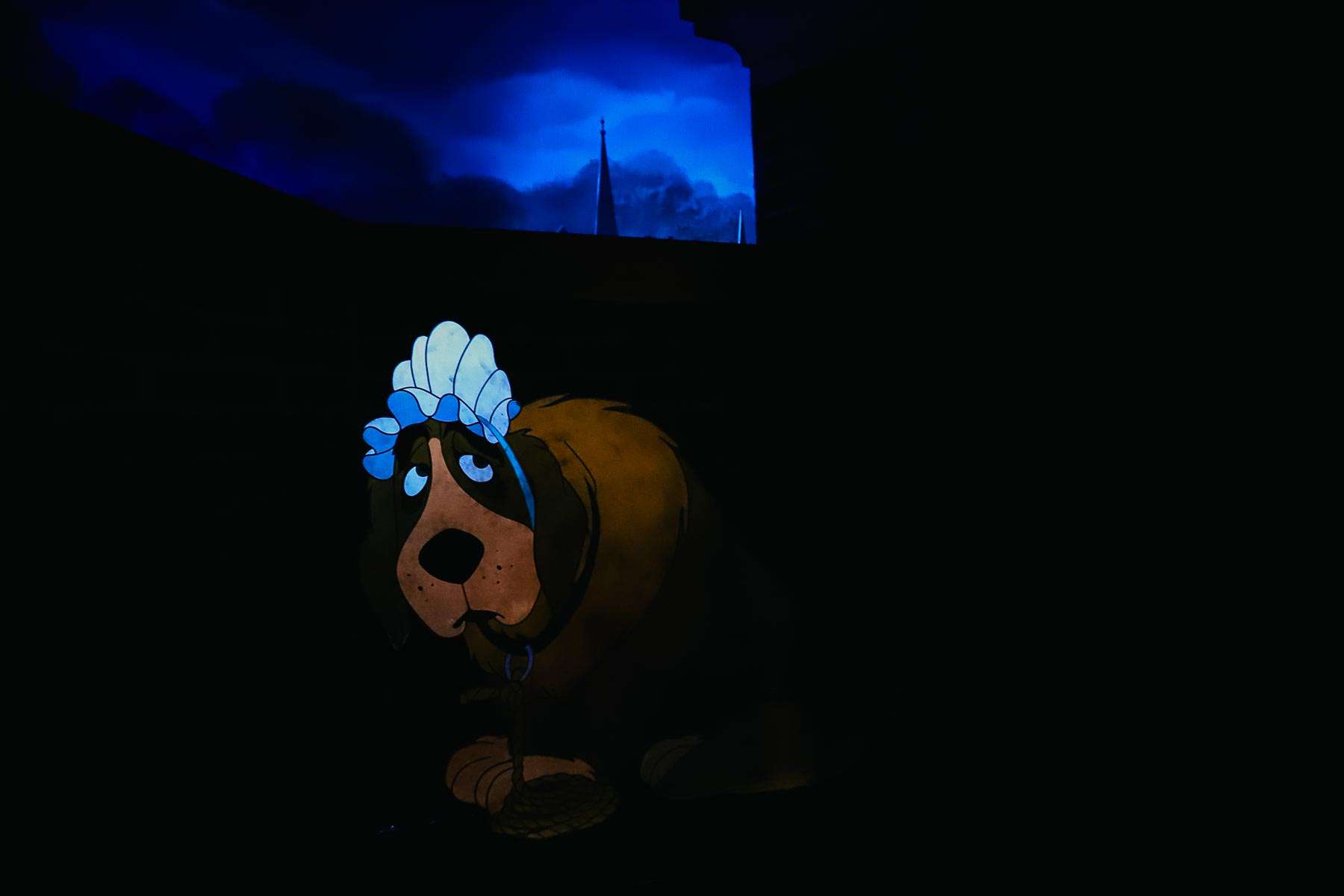 Portraits of Darling children hang inside the foyer.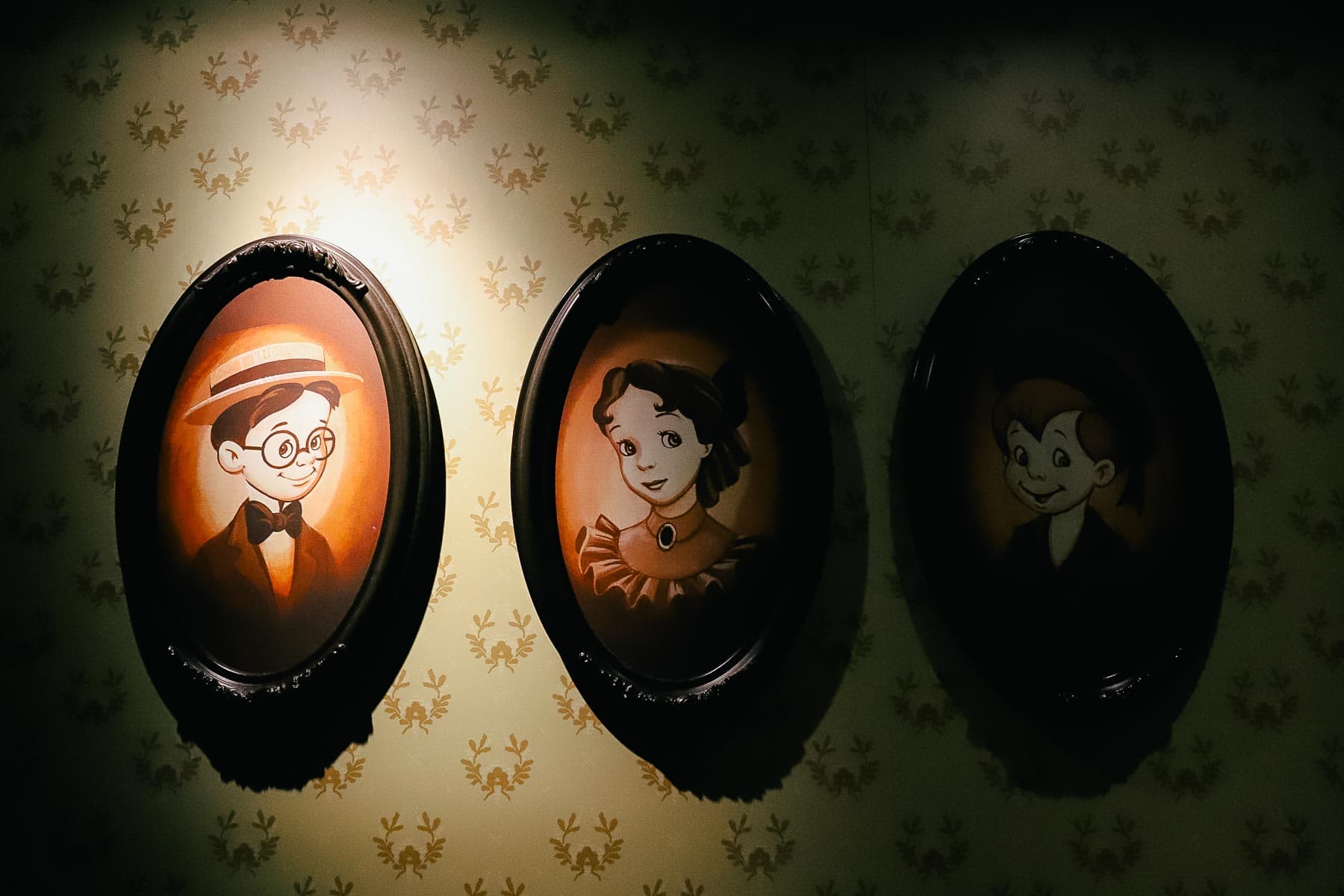 Once you enter the nursery, you can see out the window to London. Big Ben sits in the distance.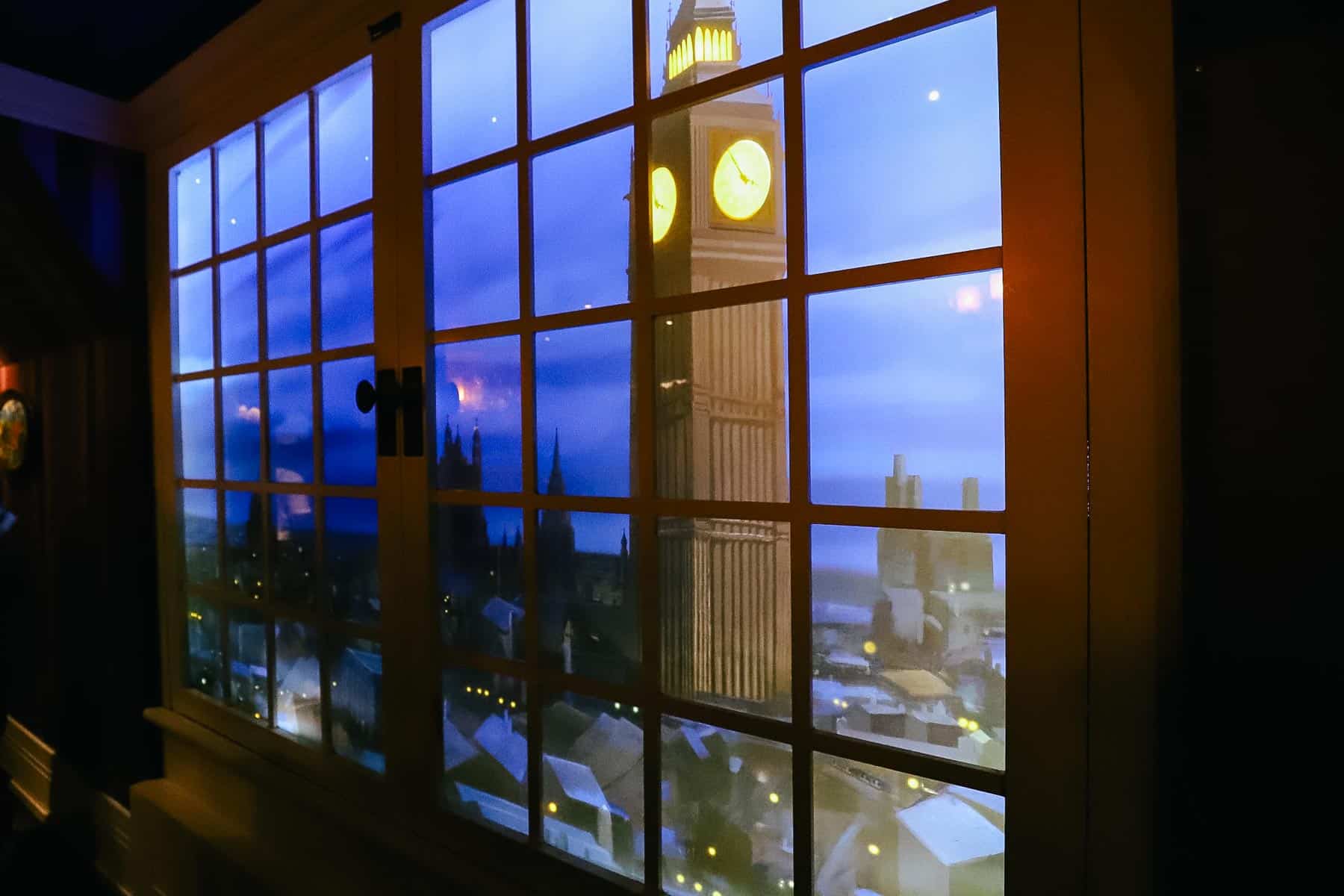 The nursery is filled with the kind of things you would expect.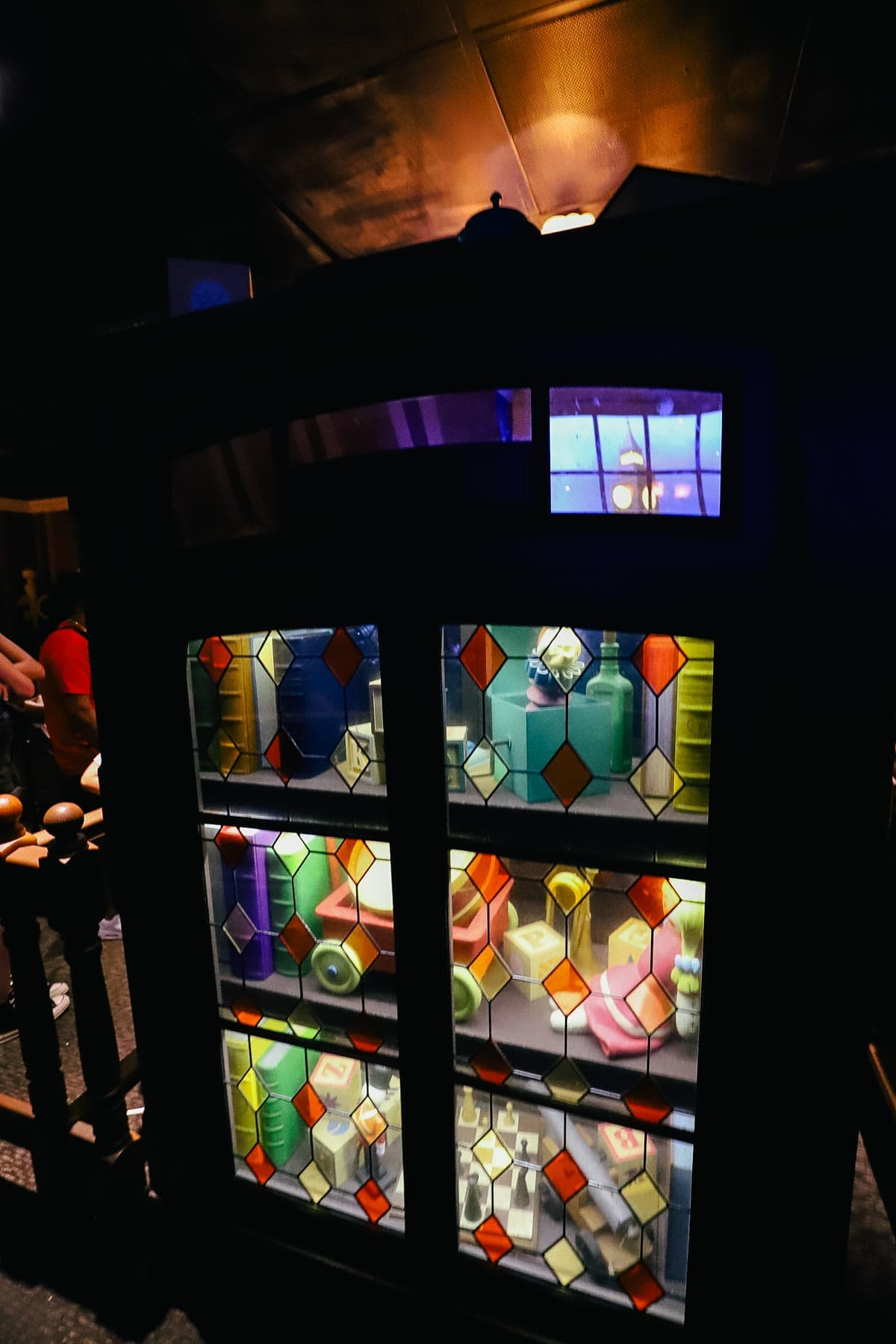 You'll see John, Wendy's, and Michael's beds.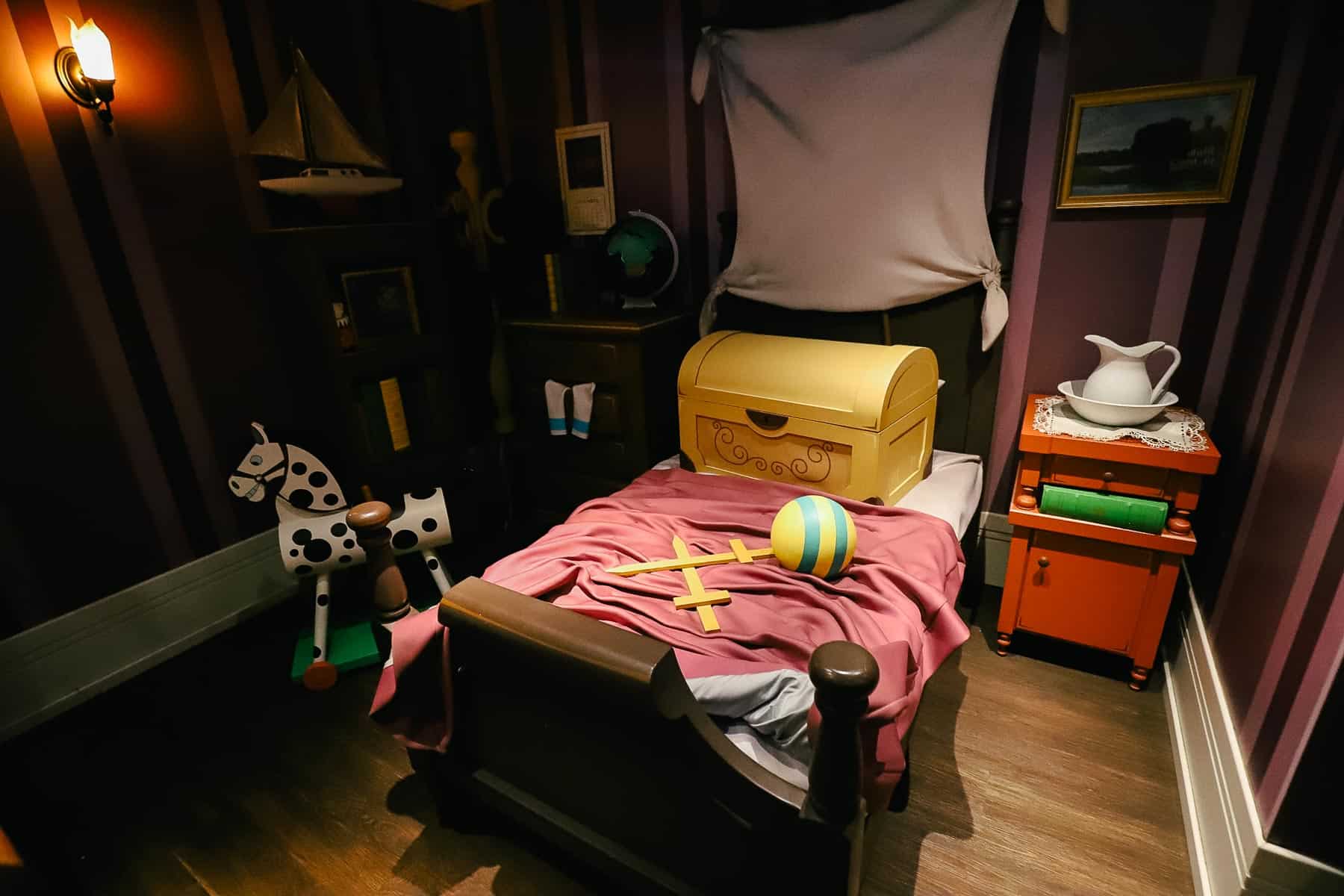 A wall in the center of the room offers a place to look for your shadow, along with several other fun elements. Fun fact–when bells appear, you can reach up and ring them with your shadow.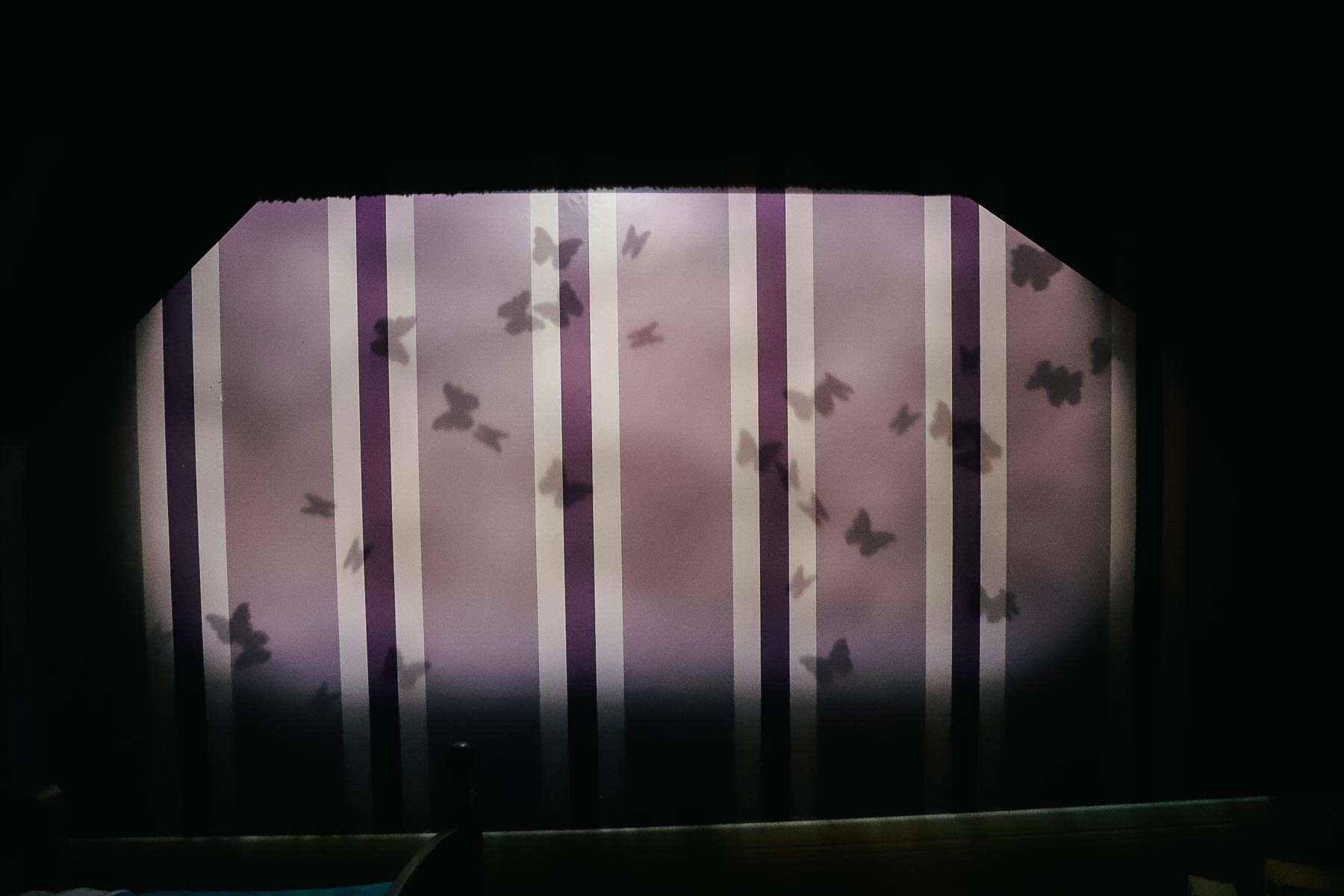 It's an endearing space that guests seem to love.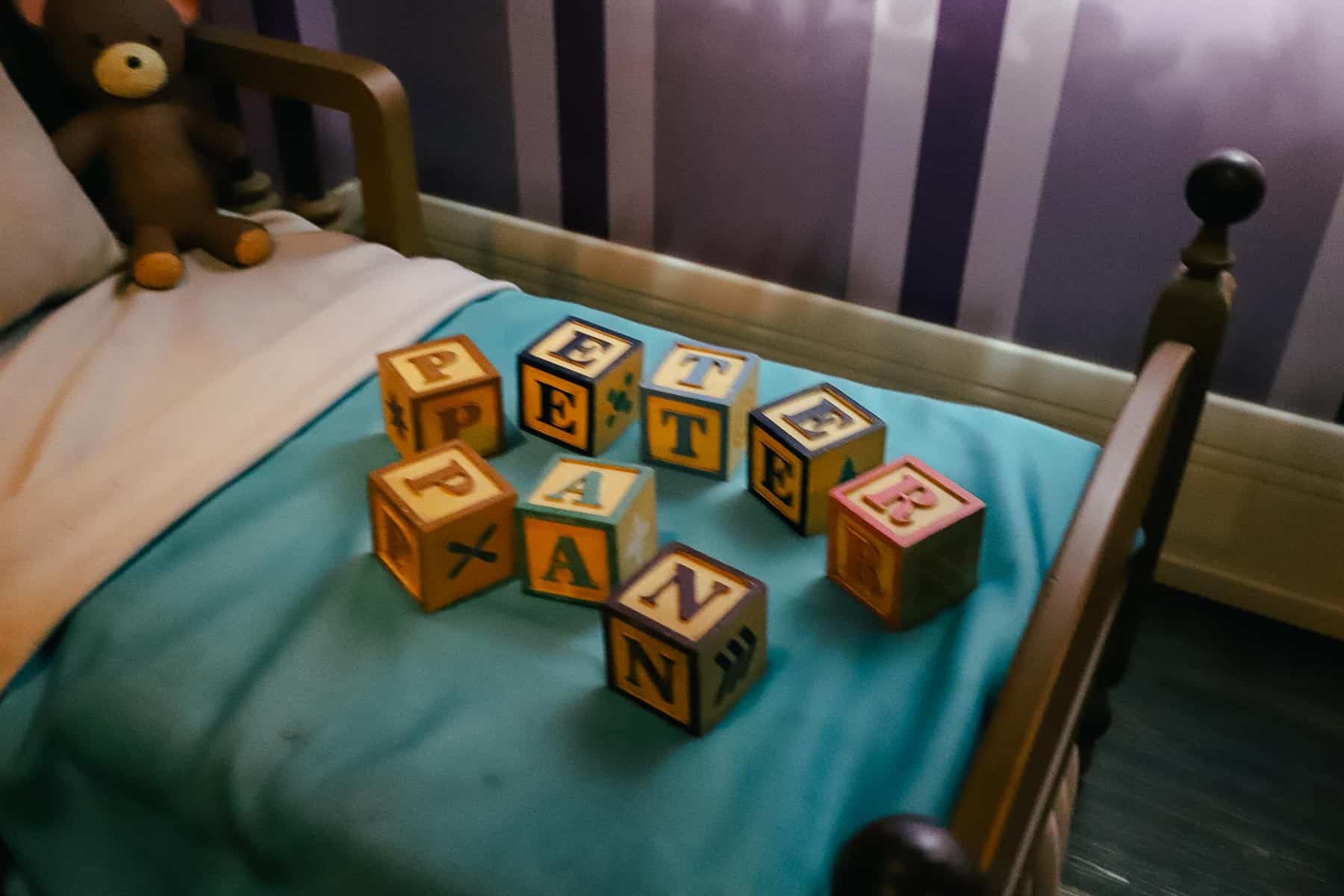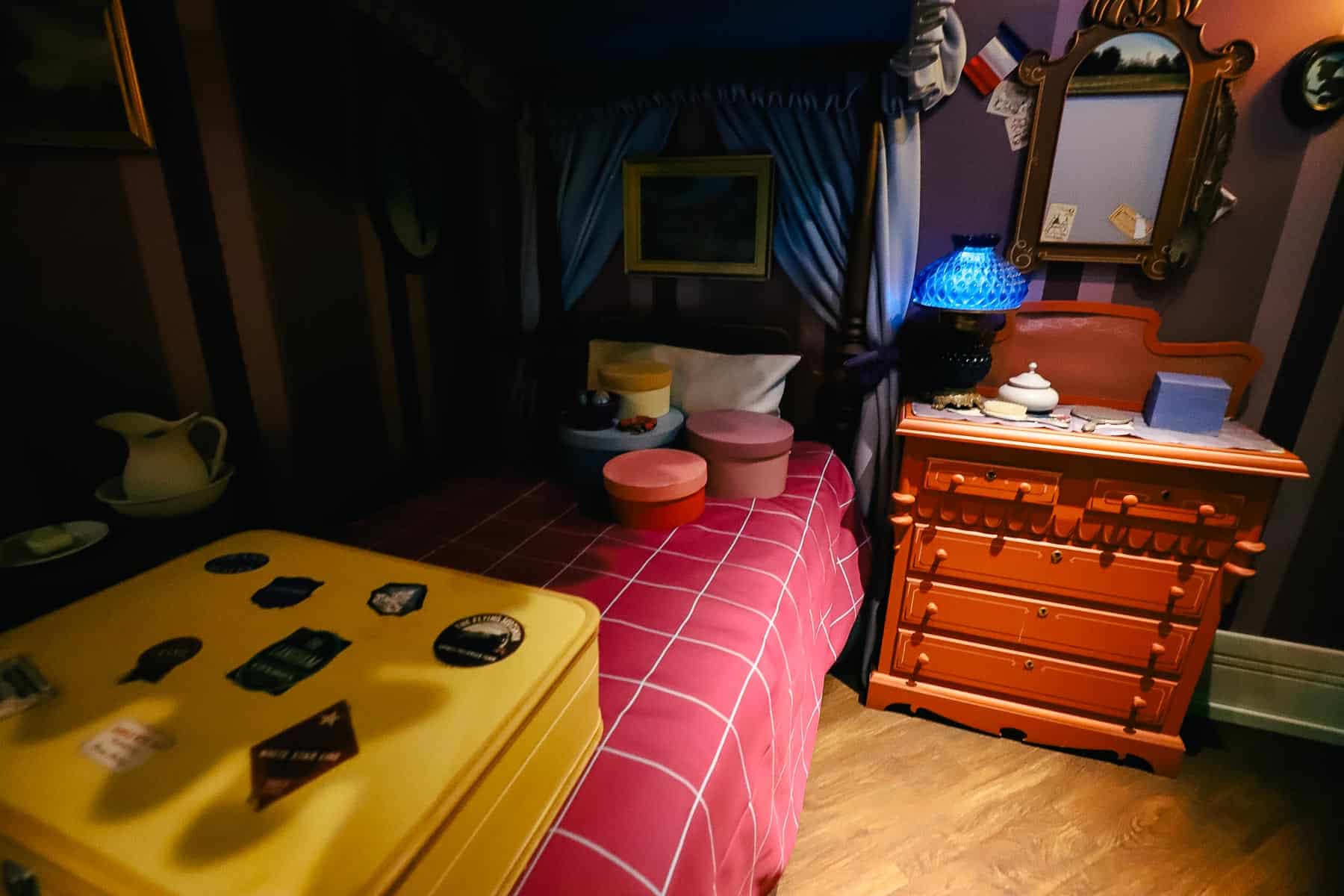 Even Tinker Bell makes an appearance from time to time.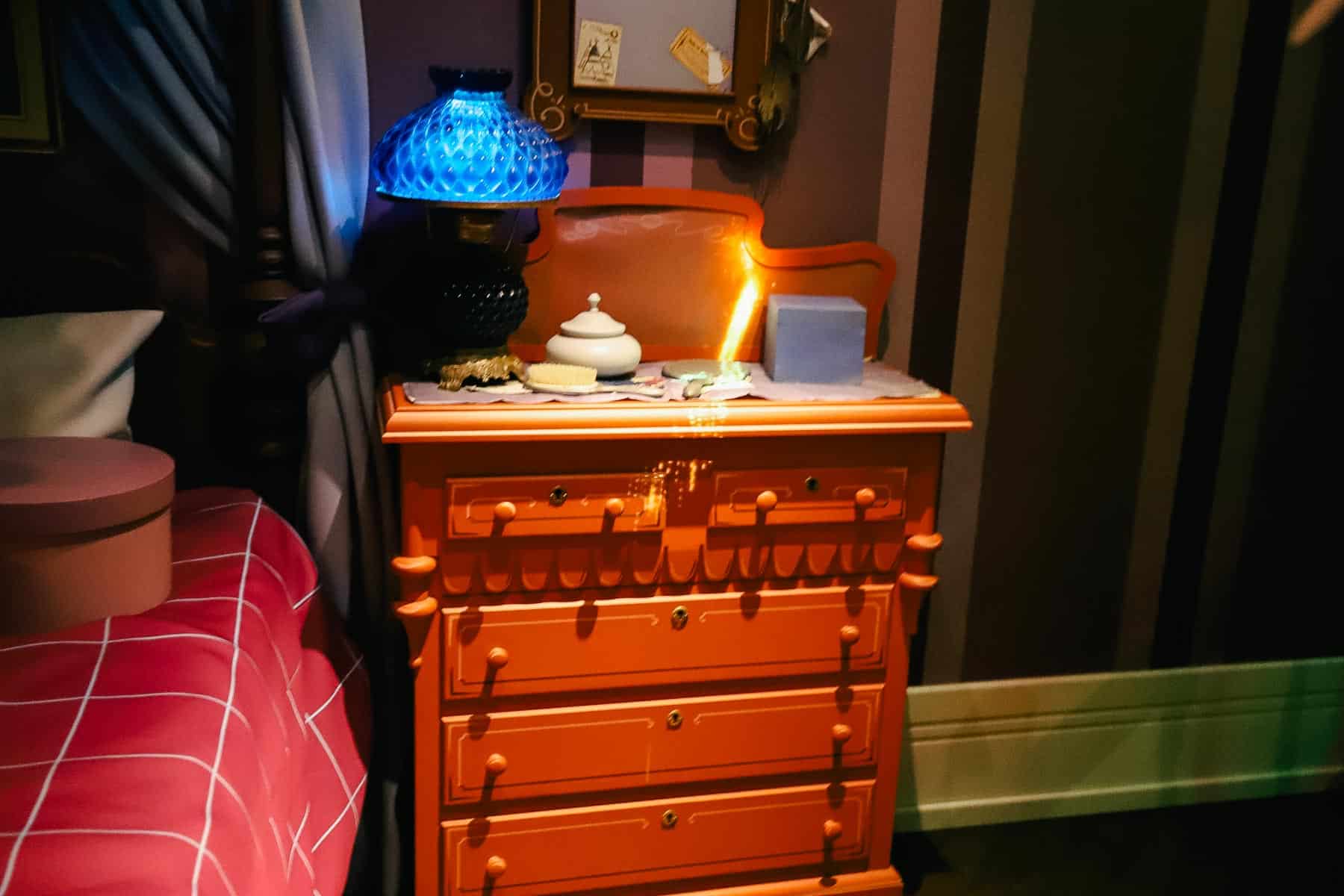 Eventually, you'll make your way back outside to the loading area.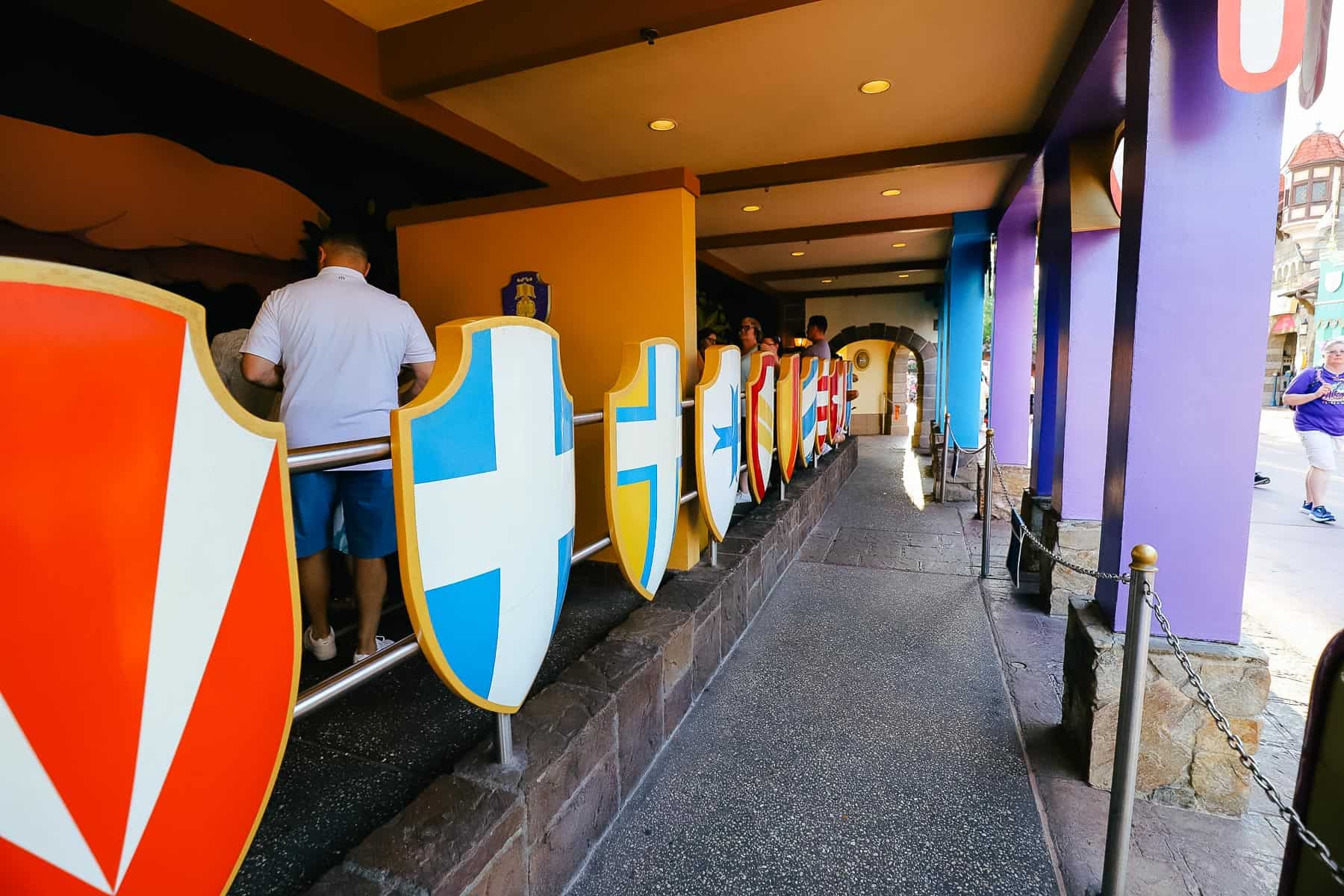 You'll step onto a slow-moving conveyor belt and board a pirate galleon.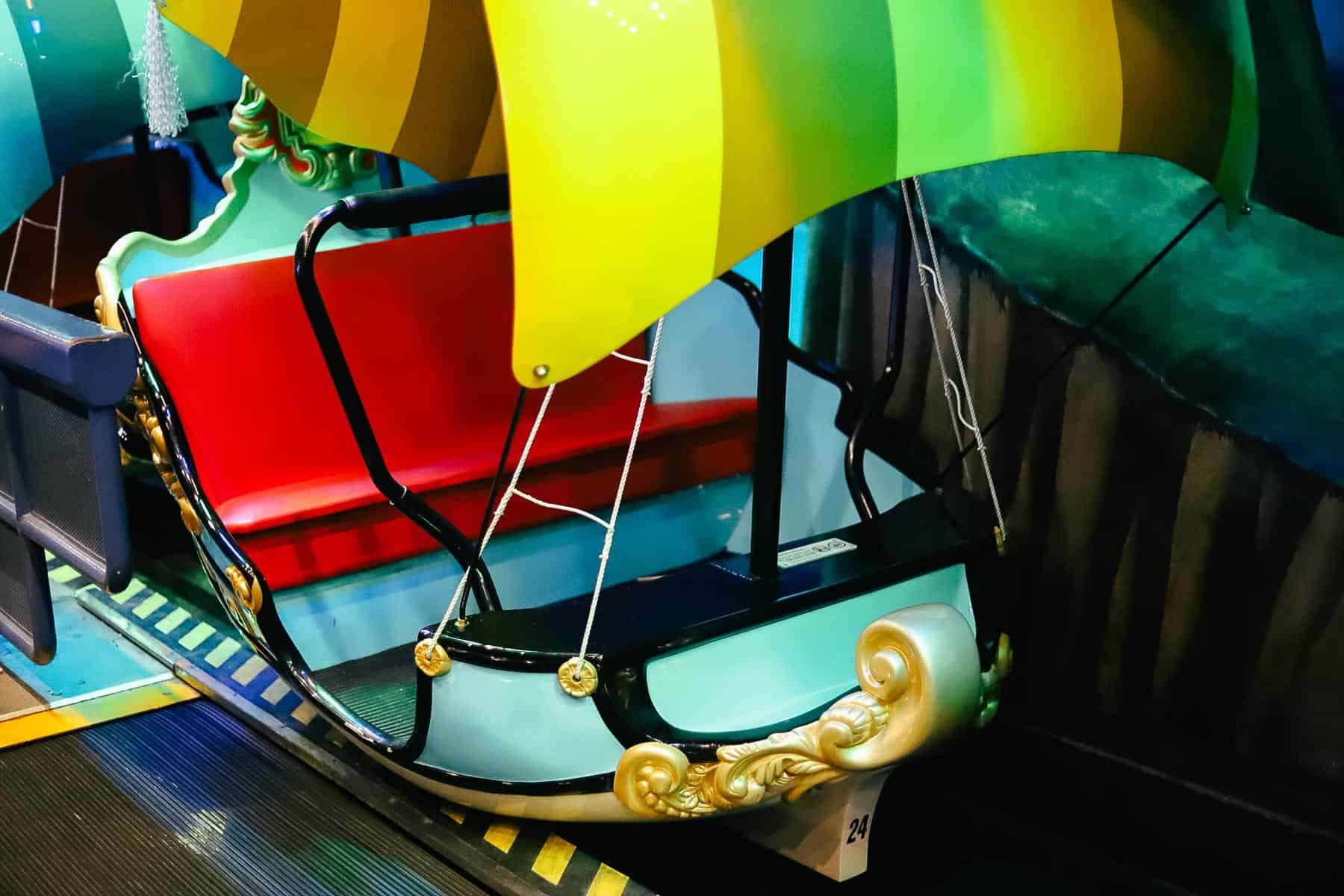 Two to three guests can sit comfortably across the row. A cast member will sprinkle a little pixie dust as you continue, and the lap bar will magically lower.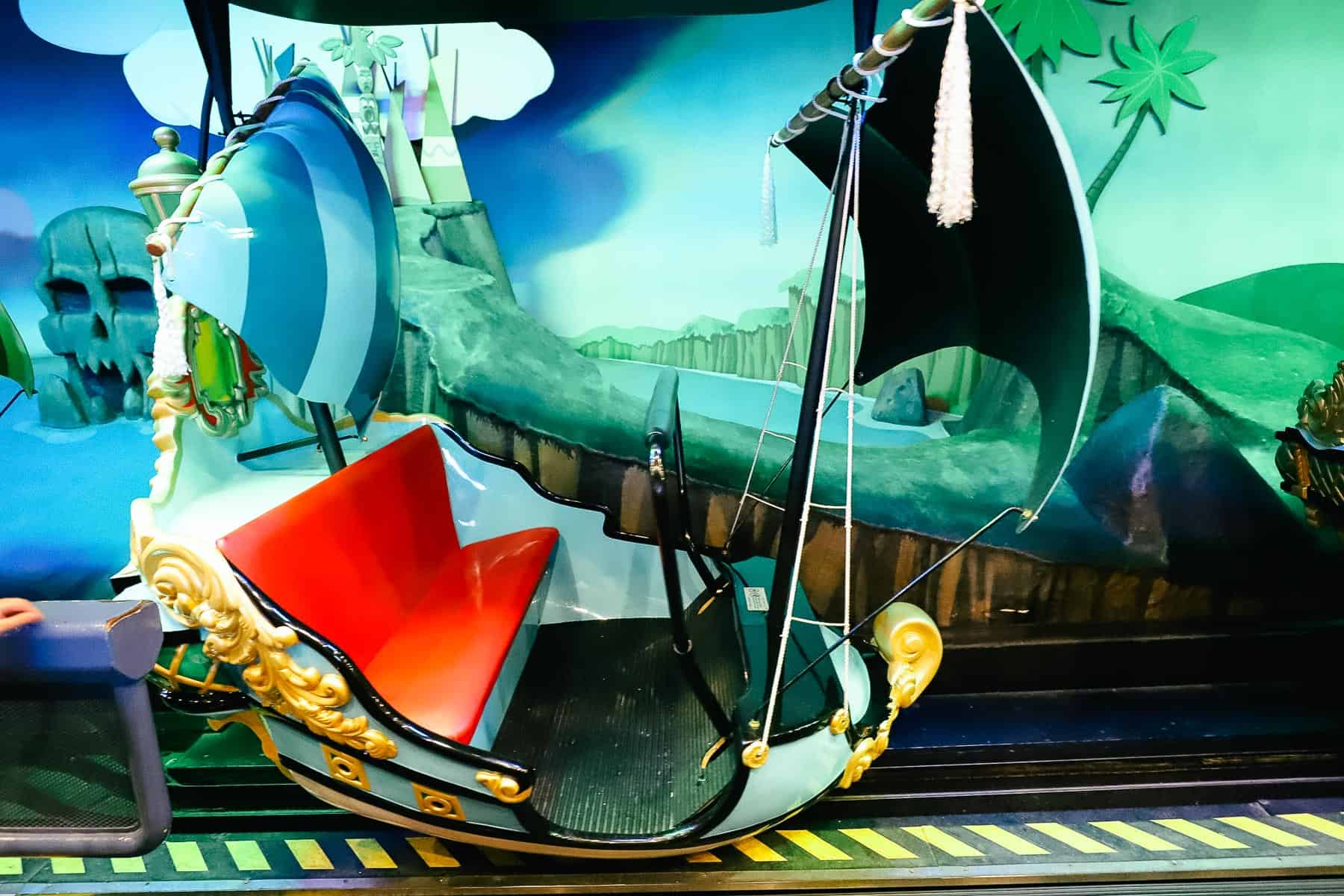 Initially, you'll set sail over England as you make your way off to Never Land.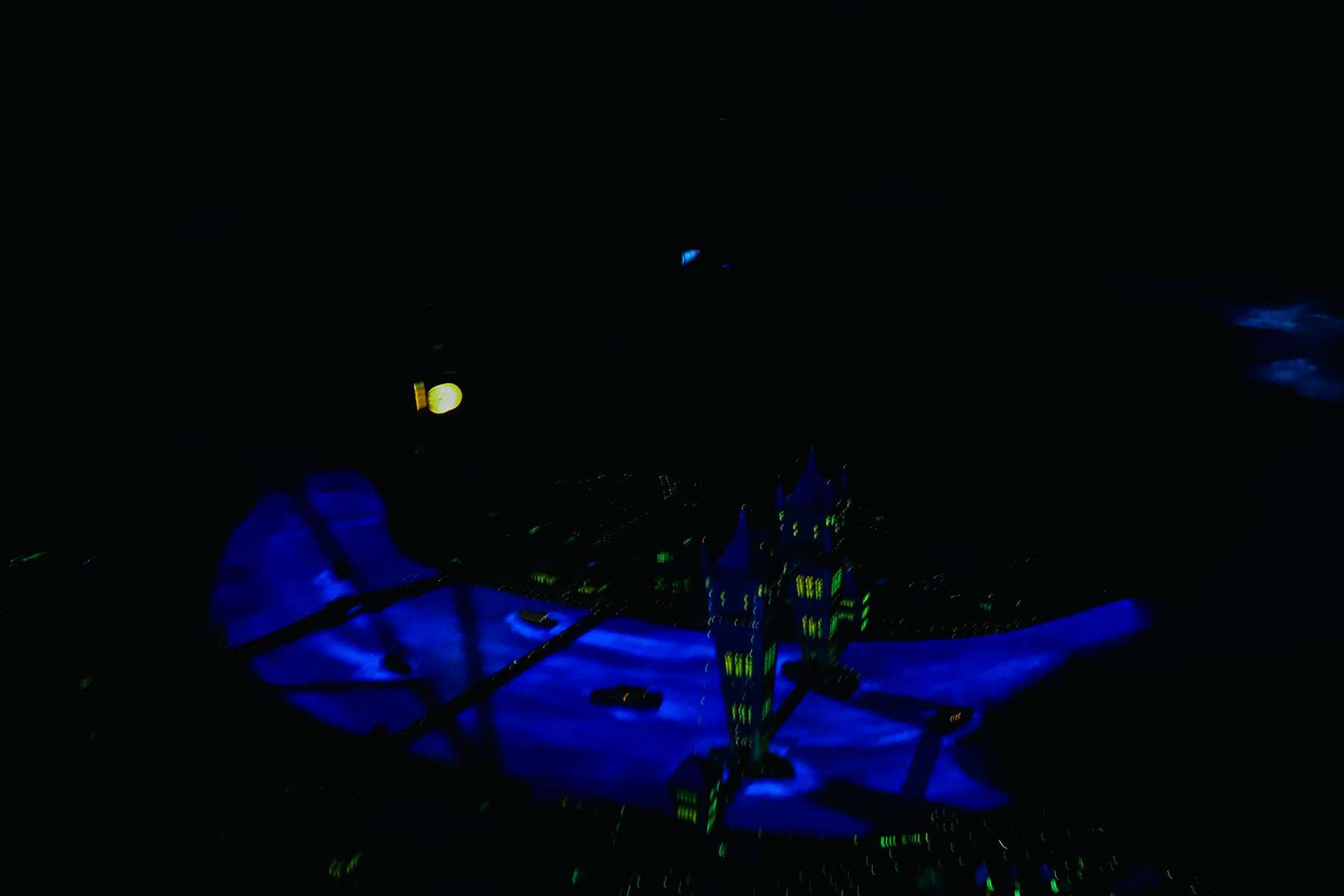 While you might not think about it, the track for your ship is above you, and your pirate ship hangs from it. You'll look down at different scenes of the ride with the concept of forced perspective, making you feel like you are in an airplane. Don't worry. You probably aren't as high up as it seems.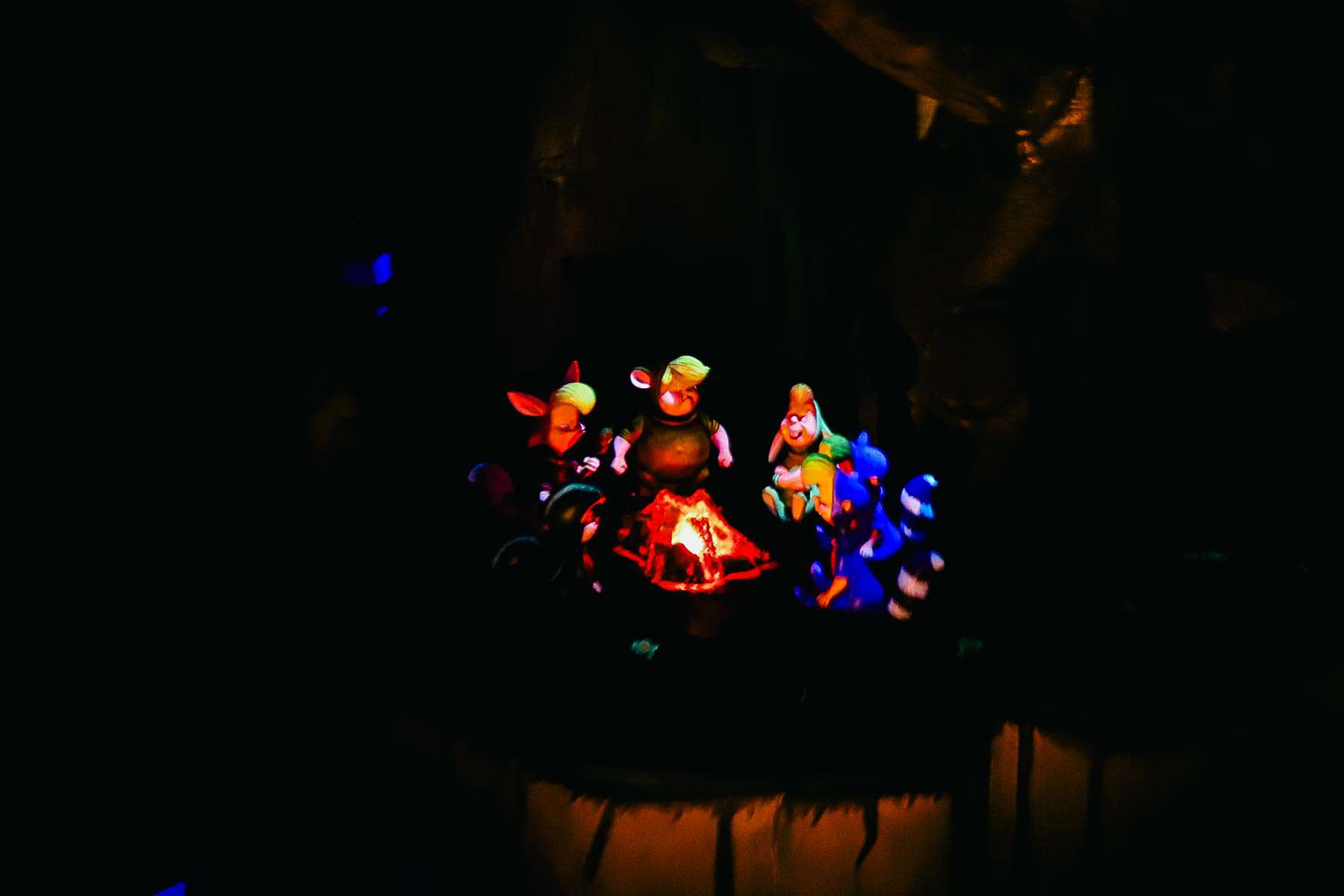 Before long, you'll find yourself by the Mermaid Lagoon. One of the mermaids resembles The Little Mermaid.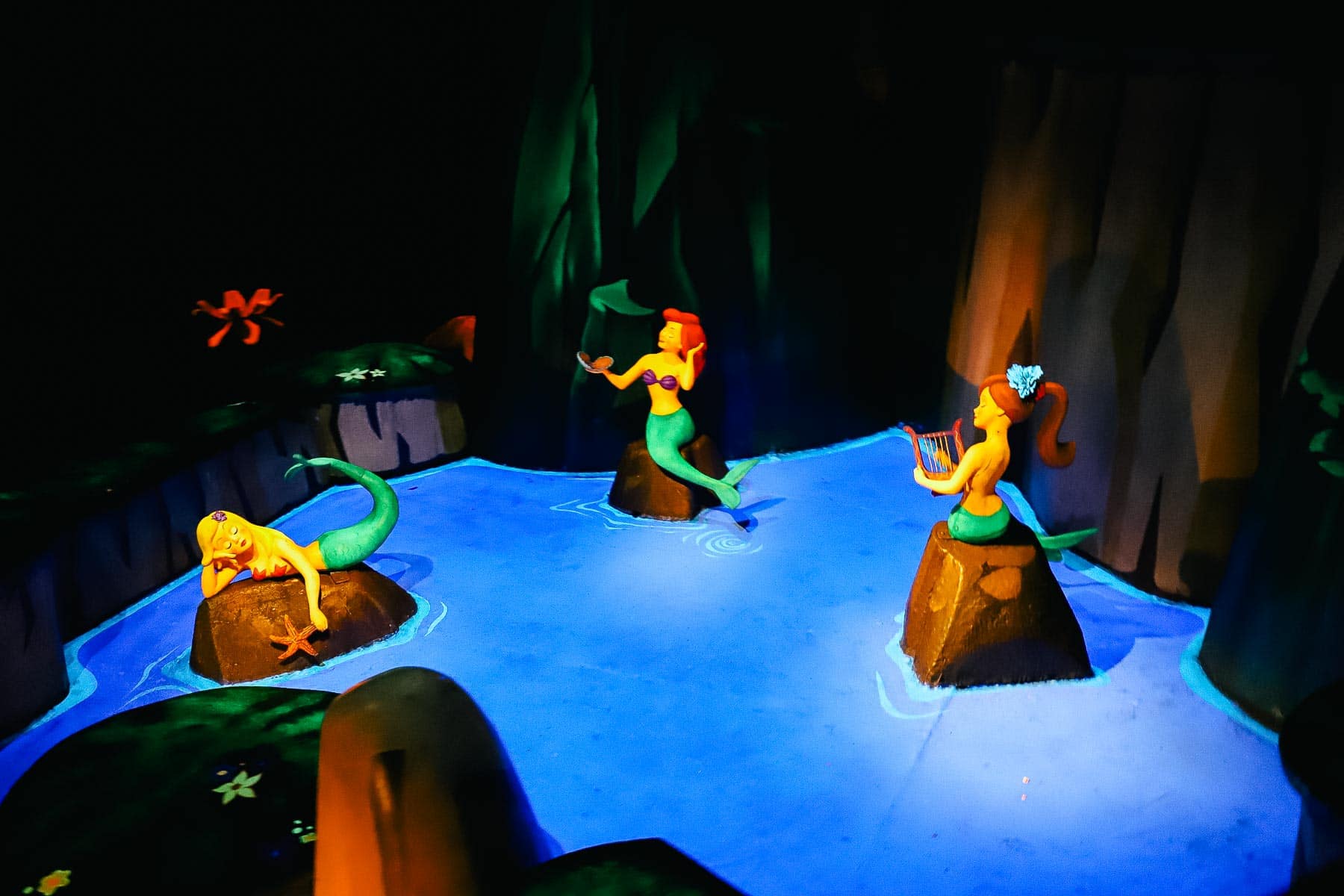 You'll then see Princess Tiger Lily and some of the Never Land natives.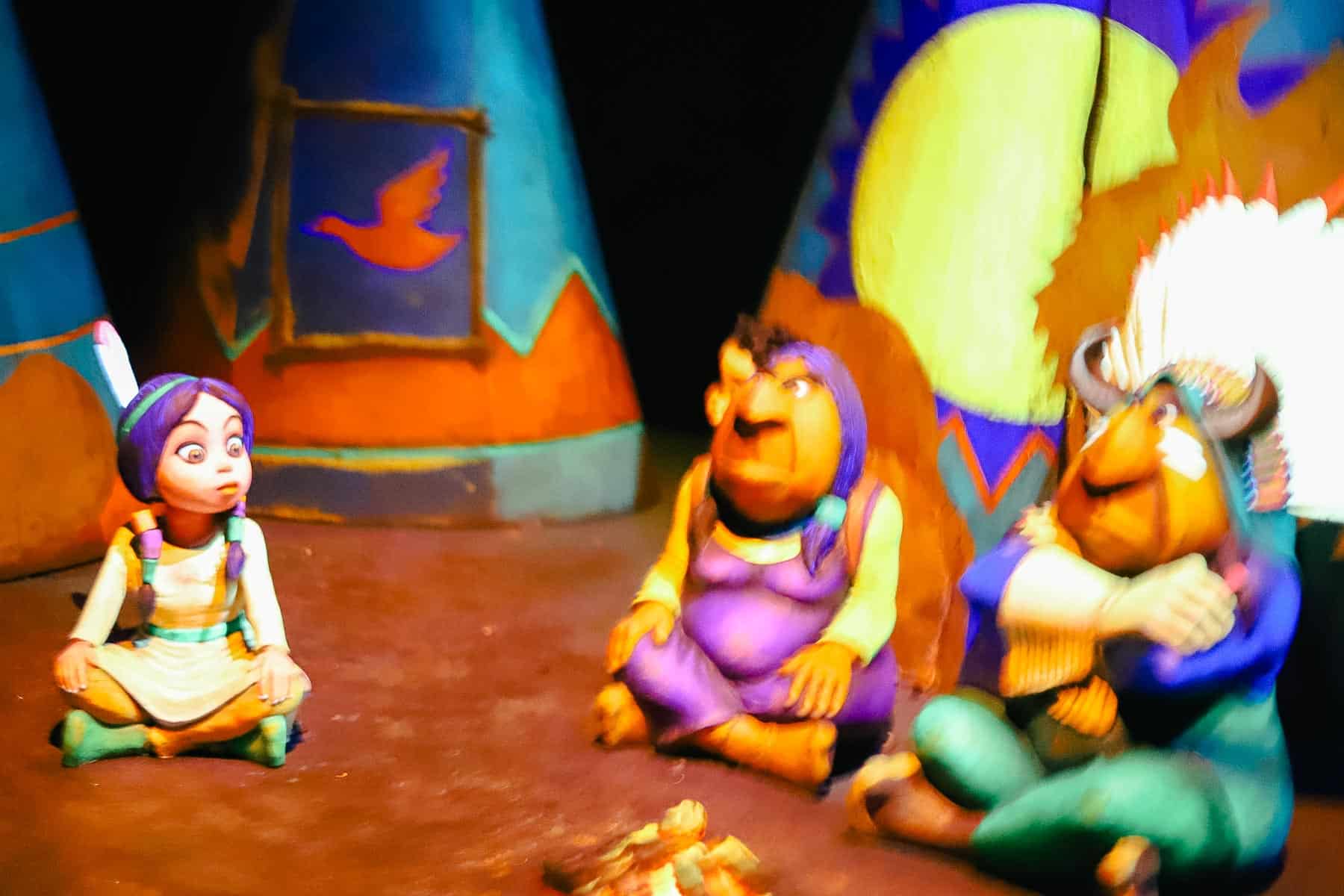 Then you'll continue through a few other scenes, including Wendy walking the plank and Peter Pan fighting Captain Hook! Thankfully, Peter has taken over the ship by the end, and all is well.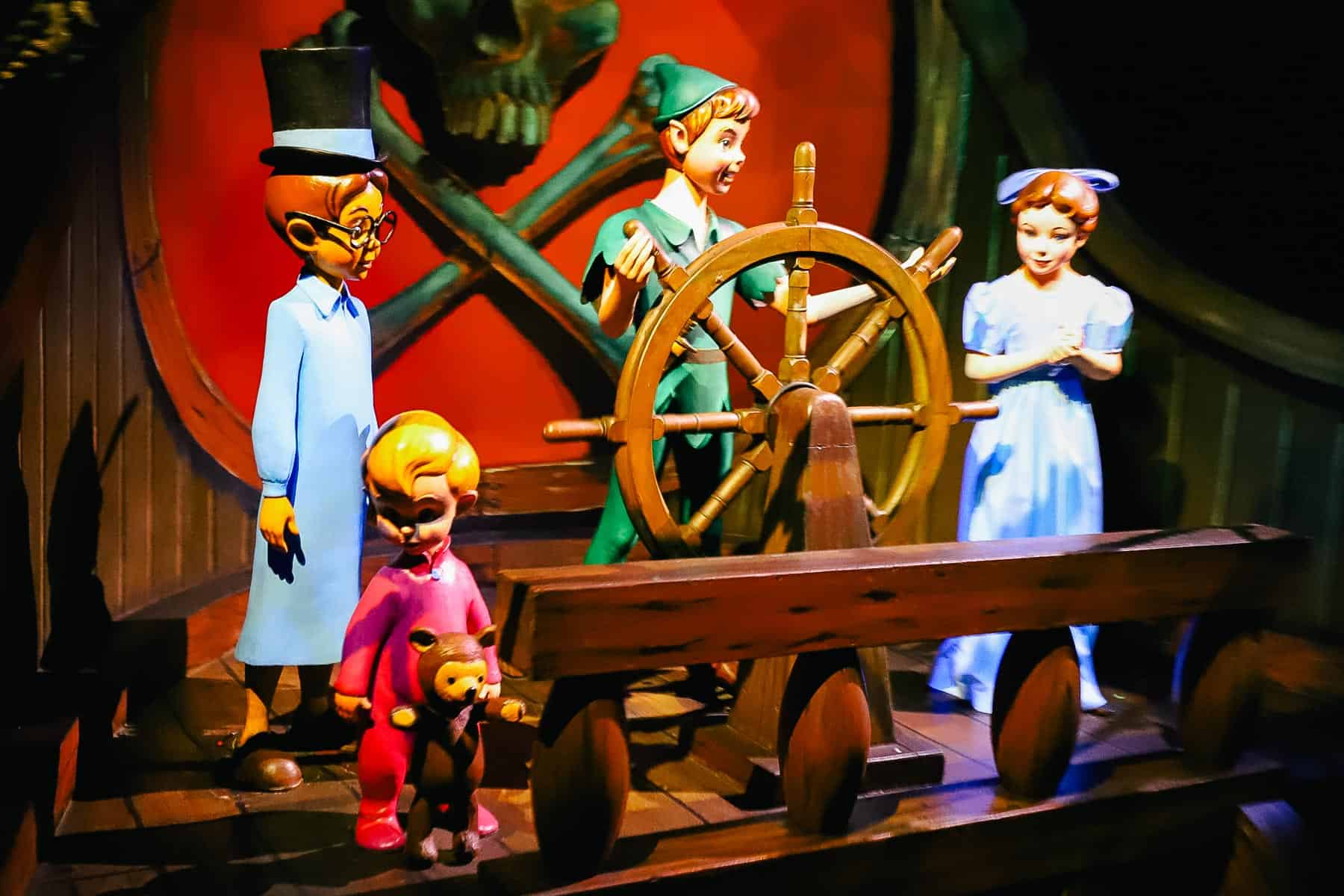 Schmee is frantically rowing his boat to reach Captain Hook, who's in a wrestling match with Tick-Tock, the crocodile.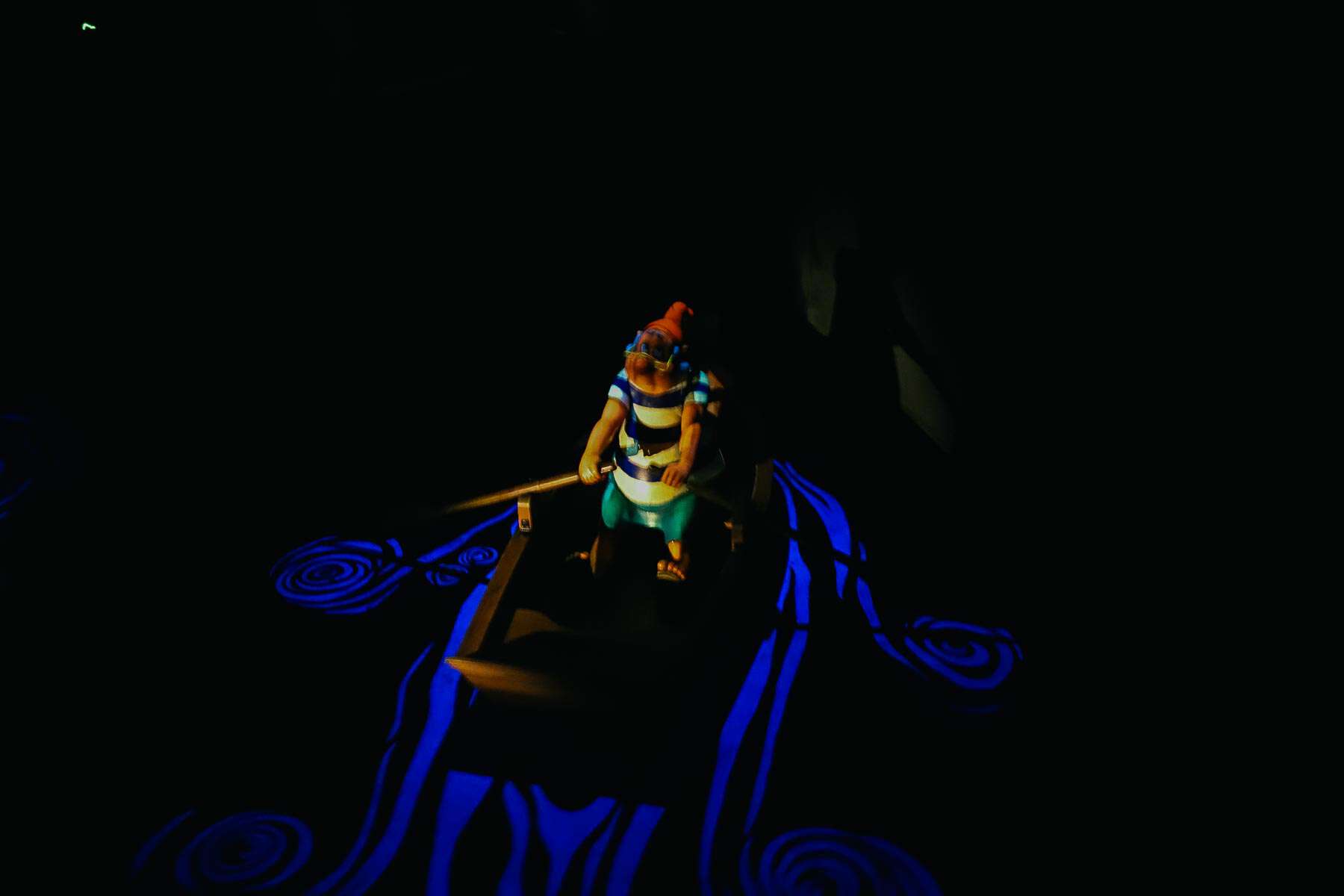 Best Time to Ride Peter Pan's Flight
Like most popular attractions, the best time to ride Peter Pan's Flight is first thing in the morning or late evening. Wait times rise pretty early for this attraction and remain consistent throughout the day. We almost always wait a full hour to ride this Disney classic.
Lastly, other versions of Peter Pans Flight exist in the following Disney Parks:
Disneyland Park (Anaheim, CA)
Disneyland Paris
Tokyo Disneyland
Shanghai Disneyland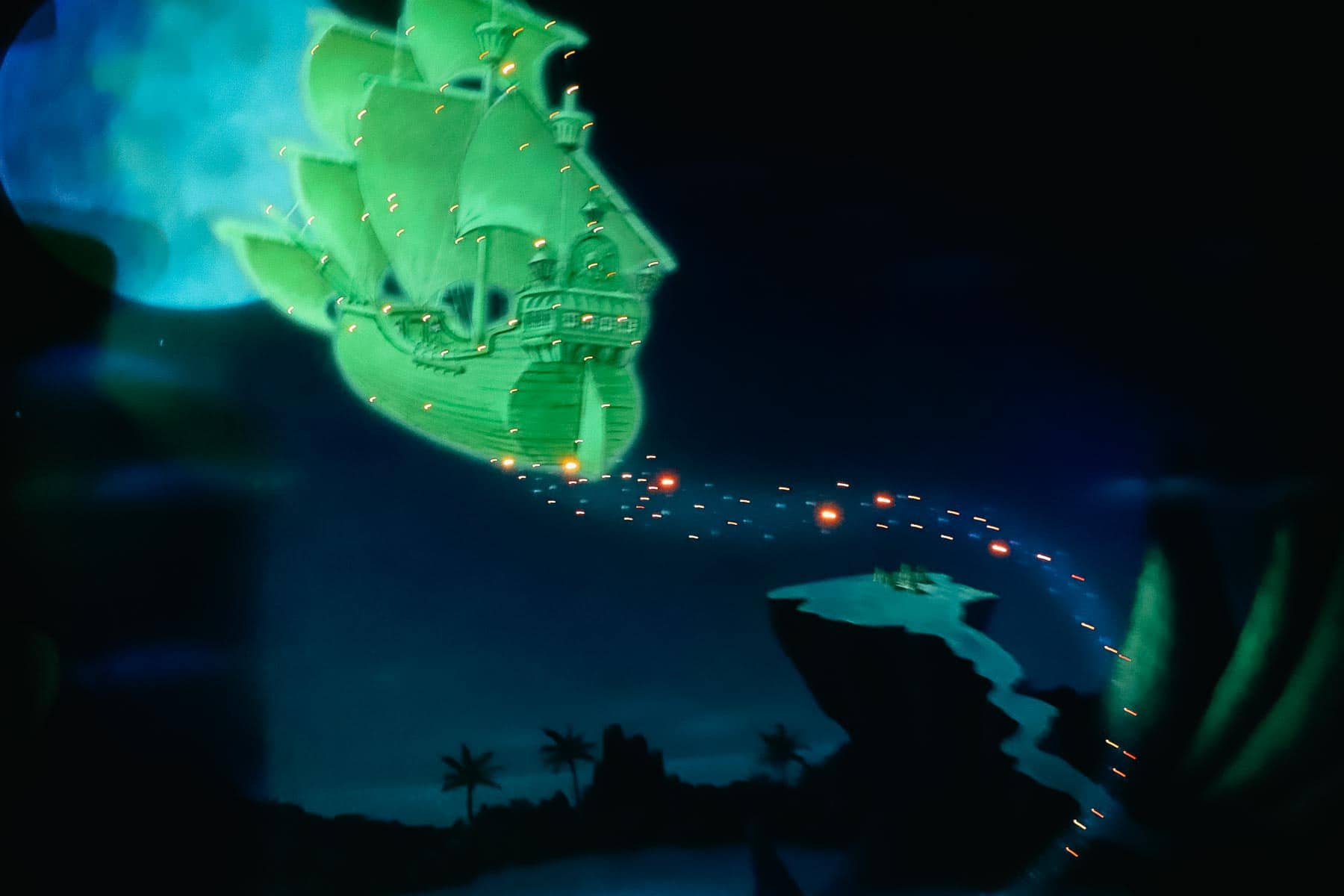 Here are a few other Magic Kingdom attractions in the nearby area.
Or you can view our entire list of rides at Magic Kingdom.
Resorts Gal specializes in Disney World Resorts, Characters, and Dining. We have several resources, like the list of Walt Disney World Resorts. It links to every single resort guide we have for the on-property resorts.
If you plan to meet characters in the parks, we keep an updated list of Disney World Characters. That review links to every meet available in each of the four parks.
I hope this article was helpful in planning Peter Pan's Flight for your day at Magic Kingdom. The attraction offers plenty of nostalgia, and it's always fun to visit Never Land.
In the comments:
Are you planning to ride Peter Pan's Flight on your next visit to Magic Kingdom? Do you adore these classic attractions?