Prince Charming Regal Carrousel
Prince Charming Regal Carrousel sits in the center of Fantasyland at the Magic Kingdom in Walt Disney World. The carrousel can be seen through the opening of Cinderella Castle as you walk down Main Street U.S.A.
Prince Charming Regal Carrousel is absolutely beautiful and is well worth taking a spin on during your vacation. In this review, I'll share a few reasons why I think the carrousel is worth your time.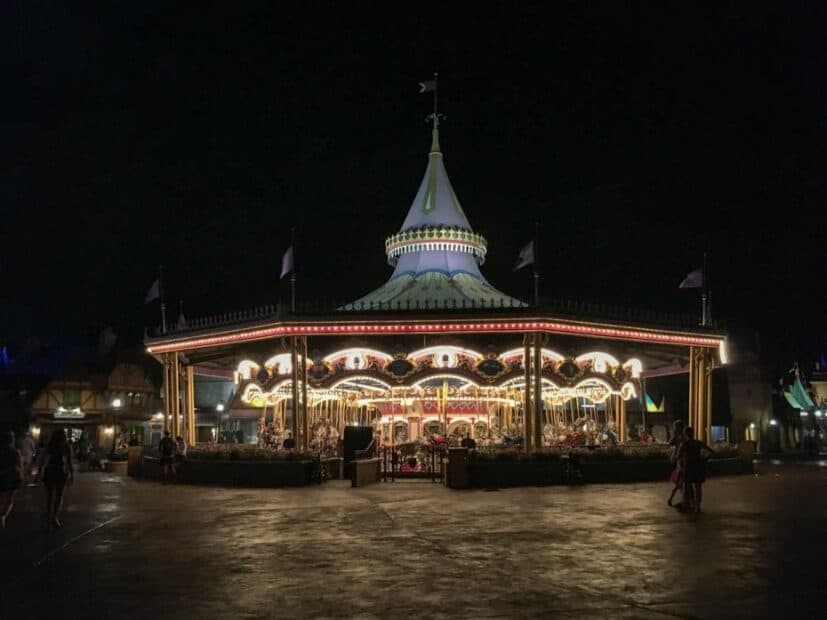 The chart below covers everything about experiencing this attraction. It is followed by a few notes about the best time to ride and need to know information.
Prince Charming Regal Carrousel
Magic Kingdom

Location:

Fantasyland

Height Requirement:

None

Disney Genie+ Eligible:

NA

Ride Type:

Carrousel

Seats Per Vehicle:

Individual Horses

Rider Switch:

None

Good For:

Small Children
Bloggers
Nostalgia

Scare Factor:

None

Must-Do List:

Medium

Perfect For:

All ages

Special Mention:

Where else do you get to ride a carrousel in the backyard of a castle?
Prince Charming Regal Carrousel
Almost any theme park that you visit will have a carrousel, it's true. Even shopping malls or parks might contain this classic style ride.
Often, I hear so many people saying that they skip Prince Charming Regal Carrousel because it's "just a carrousel." And I think that's sad.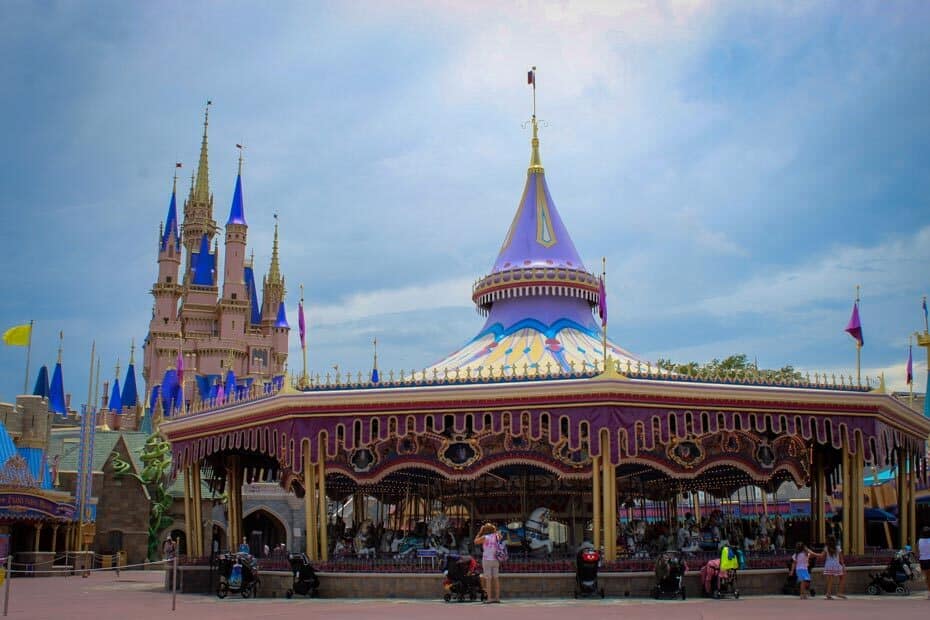 My niece has been visiting Walt Disney World with me for a long time now. When she was younger, she begged to ride the carrousel. The thing is, children love these kinds of rides. I remember riding beside her on a horse of my own and thinking, it's been a while.
But then I got lost in the moment as a tune from Mary Poppins played in the background and swept us away on our horse race. Looking out, I could see that I was just outside the backdoor of Cinderella Castle.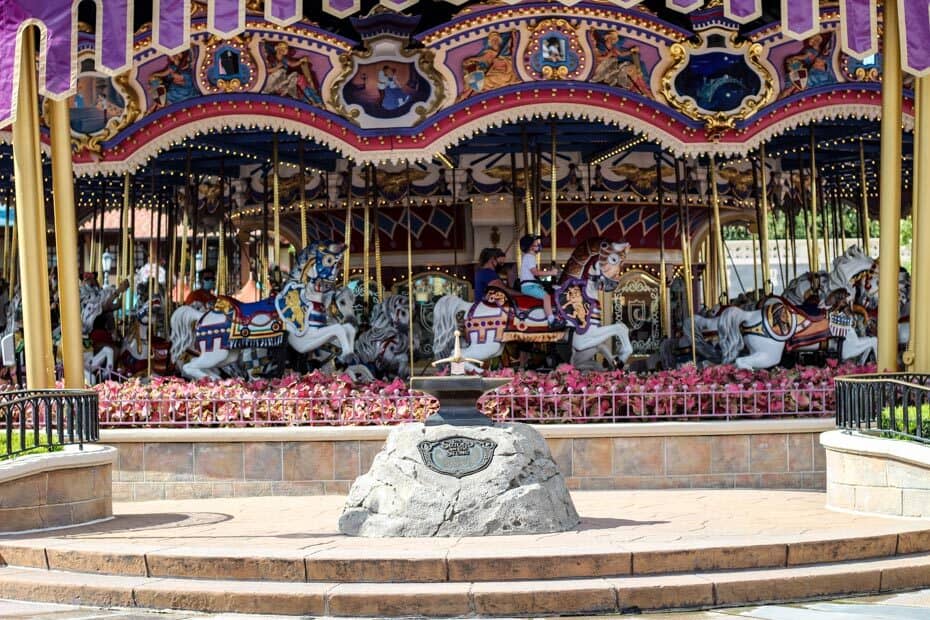 I might as well have just left the Bibbidi Bobbidi Boutique because I felt like royalty at that moment. And that's just what a ride on the carrousel behind Cinderella Castle is…special.
So please don't pass this one by thinking that it's something you can do almost anywhere because this carrousel is quite different than what you might think.
It's Prince Charming's very own ride in Fantasyland, and his horse sits alongside Cinderella's. If you are interested, ask a cast member to point out their horses to you.
Prince Charming's horse sits on the very outside and always stops in front of the operation booth. Cinderella's horse sits right next to his on the interior.
The panels are painted to portray the story of how they met and were then reunited with the glass slipper.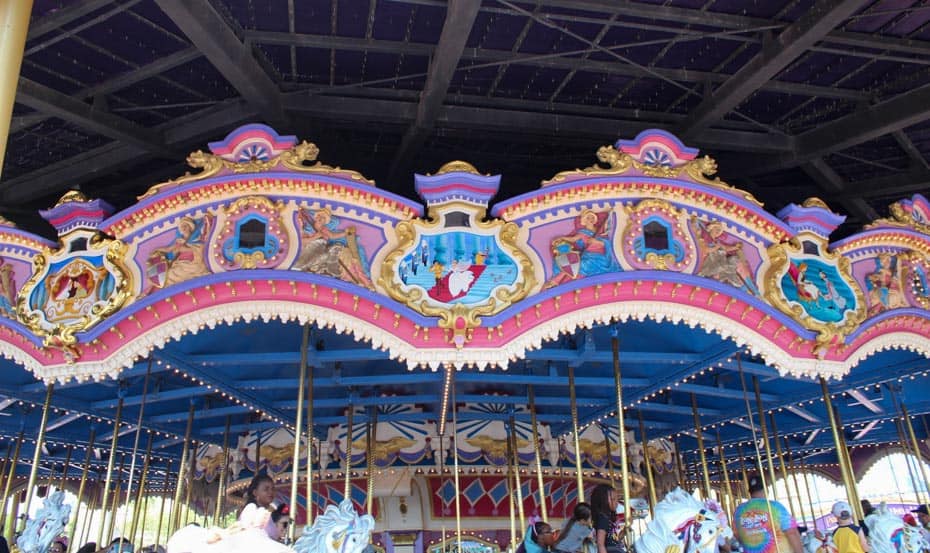 Out in front of the carrousel sits the one and only Sword in the Stone. Only the noblest of fellows can retrieve it.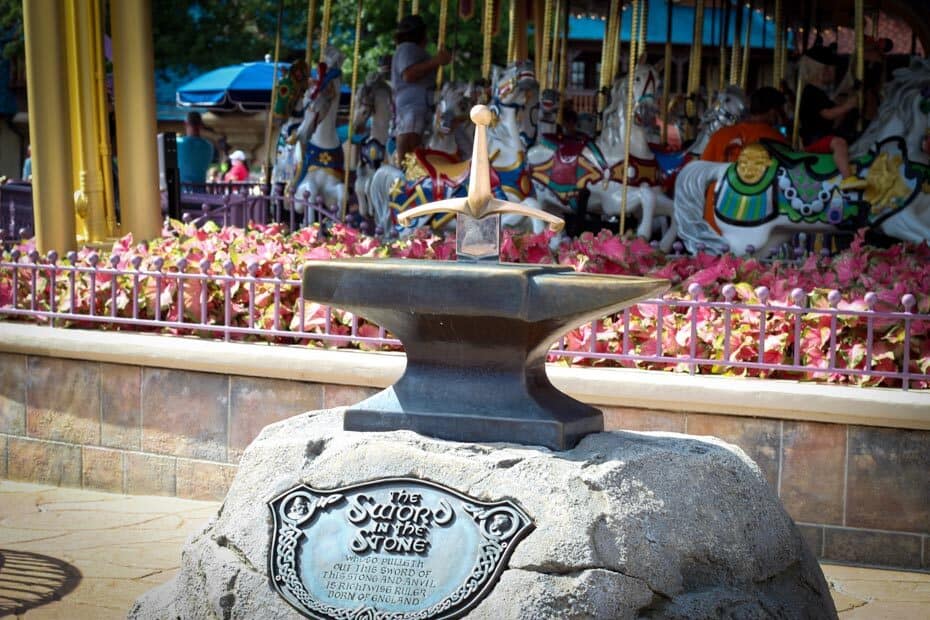 Prince Charming Regal Carrousel is considered an anytime attraction and rarely has a long line. I recommend riding it once in the daytime and once in the evening.
You will probably pass it multiple times during the day as you tour the park. So you might as well stop and take a spin. The amount of time it takes to ride the carrousel is minimal, so you can't complain.
Here's a video of the Prince Charming Regal Carrousel via YouTube: Full Ride
Here are a few other attractions in the nearby area:
Resorts Gal specializes in Disney World Resorts, Characters, and Dining. Check out some of our resources, like our list of Disney World Resort Reviews. That article gives a brief overview of every resort at Disney.
Other resources that might be helpful include our guide on using the monorail at Disney. It contains up-to-date information on the Magic Kingdom and Epcot monorails.
And our guide to using the Skyliner with travel times provides full details on how and when to use the gondola system.
We have a complete list of our Disney restaurant reviews available for planning dining reservations. Usually, we recommend scheduling at least one Disney World character dining meal and a Disney signature dining reservation.
If you plan to meet characters in the parks, we have an updated list of Disney World Characters. That guide links to every meet available in each of the four parks.
Lastly, our most popular reviews include the best restaurants at Disney Springs, and I keep a timeline going of Disney Loungefly mini-backpacks.
And don't forget to take that spin on Prince Charming Regal Carrousel! Leave a comment and share your thoughts. Do you take the time to do this?