List of Magic Kingdom Rides at Walt Disney World
When it comes to rides at Magic Kingdom, there are so many options. From thrill rides to attractions fit for everyone, it's difficult to experience everything in one day.
Since there are so many options, we've compiled a list of rides at Magic Kingdom. This list should help you discern which rides will work best for your group.
Below, we'll look at the list of Magic Kingdom Rides. Then further down, we've provided a brief description of each one.
If you want to learn more about a specific ride, you can click on the link at the bottom of the description for a complete overview.
This article was updated on March 10, 2023.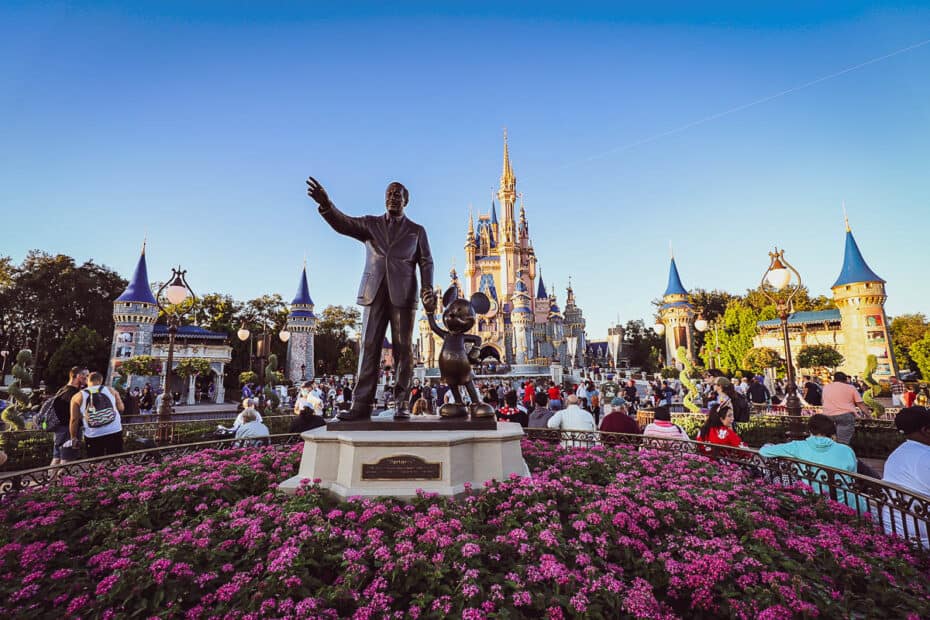 Magic Kingdom Rides List
Seven Dwarfs Mine Train
Big Thunder Mountain Railroad
Space Mountain
Peter Pan's Flight
Dumbo the Flying Elephant
Mad Tea Party
Haunted Mansion
Tiana's Bayou Adventure (Coming in 2024)
Pirates of the Caribbean
Tomorrowland Speedway
Under the Sea: Journey of the Little Mermaid
Jungle Cruise
Buzz Lightyear's Space Ranger Spin
Monsters Inc. Laugh Floor
Tomorrowland Transit Authority PeopleMover
Country Bear Jamboree
Astro Orbiter
The Barnstormer
The Hall of Presidents
Magic Carpets of Aladdin
Liberty Square Riverboat
The Many Adventures of Winnie the Pooh
Mickey's Philharmagic
Walt Disney's Enchanted Tiki Room
Carousel of Progress
Tom Sawyer Island
Prince Charming Regal Carrousel
Swiss Family Treehouse
"it's a small world"
Cinderella Castle
Casey Jr. Splash and Soak Station
Tron Lightcycle Run
Walt Disney World Railroad
Enchanted Tales with Belle
Overview of Magic Kingdom Rides
Seven Dwarfs Mine Train is a mild roller coaster ride that takes place in a mine where the Seven Dwarfs are busy at work. This is a family-friendly Snow White-themed roller coaster for nearly all ages with minimum height requirements.
Mine Train's ride vehicles are unique as they are in the shapes of barrels that add a bit of a swinging motion to them. Drops on this attraction are mild, however.
Overall the attraction's design and story keep you entertained as you travel through twists and turns on your way down this adventurous mine. A brief pause in the mine about midway through allows you to sing along with the busy Seven Dwarfs. Heigh-Ho!
Related: Seven Dwarfs Mine Train Ride Review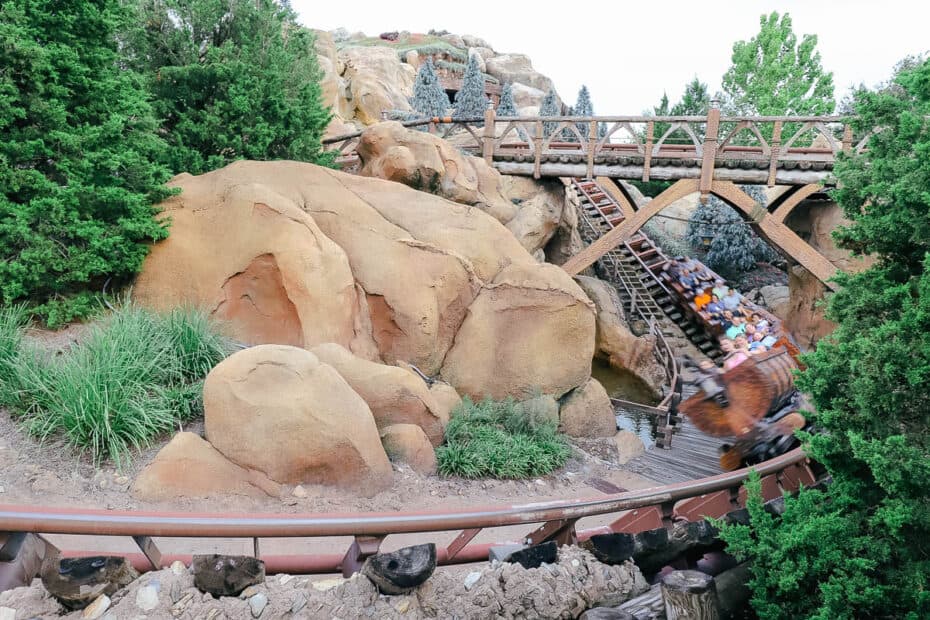 Big Thunder Mountain is a roller coaster ride with a western theme located in Frontierland. It has one of the highest drops of the Magic Kingdom attractions, making it a popular thrill-seeker ride!
That said, Big Thunder Mountain is more fun than scary. But there is a minimum height requirement to experience this attraction.
Big Thunder Mountain Railroad is one of our favorite rides at Magic Kingdom. There are so many twists and turns that it feels like a new experience every time you ride.
Related: Big Thunder Mountain Railroad at Magic Kingdom.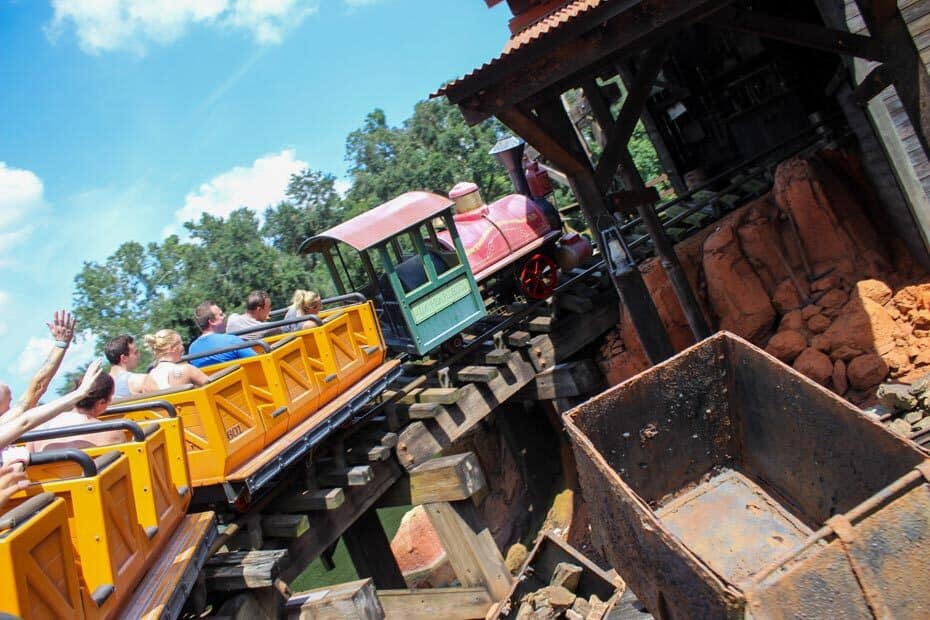 Space Mountain is Magic Kingdom's original indoor roller coaster. It made its debut in 1975 and remains one of the most popular rides for thrill-seekers to this very day!
Space Mountain provides thrills, surprises, twists, and turns, except they're in the dark. Not being able to see the track ahead of you adds an element of surprise.
While Space Mountain is a classic considerably, it's not for everyone. Additionally, there is a minimum height requirement to experience this attraction.
Related: Space Mountain at Magic Kingdom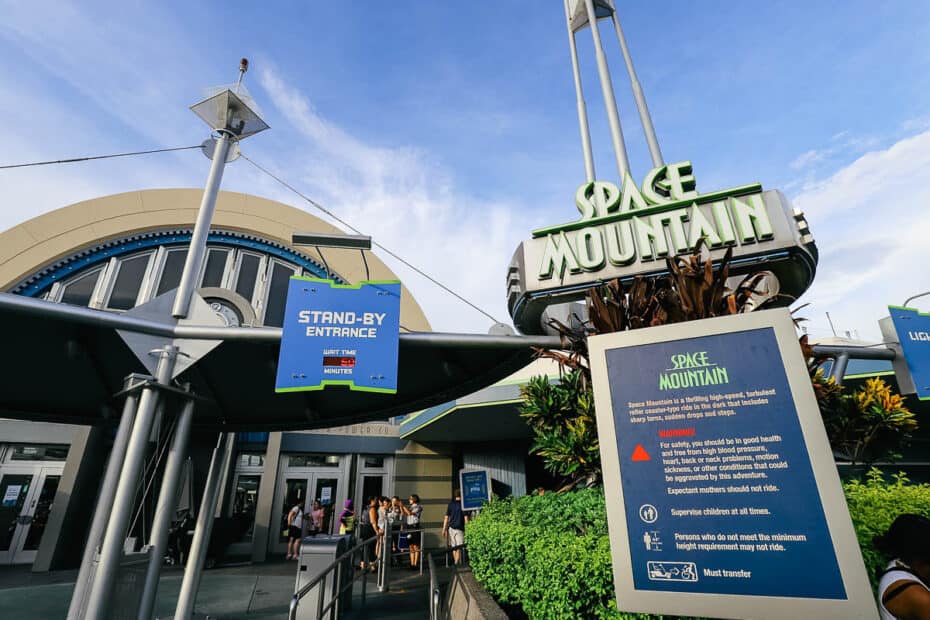 Peter Pan's Flight is a family-friendly attraction that takes you through the scenes of Peter Pan. This is a favorite Magic Kingdom ride for guests young and old.
However, expect a long wait. Given this ride's popularity, it often exceeds one-hour wait times during the busier parts of the day.
With that said, this indoor ride provides a break from the heat. Additionally, the standby queue is a fan favorite and absolutely adorable. You'll want to walk through the queue at least once.
Related: A Ride on Peter Pan's Flight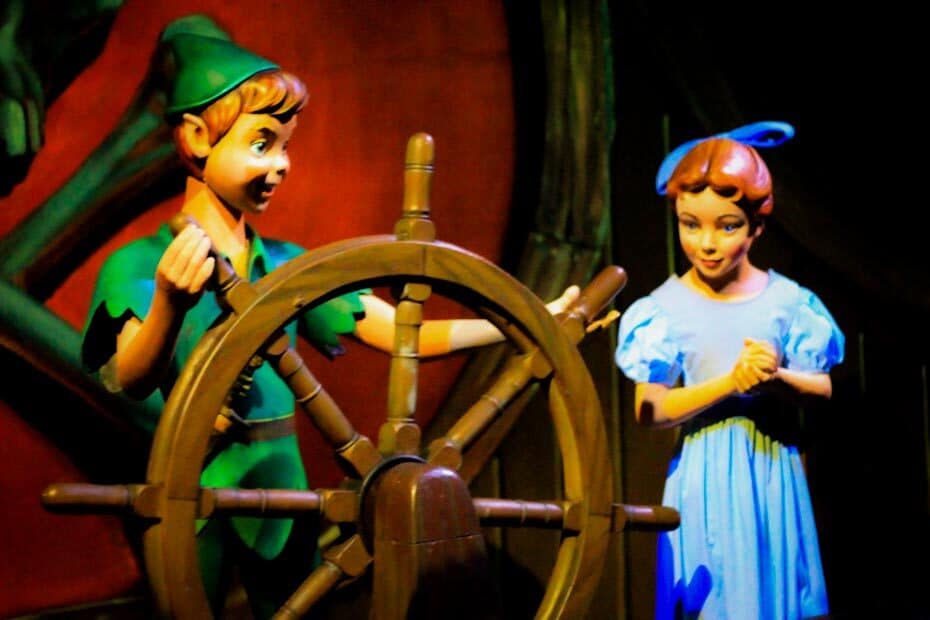 Dumbo, the Flying Elephant, is a classic Disney attraction. Most smaller children will want to ride Dumbo and similar spinner-style attractions multiple times while visiting.
If you have little ones, this ride will be a hit. There aren't any height requirements.
Additionally, a control makes Dumbo go higher or fly lower from inside the ride. At the end of the ride, all of the Dumbo vehicles lift to the top and circle the area before safely landing.
Related: Dumbo, The Flying Elephant at Magic Kingdom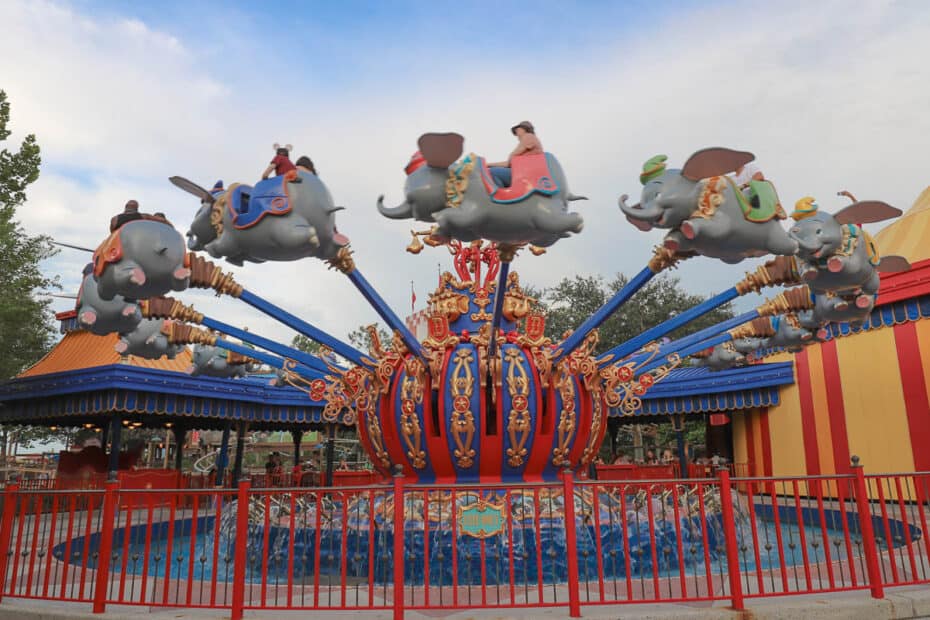 Mad Tea Party is a classic Magic Kingdom ride that's best for children. I say best for children because it spins, which isn't necessarily bad when you're older.
That is unless you're prone to vertigo or dizziness. Then, you will likely get dizzy.
As far as the teacups go, the spinning action isn't too crazy. But if someone in your group decides to turn the interior spinner, it can get pretty wild!
I'll agree to ride it when the kids agree not to add extra spin from inside the ride. If not, I'll gladly watch from afar.
Related: Mad Tea Party Review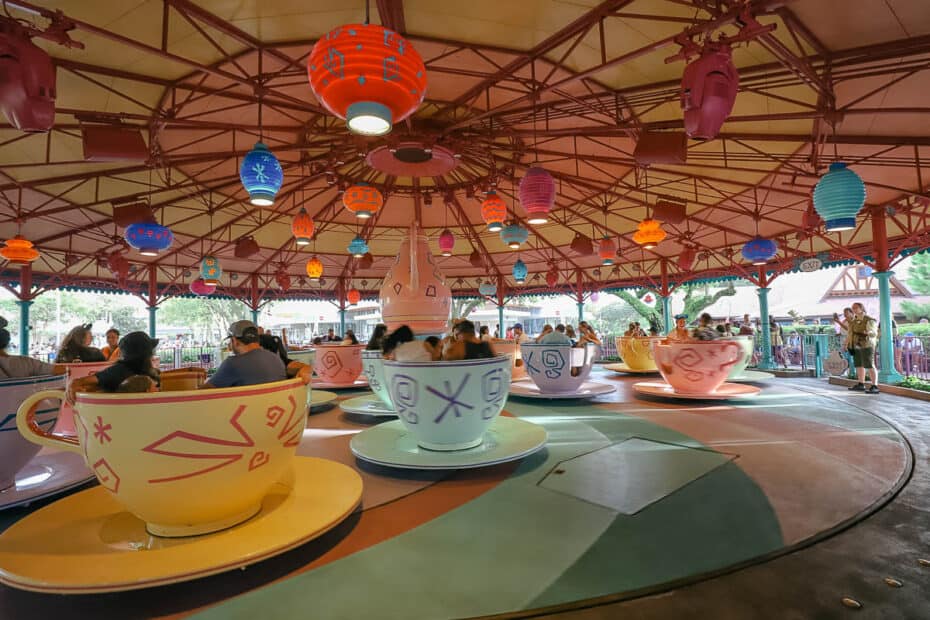 Haunted Mansion is a classic indoor attraction at Magic Kingdom. This is one of the best attractions for those who enjoy slow, dark rides.
Haunted Mansion has considerably long waits most of the day due to its popularity. Additionally, this Magic Kingdom ride works well for almost anyone since it has no height requirements and a minimal scare factor.
My favorite thing about Haunted Mansion is that it's not scary. But it's so entertaining and full of friendly ghosts.
Related: Haunted Mansion at Magic Kingdom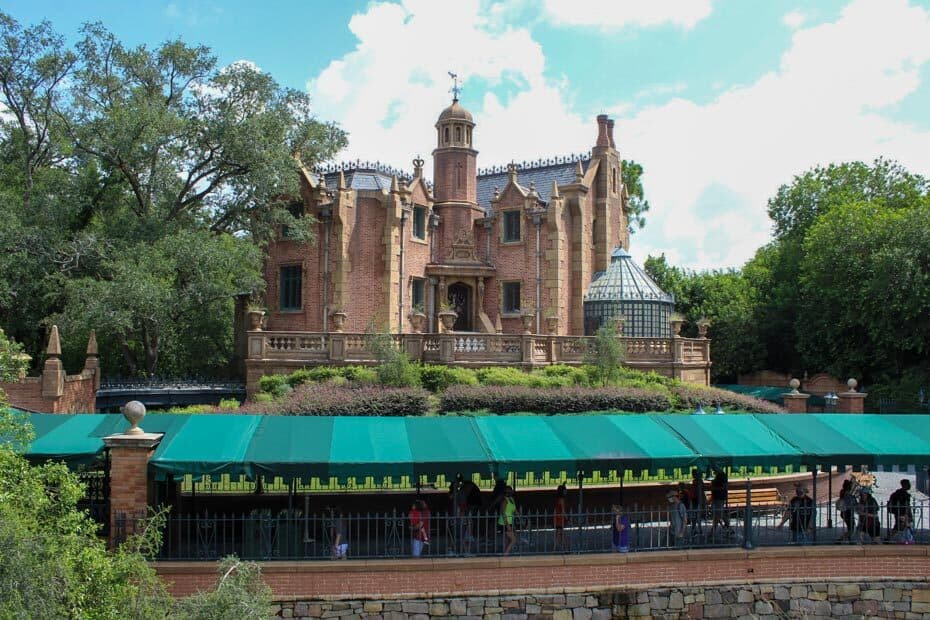 Splash Mountain permanently closed on January 22, 2023. A new attraction, Tiana's Bayou Adventure, is expected to open in its place in 2023.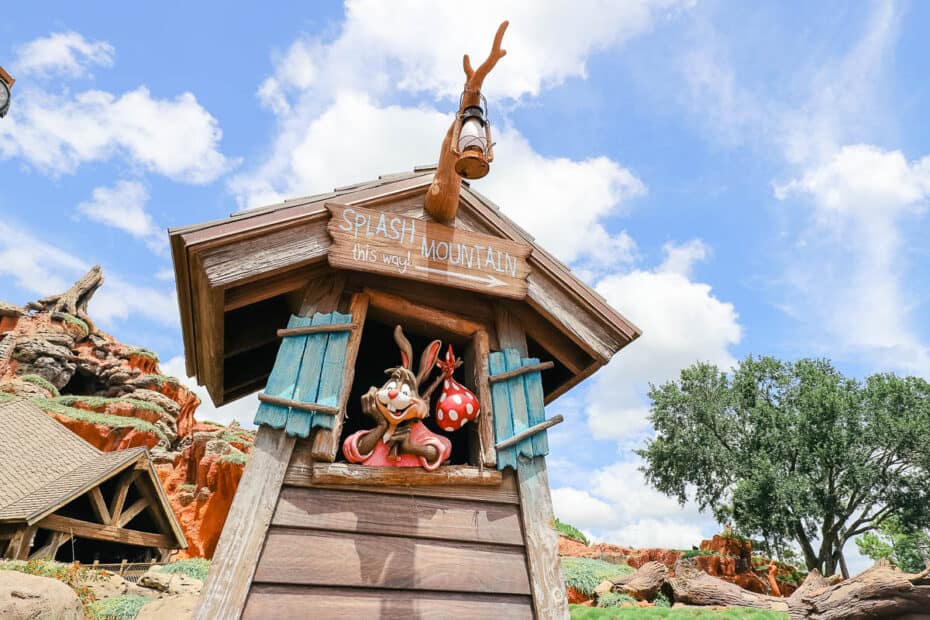 Pirates of the Caribbean is a classic Magic Kingdom ride that's fun for the entire family. Not only is it fun, but the indoor boat ride provides great relief from hot weather.
Pirates of the Caribbean has no height requirements, and the scare factor is minimal. There is one small drop toward the beginning of the ride. So you could get a small splash, but hopefully nothing major.
Related: Pirates of the Caribbean at Magic Kingdom
Tomorrowland Speedway is an outdoor attraction that allows children to drive a gas-powered car. However, the attraction does have a minimum height requirement.
Most children will be tall enough to ride, but they may not be tall enough to drive. So, parents, you might have to help out a bit.
If they are tall enough, sit back and relax. This five minutes of chaotic driving is nothing compared to having to teach them how to drive when they turn 16. Trust me.
Overall, Tomorrowland Speedway is a must-do for younger kids. Seriously, what child doesn't want to drive a car?
Plus, it's fun to see Tomorrowland from a different perspective while on the track.
Related: Tomorrowland Speedway Ride
Under the Sea: Journey of the Little Mermaid is a dark indoor ride that is perfect for children and families with little ones. This attraction allows guests of all ages to experience the magic of Disney without having too many scares.
Journey of the Little Mermaid is a slow-moving clam shell ride that travels under the sea as it portrays the story of The Little Mermaid. This Magic Kingdom ride is relatively easy to ride throughout most of the day.
However, it can hold long wait times on busy days, and the queue is a bit of a journey itself.
Related: Under the Sea: Journey of the Little Mermaid at Magic Kingdom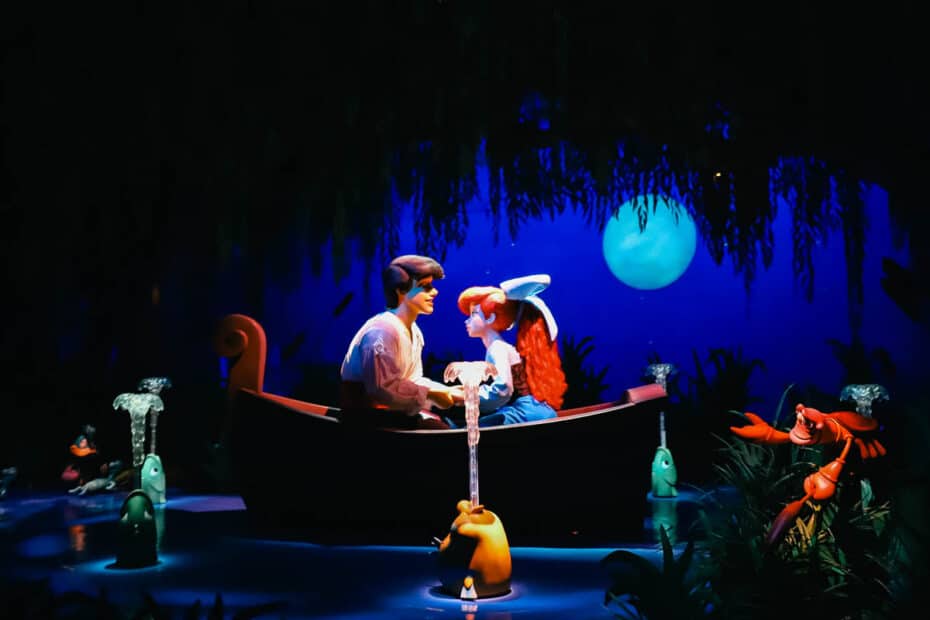 Jungle Cruise is an outdoor Magic Kingdom ride with no height requirements. It's one of the more popular attractions at Magic Kingdom and is generally quite busy throughout the year.
You'll board a boat and cruise through an adventure to remote jungles, rivers, and other locations. You'll encounter crocodiles, gorillas, snakes, and even hippos along the way!
Don't worry; they are all animatronics! Make sure to check out the new Jungle Cruise movie before your visit.
Related: Jungle Cruise at Disney World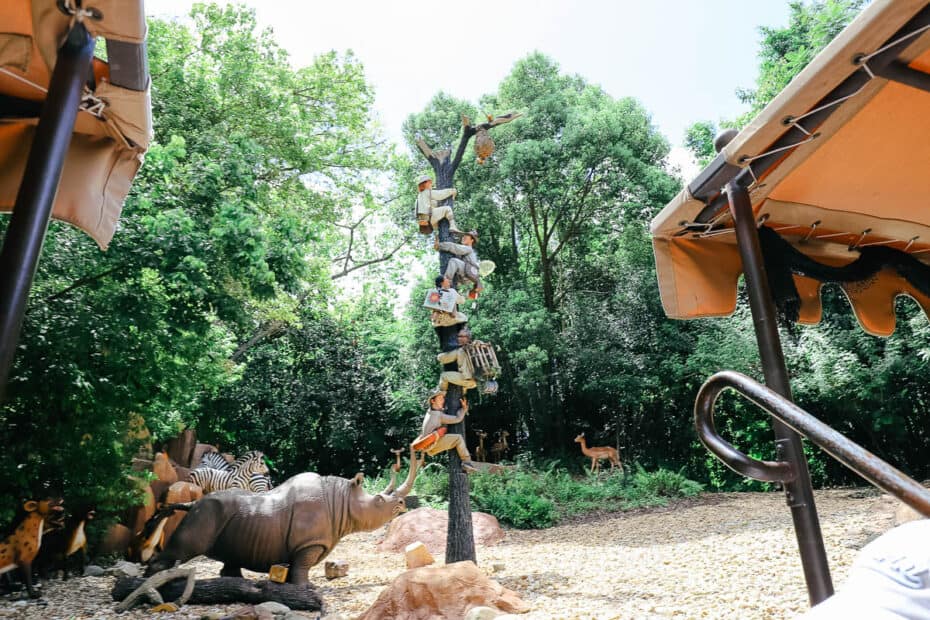 Buzz Lightyear's Space Ranger Spin is a classic Magic Kingdom ride for people of all ages. It is a slow-paced dark interactive ride that everyone seems to love. Thankfully, this attraction doesn't have a height requirement.
You'll ride through the attraction, shooting at targets to defeat the evil Emperor Zurg! He has trapped Star Commanders and their Rangers on coordinates around the galaxy!
Make sure to sharpen your aim! And if you get a perfect score, don't forget to stop at the ride shop at the end and pick up your Galactic Hero badge.
Related: Tips for Riding Buzz Lightyear's Space Ranger Spin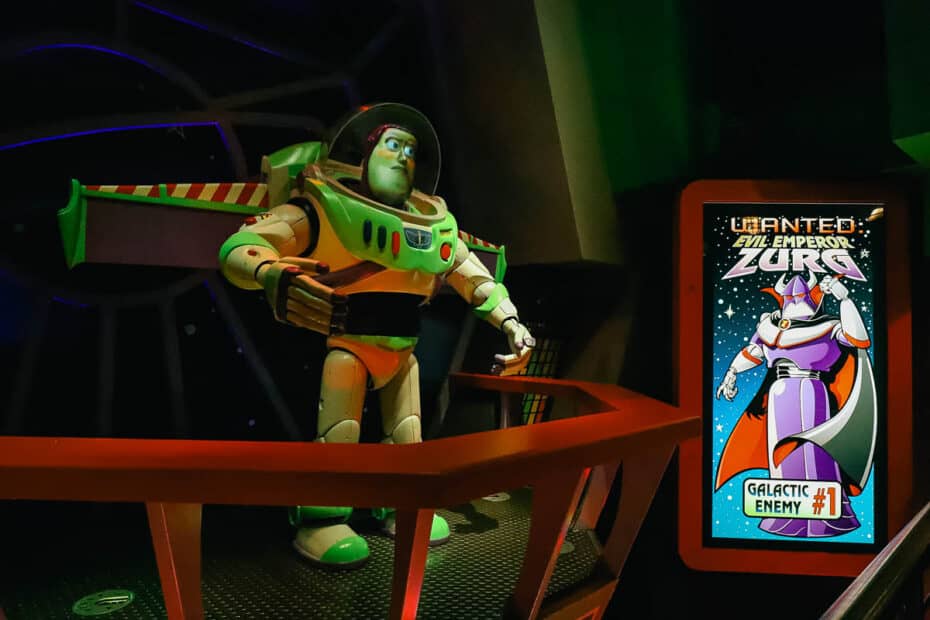 Monsters Inc. Laugh Floor is an entertaining comedy show at Magic Kingdom that is great for kids of all ages! You'll laugh, you'll cry (only if you get called on in the crowd), and you might even learn a good joke or two!
Parents, the kids like this attraction, so don't miss it. This show runs several times daily during most days of the year and is fun!
Related: Monsters, Inc. Laugh Floor
Tomorrowland Transit Authority Peoplemover is an iconic Magic Kingdom attraction that travels through Tomorrowland at a leisurely pace. Sit back, relax, and take in the surrounding views of this modern land.
Parents, this is an excellent attraction; you can ride almost anytime during the day. I suggest riding it once during the day and again at night for an entirely different experience.
Even when the lines are long, the Peoplemover tends to board quickly. So don't let what looks like a long line scare you away. That is unless the attraction is down.
If you look up and see the cars stalled on the tracks, skip it and come back later.
Related: Tomorrowland Transit Peoplemover Ride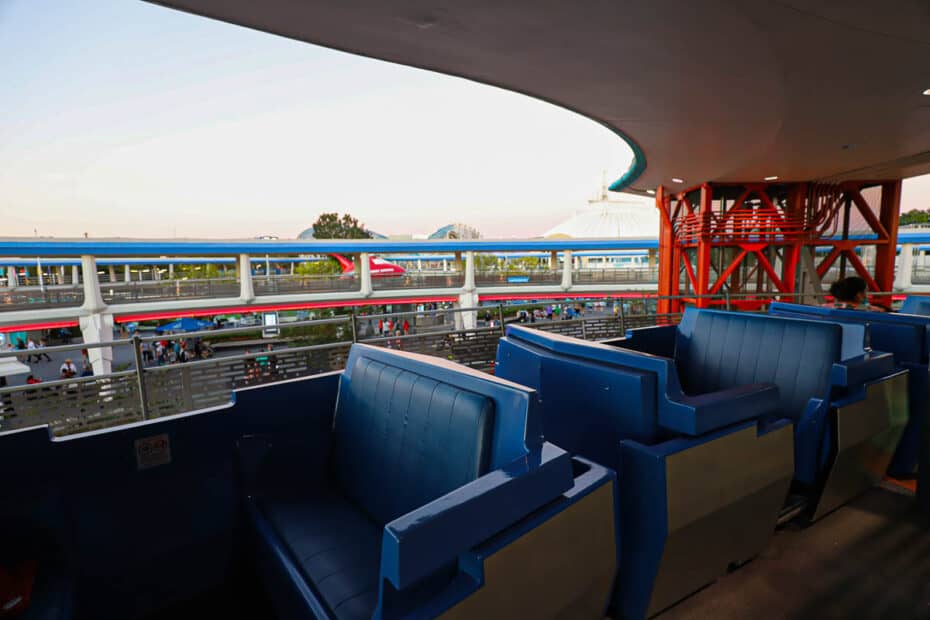 Country Bear Jamboree is a show in the Frontierland section of Magic Kingdom. This performance features singing and dancing bears in a charming jamboree.
You'll laugh as these lively characters sing classic songs and other memorable tunes.
This show runs several times per day on most days. Also, Country Bear Jamboree is an excellent tourist experience during the rain.
Related: Country Bear Jamboree at Magic Kingdom
Astro Orbiter is another iconic Magic Kingdom ride that is fun for families and kike. This kid-friendly attraction takes you on an adventure into space!
I say kid-friendly because this isn't your average spinner. Children tend to do better than adults on this one, given the force of gravity.
You'll board a rocket ship that lifts and spins round and round again.
Related: Astro Orbiter at Magic Kingdom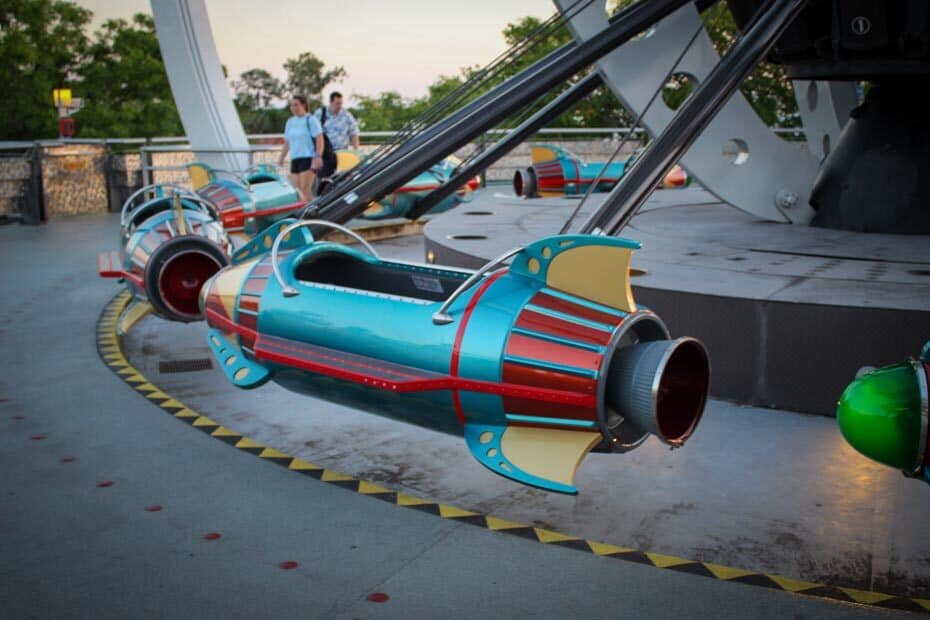 The Barnstormer is a charming roller coaster in Storybook Circus that the whole family can enjoy. This kiddie coaster features smaller cars and doesn't have near the drops of other Magic Kingdom coasters. Your kids will love this one!
Expect to glide swiftly through the air at high speeds. But don't worry too much, because it's over before you know it. We think this is the perfect starter attraction to introduce children to more sophisticated rides.
Related: The Barnstormer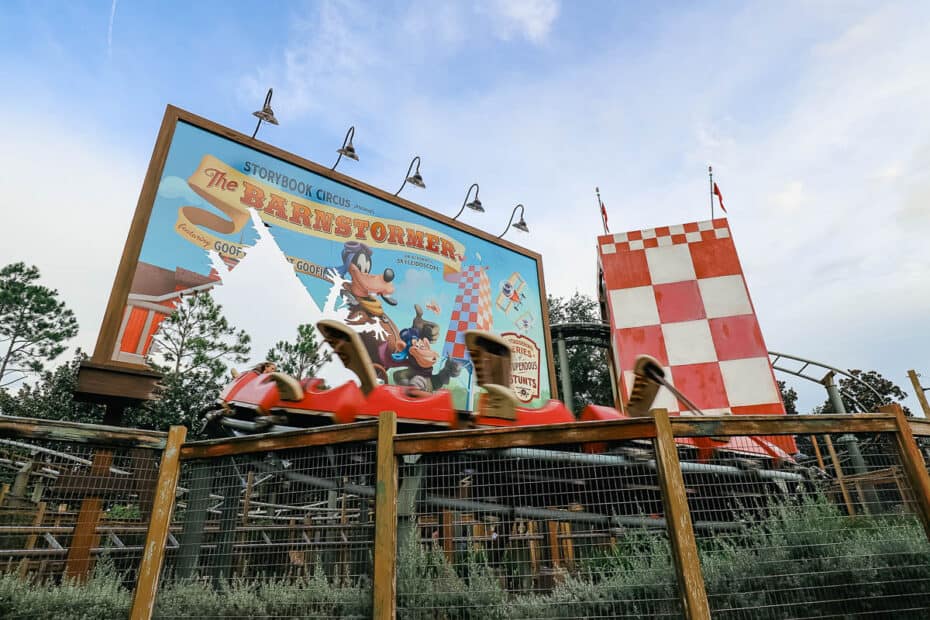 The Hall of Presidents is a show that takes you through the history of the United States presidents. Many will enjoy this attraction because of its historical and educational aspects.
However, The Hall of Presidents does require a bit of a time investment.
This Americana attraction features patriotic music and speaking parts from some of your favorite presidents. Animatronics with speaking roles include George Washington, Abraham Lincoln, John F. Kennedy, and more!
Related: The Hall of Presidents at Magic Kingdom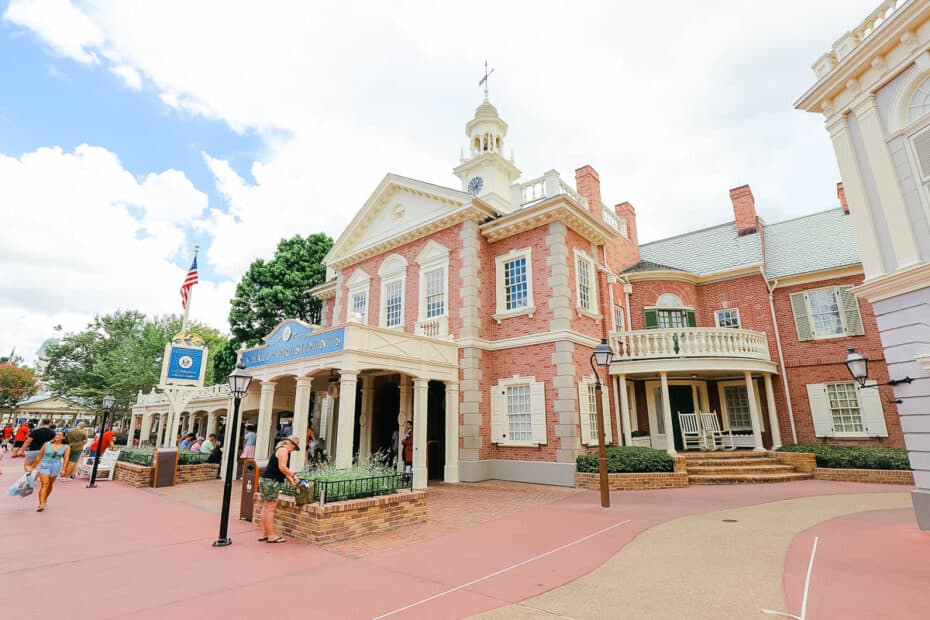 Magic Carpets of Aladdin is an excellent attraction for younger guests, similar to Dumbo, the Flying Elephant. You can hop on a magic carpet and fly high over Adventureland.
Spinners like Magic Carpets are relatively easy to experience at most times of the day. Don't forget to pick up a Dole Whip in this same area! Aloha Isle sits right behind this spinner ride.
Related: Magic Carpets of Aladdin Ride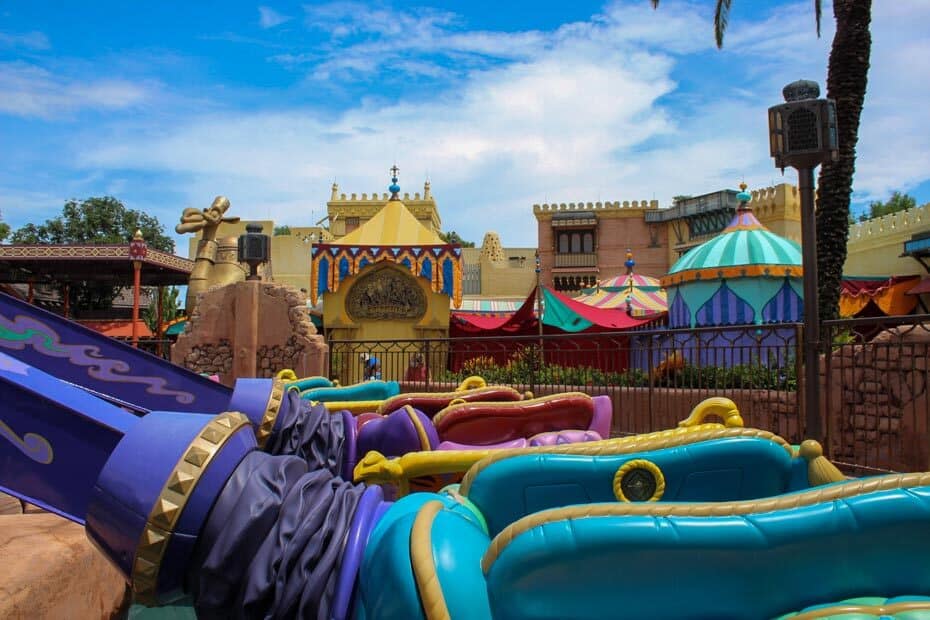 Liberty Square Riverboat is a relaxing attraction that takes you aboard a family-friendly boat. This is the kind of ride that adults tend to enjoy.
While it's a little old-fashioned, I rarely visit Magic Kingdom without a ride down the Rivers of America on the Liberty Belle.
Additionally, the Riverboat is the perfect anytime attraction when you find yourself in the Magic Kingdom on a busy day. This slow-moving voyage takes you around Tom Sawyer Island on a scenic river tour.
Related: Liberty Square Riverboat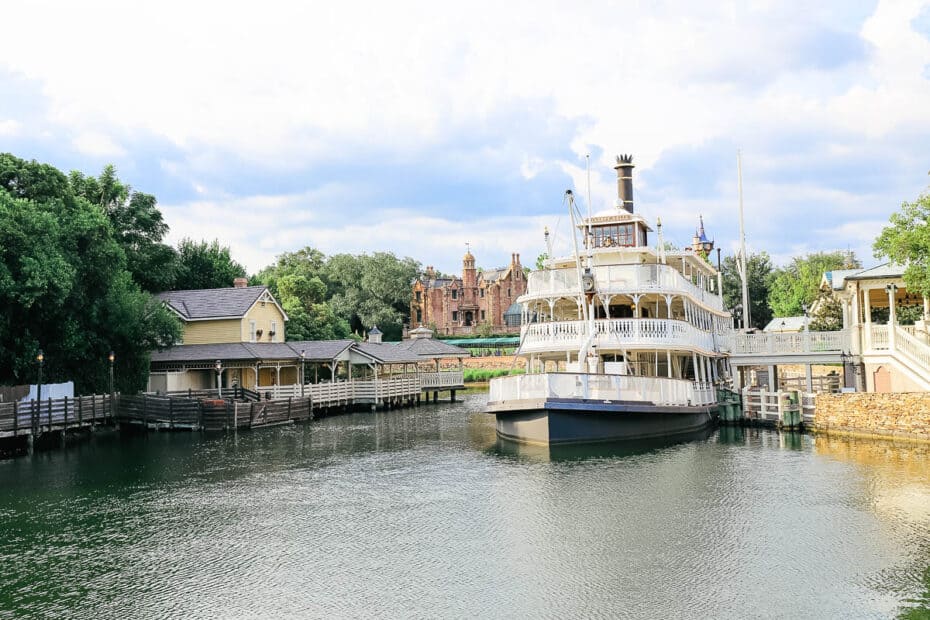 The Many Adventures of Winnie the Pooh is one of Fantasyland's cute, slow-moving Magic Kingdom rides. Whether you're visiting with children or not, you'll still want to take a spin in a honey pot.
However, this ride is geared toward children and has a friendly play-while-you-wait queue. So you'll hop into your honey pot as it glides into The Hundred Acre Wood. Everything is going smoothly until you encounter Tigger for a bit of a bounce!
And yes, there are Heffalumps and Woozles! BEWARE!
This attraction is for you if you love Winnie the Pooh as much as I do.
Related: The Many Adventures of Winnie the Pooh at Magic Kingdom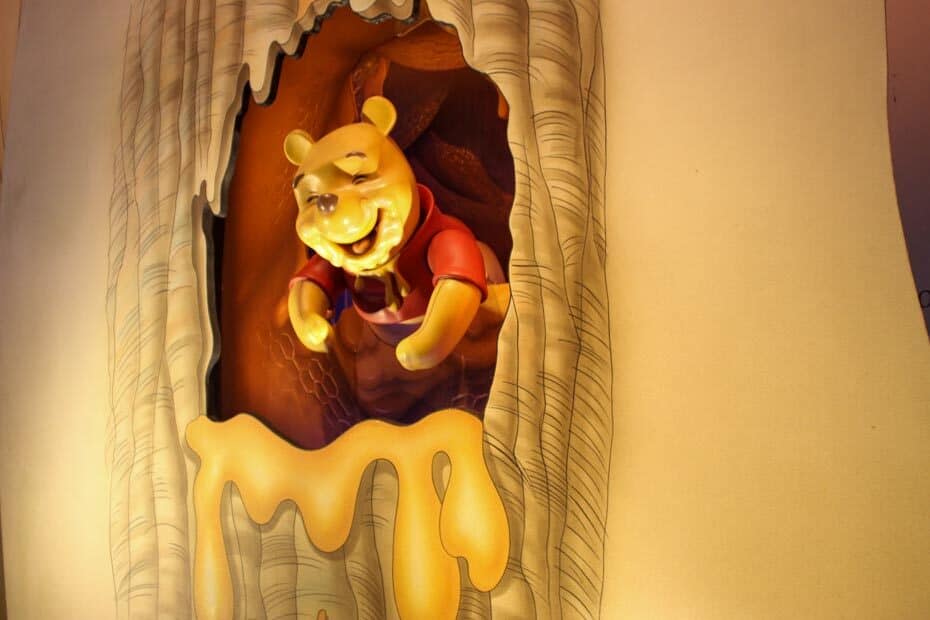 Mickey's Philharmagic is a fun attraction in Fantasyland at Magic Kingdom. This 4D show uses the latest technology to bring your favorite Disney tunes and characters to life. You'll see Donald Duck on the big screen as he takes you on an accidental adventure.
Other fun characters in the cartoon include Aladdin, Jasmine, Ariel, and our favorite Mickey Mouse saves the day toward the end. The combination of 3D glasses with physical effects is quite engaging! Make sure to find Donald at the end of the show!
While Philharmagic is a cute cartoon with special effects, it's by no means a must-do attraction. Save this one for when you need a break from the heat or rain.
Related: Mickey's Philharmagic at Magic Kingdom
Walt Disney's Enchanted Tiki Room is a classic Magic Kingdom attraction designed by Walt Disney himself. This Disney staple has been entertaining guests for decades!
You'll hear tropical tunes as you watch parrots, flowers, and other tiki characters sing and dance to the beat of the music overhead. Enchanted Tiki Room is full of nostalgia and a wonderful place to escape one of those true tropical Florida downpours.
Make sure to keep this one in mind for rain or a break. Similar to some of the other Magic Kingdom shows, this one requires a bit of time investment.
Related: Enchanted Tiki Room at Disney World
Walt Disney's Carousel of Progress is a slow-moving, calming attraction in Tomorrowland at Magic Kingdom. This is another attraction for nostalgia seekers, as it has been around for quite some time.
This show takes you back in time to see the technological innovations that have changed over the last century. The idea of the ride is a moving theater that lets you enter on one side, watch several scenes as it rotates, and then exits on the opposite side.
All the while, guests enter, exit, and watch scenes, utterly oblivious to the process.
It was a modern attraction for its time.
Related: Carousel of Progress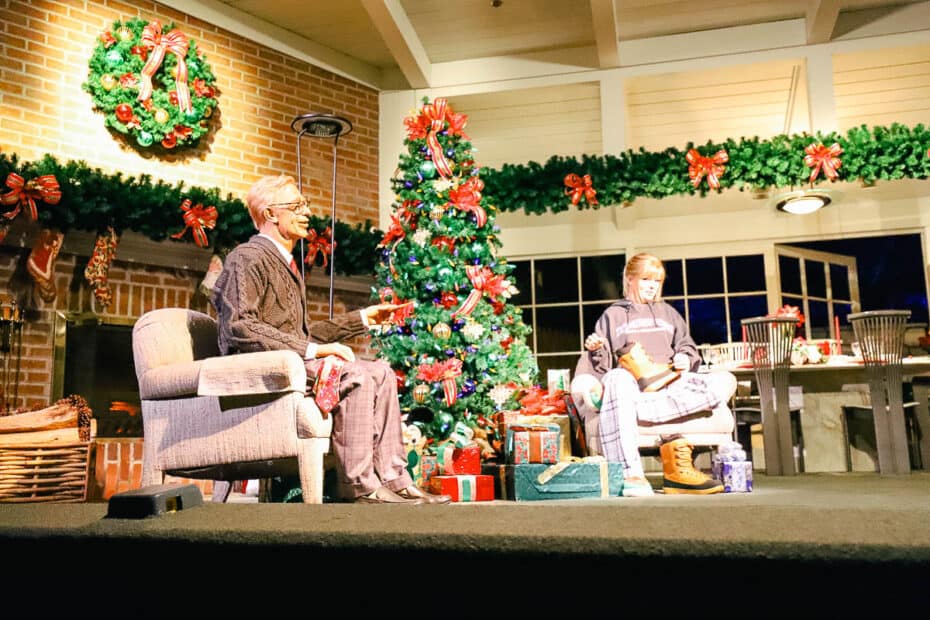 Tom Sawyer Island is a fun part of the Magic Kingdom, but this island adventure is probably not for everyone. You'll board a raft in Frontierland and head over to the island. There are trails, a barrel bridge over the water, and even a Fort for children to explore.
Unfortunately, traveling back and forth to the island can take valuable touring time. So you'll want to consider if it's worth the trip over instead of possibly missing out on a few other rides.
Related: Tom Sawyer's Island at Magic Kingdom
Prince Charming Regal Carrousel is a traditional carrousel located in Fantasyland at Magic Kingdom. This ride has entertained guests since the beginning of Disney World and will bring many more smiles over the years!
The carousel sits directly behind Cinderella Castle and plays tunes from Disney classics like Mary Poppins. I highly recommend taking a spin on the carousel during your visit, regardless of age.
It would be rare to wait more than a few minutes for a turn. And there's something to be said about riding a carousel that sits directly behind a castle!
Related: Prince Charming Regal Carrousel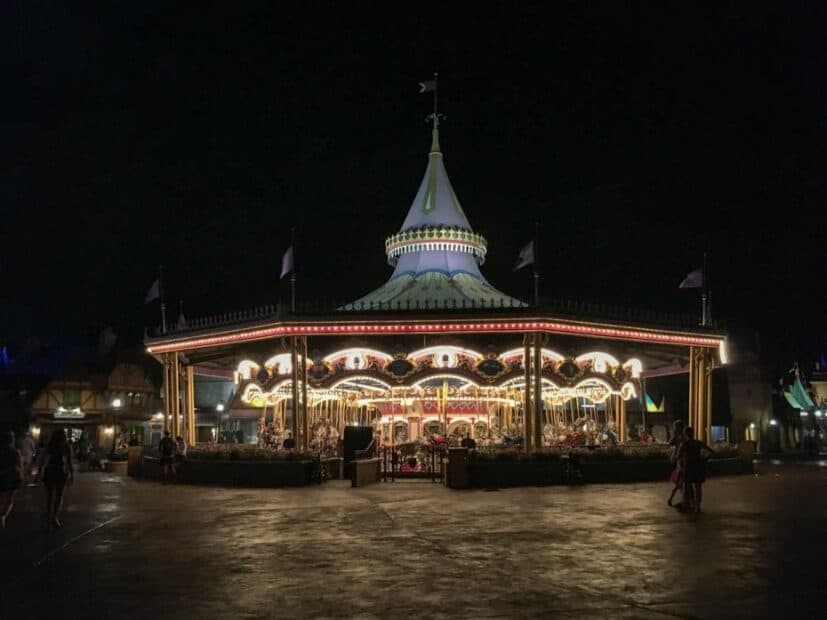 Swiss Family Treehouse is a timeless attraction in Adventureland. This walk-through experience is designed to feel like an actual treehouse from The Adventures of Swiss Family Robinson.
You can experience Swiss Family Treehouse at Magic Kingdom anytime. However, it does involve a good deal of stairs to reach the top. Therefore, it's not something for everybody, or at the very least, take your time.
Throughout the treehouse, you'll pause in different rooms to observe how the Robinson family might have lived on the island. At the very top of the tree, there are magnificent views of the Magic Kingdom.
Related: Swiss Family Treehouse at Magic Kingdom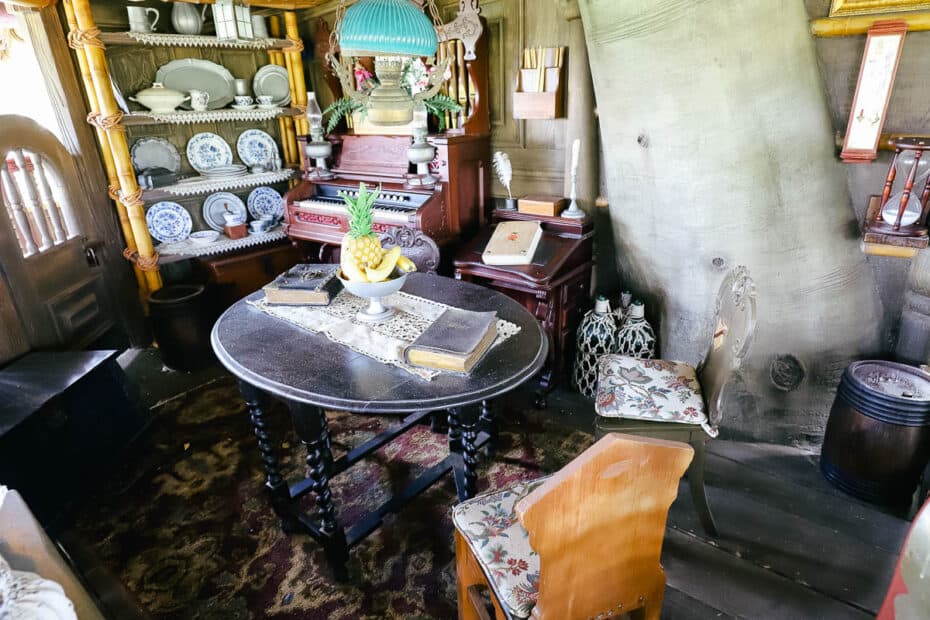 "it's a small world" is nearing our last stop for Magic Kingdom rides. This original, classic attraction is an indoor, dark boat ride.
You'll venture on the "happiest cruise that ever set sail" as you visit the different countries of the world.
Each country features children and icons representing its heritage. "it's a small world" is the tune that plays in the background, and each country sings the tune in its language.
This attraction can meet to long waits in the heat of the day. However, those waits usually adjust down in the evening.
For those that don't care for the loud noise of the fireworks, this is an excellent ride to experience in the evening.
Related: "it's a small world" at Magic Kingdom
Cinderella Castle is our last attraction at Magic Kingdom. The castle sits in the center of the Magic Kingdom and is the most iconic photo spot at Walt Disney World.
Related: Cinderella Castle at Magic Kingdom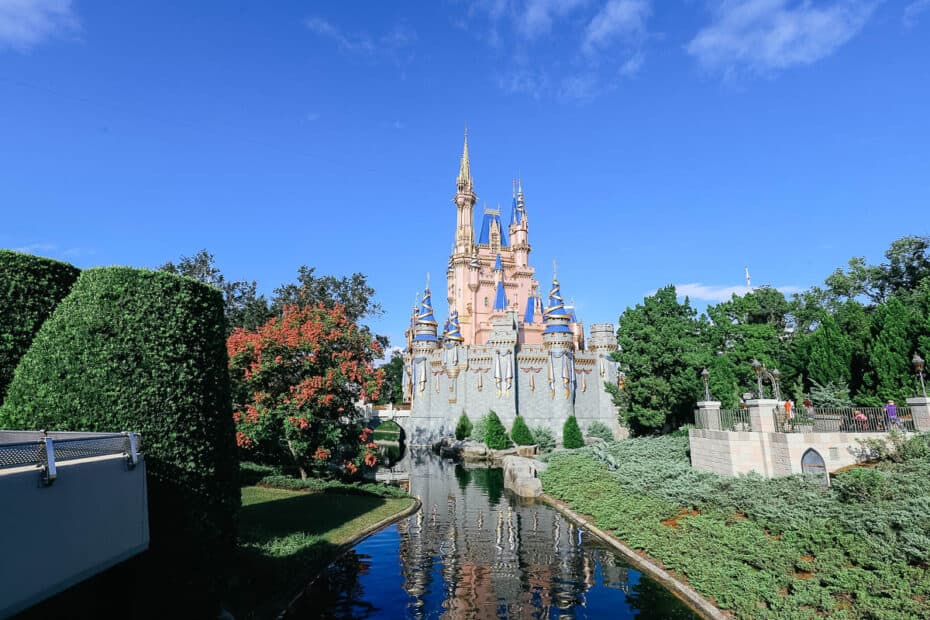 Casey Jr. Splash and Soak Station is a small water splash area that sits toward the back of Storybook Circus. This is a fun area for kids to cool off on a hot day. However, you might want to pack a change of clothes.
Related: Casey Jr. Splash and Soak Station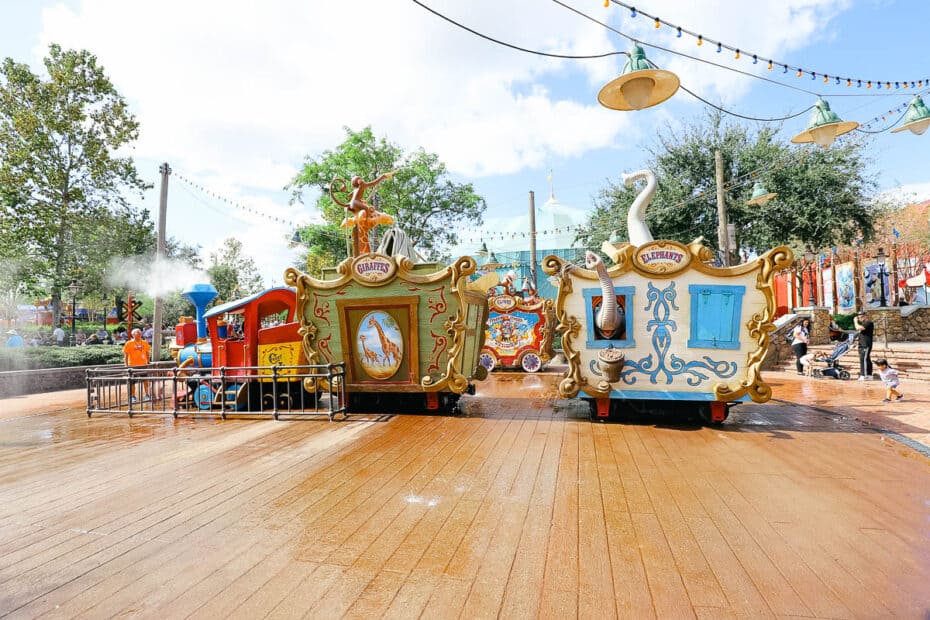 Tron Lightcycle Run is the newest attraction at Walt Disney World opening on April 4, 2023. We were fortunate to experience an early preview of the ride and have a full review of the experience.
Related: Tron Lightcycle Run Review Magic Kingdom
The Walt Disney World Railroad is a train ride that loops the Magic Kingdom. There are stops at Main Street U.S.A., Frontierland, and Fantasyland. This attraction is an excellent place to take a break and relax while enjoying unique views that can only be seen from the train.
Related: Walt Disney World Railroad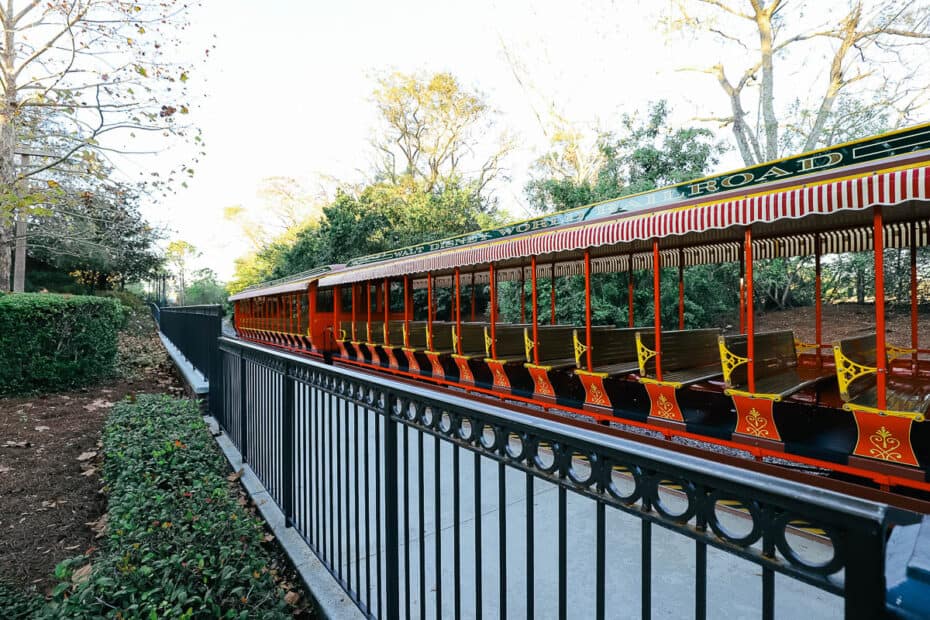 Enchanted Tales with Belle is a walk-through experience where guests visit Maurice's Cottage. Inside, they'll find a magic portal that takes them to the Beast's castle where Lumiere is waiting to greet them.
Belle shows up and is surprised to find so many guests in the library. With the help of Lumiere and audience participants, they tell the story of the day that Beauty and the Beast fell in love.
While this is not a formal meet-and-greet, it is an intimate way for children to get to spend time with one of their favorite characters. A PhotoPass photographer is on-hand during the meet, and all guests are provided with a card to download the photos taken during the experience.
Related: Enchanted Tales with Belle at Magic Kingdom
Magic Kingdom Rides Final Thoughts
Hopefully, this article gave you a good overview of the rides at Magic Kingdom. In addition to the rides, many characters meets have returned to the park. We have an updated list of character meets at Walt Disney World.
Additionally, you can check Disney's site here for immediate attraction updates.
For those of you traveling with smaller children, you might be interested in the following articles:
If you are traveling over the Christmas Holidays, check out our guide to Christmas at Disney World.
Are you planning a Walt Disney World vacation? Some of our other reviews include our list of Disney World Resort Reviews.
And our guide to Disney Character Dining provides everything you need to know about enjoying meals with characters.
In the Comments
Did you find this list of Magic Kingdom rides helpful? Do you enjoy the thrill rides in the park or prefer the slower attractions?