Swiss Family Treehouse at Magic Kingdom
Swiss Family Treehouse is located at the Magic Kingdom in Walt Disney World. For most, this timeless attraction is well worth taking a walk through during your vacation.
You'll find Swiss Family Treehouse immediately past the front entrance of Adventureland. It's across the walkway before you get to Aladdin's Magic Carpets.
Below, we'll discuss details for experiencing Swiss Family Treehouse. It's important to note that the treehouse involves a decent number of stairs. So it might not be suitable for everyone.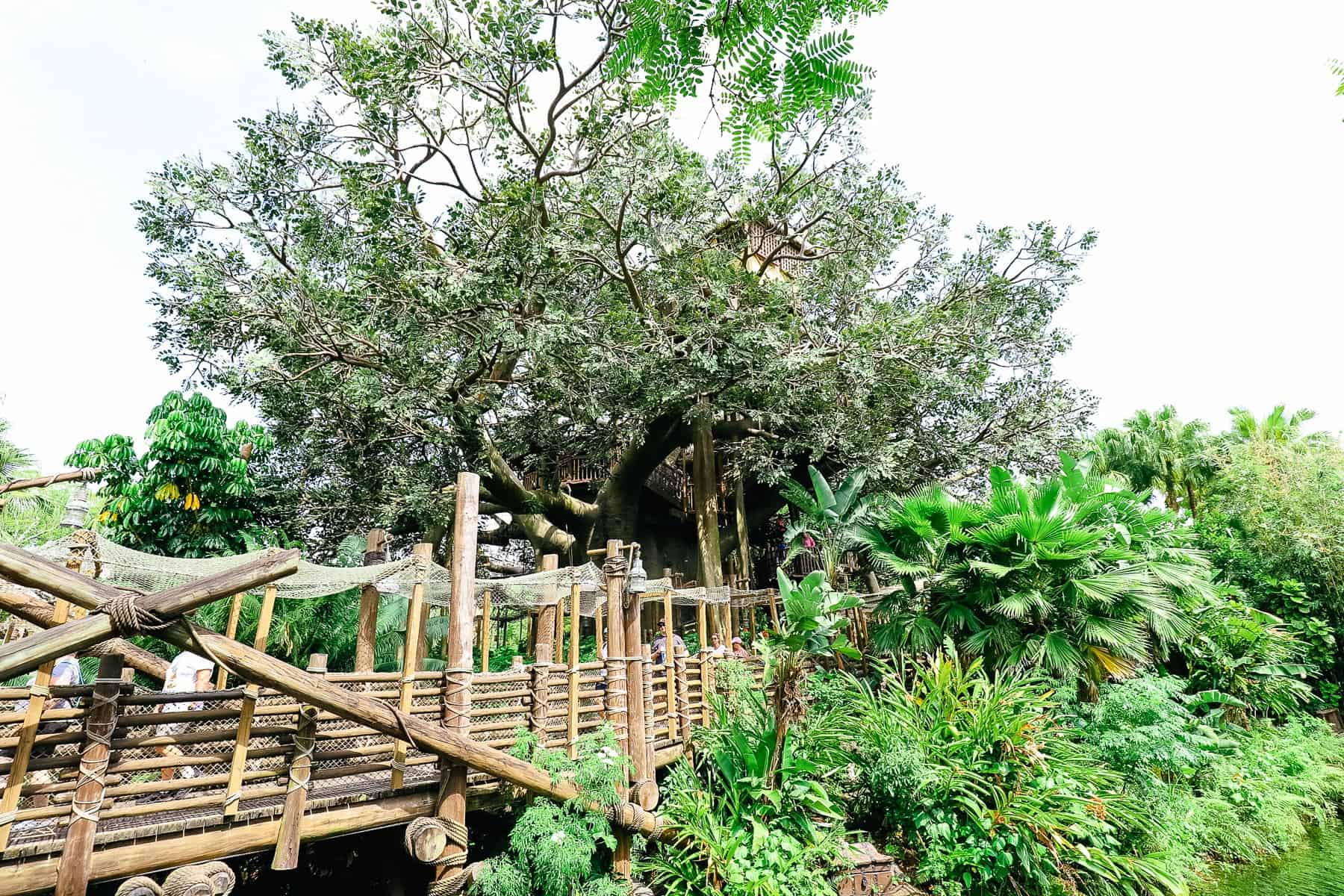 Here are a few details for the Swiss Family Treehouse.
| | |
| --- | --- |
| Swiss Family Treehouse | Magic Kingdom |
| Location: | Adventureland |
| Height Requirement: | None |
| Disney Genie+ Eligible | NA |
| Ride Type: | Treehouse |
| Stairs: | Swiss Family Treehouse has 116 stairs. |
| Disney Rider Switch: | None |
| Scare Factor: | Not recommended for those with a fear of heights. |
| Must-Do List: | Low Priority |
| Perfect For: | All Ages |
| Special Mention: | If you need to take your time going up, stand to the side and let others pass you. |
*Guests must be ambulatory to visit the treehouse.
Swiss Family Treehouse
Swiss Family Treehouse serves as a model of the Robinson family home based on the novel and movie Swiss Family Robinson. The book debuted in 1812 and was turned into a Disney classic film in 1960.
As you walk through the tree, you'll encounter excerpts from the father's journal. This one reads:
"On this site, July 17, 1805, myself, my good wife, and three sons, Fritz, Ernst, and little Francis, were the sole survivors by the grace of God of the ill-fated ship Swallow."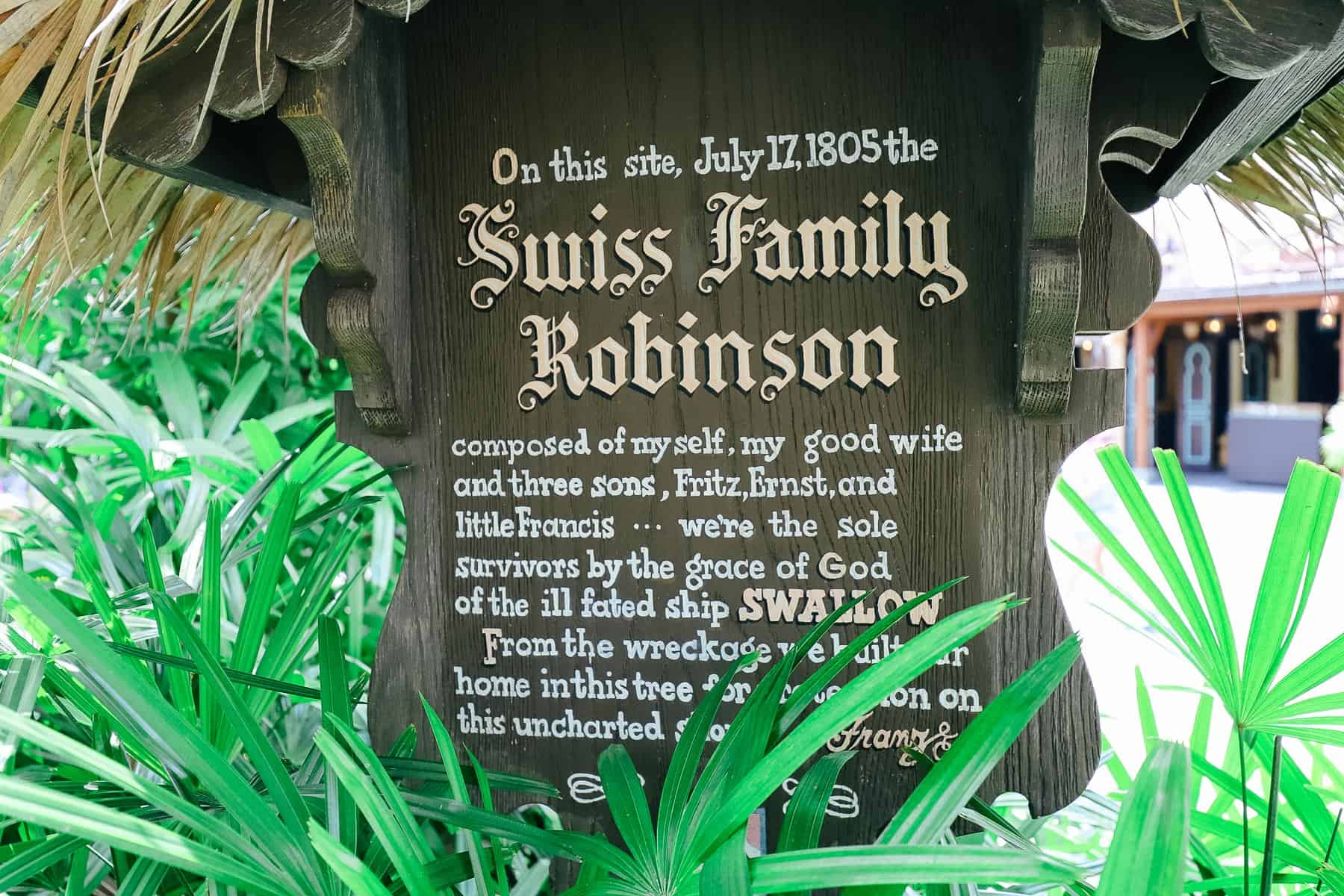 Outside the entrance of the treehouse, a sign lists a few details. Since this is a self-paced walkthrough attraction, guests can usually immediately visit the treehouse without having to wait.
While there is no height requirement, it's important to note that all children under the age of seven must be accompanied by an adult aged 14 or older.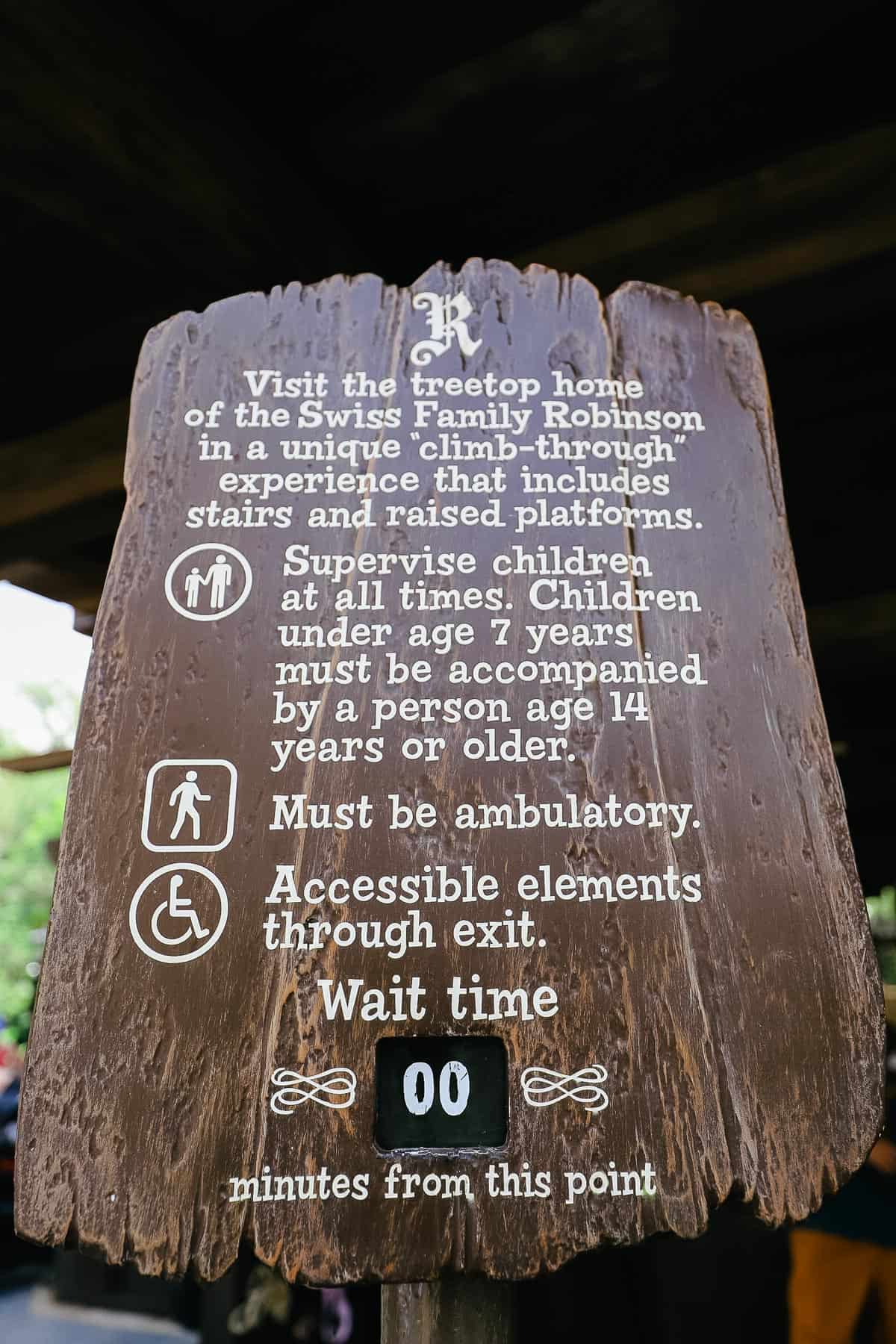 While I was taking these photos, I found myself chuckling as I overheard a son ask his dad if the tree was real. His response was yes, well, wait–I don't know.
While the tree looks real at first glance, it is made of cement and anchored by concrete roots. Disney even came up with a name for it, "disneyodendron eximus," which means out-of-the-ordinary Disney tree.
Its leaves are polyethylene leaves. With that said, one element of the tree is real. Moss grows in various places throughout the tree.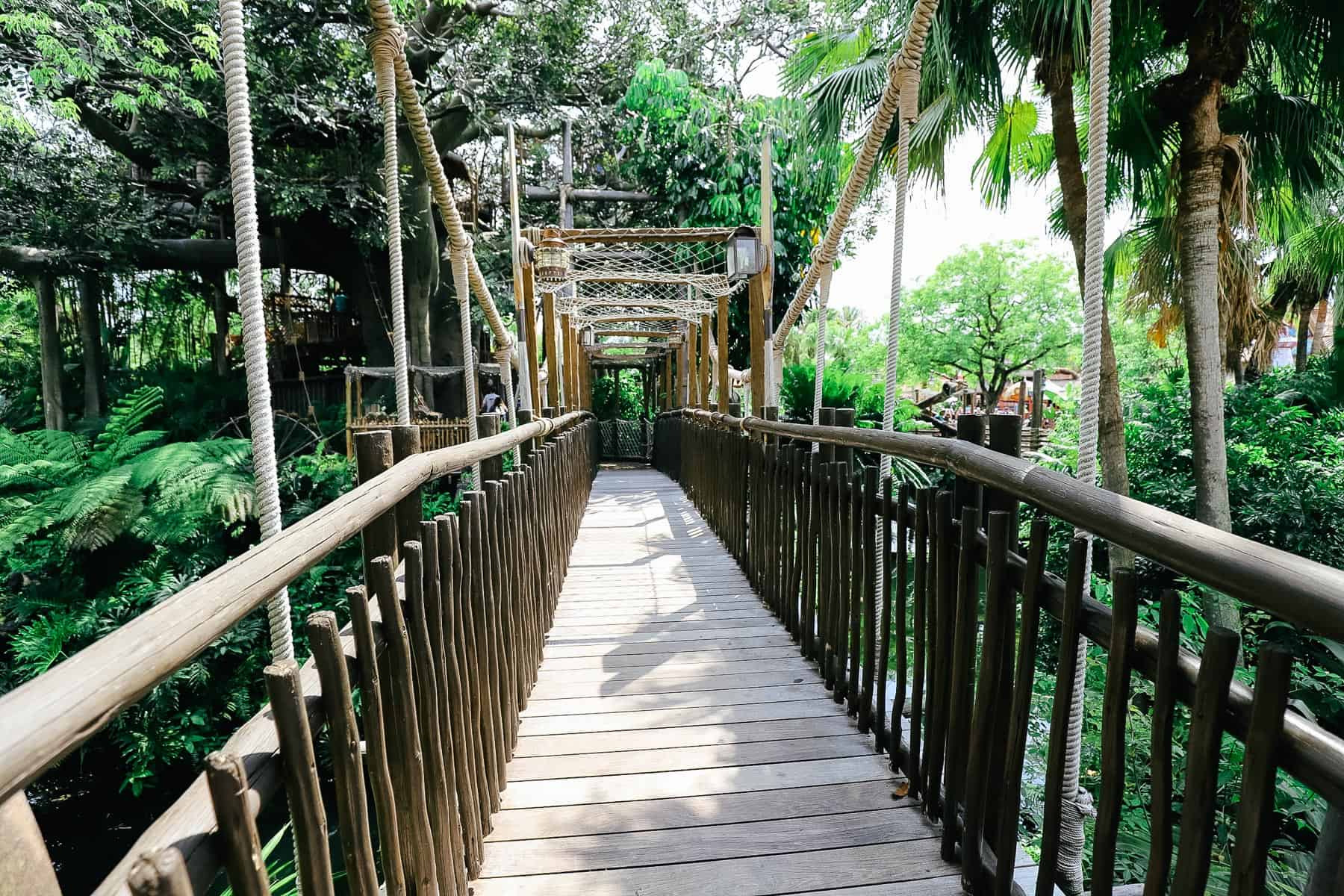 As you cross over the bridge, you will see the levels of the treehouse above you. Several landings are available as you ascend to the top.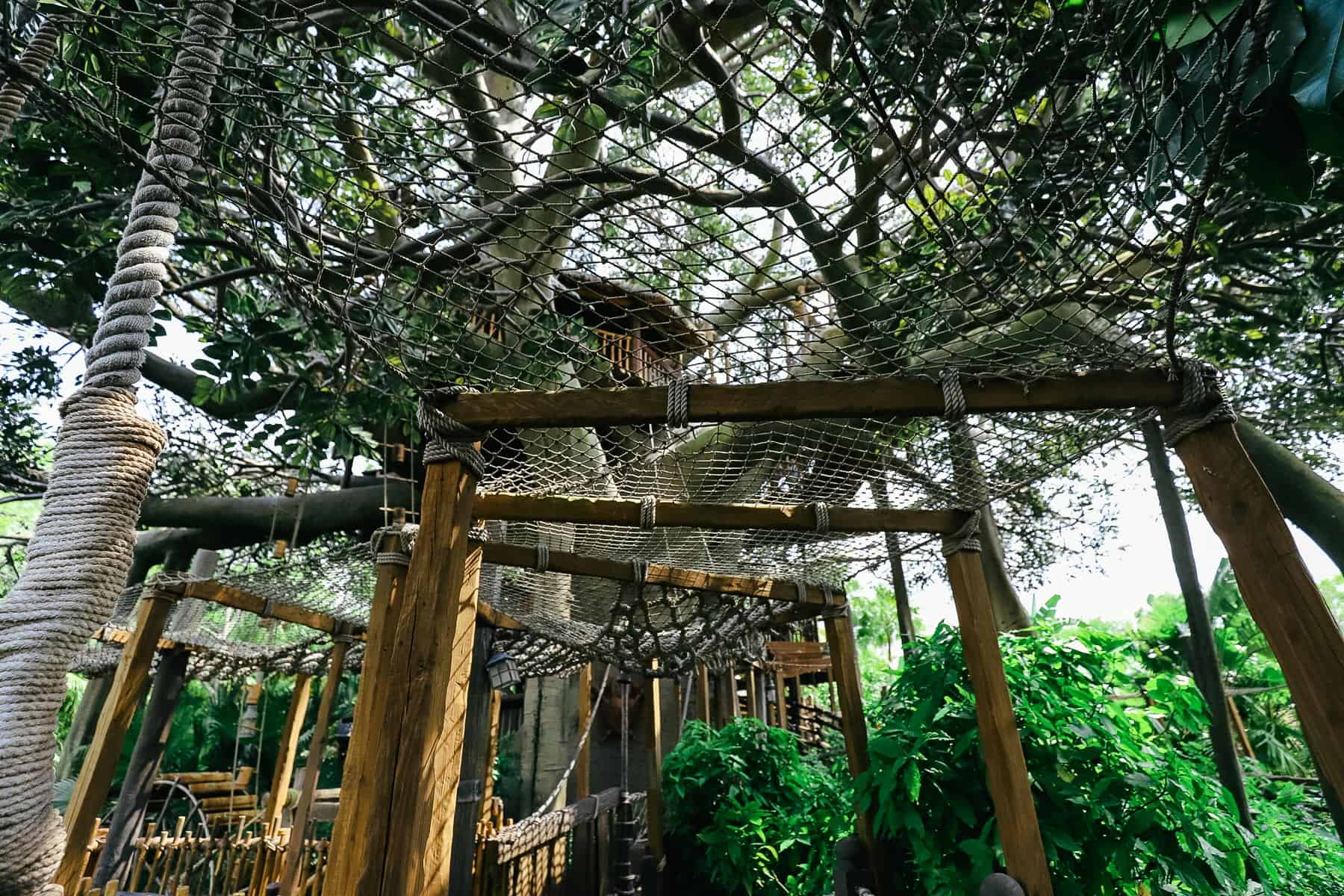 A water wheel sits near the entrance of the Swiss Family Treehouse. Unfortunately, the past few times I've walked through this attraction, it hasn't been working.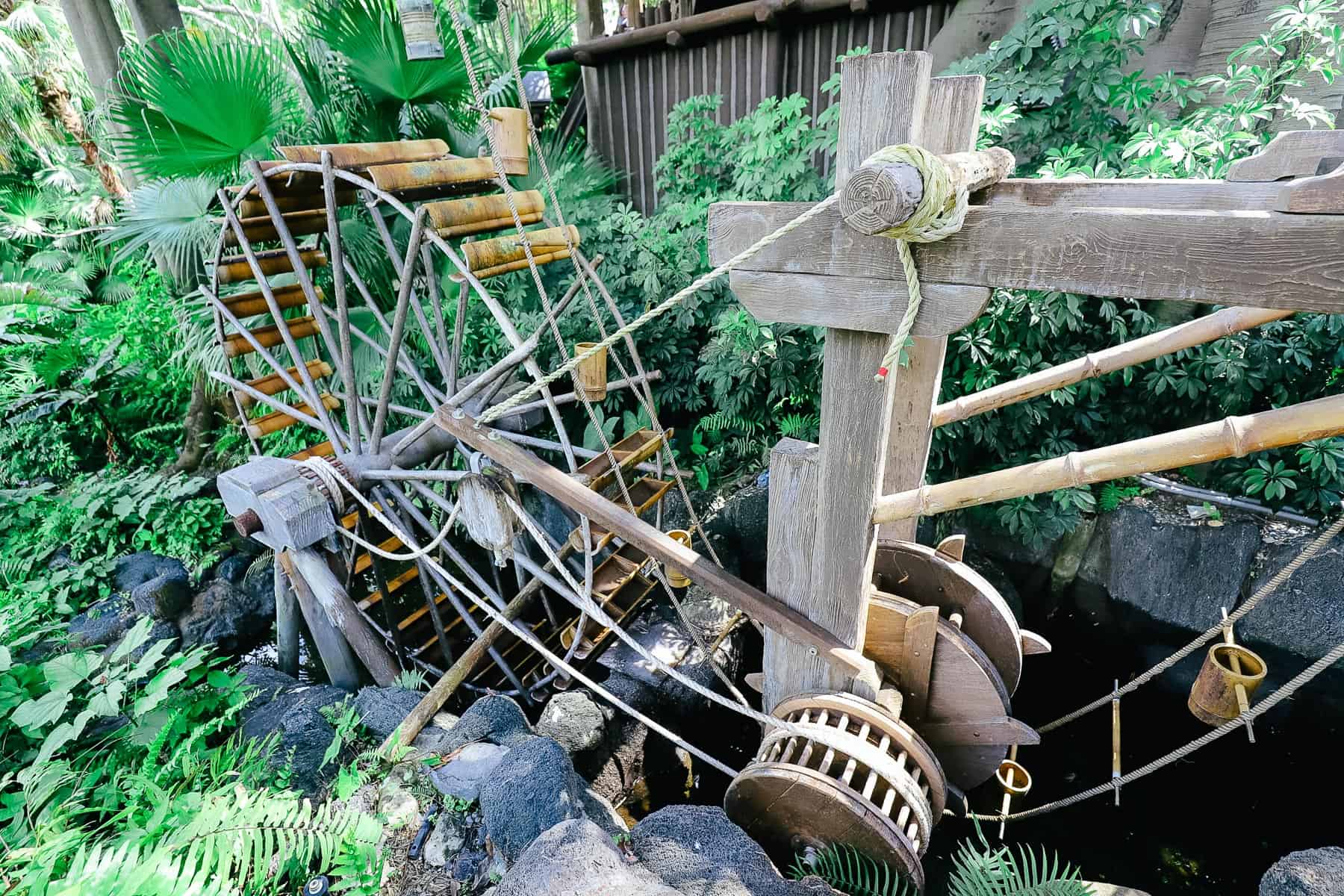 The family's crest hangs at the base of the tree.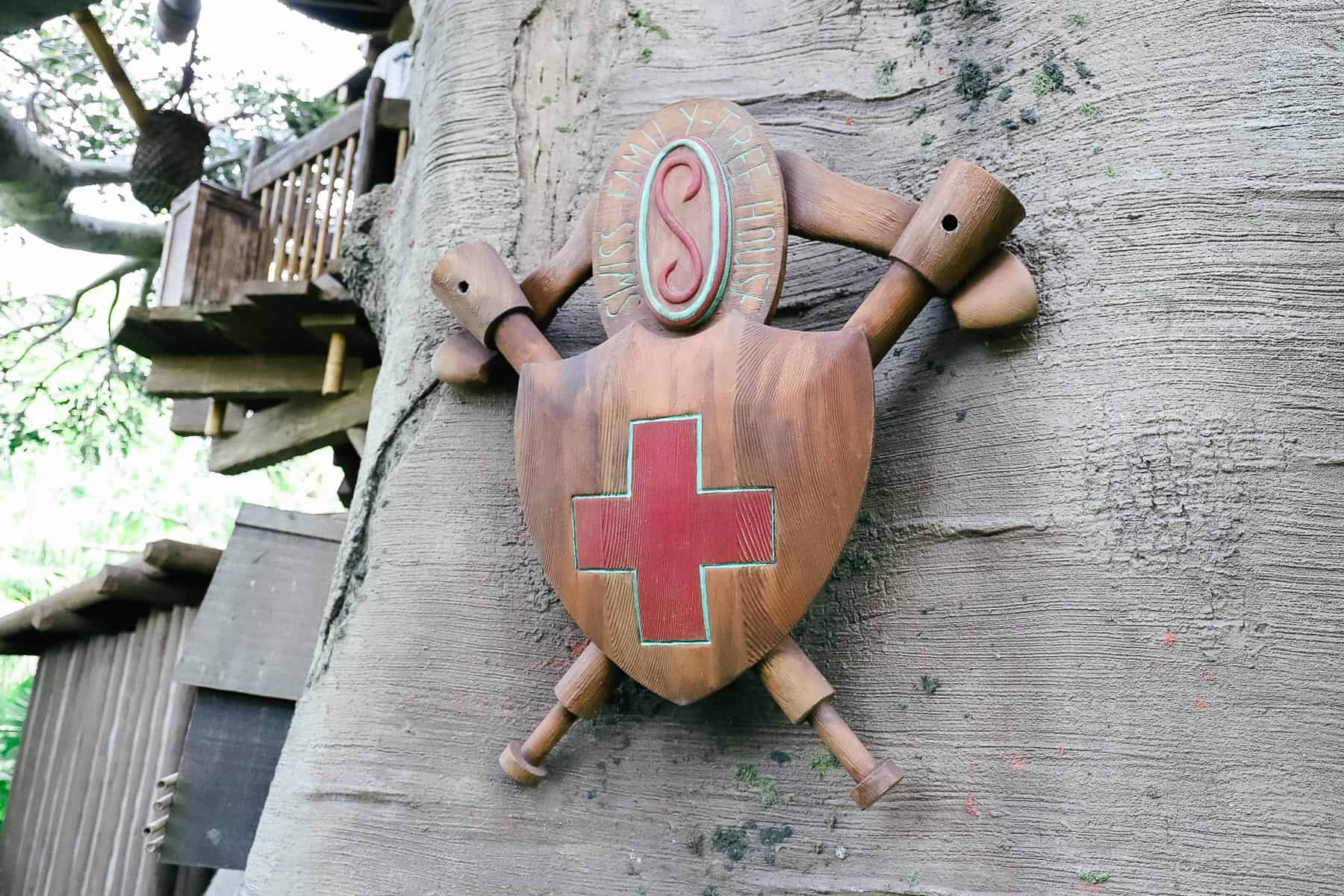 A pathway leads to wooden stairs that will take you up into the treehouse.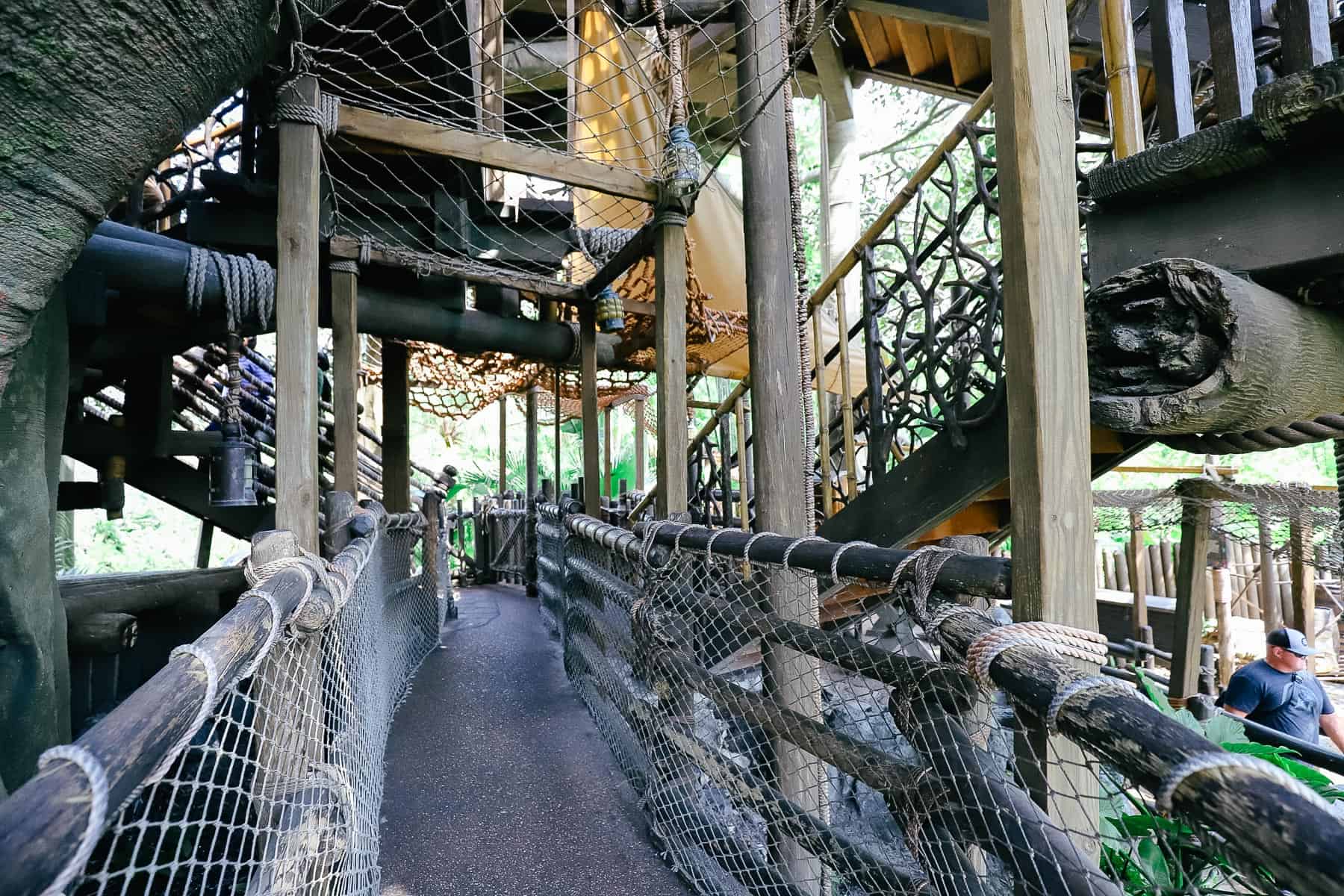 Tremendous branches envelop you in a small world away from the theme park.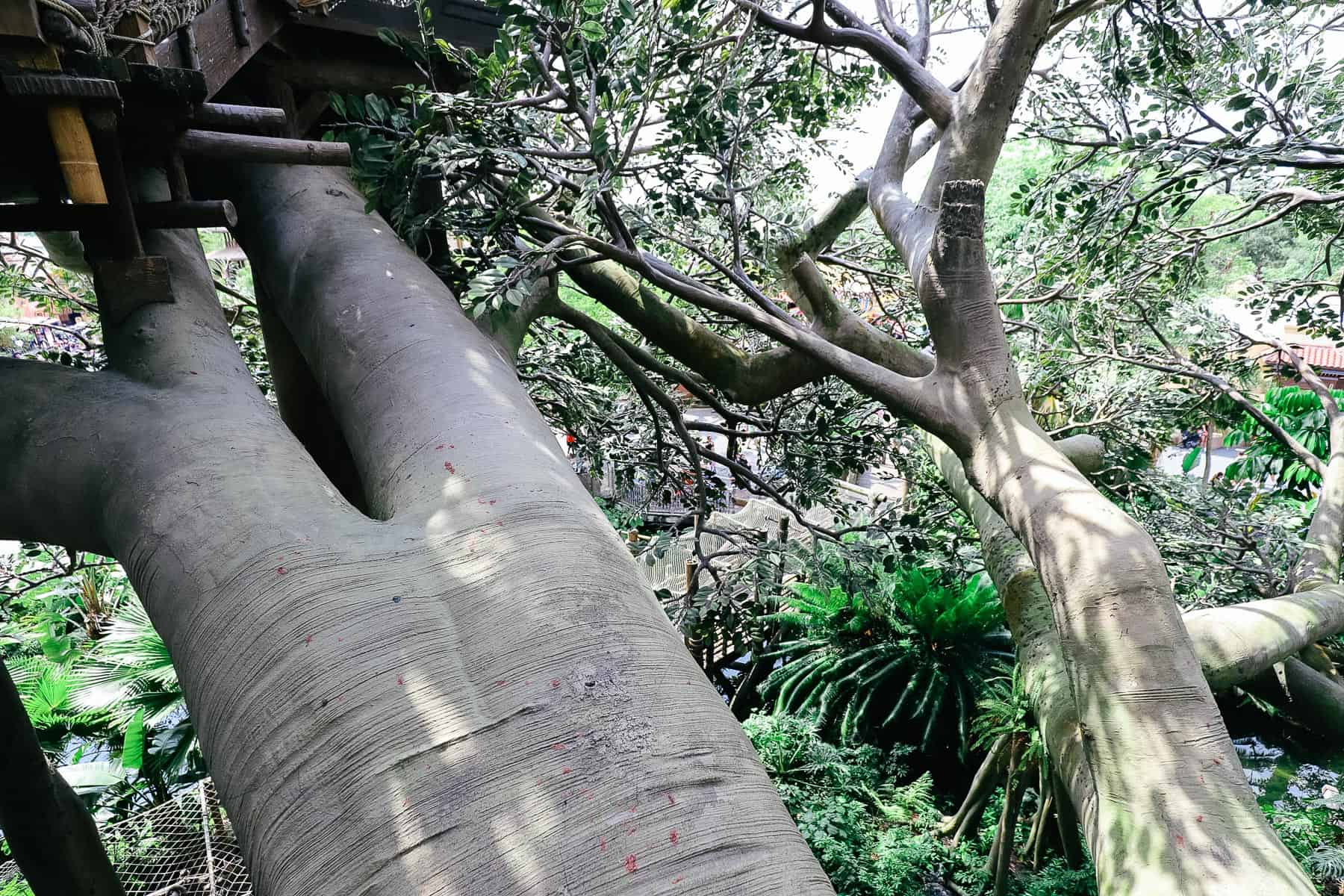 Eventually, you'll come across various living quarters like the living room, where an organ salvaged from the shipwreck sits with a few other treasured items.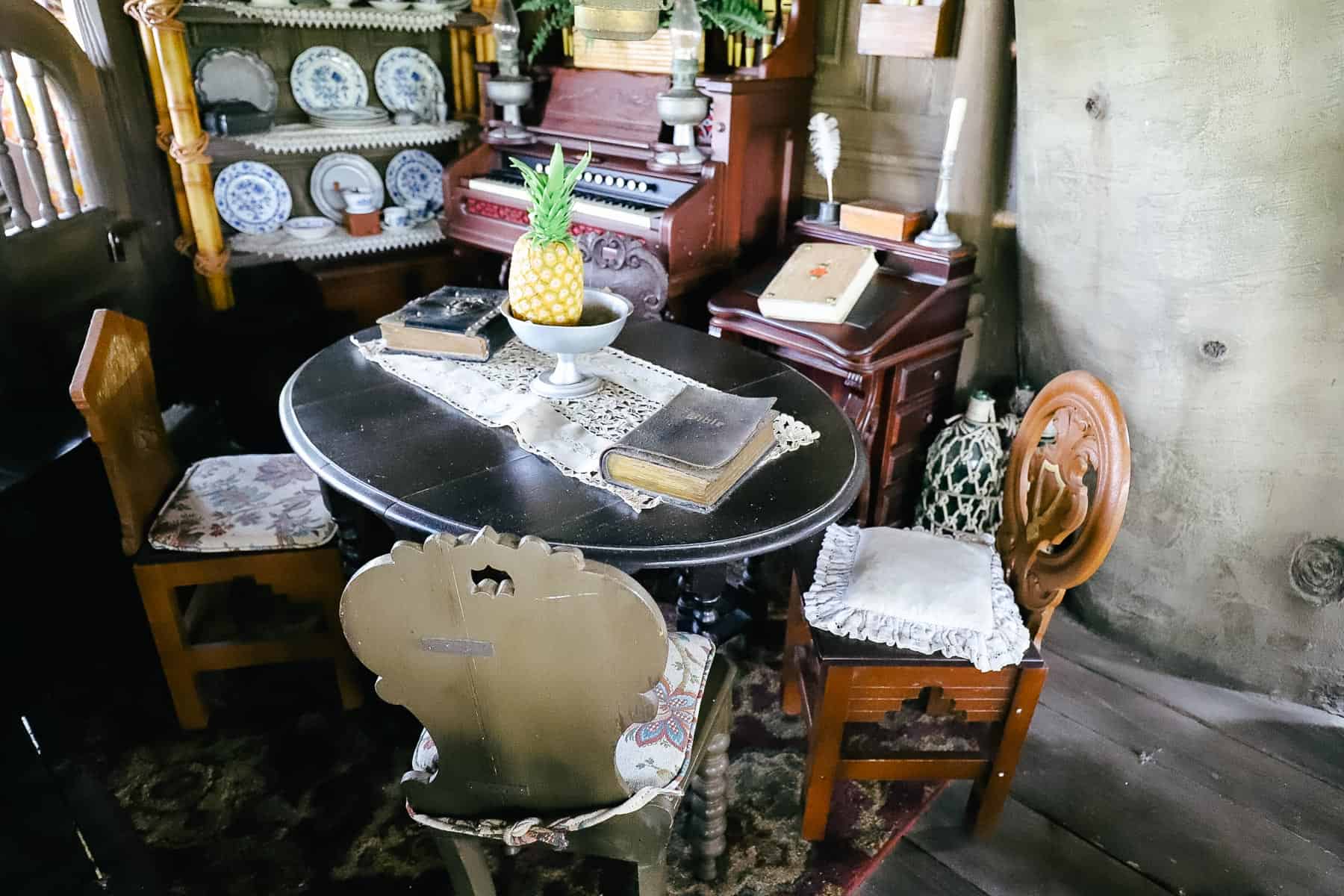 Toward the top of the tree, you'll see the Jungle Lookout. The sign reads:
In this compound, we often pause to contemplate our small world. Here adventure beckons with every view and every sound, the jungle, and its river call out their mystery and invite us to new discovery.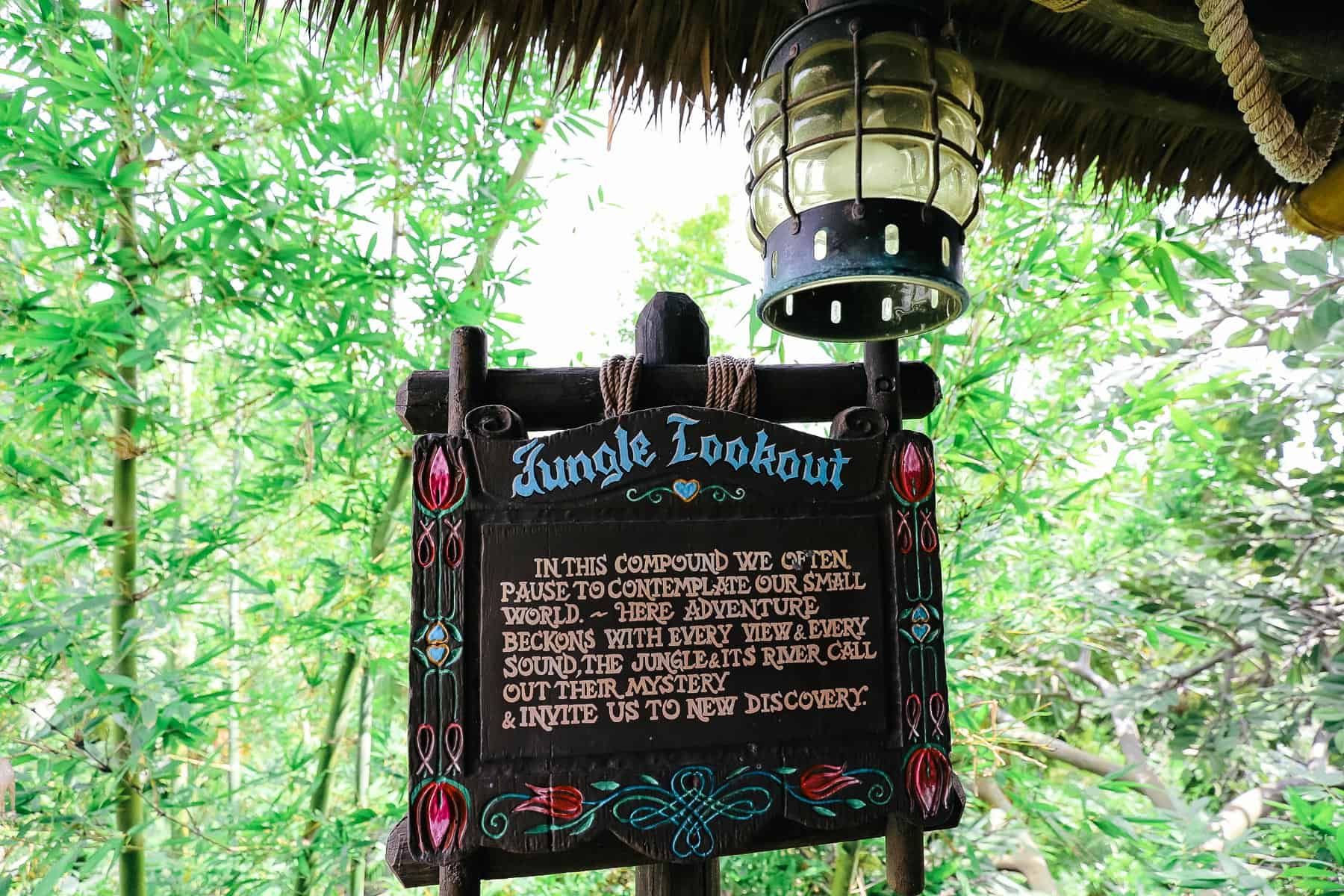 However, at Magic Kingdom, the breathtaking views beckon you to Cinderella Castle, Tron Lightcycle Run, and Space Mountain.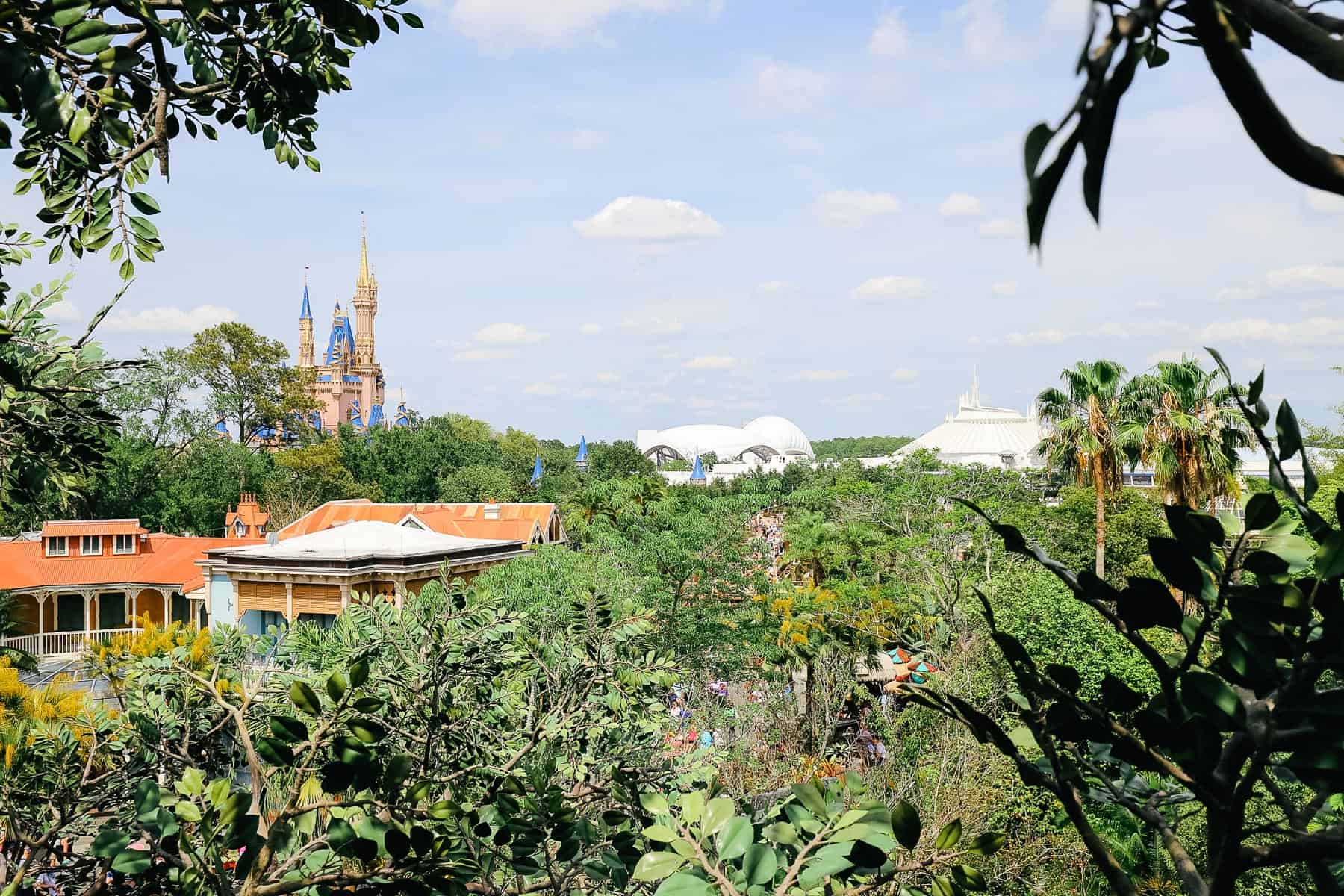 We pass the parents' bedroom.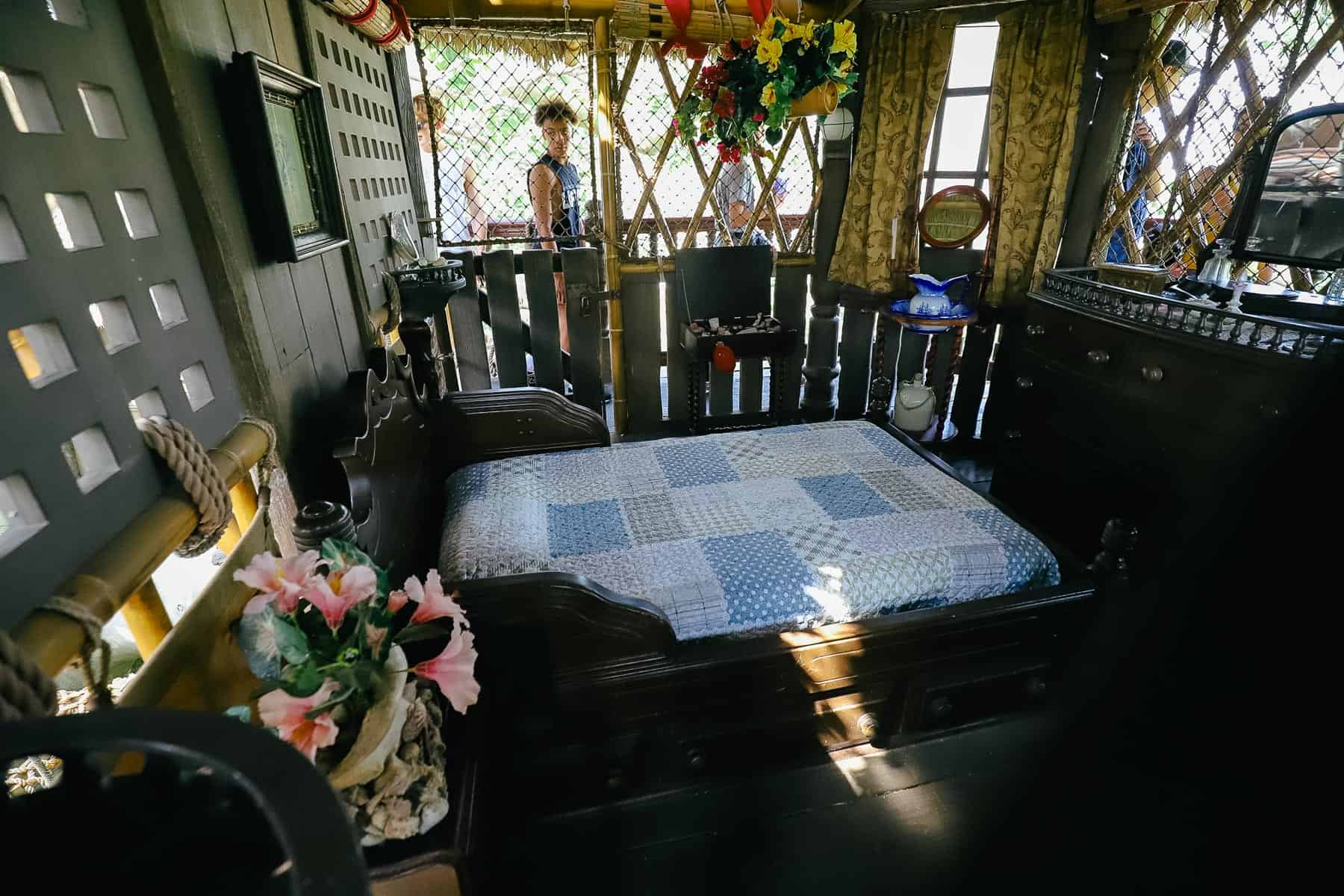 Here is the boy's room.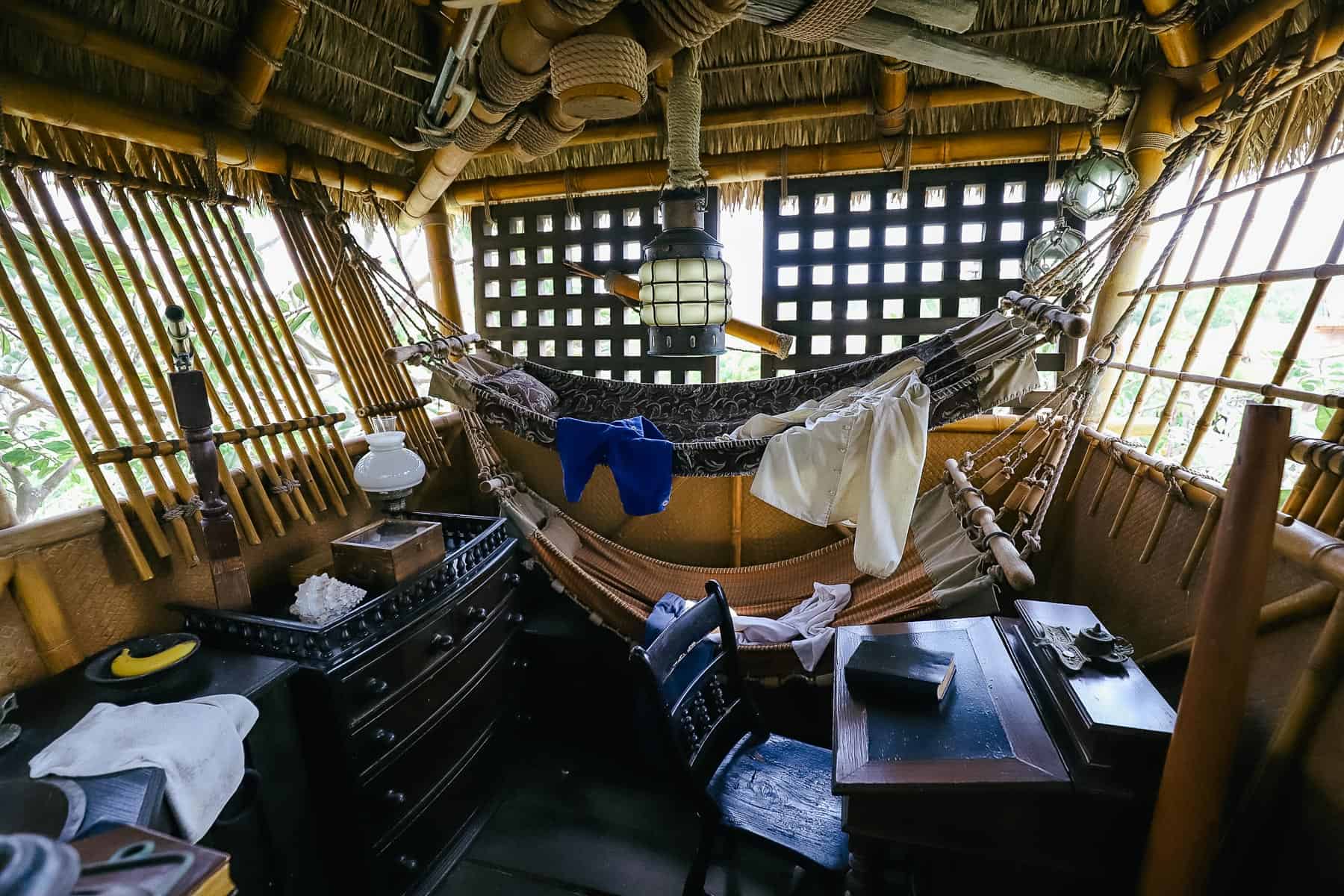 As with most things in life, what goes up must come down. But, thankfully, coming down, in this instance, is easier than going up.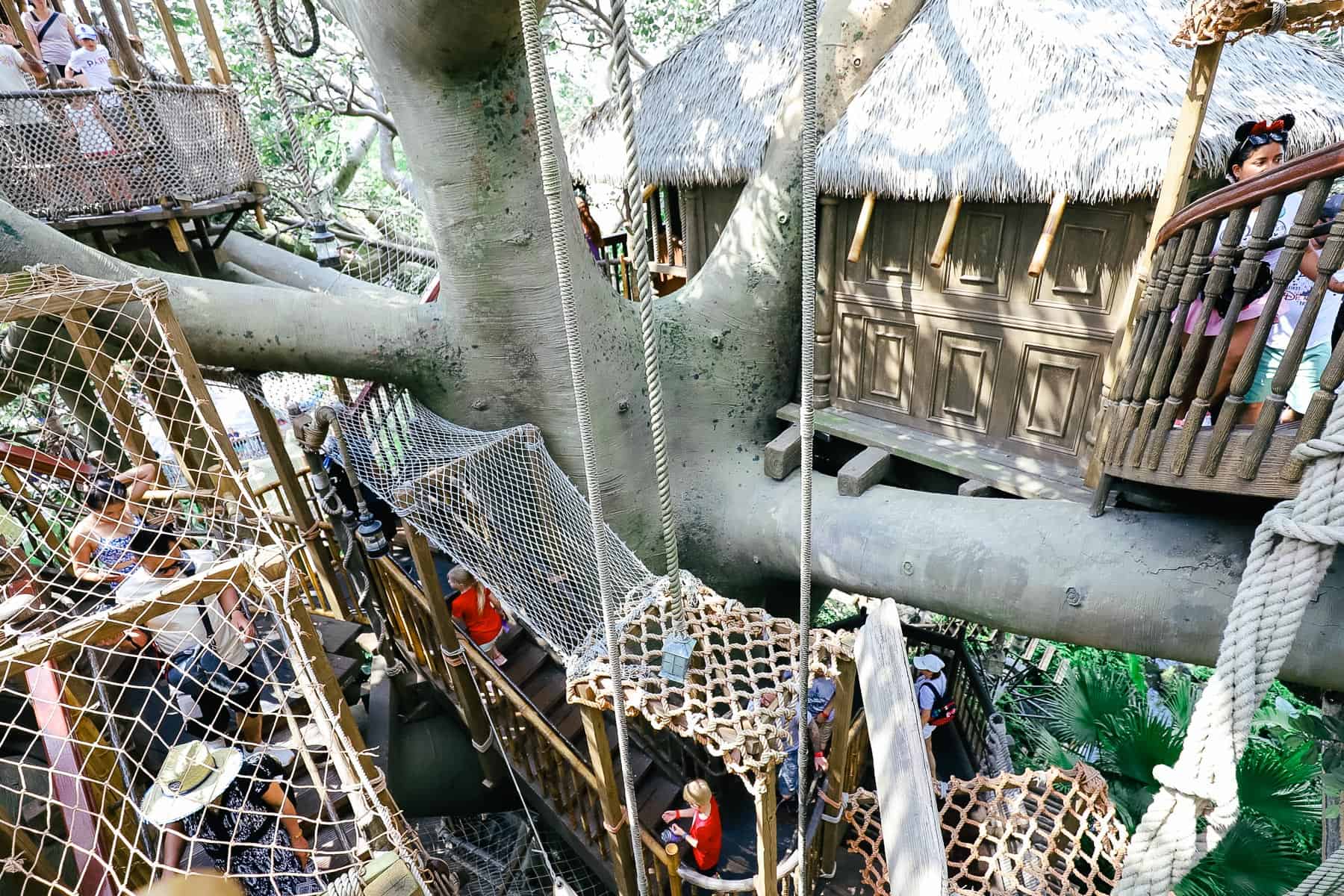 As we reach the bottom of the giant tree house, we come across a library.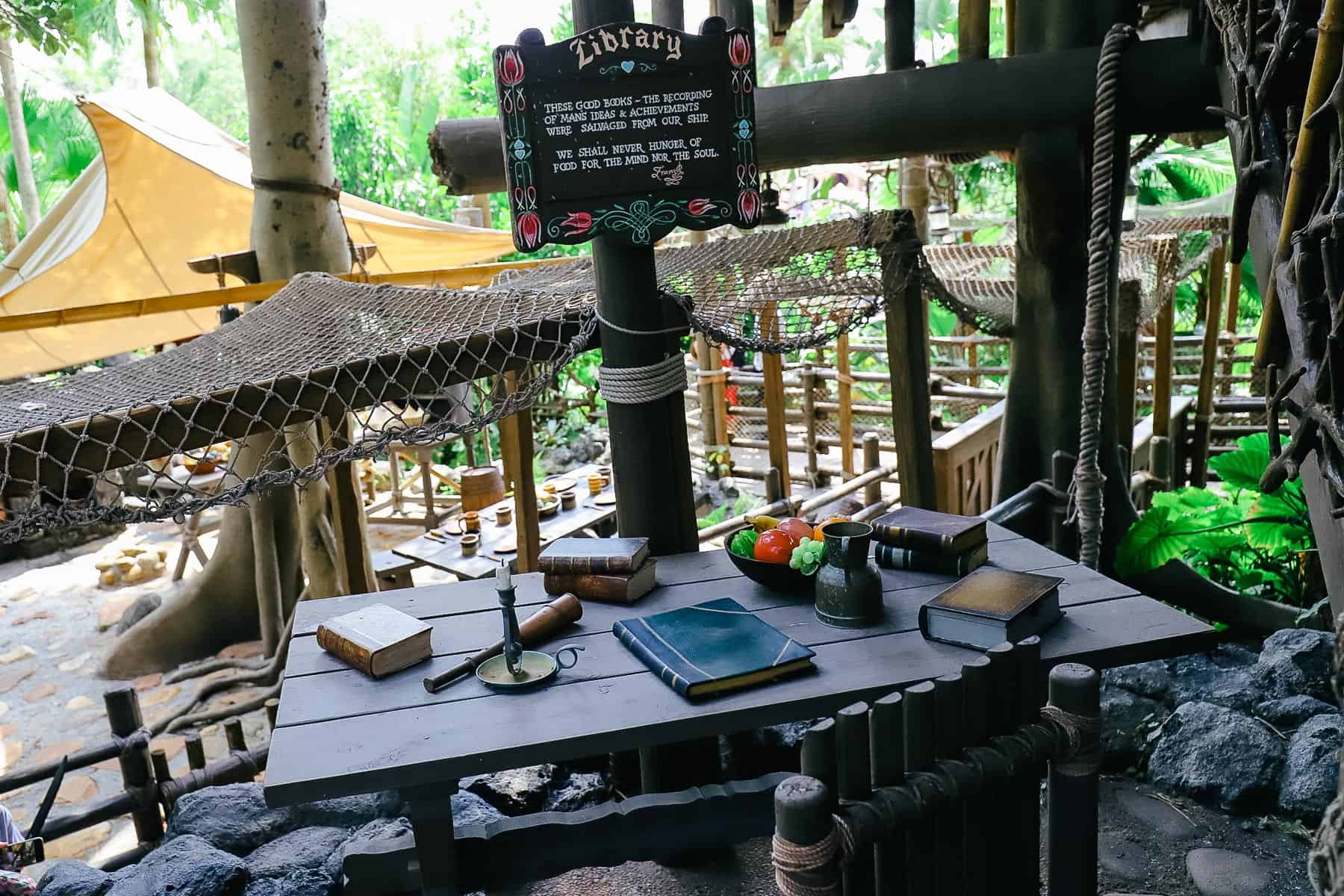 Notice the ship's log and other items recovered from the wreckage.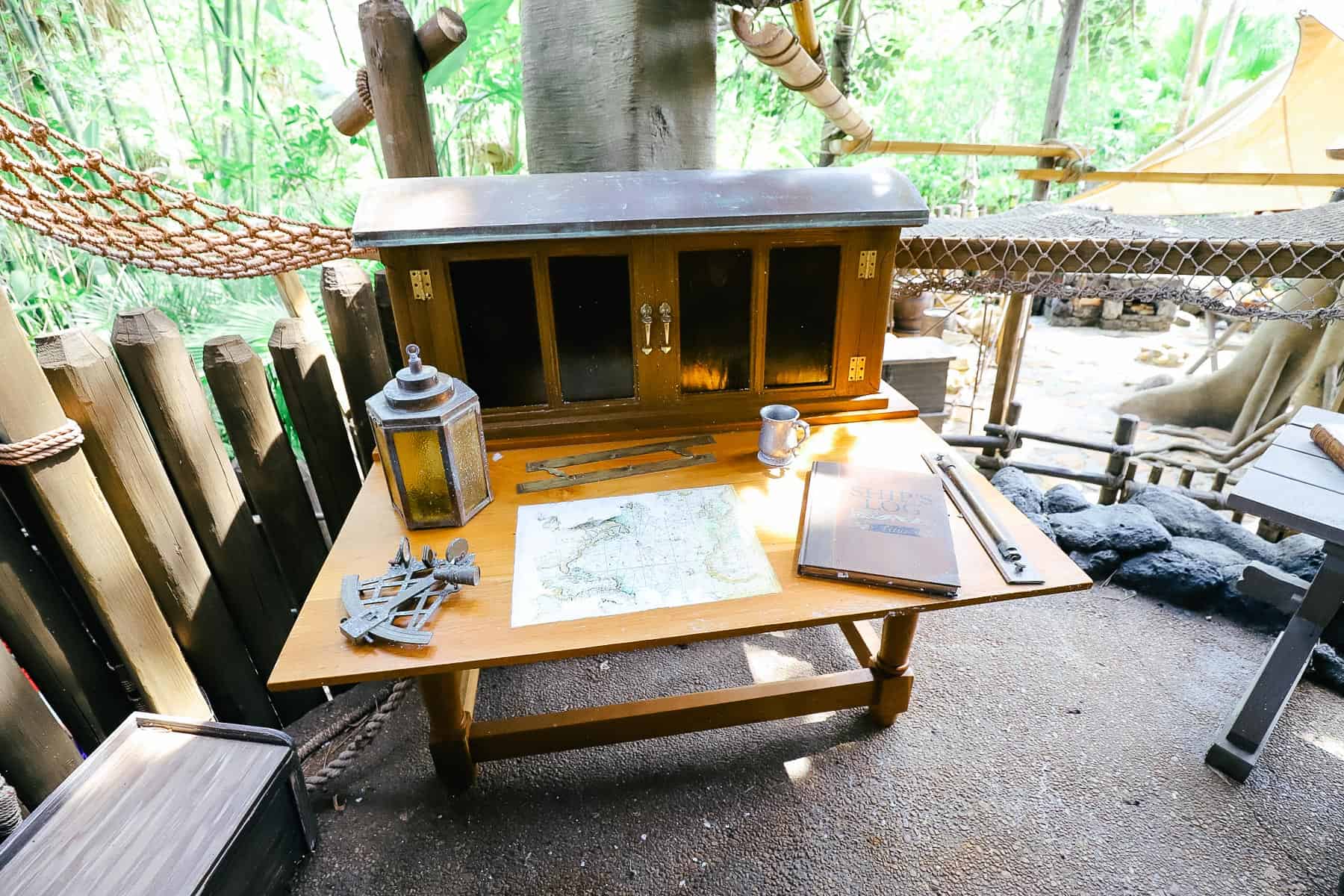 A kitchen and dining room are also located on the lower level. This sign reads:
Our kitchen and dining room, complete with running water, volcanic stone hearth and oven, utensils of our own making, and salvage from the wrecked Swallow, plus nature's bounty and my good wife's cooking amply fulfill our wants.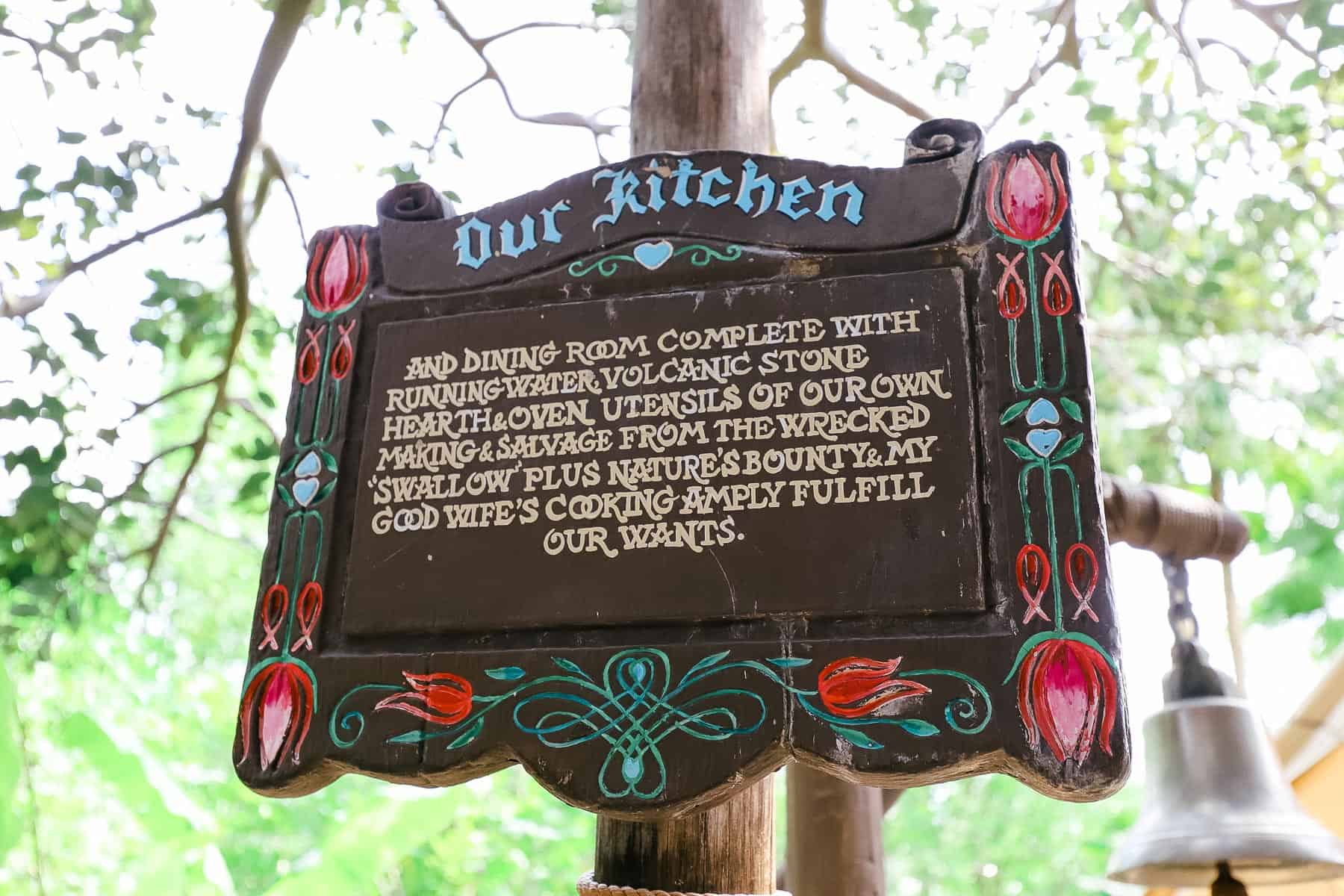 It's a spectacular kitchen and dining area.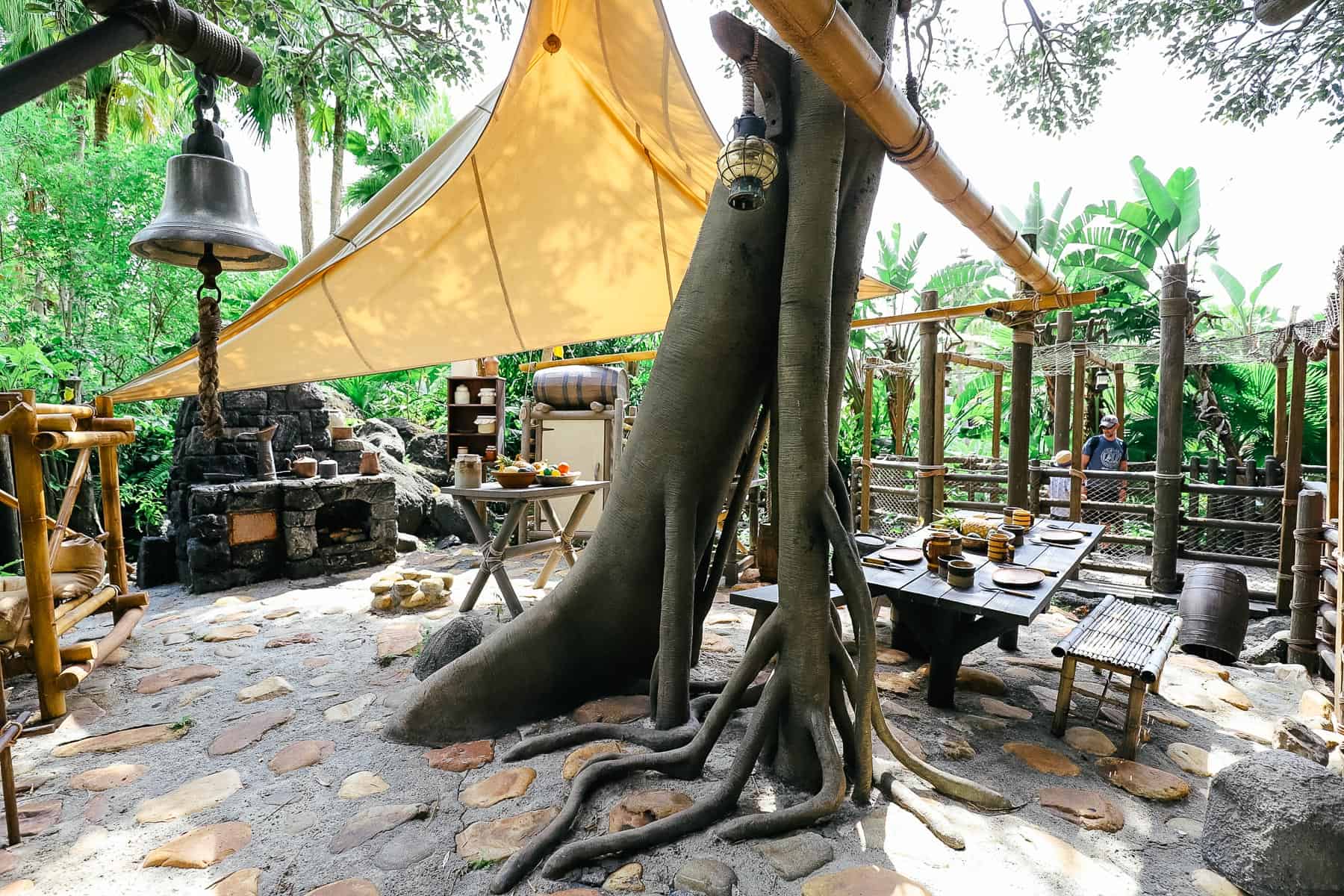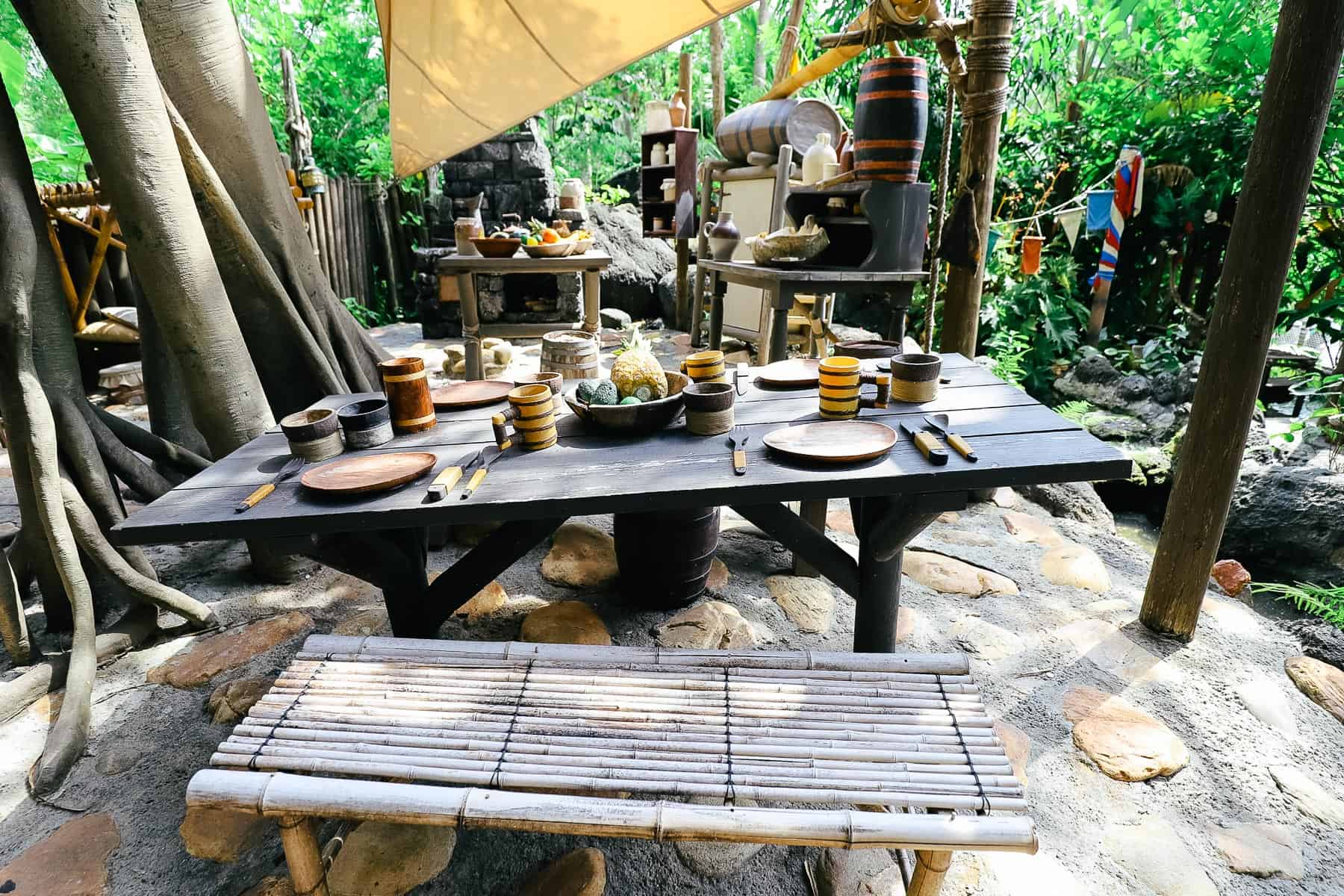 At the end of the treehouse, you'll cross another bridge that leads to the main walkway in Adventureland.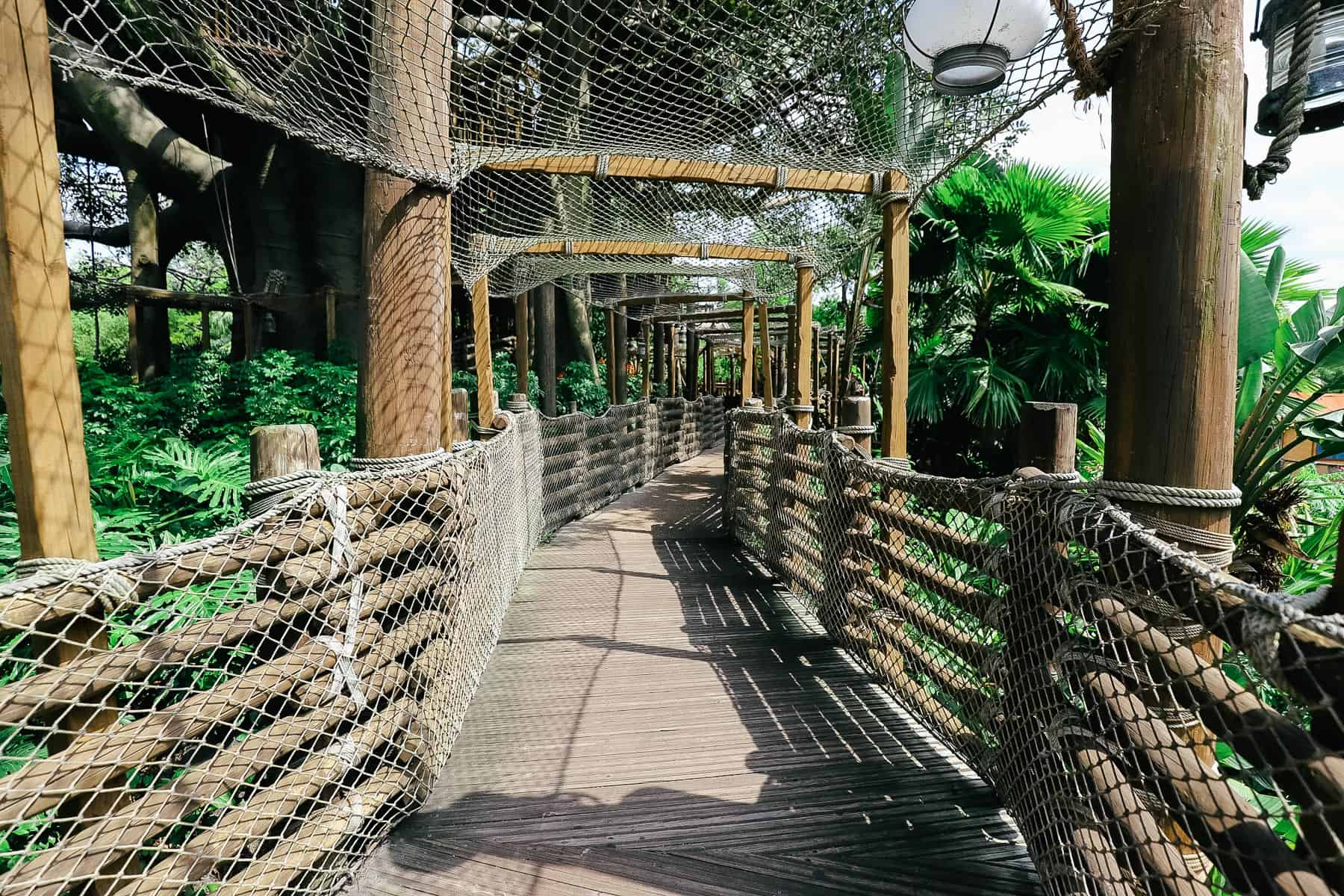 As mentioned in the table above, Swiss Family Treehouse has approximately 116 stairs. So you'll want to take your time on the way up and break on the landings if needed.
When I was taking photos for this article, I stopped several times to let others pass. It always seems like guests end up flying through the treehouse without pausing to take in any of the sights.
Swiss Family Robinson Treehouse is not a queue where you'll get to the end and find a ride. Often others get caught up in trying to do everything that they don't slow down and enjoy their surroundings. Why even experience the attraction in the first place?
Fun Facts
Swiss Family Robinson, the movie, should be available on Disney+. It was released in 1960 and stars John Mills, Dorothy Maguire, James MacArthur, and Tommy Kirk. The original novel was written by Johann David Wyss.
Final Thoughts
Swiss Family Treehouse is undoubtedly an attraction where the experience is in the journey, not the destination.
You might have noticed that I put the attraction as a low priority in the table above. As much as I enjoy it, this attraction is easy to experience and rarely has a wait.
So, if you can, take some time to enjoy the treehouse. But if not, hopefully, it won't be something you feel like you missed.
Additionally, here are a few other Magic Kingdom rides in the nearby area:
Additionally, the surrounding Magic Kingdom Resorts include:
In the Comments
Do you take the time for Swiss Family Treehouse when you visit Magic Kingdom? Do you have any other questions or thoughts about this attraction?