Tomorrowland Speedway at Magic Kingdom
The Tomorrowland Speedway is a popular children's attraction at Walt Disney World's Magic Kingdom. Initially, this attraction debuted at Disneyland Park in California as Autopia. At Magic Kingdom, it was formerly called the Grand Prix Raceway.
Later on, the attraction was renamed the Tomorrowland Indy Speedway when the Indianapolis Motor Speedway sponsored it. Today, it's just called the Tomorrowland Speedway.
Tomorrowland Speedway is perfect for anyone who's not old enough to drive! Children who meet the height requirement can climb behind the wheel of a gas-powered car and drive it around a track.
Below, we'll discuss the specifics of experiencing Magic Kingdom's Tomorrowland Speedway on your vacation. We'll look at the best times to ride, Lightning Lane, and height requirements.
So climb in the passenger seat and buckle up! I bet you can already smell the gas fumes, right?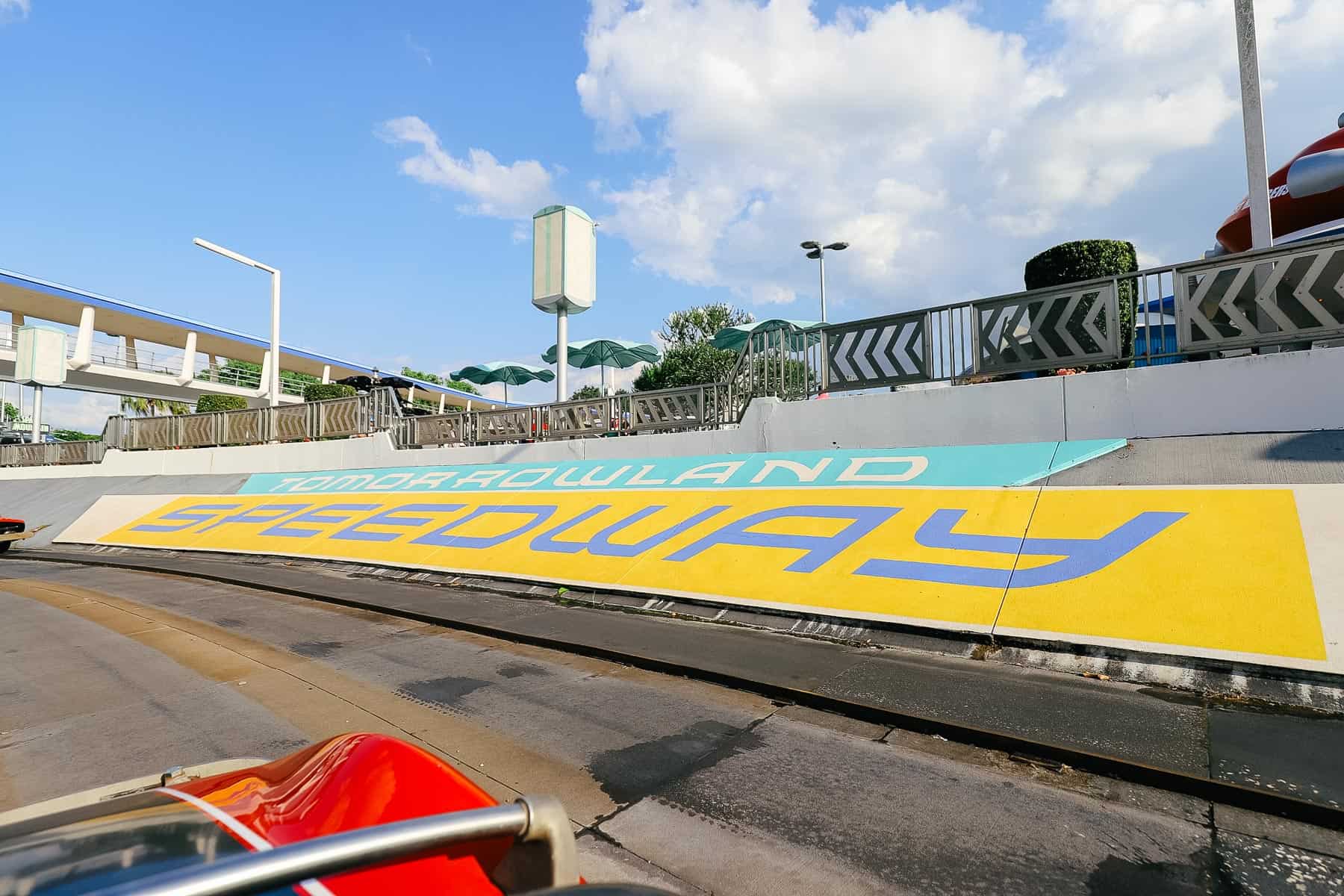 Here are a few quick references for the Tomorrowland Speedway.
Tomorrowland Speedway
Magic Kingdom

Location:

Tomorrowland

Height Requirement:

32″ (To Ride)
54″ (To Drive)

Eligible for Genie+

Yes

Ride Type:

Miniature Race Cars

Seats Per Vehicle:
Two per car

Rider Switch:

Yes

Good For:

Children

Scare Factor:

None

Must-Do List:

High for children
Low for adults

Perfect For:

Kids who want to drive a car!

Special Mention:

Parents, if your child is old enough to ride alone, you can wait in the stands near the
exit.
*Guests in wheelchairs or ECVS must transfer to the ride vehicles. *Details for those with mobility issues (i.e., wheelchair, ECVs) can be found on Disney's site.
Tomorrowland Speedway at Magic Kingdom
When Walt Disney came up with the original concept for Tomorrowland Speedway, he knew it would be a hit. Since its initial conception, the attraction has been a favorite children's pastime.
You'll find the Speedway on the outskirts of Tomorrowland in Magic Kingdom directly across from Cosmic Ray's Starlight Cafe. It sits on the right before you get to Mad Tea Party and The Many Adventures of Winnie the Pooh.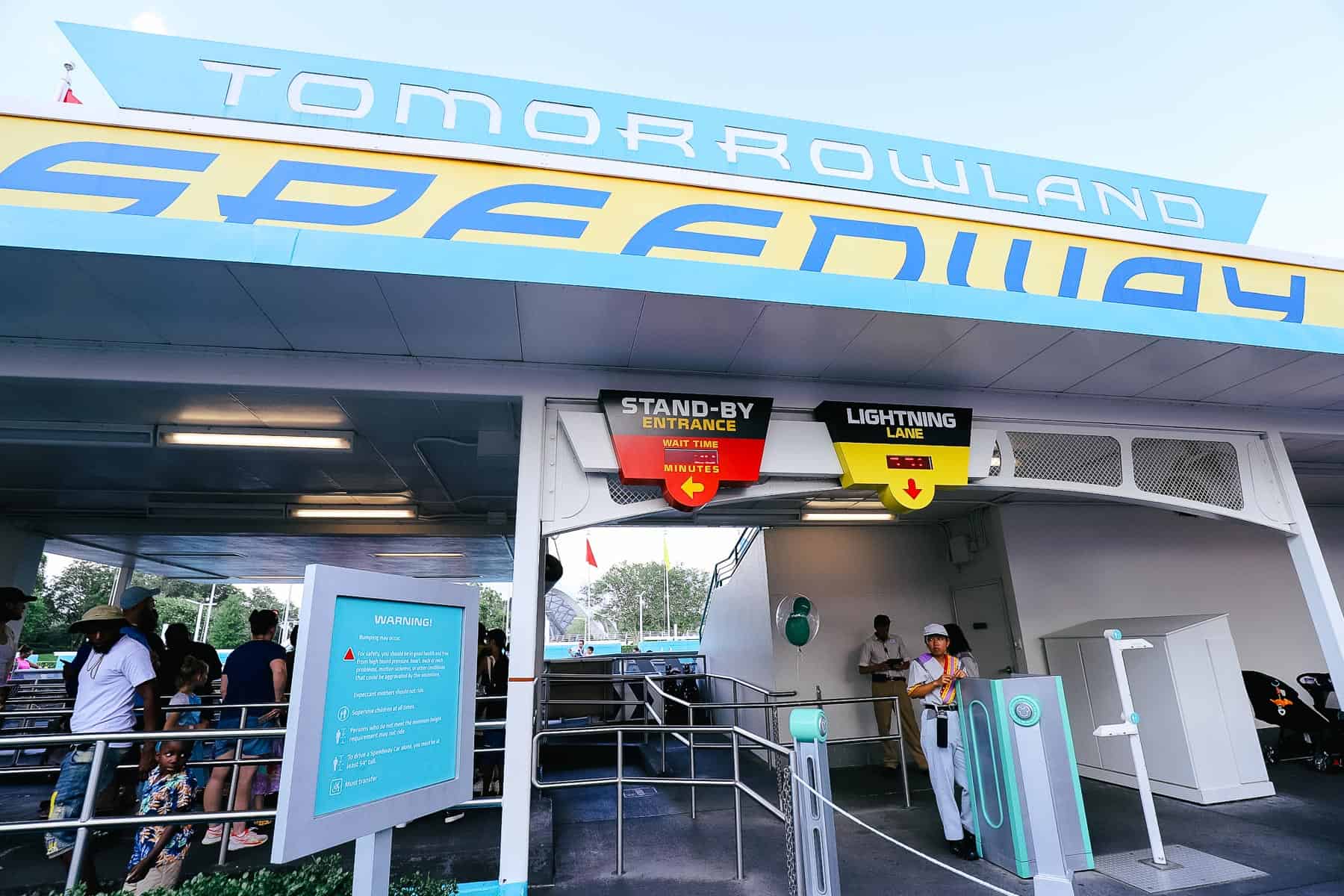 A sign outside the entrance provides a few warnings:
Bumping may occur.
For safety, you should be in good health and free from high blood pressure, heart, back, or neck problems, motion sickness, or other conditions that could be aggravated by this adventure.
Expectant mothers should not ride.
Supervise children at all times.
Persons who do not meet the minimum height requirement may not ride.
You must be at least 54″ tall to drive a Speedway Car alone.
Guests must transfer to a ride vehicle.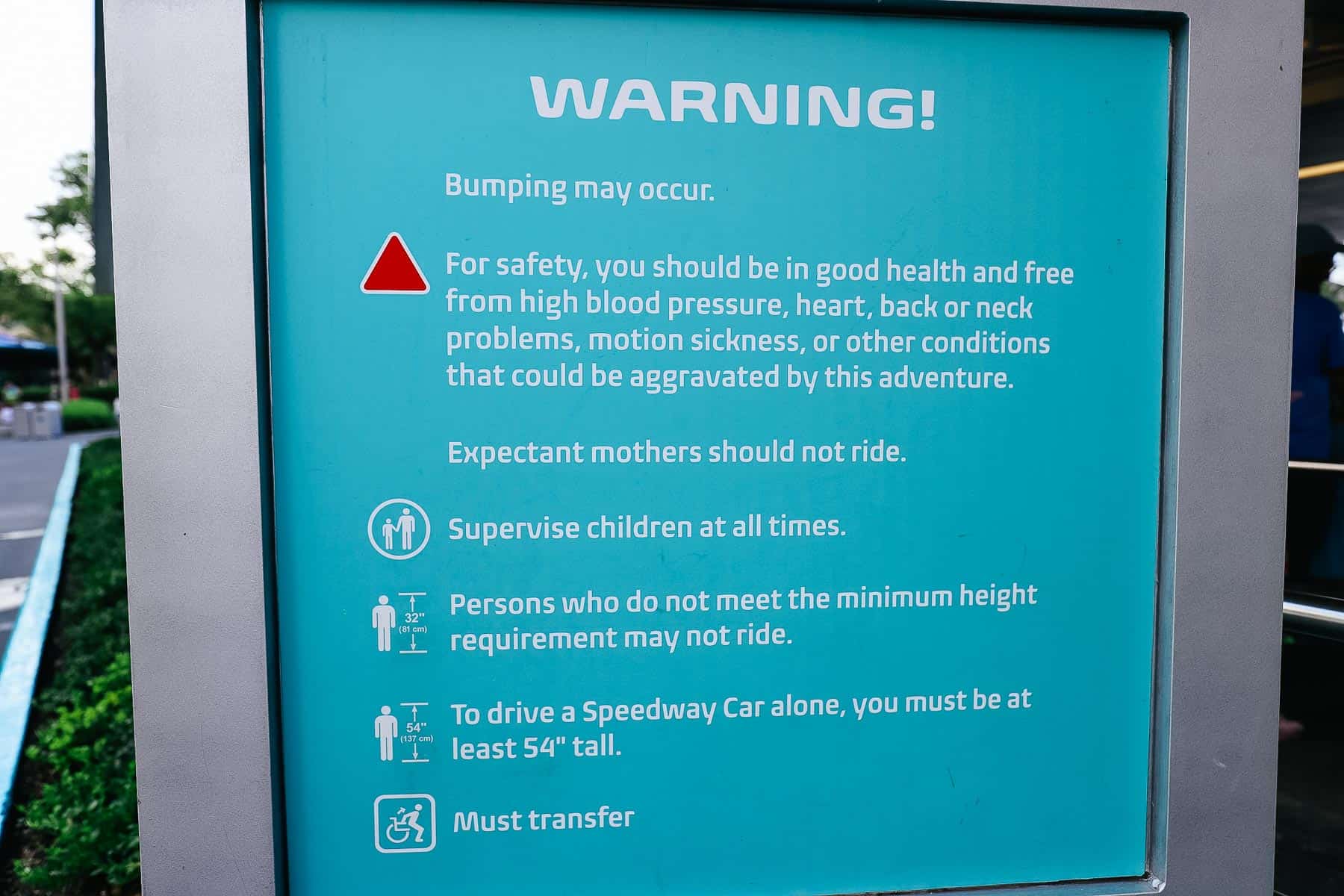 Tomorrowland Speedway has two entrances: a standby queue and Lightning Lane.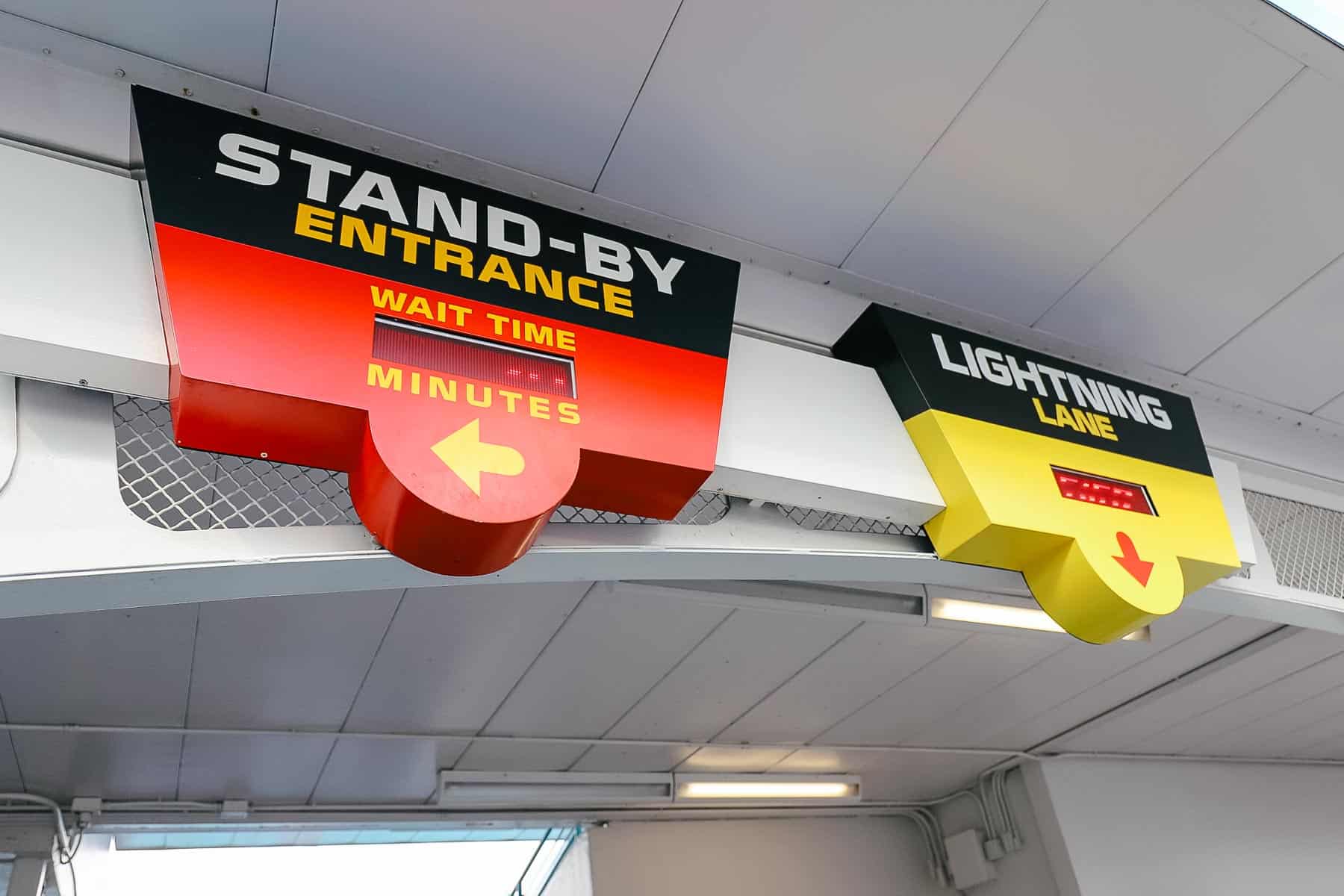 It's important to note that the Tomorrowland Speedway is entirely outdoors. So make sure you are prepared to stand in the direct sun during a long wait.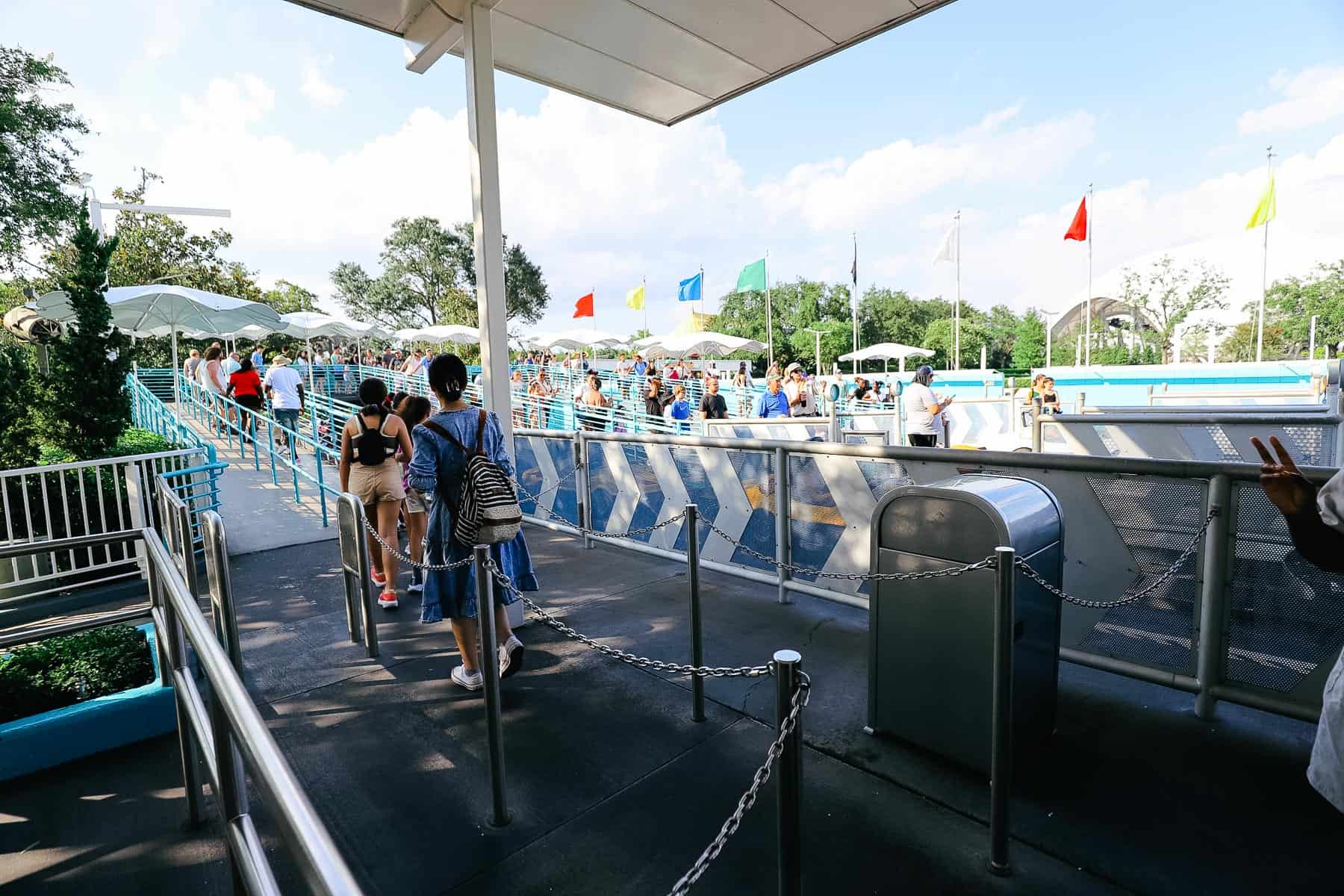 Tomorrowland Speedway is a Genie+ attraction for those who purchase the upgrade. Lightning Lanes are based on availability but aren't typically difficult to get for this attraction.
If you do not purchase Genie+, you might consider the following best times to ride the Tomorrowland Speedway:
Ride the Speedway earlier in the day before wait times rise, typically before 11:00 a.m.
Experience this attraction in the evening after sunset.
It's important to note that all guests must be 32″ in height to ride the Tomorrowland Speedway. Guests at least 32″ may also drive their own cars as long as they are accompanied by someone at least 54″ in height.
However, guests must be 54″ to be eligible to drive their own car.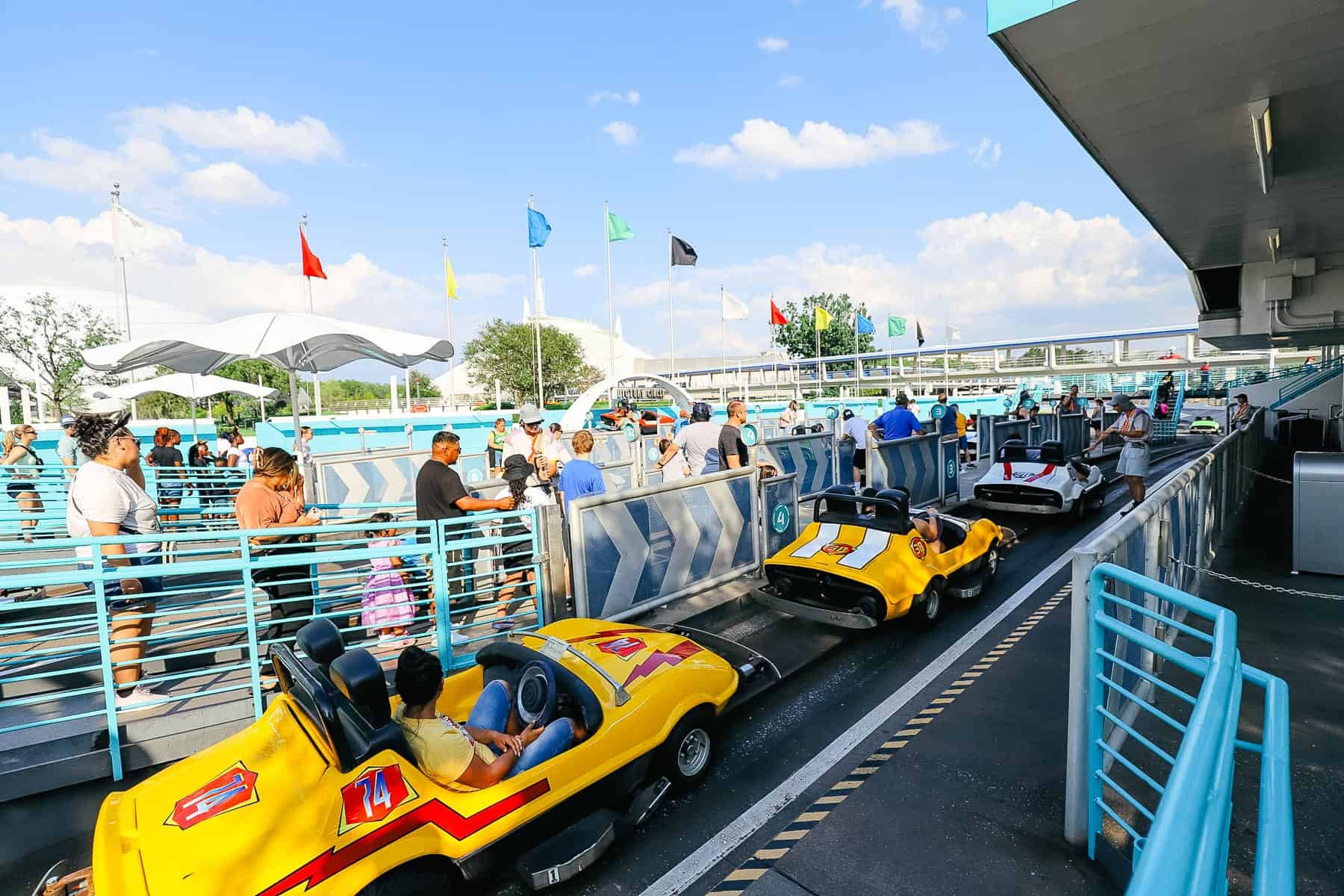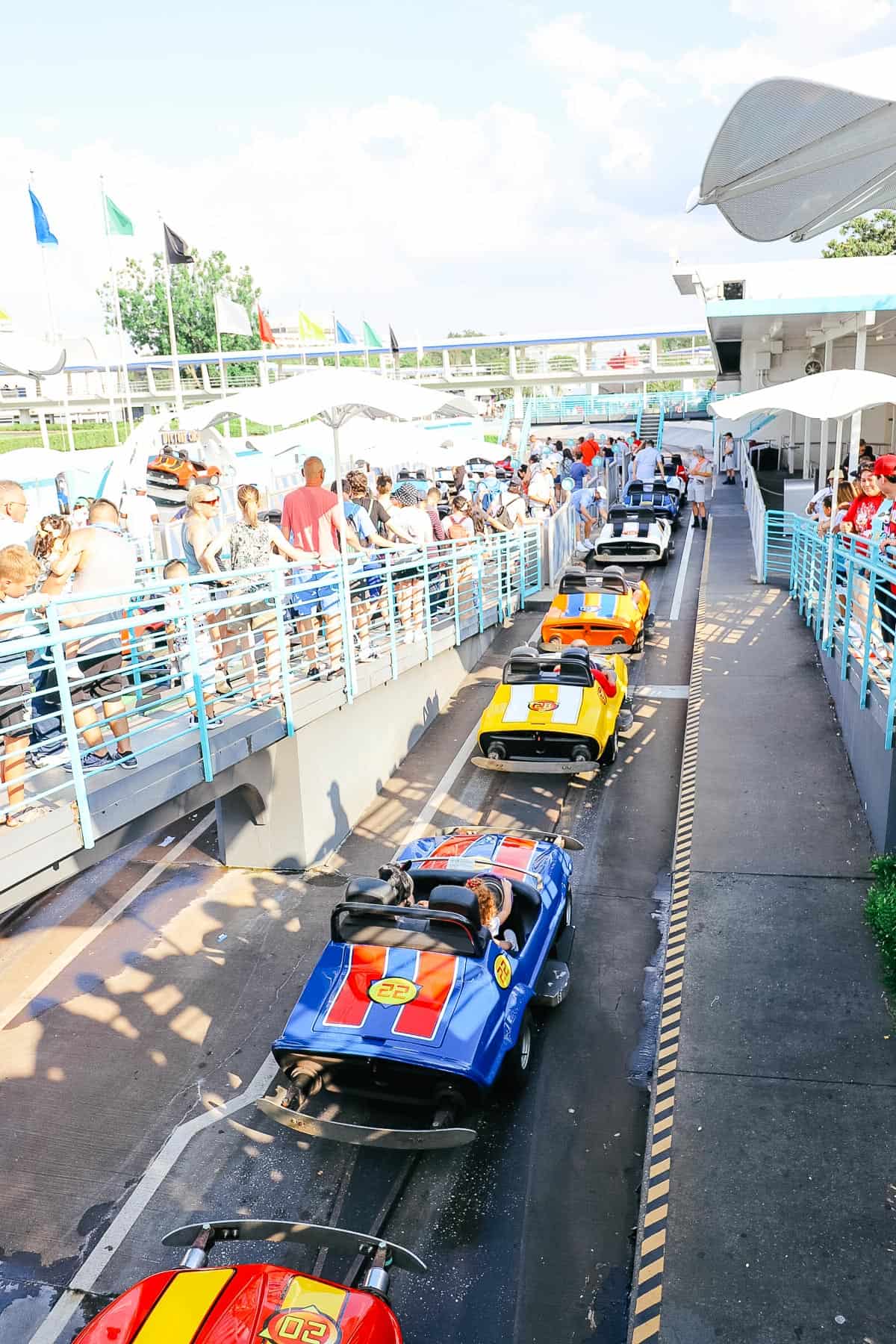 A cast member will assign a gate when you reach the loading area. When the next car arrives at your gate, the guests will exit, and you will board.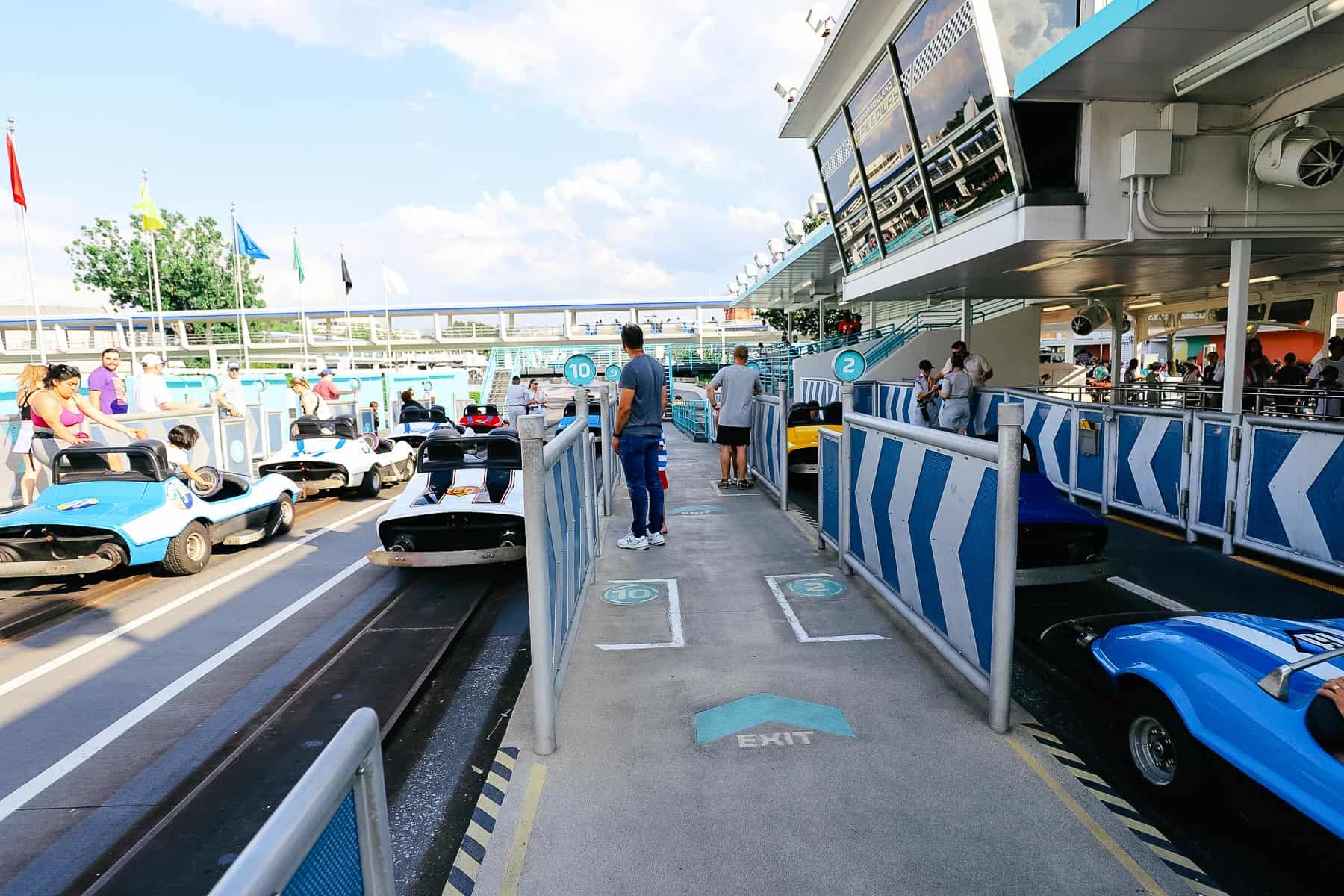 The cars on the Tomorrowland Speedway are simple, featuring an actual steering wheel and gas pedal. Each car has a fabric strap safety belt that covers the entire seat of the vehicle. This strap stretches across both laps and clips in the middle.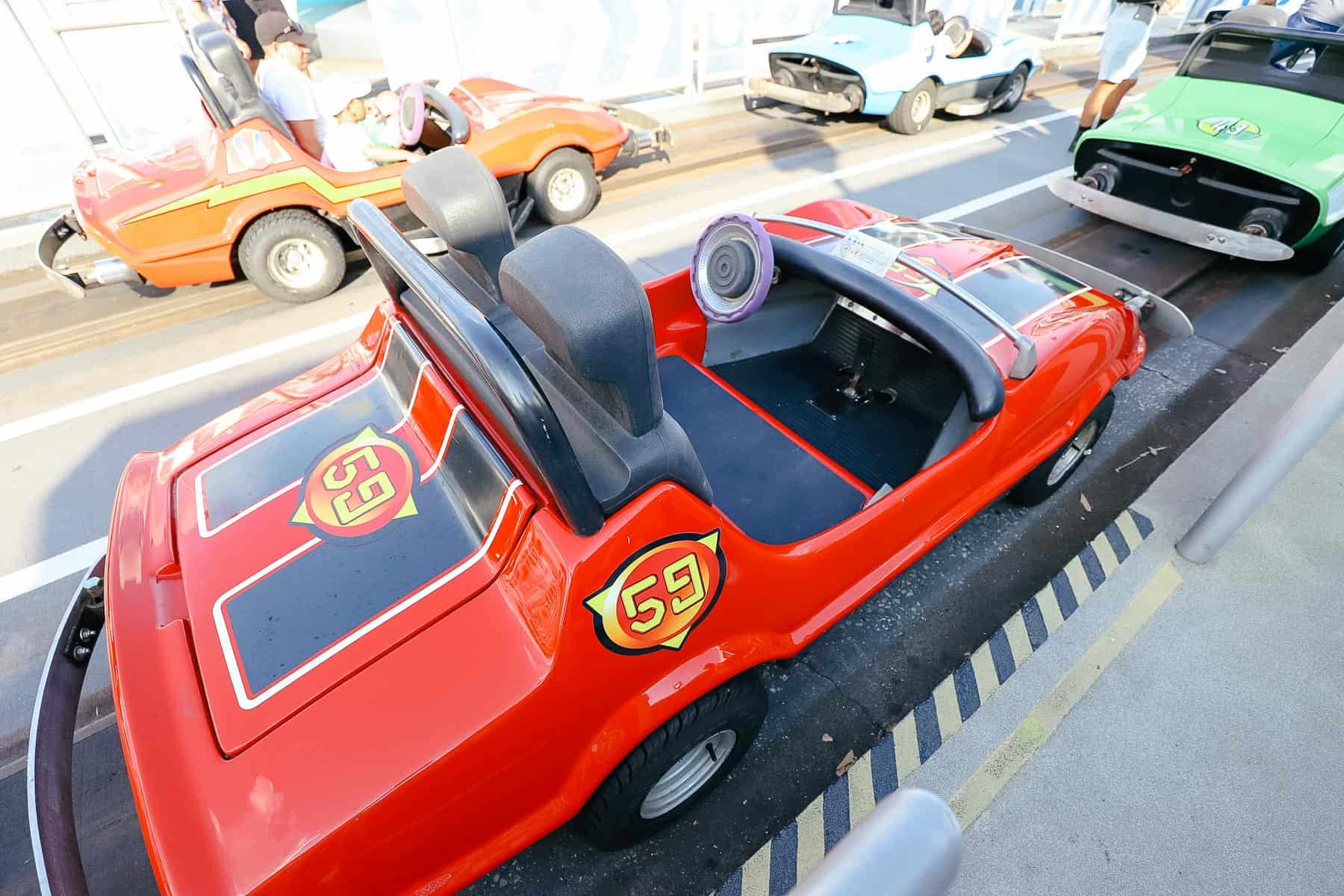 If your child wants to drive and can't quite reach the gas pedal, parents can stretch their foot over to help out. A cast member will come by and ensure you have fastened the restraint. After that, they will allow you to take off.
If you have ridden the Tomorrowland Speedway before, you might notice that the track has been shortened in recent years. The shortening is due to the addition of the TRON Lightcycle Run, which you can see from different points of the ride.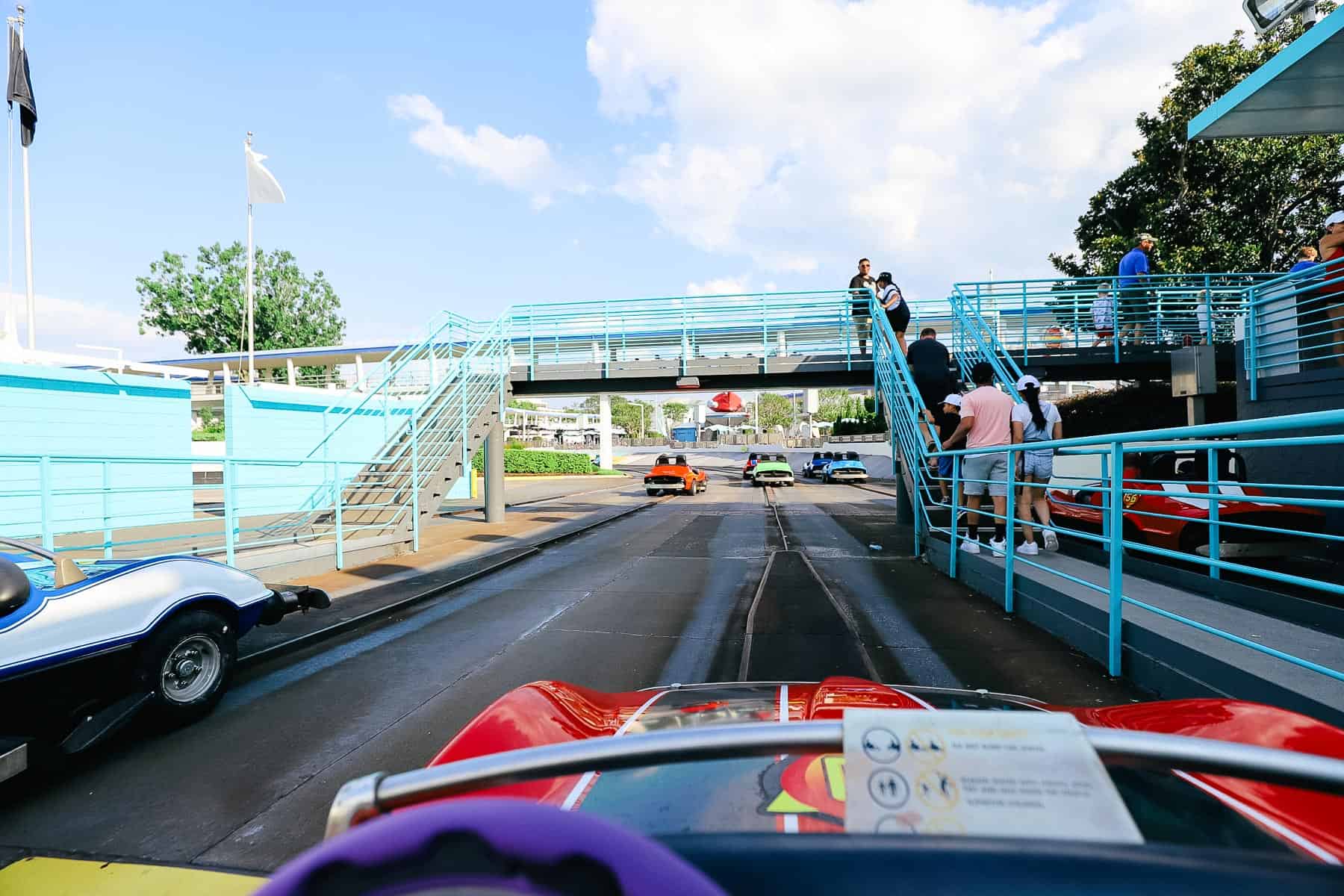 You'll see various other viewpoints from the Tomorrowland Speedway. It's fun to look up and see guests passing by in the Peoplemover.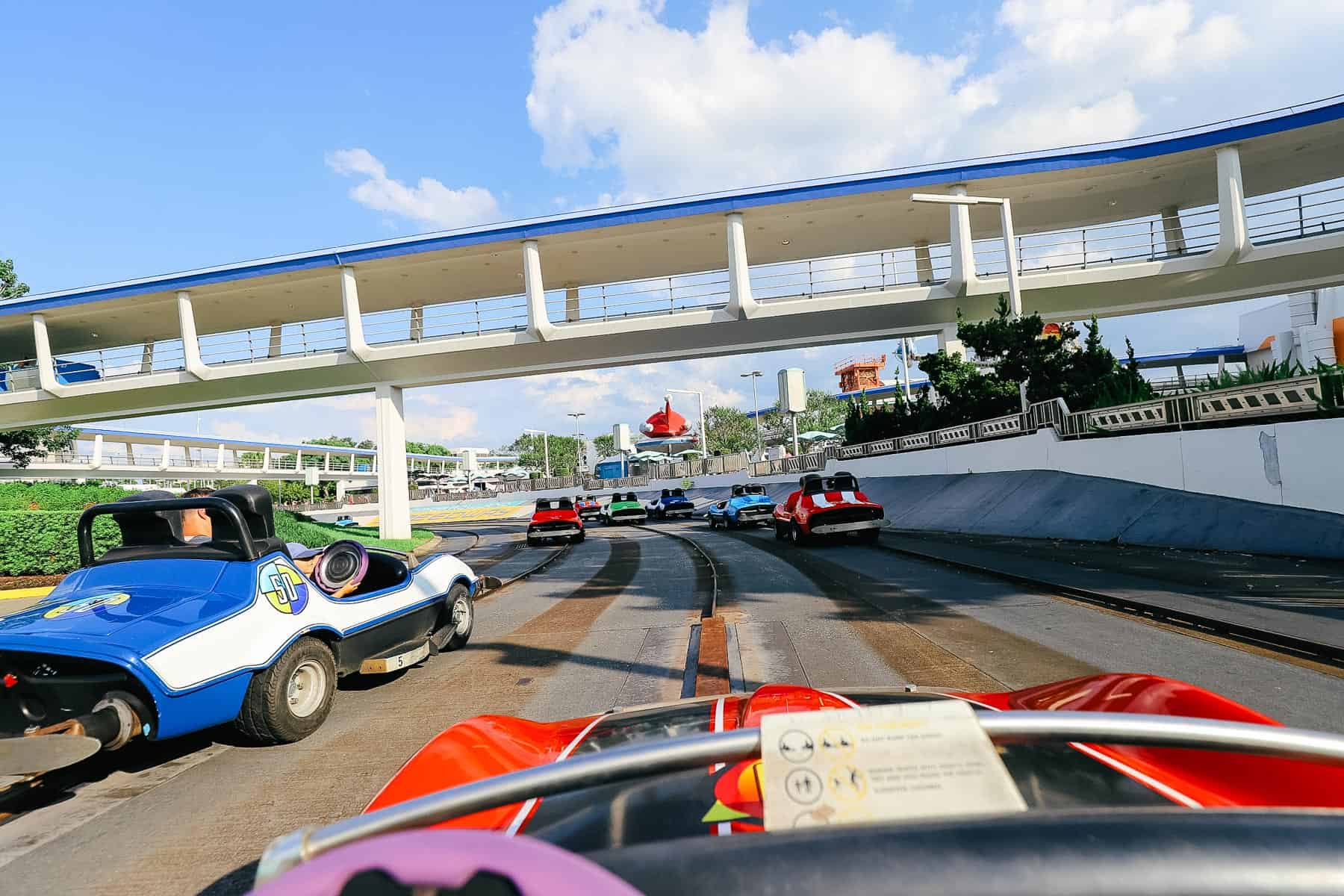 You'll continue around the winding track and through a few sharp bends.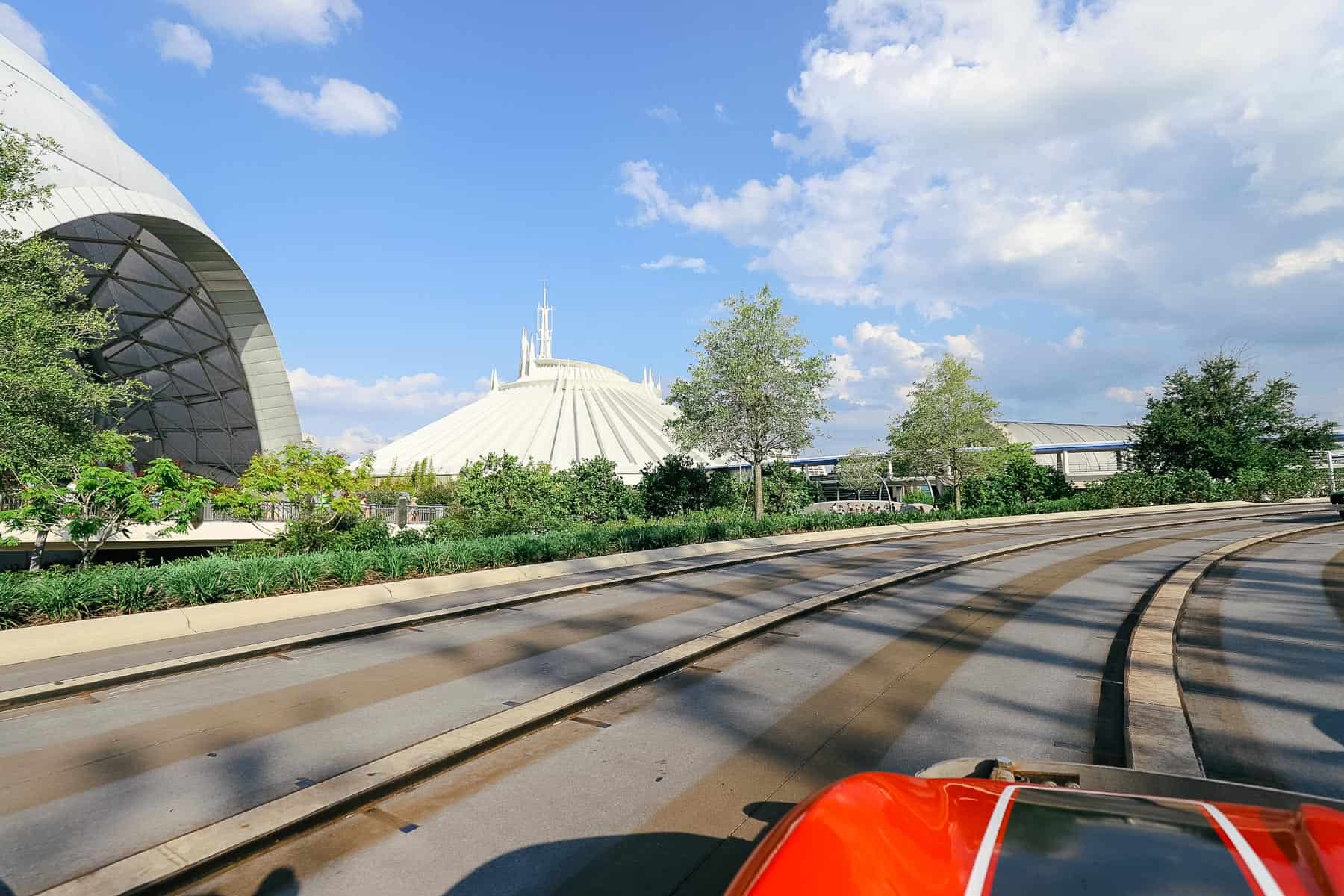 Remember not to bump into the car in front of you. It's perfectly okay to be a slow driver.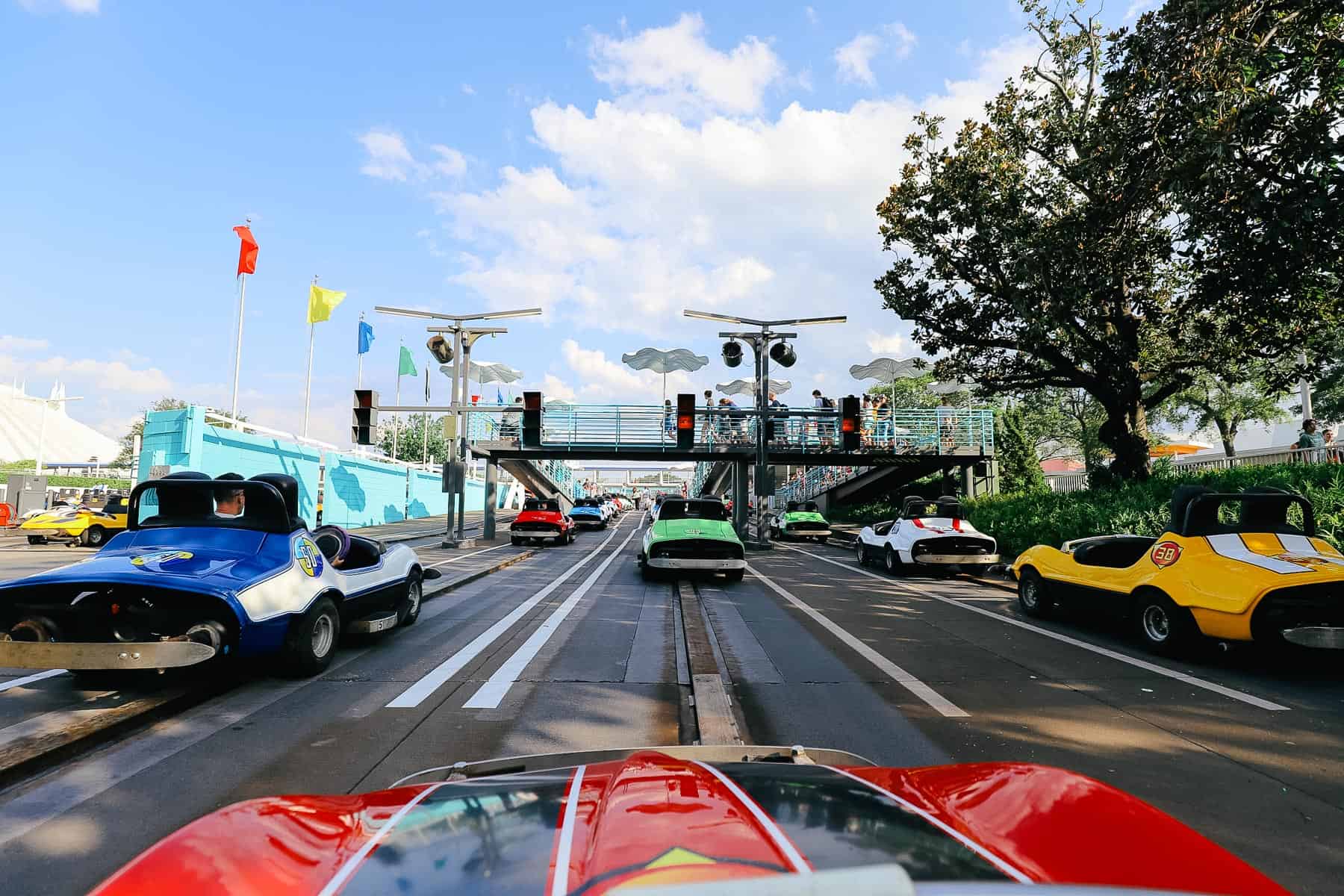 As you approach Victory Circle, you'll pass under the checkered flag and return to the first loading area that's available. You'll then exit the car and walk up the ramp toward the stands.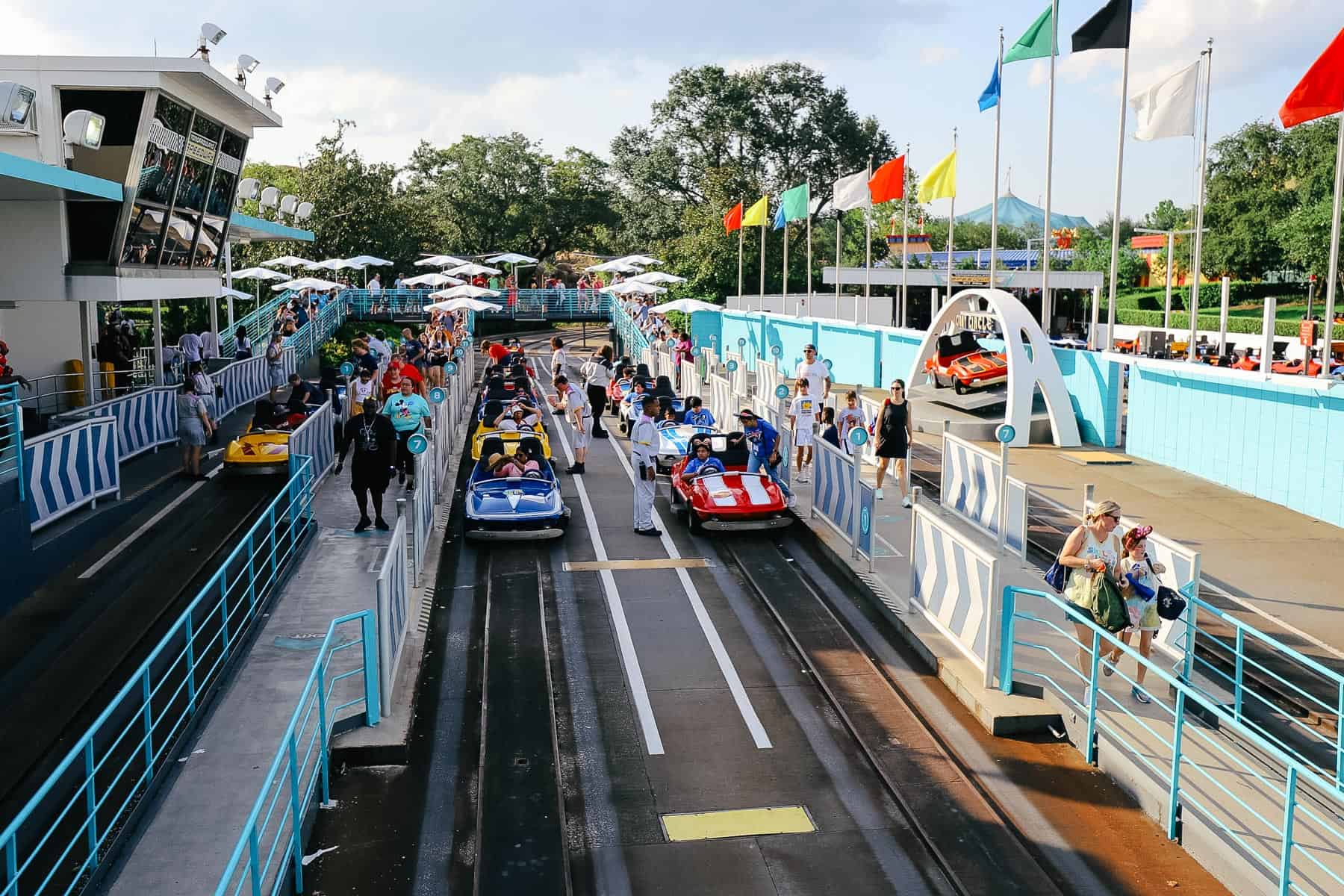 Parents, if your children want to ride alone and meet the requirements, you can wait in the bleachers near the exit. You can stand with them in line until they board the car and then wait for them in the area shown in the photo below.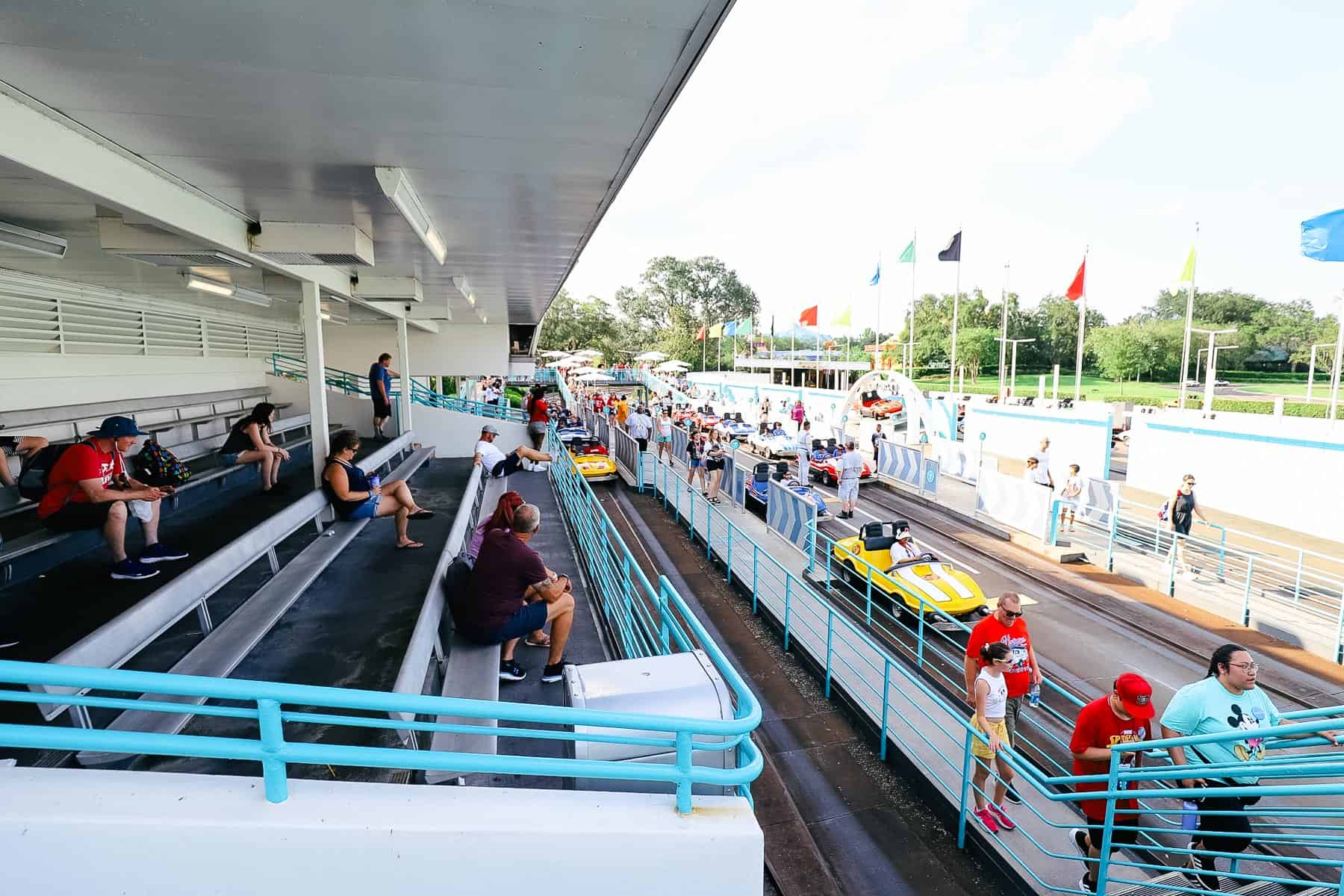 After you're finished, a small staircase leads back to the front of the attraction.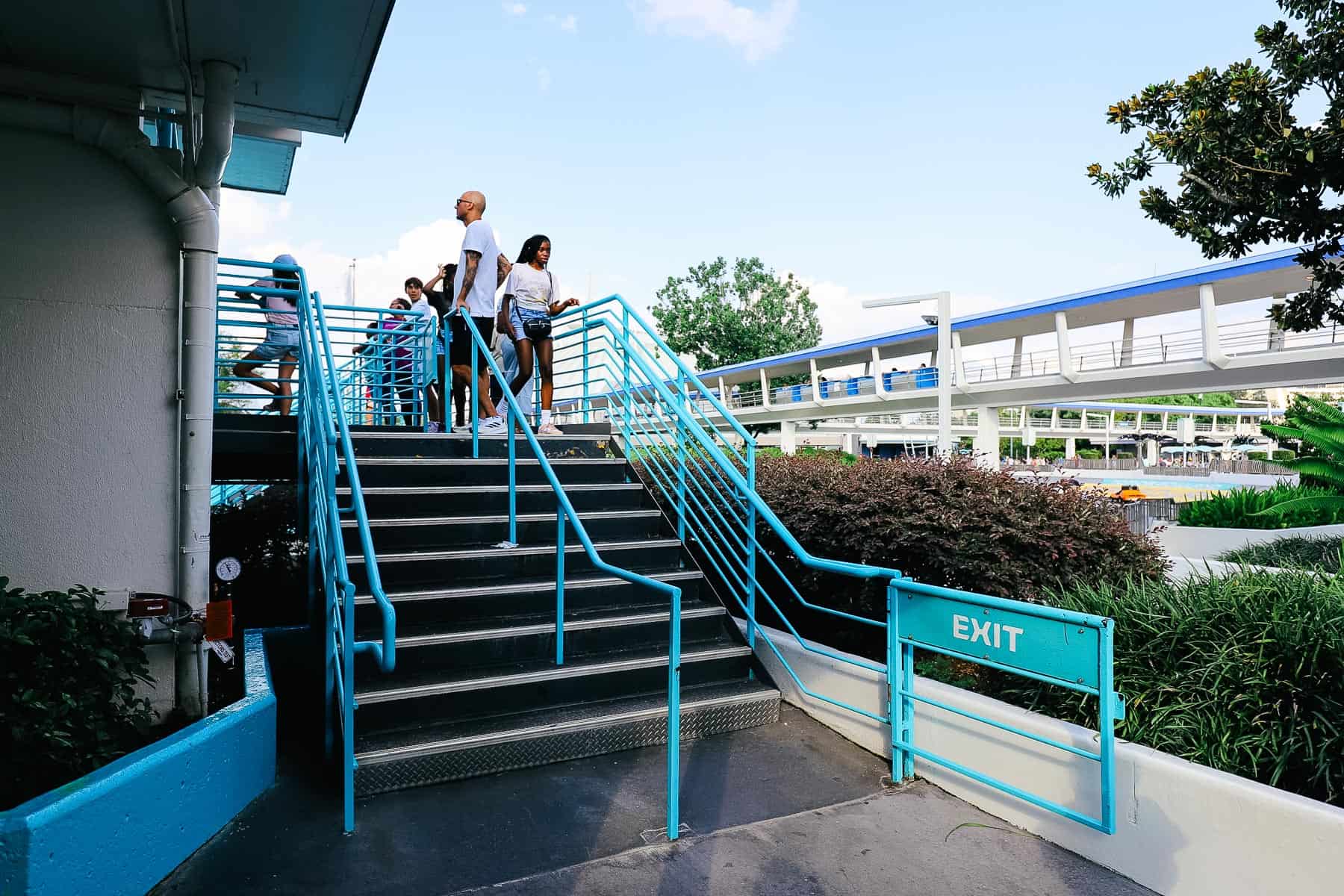 Children might want a driver's license showing they completed the Speedway.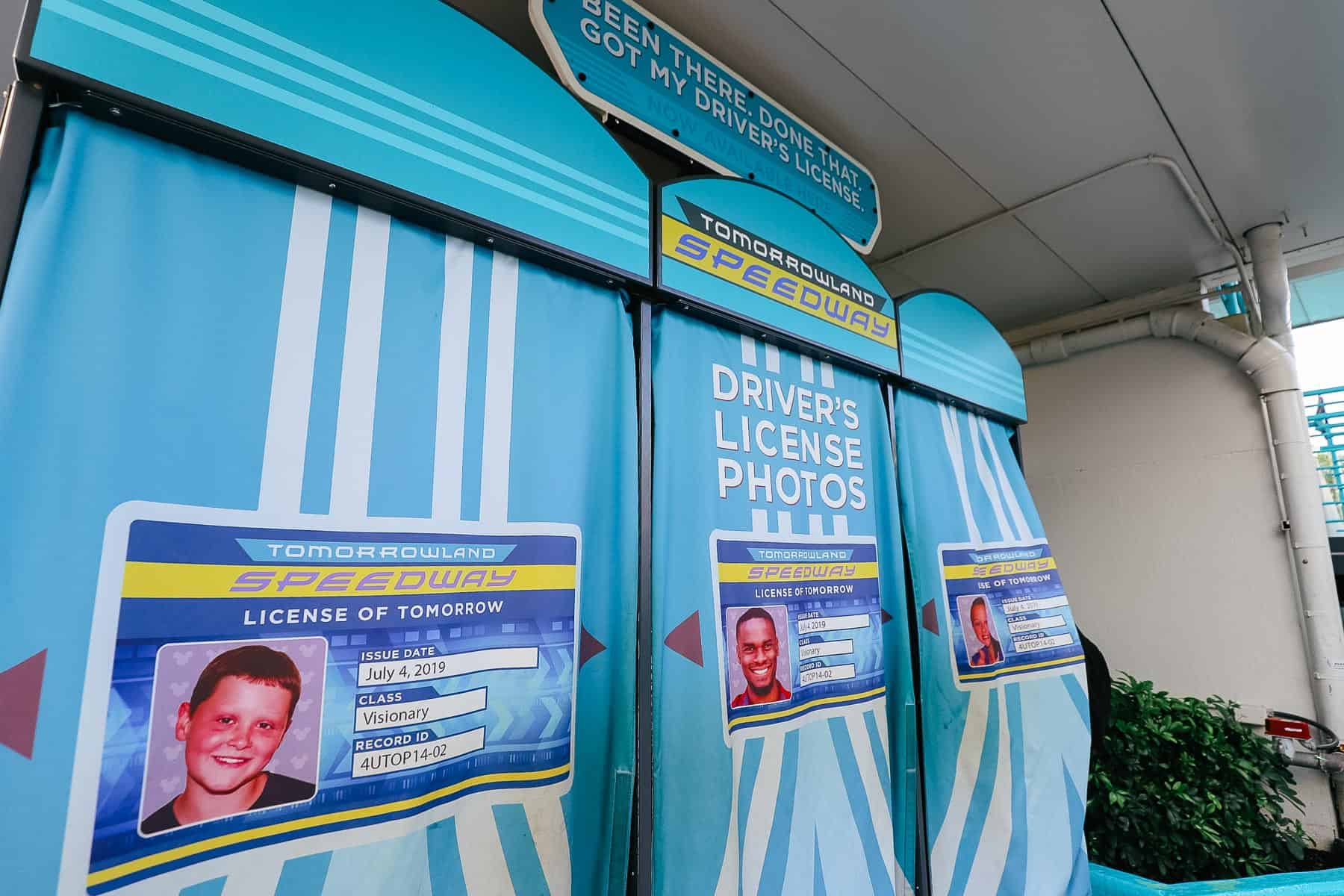 Overall, the Tomorrowland Speedway is a fun attraction that's a must-do for most children. We have ridden it often over the years and will always make time for it when a little one in our group is eager to ride it.
For other Magic Kingdom attractions, you might enjoy these:
Or you might enjoy browsing the complete list of rides at Magic Kingdom.
Resorts Gal specializes in Disney World Resorts, Characters, and Dining. Check out some of our resources, like our entire list of Disney World Resort Reviews.
Are you looking to stay off-site? Try these articles:
For planning dining reservations, we have a complete list of our Disney restaurant reviews available. They include:
If you plan to meet characters in the parks, we keep an updated list of Disney World Characters. That review will link to every meet available in the four parks.
In the Comments
Do you plan to take a spin around the Tomorrowland Speedway on your next Disney vacation?