Tour a Standard Room at Disney's All-Star Music (Photos and Video)
This article provides a tour of a standard room at Disney's All-Star Music Resort, including photos and video. Rooms at All-Star Music sleep up to four guests and feature two queen beds. One is a Murphy-style bed that converts to a table with chairs.
Of all the value resorts at Disney World, All-Star Music is the one we've visited the most. Our first stay here (many years ago) was due to a room shortage at other hotels during the busy Spring break season.
It was a last-minute trip, and while I was grateful for the opportunity to visit, I was a little concerned about staying at one of the cheaper resorts. Boy, was I wrong!
We loved Disney's All-Star Music. But more importantly, when we stay here, I'm constantly reminded of something far more important–the time you are allowed to spend with the people you love is priceless.
One evening, on my way back to the room, I witnessed a family with adjoining rooms who had their doors open. They had placed chairs between the two rooms with the doors propped open.
One could assume that some of the children had already gone to sleep. But they were sitting there as a family, enjoying each other's company. It almost felt like I had stepped into some time machine and revisited my youth.
Little did they know the impact they had on me. It was a sweet moment and a reminder of why most of us come to Walt Disney World in the first place–to spend time with our people.
Now we can look at the rooms, which have been completely updated in recent years.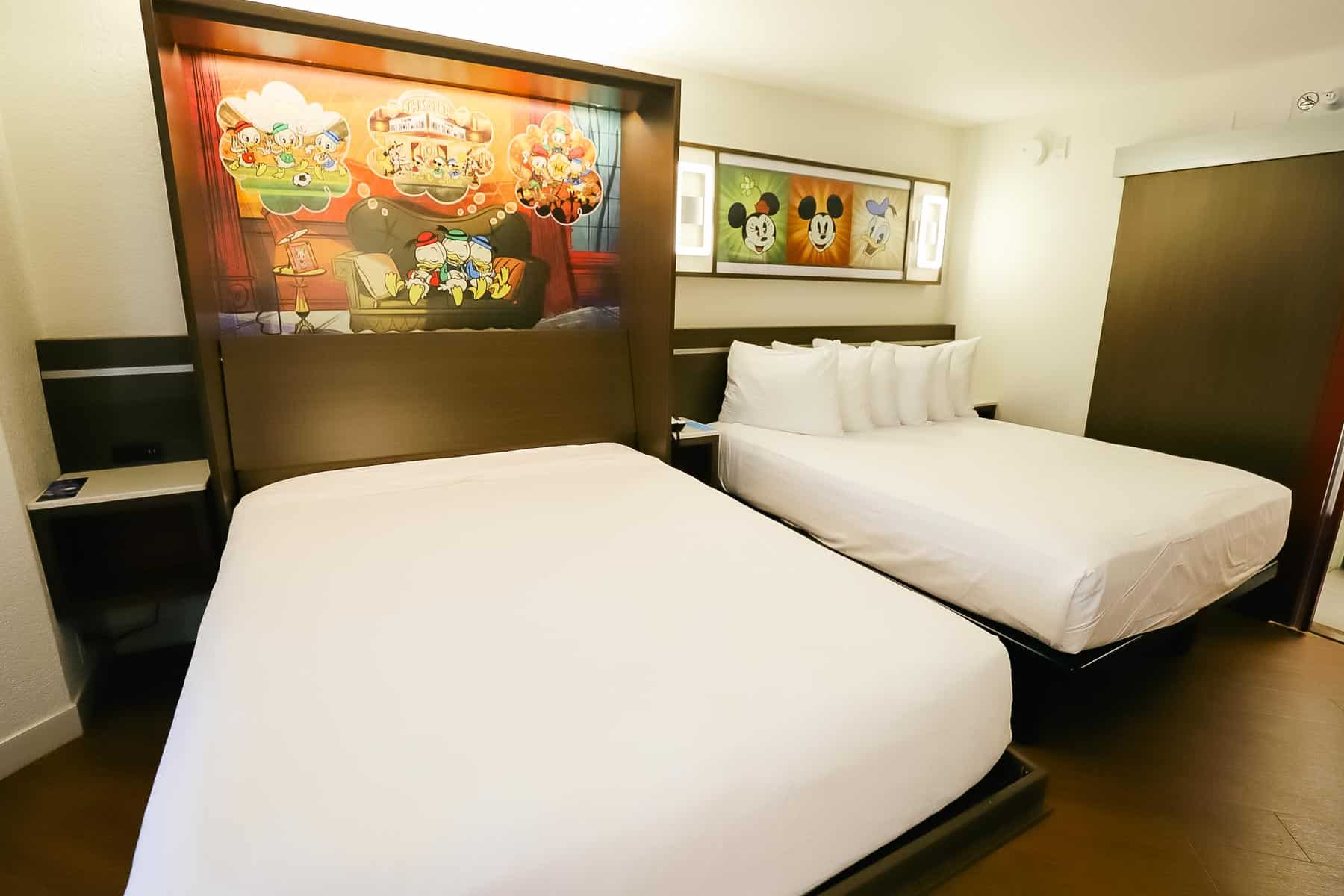 All-Star Music Rooms
Upon arrival at All-Star Music, I had not received a room-ready text. We were coming off of an unexpected stay at Kidani Village due to a predicted hurricane. However, this stay at All-Star Music was planned.
We arrived at the resort a little after 4:00 p.m., the standard check-in time. I thought we'd get a room-ready text after coming through the security checkpoint for the All-Star Resorts.
But we still didn't have a room assignment by the time I got to the lobby. A cast member quickly assigned us a room number and provided a map. We were in Country Fair, the last building at the back of the resort.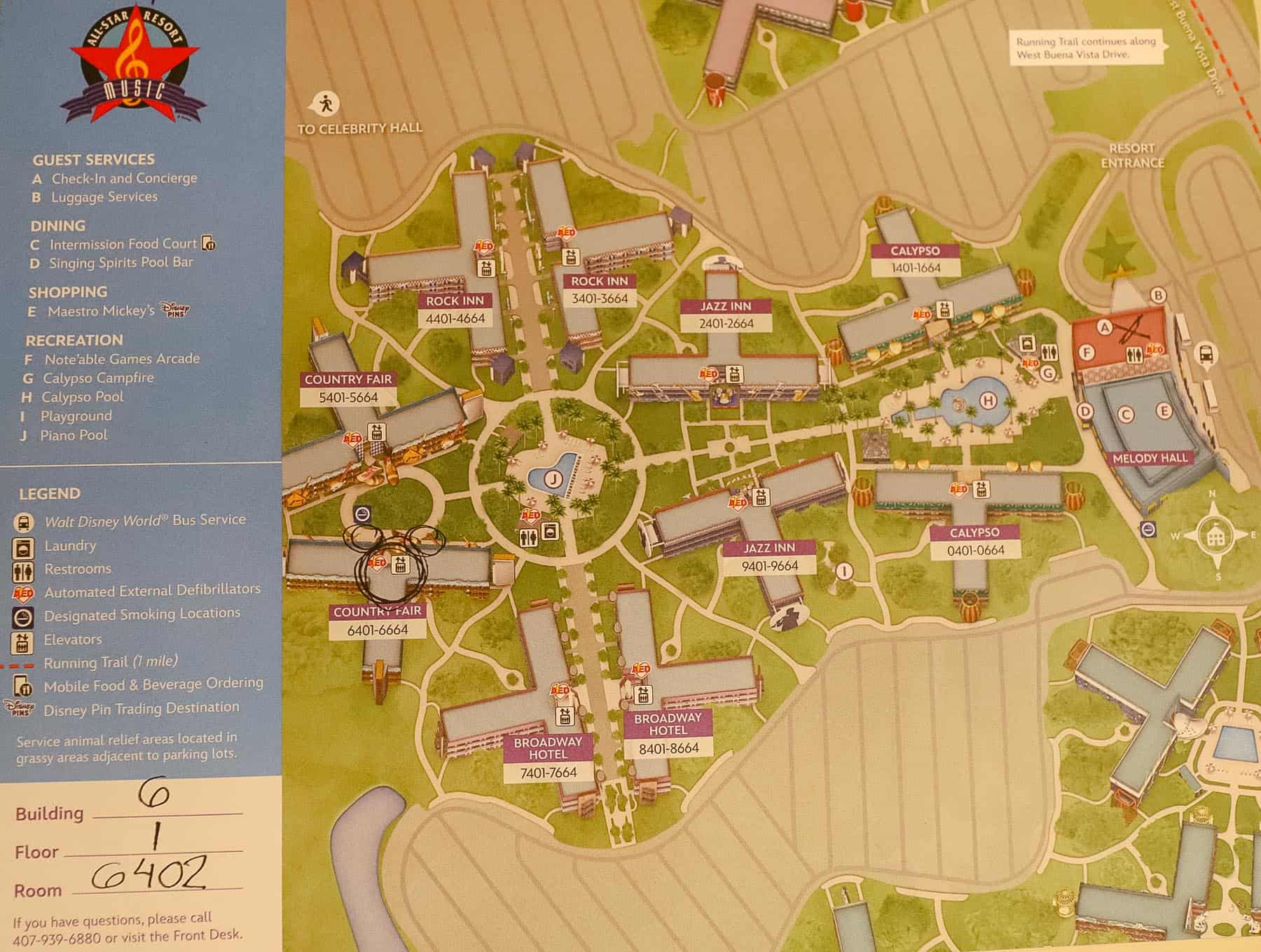 I'm sure my eyes probably rolled out of my head when I realized our room's location. But I quickly adjusted my attitude and reminded myself I'm not above staying in the back forty. This would also be an opportunity to provide a realistic point of view as to how far you'll have to walk to reach the food court, pool, lobby, bus stop, etc.
So we drove to the back of the resort and parked by the Broadway Hotel, the closest area to our side of Country Fair. A parking lot sits on both sides of the resort. So, if you drive, you'll want to park in the lot closest to your building.
Thankfully, we didn't have much luggage. But I did note that getting our luggage from the parking lot to our building would have been difficult if we'd had anything significant to carry.
A few luggage carts are available at the front of the resort. But that would be a much longer walk with luggage. You could probably get someone to help with your luggage if you ask. However, most of the value resorts lean more toward self-service.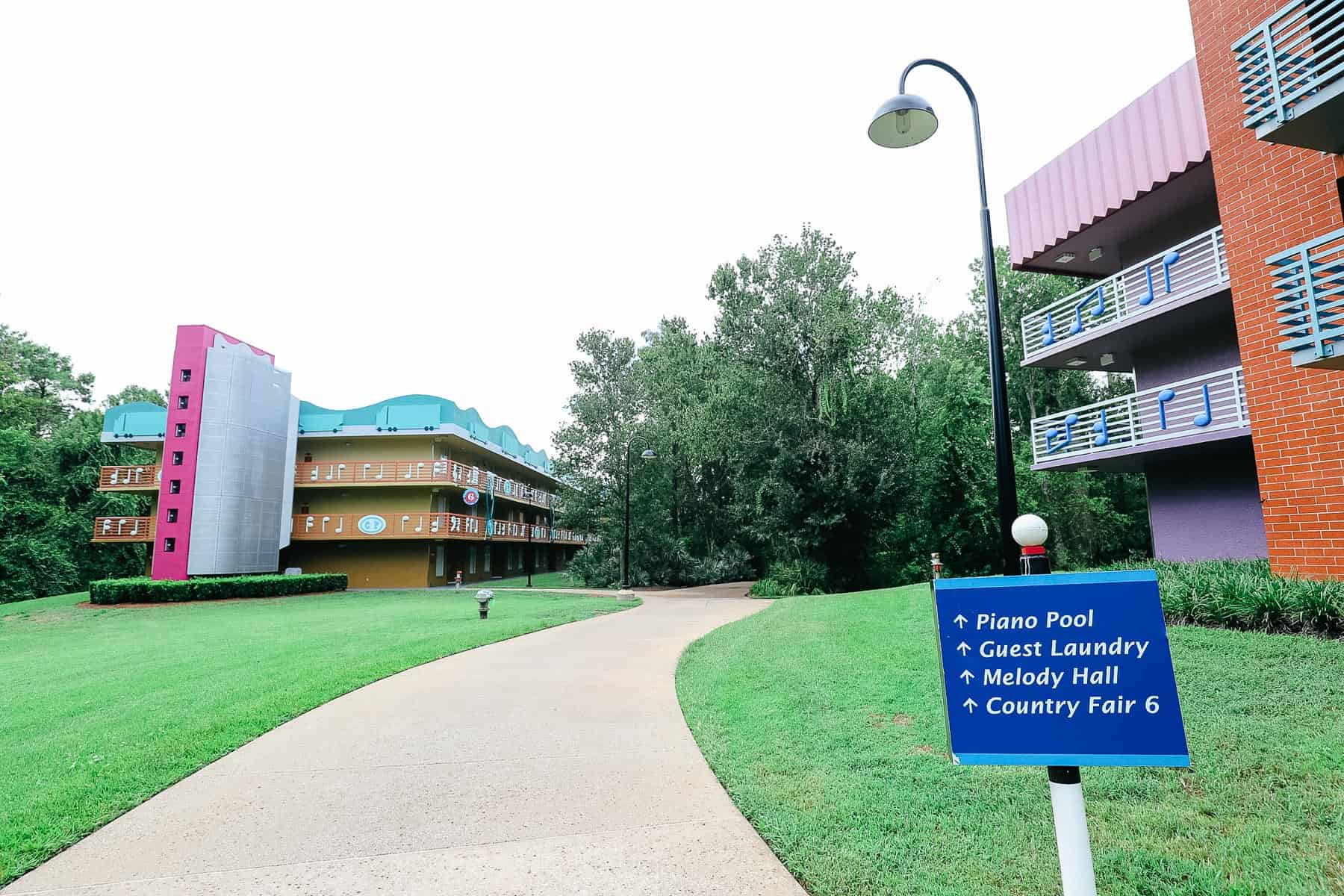 Our room number was 6402 on the first floor.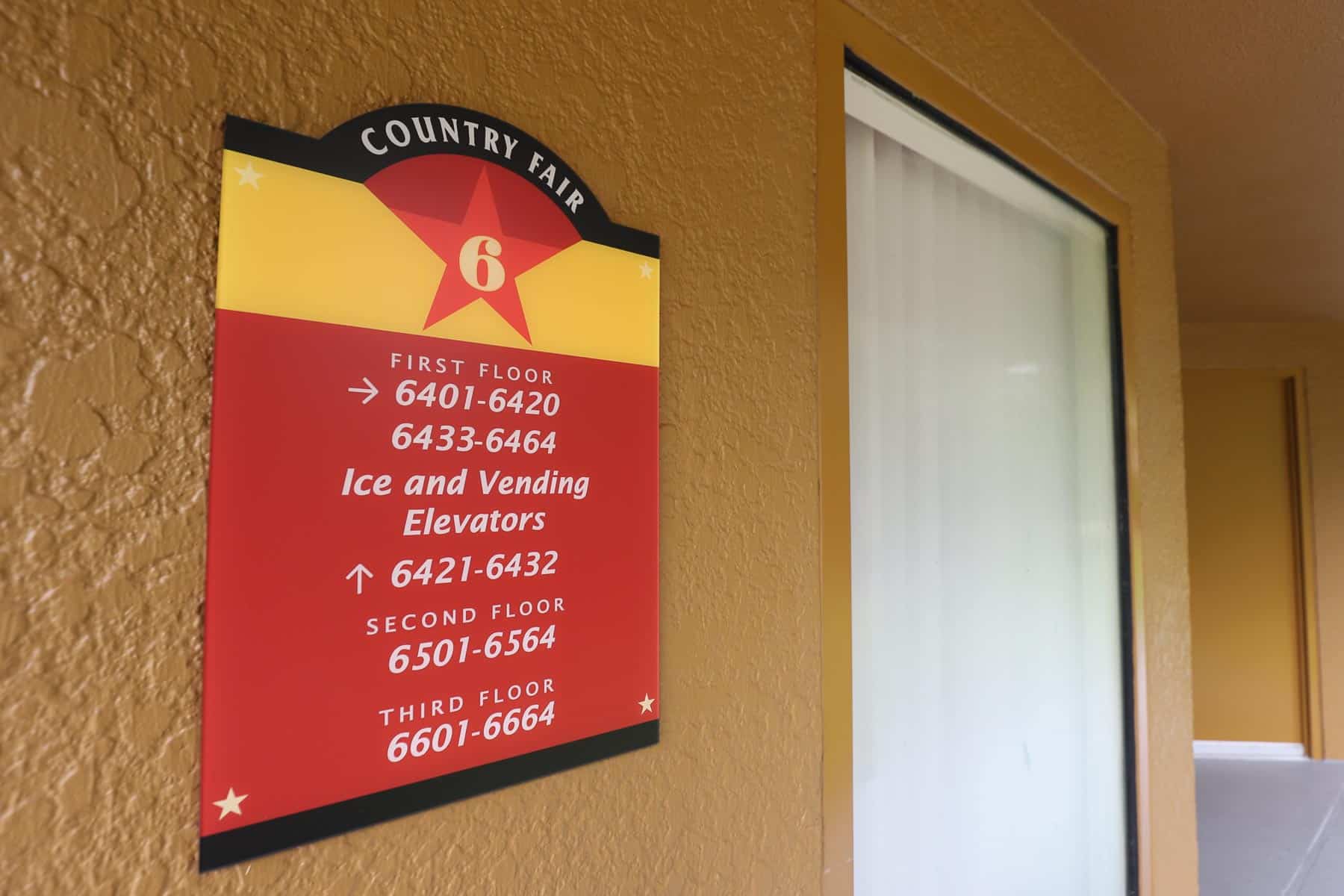 We were almost immediately next to a pair of cowboy boots rockin' a few hidden Mickeys. For reference, each section of All-Star Music is categorized by types of music. We were in the country music section. Other sections feature Broadway music, rock n' roll, jazz, and Caribbean or island music.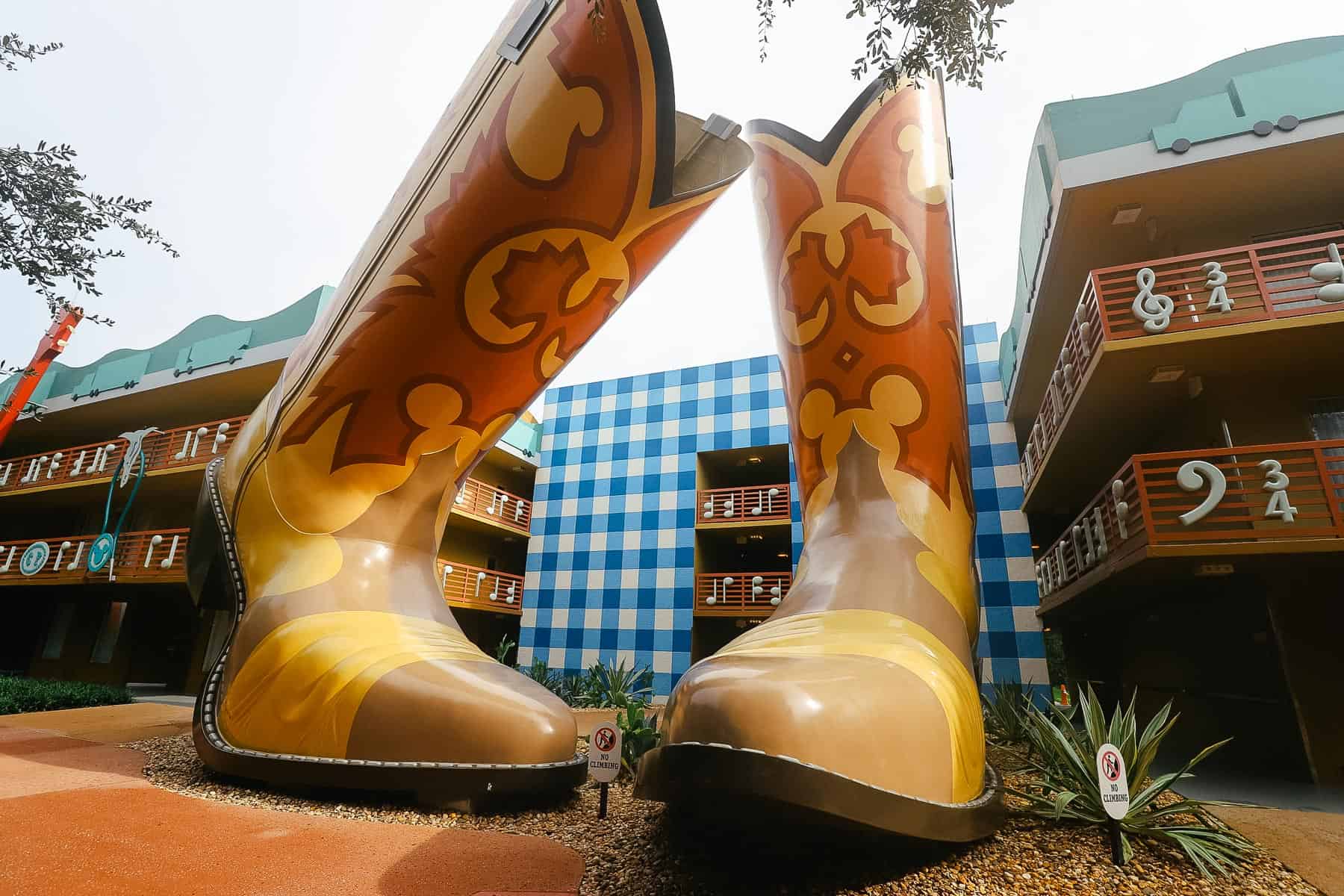 When I opened the door, I knew everything would be okay. Our room felt fresh and bright–two things you want to feel when staying in a hotel.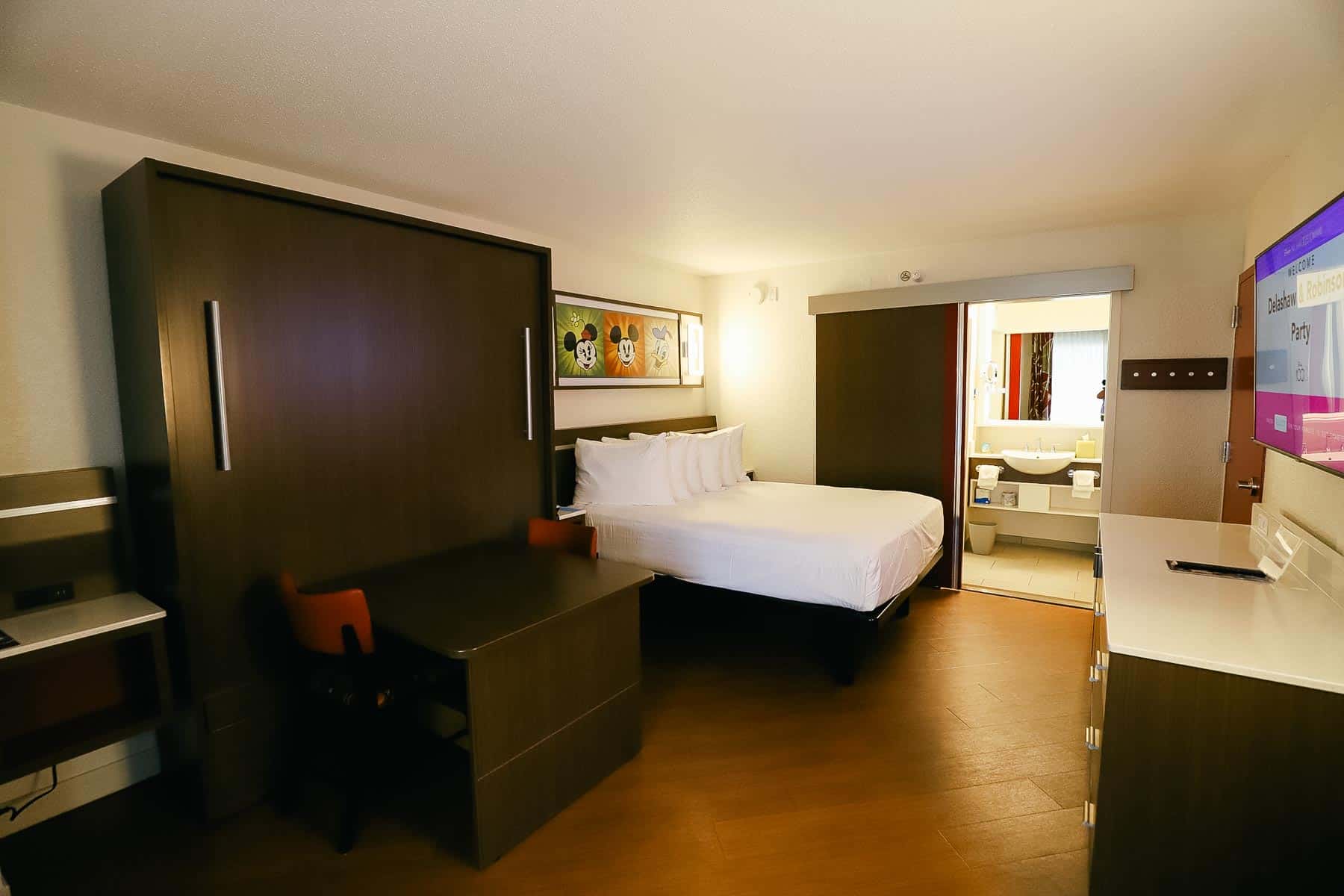 For reference, all the rooms at the All-Star Resorts are identical. We had the same room at All-Star Movies earlier this year.
This room layout and design originally debuted at Disney's Pop Century Resort. Due to their popularity, the same rooms were installed for Movies, Music, and Sports.
These rooms have a friendly floor plan that adjusts based on your needs. When the table and chairs are not in use, it folds to reveal a Murphy bed.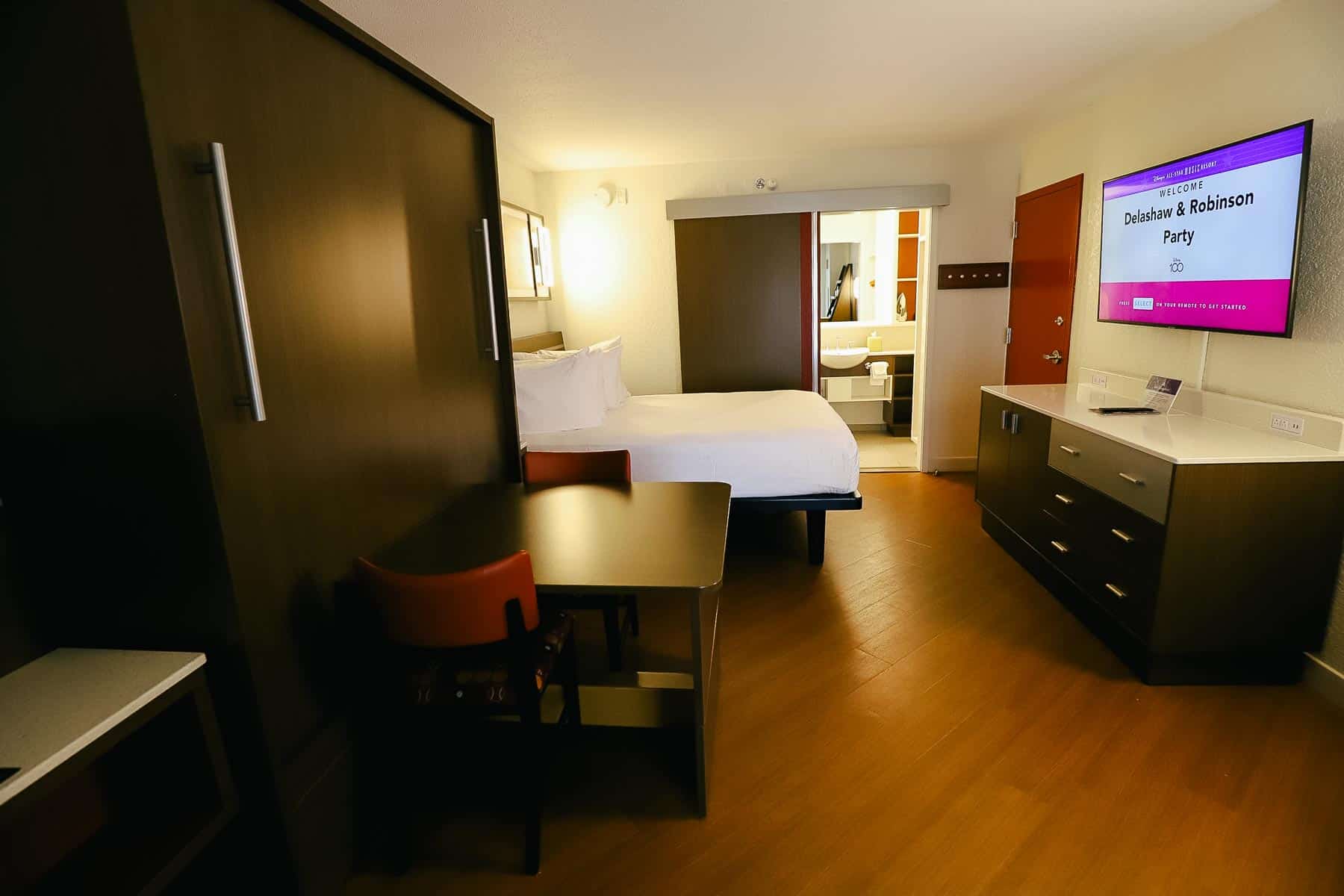 You can slide the chairs against the opposite wall when using the bed.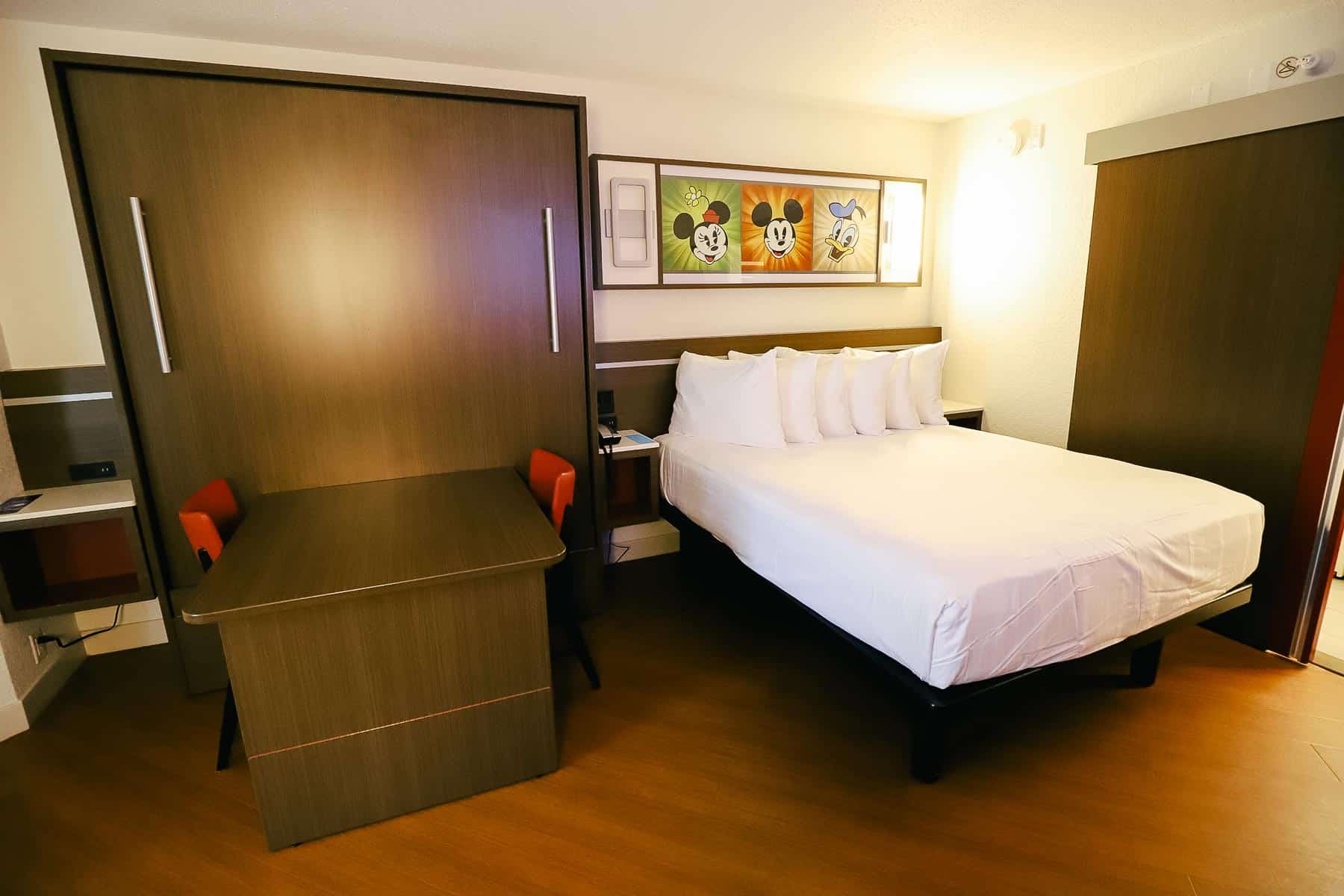 The table magically collapses underneath.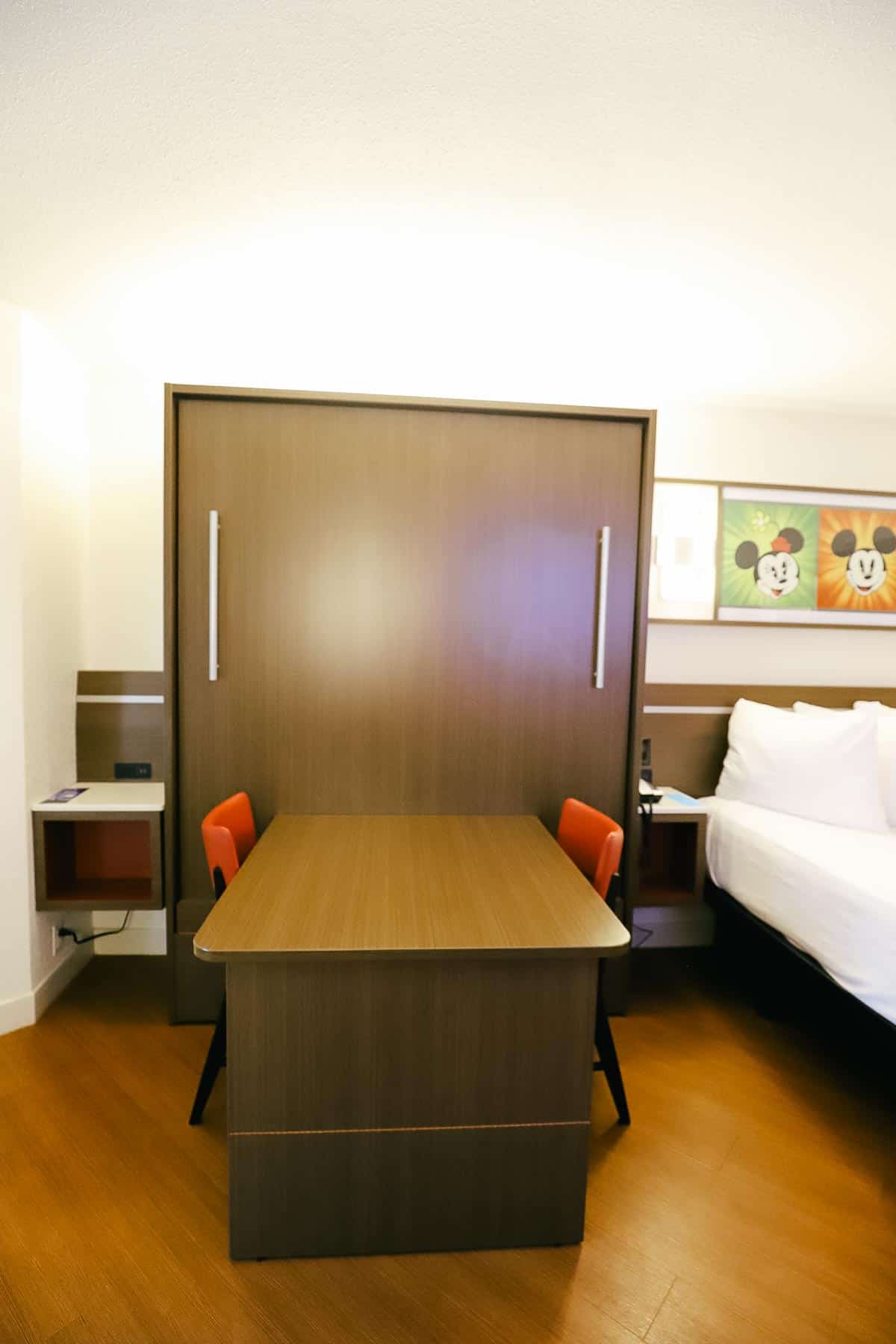 Almost instantly, you have a room with two queen-size beds.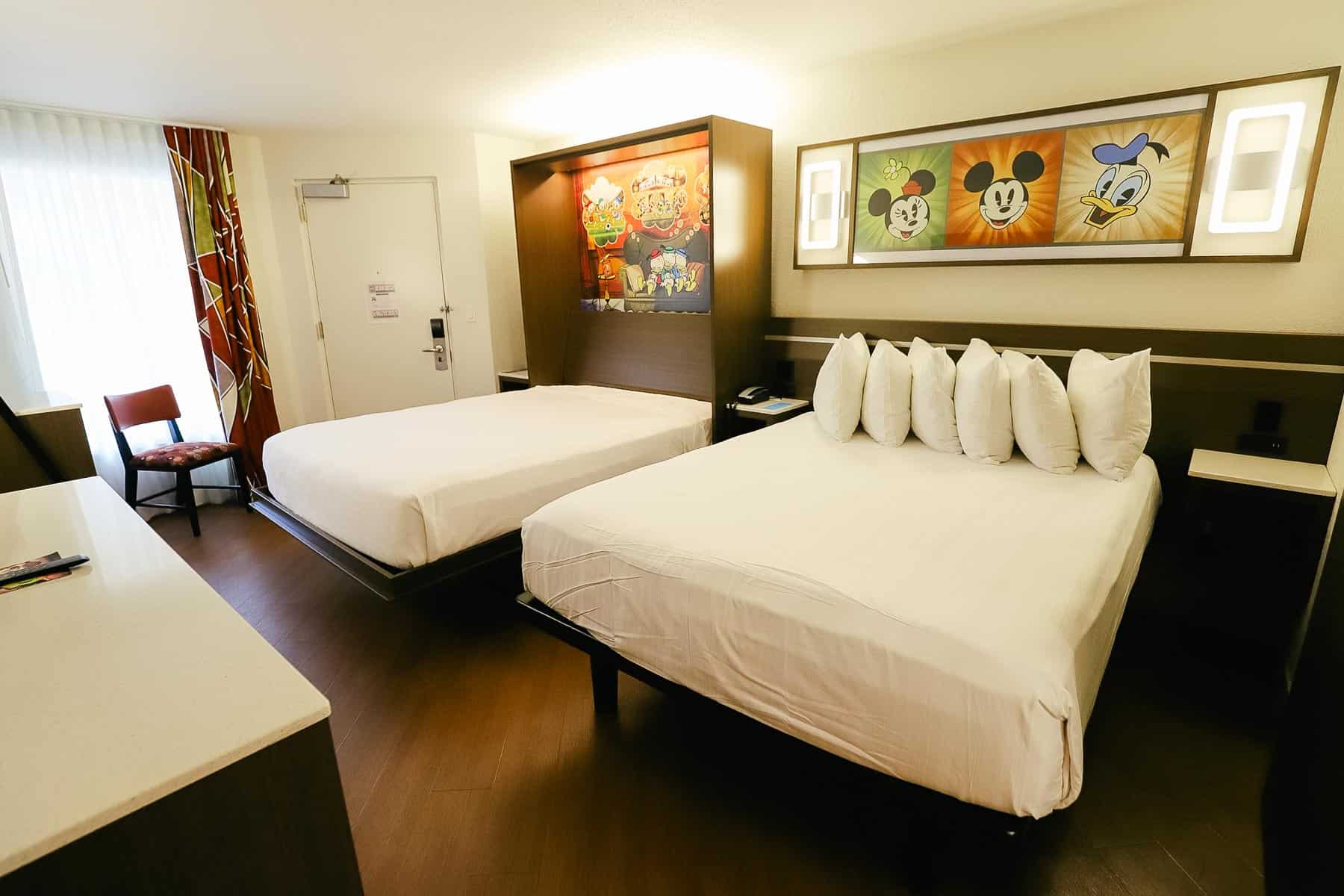 Here is an alternate view.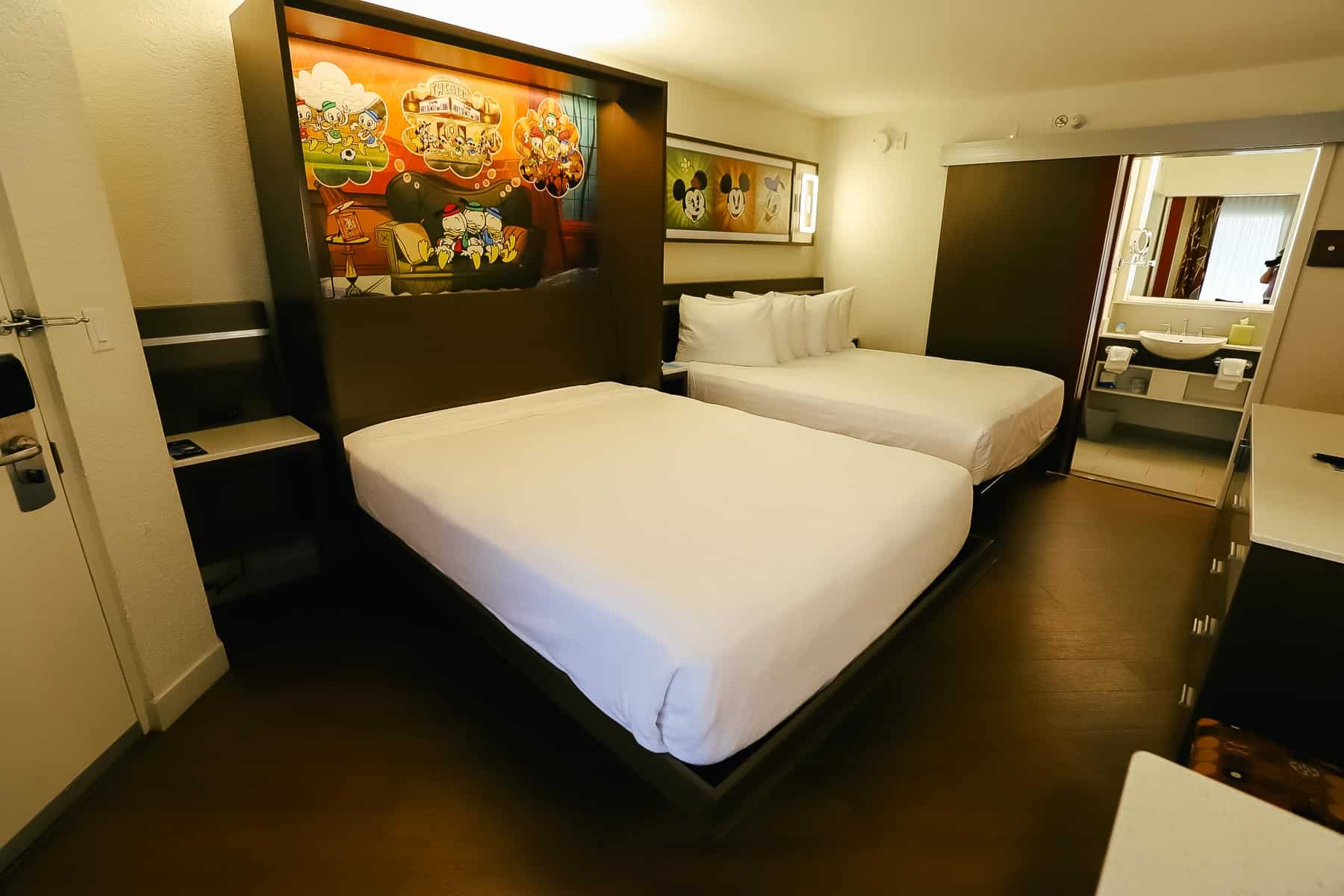 A built-in nightstand sits on each side of the bed. The one in the middle is shared between the two beds.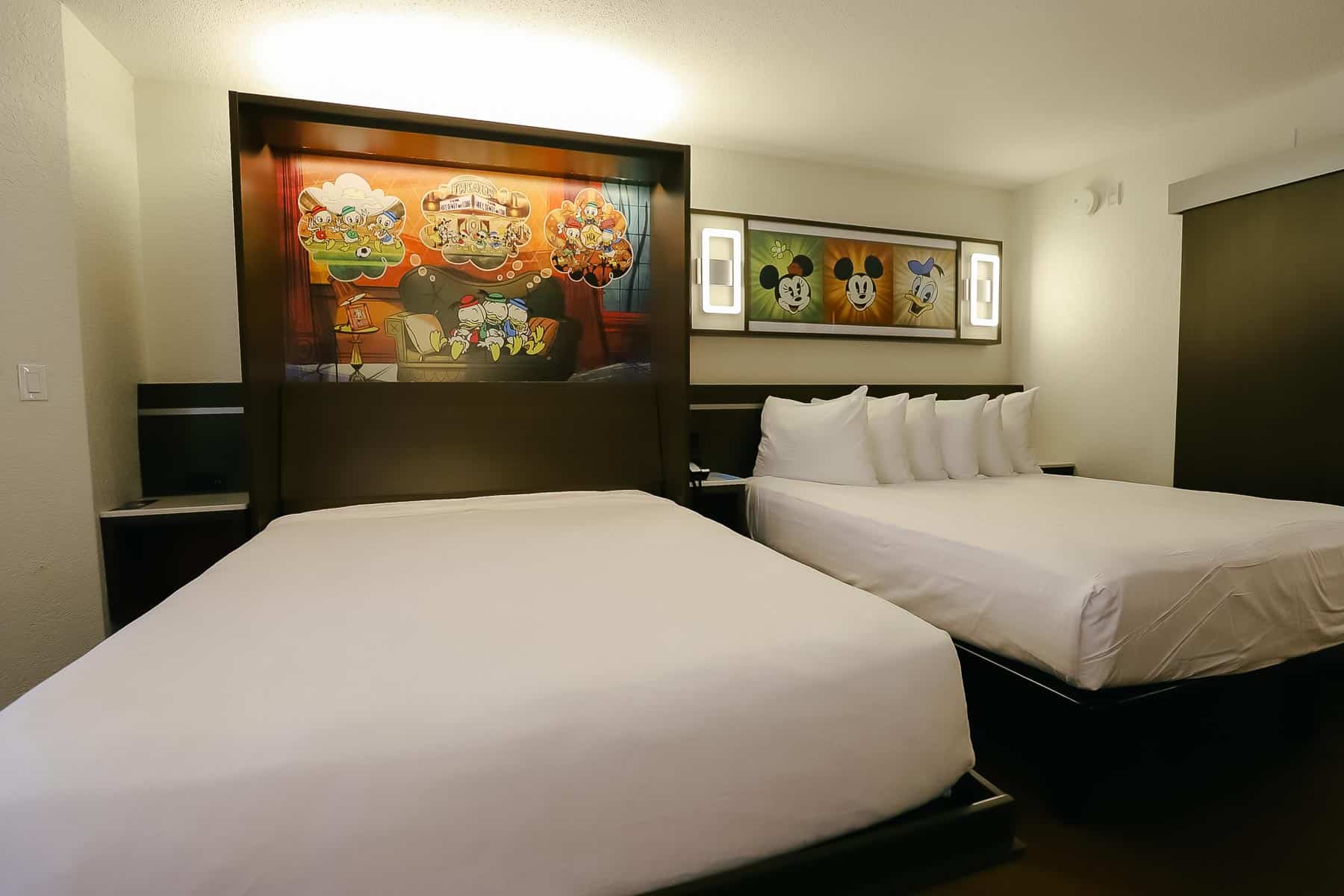 When the bed is pulled down, it displays adorable artwork featuring Huey, Dewey, and Louie, Donald Duck's nephews. They are dreaming about their time at the All-Stars. Each bubble references one of the three resorts.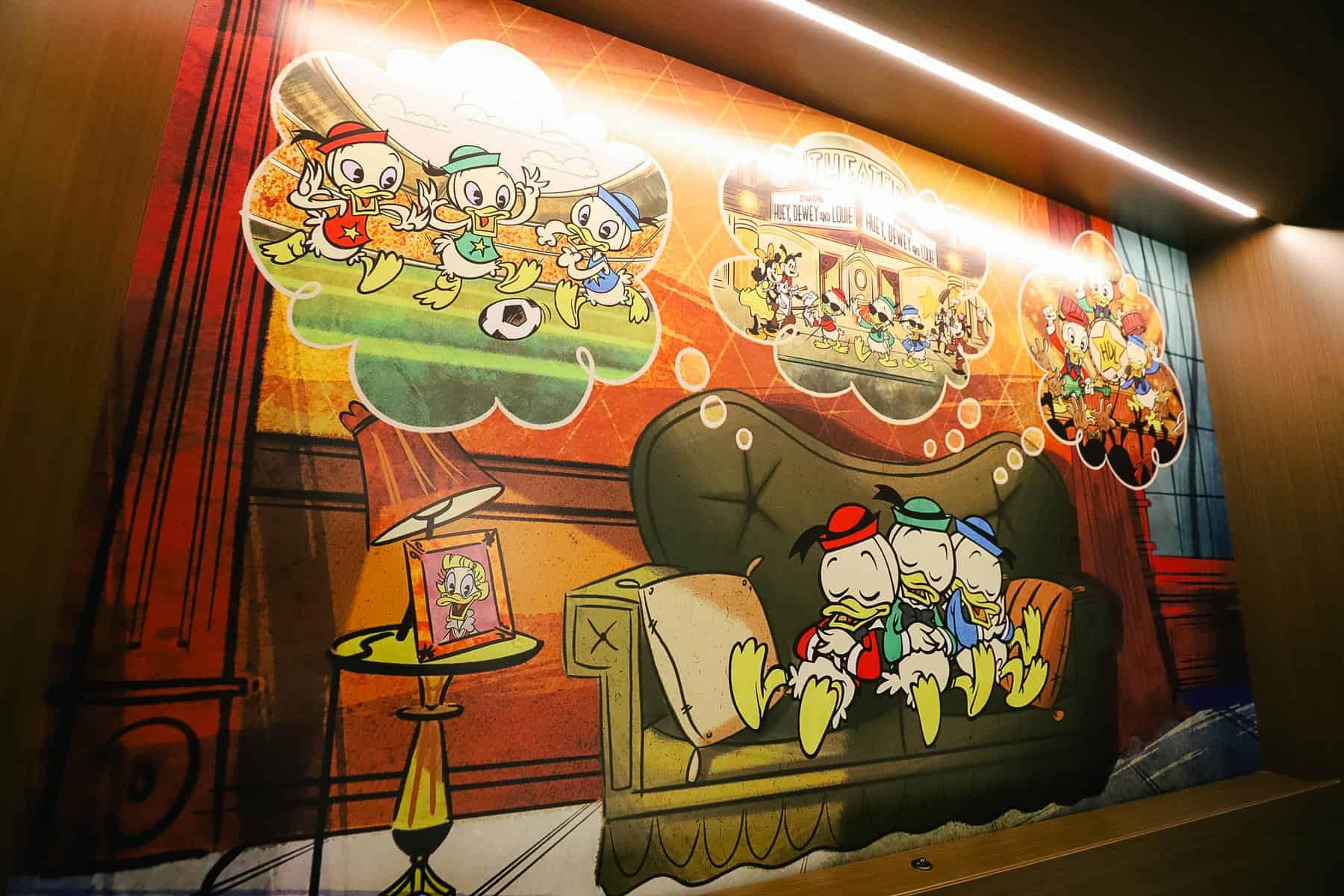 Each nightstand has a cubby hole, electrical outlets, and USB ports.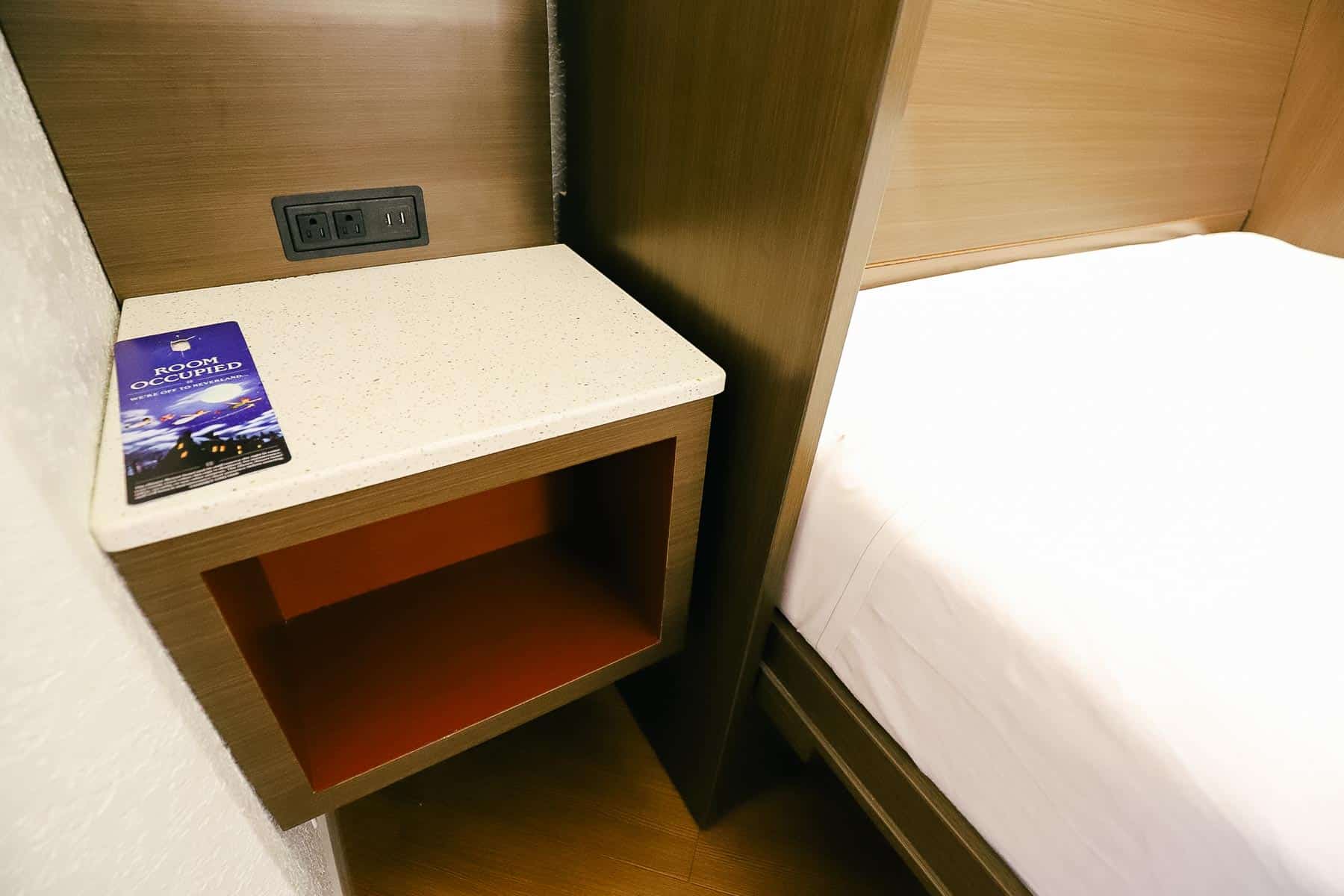 Light switches are conveniently located over the center nightstand.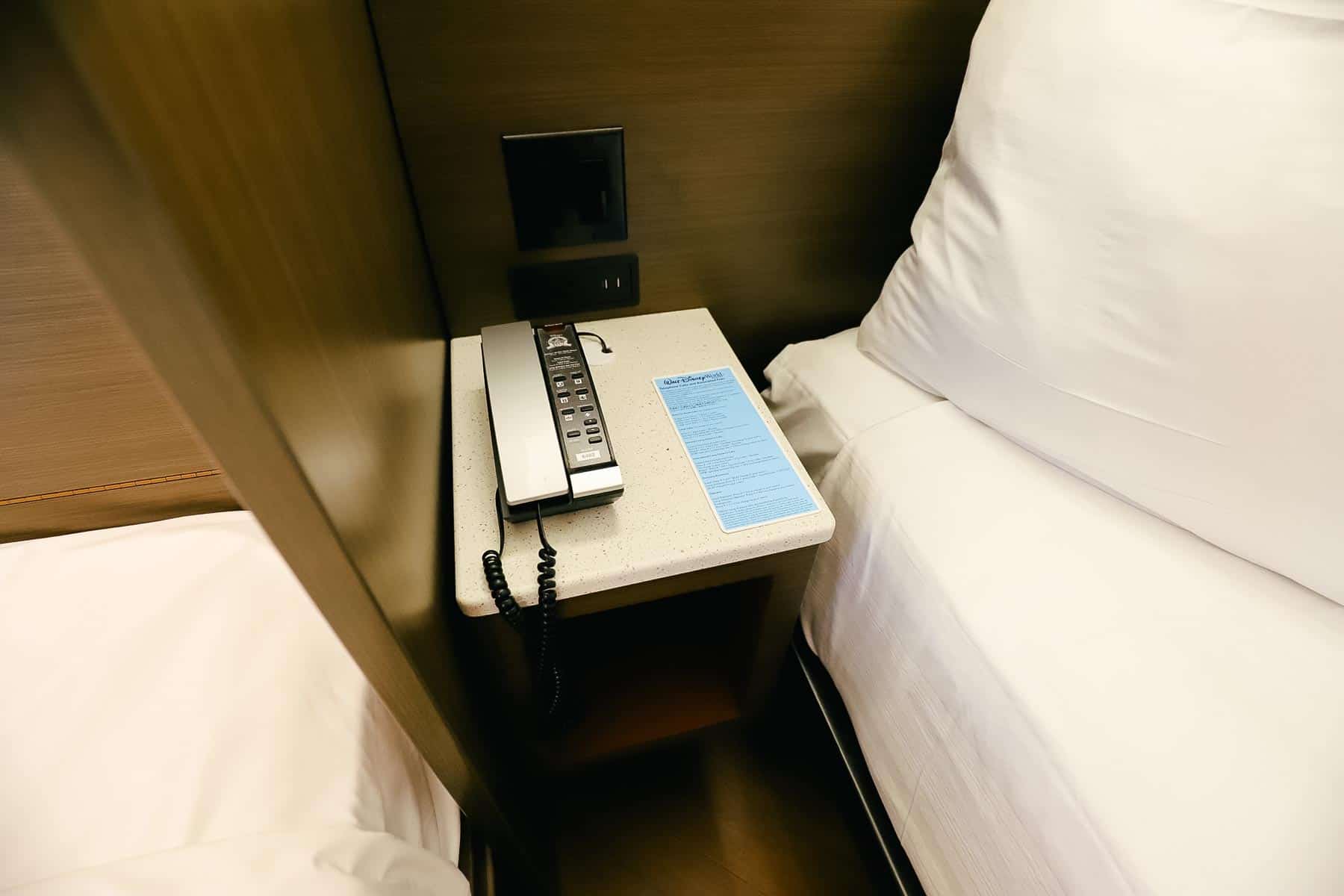 Artwork featuring Minnie Mouse, Mickey Mouse, and Donald Duck is part of the light fixture over the regular bed.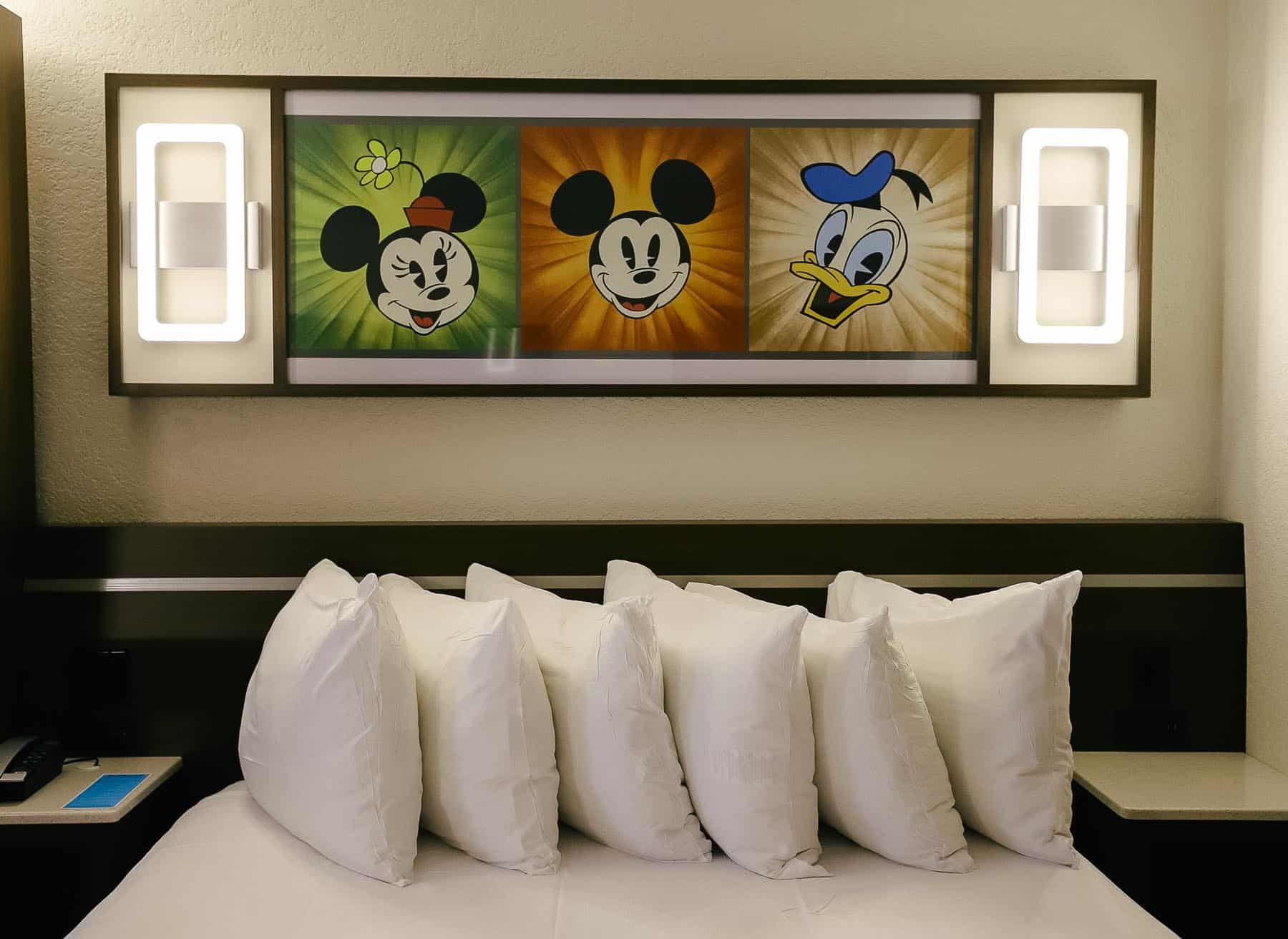 A dresser sits on the opposite wall.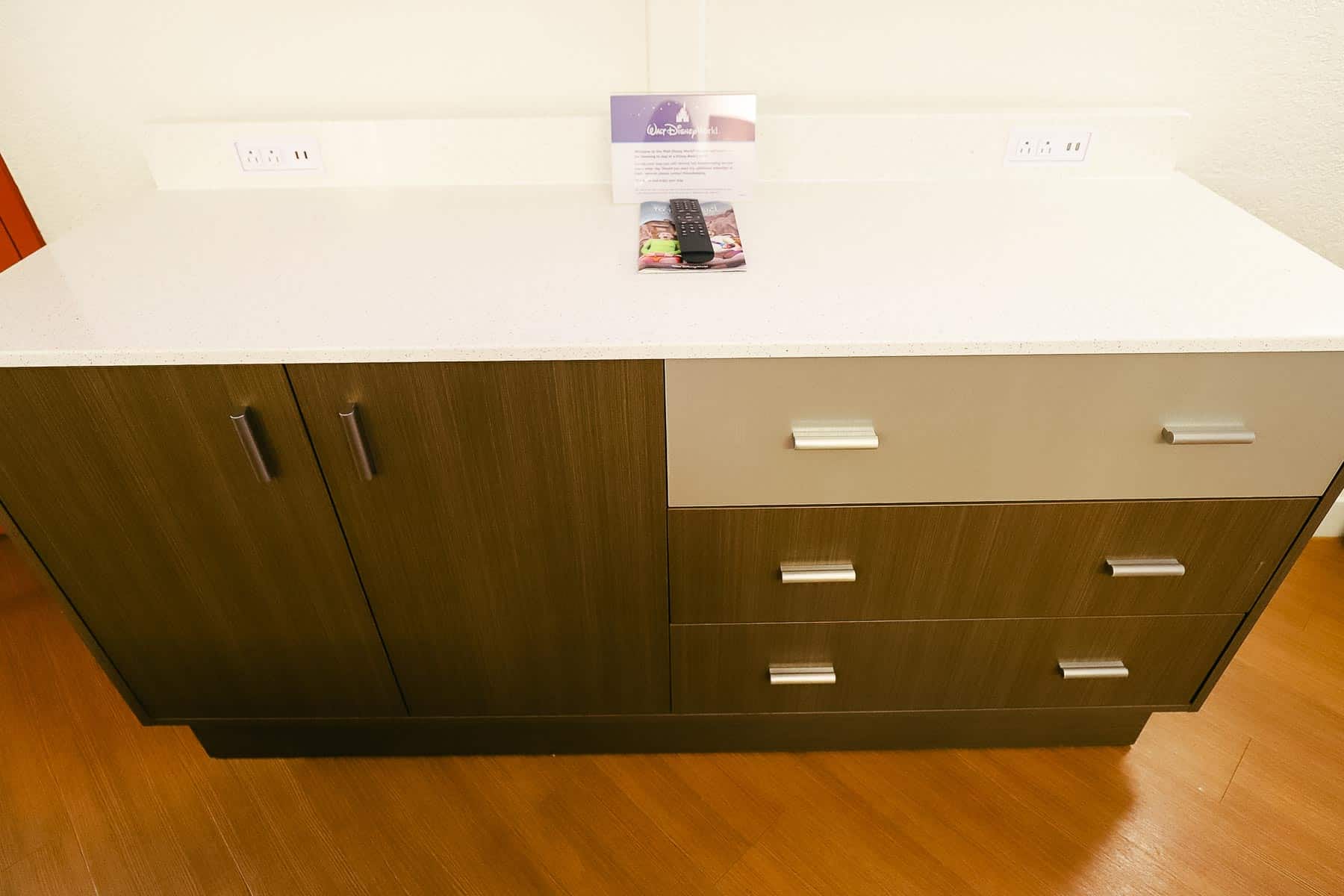 It provides decent counter space with outlets and USB ports installed on each side.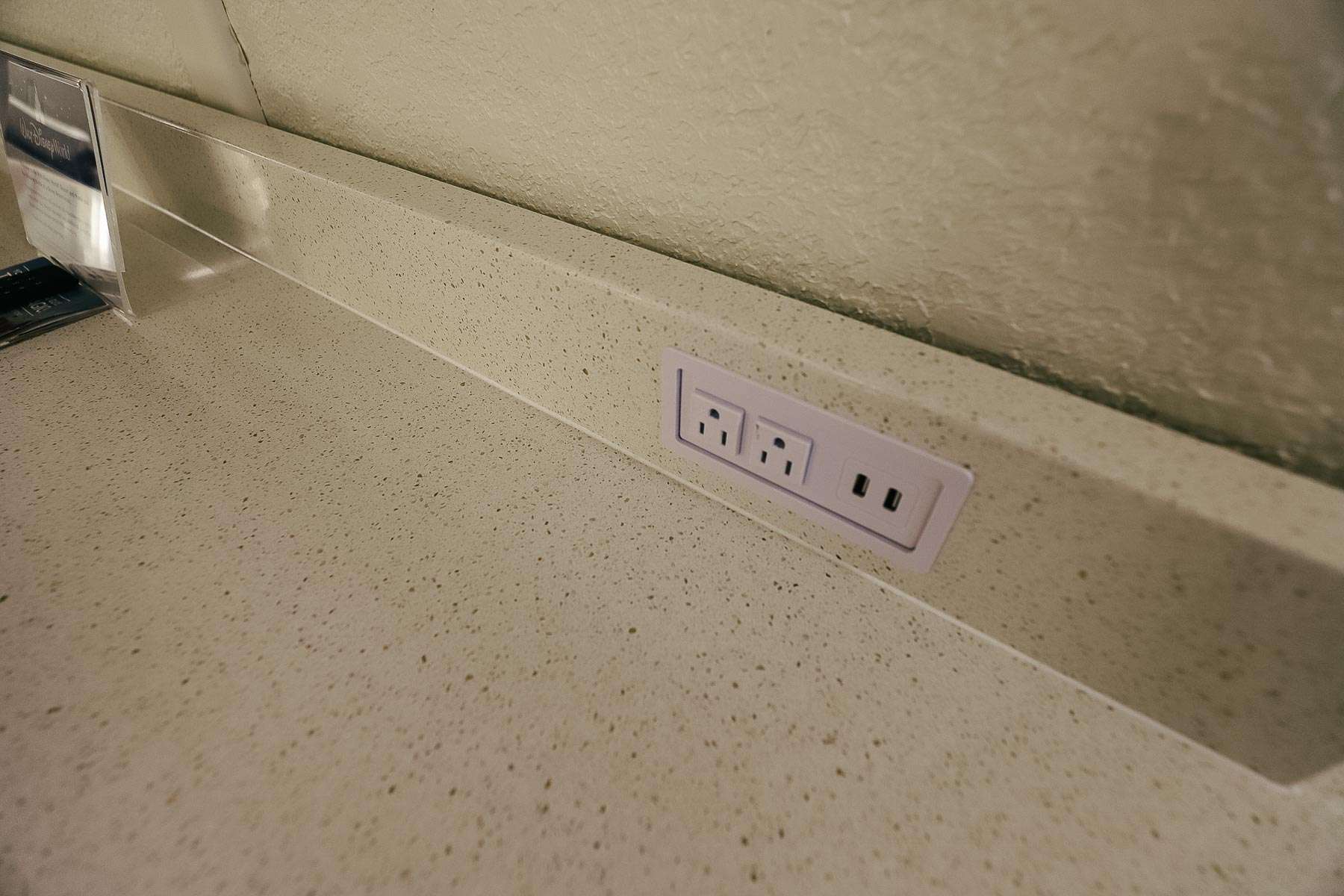 One side of the cabinet opens to reveal an in-room safe. A few pillows were provided for the extra bed.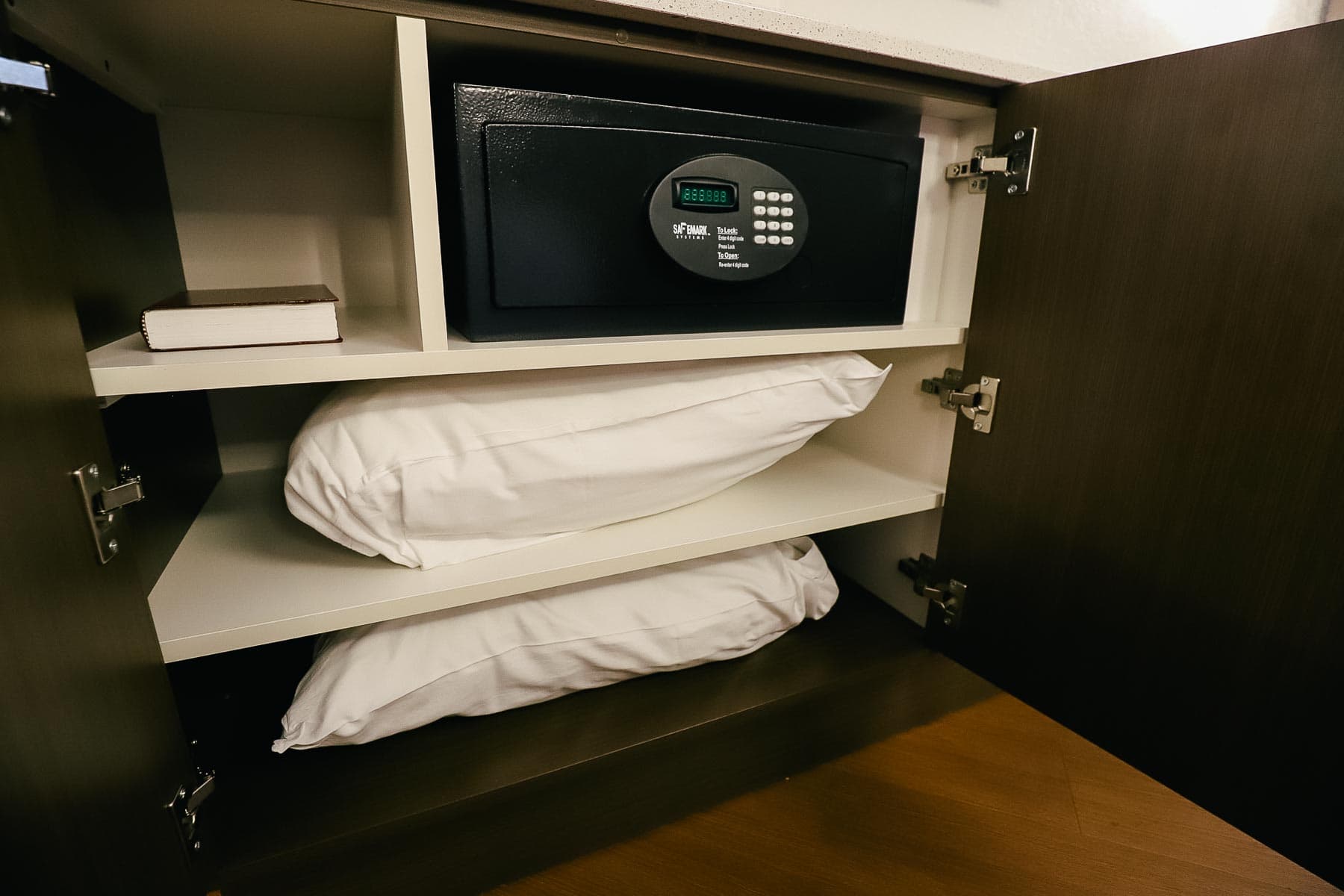 A stand provides additional storage space and other amenities toward the front corner of the room.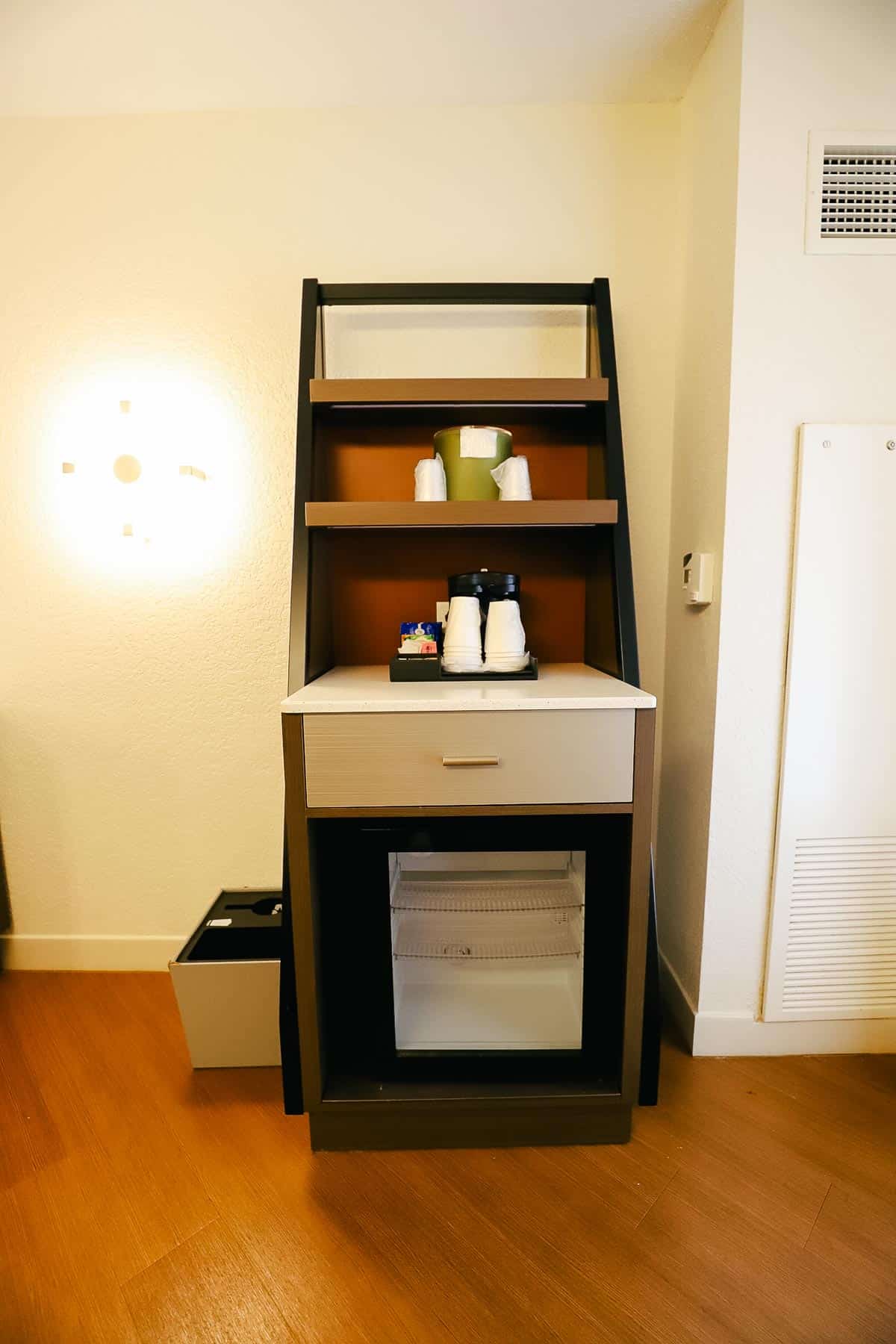 An individual-style coffee maker is available with the accompaniments to make coffee or tea.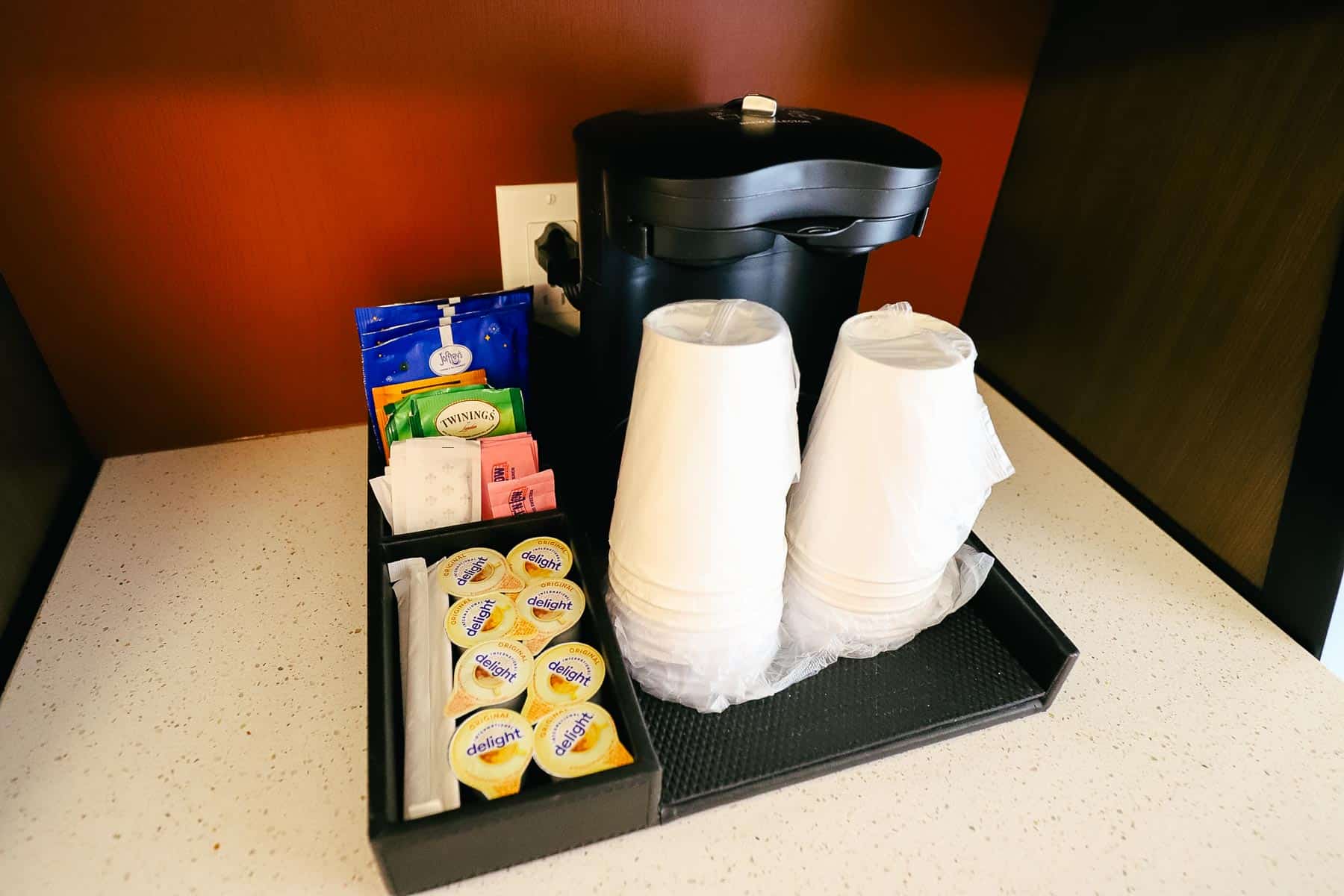 An ice bucket and plastic cups were provided. Ice and vending machines are located on each floor near the elevator.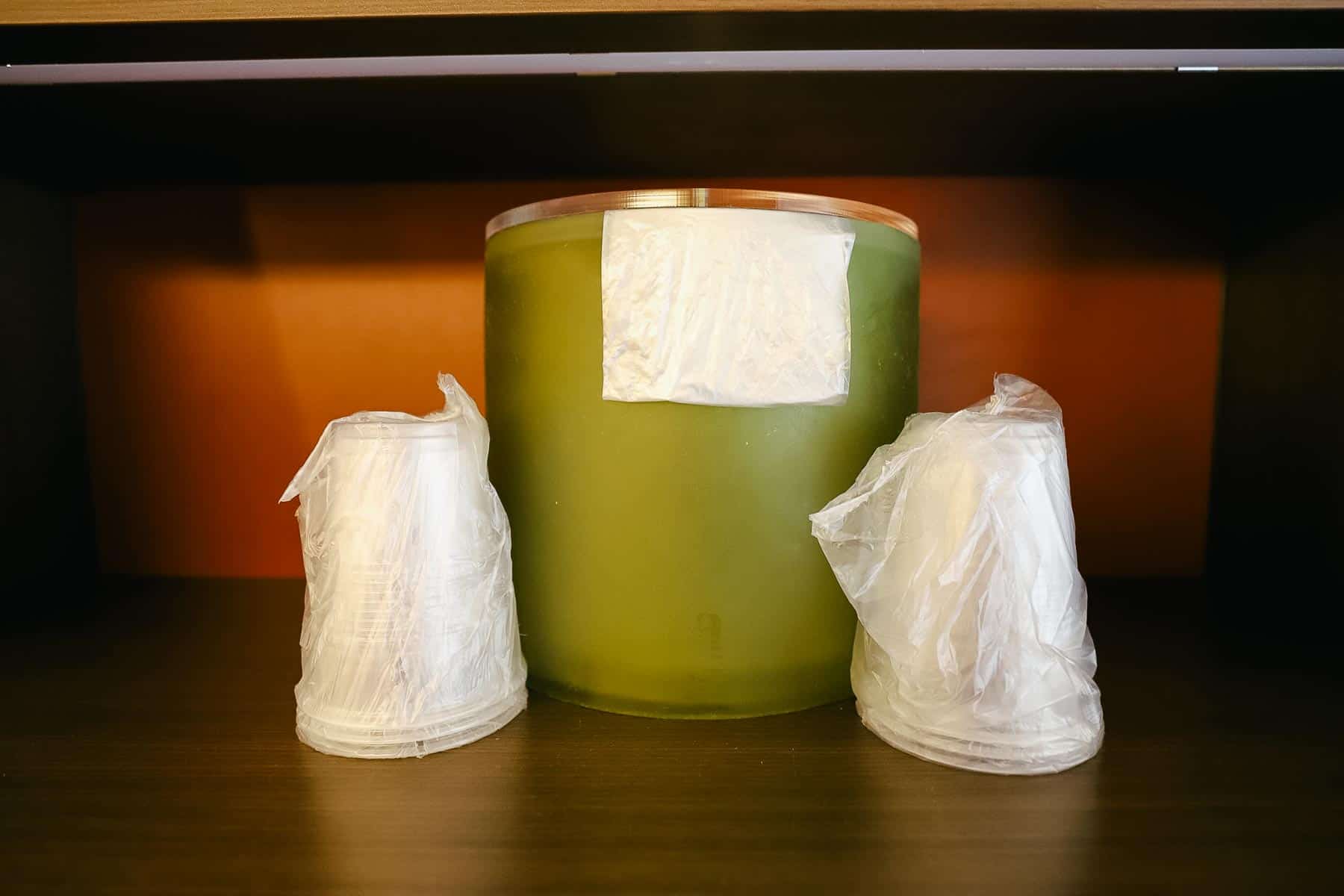 A beverage cooler sits at the bottom of the stand. We use these often; some cool well, while others don't. Our cooler in this room didn't get our drinks as cold as we would have liked. I wouldn't necessarily leave any perishable items up to chance. You may remember our items froze in The Little Mermaid Rooms at Art of Animation.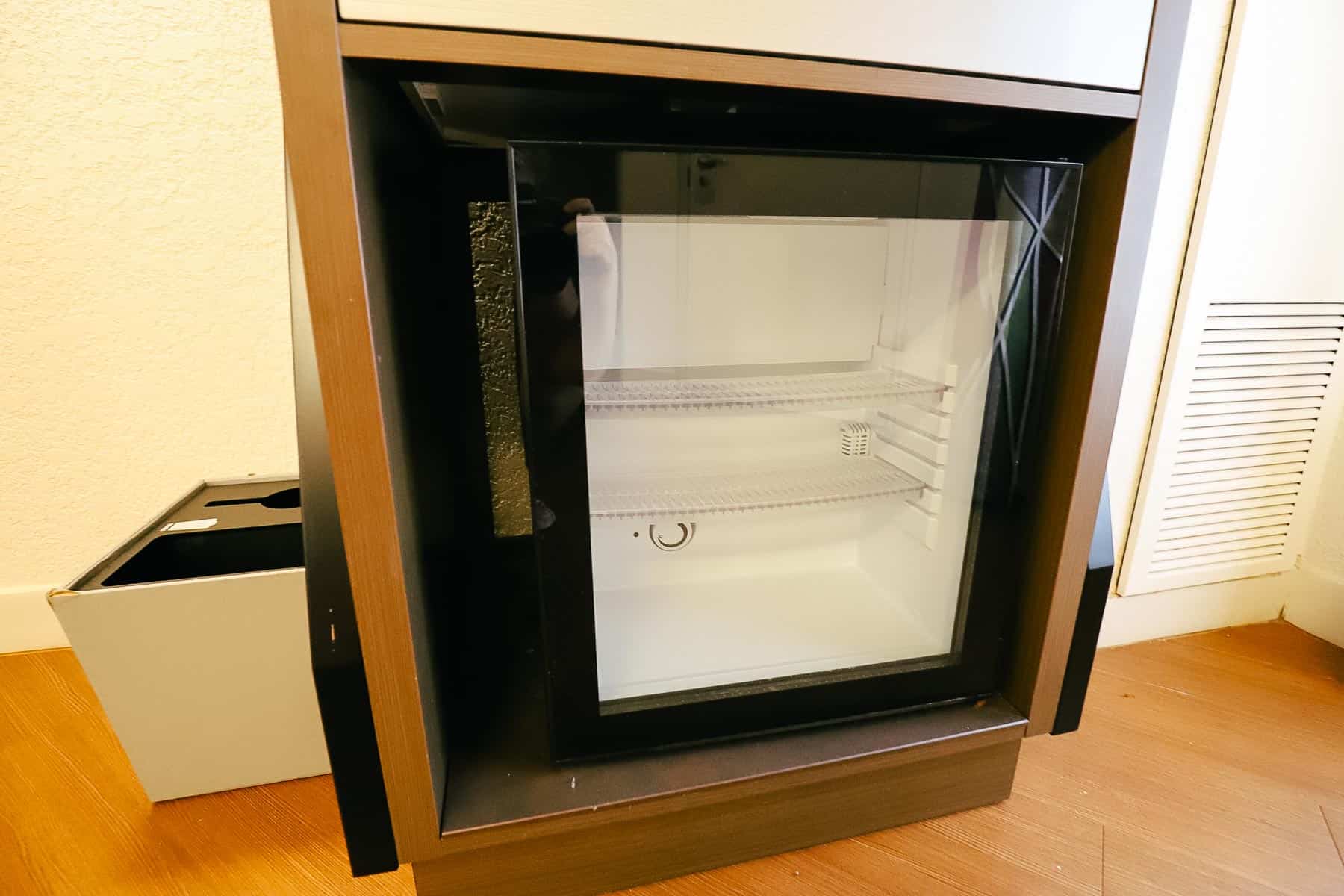 The shelves inside the cooler are pretty flimsy. You can adjust them to suit your needs.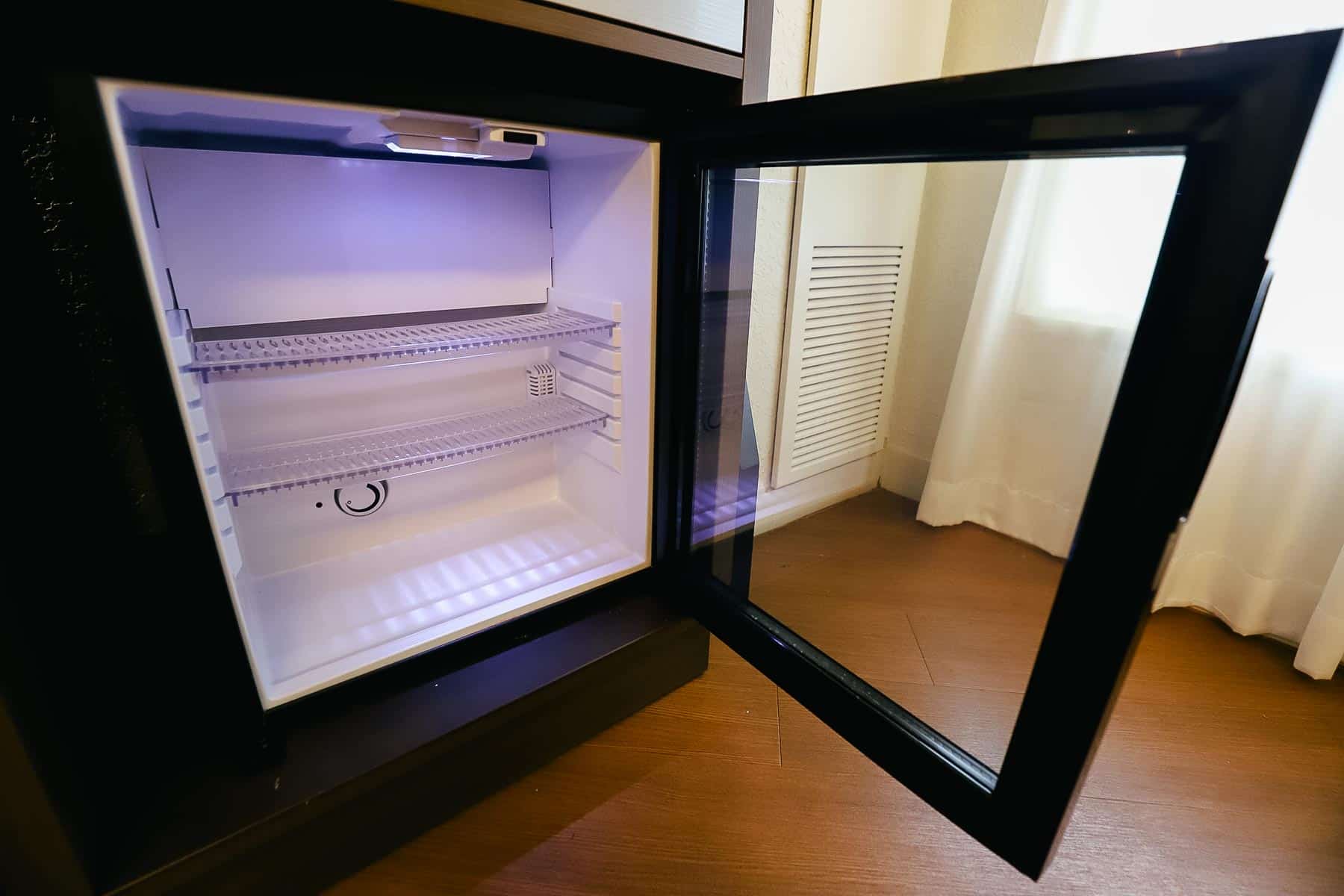 Underneath the counter area, a drawer provides extra storage space. We always use this stand to store our snacks and beverages.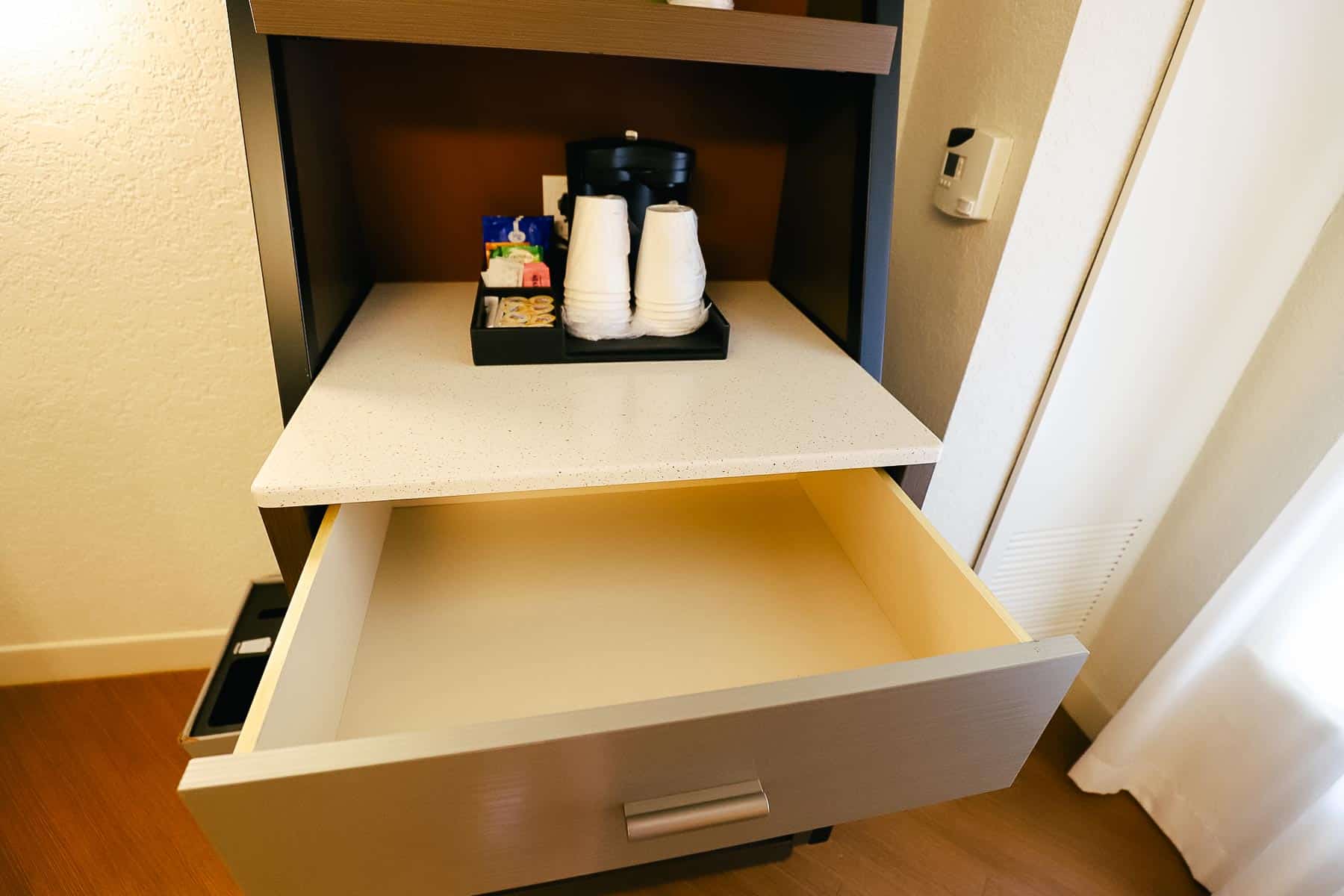 The bathrooms are pretty standard.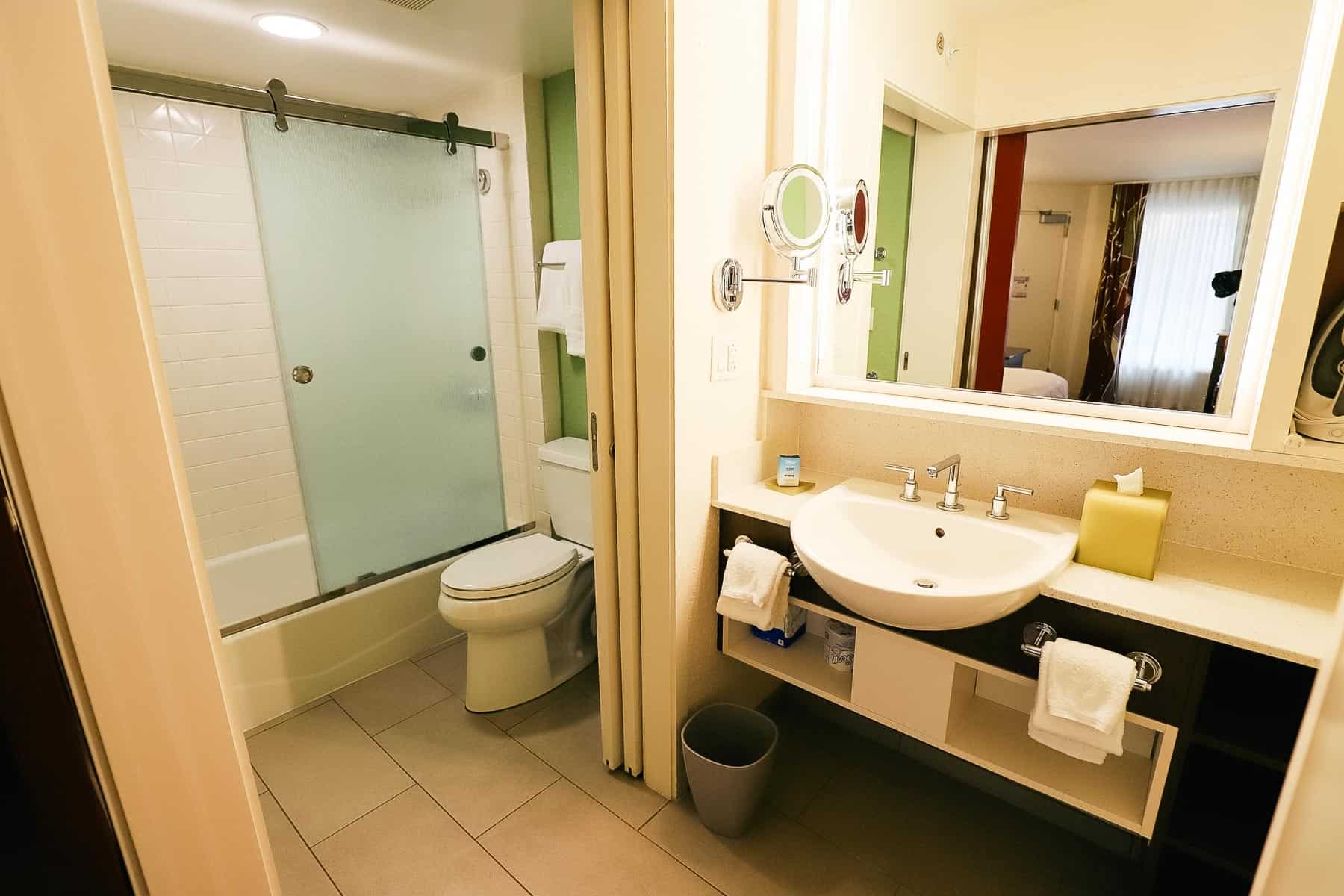 The water closet area features a tub with a shower combination. Glass shower doors are much appreciated over a shower curtain.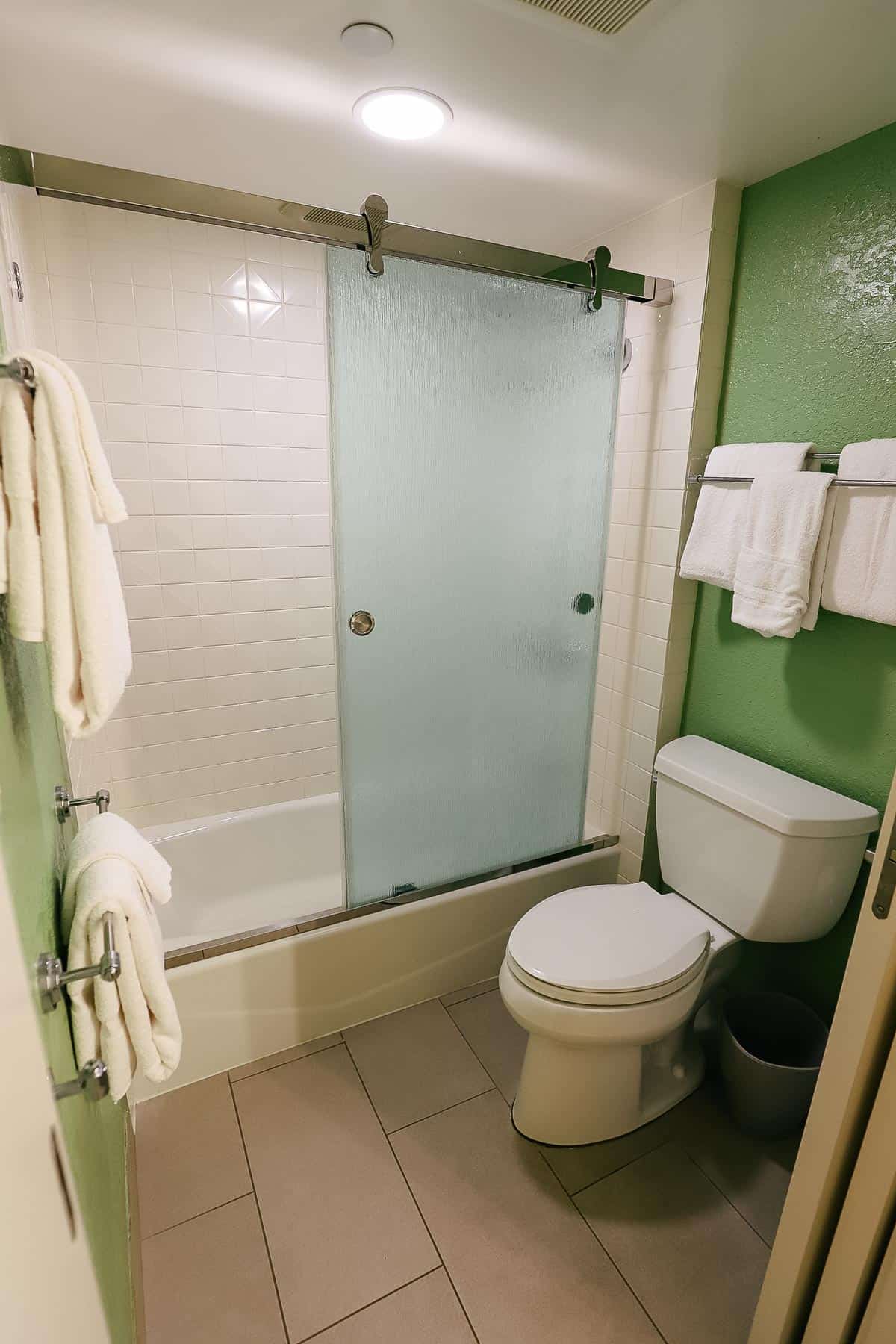 A nice showerhead will help wash the Disney off at the end of the day. Note that the circular item in the photo below is a cord extending the shower's length. On the opposite end of the shower, you can secure it and use it to hang wet items like swimsuits.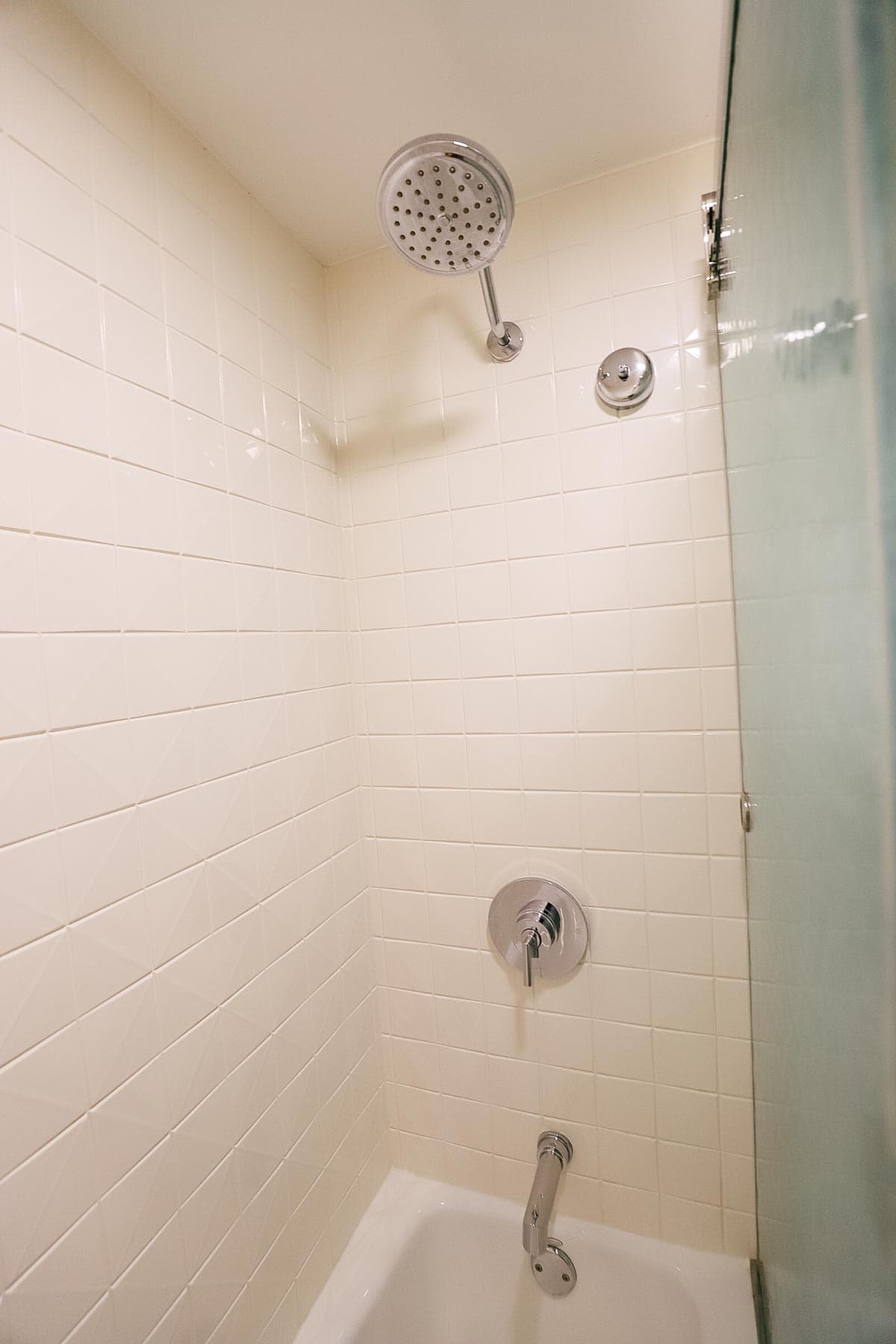 Toiletries include body wash, shampoo, and conditioner.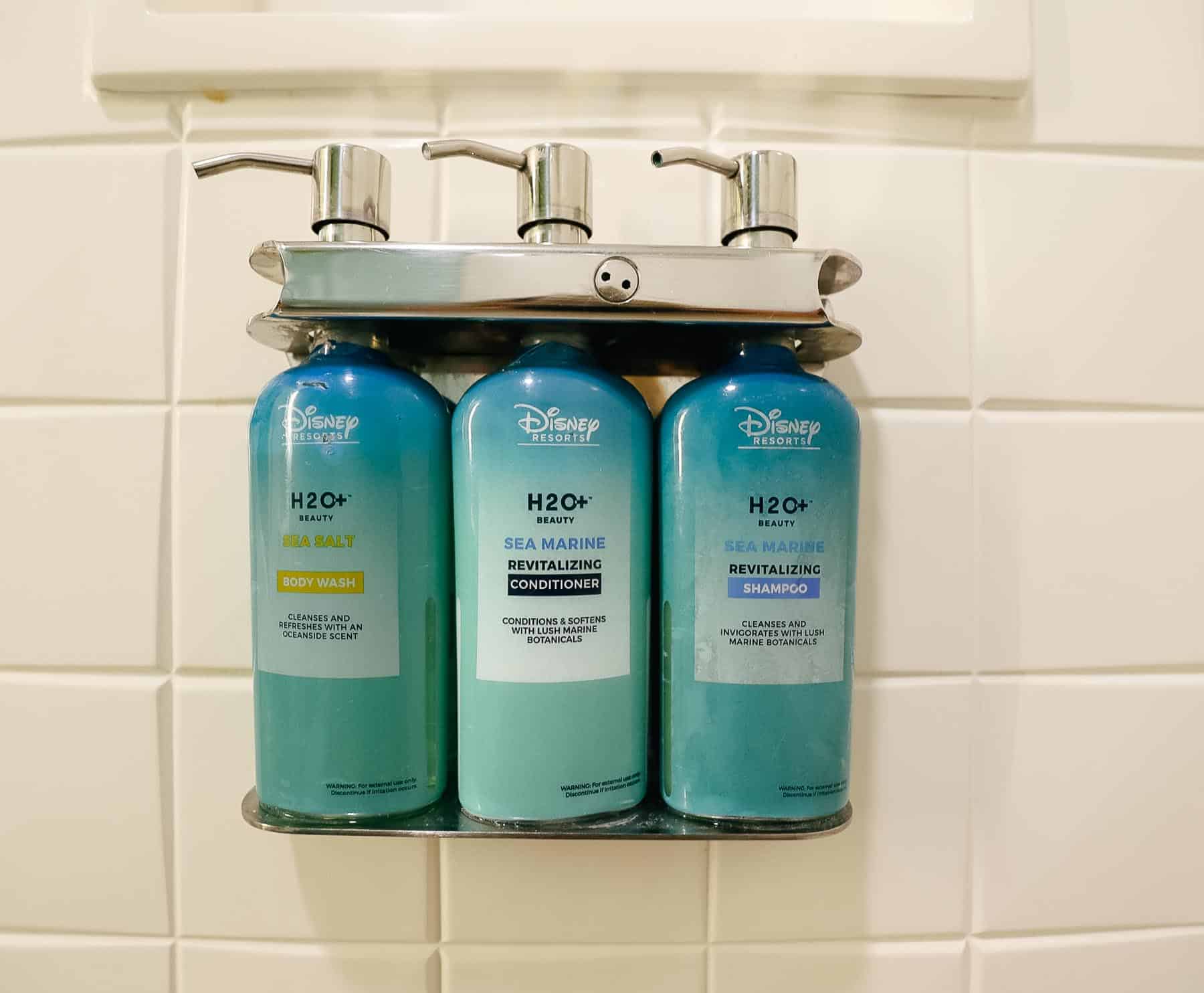 A built-in area provides a little room to store personal items in the shower.
The bathroom is divided by shelves, a closet area, and more cubby holes to store items.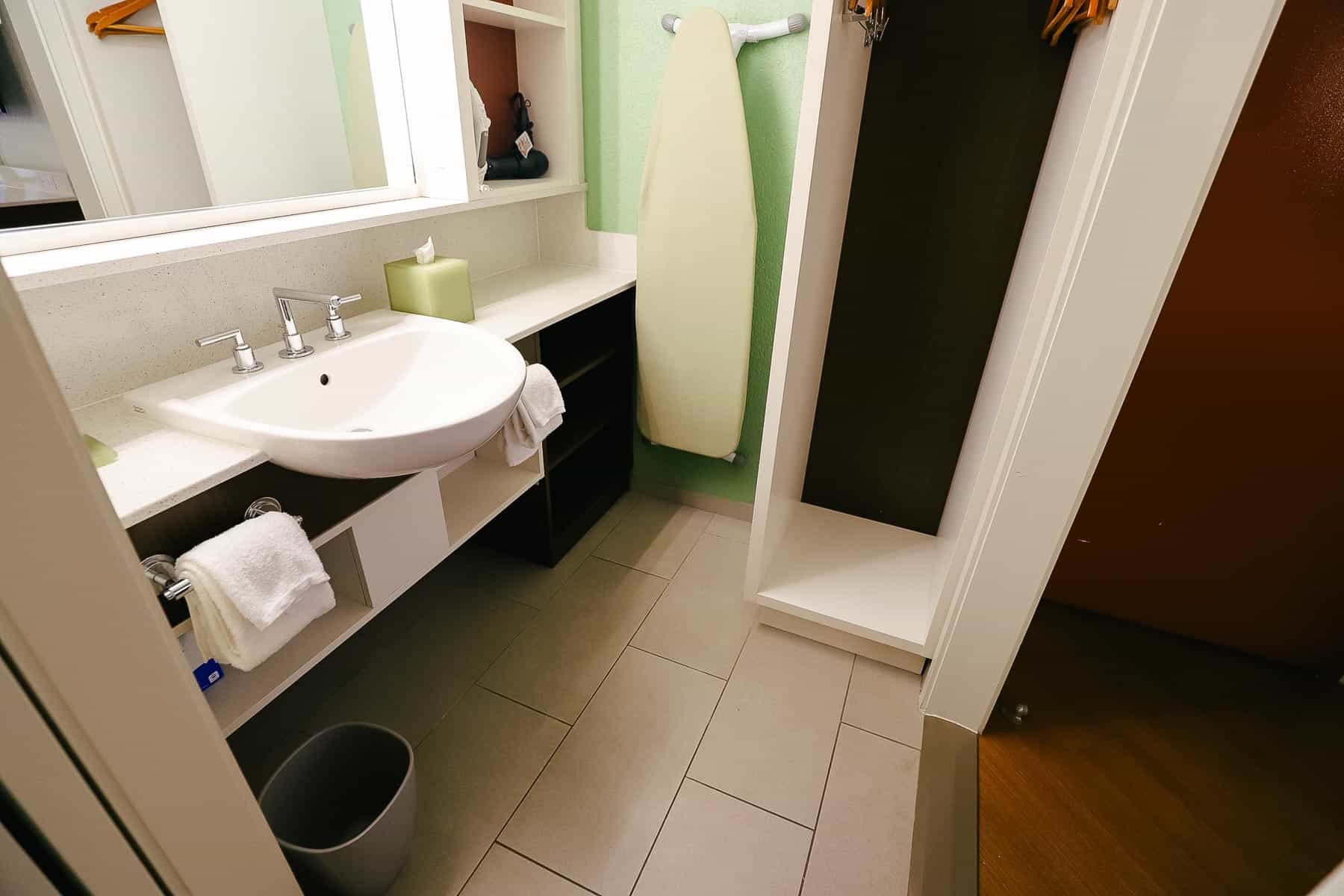 A ledge is available above the sink. It's an excellent place to store everyone's toothbrush out of the way.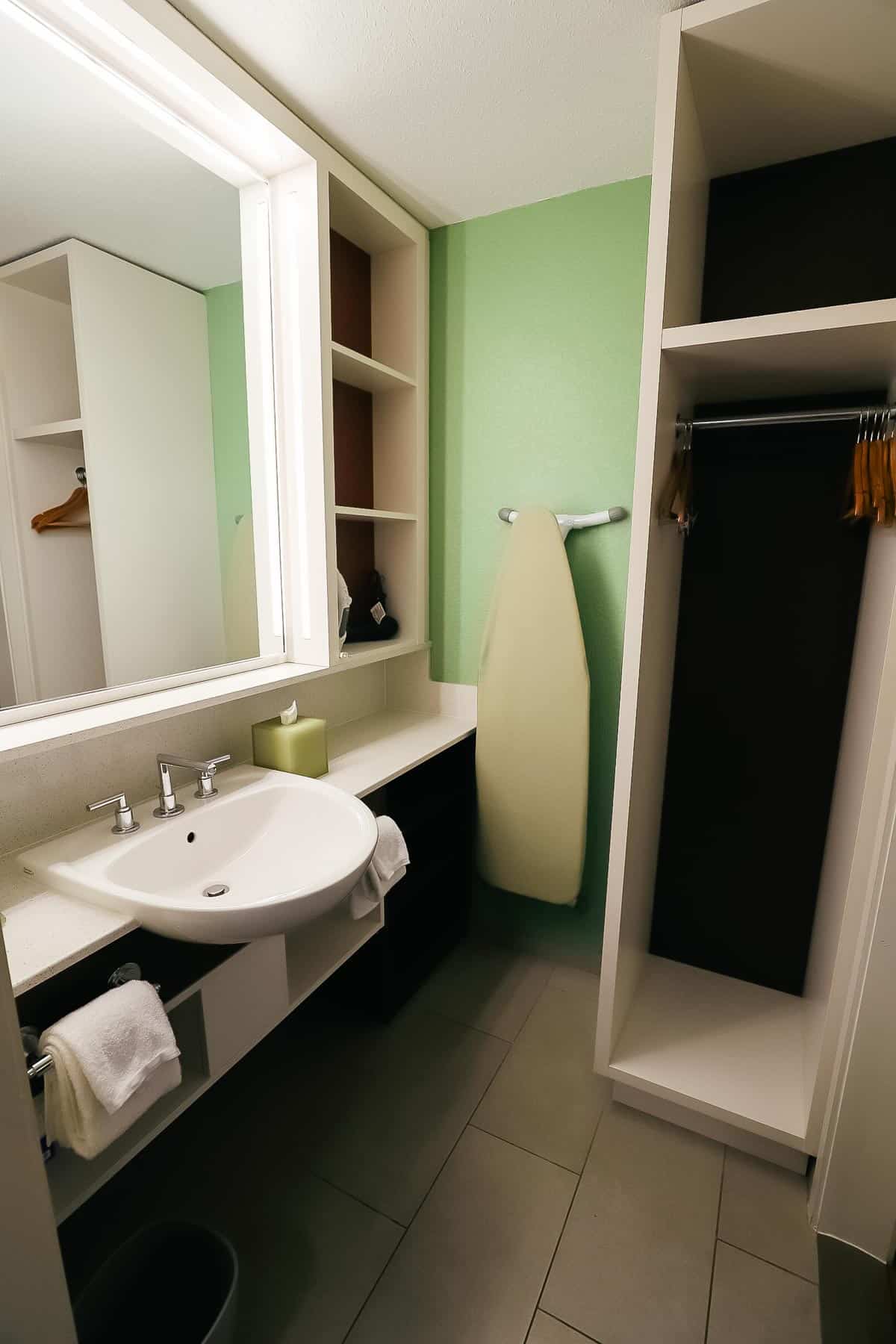 An iron, an ironing board, and a hairdryer are available.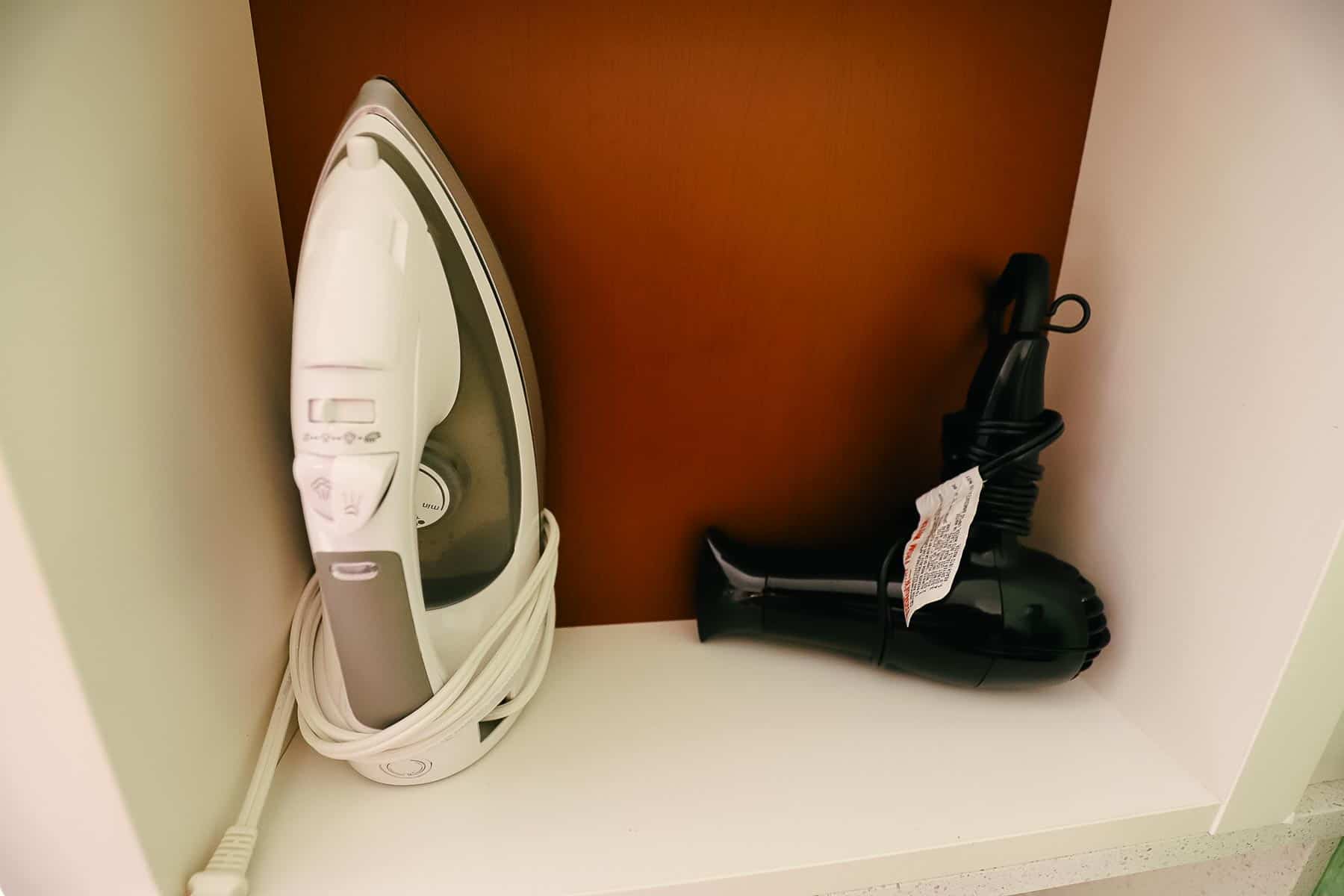 Here is a closer look at the vanity area. We had plenty of towels and toiletries. If you need more, you can call Housekeeping from your room, and they will bring what you need. If it's not something immediate, we usually leave a note for whoever cleans our room the next day.
Since the value resorts don't have private room balconies, a room view could be of the courtyard, pool, or parking area. We had a view of the Country Fair's courtyard area. Yeehaw?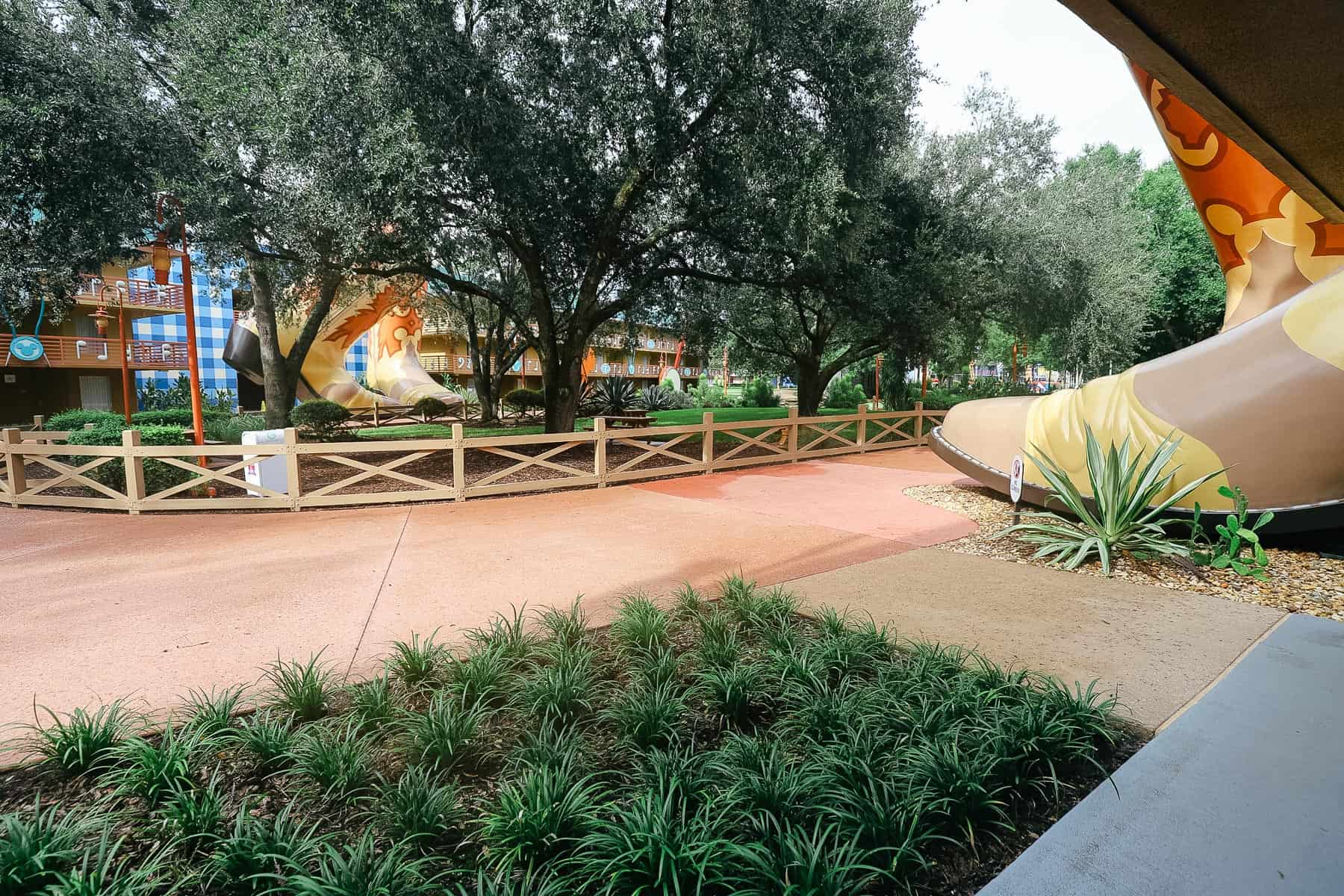 Video of All-Star Music Room
Here is a video tour of the room.
Other Room Types at All-Star Music Resort
Room rates at Disney's All-Star Music fall under three categories: Standard, Preferred, or Family Suites. Our standard room rate for this stay was less than $100.00, which I found reasonable.
However, this stay was toward the end of August. Rates are considerably higher during the busier times of the year.
As far as the walk from Country Fair to the lobby, it wasn't so bad. From the cowboy boots in the courtyard to the center of Melody Hall, it was 0.36 miles, which took less than eight minutes.
Melody Hall is home to the lobby, bus stop, gift shop, and food court. We were the furthest out–so other sections will be a shorter distance.
That said if it were to be pouring down rain or you fear you'll quickly exhaust from all the extra Disney mileage–you might opt for a preferred room. Preferred rooms are closer to the front of the resort. If you want to compare the difference, we stayed in a preferred room at All-Star Movies.
Final Thoughts
Ultimately, we enjoyed our room at Disney's All-Star Music Resort. If you would like to learn more information about the resort, we have a complete guide:
Or you might enjoy these articles:
In the Comments
What do you think of the rooms at Disney's All-Star Music? Could you spend a week here?