BouTiki Gift Shop at Disney's Polynesian Resort
BouTiki is the gift shop at Disney's Polynesian Village Resort. This tiki-themed gift shop is on the lower level of the Great Ceremonial House, the Polynesian's lobby.
Disney's Polynesian is home to two gift shops. Boutiki is more of an apparel store carrying men's and women's fashions and other Disney-branded merchandise and souvenirs.
Moana Mercantile is the other gift shop at Disney's Polynesian. That shop is located on the lobby's second floor and offers sundries, groceries, and other care items you might need during your stay. A separate portion of the store carries children's apparel, toys, and plush.
As for BouTiki, you can expect an impressive selection of items. The gift shop also carries higher-end men's and women's fashion. It's kind of like a boutique. Hence, the name BouTiki. You can see where the 'tiki' took over the name in the picture of the sign below.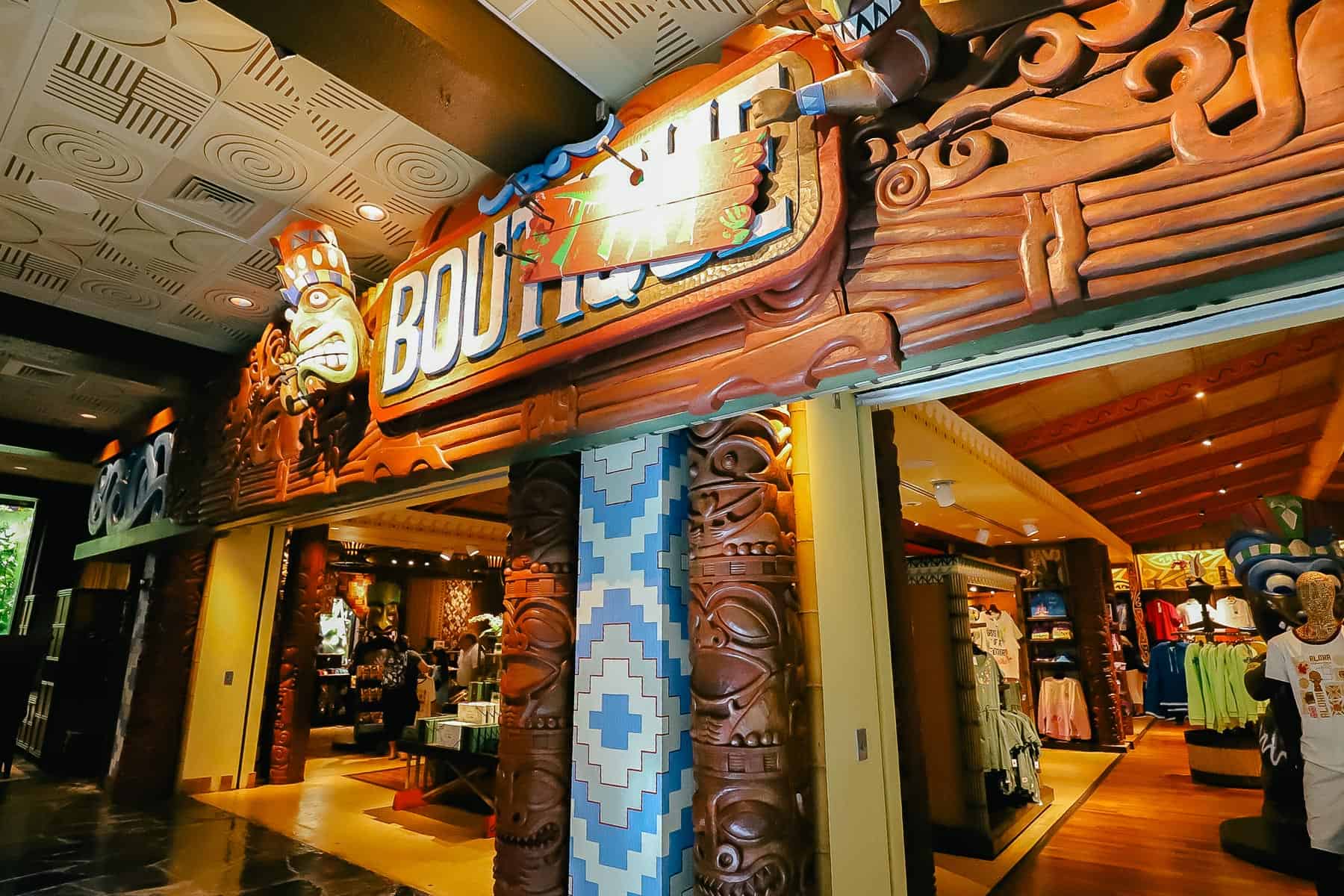 Boutiki is a considerably sizeable shop with a good deal of inventory.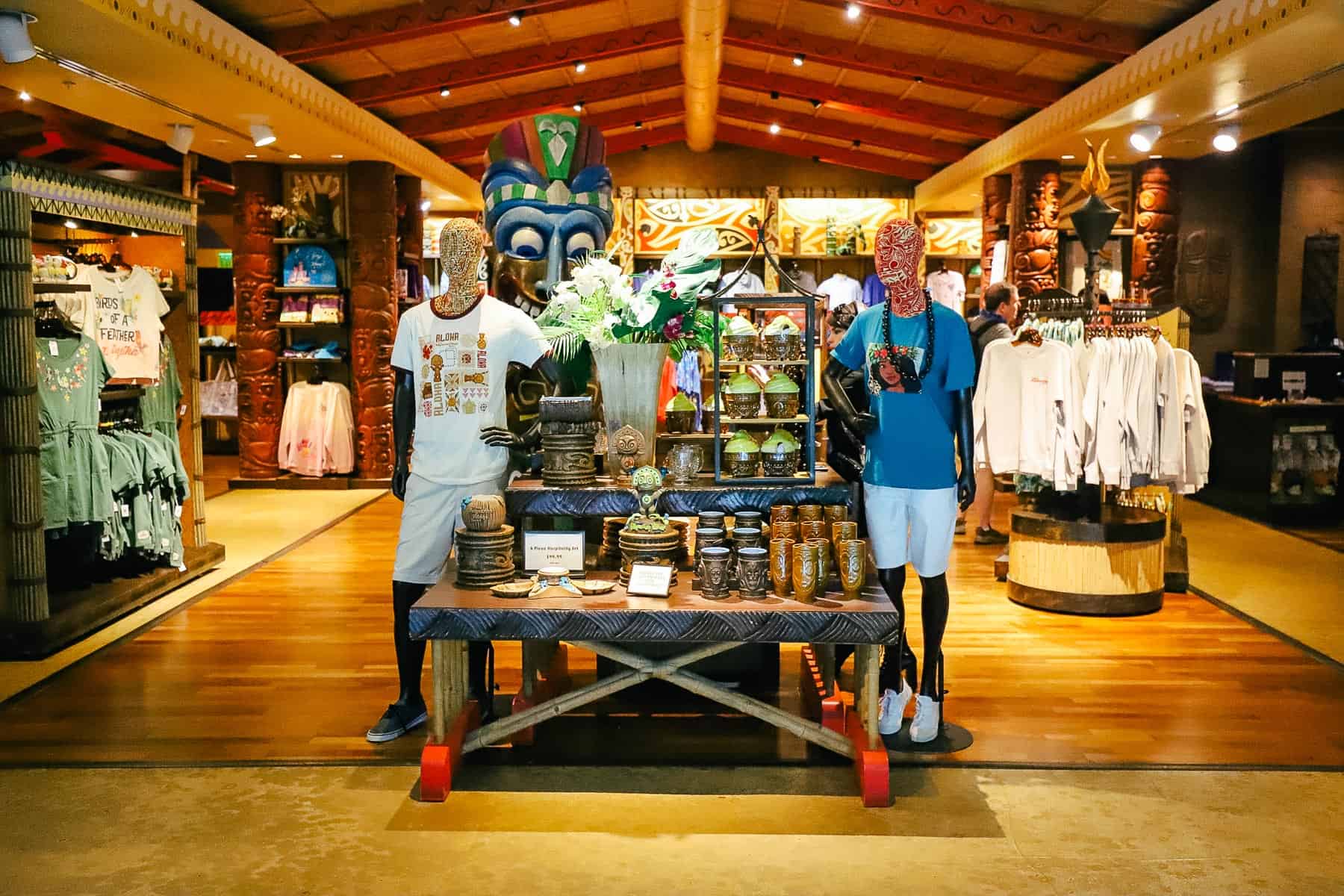 A giant Tiki statue greets you at the central entrance. I don't know about you, but he always makes me smile.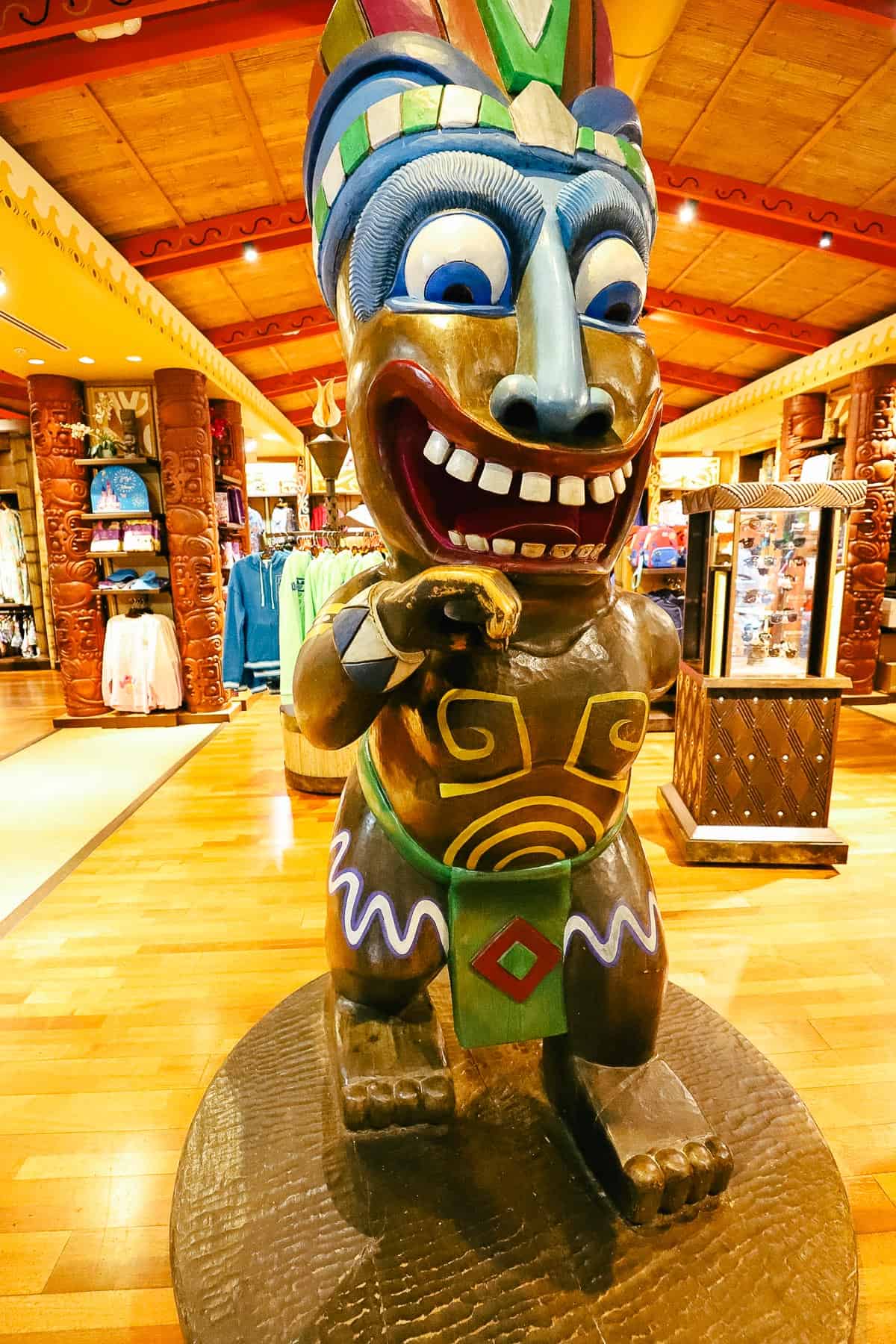 Toward the front of the store, you'll find a Hawaiian chocolates and coffee display.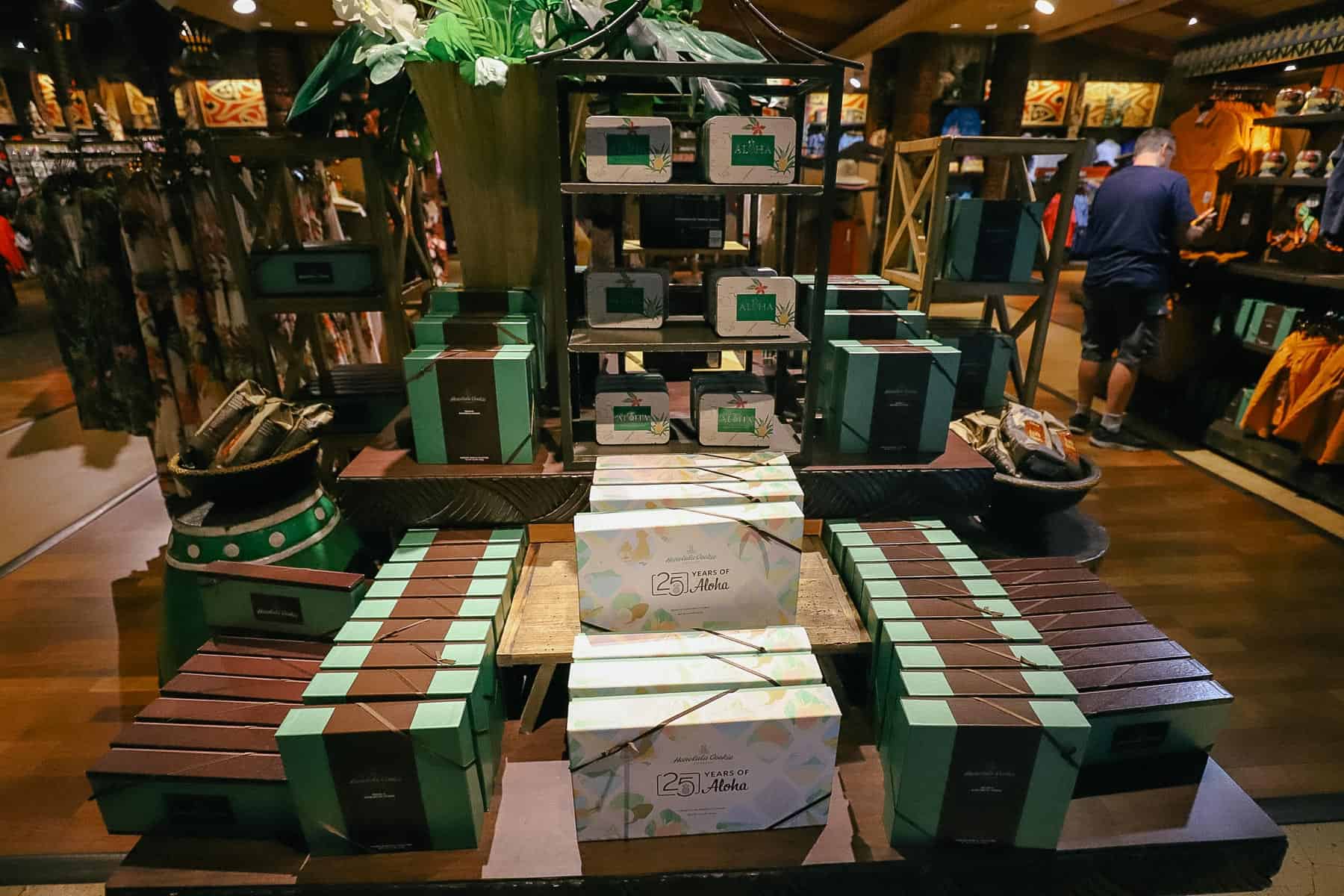 A variety of treats are available. They are made by the Honolulu Cookie Company.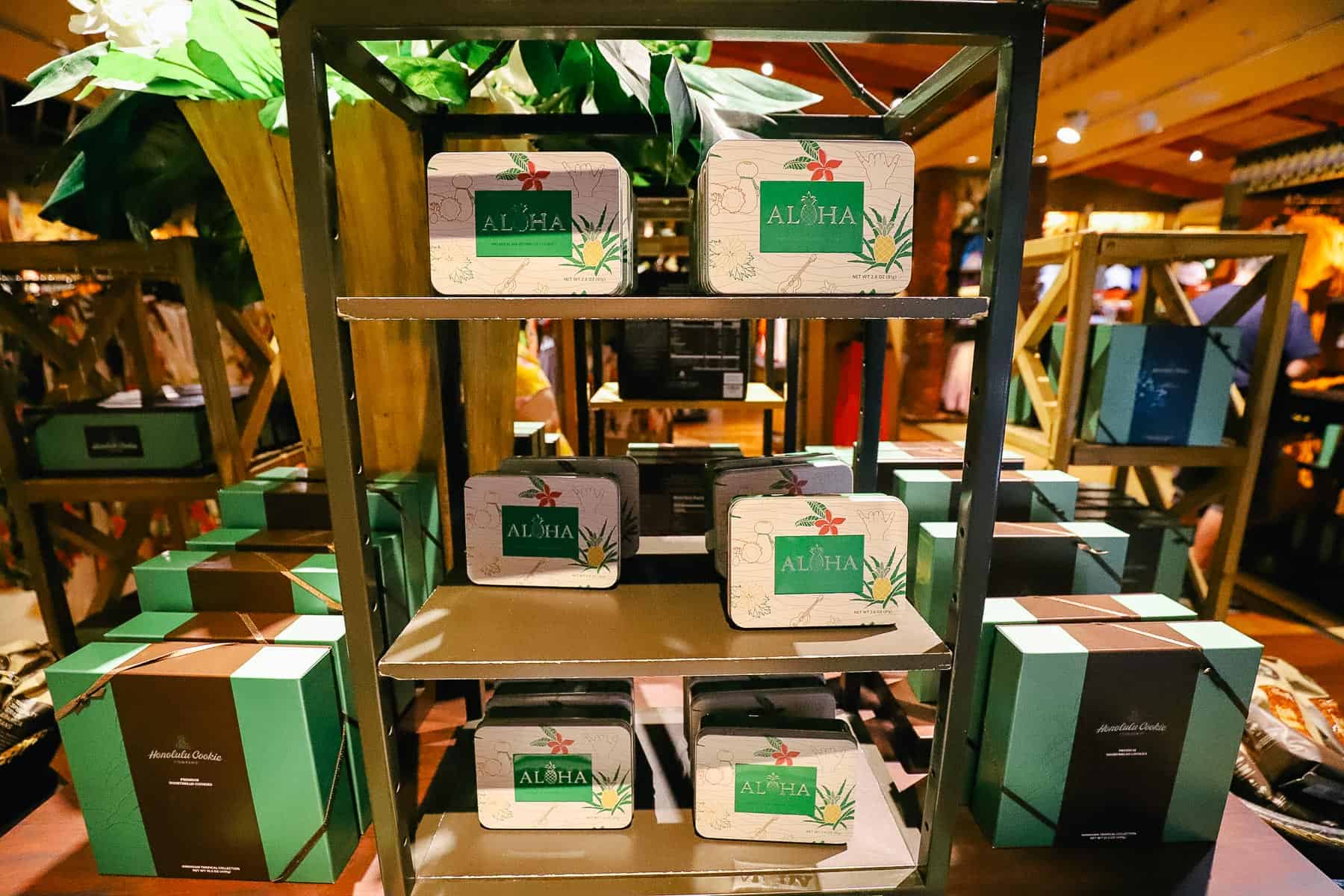 Joffrey's has a Kona Blend coffee available for purchase.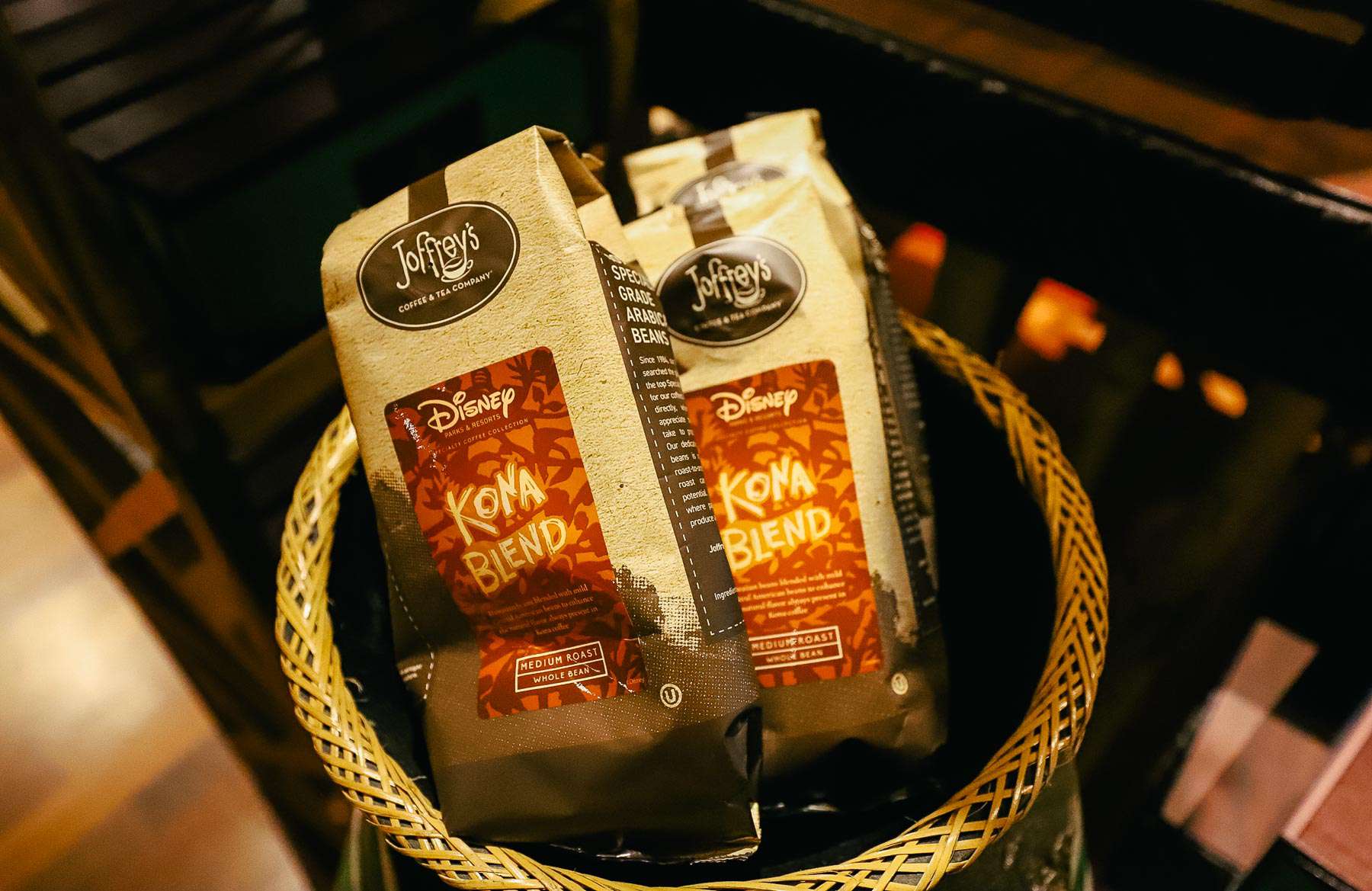 BouTiki always has an excellent selection of Tommy Bahamas women's fashion. They also have a few Lily Pulitzer, Vineyard Vines, and Roxy items.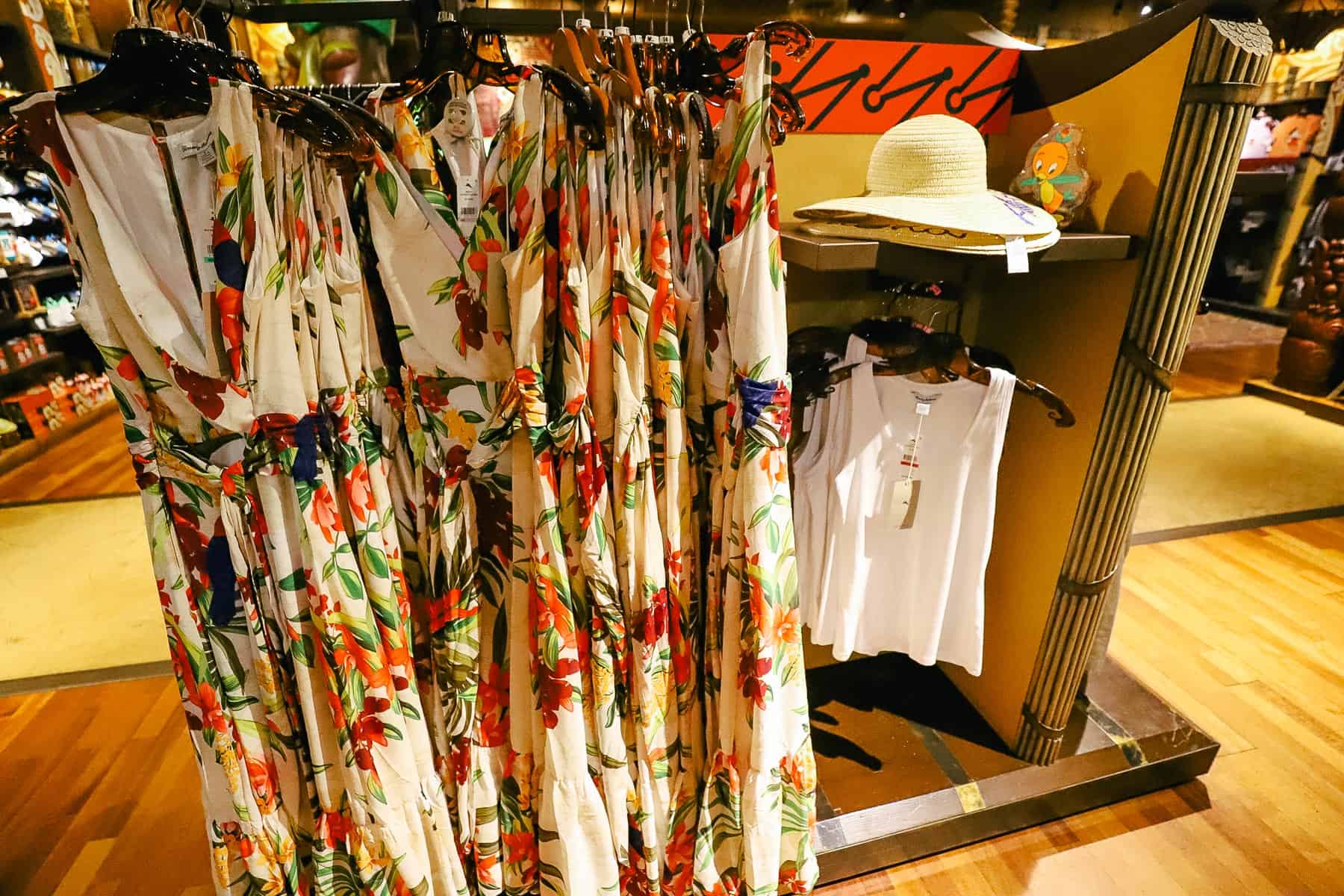 Since Disney's Polynesian is a tropical resort, you might find a few Disney-themed items.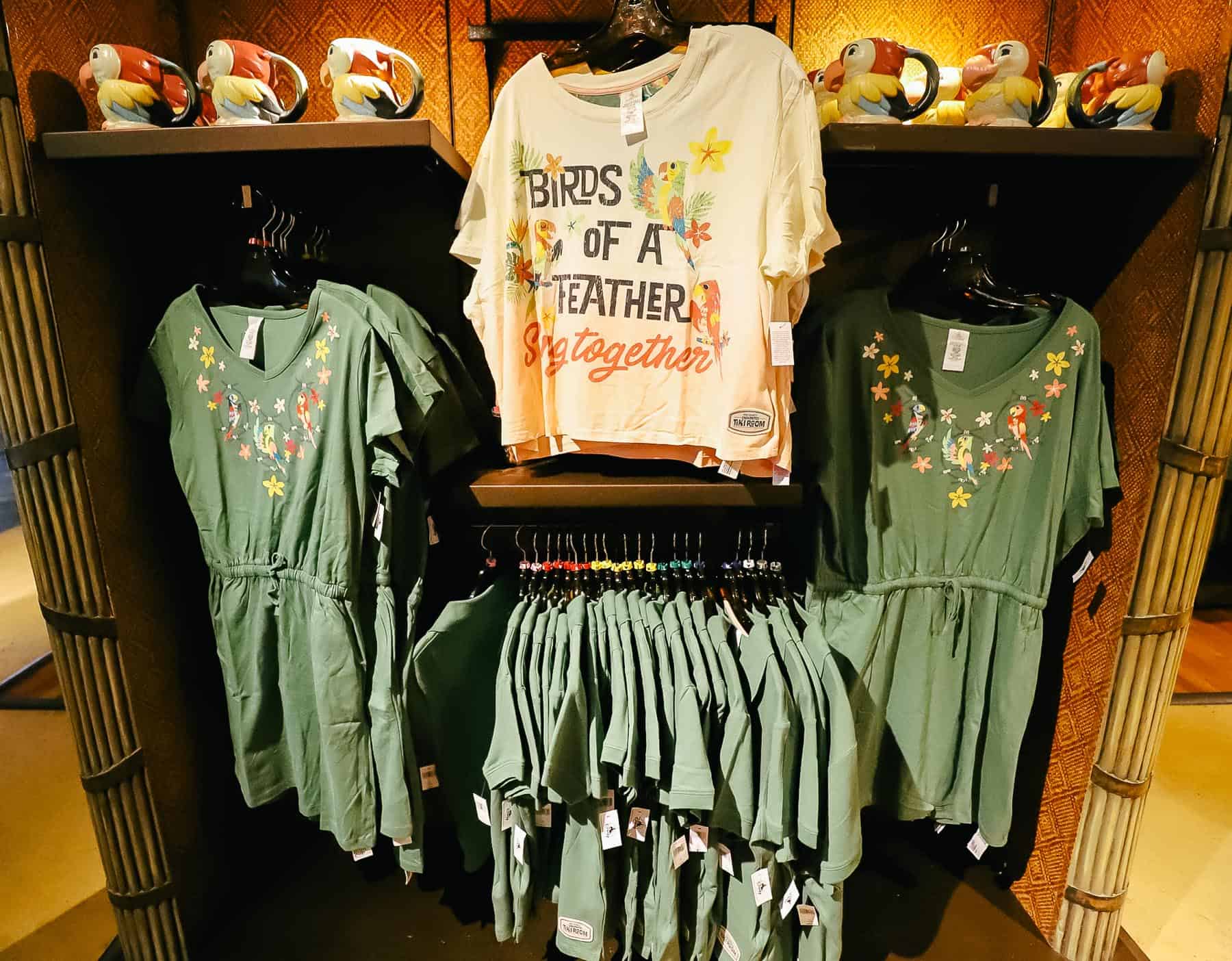 For instance, most of these items have Walt Disney's Enchanted Tiki Room branding.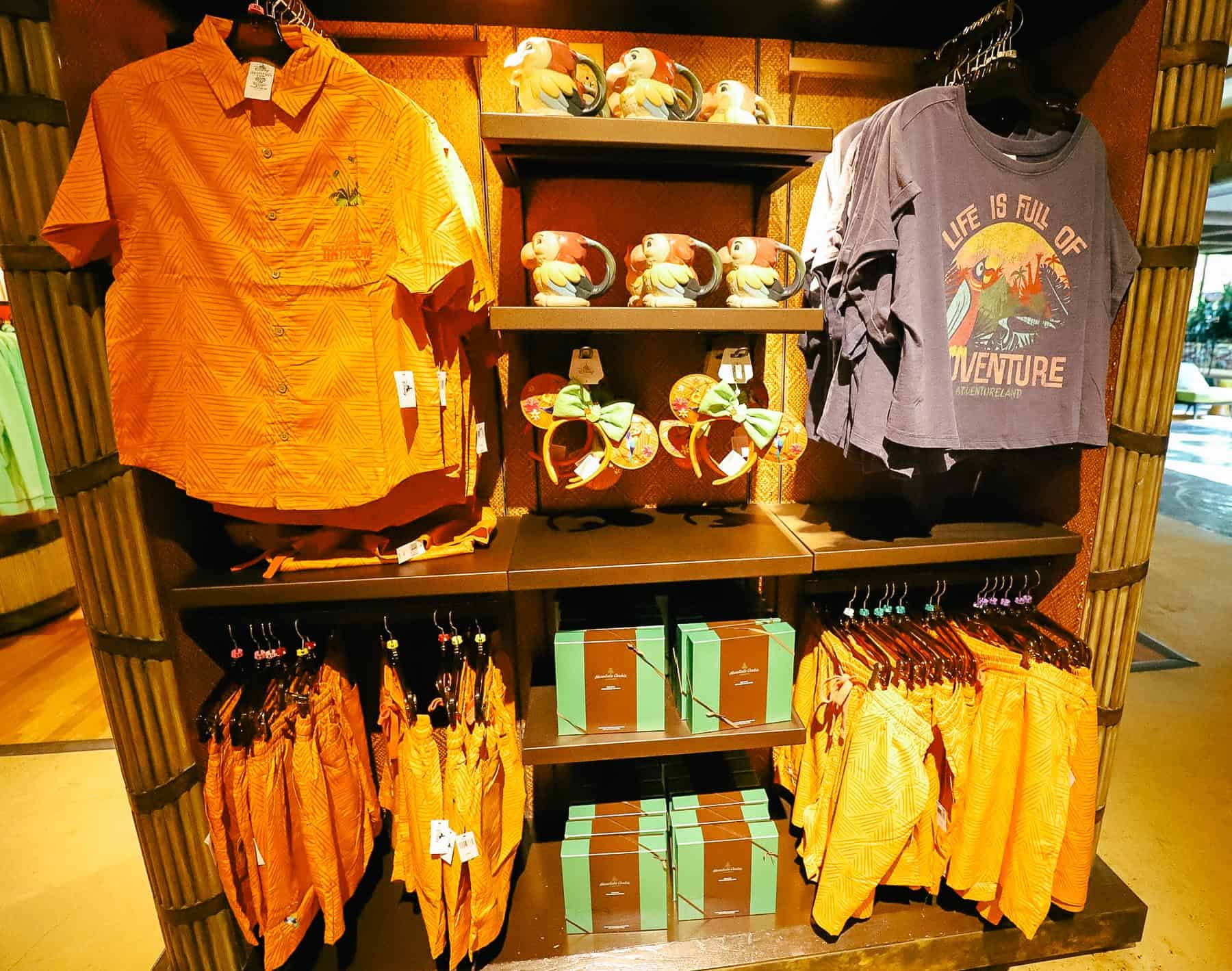 Boutiki also usually has a fun selection of Orange Bird items.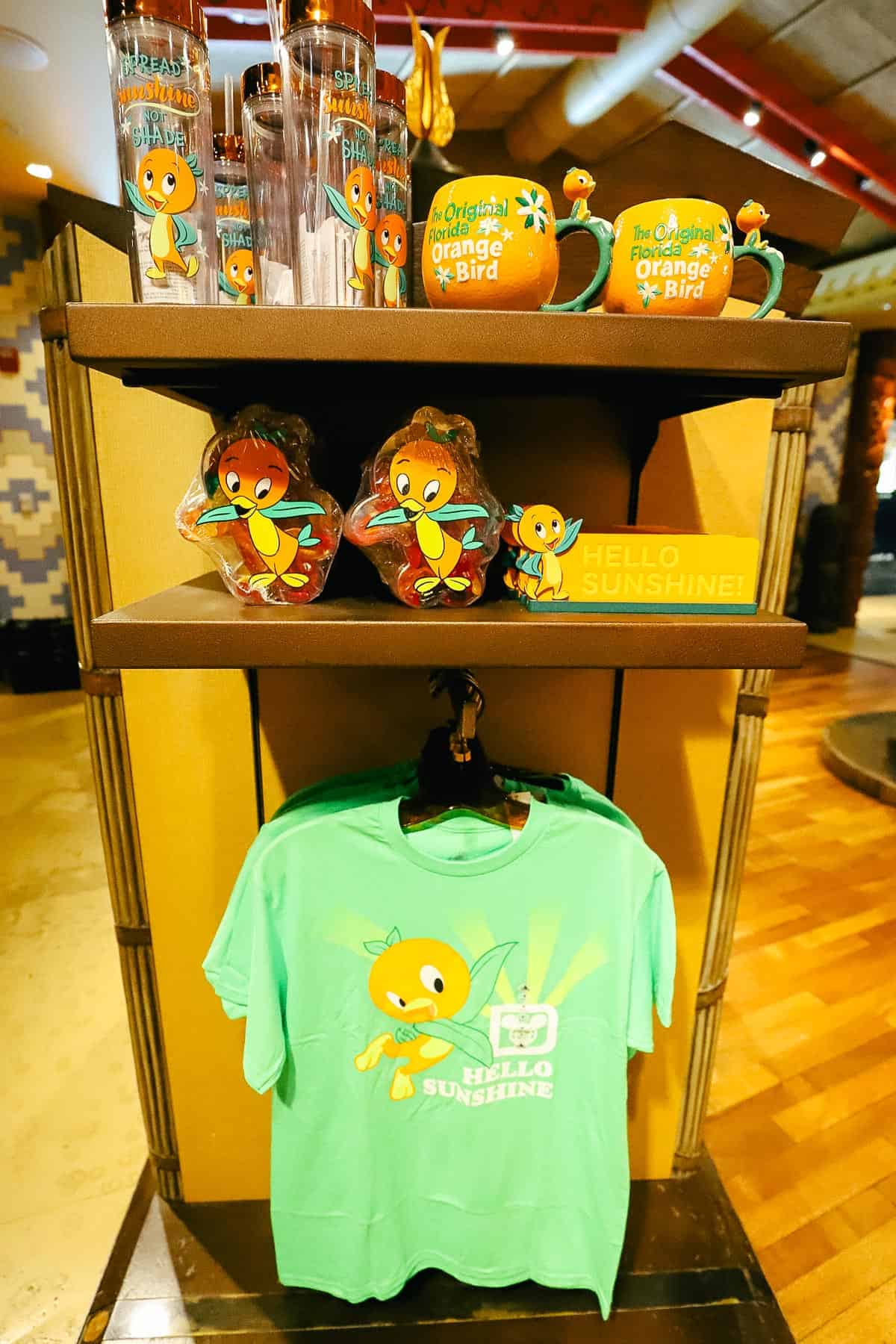 Perhaps the most popular thing at BouTiki is the selection of resort-branded merchandise.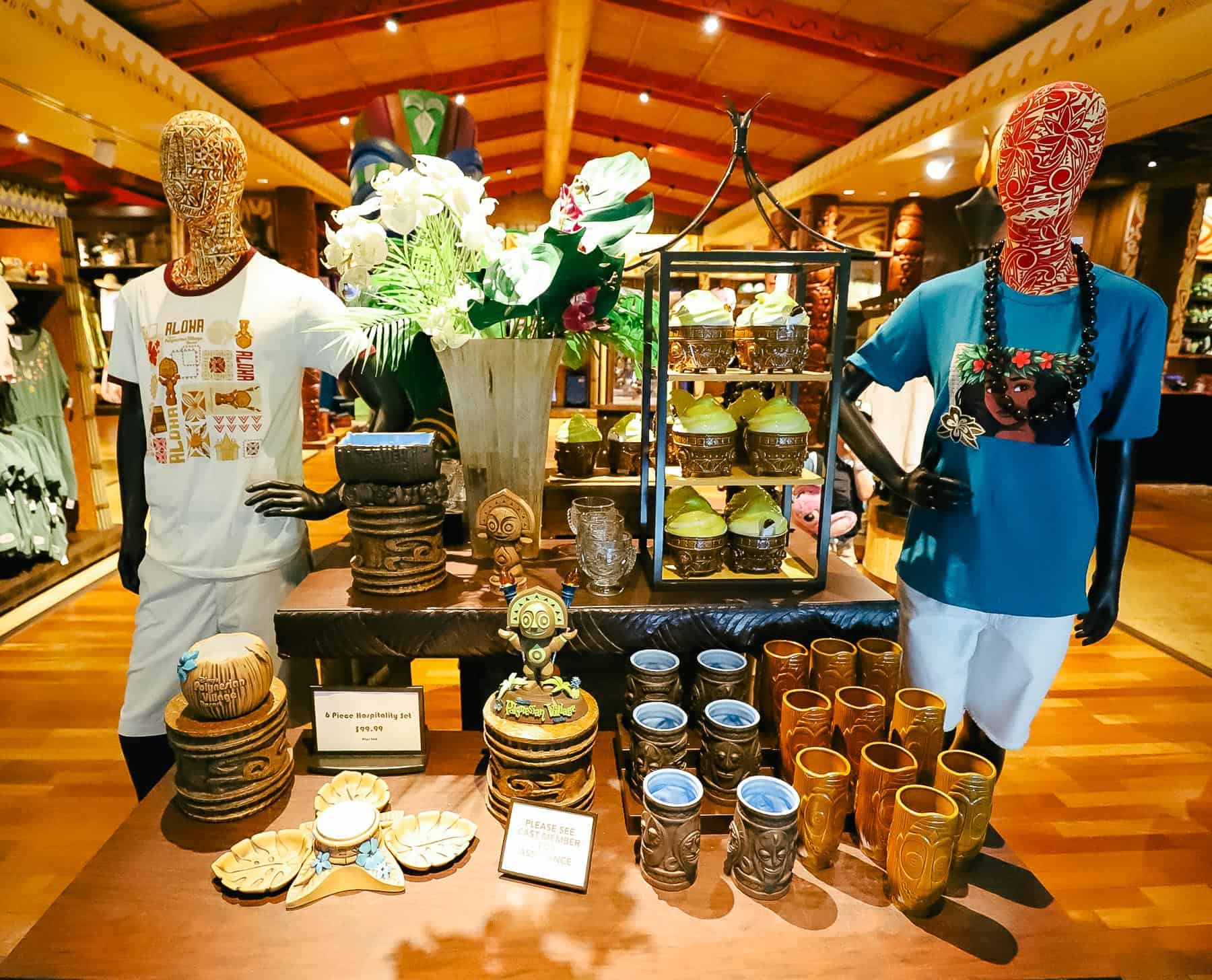 You can expect Polynesian dresses, t-shirts, and little tiki statues, among other things.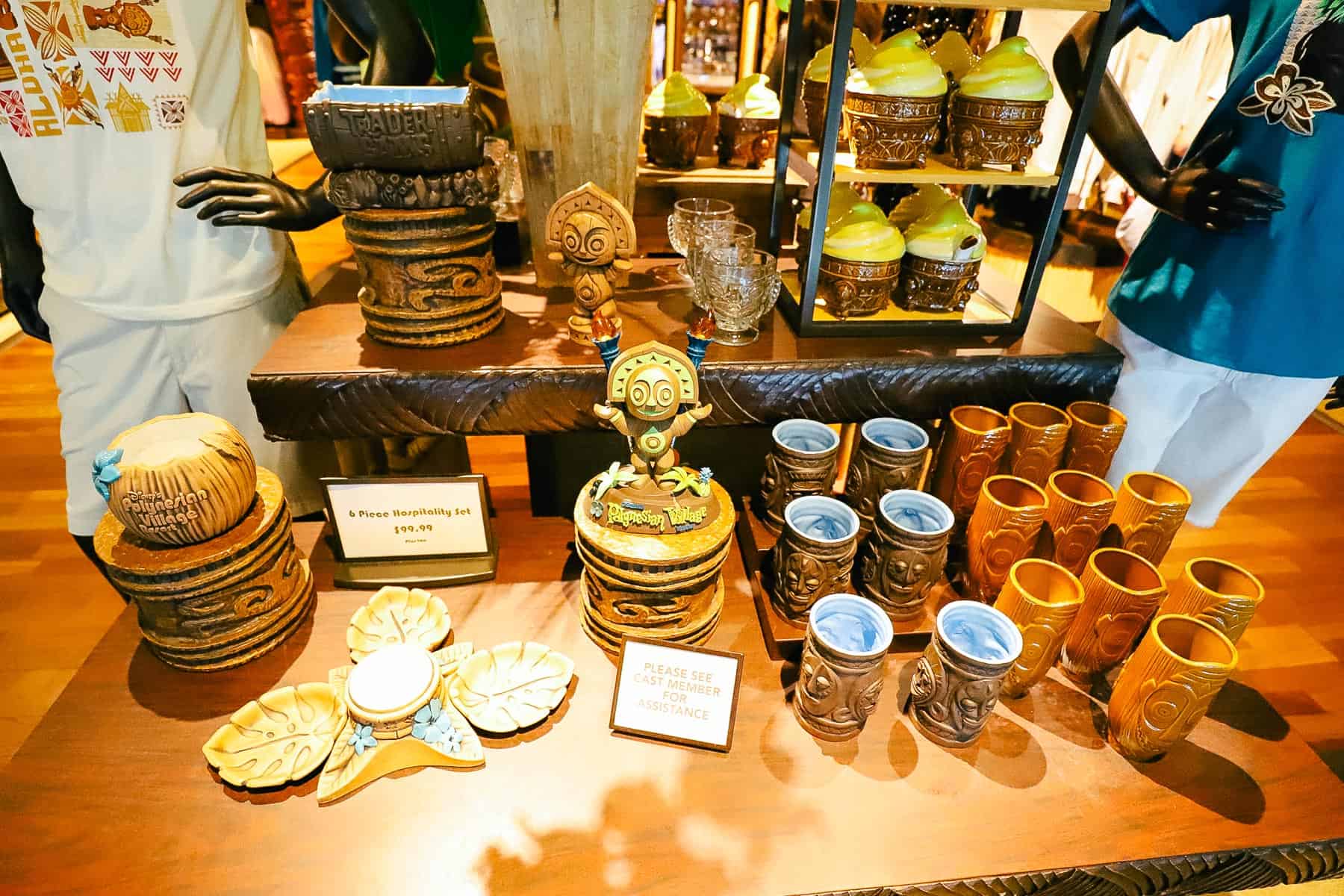 Here is a newer shirt that says Aloha on the back. Tiki ears hang next to them.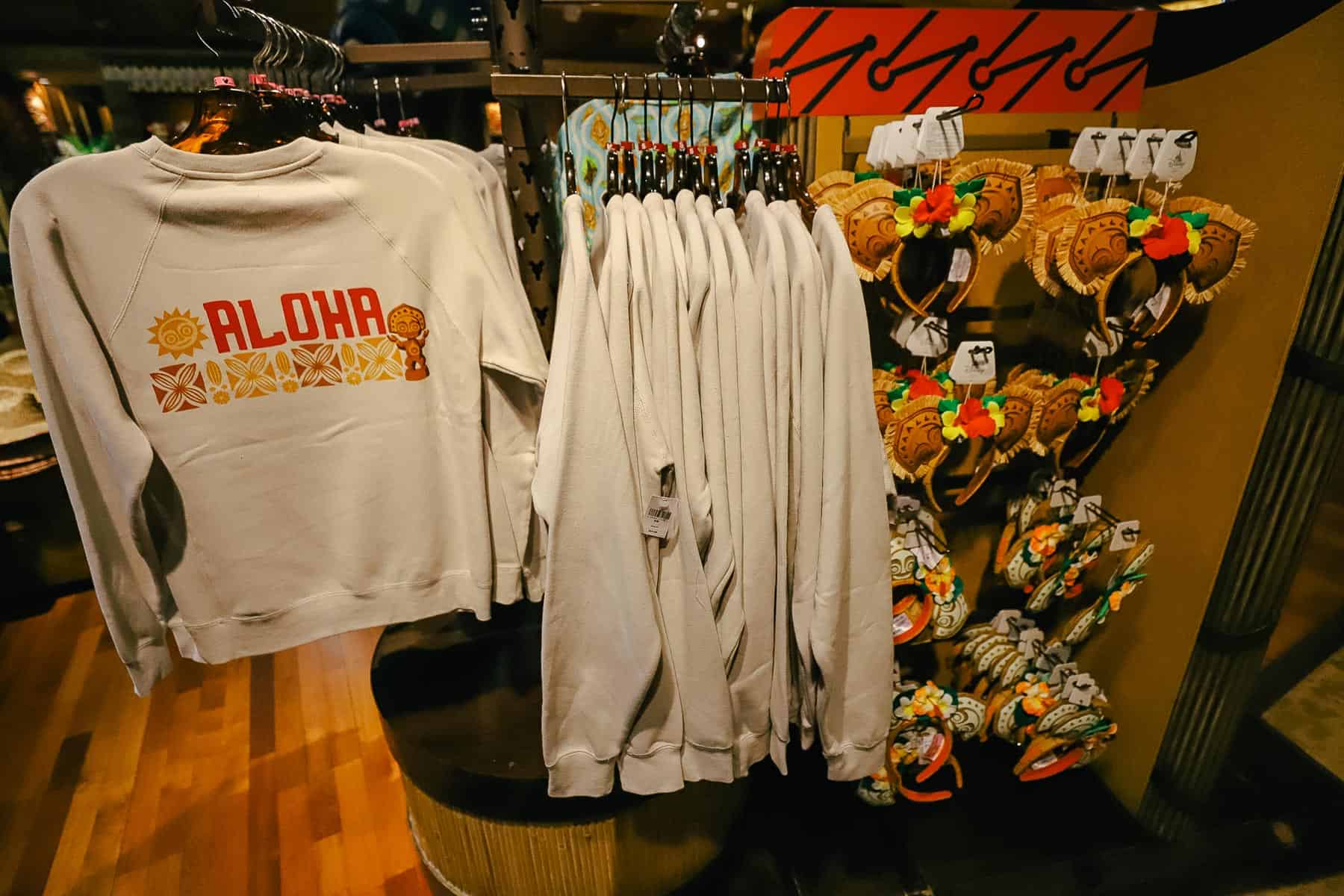 The front of the sweatshirt is simple with Disney's Polynesian Village Resort's logo.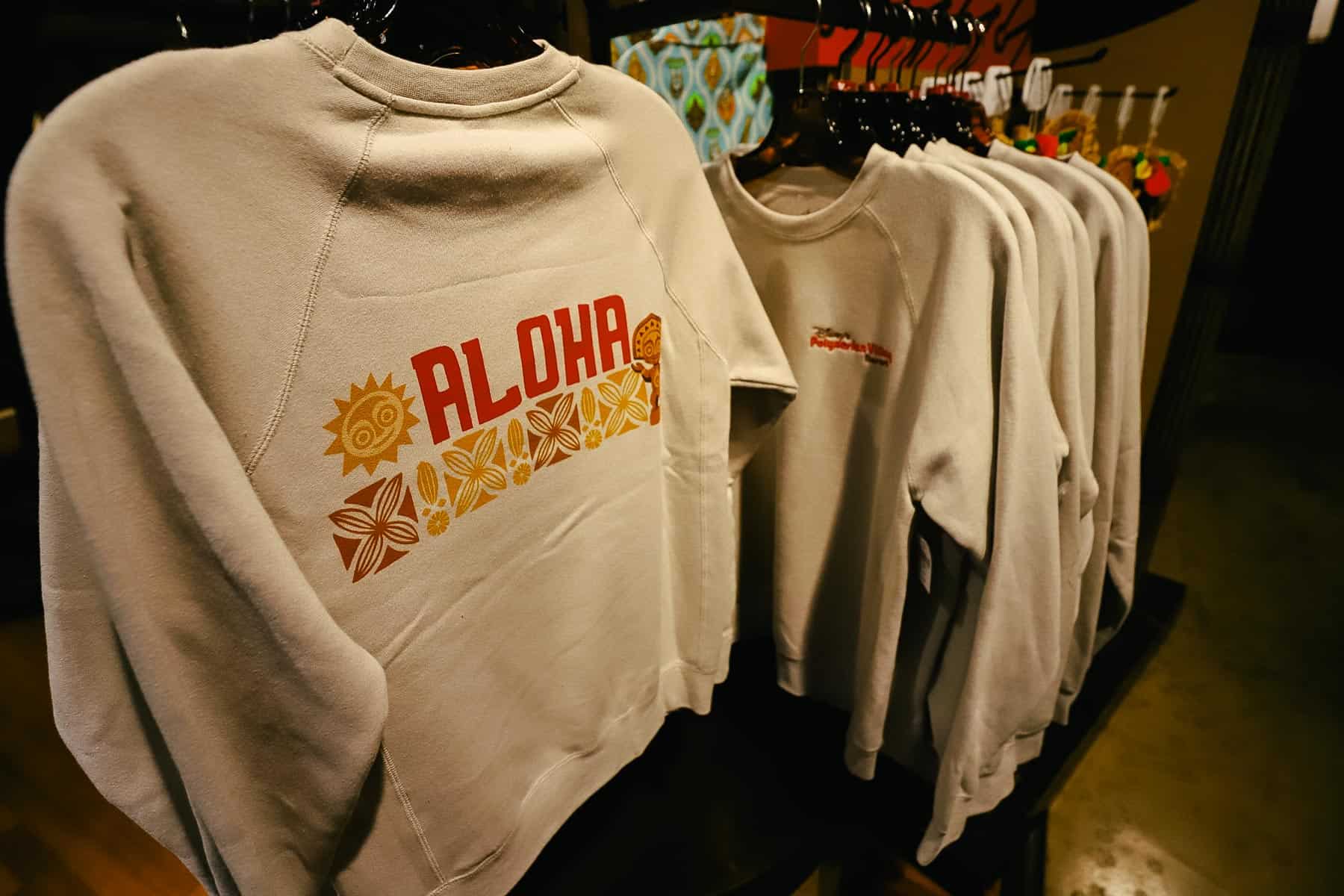 That tiki lamp in the photo below is pretty popular. A few years ago, it had a pretty bad reputation for arriving broken when guests had it shipped. But I haven't heard anything lately. The Polynesian robe would make an excellent gift for anyone who enjoys the comfort of a robe.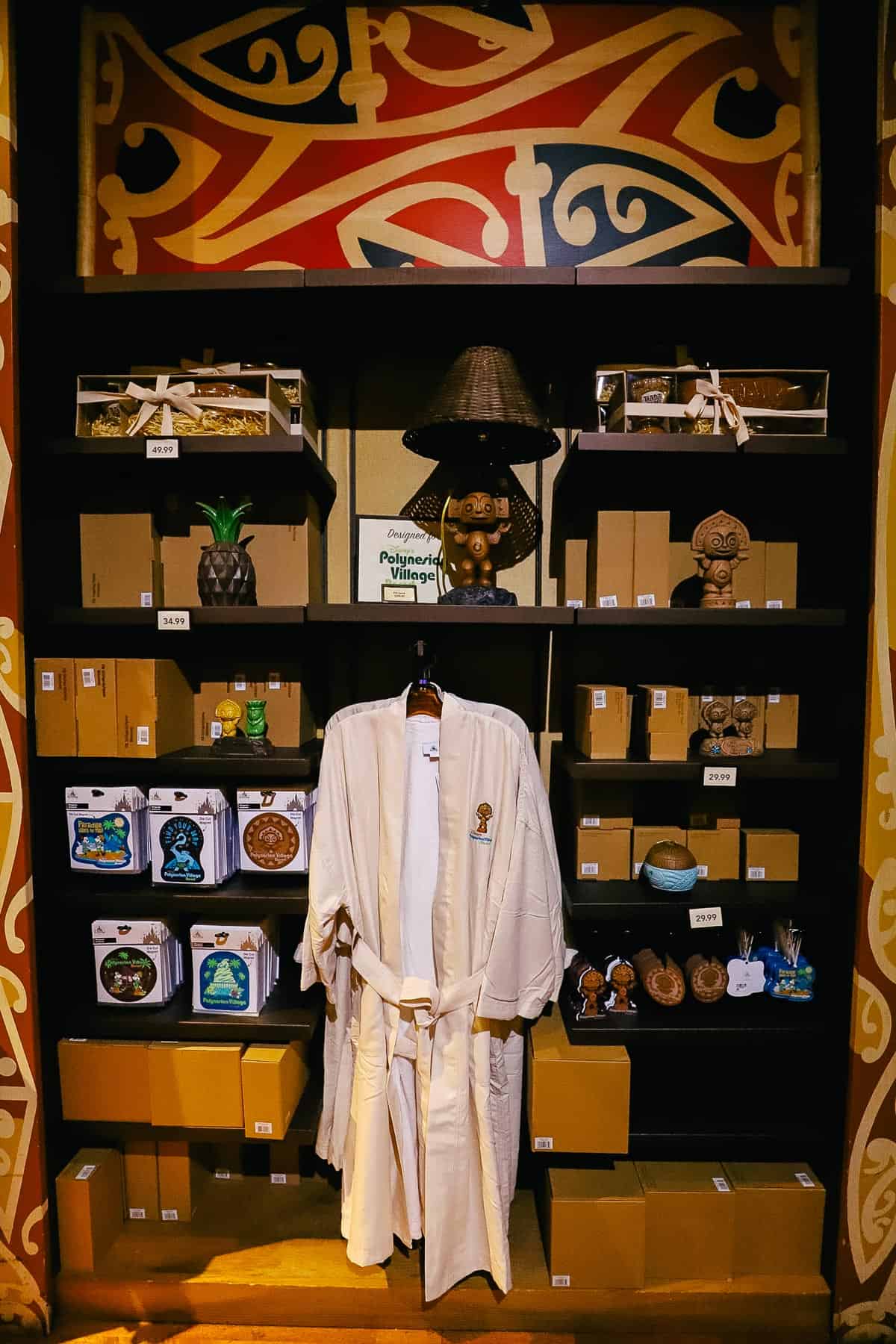 They didn't have much artwork during our last visit. But they did have a large selection of Poly-branded items for the home.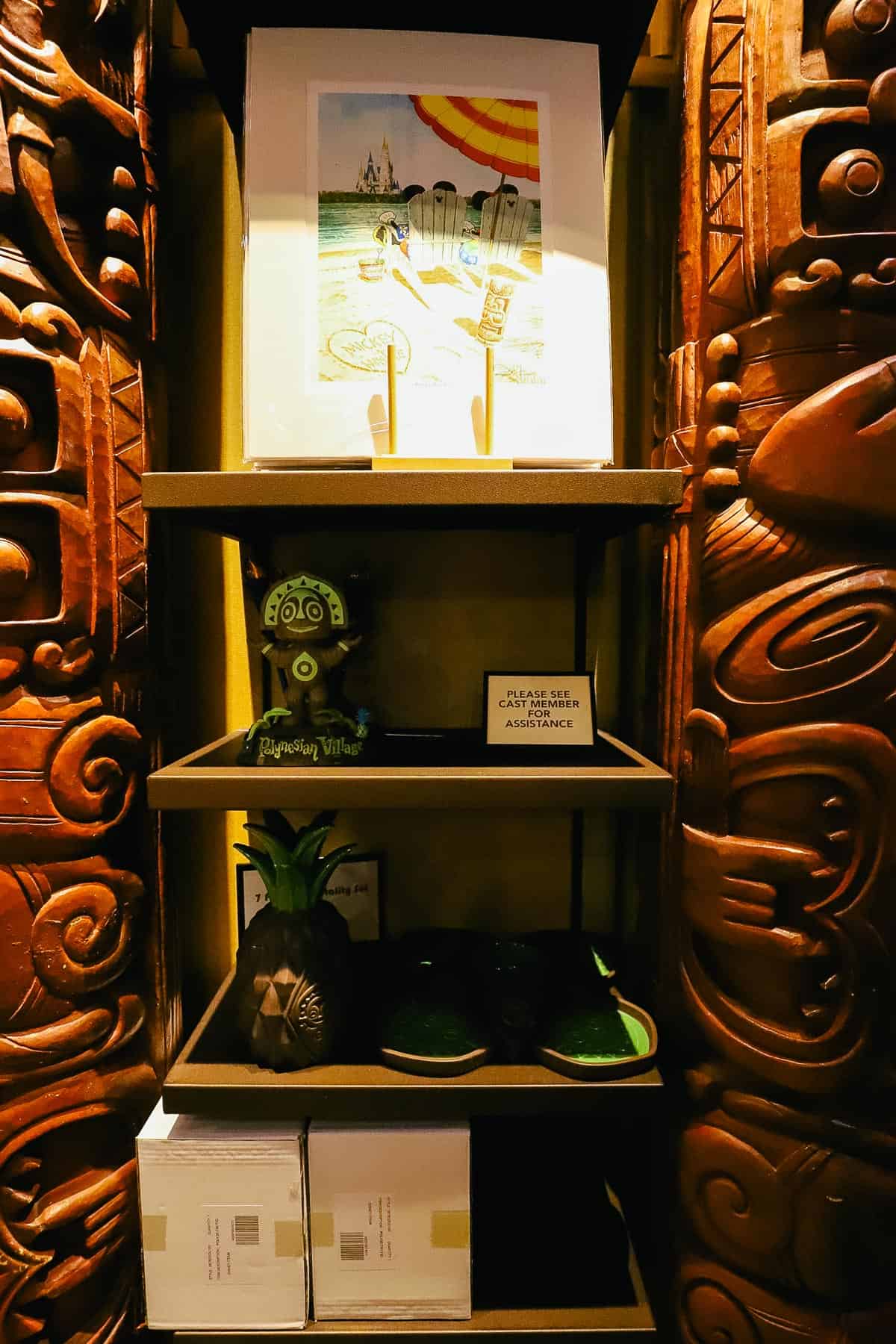 Here are a few more things. Is it just me, or could they do better on the designs? I would love to have a decent Polynesian t-shirt. But these are just kind of meh, and they are very thin.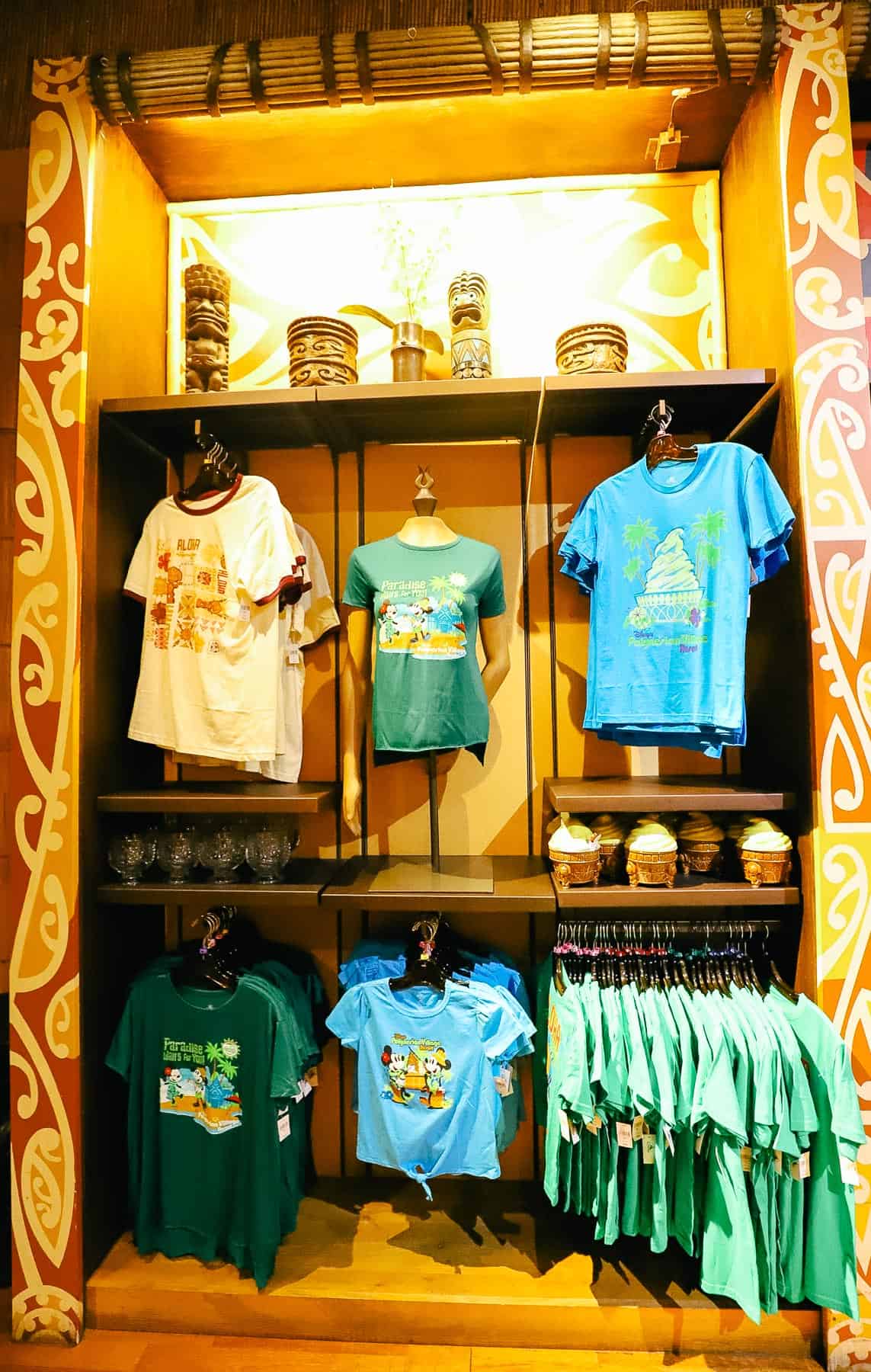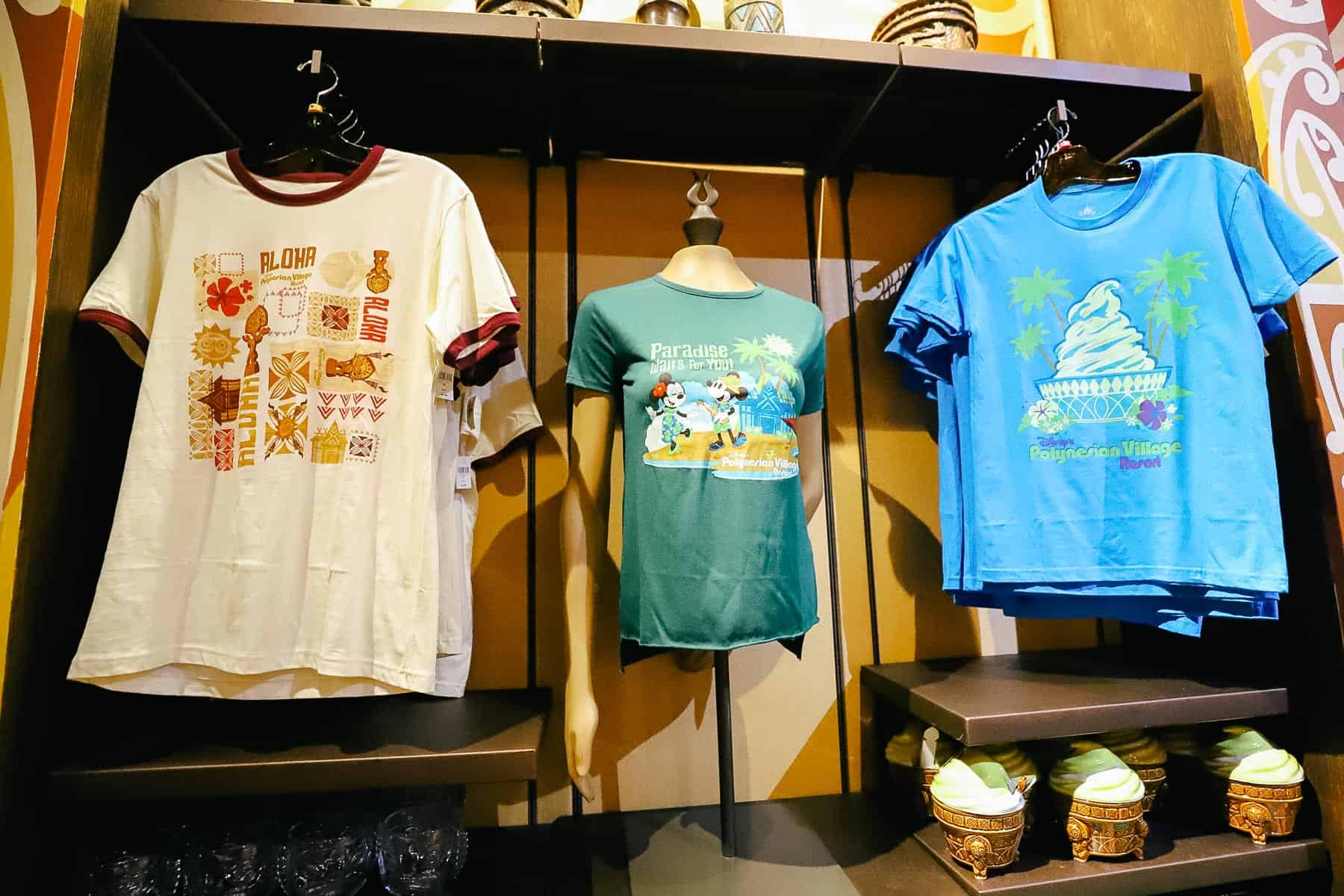 Here are a few Trader Sam's and tiki items.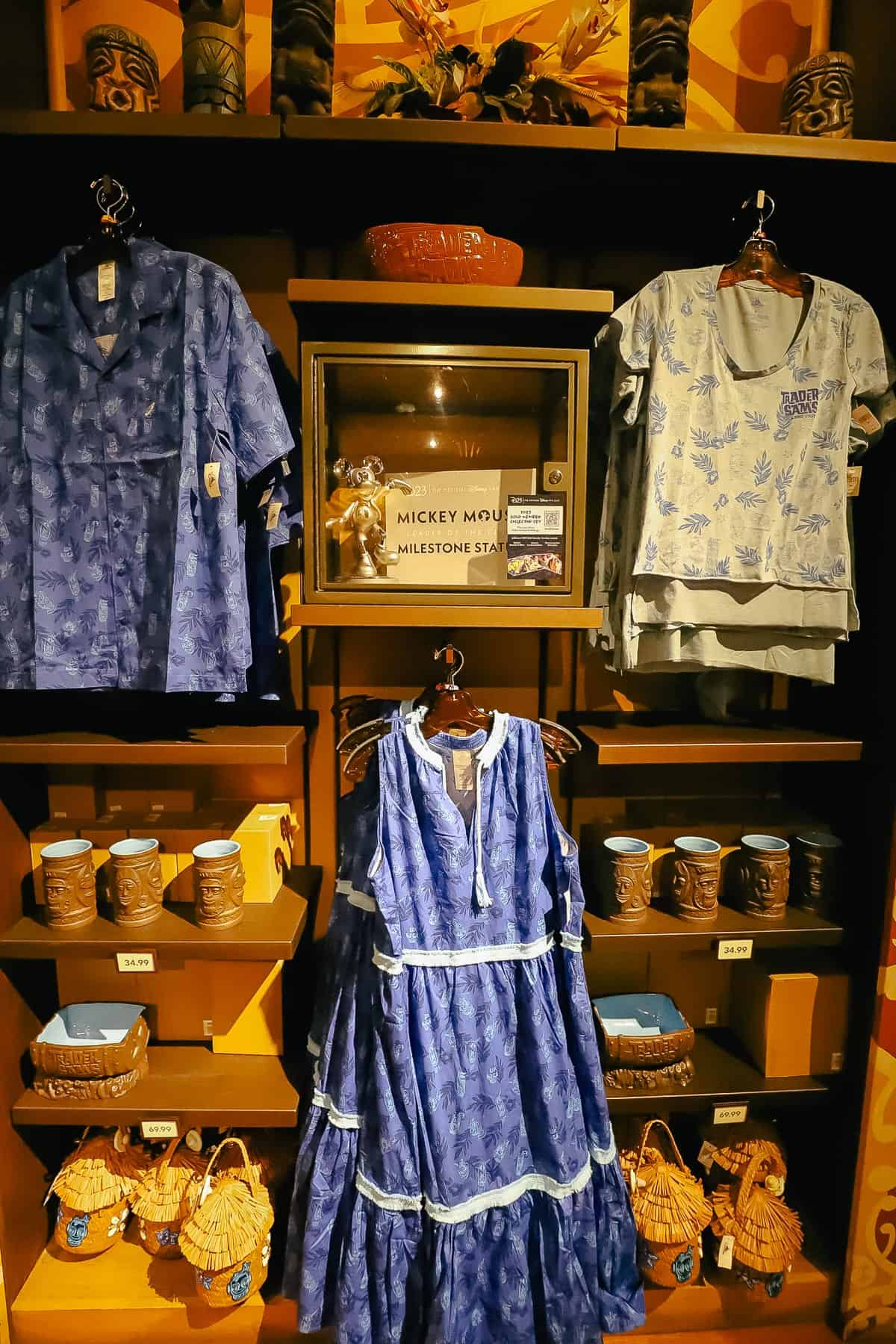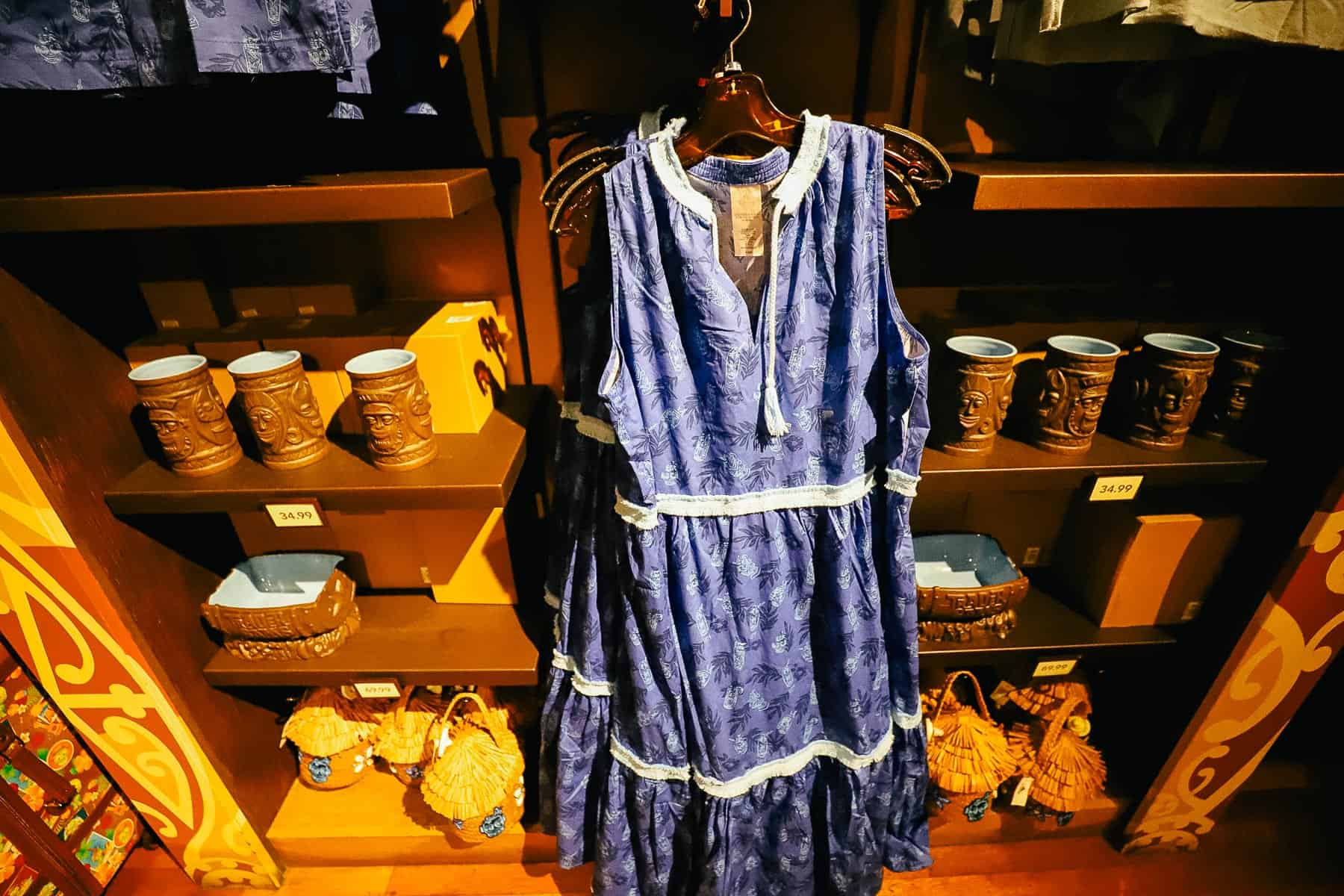 Fans of Duffy and Friends will want to check out the Aulani-branded merchandise. Most of these items feature 'Olu Mel.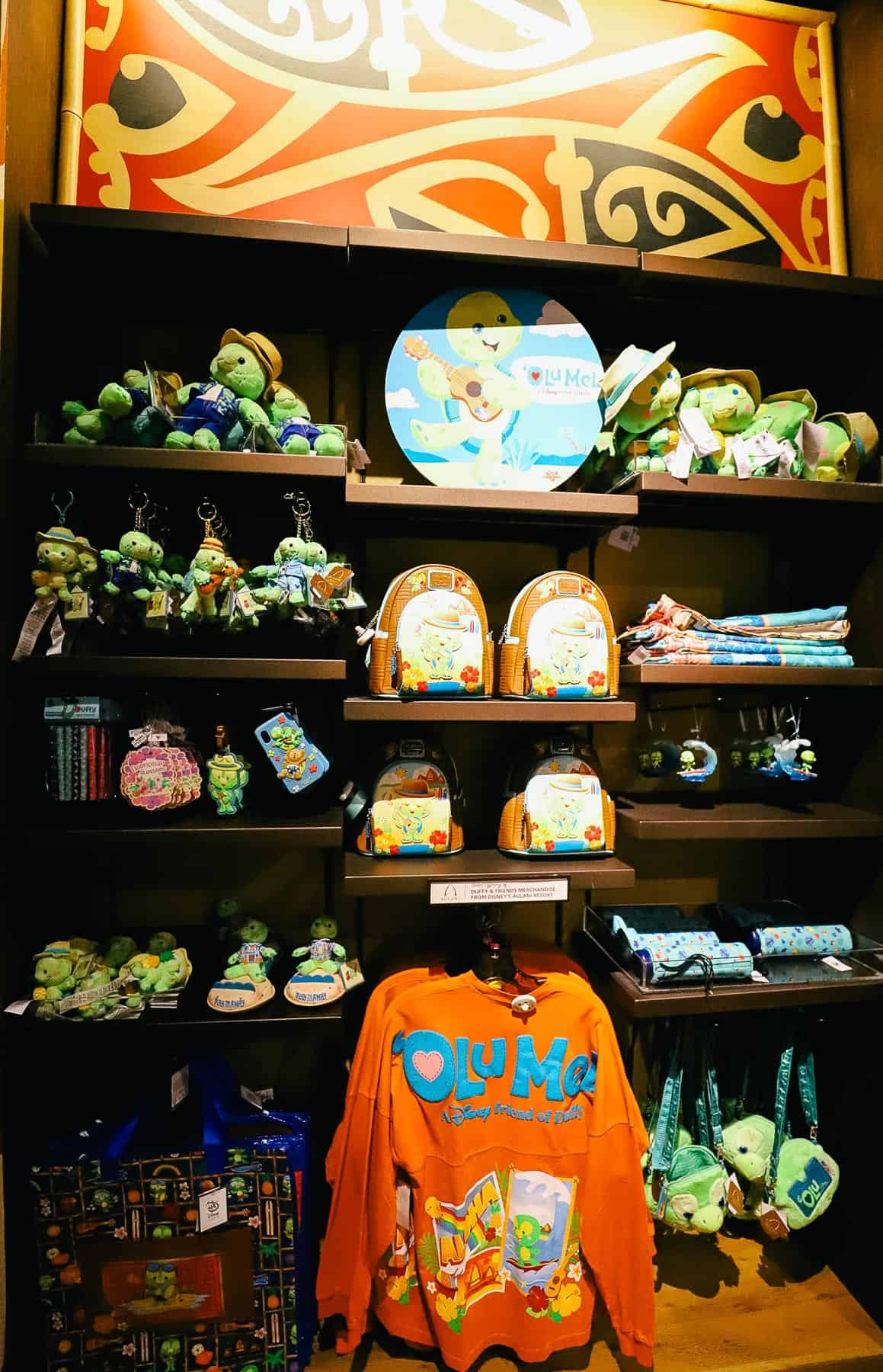 See what I mean? So cute.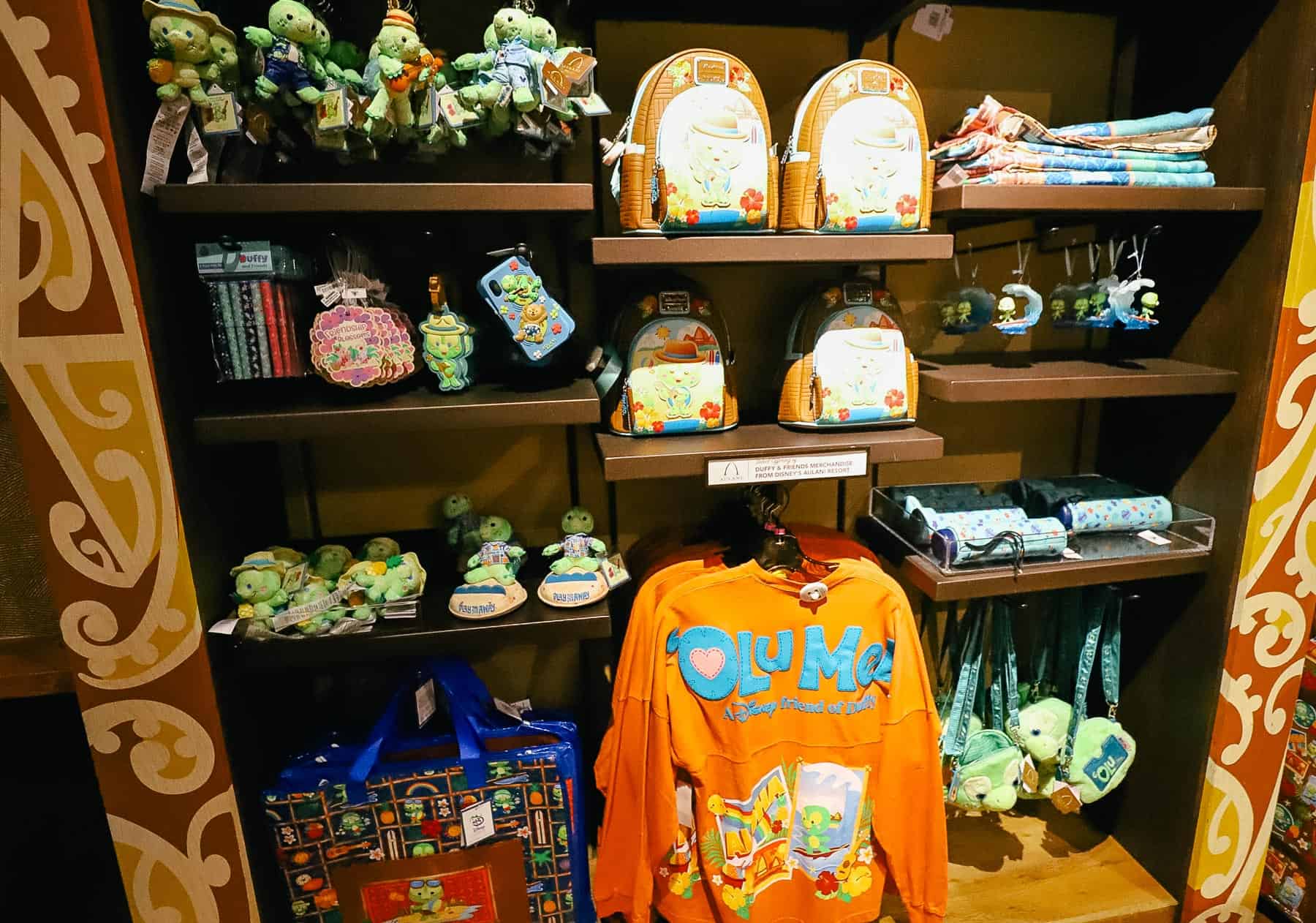 This selection of merchandise is located near the entrance to Boutiki, closest to Captain Cook's.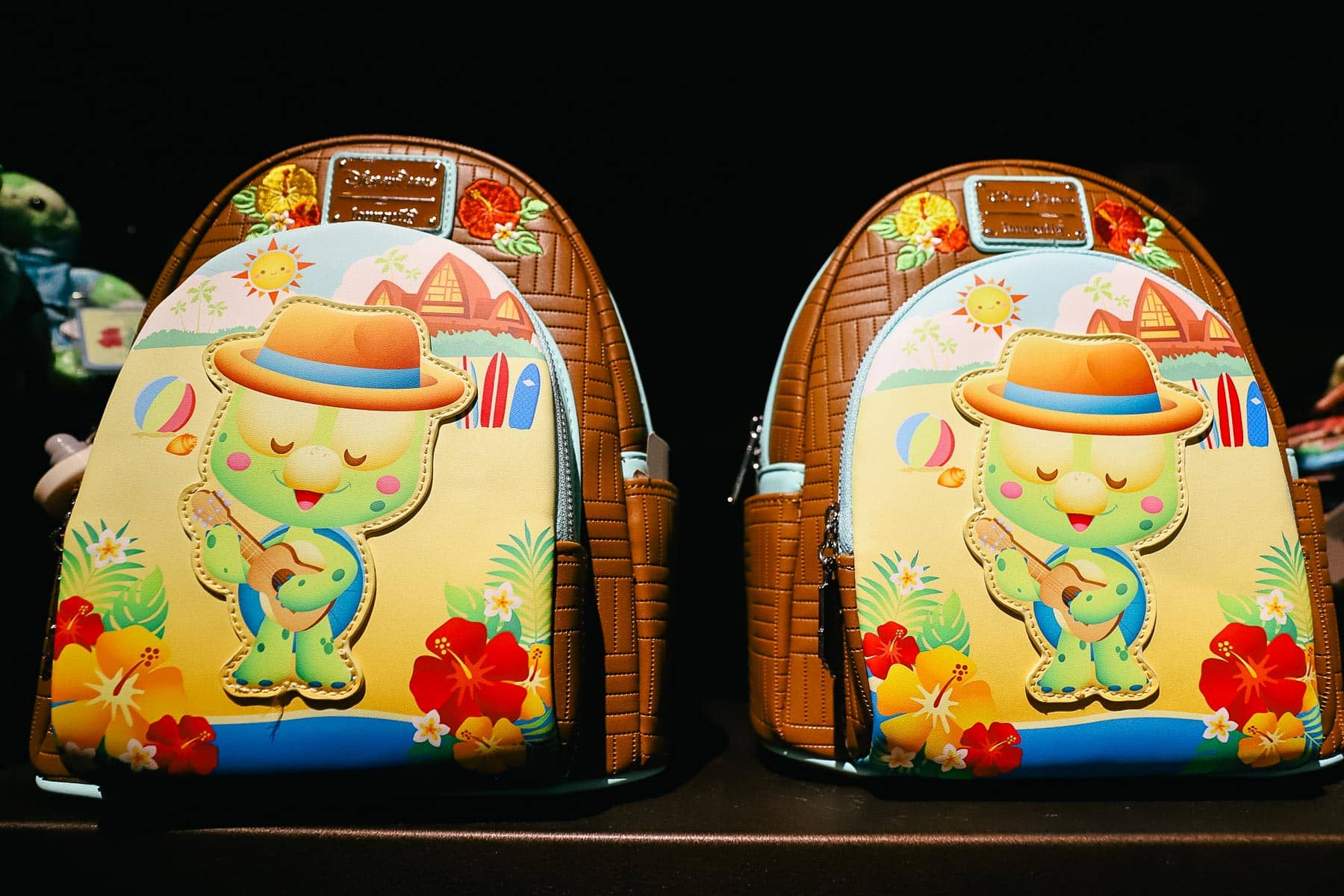 Boutiki is so large it takes up the entire length of the lobby. We stop in fairly often to browse the merchandise. It's an excellent place to kill some time if you find yourself amid a torrential downpour. You could shop, grab a bite to eat, or get one of those tropical drinks that come in a pineapple from Tambu Lounge.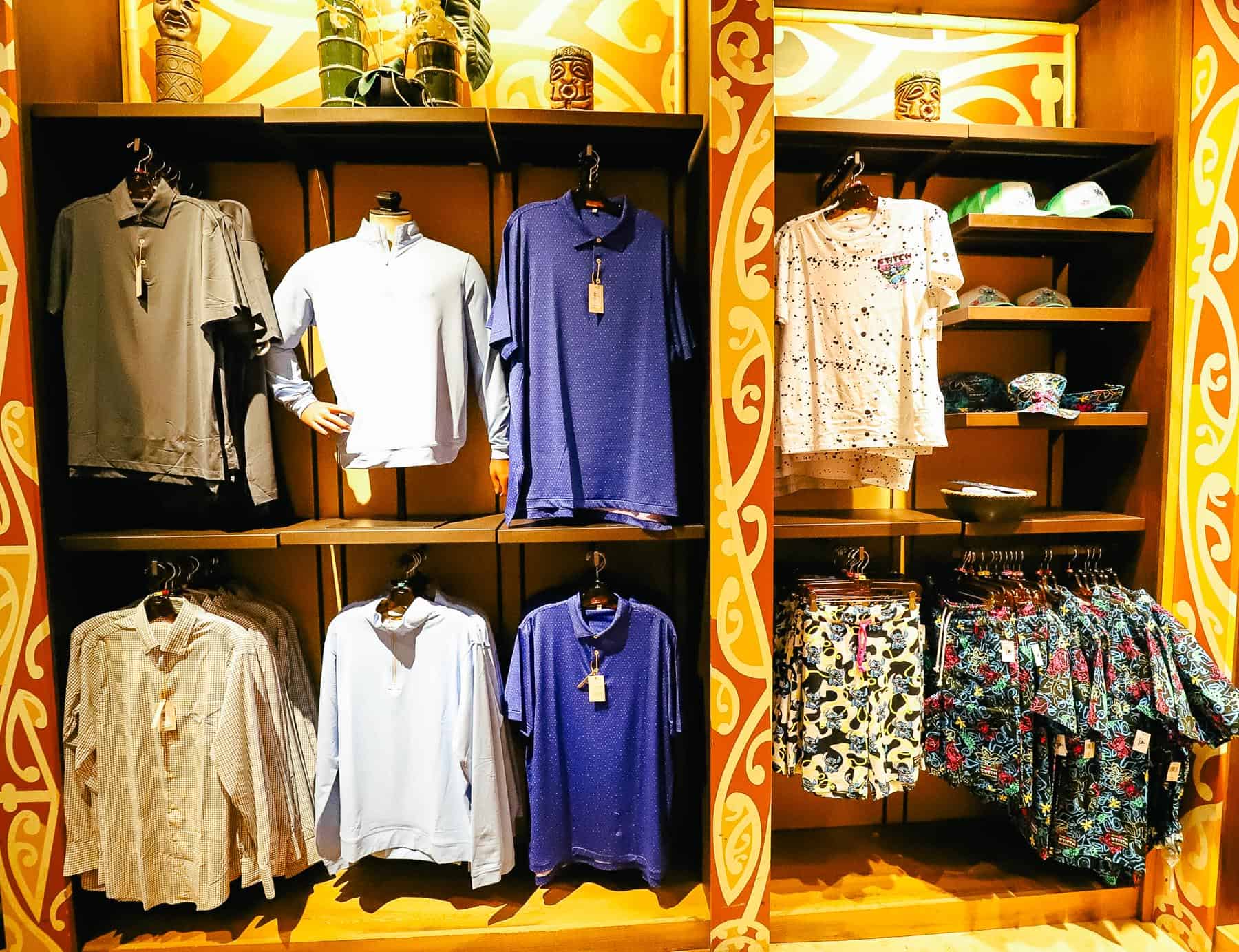 Boutiki had a fair amount of Moana merchandise on this visit.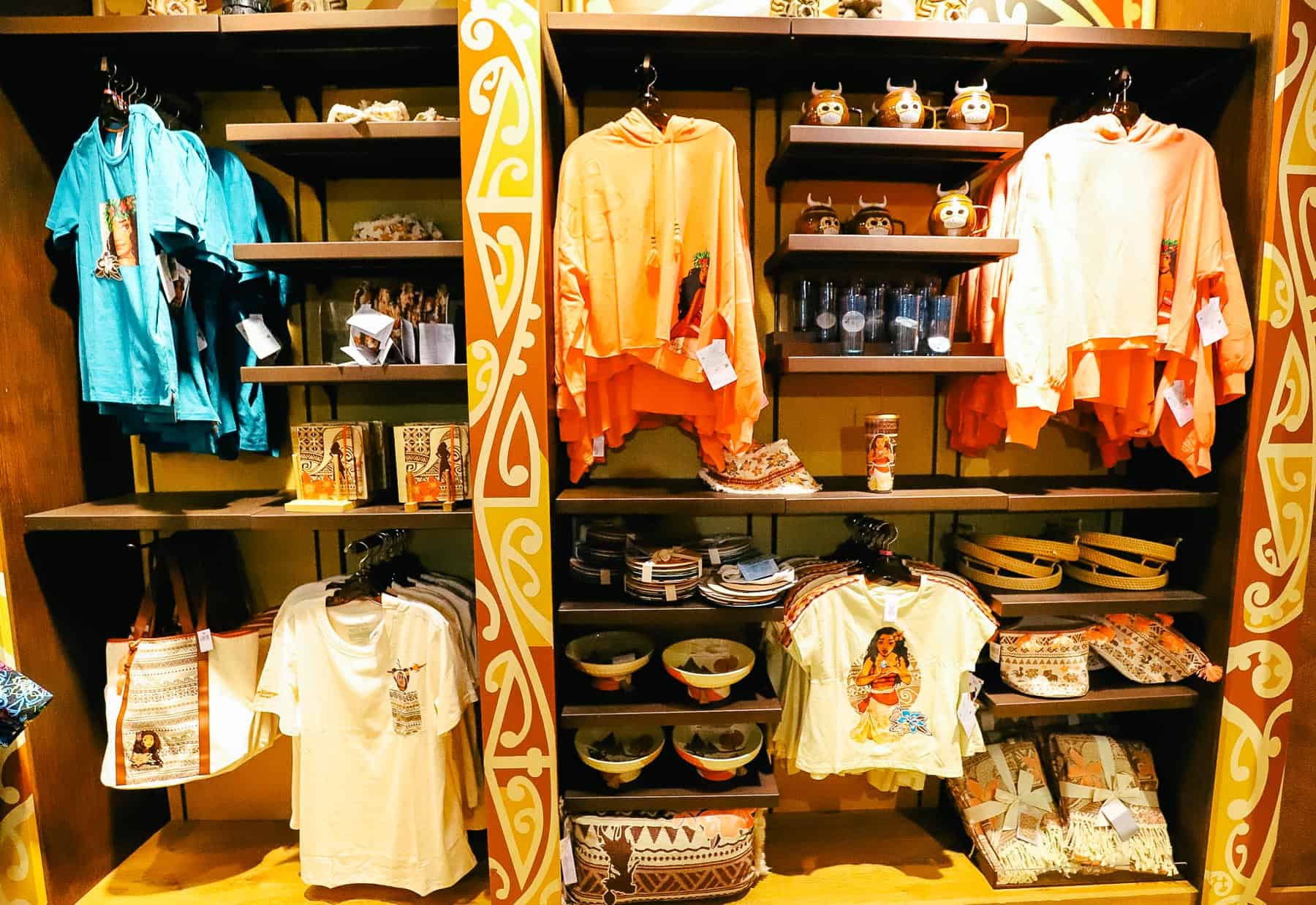 They always have a great quantity of men's apparel, including fun Hawaiian shirts. So, if you decide to enjoy a nice dinner out and forgot to pack a button-up, you can grab one here.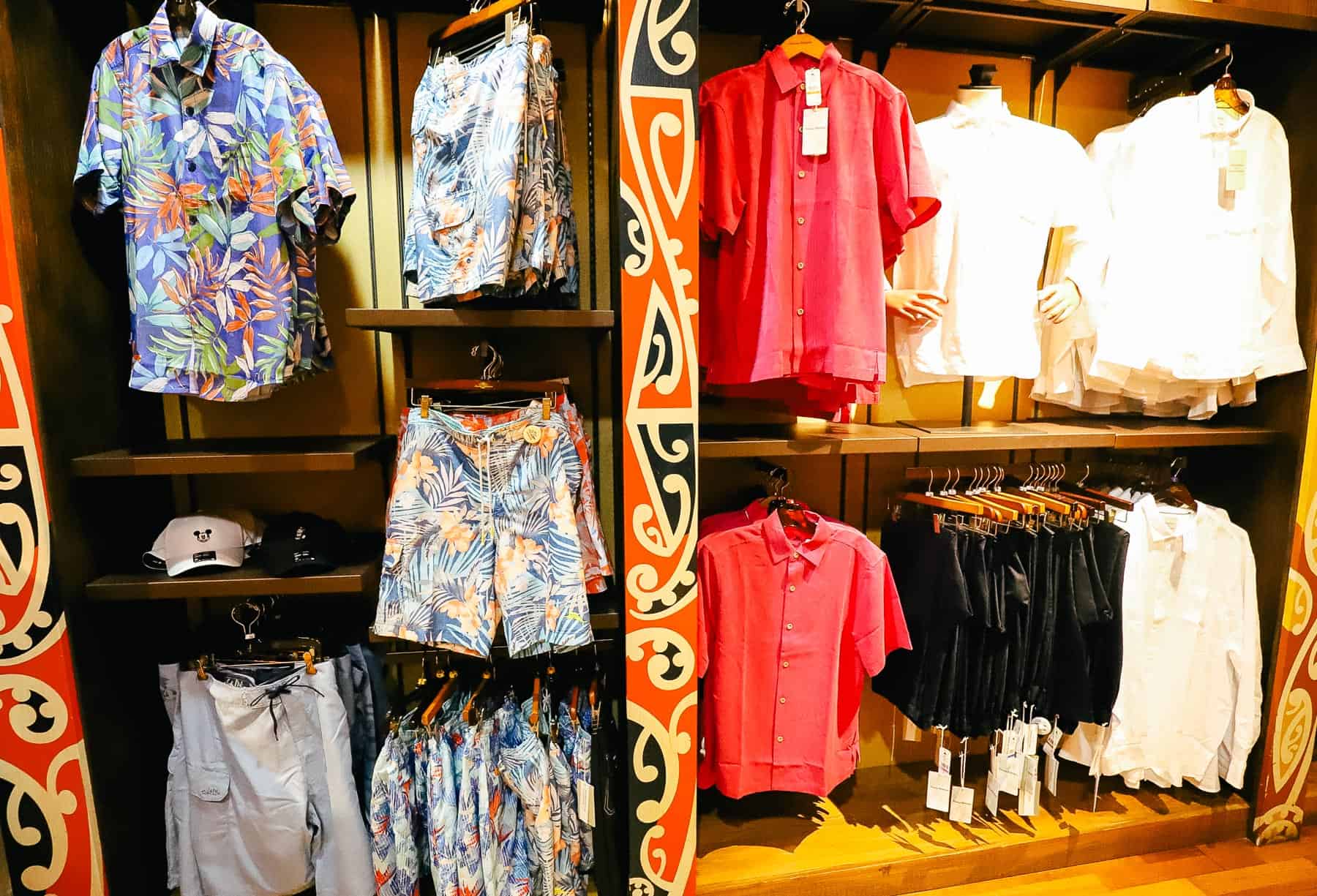 There was no shortage of Disney-branded merchandise.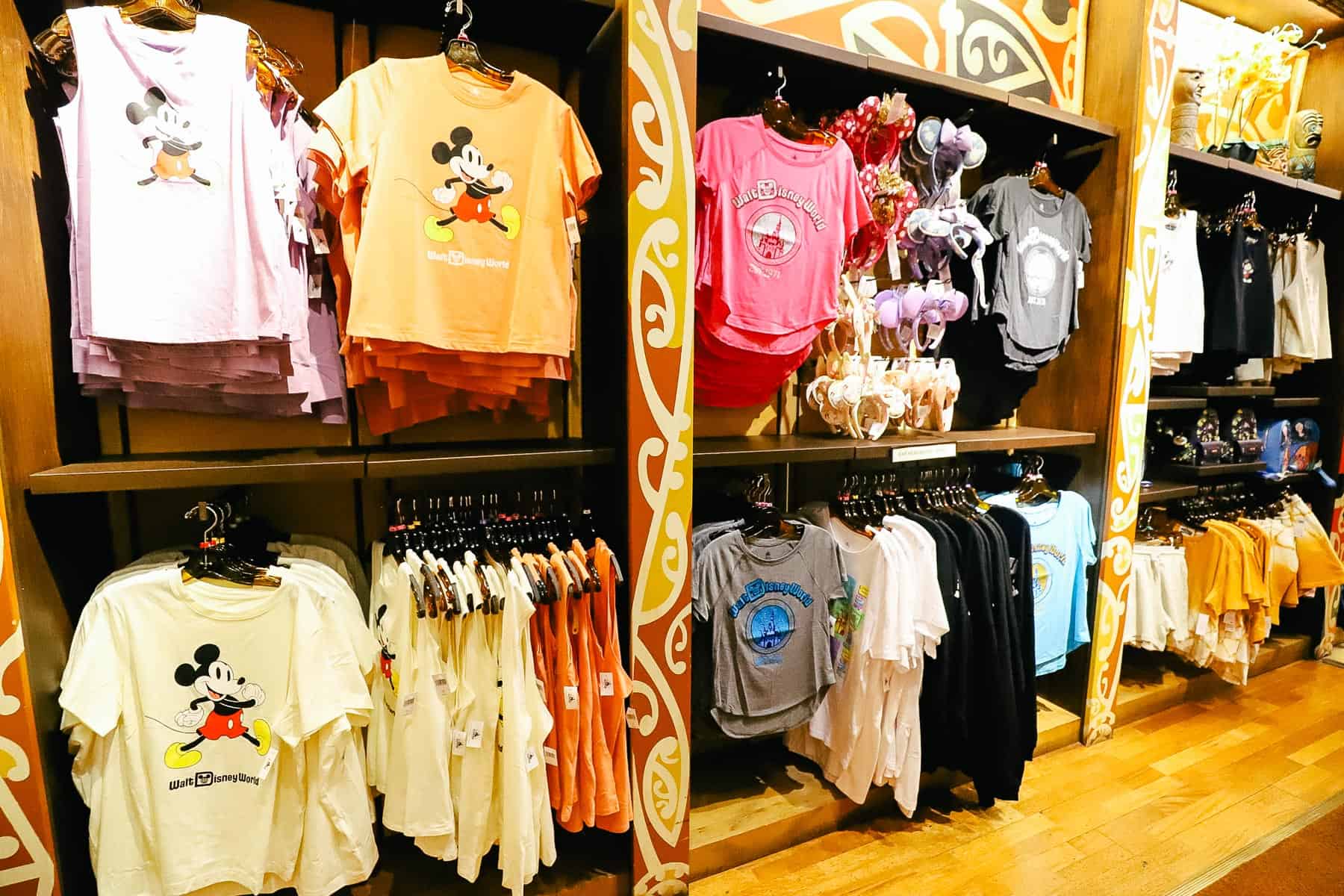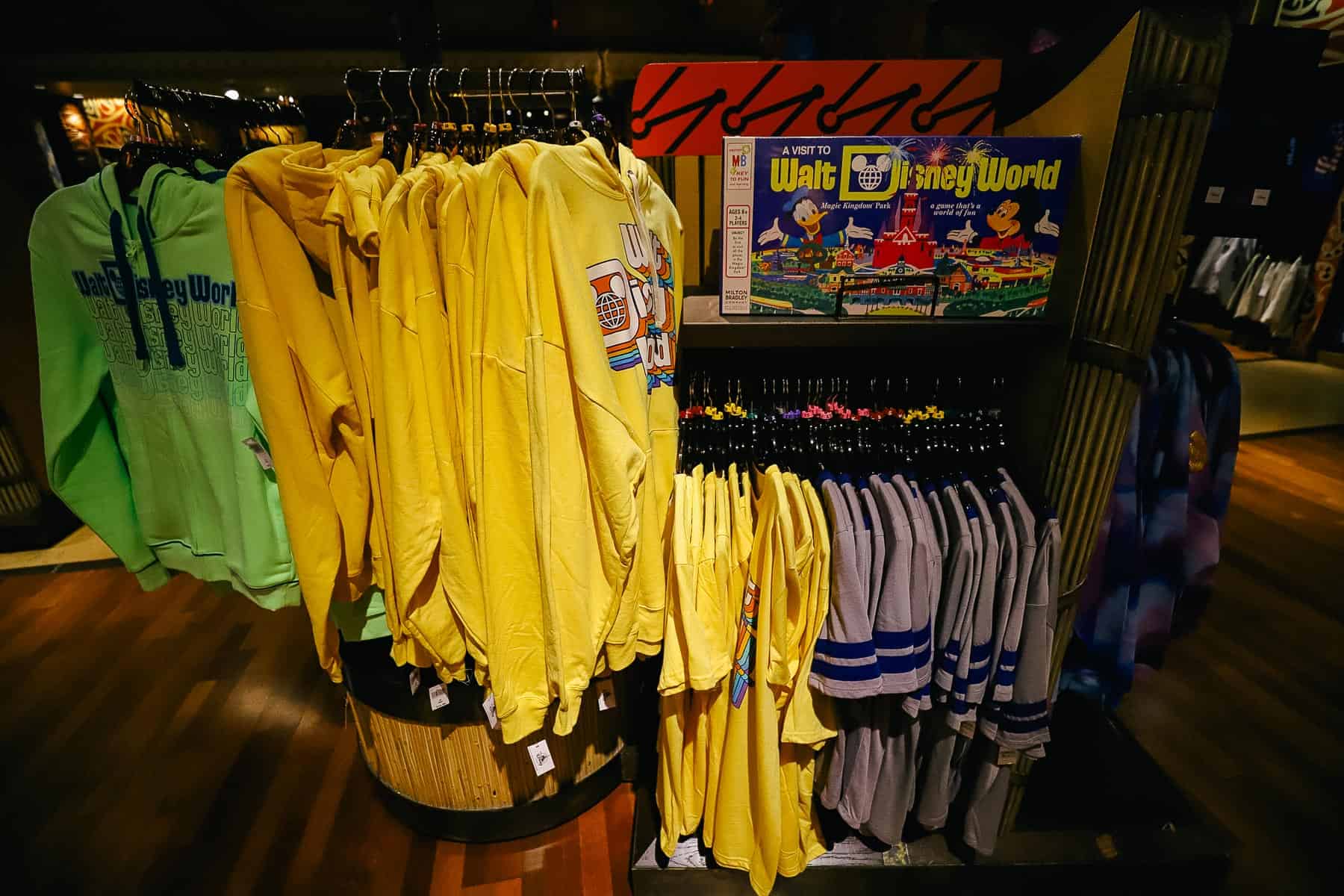 A small display featured Disney Vacation Club (DVC) branded merchandise.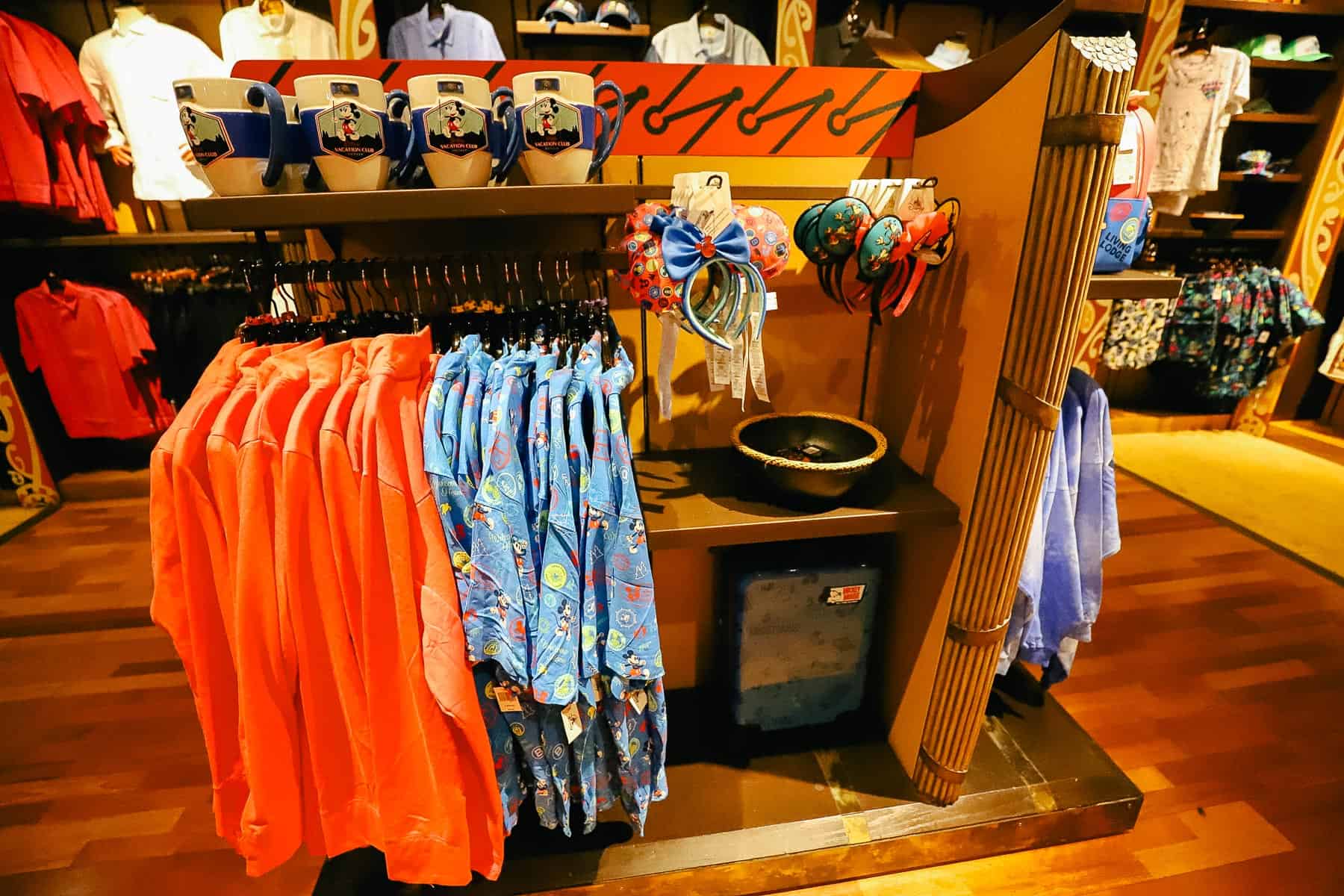 Here are a few more women's fashion items.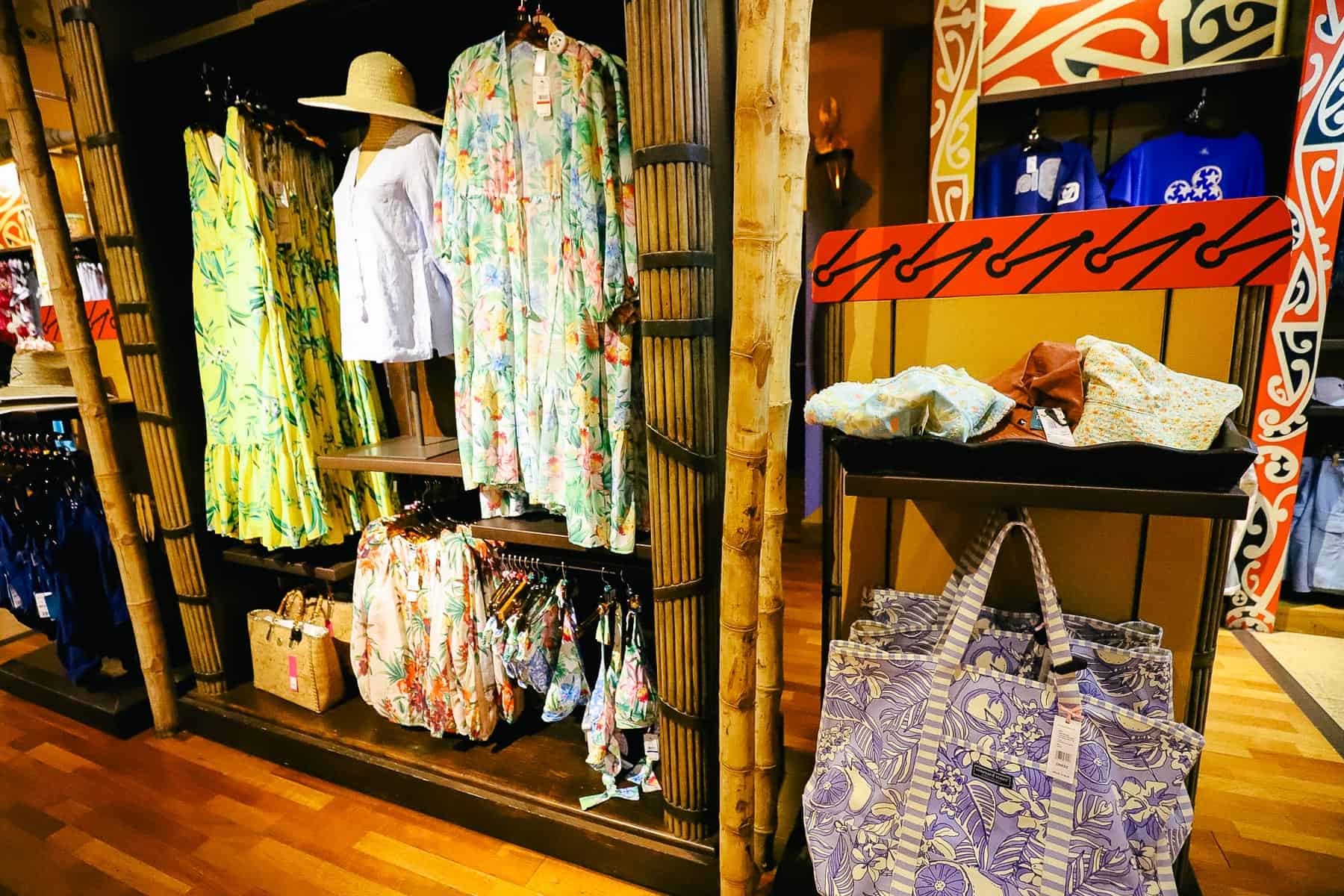 Here are a few swimwear items like swimsuits, cover-ups, hats, and sunscreen. The way the weather is in Florida, you might think it will be too cold to swim in the winter months.
But when the weather turns out to be a pleasant 85 degrees, the pools are heated, and the children want nothing more than to hang out at the pool–you might need a new swimsuit.
Related: The Pools at Disney's Polynesian Resort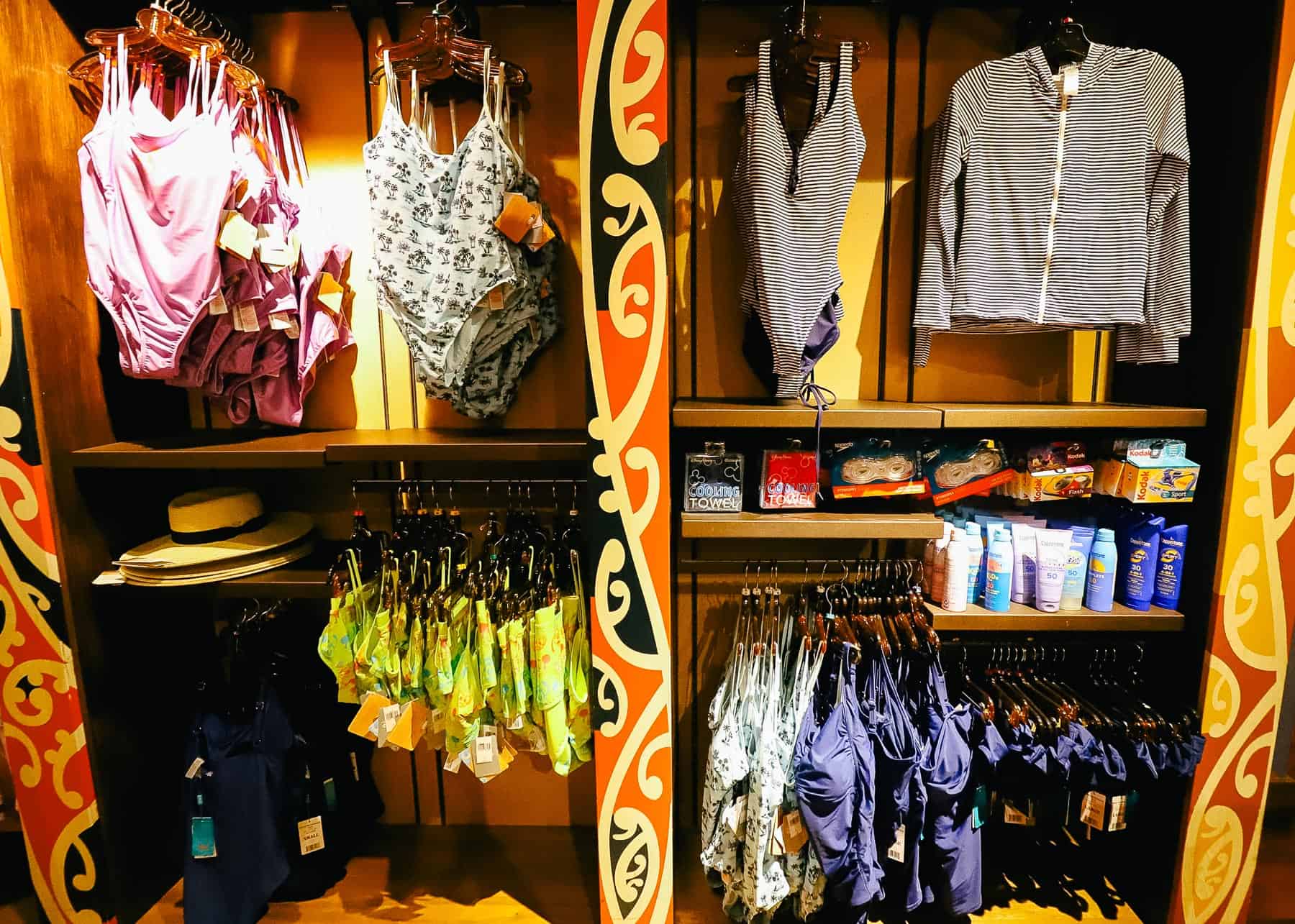 Here, we have a few items with Minnie Mouse.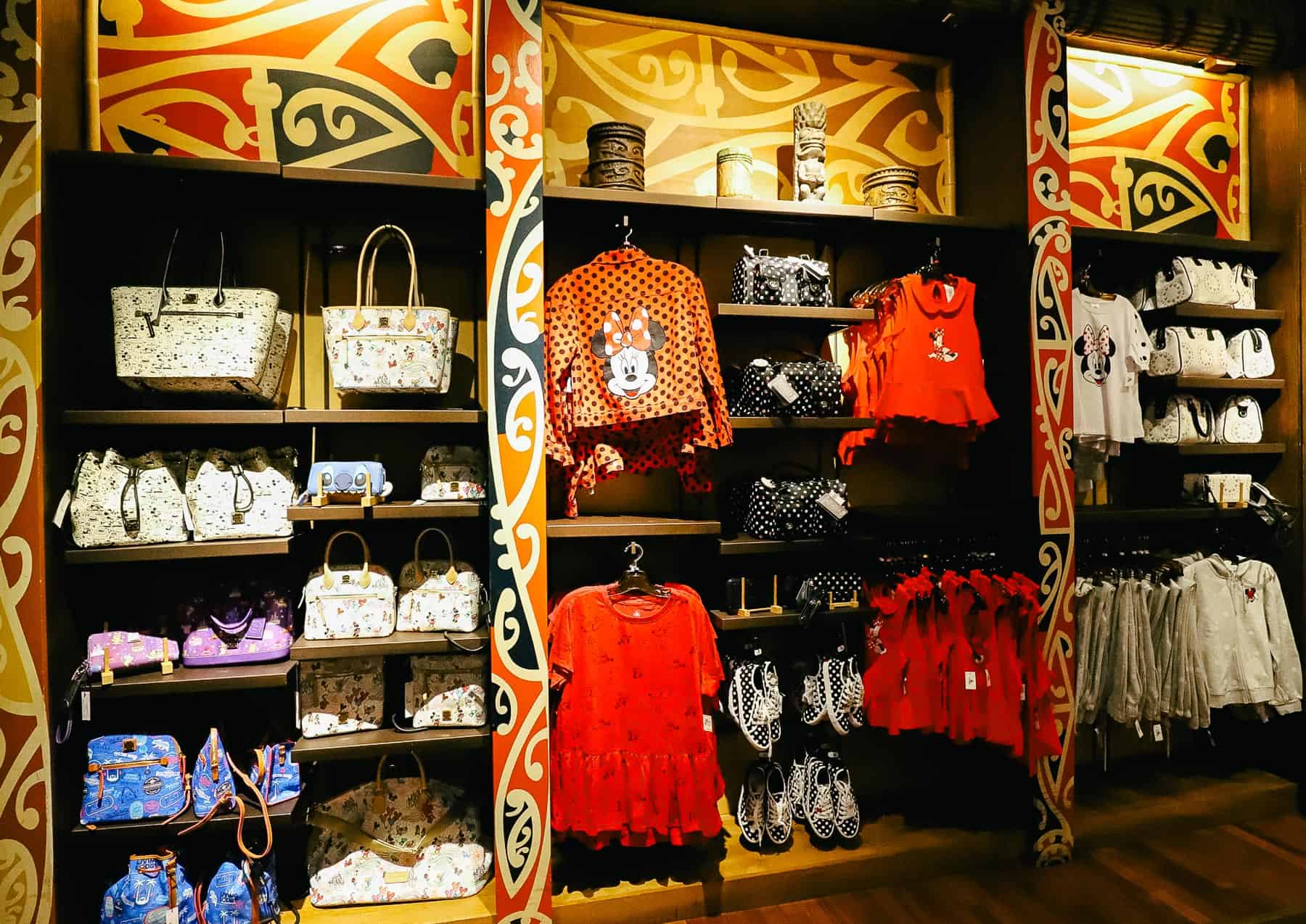 All the deluxe resorts usually have a selection of Dooney and Bourke handbags.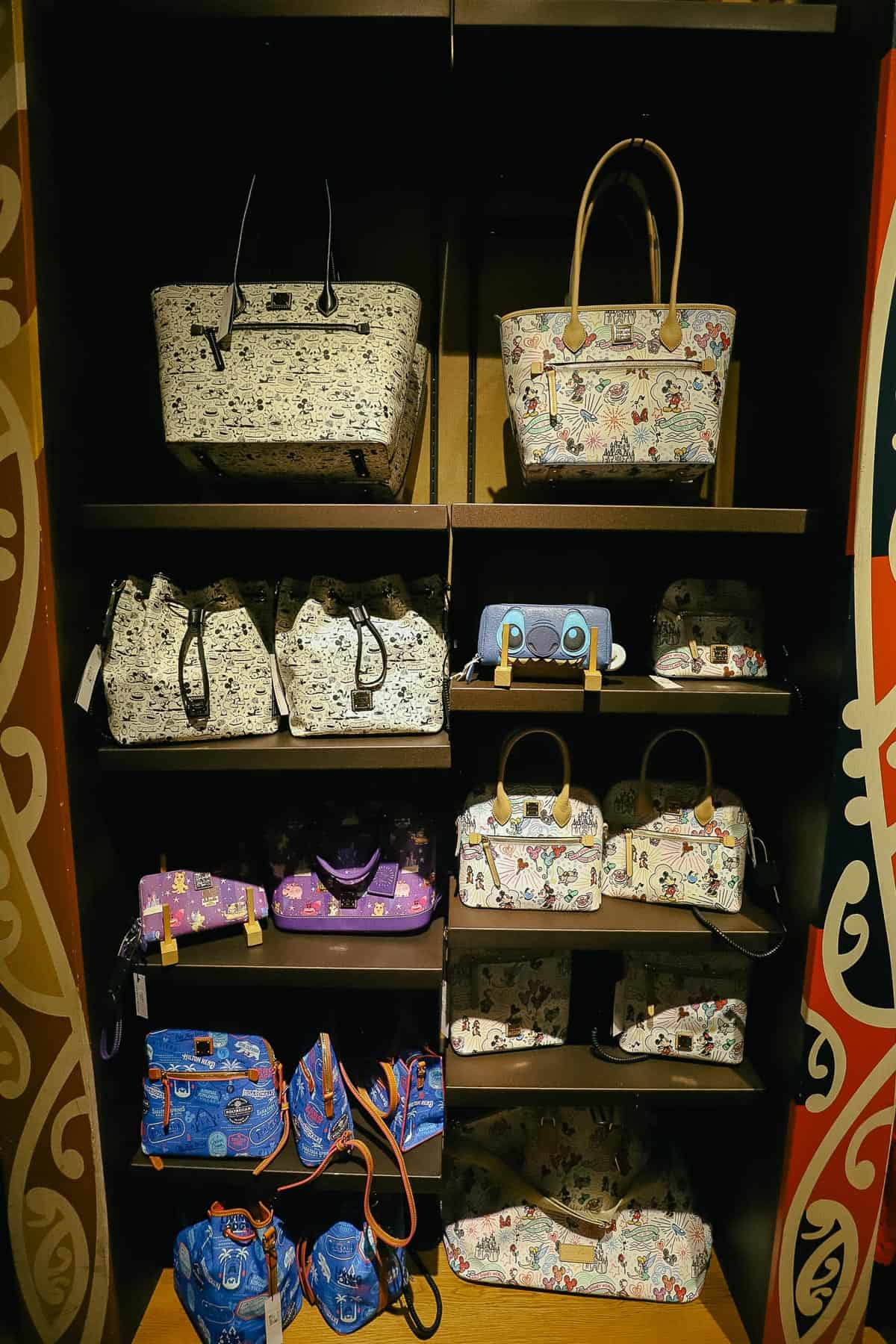 These Vera Bradley items are relatively new for the time being.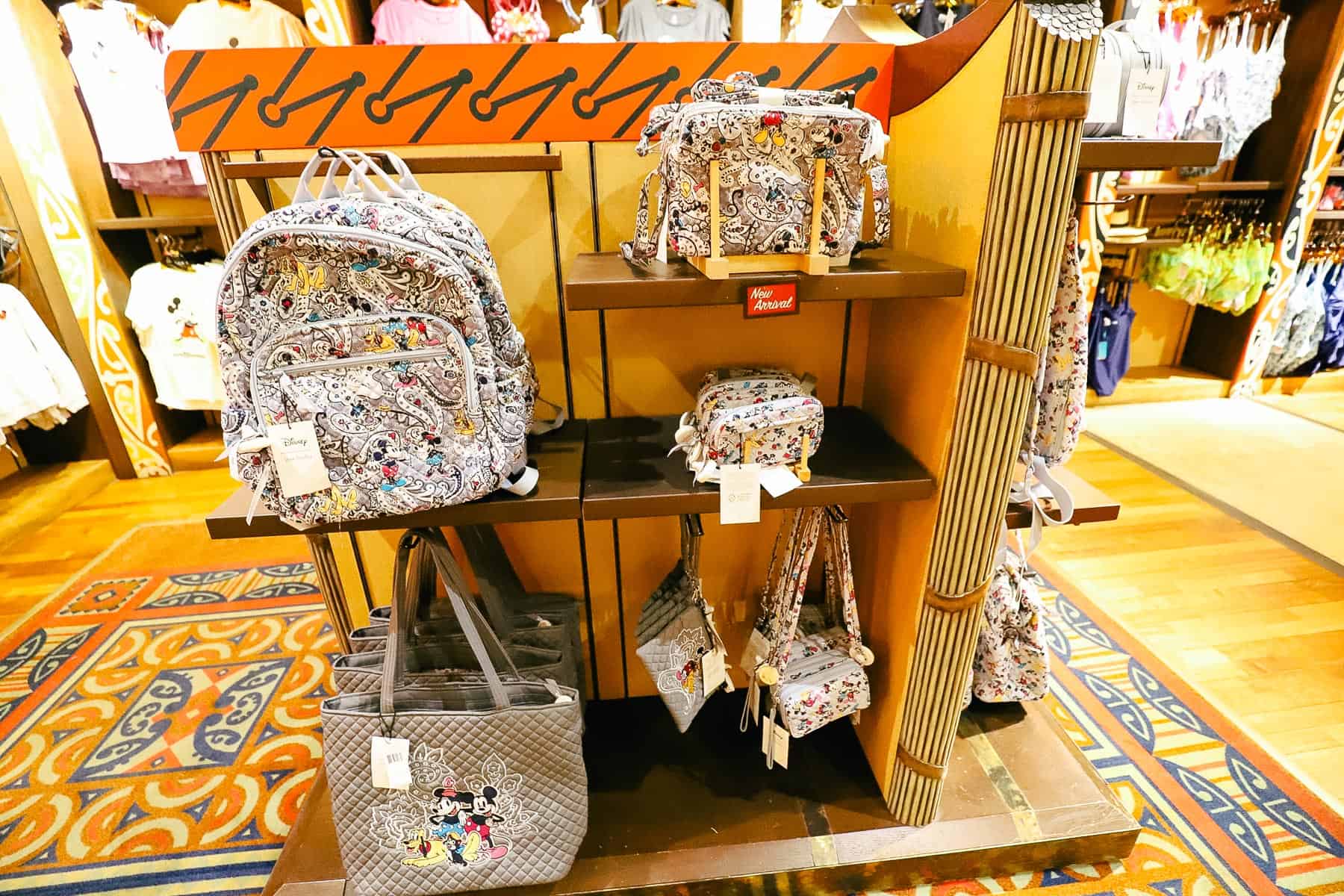 If you need shoes, Boutiki has an abundance of Havaianas flip-flops and slides.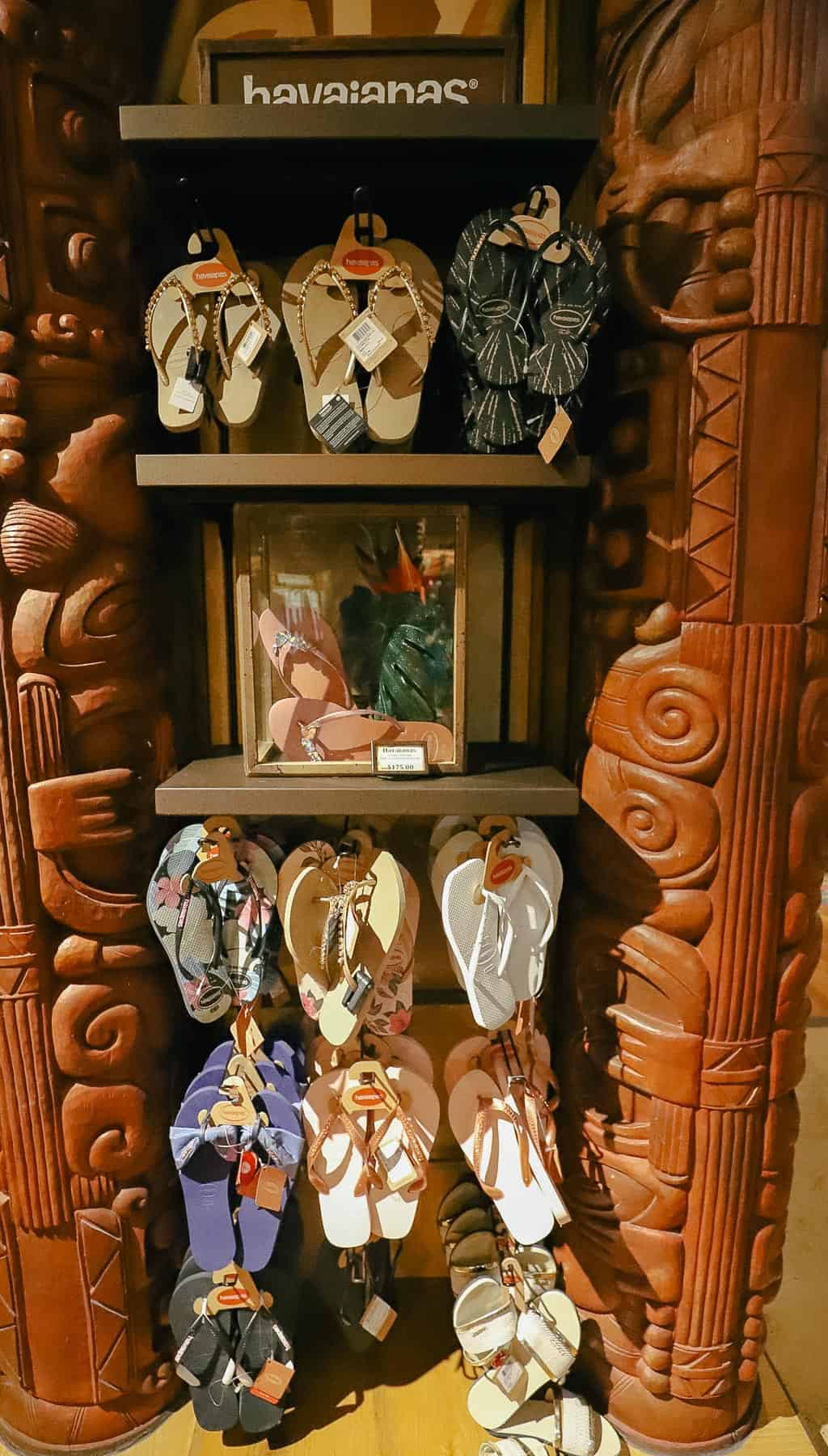 Here are a few pairs of Disney-branded shoes.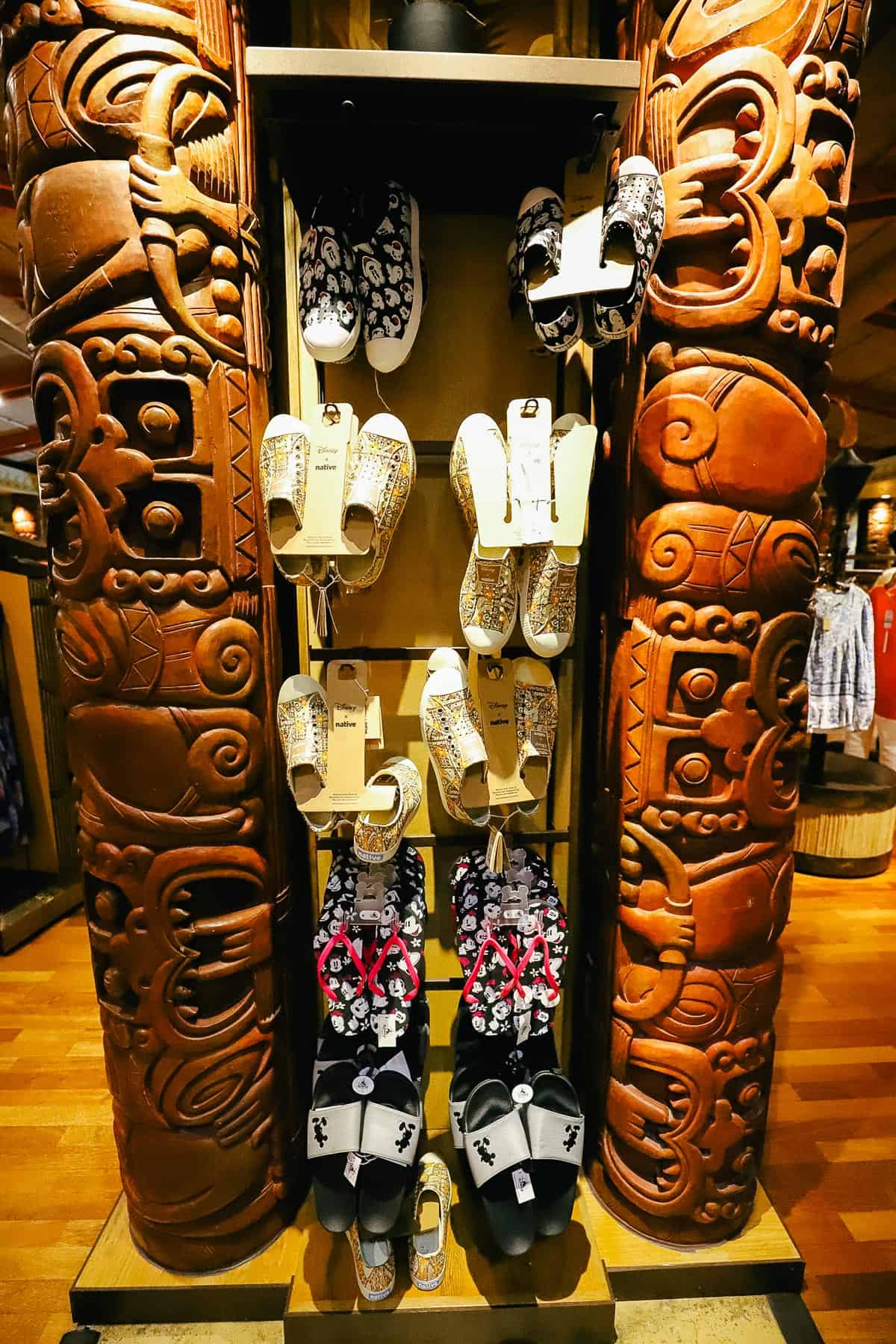 Closer to the register, several displays contain fine jewelry, Pandora charms, and Disney watches. Additionally, limited merchandise like special edition Magic Bands or pins are usually available on a display behind the register. (Tip: If you visit the Disney outlets in Orlando, always check out what's behind the register. That's usually where the most sought-after items are displayed.)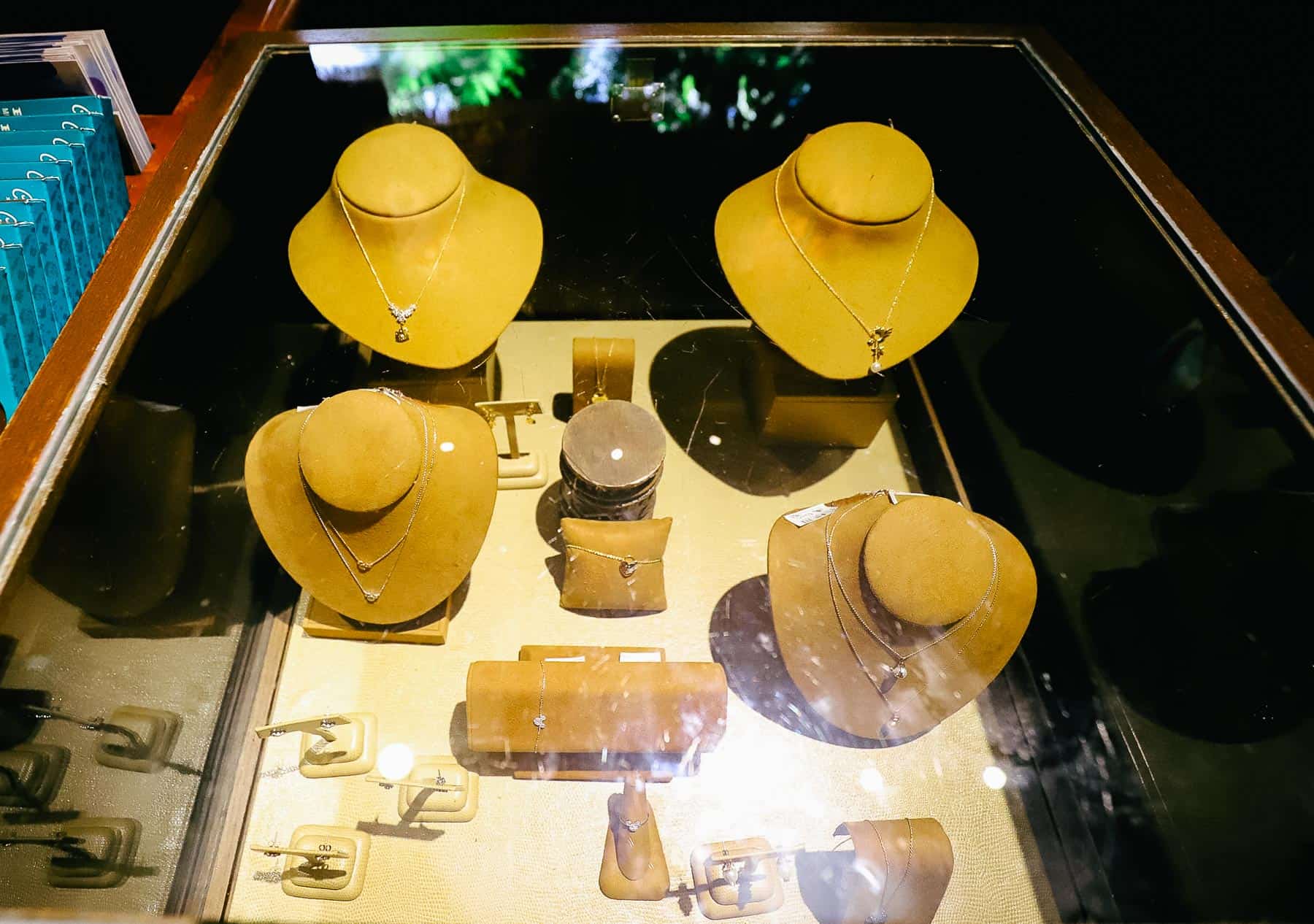 Lastly, BouTiki has a wall in the front corner of the store. Items here are geared toward the home. You might notice the two more tiki statues in this photo. (One is outside!)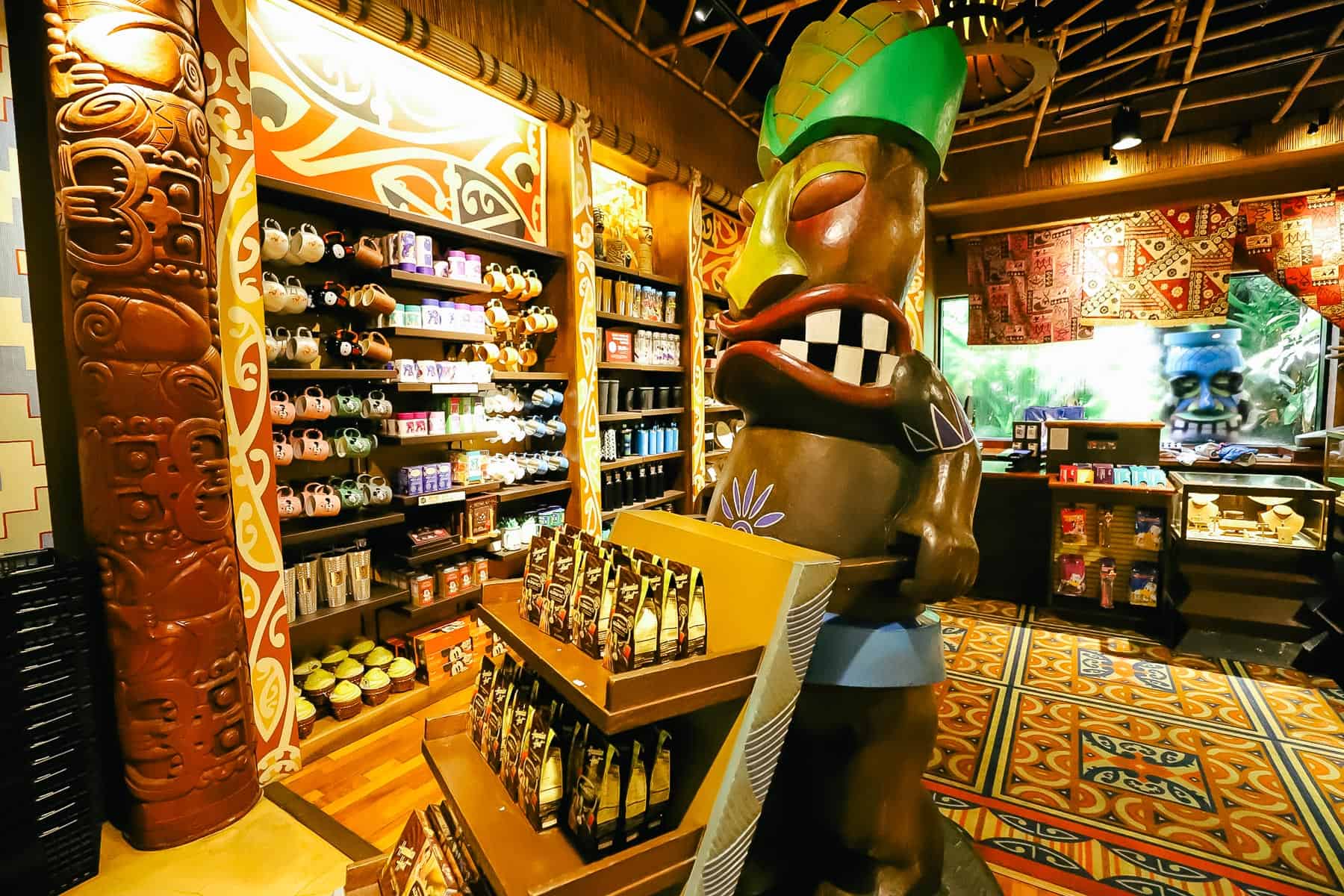 Usually, BouTiki has a decent selection of mugs.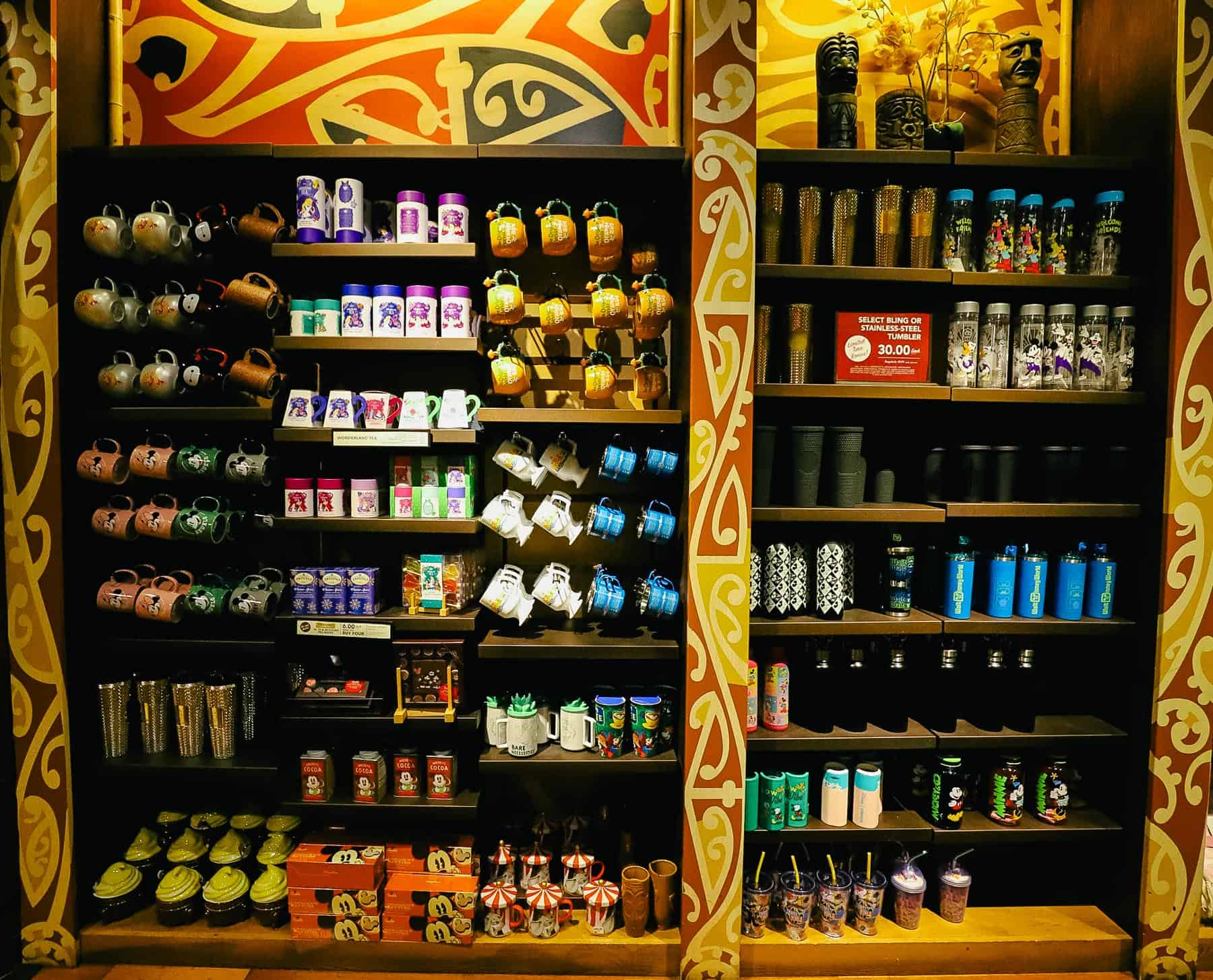 Here's a closer look.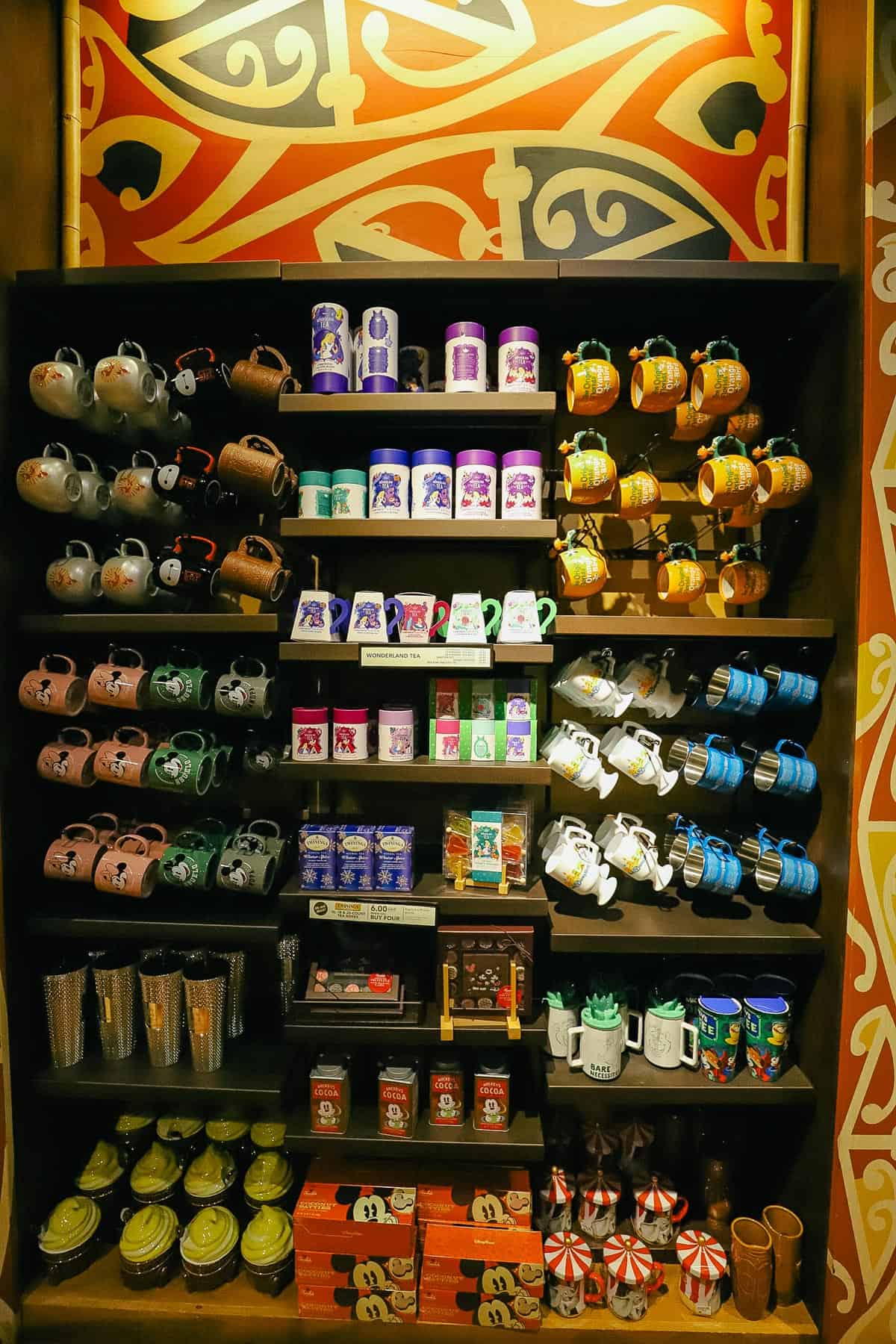 These Starbucks tumblers have been marked down for several months.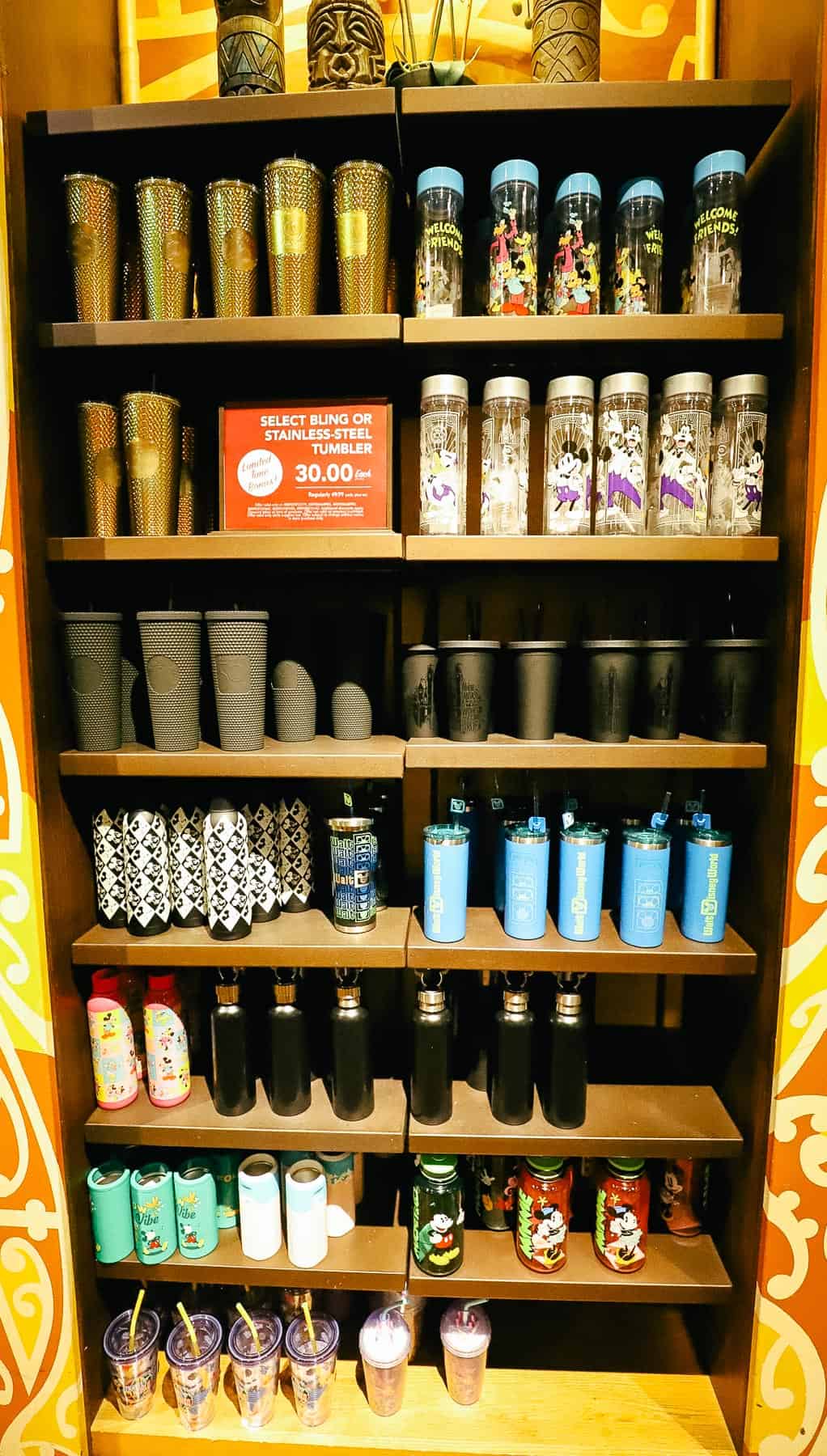 We could get in trouble browsing this section! (Well, I could.)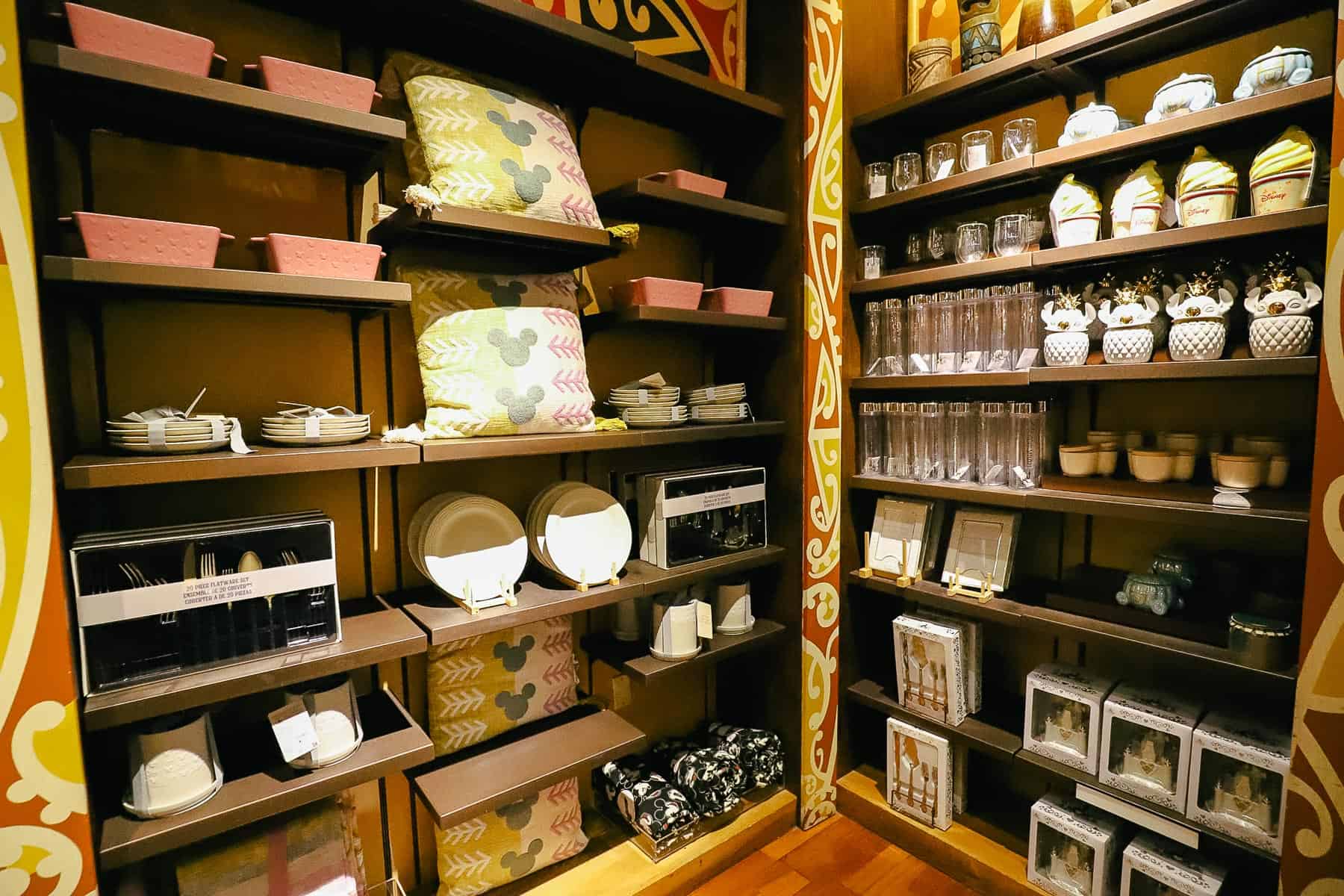 One final tiki statue is carrying a load of plants. These guys are seasoned cast members.
Here are a few more miscellaneous items, like trading pins.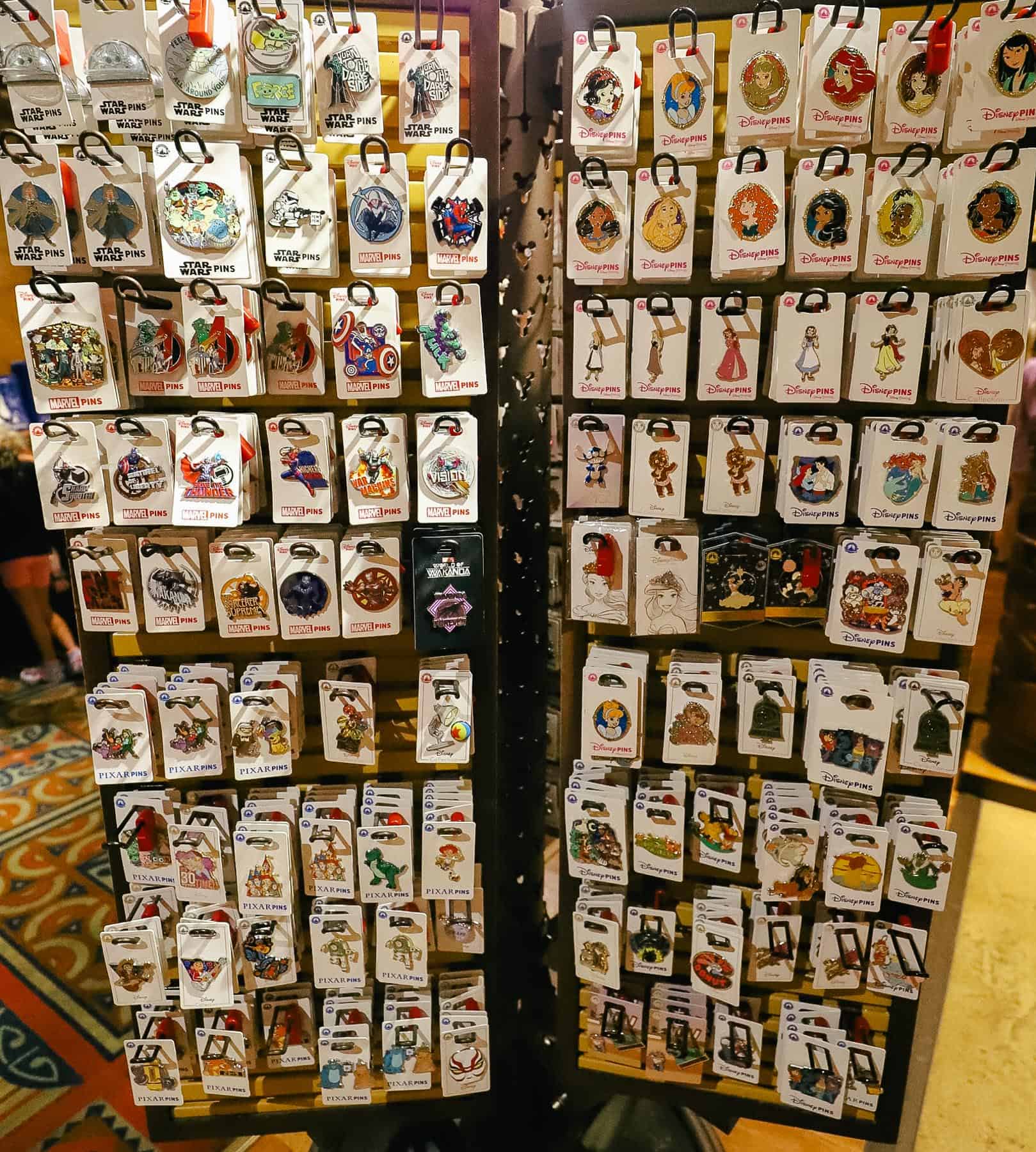 Patches, MagicBand+, and Keychains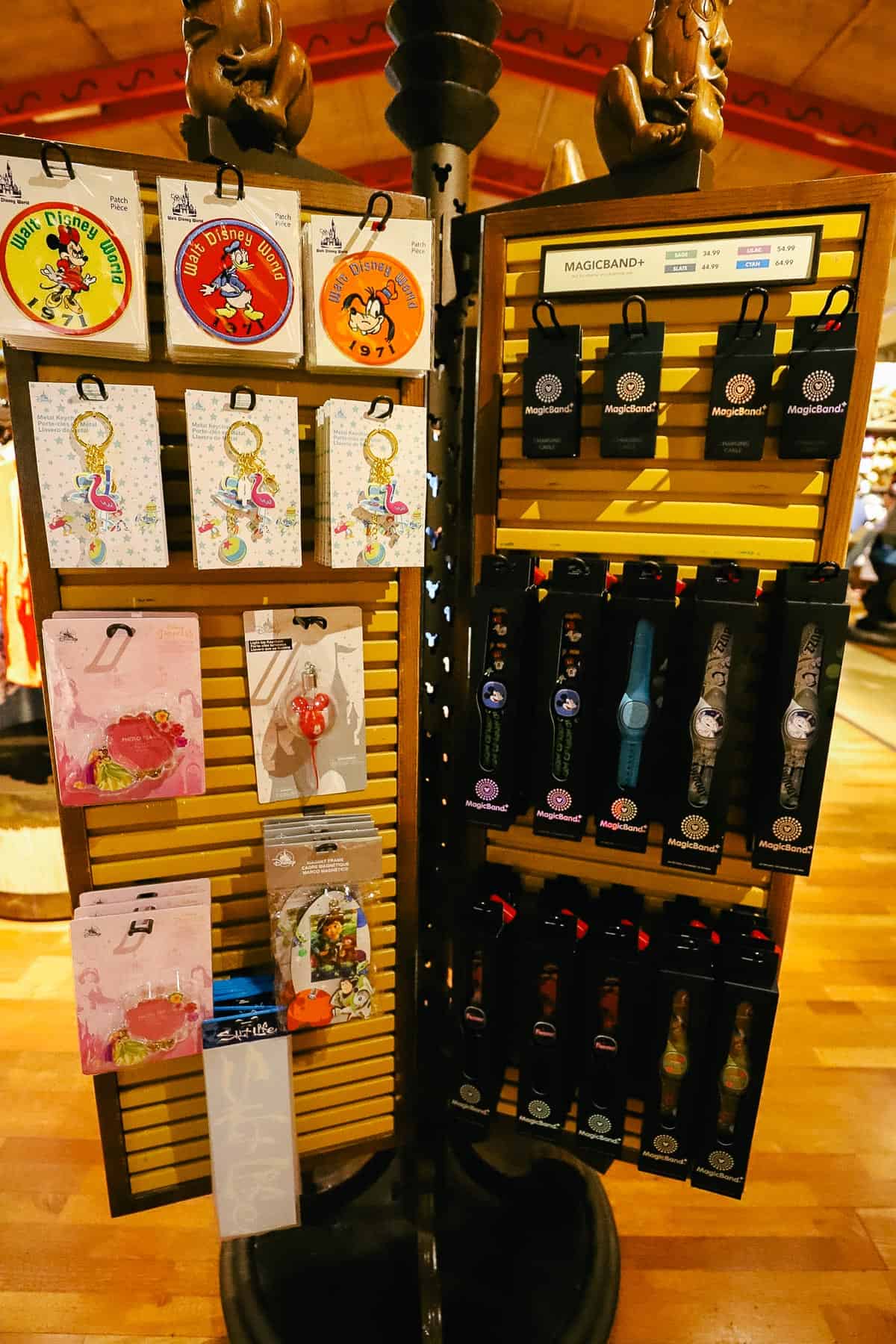 Minnie Ears hang from a display.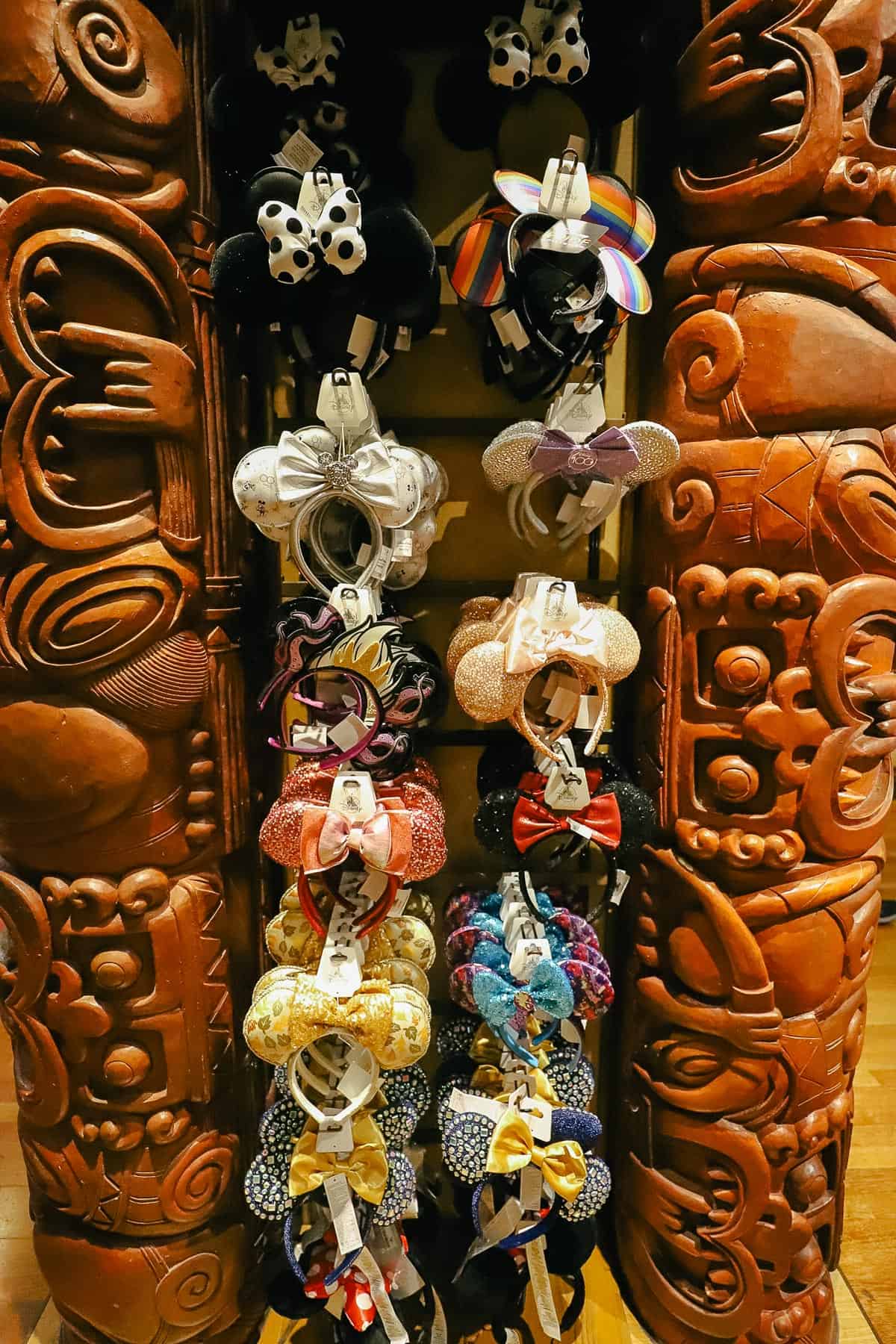 Boutiki also has a Fuel Rod portable charger station.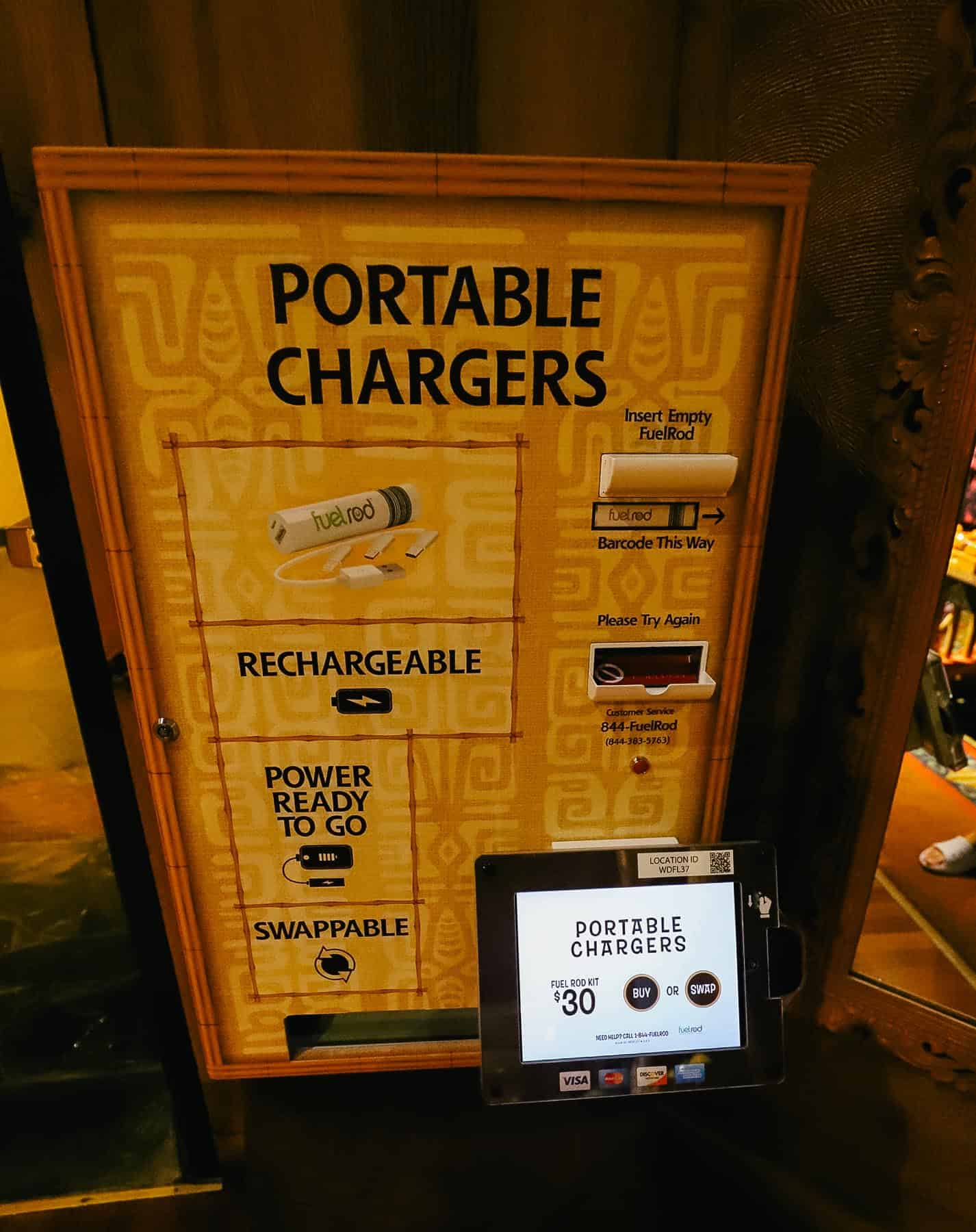 Back outside the gift shop, you'll see a fun window display.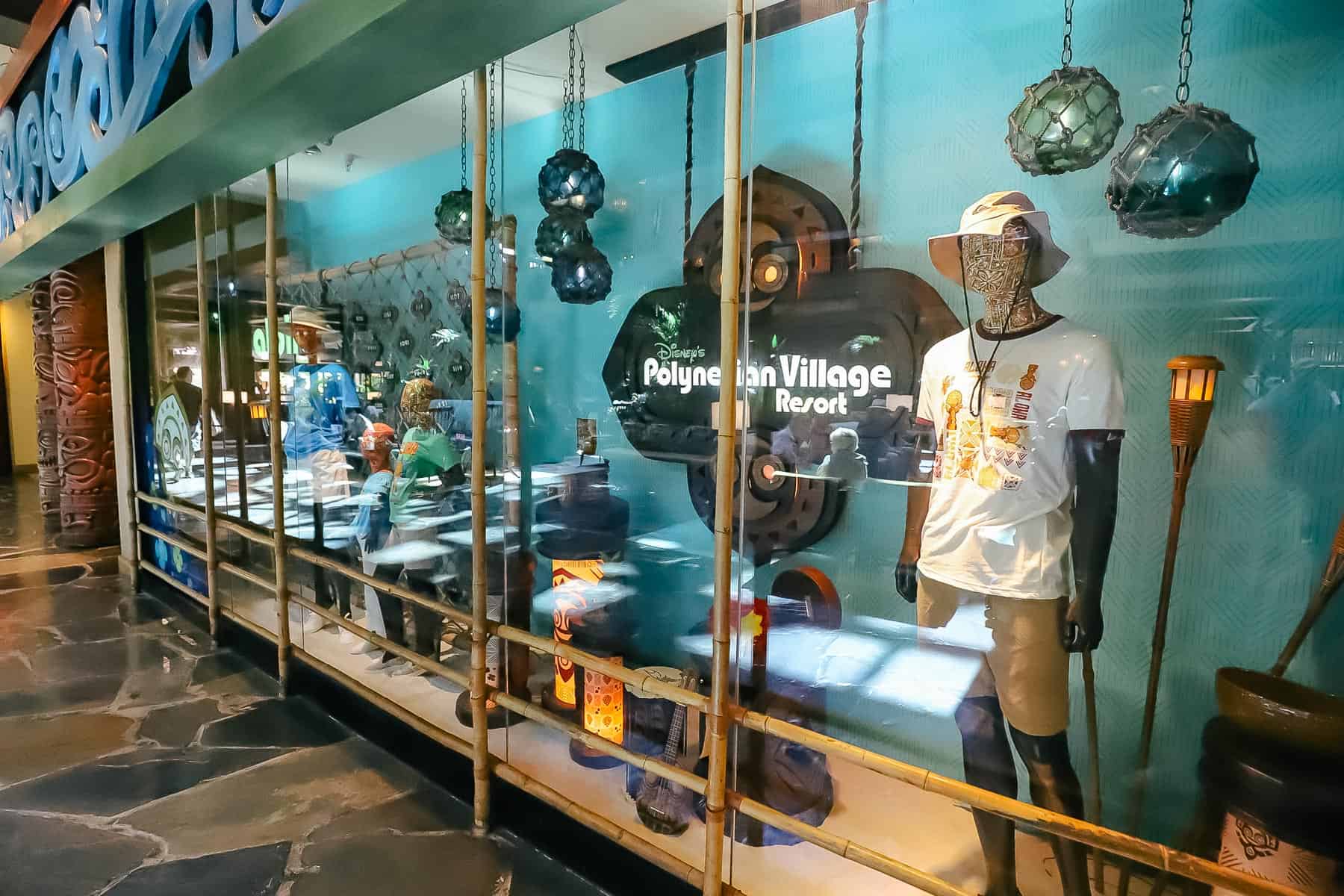 If someone in your group doesn't care to shop, the lobby is an excellent place to relax.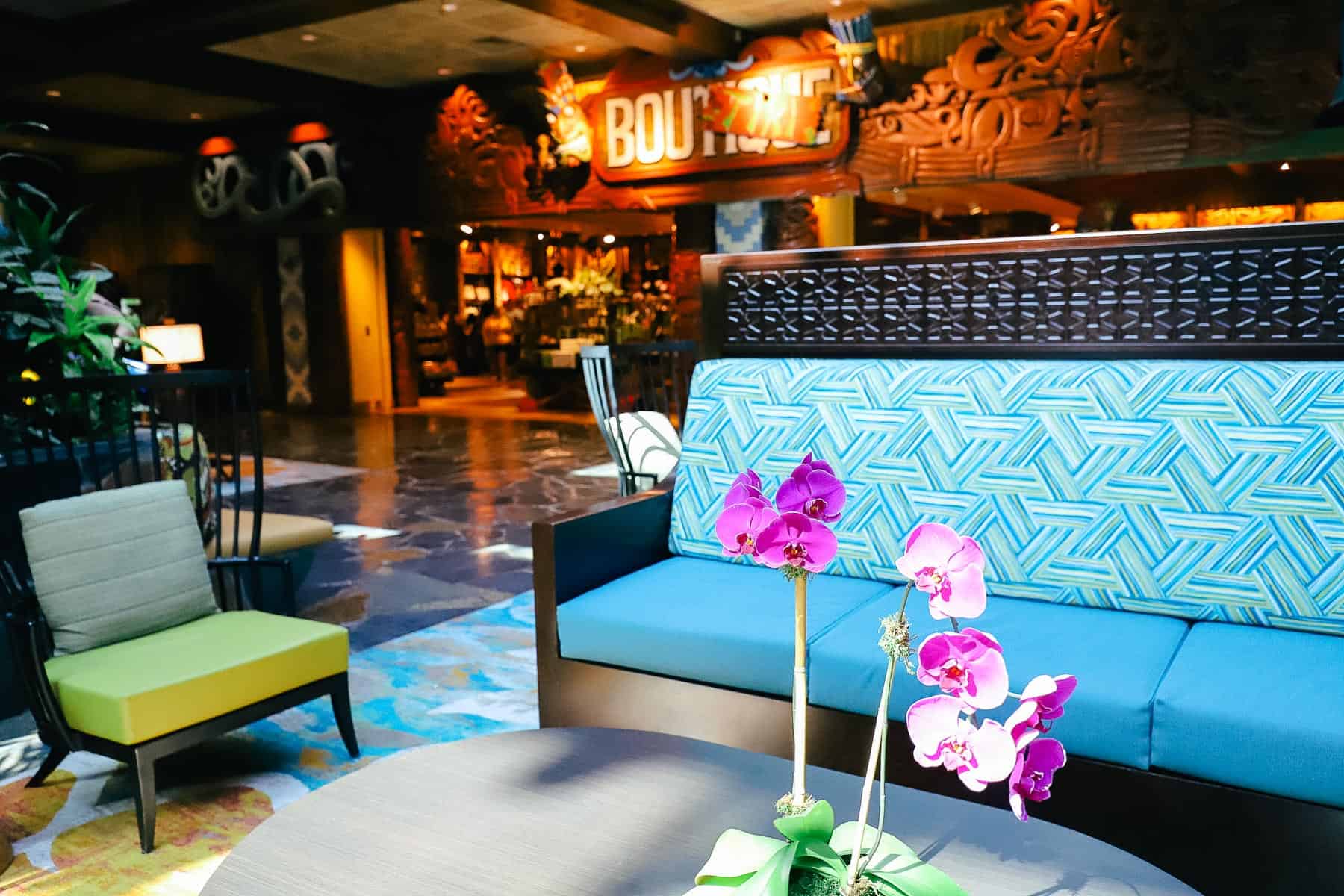 That wraps up our look at BouTiki at Disney's Polynesian Resort. All the photos in this article were taken in late 2023, so everything you see might not be available on your trip. However, these photos should represent what kind of merchandise you can expect.
For more information about the resort, all of our articles are listed in our resort guide:
Or you might enjoy these individual articles:
Additionally, you can preview all of our Disney World Resort Reviews.
So, is BouTiki one of your regular stops when visiting Walt Disney World? Leave a comment below and share your favorite finds!
Planning a Walt Disney World or other Disney Destination vacation?
Our friends and travel partner, Firefly Travels, excels at doing Disney differently. You can fill out a plan your trip form on their website, and someone will reach out shortly to discuss the specifics.