Calypso Trading Post, the Gift Shop at Disney's Caribbean Beach
Calypso Trading Post is the gift shop at Disney's Caribbean Beach Resort. The shop features fun resort-branded merchandise along with other souvenirs and sundries.
This article will provide a virtual tour of Calypso Trading Post at Caribbean Beach. We'll look at what kind of merchandise is currently available and what you can expect to find on an upcoming stay.
Like all of our gift shop reviews, the merchandise photographed was available on the day of my visit. So every item pictured might not be available when you visit.
However, we try to update these articles yearly to provide the best sample of items possible. Additionally, snacks, beverages, and other convenience items rarely change. These photos will give you an idea of where you can pick something up if needed.
Calypso Trading Post is located at Old Port Royale, the lobby of Disney's Caribbean Beach Resort. The shop is usually open from 7:30 a.m. until 10:00 p.m.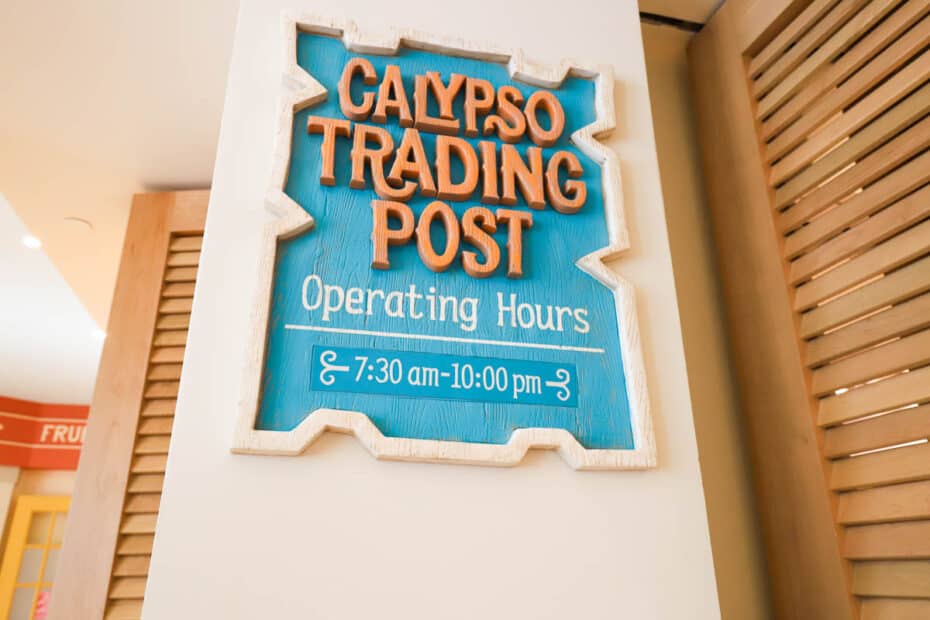 There was a large display of merchandise celebrating Walt Disney World's 50th anniversary toward the front of the shop.
Here are a few other items.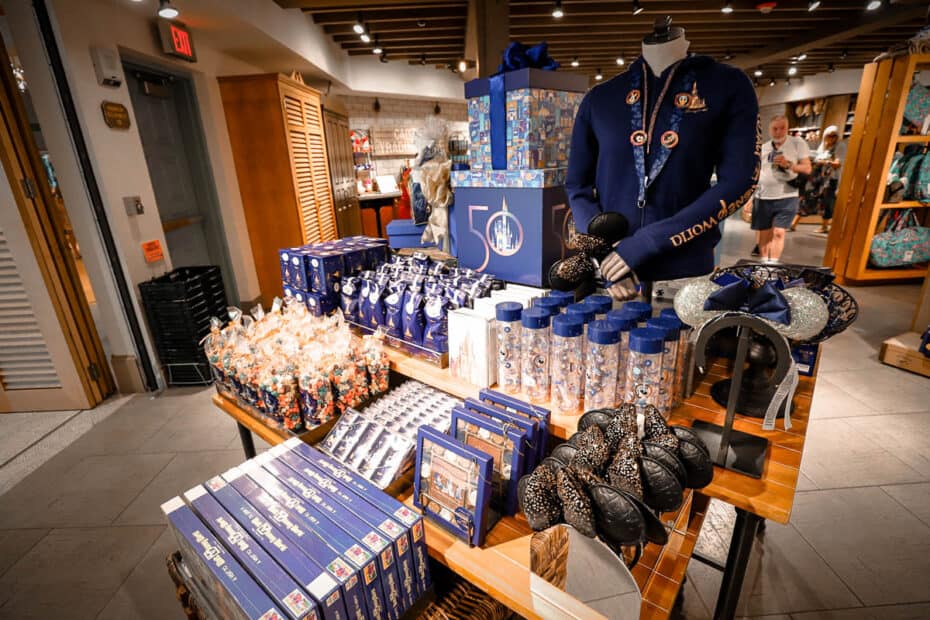 The section with resort-branded items is my favorite area to browse.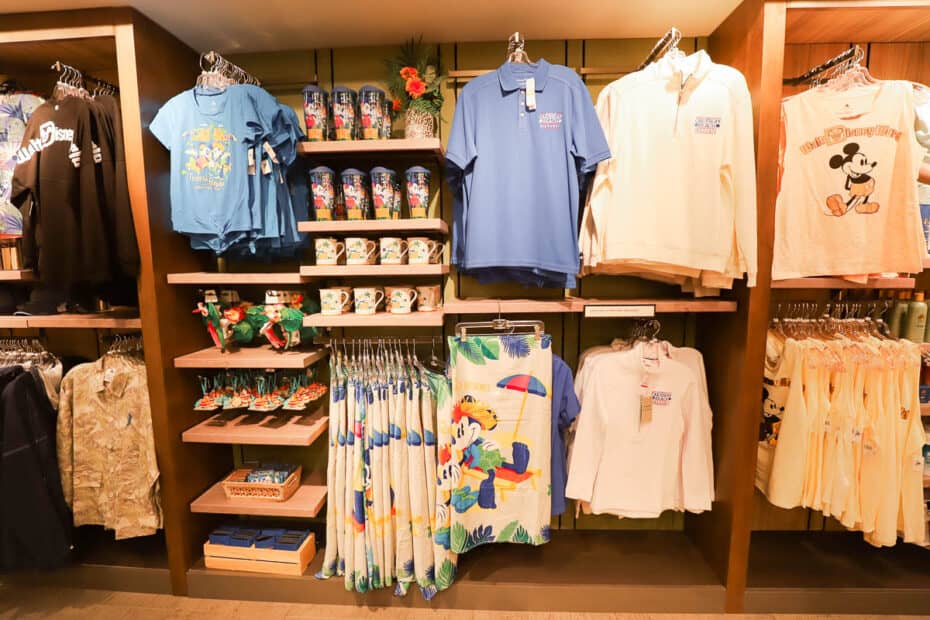 Here we have several shirts, mugs, and tumblers.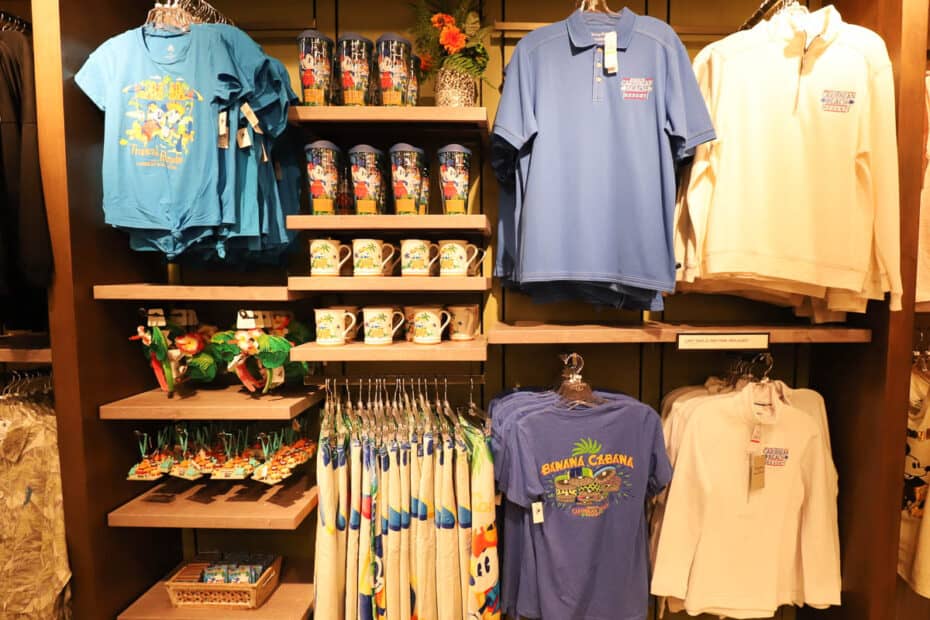 The beach towel with Caribbean Beach Resort is charming.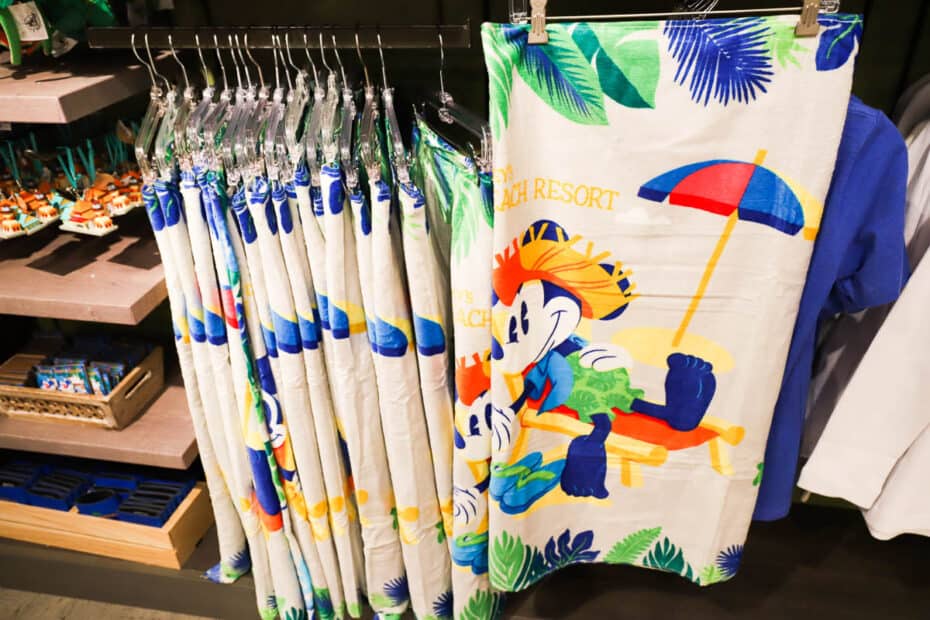 And these ornaments have been popping up here and there. On one side, they have the front of the resort. Mickey and Minnie are featured inside the resort on the backside.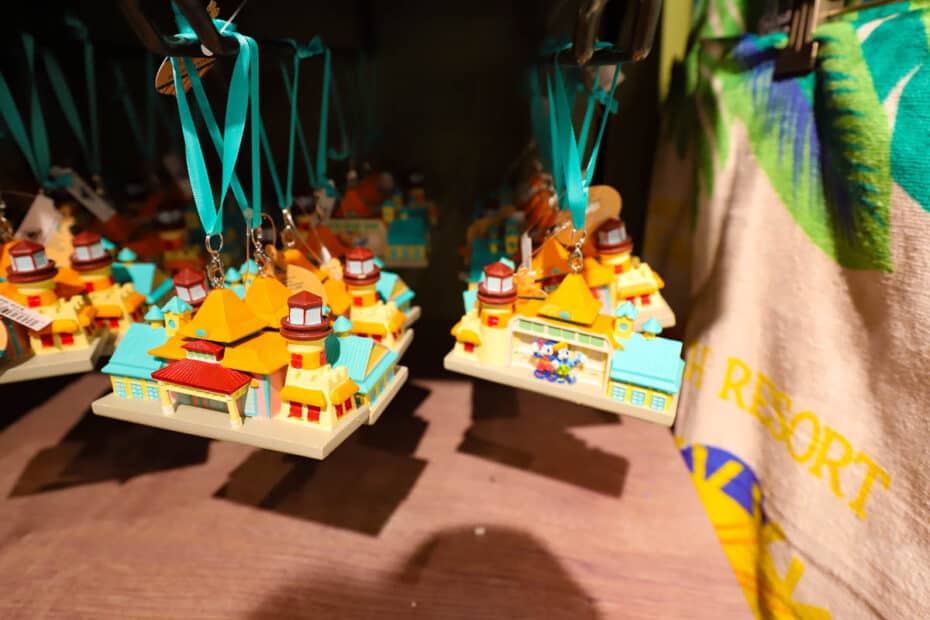 This women's t-shirt had "Tropical Paradise" printed on the front.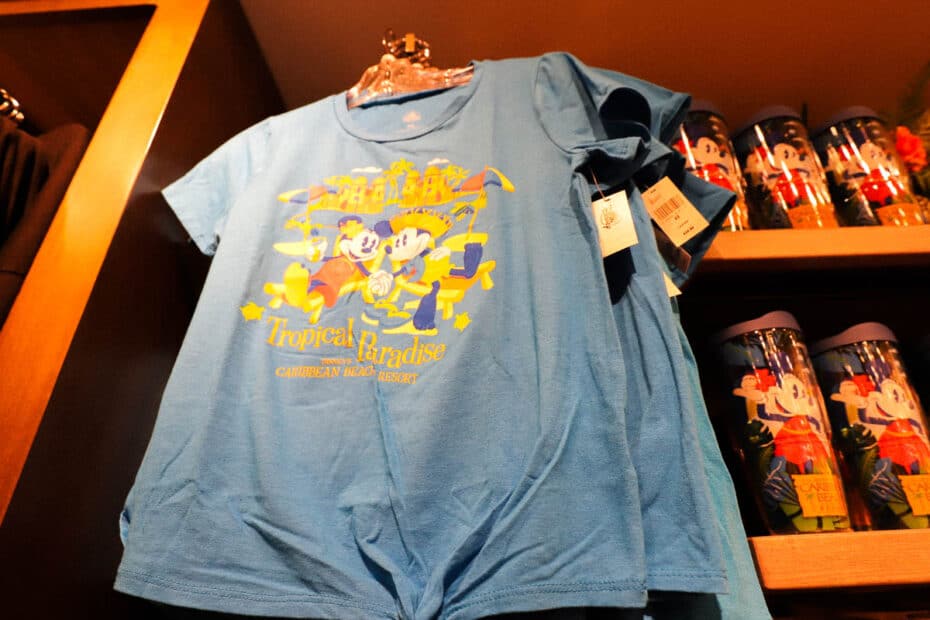 And these shirts had Caribbean Beach on the front pocket. And Banana Cabana, the resort's lounge that doubles as a pool bar, was printed on the back.
Related: Restaurants at Disney's Caribbean Beach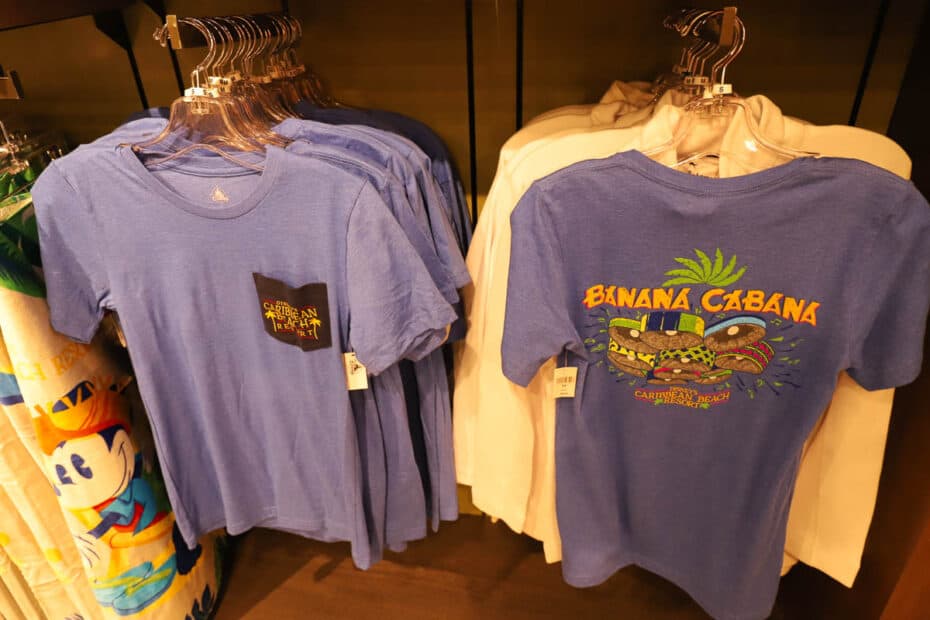 Here is a close-up of the tumbler and mug.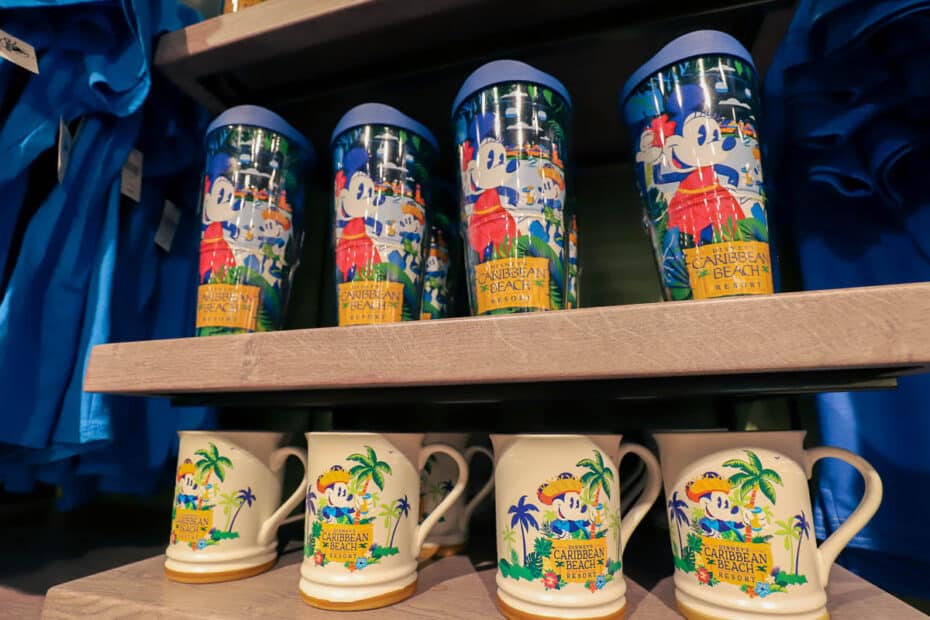 And there were even a few prints by Larry Dotson. You can't go wrong when picking up a piece of his art. I have several pieces myself.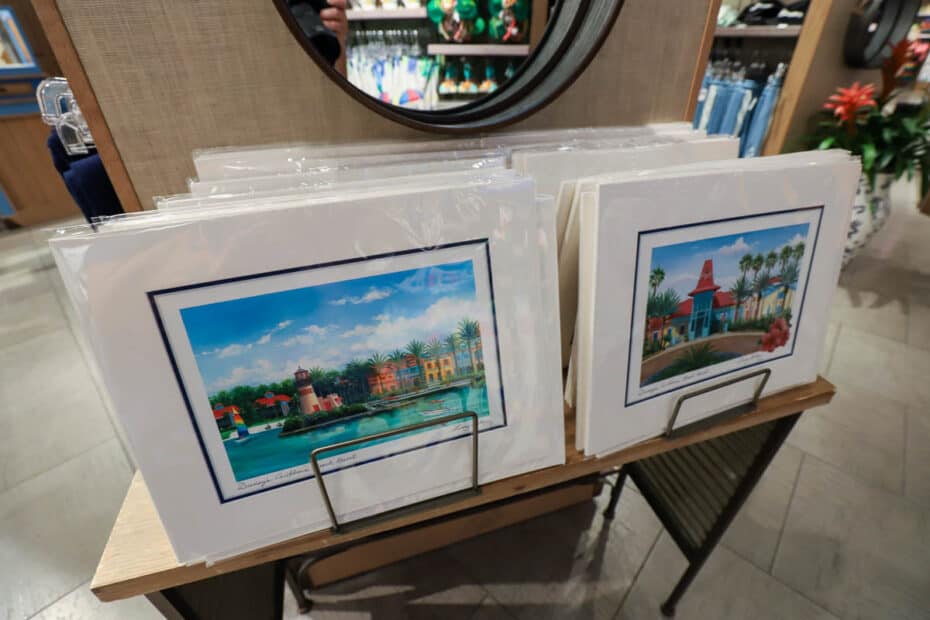 This Skyliner merchandise was situated on an end cap. Since the Skyliner opened, Calypso Trading Post has had these items off and on.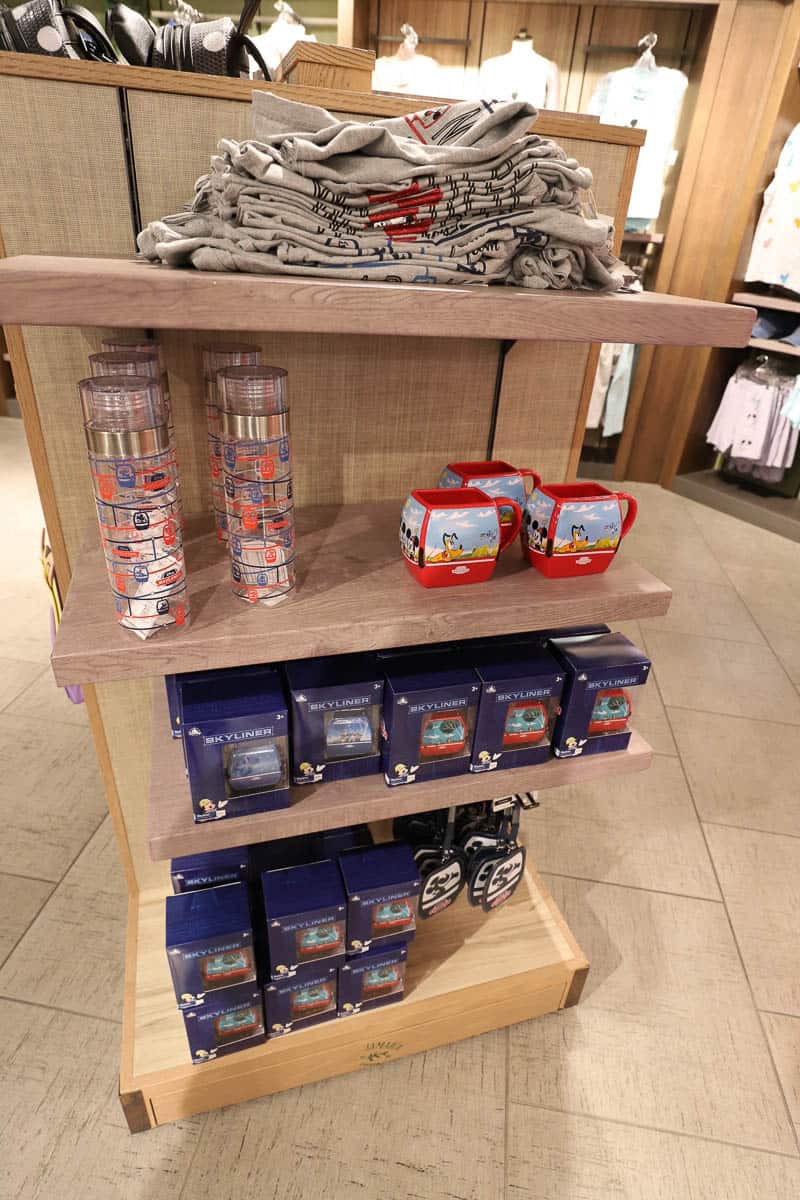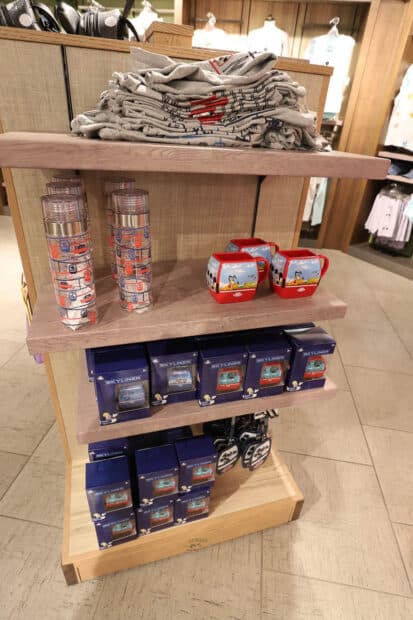 Here are a few more apparel items geared toward children.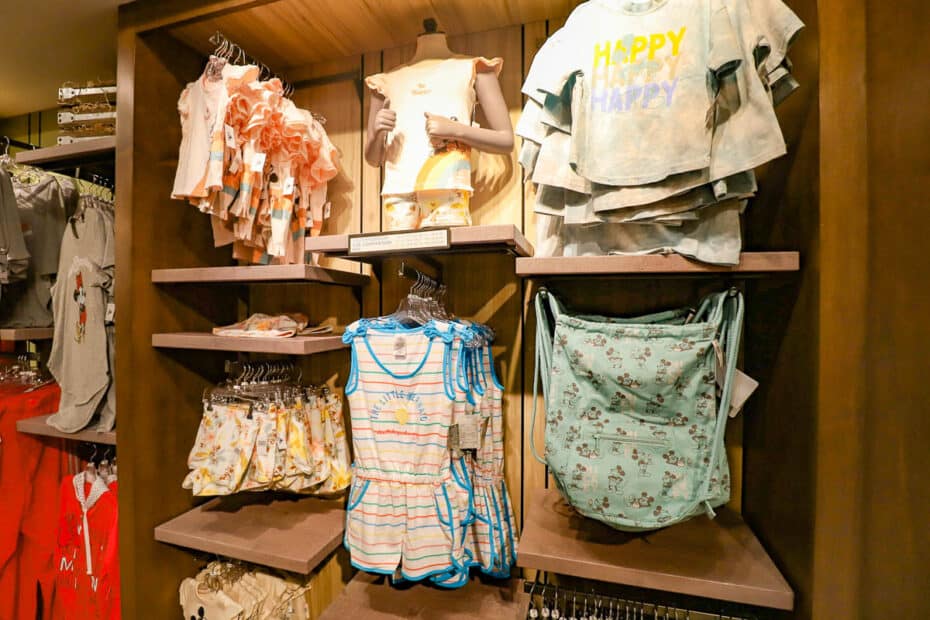 Several items featuring Minnie Mouse were available.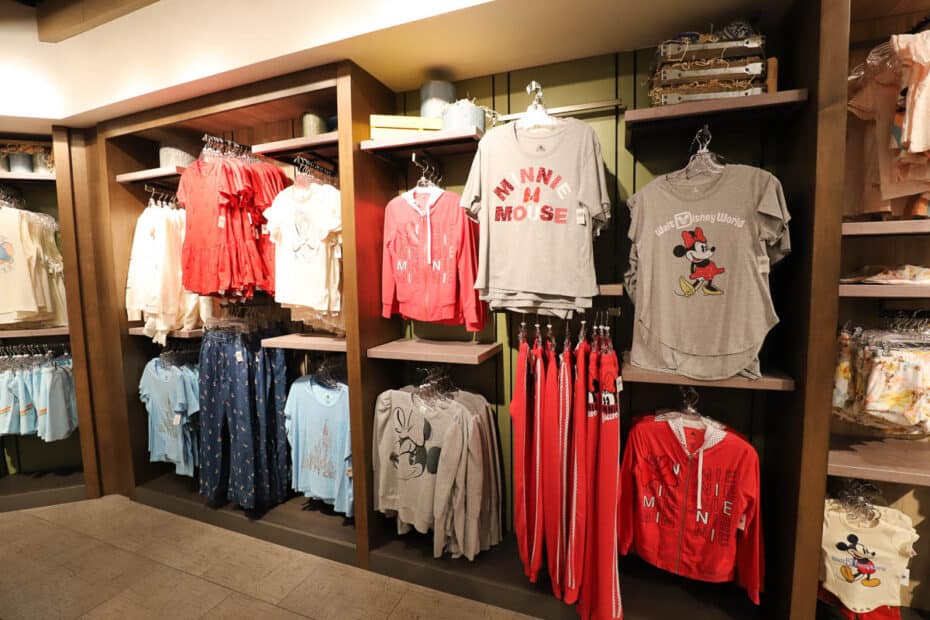 And you can't go wrong with Mickey Mouse branded clothing.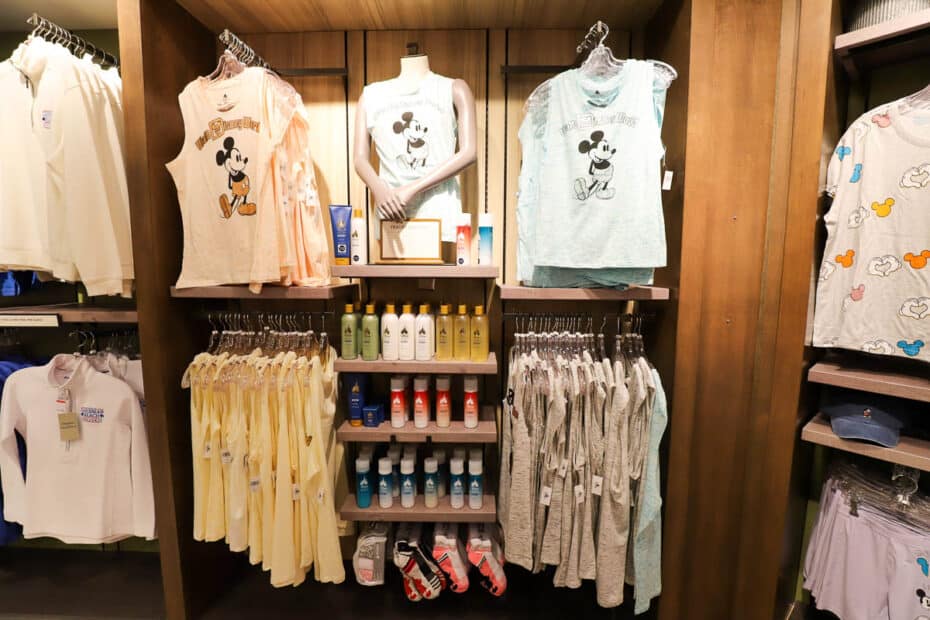 A Monsters University ball cap was sitting next to a fisherman's hat. I have this cap but can't figure out what I did with it.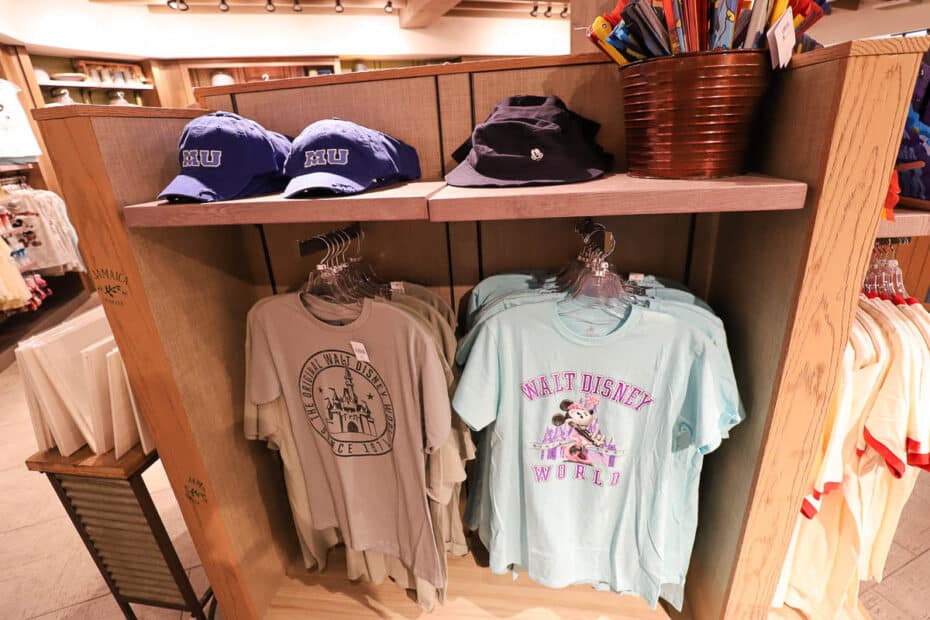 So this tropical shirt with Mickey is quite the popular item. I've seen men either trying it on or purchasing it in nearly every gift shop I've visited lately.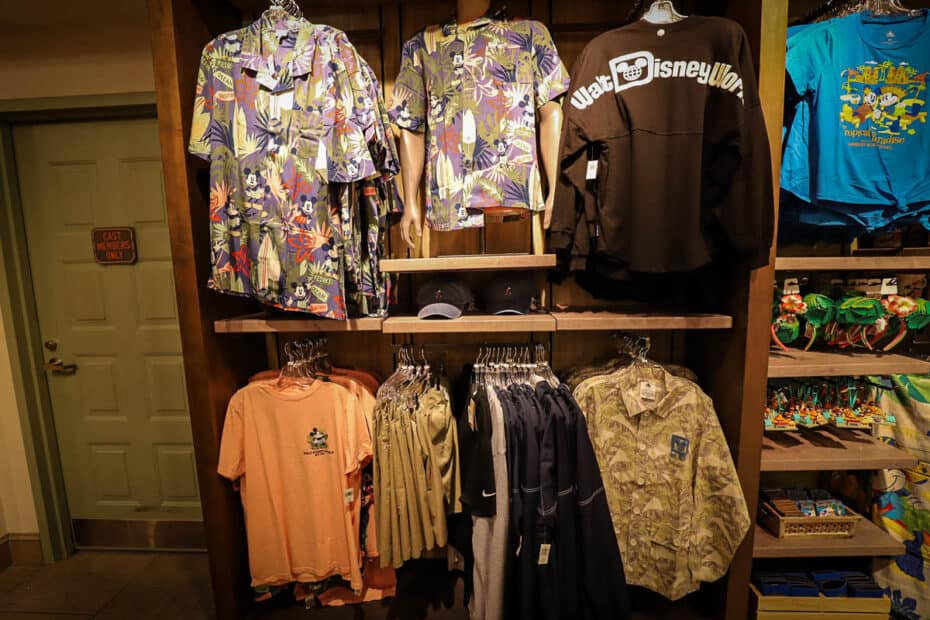 Here are a few odds and ends.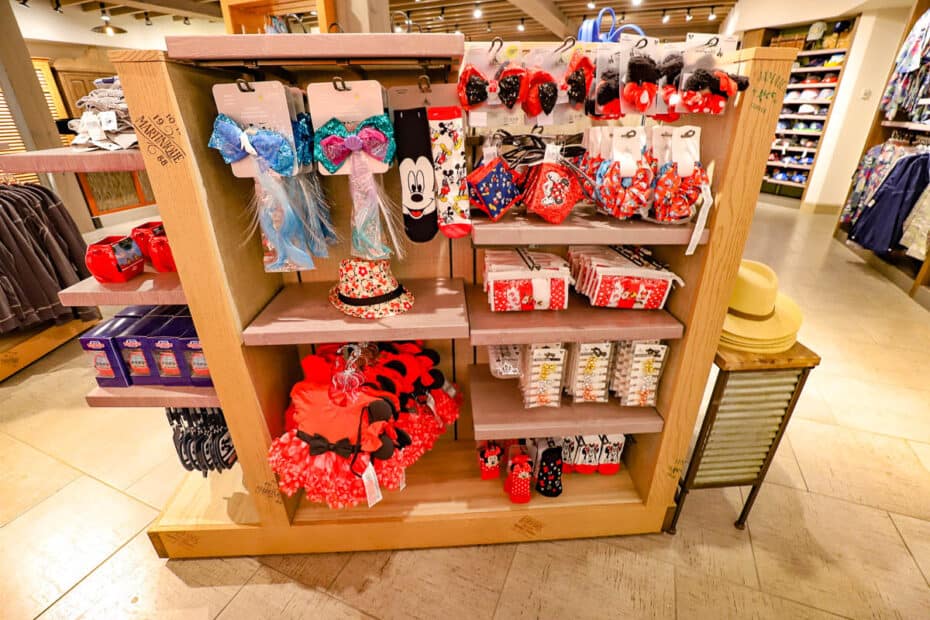 These Loungefly backpacks were available. The one on the bottom left is the newer style featuring the Disneyland version of the Main Street Electrical Parade.
Related: The Latest Disney Backpacks by Loungefly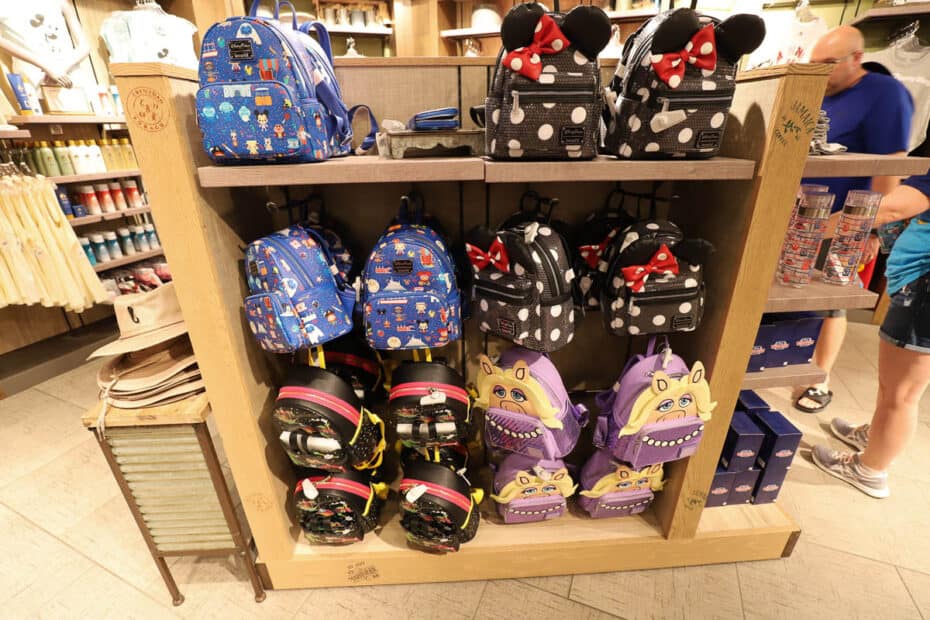 Additionally, the shop had an excellent selection of Minnie Mouse Ears.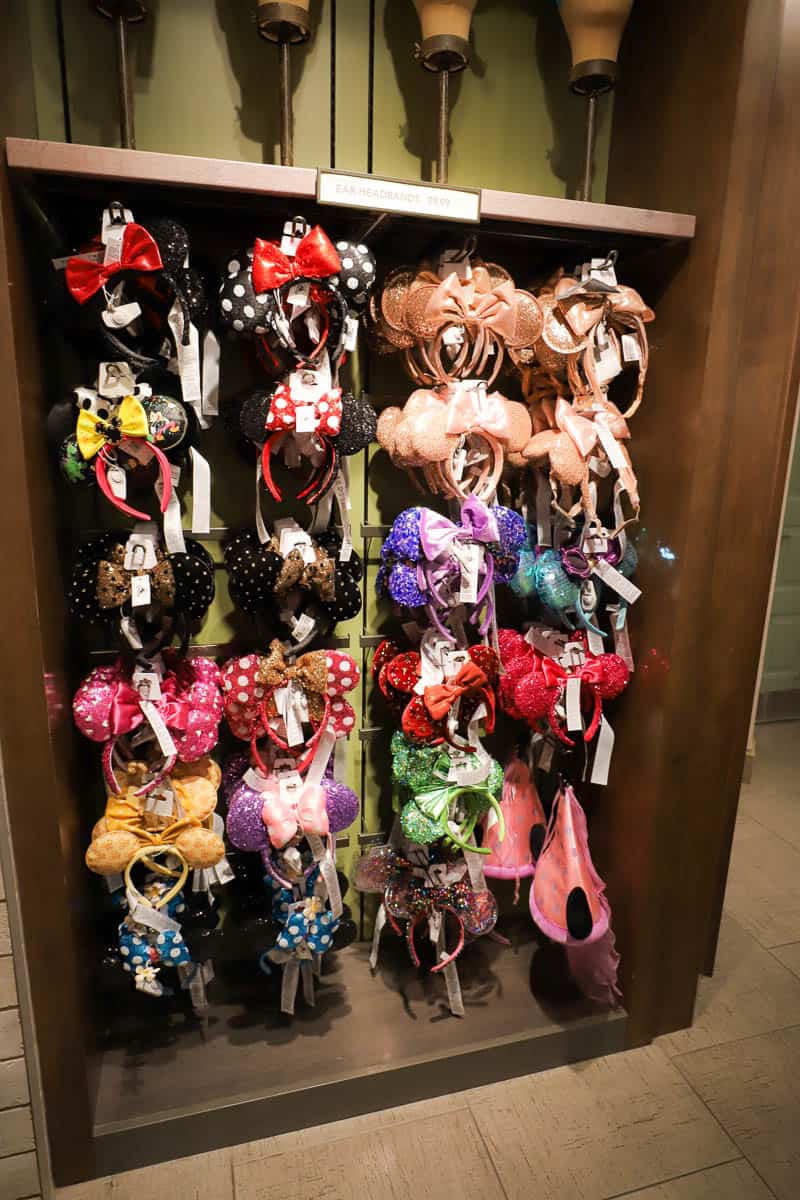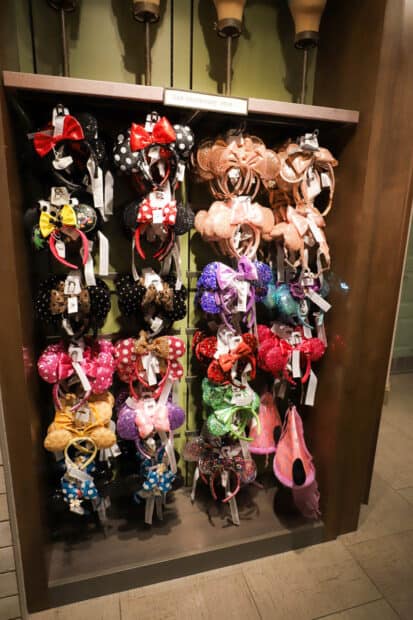 In addition, there were plenty of things you might need for the pool. Items included swimsuits, flip flops, slides, sunscreen, swim diapers, and goggles.
I don't know about you, but somehow, I have accumulated many pairs of goggles over the years.
With that being said, these items might come in handy if you were to forget to bring something. The pool at Caribbean Beach is one of the best around.
Related: Hotels With the Best Pools at Disney World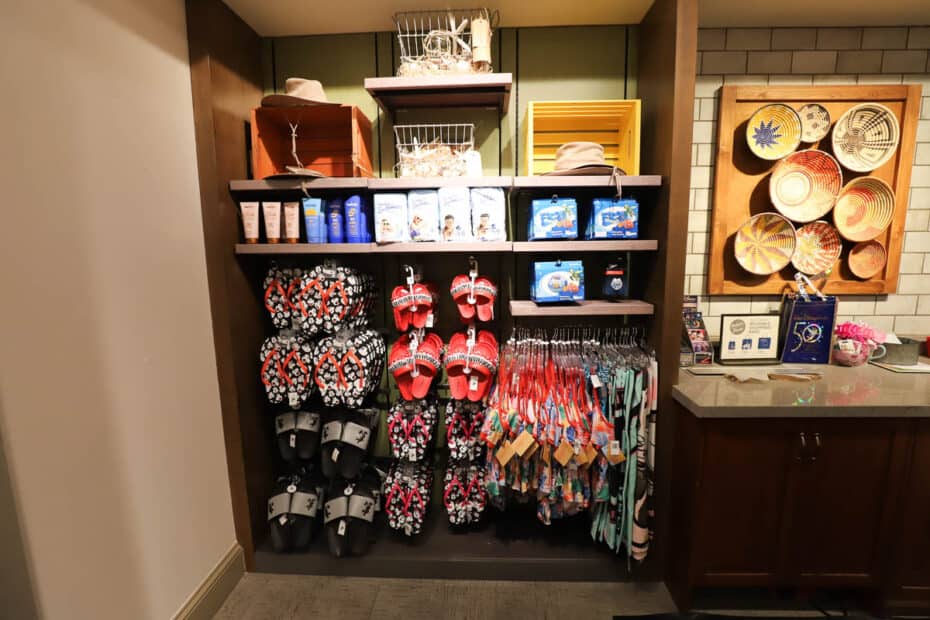 Behind the counter, there were several other backpacks, umbrella strollers, and luggage sets.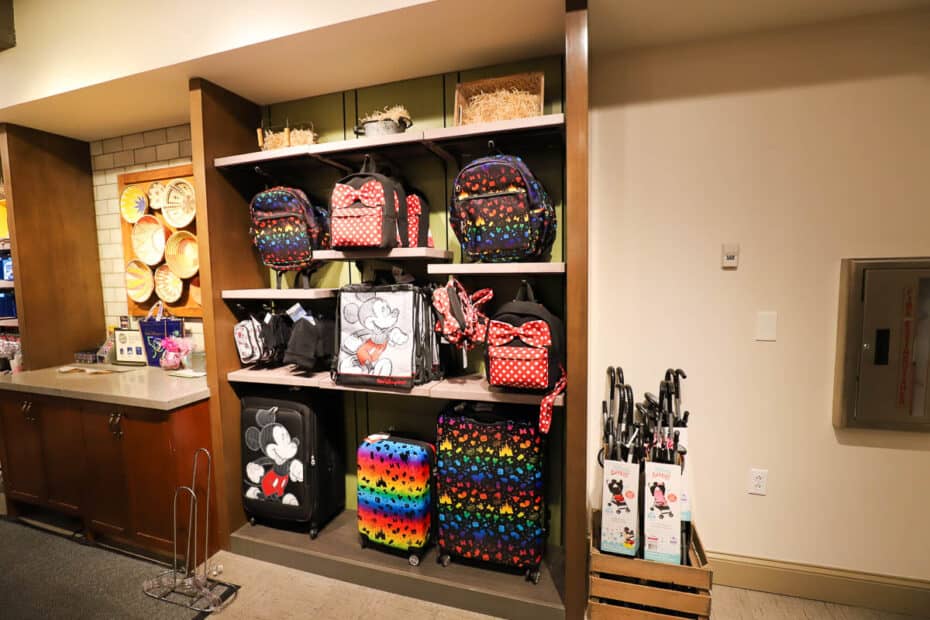 These home items in the photo below had an appealing color of blue.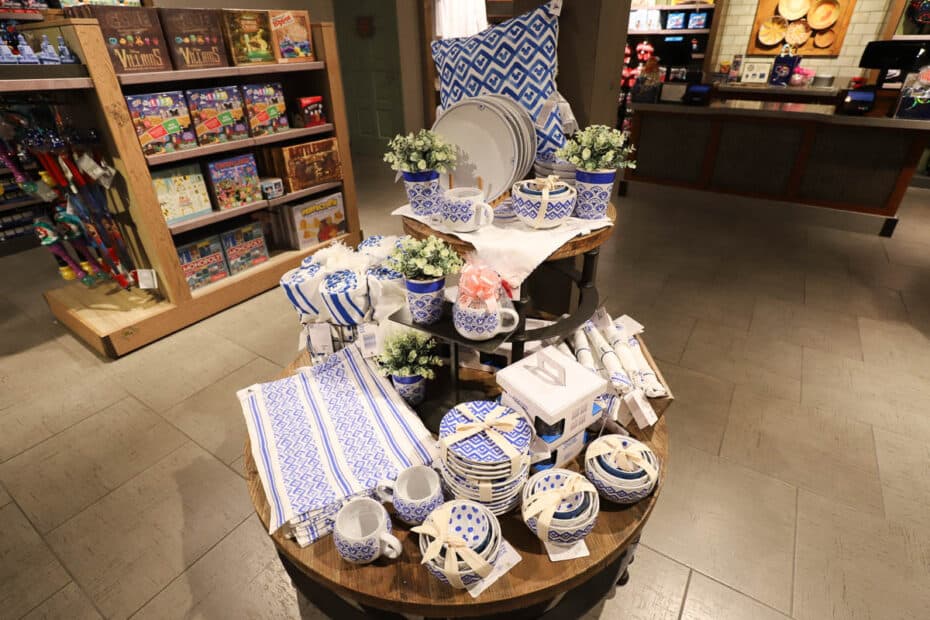 And if you don't care for blue, Calypso has a nice assortment of other home essentials.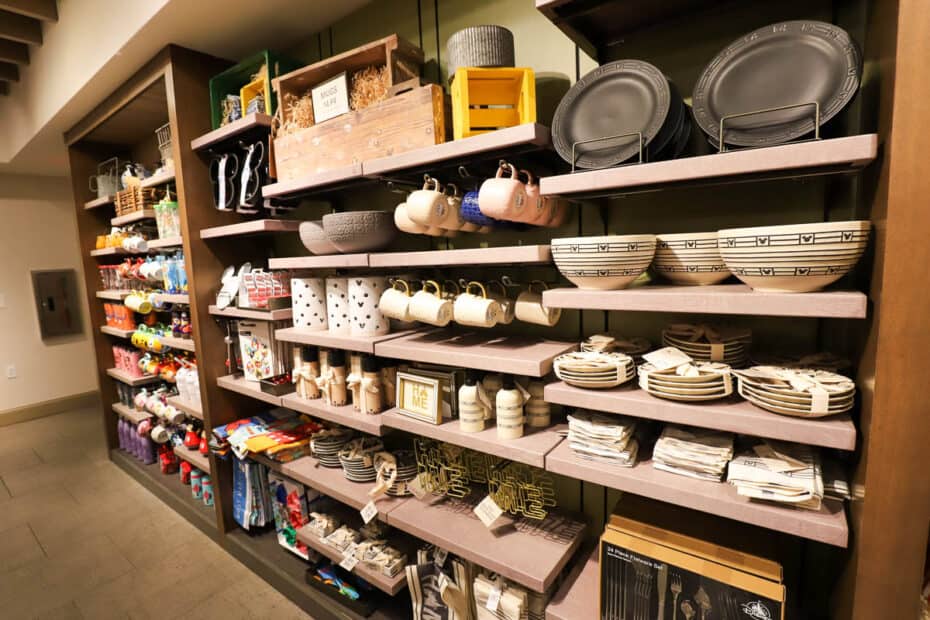 A few mugs were on display for those of you who collect them.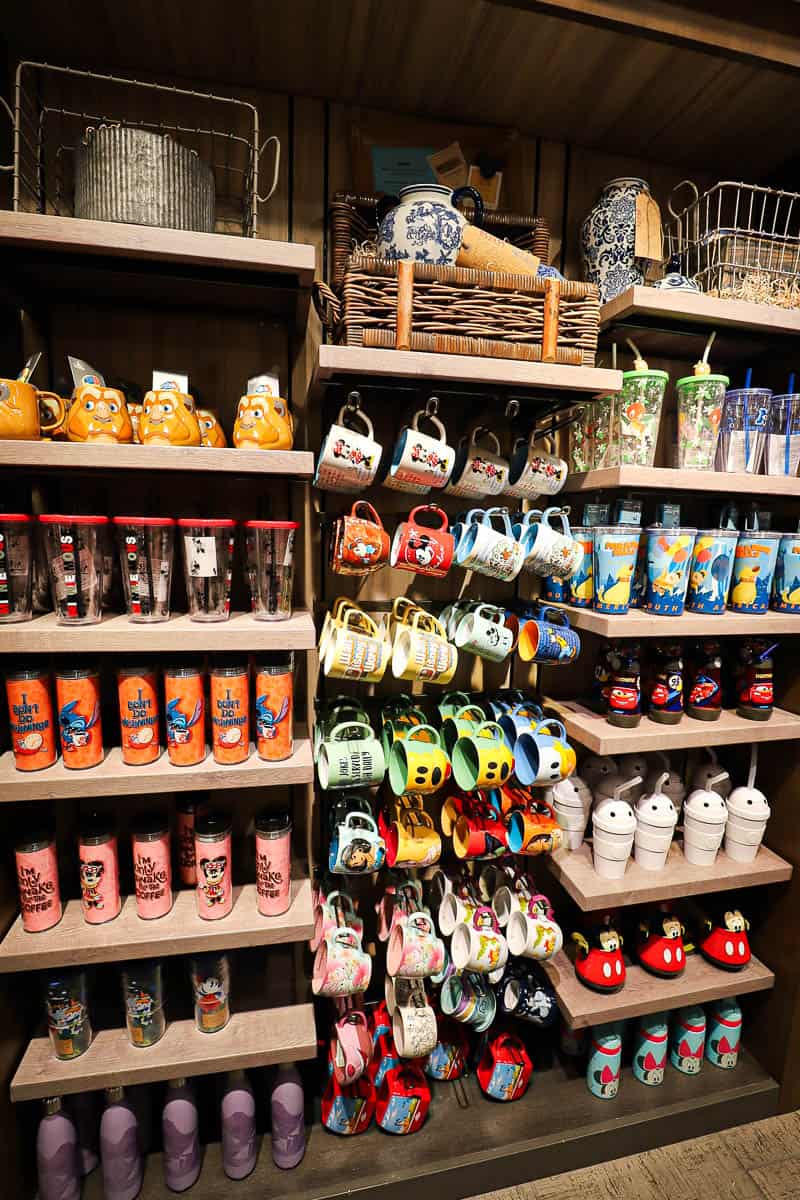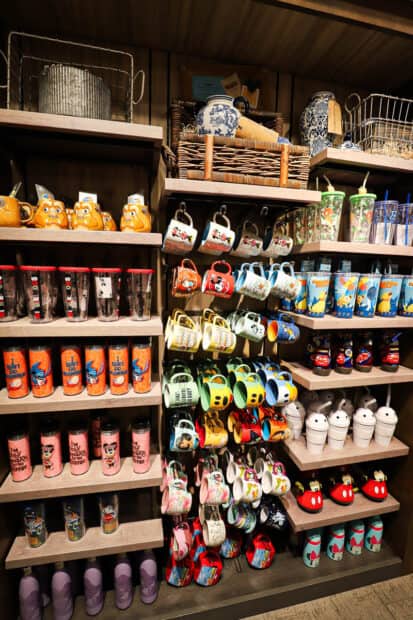 Here is a close-up.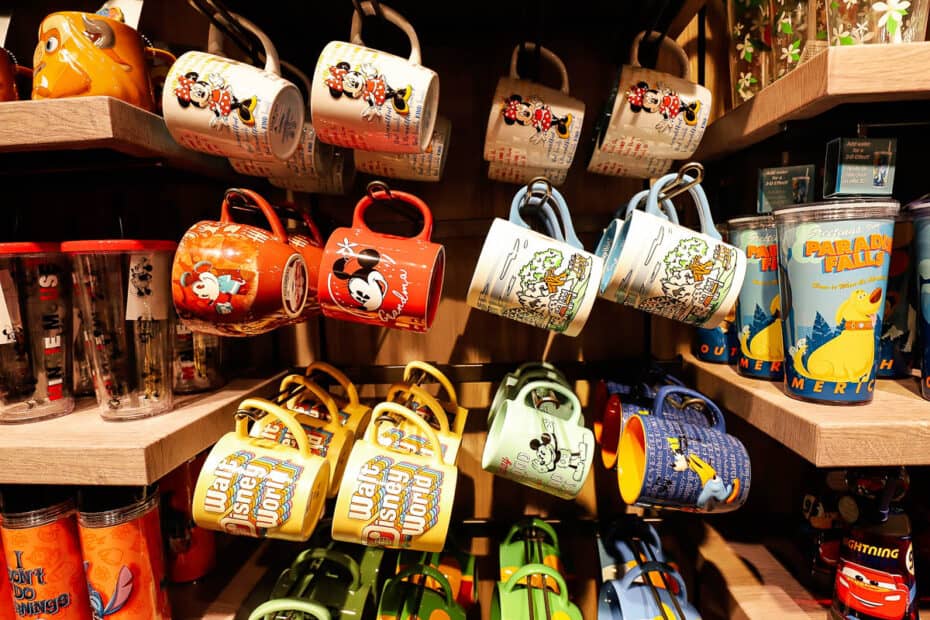 Calypso Trading Post had a decent selection of wine toward the back of the store.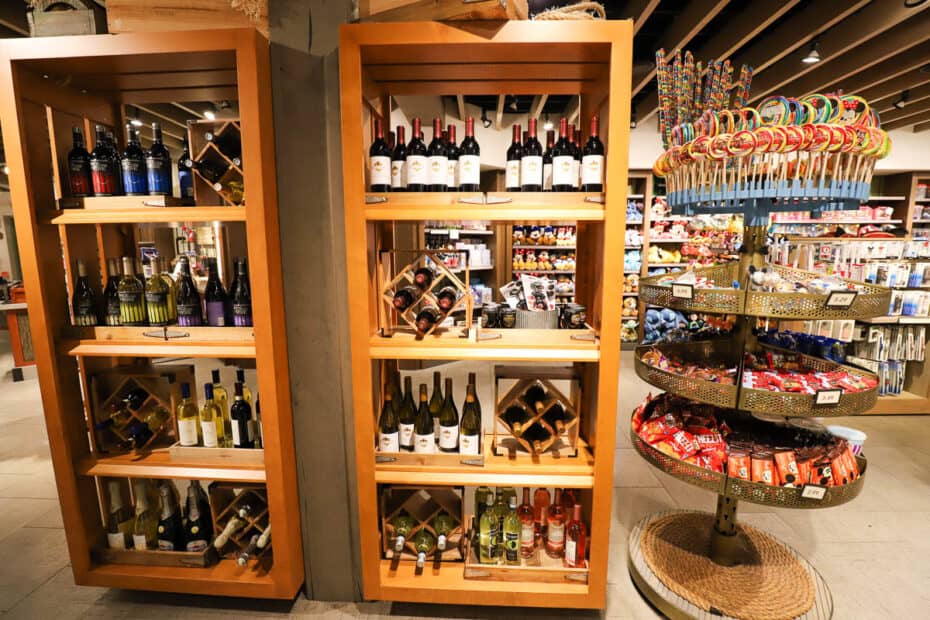 Here is the refrigerated case that has beverages like water, milk, wine, beer, and a few juice options. Those are Lunchables and individual yogurt cups on the top middle shelf.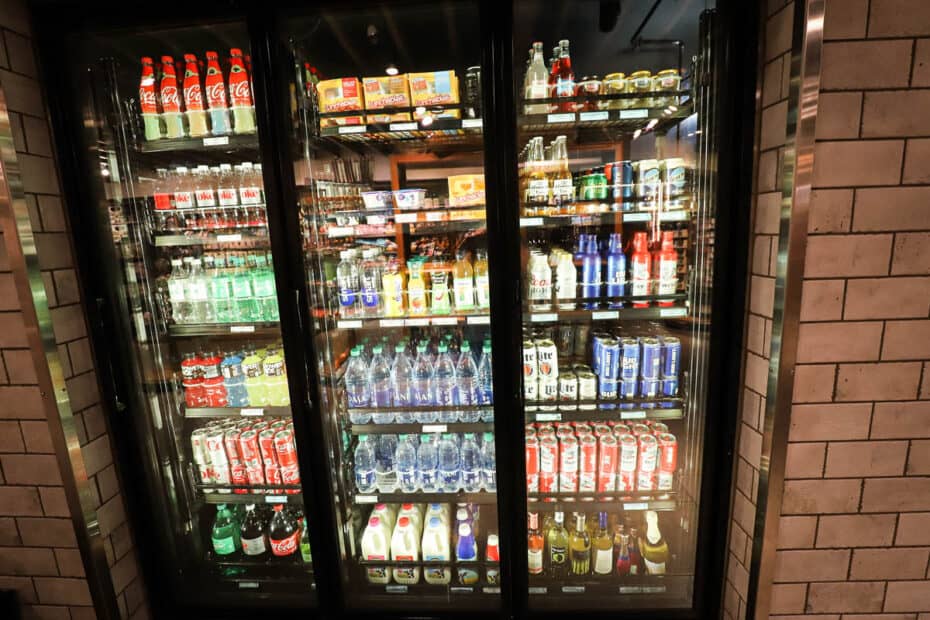 Disney-branded candy is always available. My son likes the cotton candy that comes in the Goofy container.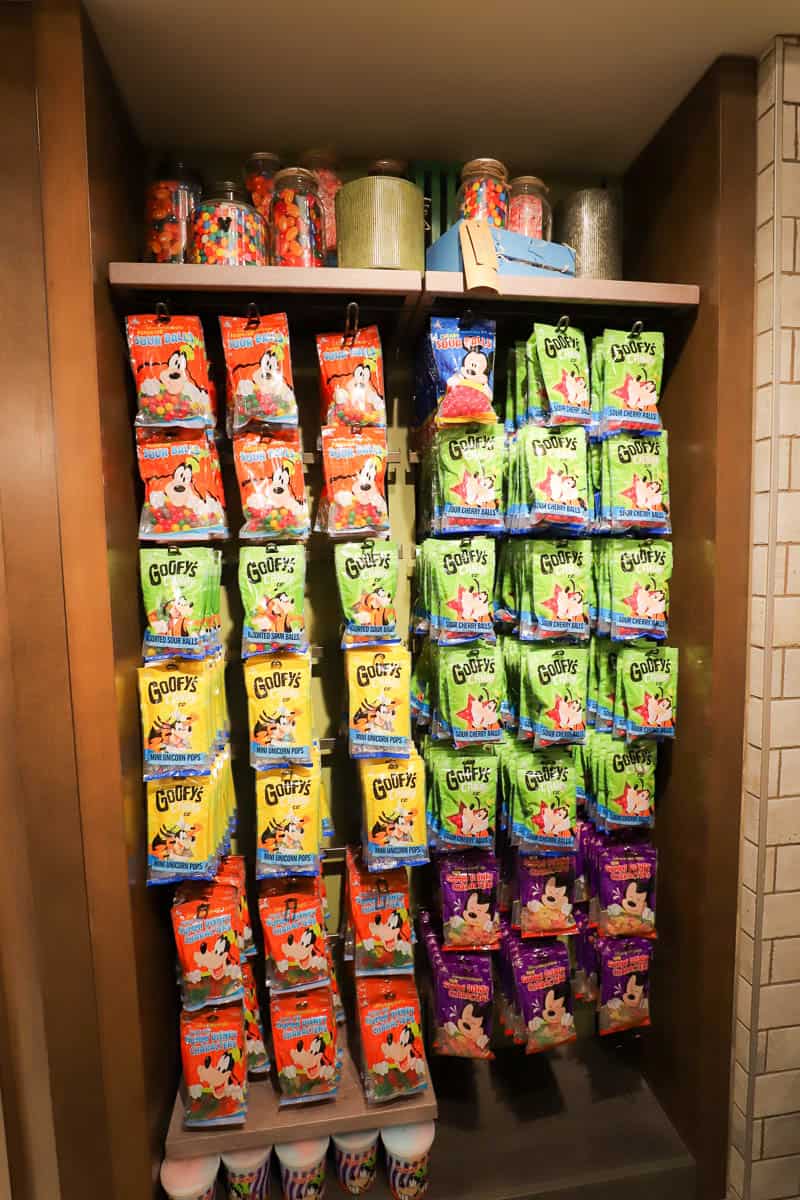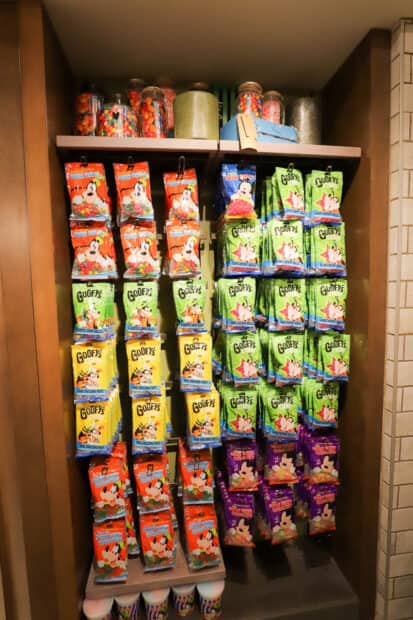 Here are a few more items like pretzels, shortbread cookies, and crispy rice treats.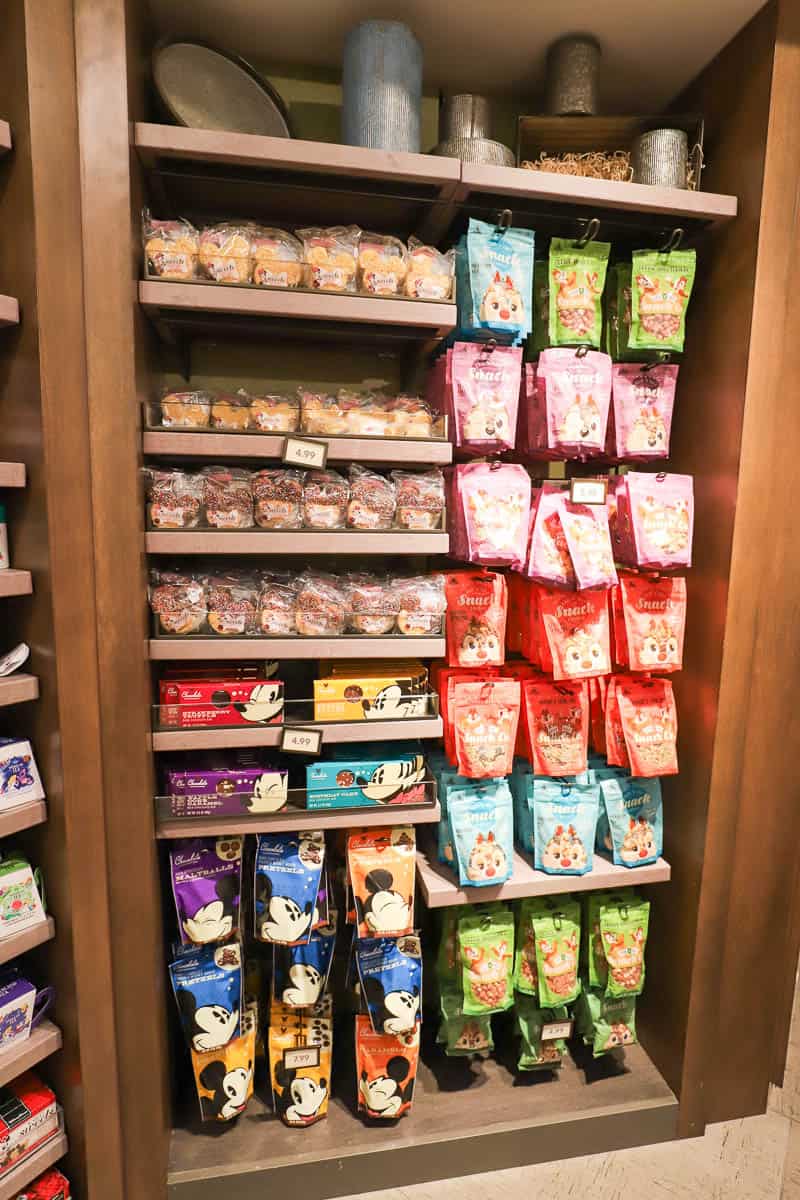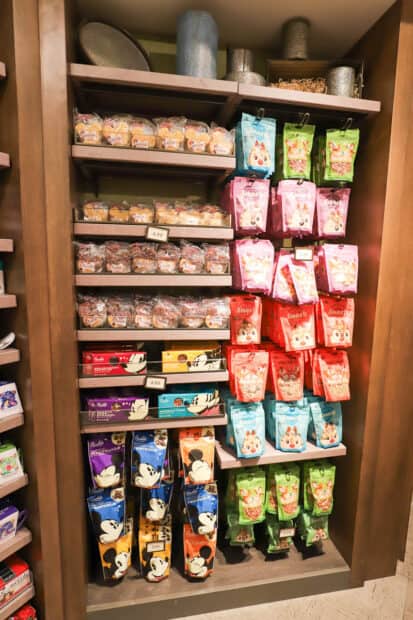 You might want to grab some chips and dip to take back to the room at some point.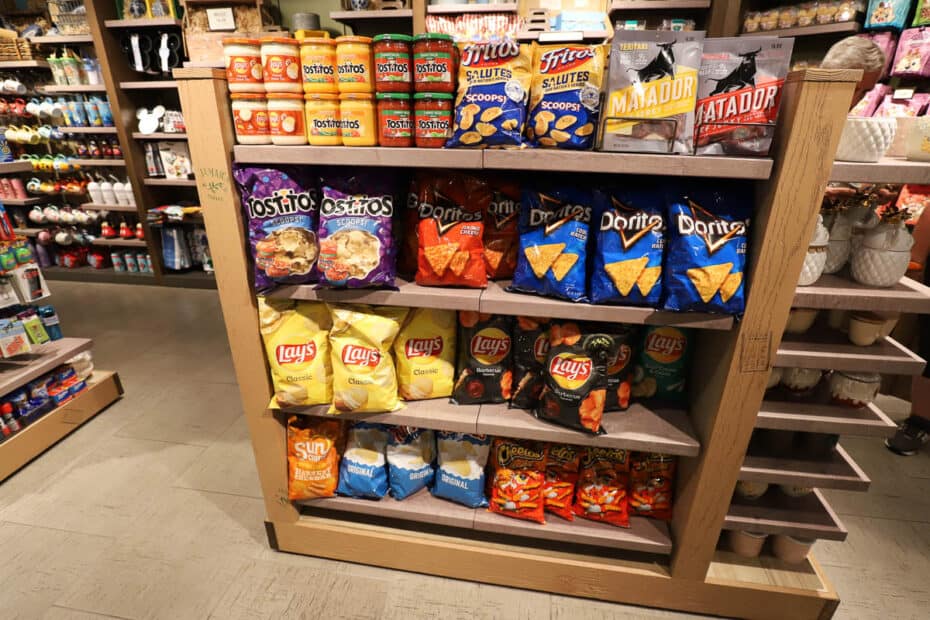 Or maybe you prefer popcorn.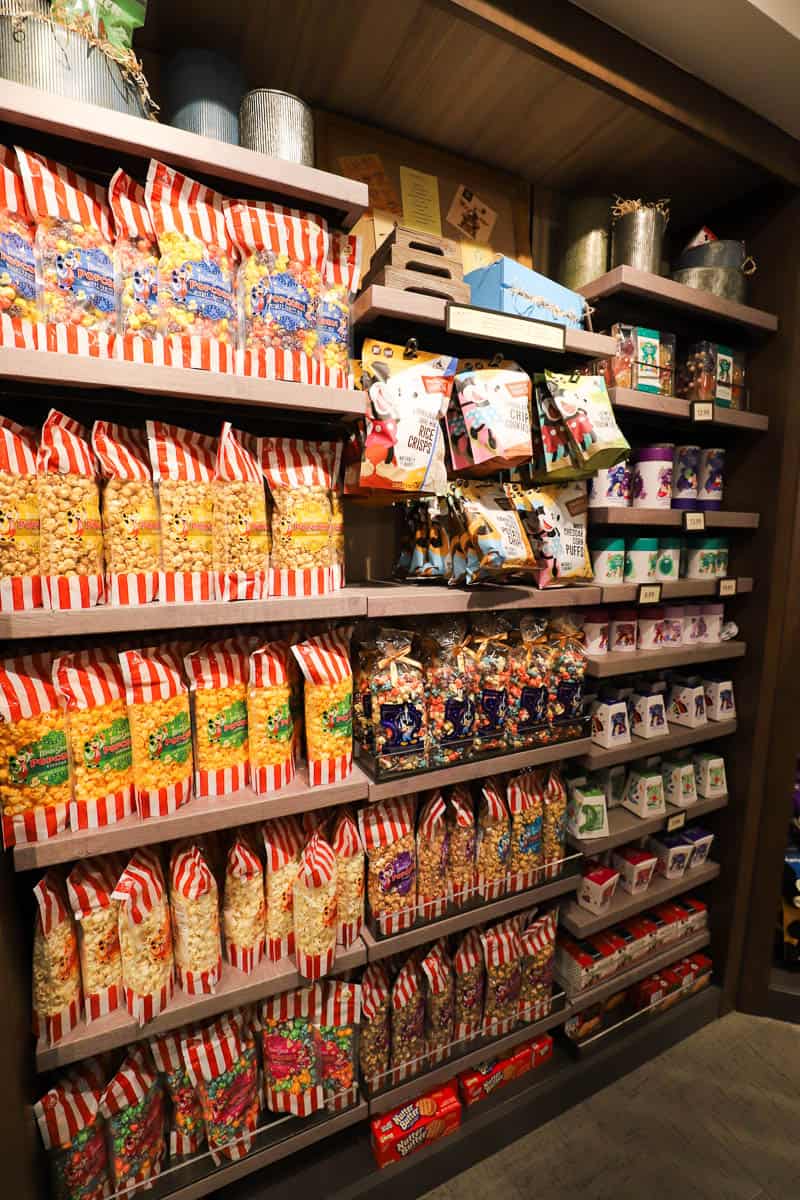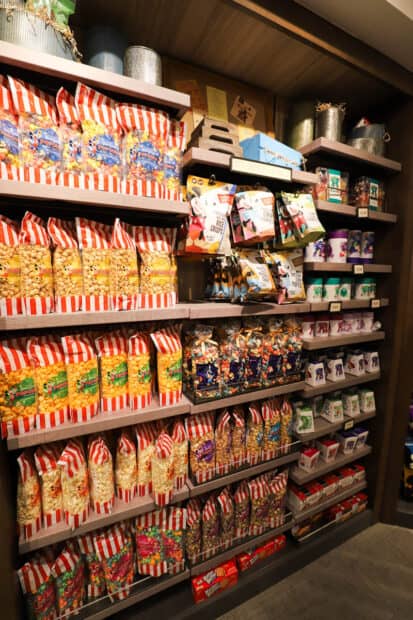 The bread section featured various donuts, muffins, bagels, and loaf bread.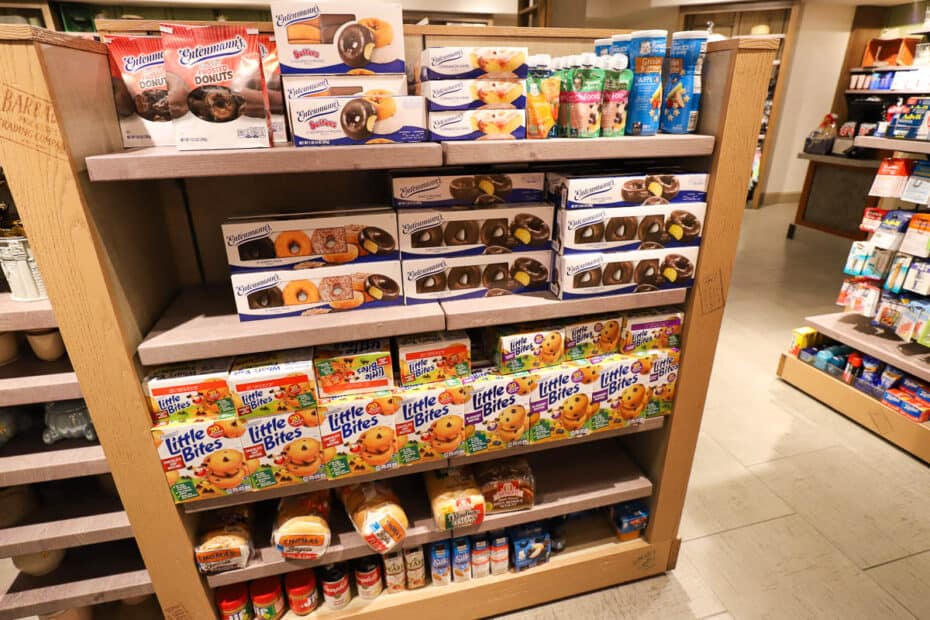 This shelf displayed several over-the-counter medicines.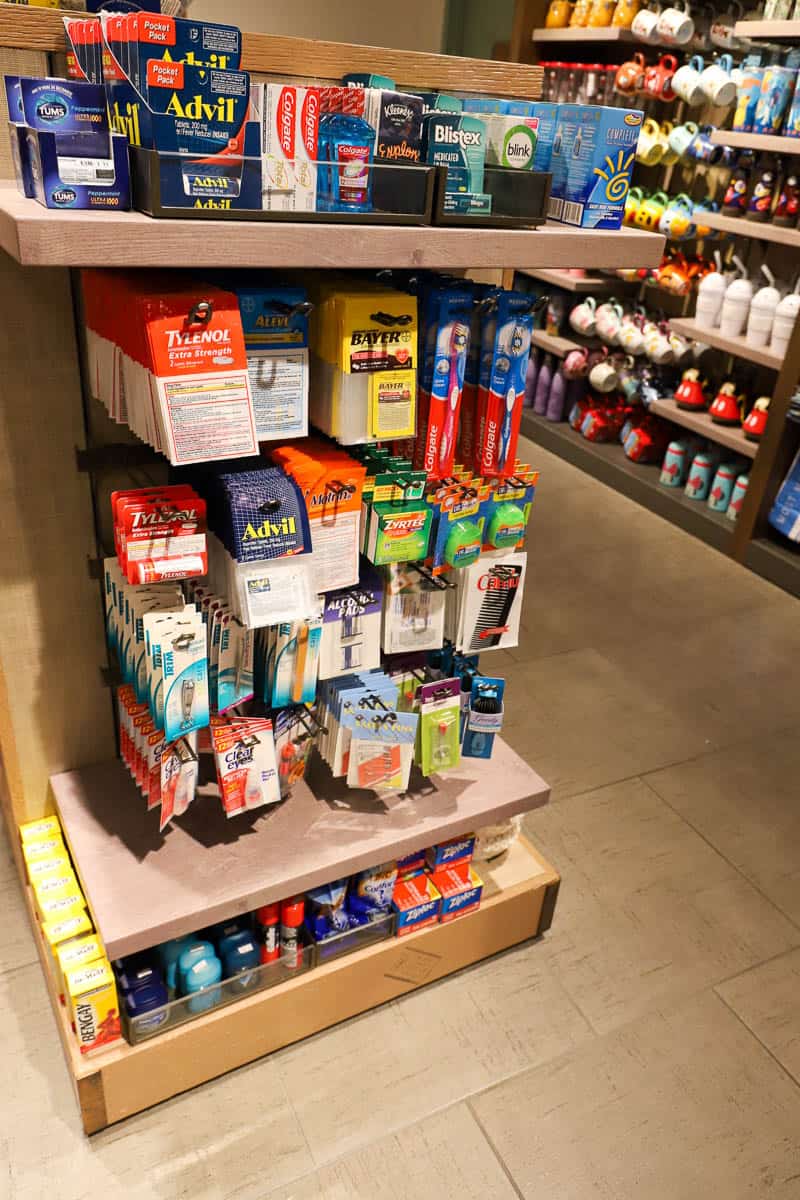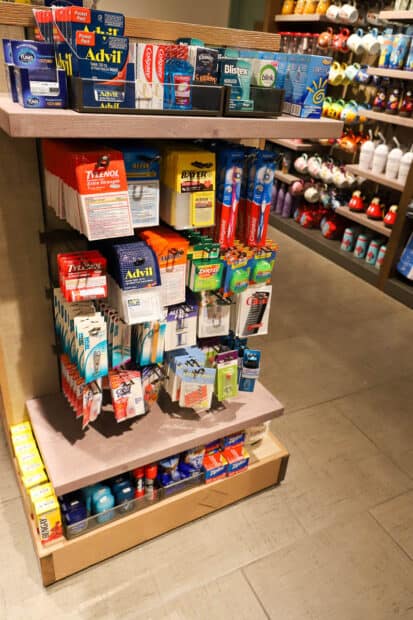 And the opposite end had a few other things along with personal items.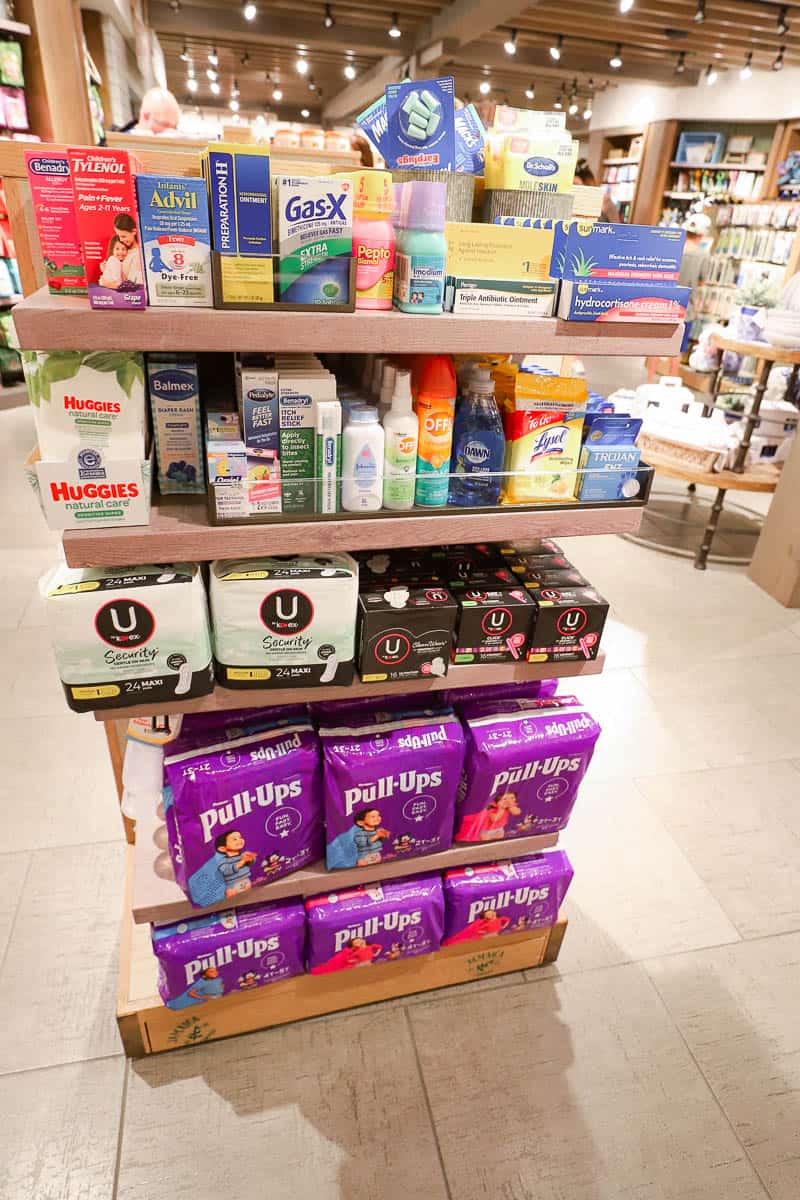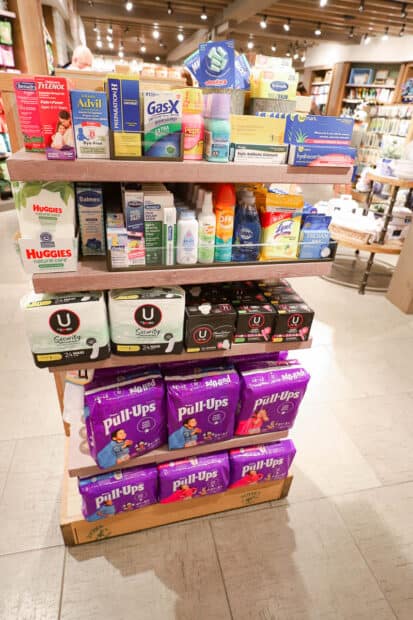 All in all, I was impressed with the selection of merchandise available at Calypso Trading Post. In a pinch, you should be able to find a needed item in the gift shop.
We have a complete guide that lists all of our articles for the resort if you would like to learn more.
Related: Disney's Caribbean Beach Resort
Or you might enjoy these individual articles:
In the comments: Do you have a favorite gift shop at Disney that you like to browse? Have you ever done any shopping at Calypso Trading Post?
Planning a Walt Disney World or other Disney Destination vacation?
Our friends and travel partner, Firefly Travels, excels at doing Disney differently. You can fill out a plan your trip form on their website, and someone will reach out shortly to discuss the specifics.