Coronado Springs Standard Room Tour with Amenities (Cabanas Section)
In this article, we tour a standard room at Disney's Coronado Springs Resort.
Several years ago, we visited Disney's Coronado Springs Resort to stay at Gran Destino Tower after its opening. Before that, we were regulars at Coronado Springs.
We often visited, whether for a week-long vacation or to stay a few days before moving to a deluxe resort. Since then, we embarked on this journey with the website to cover all of Walt Disney World's Resorts.
Suffice it to say we missed staying at what we consider the best moderate resort at Disney World. So a few months ago, I planned a return visit to Coronado Springs.
Since our last visit, the rooms at Coronado Springs have been completely updated. Of course, those updates are no longer brand new, but they still feel fresh and modern.
Below, I'll walk you through a photo tour of a standard guest room in the Cabanas section of Disney's Coronado Springs Resort. We'll preview the room and its amenities.
Additionally, I'll add a video tour of the room toward the end.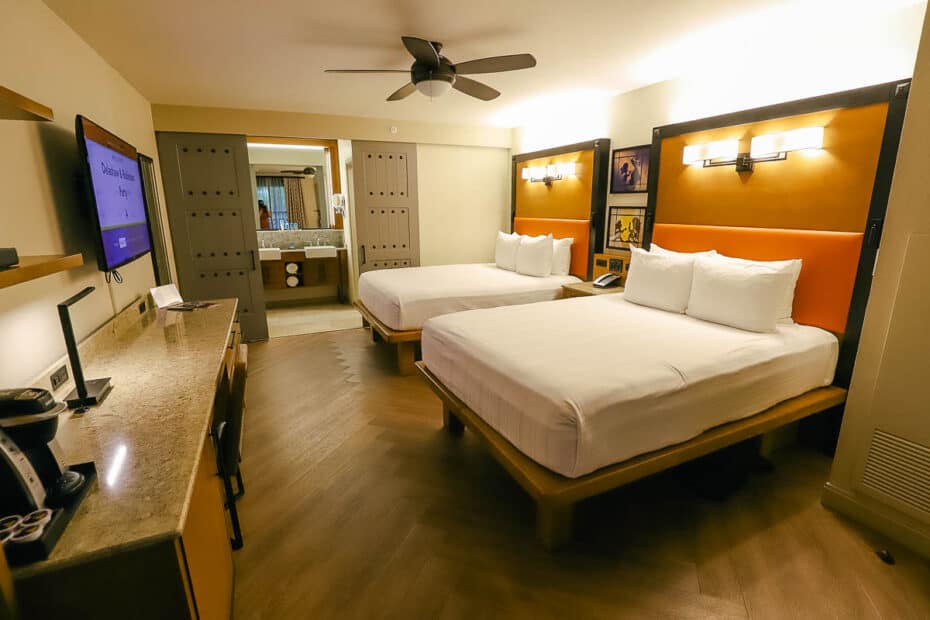 Standard Room at Coronado Springs in the Cabanas
When I booked this stay at Coronado Springs, I had planned to send a full trip report of this stay to my email subscribers. We had plans to visit Mickey's Very Merry Christmas Party to see the pros and cons of staying at a moderate on a party night.
I wrote a similar trip report in August, where we stayed at Disney's Contemporary and attended Mickey's Not So Scary Halloween Party. That trip worked well because we could walk back to our room after the party.
Unfortunately, due to a hurricane, we had to exchange our party night for one the following week. Therefore, that trip report would have turned into something like Staying at a Walt Disney World During a Hurricane.
It would have been boring. For most of the trip, I stayed in the room, watched television, and worked on the website.
You can sign up for our newsletter here if you would like to read future trip reports. You will need to confirm your email after signing up.
Okay, back to the room. It wasn't the worst place to ride out a hurricane. Thankfully, I felt snug and secure on the second floor of the Cabanas section.
My view was out to the parking lot, where I could see my car. So I was happy I could easily check on it.
With that said, I only opened my curtains to check on my car or see what the weather was doing. I don't think it's necessary to pay for a room view upgrade when it comes to staying at a moderate.
However, if I were staying in a deluxe resort, I often throw caution to the wind when it comes to room view upgrades. Who doesn't want to sit on a balcony and watch animals on the savanna or see the nightly fireworks from one of the parks?
A standard guest room at Coronado Springs comes with two queen-size beds. There are a few rooms with king-size beds, but that is an upgrade that comes at an additional cost.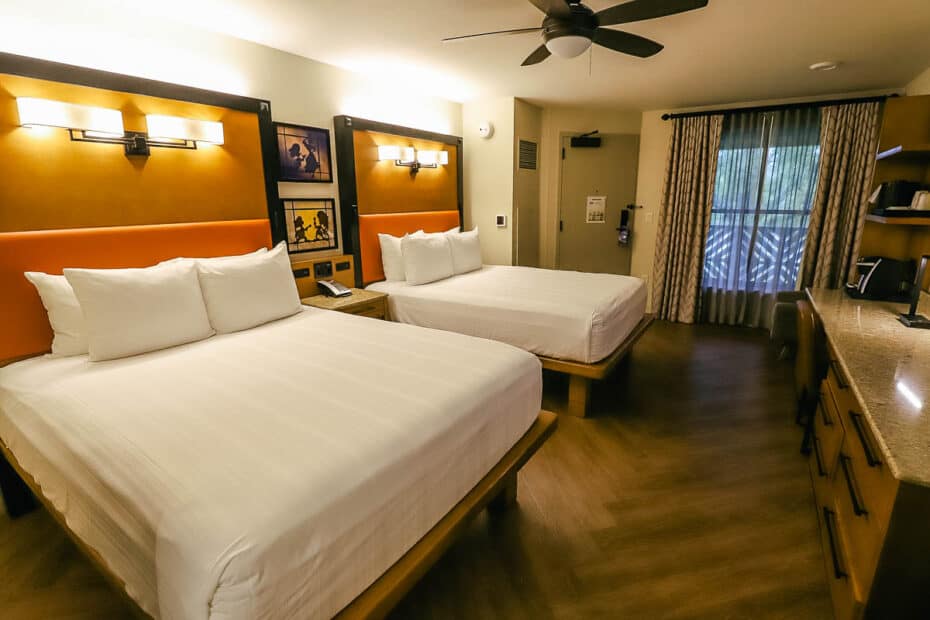 I was impressed with the mattresses and felt mine was soft and comfortable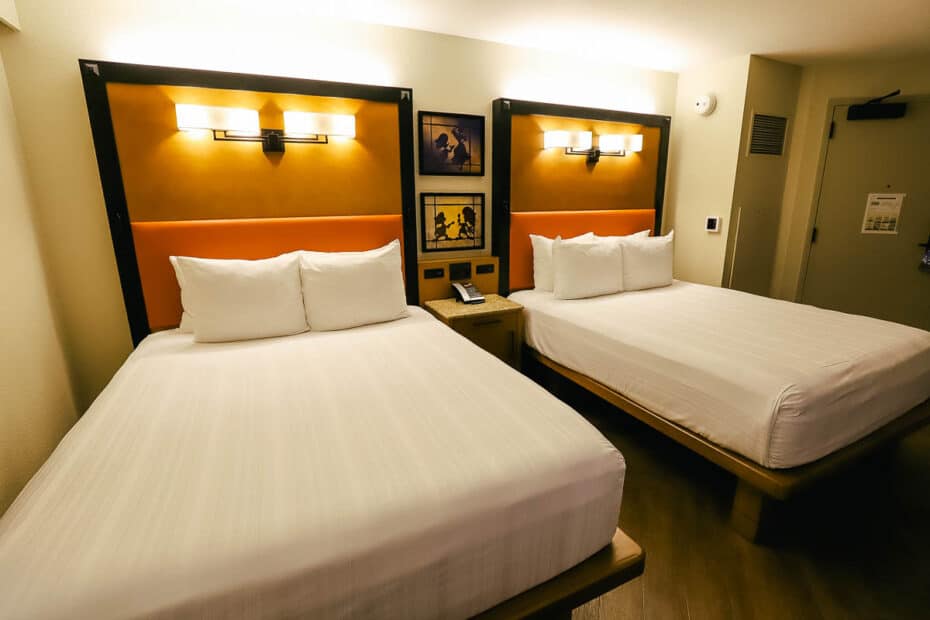 Between the beds, there were several electrical and USB outlets.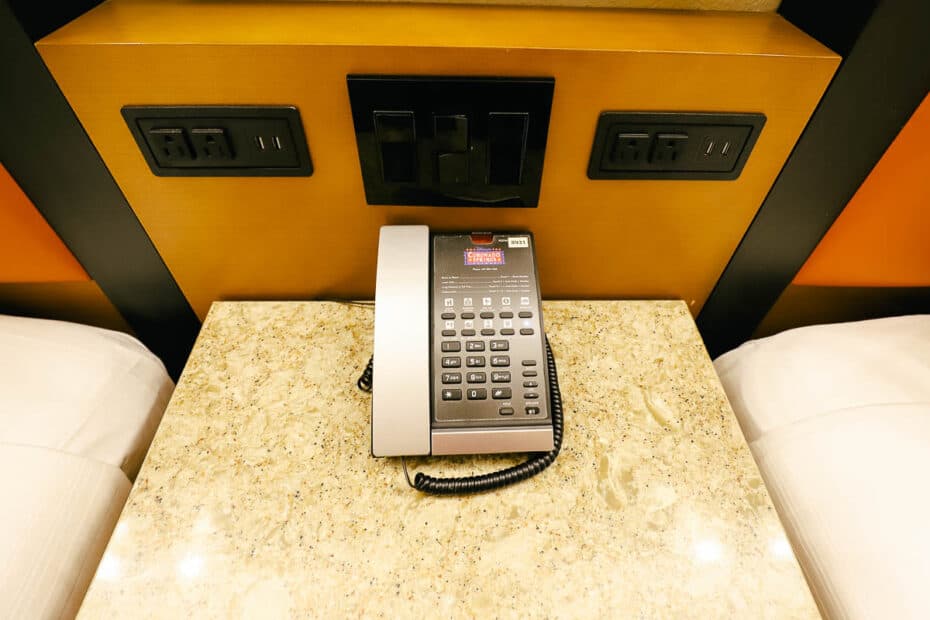 Light fixtures were positioned above each bed. Additionally, each side of the bed had a small pin light that automatically turned on when in use. Silhouette artwork between the beds features Donald Duck as part of The Three Cabelleros.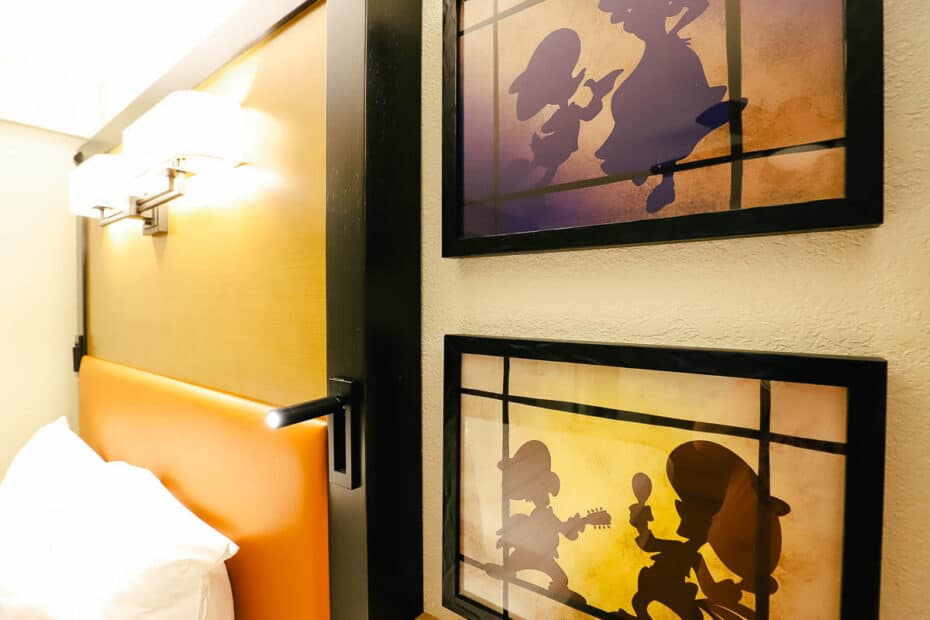 Platform-style beds allow plenty of storage underneath them for luggage. This is a newer amenity I've come to appreciate over the past few years.
Often I have more than one piece of luggage. While I still use a luggage rack for my largest suitcase, I now utilize the space under the bed for other items and purchases.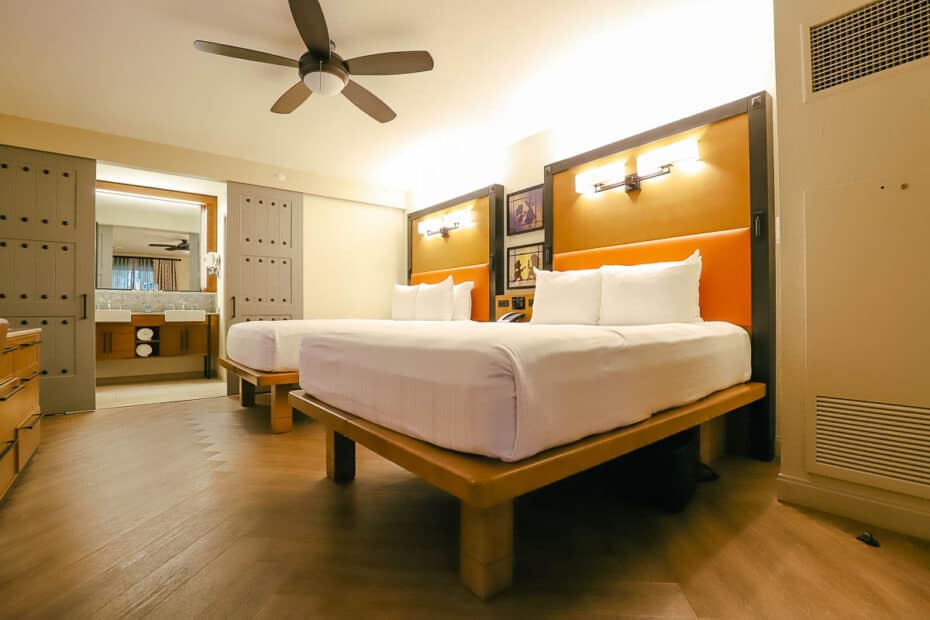 Instead of having a table and chairs, the rooms at Coronado Springs have a desk that serves several purposes. The top offers space to work, eat, or store items.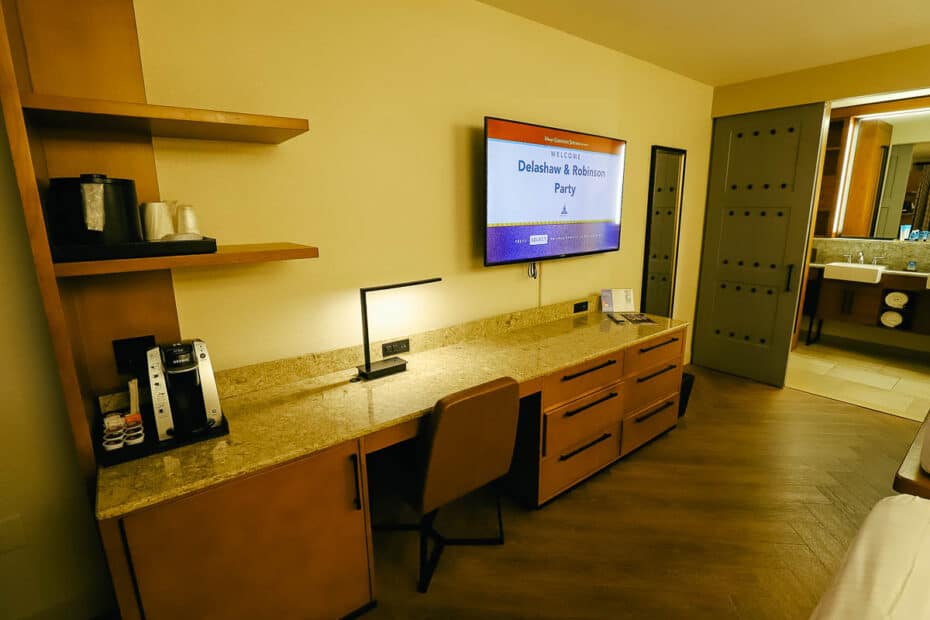 This extra work light comes in handy. Additionally, there are multiple outlets and USB ports along the countertop.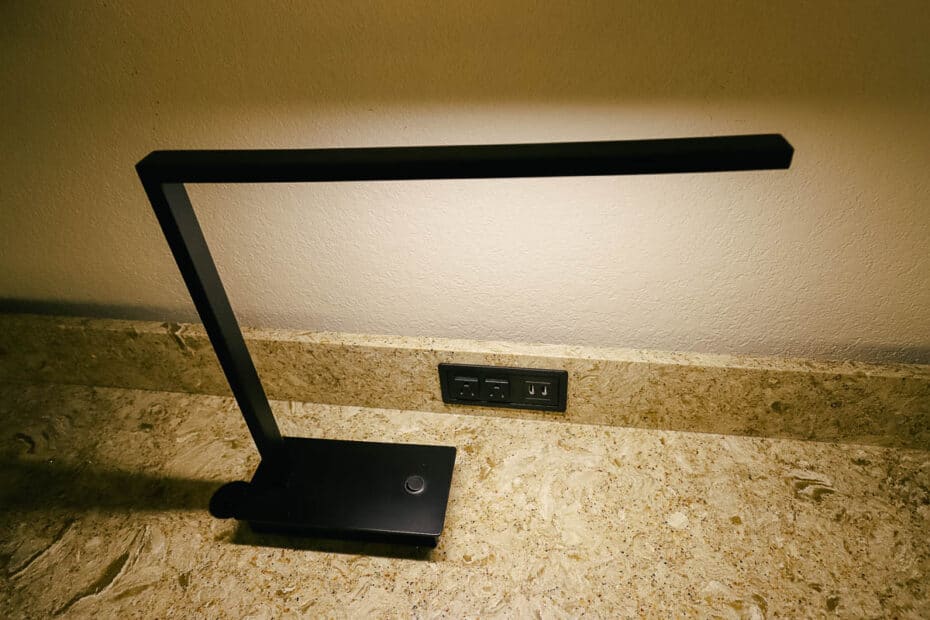 On the far left-hand side, there's a cabinet that reveals a beverage cooler. Note these beverage coolers have warnings saying they are meant to chill items.
They are not designed to keep anything fully refrigerated. So be cautious about what you store in them.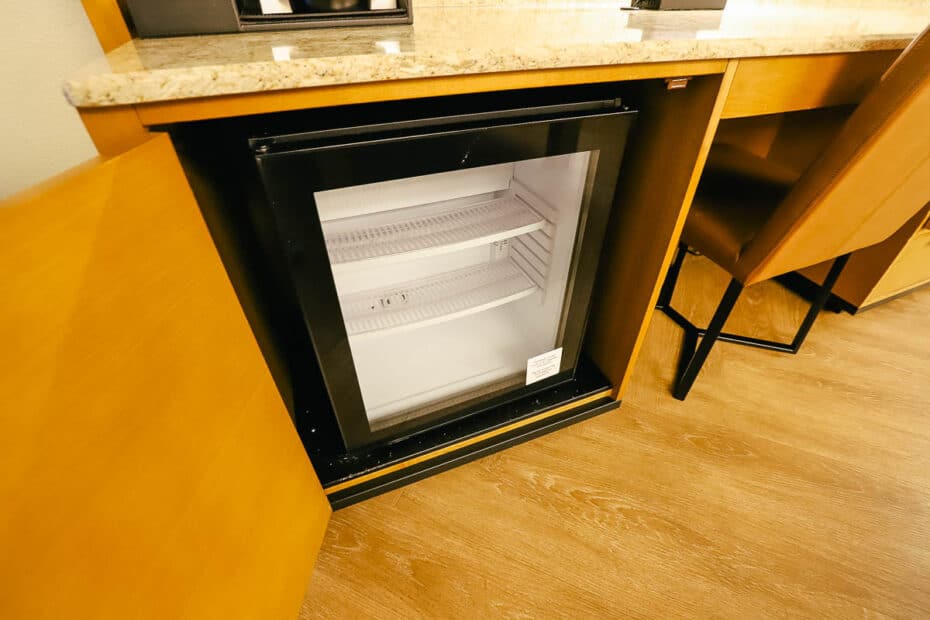 Here we have an ice bucket and a few disposable cups.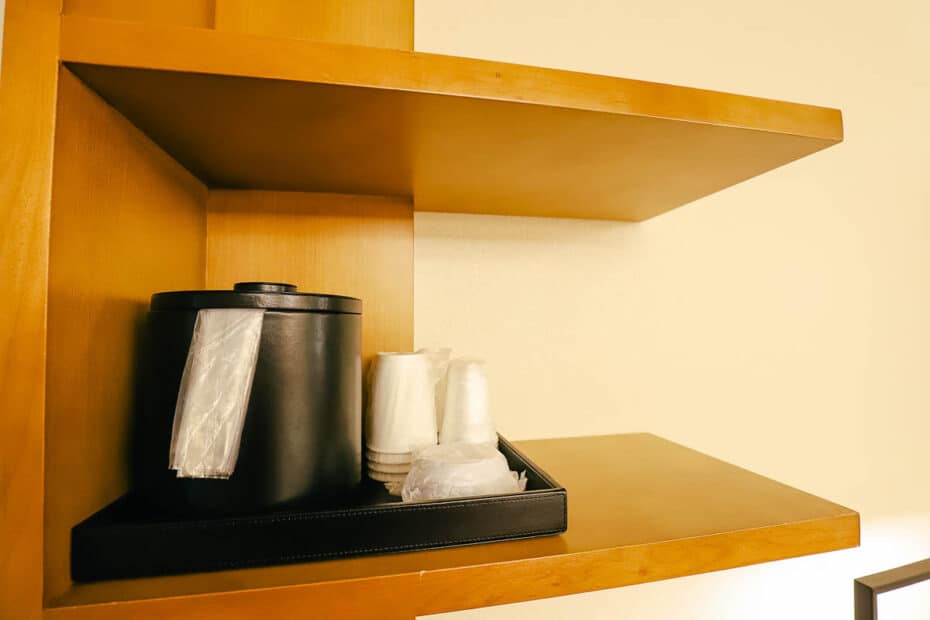 A Keurig coffee maker is available. When these first came out, I thought they were an excellent idea. However, the coffee I've tried since then hasn't been that great.
So now I venture out for a decent cup of coffee on most hotel stays.
At Coronado Springs, there is an excellent cappuccino at Rix Sports Bar off the main lobby. Also, I'm sure Barcelona Lounge has a few decent options when it comes to coffee.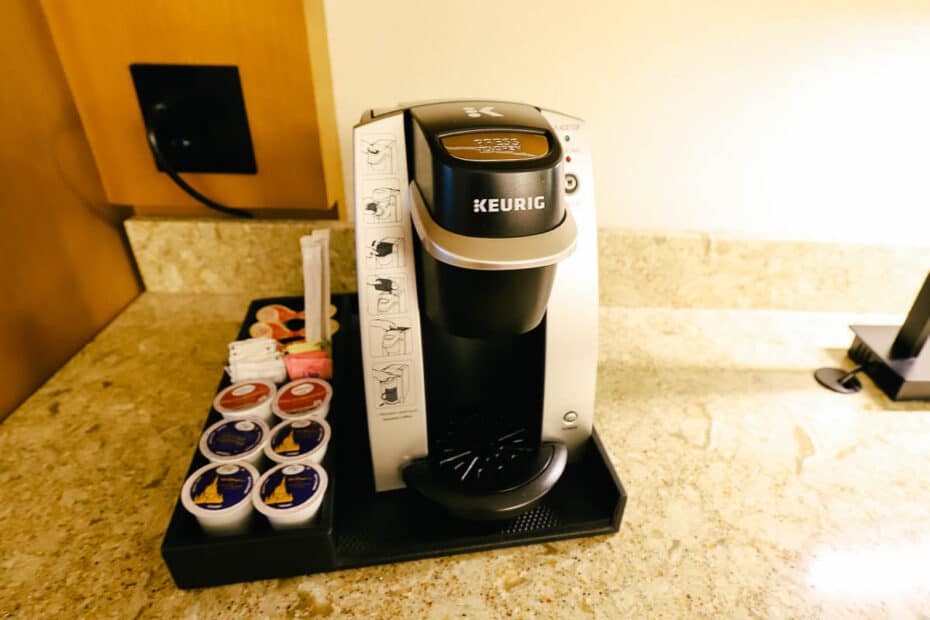 A stand-alone chair sits toward the front of the room. It was pretty comfortable, and I loved the Disney artwork hanging above it.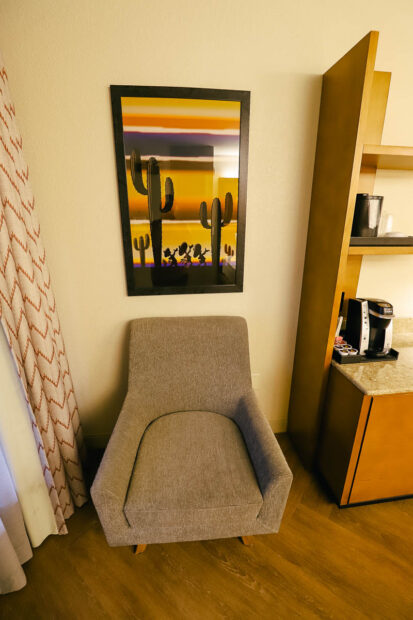 Even more impressive is the guest bath in the room at Coronado Springs. It has a vanity area with a separate water closet.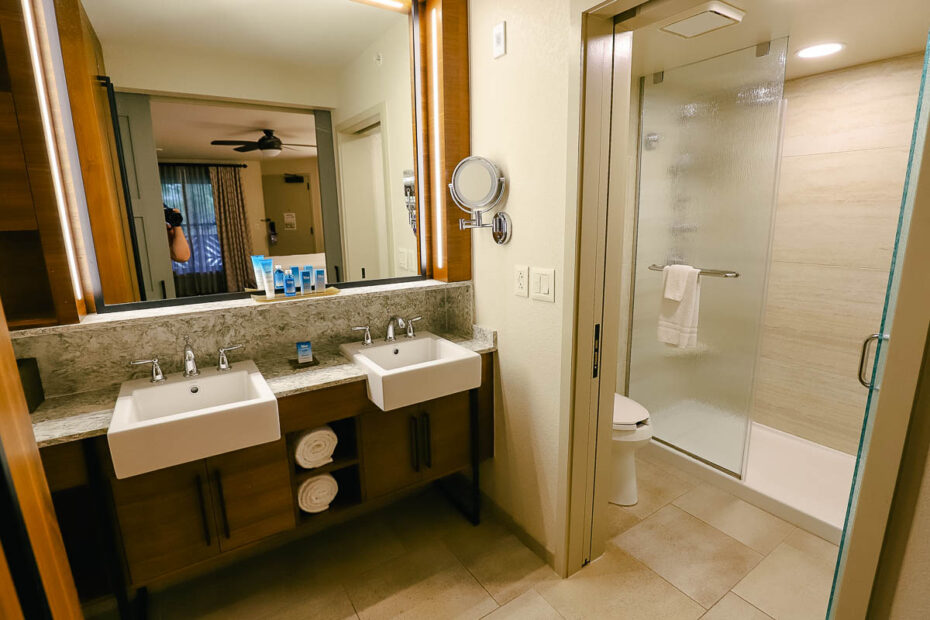 There were two sinks, and a ledge sat over the vanity area, providing an excellent spot to place personal items.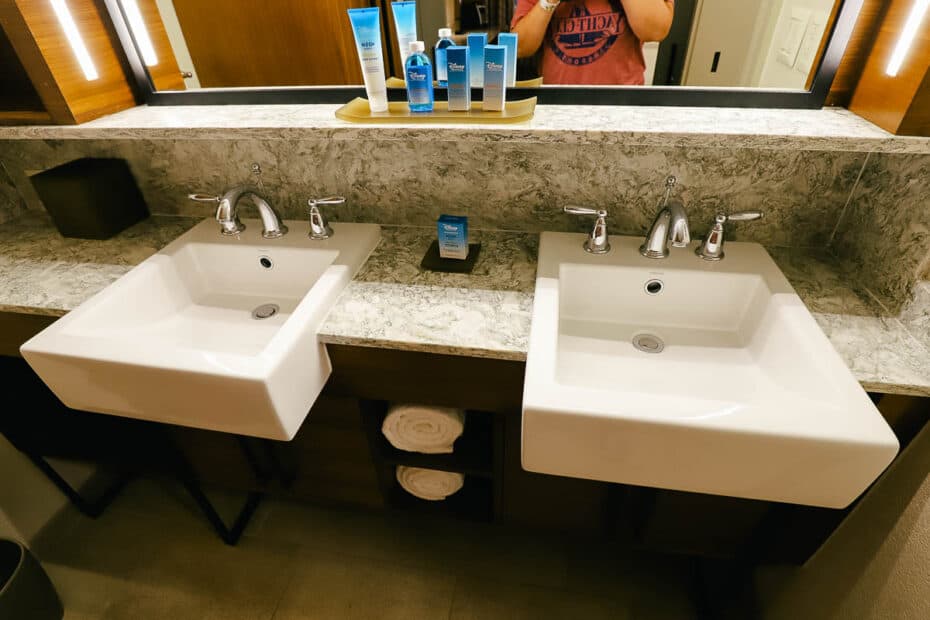 Underneath each sink, there's additional cabinet space.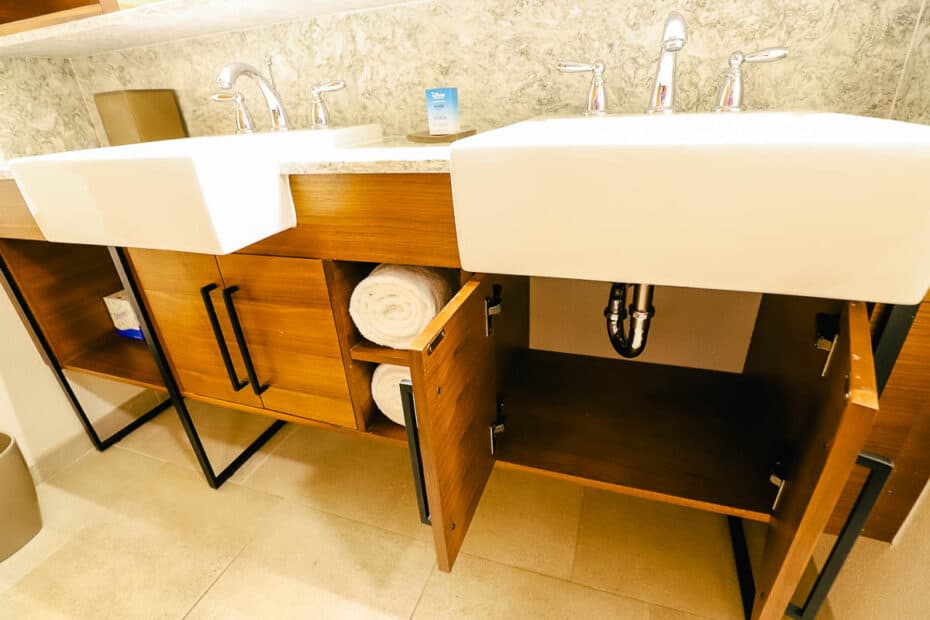 A built-in closet stands inside the bath area.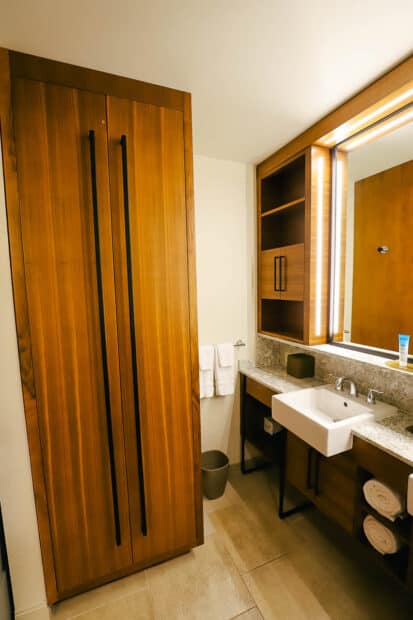 Inside, there's an extra pillow, blanket, iron, ironing board, luggage rack, and a place to hang clothes.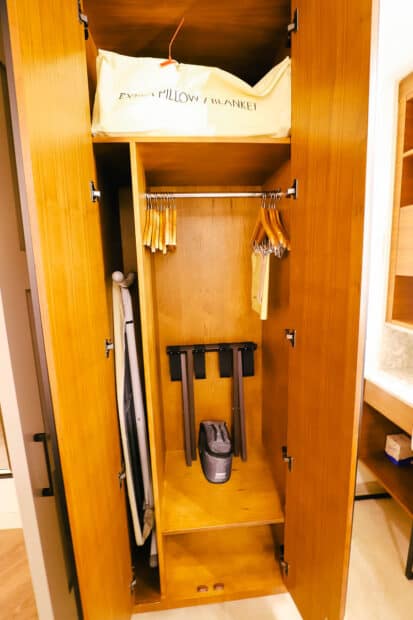 *If you need extra pillows and blankets, you can call housekeeping from your room's phone, and they'll bring some straight over.
Here we have a stand-alone shower with glass doors.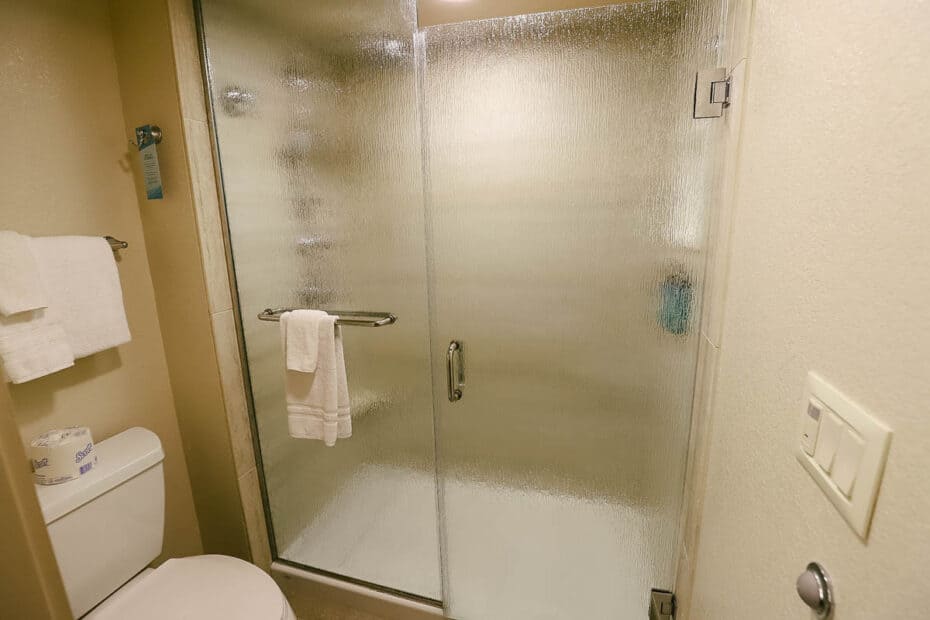 Inside there's a rain head shower fixture and a separate removable showerhead, which helps with bathing children. Also, you might notice a small ledge, which allows us, ladies, a good place to help shave our legs.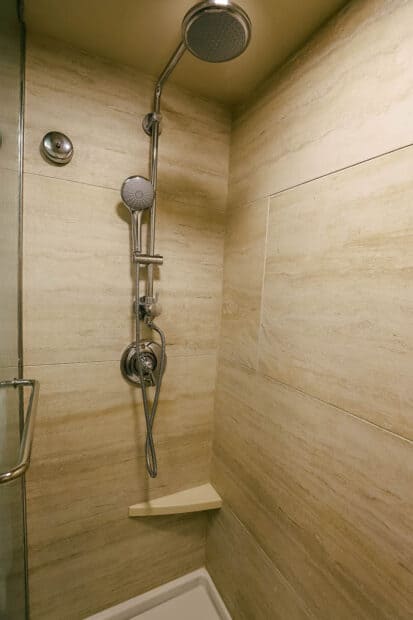 Thankfully, the water closet has a separate pocket door. So one guest can use the bath area, while another uses the vanity area.
In addition, the vanity area has a set of doors you can close to separate this space from the rest of the room. So multiple guests can have a private space to get ready simultaneously.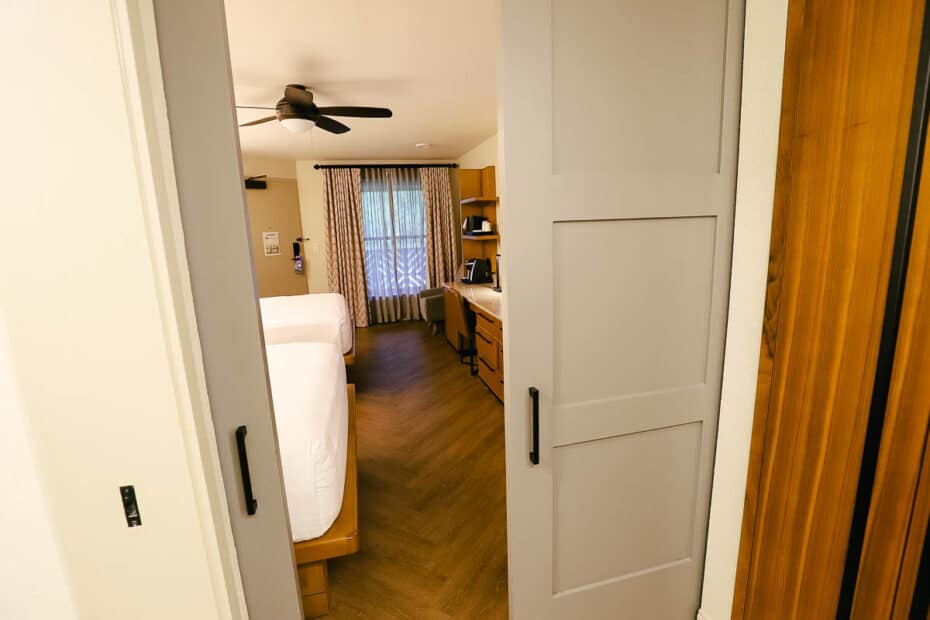 Video: Coronado Springs Resort Room Tour
Here is the video tour of our standard guest room at Disney's Coronado Springs.
Final Thoughts on the Guest Rooms at Coronado Springs
Overall, this visit to Coronado Springs was enjoyable, even in a hurricane. This room exceeded my expectations, and I could see how its amenities could benefit many families.
Additionally, Coronado Springs is an excellent resort with amenities comparable to a deluxe resort. It's pretty tough to beat.
However, our stay at Port Orleans French Quarter a few months back was surprisingly pleasant. More so than I thought it would be upfront.
Related: Port Orleans French Quarter Review
Additionally, I love Caribbean Beach because it has access to Disney's Skyliner and is within walking distance of Disney's Riviera Resort. With that said, I still think Coronado Springs has superior dining locations and, by far, nicer rooms.
Related: Disney's Caribbean Beach Resort Review
For more information about Coronado Springs, we have a complete guide that lists all our articles related to the resort.
Here are a few individual articles:
In the Comments
What are your thoughts about this standard room at Disney's Coronado Springs? Have you stayed here before? Do you have any questions about the room?