Frontierland Shootin' Arcade at Magic Kingdom
Frontierland Shootin' Arcade is located at Walt Disney World in the Magic Kingdom. This is an arcade-style attraction with a small additional fee to participate. This review covers everything you need to know about visiting this arcade.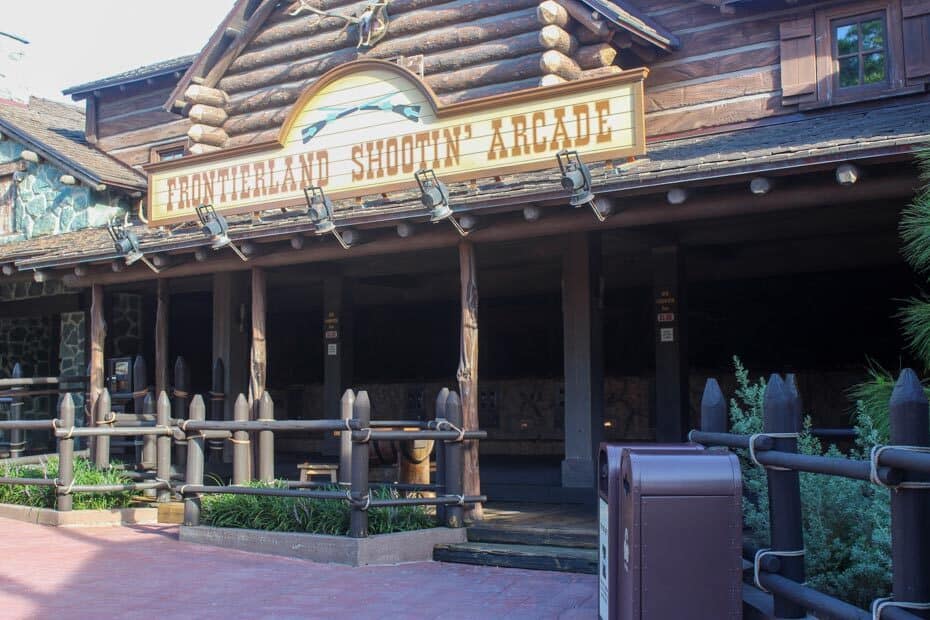 Here's the quick reference chart for the arcade.
Frontierland Shootin' Arcade
Magic Kingdom

Location

Frontierland

Disney Height Requirement:
None

Disney Genie+ Eligible

NA

Ride Type:

Shooting Arcade Game

Seats Per Vehicle:

None

Rider Switch at Disney World:

None

Good For:

Adults who want to take a
break and entertain the kids.

Scare Factor:

None

Must-Do List:

Low

Perfect For:

Break time

Special Mention:

Additional Cost
Frontierland Shootin' Arcade
The Shootin' Arcade is an interactive shooting-style game that's is pretty unique. Fans of video games and specifically children, will probably want to participate if you run into this attraction over in Frontierland.
It is tucked into the street of shops next to Country Bears Jamboree and Frontierland Trading Post.
Need to Know: Frontierland Shootin' Arcade does charge an additional fee to participate. Each round should contain about 35 shots for the cost of $1.00. Therefore, if this is something of interest, the price is minimal.
Here is a video of the arcade via YouTube: Arcade Full Experience
Make sure to check out the Magic Kingdom attractions in the immediate area:
Planning to stay in a resort near the Magic Kingdom on your next vacation, check out these full Disney resort reviews of the hotels in the area:
So, have you ever done the Frontierland Shootin' Arcade before? I have to admit, I've never tried it!