Fulton's General Store (The Gift Shop at Port Orleans Riverside Resort)
Fulton's General Store is the gift shop at Disney's Port Orleans Riverside Resort. It is one of the largest gift shops in all of Walt Disney World.
In this article, we'll preview the merchandise available at Fulton's General Store. We'll look at everything from souvenirs and resort-branded merchandise to pantry items and sundries.
As with our gift shop photo reports, every item pictured might not be available during your visit. However, we do update these articles reasonably often. Additionally, this should give you a pretty accurate depiction of what you might find on your next vacation.
The idea of these posts is to help you discern whether or not you need to bring something or have a grocery order delivered in advance. Seeing the latest resort merchandise is also fun if you're a resort fan like us!
All of the photos in this article were updated on March 23, 2023.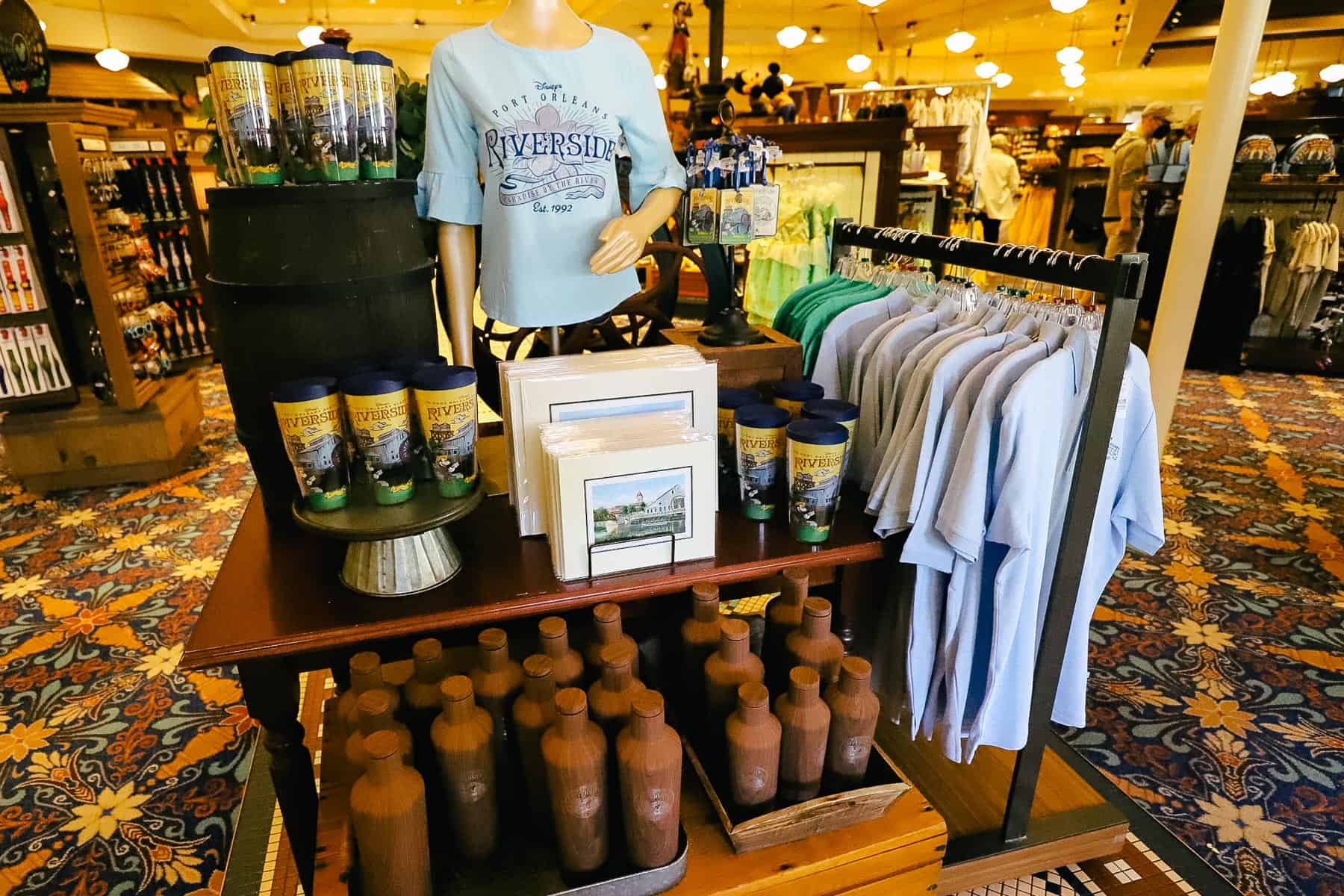 Fulton's General Store sits off the lobby of Port Orleans Riverside. Hours of operation are between 8:00 a.m. and 11:00 p.m. Note these hours might fluctuate throughout the year.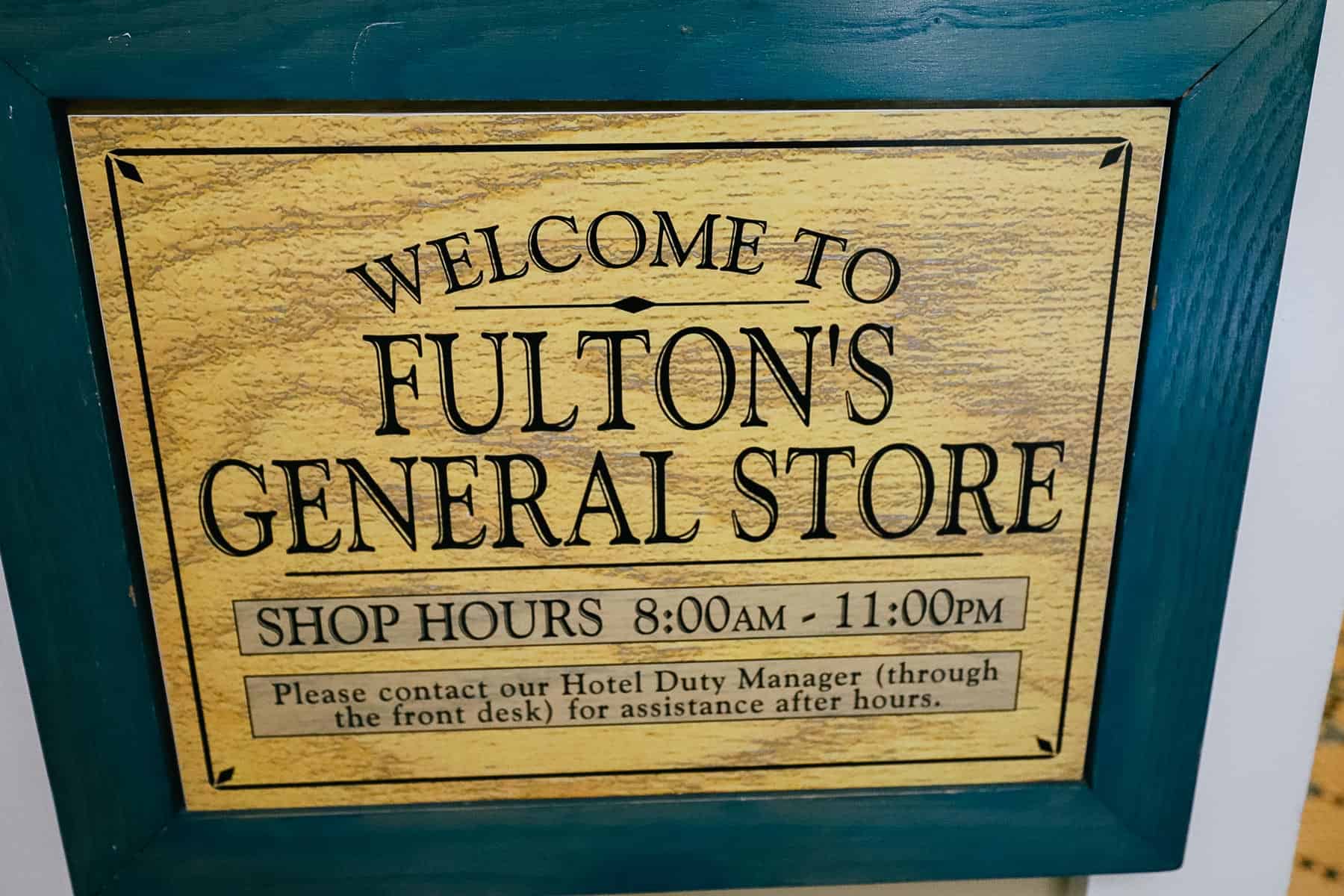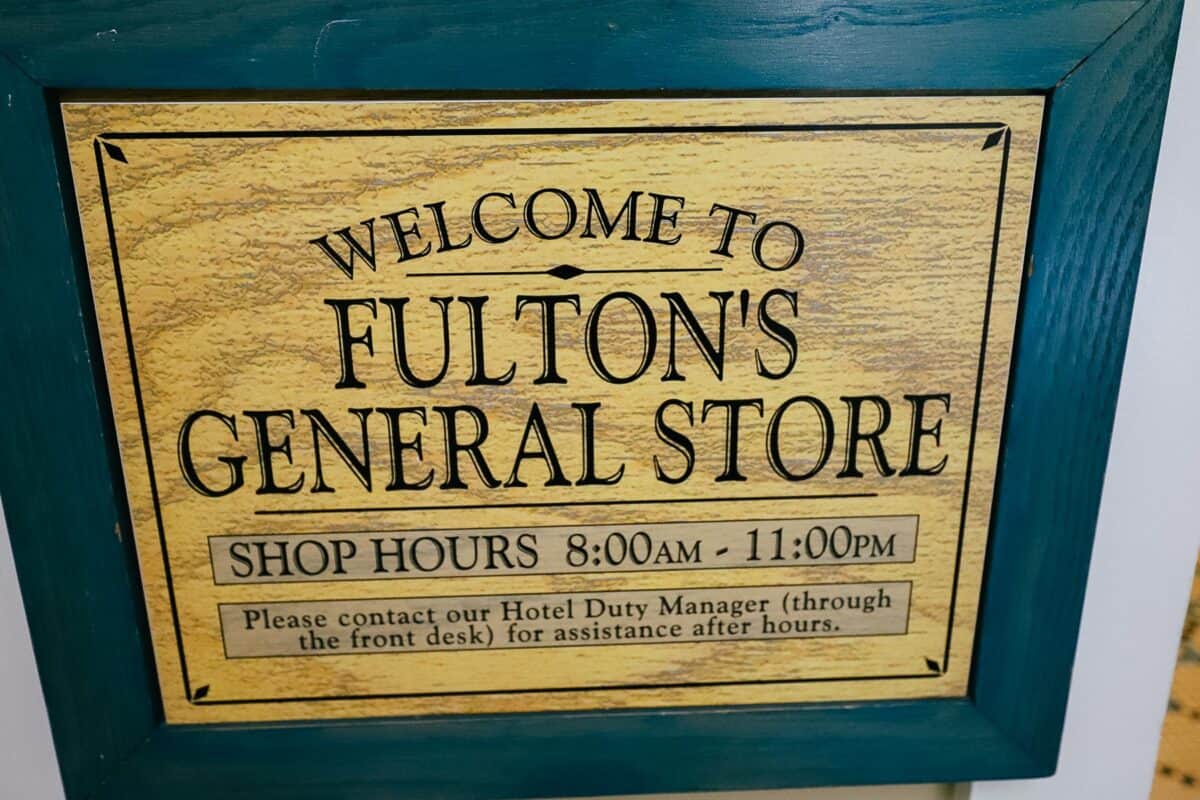 Fulton's General Store is one of the larger gift shops at the Walt Disney World Resorts. It's comparable in size to Bayview Gifts over at Disney's Contemporary.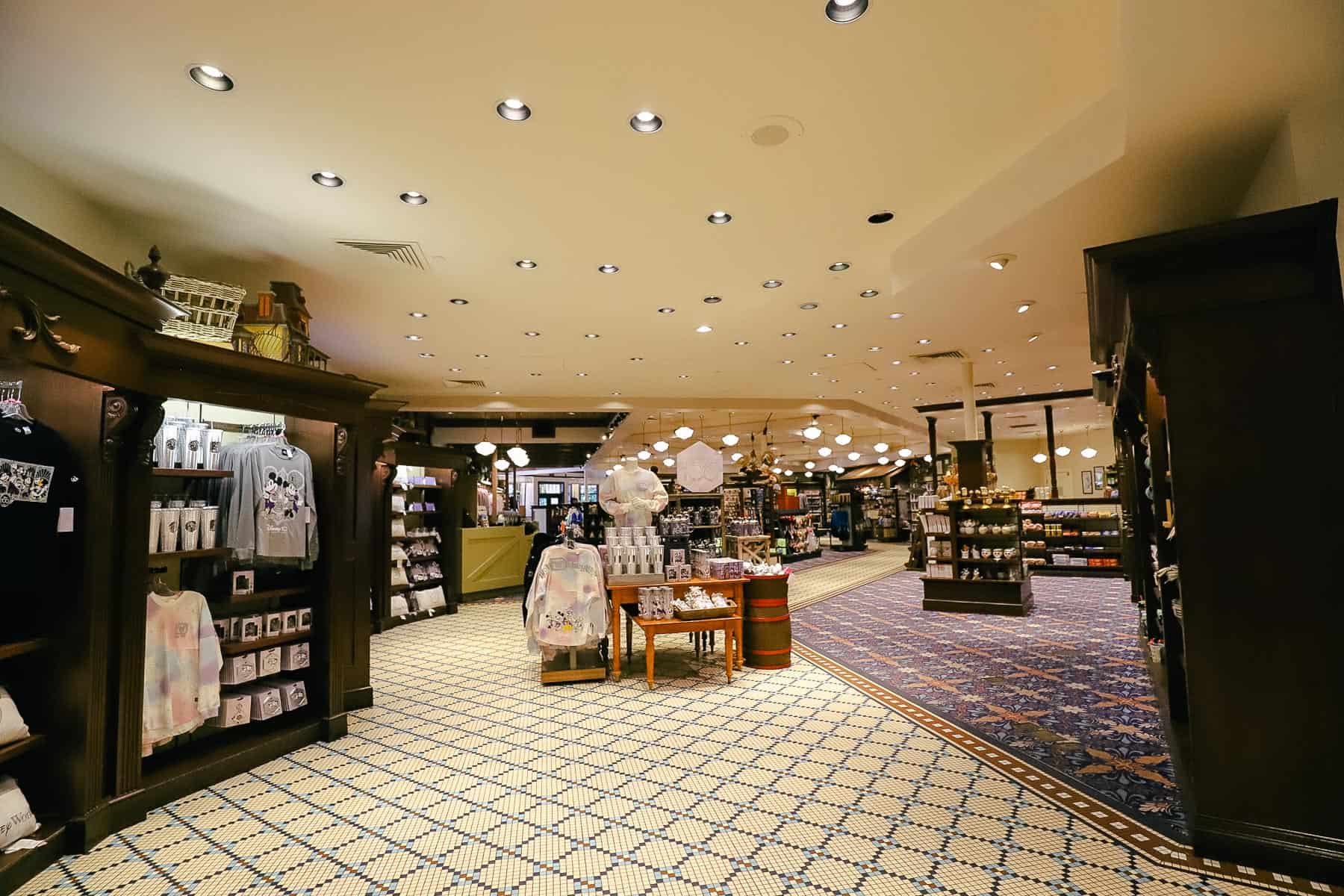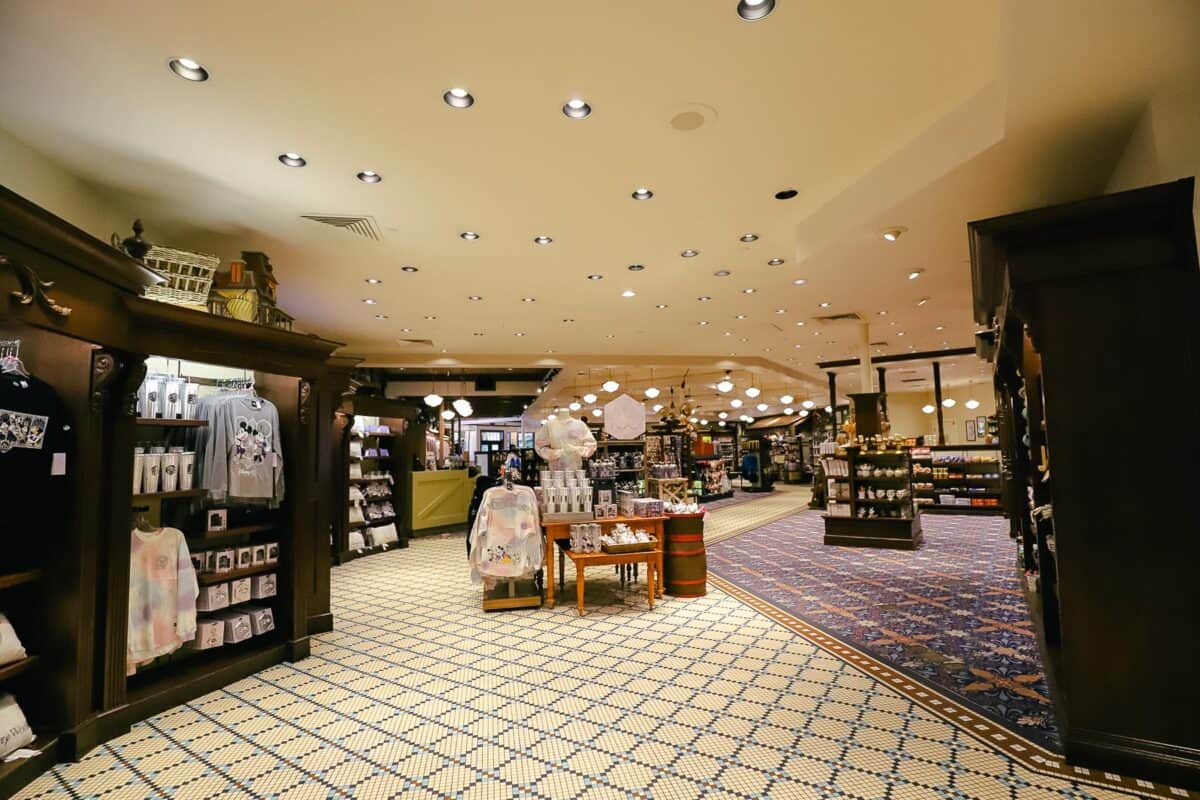 Fulton's General Store has an endearing, moving display in the middle of the store.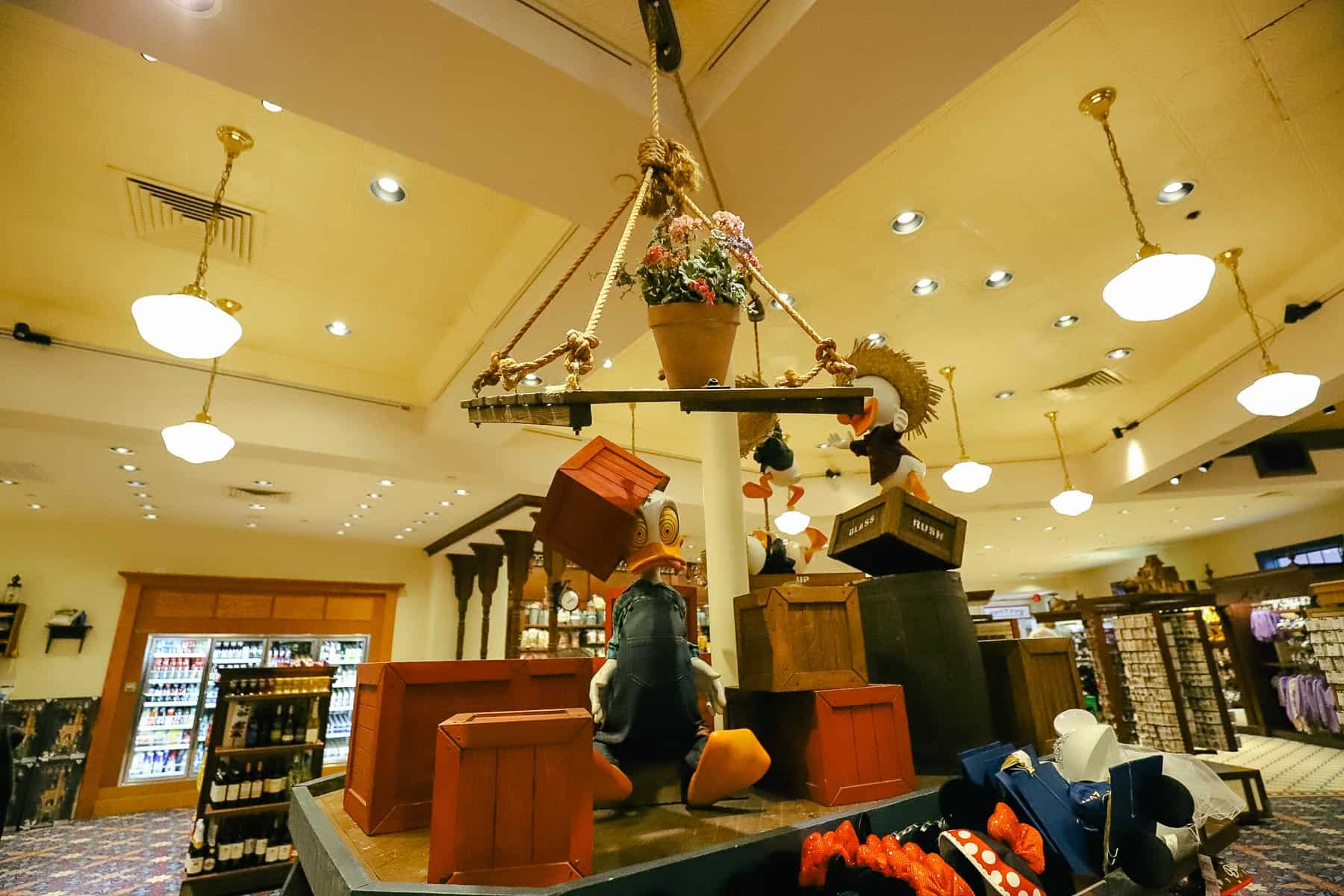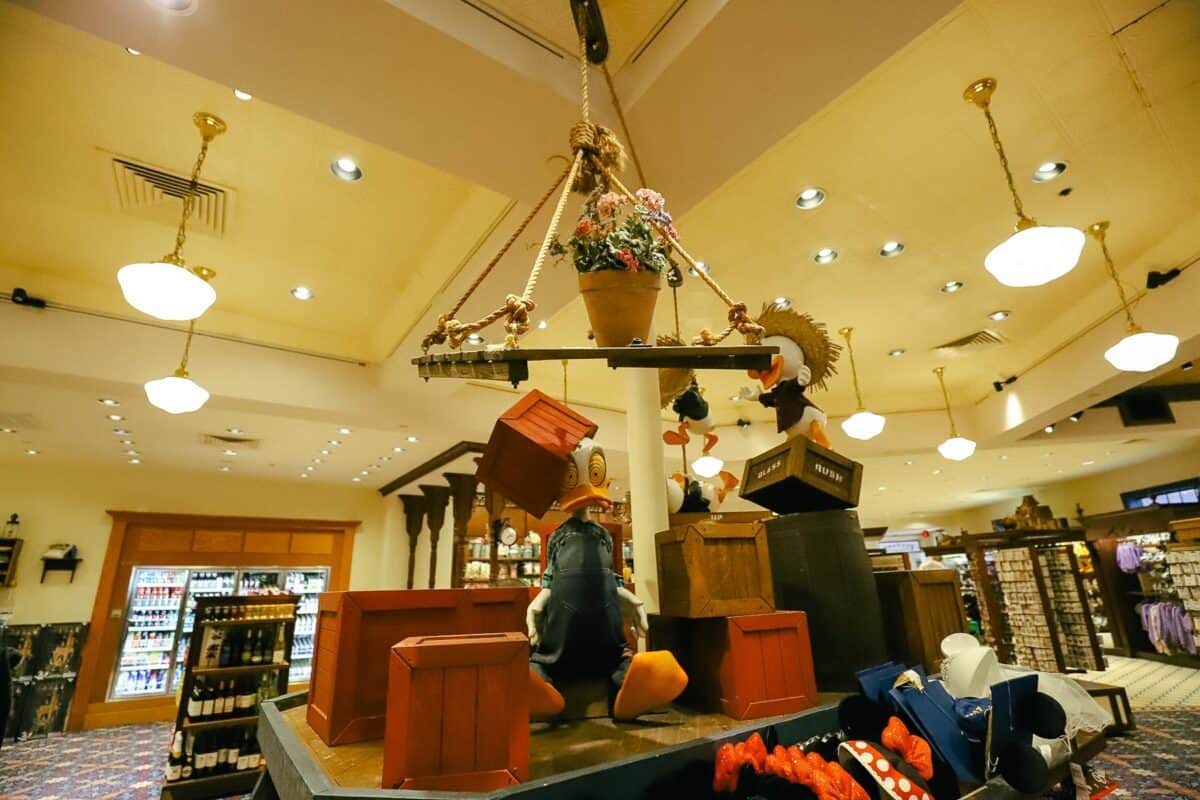 Donald and his nephews are busy at work, and somehow, Donald got into an accident. Imagine that.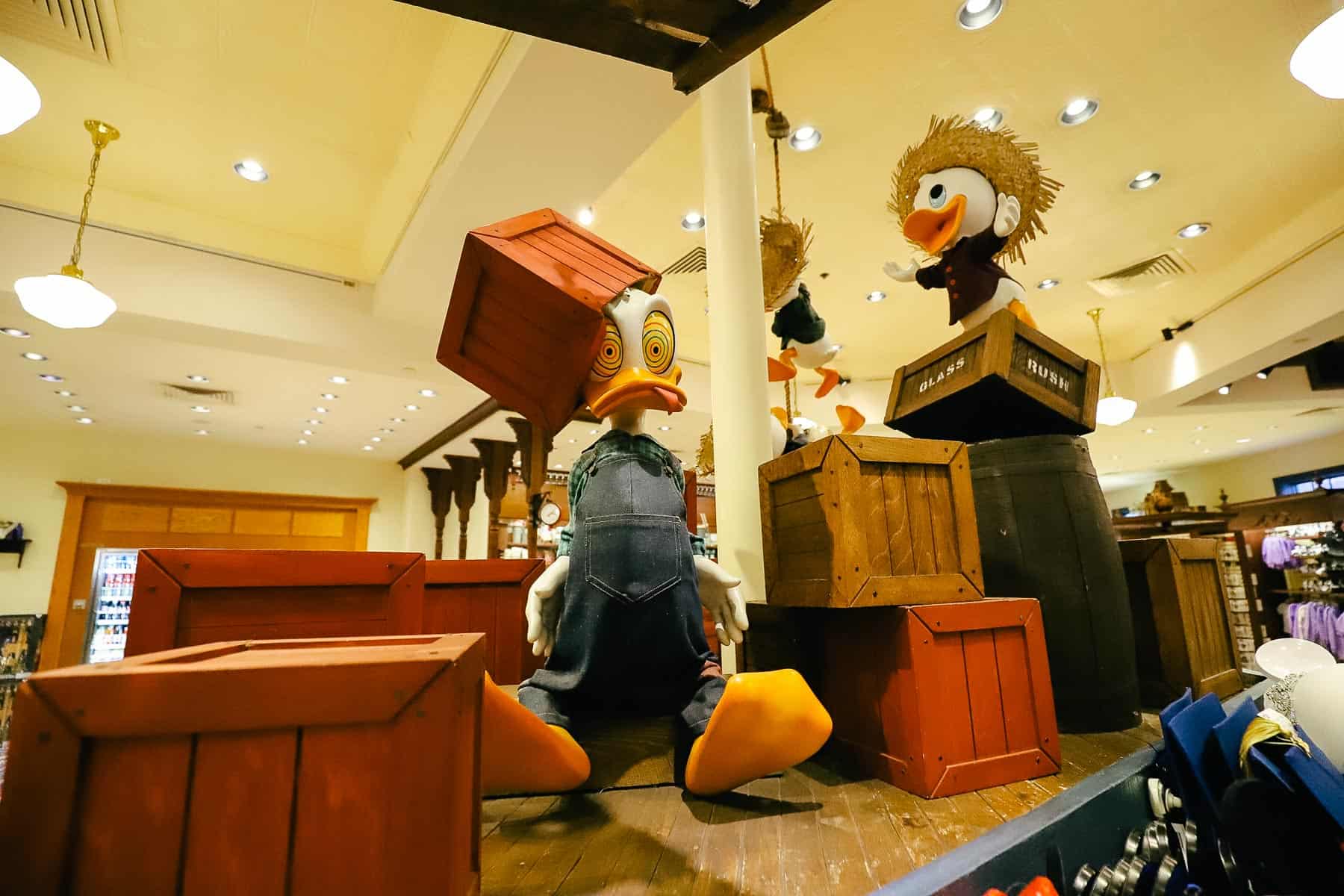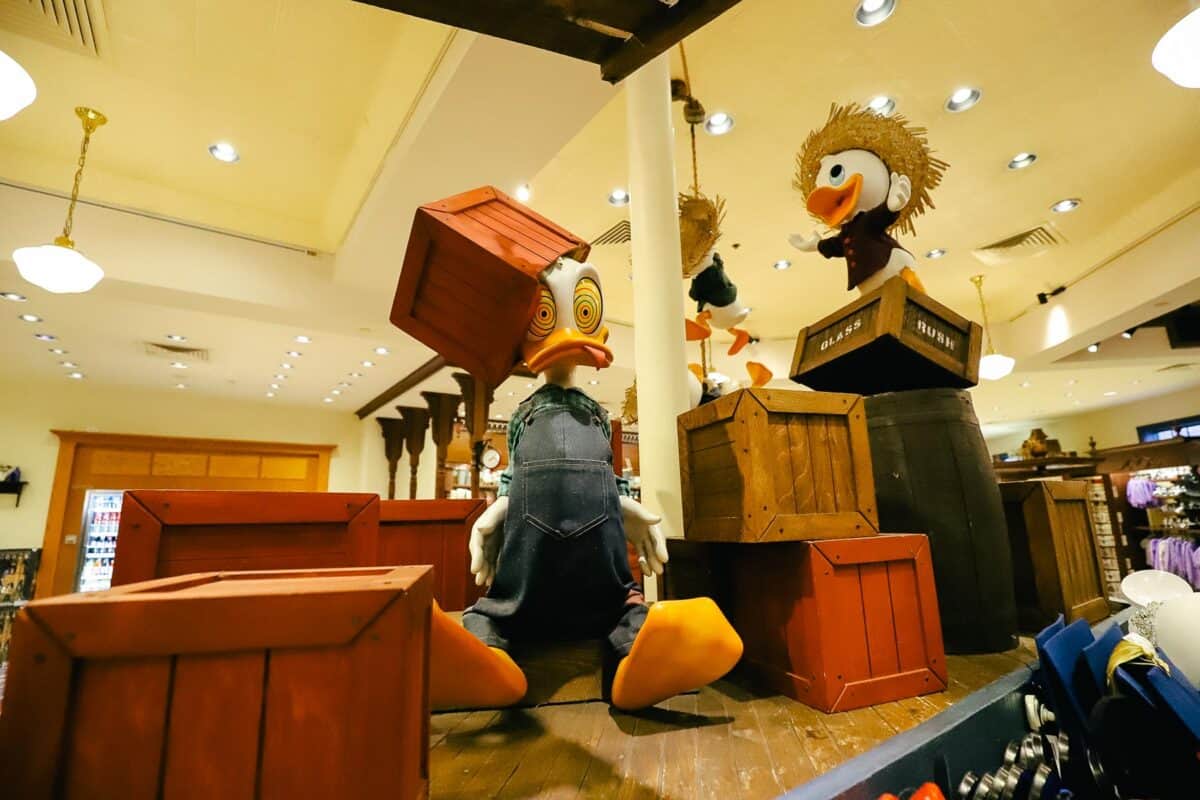 Unfortunately, many of these fun gift shop displays have become a thing of the past at Disney World. This display reminds you how most stores and dining halls formerly featured these fun elements.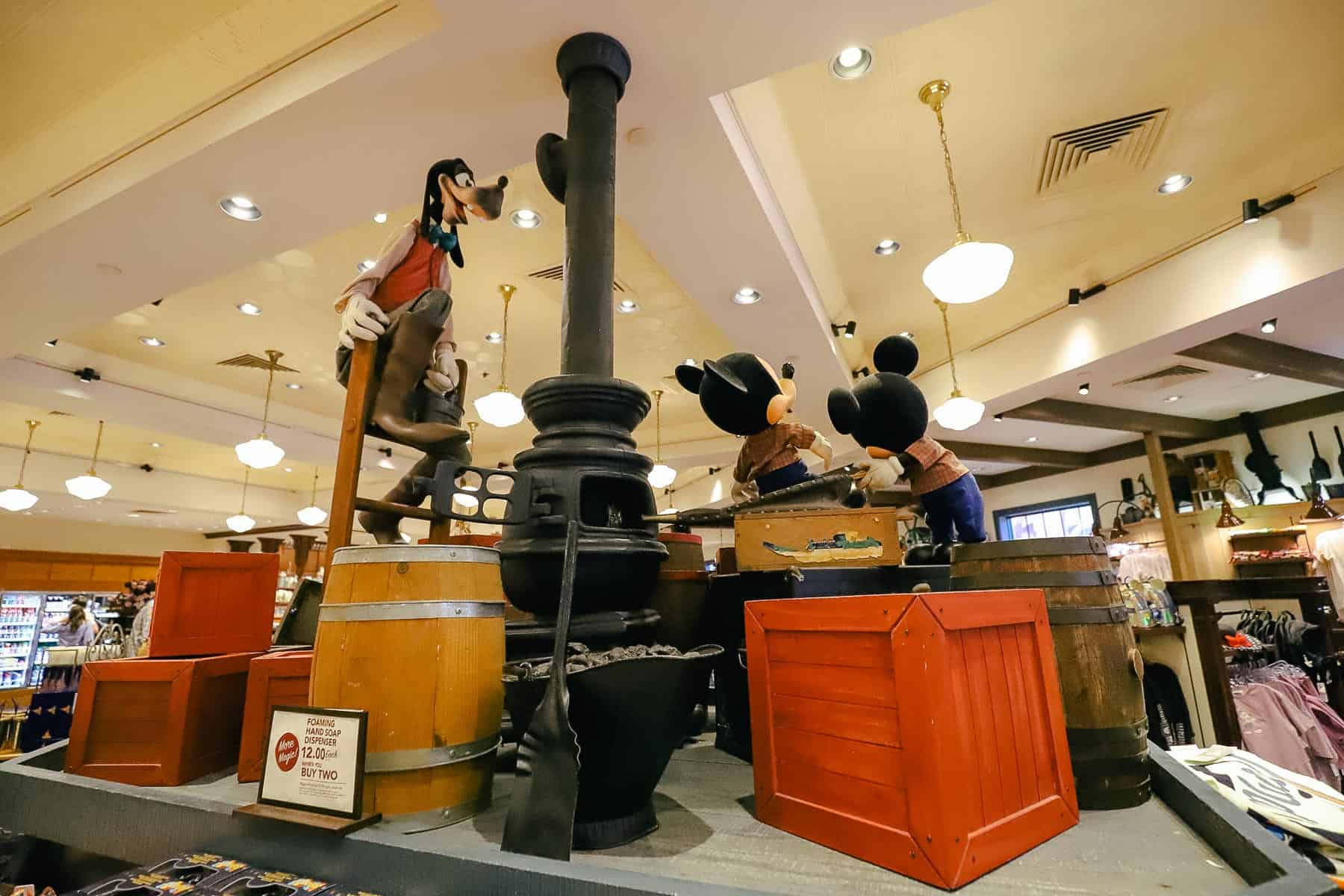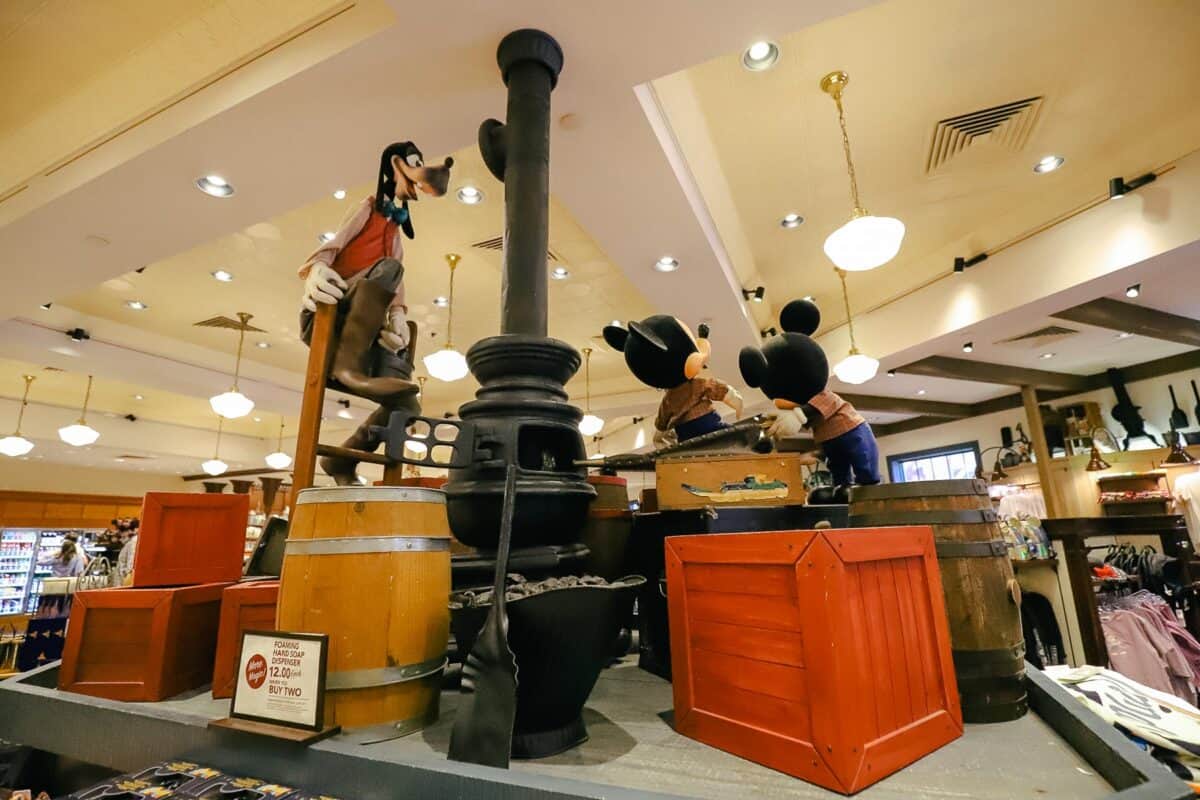 It's part of the charm that remains at the resort.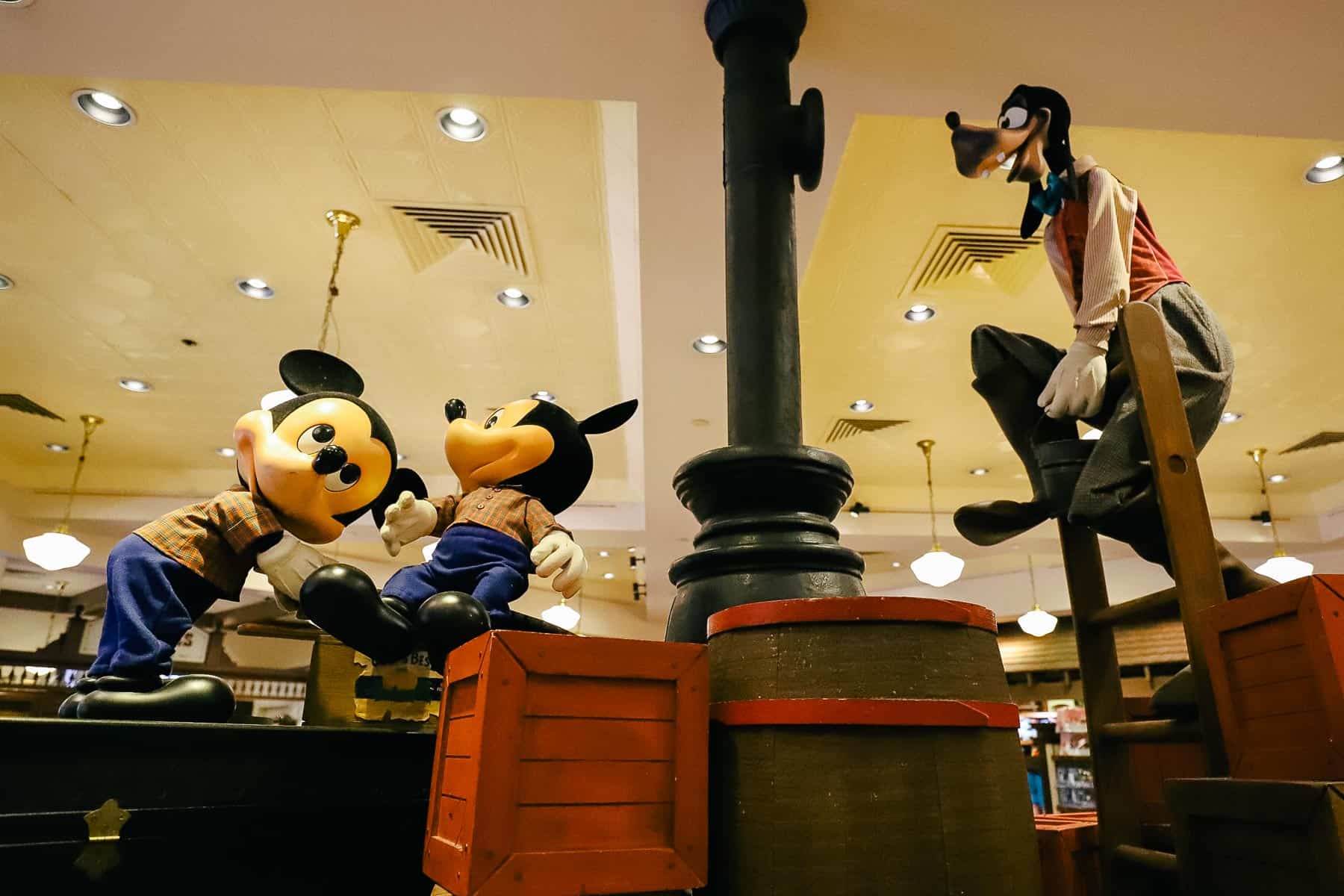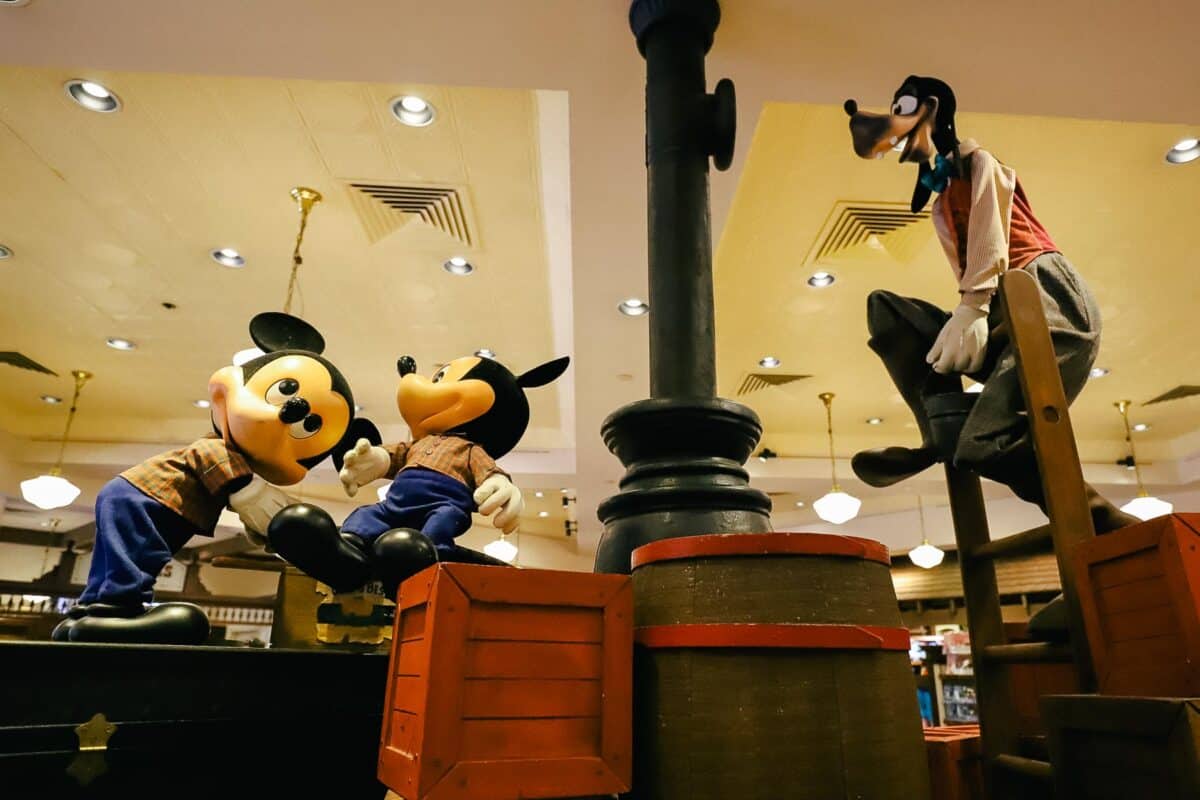 Fulton's General Store has an additional entrance at the back of the store. Guests coming from the primary bus stop can use this entrance when returning. A large walkway through the middle of the store leads back out to the lobby.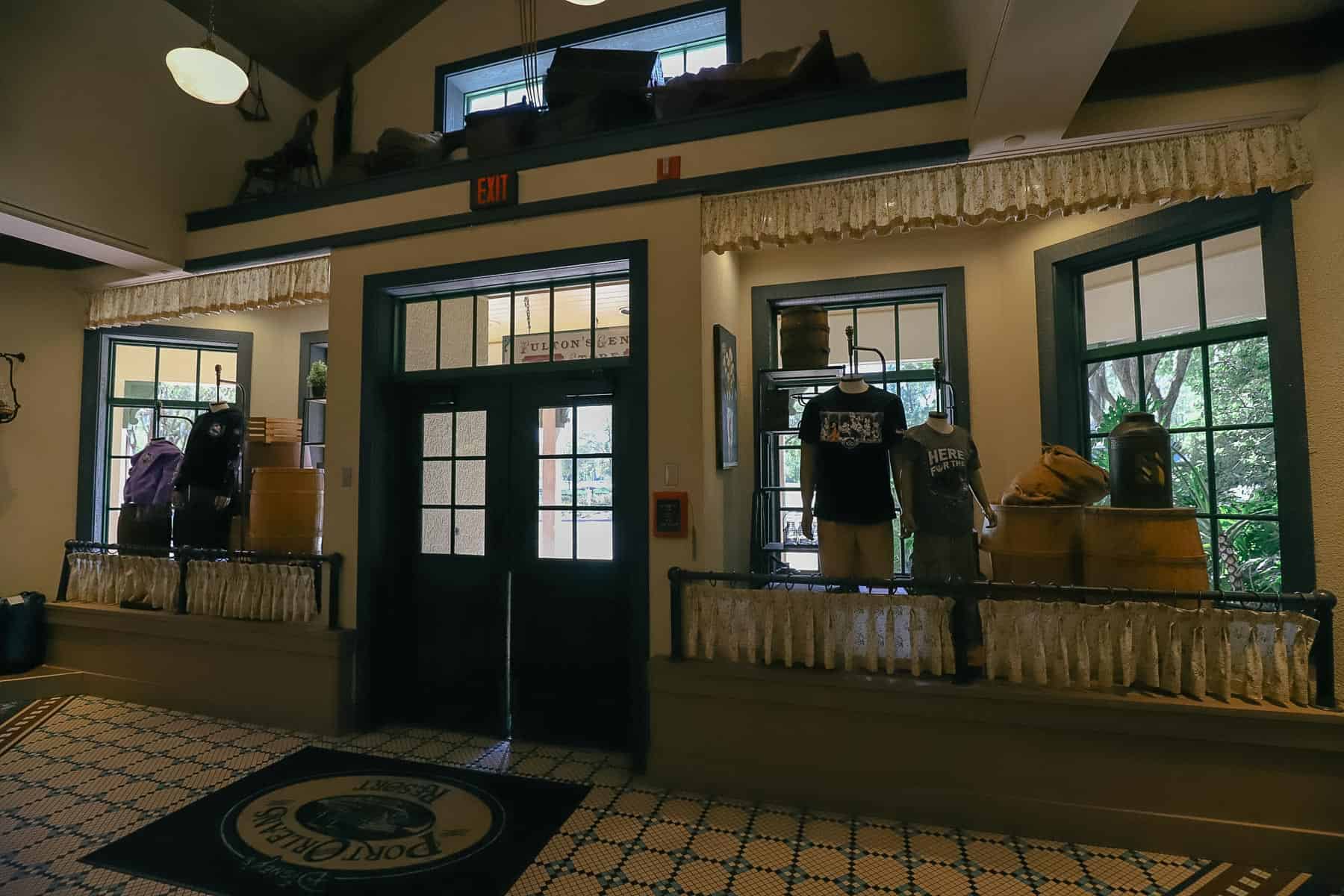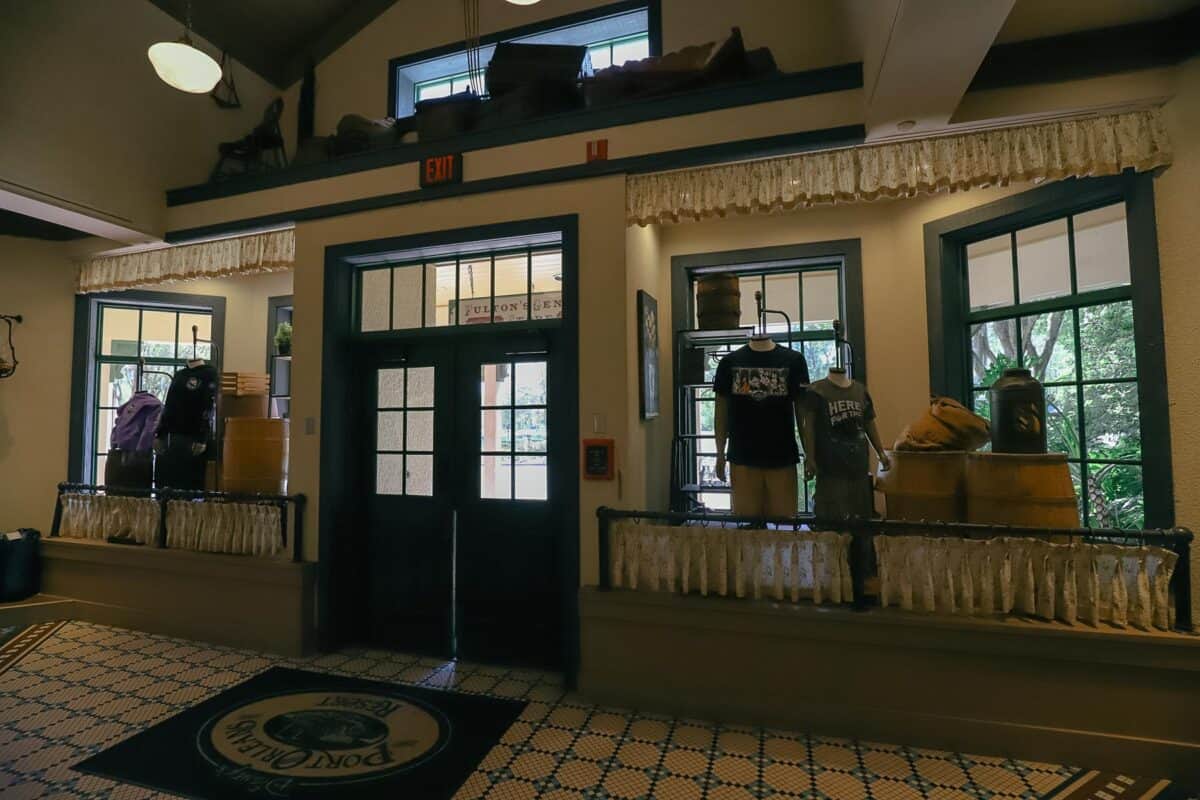 You'll run into Port Orleans Riverside Resort-branded merchandise when you come in from the bus stop.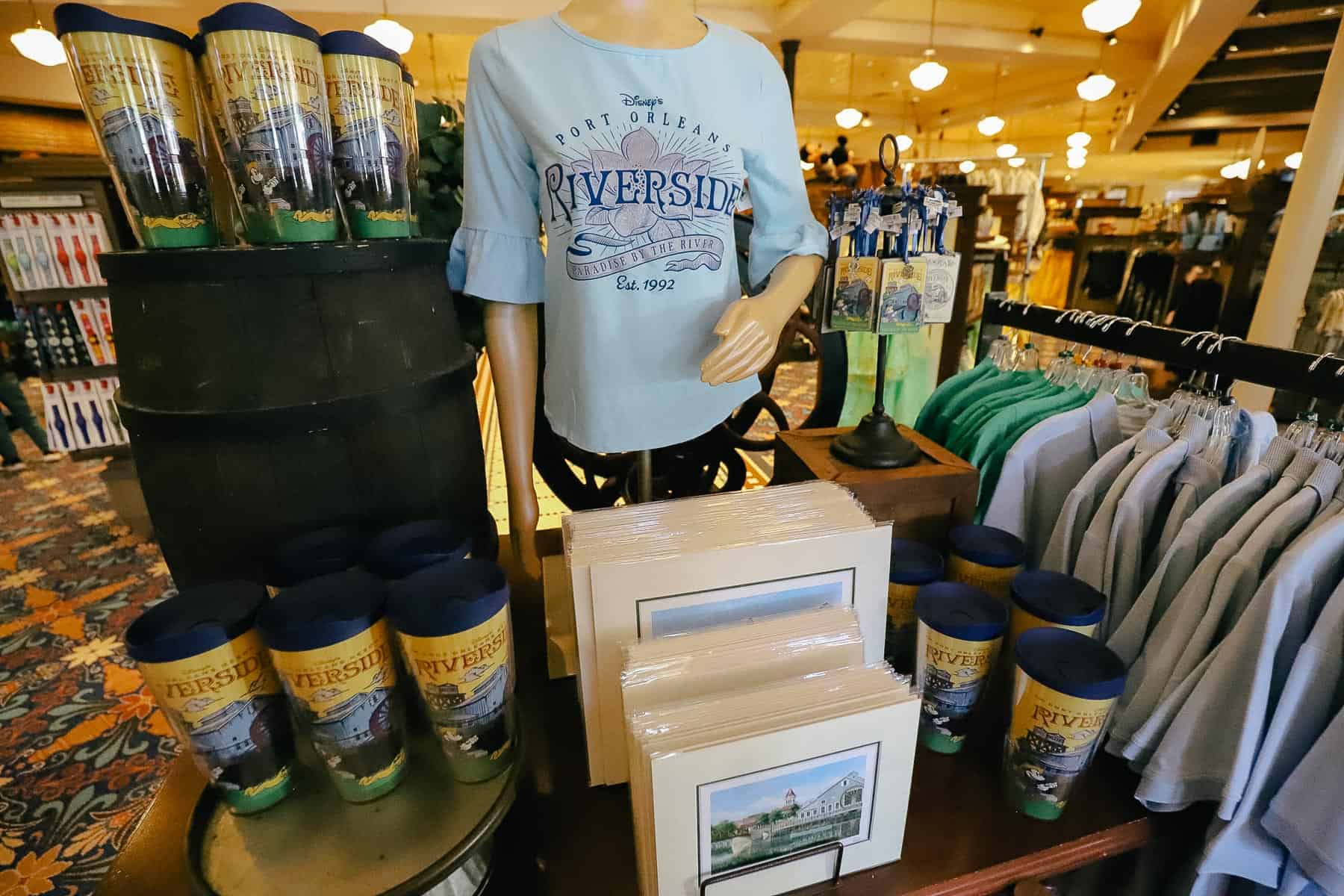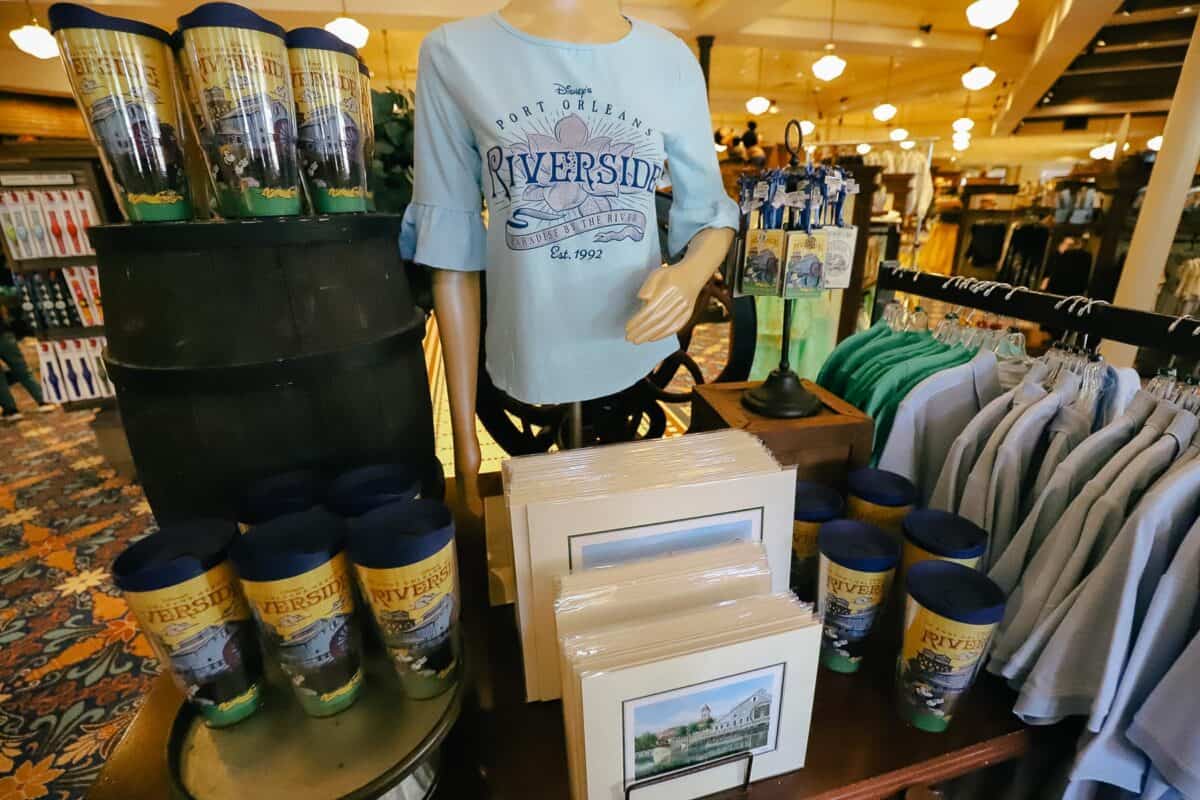 They have a few tumblers that feature Mickey Mouse at the Fishin' Hole near Riverside Mill.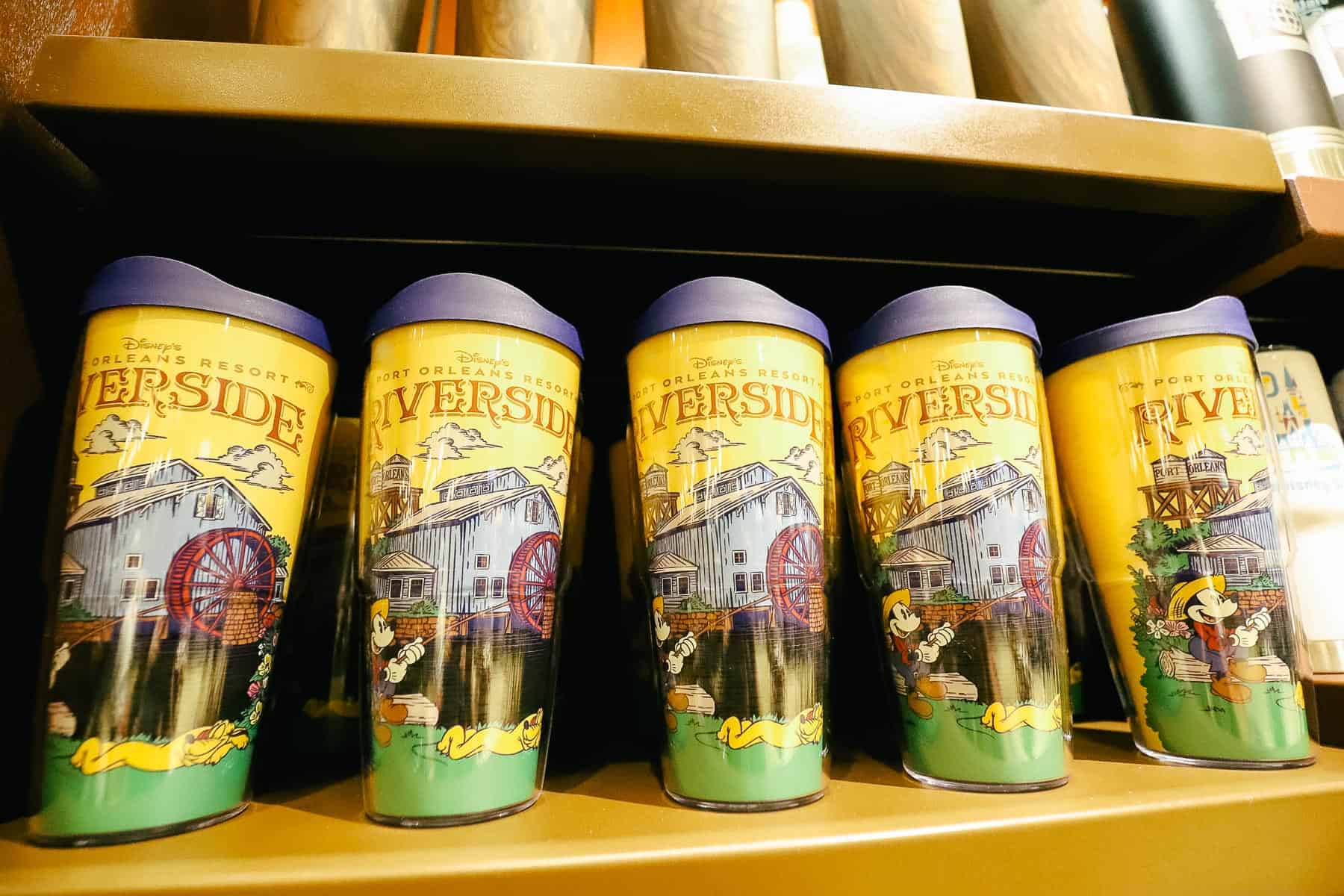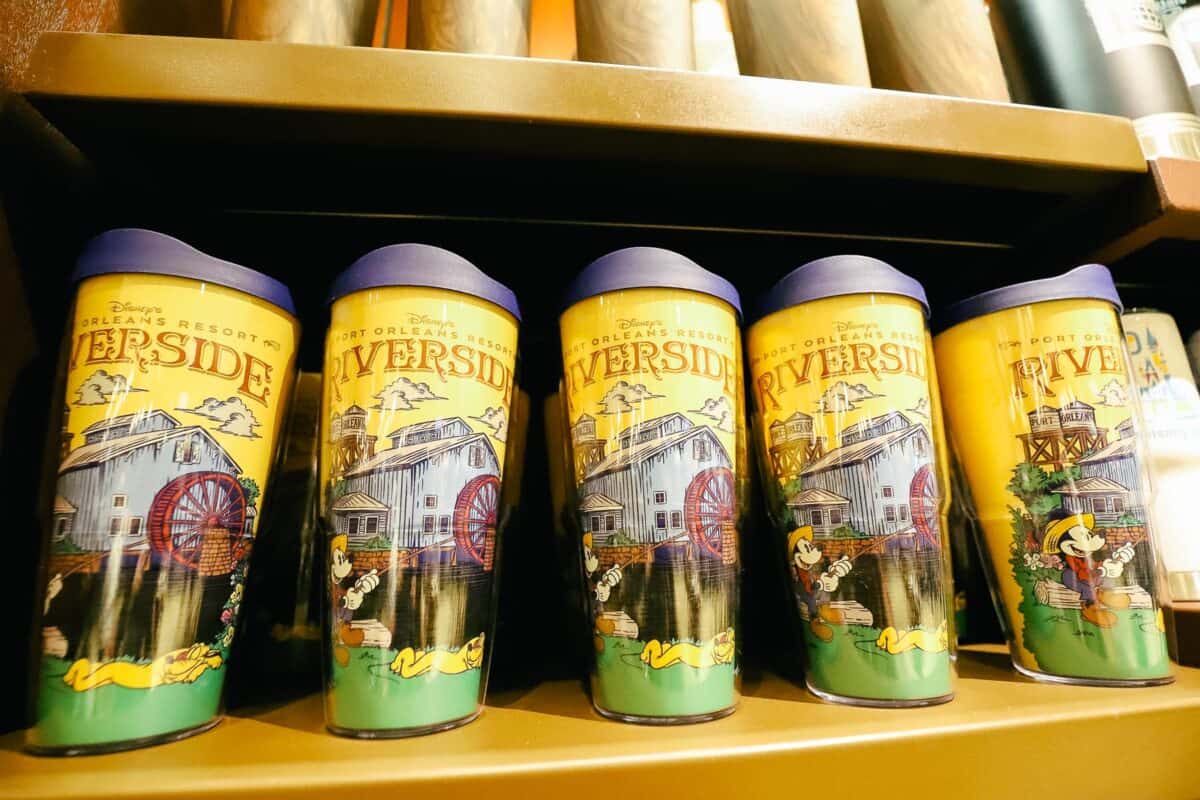 Here are a few other photos of resort-branded items.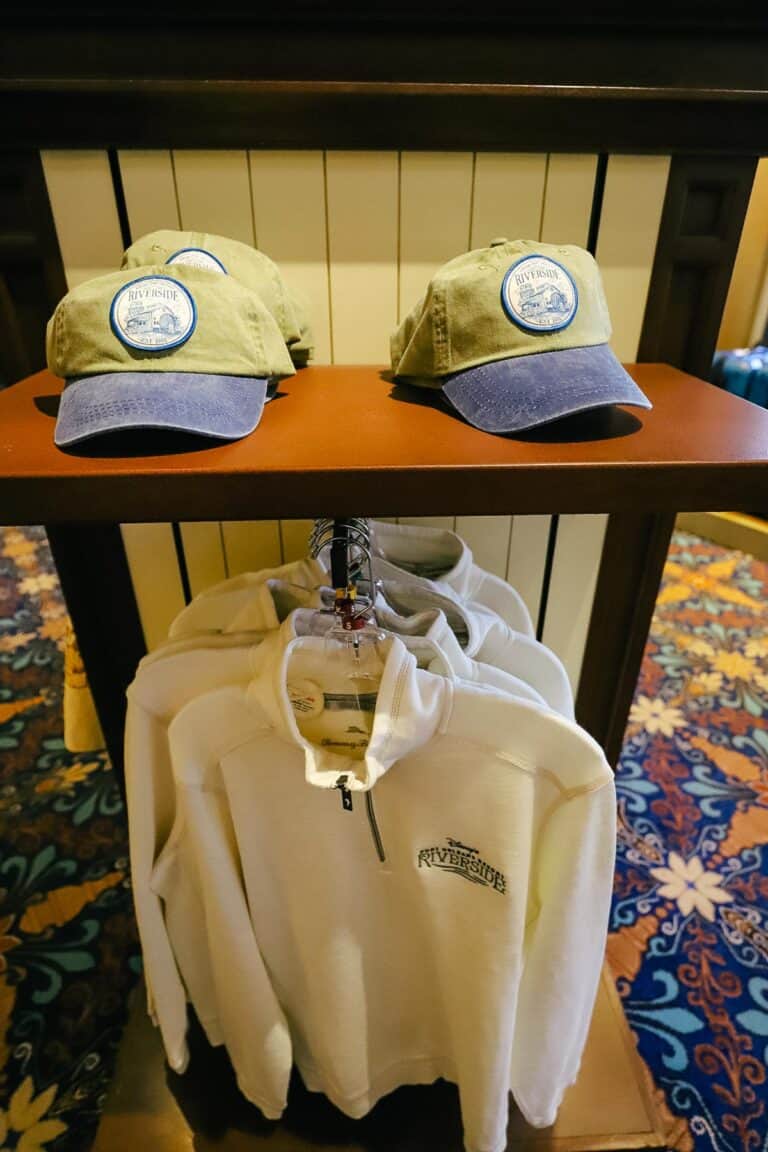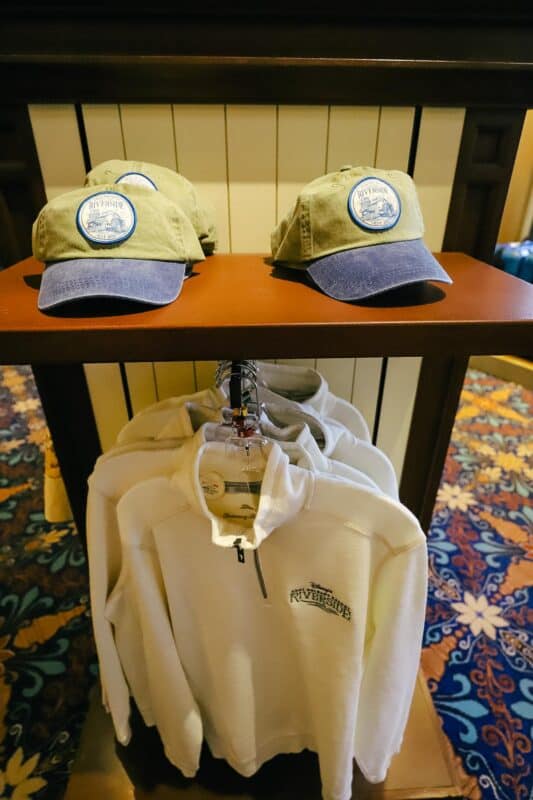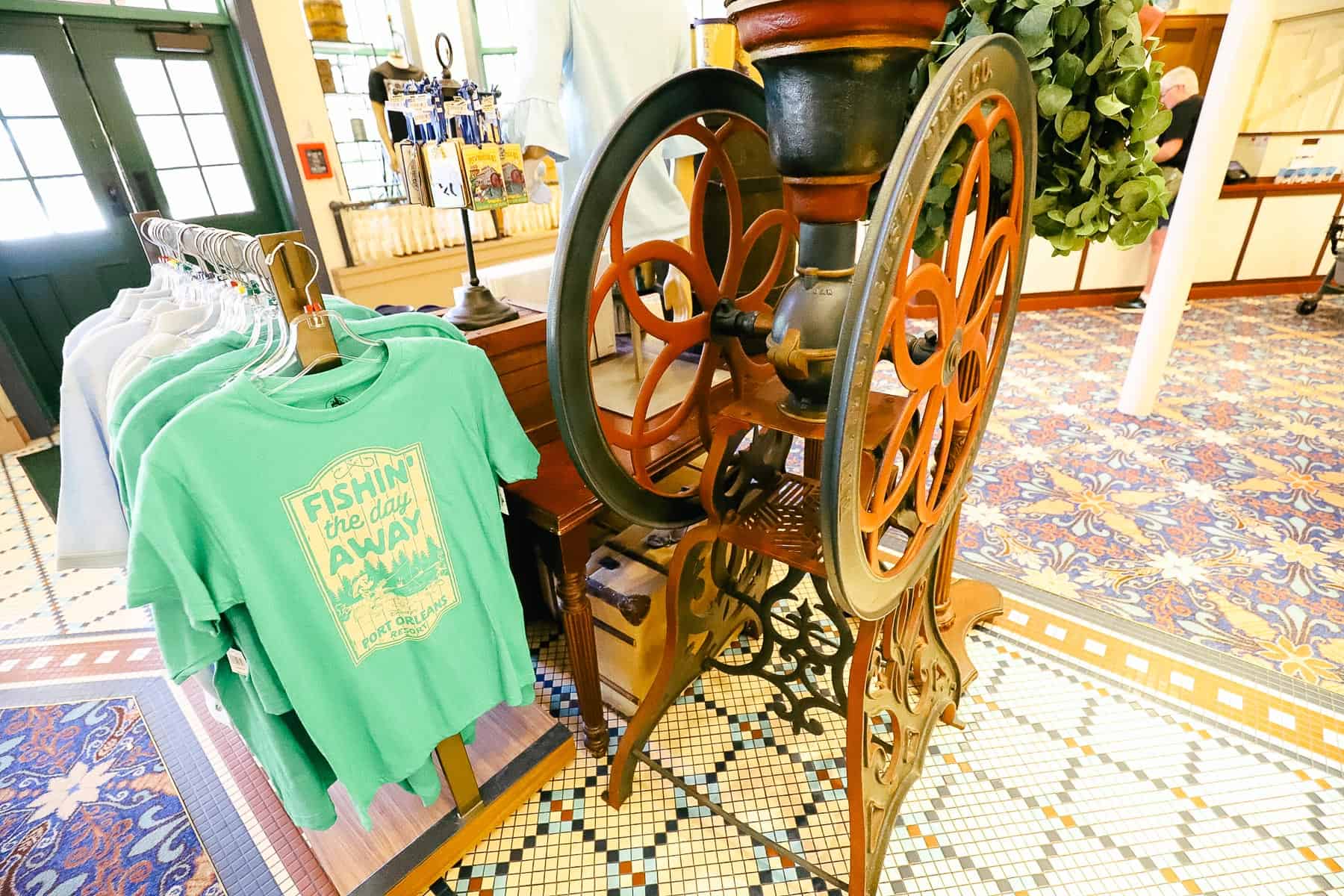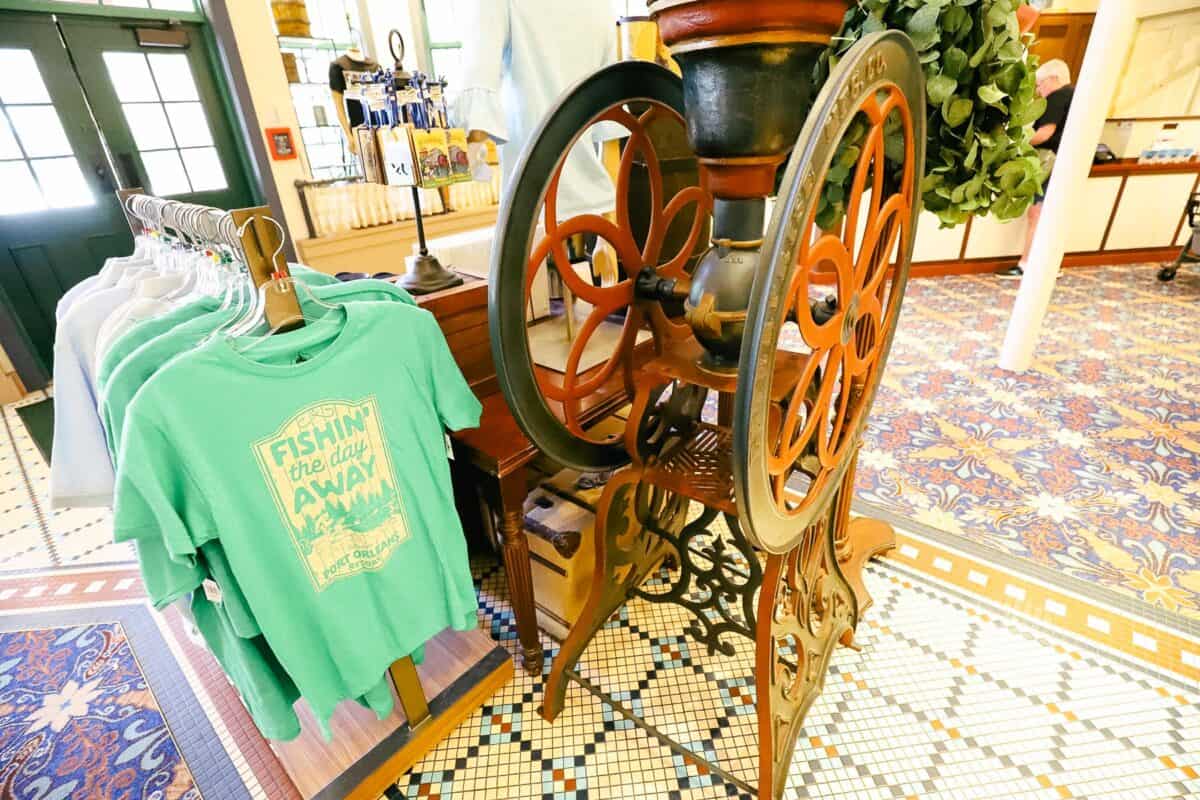 Tiana has become an ambassador of the resort over the years. It makes sense because she's from the area.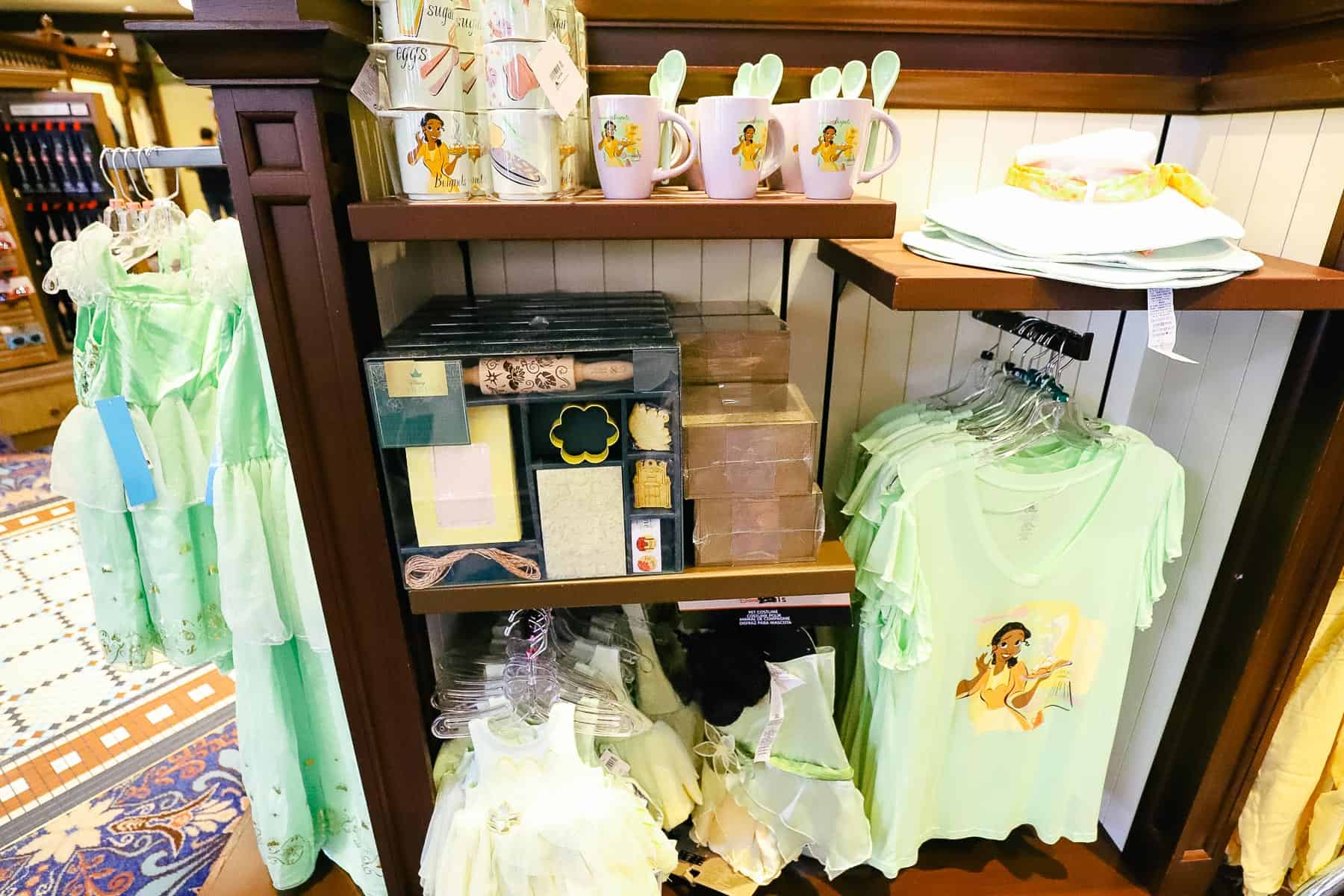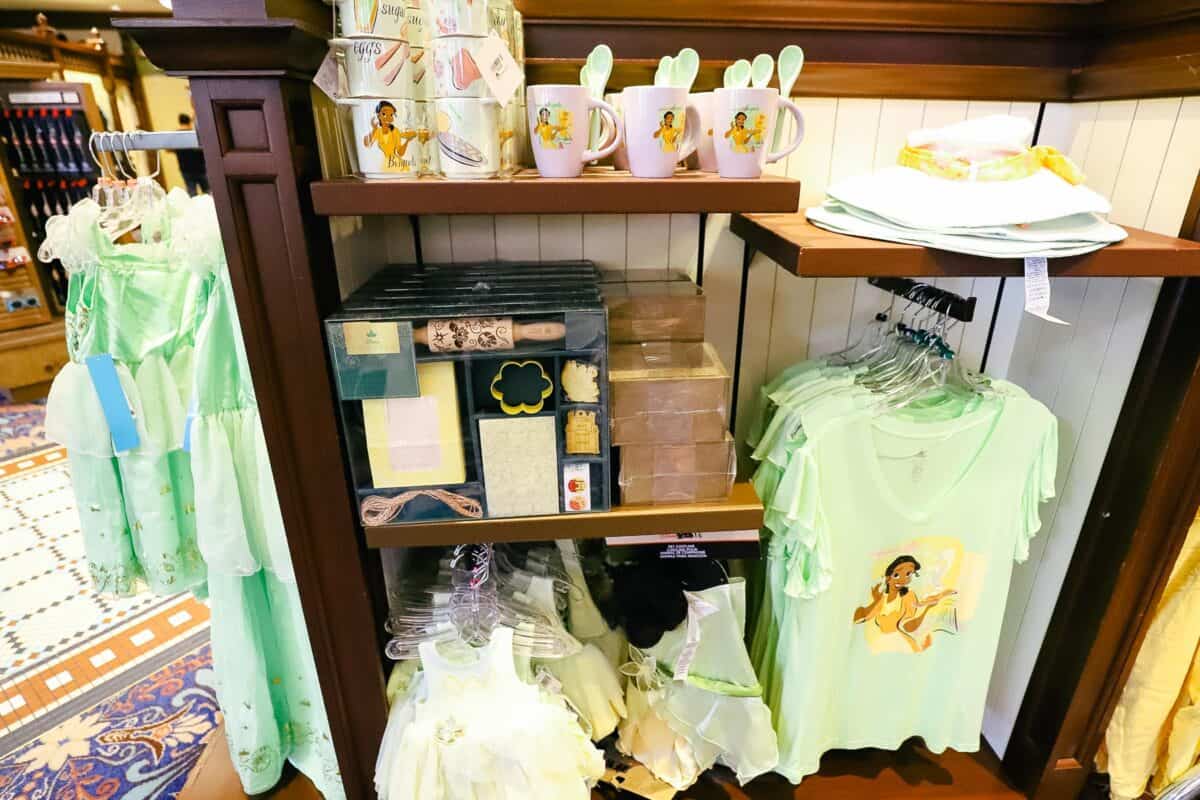 Her costume is available.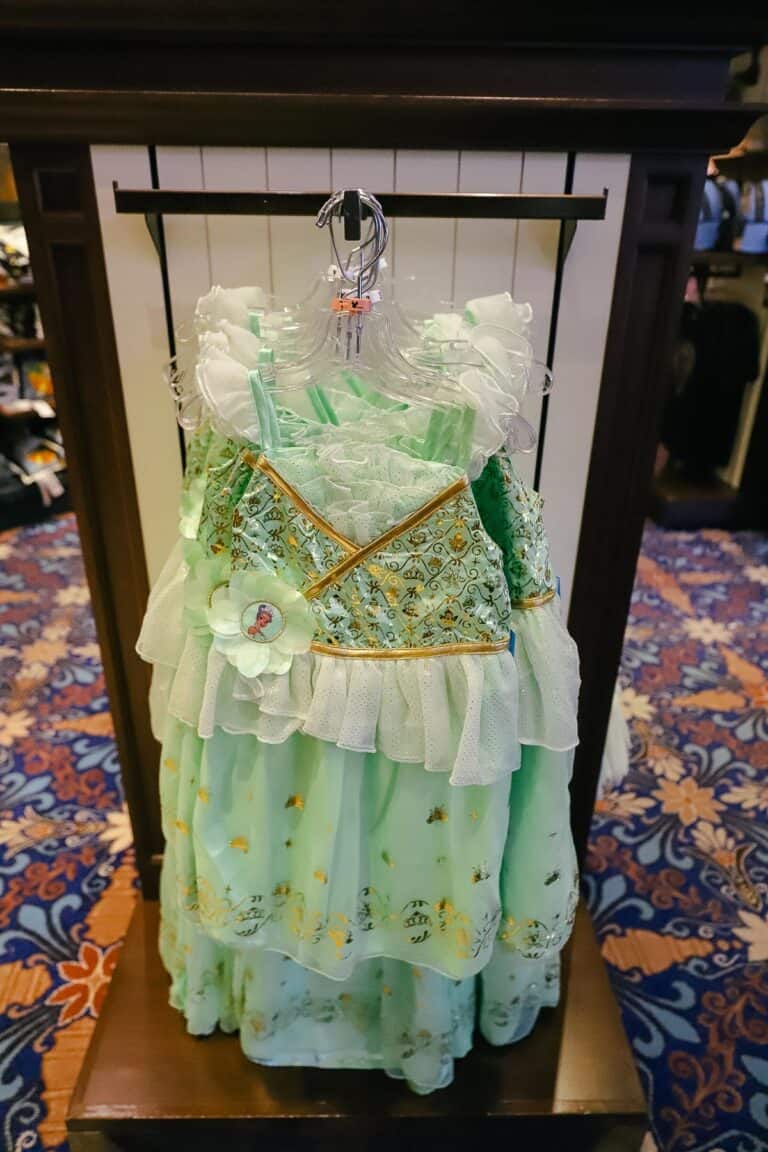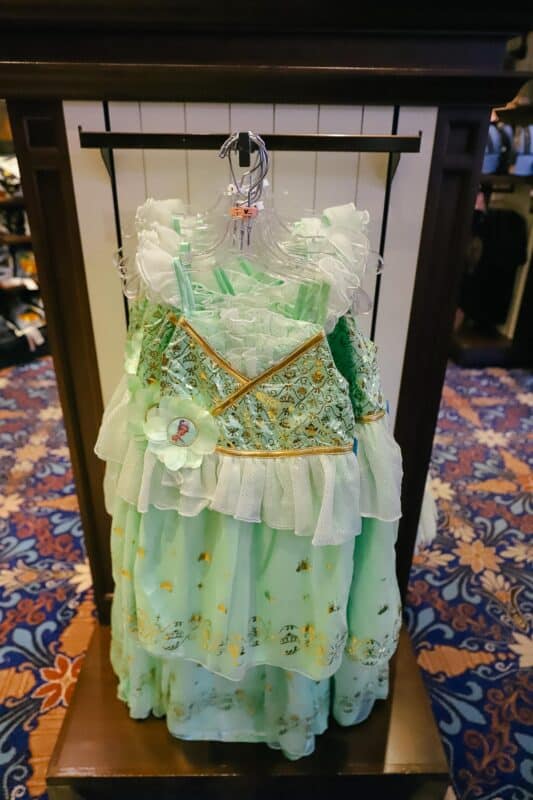 Here are a few more specialty cookware items from The Princess and the Frog.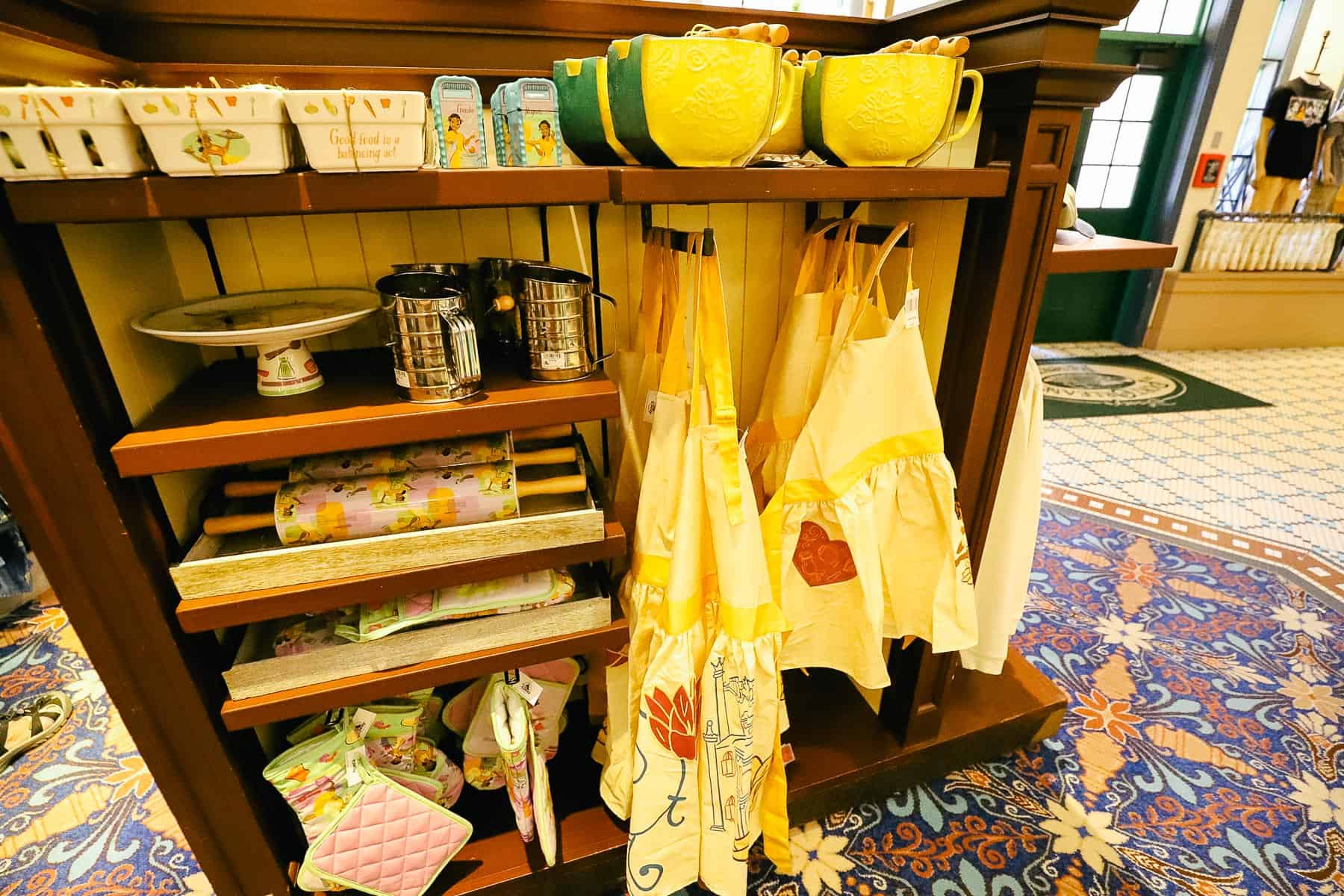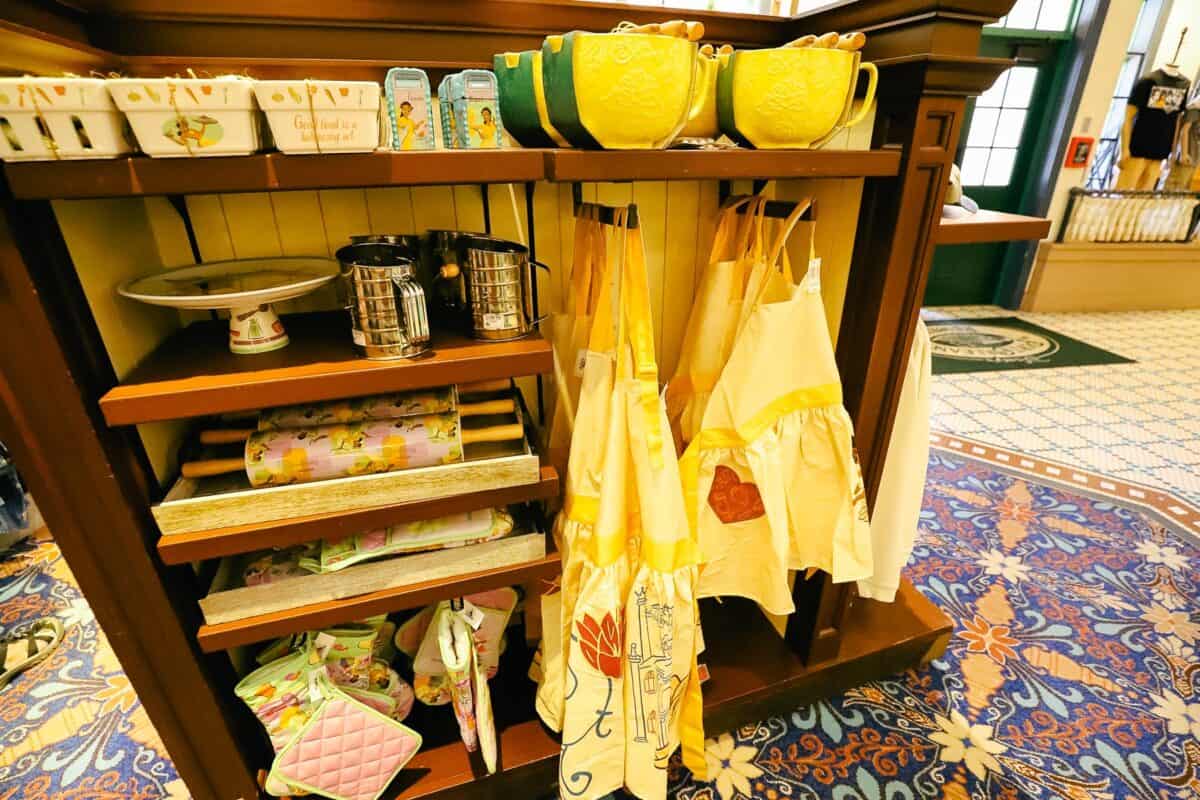 Lastly, we see a women's shirt with the Riverside logo, a handbag, and Minnie Ears.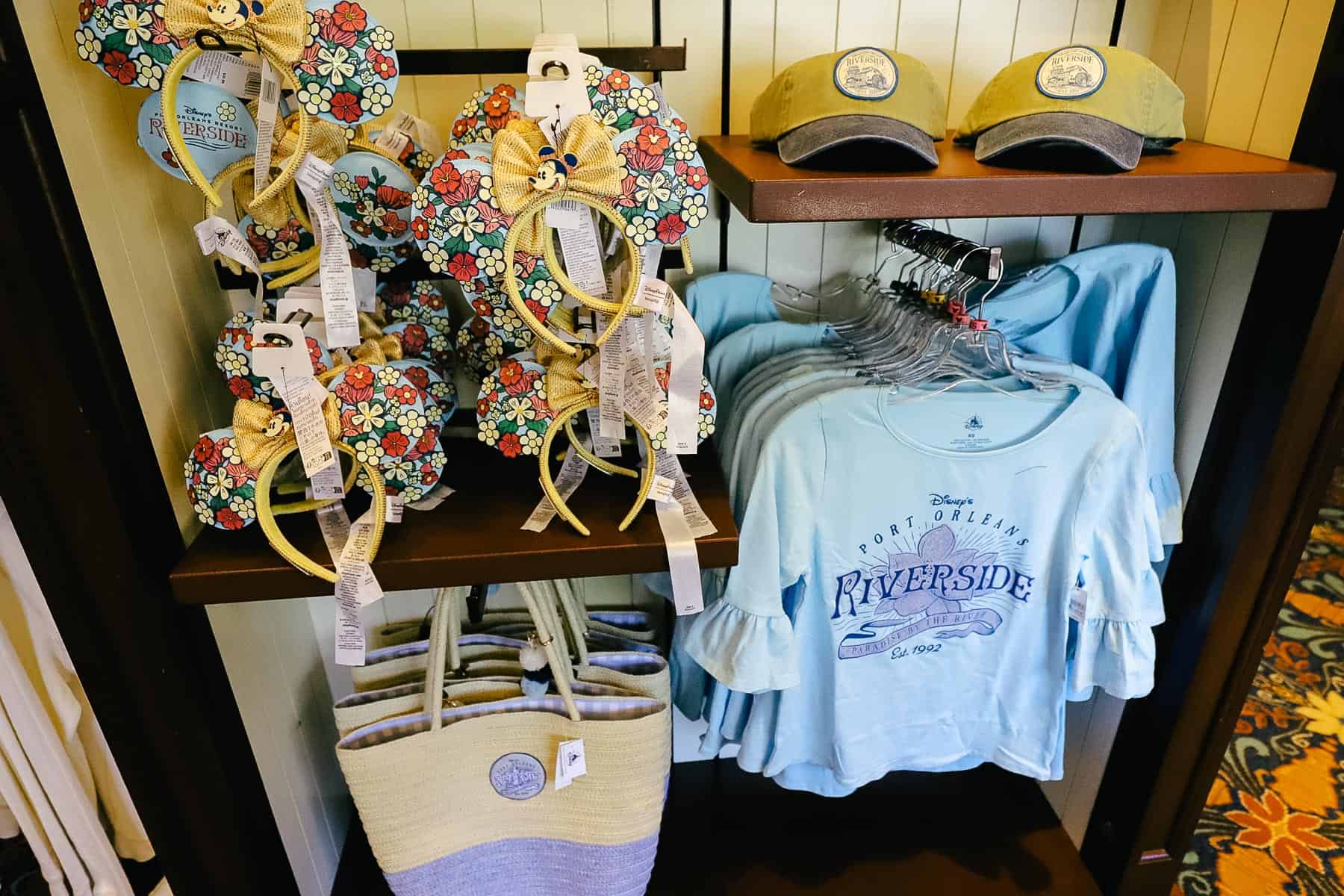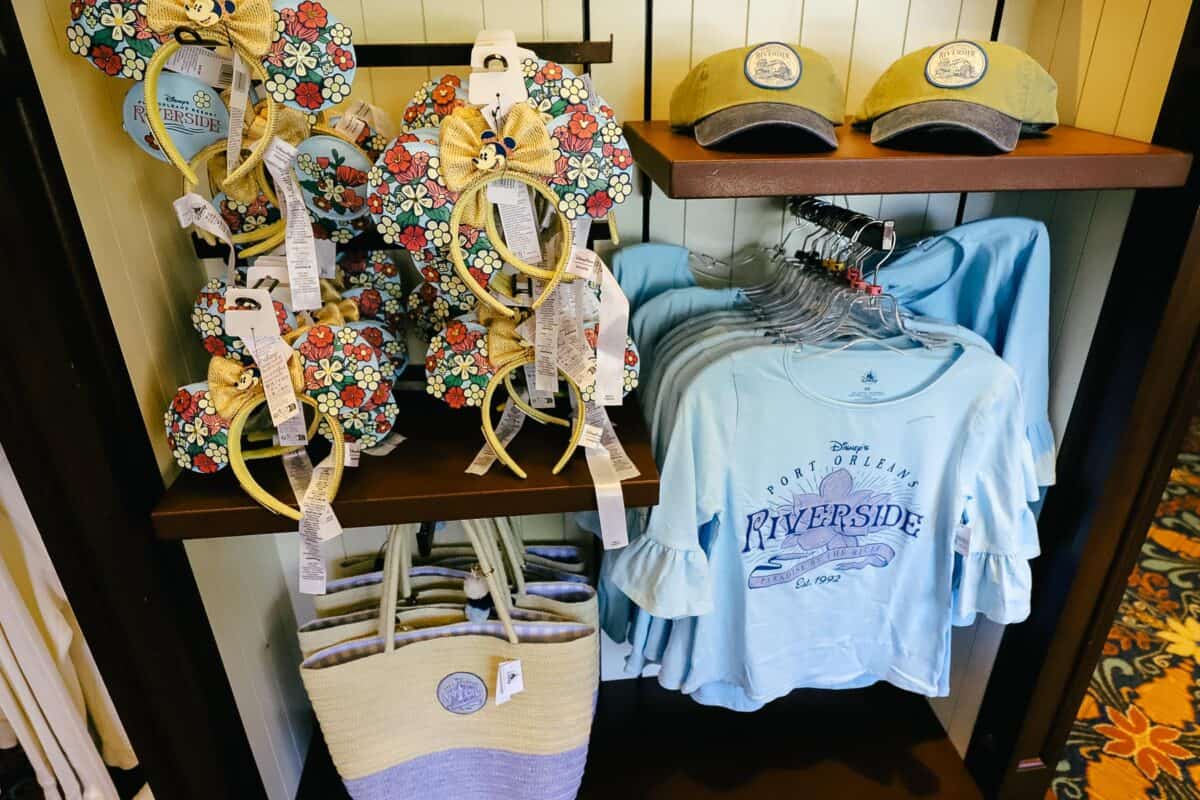 Here is a closer look at both sides of the Minnie Mouse Ears.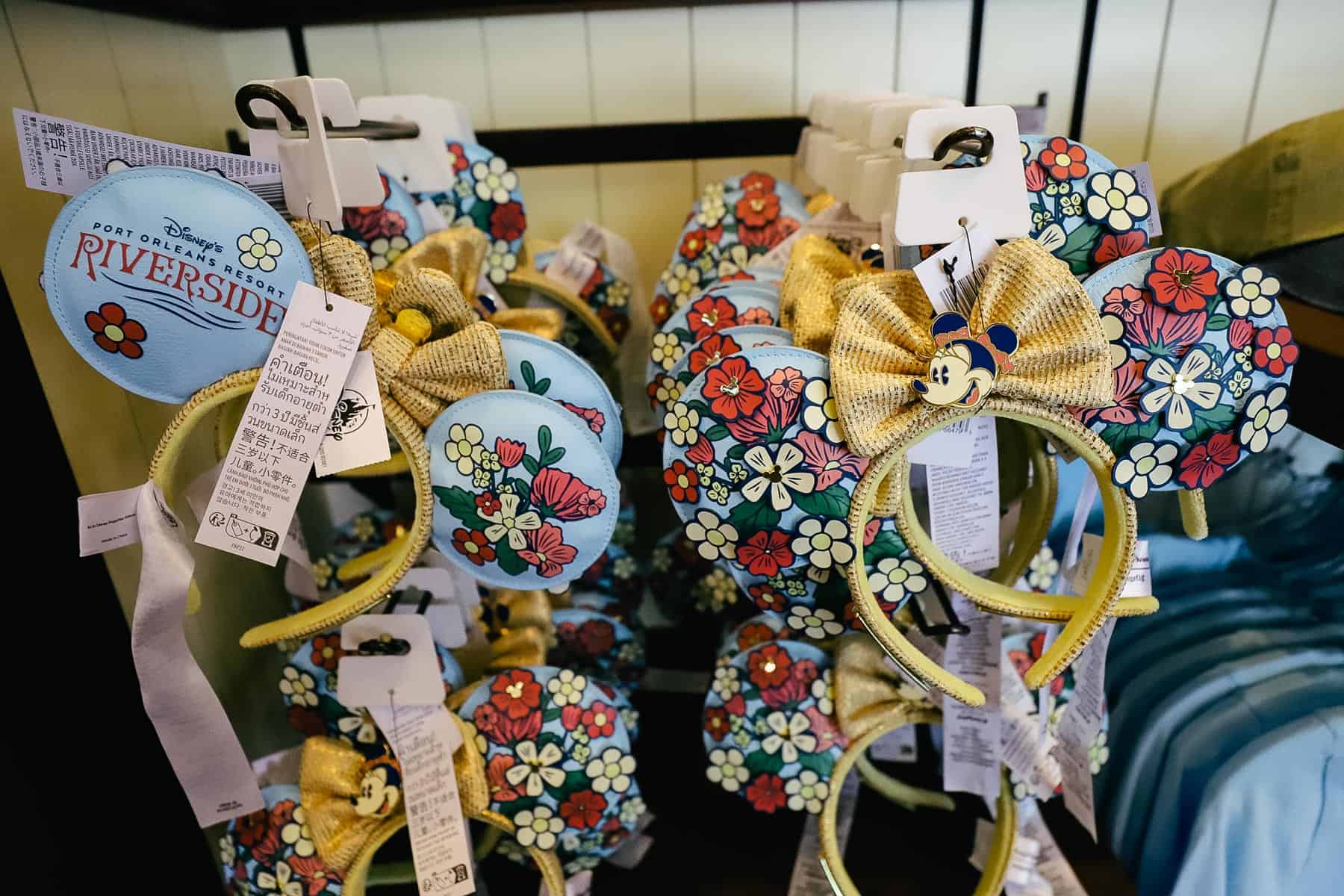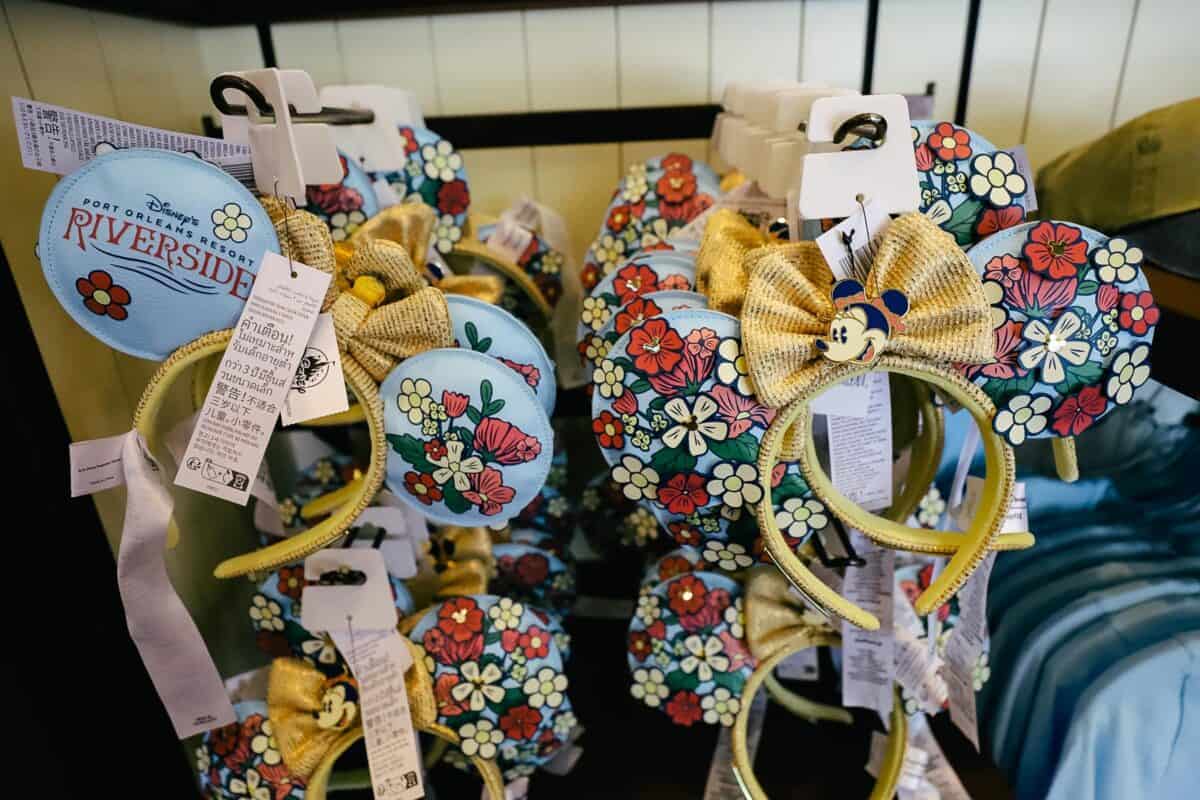 Several displays with styles of Disney Loungefly backpacks are available.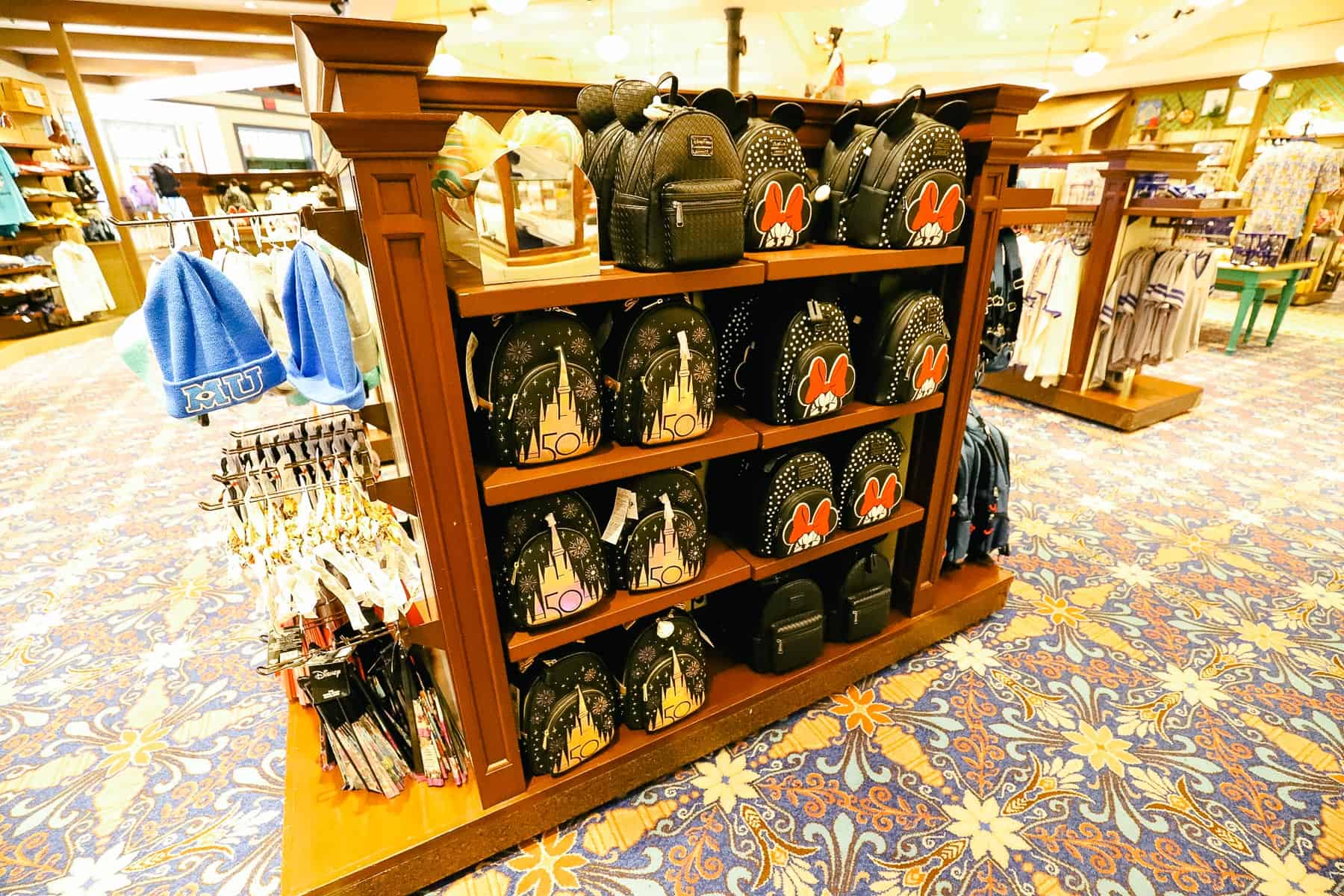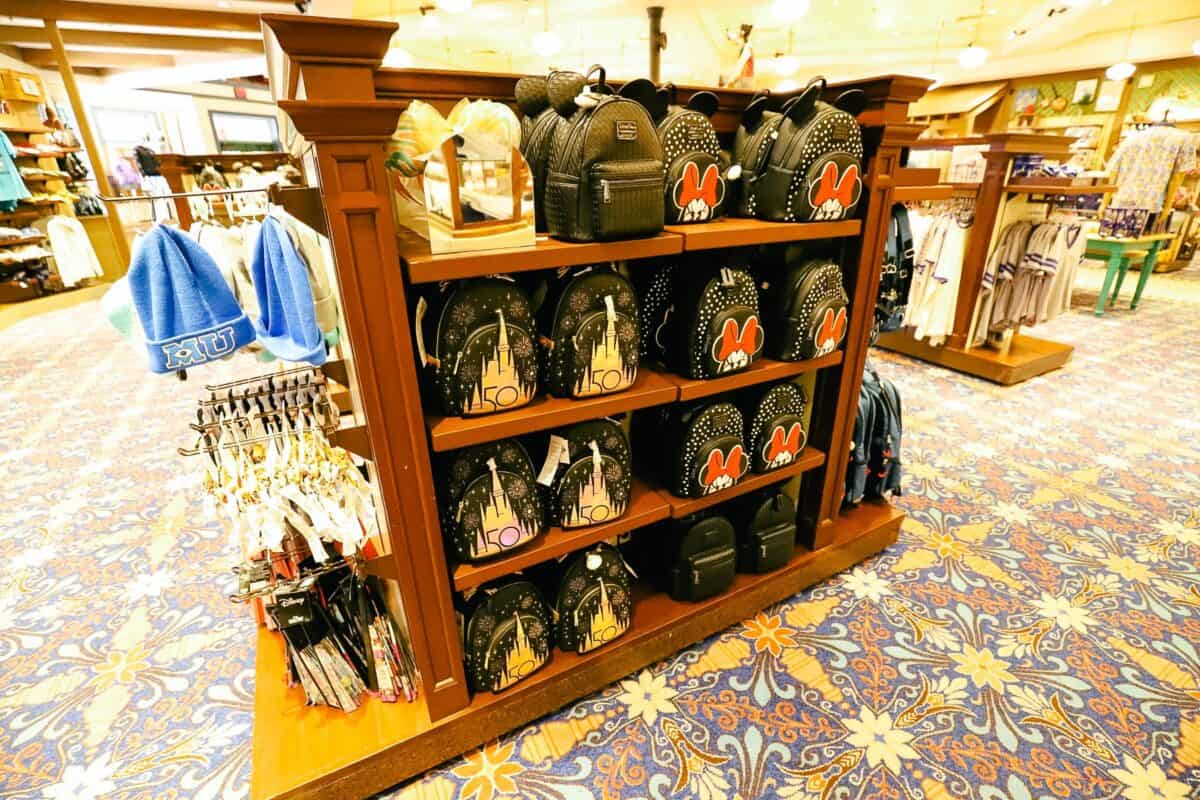 Usually, you can find several styles of Minnie Mouse Ears.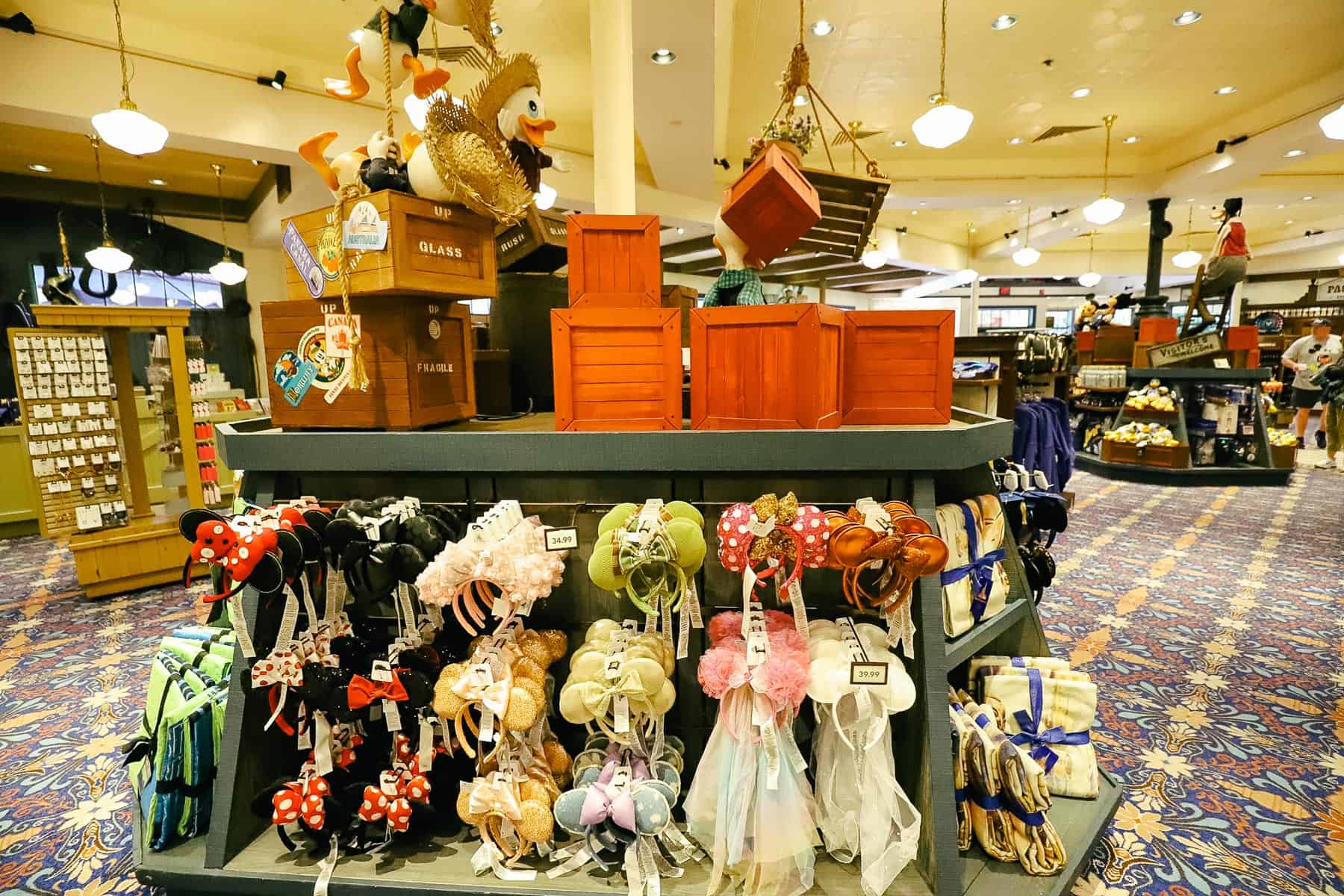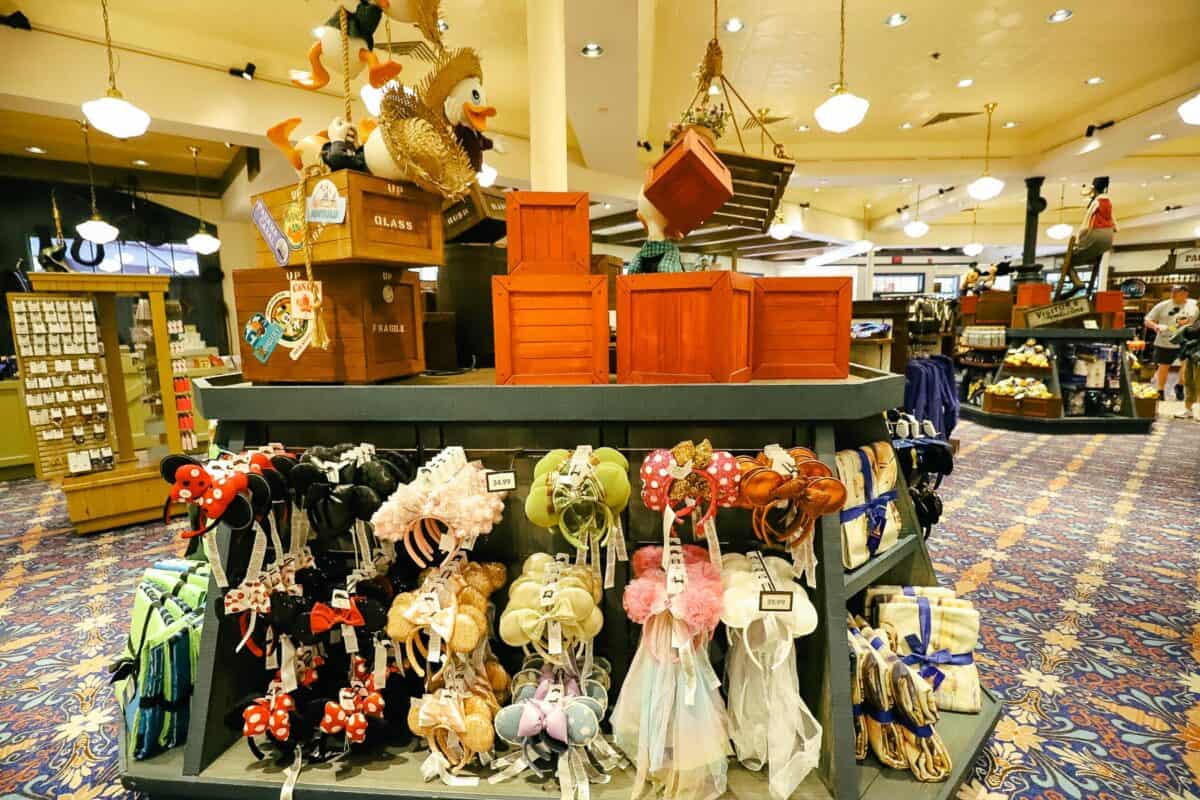 Or, if you prefer, there are plenty of hats.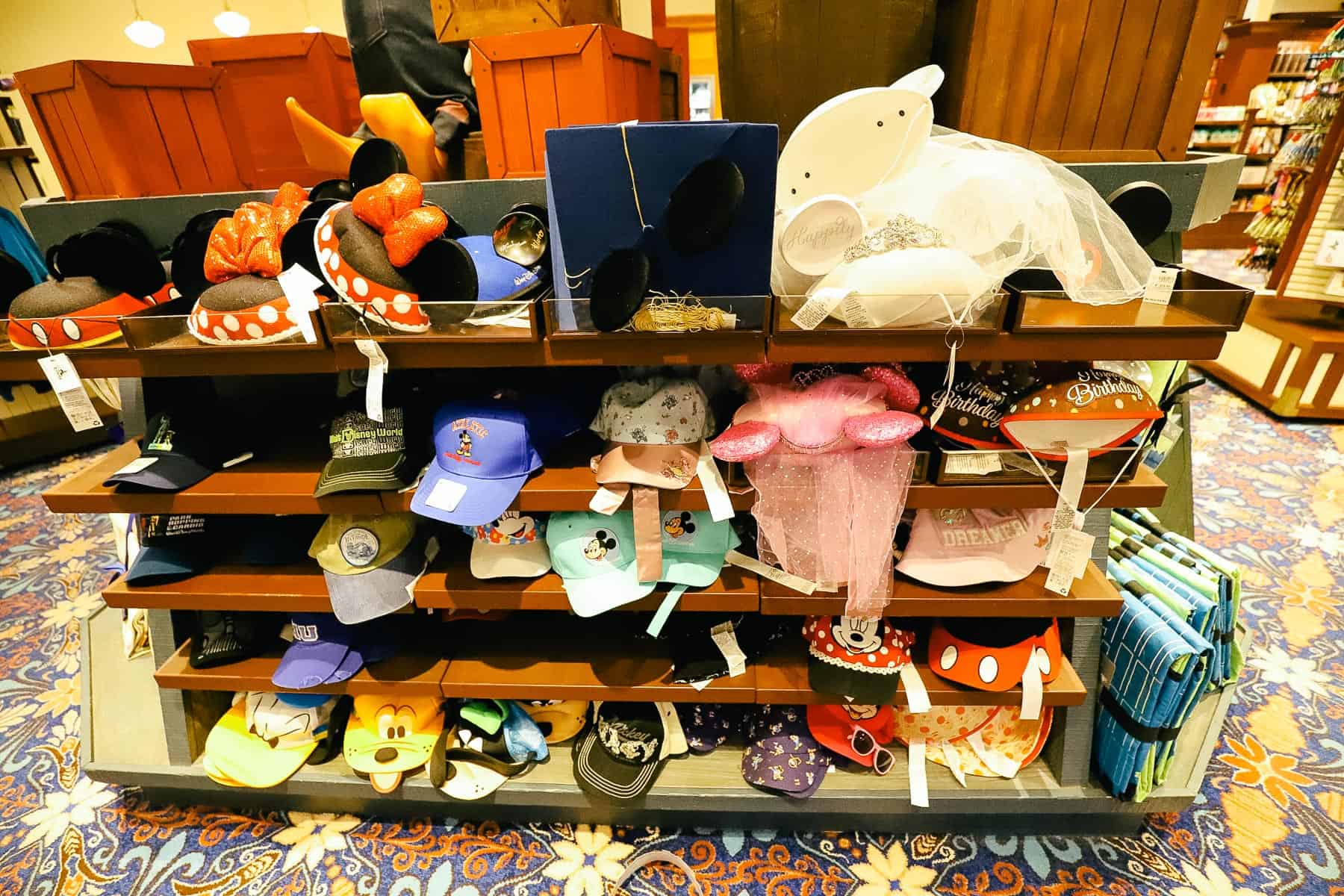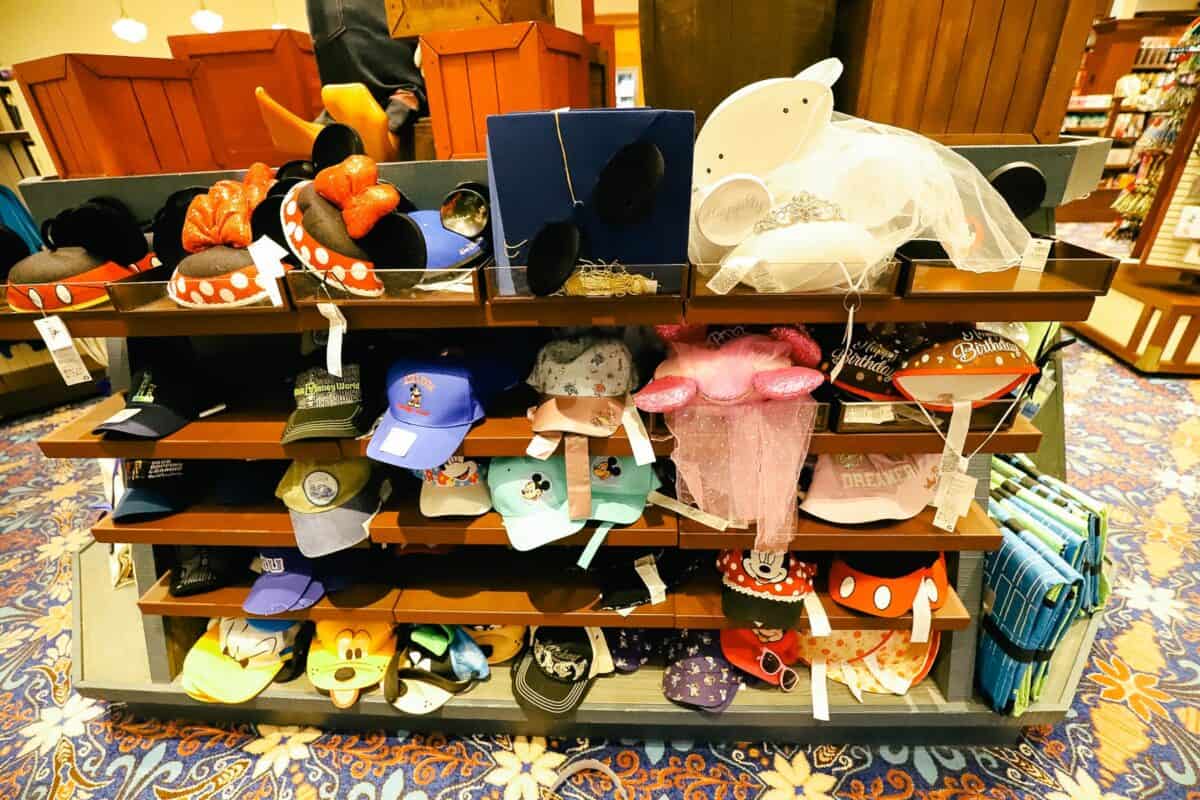 Close to the front of the store, a case contains Pandora charms and jewelry.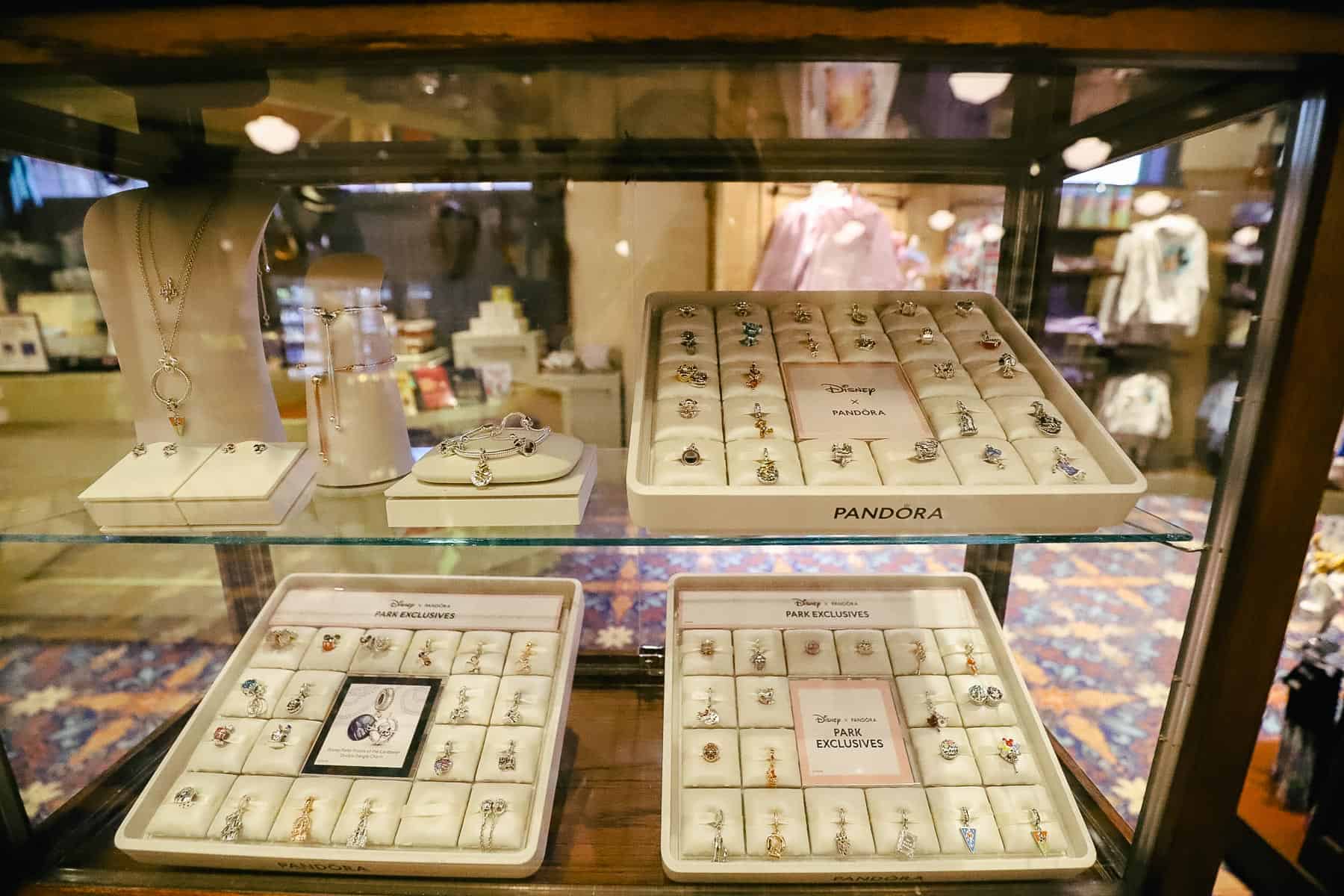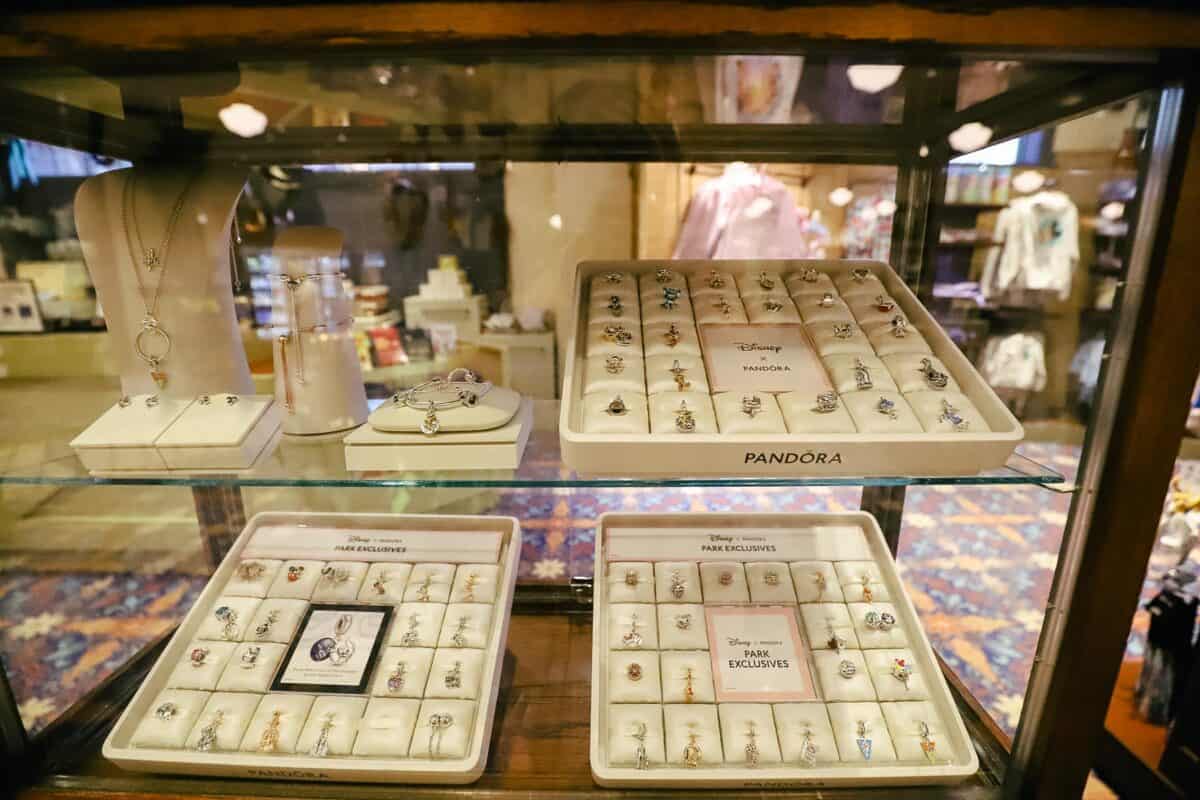 However, there are several racks with more affordable jewelry.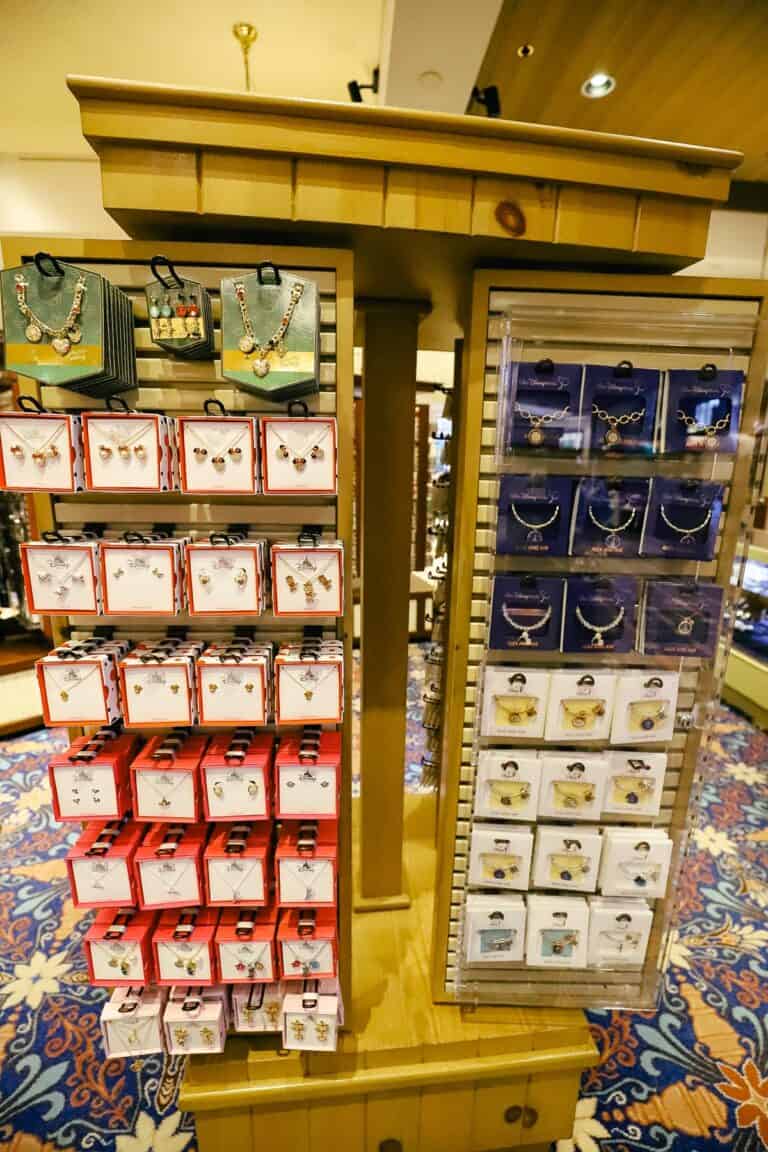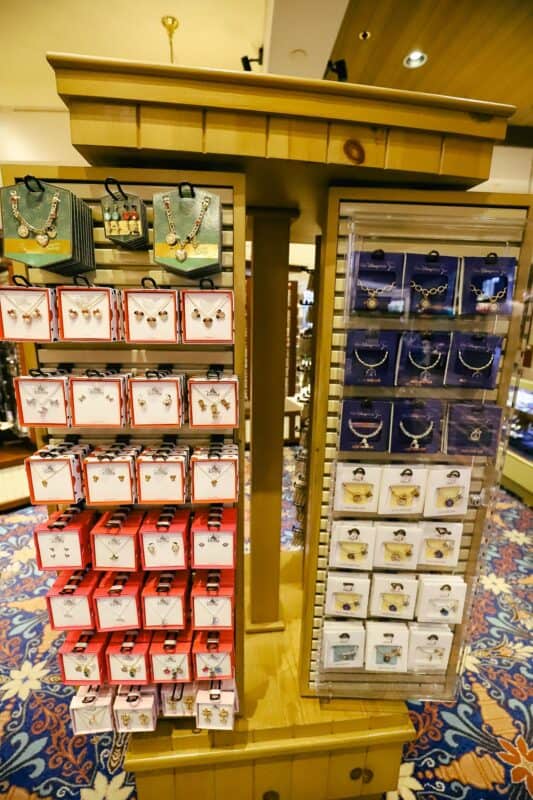 A display underneath the register features a few higher-end items. However, this store doesn't carry any Disney Dooney and Bourke items.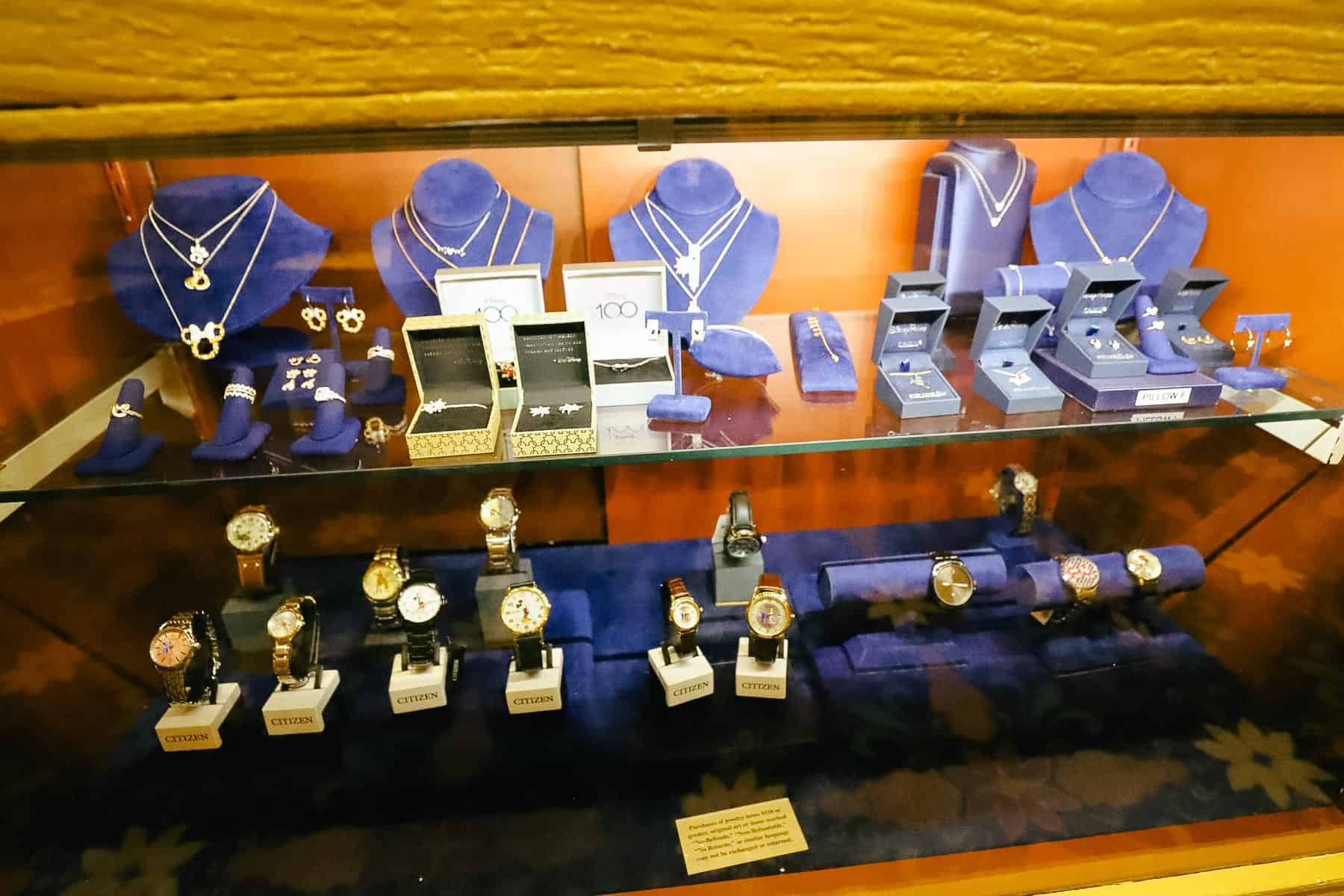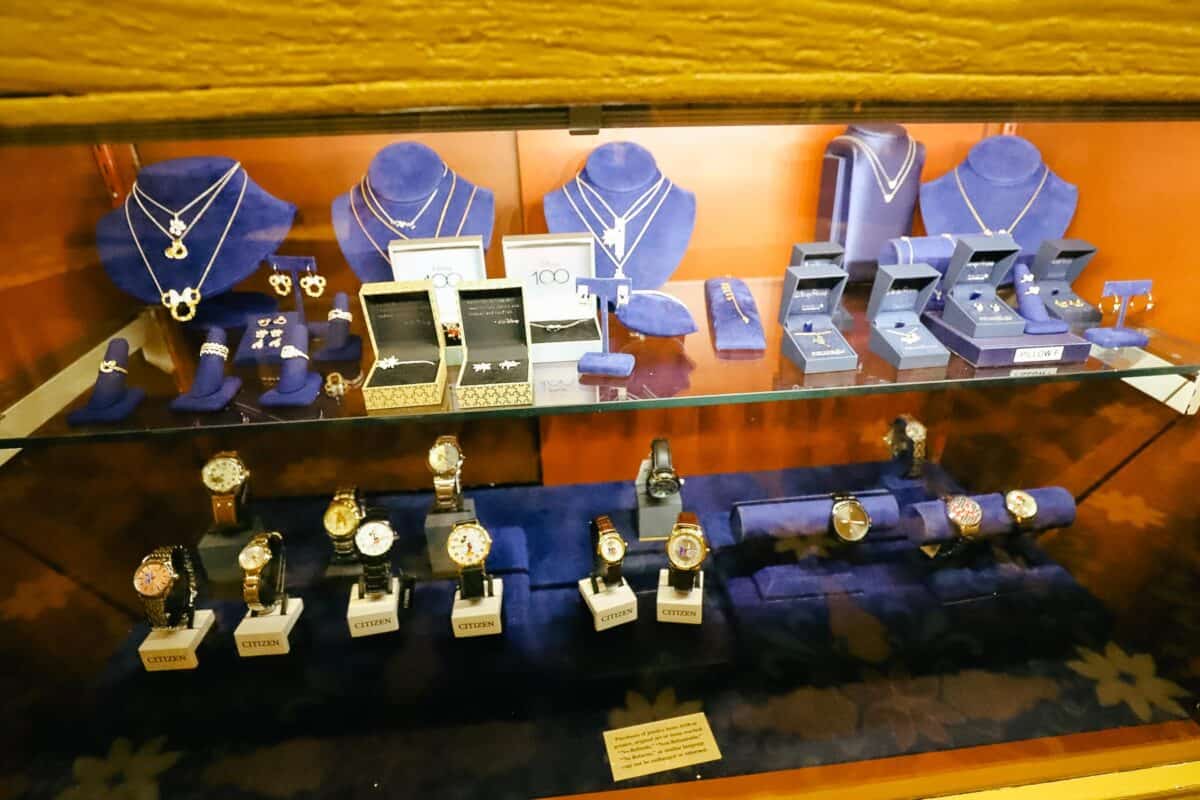 Behind the register, I noticed several collector's pins and a few pinboards. A cast member will be happy to let you have a closer look at any of the items.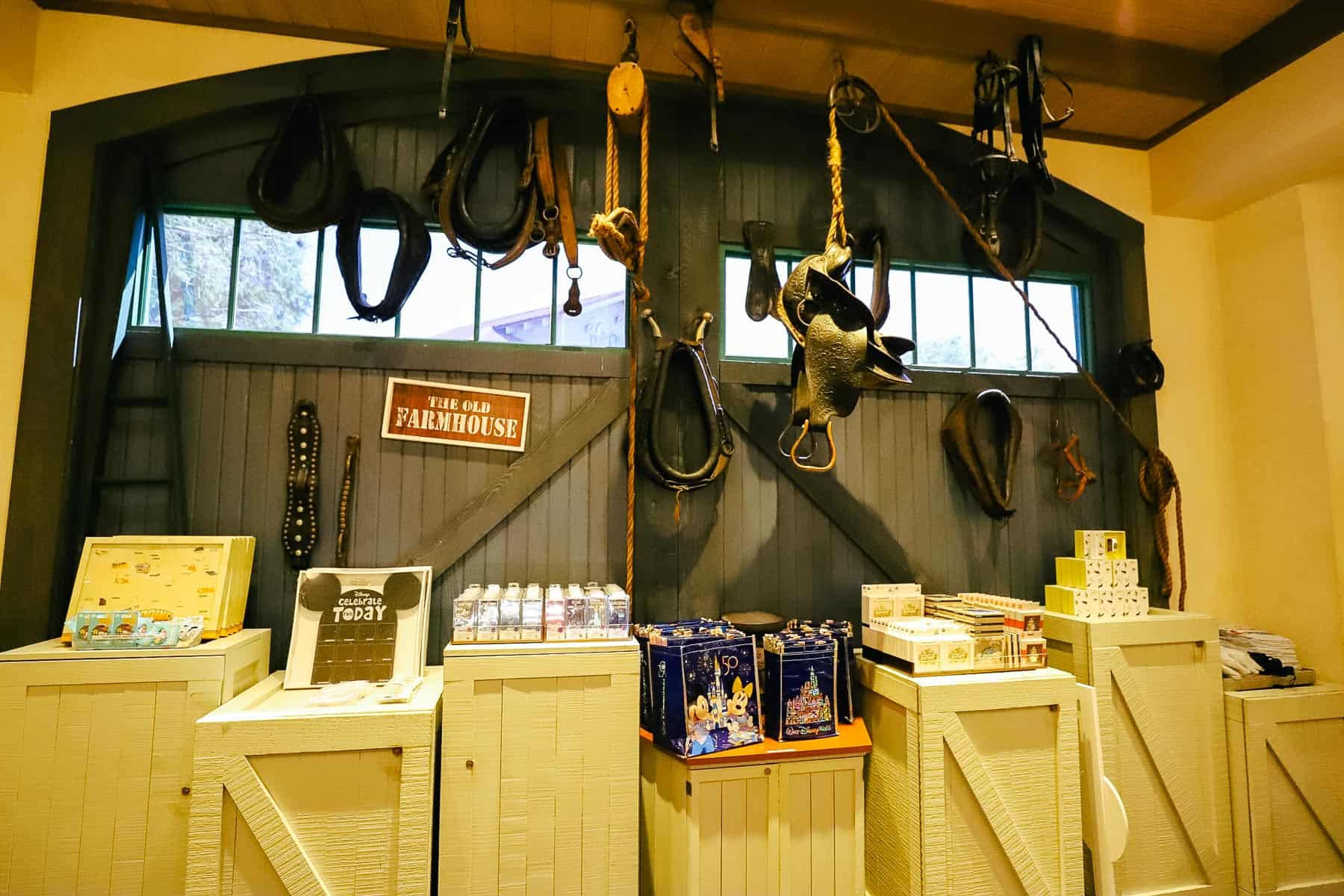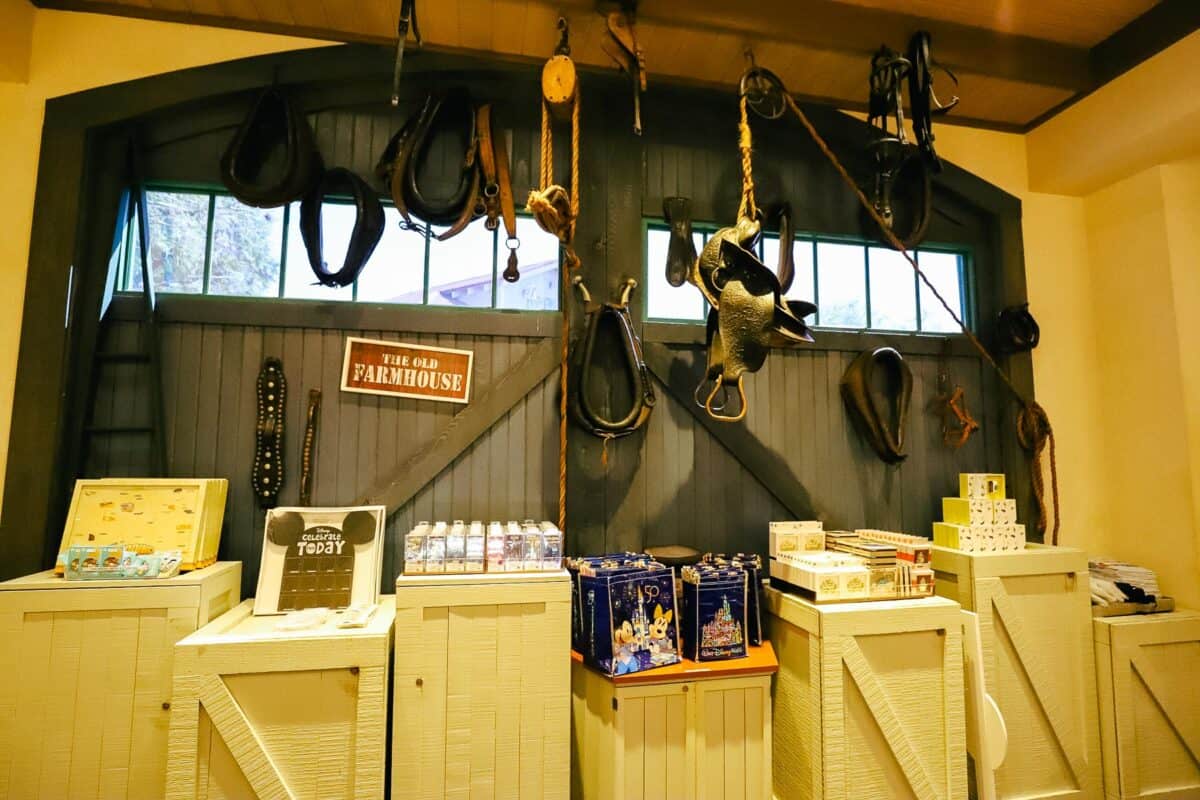 Most items in the photo below have "2023" on them.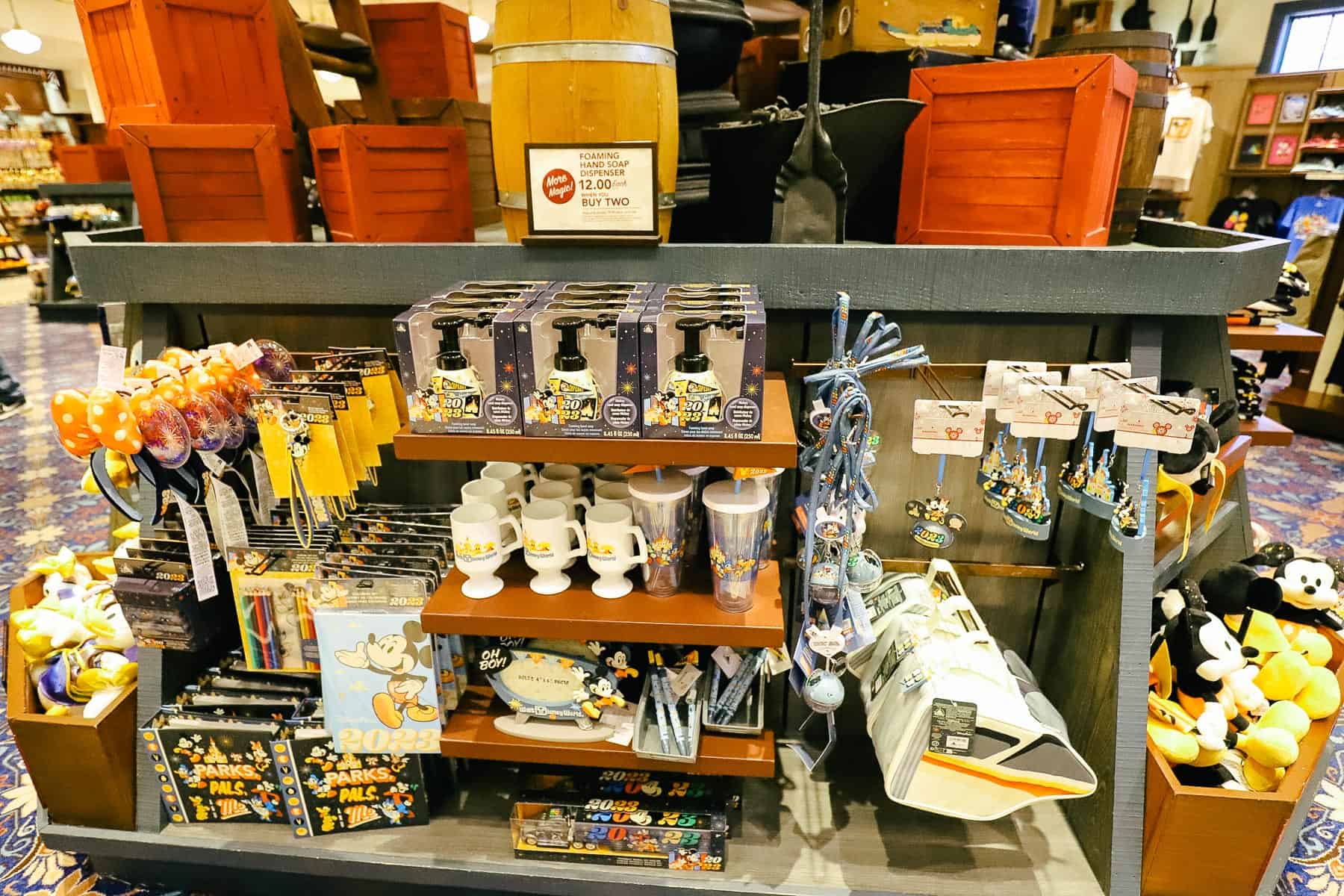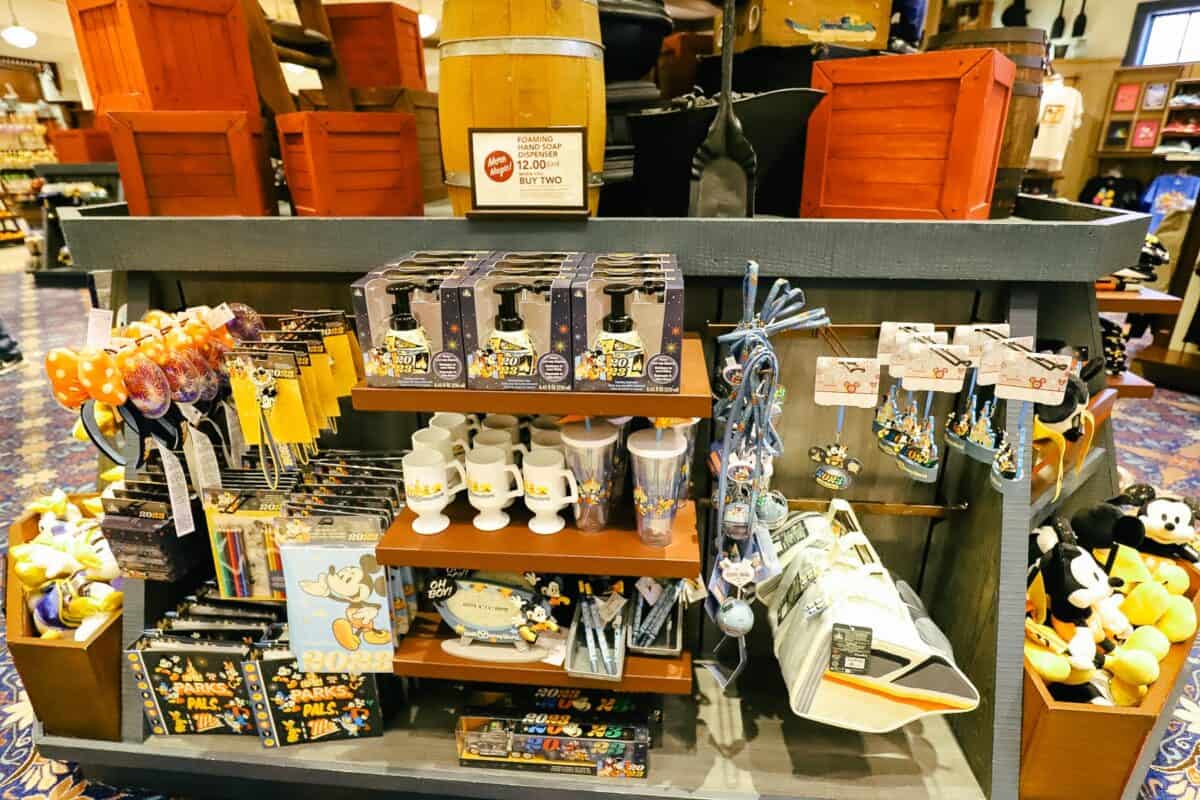 On the opposite side of that display, there were several items for pets.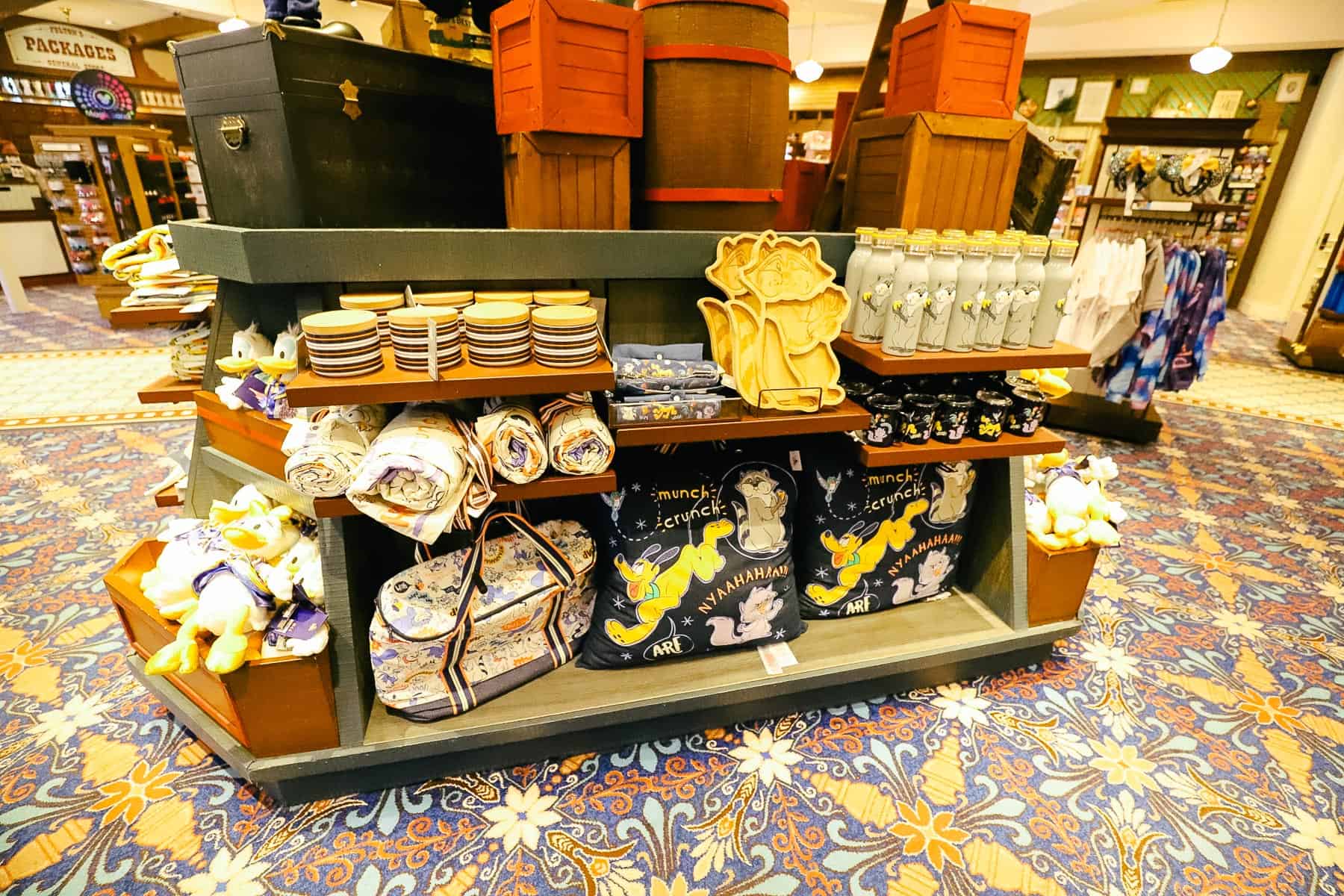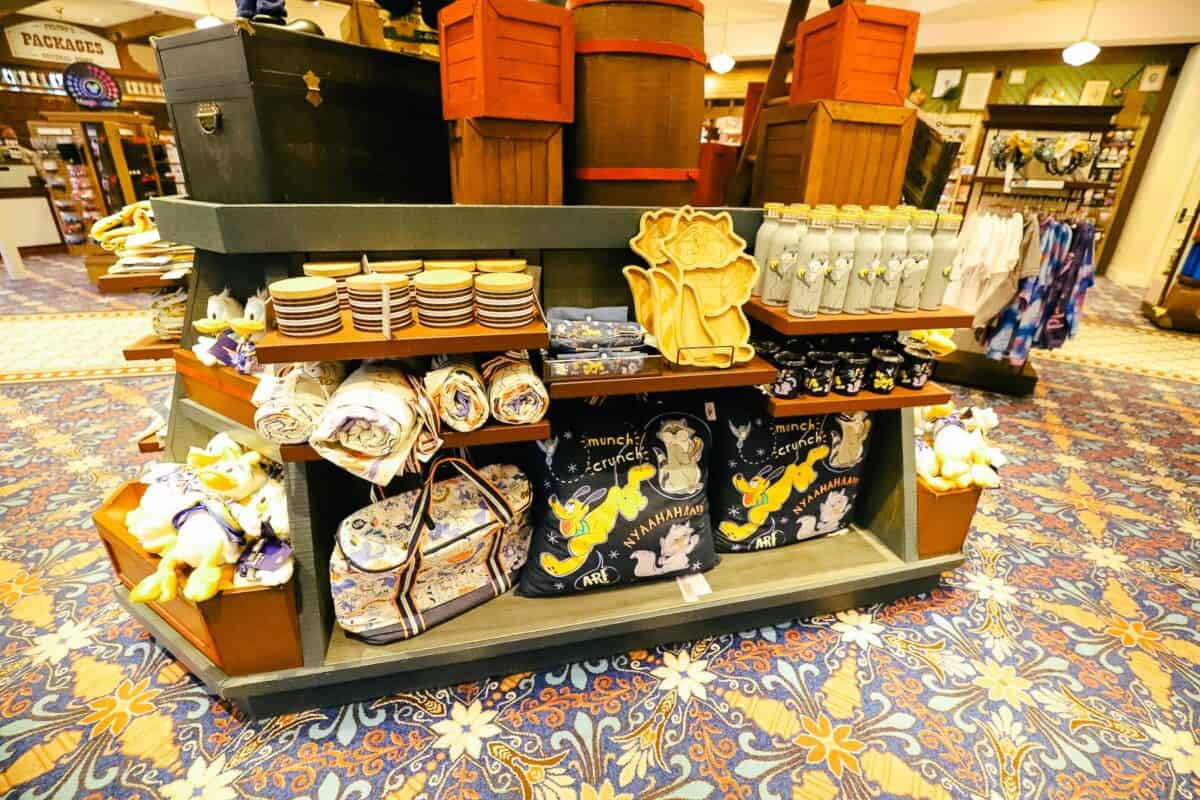 Most of the 50th-anniversary items are gone. Instead, Disney 100 items have taken over.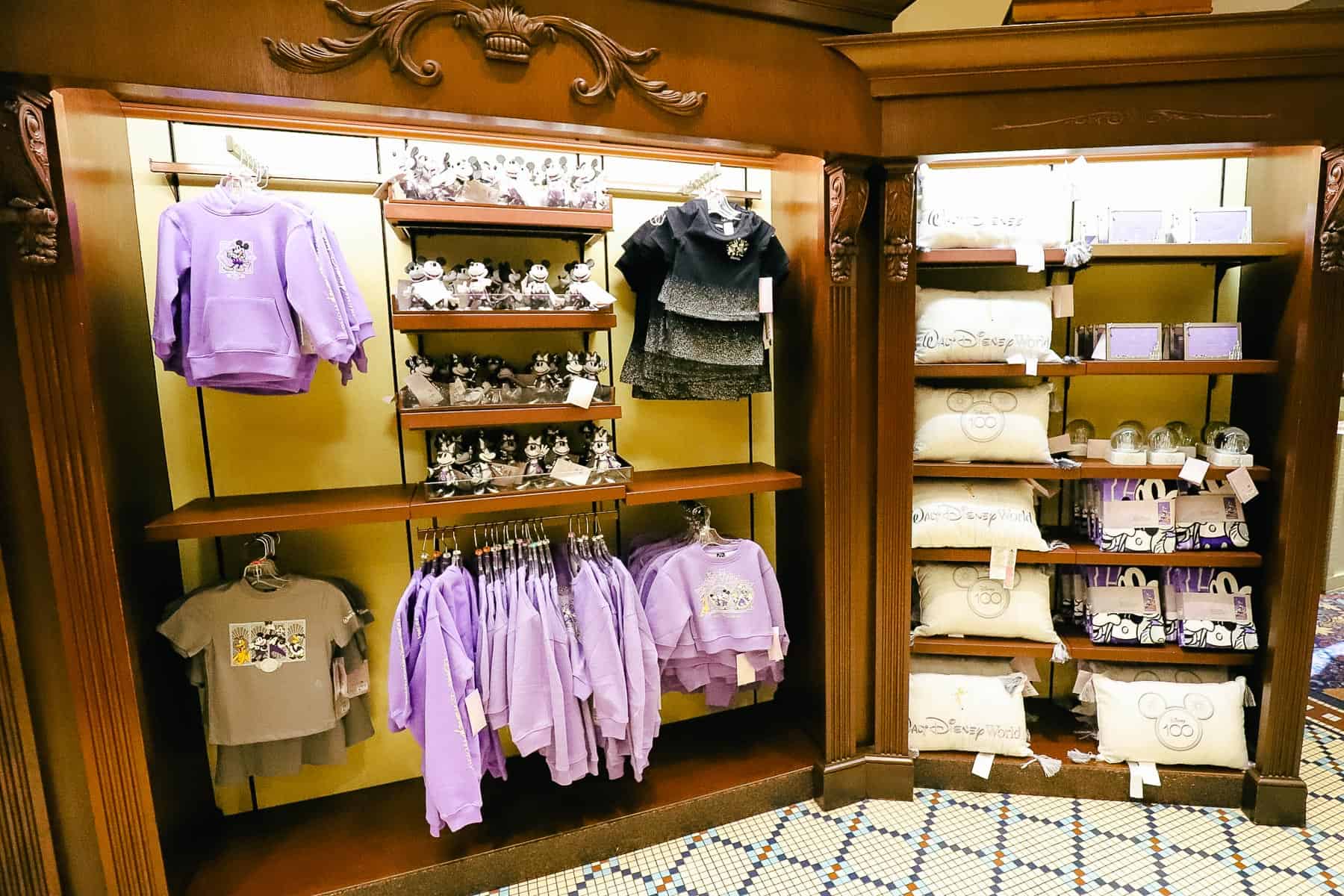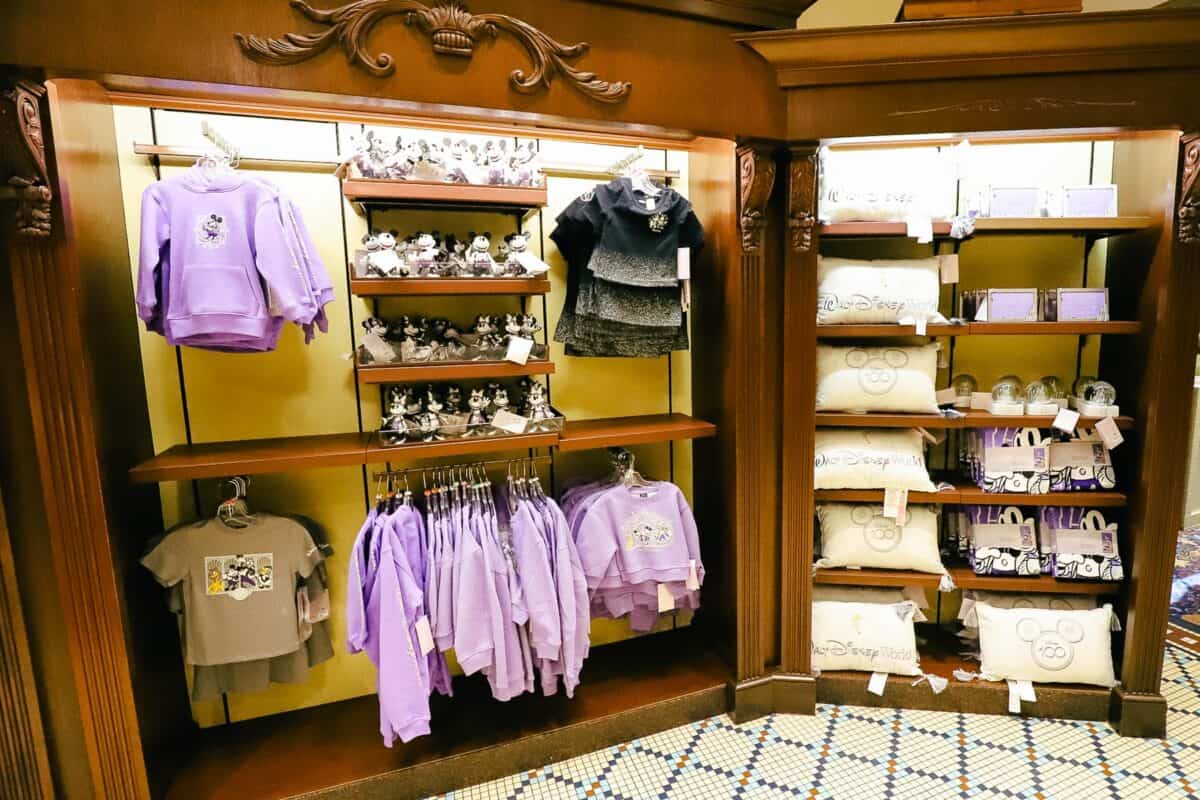 Here are a few of the vintage styles that were released to celebrate the anniversary. There are some adorable pieces.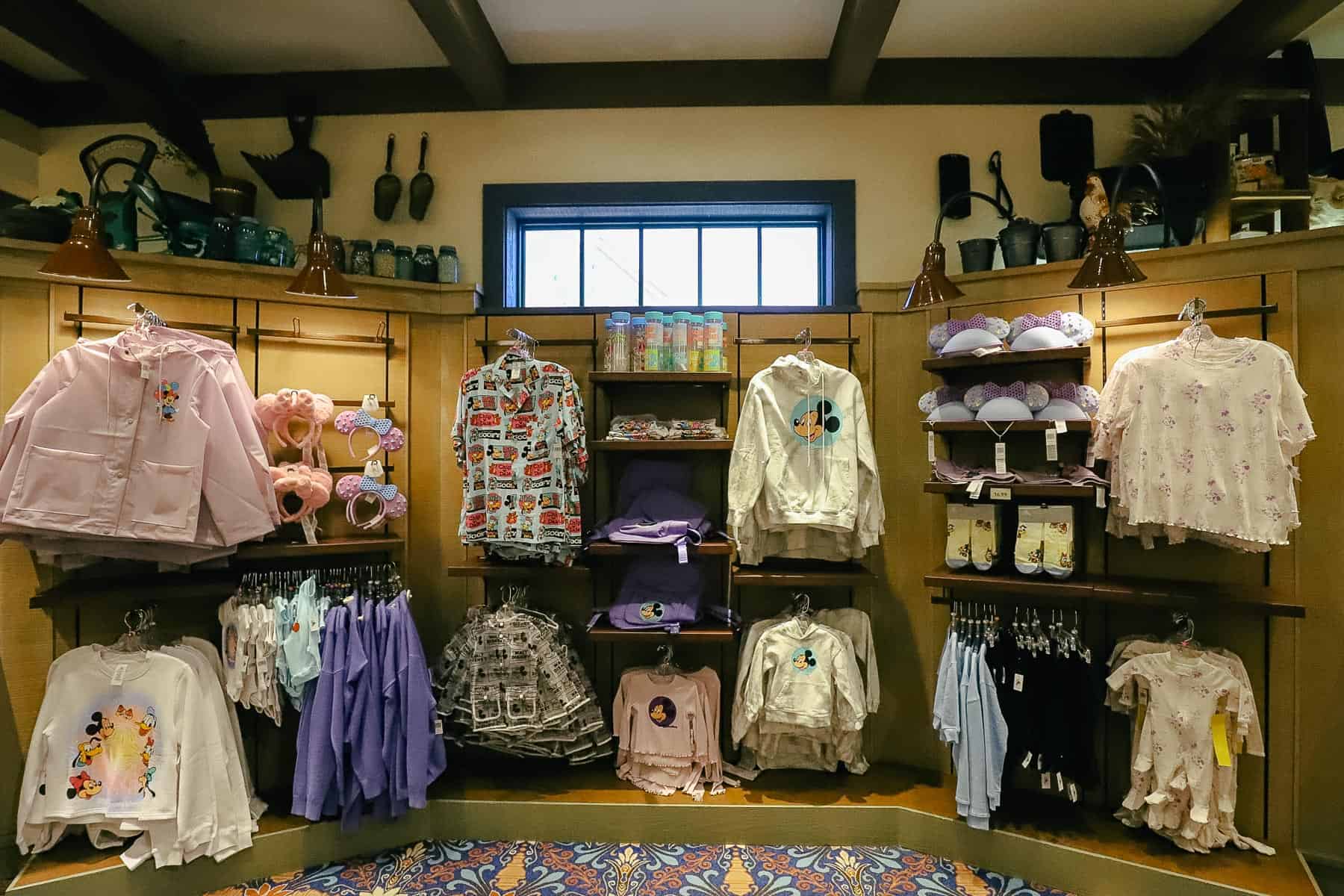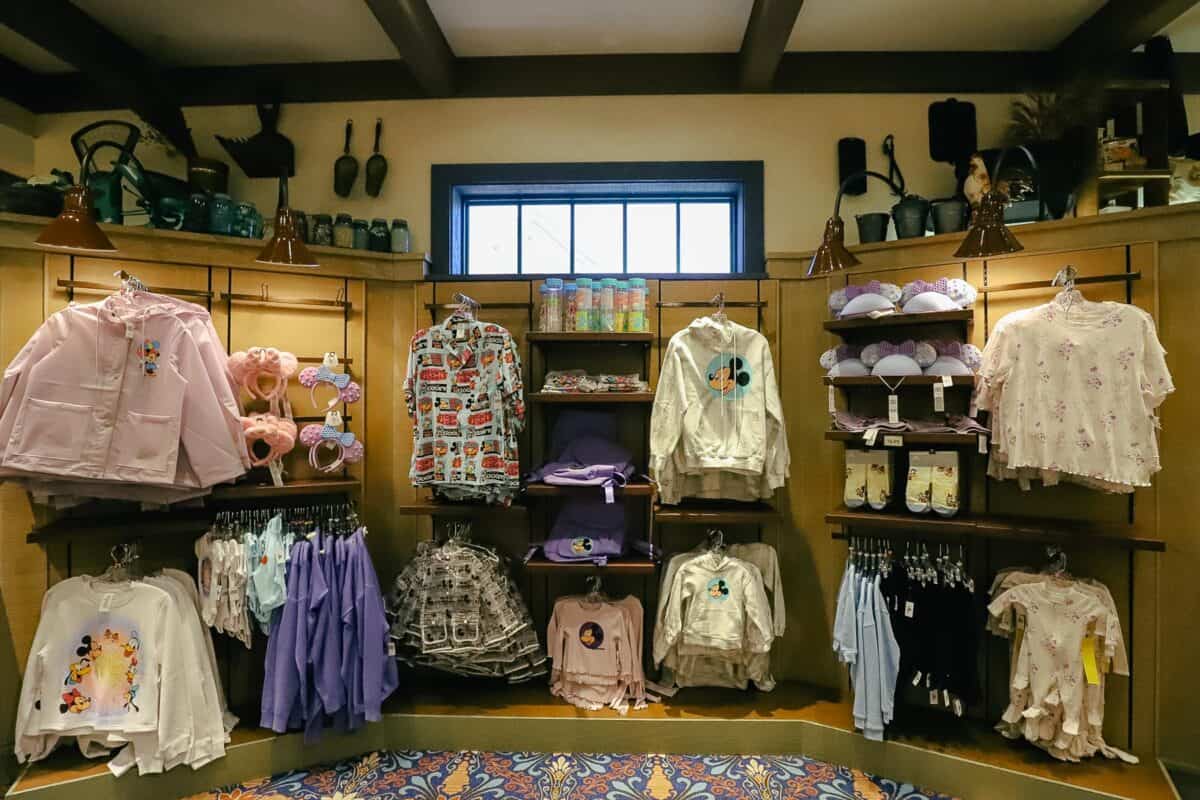 Fulton's General Store has a good selection of women's apparel.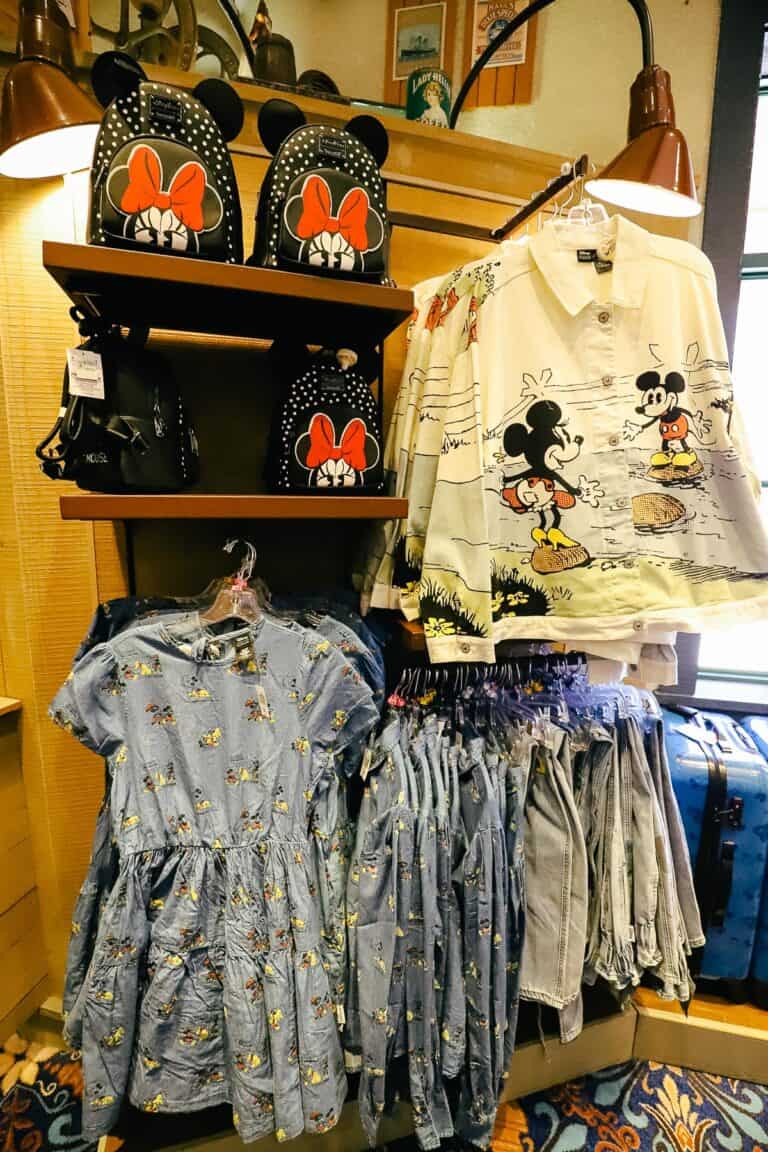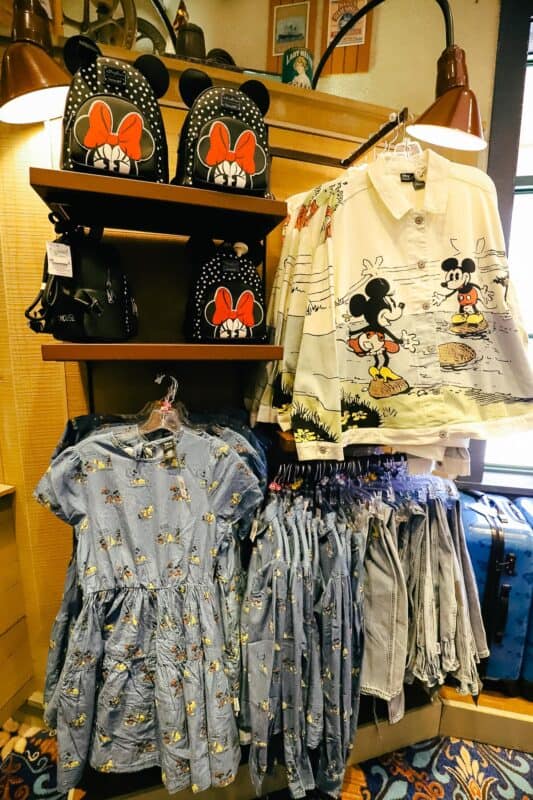 There is most likely something available for everyone.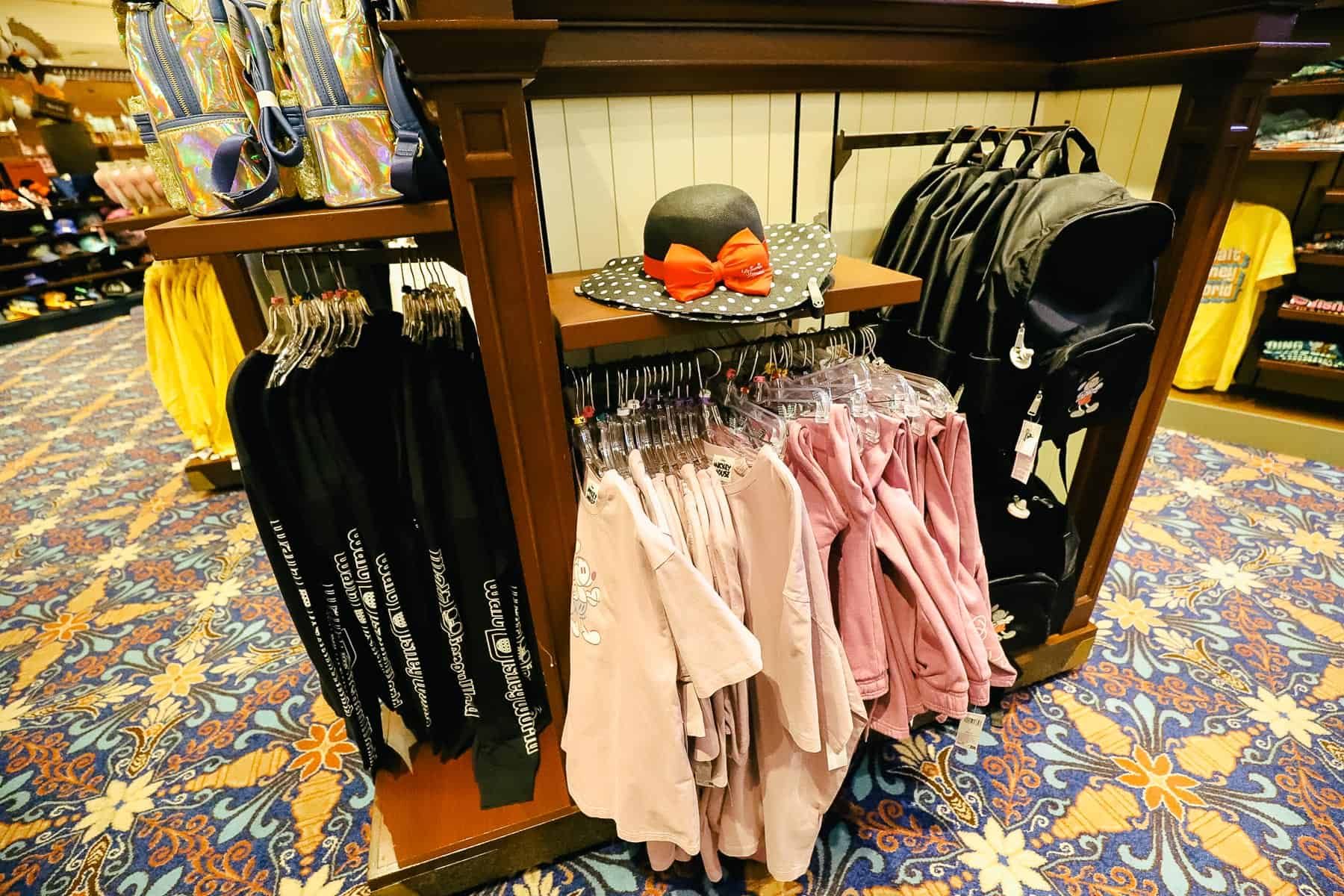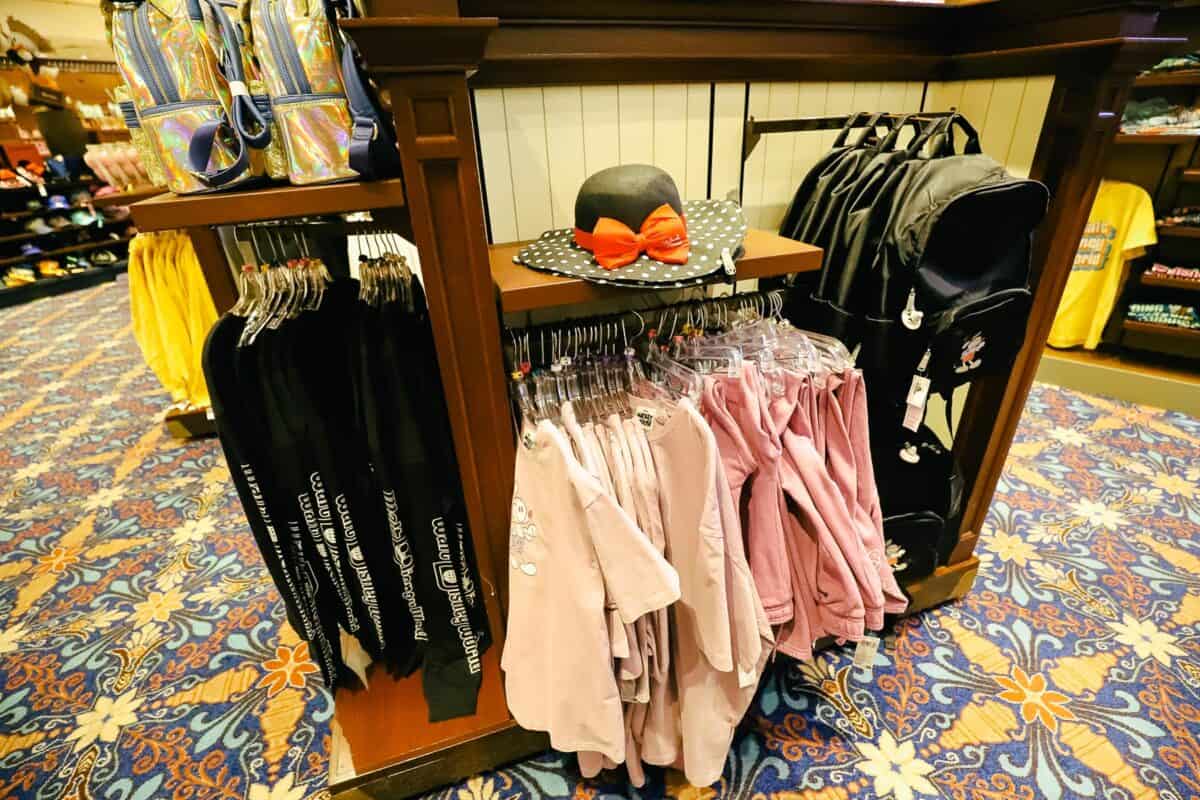 Here are a few spirit jerseys, sweat pants, and beach towels. If you visit during a cold spell, some of these items might be useful.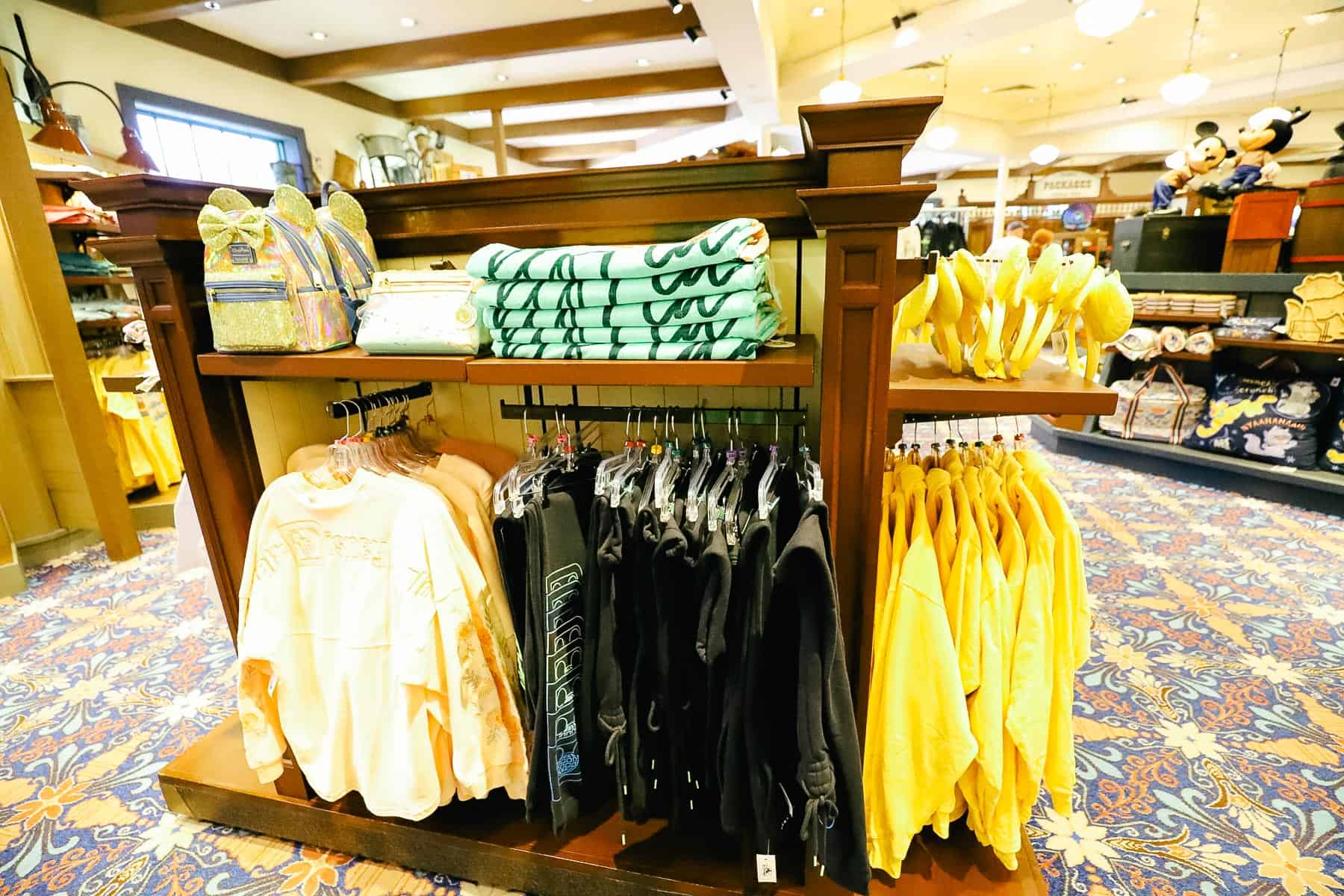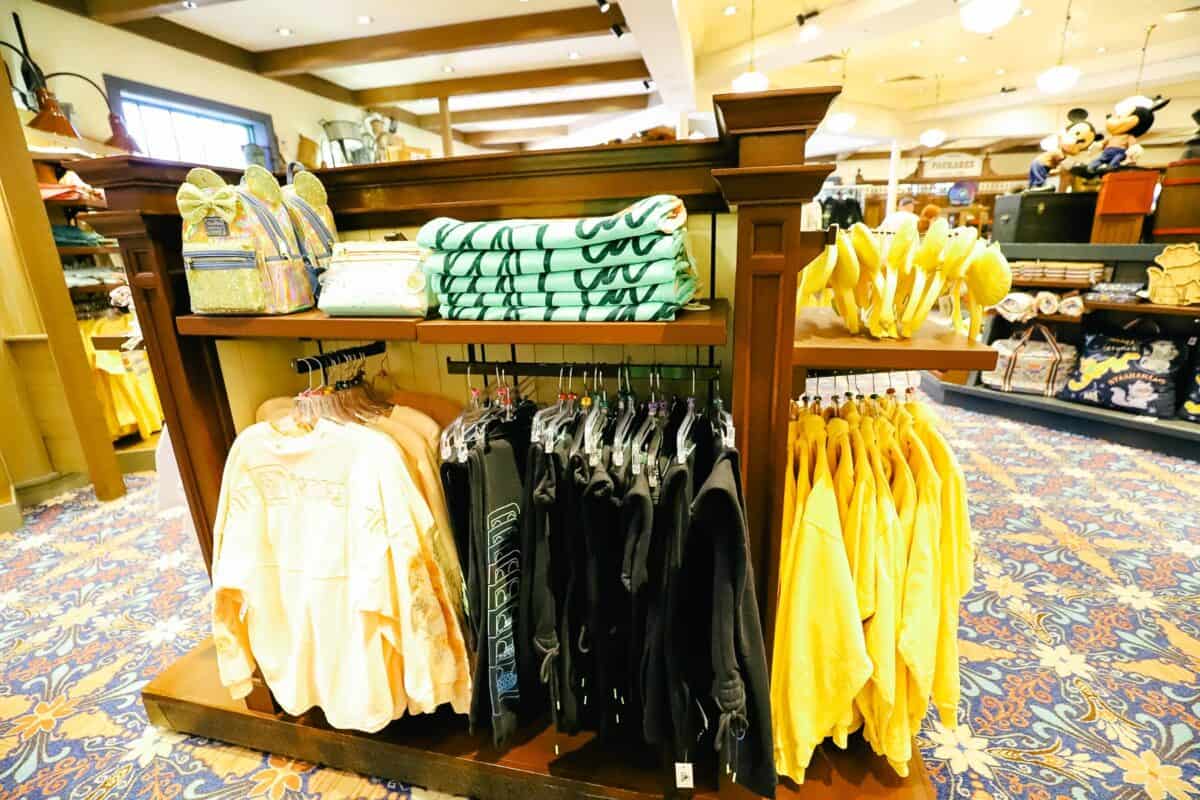 Men's apparel includes hats, polo shirts, shorts, and a few Nike-branded golf items.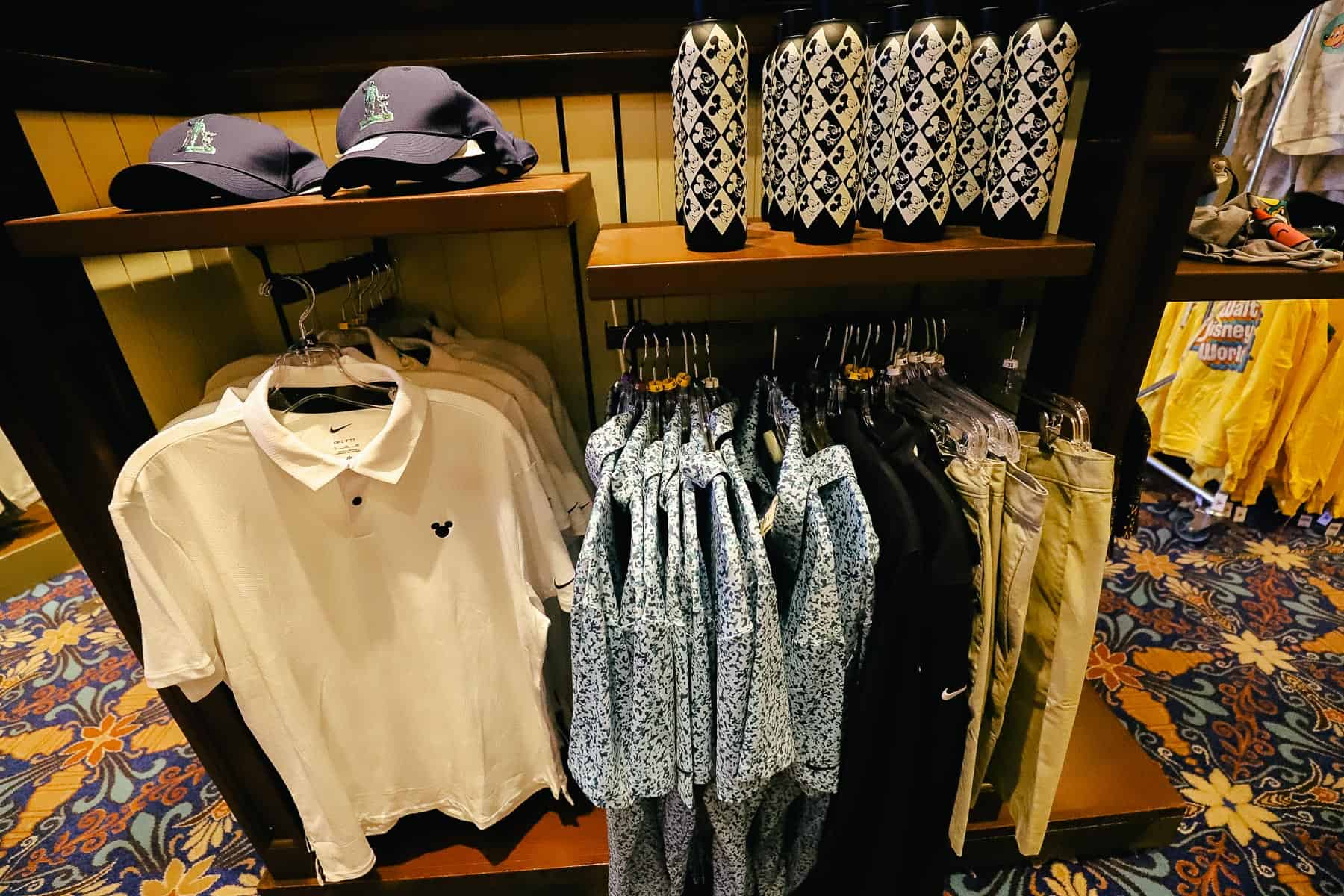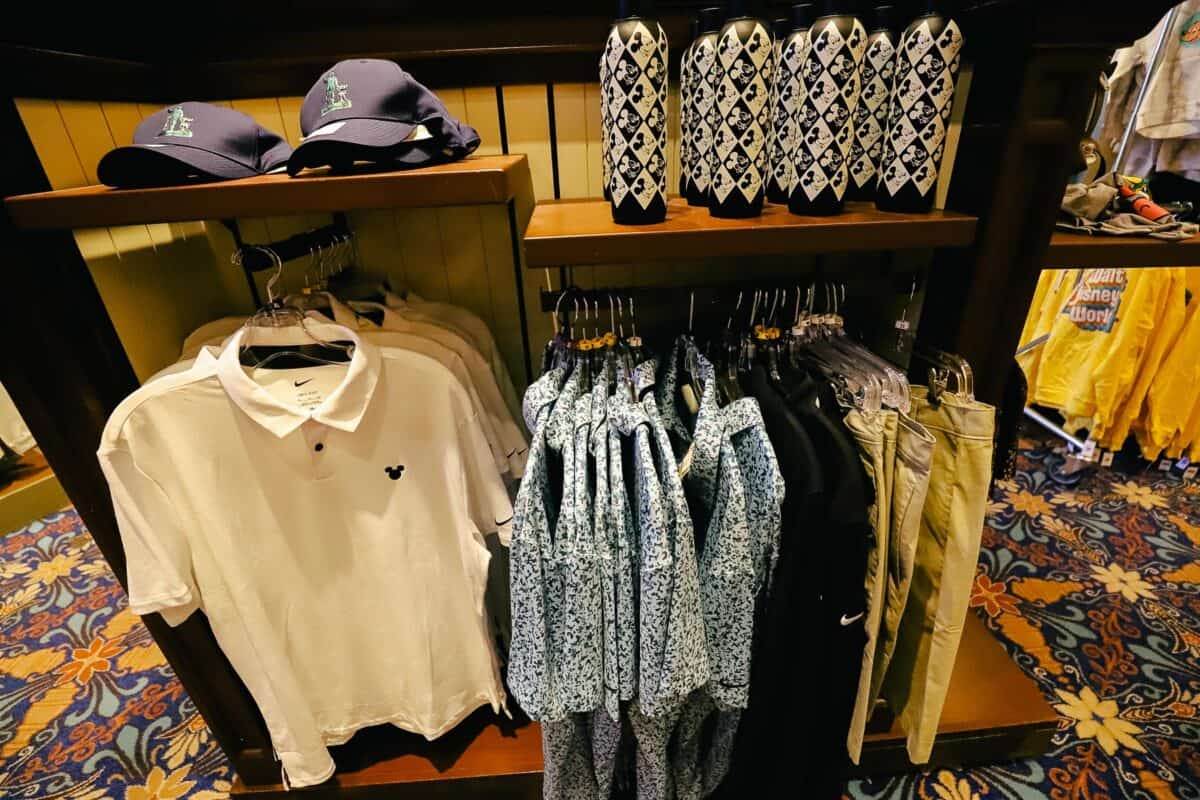 Here are a few Wakanda items that came out a few months ago.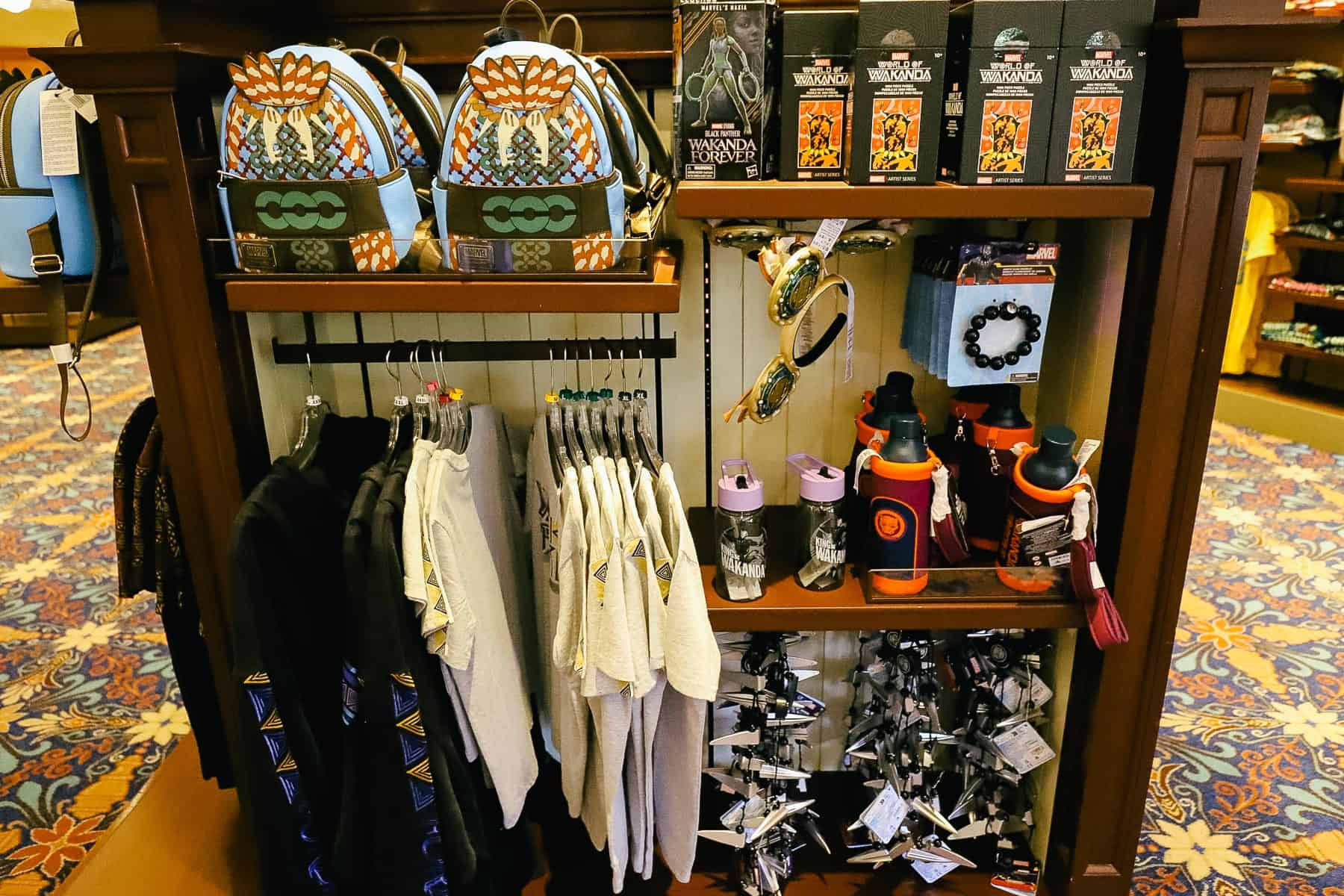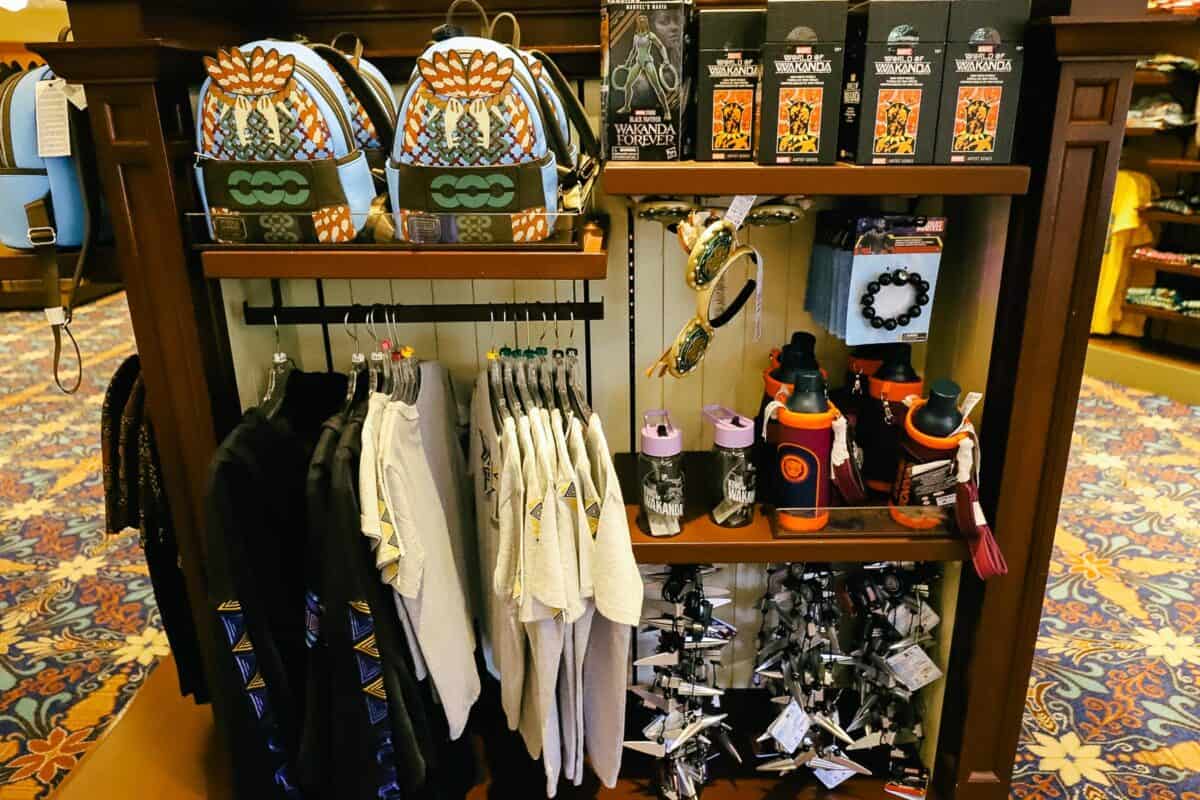 It wouldn't be a gift shop without a proper display of t-shirts.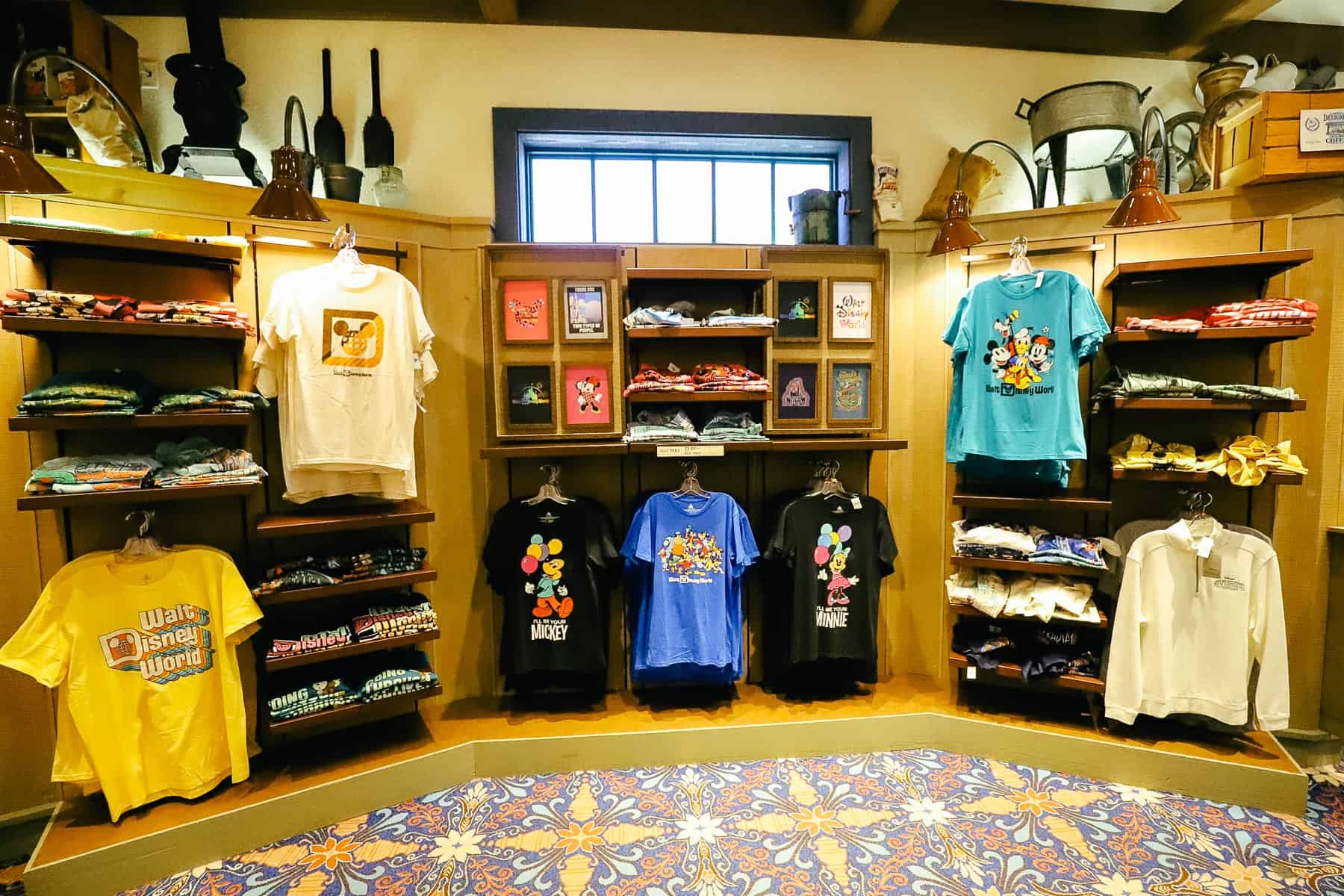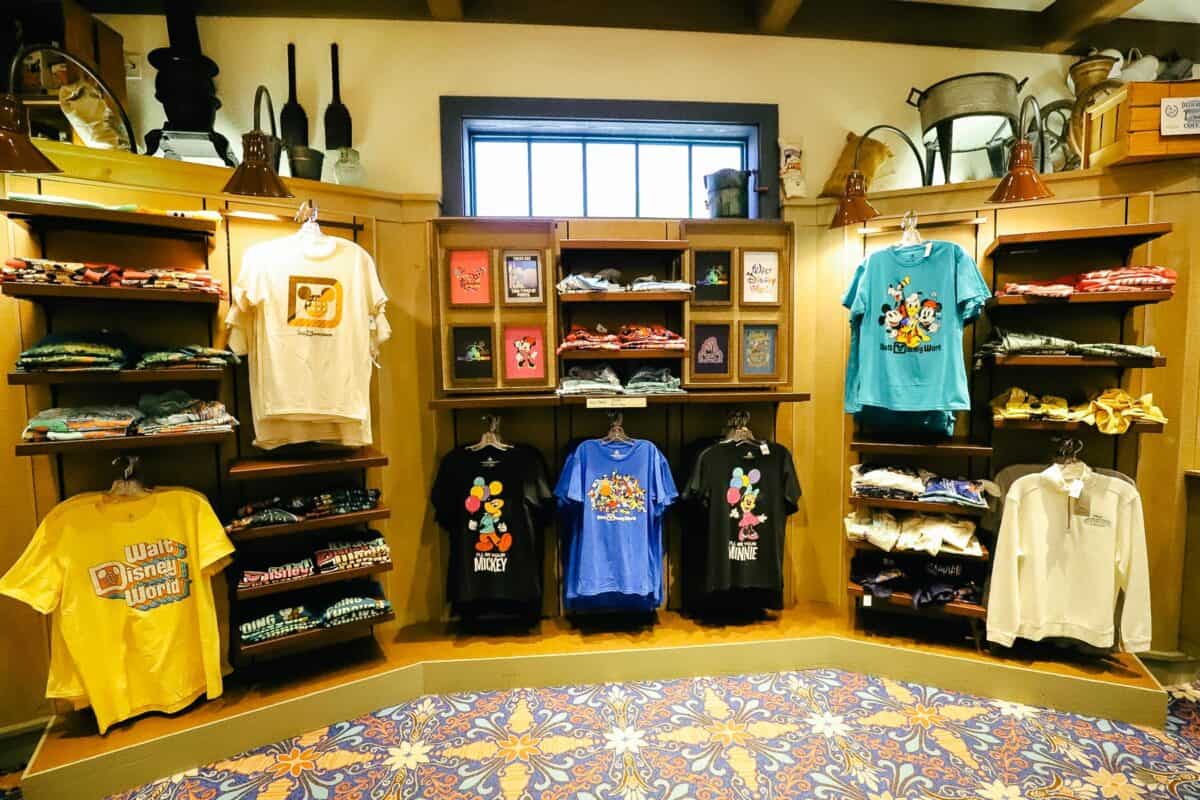 There are plenty of styles for adults and children.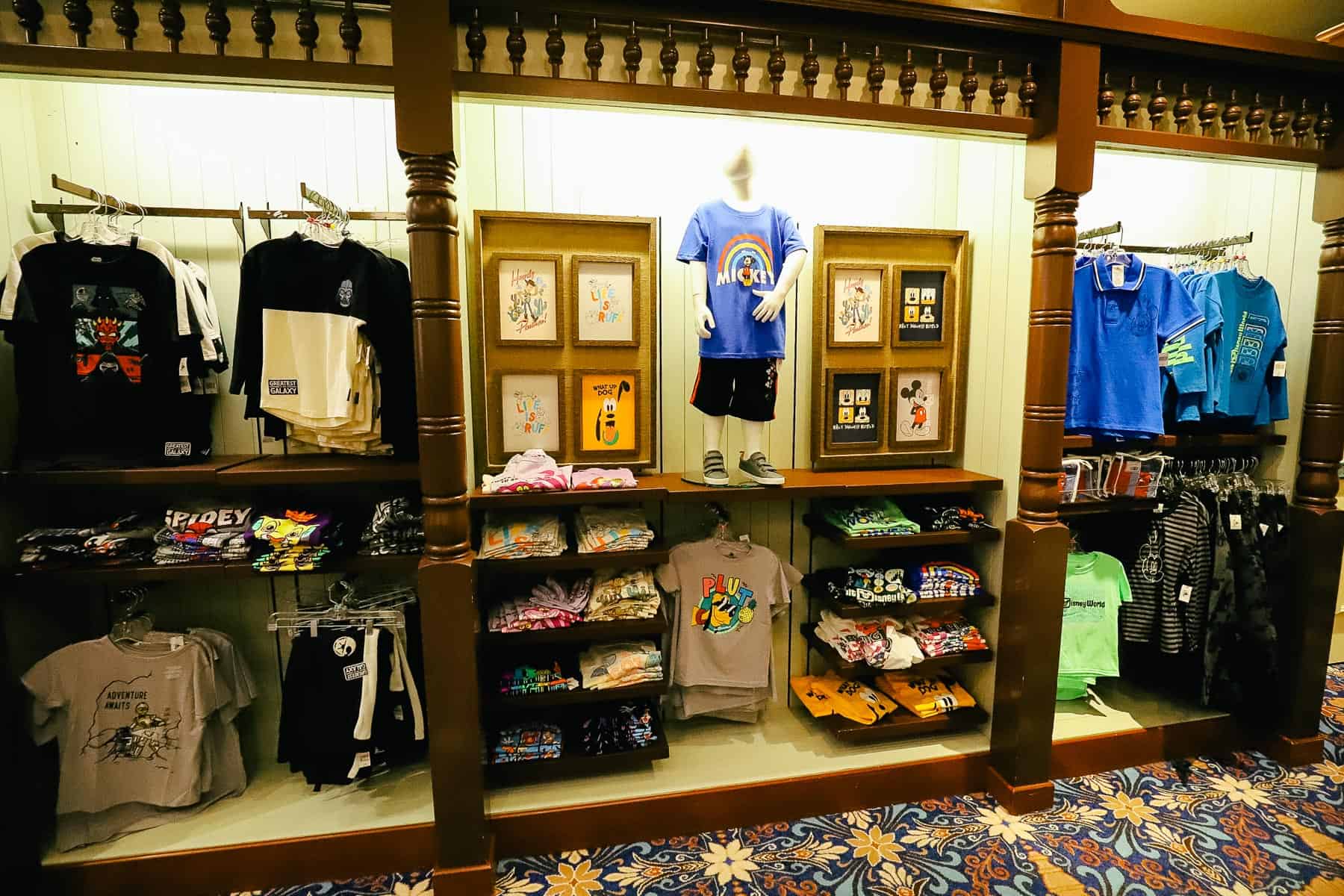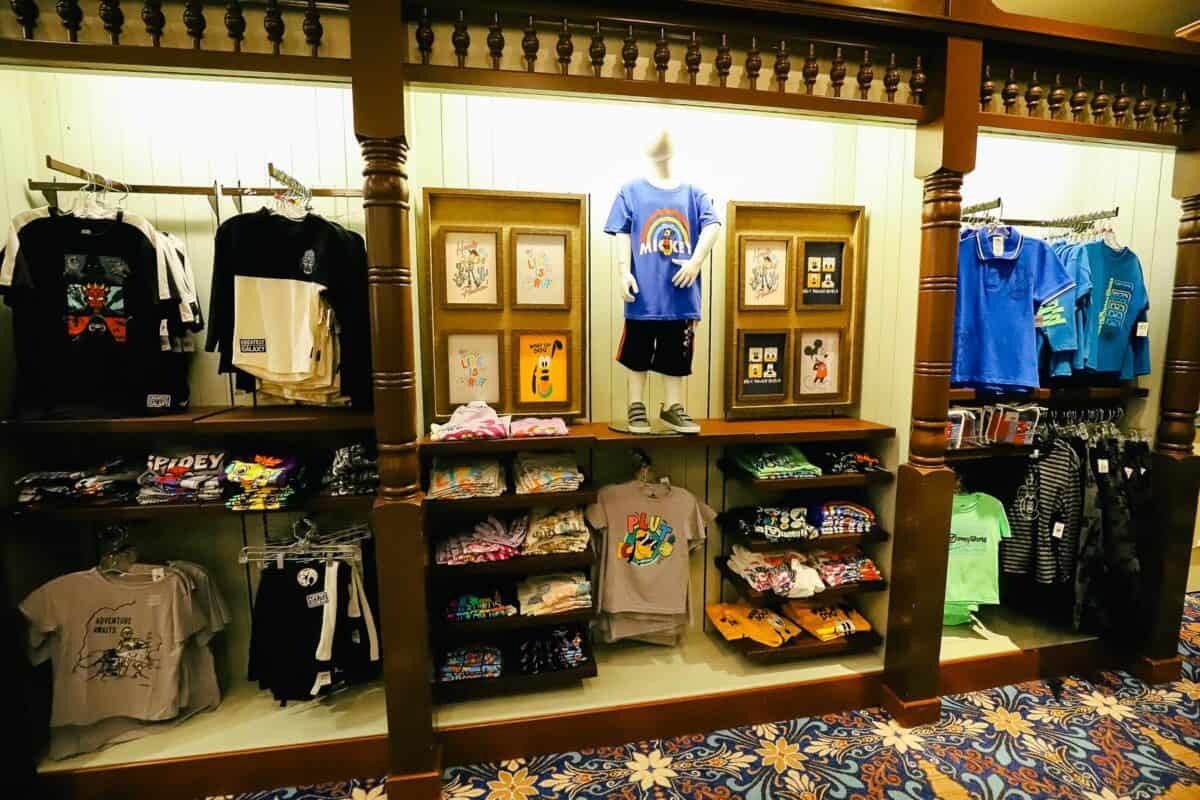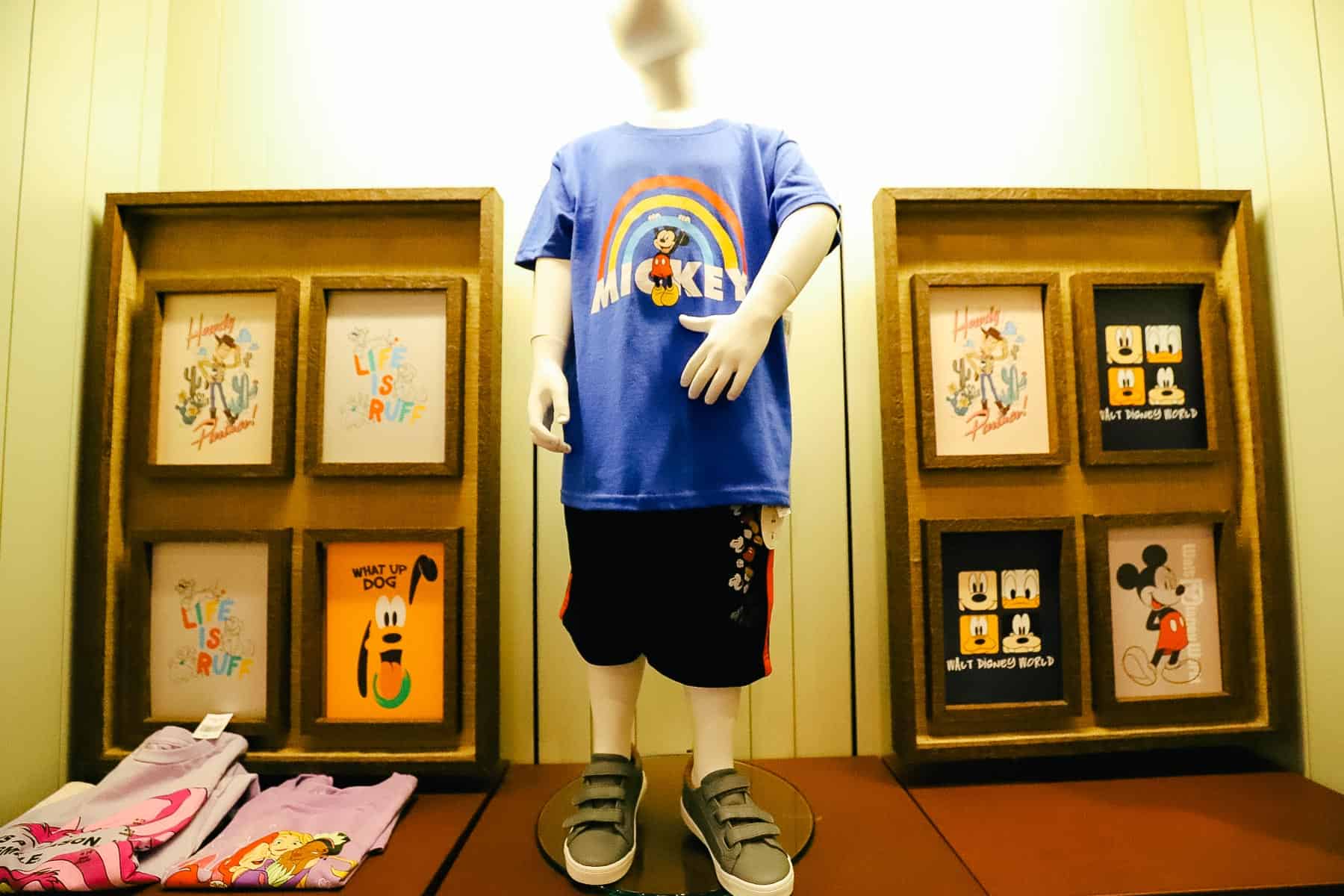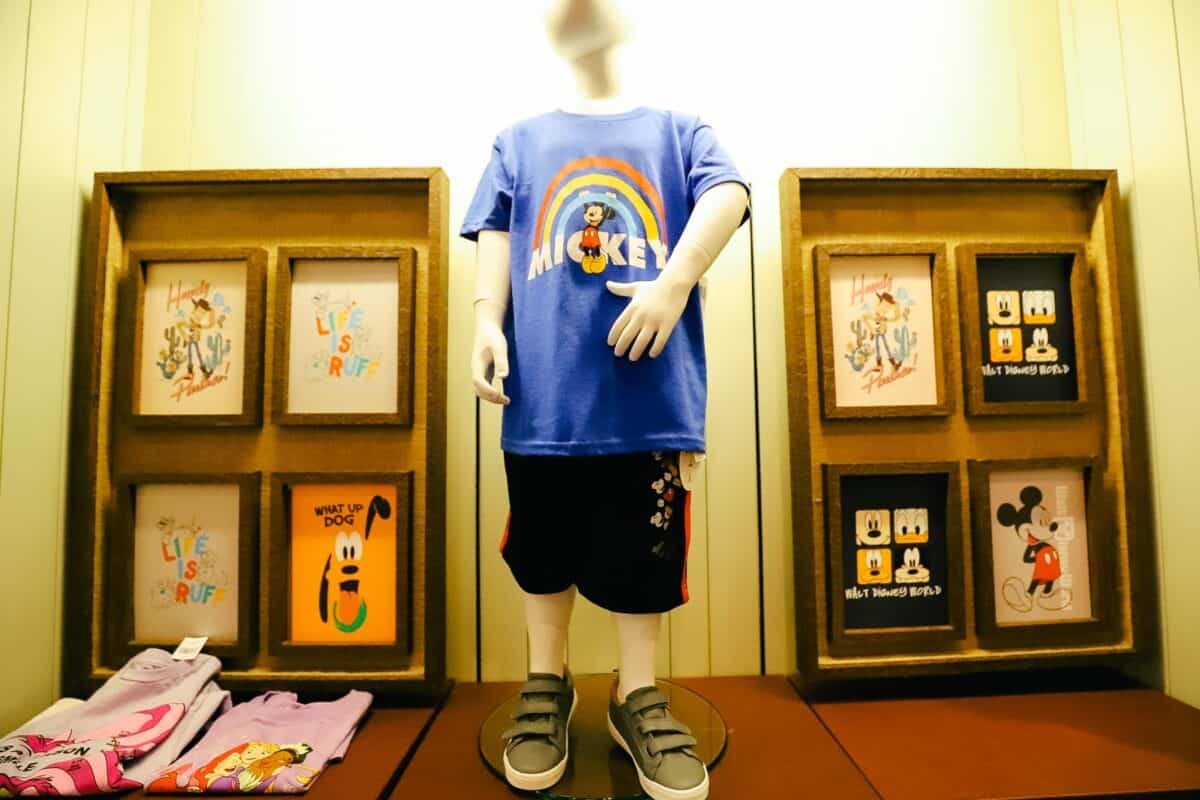 Here are a few odds and ends.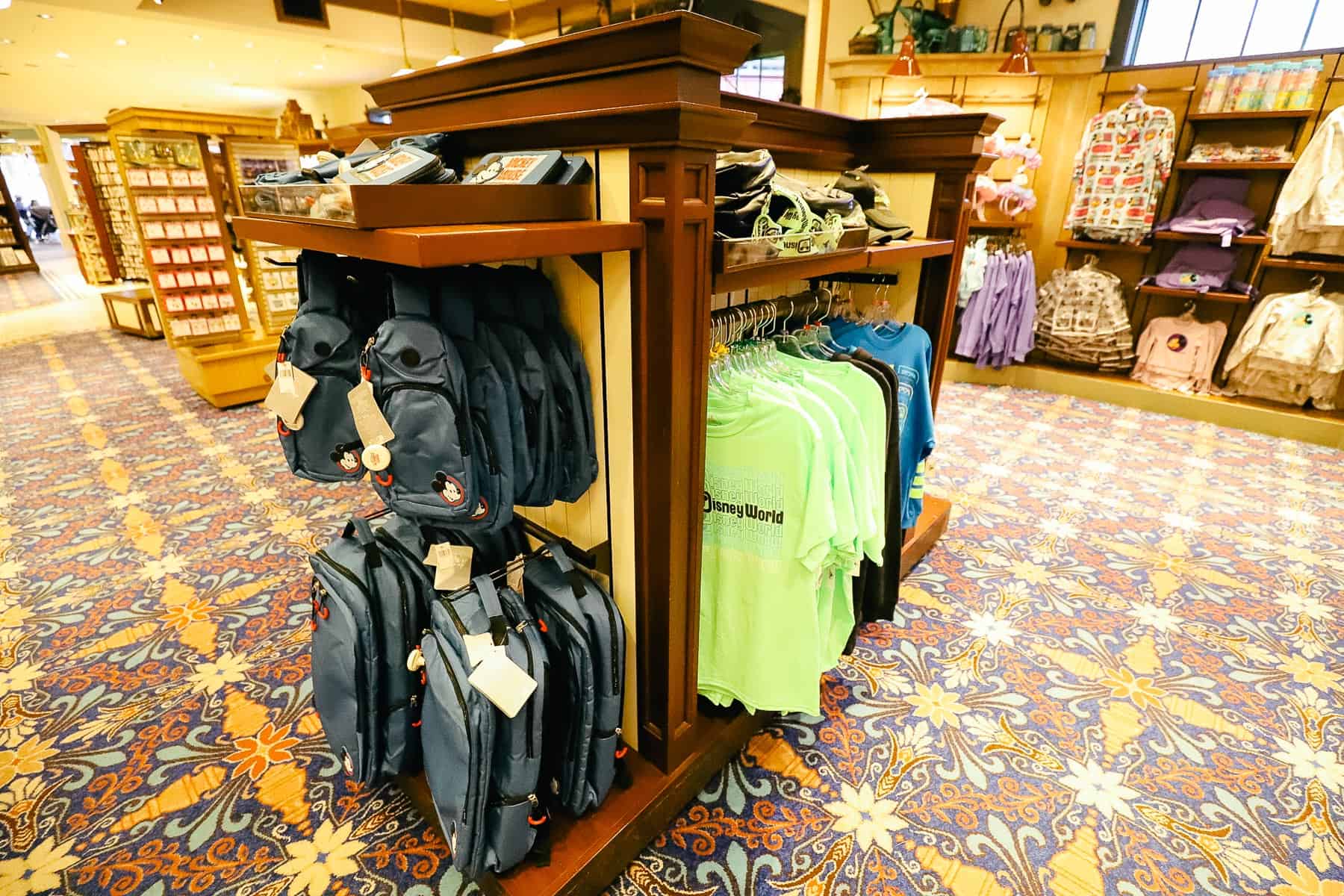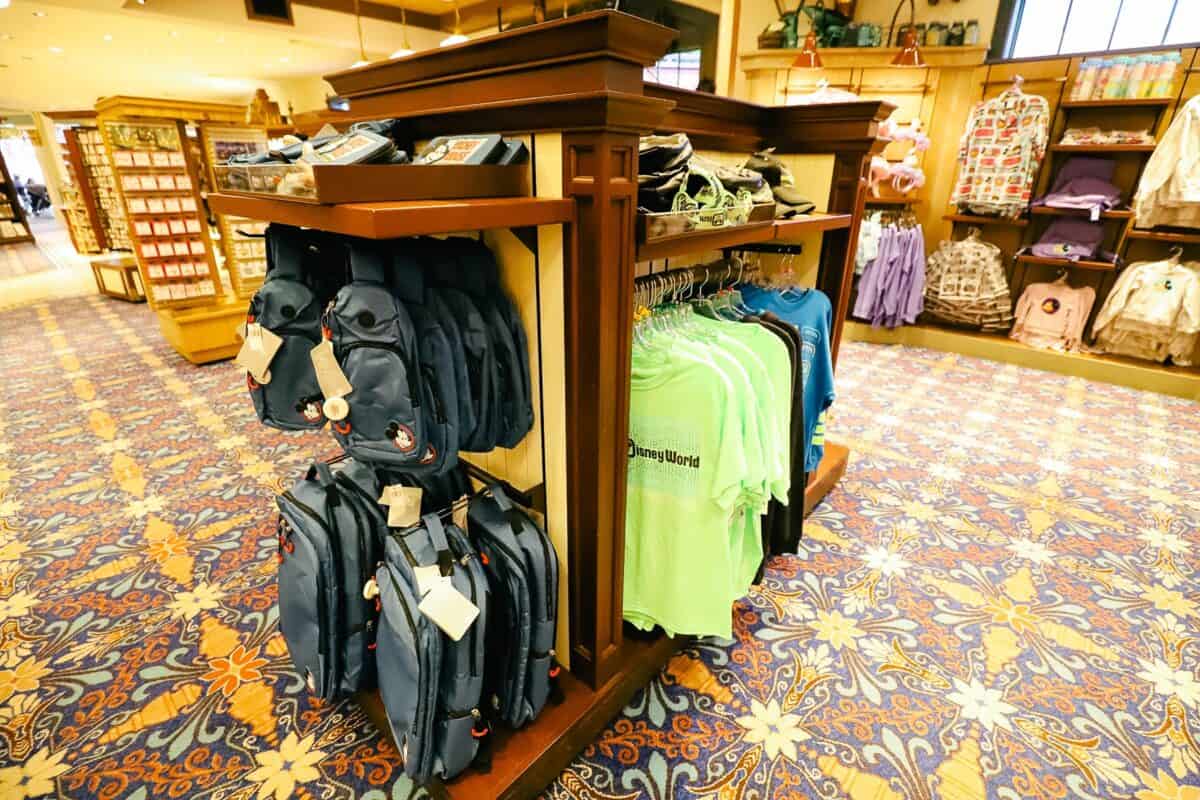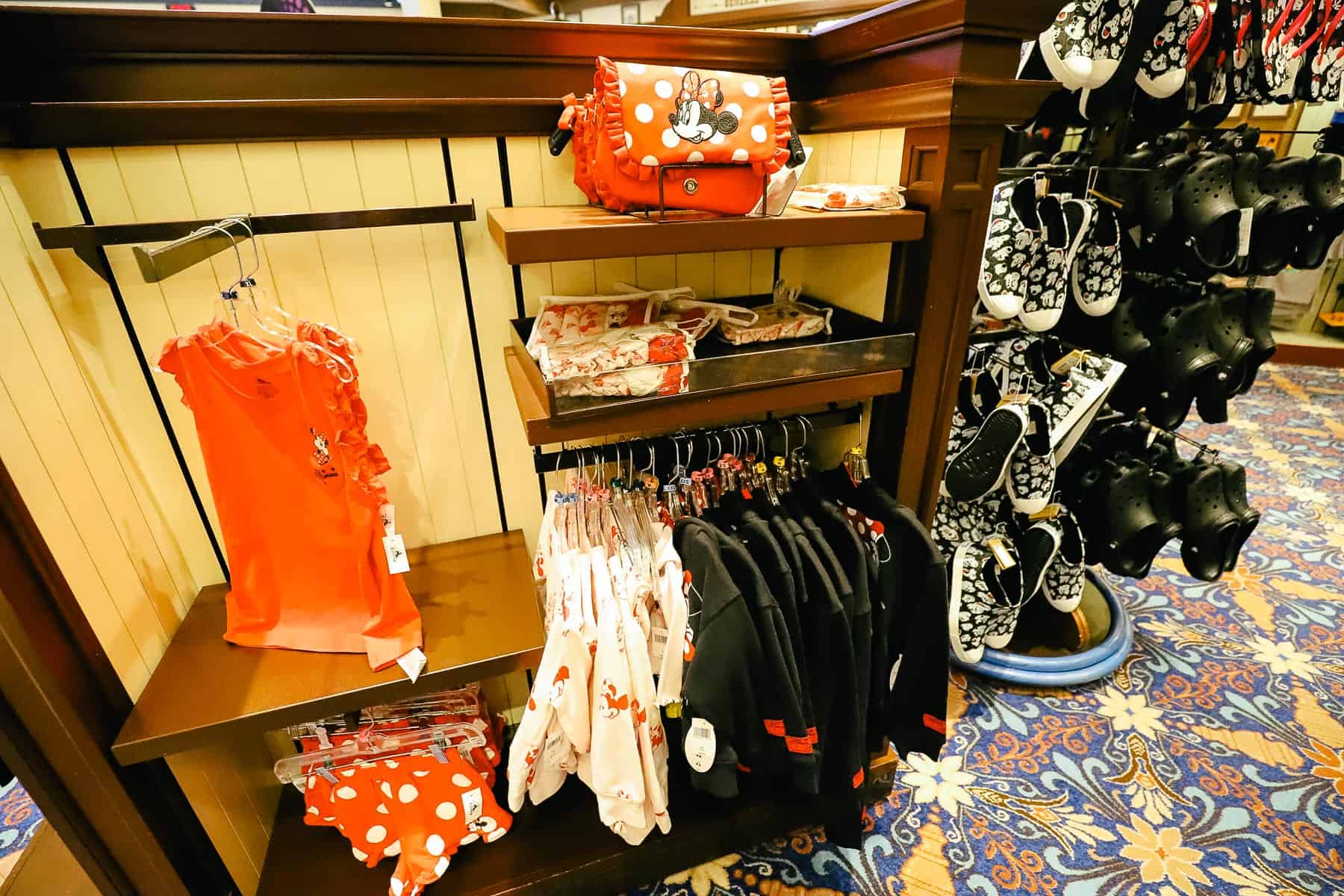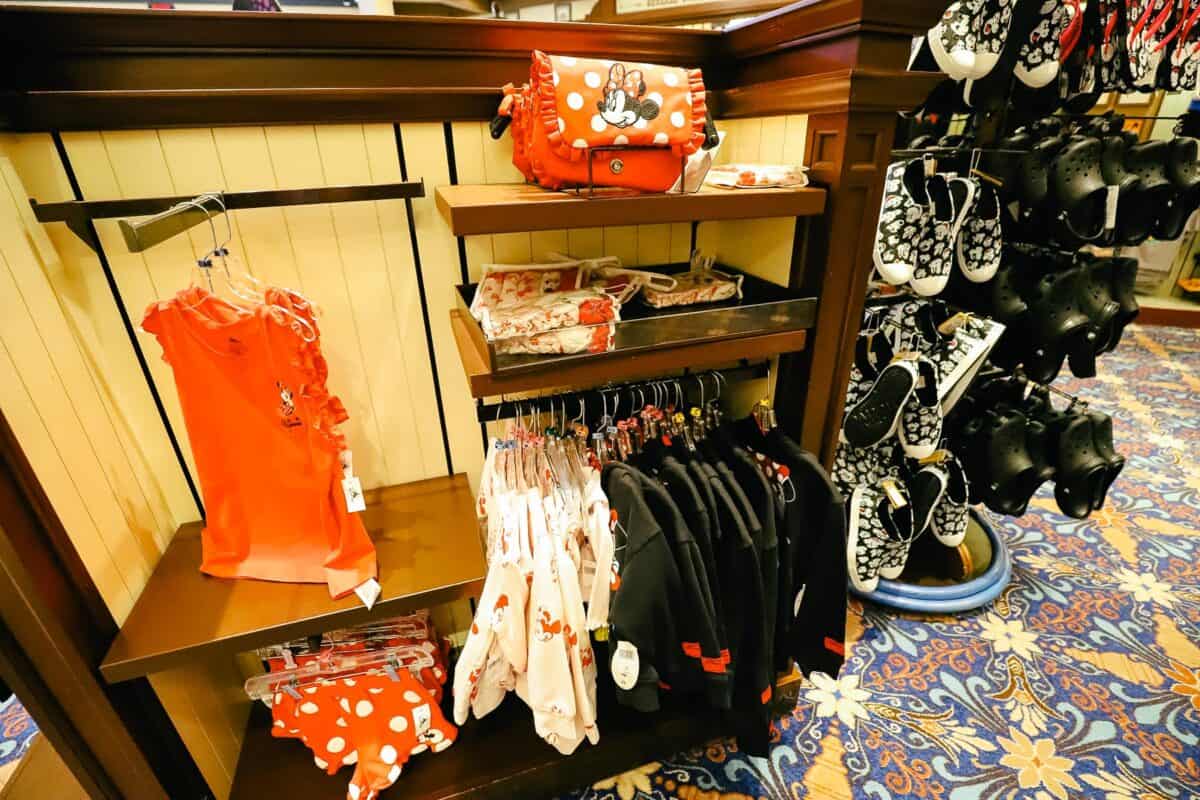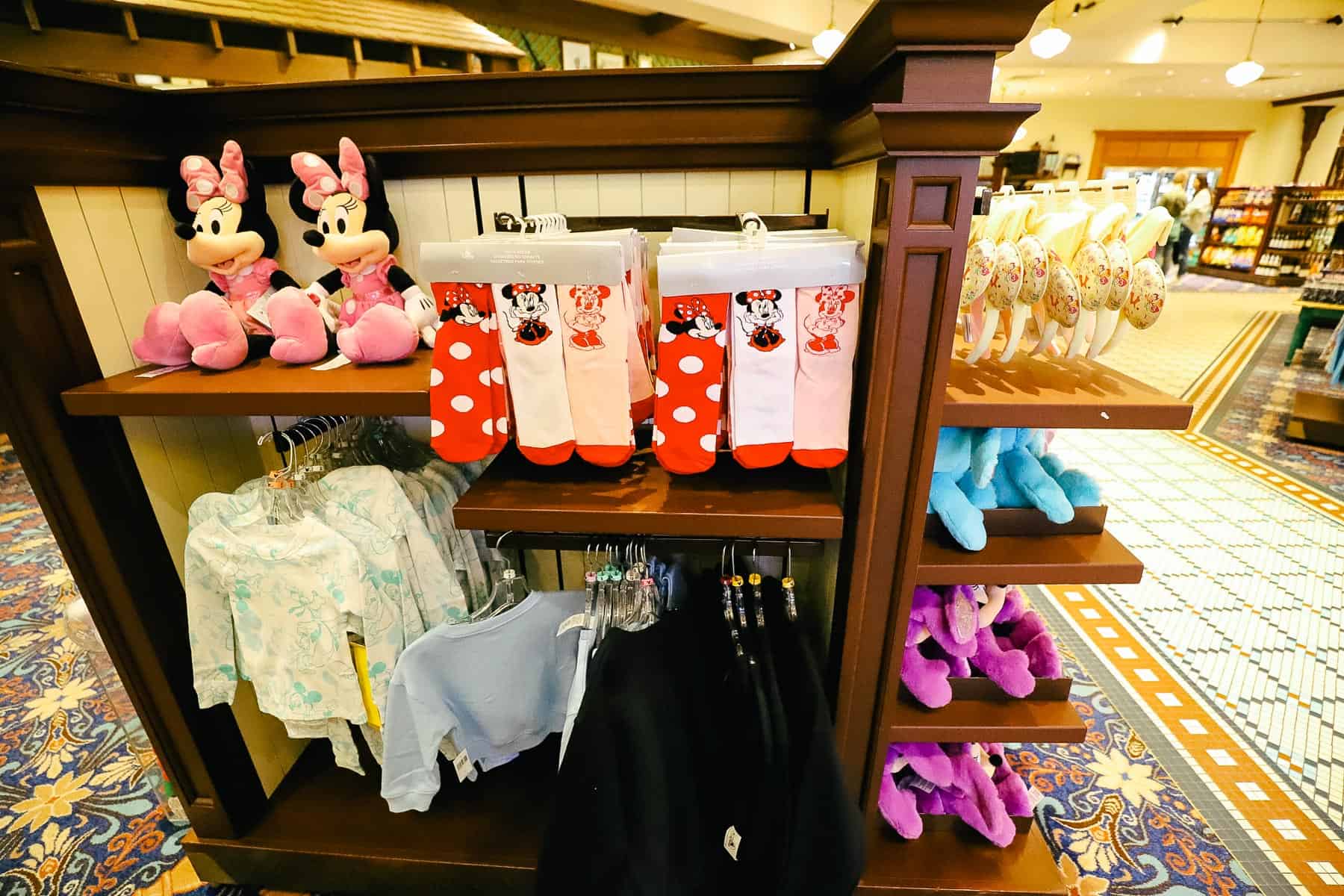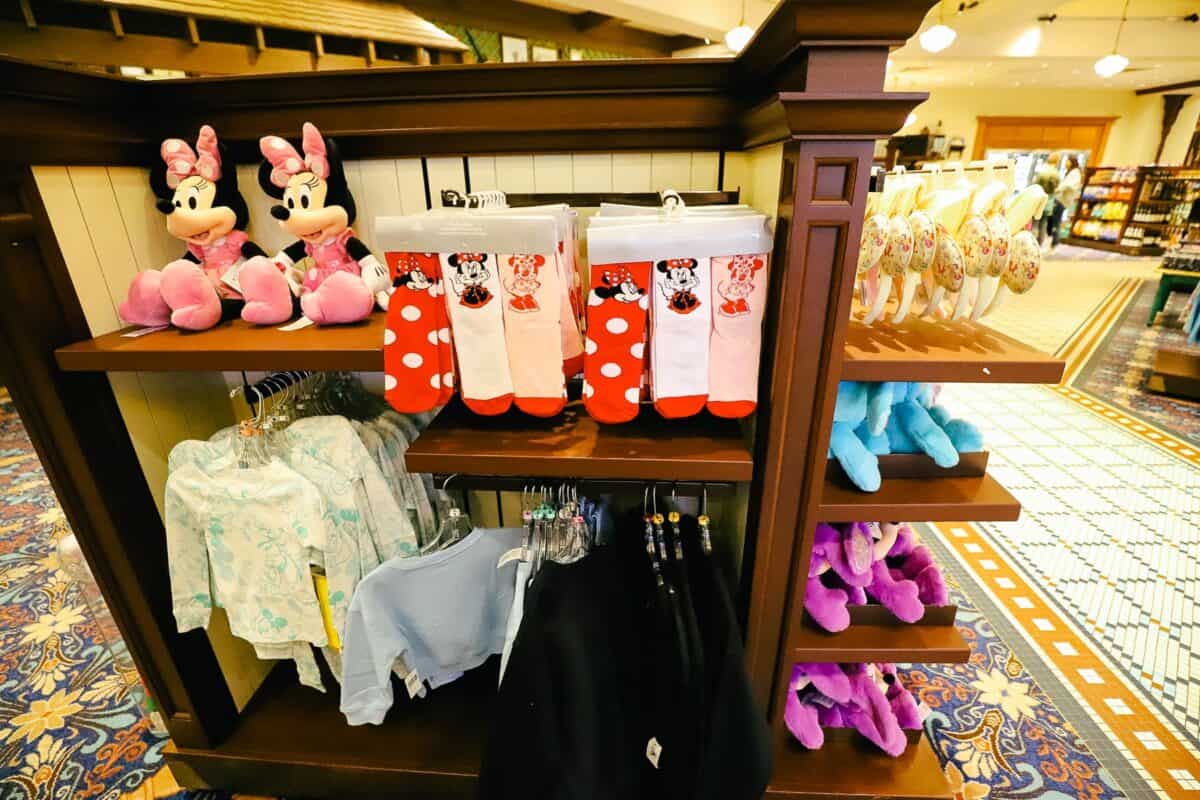 Several MagicBand and MagicBand+ styles are available.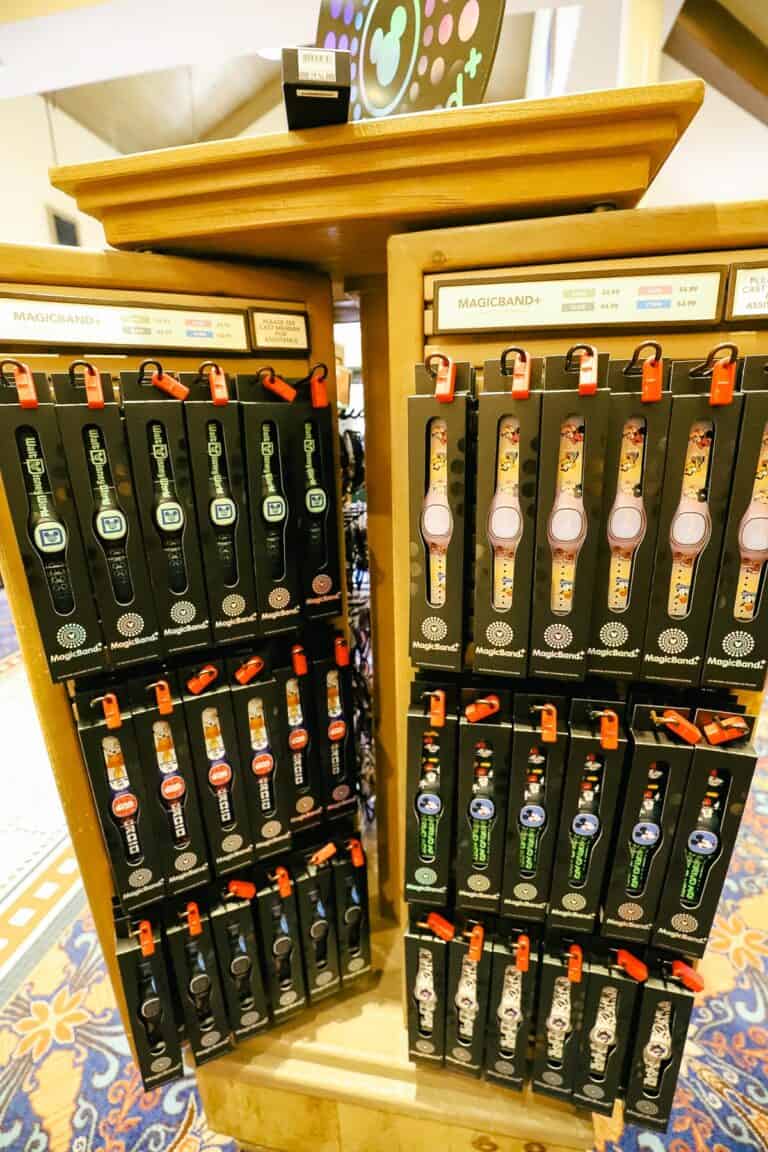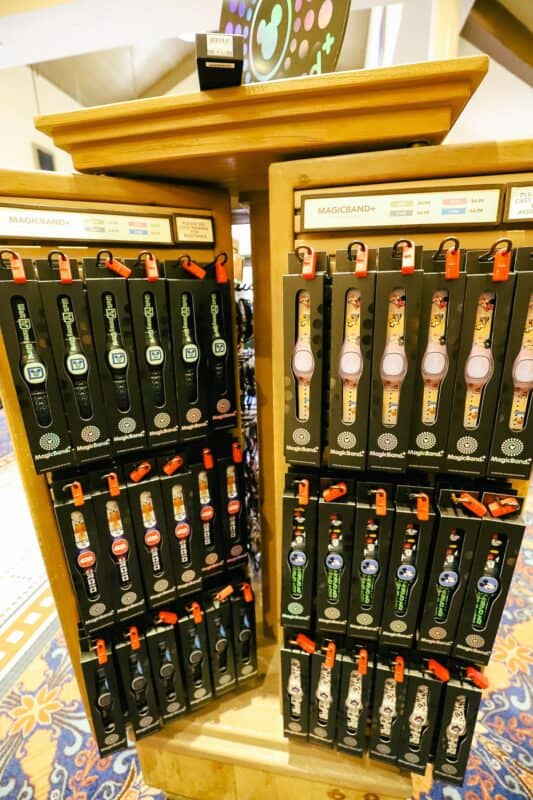 For those who collect patches, these PatchD items are fun.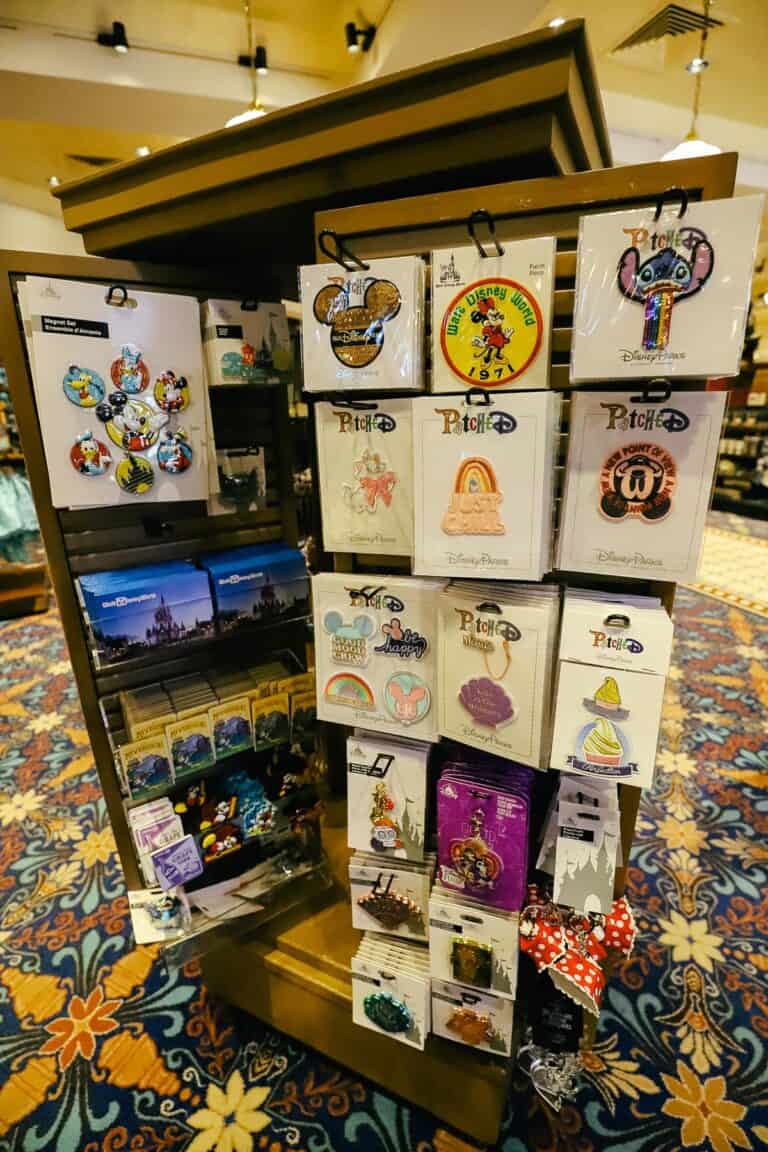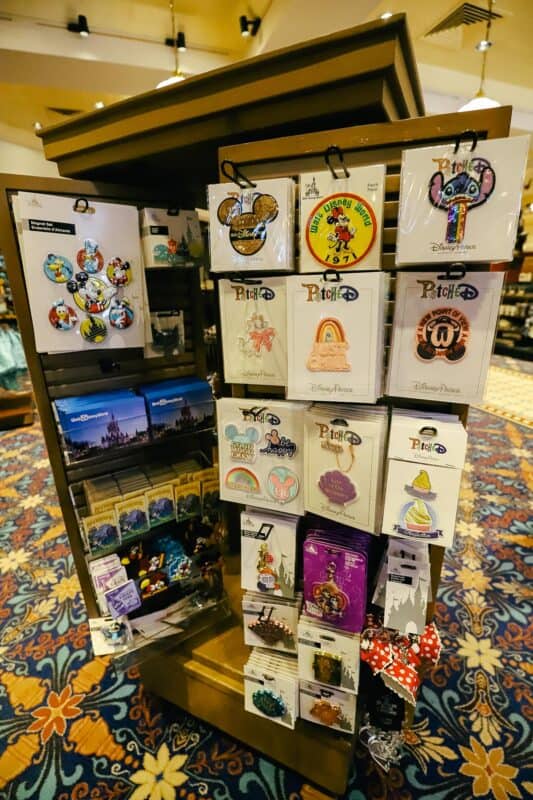 If you forget to bring a swimsuit, a few selections are available.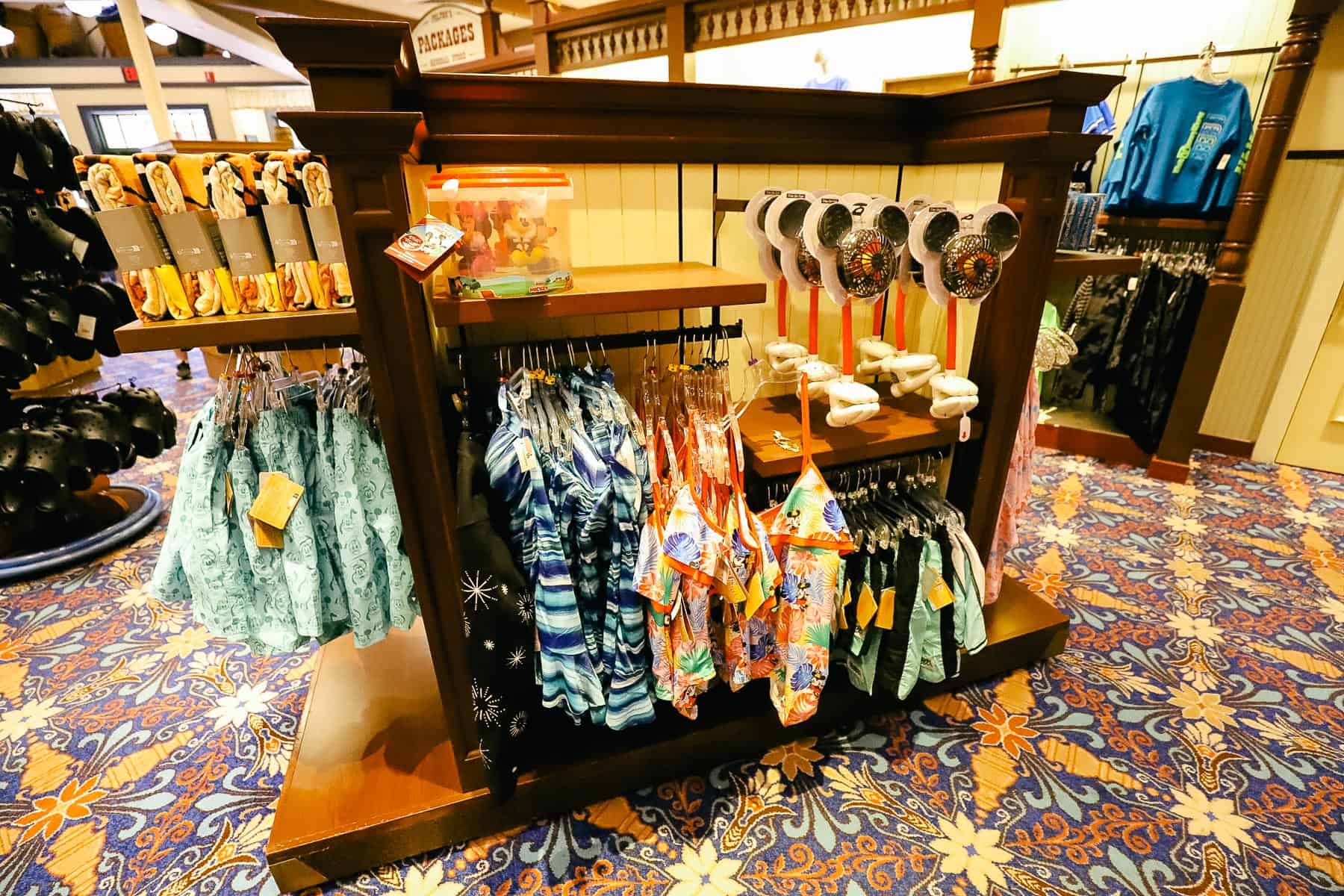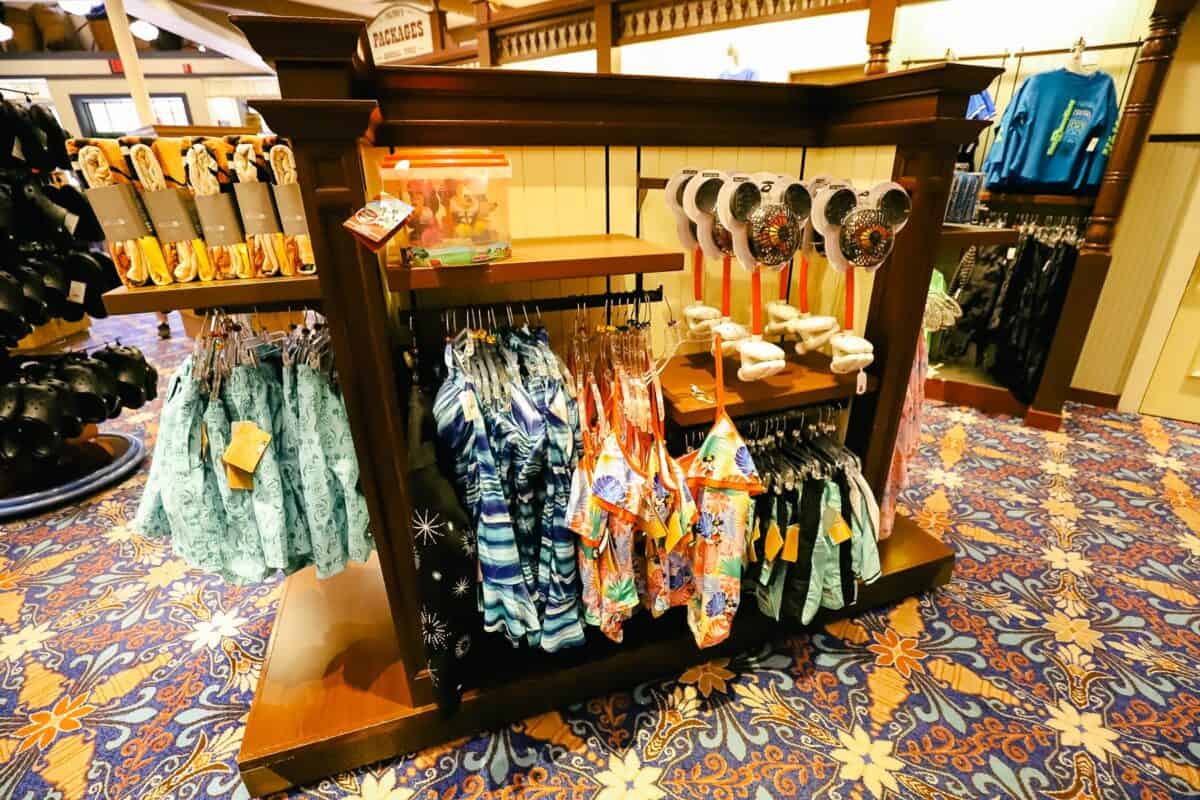 Don't forget to bring goggles. This is the one thing we rarely thought to bring. We used to have a basket full of them because we always had to buy a pair for the pool.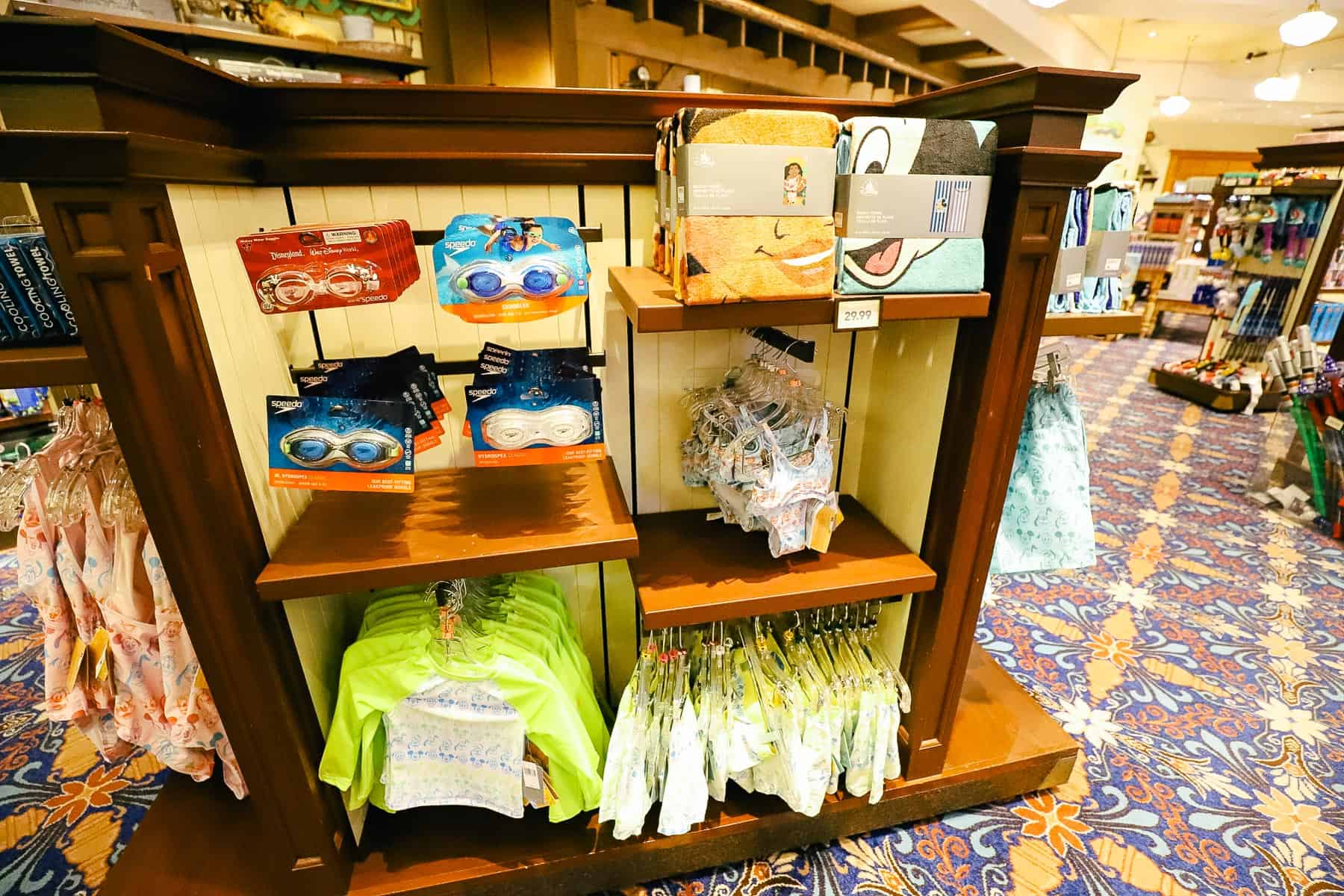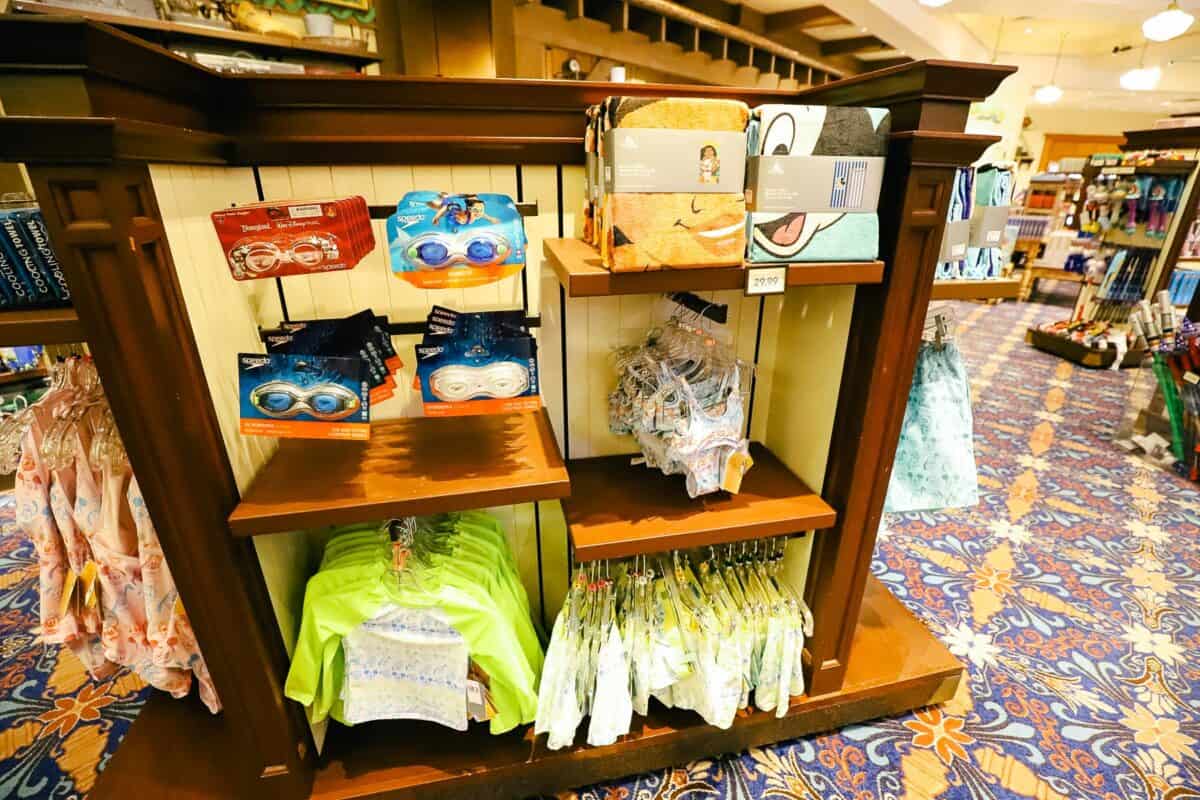 Here are a few bubble wands and light-up souvenirs.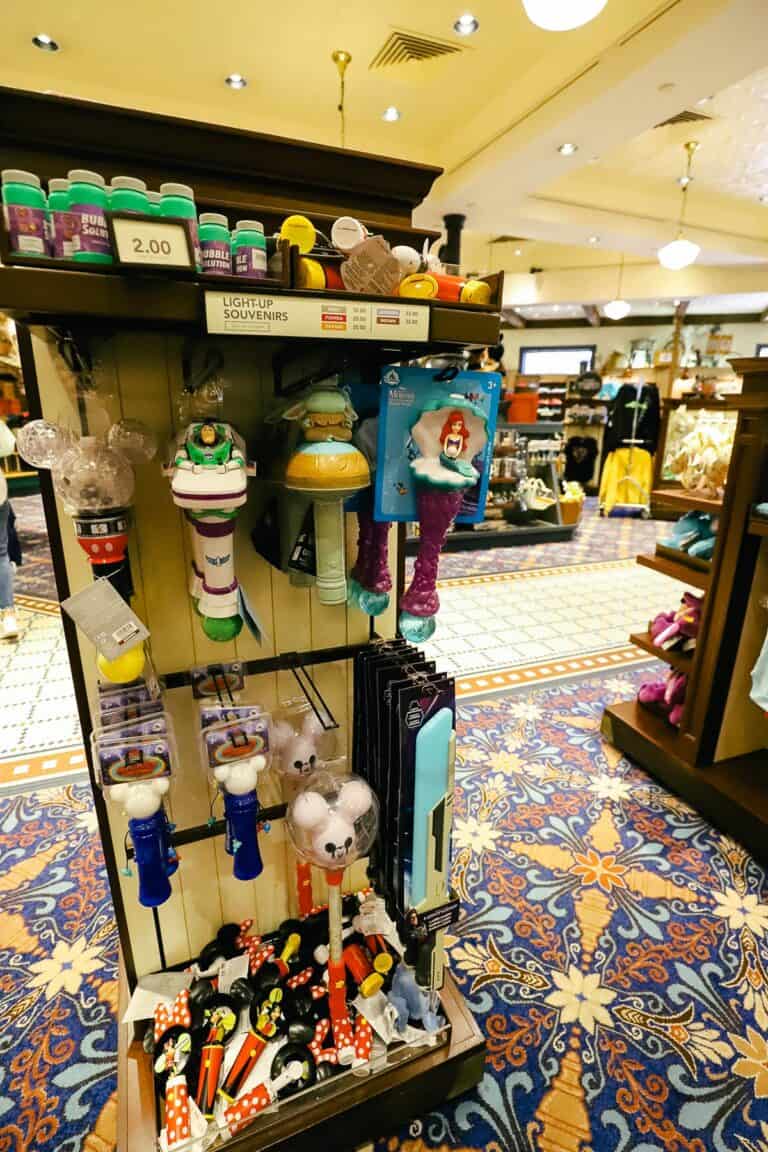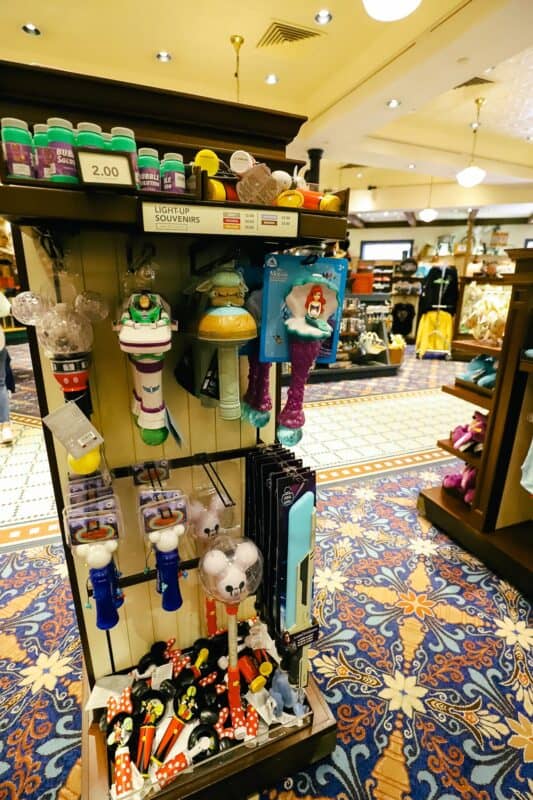 We ran into a huge display of plush items and dolls along one of the far walls.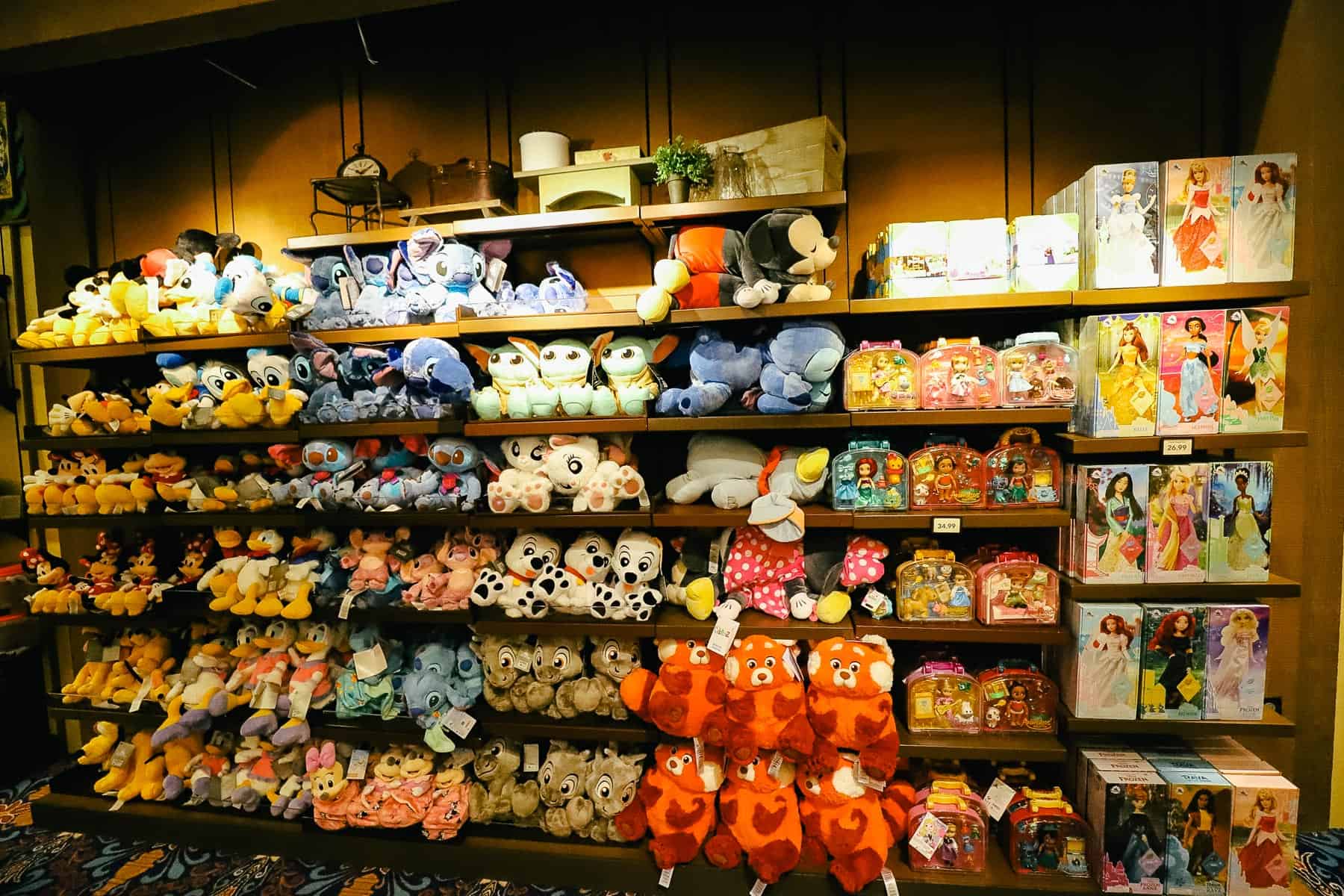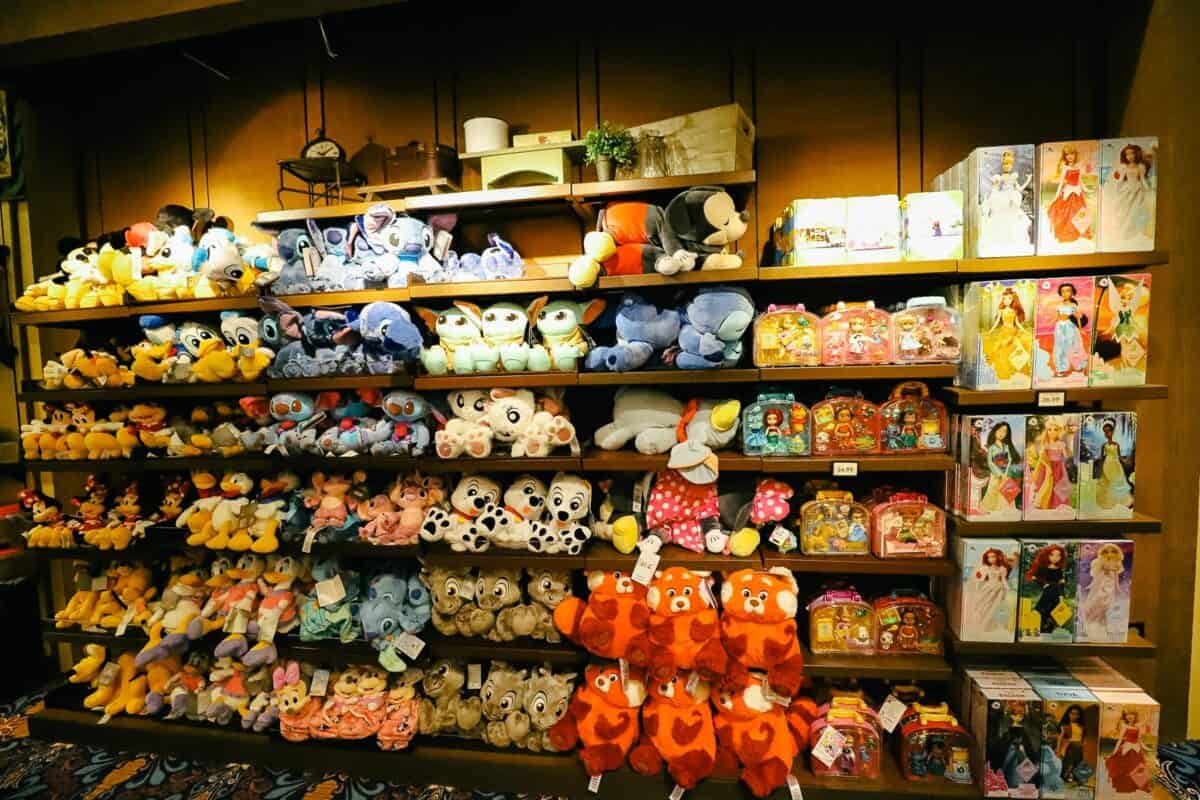 Here are a few more toys.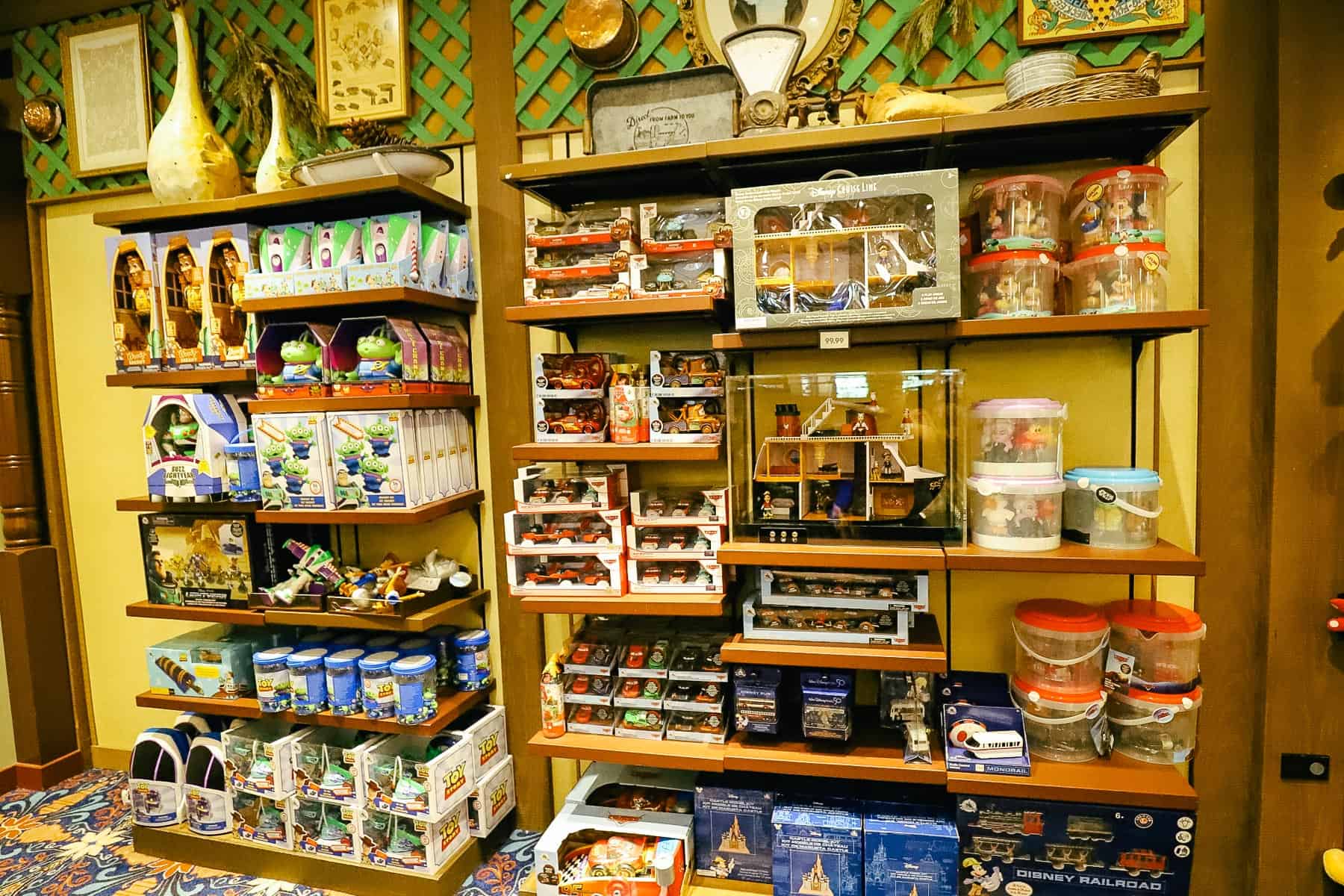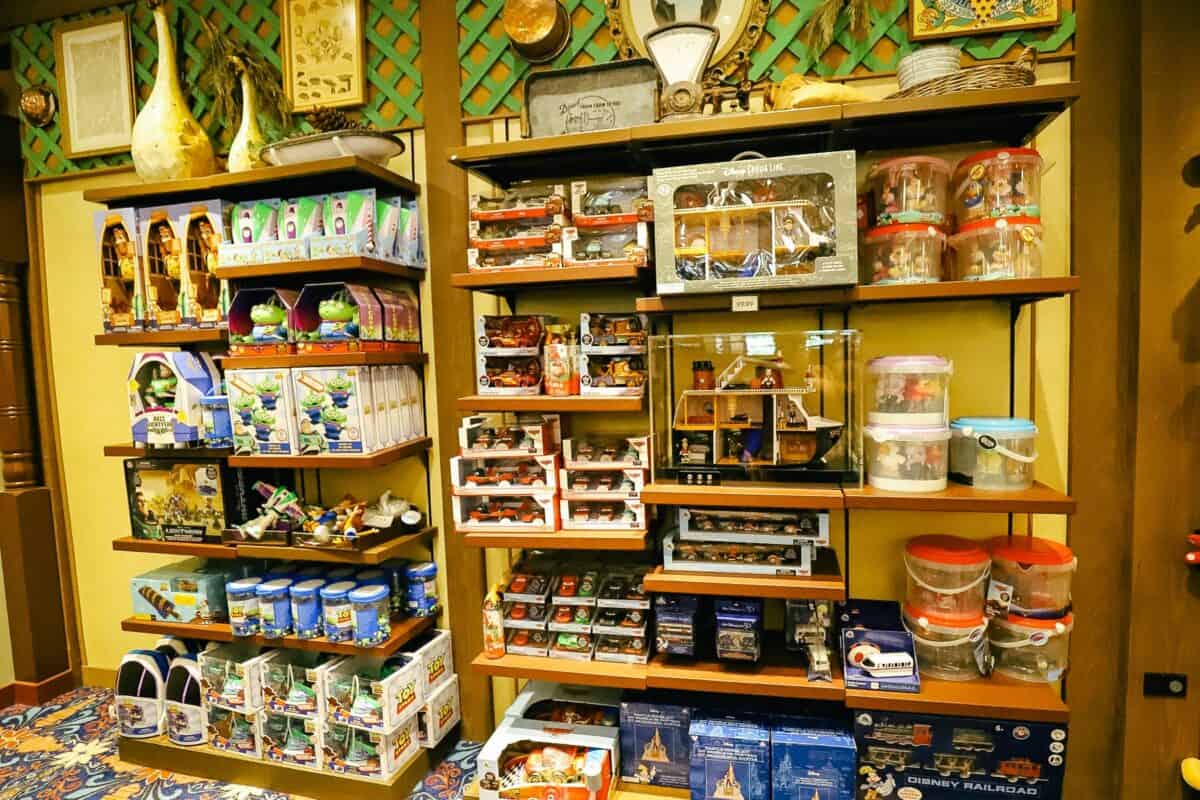 These sleeping Minnie Mouse plush remind me of someone I know.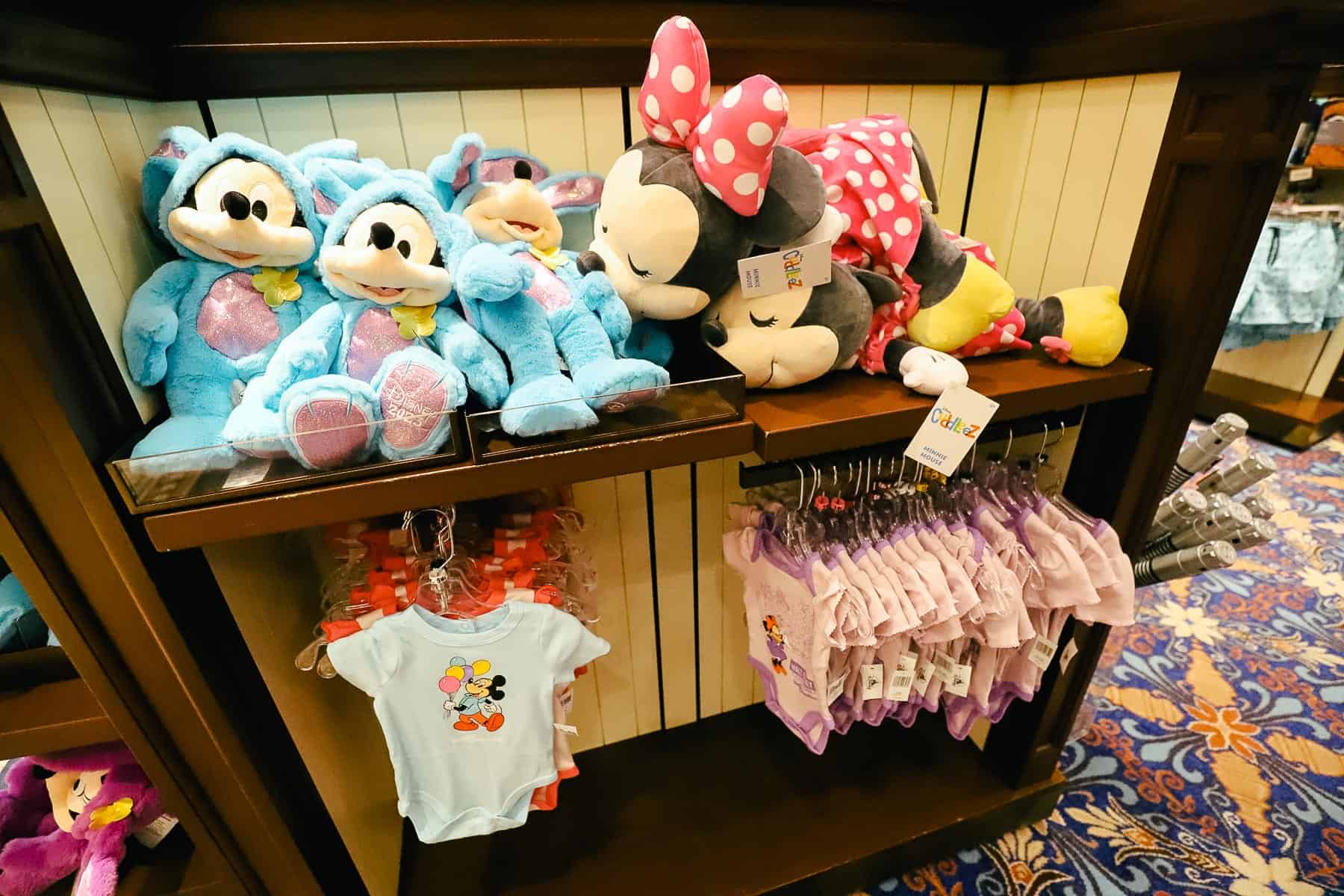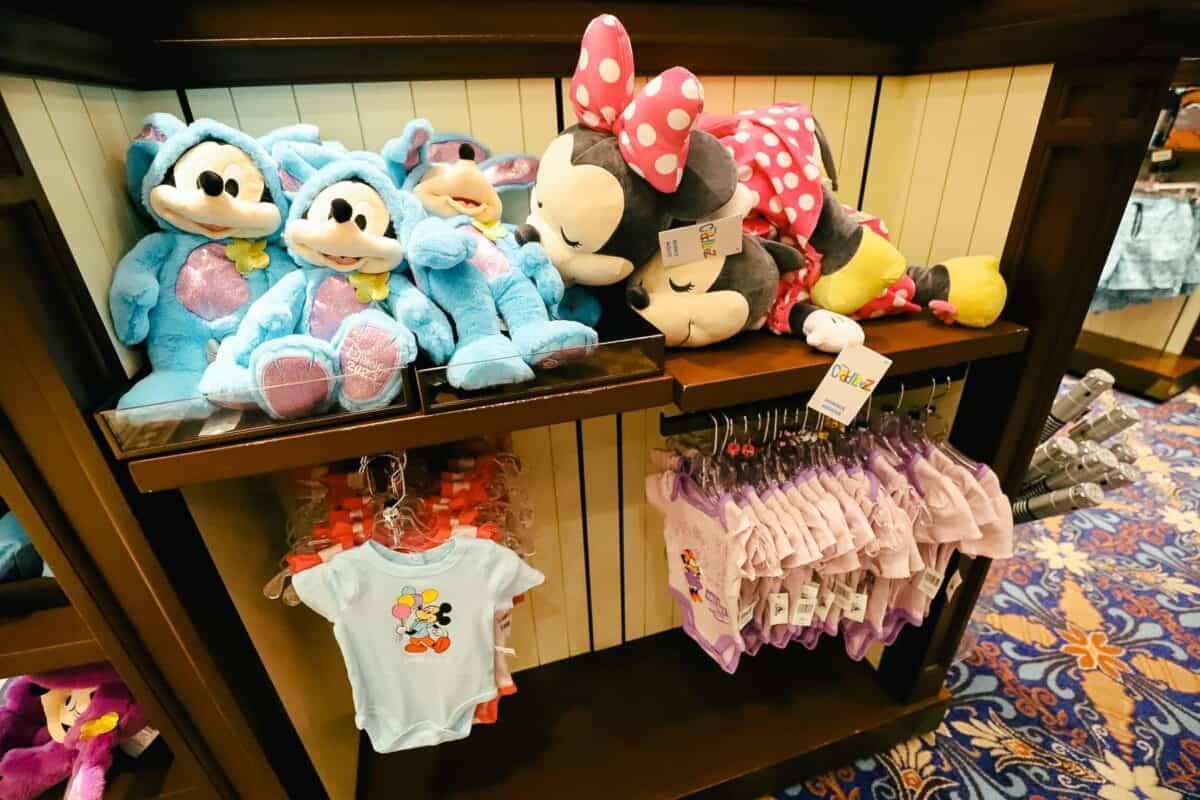 Several Disney-branded board games are available.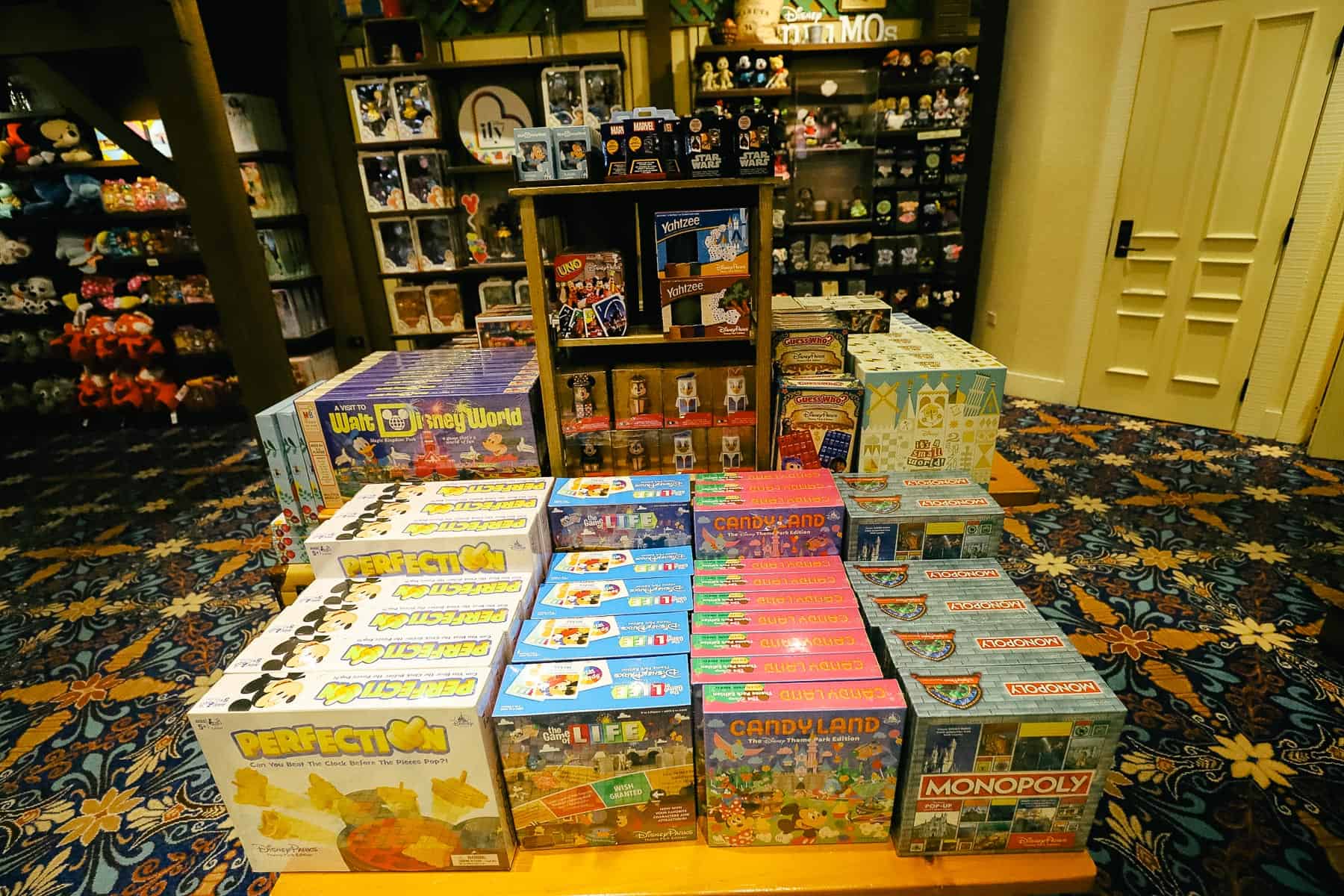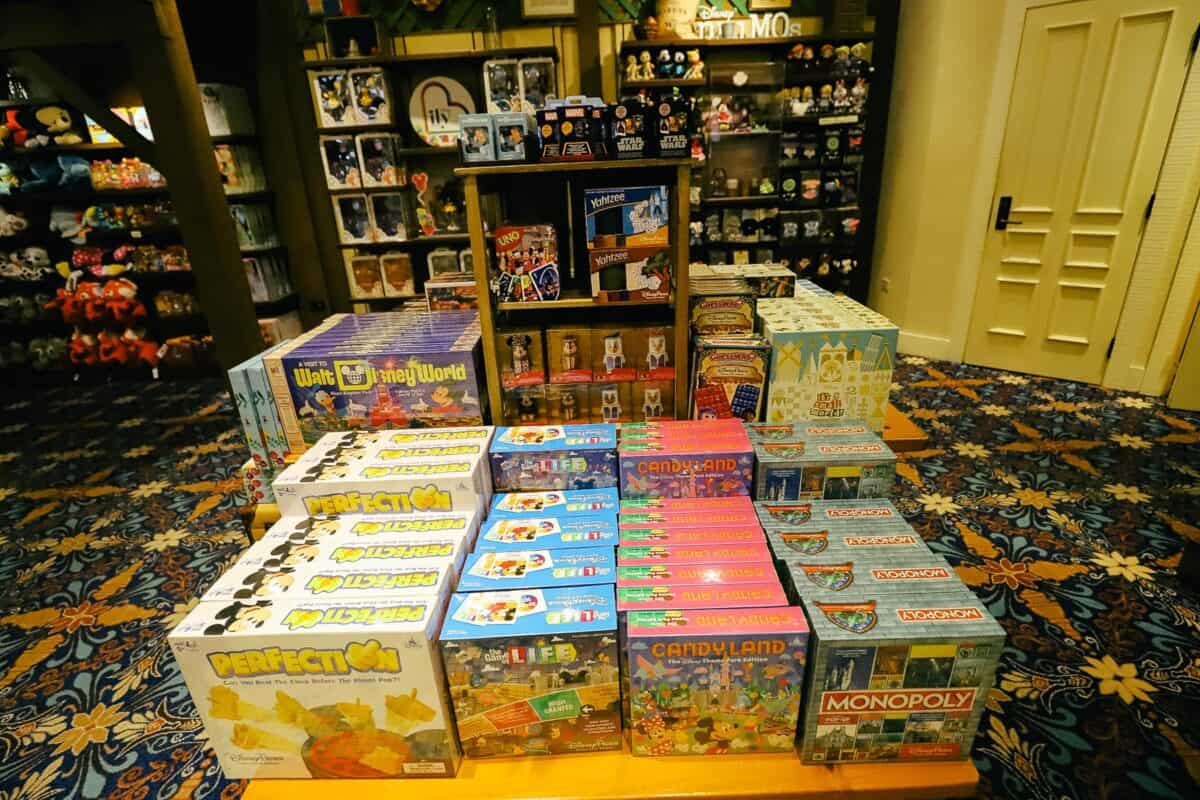 Some of these puzzles are difficult to find. We put together the Pirates of the Caribbean a few months ago. It was challenging but fun.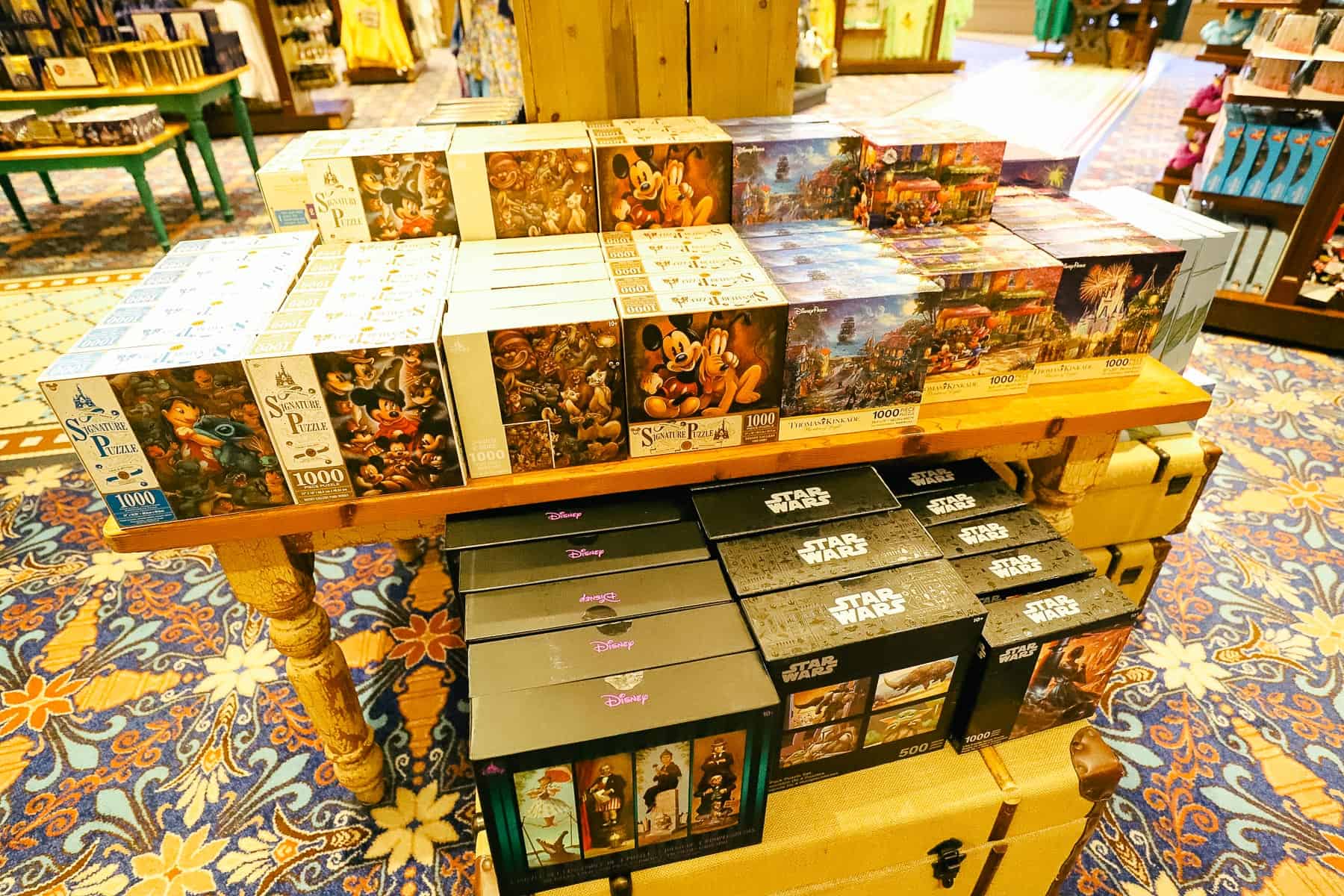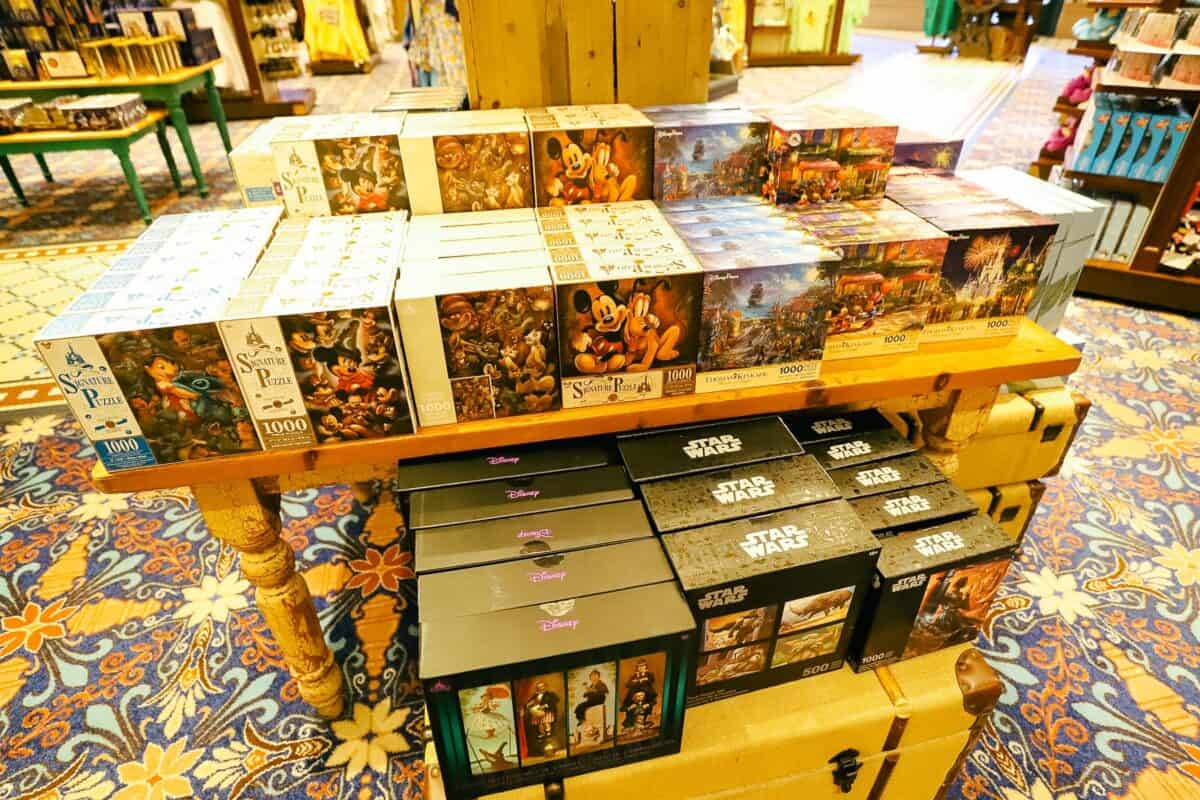 Here are the new ILY dolls (I Love You). They are adorable.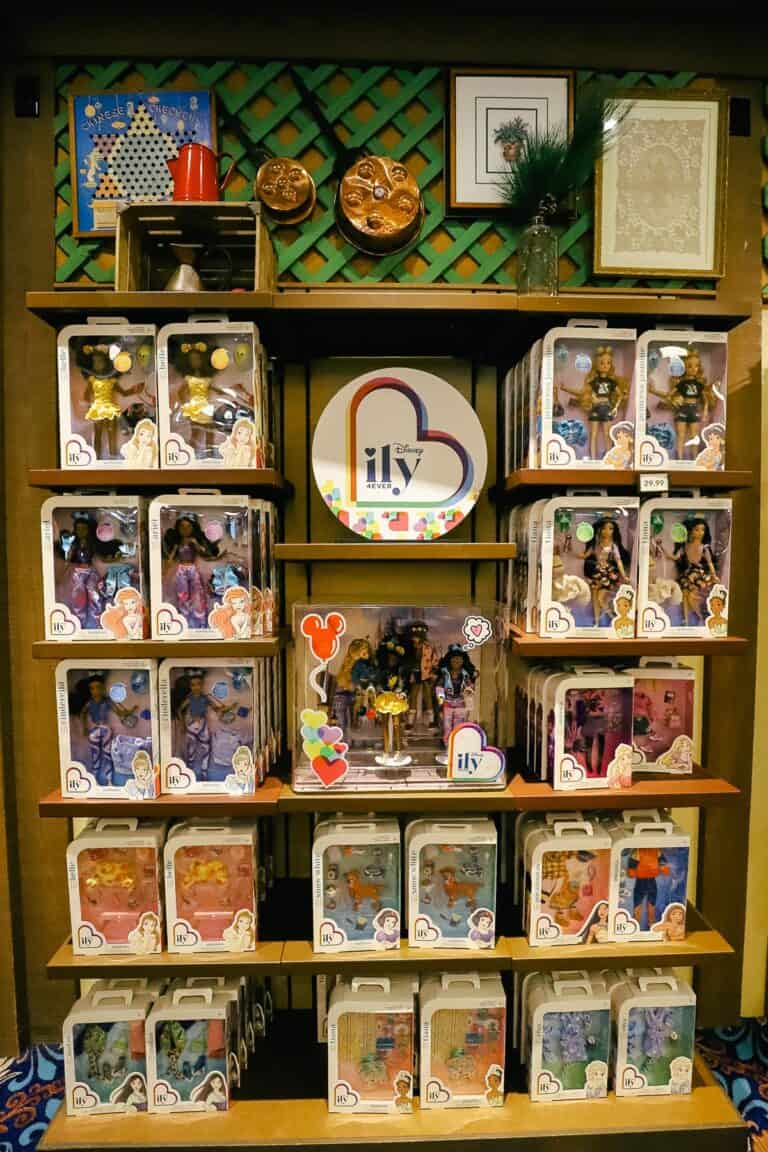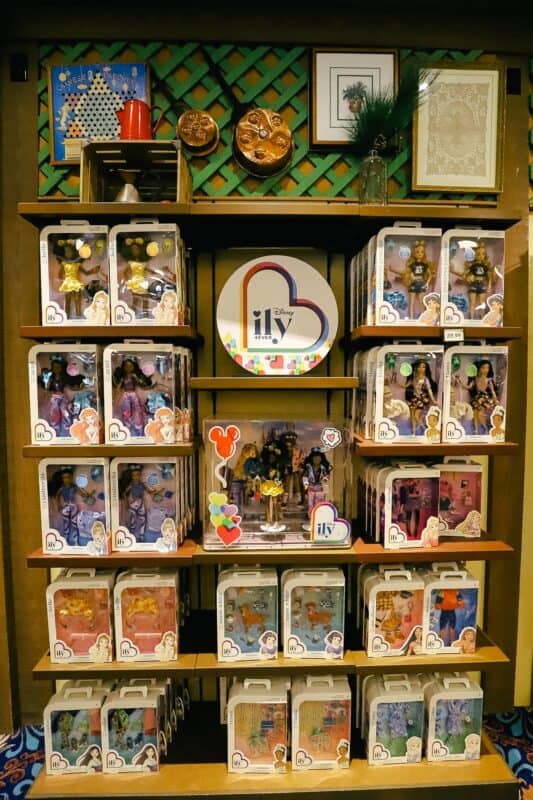 We have a few more photos.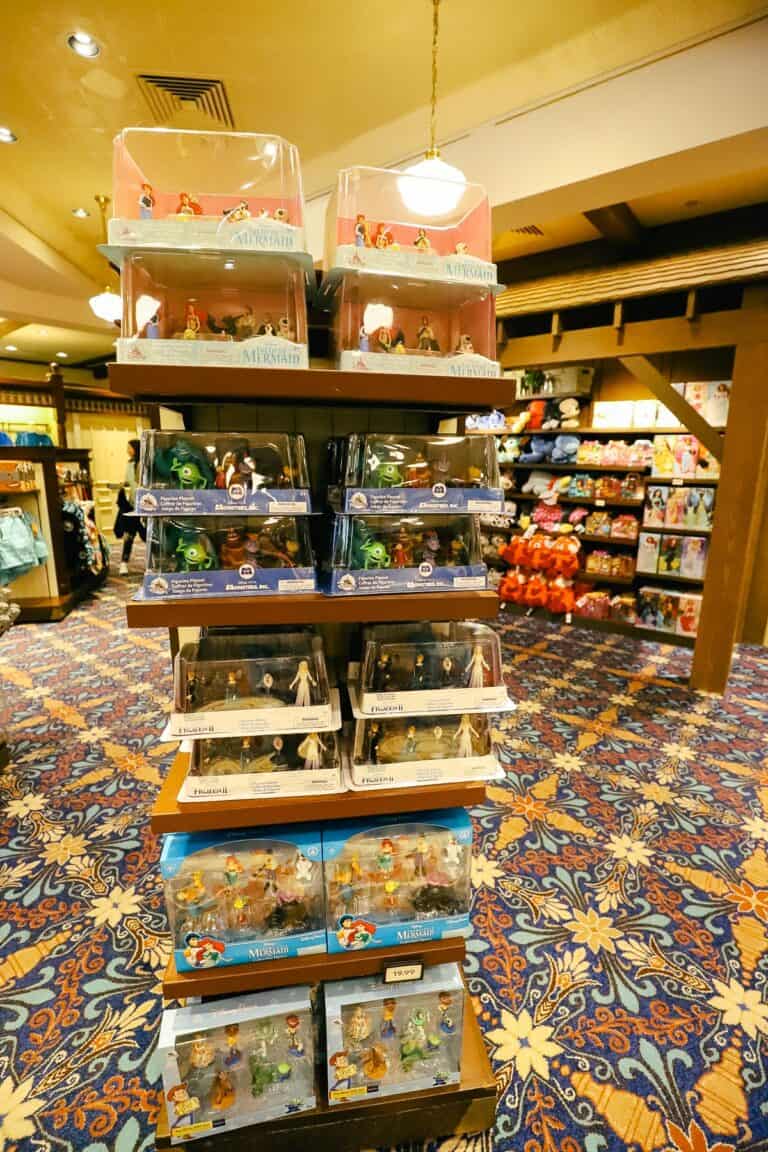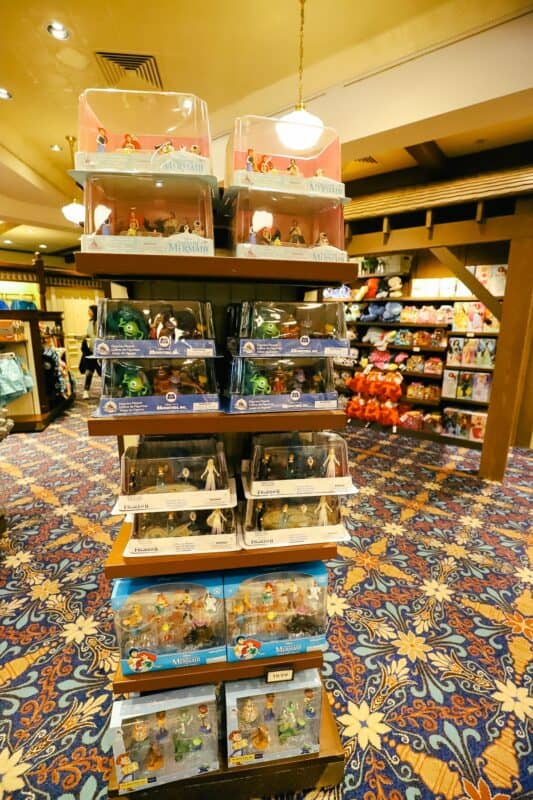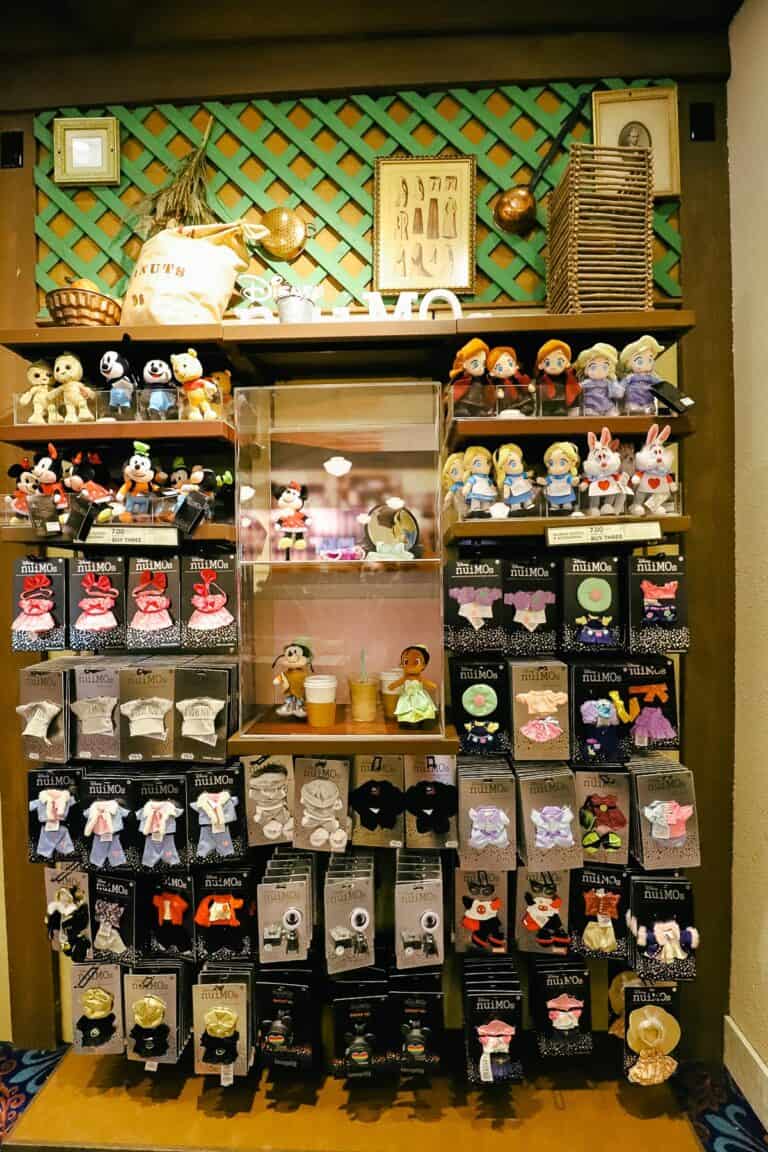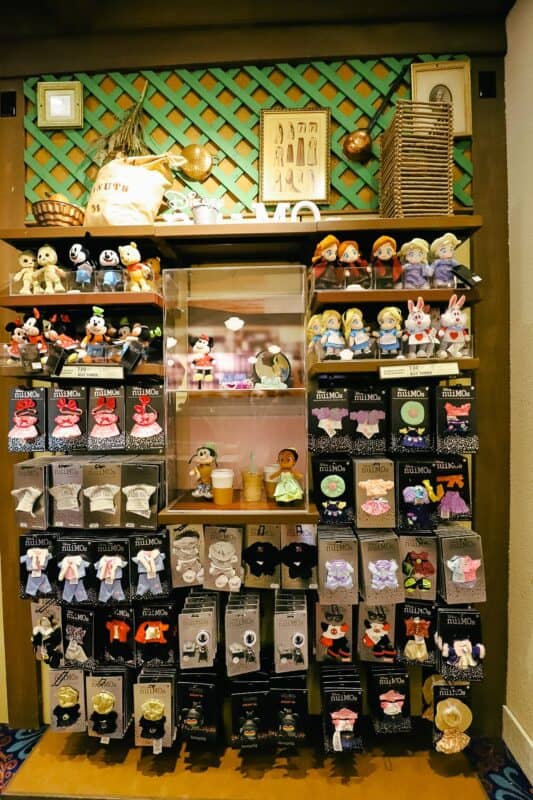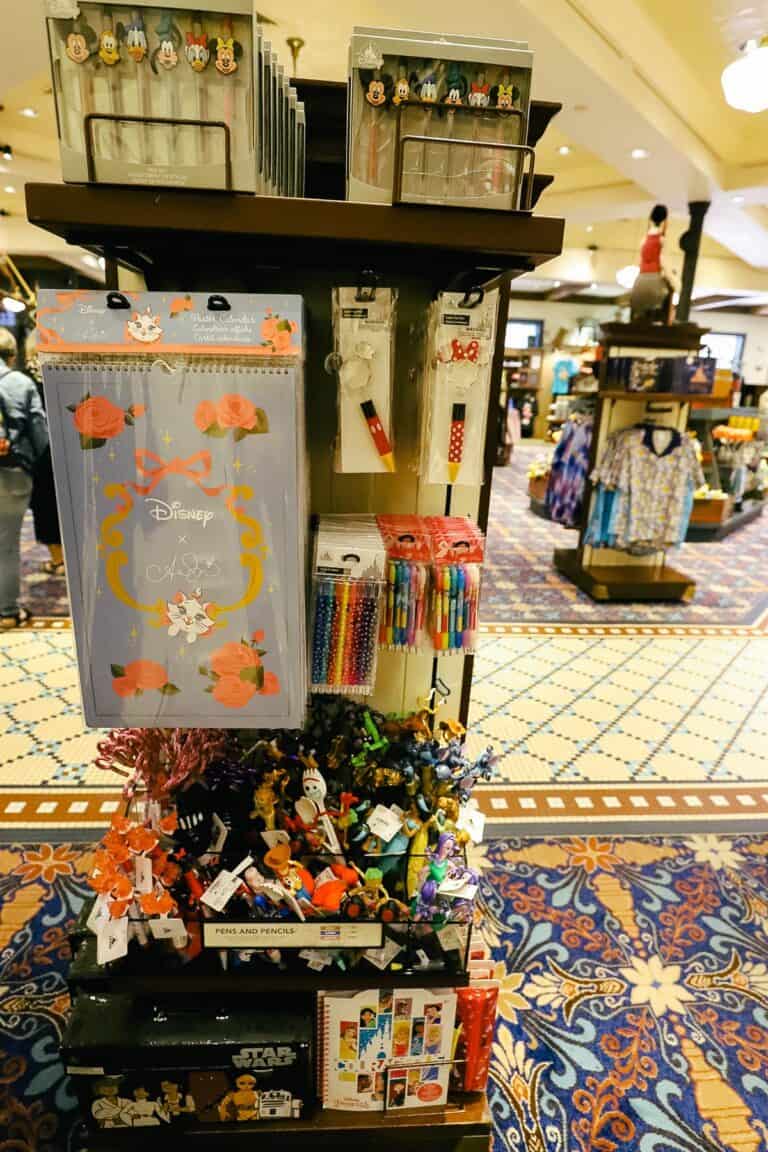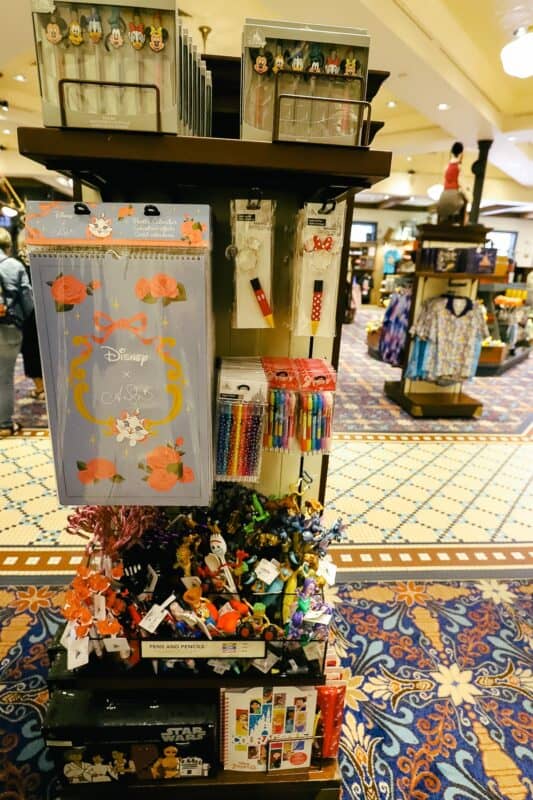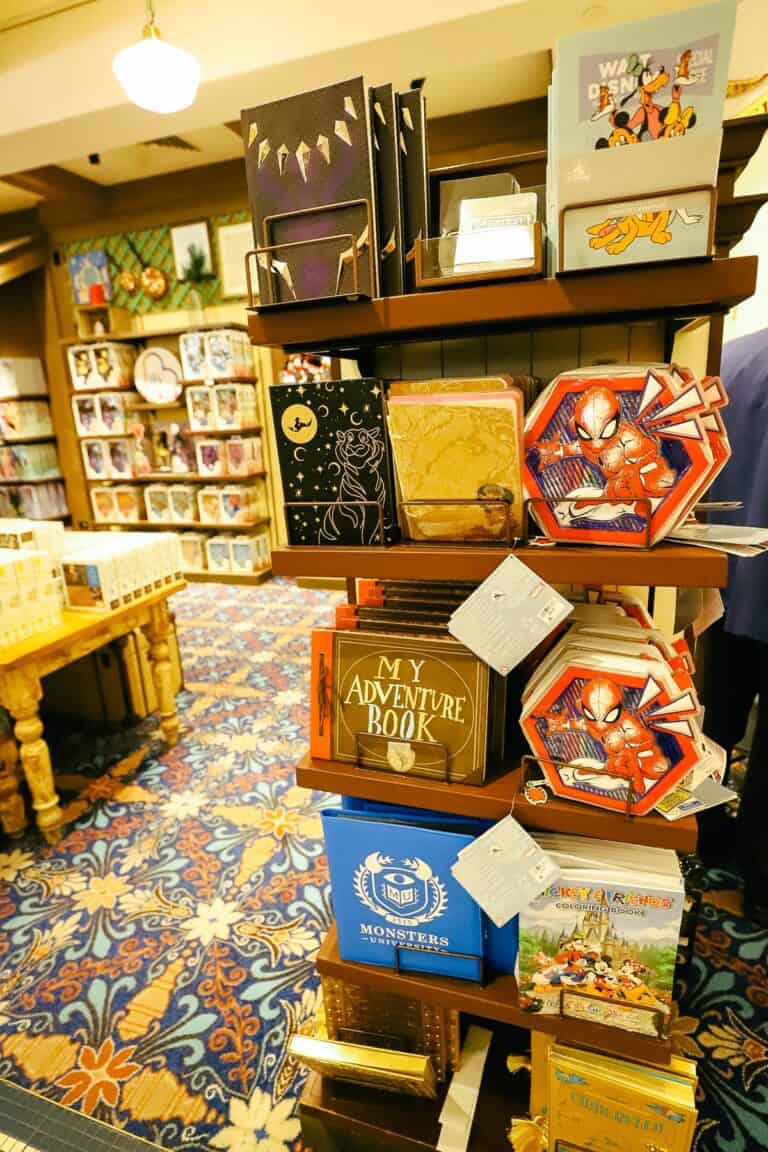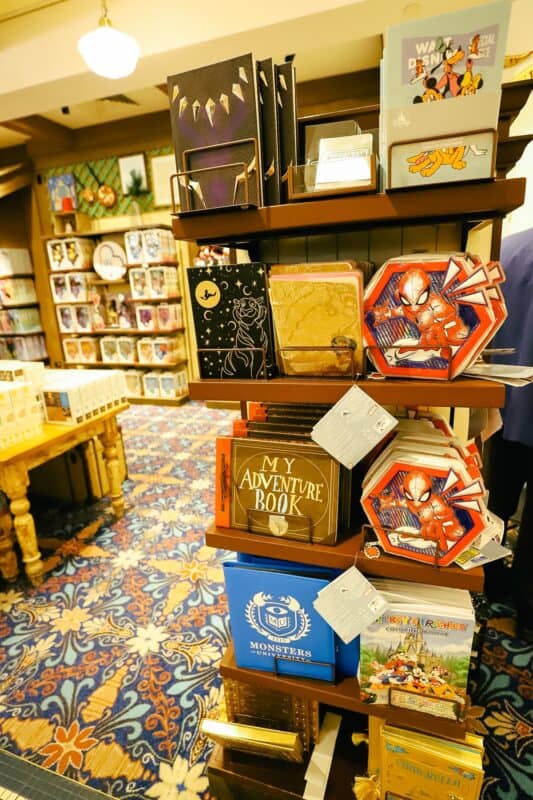 Here are the household items, coffee cups, etc.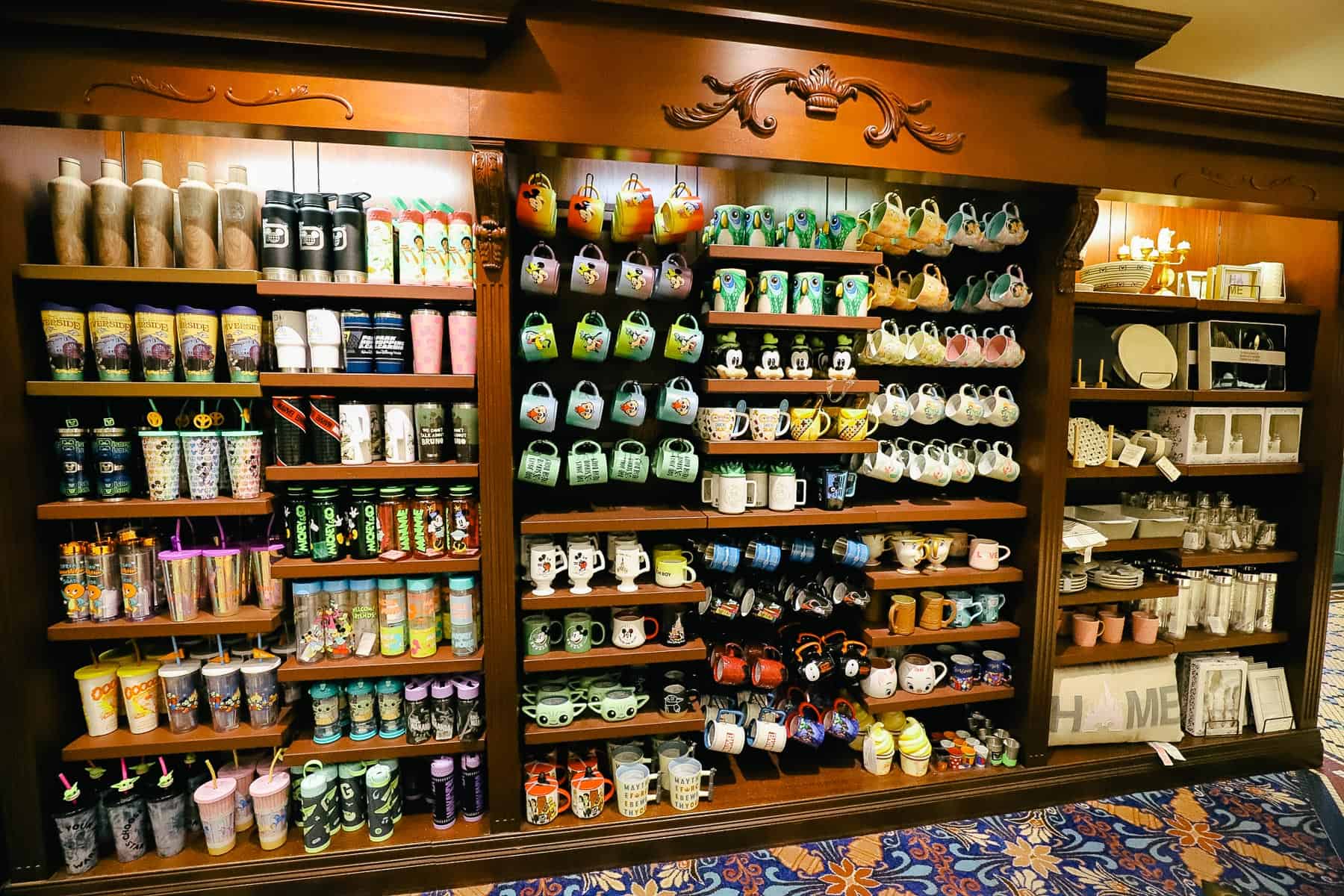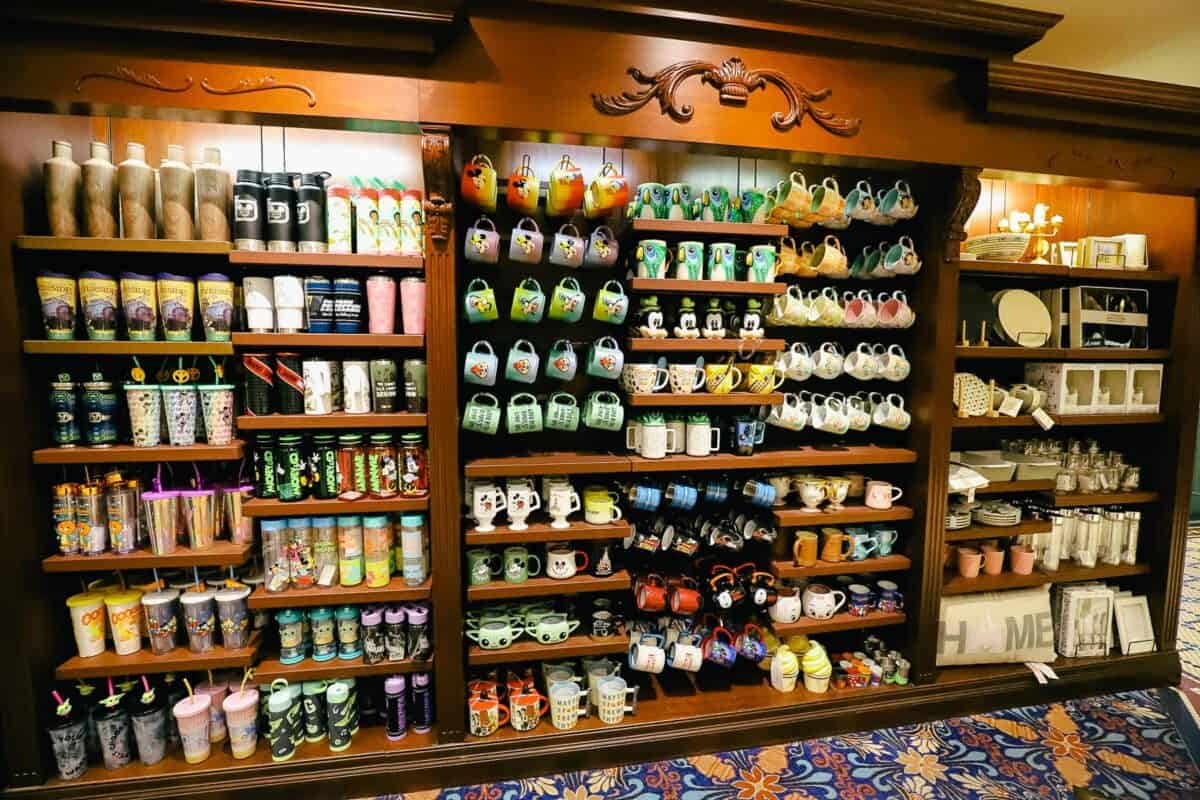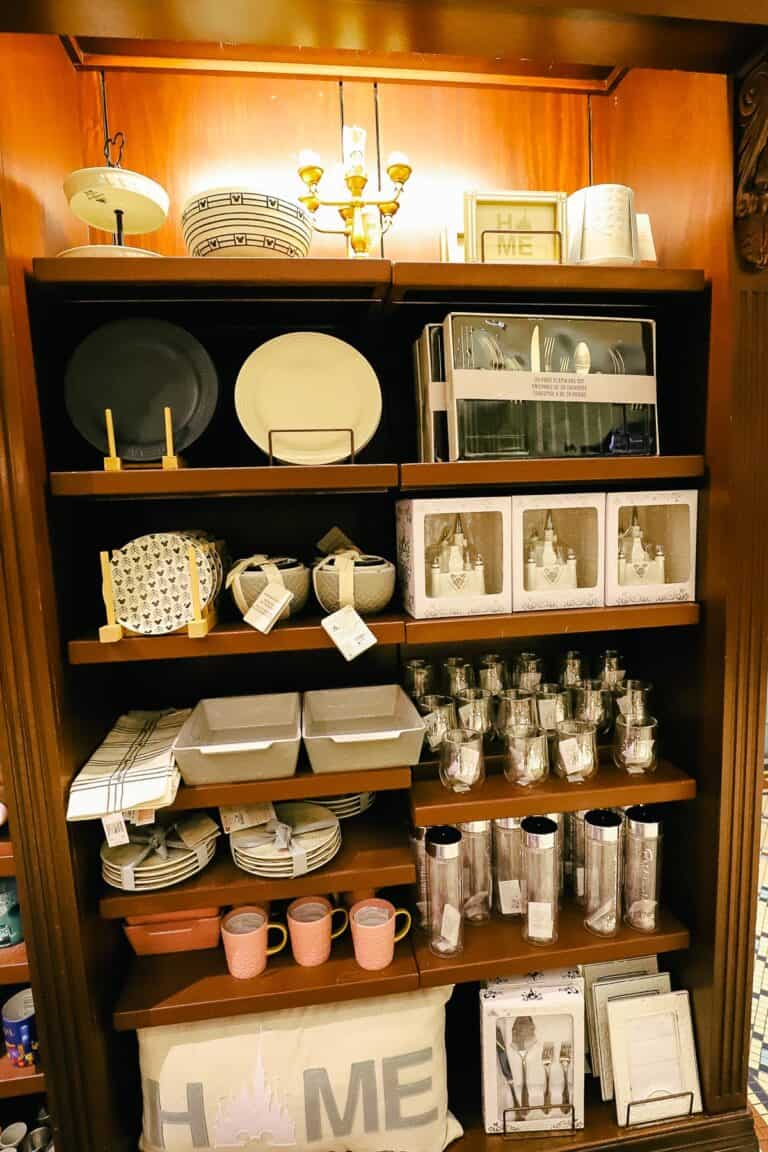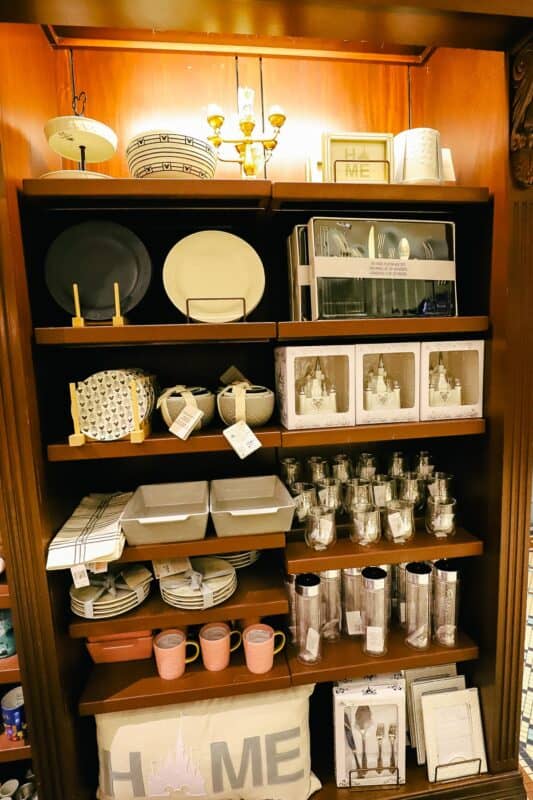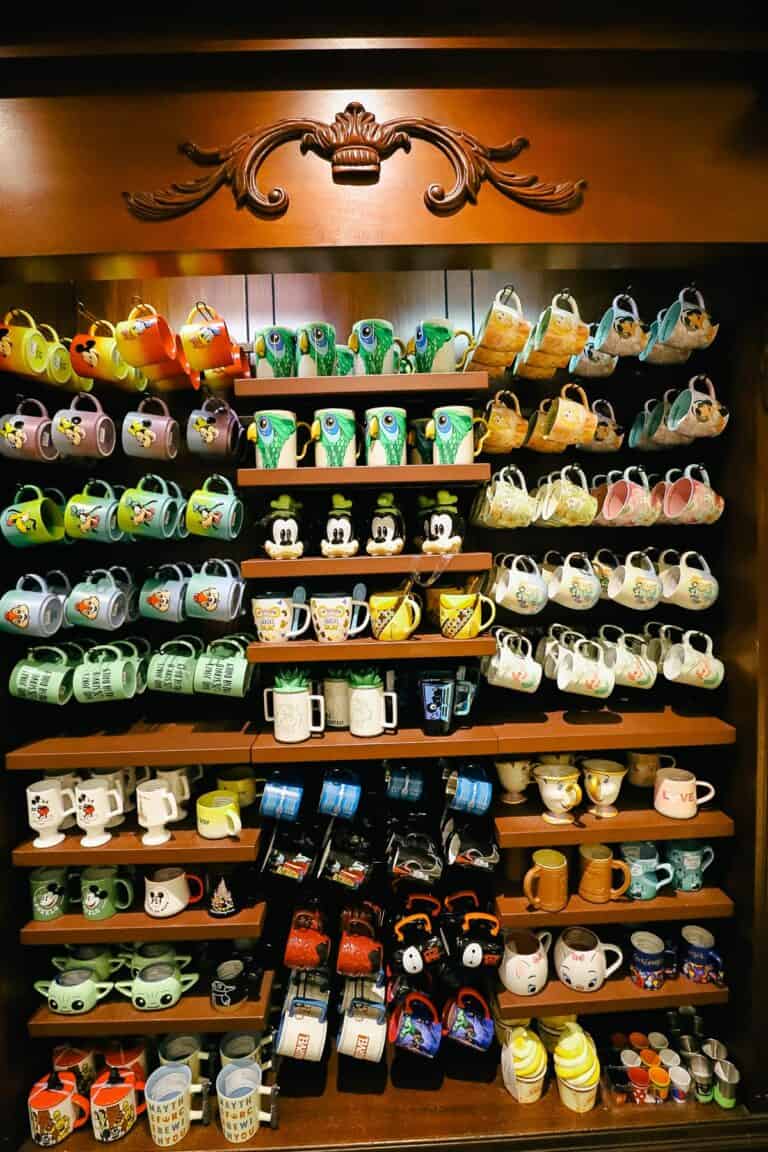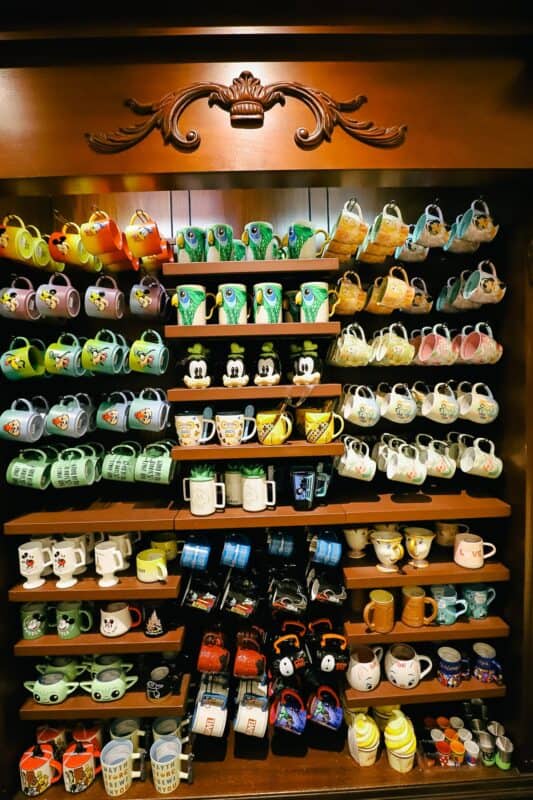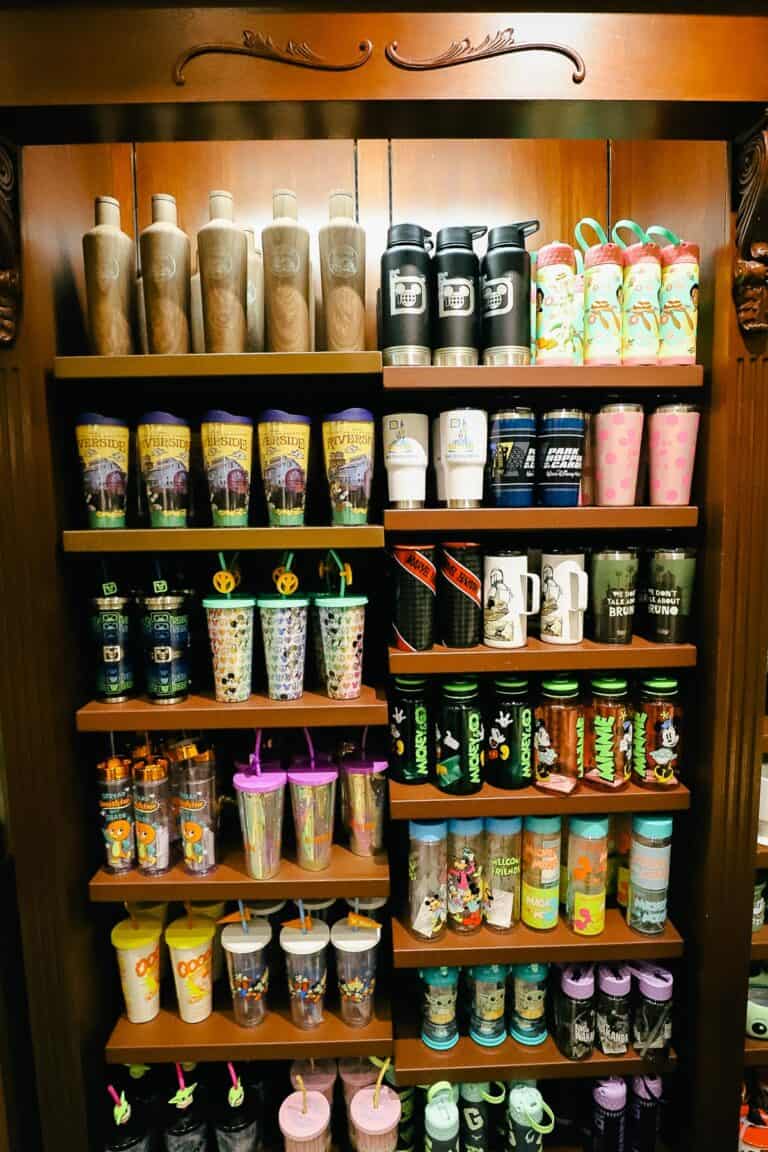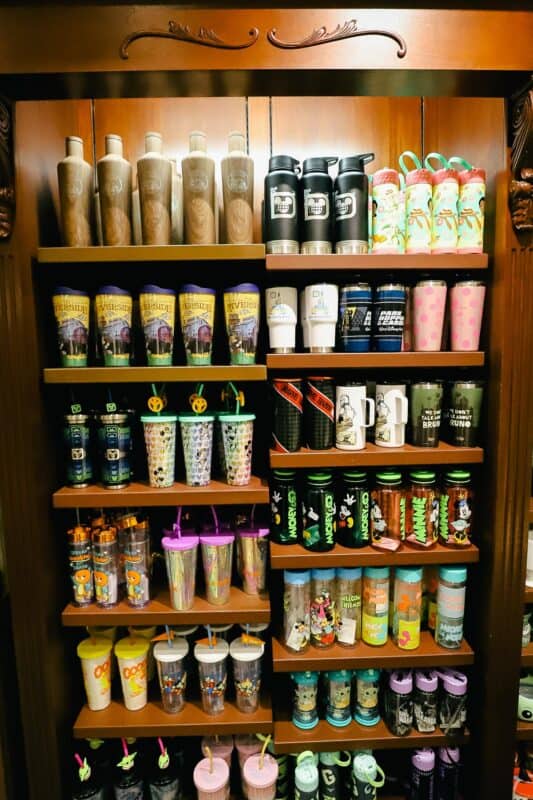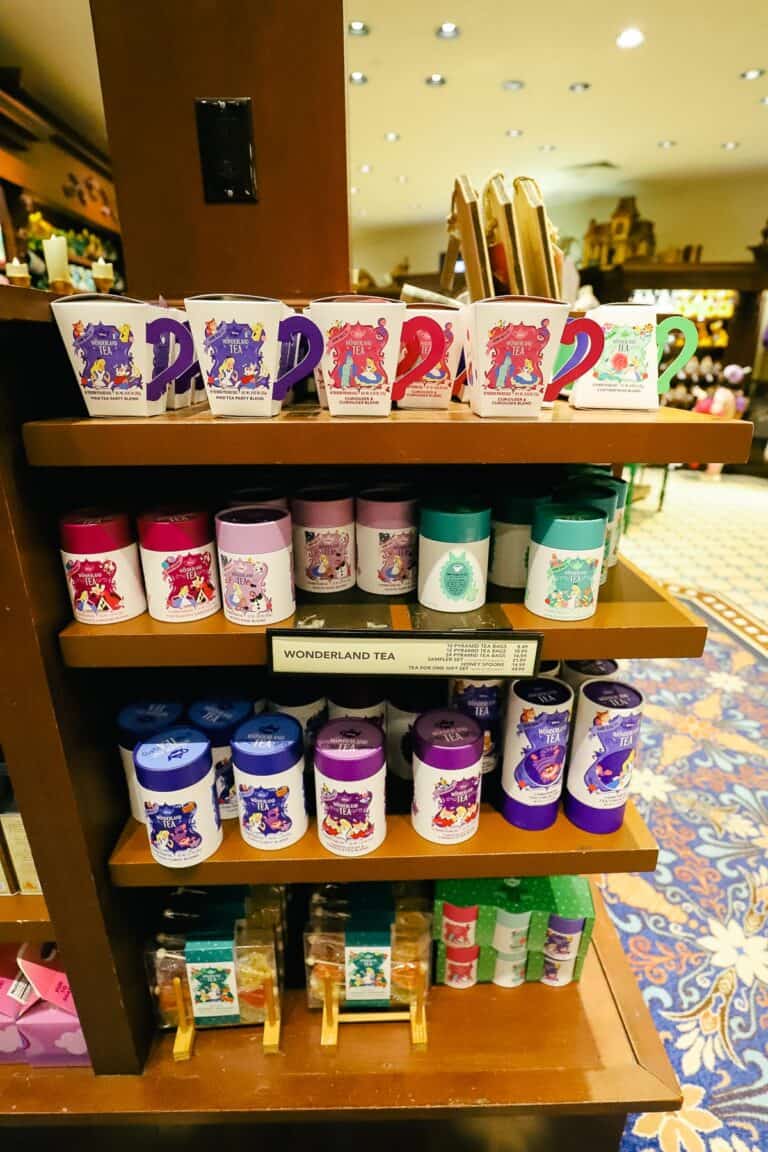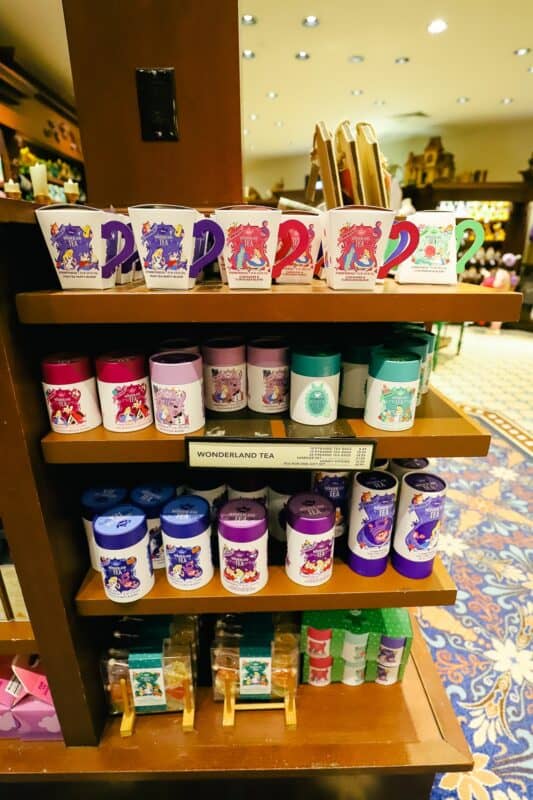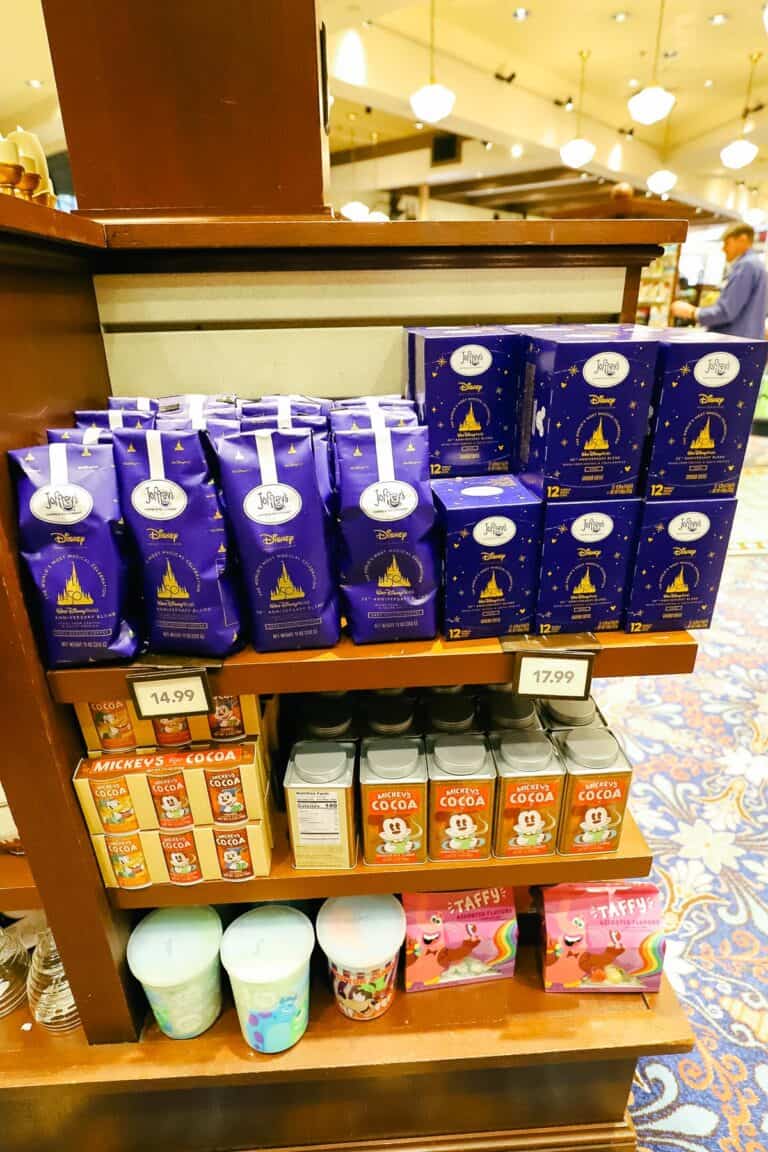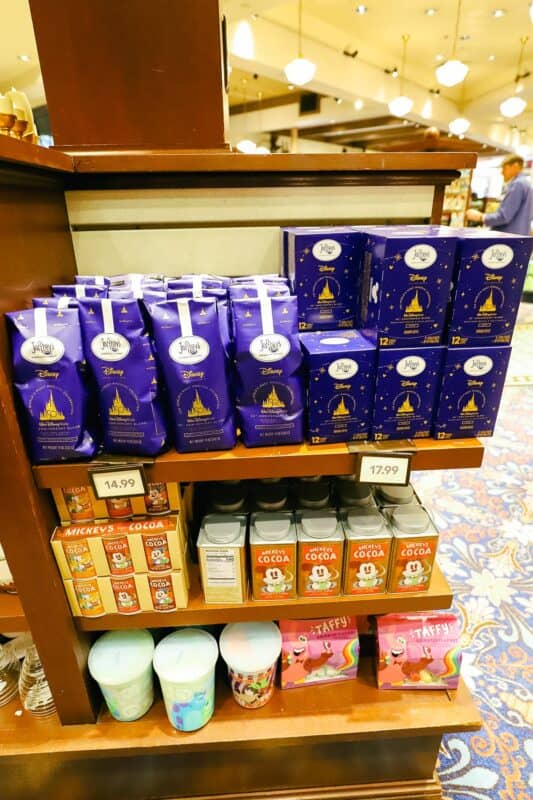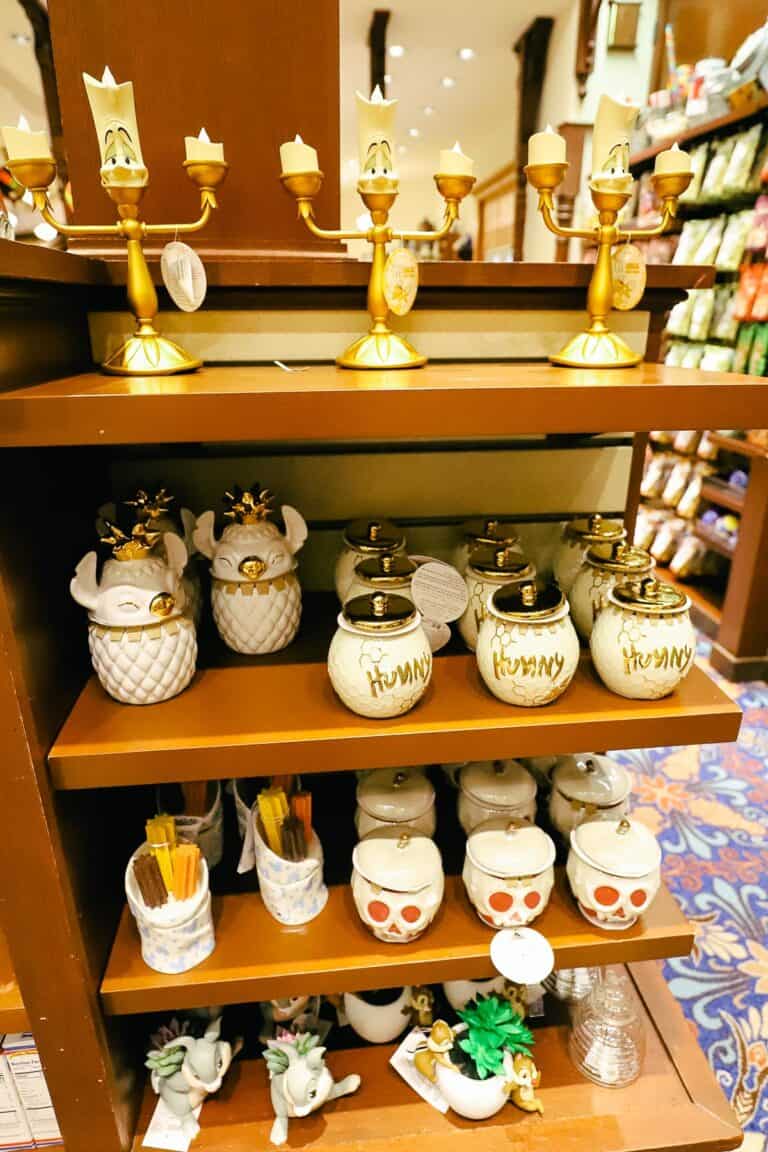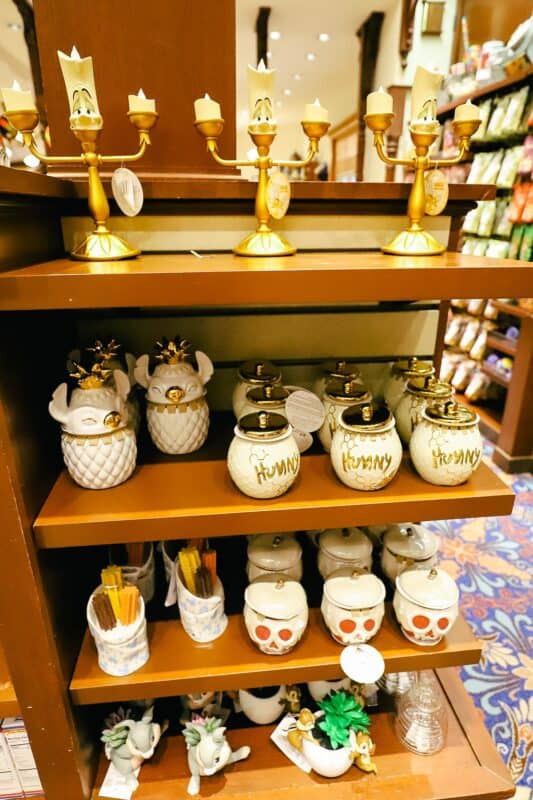 Items in the photo below are geared toward Creole cuisine.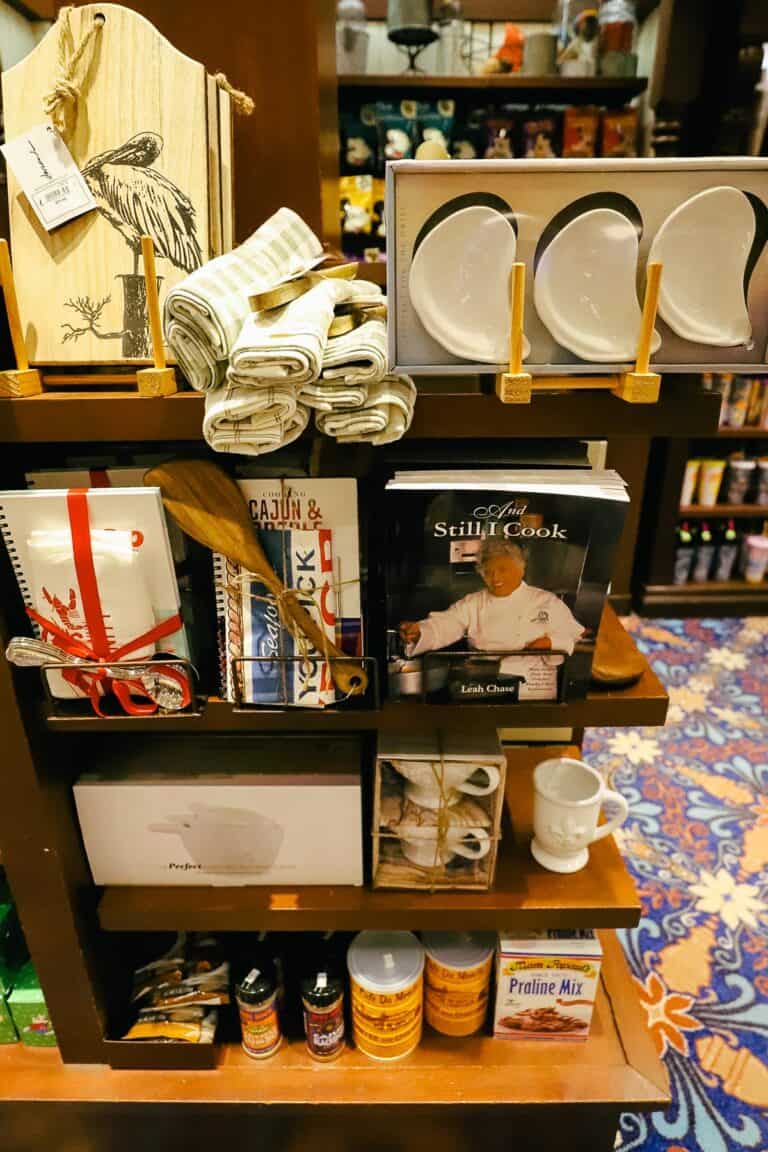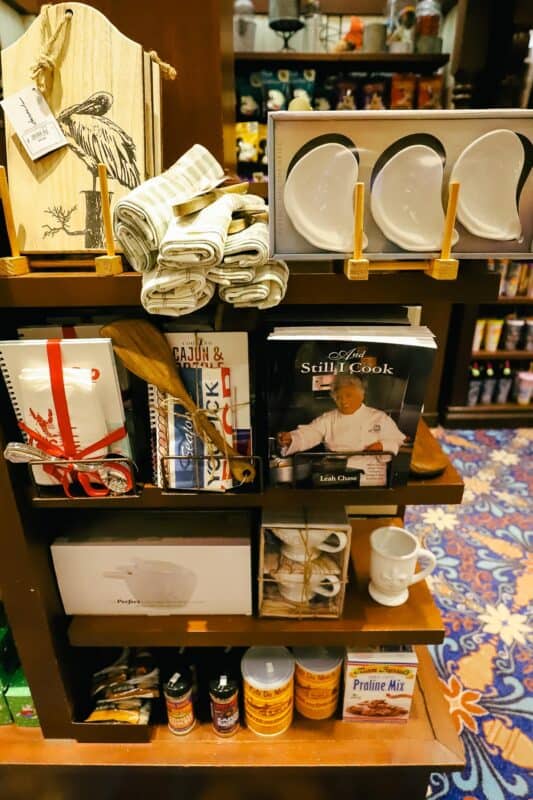 Lastly, we'll run through the candy, snacks, grocery, and beverage items at Fulton's General Store.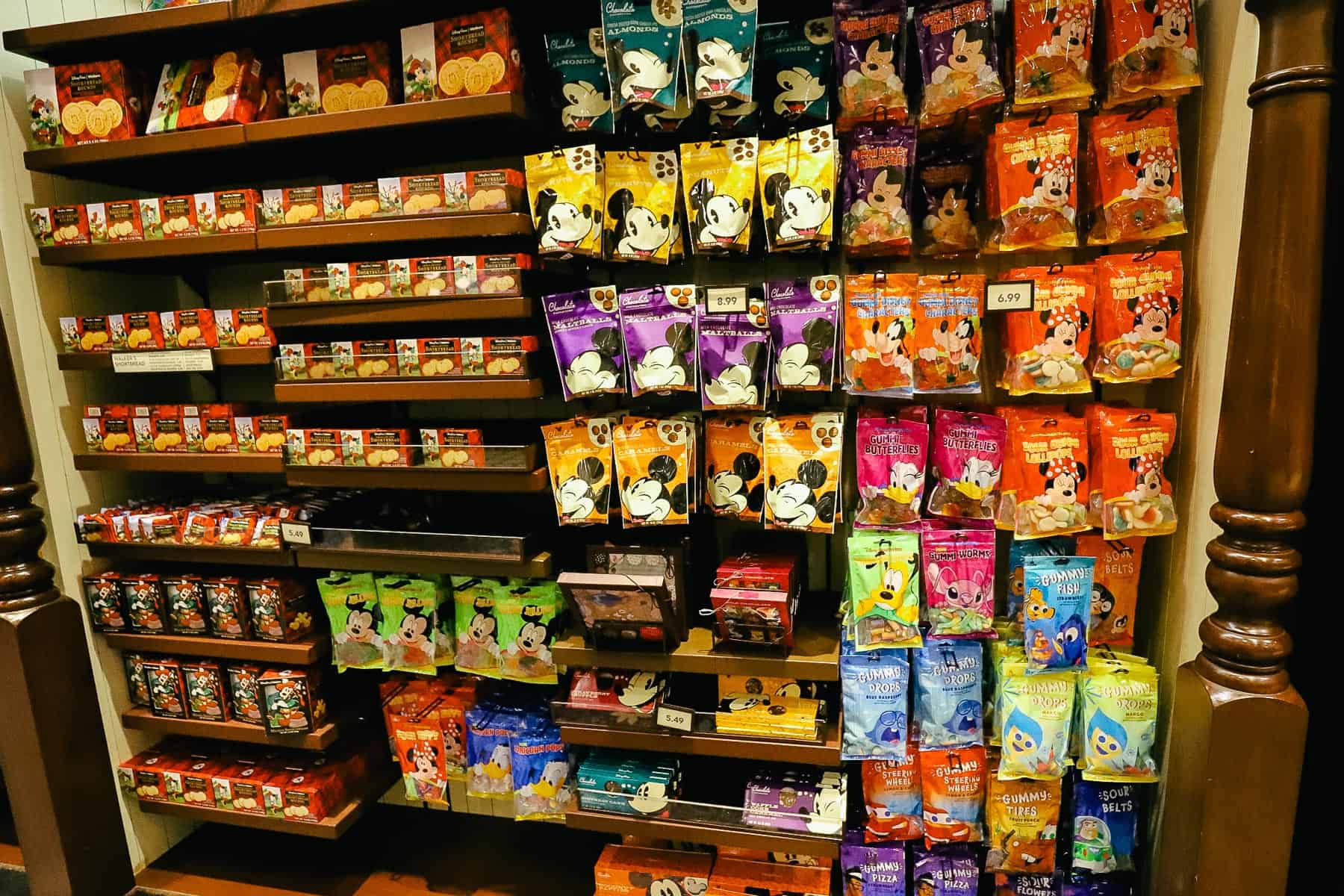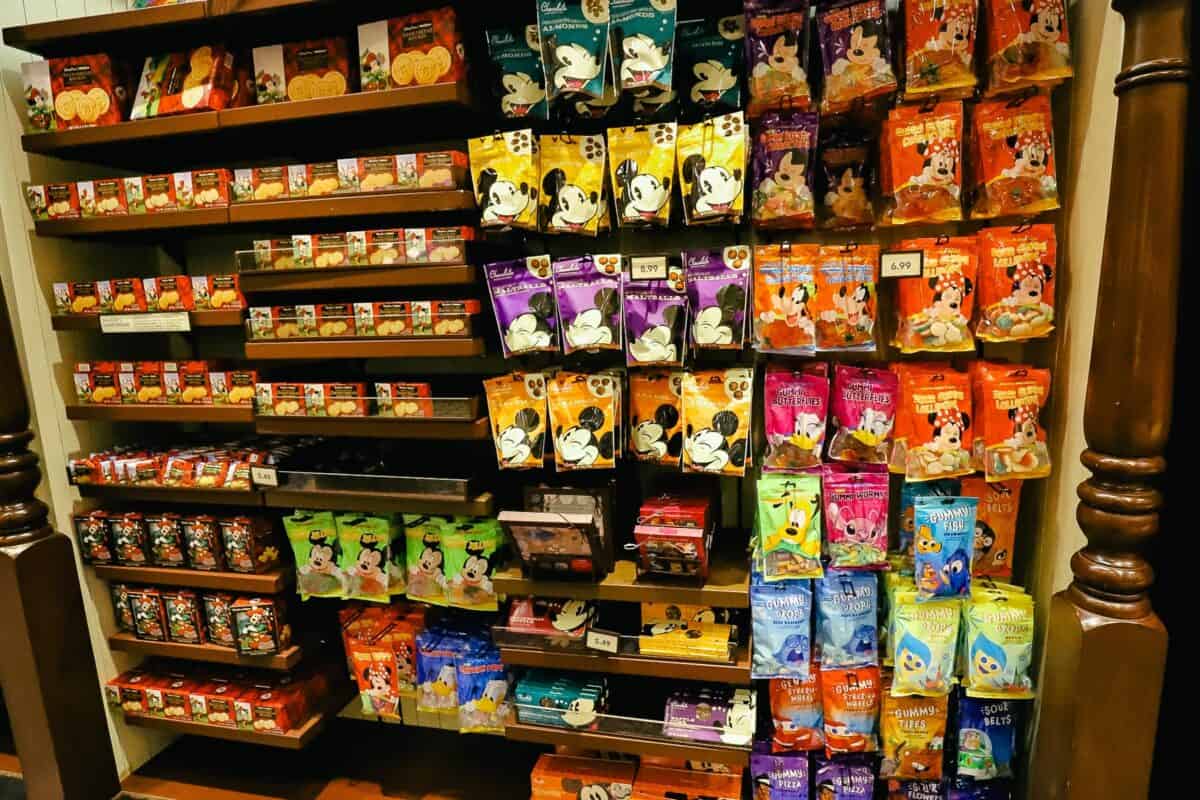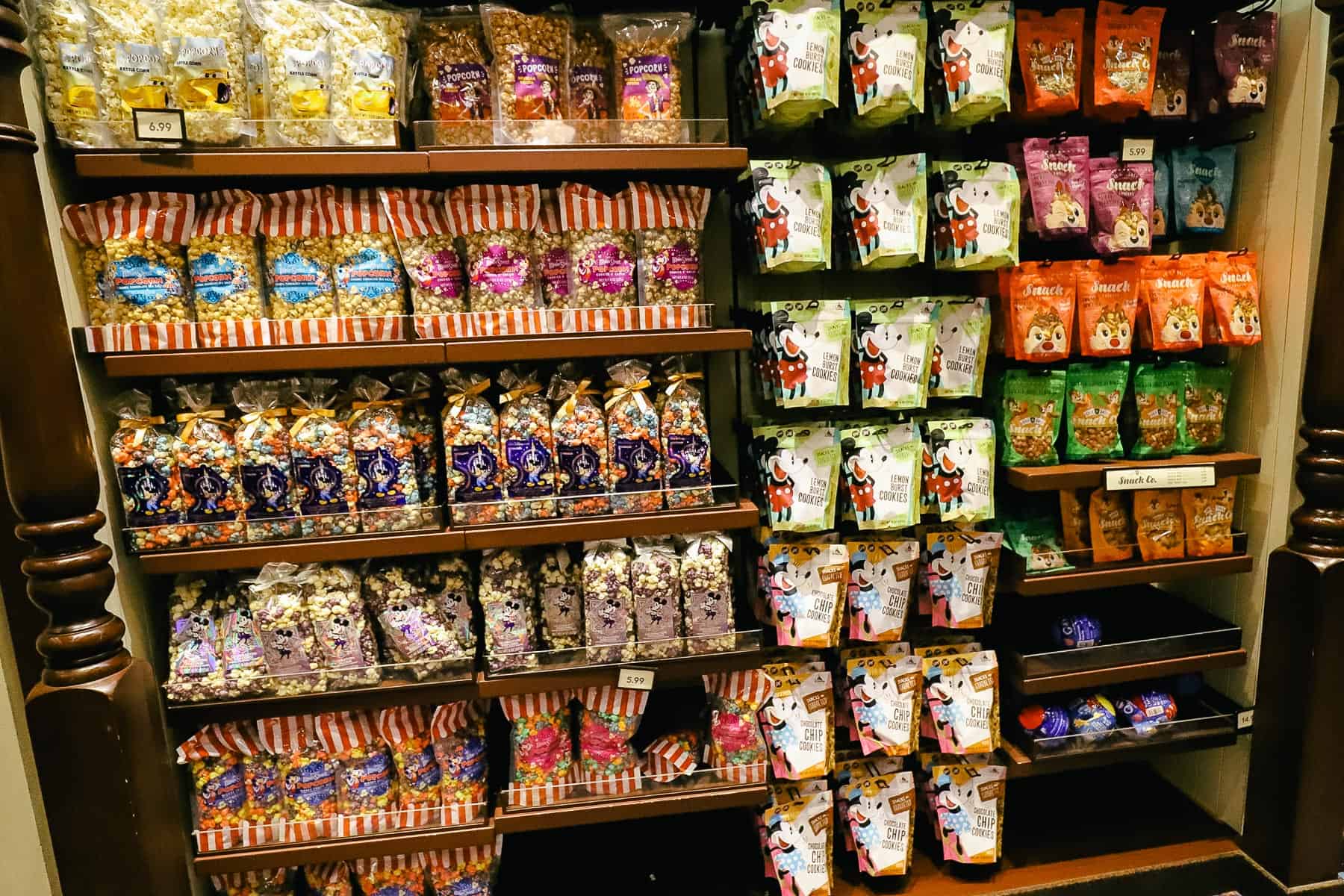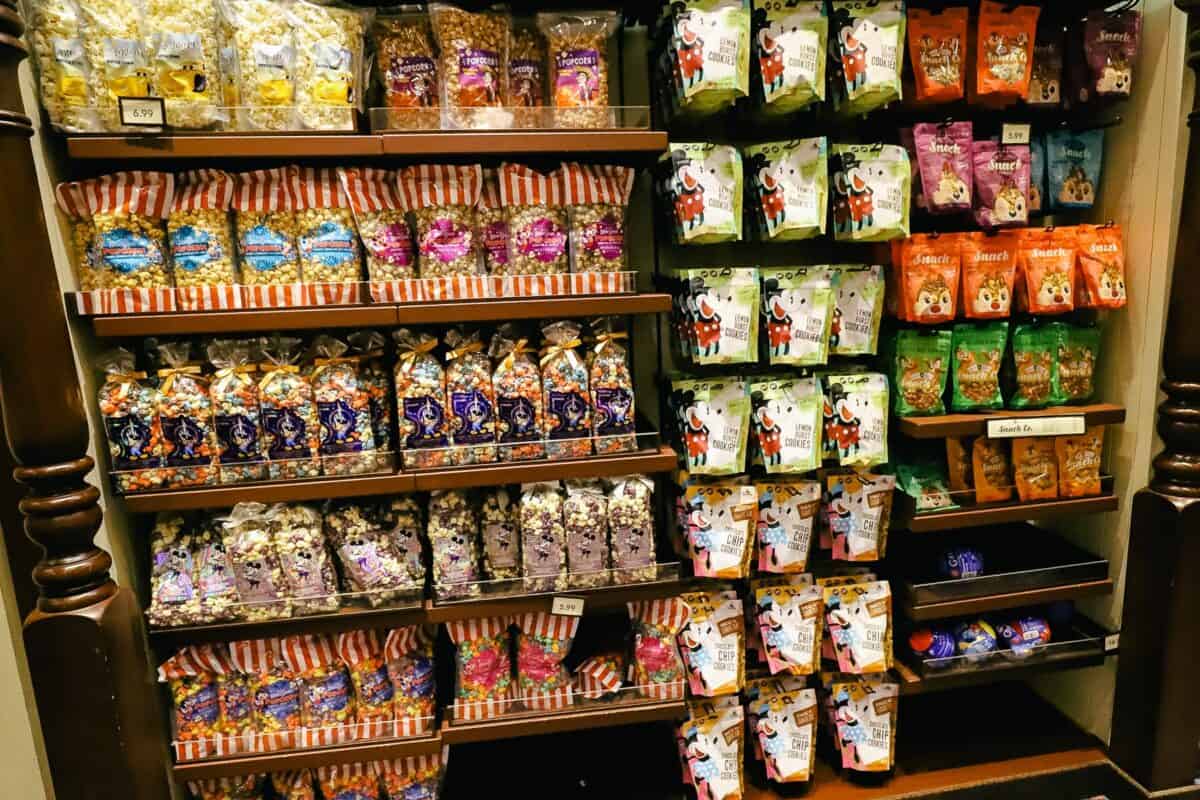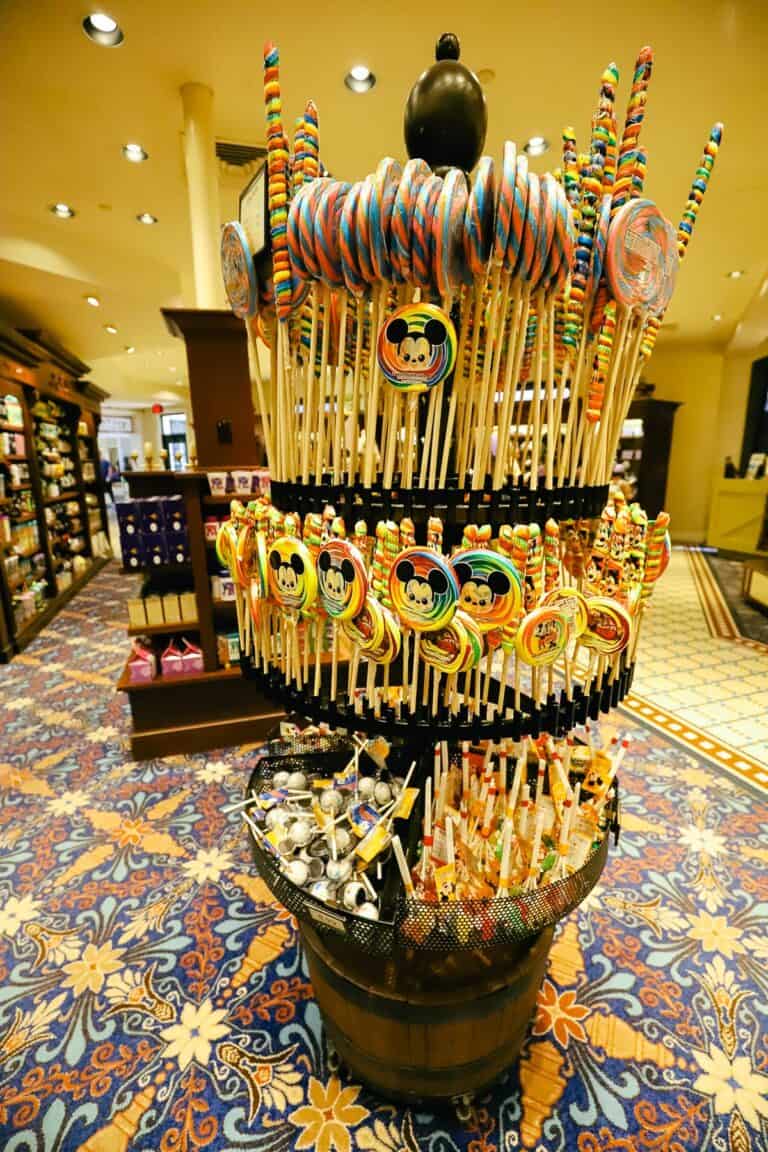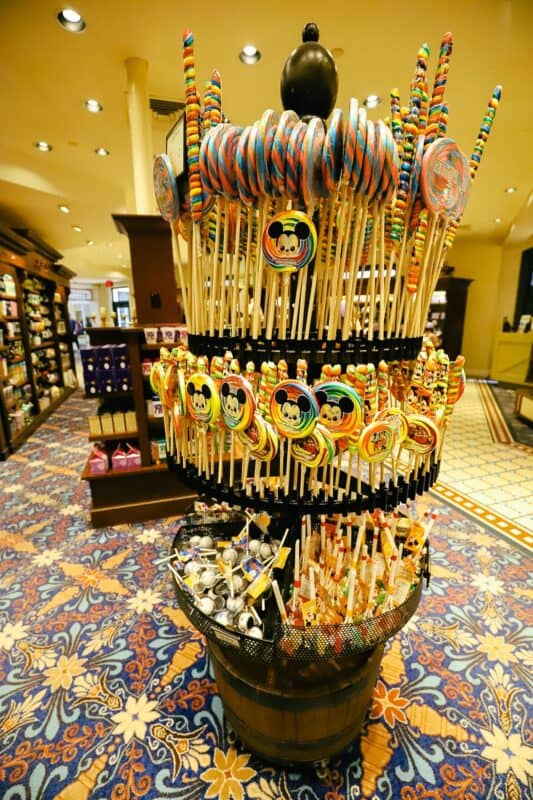 Below are the sundry and other essential items in Riverside's gift shop.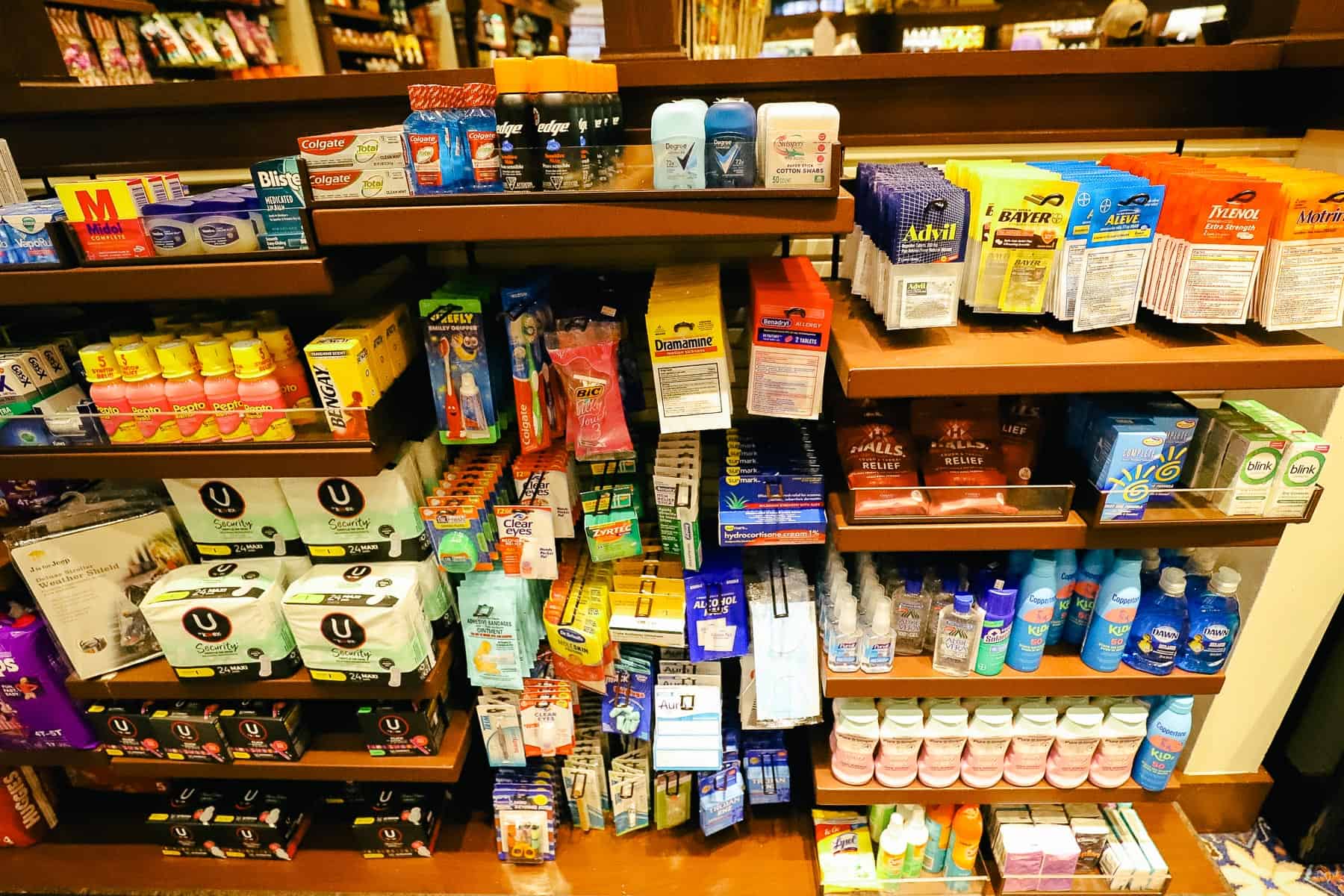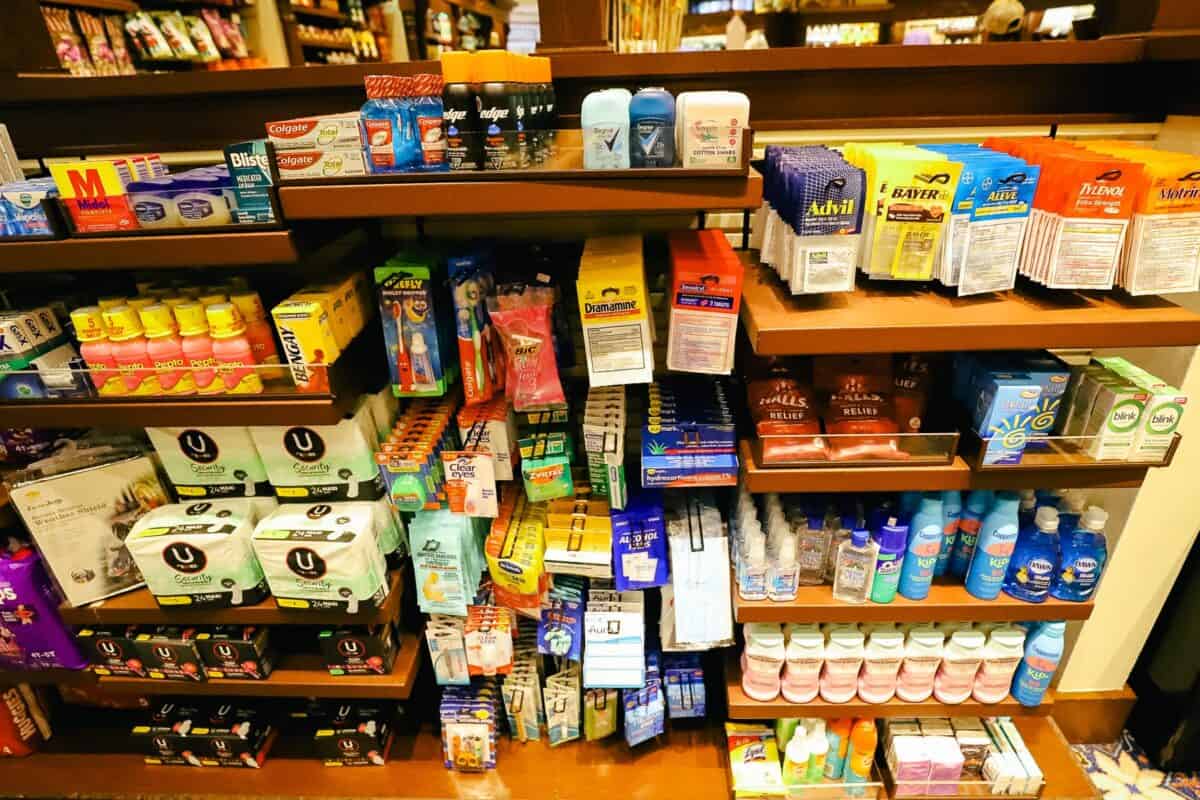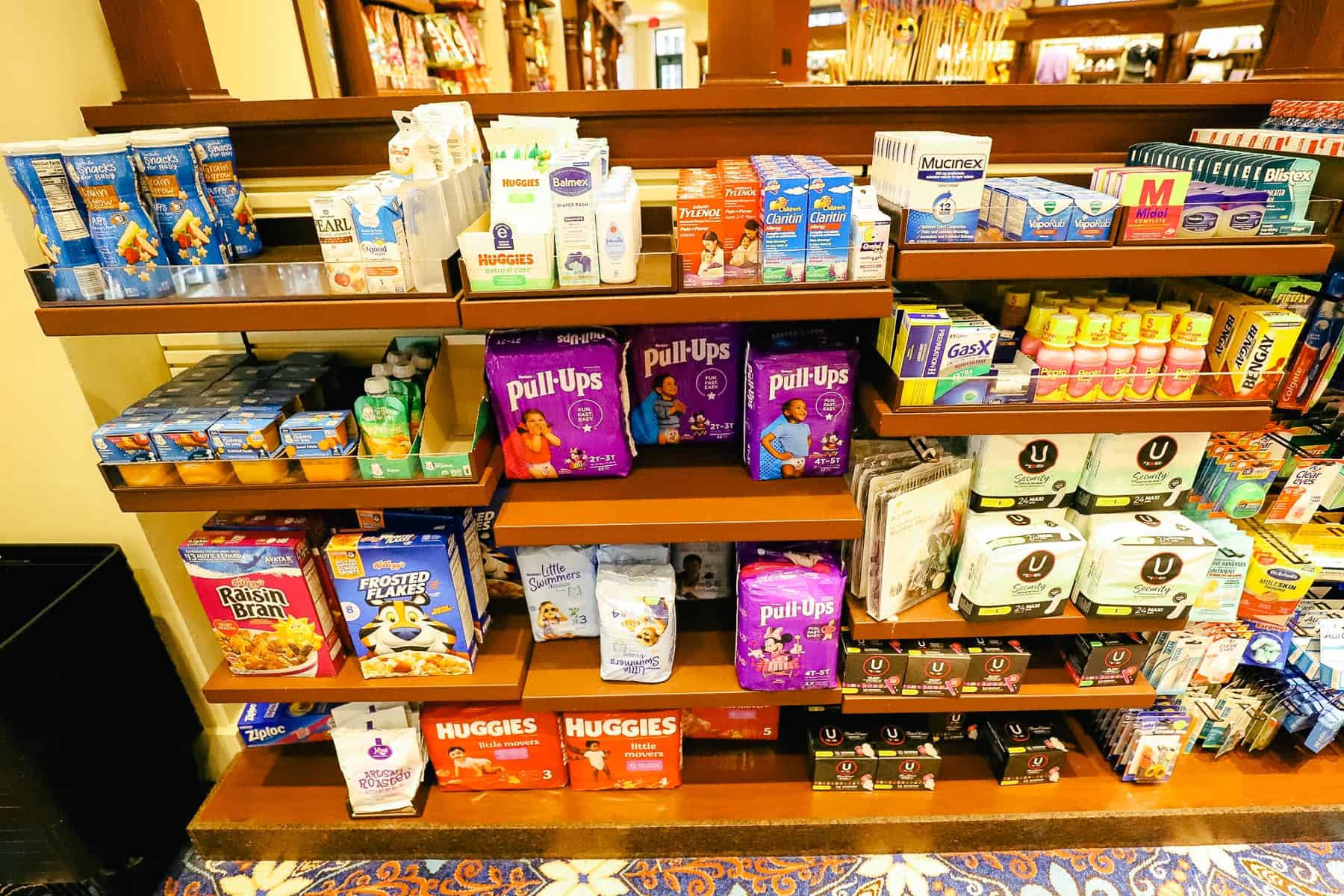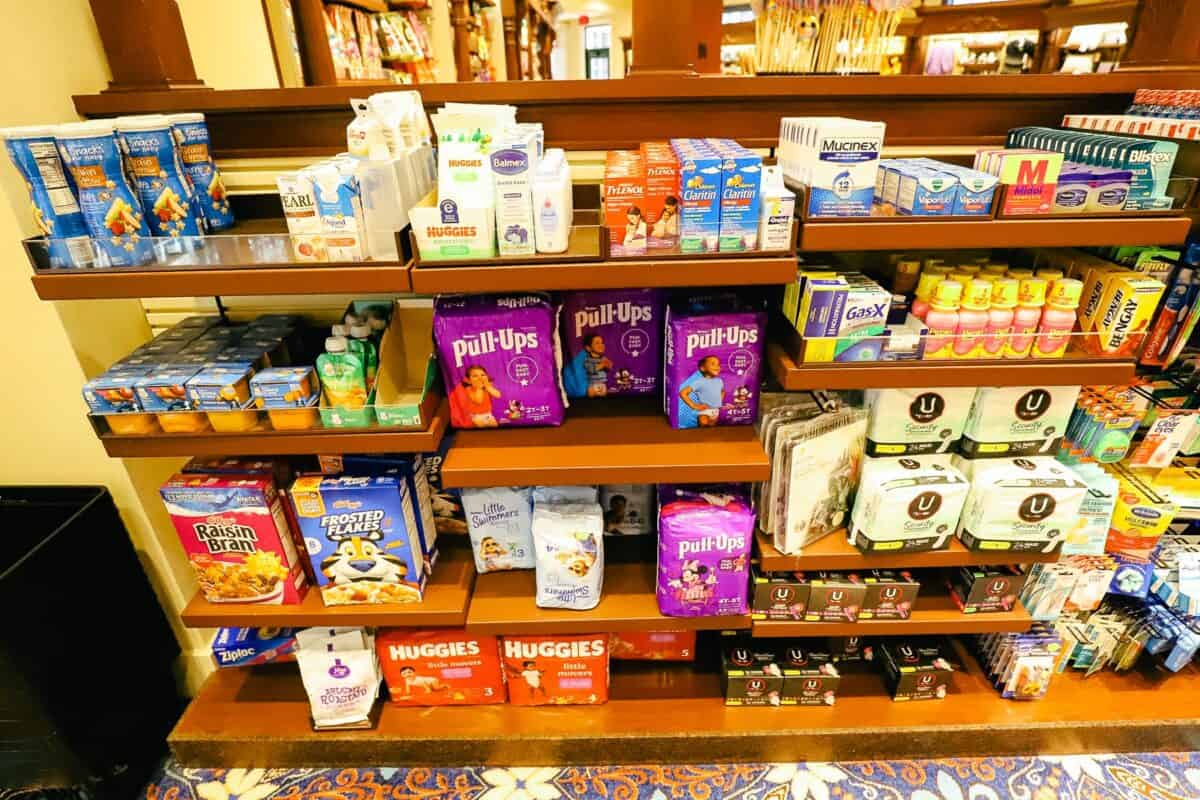 We visit the gift shops at the resorts fairly often. However, I can attest that Riverside has more snacks and groceries than most.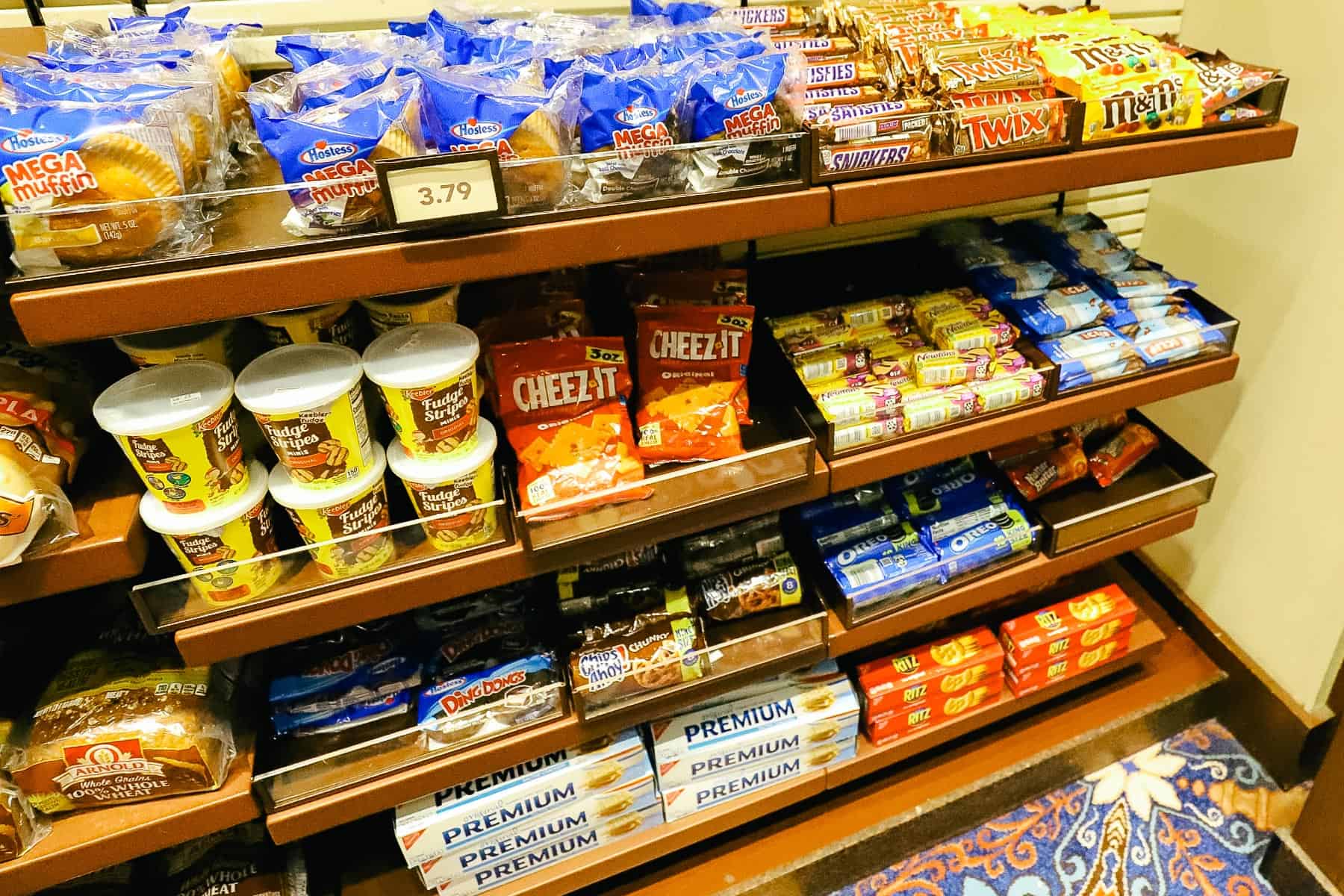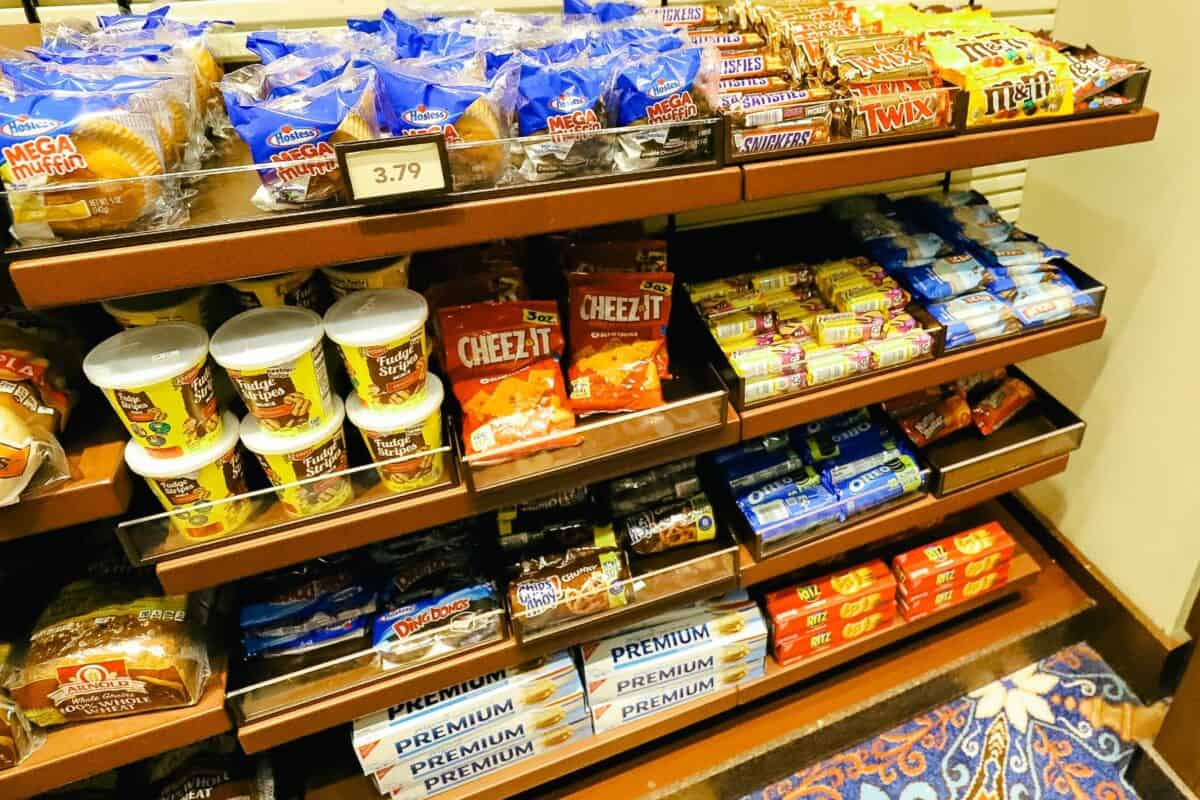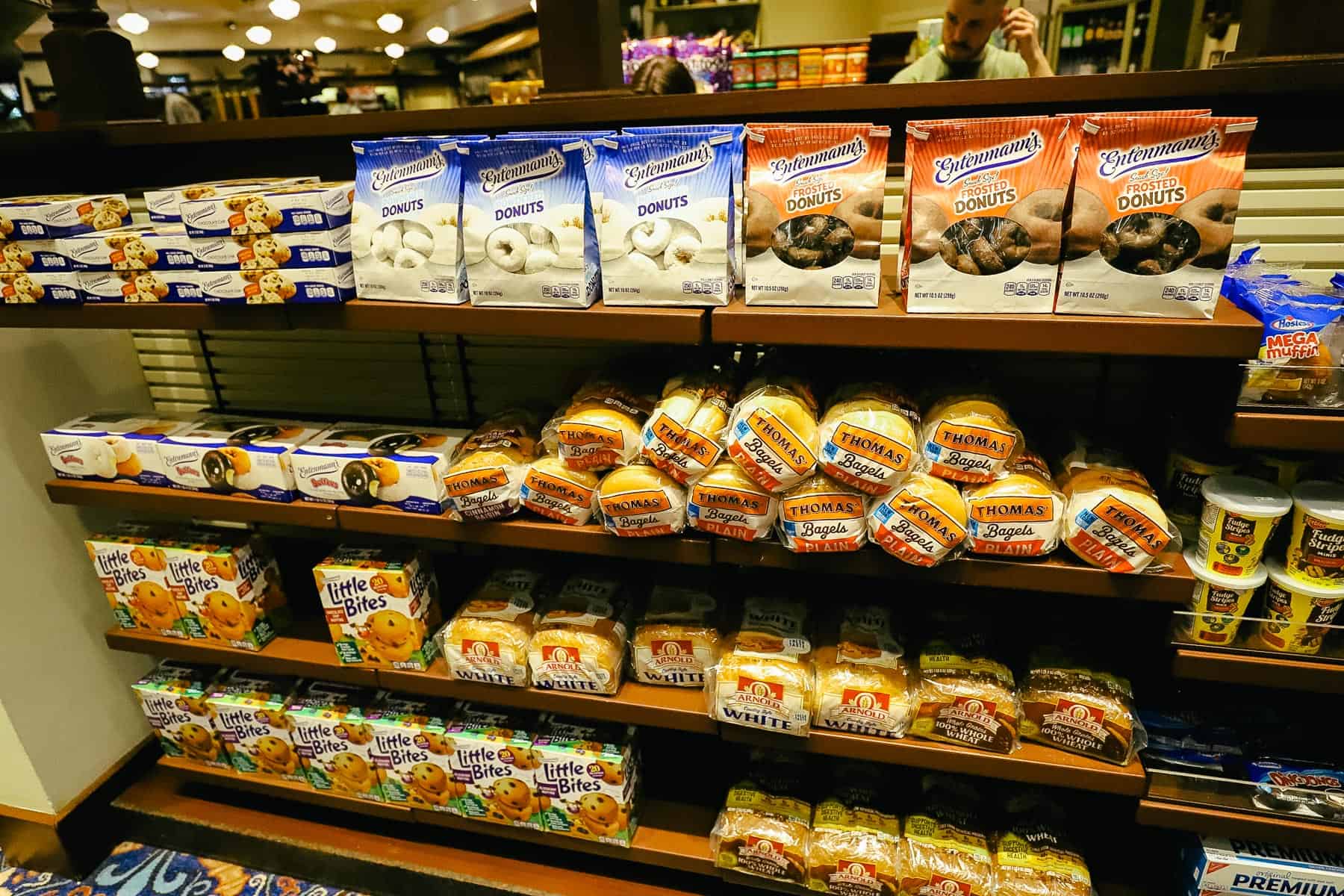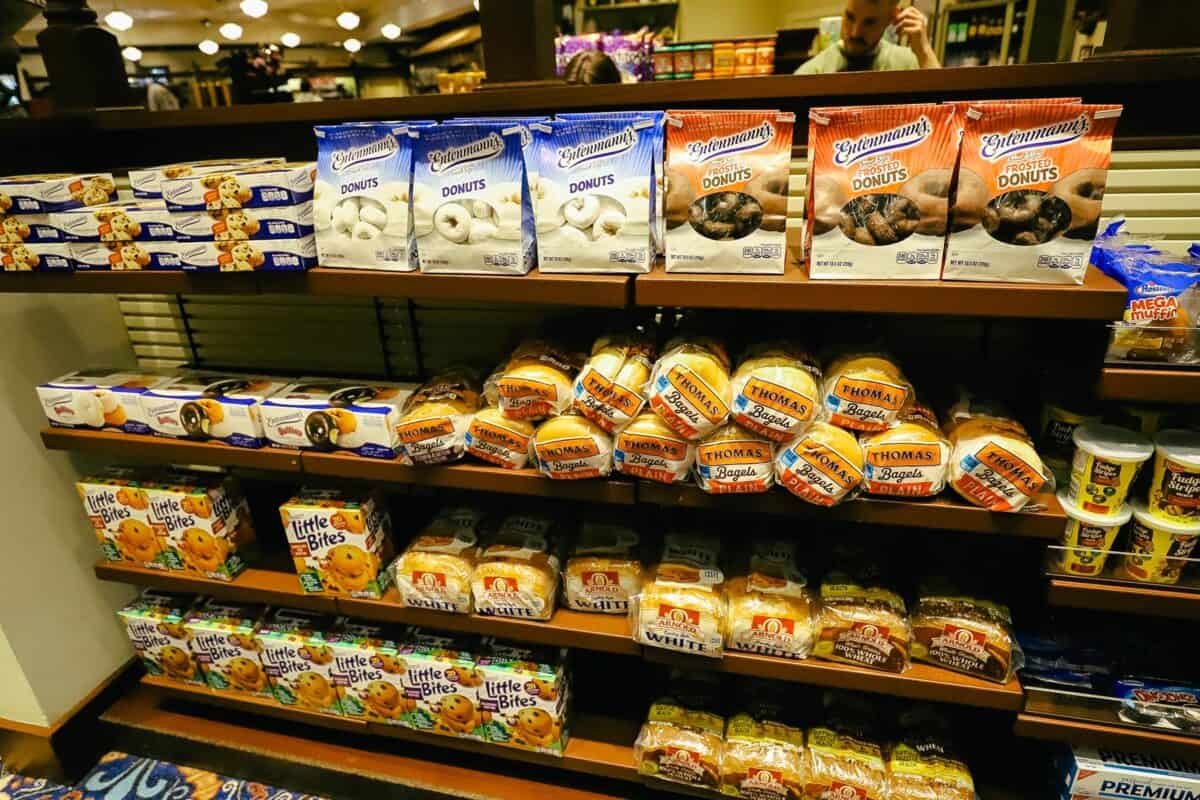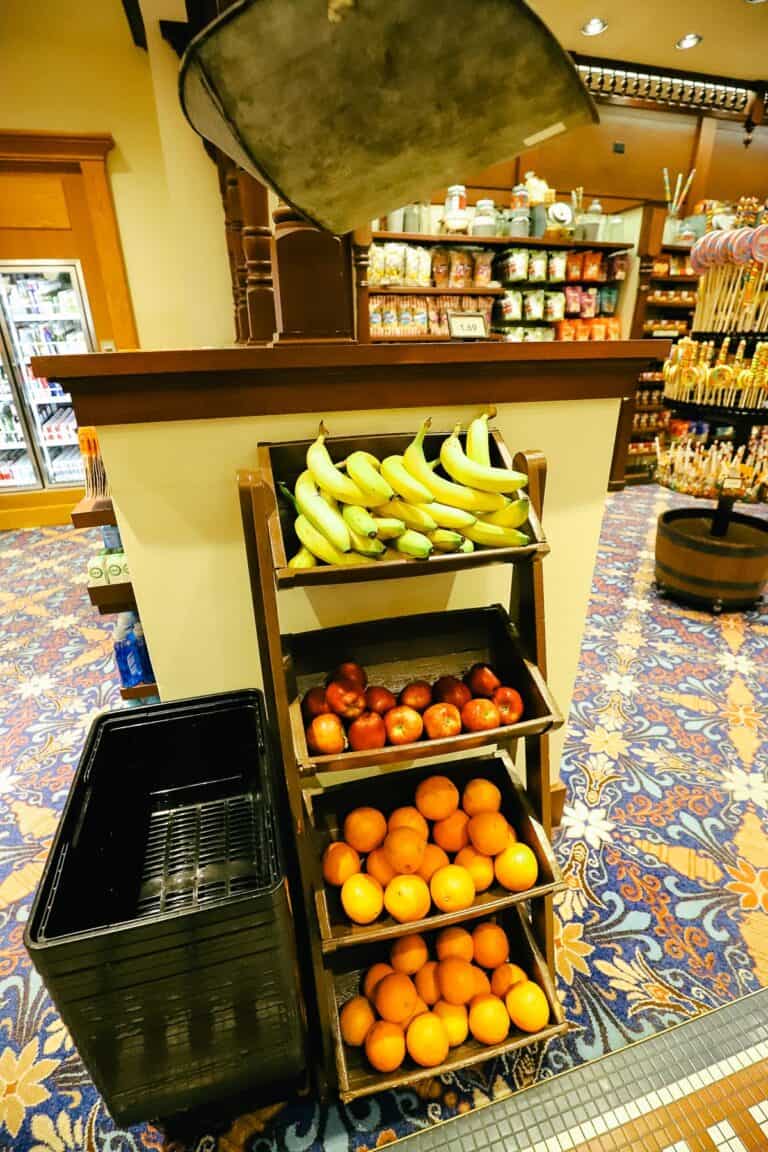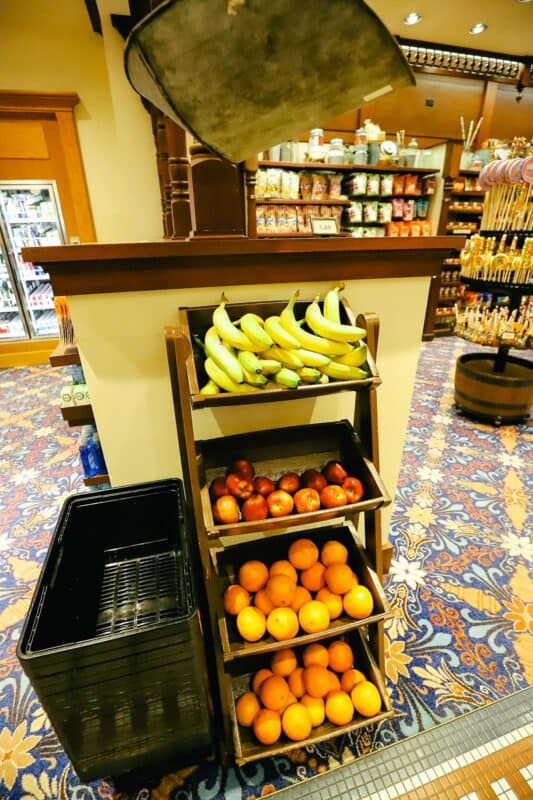 A large beverage cooler sits along the back wall.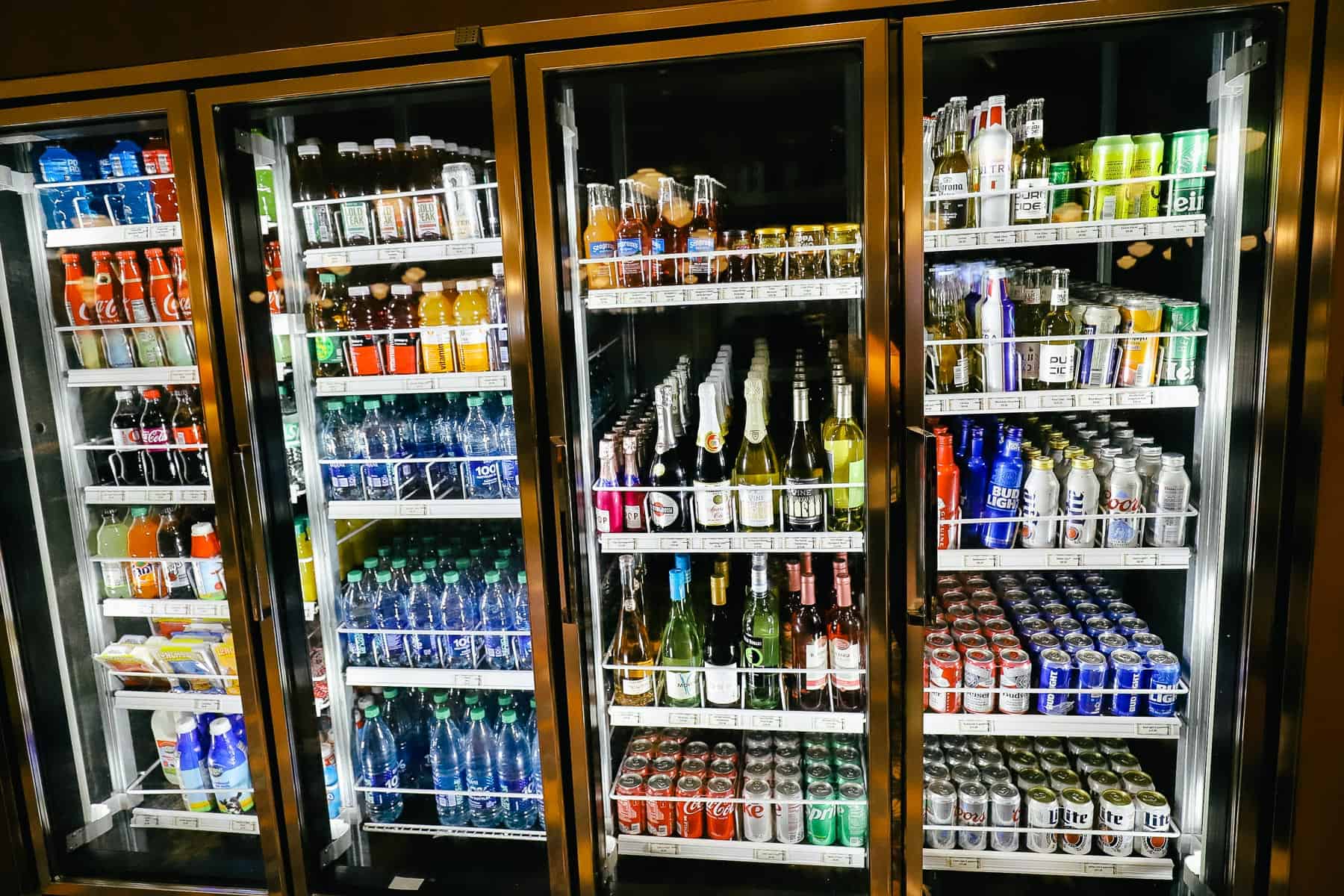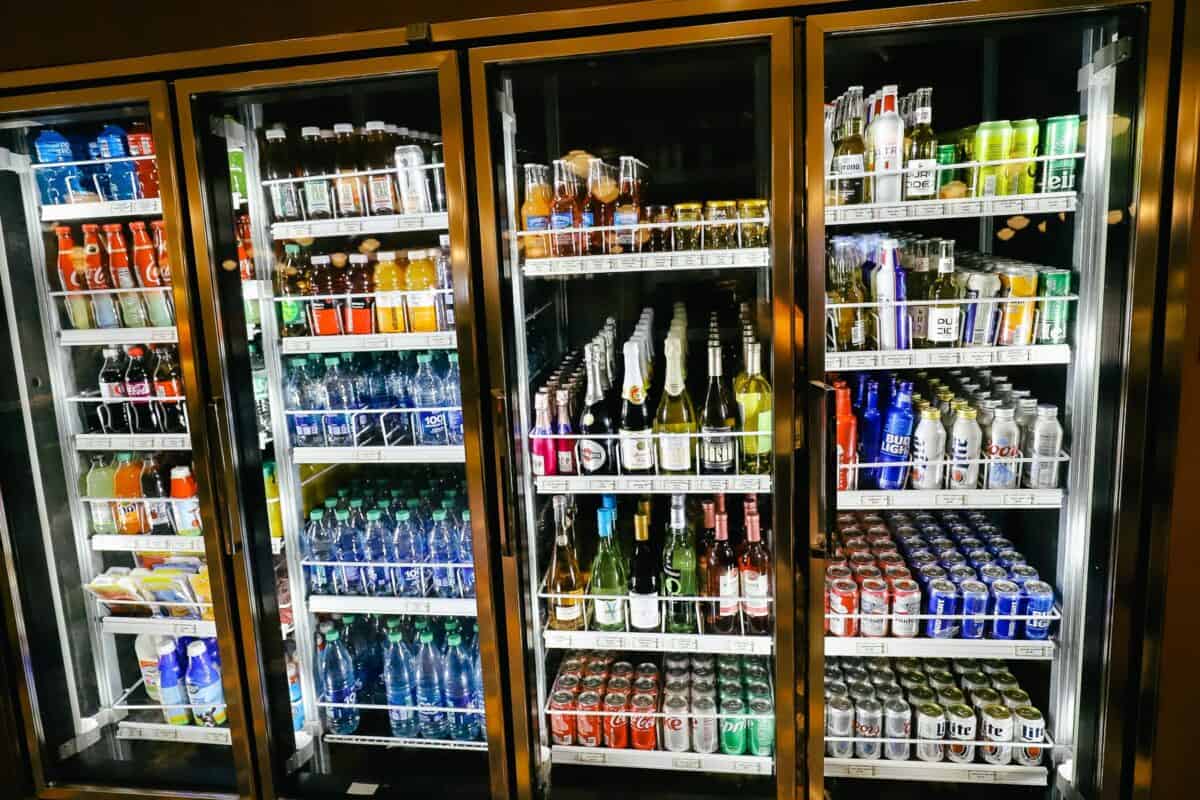 Here is a closeup of the items. This one has sports drinks, soda, Lunchables, creamer, and milk.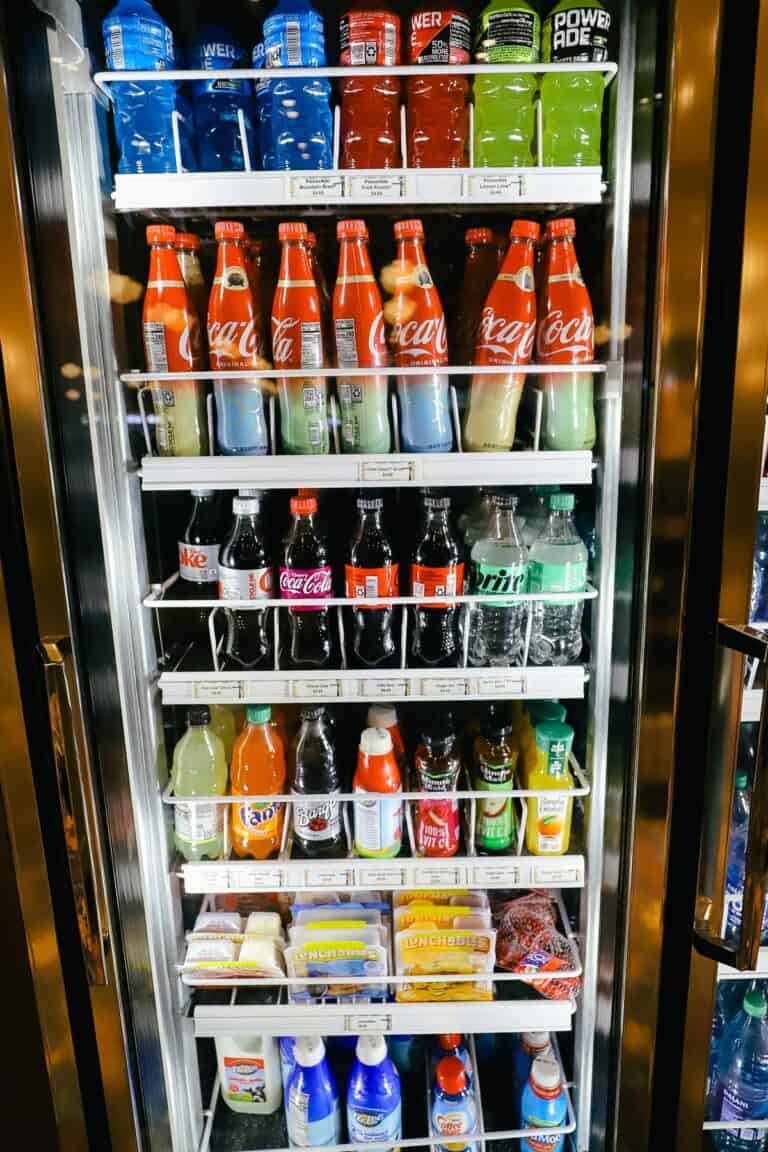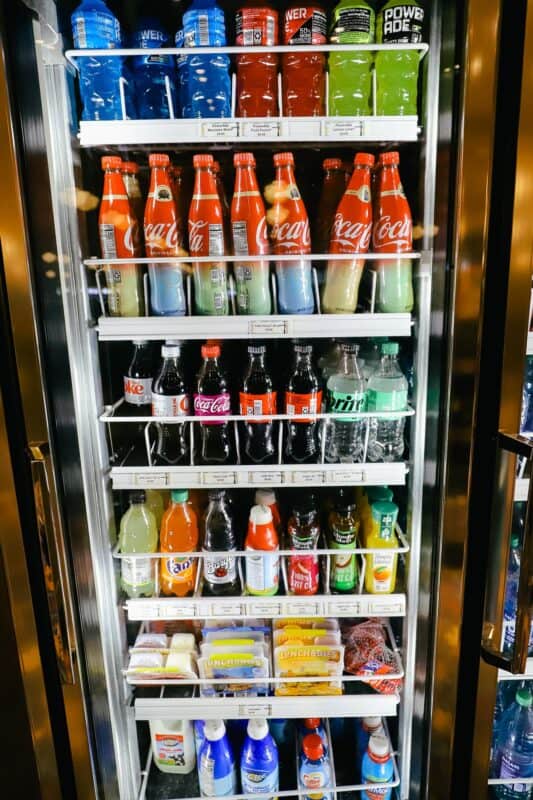 Chilled wine, wine coolers, and champagne are available.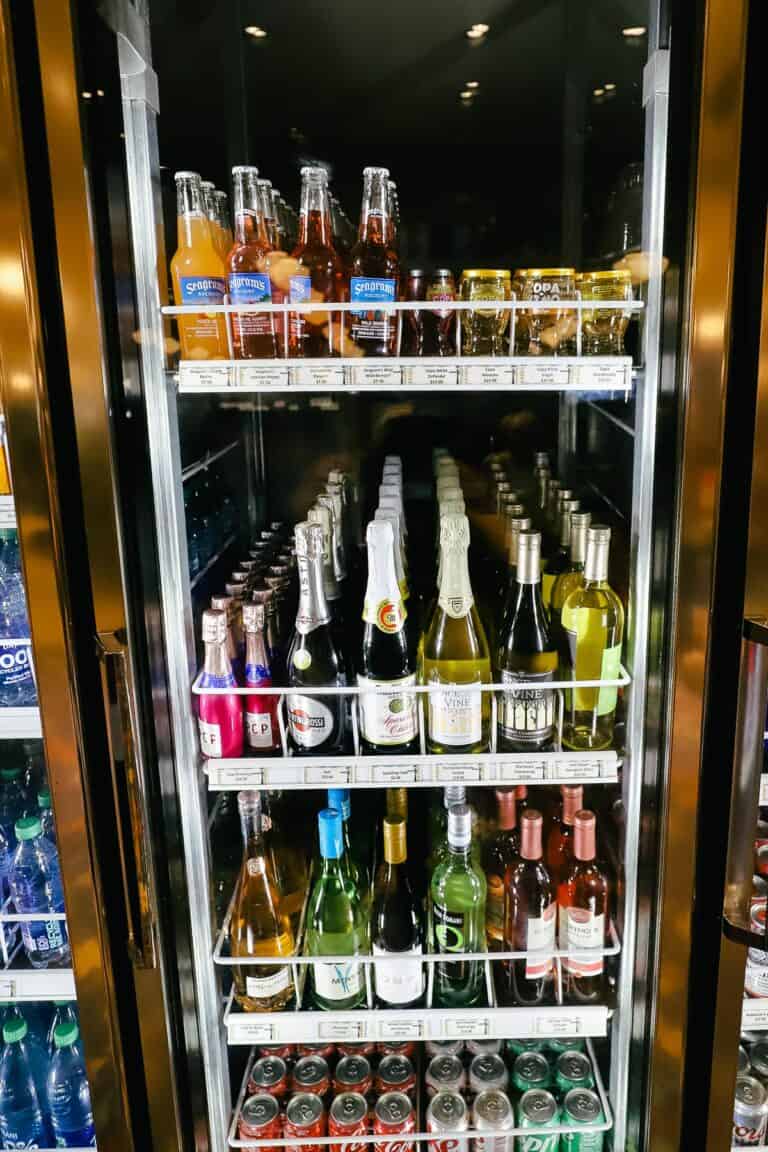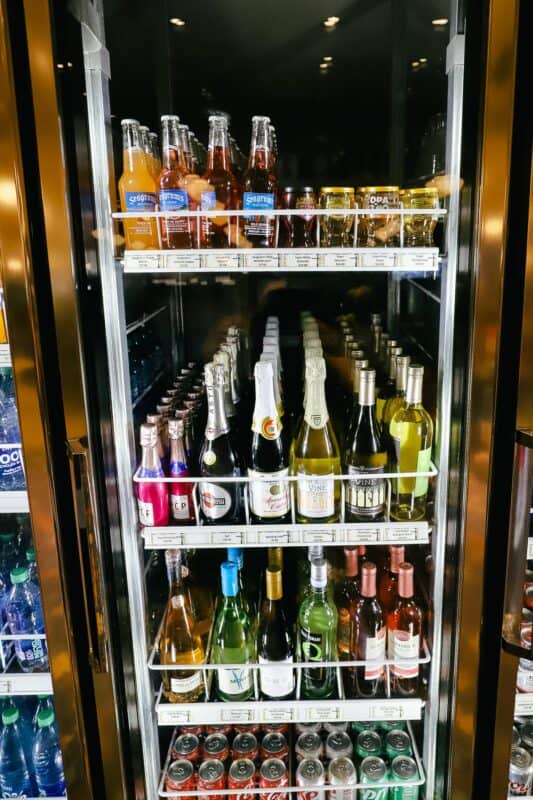 Here are the various brands of beer.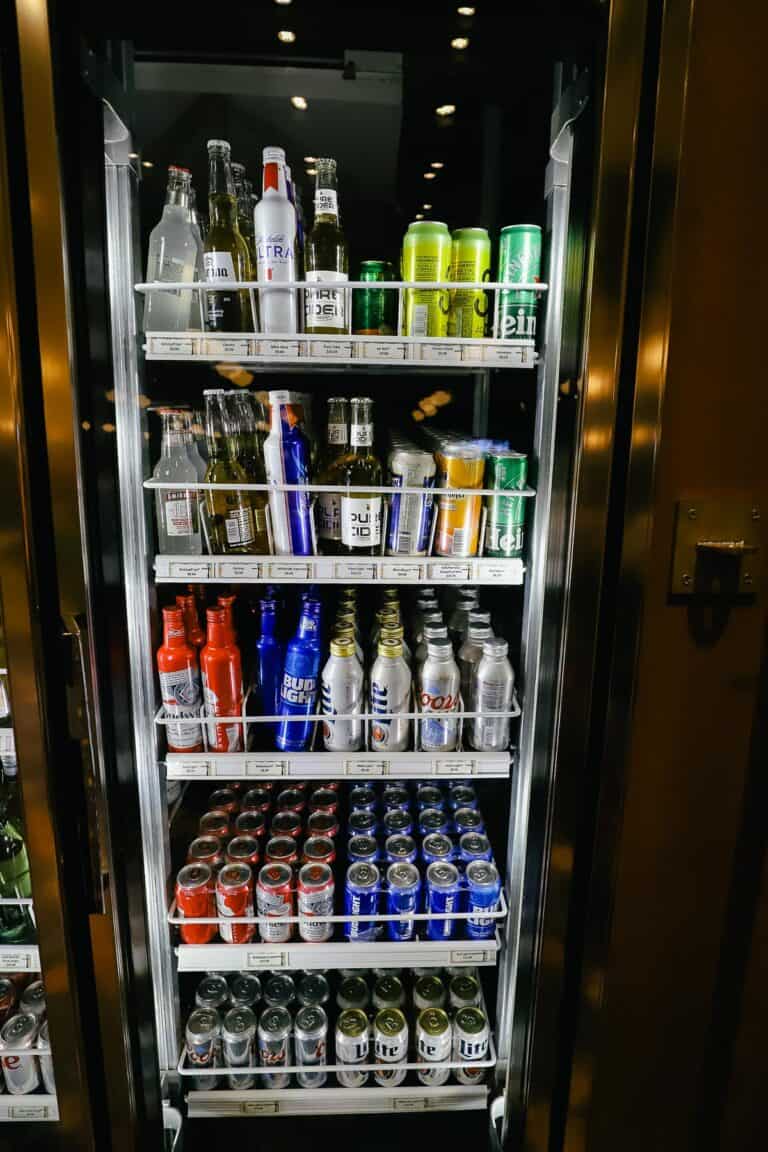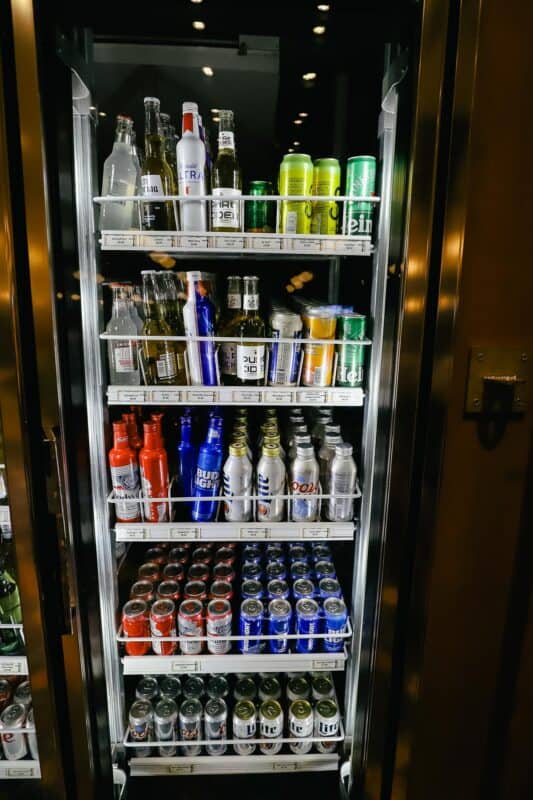 These two-liter sodas are a better value than the 20 oz drinks.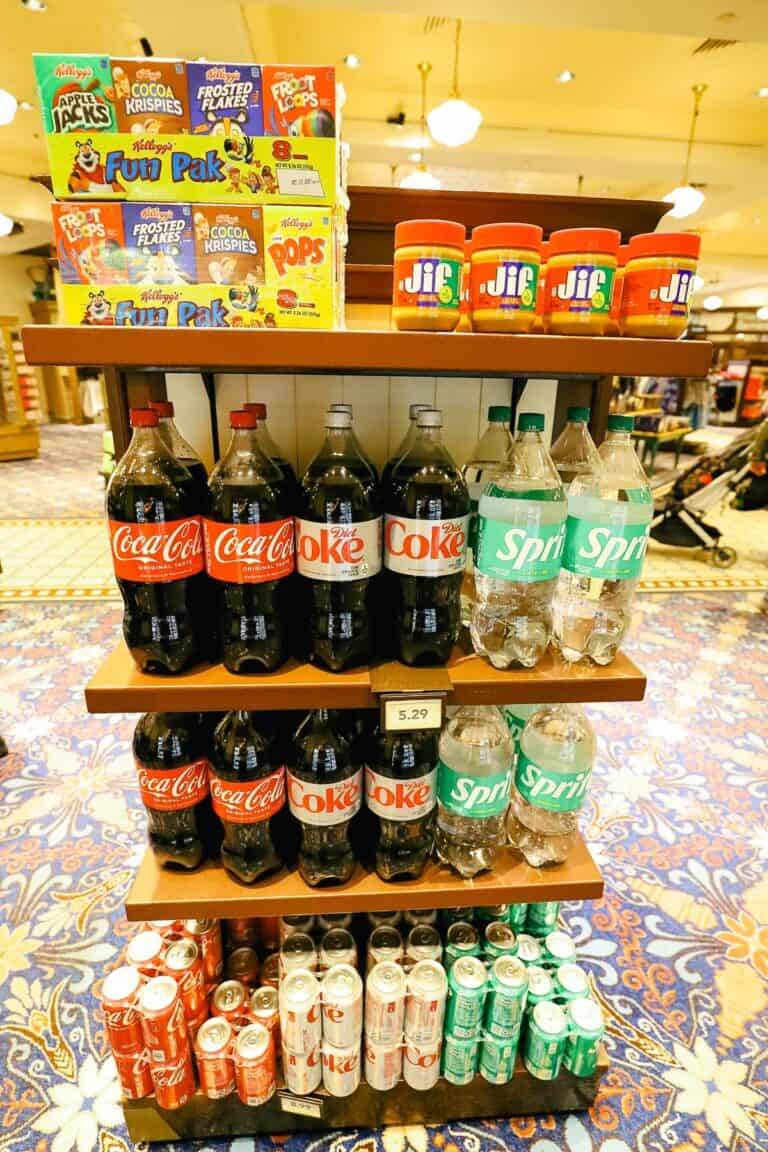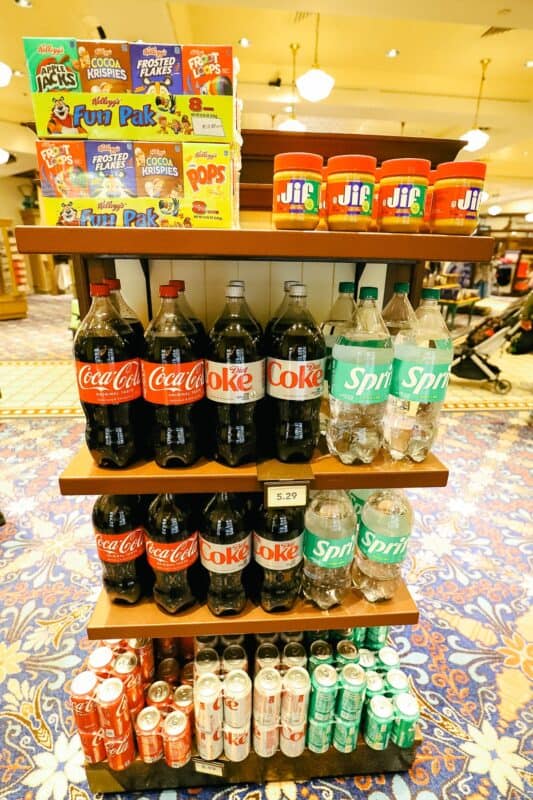 Chips and various dips are available.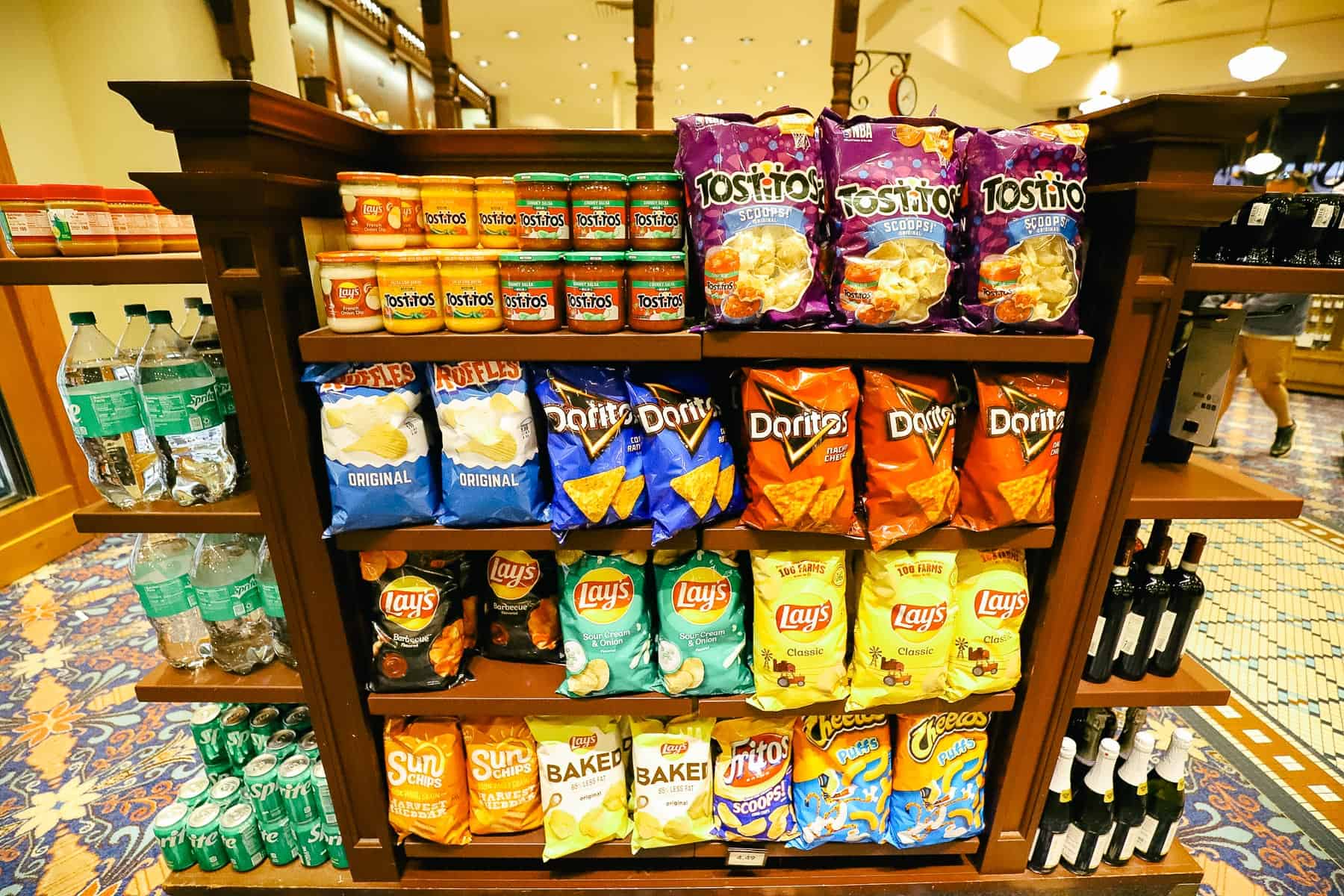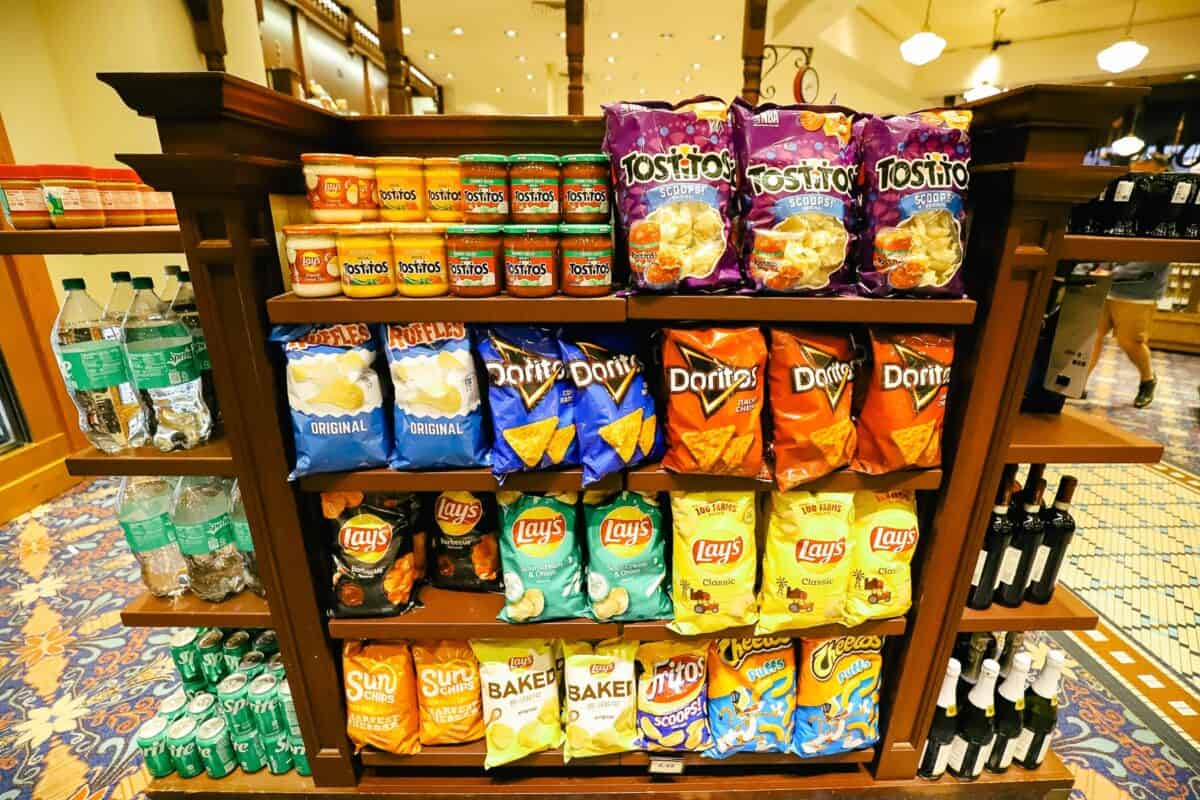 Here are a few more bottles and individual cups of wine.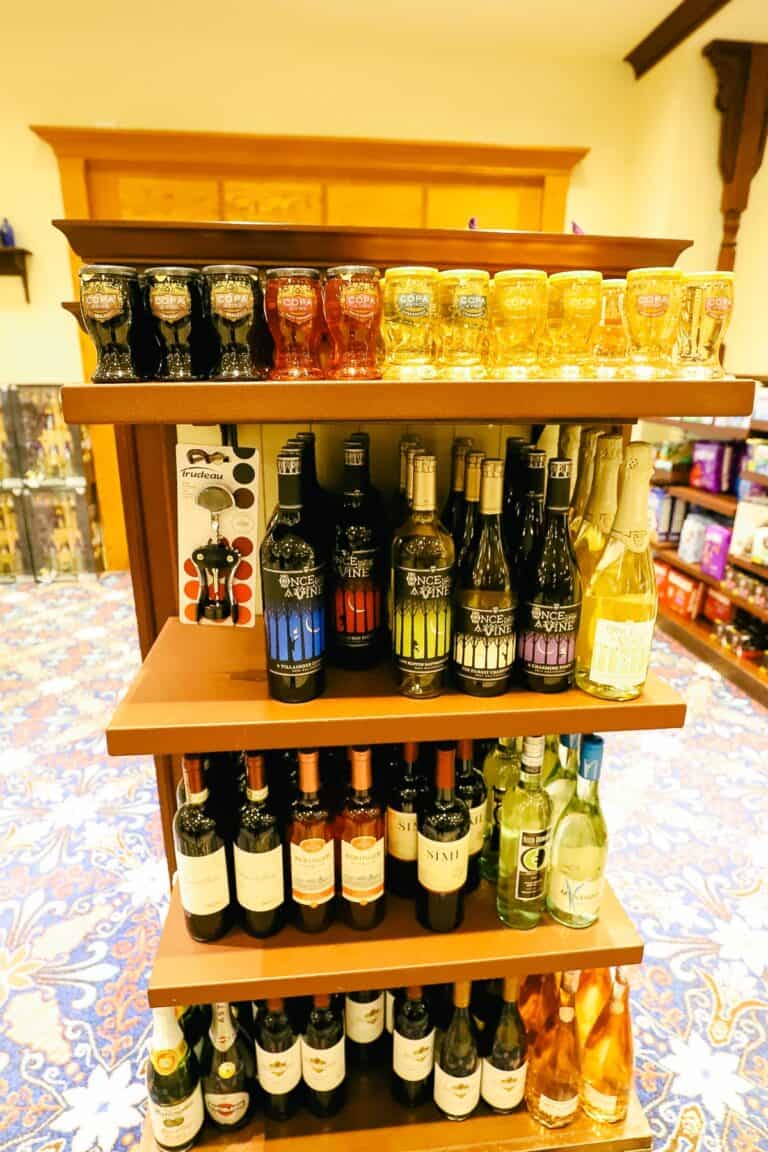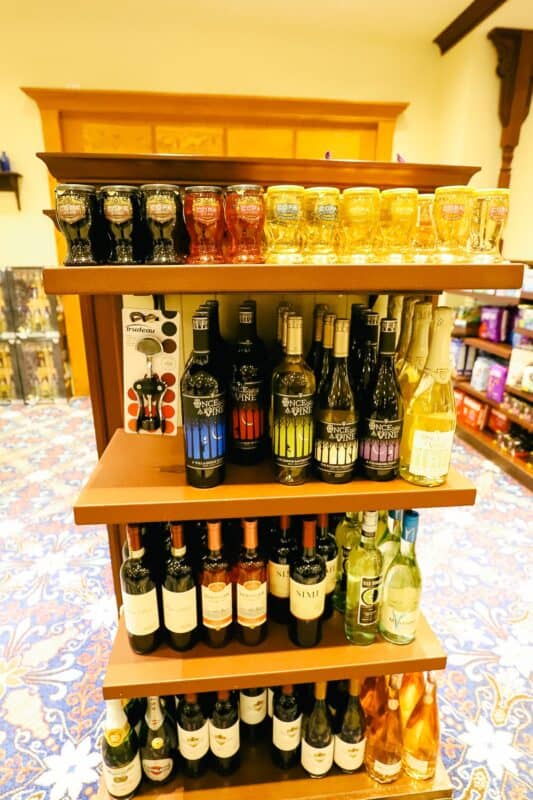 A case with various liquors and spirits sits behind one of the registers.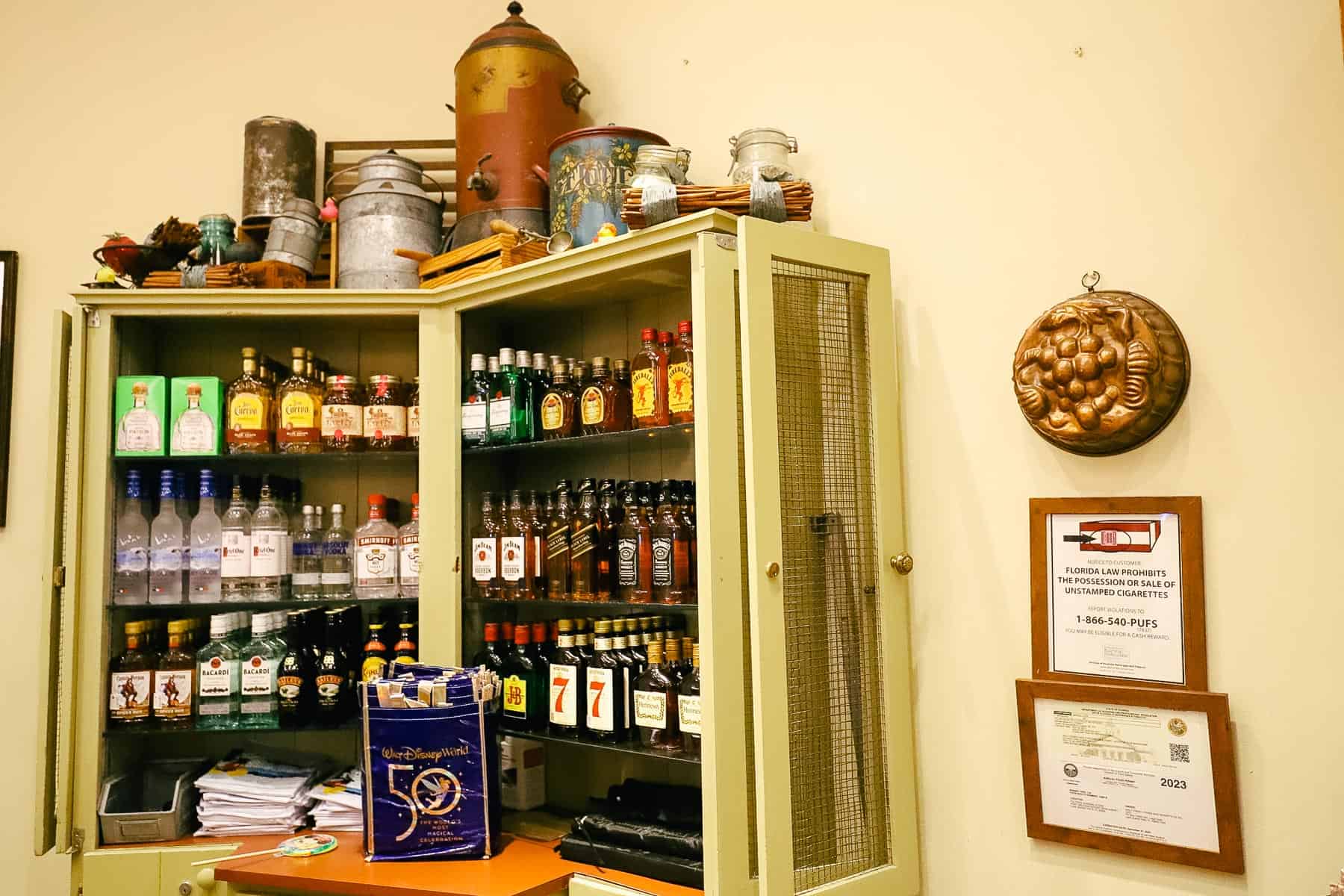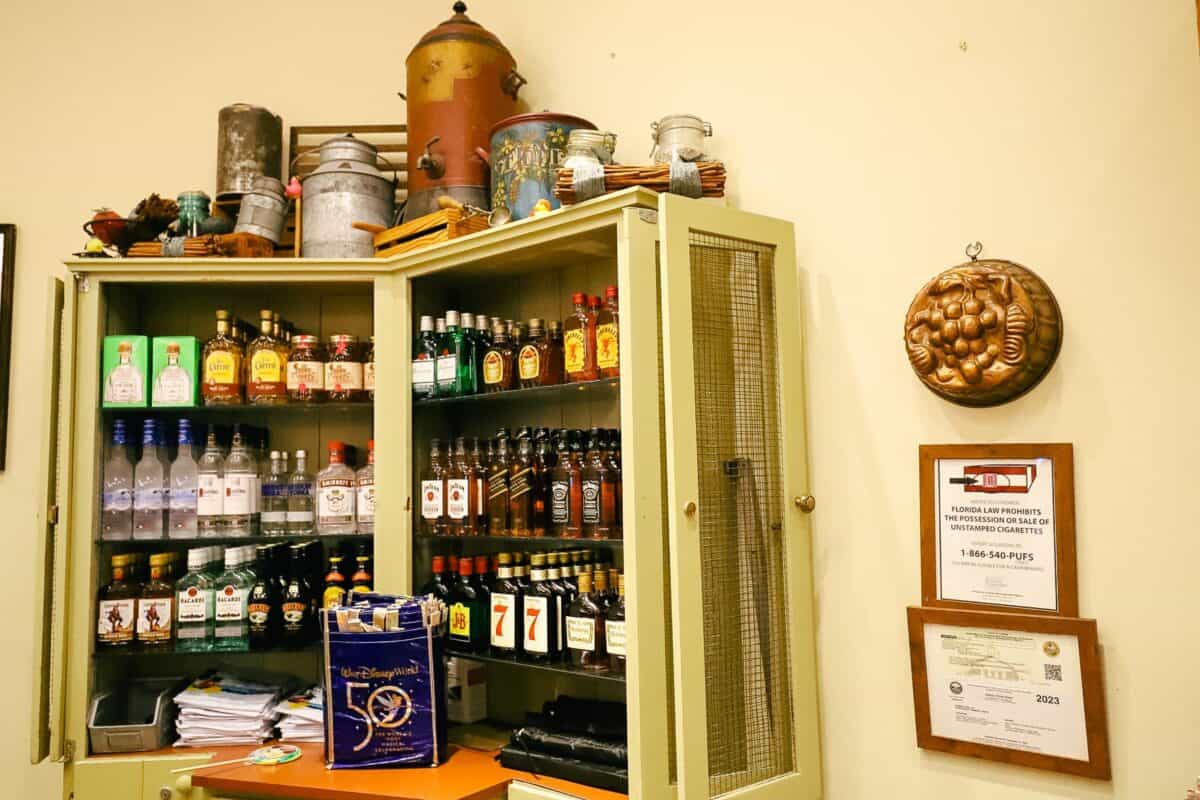 Lastly, there are several ice cream novelty treats available.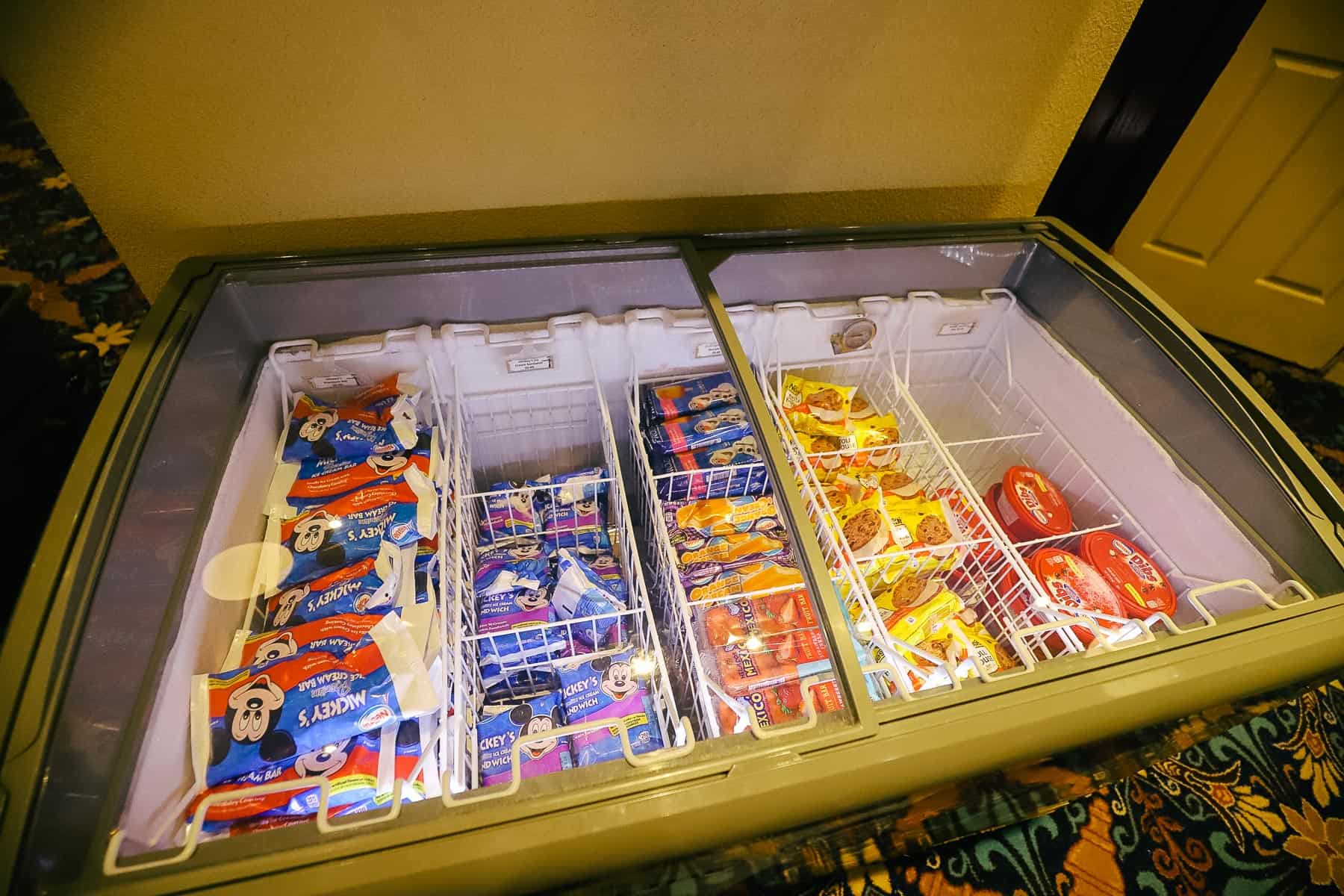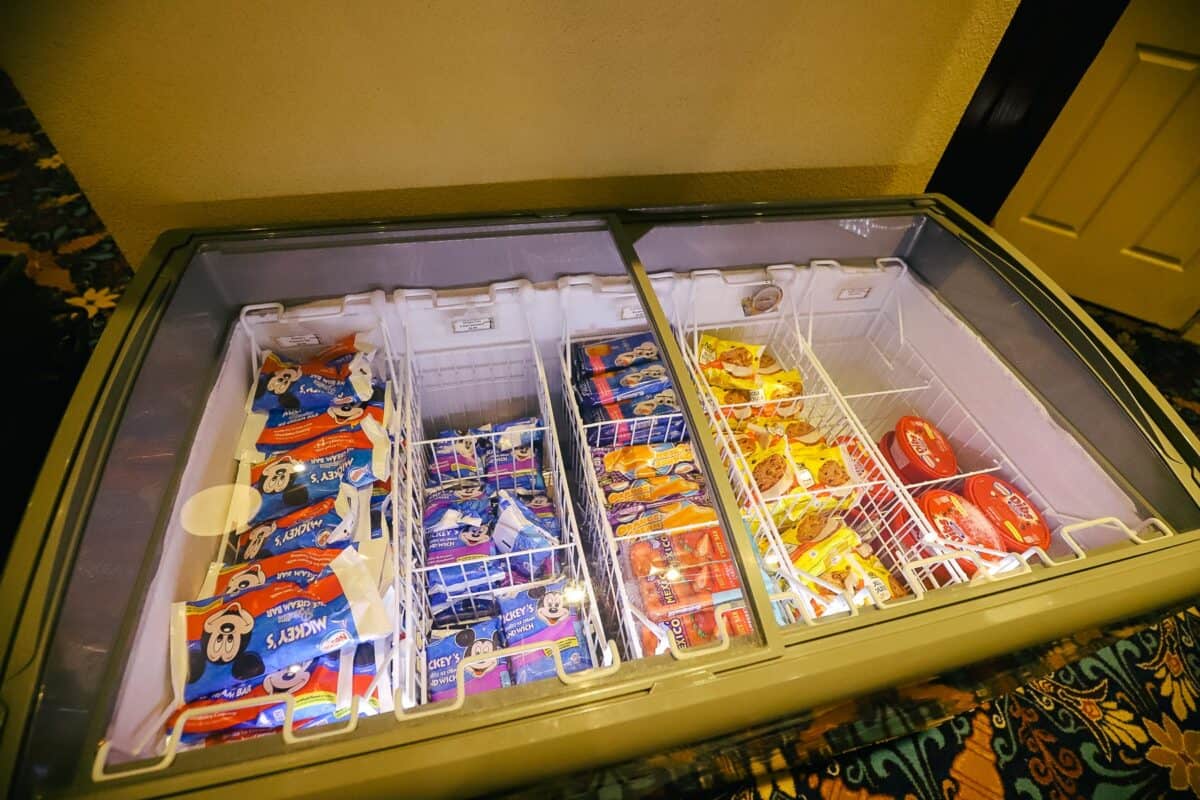 Hopefully, this article gave you a good idea of the items at Fulton's General Store at Disney's Port Orleans Riverside. For more information about the resort, you might like to browse our resort guide:
Or you might enjoy the following:
In the Comments
What do you think of the gift shop at Port Orleans Riverside? Do you love the charm of the theming at Fulton's General Store or prefer the minimal decor of the updated shops? Leave a comment below with your thoughts.