A Stay at Orange Lake Resort in Kissimmee, FL (Full Review)
Orange Lake Resort in Kissimmee, Florida, is an enormous property that's part of the Holiday Inn Vacation Club. We recently spent an entire week at Orange Lake and found it a family-friendly resort.
This Orange Lake Resort review will look at the recreation, dining, amenities, and accommodations. There are quite a few things you'll want to consider when planning a vacation here.
Orange Lake offers a variety of accommodations ranging from single-family homes (or villas) to studio rooms and suites.
This article was updated on April 7, 2022.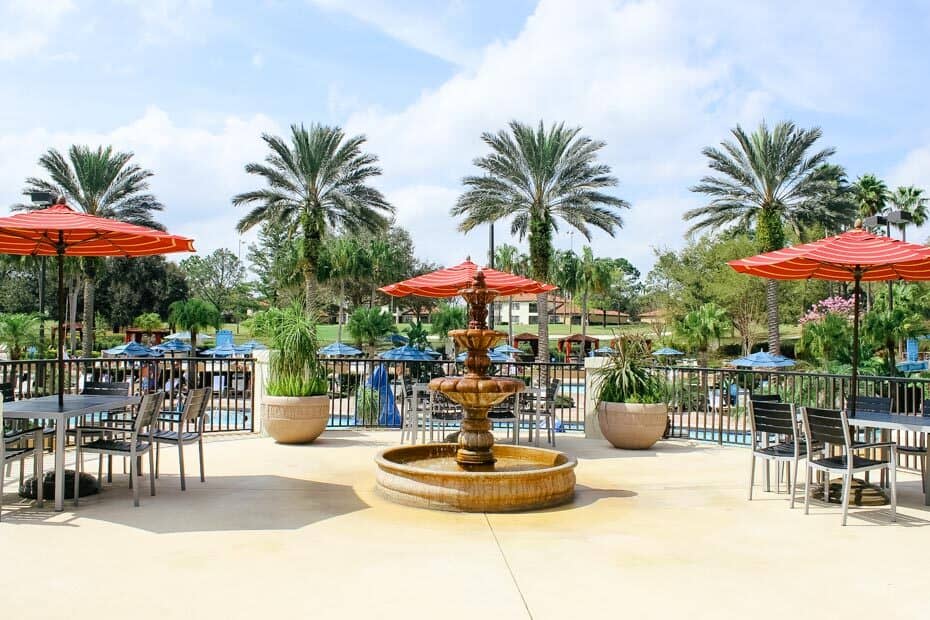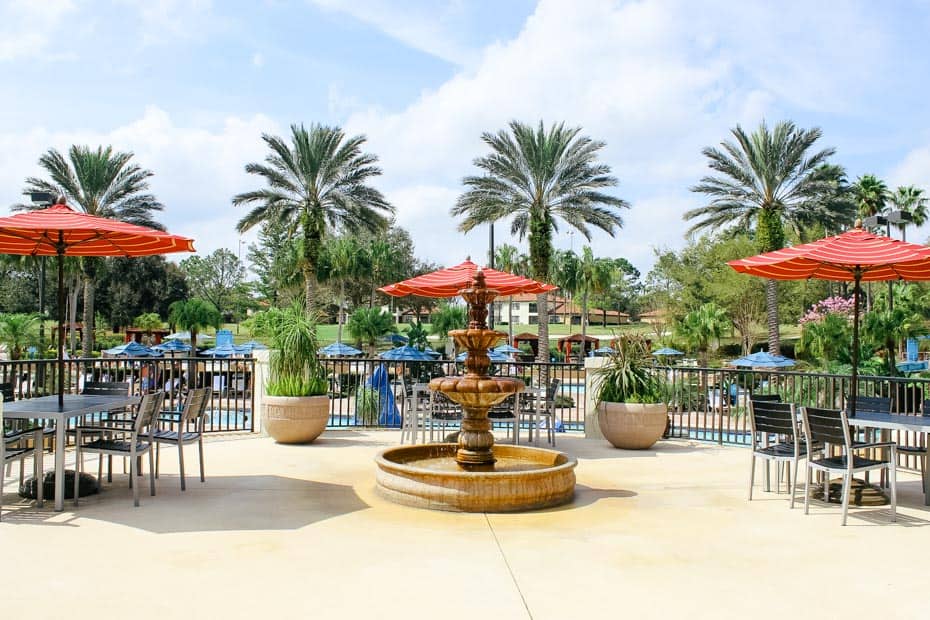 For starters, this was not my first rodeo at Orange Lake. This popular vacation destination first opened way back in 1982.
The resort quickly became "the off-property" place to go when you went on a Walt Disney World vacation. And the golf course was a bonus.
Since I grew up in a family that took vacations centered around golfing, my first trip to Disney World was spent at Orange Lake. I had no idea that tropical resorts like Disney's Polynesian even existed!
Related: Disney's Polynesian Resort Review
At the time, Orange Lake was located in a fairly rural area with a golf course amongst the orange groves. And there was an 80-acre lake.
Hence the name Orange Lake Resort. Today, the original portion of the resort remains reasonably similar on the exterior.
But how it has grown. The property comprises four different villages spread out on over 1400 acres! Sadly, there are no more orange groves.
And while my stay at the resort was enjoyable, there were a few negative aspects. But like every resort, there are always pros and cons.
As far as location, there are no complaints about Orange Lake. The proximity to the Disney parks is exceptionally convenient.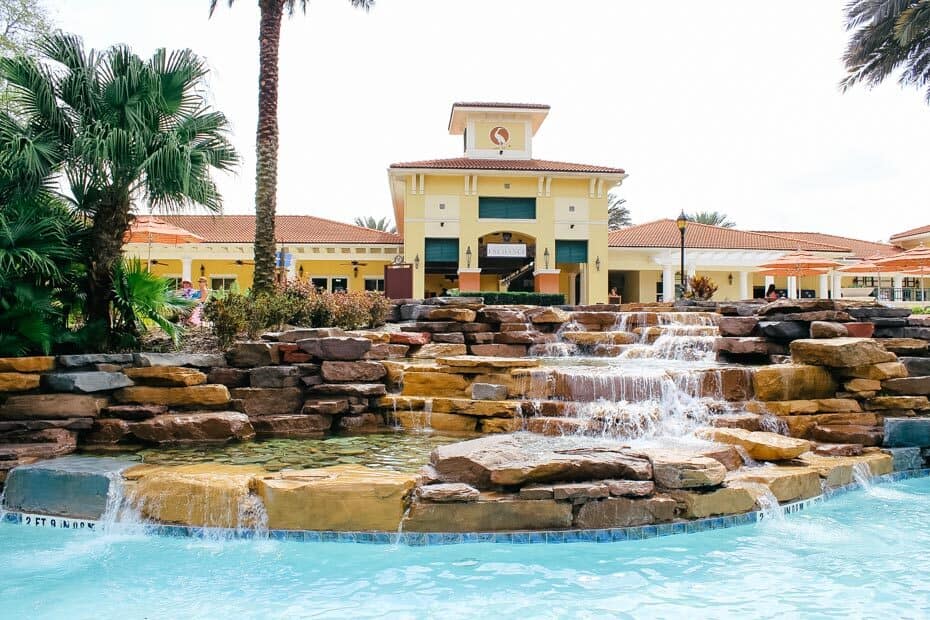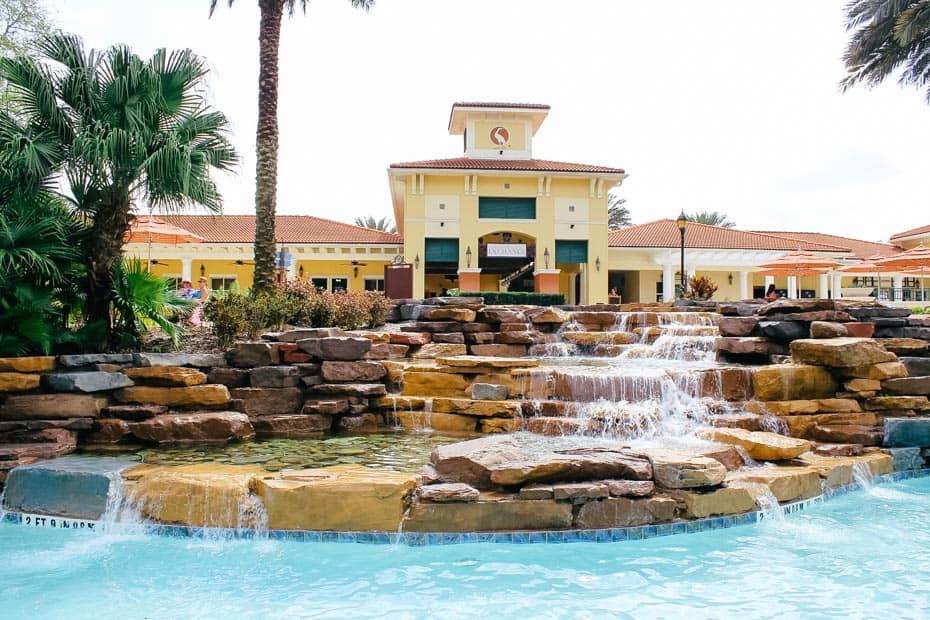 During my stay at Orange Lake, I spent time at each village, except for the East Village, which is the smallest area. Below we'll look at each village in detail.
Orange Lake Resort Review
Orange Lake's surrounding neighborhood has been on a transitional upswing over the past few years. I love this area and call it home when I'm in the Orlando area.
Yes, the area is right next door to Disney's Animal Kingdom, my neighbor.
Because I'm familiar with the area, I'll add some pointers for groceries, shopping, and recreation toward the bottom of this review. Everything you'll need is within a short drive.
Going into this stay, I was given a few leftover timeshare points from a family member to use at my discretion. I knew if Orange Lake had availability, it would be my top choice to start this "resorts near Disney" section of the site. Thankfully, it was.
You see, I drive past Orange Lake quite often. So, I'm used to seeing the cars lined up down Highway 192, trying to get into the resort around check-in time on the weekends. It's a popular place and has been for a long time.
I was placed in the West Village in a studio room for this stay. I have a separate article covering the studio room in detail, down to appliances, cutlery, and dinnerware.
Briefly, I want to touch on how the timeshare works at Holiday Inn Club Vacations. The hotel chain rents its properties to owners in exchange for points.
However, anyone can go online and reserve a room here. You don't have to be a timeshare member or pay with points.
You've likely stayed at a timeshare vacation rental in the past. If not, you will get the whole spiel at check-in. That's where someone offers you an incentive for a few hours of your time.
The salesperson will set up an appointment with you during the week.
These presentations are the ones where they pump you full of all the amenities you can have for a meager price if you buy that day. And trust me, these people are trained in the art of making hard-to-turn down offers.
From my experience, there are two types of timeshare owners. The ones pleased with their membership, use it, and even sell points to others. And some have no idea what they are getting into and never learn to use the points to their advantage.
Before arrival, be prepared to accept their incentive or firmly turn it down graciously. My response is, "I understand, but my family vacation time is precious to me, and I do not have time for anything else." Any other pushes, "No, thank you."
It is annoying, but at the same time, I get that these people are just doing their job. And some highly praise their vacation club memberships and use them to vacation more.
I always try to mention these things so you are aware upfront. Then you know how to handle it. Don't let a pushy salesperson start your vacation off on the wrong foot whatever you do.
It is so frustrating to get bombarded with these things when you are tired and YOU JUST WANT TO GO TO YOUR ROOM!
Maybe I should take my advice?
While we are on the subject of the check-in process, it's probably a good time to mention that this is the main issue I had at Orange Lake. When I arrived at the resort, many people were parked outside the main lobby waiting to check-in.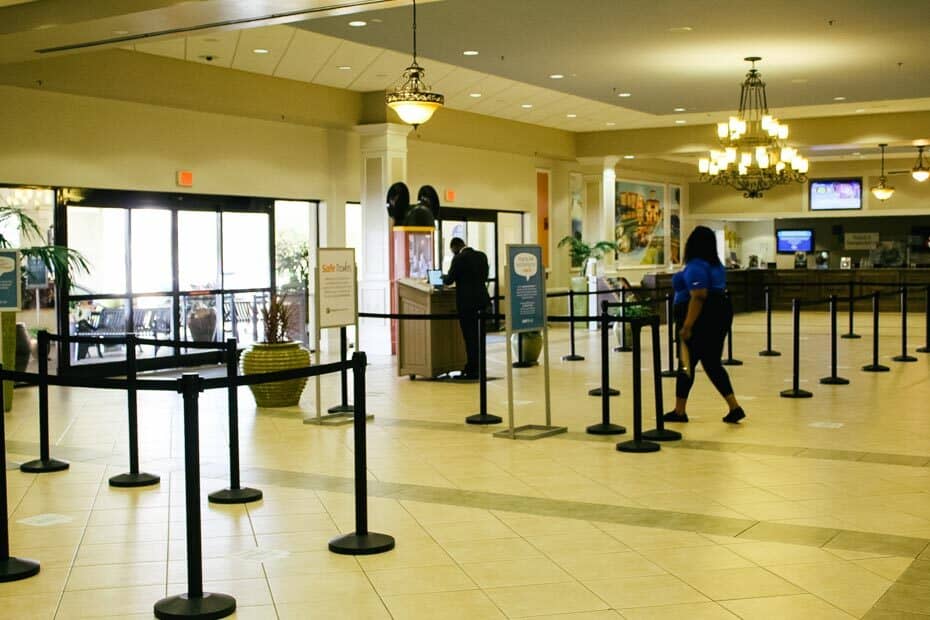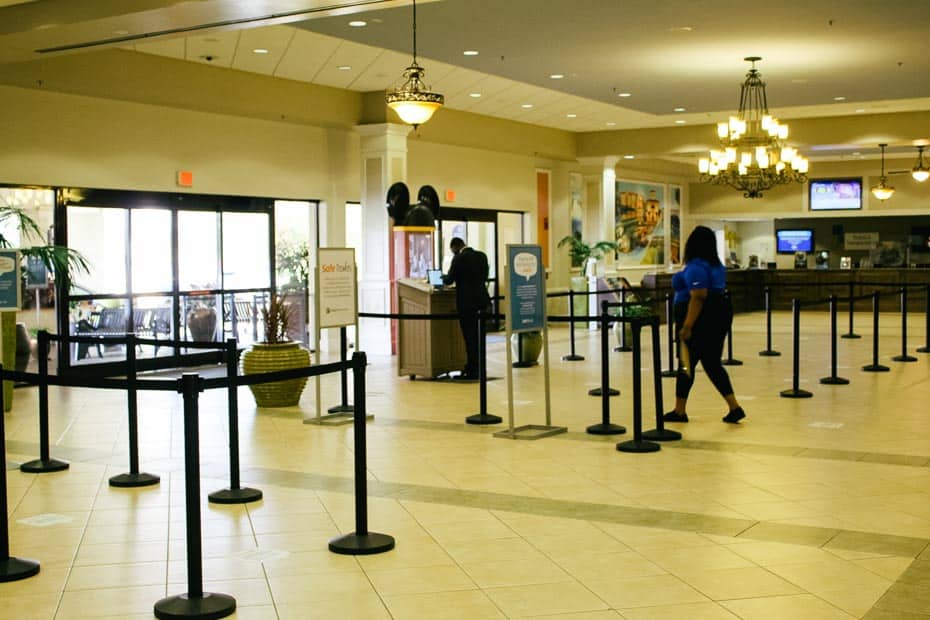 I understand that we have recently gone through uncertain times, and precautions should be in place to protect everyone. However, if I pay to access a room starting at 4:00 p.m., it's challenging to wait another 45 minutes to access that room. For reference, I arrived at 7:00 p.m.
Maybe I've been spoiled by Disney's text-to-room options over the years. However, it seems like an established resort like Orange Lake could develop a more accommodating way to get guests settled in their rooms.
I was past the point of frustration when I received my check-in text. All I could think was that surely all the people sitting outside in the heat, in their cars, must feel similar to me.
It was so aggravating that I made a mental note to pay attention and see if it was like this every evening during my stay. Thankfully, Friday and Saturday evenings appeared to be the only times these occurrences happened.
So, I assume that has to do with the bulk amount of guests coming and going on timeshare schedules.
Other than that, I only had one other issue with the resort. You'll begin to pick up on it pretty quickly as we look closer at the villages. Thankfully, there are many positives to cover as well.
West Village
When you turn off HWY 192 onto Orange Lake Blvd, you'll be greeted by a guard at the security gate. After the initial check-in, you'll have a card to use to get in and out of the guest gate.
If you end up toward the back of the resort, there's an additional entrance that practically adjoins a Publix parking lot.
All guests will visit the West Village's main lobby for check-in. Depending on what you reserved, you will be assigned a room, condo, or single-family home.
After being at the resort for a few days, it became clear that the sought-after village is River Island. A stay at River Island is considered an upgrade among many timeshare guests.
As for West Village, they have a decent-sized convenience store that sits in a building to the right of the lobby. The main restaurant is Breezes Restaurant and Bar, which sits by the pool.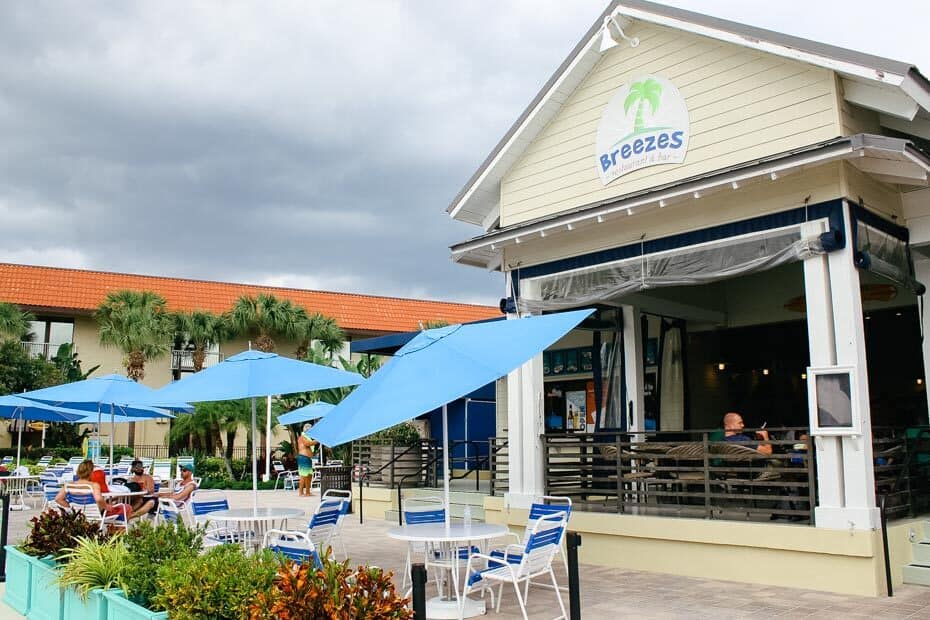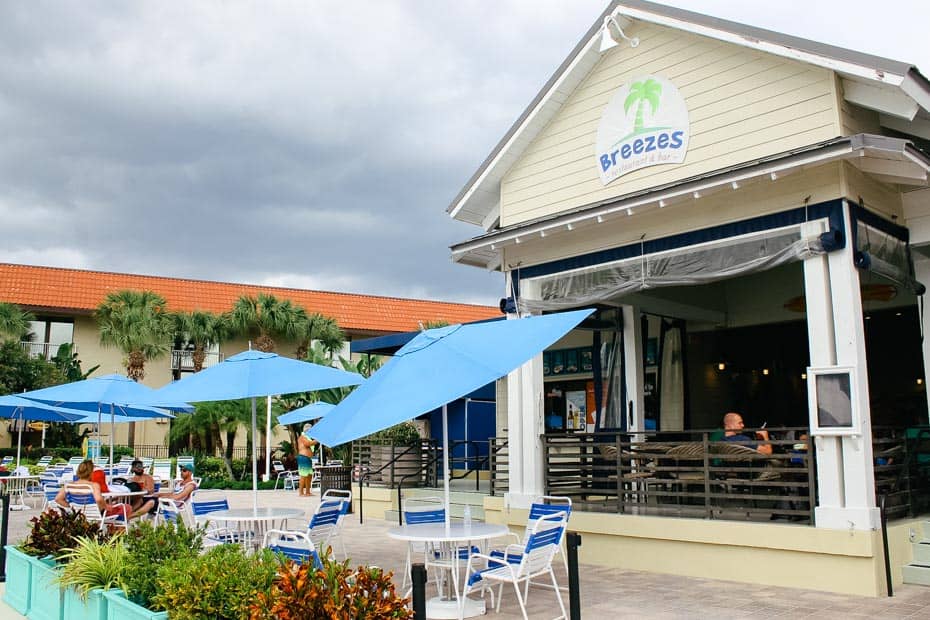 Breeze's appeared to be a popular stop. However, I did not participate in any of the resort's dining options during my stay. My idea going into this was to visit as a guest going back and forth to the theme parks and seeing how it worked.
Most mornings, I prepared breakfast in my room except for having pancakes at Riviera's Primo Piatto one day. I ate lunch daily at Disney.
Then in the evenings, I usually left the parks around 8:00 p.m. and either picked up local fast food or prepared a meal in my room each evening.
This routine worked well for my budget. I can see how families could save a tremendous amount on dining expenses going this route.
When I get my room review up, I'll add a few tips for cooking while on vacation. I am truly a pro at these kinds of things.
Related: West Village Studio Rooms at Orange Lake
As for West Village, you'll have access to two different pools. The main pool is large, with a sizable zero-entry area.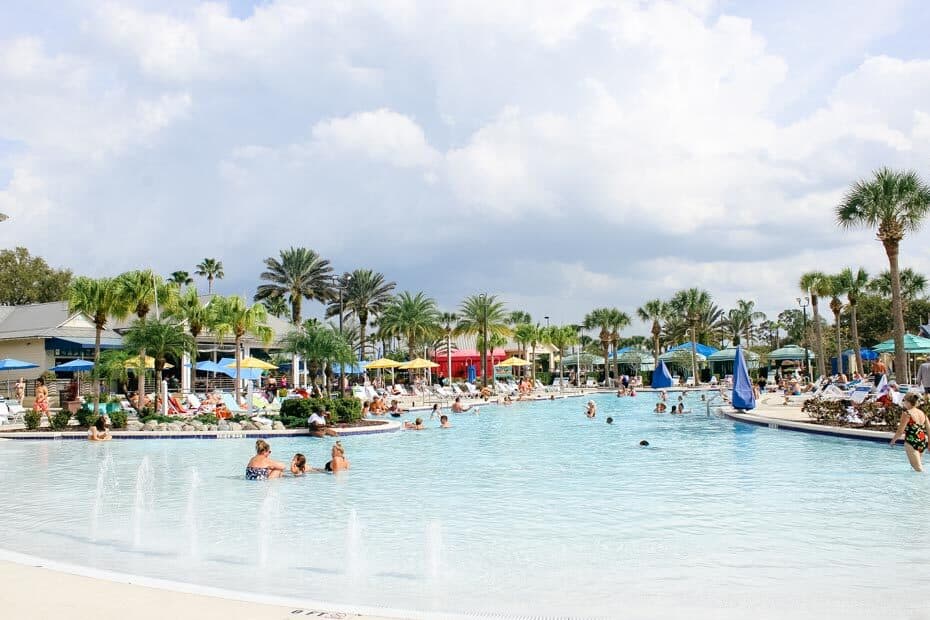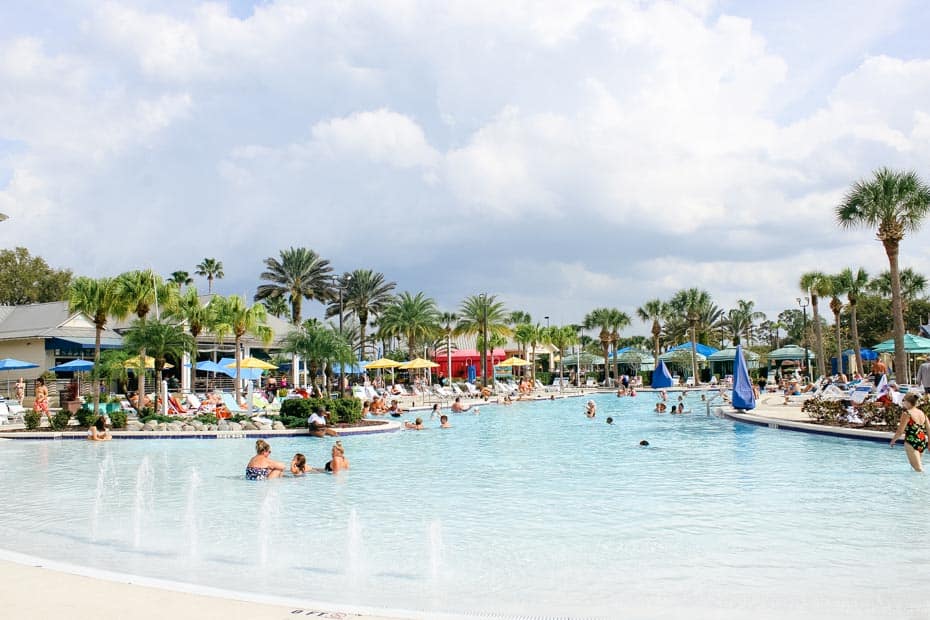 The second swimming pool sits adjacent and is considered a quiet pool.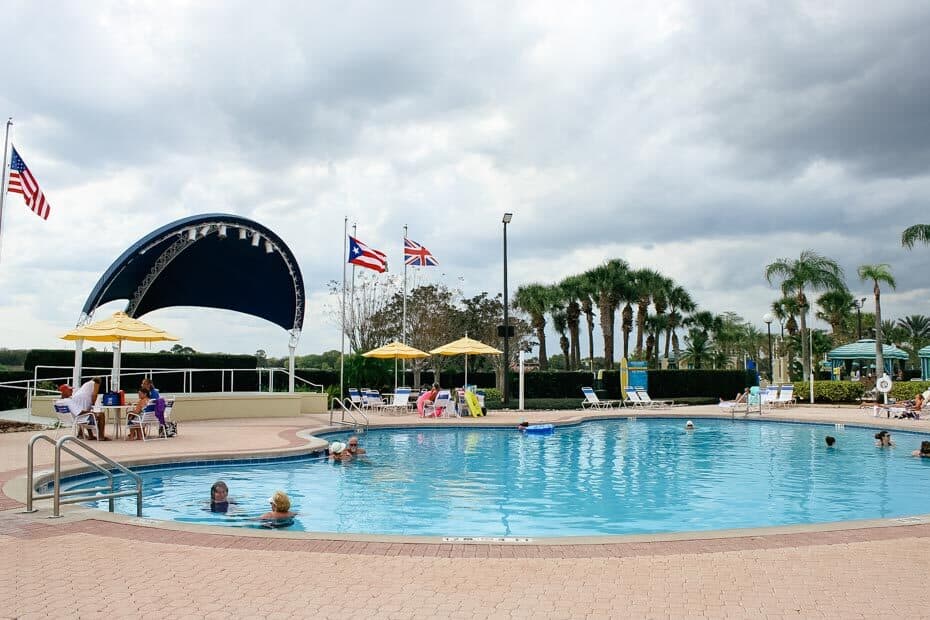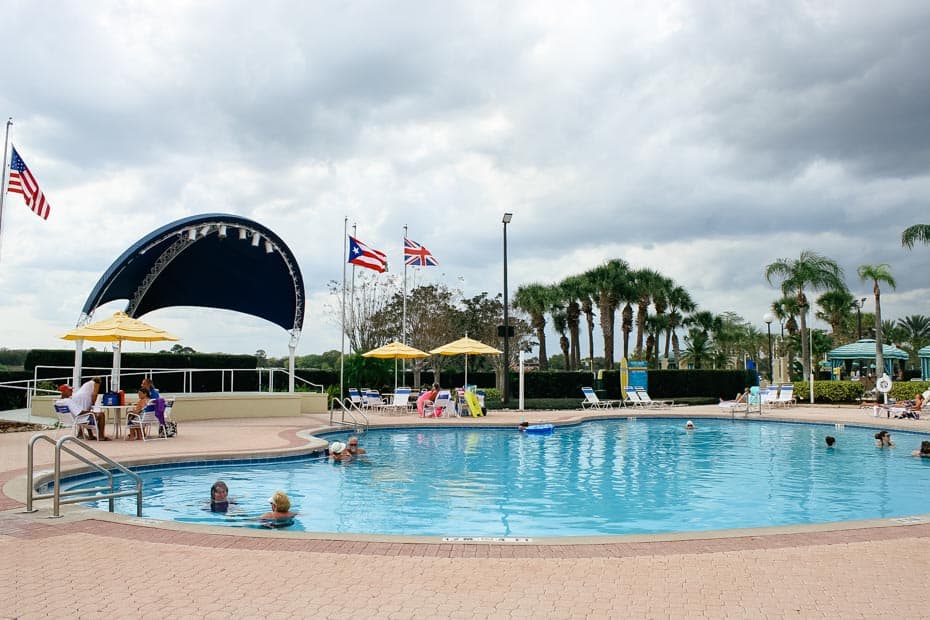 There is a large fitness center on the ground level of the central West Village building.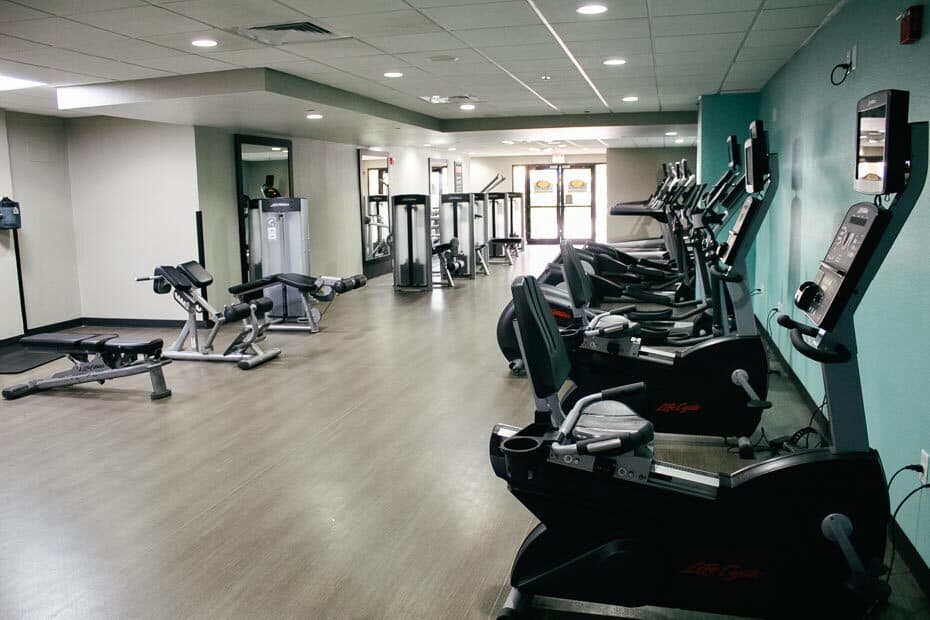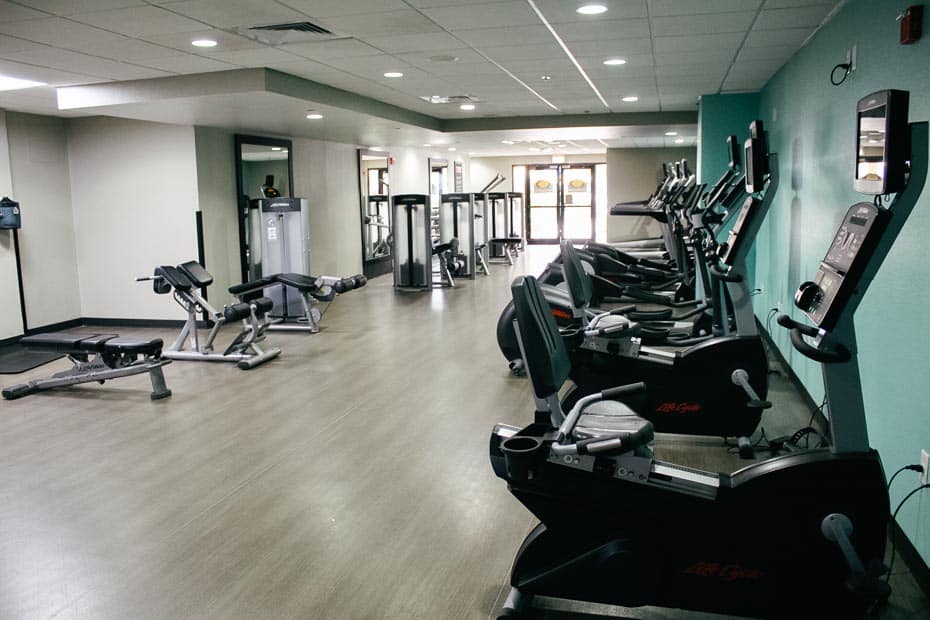 It had plenty of aerobics machines, free weights, and anything else you could want for a workout.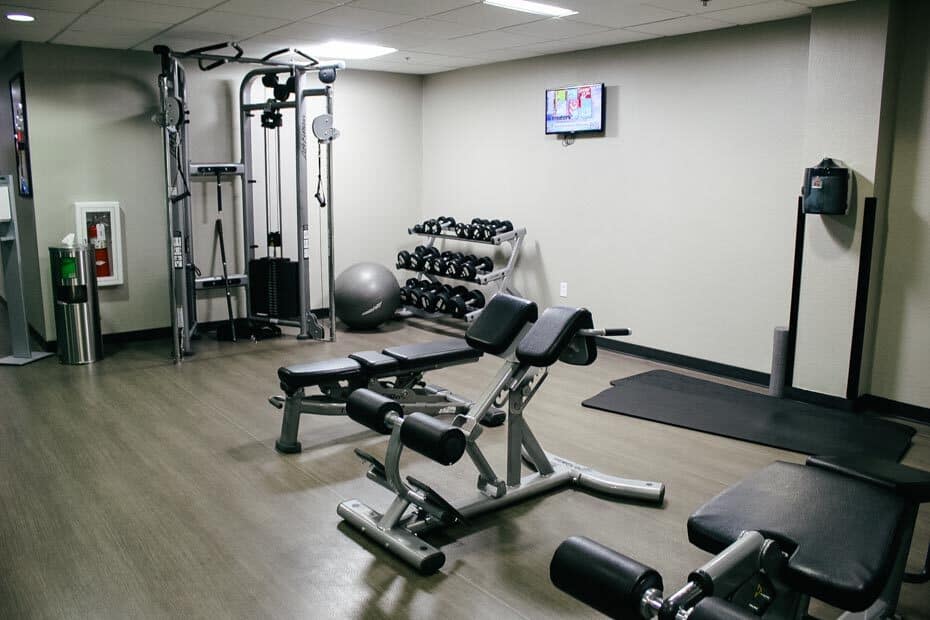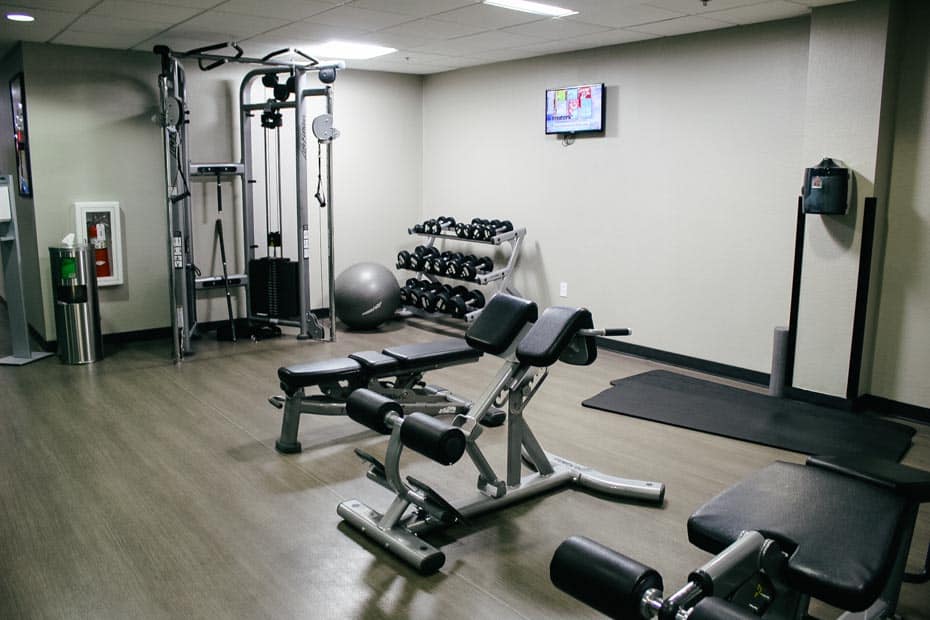 Swampy's Adventure Club was not available on my trip, but it looked like a fun kid's program. However, from my understanding, Swampy's is not a drop your kid off service. A sign indicated an adult must accompany children at all times.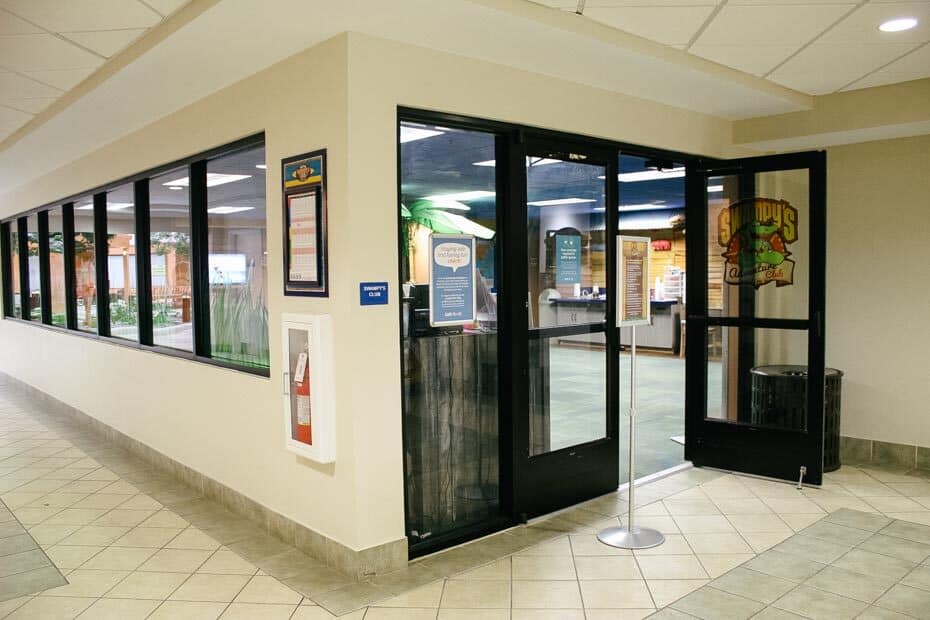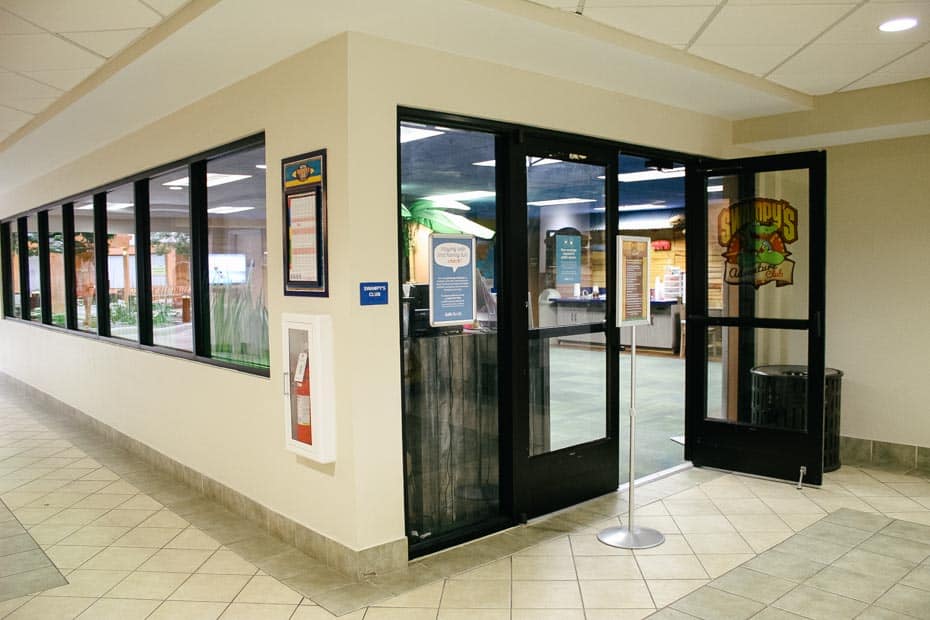 An arcade was available.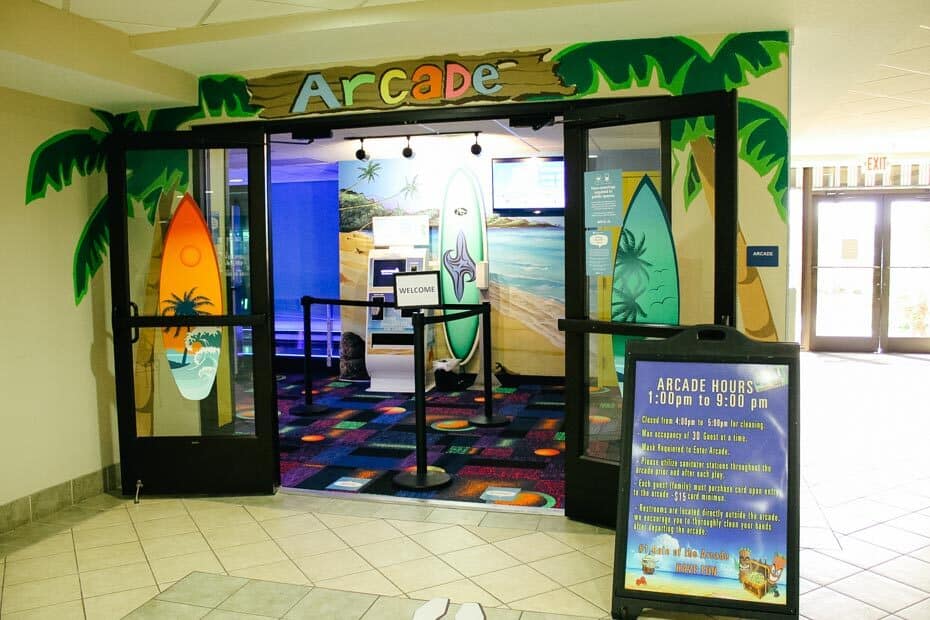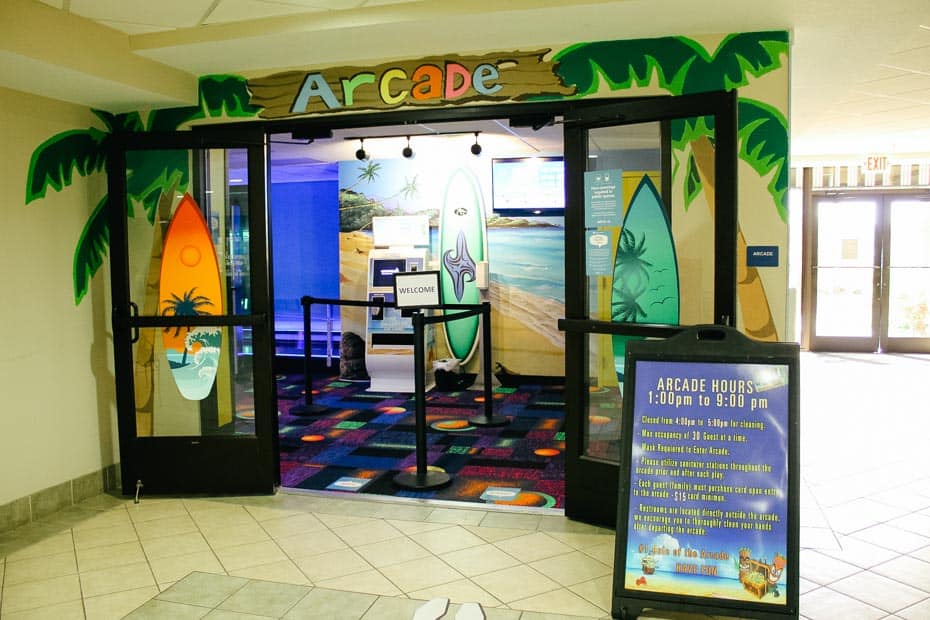 Putt-putt golf is a big deal at Orange Lake. There are several different courses available for an extra cost.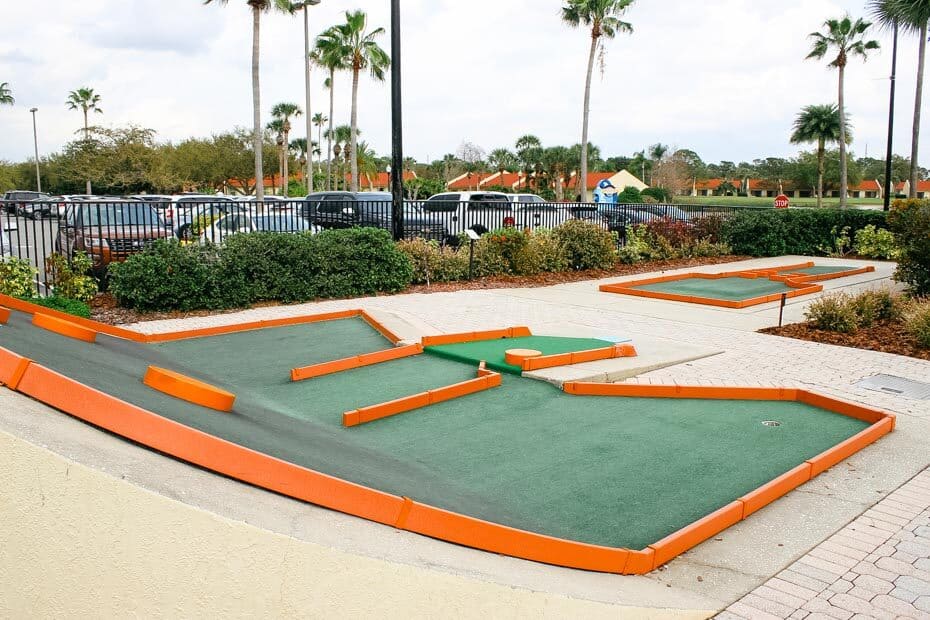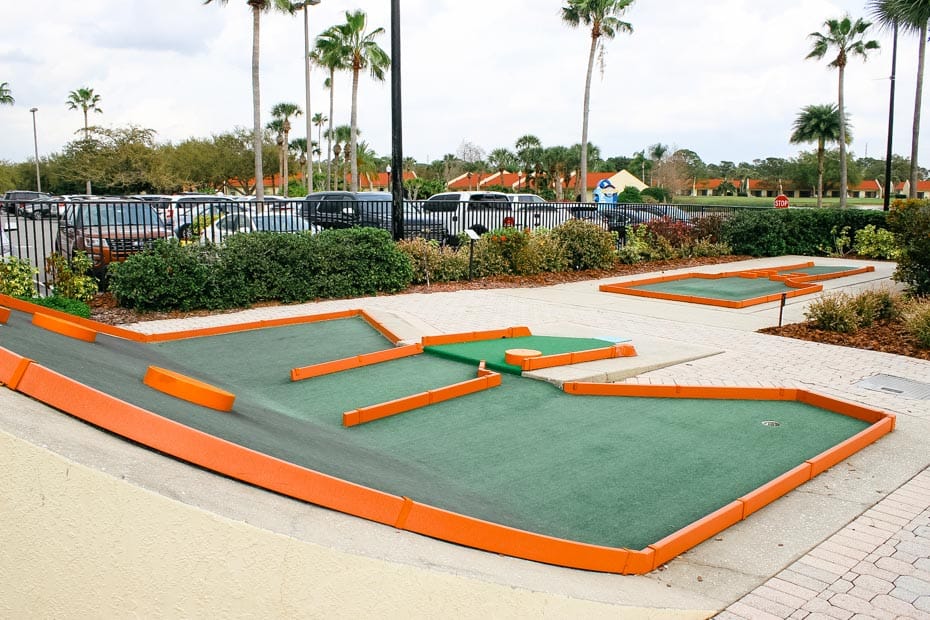 At check-in, I received a handout with several packages available for purchase that offered upgraded amenities. There was a 3-day play pass that included tube rental, Island golf, putt-putt golf, a rock-climbing wall, and access to The Hippo waterslide.
I don't have any pictures of The Hippo waterslide because it was under refurbishment during my trip.
For three days, it was $42.95, which sounded outrageous to me. That was per person. The Island golf mentioned above is a 36 hole mini-golf course.
As a person who usually wins at putt-putt golf, I did check out the courses. They seemed very dated.
Especially considering there's a Bonanza putt-putt golf course right up the street. You can get 36 holes with a trip to the buffet at Cici's Pizza for like $17.95 per person if you go there. You can read more about that here. (I would probably just go for a round of golf.)
Anyway, this area of Orange Lake was beautiful. The large lake has a white sand beach for guests to use at their leisure.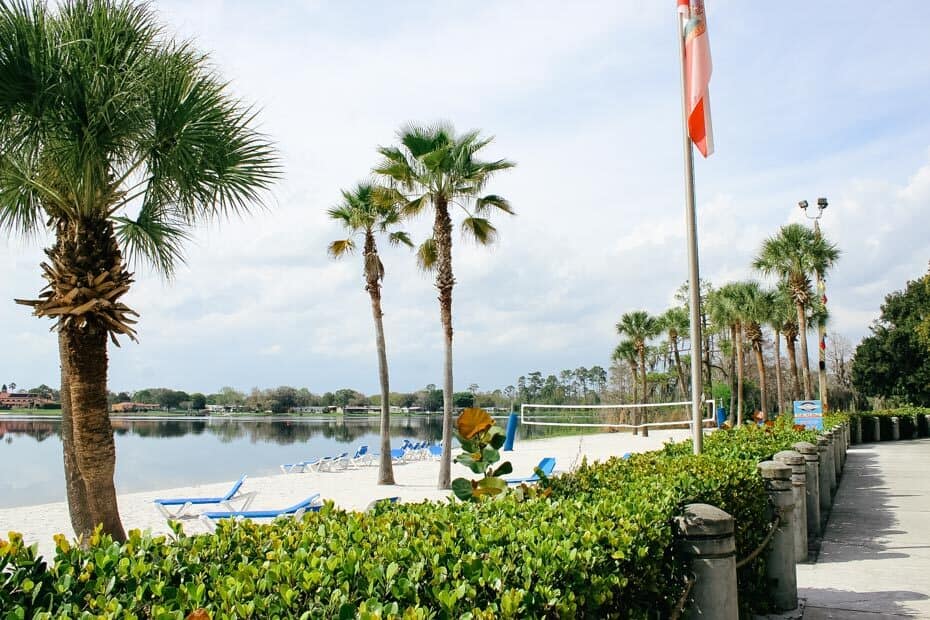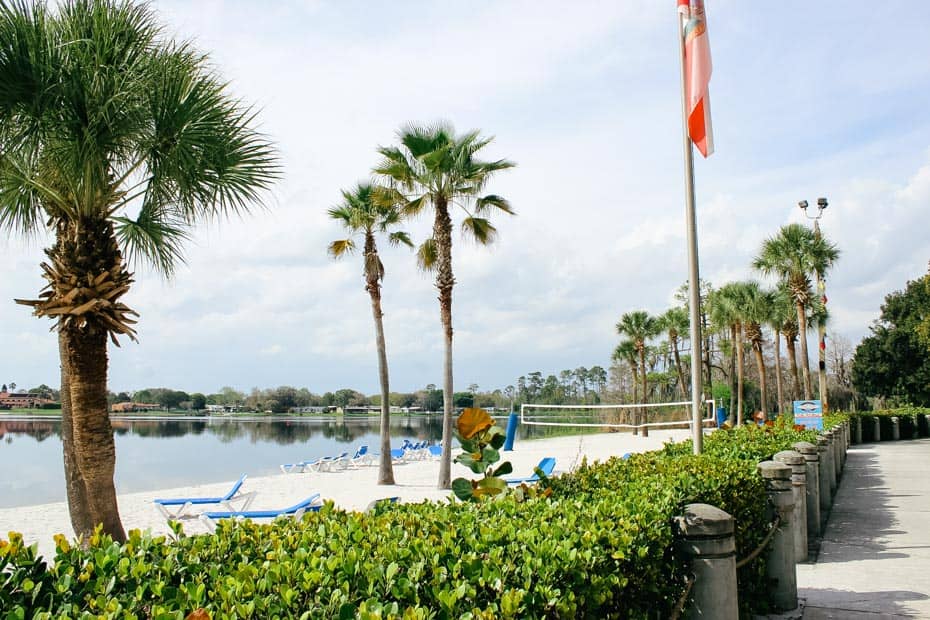 Beach volleyball is available. While I didn't get a picture, there was a tennis court and several basketball courts toward the front right side of this village.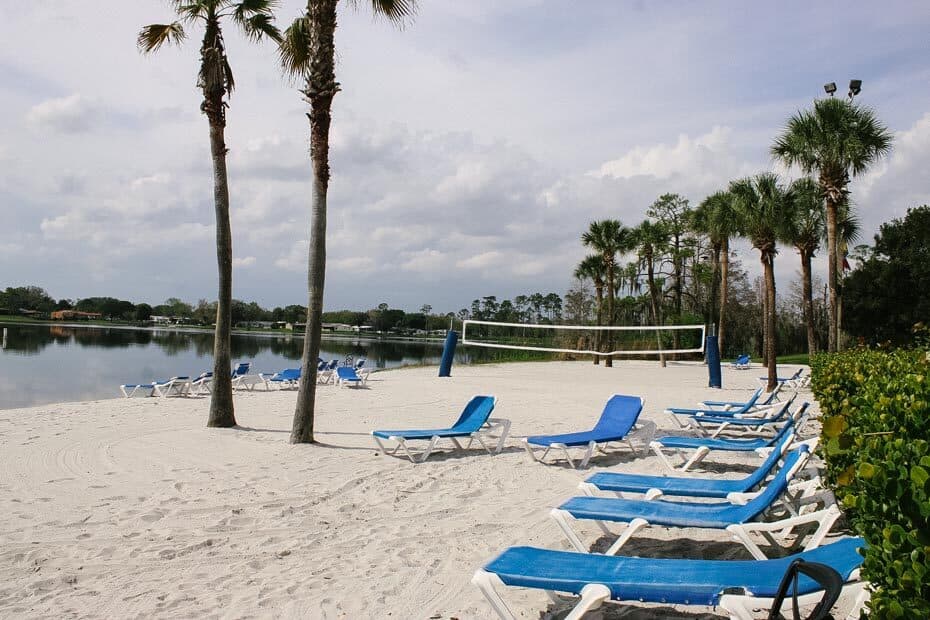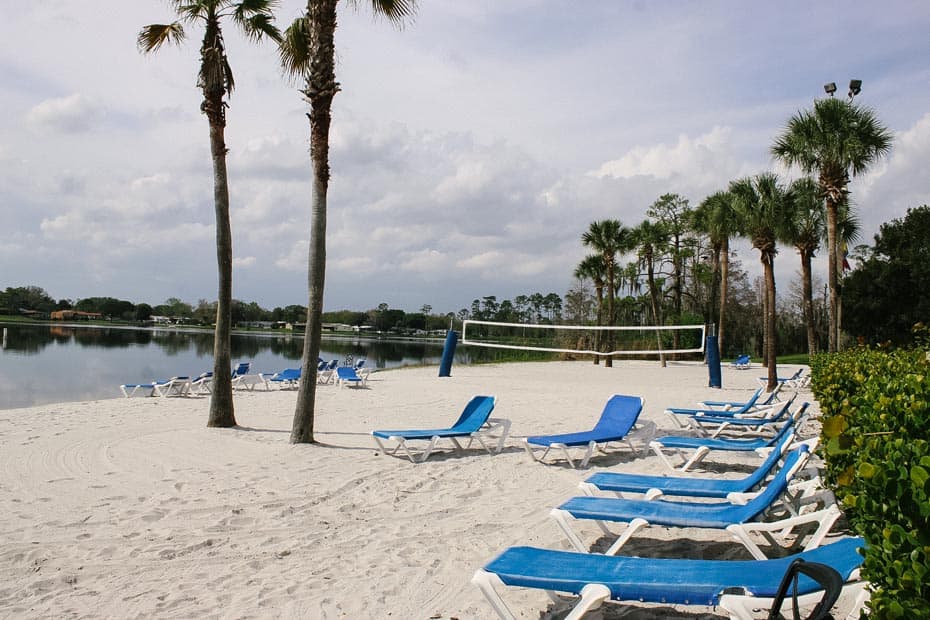 Watersport rentals were available. Those swan boats were reminiscent of the nearby Swan and Dolphin Hotel.
Related: Swan and Dolphin Hotel Review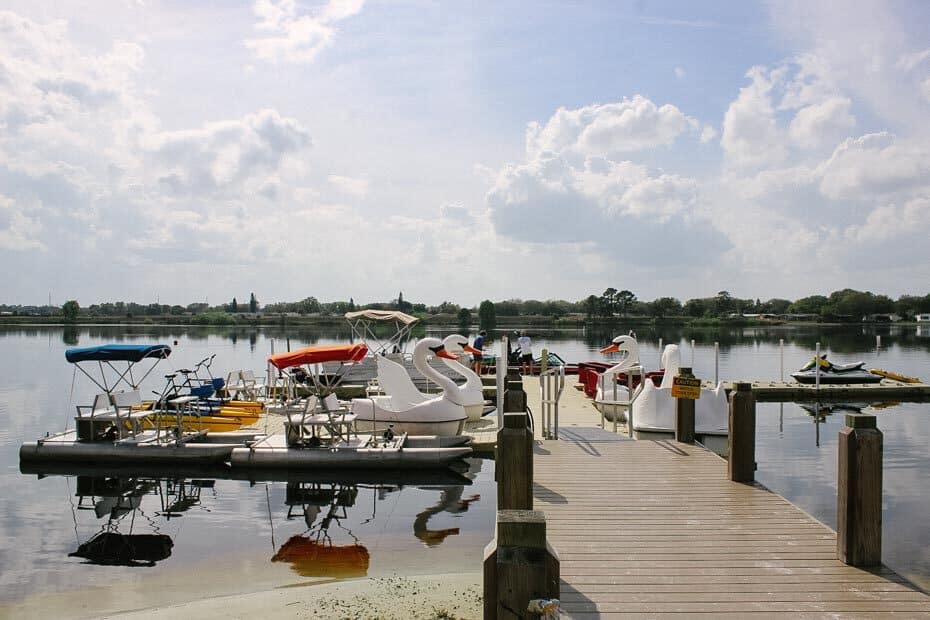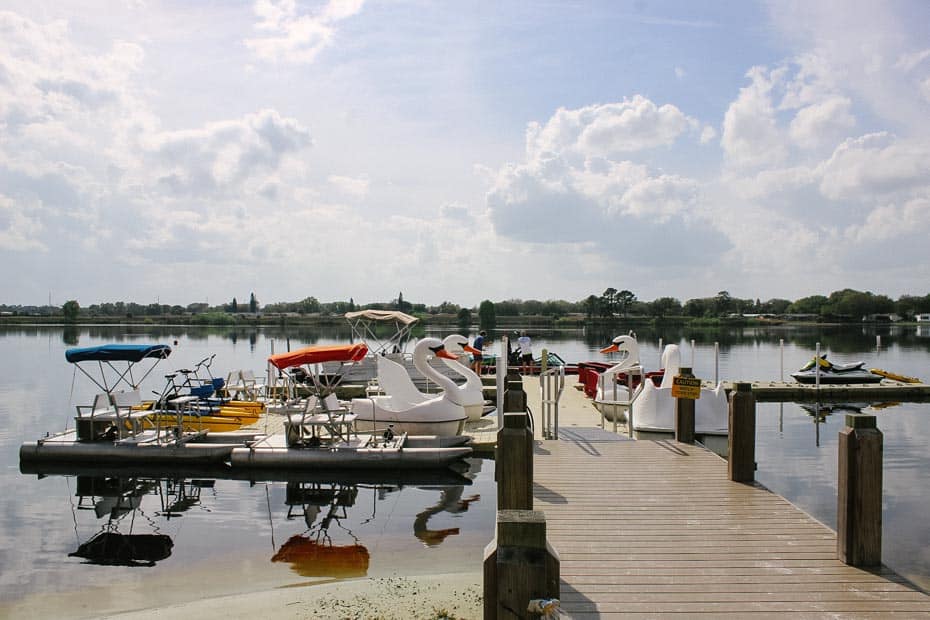 A cute sundries shop out by the pool had plenty of swimwear and whatnots you might have forgotten to bring.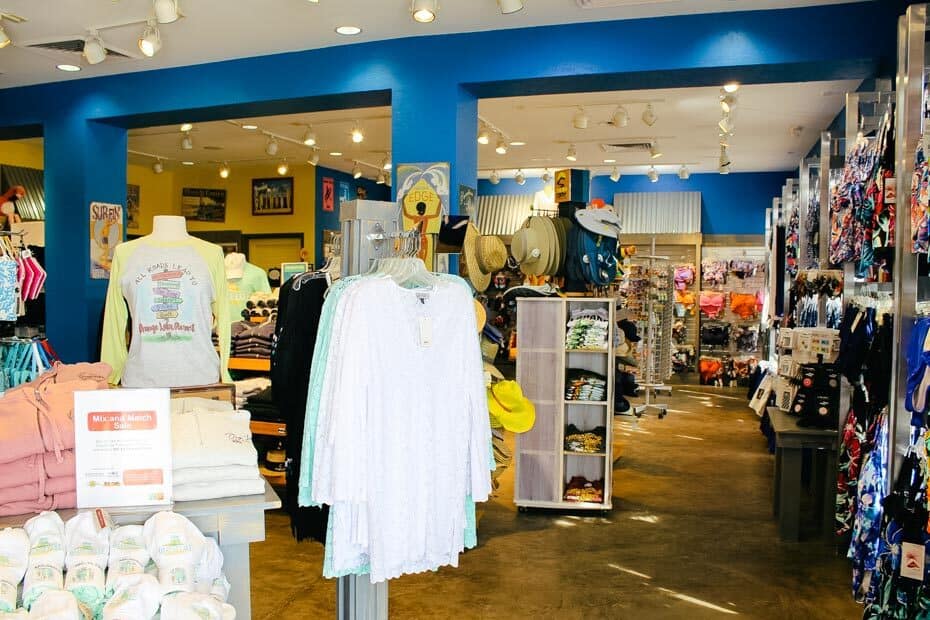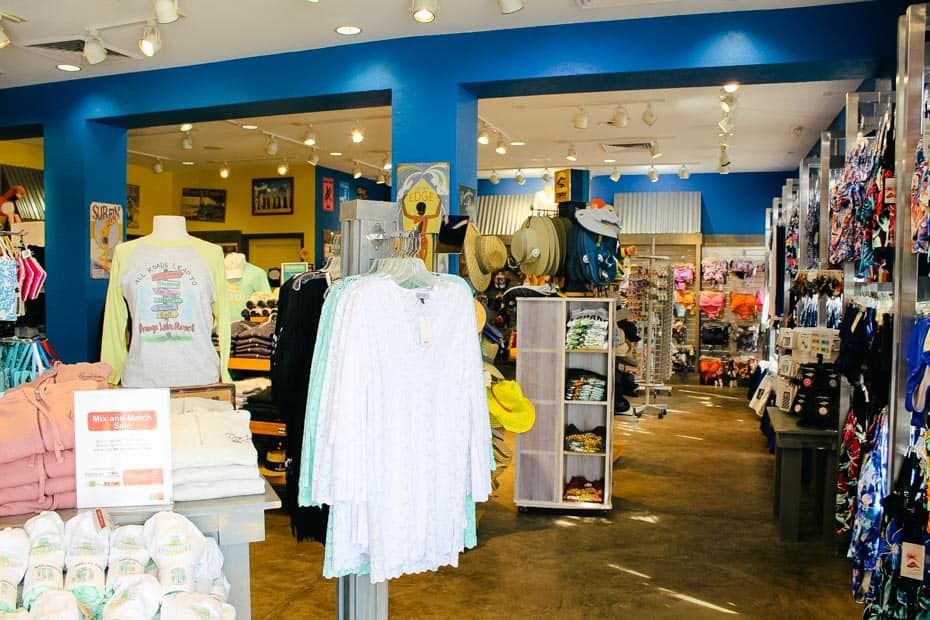 Cabanas are available to rent. There is no shortage of add-ons at Orange Lake.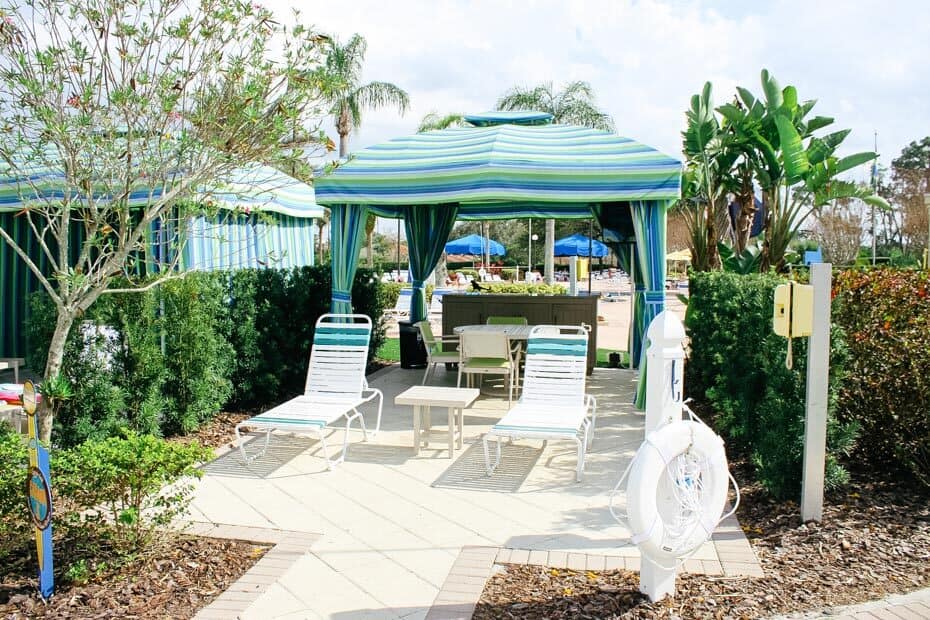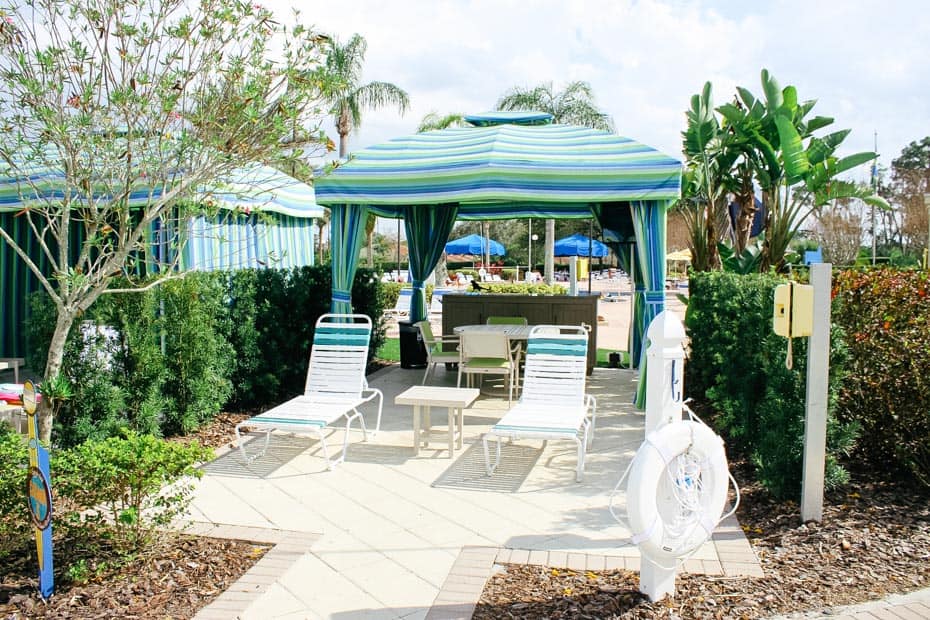 There's even a shuffleboard court.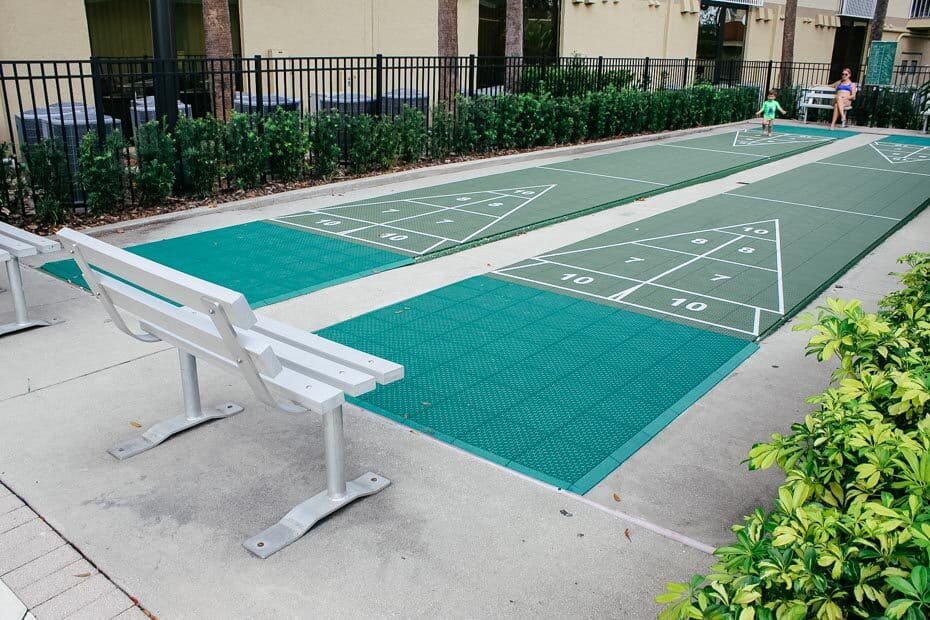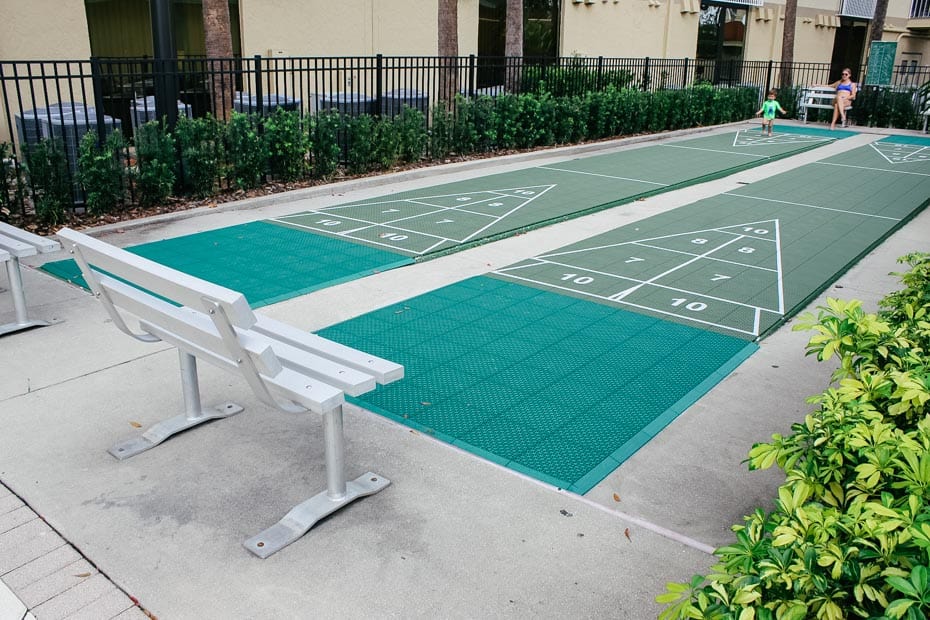 There are four golf courses at Orange Lake Resort. Two of them are located in the West Village, including The Reserve, an 18 hole course. Below is one of the fairways for Crane's Bend, a nine-hole course.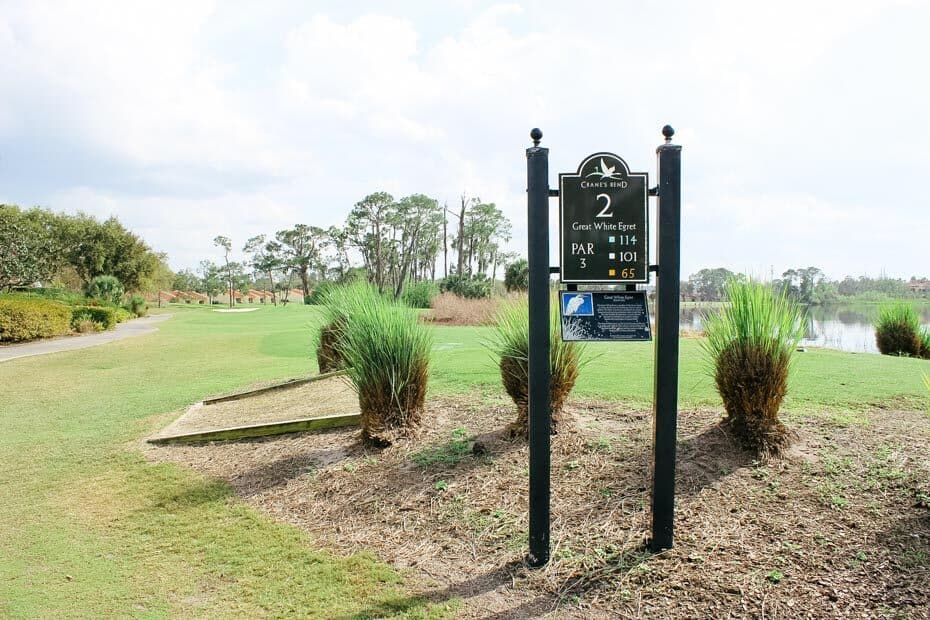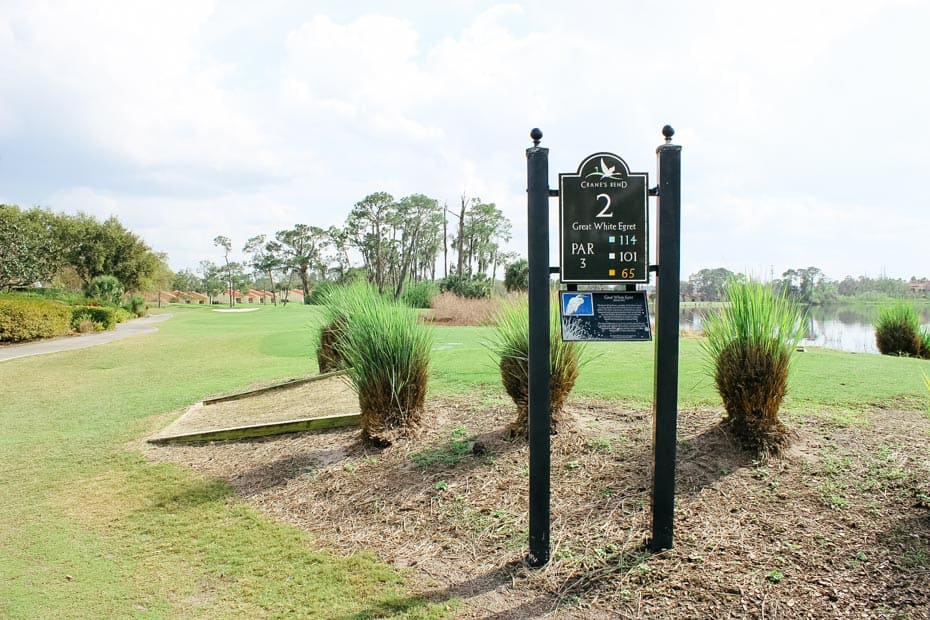 This wraps up the main items available at the West Village. Now is where my second issue with Orange Lake comes into play.
With the resort map in hand, I was ready to check out River Island. I had heard so much about the area and was excited to see it.
A few days before, one of the employees at check-in had told me that I would need to drive down to the other end of the resort. She said that I wouldn't want to try and walk that far.
Thankfully, I took her advice because I soon learned that Orange Lake is not walkable. And that's coming from a person who loves to walk.
North Village
On my way to River Island, I ended up at North Village. When I got to North Village, I assumed it was River Island. There was a sign out front, but I didn't notice it.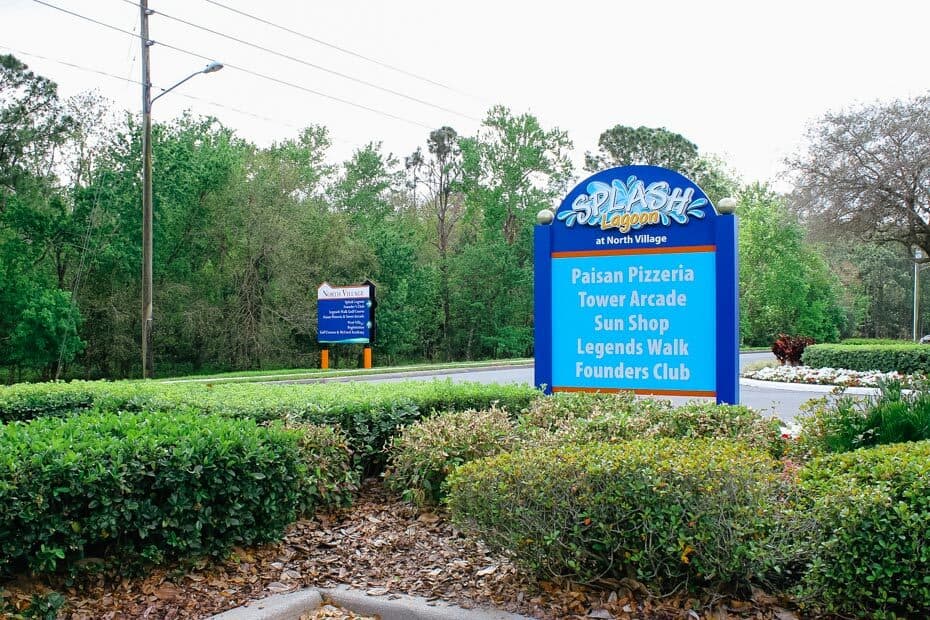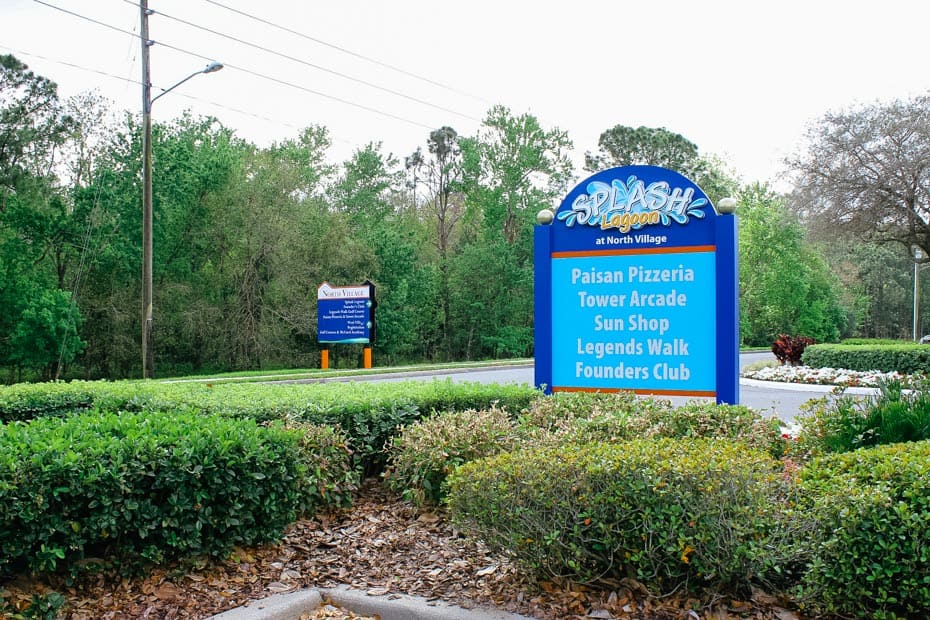 When I got to North Village, I began to photograph the area.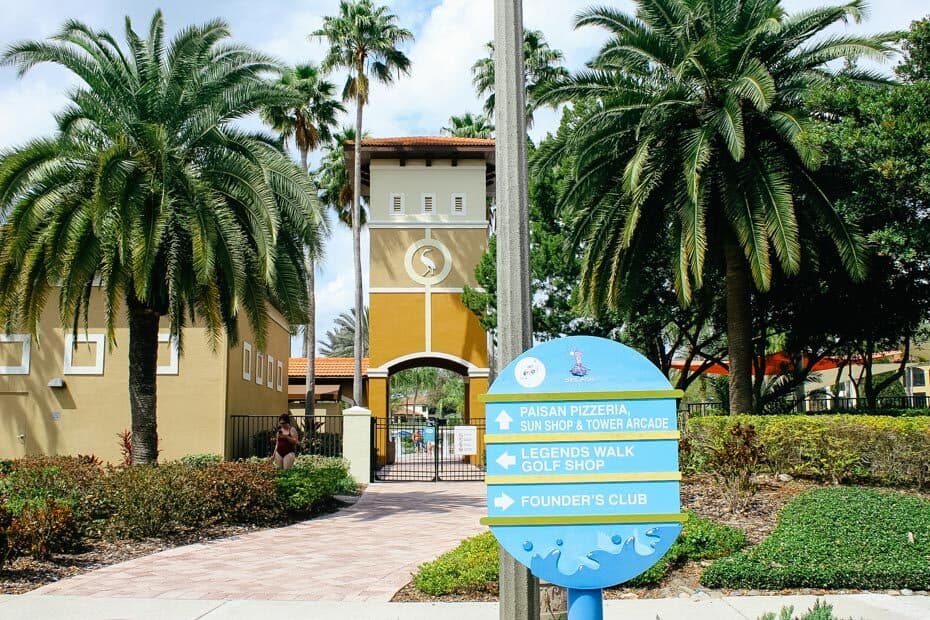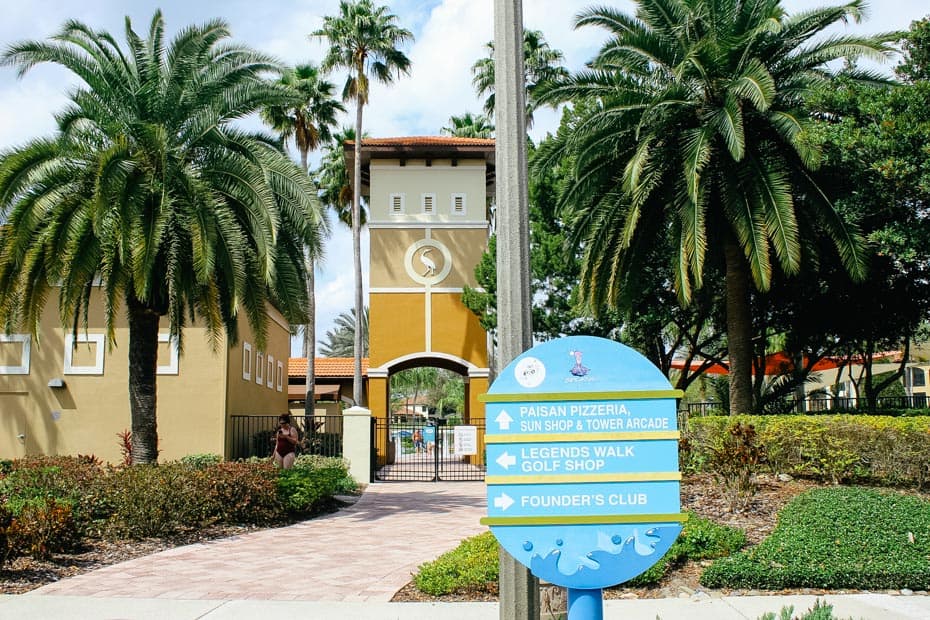 There was another arcade available.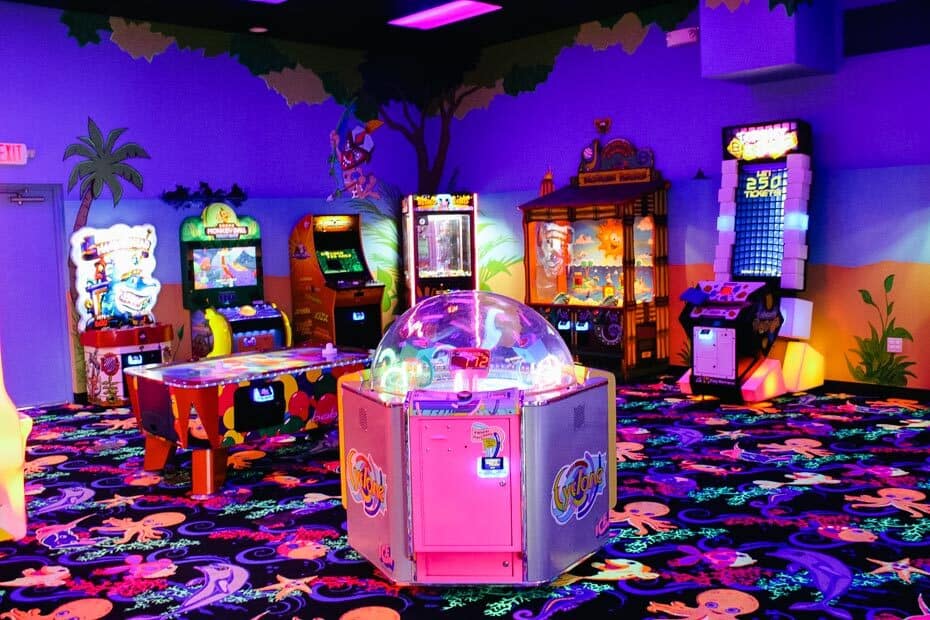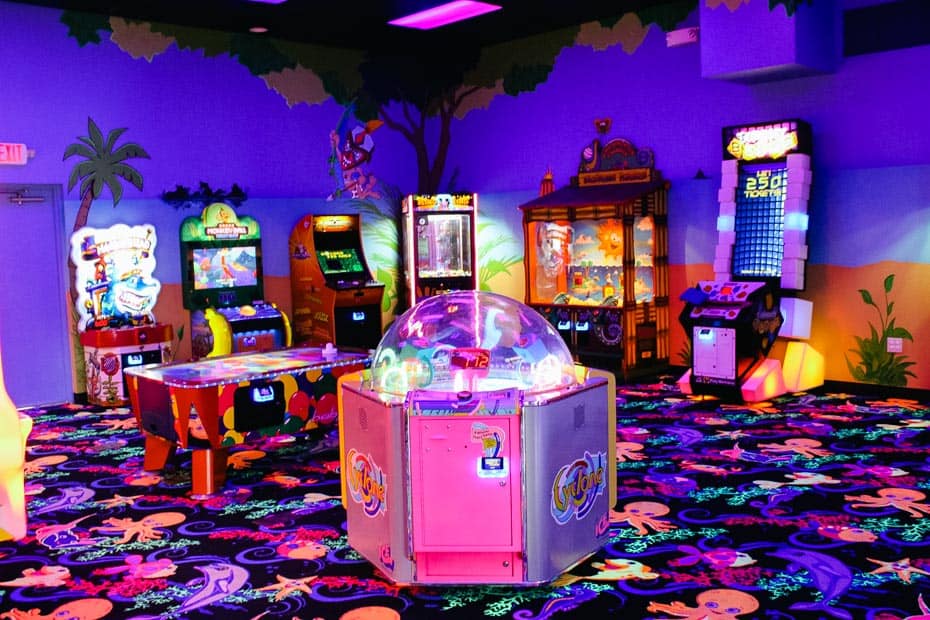 And another sundries shop.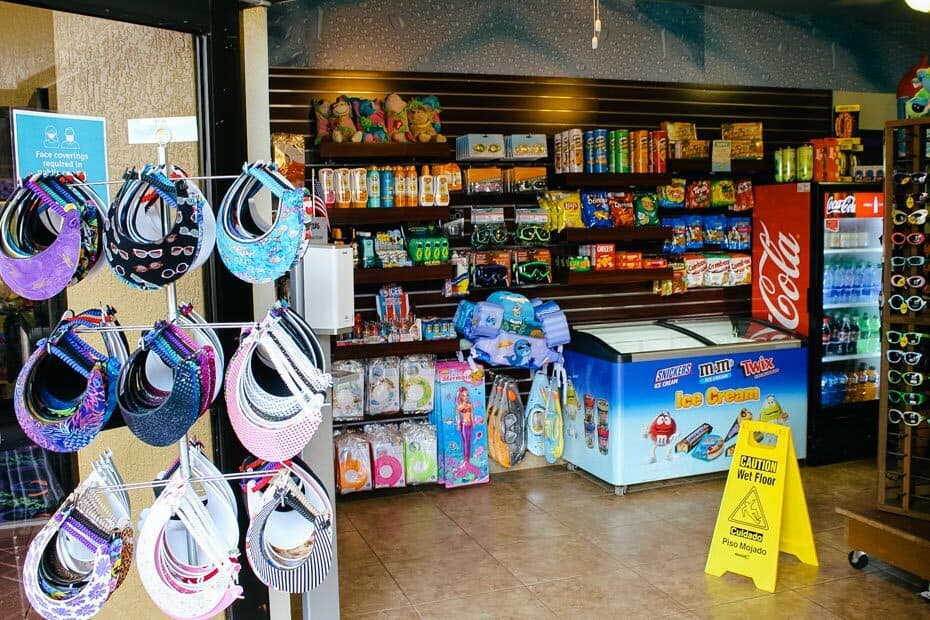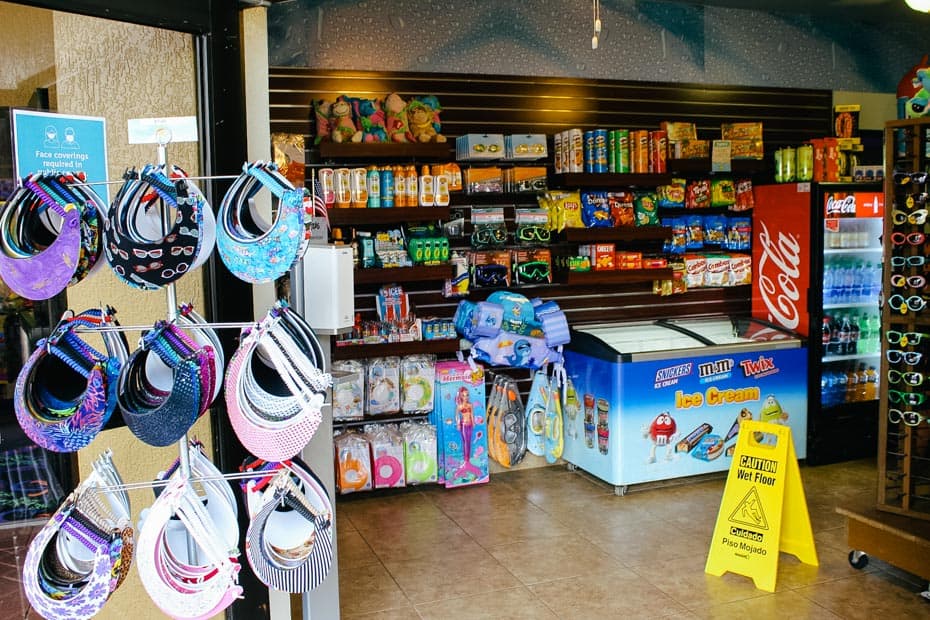 North Village is where Paisan Pizzeria is located. From what I was told, this is supposed to be decent pizza. Additionally, room delivery is available if you order it.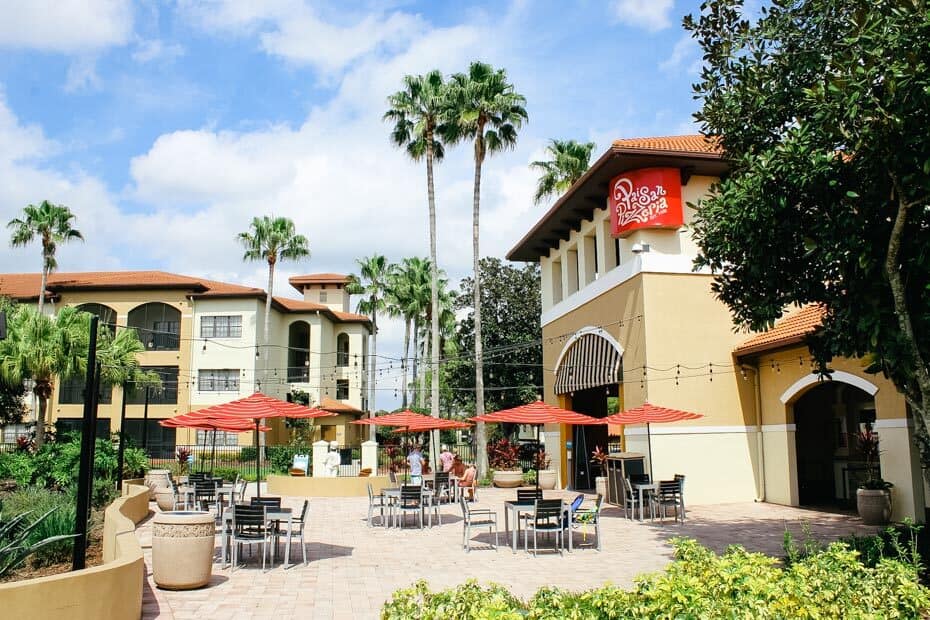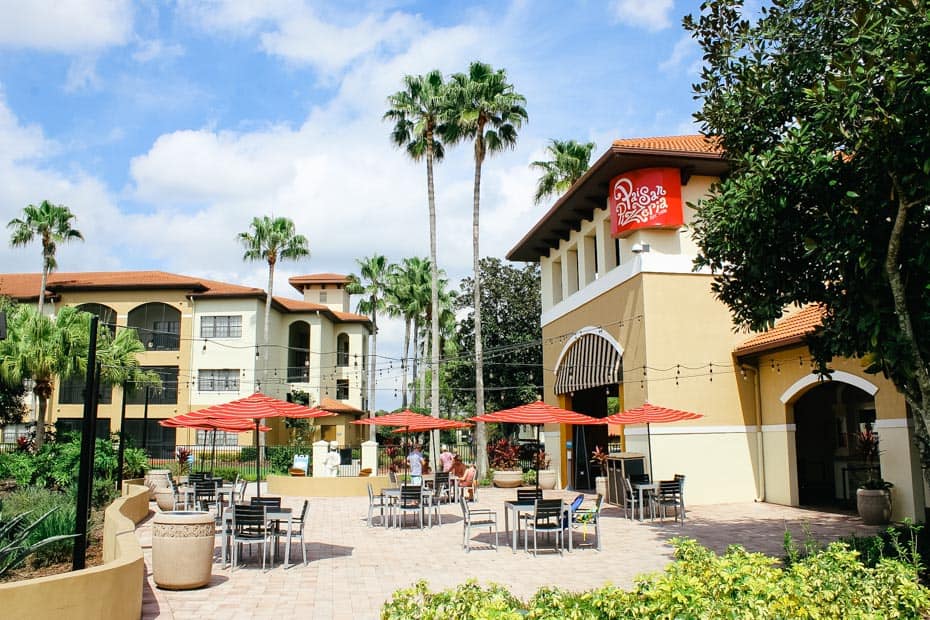 Here I thought I was at River Island. It even looked like an island with a river around it.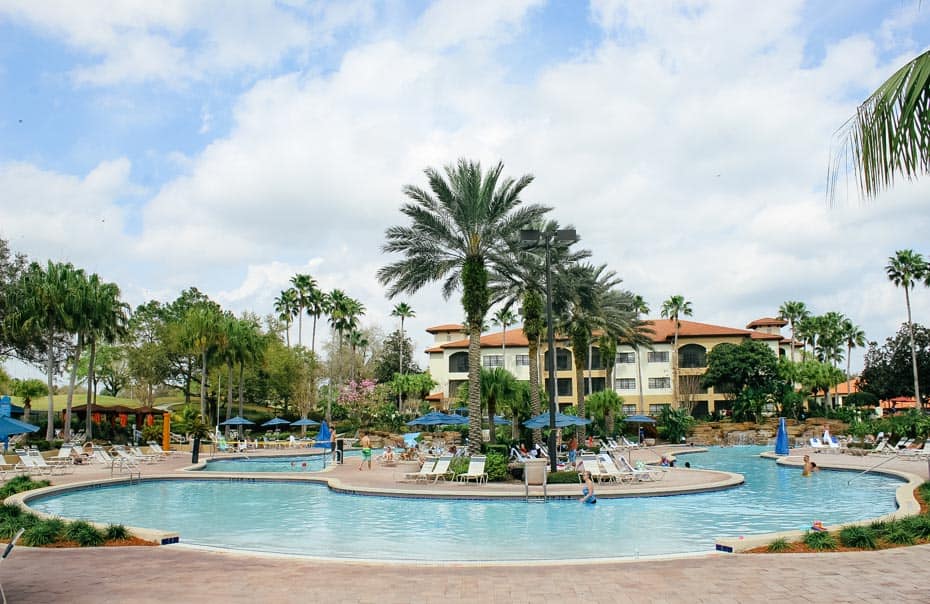 The area was pristine and had an excellent pool.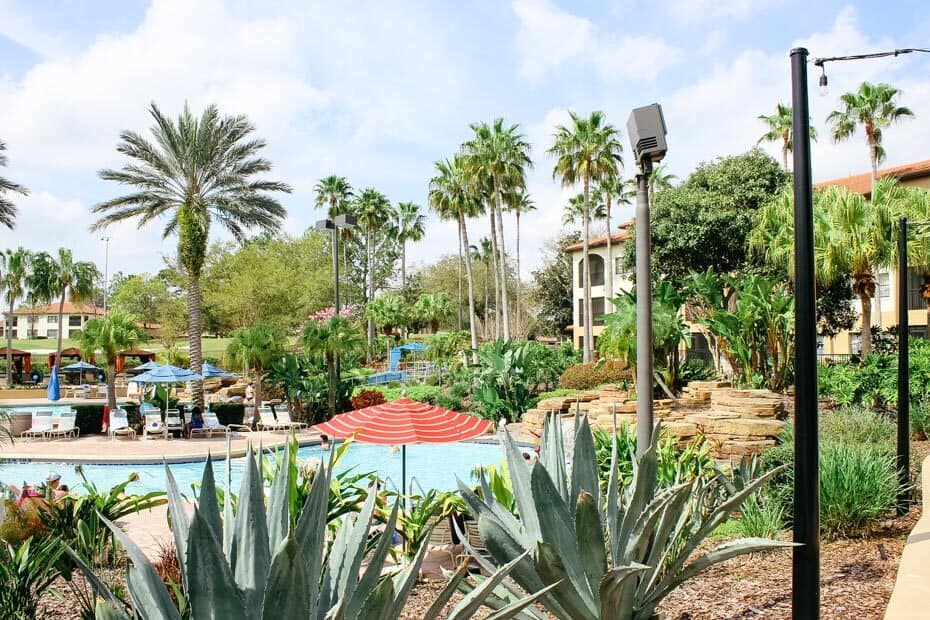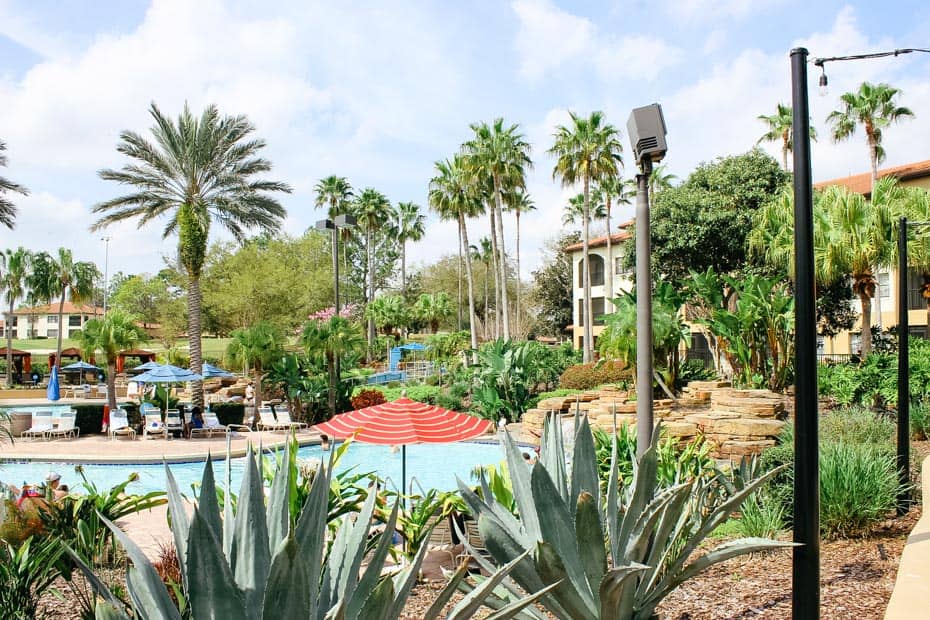 And because I had driven so far down to get here, I couldn't imagine the resort being any larger.
But I was wrong. This area wasn't River Island.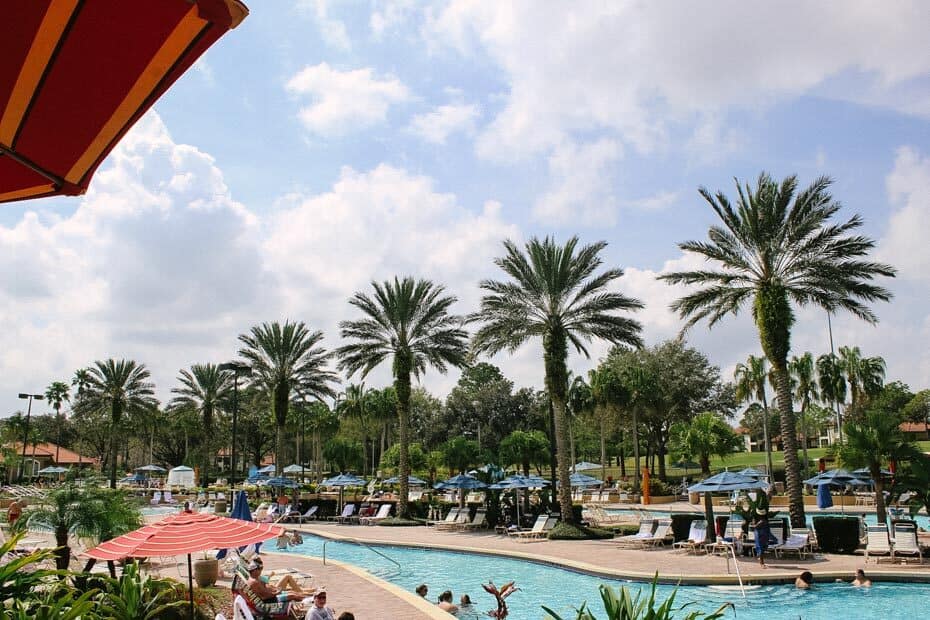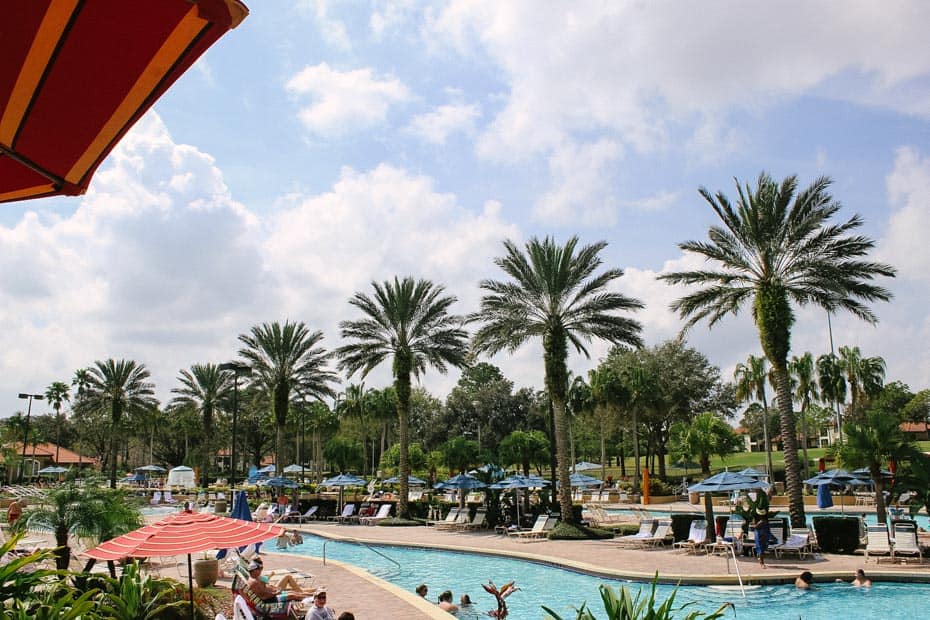 There was a pleasant cascading waterfall and two slides at the end. A hot tub sits on the opposite side.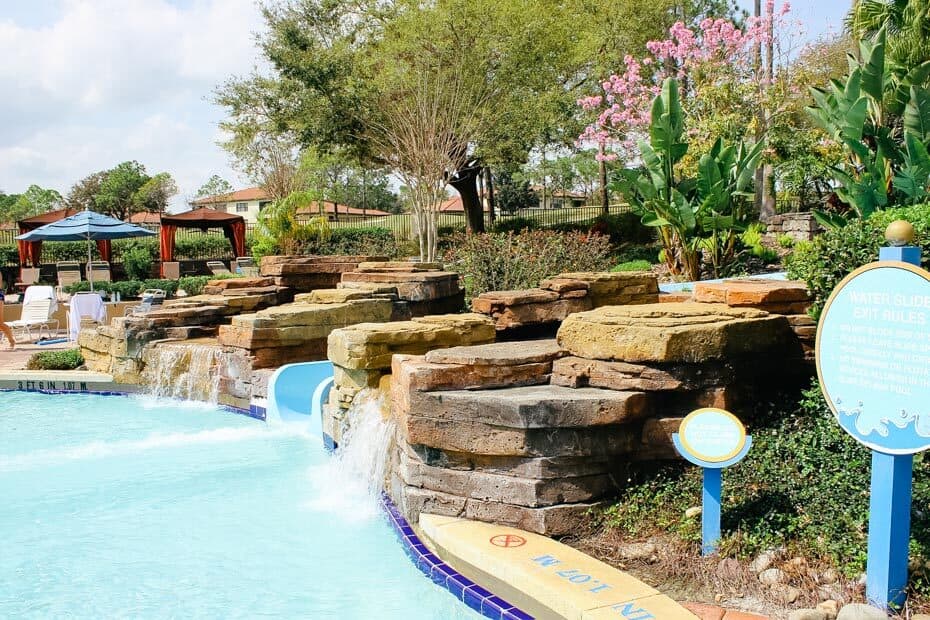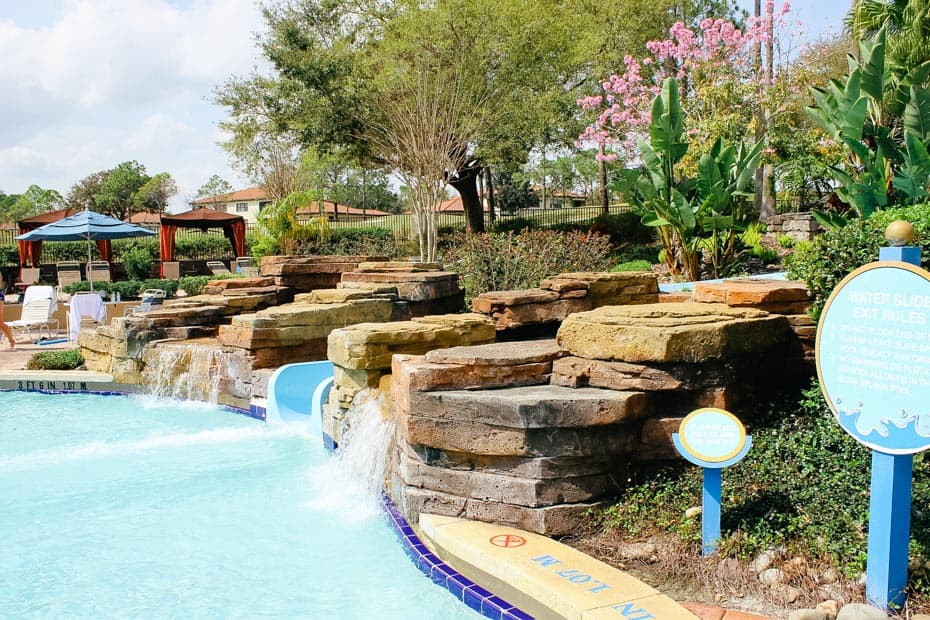 A few kids had a pretty intense game of water volleyball going.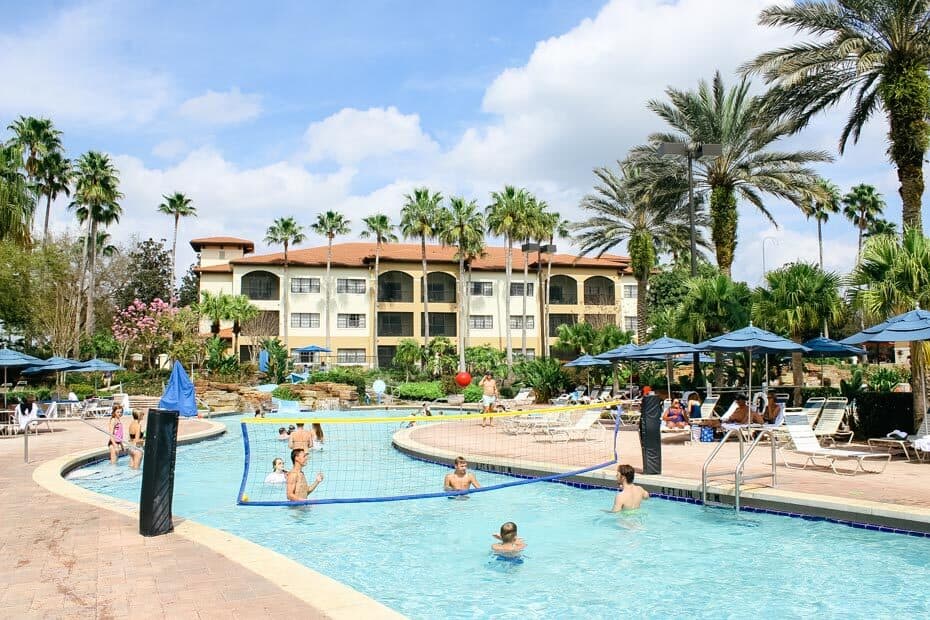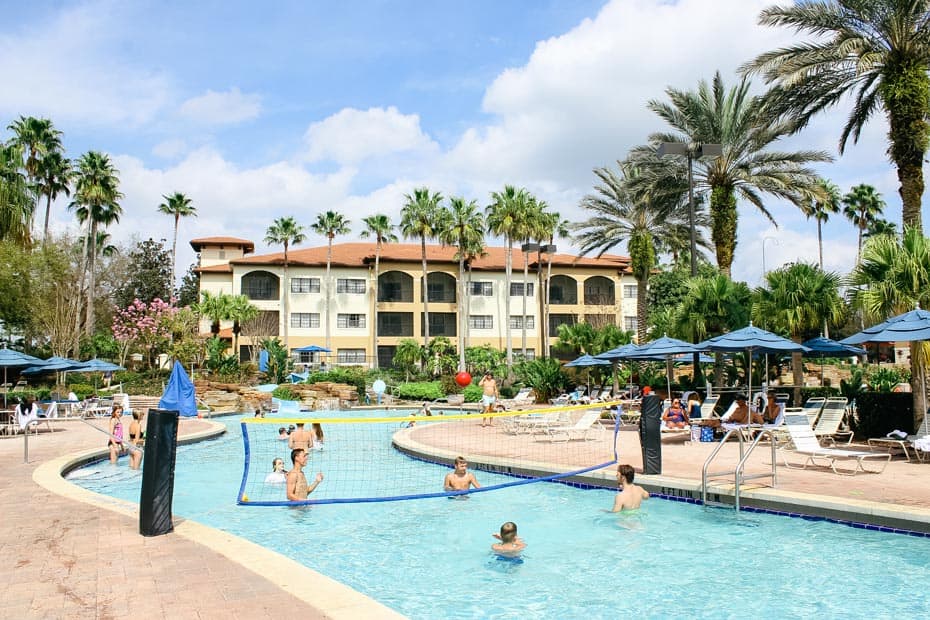 More cabana rentals.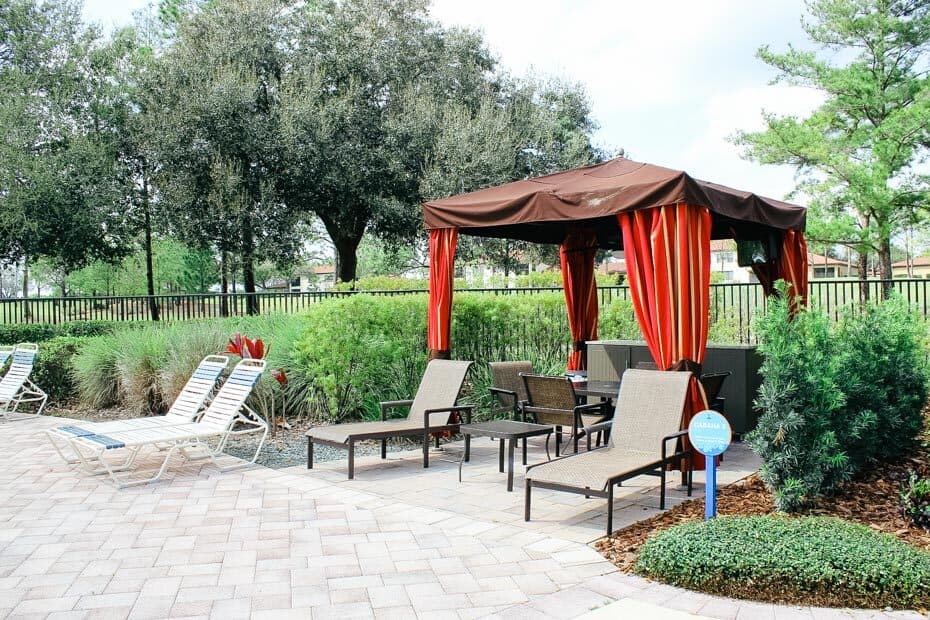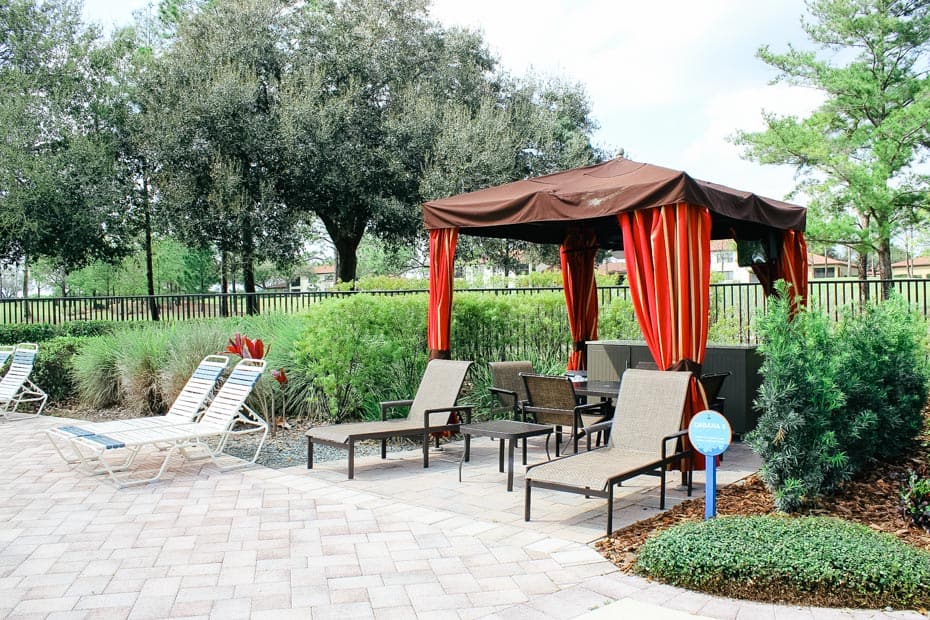 There was even a kiddie pool with this fun water feature.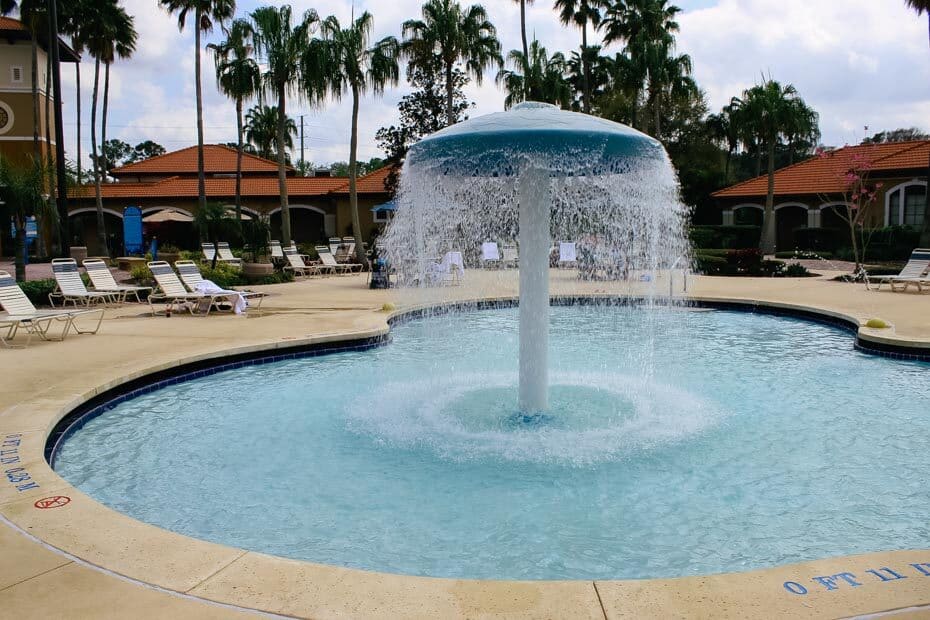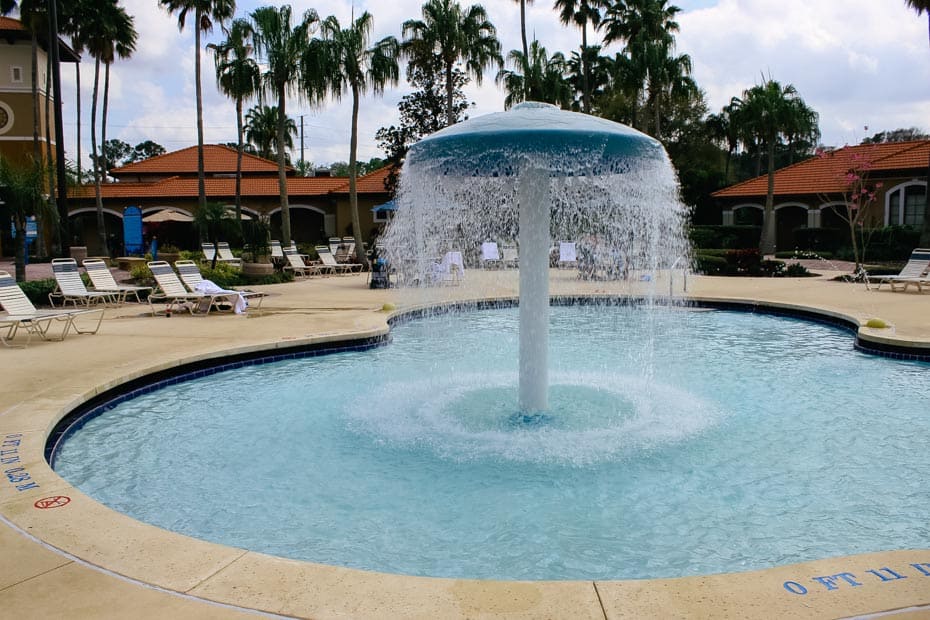 And a splash pad.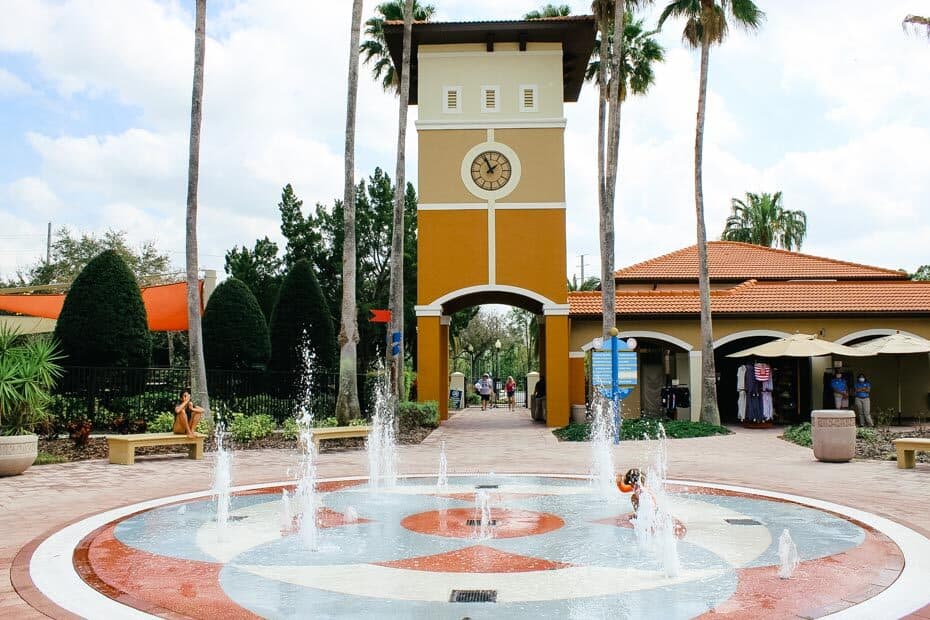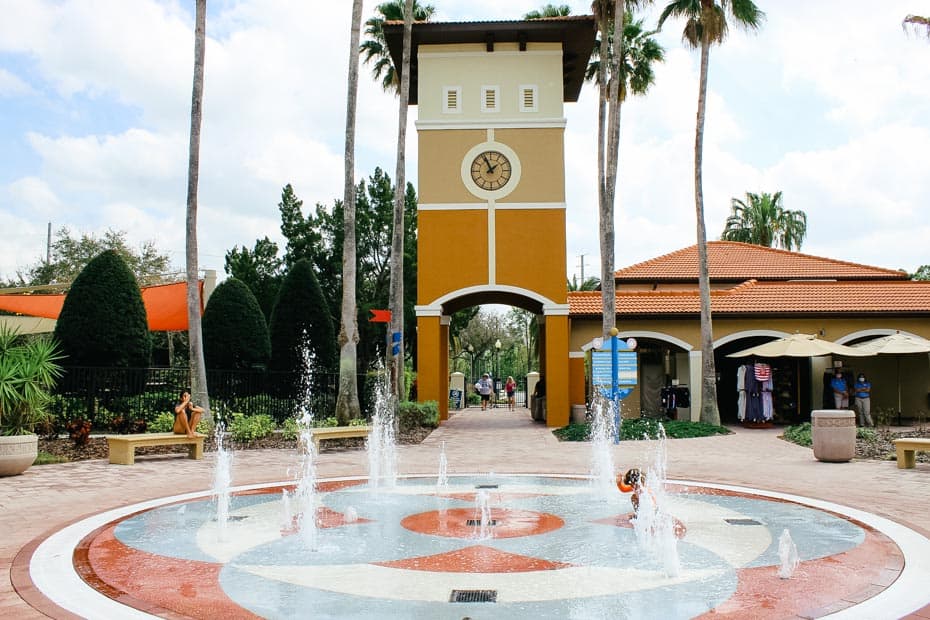 While there are absolutely no complaints about the North Village, I couldn't help but think it didn't live up to everything I had heard about River Island.
When I went back out to the car, I got out my map and realized that I hadn't gone nearly as far as I thought.
River Island
To give you an idea of how widespread Orange Lake is, I drove under the HWY 429 overpass when I left the North Village. You might notice there is a sidewalk in this area. It would be nicer if there were a consistent sidewalk across the resort.
The few people I did see walking were on the side of the road. If you visit Orange Lake, you need a car. There are no ifs, and, or buts about it.
If I hadn't had my car with me, I would not have been able to access any of the other villages.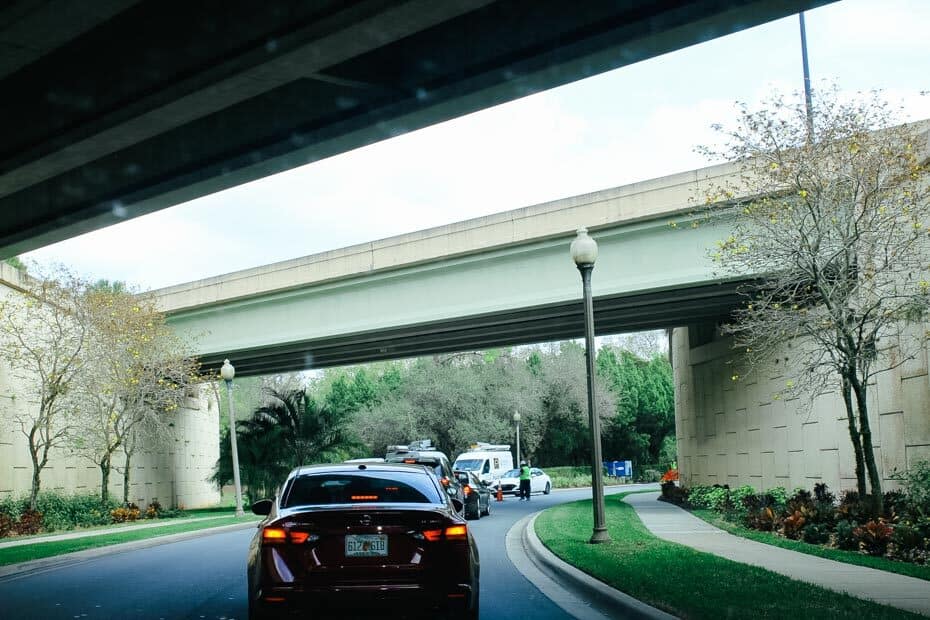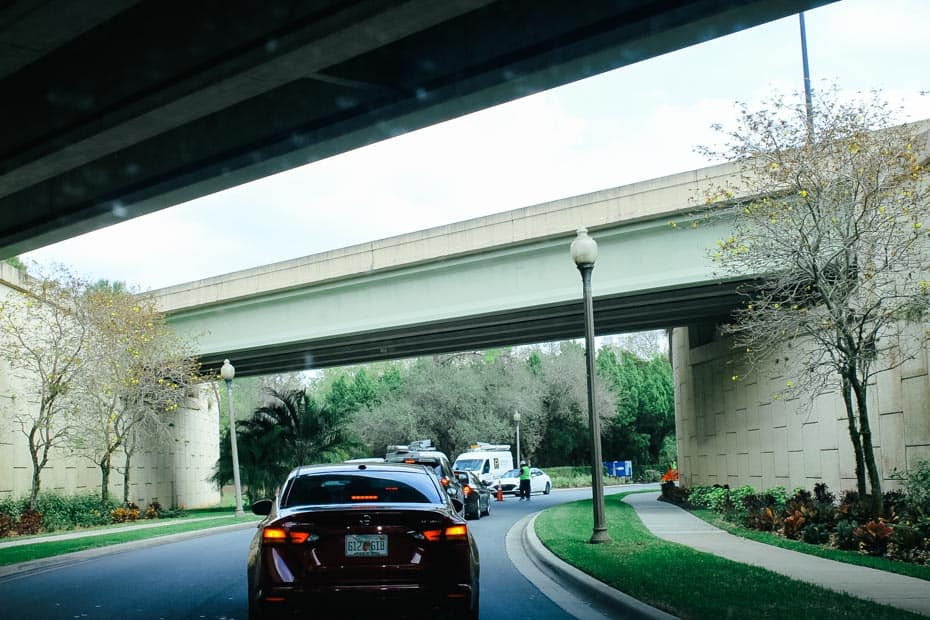 It was probably the norm for guests to have a vehicle in the past. But that has become less common with the variety of car services available these days.
For example, a few of my family members recently visited Orlando, stayed off-property, and used a car service daily to access the theme parks and the airport. If they had stayed at Orange Lake, they would have had difficulty accessing the different areas.
Now, Orange Lake does have an internal bus shuttle. But it was not running at the time of this visit. And even if it had been running, I would not want to rely on it to get to the other recreation areas.
Think about it. You have all your swimming items, towels, sunscreen, books, etc., in tow. You do not want to get ready for the pool, drag your items to the bus stop, and then wait in the heat for a shuttle.
Thankfully, each village does have a great recreation area. But if you're not staying at River Island, you or your children will want to spend at least one day there.
So, I get through this little traffic jam in the picture above, and the road curves back before entering a turnaround. That's where I encountered this signage and what looked like an entrance to an entirely new resort.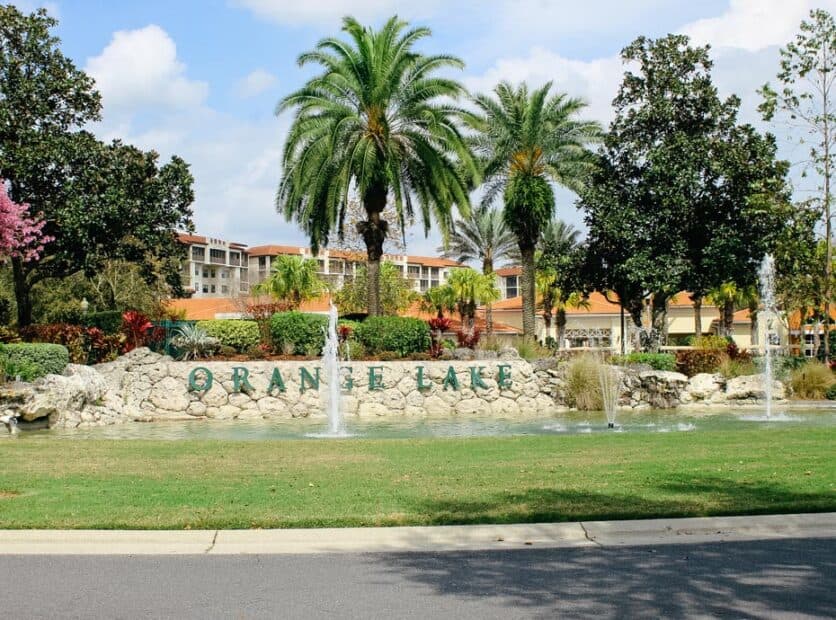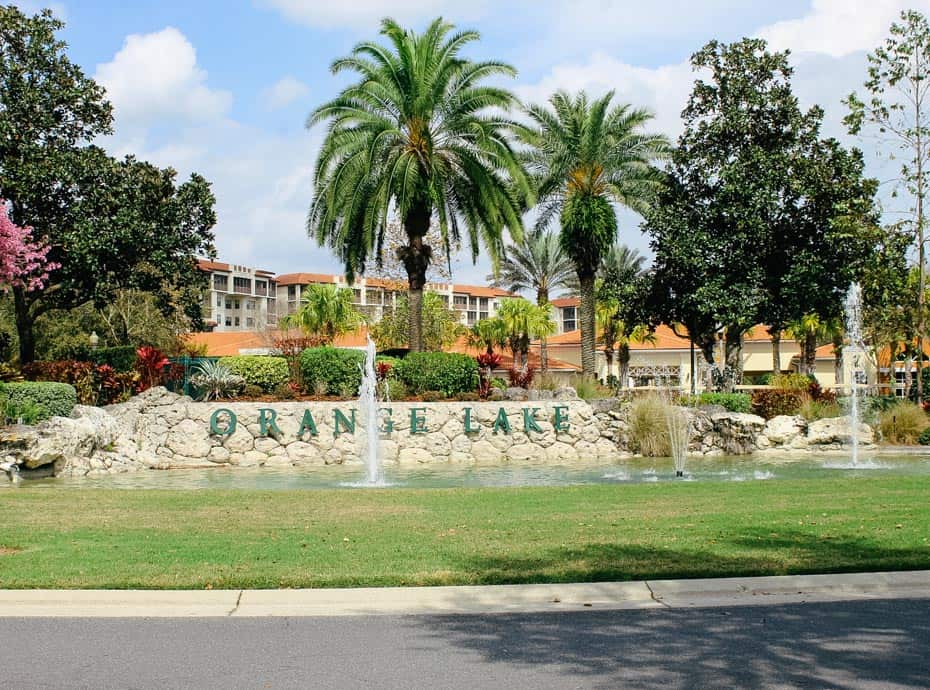 To the far right, there was a fairly busy parking lot and ta-da, River Island.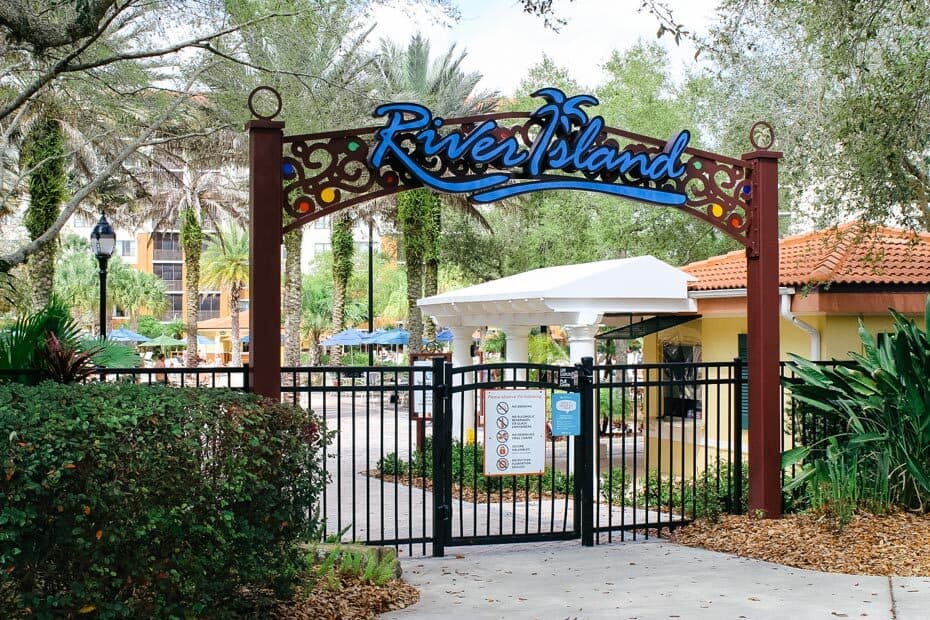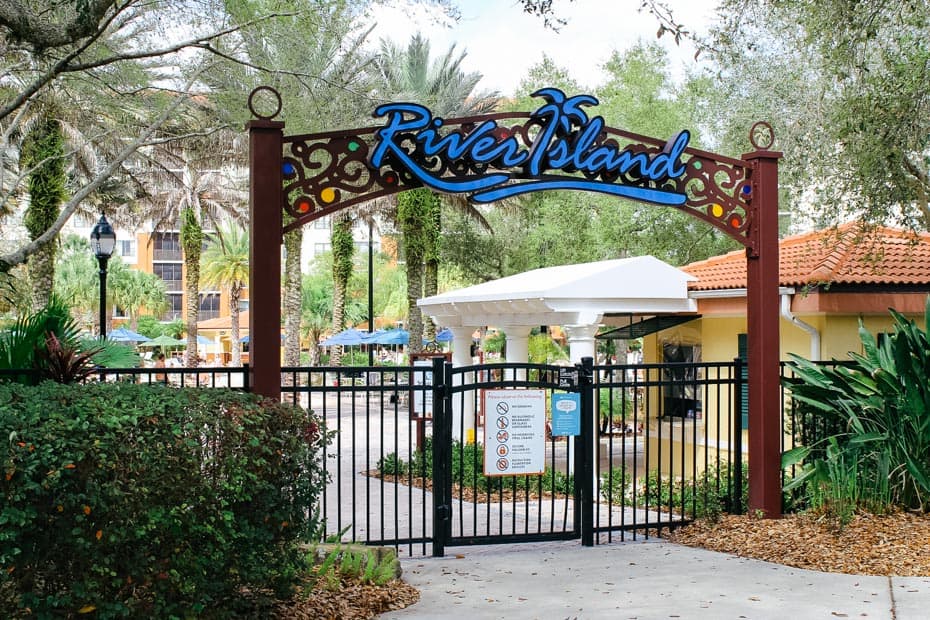 I was a little relieved that I had found it. Going into this stay, I hadn't anticipated ending up with so much content for this review.
Right inside the gate, there was another shop with convenience items.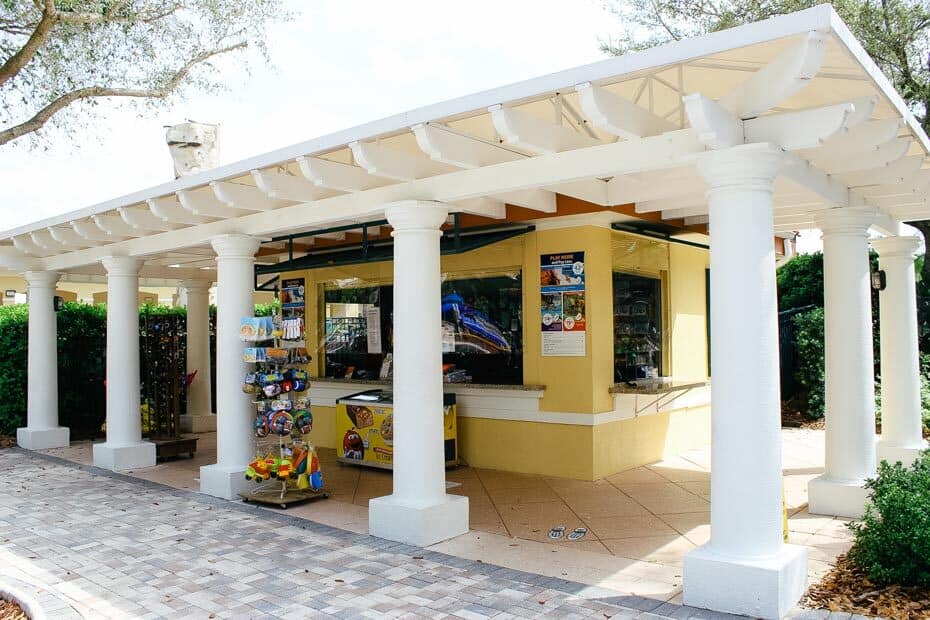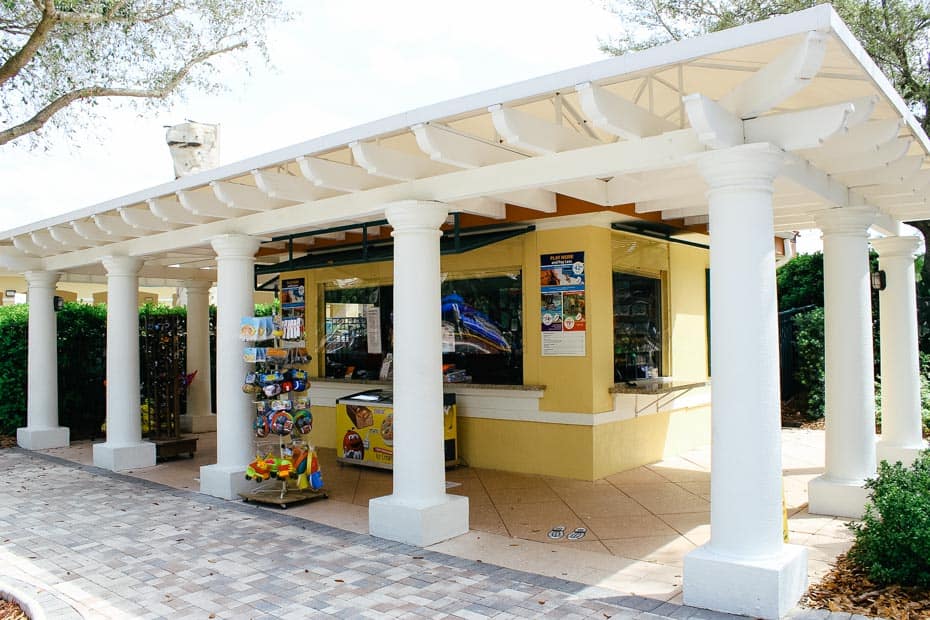 As I moved forward, I began to see a large pool area with a water slide.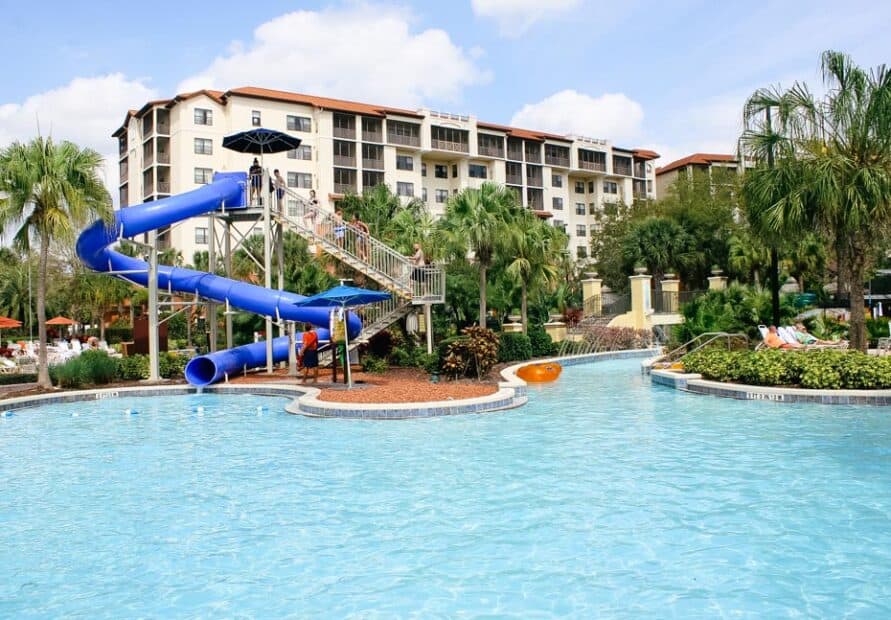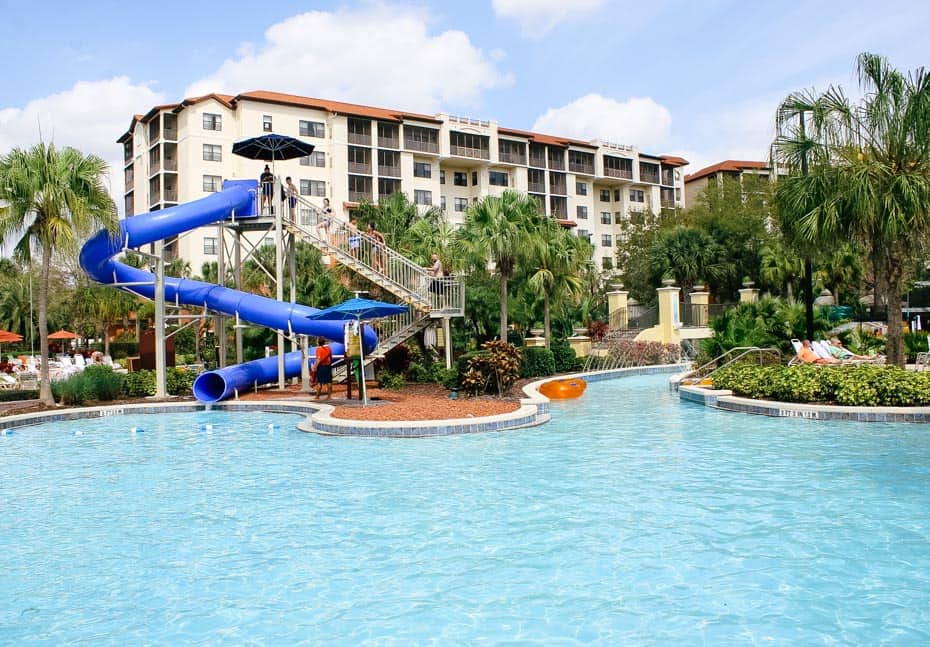 A few fun poolside activities were available for an extra charge.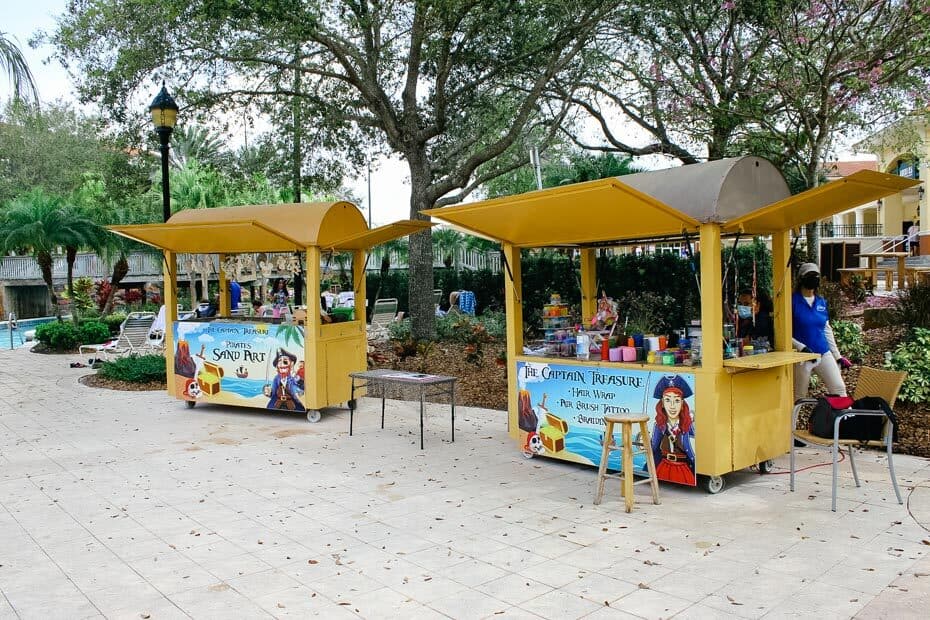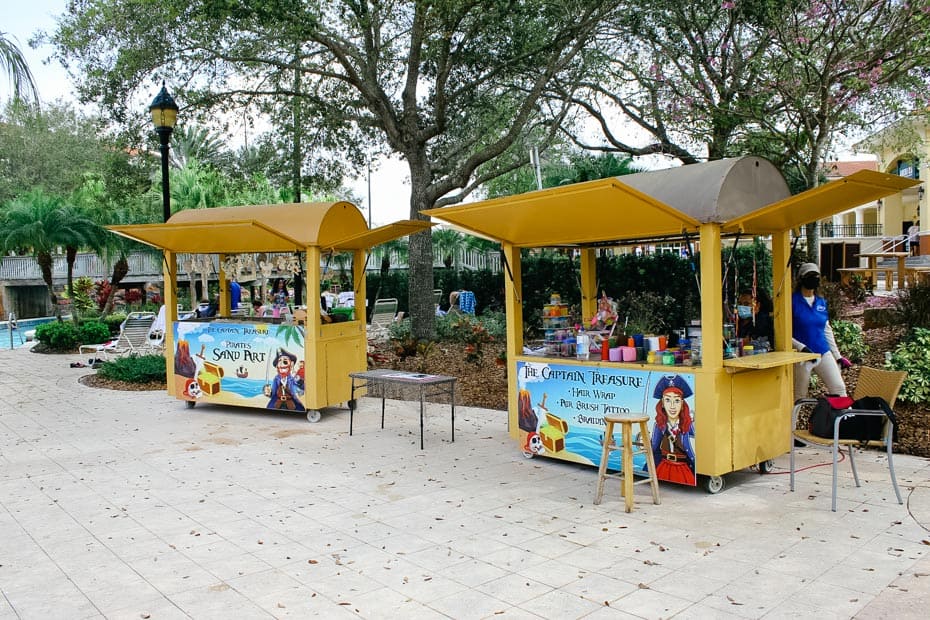 And then I ran into the lazy river!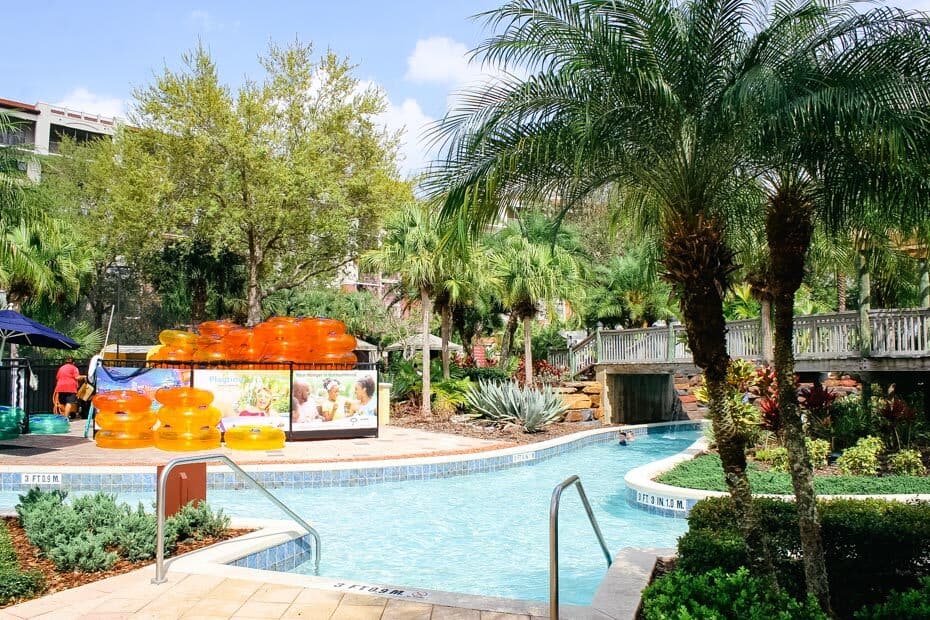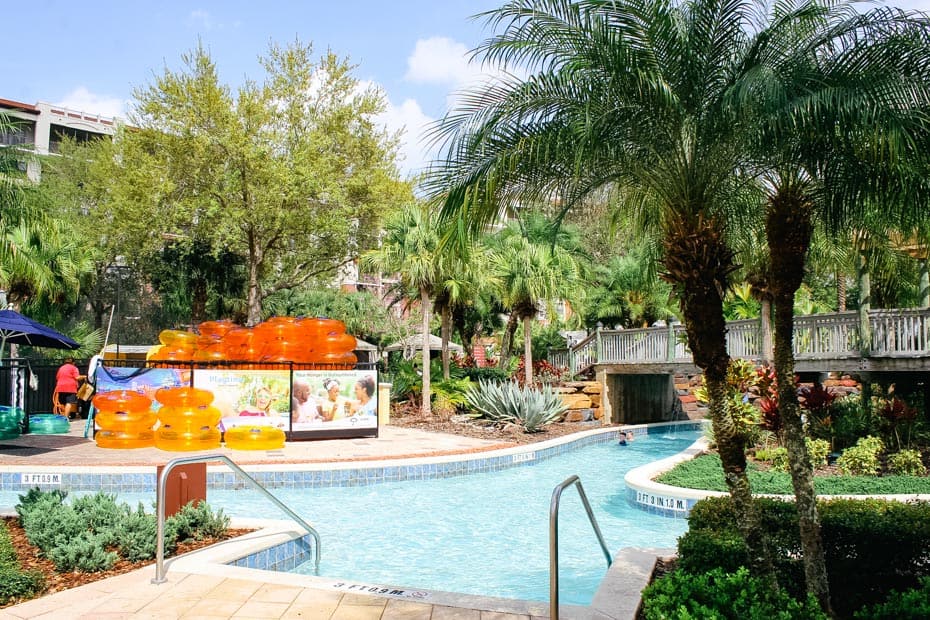 The River Island lazy river is 1200 feet long!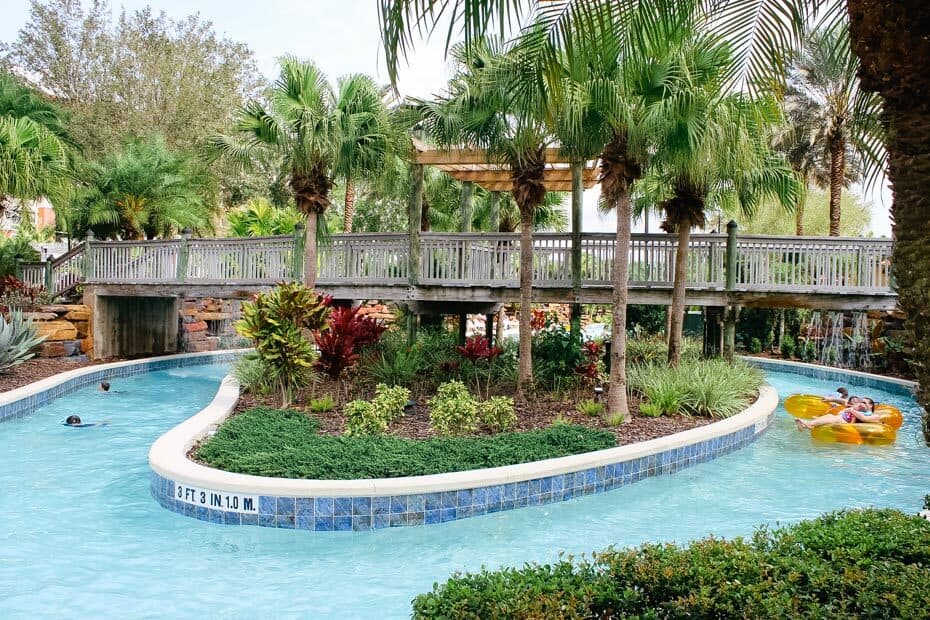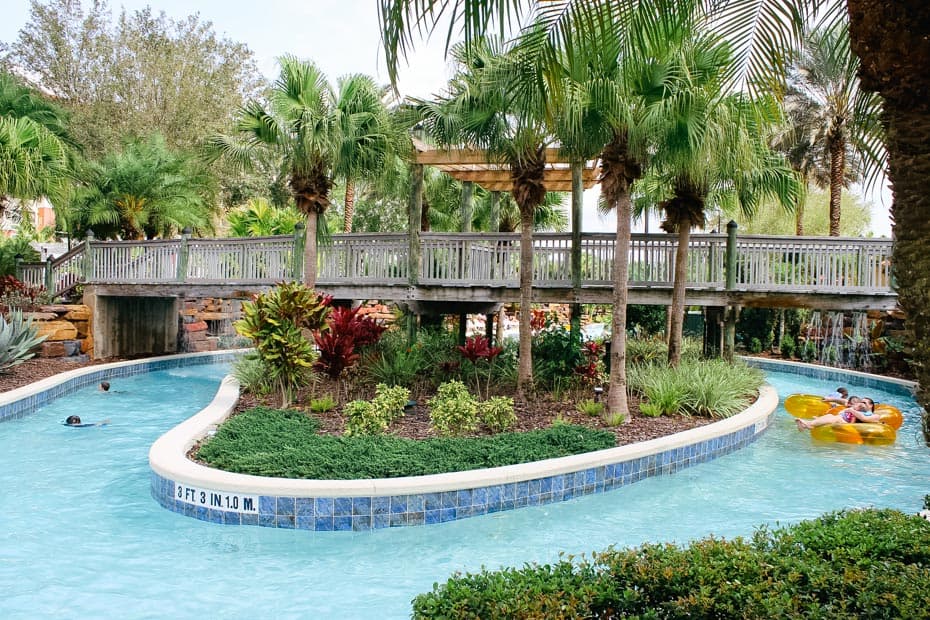 And the landscaping surrounding it is scenic and lush.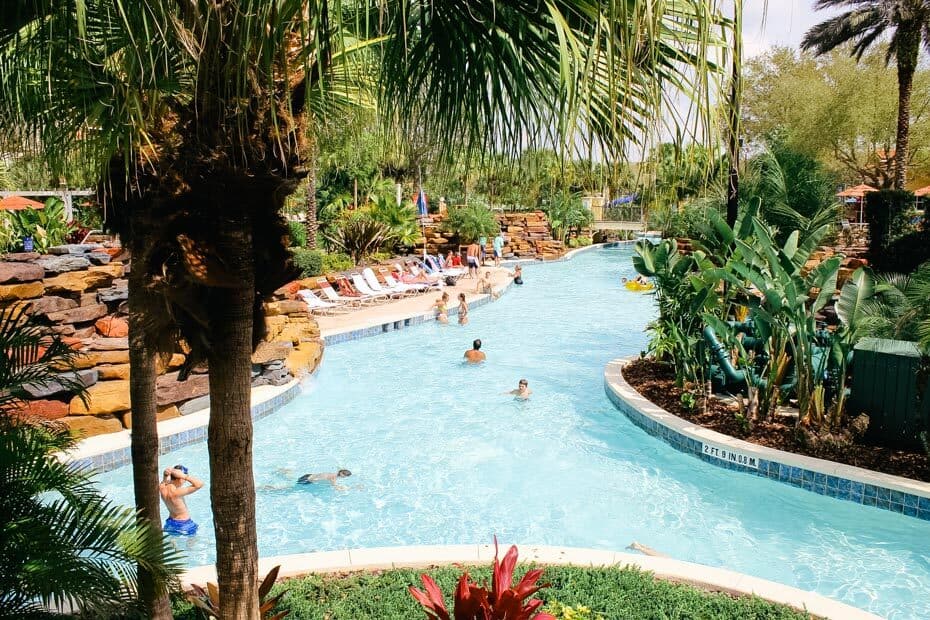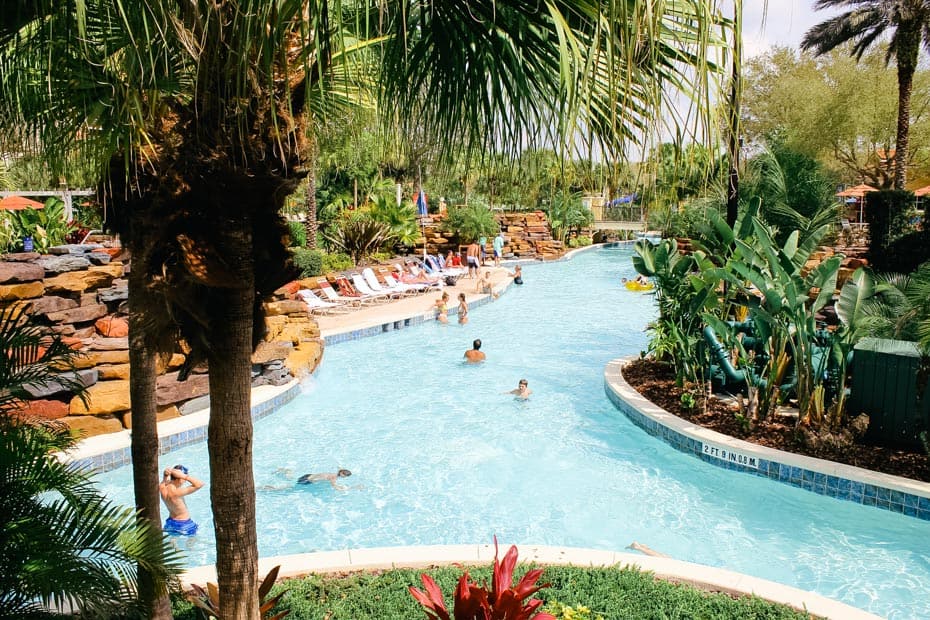 You can't tell how large the area is, but I can assure you it's extensive.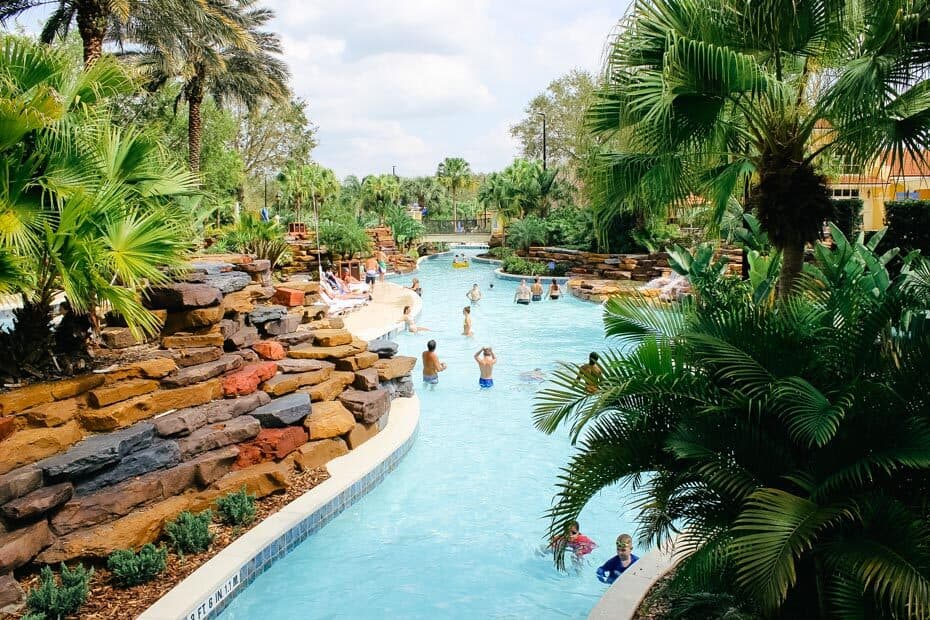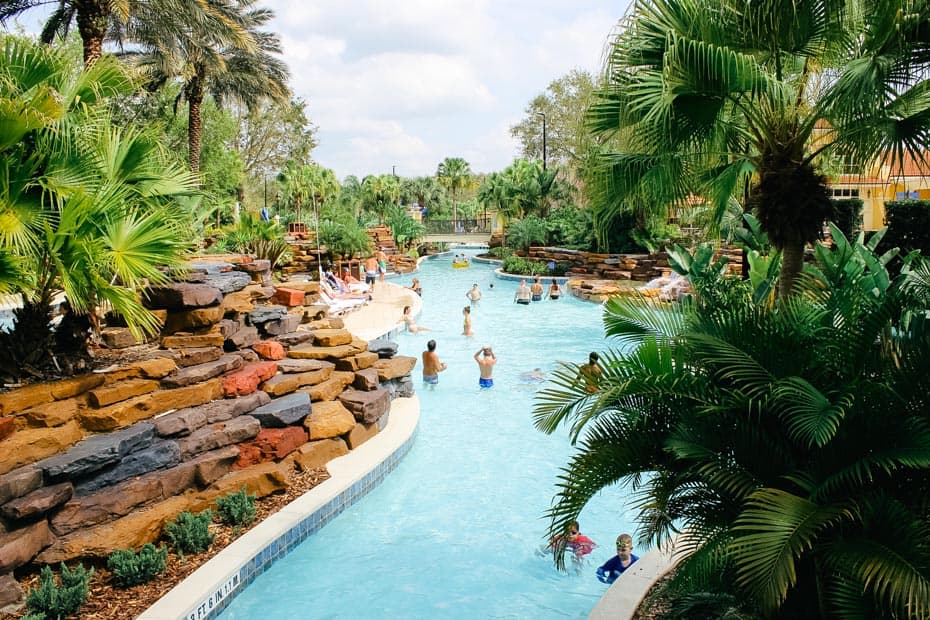 I walked the entirety of the lazy river and kept running into these private green lawns. It's hard to imagine a nicer place to spend a resort day.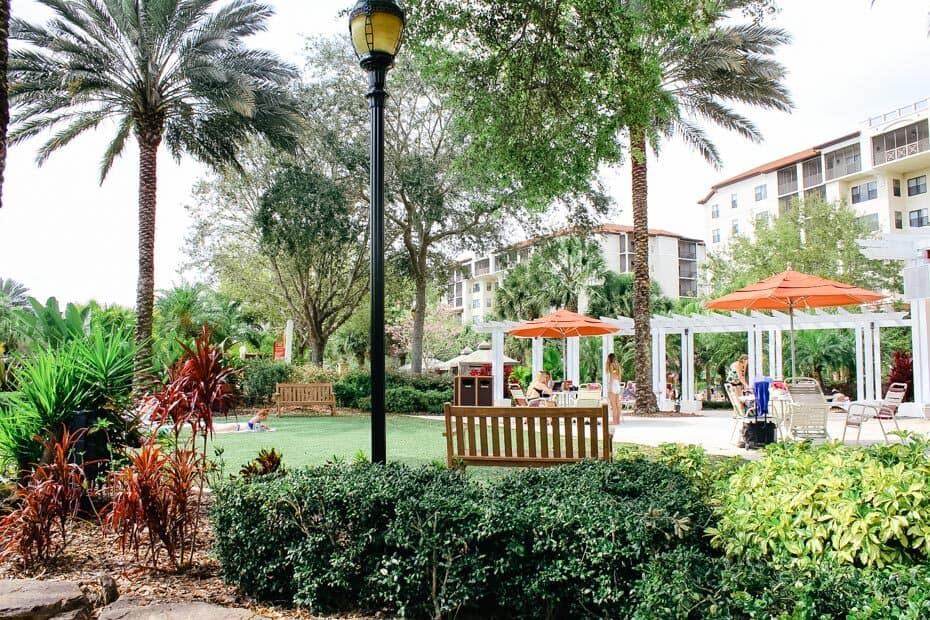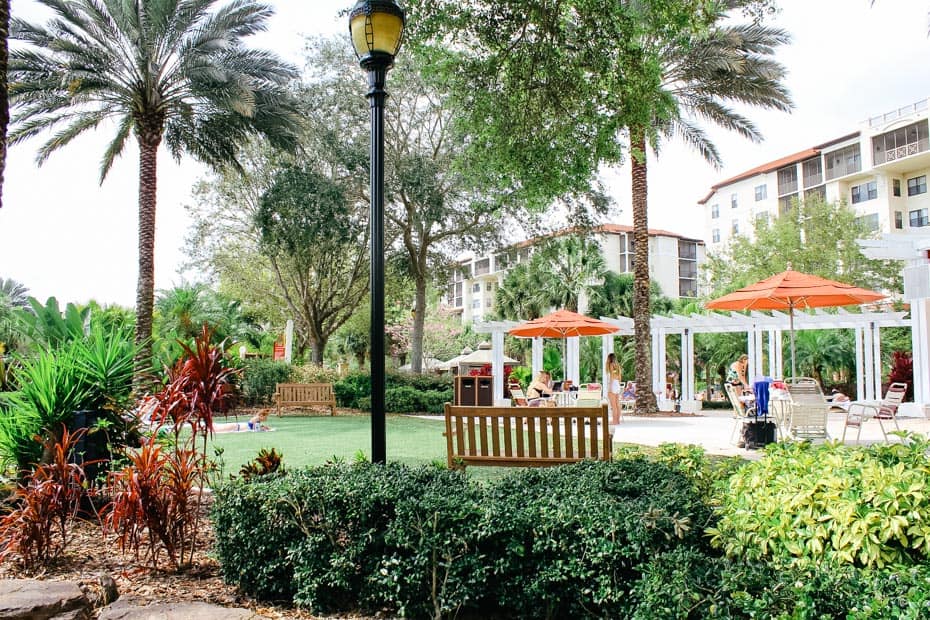 There's a big waterfall area in the center of the lazy river. There were ledges where guests could sit and take in their surroundings on both sides.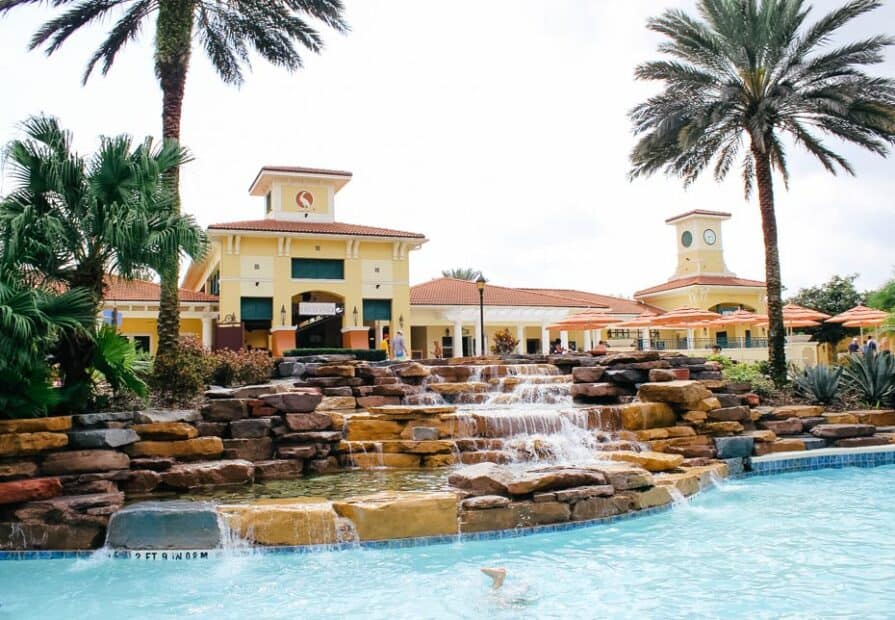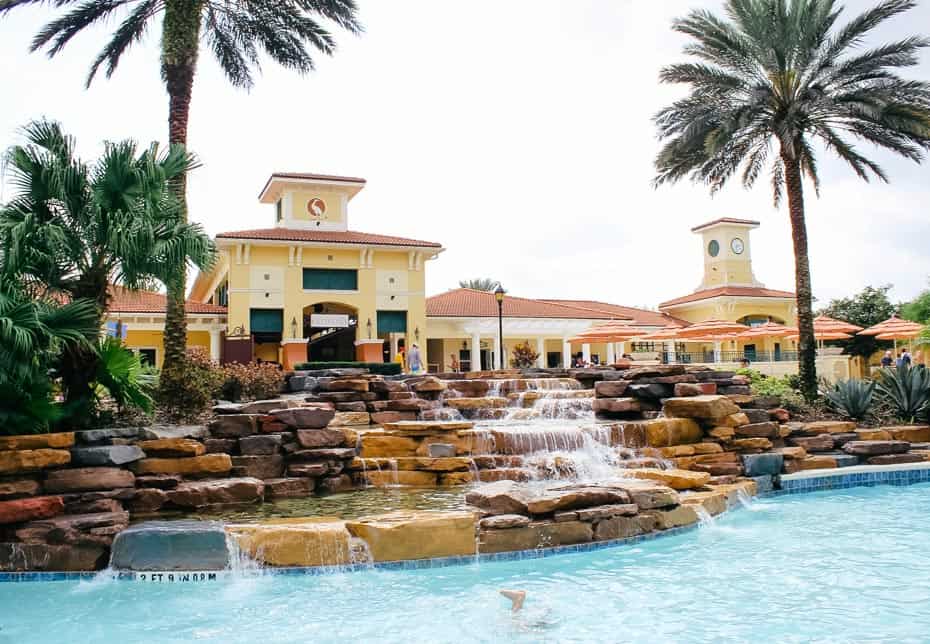 Several hot tubs were nestled in along the river.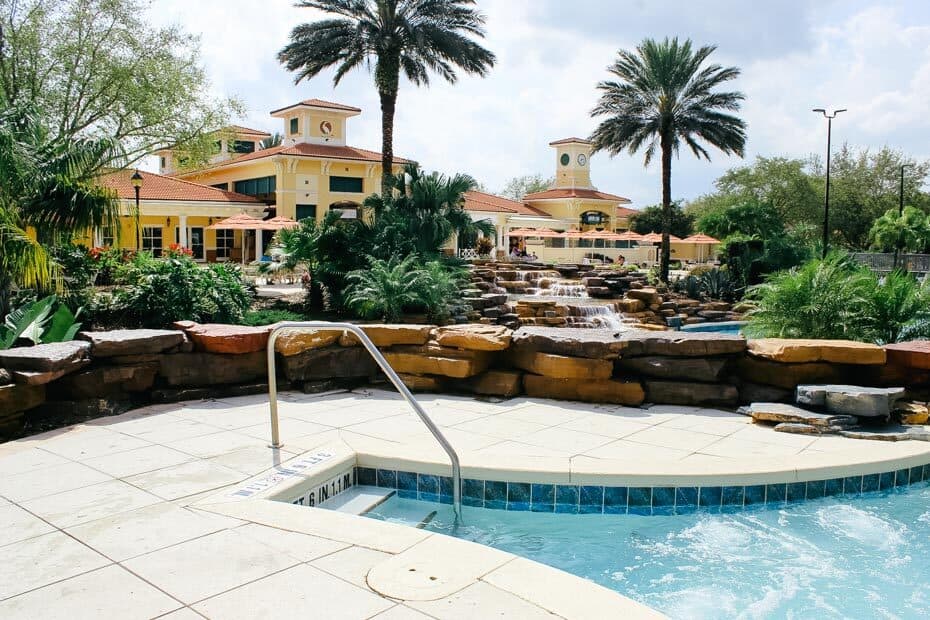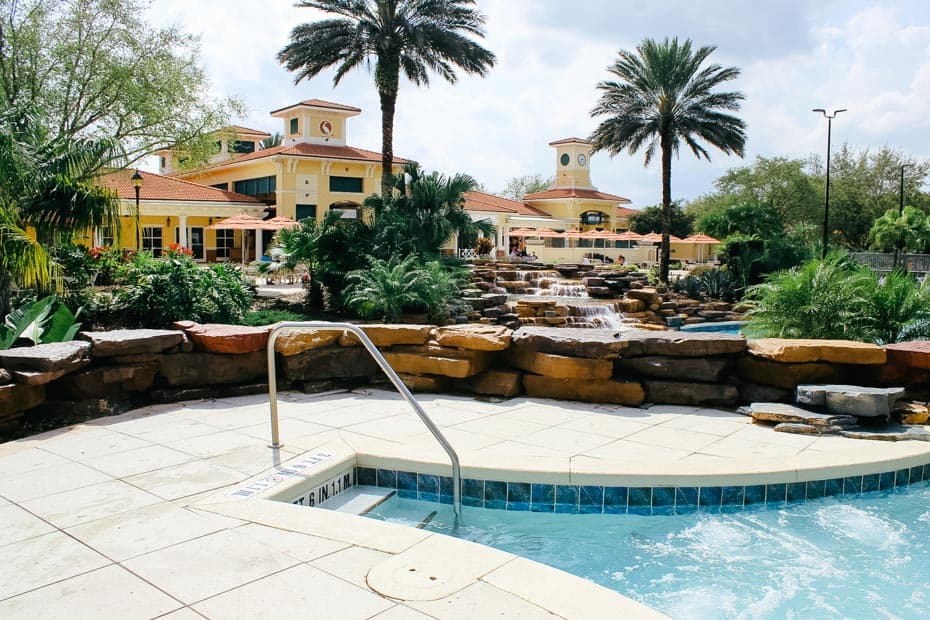 That main building in the background is where you'll find a restaurant, cafe, burger joint, fitness center, and another arcade. So no matter which village you stay in, you'll have plenty of amenities.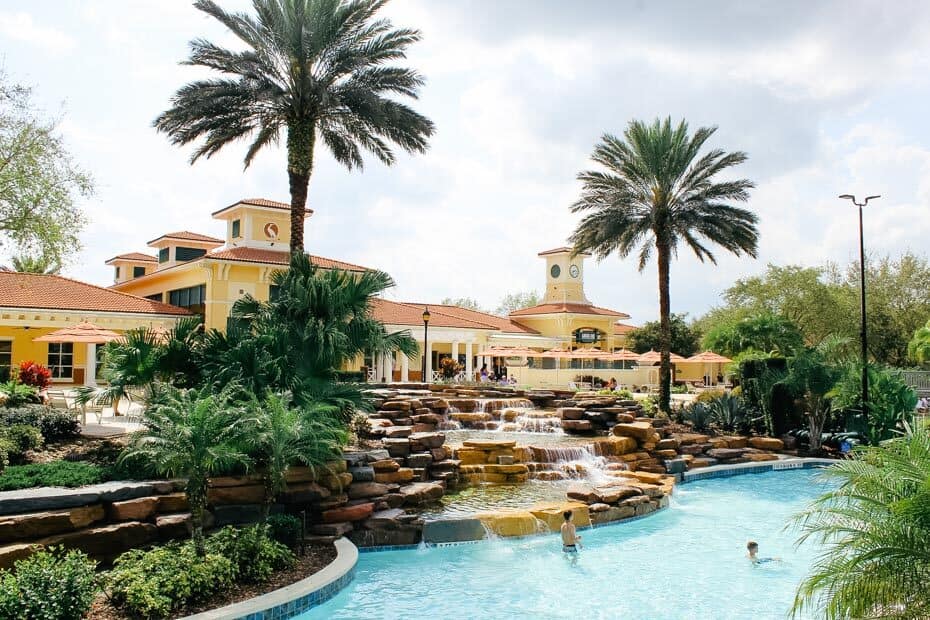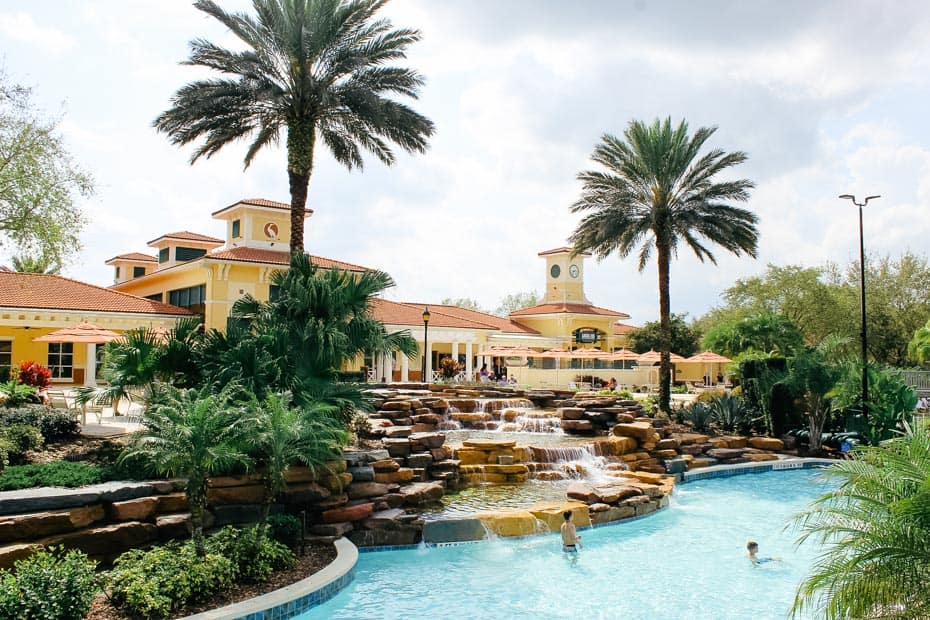 However, you can probably tell that River Island has all the bells and whistles.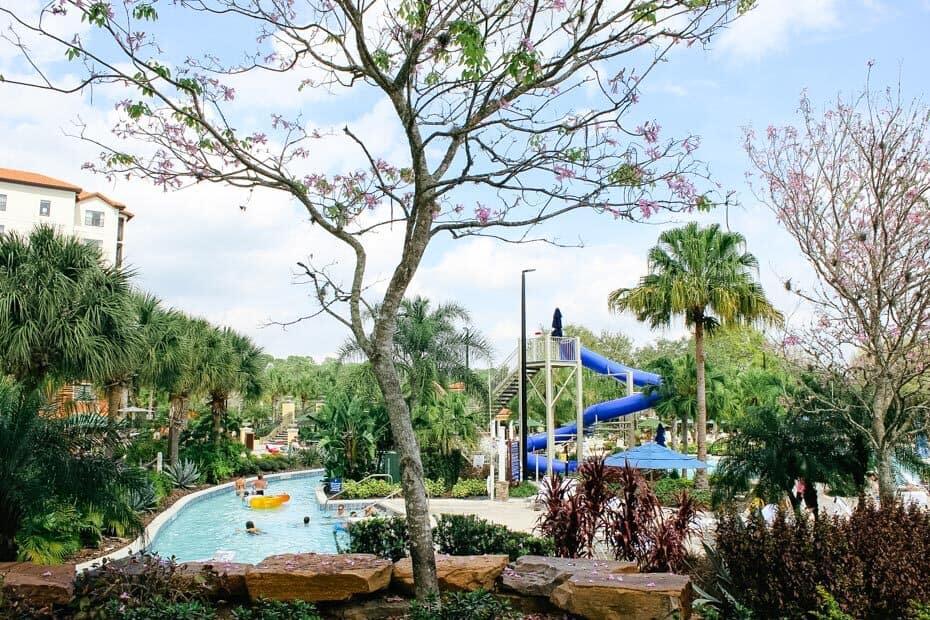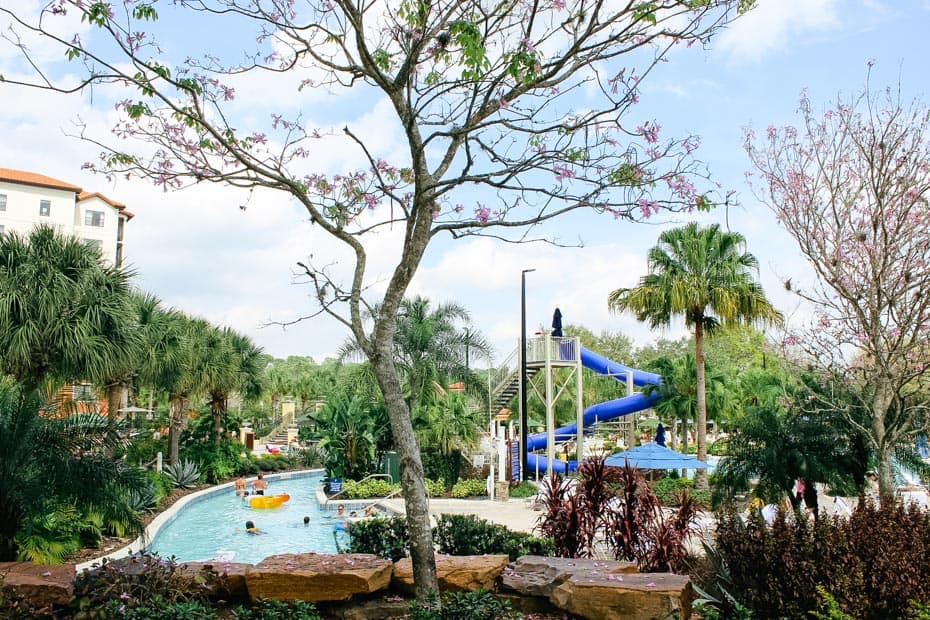 Here is the Tradewinds Bar and Grill.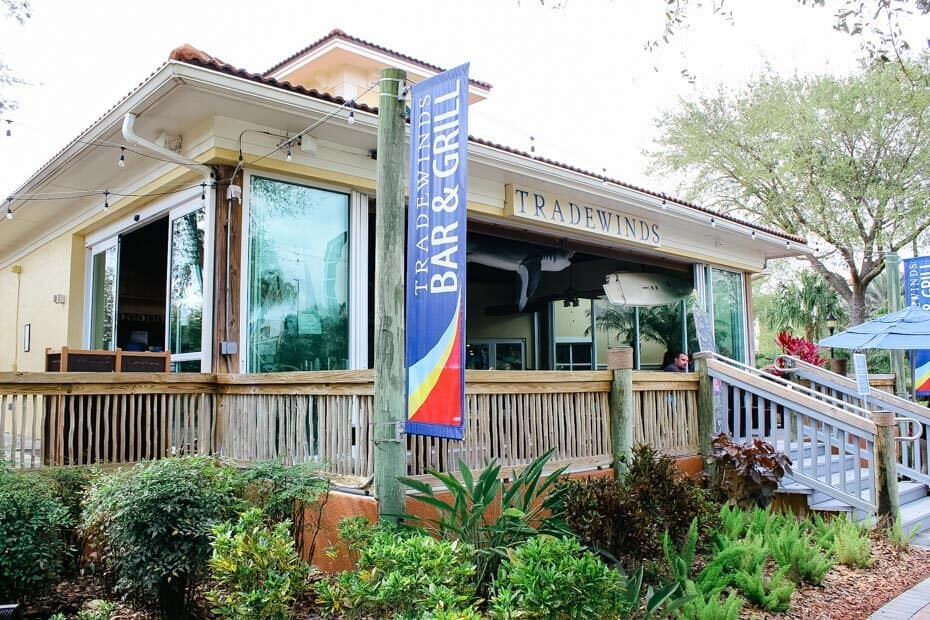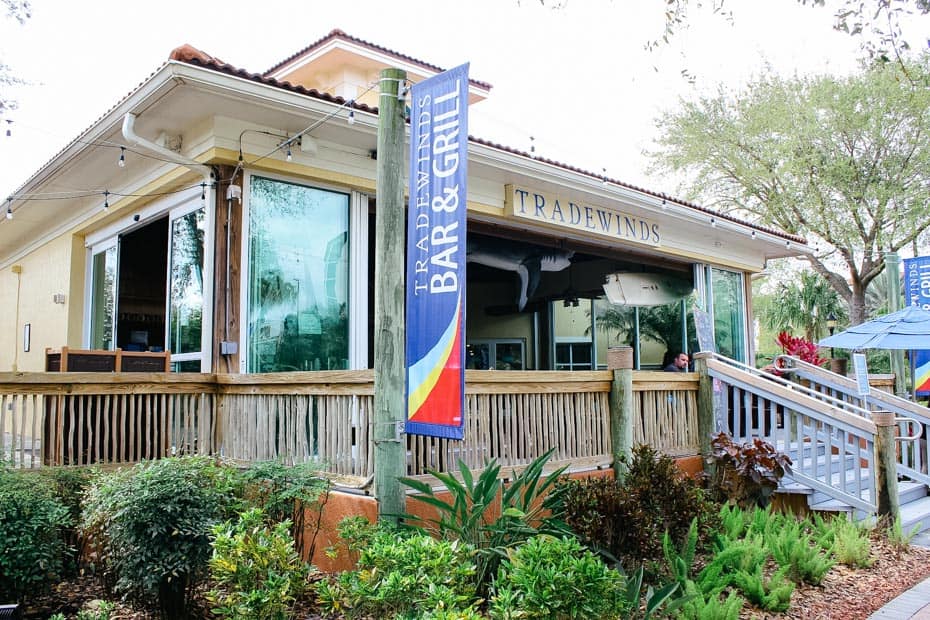 When I finally reached the other end, there was a wading pool.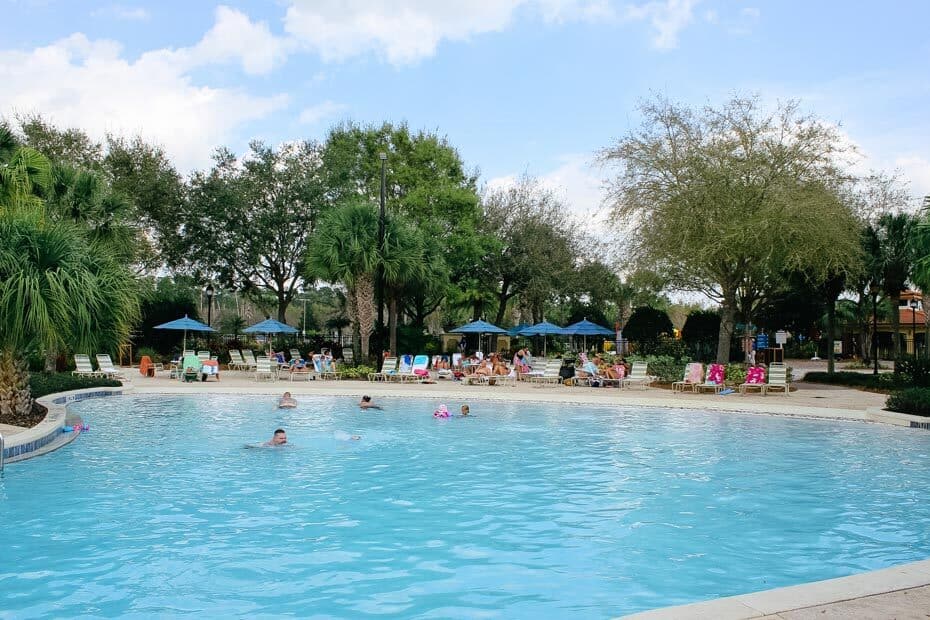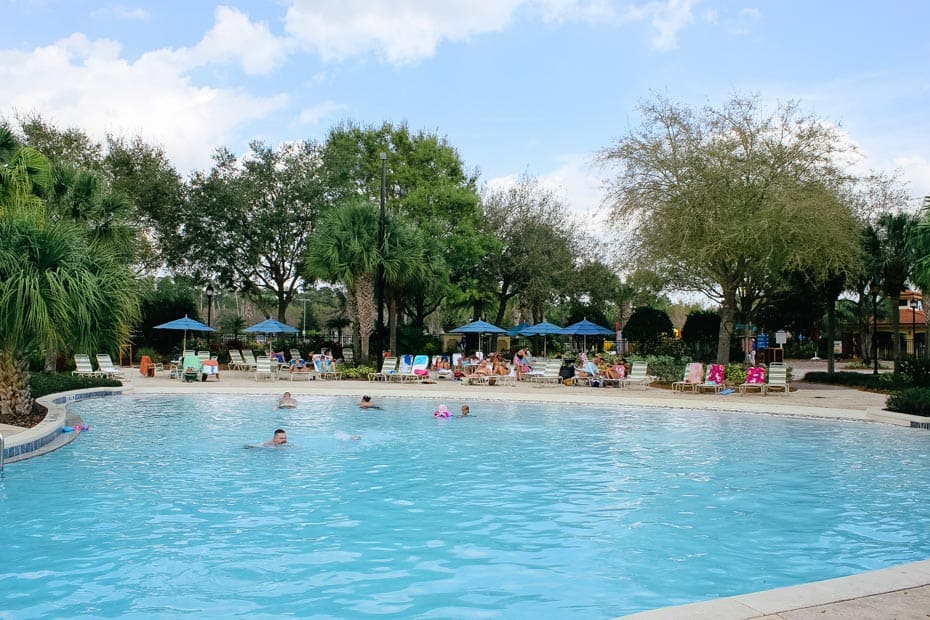 And a whole other recreation area awaits in the background.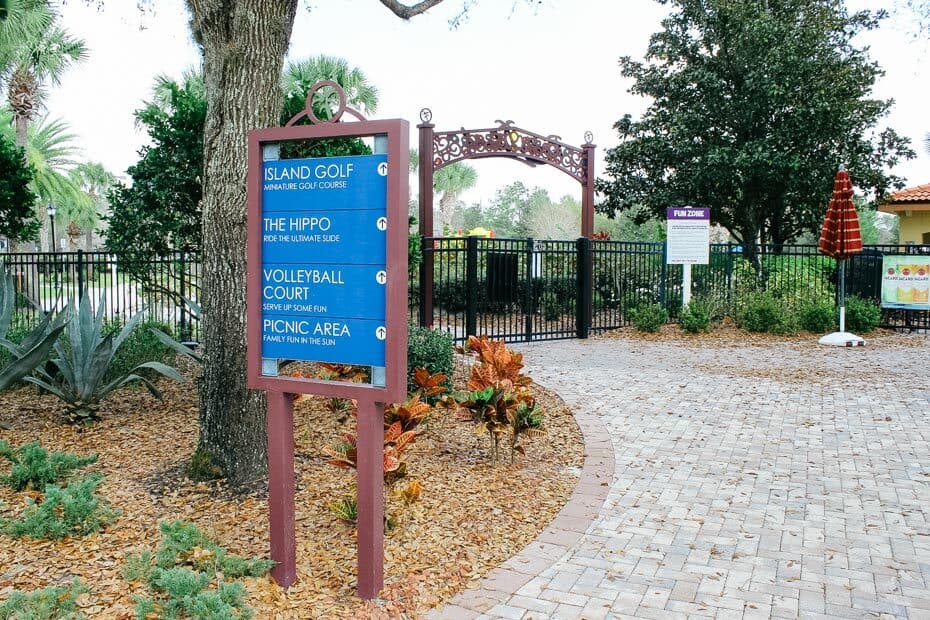 This large sand area with a playground looked like a fun place for children.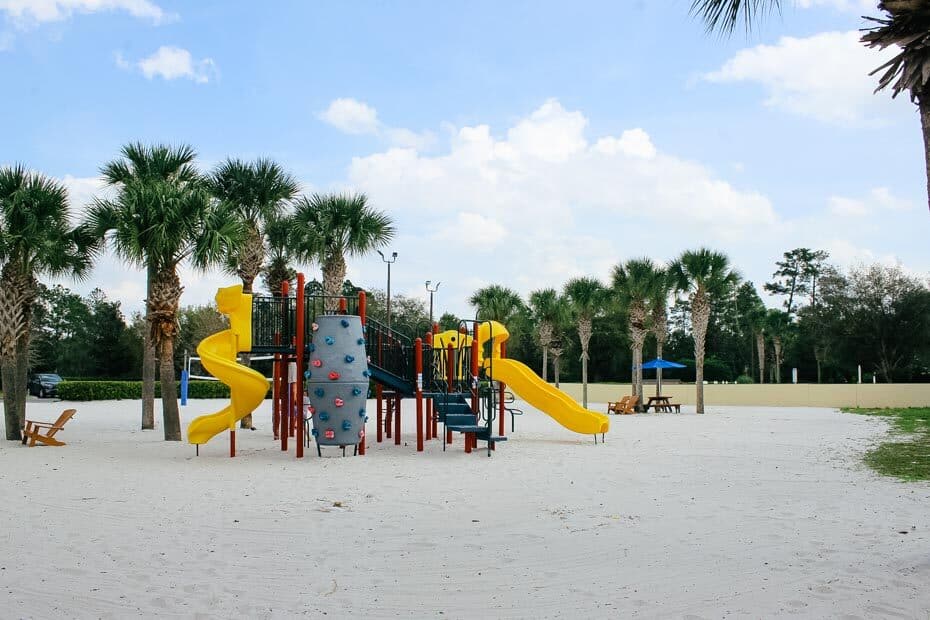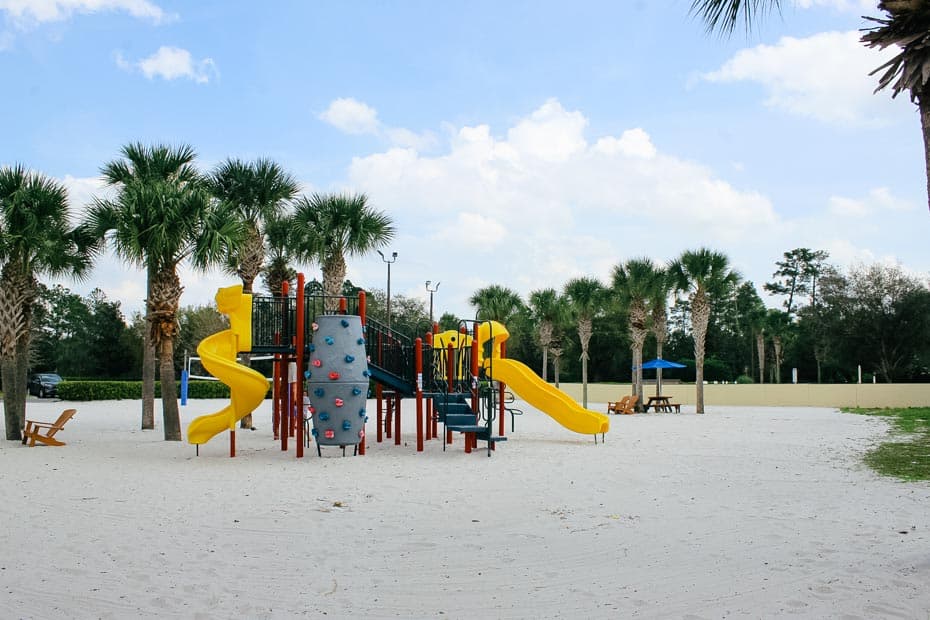 A soccer ball field was right behind it. (If you want to get up a game while in town, my son usually goes up the street to Northeast Regional Park here.)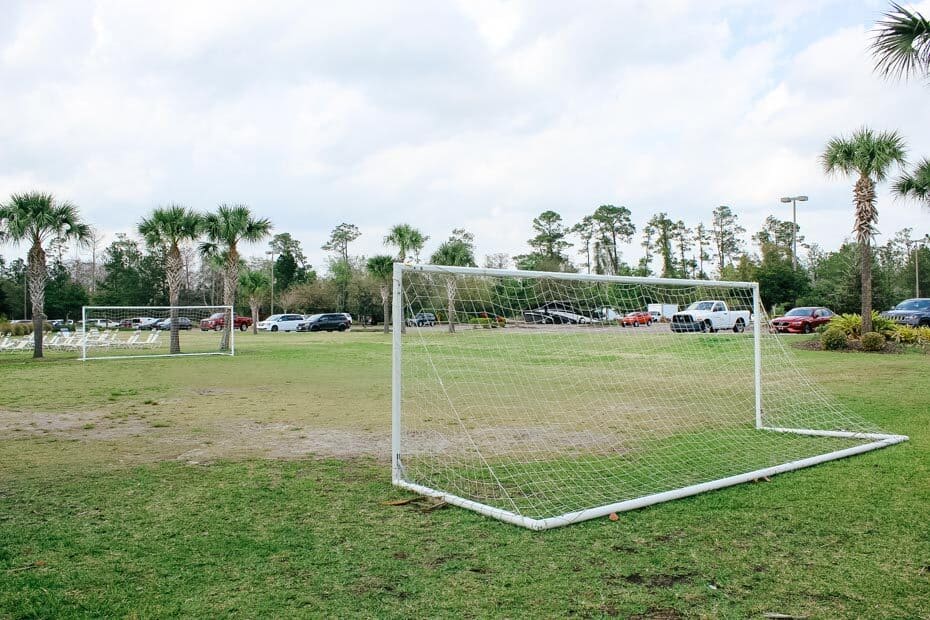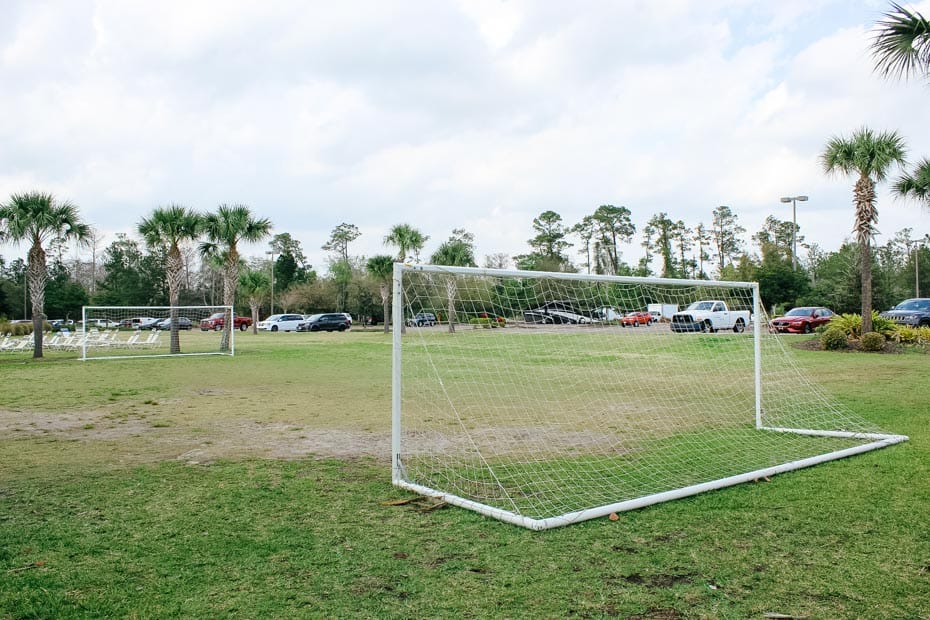 This area is where that 36 hole Island mini-golf course is located.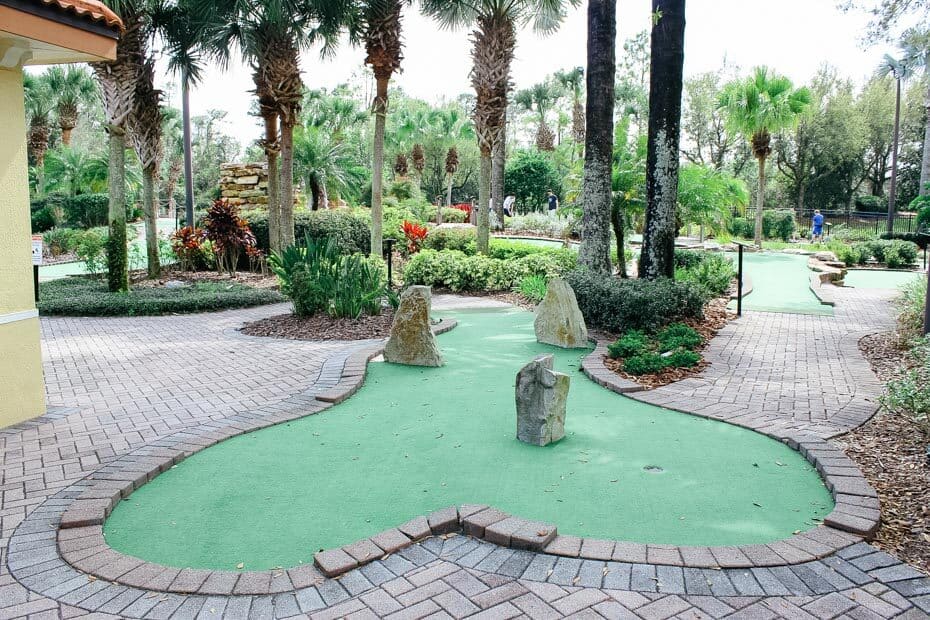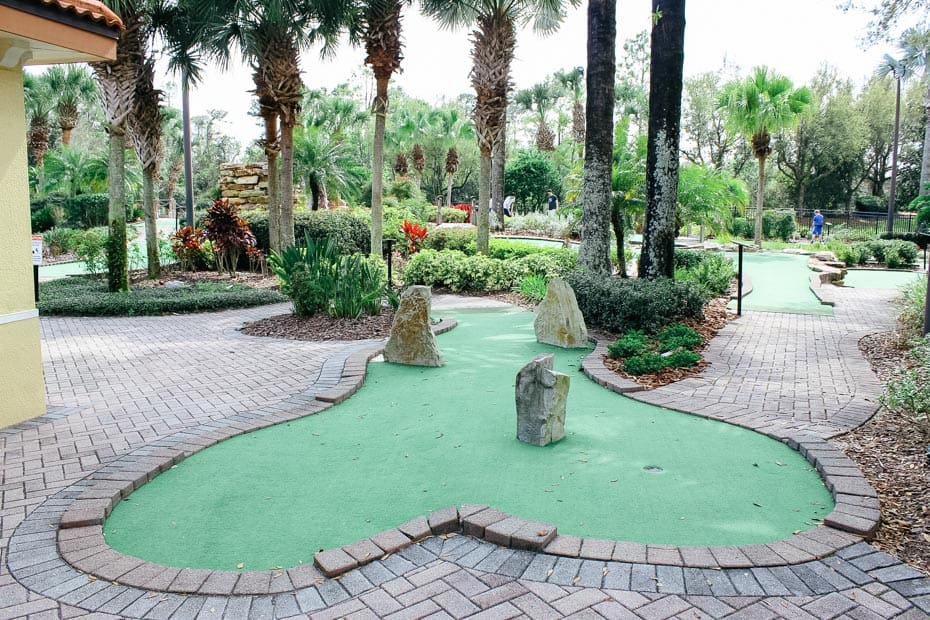 Several pool bars are available.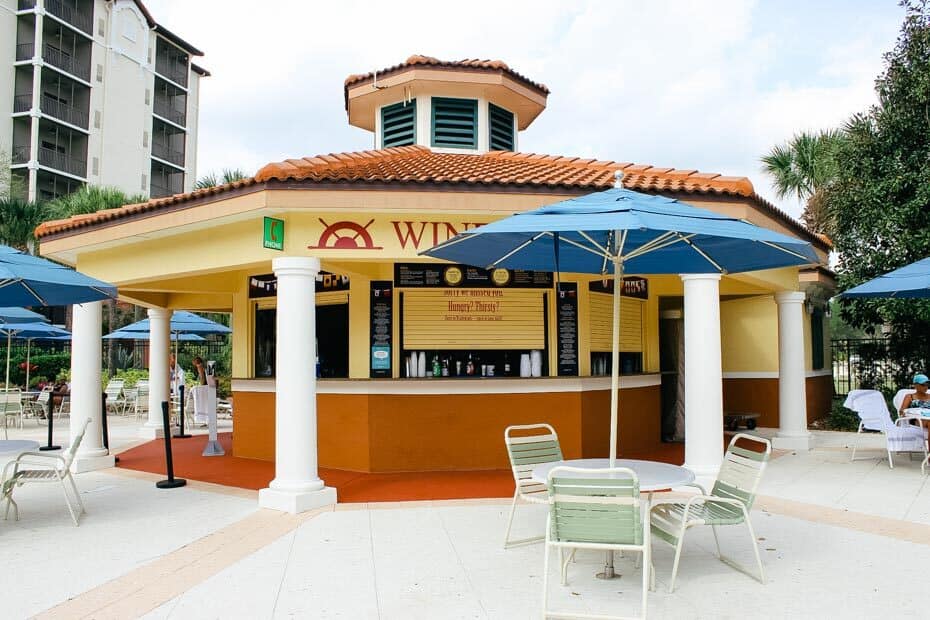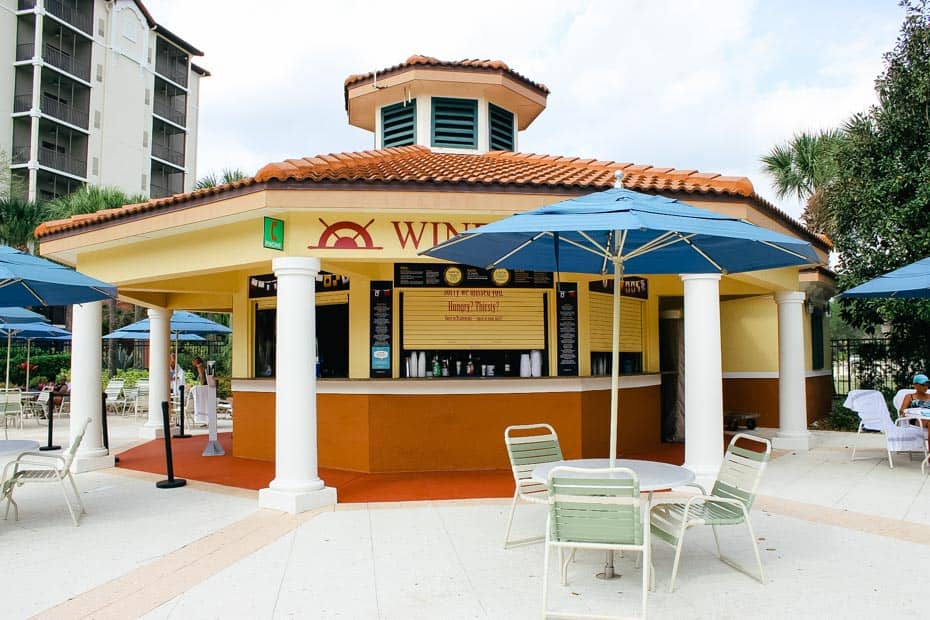 When I walked back up the opposite side of the lazy river, I noticed that a few areas were fenced off and said reserved seating. These areas were for the guests staying in this portion of the resort.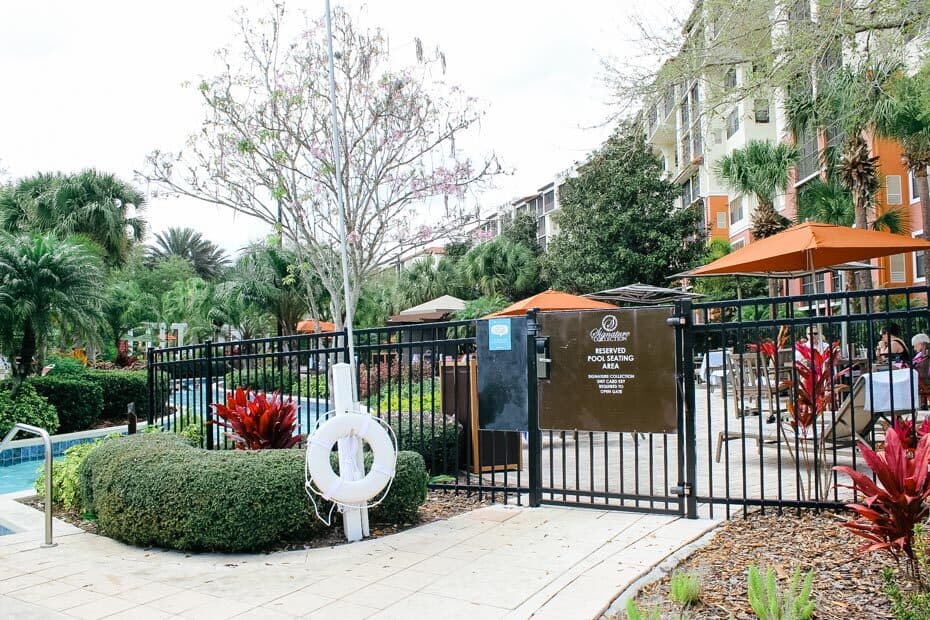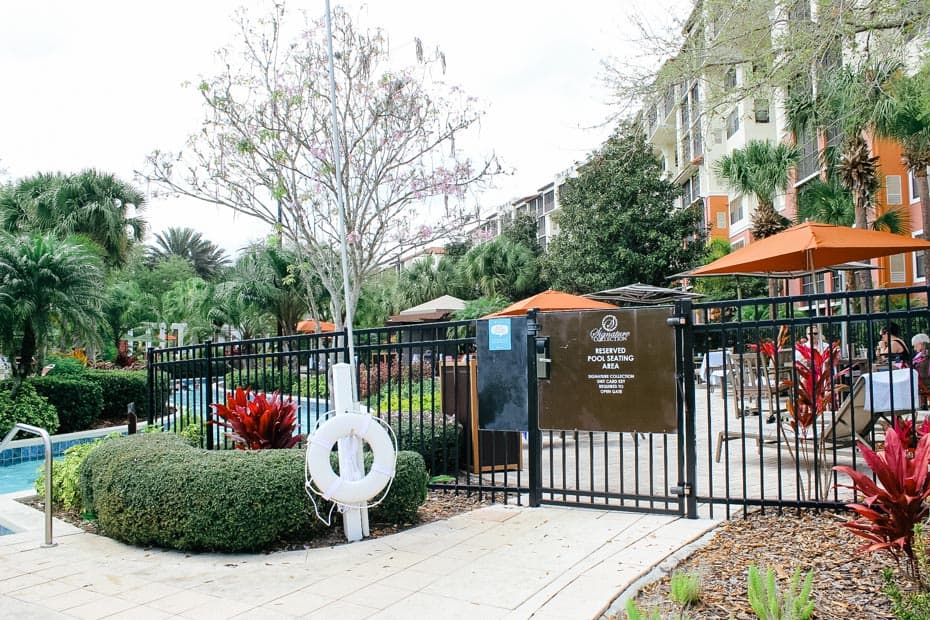 Several bridges cross over the lazy river making both sides accessible.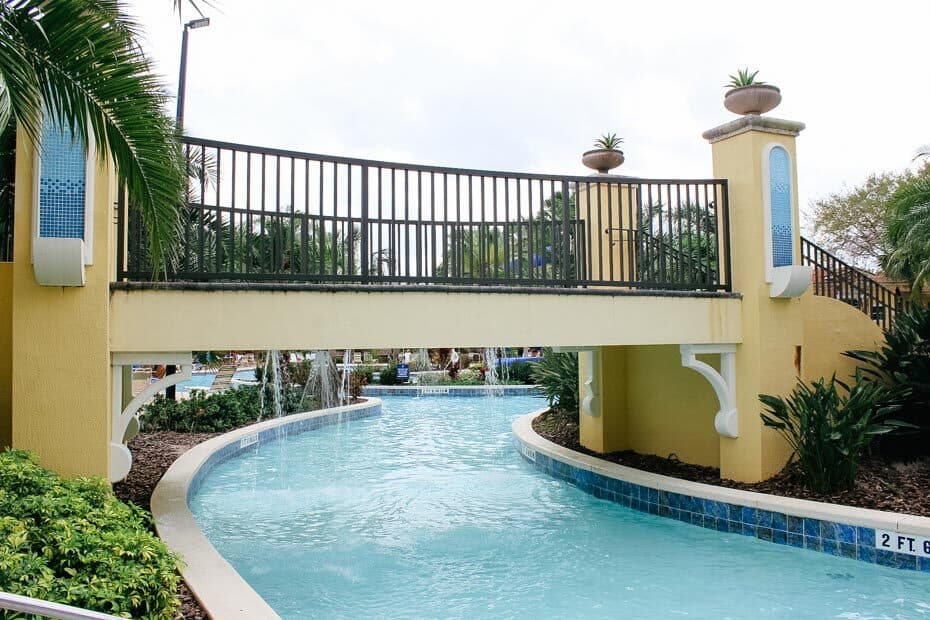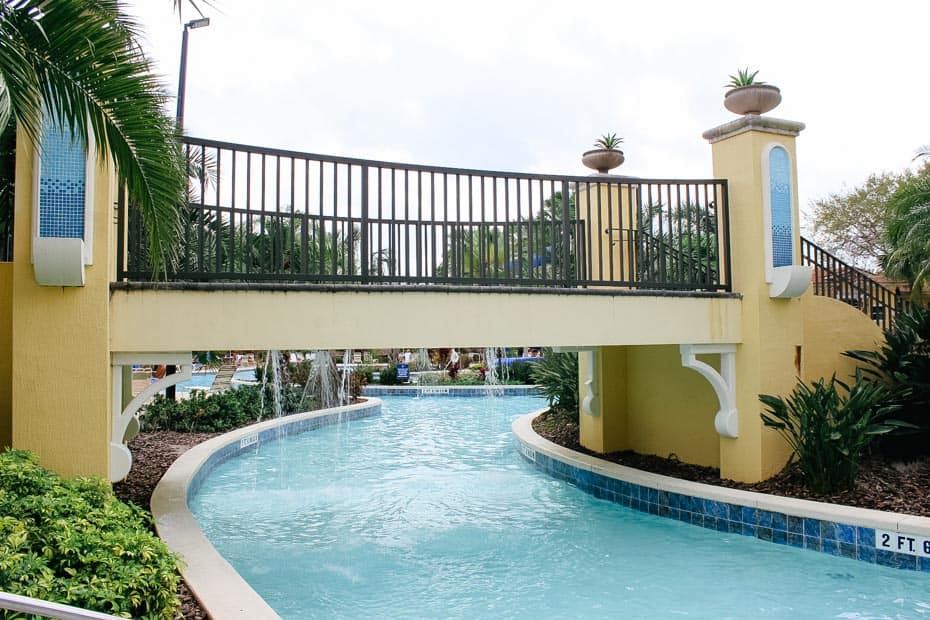 One other complaint was that the inner tubes cost $9.00 per day. If you are going to offer a lazy river, you might as well provide the tubes. In comparison, the rides at a water park like Blizzard Beach (including innertubes for the lazy river) don't cost anything extra.
Try our sister site Water Parks Gal for more water park information.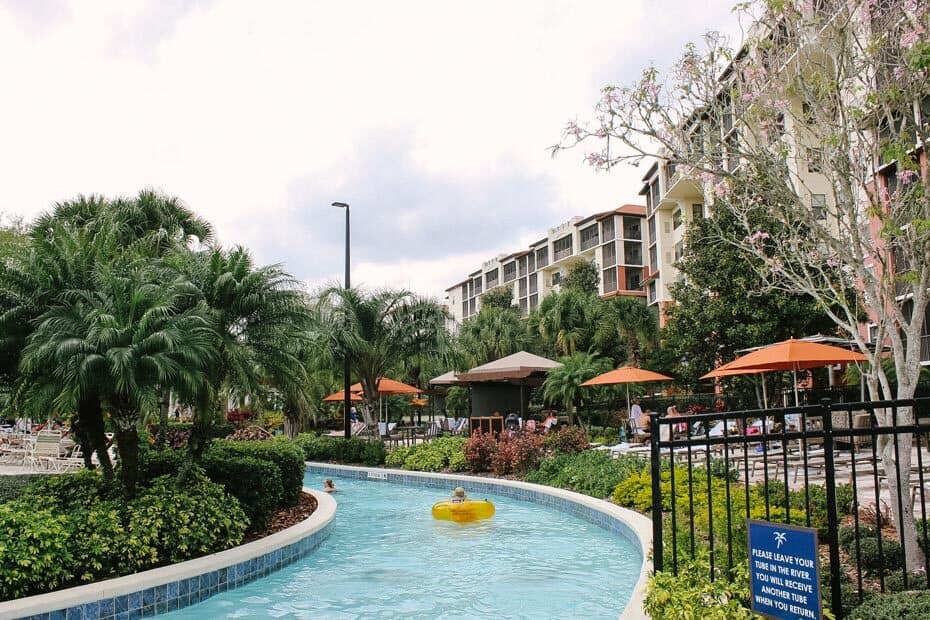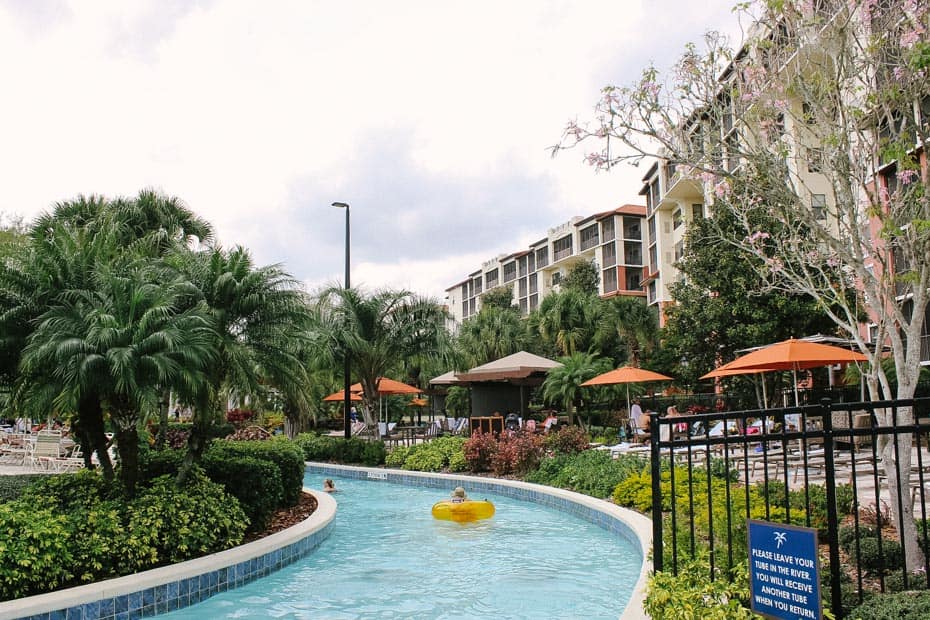 Here are a few more pictures of the area before wrapping things up.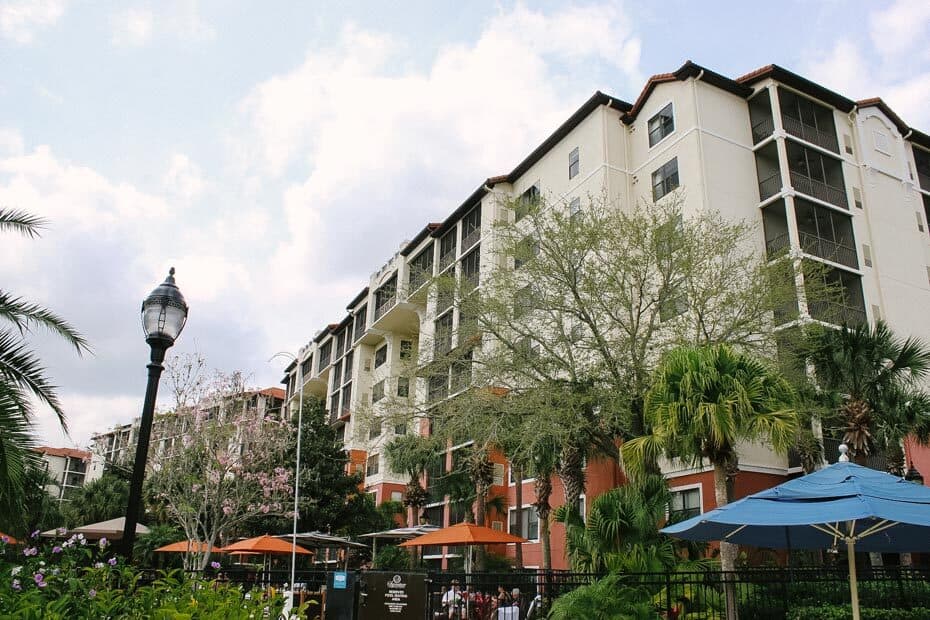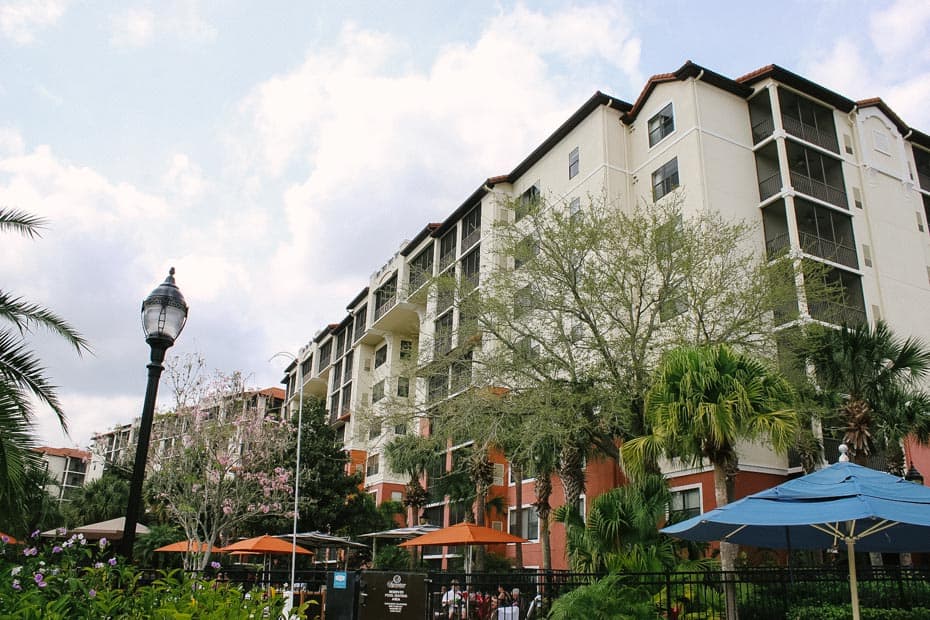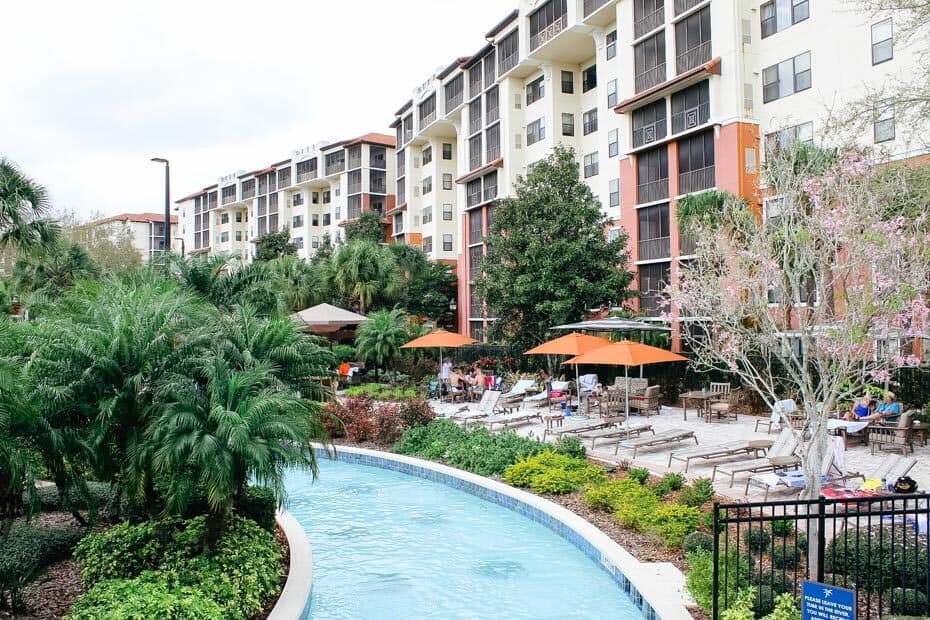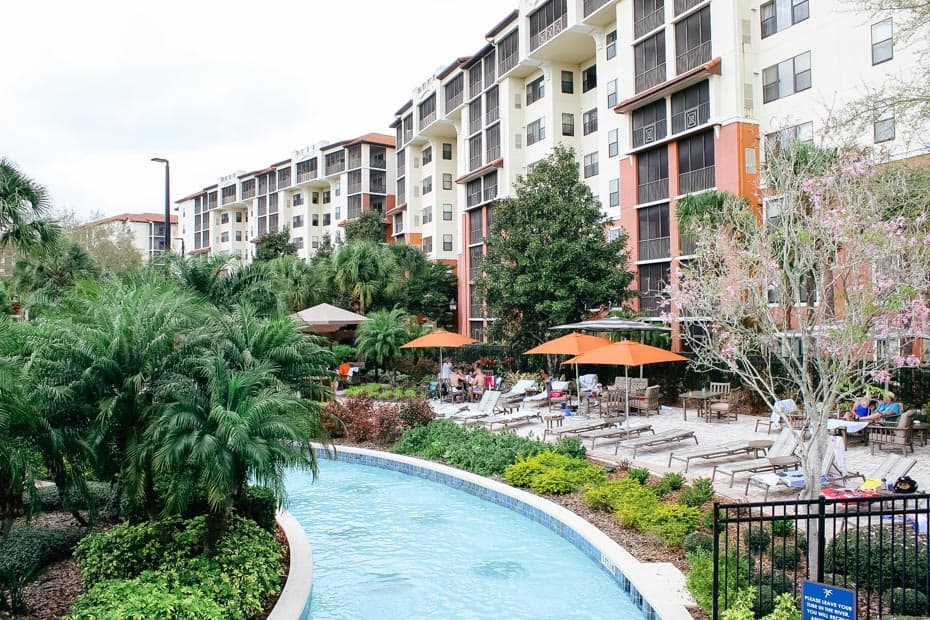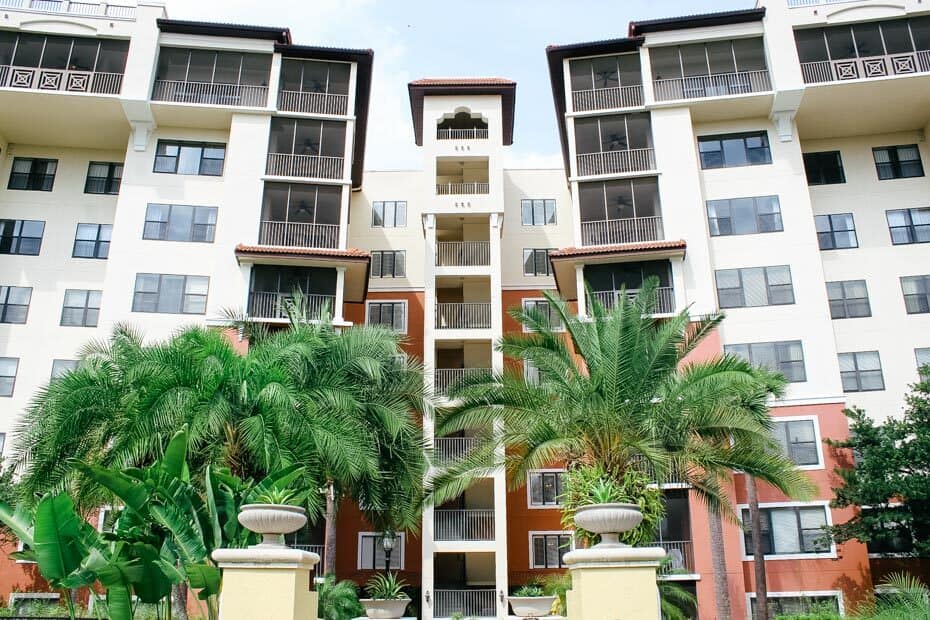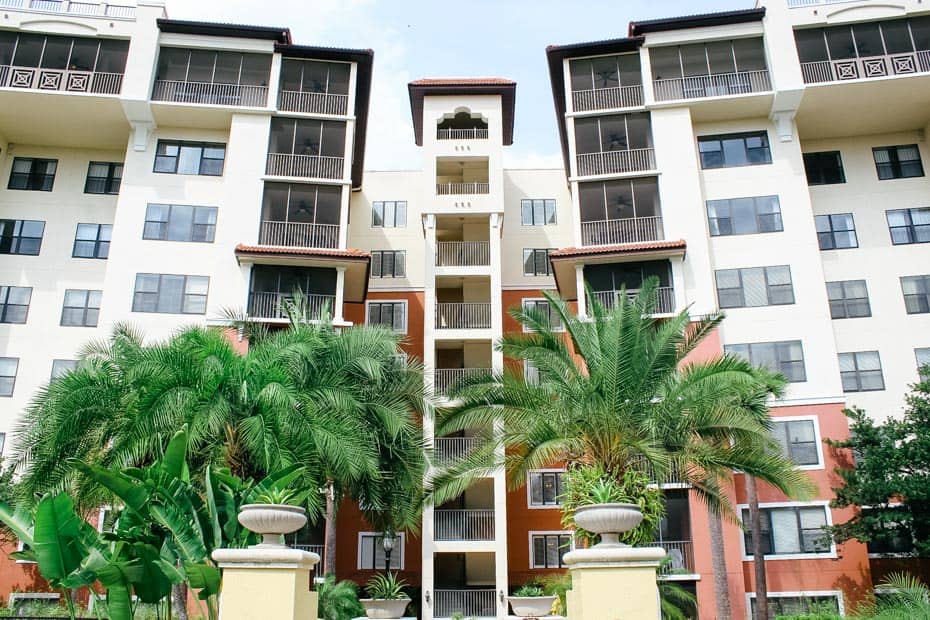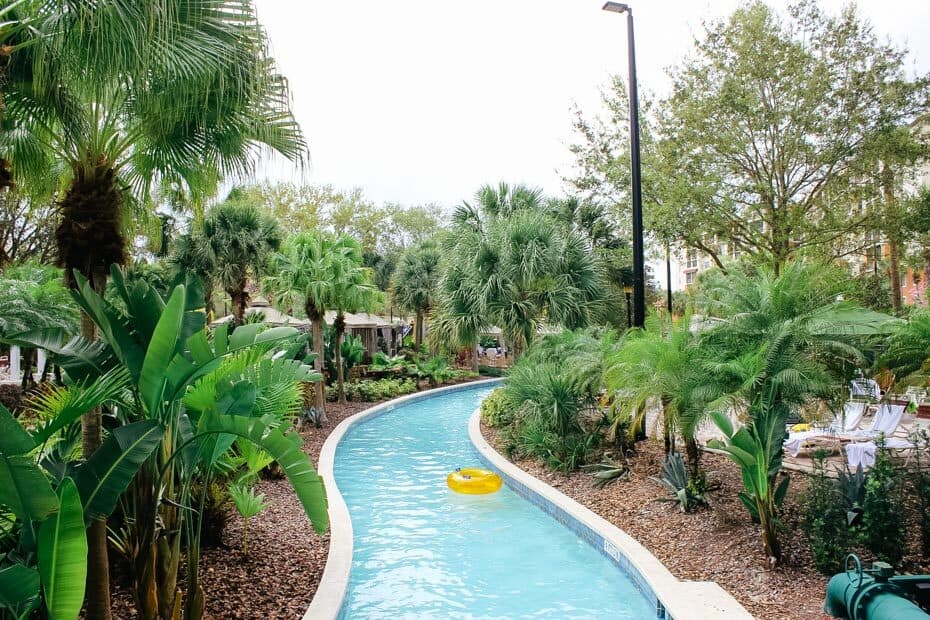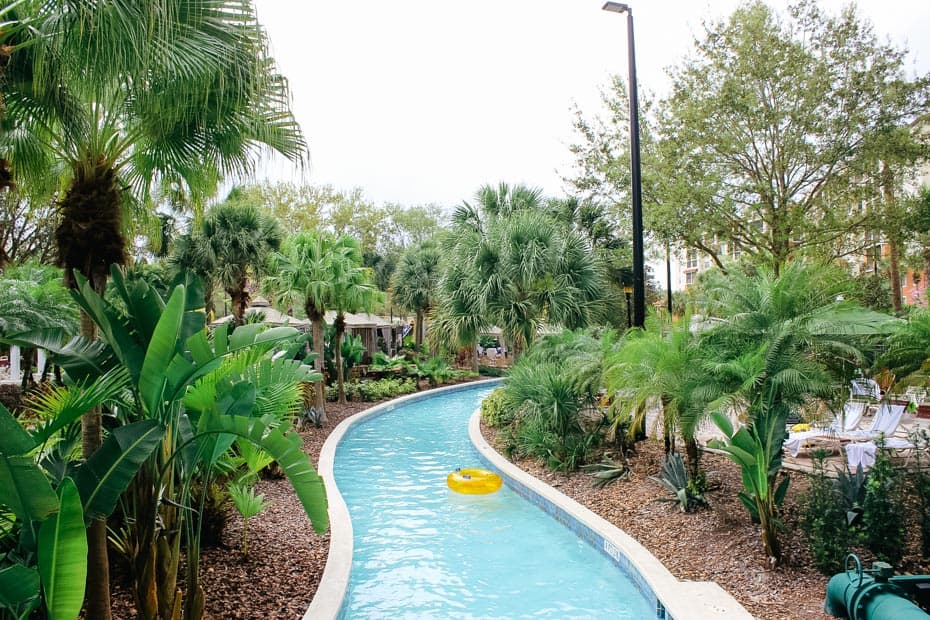 Since initially writing this review, we added a separate, more detailed look at River Island. Try that article if you want to know more about this specific area.
Related: River Island at Orange Lake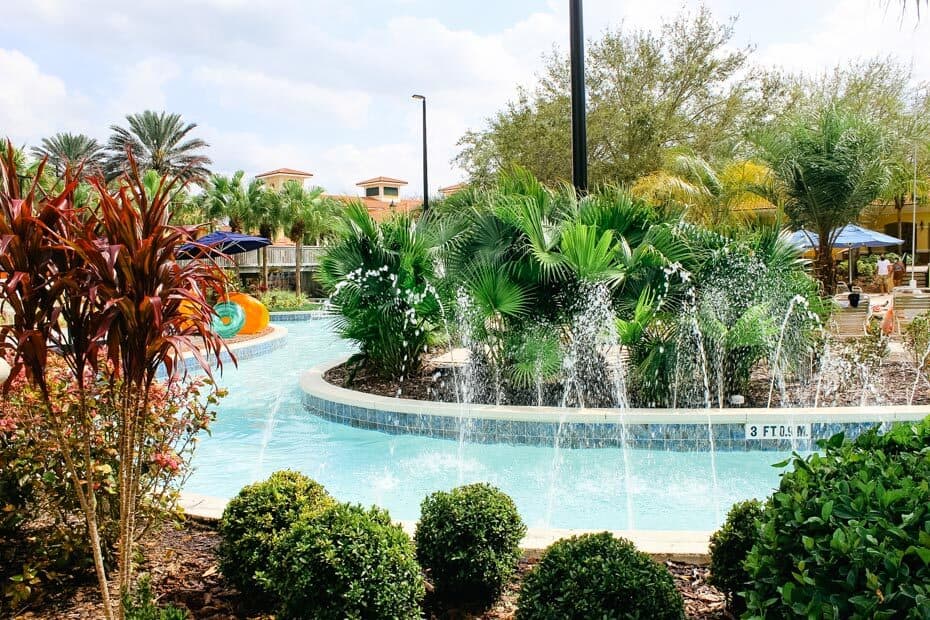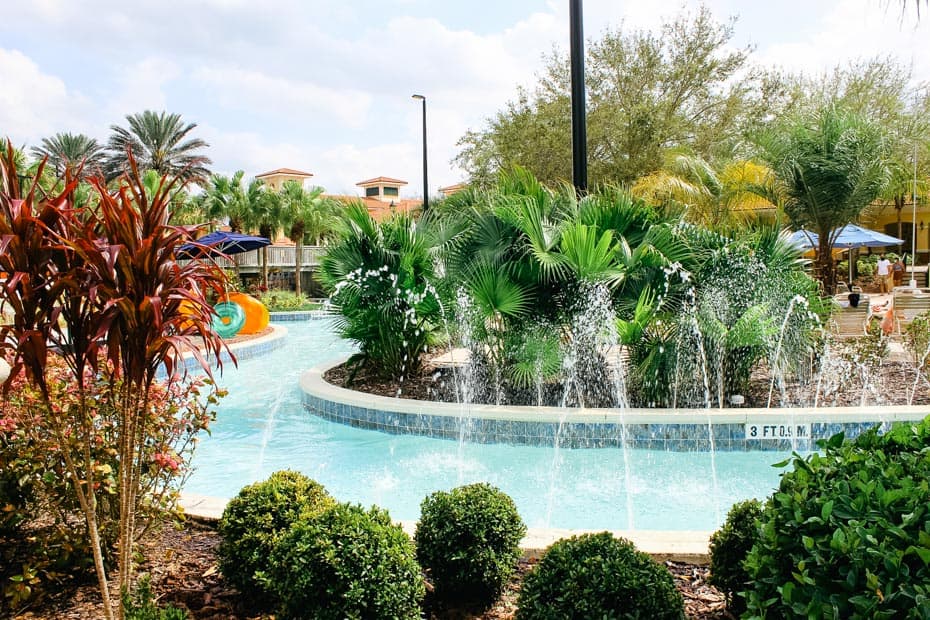 Orange Lake Resort's Location
Before we wrap things up, I wanted to touch on the proximity of Orange Lake concerning getting around the resort, the parks, and other nearby amenities.
First, I was baffled that Orange Lake didn't provide bicycle rentals. A bike would have been ideal for getting around the large property.
However, there is a bicycle rental company over in Celebration. They will deliver and pick up bicycles.
If you opt to drive over to Celebration (about 15 minutes away), you might enjoy their self-guided bike tour of the town. It's one of my favorite things in the area, outside of Disney. You can read more about it here.
As far as the surrounding area, there's a super Target within less than a mile from Orange Lake's main entrance. It's located in the Rolling Oaks shopping center.
A Flipper's Pizza is in that same shopping center. Flipper's is my preferred pizzeria in the area. Call the right one if you order to pick it up. There are quite a few in the Orlando area.
Publix is located across the highway from Target. This location is the one I call the tourist grocery store. However, I do shop there from time to time.
If you take a right on Highway 192 out of Orange Lake, another Publix is within a mile. And there are several more nearby. Always.
Tijuana Flats (Orange Lake here) is an excellent option for takeout. I often call to place an order when leaving the Magic Kingdom parking lot. Then I pick it up on the way back to wherever I'm staying.
As far as proximity of the theme parks, Animal Kingdom is the closest. You will want to take Sherberth Road (shortcut road) off 192 over to Osceola Parkway. The Disney theme parks are within a 10-20 drive from the resort.
From the entrance of Orange Lake Resort to Animal Kingdom's entrance, it's about an 8-minute drive. However, the traffic lights in Florida are long, so if you were to get stopped a few times, it will add a few more minutes to your commute.
Once you get on Disney property, it's pretty smooth sailing. But remember to drive the speed limit.
The area is heavily patrolled. And with so many unfamiliar tourists driving in the area, it can get a little crazy.
If you ever accidentally drive up to a theme park, don't worry about turning around. You can tell the cast member at the parking gate, and they will give you a pass and directions to get out.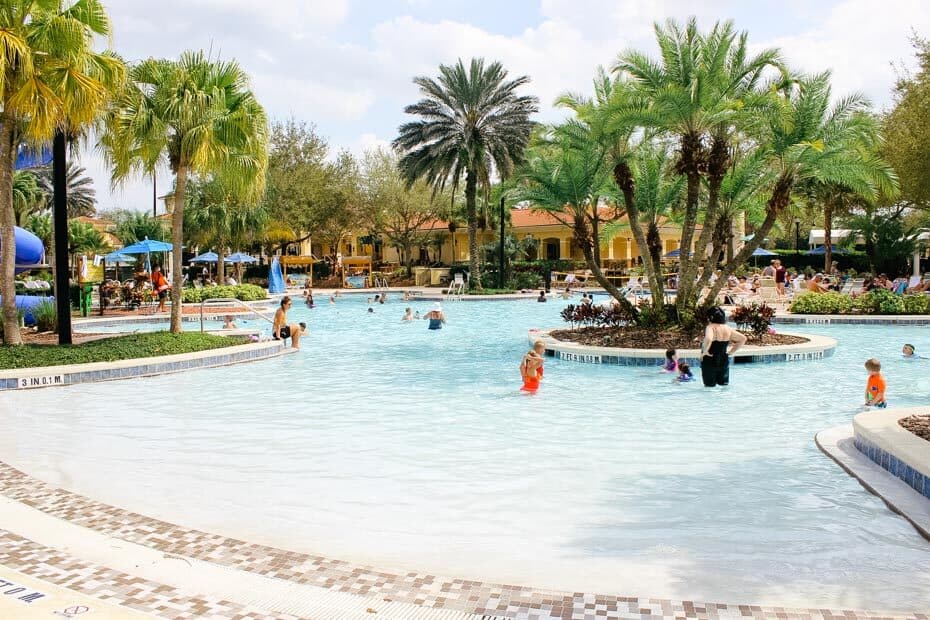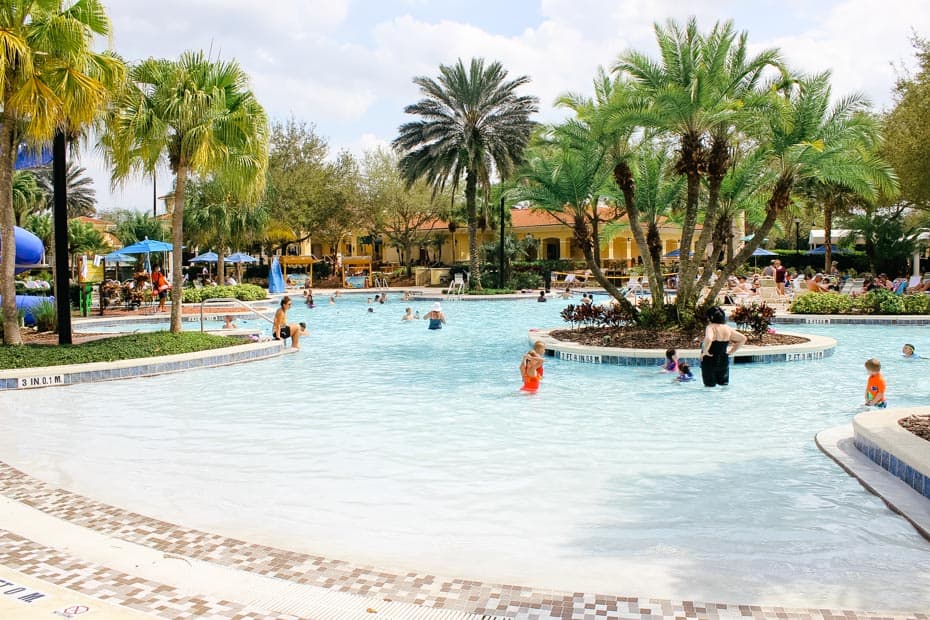 Accommodations at Orange Lake
As for Orange Lake, there are a variety of accommodations. Below is a look at the villas. The villas range from two to three-bedroom units.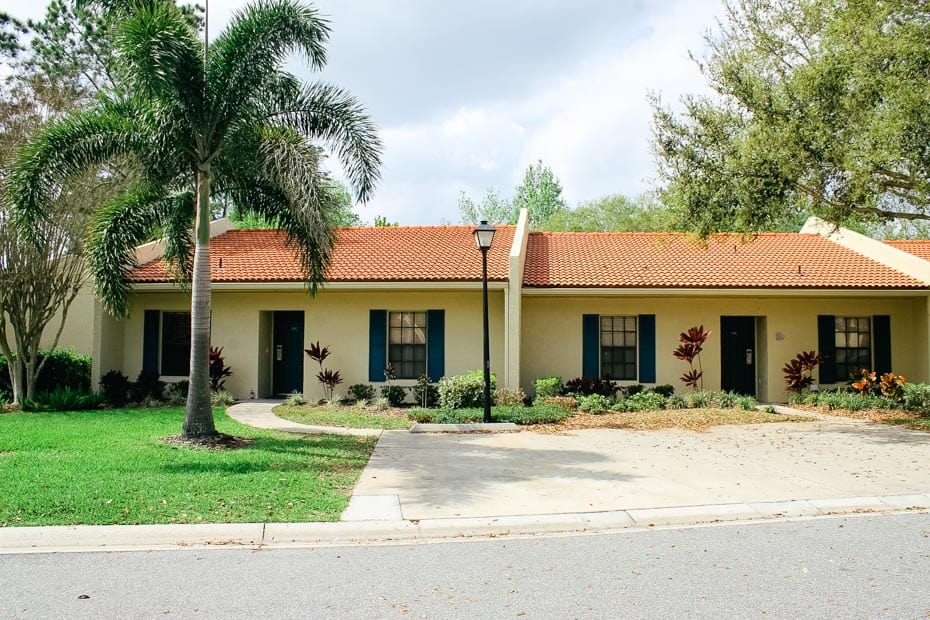 The best thing about the villas is that you can pull straight up to the entrance. So, they are ideal for bringing in luggage, groceries, and worn-out kids at the end of a long theme park day.
Here is a street view of the main road that runs through the resort.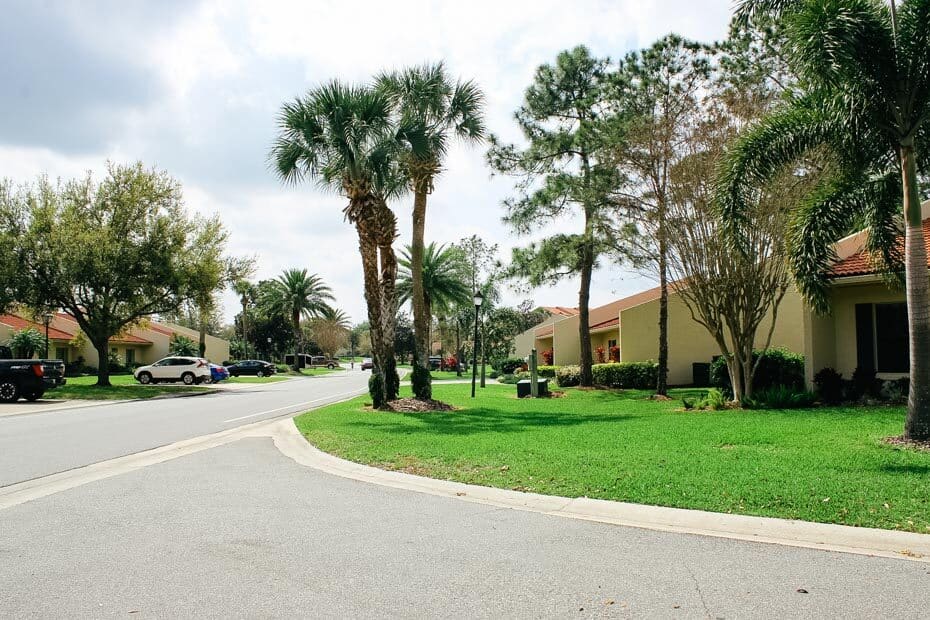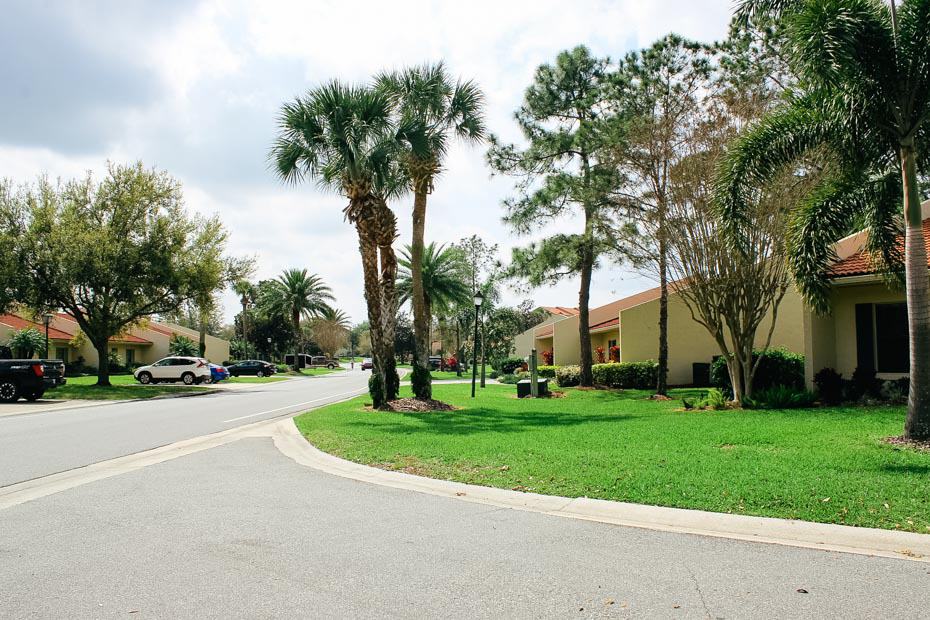 For this stay, I had a studio room. The studios are located in a building set up similar to a hotel.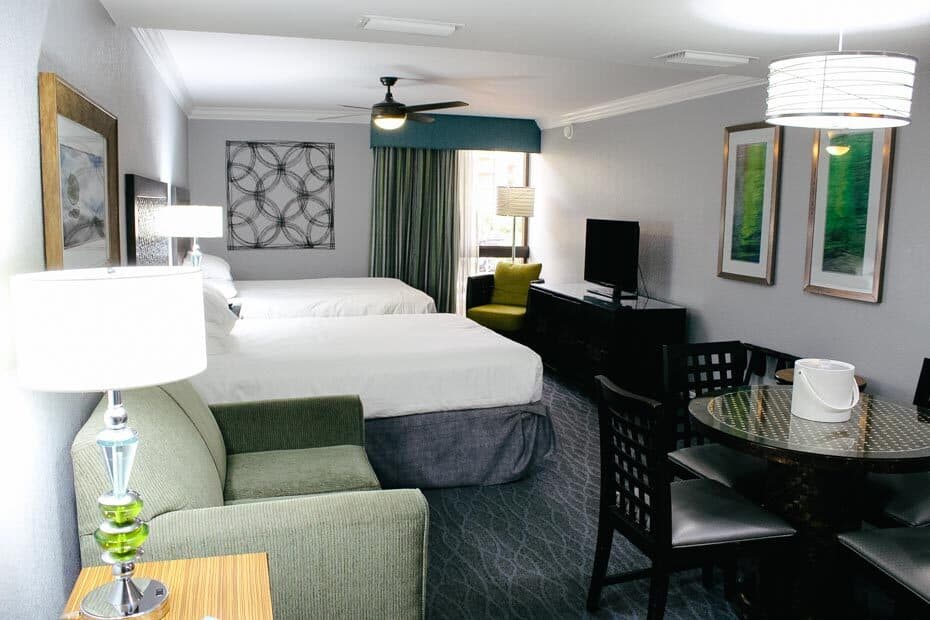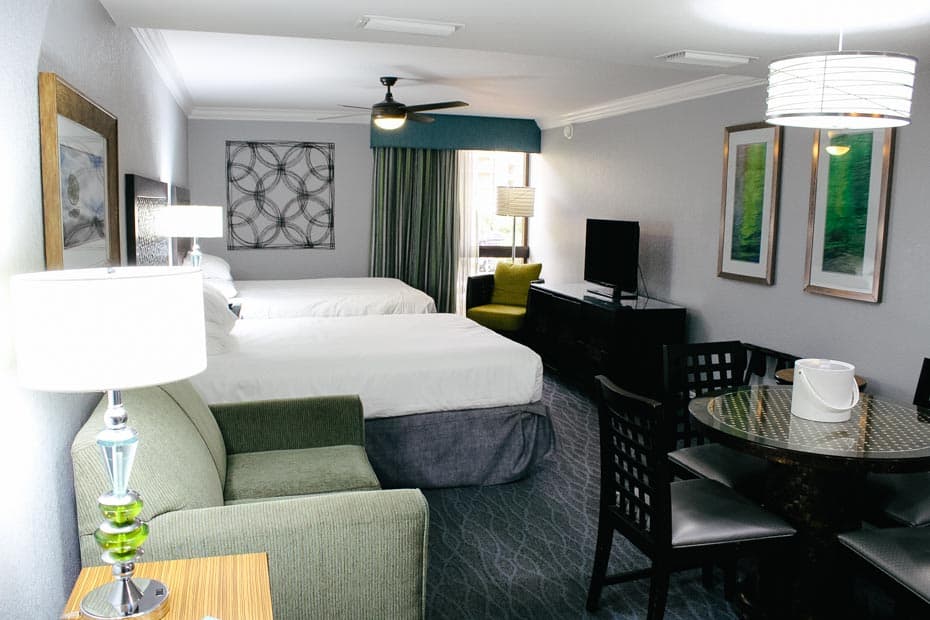 The studio could easily sleep up to six guests with the pull-out sofa bed.
And the kitchenette was perfect for preparing small meals. We had similar amenities at the Towneplace Suites at Flamingo Crossings. However, the room at Orange Lake was much more spacious.
Related: Towneplace Suites Flaming Crossings Review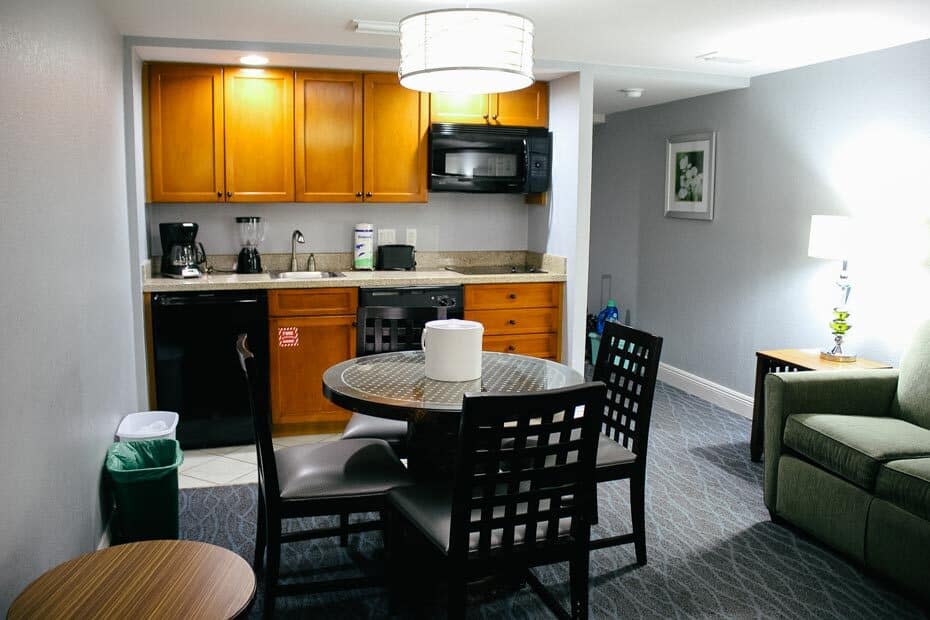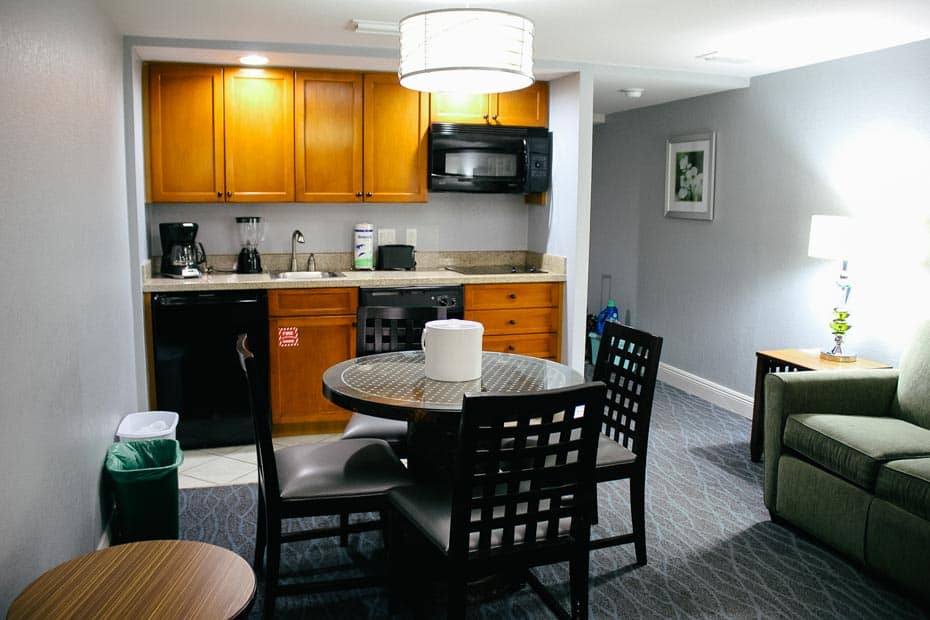 The guest bath was spacious with a standard tub and shower combination.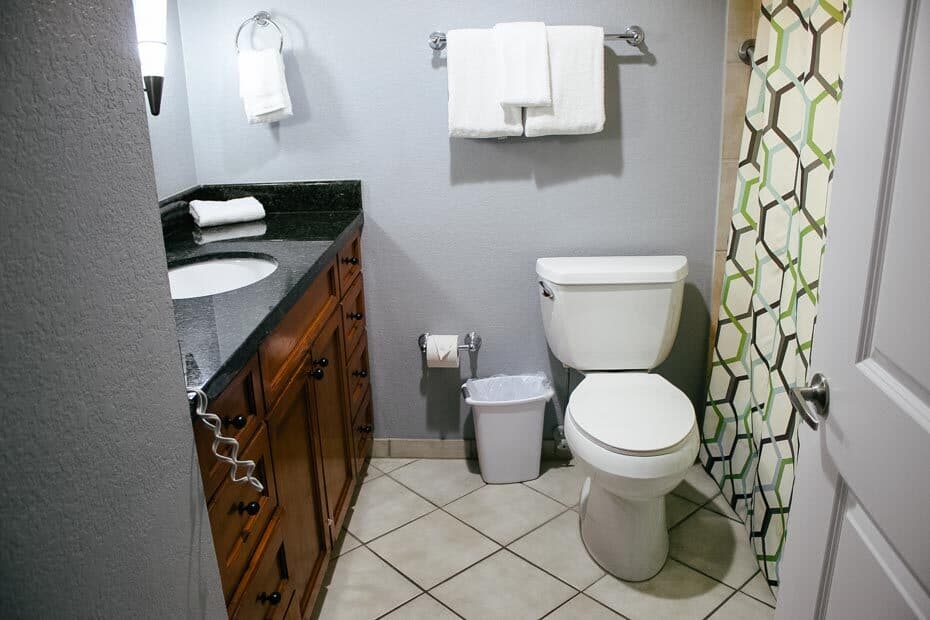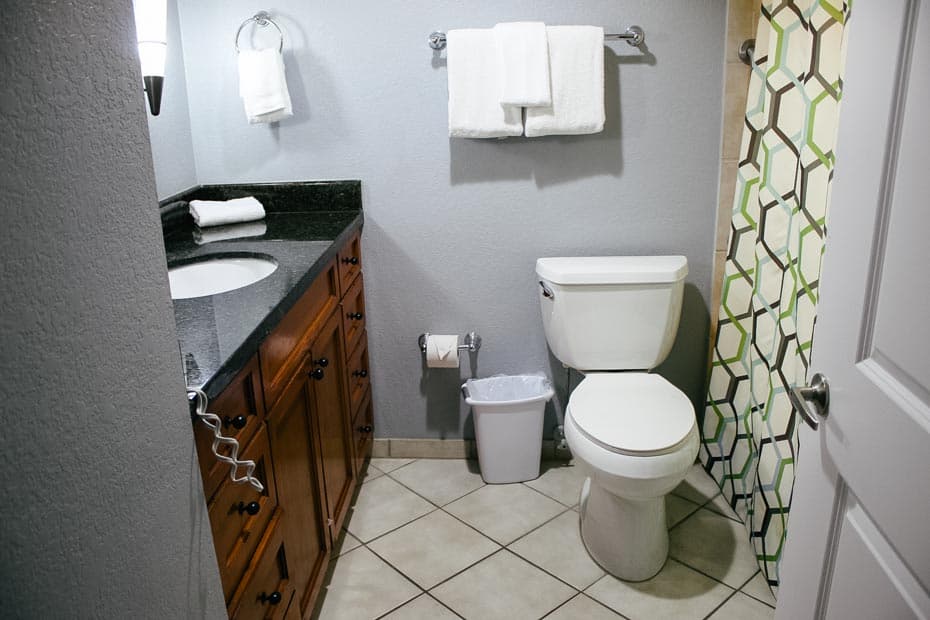 As far as extra cost goes, Orange Lake charges a resort fee, and there might be an additional cleaning fee. These fees should be stated up front when reserving your room.
My resort fee was around $100 for the week, and cleaning fees were suspended at the time of my trip.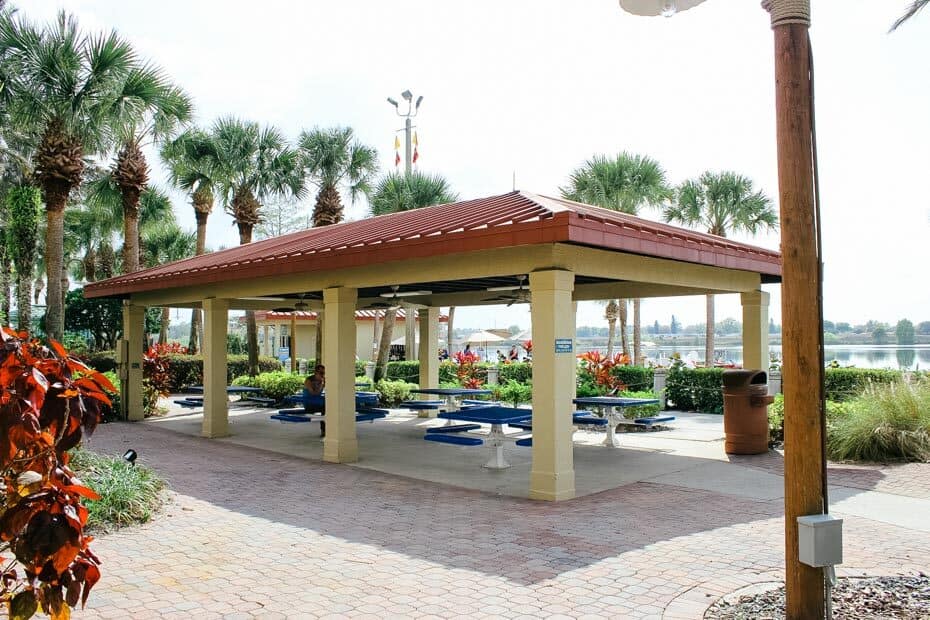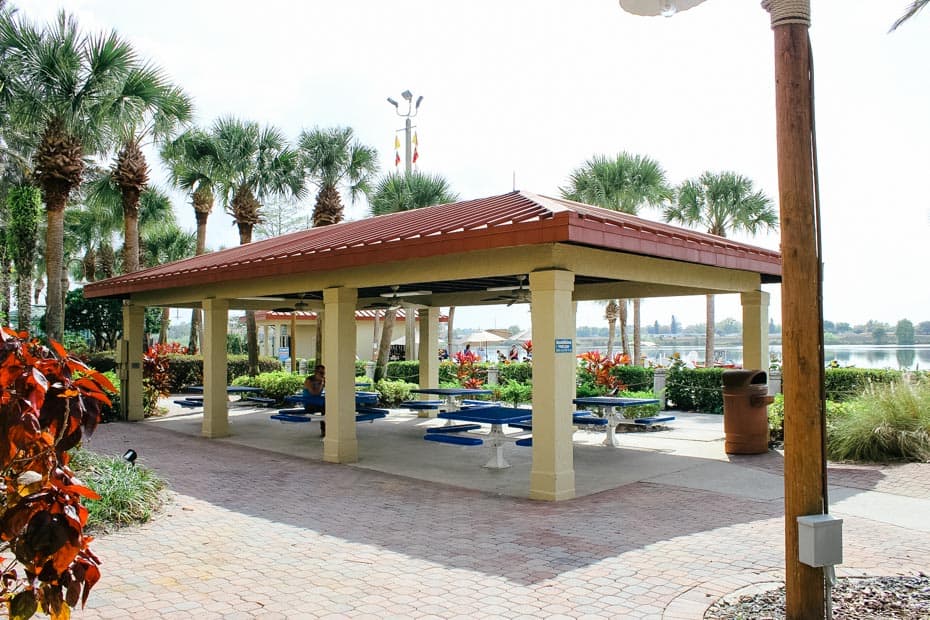 Final Thoughts on this Orange Lake Resort Review
In conclusion, I enjoyed my time at Orange Lake Resort. Even though there were a few negatives, I would happily stay here in the future.
If and when I do, I'll probably look into reserving a room at River Island.
Orange Lake is an appealing resort, and while it isn't all-inclusive, it does have that feel. The resort's pool and recreational activities are hard to beat, amenity-wise.
By that, I mean that Orange Lake is a resort you could enjoy for an entire week without going elsewhere. But, of course, that's only if your family is into spending time at the pool or golfing.
And while there are quite a few upgrade options, you don't necessarily have to purchase any of them to have a fun time. With that being said, your kids will probably see other children enjoying a few of these items and ask to participate.
If you are interested in comparing Orange Lake to a Disney Resort, you might consider some of the following:
Riviera is one of the newer resorts at Disney World, and we enjoyed our stay there. Plus, the hotel has some of the best dining options around. I recommend trying the breakfast at Topolino's Terrace. It's the best character meal at Disney World.
Related: Topolino's Terrace Character Breakfast
For more resort information, try the entire Disney World Resort Reviews list. Or you might enjoy our guide to the best off-site hotels at Disney World.
They include these favorites:
I hope this review provided you with the information needed to plan a stay at Orange Lake Resort.
In the comments: What are your thoughts on this Orange Lake Resort Review? Did you find it helpful? Are there any questions you have about the resort?