A Review of the Club Level at Disney's Polynesian (The King Kamehameha Club)
This article shares details of our stay at the King Kamehameha Club Level at Disney's Polynesian Village Resort. In this review of the club level at the Polynesian, we'll discuss what club level is, the amenities you can expect, lounge hours, menus, and photos of the food and beverage options.
Aloha! I've been practicing hula dancing since our stay at the club level at Disney's Polynesian Village Resort. It was a refreshing stay that left me feeling differently about the Polynesian.
As you may know, we primarily focus on the Walt Disney World Resorts on the site. We have stayed at every resort hotel at Walt Disney World. But this was our first experience with the Kamehameha Club. Hopefully, it won't be the last.
Of course, we are no strangers to club level and have a sweet spot for the club level at Disney's Beach Club. We've also recently reviewed the club level at Gran Destino Tower. Each deluxe resort at Walt Disney World has a club-level or concierge floor, including Gran Destino at Coronado Springs, a moderate resort.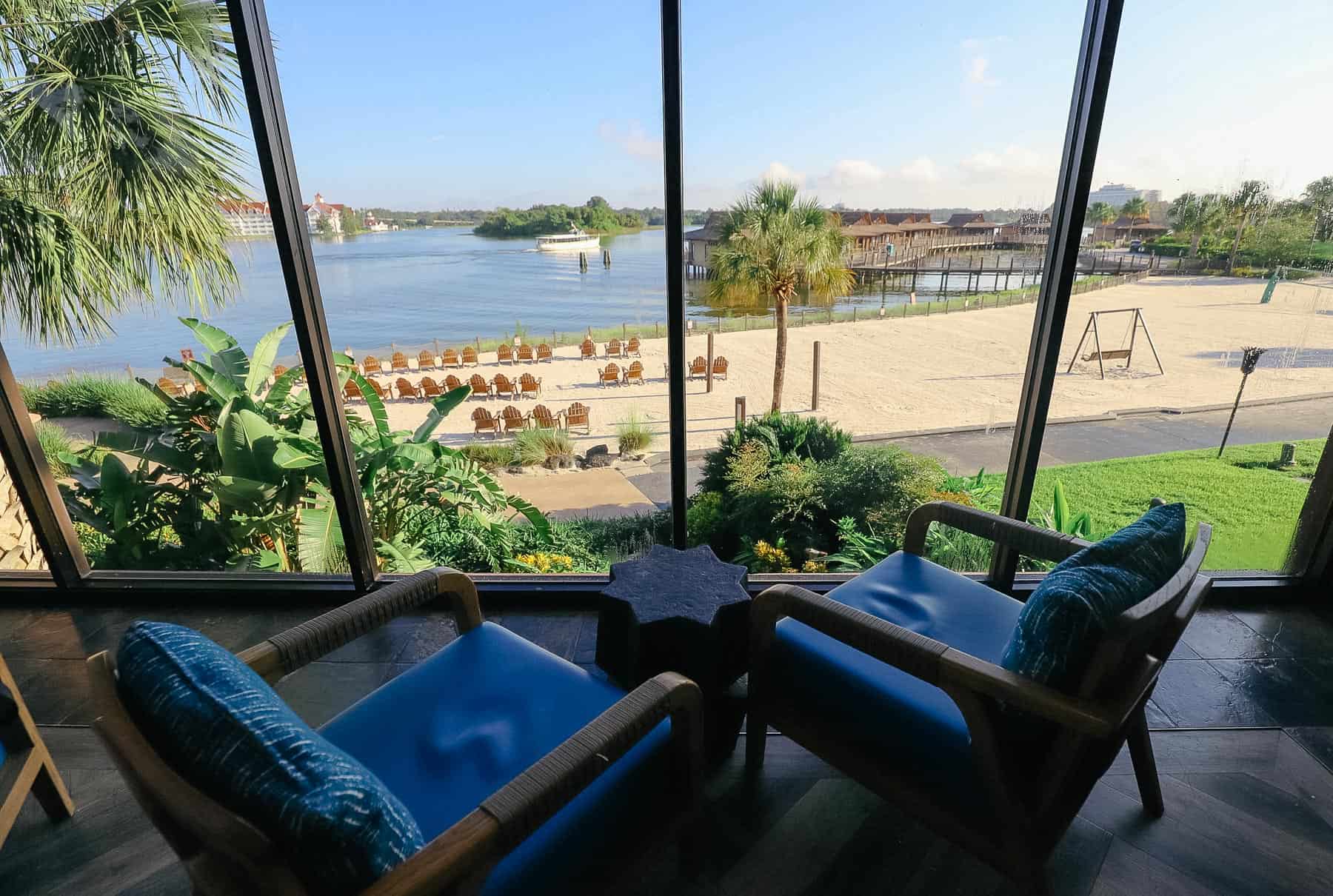 What is Club Level at the Polynesian?
Many years ago, I first learned of club-level at Disney World via an online forum. I was immediately intrigued and surprised that I had never heard of it. After researching, I found that the club level (at most resorts) was a private floor with complimentary food offerings throughout the day.
Additionally, dedicated concierge cast members are available to assist with any issues or needs. These special cast members can help you with anything from dining reservations to providing directions.
This is a benefit because you won't have to spend time waiting in line at the hotel's front desk for assistance. Cast members are at the King Kamehameha Club's reception area and lounge from 7:00 a.m. until 10:00 p.m.
As you can expect, the club level at the Polynesian or any resort is expensive. If you are considering this for a splurge, you will want to weigh your options. Those who won't spend much time at the resort will likely not benefit from this offering.
But if you consider yourself a resort person, love downtime, and plan to relax–this upgrade might be the umbrella in your tropical drink for your Disney vacation.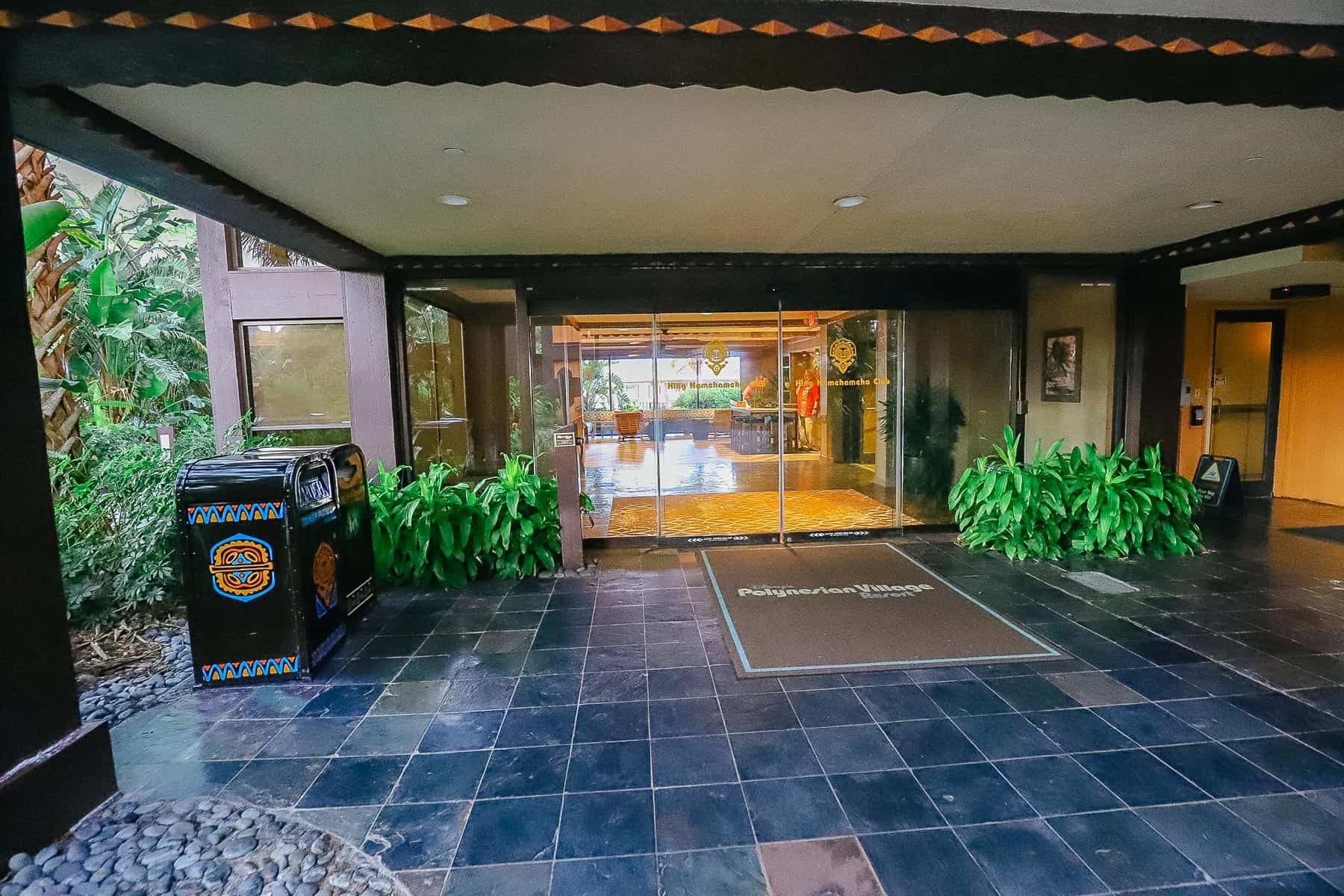 How much is the Polynesian Club Level?
Staying club level at any resort is expensive, even more so at Disney's Polynesian. For this trip, we paid approximately $746.00 per night (before tax). That rate was with an annual passholder discount. Our travel agent at Firefly Travels reserved this stay.
Depending on the time of year, the cost per night fluctuates. This stay was in early September after Labor Day, when rates are generally lower at most Disney Hotels.
Club Level Rooms and Buildings at the Polynesian
All standard club-level rooms at Disney's Polynesian are in the Hawaii building. Also, Disney's Polynesian suites, including the King Kamehameha presidential suite, are located in Tonga.
Tonga sits adjacent to the Great Ceremonial House and comprises two-story suites. Suite guests will have to walk to Hawaii to access most of the club-level offerings.
When you exit the Great Ceremonial House and walk toward Seven Seas Lagoon, Hawaii is the third building on the right. Its convenient location is only a few steps from both pools at the Polynesian and the resort's white sand beaches.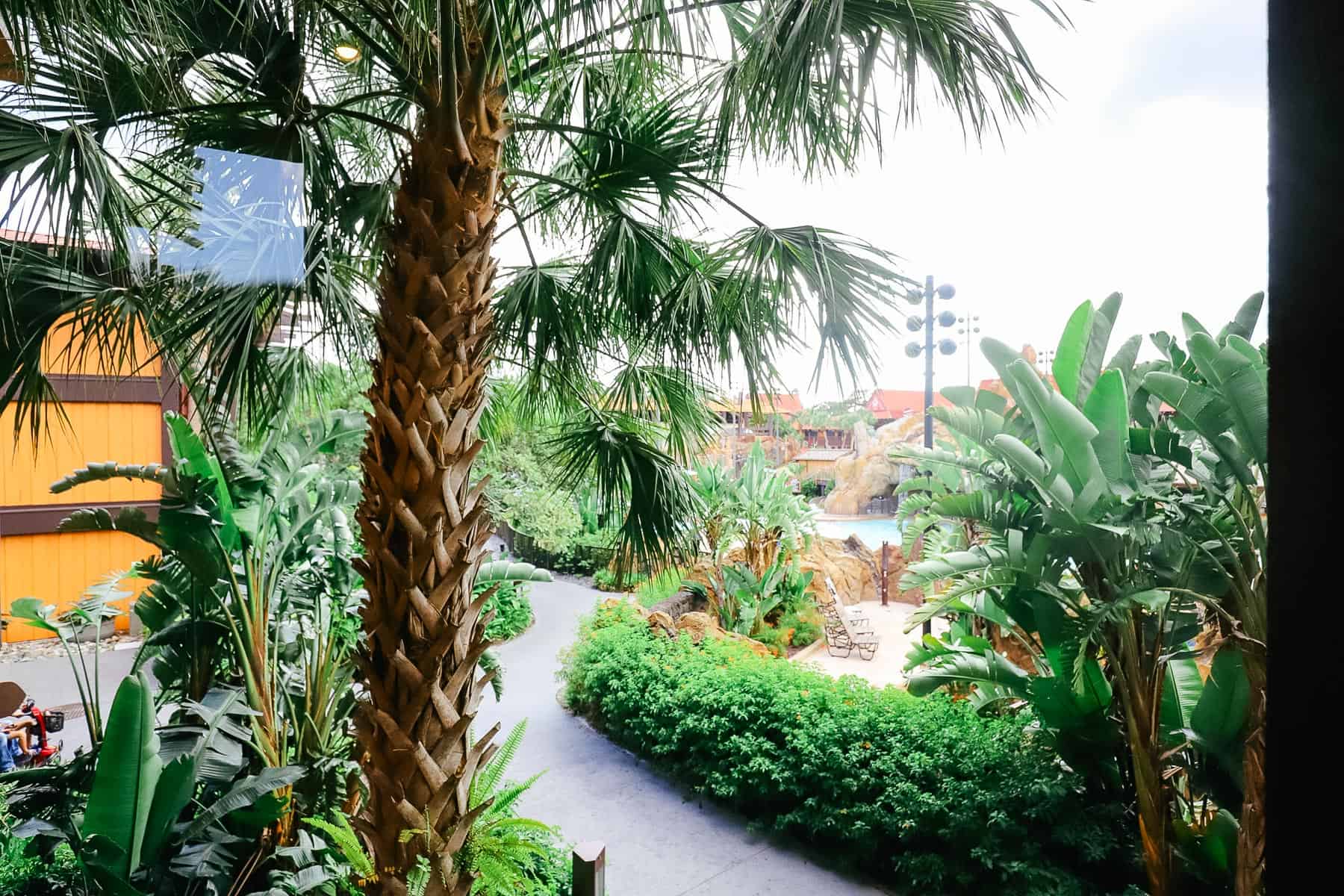 Standard club-level rooms are no different from the regular Moana rooms at the Polynesian. Most will have two queen beds and a fifth single sleeper in the form of a day bed. A few rooms have a king-size bed.
Most of the longhouses at Disney's Polynesian have three floors. Each floor in Hawaii has a long hallway of rooms. Rooms on one side have a theme park view or a lagoon view. Rooms on the opposite side have a resort or water view, which is a pool view.
Third-floor rooms have a full balcony with a small table and chairs. Rooms on the second floor have a small step-out or Juliette balcony. Meanwhile, first-floor rooms have a patio with a small table and chairs.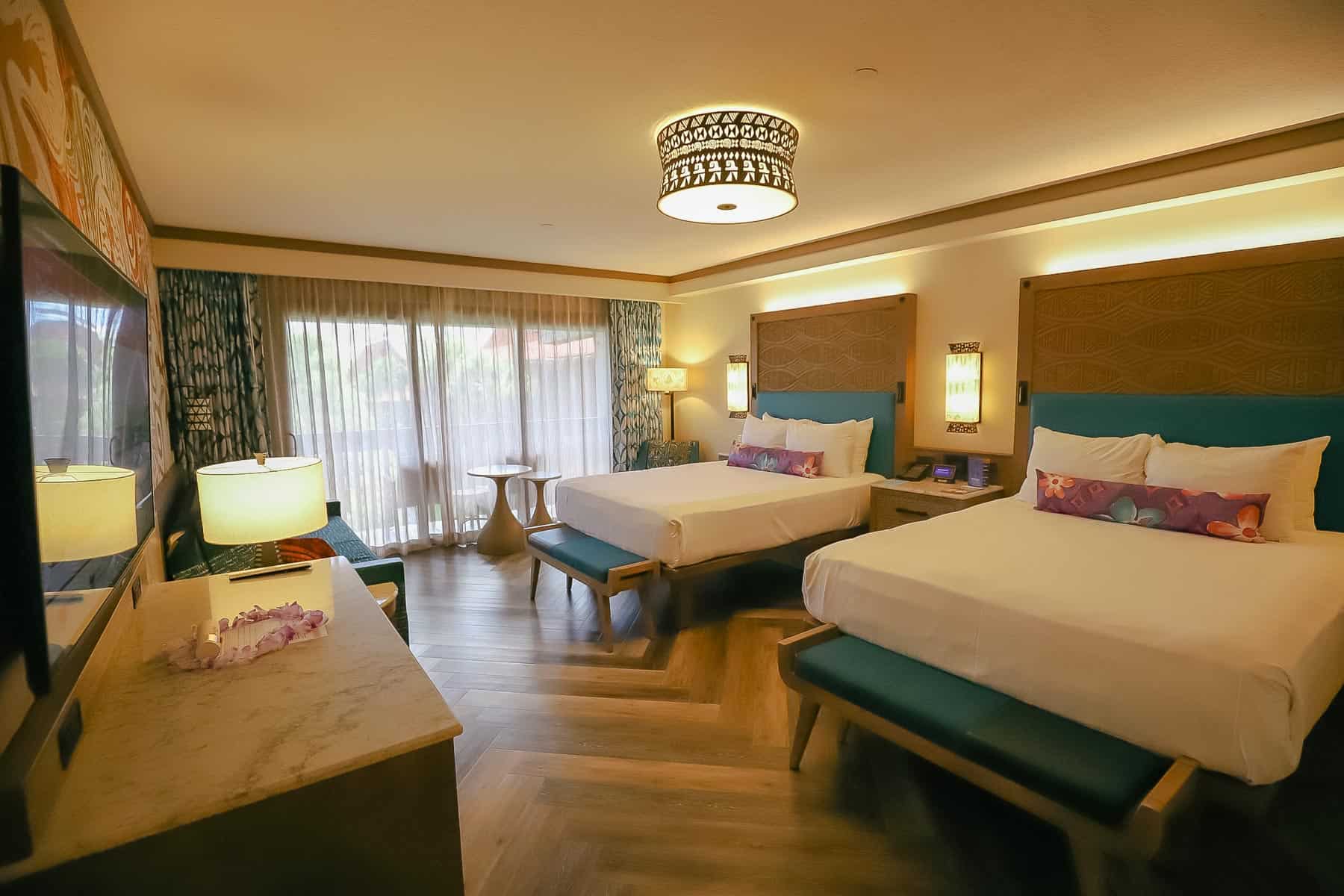 Here is a photo of the Hawaii Building. From this point, I'm standing directly in front of the gate to the Lava Pool. If we stayed on the path to the far left, we would be only a few steps to the beach and Seven Seas Lagoon. From there, Cinderella Castle sits in the distance. If we stayed on the path to the right, we would be within a few steps of the Oasis Pool.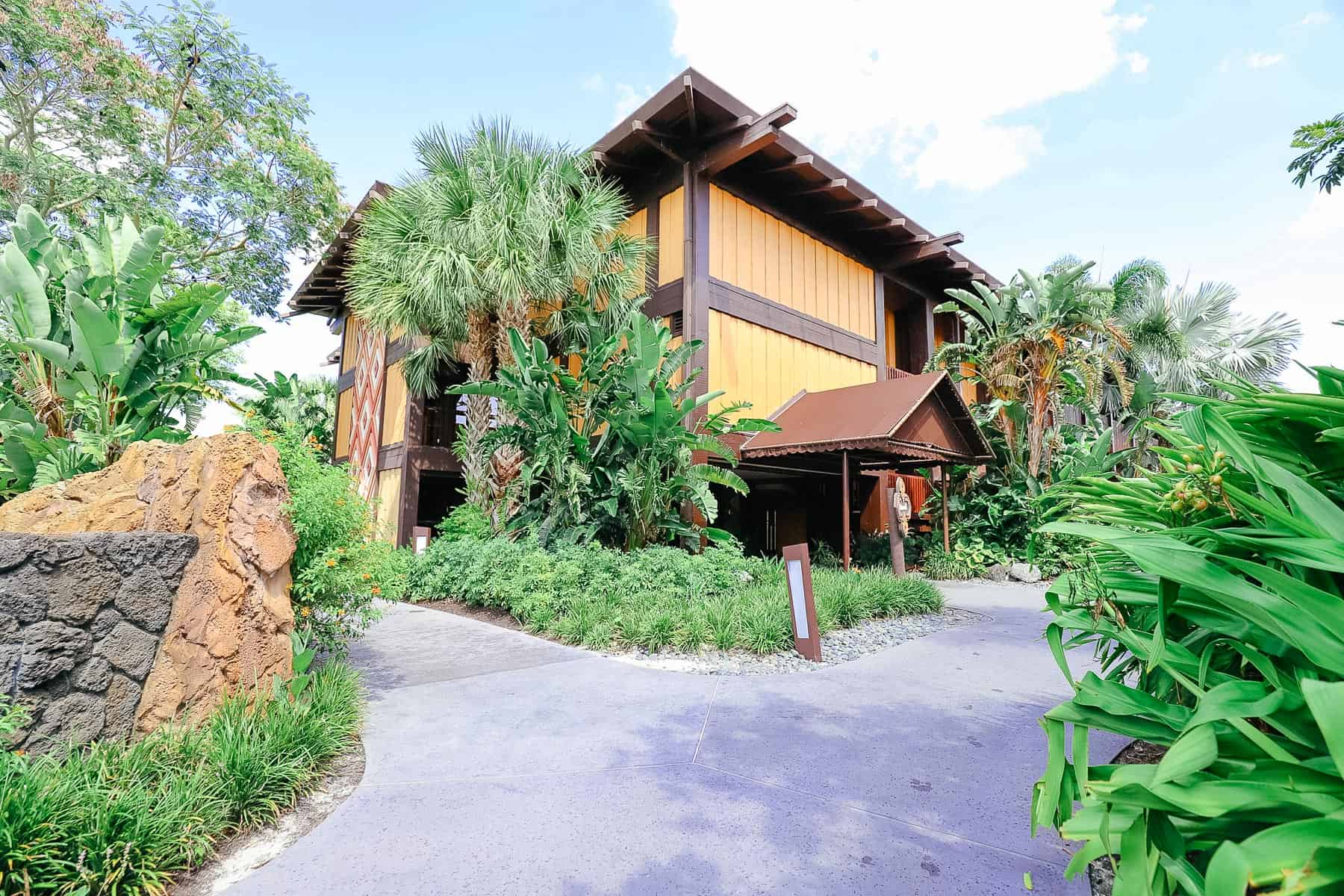 Club Level Lounge at the Polynesian
Our room assignment was on the third floor. So we could walk down the hall and access the Kamehameha Club lounge through the upper-level entrance. However, the main entrance to the lounge is on the resort's second floor.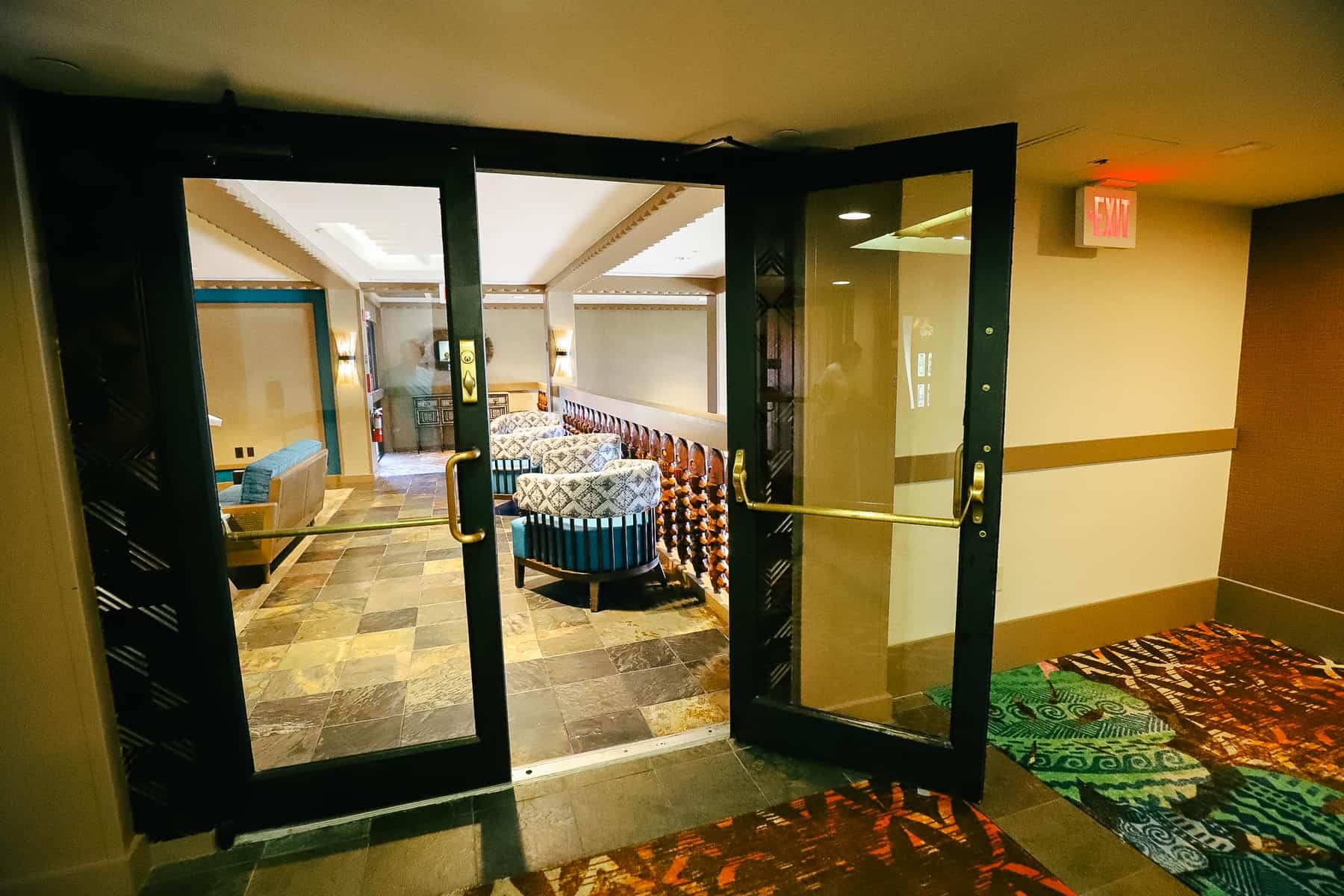 Here is a photo of the upstairs lounge area. There's a child-size table and chairs with a television. All of the artwork is from Moana.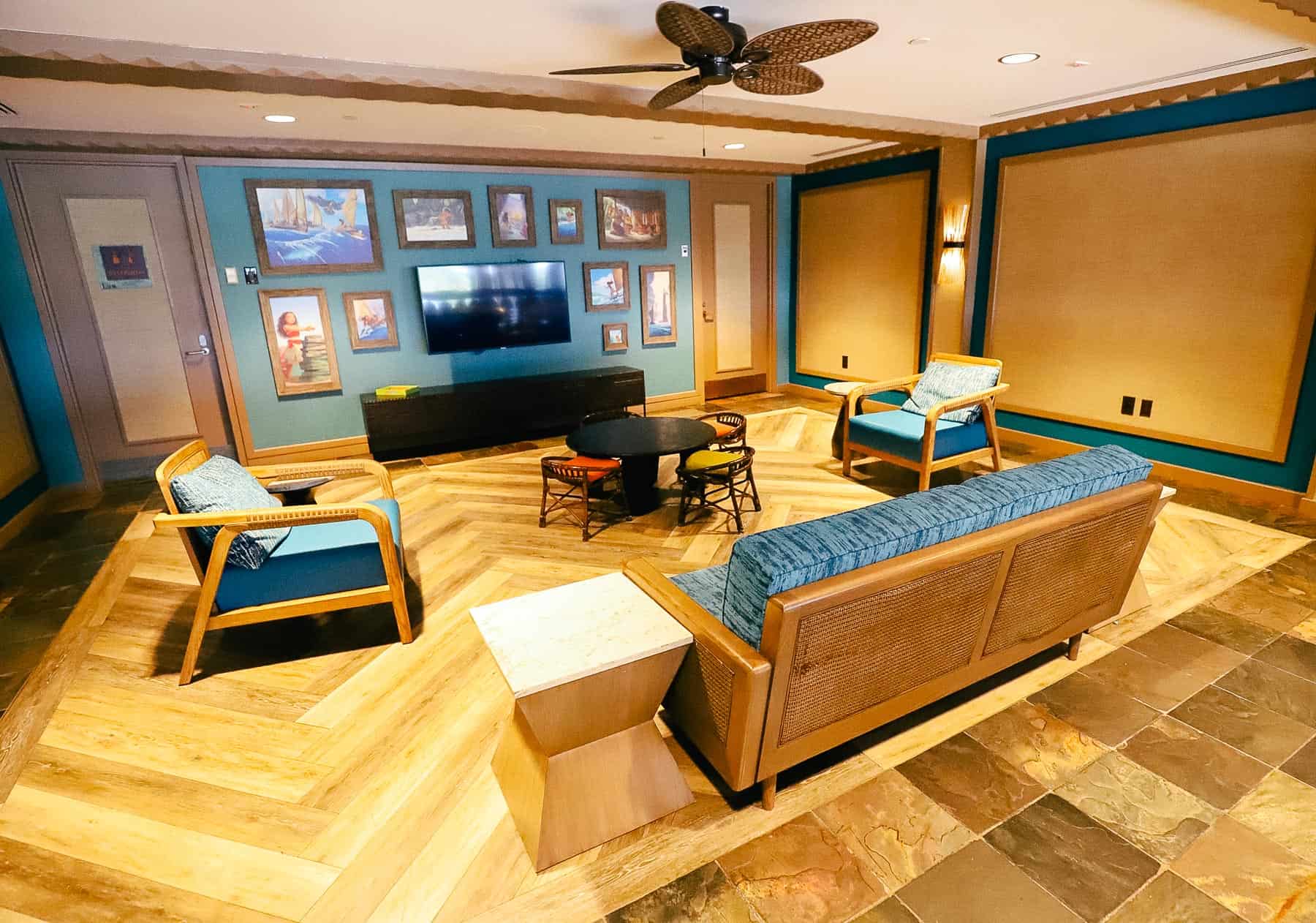 A couple of chairs with small tables sit near the open balcony.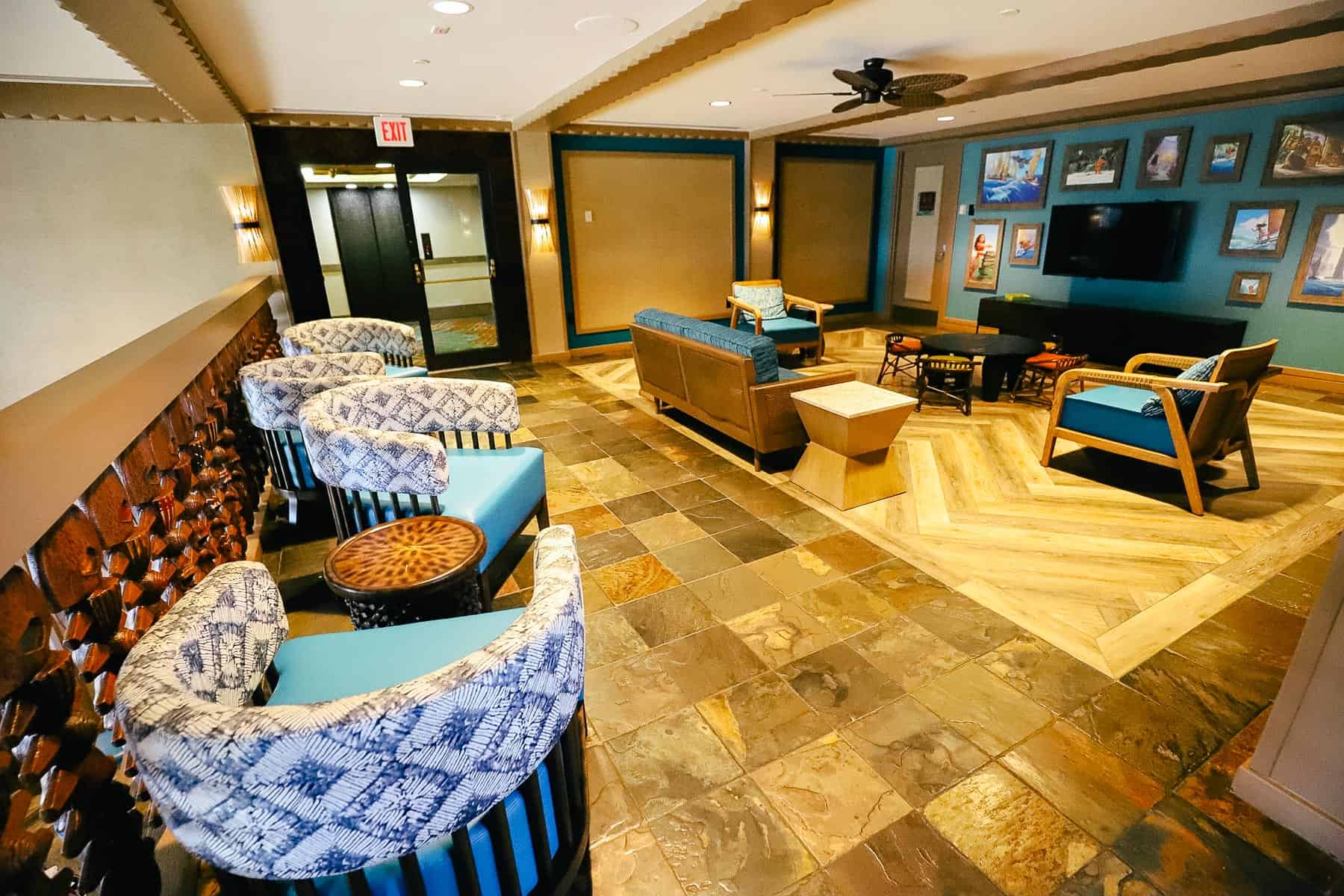 Here is the view down to the main lounge. You might notice the considerable two-story wall of windows on the opposite side. You can see views of Cinderella Castle at Magic Kingdom in the distance.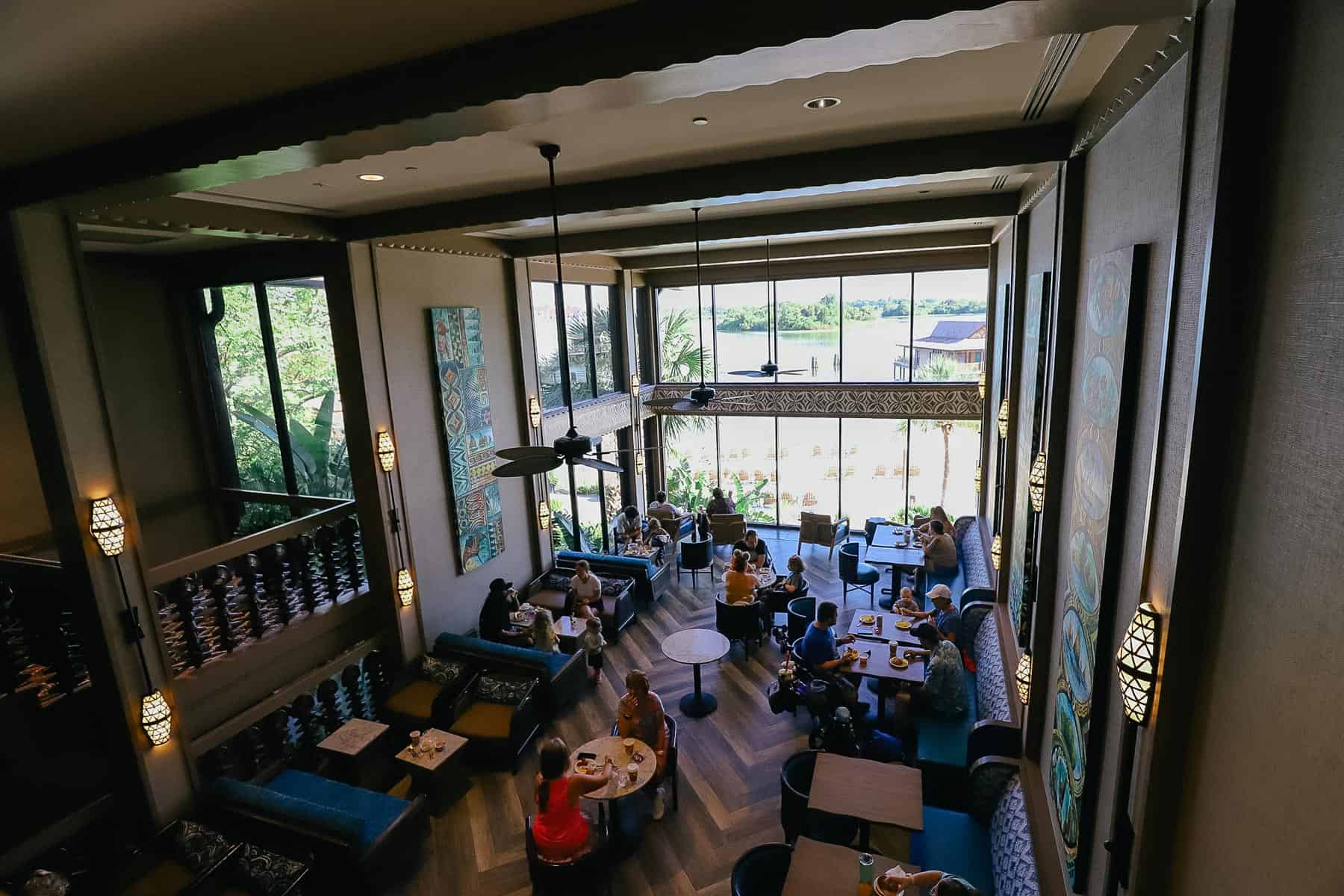 A staircase leads down to the lounge and continues to the reception area on the first floor.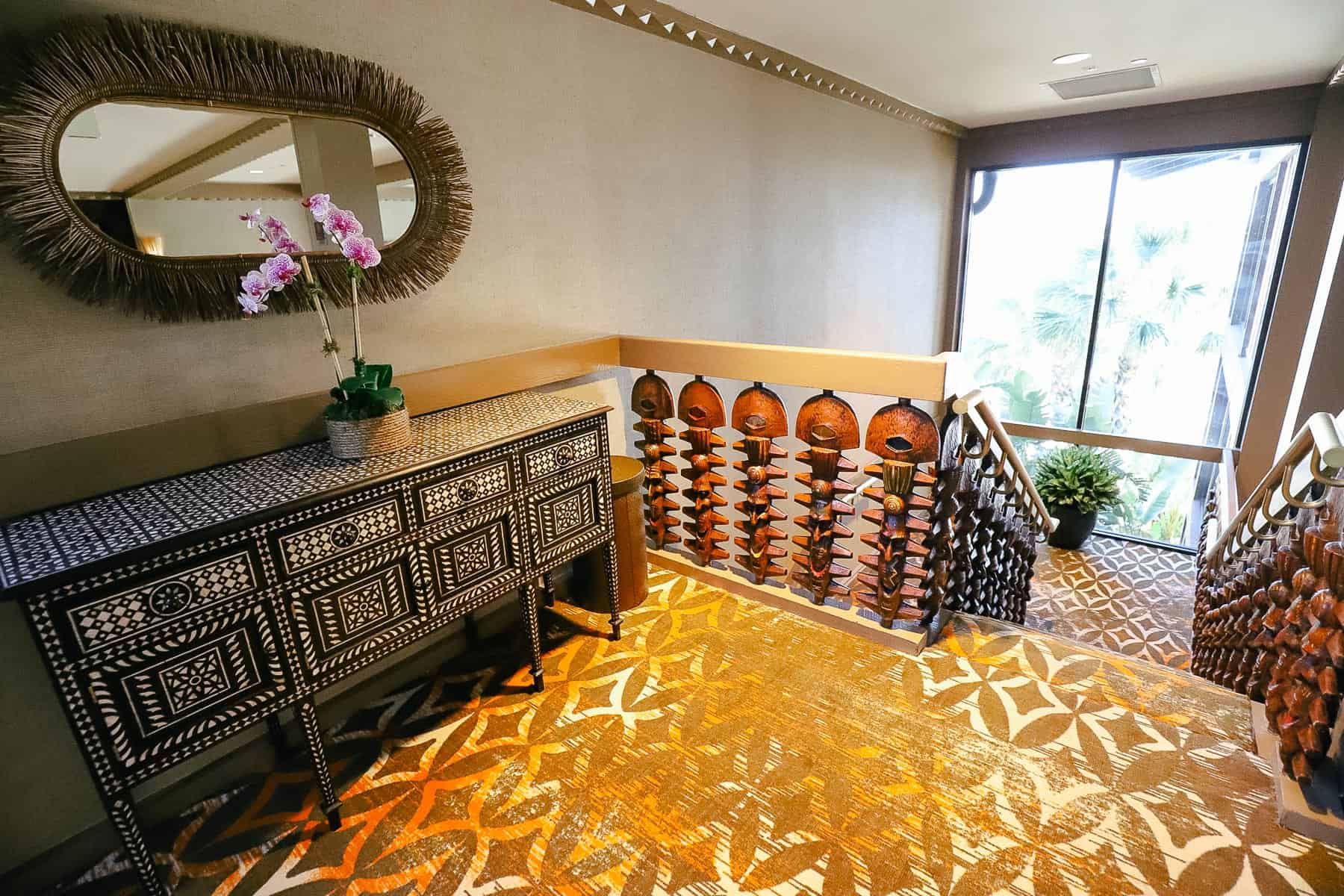 Here is a photo of the entire lounge. It was completely redone a few years ago. At that time, solid surface flooring was added along with the Moana elements.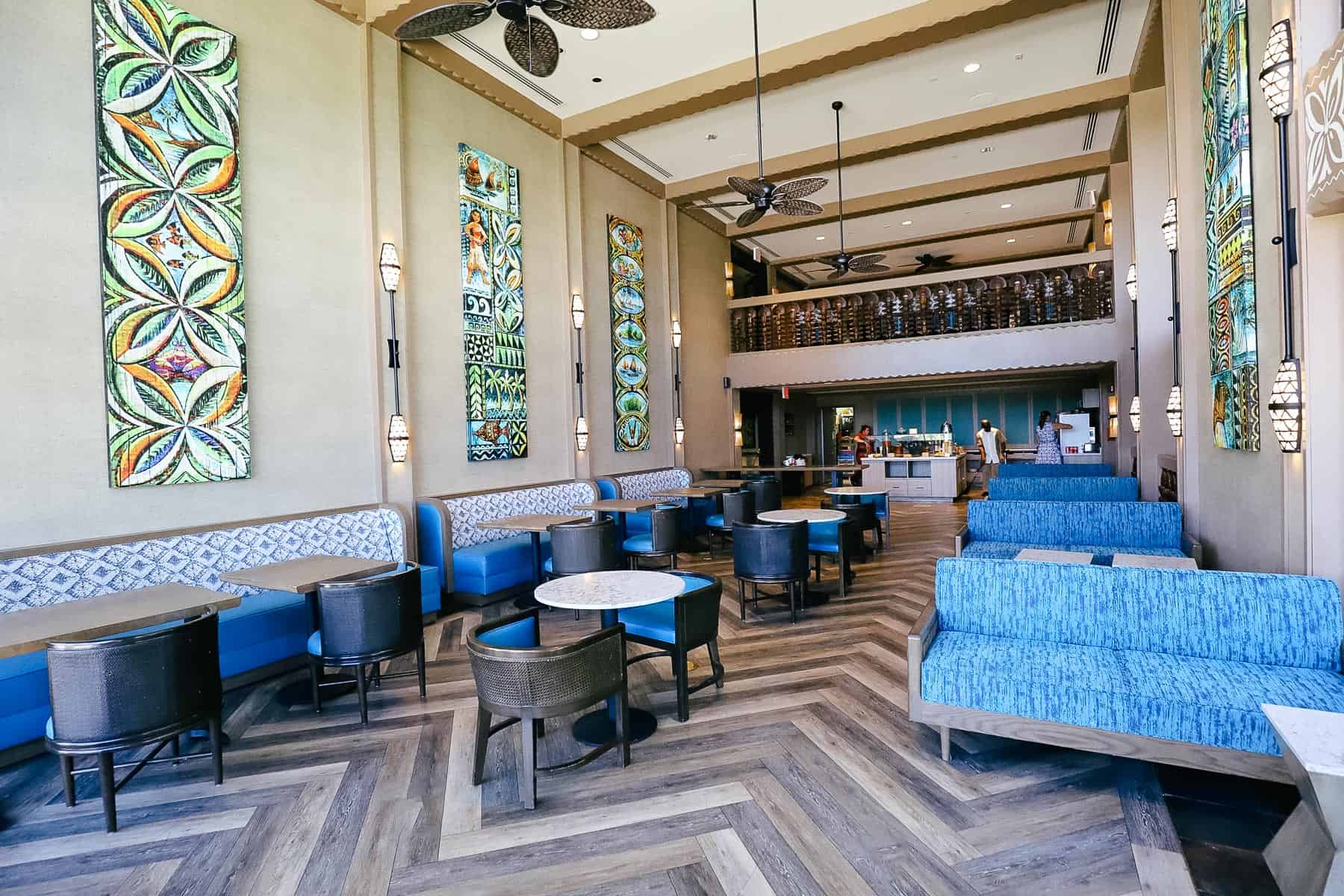 The closer you can get to the window, the better.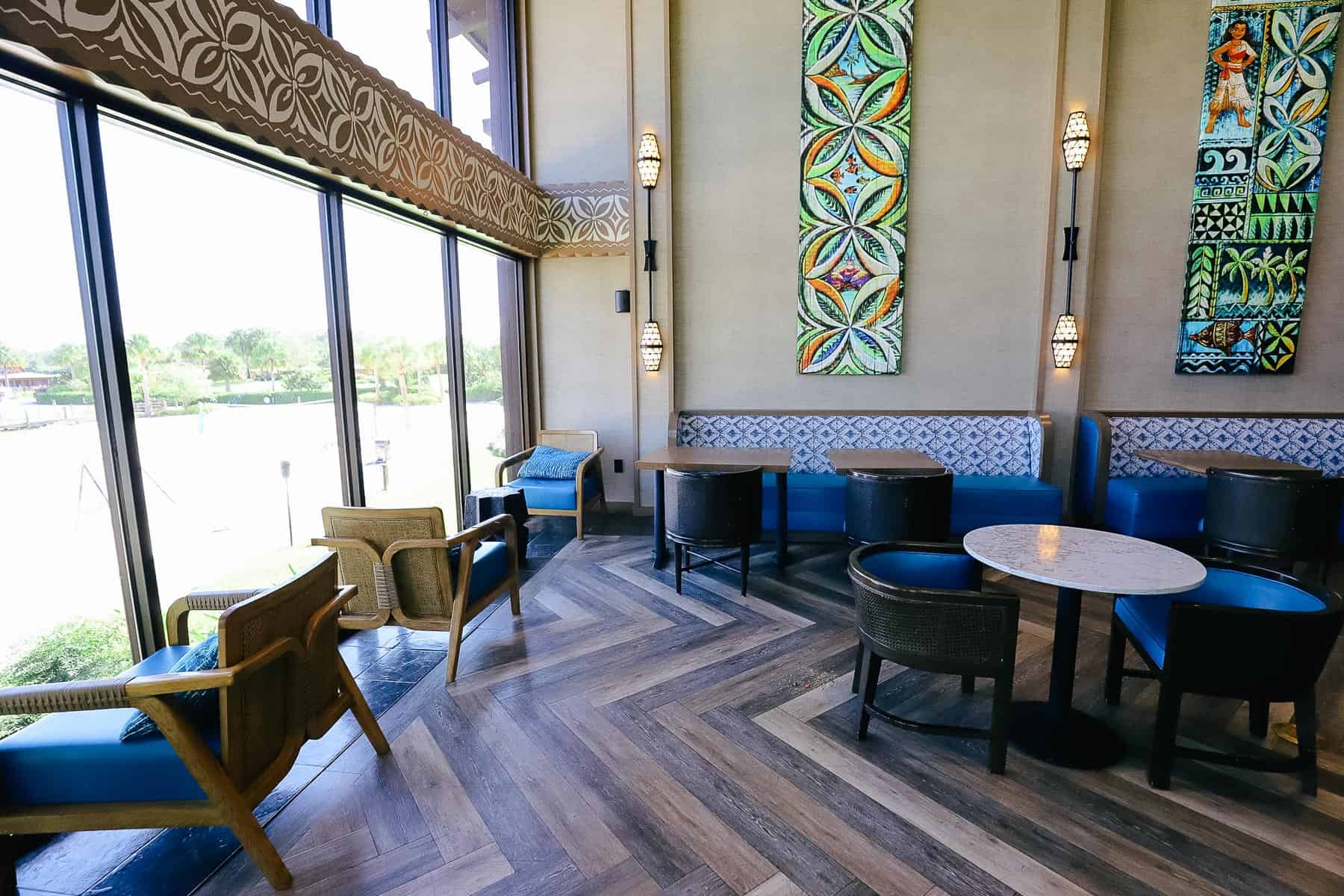 But really, the wall of windows offers striking views no matter where you lounge.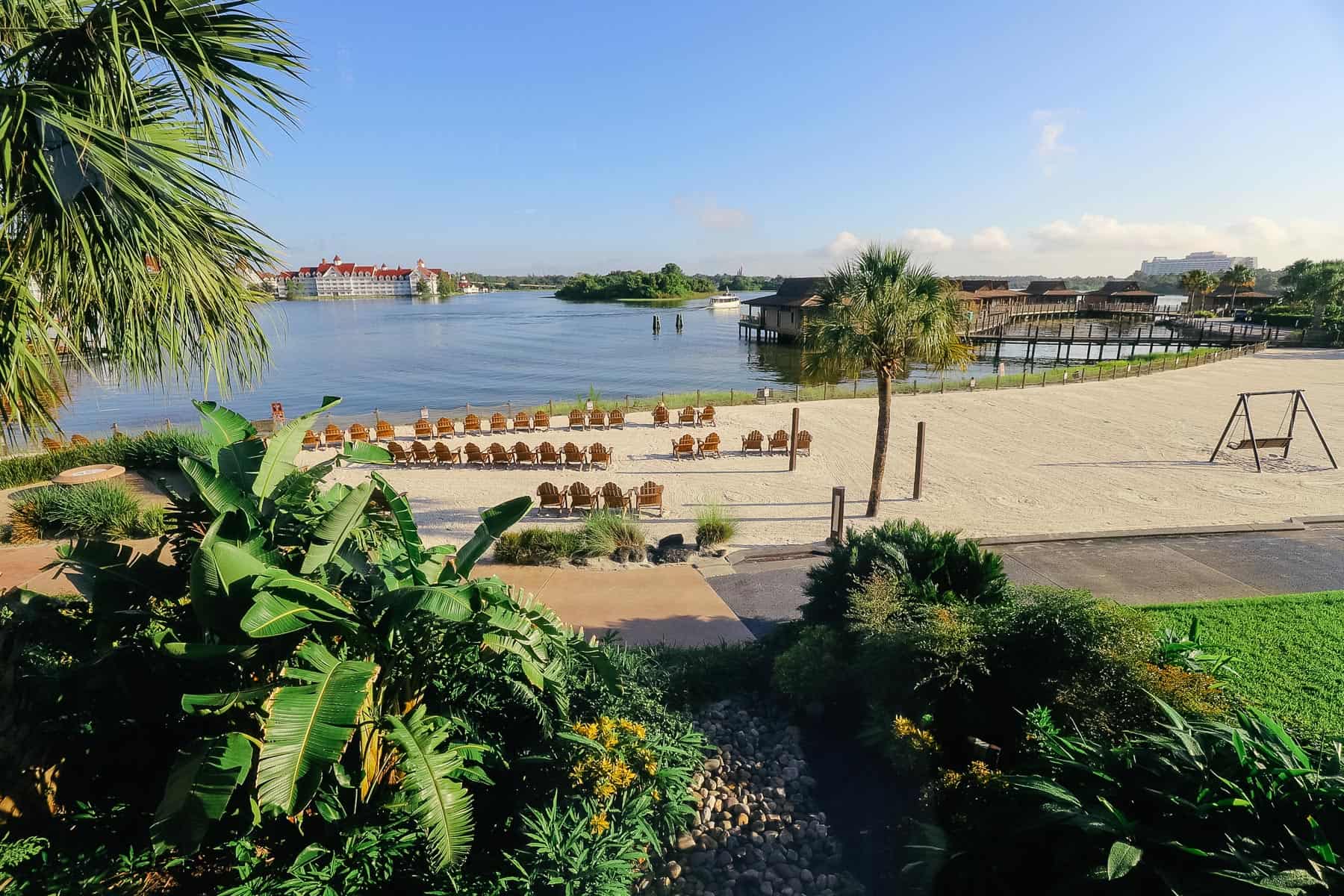 Here are a few more photos of the seating arrangements.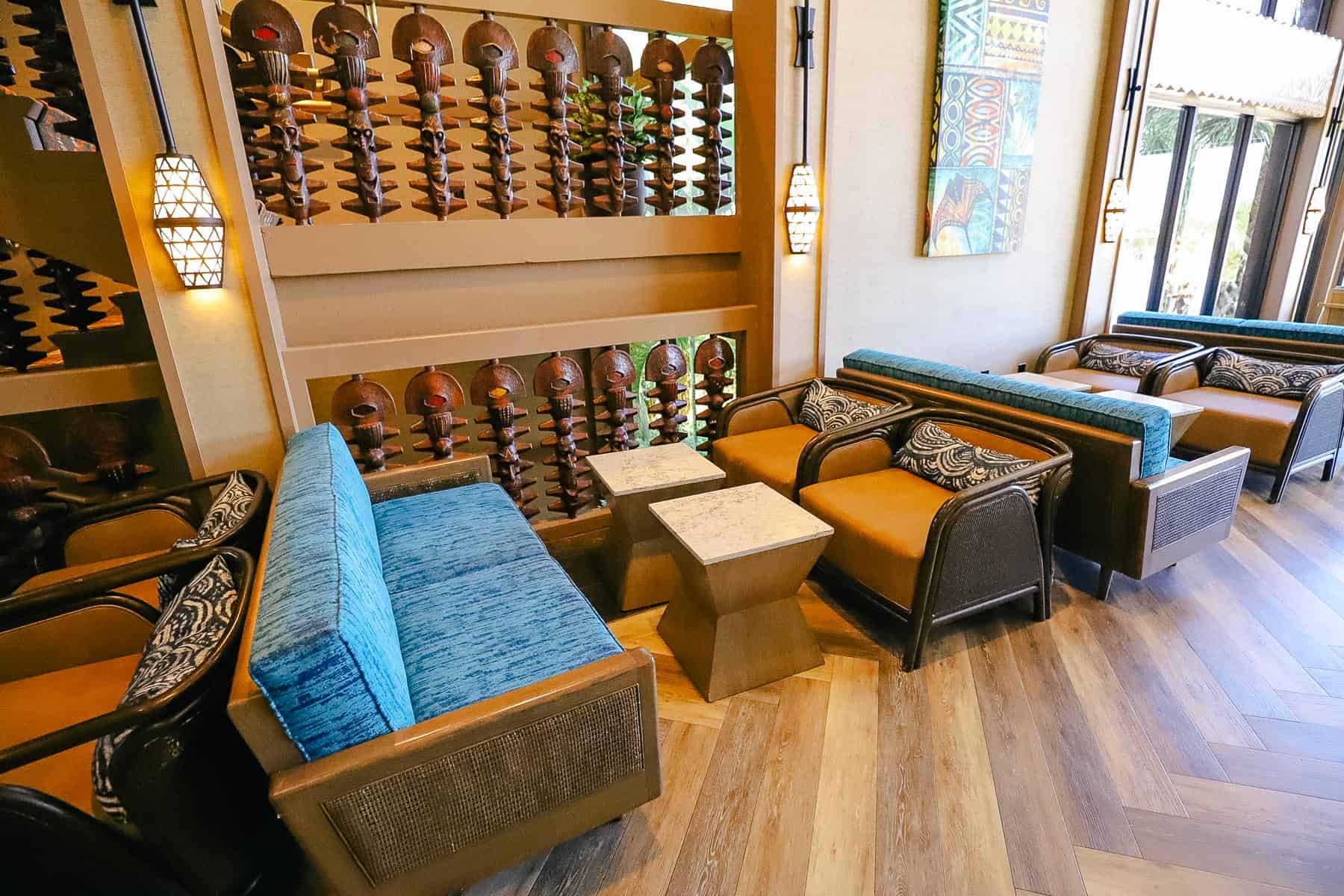 These tables can slide together if you have a larger party.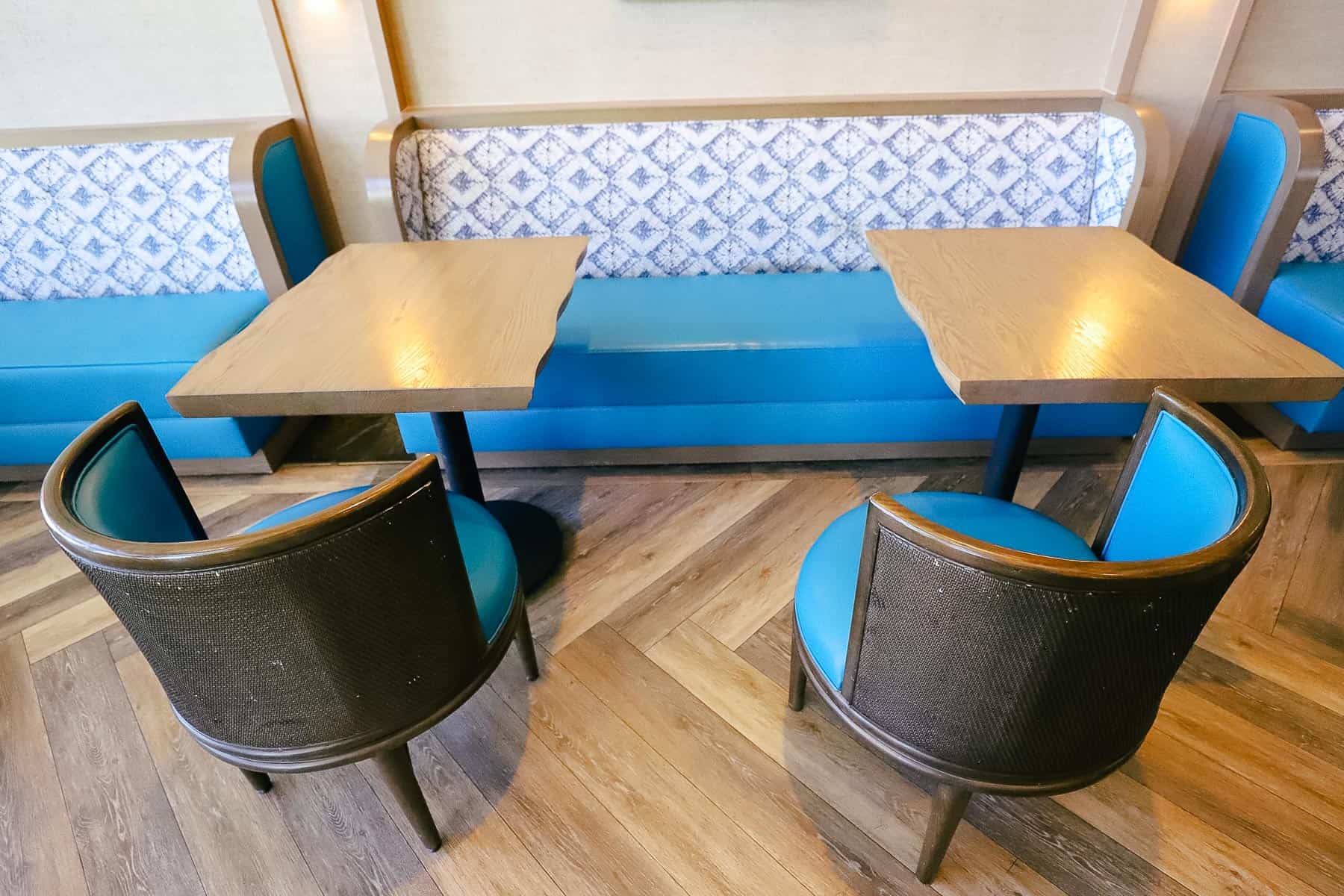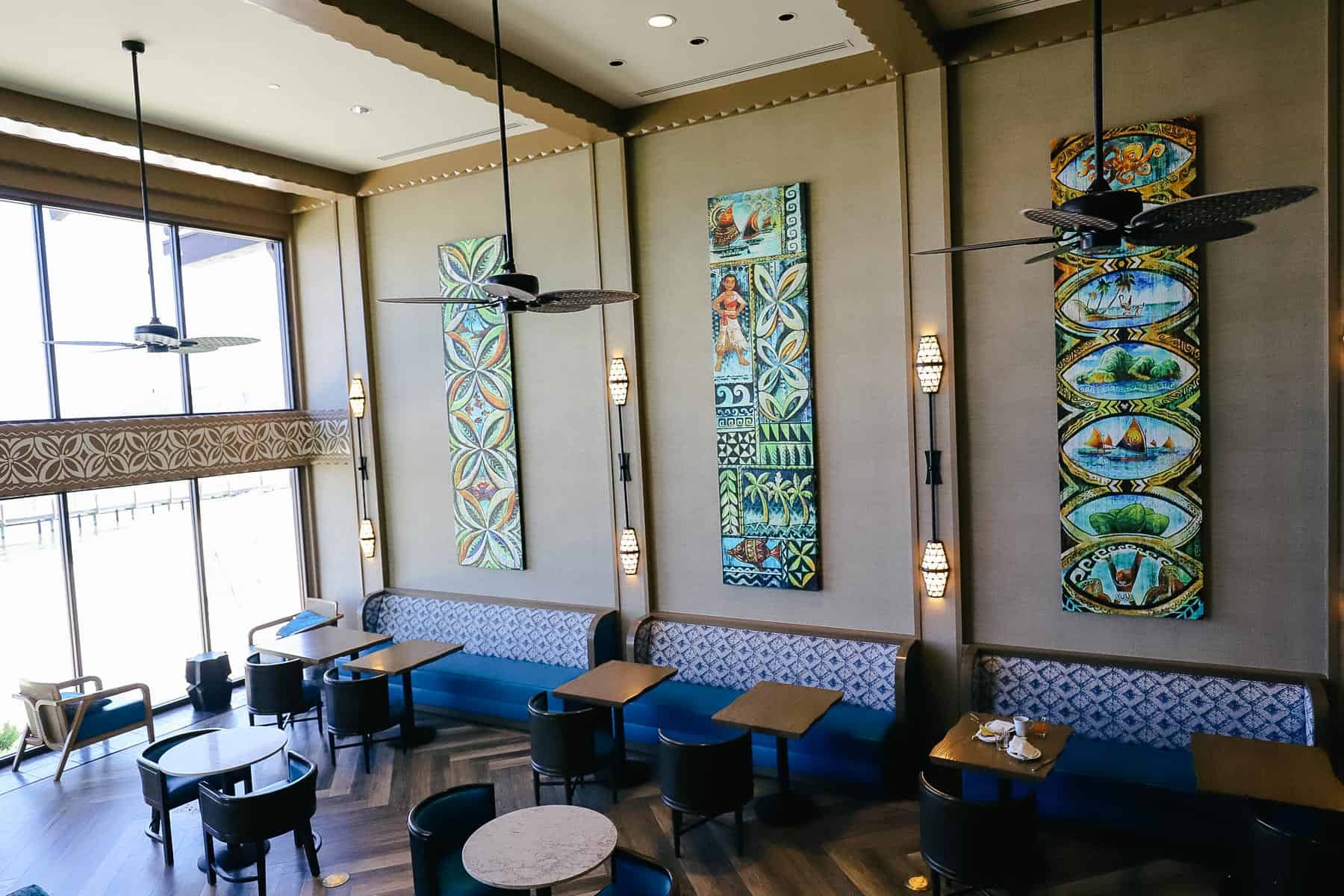 The Moana theming is subtle and not overbearing. Looking back, the entire lounge was designed to complement the views. I cannot tell you how many times I've walked past these windows (from the outside) over the years. I had no idea that guests were indulging in a far more expansive view only a few feet above me.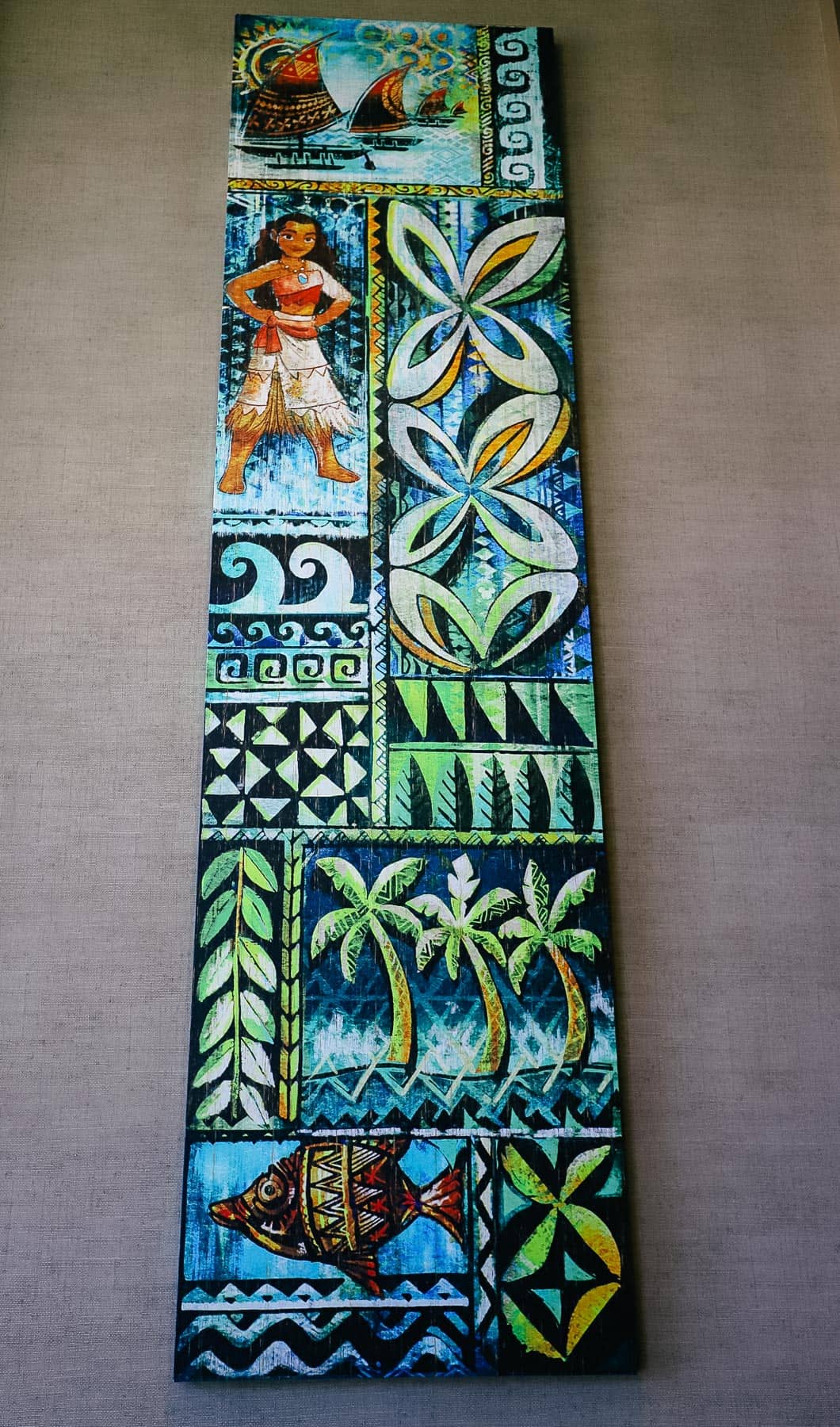 Arrival Experience
Club-level guests must scan their MagicBand or Keys to the World card to access the Hawaii building. A reader sits near the doors of the covered entrance. They will open automatically after scanning your band.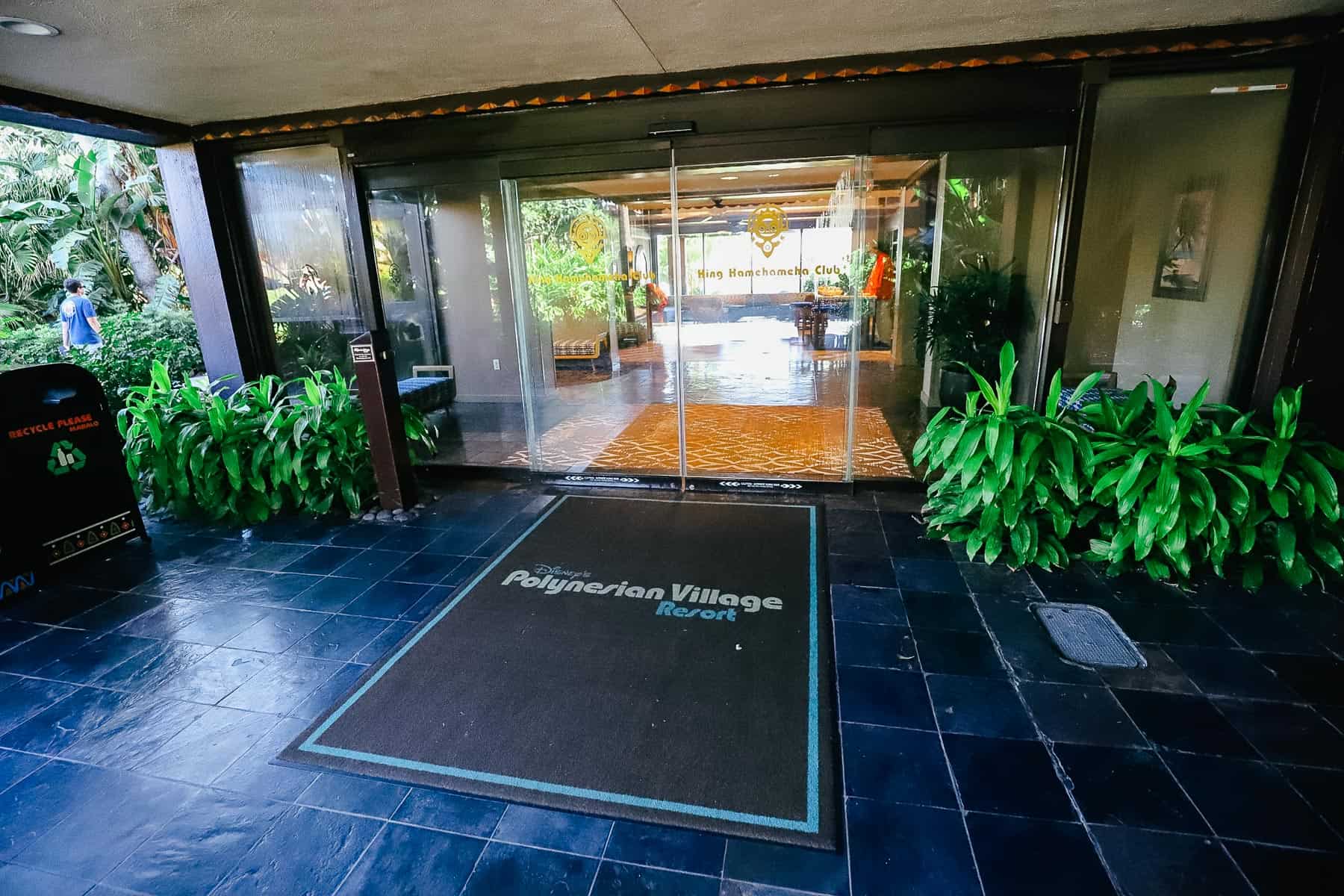 A reception area with refreshments and a sitting area sits beyond the entrance.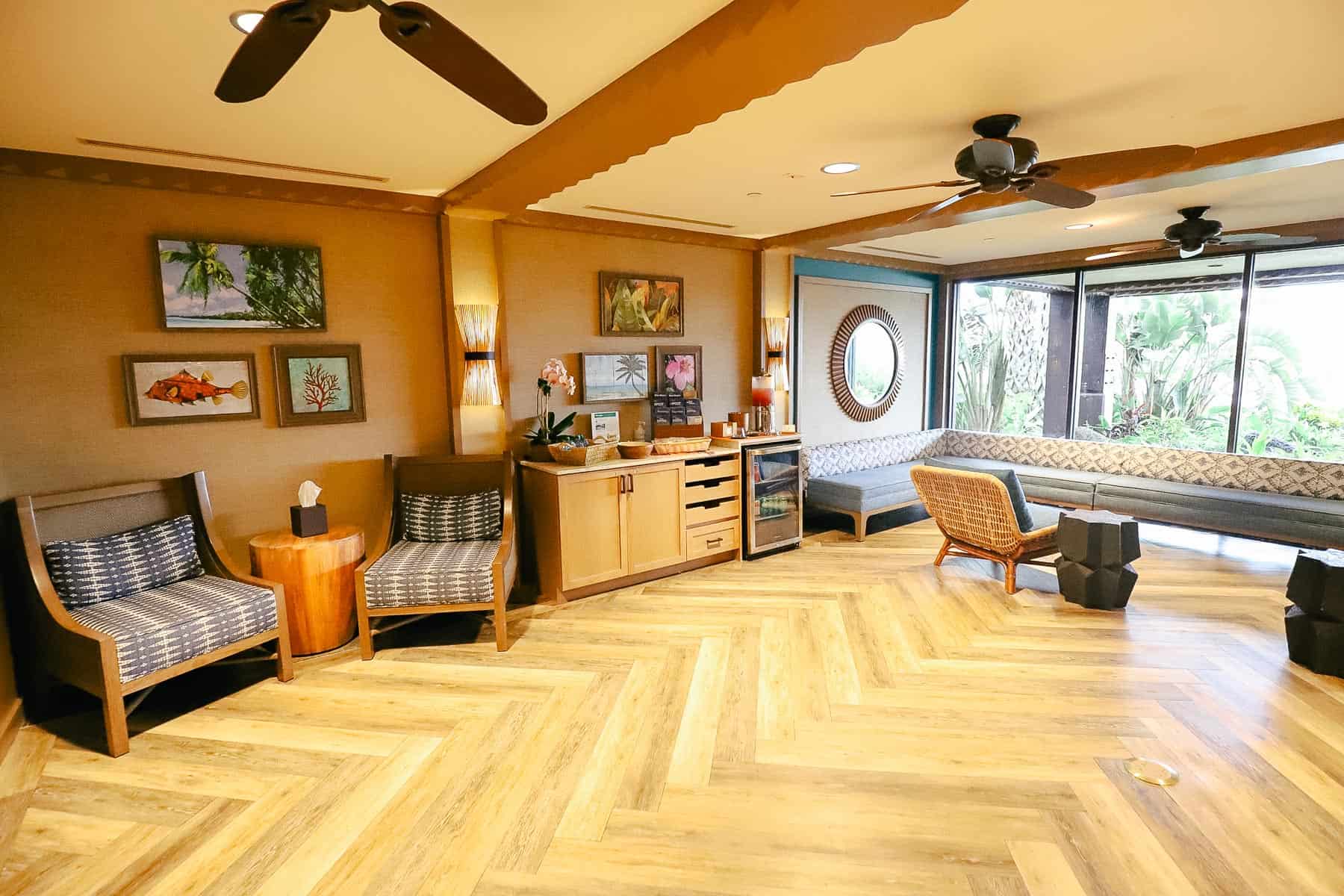 A welcome drink is available. Underneath, there's a mini-fridge with various sodas.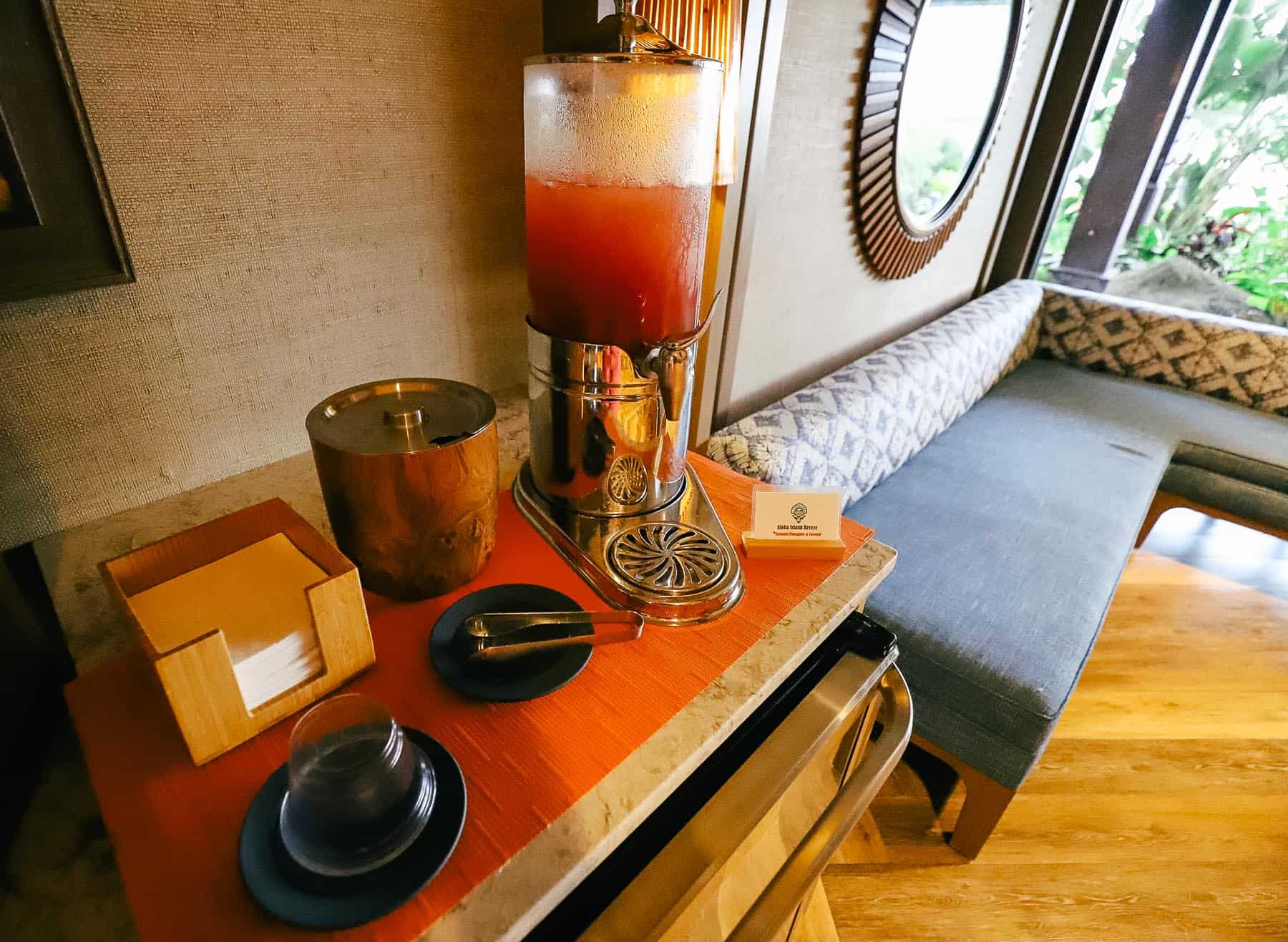 The welcome drink is called an Aloha Island Breeze.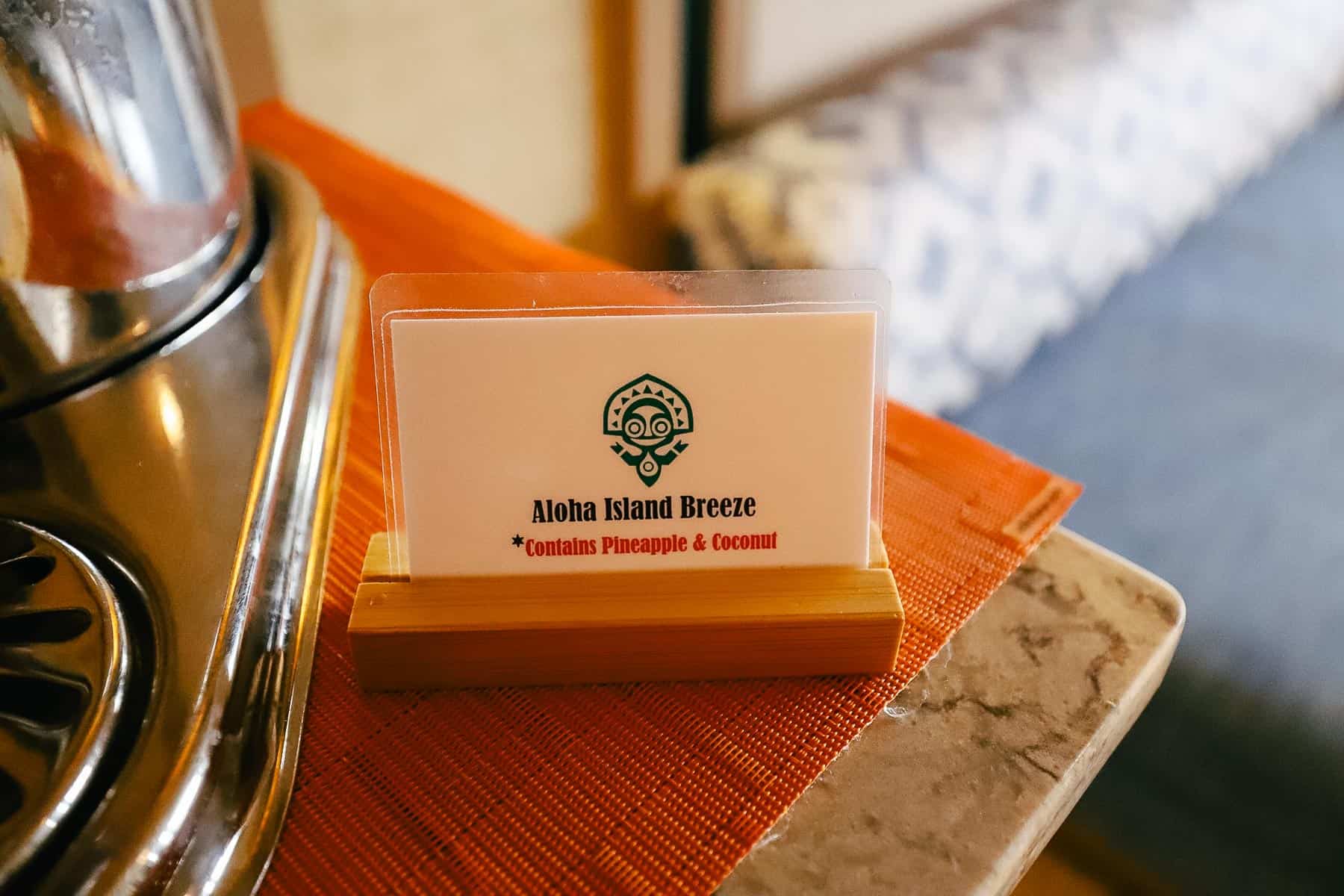 Here is the view from the lower level toward the lagoon.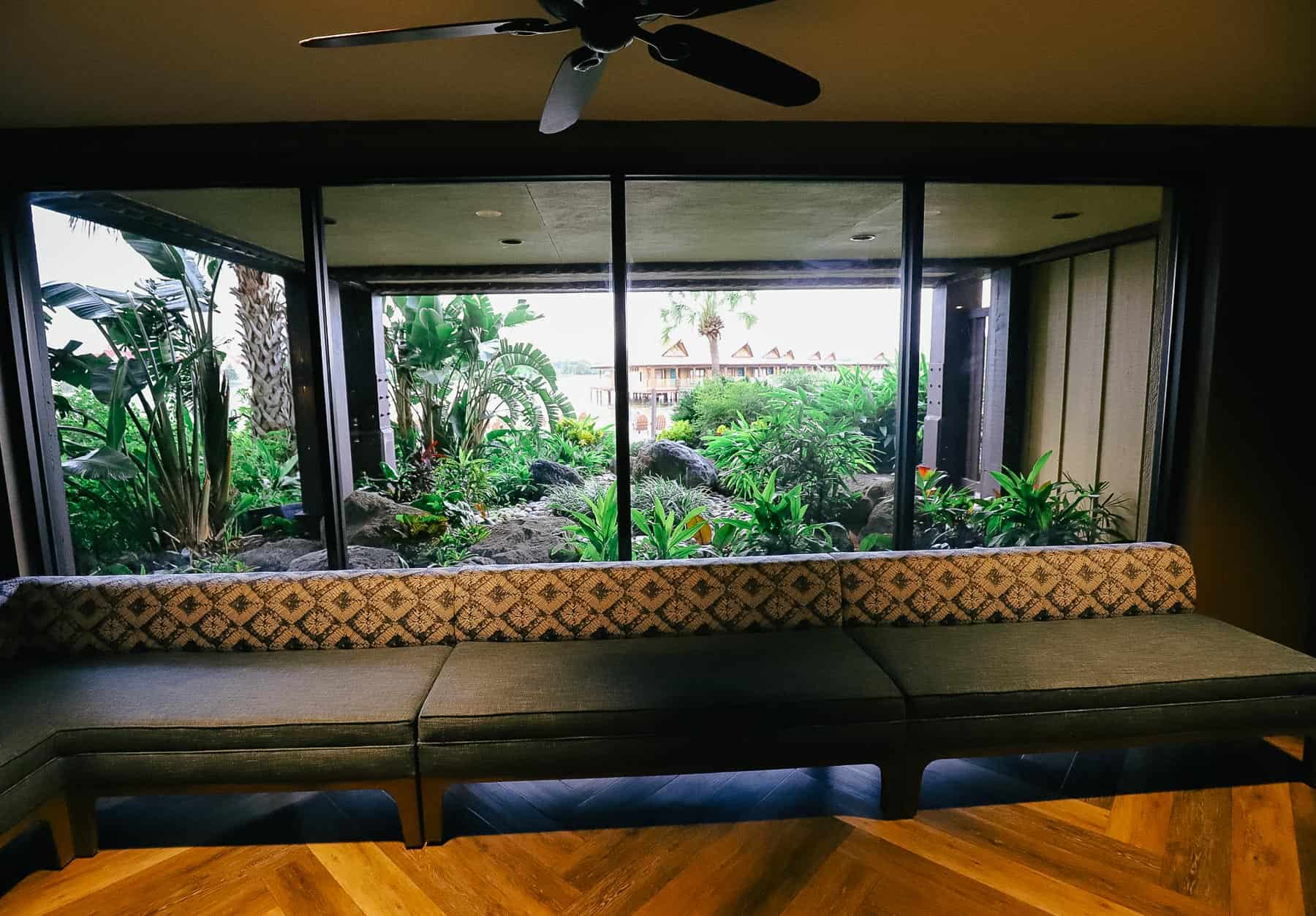 Maui, Moana, Gramma Tala, and Cheif Tui Waialiki are featured in the artwork.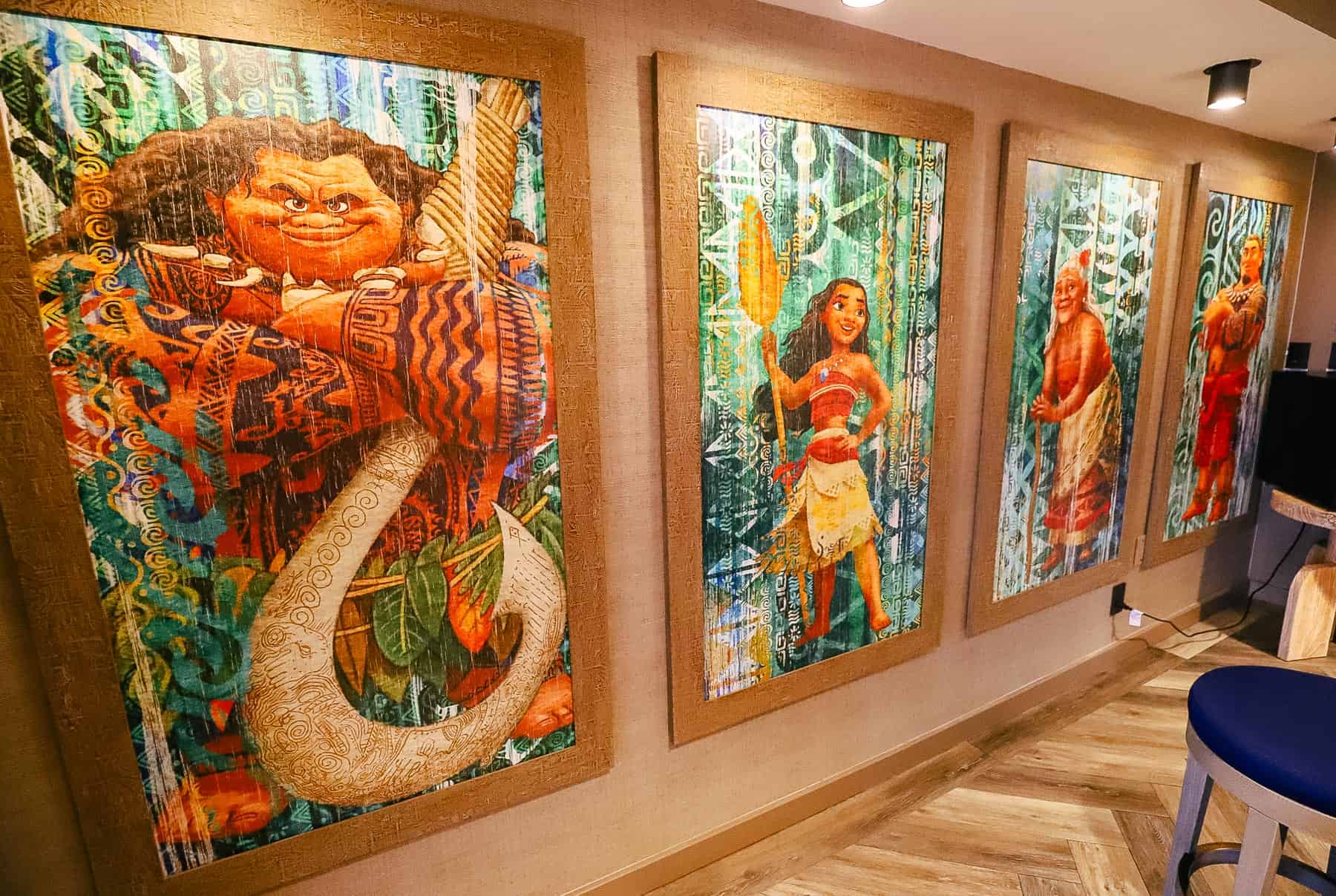 We were presented with a welcome letter and a special snack.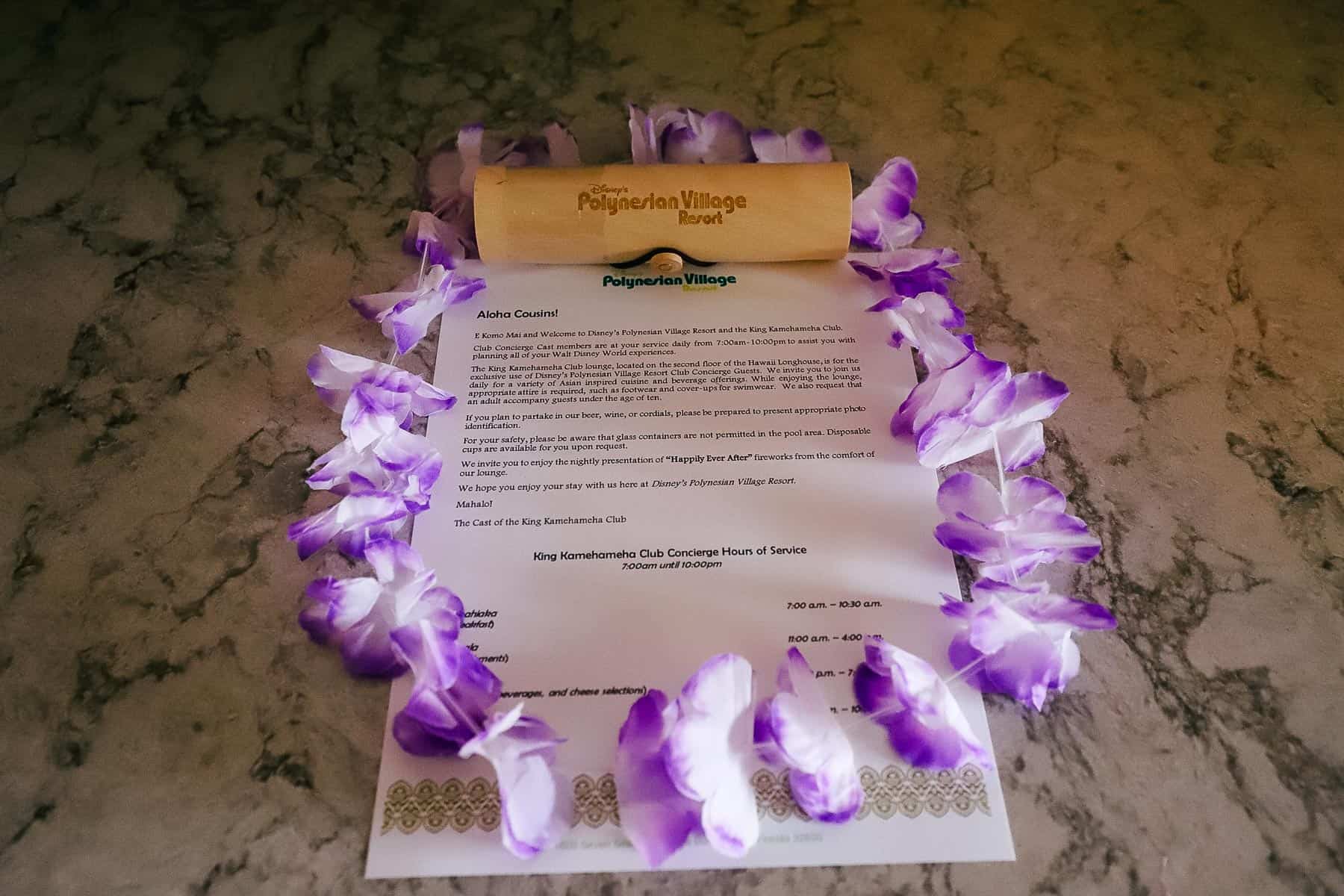 The welcome letter is standard at all club levels. It provides essential details for your stay, including the lounge hours, various services, a few rules, and a note on the fireworks. We always take a photo of the welcome letter to quickly reference the hours for each service.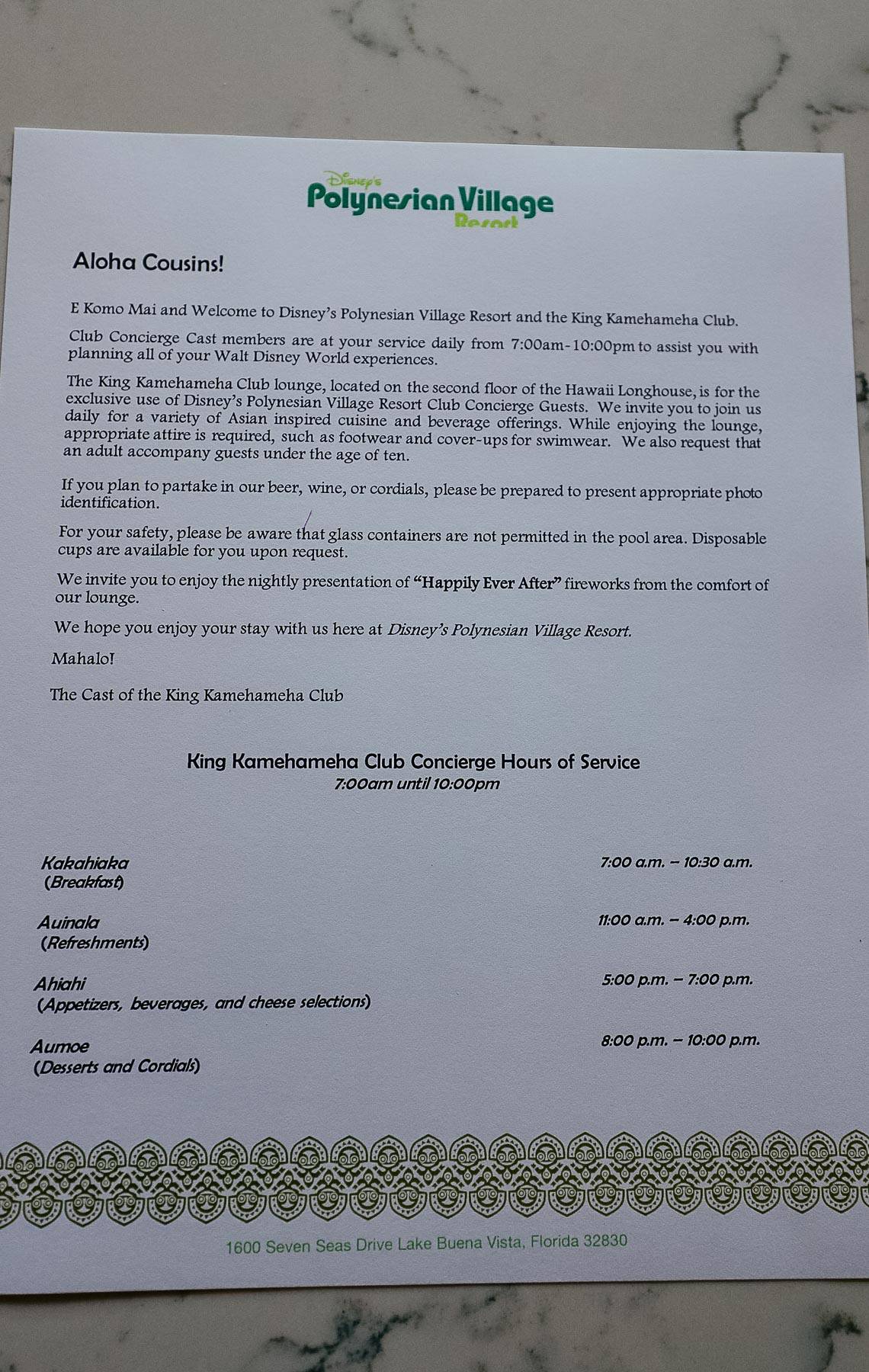 Lounge Hours and Fireworks Viewing
The King Kamehameha Club Lounge is open daily from 7:00 a.m. until 10:00 p.m. Four services are provided throughout the day. They are:
Kakahiaka (Breakfast) 7:00 a.m. until 10:30 a.m.
Auinala (Refreshments) 11:00 a.m. until 4:00 p.m.
Ahiahi (Appetizers, Beverages, Cheese) 5:00 p.m. until 7:00 p.m.
Aumoe (Desserts and Cordials) 8:00 p.m. until 10:00 p.m.
Guests are also invited to watch the nightly performance of Happily Ever After from the lounge. Lighting in the lounge is reduced after the Ahiahi service. Audio for the fireworks is streamed inside the lounge. During our stay, the Halloween Party took place some evenings. On those evenings, the lounge stayed open until the fireworks ended.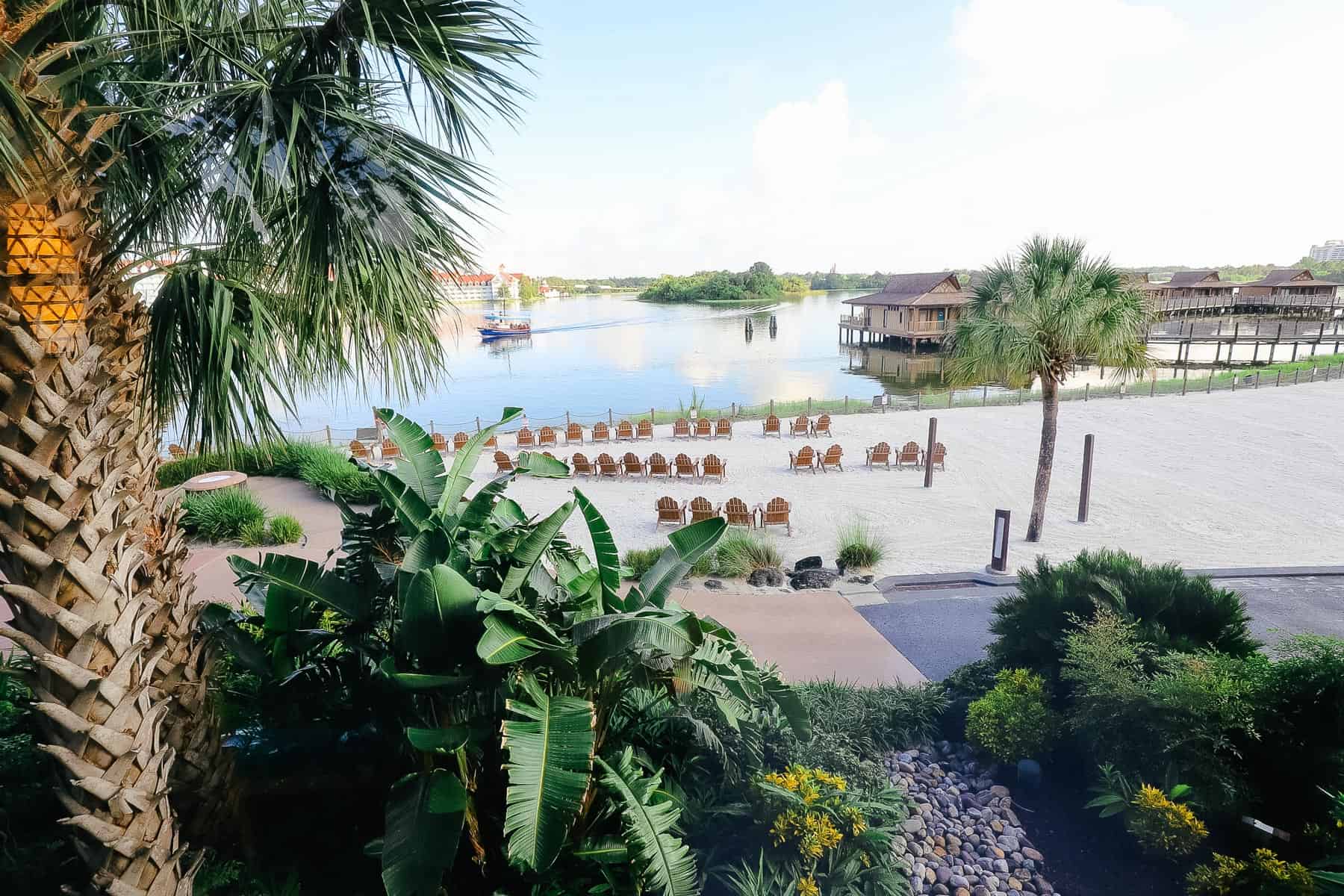 Kakahiaka (Breakfast Service)
Breakfast begins daily at 7:00 a.m. and lasts until 10:30 a.m. We'll look at one full service below and an additional hot service. For the most part, identical items are available each morning, with a few nuances throughout the week.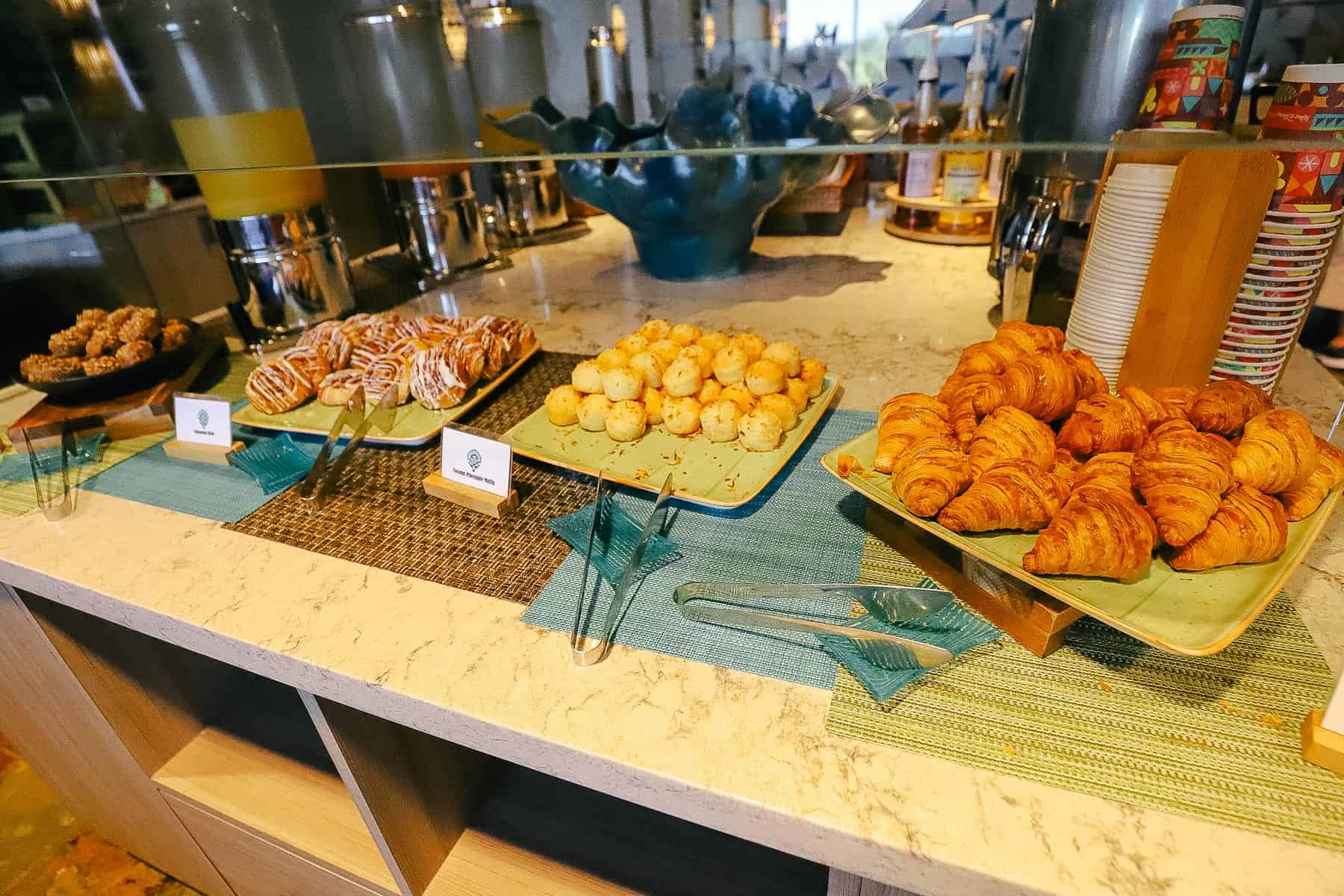 We saw a decent selection of bread and pastries.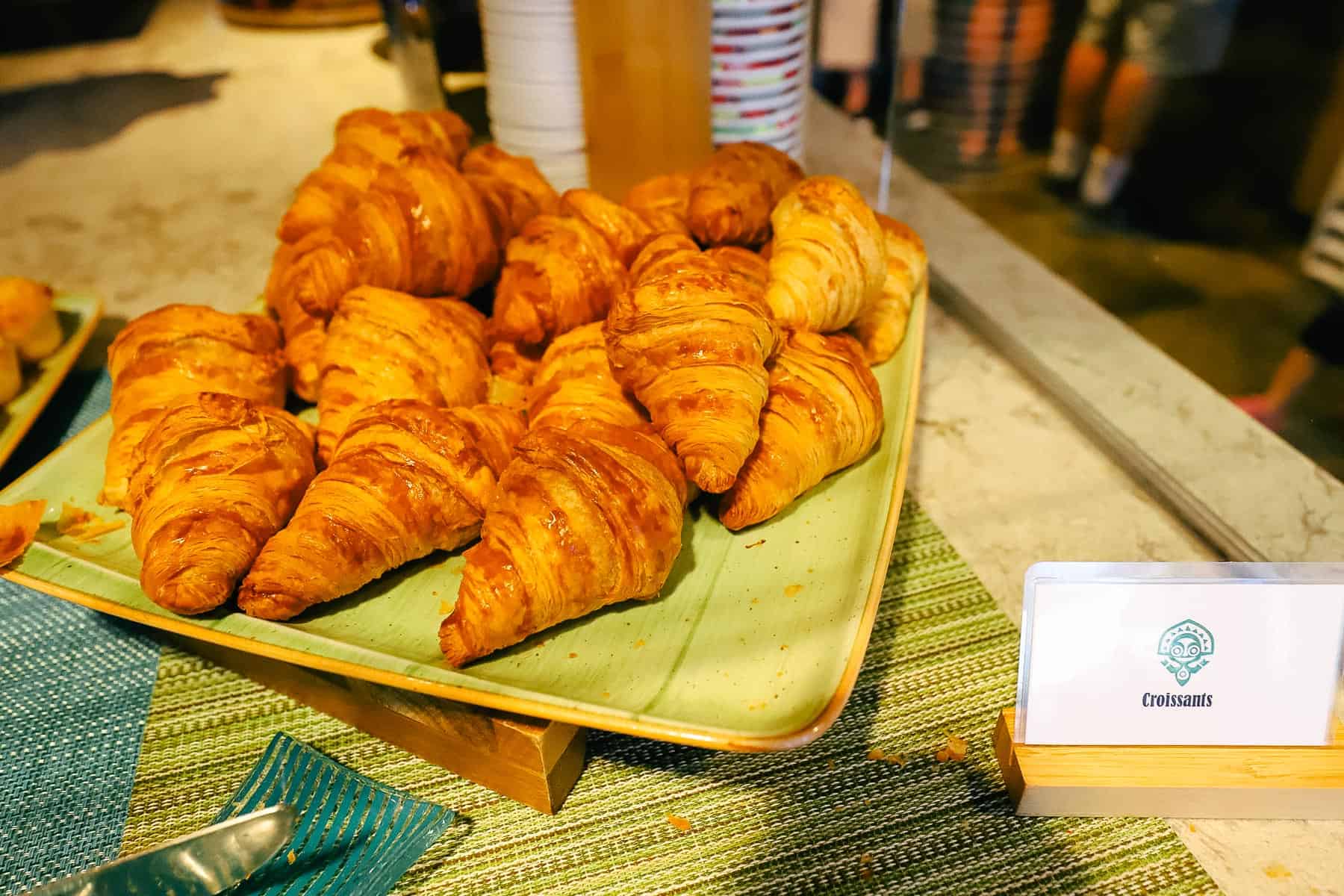 Some items had a Hawaiian theme, like these coconut pineapple muffins.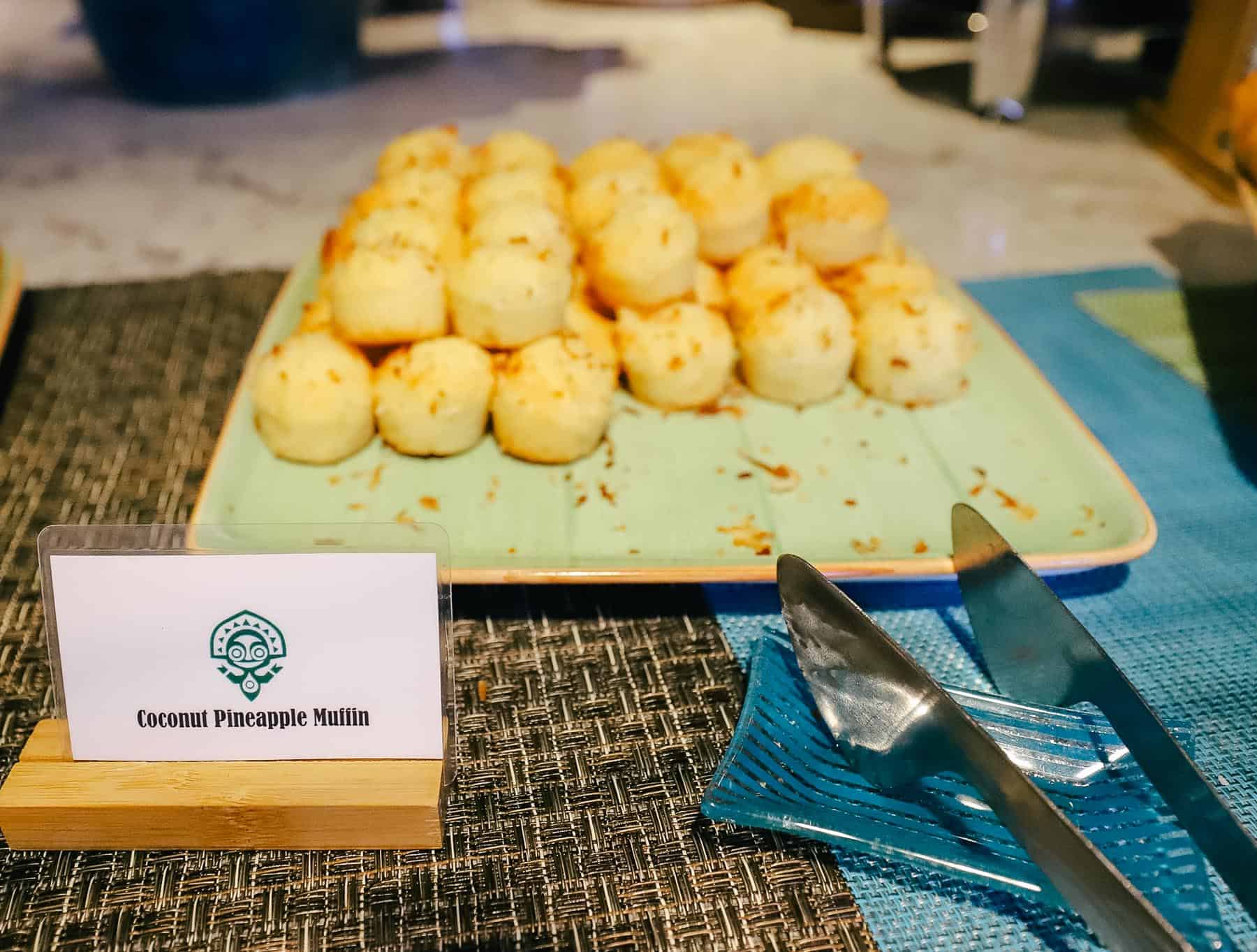 Cinnamon rolls were available.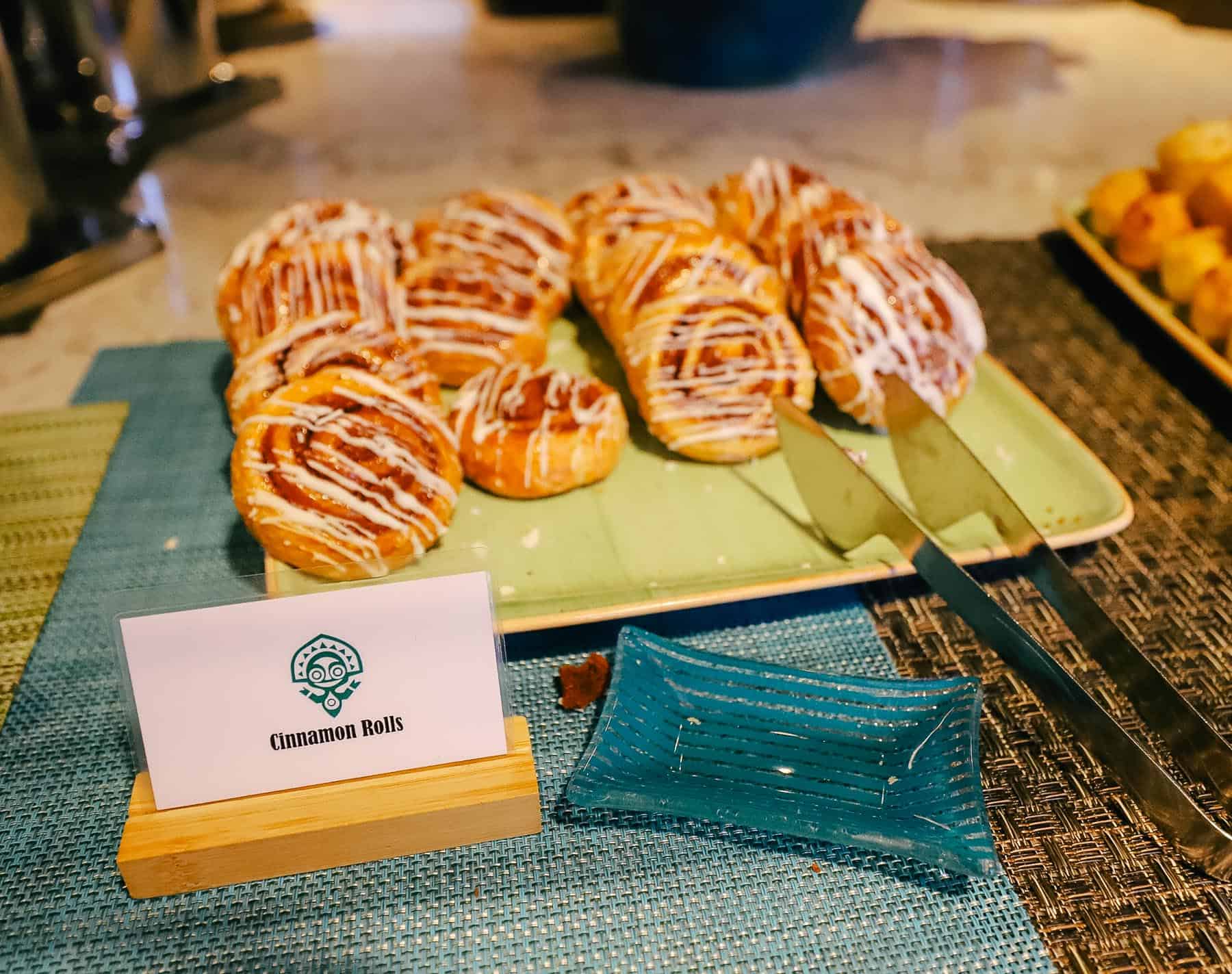 These bran muffins were one of my favorites.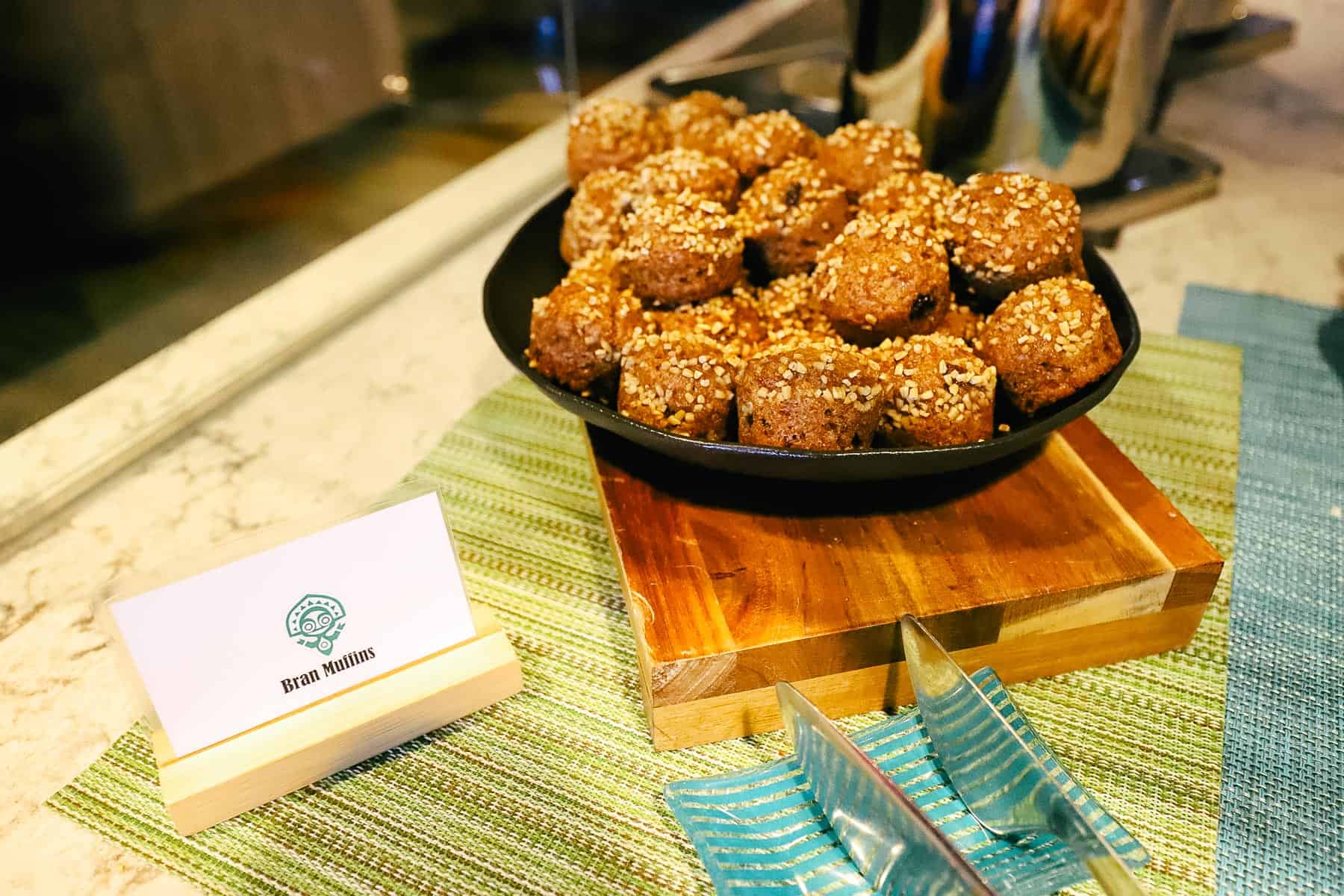 Each morning, three large containers had various juices. Flavors were orange juice, POG juice (a mix of Passionfruit, Orange, and Guava), and pineapple juice.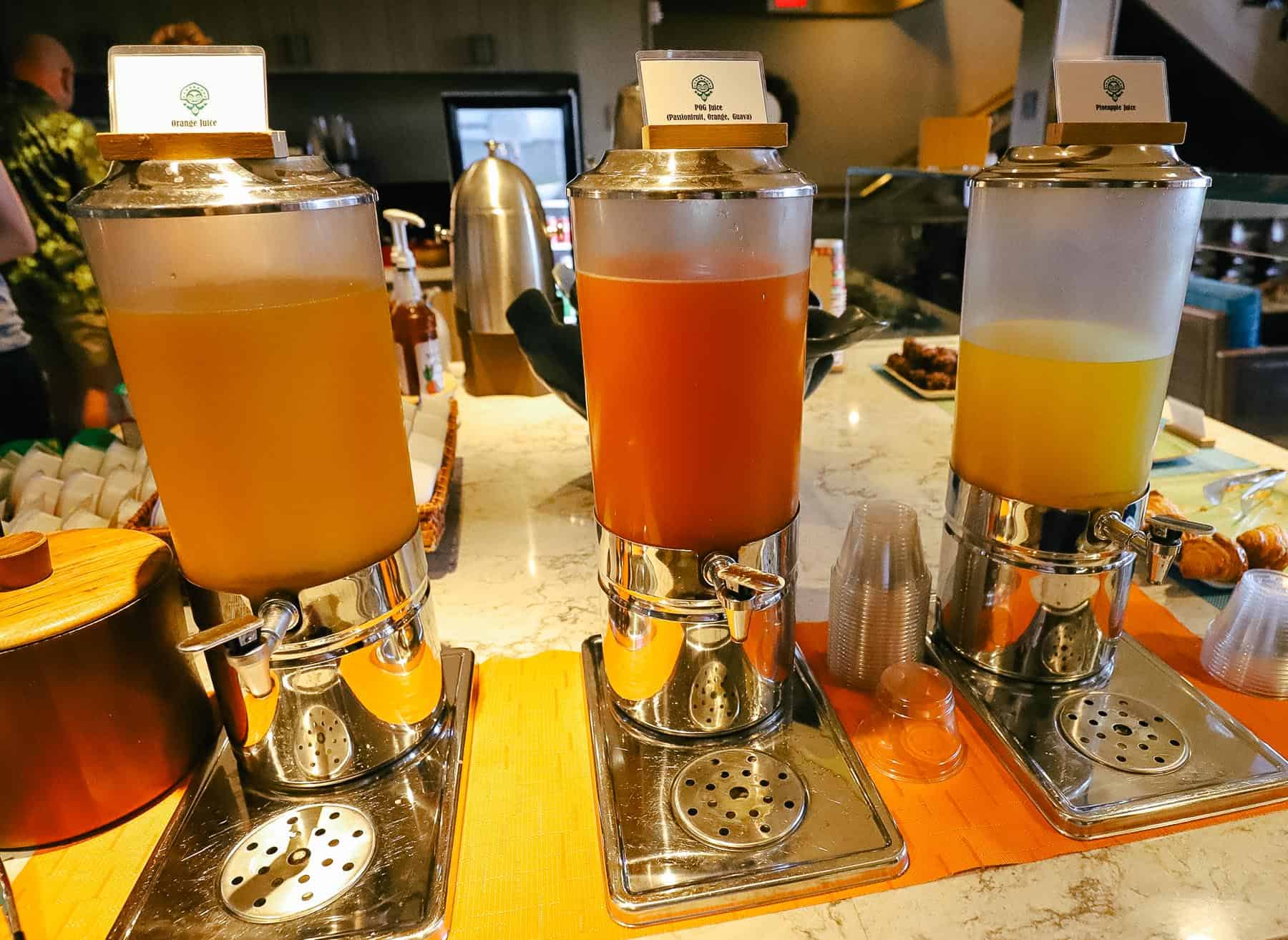 A bread box contained several flavors of bagels, regular sliced bread, and English muffins.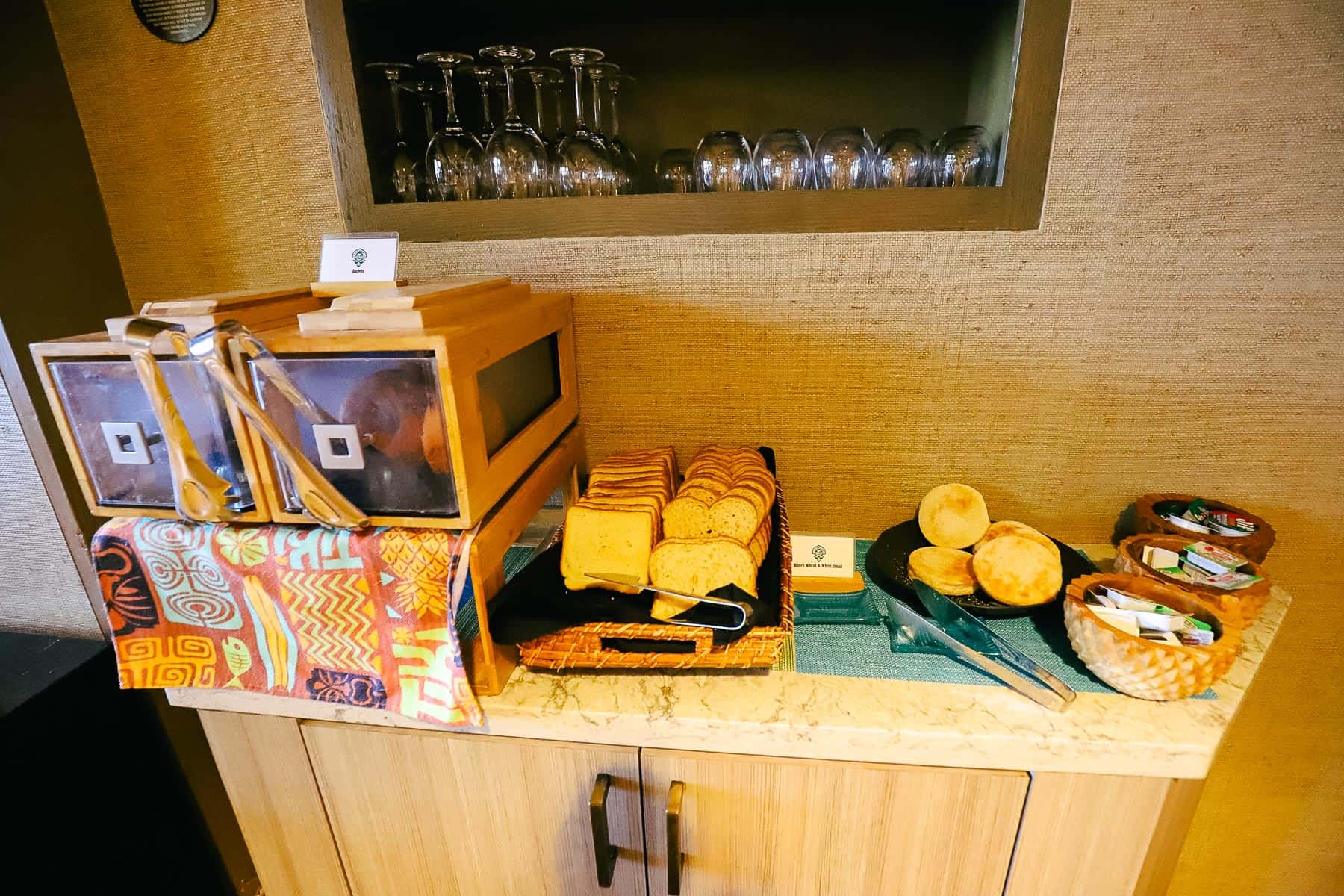 Condiments like jelly, honey, and peanut butter were available. Butter and cream cheese were in bowls at the top of the refrigerator with the sodas.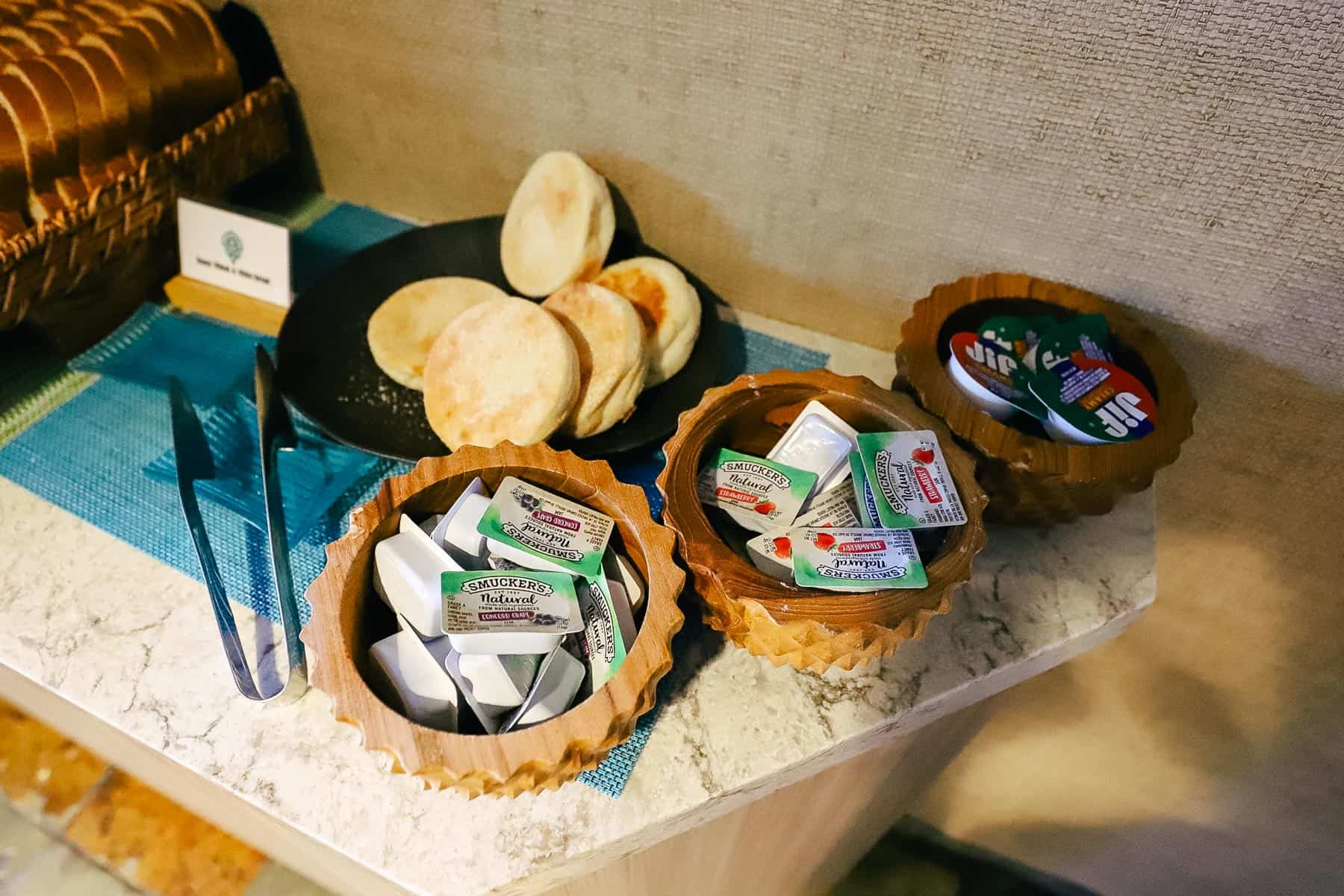 A toaster oven sat nearby.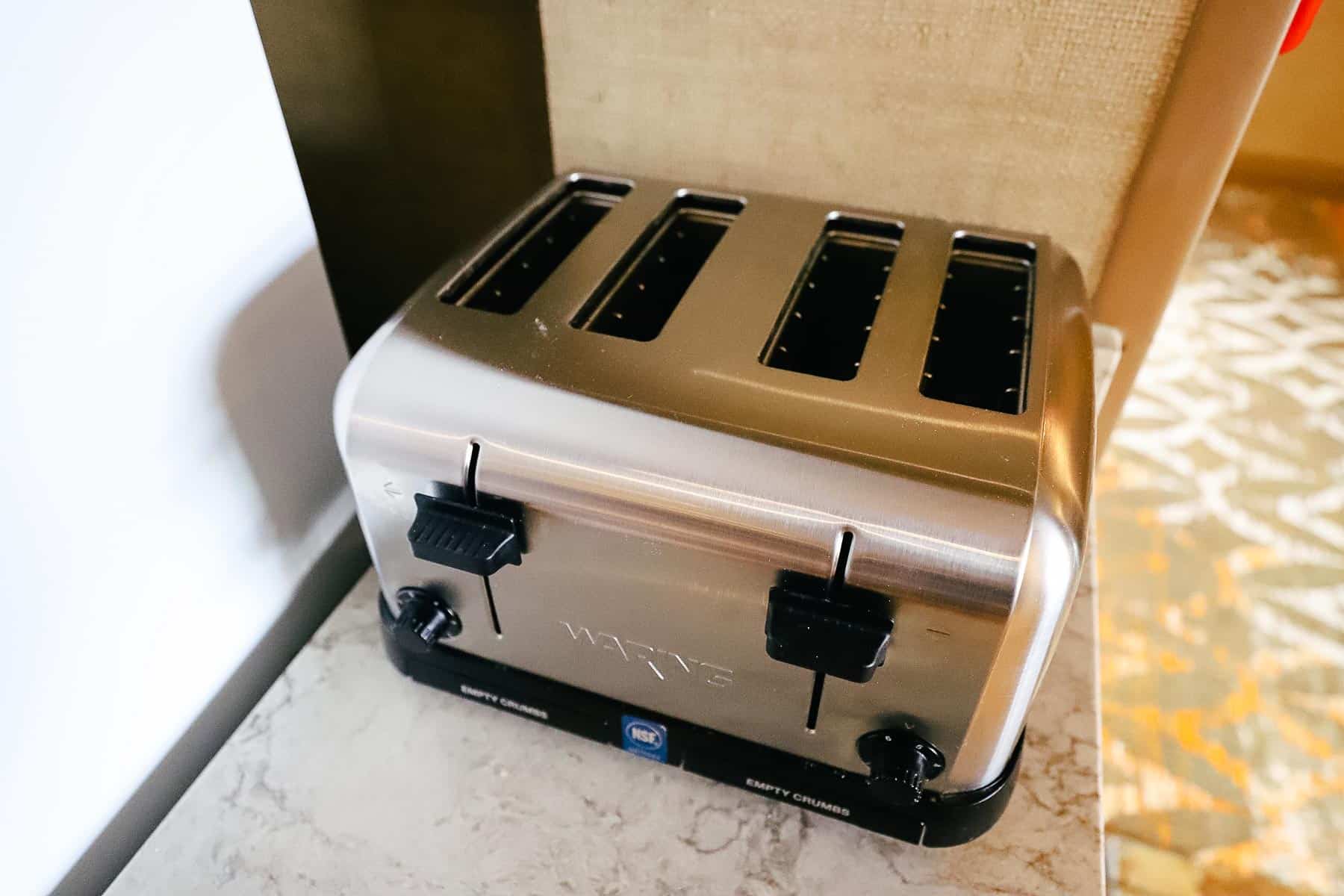 Hard-boiled eggs were available.
Here, we have a vat of oatmeal.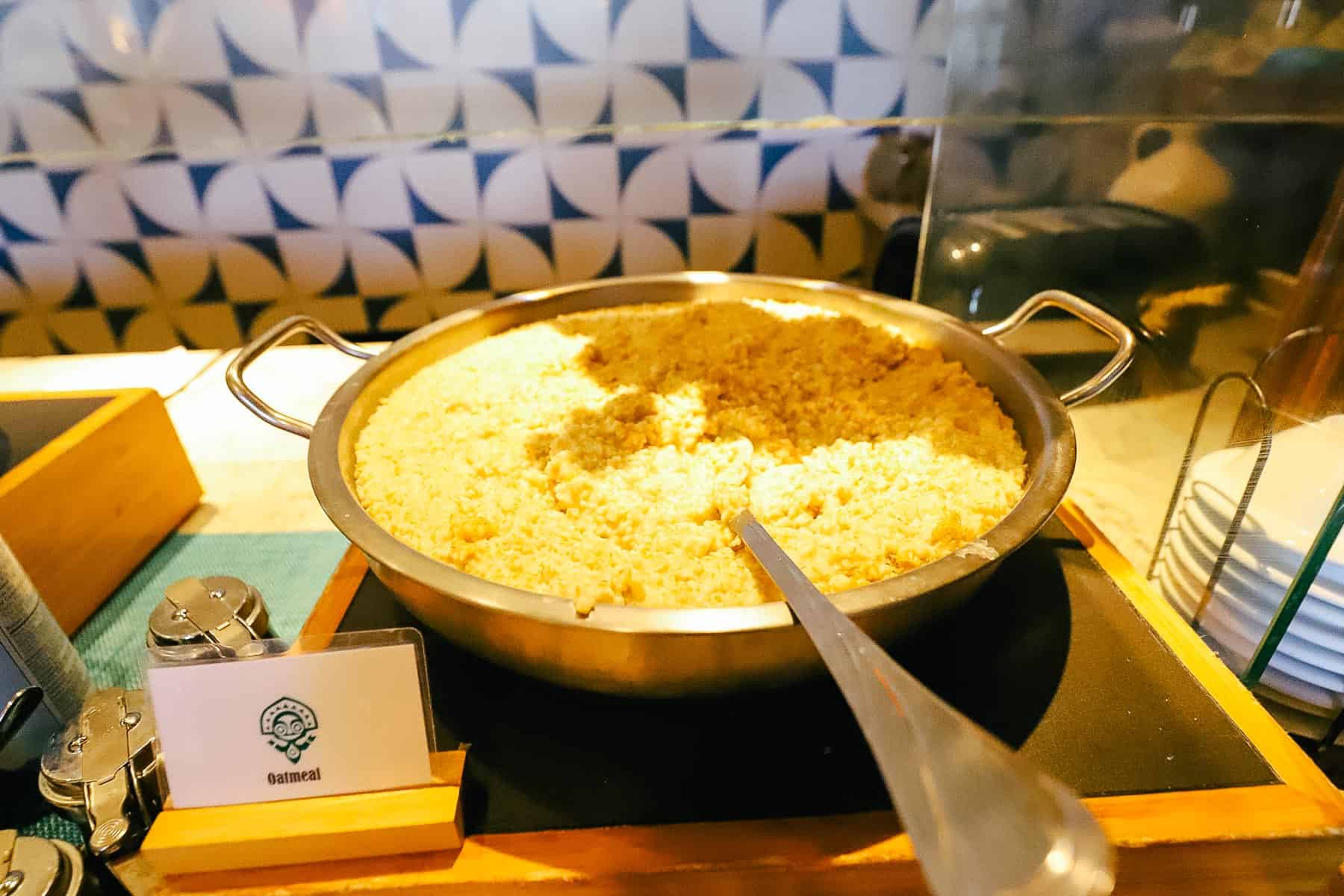 Standard toppings included granola, brown sugar, and dried cranberries.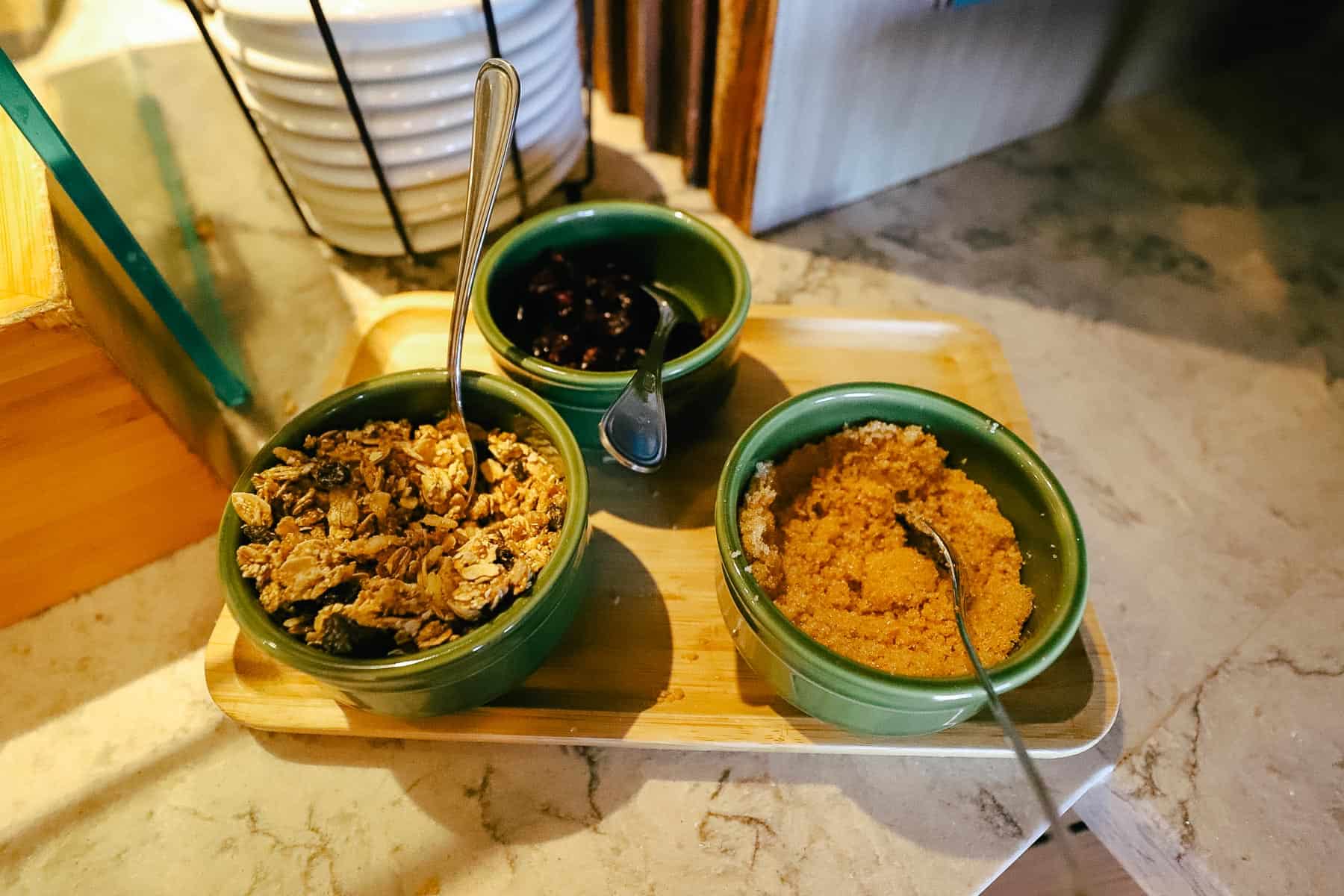 Ham and mini-pancakes were the primary hot offering.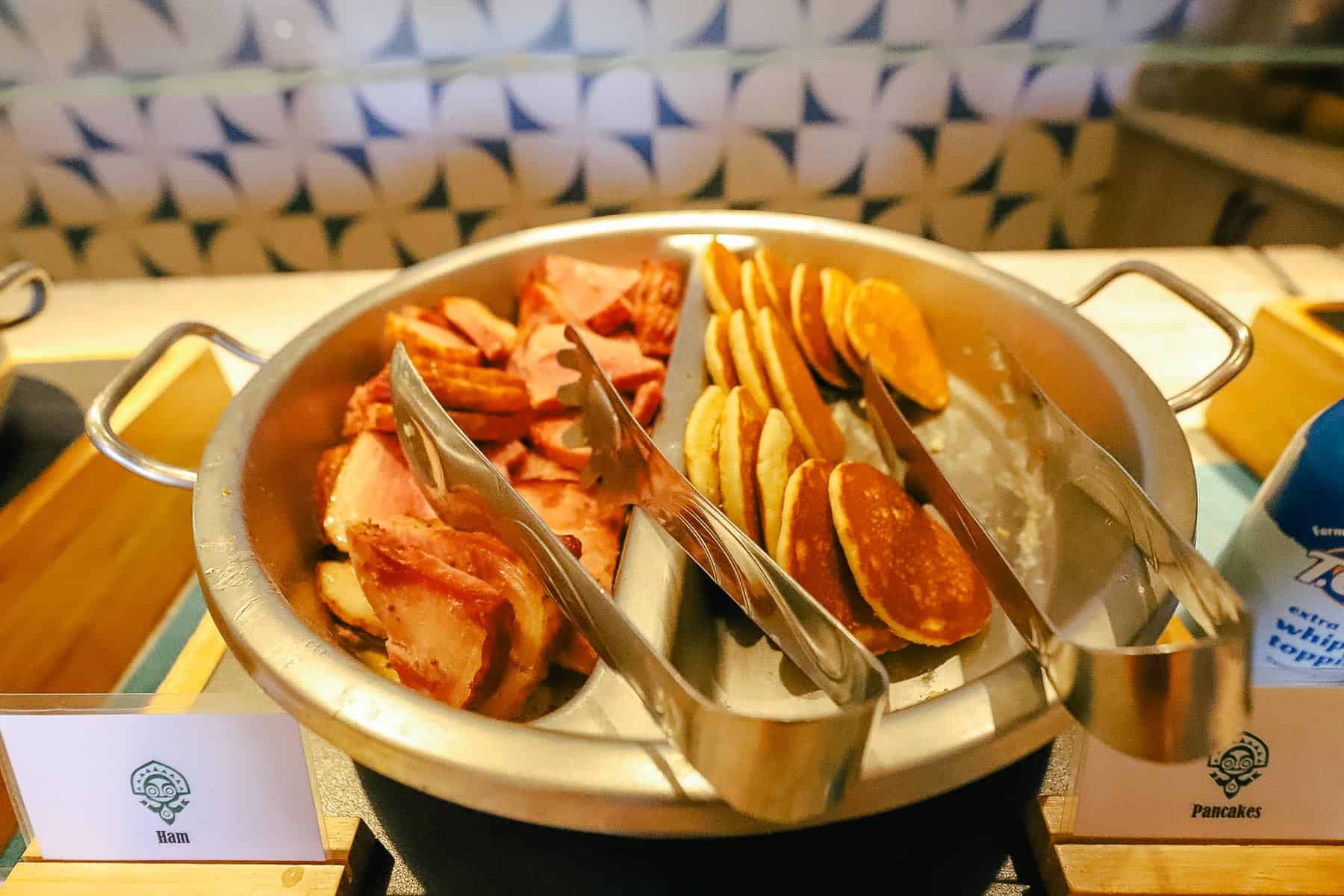 Scrambled eggs were replenished relatively often due to their popularity.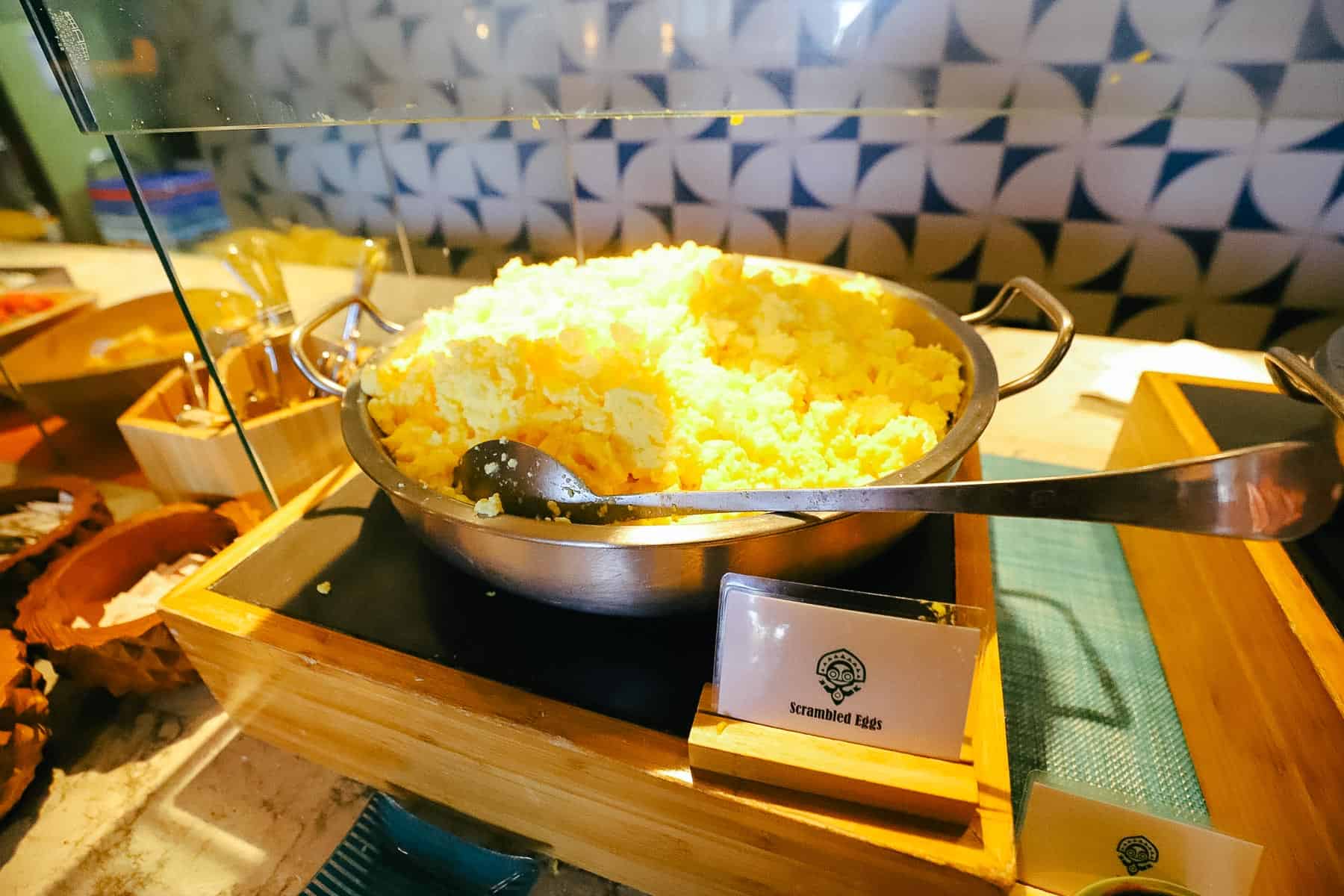 Healthy choices included strawberries and orange slices.
It was nice to see these yogurt selections.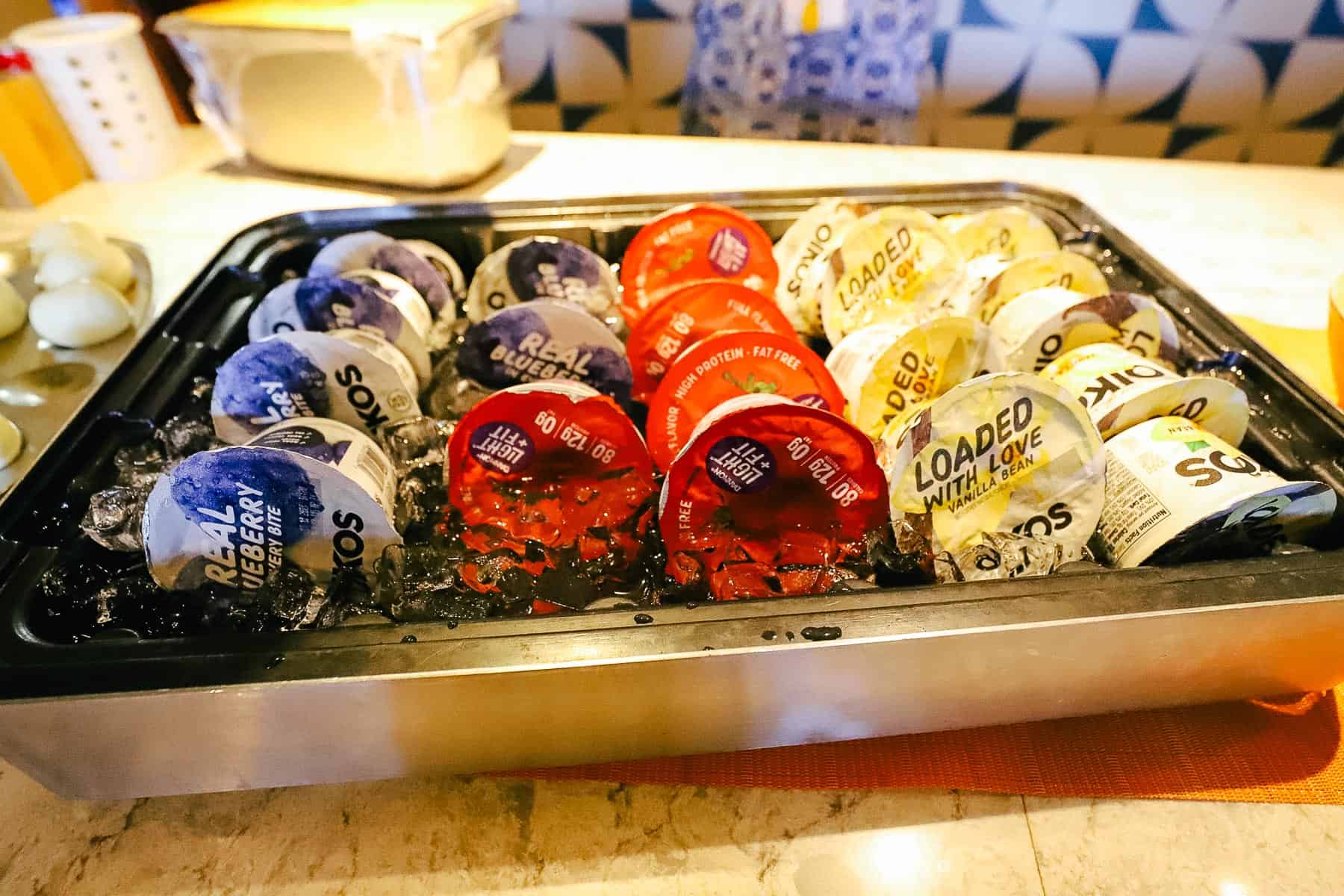 These individual cereals seemed pretty popular. You might grab a few for your park bag or store them in your room for later if your children enjoy snacking on dry cereal.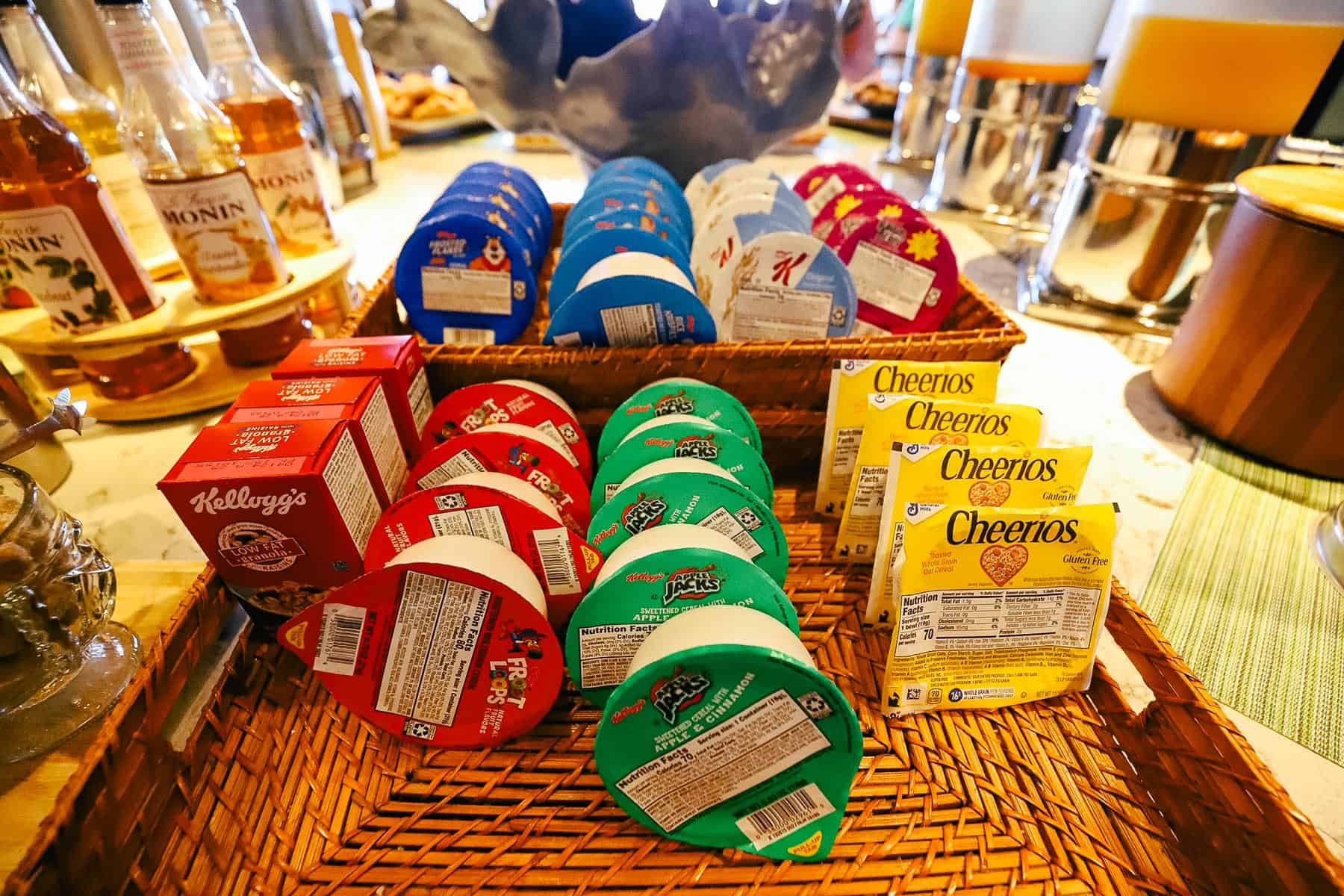 This club level has the traditional Nespresso machine that makes various coffee drinks.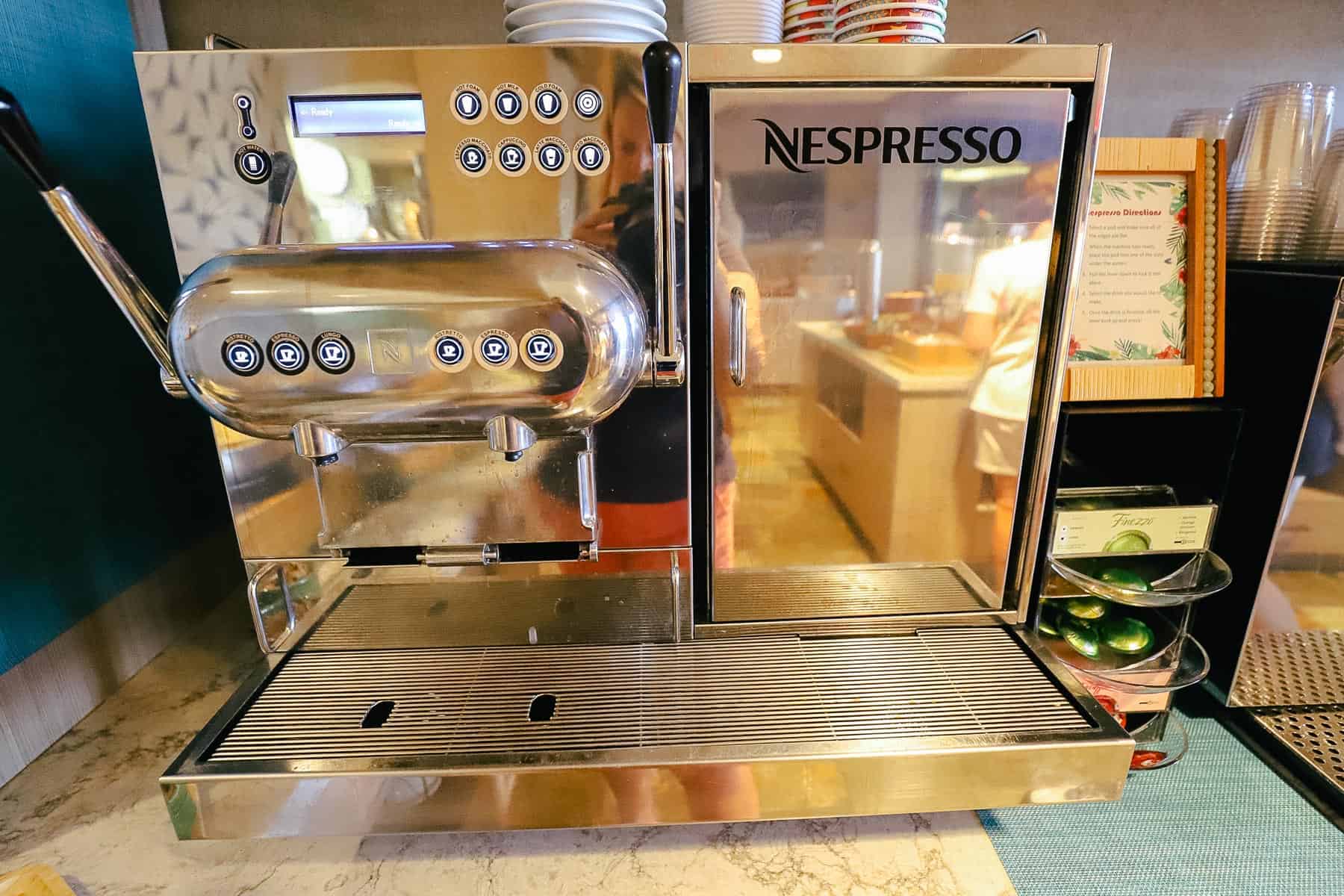 Regular and decaf coffee was also available. They had many creamer options, but most of these items weren't labeled, and everyone seemed confused about what was what.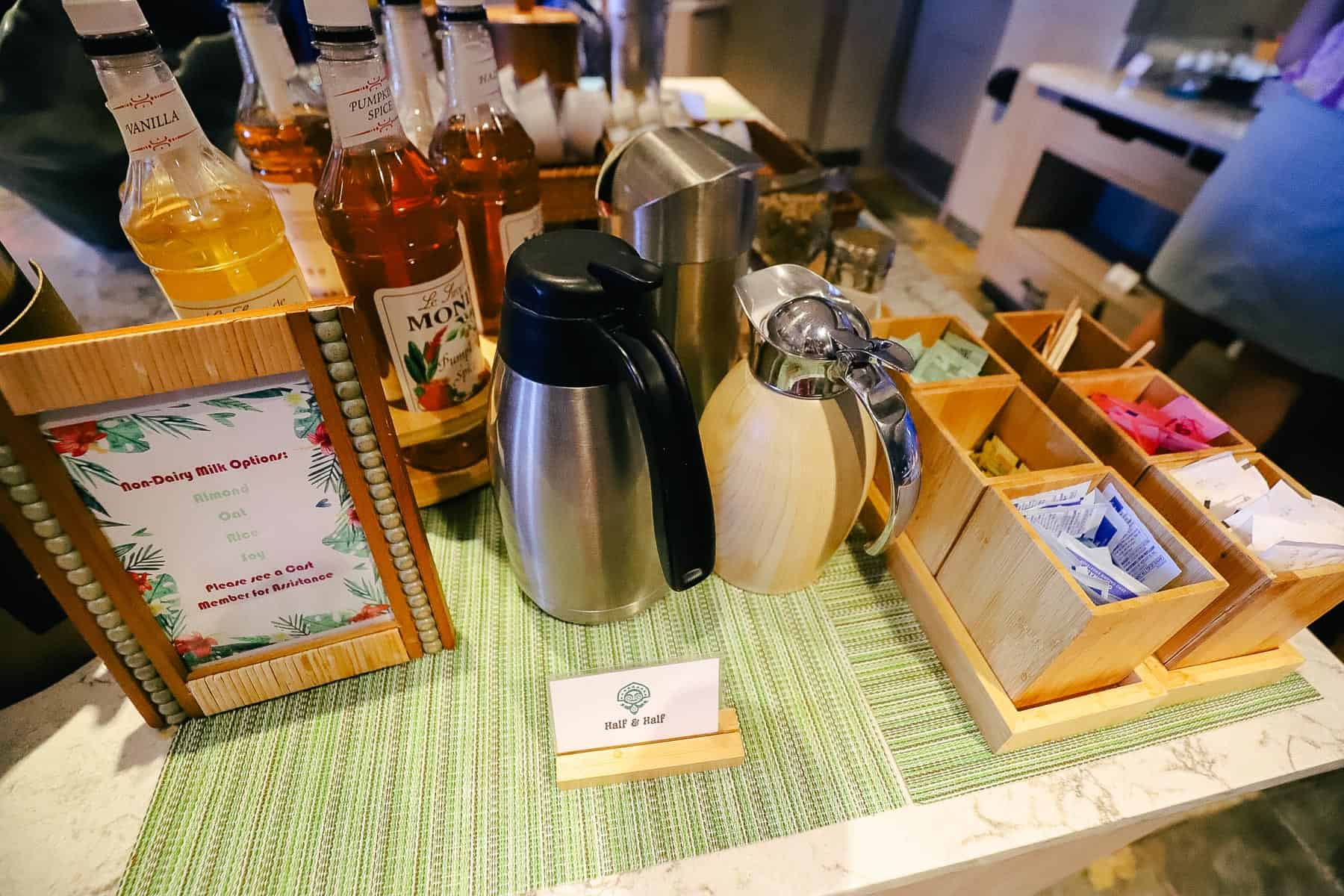 It was nice to see these flavors if you want to add a little pumpkin spice, vanilla, or whatever's the going flavor to your beverage.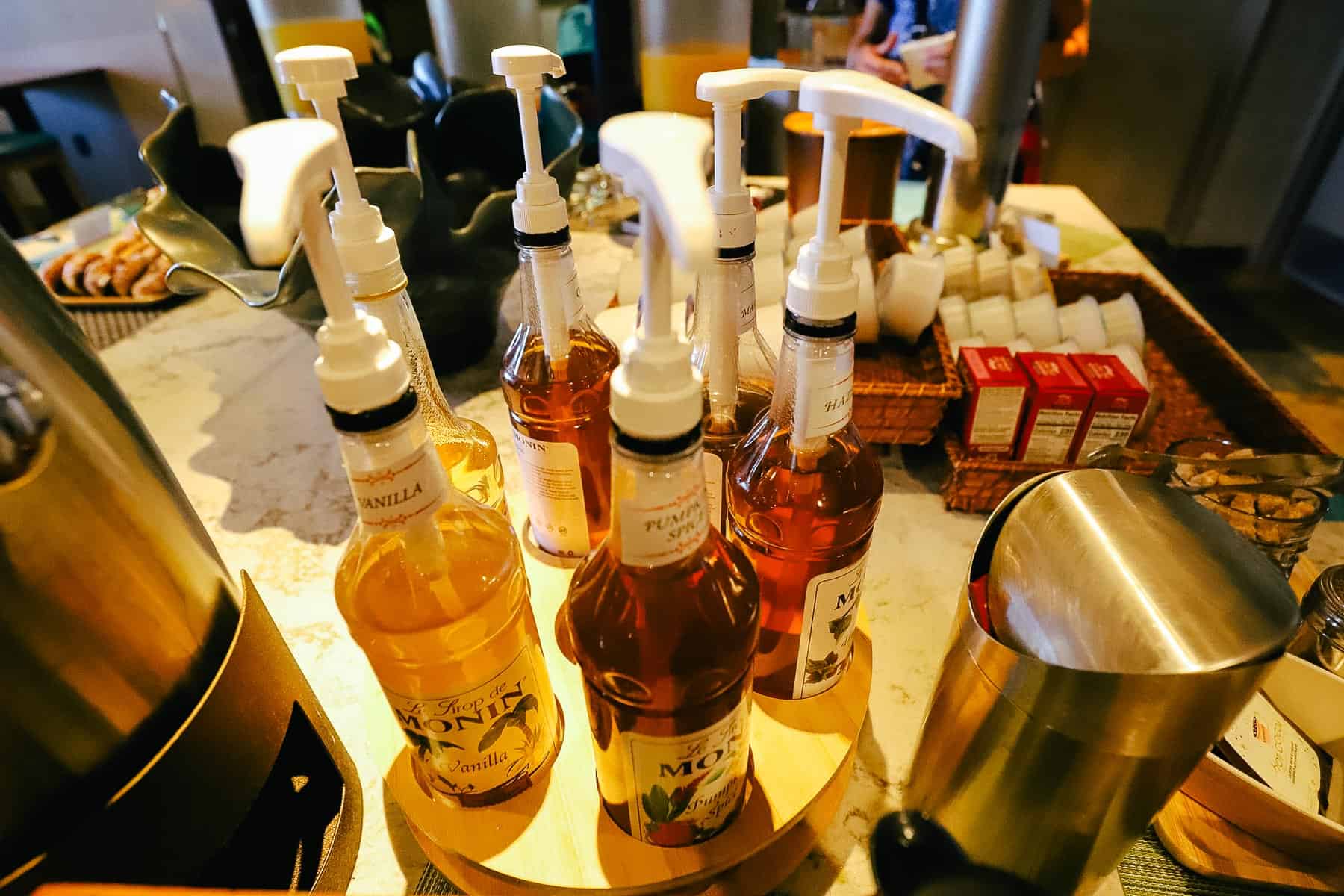 These Twining tea bags were appreciated.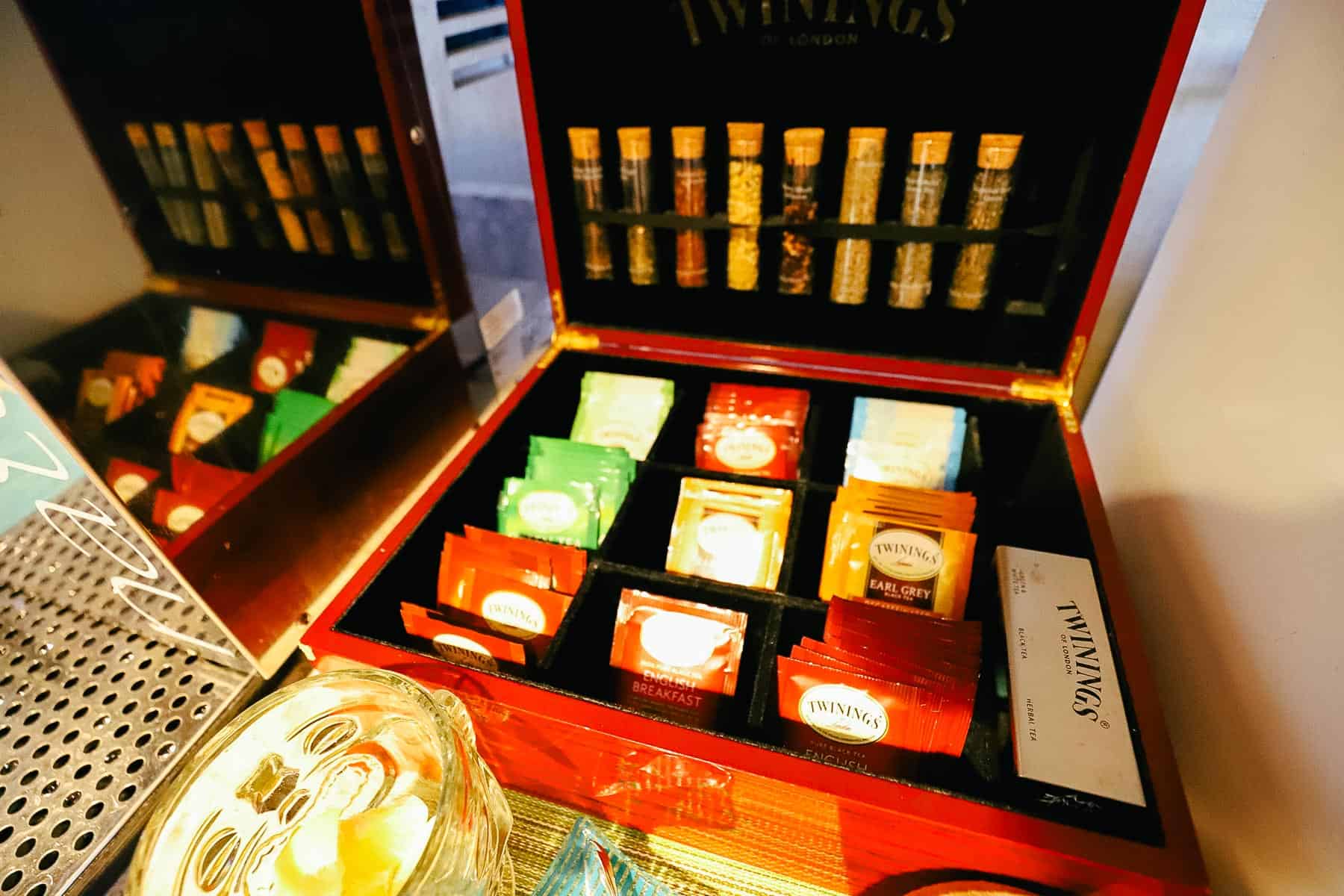 A Natura dispenser provided filtered water. Most guests filled their canteens with water to take to the parks.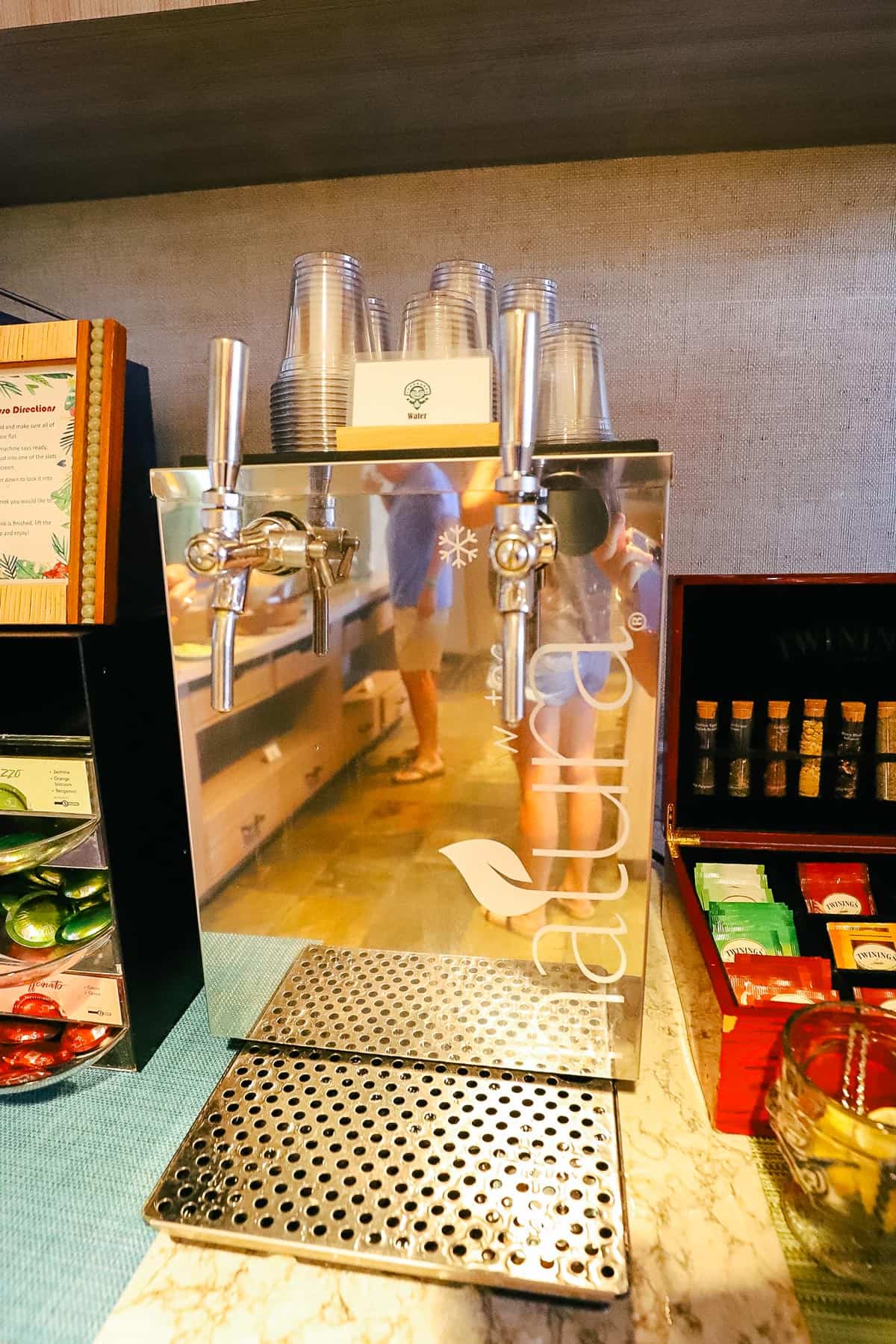 During breakfast, the fridge had various sodas like Coca-Cola, Diet Coke, Sprite, and Coke Zero.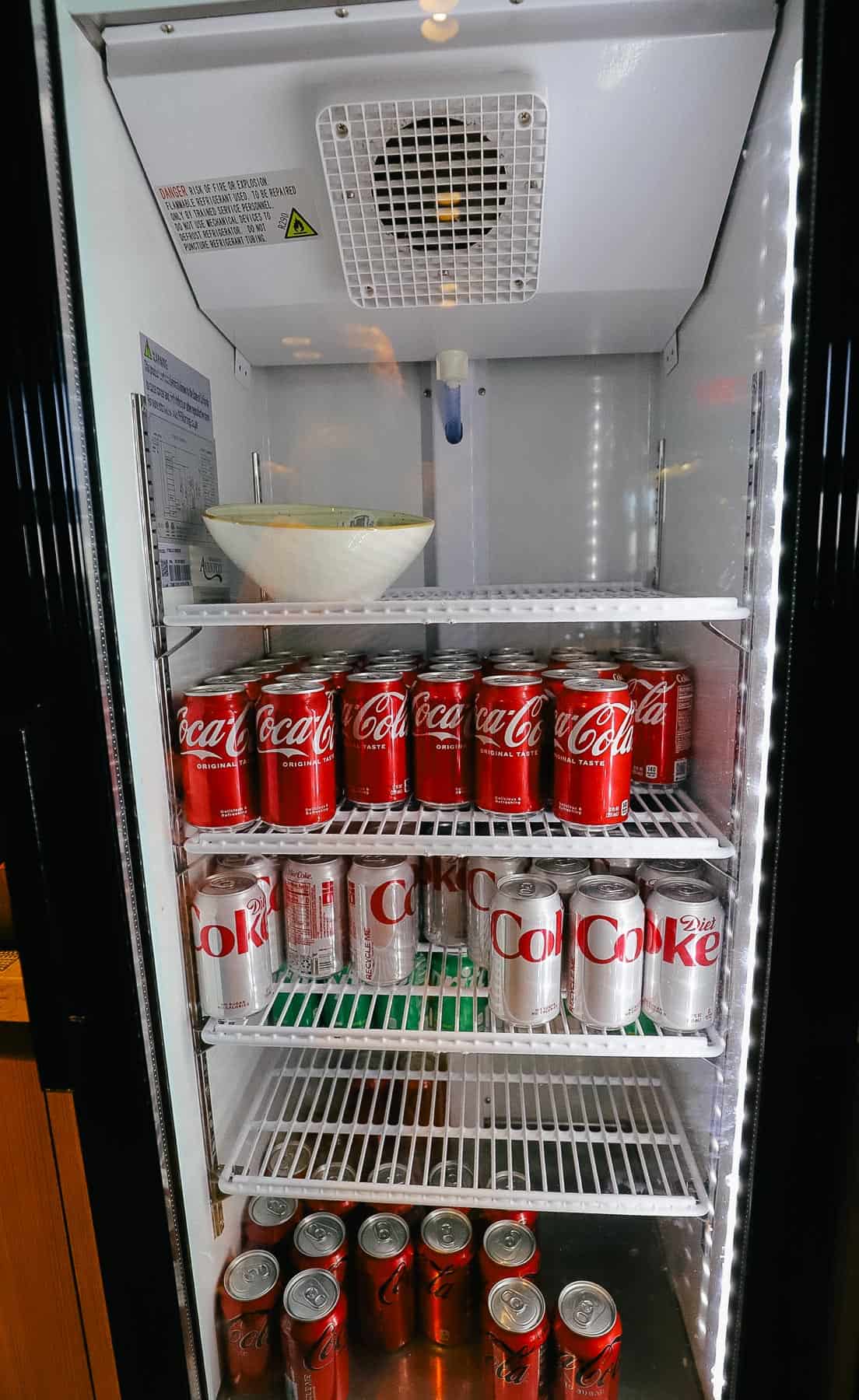 Most days, the items were the same, except for the hot offerings. For instance, we saw sausages and roasted potatoes one morning.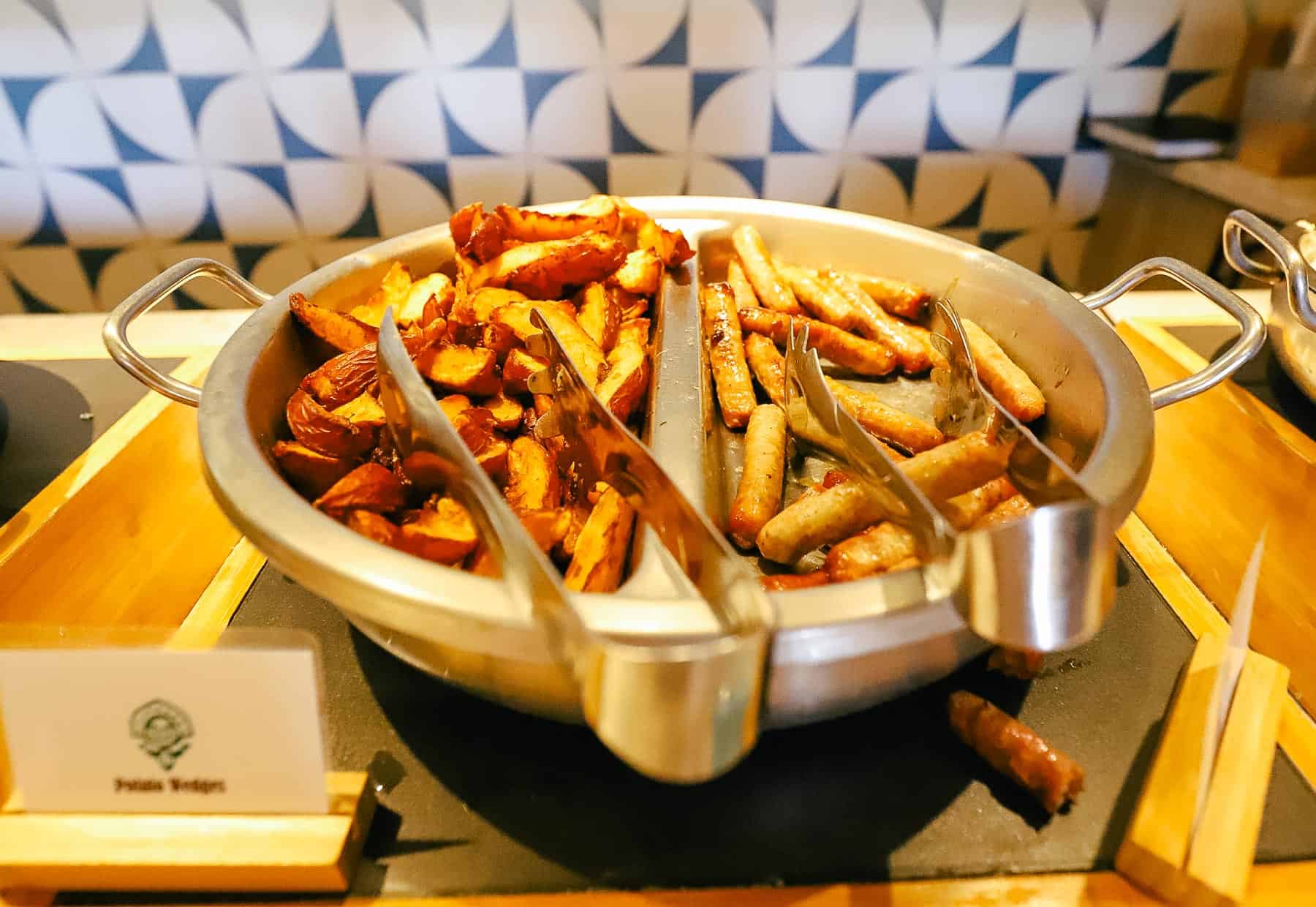 Different types of eggs were available each day. This version was a bacon and Swiss quiche.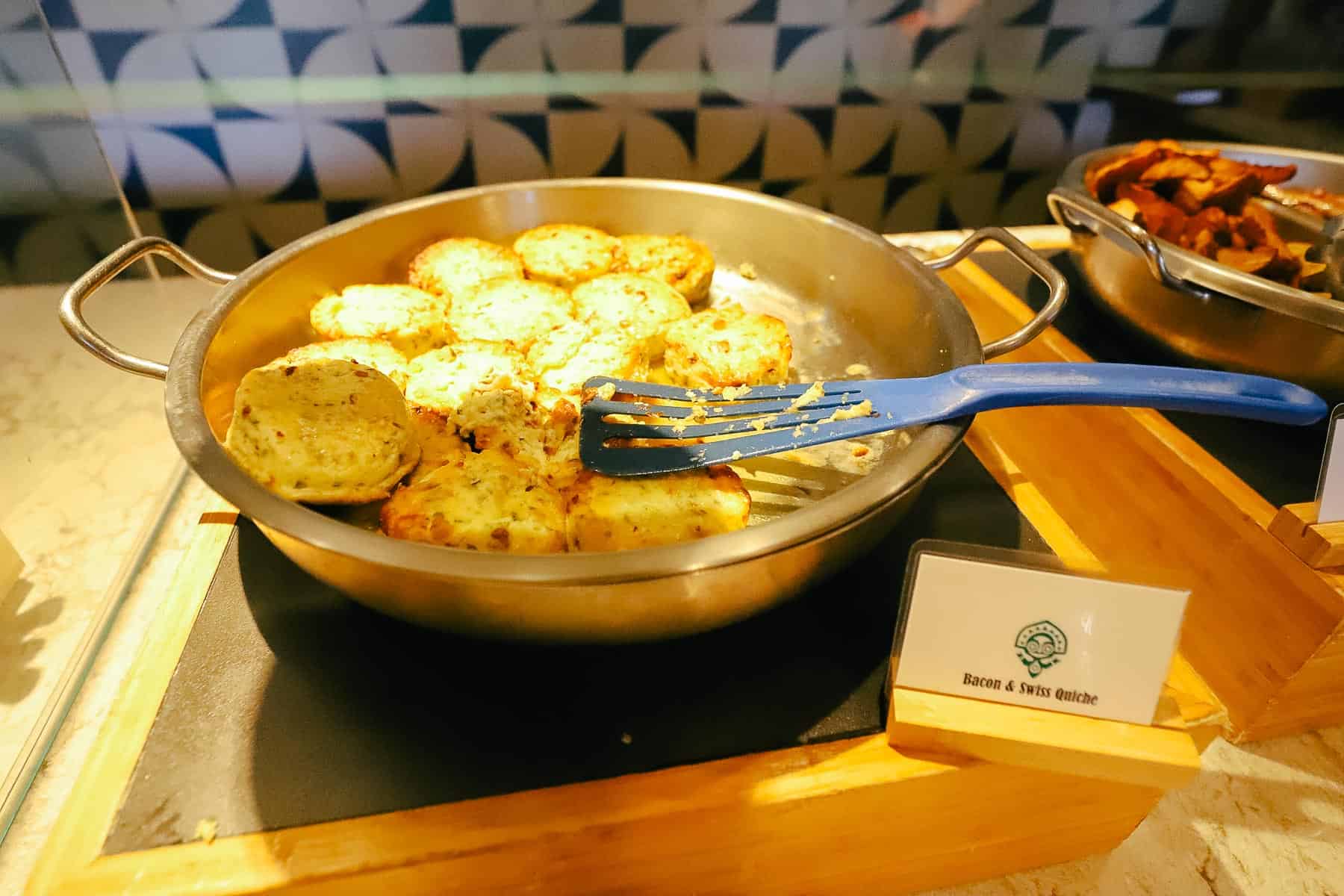 Some mornings, the pastry selections changed. These Guava danishes were delicious.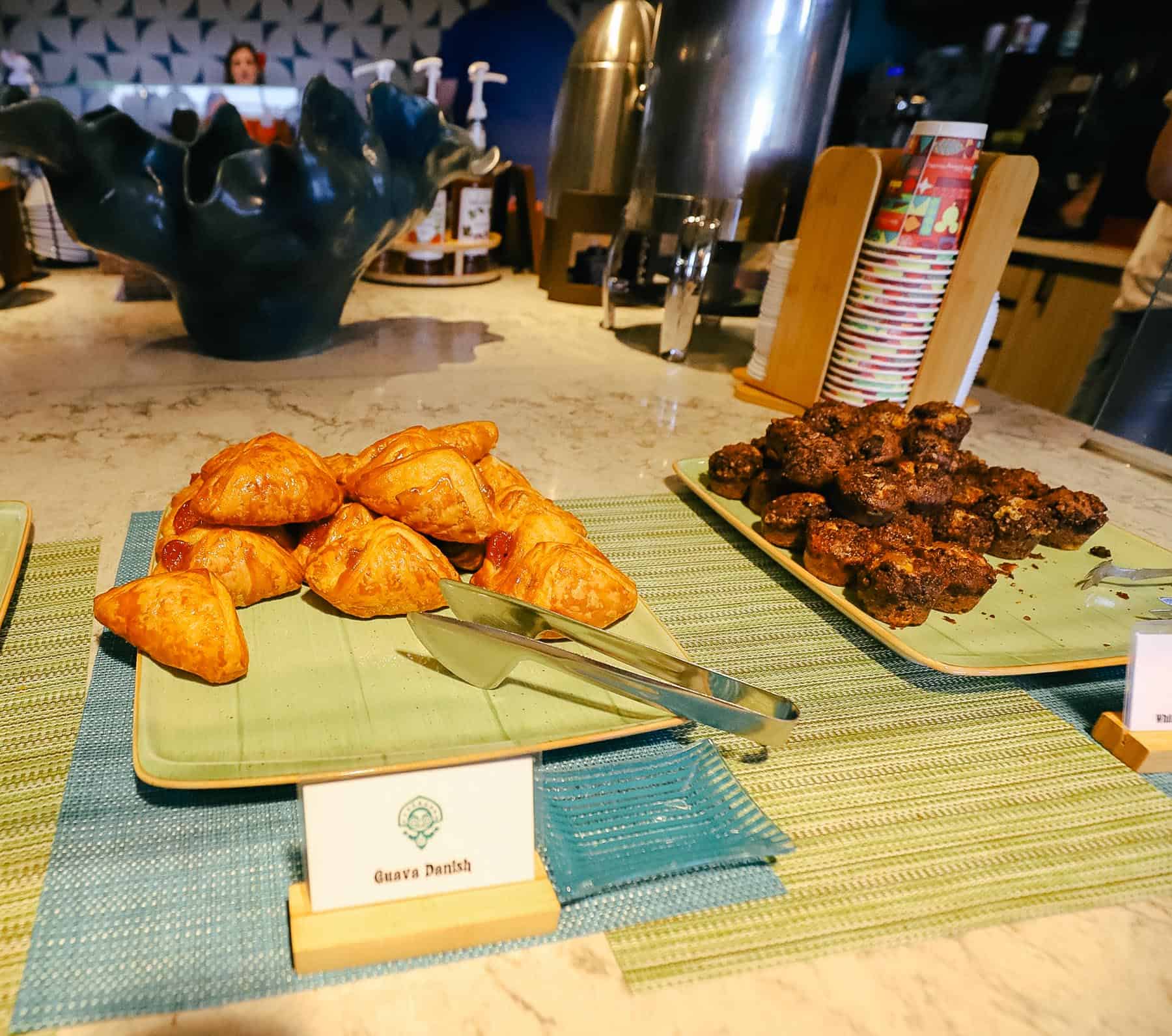 Auinala (Refreshments)
Various refreshments were available each afternoon between 11:00 a.m. and 4:00 p.m. in the lounge. Most of these items wouldn't make for a meal, but the Uncrustables are a nice option for children.
If they aren't out or if your children would like one during dinner, you can always ask for them. Additionally, Mickey Mouse ice cream novelties were not present in the lounge. However, several guests requested them, and they were always provided. By novelties, I'm talking about the Mickey-shaped ice cream bars and sandwiches.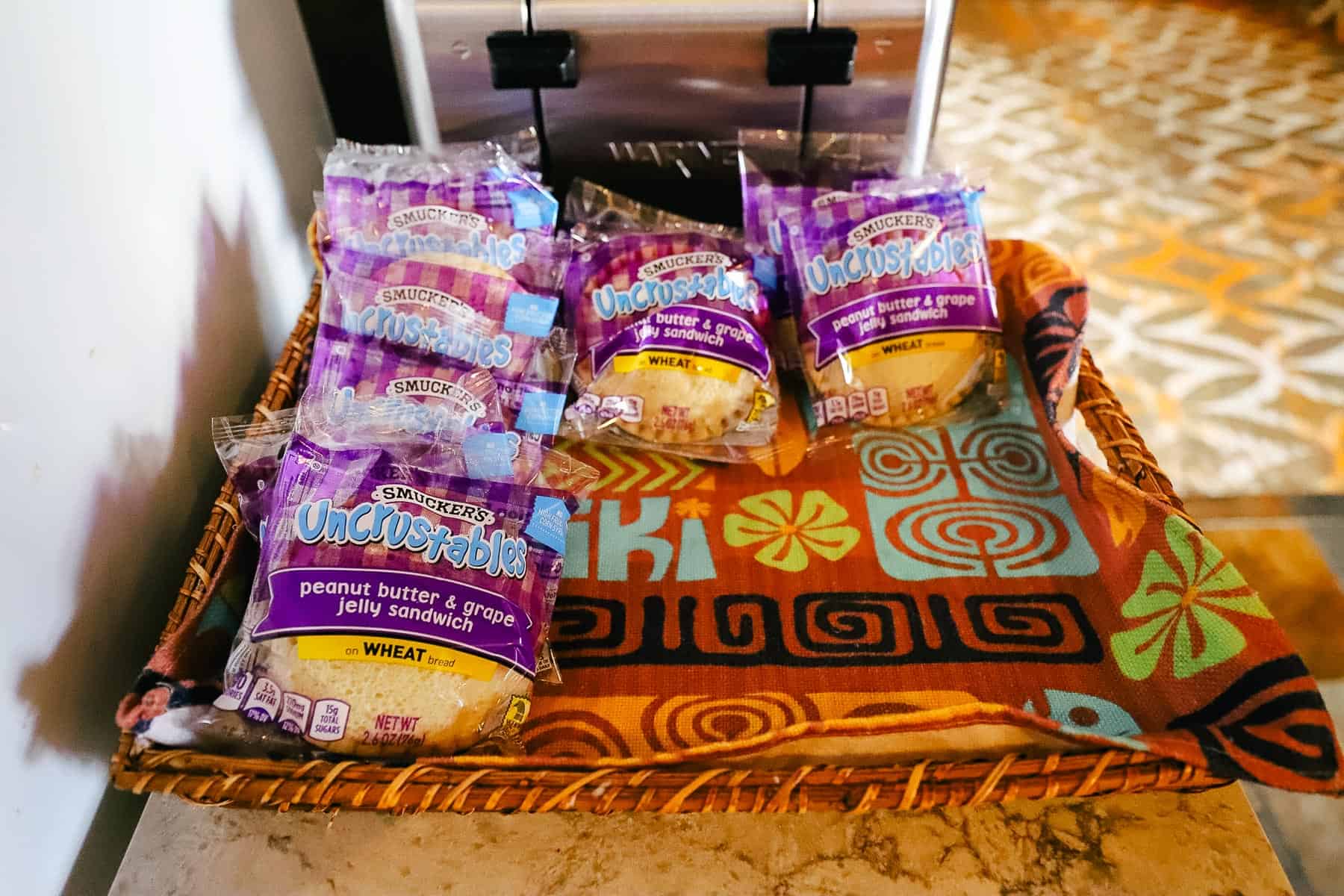 A platter of vegetables with various dips makes for a healthy snack.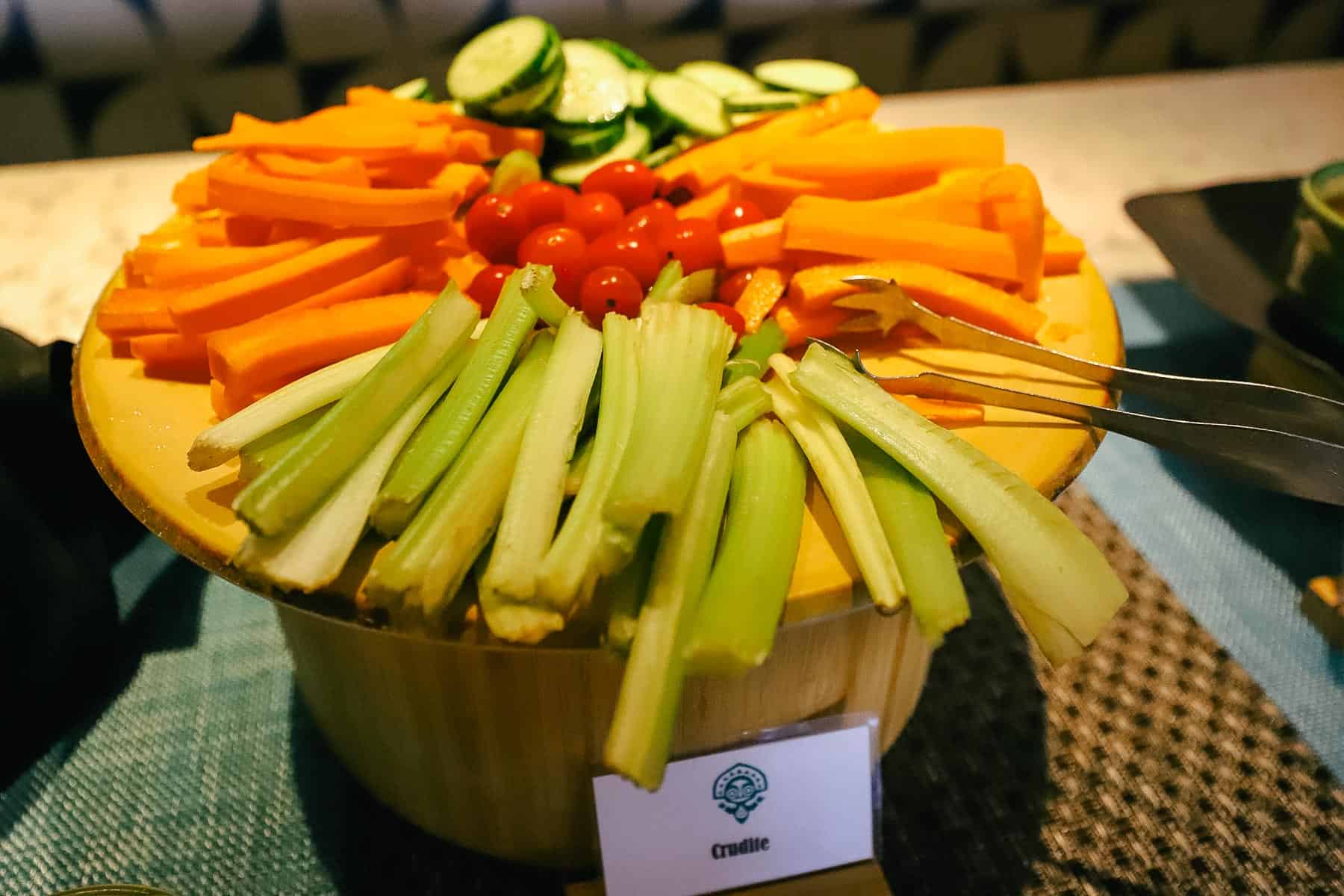 Dips included ranch, roasted red pepper hummus, sweet chili sauce, and garlic ranch.
Strawberries were almost always available.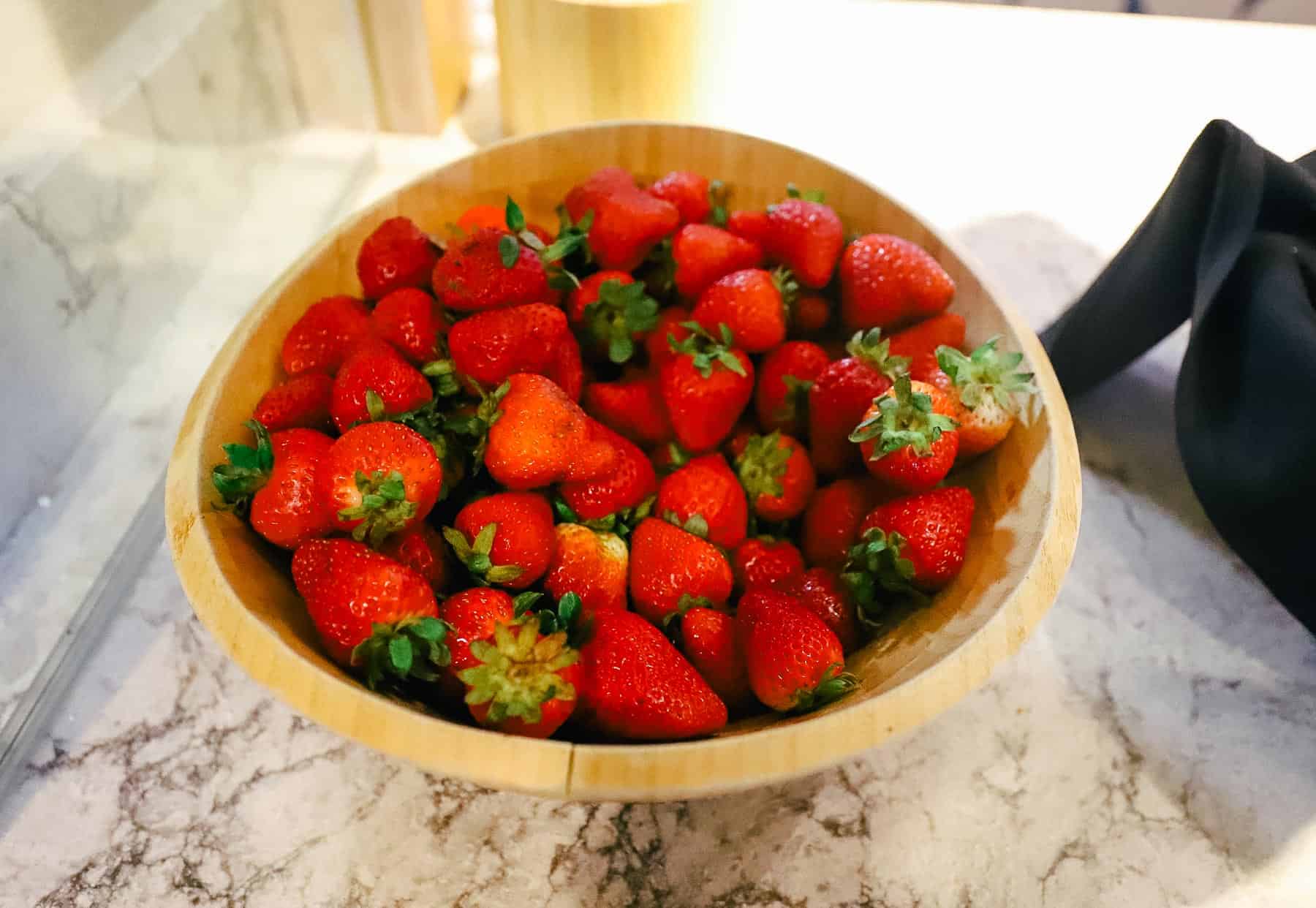 I think these Polynesian Wonton Chips are a club-level staple. They were a yummy snack.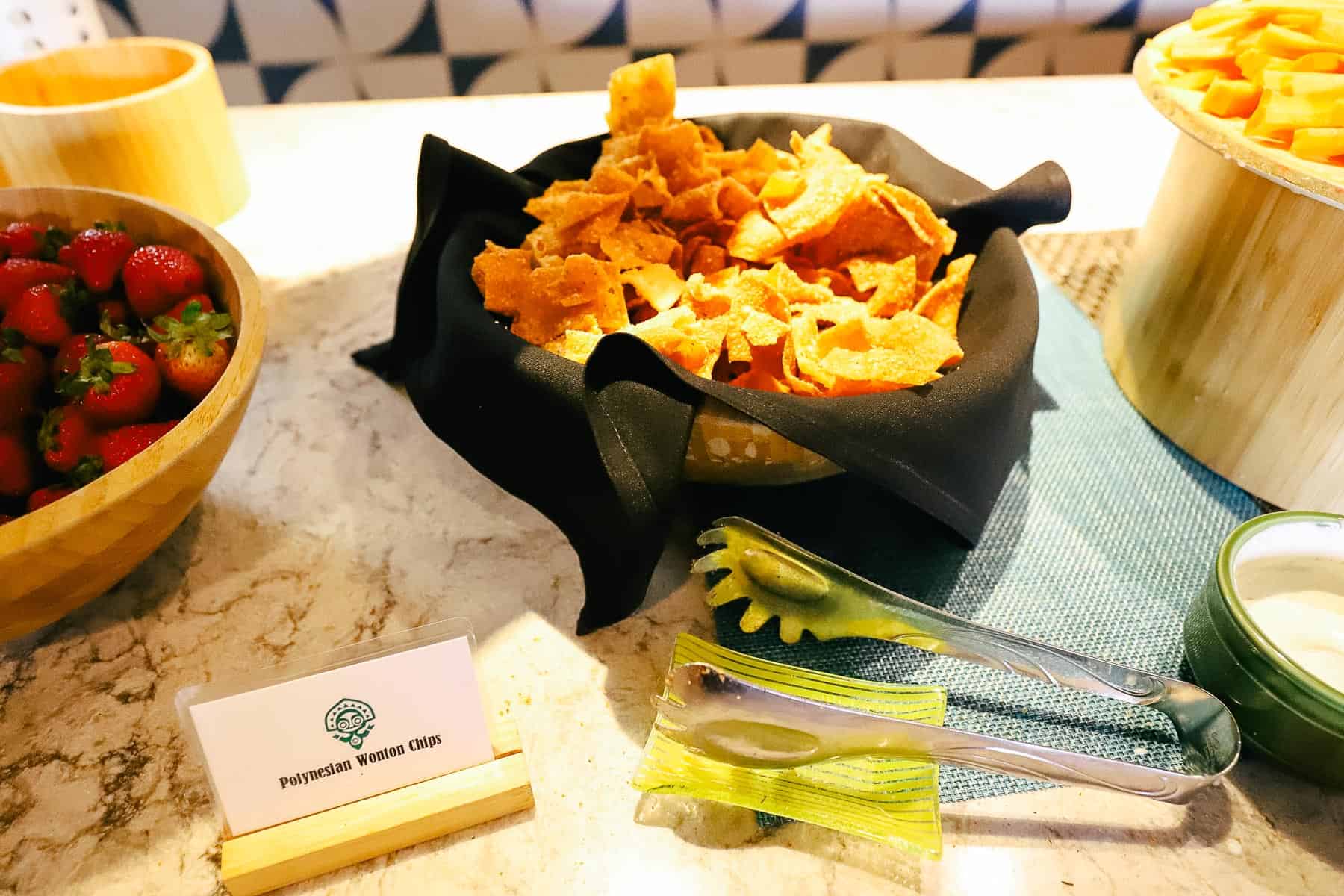 These items below were fun. You could grab what you like, but they had plastic bags so guests could make a custom snack mix.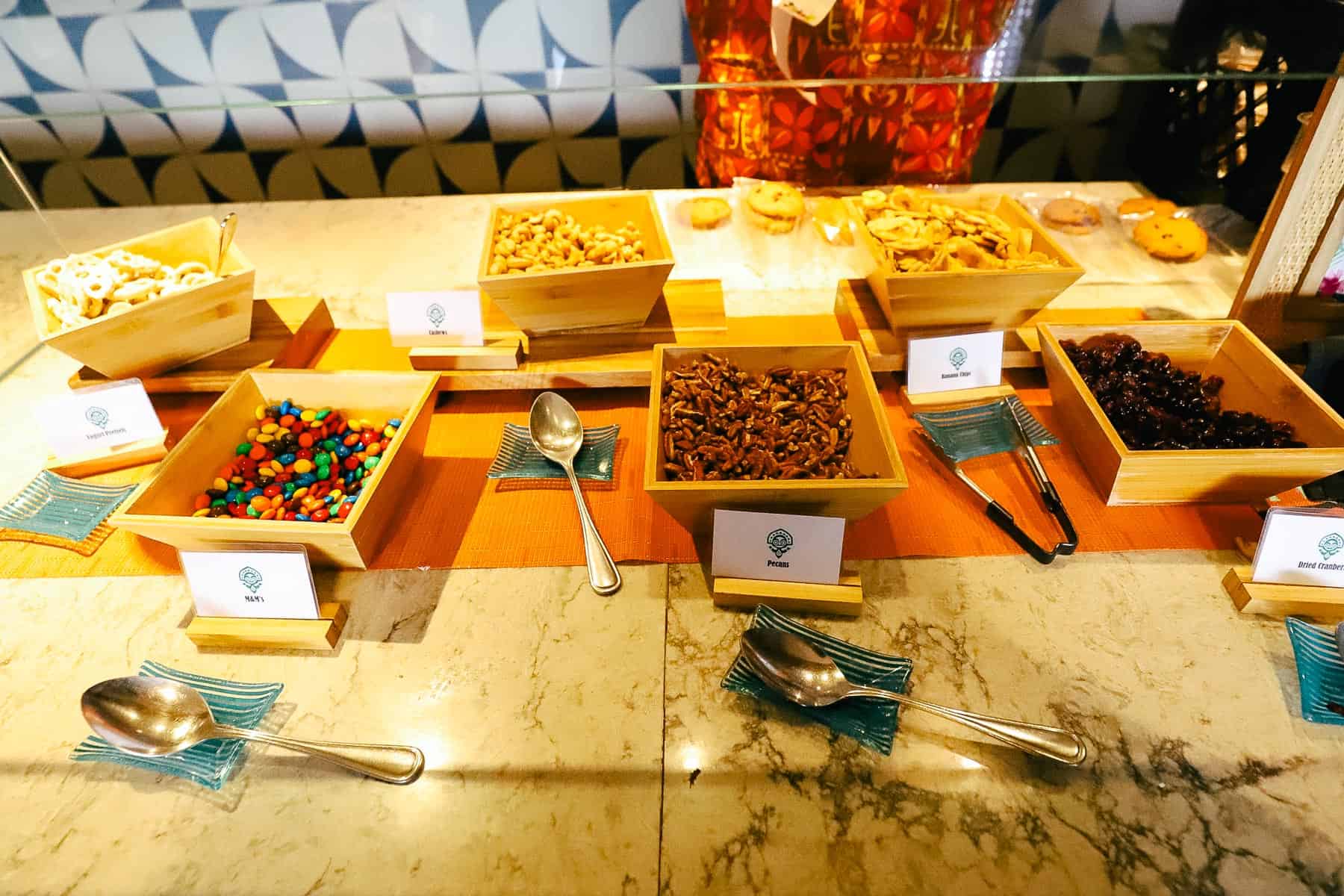 I had no idea how much I enjoyed yogurt pretzels until we stayed at the Chronos Club a few months ago. So I was happy to see them again.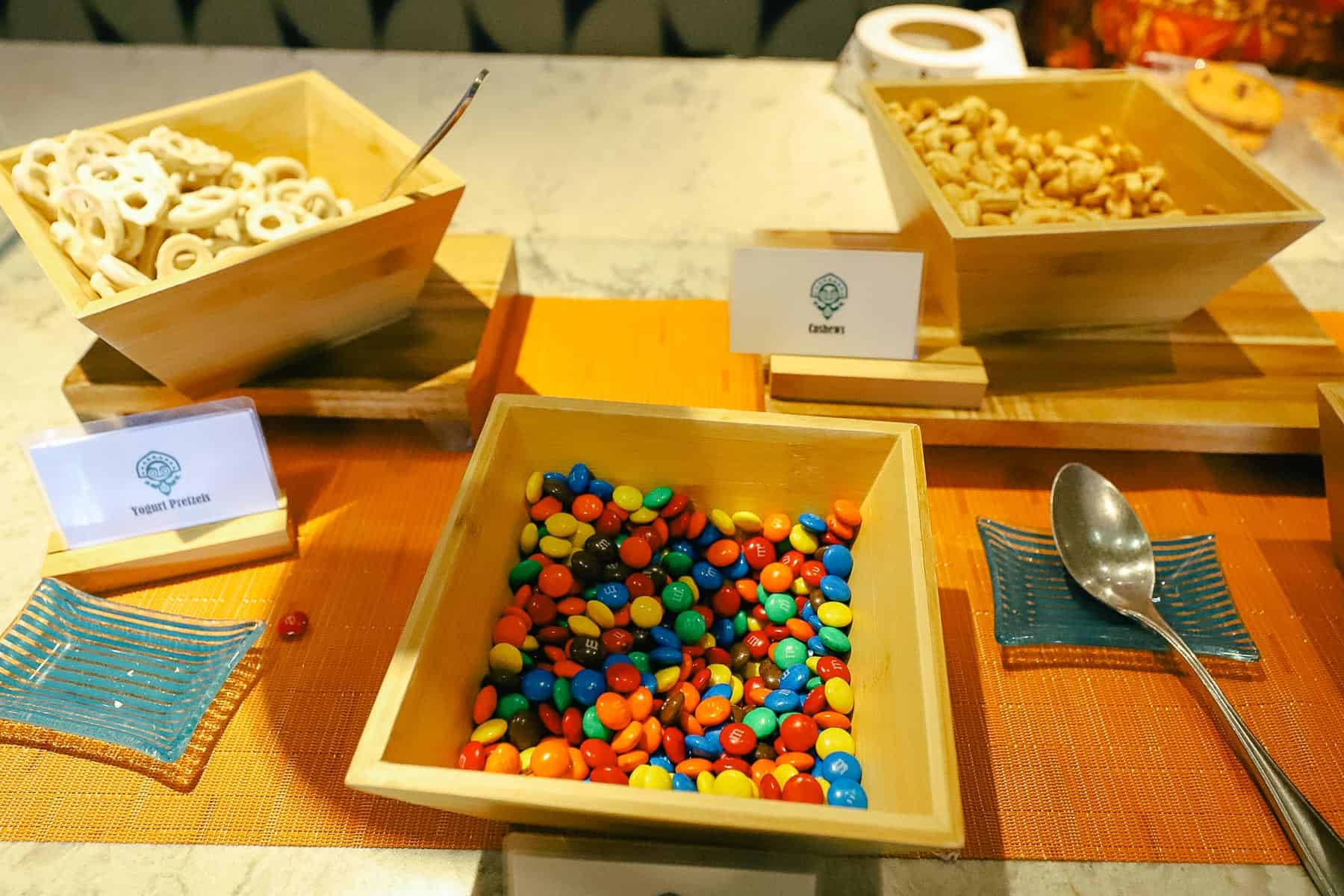 The banana chips weren't bad, either.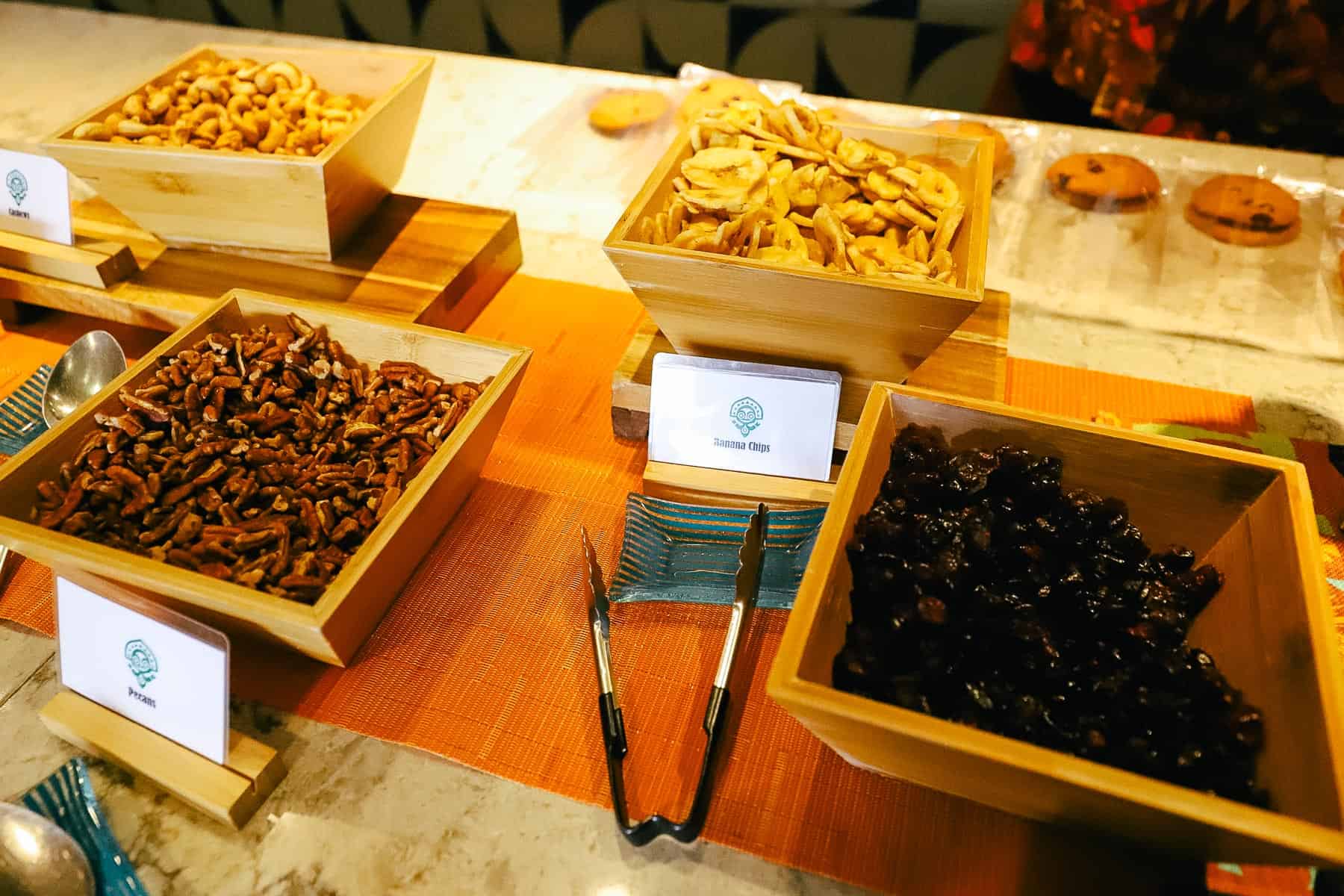 Cookies and a few other treats were available.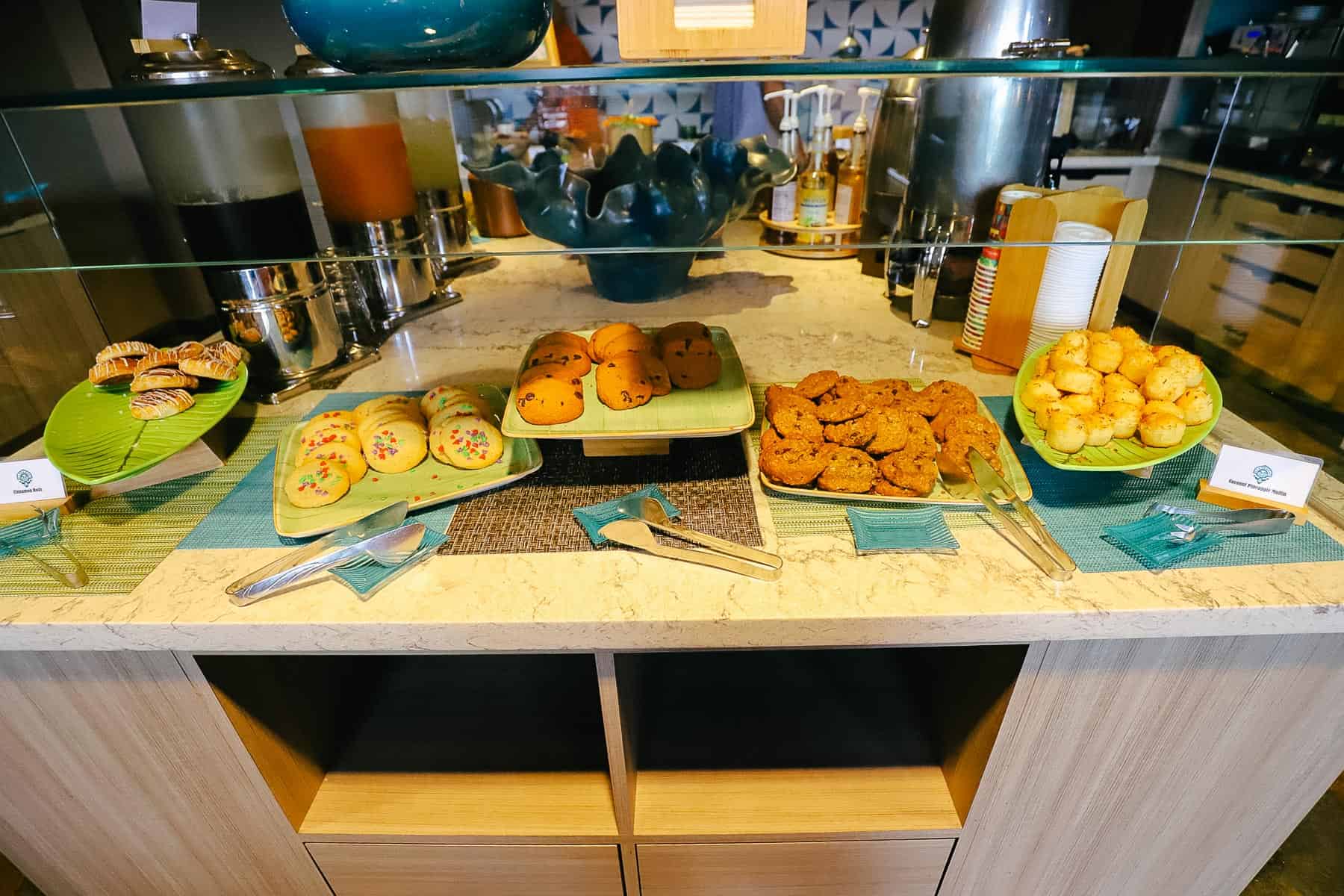 These are the same chocolate chip and sugar cookies we've seen at other club levels for years.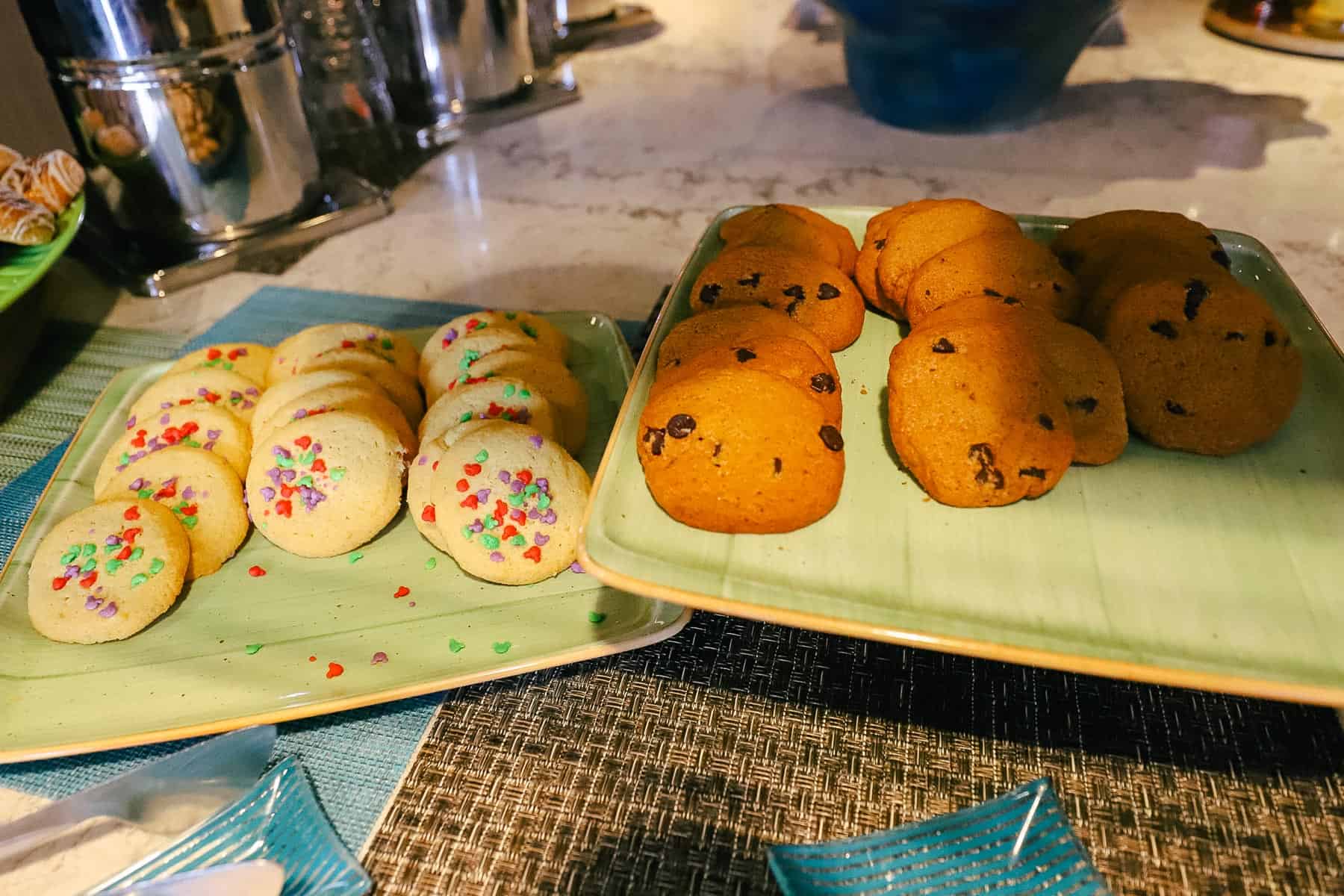 Several kinds of chips and pretzels were available. Walking in and grabbing what you like without worrying about it is so lovely. I noticed a lot of children selecting these grab-and-go types of items.
They also had Nutri Grain Bars and Rice Krispies Treats, which reminds me that I stuck a Rice Krispies Treat in my backpack, and I don't remember eating it. So it's probably still there.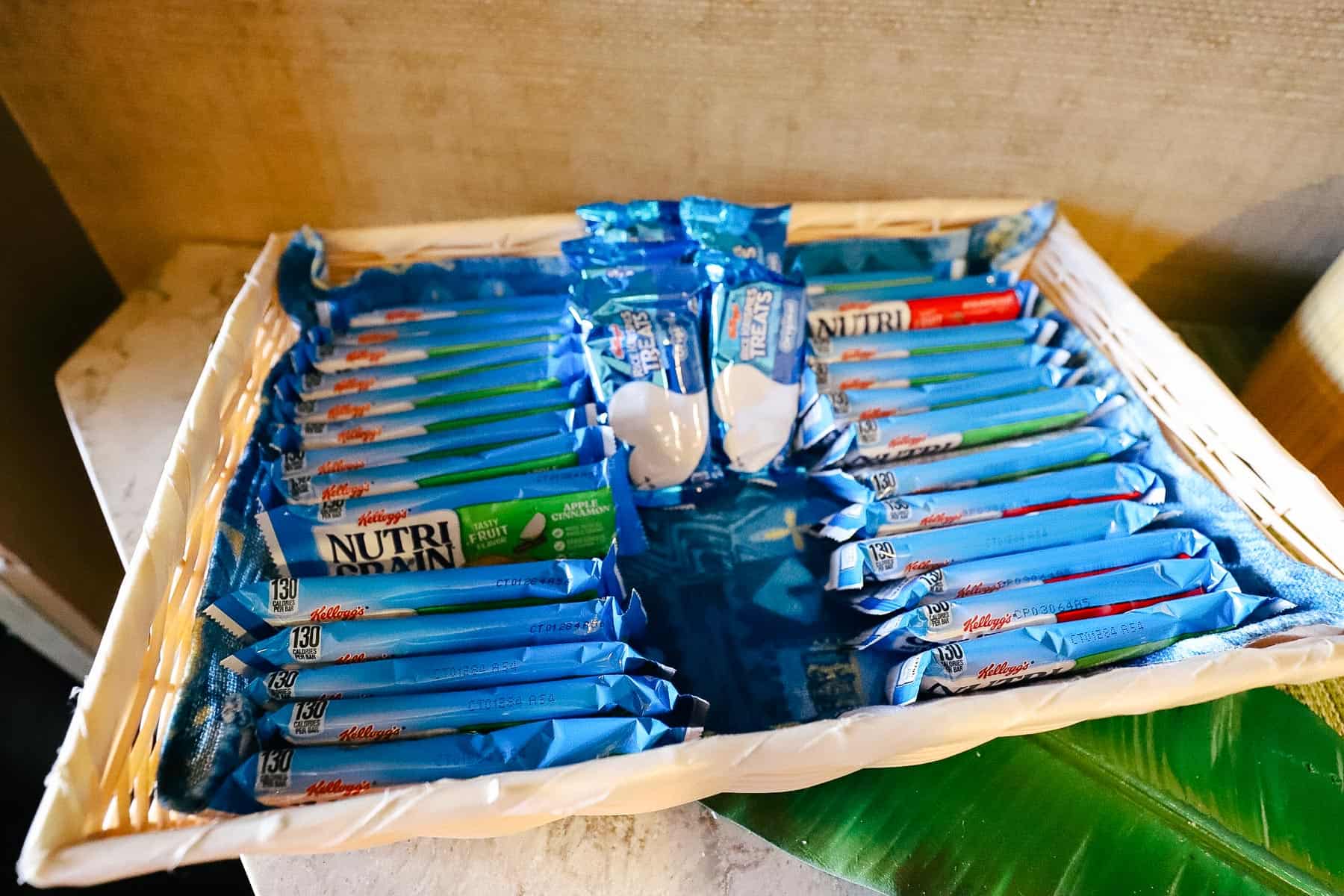 A few other items included M&M's, Skittles, and bananas.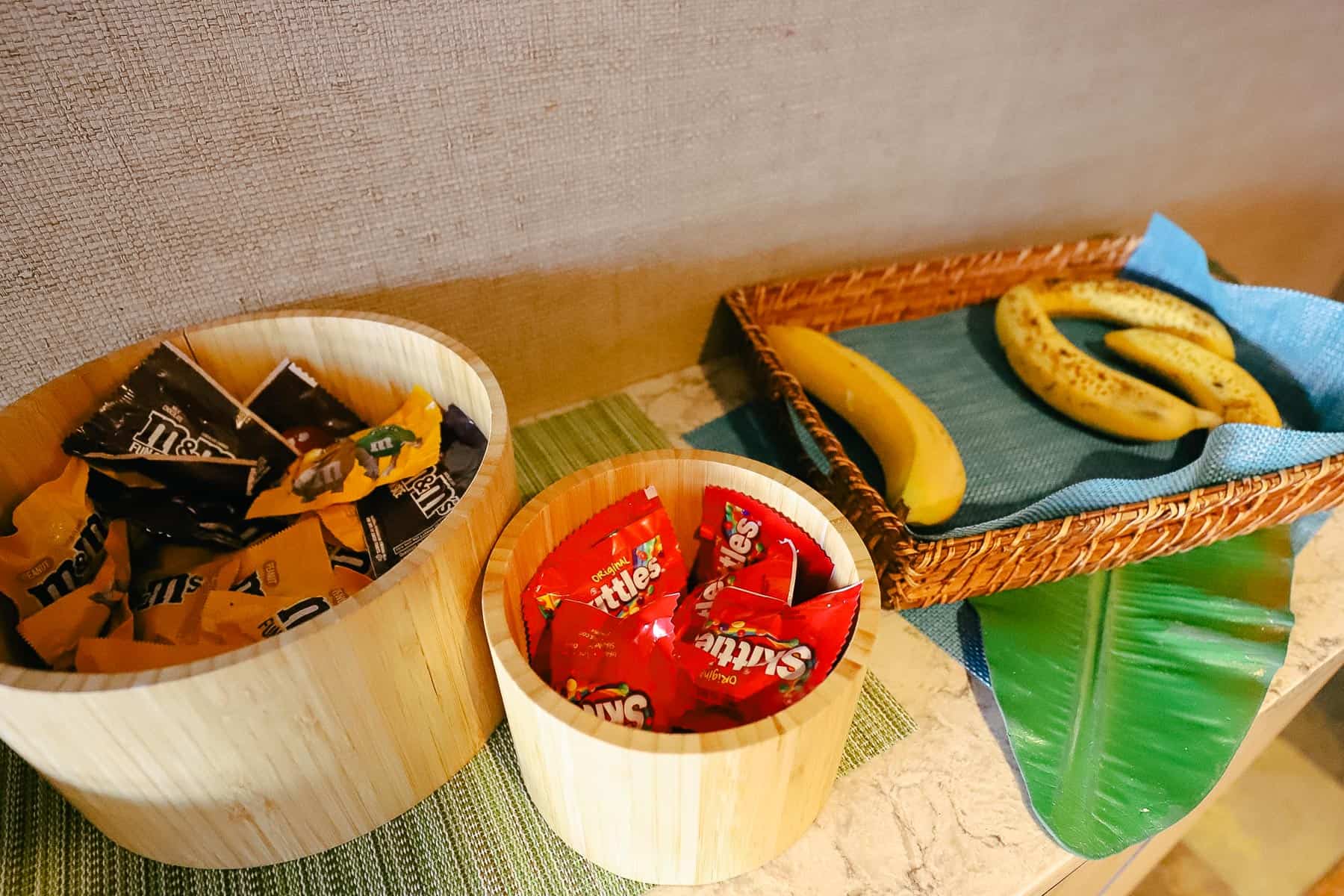 You could make hot cocoa with this mix, sugar cubes, and cinnamon. Unfortunately, we didn't see any of the Mickey-shaped sugar cubes.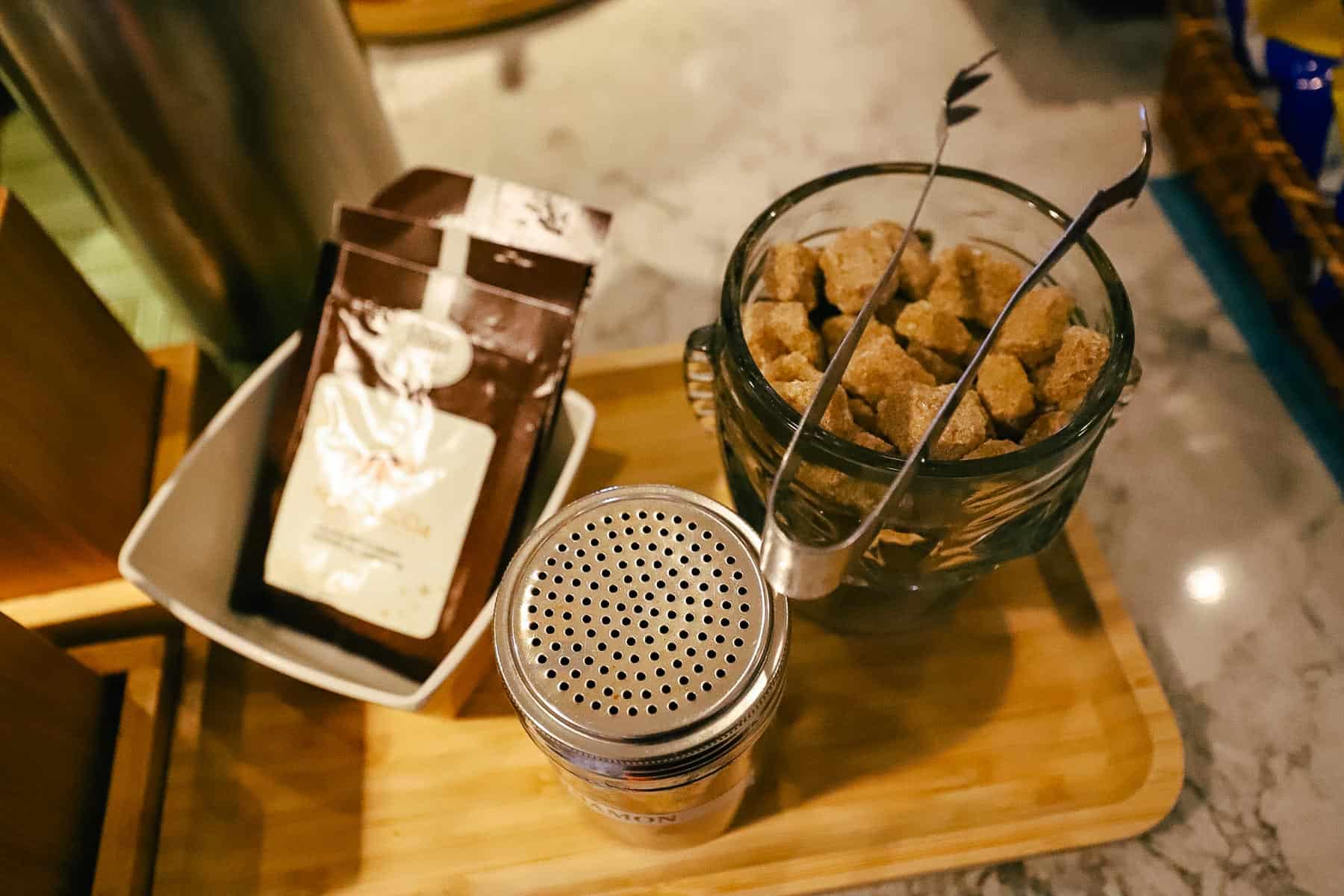 During refreshments, they had a selection of beer on display. A cast member would provide whatever one you wanted. There is no limit on these kinds of items. But if you take them to the pool, you'll need to pour them into a plastic cup.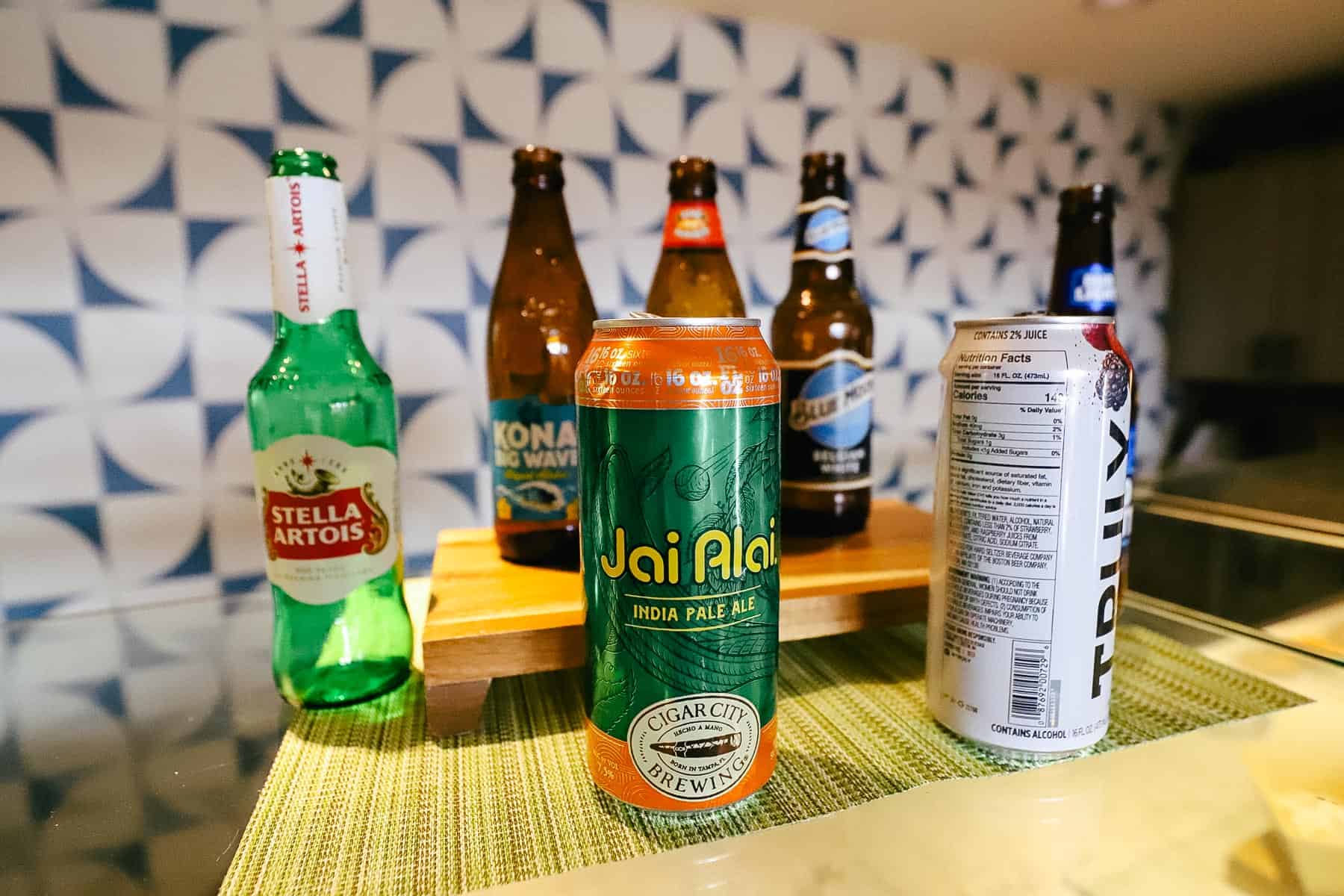 Wine offerings included red wine, white wine, and sparkling.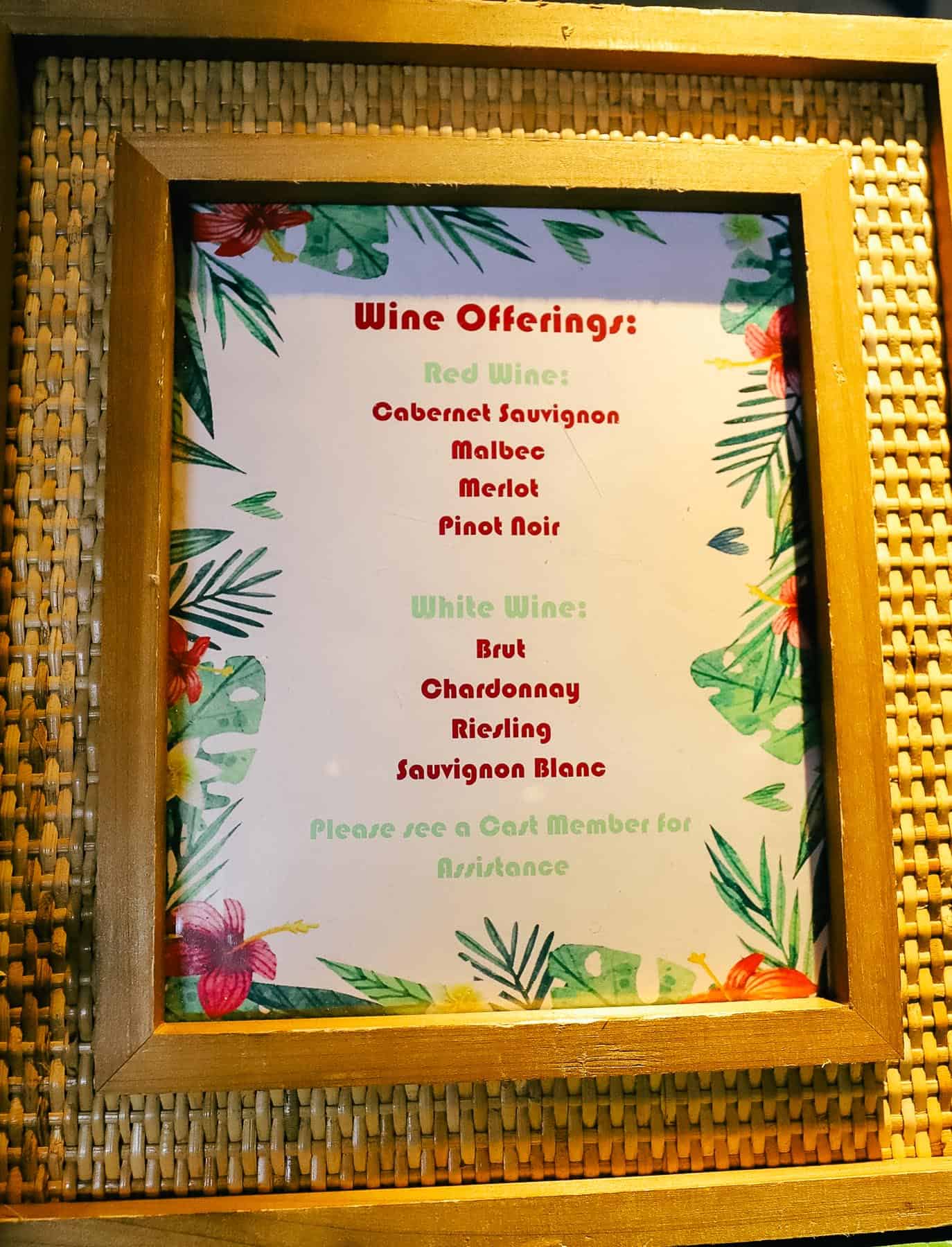 I requested a glass of champagne and ended up without about three glasses worth in one serving.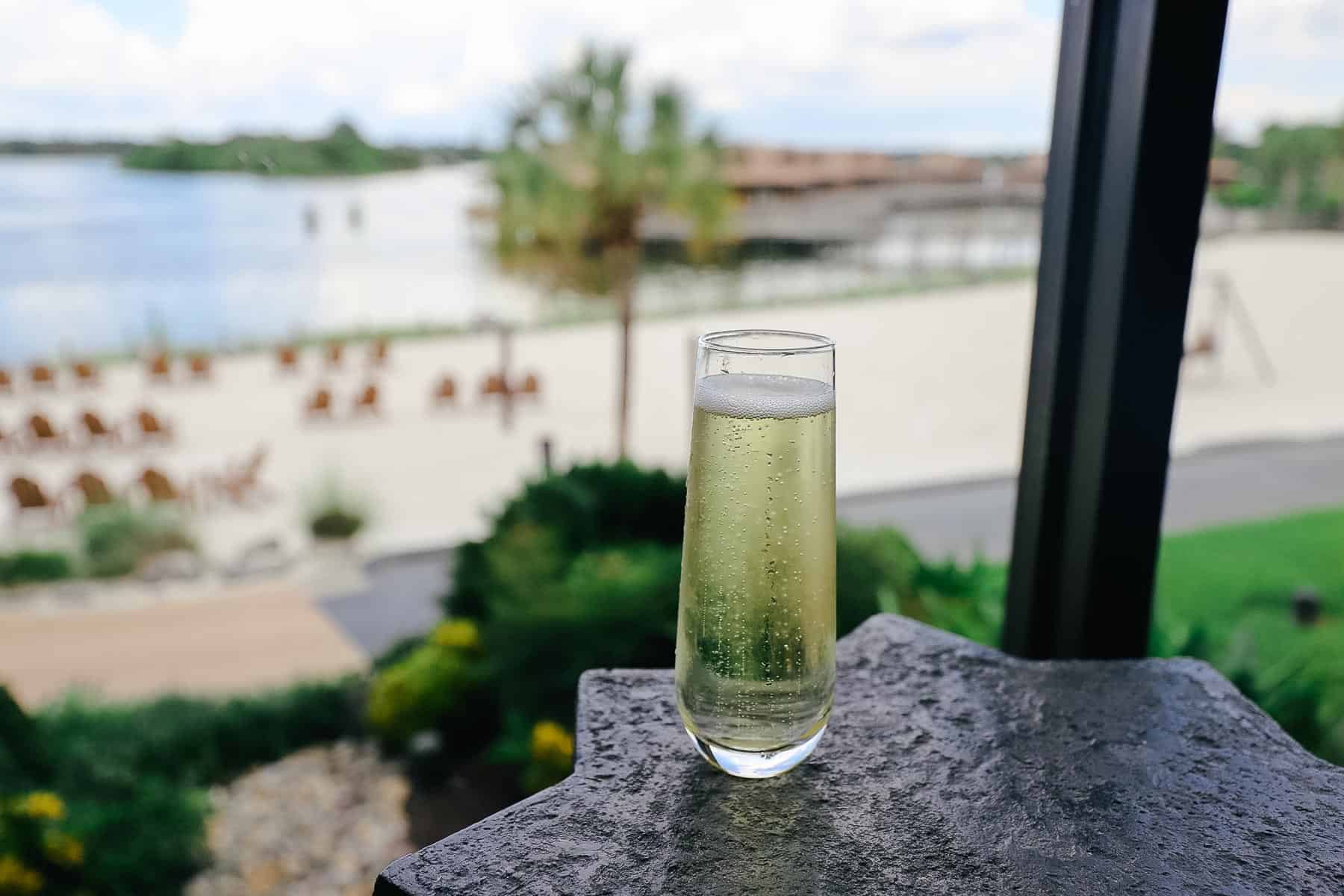 Ahiahi (Appetizers, Beverages, and Cheese Selections)
Our favorite service was the evening appetizers between 5:00 p.m. and 7:00 p.m. This was an impressive service, and we felt you could easily make a meal from the offerings.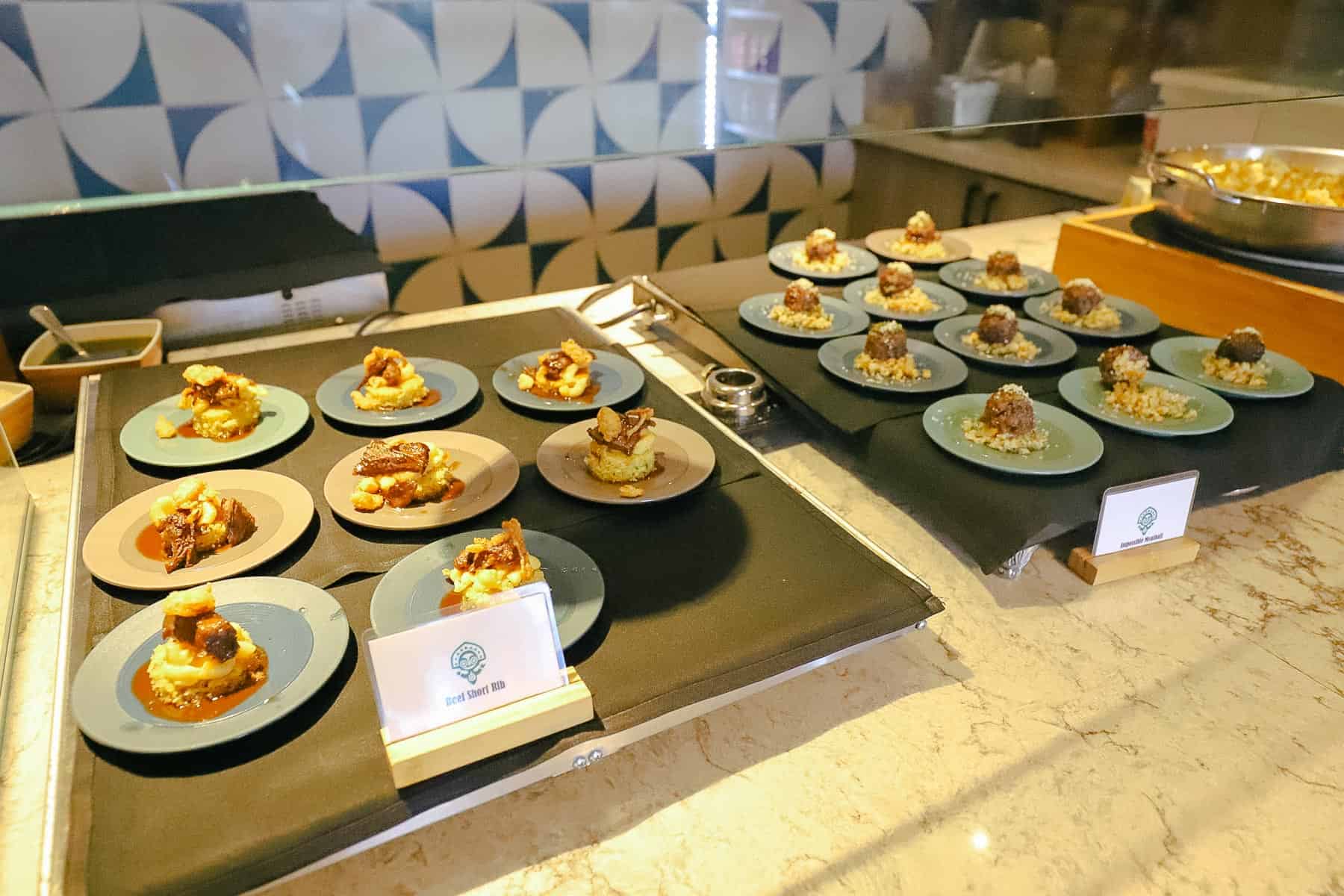 This was a beef short rib dish that was delicious. We enjoyed several of these.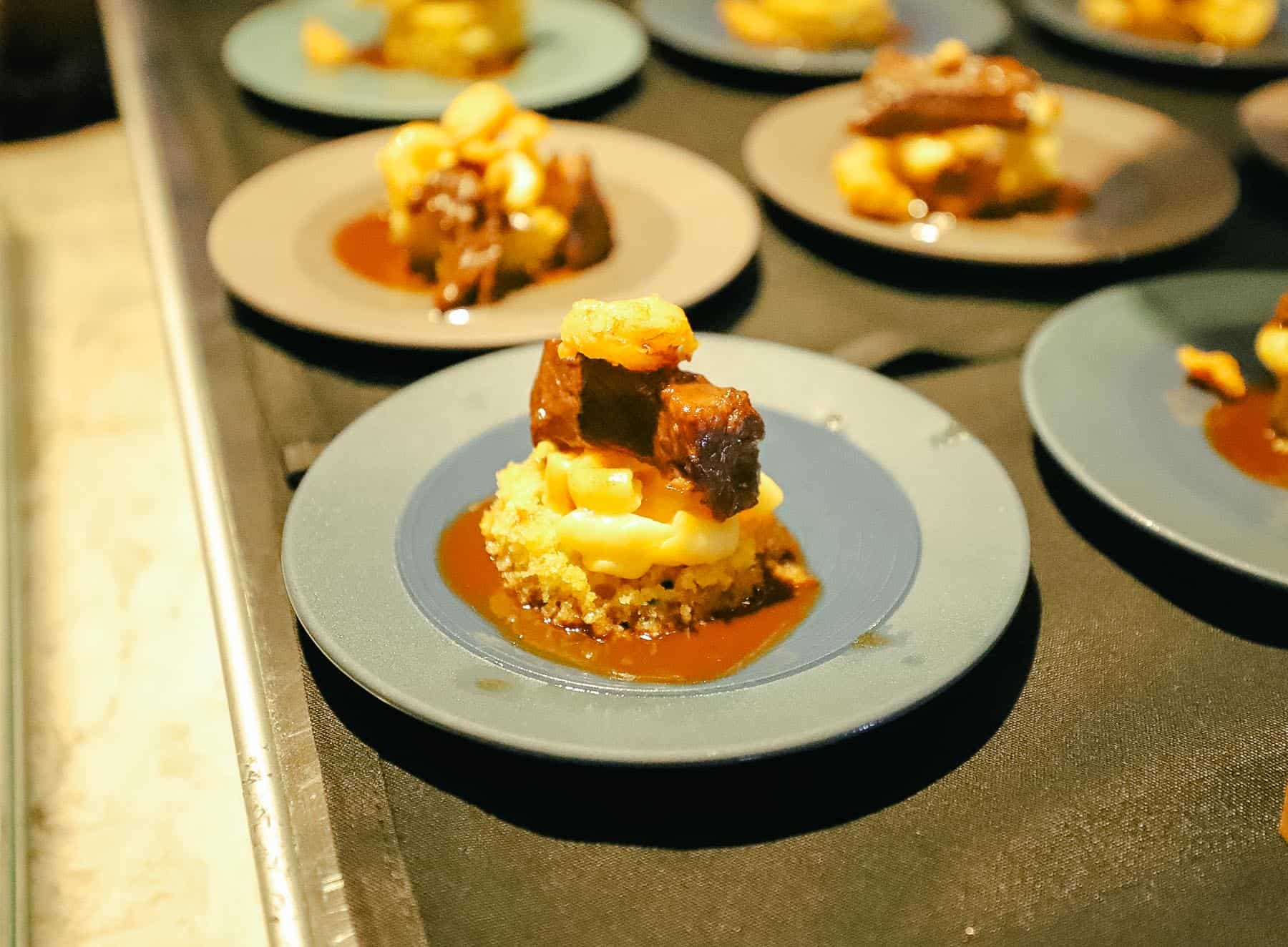 An Impossible meatball dish was also available.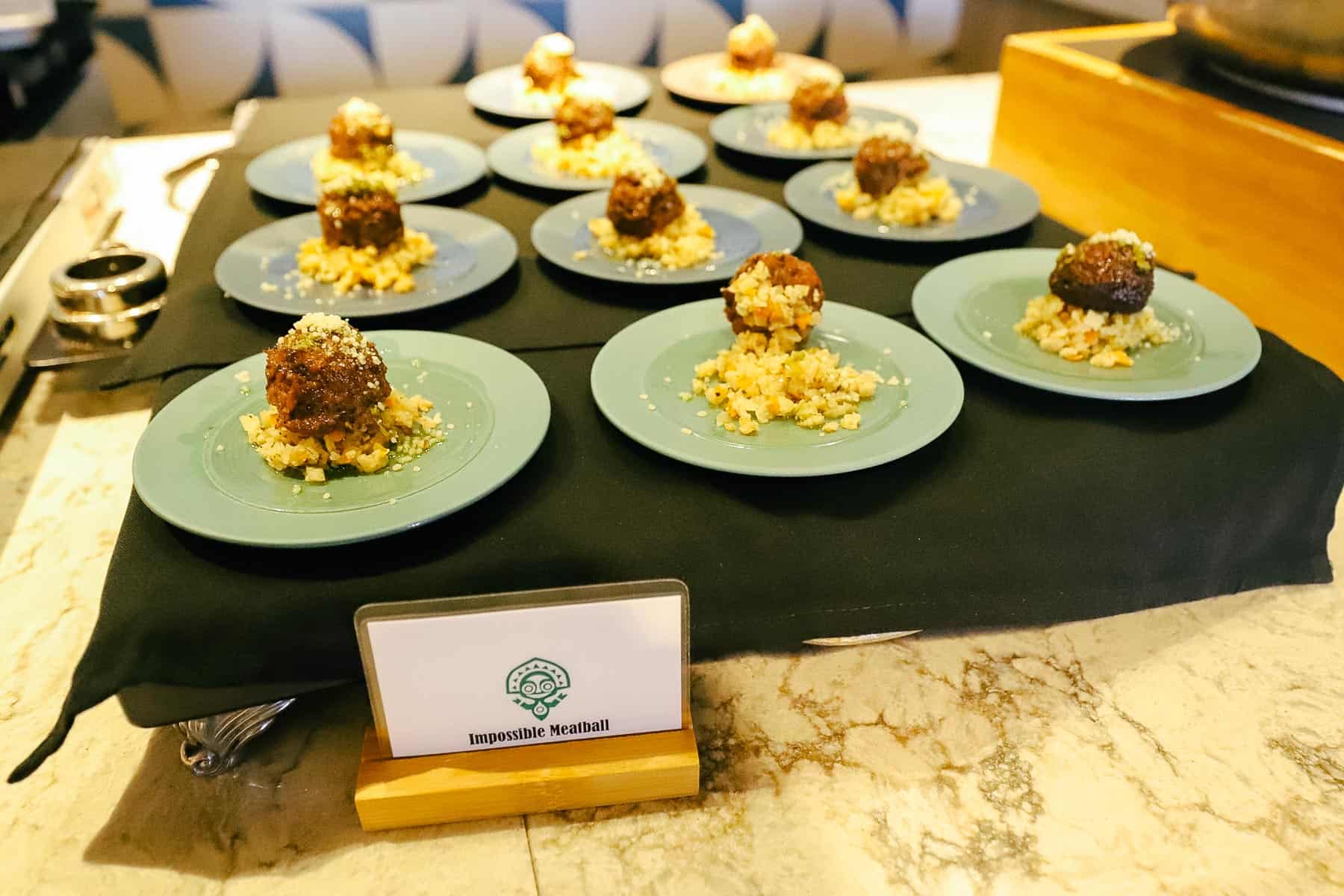 They had me at macaroni and cheese. I don't know about you, but I could eat a bowl of mac and cheese and call it dinner.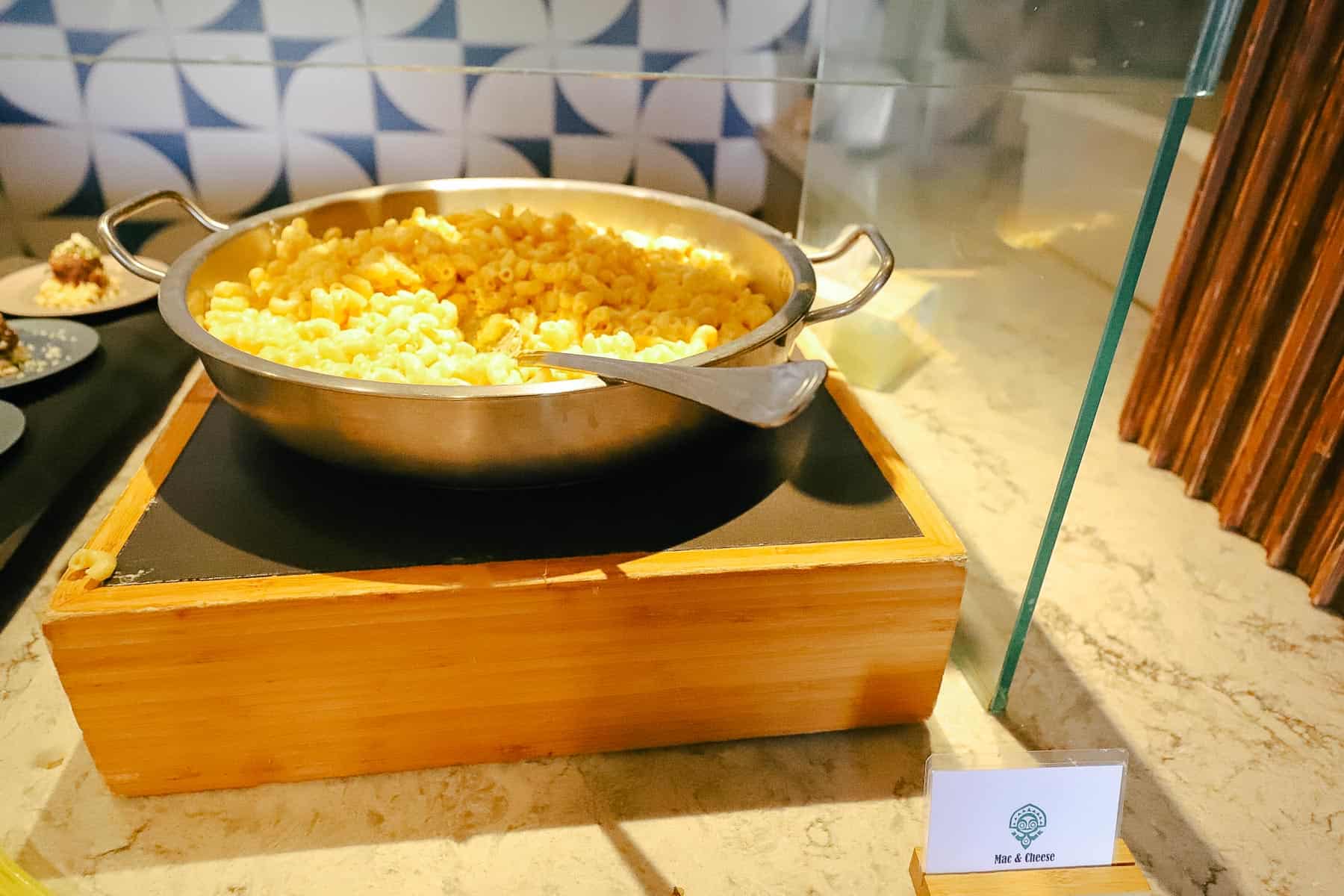 We loved the crispy goat cheese with beet salad, too.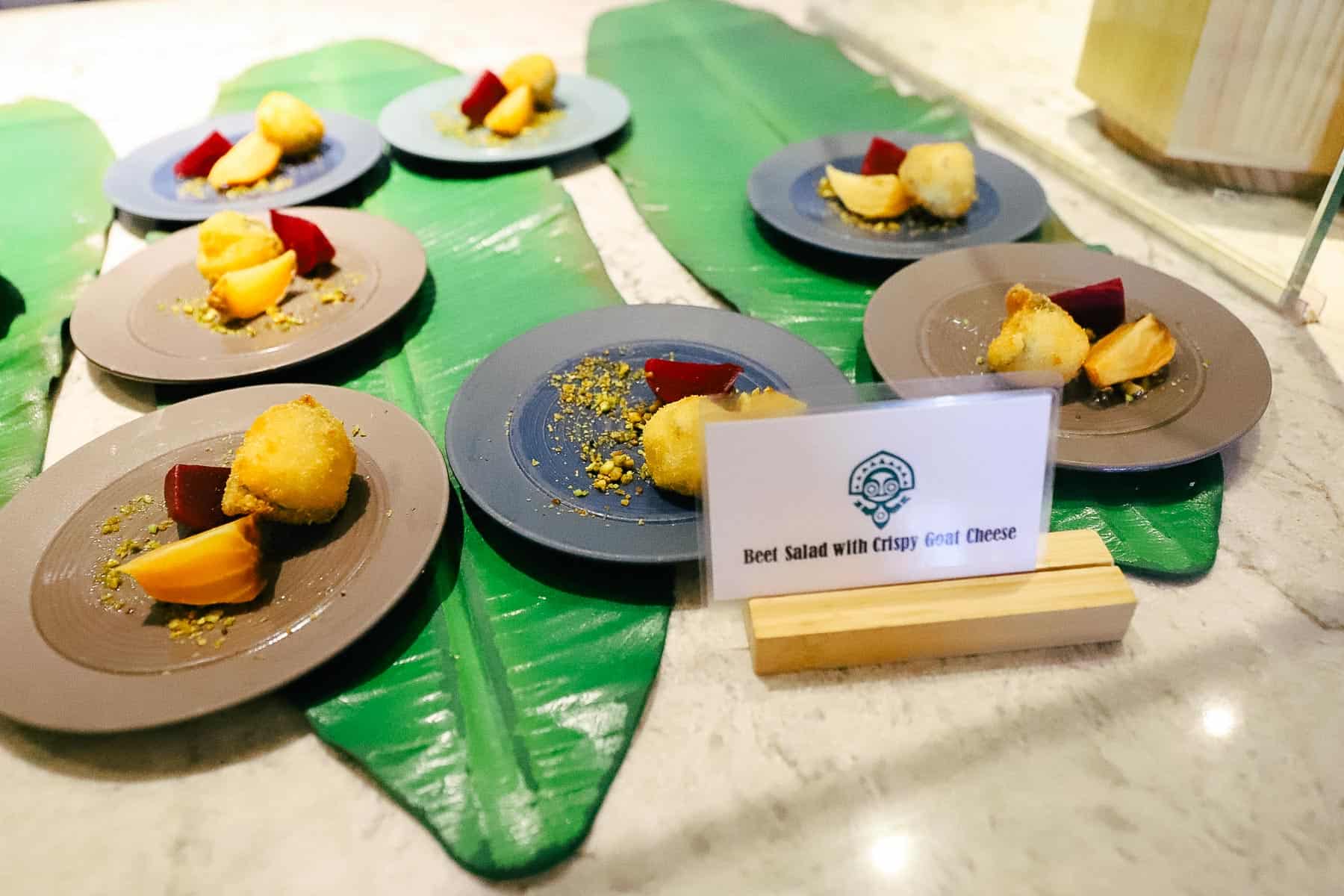 Here, we have roasted pineapple, chicken, and bacon in a tomato cone. This was okay, but it had a strong cilantro flavor, and I'm not a fan of the herb.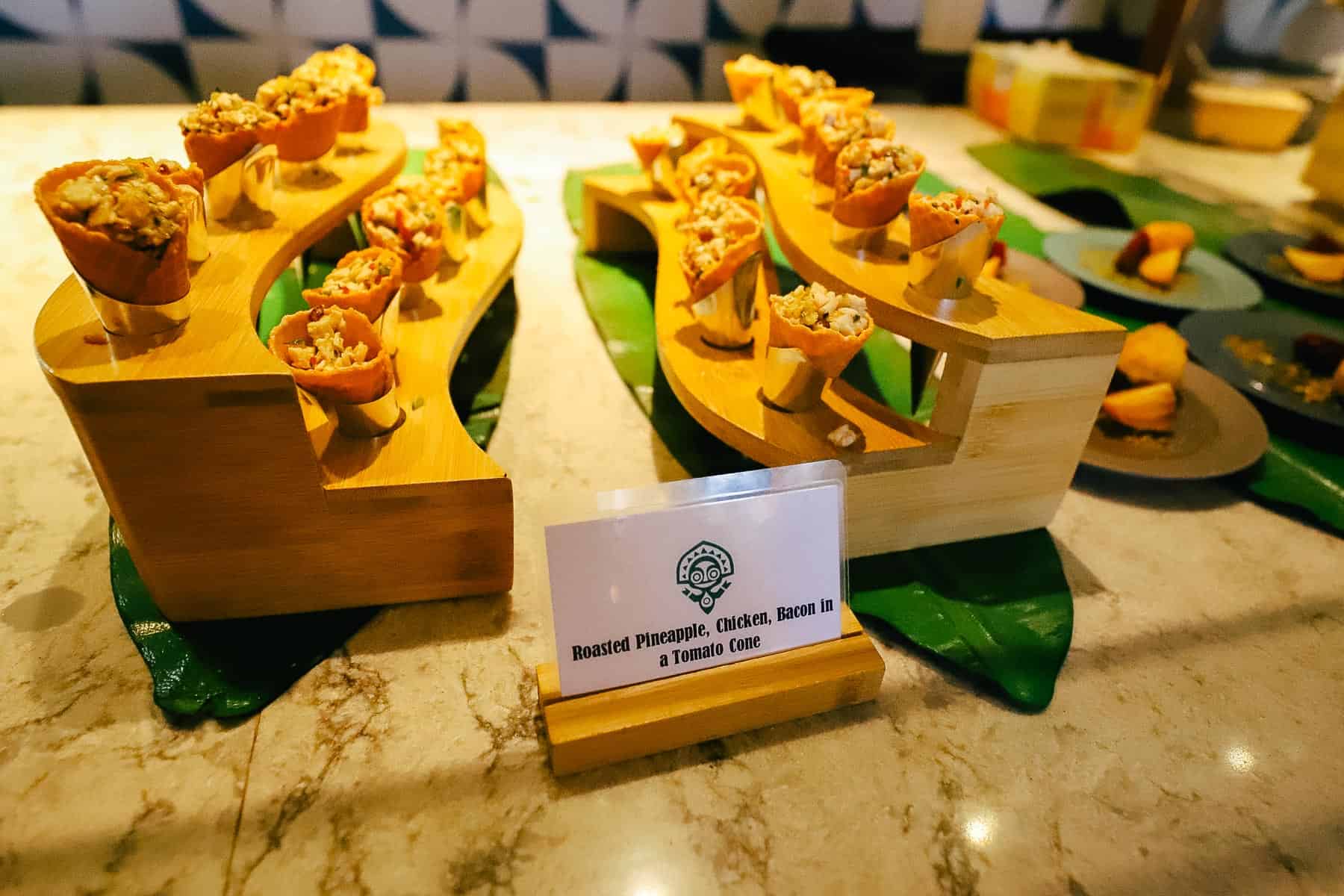 Vegetables remained throughout dinner.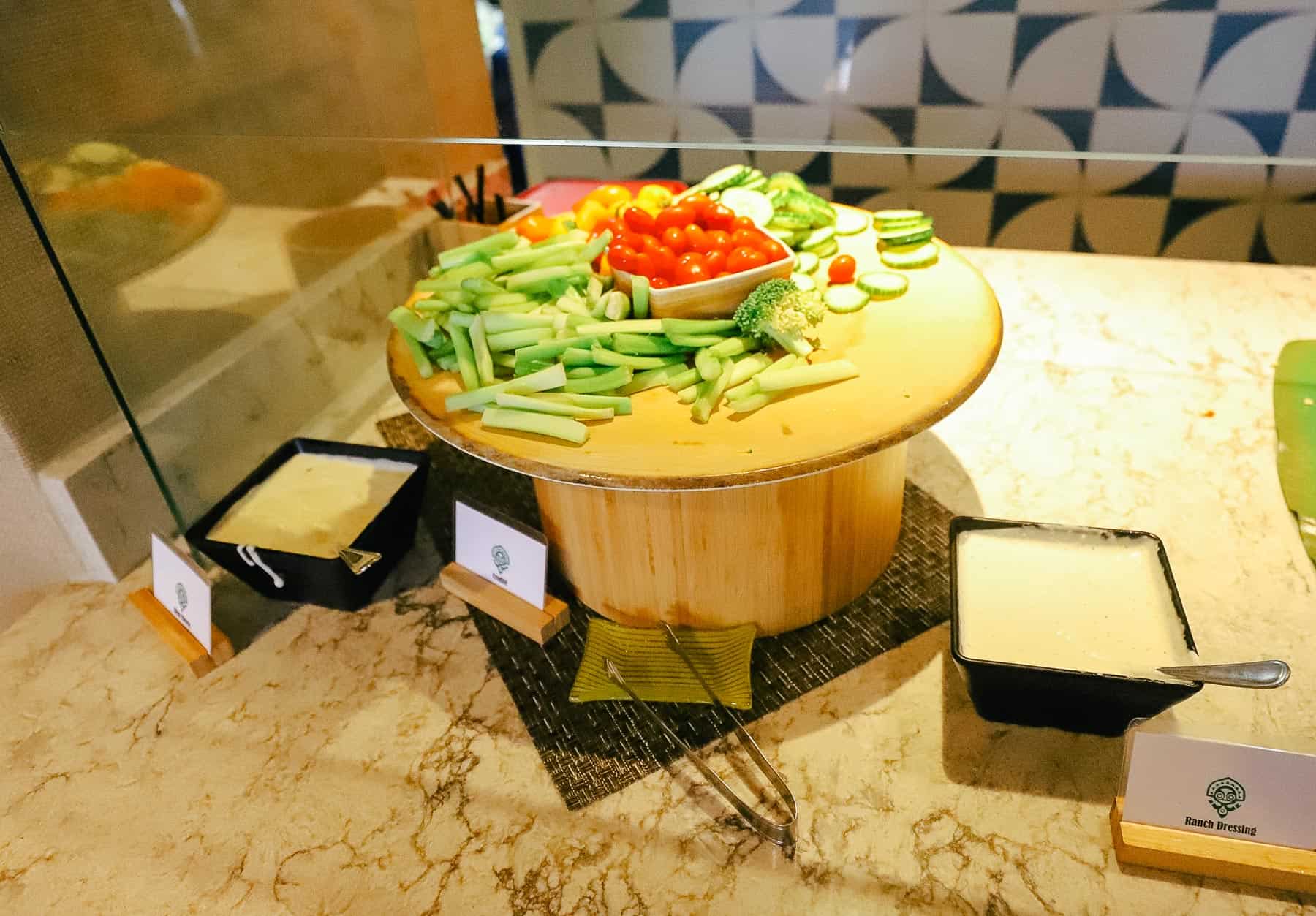 Each evening, a selection of cheese and charcuterie meats were available. This evening, the meats included salami and prosciutto.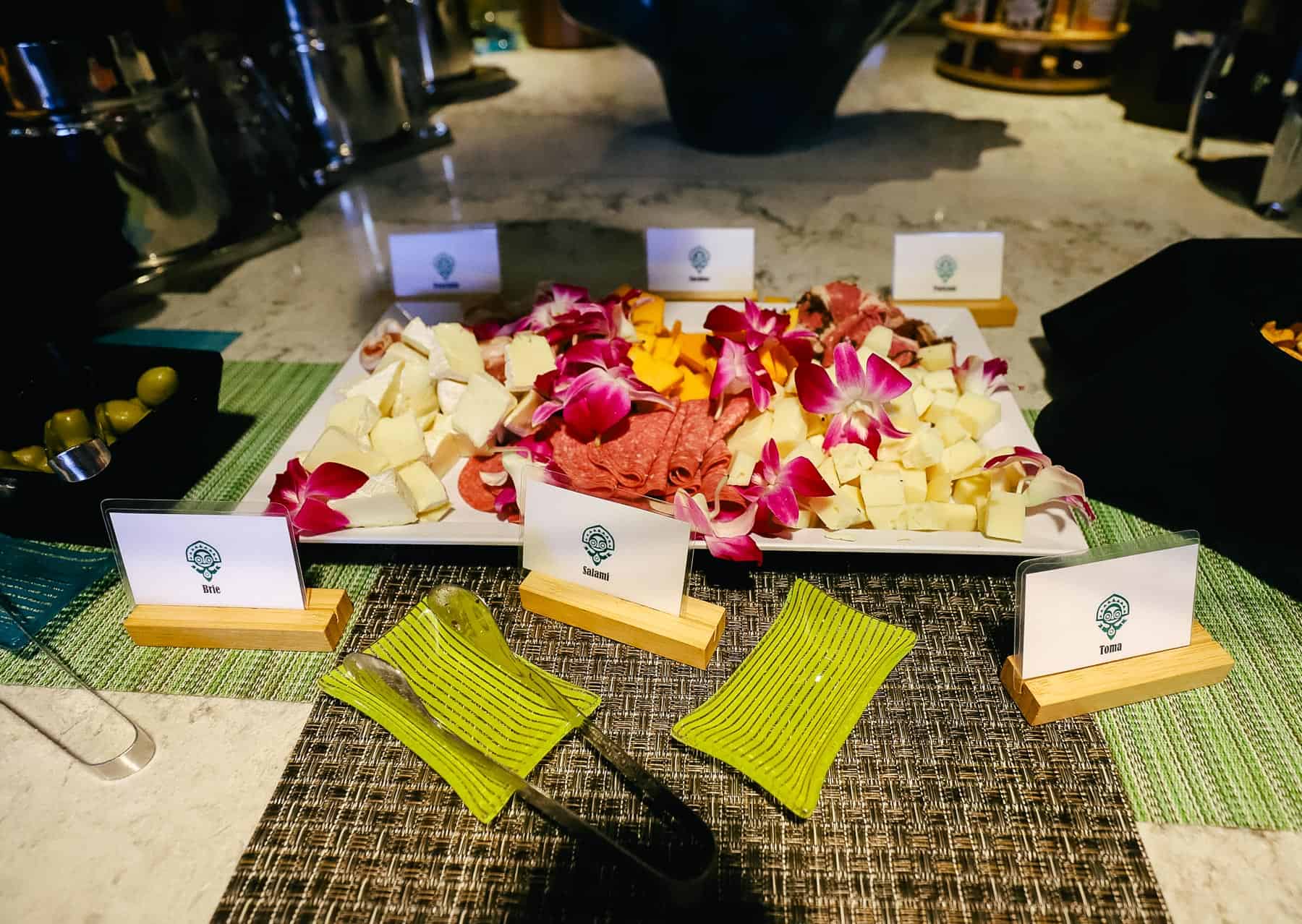 I was excited to see an actual honeycomb, along with mixed nuts.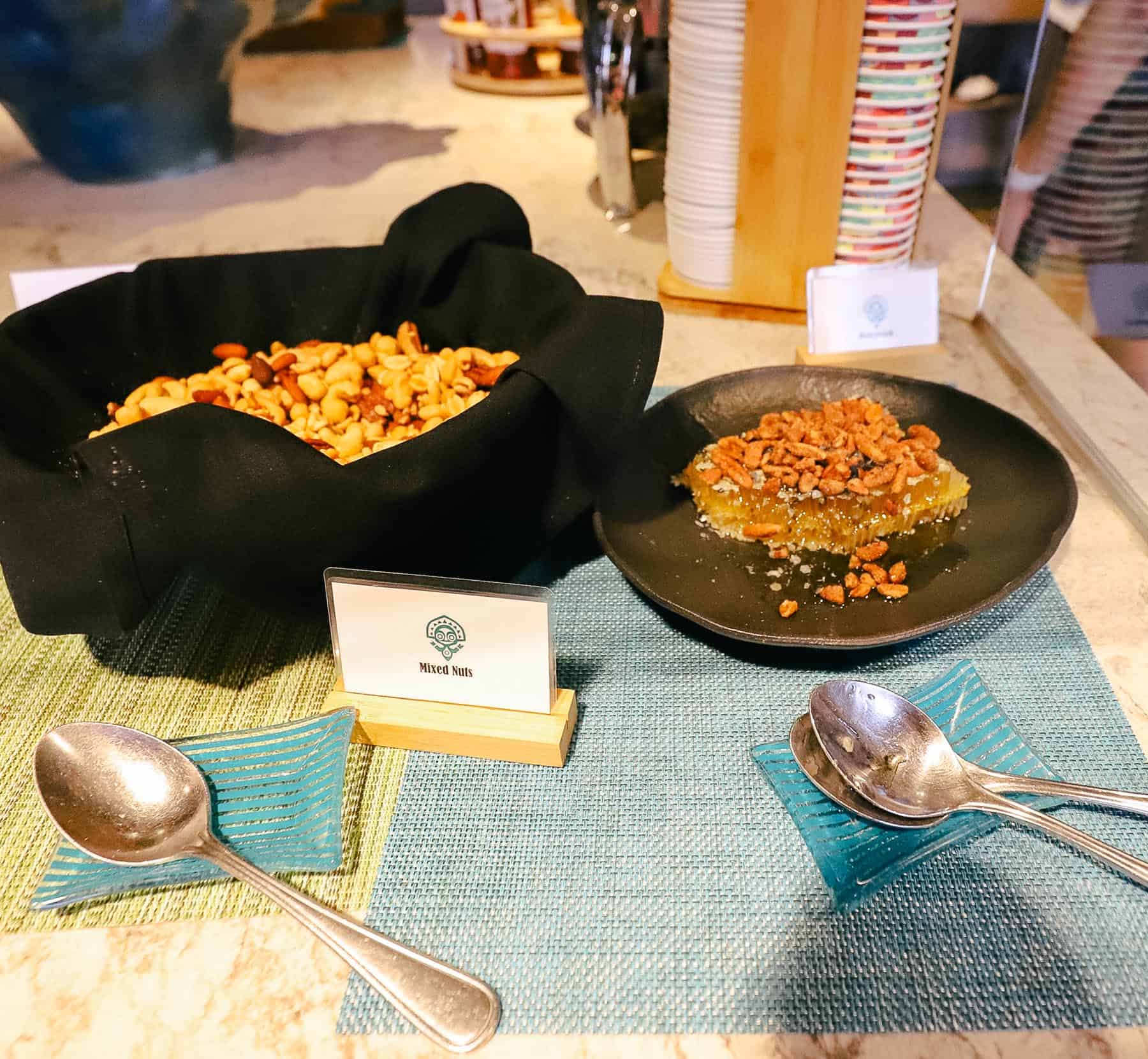 Crackers and olives made up part of the spread.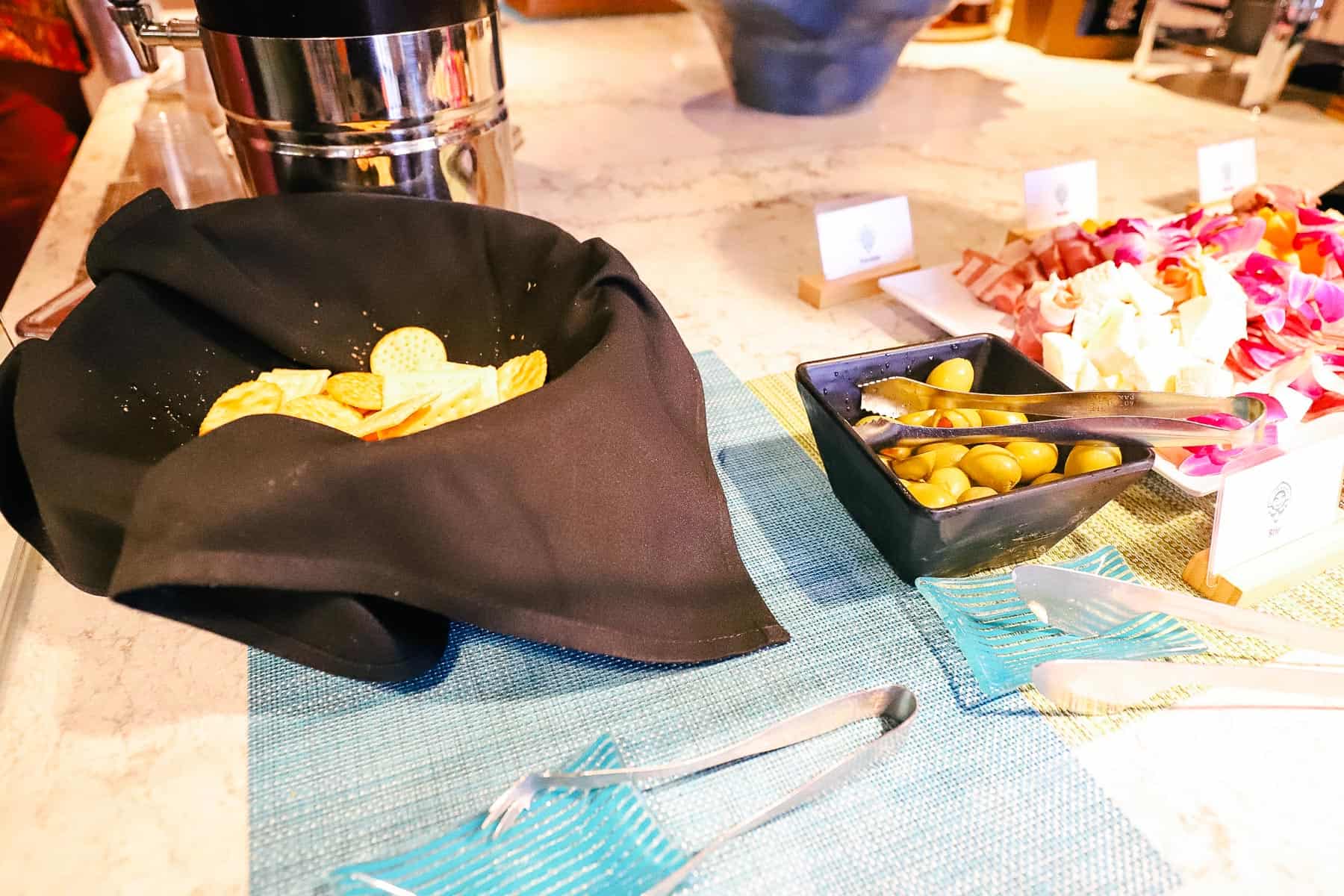 At night, the juice dispensers from breakfast had lemonade, POG juice, and iced tea.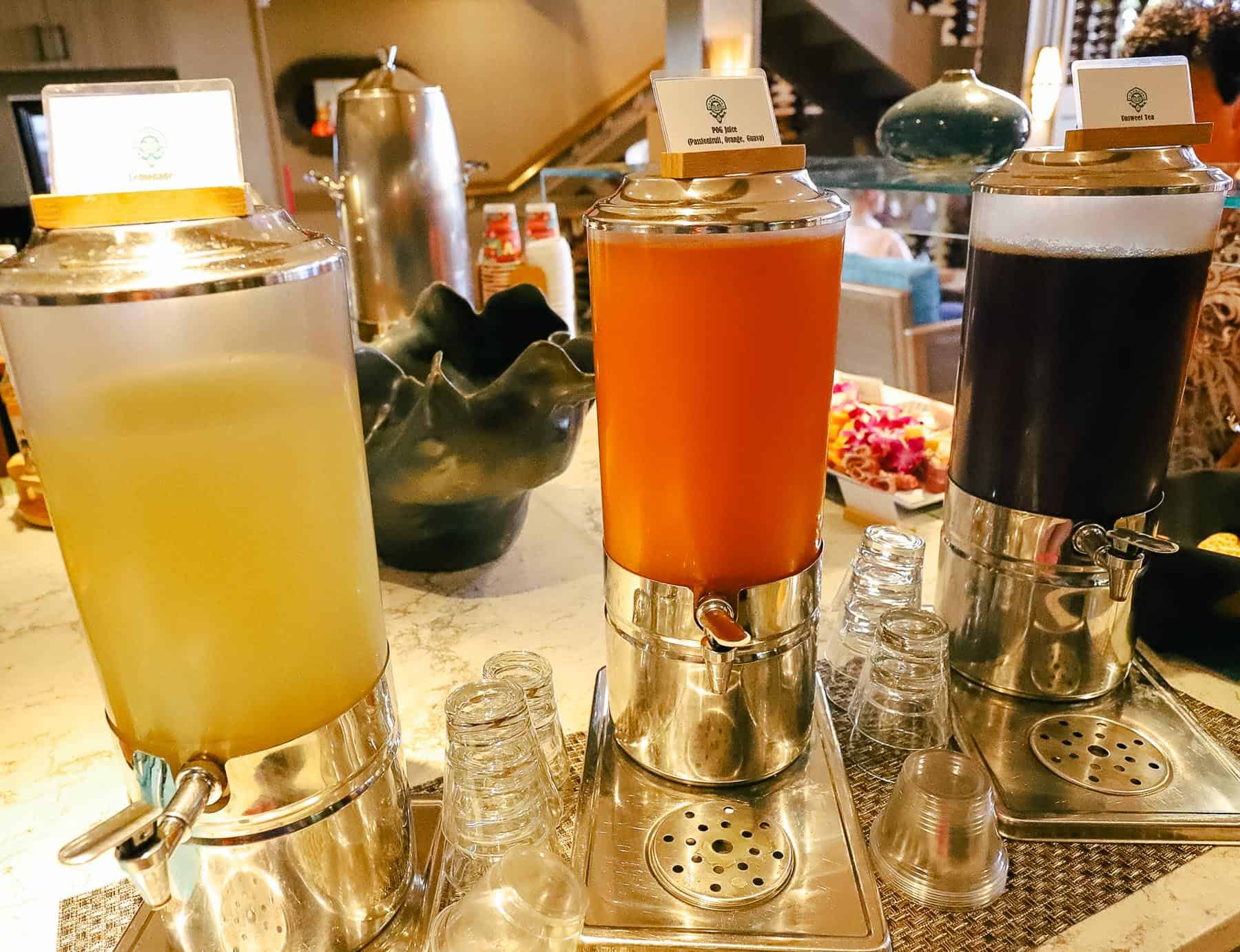 The wine was readily available at night for guests to pour themselves. White ones were in a cooler.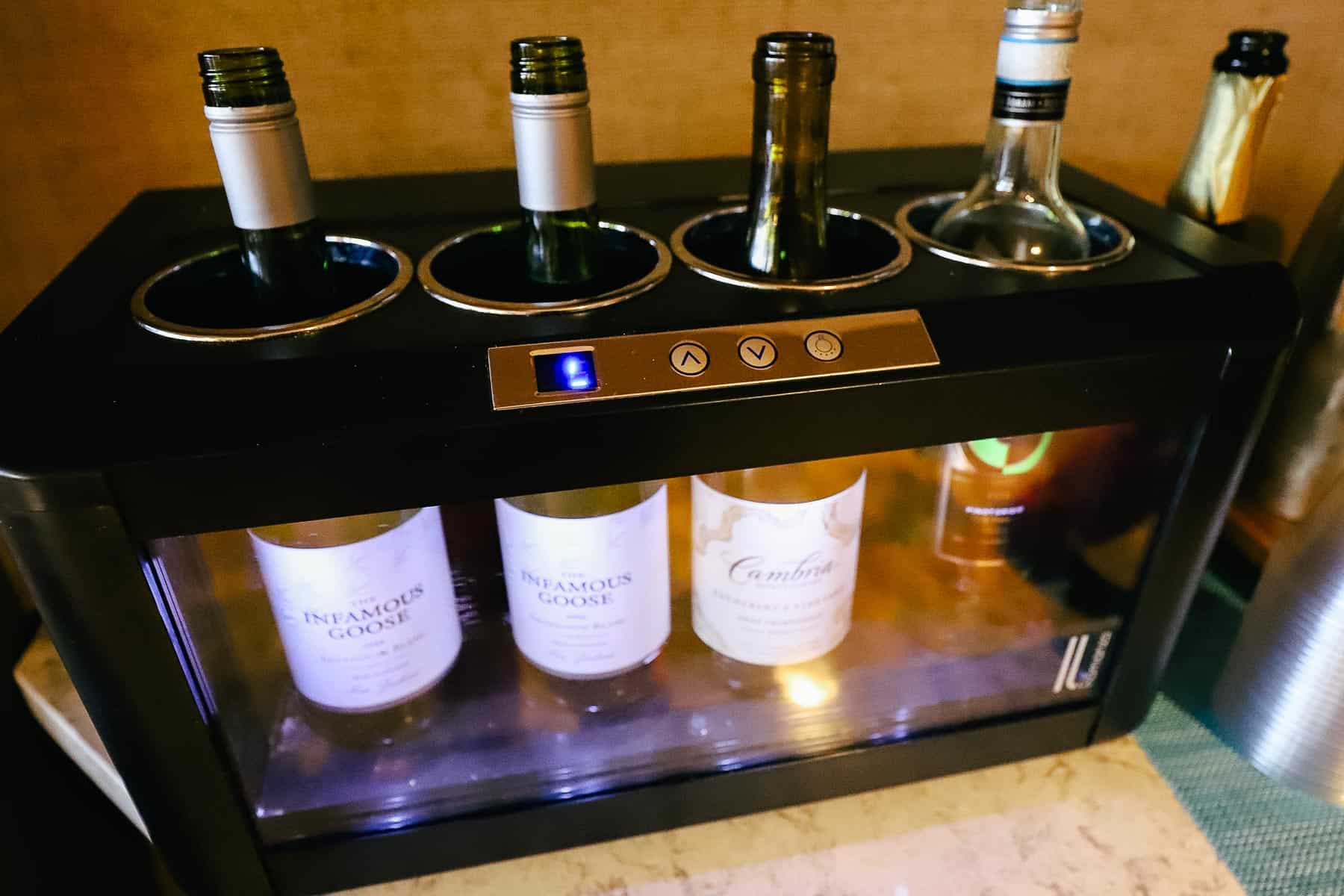 Here are the available red wines.
Champagne and a special punch called Ku'ulei Punch sat in the middle.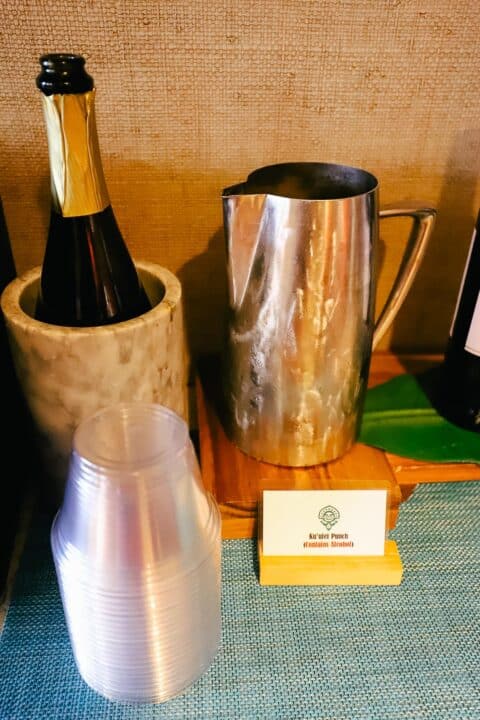 Additionally, beer selections were added to the fridge by dinner service. As you can imagine, the dinner service is pretty busy.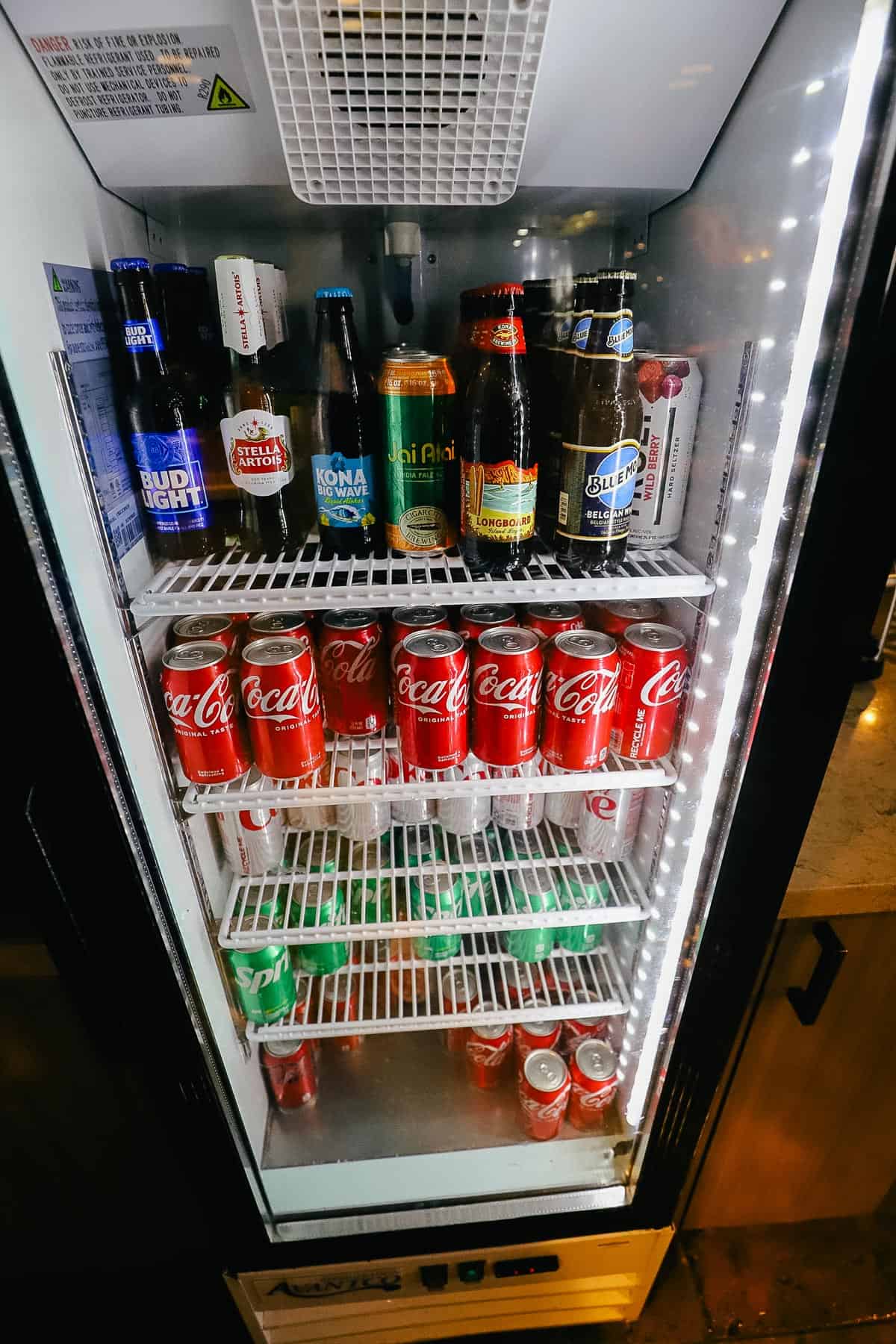 On another evening, offerings included Tuna Tatake.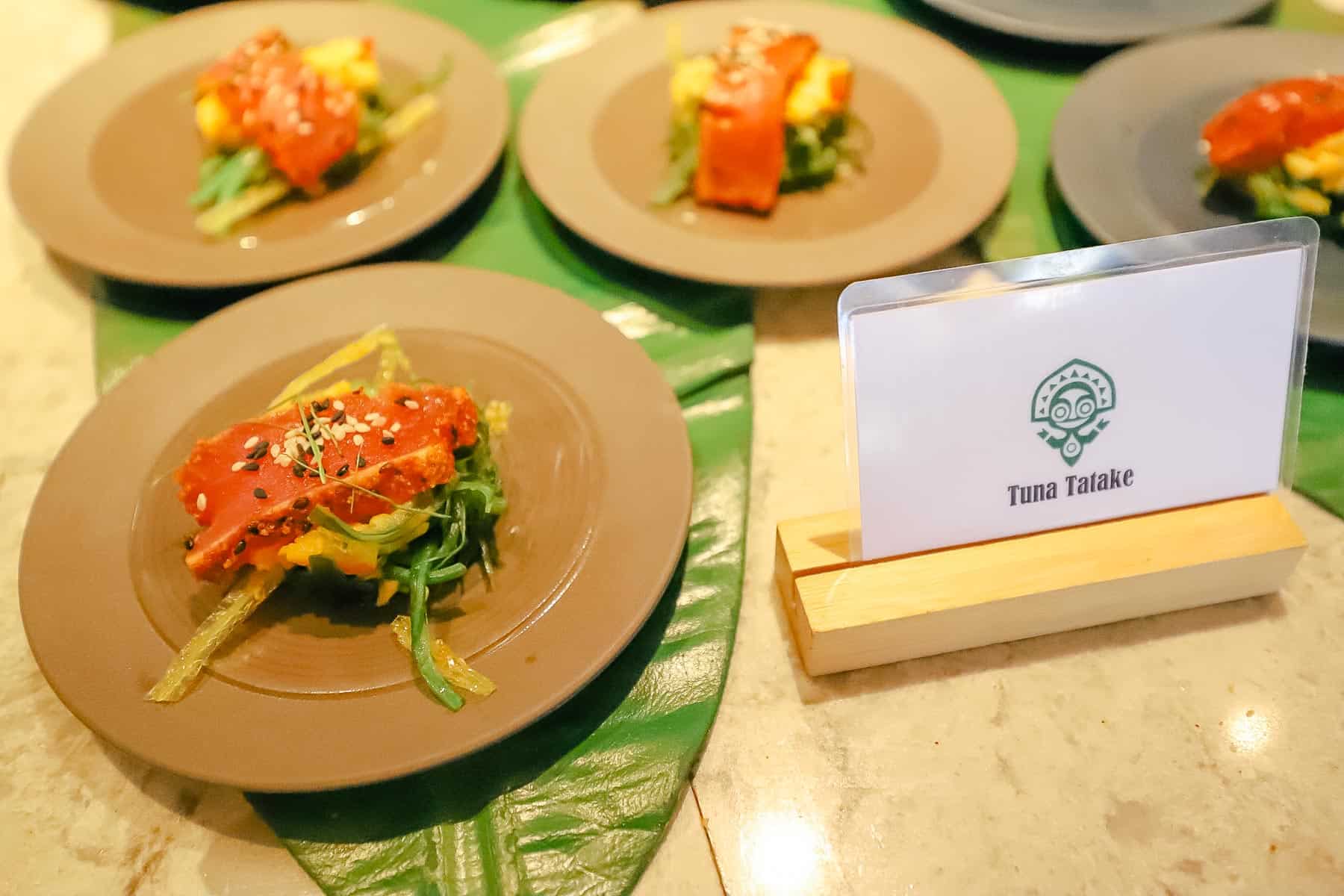 It was delicious.
They also had sushi, but this option didn't contain raw fish.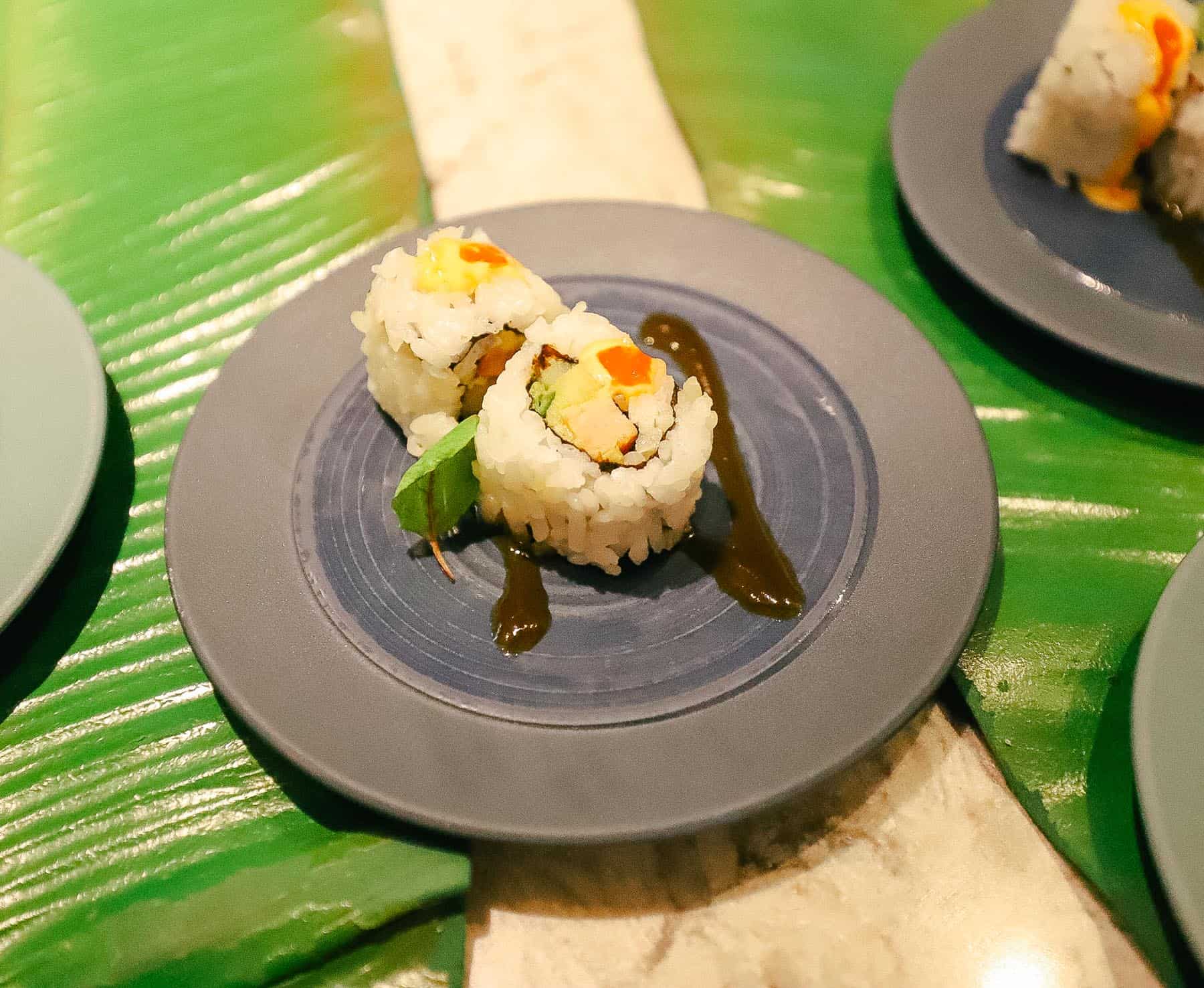 Here is a Quino and Tofu cake representing a plant-based item.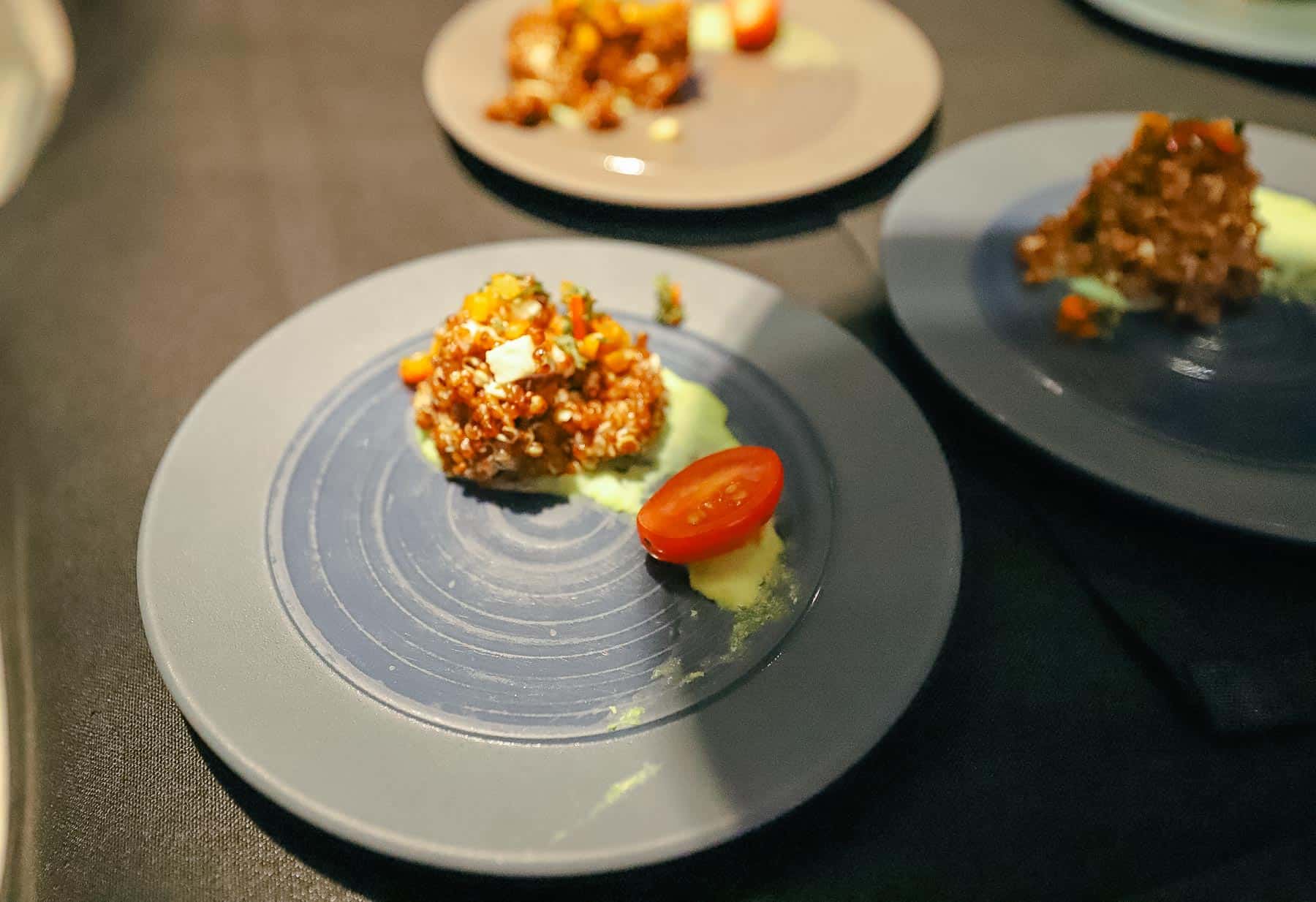 Another favorite was the Chicken Wellington. We went back for seconds.
But our biggest delight was the cheeseburger spring rolls! They were fantastic–if you like cheeseburger spring rolls. I was surprised at how much they tasted like a cheeseburger.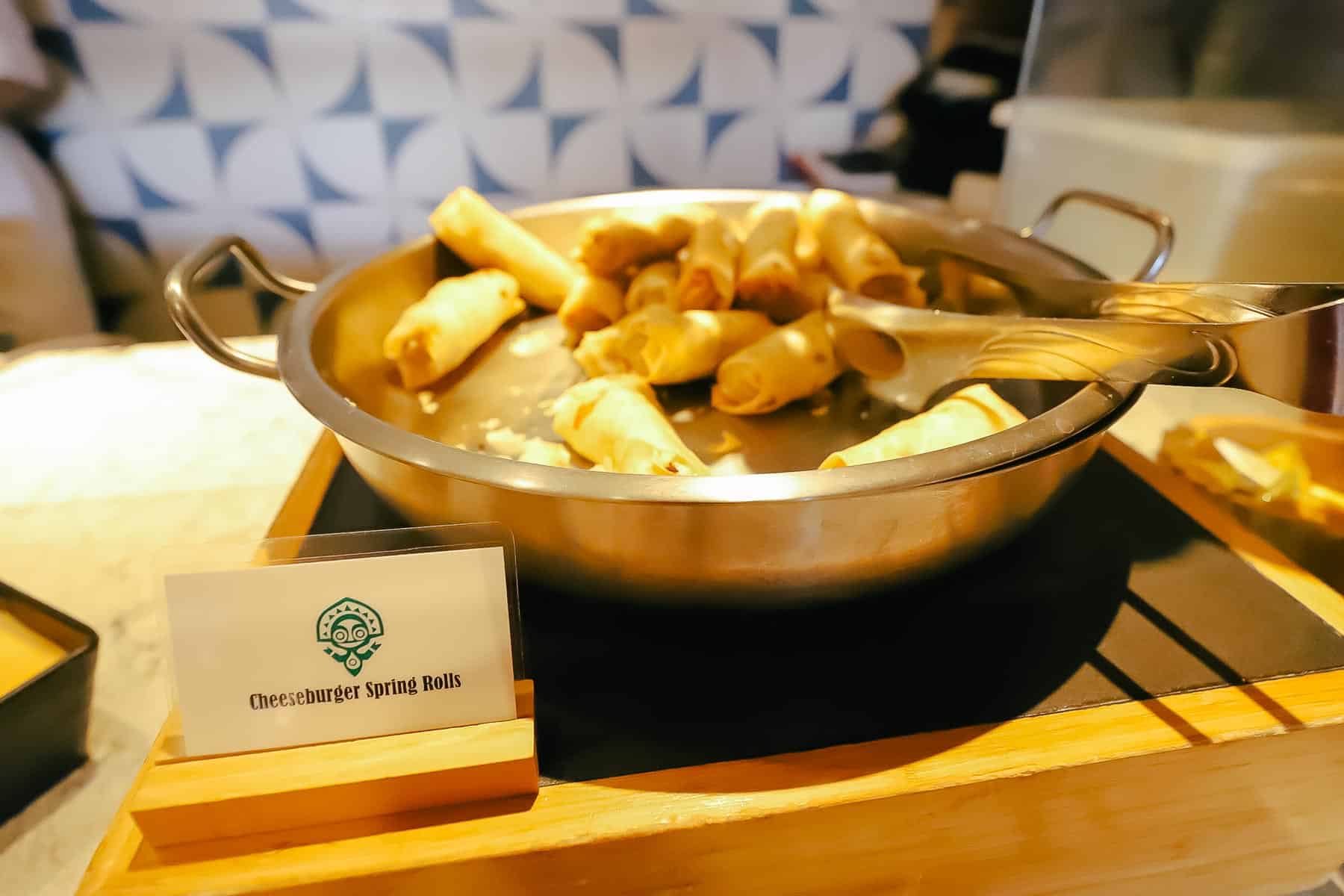 This evening, the charcuterie selection contained chorizo and roast beef.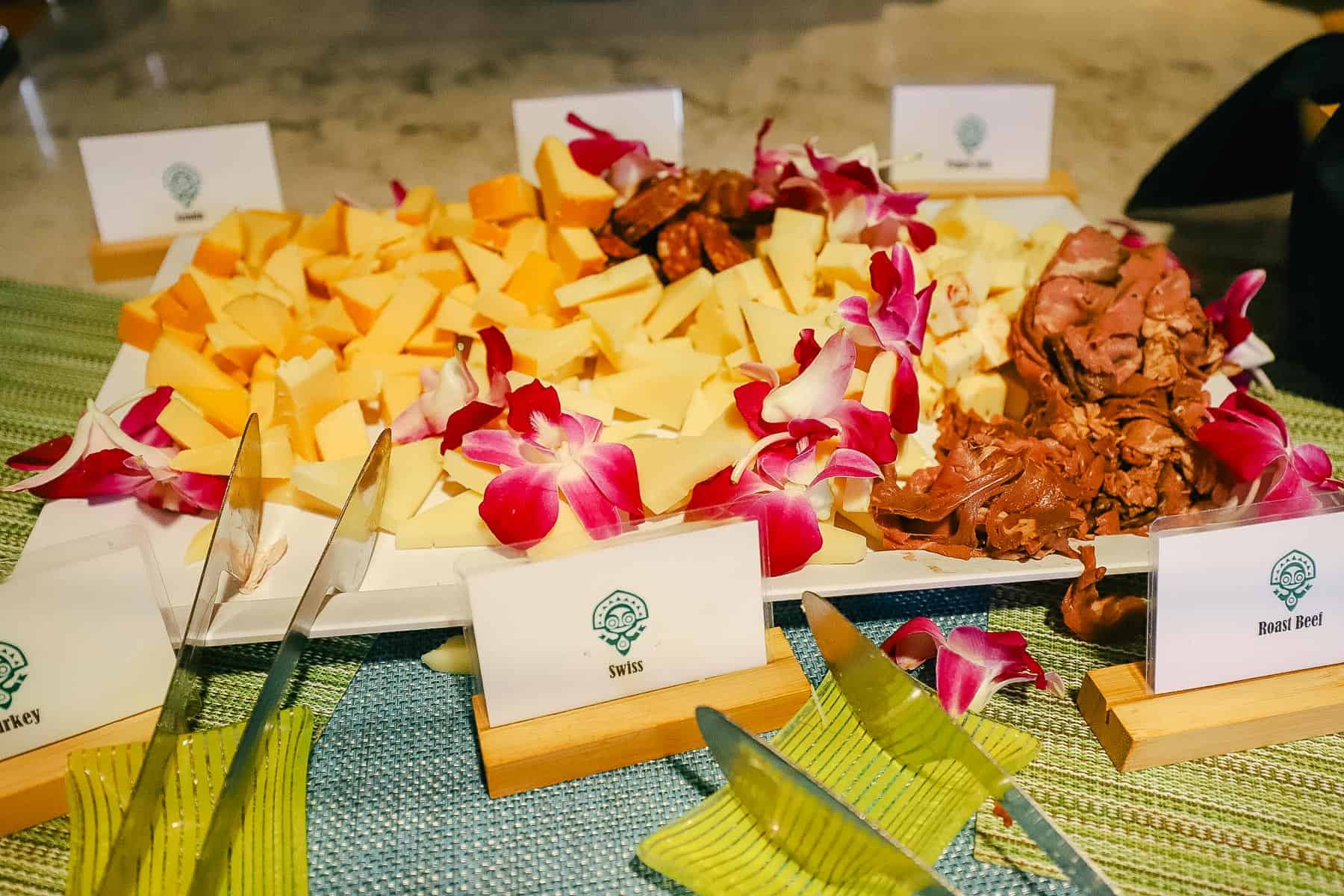 Aumoe (Desserts and Cordials)
Desserts and Cordials is the last evening service between 8:00 p.m. and 10:00 p.m.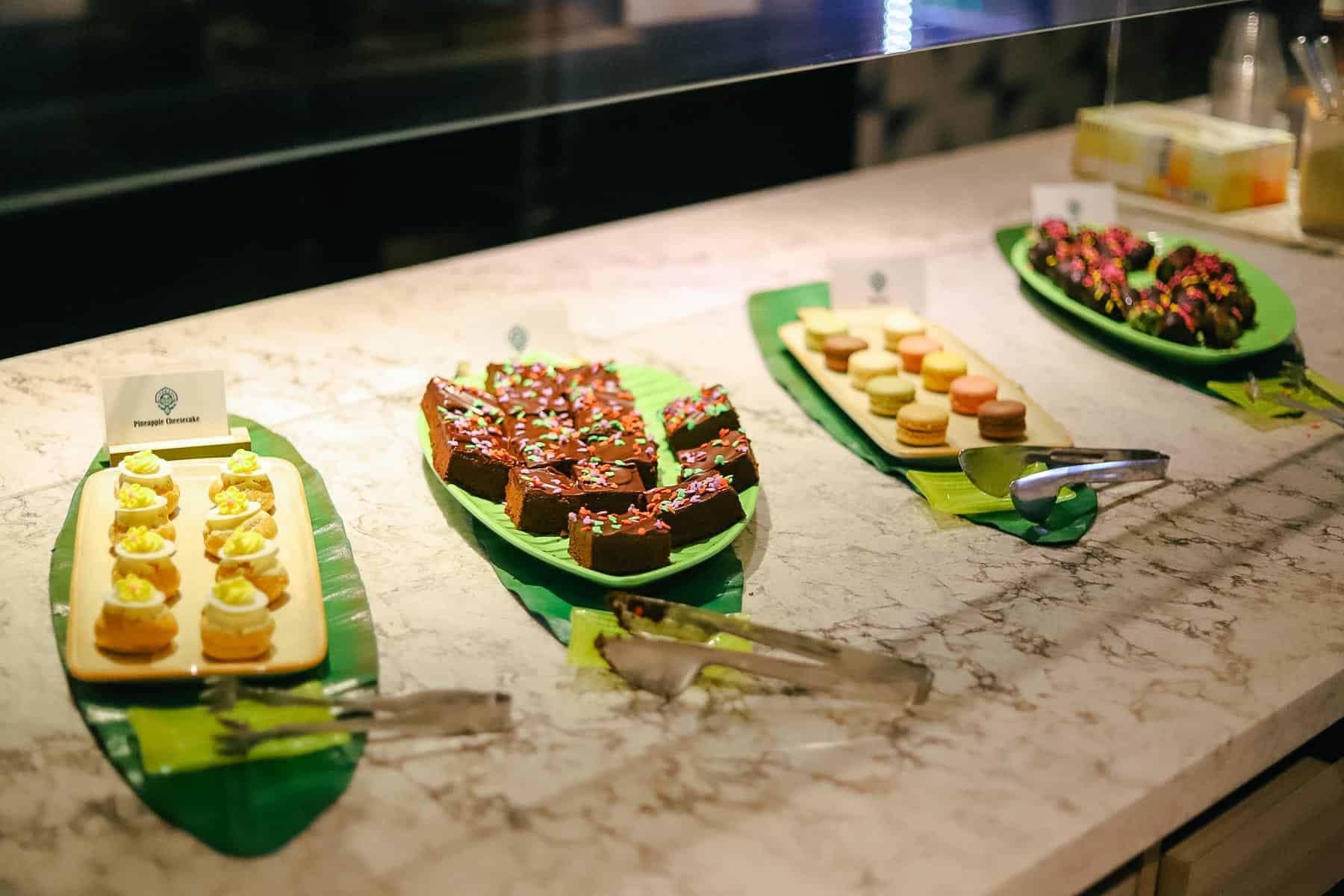 We only stopped for dessert once during our stay because we had plans in the parks. September is basically a second August as far as the heat goes. For us, that translates to enjoying the parks at night and the resort during the day.
Unfortunately, the fireworks were cancelled that evening due to a tremendous storm. But we ended up relaxing on the balcony as the rain poured from above. It was a peaceful evening. Most often, the little things in life provide the biggest return on our investments.
Pineapple cheesecake was a popular item.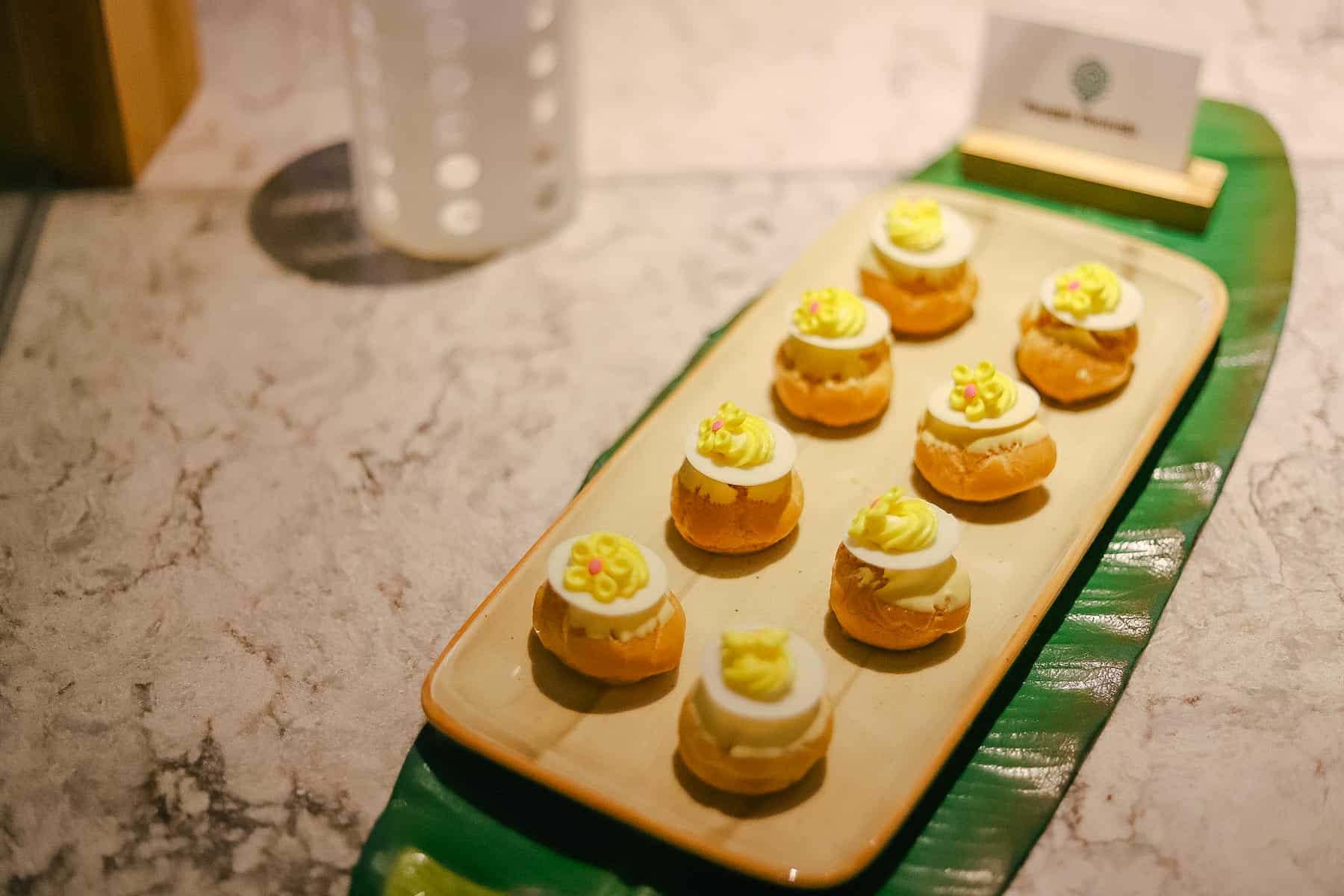 Strawberries return for dinner, except dipped in chocolate with sprinkles.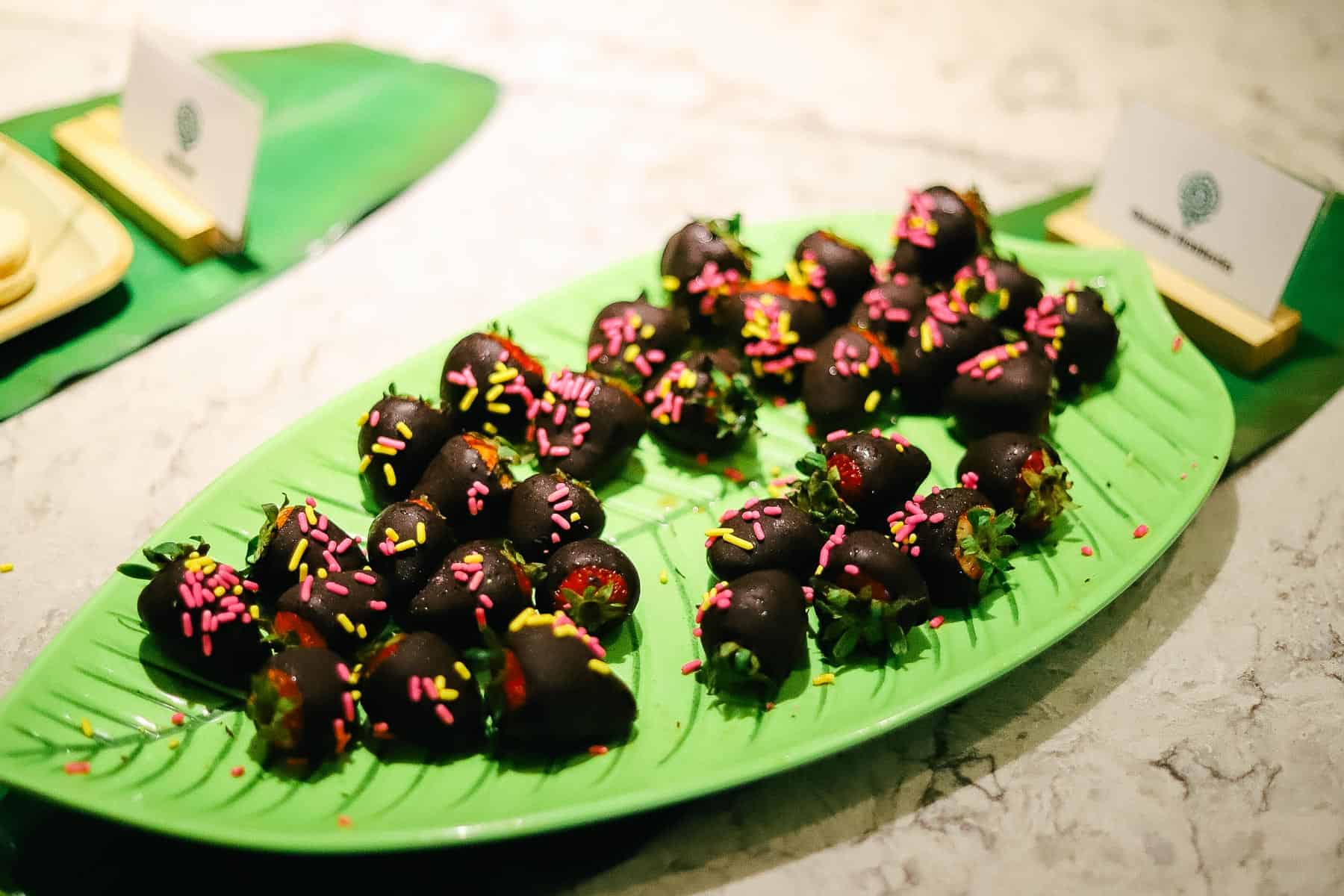 Macarons, anyone?
Cookies, galore.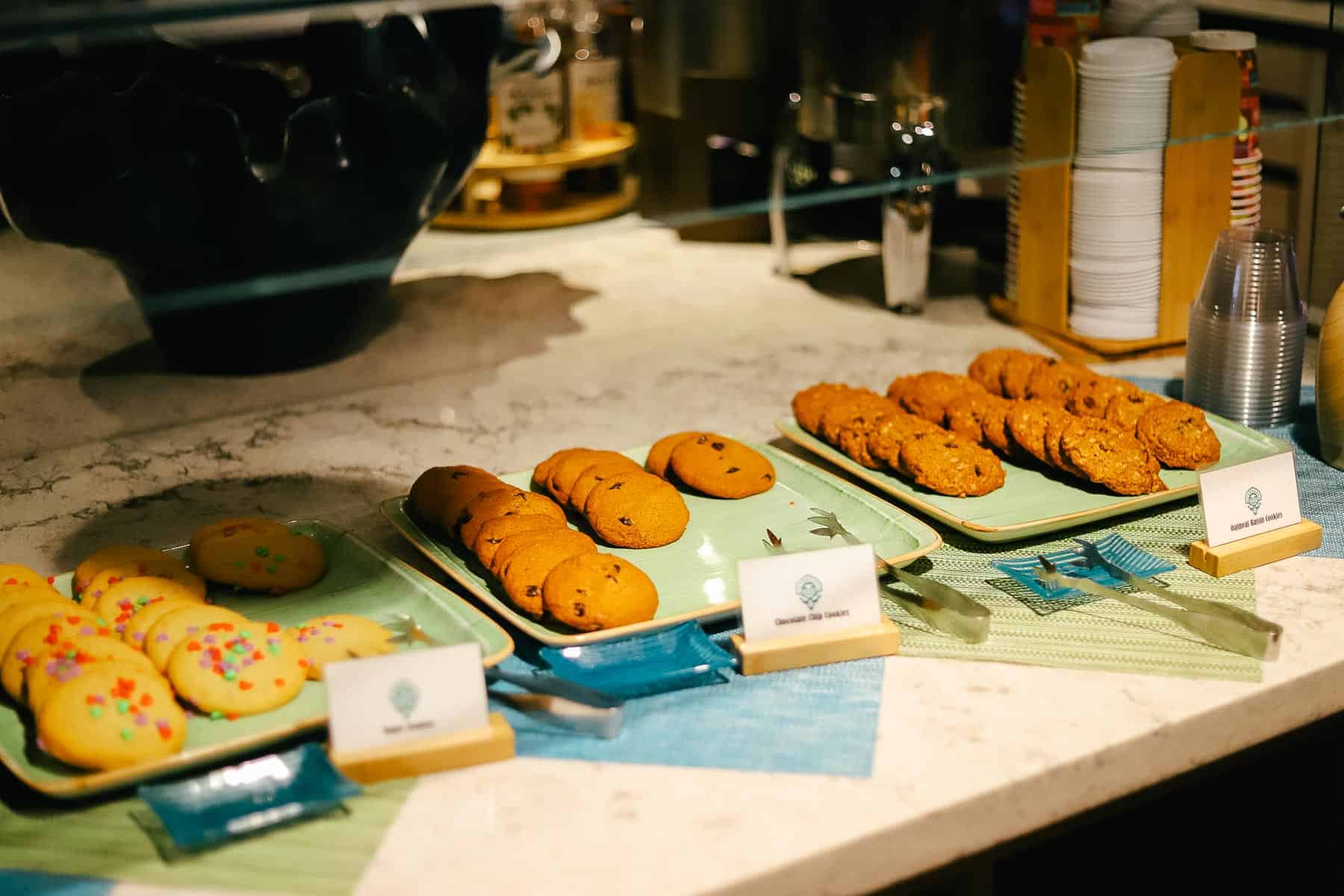 Cordials include Grand Marnier, Bailey's, and Kahlua, among a few others.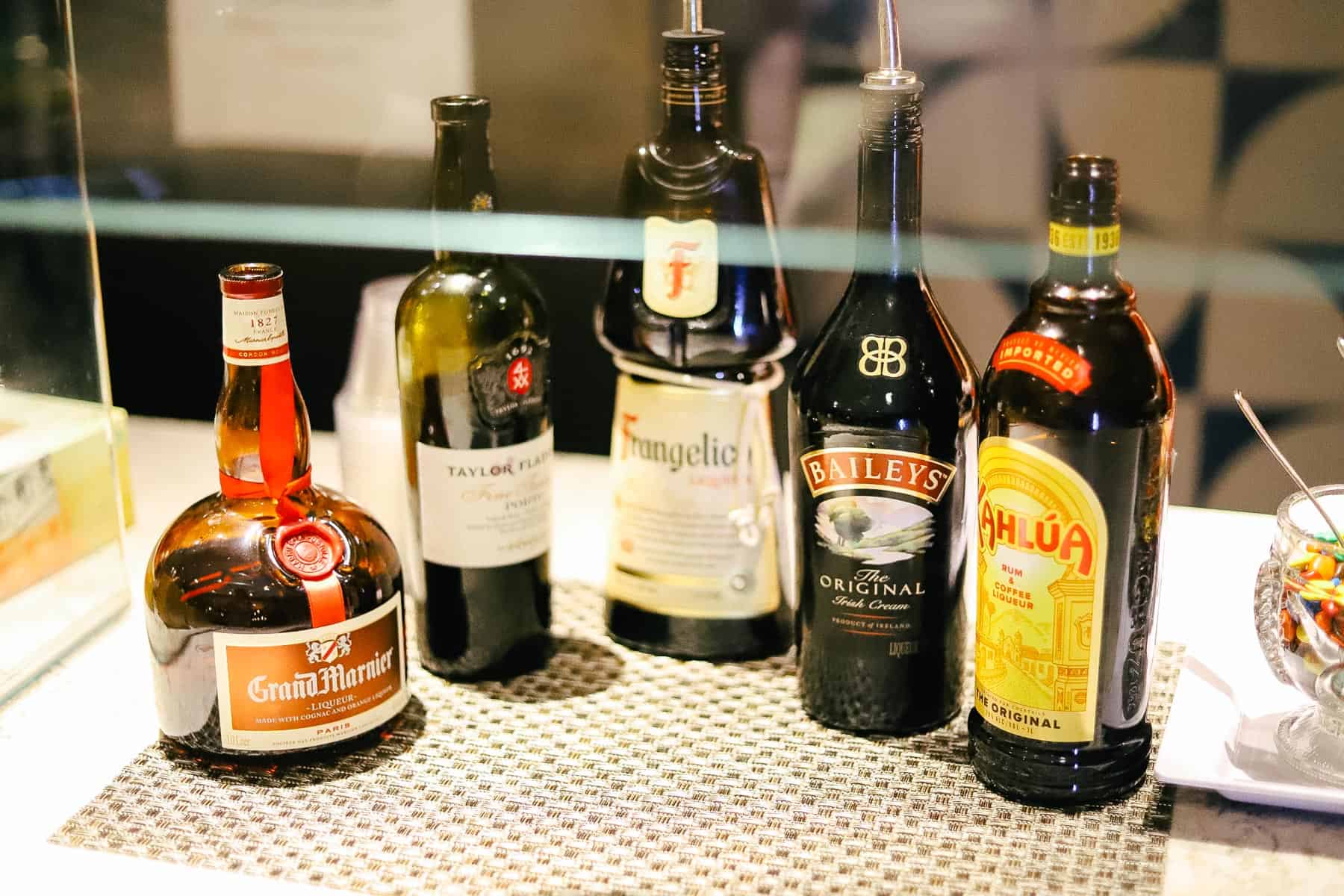 I was surprised to see vanilla ice cream with a toppings bar.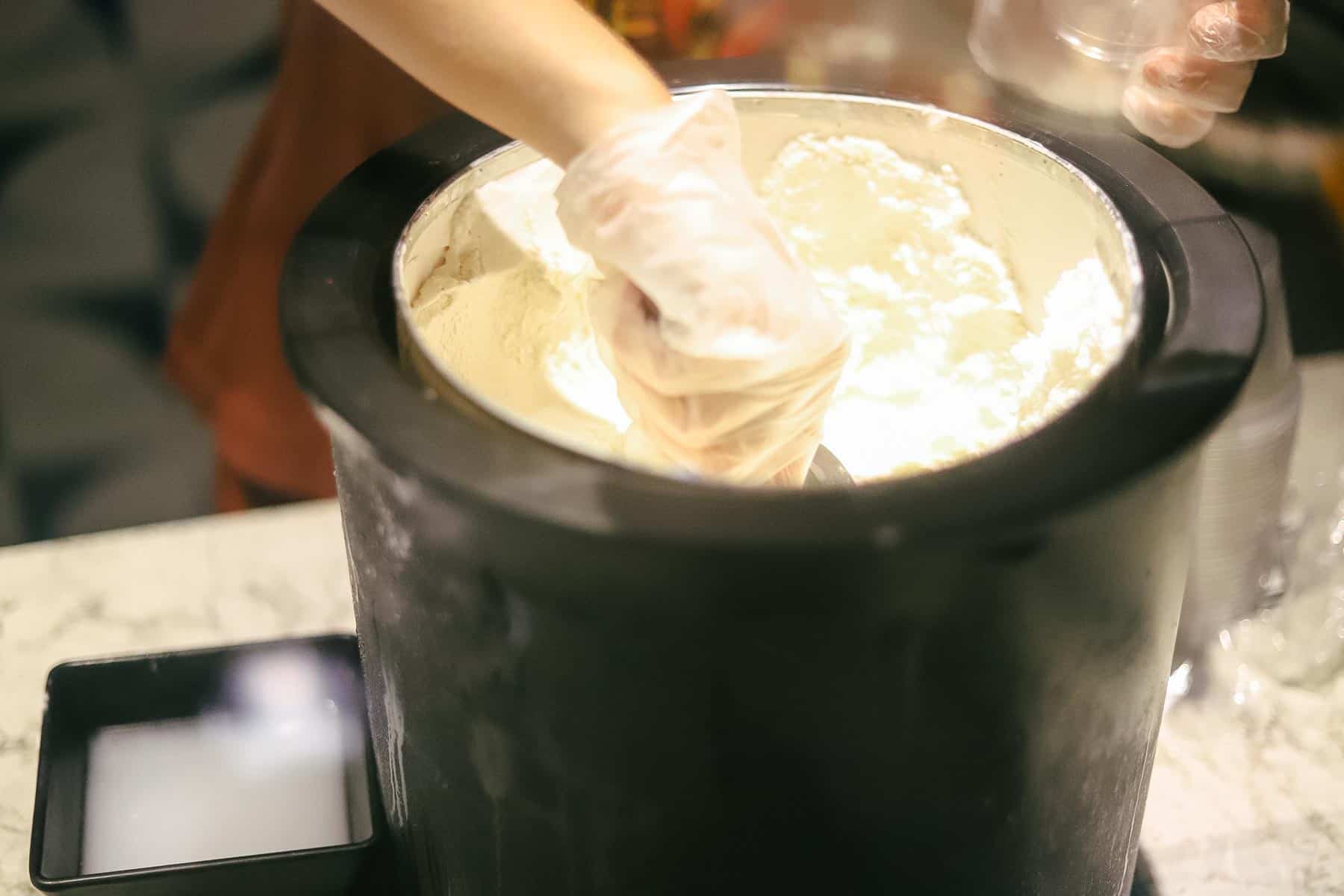 A cast member provides a scoop.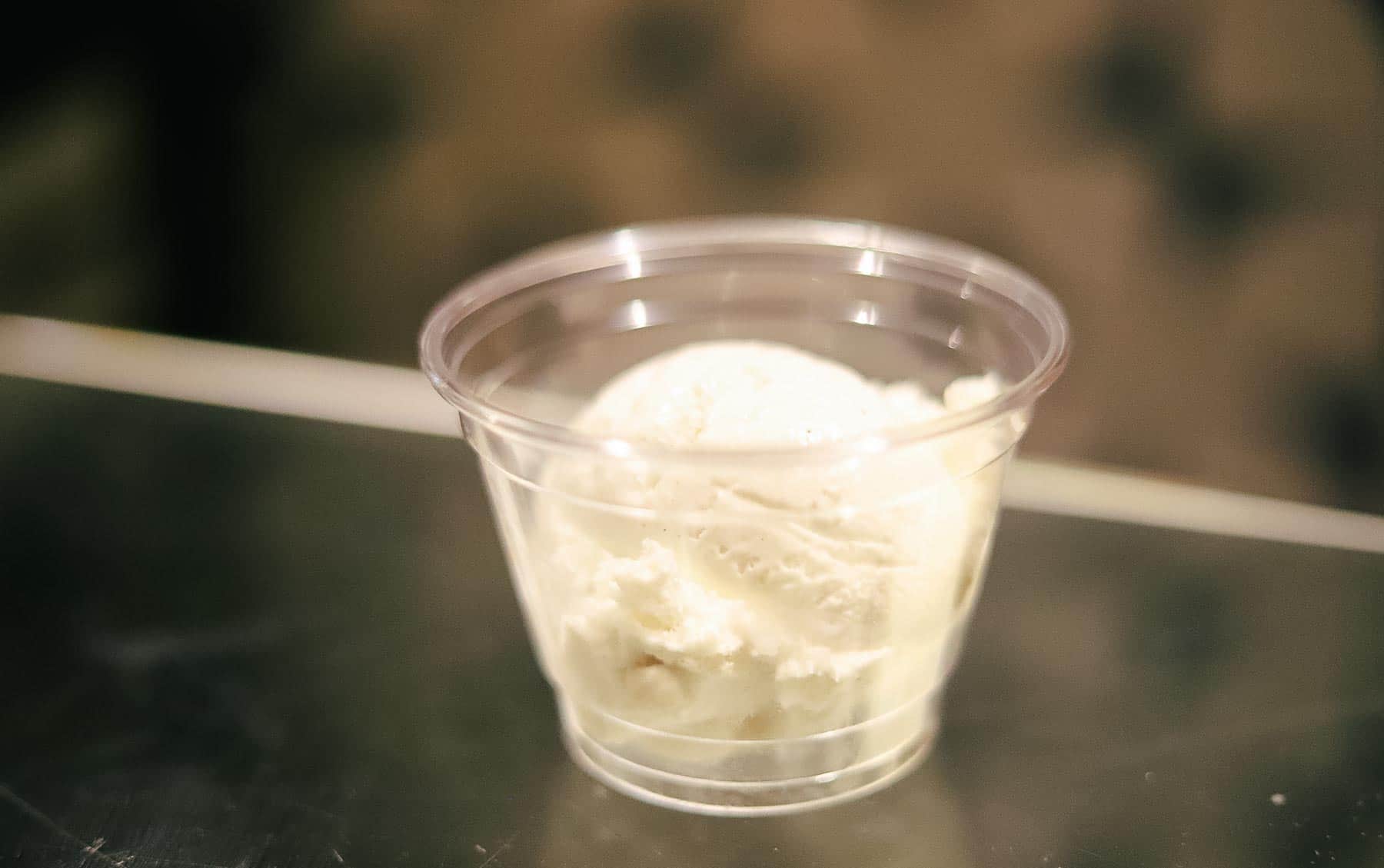 They will then add whatever toppings you like.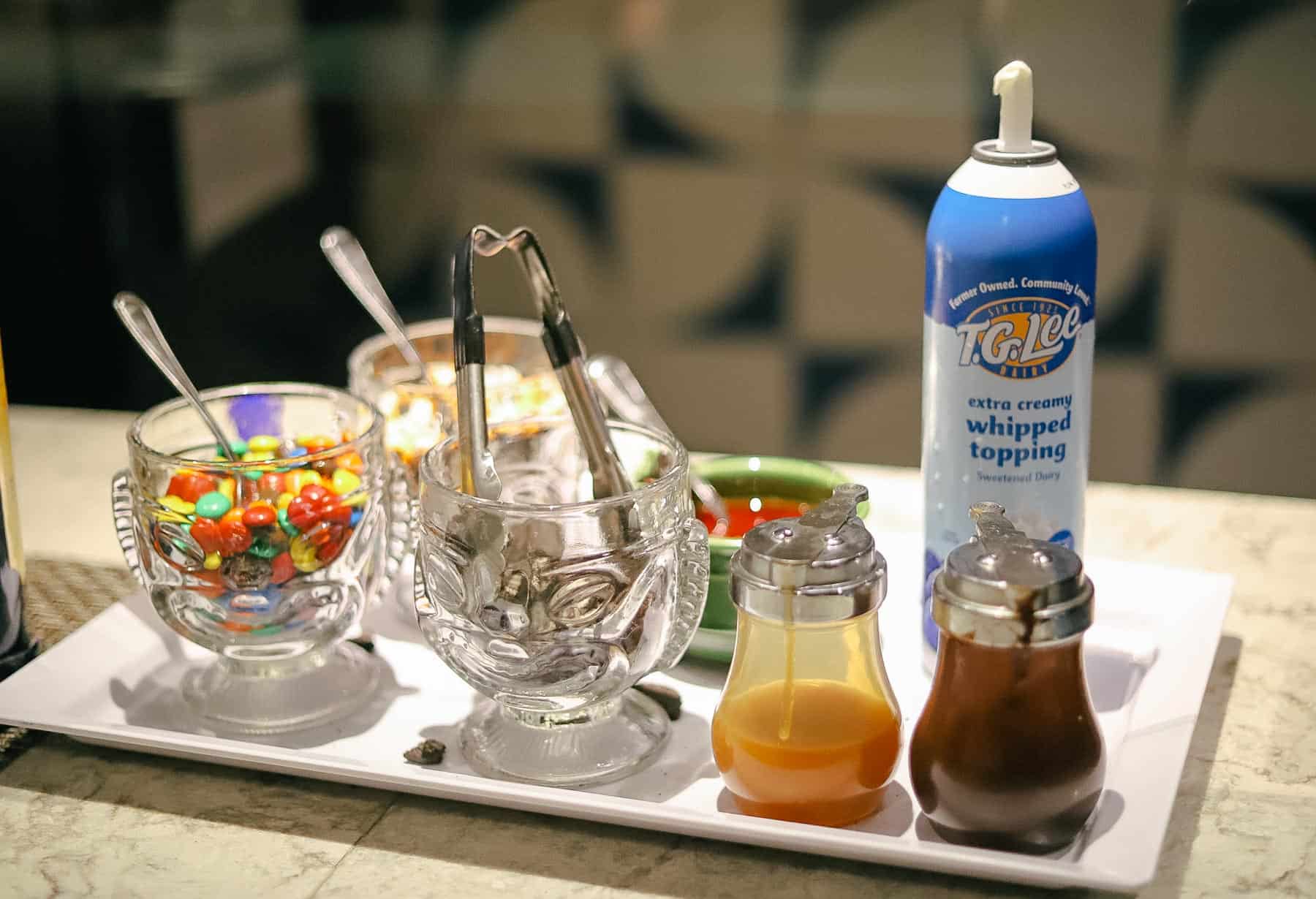 Was Our Stay at the Poly's Club Level Worth It?
Yes, the club level at Disney's Polynesian is expensive–but was it worth it? For us, yes. But it would be best if you planned to take advantage of the lounge. It's really more of a luxury than anything to have those readily available items at your immediate disposal.
It's nice to roll out of bed, throw on some clothes, and have a hot breakfast waiting nearby. Or to be able to grab a soda or other beverage whenever you please. If you stay in a regular room, you would have to get ready, possibly wait in line, and purchase these things.
No, the food isn't necessarily high-end, with the exception of a few items during the appetizer hour. But it's still fun to see what's offered, and we felt like it was enough to make a meal.
However, you might want to reconsider if you have multiple must-do dining reservations or park plans. If you're not stopping at the lounge a couple of times a day, this experience will probably not be worth it.
Final Thoughts
Ultimately, we were impressed with the King Kamehameha Club at Disney's Polynesian. But I would be remiss not to offer a word or two about the cast members I met during this stay. They are the ones who made this trip memorable and magical.
Each person I encountered in the lounge took the time to acknowledge and make me feel welcome. When I was taking photos, the cast members went out of their way to help. Many of them tidied the areas ahead of me so the pictures would turn out well. They took pride in their work and provided excellent care for their guests.
We loved the lounge, the cast members, and the entire experience.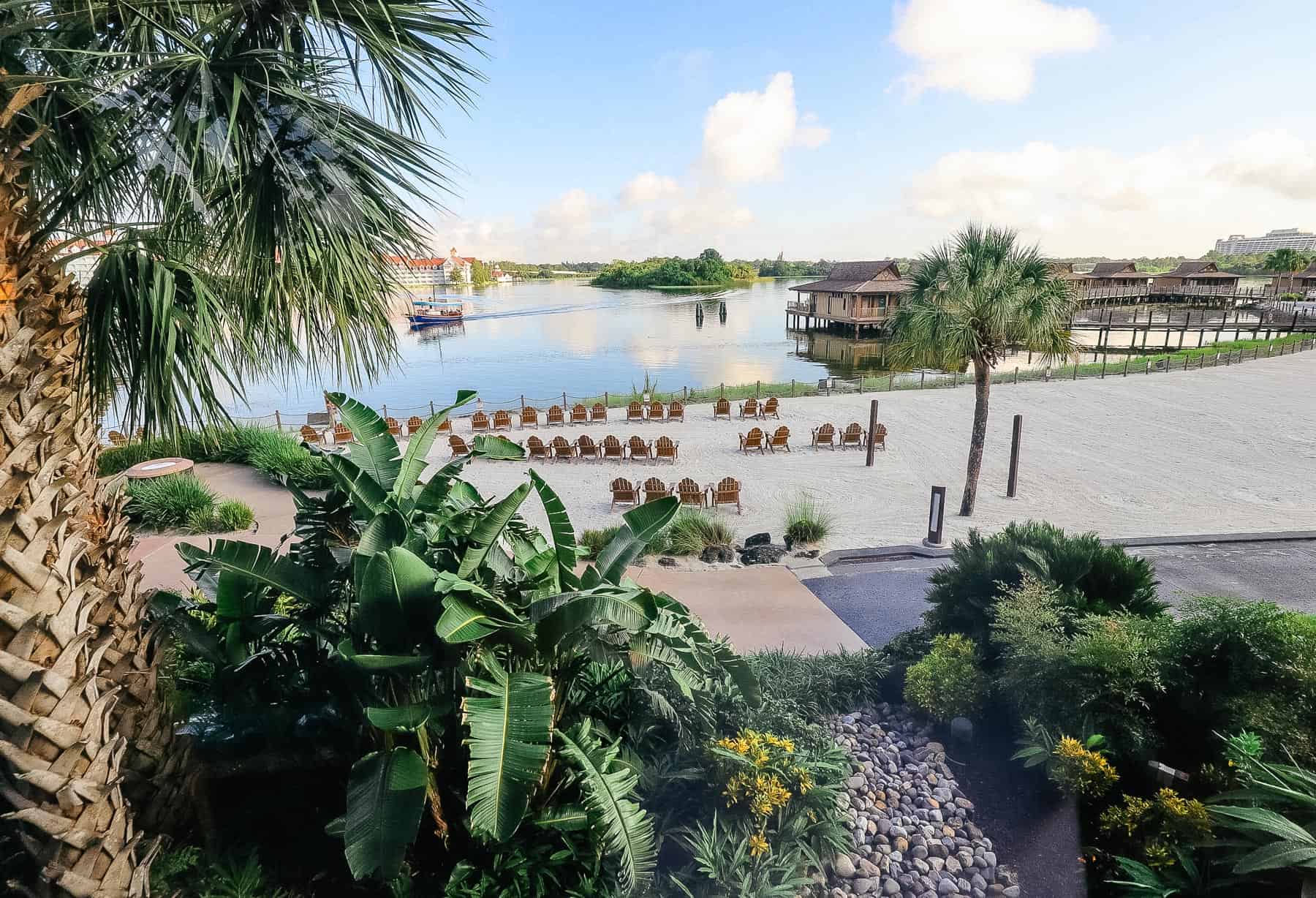 For more information about Disney's Polynesian Village Resort, you might enjoy the following:
What do you think about the club level at Disney's Polynesian? Is this on your bucket list? Or do you think it's too expensive? We want to know your take on this kind of experience. Please share your thoughts, questions, or opinions in the comments. Your perspective helps us and other readers.