The Pool at Hyatt Regency Grand Cypress
The Hyatt Regency Grand Cypress has one of the largest pools in Orlando, and it's definitely worth a visit. From the incredible grotto that connects the pool areas to its curvy waterslide, there's something for everyone.
This article will specifically look at the pool area at the Hyatt Regency Grand Cypress. If you've visited the site before, you probably know the hotel is one of our favorites.
The reason it's a top choice is because of the outstanding pool and recreation area. Trust me, a pool like this is worthy of planning a full resort day.
That means having a day where you sleep late, enjoy a leisurely breakfast, recreational activities, lunch poolside, etc. It might turn out to be the best day of your vacation.
Who knows? You might even extend your vacation after a day spent swimming, sunbathing, or enjoying the whirlpool hot tubs. Or you'll look forward to returning sooner than you thought.
Let's take a look at what makes the resort so appealing.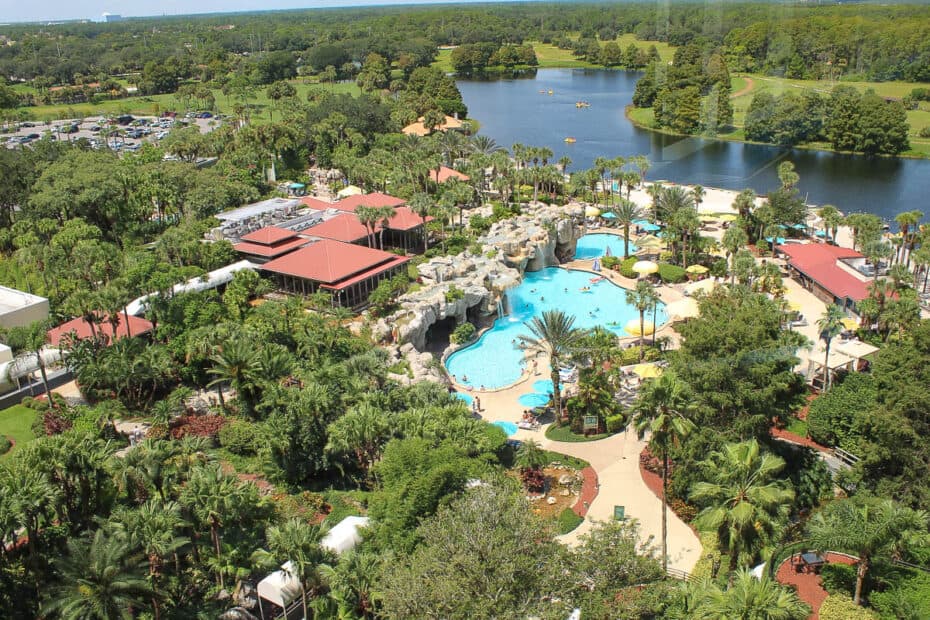 While it appears there are multiple pools at the Hyatt Regency Grand Cypress, there's actually only one huge pool that holds 800,000 gallons of water. The pool areas are connected by a long cave that runs between them.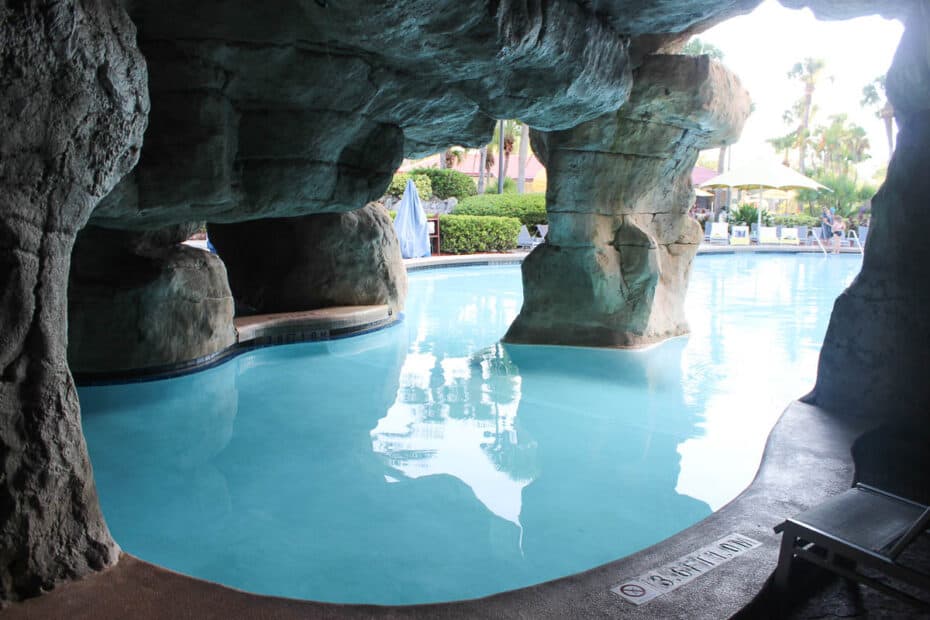 Pools hours are between 7:00 a.m. and 10:00 p.m.
Below is a look at the pool area directly behind the resort. In our full resort review, I mentioned that this area is substantial. It's so large that you could easily never know that this pool extends to another sizable pool area.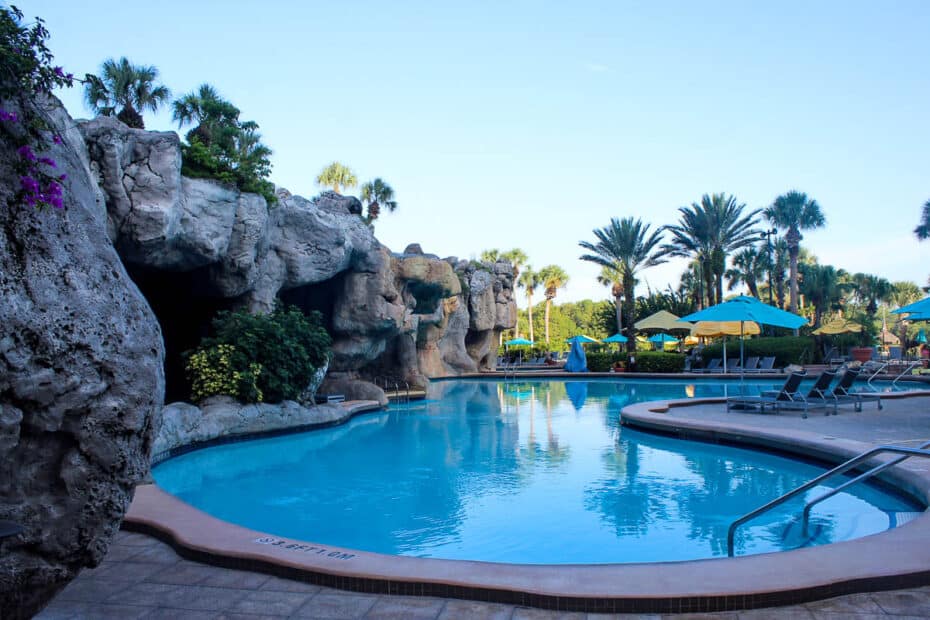 This photo looks back over the same area toward the hotel.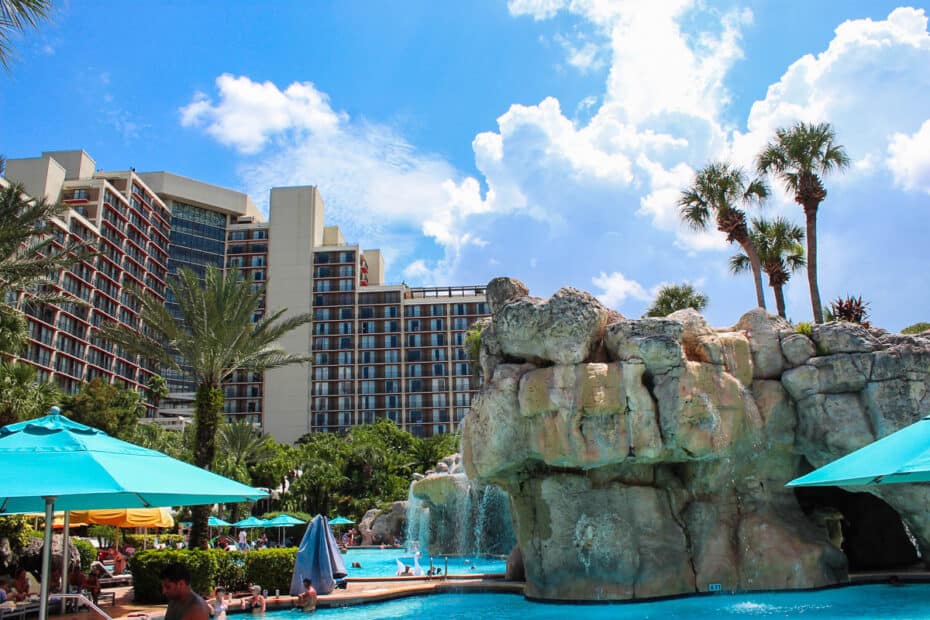 Four different types of cabana rentals are available at the Hyatt Regency Grand Cypress. They are as follows:
Premium Umbrella with four chairs ($100.00 and up)
Premium Grotto with two chairs ($80.00 and up)
Grotto Cabana for six guests ($200.00 and up)
Premium Pool Cabana for six guests ($300.00 and up)
Below is a photo of one of the grotto cabanas.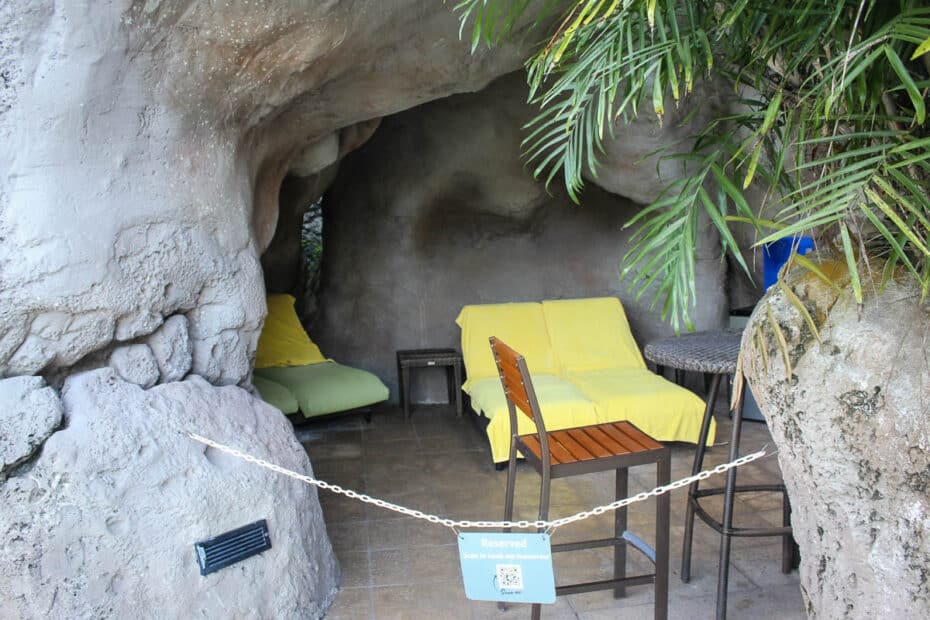 While cabanas are expensive, I have found that they are well worth the high price tag for certain groups. For example, a cabana provides excellent protection for those who might not need to spend time in the sun, especially the grotto cabanas.
Or a cabana could come in handy if you have small children who need a nap mid-day. You can continue to relax poolside while they nap beside you. It's great not having to worry about being bothered by other guests coming and going close to you.
Related: Cabana Rentals at Disney World
For more information, cabanas are available to book in advance here on Hyatt's website.
Anyway, before we look at the rest of the pool area, let's walk through the grotto. A walkway runs adjacent to the pool.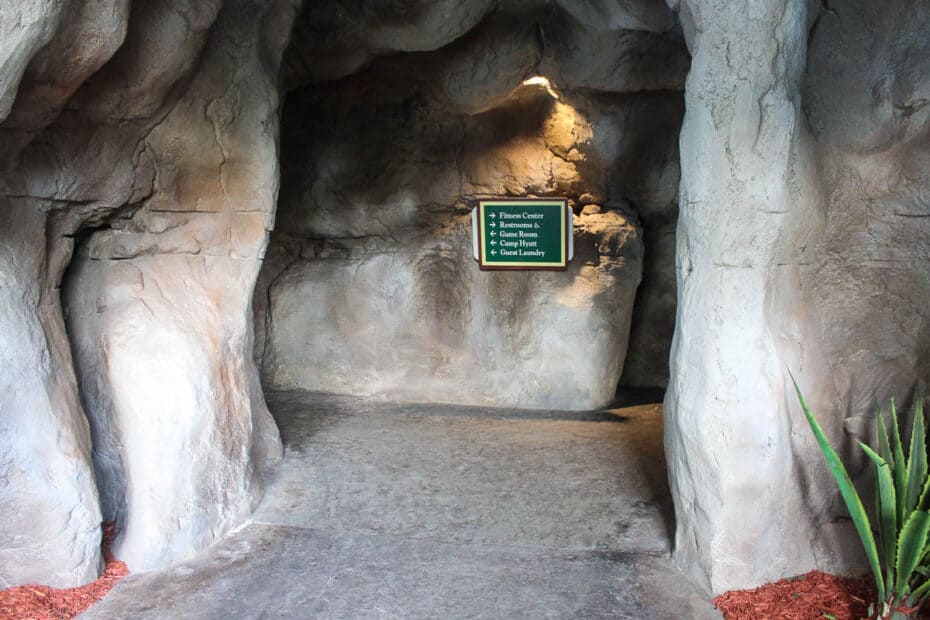 So, if you don't book a cabana and need shade, I might try to find a spot inside this area early in the day. I initially visited over a holiday weekend, and the pool was packed.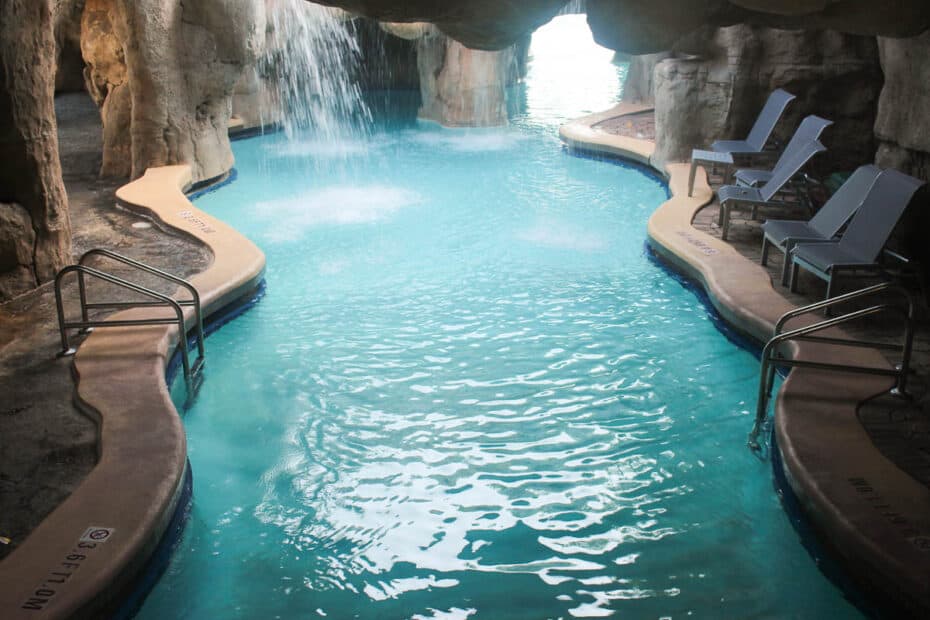 However, after the holiday, it went back to off-season, which is how I was able to get these photos with hardly anyone in them. So don't necessarily expect so many empty seats.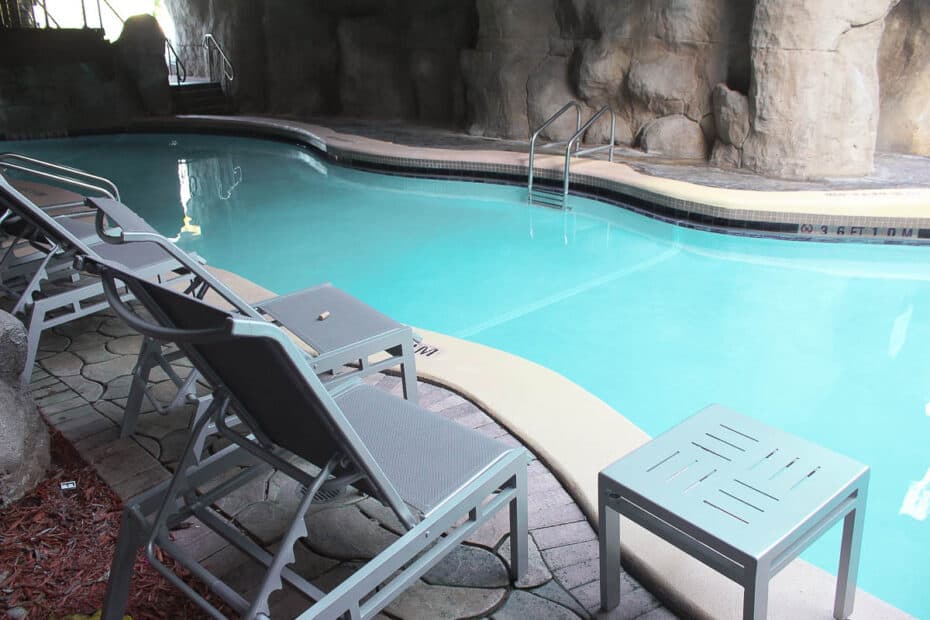 I was surprised at all the amenities inside the grotto area. For example, there is a tremendous fitness center.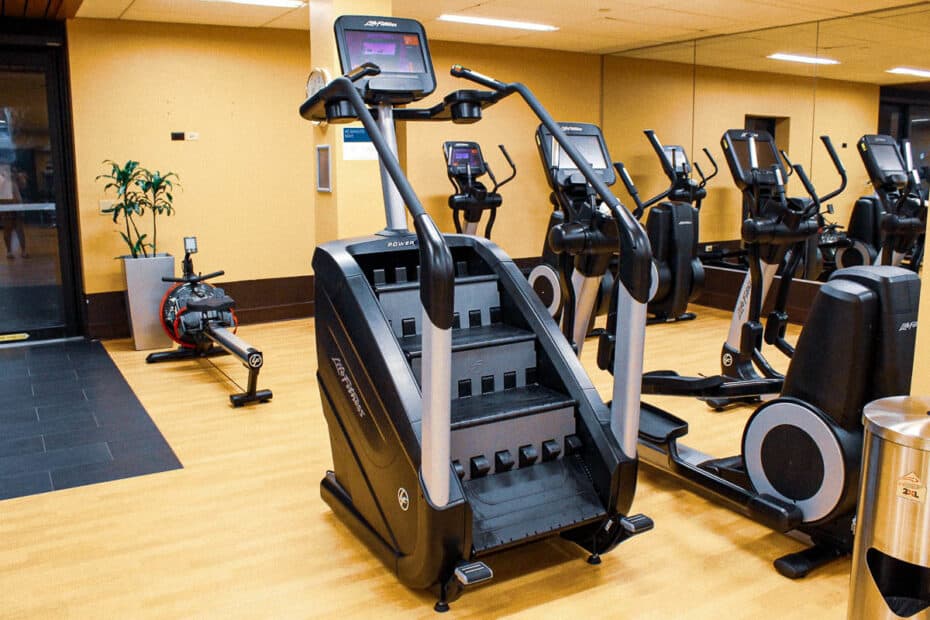 There were four Peleton bikes. Aren't these pretty big deals in the fitness world?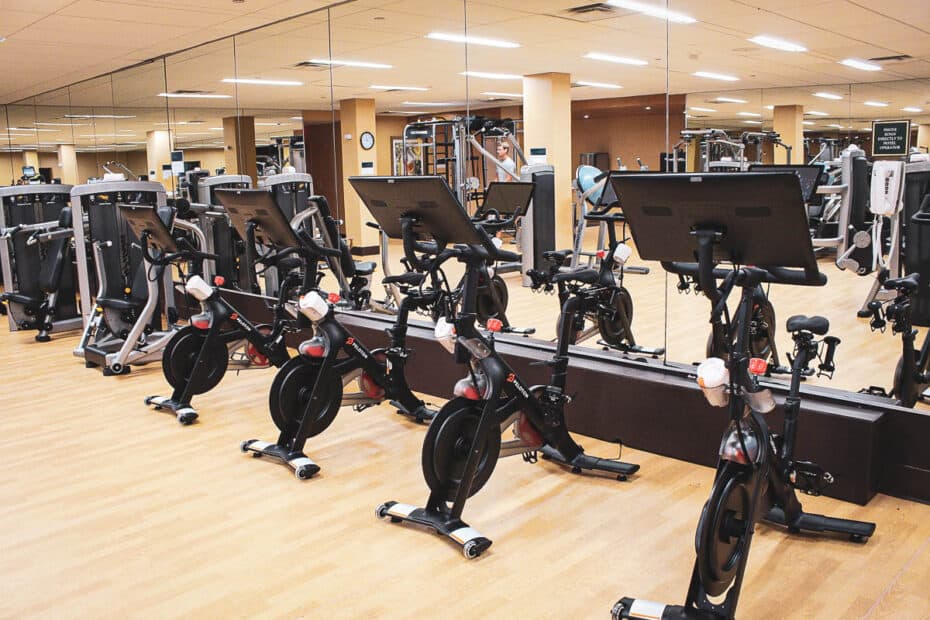 And there was a stair-climber.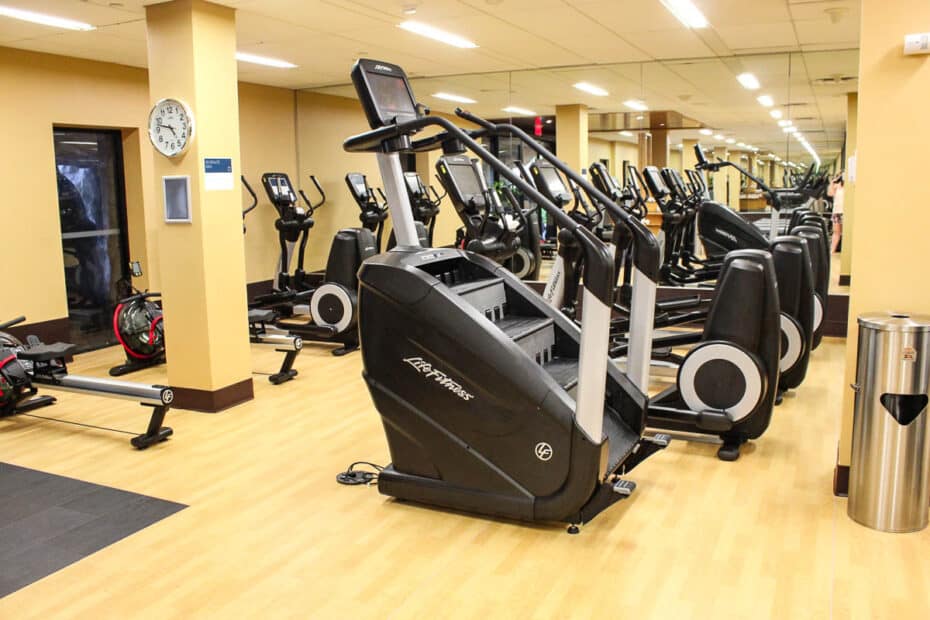 You could log some miles on the treadmill.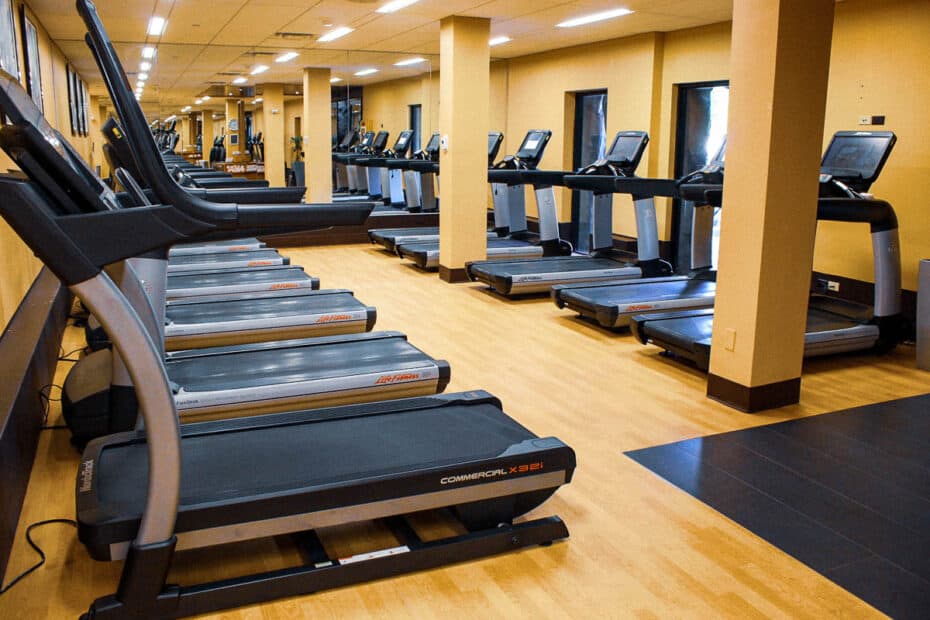 But the resort has three different jogging trails and sits on over 1500 acres.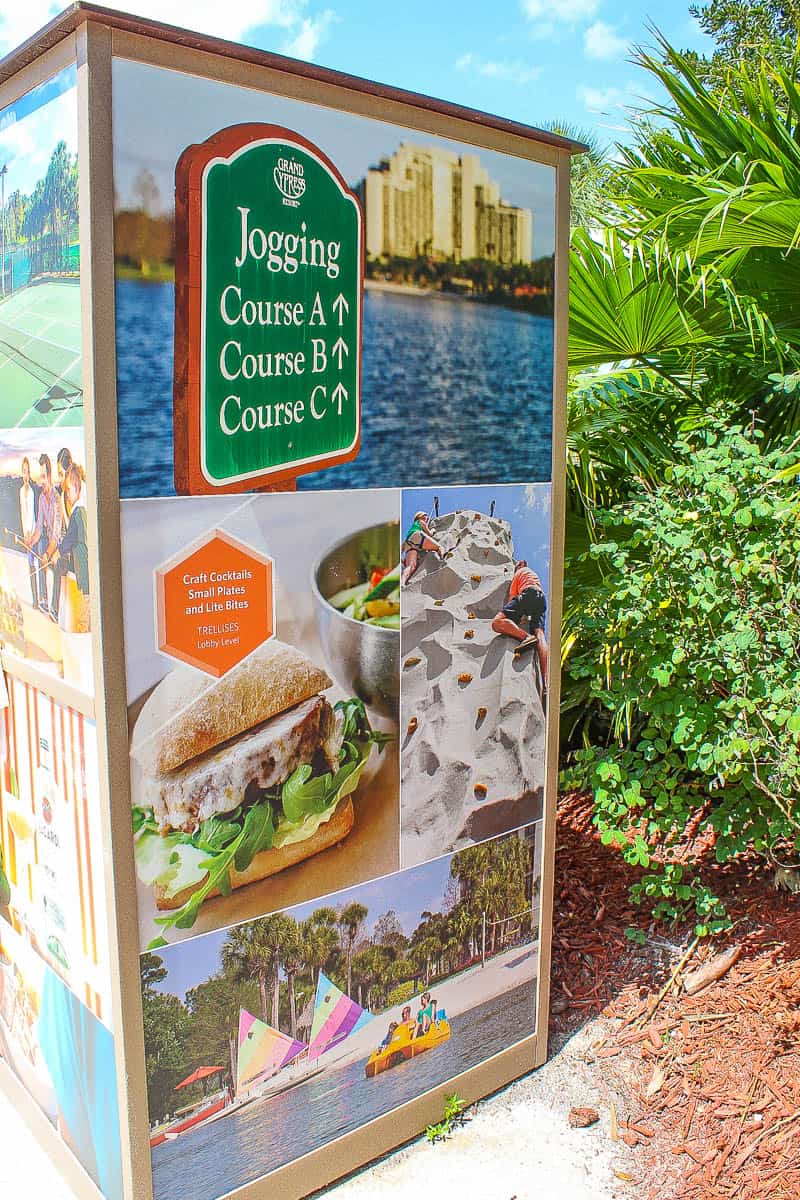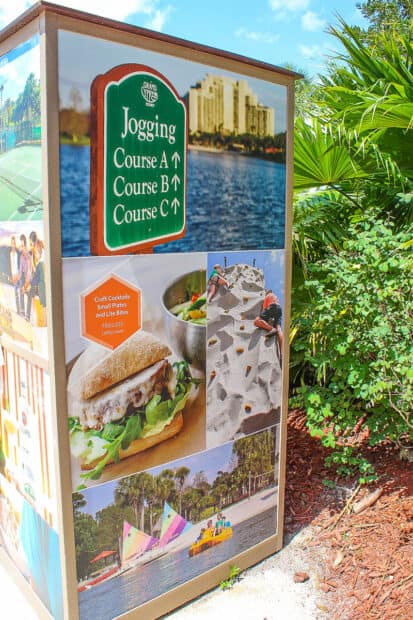 And like every other hotel in Orlando, there's an arcade. Additionally, the hotel's laundry room was next door. You could easily get in a load of laundry while you're at the pool.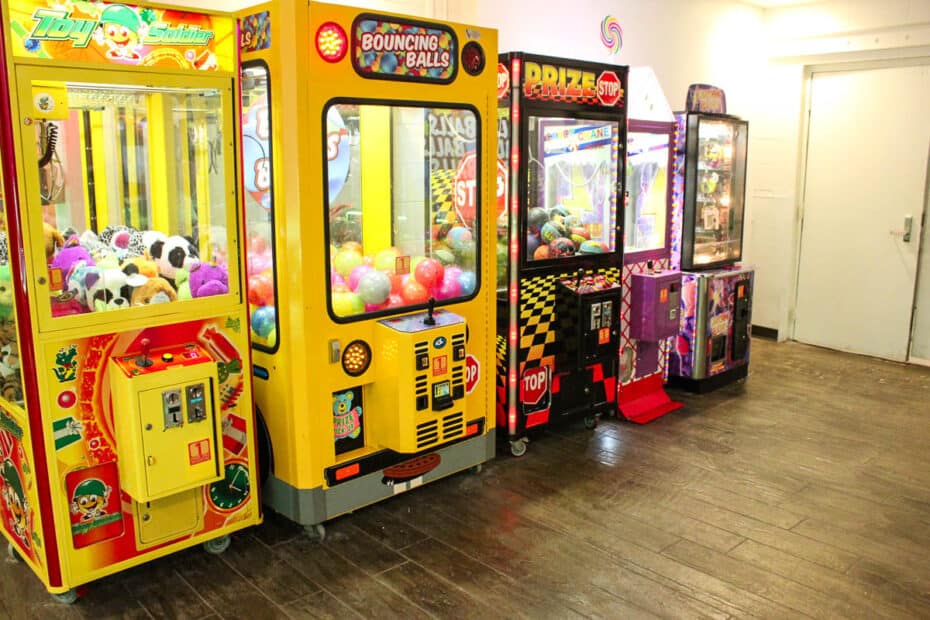 Back inside the cave, there's a whirlpool spa. I spent some time here one evening during my stay. It was drizzling rain.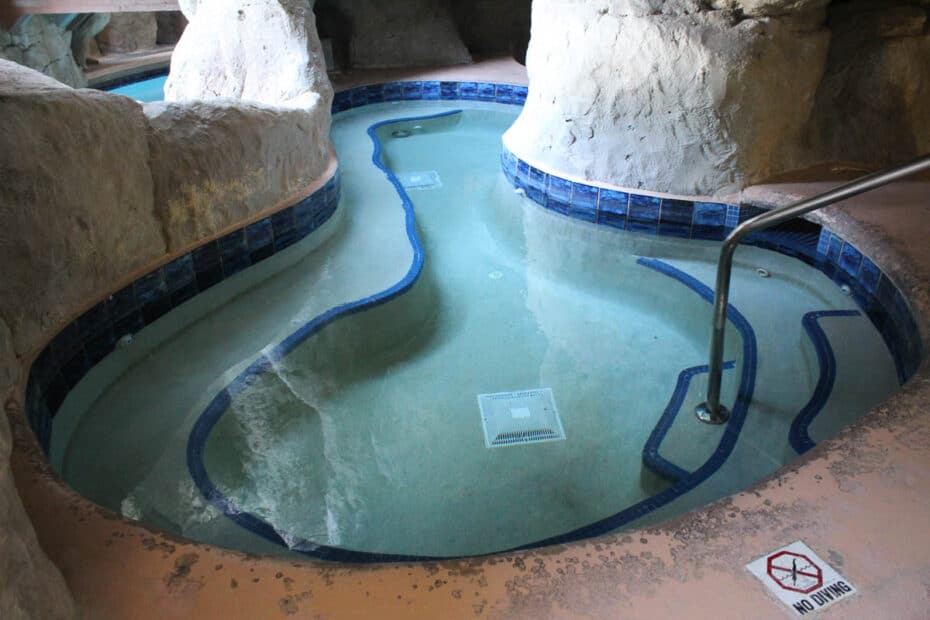 Back outside, on the outskirts of the pool, there's a 124′ long waterslide.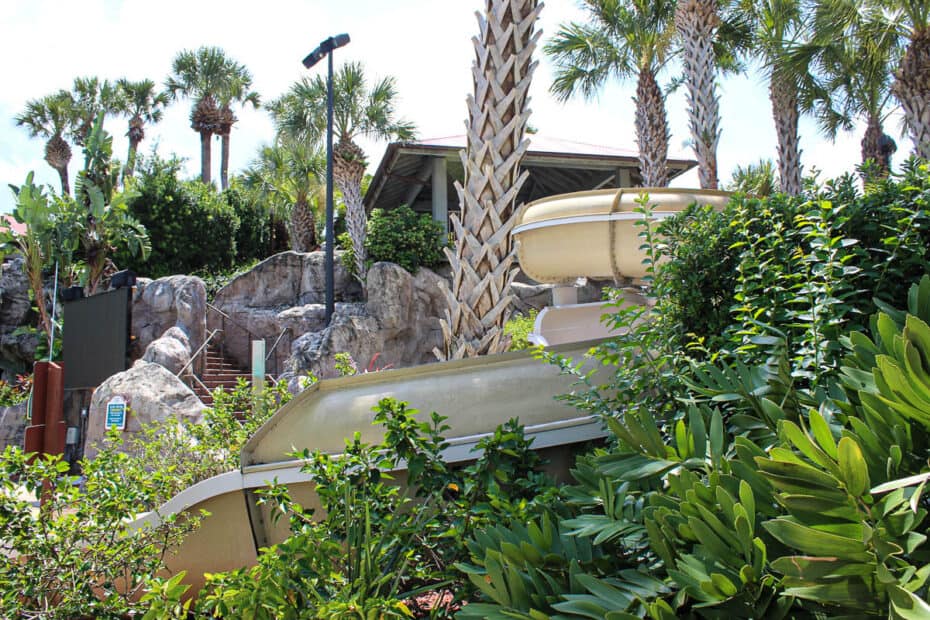 The slide has a 48″ height requirement.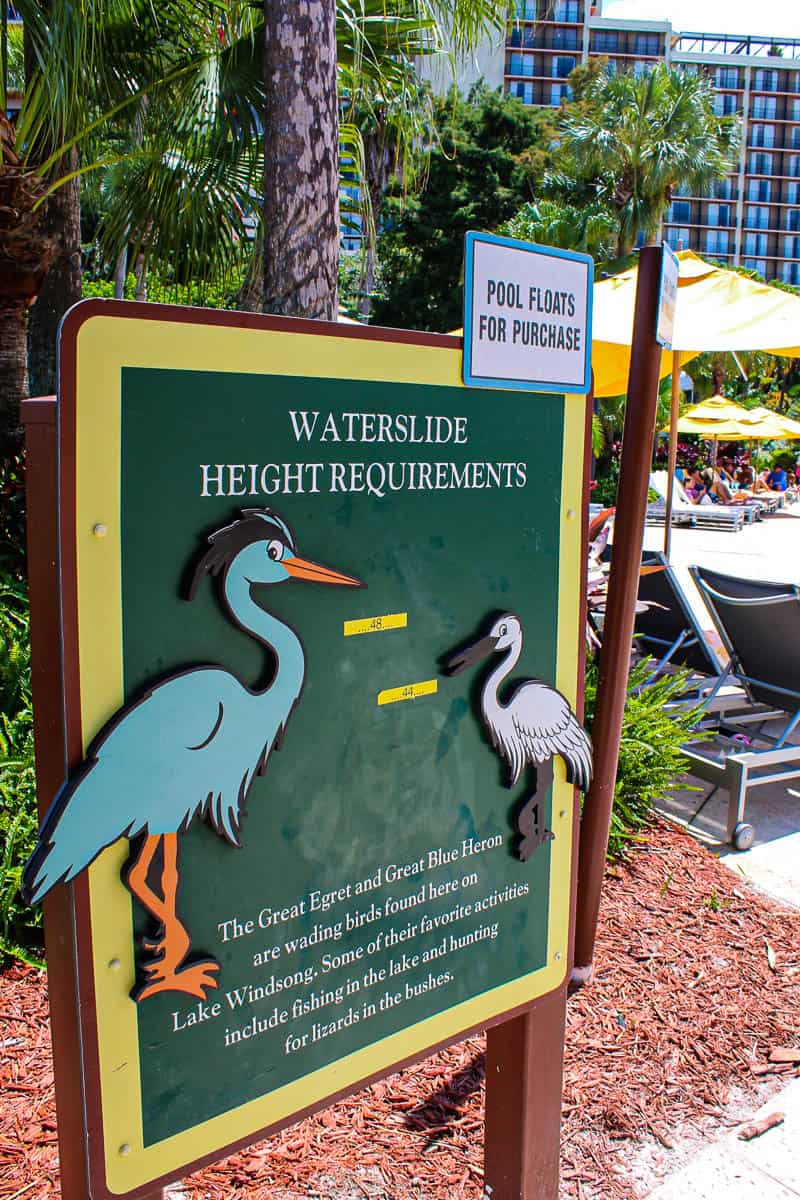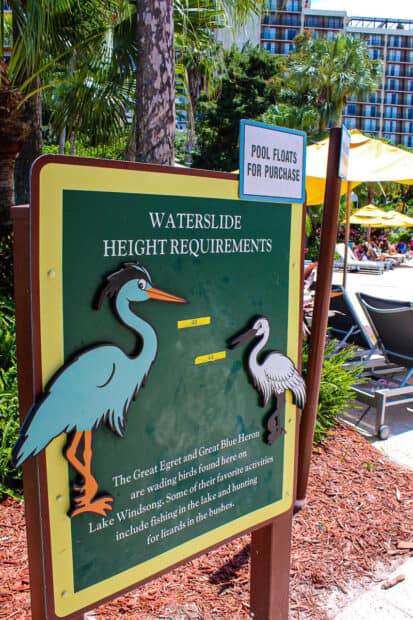 And there are several things designed for the enjoyment of toddlers and younger children. Here is a portion of the splash pad and water play area. Unfortunately, I didn't get a great photo of the area because children were playing.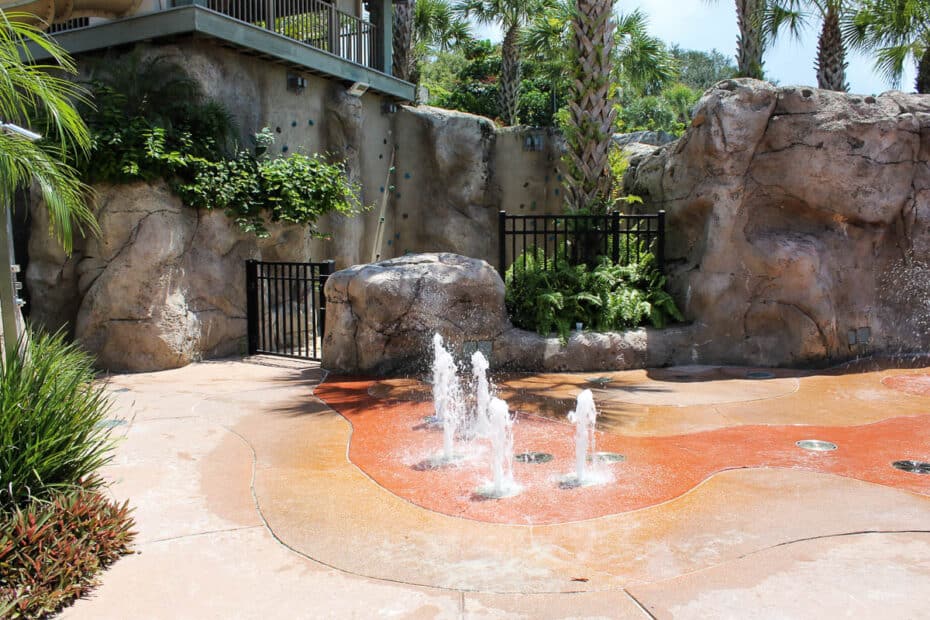 Nearby, there were a few outdoor games. I thought this area made for a lovely space to let children run around.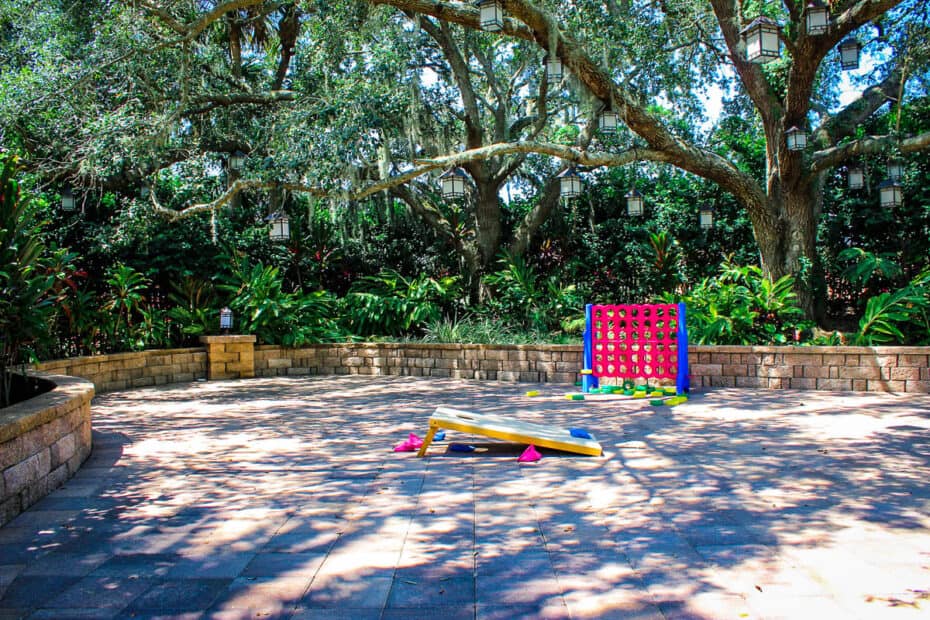 Speaking of outdoor fun, there's a rock-climbing wall at the Hyatt Regency Grand Cypress.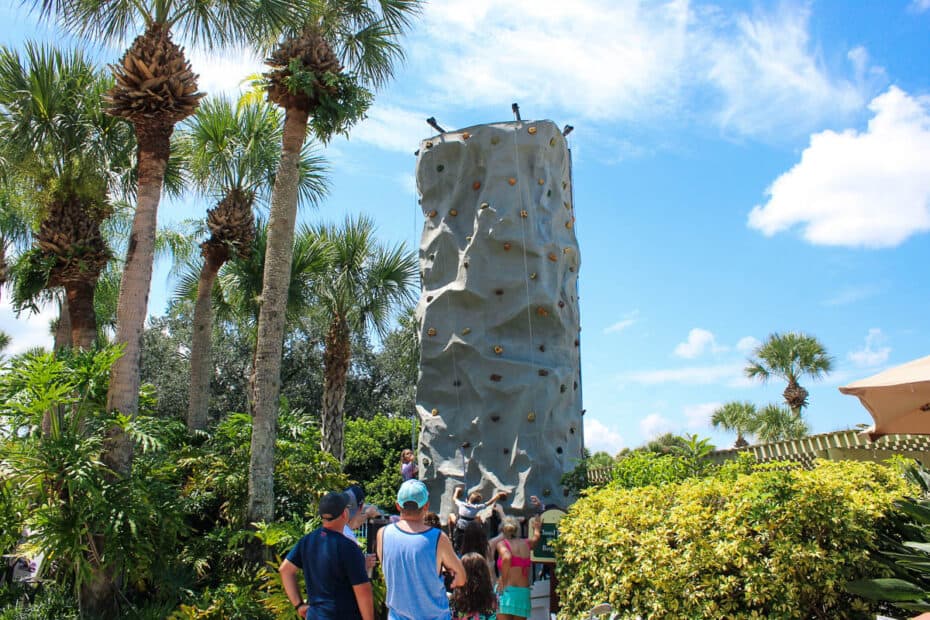 And there are bikes. There's so much ground to cover at the resort. I went on an hour-long bike ride one morning. It was one of the highlights of my stay.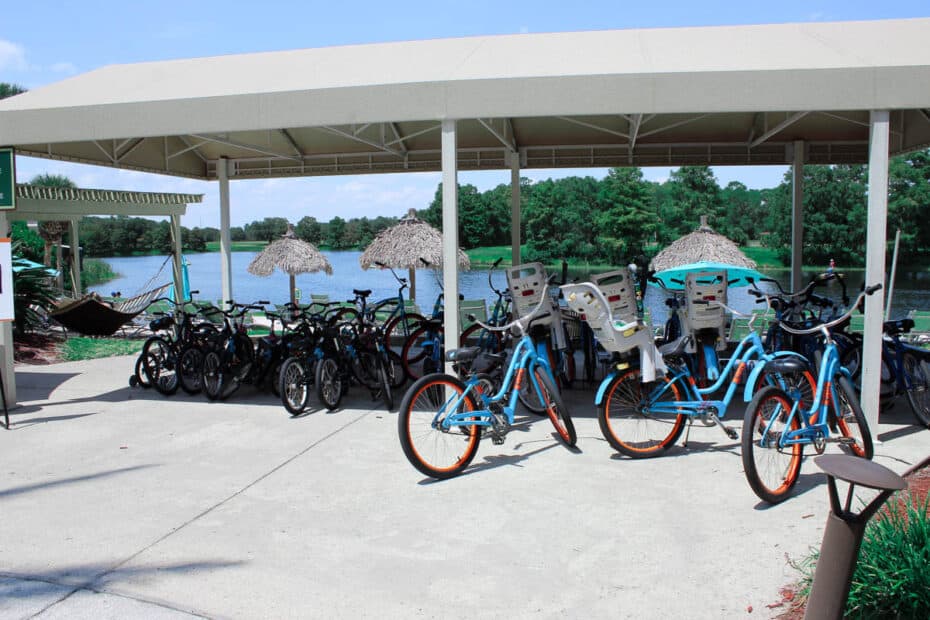 Surprisingly, all of these activities are covered in the resort fee.
Even these boat rentals.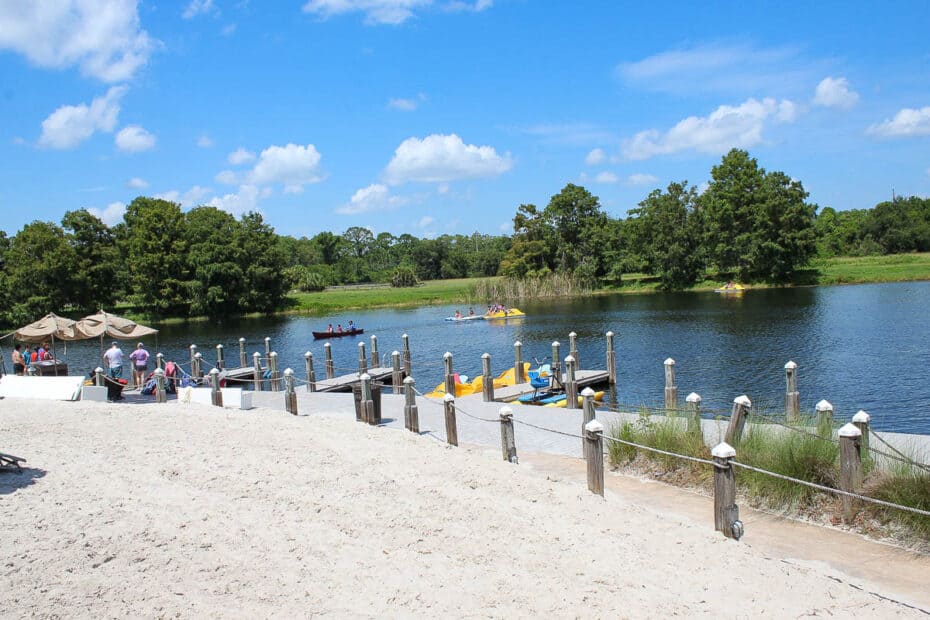 You may remember that when we stayed at Orange Lake, the resort charged extra for these types of items on top of the daily resort fee. So I was pleasantly surprised to find that I could participate in as much, or as little, as I wanted to here at Grand Cypress.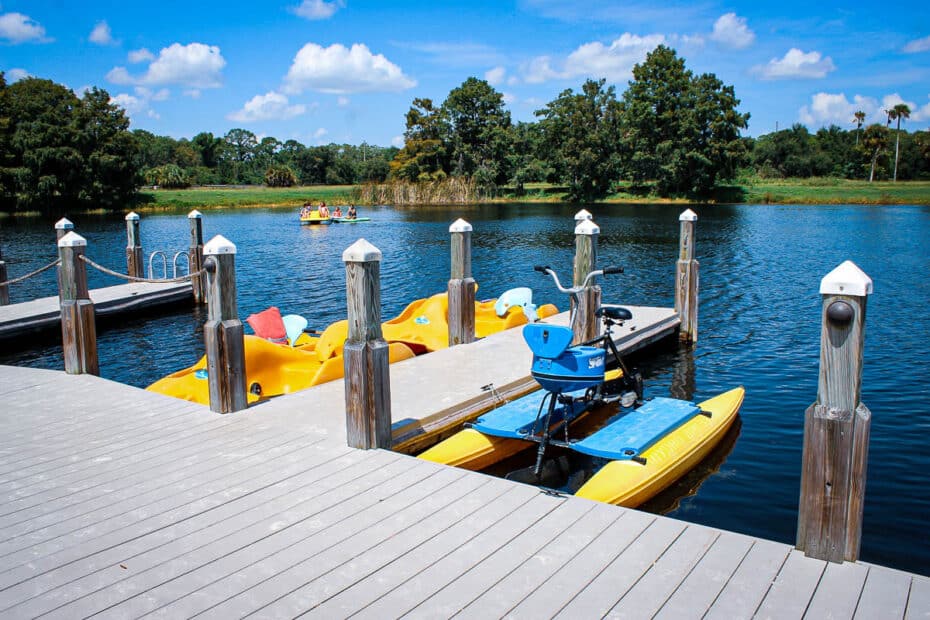 Parent's, this means that you don't have to worry about saying no when your child wants to do something extra. That's one of the things I harp on at some resorts. They know your children will want to do extra and that many parents will pay.
So having these items included at no extra charge impressed me. Not only that, it was clear the pool and recreation staff were working hard to ensure everyone was having a fun day.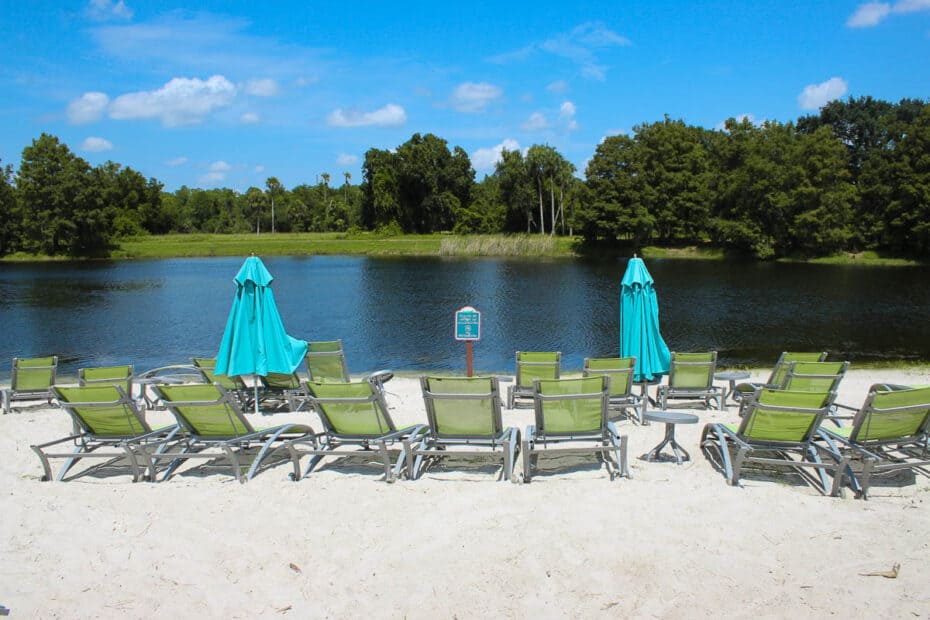 Those who would prefer a more natural setting can enjoy the loungers by the lake.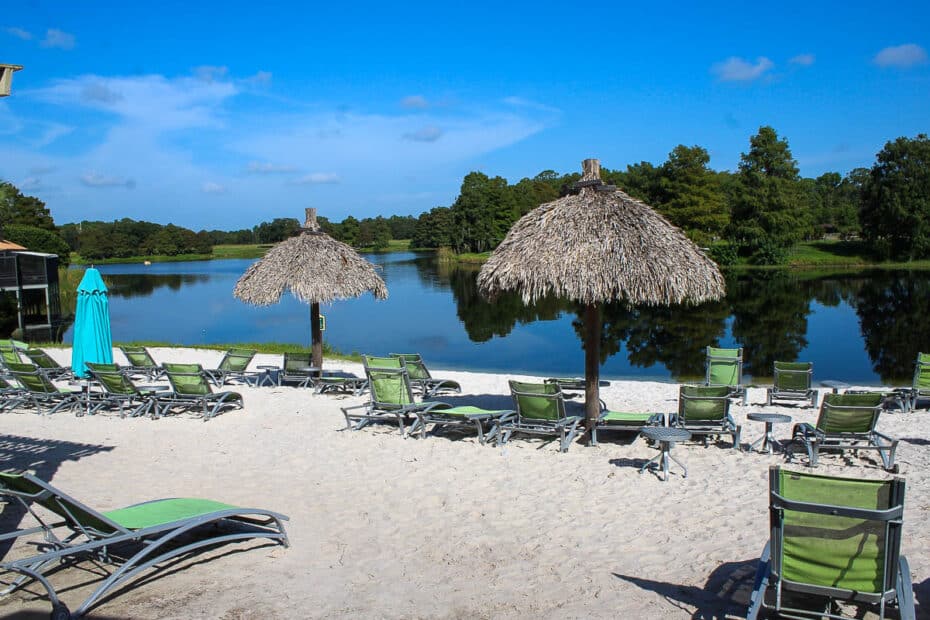 Or find a hammock under a pergola.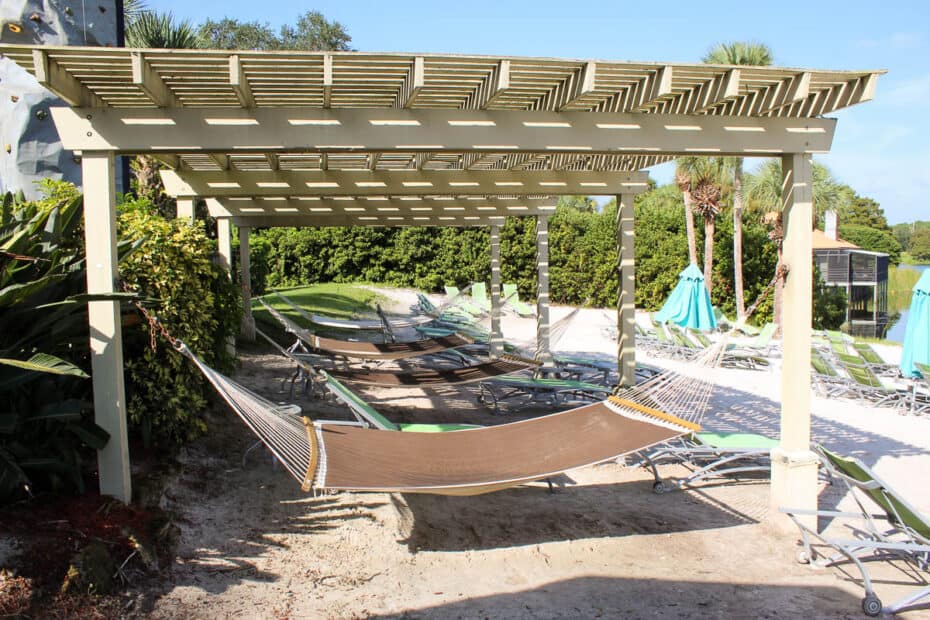 There's a bar and grill out by the pool called On the Rocks. I had lunch here one day and a couple of mocktails. It was delicious.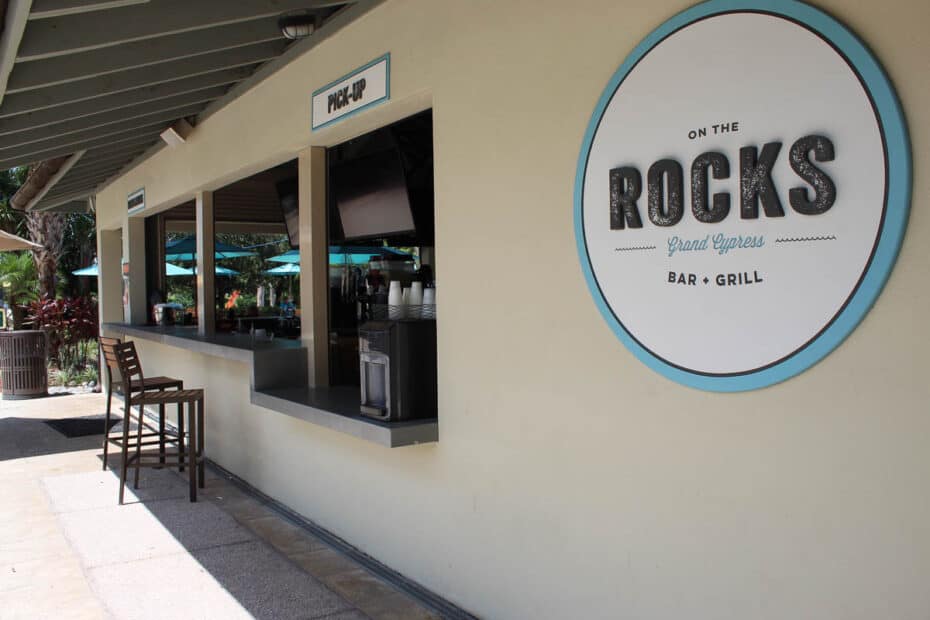 Servers come out and wait on guests at the pool. So if you find a comfortable seating area, you don't have to leave to go get food or drinks.
Additionally, there were several stations with ice water set up around the pool area.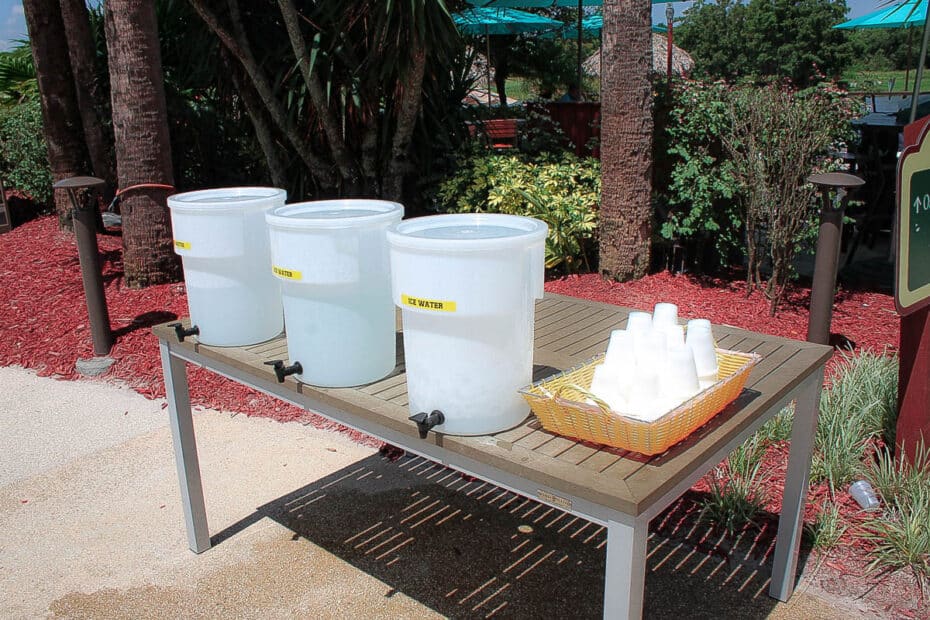 Before we wrap things up, we'll look at the opposite side of the pool. Below is where the cave comes out on the other side.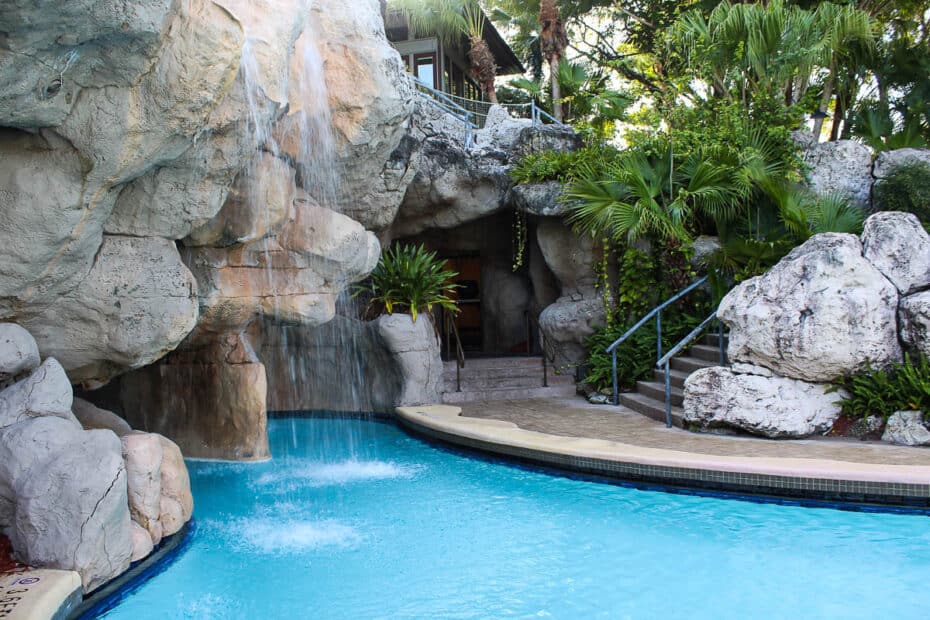 A bridge hangs in the balance. Unfortunately, it was under refurbishment during my stay. Usually, you can walk out over the pool area.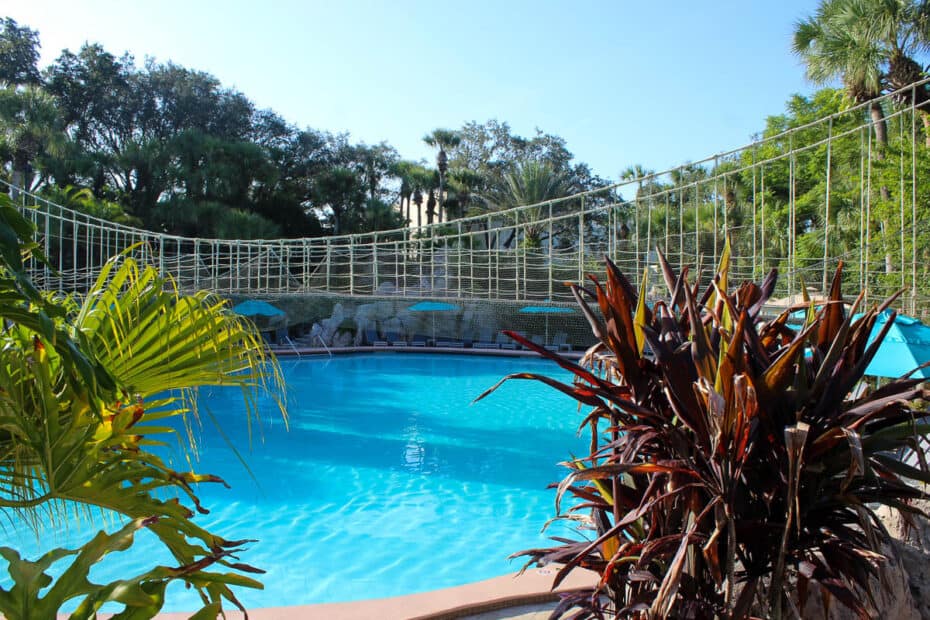 These steps lead to and from the hotel.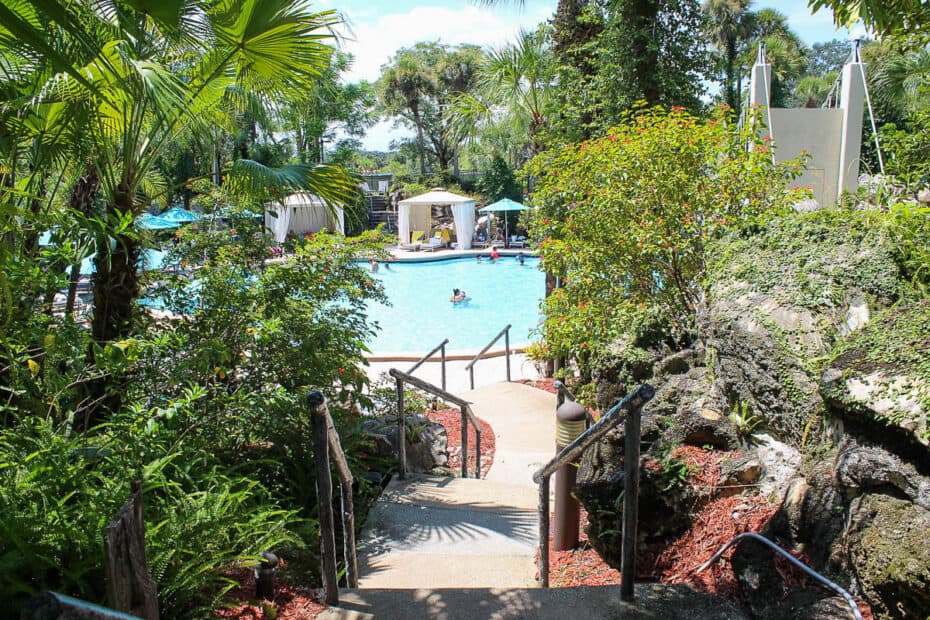 Isn't it a stunning pool?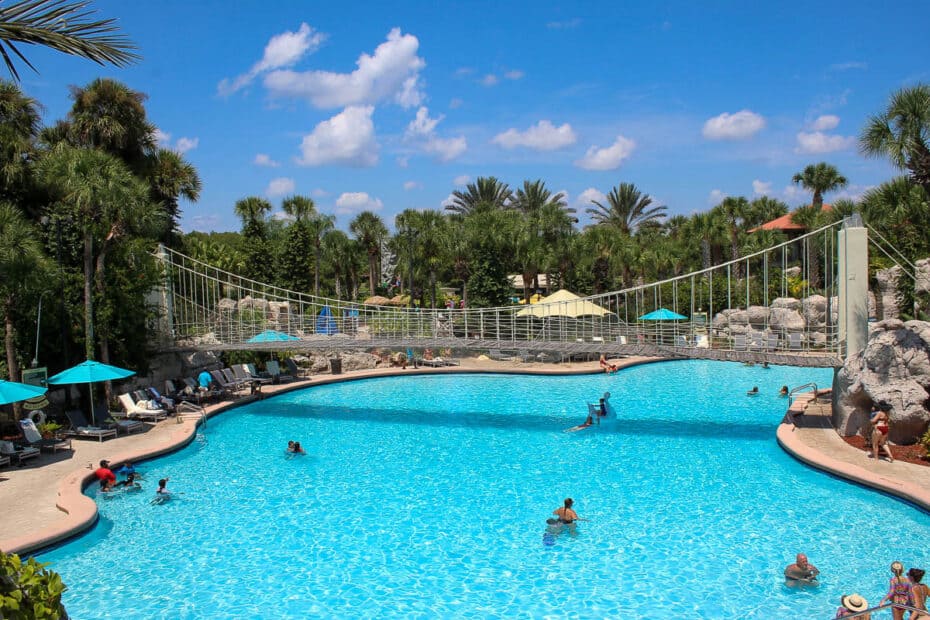 I don't think you'll find a more relaxing spot to spend your day.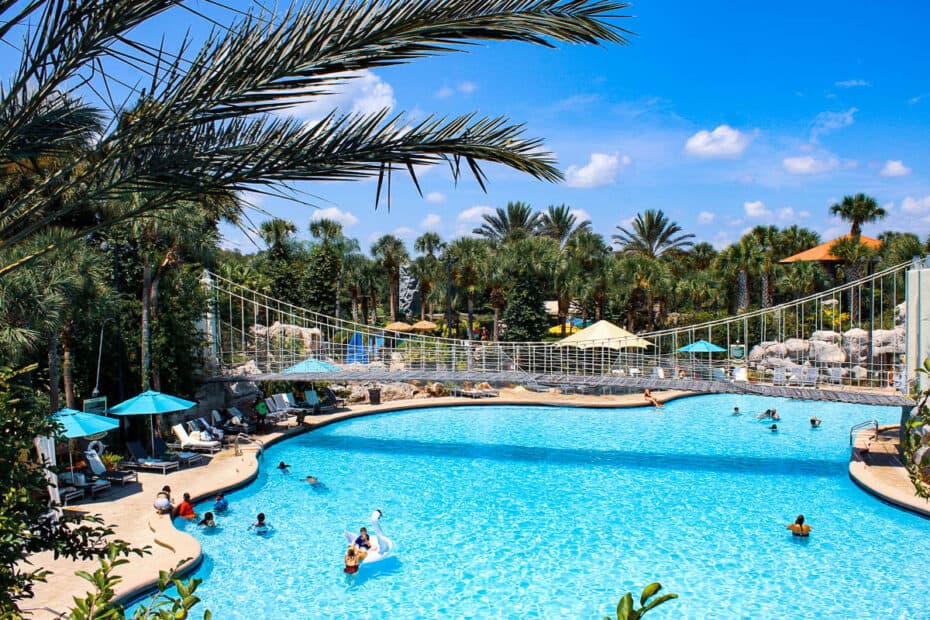 Lastly, the second hot tub is located in an almost hard-to-see area toward one end of the bridge. You might have to look for it.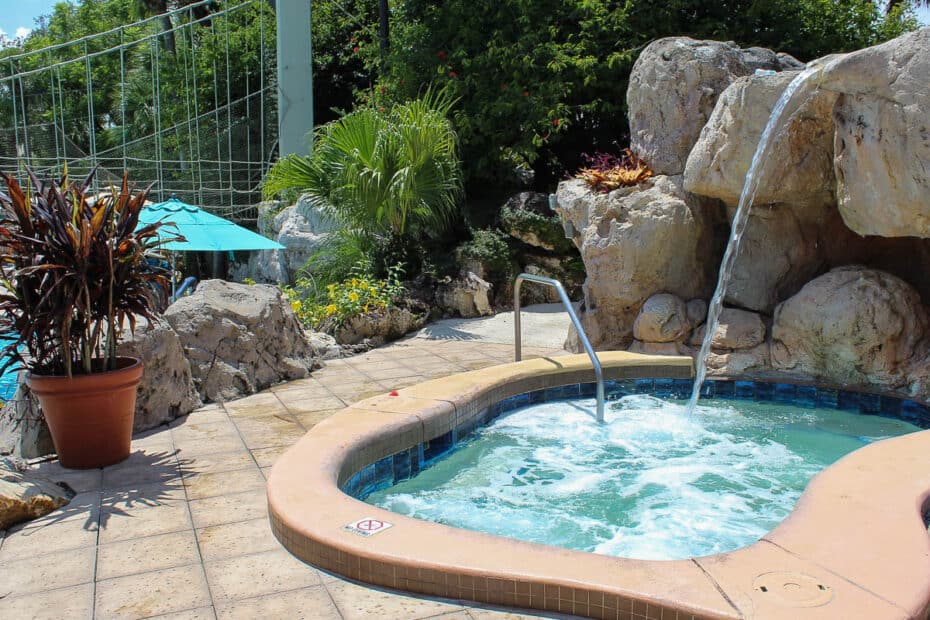 And I forgot to mention, but Grand Cypress offers nightly movies at the pool. They played Mulan, Frozen 2, and several other family films during my stay.
For those wondering, the resort fee at Hyatt Regency Grand Cypress includes the following:
Round-Trip transportation to Disney (Shuttle runs four times daily.)
Round-Trip transportation to Universal Orlando (Shuttle runs once daily.)
Two Bottles of Water (Daily)
Scheduled Daily Transportation to Disney Springs 
Fitness Center
Pitch n' Putt Course 
Walk-in Court Times at Racquet Club (Tennis Racquet and Balls included)
Bike Rentals 
Rock-Climbing Wall 
Sailboats, paddleboards, kayaks, and paddleboat rentals 
Daily scheduled activities 
Miniature Golf Course
Select Spa Discounts  
Basketball and Volleyball Court (including equipment)
Jogging Trails (One to Three Miles Long)
10% Discount on Recreation Retail & Cabanas (Doesn't include food and beverages.)
The resort fee runs $40.00 per day, which is on par with most resorts in the Orlando area.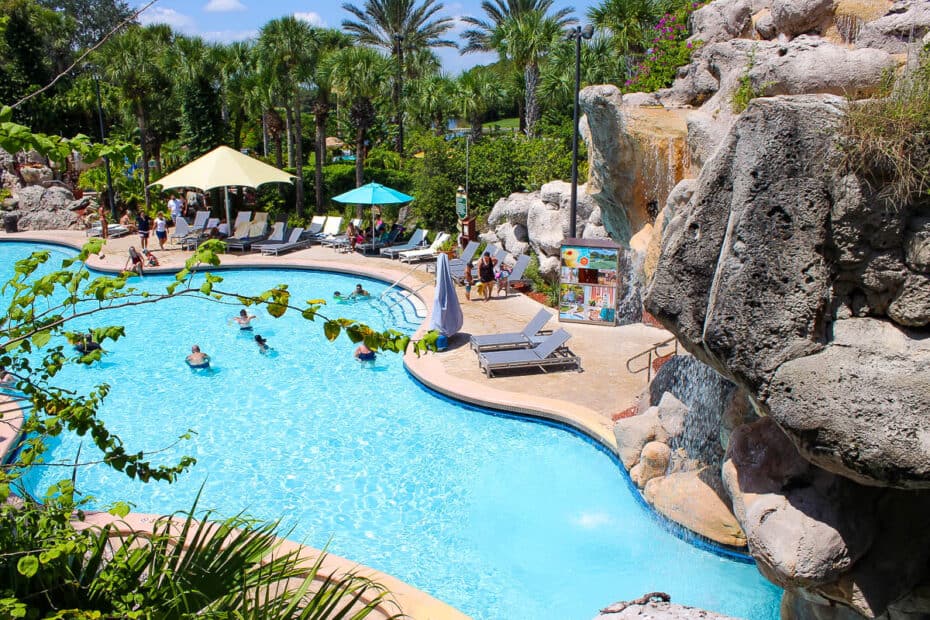 Needless to say, the pool at the Hyatt Regency Grand Cypress is first-rate. Whether you want an adventurous day participating in the various activities or you prefer to lounge and relax, this pool will be hard to top.
For more information, check out our entire resort review. It details the rooms, dining, and my experience staying at the hotel.
Related: Hyatt Regency Grand Cypress Review
Additionally, you might enjoy our list of the best off-site hotels near Disney World. It includes a few other favorites:
I hope you'll enjoy your stay at the Grand Cypress. Don't forget to plan your day at the pool!
In the comments: Do you have any questions or thoughts about the pool at Hyatt Regency Grand Cypress?