Photos: Two-Bedroom Villa at Disney's Riviera Resort (with Lockoff)
Continuing our coverage of Disney's Riviera Resort, we're returning to preview a two-bedroom villa. This two-bedroom villa is commonly referred to as a lock-off villa.
A lock-off is when one side of the villa has a bedroom, and the opposite side opens up to a deluxe studio. Therefore a two-bedroom lock-off at Disney's Riviera Resort is a combination of a one-bedroom and a deluxe studio.
For reference, we preview the deluxe studio in our review of Disney's Riviera Resort. Additionally, we recently covered two other villas at the resort:
While the two-bedroom villa might sound similar to a three-bedroom, it's completely different. Here are some of the amenities you can expect to find in a two-bedroom:
Preferred view of the courtyard, lake, landscaping, pool, or Skyliner
One bedroom features a king-size bed
The second bedroom has two queen beds and one single pull-down bed
Living Room features one queen pull-down bed and one single pull-down bed
Sleeps up to 9 adults
Two full baths
Washer and Dryer
Full Kitchen
Dining Area
When you enter the two-bedroom villa, you're greeted by a large oblong room that offers a kitchen, dining area, and living room.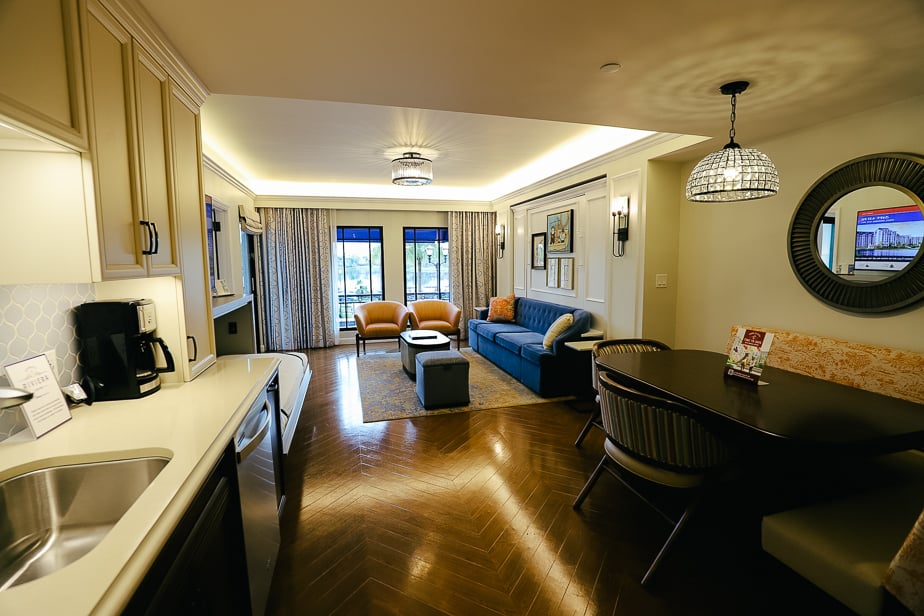 To the immediate right, a doorway leads into the first bedroom. This bedroom is also the room that doubles as a deluxe studio.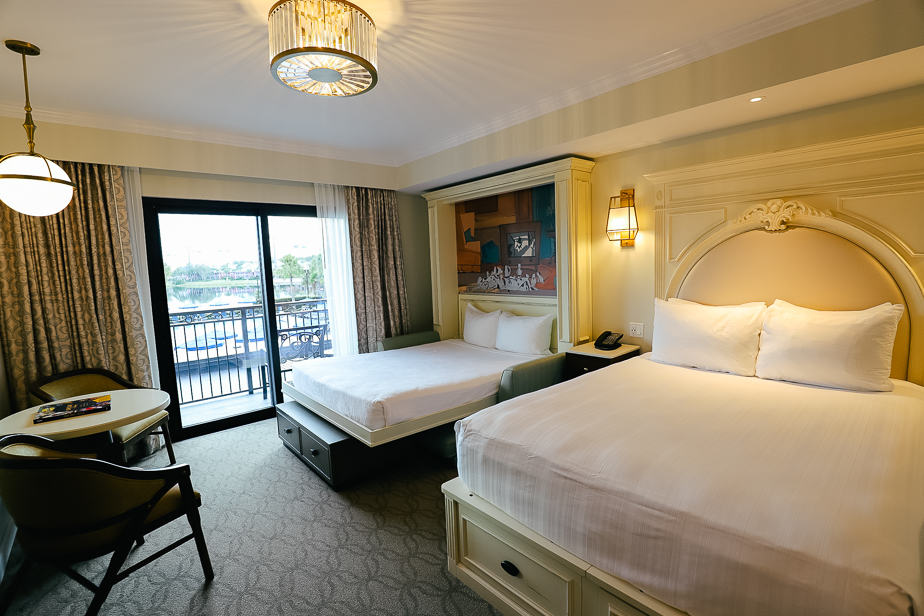 Have you ever stayed in a hotel room that has a doorway that opens up to another locked door? This room is an example of that same kind of setup.
Depending on reservations, the resort could rent this room as a deluxe studio only. That would leave the adjoining room available for a one-bedroom rental.
The deluxe studio portion of the room has two queen beds. The bed towards the back folds into the wall when not in use. A coffee table and sofa make a seating area when the Murphy bed is tucked into the wall.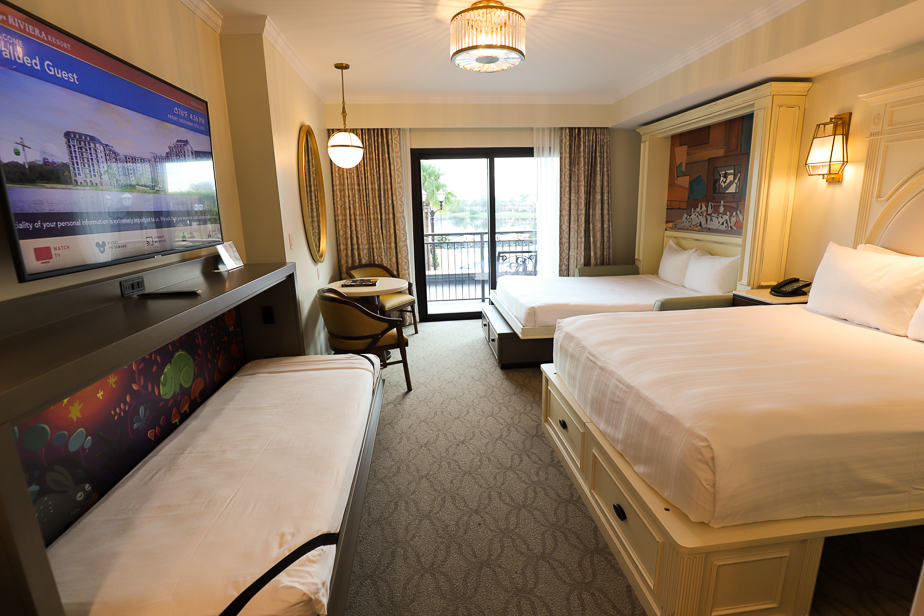 Additionally, the single trundle bed folds nicely under the television area.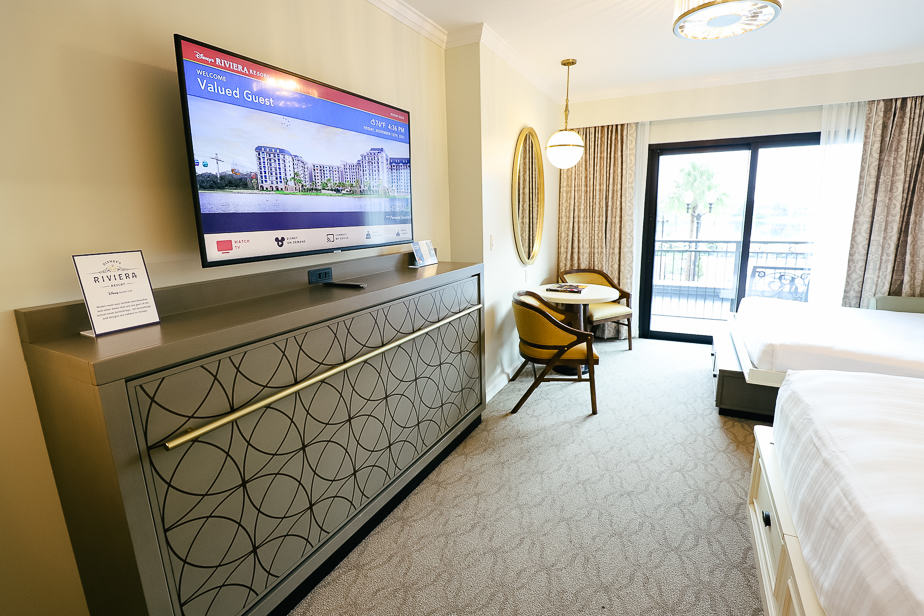 Since this room is a lock-off, it has a separate kitchenette.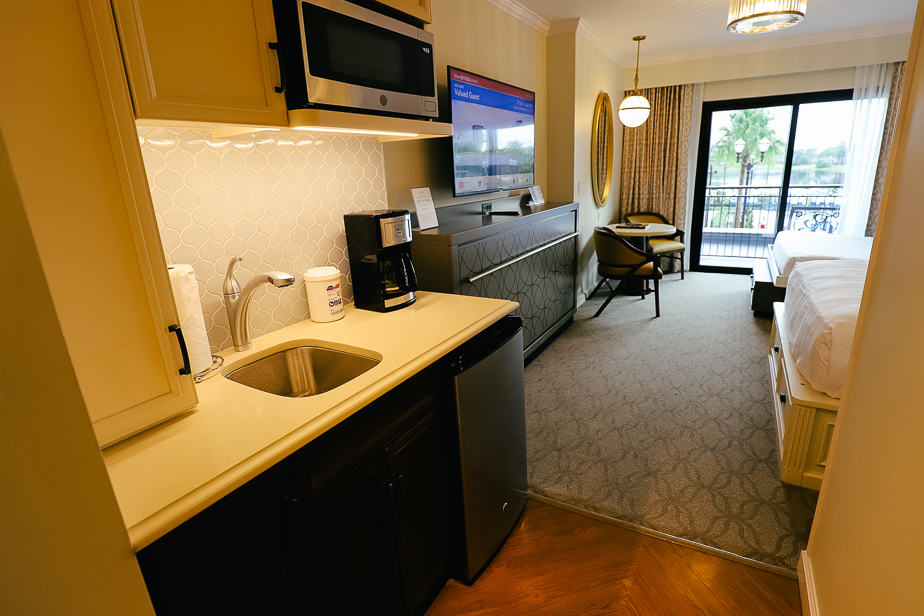 And the bath is a split bath. One side of the bath offers a tub with a shower combination along with a large vanity area.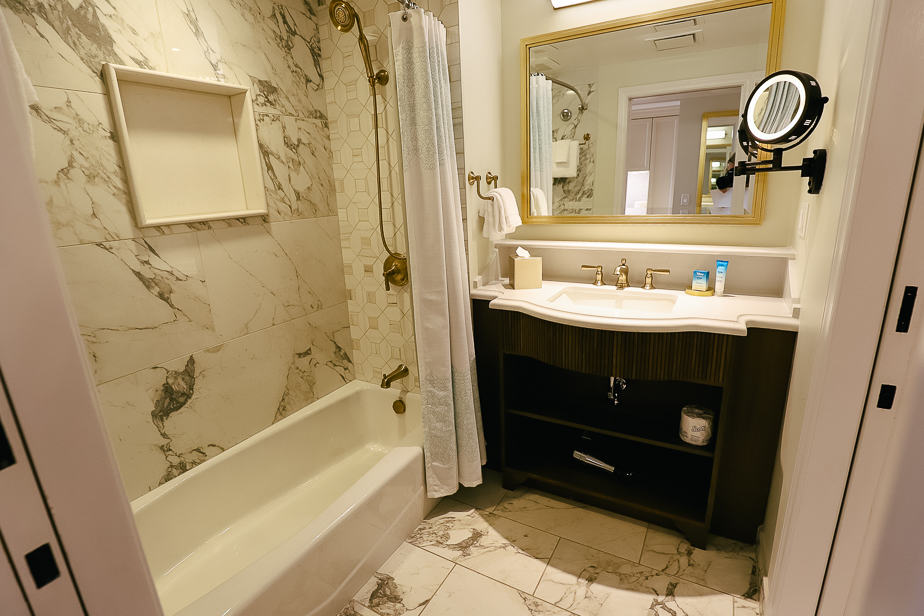 The opposite side of the bath has a large walk-in shower. All of the finishings in the Riviera Resort are luxurious. The rooms are indeed a step above other resorts.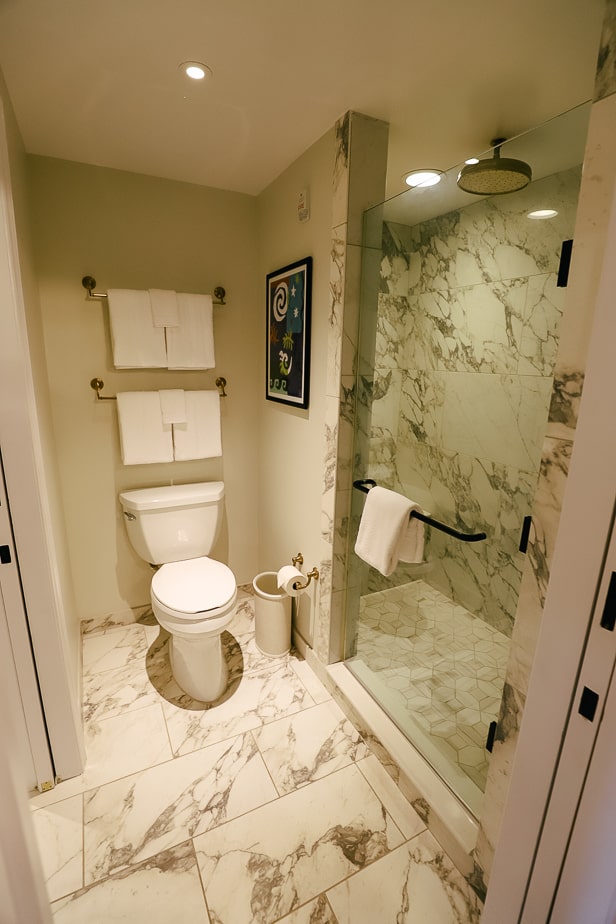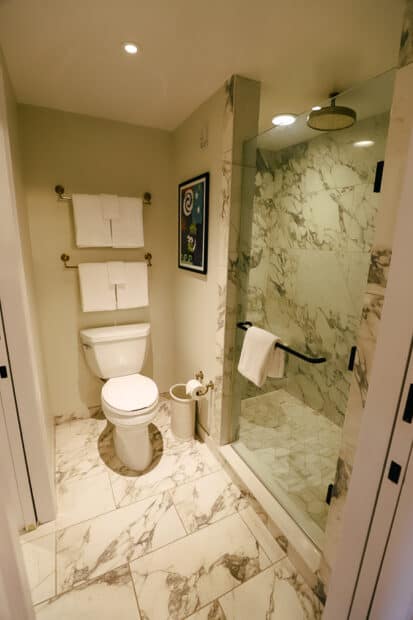 The room's foyer has a sizeable closet with extra pillows, an iron, an ironing board, a safe, and a luggage stand.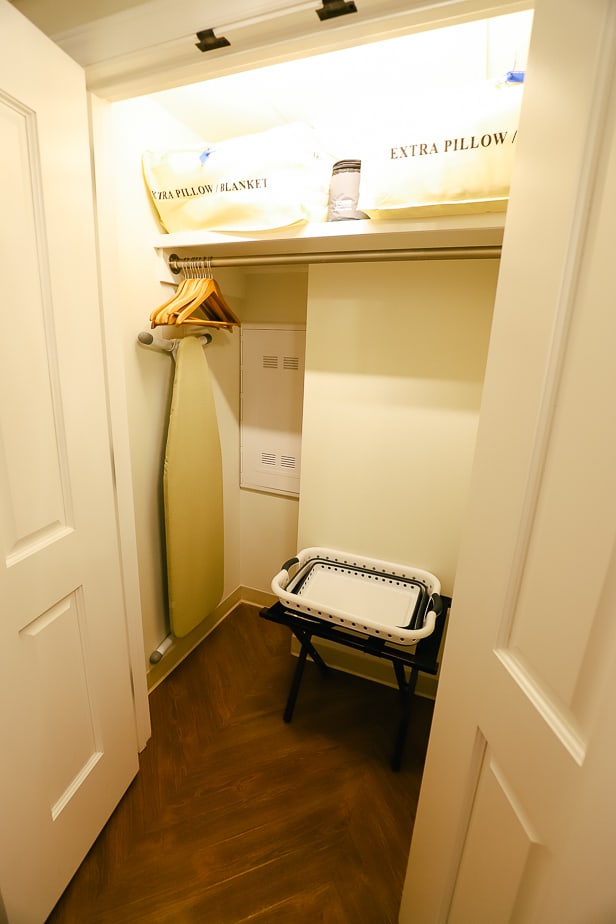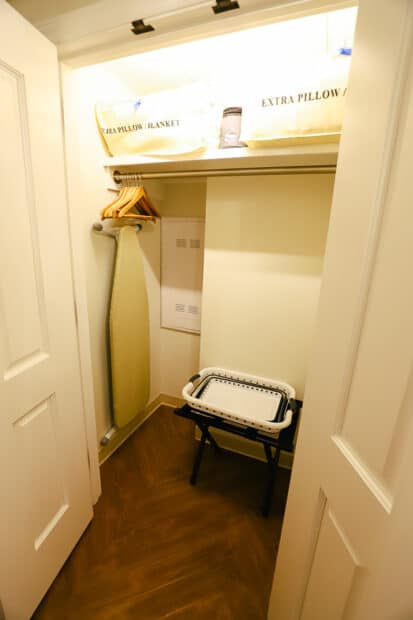 As we move back into the main living space, an additional closet houses a stackable washer and dryer. The one, two, and three-bedroom villas at the Riviera offer a washer and dryer within the room. However, if you're staying in a deluxe studio, you'll have to use the laundry room at the resort.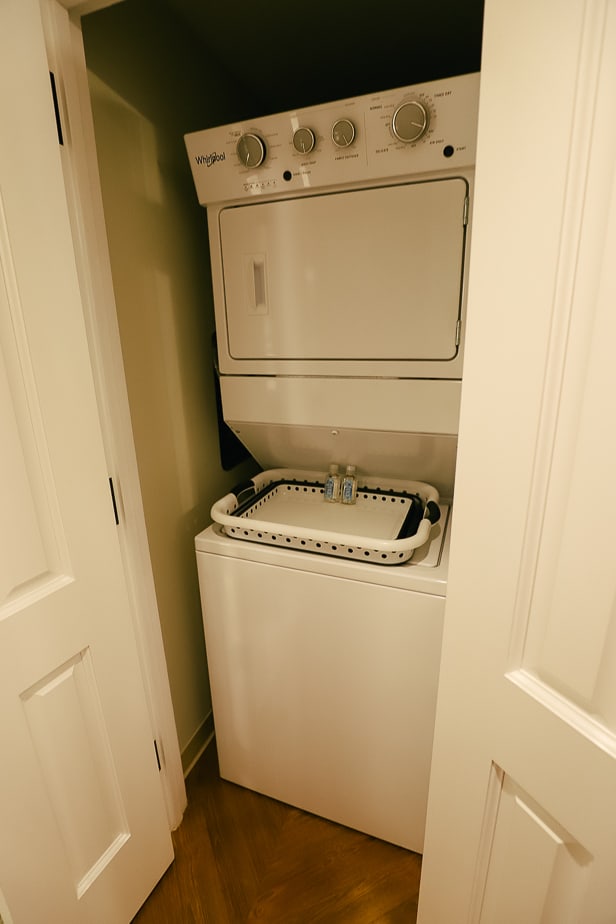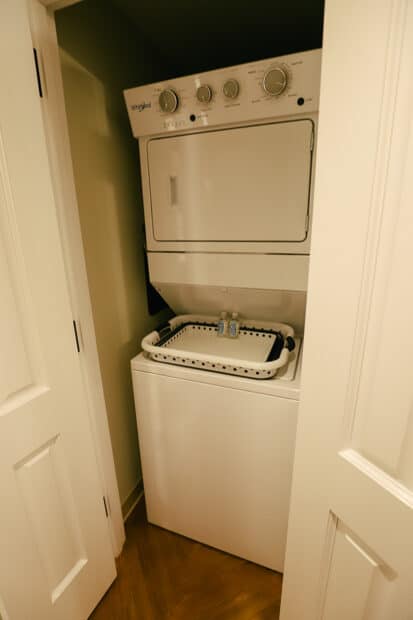 Next to the laundry area, there's an additional double-door closet with the same items we saw in the studio room.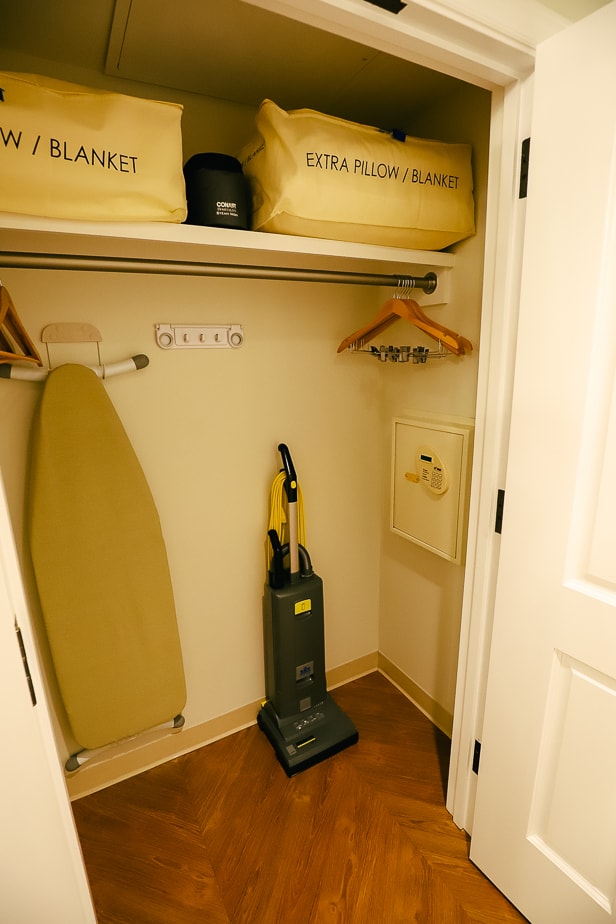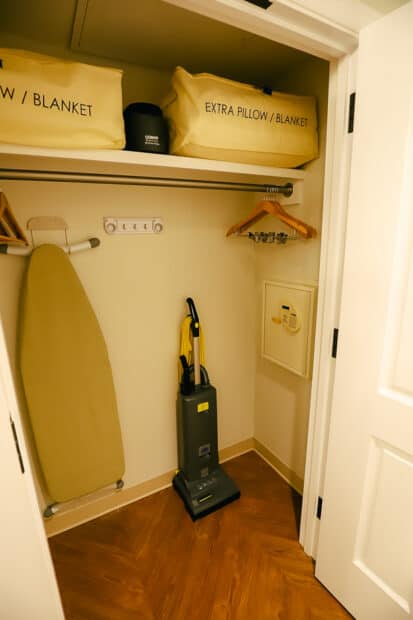 The opposite side of the two-bedroom villa is home to the master suite.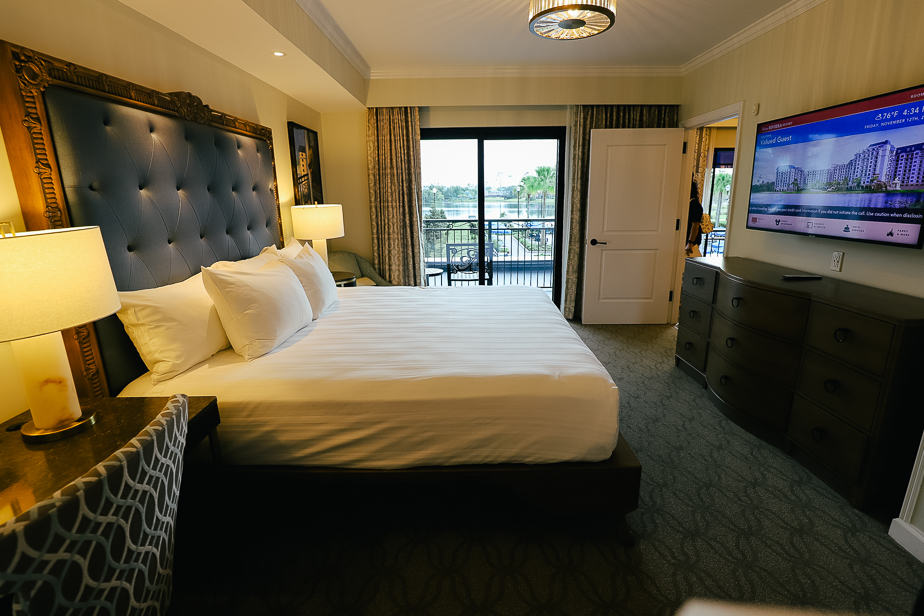 This bedroom offers a king-size bed, reading chair, and desk in the corner. Additionally, it has a balcony. All three rooms in the two-bedroom suite offer a balcony.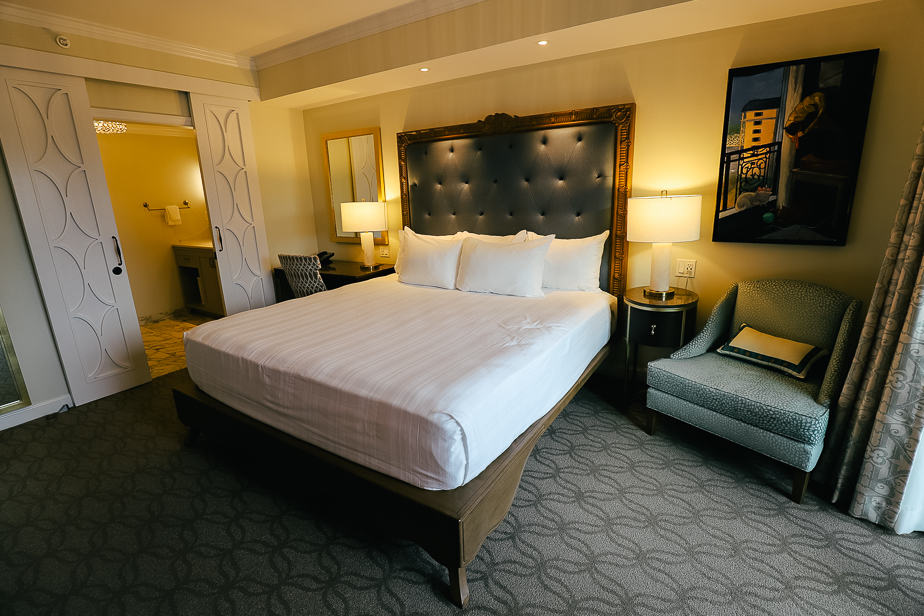 The master bath is tremendous, with an extended vanity offering plenty of counter space.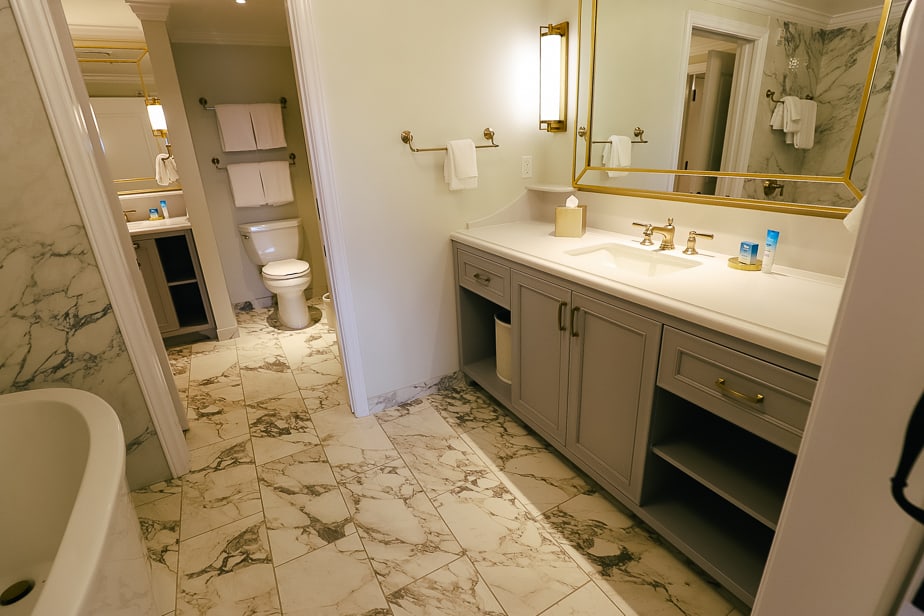 The back of the bathroom has a separate door making it easy for multiple people to get ready simultaneously. Due to each bath being split, up to four guests could have access to their own shower or bathtub at the same time.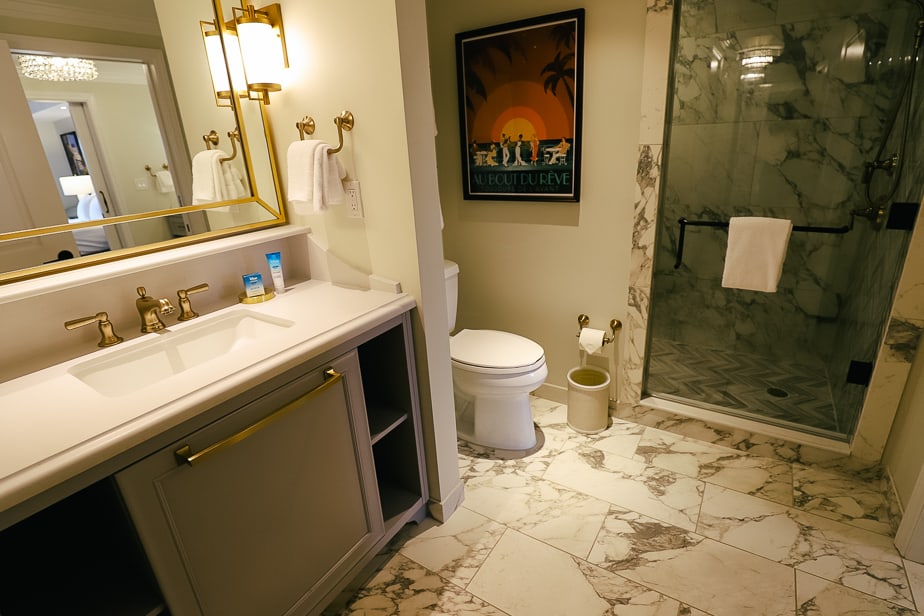 I don't know about you, but I'll take the one with the soaking tub.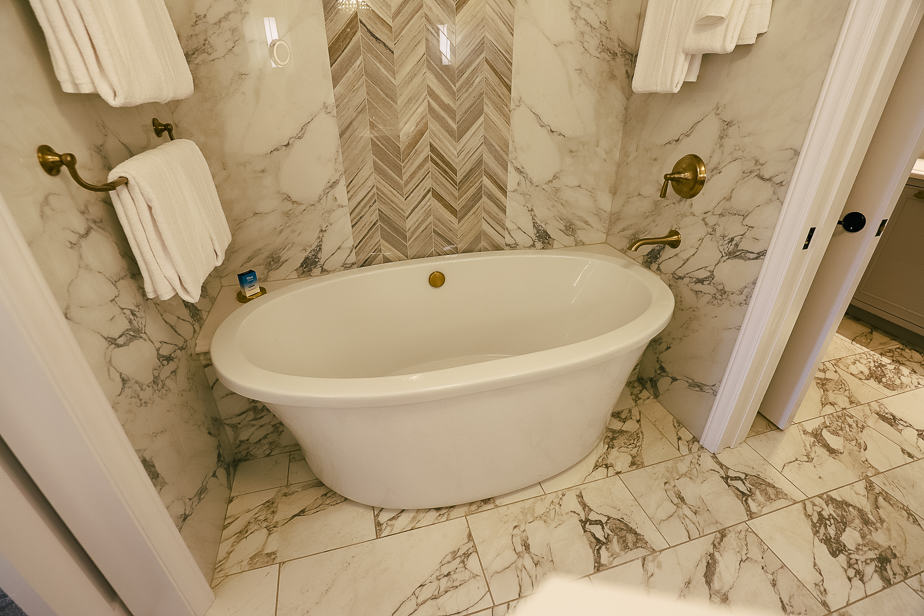 Back in the main living area, we'll take a look at some of the amenities.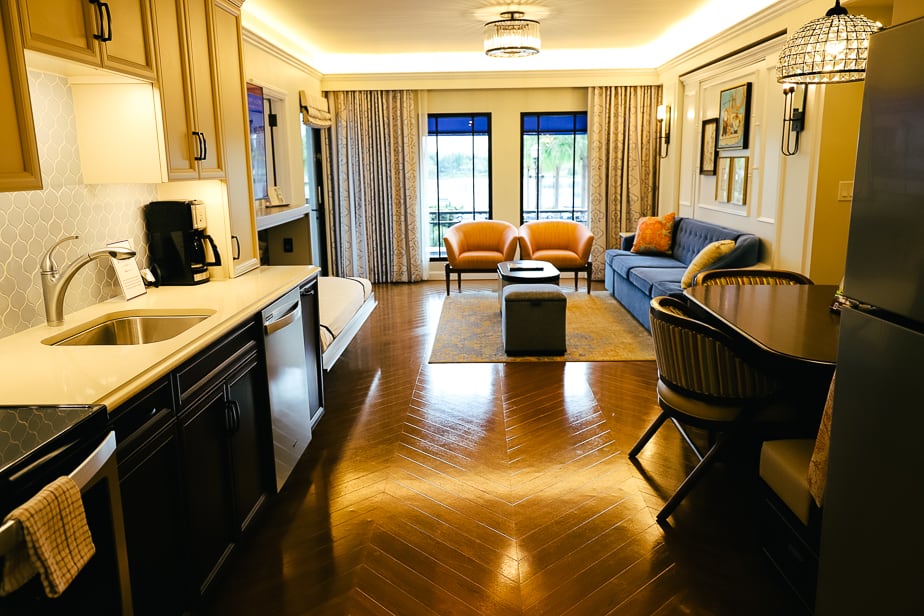 The sofa folds down and allows a queen bed to pull out from the wall. Unfortunately, since we were on a resort tour this day, I didn't take the time to pull it down.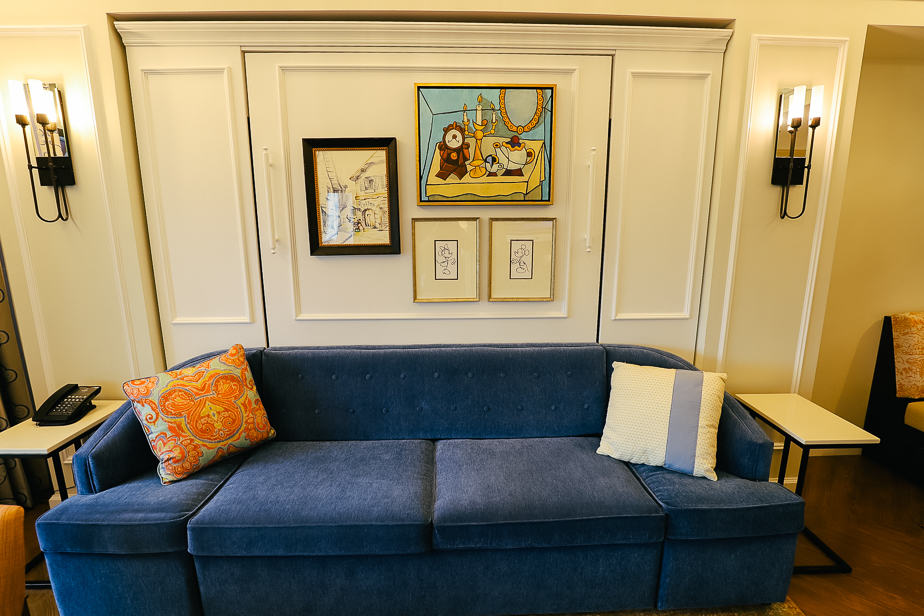 And underneath the living room television is another single pull-down bed.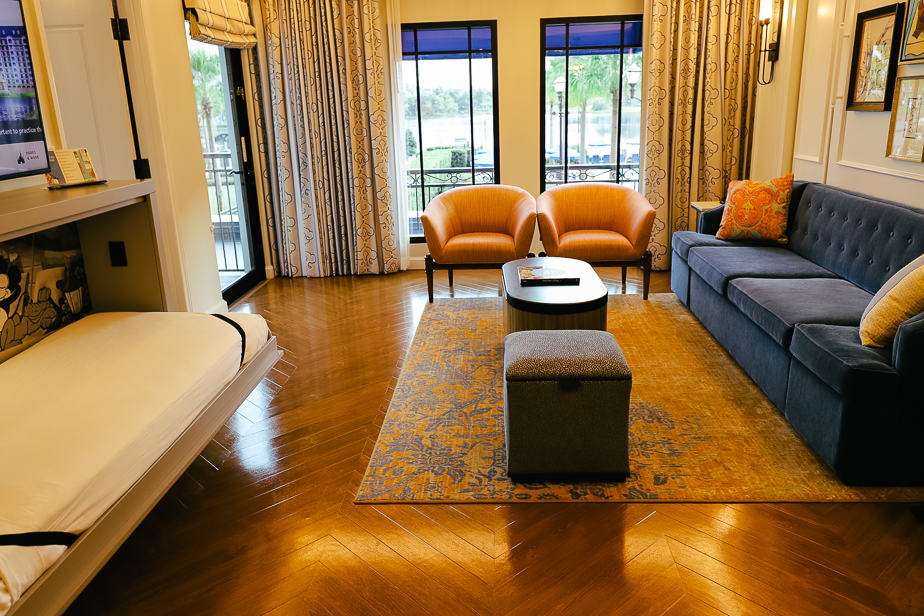 The kitchen has everything you could need to prepare meals during your stay. There's a stovetop with an oven and a built-in microwave overhead. And the kitchen has a full sink, refrigerator, and dishwasher.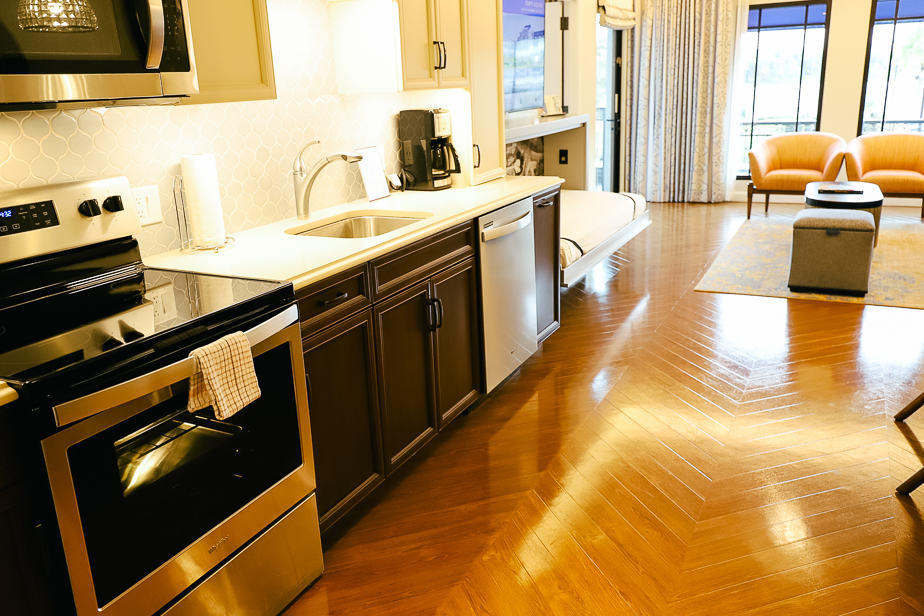 Additionally, the unit will have a few small appliances, dinnerware, silverware, and other cooking utensils. Items like paper towels, dish soap, and dishwasher detergent are provided.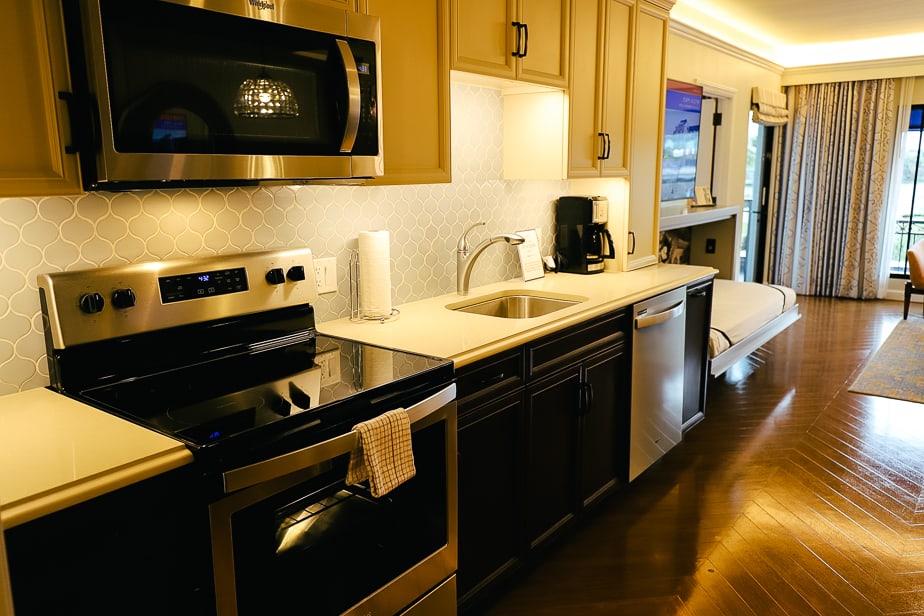 Overall, I enjoyed touring the two-bedroom villa at Disney's Riviera Resort. This unit is an excellent option for those traveling with a larger group.
I especially see a room like this working well for those traveling with grandparents who might need to spend more time in the room than the rest of the family. With these accommodations, you wouldn't feel bad about leaving them here, as you might in a standard hotel room.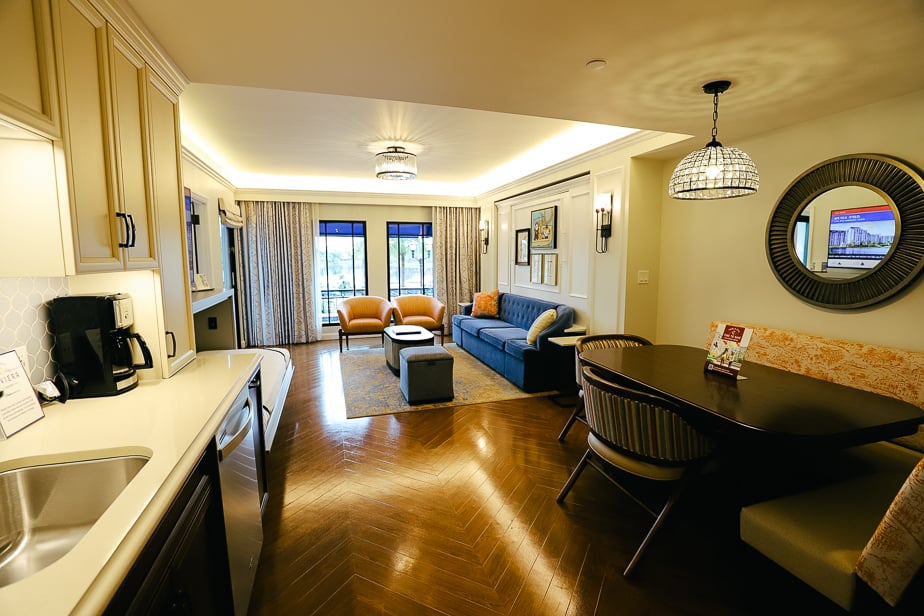 Disney's Riviera has quickly become one of my top choices for resorts at Walt Disney World. You can preview all of our articles related to the resort here. Or you might enjoy the following:
Are you considering a stay in a two-bedroom villa at Disney's Riviera Resort? What are your thoughts? Leave a comment down below.