Quick Look at Disney Springs Chicken Guy!
Chicken Guy! is a chicken finger joint located on the backside of Planet Hollywood at Disney Springs. It's also directly across from the new Wolfgang Puck's Bar and Grill. If you didn't know, the Guy! is because it's one of Guy Fieri's restaurants.
If you have watched TV in the last ten years are so, then you probably have heard of Guy Fieri. I often joke with my family about how he seems to own the Food Network, given the number of shows he hosts. But, I think he is probably most famous for Diners, Drive-Ins, and Dives which has been airing for quite a while now.
It's hard to make a choice when it comes to dining at Disney Springs these days because there are just too many choices. But if you are in the mood for chicken fingers, Chicken Guy! might be your best bet.
This review will go over the menu for Chicken Guy! and look at all the need-to-know details for dining here.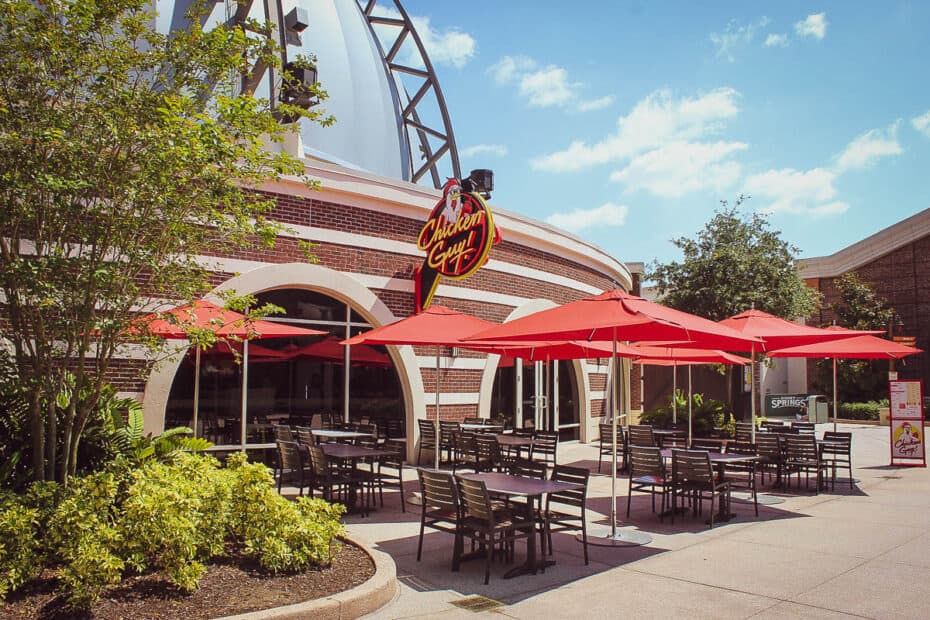 | | |
| --- | --- |
| Disney Springs Restaurant | Chicken Guy! |
| Location: | Town Center |
| Type of Service: | Quick Service |
| Type of Food: | American |
| Price Range | $14.99 and Under |
| Disney Dining Plan | Unavailable |
| Tables in Wonderland | No |
| Annual Passholder Discount: | No |
| Menu | View Here |
On a visit this summer to Disney Springs, I took a few photos of the menus outside the restaurant. Chicken Guy offers sandwiches, chicken tenders, kids' meals, and salads, among other things.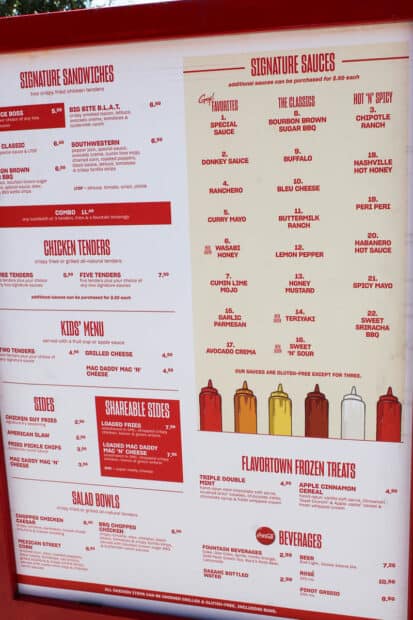 One of the things Chicken Guy! is well-known for is its sauce. They have 22 different sauces. Usually, each meal comes with a choice of two different sauces. More options are available for 50 cents each.
The menu offers a few shareable sides like loaded fries and loaded mac and cheese. You'll also see a few "Flavortown" frozen treats under the desserts section.
So if you visit Disney Springs, need a quick meal, and are into chicken fingers, make sure to check this stop out.
But if you can't make up your mind, check out the best Disney Springs restaurant reviews here. Some of our favorites include:
Or you can browse the entire list of Disney World Restaurant Reviews.
Need to learn how to get to, from, or around Disney Springs? The complete Disney Springs transportation guide has a lot of tips.
Oh, and if you get a chance to visit Chicken Guy! come back and let me know your take.