A Trip to D-Luxe Burger at Disney Springs
D-Luxe Burger is a counter service dining location at Disney Springs. The restaurant offers a variety of burgers, fries, onion rings, and even chicken fingers.
D-Luxe Burger is one of our go-to dining locations when visiting Disney Springs. It's also the perfect spot to pick up a meal if you are in a hurry.
The restaurant is located a little off the beaten path, but it's relatively close to Chef Art Smith's Homecomin' and next door to Blaze Pizza. Since D-Luxe burger sits in the middle of the Springs area, it makes for a scenic place to dine outdoors during pleasant weather.
For more information on how to get around Disney Springs make sure to check out our guide.
Related: Disney Springs Transportation Guide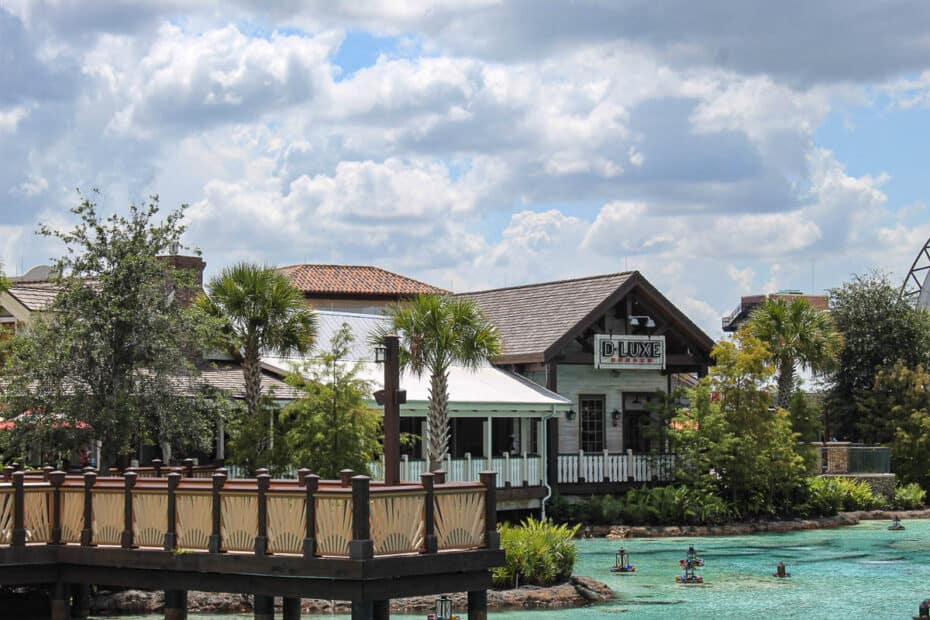 Here are the need-to-know details for stopping in at D-Luxe Burger.
Disney Springs Restaurant
D-Luxe Burger

Location:


Town Center

Type of Service:


Quick Service

Serves:


Breakfast
Lunch
Dinner

Type of Food:


American

Price Range


$14.99 and Under

Disney Dining Plan


Currently Unavailable


Tables in Wonderland


No

Annual Passholder Discount


No

Menu


View Here
D-Luxe Burger
Typically, I order a cheeseburger with onion rings when I visit this restaurant. I love to mobile order something from D-Luxe Burger on my way to Disney Springs.
When I get off the bus, I'll select "I'm here, prepare my order" in the app. By the time I get to the restaurant, my order is usually ready.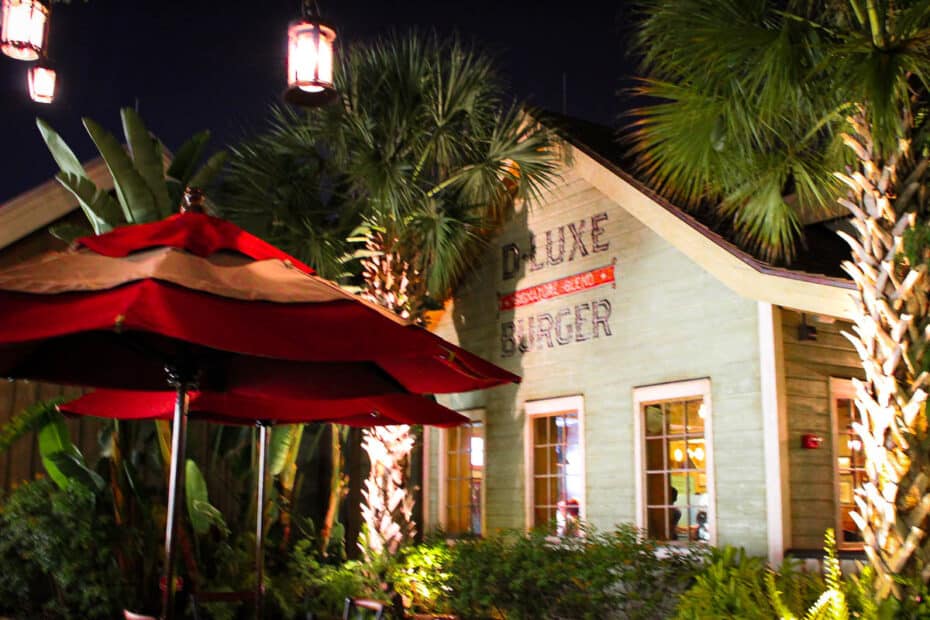 For instance, I ordered a burger and onion rings one afternoon before heading over to Typhoon Lagoon. It was a day when I was heading over to the water park and thought it would be fun to do something different.
Don't get me wrong, the food at Typhoon Lagoon is pretty good, but sometimes you are just in the mood for a specialty burger. Well, for me, a burger and onion rings, probably.
Here are a few of the choices:
Southern Burger
Barbecued Burger
Buffalo Chicken Sandwich
El Diablo Burger
Bacon Cheeseburger
Classic Cheeseburger
Additionally, D-Luxe Burger has a planted-based burger;
Plant-based Pacific Island Burger
If you are a party of two, I recommend checking out the D-Luxe Burger duo menu items. You'll get two burgers, one order of fries, and two sodas. The duo is more than enough for two people.
As for me, my favorite burger at D-Luxe is the El Diablo, which comes with a blend of beef and Chorizo sausage. I've enjoyed this classic several times.
And I've got my eye on the plant-based burger for my next visit. While I haven't tried it yet, I've heard good things.
If you aren't in the mood for a burger, after all, make sure to check out the list of best Disney Springs restaurants. Or you might enjoy some of these other reviews:
Or you might like to browse our complete list of Disney Restaurant Reviews. Some of our dining guides include:
In the comments: Okay, so if you have been to D-Luxe Burger, I want to know, have you tried one of their specialty burgers? If so, which one?