The Polite Pig at Disney Springs Review
The Polite Pig at Disney Springs is a quick-service dining location that doesn't require reservations. You'll find the restaurant has a menu that offers a new-fashioned twist on barbecue flavors and distinctive sides not traditionally paired with the former.
This Polite Pig review will take a closer look at the restaurant as a whole. We'll review several of the popular market sides, entrees and preview Polite Pig's Bourbon Bar.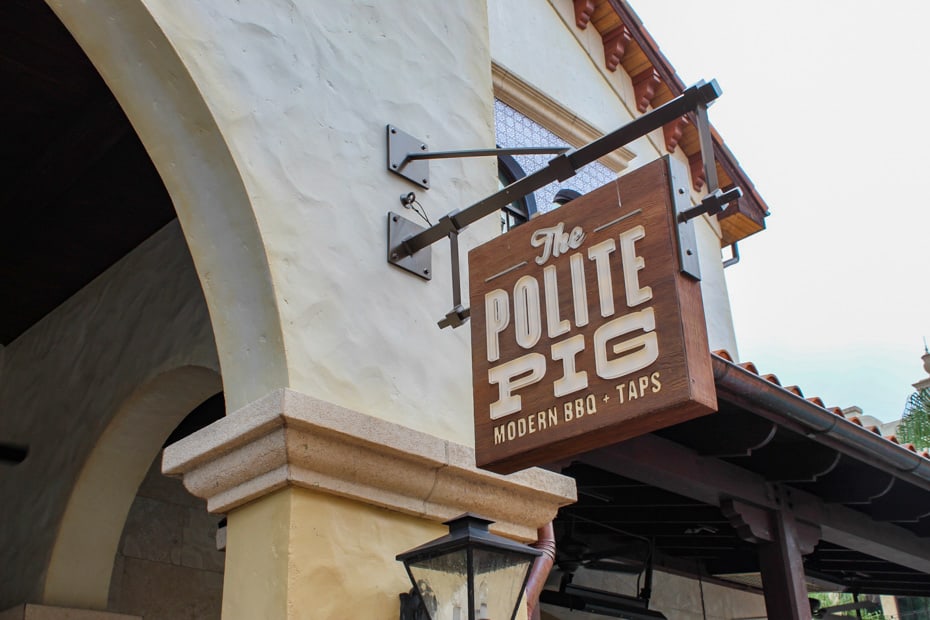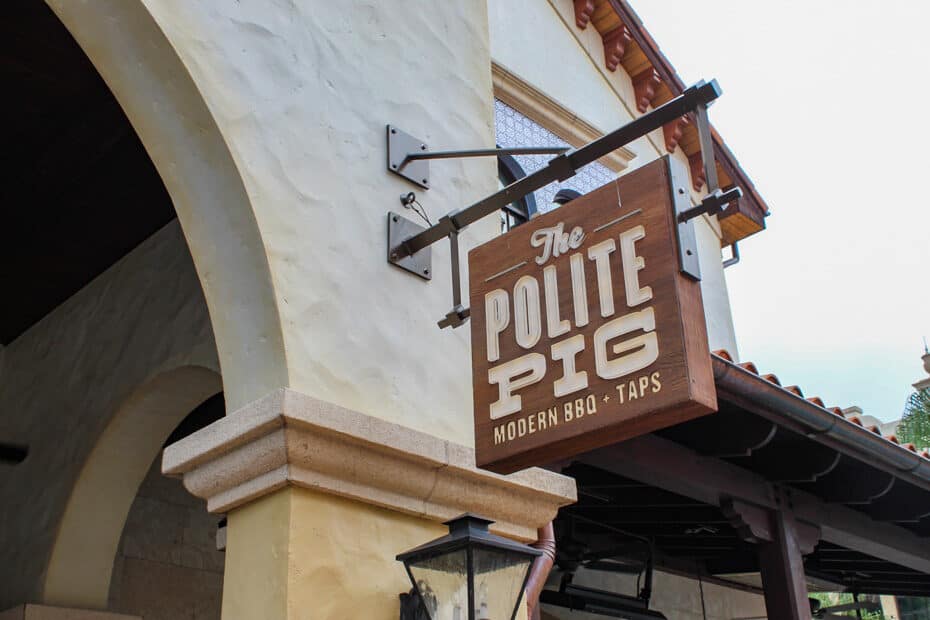 One of the great things about this Disney Springs restaurant is its location. In fact, it's probably one of the easiest restaurants to get to if you are driving over to the venue.
You can park in the Lime garage and take the escalator straight down. The Polite Pig is the first restaurant you'll run into on the right. If you aren't familiar, make sure to check out my transportation guide with tips on getting to Disney Springs.
When I begin working on these Disney dining reviews, I take several factors into account. Namely, location, ambiance, and the menu are starting points.
Then I take a good, hard look at the food offerings, quality, and value. And finally, when reviewing a restaurant, I consider how likely or how often we would be willing to revisit the restaurant.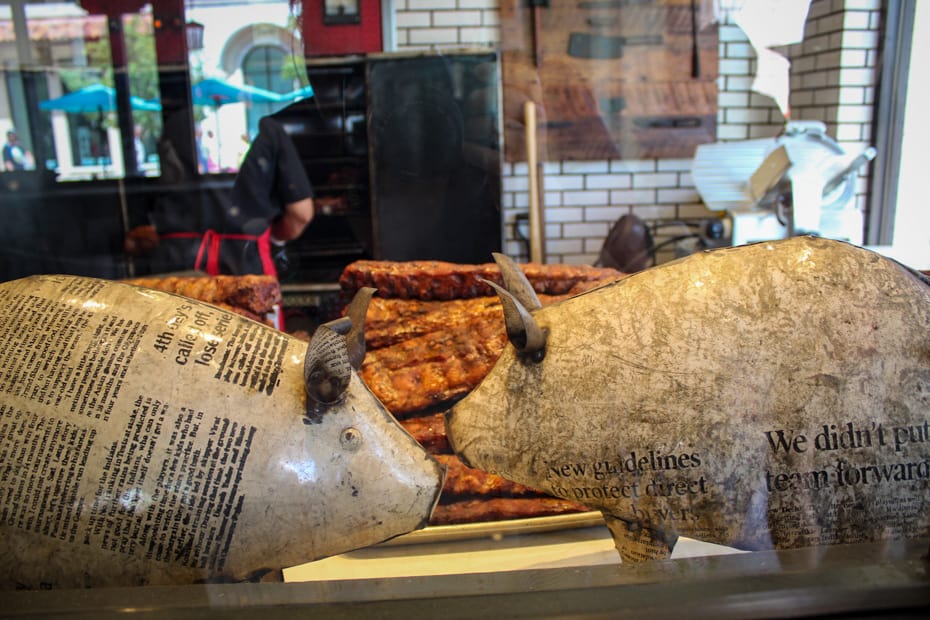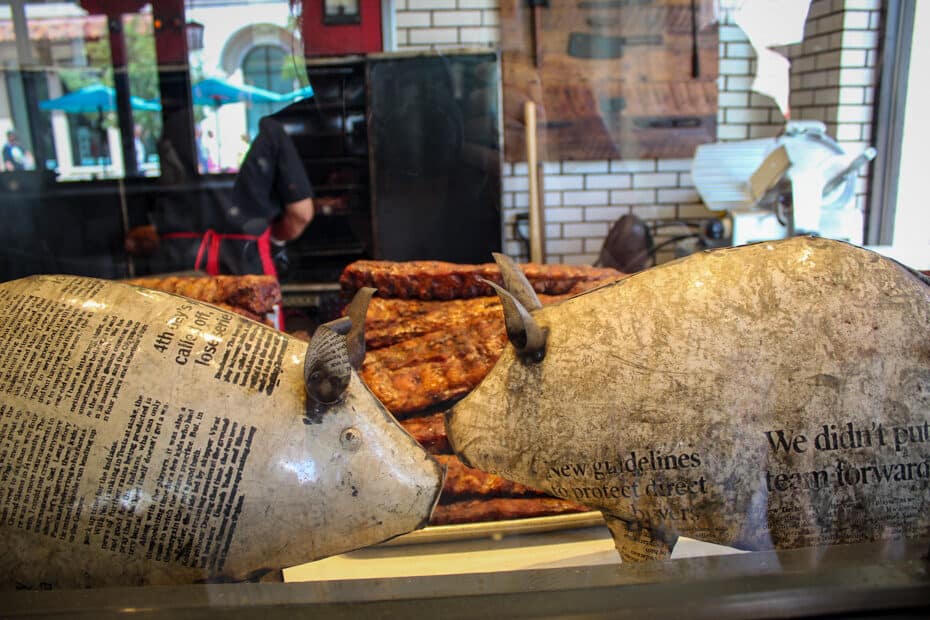 As far as the Polite Pig goes, it has an extremely intriguing menu. However, when it comes to overall food taste, I have found inconsistency. With that being said, there is something about the restaurant that keeps me wanting more.
Typically, when I really like a place, I tend to give it high remarks. The Polite Pig is something I have struggled with a bit, though. I find myself wanting to rate it high, but a few nagging factors keep me from it. Let me explain.
Polite Pig Review
The Polite Pig at Disney Springs offers indoor and outdoor dining areas. Anywhere that provides the opportunity to dine al fresco gets a big plus from me.
Additionally, the outdoor dining area is covered, another plus. The interior is fairly standard and something you might expect from any casual restaurant.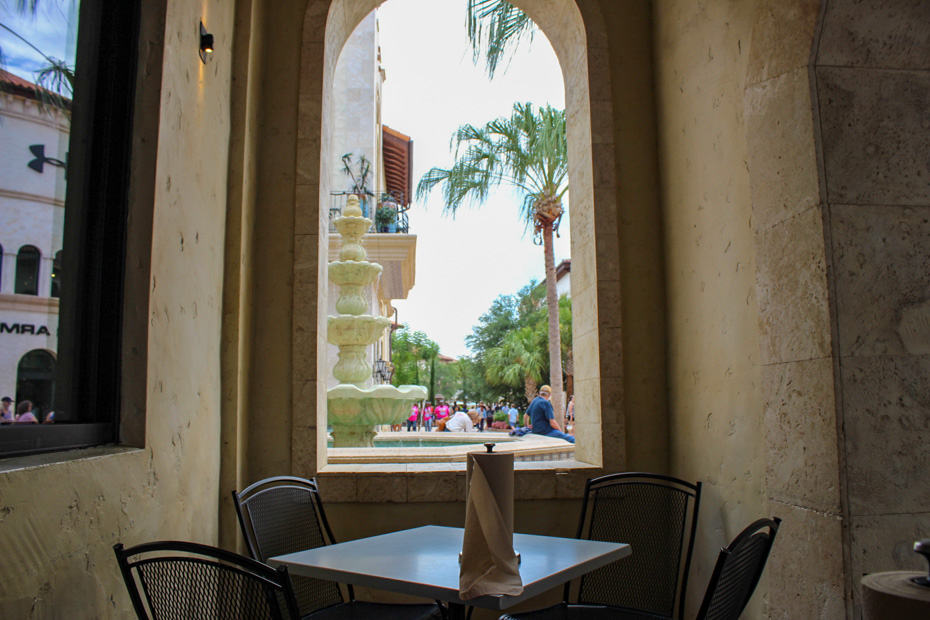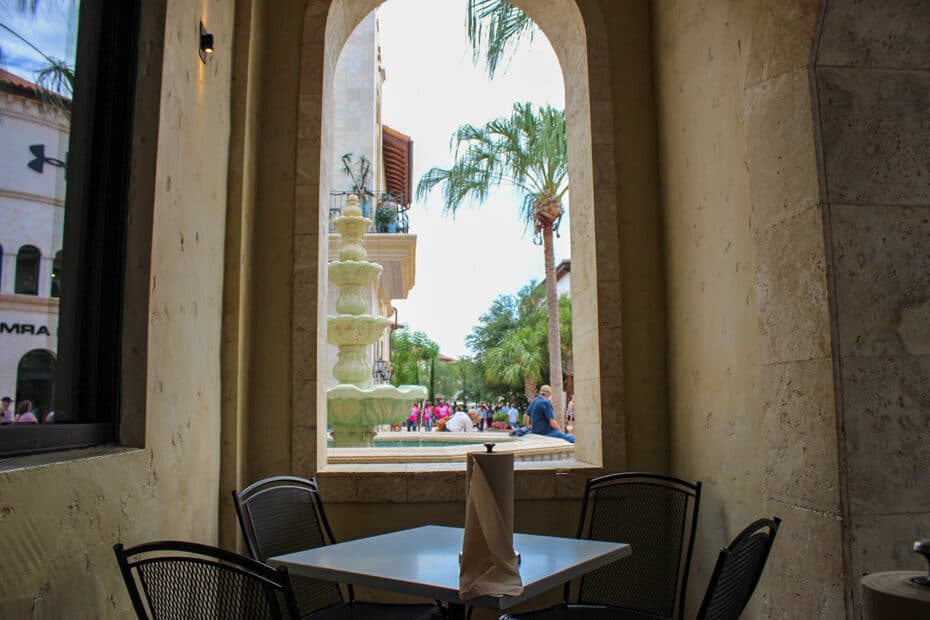 The Polite Pig is a fast, casual restaurant, so you will order at the register when you enter. The person taking your order will give you a location device to put at your table. Then bring the food out when it's prepared.
While you won't actually have an actual server, there are usually attendants on duty. They will bring you a silverware set and refill your drink if you desire. In addition, the drink machines are self-service, so you can elect to refill your own. The server will discard your items once you are finished.
Overall, I feel that this extra service does come in handy. However, there doesn't really seem to be a defined area on how these employees get paid and/or how you should tip them. I'm not so much an in-the-middle type person, so these kinds of things confuse me.
As I mentioned above, I really enjoy perusing The Polite Pig's menu. If I'm in one of those moods where I need to get a meal while I'm at Disney Springs, I'll often stop and look at the posted menu.
Then I usually go back and forth, taking dining at Morimoto Asia (review here) or Frontera Cocina (review) into consideration.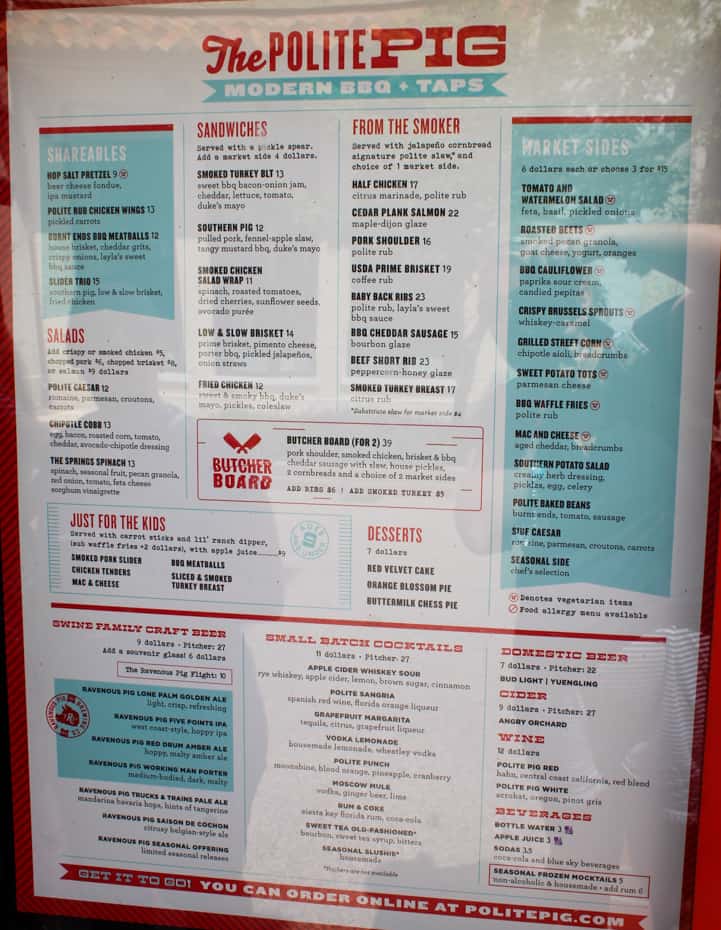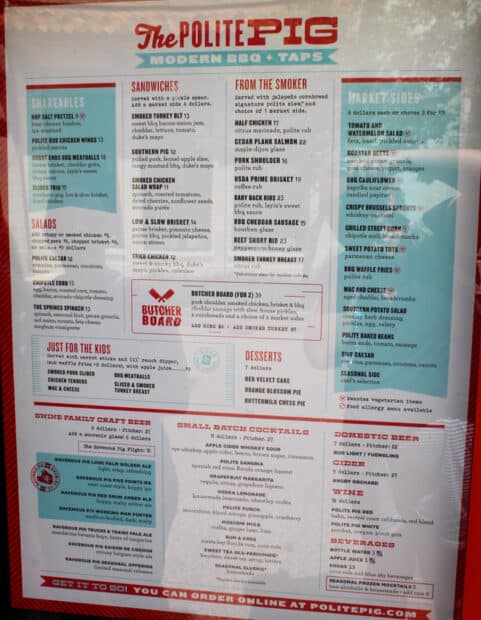 The Polite Pig always sounds so good. There are all these market sides that I want to try. With that being said, I have mixed feelings about the market sides.
Polite Pig's market sides are kind of expensive, but to be fair, they are also huge. I'm the kind of person that likes to order more things in smaller portions.
I don't want to pay $6 for one side when I want to try two or three of them. And I don't want to pay $15 for three sides when I also want to try a different style of meat.
These are not major life problems by any means. But they are nit-picky issues I find while eating at The Polite Pig. These pictures aren't the easiest to read, so feel free to take a look at the online menu here.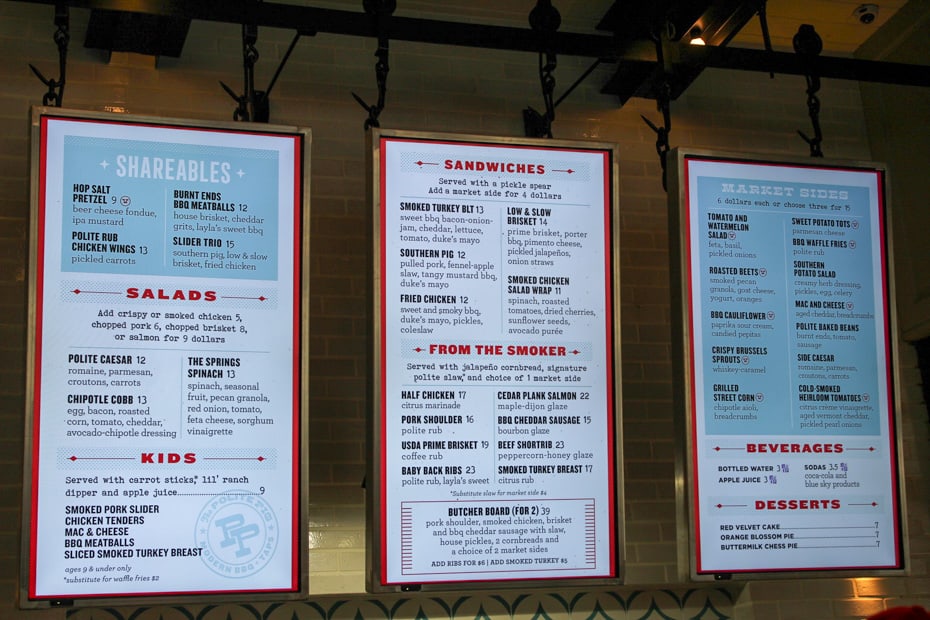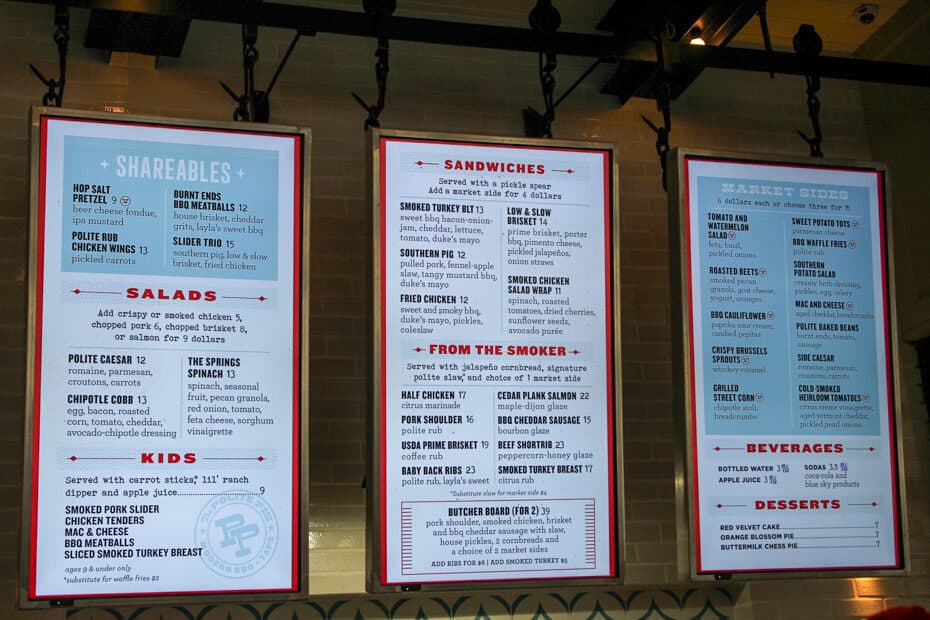 The Polite Pig does offer the opportunity to upgrade the signature polite slaw for a market side for $4, and that's typically what I end up doing. I don't care for slaw, so this works out for me in that aspect. But when I take this direction, I feel like I end up getting way too much food.
So when I order something like the cedar plank salmon (I do really like it) for $22 and then add a market side for $4 and then pay for a drink at $3.50, that's over $30! And I'm still not sure how much tip I should leave or add to the ticket at the register.
Plus, I'm not happy at that point that I went fast, causal, because of the overall cost of the meal. So I start playing that "I could have gone here or there for that price" game.
The market side selections at The Polite Pig impress me more than anything else on the menu. They have, on average, about twelve different things to choose from, and the majority of them are items that interest me. For instance, these crispy Brussels sprouts.
The menu describes them as "whiskey-caramel" flavoring. I love Brussels sprouts so for me these were a must-try item. They are good, but the whiskey caramel flavor is really strong.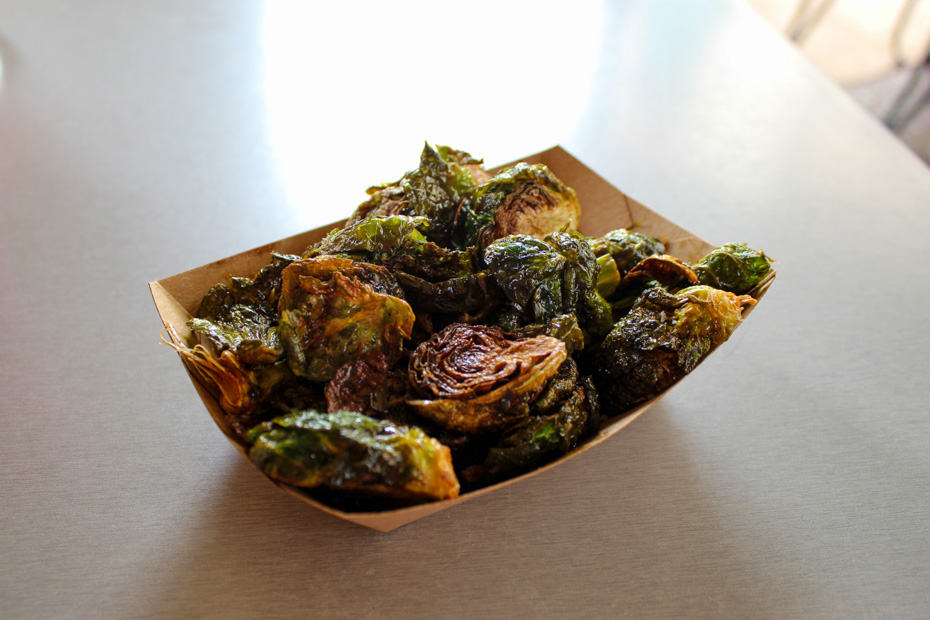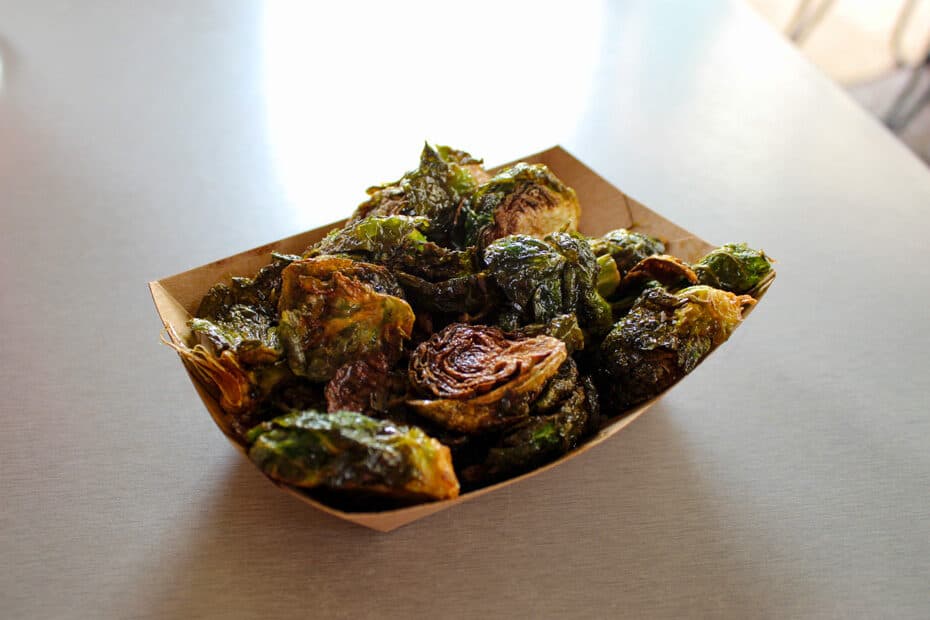 Because I received such a large portion, I was completely over the taste by the time I was finished. Ever hear that saying too much of a good thing? This is how I feel about the large portions at Polite Pig.
Next up, we have the BBQ Cauliflower, another fun play on vegetables. This one is described as paprika, sour cream, and candied pepitas. Again, I like them, but they are almost a bit over the top. It's a huge portion and pairing this with another market side plus the meat is just too much.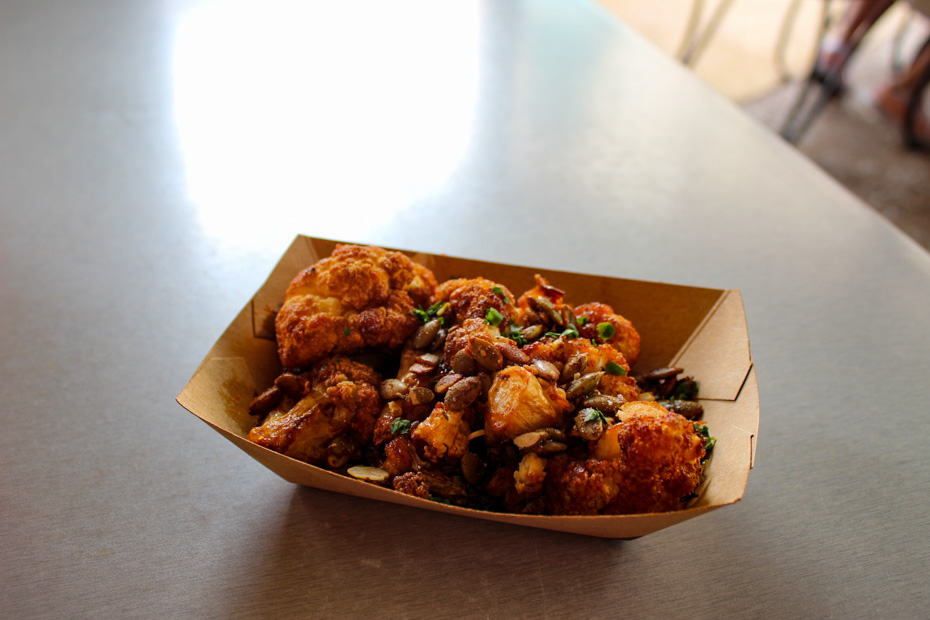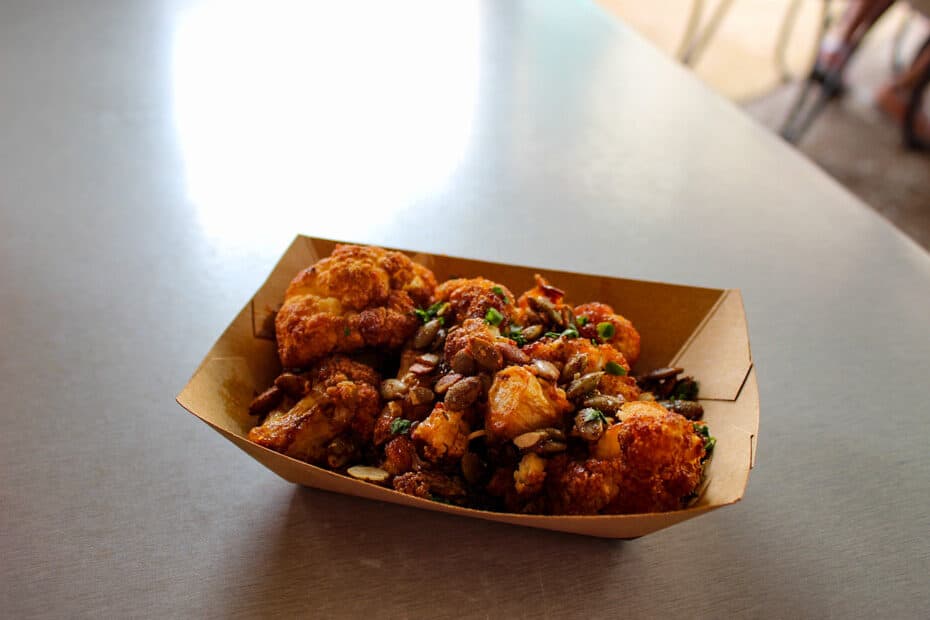 Another thing I want to mention here is that just because you are ordering vegetables doesn't mean they are healthy. So don't think you are doing yourself a favor by ordering these types of items and telling yourself you are making a good decision health-wise.
Now, I do really like roasted beets with goat cheese. It's something I have personally made in my own kitchen. The Polite Pig's menu describes this one "smoked pecans, granola, goat cheese, yogurt, oranges." The oranges on my dish were Mandarin style.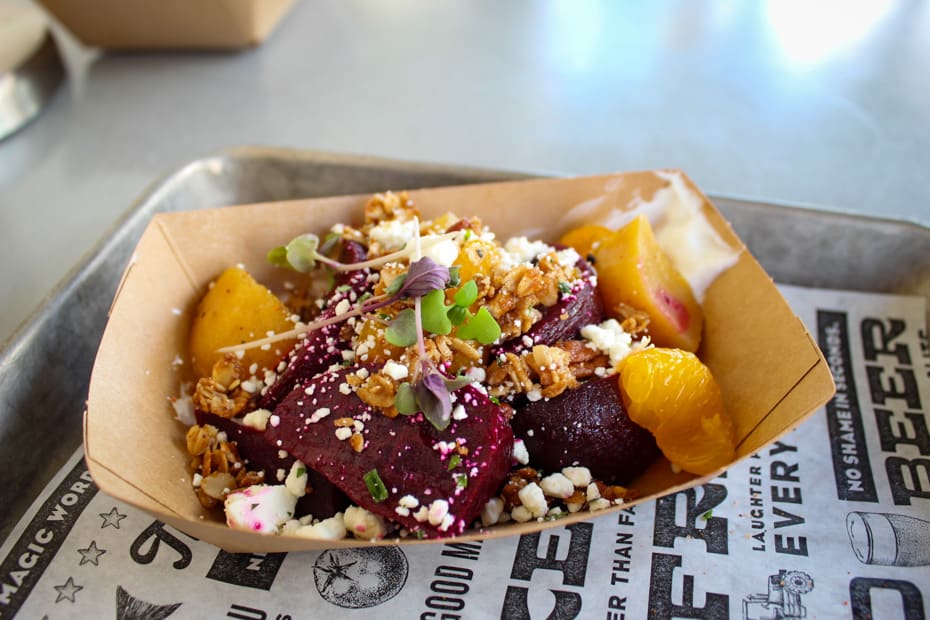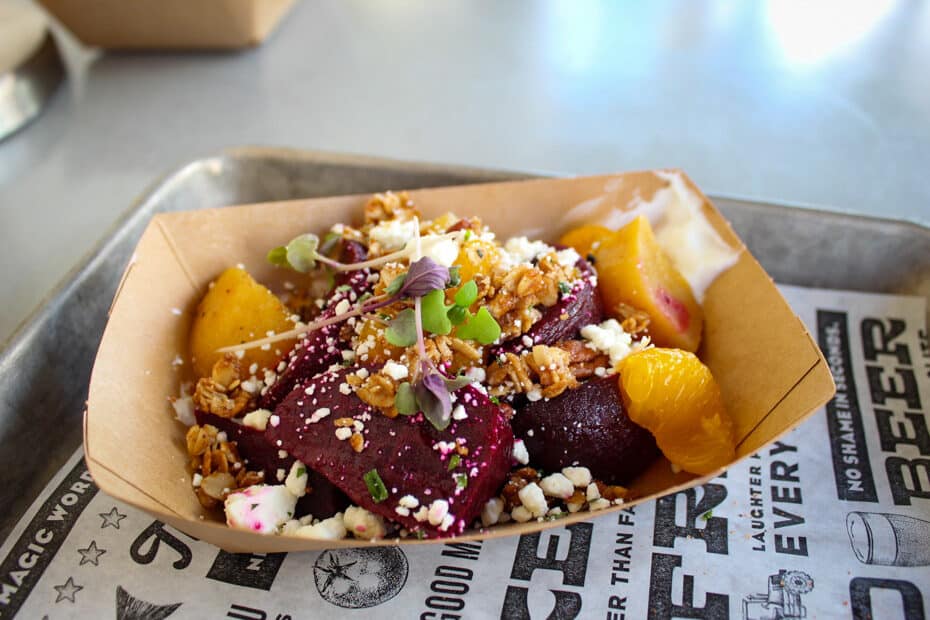 If you haven't ever partaken in roasted beets, I must warn you they are extremely earthy tasting. I felt this was probably the most healthy menu item, but it really lacked on the goat cheese compared to the number of beets. The goat cheese is what really tones down that earthy flavor and helps the palate.
You have vegetables, and then you have fried vegetables. So my last market side review will be the fries. I have a weak spot for waffle fries, and these are good.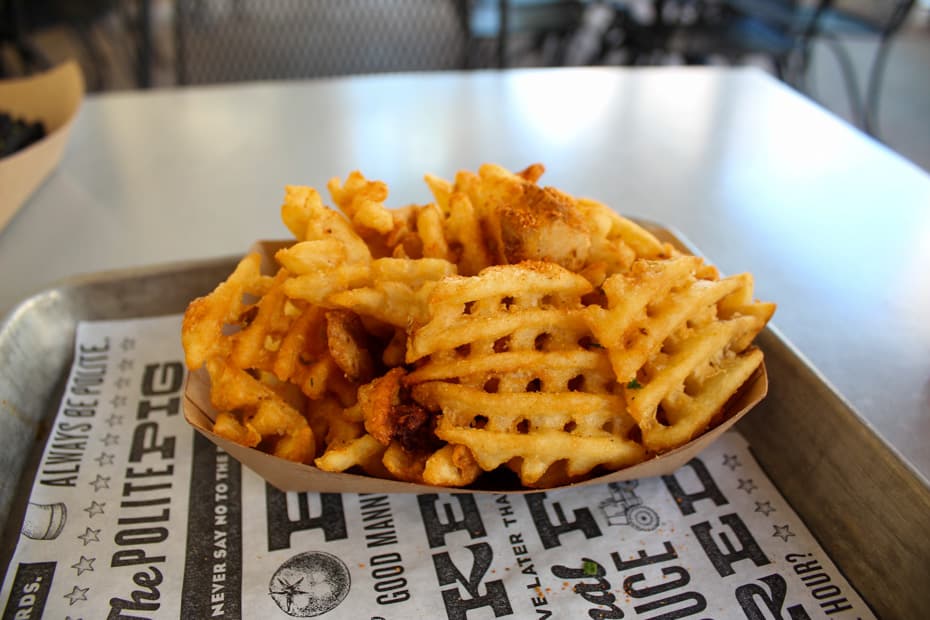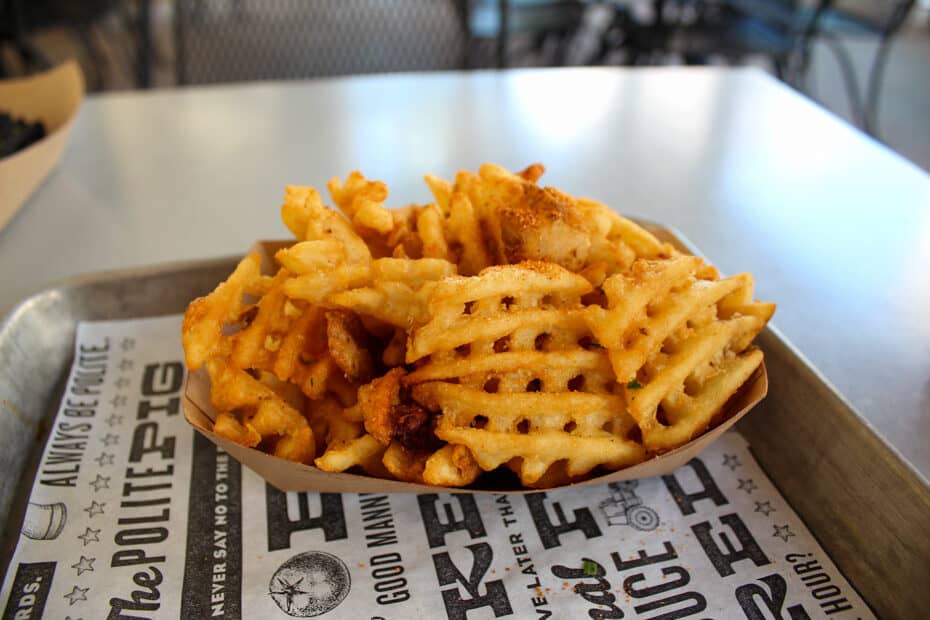 But they are waffle fries. I don't want to pay $6 for these, no matter how large the portion. As far as special preparation, they were sprinkled with polite rub per the menu.
I can go to another fast, casual-type restaurant and get a sizable order of waffle fries, a drink, and a sandwich for just a little more than the $6 price tag of this one item. That combo may not be at Disney Springs, but I feel like this type of side at this price punishes a picky eater.
You can't tell me that the food cost of fries versus roasted beets with goat cheese is comparable. Menu items pricing should be based on food cost and not which category it falls under.
When looking for a main meal at The Polite Pig, you have options for ordering a salad, sandwich, or from the smoker selection. There is a good variety to choose from on the menu, so it's not always an easy decision.
I do feel, though, that the menu size is reasonable enough to do things right. And from my experience, the cedar plank salmon is done right.
Below we have the cedar plank salmon. This meal scenario would come in at $22 currently plus the cost of a drink if you subtract one of those sides and add back slaw.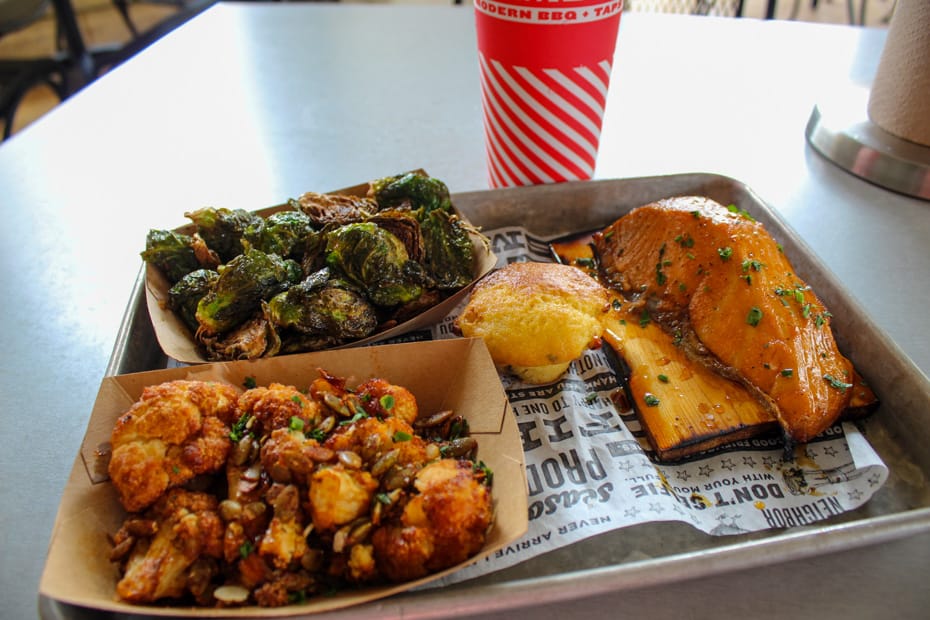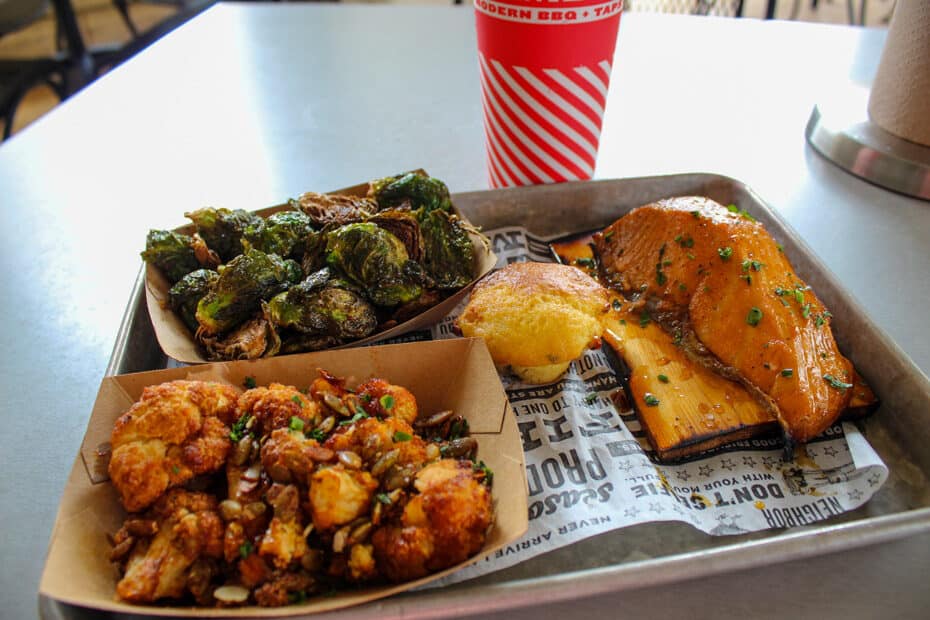 The entree items listed in the from the smoker section also come with a jalapeno cornbread muffin. I really enjoy the muffin. This salmon has a wonderful smoky flavor and light maple dijon glaze. The flavor is just right on this one.
In the picture below, you can see the size of the filet and how it's nicely presented. But I think if you look at the entire portion of the meal above, you can tell it's just way too much food.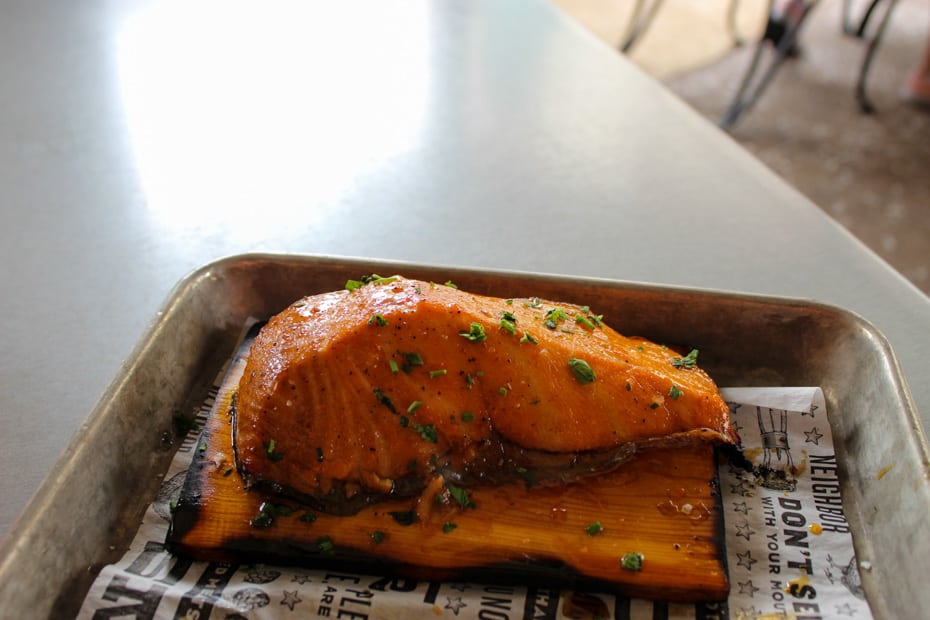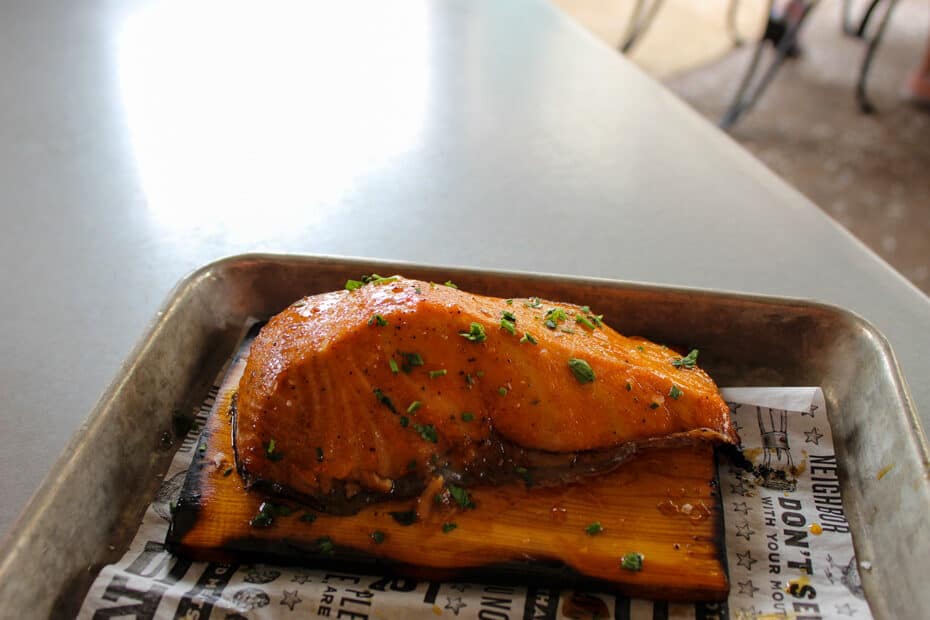 The serving size might be worth the price, but not worth the way you feel after trying to finish such a large meal. On the other hand, I could easily split this with someone and come away happy and full.
The salmon is my favorite meal of all the things I've tried at The Polite Pig.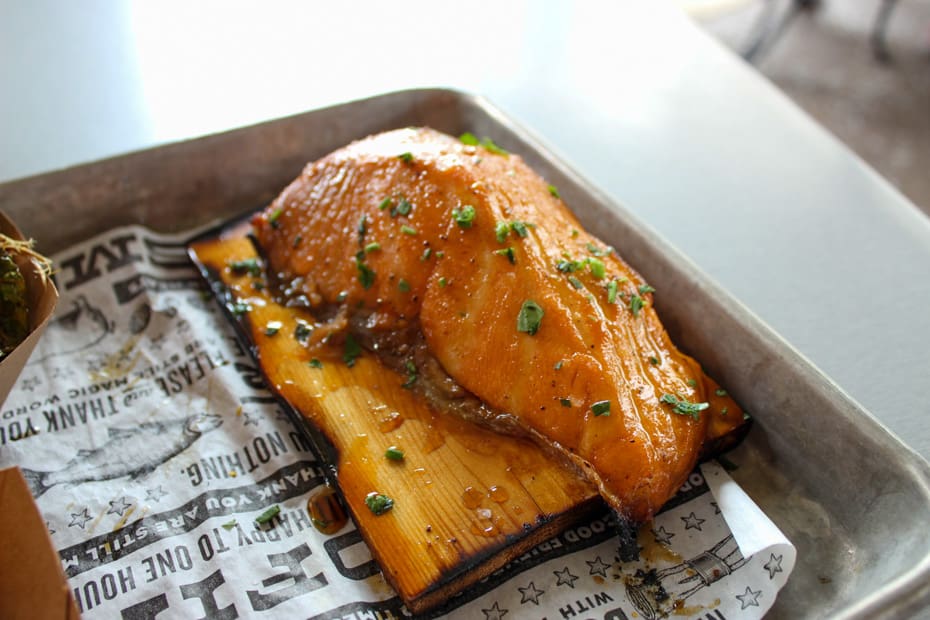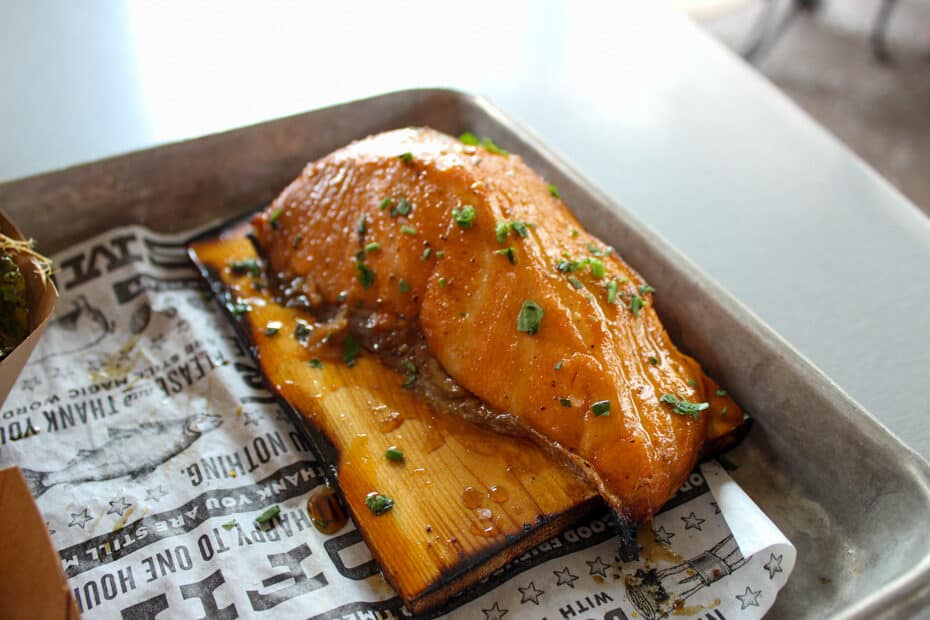 Another recent meal brings us back to the Polite Pig at Disney Springs to try the USDA Prime Brisket. This is another large portion coming in at a $19 price tag on the regular menu. Again I did the upgrade thing to try more, so this meal pictured actually comes in at $23.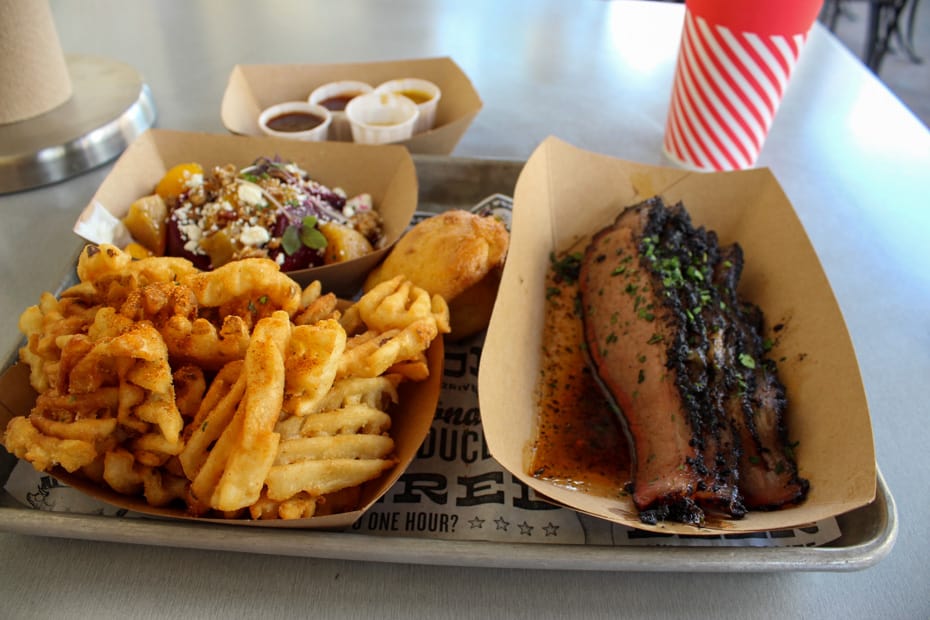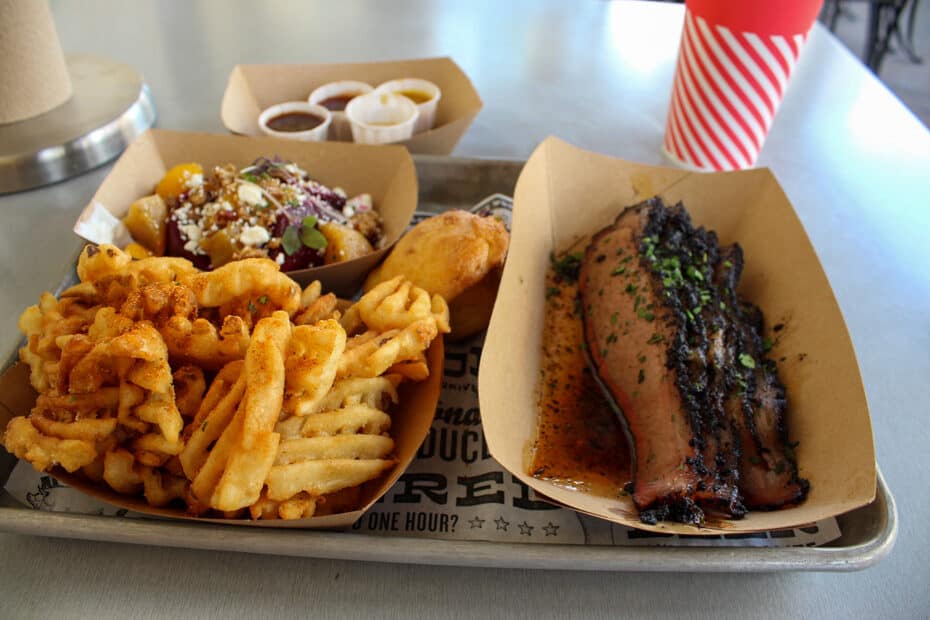 The brisket has a really strong vinegar flavor. I do like it but would probably try something else in the future over reordering this selection. Maybe it's the fact that I'm from Alabama and was raised on southern barbecue. My family eats it at least once a week. I'm not kidding.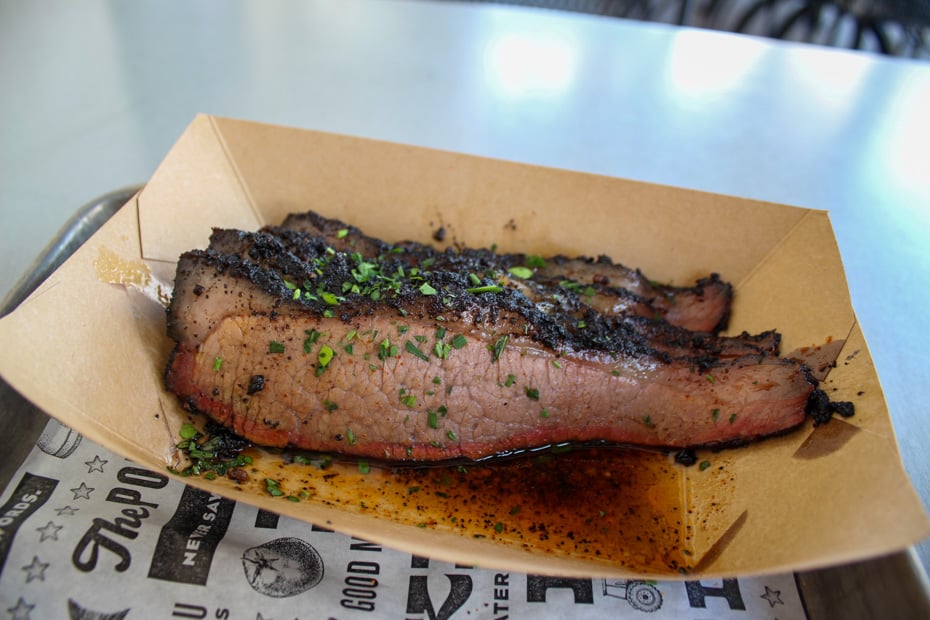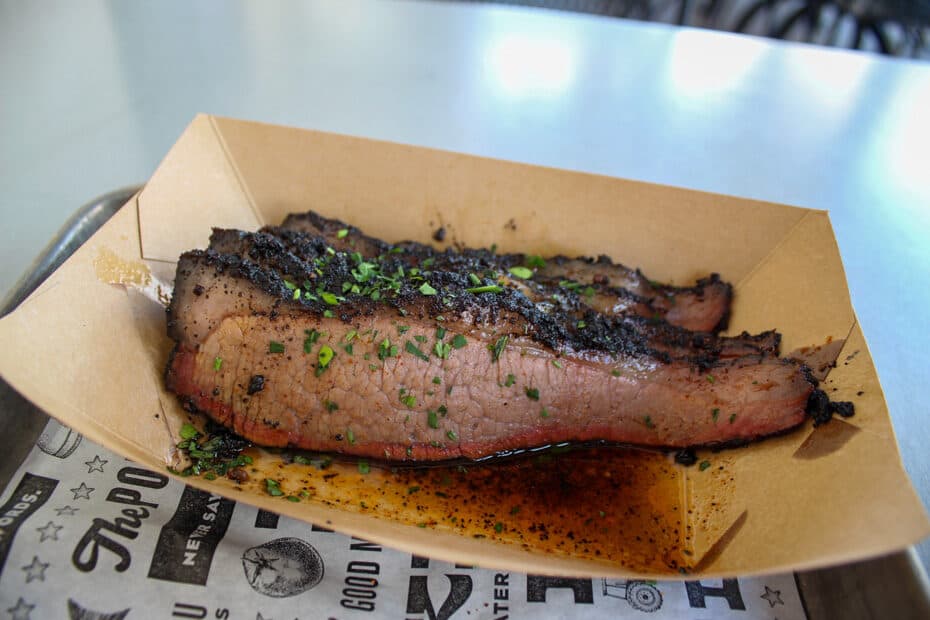 But I do come from a place where you prepare the meat to let it speak for itself. This is not that kind of preparation. This is more where you let the meat take on the flavor of the marinade. And that's okay, just expect a lot of flavors.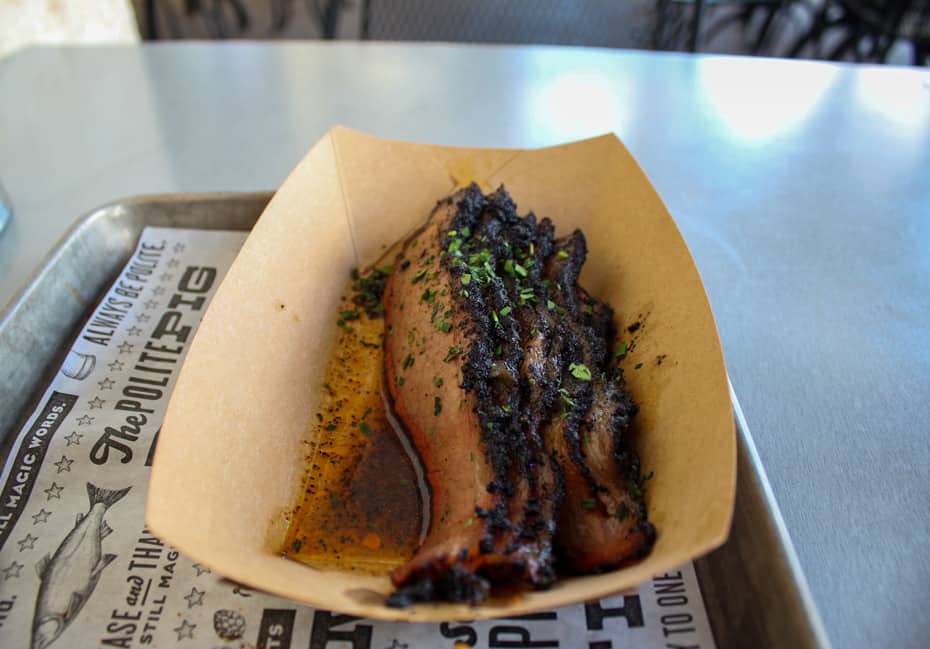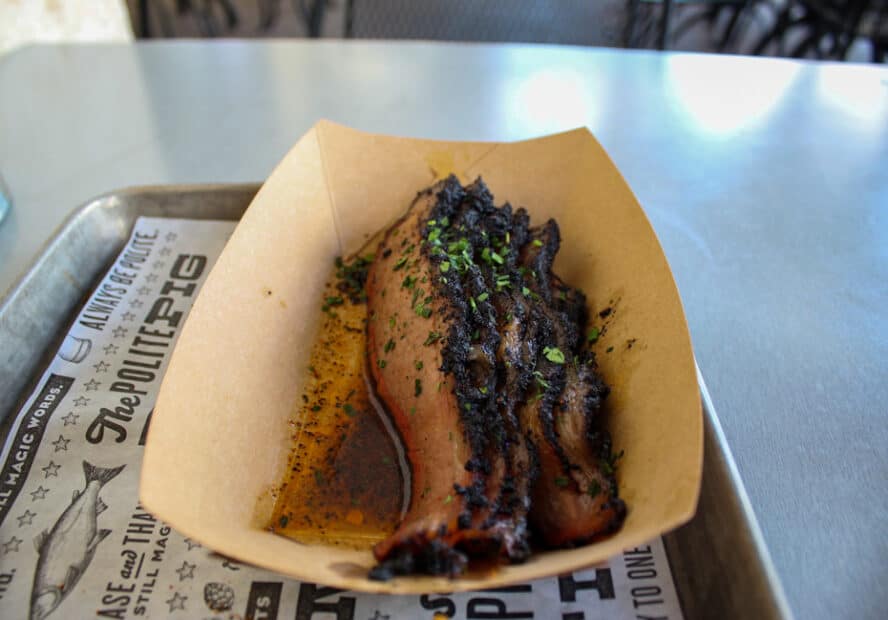 One of the things I really enjoy about the Polite Pig is the sauce selection. They have four different kinds from different regions of the country.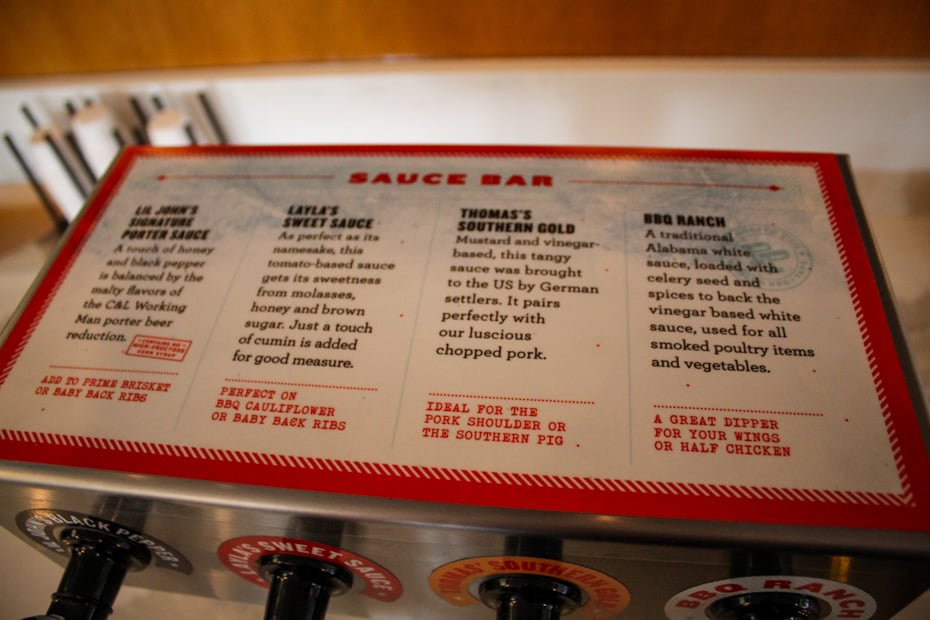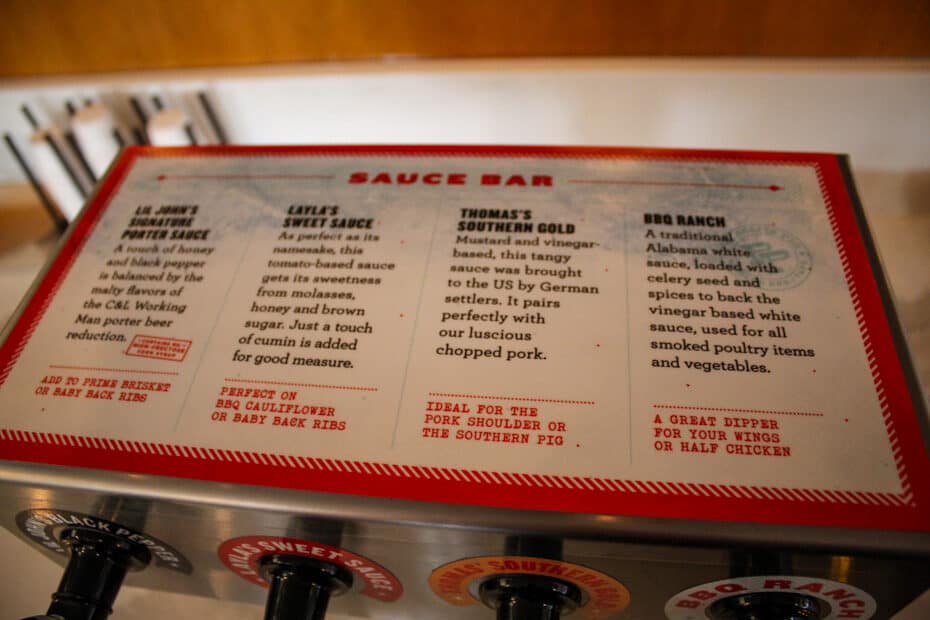 They even have BBQ Ranch. This actually originated in Alabama and what we southerners call white sauce. Everything about this sauce is right, and it pairs best with chicken. The Polite Pig has done a nice job with this sauce, and the taste is true to the origination.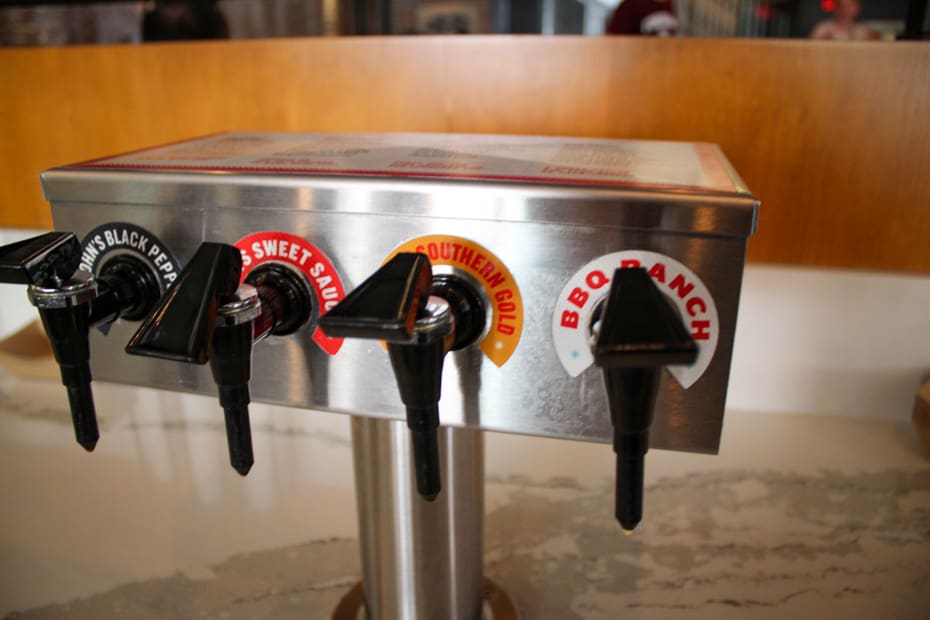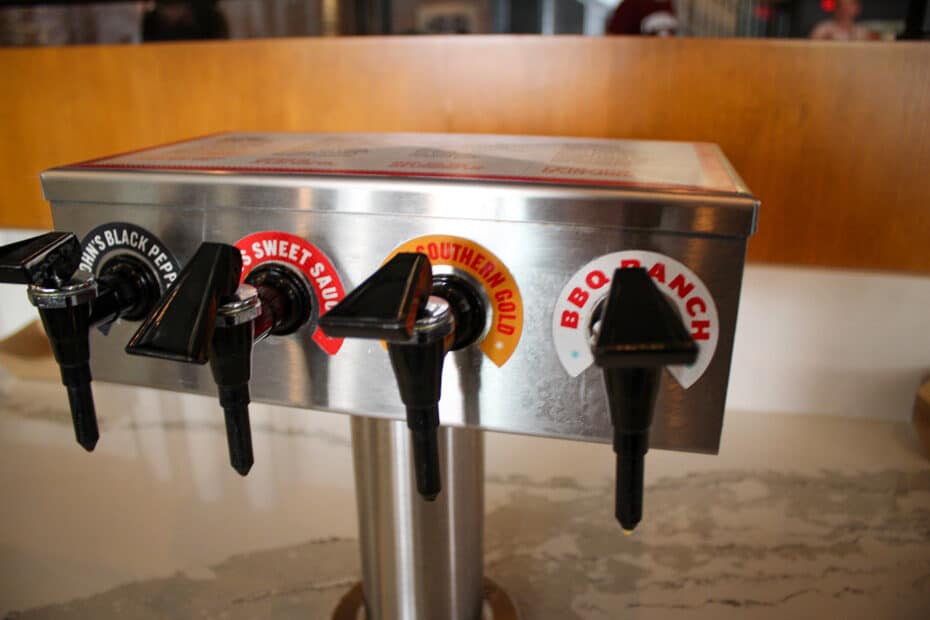 The Thomas's Southern Gold is the yellow sauce that I like the least of the four. It's a little more twangy than I care for in this style, but that's probably a personal preference.
Layla's Sweet Sauce is my favorite of the true barbecue flavors, and I enjoy the Lil Johns Porter Sauce as well. It's nice to have a few different options to complement the main event.
Seeing as how I'm not familiar with Bourbon or bars in general, I won't comment on the Bourbon Bar at Polite Pig. But if it's your thing, it's there.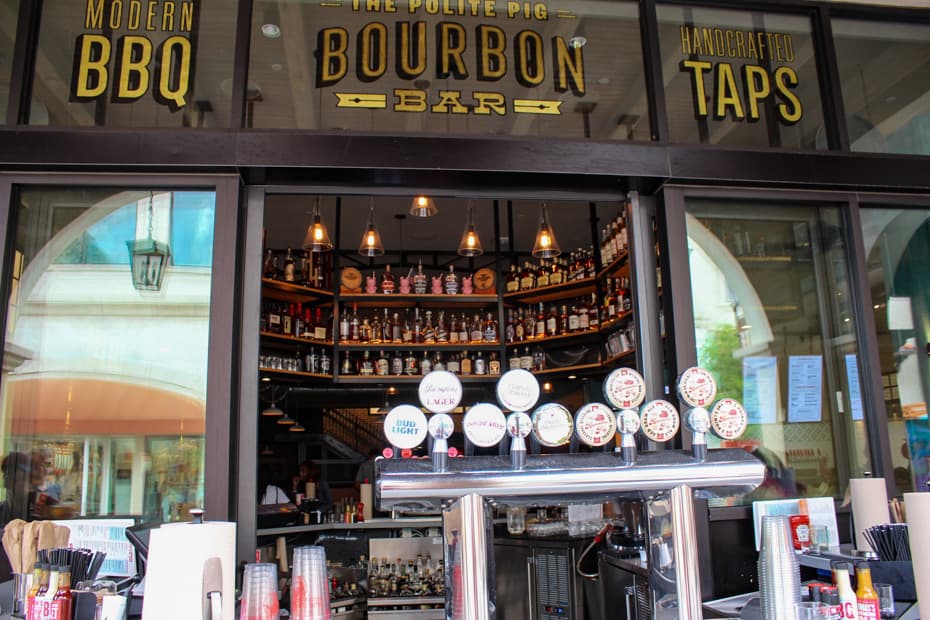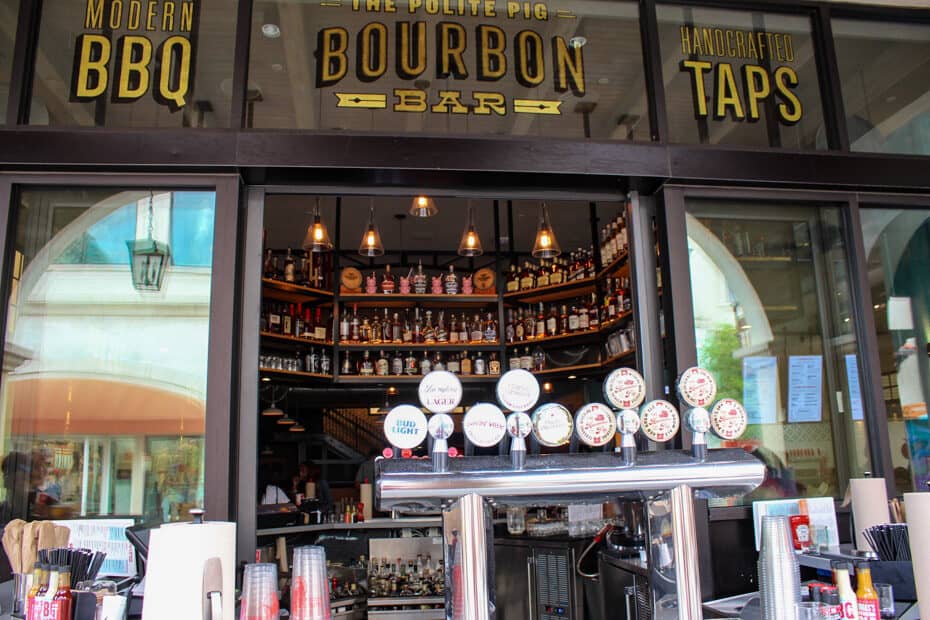 The Bourbon Bar at Polite Pig has its own menu with quite a lot to review. Here's a picture for reference.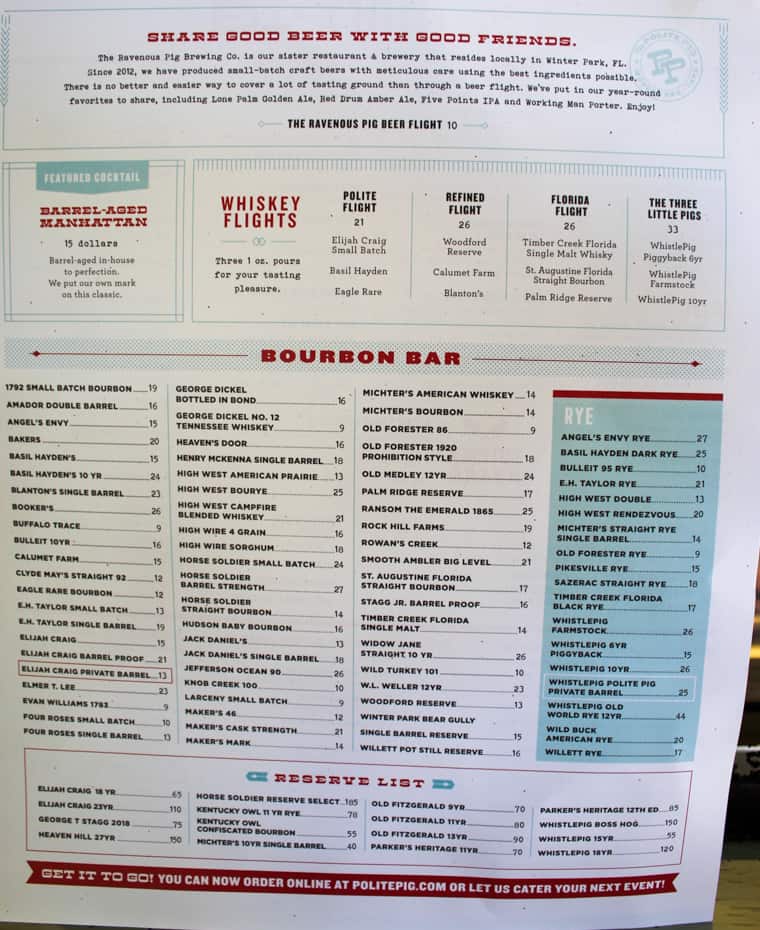 Final Thoughts on The Polite Pig
Hopefully, this Polite Pig review provided you with the information needed to try a meal here. You can expect to order a meal and get it delivered in a quick turnaround.
The prices are a bit high, but the food portions are large. So expect food that offers a lot of flavor, but might be a little too much flavor in some instances for the portion size.
As far as revisiting goes, there are still things I want to try on the menu. So if I find myself at Disney Springs and in the mood for barbecue, I will for sure try it again.
The thing about dining at Disney Springs is there are plenty of restaurant options. So many that sometimes I find myself just walking around until I can make up my mind for sure what I want.
And sometimes, a craving wins out over the value. But most times, the best food wins out. So much that I have an updated 2022 best restaurant at Disney Springs list.
Sorry about all the mixed feelings in the review. It was a difficult one to put together because of my contradictory opinions.
If you are interested, I have a full page here that lists every single Disney Restaurant Review on the site.
Resorts Gal specializes in resorts and hotels at Walt Disney World. If you are planning a trip, we have a variety of reviews including some off-property options like our Best Marriott Hotels close to Disney World. That article even includes on hotel owned and operated by Marriott that's on Disney property, The Swan and Dolphin.
Leave a comment below and let me know your thoughts or review of The Polite Pig.