Review: Rainforest Cafe at Disney Springs
The Rainforest Cafe at Disney Springs in Orlando, FL, is a classic dining location that offers a bit of nostalgia for some. The restaurant is located in the Marketplace section of Disney Springs.
While on vacation, there might come a time where you find yourself at Disney Springs. Not only that, but you might even find yourself there on a crowded day with hungry children and no dining reservations.
If this turns out to be the case for you, the Rainforest Cafe might be your best option for various reasons.
In fact, we have eaten at Disney Springs Rainforest Cafe numerous times over the years dating all the way back to 2007. I even have a photo to prove it. This little guy is in college now!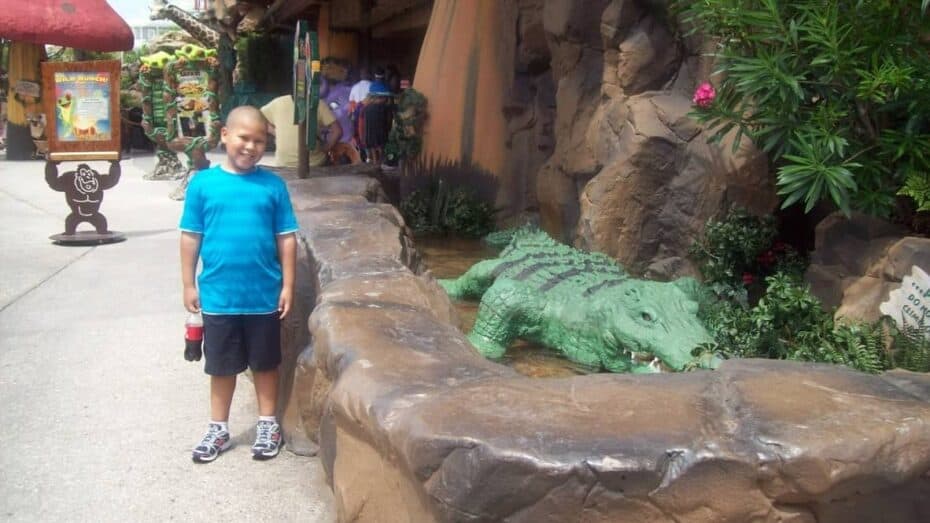 Maybe if I had started this blog back then, we'd be a lot further along content-wise. But here we are, just now getting around to that Disney Springs Rainforest Cafe review. Thankfully, not much has changed, and when it comes to Rainforest Cafe, that's a good thing.
Taking a closer look between the picture above and below, you'll notice the same little frogs holding up the menu outside the entrance. If only the prices were still the same. But that's actually another perk for Rainforest Cafe. The prices are reasonable given the location.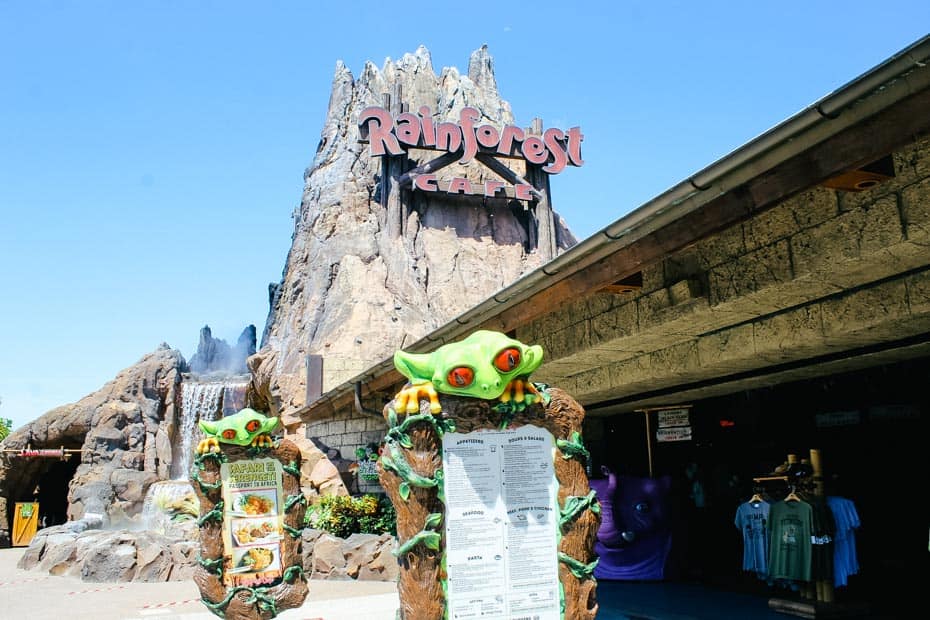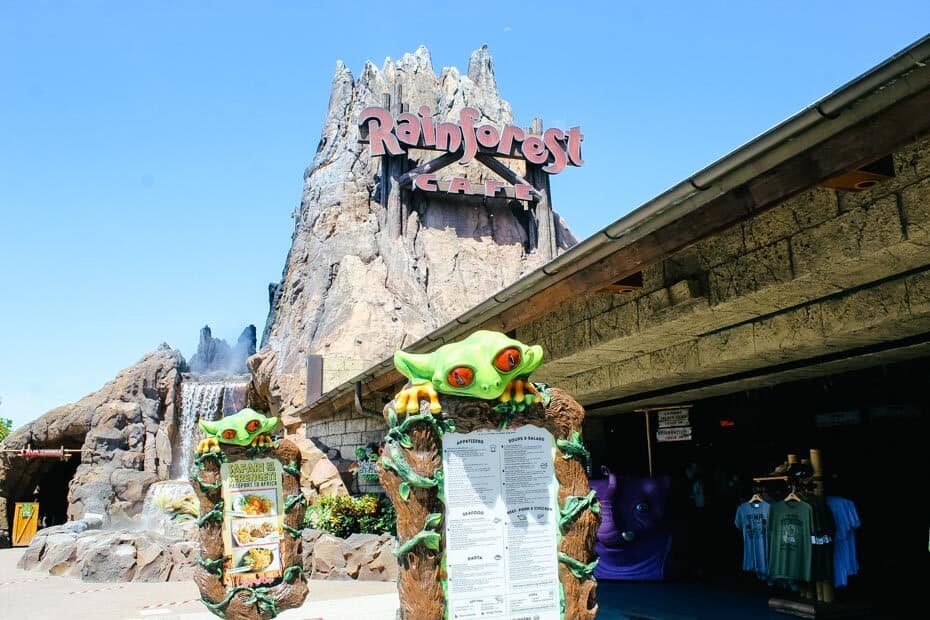 Here are all the quick reference details for having a meal here. Down below, we'll take a look at a recent stop-in for lunch. Then, I'll elaborate on a few reasons why the Rainforest Cafe is a good place to eat at Disney Springs.
| | |
| --- | --- |
| Disney Springs Restaurant: | Rainforest Cafe |
| Location: | Marketplace |
| Type of Service: | Table Service |
| Type of Food: | American |
| Price Range | $14.99 and Under |
| Disney Dining Plan | Unavailable |
| Tables in Wonderland | No |
| Annual Passholder Discount | 10% |
| Menu | View Here |
Disney Springs Rainforest Cafe Menu
If you are visiting during 2021 you might encounter a condensed menu at many of the Disney restaurants. This is the one we were given last month on our visit. There are still plenty of options.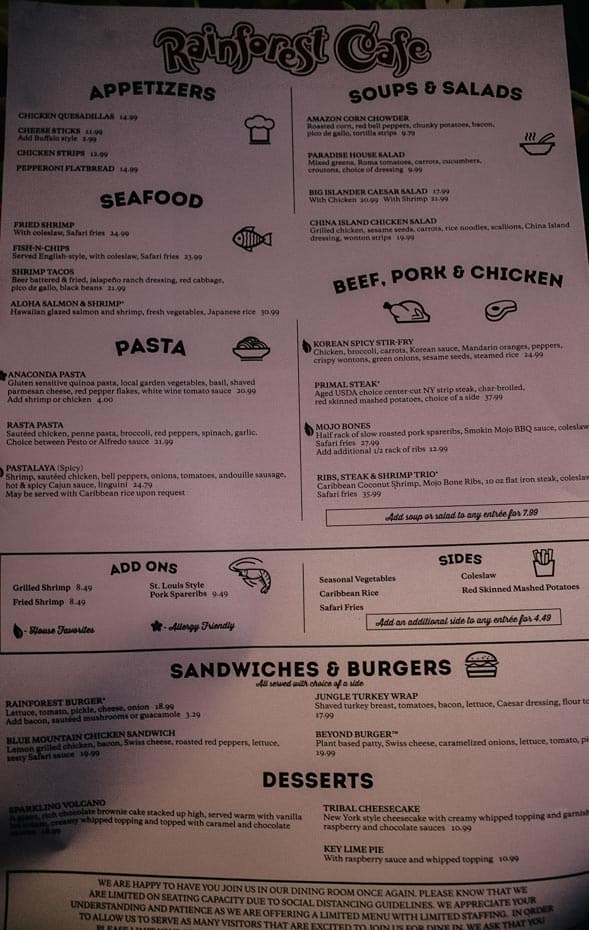 As far as atmosphere goes, the Rainforest Cafe is the perfect place to escape a hot day at Disney Springs. I'm sure most people have visited one of their locations prior. But if you haven't, here are a few pictures of what to expect.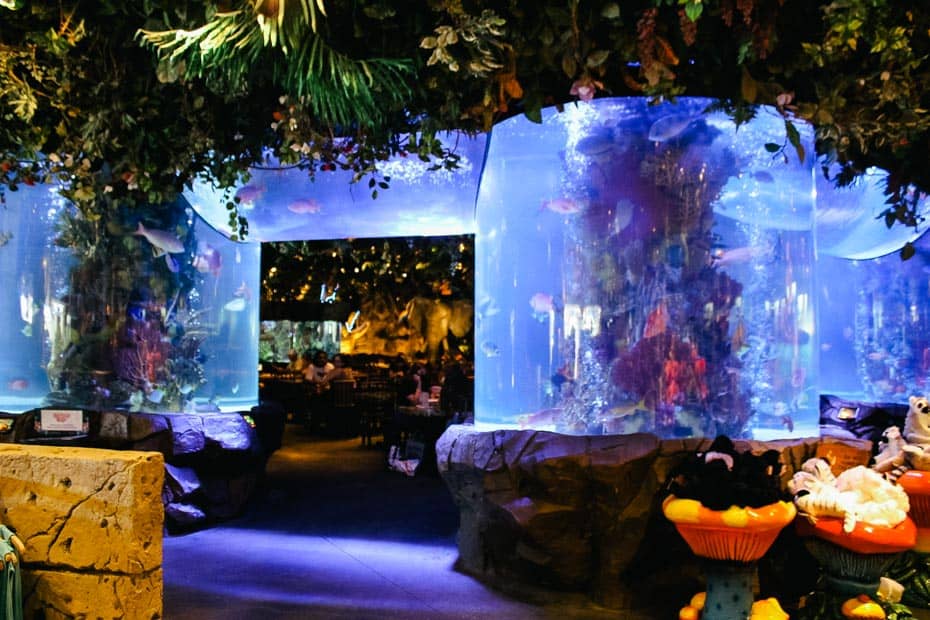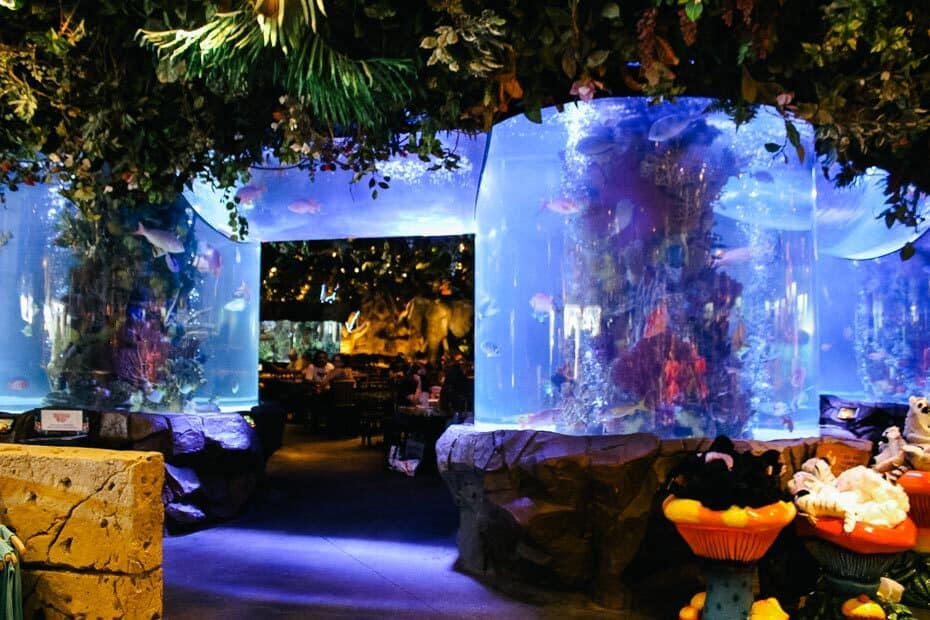 Rainforest Cafe has beautiful tropical aquariums throughout the restaurant. The fish are extremely calming to enjoy, even for adults.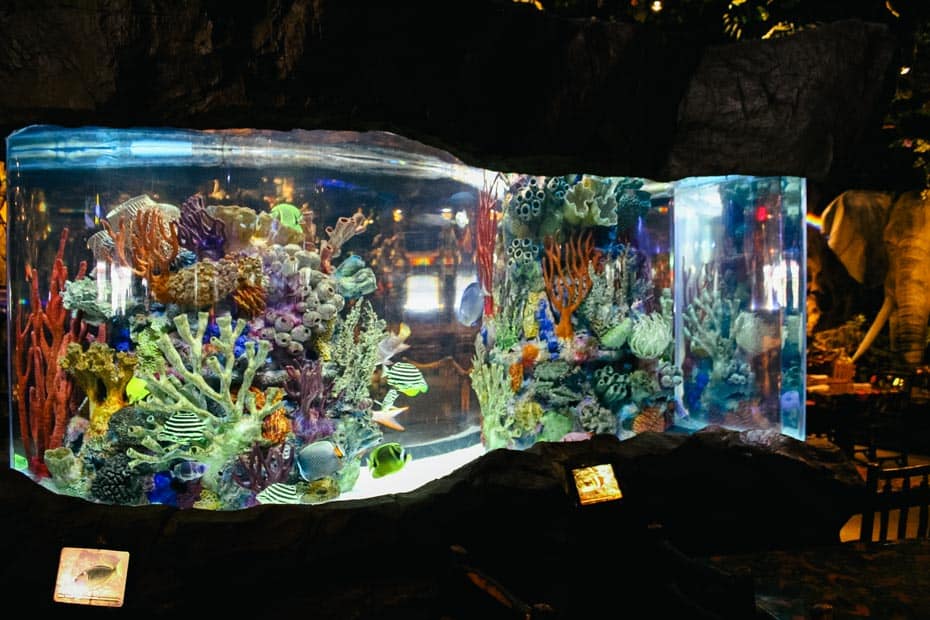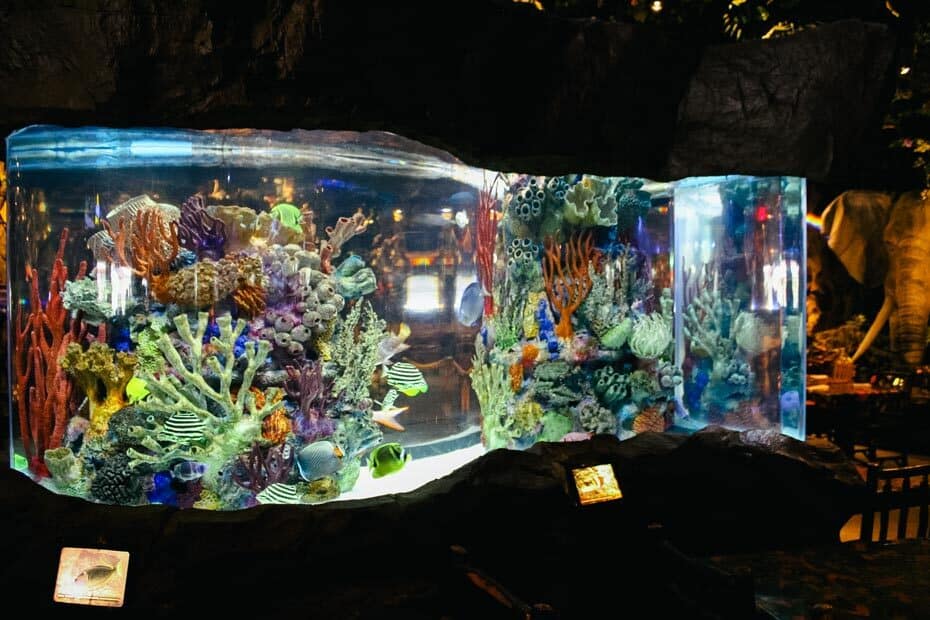 And there's a ton of animatronic animals throughout the different seating areas of the restaurant.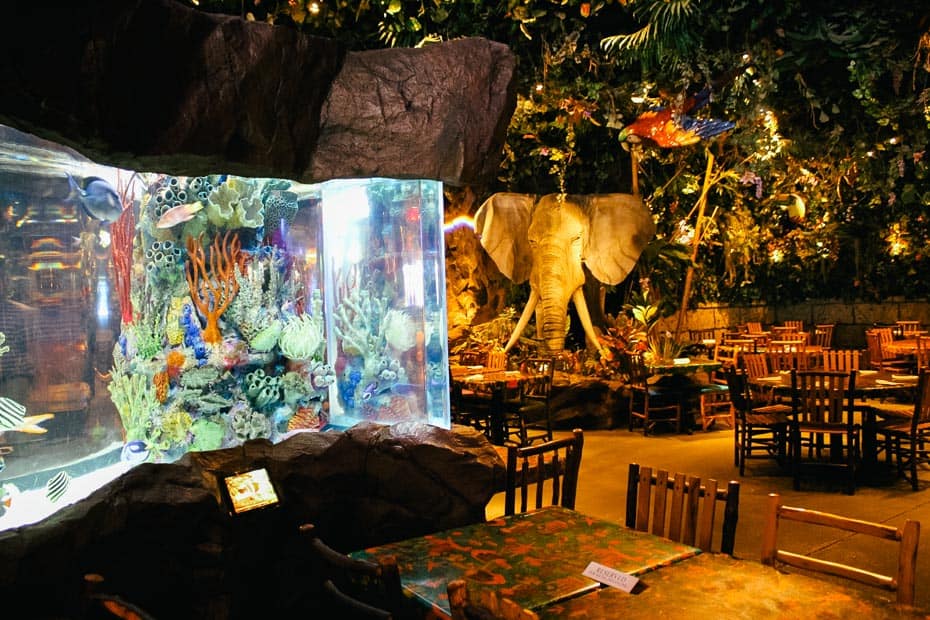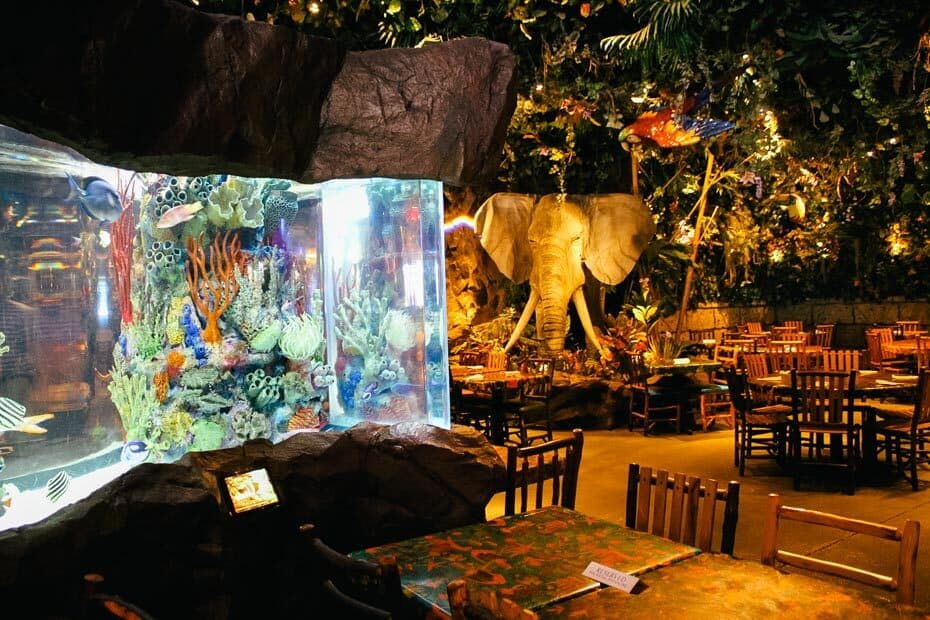 The animals move and make noises from time to time. Most children really enjoy the interactive elements. However, it could potentially be a little scary if your child doesn't care for sudden movements, dark surroundings, or loud noises.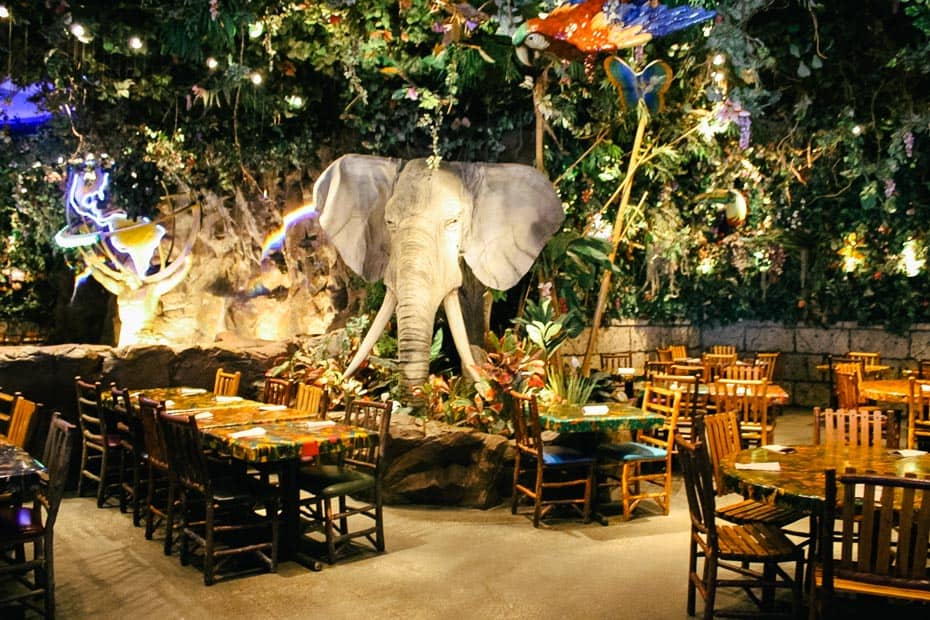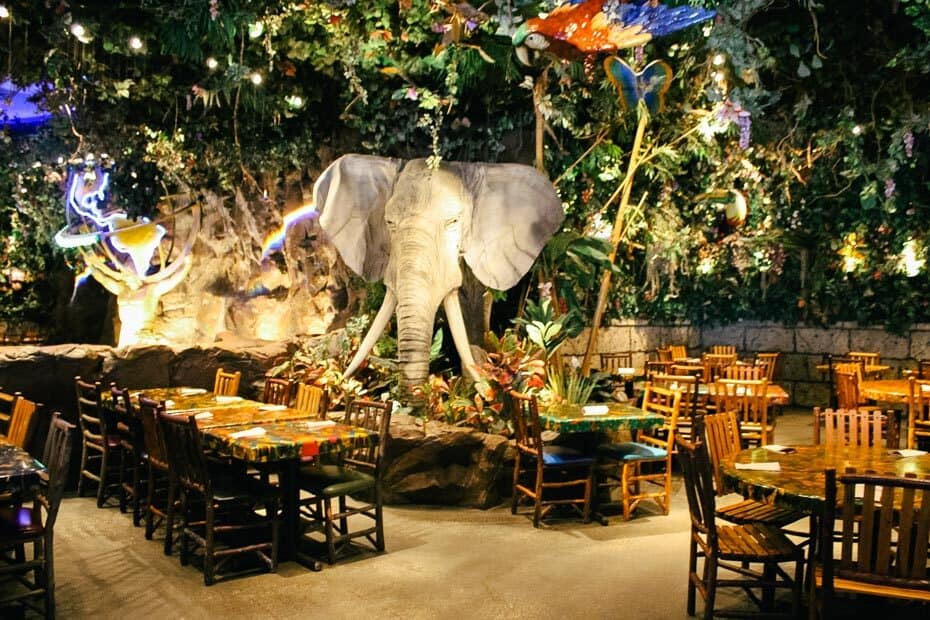 Toward the back of the restaurant, there's a waterfall feature with a statue and rainbows displayed in the backdrop. I actually enjoy sitting close to this area because the running water's sound provides neat background noise.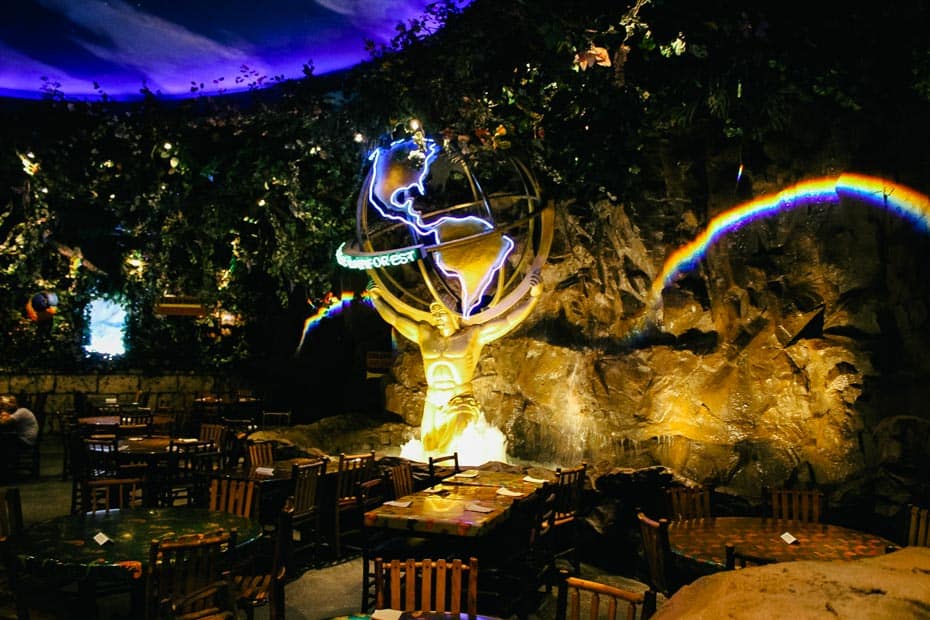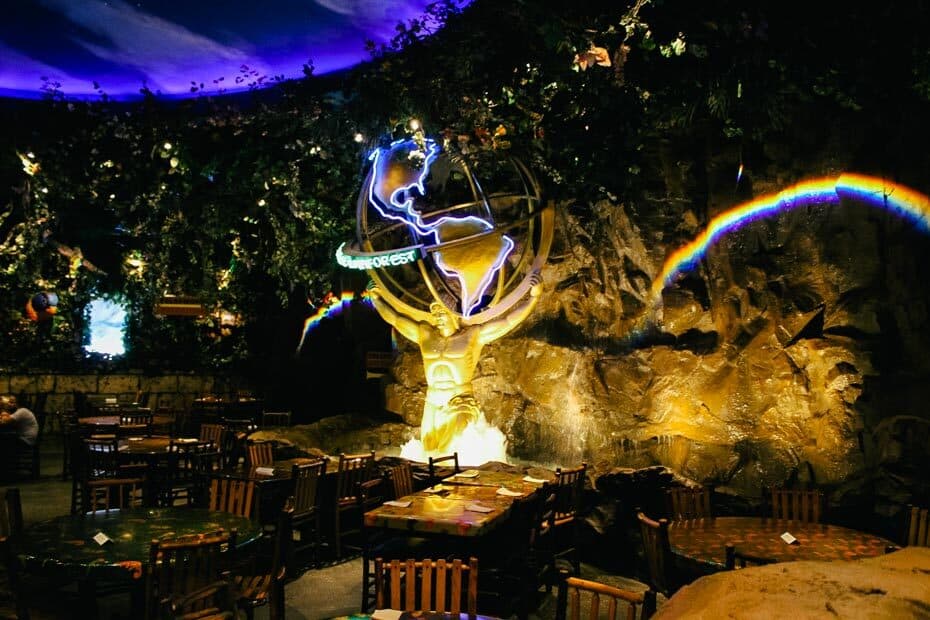 Here's a closer look.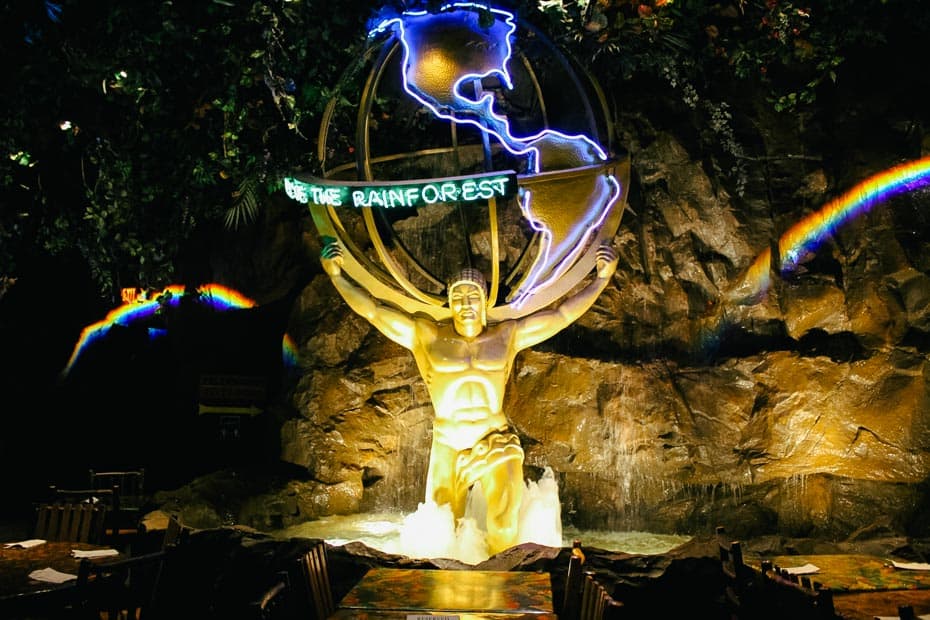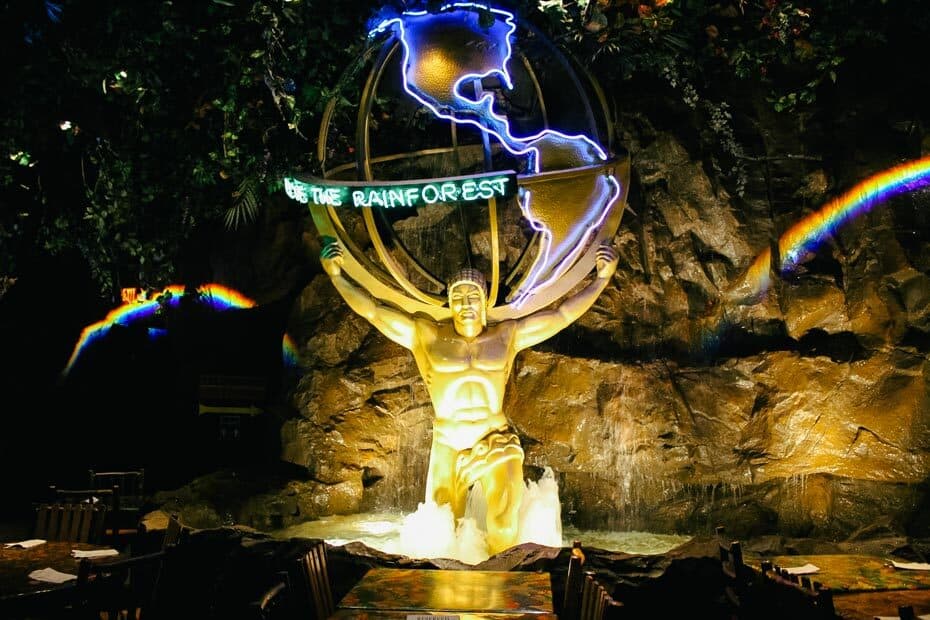 But no matter where you sit there will be some form of entertainment in your immediate area.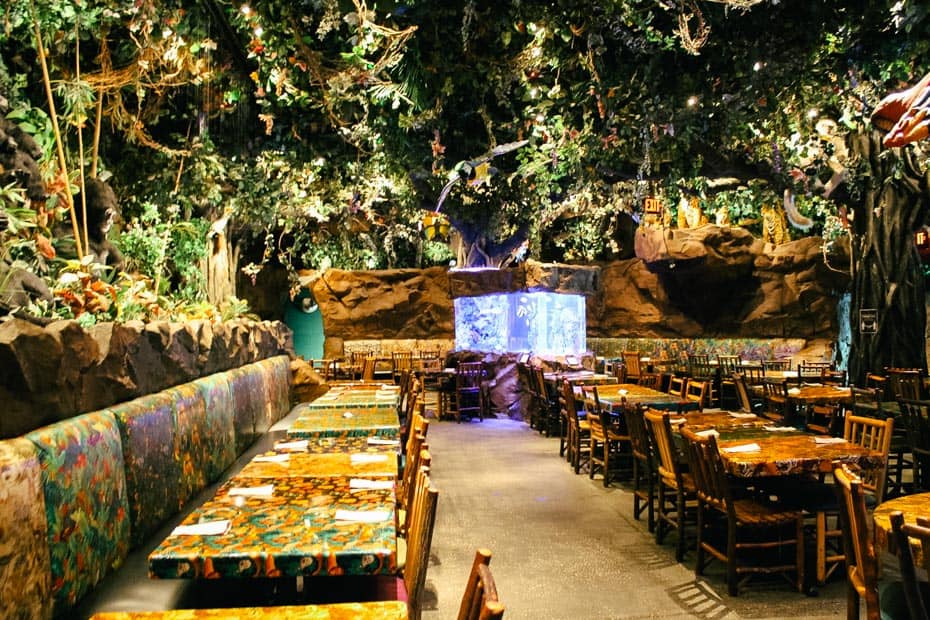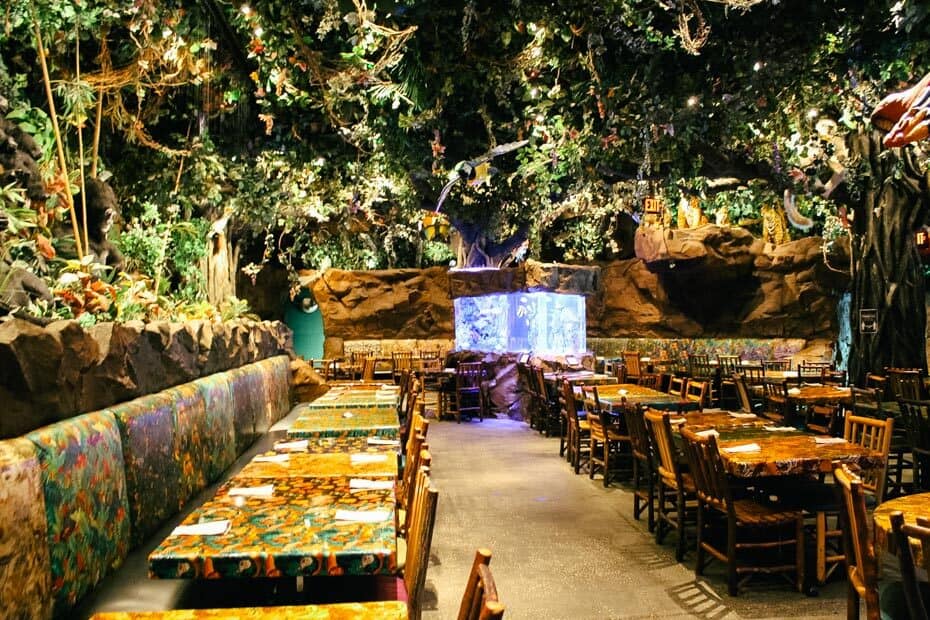 You'll find anything from a family of gorillas to cheetahs and other animals hidden in this rainforest-like setting.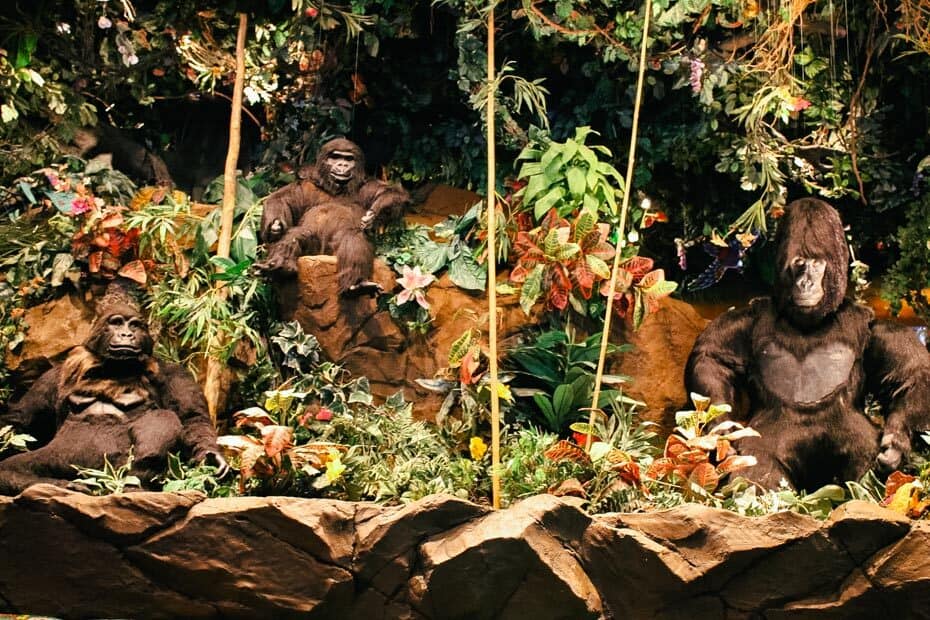 There's even a separate bar and seating area with a larger than life mushroom growing overhead.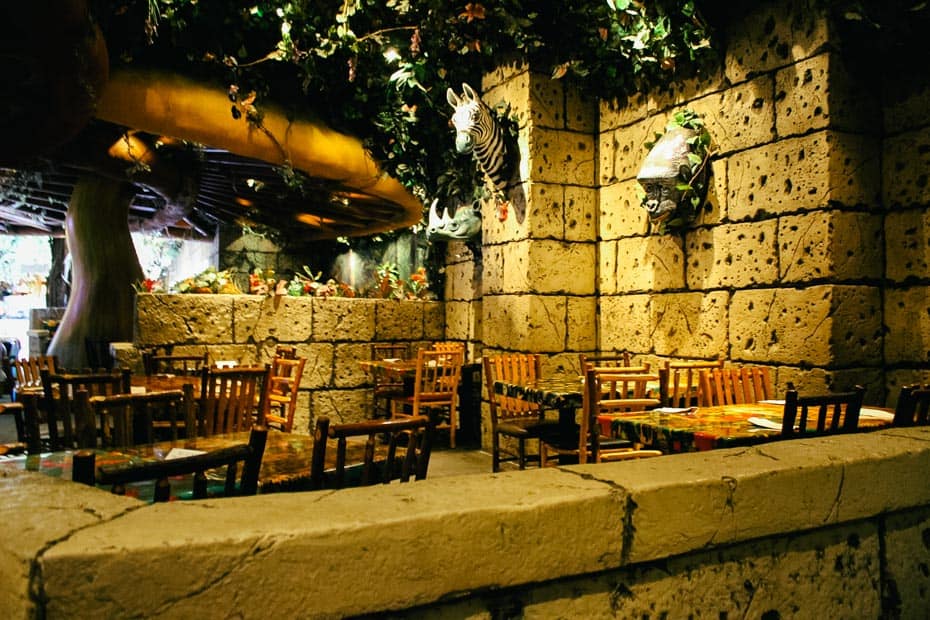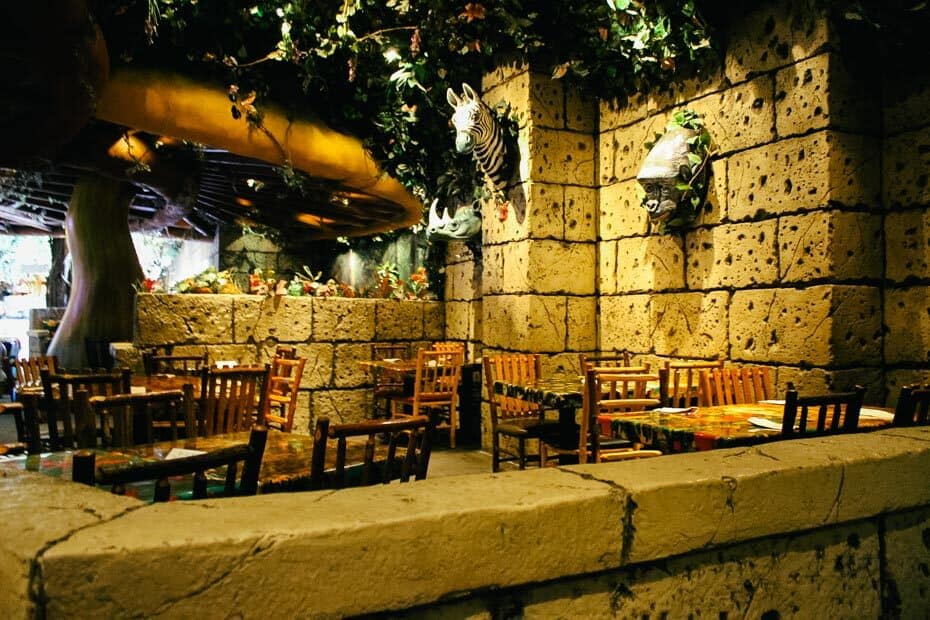 The actual bar is pretty unique and takes walk-ups.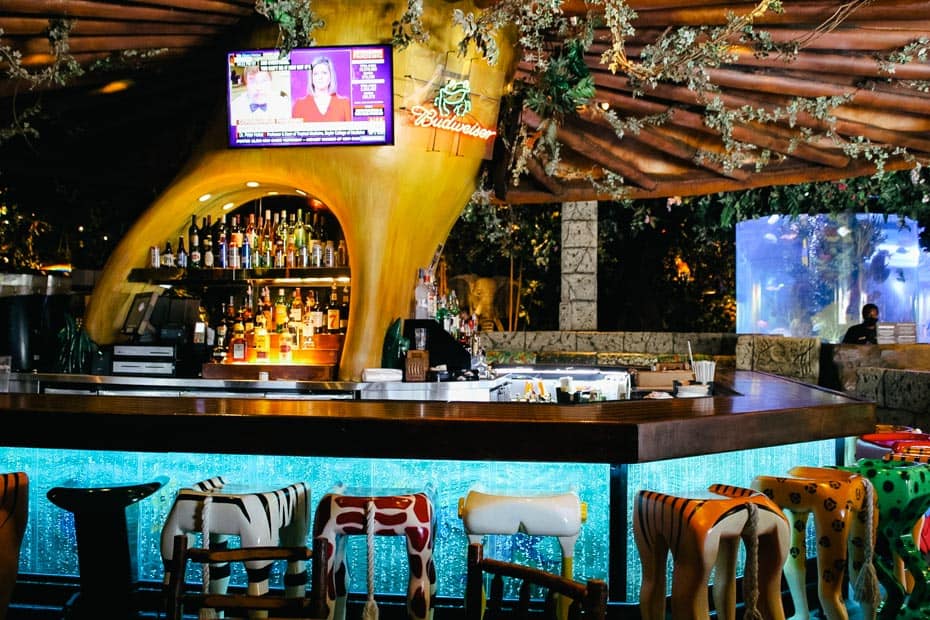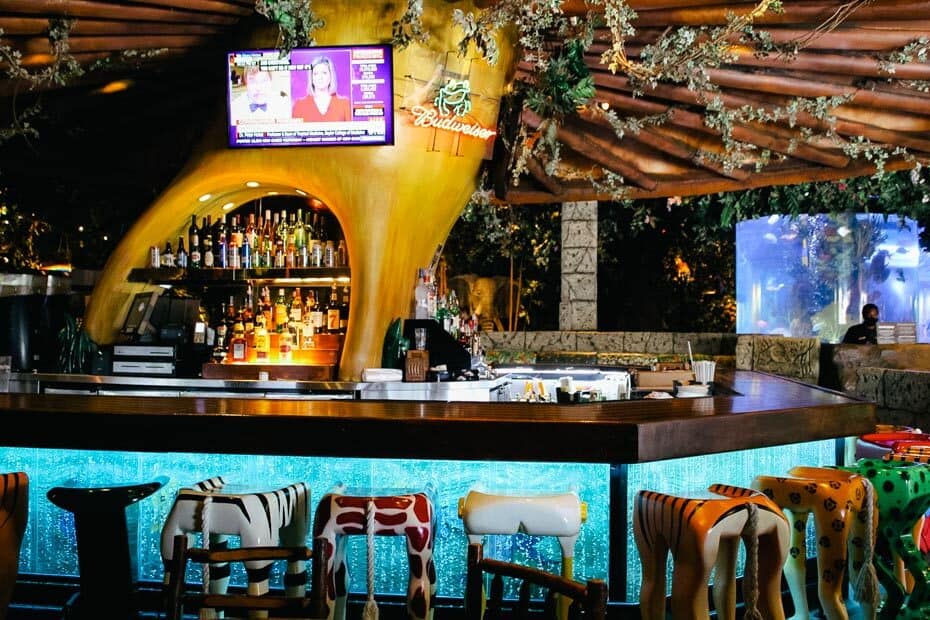 Rainforest Cafe Review
If you have read any of my dining reviews prior, you are probably familiar that my son has multiple food allergies. Unfortunately, that makes dining out pretty difficult and risky as well.
We usually don't eat at many restaurants that offer a tremendous amount of seafood items due to potential cross-contamination issues. We also shy away from dining establishments where peanut products are heavily used.
On this particular visit to Disney Springs, we didn't have a dining reservation, and I needed to eat somewhere new for the sake of adding to my Disney restaurant reviews list.
Our usual favorite stops at Disney Springs are Frontera Cocina (review here) and Morimoto Asia (review here). Both are great options for dining with food allergies.
As Landry's cardholders, we know we can always get an immediate seat at any of their locations with little to no wait. We also know that given the wide variety of menu items, my son can always get something suitable prepared in a separate area to meet his needs.
This day he went straightforward and had grilled chicken fingers and fries. The chef came out and discussed a few different options before we placed the order.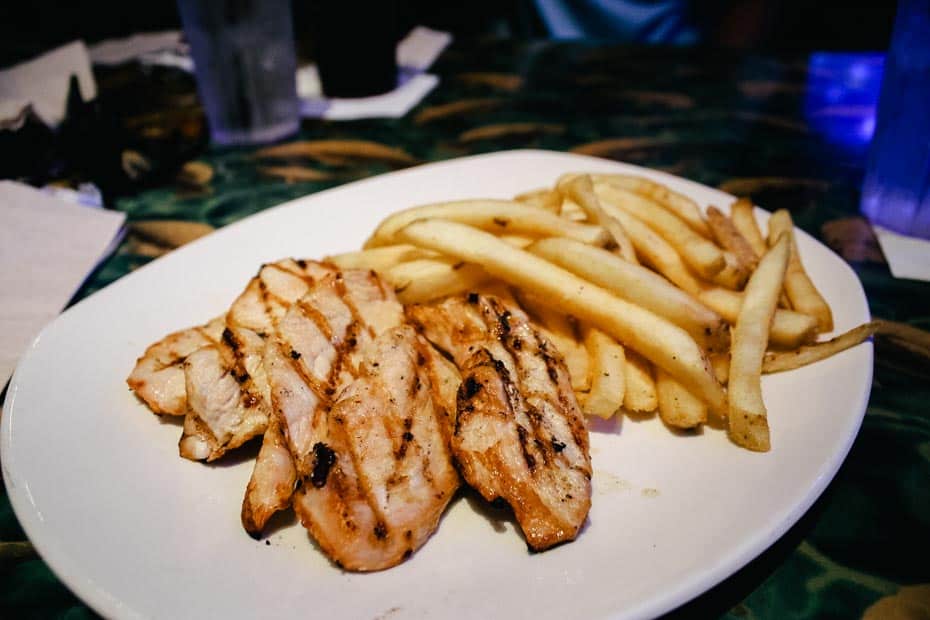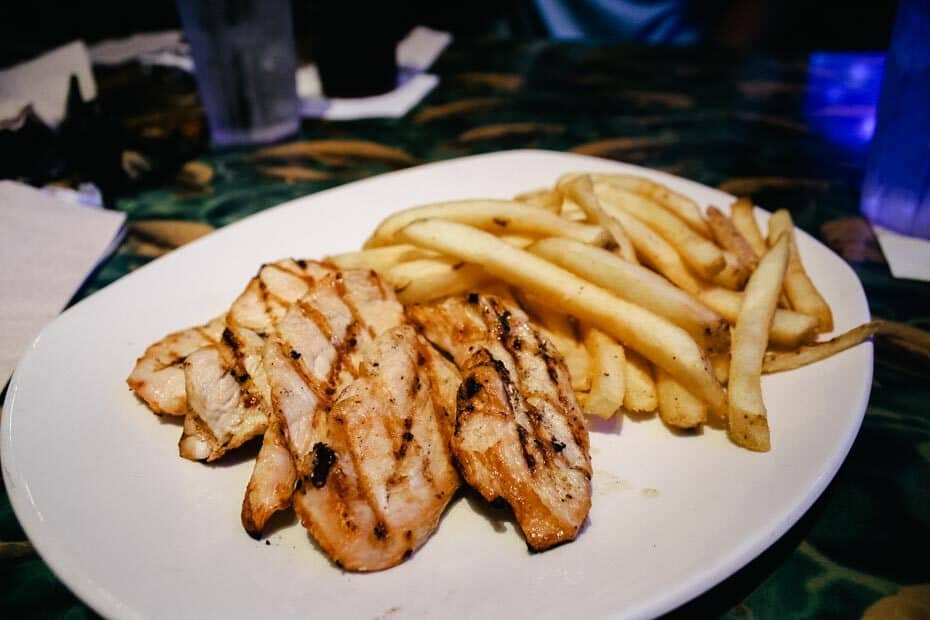 And as plain as that looks, it was actually a good meal. Anyone with food allergies knows how challenging it is to dine out. Most of the time, just being able to eat out is a big deal.
I selected the China Island chicken salad on this visit. Normally, I would order a burger or sandwich here. But this was one of several concurrent days of dining at Disney. Meaning it was time to make a healthier choice.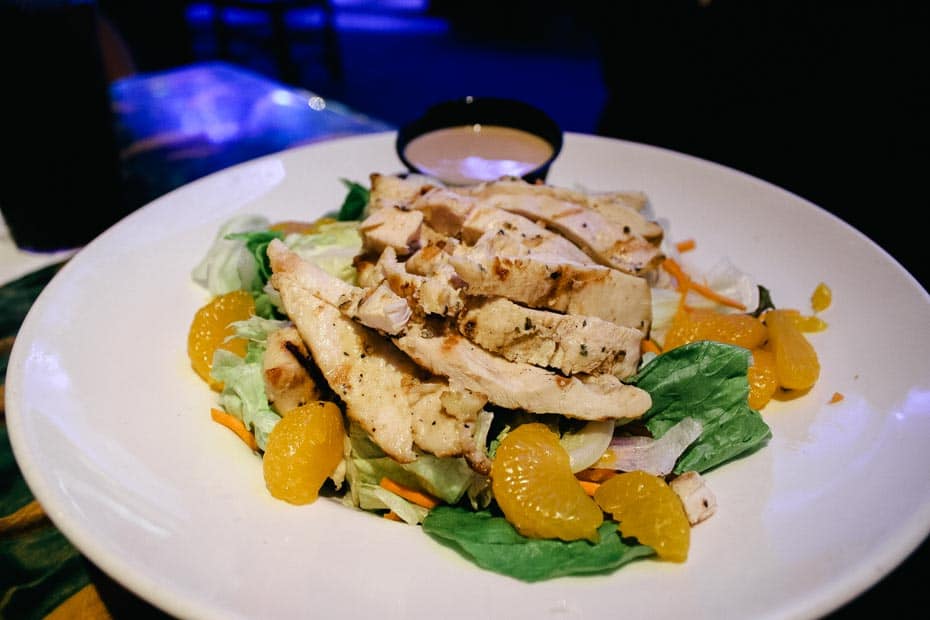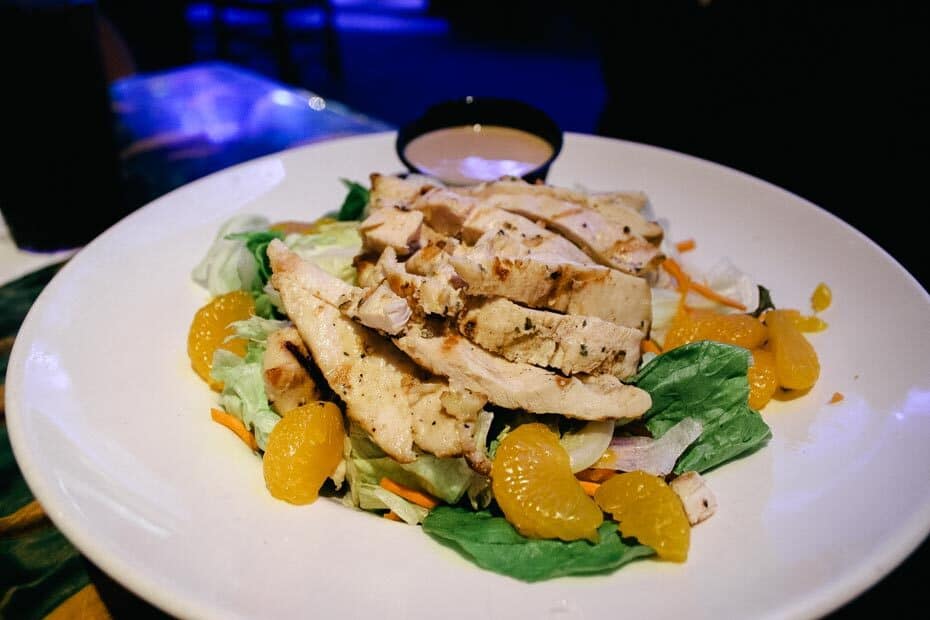 The salad was a basic mix of lettuce with carrots and mandarin oranges. Again, there was plenty of protein with the nice serving of grilled chicken on top.
And the dressing was a typical Thai-style similar to what you would expect on this kind of salad. After several days of fairly large meals, I really enjoyed this and found it light and refreshing.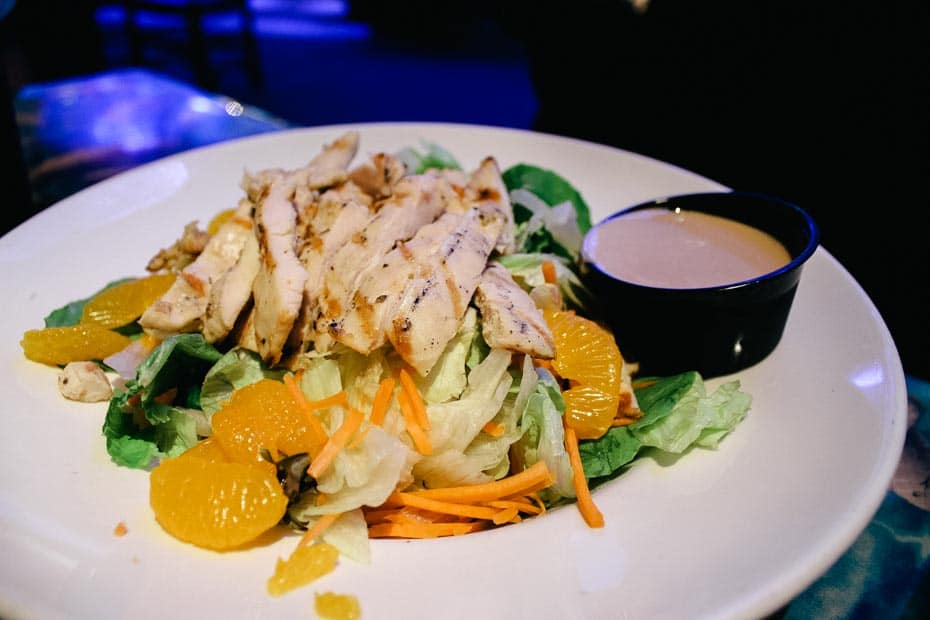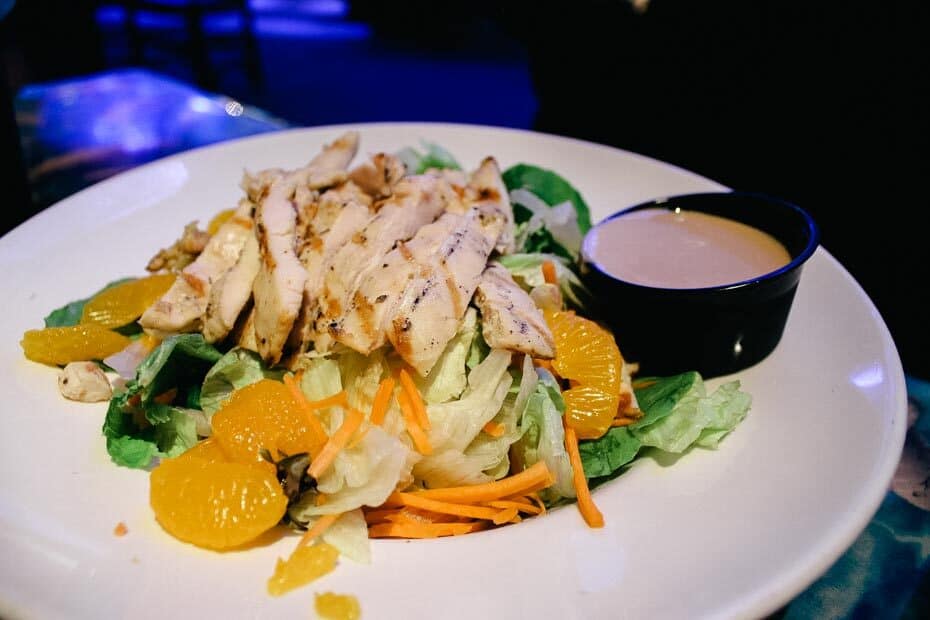 Another perk of the Rainforest Cafe is the large store attached to the front of the restaurant. It's a good place to hang out while waiting for a table in the event you don't have a reservation.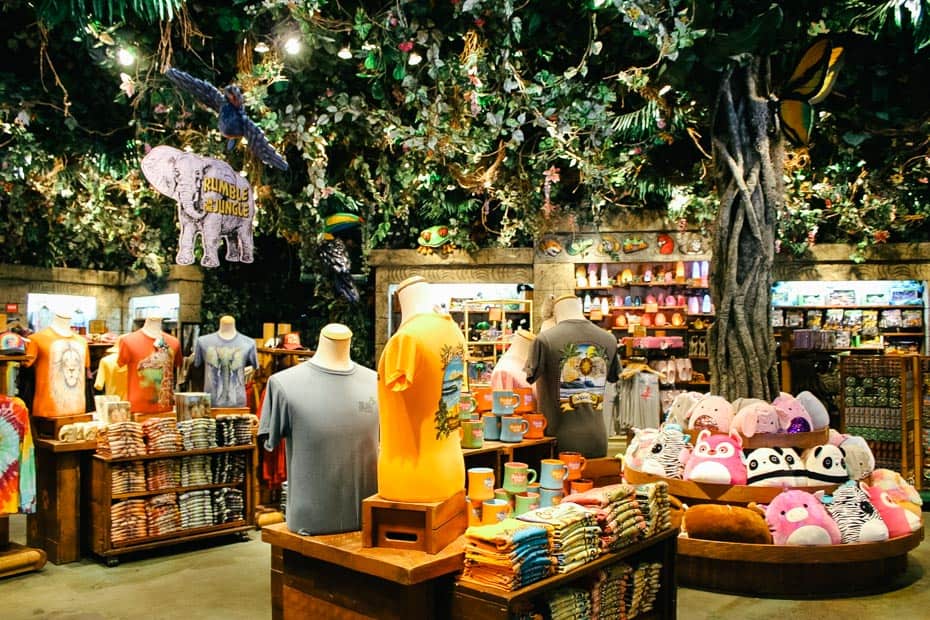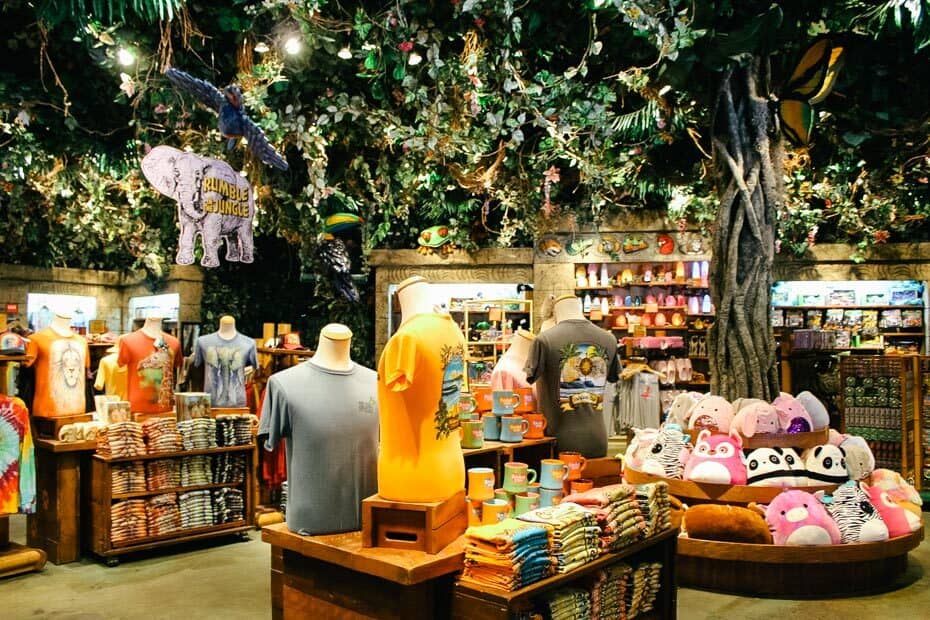 There's tons of stuff to look at while you wait. But the restaurant does offer plenty of seating so you shouldn't have to wait long.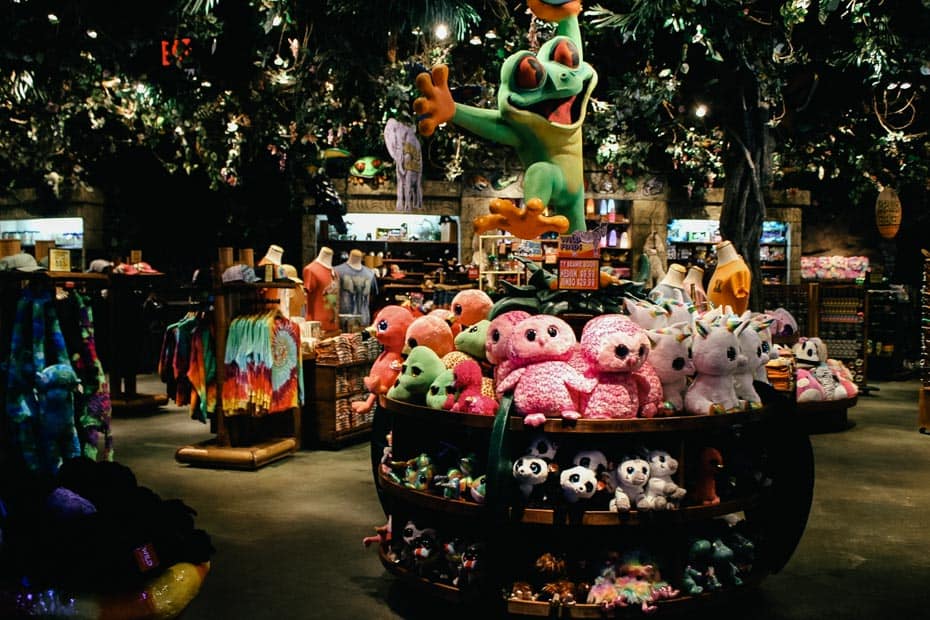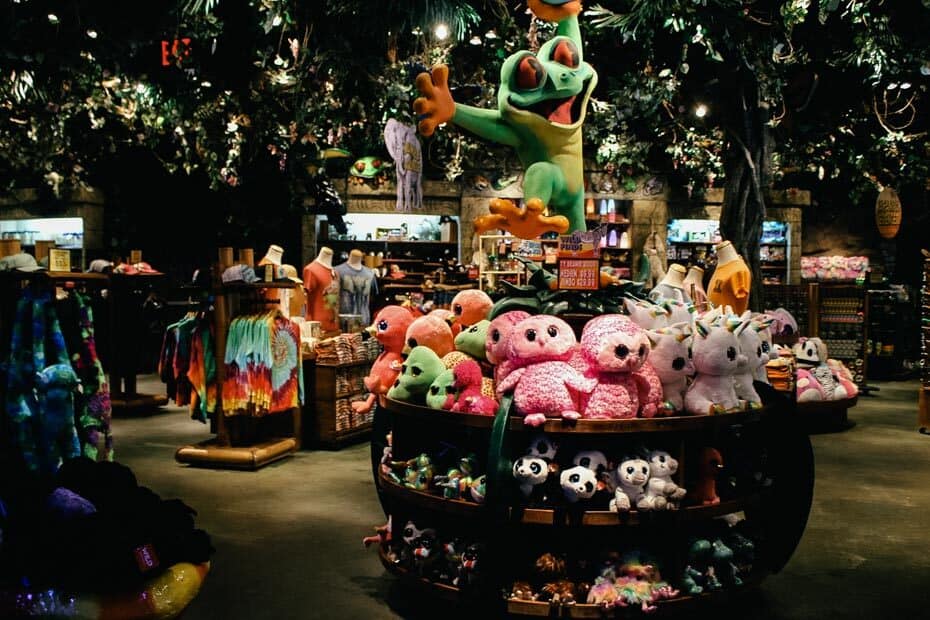 Rainforest Cafe & Landry's Card Benefits
If you have a Landry's card, you shouldn't have to wait more than a couple of minutes. For anyone that visits Disney on a somewhat regular basis or has a Landry's owned restaurant in your area, you can't beat joining the membership.
Here's how it works:
On your initial visit, you pay $25.00 to join, but they immediately turn around and give you a $25 credit toward your first meal, so that ends up balancing out.
For every $1 you spend you get 1 point and when you reach 250 points you get a $25 credit.
Every year during the month of your "celebration date" you get a $25 credit toward a meal. You can select any celebration date you choose. I originally chose December because we are nearly always at Disney during the holidays.
And as mentioned above, you get priority seating with no reservations. Just walk up to the side of the check-in where it says Landry's and let them know you are a member. You'll be seated prior to everyone else that's waiting.
Most of the time there's something on the table that discusses the Landry's membership. You can ask your server or read more about it online here. You might be thinking to yourself that it's not worth it, but there are four Landry's locations at Walt Disney World.
Rainforest Cafe at Animal Kingdom
Yak and Yeti at Animal Kingdom
Rainforest Cafe at Disney Springs
TREX at Disney Springs
So if you plan to try any of these restaurants, make sure to pick up the card. Yak and Yeti is one of our favorite places to eat at Disney's Animal Kingdom. I'll have a review of it in the coming weeks. You can now view that Yak and Yeti review here.
Next door to Rainforest Cafe is the Lava Lounge, which has a really beautiful outdoor dining area. There's a mini Lava Lounge review on the site with photos of the location and the menu, but it doesn't include any food items.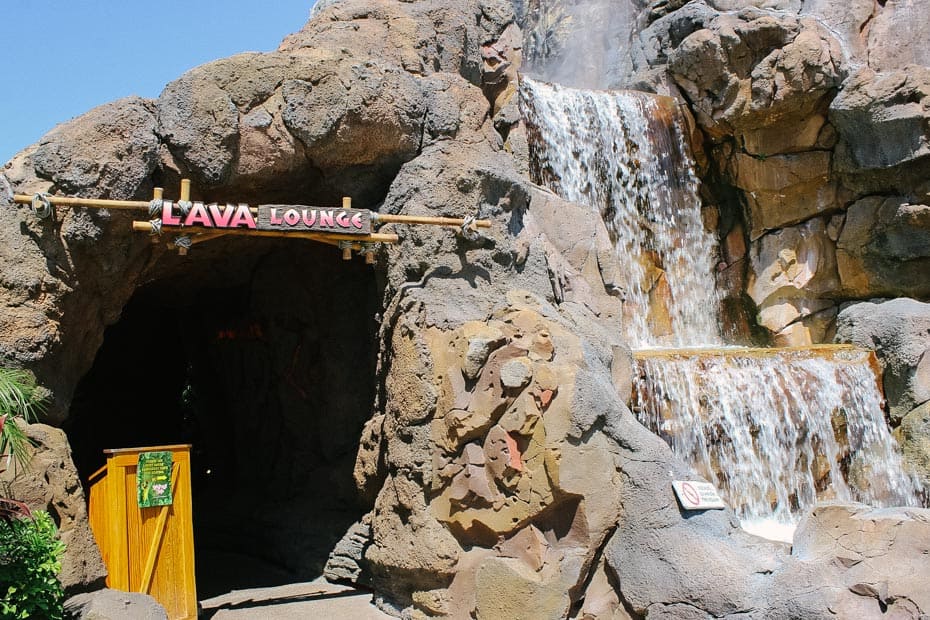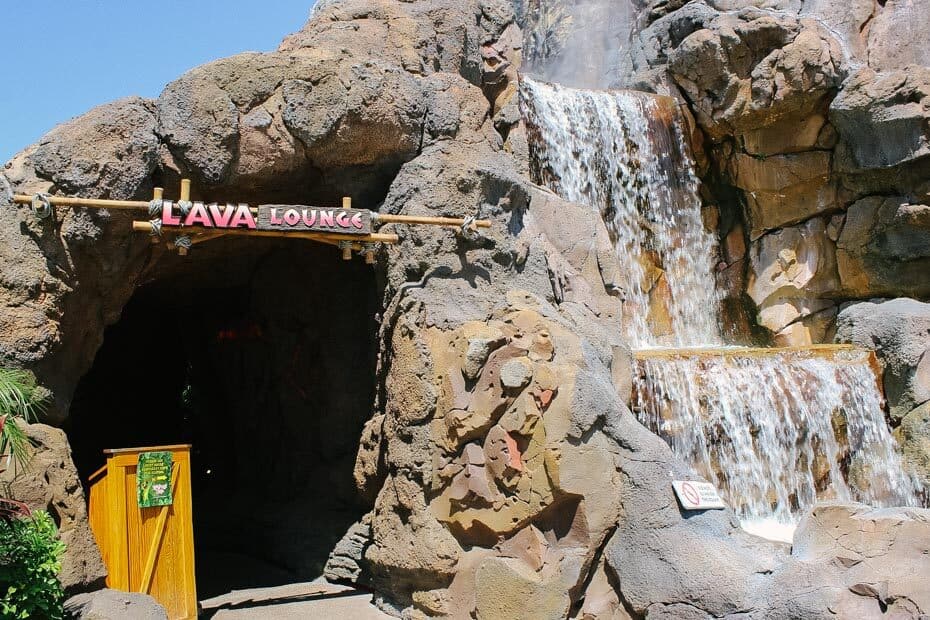 Final Thoughts on Disney Springs Rainforest Cafe
As far as dining at Disney Springs Rainforest Cafe goes, it's a great place to grab a simple meal with your family. The food from our experiences is much better than T-REX, which is also in the area. The service is great, and the restaurant can spaciously accommodate a large number of guests.
And if it's crowded we can still get a seat within minutes by using our Landry's card.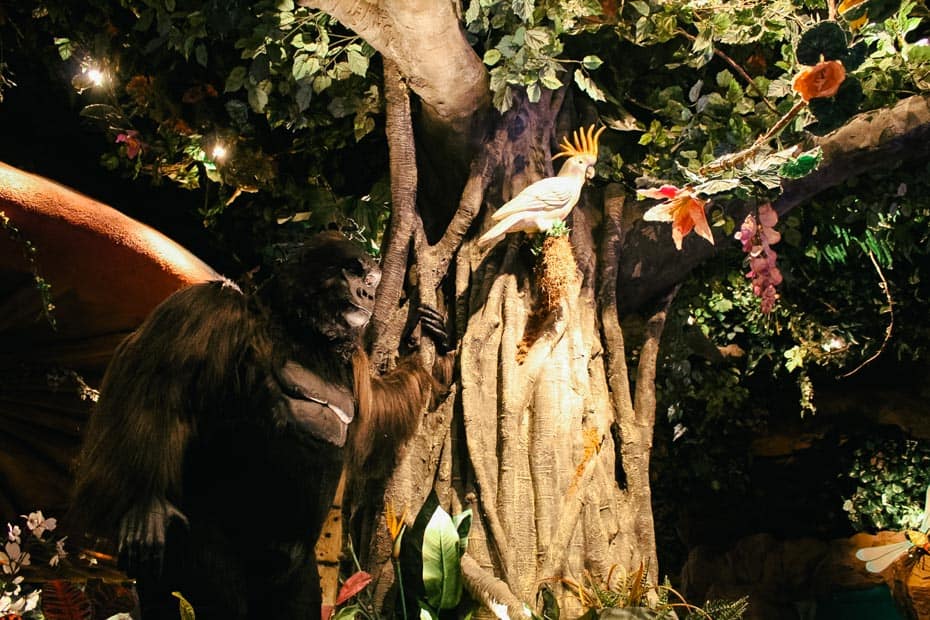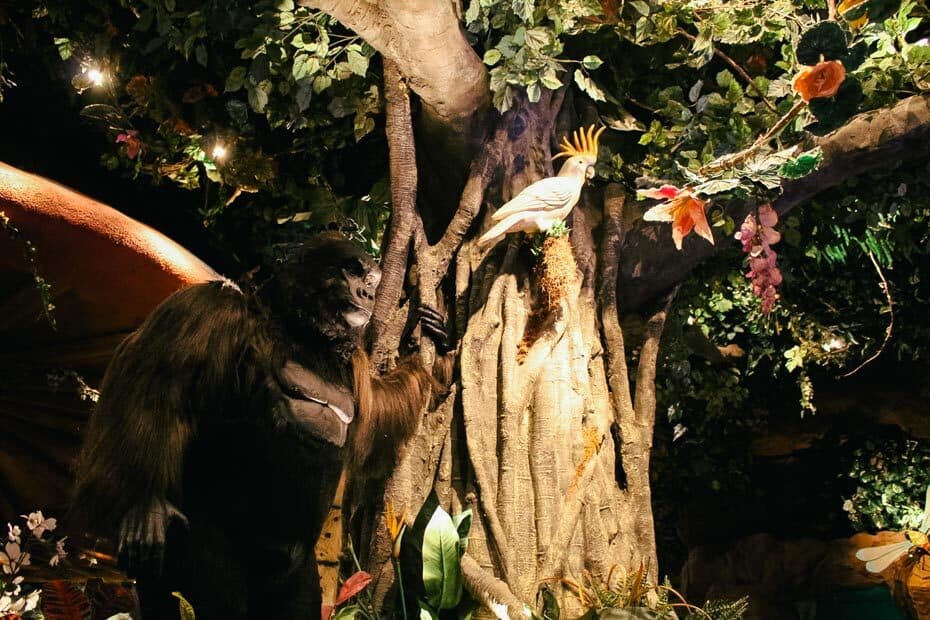 Sure it's not the fanciest place to have a meal at Disney Springs. But the menu offers something for everyone and a good selection of kids entrees that your child will probably actually enjoy.
Sometimes dining at Disney World can get a little formal or even adventurous. Thankfully, the Rainforest Cafe offers a nice reprieve from some of those formalities.
For more Disney Springs dining, check out the best restaurants list. Or you might enjoy these other reviews:
Let me know in the comments below what you enjoy about Disney Springs Rainforest Cafe.