The Disney Skyliner: Resorts, Travel Times, & Details
Since the Disney Skyliner has been operating, we've had the opportunity to take it many times. Those rides have been anywhere between higher crowd times with long waits to slower times with no waits. There's even been a time when we took a Skyliner gondola from Disney's Caribbean Beach but couldn't return the same way due to it being down.
With these thoughts in mind and practiced experienced, I felt it was time to provide an update. In this review, we'll take a look and see what using the Disney Skyliner system in 2021 looks like. Additionally, I'll cover each gondola station and theme park it services.
We'll also discuss where each station is headed and what to expect in between. Lastly, I'll add a few tips for taking the Disney Skyliner to get to your desired destination with travel times.
For those who haven't ridden this form of Disney transportation yet, I want to share a few thoughts from my initial experiences with you. The first time I rode the Skyliner gondola system at Disney, I was excited. But when we initially took off, I became more nervous than I had anticipated.
With that being said, those nerves wore off rather quickly. I found myself overwhelmed by the stunning aerial views of the surrounding Disney resort hotels.
Since that initial Skyliner ride, I can say the newness hasn't worn off. Nor do I expect it to for a very long time. The Disney World Skyliner is truly an asset to anyone traveling in the area it services.
Per Disney's Website, "From January 23 through January 28, 2022, Disney Skyliner service between Disney's Caribbean Beach Resort, Disney's Riviera Resort, and Epcot will be out of operation for refurbishment. Complimentary bus and FriendShip boat service will be available."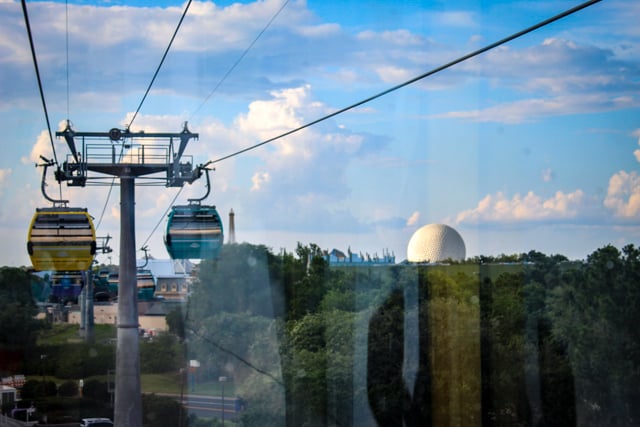 Disney Skyliner Resorts
Guests staying at the following Disney World Resorts will have immediate access to a Disney Skyliner station.
Disney's Caribbean Beach Resort
Riviera Resort
Pop Century Resort
Art of Animation Resort
Additionally, guests staying in an Epcot Resort hotel around Crescent Lake are within walking distance to the Epcot Skyliner station. That station sits just outside the International Gateway entrance to Epcot.
Those hotels are the following:
Disney's Beach Club Resort
Disney's Yacht Club Resort
Boardwalk Inn
Swan and Dolphin Resort
Disney's Caribbean Beach Resort Skyliner Station
Caribbean Beach Resort has the main gondola station for the Disney Skyliner system. Think of Caribbean Beach as the central hub or stopping point that each Disney World Resort line feeds back and forth from.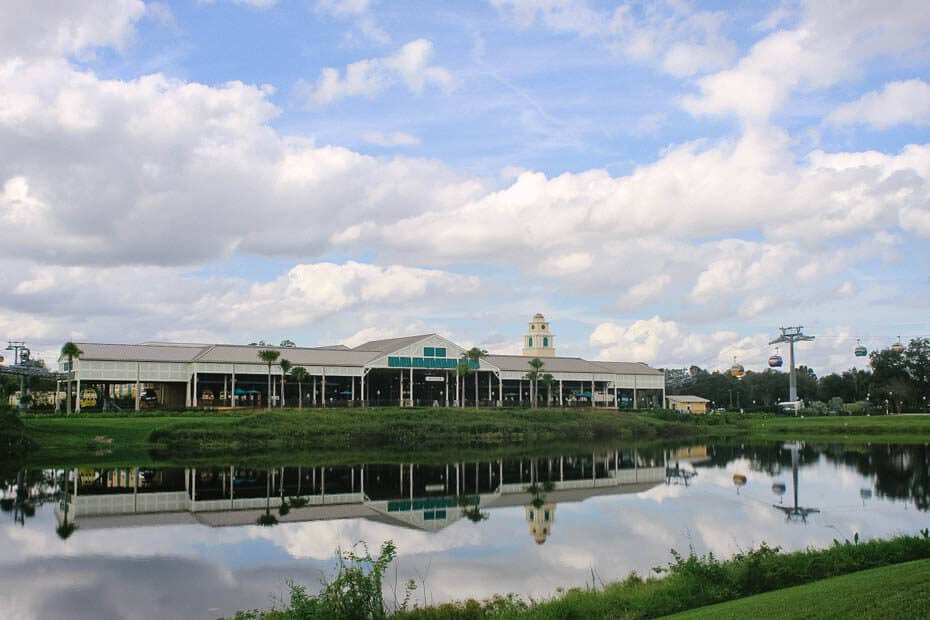 To simplify things, Caribbean Beach is the only station that will take you to Disney's Hollywood Studios and Epcot. Anyone coming from Disney's Pop Century Resort, Art of Animation, or Riviera will have to disembark from their gondola cabin when arriving.
From there, you'll have to board a new gondola car to either Disney's Hollywood Studios or Epcot. The trip to the Studios theme park is direct.
Those heading to Epcot will dip back down through the Riviera Resort station. However, you will remain on board here as you proceed to the Disney park. Or you have the option to disembark at the Riviera if you would like.
The Skyliner station at Caribbean Beach travels to the following locations:
Epcot
Disney's Hollywood Studios
Riviera Resort (exit on Epcot line)
Art of Animation and Disney's Pop Century
The most important thing to be aware of is that three lines feed into Caribbean Beach. Anyone coming into this central hub has to disembark their gondola cabin and re-board to their next destination. That is unless you are staying at Disney's Caribbean Beach Resort and walking back to your room.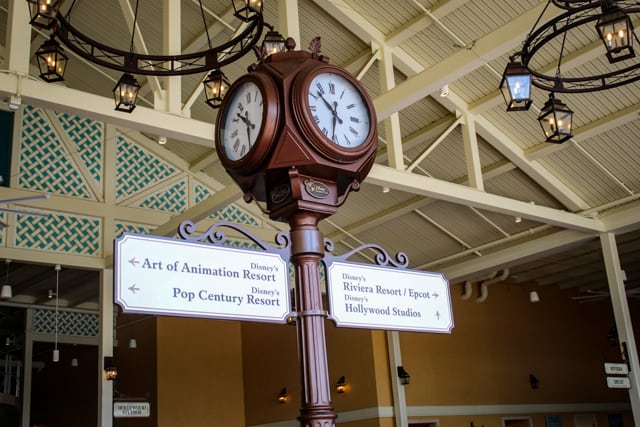 Riviera Skyliner Station
As mentioned above, the Riviera Resort offers a direct Skyliner line to Epcot. Therefore, if you are leaving Riviera, your destination options are Epcot or Caribbean Beach.
The line closest to the Riviera Resort goes to Caribbean Beach. If you are going to Epcot, you'll need to join the line on the station's opposite side. If you aren't paying attention here, you can easily get in the wrong line.
The gondola ride to Epcot is where you'll encounter the turn station that's right off Buena Vista before Disney's Boardwalk. Here the gondola car will slow as it approaches the turnaround. Then you'll go through the area where it changes direction.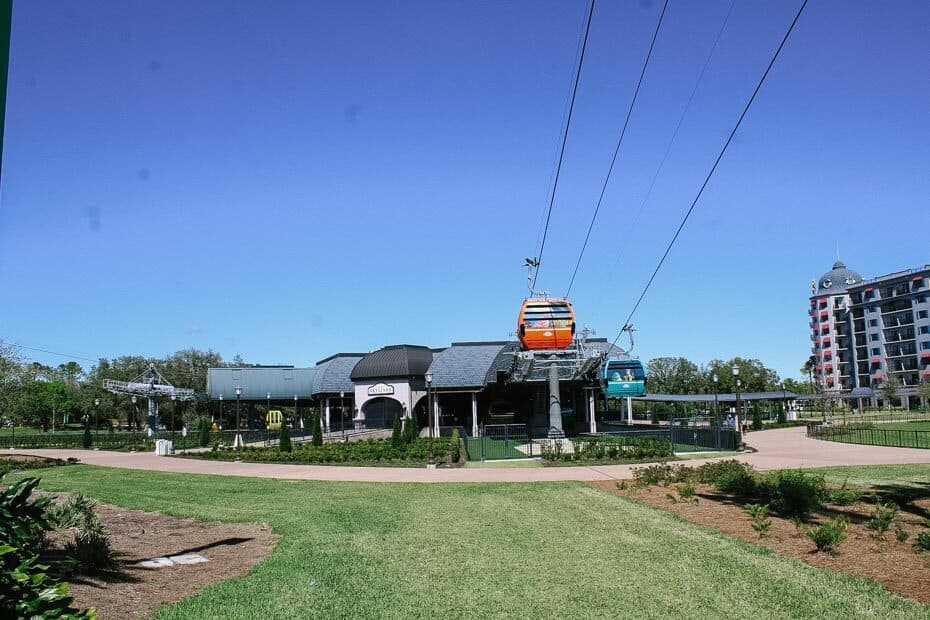 If you are staying at Disney's Riviera Resort, you'll take the Skyliner over to Caribbean Beach, exit, and join the line for a gondola to the Studios.
On my last trip, it took me approximately four minutes to travel between the neighboring resorts. I'll add a list of my travel times for the Skyliner between the different destinations down toward the bottom of this review.
Like everything else, the Skyliner does have its faults. One of the issues I have seen is that you might have to wait in a fairly long line at Riviera to get to the Caribbean. This is true, especially within an hour or so before park opening.
The next issue is when you get to Caribbean Beach, the Hollywood Studios line can be extremely long. When the Skyliner is steadily moving, the line moves with it. But there are circumstances when the gondola system stops and can cause a tremendous backup.
Unfortunately, there is one more issue that I've encountered at Riviera, and that's the line to Epcot. In December, I stayed in the Aruba section of Caribbean Beach, which sits next door to the Riviera Skyliner station.
The problem here can be that many guests come from Caribbean Beach, Pop Century, and Art of Animation on their way to Epcot. These gondolas drop into the station, the doors open, and the guests stay on since they are headed to the Disney park. In the meantime, Riviera's line for Epcot begins to build since there aren't any empty gondolas coming from Caribbean Beach.
Now, this isn't an issue all of the time. But if you are trying to get to a park close to opening, you'll more than likely run into these same issues.
I have stayed at both Riviera Resort and Caribbean Beach this past year to familiarize myself with how well this new Disney transportation works. One day, I waited at Riviera around lunchtime for over 15 minutes, and the line barely moved. I ended up leaving, getting my car, and driving to the park.
On a good day, the lines are constantly flowing. However, there are times when the system slows or is paused to make the ride accessible for all guests.
Tip: If you are staying at Disney's Riviera Resort and are headed to Hollywood Studios, you can walk to the Caribbean Beach station. There you can join the line for Studios.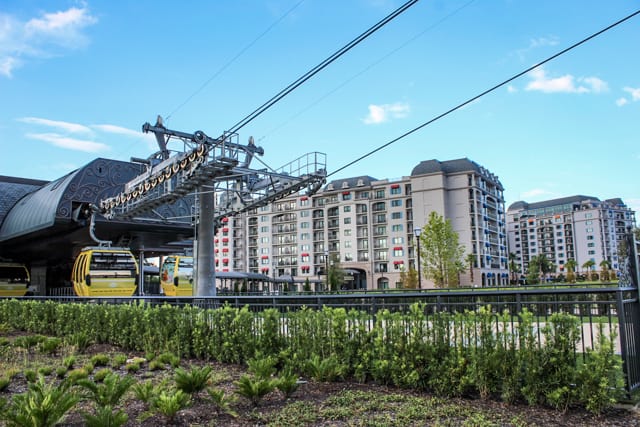 You will continue on the path past the Riviera Skyliner station. It's probably about a half-mile walk to the next station. I'll leave that up to you to decide whether or not it's worth the walk.
That tip works vice-versa on a return from Hollywood Studios to Riviera Resort. After reaching Caribbean Beach from Hollywood Studios, you can walk back or board the Skyliner to Riviera. In most instances, this line won't be too long. But if you were to encounter a long line or that gondola line was down, I might walk. You know I would walk.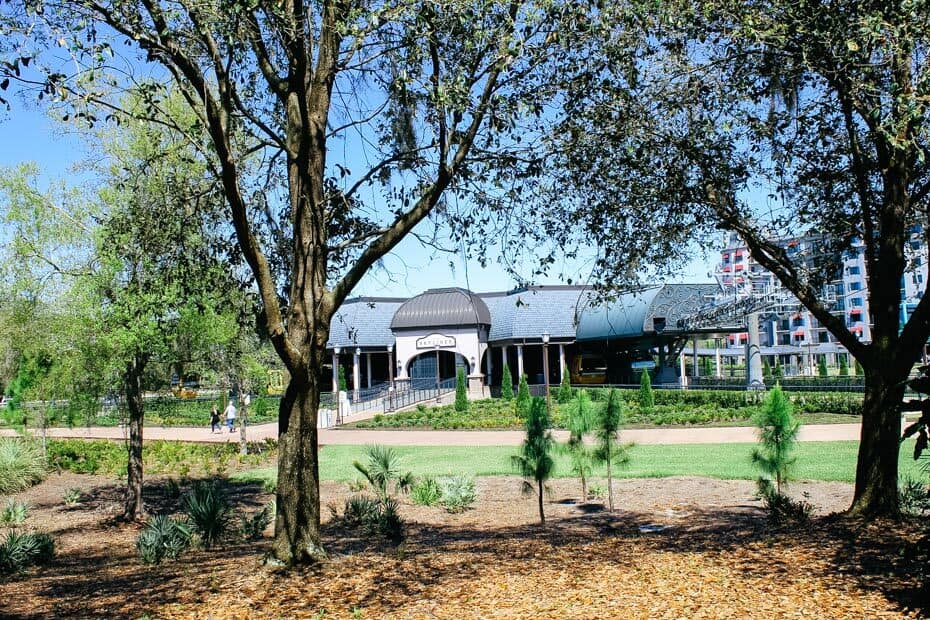 Pop Century and Art of Animation Skyliner
Guests staying at Disney's Pop Century Resort or Art of Animation will find a similar experience. These resorts share a pick-up and drop-off station located on the bridge that sits across Hour Glass Lake.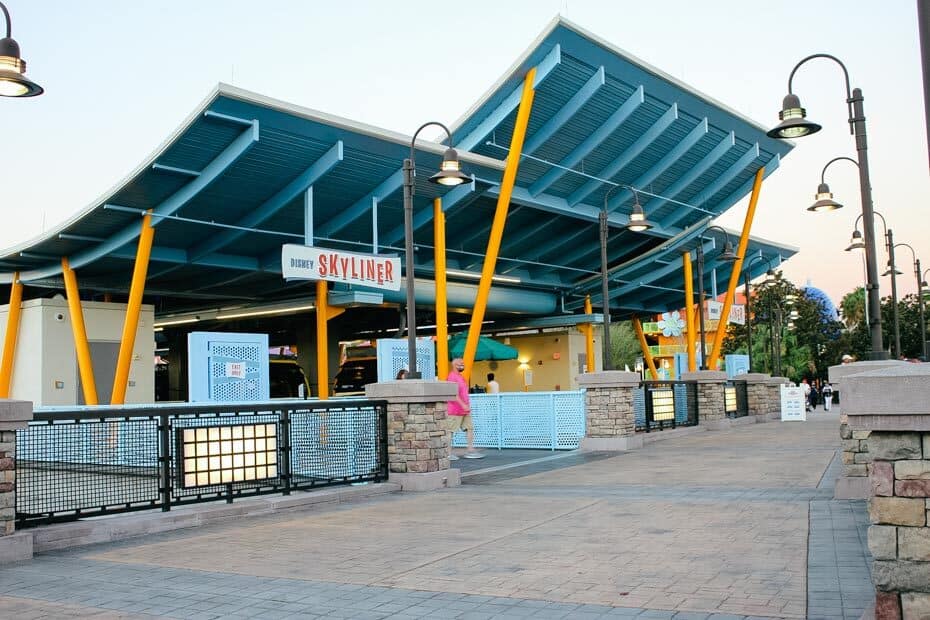 From these resorts, Skyliner guests will travel to Caribbean Beach's main station. There they will depart their gondola and get in line for Epcot or Hollywood Studios.
The main difference here is that there's no option to walk to the main Caribbean Beach station from the value resorts. While these Disney value resorts sit fairly close to Caribbean Beach, there is no adjoining walkway to connect them.
The ride between the two values and Caribbean Beach's station is approximately five minutes. Here's a look at the station as guests depart and return to the Disney Skyliner.
If you have an upcoming trip, the best way I can explain using the Skyliner is knowing you'll always have to get off at Caribbean Beach. Then you'll get in line for your next destination.
Make sure to consider the fact that both of these resorts share one line to board the Skyliner gondolas. A few weeks ago, I visited Art of Animation when I was working on updates for this guide. Warning, if you are heading out close to the park opening, be prepared to wait in a fairly long line.
On the day of my visit, these signs were out in front of the station. The one on the right says, "Due to high demand for Disney Skyliner, direct bus service is available to/from Epcot and to/from Disney's Hollywood Studios for your convenience."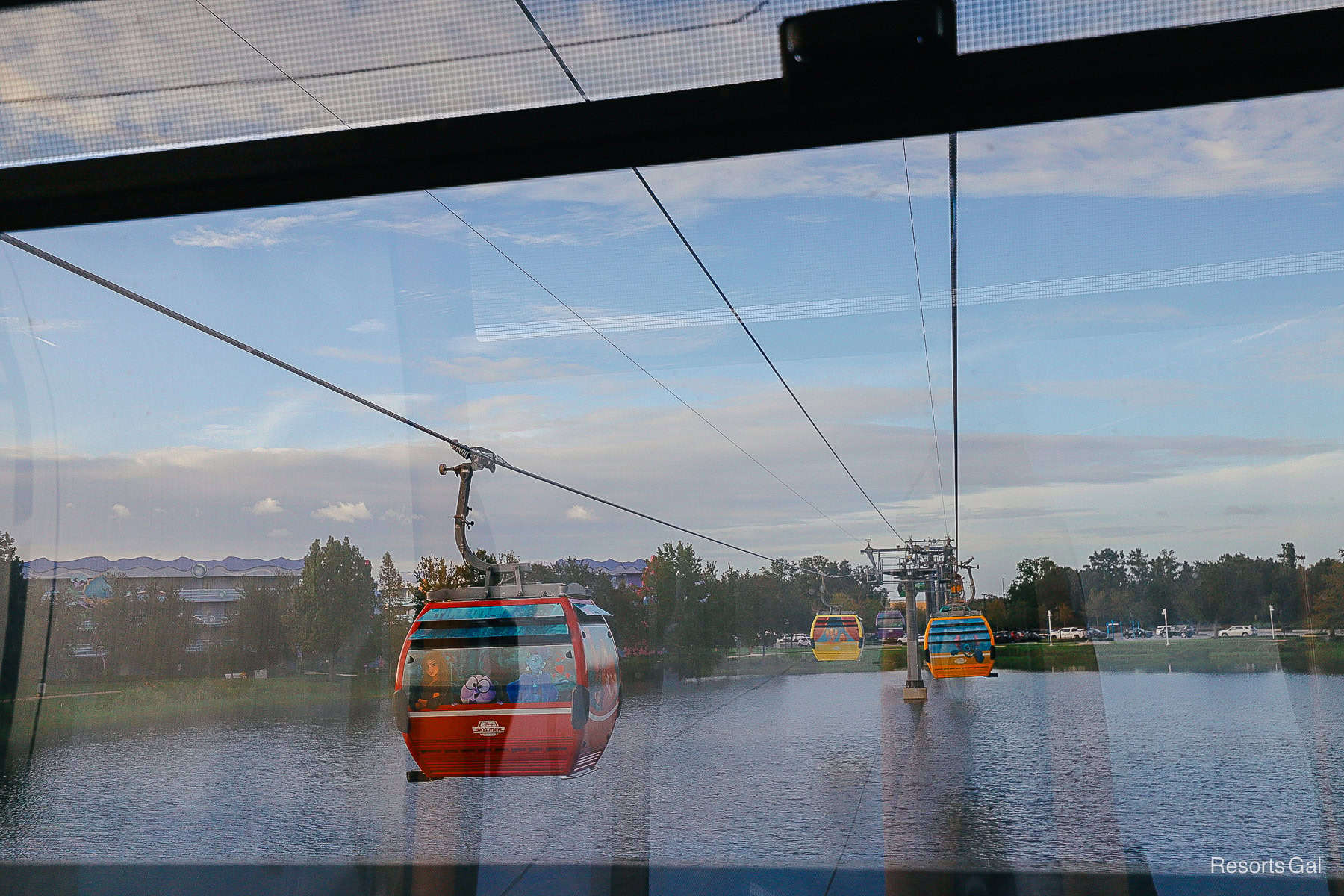 Epcot and Hollywood Studios Skyliner Stations
Below is where the Disney Skyliner comes in at the Epcot International Gateway entrance.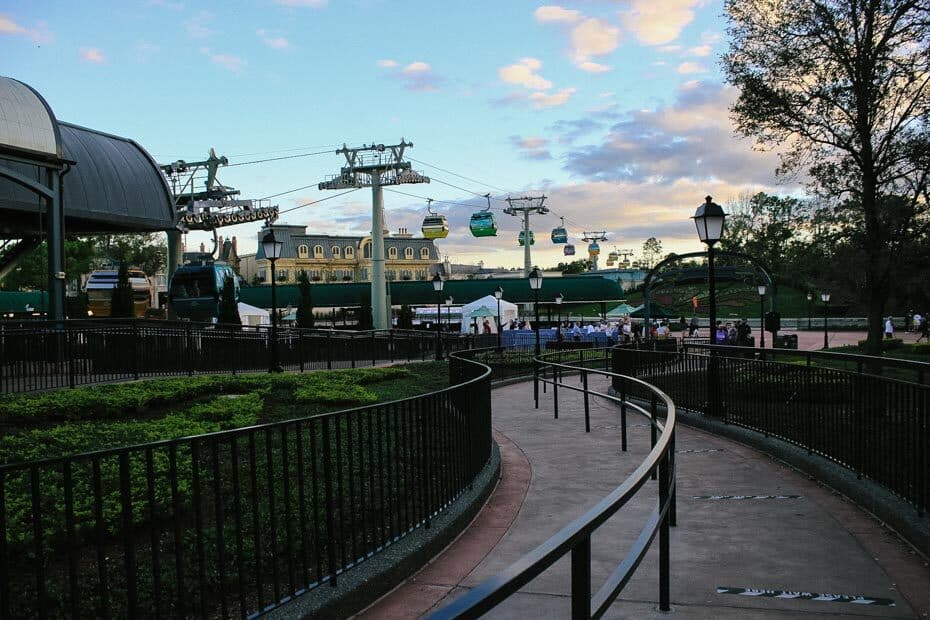 Once you exit at Epcot, you'll head through a temperature and security checkpoint. After that, you'll enter the World Showcase at the International Gateway via the ticket turnstiles. The International Gateway is considered the back entrance to the park and is very pleasant.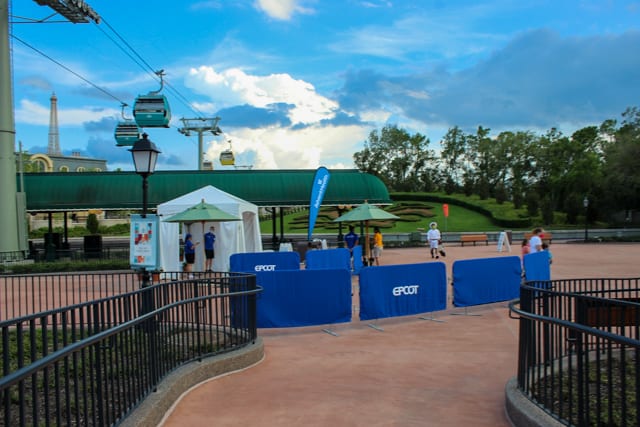 And here is where the Skyliner station sits outside the entrance to Disney's Hollywood Studios.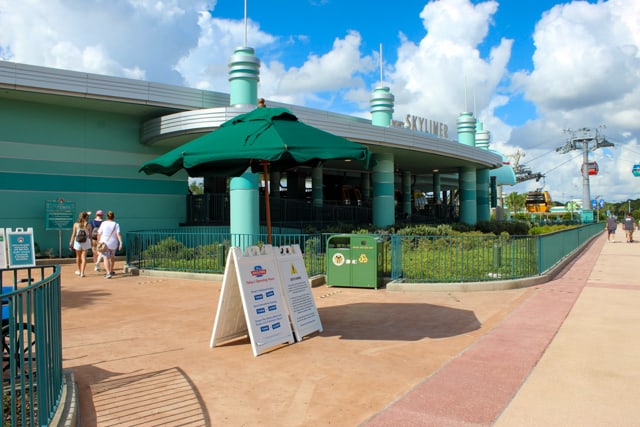 There is signage at each station indicating where all you can travel.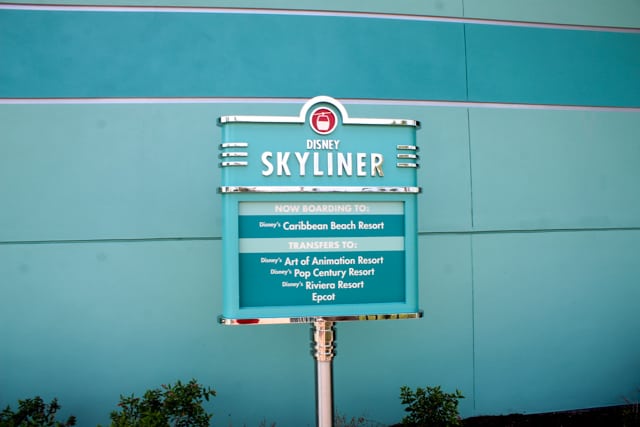 Skyliner Hours
At this time, the Disney Skyliner's hours of operation vary. From what I've seen in 2021, the Skyliner hours are usually about 1 hour before park opening and an hour or so after park close. Each day of your visit, there should be hours posted indicating whether the system is running on a reduced schedule.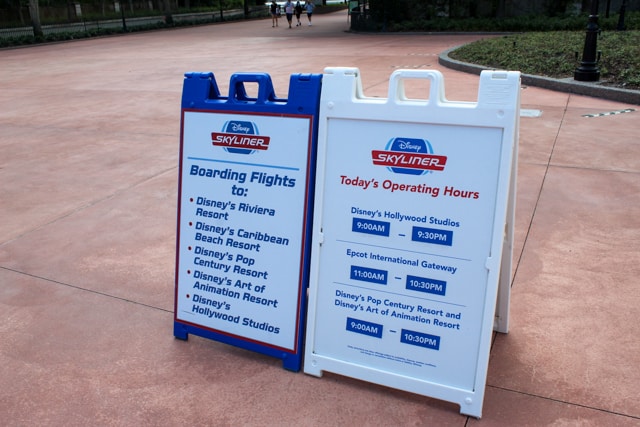 For most, this won't be an issue, unless you plan to be out fairly late around Disney's Boardwalk area. To check the daily hours for any given park you can do that here on Disney's site.
Speaking of the Boardwalk, allow me to share with you what happens when the Skyliner goes down. I was leaving Epcot a few minutes before the park closing one evening. I had taken the Skyliner from Riviera to the park earlier that afternoon. Sometimes between my arrival and closing, the system went down for the evening, unbeknownst to me.
When I exited Epcot, cast members were standing outside the closed station directing guests to walk to the Boardwalk to catch a bus. The other option was to walk back through the park and catch a bus from the front entrance. Since I was near Boardwalk and obviously very familiar with the area, I ventured in that direction.
Unfortunately, I met a fairly angry crowd at the Boardwalk bus stop. Some were complaining that they had been waiting for over 30 minutes. Thankfully, I didn't have to wait long because two buses pulled up a few moments later. But then I had to ride that bus to Pop Century, Art of Animation, and then to Caribbean Beach.
Not only that but instead of taking us to the different bus stops, we were dropped off at the Skyliner station at Caribbean Beach. From there, I had to walk back to the front of the resort where I had mobile ordered food. That was a long way.
When I exited the bus, there were still guests on it waiting to go to Riviera!
My best advice when things like this happen on vacation is to try to remain patient. If this happens to me again, I will probably take a car service from one of the resorts back to where I'm staying. Truthfully, I could have walked back to Caribbean Beach faster than I made it that evening, given a better walkway was in place.
Overall, I guess it was good I had the experience to share with you. But it was very frustrating. Thankfully, I didn't have a sleeping child to carry as many others did.
Do you want to know the kicker? This happened on the first evening of a 7-night stay at Caribbean Beach. How do you think I felt about riding the Skyliner the rest of that week? Wary.
Don't get me wrong, I'm not saying this to make you nervous. I hope if you read this review and a similar situation pops up on your trip, that you'll at least have a few ideas of your options.
Riding the Skyliner at Disney
When you approach the Skyliner, a cast member will direct you to stand on a specific marker. It's important to know that the gondolas are moving very slow, but they do not stop.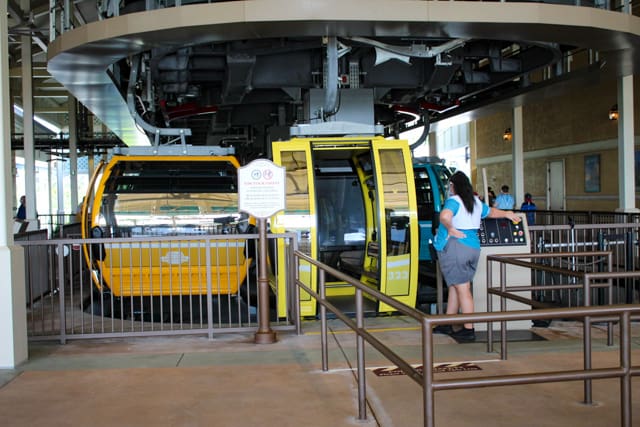 So when it's time to board, it's time to board. Step on and keep moving directly to your seat. If you are anything like me, you'll want to sit facing forward in the direction you are headed.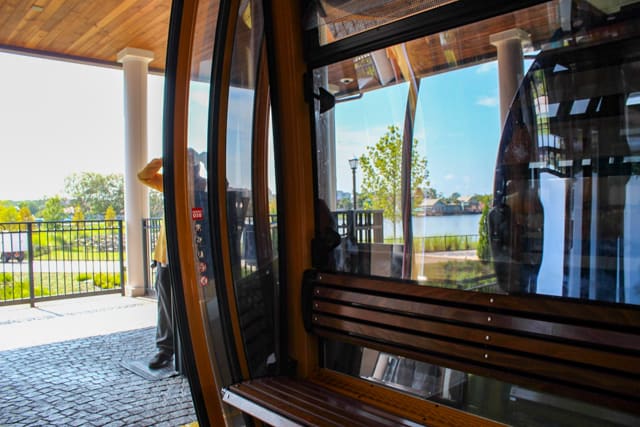 This might not be a big deal to most, but some of you will want to remember that when boarding. You will probably encounter a brief pause after you are seated as you watch the gondola ahead of you take to the sky.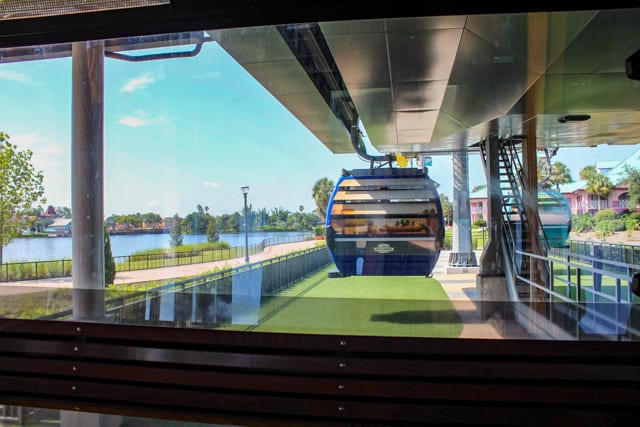 It will appear to get fairly far ahead of you quickly. At that point, your gondola will do the same.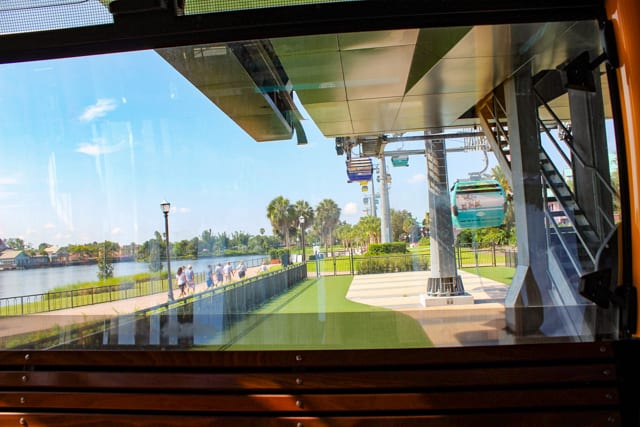 Initially, there's a bit of a rocking motion as your gondola ascends. And all at once, you find yourself up above everything else.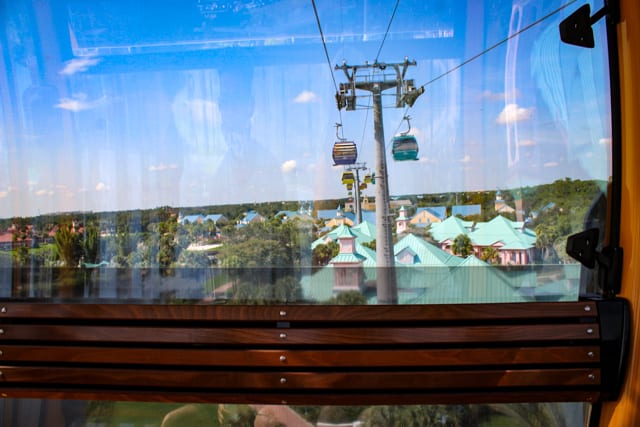 Taking in views of Disney that you've probably never seen before. You'll see the Swan and Dolphin Hotel in the distance. And the Hollywood Studios Tower of Terror sits upon the horizon.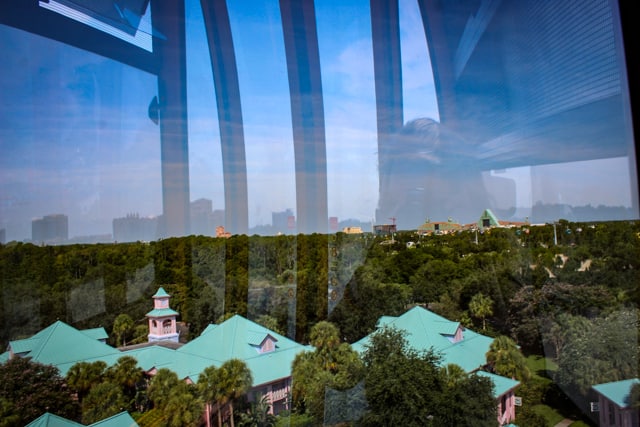 Others traveling in a different direction will pass you by as well.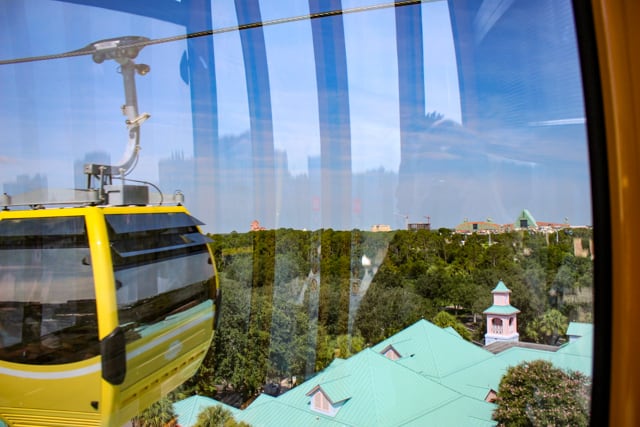 Inside the gondola, an audio recording will play in the background, pointing out various landmarks below. I want to point out there's an emergency kit underneath the seat of the gondola. Hopefully, you won't ever have any use for it.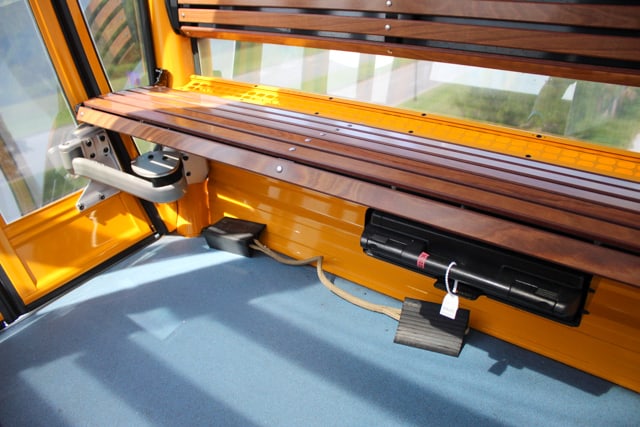 Coming into Epcot, you'll be able to see into the France pavilion where the new Ratatouille attraction will debut in October of 2021. Or so they say.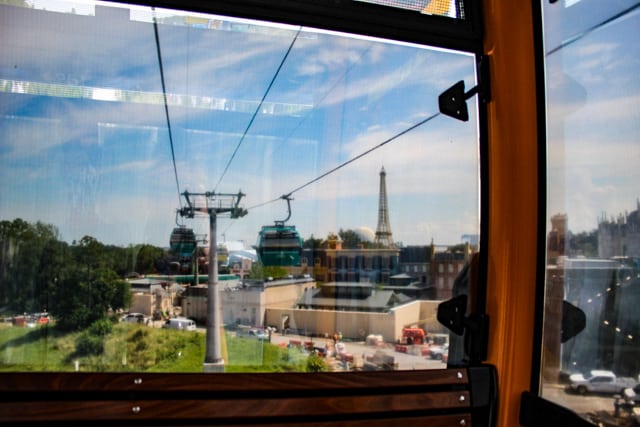 Like the Skyliner, I think it will be a wonderful new addition.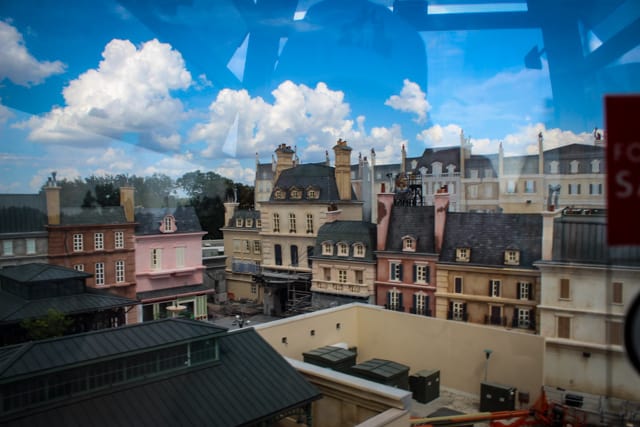 The Skyliner at Disney does close in the event of inclement weather. One evening I could see sheets of rain coming down ahead of me.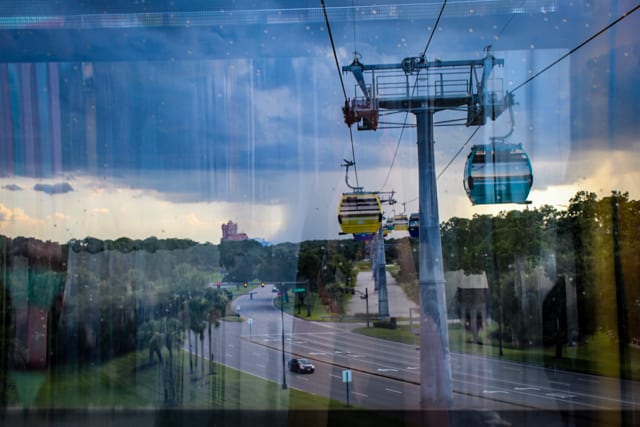 And then we made the turn to Epcot, where the skies are always sunny. Well, at least to me, they are.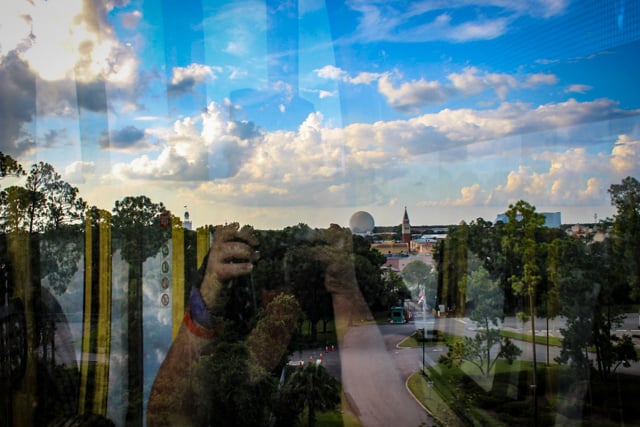 These are the kind of views that could move you to tears. How lucky we are to have a place so special to visit here in Florida.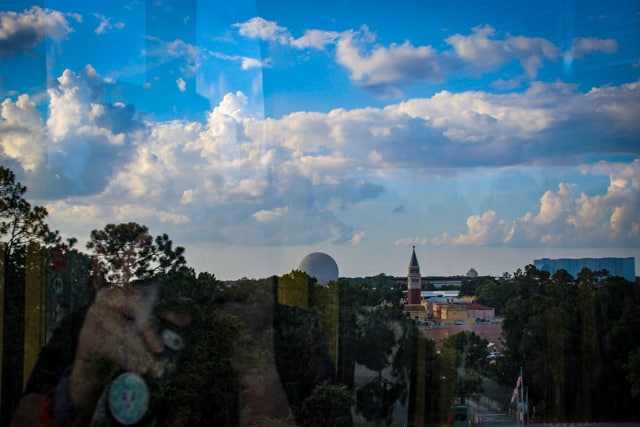 I hope you will enjoy your ride!
Skyliner Travel Times
As long as this review has been, I did promise to add in travel times from my most recent set of rides. Remember that travel times can greatly vary depending on the line ahead of you or times when the system has to pause.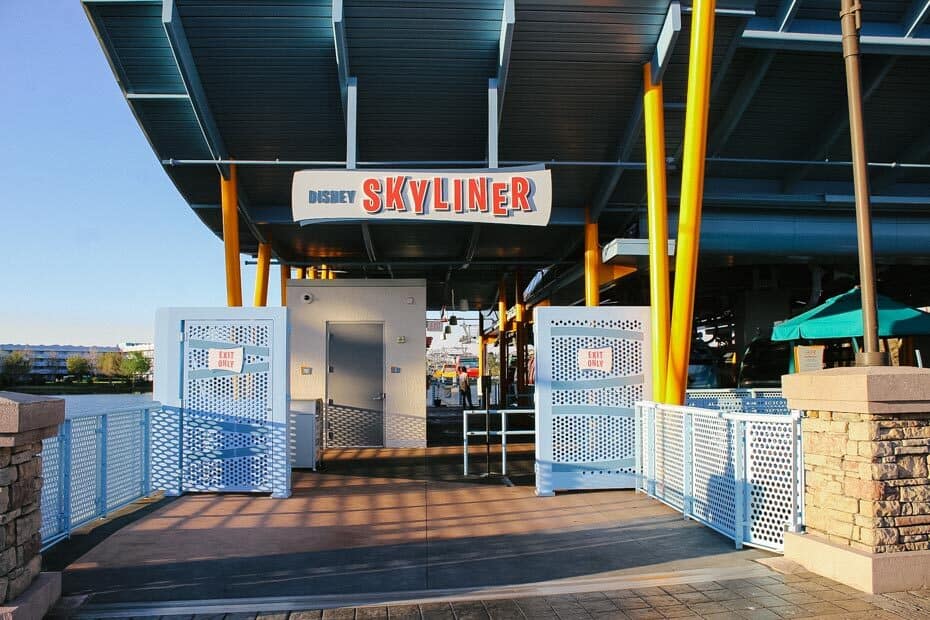 On this day I was doing some work in the Epcot Resorts Area and needed a few photos at Art of Animation. I decided that I would take the Skyliner all the way over and time my ride. There were no waits at any of the stations, so it went very smoothly.
At 5:27 p.m. I boarded a gondola from Epcot.
The doors opened at Riviera Resort at 5:37 p.m. (10 minutes)
Exited at Caribbean Beach at 5:42 p.m. (5 minutes)
Boarded from Caribbean Beach to the Values at 5:43 p.m. (1 minute)
Arrived at Art and Pop at 5:47 p.m. (4 minutes)
Therefore, it took approximately 20 minutes to leave Epcot and arrive at the Values. For comparison, I time the same route on the way back to see if there was any variance.
Boarded Art of Animation at 6:31 p.m.
Arrived and Exited Caribbean Beach at 6:35 p.m. (4 minutes)
Boarded new gondola at 6:35 p.m. (1 minute)
Went through Riviera at 6:39 p.m. (4 minutes)
Arrived at Epcot at 6:48 p.m. (9 minutes)
That time around, I came in at a record 18 minutes. I don't think you'll do better than that, but you are more than welcome to try.
Additionally, my average time from Caribbean Beach to Hollywood Studios is around 8 minutes.
Final Thoughts on the Disney Skyliner
Let me wrap this up by saying I'm sorry if some of the information in this review sounds redundant. But taking a new form of transportation at Disney can be daunting. Even I got turned around the first time I took a trip on the Skyliner at Disney.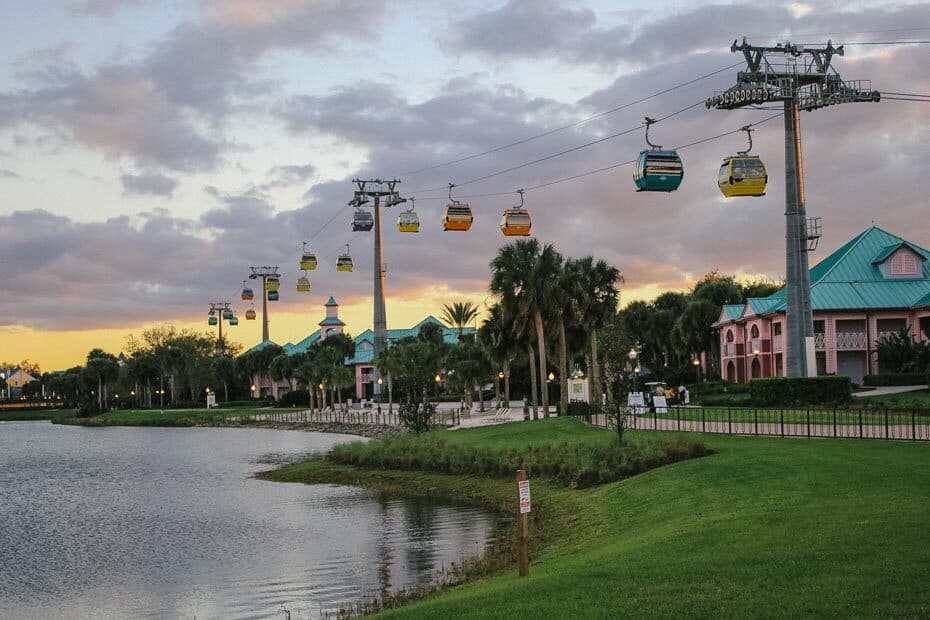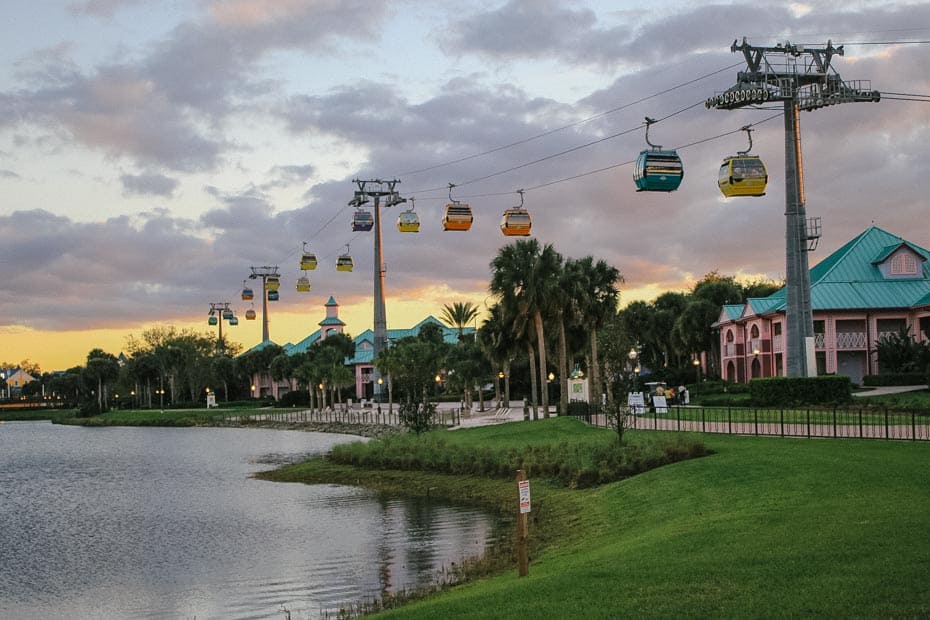 I always suggest making a list on your phone of the transportation available to you at your resort and where it will take you.
It would be very frustrating to stay somewhere like Port Orleans French Quarter and not know there is boat transportation to Disney Springs in your backyard. I can't tell you how many times I've been at the Beach Club bus stop over the years and someone walks up looking for the bus to Epcot. You can walk to Epcot from the back door of the Beach Club in less than 5 minutes. And if you don't want to walk, you can take a Disney Friendship Boat.
Don't get me started about the Disney World monorail debacles I witness regularly. No the resort monorail that you've ridden around the same Magic Kingdom loop at least twice is not on its way to Epcot. You have to exit and catch a different monorail to get to Epcot.
But I get it. A trip to Disney World can be overwhelming. Visitors that aren't practiced or at least properly informed of their transportation options before visiting can easily waste a lot of valuable touring time.
Please don't be one of them!
And have fun taking the Disney Skyliner!
For those planning a Disney vacation make sure to check out our full selection of Disney Resort Reviews. You might also enjoy browsing the list of Disney restaurant reviews. It includes all of our dining experiences to date. And our most popular articles include the Loungefly Disney Backpacks ultimate timeline and the best restaurants at Disney Springs.
Make sure to leave a comment below with your thoughts or experiences taking the Skyliner at Disney.