The Disney Skyliner (Resorts, Hours, and Travel Times with 2023 Updates)
Disney's Skyliner service is a game-changer regarding transportation at Walt Disney World. Whether taking a ride for enjoyment or traveling to a specific destination, you'll likely want to use the Skyliner during your next vacation.
This article discusses Disney's Skyliner in detail. We'll go over the hours of operation for the Skyliner and preview travel times between the gondola stations. Additionally, we'll look at which resorts offer Skyliner access.
Unfortunately, it's hard to say how long you'll have to wait in line to board the Skyliner. It depends on various factors.
For example, you'll likely encounter a long line if you are headed to the parks right before they open. The same goes for the evening after the park closes.
So while we can't provide a wait time for the Skyliner, we can give you an idea of the average travel time between your location and destination.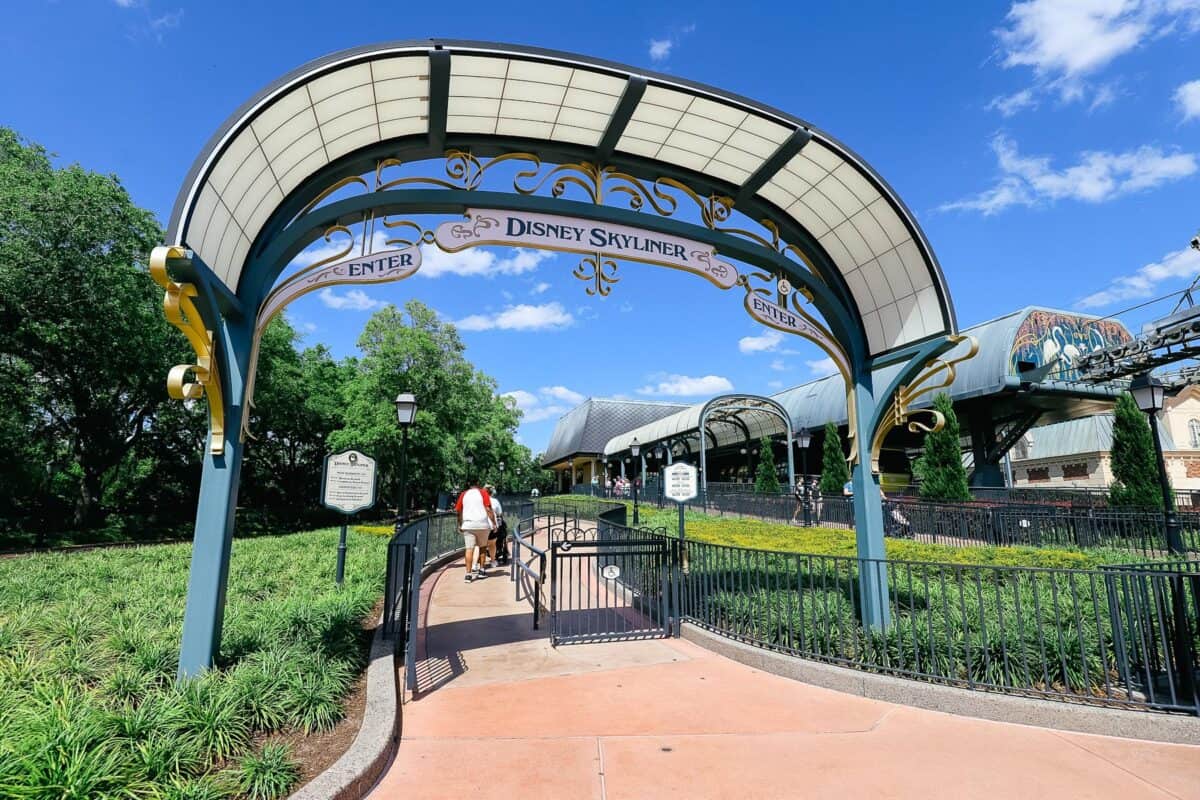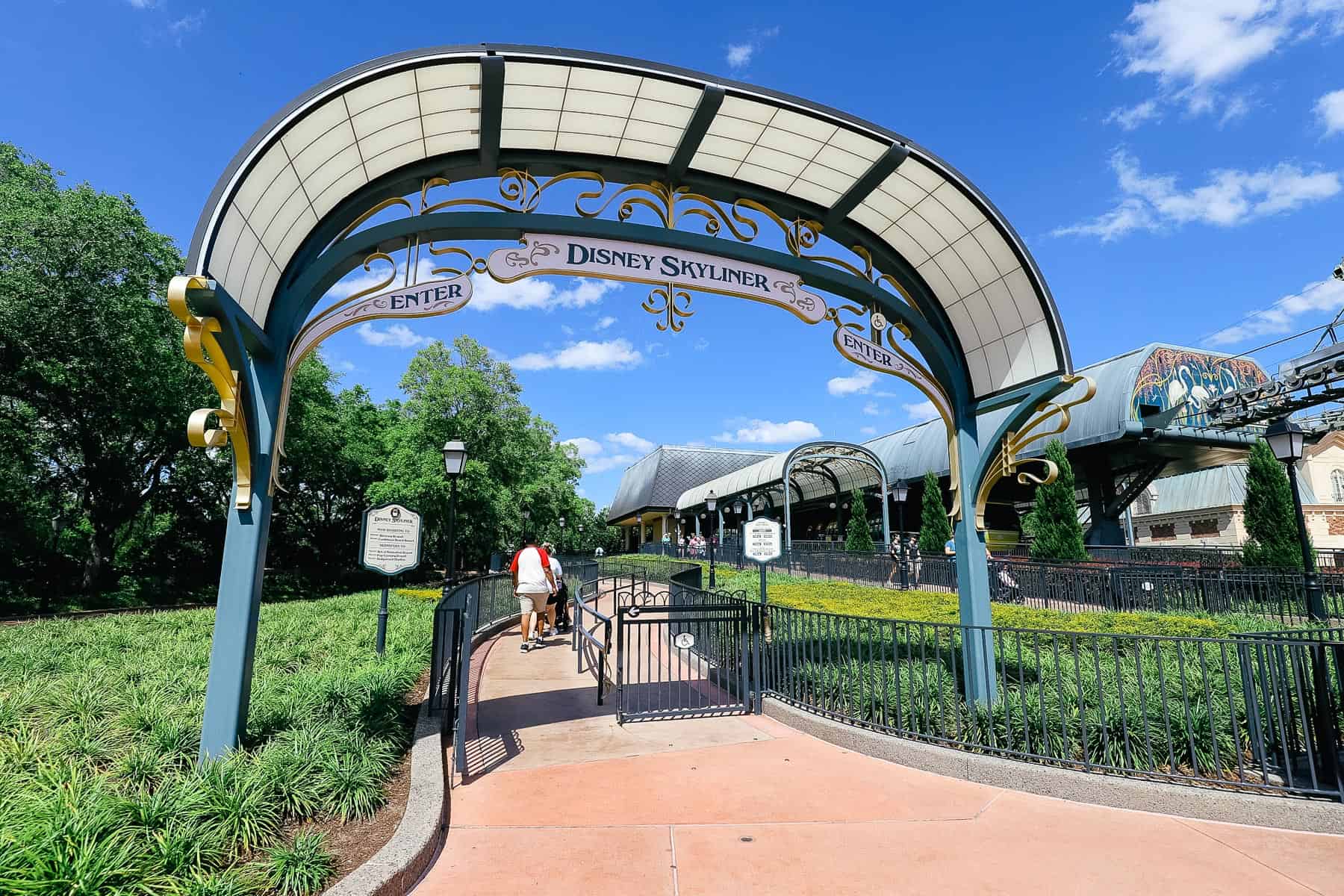 Before we delve deep into the specifics of the Skyliner, I want to share my initial experience to prepare you. A few years ago, when the Skyliner debuted, I was excited to try it out. But when we took off, I was more nervous than anticipated.
Those nerves wore off quickly. Almost immediately, I found myself overwhelmed by the stunning aerial views of the surrounding Disney Resort Hotels.
For a long time, I felt that same sense of overwhelm every time I rode the Skyliner. It seemed like the newness would never wear off.
So a while ago, when my son was visiting, we took the Skyliner from Hollywood Studios to Caribbean Beach. When we took off, he mentioned how it still made him nervous.
At that time, I smiled and realized I had finally gotten used to riding it. So even though it took a while, the Skyliner has finally become the norm.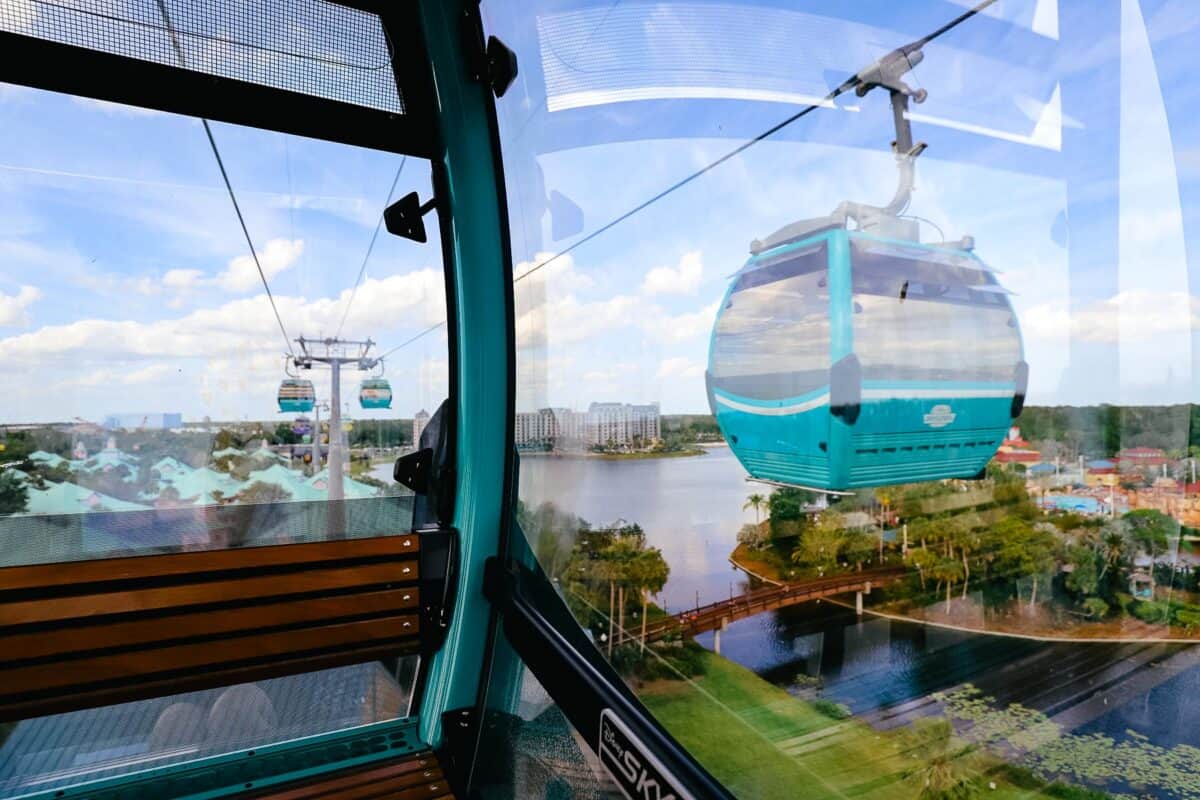 Disney Skyliner Resorts
Guests staying at the following Disney World Resorts will have immediate access to a Disney Skyliner station.
Additionally, guests staying in the Epcot Resorts Area around Crescent Lake are within walking distance of the Epcot Skyliner station and Hollywood Studios Skyliner station.
One station sits outside the International Gateway entrance to Epcot. The other sits at the entrance to Disney's Hollywood Studios.
Those hotels are the following: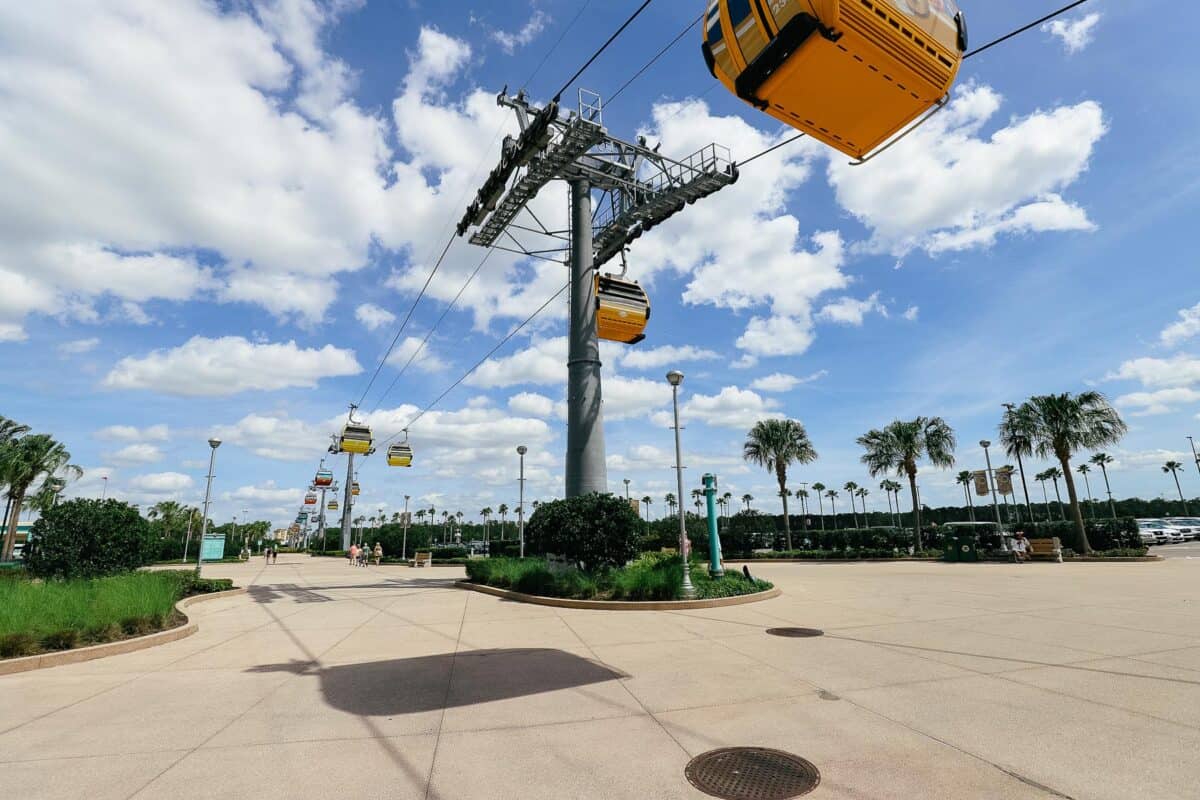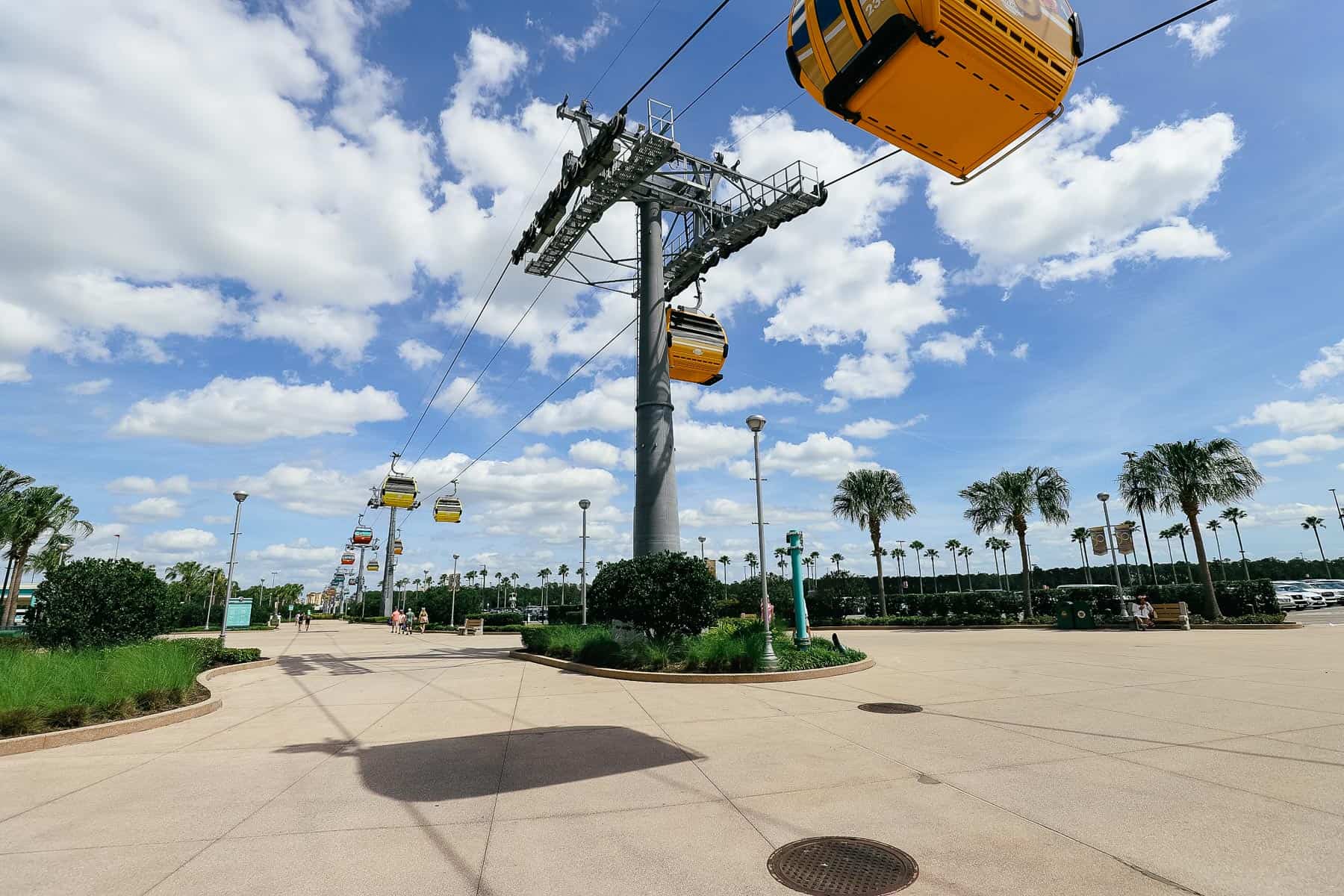 Skyliner at Caribbean Beach
Disney's Caribbean Beach Resort is home to the central gondola station for the Disney Skyliner system. You can think of Caribbean Beach as the Skyliner's main hub. All of the gondola lines eventually lead back to it.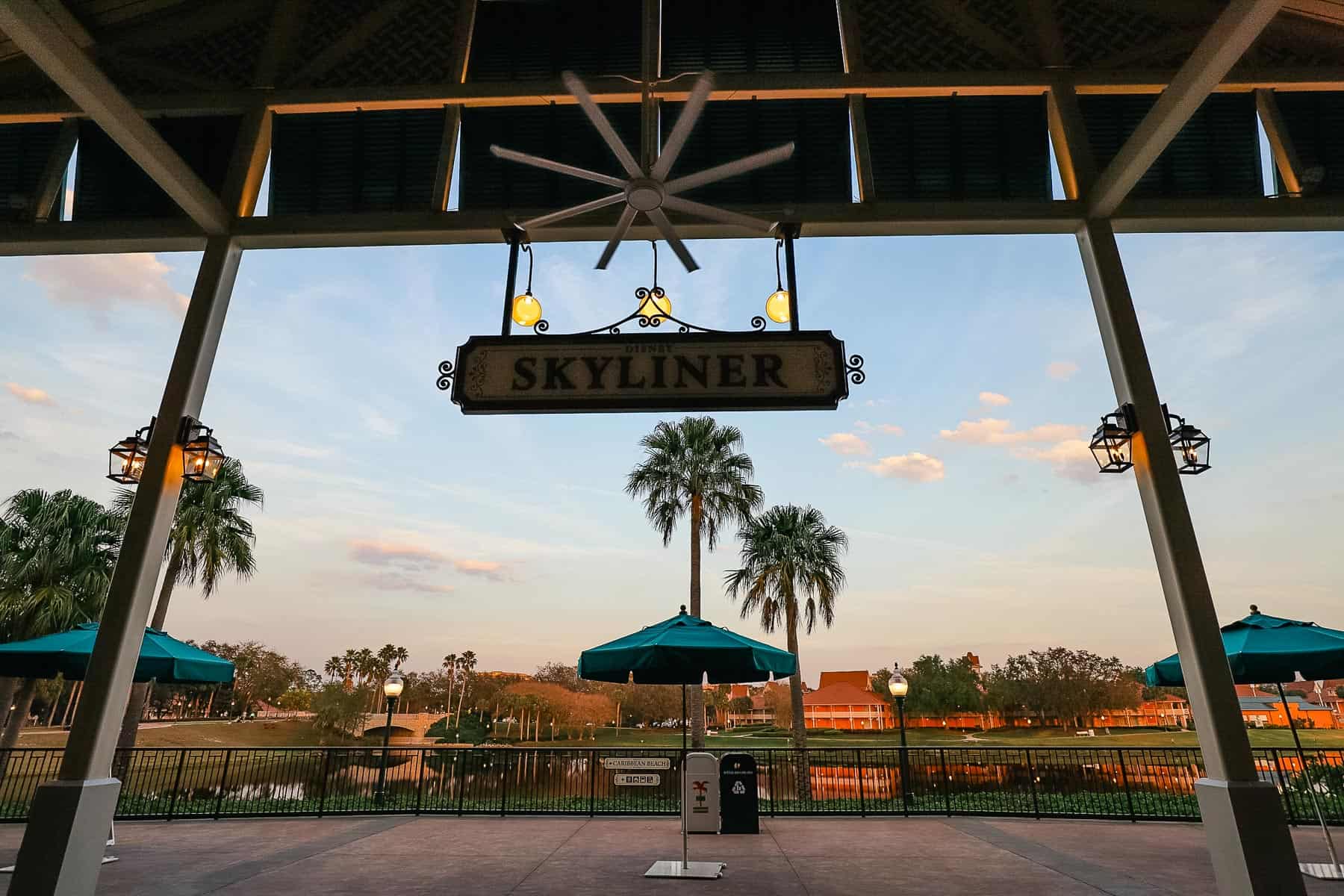 Caribbean Beach is the only station that will take you directly to Disney's Hollywood Studios and Epcot. Once you board a gondola from this location, you won't have to exit until you've reached either location.
Guests coming from Pop Century, Art of Animation, and Riviera will have to disembark their gondola when they reach Caribbean Beach. From there, you'll have to board a new gondola car to either Disney's Hollywood Studios or Epcot.
The only exception is guests of Disney's Riviera Resort can join a direct line to Epcot from their resort. They will only travel to Caribbean Beach when traveling to Hollywood Studios or another resort.
When you leave Disney's Caribbean Beach for Epcot, you will drop back down and cycle through the Riviera Resort's station. However, you remain on board as you proceed to Epcot.
Of course, you can disembark at Riviera if you are visiting the resort. When the Skyliner's doors open during the drop-down, a cast member will ask if anyone wants off for Riviera.
After the doors close, they will reopen again around the corner. At this point, guests headed to Epcot from the Riviera might join your gondola.
From Caribbean Beach, the Skyliner travels to the following locations:
Epcot
Disney's Hollywood Studios
Riviera Resort
Art of Animation Resort
Pop Century Resort
The most important thing to be aware of is that three lines feed into Caribbean Beach. Therefore, anyone coming into this central hub at Caribbean Beach must disembark their gondola cabin. Then they will join the line for their next destination.
That is unless Disney's Caribbean Beach Resort is your destination.
Related: Disney's Caribbean Beach Resort Review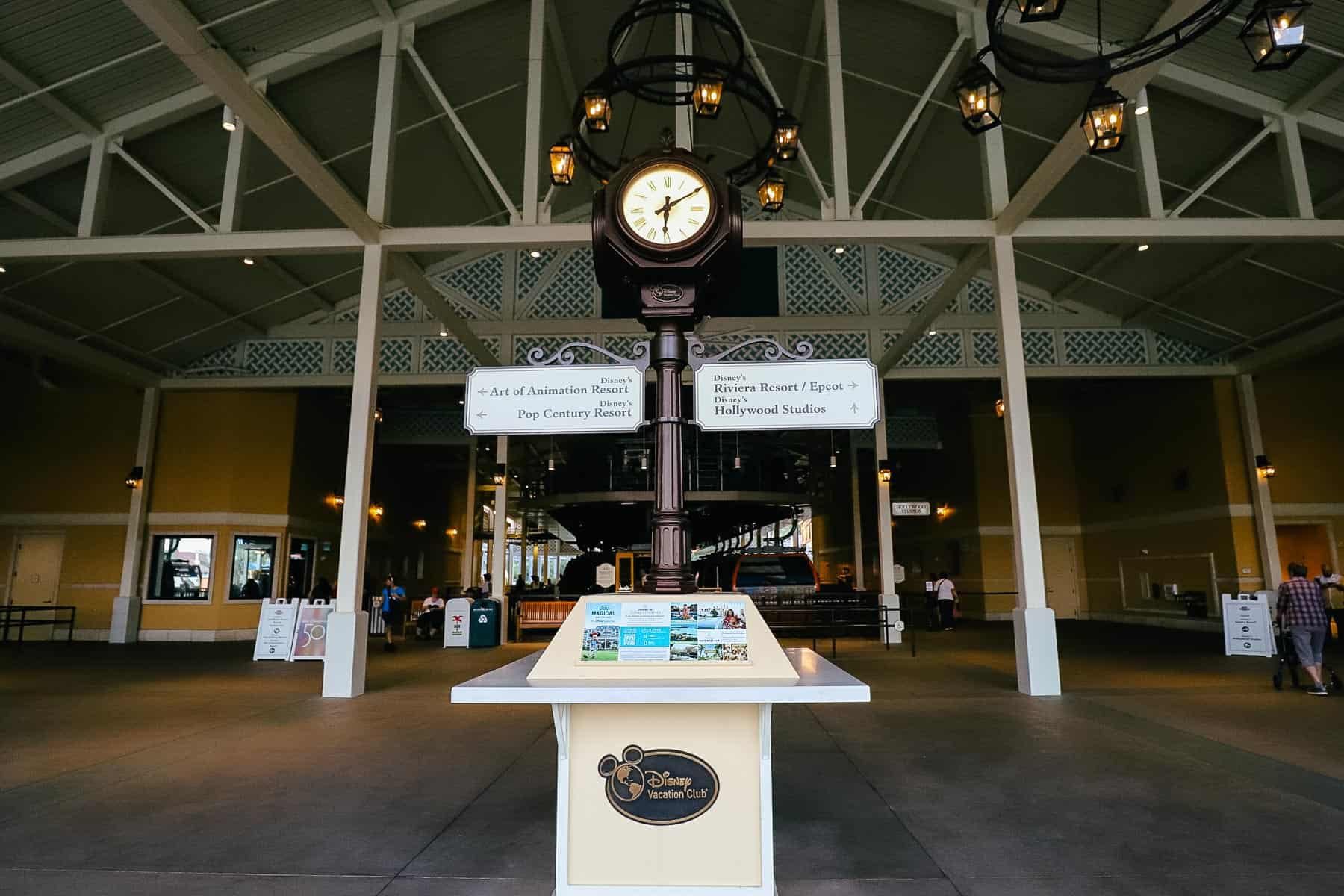 Skyliner at Riviera
As mentioned, Disney's Riviera Resort offers a direct Skyliner line to Epcot. So when you leave Riviera, your initial destination options are Epcot or Caribbean Beach.
As you approach the Skyliner from the Riviera, the line on the resort side goes to Caribbean Beach. If you're going to Epcot, you'll walk around to the opposite side of the station. (You can quickly get on the wrong line if you aren't paying attention.)
On the way to Epcot, you'll encounter a turn station above the Buena Vista Drive and Epcot Resorts Blvd intersection. Here the gondola will slow as it approaches the turnaround. Then you'll go through an area where it changes direction.
Shortly after, you'll drop down over the France Pavilion and arrive at Epcot's International Gateway. From here, you can enter Epcot or visit the resorts in the surrounding area.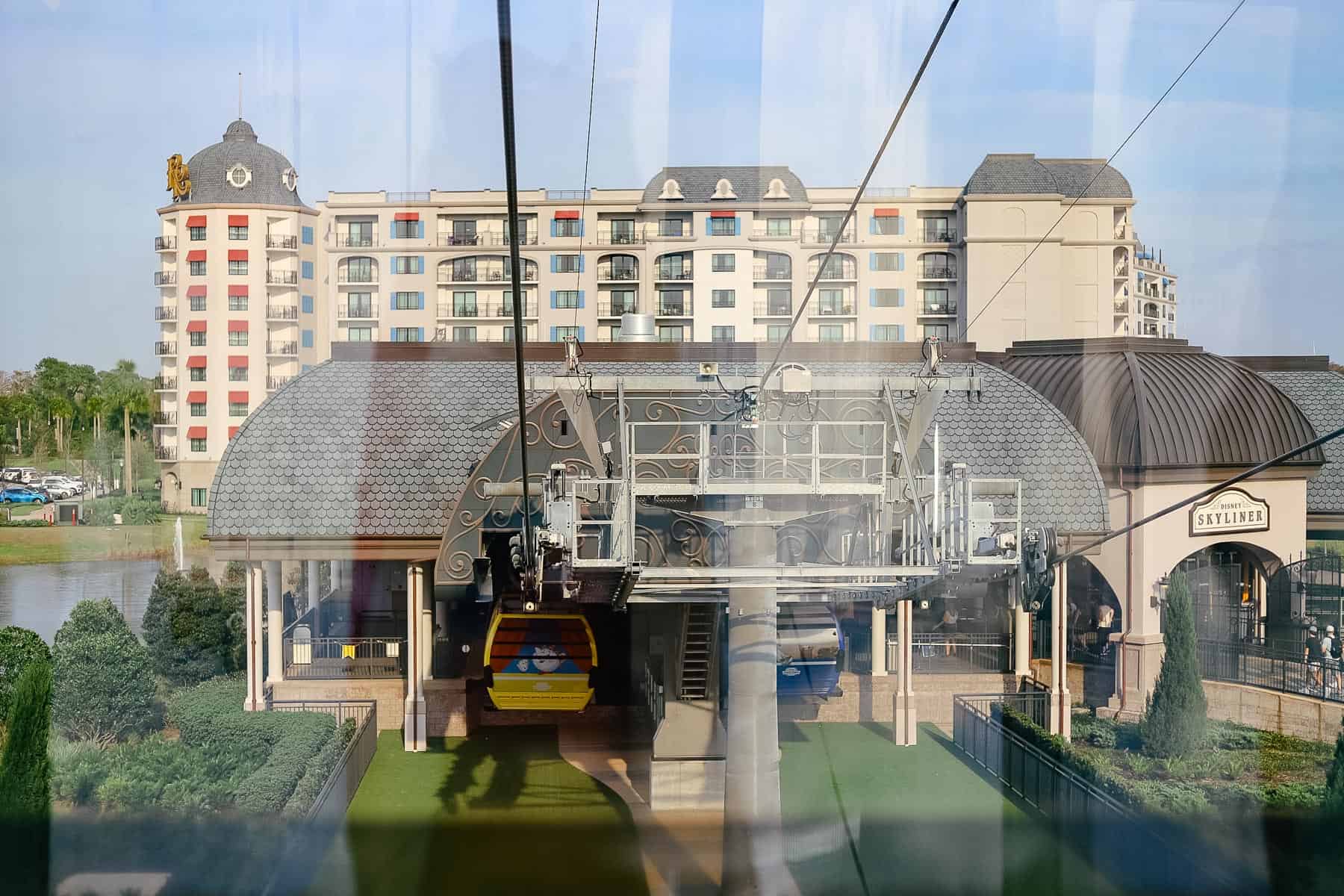 Guests traveling from Disney's Riviera to Hollywood Studios will board a gondola from the resort to Caribbean Beach. At Caribbean Beach, you'll exit and join the line for Hollywood Studios.
Additionally, you can walk between the Skyliner stations at Caribbean Beach and Riviera. However, it is a reasonably long walk between them.
Related: Disney's Riviera Resort Review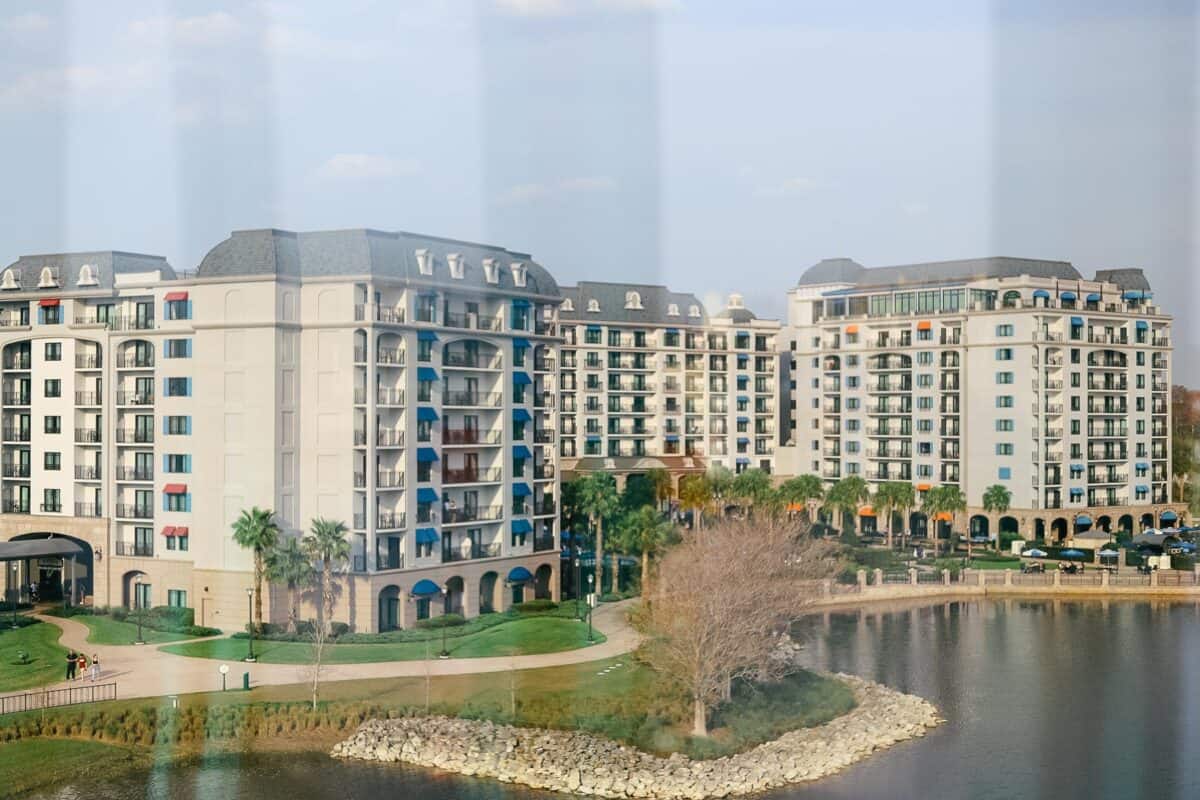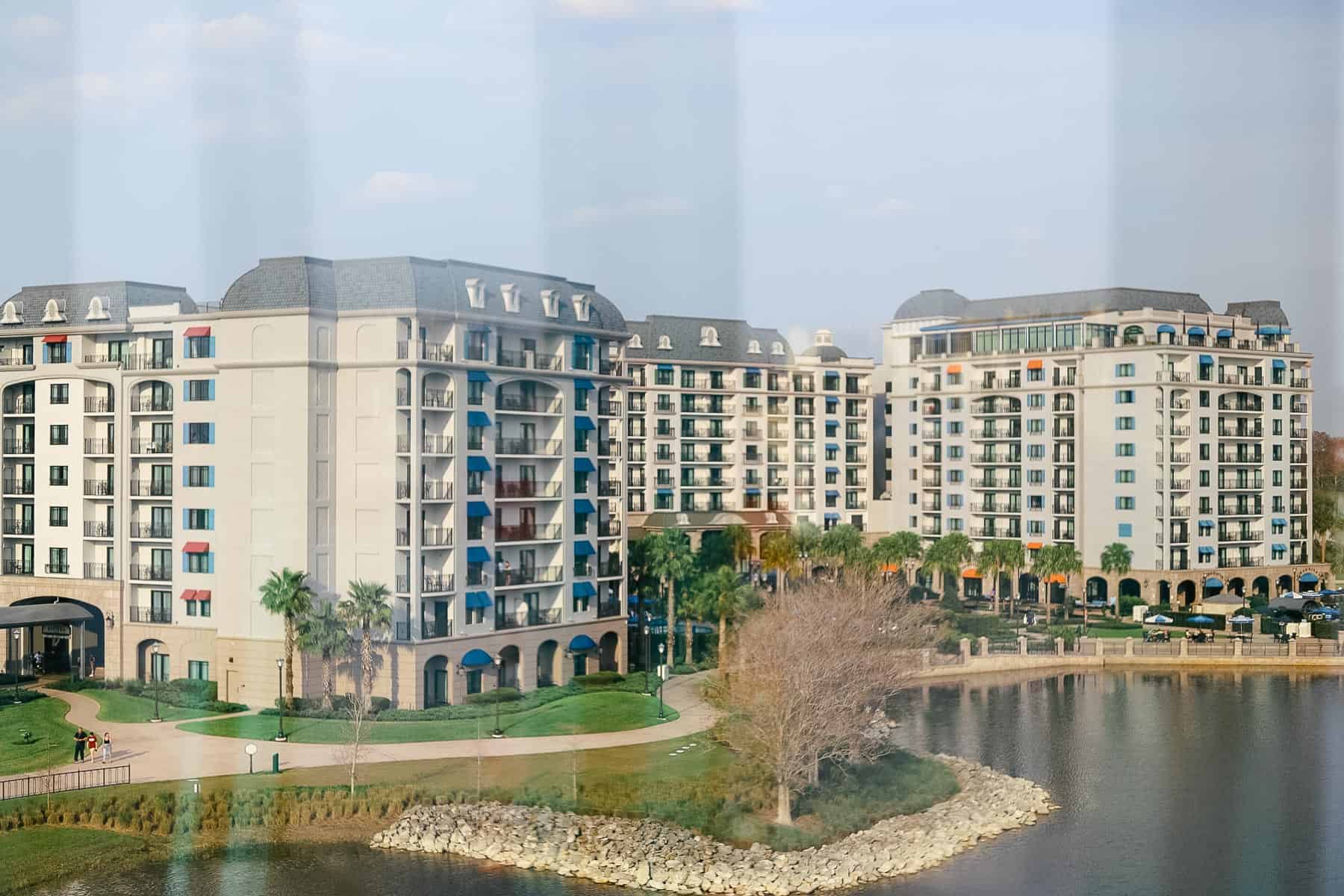 Skyliner at Pop Century and Art of Animation
Guests staying at Disney's Pop Century or Art of Animation Resorts will find a similar experience. These resorts share a Skyliner station. It sits on the bridge across Hour Glass Lake.
Skyliner guests will travel to Caribbean Beach's central station from these resorts. From there, they will depart their gondola and get in line for Epcot or Hollywood Studios.
The main difference is that there's no option to walk to Disney's Caribbean Beach station from either of these Disney value resorts. So while they are relatively close, no walkway connects them.
It takes approximately five minutes to travel between Pop Century or Art of Animation to Disney's Caribbean Beach. Here's a look at the station.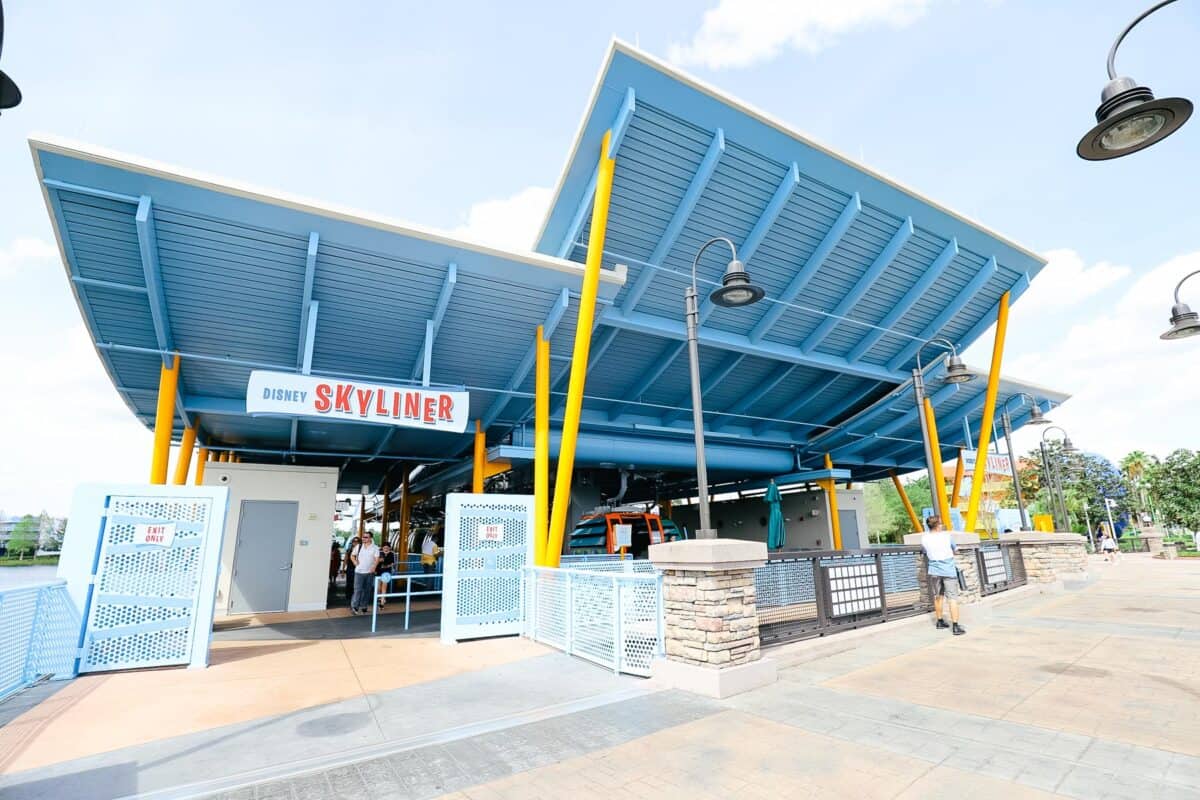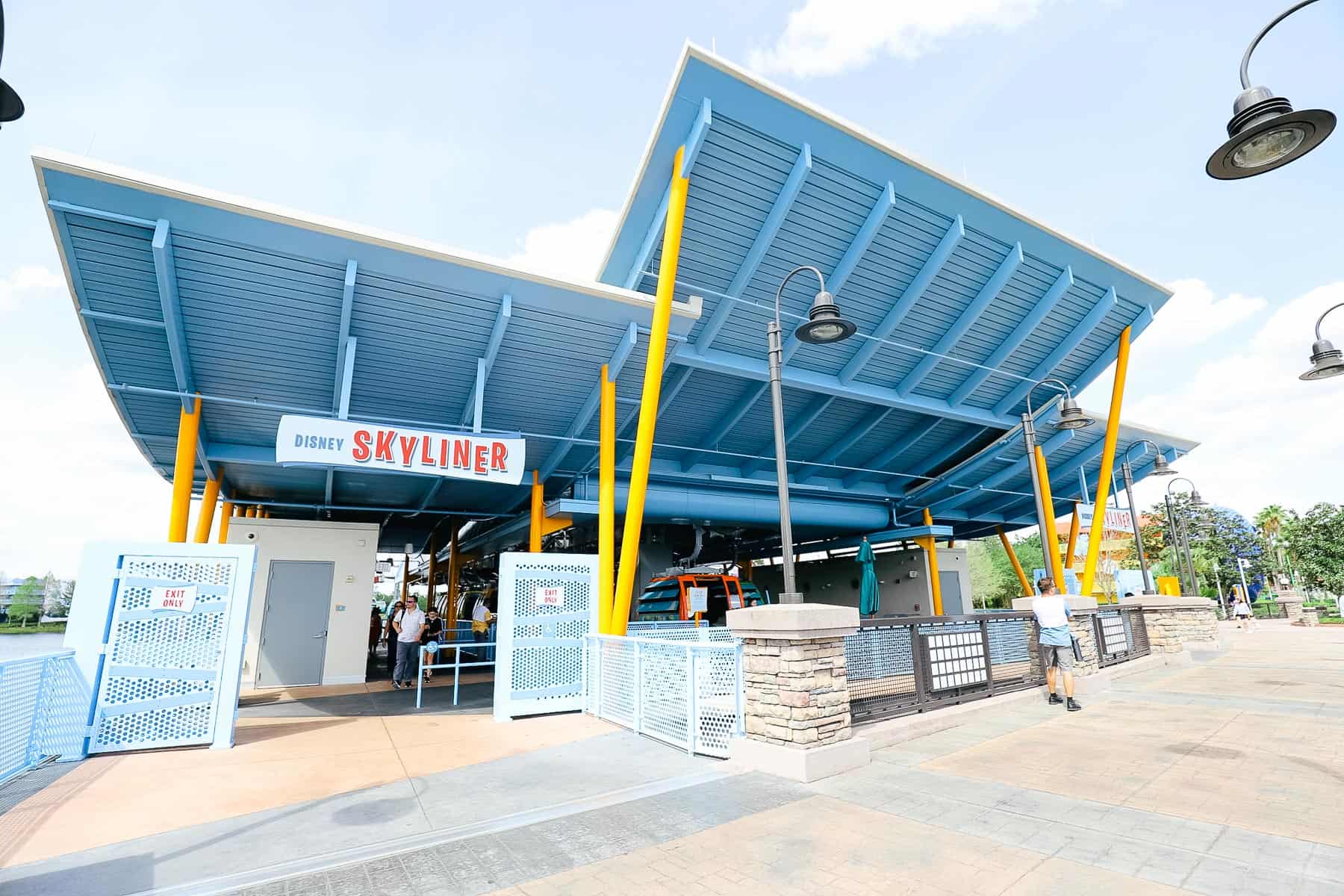 When staying at Pop Century or Art of Animation, know you'll always have to get off at Caribbean Beach. Then you'll get in line for your next destination.
Also, remember that both resorts share one line to board the Skyliner gondolas. So if you're headed out at the park opening, be prepared to wait in a long line.
Occasionally, you might encounter a sign that indicates an additional bus service is running. For example, the sign below states, "Due to high demand for Disney Skyliner, direct bus service is available to/from Epcot and to/from Disney's Hollywood Studios for your convenience."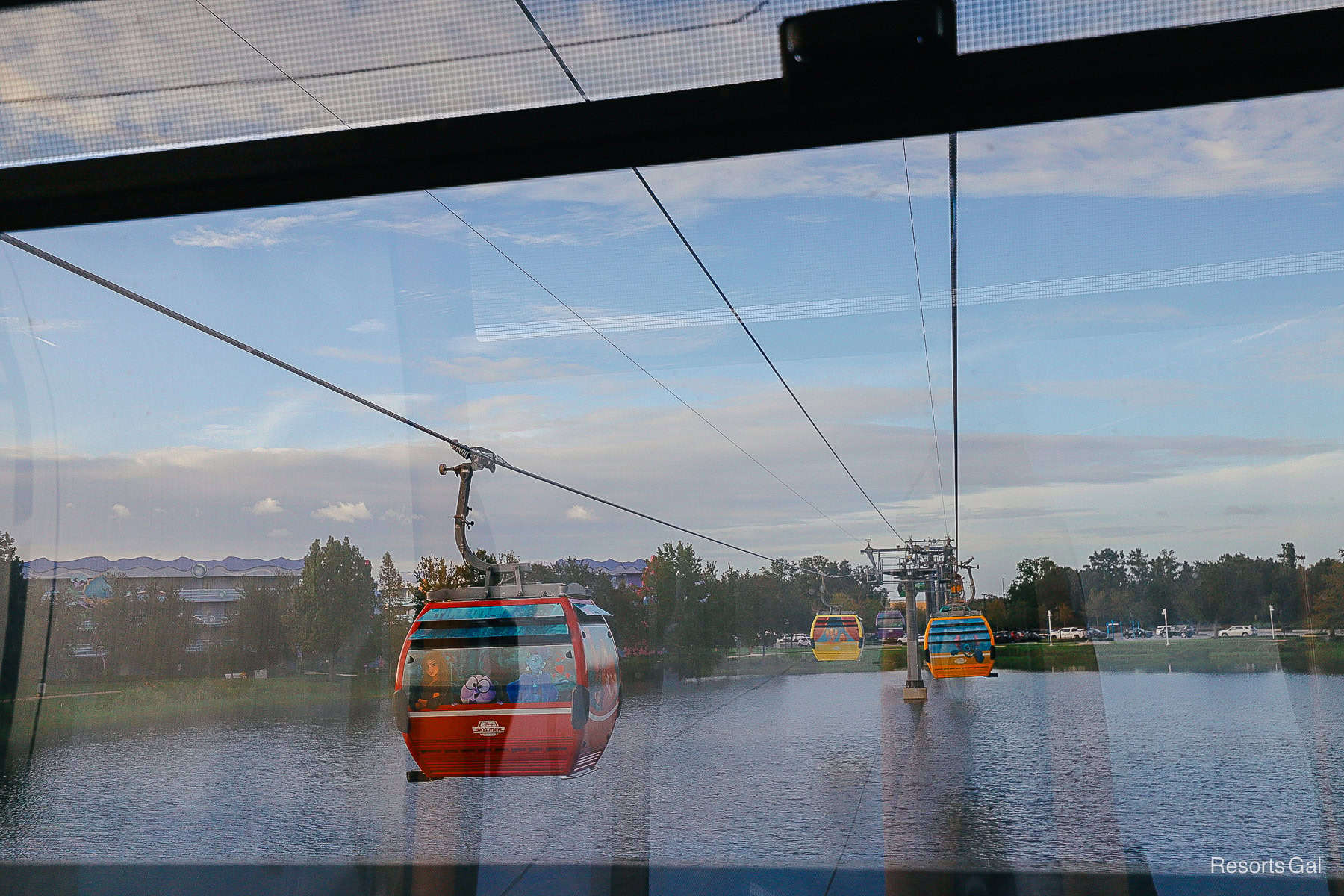 However, bus service to and from these specific parks and resorts is only available when there is an issue. Lines for the Skyliner tend to move fairly quickly since guests are constantly boarding.
Related Resort Reviews: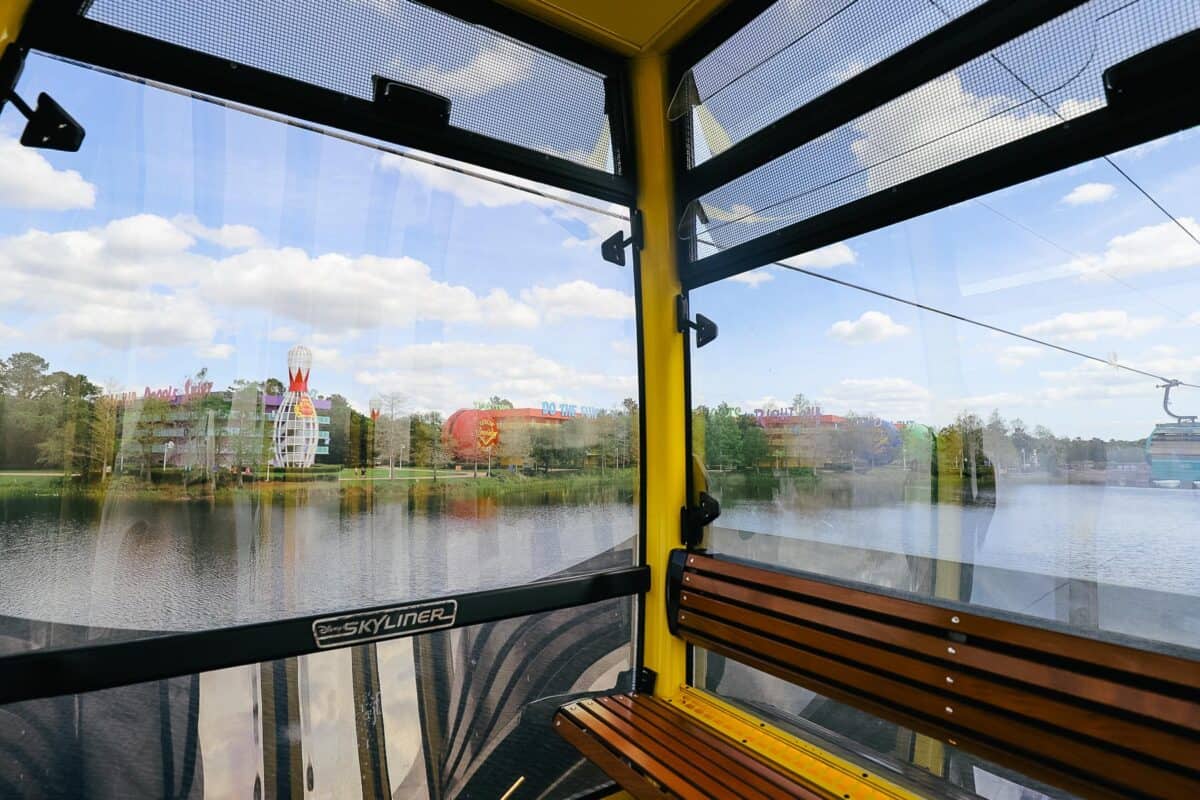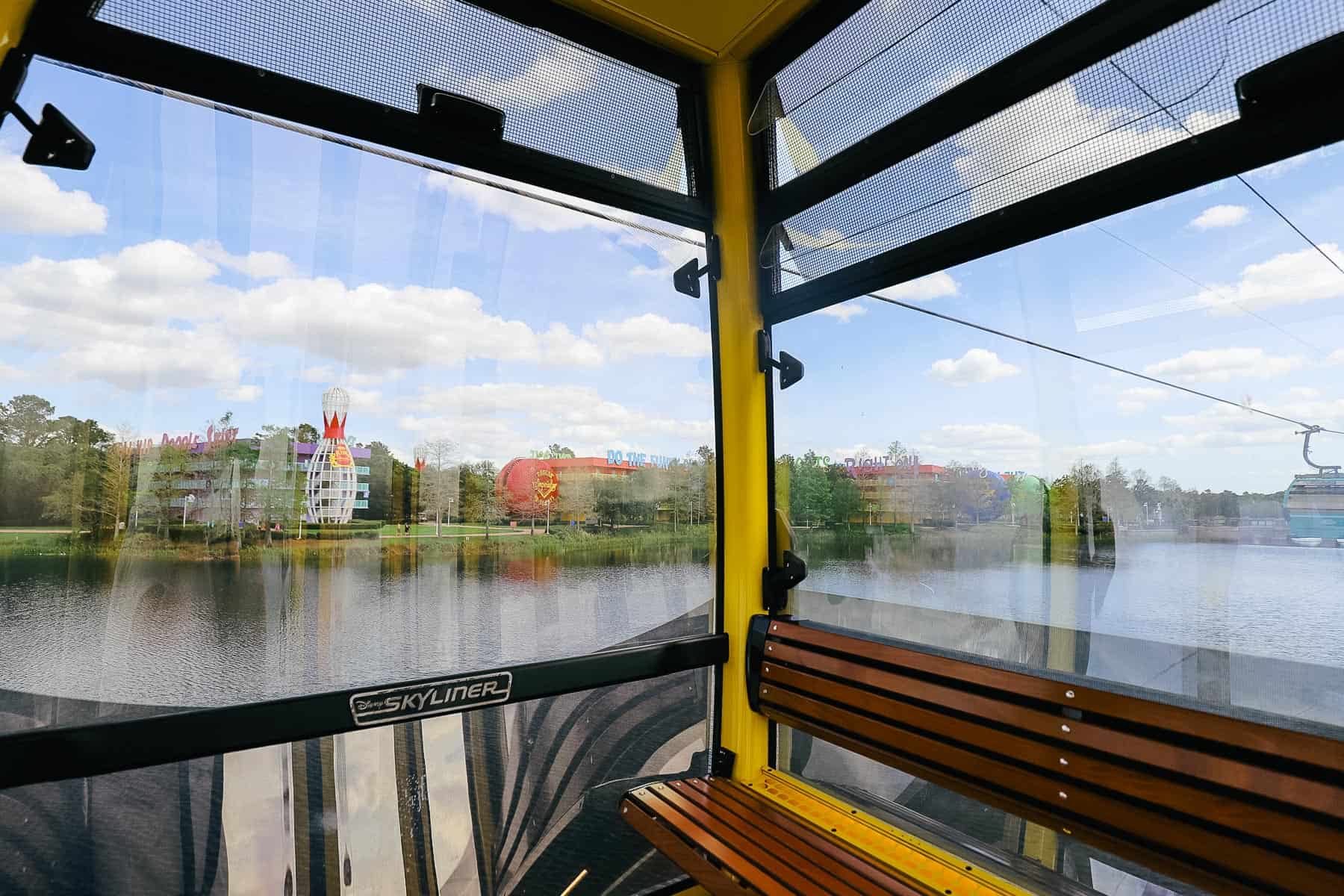 Skyliner Hours
Disney's Skyliner hours typically correlate with the operating hours of the theme parks. Usually, the Skyliner begins running one hour before the park opens and an hour or so after the park closes.
That time typically includes the early morning benefit extended to resort guests. So, if the park opens at 8:30 a.m., resort guests can enter as early as 8:00 a.m. In that instance, the Skyliner would start running by at least 7:00 a.m.
Hours are posted outside the various Skyliner stations at the parks and resorts. As you can see, the signs have interchangeable elements. So, you might want to take a photo of the hours at the beginning of your vacation for reference.
Per Disney, the Disney Skyliner is "available each day one hour before early theme park entry begins. It closes each day 90 minutes after Epcot or Hollywood Studios closes. Additionally, on evenings when Epcot or Disney's Hollywood Studios stay opens for extended evening hour benefits, the Skyliner will close one hour after the park closes.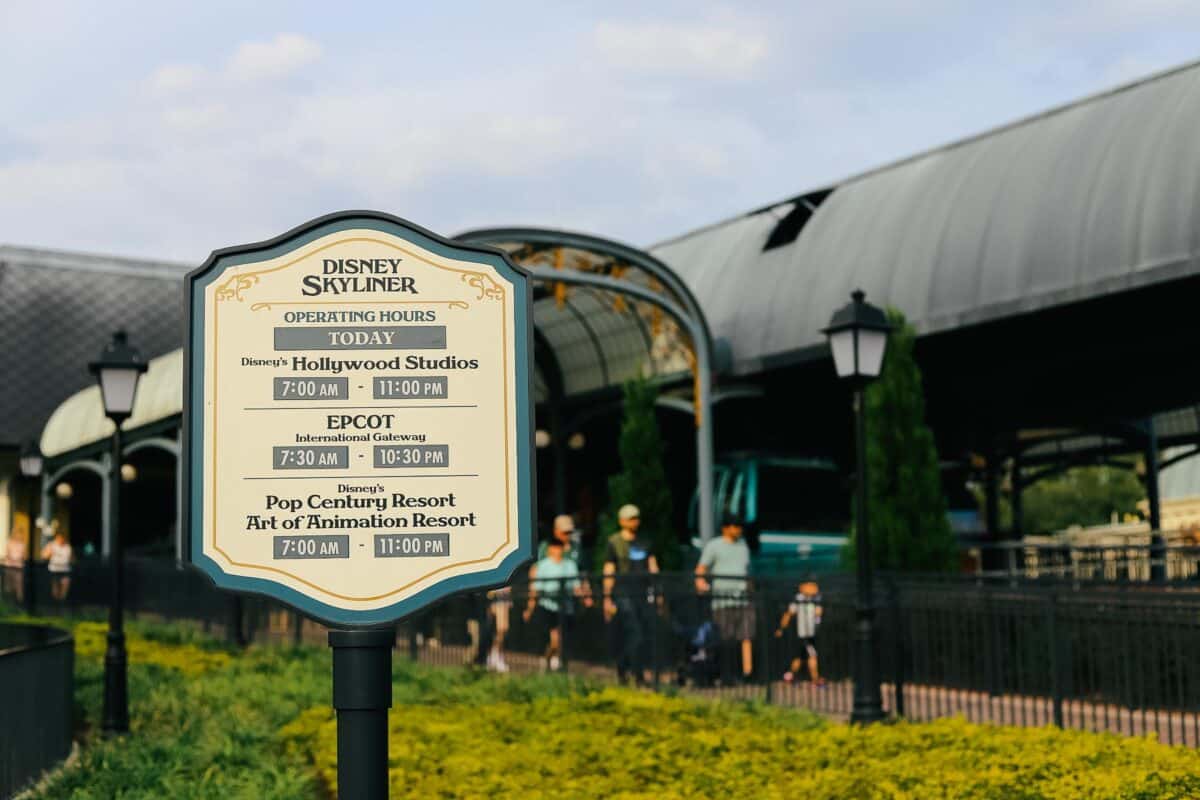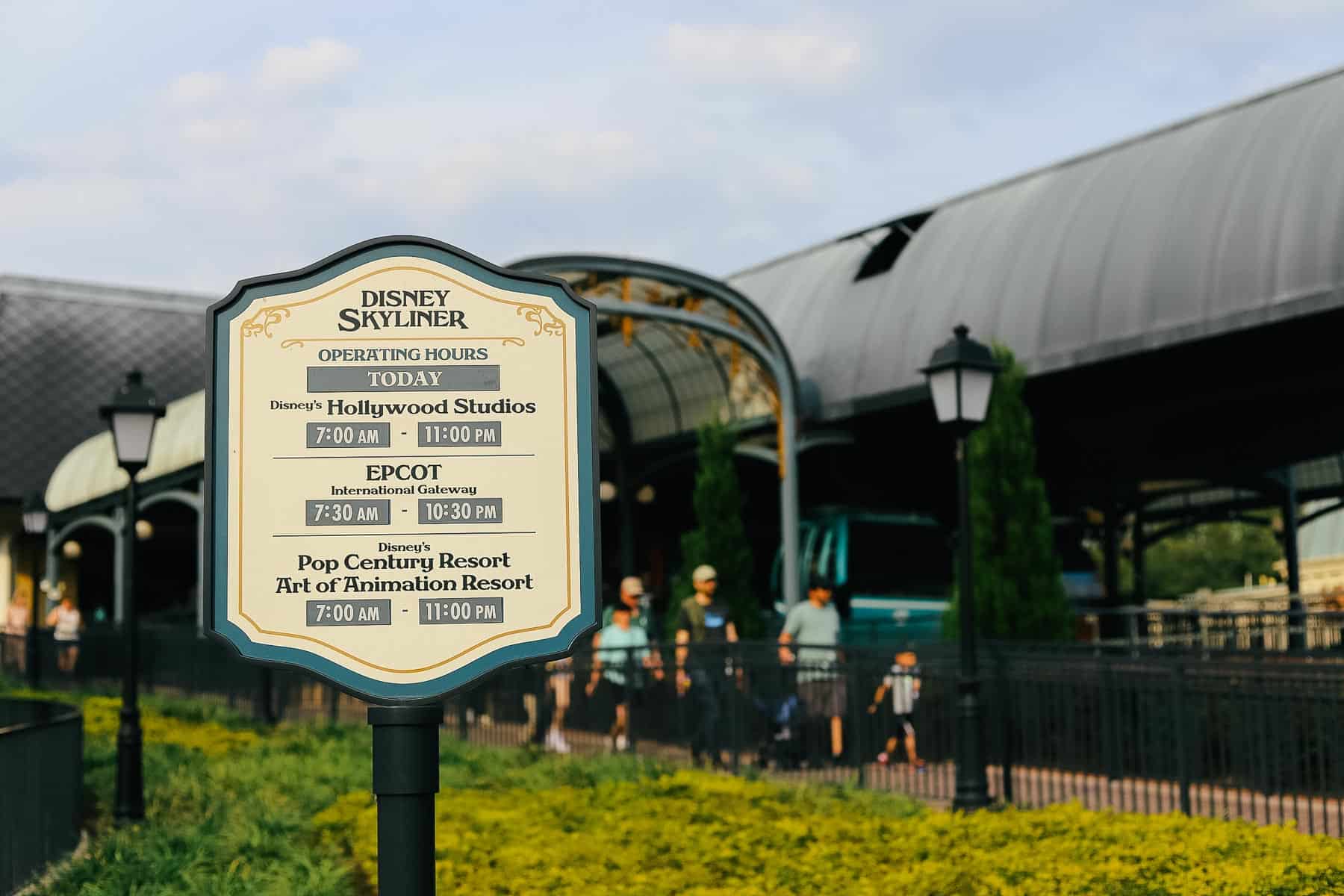 Here is a photo of the hours posted at Pop Century and Art of Animation during the Spring.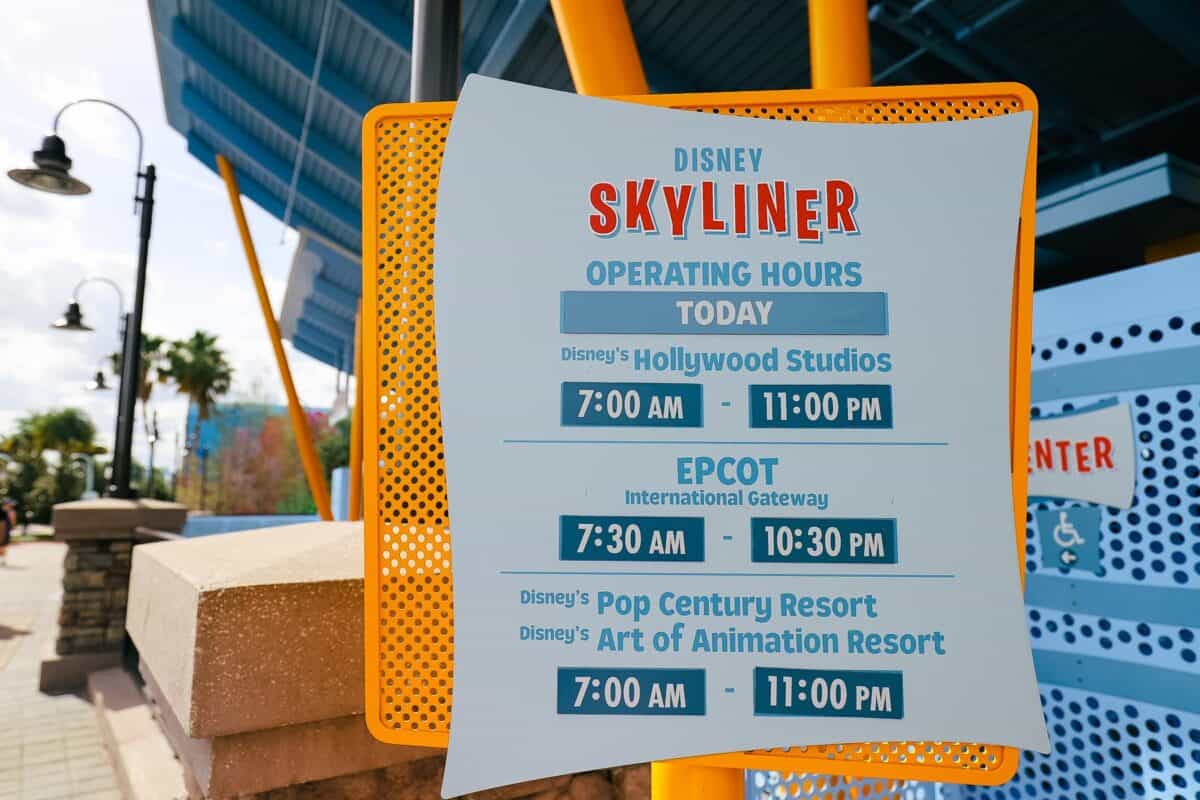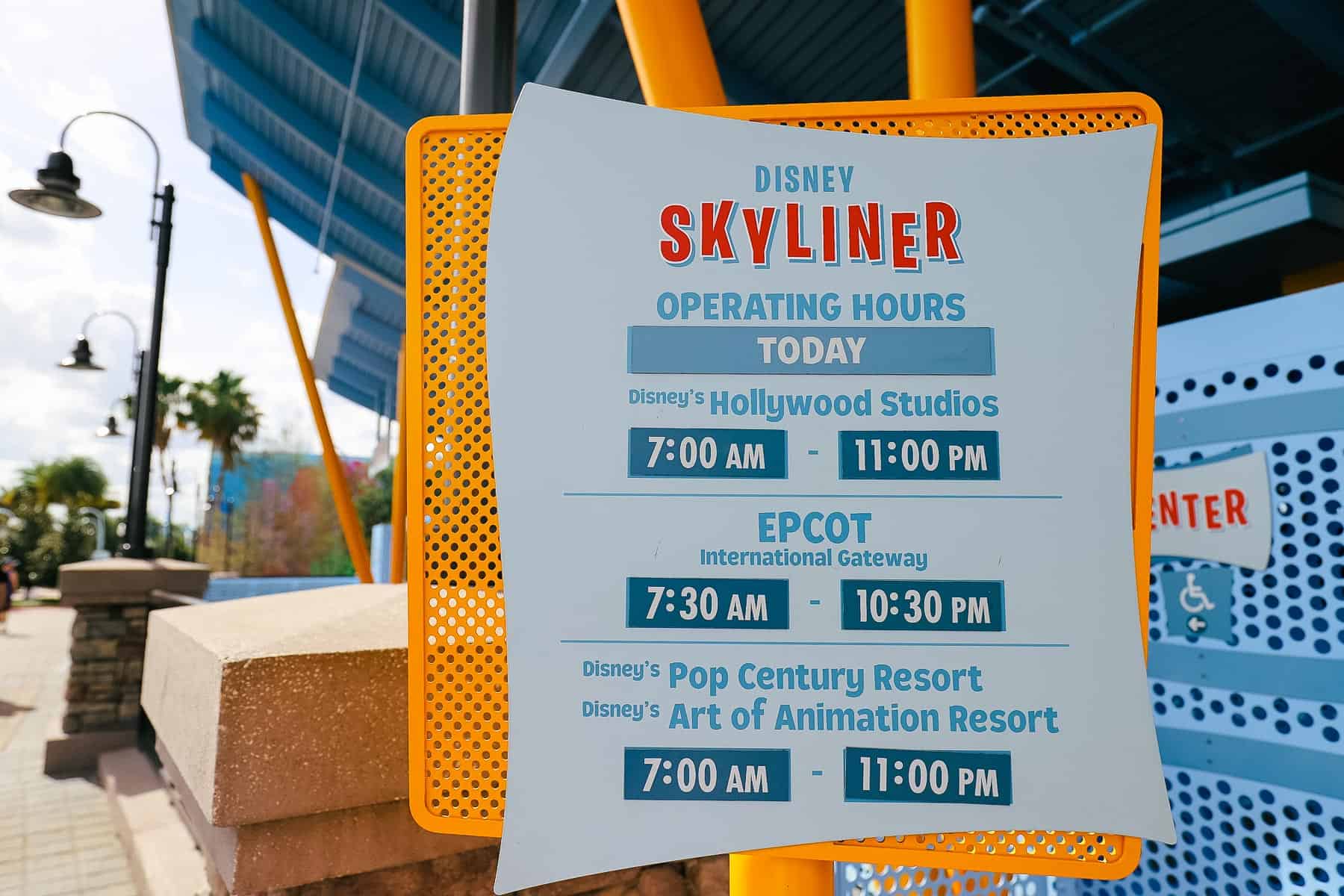 Additionally, the Skyliner runs late enough to accommodate guests who have access to extended evening hours. However, if the Skyliner closes early, buses will be available to take you back to your resort.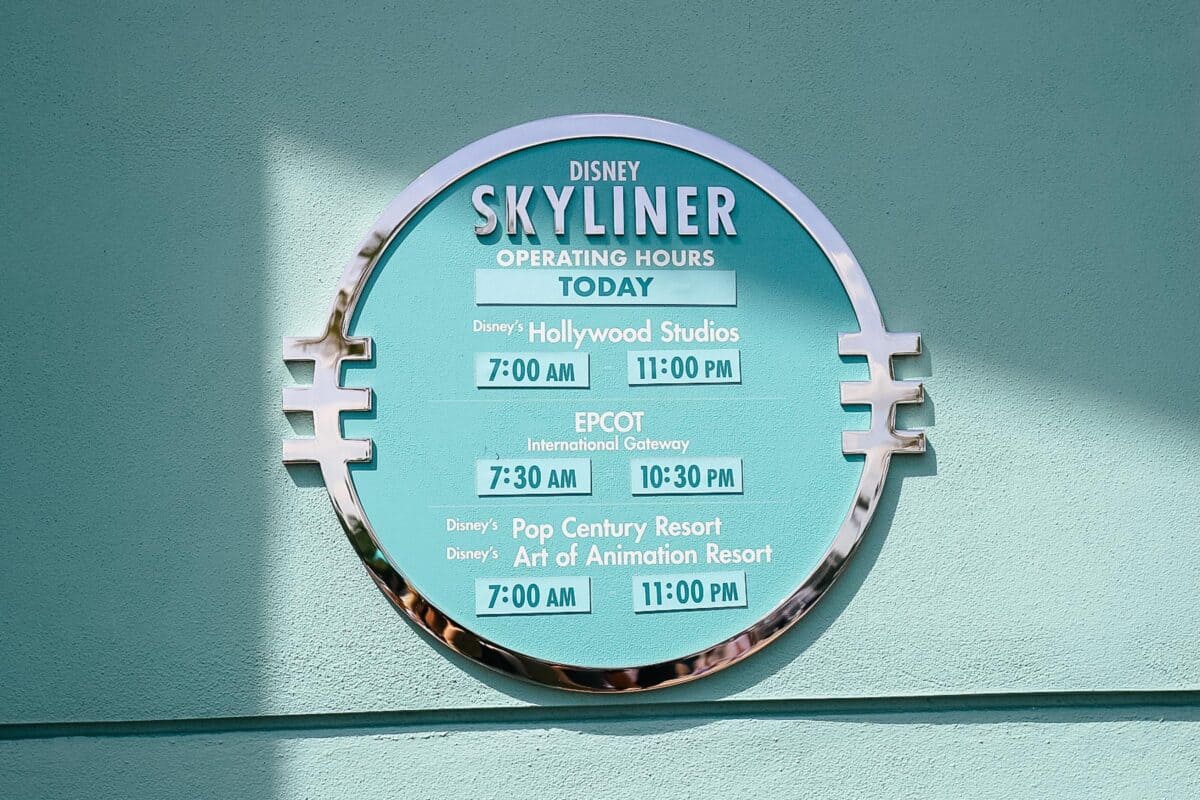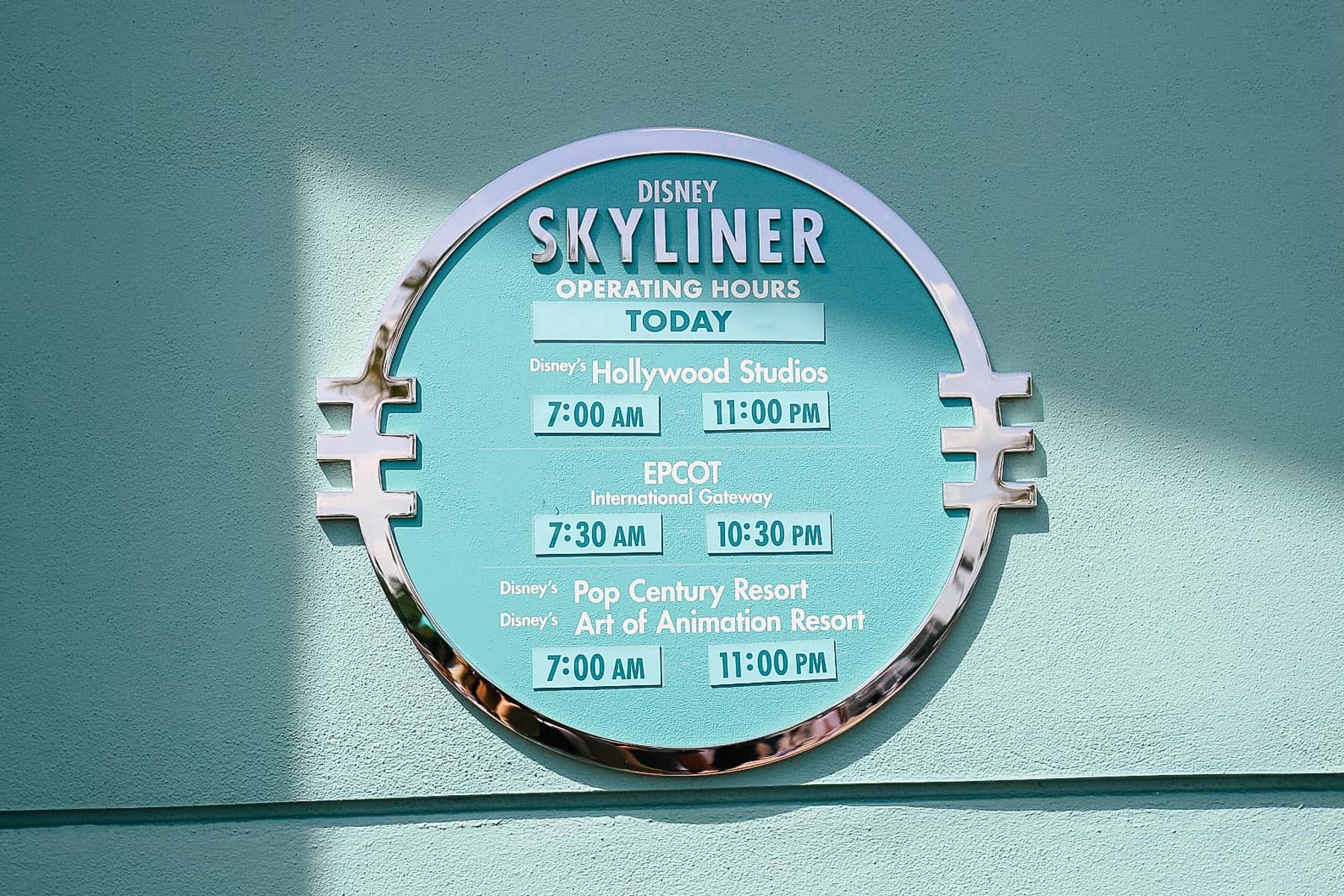 What happens if the Skyliner goes down?
It is not uncommon for the Skyliner to close, especially in the summer during inclement weather. When this happens, bus transportation will be provided to the various Skyliner Resorts.
For example, we were at Epcot one evening, and the Skyliner was down when we got to the International Gateway. It was only a few minutes before the park closed for the evening.
Cast members at the exit directed us to walk or take a boat to Disney's Boardwalk. From there, a bus picked us up at the Boardwalk bus stop and returned us to the resort.
Thankfully, we didn't have to wait long for a bus. But that bus went to Pop Century and Art of Animation before going to Caribbean Beach. After that, it dropped off guests at Disney's Riviera Resort. So it took some time.
On another visit, we were directed to walk to Disney's Beach Club and catch a bus at their bus stop. Unfortunately, we had to wait almost 30 minutes for a bus to arrive this time.
So, my best advice is to remain patient when things like this happen. If you're in a hurry to return, you might prefer to take a car service from that resort to where you're staying.
As with all Disney transportation, it's provided to guests at no extra cost. So you are at their mercy when you elect to use it.
I'm not saying this to make you nervous. Instead, I hope if you read this review and a similar situation happens, you'll at least know your options.
Skyliner Travel Times
While wait times for the Skyliner can vary depending on how many guests are waiting, travel times are usually fairly consistent.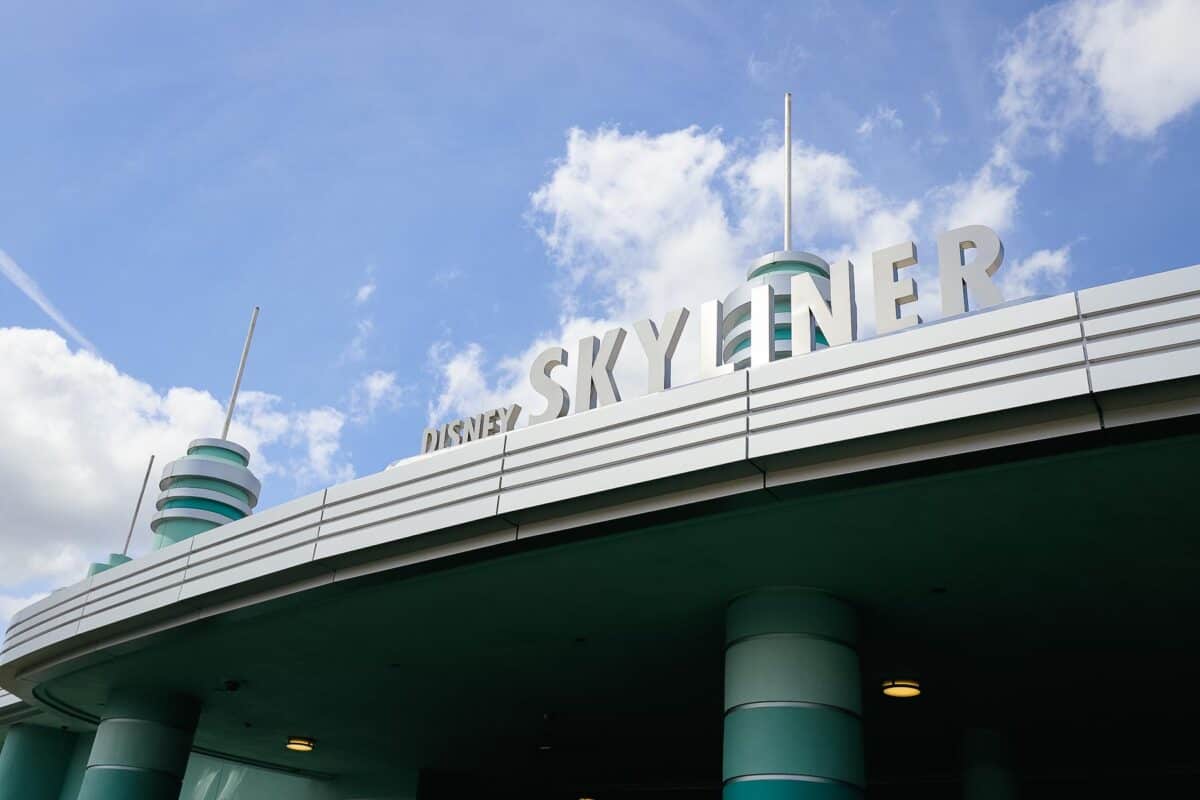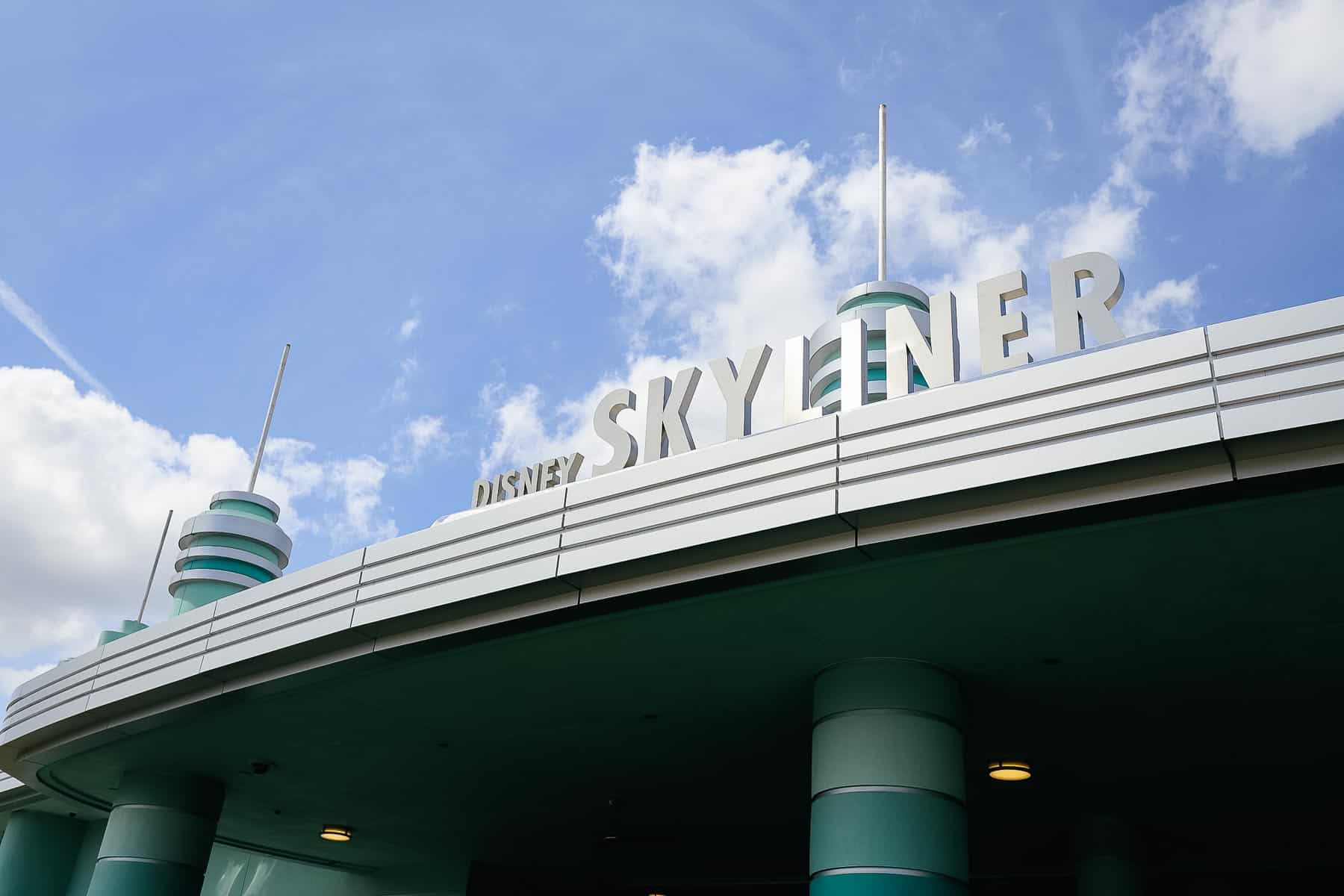 Here are the approximate travel times for each route:
Between Epcot and Disney's Riviera Resort (10 minutes)
Riviera to Caribbean Beach (5 minutes)
Caribbean Beach to Art of Animation and Pop Century (4 minutes)
Between Caribbean Beach and Hollywood Studios (8 minutes)
If you would like a little more data, on one afternoon, I left Epcot and traveled to Art of Animation via the Skyliner. Here's how that experience went:
At 5:27 p.m., I boarded a gondola from Epcot.
The doors opened at Riviera Resort at 5:37 p.m. (10 minutes)
Exited the Skyliner at Caribbean Beach at 5:42 p.m. (5 minutes)
Boarded from Caribbean Beach to the Values at 5:43 p.m. (1 minute)
Arrived at Art of Animation (and Pop Century) at 5:47 p.m. (4 minutes)
It took approximately 20 minutes to leave Epcot and arrive at the values. For comparison, I timed the same route back to see if there were any variances.
Boarded the Skyliner from Art of Animation at 6:31 p.m.
Arrived and exited Caribbean Beach at 6:35 p.m. (4 minutes)
Boarded new gondola at 6:35 p.m. (1 minute)
Went through Riviera at 6:39 p.m. (4 minutes)
Arrived at Epcot at 6:48 p.m. (9 minutes)
That time around, my timing was a record 18 minutes. So I don't think you'll do better than that. But you are more than welcome to try.
Although already mentioned, I think it's important to reiterate that you will likely encounter long lines to board the Skyliner at certain times of the day-especially within two hours of the park opening and immediately around the park closing.
You do not have to exit the park at soon as it closes. Guests will still be lingering in lines and at dining locations. So take your time leaving. Had you rather stand in a long line for 30 minutes or sit on a bench enjoying the park while the crowds clear?
A few times, I've had to wait for the Skyliner longer than I would have liked. For example, on my last stay at Caribbean Beach, I waited over 15 minutes in a line that didn't move.
This stay was in the Aruba section of Caribbean Beach, which is close to the Riviera Skyliner station. Therefore, I used the Riviera station when traveling to Epcot.
The problem is that many guests are coming from the Caribbean Beach station to Epcot. These gondolas are often full when they drop into the Riviera station. So the doors open, and there isn't enough room for other guests to board.
In the meantime, Riviera's line for Epcot begins to build since there aren't any empty gondolas coming from Caribbean Beach.
Now, this isn't an issue all of the time. But if you are trying to get to a park at opening, you'll more than likely run into this same issue.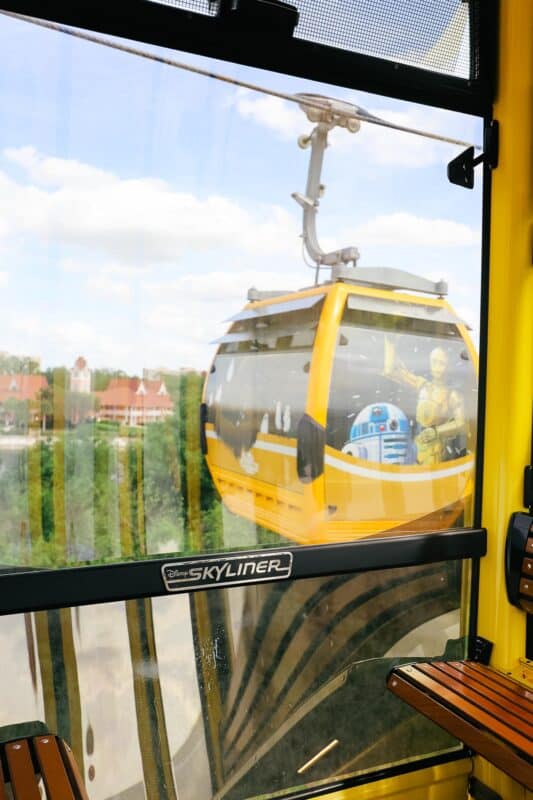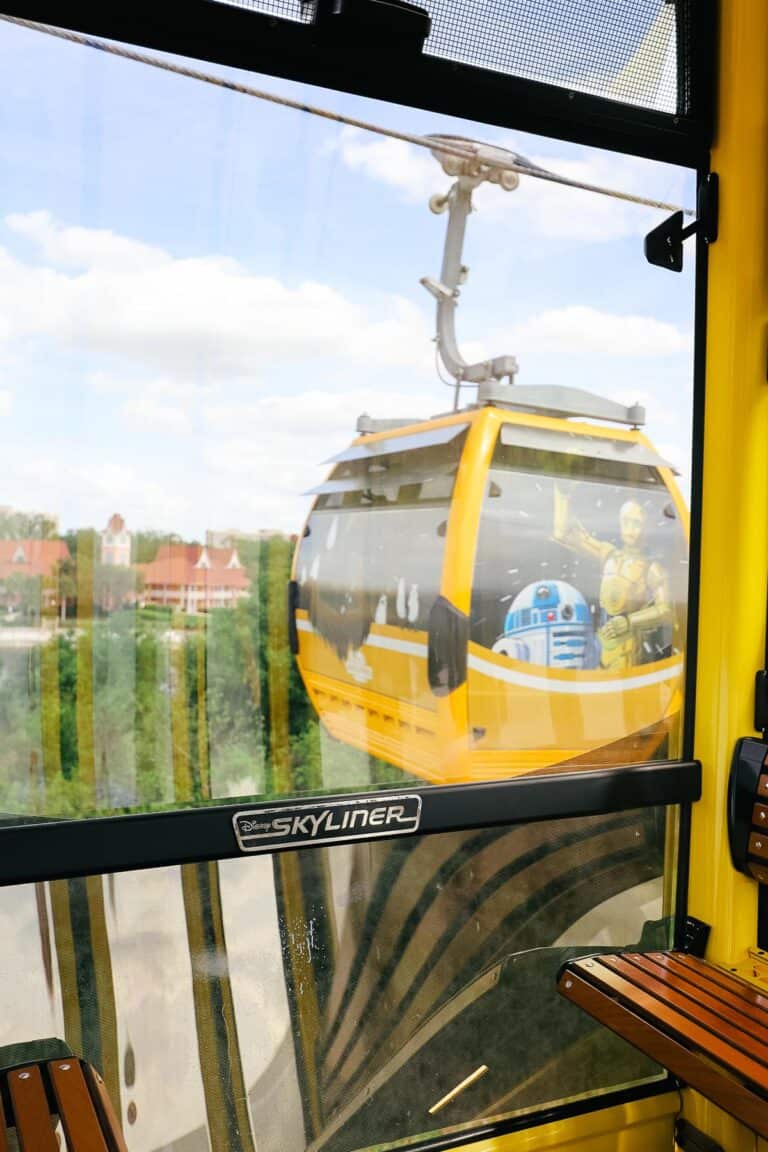 Riding the Skyliner
Before we wrap things up, I wanted to provide you with a walk-through of what it's like to ride the Disney Skyliner. So if you haven't ridden before, you'll be prepared.
As you approach the Skyliner, a cast member will direct you to stand on a specific marker. The gondolas move slowly through the loading area but do not stop.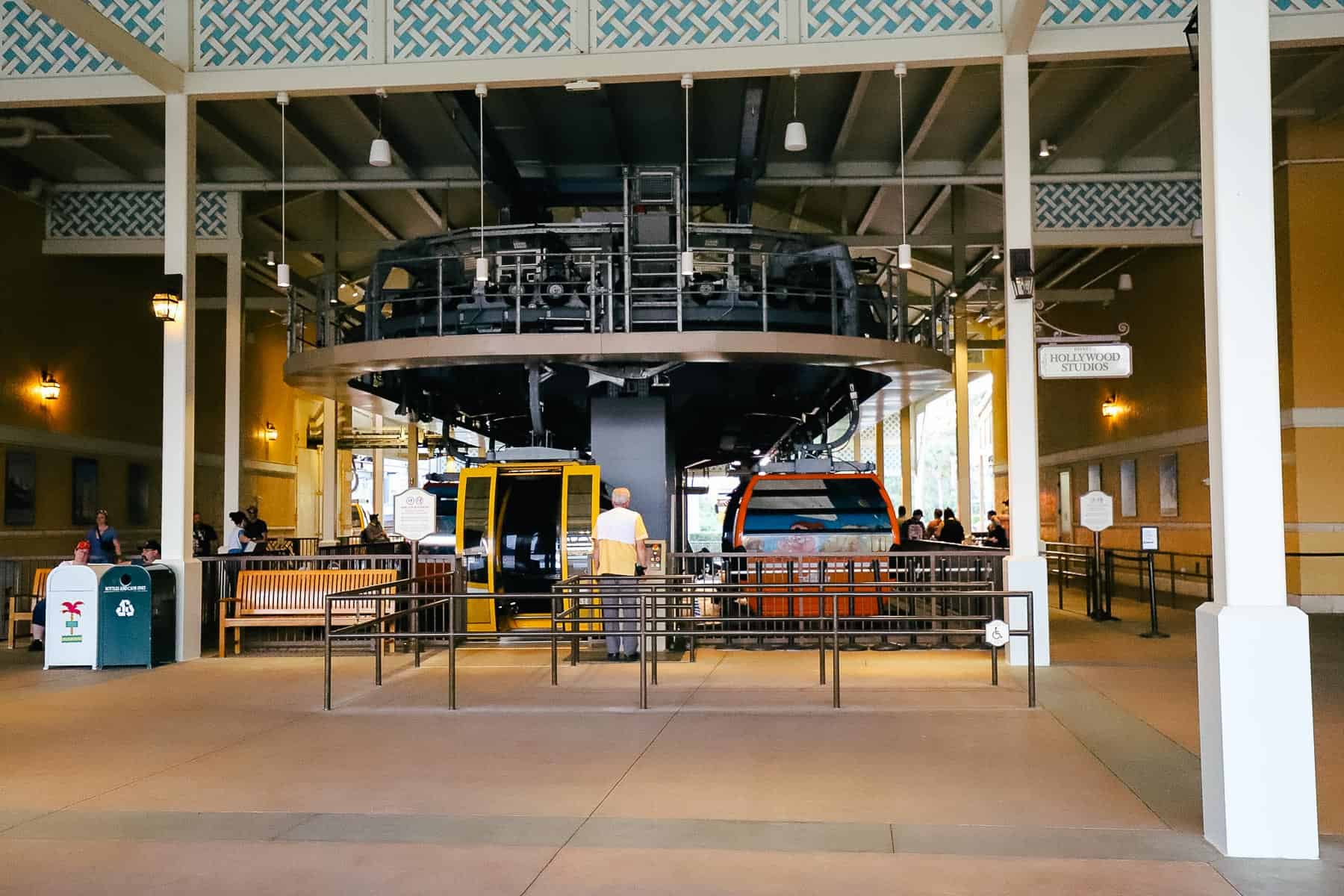 So when it's time to board, it's time to board.
You'll step into the gondola and keep moving to your seat. If you are anything like me, you'll want to sit facing forward in the direction you are headed.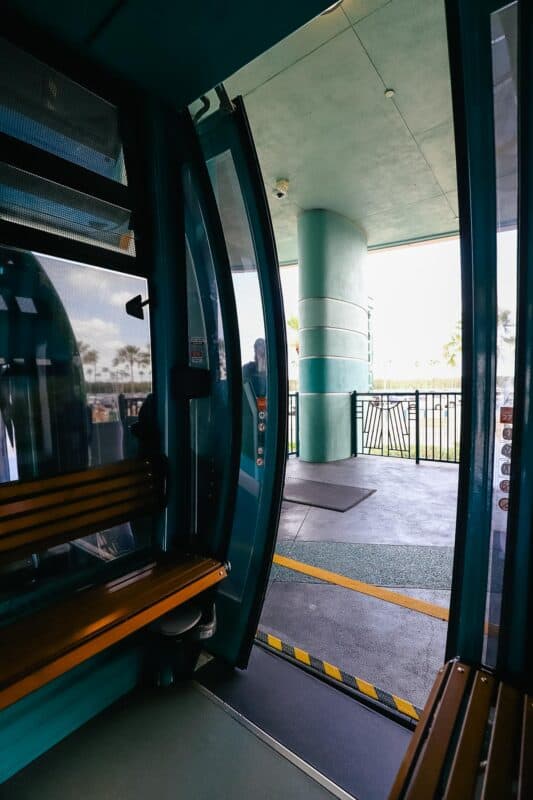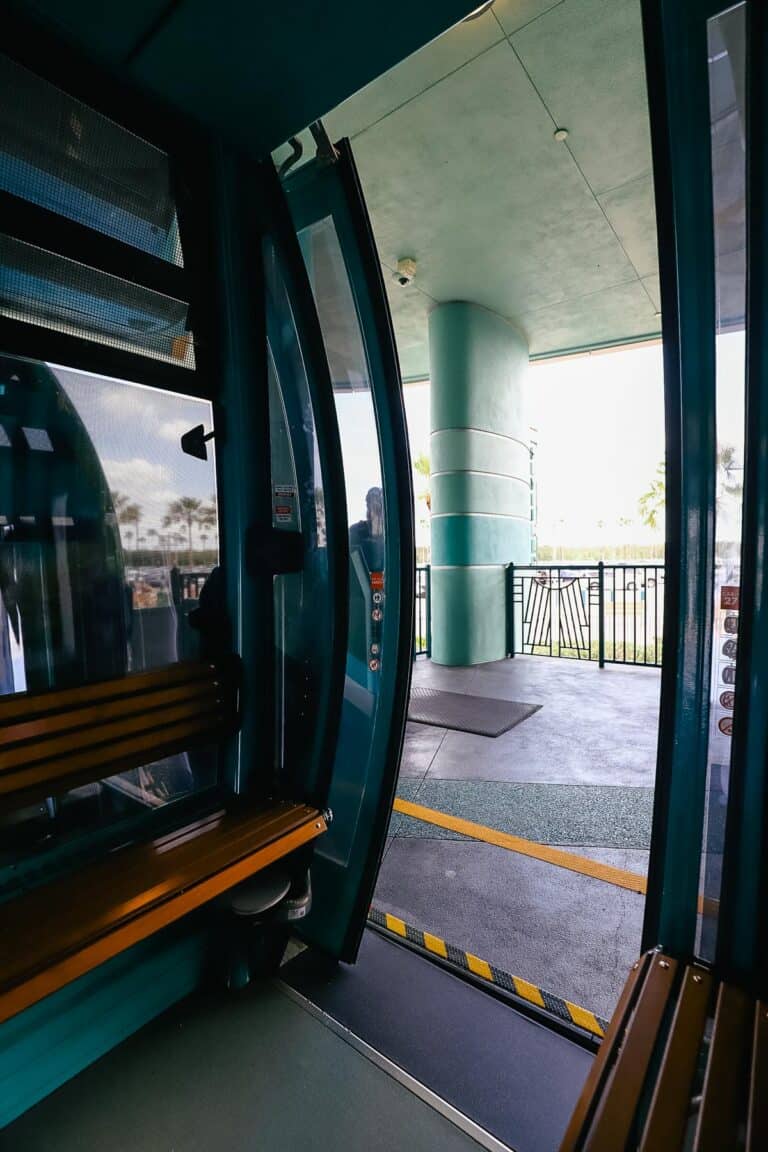 A maximum of 10 guests can fit inside a standard Skyliner cabin. That's five guests on each row. Additionally, a maximum of 6 guests are allowed in accessible cabins.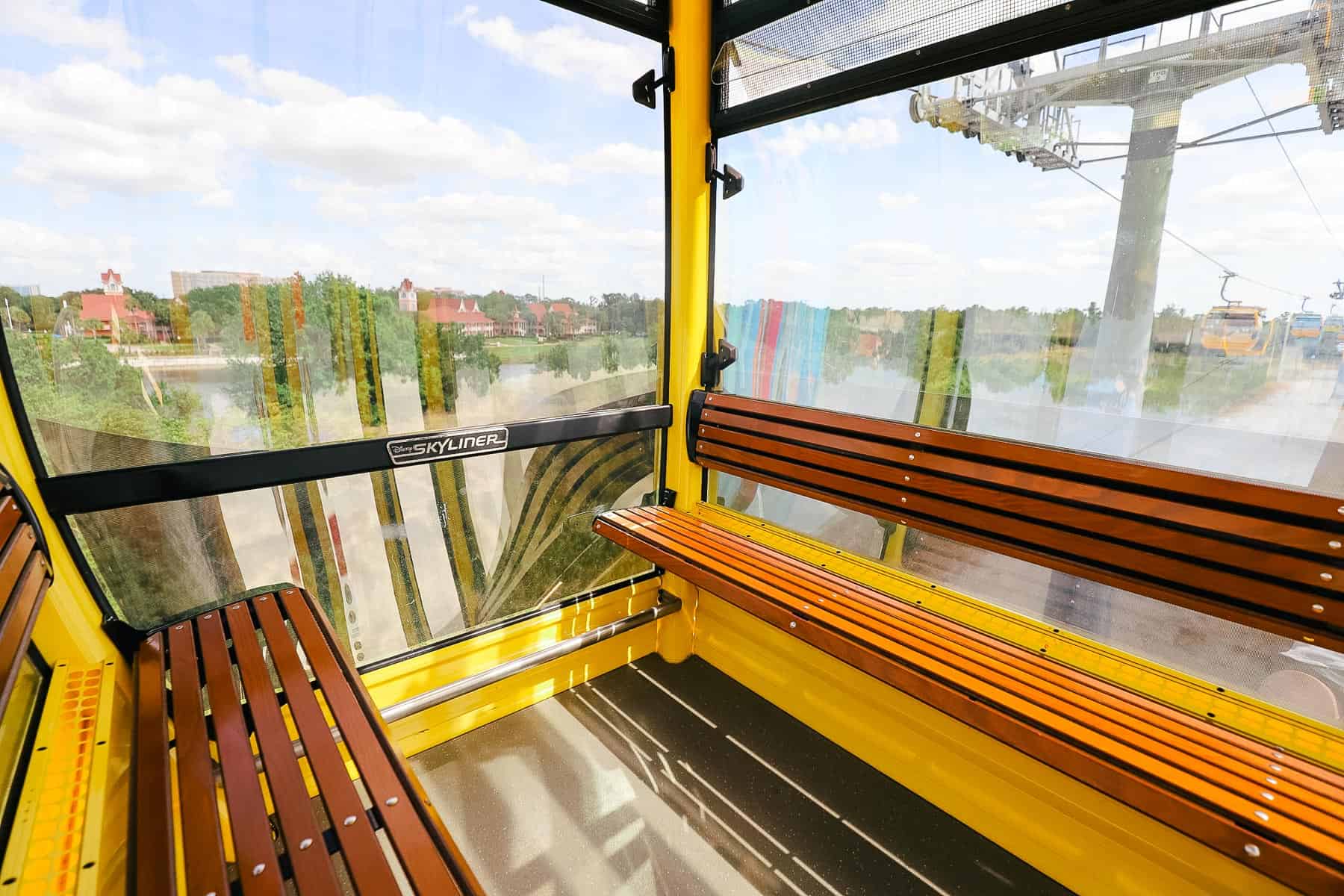 A note for guests in wheelchairs or ECVs…
Mobility aids must fit within a 30″ x 48″ area for access. A separate line is available for guests with mobility aids, as shown in the photo below. These gondolas will pause for guests and their families to load.
*Details for those with mobility issues (i.e., wheelchair, ECVs) can be found on Disney's site.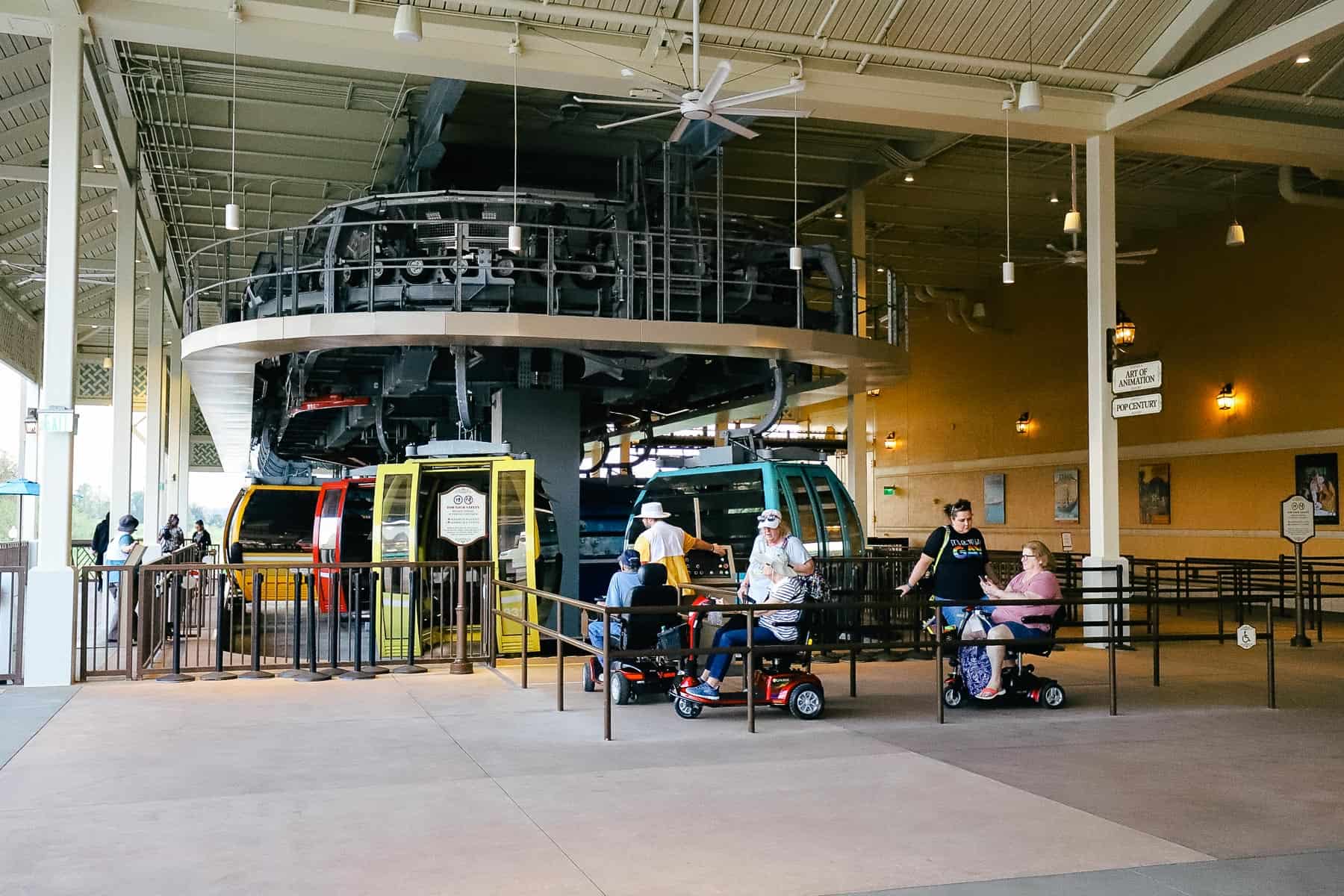 While you're waiting to take off, it will appear that the gondola ahead of you has gotten relatively far away. At that point, your gondola will take flight.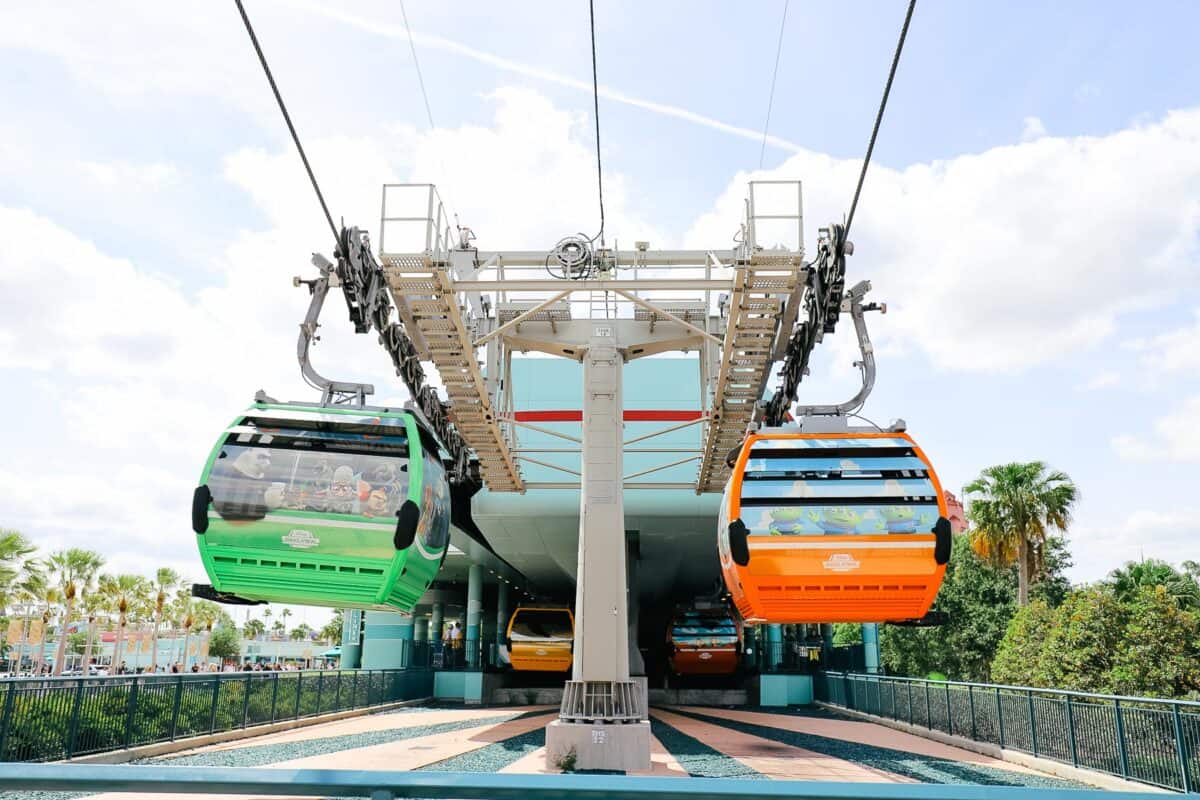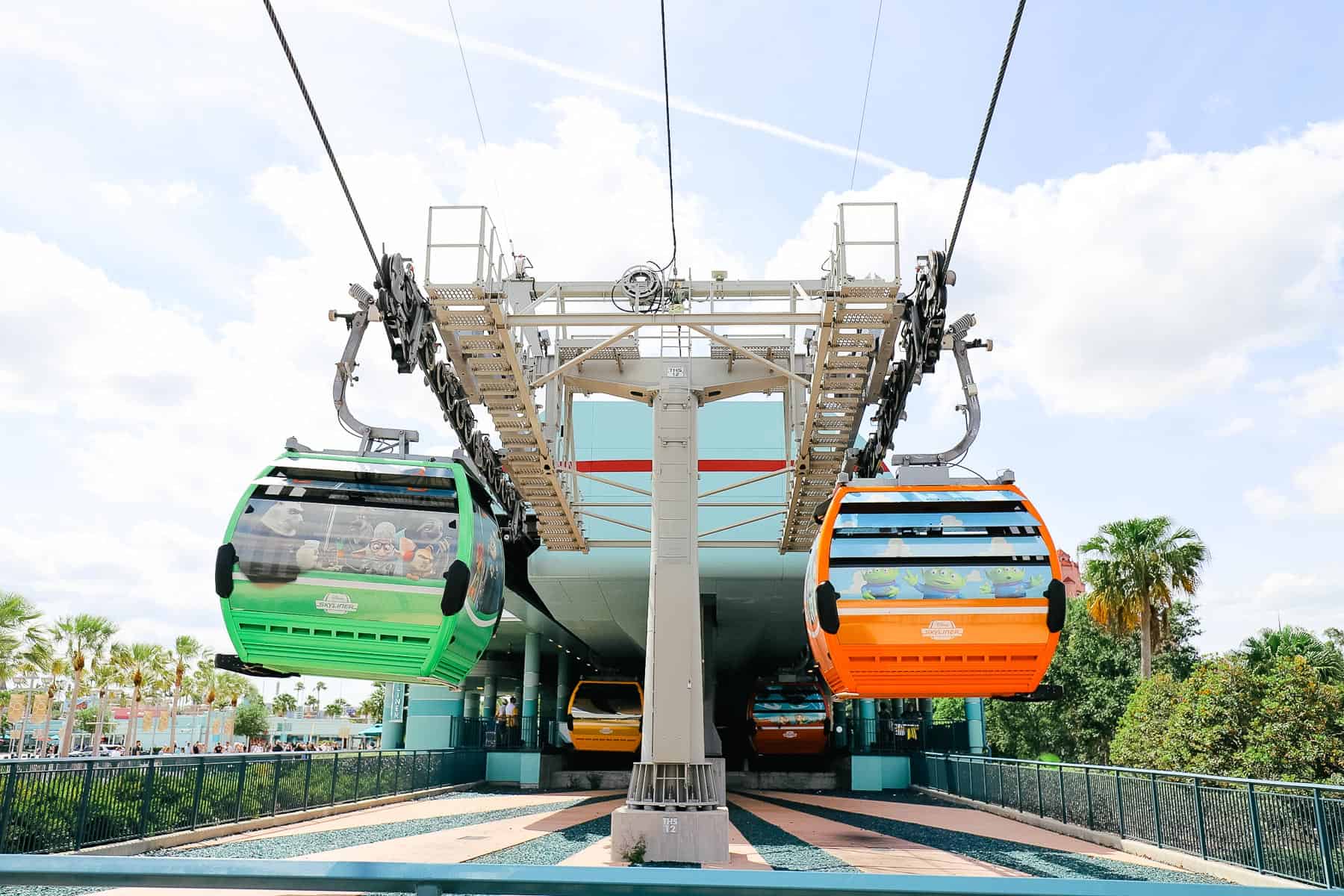 Initially, you'll experience a rocking motion as your gondola ascends. Then, before you know it, you'll find yourself above everything else.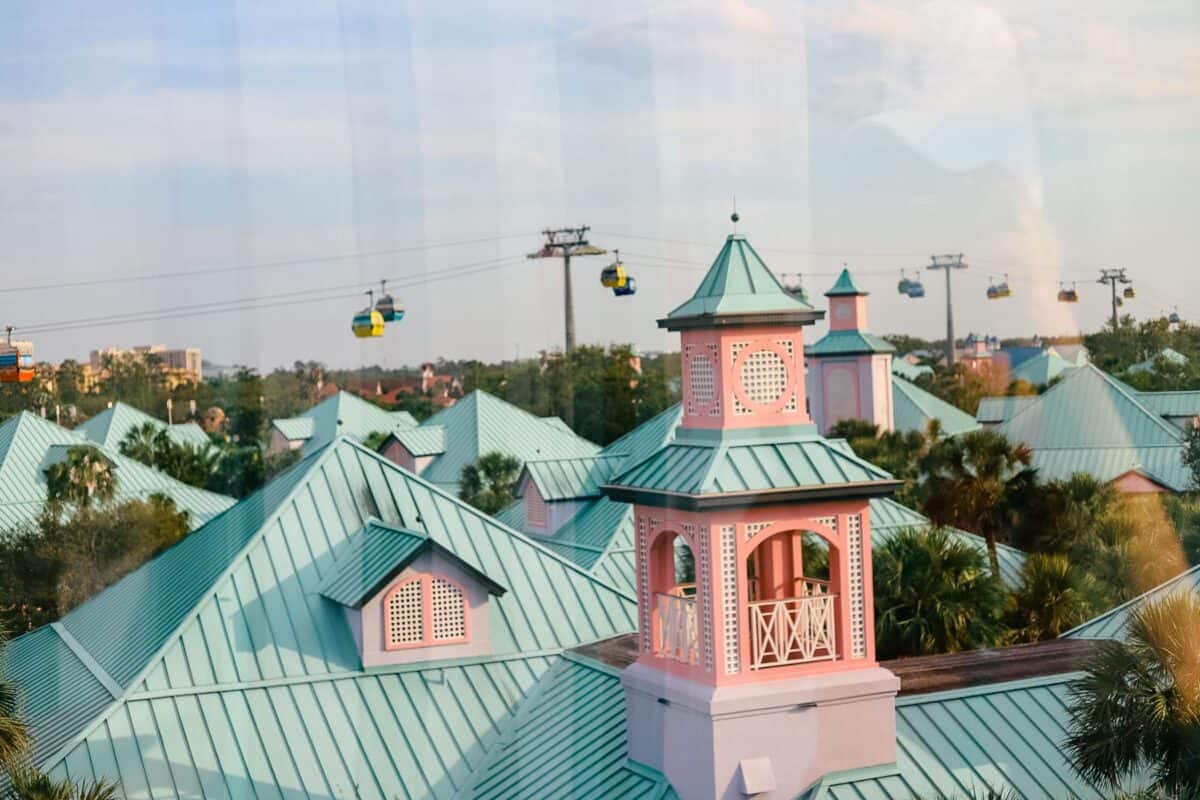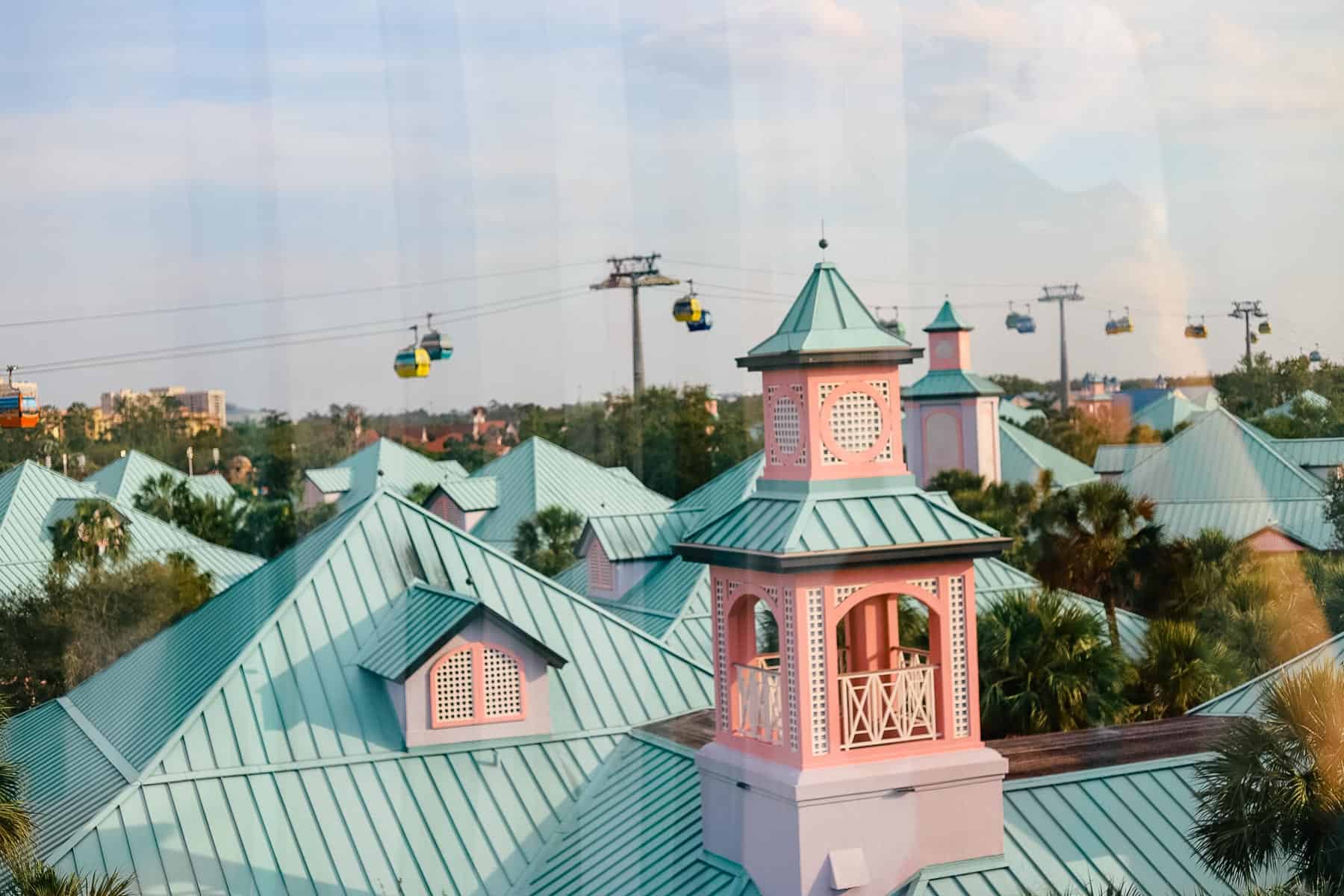 These views of Disney are unlike anything you've seen before. In the distance, you'll see various landmarks like the Swan and Dolphin Hotel and the Hollywood Studios Tower of Terror.
Below is a photo of Caribbean Cay, the island at Disney's Caribbean Beach Resort.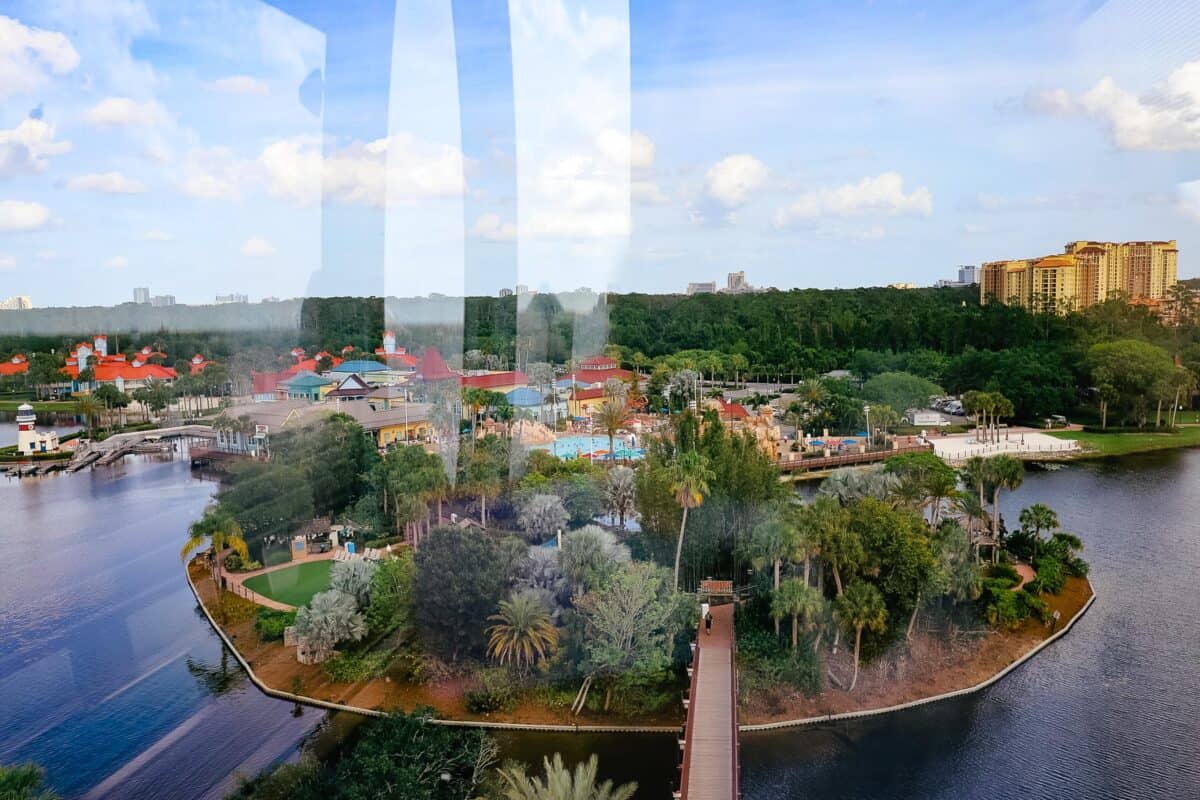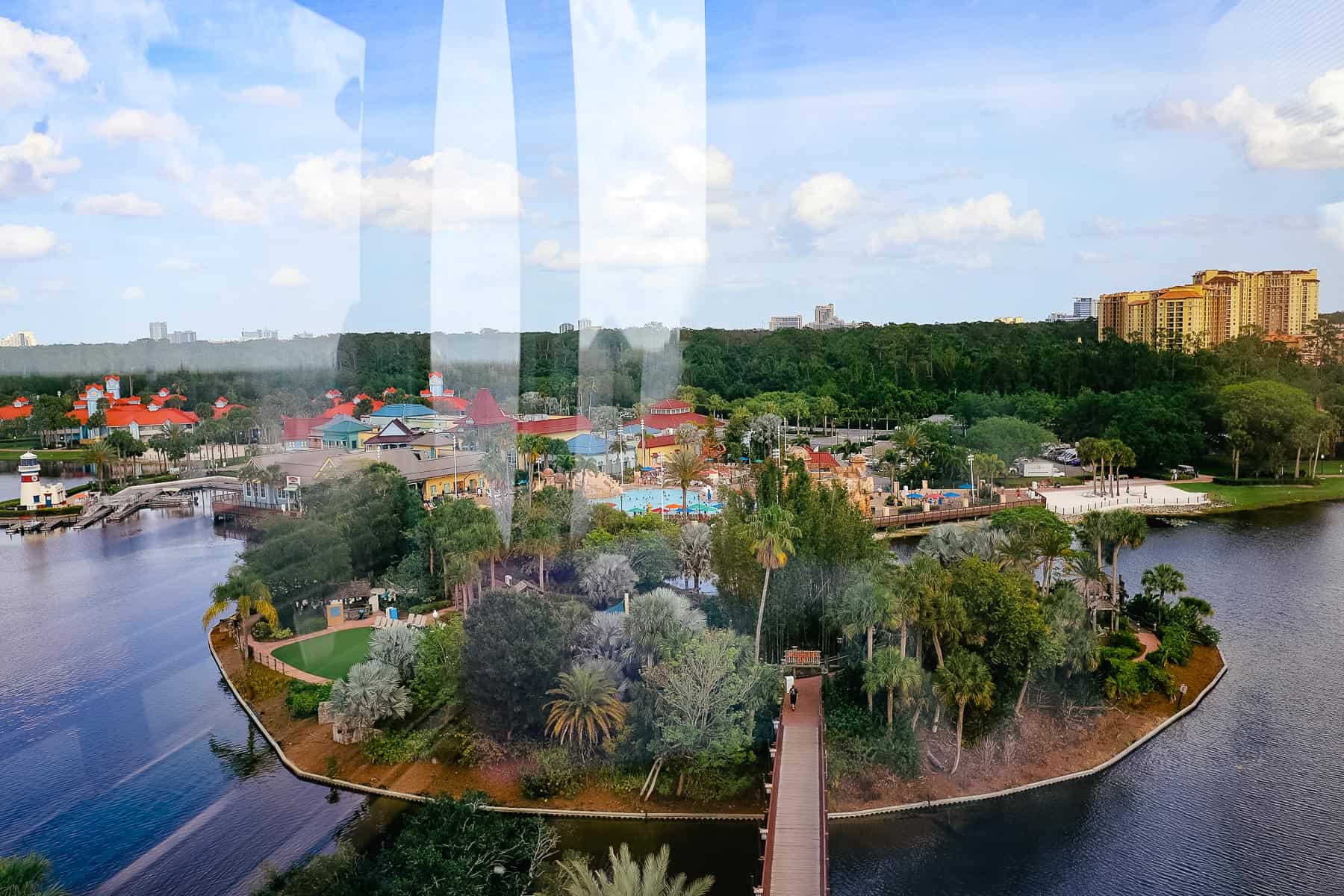 You'll pass others traveling in the opposite direction.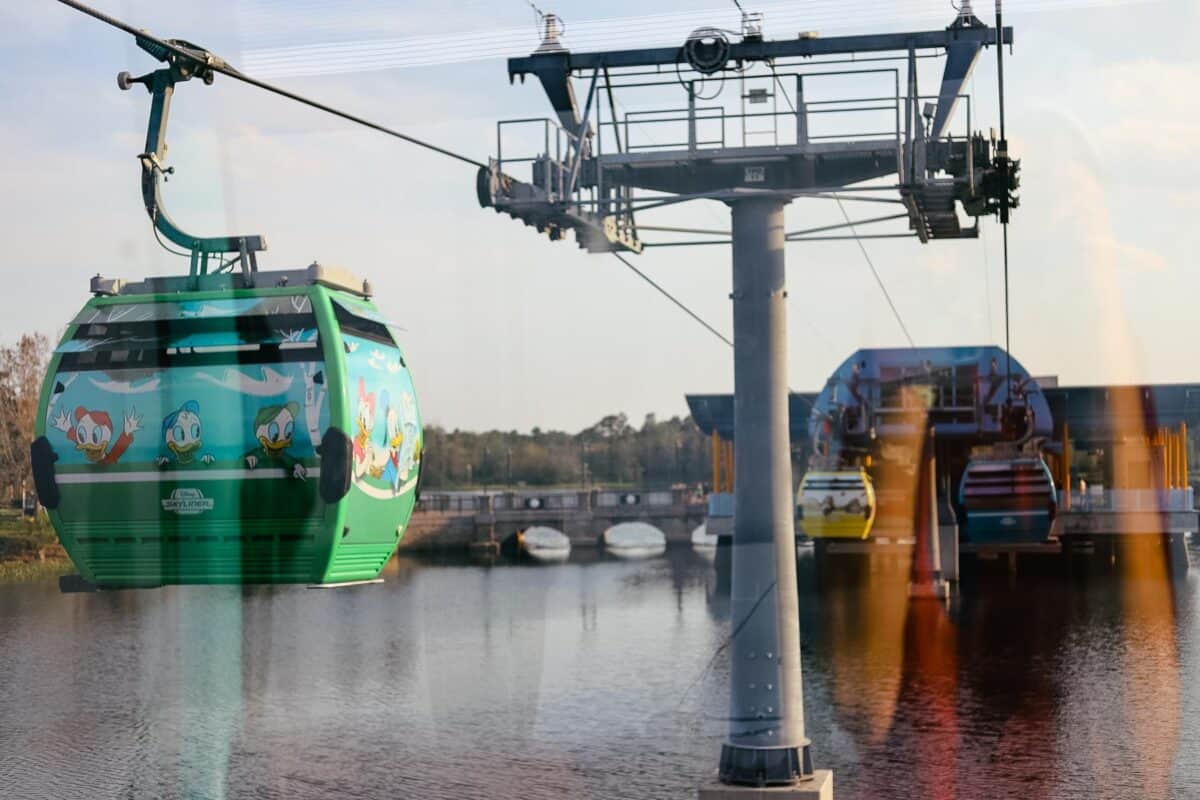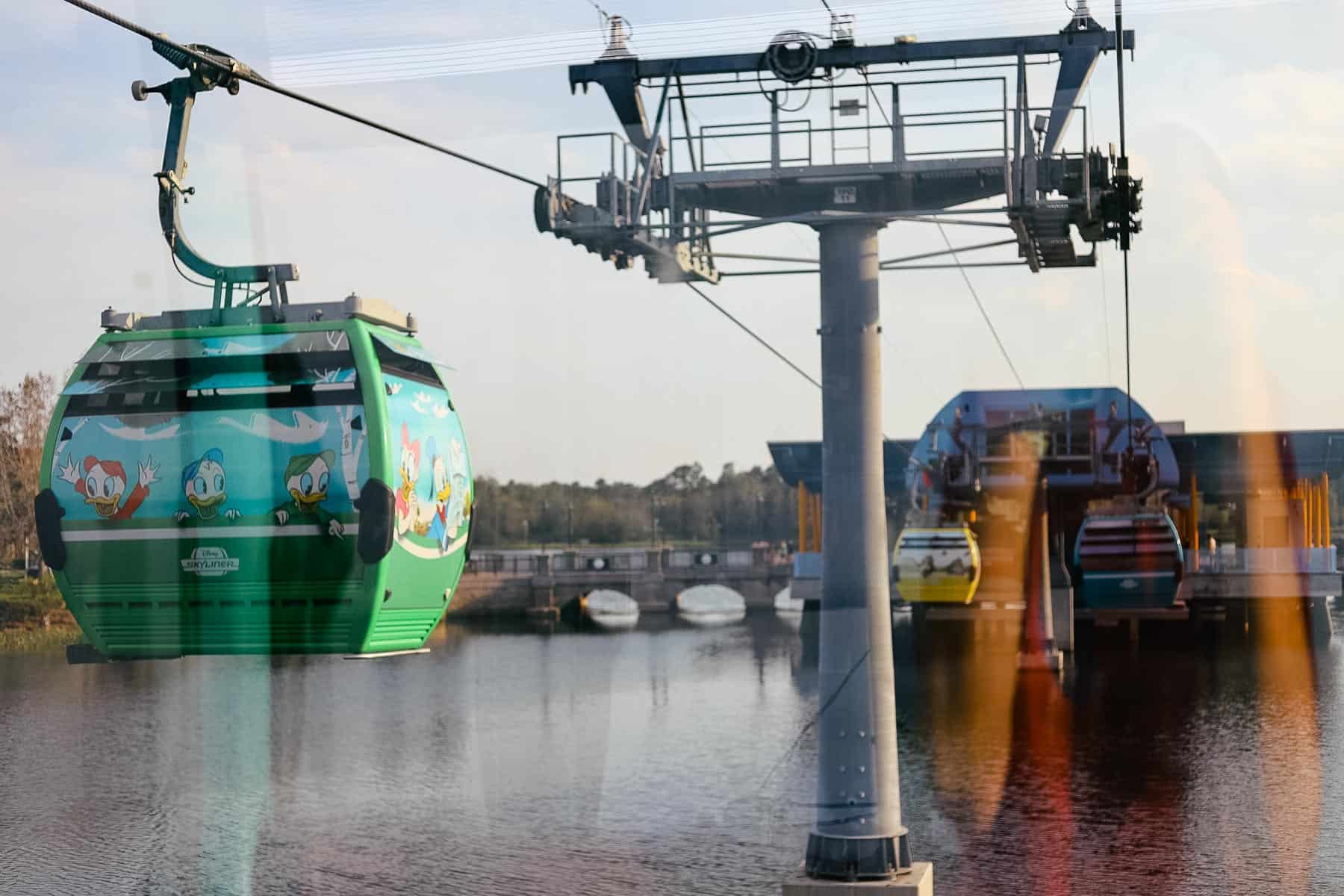 An audio recording plays in the background inside the gondola, pointing out various landmarks.
An emergency kit is secured underneath the seat of the gondola. Hopefully, you won't ever have any use for it.
As you descend at the International Gateway, you'll be able to see the newer expansion of Epcot's France Pavilion. This is where Remy's Ratatouille Adventure is located.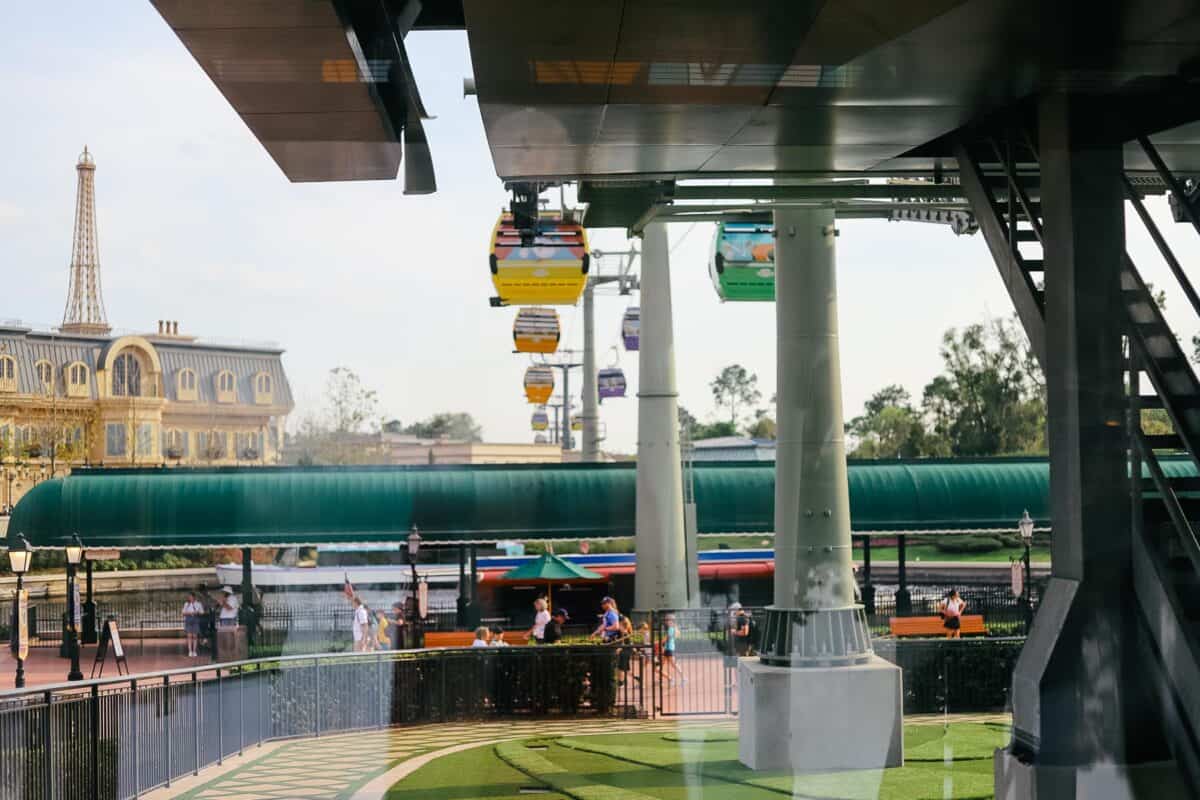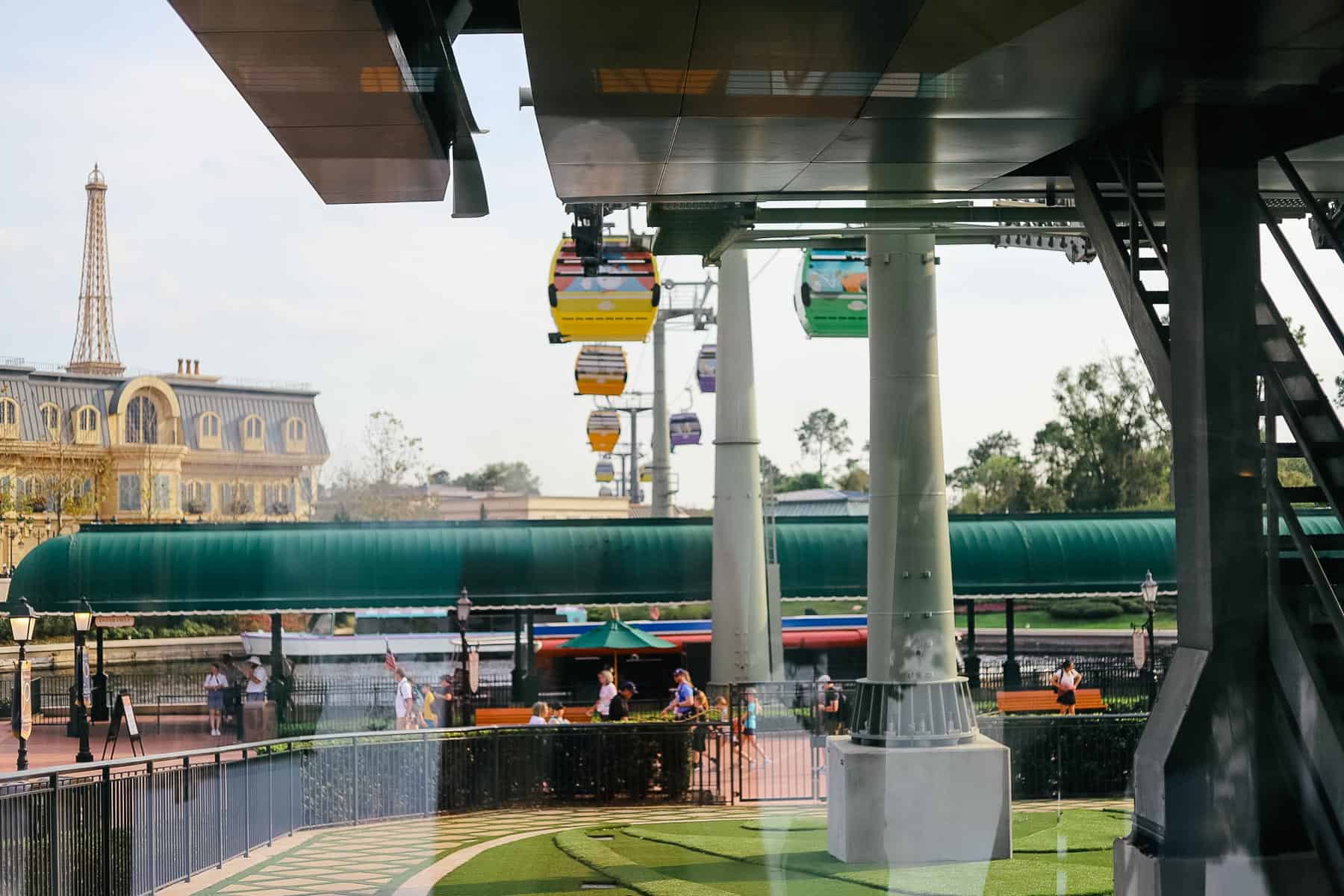 Final Thoughts on the Disney Skyliner
Disney's Skyliner is a game changer for anyone staying at the resorts that offer the service. After riding it a time or two, you'll get a feel of how it all works. Before you know it, you'll be a seasoned pro.
Don't hesitate to use it if you're not staying at one of the Skyliner Resorts. Disney transportation is available to all guests at Walt Disney World.
Often, we'll hop on the Skyliner to do a little resort-hopping just for the fun of it. One of our favorite times to ride the Skyliner is around sunset when the views are astounding.
Some will take the Skyliner between Hollywood Studios and Epcot as a means for park-hopping. You'll want to make sure you have a park hopper ticket for entry to both parks.
However, you can walk or boat between the two parks as well.
Related: Disney's Friendship Boat Service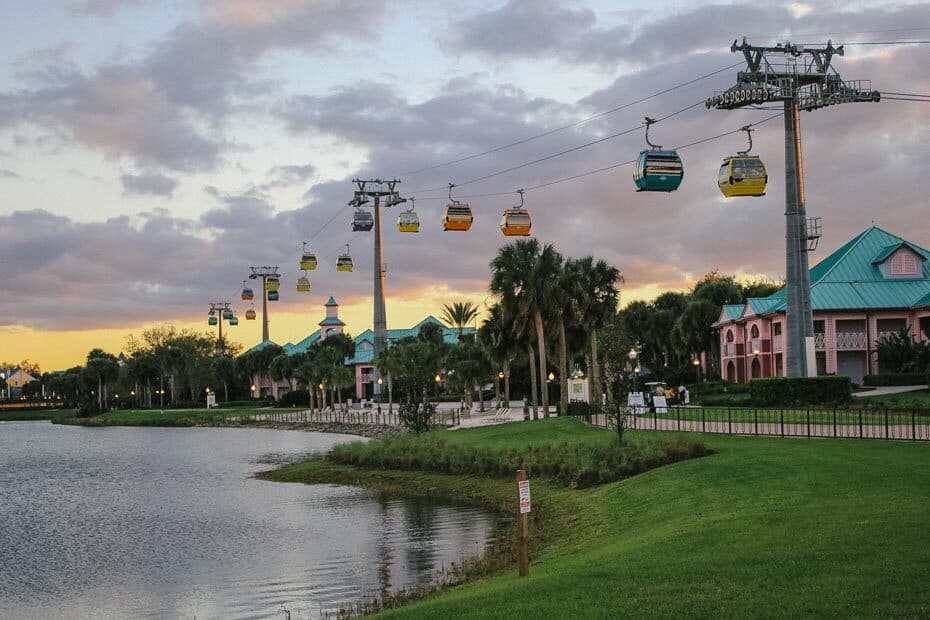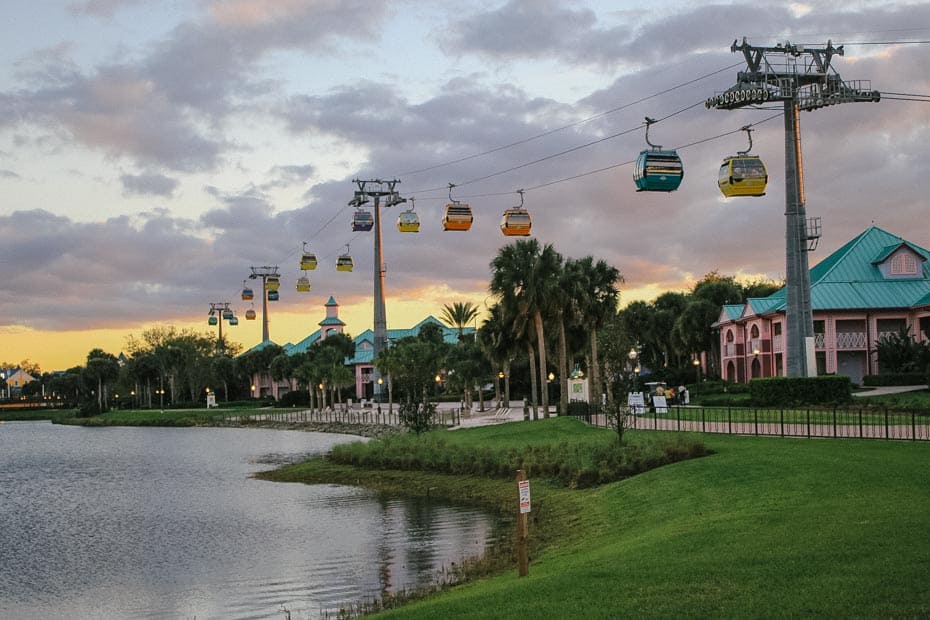 I can't stress enough how important it is to learn your way around Disney as much as possible before your vacation. It's a good idea to make a list on your phone of all the transportation options available at your resort and where they'll take you.
It would be frustrating to stay somewhere like Port Orleans French Quarter and not know that boat transportation to Disney Springs is available.
Related: Disney Springs Transportation Guide
And I can't tell you how many times I've been at Disney's Beach Club's bus stop when someone walks up looking for the bus to Epcot. The walk to Epcot from the Beach Club is less than five minutes. There is no bus.
Don't get me started about the monorail debacles I witness regularly. No, the resort monorail you've ridden around the same Magic Kingdom loop at least twice is not on its way to Epcot. Instead, you have to exit and catch a different monorail for Epcot.
Related: Disney World Monorail Guide
But I get it. A trip to Disney World can be overwhelming.
Visitors who aren't practiced or adequately informed of their transportation options before visiting can easily waste valuable touring time.
Please don't be one of them!
For more information, all of our resort transportation articles are available in our guide.
Or you might enjoy some of the following popular articles:
In the comments
What are your thoughts on the Disney Skyliner? Have you had the opportunity to take it yet? We would love to hear your thoughts on riding it or what you anticipate. Are you staying at one of the Skyliner Resorts?