Meet Belle at Walt Disney World (List of All Her Locations)
This article discusses where to meet Belle at Walt Disney World. We'll look at Belle's formal meet-and-greet at Epcot, where she appears at Magic Kingdom, and a few other places you might run into her.
It's no secret that Belle is one of the more popular characters at Walt Disney World. Most everyone wants to meet her!
Luckily, there are several locations across the parks and at character dining where you can find her. Did you know that she even makes special appearances in her red ball gown during the holidays?
Let's take a closer look at where you can find her. Just promise you won't tell Gaston where Belle hangs out if you were to run into him during your trip!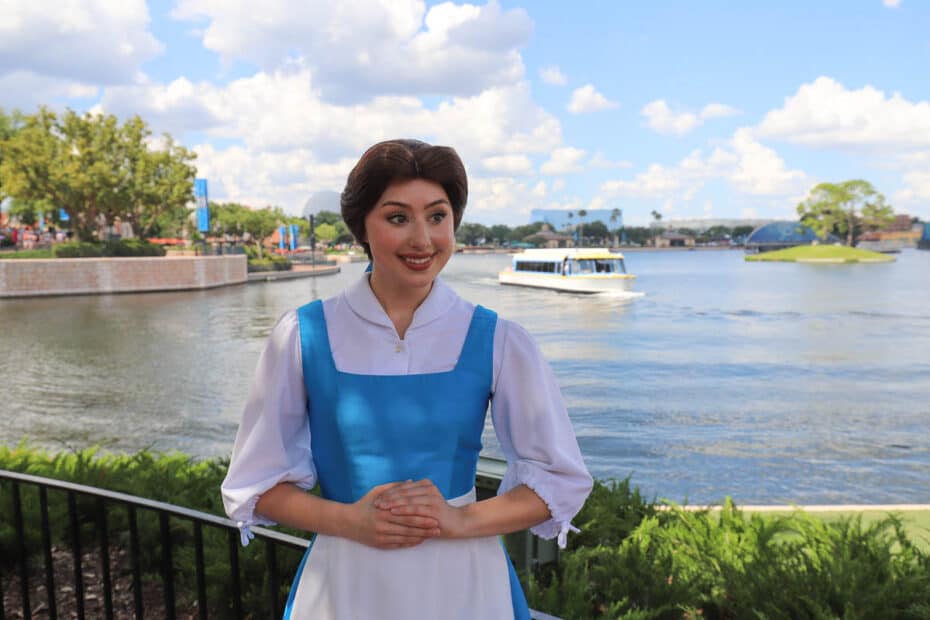 Meet Belle at Epcot
Belle's formal meet-and-greet is in Epcot's France Pavilion. She meets in her blue village dress at this location.
Belle greets guests along the World Showcase Promenade. Here is a look at where her line starts across the walkway from Chefs de France.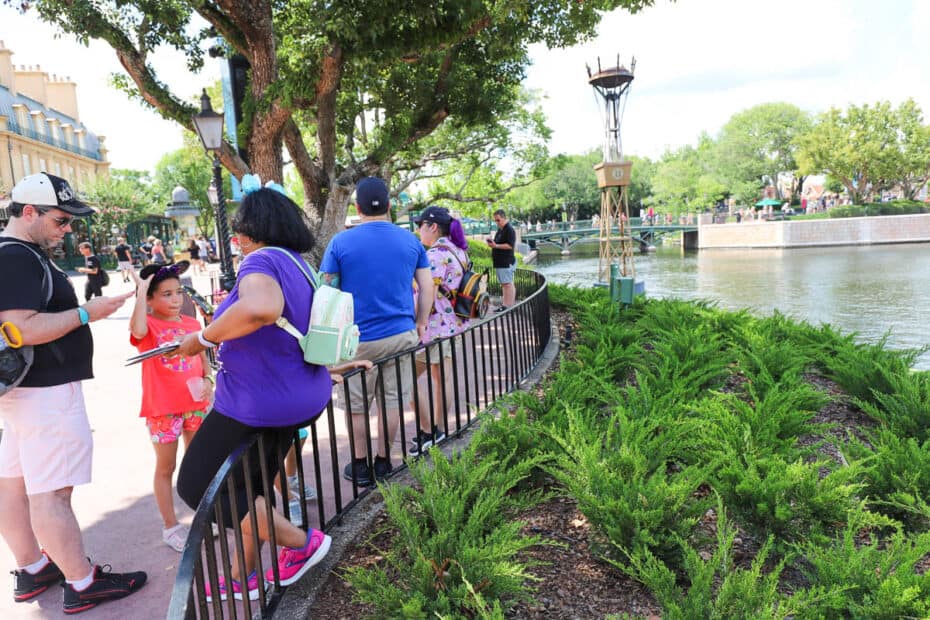 On the day of this visit, Belle was meeting at the following times:
9:30 a.m.
10:30 a.m.
11:30 a.m.
12:30 p.m.
2:20 p.m.
3:30 p.m.
As always, you will want to check the My Disney Experience app on the day of your visit for exact times. Or you can check the schedule here on Disney's site.
When I arrived here along the water to meet Belle, it was 3:02 p.m. There were already three sets of guests ahead of me for her 3:20 p.m. scheduled meet-and-greet.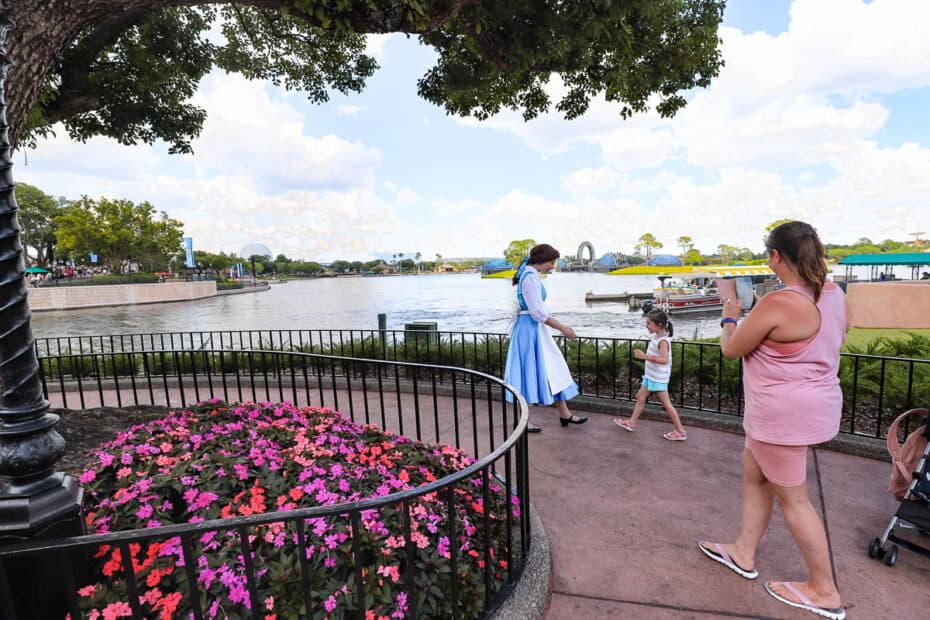 Since I got here early, I was able to meet Belle at 3:24 p.m. By the time I left, Belle's line was exceptionally long. The line was so long that a cast member had already closed it for the day.
It's important to get in line before the scheduled time whenever possible. For this location, no one else could meet her unless they were already in line.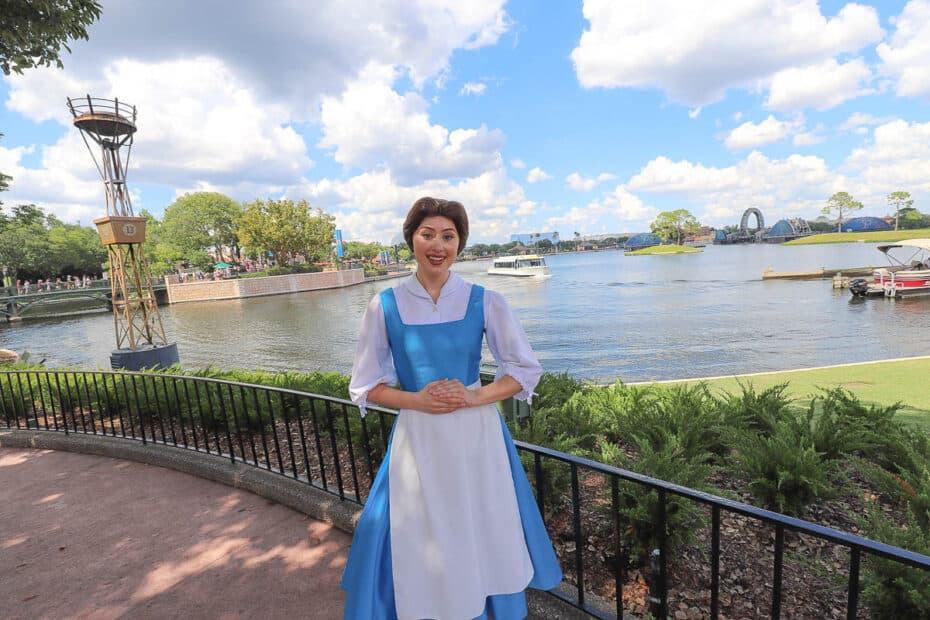 When it was my turn to meet Belle, we had a pleasant conversation about books. Belle told me that she had recently read Romeo and Juliet.
Her advice was to read all the good parts and skip the ending. I asked if chapter three was a good place to stop, and she reminded me that was the best part.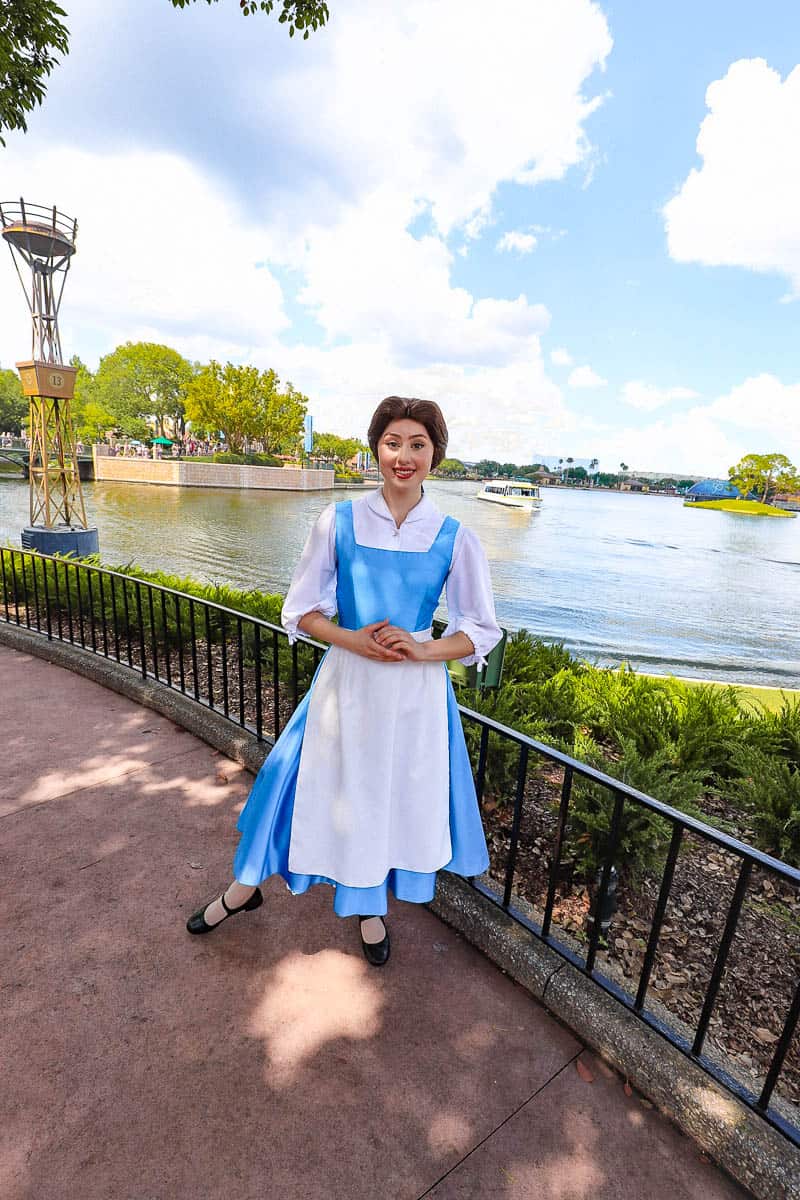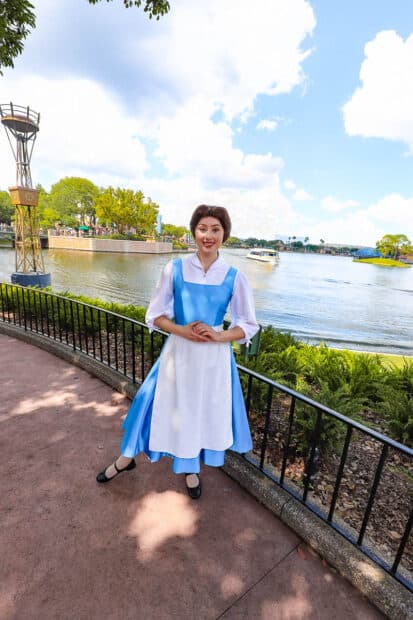 Unfortunately, there was not a PhotoPass photographer present on the day of my visit. As of this update, we are seeing fewer of them at character meets.
However, Belle does sign autographs. You'll want to have your autograph book out and ready before it's your turn to meet her.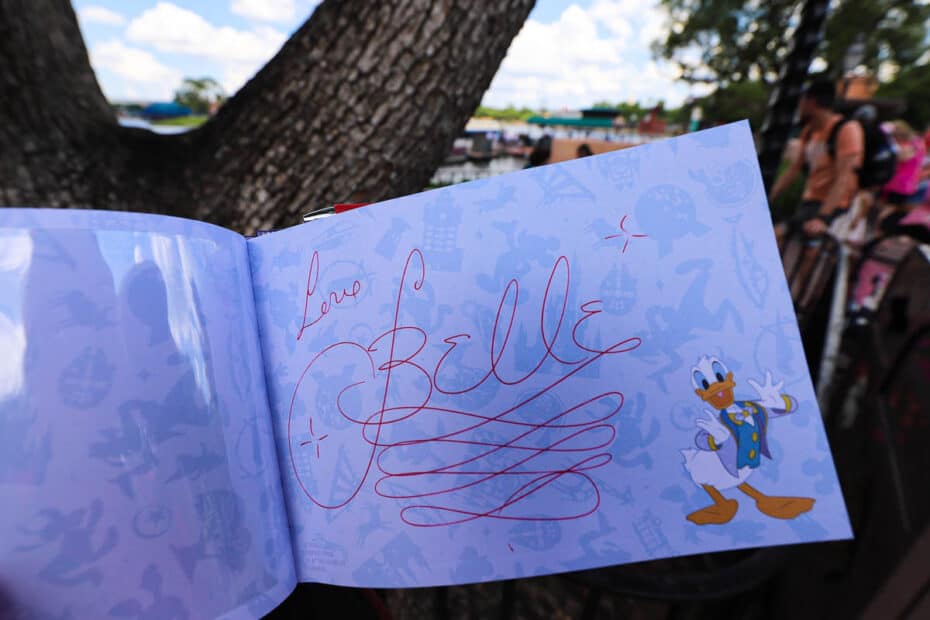 Belle formerly met in the gazebo in the France Pavilion in her yellow ball gown. However, as of late, this is where Aurora from Sleeping Beauty meets.
Related: Meet Aurora at Disney World
Here is a photo of Belle in her yellow gown. We ran into her one morning as she was touring the grounds of one of the resorts.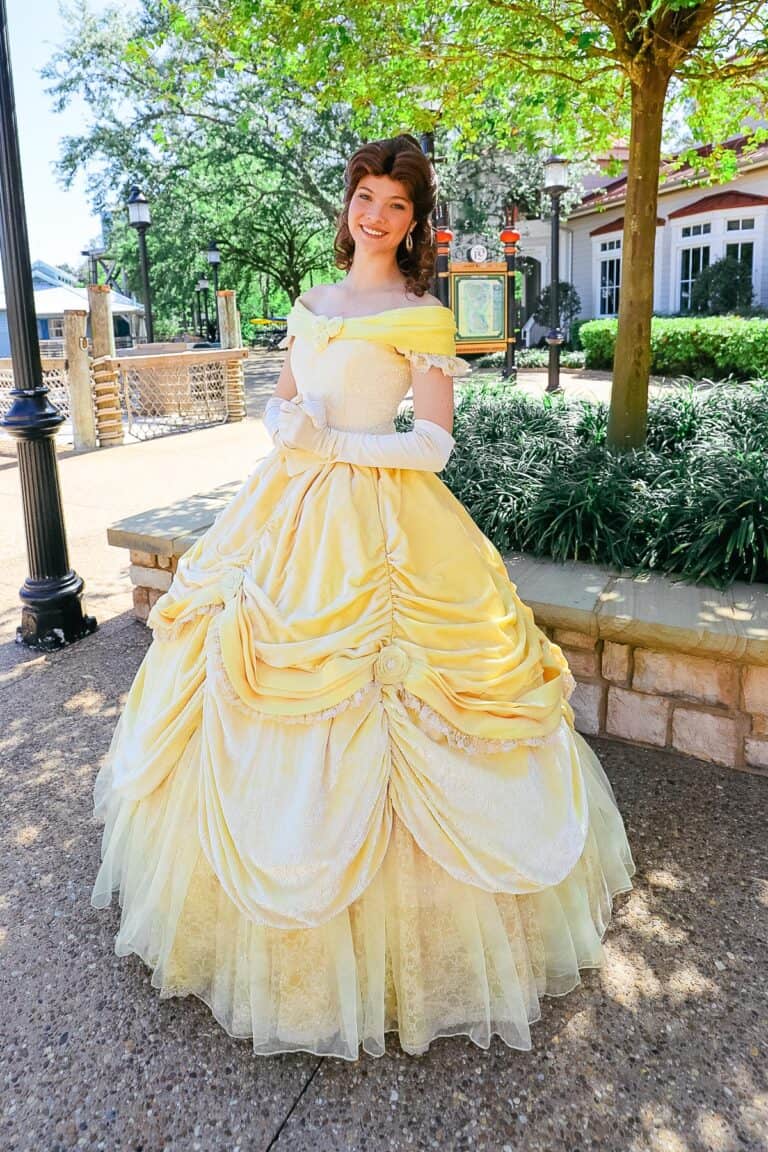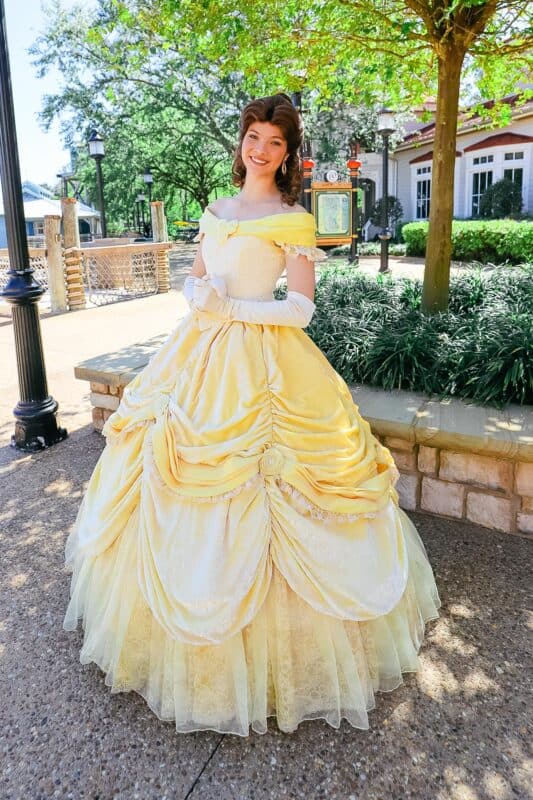 Belle also meets at Epcot for character dining. She meets at Akershus Royal Banquet Hall. Below is a photo of where we met her during breakfast at Akershus.
Related: Character Dining at Disney World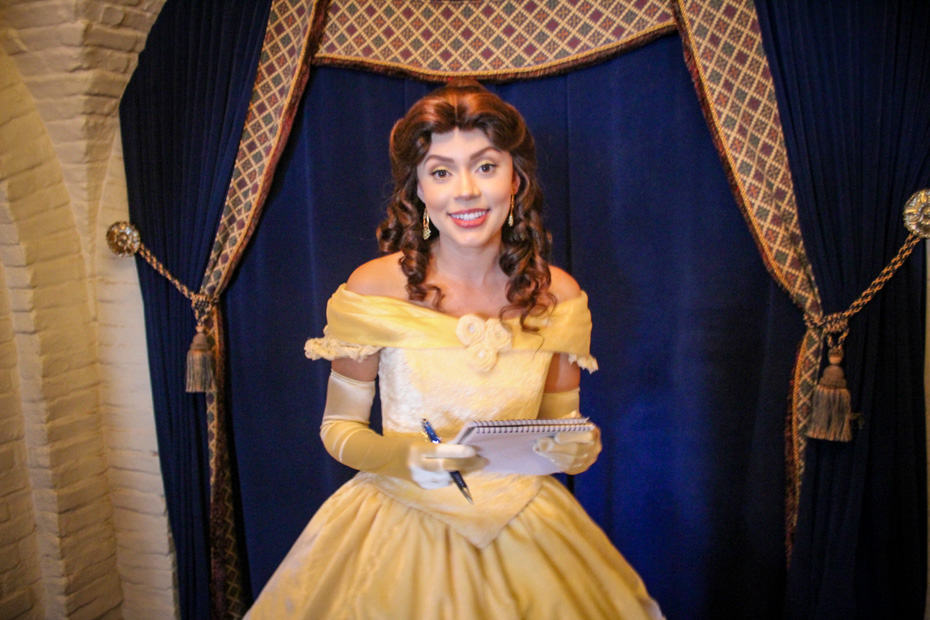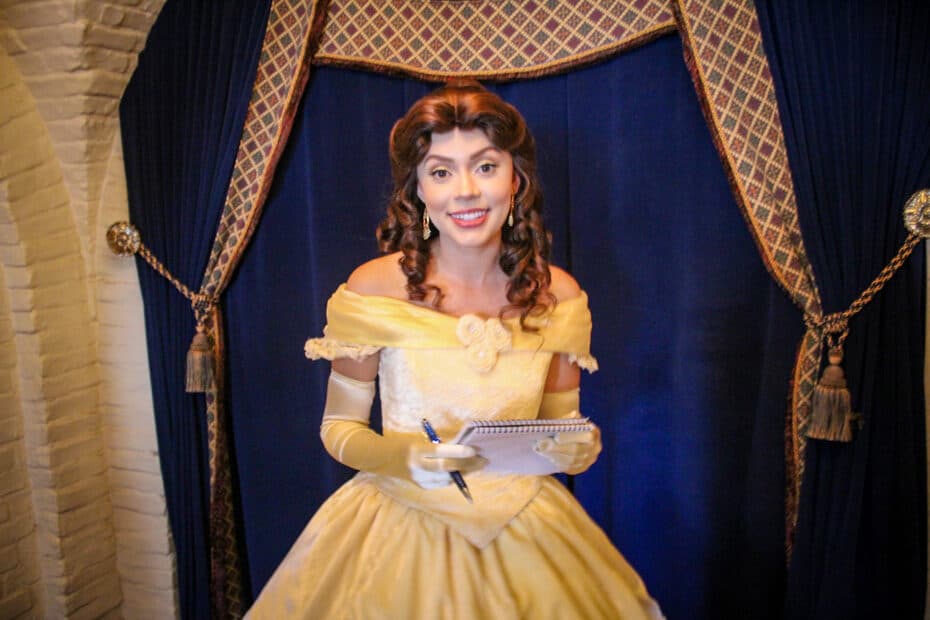 Meet Belle at Magic Kingdom
At Magic Kingdom, you can see Belle at Enchanted Tales with Belle. While not a formal character meet, this special interactive attraction offers guests the opportunity to see Belle up close.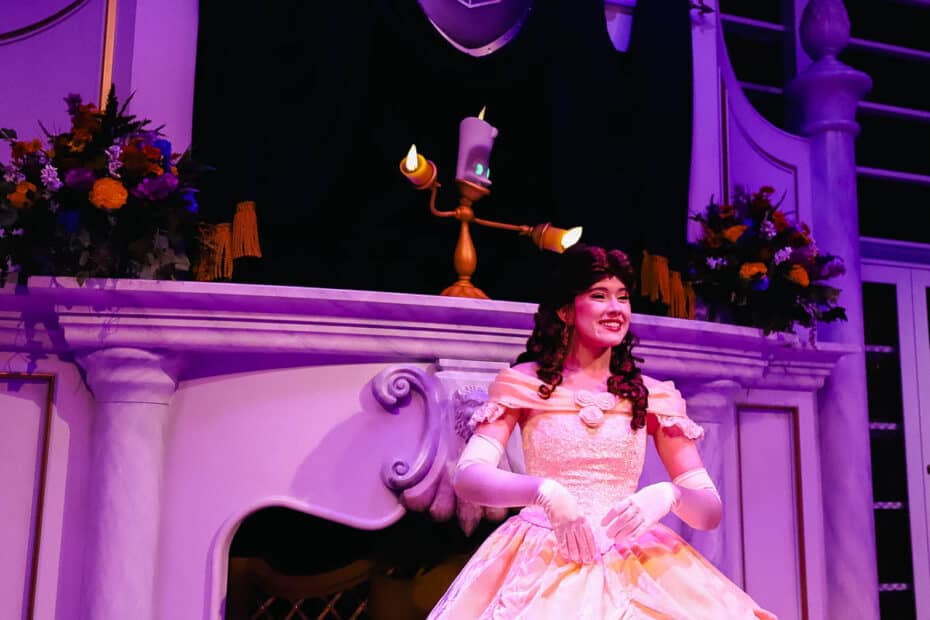 Additionally, Belle is in the Festival of Fantasy Parade daily at Magic Kingdom. She is at the front of the very first float in the parade.
Related: Festival of Fantasy Parade with Route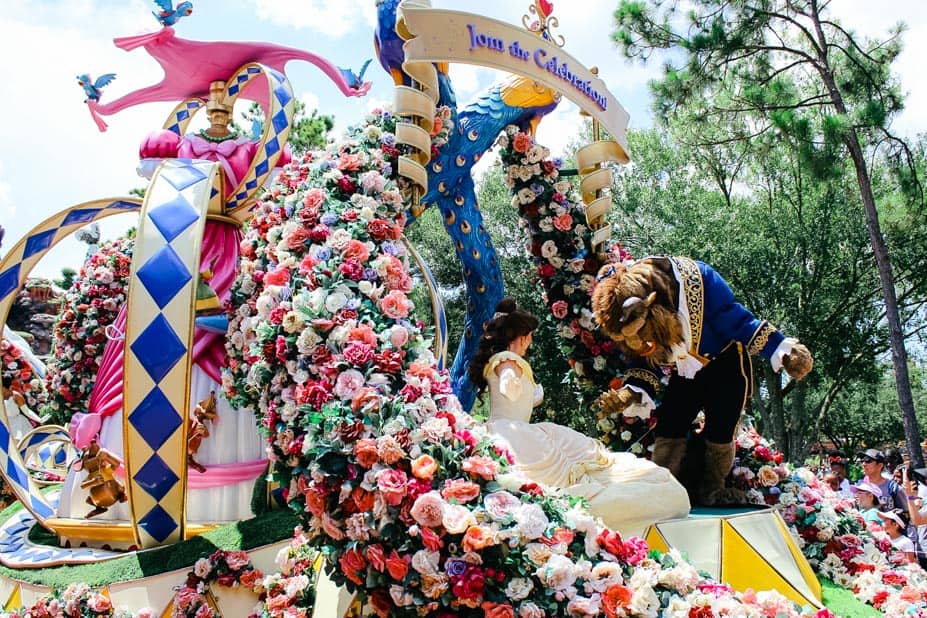 Unfortunately, Belle does not meet at Be Our Guest. Be Our Guest is the popular Beauty and the Beast-themed restaurant at Magic Kingdom.
The Beast is known to make appearances at the restaurant in the evening. However, he is not guaranteed.
Related: Be Our Guest Review
Belle at Hollywood Studios
Lastly, Belle is the star of Beauty and the Beast Live on Stage at Disney's Hollywood Studios. This performance is inspiring and worth taking the time to see if you're a fan.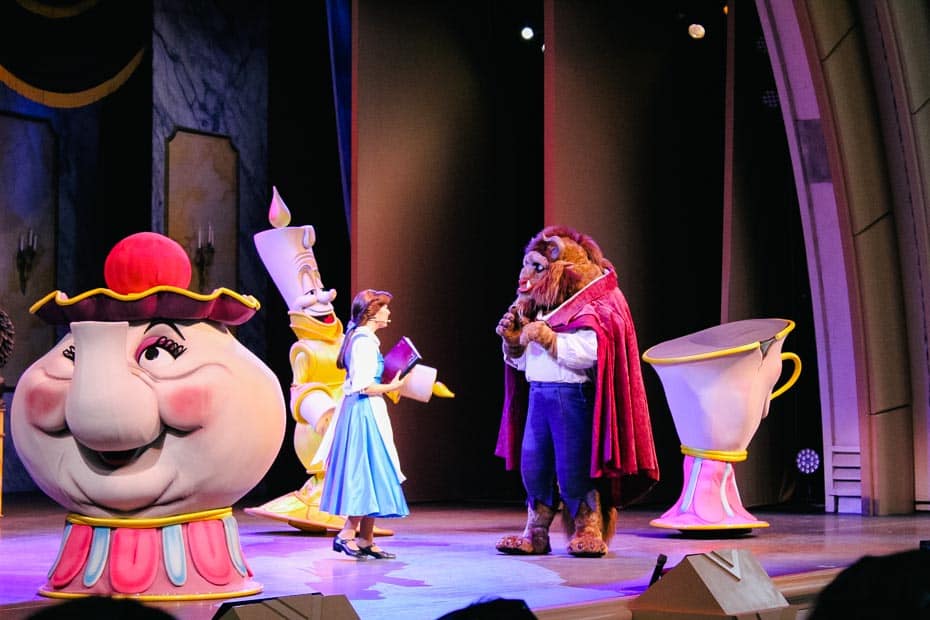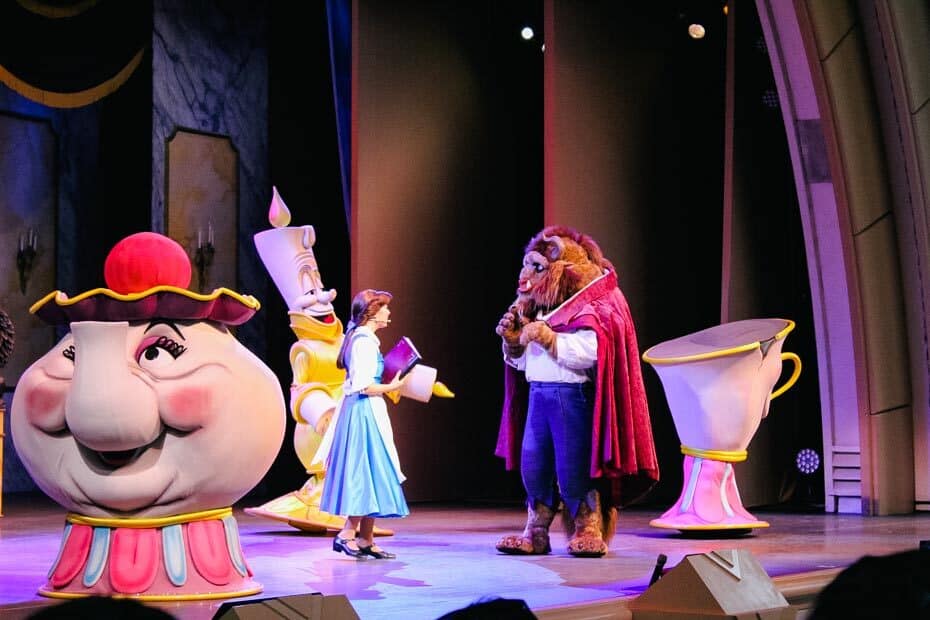 Meet Belle at Seasonal Parties
Belle also meets in her holiday dress during the Christmas Party at Magic Kingdom. This is an extra-ticketed event that's held during the holidays.
If you plan to meet her at the party, expect a long line. Almost all of the characters at the party have exceptionally long lines because they are such rare meets.
Related: Meet Characters at Mickey's Very Merry Christmas Party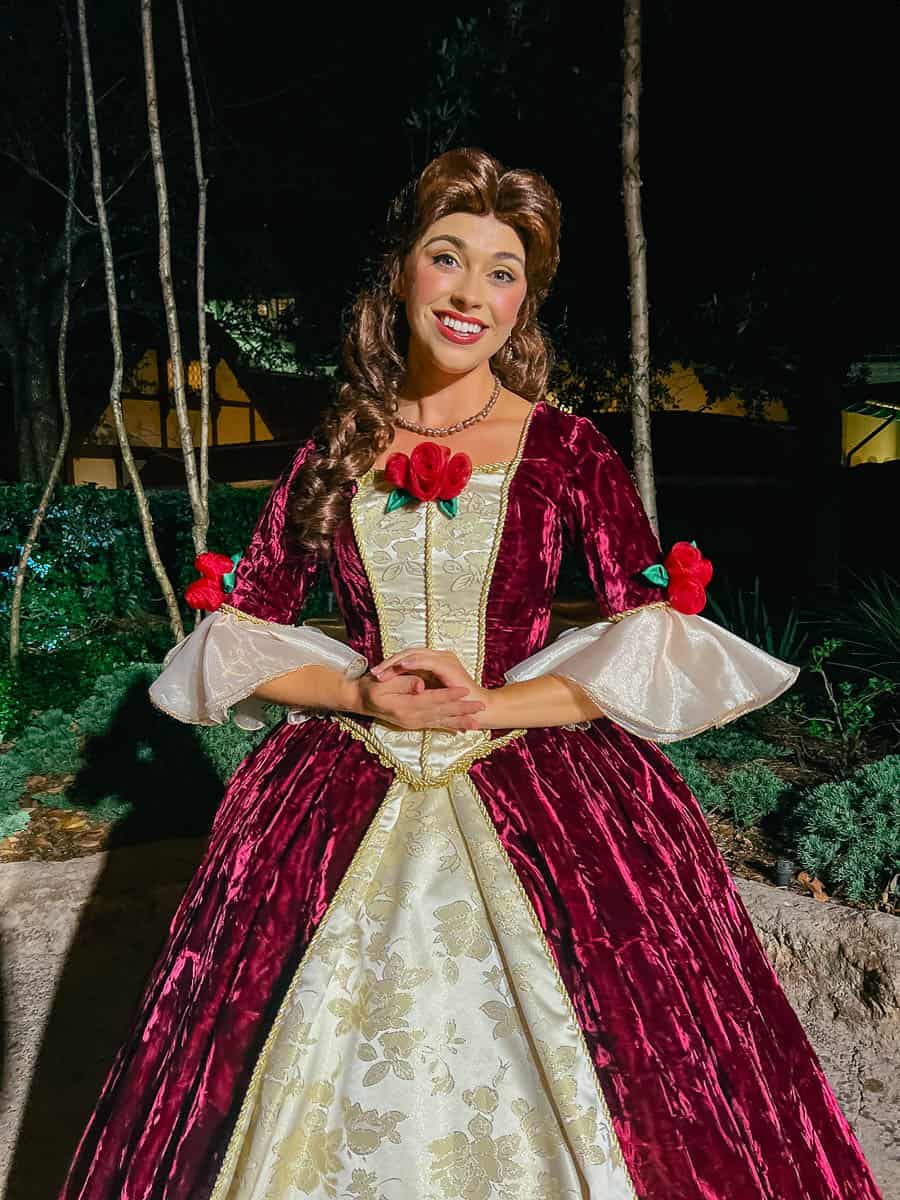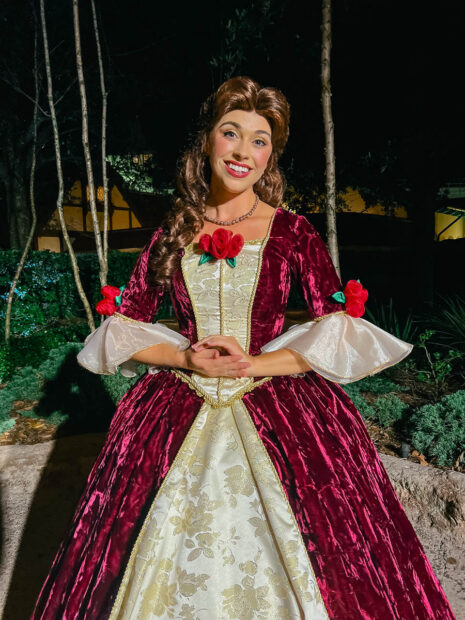 Additionally, Belle meets with Gaston at the Halloween Party. Unfortunately, we don't have an updated photo of this location. But meeting the pair is another rare opportunity exclusive to the party.
Related: Character Meet and Greets at Mickey's Halloween Party
One thing is for sure, Belle is one of the most popular princesses at Disney World. So if meeting her is important to you or someone in your group, make plans to fit some of these opportunities into your schedule.
Also, remember to double-check her schedule on the day of your visit in the My Disney Experience app. Sometimes those scheduled times can change on a whim due to various circumstances.
If you're looking to meet characters at Disney World, you might enjoy a few of these other options.
In the comments:
Is Belle your favorite character to meet? Which dress do you hope she'll be wearing on your trip?
Planning a Walt Disney World or other Disney Destination vacation?
Our friends and travel partner, Firefly Travels, excels at doing Disney differently. You can fill out a plan your trip form on their website, and someone will reach out shortly to discuss the specifics.