Meeting Belle at Disney World
Have you ever wondered where to meet Belle at Disney World? If so, then this article is for you!
We'll give you the inside scoop on where to find Belle from Beauty and the Beast. Just don't tell Gaston if you were to run into him during your trip!
Meeting characters is one of the most fun parts of visiting Disney World. Before this last year or so, you could get autographs, take photos, and even give them hugs! However, a few of those things have changed, and you'll need to be aware of them.
For starters, Belle is meeting daily at the France Pavilion in Epcot. She rotates this character meet with Aurora, from Sleeping Beauty.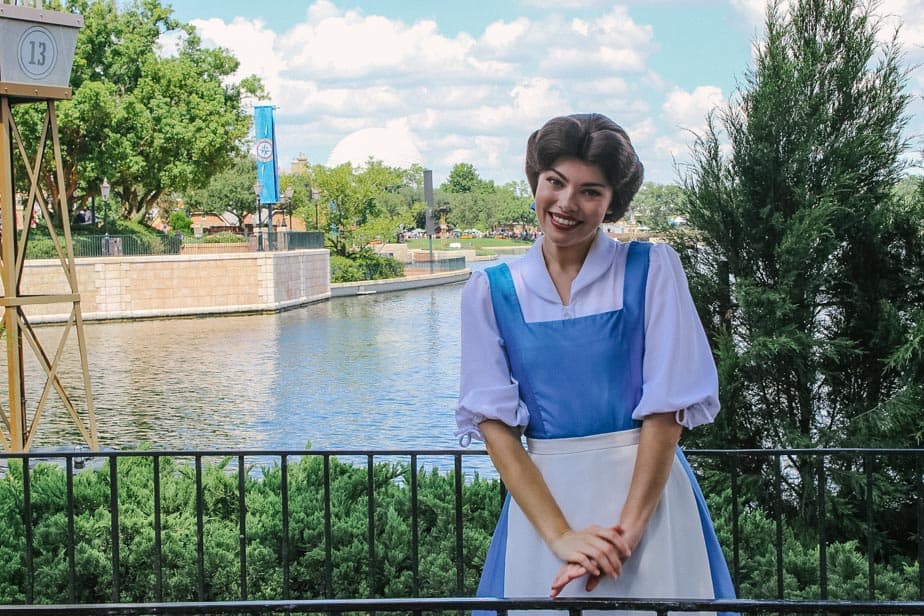 At this time, neither of their meets are scheduled. Therefore, you'll likely run into them by chance while you're touring in the area.
You'll find Belle on the walkway out by the World Showcase Lagoon in front of the pavilion. Here is a picture of where I found her on my last visit.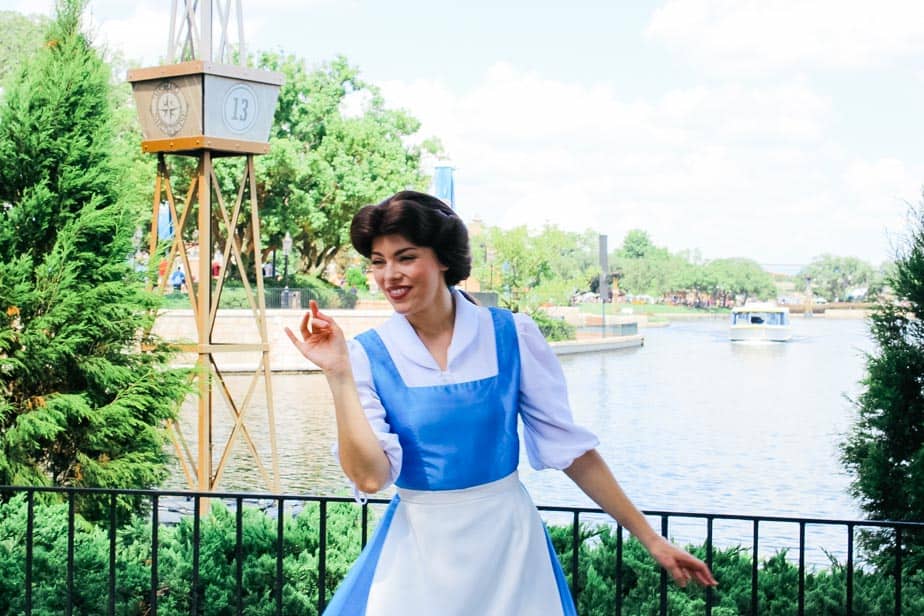 She should be pretty easy to spot from a distance if you are walking alongside the water through the World Showcase. Belle will typically come out for approximately 15 minutes at a time, multiple times per day.
Belle is wearing her blue village dress at this time while she meets and greets guests. Similar to the other character meets, you'll have to stand several feet away and wave to her from a distance.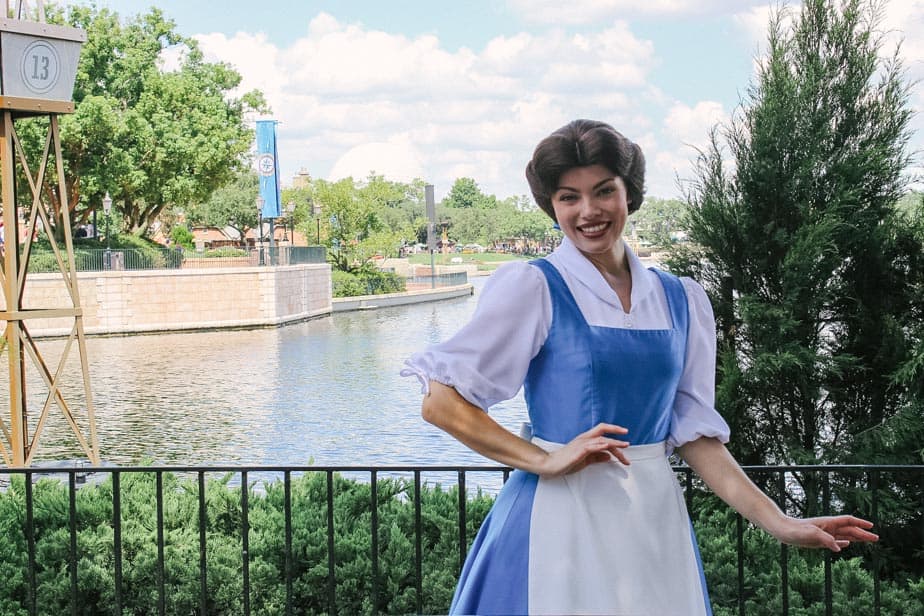 You'll want to have your cell phone or camera out and ready for a picture. She'll take the time to pose from a distance with each guest. Many are doing distanced selfie photos right now, and they tend to turn out cute.
Most of these character meets take place during the day between 11:00 a.m. and 6:00 p.m. So you more than likely won't see a character out in the World Showcase after sunset.
Before last year, Belle met here in the France Pavilion daily. You could sometimes find her in the gazebo wearing her yellow ballroom gown. Other days she was out by the water in her village dress, as she is now. And during the holidays, she was known to make appearances in her red velveteen Christmas dress.
Additionally, Belle greeted guests at the entrance of the Akershus, Royal Banquet Hall princess breakfast. That character breakfast is located in the Norway Pavilion.
However, the dining experience hasn't been re-opened at this time. You can read more about the available meals here in our guide to character dining at Disney World.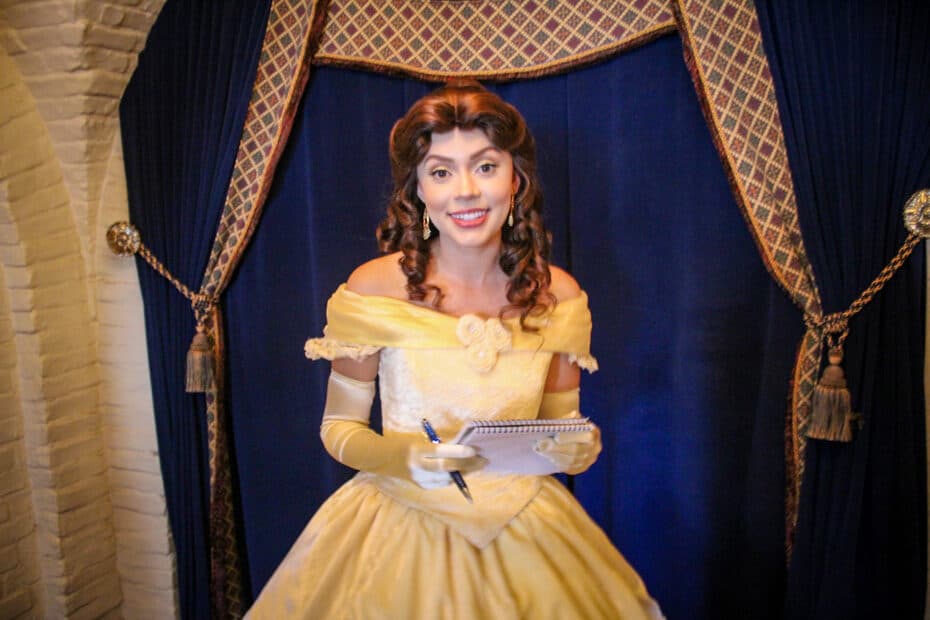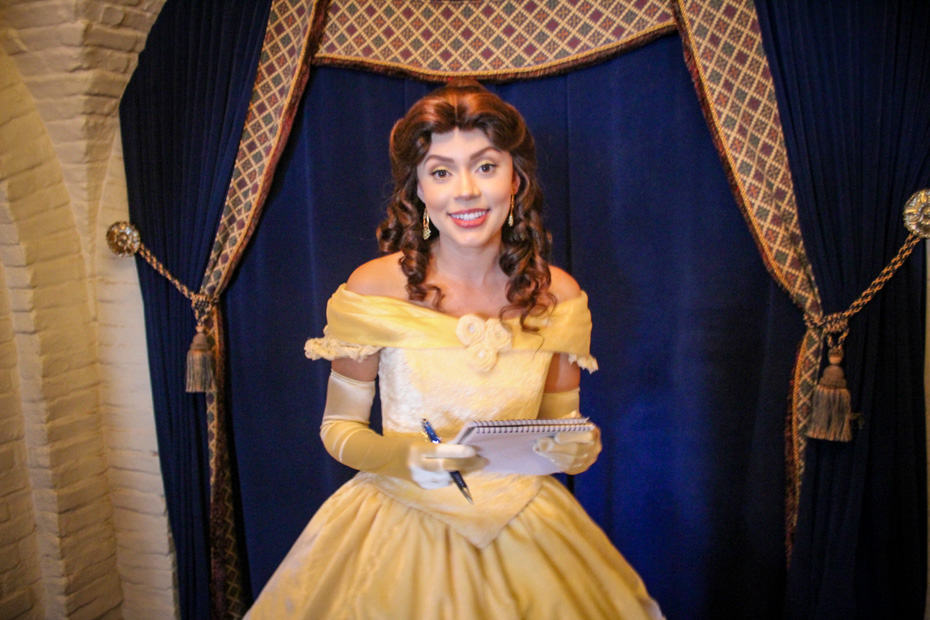 You'll probably see Belle on the princess float during the daily cavalcades if you visit Magic Kingdom. The times for these are listed in the My Disney Experience app underneath the entertainment section.
Additionally, Belle appears in the My Disney Experience app for a scheduled character sighting at Magic Kingdom. Check the app on your visit to see if she's available!
2022 Update-Belle is listed in the My Disney Experience app as a character sighting at Maurice's Cottage in New Fantasyland. She usually meets in the afternoons between 1:30 p.m. and 3:45 p.m.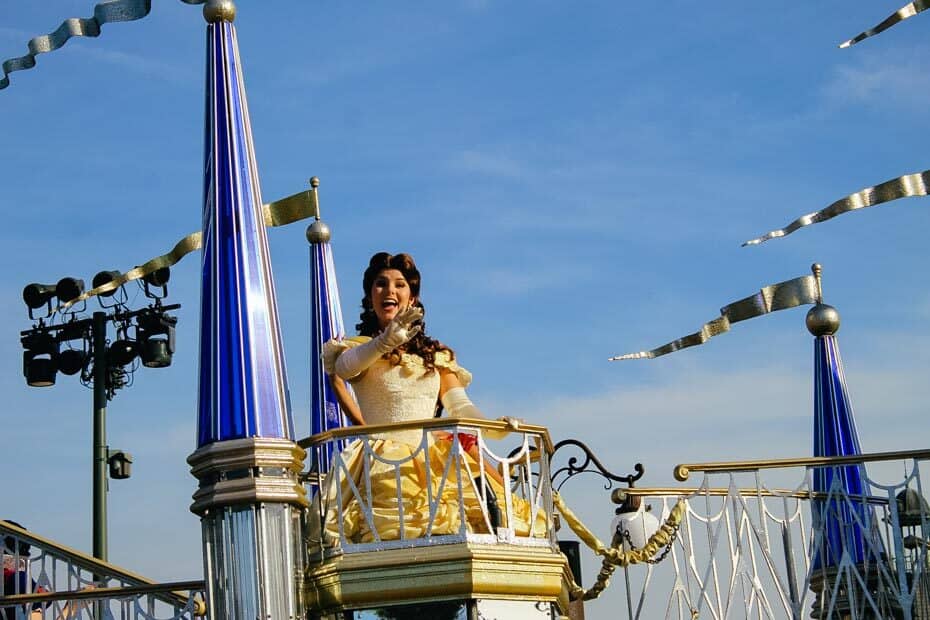 She also is the star of the show daily at Beauty and the Beast Live on Stage at Disney's Hollywood Studios. This performance is excellent and worth taking the time to see if you're a fan.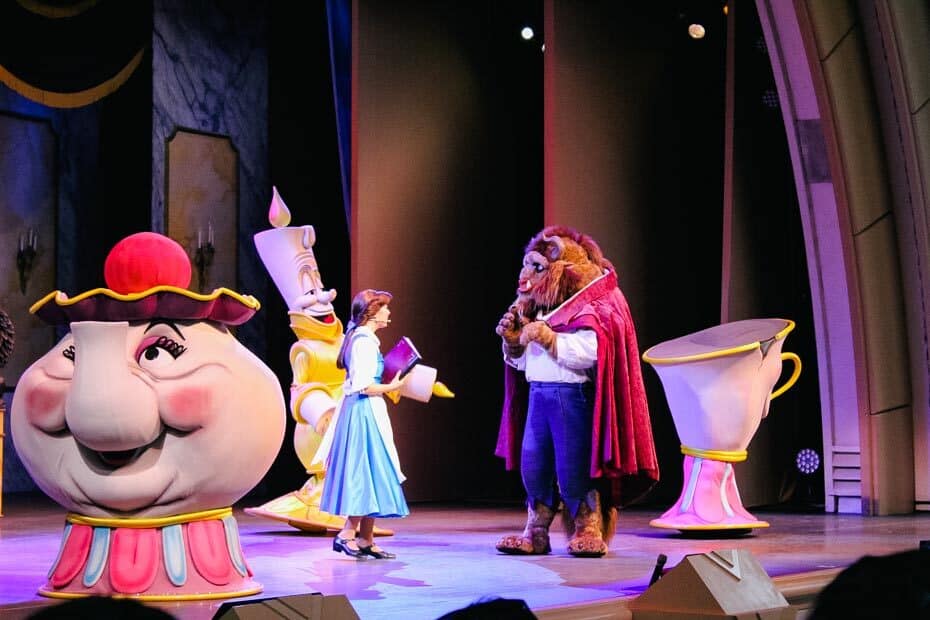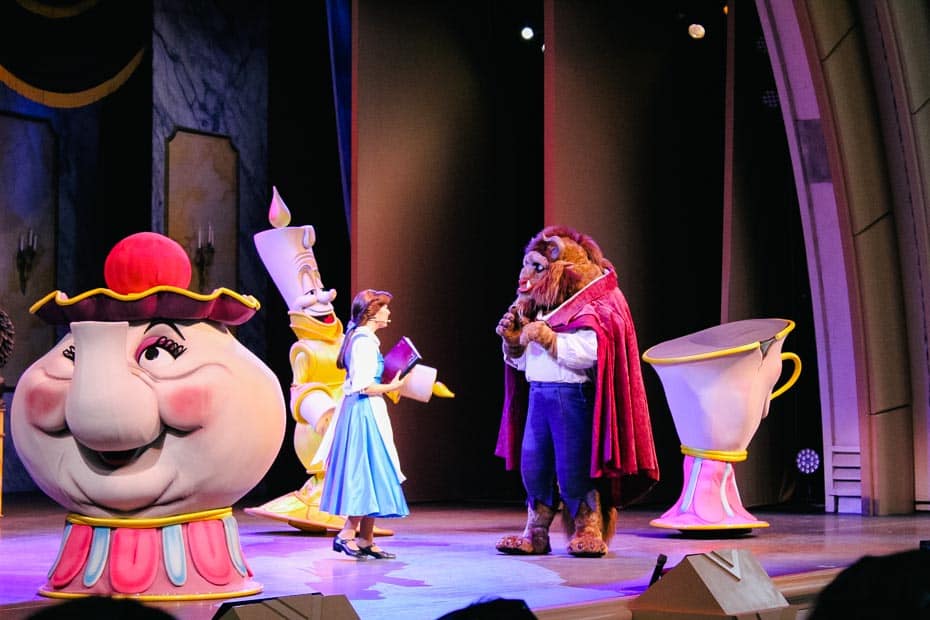 In addition, Belle used to meet guests in a group setting at her attraction, Enchanted Tales with Belle. Unfortunately, that is one of the few attractions at Magic Kingdom that has not re-opened to date.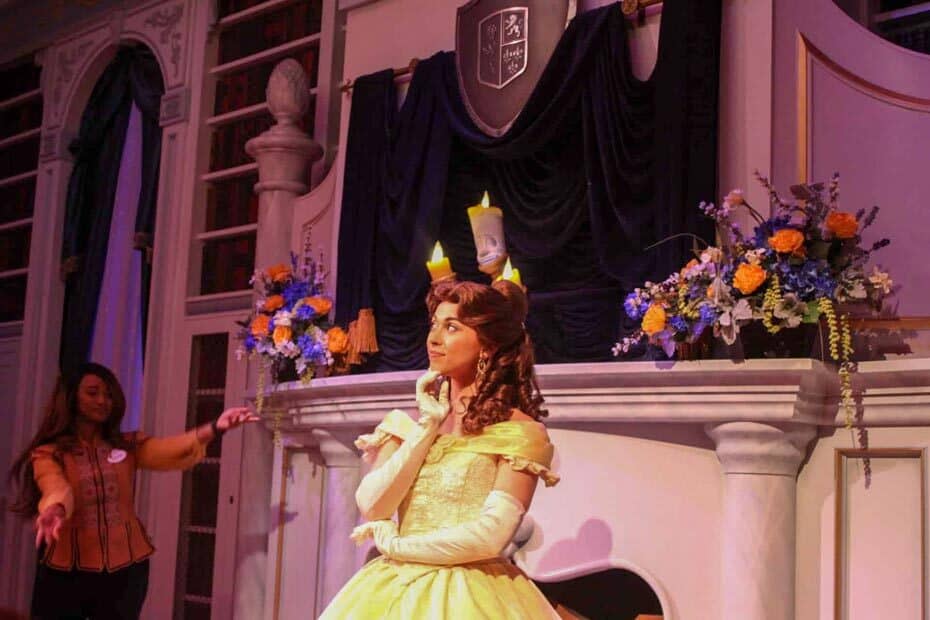 And lastly, Belle does not meet at Be Our Guest. This is a popular Beauty and the Beast-themed restaurant at Magic Kingdom. The Beast is known to make appearances in the evening. However, it is not guaranteed.
As for Belle, she is one of the most popular princesses at Disney World. So if you want to meet her during your trip, make sure to keep an eye out for her in France. We'll come back and update this article when more opportunities to meet her return.
If you're looking to meet characters at Disney World, you might enjoy a few of these other options.
Is Belle your favorite of the princess meets? Which dress do you hope she'll be wearing on your trip? Leave a comment and let me know!